9 Anniversary Trip Ideas–Planning The Perfect Celebration
Post author: Wendy
Post published: March 1, 2023
Post category: Travel Advice
Post comments: 4 Comments
Table of Contents
Anniversary Trip Ideas For Every Couple And Any Budget
Jason and I will be celebrating our 30th wedding anniversary this year and we decided to book a trip to Costa Rica to celebrate. We'll spend eight days in this tropical country, most of it in the Monteverde Cloud Forest. Over the years, we've planned many epic adventures for celebrating anniversaries and mostly, they've been very successful. But choosing the right destination isn't always easy, so I thought I'd help with anniversary trip ideas. I'll share nine romantic and fun destinations along with a few planning tips.
Choosing The Destination for Your Anniversary Trip
Before selecting any destination for your anniversary trip I recommend asking yourselves these two questions;
How long can we be away from home?
How much do we want to spend?
A short weekend getaway can definitely be romantic, especially if you're on a tight budget. When our kids were young, this was often the best option for us, both for the sake of budget and childcare. But if this is a significant anniversary year, you may want to allow more time and give yourselves permission to spend more money. Whatever the decision, it's important for both of you to be on the same page. 
Next, think about how you want to spend time on your trip. Do you want to relax and chill, or are you looking for some adventure? If work has been stressful and you both need a break, finding a charming bed and breakfast in a charming little town might be just what the doctor ordered. Or maybe you want to spend time together trying something new. There's no right answer, but again, it's important to review your options in advance.
Money Saving Tips For Your Anniversary Trip
Your romantic getaway doesn't have to break the bank. So here are a few ways to save some money without sacrificing the experience. We've used all of these tips and tricks over the years and saved a considerable amount of money.
Travel mid-week instead of on the weekend.
Compare booking a package with reserving each portion of the trip separately. 
Use credit card points instead of cash. 
Look for deals through websites like TravelZoo.
If booking airfares, compare all your options through Google Flights or SkyScanner.
Plan free or low cost activities like hiking, biking, and kayaking. Many cities offer free-walking tours as well.
Be flexible with your destination. Your first choice city may be crazy expensive, but a alternate may be within your budget.
Compare a hotel with the cost of an AirBnB or VRBO.
Anniversary Trip Ideas In the United States
If you want to travel within the United States, the options for a romantic escape are endless. And whether you want a beachside, mountain top, or big city destination, we've got you covered.
Catalina Island, California
If you've decided on an oceanside, weekend getaway then Catalina Island is perfect , because whether you want to relax or stay active, this place delivers. Jason and I had the chance to stay at the recently remodeled Atwater Hotel last year and loved it. Everything you'll want to do is within easy walking distance; tours, the beach, restaurants, and shopping. 
If you've decided upon a relaxing weekend, then head to the Descanso Beach Club, reserve two chaise lounges, order a tropical drink, and simply chill for the day. When you get hungry, the onsite restaurant serves delicious food.
For the more adventurous, book one of the many activities or tours offered on the island including ziplining, kayaking, rock climbing, and more. Jason and I took the Bison Expedition and explored the rugged backcountry of Catalina for over two hours. We bounced along dirt roads searching for wildlife. Occasionally we stopped to appreciate the scenic views. And since ours was the last expedition of the day we were treated to a sunset over Avalon Harbor.  
When you're ready for a really romantic dinner, do what we did and head to Avalon Grille . The food was delicious and the service spot on. A good option for lunch is Bluewater Grill . Request a table on the deck and enjoy hearing the waves crash below you.
La Jolla, California
Earlier this year Jason and I were looking for a completely relaxing getaway for a few days and decided that La Jolla fit the bill. This seaside section of San Diego has an upscale charm that includes plenty of fine dining, high end shopping, and great resorts. And while it could be an adventurous destination, for us, this is the place we go to chill.
After years of visiting La Jolla and staying at many of the area hotels, we've settled on the Hilton Torrey Pines as our favorite. Most of the rooms have balconies with a view of the world-famous Torrey Pines Golf Course. If we're in the mood for a hike, Torrey Pines State Park is within walking distance. But one of the reasons we've come to love this hotel is it's location next to Torrey Pines Lodge, a luxury resort with an elegant restaurant and gorgeous spa. Essentially, we stay at the Hilton for about half the price of the Lodge, but avail ourselves of services at both. In fact we've found the side door of the Hilton that connects to the side door of The Lodge (maybe I shouldn't be sharing this!).
If you plan to leave the hotel then head to Prospect Street--the main thoroughfare of La Jolla--for a nice selection of restaurants and shopping. Personally we enjoy Duke's . Their seafood dishes are quite good and the view of La Jolla Cove is spectacular. Try to make reservations just before sunset.
Las Vegas, Nevada
Sin City is the opposite of quiet and relaxing, but Jason and I have celebrated many anniversaries in Las Vegas and always love it . So if you're looking for plenty of action for your getaway, plan a trip to Vegas.
We've stayed at a dozen different hotels on The Strip over the years, but our favorite is definitely The Cosmopolitan. Not only do we love the large, stylish rooms, but the selection of restaurants is unparalleled (afterall, travel is really about eating!). I recommend splurging on a room with a terrace and a view of the Bellagio Fountains. After dozens of trips to Vegas, I'm still not tired of the fountains. When you get hungry head to Secret Pizza, Eggslut, China Poblano, or Hattie B's Hot Chicken. And if you want to sip a drink in a gorgeous and unusual setting head to the Chandelier Bar where you'll be surrounded by draped crystal beads.
Jason and I aren't gamblers, so we're not in Vegas for the slot machines or card tables. Instead, we go for the shows and restaurants. Among our favorite restaurants for dinner are Mon Ami Gabi at Paris, Giada's at The Cromwell, and Jaleo at The Cosmopolitan. In the show category we have many to recommend including anything produced by Cirque Du Soleil, Absinthe at Caesar's Palace, and the Blue Man Group at The Luxor.
If you're visiting Las Vegas outside of the summer season, and you enjoy hiking, set aside a half day for Red Rock Canyon National Conservation Area.  Encompassing more than 195,000 acres and featuring 19 marked hiking trails you could spend years exploring this geologically unique reserve. But just choose one trail and explore the colorful rock formations that dominate the park.
New York, New York
Romance and New York City may not sound compatible at first, but stay with me. This is one of the dining and theater capitals of the world. Any kind of food you want can be found in NYC along with a wide variety of plays and musicals. In my mind, those are the makings of a great anniversary trip. And when you add in all the museums, attractions, and shopping, this city is an excellent destination.
However, New York City is not a budget destination. Hotel rooms alone can be bloody expensive. So this might be a splurge, but definitely worth it. For our last trip to New York we opted to stay in the Financial District near the 9/11 Museum and the World Trade Center. We selected this location because it put us within walking distance to some of the places we wanted to go including the museum and the Statue Of Liberty. We had a great time exploring this part of the city, but for my next trip I'll probably choose a different neighborhood so we can learn even more about this complex American city.
When visiting New York it's critical to make advanced reservations for everything , and for the most popular attractions, pay a little extra for front-of-the-line passes. And if like us, you get tired of public transportation, use Uber or Lyft instead. Sometimes it's nice to be picked up exactly where you are and be dropped off exactly where you're headed.
Park City, Utah
Jason and I don't ski, but we have discovered that ski destinations make great summer vacations . We've been twice to this upscale resort town in Utah, and will be returning for the third time soon. The selection of stylish resorts, farm-to-table restaurants, and a charming town center filled with art galleries makes Park City perfect for an anniversary celebration. If you enjoy hiking there are hundreds of miles of trails of all levels.
For our last trip--and upcoming trip--we selected the Chateaux at Deer Valley . In winter, this is a seriously pricey option, but good deals can be found in the summer. The rooms are cozy and comfortable while the resort offers a pool, outdoor games and fire pits, and a lovely restaurant. The ski lifts and a few hiking trails are just a short walk from the resort's entrance. For views of the entire region take the Sterling Lift to the top of Bald Mountain. When it's time to eat, head to one of Bill White's eight establishments including Grapo, Wahso, and Chimayo. Or make a reservation at Glitretind, a Scandanavian inspired venue located inside the Stein Eriksen Lodge.
Anniversary Trip Ideas–International Destinations
If you have more time--and typically more budget-- an international destination can be a great anniversary celebration . In the current travel climate, be sure the destination you want to visit is open. And if it is, check out all their tourist requirements. Finally, be sure your passport is current and will not expire for at least six months from the time of your travel.
Punta Cana, Dominican Republic
Right before the world shut down in March of 2020 I had the chance to visit Punta Cana in the Dominican Republic. Specifically I had the chance to stay at two different adults only resorts in this city. Whether you need an escape from your own kids, or like us, your kids are grown and you no longer require pools with slides and kids meals, an adults only resort is a great option for anniversary travel. 
I spent two nights at the TRS Turquesa hotel , the adults only portion of Grand Palladium Punta Cana Resort . This large, sprawling resort is located on the water and offers a long stretch of white sand beach to stroll any time of the day. This alone would be perfect for a romantic trip with your loved one. But it gets even better. As an all-inclusive resort you can eat at any of the dozens of restaurants on the property with a variety of international cuisines. To work off all that food head to the gym or take one of the organized yoga classes. At night enjoy live music at several of the bars and clubs. But perhaps my favorite part of the whole resort were the large, beautifully appointed suites that included an unlimited mini-bar. 
For one night I stayed at the TRS Cap Cana Hotel, a smaller adults only resort. Here there are never any kids--just adults having a really good time. This more intimate resort offered a few restaurants, a large pool area, daily classes, and nightly entertainment. I'd recommend either resort for a romantic anniversary getaway.
Quebec, Canada
I've been to Quebec twice, once to it's capital city of Montreal, and once to Quebec City . Both are worthy destinations, and if you have enough time, could be combined into one trip. Both are great destinations for foodies, so if that's a major focus of your anniversary trip, then this province of Canada is for you.
As the second most populous city in Canada, Montreal has endless neighborhoods to explore, sights to enjoy, and restaurants to dine . We spent a week here and just scratched the surface. We opted to stay at the Hotel Nelligan in Old Montreal where the city was founded in 1642 as Forte Ville-Marie. This is home to cobblestone streets, ancient buildings, and Notre-Dame Basilica. If you enjoy museums like we do, head to the Museum of Fine Arts. Then be sure to save time to eat your way through this French inspired city. One way to do this is at one of the markets; Marché Atwater or Jean Talon Market. 
Quebec City is steeped in European charm, food, and culture. Everywhere you turn there are historic and well preserved buildings, some dating back to the mid-1600's. Everyone speaks fluent French and will greet you with "bonjour." This is a part of the country that considers itself Quebecois first and Canadienne second.
I visited this city alone, and was really wishing Jason had been able to join me so we could both appreciate it's romance together. But even without Jason, I fell in love with the food scene in Quebec City . No matter what else you do, book a food tour to really understand and appreciate how shops and restaurants in this town are proud to offer items that combine their Native, French, English and Canadian heritage.
I stayed in the Old Port neighborhood at Hotel Le Germain Quebec .  This hotel was stylish, the rooms large and comfortable, and the included breakfast quite good. I would happily stay here again.
I'd be remiss if I didn't include Costa Rica, especially since it's the destination we've selected to celebrate our 30th anniversary. We took the whole family to Costa Rica a few years ago and fell in love with this Caribbean country. It's relatively small with a laid back vibe while also being packed with natural wonders. 
For our first trip here we stayed in Playa Esterillos, located South of the city of Jaco . Our resort was small but perfectly positioned right on the beach. Each day we walked out of our room, across a small lawn and onto the sand to admire the expansive view of the Pacific Ocean. While the kids kept themselves entertained (they were both in highschool) Jason and I walked for miles along the sand hand in hand. Twice we ventured out of the resort; once for a ziplining tour and once to explore the nearby national Park, Manuel Antonio. We found that accommodations, activities, and food in Costa Rica were far less expensive than a similar tropical destination like Hawaii.
Bonus–Rome, Italy
Last year Jason and I finally had the chance to visit Rome, and now it goes straight to the top of most romantic places in the world. If you're up for a splurge, it tops my list of anniversary trip ideas.
As the saying goes, Rome wasn't built in a day, and you aren't going to see it all on one trip. We had 3 days in Rome , and definitely saw most of the popular attractions, and I'll share a few highlights here.
I'm obsessed with Italian food, so the very first thing you must do is book a food tour in Rome . Our three hour tour began in Piazza Navona and then wove through the streets of Rome as we sampled pizza, pasta, and gelato. Along the way we learned about Roman history.
Next up, be sure to book the underground tour of the Colosseum . This special tour takes you to the gladiator tunnels where both people and animals awaited their turn on stage. It was a highlight of our trip.
Other must-see sights include the Pantheon, Spanish Steps, and Trevi Fountain. I know, they can all be very touristy and crowded, but you still need to see them.
We stayed in the Centro Historico (historic center of Rome) at Hotel Stendhal and definitely recommend it. The rooms aren't large, but they are clean and comfortable and there's an included breakfast each day.
If you're looking for anniversary trip ideas, I hope this article has helped. Or maybe it's sparked an idea for a completely different destination. No matter where you decide to go, be sure to focus on the importance of your relationship and use the time to reconnect with the one you love.
Sign-up today for our monthly newsletter!
Email address:
Share This Article On Pinterest!
You Might Also Like
Stop standing in line at the airport!
Pros and Cons of Travel Insurance–Our Experience Filing a Claim
7 Tips For Surviving Long Flights
This post has 4 comments.
We have an anniversary coming up and we planned a bit of a splurge few days away. So many of these U.S. destinations would not have worked this year. But keeping these as good future ideas. We are indeed visiting both Montreal and Quebec City on this trip so great to see them on your list. And yes, we plan to eat our way through both cities. Happy Anniversary!
All excellent ideas and something for every taste and budget. Fun!
I have my wedding anniversary in 3 months, and I think I could probably choose one of these destinations. They all look worth visiting. It is difficult to choose one. If all goes fine, I would choose Costa Rica.
I hope you have a wonderful anniversary trip! Costa Rica is always worth visiting.
Leave a Reply Cancel reply
Save my name, email, and website in this browser for the next time I comment.
Privacy Overview
Where to Go for an Anniversary Trip, Based on Your Celebration Year
Updated : July 27, 2023
AAA Travel Editor Katie Broome
For couples who love to travel, what better way to celebrate a milestone wedding anniversary than with a romantic getaway to somewhere new? Not only will you create new memories, but you'll also be able to connect one-on-one with each other in a unique setting.
To help you come up with ideas for future trips — whether you're celebrating your first wedding anniversary or your 50th — we've put together a list of romantic hotels that correspond to the traditional anniversary gifts, with input from AAA's team of professional hotel inspectors.
And when you're ready to start planning your trip, the helpful agents at your local AAA Travel office can assist with all the arrangements to make your trip go as smoothly as possible.
(See the full anniversary gift list on Hallmark's website.)
1-Year Anniversary Gift: Paper
The traditional first anniversary gift is paper, and you could consider celebrating your first year of marriage at the St. Elmo Hotel in Ouray, Colorado. The reason for its inclusion in this list? The ornate wallpaper in every room, complimented by period furniture and Victorian-era décor.
"This quaint historic hotel is perfect for a romantic getaway ," said the AAA hotel inspector. The surrounding town of Ouray — nestled in a canyon at the base of the San Juan Mountains — is a great home base for adventurous activities like hiking, rock climbing and off-road jeep tours.
AAA/Inspector 621
2-Year Anniversary Gift: Cotton
For the anniversary gift of cotton, we recommend an anniversary trip to Savannah, Georgia. This charming Southern city was once a major player in the cotton industry. Today you can stay in a restored 1852 cotton warehouse at the East Bay Inn , a pet-friendly boutique hotel with exposed brick walls and lofty ceilings. The Cotton Sail Hotel, Tapestry Collection by Hilton is another restored cotton warehouse that's located right on the Savannah riverfront. The Cotton Sail Hotel has a rooftop bar and is a "great place to catch the sunset," according to the AAA inspector.
AAA/Inspector 334
3-Year Anniversary Gift: Leather
What to get for the third anniversary gift of leather? Book a stay at the Hotel Jackson , a luxury boutique property in Jackson, Wyoming. Room décor is upscale yet rugged, with leather headboards and outdoorsy accents like reclaimed barn wood, wool and rawhide. Some suites feature natural gas fireplaces and terraces with breathtaking mountain views.
AAA/Inspector 46
4-Year Anniversary Gift: Flowers or Fruit
Give the gift of flowers or fruit with a stay at one of the many romantic B&Bs or country inns in the northeast United States. The Mayflower Inn & Spa, Auberge Resorts Collection (pictured above) in Washington, Connecticut, has 58 acres of landscaped gardens and woodland. Rooms feature floral fabrics and details as well as fresh flower arrangements.
The Chanler at Cliff Walk in Newport, Rhode Island, boasts manicured gardens, in-room flower arrangements and a scenic location overlooking an ocean cove and beach. "Romantic options include rooms with full-canopy four-poster beds, extra-large jetted tubs and fireplaces," according to the AAA inspector.In New Hope, Pennsylvania, The Inn at Bowman's Hill is a charming bed-and-breakfast on a gated estate complete with beautifully landscaped gardens, a vine-covered terrace and a koi pond. "The property includes a solarium growing citrus fruit year-round," added the AAA inspector.
AAA/Inspector 31
5-Year Anniversary Gift: Wood
For a five-year anniversary gift, a weekend getaway at a rustic and woodsy retreat is fitting. The Hewing Hotel in Minneapolis, Minnesota, features lots of exposed timber and a Nordic-inspired design in a former 1890s warehouse. "Stay in and enjoy room service," said the AAA inspector, "then venture out for shopping and entertainment in the hip North Loop neighborhood."Other rustic getaway ideas perfect for a fifth anniversary include the Yellowstone-inspired Disney's Wilderness Lodge (Lake Buena Vista, Florida); the chalet-style suites close to hiking and skiing at Alta Crystal Resort (pictured above; in Mount Rainier National Park, Washington); and the cabin-themed suites at Cottage Inn at Lake Tahoe (Tahoe City, California).
AAA/Inspector 511
6-Year Anniversary Gift: Candy
A sweet treat always makes a good anniversary gift, but you can take the gift theme a bit further with a stay at a candy-themed hotel. The Hotel Hershey in Hershey, Pennsylvania, overlooks two chocolate factories and incorporates many cocoa-related details, from the chocolate bar provided at check-in to the Hershey's Kisses at the nightly turn-down service.Located in a former chocolate factory, The Wilbur Lititz, Tapestry Collection by Hilton in Lititz, Pennsylvania, is known to have a distinct smell of chocolate as soon as you walk in. Rooms like the "Master Chocolatier King Studio Suite" and the "Cocoa Corner King" harken back to the building's rich history. The hotel is also just a short walk from the Wilbur Chocolate Store .The sweet theme continues — albeit more subtly — at The Charmant Hotel (pictured above), a candy-factory-turned-hotel in La Crosse, Wisconsin. According to the AAA inspector, the stunning hotel carries the candy factory theme throughout the property, with chocolate truffles available for purchase at the front desk and vintage photos portraying the building's history.
AAA/Inspector 40
7-Year Anniversary Gift: Copper
What to give for the 7th anniversary gift of copper? Consider a stay at the Copper King Hotel & Convention Center, an Ascend Hotel Collection in Butte, Montana. The town of Butte — a good stopping point between Yellowstone and Glacier national parks — was once called "the richest hill on Earth" due to its copper deposits. The hotel celebrates this history with copper art pieces and large copper soaking tubs in some rooms, according to the AAA inspector.More copper details are found at the Brewhouse Inn & Suites (pictured above) in Milwaukee, Wisconsin. Located in the original Pabst Blue Ribbon Brewery, the hotel features "six glistening and enormous copper brewing kettles lined up side-by-side, with their pipes climbing three stories up and out the roof of the atrium," said the AAA inspector. These massive copper kettles once brewed thousands of gallons of beer for Pabst.
Pinewood Social/Andrew Thomas Lee
10-Year Anniversary Gift: Tin or Aluminum
You'll have to think a little outside the box to incorporate tin or aluminum into your 10-year anniversary trip plans. One way to do it is to stay at a stylish hotel in the area of Manhattan once known as Tin Pan Alley. The Evelyn Hotel is a retro-classic option, built in 1903 and restored to the Art Nouveau style of the early 1900s.If you prefer to go with the aluminum gift to inspire your trip plans, consider a different type of stay altogether. A vintage Airstream travel trailer — with its sleek aluminum shell — could be just the ticket, especially if you pick a place to stay where you can experience the Great Outdoors. A few resorts and campgrounds cater to Airstream aficionados, whether you have your own trailer or will need to rent one. Consider staying at Yonder Escalante near Bryce Canyon National Park, where there are 10 glamorous Airstreams available for one-of-a-kind stays, in addition to cabins and RV sites. You can also search for an Airstream to rent with Outdoorsy, which offers a special .And if staying in an Airstream isn't really your travel style, you could just order a cocktail or a bite to eat from the one parked at Pinewood Social , the trendy Nashville social spot that, in summer, features a converted Airstream trailer by the outdoor pool.
AAA/Inspector 555
11-Year Anniversary Gift: Steel
For the 11th anniversary gift of steel, a historic hotel with ties to the railroad industry can be a good option. Located in a train station built in 1888, the Crowne Plaza Indianapolis Downtown Union Station has 26 train car rooms that let you spend the night in a converted 1920s Pullman sleeping car. The train car rooms rest on steel tracks inside the hotel.
Courtesy of Baccarat Hotel New YorkCourtesy of Baccarat Hotel New York
15-Year Anniversary Gift: Crystal
Cheers to your 15th anniversary with a luxury stay at a hotel known for its crystal. The Baccarat Hotel New York (pictured above) — owned by the French crystal company Baccarat, founded in 1764 by King Louis XV — glitters with glamorous Baccarat chandeliers, fixtures and wall sconces. All guest rooms include real crystal stemware to make your anniversary champagne toast extra special.Another well-known brand of cut crystal has a North American hotel perfect for a romantic getaway. Created by a member of the Swarovski family, the Sparkling Hill Resort in Vernon, British Columbia, features $10 million worth of Swarovski crystals throughout the property, according to the AAA inspector. From the curtains of crystals hanging in the lobby to the light-refracting crystal fireplaces in guest rooms, it's an elegant setting. The adults-only, European-style resort also offers a luxury spa with cryogenic treatments and steam rooms filled with rose petals.
16-Year Anniversary Gift: Coffee or Tea
If it's your 16th anniversary, you're in luck, as there are plenty of great hotels that fit into the gift theme of coffee or tea.For a luxury stay in the coffee-focused city of Seattle, Washington, consider the Fairmont Olympic Hotel , which has a stellar coffee shop (4th Ave Espresso Bar) in the lobby that also serves tempting pastries.To experience the British tradition of afternoon tea, stay at the Hotel Bennett in Charleston, South Carolina, where you can partake in an elegant tea service at Camellias (pictured above), the hotel's pink-hued champagne lounge. "They also have a coffee and pastry shop onsite called La Patisserie," added the AAA inspector.Other hotels well-known for their afternoon tea include the historic Grand Hotel on Mackinac Island, Michigan; Fairmont Empress in Victoria, British Columbia; and the The Adolphus, Autograph Collection in Dallas, Texas.
AAA/Inspector 563
17-Year Anniversary Gift: Wine or Spirits
There are quite a few hotels offering a memorable spin on the 17th anniversary gift of wine or spirits. Learn the art of blending wine at the Grand Bohemian Hotel Charleston, Autograph Collection in Charleston, South Carolina, which hosts classes where you can "create and cork your own bottle with the help of an experienced sommelier," said the AAA inspector.An on-site distillery at The Cavalier, Autograph Collection Hotel in Virginia Beach, Virginia, offers tours and tastings to sample house-made bourbon, vodka, gin and even a unique bourbon cream liqueur. "Many dishes in the [hotel's] restaurant use the spirits in their dishes," added the AAA inspector.For more tastings of the grape variety, consider the Chateau Chantal Winery and Bed & Breakfast (pictured above) in Traverse City, Michigan. "Set on a ridge with sweeping views of the vineyards and the bay, this elegant property offers evening wine tastings," said the AAA inspector.On the west coast, there's the Harvest Inn in St. Helena, California, with a scenic setting right next to their vineyards, or the Cameo Heights Mansion Bed & Breakfast in Touchet, Washington, a romantic mansion with more than 100 wineries nearby.
AAA/Inspector 591
26-Year Anniversary Gift: Art
Art-focused hotels can inspire and delight when executed well, and AAA inspectors have identified quite a few stand-outs from coast to coast that are perfect for special occasions. For fans of contemporary art — think eye-catching abstract pieces — consider The Alfond Inn at Rollins (pictured above) in Winter Park, Florida, which features a contemporary art collection displayed throughout the hotel. The 21c Museum Hotel in Louisville, Kentucky, is home to avant-garde sculptures and paintings and even a dedicated gallery space, while The Art Hotel Denver, Curio Collection by Hilton in Denver, Colorado, has an on-site art gallery and many art museums located within walking distance.For art in a more traditional sense, the JW Marriott Savannah, Plant Riverside District in Savannah, Georgia, mixes art with entertainment and features "collections of geodes, artifacts and even a dinosaur replica," according to the AAA inspector.An impressive Victorian art collection and Romanesque Revival architecture lends a sophisticated air to The Pfister Hotel in Milwaukee, Wisconsin. The Pfister also has an artist-in-residence program, where guests can interact with an artist in a working studio.
27-Year Anniversary Gift: Music
Music can have a powerful effect on the emotions, and a music-themed hotel is the perfect place to celebrate a 27th anniversary. A musical motif is front and center at Hard Rock Hotel® at Universal Orlando (pictured above), with classic rock memorabilia everywhere you look and an outdoor swimming pool complete with an underwater sound system. For live music with a view of the ocean, make the trip to Hard Rock Hotel Daytona Beach on Florida's east coast. The hotel has Fender guitars and record players you can borrow for your room.More rock 'n' roll can be found at The Guest House at Graceland in Memphis, Tennessee. Within walking distance to Elvis Presley's Graceland , the hotel is said to reflect The King's personal style and also offers an on-site concert venue.The sound of music is alive and well at the Trapp Family Lodge in Stowe, Vermont. Owned and operated by the von Trapp family — the inspiration for "The Sound of Music" — the Austrian-style mountain resort has plenty to keep guests occupied, including hiking, mountain biking, tennis and skiing. "The resort's hallways resemble a museum with memorabilia from the family and the 1965 film," said the AAA inspector.A boutique hotel to consider for the music theme: The Verb Hotel in Boston, Massachusetts, which has "a cool, retro-vibe," according to the AAA inspector. The groovy décor weaves in music memorabilia and posters from the 1960s and 70s, and the inspector added that "each room has a record player with vintage vinyl."
Hotel Emma/Julia Keim
30-Year Anniversary Gift: Pearls
Connected to the 30th anniversary gift of pearls in name only, two AAA Diamond-designated hotels are worth a mention. Located in a European-style village on northwest Florida's Gulf coast, The Pearl Hotel Rosemary Beach has the "nostalgic feel of a bygone era," according to the AAA inspector. The trendy oceanfront hotel is perfect for a romantic getaway, with a private beach, spa, complimentary bicycles and an adults-only pool.Trendy Hotel Emma (pictured above) in San Antonio, Texas, is located in the city's hip Pearl brewery complex and is "as much a museum as it is a hotel," noted the AAA inspector. Repurposed industrial equipment, fixtures and furnishings hint at the hotel's former life as the Pearl Brewing Company, while upscale details like claw-foot tubs, private terraces and a 3,700-volume library evoke an air of luxury. The surrounding Pearl complex includes more than a dozen restaurants, shops and a food hall, with purveyors selling Pearl beer on tap.
33-Year Anniversary Gift: Iron
For anniversary No. 33, celebrate with a hotel stay where industrial vibes are aplenty. The Iron Horse Hotel in Milwaukee, Wisconsin, embraces its past as a 100-year-old foundry with iron detailing, exposed brick walls and a Harley–Davidson motorcycle on display in the lobby. Special amenities are geared toward motorcycle riders, too; the hotel has on-site bike parking, a bike wash station and heavy-duty in-room hooks for hanging heavy leather gear.Indianapolis' Ironworks Hotel Indy (pictured above) as well as its sister property, the Ironworks Hotel in Beloit, Wisconsin, offer an industrial feel in a boutique setting. The Indianapolis property incorporates design elements like metal piping, reclaimed barn wood, brick accent walls and leather seating in guest rooms; opt for the Legacy Terrace room or Founder's Suite to get an outdoor terrace with a firepit. The Beloit location adds in-room soaker tubs and fireplaces to some suites.
AAA/Inspector 615
34-Year Anniversary Gift: Food
Who wouldn't want to celebrate an anniversary with food? A few AAA Diamond-designated hotels incorporate excellent features for food-minded travelers. The Alluvian Hotel in Greenwood, Mississippi, has a popular Viking Cooking School where guests can take hands-on cooking classes ranging in difficulty from basic to advanced.
Junction at The Essex , a AAA Four Diamond designated restaurant, add to the theme. The restaurant is complete with a theater kitchen and chefs who explain the origin and process for each course.A self-described "food-focused hotel," the Epicurean Hotel, Autograph Collection in Tampa, Florida, has a culinary classroom located off the lobby that hosts cooking classes and wine tastings. Bern's Steak House , a local landmark since 1956, is across the street and great for special occasion celebrations. (The wine collection at Bern's offers more than 6,500 different labels.)
AAA/Inspector 569
36-Year Anniversary Gift: Antiques
A stay at a historic hotel fits in nicely with the 36th anniversary gift of antiques. The Gingerbread Mansion Inn (pictured above) in Ferndale, California, is "full of antiques," according to the AAA inspector, and has details perfect for an anniversary celebration, including roaring fireplaces, cozy seating areas and, in some rooms, side-by-side claw-foot bathtubs. The attractive B&B earned the AAA Inspector's Best of Romantic award in 2020.
The Mainstay Inn in Cape May, New Jersey, consists of two Victorian-era buildings which showcase a variety of antiques, Oriental rugs and some furnishings left over from the property's early days as a private gambling club. "The whole downtown area [of Cape May] displays antique buildings and artwork," added the AAA inspector.
Courtesy of Library Hotel Collection
37-Year Anniversary Gift: Books
If reading and romance go hand-in-hand for you, a stay at a book-focused hotel may be just the way to celebrate your 37th anniversary. Guest rooms at the Library Hotel (pictured above) in New York City are themed around a specific topic within the Dewey Decimal system. A "Love Room" is perfect for romantic celebrations and features a collection of love-related books as well as a private terrace within view of the New York Public Library.Channel the collegiate vibes at The Study at University City in Philadelphia, Pennsylvania, located between the campuses of Drexel University and the University of Pennsylvania. "Their lobby library is curated by students and professors from both colleges," said the AAA inspector. Guest rooms have a sleek Scandinavian design and feature campus views and a separate seating area with fully stocked bookshelves.
Courtesy of The Plaza Hotel
50-Year Anniversary Gift: Gold
When thinking of ideas for 50th anniversary gifts, go all out with a luxury stay at The Plaza Hotel in New York City. The landmark hotel on the southeast corner of Central Park has elegant features like 24-carat gold-plated bath fixtures, gilded bed frames and crystal chandeliers. White glove butler service is available upon request, and the skilled staff can deliver a special bottle of champagne or even a "Home Alone 2"-inspired 16-scoop ice cream sundae covered in cherries, whipped cream, M&Ms and three different sauces.
Start Your Next Vacation with AAA
AAA Travel provides peace of mind when you travel — before, during and after your vacation! Members enjoy the advantages of membership including exclusive benefits, map routing, savings with the AAA Discounts & Rewards ® program as well as recommendations for AAA Diamond -designated hotels and restaurants across the U.S. and Canada. Let AAA provide the rest of your travel needs with AAA Travel Guides , TourBook® guides, access to travel agents and counselors and travel insurance. Your next vacation starts with AAA — your complete travel solution. Visit AAA.com/Travel .
Katie Broome is a AAA Travel Expert.
More Articles
Travel like an expert with aaa and trip canvas, get ideas from the pros.
As one of the largest travel agencies in North America, we have a wealth of recommendations to share! Browse our articles and videos for inspiration, or dive right in with preplanned AAA Road Trips, cruises and vacation tours.
Build and Research Your Options
Save and organize every aspect of your trip including cruises, hotels, activities, transportation and more. Book hotels confidently using our AAA Diamond Designations and verified reviews.
Book Everything in One Place
From cruises to day tours, buy all parts of your vacation in one transaction, or work with our nationwide network of AAA Travel Agents to secure the trip of your dreams!
Search Please fill out this field.
Manage Your Subscription
Give a Gift Subscription
Sweepstakes
20 Romantic Anniversary Trip Ideas
Consider one of these romantic anniversary trip ideas, designed for every type of couple.
Elizabeth Rhodes is a special projects editor at Travel + Leisure , covering everything from luxury hotels to theme parks to must-pack travel products. Originally from South Carolina, Elizabeth moved to New York City from London, where she started her career as a travel blogger and writer.
Thomas Winz/Getty Images
Whether you're celebrating your wooden anniversary with a first-time trip to Amsterdam or reliving your Maldivian honeymoon after 25 years, an anniversary trip is an ideal way to spend quality time with your partner in a beautiful destination. A romantic getaway can infuse any marriage with some much-needed excitement and surprise.
Special anniversary trip ideas abound for all types of couples any time of the year. Celebrating a winter anniversary? Consider hitting the slopes in Colorado or the hot springs of Iceland under an aurora-lit sky. Nothing beats an Italian summer filled with spritzes and Mediterranean waters. More adventurous couples might opt for an African safari or a hot-air balloon ride over the Arizona desert, while a 45-year anniversary may call for a leisurely train ride through California wine country. Or, maybe you just want to relax in your own private jacuzzi in a nice hotel room in a city you've never been to.
The destination will help determine the itinerary for your specific anniversary, so we've compiled a list of places to consider for any type of couple, milestone, or mood. From daring expeditions to intimate one-on-one moments, these trips prove an anniversary is the perfect excuse to discover a new part of the world — and the next phase of your relationship.
Here are 20 of our favorite anniversary trip ideas for your next romantic vacation .
The French Riviera
Jetting off to the south of France to spend your days lounging on the beach, strolling through quaint villages, and shopping at high-end designer stores is certainly one glamorous way to celebrate your anniversary. Whether you spend your day wandering Nice's picturesque Old Town, climbing the hilly medieval village of Èze, or visiting the famous Casino de Monte-Carlo in Monaco, you're bound to have a postcard-perfect anniversary trip in the French Riviera . The resort destination is known for its luxury hotels (natch) and we recommend famous properties like the Hotel du Cap-Eden-Roc or the Grand-Hotel du Cap-Ferrat, A Four Seasons Hotel .
Steamboat Springs, Colorado
If an active vacation is more your speed, head to Colorado for some world-class skiing. The Steamboat ski resort area has the best of both worlds with prime powder and relaxing hot springs, so you can go from skiing to soaking and back again. The Steamboat Grand has on-site restaurants, a hot tub, and a spa for even more pampering. After a day on the slopes, opt for a romantic massage or intimate après-ski hangout.
Amsterdam, Netherlands
Michela Sieman/Travel + Leisure
Sure, massive European capitals like London and Paris are worthy of a romantic vacation, but something about Amsterdam 's charming canals and cozy hotels make it an ideal anniversary getaway. Tour the famous Van Gogh Museum and opt for a stay at Pulitzer Amsterdam to spend the night in beautifully renovated canal homes. Consider booking your trip for tulip season (between March and May) to see the iconic flowers in bloom.
Los Cabos, Mexico
Fly south to Mexico 's stunning beaches for a relaxing stay at a luxury resort. Head to Los Cabos , where there are plenty of incredible properties to choose from . Book an all-inclusive stay at Garza Blanca Resort & Spa Los Cabos for the ultimate stress-free vacation — after paying one flat rate, you won't have to worry about taking your wallet wherever you go, so you can spend all that time unwinding with your partner.
Napa and Sonoma Valleys, California
California wine country has everything you need for a romantic trip, including rolling hills covered in vineyards, quaint luxury hotels, fantastic restaurants, and, of course, plenty of great wine. North Block Hotel in Yountville, Auberge du Soleil in Napa Valley , and Farmhouse Inn in Sonoma wine country are all great places to stay in the region, and the Napa Valley Wine Train is a fun option with full-day tours for visitors hoping to explore wine country in an old-school, elegant way.
African Safari
Crossing off an African safari from your list is a truly unforgettable way to celebrate another year together. You can't go wrong in Kenya , where Angama Mara will give you the full luxury safari camp treatment overlooking the Maasai Mara National Reserve. Keep an eye out for the Big Five — lions, leopards, elephants, rhinos, and African buffaloes.
A European River Cruise
For some travelers, river cruises provide all the excitement that comes with visiting multiple destinations in one trip alongside the convenience of only having to unpack once. Explore Europe 's medieval villages, historic metropolises, and romantic wine regions on a tour of the Danube, Rhine, or Douro.
Treat your partner like royalty with a trip to Germany. When you're not touring famous castles like Neuschwanstein in Bavaria , you can check out your very own queen's quarters — there are several historic castles that have been converted into hotels or Airbnbs . Extend your trip with visits to a fairytale village like Rothenburg, the spa town Baden-Baden, or the large, vibrant cities of Berlin or Munich.
Maui, Hawaii
Taylor McIntyre/Travel + Leisure
For the couple who wants to do a little bit of everything on vacation , Hawaii offers a mix of indulgent relaxation and active adventures. The island of Maui has beautiful beaches where you can enjoy the sand and surf, as well as hiking opportunities in the volcanic Haleakalā National Park . There are plenty of incredible hotels to choose from for your home base: Consider Hotel Wailea , an adults-only Relais & Chateaux property, or Montage Kapalua Bay .
The Maldives
Consider celebrating your anniversary among the seclusion and romance of the Maldives . Less than a quarter of the nation's 1,190 islands (comprising 27 atolls) are inhabited, so you'll feel like you've landed on your own private island as you and your partner lounge in a classic overwater bungalow surrounded by colorful coral reefs and some of the bluest water on Earth. (Or, you could also just rent your own private island .) With a multitude of all-inclusive offerings , like at Maafushivaru or Komandoo Maldives Island Resort , this Indian Ocean getaway really is a couples paradise.
The Florida Keys
For a beach vacation a bit closer to the mainland (and easily accessible for East Coasters), head to the Florida Keys . Take a road trip down the Overseas Highway , connecting all the way to Key West, and stop for fresh seafood, great snorkeling, Key lime pie, and stunning views along the way.
Bungalows Key Largo is an adults-only, all-inclusive option, while Kimpton Key West has a range of accommodation styles near the action of this fun and popular island. Oceans Edge Resort & Marina offers ocean views in a serene setting just a quick ride from downtown Key West.
Suttipong Sutiratanachai/Getty
Every second of your trip is bound to be special in the land of hot springs , glacial lagoons, and active volcanoes. With natural landscapes that include the Blue Lagoon and black-sand beaches , Iceland is mythic — nowhere more than in its dark skies, where you're likely to catch the northern lights , something every couple has to do together at least once. Check in to the Hotel Rangá for an aurora wake-up call during peak activity before heading out to the on-site observatory (or the outdoor hot tubs, if that's more your style).
Sedona, Arizona
Getty Images / Robert Loe
Spend your anniversary among the famous red rocks, world-class spas, and mystical vortexes (energy hot spots for prime healing and meditation) of Sedona . Striated canyons and flowering cacti create the backdrop for this spiritual capital , which is also one of the most romantic places in the U.S. The property at L'Auberge de Sedona includes luxury accommodations like the spa cottage, which has a fireplace, a jetted tub, and an outdoor cedar shower on the large, private terrace just steps away from the resort's spa. Couples can indulge in sound healing, stargazing, and hot-air balloon rides over the Arizona desert for an anniversary to remember.
New York City
There's no shortage of special experiences (from dining to nightlife to historic hotels ) in New York. In the city, there's an itinerary for every type of couple. Maybe you'd like to spend the day roaming the halls of The Met before catching a show Off-Broadway. Maybe you're a luxurious couple who prefers the art in the windows on Fifth Avenue before the best meal of your life at Eleven Madison Park . Or, you might check into a suite at The Lowel l and just… never leave until your return flight home (no shame!). The city has a wide selection of gorgeous accommodations , from Brooklyn to the Lower East Side, so you won't have any trouble finding an exceptional home base for your trip.
Charleston, South Carolina
The South has plenty of small towns and historic cities for a getaway, but Charleston 's charming streets, decadent dining, and Southern hospitality put this Lowcountry locale above and beyond for an anniversary trip. Stroll arm-in-arm along King Street, order a round of biscuits and fried green tomatoes at a table for two, or bond on the links at one of South Carolina's renowned golf courses . The Loutrel provides boutique charm, a rooftop terrace, and beautifully appointed rooms and suites for your stay in the Holy City.
Santorini, Greece
Monica Farber/Travel + Leisure
Whitewashed towns, party beaches , and deep-blue calderas all help Greece remain a favorite among honeymooners and amorous travelers alike. The biggest decision to make when planning a Greek sojourn is which island (or islands) are on the itinerary. Greece has six main archipelagos with one popular standout among tourists: the Cyclades, where you'll find Santorini . We recommend checking in to the Grace Hotel, Auberge Resorts Collection and exploring the island's terraces and windmills for quality couple time.
Finn Hafemann/Getty Images
Pink sand, secluded spots, and glittering waters converge in this remote part of the world. An African archipelago in the Indian Ocean, Seychelles has beautiful beaches and isolated luxury resorts , making it a premier romantic location . The islands are resplendent in polished granite cliffs, aromatic spice plantations, and Creole food. The Four Seasons Resort Seychelles at Desroches Island is the perfect private island escape for any couple looking to get away from it all and unwind with stargazing sessions for two, tranquil walks along the untouched beaches, and dips in the pool outside your own villa.
Cavan Images/Getty Images
Look beyond the misty ruins of Machu Picchu and embrace Peru's cosmopolitan side. In Lima , the country's capital city, you and your partner can dine on ceviche and sip pisco sours in between dancing at discos and touring Baroque catacombs. Make Miraflores your home base at Miraflores Park, A Belmond Hotel for stylish accommodations, scenic breakfasts at The Observatory restaurant on the 11th floor, and private dips in your personal plunge pool off your presidential pool suite. Stroll El Malecón, the six-mile clifftop boardwalk that borders the Pacific, hand-in-hand, before making your way to the bohemian Barranco neighborhood for street art and Peruvian chocolate .
yongyuan/Getty Images
Whether it's spring strolls through cherry blossom showers in Kyoto, slurping your way through ramen shops in Tokyo , or dipping into the onsens (hot springs) of Hakone, Japan is one of the best places to vacation as a couple. You and your partner will stay busy in Tokyo exploring ancient temples, navigating the hustle and bustle of the famed city streets, and indulging in world-class fare, from Michelin-starred sushi to squid-ink sticky buns at Tsukiji Market . If your anniversary falls in the winter months, consider Kyoto , where you can find lodging at one of the city's many resorts or hotels .
Getty Images
Channel Gwyneth Paltrow and Jude Law in "The Talented Mr. Ripley" (before all the murder, of course) with an Italian holiday. There are oysters and Mediterranean views at Le Sirenuse in Positano on the Amalfi Coast , impeccably manicured gardens at Grand Hotel Tremezzo in Lake Como, and the yacht-dotted waters of the Italian Riviera. When (or, rather, if ) you tire of the beach, take a train to Venice for culture, art, and gondolas. Sip Bellinis with the jet set by the Olympic pool at Cipriani, A Belmond Hotel , where you'll soak in your marble bathroom after a day of boat rides around the lagoon and tours of Piazza San Marco.
By clicking "Accept All Cookies", you agree to the storing of cookies on your device to enhance site navigation, analyze site usage, and assist in our marketing efforts.
Beach Vacations
Romantic Getaways
Weekend Escapes
Last Minute
30 Best Anniversary Vacation Ideas
By VacationIdea Staff on October 12, 2023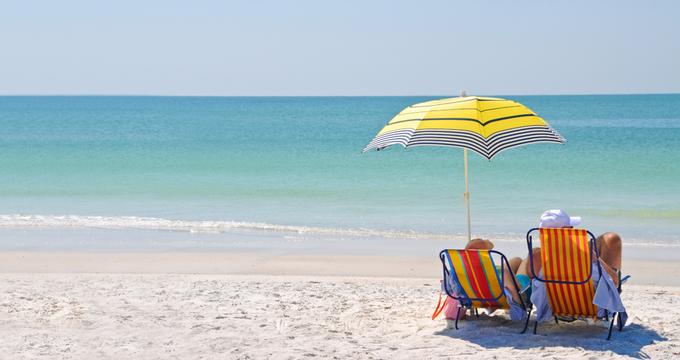 1. Anniversary Ideas in the United States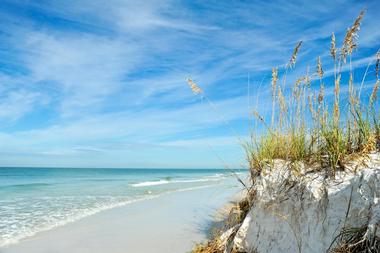 If you love outdoor adventure, escape to the U.S. Rocky Mountains for great hiking in the summer and skiing in the winter.
2. Anniversary Vacation Ideas in Europe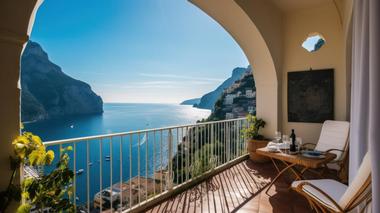 If you are looking for 1 year anniversary ideas, Europe is a great place to go.
3. Sinya on Lone Man Creek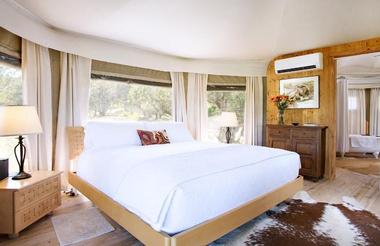 Deer Lake Estates, Wimberley, Texas 78676, Phone: 713-502-3997
4. Anniversary at La Costa Resort & Spa
2100 Costa Del Mar Rd, Carlsbad, California 92009, Phone: 760-438-9111
5. Anniversary Vacation at Mount Juliet
Mount Juliet Estate, Thomastown, Co. Kilkenny, Ireland, +353 56 777 3000
6. Loen Skylift - An Amazing Cable Car in Norway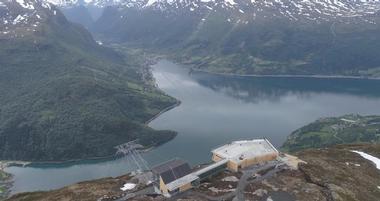 More ideas: 25 of the Most Beautiful Places in the World
7. Flying Trapeze in New York City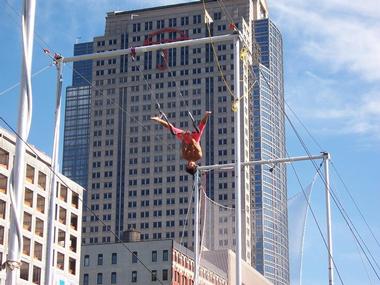 231 W. 29th St., Suite 606 New York, NY 10001, Phone: 212-242-8769
8. Inkaterra Reserva Amazonica in the Rainforest of Peru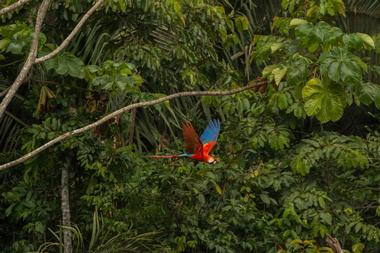 Inkaterra Reserva Amazonica, Rio Madre De Dios Km15, Puerto Maldonado, Peru, Phone: +51 1 6100400
9. Ferntree Rainforest Lodge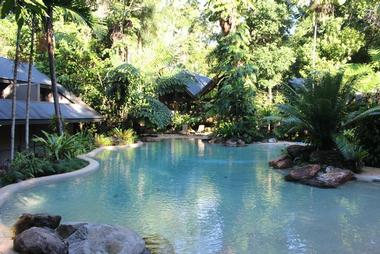 36 Camelot Cl, Cape Tribulation QLD 4873, Australia, Phone: +61 7 4098 0000
10. Anniversary Vacation at Buffalo Mountain Lodge
700 Tunnel Mountain Rd, Banff, AB T1L 1B3, Canada, Phone: 800-661-1367
11. Barbialla Nuova - Luxury Farmhouse Accommodation in Tuscany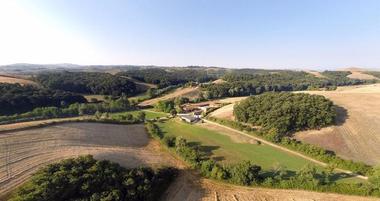 Via Casastrada, 49, 50050 Montaione FI, Italy, Phone: +39 320 834 2516
12. Verve Rally GT/Supercar Adventures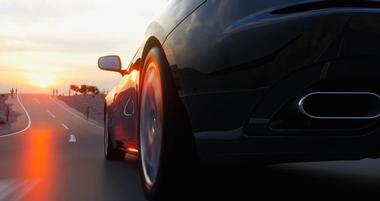 As well as taking you along some of the most magical routes in the world, Verve Rally events also include stops at cities and attractions, as well as first class accommodation, fun activities, and a lot of unique surprises waiting in store as well. ververally.com
13. Anniversary Vacations: Caesars Palace
3570 S Las Vegas Blvd, Las Vegas, NV 89109, Phone: 866-227-5938
14. Anniversary Vacation at Carneros Resort & Spa
4048 Sonoma Hwy, Napa, California 94559, hone: 707-299-4900
Customized shopping itineraries may also be developed, with concierge shopping services available for individuals and small groups. Phone: +54 9 11 3921-0460
7 Derb el Magana, Rue Talaa Kebira, Fes, Morocco , Phone: +212 5356-37855
17. Anniversary Vacation at Luxor Hotel
More ideas: Must-See Las Vegas Shows
More places to visit in Australia
19. Anniversary Vacation at Sunriver Resort in Oregon
More Oregon Hotels, Resorts & Inns
20. W New Orleans - French Quarter
316 Chartres Street, New Orleans, LA 70130, Phone: 504-581-1200
21. Eatwith - Culinary Experiences for Travelers
Every single user is covered by a very impressive insurance policy. Not only that, but all hosts have to go through a thorough vetting and selection process before being featured on the Eatwith platform, and travelers get the option to leave reviews of hosts too, letting you learn a lot about the people you'll be meeting up with before you actually have to book anything. eatwith.com
22. The Ritz-Carlton, Half Moon Bay
1 Miramontes Point Road, Half Moon Bay, California 94019, Phone: 650 712-7000
23. Anniversary Vacation at Hotel Savoy in Florence
Piazza della Repubblica, 7, 50123 Firenze FI, Italy, Phone: +39 055 27351
The 30 Best Anniversary Vacation Ideas near me today according to local experts:
More anniversary ideas, the poconos, pennsylvania.
Truly a nature lover's paradise, the stunning mountain slopes, flowered valleys, and crystal clear lakes make the Poconos a top destination for those seeking beauty and tranquility in Pennsylvania . Tourists have been flocking to the Delaware Water Gap at the Poconos for years, and with good reason. Considered one of the world's top natural wonders, this area features some of the most scenic roads and beautiful trails in the world. To experience crystal clear waterfalls, venture into the Pocono Mountains and make your way to the Bushkill Falls. There are eight waterfalls in total, each level with its own breathtaking view. Spread across nearly 16,000 acres of land, the Hickory Run State Park is a top spot for orienteering, disc golf and recreation. It even has a great swimming beach.
The Poconos have their own interesting histories as well. The mountains are home to the oldest running anthracite coal mine in Pennsylvania, the No. 9 Coal Mine. The mine offers guided tours into the mountainside that are both memorable and eerie. Visitors can also experience the unique German heritage of Pennsylvania at the Quiet Valley Living Historical Farm. Tours are led by guides dressed in traditional clothing and take visitors through the 114 acres of farm land. For those interested in Native American culture, visit the Pocono Indian Museum to examine tools, garments, weapons, and other artifacts of the Delaware Indians while learning about their customs and culture.
Denver, Colorado
There's no way you can go wrong with a quick weekend getaway to Denver thanks to its historic attractions, awesome museums, and welcoming parks. The Denver Art Museum was established in 1992 and is home to a permanent collection of over 68,000 pieces of art. Their collection comes from all over the world and make the Denver Art Museum one of the West's largest. Browse the works of more than 80 internationally recognized architects and a vast collection of international decorative art at the Kirkland Museum of Fine and Decorative Art. On the other hand, the Forney Museum of Transportation is a unique museum to visit and takes visitors through an unrivaled collection of transportation artifacts through history.
Another noteworthy museum is the Denver Museum of Nature and Science, which is dedicated to educating all visitors about Colorado's natural history and that of the surrounding Rocky Mountain region. To soak up the fantastic vistas of alpine landscape and enjoy various recreational activities, stop by the 28-mile-long Mount Evans Scenic Byway Corridor. The Denver Botanic Gardens are just as breathtaking and feature a glass conservatory, natural meadows, and a sunken amphitheater among other things. Don't forget to get up close and personal with over 4,000 animals at the popular Denver Zoo. Read more: Romantic Getaways in Colorado .
Santa Clarita, California
If you are searching for the perfect weekend getaway destination in Southern California, look no further than the action packed Santa Clarita . Perhaps the greatest modern claim to fame for Santa Clarita, Six Flags Magic Mountain is home to towering and adrenaline pumping roller coasters. Thrill seekers across the globe love it here, but for those who aren't keen to try this sort of sensations, tamer options are also available. Six Flags Hurricane Harbor is Magic Mountain's waterpark counterpart and has all the best ways to beat the heat like the Lazy River, waterslides, and more. For a more nature driven experience, visit the Gibbon Conservation Center, and learn all about the tiny and adorable Gibbons while touring the facility.
Similarly, the Gentle Barn is a haven for animal lovers and houses over 170 animals that have been rescued from abusive homes. In the Upper Barnyard, cuddling the animals is allowed and encouraged. Nature lovers will not be at a loss in Santa Clarita. Visit the Vasquez Rocks for fairly easy climbs, and a great view of the rocky formations. Fans of "Star Trek IV", "New Girl" or "Friends" may even recognize this location from the movie and shows. Visitors can also trek over 70 miles across the city at the Santa Clarita Trails, a favored and dog friendly recreational trail with basic amenities. Read more: Romantic Southern California Vacation Ideas .
Quebec City, Canada
A glimpse at Quebec City's sterling skyline is all it takes to fall in love with this charming European styled city. Arguably the best way to see the city is to walk through it. At Old Quebec, visitors will quite literally walk along 400 years of the city's history with stop-along ancient ramparts, fortifications, and citadels. One such stop is the La Citadelle de Quebec, a star-shaped military base built in 1820 that is still being used to this day. Another is the Notre-Dame-de-Quebec, a Catholic cathedral that was established in 1674 and features marvelous stained glass windows from Paris.
Quebec City is also home to great museums, one of which is the Musee de la Civilisation, which delves into the origins of French influence in Canada and tells the story of country's aboriginal tribes. To admire art dating back to the 17th century, visit the Musee National des Beux-Arts du Quebec where permanent exhibits feature the works of influential Quebecois artists along with some fabulous pieces by Van Gosh and Monet among others. History buffs should definitely make time for the Musee du Fort as well to learn about the French and English battles for Canadian land and to watch great historical videos.
Montgomery, Alabama
Budding historians, war buffs, and museum goers alike will find their wonderland in the historic city of Montgomery . It is a city that has played an incredibly large role in shaping American history as the capital of the Confederate States of America and the starting point of the Civil Rights Movement. Understanding and learning about America's Civil Rights Movement begins at its memorial center. Here, visitors can view galleries and interactive exhibits about the movement's martyrs, see the Wall of Tolerance, and more. There is more information to be gotten about the movement at the Rosa Parks Library and Museum, which is dedicated to the courageous stand of Rosa Parks in 1955. The figurehead of the Civil Right's Movement was undoubtedly Dr. Martin Luther King. His home in Montgomery can be explored via the Dexter Parsonage Museum.
For those curious about the American Civil War, the First White House of the Confederacy is a great place to visit for informational tidbits. This gorgeous Italianate mansion housed the President of the Confederacy, Jefferson Davis. The Alabama State Capitol is not only a landmark, it's also a museum that sheds light on the state's political and historical past. It is situated at the top of what was previously called Goats Hill and is a magnificent sight to behold on its own. Don't forget to stop by Old Alabama Town to see a carefully restored collection of 19th to 20th century buildings in this town-turned-historical-museum. Read more: Best Weekend Getaways in Alabama .
Bozeman, Montana
A university town nestled in the Gallatin Valley and surrounded by the majestic Rockies, Bozeman is a lively vacation spot at any time in the year. At a towering 80-feet tall, the Palisade Falls is one of Bozeman's top hiking locations for families traveling with children. After an easy hike, a picnic area welcomes families at the base of the waterfalls. Nature lovers would be remiss to skip a visit to the Gallatin River. Named after Albert Gallatin, the river is 120 miles in length and famous for great whitewater rafting trips. Jump head first into a personal encounter with some of Montana's legendary grizzlies and learn about these beautiful bears at the Montana Grizzly Encounter.
Bozeman has its own fair share of captivating museums, one of which is the Museum of the Rockies. Here, visitors can examine a real skull and thigh bone of a Tyrannosaurus rex in addition to other fantastic exhibits. If you're keen to see artifacts like the original Apollo Moon Mission Guidance Computer or one of the original copies of Sir Isaac Newton's Principia, then the American Computer Robotics Museum is a must-see. A definite hit for kids is the Children's Museum of Bozeman, which offers educational opportunities for inquisitive minds via experiential learning and attractive exhibits. Read more: 25 Most Beautiful Places to Visit in Montana
Galena, Illinois
Whether you're eager for a romantic getaway or simply want to spend some time out of town with the kids, the city of Galena in Illinois is a fantastic choice. A huge chunk of Galena is on the National Register for Historic Places, so it would only make sense to start your exploration with one of its many historical sites. Explore the home of Ulysses S. Grant, a former Civil War General and America's 18th President. The home is filled with artifacts that previously belonged to the Grant family and great for tours. Another home that merits a visit is the Elihu B. Washburne House, which features a lovely Greek-Revival style of architecture. You can also catch a forging demonstration by experts at the Old Blacksmith Shop. Opened in 1897, the shop now houses a museum that details the process of forging and its role in Galena.
Discover 220 acres of mountain and snow perfect for winter sports at the Chestnut Mountain Resort. It also features 19 snowboard trails that reach up to 3,500 feet in length. The most stunning view of the Mississippi River bluffs can be found at the Casper Bluff and Water Reserve. This is also a great spot for walking, bird watching, hiking, and sightseeing. For a slice of heavenly gardens and utter relaxation, visit the Linmar Gardens and wander through various themed gardens such as the Sunken Garden and the Four Seasons Garden. Read more: 25 Best Romantic Getaways in Illinois .
Knoxville, Tennessee
Largely regarded as the best entry point to the Great Smoky Mountains National Park, Knoxville is a fantastic vacation destination for outdoor enthusiasts and adventurous travelers alike. One of the best places in Knoxville to spend some time outdoor is the World Fair Park. Be sure to catch the geysers and fountains in action or stick around for a live performance. The Ijams Nature Center has become a local favorite as it houses the city's only outdoor rock climbing area. A visit to the center also caters to relaxing picnics and enjoyable canoe trips. Animal lovers should head to one of Knoxville's most popular attractions, the Knoxville Zoo. The zoo houses over 900 animals from around the globe, and guests are welcome to feed a giraffe, ride a camel, or catch a show at the Forest Theater.
Knoxville has an interesting history as well. Some of the best and award-winning exhibits about the state's history can be found in the East Tennessee History Center. On the other hand, dinosaur bones, human origins, and civil war exhibits can be viewed and enjoyed at the special exhibits of the McClung Museum of Natural History and Culture. For those keen on admiring the best artwork that East Tennessee has to offer however, head to the Knoxville Museum of Art and examine amazing permanent exhibits and world's largest figural glass installation. More Weekend Getaways in Tennessee .
Williamsburg, Virginia
There's no denying that Williamsburg is a curious city to visit. Partly a lively college town and partly a living museum, Williamsburg is home to some incredible historic sights dating back to its foundation in 1632. Walk along the same paths that the first British colonists settled in at Historic Jamestowne. The site, now actively being excavated, showcases thousands of incredible archaeological artifacts. Be transported back in time to the 17th or 18th century at Colonial Williamsburg. The homes and buildings in the area have been carefully restored for a unique and memorable sightseeing experience. Not to be missed is the Governor's Palace, which was built in 1706 and has housed seven royal governors and Virginia's two first electoral governors.
When you've had your fill of historical sites, explore the blooming art movement of Williamsburg at the Muscarelle Museum of Art. The permanent collection includes some incredible pieces by Hans Hoffman, Pablo Picasso, Henri Matisse, and Georgia O'Keeffe. Broaden your understanding of art at the Abby Aldrich Rockefeller Folk Art Museum, where up and coming local craftsmen and self-trained artists exhibit their bold and colorful work. Braver travelers and history buffs can also visit the Public Hospital Museum, which was a center for the mentally ill in the 18th century. While exhibits can get a bit bizarre, the information and history of the hospital is truly interesting. Read more: 25 Best Romantic Weekend Getaways in Virginia .
Burlington, Vermont
Sitting on the picturesque shores of Lake Champlain is the vibrant and attractive city of Burlington , Vermont . One of the older institutions in the city is the Fleming Museum of Art, which was first opened in 1931. It features 25,000 pieces of art and artifacts for viewing. On the other hand, at the Frog Hollow Craft Center, rotating exhibits of pottery, glass, paintings and more can be admired up close. Art fanatics will love the encouraging vibe of the Burlington Arts Center as it promotes a meaningful experience with art for visitors and residents alike. With Lake Champlain being a vast body of water, the ECHO Lake Aquarium and Science Center was established to provide educational galleries and exhibits of the lake's varied inhabitants.
For a unique historical and gastronomical experience of the city, join a Burlington Edible History Tour and learn about various beloved traditions and the growing farm-to-table philosophy that the locals adore. Beer lovers will get a kick out of the Burlington Brew Tours as well, which leads guests into the production process of craft beers. Tours end on a pleasurable note with a tasting session of the brewery's best drafts. On a sunny day, visitors can enjoy a full afternoon of relaxation and swimming at the North Beach Park, a sandy beach on the lovely Lake Champlain.
Fort Lauderdale, Florida
A burgeoning art scene, diverse attractions and miles upon miles of breathtaking beaches are just a little bit of what can be expected from a vacation at Fort Lauderdale , Florida . Art enthusiasts can view over 6,000 pieces of contemporary and 20th century art at the 75,000 square foot space of the NSU Art Museum. Fort Lauderdale's history is also timelessly preserved in the Bonnet House Museum and Gardens. Visitors to the museum can also treat themselves to tours like the Orchid Greenhouse or Private Living Quarters Tour. Families traveling with youngsters will love a trip to the Museum of Discovery and Science where fascinating displays and eye catching exhibits inspire a desire for learning.
The top destination in Fort Lauderdale, however, are undoubtedly the beaches. With over 23 miles of gorgeous sandy coastlines, beach bums, and sun worshippers can spend the whole day just enjoying being by the ocean. Many of the beaches have been certified as Blue Wave Beaches, meaning they're clean, safe and ready for utter enjoyment. For more beach fun and outdoor sports, the Fort Lauderdale Beach Park makes the perfect venue, too. Those looking for fun and relaxation can enjoy food festivals, public concerts and even kayaking at the Riverwalk Fort Lauderdale. Read more: 25 Best Romantic Beach Vacations in Florida .
Lowell, Massachusetts
Are you ready to be transported back in time to the Industrial Age of America? At Lowell, Massachusetts, landmarks, attractions, and museums take visitors through some of the most exciting times in the country's industrial revolution. Learn about the production process of textiles and the inner workings of a cotton mill while enjoying an easy walk and self-guided tour at the Lowell National Historic Park. Visitors can learn even more about cotton mills at the Boott Cotton Mills Museum. There, items such as authentic mill equipment and industrial looms can be examined. A unique museum destination in Lowell is the New England Quilt Museum, which is home to over 400 antique and contemporary quilts.
Other notable museums in the area include the National Street Car Museum, the perfect stop for fans of trains and trolleys, and the Whistler House Museum of Art. Lowell has a more diverse heritage than one might think, and all of these community and cultural influences come together in fantastic exhibits at the Mogun Cultural Center. Other great activities to enjoy in Lowell are leisurely kayaking trips at the UMass Lowell Kayak Center.
More Features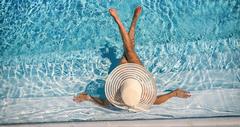 18 Most Beautiful Resort Spa Baths and Pools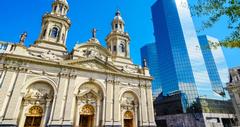 25 Best Things to Do in Santiago, Chile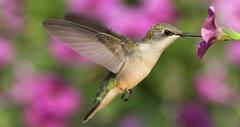 25 Best Things to Do in Kalamazoo, Michigan
Vacationidea.com.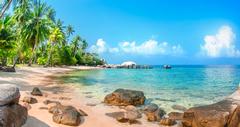 30 Best Places to Go on Your Birthday & Fun Things to Do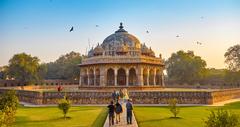 25 Best Things to Do in India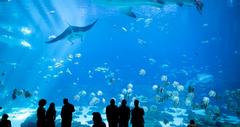 25 of the Best Aquariums in the World
About Us/Contact Us
Privacy Policy
Terms of Service
Search Search Please fill out this field.
Manage Your Subscription
Give a Gift Subscription
Sweepstakes
Culture and Lifestyle
Activities and Entertainment
12 Anniversary Trip Ideas For Every Milestone And Couple
The South is chock-full of charming destinations for a romantic getaway.
Gabriela Herman
Celebrating an anniversary offers the perfect excuse to plan a trip to somewhere new, or even back to a beloved place that you've been dreaming to revisit. A romantic getaway is an ideal way to spend quality time with a loved one, and these anniversary trip ideas and itineraries are sure to make more memories as you look back on fond ones. 
Since anniversaries fall on every time of the year, we have different options for every type of couple. Planning for autumn? Consider celebrating with a Blue Ridge Mountains road trip with epic fall color or a bourbon tour in Kentucky. Dreaming of a tropical breeze? The Florida Keys are calling. Want something unique? We've got small towns and cities worth wandering. Luckily, the South abounds with charming destinations to experience with your partner.
For every couple or milestone, there's a Southern anniversary trip idea for your next vacation. See our list of favorite romantic destinations.
The Florida Keys
Head out on a road trip on the Overseas Highway, a 113-mile road spanning from Key Largo to Key West—the most famous among Florida's southernmost archipelago. Beyond the conch-style houses, toes-in-the-sand seafood joints, and general good-living attitude, there's no bound on what you can explore, starting with How To Spend The Perfect Day in Key West and The Secret Beaches of the Florida Keys Worth Visiting . Make sure to stop for a tour of Ernest Hemingway's home and its famed six-toed cats.
Charleston, South Carolina
It's easy to see the appeal of this charming coastal town for a romantic getaway—it's been voted the South's Best City several years running for just that reason. Cobblestone streets and colorful row homes make for easy wandering as you shop down King Street and eat at some of the best restaurants in the South. Get lunch at Leon's Fine Poultry & Oyster Shop (don't miss the fried chicken), stop in at 100-plus-year-old store Croghan's Jewel Box , and book a room at Hotel Bennett on Marion Square.
Blue Ridge Parkway
Running through North Carolina and Virginia, this scenic road winds along the valleys and crests of the Appalachian Mountain range, connecting Great Smoky Mountains National Park to Shenandoah National Park. While there's no bad time to see the sights, you're in extra good luck if your trip lands during autumn months when fall color surrounds the drive, or during springtime when the flowers are in full bloom. Make sure to hit our recommendations for Iconic Spots on the Blue Ridge Parkway Everyone Should See and The Best Virginia Towns Along the Blue Ridge Parkway .
Dahlonega, Georgia
Ian Dagnall/Alamy
If you want to see the definition of small-town charm in person, a trip to Dahlonega will do the trick. After spending the morning wandering around the historic town square—which is centered around a courthouse that dates back to the state's early 19th-century gold rush—and grabbing breakfast at Picnic Café and Dessertery , head just outside town for an impressive collection of North Georgia wineries that are open for weekend tours and tastings, such as Wolf Mountain Vineyards , Montaluce Winery & Resort , and Crane Creek Vineyards .
Fort Worth, Texas
For those who enjoy learning about history and having a great time to boot, Fort Worth is like taking a step back into the Wild West. This cattle town recently reinvigorated the Stockyards National Historic District, and you can explore Exchange Avenue and its shops, restaurants, and saloons. Make sure to check out the Cowtown Coliseum, which held the first indoor rodeo arena in the country. Each Friday and Saturday, you can still attend events that showcase barrel racing, roping, and crowd-favorite bull riding. Plan your trip here.
Georgia's Golden Isles
Yes, Georgia has a coast, and it's draped in beautiful oaks and marshes. Two neighboring islands, Sea Island and St. Simons Island are both inviting places to visit anytime of the year, but it's an especially welcoming destination during the holidays if you want to Celebrate A Lowcountry Christmas for your winter anniversary. For a more outdoorsy and warm-weather Georgia island, Jekyll Island offers biking on wide wooden pathways, kayaking on the marshlands, and relaxing on the beach.
Gatlinburg, Tennessee
The Smoky Mountains are calling, and luckily there are two popular towns to visit in between oohing and aahing at the mountain vistas and natural wonders. Head to Gatlinburg for the scenic SkyBridge , North America's longest pedestrian suspension bridge, which leads up to a viewing deck, the SkyLift Park, that offers unobstructed views. Book a room at Dollywood's DreamMore Resort and Spa in neighboring Pigeon Forge.
Charlottesville, Virginia
With over 500-plus miles of Blue Ridge trails, a restaurant-per-capita density that rivals major cities like New York City, easy access to breweries and wineries, and Thomas Jefferson's Monticello estate nearby for touring, Charlottesville is packed full of things to do. The Monticello Wine Trail has 40 wineries in a 25-mile radius of Charlottesville. Head to Pippin Hill Farm & Vineyards —which is known for its landscape, food, wines, and verdant grounds—for a relaxing day date.
Kentucky's Bourbon Country
There's not a bad time of the year to head out to the rolling hills of Kentucky's bourbon and horse country. In the spring and fall, hit the horse races at Keeneland in Lexington , head to our South's Best-voted favorite distillery , and stop into Bardstown, a historic small town in the countryside an hour outside Louisville. Make sure to stop in at the Old Talbott Tavern , one of the oldest stagecoach stops in the country, for Kentucky cuisine. The building was constructed in 1779.
Orange Beach, Alabama
Ask any Alabama native their favorite thing about the 32-mile stretch that makes up the beaches of Orange Beach and Gulf Shores, and it'd be hard to count the many reasons why families flock to this destination year after year. A good place to start would be The Best Things To Do In Orange Beach (including locally-beloved fried shrimp), but don't miss the area's biggest natural wonder, Gulf State Park , which boasts over 6,000 acres of land that includes a tranquil beach away from the busy crowds.
North Carolina's Outer Banks
Make a beach trip into an adventure by embarking on an anniversary RV trip to North Carolina's Outer Banks . The coastline is lined with wide, flat beaches that are perfect for long bike rides and often dog-friendly. Additionally, you can travel between towns like Nags Head, Duck, and Kitty Hawk. State Road 12 passes through lighthouses and beach villages for nearly 150 miles and culminates on the northernmost Currituck Banks, where you can spot wild horses.
Anna Maria Island, Florida
This seahorse-shaped barrier island runs for 7 miles along the Gulf Coast and, despite being a gorgeous enclave of sandy beaches with a strong local community, it has happily remained a hidden gem thanks to residents that have helped preserve its laid-back village vibe. Instead of high-rises, you'll rent out charming beach cottages. Stroll Pine Avenue, the town's original main street, where you'll find a friendly mix of galleries, bakeries, boutiques, and restaurants. A quiet, breezy, relaxing anniversary? See our recommendations.
By clicking "Accept All Cookies", you agree to the storing of cookies on your device to enhance site navigation, analyze site usage, and assist in our marketing efforts.
Vacation Rentals
Restaurants
Things to do
Things to Do
Travel Stories
Rental Cars
Add a Place
Travel Forum
Travelers' Choice
Help Center
All Inclusives for 30th Anniversary in Caribbean - Beach Vacations Forum
Tripadvisor Forums
Beach Vacations Forums
All Inclusives for 30th Anniversary in Caribbean
United States Forums
Europe Forums
Canada Forums
Asia Forums
Central America Forums
Africa Forums
Caribbean Forums
Mexico Forums
South Pacific Forums
South America Forums
Middle East Forums
Honeymoons and Romance
Business Travel
Train Travel
Traveling With Disabilities
Tripadvisor Support
Solo Travel
Bargain Travel
Timeshares / Vacation Rentals
Beach Vacations forum
Looking for a mid-November trip for our "5th Anniversary of our 25th Anniversary" to an all-inclusive in the Caribbean. (our 25th was spent paying private college tuition, lol). Would like a resort that doesn't just cater to honeymooners, but also has a mix of people in our age range (50's). Spent our honeymoon on St. Thomas, so looking for something different. Not really interested in Mexico. Thanks for suggestions!
Welcome to TripAdvisor, and congratulations on your upcoming anniversary!.
If you can provide more specifics about what you are seeking, that will help people provide better responses to your questions. Some areas where more input would be helpful include:
1) Budget (and length of trip and whether your budget is just for the resort or includes air travel too)
2) Luxury level you are seeking
3) Specific activities/features you want available at the resort
4) Whether you specifically want to stay at an adults-only resort
5) Specific siteseeing/activities you want to be able to do outside the resort
Your request for <<<an all-inclusive in the Caribbean>>> prompts me to suggest the Dominican Republic, as does your location, time of year, and request for something other than catering to honeymoons and your age range...........Punta Cana/Bavaro Beach has an excellent mix of resorts, some adult only, more not, and all ages are represented..............have a look at the Majestic resorts, the Grand Bahia Principes, the Iberostars, the Rius......all are excellent chains, and have resorts at varying price points.....plus there are many other wonderful hotels here...........if the DR is of interest, you can get specifics from the local DE`s by clicking on the blue links in this post, so you can transfer to the local forums for questions....
Totally depends if you are more into the resort options or more into the island itself. Most islands have at least one AI, or resorts that offer AI meal plan add-ons.
If AI resorts are a must, your best bets are DR, as noted, or Jamaica, especially as you've ruled out MX, which has an excellent assortment of AIs all along the Caribbean coast.
If you're open to other accommodations besides AI, you open up a much wider range of options and islands. Lots of islands, it's very easy to go bed/breakfast and have a wide range of easily accessible dining options that lots of times can work out less expensive than AI. Depends on what is most important to you.
Good luck with the research and enjoy your trip!
Returning for our third year in a row (also to celebrate our 30th Anniversary) to the Iberostar Rose Hall Grand. We have been to AI in Cancun, Riviera Maya, Dominican Republic, Bahamas, Bermuda, Aruba, and Jamaica, some a few times, but just love the Iberostar Rose Hall Grand the best! There is a mix of people in different age groups and that is what sold us on returning, not to mention the unbelievable staff and the service you receive. You won't go wrong. Happy 30th Anniversary!
My favorite all-inclusive is Couples Swept Away in Negril, Jamaica. Incredible bang for your buck with a pristine white sand beach, scrumptious dining options, a gracious staff that will take really good care of you and more activity options then you'll ever have time to avail yourself of. That's unless you're like some of the lucky Brits I've met there who are vacationing for 3 weeks. If only....ROWL!
I've always seen a range of ages at this resort and I've vacationed there 4 times since 2006.
The resorts in DR are too big for my taste, so I've never been and have no interest in going there.
St. Lucia has resorts that are AI's and have AI package options. For a 30th anniversary celebration I'd recommend Sugar Beach in Soufriere, period. This is one of the most jaw-droppingly stunning resorts in the entire Caribbean! Very chill, white sand beach (Imported but who cares. You won't know the difference when your toes are melting into the soft sand.), a spa and you can do really amazing day trips based here.
Caneel Bay on St. John is also a gorgeous resort. Though not an AI I believe you can do an AI option. Little Dix Bay on Virgin Gorda is also a gorgeous resort. Caneel and Little Dix are both owned by Rosewood and they offer a special rate for a split stay between the 2 properties.
There's also Peter Island in The Grenadines, the entire island is a resort. It gets great reviews.
Congratulations on celebrating such a long milestone of commitment!
Happy, Happy Anniversary Celebration wherever you end up! ;~>
St. Lucia is an excellent choice. The Pitons are majestic and romantic
Ray T.................this is an old post from March 2014 you are responding to...the OP already went last November...
budget is around $8,000 for 6 days
Welcome to TripAdviosr. Rather than responding to a post someone else started more than a year ago, it would be best if you start a new thread asking for help planning your trip. Please see this "sticky" post for suggestions about the recommended information to include in your post:
http://www.tripadvisor.com/ShowTopic-g1-i12289-k7450522-Using_This_Forum_to_Seek_Travel_Destination_Recommendations-Beach_Vacations.html
Sandals Whitehouse in Jamaica hands down!! We have been there twice in the last two years. The first time was for 7 days and we loved it so much we returned February passed for 10 days. It's such a romantic place with all age groups. The beach is completely private with no vendors or other resorts near by. All rooms are also ocean view:) Give it a try, you won't be disappointed.
Topless and G strings Nov 06, 2023
Which one?? Nov 04, 2023
Why is expedia charging my infant adult prices for all-incl? Nov 02, 2023
Looking for vacation ideas for May or June 2024 Oct 30, 2023
Best Snorkelling destination in the world for June Honeymoon Oct 25, 2023
Direct Flight to Great Caribbean Island from Miami Oct 18, 2023
St. Augustine, Florida Oct 06, 2023
Christmas on a tropical beach Sep 28, 2023
Where can I fly to for 7 days in October/Sun/Beach Sep 15, 2023
Abroad in october Sep 15, 2023
Beach location, 5 nights at the beginning of November Sep 09, 2023
Best hotel in Majorca, Spain? Aug 29, 2023
Bungalows/huts on the beach like SE Asia years ago. Where ? Aug 15, 2023
Beach Vacation in January - from Vancouver Jul 08, 2023
Make Your Next Trip Extraordinary
Middle East
Australia & Pacific
Caribbean & Mexico
South America
Central America
Cruises & Yachts
United States
About Wendy
Meet the Team
Code of Ethics
How We're Funded
How to Support Us
How You Can Benefit
Smart Travel in 2023
Where to Go When
Family Travel
Holiday Travel
Airline Travel
Cruise Travel
Our Own Trips
Ask a Teenager
Travel Insurance
Travel Talk Videos
Covid Entry Rules
I Have a Destination
Tell Me Where to Go
Just Back: The Latest Reviews
Anniversary Trips
Asia WOW Trips
Christmas/New Year Trips
Christmas Day Abroad
Europe in Summer: Beat the Heat
Europe in Winter: Smart Trip Ideas
Europe's Secret Spots
Food-Focused Trips
Graduation Trips
Grandparents with Grandkids
Meeting Noteworthy Locals
South America WOW Trips
Spring Break Family Trips
Sporty Adventures
Thanksgiving Trips
WOW Moments
The WOW List
WOW List FAQs
Fees/Pricing Tips
WOW Moment Rules
Romantic Travel Ideas for an Anniversary Trip, or Any Trip
Considering what we've all been through in the past few years, it feels more important than ever to celebrate joyous milestones.  So we've collected these unforgettable wedding-anniversary trips enjoyed by your fellow travelers. They all used The WOW List to find the right trip planner who could deliver the maximized experience and VIP treatment that people who are celebrating a special anniversary deserve.  Here's how to get your own WOW trip .
The Galapagos: "Our room, on the executive floor, was decorated with rose petals covering the bed and an assortment of chocolates in celebration of our anniversary…"
Blue-footed Booby on rocks in the Galapagos Islands. Photo: Shutterstock
"We just returned from Ecuador and the Galapagos Islands celebrating our 50th Anniversary. We shared with Allie our desire to focus on the Galapagos: the variety of wildlife, geography, and culture. We were interested in cruising on a small ship but were also concerned about seasickness. Allie suggested we select a catamaran.
The trip was wonderful. Celeste, our mainland guide, met us at the airport and checked us in at the Hilton Colon Guayaquil. Our room, on the executive floor, was decorated with rose petals covering the bed and an assortment of chocolates in celebration of our anniversary (thanks, Allie).
We flew to the Islands and boarded the Endemic, a 16-passenger catamaran with floor to ceiling windows and balconies in each large stateroom. Carlos, a native of the Galapagos Islands, was our terrific naturalist guide. We visited the islands of Santa Cruz, Santiago, Bartolome, Isabella, Fernandina, and Rabida. We snorkeled with marine iguanas, crabs, sharks, penguins, green Pacific turtles, flightless cormorants, and sea lions. We also saw land iguanas, flamingos, blue-footed and Nazca boobies, giant tortoises, pelicans, hawks, frigatebirds and many other endemic species. We took numerous hikes learning about the geology and geography of the Islands and viewing wildlife. Carlos kept us very busy, with four planned activities each day, including hiking, snorkeling, kayaking, paddleboarding, and panga rides. Guests were welcome to stay and relax onboard if they wanted to skip an activity.
Celeste escorted us from the Guayaquil airport to the Hotel del Parque on our return to the mainland. We were greeted in our suite with a bouquet of five dozen roses and a bottle of wine in celebration of our Anniversary (thanks again, Allie). With Allie's advice and help, this was a once-in-a-lifetime experience." —Scott and Lorna Conroy
Read more reviews of Galapagos trips . To get your own WOW trip , start with our trip questionnaire, reached via the black button below.
START A TRIP TO THE GALAPAGOS
A 50th anniversary safari: "They had a special celebration for our anniversary at all three locations…"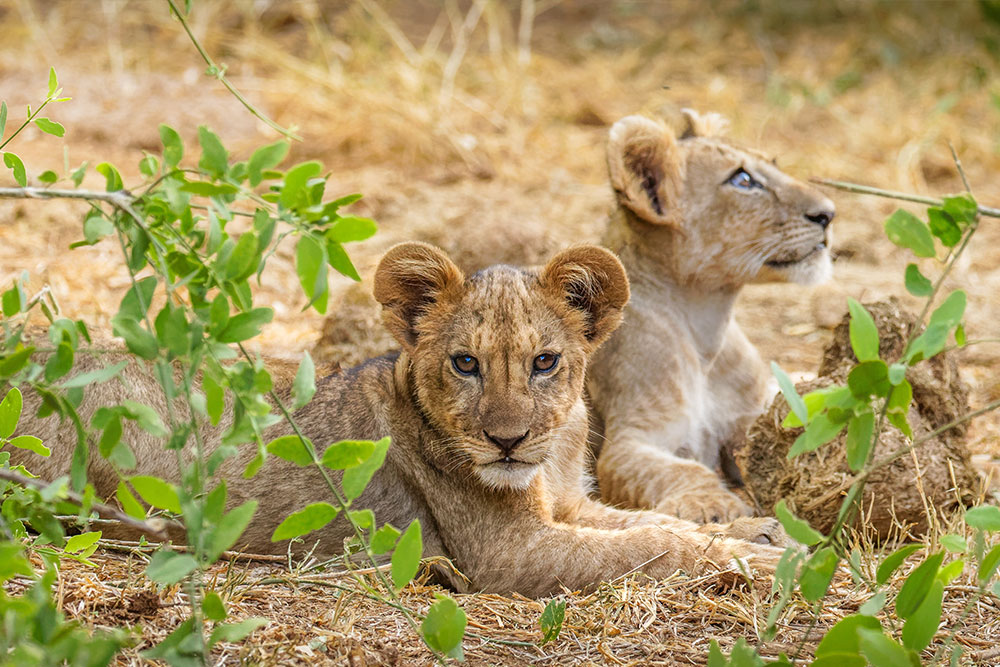 Two young lion cubs at the Samburu National Reserve in Kenya. Photo: Shutterstock
"To celebrate our 50th wedding anniversary, we decided we wanted to take our two daughters and their families on an African safari. The trip Daniel planned for us was fantastic. Since we and our daughters live in 3 different U.S. cities, we met in Nairobi and stayed for 2 nights. The accommodations at the House of Waine were outstanding and the staff very accommodating, given two of our arrivals were very late and the 4 grandkids varied in age from 6 to 13. This gave us time to get over some jet lag and see some of Nairobi. We then flew via private charter for 4 nights to a Saruni camp in Samburu, followed by another private charter to a Saruni camp in Maasai Mara for 4 nights, before returning to Nairobi for our flights home.
The staff and guides at the camps were friendly and went out of their way to please us. They had a special celebration for our anniversary at all three locations. They also celebrated one of our son-in-law's birthdays while we were on the trip with a cake and singing at each location.
Samburu is semi-arid and Maasai Mara lush and green. It was great to see the two different areas and experience the different as well as similar animals in each. Daniel is the one that recommended the two different areas and we are quite happy he did. The pace of the trip which he planned was good; having 4 days at each camp gave us the time to truly experience and appreciate each area.
Our experience suggests that other travelers should pace their trip similar to ours. Two of our international flights were extremely late and having 2 nights in Nairobi before going to the safari camps allowed us to catch our breath. Also spending 4 nights at a camp allows you to settle in and appreciate the uniqueness of the location.
Seeing all the animals with our extended family at each location made this a special travel experience. Some of the most outstanding were seeing the 5 animals unique to the Samburu area, lions along with some cubs, leopards, cheetah, elephants, giraffes and hippos. The sundowners and meals in the bush also were very special times. Of these, the most memorable was having a bush dinner with an open bonfire and full moon celebrating our anniversary. Local folks came in their native dress, danced and sang. They encouraged the kids and adults to participate and we all had a grand time. We would not have had all these wonderful experiences if it had not been for Daniel." —David Magdanz
Read more reviews of African Safari trips . To get your own WOW trip , start with our trip questionnaire, reached via the black button below.
START AN AFRICAN SAFARI TRIP
Croatia, Italy, Slovenia, Switzerland: "Following in some of the footsteps of our original honeymoon…"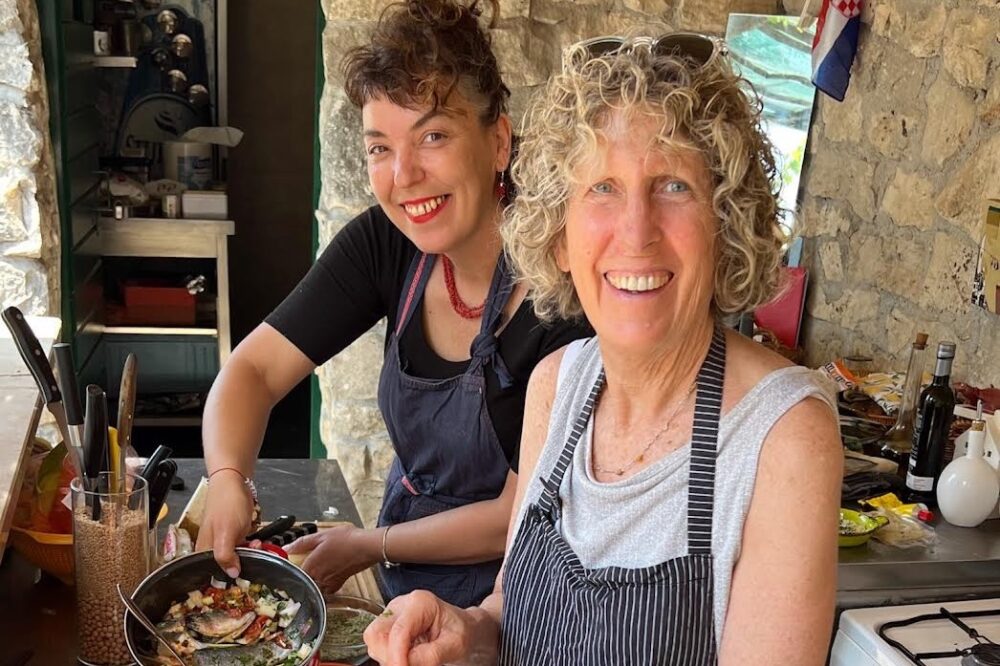 Lisa Redburn during a cooking lesson at Tatjana Ciciliani's home in Trojir, Croatia. Photo: Traveler Tom Redburn
"Lisa and I have had a lot of wonderful adventures in our more than 50 years together, but for our 50th wedding anniversary trip to Italy, Croatia, Slovenia and Switzerland, the extraordinary planning of Claudia and Luisa took our travel experience to a whole new level. It's true that Europe was already getting overrun with tourists during our six-week trip, but we rarely felt it because time after time Claudia and Luisa arranged guides and outings that took us away from the crowds and to hidden corners we never would have found on our own.
There are too many highlights to include all of them, but some of our most memorable moments were a gastronomic walking tour of Bologna with Giacomo, a guided E-bike ride along the Appian Way in Rome with Gioia, who spontaneously added in a visit to the multi-layered Church of San Clemente when we expressed interest in it, a guided cable car ride and walk to the top of Anacapri with Melania, and two hikes in the Dolomites with Paola, who revised her plans to reflect our own capacities for strenuous walking (there's a theme here: nearly all our best guides were women). And that's just Italy.
In Croatia and Slovenia, we enjoyed a guided walk up Mt. Srd above Dubrovnik, where two women from Piknik Dubrovnik had set up an extraordinary sunset picnic dinner just for us, two guided trips (one by E-bike, the other walking) in the backcountry of the islands of Korcula and Hvar that both included amazing private lunches far from the madding crowds, and an extraordinary tour by the charismatic Mario Bartulovic of his family's winery and steep-sided vineyard on one of our only rainy days. We nearly cancelled but are so thankful that we didn't. We also had a food shopping and cooking session with the charming Tatjana Ciciliani at her home in Trojir, near Split.
And the discovery of the trip, for us, was Slovenia, where we dined at the famous Hisa Franko (a 3 1/2-hour, 18-course tasting menu from chef Ana Ros), with a stay at tiny Chalets Nebesa, which is not to be missed if you are anywhere in the area. Four-room Nebesa (reserve far in advance!) is owned and run by Ana's charming mother, father, sister and brother-in-law, and enjoys an extraordinary view in the Julian Alps over Kobarid, where there are still trenches from the devastating fighting along a front of World War I.
I could go on and on, but suffice it to say that, with only one or two exceptions, every guide was sensational, just about every accommodation was terrific, and nearly all the reserved dinners were a delight. And that's not to mention our WOW Moment from Wendy of a lunch and wine tasting at the extraordinary BIBICh Winery, on a day when we traveled from Split to Zadar, right after visiting Krka National Park.
Luisa and Claudia took my idea of following in some of the footsteps of our original honeymoon trip to Europe (10 months on $6,000 in 1973-74 to Italy, Yugoslavia, Austria, Greece, Switzerland and France) and built it into an equally memorable highlight in our lives together. We spent our actual anniversary at a pension in the car-free Fex Valley in the Engadin that was one of the top places we stayed on our honeymoon. Our trip lived up to everything I had been dreaming about since we first thought of the idea more than two years in advance." —Tom Redburn
Read more reviews of Central Europe trips . To get your own WOW trip , start with our trip questionnaire, reached via the black button below. 
START A TRIP TO CENTRAL EUROPE
Norway: "We were serenaded by a musician playing a Norwegian Hardanger fiddle…"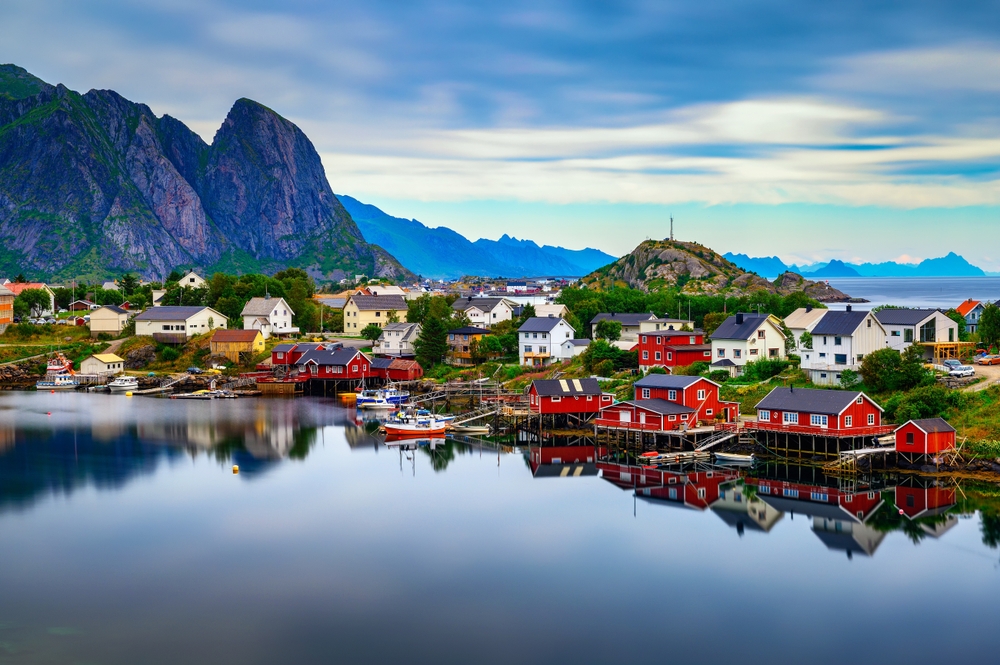 Reine village surrounded by high mountains in Lofoten Islands in Norway. Photo: Shutterstock
"We traveled from Oslo to Nesseby, which is past the Arctic Circle near the Russian border, spending 3 nights each in 7 venues. Torunn tailored the trip to our preferences, which lean toward a bit of adventure and agri-tourism. In the north we stayed at a 2-room lodge run by a Sami fisherman and spent a morning crab fishing on his boat and an afternoon on an archaeological walk with his wife. He was an excellent cook and served foods he and his wife had caught, shot, or foraged from the landscape. He served the crab we caught in 3 different preparations, each of which was excellent.
The next day we toured the area with a Sami reindeer herder. We also spent time on a small island well out in the Atlantic where we kayaked along the seashore to a lighthouse; foraged in Trondheim with a professional forager picking plants for our lunch; visited a dairy near Oslo producing a unique cheese product and advocating a more humane way to treat dairy cattle; and spent 3 nights at a farm with a gourmet chef specializing in dishes featuring fruit and vegetables from the farm. We received very personal treatment from the hosts at our smaller venues and each of them indicated how much they valued their relationship with Torunn.
Our wedding anniversary occurred during the trip and Torunn arranged a WOW Moment for us that was great fun. We were in Aurland at a farm set in a stunningly beautiful valley with steep mountainsides and many waterfalls. We were serenaded by a musician playing a Norwegian Hardanger fiddle, a type of double-strung violin. The venue was a small shelter with a magnificent view, and we toasted ourselves and the trip with homemade pear Kombucha made by the chef. We thoroughly enjoyed it." –George Stephens
Read more reviews of Norway trips . To get your own WOW trip , start with our trip questionnaire, reached via the black button below.
START A TRIP TO NORWAY
French Polynesia: "The Brando can only be described as sublime perfection…"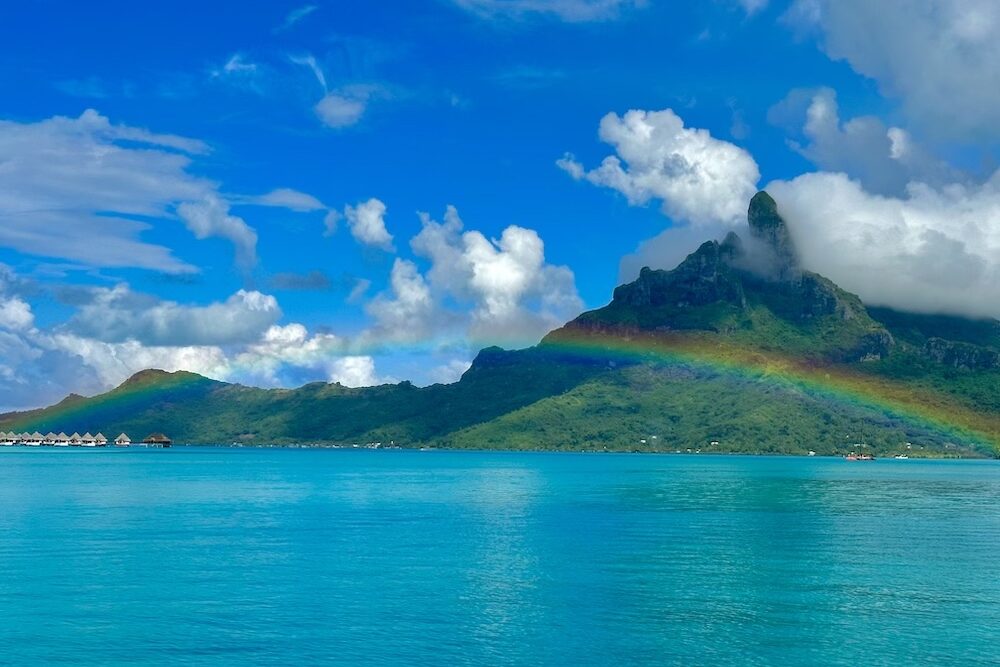 Rainbow over Tahiti. Photo: Michael Ruma
"We traveled to Tahiti, visiting three different islands. I had held off on faraway, remote beach destinations for decades under the notion of the value for your money and the ease of travel of Mexico and the Caribbean. But given this trip was meant to celebrate our 20th wedding anniversary, I threw caution to the winds and went all in.
Getting to Tahiti is not the hard part. The adventure starts as soon as you begin booking your inter-island air travel, boat transfers, a sundry of activities, and actually coordinate all of the above to achieve a relaxing visit to the islands. We did not have to worry about any of this with Kleon at the helm. He asked important questions about our likes and dislikes and then crafted an itinerary which slowly evolved into a spectacular journey with three ever-better chapters in a jaw-dropping beautiful region.
Our first stop was Vahine Island Resort and Spa. With nine acres and only a handful of rooms, this small island stop helped us relax, reset and realize what truly is Tahitian beauty and calm. No noise other than the wind, the waves, and the coconut trees. No thinking about meal choices with simple, but elegant prix fixe dinner menus. No people (there were a few other couples which we visited with over meals and activities), but a private tranquil island where my wife and I watched the sunset on the dock with baby blacktip reef sharks swimming underneath, cracked open fresh coconuts when thirsty, and went paddle boarding in the large bay between Vahine and Tahaa…all alone. The privacy, intimacy, and peace on this island with such a limited number of guests began to open my eyes to why we made the long journey to this beach.
We traveled to Bora Bora next. A water taxi with an impromptu stop to see over a hundred blacktip reef sharks in pristinely clear water was an unexpected highlight during our ride to the airport. No airport security made the trip even better. Upon arrival to Bora Bora, another boat awaited to transfer us to the St. Regis. While significantly more tourists visit this island, the number of hotels and additional guests did not diminish the striking beauty of Mount Otemanu. We enjoyed our over-the-water bungalow immensely, in particular, leaping off the deck into the refreshing turquoise lagoon water. We chose to refresh our diving skills and were incredibly fortunate to have two massive reef mantas swim two feet over our heads while we gazed upward from 40 feet below on the white sand bottom.
Immensely relaxed, in beach mode and thrilled with our first two hotel stays, we topped off our travel with our final nights at the Brando in Tetiaroa. Lunch at your private pool, scuba diving outside amongst a mountain of colorful coral, cocktails at sunset at the bar above the treeline…simply ask and your wish is their command. Getting to the hotel is equally spectacular using a singular private charter which whisked us to and from paradise without a worry and with ease. And for my wife who seems to attract mosquito bites wherever we may be, the hotel has an answer for that as well. Their island scientists eradicated the pest from the island without the use of any chemicals, allowing for outdoor enjoyment unlike any other experience where you may encounter the often annoying bugs. The experience at the Brando can only be described as sublime perfection, where any of your needs or desires instantly come to fruition.
Tahiti is burned into our memories with its unforgettably blue waters, tranquil relaxing days, vivid and abundant sea life and unique island vibes. Now home, we daydream daily of when we will return." —Michael Ruma
Read more reviews of French Polynesia trips . To get your own WOW trip , start with our trip questionnaire, reached via the black button below.
START A TRIP TO FRENCH POLYNESIA
Southern Africa: "Cakes and celebrations at each safari camp for our anniversary…"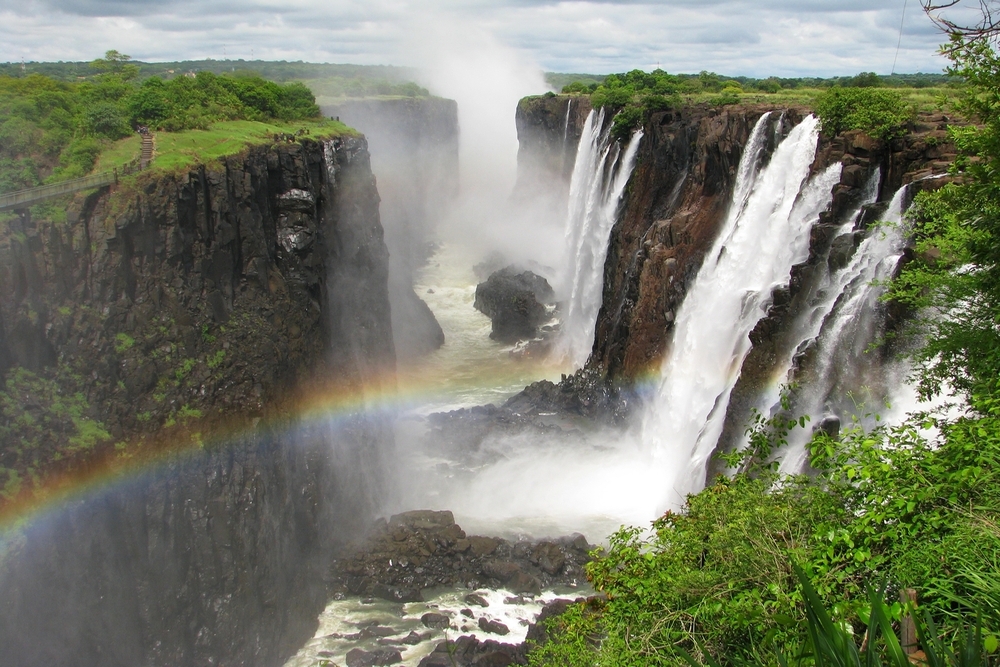 Victoria Falls, Zambezi River, Africa. Photo: Shutterstock
"Our 30th wedding anniversary was coming up, and I landed on an African safari as the perfect way to celebrate. We've just returned from this spectacular trip: Four days in Cape Town visiting Table Mountain, Boulders Beach, the Cape of Good Hope, the Victoria & Alfred Waterfront, Kirstenbosch Botanical Gardens and of course the Winelands, along with a fantastic lunch at Glen Carlou; two nights at Victoria Falls in the lovely Old Drift Lodge; and six nights in Botswana: two at Savute, two at Camp Moremi, and two at Shinde. All the accommodations were outstanding, and the transport between camps was flawless.
At each stop we were made to feel so special, with an incredible "sundowner" experience at Old Drift, along with cakes and celebrations at each safari camp for our anniversary. It was clear that Julian and team had taken exceptional effort to ensure all the camps were aware of our special event, which was a wonderful surprise that we really appreciated.
This complicated trip was made so easy! While I often plan trips myself, I can highly recommend arranging a trip like this through an expert. Julian's services took all the stress out and we were left with nothing but fantastic fun and great memories." —Nancy Megehee
Read more reviews of Southern Africa trips . To get your own WOW trip , start with our trip questionnaire, reached via the black button below.
START A TRIP TO SOUTHERN AFRICA
French Polynesia: "A perfect day on a beautiful boat with snorkeling, swimming with sharks, spinner dolphins…"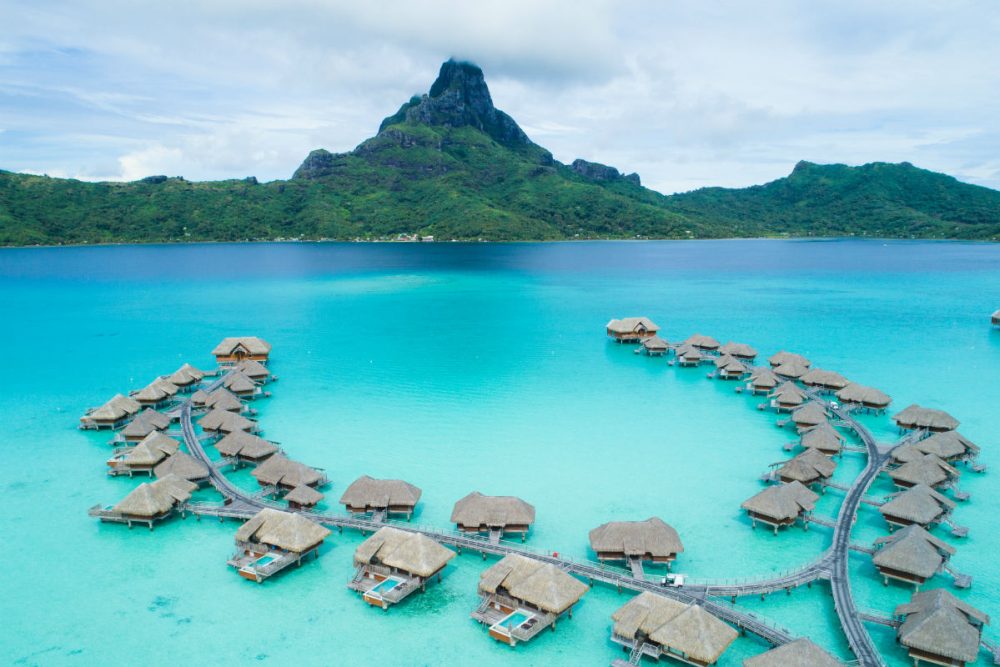 Brando Suites, Bora Bora
"It was a trip of a lifetime, and Kleon made it happen for us! We went to Taha'a and Bora Bora and had the most relaxing and enjoyable time together because he managed all the details, which allowed us to just focus on each other.
Kleon set up the most romantic, private dinner on the beach, with live Polynesian music. The table was set with linen, flowers, a bottle of champagne chilling, all surrounded by tiki torches. It was picture-perfect.
Kleon's relationships with French Polynesian locals gave us a unique opportunity to meet many extraordinary people: the family-owned vanilla plantation, the operation of a pearl farm, etc. He also arranged a boat tour around one of the islands. The captain and his first mate were so personable, and we thoroughly enjoyed getting to know them. It was fun listening to them talk about their backgrounds and their knowledge of the area and ocean life. It was a perfect day on a beautiful boat with snorkeling, swimming with sharks, seeing a huge, beautiful manta ray, spinner dolphins who gave us quite a show, and enjoying coconut water and snacks. Kleon shared that it was our anniversary, and the captain surprised us with real wine glasses and a bottle of chilled wine for a truly special day!" —Kimberly Redmon
Italy: "All of our dinner reservations included the best tables and the best views…"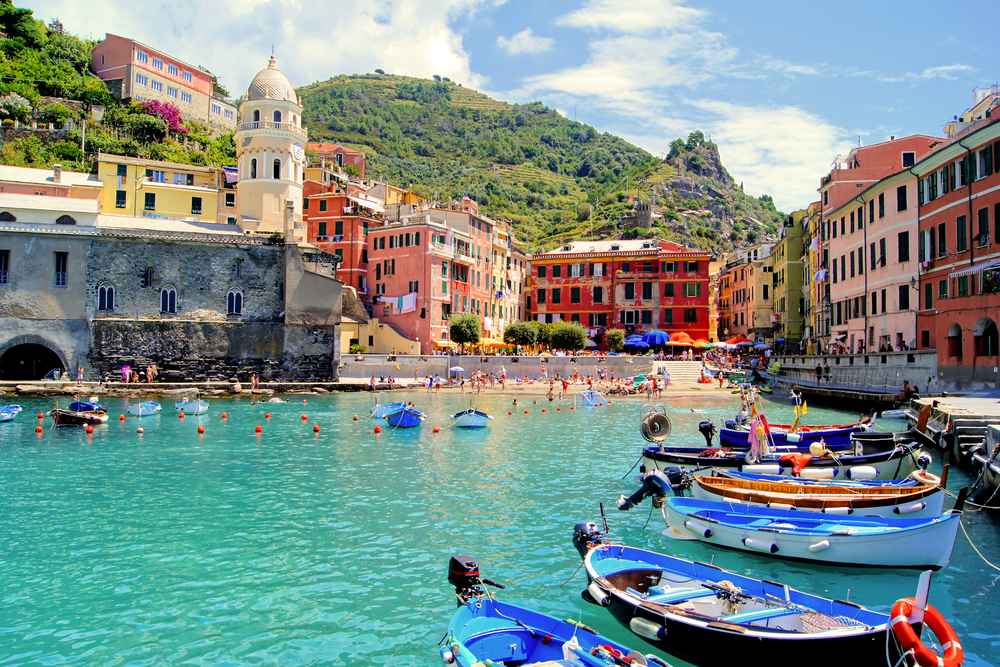 Vernazza, Cinque Terre, Italy. Photo: Shutterstock
"My husband and I had a fabulous trip to the Cinque Terre, Italy, for our 25th anniversary .
I had an initial meeting over Zoom with Anna to discuss the purpose of our trip and our style of travel, things we enjoy, etc. and then Anna basically took it from there. She came up with a suggested itinerary which we then discussed and finalized together.  I had no idea what to expect and we were WOWED from the moment we arrived. All of our transfers included first-class transportation services, each of our hotels provided a complimentary upgrade along with a welcome gift, and all of our dinner reservations included the best tables and the best views.
We especially loved our two boat days: One included a tour of Portofino and lunch at a restaurant overlooking the cove of San Fruttuoso, and another included a trip to Portovenere and lunch onboard in a beautiful bay. Anna's advice was spot-on and we felt as though we were in excellent hands. We had the perfect balance of activities and down time and never felt overscheduled." —Kim Brown
Read more reviews of Italy trips . To get your own WOW trip , start with our trip questionnaire, reached via the black button below.
START A TRIP TO ITALY
Italy: "Jennifer helped select a beautiful hotel and a room with a stunning view of the Mediterranean…"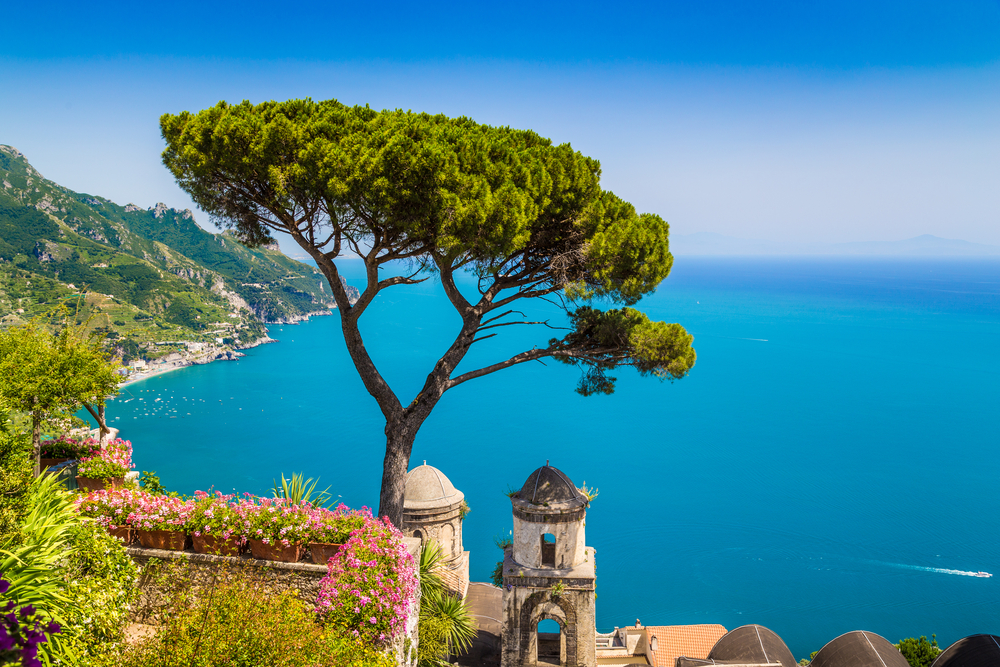 Amalfi Coast, Italy. Photo: Shutterstock
"We planned our trip to Italy to coincide with a friend's wedding in Ravello and our own 25th wedding anniversary .  Jennifer made sure the transfer from Rome's airport to our hotel in Capri was seamless. Given that this required planning a 2-hour car ride, 45-min ferry, and a taxi up to Anacapri, this was welcome expertise coming off of our long flight from the US!
In Capri, Jennifer helped select a beautiful hotel and a room with a stunning view of the Mediterranean. Even the porter helping with our luggage shared that it was one of his favorite rooms. For dining, Jennifer chose options that met our desire for terrific Caprese food, wonderful service, and exquisite views. For the most part, we just stuck to sitting out in the sun and going off to dinners in the evening. On one of the days, though, Jennifer chartered us a boat to explore the Amalfi Coast. Our captain and his crew were a perfect fit. We had a fantastic day on the water swimming, sunning, and posing for classic Amalfi photographs.
We left Capri to make our way to Ravello for the wedding. Jennifer made all of the arrangements, including a stop in the city of Amalfi itself for our favorite meal of the entire trip. We arrived for the wedding well rested, adjusted to the time zone, and ready to party." —Stephan Roche
Portugal: "They secured one of the few very best rooms with the best view at our resort on the Algarve…"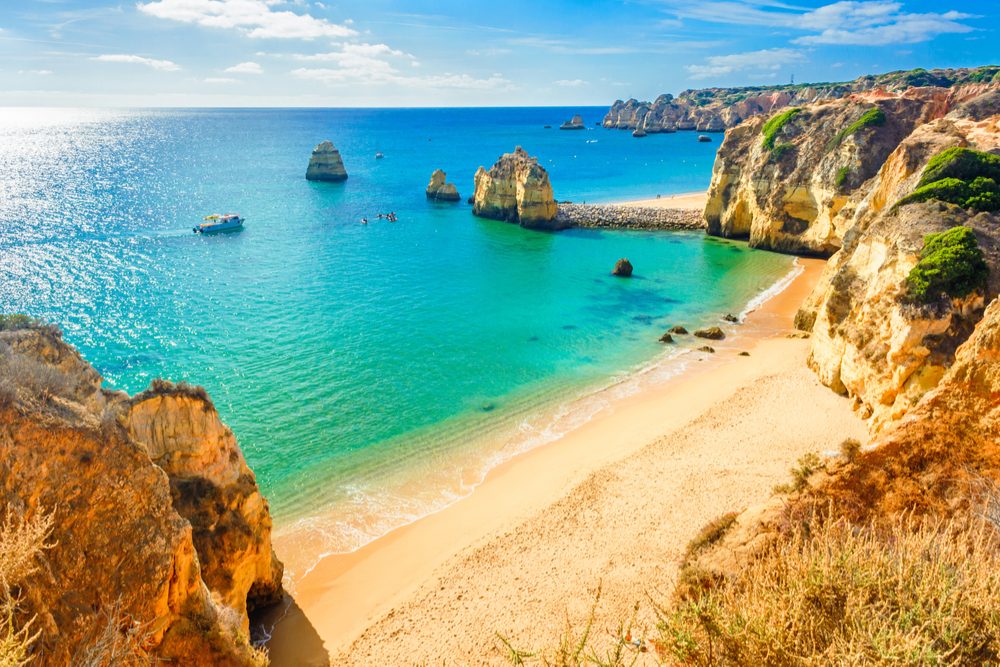 Beach near Lagos in Ponta da Piedade, Algarve region, Portugal. Photo: Shutterstock
" Goncalo and his team planned a Portugal trip to celebrate our 25th wedding anniversary . They secured one of the few very best rooms with the best view at our resort on the Algarve, which we could not have obtained ourselves. Very few rooms at the very large hotel had ocean views, so this was a big deal (we even had two balconies facing the ocean). All of their recommendations as to where to stay were great and took into account our preferences, which we discussed in a planning call. They planned great activities, like a lovely large private sailboat from Sintra back to Lisbon, a visit to an observatory (at night of course), and a private cruise along the cliffs of the Algarve. We would not have known about the lovely hotel converted from a farming village in the Alentejo if we hadn't used a Portugal expert, and we wouldn't have known which towns to visit. We loved the itinerary they planned and will use them again if we return to Portugal!" —Rita Solomon
Read more reviews of Portugal trips . To get your own WOW trip , start with our trip questionnaire, reached via the black button below.
START A TRIP TO PORTUGAL
France: "We visited wineries, explored several old and charming towns, ate in 3-Michelin-star restaurants as well as fantastic low key cafes…"
The village of Gordes, in Provence. Photo: Pixabay
"My wife and I took a long awaited celebration of our 25th anniversary and our 50th birthdays to Provence, France April 15-23.  Philip planned a terrific trip which wound up being one of the best weeks of our entire lives!   He listened very carefully to our list of wants and desires and the result was a perfectly paced yet action-packed week. We visited wineries, explored several old and charming towns, ate in 3-Michelin-star restaurants as well as fantastic low key cafes, shopped and took a hike in the footsteps of Van Gogh. We have fallen in love with Provence and will definitely be going back. I am looking forward to seeing Philip's plan for our next trip there!"— Brian Baltes
Read more reviews of France trips . To get your own WOW trip , start with our trip questionnaire, reached via the black button below.
START A TRIP TO PROVENCE
Belize: "While my husband played golf, she arranged a tour for me of the Mayan ruins at Xunantunich…"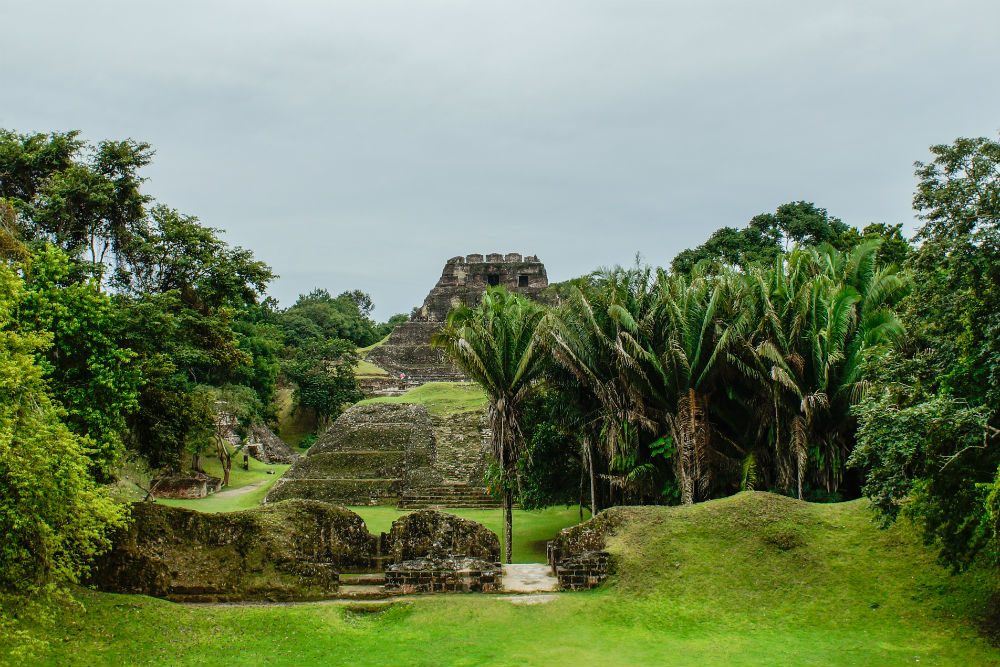 Xunantunich Mayan ruins. Photo: Absolute Belize
" Patricia is my new best friend. We told her that our trip to Belize was to celebrate our wedding anniversary . She listened to our wants and needs and more than delivered. She suggested that we split our January trip between inland and the coast and set us up with activities that satisfied both of our desires, since they were not necessarily the same.
My husband wanted to play golf, and Patricia made the arrangements for him. She satisfied our interest in culture and history with the Garifuna Cultural immersion. Additionally, while my husband played golf, she arranged a tour for me of the Mayan ruins at Xunantunich and a day at the San Antonio Women's Co-op to learn about the ancient Mayan life. Patricia joined me for my tour of Xunantunich, and my husband was jealous that he didn't get to meet her in person.
On the coast we both wanted water sports. She arranged two wonderful boat/snorkel adventures for us, and one included a barbecue of freshly caught fish. Yes, my husband had the opportunity to reel in one fish while we were on the boat.   I cannot say enough good things about how we were treated by Patricia, our guides, the staff of the hotels that she recommended, and the activities that she arranged." — Bonnie Warton
Read more reviews of Belize trips . To get your own WOW trip , start with our trip questionnaire, reached via the black button below.
START A TRIP TO BELIZE
Peru: "We thought we would be having a simple picnic lunch…"
Peru's Sacred Valley. Photo: Aracari
"Our favorite experience in Peru was on the afternoon of our 10th wedding anniversary . We thought we would be having a simple picnic lunch, but when we arrived at our picnic, we were amazed to see a canopy tent popped up in a field that overlooked the Andes. The table was tastefully decorated with linens, lace, fresh flowers, and local decor pieces. Wow! A three-man cooking team prepared a lovely four-course meal in a separate tent while we sipped wine. There was even a portable toilet in a third small tent!   Nothing was overlooked. In fact, during our ten-day trip arranged by Marisol , no detail was left unturned, from our beautiful accommodations to our awesome local guide to the snacks in our vehicle. We had an incredible trip." —Erica Stanforth
Read more reviews of Peru trips . To get your own WOW trip , start with our trip questionnaire, reached via the black button below.
START A TRIP TO PERU
Australia: "Stuart must have told everyone that we were celebrating an anniversary…"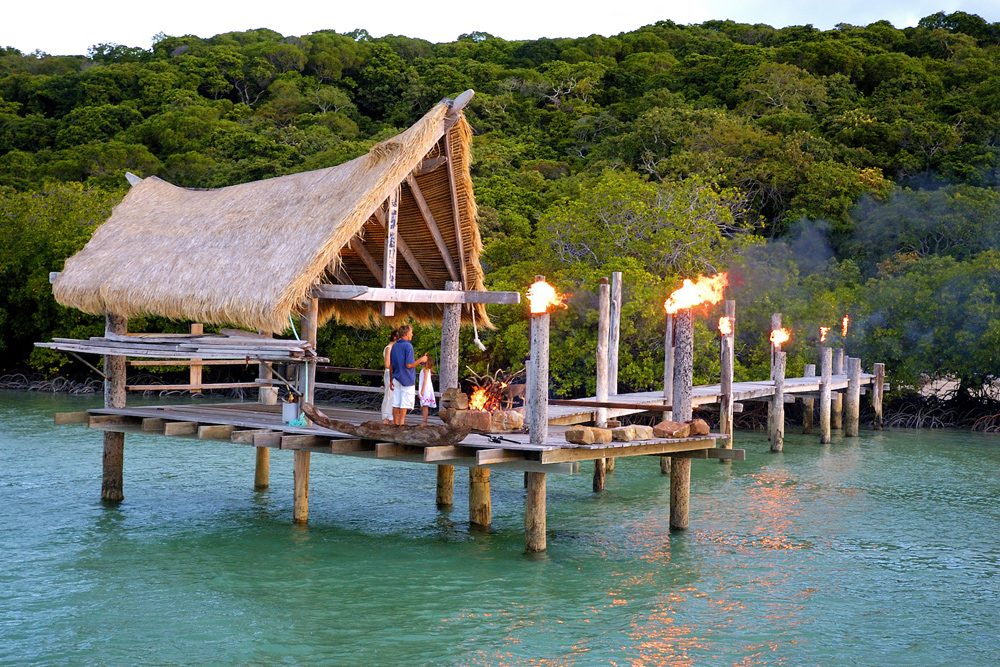 The remote Haggerstone Island resort at the Great Barrier Reef. Photo: Haggerstone Island
" Stuart planned the perfect trip for our 30th wedding anniversary : We spent three weeks in Australia, taking multiple in-country flights and visiting Melbourne, Tasmania, Kangaroo Island, Uluru, the Daintree Rainforest, and Sydney. We wanted luxury lodges and unique experiences, and our expectations were exceeded.
Stuart must have told everyone that we were celebrating an anniversary because, at each location, we received not only cards and good wishes but sometimes cakes or champagne or chocolates . But this is what blew us away: In Tasmania, at Saffire Freciynet, we tasted several excellent local gins one evening and commented to the staff on how much we liked them, and when we reached Sydney at the end of the trip, there was a gift of three bottles of gin and a lovely note from Stuart. That is one of the above-and-beyond gestures that made this trip extraordinary." —Robin and Josh Madden
Read more reviews of Australia trips . To get your own WOW trip , start with our trip questionnaire, reached via the black button below.
START A TRIP TO AUSTRALIA
Disney World: "Everyone knew it was our anniversary!"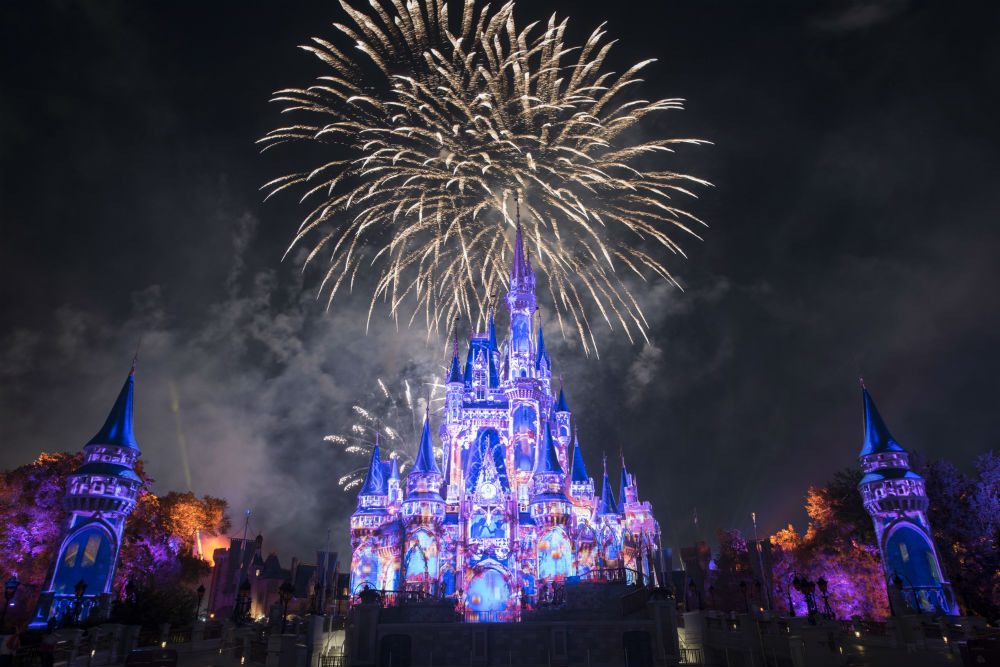 Happily Ever After fireworks at Disney World. Photo: Disney
"While we take fairly involved adventure vacations (safaris, a dog-sledding expedition, and scuba diving, rafting and trekking trips), none have involved the degree of planning that our recent Disney trip did!  Disney World can be overwhelming: To maximize your time there, you need to carefully plan out your schedule for each day and manage restaurant reservations, show times, and Fast Passes.
Michelle's advice was invaluable in this regard. She took into consideration that this was an adults-only vacation and made great suggestions such as visiting a practically empty and childless Magic Kingdom with an After Dark ticket. She managed to fit in a coveted reservation for Be Our Guest, and her recommendations for the Epcot Food & Wine Festival helped us navigate that fun event.   Michelle's hard work enabled us to have a wonderful anniversary trip—and everyone knew it was our anniversary because Michelle told them!" —Barbara Sheridan
Read more reviews of Disney World trips . To get your own WOW trip , start with our trip questionnaire, reached via the black button below.
START A TRIP TO DISNEY WORLD
Spain: "Pablo was able to secure reservations at three Michelin-star restaurants…"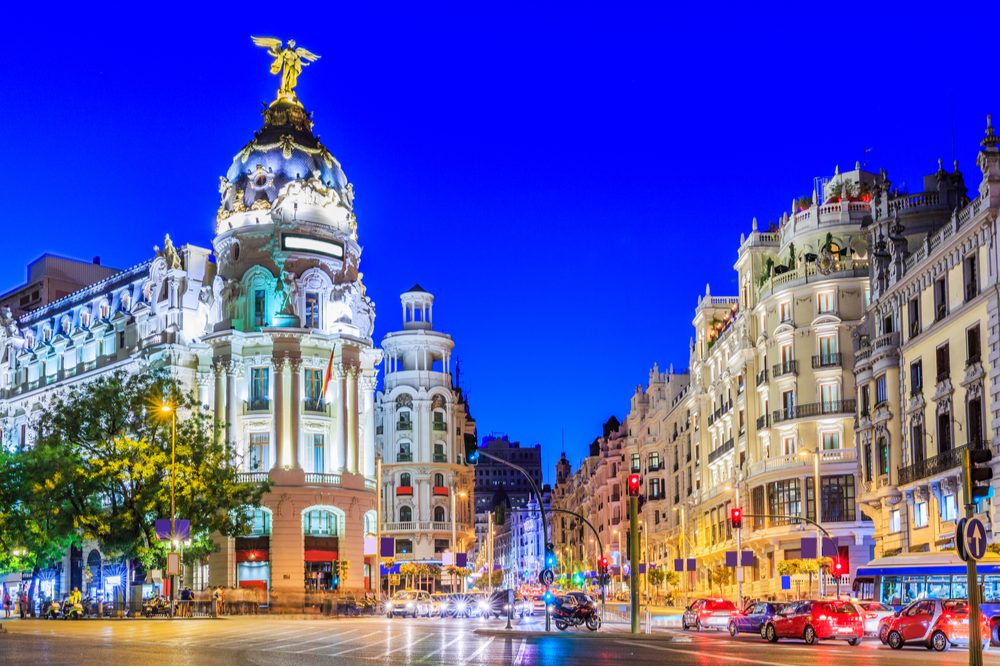 Madrid's Gran Via shopping strip lights up at night. Photo: Shutterstock
"I used Pablo to arrange a celebration trip to Spain—Barcelona, San Sebastian, and Madrid—for my son and his wife for their 2nd wedding anniversary . One of their interests was to try different exclusive restaurants and wineries, and Pablo was able to secure reservations at three Michelin-star restaurants. He arranged tours of boutique-style wineries, including a special wine-tour bike ride in Barcelona. Since my son is a guitar enthusiast, Pablo arranged for a Spanish guitar lesson and also got him into a special Flamenco show. Pablo had the ability to secure unique, private, and culturally enriching activities, allowing my son and daughter-in-law to experience Spanish cuisine and culture in a way that I am sure would not have been possible otherwise." —Jeffrey Bernfield
Read more reviews of Spain trips . To get your own WOW trip , start with our trip questionnaire, reached via the black button below.
START A TRIP TO SPAIN
France: "I wanted to…present her with the diamond ring she never got when we first got together 10 years ago"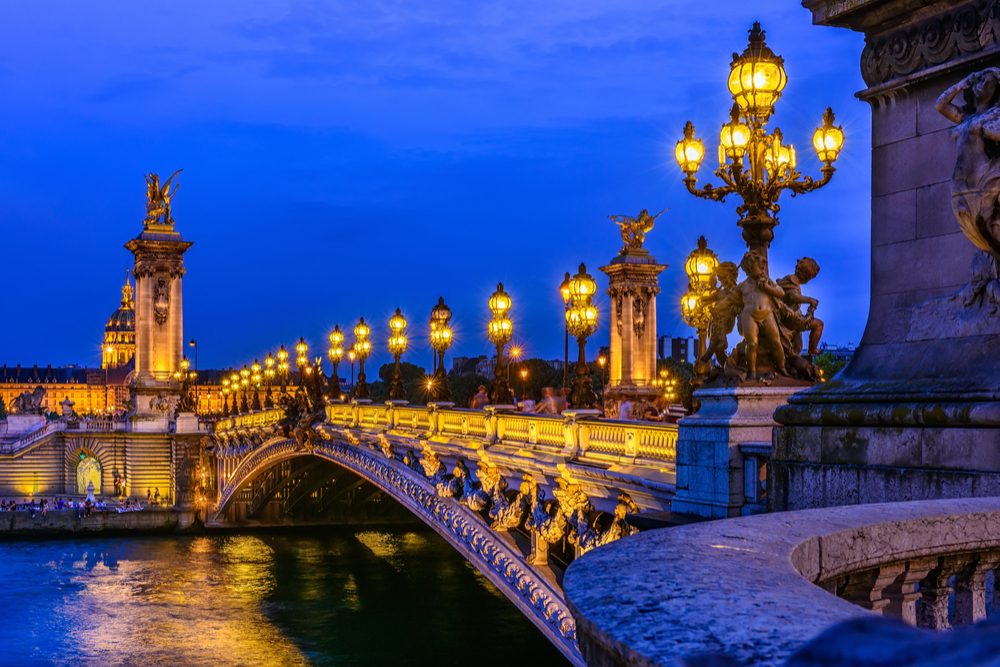 River Seine in Paris, France. Photo: Shutterstock
"I wanted to make the most of a short trip to Paris to celebrate my wife's birthday and to present her with the diamond ring she never got when we first got together 10 years ago. Jennifer made a variety of suggestions, and we decided I would surprise my wife with the ring in a renewal proposal aboard a private yacht. I had originally requested a Venetian boat, but at the last minute it had mechanical problems, rendering it unavailable. Jennifer quickly replaced it with Sophia Loren's private yacht and assured me that the furnishings and seating would be altered to make it more intimate and romantic. The result was spot-on, resulting in the highlight of our trip." —William Harwayne
Read more reviews of Paris trips . To get your own WOW trip , start with our trip questionnaire, reached via the black button below.
START A TRIP TO PARIS
Italy: "Our favorite day of the trip, and arguably in our lives, was…"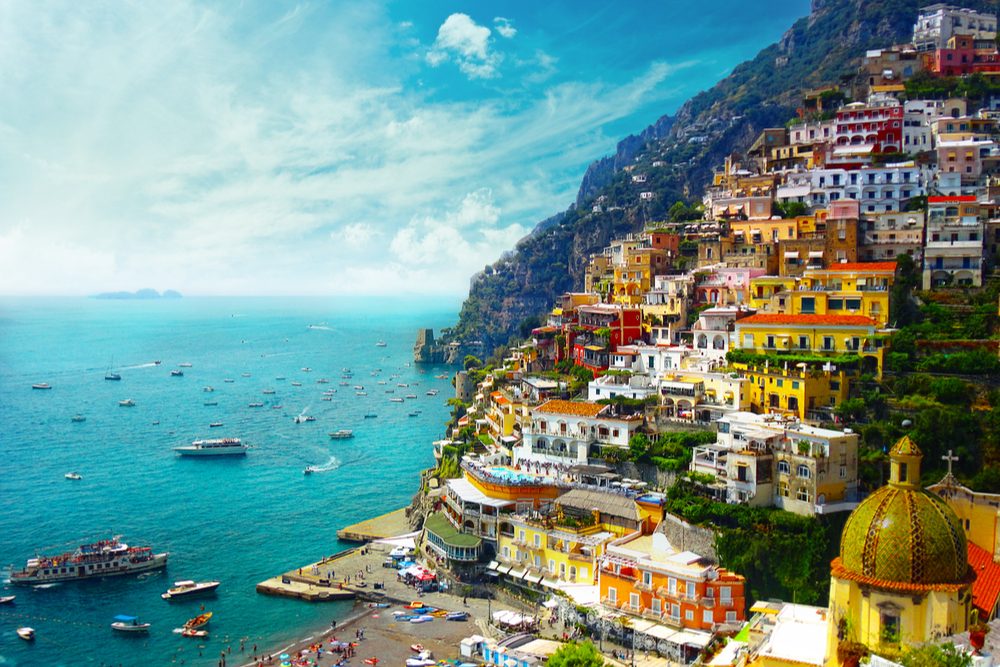 Positano on the Amalfi Coast, Italy. Photo: Shutterstock
"My husband and I rarely use a travel agent because we love to do the research and plan every detail of our vacations. However, this trip to Capri and the Amalfi Coast was for our 10-year wedding anniversary , so we wanted the ultimate luxury experience without having to worry about anything. Andrea really listened to what we wanted and tailored the trip accordingly. And there wasn't a minute of it that went by that my husband and I didn't think, 'This was worth every penny and more.'  From the knowledgeable drivers to awesome tour guides and boat captains, it was beyond perfect. Our favorite day of the trip, and arguably in our lives, was when our boat captain picked us up in Capri, toured us around the island, let us swim in the grottos, and eventually dropped us off for the rest of our stay in Positano. The views were stunning, but the captain really made our experience so special. Andrea has the connections with all of the right people, which makes the entire experience unlike any other." —Meredith Still
Read more reviews of Capri and The Amalfi Coast trips . To get your own WOW trip , start with our trip questionnaire, reached via the black button below.
START A TRIP TO CAPRI AND THE AMALFI COAST
France: "We had our 50th anniversary dinner in the two-Michelin-star restaurant…"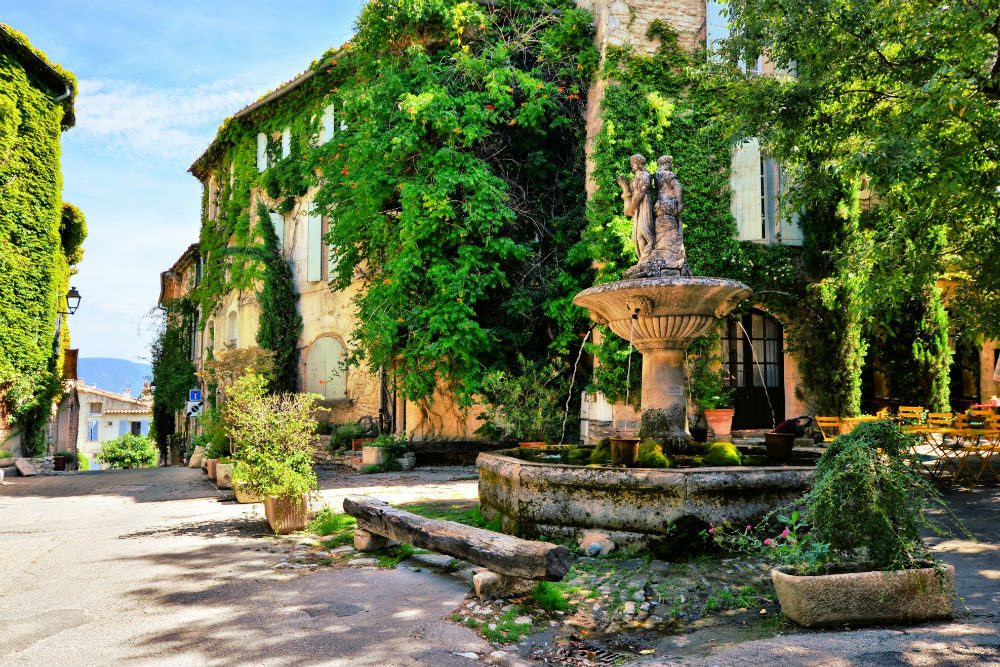 Saignon, Provence, France. Photo: Shutterstock
"My husband and I asked Philip to help us plan a week in Provence to celebrate our 50th wedding anniversary . We stayed in the countryside in beautiful old hotels and especially loved the Baumanière in Les Baux. I originally thought it would be too fancy for us, but Philip persuaded me that it would be perfect, and it was. We had our 50th anniversary dinner in the two-Michelin-star restaurant there, complete with a chocolate anniversary 'card.'  We particularly loved our canoe trip to the Pont du Gard and the private tour of the top level of the aqueduct—a perk not available to the general public. One whole day was devoted to a tour of the Luberon, including the towns of Lacoste, Menerbes, Gordes and Roussillon. It was a wonderful trip, perfectly planned and executed, and a memorable celebration for us." —Barbara Rabin
START A TRIP TO FRANCE
Indonesia: "Diane lined up affordable luxury with a fascinating itinerary…"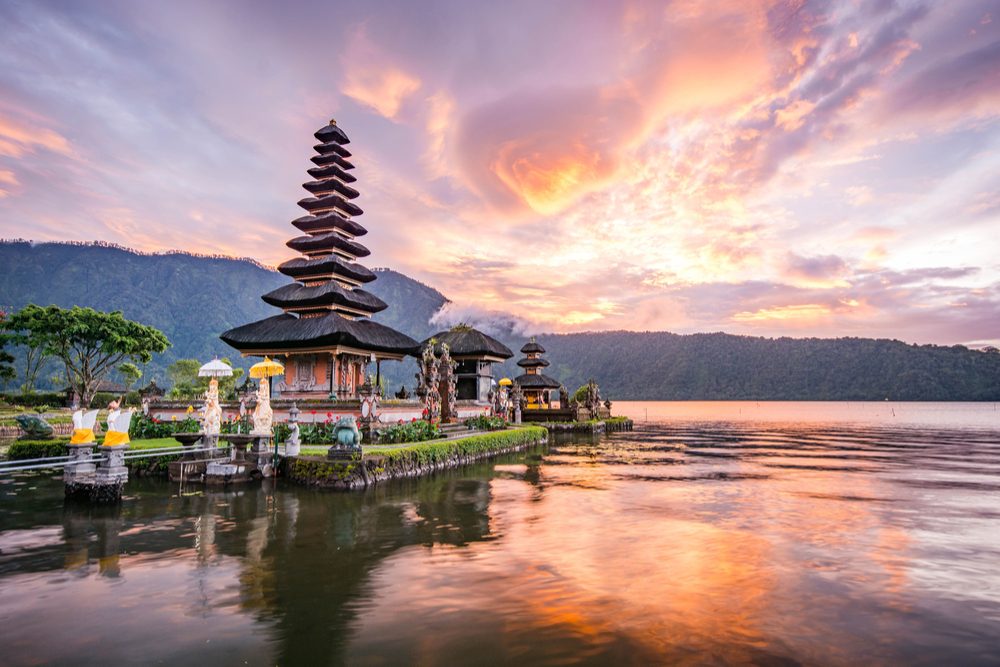 Pura Ulun Danu Bratan, Hindu temple on Bratan Lake, Bali. Photo: Shutterstock
"Our trip to Bali was perfect for celebrating our 25th wedding anniversary .  Diane lined up affordable luxury with a fascinating itinerary.  We took in many diverse sites in the Ubud area from our base at the Komaneka Resort at Bisma, and the Nusa Dua Beach Hotel & Spa upgraded us to a lagoon-access suite, which was very relaxing.  Diane lined up the perfect English-speaking private guide and driver, and she also introduced us to Nadya, a clothing designer whose home we got to visit. Our trip was a great balance of guided travel and looking around on our own. We felt truly fortunate that we could make use of Diane's excellent insight. She is a gem. Thank you!" —Charles Barber and Carolyn Roth
Read more reviews of Bali trips . To get your own WOW trip , start with our trip questionnaire, reached via the black button below.
START A TRIP TO BALI
Hawaii: "She even managed to snag us an upgrade to a suite…"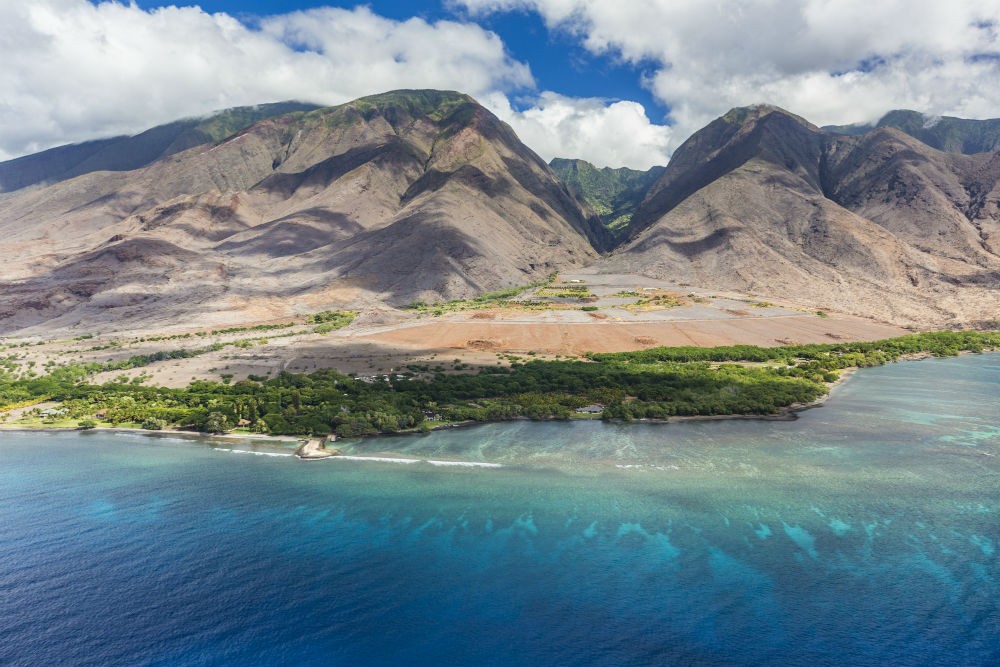 Maui, Hawaii. Photo: Hawaii Tourism Authority .
"We used Dani's help to put together our trip to Maui and the Big Island of Hawaii. It was a great trip packed with hiking, a sunrise visit to the top of Mt. Haleakalā and a subsequent bike ride down, surfing lessons in Lahaina, and a helicopter tour of the Big Island, including the active volcano. Dani was in constant contact with us throughout, which was greatly appreciated, as we had questions about various things while we were there. We had mentioned this trip was a celebration of our wedding anniversary, and at both of our hotels there was chilled champagne and sweet treats, courtesy of Dani. She even managed to snag us an upgrade to a suite at the Four Seasons Hualalai, which was a pleasant surprise." —Joseph McBrine
Read more reviews of Hawaii trips . To get your own WOW trip , start with our trip questionnaire, reached via the black button below.
START A TRIP TO HAWAII
Caribbean Cruise: "We were a family of 10 traveling for my parents' 60th wedding anniversary…"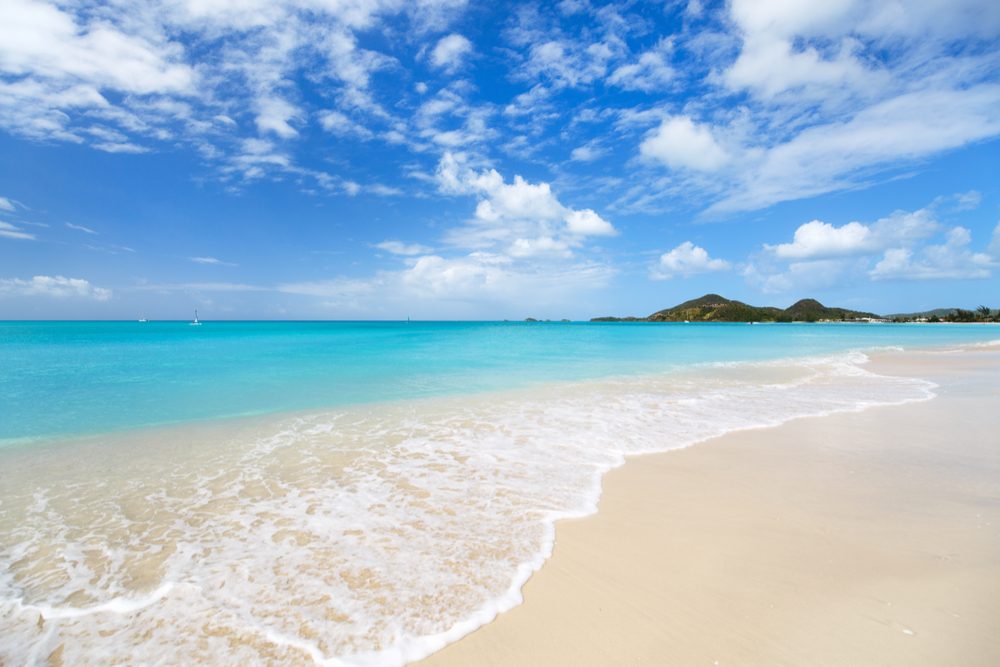 Antigua. Photo: Shutterstock
"We were a family of 10 traveling for my parents' 60th wedding anniversary . We had first-time cruisers and seasoned cruisers, and we wanted an itinerary that would enable us to spend time together as well as enjoy personal time. For our specific needs, Tom suggested Celebrity Cruises, and we selected an itinerary in the 'ABC islands' with several days at sea. Everyone was very happy.  Both the sea days and the days in port offered everyone enough sightseeing, shopping, and relaxation options to keep as busy (or not) as we wanted. Some of us went to the beach, while others went to town and sightseeing. We all met for cocktails in the Martini Bar before our family dinner each night . It was a fun and successful cruise for everyone, and my parents especially appreciated the special touches that Tom provided—including champagne, flowers, and a delicious chocolate cake in their cabin." —Lorraine Victor
Read more reviews of cruise trips . To get your own WOW trip , start with our trip questionnaire, reached via the black button below.
START A CRUISE EXPERIENCE
Be a smarter traveler: Sign up for Wendy's  weekly newsletter  to stay in the know. Read  real travelers' reviews , then use the black CONTACT buttons on Wendy's WOW List to reach out to the right local fixer for your trip.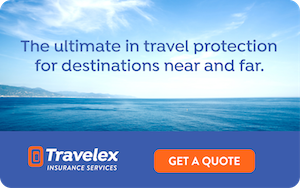 Get a Personalized Trip Recommendation
For a travel solution tailored to your trip goals and preferences, click this green box.
10 Top Dream Trips for 2023
by Brook Wilkinson | February 1, 2023
Nonstop Flights to Make Your Travels Easier
by Brett Snyder | October 16, 2023
How to Buy Travel Insurance: What It Covers, When You Need It
by Brook Wilkinson | November 7, 2023
Smartest Airports for Making Connections
by Billie Cohen | August 11, 2022
"Cancel For Any Reason" CFAR Travel Insurance: What It Is and How It Works
by Brook Wilkinson | August 30, 2023
by Wendy Perrin | November 7, 2023
What the Right Local Fixer Can Do For You in Israel (or Anywhere)
by Wendy Perrin | March 12, 2023
Post a Comment Cancel
Your email address will not be published.
This site is protected by reCAPTCHA and the Google Privacy Policy and Terms of Service apply.
You may use these HTML tags and attributes: <a href="" title=""> <abbr title=""> <acronym title=""> <b> <blockquote cite=""> <cite> <code> <del datetime=""> <em> <i> <q cite=""> <s> <strike> <strong>
Be a Smarter Traveler
Sign up for Wendy Perrin's newsletter to get essential travel updates and ideas to make your next trip extraordinary.
We may receive a referral fee from trip planners for trips designed for and purchased by travelers referred through us.
Destinations
Travel Tips
Terms of Use
Privacy Policy

10 wedding anniversary trips for whatever milestone you're celebrating
Feb 15, 2022 • 6 min read
Mark your special milestone with one of these anniversary trips in 2022 © Inti St Clair / Getty
Whether you're celebrating 12 months of marital bliss or your 50th anniversary, marking the milestones as you continue your journey through life together is an annual excuse to make even more memories.
So forget presents. For travel lovers, true romance means hitting the road. Swap cufflinks for cultural connections and flowers for far-flung adventures with these wedding anniversary trip ideas inspired by traditional gifts. 
1 or 2 year(s) – paper: Dublin
You're a year or two (depending which side of the Atlantic you live on) into the new chapter of your lives and so far, so good. The perk: you've made it to the grand customary gift status that is 'paper'. But instead of an embossed journal or letter-writing set, why not treat yourselves to an experience that's really worth writing home about?
Head to Dublin : This Unesco City of Literature is home to effortlessly romantic bookshops like the Winding Stair and Ulysses Rare Books , not to mention the beautiful Trinity College Library .
Alternative option: Go to Japan for shōji , rice-paper rolls and origami.
How to find 'real' traditional Irish music⁠ in Dublin
3 years – leather
Cowboy carousing might not be the most romantic anniversary activity but hey – this ain't your first rodeo. Mix things up for your third anniversary and lasso your loved one on a trip to Texas . Grab your hat, leather boots and bullwhip (oo-er) and get down and dusty on a bonafide dude ranch.
Although a real working ranch, Dixie Dude Ranch in cowboy capital Bandera offers chilled-out horse rides and massage therapy – and if that still sounds like thirsty work, Hill Country's wineries will oblige.
Alternative option: Shop for leather slippers and bags in Marrakesh or sniff out Instagrammable tanneries in Fez, Morocco .
The best US dude ranches to live like a cowboy
4 years – fruit: Sicily
Four years and things haven't gone sour – time to reward yourselves! Put your zest foot forward on a trip to Sicily , where lemons and blood oranges grow like weeds thanks to the island's volcanic soil and abundant sunshine. On long summer days, linger over limoncello, citrusy salads and lip-puckering granita.
Hide away in an agriturismo (farm stay) to walk among citrus and olive groves, enjoy home-cooked meals and practice charming your hosts – and each other, of course – in la dolce lingua .
Alternative option: Wine counts as one of your five-a-day... right? Keep telling yourself that as you sip a tipple while touring the vineyards of South Australia .
Sicily's most beautiful national parks and reserves
5 years – wood: New Zealand
By this point in your lives, you've most likely laid roots. You may even be adding to your family tree. Admire whakairo – the Maori artform of carving wood, jade and bone – in New Zealand , where getting back to nature couldn't be easier, even if there are toddlers in tow.
Geothermal Rotorua makes an ideal – if a little whiffy – base; after a day wandering around Redwoods Whakarewarewa Forest or visiting Whakarewarewa Village (complete with carved wooden buildings), chill out with a soak in the area's natural hot springs.
Alternative option: Pursue your own fairy-tale romance in Germany's Black Forest .
6 jaw-dropping places to stay in New Zealand
7 years – wool: Peru
Feeling the seven-year itch? Not if you switch your sheep's wool for the llama or alpaca variety. Stock up on some silky-smooth textiles in Peru – colourful socks, bobble hats and ponchos are the standard – and snuggle up with your other half as you admire the Andean landscape.
Opt for an Inca Trail tour that stops at a weaving co-op, where you can learn about traditional weaving and dyeing techniques and pick up some souvenirs to keep you warm on the trail.
Alternative option: Track the world's finest cashmere to its source in Mongolia .
Experience the best of Peru with these 8 iconic hikes
10 years – tin: the Caribbean
You may have subsisted on canned soups and tinfoil-wrapped sandwiches while saving for your wedding day, but now that you're a whole decade in, you deserve a little indulgence.
Make like Tintin (see what we did there?) and take to the seas on a Caribbean cruise or sailing trip, exploring the likes of St Lucia , Jamaica and Cuba .
Alternative option: Tintin also travelled to Tibet – although hopefully you won't encounter any yetis on your Himalayan trek .
The best Caribbean islands: a quick, easy guide to finding your paradise
15 years – crystal: Reims, France
A pair of matching crystal flutes makes for a nice anniversary gift – but why not swing by the home of Champagne itself? The French region is crammed with opportunities to get sozzled on the sparkly stuff.
Reims is the ideal base for a boozy tour of all the big-name producers: Moët & Chandon, Veuve Clicquot and Dom Pérignon to name but a few. But if we're sticking with the theme, perhaps the budget can stretch to a bottle of Cristal?
Alternative option: Swarovski fans will be all starry-eyed at Crystal Worlds in Wattens, Austria .
France's 10 most stunning road trips
20 years – china: China
Twenty years of matrimony is a quite a feat – and if it's taken a few plate-smashing, vase-crunching screaming matches to get you here, who's to judge? All is forgotten once you're making up over steaming mugs of tea...
Journey to the home of porcelain (and your favourite loose leaf), China , for a cracking anniversary trip. Sip the hot stuff in Chengdu , before nipping to Jingdezhen for ceramic workshops and pottery purchases.
Alternative option: Clink china teacups during afternoon tea at the Ritz , London , the only UK hotel to have a certified tea sommelier.
The definitive guide to China's national parks
25 years – silver: Uganda
Chances are by this point, both you and your beau are sporting at least a few grey hairs – but it's best not to tease Uganda's silverbacks the way you do your partner… That's right – why settle for a silver charm or tie clip when you can witness our wild and distant relatives in the cloud-shrouded forests of Bwindi Impenetrable National Park ?
The thrill of glimpsing the alpha male or a mother and her babies is a once-in-a-lifetime experience that's even better when shared with a loved one. If reaching middle age together means adventures like this, who needs youth?
Alternative option: Pack your glad rags and hit the strip in Nevada's so-called Silver City, Las Vegas .
Uganda's incredible mountain gorillas are having a baby boom
30 years – pearl: Fiji and French Polynesia
30 years in and the world's still your oyster – so splash out on a South Pacific getaway, where turquoise waters and swaying palms make the perfect setting to reflect on your many happy years together.
Learn about pearls on a Fiji farm tour; hunt for a bargain at French Polynesia's pearl markets – or simply soak up the iridescent sunsets from a hammock at Tikehau Pearl Beach Resort . Wedded bliss doesn't get better than this.
Alternative option: Channel pearl-strewn Holly Golightly in Breakfast at Tiffany's with some window shopping on NYC 's Fifth Avenue.
The A-to-Z of Fiji: 26 reasons to visit the island paradise
The adventure continues…
Still going strong after all these years? Make even more precious memories with these trip ideas:
40 years, ruby: Jordan or Arizona Jordan for Mars-like deserts or the Grand Canyon for copper-red vistas.
50 years, gold: Australia or Canada Australia's Gold Coast or the Yukon for Canadian Gold Rush history .
60 years, diamond: Hawaii or South Africa Honolulu for views of Diamond Head, or Cape Town's Diamond Museum .
You might also like:  Where to play, stay and dine on romantic city getaways 31 unusual love and marriage customs from around the world Classic romantic trips with an adventurous twist
This article was first published December 2017 and updated February 2022
Buy the latest edition of The Travel Book
Get ready for a journey through every country in the world. This fourth edition of The Travel Book features incredible photography that illustrates each country, accompanied by a profile that includes details of when to visit, what to see and do and how to learn more about the country's culture.
Explore related stories
Oct 25, 2023 • 19 min read
We've released our Best in Travel 2024 list of the top destinations and experiences for next year. Find out the best time to make these dream trips a reality.
Jun 21, 2023 • 9 min read
Mar 3, 2023 • 10 min read
Dec 2, 2022 • 8 min read
Nov 12, 2022 • 6 min read
Jun 22, 2022 • 5 min read
May 6, 2022 • 10 min read
Mar 4, 2022 • 4 min read
Mar 1, 2022 • 3 min read
Jul 27, 2021 • 6 min read