Alcatraz Island and the Alcatraz Tour
Alcatraz Tour Fascinates Visitors to Alcatraz Island
Matteo Colombo / Getty Images
It's a former federal prison on a rocky island in the middle of the bay, steeped in legend and a popular tourist stop.
Spanish Explorer Manuel de Ayala named this barren rock in the middle of San Francisco Bay Isla de los Alcatraces (Island of the Pelicans). The island called Alcatraz has been used as a Civil War fort, a Federal prison and a symbol of Native American plight. Today, the National Park Service runs Alcatraz Island as a tourist attraction.
Things to Do on Alcatraz
You can get a look at what you'll see on the Alcatraz tour by visiting the Alcatraz slideshow.
The National Park Service schedules activities to help you learn about Alcatraz Island, including lectures and special tours. The schedule board at the ferry landing gives the times. The only guided tour is the audio tour, but you can also pick up a self-guided tour book near the boat dock.
Barracks from Alcatraz Island's stint as a military base, the cell house, lighthouse, and a few others remain. Many of the Alcatraz Island prison buildings are gone. Some burned during the American Indian Alcatraz occupation in the 1960s. The guard's residences, deteriorated beyond repair, were torn down in the 1970s. 
If the hospital area is open during your visit, don't miss it. It's a fascinating look at medical care during the prison's heyday.
To see two San Francisco Bay islands in one day, take the Alcatraz & Angel Island Tour which will also take you to Angel Island .
Alcatraz Island Tickets
The only way to tour Alcatraz is with the company called Alcatraz Cruises, leaving from San Francisco. Other bay cruise companies can take you by, but can't stop. Find all the details and buy tickets at the Alcatraz Cruises website . Anyone else selling an Alcatraz Island tour is re-selling tickets and may charge a processing fee.
Alcatraz tour tickets sell out fast. The official brochures say tickets sell out as early as a week in advance in the summer and on holiday weekends. When checked on a July Friday, they were sold out until the following Tuesday. 
Tickets not used by hotels are released to the Alcatraz ticket booth just before it opens. Be first in line you may get a same-day tour ticket. Your hotel's concierge or front desk may have tickets. Or consider taking the Alcatraz and Angel Island tour, which doesn't fill up as fast.
The boat ride to Alcatraz takes about 15 minutes each way from San Francisco. Your tour can last as long as you like (or until the last boat leaves).
The Day Tour is the most popular. It includes round-trip transportation to the island and the audio tour.
The Night Tour includes extra activities — and is slightly more expensive. Taking it allows more time to visit other sights that close earlier, maximizing your sightseeing time. The only downside is that a few areas that are open during the day close after dark.
Get Ready to Visit Alcatraz
Most visitors spend at least a few hours on Alcatraz. Snacks and water are essential to keep everyone from getting "hangry" or thirsty.
If you don't know much about Alcatraz, stop to see the 17-minute introductory video before you go up the hill. You can also read up on these interesting facts about Alcatraz before you go and explore the fascinating history of the Alcatraz lighthouse .
Watch the Clint Eastwood movie "Escape from Alcatraz" for a glimpse of how the prison operated during its busiest period.
Tips for Visiting Alcatraz
Pick up an audio tour and use it. You'll get a lot more out of what you're seeing. Pay attention to the audio directions. Otherwise, you could end up gabbing away with your friends and not able to figure out where you should be going. If that happens, ask a ranger or tour guide for help.
If you miss your boat, don't despair. The ticket office can direct you to the standby line for the next one.
To see Alcatraz, you'll walk — a lot. It's easy enough if you're in reasonably good shape. They offer a tram to get you up the hill, but you still have to walk after you get there. 
The boats are quiet, clean and smooth riding. The trip is short. But if you need a Dramamine just to sit on the dock and watch a boat bobbing up and down, take your favorite remedy. 
Those white spots all over the island aren't paint. Rangers say several people a day acquire a "white badge of honor" as a gift from a seagull. DON'T look up if you hear birds. Also, watch where you put your hands to avoid touching those same white splotches of yucky stuff.
The gift shop has some very stylish and clever souvenir items. They also sell the book "Hollywood Alcatraz" which details all the films made at Alcatraz and where their scenes were filmed.
Alcatraz Tour Review
In a poll, more than 2,000 Tripsavvy readers rated Alcatraz, 48% rated it awesome and 10% great. However, 26% gave it the lowest rating.
Alcatraz is likely to bore children under the age of five and is more fun for kids who are old enough to understand what it is.
On the plus side, the views of San Francisco and the bay are eye-popping. History buffs enjoy Alcatraz. So does anyone who's seen the movies about it and feel like it's a must-see. The audio tour is one of the best anywhere, using voices of actual guards and prisoners to tell the prison's story.
On the downside, it takes almost half a day to go there and back. If your trip to San Francisco is short, that may be more time than you want to spend on one activity. And it smells like bird poop during spring seagull nesting season.
Getting to Alcatraz Island
Alcatraz Island San Francisco, CA National Park Website
Alcatraz Cruises leave from Pier 33. If you've been to San Francisco before, be aware that the ticket booth and departure dock moved several years ago.
To drive, follow signs for Pier 39. Pier 33 is a few blocks east. You can find more than a dozen commercial parking lots within a five-block radius. Street parking isn't practical because the meters have a two-hour limit and you'll be gone longer than that.
If you're staying in San Francisco, take a taxi, use a ride-sharing service or public transit. Muni's F Line runs past Pier 33 and the Powell-Mason cable car stops nearby. Find more ways to get around San Francisco .
The 20 Best Things to Do in San Francisco
Top 10 Haunted US Destinations for the Halloween Lover
San Francisco Bay Cruises
Alcatraz Lighthouse
Day Trips and Vacation Side Trips from San Francisco
Golden Gate National Recreation Area: The Complete Guide
Guide to Visiting Angel Island in San Francisco Bay
The 9 Best Day Trips From Napa and Sonoma
18 Top Things to Do in San Francisco, California With Kids
18 Best Things to Do in San Francisco at Night
Fisherman's Wharf - San Francisco
San Francisco CityPASS
Don't Miss These Great San Francisco Attractions
Disney Magic - Western Mediterranean Cruise Travel Log
Visitor Guide to Pier 39, San Francisco
One Day in San Francisco
By clicking "Accept All Cookies", you agree to the storing of cookies on your device to enhance site navigation, analyze site usage, and assist in our marketing efforts.
Skip to main content
Skip to primary sidebar
Skip to footer

How to Visit Alcatraz Island in 2024: Tickets, Hours, Tours, and More
Jessica Nemire Last Updated: October 26, 2023
Alcatraz Island is almost synonymous with San Francisco. Due to the island's immense popularity, it can be hard to plan your visit. Never fear! That's what we are here for. Here's how to visit Alcatraz Island, plus all you need to know about tickets, hours, and more!
Pro Tip:  It's easier to organize your trip when you have all your resources in one place. Bookmark this post along with our  San Francisco Guide  for more planning resources, our best San Francisco tours  for a memorable trip, and the top things to do in San Fran .
Alcatraz Island Hours, Tickets, Tours, And Facts: What We'll Cover
Alcatraz Island housed the most infamous prison in the United States: the Alcatraz Federal Penitentiary. Since shutting down in 1963 and sending its prisoners elsewhere, both the prison and the island have become one of the most popular tour destinations in San Francisco.
It's also in the middle of the scenic San Francisco Bay, making it even more of an iconic place to visit to get some of the best views of the Golden Gate Bridge and San Francisco. You can learn more about the history of Alcatraz Island here !
Hours and info
Tickets and pricing
Transportation and parking
What to see and do
Alcatraz tours
Facts and history of Alcatraz
Not ready to book a tour? Find out if San Francisco tours are worth it .
How to Visit Alcatraz Island: Hours and Info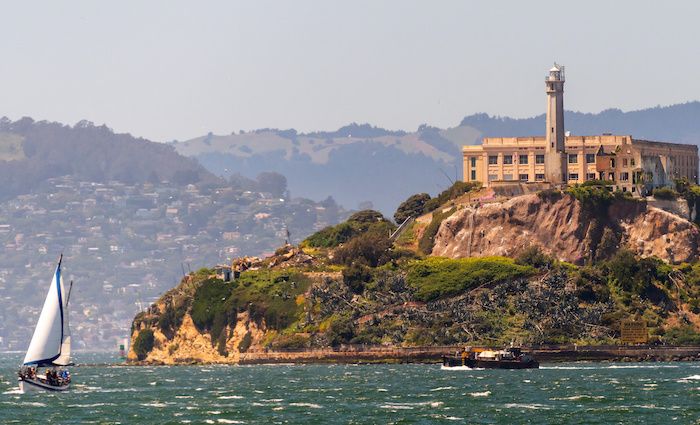 Hours:  Monday – Sunday, from 10 am until 9 pm.
Alcatraz Island is closed on the following days:
Thanksgiving (4th Thursday of November)
December 25
There are also various portions of the island that are closed off at certain times of the year to allow the island's resident sea birds to nest. Alcatraz Island has been known to have special events, such as art exhibits, although there have not been any such events since 2019. If they resume events again, their events page can be found here . Currently, the island is hosting community building days to restore the the gardens on the island.
Tickets and Pricing for Alcatraz Island
Since Alcatraz Island is, you know, an island, it's only accessible via a ticketed ferry. Due to the popularity of Alcatraz, we strongly recommend booking your tickets to Alcatraz Island at least a few weeks ahead of time! Especially during the summer and other high tourist times during the year, Alcatraz tickets can sell out even months ahead of your tour date!
Every ferry ride to Alcatraz Island departs from Pier 33 near Fisherman's Wharf. The ferry ride from Pier 33 to the island typically takes around 15 minutes. Make sure you arrive at least 45 minutes before the ferry is scheduled to leave. There's a lot to explore and views to take in from the island, so we recommend spending at least three hours there.
You can purchase your tickets online or in person at Pier 33, which is where the ferry departs. If buying directly from Alcatraz Island, they offer a day tour, a night tour, and also a behind-the-scenes tour. The prices listed below are for the daytime tour, as that is the most common option.
Admission: $41 for adults, $25 for children (5-11 years), $41 for juniors (12-17 years), $38 for seniors (62+ years) Family Pricing: $119.60 total for 2 adults + 2 children 5-11years
Address: 31 San Francisco Pier 33 – Alcatraz Island, San Francisco, CA
Pro Tip: Skip the line by booking your ticket online ahead of time or getting more out of your visit by joining our San Francisco in a day tour ! The tour includes a full access ticket to Alcatraz Penitentiary and Island, as well as a 4-hour guided tour of San Francisco in an open-sided van. The tour also stops by the famous Golden Gate Bridge, and includes pickup at your hotel!
Not ready to book a tour? Read more in our San Francisco Guide .
How To Get to Alcatraz Island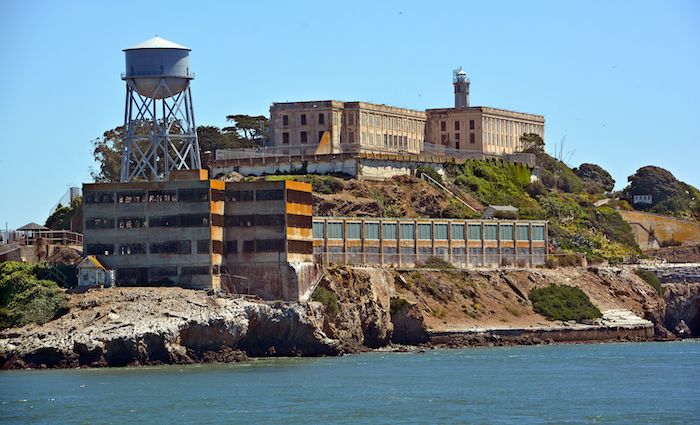 Please note that there is no parking available at Pier 33 (or the island) as you plan how to visit Alcatraz Island. The ferry landing dock at Pier 33 is about a 7-minute walk or a 5-minute drive from Pier 39, otherwise known as Fisherman's Wharf.
Like most of San Francisco, parking is almost impossible to find at Pier 39. For this reason, finding another way to Alcatraz Island is advised. That's a big part of the reason why we recommend booking our San Francisco in a day tour that includes Alcatraz. All logistics and tickets are included so you can enjoy your day without stress.
Here are a few transportation options to get to your Alcatraz ferry departure at Pier 33:
The exact timing of your journey to Pier 33 to pick up the ferry for Alcatraz Island depends on which hotel you are staying at, of course. Since most of our picks for the best hotels in San Francisco are near the Embarcadero waterfront , we calculated the times from there. We also calculated some times from Union Square, as that is another popular area to stay in San Francisco.
By Trolley:
We don't mean the cable cars when we say trolley. Although it looks similar to a cable car, the F Market & Wharves trolley is a MUNI bus that runs from Castro St. Station to Fisherman's Wharf. Standing for San Francisco Municipal Railway," the MUNI system is San Francisco's bus and underground train system.
From the Embarcadero, it takes around 8 minutes to get from the trolley stop to Pier 33. From Union Square, it takes around 24 minutes. A ride on the F trolley costs $3. You can pay by cash with exact change, or on the MuniMobile app. For more information about transportation in San Francisco, check out our helpful article about getting around San Francisco !
If you're staying by the Embarcadero, the F trolley is your only public transportation option to get to Pier 33. If you are staying by Union Square, you can take the 8 MUNI bus. It takes around 24 minutes, and costs $3.
By Car/Uber:
It takes 10 minutes to drive from Union Square to Pier 33 and around 5 minutes or less to drive from Embarcadero. Since parking is next to impossible near the piers, if you need to drive, we suggest taking Lyft, Uber, or a taxi. With all 3 options, the one-way fare for a standard car fitting 3-4 passengers is likely between $10 and $12.
It takes less than 10 minutes to bike from both Union Square and the Embarcadero area to Pier 33. There are bike rentals all over the city, including handy electric bikes. Bay Wheels, an e-bike sharing program managed by Lyft, offers bike rentals through the Lyft app. For single rides, you will be charged an unlock fee of $3 and charged 30 cents a minute. So, a 10-minute bike ride would about cost $6. Despite being a difficult area to park in, there are frequently a lot of cars and traffic in this area, so watch out for cars if you are biking!
If you are staying near Union Square or the Embarcadero, it might be easiest to simply walk to Pier 33 to catch the ferry if you and everyone in your group is up for a walk. Walking from the Embarcadero Area will take around 15-20 minutes, depending on which hotel you are staying in, and walking from Union Square will take around 30 minutes.
What to See and Do on the Island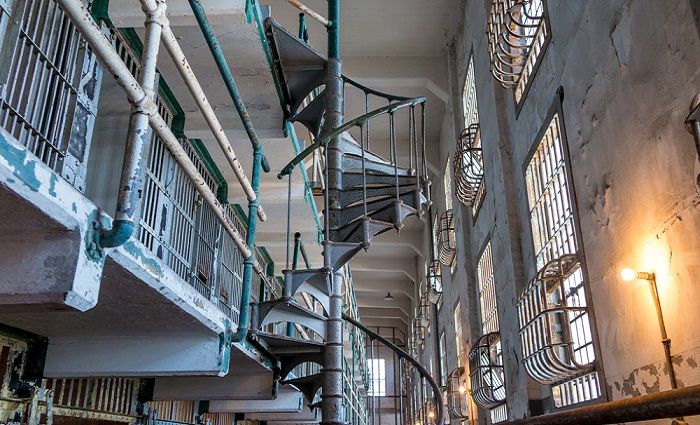 Throughout your exploration of the buildings left standing on Alcatraz, you'll find hundreds of photographs and memorabilia from the time of its use. Some areas are off limits to tourists as they are unstable from neglect. The walkways are also quite steep in some areas, so wear sturdy shoes!
The cellhouse and infamous escape room
The gardens
The courtyard or playground
View of the bay and the city
Alcatraz Island Tours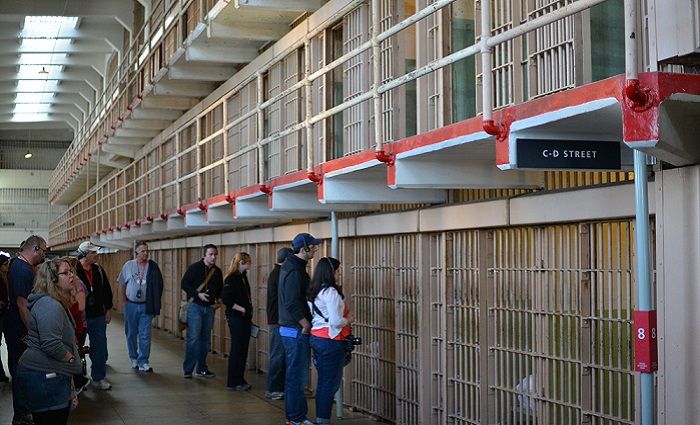 A trip to Alcatraz Island is only possible by purchasing a ferry ticket to the island. The National Park Service has jurisdiction over the island, so you'll find park guides available to help you explore the island. It's a mostly self-guided tour, but there are also several tour options available throughout the day.
The most popular tour option is the Alcatraz day tour, but there are also night tours, behind-the-scenes tours, and combination tours with Angel Island and Alcatraz Island.
Since it's extremely difficult to get tickets during peak tourist months, booking a combination tour with a local guide is a popular option. Most tourists prefer booking both Alcatraz Island and the Golden Gate Bridge to see both of the top San Francisco attractions in one day.
Facts and History of Alcatraz
To get you excited about your trip to Alcatraz, here are some interesting facts about the history of Alcatraz from authors and eyewitnesses mentioned in our other article here .
Alcatraz Federal Penitentiary housed prisoners during the Civil War.
The army left Alcatraz in 1934, but it was only empty for a few weeks before the Bureau of Prisons put the most dangerous criminals here.
Most of the criminals at Alcatraz had committed violent crimes or tried to escape their previous prisons.
Famous Alcatraz inmates included Al Capone (for tax evasion) and "Machine Gun" Kelly (not the singer) convicted of kidnapping.
Although the prison took up most of the island, there were also barracks, apartments, and a recreation hall, and at least 60 families with children lived there full time.
The families who lived there called it  "the poor man's Hawaii."
In 1972, the island became a part of the National Park Service, and it has been home to beautiful gardens since 2003.
Currently, many species of animals call the island home, such as salamanders and cormorants.
It's referred to as "The Rock" because it is made up of mostly rock, and dirt was hauled in to make it livable.
So far, it has appeared in 10 movies and TV shows, including the 2010 movies The Book of Eli and the 2006 movie X-Men: The Last Stand .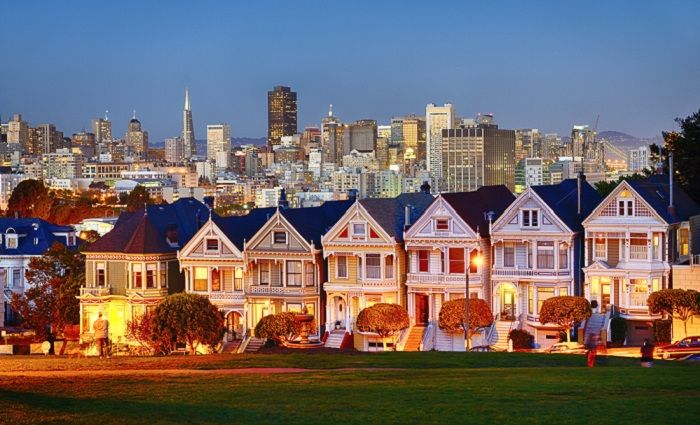 Where To Stay in San Francisco
Make the most of your visit to San Francisco by choosing to stay in the best neighborhoods for seeing all this iconic city has to offer. You'll love our hotel recommendations.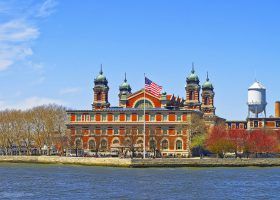 About Jessica Nemire
Jessica Nemire has been writing about about travel since 2011. She graduated from San Francisco State University in 2016 with a BA in journalism. She loves the ocean, Mission District burritos, and amazing sunsets.
Reader Interactions
Leave a comment cancel reply.
Your email address will not be published. Required fields are marked *
POLICY & TERMS
Cancellation Policy
Terms & Conditions
Privacy Policy

Alcatraz Day Tour
Alcatraz Night Tour
Bay Discovery Cruise
Alcatraz Behind The Scenes Tour
Book Your Tour Now!
About Alcatraz
Park Programs
Alcatraz History
Alcatraz Ferry Schedule
Before You Visit
Accessibility & Parking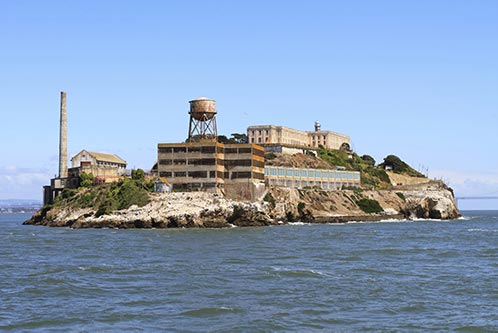 Ferry to Alcatraz Island. Tour the Inside of the Cellhouse. Explore Alcatraz Island.
Duration: Approximately 2 ½ Hours Available: Daily, hourly departures: 8:40 AM to 3:50 PM
E-Ticket Mobile Check-in
Alcatraz Island roundtrip ferry
Access Inside Alcatraz Prison
Cellhouse Audio Tour
Orientation video
Ranger and docent tours

Tour the Inside of the Alcatraz prison cellhouse. Step back in time and experience the legendary island that has been a civil war fort, a military prison and one of the most notorious federal penitentiaries in US history. This memorable tour includes: 45 minute audio presentation "Doing Time: The Alcatraz Cellhouse Tour," featuring actual correctional officers and prisoners who lived and worked on the Island; orientation video by Discovery Channel; ranger and docent tours; historic gardens and abundant wildlife.-->
Also included: Enjoy the historical gardens of Alcatraz, views of San Francisco Bay, and the exhibit: Red Power on Alcatraz: Perspectives 50 Years Later on display in the New Industries Building. The roads and walkways on Alcatraz are steep. The distance from the dock to the Cellhouse is approximately 1/4 mile (.4km) and the elevation change is 130 feet (40 meters), the equivalent of walking up a 13-story building. The roads and walkways are wide with several places to stop along the way to rest and take in the breathtaking views. Comfortable athletic or walking shoes are strongly recommended. If you have mobility concerns, please see Accessibility for Sustainable Easy Access Transport (S.E.A.T.) Tram information.
Back to Top
Alcatraz Tours
Plan Your Visit
Frequenty Asked Questions
Accessibility
Check Confirmation

Skip to global NPS navigation
Skip to this park navigation
Skip to the main content
Skip to this park information section
Skip to the footer section

Exiting nps.gov
Alerts in effect, frequently asked questions.
Last updated: July 24, 2023
Park footer
Contact info, mailing address:.
Alcatraz Island Golden Gate National Recreation Area B201 Fort Mason San Francisco, CA 94123
415-561-4900 United States Park Police Dispatch: Non-Emergency: 415-561-5505 Emergency: 415-561-5656
Stay Connected

Search Experiences
Manage Booking
Alcatraz Tour Options
As the official concessioner to the National Park Service, Alcatraz City Cruises offers in-depth visits to Alcatraz. Your visit includes round-trip transportation to the Island and outdoor National Park access.
Alcatraz Tour Options Overview
Pertinent information.
At Alcatraz City Cruises, our guests' well-being is our number one priority. We have proudly implemented new COVID-19 procedures to keep everyone safe & healthy.
Age Policy Adult- 18-61 / Junior- 12-17 / Senior- 62+ / Child- 5-11 / Toddler 4 and under are Free
Minors under the age of 18 are not allowed to tour Alcatraz Island without the accompaniment of an adult.
Group Tours If booking a group of 20 or more people, please contact the Alcatraz City Cruises Group Services Department at 415.438.8361; or e-mail  [email protected]
Ticket Price
Please refer to our  Fee Breakout FAQ  for complete overview of Alcatraz Island ticket prices.
Alcatraz Island Named #1 Landmark in the U.S.

Alcatraz City Cruises is a Proud Partner and Authorized Concessioner of the National Park Service
Alcatraz tours faqs, is alcatraz open for tours.
Yes it is! Alcatraz tours with City Experiences are one of the most popular attractions in San Francisco, offering visitors a chance to explore this historic island and learn more about its rich history. Whether you're looking for Alcatraz tickets or just want to tour the island on your own, there are plenty of ways to enjoy this unique destination.
How long is the Alcatraz tour?
The Alcatraz tour typically lasts around 2 hours, although the exact duration will depend on the type of tour you choose. Some options include a self-guided audio tour that gives you the freedom to explore at your own pace, while others offer more in-depth guided tours with knowledgeable guides who can provide insight into the history and architecture of Alcatraz Island.
Can you tour Alcatraz?
Yes! Alcatraz tours are available year-round, and there are several different tour options to choose from. Whether you're looking for a self-guided audio tour or an in-depth guided tour, there are plenty of ways to explore this historic island with City Experiences.
What is the cost of an Alcatraz tour?
Alcatraz tour prices vary depending on the type of tour you choose. Self-guided audio tours start at $41 per person. Family packs are also available! Alcatraz ticket specials are also available for children, juniors and seniors.
What is the best time of year to visit Alcatraz?
There is no definitive "best time" to visit Alcatraz, as the weather and crowds can vary depending on the time of year. However, some visitors may prefer to avoid the busy summer tourist season when Alcatraz tickets are typically in high demand. If you're planning a trip during this time, be sure to book your tickets well in advance as this is one of the most popular attractions at City Experiences!
What is the best way to get to Alcatraz?
The best (and only way!) to get to Alcatraz Island is with City Experiences. Several different Alcatraz tours are available for purchase online. Check them out today!
Is the Alcatraz tour worth it?
Absolutely! Alcatraz is one of the most popular attractions in San Francisco, and it offers a fascinating glimpse into the island's rich history and architecture. Whether you're looking for an exciting day trip or simply want to see this unique destination, the Alcatraz tour is definitely worth it.
Are dogs allowed on Alcatraz tours?
Unfortunately, dogs are not permitted on Alcatraz tours. This is due to a number of safety and health restrictions that have been put in place. To learn more about service animals on Alcatraz Tours, please visit this link .
How early to arrive for the Alcatraz tour?
It's always a good idea to arrive at least an hour early for your Alcatraz tour, especially if you're visiting during the busy summer season. Be sure to leave plenty of time to account for any unexpected delays or transportation issues. Remember that it is also important to be respectful of fellow visitors!
Where to buy Alcatraz Tickets?
You can purchase Alcatraz tickets online through City Experiences. Our website offers a wide range of tours and activities for visitors exploring San Francisco and the surrounding area, including popular attractions like Alcatraz Island. Simply visit our website to learn more and book your tickets today! City Experiences is the official provider of tickets to Alcatraz Island.
Are Alcatraz tickets refundable?
Our tickets are fully refundable up until 72 hours prior to the departure time, or 24 hours if ticket assurance has been purchased. Within these timeframes, tickets can also rescheduled, but that is based on availability. Refunds can be processed via the Manage My Booking portal .
What if I miss my Alcatraz tour?
If you miss your Alcatraz tour, we will do our best to accommodate you on the next available tour. However, we cannot guarantee that tickets will be available. Be sure to arrive at least an hour early to avoid any delays or transportation issues.
Shopping Cart
Find your experience.
United States
San Francisco
18 Best Alcatraz Island Tours – Which One to Choose?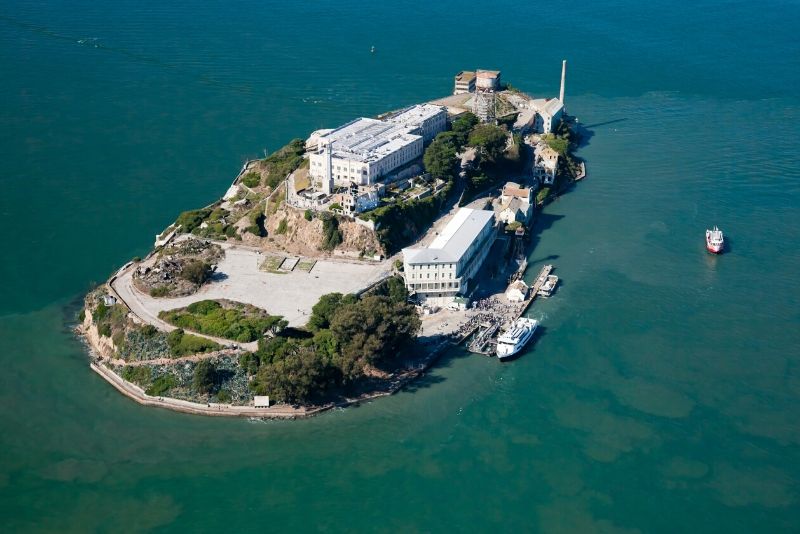 Are you looking for the best Alcatraz tours? Then you've come to the right place – we've put together a list of the most exciting adventures to the former prison island of Alcatraz. Head to one of the most popular tourist attractions in San Francisco and discover one of the most notorious landmarks in the world.
Are you looking to book standard Alcatraz tickets? Read our article about Alcatraz tickets or our post about how to get Alcatraz last minute tickets .
1 – Jail and Sail: Alcatraz Tour and Sunset or Twilight Bay Cruise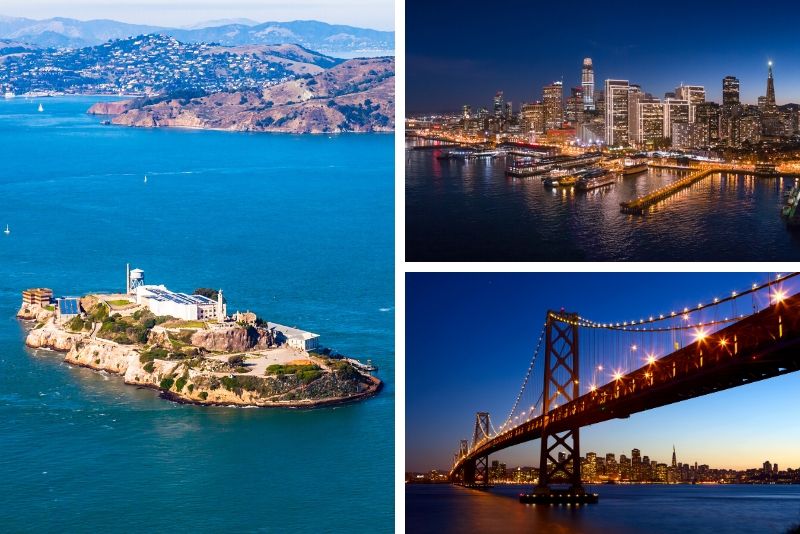 Cruise across San Francisco Bay, not once but twice, with this Jail and Sail tour. One of the best Alcatraz tours, start your day by uncovering the mysteries of the former prison and learn about its controversial past.
Then enjoy an evening cruise on San Francisco Bay, watching the sunset against famous landmarks like the Golden Gate Bridge and the Bay Bridge while you enjoy an onboard buffet.
2 – Alcatraz and Big Bus Premium 1-Day Hop-On Hop-Off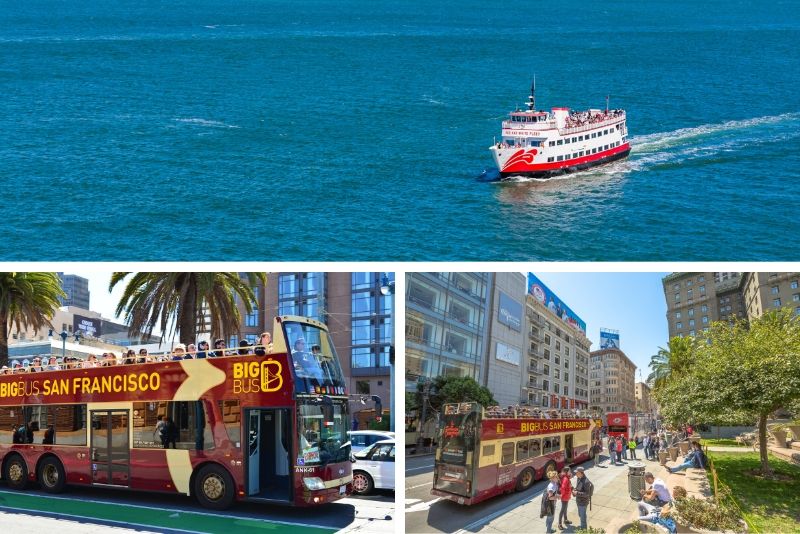 Make the most of your San Francisco visit by combining a trip to Alcatraz with other iconic landmarks thanks to this Big Bus Premium combination tour. Hop-on and hop-off as it suits you, taking the opportunity to see the former prison where there were 14 escape attempts.
Use your premium Big Bus pass to see even more of the vibrant city of San Francisco and go on a walking tour of Chinatown and the Golden Gate Bridge.
3 – Alcatraz Island Tour
Alcatraz has been a civil war fort, a military prison, one of the most notorious federal penitentiaries in history, and now it's a sought-after tourist attraction.
This Alcatraz Island Tour provides a first-hand experience of the former prison with a 45-minute audio presentation, comments from former guards and teachers, and the chance to view the historic gardens that are now full of wildlife.
4 – San Francisco VIP Segway Tour and Alcatraz Ticket Combo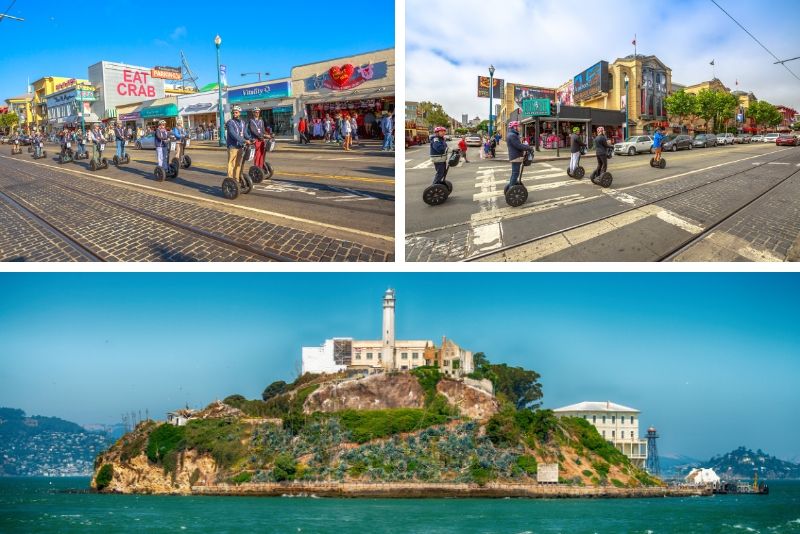 ee the sights of San Francisco on a Segway and combine your ticket with a visit to the infamous island of Alcatraz. Segway the streets of San Fran, taking in famous landmarks as you zip along the tour.
Then, cross the bay (on a boat, not a segway!) to spend the afternoon exploring Alcatraz Island with a complimentary audio guide.
5 – Combo Tour: Alcatraz Island and San Francisco Grand City Tour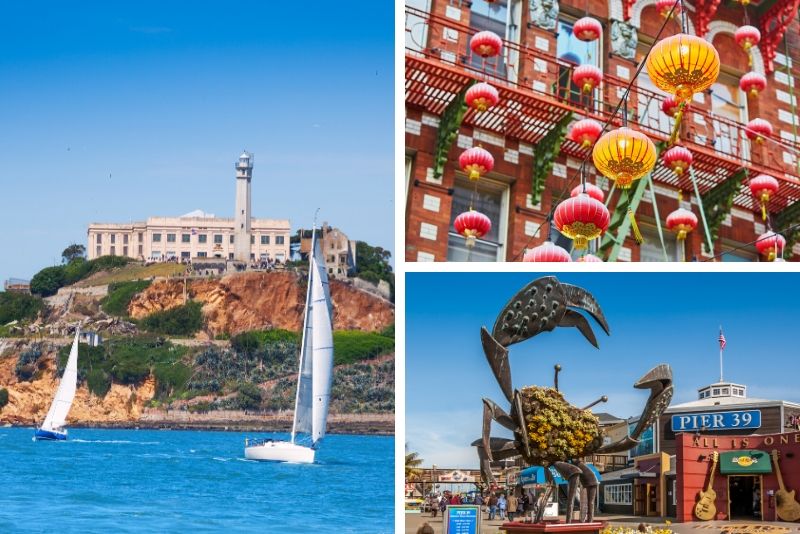 If you're looking for the best Alcatraz tours, it's worth doing this combo that involves the former prison and the best of San Francisco. Start the day by boarding a ferry and enjoy a scenic ride across the bay before taking part in an award-winning audio tour of Alcatraz.
After the Alcatraz tour, jump on a coach and see popular tourist attractions like Fisherman's Wharf, Chinatown, and Palace of Fine Arts.
6 – Early Access to Alcatraz and Cable Car Sightseeing Tour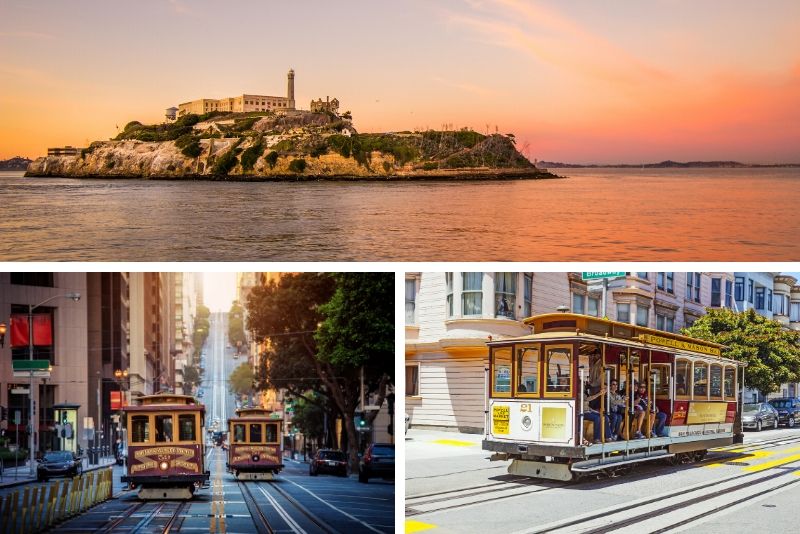 Beat the crowds with this early access tour of Alcatraz and wander the former prison grounds at your leisure. Listen to the popular audio tour as you explore the grounds that housed some of the US' most notorious criminals.
Round your day off with a Cable Car Sightseeing Tour of the best landmarks in San Francisco.
7 – San Francisco Helicopter and Alcatraz Tour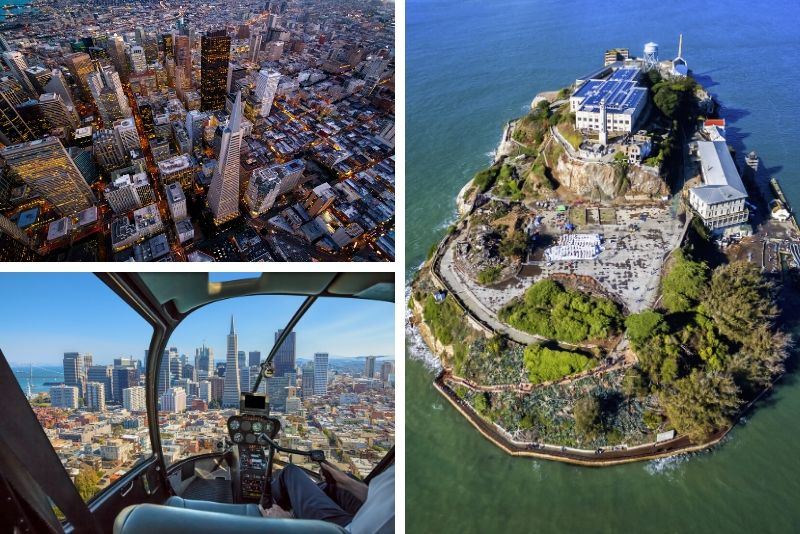 See San Francisco in all its glory as you take to the skies in this helicopter tour. The flight lasts for around 20 minutes and includes bird's eye views of the bay area. This the helicopter ride might be short, but it's one of the best Alcatraz tours and a great way to see the city.
Once it's finished, you'll hop on a ferry and head to Alcatraz, where you can explore the famous sight that is also known as The Rock.
8 – Seaplane Flight + Alcatraz Cruise & Tour Combo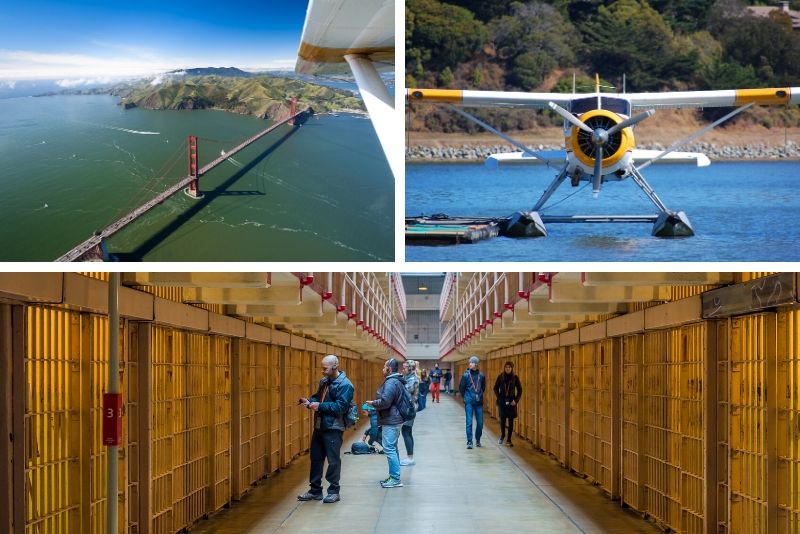 Get ready to fly high on one of the best San Francisco tours, going with a 30-minute flight that takes you over the Golden Gate Bridge and downtown San Fran on a seaplane.
Cap the tour off by taking to the waters and going to Alcatraz, where you will hear commentary from real inmates that were once imprisoned on the island.
9 – Cycle The Golden Gate Bridge and Alcatraz Ticket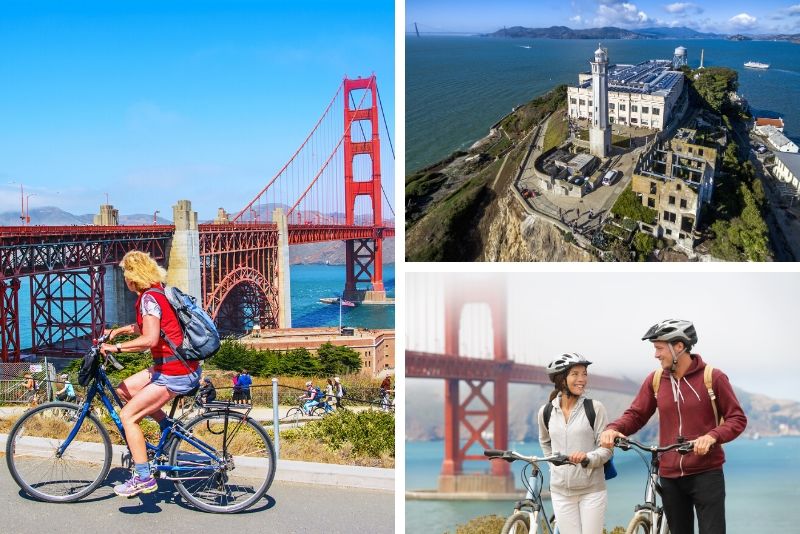 Feel the breeze on this cycling tour that includes a ticket to Alcatraz and takes place over 2 days. First up is your chance to cycle across the Golden Gate Bridge, one of the most famous bridges in the world.
The second day includes a trip to Alcatraz Island and the chance to explore the place that imprisoned Al Capone and the Birdman.
10 – San Francisco Combo: Ferry Building Food Tour and Alcatraz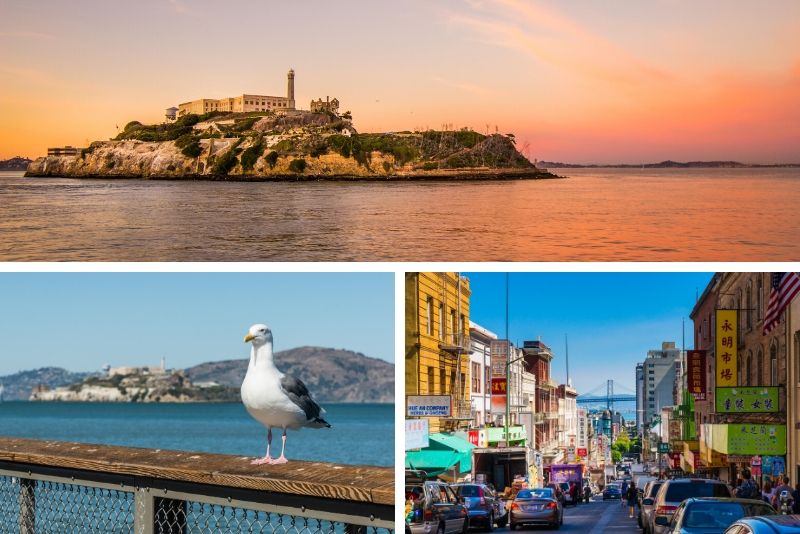 Treat your taste buds on this Sanfrancisco combo tour that includes a trip to the Ferry Building and Alcatraz. Led by a foodie expert, the Ferry Building is a dream for culinary connoisseurs with its concourse that features delights from artisans and farmers.
The second part of the tour is a trip across the Bay to Alcatraz, the former federal prison that is now a national park.
11 – Half-Day Golden Gate Catamaran Cruise & Alcatraz Visit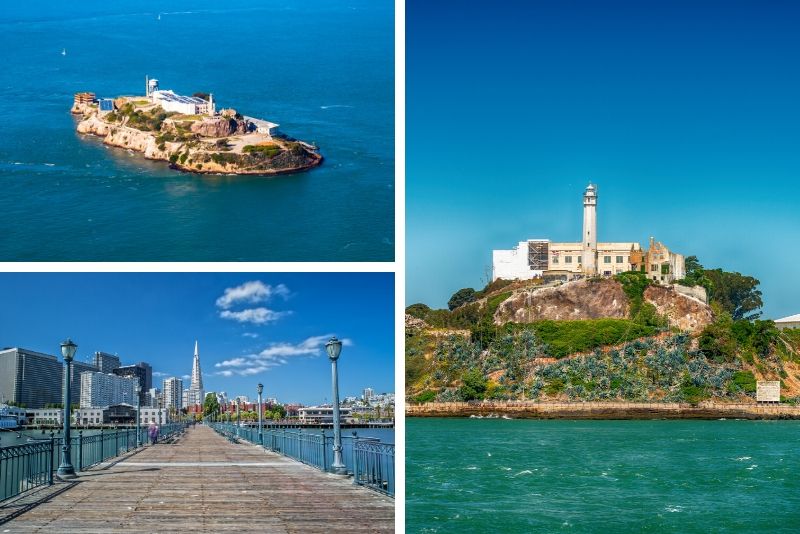 Experience a different way to see San Francisco Bay on a catamaran cruise ship, taking in the local skyline and iconic landmarks like the Golden Gate Bridge as you sail around.
Finish the tour off with a trip to the former federal prison, Alcatraz Island and enjoy one of the best Alcatraz tours.
12 – Alcatraz Ticket and Walking Craft Beer Tour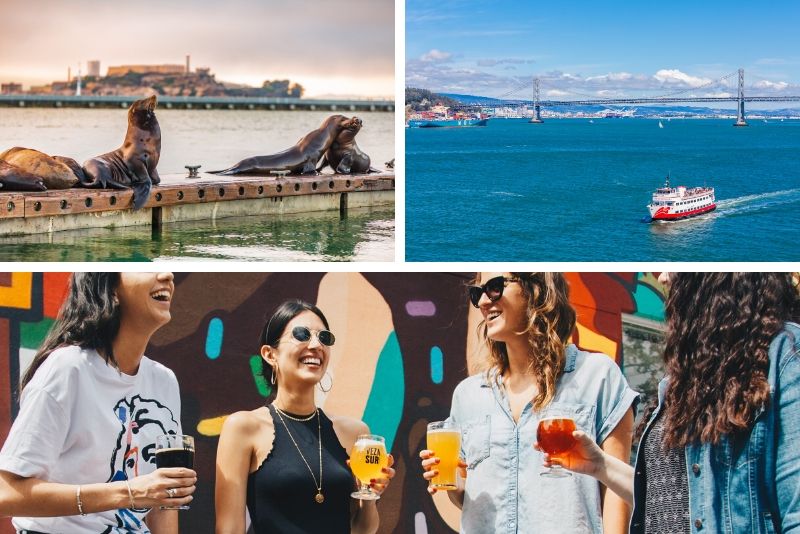 Visit the iconic Alcatraz Island and then indulge in a walking craft beer excursion on this 9-hour combination tour. Kick things off at Pier 33, where you will embark on a local ferry to Alcatraz. Here, you can witness historic cells during a morning tour of the island.
The second half of the tour takes a twist and will see you learning about the San Francisco beer industry while trying popular ales.
13 – San Francisco All-Day Alcatraz and GoCar Adventure Package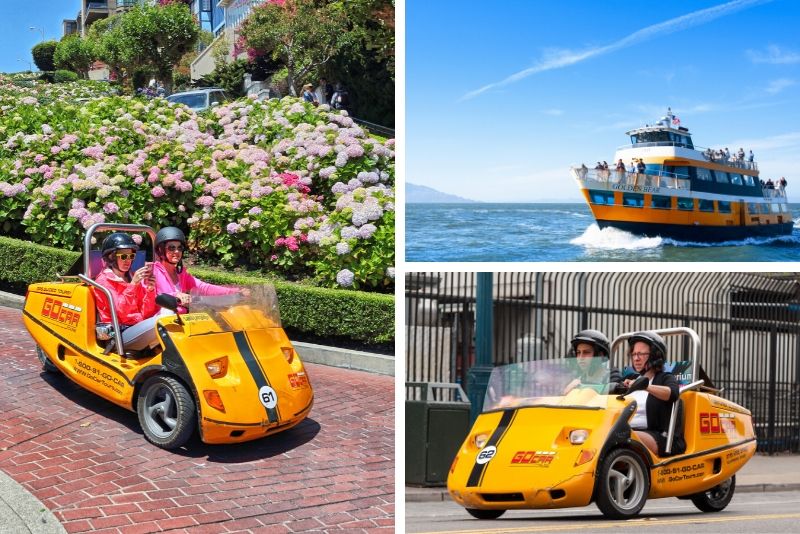 Part historic visit of a former prison, part adrenaline-filled day, the All-Day Alcatraz and GoCar Adventure Package sees you zipping around the streets of San Francisco in what is one of the best Alcatraz tours around.
Explore The Rock with an award-winning audio tour, then hit the streets of San Fran in a private GoCar that includes 50 fantastic attractions that include Presidio, Crissy Field, Ocean Beach, Golden Gate Park, and Lombard Street.
14 – San Francisco: Alcatraz & Bay Voyager Adventure Cruise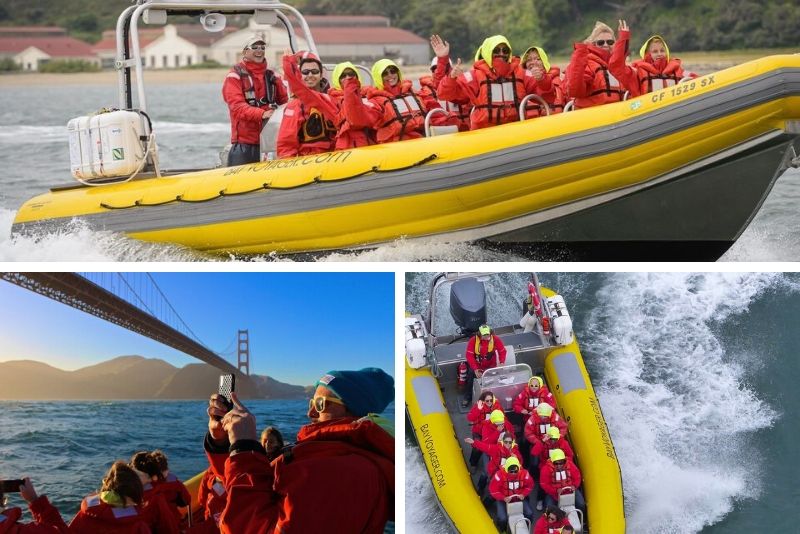 Another great cruise and prison combo (don't worry; no one's getting locked up!), this Alcatraz and Voyager Adventure Cruise lets you combine the delights of San Francisco Bay with one of the city's most famous attractions.
Experience the madness of Alcatraz before hopping on the Voyager Adventure Cruise, where you will get face to face with fabulous sea lions and see iconic landmarks like the Golden Gate Bridge.
15 – San Francisco: 1.5 Hour Waterfront Bay Sail Around Alcatraz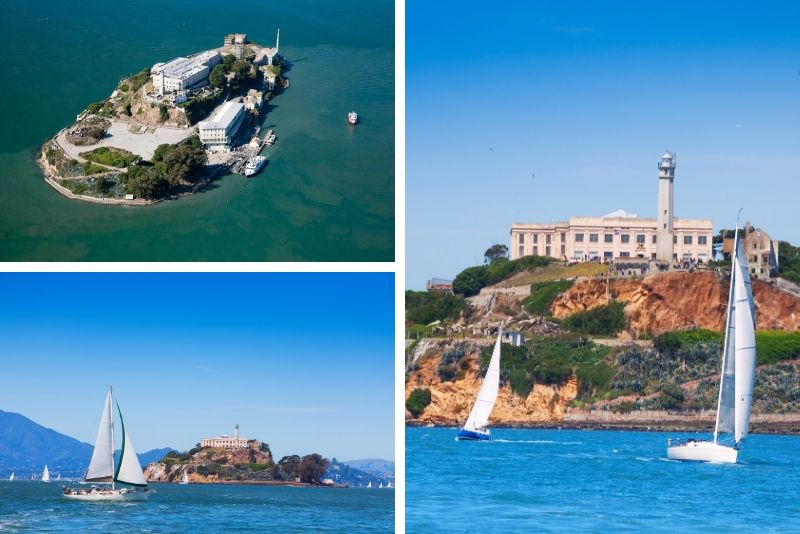 If you don't fancy heading into the belly of the beast and discovering Alcatraz Island first-hand but still want to discover its history, the Waterfront Bay Sail around Alcatraz is the tour for you.
Lasting 1.5 hours, the tour sees you boarding a sailboat and sailing around Alcatraz while you listen to live narration that stories the past of this former prison.
16 – San Francisco: Alcatraz and Wine Country 2-Day Combo Tour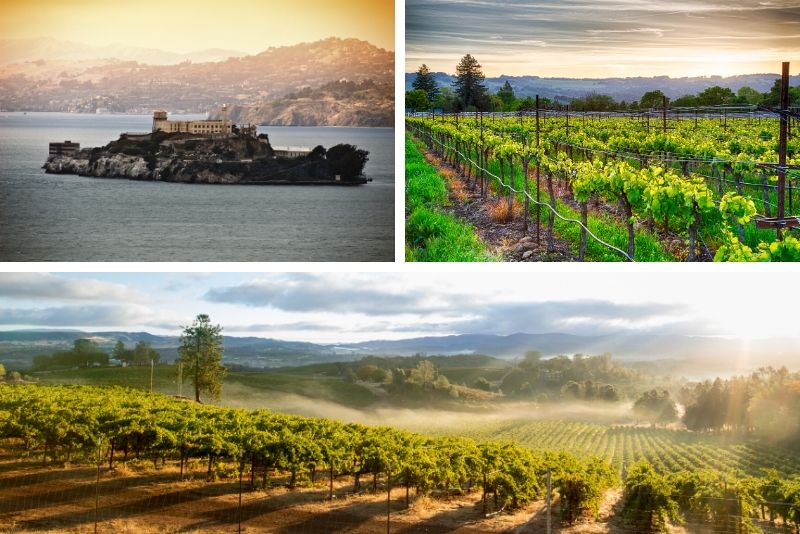 Spread over two days, this Alcatraz and Wine Tour provides you with the opportunity to visit the infamous island and then relax in San Francisco's wine country with a glass of red.
Discover the horrors of a former prison that held Al Capone, the Birdman, and Machine Gun Kelly, then relax in wine regions and tour Sonoma and Napa valleys while tasting award-winning vino.
17 – Alcatraz Night and Yosemite Day Tour from San Francisco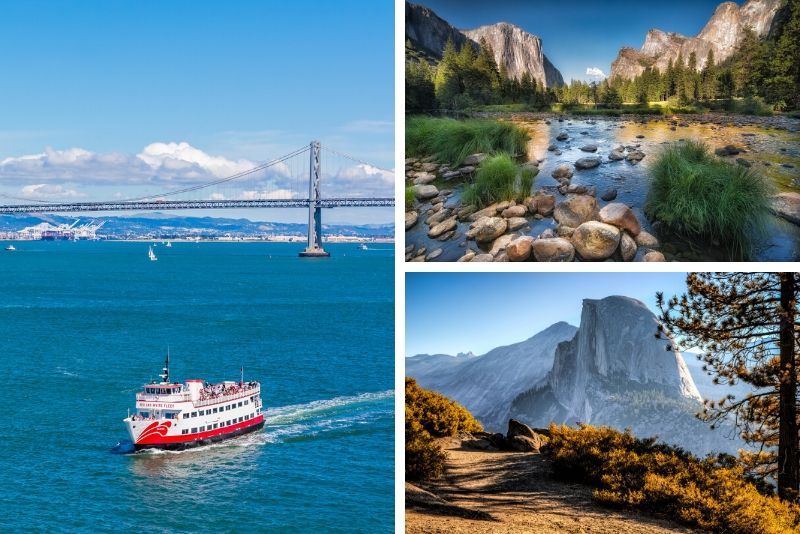 You haven't seen Alcatraz until you've seen it at night, away from the crowds. Start the tour off with a narrated boat trip to the island before embarking on the former prison lands and taking part in the "Doing Time: The Alcatraz Cellhouse Tour," which is catered specifically for night time.
The following day provides an opportunity to visit Yosemite National Park and enjoy a 1.5-hour narrated tour, which includes rock formations, Yosemite Falls, and North America's tallest waterfall.
18 – Alcatraz Tour plus Muir Woods and Sausalito Day Trip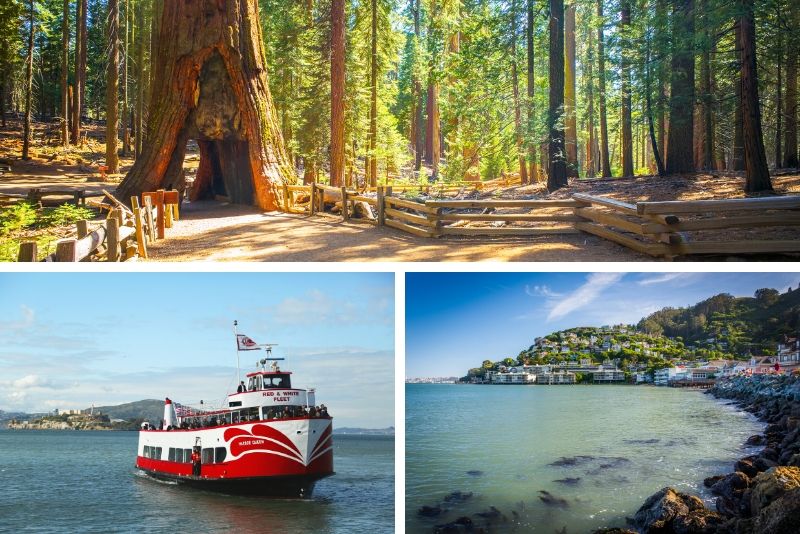 Combine a tour of Alcatraz and Muir Woods so that you can see the best attractions in San Francisco in quick succession. Take an audio-guided tour of Alcatraz and learn the history of the world's most famous prison before heading to Muir Woods, which includes a trip to the city of Sausalito.
Alcatraz gives you the chance to explore the former prison island, Muir Woods provides the opportunity to see giant redwood sequoia trees, and Sausalito offers plenty of shops and views of one of California's prettiest towns.
Alcatraz Island Is Now Open!
Your National Park on The Bay!
About Alcatraz package
Why buy our alcatraz tour package.
Alcatraz Cruises does sell blocks of tickets to authorized tour companies who combine them with other tours. Buying the packages that include Alcatraz is a best way to get tickets for Alcatraz, and basically that's the only way of getting tickets, when they are sold out at the main box office.
Are you thinking about visiting Muir Woods or Sausalito, doing a bay cruise, bike over the golden gate bridge or taking a city tour? There are no bargain or discounted tickets for Alcatraz per se, but if you are planning to take another tour or tours while you're here, you may save some money by doing a combination of Alcatraz plus another tour(s). In some cases, it's actually more expensive to do the combos, but may be the only way of snagging tickets for sold out days.
What We Offer
Alcatraz Highlights
Get your family and friends ready.
What Our Customers Say About Us
Enjoy Season Deals Call us Now to Reserve
Reservation Terms and Conditions