BSCS takes over first cruise ship
Bernhard Schulte Cruise Services (BSCS), part of BSM, has been awarded its first cruise vessel contract by German cruise ship operator Phoenix Reisen. The newest division of BSM, BSCS, will provide technical management services to MS Albatros in Puerto Limon, Costa Rica.
The Albatros is a 205-metre-long cruise ship and carriers 830 passengers and 340 crew, of which 79 are deck and engine crew under the management of BSM. Often referred to as the 'White Lady,' she is over 40 years old, her classic lines and wide promenade deck make her a firm favourite with her passengers.
BSCS is dedicated to maximising passenger safety, comfort and operational reliability through a pool of personnel with many years of experience within the cruise sector.
Les Royle, Managing Director of BSCS, stated, "This is a very proud moment for myself and the Cruise Team. Phoenix Reisen is a well-established player in the German cruise market and we are delighted to be awarded technical management of this fine vessel."
Related Articles
Featured Interview: Ian Beveridge
Waypoint Port Services continues to expand
Bernhard Schulte Shipping Day China
Subscribe Feedback Contacts
www.bs-shipmanagement.com
© 2023 Bernhard Schulte Shipmanagement. Powered by Phileleftheros Digital Media team | Privacy Policy
Interview: Ian Beveridge
Schulte Group grows presence in Ghana
Customer Satisfaction Survey highlights improvement in BSM performance
S.M.C secures a series of new building projects
BSM at CMA Shipping
BSM speaks at Asian Tanker Conference
BSM Cadet Safety Seminar
BSM Mexico awarded ISO and OHSAS
The dynamic LNG market
Managing vessels with a technological edge
British Isles: The benefits of specialisation
Seafarer Profile: Captain Robert Zutte
Catering to the cruise sector
BSM establishes Fleet Performance Centre
In Memory of Robert Maxwell, Managing Director BSM Singapore
BSM Cyprus wins 'Best Workplace' award
BSM seafarer saves Australian dock worker's life
BSM recognises top performers
BSM supports Junior Achievement
Issue 1 – 2018
Issue 2 – 2018
Issue 1 – 2019

River cruise
Building & refurbishment
Marine operations
Onboard Experience
Ports & Destinations
cruise & ferry review
Cruise & Ferry Itinerary Planning
cruise & ferry interiors
Ferry Business
Sustainable Maritime Interiors
subscriptions
Find a supplier
add or manage your listing
marine traffic map
sustainability reporting
cruise & ferry green list
Ship of the Year
Our partners

BSM Cruise Services to provide vessel management services for Ambassador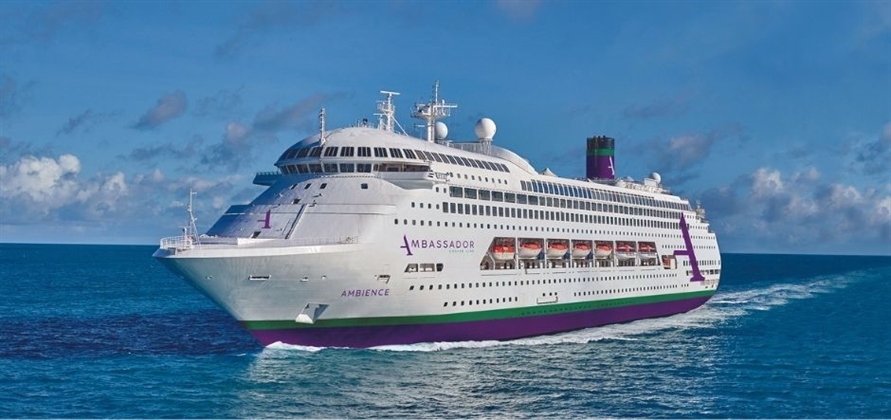 Ambassador Cruise Line
New British operator Ambassador Cruise Line has contracted BSM Cruise Services to provide vessel, port operations and technical management services for its first ship, Ambience, which will debut in April 2022.
BSM Cruise Services will manage the planned sustainability, safety and efficiency projects onboard Ambience, which formerly sailed as P&O Cruises Australia's Pacific Dawn and will be extensively refurbished before joining the Ambassador fleet.
"We are delighted to be partnering with BSM Cruise Services. They share the same vision with regards to safe vessel operation and really understand the importance of pioneering environmental and social responsibilities," said Christian Verhounig, CEO of Ambassador Cruise Line. "Their vision, combined with substantial investment in advanced technology, were instrumental in our decision to appoint them. They will be an important part in our delivery of a premium value product for guests onboard our significantly upgraded ship.
The 1,400-guest Ambience, which is currently laid up in Bar, Montenegro, will undergo various cosmetic upgrades and will also be equipped with the latest ballast and sewage water treatment systems to allow her to sail in environmentally protected seas. The ship will also have various technologies to reduce emissions.
"Ambience will be modernised, and beside upgrades in cabins and public areas, will be outfitted with emission reduction technologies to be International Maritime Organization Tier III compliant prior to the start of her inaugural cruise season in 2022," said Verhounig. "She will not only adhere to the latest rules regarding emission reductions but will also already be compliant with rules that do not come into force until 2025."
Martin Springer, managing director of BSM Cruise Services, said: "BSM Cruise Services is excited to welcome this fine vessel into our management, and to be part of launching Britain's newest cruise line. We look forward to supporting our new customer on this inspiring journey by leveraging our expert knowledge in maritime technologies."
Sign up to get our monthly updates delivered straight to your inbox .
Most popular
Latest news.

Stay connected
CruiseandFerry.net is the online home of Cruise & Ferry Review, a twice-yearly magazine that is also available for subscription in both printed and digital formats.
Via our website, magazine and social networks, we aim to be the world's best supplier of news and insight into the global passenger shipping industries. Our content covers both the cruise and ferry businesses, and provides our audience with insight into building and refurbishment, marine operations, onboard experience, ports and destinations and more.
Cruise news
Cruise events
Digital edition
Magazine overview
Cruise & Ferry Review
Subscriptions
Supplier Directory
Add or manage your business
Keep up with the latest
Subscribe now!
Download iOS app
Terms of use
Privacy policy
Cookie policy

Maritime Services
Current: Crew Recruitment & Training
Crew Recruitment & Training
People are at the heart of the maritime industry
By applying the best crew recruitment and training practices, BSM ensures the best professional seafarers are available for the right jobs at sea.
Change is the only constant in life..
BSM operates four Maritime Training Centres (MTC) in Cyprus, China, India and the Philippines to train and develop seafarers, improving their competence in line with company standards and requirements. This ensures continuous learning and development opportunities are provided to support seafarers in their career progression.
Courses offered by the MTCs address operational, safety, and environmental training needs for general and specialised vessels in an evolving maritime industry.
Our Crew Service Centres ensure you have the most competent and professional crew managing your fleet!
BSM owns 26 Crew Service Centres (CSCs) around the world to ensure highly competent, duly certified, experienced and medically fit seafarers are selected and recruited for placement onboard BSM managed ships.
Seafarers are at the heart of BSM's maritime operations. The CSCs play a key role by providing service and operational support to seafarers and clients.
Our rigorous selection processes, periodic appraisals and career growth opportunities play a crucial role in maintaining and growing an excellent pool of dedicated seafarers and office personnel around the world.
To explore a career with BSM at sea, please click here
BSMPay – powered by Shipmoney
Our seafarers are at the heart of BSM's ship management operations and like any shore job, being paid on time is key. We've digitalised this function via BSMPay, a digital payment platform provided by our partner Shipmoney that enables seafarers to receive funds in real-time, and send money home, exchange money at best trading rates, and withdraw cash at most ATMs worldwide. This reduces cash to master requirements and the associated security requirements and costs.
You might also be interested in:

To be a leading maritime solutions provider.
Our mission, we enable our business partners to achieve their objectives through applied knowledge, experience and innovation., key figures.

Ship Management Centres

Years in the Manning Industry

Seafarers Statistics
Our fleet of manned vessels.
As of 03 Jan 2023, BSM Crew Service Centre Philippines, Inc. has about 8,397 active seafarers on board and on leave, and manning 503 vessels comprising of the following types: LPG Tankers (Pressurized, Semi Refrigerated & Fully Refrigerated) LNG Vessels Crude Oil Vessels Product Vessels Chemical Tankers Vessels Container Vessels Cruise Ship Bulk Carriers Offshore Support Vessels as well as FPSO's .
Key Performance Indicator
Crew on board overall 81 %, crew on board dry 36 %, crew on board tanker 45 %, retention rate overall 97 %, retention rate dry 98 %, retention rate tanker 97 %.
What does BSM mean?
Bronze Star Medal (BSM) is the fourth-highest individual military award for bravery, heroism or meritorious service in the US Military.
Frequently Asked Questions (FAQ)
What is the full form of bsm in military awards (usa).
The full form of BSM is Bronze Star Medal
What is the full form of BSM in Governmental?
Bronze Star Medal
What are the full forms of BSM in the United States?
Bronze Star Medal | Benilde-St. Margaret's
Translation
Similar terms.
AOM : Army of Occupation Medal
REF : Rapid Equipping Force
RRP : Radio Reconnaissance Platoon
Abbreviations
Please refer to the appropriate style manual if you have any questions.
Facebook Twitter