Swiss Holiday Newsletter
Please register your email address and we will keep you informed about interesting developments on holidays to Switzerland, along with any special offers that may become available.
By continuing, you are giving your consent to your details being stored by Swiss Holiday Co. for the sole purpose of sending you our newsletter. Swiss Holiday Co. will not share your information with any third party. You can always unsubscribe to our newsletter by sending an e-mail to [email protected] , at which point your data will be deleted from our mailing list.
Swiss Holiday Brochures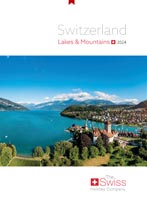 Lakes & Mountains 2024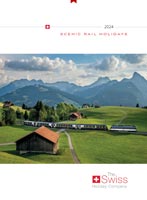 Scenic Rail 2024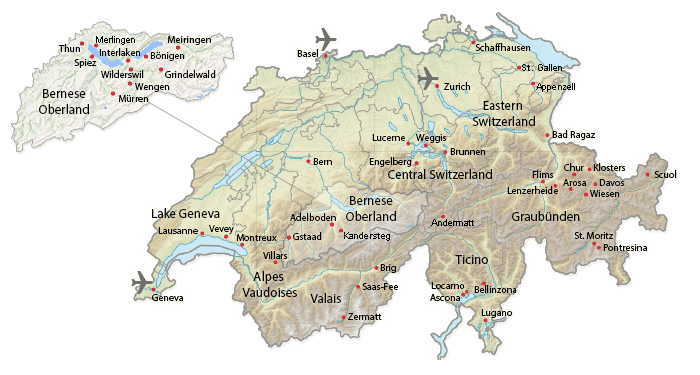 Swiss Travel Pass
3, 4, 6, 8 or 15 days of free travel around switzerland.
The Swiss Travel Pass gives you unlimited travel on the public transport network, allowing you to fully explore the length and breadth of this beautiful country. It also has the benefit of allowing you to bypass the queues at the ticket offices.
For 3, 4, 6, 8 or 15 consecutive days, you can enjoy:
FREE travel on the network of mainline trains throughout Switzerland
FREE travel on the classic scenic rail routes including the Glacier Express, GoldenPass Express and the Bernina Express (small booking fee may apply) 
FREE travel aboard the boats of Lake Thun, Lake Brienz, Lake Lucerne, Lake Geneva, Lake Lugano, the Swiss section of Lake Maggiore, Lake Zurich
FREE popular mountain excursions - Mount Rigi, Klewenalp, Stoos and the CabriO cable car to the Stanserhorn
FREE travel on the PostBus network across the country
FREE local bus and tram travel in 90 Swiss cities
FREE travel for children up to the age of 16 when travelling with parents 
FREE entry to more than 500 museums throughout the country, and significant discounts to many other attractions
50% discount on most mountain trains, funiculars and cable cars
Please see the Swiss Travel Pass map for further details.   
Please note, there are a few exceptions such as the boats on the Italian section of Lake Maggiore and the last part of the journey to the Jungfraujoch-Top of Europe, where the discount is 25%.   
Prices for The Swiss Travel Pass are available on request. You have a choice of 3, 4, 6, 8 and 15 day passes. 
You may also be interested in the  Swiss Travel Pass Flex , which allows you to freely choose your travelling days within a specified month. On the selected travel days, you will enjoy all the benefits listed above. On the other days, travel will be full fare. Please call us for latest prices.
Holidays with a Swiss Travel Pass included
While Swiss Travel Passes can easily be added to the majority of holidays, we have a few suggested itineraries which already include it. Take a look at these holidays which offer great value for money. 
6 Days | Essential Glacier Express
6 Day | Heart Of Scenic Switzerland Holiday
8 Day | Supreme Glacier Express Holiday
8 Day | Switzerland's Top Lakeside Resorts Holiday
8 Day | Scenic Contrasts Holiday
8 Day | Mini Grand Tour
15 Day | Grand Scenic Train Tour
15 Day | Hidden Treasures Holiday
Swiss Travel Guide app
This free app is specially designed for tourists and offers timetables for the Swiss bus, boat and train network. There's also plenty of information about the lakes and mountains trips you can make in the surrounding area. 
Google Play Store
Request your holiday quotation
Speak to our team today to find out more!
Call us on 0800 619 1200 or email us at [email protected]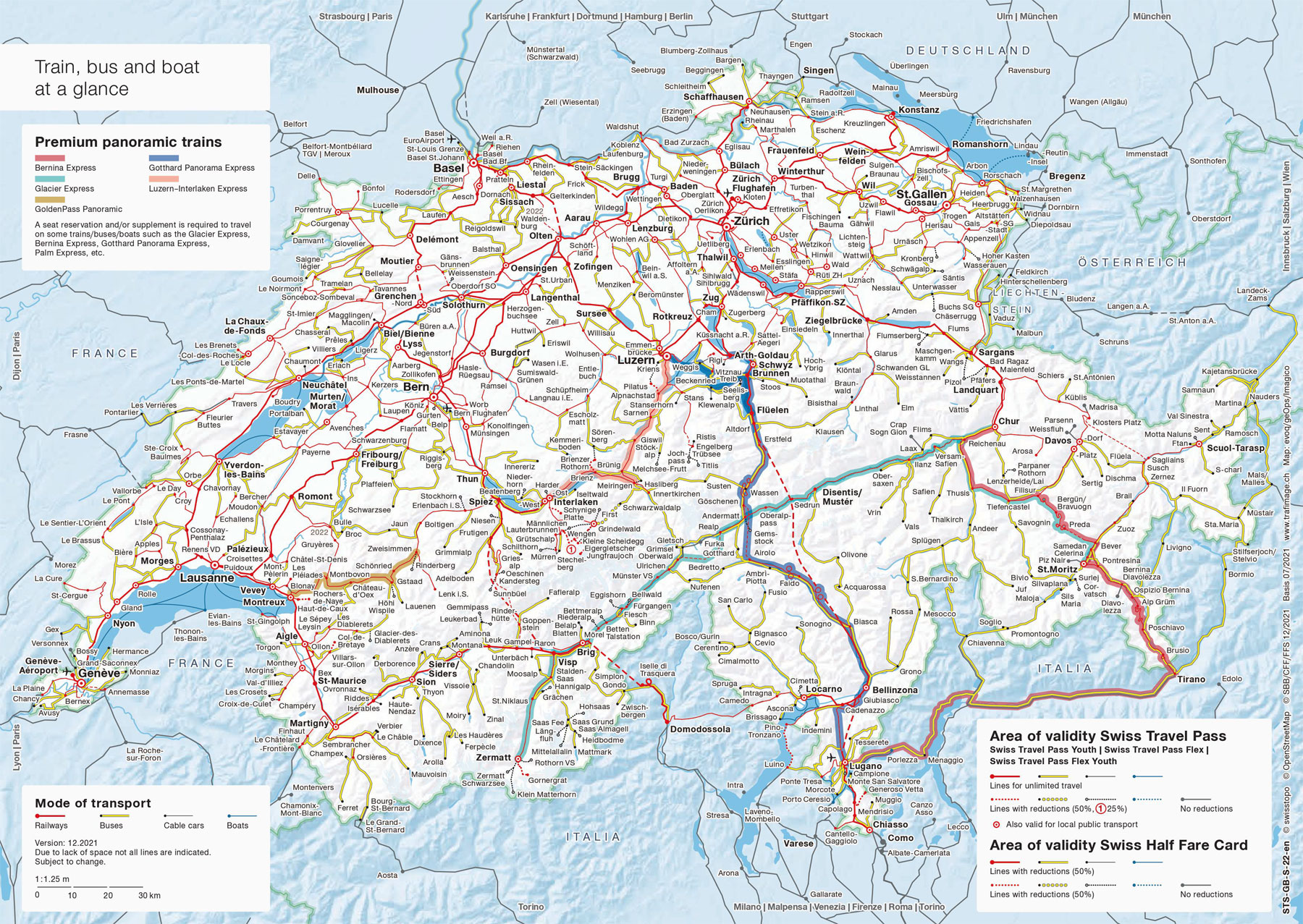 Did you know?
Each of our recommended excursion pages will mention if you can use your Swiss Travel Pass. Find out more in these regional summaries:
Bernese Oberland
Central Switzerland
Lake Geneva
Ticino region
Valais region
Eastern Switzerland
Planning your holiday 2024
Decide where you would like to stay
Choose your scenic journeys
1st or 2nd class rail travel in Switzerland
How many nights in each resort
Decide on bed & breakfast or half board
3, 4 or 5 star hotel accommodation
Plan visits with your Half Fare Card
Best Excursions

Holiday Quotation

Order Brochures
Contact information
 Address: 45 The Enterprise Centre, Cranborne Road, Potters Bar EN6 3DQ
 Freephone: 0800 619 1200 Call from outside UK  +44 1707 646466
 Email: [email protected]
 Sitemap: Web Sitemap
ABTA & ATOL Members

Foreign, Commonwealth & Development Office advice
Please click here for the latest advice from the Foreign, Commonwealth & Development Office on travel to Switzerland
We work closely with SBB - the Swiss Travel System - and Switzerland Tourism

Design and Development

The Swiss Holiday Company, 2023. All rights reserved. Pictures and video belong to our partners and are used with permission.
More From Forbes
This european country offers free transport if you stay in a hotel.
Share to Facebook
Share to Twitter
Share to Linkedin
In Switzerland, visitors who stay at least one night in a hotel can benefit from free bus, train and ... [+] tram rides in most places in the country.
Though it may only cost a few dollars a ride, public transport can quickly weigh on your vacation budget if you're planning on moving around a lot.
But in Switzerland, visitors who stay at least one night in a hotel can benefit from free bus, train and tram rides in most places in the country. Here's how it works and how you can save on your Swiss break.
How To Get Free Public Transport In Switzerland
To be eligible for free public transport in Switzerland , visitors just need to book at least one night in tourist accommodation, including hotels , hostels and campsites . On arrival at your place of stay, you will receive what is known as a 'guest card'. This provides free access to trams, trains and buses within a city or local area.
The card is handed over during check-in and issued in paper or digital format, depending on the destination. If you are staying in non-eligible accommodation (an Airbnb, for example) or with friends or relatives, this card can be obtained for a few euros from the tourist office.
Different places have slightly varying names for the card, such as the Zurich Card, Cityticket Baden and Simmental Card. The offer is available in most major Swiss cities as well as some villages and mountain resorts. With this system, the only ticket you need to pay for is for your journey on the day of arrival to reach your accommodation.
Switzlerland's guest card provides free access to trams, trains and buses within a city or local ... [+] area.
The Newly Renovated Deadwood Mountain Grand Hotel Honors A Mining Past
Airbnb reveals the 17 most desired winter wonderland vacation homes, celebrity cruises reveals celebrity xcel.
The guest card also comes with a lot of other benefits, including discounts for tourist attractions. In Zurich, you can take advantage of free or discounted admission to 43 museums. In Brienz, you get a free village tour and discounts on cable cars. If you stay in Diemtigtal, the Nature Park Card gives you access to free travel by PostBus and a surprise gift made of Diemtigtaler wood. Head to Basel and you'll get free Wi-Fi and half-price city tours, while the Aargau Wellness Pass makes you eligible for 15% off thermal spa entrance fees.
The Italian-speaking canton of Ticino, in the south of the country, was the first to launch the guest card on a regional scale to promote more eco-friendly travel and develop sustainable tourism. The Ticino Ticket was introduced in 2017, shortly after the inauguration of the Gotthard Base Tunnel, the world's longest rail tunnel. Originally planned to last one year, the measure has been constantly renewed in the face of its success.
How To Get Free Public Transport In France
A few destinations in France have also introduced the guest card system. The best known is the one offered by the Chamonix Valley, which grants free access to the SNCF Mont Blanc Express train between Servoz and Vallorcine, as well as a reduction on the bus network and certain museums. Holidaymakers staying in Briançon, France's highest city, benefit from a pass valid for unlimited journeys on city buses. In around 40 French cities, however, there is no need for a guest card at all. In destinations including Dunkirk, Bourges, Cahors and Dinard, transport is free every day for everyone.
Editorial Standards
Reprints & Permissions
Swiss Travel Pass Overview and Insights for 2024 (UPDATED)
Are you planning a trip to Switzerland and wondering how to make the most of your journey? We'll tell you a little secret: choose public transportation. Have fun divulging our Swiss Travel Pass overview. You'll thank us for all the advice and never look back!
In this useful guide, we've addressed some of the most frequently asked questions about the Swiss Travel Pass. And we delved into the nitty-gritty details, including the benefits it offers to tourists and travelers. You're looking at the most solid Swiss Travel Pass overview to help you decide and plan.
You'll first learn about the Swiss Travel Pass types, prices, and purchase options. We then cover all the benefits in detail. And finally, we share insights and expert advice on how to use the pass while traveling in Switzerland.
Swiss Travel Pass Overview
What is is, what the benefits are, and tips on getting the most out of it.
Types of Swiss Travel Passes
Swiss travel pass prices (2024), swiss travel pass discounts, download a swiss travel pass map, our verdict about the swiss travel pass.
There are three types of passes available:
Swiss Travel Pass
Unlimited travel on a select number of consecutive days
Swiss Travel Pass Flex
Unlimited travel on a set number of freely selectable days within 30 days
Swiss Travel Pass Youth
Discounted pass (30%) for those under 25
The Swiss Travel Pass durations are as follows: 3, 4, 6, 8, or 15 days.
All three types of passes are available for either first or second classes. On certain trains, you can upgrade to first class on the spot. The first-class coaches offer more spacious seats, larger windows, and other amenities. But even second-class coaches are comfortable, and this could be a way to save money for those on a budget.
Important: a valid Swiss Travel Pass does not guarantee a seat on a train. Yet with a valid pass, you won't have to worry about purchasing individual tickets for specific dates. Simply board and train, including those that require a seat reservation, and produce the pass plus an ID document to the conductor.
There is one exception: seat reservations are required on the Glacier Express. And they are strongly recommended on popular lines like the Bernina Express or the GoldenPass Express . Reservations can be made through the respective train operator's website.
Swiss Travel Pass prices 2024 have been released. For a side-to-side comparison with other rail passes, look at the charts in our Swiss Travel Pass benefits post.
2024 adult pricing for the consecutive Swiss Travel Pass is as follows:
Swiss Travel Pass Price 2024: Fares, Discounts, Price Changes
Swiss Travel Pass discounts are available for certain age groups:
Children under six years travel free of charge on public transportation in Switzerland.
Children aged 6 to 16 with at least one parent holding a valid ticket travel free with the complimentary Swiss Family Card. A valid ticket could be a Swiss Half Fare Card or a Swiss Travel Pass.
The Swiss Travel Pass Youth offers a 30% discount to those aged 16 to 25 until their 26th birthday.
Where to Buy a Swiss Travel Pass
The easiest way to buy a Swiss Travel Pass is at a reputable online travel agent like RailEurope. The pricing for the pass will be identical wherever you decide to buy it - the customer service experience may differ.
For spontaneous travelers, any train station in Switzerland will issue a Swiss Travel Pass, such as the station inside Zurich Airport.
When purchasing the pass online, simply select the type of pass, the number of days you plan to travel, and whether you want to remain flexible. And finally, input the desired travel class. Once the purchase is completed, you will instantly receive the pass electronically as an e-ticket.
Buy a Swiss Travel Pass at RailEurope
Purchase the Swiss Travel Pass online at the most reputable vendor starting at EUR 244. You will receive an immediate email confirmation with a PDF ticket.
With such a wide coverage, including the entire rail system of Switzerland, it's good to know that an overview map is available. The official "Area of Validity" map can be accessed as an interactive rail map - or you may download a printable PDF map .
Swiss Travel Pass Insights
Are you curious how to best use the Swiss Travel Pass? Get ready for some helpful insights!
When planning to move around from place to place during your Switzerland vacation, it's important to remember a few key things. You can have peace of mind that using the Swiss Travel Pass on trains, buses, and boats will be straightforward. So, no worries there.
The activation and validity are already baked into the pass if you ordered an electronic version. You must activate each day ahead of time if traveling on a Swiss Travel Pass Flex.
If you have a regular Swiss Travel Pass with consecutive days, keep the attached voucher copy with your passport while in Switzerland. If you lose your passport or the voucher copy, you can visit any Swiss railway station and request a temporary travel document valid for eight days from the issue date. The document costs CHF 20 and must be stamped every time it is used.
Before you embark on your Swiss vacation, take a moment to ensure you can take advantage of all the benefits the pass offers. And a wee bit of crucial advice: reserve those train seats as early as possible, especially during the peak travel season.
FREE Swiss Travel Pass Museums (Ultimate List)
Get our ultimate free guide swiss travel pass: how to make it work in 2024.
The free guide includes a round-trip itinerary starting in Zurich for budget travelers. It "hacks" a three-day Swiss Travel Pass to make it last for a five-day stay…
Charming chalets, green pastures, and snow-capped peaks: there is hardly a better way to see the model railroad country of Switzerland than by public transportation. For those wishing to travel through Switzerland smoothly and effortlessly, the Swiss Travel Pass is a perfect fit.
Is the Swiss Travel Pass worth it in 2024?
Benefits of the Swiss Travel Pass in 2024 (UPDATED)
Swiss Travel Pass FAQs: Helpful Answers for 2024
Definitive Swiss Travel Pass Solo Traveler's Guide (2024)
Dimitri Burkhard
As the founder, editor, and community manager of Newly Swissed, Dimitri owns the strategic vision. He is passionate about storytelling and is a member of Swiss Travel Communicators.
Dimitri loves discovering new trends and covers architecture, design, start-ups and tourism.
You may also like
We tried a kitchen experiment at the Art Deco Hotel Montana
Despite its legacy and rich history, the Art Deco Montana does not shy away from reinventing itself. Take the experimental gourmet event at the Kitchen Club...
AIDA Outdoor Opera – An Unmissable Summer Event
Normally a quiet lakeside town, Pfäffikon near Zürich is going to turn it up a notch when they host the outdoor Festival La Perla this summer...
Even more beautiful Swiss towns to see in your lifetime
It's in those smaller towns where Swiss identity is kept alive. Apart from flagship Swiss destinations such as Geneva, Montreux or Zürich, here are...
Newly Swissed GmbH Langrütistrasse 1A, 8635 Dürnten Switzerland +41 78 949 03 53
Copyright © 2023 - Newly Swissed GmbH. All rights reserved.
Everyday Life
Food & Wine
Travel & Tourism
Book Reading
Concert/Dance/Musical
Food/Gourmet
Stand-up/Theater/Movies
Workshop/Seminar/Tour
Add an Event
What We Like
Meet the Team
Press Coverage
Advertising
Contact us or book us
Download our e-book: 77 Facts about Switzerland
Destinations
Travel Tips
Travel With Us (Community Trips)
TTIFridays (Community Events)
SG Travel Insider (Telegram Grp)

Getting around Switzerland — How to Maximise Your Swiss Travel Pass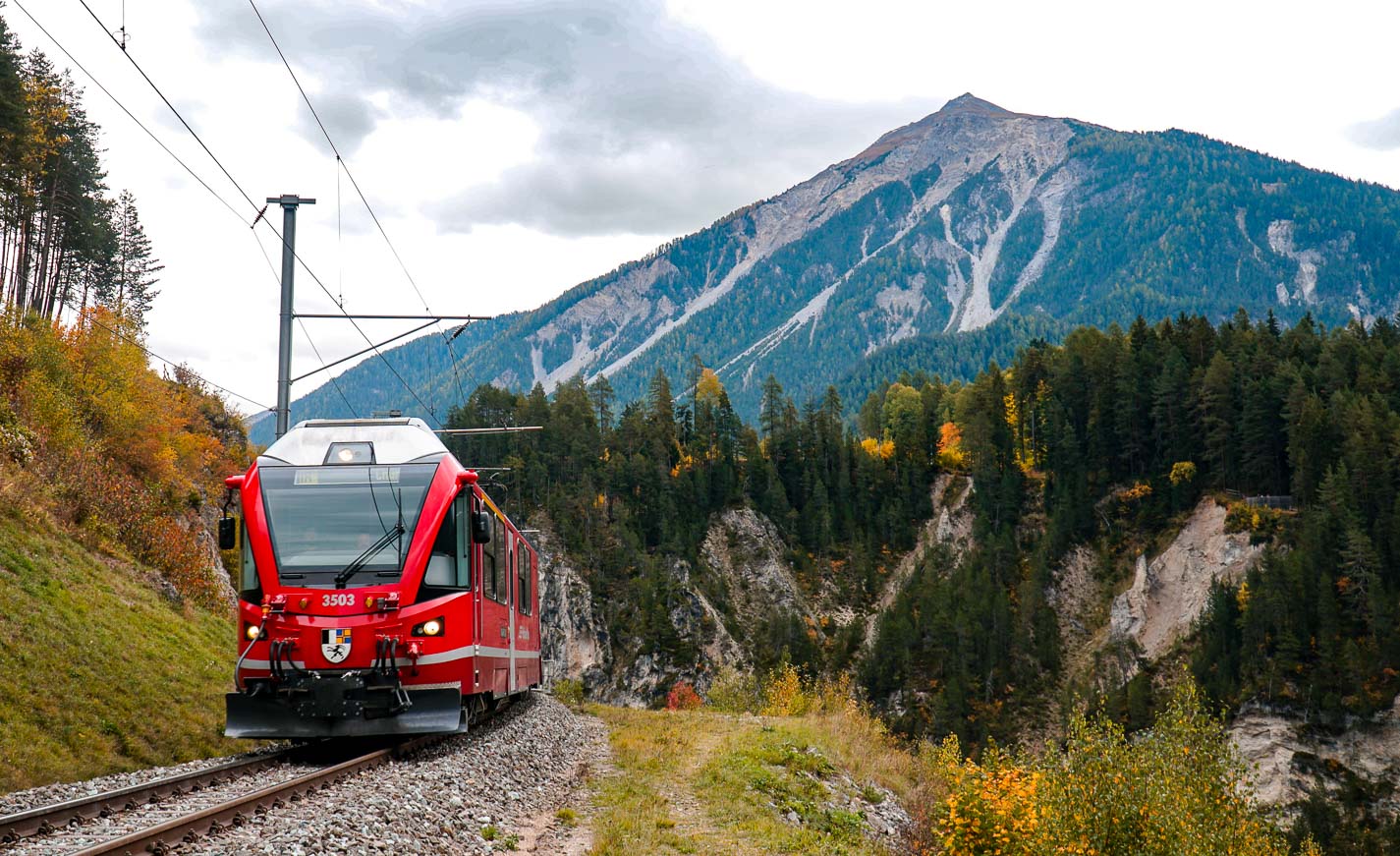 Here's how we summited 6 mountains across 11 destinations over 10 days in Switzerland under S$2.3k with the Swiss Travel Pass
First published: 18 Nov 2018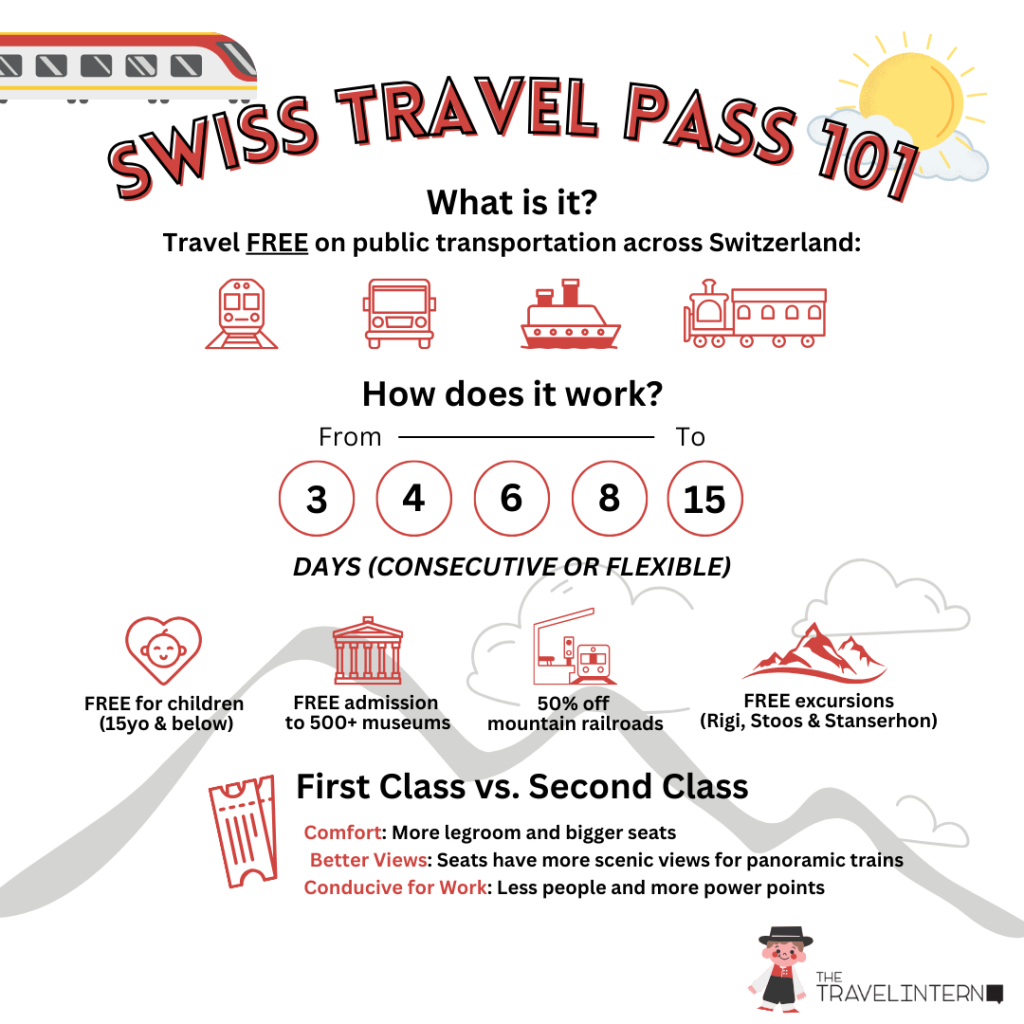 Train travel in Switzerland can be pricey, and trust me, we had our share of budget shock when we tallied up the costs for our 10-day Swiss adventure .
Hold onto your seat, because the transportation portion alone added up to a jaw-dropping S$1,913.97 . But with the legendary Swiss Travel Pass we managed to slash our transport expenses to only S$843.87 . Yep, that's more than 40% off !
Here's what we wished we knew for planning our Switzerland trip. This guide is quite extensive, so simply click on the section you want more info on:
1) Getting around Switzerland with the Swiss Travel Pass (What is it, perks, etc.) 2) First Class vs. Second Class 3) Consecutive vs. Flexible 4) Prices and Discounts 5) Swiss Travel Pass vs. Swiss Half Fare Card 6) How to use the Swiss Travel Pass 7) Getting up the most beautiful Swiss Mountains with Swiss Travel Pass 8) Premium Panoramic Train Rides 9) FAQs about the Swiss Travel Pass
Getting around Switzerland with the Swiss Travel Pass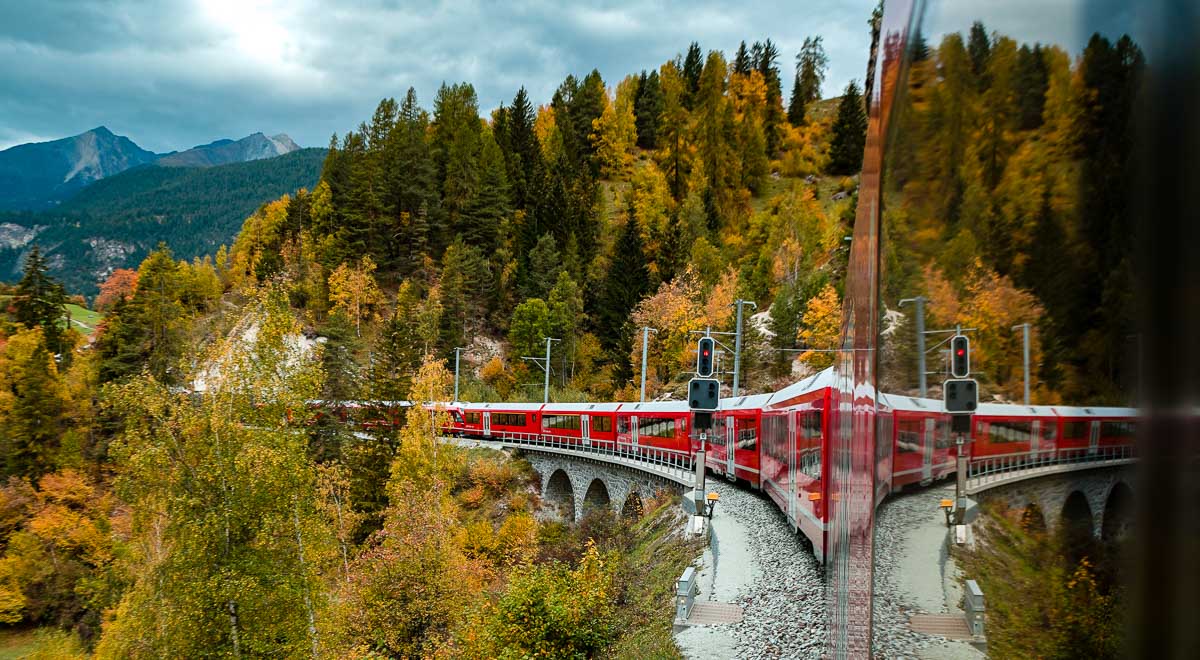 1) Local and intercity trains are free — some express trains like the ones mentioned below require a top-up reservation fee (see 'Premium Panoramic Train Rides')
2) Buses are free — including the hourly bus from Leuk to Leukerbad (for Leukerbad Thermal Pools), which is a 30-minute ride up the scenic mountain off Leukerbad town.
3) Cogwheels & Mountain Cableways are partially covered — Rigi & Schilthorn are free, while others are available at a 25 – 50% discount. More on that later!
4) Boat rides are free — other than getting from point to point, some boat rides are extra scenic and worth the ride even if it's long and doesn't really go anywhere. Scenic rides worth checking out: Lake Lucerne, Lake Brienz and Lake Geneva.
5) Entry to over 500 museums for free — including the FIFA World Football Museum in Zürich, Château de Chillon in Montreux and Matterhorn Museum in Zermatt.
Swiss Travel Pass: First Class vs. Second Class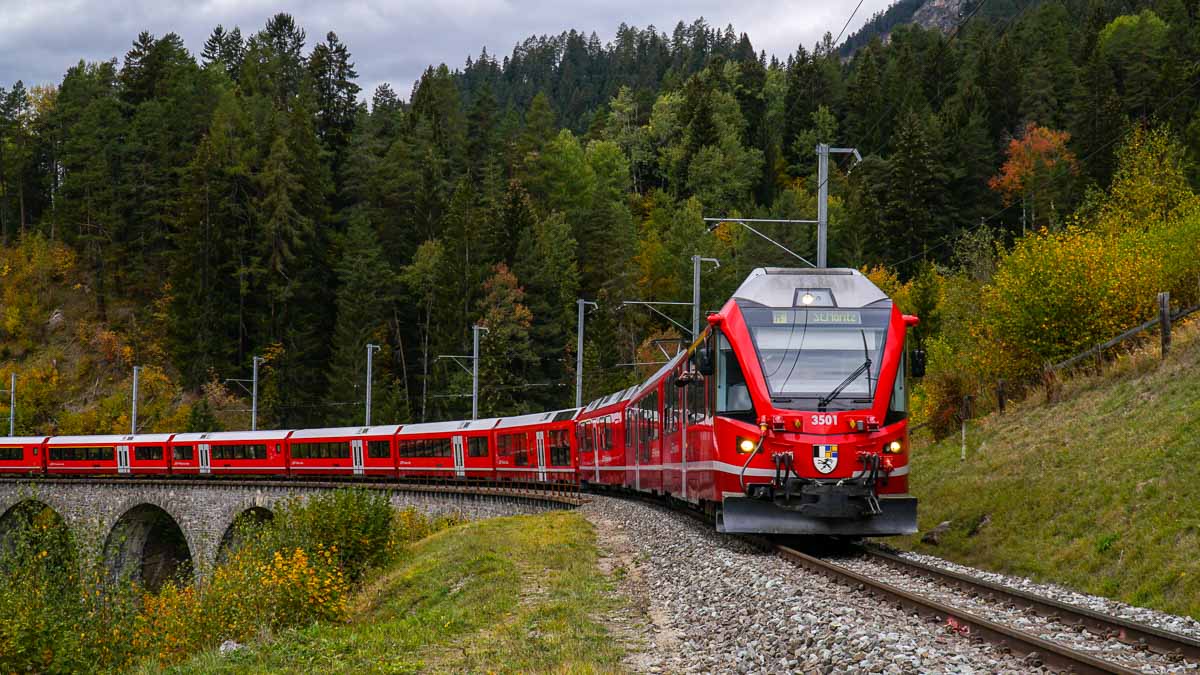 When buying a Swiss Travel Pass , you'll have to choose between First Class (premium), and Second Class tickets. Here's what to expect when buying First Class:
1) Comfort — More legroom, bigger windows, and spacious seats
2) Better Views — Seats with scenic views in panoramic trains and boats (where available)
3) Conducive for Work — Fewer people/noise and more power points
There's a whopping price difference between First Class and Second Class seats (~S$210 for 3-day consecutive tickets), but if you're on a budget, the seats in Second Class are more than comfy enough for a long train ride.
Swiss Travel Pass: Consecutive vs. Flexible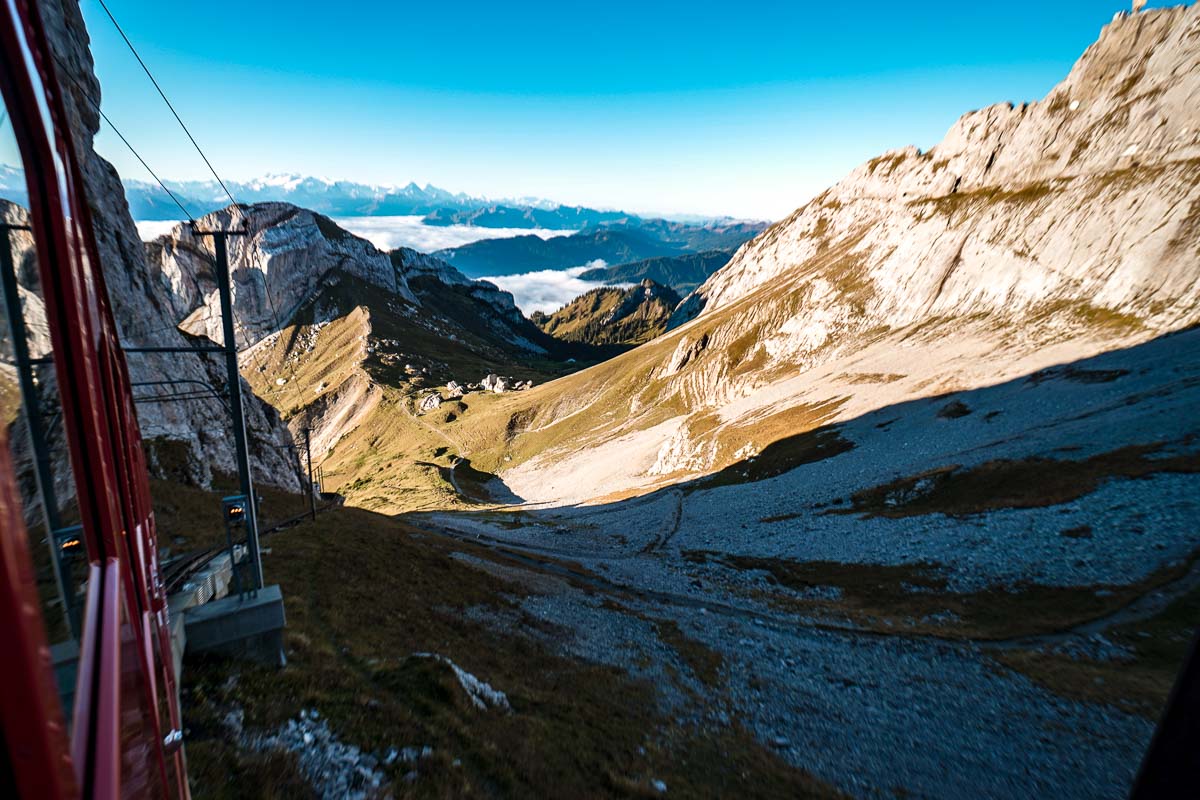 The Swiss Travel Pass comes in options of 3 to 15 days. You can also choose between 'Flexible' or 'Consecutive' — the latter being the cheaper option.
For the 'Flexible' pass, it's valid for travel days within a one-month period from the starting date. So you can easily change your travel plans as and when!
But if you're planning to jump from one city to the next in a fixed itinerary, you can consider getting the 'Consecutive' pass instead.
Since we had 10 days in Switzerland, we got the 8-day Swiss Travel Pass, rented a car for the first two days, and activated the Swiss Travel Pass on day three.
Swiss Travel Pass: Prices and Discounts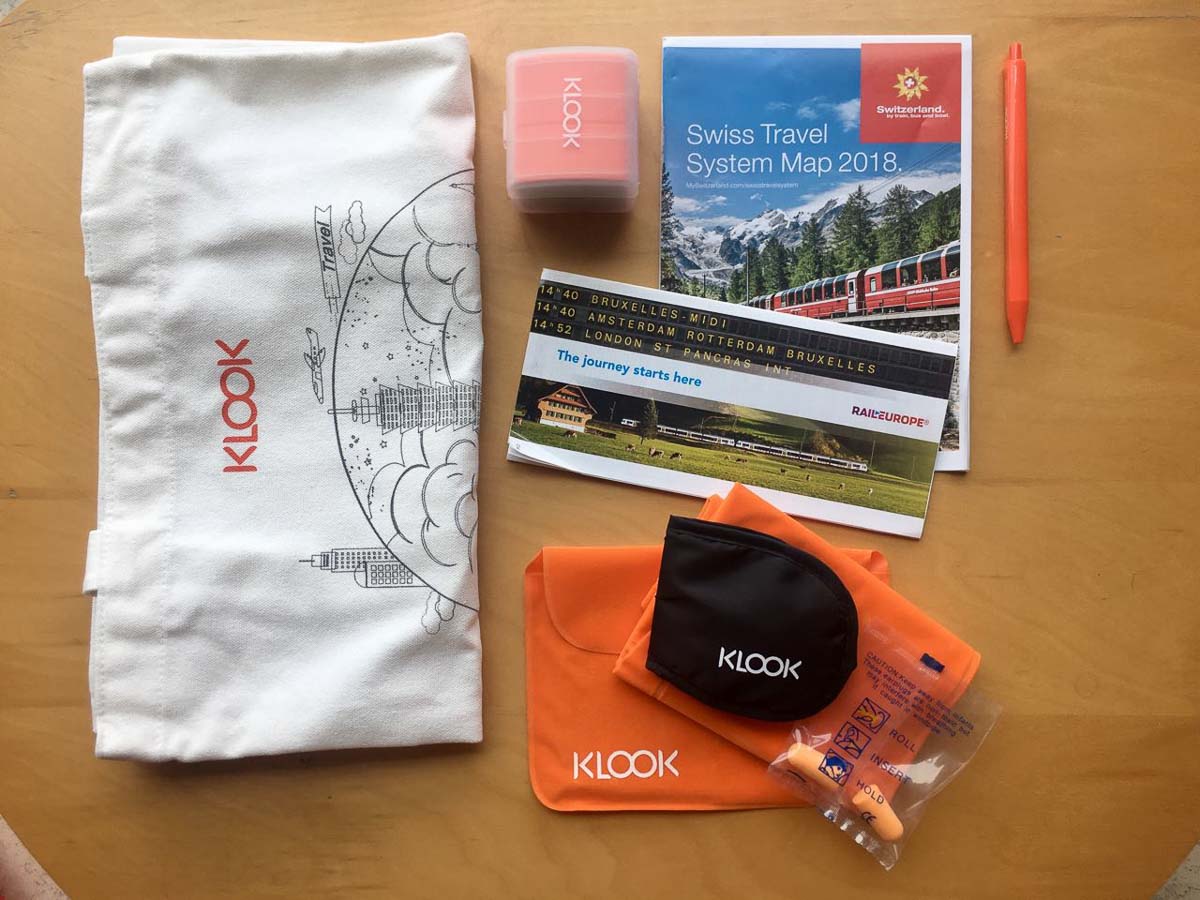 We got our Swiss Travel Pass via Klook . Confirmation for the e-ticket was almost instant and all you need to do is save the QR code on your phone. The train conductors will ask for it on board.
Here's the price breakdown for the Swiss Travel Pass , as of Oct 2023:
Good news for those travelling with children 15 years old and below: they get to travel for free as long as they're accompanied by an adult with a Swiss Travel Pass. Just request a Swiss Family Card at any railway station!
*Pro-tip: Purchase the pass on Klook rather than the official site for further discounts!
Swiss Travel Pass vs. Swiss Half Fare Card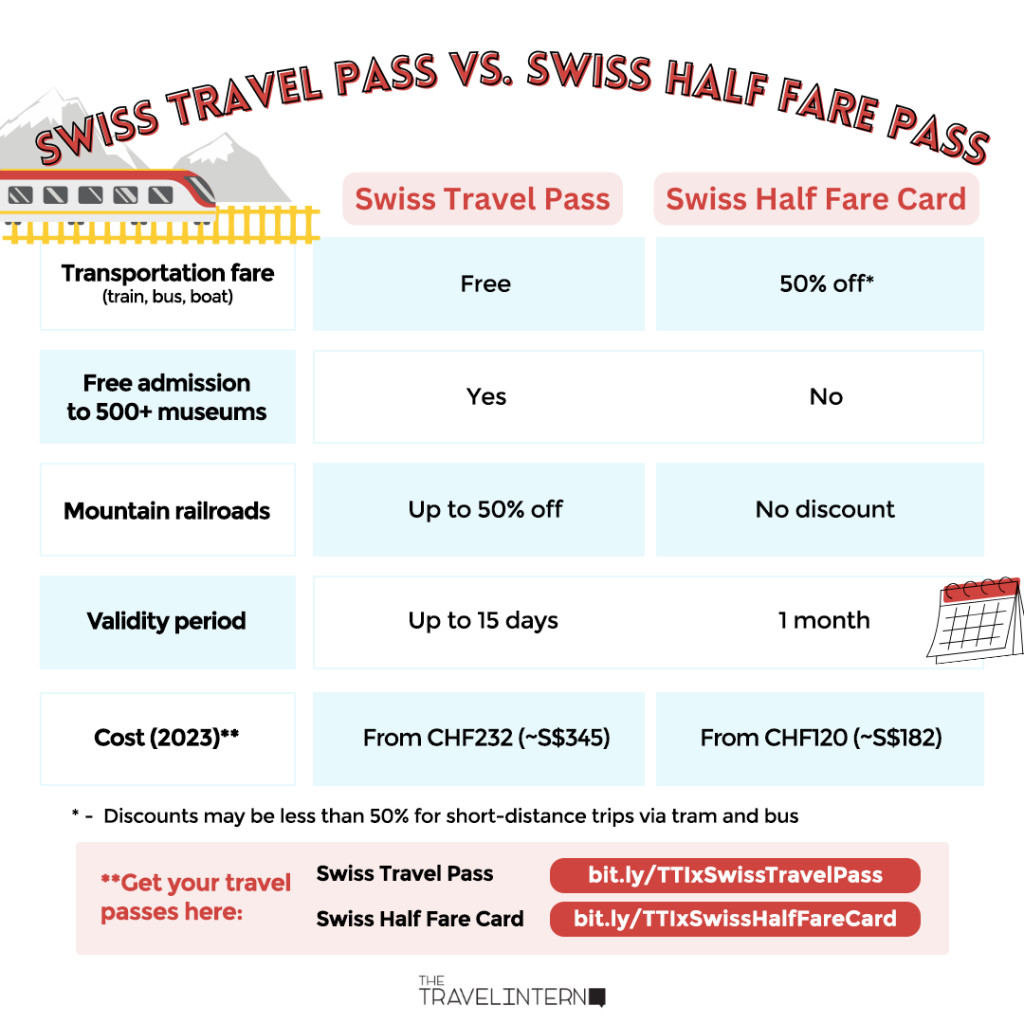 A budget-friendly alternative is the Swiss Half Fare Card , selling for a flat price of ~S$170 — almost half the price of the cheapest Swiss Travel Pass.
The Swiss Half Card gives you 50% off major transportation within a month. Notably, some perks from the Travel Pass are absent, like free museum admissions, and partial discounts for mountain cableways.
How to use the Swiss Travel Pass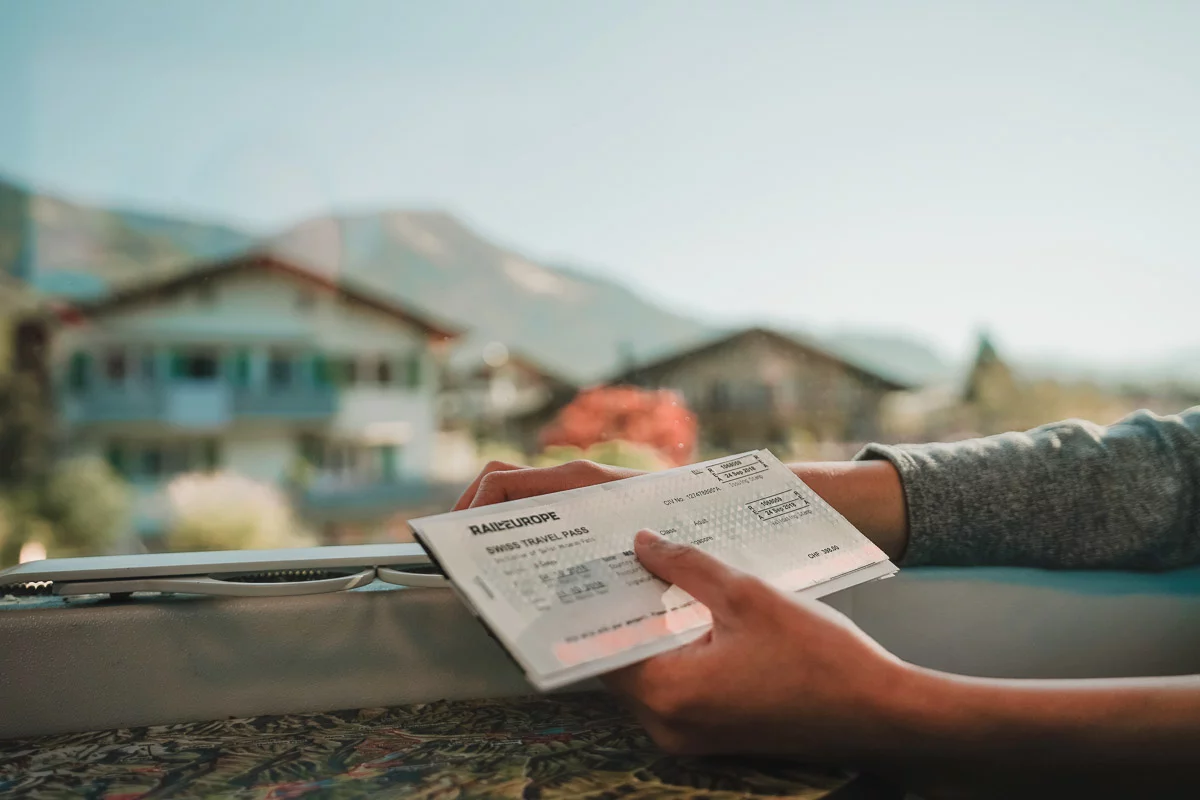 Once you've purchased your Swiss Travel Pass online , you'll receive a QR code which will be your e-ticket. Save it on your mobile phone so you can show it to the train conductor on board.
For Flexible Passes , register your travel dates so your pass will be valid on the days you're travelling.
For Consecutive Passes , your Swiss Travel Pass will be automatically activated on the date selected during booking.
Some trains like the Glacier Express will need reservations beforehand — read more about Premium Panoramic Trains below !
*Pro-tip: Download the SBB mobile app to look up train, boats, and bus timings on the go.
Travelling with the Swiss Travel Pass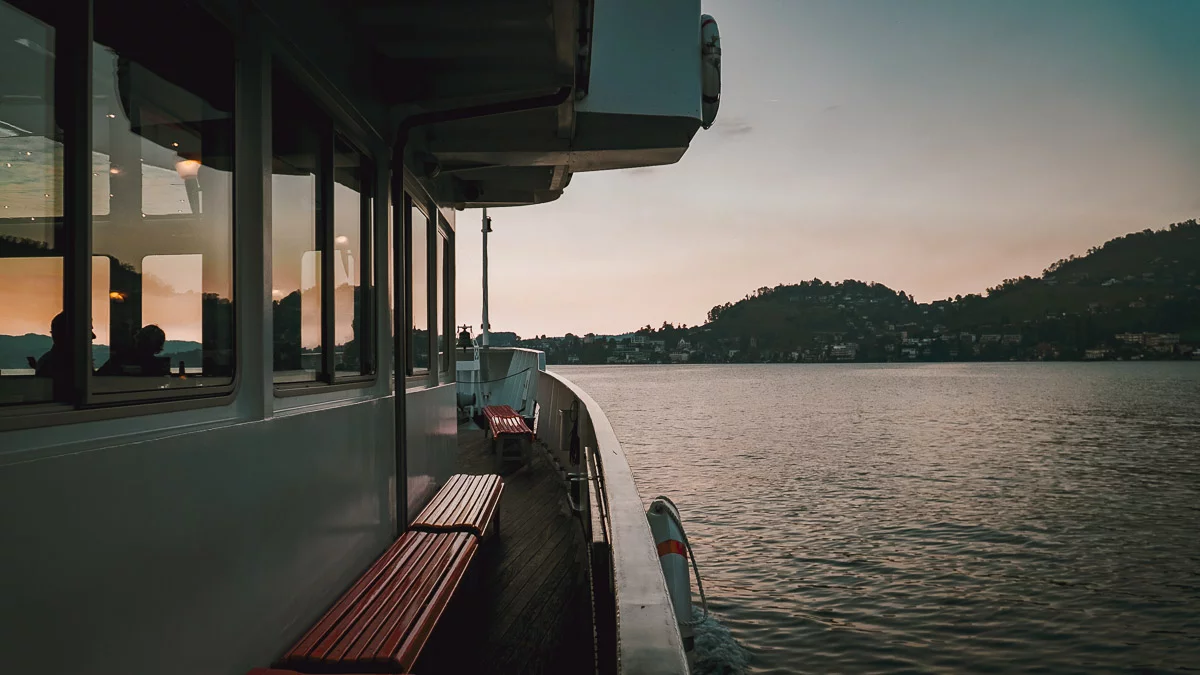 So how do you maximise your Swiss Travel Pass? We went to Switzerland a while back, and this detailed breakdown lists how we saved over ~S$1k .
Areas we covered: Lucerne, Interlaken, Lauterbrunnen, Jungfrau, Grindelwald, Montreux, Vevey, Zermatt and St. Moritz, Felisur, Zürich
Mountains: Pilatus, Rigi, Schilthorn, Jungfraujoch, Grindelwald First and Gornegrat
Scenic Trains: Golden Pass Route (Lucerne – Montreux) and The Glacier Express (Zermatt – St.Moritz)
Getting up the most beautiful Swiss Mountains with the Swiss Travel Pass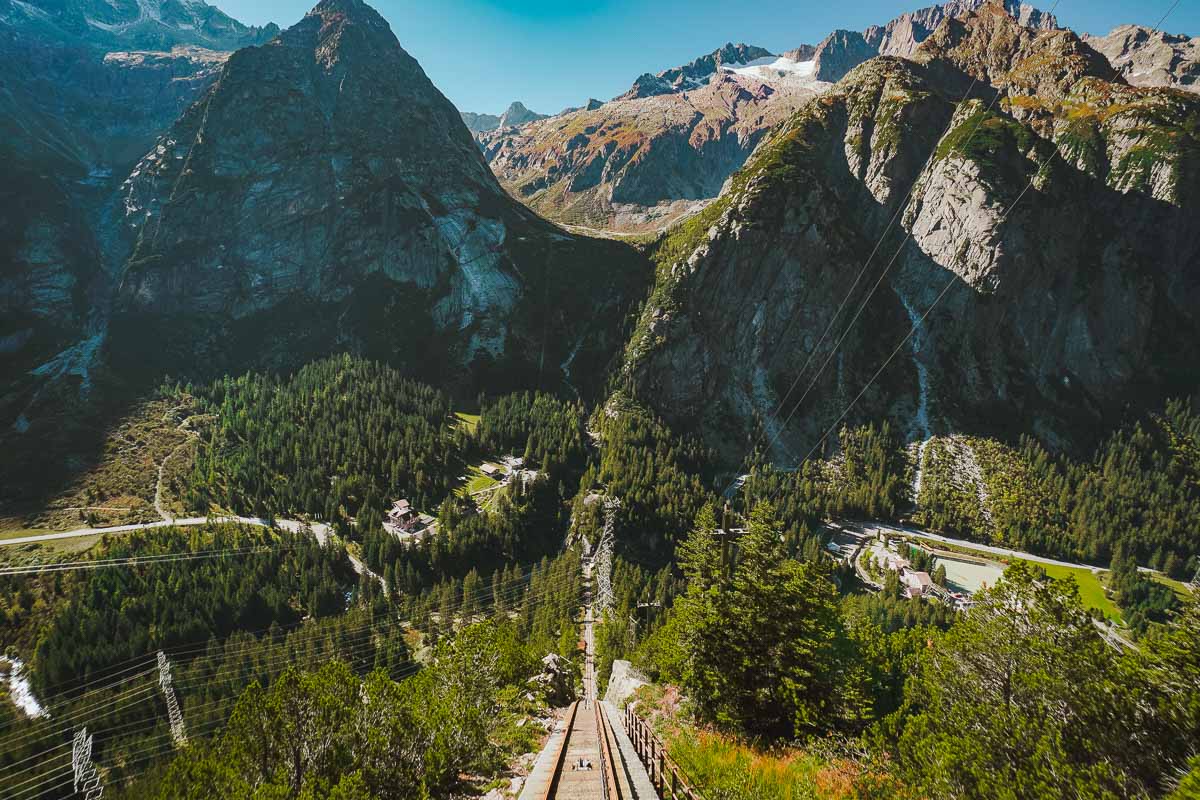 Let the sights (not the hike) take your breath away 😉
While most Swiss mountains can be hiked up for free, the train rides are experiences of their own. From the iconic 'Toblerone' mountain (Matterhorn) to the highest train station in Europe (Jungfraujoch) , here are the six mountains we managed to fit into our Switzerland itinerary .
Click Read More for the full guide.
*The Swiss Travel Pass covers all transportation to the starting points listed below.
1) Matterhorn (Zermatt)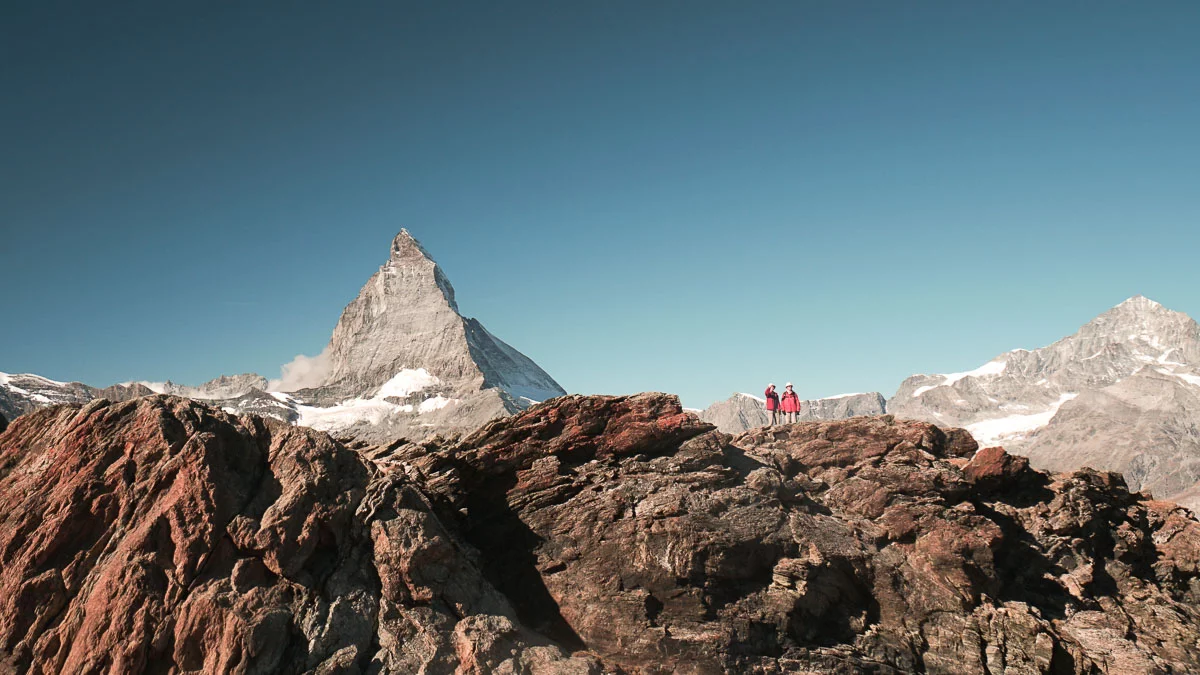 Better known as the Toblerone mountain, climbing to the peak of Matterhorn is a bucket list item for many. But personally, seeing the sunrise light up Matterhorn turned out to be core memory.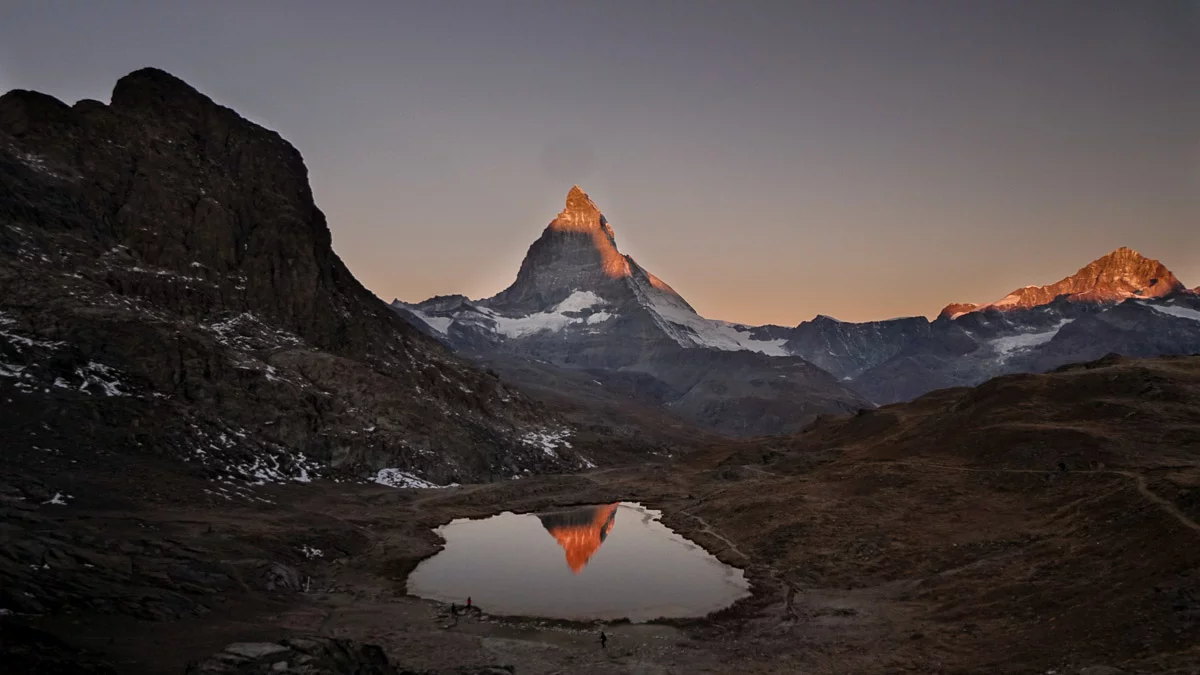 The best viewing spot would be from Rifflesee , up on Gornegrat . Even better if you arrive at dawn before the sun even peaks through the horizon. If the winds are minimal, the lake serves as a perfect mirror of the mountain top.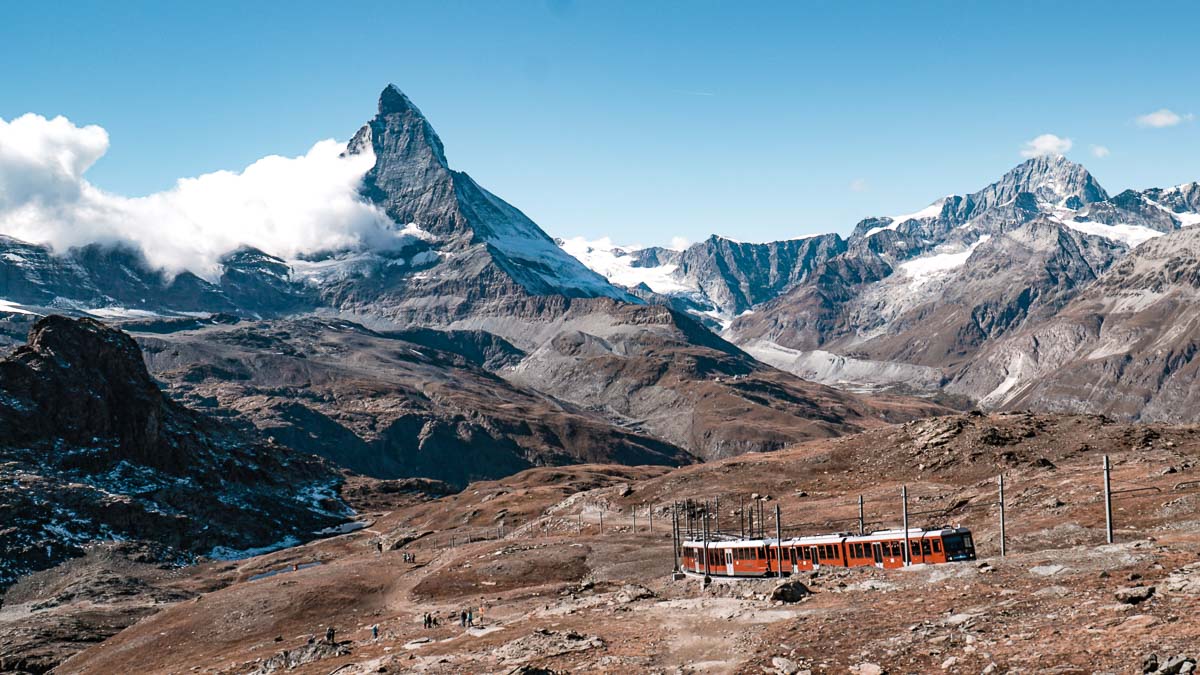 If you don't want to hike in the dark (or catch more sleep), the fastest way up is via the Gornegratbahn . The station is just outside the Zermatt Bahnoff.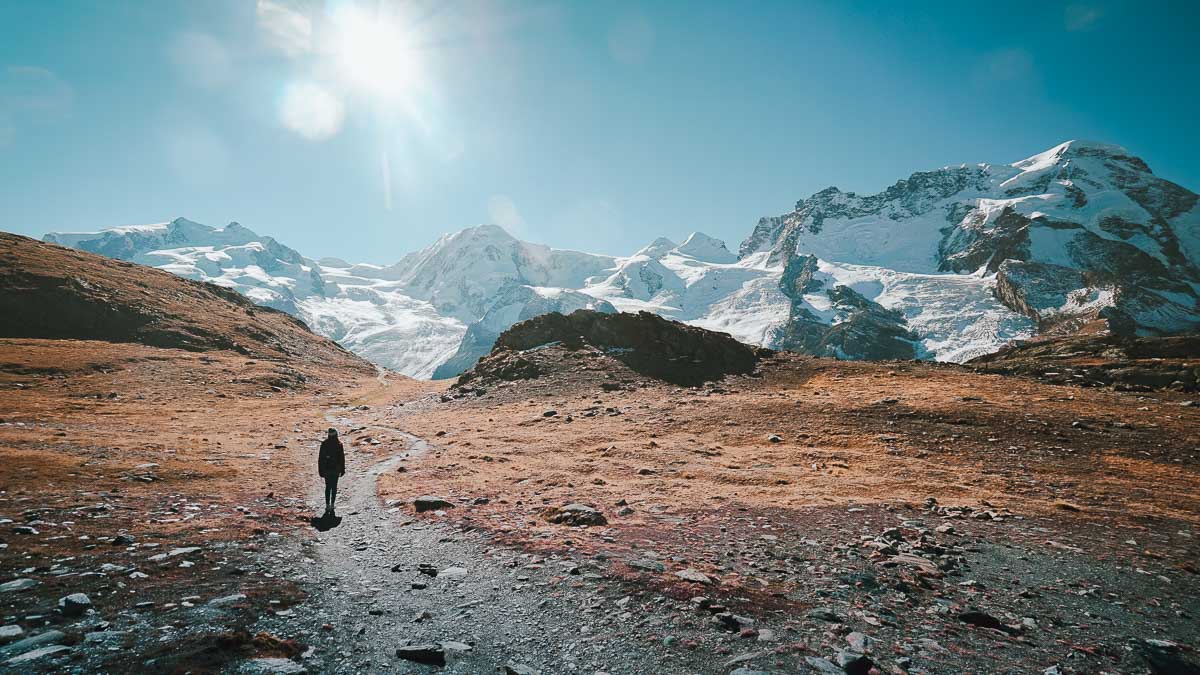 Get off Rotenboden station, and take a 5-minute walk to Rifflesee. This view was one of the best payoffs given its accessibility. After you're done at Rifflesee, hop back on the funicular up to Gornegrat station for a panoramic view of the surrounding Swiss Alps.
The hike down is incredibly scenic and straightforward. It takes about 3.5 – 4 hours but you can decide to take the train from any of the four stations along the way (Rotenboden – Riffleberg – Rifflealp – Findelbach). Each station is about an hour's hike to the next.
When you're tired, just purchase a one-way ticket down from any of the stations. The lower the station, the cheaper the ticket so it depends on how much you want to hike.
Cost: CHF55 (~S$83) (one-way up to Gornegrat Station) Starting point: Gorgnegratbahn base station just outside Zermatt train station Swiss Travel Pass: 50% off the Gornegratbahn (CHF27.50, ~S$42 one-way)
2) 5-Seenweg (Zermatt)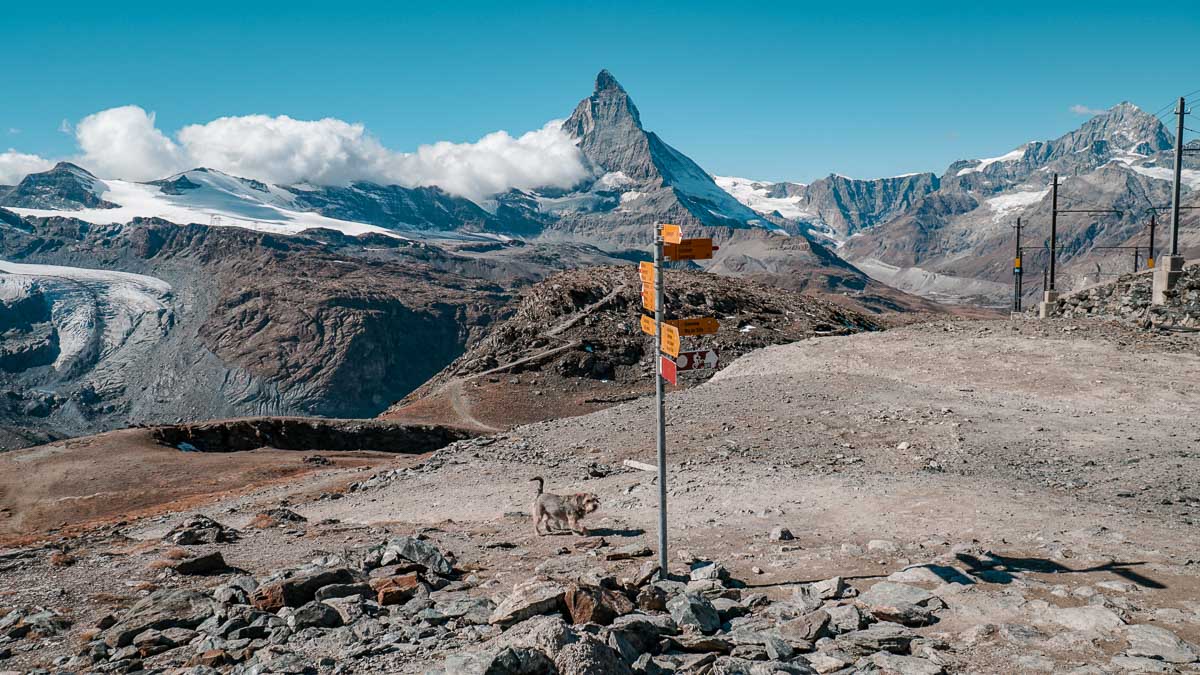 If you have more time in Zermatt, the well-marked 5 Lakes Trail (Seenweg) is also worth the hike. The trail passes through five lakes (Stellisee, Grindjisee, Grunsee, Moosjisee and Leisee) with Matterhorn consistently in the background.
You can begin the hike from Zermatt or, save 3 hours by taking the funicular to Sunnegga, followed by the gondola lift to Blauherd where the hike begins. The hike from Blauherd to Sunnegga (which passes through the five lakes) is mainly downhill and should take around 2.5 hours. From Sunnegga, you can take the funicular back to Zermatt.
Cost: CHF39 (~S$56) Starting point: Zermatt Swiss Travel Pass: 50% off the funicular from Zermatt to Blauherd and cable car from Blauherd to Sunnegga
3) Pilatus (Lucerne)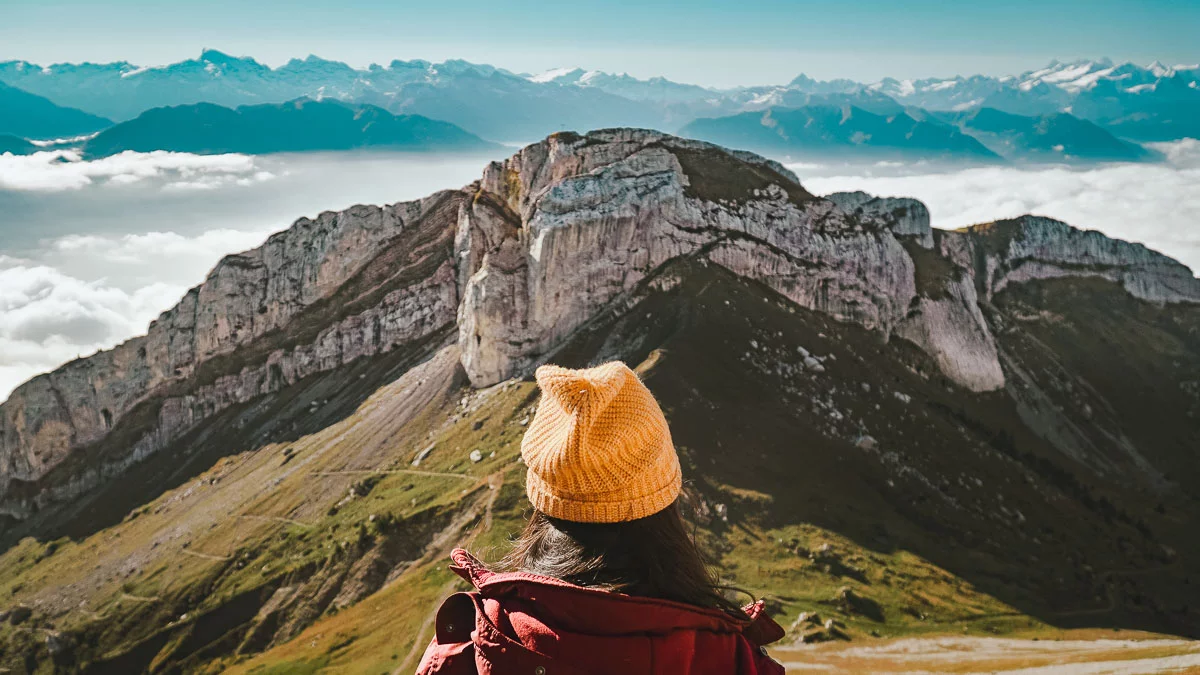 Overlooking the city of Lucerne, Mount Pilatus is famous for its Golden Round Trip, which covers five different forms of transport to ascend and descend the mountain.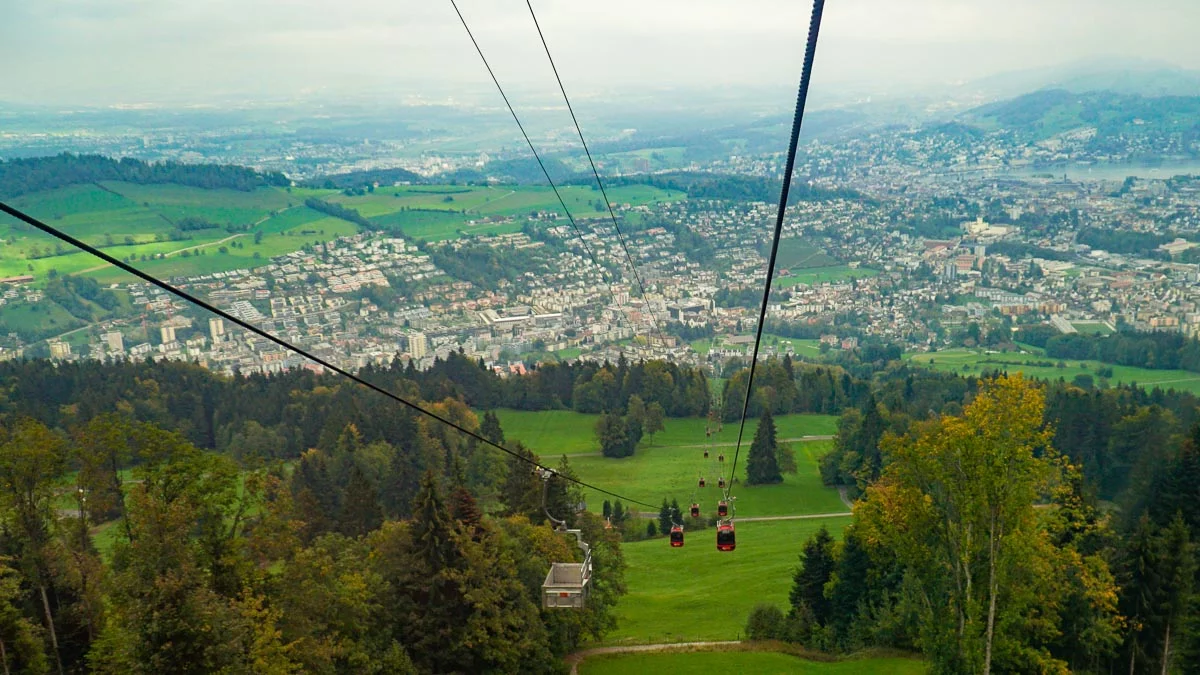 This route is possible both ways, starting clockwise from Lucerne: take a boat/train to Alpnachstad and take a cogwheel * train up to Pilatus Kulm. This cogwheel is famous for being the steepest in the world!
*Note: The cogwheel railway only runs from mid-May to mid-November. Check the exact dates on the site to be sure!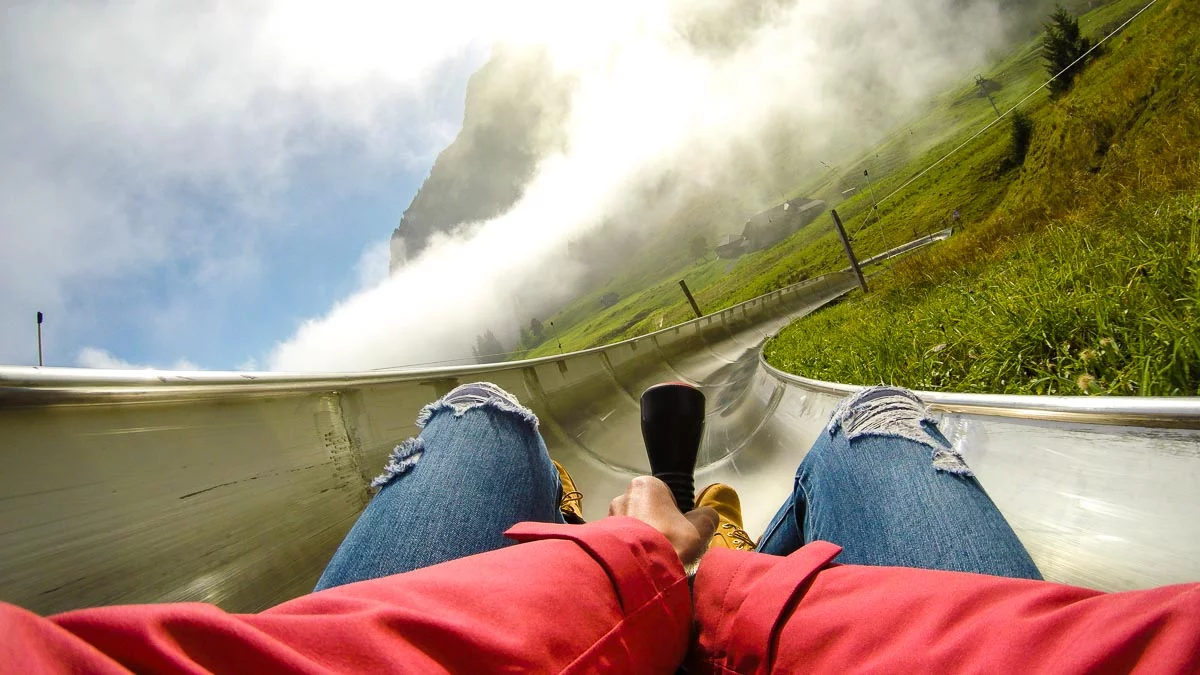 On the descent, take the cable car down to Fräkmüntegg where you'll find the longest Toboggan sled in the world (CHF8/ride, ~S$11.40). Don't worry about walking back up as you'll be dragged on your Toboggan with an attached wire.
From Fräkmüntegg, continue down to Kriens station to catch bus no. 1 back to Lucerne station.
*Pro-tip: Check the weather before taking the boat ride — if the weather isn't great, save time and take the train instead. The lake tends to fog up on most mornings.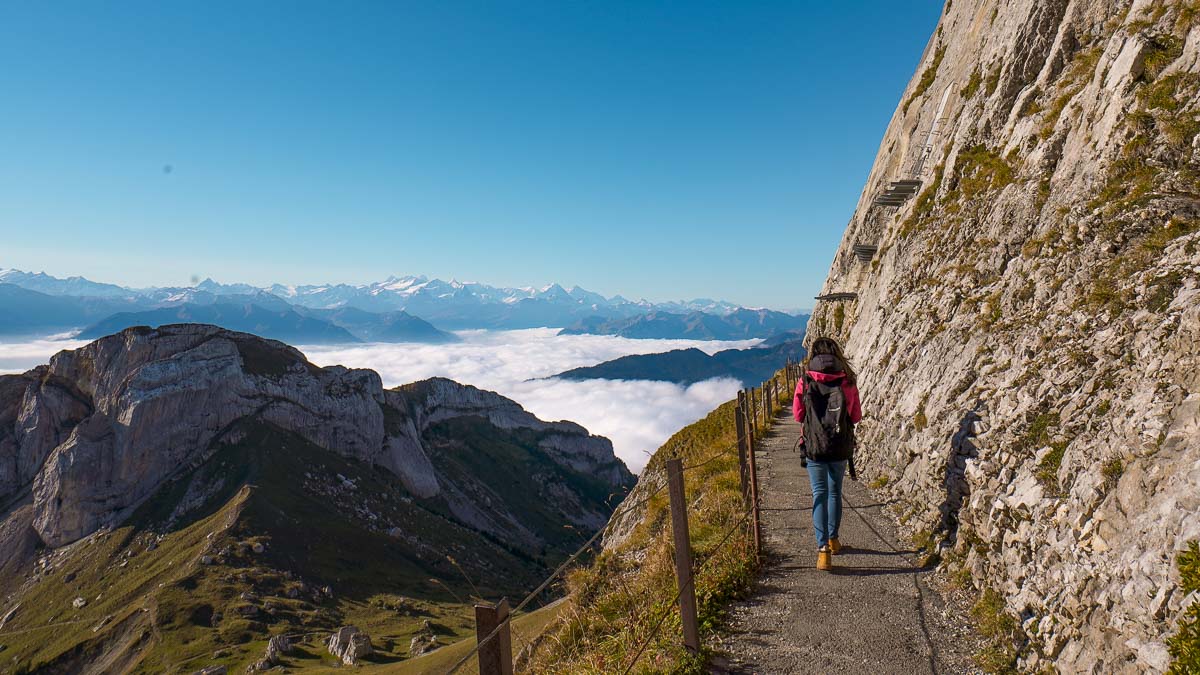 At the top, there are various hikes ranging from 30 minutes to 3 hours. We highly recommend the 40-minute hike on Tomslihorn, accessed from the right side of the Pilatus Kulm Restaurant.
Cost: CHF108 (~S$155) (Round trip from Lucerne) Starting point: You can start from either Alpnachstad or Kriens. To Alpnachstad, either take a boat (1hr 18mins) or train (17mins) from Luzern. To Kriens, it's a 5min ride on bus no. 1 and a short walk to the cableway station Swiss Travel Pass: 50% off the cogwheel from Alpnachstad – Pilatus Kulm – Kriens (CHF36, ~S$52)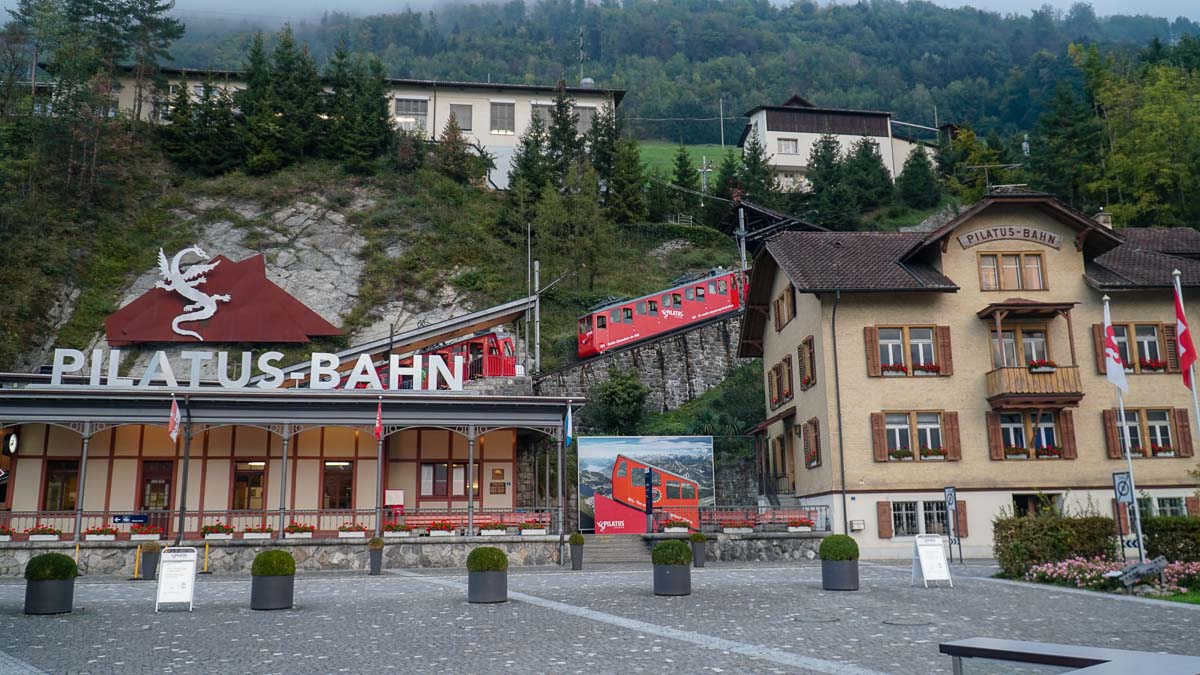 Alpnachstad Station
*Pro-tip: If you're on the Swiss Travel Flex Pass , save a day on the pass and sign up for a Half-Day Pilatus Tour instead — tickets are fully covered from Lucerne station to Pilatus and back.
4) Rigi (Lucerne)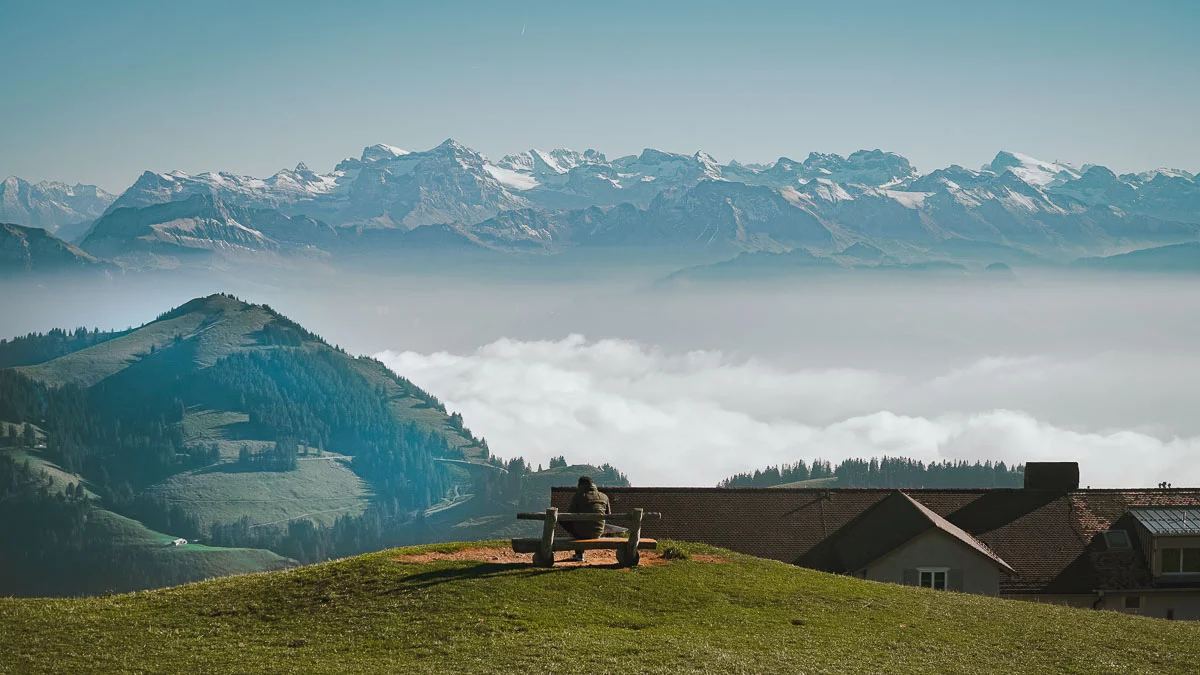 Slightly lower than Pilatus, the peak of Rigi is at the perfect height for a 360° panoramic view of the surrounding Swiss Alps as well as Lake Lucerne and the city below. But the best part? Swiss Travel Pass holders get to travel up entirely free!
Cost: CHF72 (~S$103) Starting point: Arth-Goldau or Vitznau Swiss Travel Pass: Free — cogwheel trains from Arth-Goldau and Vitznau are fully covered
5) Jungfrau (Interlaken/Fiesch)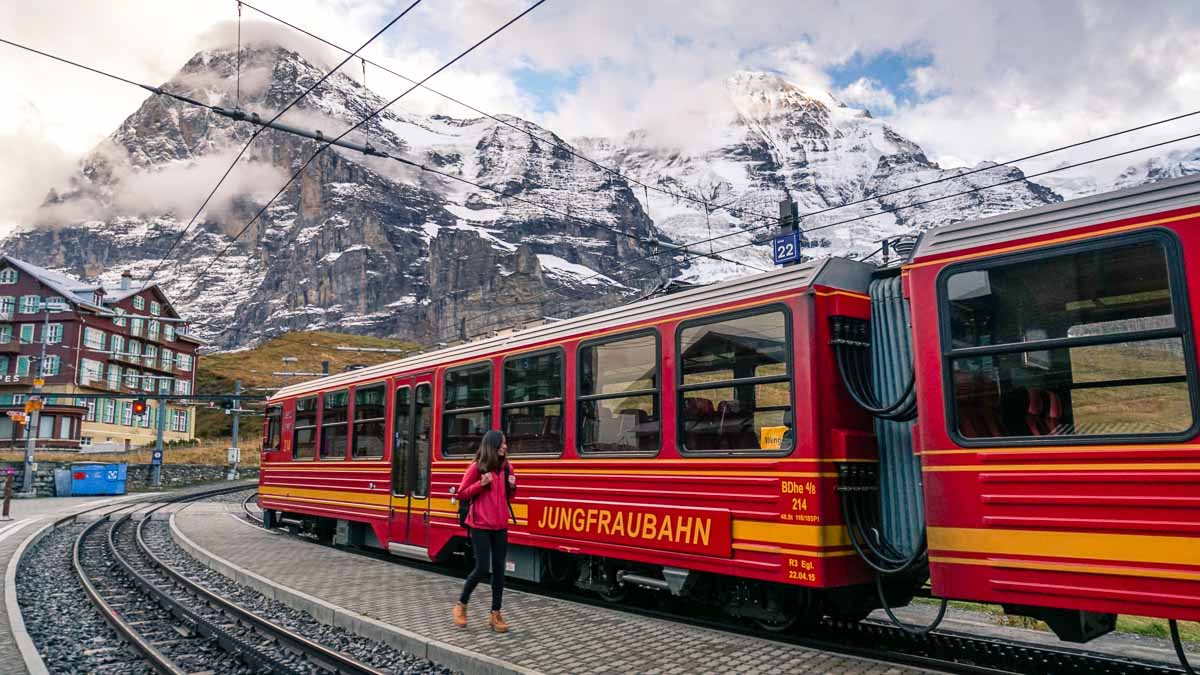 At 3,454m above sea level, Jungfraujoch is the highest railway station in Europe and is covered in snow all year round. At the peak, there's the Spinx Observatory where you'll get a close-up panoramic view of Mt Eiger and Mönch. On top, there's also an Ice Palace to explore, and one of the most iconic mailboxes — yes you can actually mail out postcards from it!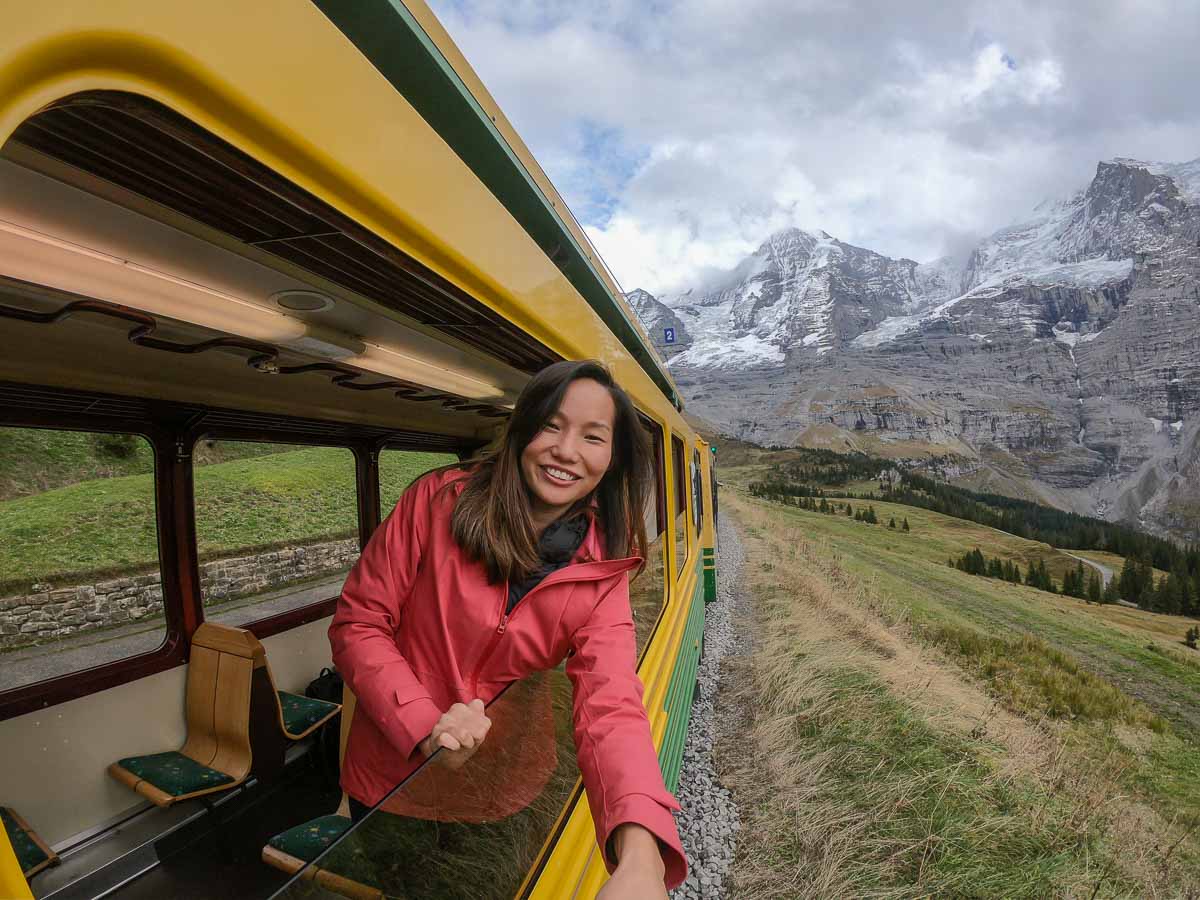 But perhaps our favourite part of the experience wasn't so much arriving at the top of the station, but the entire hour-long journey on the train. The views were simply breathtaking, and in hindsight, given more time, it would have been enjoyable as a hike too!
It's best to visit Jungfrau while based in Interlaken since it's nearest, but if you're short on time, check out Jungfrau on a day trip from Lucerne or even Zurich.
Cost: CHF201.60 (~S$305) (roundtrip from Lauterbrunen) Starting point: From Lauterbrunnen, take the train to Kleine Scheidegg Swiss Travel Pass: 25% off the train from Wengen Station to Jungfraujoch (CHF132, ~S$189 round trip from Wengen). The first two stops from Lauterbrunnen (bef Wengen) are covered.
6) Schilthorn (Lauterbrunnen) *free with the Swiss Travel Pass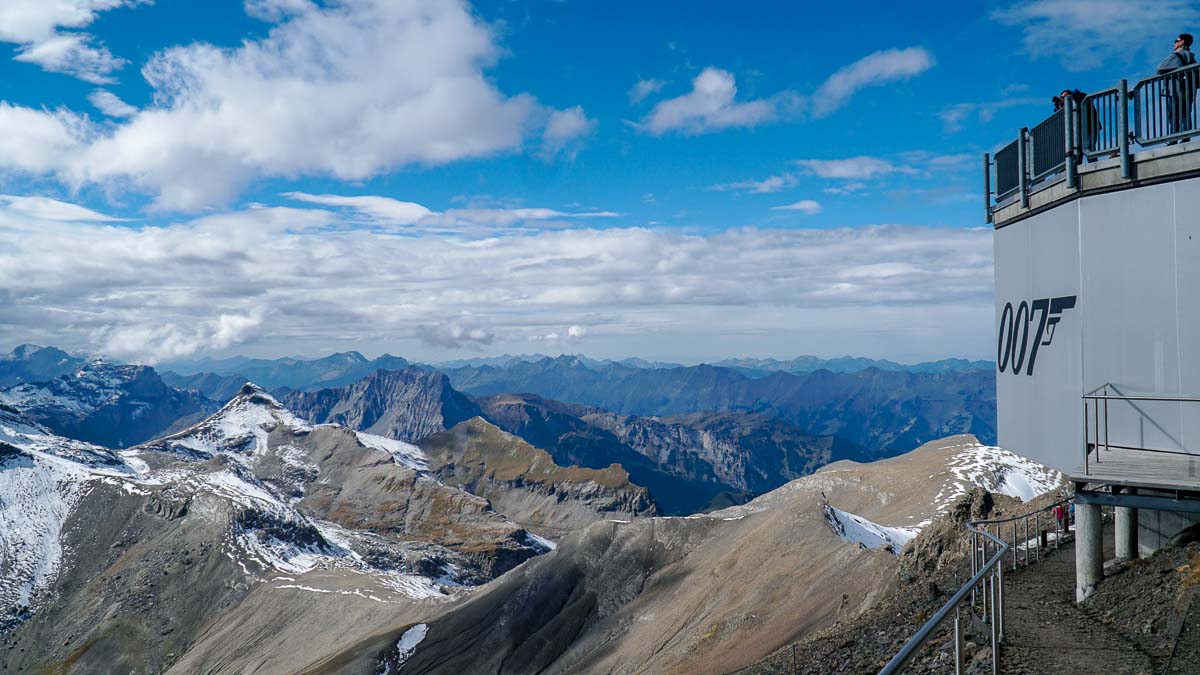 Schilthorn is one of the few mountains fully covered by the Swiss Travel Pass! From the top, you have a panoramic view of the Bernese Alps and the three big mountains of Jungfrau, Mönch, and Eiger. On a clear day, you can even spot Mont Blanc.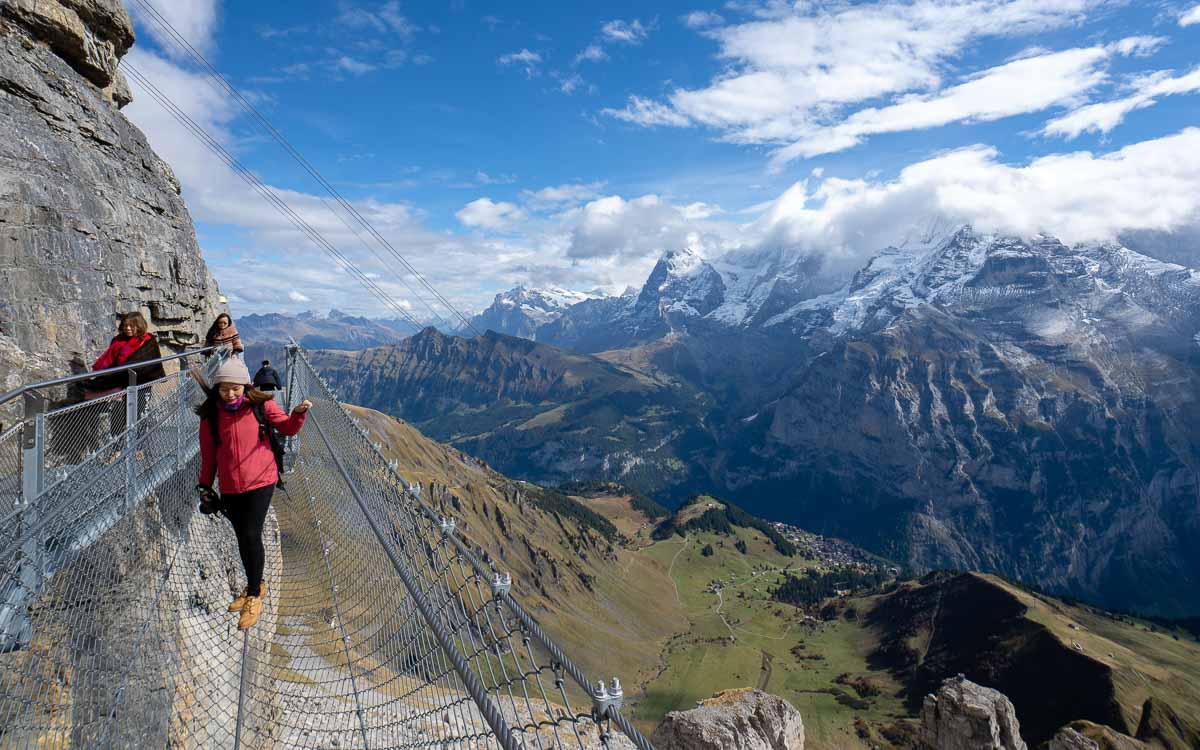 Try the 200m Thrill Walk on glass floors and wire ropes across the vertical face of the cliff.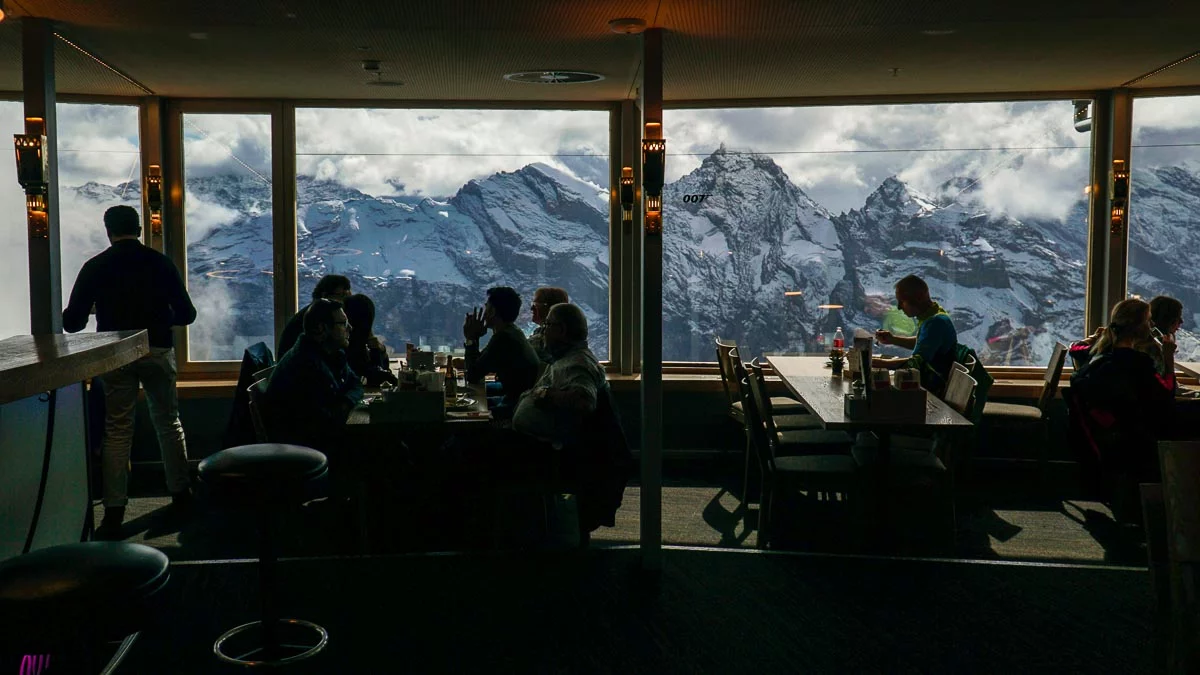 You might say this looks right out of a movie scene, because it is! At the top of Schilthorn is a revolving restaurant, the Piz Gloria which was featured in the 1969 James Bond movie . Restaurant meals in Switzerland are expensive so if you could only pick one place to splurge, the menu at Piz Gloria is worth the experience. It's also not a lot more expensive than regular restaurants in the city.
Cost: CHF131.40 (~S$188) (Round trip from Interlaken) Starting point: Stechelberg or Mürren Swiss Travel Pass: Free — cable cars from both Stechelberg and Mürren are fully covered
7) Grindelwald First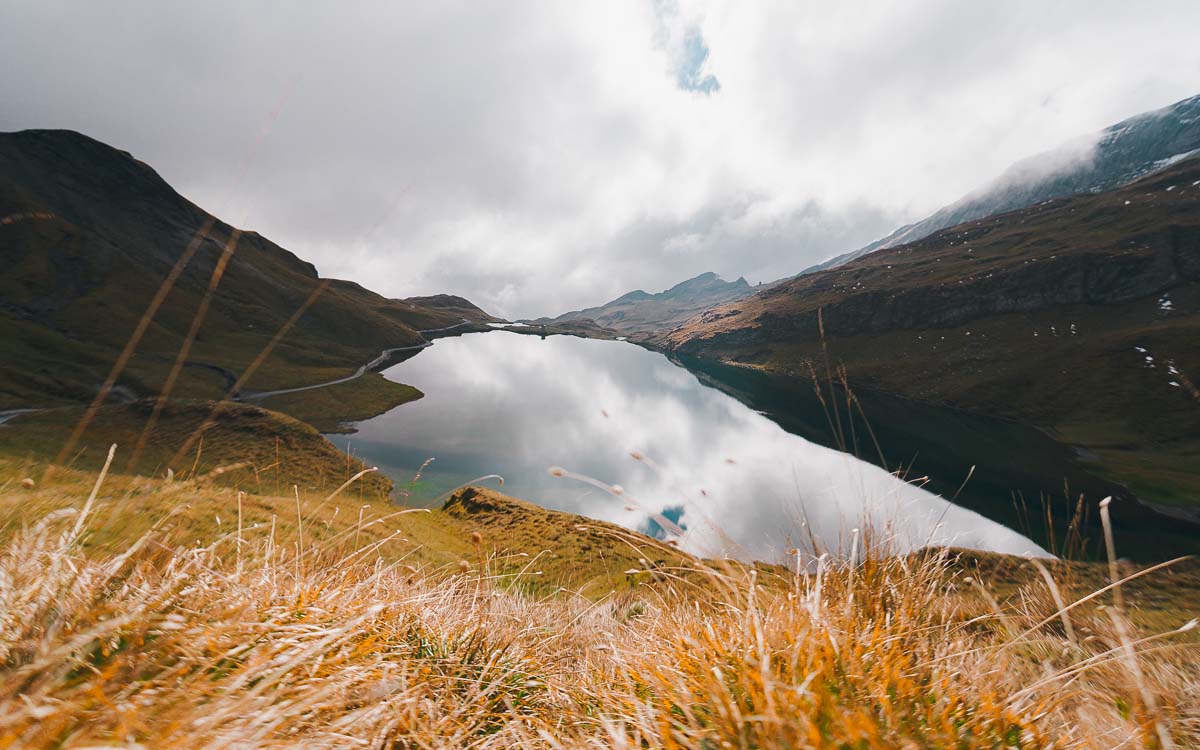 If you've done the first five in this list, you must be wondering by now if this is "just another mountain". But there are a few reasons why Grindelwald First is worth the trip.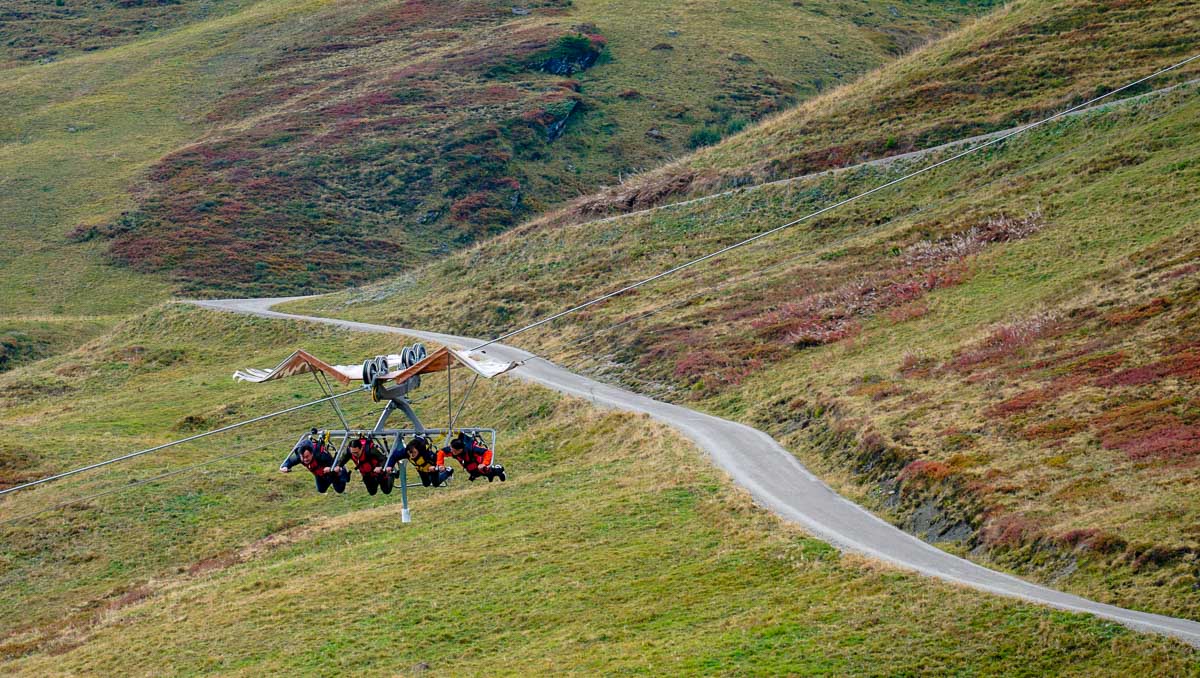 For adventure seekers, the famous route is to first take the gondola up to First Station, then take a glider, mountain bike, and Trottibike scooter down to each station till you reach the base. This is a dream for kids, and kid-at-heart 😛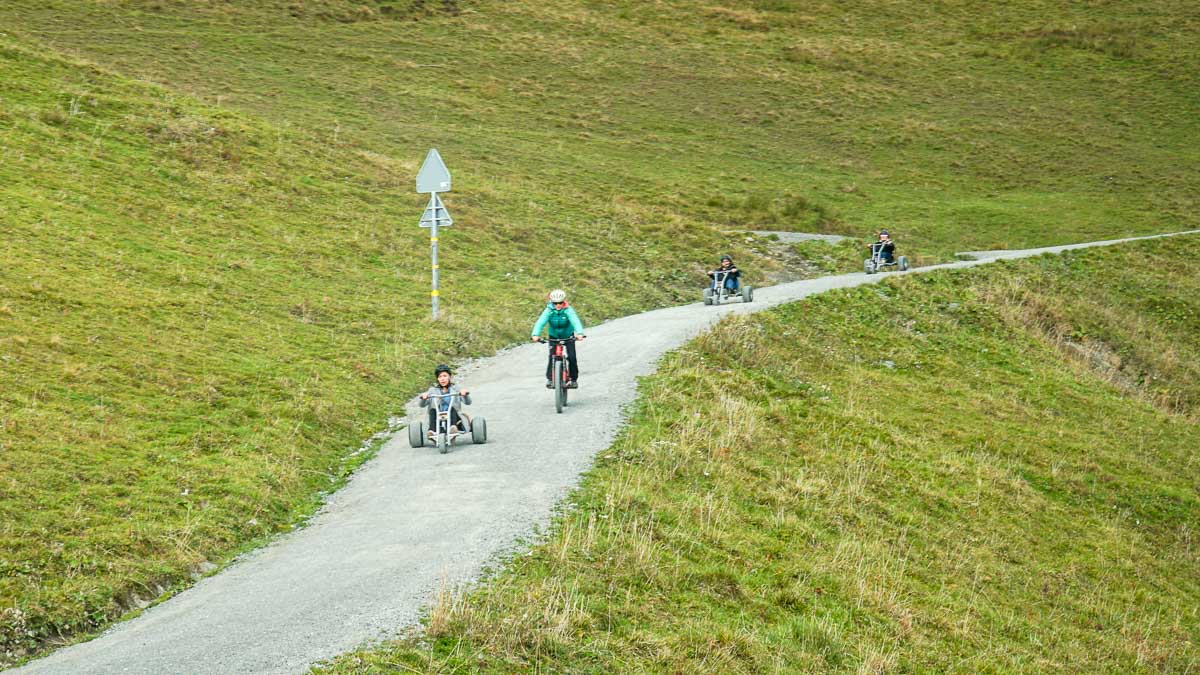 If you're keen to take on all the rides, there's an adventure package (CHF120, ~S$172) that includes all the activities and unlimited use of the gondola.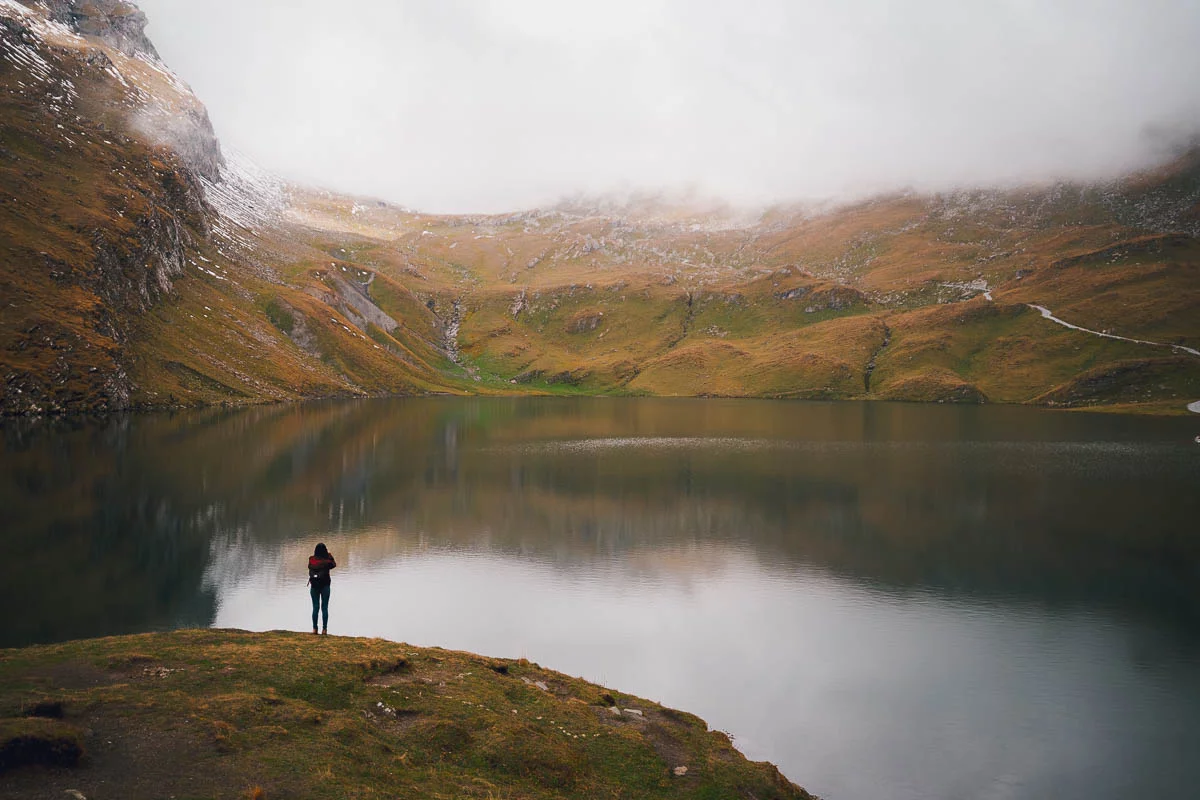 But before you start your descent, check out Bachalpsee . It's an easy 40-minute hike from First Station (one-way) and a great place to set up a picnic.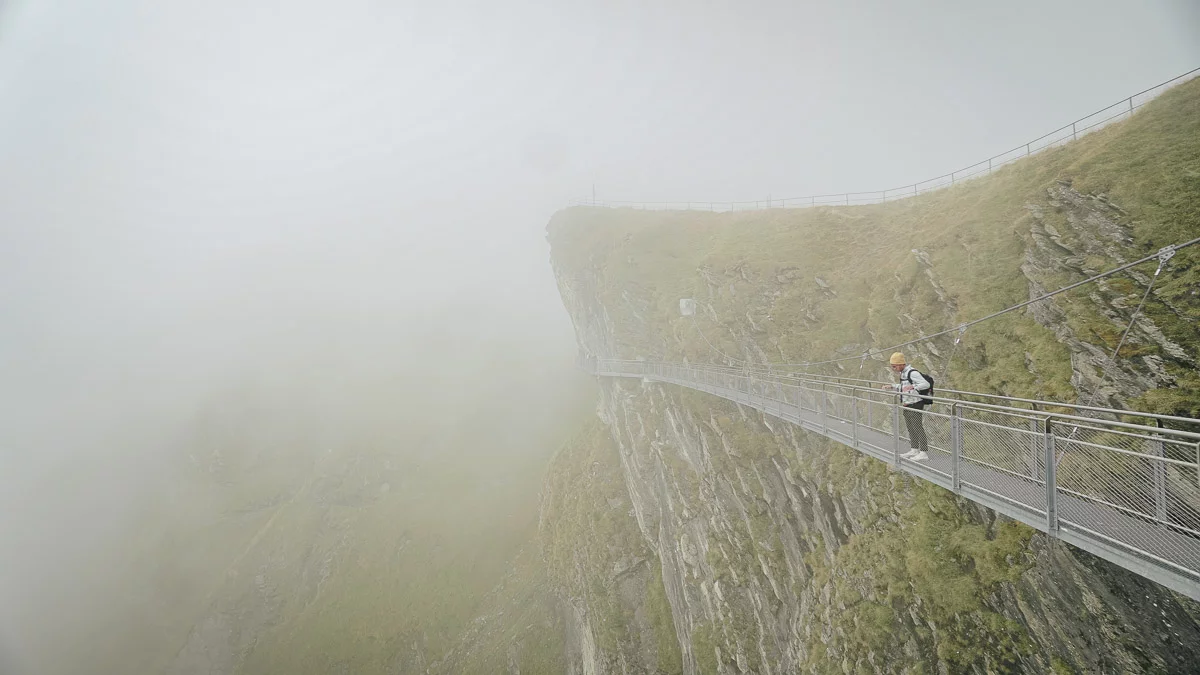 At the top, there's also the First Cliff Walk by Tissot which I can imagine to be quite pretty, if not for the thick fog that we were engulfed in that day.
Cost: CHF120 (~S$172) for Adventure Package, CHF60 (~S$86) for gondola roundtrip Starting point: From Grindelwald train station, walk 10 mins to Grindelwald Firstbahn, or take 2 stops on bus no. 121, 122, or 123 Swiss Travel Pass: 50% off the Gondola from Grindelwald – First Station (CHF30, ~S$43)
Premium Panoramic Train Rides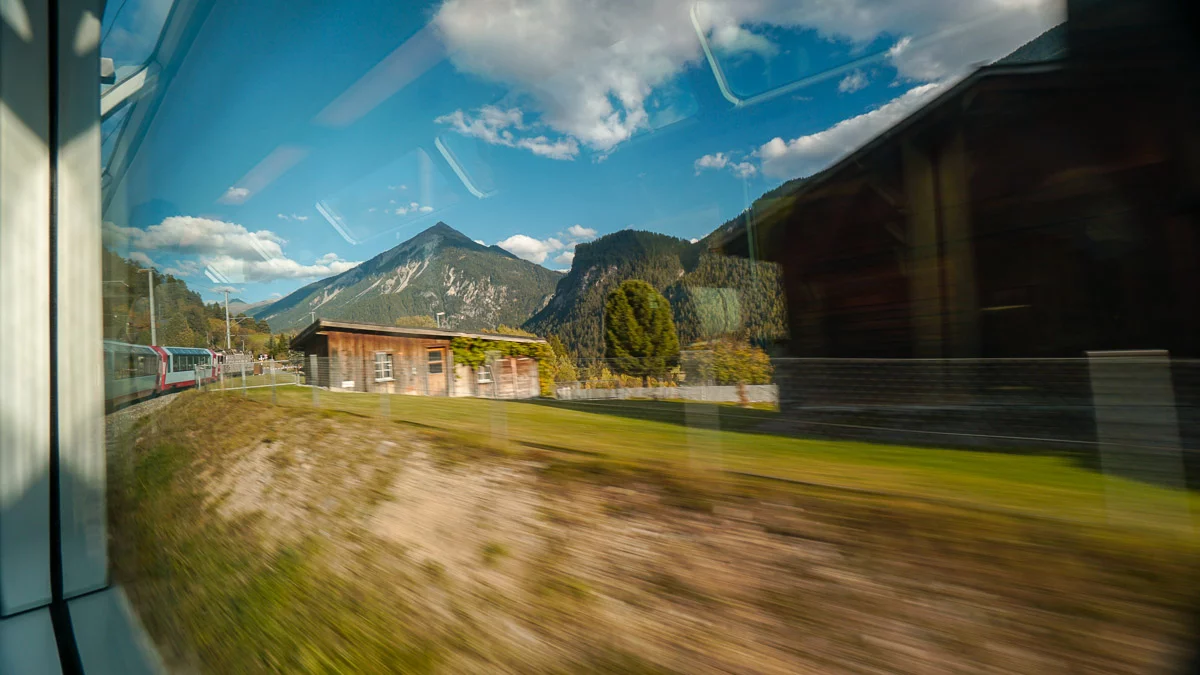 Travelling by train in Switzerland isn't just about getting from one point to the next but an experience of its own. I don't sit still well for long but I was constantly glued to the views beyond the large panoramic windows.
There are five Premium Panoramic Trains in total but here are three we managed to include in our 10-Day Switzerland Itinerary .
1) Luzern–Interlaken Express (Luzern – Brienz – Interlaken) *free with the Swiss Travel Pass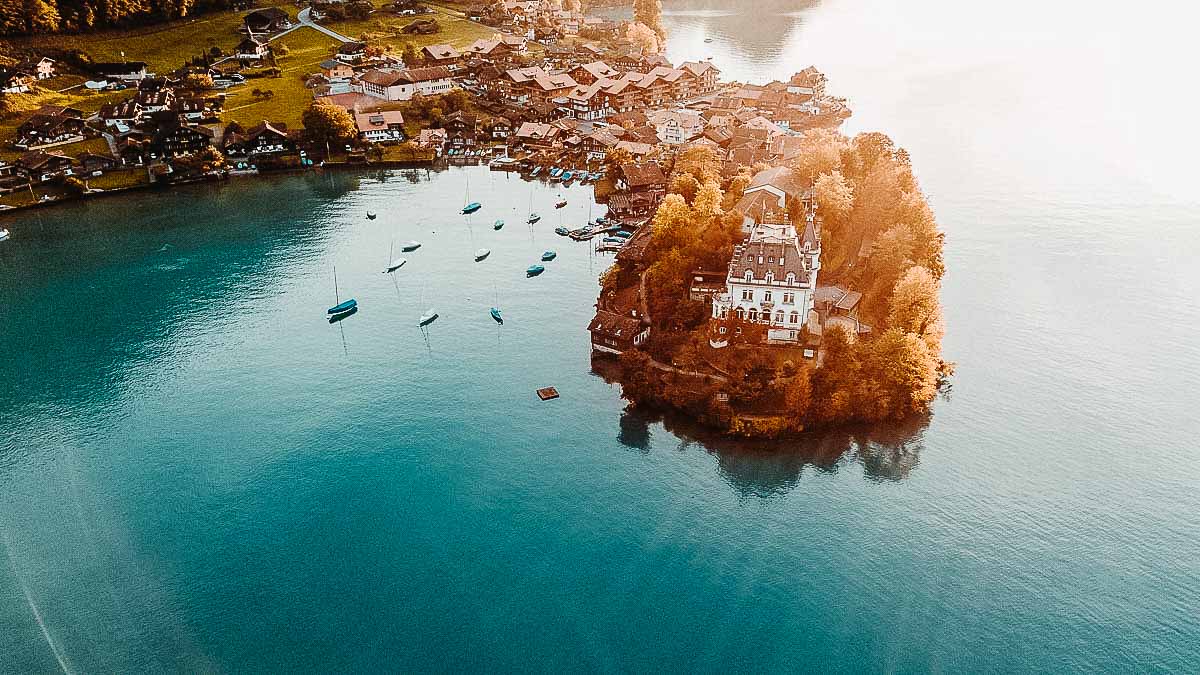 This route passes through some of the most dazzling lakes, waterfalls, and rivers. The good news is that it doesn't require reservations, and runs once every hour from 6AM. (check the SBB mobile app to confirm the exact timing)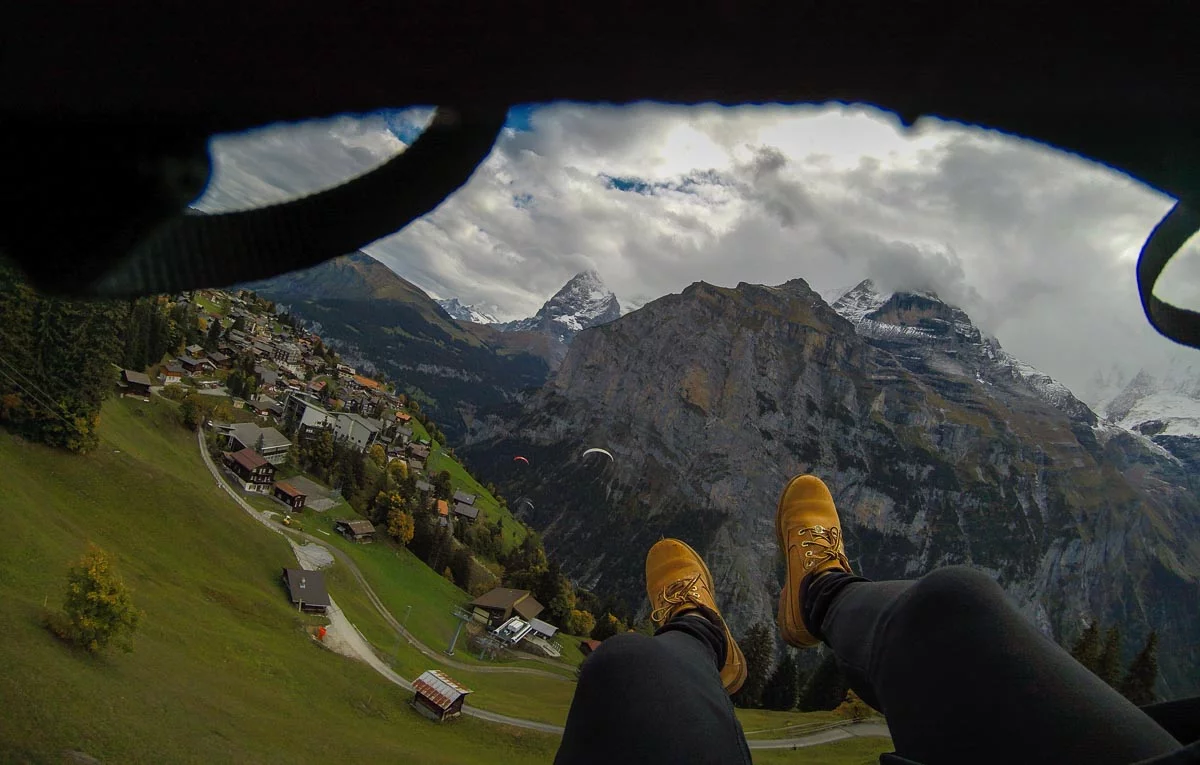 Interlaken is a great base for many outdoor adventures including paragliding in Lauterbrunnen, hiking in Grindelwald, or even experiencing the world's steepest funicular!
Frequency: Every hour from 6:06AM Duration: 1hr 50mins Swiss Travel Pass: Fully covered, no reservations required
2) Golden Pass Route (Interlaken – Zweisimmen – Montreux) *free with the Swiss Travel Pass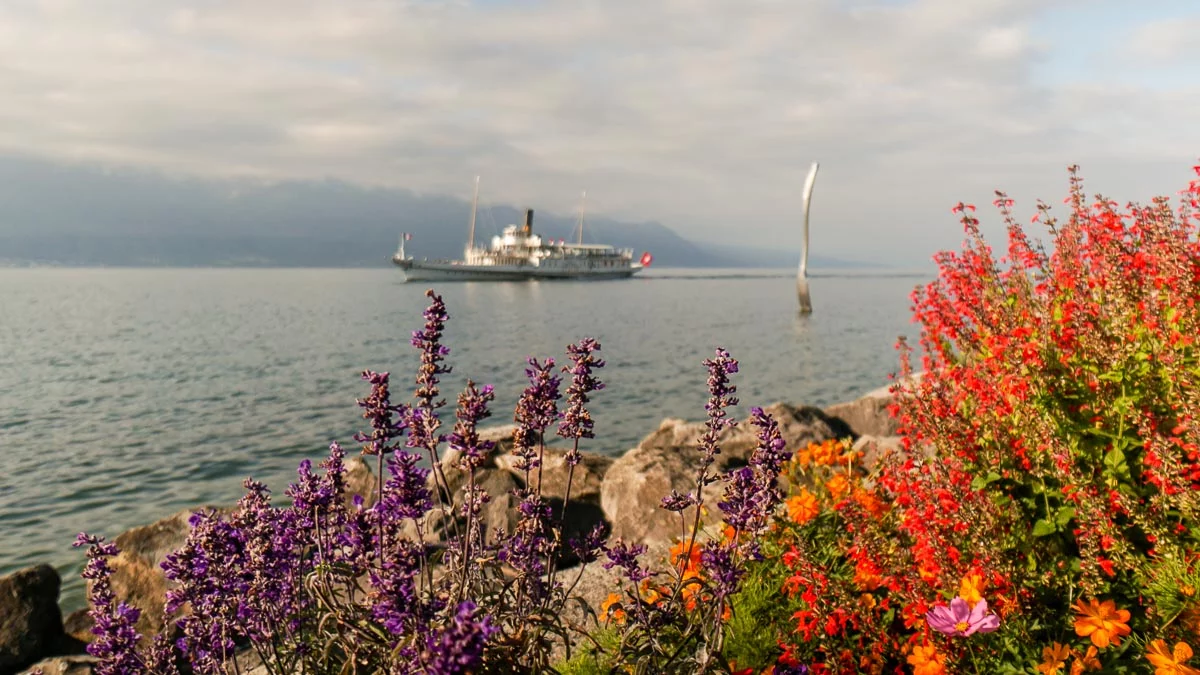 The MOB Panoramic train only runs from Zweisimmen to Montreux, but combined with the route above (Lucerne – Interlaken), this makes up the Golden Pass Route and is known to be one of the most accessible yet scenic train rides around. This train doesn't require reservations, and is fully covered by the Swiss Travel Pass. The train runs 6 times a day, every 2 hours from 8:25AM.
Duration: 1hr 50mins Swiss Travel Pass: Fully covered. Reservations not mandatory but recommended during peak seasons in July and August.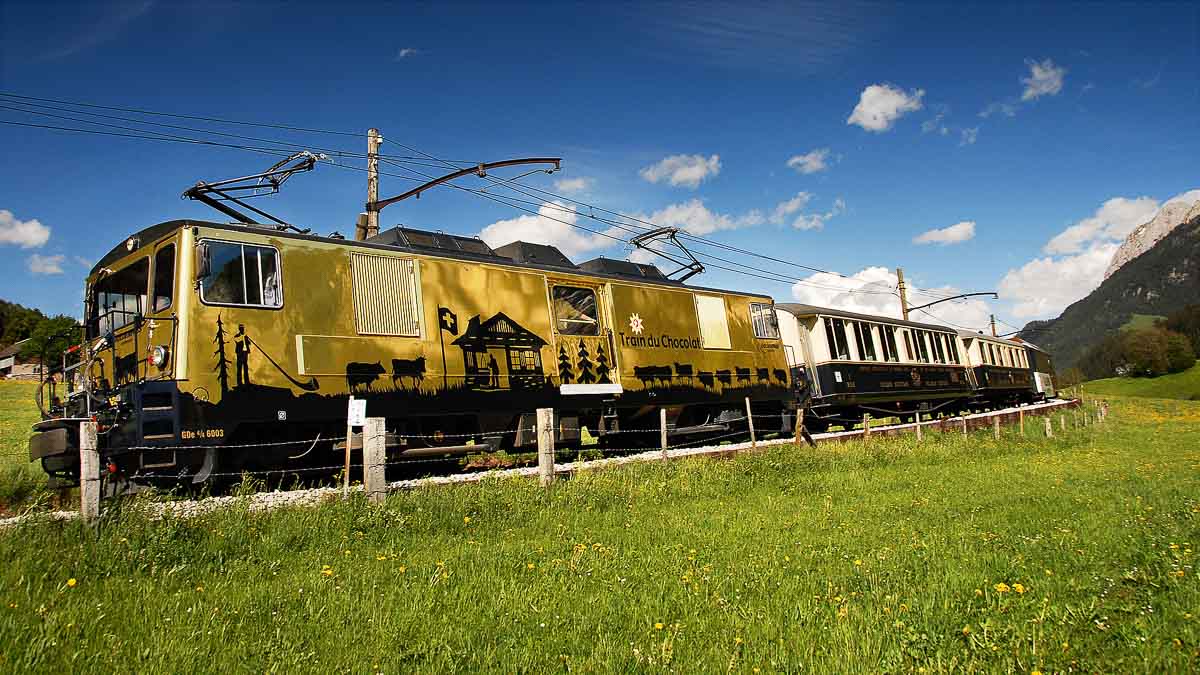 Photo credit: goldenpass.ch
From Montreux, the MOB Panoramic train also has special day excursions on the Chocolate Train to Gruyères, known as the land of chocolate. Swiss Travel Pass holders get a discounted rate of CHF59 which includes the train journey to Montbovon, onboard coffee, and chocolate croissant, as well as entry to the cheese and chocolate factories.
Schedule: 9:50AM – 5:15PM (May – Sep) Swiss Travel Pass: CHF59
3) Glacier Express (Zermatt – Chur – St Mortiz)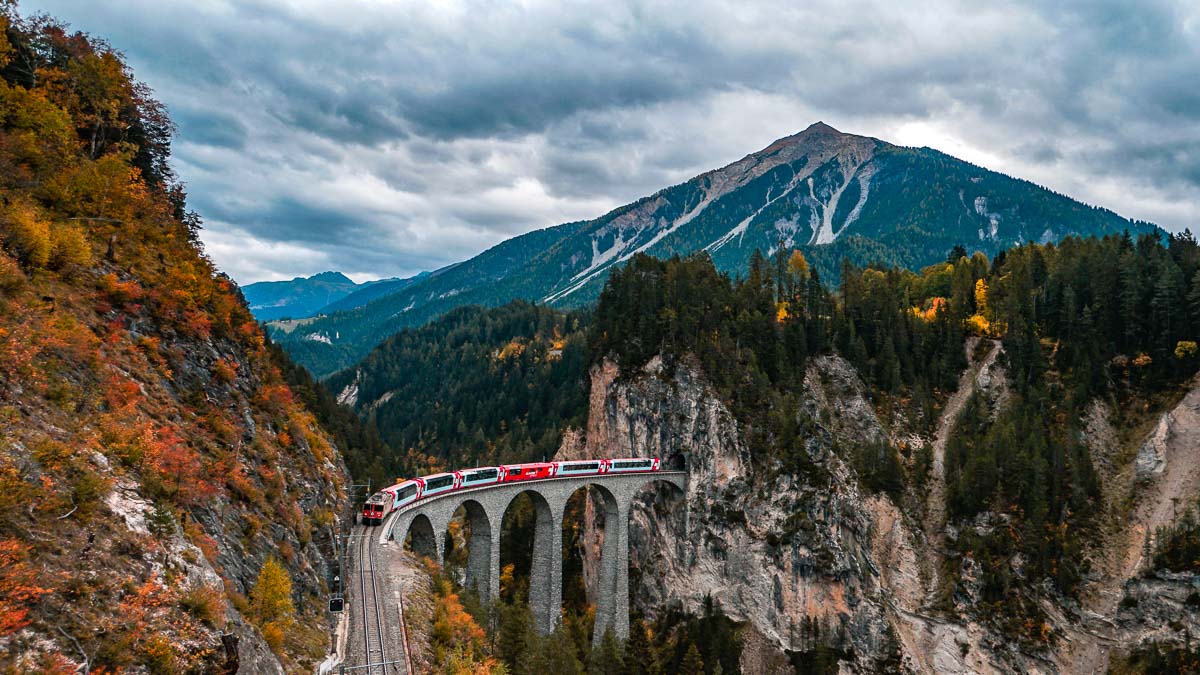 The highlight of the Glacier Express is the journey between Chur and St Moritz as it passes through the Landwasserviaduct — a 65m high, single-tracked railway viaduct with six impressive arches.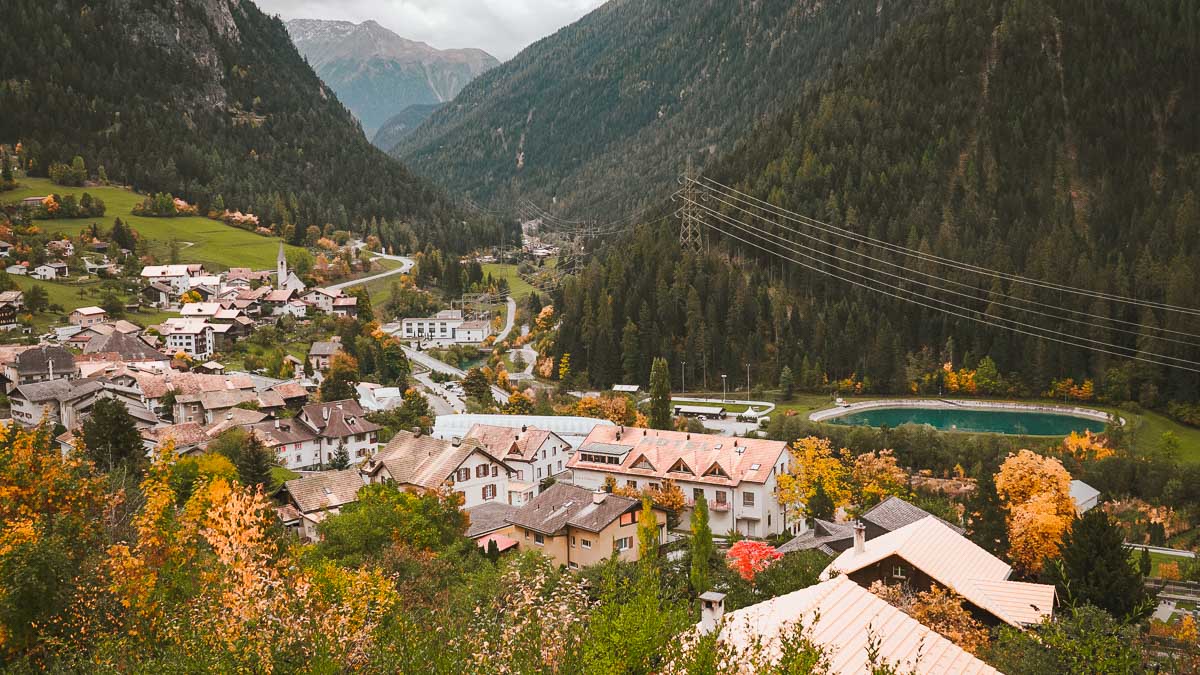 It's also the "world's slowest express train" at ~39km/h; but no one's complaining because it'll give you ample time to take in the varied landscapes while dining on board. From valleys and canyons to rivers and towns, the train passes through 91 tunnels and 291 bridges!
Frequency: 1 – 3 times/day depending on season Duration: 7hr 50mins Swiss Travel Pass: Reservations are compulsory and not included with the pass — CHF33 (~S$47) for the entire route, CHF22 (~S$32) for shorter sections of the route. Optional meals are sold separately.
*Pro-tip: For the best views of the Landwasserviaduct, reserve a seat on the right side of train between Chur – St-Moritz. Seats for this train sell fast so book as soon as the window opens (up to three months in advance).
Other Premium Panoramic Express Trains
The two other scenic trains covered by the Swiss Travel Pass are the Gotthard Panorama Express (from Luzern) and Bernina Express (from Chur). Both trains end up in Lugano and require reservations. Note that some of these trains don't run during the winter season (Mid-October to end March).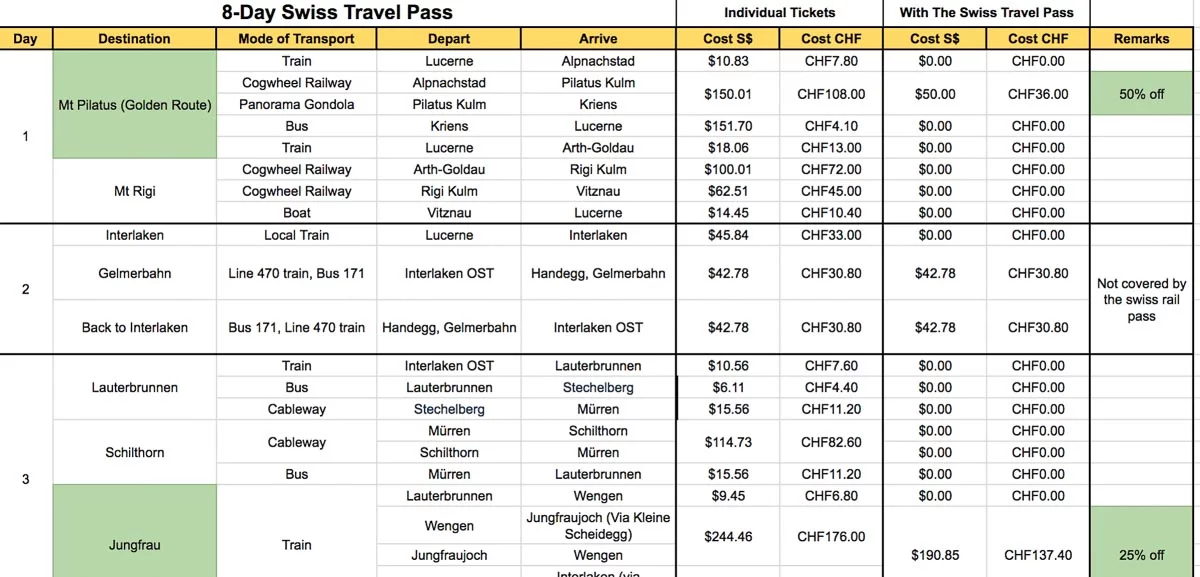 Click on the image to view the full breakdown
We hope this Swiss Travel Pass guide was useful! For a list of all the trains we took with the Swiss Travel Pass, click on the image above !
FAQs about the Swiss Travel Pass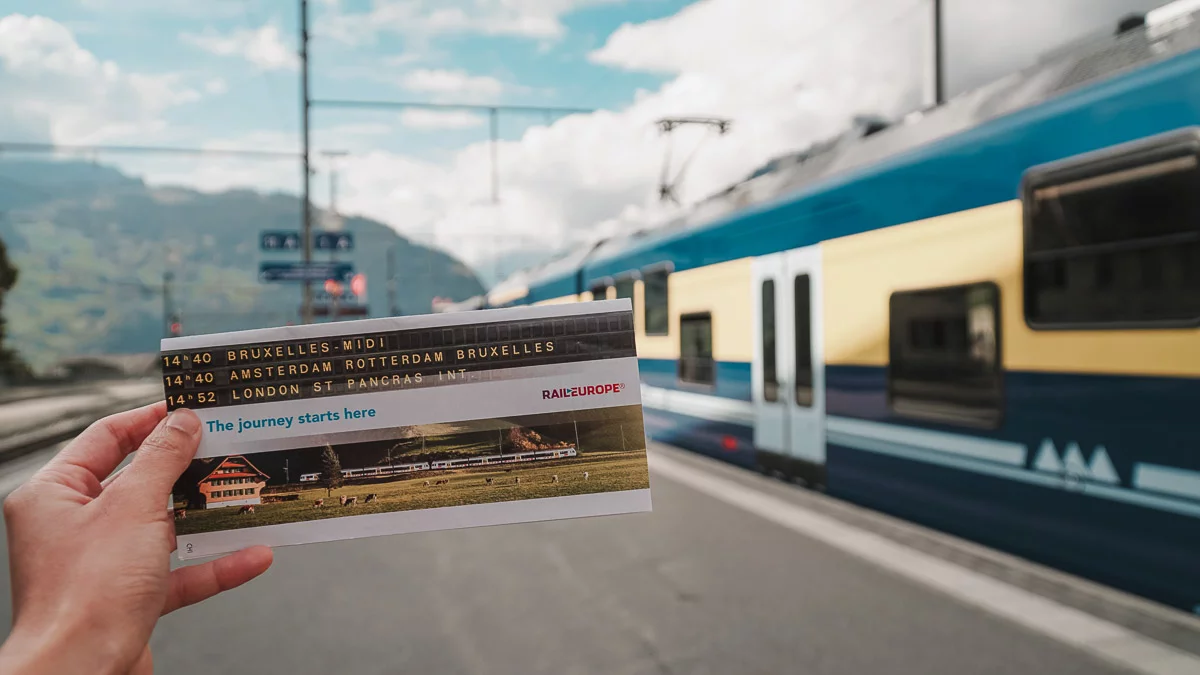 1) Where can I find the train timings and routes?
If you're planning on a computer, check out the SBB website . When you're on the go, download the SBB app on your phone — available on both the App Store and Google Play — so you can check the train timings while travelling.
2) How do you enter the train stations with a Swiss Travel Pass?
In Switzerland, there are no gantries at train stations so it runs quite heavily on trust. However, scenic trains — especially those that ride up the mountains — almost always have rail staff walking through the cabins to check for tickets/rail passes. Just have your rail pass or phone ready when you're on the train.
3) Are train reservations required?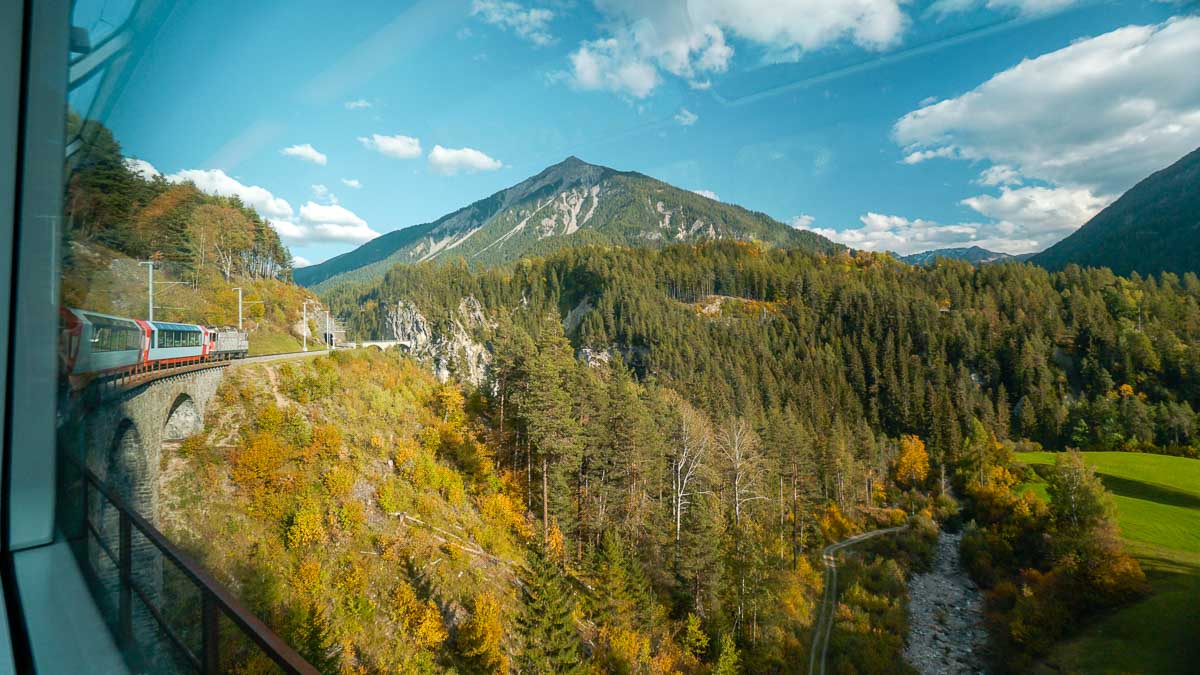 Only selected premium panoramic trains like the Glacier Express require it. You can hop on and off any of the local trains and buses without reservation or extra tickets.
Reservation fees are not included in the Swiss Travel Pass.
4) Is the Swiss Travel Pass valid on local buses?
Yes! The great thing is you don't have to fumble for your pass/ticket when boarding. Just board from any of the doors. In our entire trip, there was only one occasion we were asked to show our Swiss Travel Pass on the bus.
5) Is there luggage storage on the trains?
The premium panoramic trains usually have luggage racks with ample space near the doors, but the intercity ones have limited storage. Only cabin/compact-sized luggage can comfortably fit between the seats and overhead compartments on intercity trains.
Surprisingly, it's actually a lot more convenient to travel around Switzerland with a backpack, especially if you're staying in Airbnb apartments and hostels because they often don't have elevators.
6) Misc: Eating on trains? Pets? Toilets?
One of the best things about long train rides is having your lunch with an ever-changing panoramic view at the side. Food is allowed but you might want to avoid bringing food with strong smells. No one will tell you off because the Swiss are nice that way, but it's good social etiquette nonetheless!
For pets, dogs are allowed on all transportation and 99% of them are really obedient!
Apart from the city trains in Zürich, all other trains we took had toilets.
I dare say if you didn't hop on a train in Switzerland, you've not been to Switzerland. It truly is the quintessential way to experience the country.
This post was brought to you by Klook .
For more travel inspiration, follow our adventures on Facebook , Instagram and YouTube !
View this post on Instagram A post shared by thetravelintern.com 🇸🇬 (@thetravelintern)
RELATED ARTICLES MORE FROM AUTHOR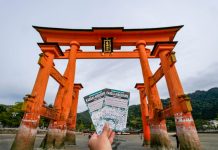 Ultimate JR Pass Singapore Guide — Step-by-Step Guide and New Updates in 2023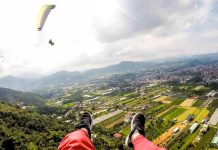 8D Taiwan Itinerary: Insider's Guide to Hidden Adventures from Taipei to Kaohsiung via THSR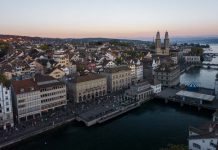 Switzerland 14 Best Things to Do — From Iconic to New Attractions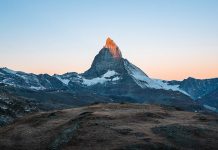 5 Budget Europe Itinerary Ideas under S$2.3k for Your Next European Adventure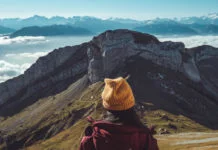 10-Day Switzerland Itinerary — 6 Cities Under S$2.3k with the Swiss Travel Pass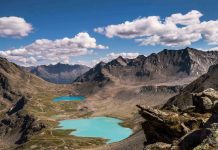 Hiking in Switzerland — Stunning Hikes That Aren't on Most Tourist's Itineraries
10 comments.
Hi TravelIntern,
How do I get 25% off jungfraujoch tour from Lucerne with the Swiss Railway Pass?
the 25% discount only applies for the ride from Wengen Station to Jungfraujoch. Just make sure you have your Swiss Travel Pass with you during the train rides. You can buy your tickets from Wengen station or from the train staff with your credit card. As long as you have your STP with you, you'll be charged 25% off the full ticket price.
Hi Cherie, what camera did u use to capture all these beautiful pics?
Thank you! Our team mainly uses the the Sony Alpha series. This trip we had the a73 and a6500.
Hello! How do i reserve the premium panoramic trains?
Hey Lynn, which premium panoramic train were you looking to book? You need to make reservations from the train's official website for example the Glacier Express can be booked on https://www.glacierexpress.ch/en/ and the MOB train can be reserved here: https://mob.ch/en/reservation-procedure
Hi travel intern, Just wanna ask did you guys did bookings for the Panorama Gondolas at Mt Pilatus?
Hey Xavier, the gondolas run constantly during opening hours so no bookings are needed!
Wonderful recommendations! Which month of the year did you travel to Swiss?
Around August!
LEAVE A REPLY Cancel reply
Save my name, email, and website in this browser for the next time I comment.
Terms Of Use
Privacy Policy

ShopBack's First-Ever Travel Pop-up at VivoCity — Exclusive Travel Deals and...

The Complete Phillip Island Guide: The Day Trip From Melbourne You...

IATA Travel Pass App — What It Means for Future Travel
Navigate at sbb.ch
Service links
Search Open Search term Search
English is currently selected as the language.
International guests.
You too can discover Switzerland.
For our guests from abroad: the Swiss Travel System offers you 29,000 captivating kilometres of public transport. We offer the densest public transport network in the world. And exclusively for visitors to Switzerland a unique choice of travel tickets which cover the entire country. Trains, buses and ships are ready and waiting to take you in comfort to your desired destination.
Swiss Travel Pass.
Swiss Half Fare Card.
Grand Train Tour of Switzerland.
Swiss Travel Guide App.
Leisure ideas.
SBB FreeSurf.
Alipay/WeChat.
Help & contact.
Do you have questions, need help or want to get in contact with us?  We're here to help you.
Rail traffic information
Find the latest information on the current service situation, information, disruptions as well as planned construction work on the Swiss rail network and on strikes and on important disruptions and strikes abroad.
Newsletter & Social Media
Our newsletter regularly informs you of attractive offers from SBB via e-mail.
Display the SBB Facebook page. Link opens in new window.
Display the SBB Twitter account. Link opens in new window.
Display the SBB YouTube channel. Link opens in new window.
Display the SBB Instagram account. Link opens in new window.
SBB Community Link opens in new window.
SBB Social Media
Company Link opens in new window.
Business customers Link opens in new window.
Real estate Link opens in new window.
Jobs & careers Link opens in new window.
Media Link opens in new window.
Timeless SBB design.
Would you also like to get your hands on an official Swiss station clock by Mondaine? Whether you'd like it as a watch, wall clock, pocket watch or alarm clock, order the model you want online now. Link opens in new window. Take a look and order Link opens in new window.
Cookie settings
Legal information
Data protection
Accessibility
In collaboration with
Information
Ways to benefit
Grand Train Tour
Museum pass
Further experiences
With the Swiss Travel Pass all doors to trains, busses and boats are open to you.
Discover Switzerland in all its diversity: in nostalgic cog railways , through ceiling-high train windows , and on state-of-the-art motor vessels . This rich variety is capped off by punctuality, comfort and culinary highlights – that's travelling the Swiss way.
Train, bus and boat are perfectly synchronised on the world's densest traffic network. When the train arrives, bus and boat are at the ready in walking distance. Easy, convenient and direct.
Find out more.
All the benefits at a glance.
Here's what you get with your all-in-one ticket:
unlimited travel by train, bus and boat
unlimited travel on premium panoramic trains*
unlimited use of local public transportation in more than 90 towns and cities
free admission to more than 500 museums
unlimited travel to Mount Rigi, Stanserhorn and Stoos
up to 50% discount on many other mountain excursions
up to 30% discount on SBB RailAway offers
with the complimentary Swiss Family Card, your children travel free of charge from their 6th up to their 16th birthday. Children under 6 years of age travel free of charge.
*Seat reservation fees and/or surcharges apply
Please contact the issuing point-of-sale for cancellations and refunds.
More information about the Swiss Travel Pass.
Swiss Travel Pass
Enjoy up to 50% discount on mountain excursions.
Find a list of panoramic mountain excursions here.
Enjoy free boat rides on various Swiss lakes.
Find a list of scenic routes here.
Swiss Travel Pass area of validity and highlights.
For a complete overview of the Swiss Travel Pass validity, download a PDF map or install the Swiss Travel Guide app. A seat reservation and/or upgrade is required to travel on some trains/buses/boats such as the Glacier Express, Bernina Express, Gotthard Panorama Express and Palm Express.
The top train attraction.
Let the breathtaking scenery pass you by. The Grand Train Tour of Switzerland is a unique route that dreams are made of, combining the most beautiful panoramic routes into a single memorable experience.
With the Swiss Travel Pass, you will get to discover Switzerland's sights and landmarks from the comfort of the train. As you will see, the experience is close to being in a theme park, except that this unique route spanning 1,280 kilometres is for real.
There is no prescribed direction or duration. You can hop on and off wherever you please. Whether at Zermatt, the Lavaux, or at the Rhine Falls: the Grand Train Tour of Switzerland is also a perfect starting point for all sorts of excursions.
More information about the Grand Train Tour of Switzerland.
Advertisement
Jungfraujoch – Europe's highest railway station
Glacier Plateau
Eiger Express
25% discount with the Swiss Travel Pass
Jungfraujoch – Top of Europe.
Experience other highlights of the Jungfrau region such as Grindelwald-First, Schynige Platte or Harder Kulm at 50% discount with the Swiss Travel Pass: jungfrau.ch
Have we mentioned the Swiss Museum Pass?
Visit famous castles, interactive museums and even UNESCO World Heritage Sites: the Swiss Travel Pass is also your entry ticket to the world of museums. Benefit from unlimited free admissions to more than 500 museums. The following two are particularly popular. Just show your Swiss Travel Pass at the entrance and step in!
You'll find a list of all museums here.
The prestigious Chillon Castle on the shores of Lake Geneva.
You'll find a list of all boat cruises here.
Immerse yourself in Swiss history at the National Museum in Zurich.
You'll find a selection of over 500 museums here.
"App-grade" your journey.
Enjoy many benefits and never miss a highlight – with the Swiss Travel Guide . Everything you'll ever need on your journey by public transport is in the Swiss Travel Guide app: information about the Swiss Travel Pass, a digital map of the Swiss Travel System and links to the online timetable. It's the perfect companion for any visitor travelling by public transport.
But there's more:
The app shows you all highlights near you.
You'll benefit from discounts on culinary delights, guided city tours and mountain railways.
You can access important contact numbers and information offline at any time, e.g. lost-and-found offices, timetable information or transport police.
The app is available for download via App Store or Google Play Store in five languages.
The perfect travel guide for your journey
More information about the app.
To any spot by public transport
Impressive glacier world on TITLIS
Stunning panoramic views
TITLIS glacier
50% discount with the Swiss Travel Pass
TITLIS glacier mountain – welcome to the heart of Switzerland.
Enjoy a glorious day in the snow at 3,020 metres altitude. titlis.ch/
Further experiences.
A curated selection of the most beautiful Swiss trips by train, bus and boat.
Experience Switzerland's beauty by public transportation.
This is how to use the Swiss Travel Pass: practical insider tips
How does the Swiss Travel Pass work?
A Swiss Travel Pass is the most convenient option for traveling in Switzerland. You can travel as much as you like and you do not need tickets. Just board with your pass and enjoy the ride. In case of cable cars and most other mountain transport you need to buy a discounted ticket.
SwissPass account not required
You don't have to add your Swiss Travel Pass to a SwissPass account. Find more information  here .
How to start using your electronic pass
In nearly all cases the Swiss Travel Pass is ready for traveling once you've received it.
You will receive a PDF file. This file has a code that train staff can scan from your smartphone. Set your screen brightness to the maximum.
You may also receive a link to add the pass to a wallet app on your smartphone. You can use this instead of, or in addition to, the PDF file.
Optionally you can print back-up copies of the pass on A4 or letter-sized paper.
The pass is ready to use if it includes all information like start date, passenger name and birth date. Your passport number won't be displayed on the pass. Your name may be truncated if it's too long to fit on the pass, but that's no problem.
How Swiss Travel Pass travel days work
Once your Swiss Travel Pass is valid, you can use it for the number of days you purchased it for. Specifics:
The Swiss Travel Pass travel days are consecutive. If you don't travel on such a day, it still counts as a travel day.
The time of validation is not relevant. There's no difference between validating it on July 15 at 08:00 or July 15 at 19:00 PM. July 15 still counts as your first full day of traveling, and the pass is basically valid from 0:00 AM that day. In this example, an 8-day Swiss Travel Pass can be used for traveling on July 15, 16, 17, 18, 19, 20, 21 and 22.
Validity ends on 5:00 AM of the day following the last day, so that allows you to complete late night trips, even after midnight. In the above example, validity ends on July 23, 5:00 AM.
Additional tickets
There are two types of trips:
Trips on routes that allow free traveling. You can just board any train, bus, boat, etc. on such routes. You do not need a ticket.
Trips on routes that allow discounted traveling. This mostly applies to transportation into the mountains . You need to arrange for a discounted ticket. You can do so online or at the ticket office of the cable car. Present your pass to make sure you'll get the discount.
There are a few cable cars that also allow free traveling. In such cases you may still need to get a ticket as access gates require a specific ticket type. You can get a free ticket upon presenting your Swiss Travel Pass.
Seat reservations
You don't need seat reservations for 99% of all trains and buses in Switzerland. You can simply board with your Swiss Travel Pass. Exceptions are some international trains and some panoramic trains like the Glacier Express and Bernina Express . If you need or want seat reservations, you need to arrange for them separately. Seat reservations are not included in the pass. About train seat reservations About bus seat reservations
What to present on board the train, bus or boat
Once you're on board, you will need to present your Swiss Travel Pass to ticket controllers upon request. The controller may want to check your passport as well, to make sure you're the owner of the presented pass.
How to travel beyond the area covered by the pass
You may have planned a trip not completely covered by the pass. You can check the map to find which part of your trip is covered. You will have to buy a ticket for the part of the trip that is not covered.
Example: you intend to travel from Milan to Interlaken. As you can see on the map, Domodossola - Interlaken is covered by the Swiss Travel Pass. So you need to buy a ticket Milan - Domodossola. You don't need to get off the train in Domodossola. You have paid for the entire trip by the ticket and pass, so you can stay seated.
Is Switzerland Expensive To Visit? Trip Costs in 2024
Written By: The Planet D
Switzerland
Published On: November 8, 2023
Is Switzerland expensive? Visiting Switzerland is more expensive than visiting other countries; there's no denying that. So when booking a trip to Switzerland, it's important to take its travel costs into consideration. Statistically, we can say that Switzerland is the third most expensive country in the world. The average monthly living cost in Switzerland is $2,850 per person. Naturally, that high cost will affect you as a traveler with higher hotel prices, food, and activities. So, to answer your question, yes, Switzerland is expensive. When planning a trip to Switzerland, it is only fitting that you should be wary of budgeting.
However, with careful planning, travelers can visit Switzerland without breaking the bank. Switzerland will never be as affordable as other destinations, but the average person can travel comfortably when taking advantage of booking in advance, using public transportation, and finding accommodation to suit their budget.
Table of Contents
Is It Expensive To Visit Switzerland?
A trip to Switzerland can quickly add up when it comes to budgeting. Before traveling, it is important to have an idea of what things cost so you can make your visit to Switzerland more financially feasible – whatever your budget.
Speaking of budgeting, the Swiss Franc (CHF) is a strong currency. It is currently stronger than the USD and the Euro. At the time of writing, the conversion rate is around 1 Swiss Franc to 1.10 US Dollars and 1 Swiss Franc to €1,05 Euro.
In this guide, we'll look at a cost breakdown of visiting Switzerland. We'll cover everything – from accommodation costs to food and activities. You may also want to read 10 Simple Ways to Travel Switzerland on a Budget
Cost of Accommodation
Accommodation costs are always one of the significant travel costs, especially in Switzerland. Hotel prices tend to be at least $100 per night in most affluent countries and even more in Switzerland. Especially if you pick a highly sought-after area. If the area is in demand with tourists, hotels have the freedom to hike their average prices.
Luxury hotels in the city center will obviously bump up your Switzerland trip cost. If you want to save money, consider hostels and the possibility of sacrificing a private room experience for a dorm room.
It is a balancing act, and standard rules apply when looking at hotel prices in Switzerland. The cost of your hotel will vary greatly depending on your travel style, where you stay, and what season you visit.
The most expensive places to stay are in most cities in Switzerland like Zurich and Geneva . This is simply because these are the most sought-after areas. Remember, the higher the demand, the higher the average prices. When staying in big cities, you may want to stay a little outside of town. It's easy to do with Switzerland's impeccable transit system.
There are a few places in Switzerland that have a reputation for being slightly cheaper, including Appenzell, Jura, and Valais. You will likely escape the higher prices by visiting smaller towns, too, where you are also more likely to get the best deals in the off-season simply because of the fewer tourists.
Location is definitely a key consideration when you research accommodation costs in Switzerland. You should also consider how long you are planning to stay and where you are going to visit. A stay in Grindelwald will be more expensive than Interlaken when visiting Jungfraujoch, but you will be closer to all the attractions.
If you are staying longer in one destination, consider combining a more expensive short stay in the city center and then moving to a less expensive destination outside of town.
Accommodation Types
Regarding accommodation types, you have the standard three: budget, mid-range, and luxury.
Budget accommodations come in the form of hostels and homestays. You can expect dormitory-style rooms or private rooms in a local home, usually with shared bathroom facilities.
Mid-range accommodation is basic hotel rooms, usually a little out of the city center, to save money. It is important to take transportation costs into consideration if you are staying outside the city.
Luxury accommodation in Switzerland can have seriously high prices – whatever you want to pay, you'll find accommodation to match it. Luxury accommodation is typically in the city centers for maximum convenience. It has fantastic facilities like pools, spas, and fine dining restaurants on-site.
If you want to stay in Switzerland for a little longer, consider something like Work Away or housesitting. This usually requires a few hours of work daily, providing you with a few free nights' accommodations as 'payment'. You'll have to check visa requirements to see if you are entitled to do so on a tourist visa. Still, as a whole, this is a trendy way for travelers to reduce their costs and lengthen their experience in Switzerland.
We have a few examples of the different accommodation types and what prices you can expect. For budget accommodation, there are hostels like Funny Farm Backpackers in Interlaken. Even as a hostel, it has impressive facilities, including an on-site ski school and an outdoor pool for summer use. You can book a mix of dorm or double rooms with ensuites, the latter of which cost around $120 per night.
Also, in Interlaken, Hotel Chalet Ski is the perfect mid-range option. It has some character, rocketing it into a more mid-range rather than budget category. The chalet dates back to 1862 and still retains its ultra-traditional architecture. Guests can enjoy a sauna and a free pass to use the local buses. This comes at a moderate price of around $150 per night.
As a luxury choice, the Savoy Tower Interlaken offers a more realistic picture of costs. This huge 5-star hotel looks like a fairytale palace with a beautiful backdrop of snow-capped mountains. At around $600 per night, luxury certainly doesn't come cheap. Still, you get all the benefits of a scenic location and your own apartment-style accommodation with the hotel.
The average budget accommodation consists of a hostel or a homestay. For dorm accommodation, you should budget around $60 or 55 CHF per person. In comparison, private rooms in hostels cost around 108 CHF per night per person ($120). This quickly adds up to an average of 377 CHF – 750 CHF per week. ($420 to $840)
Mid-range accommodations cost more in the region of 135 CHF – 179 CHF per night ($150 to $200) and consist of slightly more characterful buildings or properties with more facilities. You'll get private rooms, usually ensuite, and good locations. This adds up to around 898 CHF – 1250 CHF per week ($ 1,000 to $1,400).
Luxury accommodation costs more like 540 CHF – 898 CHF per night ($600 to $1,000) with excellently located properties featuring deluxe furnishings and facilities. This totals up to a jaw-dropping $4,200 to $7,000 per week. Luxury hotels certainly come at a cost in Switzerland.
Cost of Transportation
When planning a holiday to anywhere, your initial transport costs will likely take up a considerable chunk of your budget. Depending on where you go, this could be anything from a plane ticket to a train ticket.
You may want to purchase a Swiss Travel Pas. A Swiss Travel Pass includes unlimited travel on public transportation throughout the country and can be booked for 3-15 days. Costs range from 220-490 CHF. The pass also has plenty of perks including free entry or discounts to museums and attractions.
When you visit Switzerland, your main choices will be finding a cheap flight or purchasing train tickets. Both can be expensive, but you can definitely snag good deals by shopping out off-season and using discounts like student cards where possible. Let's take a look at the initial cost of transport for your trip to Switzerland, aka the price you'll incur getting there and back.
If you settle on flying into Switzerland, you'll find cheap flights from all over Europe – usually under $80 for a one-way flight and sometimes under $40. If you are flying to Switzerland from the US, this is a bit pricier, averaging around $300 to $700 one way; exact prices vary based on when you decide to visit. If you choose to take the train, you can get one-way tickets from different destinations in Europe to Switzerland at prices starting at around $30.
The train might be slower, but you get stunning scenery. Plus, the Swiss rail system is very efficient and there is a train station central in every town and city.
And when purchasing tickets in advance, you can snag some really competitive deals. Of course, there's also the environmental benefit, with public transportation being much better in the battle against global warming. If you are already staying in Europe, we'd suggest heading to your train station and buying a train ticket to get to Switzerland. Check out the Swiss Rail Pass if you are planning to travel a lot.
Needless to say, just getting to Switzerland and back won't be the only time you need to worry about public transportation. The extent to which you'll need to budget for local transportation will vary depending on your plans. After all, it depends on where you want to go on your trip to Switzerland – will you be traveling around different towns and cities when you travel to Switzerland? Or will you just be staying put in a single city and using public transport once or twice for airport transfers and a day trip? Your plans definitely dictate your budget, so it helps to compare budgets.
If you want to travel around Switzerland to different cities, we'd suggest budgeting around $150 for a week, including 2 to 3 trips between major cities and also standard bus and tram use. Transport can add up when traveling around Switzerland, which is notorious for sky-high prices on rail travel. As a guideline, it is around $40 per one-way journey between neighboring significant cities, so you can see how it quickly adds up.
If you are planning on traveling around a lot, consider the Swiss Travel Pass . The Swiss Travel Pass gives you unlimited travel on public transportation, be it bus, boat, or train tickets. You also get unlimited travel on panorama trains, free admission to over 500 museums, and discounts on hundreds of attractions. It is ideal for tourists who are intensely traveling across Switzerland. Its rate varies depending on which period you choose. Still, you can opt for anything from 3 to 15 days, choosing between 2nd and 1st class. 6 days in 2nd class is 359 CHR per person, while 6 days in 1st class is 570 CHF per person. (This is roughly $400 and $600 per person)
If you want to just stay in one city, we'd suggest budgeting around $40 for the bus and tram, as well as any day trips. Most cities also have a city card to bundle all your transportation. Lucky you! You've hit the low-budget option. Just keep aside a little extra for airport transfers if you need them.
Finally, another option for traveling around Switzerland is by rental car. Rental cars are easy to find and available at all major airports. If you decide against public transport and want a rental car, you should budget around $40 per day for a standard vehicle, not including any necessary insurance policies.
So, as a whole, for 7 days, we'd budget $400 per person using a Swiss Travel Pass, $150 per person using just a few long-distance public transport journeys, $40 per person for a minimal traveling city break, and $280 when renting a car. Switzerland is definitely expensive compared to other countries in Europe when it comes to travel. It is worth sitting down to compare prices of the different itinerary costs, especially for budget travelers.
Cost of Food
Food costs are one of those things that gradually chip away at our budget. Still, with delicious dishes like cheese fondue you must indulge in Swiss cuisine . The only issue is that Switzerland has sky-high food prices – up to 78% higher than other food costs in Europe. Even fast food is pricier in Switzerland. Whether you buy a soft drink or that delicious cheese fondue, you will pay premium prices. It does vary a bit depending on whether you stay in smaller towns or expensive cities.
Prices vary depending on where you are eating. Are you eating at restaurants? Are you getting fast food or takeout? Or are you going grocery shopping to cook at 'home'? Whether you are a budget traveler or not, you should know roughly what percentage of restaurant meals you'll be having if you want to get an accurate food budget. As we said, Switzerland is one of the most expensive country choices when traveling to European countries – it comes with the territory.
As a quick side note, let's quickly look at the foods that are absolutely worth splurging on when you travel to Switzerland. These are the food and drinks that are traditional or part of the cultural scene in Switzerland, plus a few restaurants you should jot down and visit.
Cheese fondue is the delicious food mentioned above – melted cheese with white wine and dipping bread. It is an absolute must-try when you travel to Switzerland, especially as a warming dish in winter.
Switzerland likes its cheese, that's for sure. This dish involves melting half a cheese slice and then scraping the melted section onto a plate. Raclette is then adorned with extra ingredients like potatoes and gherkins.
This unusual dish is a dried sausage mixed with pork, lard, red wine, beef, and a bit of sugar for an extra touch. Landjagers were created to fuel those hiking or traveling on foot. Now, they are a tasty treat for anyone who loves trying meat dishes.
A rosti is a huge potato fritter-style dish that is also a bit like a pancake. The potato is mashed to create a pancake-shaped form and then cooked in a pan. It is tasty and warming, precisely what you need in the cold.
Vivi Kola is the Swiss alternative to Coca-Cola and was relaunched in 2010 after pausing its 50-year production in 1980. The draw of Vivi Kola is its 100% natural ingredients – a bit of a health kick for anyone avoiding sugary drinks. You should find it in most grocery stores and corner shops.
Roteli is a bright cherry liqueur with a distinctive taste. If you fancy an alcoholic beverage, this is the one to pick. You should find it in most bars and stores selling alcohol. Read more: 15 Swiss Foods to try in Switzerland or at Home
So now that you've got a rough idea of what to eat and drink in Switzerland, what should you budget for food? If you have a tight budget, stick to grocery stores and find self-catered accommodation. Accommodation options like hostels typically offer kitchen facilities, meaning you can cook low-cost meals and keep your food budget low when visiting. A weekly budget when using grocery shops should cost around $60 per week per person.
A more mid-range budget might include 2 to 3 restaurant meals out, while a luxury might be eating out every day. On a mid-range budget, you should budget $60 for a grocery shop and approximately $55 per meal, totaling around $225 for a week in Switzerland.
On a luxury budget, eating out three times a day, you would budget around $20 for breakfast, $30 for lunch, and $55+ for dinner. This would total approximately $735 a week just on food in Switzerland. You should add extra if you plan on drinking or splashing out on fine dining. Read: Stunning St. Moritz – Summer fun in Switzerland
It is easy to see how it all adds up, isn't it? As we said, to reduce costs, you should try to find accommodation with kitchen facilities. Even having a hotel room with a kettle, fridge, or breakfast included can help, too. How much you budget for food is massively impacted by your chosen accommodation, so pay careful attention to that stage of planning your trip.
Cost of Activities
Finally, here is one of the most fun budget categories to consider – activities. Depending on you as a traveler and where you go, prices for activities vary widely depending on the type of adventure and where it is located. You could find yourself shopping for souvenirs like Swiss army knives at flea markets, picking up precision watches from Geneva, or even going paragliding in Interlaken. You could taste chocolate, go skiing, embark on a guided hike , or visit local museums.
There truly is so much to do and see in Switzerland. The country has beautiful scenery, many mountainous areas, and huge lakes. You certainly won't be stuck for stunning natural views. Similarly, though, its cities are equally exciting, with many free activities to be enjoyed and free admission to set attractions. Switzerland has a reputation for having expensive cities, but you can find activities nationwide to fit your budget.
The standard cost of sightseeing and enjoying tourist activities in Europe is around $200 for a weekend city break or $500 for a week if you take guided tours and day trips. That is for neighboring countries rather than Switzerland specifically, though, so what should you budget when planning a Switzerland-specific activity budget?
The good news is that it doesn't have to break your bank account, as there are plenty of free entry things to do in Switzerland. You could hike or even visit a museum with free admission – especially if you invested in that Swiss Travel Pass we mentioned earlier in the transport section.
However, if you want to tick off any bucket-list experiences, like paragliding , you'll easily set aside $100 to $200 per experience. And even certain museums can quickly add up with entry prices of around $15 to $20 per person. If you are going for a week-long summer vacation, it is easy to see why Switzerland is deemed an expensive country. There are just so many activities to be tempted by – like paragliding and day-tripping to Mont Blanc on guided tours . Your budget will massively vary depending on which of these experiences and activities you choose to fill your itinerary with when visiting Switzerland.
The photo above is from our time in Grindelwald Switzerland. Read more here .
So, how do you overcome this? We'd suggest going through all the bucket lists but "boujee experiences", like skiing, going to the top of Jungfraujoch or the Matterhorn and Mont Blanc. Really get to grips with which ones you'd love to do, and then strike off the ones you aren't absolutely sold on. Then, you can look at the more affordable options, like the Lindt Home of Chocolate Museum at $15 per entry, and go through the same process.
By now, you'll have a list of activities you'd like to do. Line it up next to your ideal budget and see if you need to cross any further activities off, and then just fill in your itinerary gaps with free things to do. It is worth adding that you can make some things cheaper by opting out of expensive tours and taking yourself there independently on local transportation.
So how much should you budget for a week? We'd suggest $500 to $600 per week if you want one guided day trip, one bucket-list experience, and a daily 'affordable' activity like a $15 museum. If you wish to explore independently and enjoy daily affordable activities, a budget of $200 to $300 should suffice for a week. And finally, if you are just sticking to free and a few affordable activities, you could get by on $100 to $200.
The photo above is from our time in Basel Switzerland. Read more here .
A Budget For 1 Week
Is Switzerland expensive? We all know that it can be. If you are visiting for a week, there are a few factors that will impact your Switzerland trip cost. A 1-week itinerary is lots of fun, but equally, there are a few things to weigh up. Let's take a quick look at these factors before diving into your overall budget for 1 week in Switzerland. See more about our time in Zermatt
Accommodation
First, where do you want to stay? Staying in the city center in major cities is bound to spike your accommodation prices. Similarly, will you be staying in luxury, mid-range, or budget hotels?
All of these accommodation categories will impact how much you need to budget for a week's accommodation in Switzerland. Let's say you are staying in the city center. These are the rough costs:
Budget : $630
Mid-range : $1,200
Luxury : $5,600
Transport varies drastically depending on your itinerary. For instance, you could travel all over Switzerland, racking up an expensive train ticket bill. Or you could stay in the city center, only paying for airport transfers at around $40. A Swiss Travel Pass costs around $400 for 6 days, while a rental car costs $280 for a week, and the average budget for someone traveling to a couple of places in Switzerland is $150.
As an average, we'd say budget $200 for general transport within Switzerland. Your flights or train then cost as little as $200 if you are traveling within Europe or $500 if you are traveling from further afield, like the US.
Transport with flights from Europe : $400
Transport with flights from the US or other : $700
Food will depend on where you plan on staying on your trip to Switzerland. Will you stay in a hotel that has a fridge and complimentary breakfast? Will you find an apartment or hostel with kitchen facilities? It is your call, but your budget is up for debate, depending on your choice.
A budget traveler would likely cook mostly grocery-bought meals, a mid-range would eat out a handful of times a week, and a luxury traveler is likelier to dine out for every meal. Let's take a look at the budgets:
Budget : $60
Mid-range : $225
Luxury: $735
Finally, activities are a big deal. Again, this depends on what sort of traveler you are. Will you go on a budget and mostly enjoy free activities? Mid-range and enjoy a few low-cost and free activities? Or luxury and splurge on loads of bucket list experiences and guided tours? Let's break it down:
Budget : $150
Mid-range: $250
Luxury : $550
So, what should you budget for a week in Switzerland?
If you travel on a budget, expect to spend $1,500 per person with flights from the US or $1,000 with flights from Europe. If you travel on a mid-range budget, spend around $2,400 per person with flights from the US or $1,900 with flights from Europe. On a luxury budget, you should set aside $7,500 per person including flights from the US, or $7,000 with flights from Europe.
A Budget For 2 Weeks in Switzerland
As you can see, the weekly budget in Switzerland varies drastically depending on your choices, so it is a good idea to always factor in extra costs and budget some extra money. It is easy to see why so many people ask whether Switzerland is expensive – just look at how high that luxury budget can get. What about for a fortnight, though? How much does it cost to travel to Switzerland for two weeks?
Let's break it down:
Budget travel around Switzerland for 2 weeks costs $2,300 with flights from the US or $1,800 with flights from Europe.
Mid-range travel around Switzerland for 2 weeks costs $3,700 with flights from the US or $3,600 with flights from Europe.
Luxury travel around Switzerland for 2 weeks costs $14,300 with flights from the US or $13,800 with flights from Europe.
If you are traveling from the US, it is probably more cost-effective to stay longer in Switzerland or venture on to other neighboring European countries. This way, you get more bang for your buck regarding those steep US flight prices. Those traveling on a budget will notice little difference in their 2-week versus 1-week budget, as their main costs are transport, such as flights and accommodation. You can see how, while Switzerland does get expensive on a mid-range and luxury scale, it can easily be explored on a budget.
Is Switzerland Expensive: FAQs
Is Switzerland expensive? We think we can probably agree that's a yes. Your Switzerland trip cost will be much higher than if you visited other countries like Poland, Germany, Austria, Croatia, or Slovakia – all neighboring countries. But with the proper understanding of the cost breakdown of a trip to Switzerland, you can plan ahead and choose your trip type accordingly. As long as you are mindful of what causes price spikes, you'll have an easy time budgeting.
Before you go, though, let's take a quick look at the main FAQs.
How expensive is Switzerland for tourists?
Switzerland is expensive for tourists. You can expect average nightly rates of 200 to 300 Swiss Franc – approximately $220 – 330 USD on a mid-range budget. Eating out is also costly, and you should save money by shopping at grocery stores.
How much does a meal cost in Switzerland?
The average meal costs around 50 Swiss Francs – $55. That would be dinner at a mid-range restaurant, including a round of drinks. Lunch is slightly cheaper at around 30 Swiss Francs – $33.
Is food and drink expensive in Switzerland?
In short, food and drink are more expensive in Switzerland. In fact, a staggering statistic is that food costs 78% more in Switzerland than anywhere else in the EU. There's no point denying it – you will spend much of your budget on food when you travel to Switzerland. However, it is worth noting that if you don't eat meat, you could drastically reduce your food bill. Meat is the main food product that spikes food budgets in Switzerland. A win for vegetarians and vegans, right?
How expensive is Switzerland compared to the US?
Switzerland is much more expensive than the US. The stats don't lie, and according to World Data.info , the average price of Switzerland's goods is 31% more expensive than the US. While in Switzerland, the average income is higher, this plus doesn't tend to trickle down or apply to tourists. So, if you are planning to travel to Switzerland, just know there will likely be a discrepancy and a need for budgeting.
To Conclude: What To Budget When Visiting Switzerland
A meal in Switzerland: The cost of a meal at a standard restaurant can range from 20 to 40 CHF for a main dish. A three-course meal for two at a mid-range restaurant can cost over 100 CHF.
Daily budget in Switzerland: Visitors should budget approximately 100 to 200 CHF per day, considering meals, transportation, and accommodations. This varies greatly depending on the type of travel and level of luxury.
Reasons for high costs: Switzerland's high living standards, salaries, strong currency, and price levels contribute to its expensiveness. Additionally, import costs for goods and high-quality services drive prices up.
Food and drink prices: Grocery shopping can also be pricey, with basic items costing more than the EU average. Dining out, alcohol, and coffee tend to be expensive, reflecting the overall high cost of living.
How much it costs to visit Switzerland massively depends on your travel style – will you use local transportation? Will you get self-catered accommodation so you can save money with grocery shopping? There are tons of small choices that you can make that directly impact your budget.
It is true that Switzerland costs more to visit than most other countries. However, you now know how to make your visit affordable, no matter your budget. It is helpful to break down the individual cost categories; this way, you can plan ahead and keep your spending exactly where you want it.
Are you getting excited about your trip? You absolutely should be. You can check out our guide on things to do in Grindelwald and t hings to do in Zermatt. You should also check out our guide to road-tripping in Switzerland. Have a wonderful visit, and don't forget to not let budgeting detract from such a fantastic experience. Moderation is vital when budgeting and managing trip finances.
Plan your trip to Switzerland with these travel resources
10 Simple Ways to Travel Switzerland on a Budget
Places to Visit in Switzerland
15 Beautiful Cities in Switzerland from our First-Hand Visits
24 Incredible and Fun Facts About Switzerland
The Best Things to Do in Zurich, Switzerland
24 Fantastic Things to Do in Basel, Switzerland
The Ultimate One-Week Switzerland Itinerary
The Ultimate Switzerland Road Trip Itinerary
Things to do in Grindelwald, Switzerland – Complete 4-Day Itinerary
The 14 Best Hikes in Switzerland
Travel Planning Resources
Looking to book your next trip? Why not use these resources that are tried and tested by yours truly.
Flights: Start planning your trip by finding the best flight deals on Skyscanner
Book your Hotel: Find the best prices on hotels with these two providers. If you are located in Europe use Booking.com and if you are anywhere else use TripAdvisor
Find Apartment Rentals: You will find the cheapest prices on apartment rentals with VRBO .
Travel Insurance: Don't leave home without it. Here is what we recommend:
Allianz - Occasional Travelers.
Medjet - Global air medical transport and travel security.
Need more help planning your trip? Make sure to check out our Resources Page where we highlight all the great companies that we trust when we are traveling.
You May Also Like
27 Best Things to Do in Switzerland In 2024
26 Best Things to Do in Geneva, Switzerland in 2023
About The Planet D
Dave Bouskill and Debra Corbeil are the owners and founders of The Planet D. After traveling to 115 countries, on all 7 continents over the past 13 years they have become one of the foremost experts in travel. Being recognized as top travel bloggers and influencers by the likes of Forbes Magazine , the Society of American Travel Writers and USA Today has allowed them to become leaders in their field.
Join thousands of others who get our monthly updates!
Leave a comment cancel reply.
Save my name, email, and website in this browser for the next time I comment.
Welcome to Switzerland Travel Centre! You are welcome to contact us by e-mail or by phone on +41 43 210 55 00 .
Swiss Travel Pass
Buy your Swiss Travel Pass and discover the most beautiful corners of Switzerland by public transport. Choose the most coveted Rail Pass for visitors from abroad and take advantage of  unlimited travel  in Switzerland by train, bus, boat during  3, 4, 6, 8 or 15 consecutive days .
What's included?
In addition to unlimited access to Swiss public transport, you get the following benefits:
Up to 50% discount on most mountain railways such as Gornergrat, Pilatus, Jungfraujoch. Exception: Rigi, Stanserhorn and Stoos are free. More information on this detailed map of validity .
Free entrance to over 500 museums
Free Swiss Family Card for families - Children up to their 16th birthday accompanied by at least one parent travel free of charge throughout Switzerland.
For the panoramic trains, an additional seat reservation is required.
The Swiss Travel Pass can only be sold to non-residents of Switzerland or Liechtenstein.
Why book with us?
Official sales store with best available prices - no hidden costs
Secure booking process
Immediate confirmation with your e-tickets
FLEX option - possibility to cancel the order up to one day ( cancellation policy )
FAQ - Frequently Asked Questions
Is the swiss travel pass worth it.
The Swiss Travel Pass is the ideal companion for all foreign tourists who want to explore Switzerland by public transport for several days. The Swiss Travel Pass includes all journeys by train, bus and boat. In addition, during the validity of the pass you get free admission to over 500 Swiss museums and 50% discount on most mountain railroads (Rigi, Stoos and Stanserhorn free).
How much is the Swiss Travel Pass 2023?
Young travelers under 25 save 30% on the displayed price with the Swiss Travel Pass Youth. The desired currency can be freely selected during the booking process. The conversion rate is updated automatically.
Is there a discount for seniors?
No, there is no discount for seniors on the Swiss Travel Pass.
Where is the Swiss Travel Pass valid?
Trains and buses in Switzerland are included in the pass. However, seat reservations on panoramic trains are not included.
Mountain railways (such as cable cars, funiculars, and rack-and-pinion trains) are discounted.
City transport (buses, streetcars) is included in 90 cities.
Public boat trips are included, except for special trips.
For more details, please consult the validity map .
What conditions apply to mountain railroads?
With the Swiss Travel Pass you benefit from a 50% discount on most mountain railroads. On the Rigi, the Stoos and the Stanserhorn you even ride for free. 
We invite you to order your e-tickets for your mountain excursions directly on our website .
Which museums are included in the Swiss Travel Pass?
With the Swiss Travel Pass you automatically receive the Swiss Museum Pass, which allows you free admission to over 500 museums. Discover the overview of all included museums right now.
What is the difference with the Swiss Travel Pass Flex?
For more flexibility, we recommend purchasing a Swiss Travel Pass Flex. This allows you to freely choose the same number of travel days within a month. You can find more information about the Swiss Travel Pass FLEX here .
How can I reserve my seat on the panorama train?
Seat reservation is required on most panorama trains. This leads to additional costs (price varies depending on the provider). However, the Swiss Travel Pass is included for the panoramic trip, you only have to pay for the seat reservation. As a rule, the reservation can be made at the earliest three months before the trip. Seat reservations are made directly on the website of the relevant provider:
Glacier Express  
Bernina Express  
Golden Pass Express   
Gotthard Panorama Express  
Answers to other questions asked can be found on our Swiss Rail Passes overview .
Could also be of interest to you
Swiss Travel Pass Flex
Swiss Half Fare Card
Navigate to myswitzerland.com
Destinations
Your swiss holiday time.
Holiday destinations
Summer holiday destinations
Winter sports & ski resorts
Family destinations
Attractions
Top attractions
UNESCO World Heritage sites / biospheres
Railway experiences
Top museums
Swiss Parks
Scenic nature
Experiences
Additional content about subnavigation experiences.
Family excursions
Food & Wine
Group excursions
Guided tours
Summer & Autumn
Bicycle & Mountain bike
Adventure & Sports Summer
Zoo & animal experiences
Ski and snowboard
Cross-country skiing
Snowshoe and winter hiking
Tobogganing
Winter excursions
Christmas in Switzerland
Cities & culture
Parks, Gardens and Squares
Architecture
Experience Tour
Car, motorcycle - Grand Tour
Train, bus, boat – Grand Train Tour
Mountain excursions
Accommodation
Typically Swiss Hotels
Wellness & Spa
Family Hotels
Bike Hotels
Boutique Hotels
Inspiring Meeting Hotels
Swiss Historic Hotels
Luxury hotels
Winter sports hotels
Other types of accommodation
On the farm
Bed and Breakfast
Mountains huts
Group accommodation
Transport & Stay
Travel to Switzerland
Barrier-free travel
Tickets public transport
Service & support
Money and shopping
About Switzerland
General facts
Custom and tradition
History of Switzerland
The Swiss Art and Culture Scene
Health Travel
Sustainability
Weather & Climate
Climate in Switzerland
Snow Report
Water and pool temperatures
City offers
Touring offers
Wellness offers
Nature and outdoor offers
Offers for families
Where are you from?
België (Nederlands)
Belgique (Français)
Deutschland
Netherlands
Russia (Россия)
Schweiz (Deutsch)
Suisse (Français)
Svizzera (Italiano)
Switzerland (English)
United Kingdom
Canada (English)
Canada (Français)
China 中文简体
China 中文繁体
Gulf countries العربية
Japan 日本
Korea 한국어
United Arab Emirates
New Zealand
International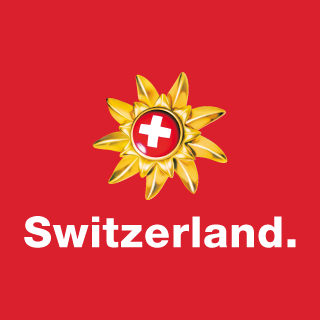 Language, region and important links
Service Navigation
Swiss Travel Pass
Exploring Switzerland has never been easier! For foreign guests, the all-in-one ticket Swiss Travel Pass is the key to Switzerland's public transport network.
This single ticket enables visitors to explore Switzerland from end to end by train, bus and boat on 3, 4, 6, 8 or 15 consecutive days. With the Swiss Travel Pass Youth, young people up to their 25th birthday travelling through Switzerland benefit from a 30% discount off the regular Swiss Travel Pass ticket fare.
Unlimited travel by train, bus and boat. View area of validity
Unlimited travel on premium panoramic trains (seat reservation fees and/or surcharges apply).
Unlimited use of public transport in more than 90 towns and cities.
Free admission to more than 500 museums .
Mountain excursions included: Rigi , Stanserhorn and Stoos
Up to 50% discount on many other mountain excursions.
Up to 30% discount on SBB RailAway offers. Available at all ticket counters within Switzerland.
Children from their 6th up to their 16th birthday accompanied by at least one parent (holding a Swiss Travel System ticket) travel free of charge with the complimentary Swiss Family Card .
Children under 6 years of age who are accompanied by a holder of a valid Swiss Travel System ticket travel free of charge.
The Swiss Travel Pass is available as e-ticket.
Information
A seat reservation and/or supplement is required to travel on some trains/buses/boats such as Glacier Express, Bernina Express, Gotthard Panorama Express and Palm Express.
Swiss Travel System tickets are available to persons with residence outside Switzerland and the Principality of Liechtenstein
In Switzerland, fares apply in Swiss Francs as detailed in the chart (in case of cash payment in EUR, USD or GBP: current exchange rates apply)
General provisions and legal information
Price – adult.
Consecutive travel days
Price – Youth
Valid for young travellers up to their 25th birthday (30% discount)
Swiss Family Card
With the Swiss Family Card , children from their 6th up to their 16th birthday travel free of charge.
On request, a Swiss Family Card is provided free of charge, entitling children from their 6th up to their 16th birthday to travel free if accompanied by at least one paying parent.
Bonus Benefits with the Swiss Travel Pass
Regional passes, sales outlet swiss travel system.