The Great Lakes Tour: A Circle Road Trip Itinerary
by Howard Blount | Updated July 31, 2023 Related Topics: attractions , beaches , boating , bridges , camping , driving tours , epic journeys , family , guest contributor posts , guided tours , hiking , itineraries , lakes , lodging , mountains , museums , National Parks , rivers , road trip routes , road trips , roadside attractions , roadside discoveries , rural , scenic drives , scenic sites , state parks , waterfalls
The Great Lakes tour is a circle road trip route through the United States and Canada to scenic destinations along Lakes Superior, Michigan, Huron, Ontario, and Erie. This guide will help you map the perfect itinerary with suggested food, lodging, hikes, waterfalls, cruises, lighthouses, and more outdoor activities.
Guest Post by Kristi Schultz
This post may contain affiliate links.
Table of Contents
1 The Great Lakes Tour
2 Day 1 | Duluth, Minnesota, and Lake Superior
3 Day 2 | Apostle Islands
4 Day 3 | Porcupine Mountains Wilderness State Park
5 Day 4 | Pictured Rocks National Lakeshore
6 Day 5 | Port Huron, Michigan
7 Day 6 | Niagara Falls
8 Day 7 | Cuyahoga Valley National Park
9 Day 8 | Home
11 Viking Great Lakes Explorer Travelogue
12 We Would Love to Hear From You
13 Pin this Post!
The Great Lakes Tour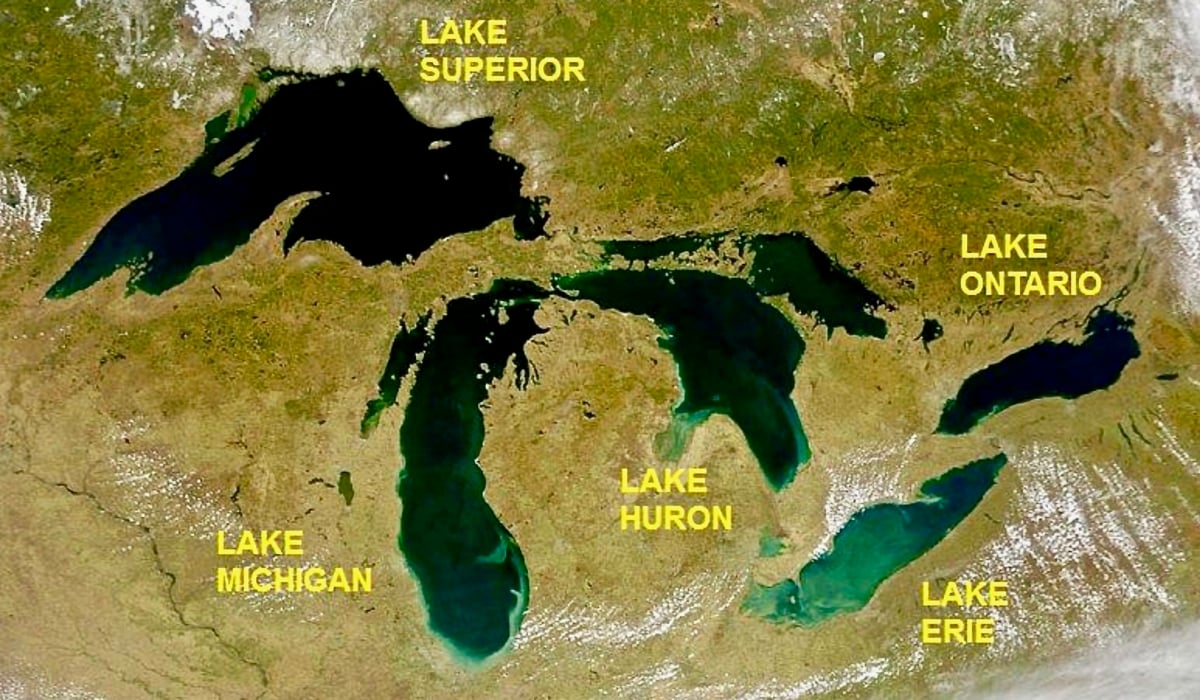 UPDATE: After reading this Great Lakes road trip itinerary, be sure to read our new Great Lakes Explorer cruise with Viking Expeditions .
What are the Great Lakes ? The Great Lakes are a series of five interconnected freshwater lakes located on the border of the United States and Canada . They are the largest group of freshwater lakes in the world by area and have sea-like characteristics such as rolling waves, strong currents, miles of sandy and rocky beaches, and distant horizons.
There are many ways to navigate around the shorelines of these great bodies of water. But could we traverse all of them within 10 days?
On a cool June day, my kids (ages 23, 19, and 15 at the time) and I set out on a Great Lakes road trip to do just that, with the intent to step into the water and take a photo at each lake.
The map illustrates our itinerary and key spots where we stopped while on our journey. The route begins in Stoughton, Wisconsin , just south of Madison , heads up to Duluth, Minnesota , and then makes a loop, hitting key sites while visiting every Great Lake along the way.
We had an incredible time on our Great Lakes tour and returned with some great experiences and recommendations to share!
Day 1 | Duluth, Minnesota, and Lake Superior
My oldest daughter was attending the University of Minnesota in Duluth, so in the early morning hours, my two youngest, our  Boston Terrier , Izzy , and I headed that way.
Duluth  serves as a major port on Lake Superior for ocean vessels that have made their way through the Great Lakes Waterway and the St. Lawrence Seaway . A revitalized downtown and surrounding areas provide a wealth of activities, history, and tourist destinations.
While in Duluth, we visited the must-see  Lake Superior Railroad Museum , one of the best collections of railroad equipment in the country! The displays told the story of the railroads in Duluth and the role they played connecting its ocean port to the rest of the country. A very well-thought-out exhibit with a great gift shop!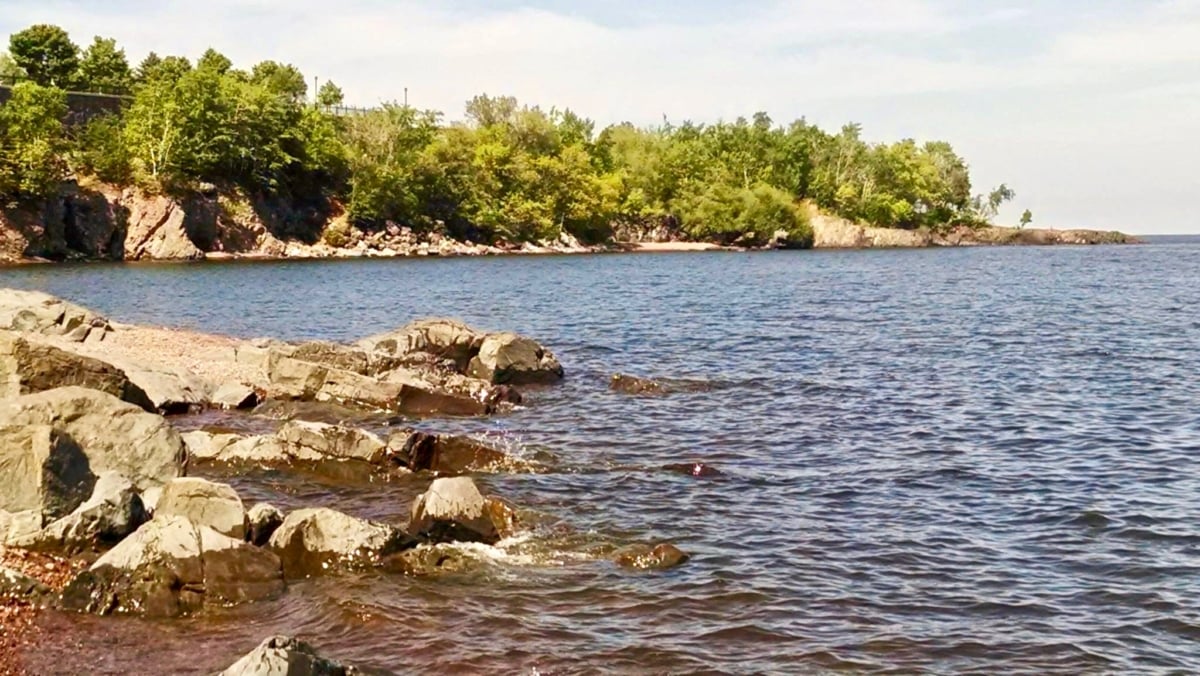 Lake Superior was our first Great Lake to visit. From the rocky shores of the  Duluth Lakewalk , we dipped our toes into this cold lake (average summer temperature is 61°) and watched the huge ocean vessels go through the 1929 Aerial Lift Bridge to the harbor.
With enough water to flood both North and South America to a depth of one foot and waves more than 40 feet high, Lake Superior is the largest freshwater lake in the world.
You cannot visit the Duluth area without venturing up the North Shore Scenic Drive , so that's where we went next.
We stopped for lunch and homemade pie at Betty's Pies , a staple to the area since 1956. If you drive Hwy. 61 and don't stop here, you are not doing it right! With more than 38 different pies to choose from, and even pie shakes, you really can't go wrong.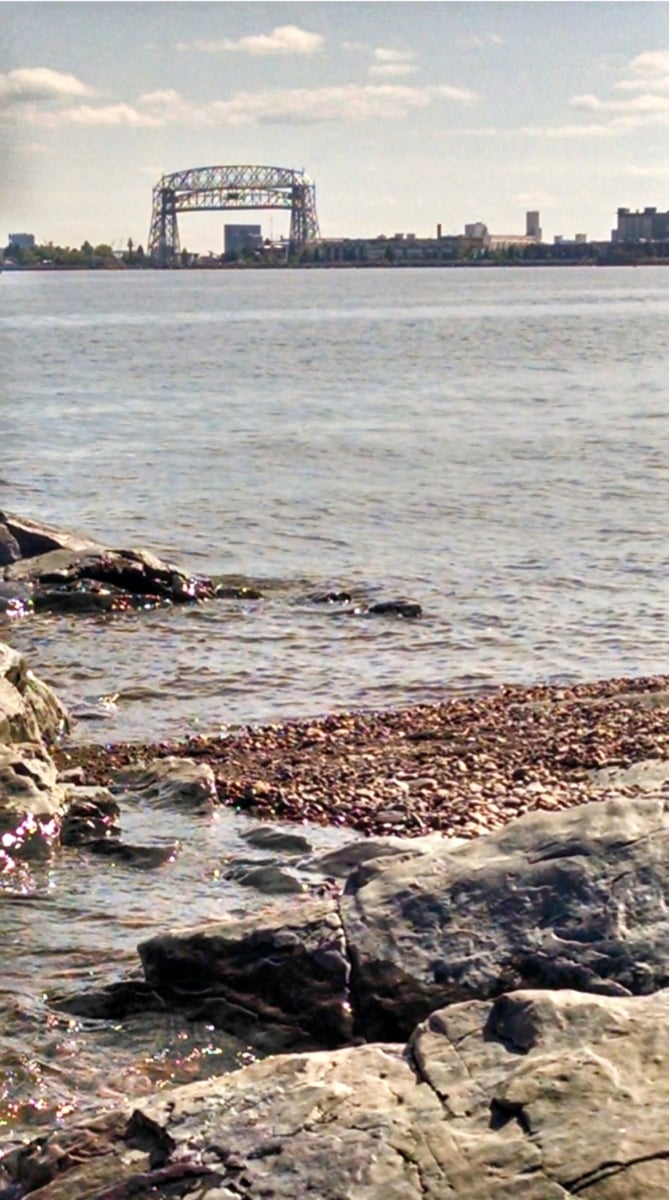 With our timetable in mind, our northern destination was the Split Rock Lighthouse , one of the most visited lighthouses in the nation, just 47 miles from Duluth on Hwy. 61 and about one-third of the way up the shoreline. The views from the lighthouse were spectacular and the short hiking trail down to the water was easy to navigate so we could get a great picture of the lighthouse itself.
Heading back south on Hwy. 61, we stopped at Gooseberry Falls State Park , another must-see on the North Shore Scenic Drive . We got a great view from the Hwy. 61 bridge before taking a short walk down to the river for a closer look.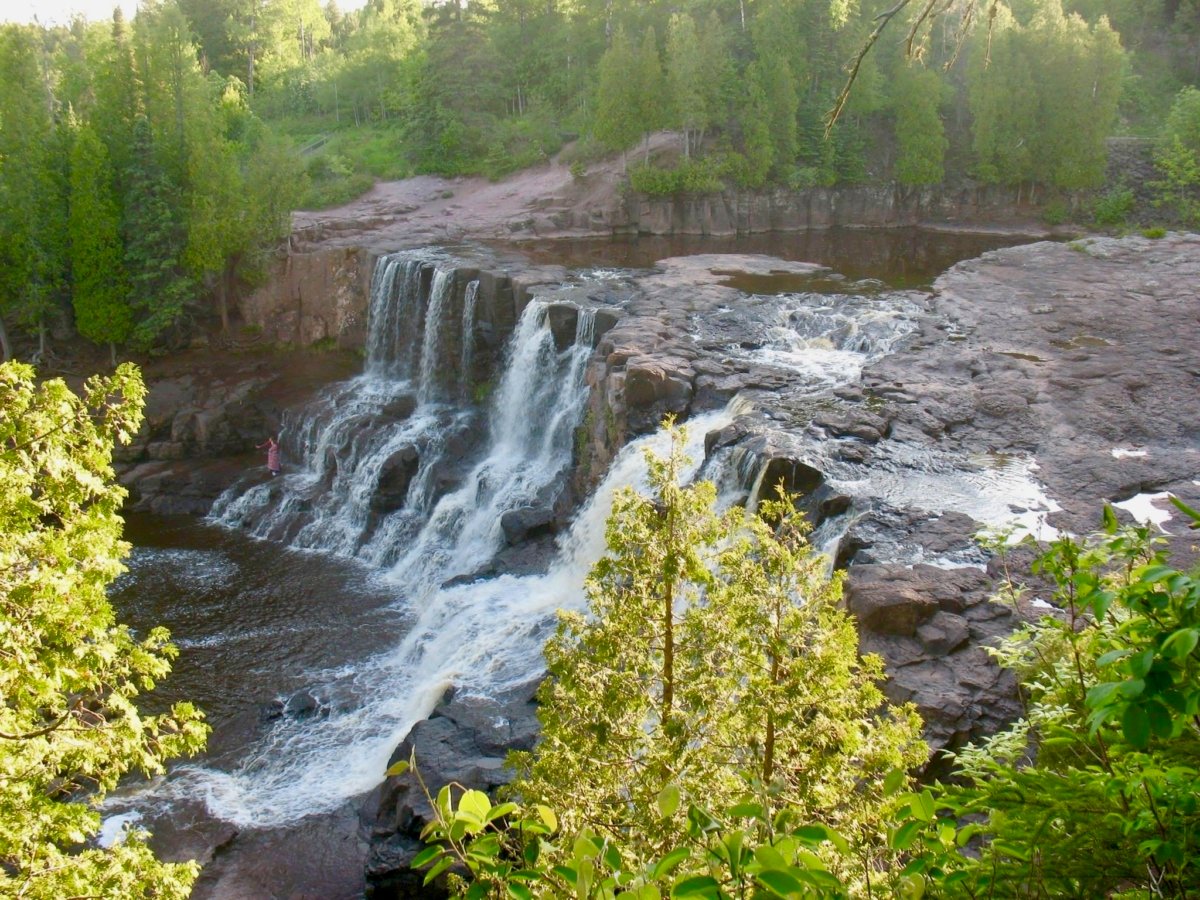 The falls are the result of the Gooseberry River passing through a rocky gorge on its way to Lake Superior. In spring, the snowmelt runoff is spectacular, and in summer, the exposed rocks provide many opportunities for close encounters with the falls.
After exploring the falls, we hiked a 2-mile segment of the  Gitchi-Gami State Trail  through the woods to the overlook, and later a 2.4-mile loop trail to  Fifth Falls before heading back to Duluth. These trails can be muddy, so be prepared.
Back in Duluth, we had dinner at Grandma's Saloon & Grill in Canal Park , another icon of the area since 1976. The food and service were stellar, as always, and they had a great beer and cocktail menu, as well. We spent the night on the shores of Lake Superior and enjoyed the sunset from our balcony.
Click here for Duluth lodging options on TripAdvisor!
Day 2 | Apostle Islands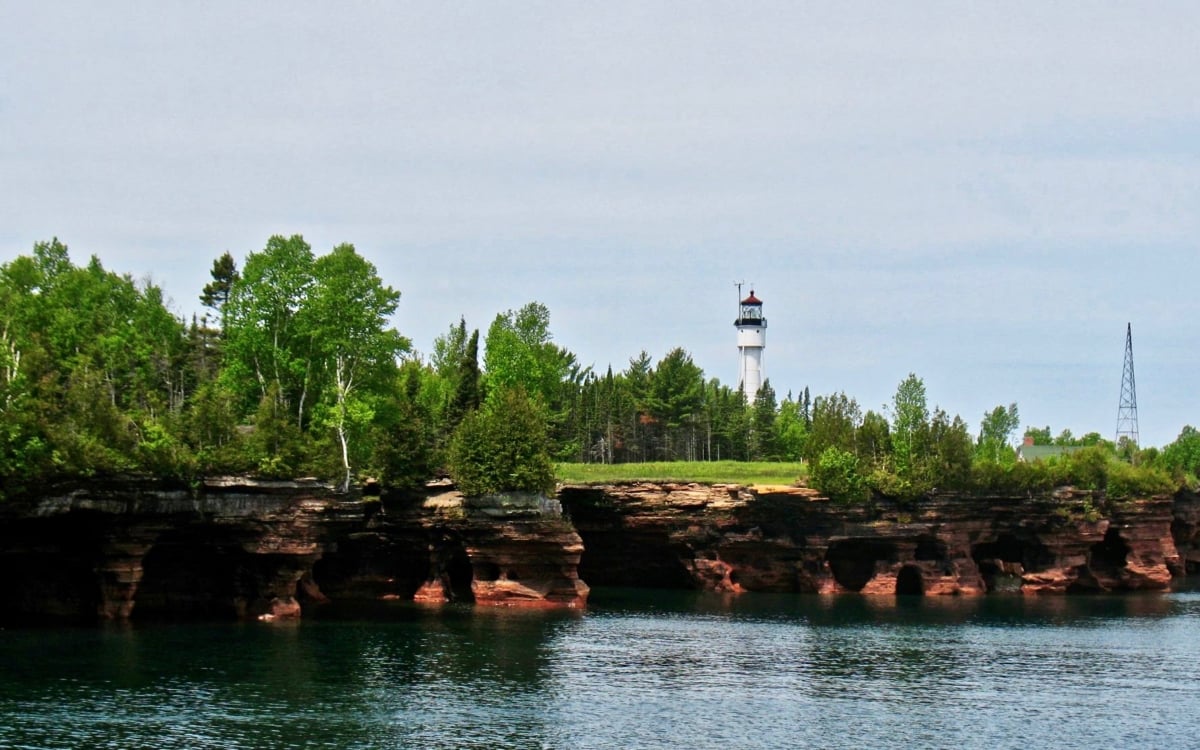 The next day, we drove 86 miles to Bayfield, Wisconsin , via Hwy. 13. Bayfield serves as the headquarters for the Apostle Islands National Lakeshore , consisting of 21 islands and 12 miles of mainland shoreline along Lake Superior.
We had booked the 10:00 AM Classic Grand Tour at Apostle Islands Cruises , the best way to get an overview of the area. It is a 55-mile, 3.25 hour scenic cruise, superbly narrated by folks knowledgeable about the history and natural wonders of the islands and shoreline. Highly recommended!
After the cruise, we grabbed lunch at colorful Maggie's , a locally owned Bayfield original with a unique menu, great drinks, and eclectic décor. You can't visit Bayfield without trying Maggie's!
Next, we went to the Apostle Islands headquarters to find out the current conditions for getting to the Lakeshore Trail . The road to the official trailhead at the beach was still closed due to construction, so the worker there pointed out an intercept point off an unmaintained road, and we set off.
It is a good thing we had a 4-wheel drive Ford Expedition.  The road down to the trail was deeply rutted and narrow. At the end was a wide area big enough to park in the grass. This winding trail through the woods was enjoyable, undulating over and through streambeds and littered with roots and rocks to navigate.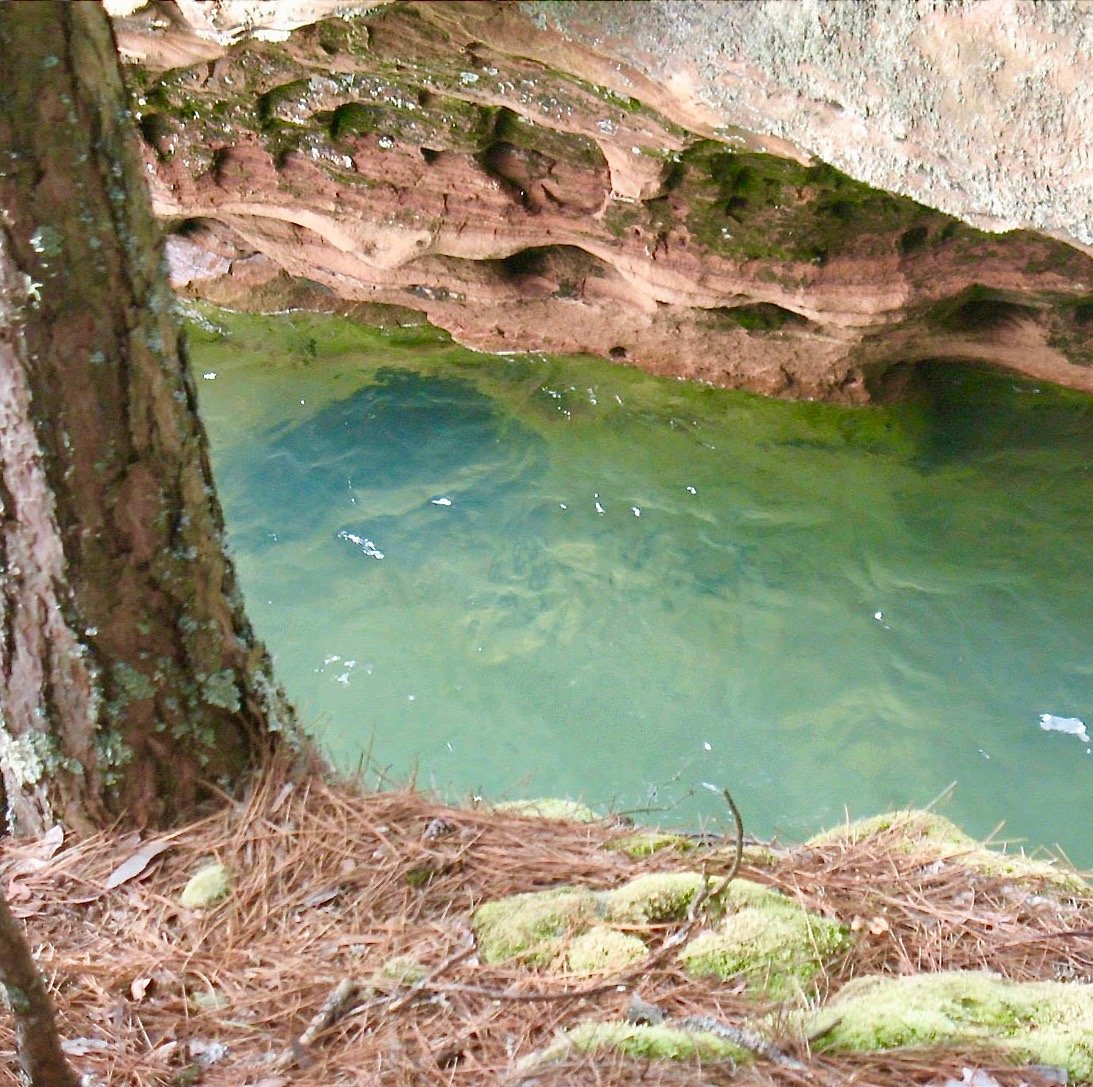 About a mile down the path, we reached great views of the sea caves and a top-down view into some of the bluest water we had ever seen.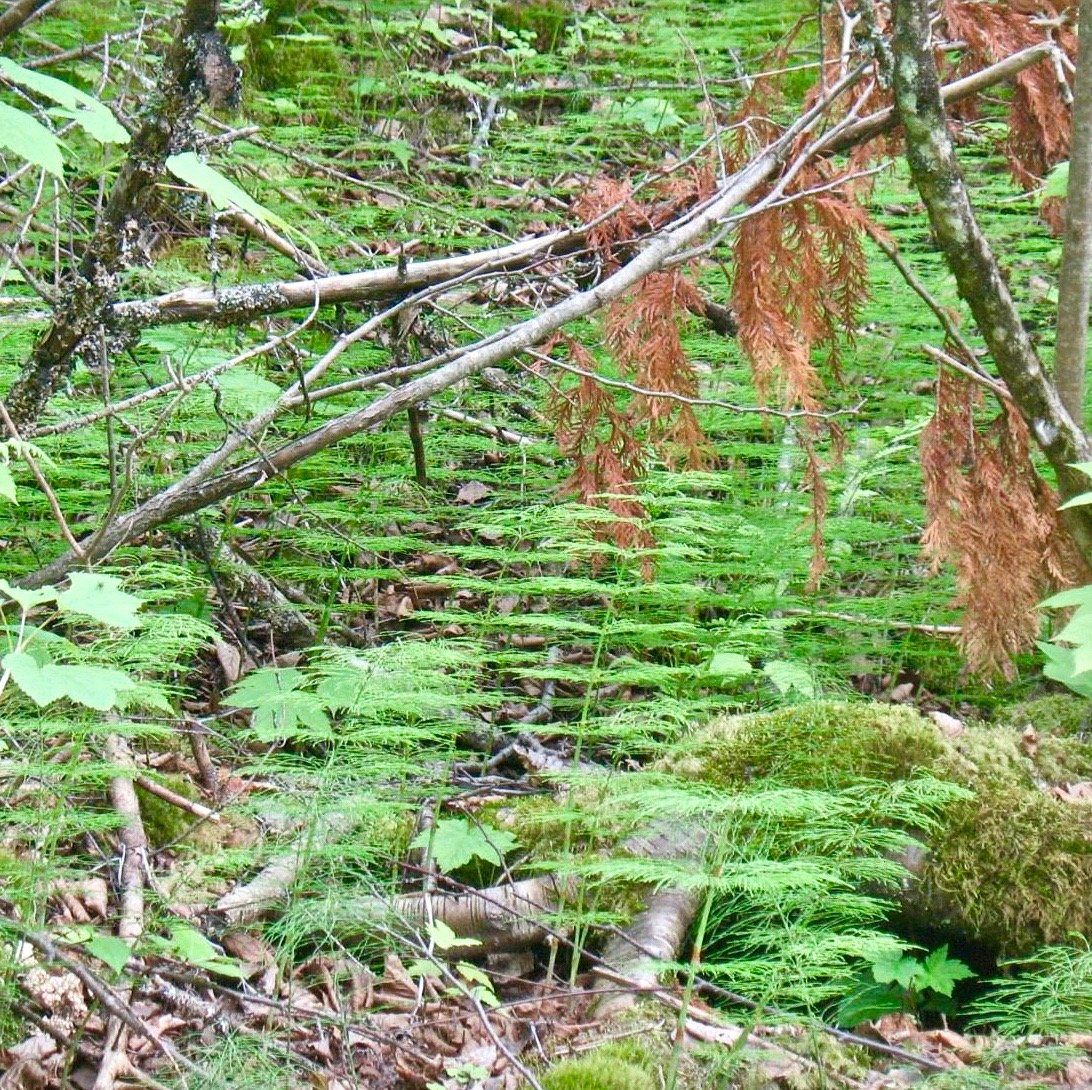 The flora in this area was incredible, and we observed the strangest phenomenon involving ferns with a horizontal growth habit. I don't know what variety they were, but we had never seen this type of fern before.
For dinner, we ate at the renovated and historic Bayfield Inn where we were also staying the night. This quaint accommodation in the heart of downtown was definitely a great place to eat and stay with its friendly staff making us feel right at home.
Click here to book your stay at Bayfield Inn on TripAdvisor!
Day 3 | Porcupine Mountains Wilderness State Park
On Day 3 of our Great Lakes road trip route, we were still driving along Lake Superior! Porcupine Mountains Wilderness State Park , Michigan's largest state park, was our destination. Affectionately known as "The Porkies," it is 60,000 acres along the Lake Superior shoreline with 35,000 acres of old-growth forest, countless rivers and streams, and more than 90 miles of hiking trails.
We entered the park from the south, so we started out hiking the river trails in the Presque Isle River Area . This was a great loop hike through the woods and along the river to view the waterfalls and turbulent rapids of the Presque Isle River . Along the path, we saw some unique mushrooms.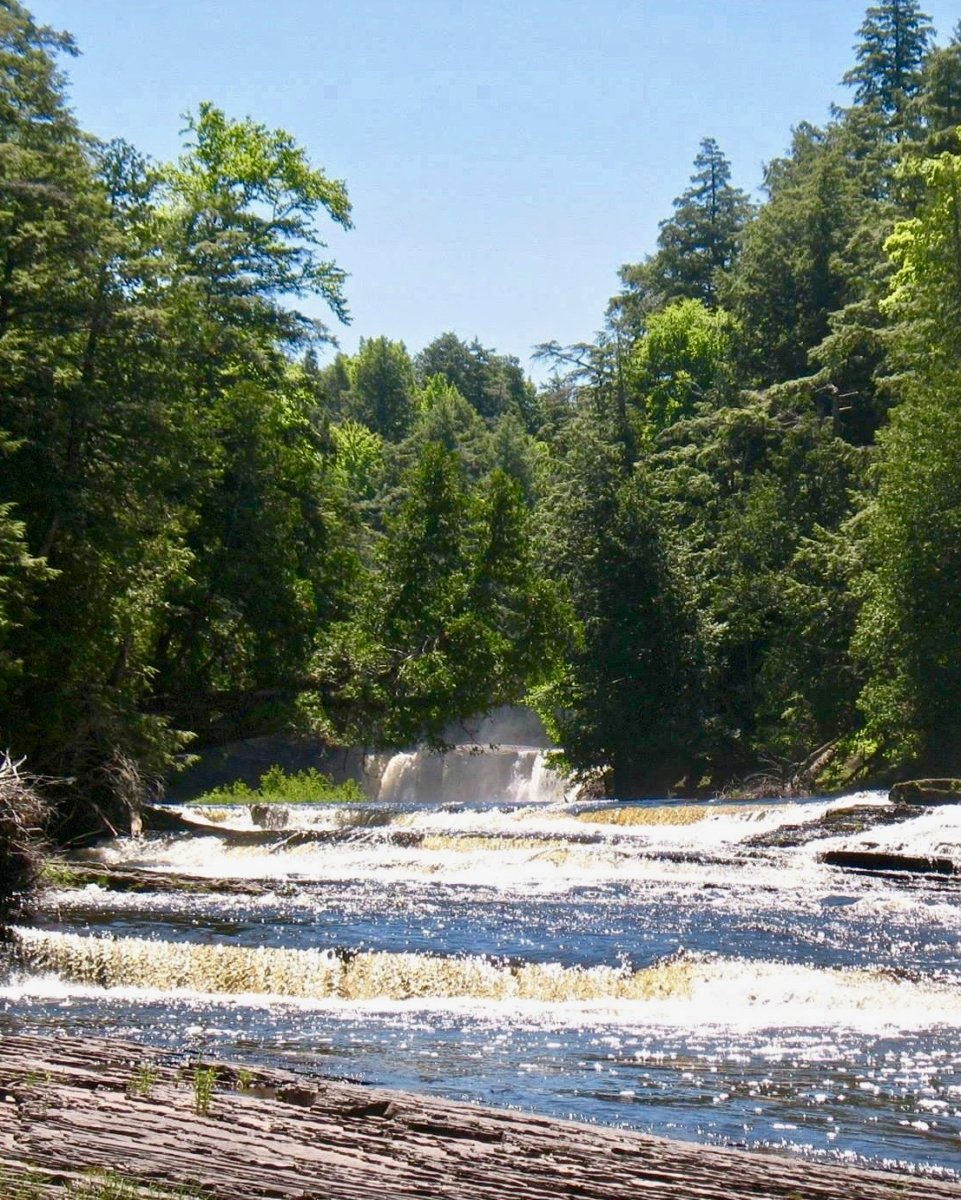 From there, we took a leisurely drive through the park on the scenic Boundary Road and headed to the Konteka Black Bear Resort for lunch, where supposedly black bears can be viewed through the dining room windows. But none were to be seen on our visit. The food was decent enough, but the place had kind of a rundown atmosphere about it. Might try another place next time.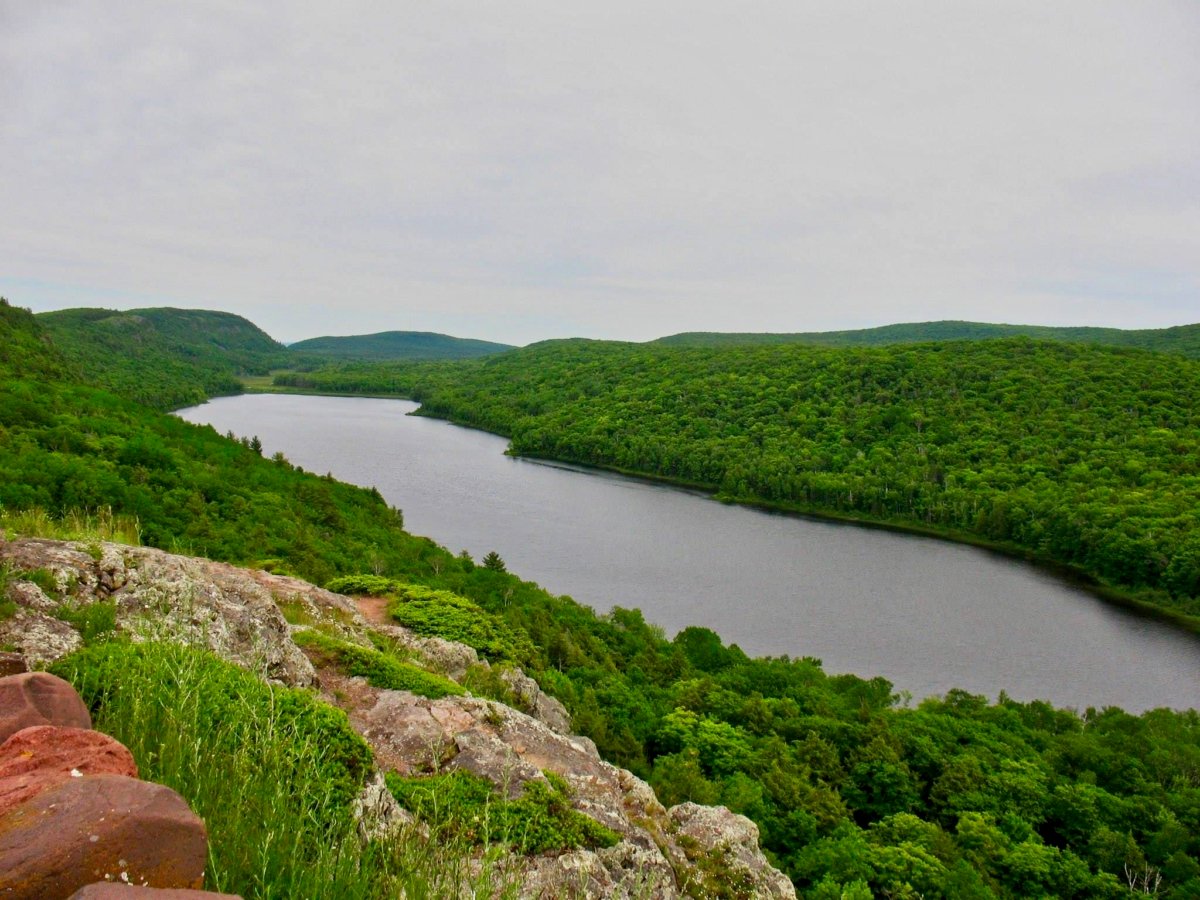 After lunch, we drove to the Lake of the Clouds scenic area where we took in the spectacular views of the lake nestled among the rich greens of the Porcupine Mountains old-growth forest. We hiked along the Escarpment Trail before heading off to find dinner.
For that night, we had reserved a yurt on Union Bay . We found a convenience store and purchased fully-cooked brats, buns, chips, and s'more fixings (chocolate, graham crackers, and marshmallows). We also bought a skewer and firewood.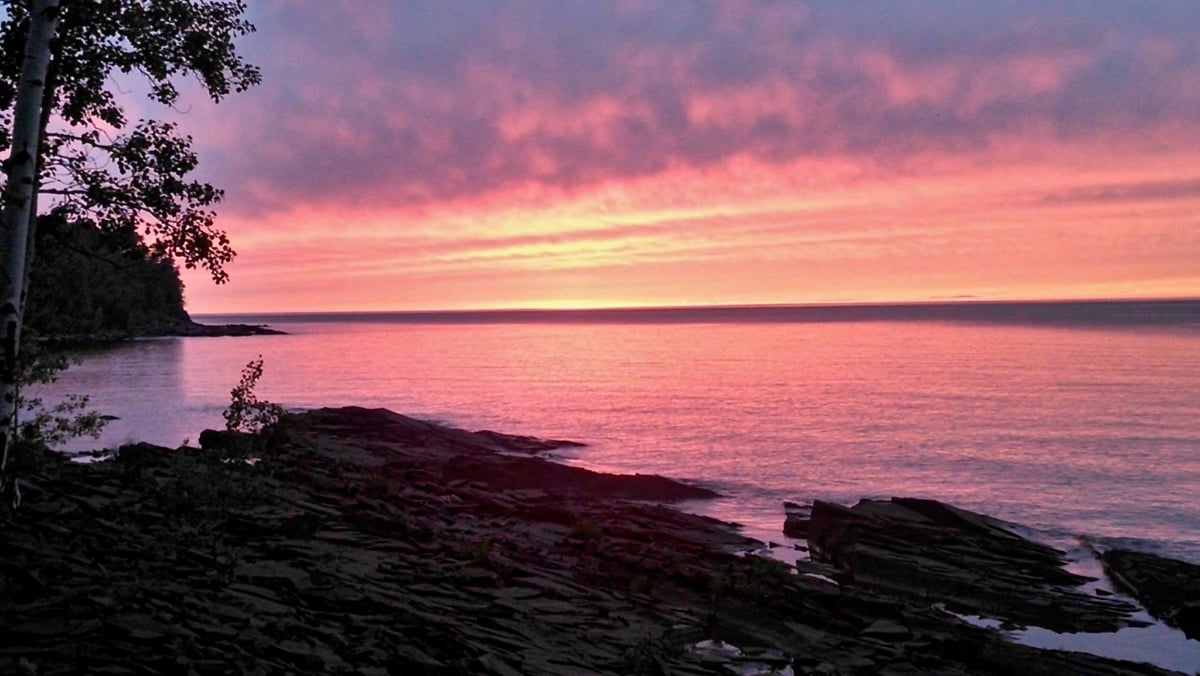 After we set up camp and cooked over our fire, we took a short hike down to the rocky beach and enjoyed an amazing sunset over Lake Superior. The only bad thing about this great idea was that we didn't think to pack more than one sleeping bag. Our fleece blankets left a little to be desired in the cool night of the Porcupine Mountains . . . .
Day 4 | Pictured Rocks National Lakeshore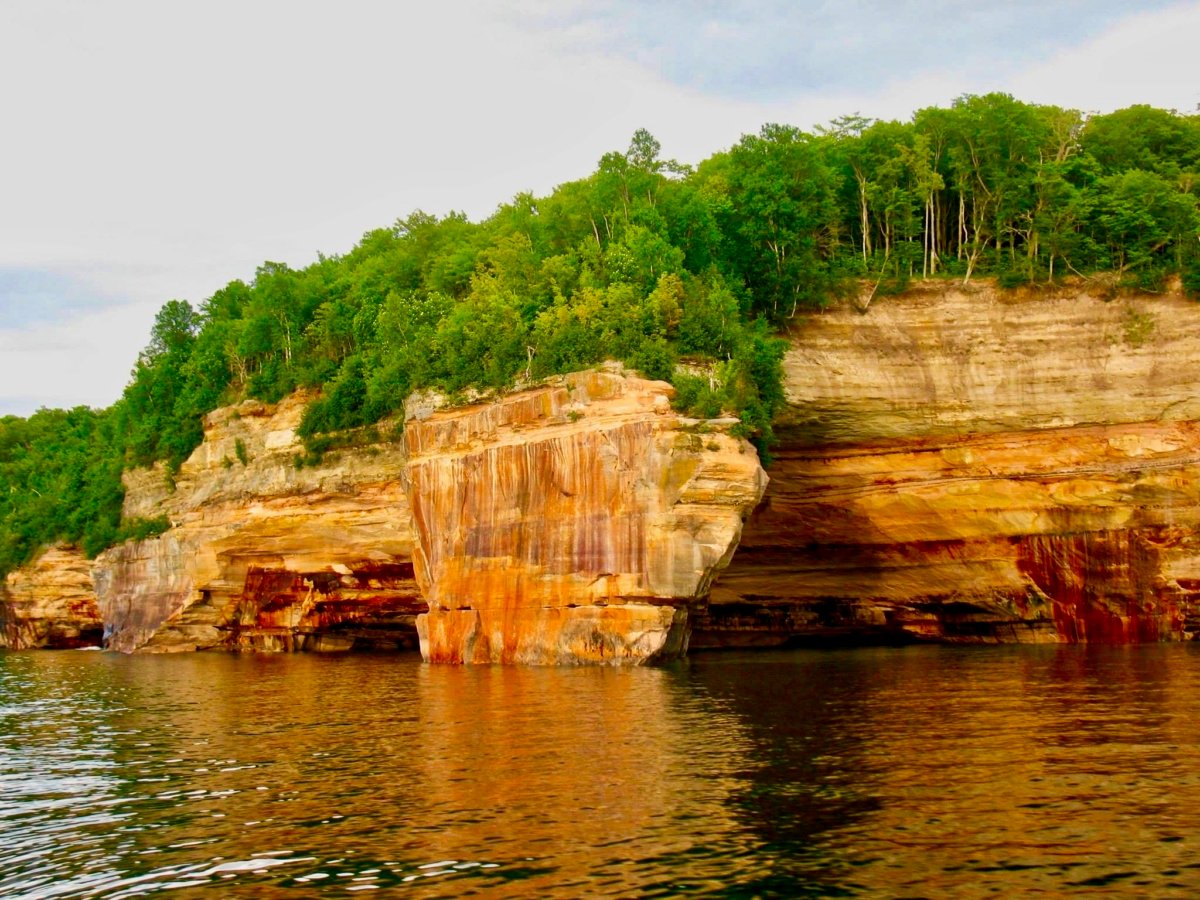 Day 4 was more of the Lake Superior experience, and we had only touched the surface of this amazing place. On this day, we drove 3.5 hours to the Pictured Rocks National Lakeshore , more than 40 miles of multicolored sandstone cliffs and geological formations, reaching a height of 200 feet above the water.
Getting a view of the pictured rocks requires getting in a boat. We had booked the 2:00 PM  Spray Falls Cruise , a 40-mile, 2.5-hour round trip boat ride along the shore, including Spray Falls, a 70-foot cascade down the cliffside into Lake Superior.
The day was cool and rainy, but the cruise was still great. Pictures do not do it justice, as the colors on the sandstone were stunning. One fun part of the cruise takes you down a narrow passageway between sandstone cliffs where you have to back up to get out.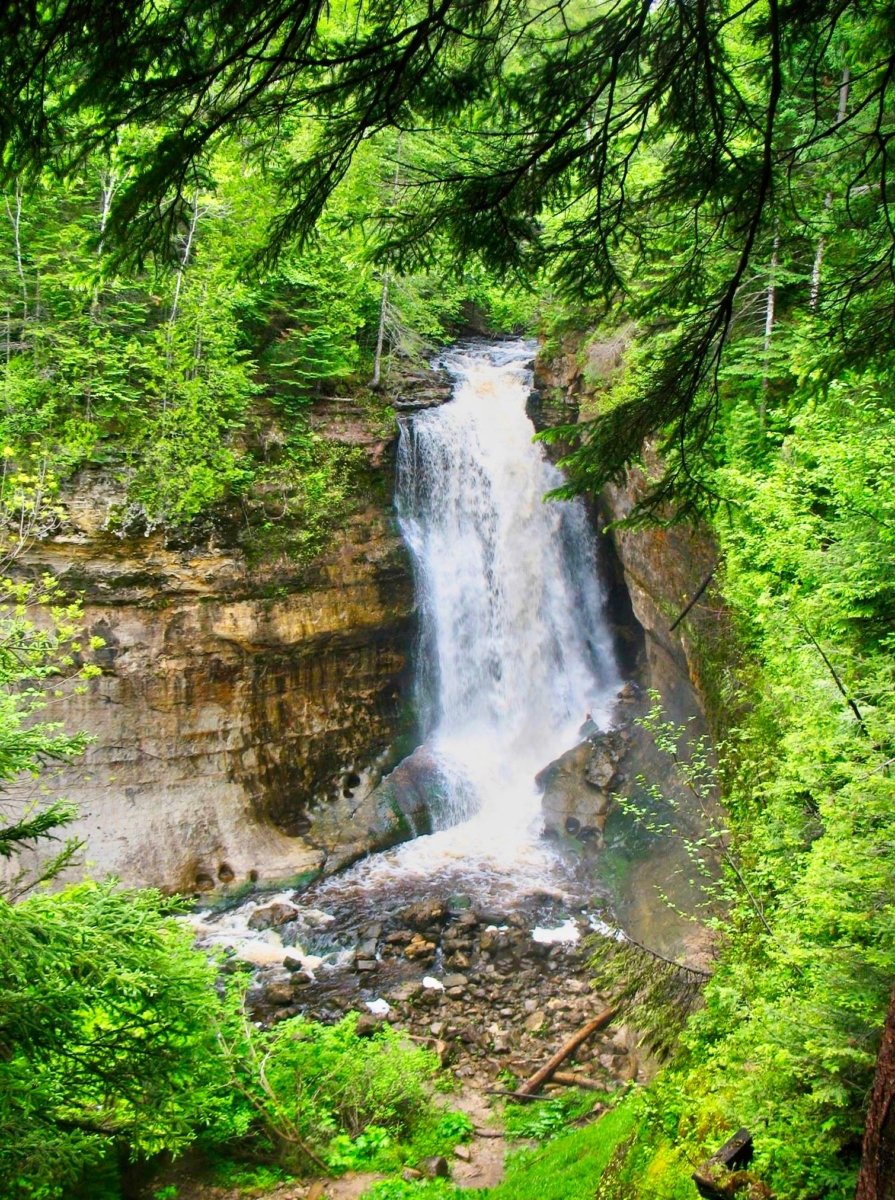 When we returned to the dock, a pontoon was heading out where bagpipers were playing. I don't know if they always do that, but it was amazingly beautiful. We definitely recommend this cruise if you're in the area.
After the boat ride, we hiked the 1.2-mile round-trip trail to Miners Falls and went to the Miners Castle Overlook we had seen while on the cruise. We walked the trails along the shore until time for dinner at the iconic Dogpatch Restaurant , "home of the legendary vittles" with its unique atmosphere. For the night we stayed at the Holiday Inn Express and enjoyed the grounds and the view.
Click here to book your stay at the Holiday Inn Express Munising-Lakeview on TripAdvisor!
Day 5 | Port Huron, Michigan
Finally on Day 5, we ventured away from Lake Superior. Driving toward the Mackinac Bridge , we dropped down to Hwy. 2 so we could drive along the shore of Lake Michigan . We stopped at a wayside beach to test out the waters and take a picture.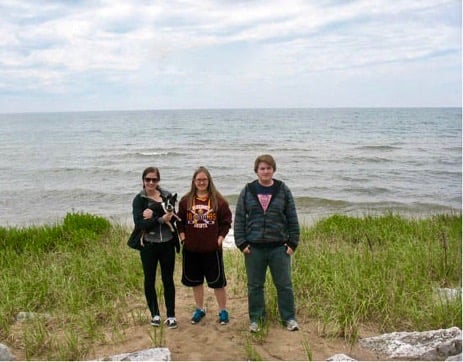 Before leaving  Upper Peninsula Michigan , we needed to sample an authentic pastie . So when we spotted the sign at White Tail Resort , a hole-in-the-wall motel and restaurant featuring delicious, homemade pasties, we had to stop. I would highly recommend eating here if you are driving through.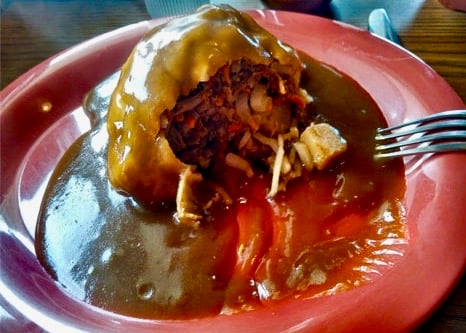 As we came up on Mackinac Bridge , it was dreary and foggy, but it made for an interesting picture. The Mackinac Bridge  connecting Upper and Lower Michigan is the longest suspension bridge in the western hemisphere at nearly 5 miles in length.
As we drove over the bridge going south, Lake Michigan was on our right and Lake Huron was on our left, the only place where you can see two of the Great Lakes at once. Driving the interstate, we went all the way to Port Huron on the St. Clair River and the US—Canadian border.
We stayed at the DoubleTree situated right on the river and walked the path to Lighthouse Park , featuring a large sand beach on Lake Huron. The 1829 Fort Gratiot Lighthouse was closed by the time we arrived, but we were able to take our picture and enjoy the walk back despite the rainy conditions.
Click here to book your stay at DoubleTree by Hilton Port Huron on TripAdvisor!
Day 6 | Niagara Falls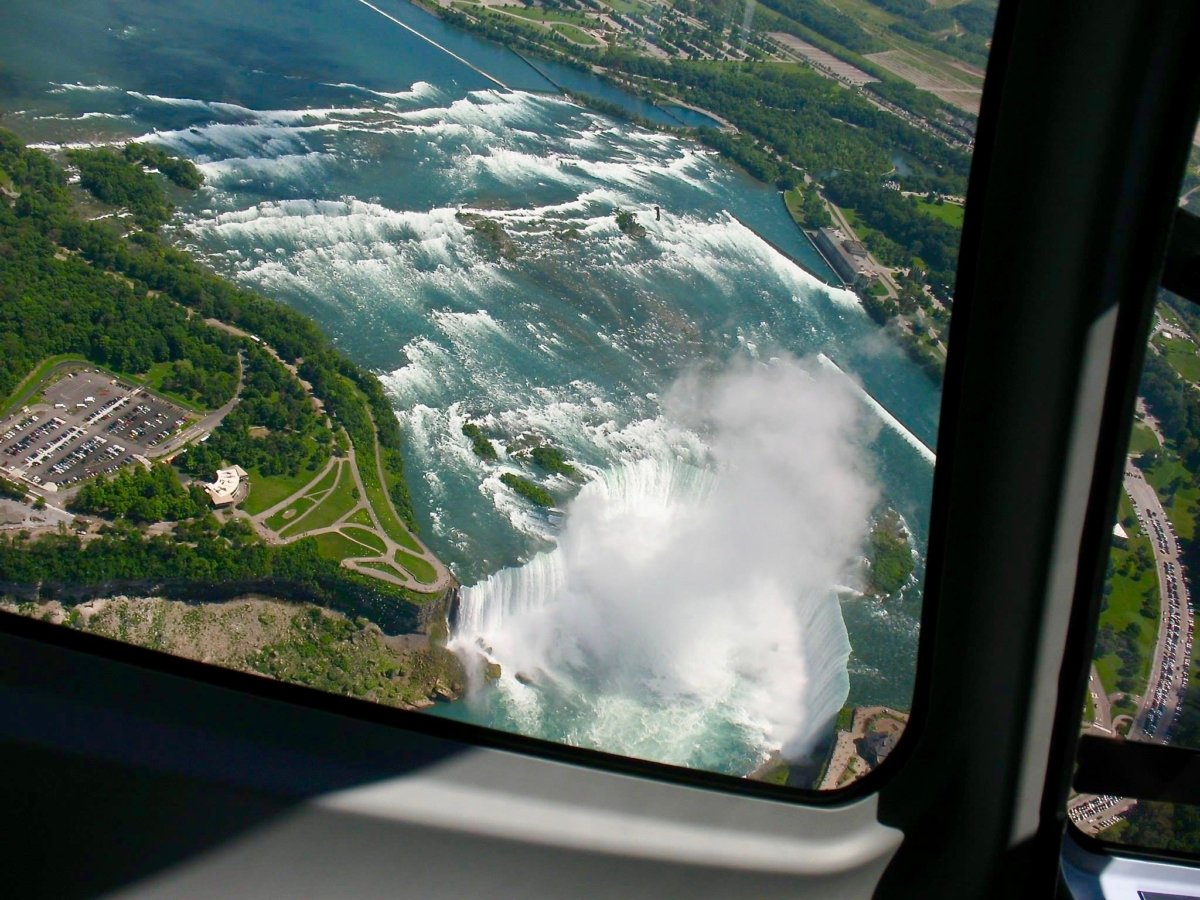 In the morning, we crossed the border into Canada and visited Lake Ontario by way of  Skyway Park . It took a little navigating via service roads, but we were able to walk down to the beach to visit and take a photo of our fourth Great Lake.
You really can't drive to Lake Ontario and not see Niagara Falls . Even if you've been there before, which we had. We prefer the Canadian side of the falls which offers the best views and better hotels and restaurants. Not to mention, my daughter appreciated the lower drinking age.
Since we had visited the falls before, we opted for two activities we had never done. The first was a helicopter tour. We booked a ride through Niagara Helicopters and loved it. Everything went smoothly, and we enjoyed the views of a lifetime. We highly recommend it!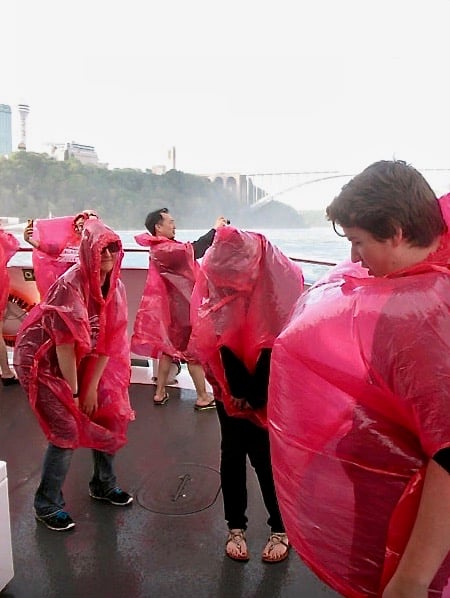 Our second activity was the Hornblower Niagara Cruise that allows visitors to get up close and personal with the falls. You will get wet on this ride due to the mist, so ponchos are provided. The wind gets a little intense, which caused our ponchos to fill with air and threaten to go up over our heads. It generated quite the laughs as we did our Marilyn Monroe imitations. This ride is definitely a must-do!
While in Niagara Falls, we enjoyed an excellent Italian lunch on the patio at the Sandstone Grillhouse , explored the eclectic Clifton Hill Street of Fun , ate great burgers at Kelsey's Original Roadhouse and enjoyed some local beer at the Niagara Brewing Company before turning in at the Country Inn and Suites .
Click here to book your stay at Country Inn and Suites by Radisson Niagara Falls on TripAdvisor!
Day 7 | Cuyahoga Valley National Park
With one more Great Lake to go, we set off early, crossing back into the US, headed for Pennsylvania. We had not really planned where to stop and visit Lake Erie because I figured we could find it randomly along the way. It took some doing, but finally we worked our way to a beach near Dunkirk .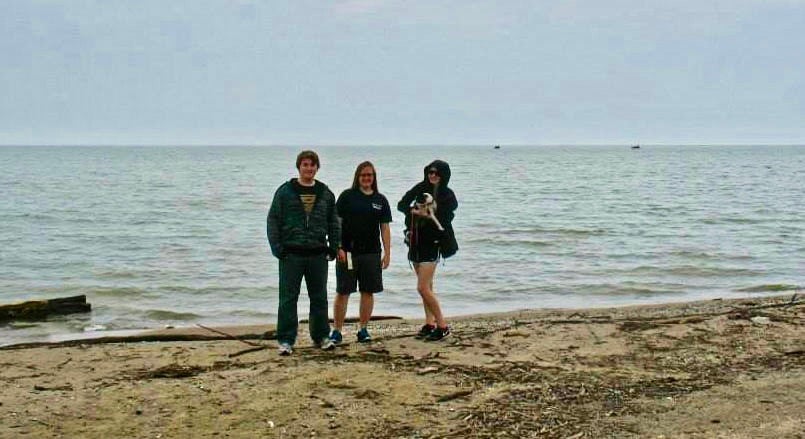 Further research revealed a much better place to stop would have been Presque Isle State Park in Erie, Pennsylvania . It is a 3,200 acre peninsula that juts into Lake Erie, offering a wealth of recreational activities. Live and learn!
After visiting our fifth and final Great Lake, we stopped to hike Brandywine Gorge Trail and see the 65-foot Brandywine Falls , part of the gorgeous Cuyahoga Valley National Park . This park is not to be missed when visiting northern Ohio !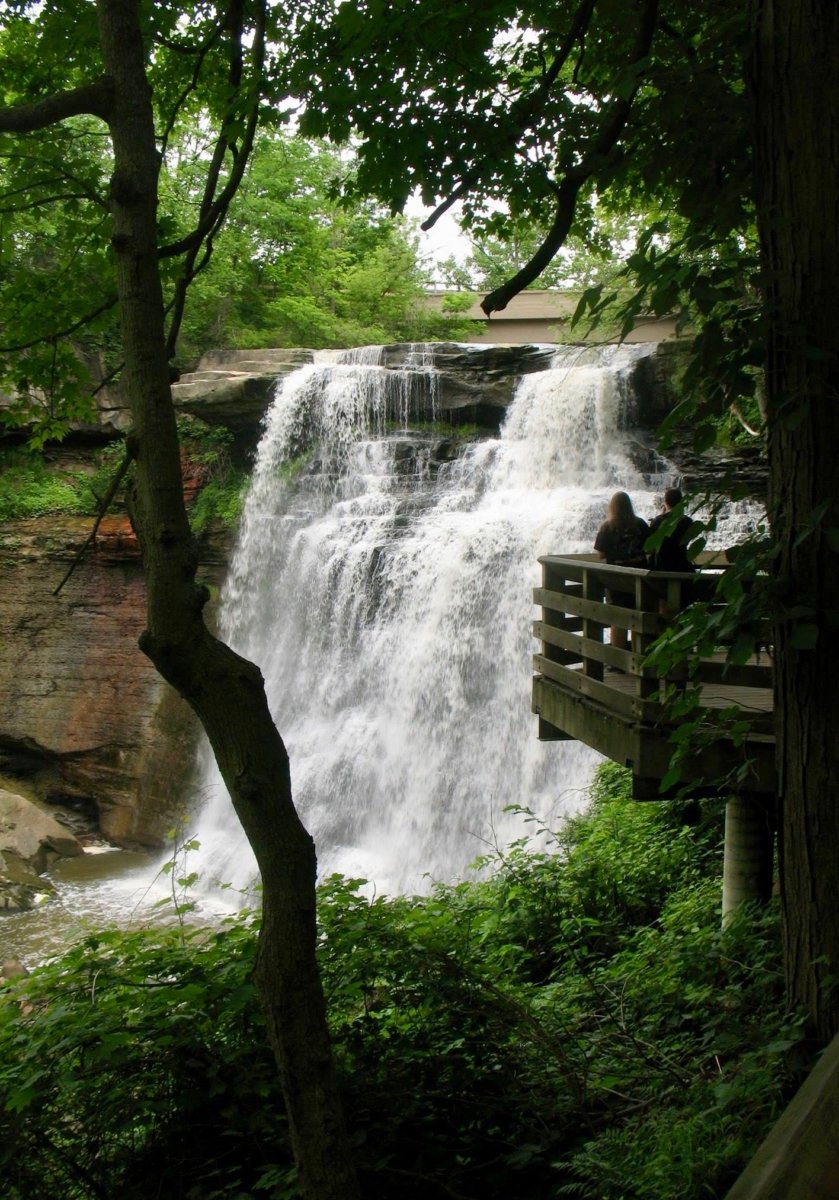 The bridge across Brandywine Creek was out, so rather than turn around and retrace our steps, we chose to ford the stream. After a couple of attempts to navigate the slippery rocks, we all decided to brave the cold water, took off our shoes, and waded in. Making memories!
We also decided to hike the 2.2-mile Ledges Trail despite the rain. It is an enjoyable hike and features a great overlook of the beautiful valley. On this night, we stayed at the Holiday Inn Express near the park.
Click here to book your stay at Holiday Inn Express Cleveland-Richfield on TripAdvisor!
Click here for more hotel options on TripAdvisor!
Day 8 |  Home
On the final leg of our journey (other than taking my oldest back to Duluth), we drove home to Stoughton, Wisconsin. We stopped to see Lake Michigan again at the Indiana Dunes National Lakeshore featuring 15 miles of shoreline and 15,000 acres of sand dunes, wetlands, prairies, and forests.
After stretching our legs and negotiating a nasty traffic jam in Chicago , we arrived safely home.
I hope you enjoyed this Great Lakes circle tour itinerary and road trip adventure and get a chance to try it out for yourself. There are plenty of opportunities to enjoy these beautiful lakes. I'd like to take road trips around each one in the future!
If you want to learn more about the Great Lakes tour or road trips like this one, navigate to my website  Roadtrippers R Us!
Viking Great Lakes Explorer Travelogue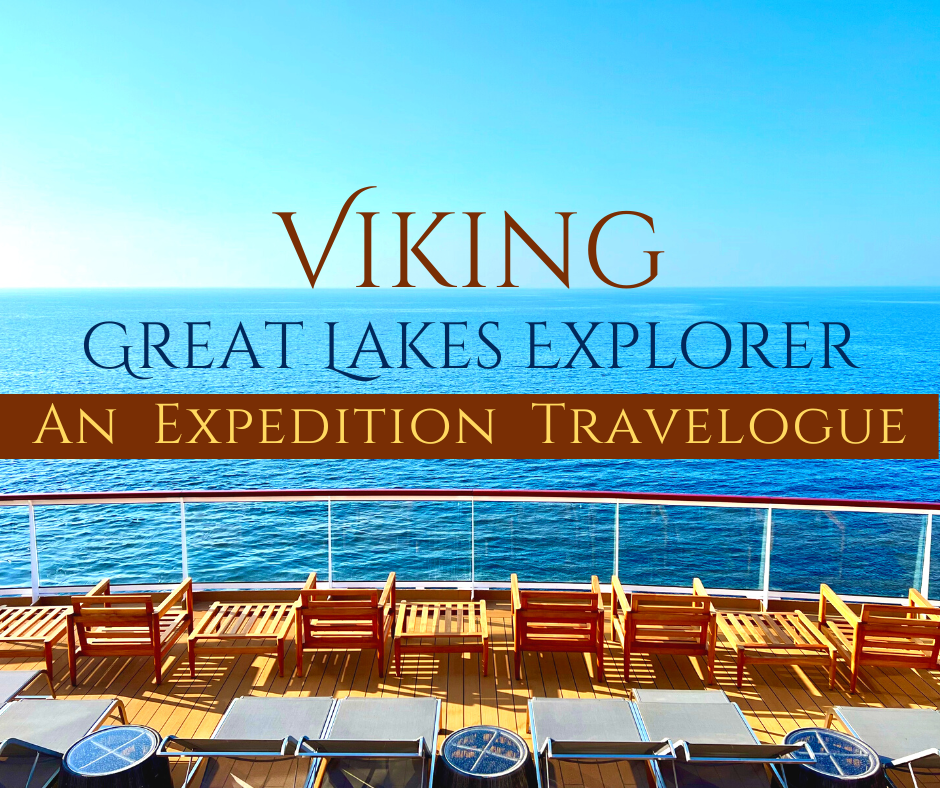 Be sure to check out Howard's Great Lakes Explorer travelogue with Viking Expeditions for another way to explore the Great Lakes!
We Would Love to Hear From You
We enjoy dialogue with our readers, especially when they share off-the-beaten-path destinations and useful travel tips. Have you ever taken a Great Lakes circle tour? If so, we would love to hear about your experience. We invite you to leave your comments and questions below, and we always respond!
Pin this Post!
32 Comments
Planning a motorcycle road trip around Lake Superior in late July 2023. If that works out well, will plan another trip around all the Great Lakes possibly in 2024. Hoping to stay away from the bigger cities and highways when possible.
Sounds like a plan! In case you are not already familiar, the "Avoid Highways" setting on Google Maps is great for routing through scenic areas.
We are planning on doing this trip in October 2022, and I was wondering about the accessibility of some of the trails. I am in a wheelchair and have hiked on some mild to medium rough terrain trails. I was wondering how rough each particular trail is? I love this information and am definitely going to be doing some of the things that you have suggested!
Thank you for your insight! Doni Rolfson
Gooseberry Falls has a loop that is about a mile long that you can go on with a wheelchair and enjoy the views. You may be able to do part of the Gitchi-Gami Trail, but there are hills. The Lakeshore Trail at Apostle Islands will not be doable, but some of the trails on the islands might be doable, in particular Sand Island. Be sure to check out their website and ask questions! The Presque Isle River trails had many steps, but many trails have short boardwalks for waterfall views. Lake of the Clouds is the most accessible area of the park. At Pictured Rocks, the trails to all of the overlooks at Miners Castle as well as Munising Falls are paved. Miners Beach and Sand Point Marsh Trail have boardwalks. The Superior Overlook viewing platform (located along H-58 between Twelvemile and Hurricane Campgrounds) is also wheelchair-accessible. In Cuyahoga National Park, many of the park's most popular attractions are fully accessible: the Ohio & Erie Canal Towpath Trail (including the Beaver Marsh near Ira Trailhead), Canal Exploration Center, the Everett Covered Bridge, Brandywine Falls (upper boardwalk), and the heronry along Bath Road. Indiana Dunes National Park has the Portage Lakefront and Riverwalk Trail that is a combination of paved and boardwalk.
I hope this helps! If you decide to go, I'd love to hear about your first-hand experience!
LOVED this article. Do you think this is a good RV/Motorhome route? Thinking FALL? Late October, early November. Would be leaving from Nashville, TN, so might do it backwards. Thoughts? Suggestions?
Hi Donna! Yes! This would be a great route for an RV/motorhome roadtrip! Fall would be beautiful! It could be cold, so make sure you're winterized and have a full LP tank. Check the weather forecast closer to your trip to see if any freezes are predicted. I'd recommend scouting out camping/boondocking spots now and get them reserved. Seems everything fills up in these crazy times! As of right now, leisure travel into Canada from the US is not allowed. Stay on top of their policies at https://travel.gc.ca/travel-covid/travel-restrictions/foreign . If you're not able to get into Canada for your trip, there are some great areas south of Lake Erie to explore. See if you can fit in Montour Falls in the Finger Lakes of NY, Kinzua Skywalk and Roadtrip in the Allegheny National Forest, and the Hocking Hills State Park are of Ohio. There is some beautiful scenery and quaint villages throughout the region that you are sure to enjoy!
Hi there! Thanks for sharing this! I was wondering if you think this trip would be ok for a 3 and 6 year old, hike-wise. They were mostly short hikes but were they really tough or generally easy to navigate? Thanks for your help!
Hi Laura! These hikes are definitely within range of 3 and 6 year olds. Nothing very strenuous. Definitely hold hands near the cliffs tho!
Hi, can you tell us what the approximate mileage was on this 7-day route around the Great Lakes area as you have it mapped out? Thanks!
Hi Barbara! This route is about 2,140 miles long as mapped out.
Hi there! With Covid-19 an issue, this is just the kind of trip my wife and I are planning with our new travel trailer. The only issue that seems to be looming right now is not being able to get into Canada for that portion of the trip. Do you have any suggestions for travel stateside under Lake Erie?
Hi Barry! There are some great areas south of Lake Erie to explore. See if you can fit in Montour Falls in the Finger Lakes of NY, Kinzua Skywalk and Roadtrip in the Allegheny National Forest, and the Hocking Hills State Park are of Ohio. There is some beautiful scenery and quaint villages throughout the region that you are sure to enjoy!
What an awesome trip! Any advice for navigating from NYC? Fly to Duluth and start drive from there? How many miles did you drive from start to PA?
Hi Maureen, You have some options depending on how much time you have. If you have several additional days, you could drive from NYC and see more of all Lake Ontario has to offer – driving up on the Canada side (assuming travel is allowed) and visiting the Kingston area, Prince Edward Island, Bay of Quinte, Presqu'ile Provincial Park, Toronto and then pick up this route at Niagara Falls and go 'round from that point. Else, you could stay on the US side and hit Chimney Bluffs, Hamlin Beach, and Golden State State Parks and pick up the route at Niagara Falls. If you want to fly in, I would choose the cheapest flight that gets you to one of the points along the route – Buffalo, Cleveland, Chicago, Madison, Duluth… Miles from our starting point to Niagara Falls was about 1,400 miles – another 115 miles to Erie, PA Hope you enjoy your trip!!
I'm actually planning a Great Lakes road trip. Why not! I love mother nature and traveling. Thanks for the input and if you think of anything else keep me posted please.
I would have this on my bucket list, but my husband and I are in our 80s now. We would be able to do only minimal hiking. Would this be worthwhile if you were unable to hike?
Absolutely! Many of the trails we did were short, easy trails or you can even opt not to do those trails and spend more time at the visitor centers, overlooks, and guided tours. The lakes themselves can be viewed and accessed without a lot of walking and the towns and countryside you drive through provide their own charm and beauty. Let me know if you'd like some more info on any specific activities you enjoy.
Thanks so much for posting your trip. We used it as guide. We flew to Duluth and drove to Niagara Falls, ON, and flew home from Buffalo. Duluth was a neat town. Loved the aerial bridge and watching the ships go through from our South Pier Hotel room. One of the best overall hotels that I have ever stayed. Pictured Rocks were beautiful, and I definitely recommend the reasonably priced cruise. Absolutely amazing. Mackinac Island was beautiful as was the ferry ride over. We saw much more of God's beautiful handiwork along the way. Niagara Falls at Embassy Suites Fallsview was the perfect ending to a Great Trip.
Sounds like you had a great time Irene! So glad that our post helped you out!
Cost for single…..dates, activity level, etc. for Great Lakes. Thank you.
Hi Carol! Backroad Planet is a travel resource website. We are not a travel agency.
Just completed the Lake Michigan Circle Tour. I timed my tour to participate in the Mackinac Bridge Walk on Labor Day along with 30,000 of my friends. As long as I was in the area I also ran up to the Sault Ste. Maries and crossed the border and then came back and went the Great Lakes Shipwreck Museum at Whitefish Point. The Museum was fascinating and the Memorial for the S.S. Edmund Fitzgerald crew and ship was well done, introducing me to each and every member of the crew of 29 who lost there lives 44 years ago.
I learned an interesting tidbit at the Shipwreck Museum gift shop when I asked the two women employees if they were Yoopers. They said no, they were from the lower peninsula. I asked them what lower peninsula people are called, and another visitor in the store calls out "Trolls." One of the employees quickly explained, because they live below the bridge.
By going to Sault Ste. Marie, MI and Sault Ste. Marie, ON and then over to Whitefish Point, I actually began my eventual Lake Huron and Lake Superior Circle Tours that I expect to complete in the next two years. I may time one of those tours to coincide with the International Bridge walk at the end of June, passports required.
The lakes are amazing and more impressive every time I get near them!
Thanks so much for sharing your experience, John! Our readers will appreciate your insight when planning Great Lakes tours of their own.
I'm getting ready to do my second trip. It has been over 25 years since my first time in a VW that started near Duluth and went the northern route. I saw the Northern Lights for the first time when I crossed at International Falls. That event has stayed with me for the rest of my life. I moved to Florida saying I would be back, and I am hoping to leave next week from New Orleans to Cleveland and go the other way.
Thanks for sharing, Tim! Hope your next adventure will be as memorable as your last.
How many miles total would you say this loop was?
I just happened on your site about your tour and notice in a lot of the photos that you have a dog. We are looking at this itinerary since you have it so well documented and were just wondering how feasible it would be to try and take ours along with us
You can totally take your dog on this trip! We had a kennel along and traveled when it was not hot or rainy so if we needed to leave her in the car, we could crack the windows and be fine. Hotels that allow dogs can be found. I believe the trails mentioned allow dogs, but you may want to double check. When crossing the border into Canada and back into the US, you may be asked for proof of vaccinations, so you'll want to take that along. Bring along a collapsible water bottle, a 6-foot leash, doo-doo bags, and schedule regular breaks and you should do fine! Happy trails!
My comment has to do with how you get from one location to the next which takes a few hours, then you say that you did 2 activities and then had lunch! Do you leave the hotel in the middle of the night in order to fit all this before lunchtime??? I'm using the Day 5 to Day 6 as an example which has you leaving the Mackinac Bridge area and get to Port Huron on Day 5 and then drive to Niagara Falls in Ontario which is a good 3 hours drive, then do a helicopter ride, then go on a cruise on the Niagara River by the Falls and then have lunch? It just doesn't seem realistic to be able to do all that in a timely manner and enjoy yourself. One would have to get up really early in order to accomplish all of these activities!
Hi Sylvie! Sorry, I guess the way I wrote the summary for Day 6 was a little confusing! We drove the 3 hours from Port Huron to Niagara, ON in the morning. We did get up early to try and avoid the morning rush over the bridge, but it wasn't an ungodly hour! The helicopter tours run from 9am to sunset every 15 minutes. We did our ride in the afternoon. The Hornblower cruise was at 7pm, so that too was after lunch. We really didn't have to rush around at all. I hope this helps!
This trip sounds amazing. My husband and I have been traveling the country in a 27 ft fifth wheeler and wonder if this trip could be done in our rig. And did you notice campgrounds/RV parks on most of the route you mapped out? Thanks!
You absolutely should be able to do this trip in your 27 ft rig. There are a lot of campgrounds, state parks, and the like along the great lakes. You should have no trouble at all finding a place – although you may want to reserve in advance depending on what time time of year you go. I haven't camped near Niagara Falls, but there looks to be a lot of choices in that area too.
Trackbacks/Pingbacks
Kayaking In Michigan: The Best Places To Paddle – KayakCritic - […] kayaks are the best choice for Great Lakes touring due to their stability and ease of paddling. Every person…
Submit a Comment Cancel reply
Your email address will not be published. Required fields are marked *
This site uses Akismet to reduce spam. Learn how your comment data is processed .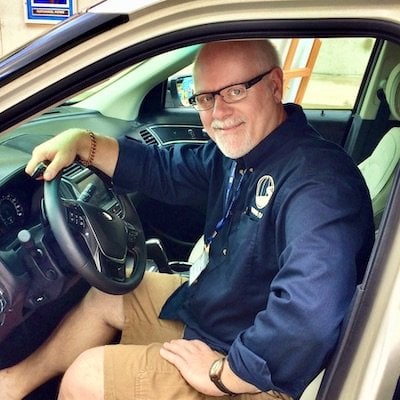 Welcome to Backroad Planet!
I'm Howard , a guy from Central Florida who believes taking scenic routes, scouting historical sites, and immersion in local flavor are the best ways to travel. Whether it be road trips across America, fly-drives to international destinations, or cruises on the mighty waters, I invite you to use Backroad Planet's destination stories, travel guides, and planning resources to design your own adventures. Please  contact me  if I can assist you in any way.
FOLLOW US ON SOCIAL MEDIA
Subscribe to backroad planet's on the road newsletter..
The best driving route around the Great Lakes: hit the road on this epic round trip from Chicago
Apr 14, 2022 • 7 min read
This road trip around the Great Lakes is a wonderful way to experience the best of the region © Thomas Barwick / Getty Images
A happy marriage of open road and open water, of blacktop and blue swells, a looping tour of the Great Lakes – beginning and ending in Chicago – can take in five states, four of the lakes, and the birthplaces of two music legends.
As much country as it is town, this road trip delivers all the hazy, lazy romance of a beach holiday while staying firmly inland. Take your time, it's an epic journey.
Find beaches, art, and baseball on the drive from Chicago, Illinois to Toledo, Ohio 
Approximately 250 miles
Stick close to the Lake Michigan shoreline and it's just 20 miles from downtown Chicago to the Indiana border. A handful more and you'll be in Gary , a once-prosperous steel town that, though now heavily rusted, still has its fans – most of them musical. One of the few tended properties in a rundown neighborhood is the fenced-off two-bedroom bungalow at 2300 Jackson St. This was home to Michael Jackson and his nine siblings, and is where the Jackson 5 was launched. 
Gary is the western bookend of Indiana Dunes National Park , one of the country's newest national parks and a patchwork of beaches, marshland, prairie, scrub, and forest running for 25 miles alongside Lake Michigan. There you can swim, hike, go horseback riding, spot rare plants and birds, and bed down at Dunewood Campground.
Afterward, head east on Interstate 80, to Toledo , Ohio , at the western tip of Lake Erie . This former industrial metropolis is nicknamed "the Glass City" due to it making a lot of glass in its heyday. It was also something of a safe space for mobsters and bootleggers during Prohibition. More recently, Toledo has recovered its mojo, bringing in art lovers to visit the world-class  Toledo Museum of Art , sports fans who pack out the stadium to see the Toledo Mud Hens  (one of the oldest Minor League Baseball teams), and devotees of the Hungarian hot dog .
Stop for some great surf on your drive from Toledo, Ohio, to Bay City, Michigan
Approximately 340 miles
Before you head north up Hwy 23 to the university town of Ann Arbor, where you can fill up on experimental art, vegan cuisine and radical politics, make a detour to Luna Pier , a modest resort town just over the Michigan state line. Here be surfing. Yes, you can surf on the Great Lakes, and at any time of year, but you're more likely to get the right blustery conditions to do so in fall, winter, and early spring. Lunar Pier has some of Lake Erie's most popular breaks.
From Ann Arbor, pick up Interstate 69 at Flint and at Port Huron join Hwy 25, which clutches Lake Huron's supremely scenic western shore – "the sunrise side" – all the way to Saginaw Bay. The coast is punctuated by quaint towns – Lexington and Ports Sanilac, Hope and Austin – and their beaches, lighthouses, marinas, and charter fishing.
Michigan's Lower Peninsula is often referred to as "the mitten," and Saginaw Bay separates the thumb of that mitten from the rest of it. Bay City, the birthplace of Madonna, sits in the crook of that thumb. It's one of the better spots for surfing.
Drive to Frankenmuth and onwards into Michigan's lower northwest for fresh fish and natural wonders
Approximately 360 miles to Mackinac Bridge
Before you head east across "the mitten" on Hwy 10, a visit to Frankenmuth , aka "Little Bavaria," is in order. The area was settled in the 19th century by Lutheran immigrants from Franconia, Germany, and the town – in its timber-framed architecture, beer and sausage festivals, and German spoken as a second language – has retained more than a flavor of the old country.
At the end of Hwy 10, on the east coast of Lake Michigan, is Ludington, one of the state's best beach towns, with 28 miles of sandy shoreline, community beach bonfires, and a coal-fired car ferry to and from Manitowoc , Wisconsin. More salmon and trout are caught from Ludington each year than anywhere else, so hire a charter boat and get your catch prepped, broiled or poached at one of many local restaurants participating in Michigan's Catch and Cook program .
Join Hwy 31, which skirts Lake Michigan for 366 miles and travels north to where the Lower meets the Upper Peninsula , or "the Yoop," via the five-mile Mackinac Bridge, an ethereally elegant piece of engineering that looks plucked from the pages of Greek mythology.
On the way, make time for the myriad virtues of northwest – that is, lower northwest – Michigan. Perhaps you'll stop by the vineyards, wineries and fine-dining establishments in and around Traverse City, a resort town producing 75 percent of the country's tart Montmorency cherries. Or you could visit the Leelanau Peninsula, Charlevoix, Harbor Springs, Boyne City and Petoskey, all places with beaches that are mobbed in high season, but still feel untamed and isolated.
Special mention must go to the Sleeping Bear Dunes National Lakeshore. Its steeply elevated bluffs – which help make up the largest freshwater dune system in the world – beech and maple woodlands and views of Lake Michigan at its most Mediterranean amount to a natural wonder. The Overlook , an observation point on the Pierce Stocking Scenic Drive , gazes down on a 450ft near-drop. People are warned to not descend because few have the lung capacity to get back up. Surfers are welcome to chance their boards at the public beach in Empire , a candy-colored hamlet of weathered buildings Norman Rockwell could have painted.
Keep heading north into Michigan's Upper Peninsula for shipwrecks and ghost towns 
Approximately 325 miles
Nicknamed "the Deep North," heavily forested and formerly rich, the Upper Peninsula is a place of mystery and of ghosts. Hear some of their stories at the Great Lakes Shipwreck Museum , at Whitefish Point, west of Munising town. More than 6000 ships and 30,000 lives have been lost on the Lakes, in large part because they lack natural harbors in which vessels can wait out violent storms.
Keweenaw Peninsula , northwest of Marquette, a major port on Lake Superior , is likewise haunted. Native Americans were the first to mine copper in the area, some 7000 years ago, but it took the Ojibwe to sign a treaty in 1842 ceding their mineral-rich lands to the United States for the copper rush, which made more fortunes than California's gold rush, to gain momentum. Almost all of the mines were shut down during the Great Depression, and relics of the industry – several ghost towns, the erstwhile opera house in Calumet – are all that is now left.
Leave the Upper Peninsula behind for charming small towns and a stop in the cool city of Milwaukee, Wisconsin
Approximately 555 miles
From Keweenaw Peninsula bear south on Hwy 141 and you'll be in Wisconsin in a couple of hours. Overshoot Green Bay and hang a left on Hwy 57 into Door County , a narrow spit of land – 75 miles long by 3 miles at its tip – that juts out into Lake Michigan. Mesmerizingly tranquil and comfortably affluent, every square inch of this "Cape Cod of the Midwest" seems to carry a divine stamp. It's a storehouse of biological diversity. And its towns, such as Egg Harbor and Fish Creek , are stuffed with charm, independent stores, and artisanal bakers.
As a way of weaning oneself off the cozy joys of bucolic Wisconsin and easing oneself into the raw excitement of Chicago, Milwaukee , off I-43, makes the perfect transitional stop. Brew City continues to make beer, but it has diversified its appeal, transforming itself into an assuredly cool arts, music, and festival hub , and some of its neighborhoods , such as Bay View , south of the downtown area, are so hip it hurts.
From there, it's back to the Chicago. But not without a carful of memories, a camera full of photographs, and a head full of beach hair.
You might also like: Top 7 day trips from Chicago    The best time to visit Michigan: a season-by-season guide    Save your money and spend time enjoying free things in Milwaukee   
This article was first published September 2019 and updated April 2022
Buy USA travel guides
Make the most of your time in the USA with Lonely Planet's range of travel guides. Be the architect of your own trip as you discover the best things to do in the USA through insider tips, suggested itineraries and handy maps.
Explore related stories
Oct 25, 2023 • 19 min read
We've released our Best in Travel 2024 list of the top destinations and experiences for next year. Find out the best time to make these dream trips a reality.
Aug 19, 2023 • 6 min read
Apr 28, 2023 • 7 min read
Mar 23, 2023 • 12 min read
Dec 26, 2020 • 8 min read
Nov 2, 2020 • 16 min read
Jul 17, 2020 • 1 min read
Mar 17, 2020 • 2 min read
Aug 20, 2019 • 0 min read
Jul 22, 2019 • 7 min read
Great Lakes Road Trip: The Ultimate Itinerary
Ready for an adventure in Traverse City that will take your breath away? Look no further than the Great Lakes Road Trip! Picture this: five interconnected freshwater lakes, each more stunning than the last, forming a region of awe-inspiring beauty. From sandy beaches to rugged cliffs, this road trip offers a diverse range of landscapes just waiting to be explored. Don't miss the chance to hike along the Mackinac Bridge and explore the beauty of Saginaw Bay.
But it's not just about nature's wonders; the Great Lakes region, including Saginaw Bay and Mackinaw City in Michigan, is also home to vibrant cities like Detroit bustling with life and culture. Along your journey, you'll have the chance to discover charming towns and iconic landmarks in these areas that will leave you in awe.
The Great Lakes Road Trip awaits – are you ready?
Planning the Perfect Great Lakes Itinerary
Research and plan your route to maximize your time and experiences..
So, you've decided to embark on a great lakes road trip, starting in Duluth and ending in Traverse City. That's fantastic! But before you hit the open road, it's crucial to do some research and plan your itinerary. After all, you want to make the most of your time and create unforgettable experiences along the way. Don't forget to mark Traverse City as a must-see map stop on your drive.
Start by familiarizing yourself with the various destinations around the Great Lakes region for your road trips. From bustling cities like Chicago and Toronto to charming small towns like Traverse City and Mackinac Island, there is an abundance of places waiting to be explored. Consider what interests you the most – whether it's vibrant city life, outdoor adventures, or historical landmarks – and tailor your route accordingly. Don't forget to include a map stop in Duluth and visit Sturgeon Bay along the way.
Once you have a general idea of where you want to go, use a map stop to dive deeper into each town. Look up popular attractions, local events, and hidden gems that might not be well-known but are worth a visit. Take note of any specific activities or sights that catch your eye so that you can include them in your itinerary. Make sure to plan your stops accordingly, considering the hour and minutes it will take to get from one destination to another.
To maximize your time on the road trip itself, consider factors such as the driving distances between locations and traffic conditions. While it's tempting to cover as many miles as possible, remember to allow for enough minutes in each place to truly immerse yourself in its unique atmosphere without feeling rushed. Stay mindful of the map stop and make the most of your journey.
Consider visiting during summer for optimal weather and outdoor activities.
When planning a road trip in Duluth, timing is everything – especially when it comes to breakfast. The summer months (June through August) offer the best opportunity to enjoy pleasant temperatures and a wide range of recreational opportunities within minutes of Duluth. Stop by our map stop to find the best breakfast spots in town.
During this time of year in the US, you can soak up the sun on beautiful beaches along Lake Michigan or Lake Erie in Duluth. Enjoy water sports like kayaking or paddleboarding amidst stunning natural landscapes. Hiking trails come alive with vibrant colors, and national parks in Duluth offer breathtaking views. You can also indulge in fishing, boating, or simply relaxing by the water's edge. Don't forget to make a map stop for breakfast!
Apart from the weather, summer brings a vibrant energy to the Great Lakes region. Festivals and events in Duluth are in full swing, showcasing local culture, music, and cuisine. From food festivals celebrating fresh seafood to art fairs displaying unique creations, there is always something happening that will enhance your road trip experience. Make sure to stop by a map stop for breakfast before exploring all that Duluth has to offer.
Allocate enough time to explore each destination thoroughly.
One of the keys to a successful great lakes road trip is allowing yourself ample time at each destination on the map. While it may be tempting to cram as many stops as possible into your itinerary, rushing through places will only leave you feeling unsatisfied and exhausted. Make sure to plan for a hearty breakfast to fuel your adventures.
Instead, embrace a slower pace and allocate enough time to truly immerse yourself in the wonders of each location. Take leisurely walks along scenic waterfronts or explore charming downtown areas filled with boutique shops and cozy cafes. Engage with locals and learn about their stories and traditions – they often hold hidden insights that guidebooks might miss. Don't forget to include a map stop at Lake Superior, one of the great lakes in the US.
Remember to stop and eat during your journey around Lake Superior. Leave room on your map for spontaneous detours and extra days in places that capture your heart. These unplanned moments often become cherished memories long after the road trip ends.
Take advantage of local resources for recommendations on attractions and accommodations.
While guidebooks and online research provide valuable information when planning a great lakes road trip, don't underestimate the power of local knowledge. Once you arrive at your chosen destinations, tap into the expertise of locals who can offer insider tips on must-see attractions and hidden gems off the beaten path. Additionally, having a map handy will help you navigate and ensure you don't miss any important stops along the way.
Strike up conversations with friendly residents at local cafes or seek recommendations from hotel staff who know their cities like the back of their hands. They can suggest lesser-known spots that showcase the true essence of each destination – from quaint family-owned restaurants to breathtaking viewpoints that aren't listed in guidebooks. Don't forget to consult a map for directions to the stops around Lake Superior.
Consider visiting eat visitor centers or stop tourism offices upon arrival. These resources are often filled with brochures, maps, and knowledgeable staff who can provide up-to-date information on events, attractions, and accommodations. They might even offer discounts or special deals that can enhance your road trip experience without breaking the bank.
Pack essentials such as comfortable shoes, sunscreen, and a camera.
Now that you have your itinerary and map planned and are ready to stop at each destination, don't forget to pack the essentials for a great lakes road trip. Here are a few must-haves to ensure you're fully prepared for whatever adventures come your way.
Comfortable Shoes: When you eat your way through the map, stopping at various locations, it's important to have comfortable footwear. Opt for sturdy walking shoes or sneakers that will keep your feet happy throughout the journey.
Chicago: Beaches, Art, and Baseball
Chicago is a city that offers an incredible variety of experiences for visitors. From miles of sandy beaches along Lake Michigan's shoreline to world-class art museums and thrilling baseball games, there are plenty of opportunities to eat, stop, and explore the city using a map.
Enjoy Miles of Sandy Beaches
Chicago may not be the first place that comes to mind to eat, but you'll be pleasantly surprised by the city's stunning coastline along Lake Michigan. With miles of sandy beaches, Chicago provides the perfect summer escape to stop and relax.
One of the most popular beach spots in Chicago is North Avenue Beach, a must-stop destination. Here, you can stop and soak up the sun while enjoying breathtaking views of the city skyline. The beach also offers various activities such as volleyball courts and bike rentals, ensuring there's never a dull moment. So don't miss the chance to stop by and enjoy all that North Avenue Beach has to offer.
If you're looking to eat in a more laid-back atmosphere, head over to Oak Street Beach. This hidden gem is nestled between high-rise buildings and offers a tranquil setting away from the hustle and bustle of the city. Relax on the soft sand or stop to take a refreshing dip in Lake Michigan's crystal-clear waters.
Immerse Yourself in World-Class Art
Art enthusiasts will find themselves in paradise when exploring Chicago's renowned museums. The Art Institute of Chicago stands out as one of the finest art museums in the United States. Visitors can eat and stop at this cultural institution, which houses an extensive collection spanning thousands of years. It showcases masterpieces from around the globe.
As you eat and stop wander through its halls, you'll come face-to-face with iconic works like Grant Wood's "American Gothic" and Georges Seurat's "A Sunday on La Grande Jatte." Take your time to appreciate each brushstroke and immerse yourself in artistic brilliance.
For those looking to eat contemporary art experiences, visit The Museum of Contemporary Art (MCA). Located just steps away from downtown Chicago, MCA hosts cutting-edge exhibitions that push boundaries and challenge traditional notions of art. From thought-provoking installations to experimental performances, this museum is a must-stop for modern art enthusiasts.
Catch a Baseball Game
Chicago is a city that breathes baseball. Whether you're a die-hard fan or simply looking to stop for an authentic sports experience, catching a game at either Wrigley Field or Guaranteed Rate Field is an absolute must.
Wrigley Field, home of the Chicago Cubs, is a nostalgic and charming place to stop and eat. As you step into the stadium, you'll be transported back in time to the golden era of baseball. The atmosphere is electric, with passionate fans singing "Take Me Out to the Ballgame" during the seventh-inning stretch.
On the South Side of Chicago, you'll find Guaranteed Rate Field, where the Chicago White Sox play their home games. This modern ballpark offers state-of-the-art amenities and fantastic views from every seat. Join in on the cheers and chants as you witness America's favorite pastime played at its finest.
Indulge in Iconic Chicago Cuisine
No visit to Chicago would be complete without savoring its iconic cuisine. Eating deep-dish pizza and hot dogs are culinary staples that have become synonymous with the city's food culture.
Giordano's and Lou Malnati's are two legendary establishments that locals swear by. Sink your teeth into layers of gooey cheese, tangy tomato sauce, and buttery crust for a taste sensation like no other.
For hot dog lovers, Portillo's is an institution not to be missed. Sink your teeth into their famous Chicago-style hot dog piled high with toppings like mustard, onions, relish, tomatoes, pickles, sport peppers, and celery salt – all served on a poppy seed bun. It's a flavor explosion that will leave your taste buds begging for more.
Explore Millennium Park's Famous Cloud Gate Sculpture
No trip to Chicago is complete without a visit to Millennium Park. At the heart of this urban oasis lies the famous Cloud Gate sculpture, affectionately known as "The Bean." This iconic stainless-steel structure has become a symbol of the city and offers a unique photo opportunity.
As you walk around The Bean, marvel at its reflective surface that distorts and mirrors the surrounding skyline.
Indiana Dunes National Park: Natural Beauty and Recreation
Indiana Dunes National Park is a hidden gem that offers a perfect blend of natural beauty and recreational activities. From awe-inspiring sand dunes to lush forests, this national park in Indiana promises an unforgettable experience for nature enthusiasts and adventure seekers alike.
Experience the awe-inspiring beauty of Indiana Dunes National Park's sand dunes and forests.
Prepare to be mesmerized by the breathtaking landscapes that await you at Indiana Dunes National Park. Towering sand dunes stretch as far as the eye can see, creating a picturesque backdrop against the clear blue waters of Lake Michigan. As you hike through these rolling dunes, you'll find yourself surrounded by stunning vistas at every turn.
The park boasts an extensive network of hiking trails that cater to all skill levels. Whether you're a seasoned hiker or just starting out, there's a trail for everyone. These scenic paths offer panoramic views of Lake Michigan, allowing you to soak in the beauty of one of North America's Great Lakes while being immersed in nature.
Hike scenic trails that offer panoramic views of Lake Michigan from towering dunes.
One highlight of your visit to Indiana Dunes National Park is undoubtedly the opportunity to hike along its magnificent trails. Lace up your hiking boots and embark on an adventure through diverse ecosystems, ranging from tranquil forests to sandy beaches.
For those seeking a challenge, the 3 Dune Challenge is a must-do. This demanding trail takes you up three towering sand dunes, rewarding your efforts with breathtaking vistas overlooking Lake Michigan. Feel the thrill as you conquer each ascent and revel in the sense of accomplishment when reaching the summit.
If you prefer a more leisurely stroll, opt for one of the shorter trails like Cowles Bog Trail or West Beach Trail. These paths wind through lush woodlands teeming with wildlife, providing ample opportunities for birdwatching and wildlife spotting along the way.
Engage in various recreational activities such as swimming, kayaking, or birdwatching.
Indiana Dunes National Park isn't just about hiking; it also offers a plethora of recreational activities to keep you entertained. Cool off on a hot summer day by taking a refreshing dip in the crystal-clear waters of Lake Michigan. The park's pristine beaches provide the perfect setting for swimming and sunbathing, allowing you to relax and unwind amidst nature's beauty.
If you're up for an adventure on the water, grab a kayak and paddle along the shoreline. Explore hidden coves, discover secluded beaches, and marvel at the unique rock formations that dot the coastline. Kayaking offers a different perspective of the park and allows you to get up close with its natural wonders.
For those with an interest in ornithology, Indiana Dunes National Park is a paradise for birdwatchers. With over 350 species recorded within its boundaries, this area attracts bird enthusiasts from all over. Grab your binoculars and spot colorful migratory birds as they make their way through this important stopover site during their annual journeys.
Picnic amidst picturesque landscapes while enjoying the sounds of nature around you
Take advantage of Indiana Dunes National Park's scenic picnic areas to enjoy a delightful meal surrounded by nature's serenity. Spread out your blanket on lush green grass or find shade under towering trees as you indulge in delicious food with family and friends.
As you savor your meal amidst picturesque landscapes, listen carefully to the symphony of sounds around you. The chirping of birds, rustling leaves, and gentle waves crashing against the shore create a soothing ambiance that enhances your dining experience. It's an opportunity to disconnect from technology and reconnect with nature while creating lasting memories.
Delve into the park's rich biodiversity by spotting rare plants and wildlife species.
Indiana Dunes National Park is home to an incredible diversity of plant and animal species. As you explore the park, keep an eye out for rare and unique flora that thrive in this ecosystem. From delicate wildflowers to towering trees, each plant contributes to the park's vibrant tapestry of life.
Wildlife enthusiasts will also be delighted by the chance to encounter various animal species. Keep your camera ready as you may spot white-tailed deer gracefully roaming through the forests or catch a glimpse of a red fox darting across a meadow. The park is also known for its diverse bird population, making it a haven for avian enthusiasts.
Exploring Lake Michigan's Shoreline: From Milwaukee to Traverse City
Wander through milwaukee's historic third ward district.
Milwaukee, located on the western shore of Lake Michigan, is a vibrant city that offers a mix of history, culture, and entertainment. One of the must-visit areas in Milwaukee is the Historic Third Ward district. This neighborhood seamlessly blends old-world charm with trendy shops and restaurants, making it a perfect starting point for your Great Lakes road trip.
As you wander through the streets of the Historic Third Ward, you'll be captivated by its unique architecture and rich history. The area was once an industrial hub but has since transformed into a lively arts and fashion district. Explore the numerous boutique shops that line the streets, offering everything from local designer clothing to handmade crafts.
When hunger strikes, indulge in the culinary delights offered by the district's diverse array of restaurants. Whether you're craving gourmet cuisine or looking for a casual bite to eat, you'll find something to satisfy your taste buds here. Don't forget to sample some local craft beer while you're at it – after all, Milwaukee is known as the "Brew City" for a reason!
Visit Holland: A Charming Town with Dutch Heritage
Continuing north along Lake Michigan's shoreline brings you to Holland, Michigan – a town renowned for its Dutch heritage and picturesque beauty. Every spring, Holland comes alive with vibrant colors during its annual Tulip Time Festival. Stroll through rows upon rows of blooming tulips and immerse yourself in this delightful celebration of Dutch culture.
Apart from its tulips, Holland offers much more to explore. Take a leisurely walk along Windmill Island Gardens and admire De Zwaan, an authentic Dutch windmill dating back to 1761. Step inside this iconic landmark to learn about its fascinating history and enjoy panoramic views from atop.
For those interested in history and art, visit Nelis' Dutch Village, a living museum that recreates the Netherlands of the 1800s. Experience traditional Dutch architecture, watch wooden shoe carving demonstrations, and even try your hand at cheese making. It's an immersive journey into Holland's past that both adults and children will enjoy.
Discover the Stunning Sleeping Bear Dunes National Lakeshore
No Great Lakes road trip would be complete without a visit to Sleeping Bear Dunes National Lakeshore near Traverse City. This natural wonder stretches along Lake Michigan's eastern coastline and offers breathtaking views of towering sand dunes, pristine beaches, and crystal-clear waters.
Embark on a hike through the dunes to fully appreciate their grandeur. As you ascend to the top of one of these majestic sand mountains, you'll be rewarded with panoramic vistas that stretch for miles. Don't forget to bring your camera – this is a photographer's paradise!
After exploring the dunes, cool off with a refreshing swim in Lake Michigan or simply relax on one of its sandy shores. The beaches here are some of the best in the region, providing ample opportunities for sunbathing, picnicking, or building sandcastles with your loved ones.
Explore Grand Rapids: A Haven for Craft Beer Enthusiasts
As you make your way back south along Lake Michigan's shoreline, make sure to stop by Grand Rapids – a city known for its vibrant craft beer scene and thriving arts community. With over 80 breweries scattered throughout the city and its surroundings, Grand Rapids has rightfully earned its reputation as "Beer City USA."
Take a brewery tour and sample an array of unique brews crafted by local artisans. From hoppy IPAs to rich stouts and everything in between, there's something for every beer enthusiast here. Many breweries also offer delicious food pairings to enhance your tasting experience further.
Beyond beer, Grand Rapids boasts an impressive art scene. Visit the Frederik Meijer Gardens & Sculpture Park, where you can admire stunning outdoor sculptures set amidst beautifully landscaped gardens. The city is also home to several art galleries and museums, showcasing a diverse range of artistic styles and mediums.
Admire Picturesque Lighthouses Along Lake Michigan's Shoreline
As you drive along Lake Michigan's shoreline during your great lakes road trip, keep an eye out for the picturesque lighthouses that dot the coast. These iconic structures not only serve as navigational aids for mariners but also add charm and character to the landscape.
Mackinac Island: A Step Back in Time on Lake Huron
Discover the victorian charm and horse-drawn carriages.
Welcome to Mackinac Island , a picturesque gem nestled in the sparkling waters of Lake Huron. This car-free island takes you on a delightful journey back in time with its enchanting Victorian charm and horse-drawn carriages. As soon as you step off the ferry from Mackinaw City, you'll feel like you've entered a bygone era during your great lakes road trip.
Imagine strolling through streets lined with impeccably preserved 19th-century buildings, adorned with colorful flowers cascading from window boxes. The island's captivating architecture will transport you to a simpler time when life moved at a more leisurely pace. Take your time to explore the quaint shops and boutiques that offer unique treasures and souvenirs.
Uncover History at Fort Mackinac
One of the highlights of visiting Mackinac Island is immersing yourself in its rich history. Make sure to visit historic Fort Mackinac, perched high on a bluff overlooking the Straits of Mackinac. This well-preserved fort played a strategic role in American history during the Revolutionary War and the War of 1812.
As you wander through the fort's grounds, knowledgeable guides dressed in period costumes will regale you with fascinating tales of military life from centuries past. Explore the barracks, officer's quarters, and artillery displays while gaining insights into this pivotal chapter of American history.
Embrace Nature's Beauty on Scenic Trails and Coastline Walks
Mackinac Island offers an abundance of natural beauty waiting to be discovered. Rent a bicycle or take a leisurely stroll along one of the island's many scenic trails that wind through lush forests and offer breathtaking views of Lake Huron. Feel the gentle breeze caress your face as you meander along tree-lined paths surrounded by nature's tranquility.
For a more coastal experience, embark on a walk along the island's shoreline. Marvel at the crystal-clear waters of Lake Huron as they lap against the sandy beaches. The rhythmic sound of waves crashing against the shore will soothe your soul as you immerse yourself in the island's serene ambiance.
Indulge in Famous Fudge and Culinary Delights
No visit to Mackinac Island is complete without indulging in its world-renowned fudge. Treat yourself to a delectable assortment of flavors from one of the island's many charming shops. Watch as skilled confectioners meticulously craft each batch, using time-honored recipes that have been passed down through generations.
In addition to fudge, Mackinac Island offers a delightful array of culinary delights. From fresh seafood caught in nearby waters to locally sourced ingredients that enhance every dish, you'll find an abundance of options to satisfy even the most discerning palate. Whether you choose to dine in a cozy waterfront restaurant or savor a picnic on one of the island's scenic overlooks, your taste buds are in for a treat.
Soak in Breathtaking Views from Arch Rock and Sugar Loaf
Prepare to be awestruck by Mackinac Island's natural wonders—Arch Rock and Sugar Loaf. These iconic landmarks offer panoramic views that will leave you breathless. Head towards Arch Rock, where nature has sculpted an impressive limestone arch standing 146 feet above Lake Huron. Gaze out over the vast expanse of water below and marvel at nature's artistry.
Another must-visit spot is Sugar Loaf, a towering rock formation rising dramatically from Lake Huron's depths. As you stand atop this geological wonder, take a moment to soak in the awe-inspiring vistas stretching out before you—a perfect blend of sparkling blue waters merging with endless skies.
Mackinac Island beckons you to immerse yourself in its timeless allure. Whether you're exploring the island's historic sites, savoring its culinary delights, or simply basking in the beauty of Lake Huron, this enchanting destination promises an unforgettable journey back in time. So hop on a ferry, leave your worries behind, and let Mackinac Island cast its spell upon you.
Discovering the Upper Peninsula of Lake Superior: Cliff Shorelines and Wilderness
Marvel at pictured rocks national lakeshore 's dramatic cliffs along lake superior's shoreline..
Imagine standing at the edge of a breathtaking cliff, gazing out at the vast expanse of Lake Superior. This is exactly what awaits you at Pictured Rocks National Lakeshore in Michigan's Upper Peninsula. The towering sandstone cliffs that line the shoreline are an awe-inspiring sight to behold. These majestic formations have been sculpted by centuries of wind and waves, creating a natural masterpiece that will leave you speechless.
To fully appreciate the beauty of Pictured Rocks during your great lakes road trip, take a scenic boat tour along the coast. As you cruise through crystal-clear waters, you'll be treated to up-close views of the vibrant sandstone formations. From Chapel Rock with its iconic tree growing atop it to Miner's Castle with its impressive turrets, each cliff has its own unique charm. The colors are simply mesmerizing - from deep reds and oranges to striking blues and greens - as if nature itself has turned these rocks into an artist's palette.
Immerse yourself in nature by hiking through pristine forests and cascading waterfalls.
The Upper Peninsula is a paradise for outdoor enthusiasts, offering endless opportunities to connect with nature. Lace up your hiking boots and explore the many trails that wind through pristine forests and alongside cascading waterfalls. One such gem is Tahquamenon Falls State Park , home to one of Michigan's largest waterfalls. As you hike through this enchanting park, you'll be surrounded by lush greenery and serenaded by the soothing sounds of rushing water.
The highlight of Tahquamenon Falls State Park is undoubtedly the Upper Falls, where thousands of gallons of water cascade over a 200-foot-wide precipice every second. The sheer power and beauty of this natural wonder will leave you in awe. For a more secluded experience, venture further into the park to discover the Lower Falls. Here, you can rent a rowboat and paddle along the river, immersing yourself in the peacefulness of the surroundings.
Visit Tahquamenon Falls State Park, home to one of Michigan's largest waterfalls.
No great lakes road trip to the Upper Peninsula would be complete without a visit to Tahquamenon Falls State Park. Located in Paradise, Michigan, this natural wonder is sure to leave a lasting impression. As you approach the park, you'll be greeted by dense forests teeming with wildlife. The air is crisp and fresh, invigorating your senses as you step out of your car.
Make your way to the main attraction - the magnificent Tahquamenon Falls. This awe-inspiring waterfall spans over 200 feet across and drops nearly 50 feet into the river below. The sheer power and beauty of this spectacle are truly captivating. Take a leisurely stroll along well-maintained trails that offer breathtaking views of both the upper and lower falls. If you're feeling adventurous, hike down to the riverbank for an up-close encounter with nature's raw power.
Experience true solitude while exploring remote areas like Isle Royale National Park .
For those seeking solitude and untouched wilderness, look no further than Isle Royale National Park . Located in Lake Superior off Michigan's northwest coast, this remote island offers a unique opportunity to disconnect from the outside world and immerse yourself in nature's embrace. With no roads or vehicles on the island, getting there requires taking a ferry or seaplane from either Houghton or Copper Harbor.
Once on Isle Royale, prepare for an adventure unlike any other. Explore pristine forests filled with towering trees and vibrant wildflowers. Hike along rugged trails that lead to hidden coves and secluded beaches where you can dip your toes in Lake Superior's crystal-clear waters. Keep an eye out for wildlife sightings - from moose and wolves to foxes and otters, the island is teeming with fascinating creatures.
Cleveland and Buffalo: Vibrant Cities on Lake Erie
Explore cleveland's cultural scene.
Looking for a road trip that combines vibrant cities with stunning lake views? Look no further than the Great Lakes region, where you'll find the perfect blend of urban excitement and natural beauty. Start your adventure in Cleveland, Ohio, a city known for its thriving cultural scene.
One must-visit attraction in Cleveland is the Rock & Roll Hall of Fame. Immerse yourself in the history of rock music as you explore exhibits dedicated to legendary artists and iconic moments. From Elvis Presley to The Beatles, this museum showcases the evolution of rock 'n' roll and its impact on popular culture.
If art is more your style, head over to the Cleveland Museum of Art. With an extensive collection spanning thousands of years, you can admire works from renowned artists such as Monet, Van Gogh, and Picasso. Take your time strolling through the galleries and let the masterpieces inspire you.
Delve into Buffalo's Architectural Heritage
Continuing your great lakes road trip along Lake Erie, make a stop in Buffalo, New York. This city is not only famous for its chicken wings but also boasts a rich architectural heritage. One architectural gem you shouldn't miss is Frank Lloyd Wright's Darwin D. Martin House.
Step back in time as you explore this Prairie-style masterpiece designed by one of America's greatest architects. Marvel at the intricate details and innovative design elements that have made this house an icon in American architecture. Guided tours offer fascinating insights into Wright's vision and his influence on modern design.
Savor Delicious Cuisine
No road trip is complete without indulging in some mouthwatering cuisine along the way. In Cleveland, make sure to visit West Side Market, a food lover's paradise since 1912. Here you'll find an incredible variety of fresh produce, meats, cheeses, baked goods, and more. Grab a bite to eat from one of the many vendors and savor the flavors of Cleveland.
Buffalo, on the other hand, is synonymous with its famous chicken wings. Head to one of the city's iconic chicken wing joints and experience the true taste of Buffalo. Whether you prefer them mild or blazing hot, these crispy wings are sure to satisfy your cravings. Pair them with a cold beverage and immerse yourself in the local sports culture.
Enjoy Lake Erie's Waterfront
As you make your way along Lake Erie during your great lakes road trip, take some time to enjoy the natural beauty that surrounds you. In Cleveland, visit Edgewater Park for a leisurely stroll along the waterfront. Feel the breeze off the lake as you walk along sandy beaches and take in panoramic views of downtown Cleveland.
In Buffalo, don't miss out on Buffalo Harbor State Park. This waterfront park offers a perfect blend of nature and urban charm. Take a relaxing walk along the marina or rent a kayak to explore Lake Erie from a different perspective. With picturesque views of downtown Buffalo, it's an ideal spot to unwind and soak up the serene atmosphere.
Catch Live Performances
Both Cleveland and Buffalo have vibrant performing arts scenes that cater to all tastes. In Cleveland, head over to Playhouse Square, one of the largest theater districts in the country outside of New York City. From Broadway shows to ballet performances and concerts, there's always something happening here.
Buffalo boasts its own historic theater district centered around Shea's Performing Arts Center. Step inside this beautifully restored venue and be transported back in time with its stunning architecture and opulent interiors. Catch a live performance ranging from touring Broadway productions to classical music concerts.
The Great Lakes road trip offers an incredible mix of cultural experiences, culinary delights, and natural wonders. From exploring museums dedicated to rock 'n' roll history in Cleveland to immersing yourself in Frank Lloyd Wright's architectural masterpiece in Buffalo, there's something for everyone. So pack your bags, hit the road, and get ready to create unforgettable memories along the shores of Lake Erie.
Note: This section has a total word count of 545 words.
Niagara Falls: Majestic Wonder between Lake Erie and Lake Ontario
Witness the awe-inspiring power of niagara falls from various viewpoints..
Niagara Falls is undoubtedly one of nature's most magnificent creations. Standing at the edge of the falls, you can feel the raw power and beauty that this natural wonder possesses. From every angle, you are treated to a breathtaking spectacle that will leave you in awe. Whether you choose to view it from the American side, take a Great Lakes cruise by, or venture across to Canada, there are numerous vantage points that offer different perspectives on this majestic display.
On the American side, head to Prospect Point Observation Tower for an up-close and personal encounter with the falls. As you ascend to the top, prepare yourself for a jaw-dropping panorama of cascading water and mist-filled air. The observation deck provides an unparalleled view of both American Falls and Bridal Veil Falls, allowing you to witness their thunderous descent firsthand.
For a unique perspective, take a stroll along Luna Island. This small piece of land sits between Bridal Veil Falls and Horseshoe Falls, offering an intimate encounter with these powerful forces of nature. Feel the mist on your face as you stand just yards away from where millions of gallons of water crash down each second.
If you cross over to Canada, don't miss out on Queen Victoria Park. This beautifully landscaped park allows visitors to enjoy unobstructed views of Horseshoe Falls while surrounded by vibrant floral displays. Find a spot on one of the park benches or spread out a picnic blanket as you marvel at the grandeur before your eyes.
Take a thrilling boat ride on the Maid of the Mist to get up close to the falls.
To truly experience Niagara Falls in all its glory during your great lakes road trip, embark on an exhilarating adventure aboard the Maid of the Mist boat tour. Donning your iconic blue poncho, prepare yourself for an unforgettable journey into the heart of the falls. As the boat navigates the swirling waters, you'll feel the mist on your face and hear the thunderous roar of the cascading water.
The Maid of the Mist takes you as close as possible to both American Falls and Horseshoe Falls, allowing you to witness their immense power from an entirely different perspective. You'll be in awe as you witness millions of gallons of water crashing down before your eyes, creating a spectacle that words simply cannot do justice.
This iconic boat tour has been operating for over 150 years, providing visitors with an up-close encounter with Niagara Falls like no other. It's a thrilling experience that will leave you with lifelong memories and a newfound appreciation for nature's grandeur.
Explore Niagara Falls State Park and enjoy scenic hiking trails and picnic areas.
Niagara Falls State Park is a true gem nestled amidst the natural wonder of Niagara Falls. Spanning over 400 acres, this park offers visitors an abundance of recreational opportunities while showcasing stunning views of the falls. Lace up your hiking boots and embark on one of the park's scenic trails to immerse yourself in its beauty.
For a leisurely stroll, choose the easy-grade trail along Three Sisters Islands. This picturesque pathway takes you through lush greenery and provides magnificent views of all three falls: American Falls, Bridal Veil Falls, and Horseshoe Falls. Take your time to savor each step as you soak in nature's splendor.
If you're seeking more adventure, opt for the Great Gorge Railway Trail. This moderate-level hike winds along the Niagara River Gorge, offering breathtaking vistas at every turn. Marvel at towering cliffs, observe unique flora and fauna, and revel in nature's tranquility away from bustling crowds.
After exploring the trails, find a cozy spot within Niagara Falls State Park for a delightful picnic surrounded by natural beauty. Spread out a blanket near Luna Island or choose one of the designated picnic areas scattered throughout the park. Indulge in a leisurely lunch while listening to the sounds of rushing water and feeling the gentle mist on your skin.
Experience the vibrant nightlife and entertainment options in Niagara Falls, Canada.
When night falls, Niagara Falls transforms into an enchanting wonderland filled with vibrant lights and pulsating energy. Head across the border to Canada and immerse yourself in the lively atmosphere that awaits you.
Begin your evening by exploring Clifton Hill, a bustling street lined with restaurants, attractions, and entertainment venues. This vibrant strip is often referred to as "the street of fun" for good reason. From arcades and haunted houses to wax museums and mini-golf courses, there's something for everyone here. Let your inner child run wild as you indulge in games, laughter, and endless excitement.
For those seeking a more refined experience during their great lakes road trip, Niagara Falls offers an array of wineries where you can savor exquisite wines produced from locally grown grapes. Take a guided tour through picturesque vineyards or opt for a wine tasting session to discover new flavors and expand your palate.
Road Tripping through Canada: Watertown, NY to Ontario
Cross the border into canada at thousand islands bridge near watertown, new york..
Ready for an exciting adventure? Hop in your car and get ready to cross the border into Canada during your Great Lakes road trip! Starting from Watertown, New York, you'll make your way to the Thousand Islands Bridge. This picturesque crossing is not only a gateway to Canada but also offers breathtaking views of the St. Lawrence River and its countless islands.
As you drive across the bridge, take a moment to soak in the beauty surrounding you. The emerald waters below and lush greenery on both sides will leave you in awe. It's like stepping into a postcard!
Drive along scenic routes like Ontario's Great Lakes Waterfront Trail or Trans-Canada Highway.
Once you've crossed into Canada, it's time to hit the road and explore all that this beautiful country has to offer. One option is to follow Ontario's Great Lakes Waterfront Trail, which stretches over 3,000 kilometers along Lake Ontario and Lake Erie. This scenic route will take you through charming towns, stunning beaches, and vibrant cities.
If you're up for a longer journey, consider driving on the Trans-Canada Highway. This iconic road spans across the entire country and offers diverse landscapes along the way. From rolling hills to majestic mountains, each province has its own unique beauty waiting to be discovered.
No matter which route you choose, be prepared for jaw-dropping scenery at every turn. You'll witness sparkling blue waters, towering cliffs, and dense forests that make every mile worth it.
Visit charming Canadian towns like Kingston, Toronto or Niagara-on-the-Lake along your journey.
One of the highlights of any great lakes road trip through Canada is exploring charming Canadian towns along your route. Take a detour from your main drive and venture into places like Kingston, Toronto or Niagara-on-the-Lake.
Kingston, known as the "Limestone City," is a historic gem with its well-preserved 19th-century architecture. Stroll along its waterfront, visit Fort Henry to learn about Canada's military past, or simply enjoy the laid-back atmosphere of this picturesque town.
Next up is Toronto, Canada's largest city and a vibrant metropolis that offers something for everyone. From iconic landmarks like the CN Tower to world-class museums such as the Royal Ontario Museum, there's no shortage of things to see and do in this bustling city. Don't forget to indulge in some delicious food from diverse cuisines while you're here!
Another must-visit destination is Niagara-on-the-Lake, located near the famous Niagara Falls. This quaint town is known for its wineries, charming shops, and beautiful gardens. Take a leisurely stroll through its streets, sample local wines at vineyards, or catch a play at the renowned Shaw Festival Theatre.
Explore Toronto's iconic landmarks such as CN Tower and Royal Ontario Museum.
When you find yourself in Toronto during your Great Lakes road trip, make sure to explore some of its most iconic landmarks. The first stop on your list should be the CN Tower – an architectural marvel that dominates Toronto's skyline. Take an elevator ride up to one of its observation decks for panoramic views that will leave you breathless.
Afterward, head over to the Royal Ontario Museum (ROM) – Canada's largest museum of art, culture, and natural history. With collections spanning millions of years across various disciplines, it offers a fascinating journey through time and different civilizations.
Whether you're interested in ancient artifacts or modern art exhibitions, the ROM has something for everyone. It's a treasure trove of knowledge and inspiration waiting to be explored.
Immerse yourself in Canada's rich history by visiting Fort Henry or Casa Loma.
During your Great Lakes road trip through Canada, take some time to delve into the country's rich history. Two notable places that offer a glimpse into Canada's past are Fort Henry and Casa Loma.
Located in Kingston, Fort Henry is a UNESCO World Heritage Site that dates back to the 19th century. Step back in time as you explore this well-preserved fortification, complete with military demonstrations and interactive exhibits. Learn about the lives of soldiers stationed here and gain insight into Canada's military heritage.
In Toronto, you'll find Casa Loma – a majestic castle that will transport you to another era. Built in the early 20th century, this architectural masterpiece boasts luxurious interiors, stunning gardens, and breathtaking views of the city skyline.
Green Bay and Bay City: Charming Towns on Lake Michigan and Lake Huron
Experience football fever in green bay at lambeau field, home of the green bay packers.
Are you ready to dive into the heart of football frenzy? Look no further than Green Bay, Wisconsin, where Lambeau Field stands tall as a shrine for die-hard fans of the Green Bay Packers. This historic stadium is more than just a sports venue; it's an emblem of pride and tradition. As you step foot into Lambeau Field, you'll feel the electric atmosphere that has been captivating fans for decades.
Imagine being surrounded by seas of green and gold as passionate Packers supporters cheer on their beloved team. The energy is contagious, making every game day a memorable experience. From the iconic Lambeau Leap to the thunderous roar of the crowd after a touchdown, attending a game here is like stepping into another world.
But don't worry if you can't catch a live game – there's still plenty to do in Green Bay! Take advantage of its stunning waterfront along Green Bay itself. Whether you're an angler looking for your next big catch or simply want to relax on a boat while enjoying the picturesque scenery, this area offers endless opportunities for outdoor activities.
Enjoy outdoor activities like fishing or boating on Green Bay's waterfront
Green Bay's waterfront provides not only breathtaking views but also thrilling adventures for nature enthusiasts. If fishing is your passion, grab your tackle box and head out onto the sparkling waters. With an abundance of fish species such as walleye, musky, and smallmouth bass, anglers are bound to have an exciting time reeling in their prized catches.
For those seeking a different kind of aquatic adventure, why not hop aboard a boat? Cruise along the bay while basking in the warm sun and feeling the refreshing breeze against your skin. Whether you're captaining your own vessel or joining a guided tour, exploring Green Bay's waterfront by boat is an experience like no other.
Discover maritime heritage at Bay City's Saginaw Riverfront with its tall ships and museums
Step back in time and immerse yourself in the rich maritime heritage of Bay City, Michigan. Located on the banks of the Saginaw River, this charming town boasts a vibrant riverfront that showcases its seafaring history. As you stroll along the boardwalk, you'll encounter majestic tall ships gracefully gliding through the water, their sails billowing in the wind.
To delve deeper into Bay City's maritime past, visit one of its fascinating museums. The Bay County Historical Museum offers a captivating glimpse into the region's nautical legacy through exhibits featuring ship models, artifacts, and interactive displays. Meanwhile, the Saginaw Valley Naval Ship Museum allows visitors to explore the USS Edson, a retired naval destroyer that served during the Vietnam War.
Explore unique shops and restaurants in downtown Green Bay or Old City Hall Historic District in Bay City
Both Green Bay and Bay City have something special to offer. In downtown Green Bay, you'll find a delightful mix of boutique shops and local businesses waiting to be explored. From trendy clothing stores to quaint gift shops filled with one-of-a-kind treasures, there's no shortage of unique finds here.
Meanwhile, in Bay City's Old City Hall Historic District, history blends seamlessly with modern charm. This revitalized area is home to an array of specialty shops where you can discover handmade crafts, vintage goods, and artisanal products. After indulging in some retail therapy, satisfy your taste buds at one of the district's cozy restaurants offering delectable dishes made from locally sourced ingredients.
Attend festivals celebrating local culture such as Green Bay's Artstreet or Tall Ship Celebration in Bay City
Immerse yourself in the vibrant local culture of Green Bay and Bay City by attending their lively festivals during your Great Lakes road trip. Green Bay's Artstreet festival is a celebration of creativity that transforms the downtown area into an open-air gallery. Stroll through the streets adorned with captivating artworks, listen to live music performances, and engage in interactive art activities.
In Bay City, the Tall Ship Celebration takes center stage, drawing visitors from near and far to marvel at majestic tall ships docked along the riverfront. This four-day event offers a unique opportunity to step aboard these magnificent vessels, interact with crew members, and learn about maritime history firsthand. The festivities also include live entertainment, food vendors serving delicious treats, and captivating fireworks displays.
Unforgettable Memories of the Great Lakes Road Trip
The Great Lakes Road Trip is an adventure like no other. From the stunning beaches and vibrant cities to the breathtaking natural beauty, this journey offers a plethora of unforgettable experiences. Let's take a look at some of the highlights along the way:
A well-planned itinerary is crucial for making the most of your Great Lakes Road Trip. By mapping out your route and identifying must-visit destinations, you can ensure that every moment counts.
The Windy City welcomes you with open arms. Spend your days lounging on beautiful beaches, exploring world-class art museums, and catching a baseball game at Wrigley Field. Chicago truly has something for everyone.
Nature enthusiasts will find solace in Indiana Dunes National Park. With its towering sand dunes, pristine beaches, and diverse wildlife, it's a paradise for hikers, birdwatchers, and beach lovers alike.
Embark on a scenic drive along Lake Michigan's shoreline from Milwaukee to Traverse City. Marvel at picturesque lighthouses, indulge in delicious local cuisine, and immerse yourself in charming lakeside towns along the way.
Transport yourself back in time as you step foot on Mackinac Island. With its horse-drawn carriages and Victorian charm, this car-free island is a true gem on Lake Huron.
The rugged beauty of Michigan's Upper Peninsula awaits you as you explore Lake Superior's shores on your Great Lakes road trip. From awe-inspiring cliff shorelines to untouched wilderness areas teeming with wildlife, this region is an adventurer's dream.
Experience the vibrant energy of cities like Cleveland and Buffalo on the shores of Lake Erie. Dive into rich cultural scenes, indulge in mouthwatering cuisine, and soak up the lively atmosphere these cities have to offer.
No Great Lakes Road Trip would be complete without a visit to Niagara Falls. Witness the sheer power and beauty of this natural wonder as millions of gallons of water cascade down from Lake Erie to Lake Ontario.
Crossing the border into Canada opens up a whole new world of adventure. From charming towns like Watertown, NY to exploring Ontario's stunning landscapes, you'll discover hidden gems at every turn.
As you near the end of your journey, make sure to stop by Green Bay and Bay City. These charming towns on the shores of Lake Michigan and Lake Huron offer a perfect blend of history, culture, and natural beauty.
Remember that this road trip is all about creating memories that will last a lifetime. So pack your bags, hit the road, and get ready for an unforgettable adventure!
What is the best time to embark on a Great Lakes Road Trip?
The best time for a Great Lakes Road Trip is during the summer months when you can enjoy pleasant weather and take advantage of outdoor activities along the lakeshores.
How long does it typically take to complete the entire road trip?
The duration of the road trip can vary depending on your pace and how much time you want to spend in each destination. On average, it takes around two weeks to cover all major highlights.
Are there any camping options along the route?
Yes, there are numerous camping options available throughout the Great Lakes region. From state parks to private campgrounds, you'll find a range of choices to suit your preferences.
Can I bring my pet on the road trip?
Many accommodations and attractions along the route are pet-friendly, but it's always best to check in advance. Make sure to plan accordingly and bring all necessary supplies for your furry friend.
Are there any must-try local dishes during the road trip?
Absolutely! Each destination along the Great Lakes Road Trip offers unique culinary experiences. Don't miss out on trying Chicago-style deep-dish pizza, Michigan's famous pasties, and Buffalo wings in their birthplace.
Is it possible to rent a car for the road trip?
Renting a car is an excellent option for exploring the Great Lakes region. There are several car rental companies available at major airports and cities along the route.
What safety precautions should I take during the road trip?
It's essential to practice safe driving habits, follow traffic rules, and be aware of weather conditions during your journey. Make sure to have emergency supplies like water, snacks, and a first aid kit readily available in case of unforeseen circumstances.
Grab some of our free printables!
Subscribe today and get a special gift:
free printables right to your inbox
Subscribe now and get our special gift!
Please fill your email address below.
Similar Posts
Unparalleled Camping: Why to Book an Affordable Glamping Pod
Road Trip Quebec: Your Comprehensive Itinerary
Discover Fundy Coastal Drive: A Scenic Journey in New Brunswick
Outstanding United States Responsible Spring Break Road Trips
Wisconsin Road Trips: Comprehensive Guide
Best Wisconsin Day Trips: Secluded Parks, Historic Landmarks, and More!
Privacy overview.
9 Authentic and Essential Things To Do in Seville Spain
Advertise With Us
List or Claim Your Business
Great Lakes Road Trip Itinerary: Travel Guide To Exploring The Region
Experience the splendor of each of the five Great Lakes (Lake Michigan, Lake Superior, Lake Huron, Lake Erie, and Lake Ontario) with this ten-stop ~1,300-mile road trip. The Great Lakes, massive freshwater lakes that almost appear to resemble the ocean based on their sheer size, are certain to amaze. This road trip starts in Chicago, Illinois, takes you north up Wisconsin and into the Upper Peninsula of Michigan, continues around the peninsula, and then down Michigan, along the northern coastline of Ohio, northeasterly to Niagara Falls, and ends in Toronto.
IN THIS GREAT LAKES ROAD TRIP GUIDE:
Travel Tips
Stop 1: Chicago
Stop 2: Milwaukee
Stop 3: Green Bay
Stop 4: Munising / Lake Superior
Stop 5: Mackinac Island / Lake Huron
Stop 6: Bay City / Lake Huron
Stop 7: Detroit
Stop 8: Sandusky / Lake Erie
Stop 9: Niagara Falls
Stop 10: Toronto / Lake Ontario
…and more
Travel Tips and Practicalities
Fly into the Chicago O'Hare International Airport (ORD) to start this road trip and fly home via the Toronto Pearson International Airport (YYZ) (assuming you're ending the trip in Toronto). Finding flights should be easy as both are large airports. If you're flying home via a USA airport, the Buffalo Niagara International Airport (BUF) and Niagara Falls International Airport (IAG) are two options. You can view current flight deals here and additional hotel options here for any of the destinations we mention below.
Renting a car to navigate this journey will be the most efficient (unless you're a local or driving long distance), but be prepared for a probable one-way fee. If the fee for dropping off in another country is excessive, consider returning the car in New York and then find other modes of transportation to Toronto and Niagara Falls.
Stop 1: Chicago, Illinois – Lake Michigan
Chicago, set on the banks of Lake Michigan, is an excellent starting point for this road trip. Since this trip is centered on savoring in the Great Lakes, make time to at least walk along the Navy Pier that stretches out over Lake Michigan. Maybe even take a cruise out onto Lake Michigan, and try at least a few of Winetraveler's selection of must-visit wine bars in Chicago.
If you give yourself more time in this energetic city, soak in the city's legendary architecture by taking a cruise down the Chicago River and/or strolling down Chicago Riverwalk. Tickets for the cruise can be purchased here . Stroll around Millenium Park, and make it to the iconic modern art sculpture, the Cloud Gate (better known as "The Bean"). Don't go to Chicago without trying at least one deep-dish pizza from favorites such as Lou Malnati's, Giordano's, and/or Pizzeria Uno.
Soar high up above the city by riding the elevators to the observation floors on the 103 rd floor of the Willis Tower f/k/a Sears Tower (Skydeck Chicago) and the 94 th floor of 360 Chicago (still colloquially referred to as the John Hancock Center).
From Skydeck Chicago, glass cube ledges extend over 4 feet from the edge of the building. It may be a little intimidating to step onto the glass floor from over 100 floors high, but the bird's-eye view is unique and quite an experience.
The 360 Chicago offers spectacular views of Lake Michigan along with skyline city views. From 360 Chicago, engage in the tilting experience whereby you step onto a glass-enclosed balcony with a moveable platform that tilts downward over the edge of the building for a brief moment. Alternatively or additionally, grab a pricey cocktail at the Signature Lounge on the 96 th floor. While the drinks are on the pricer side, the admission is free and the views are unforgettable (planning to reopen for service on April 9, 2021).
The Embassy Suites by Hilton Chicago Downtown Magnificent Mile is a great hotel for families located in the heart of many of Chicago's finest attractions. It's only about ~0.7 miles west of the Navy Pier. The Allegro Royal Sonesta , with an old-style boutique feel, is also a lovely stay within walking distance to many sites.
If you're hungry for a bratwurst and/or are looking for a lively atmosphere to watch a sports game, stop in at Brat Stop in Kenosha on your way to Milwaukee. Brat Stop has been around since 1961 and is enjoyed by locals and tourists alike.
While in Kenosha, satisfy your craving to try Wisconsin cheeses with a stop at Tim and Tom's Cheese Shop . The store displays many refrigerators full of a variety of Wisconsin cheeses, along with sausage, cheesy popcorns, condiments, and more. If you have ever wanted a foam cheese hat or other fun items, you may be in luck here.
Drive ~90 minutes to Milwaukee.
Stop 2: Milwaukee, Wisconsin – Lake Michigan
Milwaukee is a beautiful city situated along Lake Michigan. Stroll along the lake and around the expansive parks with open fields. Immerse yourself in museums, such as Discovery World (plans to re-open on March 27, 2021), the Harley-Davidson Museum, and the Charles Allis Art Museum (still appears to be closed as of the time of this writing, but hopefully will re-open by the time of your trip). The Milwaukee County War Memorial serves as a memorial to honor Wisconsin's men and women who served in the U.S. armed forces. Posters along the walls contain pictures of fallen soldiers with notes paper-clipped from loved ones.
Drive ~1 hour 45 minutes to Green Bay.
Stop 3: Green Bay, Wisconsin
Green Bay has many options for the whole family, from Lambeau Field, Green Bay Packer Hall of Fame, the National Railroad Museum, botanical gardens, a wildlife sanctuary, an amusement park, a zoo, and much more. Try some wines at the nearby Ledgestone Vineyards & Winery (in-person visits by reservation only until at least Spring 2021).
Winetraveler Tip: Door County is only ~45 minutes from Green Bay. Explore Door County with Winetraveler's: How to Spend a Few Days in Door County Wisconsin .
For those traveling with kids, the Tundra Lodge Resort Waterpark & Conference Center has an indoor waterpark and arcade. There's an on-site restaurant and the lobby features large wooden timbers and a 45-foot stone fireplace. The Lambeau Field is visible from the hotel and is only a 6-minute drive from downtown Green Bay.
Lake Michigan will be visible during a decent portion of the drive. You will pass into Michigan, and through the Escanaba River State Forest and the Hiawatha National Forest. The state of Michigan touches four of the Great Lakes: Lake Michigan, Lake Superior, Lake Huron, and Lake Erie.
Drive ~3.5 hours to Munising.
Stop 4: Munising, Upper Peninsula of Michigan – Lake Superior
To experience Pictured Rocks National Lakeshore on the shores of Lake Superior, getting onto the water is a must. The rocky cliffs stretch for 15 miles along the shoreline. Take a cruise along the incredible rocky shore to admire the brilliantly colored cliffs, sea caves, and pristine beaches. The most popular cruise is ~2.5-hours which takes you ~32 miles roundtrip. Book your cruise here . The size of Lake Superior, the largest of the Great Lakes, with a surface area of 31,700 square miles, amazes many travelers. To put its size in perspective, it's approximately the size of Austria or South Carolina.
The options for outdoor enthusiasts (seasonally dependent in some instances) include hiking, fishing, and hunting (with licenses), kayaking, swimming, cross-country skiing, snowmobiling, snowshoeing, and ice climbing. The National Park Service's website lists numerous hiking trails of varying lengths.
The Holiday Inn Express Munising – Lakeview , located up on a hill on the shorelines of Lake Superior, offers balconies featuring stunning Lake Superior views. Before retiring to bed, relax on the balcony with a glass of wine and listen to the waves crash against the shore while the light of the moon shines down into the lake. The Duck Pond is a cute little restaurant, just over 2 miles from the hotel, with delicious food and many local beer options.
The Mackinac Bridge connects the Upper and Lower Peninsulas of Michigan. It is ~5 miles long and is one of the world's largest suspension bridges. Lake Michigan is to the west of the bridge, and Lake Huron is to the east.
Drive ~2 hours down the Upper Peninsula, and continue southward down the iconic and spectacular Mackinac Bridge and to Mackinaw City. From Mackinaw City, take a ~16-minute ferry to Mackinac Island.
Stop 5: Mackinac Island, Michigan – Lake Huron
Be swept away by the charm and history felt at every step on the small Mackinac Island. The fact that no cars are permitted enhances the charm. Modes of transportation include horse-drawn carriage rides, bicycles, and walking. Walk around the island, admire the old-style homes, old churches, tour the Fort Mackinac, shop, dine, and don't forget to try the fudge. While in Mackinaw City, taste local wines at Mackinac Island Winery .
Stay overnight in Mackinaw City and/or Mackinac Island. If you stay in Mackinaw City, the Best Western Plus Dockside Waterfront Inn is located along the shore of Lake Huron, lakefront balconies are available, and the hotel is within walking distance to the ferry to Mackinac Island. For those staying overnight on Mackinac Island, the historic and elegant Grand Hotel is an icon.
Drive ~2.5 hours to Bay City. If time management isn't pressing, drive along US 23 Heritage Route along the Lake Huron shoreline (which would extend the trip by about 100 minutes).
Stop 6: Bay City, Michigan – Lake Huron
Stroll in and out of boutique shops, pretty churches, many parks, over the river via the scenic Saginaw Pier, and walk along Saginaw River via the Riverwalk Trail in the charming Bay City. Ship enthusiasts or anyone who enjoys ships should visit the Saginaw Valley Naval Ship and/or reserve a sailing experience onto Lake Huron aboard the schooners Appledore IV or Appledore V.
The Doubletree by Hilton Hotel Bay City – Riverfront , on the Saginaw River, is conveniently located in the historic downtown area and across the river from the Veterans Memorial Park. The romantic Historic Webster House Bed and Breakfast offers classic elegance.
Drive ~1 hour 40 minutes to Detroit.
Stop 7: Detroit, Michigan
Make time to explore Detroit, as it is about the halfway point between Bay City and Sandusky. The famous Detroit Zoo, a zoo that extensively uses exhibits without bars, is a great stop. The zoo is home to giraffes (that you can feed!), grizzly bears, polar bears, seals, gorillas, anteaters, rhinos, penguins, wolves, kangaroos, and so much more. The Arctic Ring of Life has a 70-ft. tunnel that passes under a pool for polar bears. Lucky travelers will see a polar bear swim overhead. Seeing a seal swimming is much more likely.
Drive ~2 hours to Sandusky.
Stop 8: Sandusky, Ohio – Lake Erie
Sandusky, situated on the shores of Lake Erie, is best known for the Cedar Point Amusement Park. Cedar Point's Hotel Breakers is a luxury hotel located along a soft sandy beach at the shores of Lake Erie and right next to the Cedar Point Amusement Park (plans to re-open in May 2021) and Cedar Point Shores water park. Walk along the beach, the boardwalk, go to the amusement park, sunbathe at the beach, and go swimming. Watch the sunset below the rollercoasters.
Drive ~4.5 hours to Niagara Falls, Ontario, Canada. If time permits, stop overnight in Cleveland and/or many other places along the Erie shore en route to Niagara Falls.
Niagara Falls, the collection of three breathtaking waterfalls that straddle the international border between the Canadian province of Ontario and the US state of New York is spectacular. It's the world's fifth-largest waterfall by flow rate. There are many lovely hotels boasting fall-view rooms. The Niagara Falls Marriott Fallsview Hotel and Spa is a great option. The views of the falls from the rooms are incredible. At night, changing colors of lights project the falling water. Snuggle up with your special someone in your room with a glass of wine and listen to the roaring sound of the waterfalls while watching the night show.
Winetraveler Tip : For those who don't mind the cold, consider planning your visit during the winter. Many things will be closed for the season, including the Maid of the Mist, but you might get a great deal on a falls-view room.
Easily turn your Niagara stay into a wine tasting vacation with Winetraveler's Niagara Escarpment (New York) & Buffalo Itinerary: Top Wineries, Restaurants & Hotels .
Drive ~90 minutes to Toronto.
Stop 10: Toronto, Ontario – Lake Ontario
Toronto, a lively city, with much to explore is right along the shores of Lake Ontario. Ride the elevator up to the 114th floor of the CN Tower for floor-to-ceiling views of Lake Ontario, as well as the city. The 113th floor has a small segment of windows on the floor brave tourists can stand, sit, and walk across.
Ripley's Aquarium is right next door and a great family place. The Casa Loma , a gorgeous gothic-style castle, is not to be missed. Scope out great food and drinking spots while in the city, and of course, Winetravelers should try Ice Wine .
The Delta Hotels by Marriott Toronto is essentially right across the street from the CN Tower. The Rogers Centre, CN Tower, the railroad museum, Lake Ontario, and Ripley's Aquarium are all visible from the hotel. The CN Tower is lit up at night with lights that change colors.
You are reading "The Perfect Great Lakes Road Trip Itinerary" Back To Top
road trip ideas, road trips from Chicago, united states travel destinations: top road trips to take in the US
If you enjoyed this guide, consider joining the Winetraveler Facebook Group to interact with other Winetravelers or ask for additional travel advice and inspiration around the world. Follow us on Twitter and Instagram for more.
Get Articles Like These Directly in Your Inbox!
Subscribe to Winetraveler and receive notifications when new travel guides and itineraries are published. It's free!
Email Address
Sign Me Up!
Login to view more Articles
Leave a comment, ask a question or share a review cancel reply, you might also like, 14 romantic winter travel destinations in the usa, best wineries in new mexico to visit in 2024, best columbia river gorge wineries to visit in 2024, 10 best charming places to go in europe during winter, 11 seriously awesome u.s. road trips you can take right now, 10 top us national parks to visit during the winter, best napa wineries: ultimate napa wine tasting guide 2023, wineries nearby, weis vineyards, adelsheim vineyard, daou vineyards & winery, tunnel creek vineyards, cheers to free membership.
Explore new paths. Travel expertise from locals and wine industry experts.
Get free access to all the goods:
Exclusive articles
In-depth itineraries
The World on my Necklace
A Travel Blog by Katie Chavez
Our Summer Great Lakes Road Trip Itinerary
This post may contain affiliate links. If you make a purchase through an affiliate link, I will earn a commission at no extra cost to you. Thanks for your support.
This post was written in June 2021 as I was preparing to go on a Great Lakes Road Trip. I hope it inspires you to do your own Great Lakes Road Trip!
I know I have briefly mentioned in my recent travel recaps that we are planning a big Great Lakes Road Trip this summer, but I wanted to share more about our plans as we would love any travel recommendations you guys have!
Our grand plan is to drive around the Great Lakes, following the shoreline on the U.S. side as much as possible. Anything after that on the East Coast will be a very welcome bonus and we have ideas, but no set plans – except for Philly, which is one of the cities in the U.S. that is at the top of my bucket list.
We're thinking a little something like this route for the Great Lakes, but stopping at a lot more places than you can see mentioned on the map below. 
I have been wanting to do a big Great Lakes Road Trip for years, ever since I first visited the area back in 2013. One of my weird travel goals is to swim in all five Great Lakes, and I have already swum in Lake Ontario and Lake Michigan so only three more to go. (Update 2023: I have now swam in four!)
We obviously won't be able to visit the Canadian side on this trip but I think it will still be an amazing road trip, and I have been lucky enough to visit a couple of places on the Canadian side already, including the Bruce Peninsula, Toronto, Niagara Falls, and Niagara-on-the-Lake.
Hopefully, in the future, I will be able to do a big Canadian Great Lakes Road Trip too.
I really don't know how long it will take us to drive from Grand Portage, Minnesota to the Thousand Islands in New York State hugging the lake shores, but I'm thinking somewhere between 6-8 weeks as we want to stay awhile in places we like, especially in Chicago which is one of my favorite cities. I wouldn't want to drive I am while there so chartering a bus with friends to tour the city would be super fun.
After that, I definitely want to visit Philly because I have never been before, then we aren't exactly sure. Maybe Washington D.C., maybe New York City, maybe we will make it all the way down to Florida to visit Dry Tortugas and the Everglades…who knows.
We have so many ideas and I think a plan will evolve as we go. We might be working an event in South Carolina in early October so that will determine things a bit too. 
I don't want to feel rushed and I will have work to do as we travel as well so we will just see how we go. I also want to allow some chilled-out days and rain days so we want to keep it as flexible as we can.
One of the big goals of this trip will be to visit some new-to-us states and National Parks, so I definitely want to visit every National Park around the Great Lakes and East Coast that I haven't been to including Voyageurs, Isle Royale, Cuyahoga Valley, Shenandoah, and New River Gorge. 
The states I want to go to on this trip for the first time are Iowa, Minnesota, Wisconsin, Ohio, Pennsylvania, West Virginia, and Delaware. After this trip and if I hit up all these states, I will only have one state left to visit: North Dakota.
Along the way I am definitely looking forward to going to some cities I haven't been to before, like Milwaukee, Minneapolis, and Cleveland , as well as revisiting ones we love – I can't wait for Deep Dish and lake swimming in Chicago, and I really hope we will have time to revisit NYC and D.C.
I'm also planning on doing lots of hiking in State and National Parks, visiting some of the lake islands, exploring some cute small towns, trying local delicacies, delicious food, and craft beer, and just generally getting more of a feel for life around the Great Lakes and different parts of the East Coast.
I can't wait!
We are planning on hitting the road at the beginning of July (not long now!) and our first stop with be Lawrence and Kansas City where we will be spending July 4th with friends, then we'll be working the Kansas City BBQ Festival for a few days. From there it will be up to the Great Lakes Region via Iowa.
So, this trip should definitely keep us busy for a few months!
I'm excited to take Brownie, our new RV, on the road and to jump right into boondocking and RV life. Our test run to LA where we lived in Brownie for nearly six weeks went well, so I think we are ready! 
Toby will be working hard over the next couple of weeks doing some fixes on Brownie – there have been issues with backfiring, and we still need to pass emissions to get our permanent plates – then hopefully we will be all ready to hit the road.
If we can't get Brownie ready in time – this is the worst-case scenario – we will have to take Casper instead, but I really hope we can get everything ready.
If all goes well, we won't be getting back to Colorado until sometime in late October to mid-November. But who knows what will happen? I'm kinda sad to be leaving Colorado for so long and to be missing fall there, but fall on the east coast is amazing too so I can't really complain. 
So that's our vague road trip/life plan for the next few months. I'll be updating you all with what we get up to along the way in my monthly travel recaps, and I'm hoping I will have time to write some new content about the different places we will be visiting on our trip as well.
Please let us know if you have any tips or places we should visit in any of the areas we are planning on going – we would love travel suggestions. Even if it's just a brewery or a great place to eat – tell us!
See you on the open road!
If you liked this – check out some of my related posts:
17 Fun Things To Do in Door County, Wisconsin This Summer
15 Best Things To Do in Marquette, Mi: The Perfect Lakeside City
Ultimate Colorado Road Trip Itinerary To See the Best of the State
The Ultimate Northland Road Trip: Auckland to Cape Reinga
The Ultimate Ten Day Rocky Mountain Road Trip
Our 6-Month Travel Itinerary: Oceania and Asia
Summer in Alaska Itinerary
Leave a Reply Cancel reply
Your email address will not be published. Required fields are marked *
This site uses Akismet to reduce spam. Learn how your comment data is processed .
Best 9 Great Lakes Road Trip Destinations to Visit
Best Great Lakes Road Trip Destinations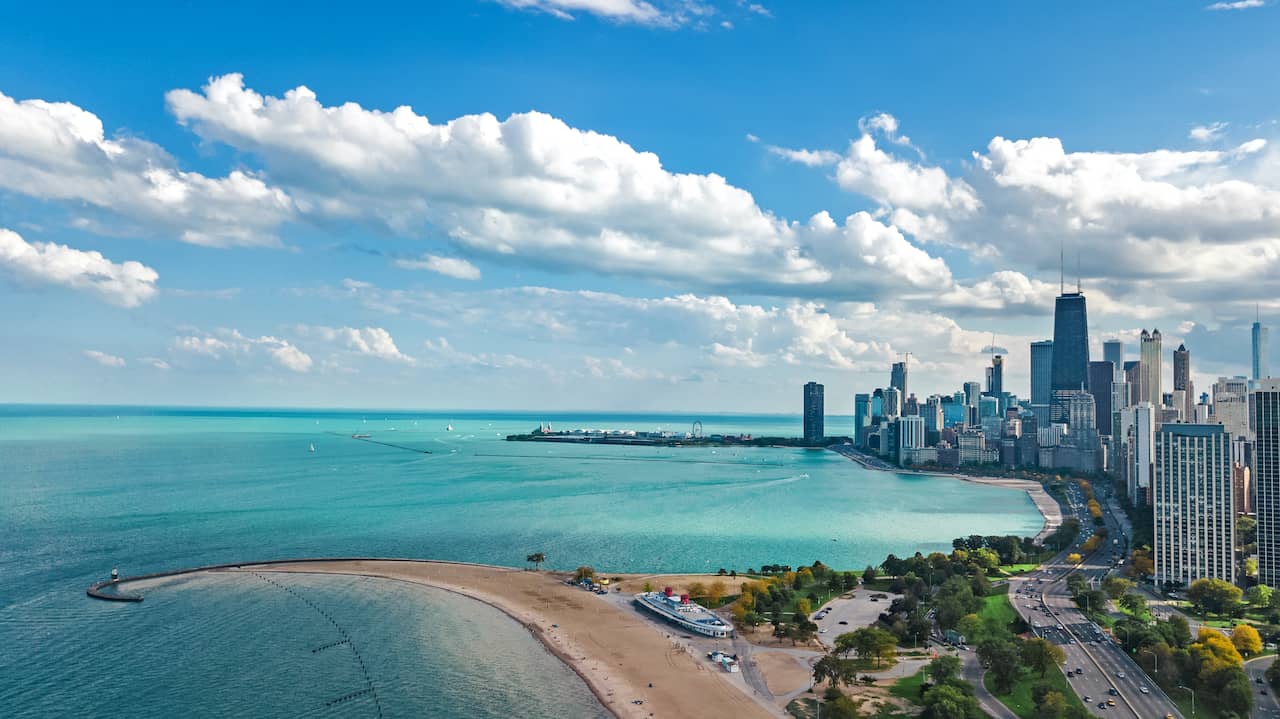 Adeline Jay Geo-Karis Illinois Beach State Park
Camp Bullfrog Lake
Bay Shore Campground
Kewaunee RV & Campground
Indiana Dunes National Park
Indiana Dunes State Park
Dunewood Campground
Cincinnati Zoo
Winton Woods
Tucker's Landing RV Park
Mackinac Island
Mackinac Island / Mackinaw City KOA Journey
St. Ignace / Mackinac Island KOA Holiday
Pictured Rocks National Lakeshore
Munising Tourist Park Campground
Bay Furnace Campground
Motor City
Camper's Cove Campground
Wildwood Golf & RV Resort
Musical Fountain
Eastpointe RV Resort
Grand Haven State Park
Niagara Falls
Our last destination lies along the Canadian-New York border. Head to this unique location for a view of a natural wonder — Niagara Falls . Be sure to hop on Maid of the Mist for an up-close view by boat. But be prepared to get soaked. If you're feeling adventurous you can trek through the nearby Niagara Falls State Park or take in some history at Old Fort Niagara .
Cinderella Motel and Campground
Branches of Niagara Campground
Dive Into the Shimmering Great Lakes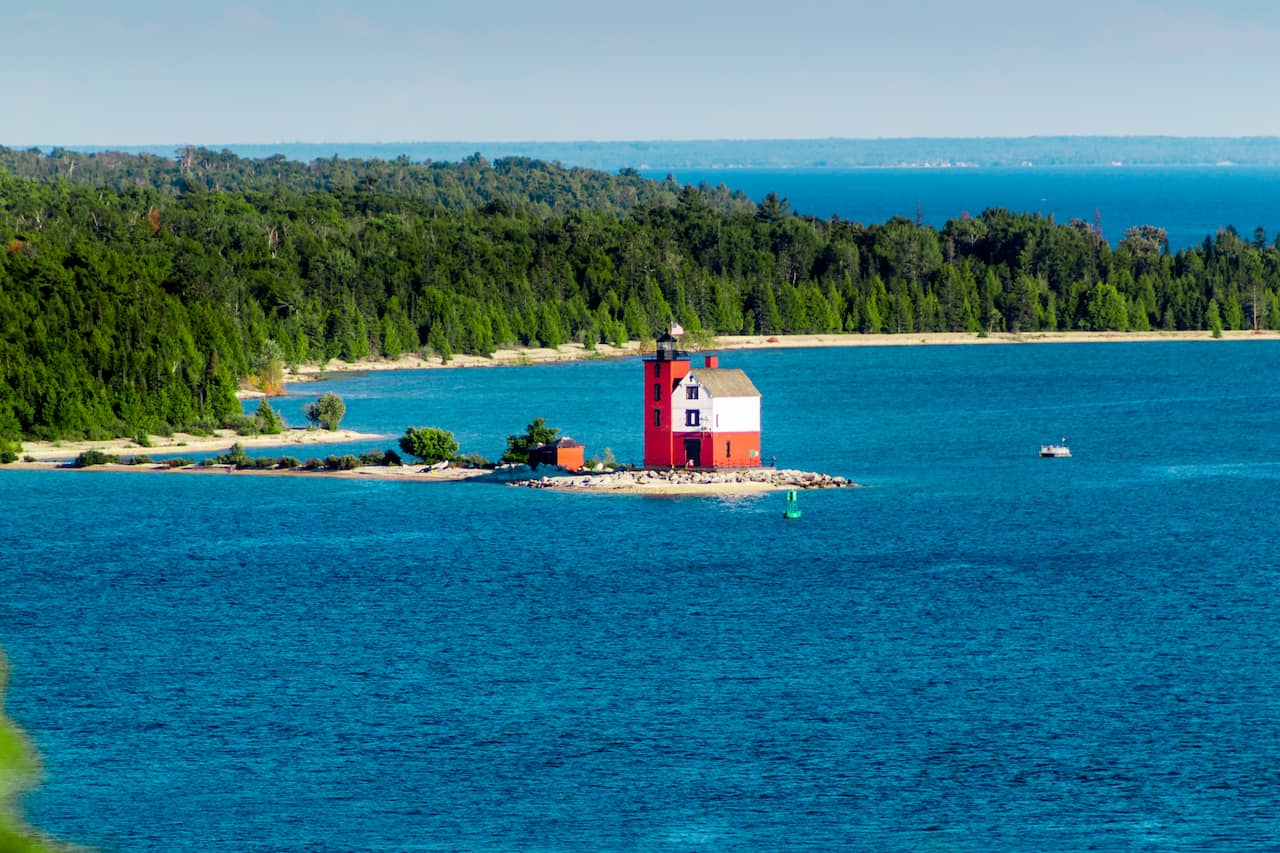 Top Camping in The Delaware Water Gap
Rv camping at mammoth cave national park, the best sights to see in canada, part four.
Find Your Perfect RV To Rent
A traditional motorhome with the self-contained features you expect. This economical family unit is a traditional favorite for those who want the walk-through convenience of a motorhome.
Features And Amenities Include:
Air Conditioning
Fresh Water Toilet
Gas Cooktop
Towing Allowed
Pet Friendly
Refrigerator
A traditional motorhome with the self-contained features you expect, units in the USA even include a power generator. This economical family unit is a traditional favorite for those who want the walk-through convenience of a motorhome.
Our compact plus unit is a fully self-contained RV. The floorplan features a unique rear kitchen design with all the amenities of a larger unit. The compact RV is the ideal unit for two adults of any age and a dinette folding to an extra bed allows for a child. With 6.5 foot/2 meter ceilings and walk through convenience even tall campers can enjoy the compact plus RV.
Our compact unit is a fully self-contained RV. The floorplan features a unique rear kitchen design with all the amenities of a larger unit. The compact RV is the ideal unit for two adults of any age and a dinette folding to an extra bed allows for a child. With 6.5 foot/2 meter ceilings and walk through convenience even tall campers can enjoy the compact RV.
This custom built trailer provides the freedom to setup camp and use your own vehicle to get in and out of town.  It has all the amenities of a motorhome, but provides flexibility when you need it.
Compare All RVs

Rental Deals
Our Vehicles
Rental Options
Why Rent from Cruise America
Renter's Resources
One Way Rental Request
U.S. Inventory
Canadian Inventory
Why Buy from Cruise
Pre-Refurbished Specials
Buyer's Resources
Share Your Adventure
Newsletter Signup
Our History
Join Our RV Rental Network
Travel Agent Program
Billing Department
Customer Relations Department
Reservations Department
RV Sales Department
Troubleshooting Videos
Accessibility
Privacy policy, browse our 117 locations.
February 20, 2021
The Great Lakes hold 21% of the world's freshwater , create their own weather patterns, and have some of the most unique geology in the entire Midwest. These lakes are home to two American national parks, and three national lakeshores, and countless waterfalls. When it comes down to it, the Great Lakes are the one of the world's most underrated spots for outdoor recreation, and a well-kept secret.
I grew up in the area, and worked as a sea kayaking guide in the Apostle Islands sea caves. Now, I'm lucky enough to live on Minnesota's beautiful North Shore. After exploring this area for years, here are the best hidden gems to add to your Great Lakes Road Trip:
Stop One: Sleeping Bear Dunes
There's no better place to start off your dream road trip than Sleeping Bear Dunes National Lakeshore , just south of Traverse City. Sleeping Bear is known for massive sand dunes over Lake Michigan, incredible sunsets, and hiking. The lakeshore also has spring wildflowers, dark skies, and some of the best beaches in the world.
Sleeping Bear Dunes is the perfect starting point for your dream Great Lakes Road Trip. My favorite part of Sleeping Bear? That tropical-looking water.
For a hard hike, check out the Dune Climb, Manitou Islands, or Alligator Hill. For handicap accessible spots, check out the Pierce Stocking Scenic drive.
Stop Two: Torch Lake and the Grass River
Next, head north to an overlooked section of Michigan, the Chain of Lakes. This is a great spot to hide from the busy summer tourism season, tackle some more intense hikes like the Jordan River Trail , paddle on flat water, and spot wildlife. After, stop by Short's Brewery for some Michigan beer and food! My favorite meal is the White Pepper Sandwich paired with a flight of whatever is on tap.
Looking to see river otter? Head over to the Grass River Natural Area and hike the Sedge Meadow Trail, a true Michigan hidden gem. The Grass River Natural Area has handicap accessible trails, as well as an adaptive trail for the visually impaired.
Stop Three: Tahquamenon Falls
One of the largest waterfalls this side of the Mississippi, this iconic river drops nearly 50 feet at the Upper Falls. Tahquamenon Falls is a must-see on your Great Lakes Road Trip. Tannins from trees stain the water reddish brown, and in the winter large ice formations build around the falls. The state park offers a variety of hiking trails varying in length from 1 to 8 miles, with several handicap accessible trails to the Upper Falls.
View this post on Instagram A post shared by Maddy ✨ Adventure & Outdoors (@maddymarq)
Stop Four: Pictured Rocks National Lakeshore
Tucked away in Munising, Michigan, the Pictured Rocks National Lakeshore is home to sandstone cliffs towering over Lake Superior, some of the most iconic views in Michigan, and at least seven waterfalls. The Pictured Rocks is a must see section of the Lake Superior shoreline, with beautiful kayaking and hiking, and an important stop on any Great Lakes Road Trip.
Hike along the 10.5 mile Chapel-Basin Loop to get the best taste of the cliffs including waterfalls, beaches, and the only section of trail in the park where the cliffs can be seen from land.
Both the Munising Falls Trail and Miner's Castle Trail are handicap accessible and can easily be accessed from near the Munising Falls Visitors Center.
Stop Five: The Keweenaw Peninsula and Copper Harbor
From Munising, head north along Superior to Copper Harbor, Michigan. Check out the mountain biking trails, incredible white sand beaches like Bete Grise, and cutest brewery in Michigan, Brickside .
To watch the sunset, enjoy the Brockway Mountain Scenic Drive .
Stop Six: Bond Falls
Deep in the Upper Peninsula woods and off the beaten path, Bond Falls is one of the most unique waterfalls in Michigan. It's a quick and easy hike out to both the upper and lower falls, with multiple viewing platforms for different angles of the falls. Bond Falls is a must-see on any Great Lakes Road Trip.
View this post on Instagram A post shared by Pure Michigan (@puremichigan)
Bond Falls is considered fully wheelchair accessible.
Stop Seven: Potato River Falls and Copper Falls
As you enter the Wisconsin Northwoods, be on the lookout for hidden waterfalls. Copper Falls State Park is a wildly popular hiking system and for good reason– the park is home to three large waterfalls and countless smaller cascades. A half-mile of the trail, including that which features Brownstone and Copper Falls, is wheelchair accessible.
While Copper Falls is likely to be crowded in summer months, Potato River Falls is tucked away in the woods. With a dramatic upper and lower set of falls, this hidden gem is worth the detour.
Stop Eight: Apostle Islands National Lakeshore
One of the dreamiest kayaking destinations in the world, the Apostle Islands National Lakeshore is home to Lake Superior sea caves, 21 islands, and incredible beaches and shoreline. These big lake gems belong on just about every bucket list.
Book a sea kayaking trip with Lost Creek Adventures , or cruise with Apostle Islands Cruises (handicap accessible).
In Bayfield, visit Maggie's for flamingo-themed fun and the best sweet potato fries of your life.
Stop Nine: Amnicon Falls
Amnicon Falls is an off the beaten path Northwoods gem that will have you feeling like you stepped out of a fairytale. Walk through the forest along the Amnicon River, and pass through a covered bridge above the falls. Visit in the early morning or camp at the campground near the falls to experience the area at sunrise. This park offers a handicap accessible trail as well as picnic area.
Stop Ten : Two Harbors, MN
Head north of Duluth, Minnesota to begin the North Shore section of your Great Lakes road trip. Around Two Harbors, visit Gooseberry Falls, Split Rock Lighthouse, and Tettegouche State Park. Looking for a challenge? Head out to backpack the Superior Hiking Trail for several days.
Much of Gooseberry Falls is accessible by wheelchair, as is the guided tour of Split Rock Lighthouse in Split Rock State Park. The Two Harbors Light, pictured below, is also handicap accessible.
Stop Eleven: Grand Marias, MN
Continue along the North Shore to the small town of Grand Marais, MN. Visit Cascade River State Park for beautiful waterfalls, and hike the Superior Hiking Trail to Pincushion Mountain Overlook. In the morning, stop for coffee at Java Moose , and watch the sunrise at the Grand Marias Light (Artist's Point).
For handicap access, visit Grand Marais Harbor, or head up to Grand Portage to see High Falls on the Pigeon River.
Grand Marais is the perfect spot to end your Great Lakes Road Trip, with countless trails to explore and waterfalls to stumble upon.
Bonus: Isle Royale National Park
Looking for more adventure? Head up to Grand Portage, MN and take the ferry over to Isle Royale National Park for wildlife, world-class backpacking, and beautiful wilderness.
Looking for more?
Check out my book Hidden Gems of the Northern Great Lakes: A Trail and Paddling Guide for the best hikes, hidden waterfalls, and paddling routes in the Upper Midwest!
You may also like
Thicker Gravities: on my year in Armenia
7 Hardcore Adventures from Minneapolis
12 Best Winter Adventures in Grand Marais, MN
Early Black Friday Deals: Solo Adventures Up to 50% OFF
Destinations
Great lakes tours & trips.
Find the right tour package for you through Great Lakes. We've got 35 adventures going to Great Lakes, starting from just 3 days in length, and the longest tour is 11 days. The most popular month to go is June, which has the most tour departures.
35 Great Lakes tour packages with 151 reviews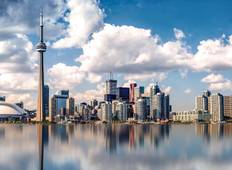 Ontario & French Canada (6 destinations)
"Good tour would recommend"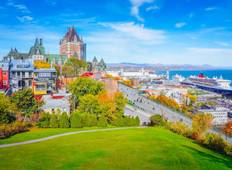 Best of Eastern Canada (End Montreal, 9 Days)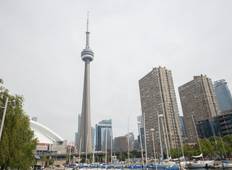 Niagara Falls Toronto & 1000 Islands – 3 Days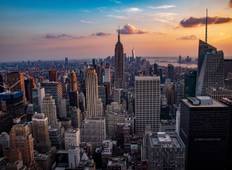 USA & Canada - Niagara Falls, Toronto and a Thousand Islands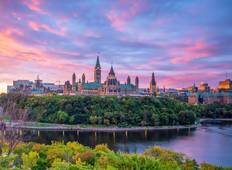 Ontario & French Canada with Ocean Train to Halifax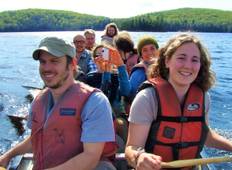 Algonquin Log Cabin 3-Day Canoe and Hike Adventure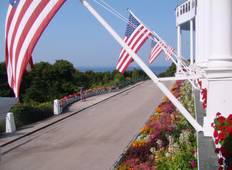 Mackinac Island featuring Niagara Falls
Black friday 2023 is coming.
Subscribe to our newsletter to get notified about the year's biggest deals at TourRadar
By submitting this form, I agree to the TourRadar T&Cs and Privacy policy .
You've subscribed! Stay tuned for our Black Friday deals.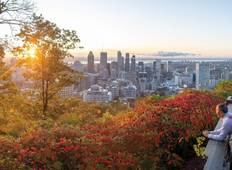 Eastern Canada Discovery (Classic, 8 Days)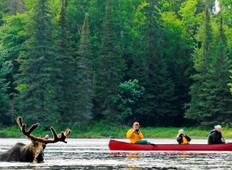 Algonquin Park 3-Day Canoe Trip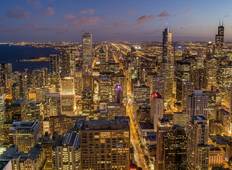 Mackinac Island & the Great Lakes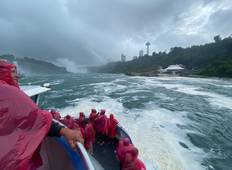 Canada's Niagara Falls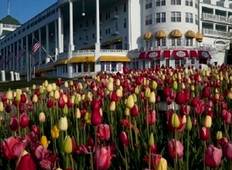 Mackinac Island (Chicago, IL to Southfield, MI)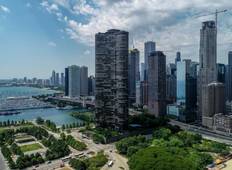 Midwestern Melodies & DC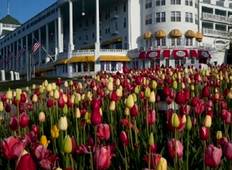 Mackinac Island featuring the Grand Hotel and the Tulip Time Festival (Chicago, IL to Southfield, MI)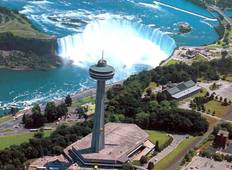 Niagara Falls Singles Weekend
Great lakes holiday and vacation packages reviews.
"The tour was fantastic from start to finish. The tour guide Gladys was excellent..."
Great Lakes Tours starting in:
Toronto (8)
Fully Guided (28)
Family (22)
Explorer (21)
In-depth Cultural (16)
Personalized (12)
Active Adventure (9)
Coach / Bus (5)
Small Group (5)
3 Day Tours (6)
10 Day Tours (14)
Fall / Autumn 2023 (3)
Winter 2023 / 2024 (5)
Spring 2024 (15)
Summer 2024 (21)
Fall / Autumn 2024 (12)
Winter 2024 / 2025 (2)
Spring 2025 (6)
Summer 2025 (8)
November 2023 (3)
December 2023 (5)
January 2024 (4)
February 2024 (4)
March 2024 (4)
April 2024 (7)
May 2024 (14)
June 2024 (18)
July 2024 (18)
August 2024 (16)
September 2024 (12)
October 2024 (9)
November 2024 (2)
December 2024 (2)
April 2025 (4)
May 2025 (6)
June 2025 (7)
July 2025 (7)
August 2025 (8)
September 2025 (7)
Travel Styles
Singles and Solo (17)
For Couples (11)
Seniors (11)
International Versions
Deutsch: Great Lakes Rundreisen
Nederlands: Grote Meren Rondreize...
Road Trip—Great Lakes Circle Tour Series: Experience North America's Fresh Coast of Lake Superior
All lifeforms are drawn to water. Across the animal kingdom, it's largely out of survival, but sometimes it's a simple reminder of where we come from. Whether it's a crowded Southern California beach, quiet sub-Saharan watering hole, or, in this case, the largest freshwater body on the planet, the waters are always calling.
We're kicking off a series of road trips following the Great Lakes Circle Tour —6,500 miles taking you around the circumference of each lake, passing through multiple states (and another country, so bring your passport!).
To start, we'll circle the biggest lake of them all—the aptly named Lake Superior.
The Circle Tour of Lake Superior spans 1,287 miles—that's about the distance from California to Oklahoma . This behemoth body of water is the largest freshwater lake in the world and borders real estate in Minnesota, Wisconsin, Michigan, and Ontario, Canada—talk about superiority!
What better place to start your road trip than in the Great Lake State itself? If you're starting in Michigan's Lower Peninsula, you'll take Interstate 75 to cross into the Upper Peninsula via the stunning Mackinac Bridge, following M-28 and US-41 west along Lake Superior's southern shoreline.
A short detour up M-77 brings you to the northern edge of the Seney National Wildlife Refuge , which is a bird lover's paradise. The refuge is home to hundreds of different varieties, including bald eagles, trumpeter swans, warblers, and woodpeckers, just to name a few.
After Seney, continue to Pictured Rocks National Lake Shore . The sandstone cliffs that give this national park unit its name stretch for miles and are a colorful sedimentary display of the beautiful growing pains that shaped Lake Superior's southern shore. Swim, boat, hike, kayak, or take a guided tour to get the most out of the natural scenery and impressive rock formations at Pictured Rocks.
Continuing west, you'll eventually arrive in Hiawatha National Forest . Lush groves of pines, birches, spruces, and cedars blanket Lake Superior's coastline; in autumn, the changing leaves make for an unforgettable sight, coloring Lake Superior's waters with reflected fiery warmth. Grand Island , just a ferry ride away, is perfect for a hike or bike ride to old lighthouses, overlooks, and even a smaller lake located in the center of the isle.
Farther west is Copper Country and the Keweenaw Peninsula . Here, the sister cities of Hancock and Houghton face each other across a narrow passage of Portage Lake and are connected by the Portage Canal lift bridge. Both cities offer a historical glimpse into the copper mining boom of the mid-1800s. A few original buildings still stand, with older natural rock and water formations dotting these historic towns.
Northbound on US-41, you'll reach Copper Harbor , a small inlet located on the lakeshore. You don't even have to leave the car to experience one of its most scenic attractions: Brockway Mountain Drive . This 10-mile route offers sweeping views of Lake Superior hundreds of feet above the harbor. After making your way back down, hop on the ferry to Isle Royale National Park , a largely untouched natural island home to a unique mixture of wolf and moose populations. The island is only open from April to November, and ferries do fill up, so it's smart to book a reservation ahead of time.
Free Ebook: Road Trips of America
Come along for the ride as we guide you through some of the best road trips in the country. Whether you're a history buff, cultural connoisseur, or nature lover, we've covered all the sights and attractions in each state you won't want to miss.
Making your way back down the Keweenaw Peninsula, you'll eventually return to M-28, which converges with US-2 just a few miles from the Wisconsin border.
When you first arrive in the Badger State, you'll pass through the Bad River Reservation, home to the Chippewa tribe, eventually hitting Ashland, WI . Nestled along the eastern shore of Lake Superior's Chequamegon Bay, Ashland is noted for its rich fishing in all seasons, boasting a variety of fish to catch, including salmon, trout, and trophy-worthy smallmouth bass.
What trip through America's Dairyland would be complete without a little—or a lot of—cheese? Continue west and you'll come to Benoit Cheese Haus , located in Benoit, WI. Sample more than 150 different cheeses—from apple cinnamon Monterey jack to rosemary garlic gouda, and everything in between.
Continuing north, you'll come to Apostle Islands National Lakeshore , perhaps the most beautiful scenery on the state's northern coast, home to sandstone caves, historic lighthouses, and more. From the lakeshore, one can boat over to one of the 21 islands for a day of hiking or a weekend of camping in the summer months.
After circling around, head north to Superior . Snuggled right up against the Minnesota state border, the town known for the Superior Entry Lighthouse , aged over 100 years. Take a moment to visit the Richard I. Bong Veterans Historical Center , which displays exhibits on our nation's most involved war efforts, and Pattison State Park , home to Wisconsin's tallest waterfall.
From US-53, you'll take I-535 to I-35, crossing into Minnesota and landing in Duluth . This lakefront city is chock-full of activities for people of all ages and interests.
Looking for an outdoors excursion? Take a kayak out onto the lake, enjoy a hike or bike ride on one of the city's many trails, or sign up for a dog sled tour in the winter. Arts and culture more your thing? Head to the Bayfront Festival Park for eclectic events held year-round, and take a stroll through the neighboring Waterfront Sculpture Walk . A number of performing arts and music venues make the perfect spot for a relaxing date night. For one-of-a-kind educational experiences, Duluth provides a variety of museums, such as the Karpeles Manuscript Museum , which has exhibited original writings from the likes of Orville Wright, Charles Darwin, and Samuel Morse, and Fitgers Museum , where you can learn about Duluth's first beer makers and enjoy a pint in the adjacent Brewhouse.
Once you've had your fill, hop back on I-35 and connect to scenic M-61, which hugs Lake Superior's coastline all the way up to the Canadian border. On this stretch, you'll traverse Minnesota's North Shore through a number of unique cities and towns, each with its own personality and offerings. You may even have the chance to catch the Northern Lights .
Gooseberry Falls State Park , located about 40 miles north of Duluth, offers an idyllic reprieve from miles of road-tripping. Swathes of waterfalls cascade through thickets of aspens, evergreens, and birch trees, and certain trails will lead you right to the shores of Lake Superior. Continuing north, you'll come to Grand Marais, MN . This small lakefront city is home to a plethora of hiking trails and fishing spots, and also offers a unique glimpse into local art and culture; notably, the Grand Marais Art Colony is a must-see—it's an artist workspace, gallery, store, and event venue all in one. North of Grand Marais is Grand Portage State Park , boasting Minnesota's biggest waterfall. Following trails through a dense conifer forest, and catching occasional glimpses of Lake Superior along the way, you'll be rewarded with (and humbled by) 120 feet of water, gravity, and pure power— High Falls .
Now follow MN-61 north as it turns into Ontario Highway 61. Make sure you have your passport before crossing into Canada!
You're now in the home stretch of your Lake Superior Circle Tour. First, you'll come to the city of Thunder Bay . This bustling locality has all kinds of outdoor activities, from skiing winter to kayaking in summer. From the city's shoreline, you can see the Sleeping Giant , a massive conglomerate of sheer cliffs and mesas on Sibley Peninsula that resembles a (huge) slumbering man. Like Grand Marais, MN, Thunder Bay touts an enthusiastic art scene, with everything from public art displays and Aboriginal art and culture centers to galleries, museums, and live performances venues.
Continuing north along Lake Superior, Ontario Highway 61 turns into King's Highway 17. Major cities are few and far between; one town worth a stop is Red Rock Township , home to the Live from the Rock Folk Festival held every August, where you'll enjoy days of folk music performances and workshops open to attendees.
Another is the township of Wawa, ON , most famous for its giant roadside statue of a Canadian goose—but also worth a stop for its beaches, hiking trails, and comfort food dining options.
Just south of Wawa is Lake Superior Provincial Park , sprawling over 600 square miles along Lake Superior's eastern coastline. During your drive through, you'll come across Old Woman Bay , the perfect place for a quiet picnic and a view of the rock formation that gives the bay its name. If you have the time (and energy), you can hike along the park's coastal trail that takes you up onto cliffs and down to rocky beaches, providing some of the most picture-perfect vantages of your entire trip.
Harmony Beach , about 40 miles south of Lake Superior Provincial Park, provides a welcome respite of seclusion and clear views of the water. You can find a hot meal, a cold drink, and a place to rest your head at Harmony Beach Resort under a mile away, a good place to recharge before embarking on the final leg of your Lake Superior Circle Tour.
To conclude this road trip, continue south and take Ontario Highway 550 westward until you can turn south down Carmen's Way. You'll pass through Sault Ste. Marie, ON where you can take the Agawa Canyon Train Tour and get one final look at the Canadian wilderness. The entire 114-mile, 10-hour tour treats you to views of towering cliffs and canyons exploding with leafy greens, yellows, and oranges of the turning season, the serenity of untouched tree-lined lakes and rivers, and a chance to spend some off-train time in Agawa Canyon Wilderness Park .
Break out your passport again, because it's time to re-enter the United States. You'll follow Carmen's Way to the Sault Ste. Marie International Bridge, which connects to Sault Ste. Marie, Michigan over the monumental Soo Locks . The locks transport ships from Superior to the lower lakes by dropping them 21 feet to Lake Huron below.
Now, we've literally come full circle and your trip around Lake Superior is complete—next in this series, we'll cover your road trip around the diverse and bustling border of Lake Michigan .
DMV.ORG Article Categories
Safety & Insurance
Car & Driving Technology
Quick Tips, Guides & DMV Basics
Recent Articles

Great Lakes Road Trips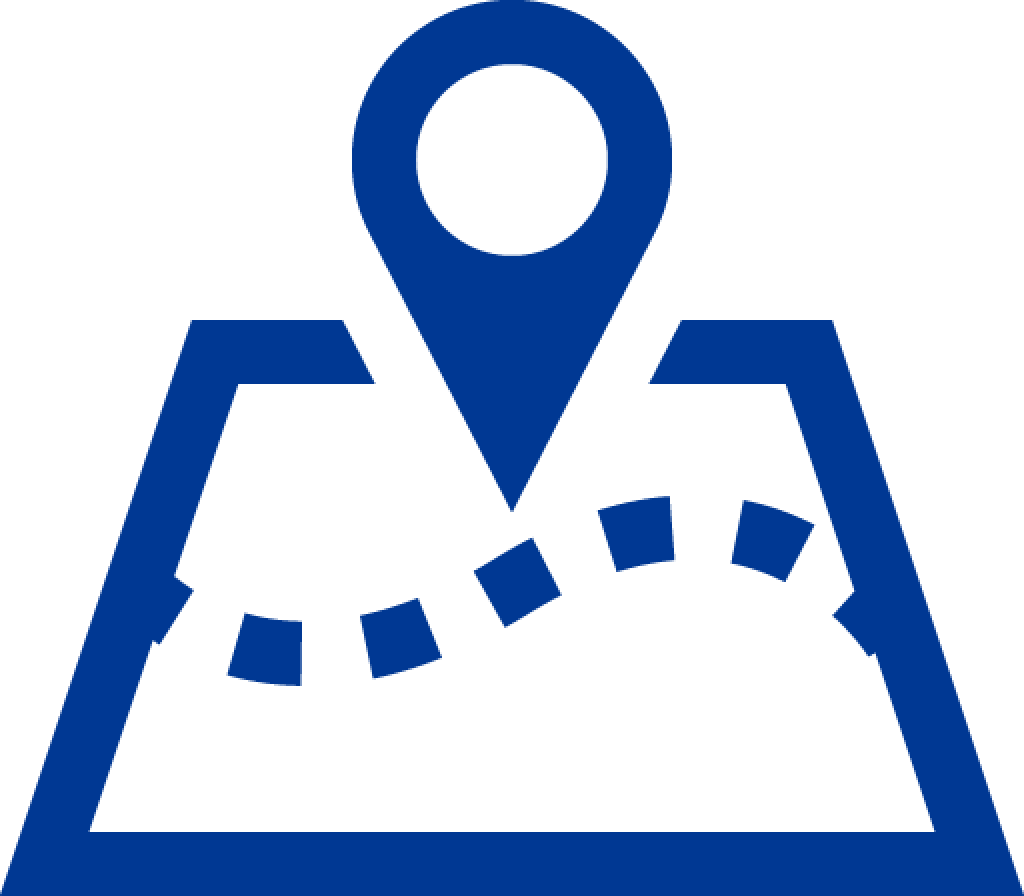 Northwest Michigan Coast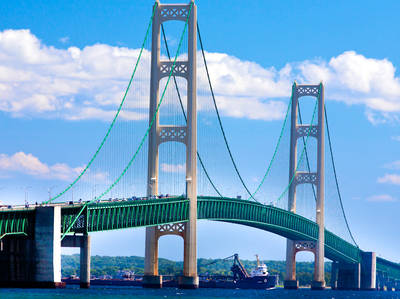 Grand Ole Music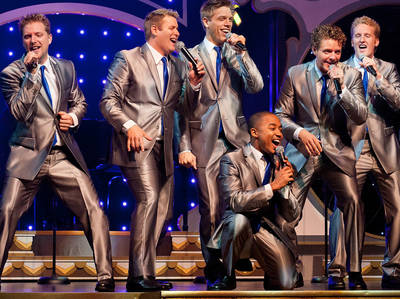 Niagara Falls Lake Ontario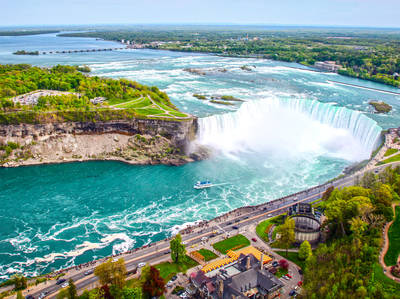 Finger Lakes
Northern Ohio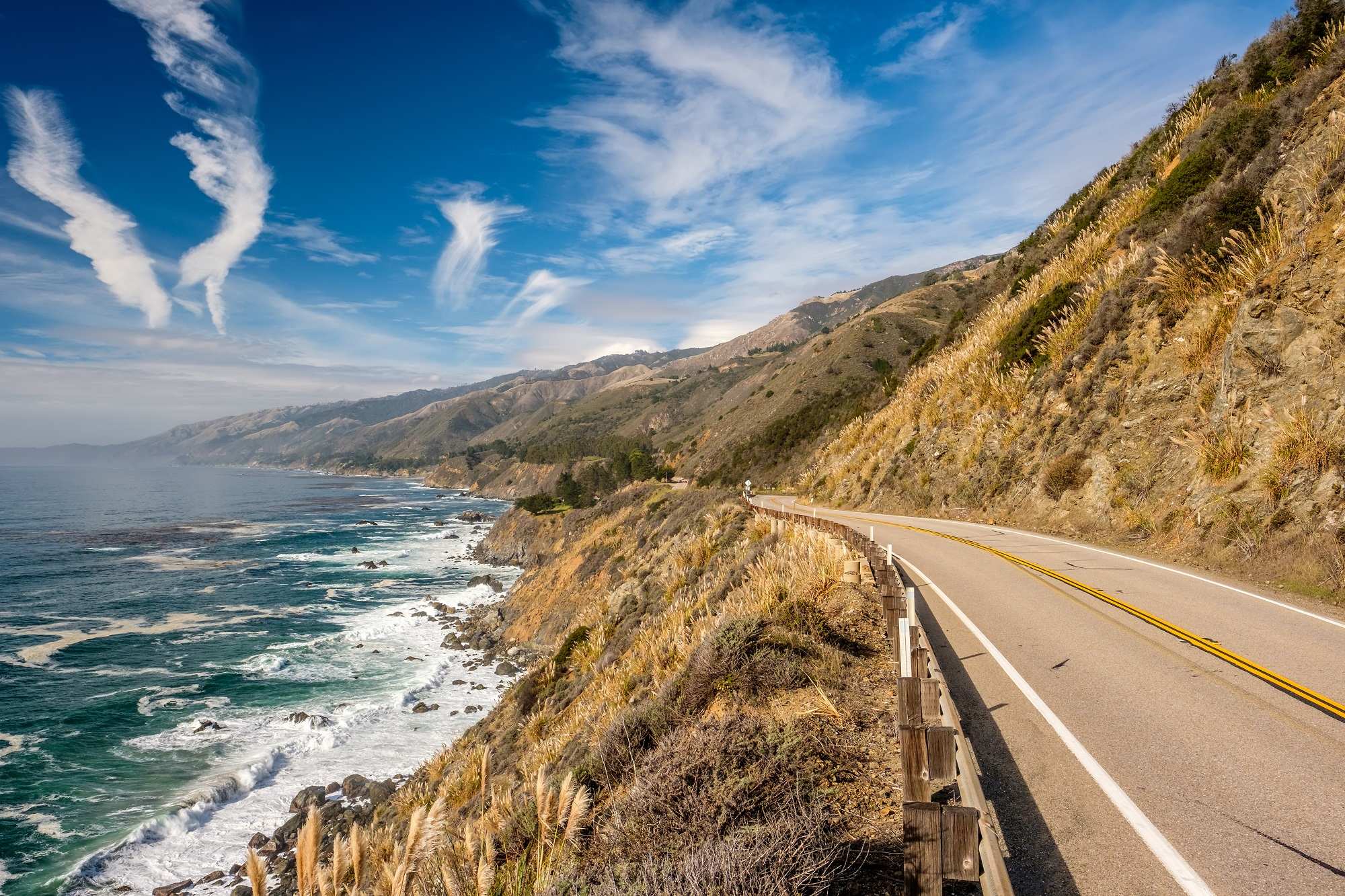 Route 66 - Northern Illinois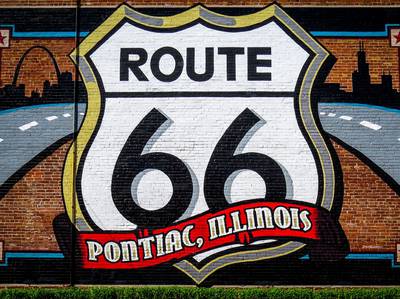 Green Bay and Door County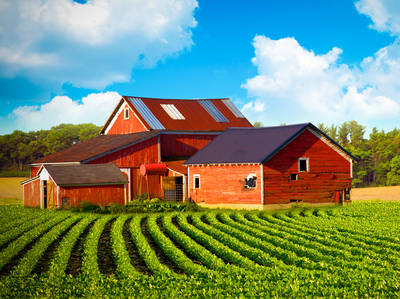 Route 66 - Eastern Missouri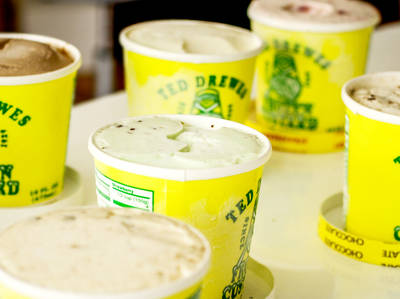 Route 66 - Southern Illinois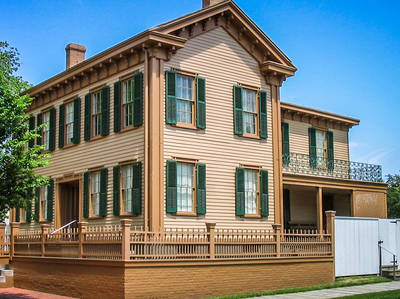 Adirondack Mountains
Cincinnati to Columbus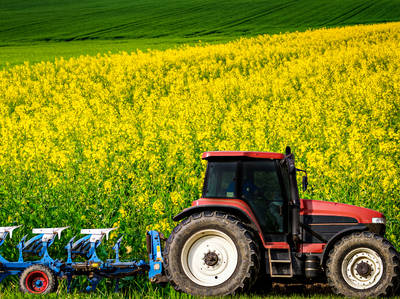 Hudson Valley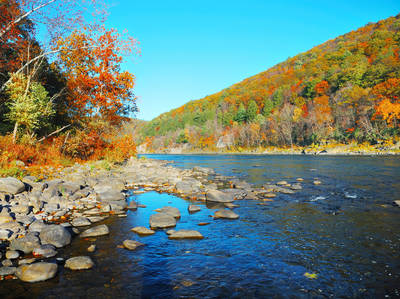 North Shore Scenic Drive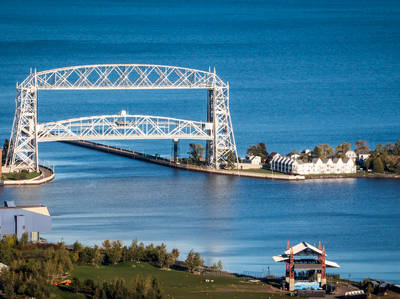 Copper Country Trail Scenic Byway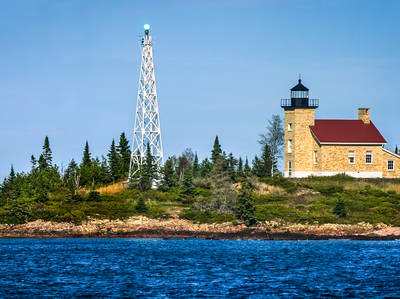 Illinois and Indiana State Capitals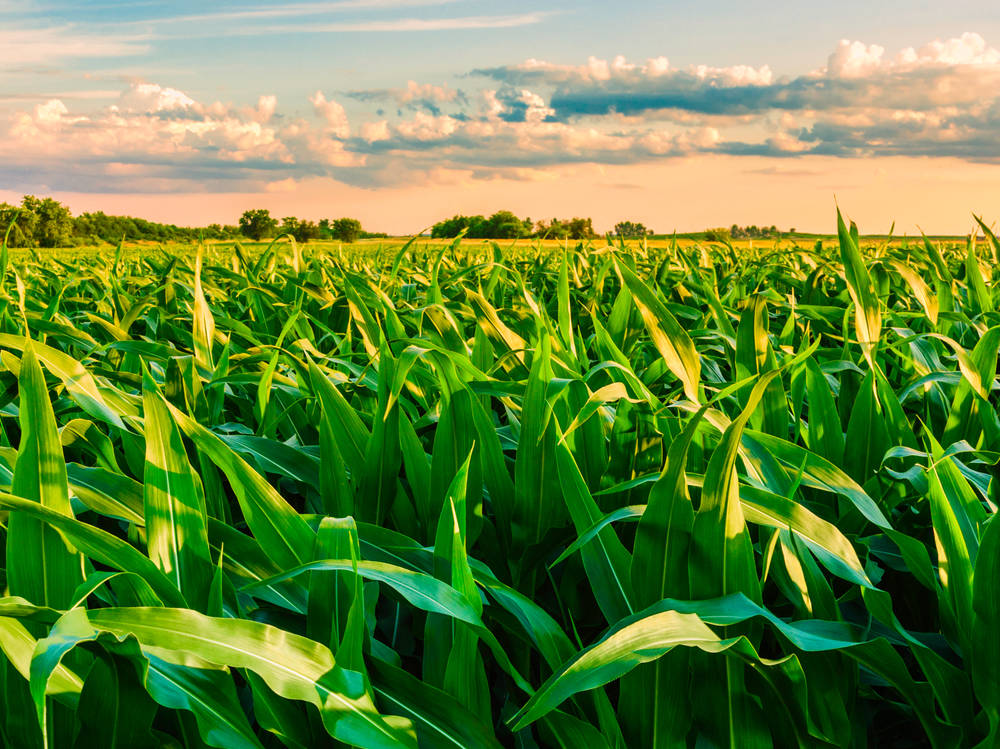 Upper Peninsula Scenic Drive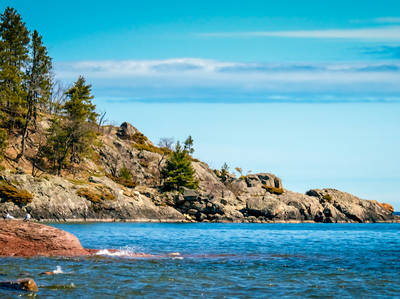 Wisconsin Lake Superior Scenic Byway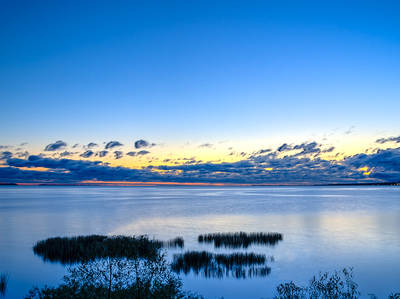 Hocking Hills Scenic Byway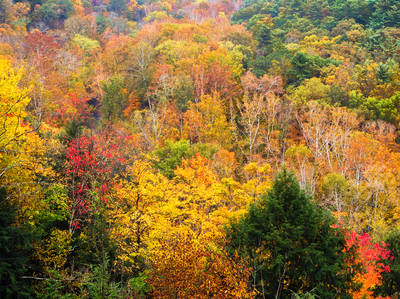 Lake Superior South Shore Scenic Highway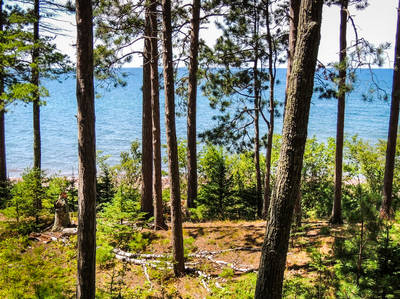 Watertown, NY to Canada Scenic Highway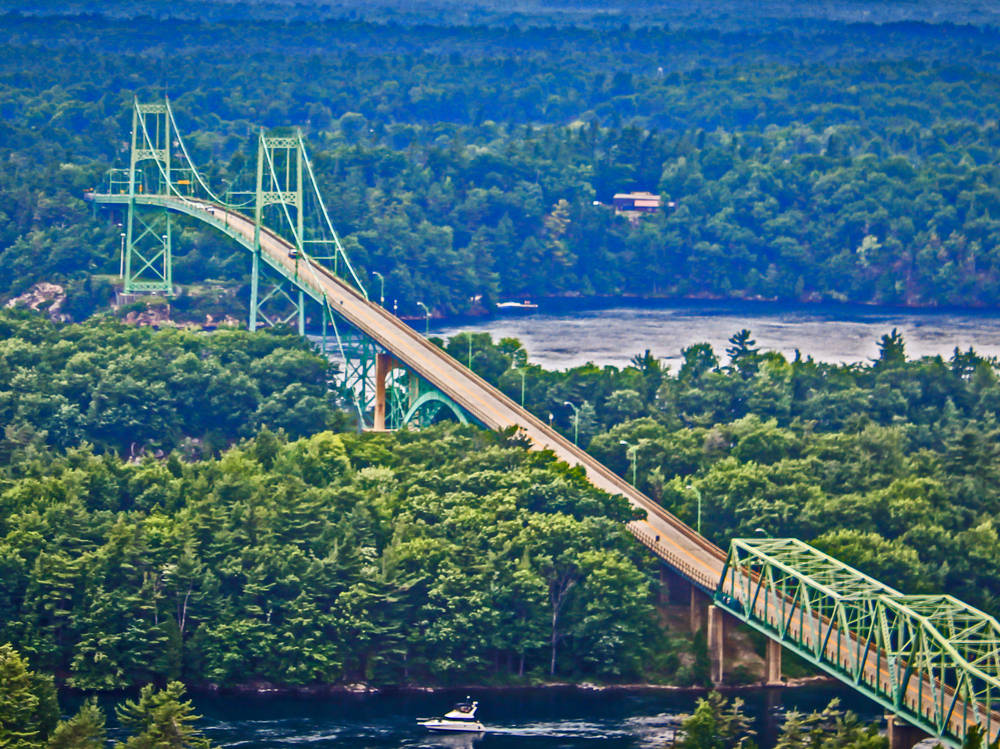 Adirondack Trail Scenic Drive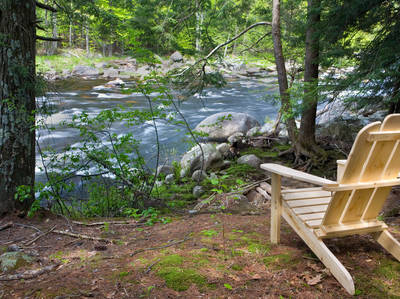 Loop Road Scenic Drive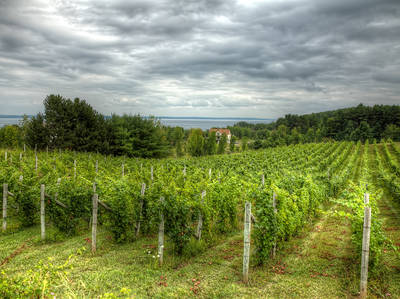 Tunnel of Trees Scenic Byway
Indiana's Scenic Backcountry Route 135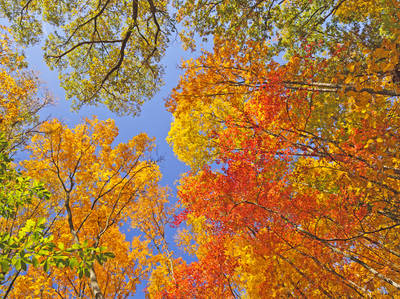 Lower Wisconsin River Road Scenic Highway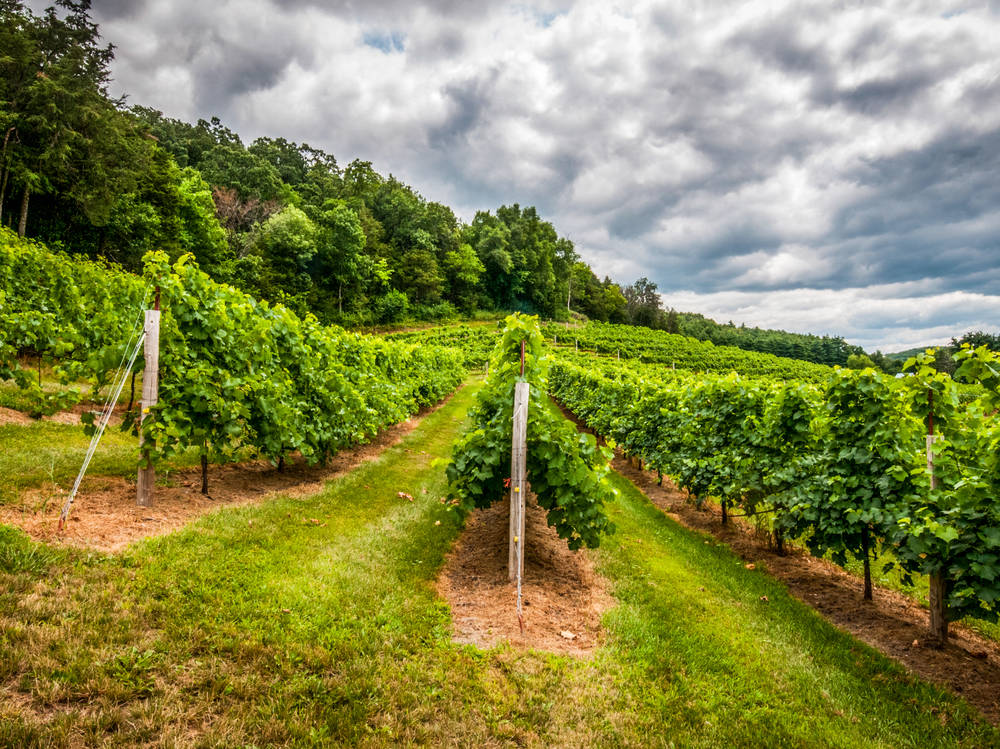 Indiana's Ohio River Scenic Byway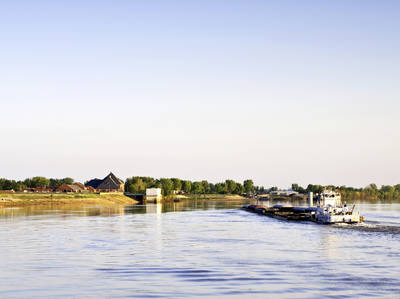 Rock River Scenic Drive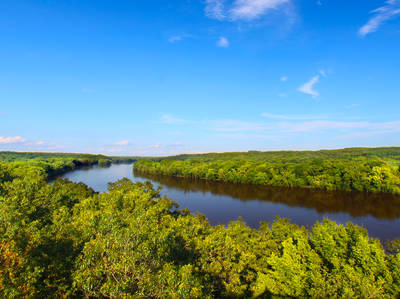 Southern Tier Scenic Expressway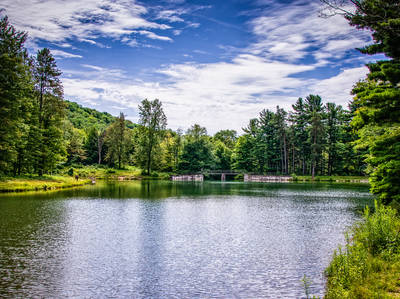 Sandstone Scenic Highway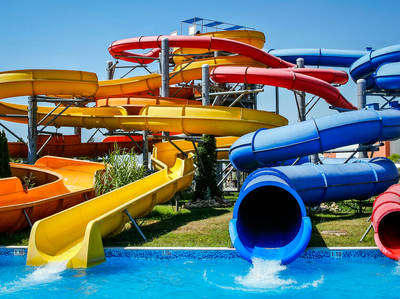 High Peaks Scenic Byway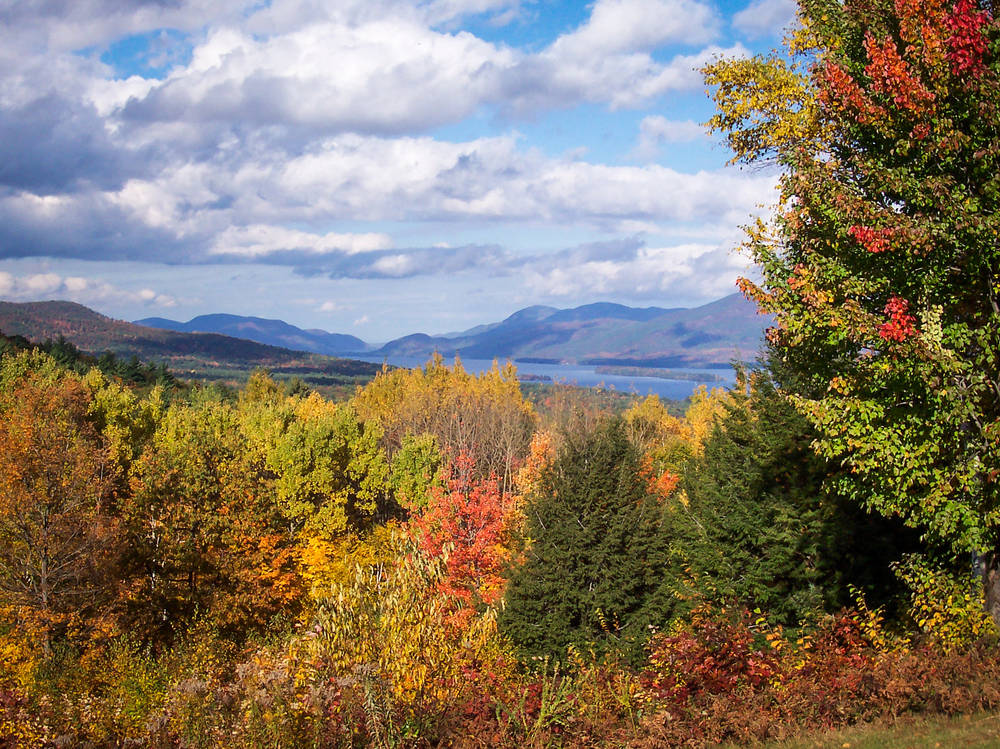 Catskills Foothills Scenic Highway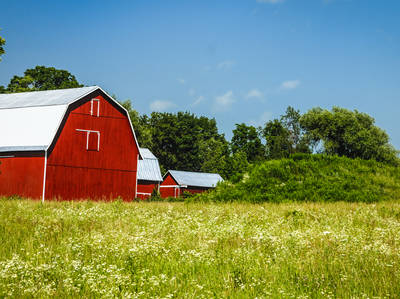 Minnesota Heartland Scenic Drive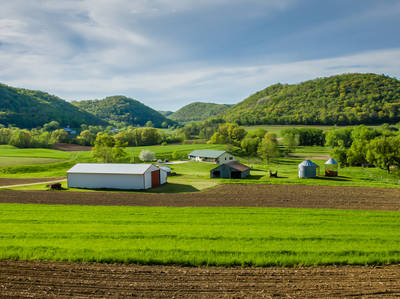 Belle Plaine Scenic Highway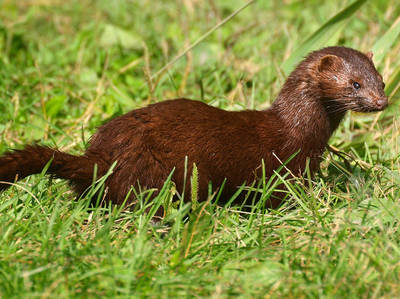 Lake George Scenic Byway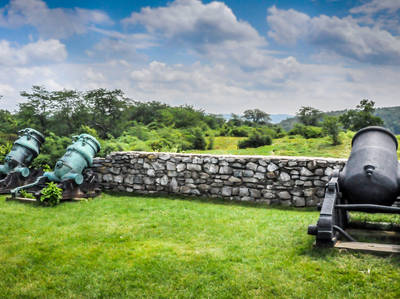 Adirondack Northway Scenic Highway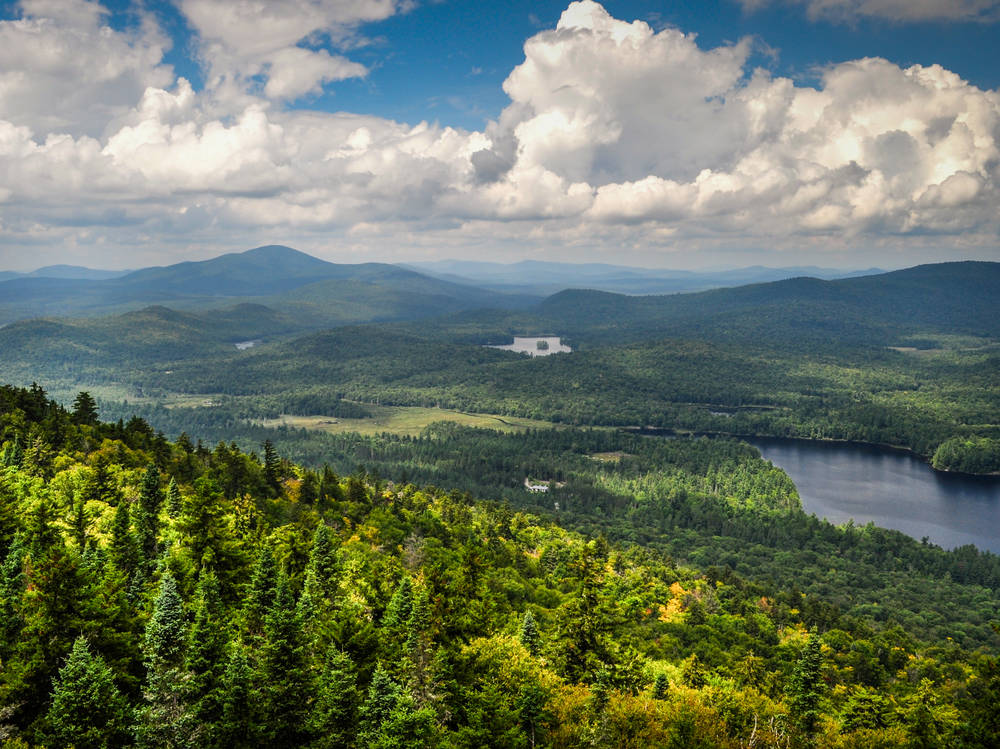 Minnesota Grains Scenic Highway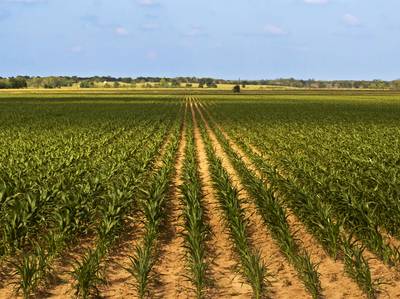 Montauk Scenic Highway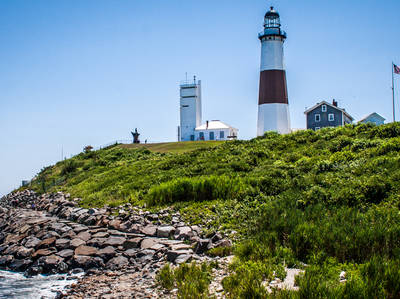 Letchworth State Park Scenic Road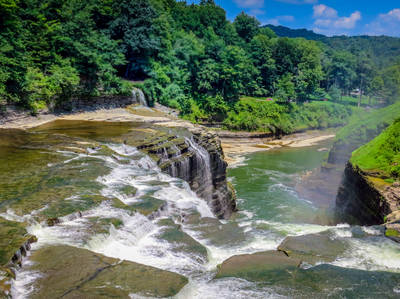 Gunflint Trail Scenic Highway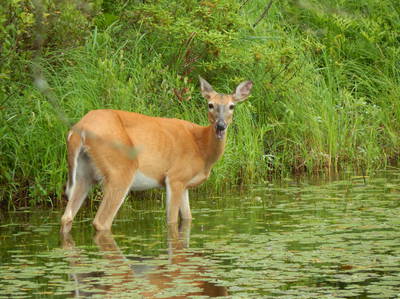 Olympic Trail Scenic Route 3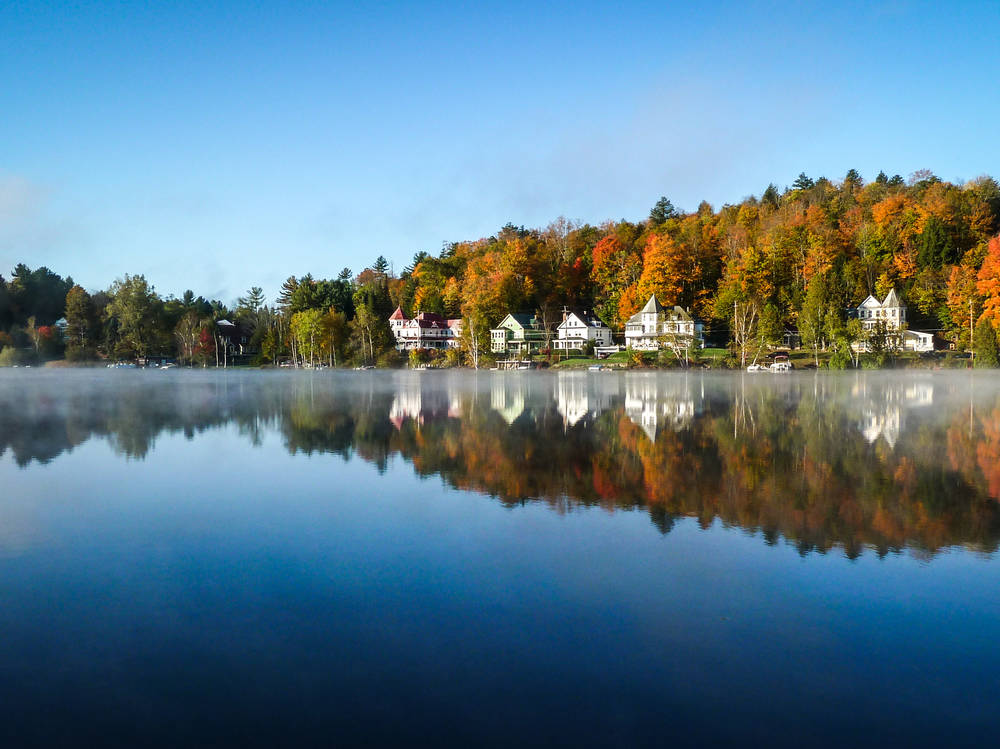 Central Adirondack Trail Scenic Drive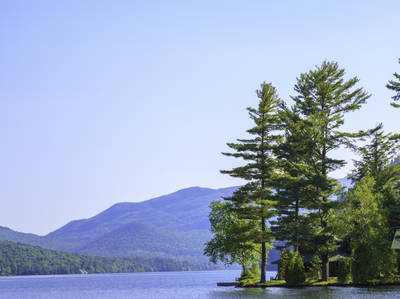 Chagrin Scenic River Road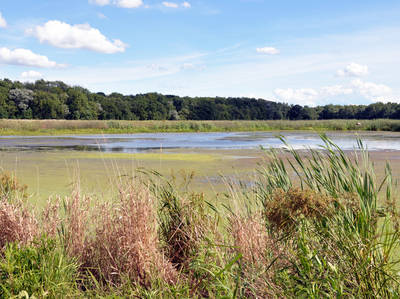 Drovers Trail Scenic Byway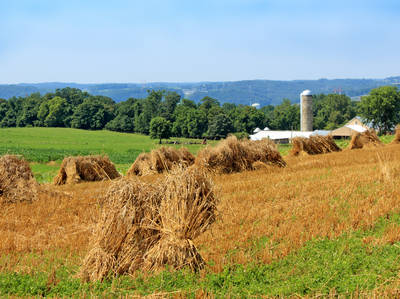 Eastern Waters of the Dancing Sky Scenic Byway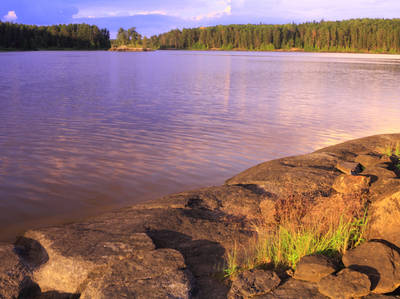 Grape Belt Scenic Thruway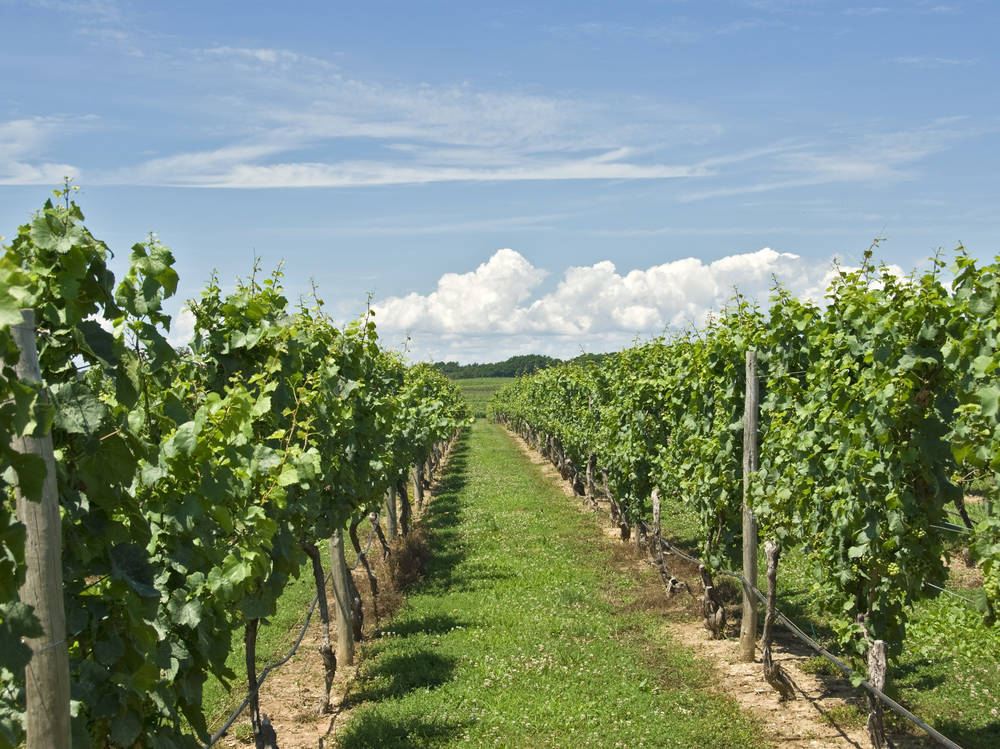 Historic Bluff Country Scenic Byway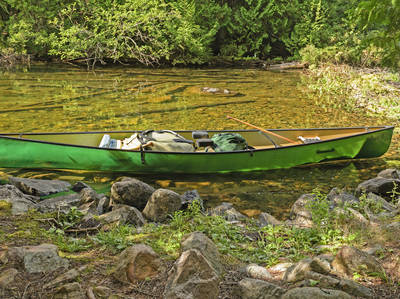 Ohio's Scenic Interstate 470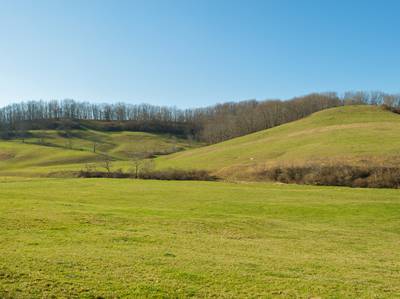 Indiana's Scenic & Historic Michigan Road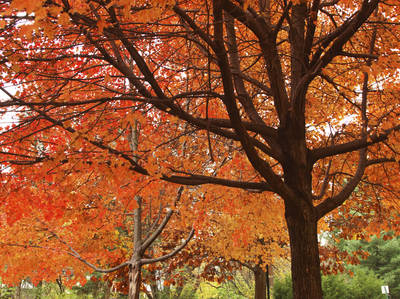 Michigan's Scenic Route 31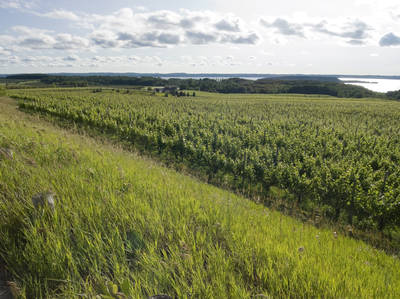 Ohio's Scenic Route 800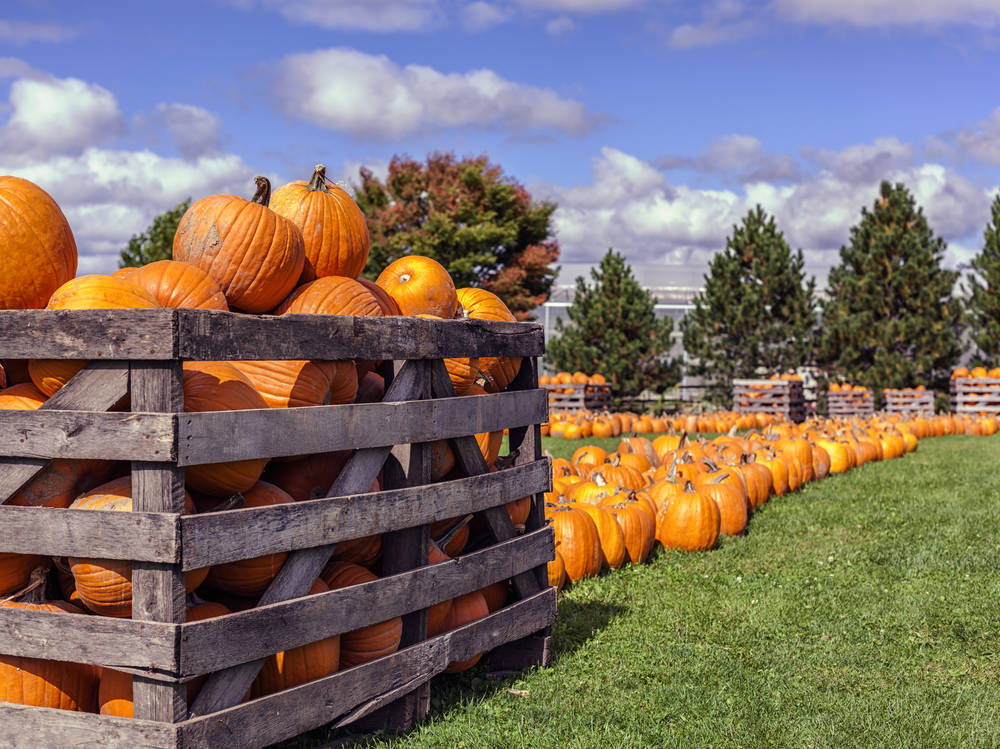 Olympic Trail Scenic Byway, Keeseville to Lake Placid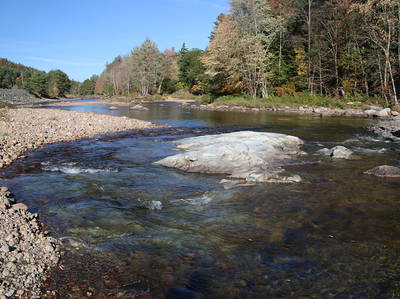 Storm King Scenic Highway
Upper Delaware Scenic Byway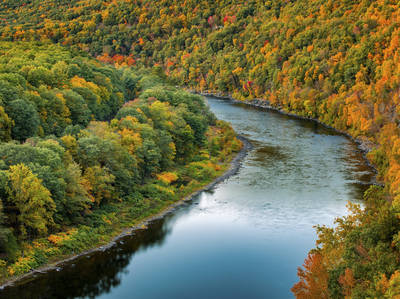 Eastern Ohio's Historic National Road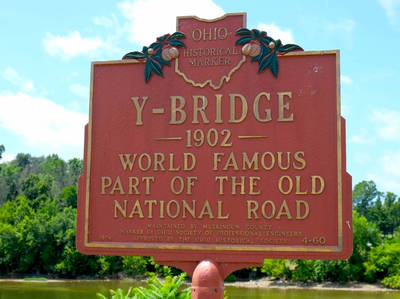 Western Ohio's Historic National Road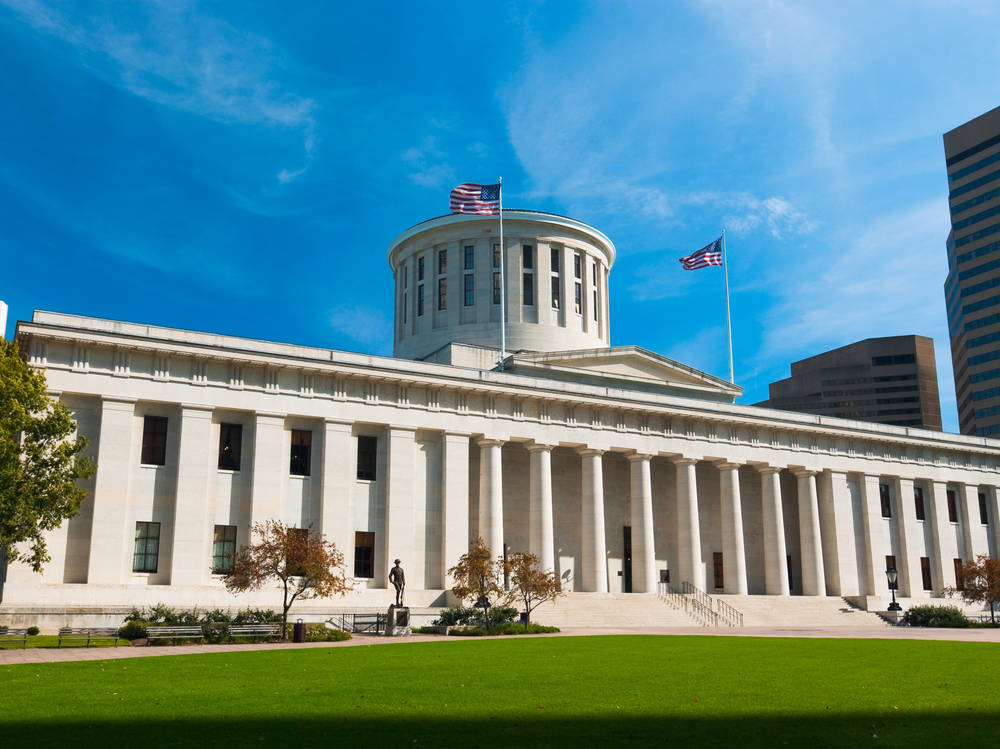 Eastern Illinois' Historic National Road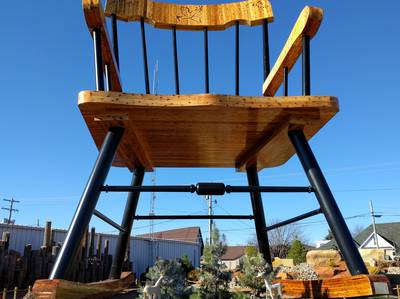 Western Illinois' Historic National Road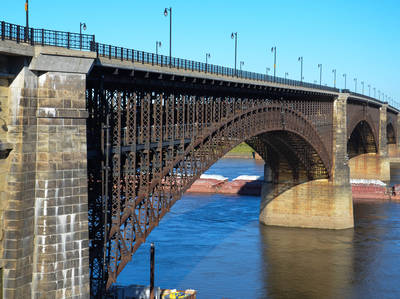 Ohio's Eastern Lake Erie Coastal Trail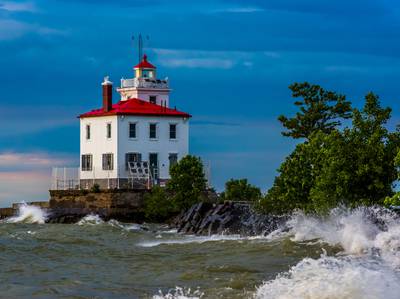 Ohio's Central Lake Erie Coastal Trail
Ohio's Western Lake Erie Coastal Trail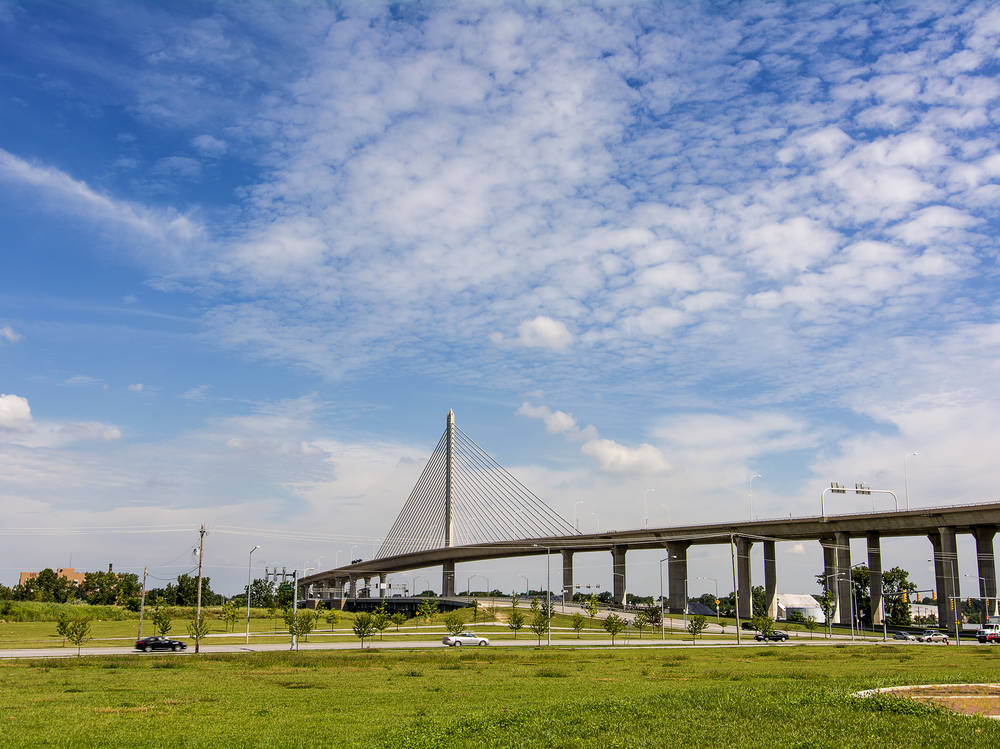 Indiana's Ohio River Historic Byway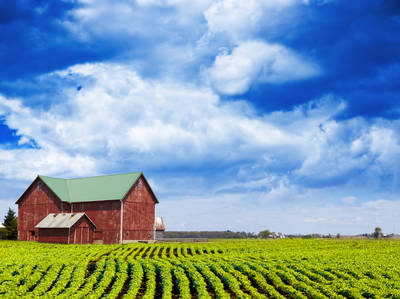 Western Ohio River Historic Byway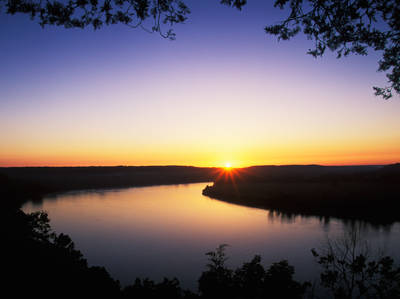 Eastern Ohio River Historic Byway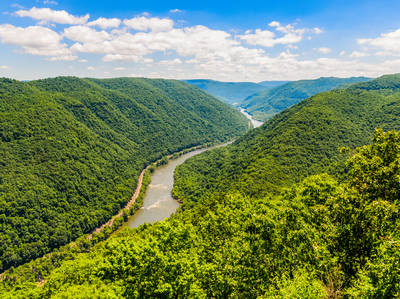 Meeting of the Great Rivers Scenic Route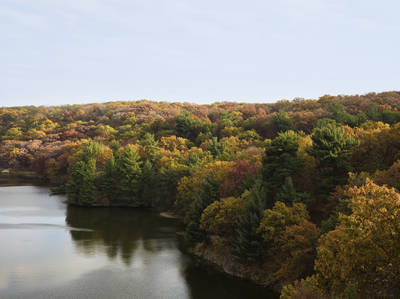 Seaway Trail Scenic Drive, Lakeside Beach State Park to Lewiston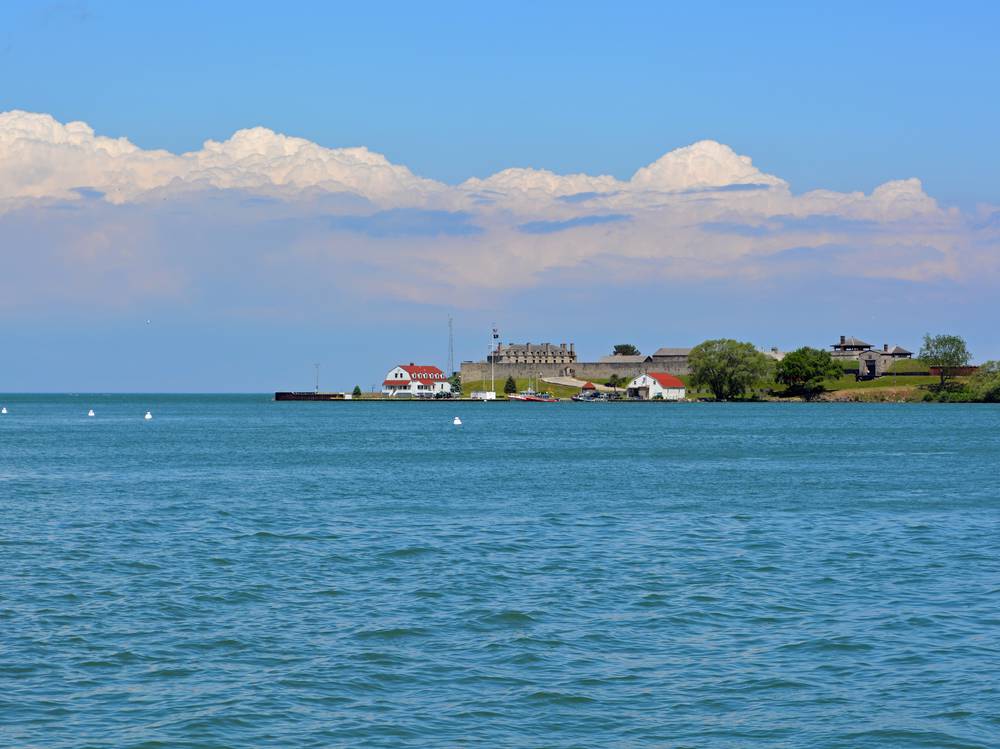 Seaway Trail Scenic Drive, Rochester to Lakeside Beach State Park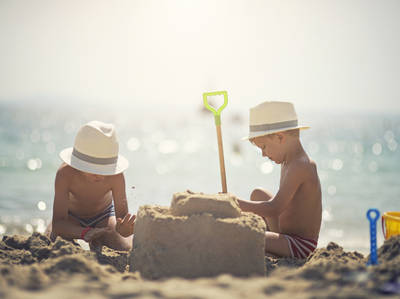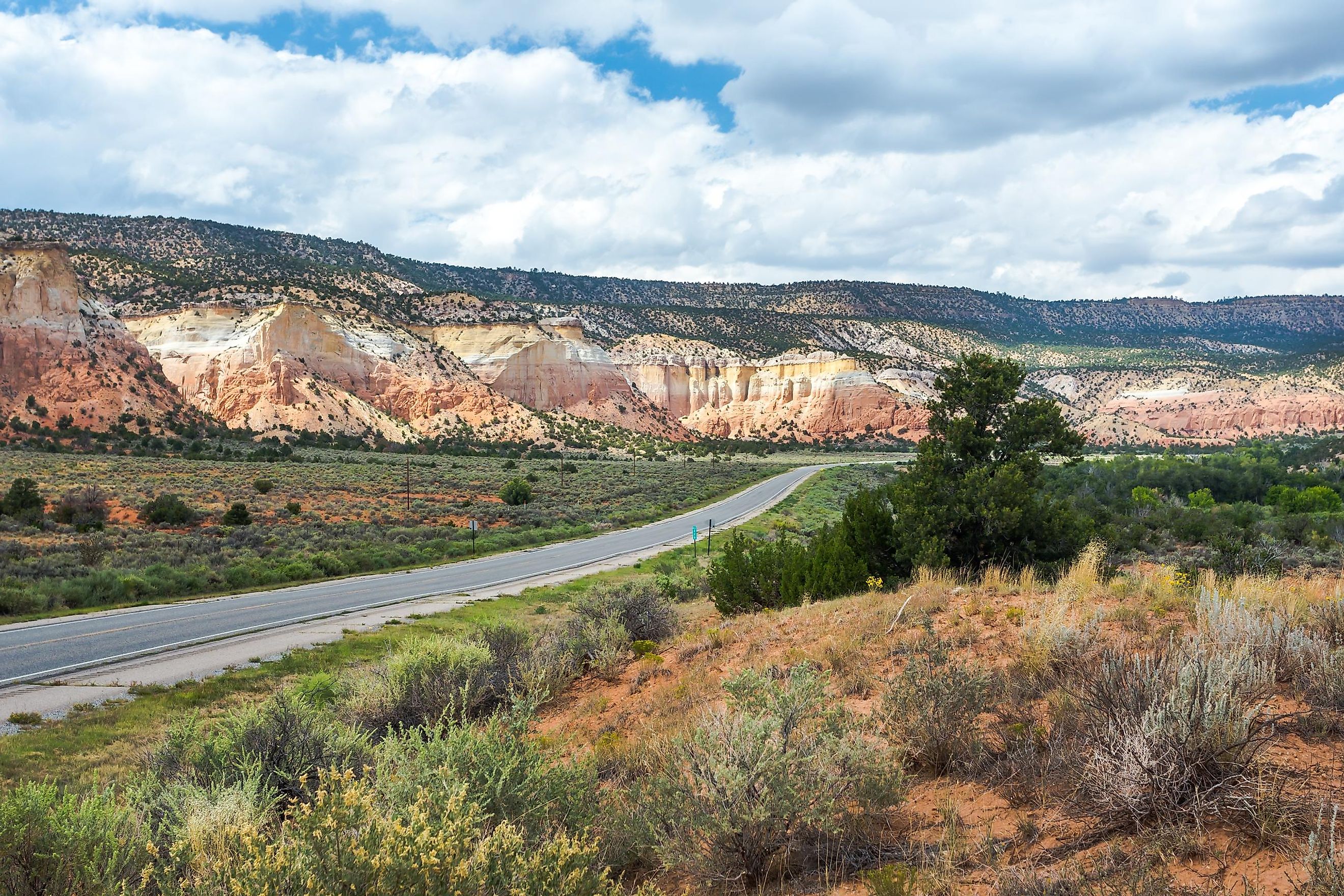 11 Most Scenic Road Trips To Take In New Mexico
Take an adventure into the Old West and drive through the land of the ancient Pueblos people and their cliff dwellings, with the mighty Rocky Mountains waving from the northern parts of the state. Also, explore beautiful prairies and the Great Plains that extend to the eastern third to the Chaco Canyon and Shiprock of the Colorado Plateau in the northwestern part. New Mexico has one of the most diverse landscapes of any US state. Travel down one of the most amazing scenic drives the Old West offers. These are eleven road trips that you would enjoy for sure while you explore New Mexico .
Abo Pass Trail State Scenic Byway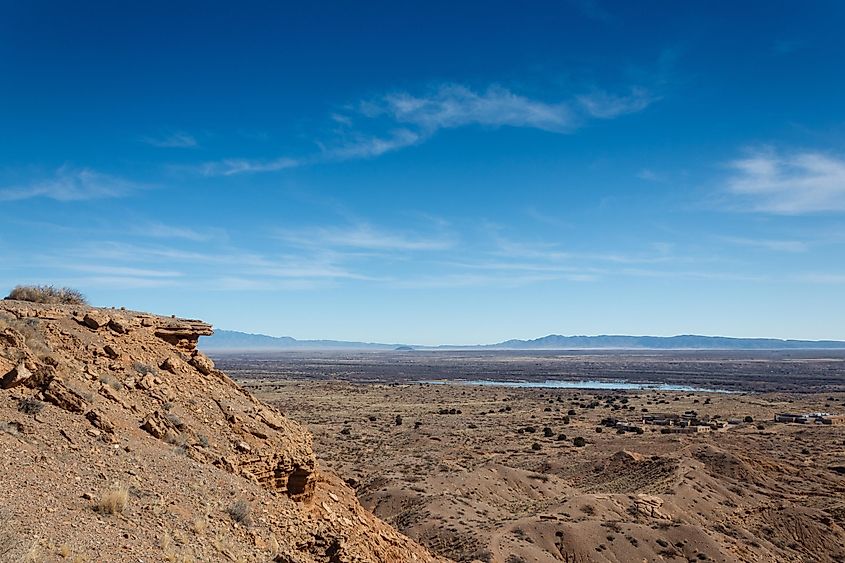 The trail bridges the remains of Abo Pueblo on its eastern side to the town of Belen on the west and El Camino Byway to the Salt Missions Scenic Byway. The byway passes through beautiful vistas and desert landscapes, including views of the Manzano Mountains and the surrounding high desert terrain.
It closely runs through the edge of Sevilleta National Wildlife Refuge before it passes its way through the Manzanos and finally through the Abo Pass. The Abo Pass Trail has been historically significant for its role in the expansion of the westward development of the United States. The byway shows one of the few remaining panoramic views of the majestic Manzano Mountains and the untouched green plains that often act as a safe space for wildlife.
El Camino Real National Scenic Byway
The El Camino Real National Scenic Byway follows the original route of El Camino Real. It is popularly called the El Camino Real De Tierra Adentro (The Royal Road of the Interior Land), and it was initially meant for traders and pilgrims arriving at Plymouth Rock. 
The byway starts north of Las Cruces in Fort Selden and stretches across the Jornada del Muerto desert before reaching Socorro. The road stretches from the Mesilla Valley to Ohkay Owingeh north of Santa Fe. Currently, the most used route is Interstate 25. However, the Real Byway gets you through scenic escapes that you may not see if you take the Interstate. The Caballo Lake, Elephant Butte Lake, Sevilleta, and Bosque del Apache are places you would want to take advantage of on your road trip. Many outdoor activities can be enjoyed at the Caballo Lake and the Elephant Butte Lake State Parks. The Bosque del Apache National Wildlife Refuge is significant for recreational activities.
Though the highway is a stretch for a long day trip, it offers various side locations to learn more about New Mexico's history. This Byway lets travelers enjoy the taste of New Mexico's beautiful deserts while staying within the comfort of air-conditioned cars. 
Geronimo Trail Scenic Byway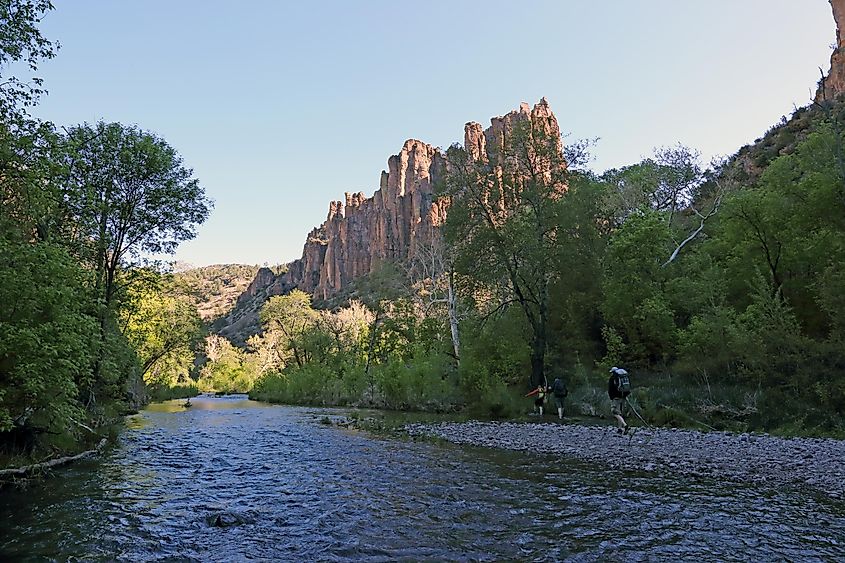 If you are someone who would love to explore the underground mineral hot springs, Geronimo Trail Scenic Byway is the place to be. The Geronimo Trail National Scenic Byway moves into two distinct western pathways, starting from the sands of the Chiricahua Desert to the ponderosa cliffs of the great Gila wilderness.
The Chiricahua Desert and Ponderosa cliffs give travelers a natural feel of how much the rich beauty of New Mexico remains unexplored. On the way, one will pass through the largest lake reservoir in New Mexico, surrounded by beautiful, calm wilderness and carved canyons.
The byway starts and ends in the Gila Wilderness, and Forest Service Road 150 completes the loop. The Trail provides a complete experience of New Mexico as one passes from mountains to desert, bushes to hills and lakes.
Historic Route 66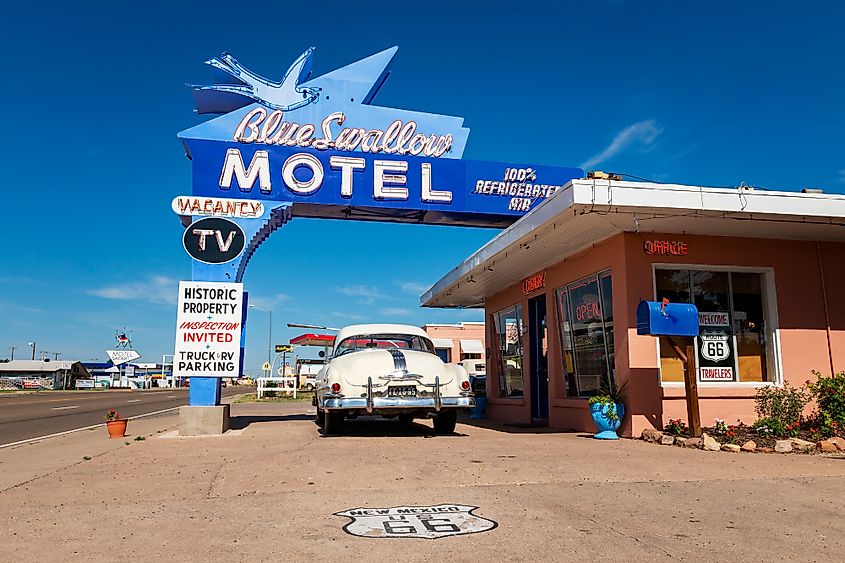 The 1408 miles of the iconic highway make you go through the beautiful areas of Arizona , Illinois , Oklahoma , California , and Missouri , and, of course, New Mexico. From 1950s motels and gas stations that have tested time to the Old West-inspired beautiful boutiques, it will remind you of what it feels like to be 'All American.' In 1937, Route 66 was realigned to bypass the North-South path.
The route enters New Mexico from Texas close to I-40. Once it enters the state, it meanders back and forth within the interstate before going to Arizona west of Gallup. In 1937, the byway went back and forth west of Santa Rosa through the curious small towns in the Sangre de Cristo foothills until Santa Fe and the plaza. From there on, it went into a series of zig-zag turns towards the La Bajada hill, further leading to Albuquerque. After this, the road straightens up, leaving Santa Fe . The byway leads to the state's most iconic and populous city through Moriarty and Tijeras Canyons. 
Though gorgeous in every way, with the many twists, turns, and dead ends, keeping a map or guide handy is recommended as the 'Mother Route' can be a bit challenging to navigate otherwise.
Enchanted Circle Scenic Byway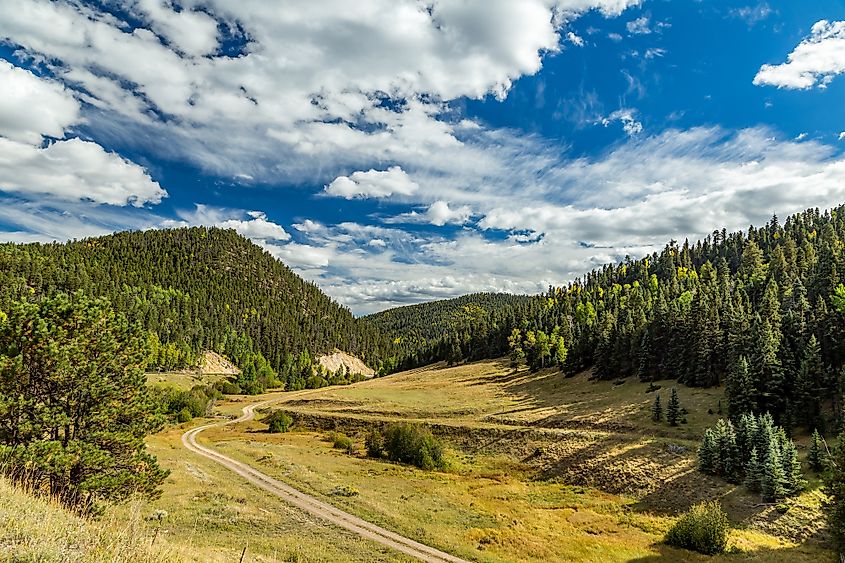 The trip through the Enchanted Circle will always be memorable as it brings together Taos Plaza through Questa, Red River, Eagle Nest, and Angel, creating a flavor that is everything New Mexico.
The Byway starts at Taos, north of Taos, on NM 522, going to Arroyo Hondo, home to the New Buffalo community. Heading from there, the next pitstop is Questa, located alongside Cabresto Lake, Mallette Canyon, and Midnight Meadows, where one can do several hikes and camping places. Moving east of Questa, on NM 38, one can find the Red River, where the town outlines alpine mountains, skiing, and fishing through the old mining country. 
At 13,161 feet, Wheeler Peak is the highest standing in New Mexico, and a drive through this route is sure to be a core memory from fishing and skiing to checking out quartz or feldspar, all while enjoying the beauty of the exquisite Cabresto Lake, Midnight Meadows, and Mallette Canyon. This alpine scenic Byway has something for everyone.
Santa Fe Trail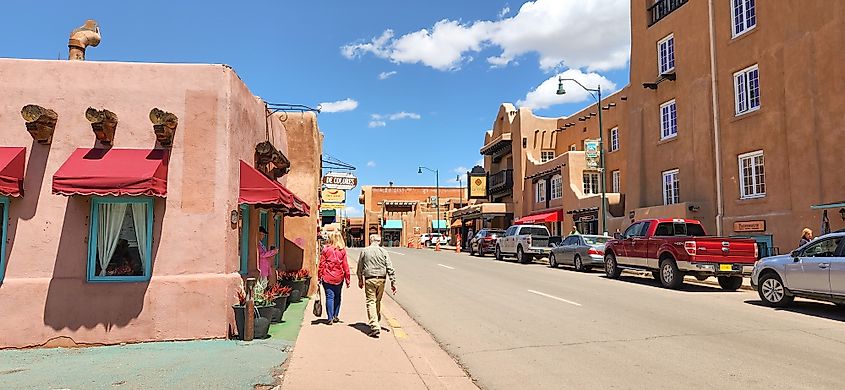 Get a warm welcome by the historical landmarks such as the Bent's Fort, Trinidad, Cimarron, Pecos, Point of the Rocks, Fort Union, and Sante Fe while you travel through the rugged mountains and vast plains.
The historic highway begins at Santa Fe Plaza and ends at the Santa Fe Ski Area. Various beautiful pitstops start from Vista Grande Overlook, which provides fantastic views of the Rio Grande Valley between the Jemez Mountains and the Sangre de Cristo Mountains. The Santa Fe National Forest Scenic Byway, often known as Hyde Park Road, provides various sites for camping, running trails, etc.
The old Santa Fe was known for the enchanting wagons that helped in trade and transportation. Though there are hardly any more wagons in use, the trail still gives you the feel of traveling through an old town during the Industrial Revolution's advent. 
Trail Of The Mountain Spirits Scenic Byway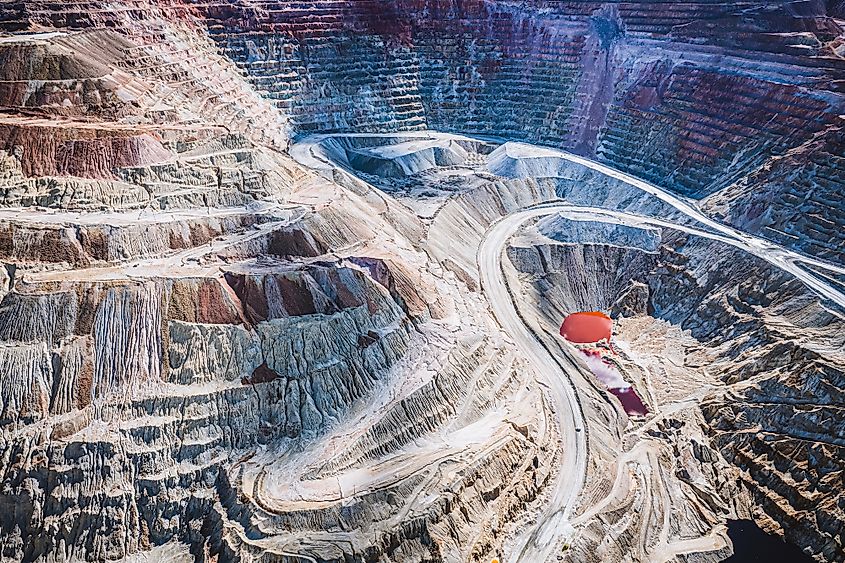 The Mountain Spirits Scenic drive takes you through the first US National Forest, surrounded by cliff dwellings, meandering pathways, and an ancient mining town known as the City. The highlight of the Byway is the 95-mile road trip across the Continental Divide and the Gila River, popularly known as the 'The Inner Loop.' The Inner Loop is a popular pathway among cyclists who participate in the adventure called the Tour of the Gila race on the same trail. In addition, through this trail, you can travel across six climatic zones across New Mexico.
The route begins at Silver City, a town known for its mining scenes in the 1870s. From the way, you will reach Pinos Altos if one goes north on NM 15 for around 6 miles. The town no longer calls for the gold boom it once had in the 19th century but remains an essential point on the way to the narrow lanes of Pinos Altos Range, going towards Cherry Creek and further into Sapillo Creek. At Sapillo Creek, NM 15 intersects NM 35 and continues north until Gila Cliff Dwellings National Monument. The Gila River Canyon lies below. The NM 15, after this, goes across the Gila River and into the Gila Cliff Dwellings National Monument. 
From there, the road reaches Gila Cliff Dwellings Monument and into the small cave dwellings. About five different caves have several rooms and passageways showing how the Pueblo Indians lived during the 13th century. 
One can trace their route back to Sapillo Creek and take the NM 35 to go towards Lake Roberts and continue to the Continental Divide before reaching Mimbres River Valley at the town of San Lorenzo,  where the route intersects NM 152, which takes you to the mesmerizing Phelps Dodge Santa Rita Copper Mine. After this, one can continue on the central, and US 180 will head you to Silver City.
Turquoise Trail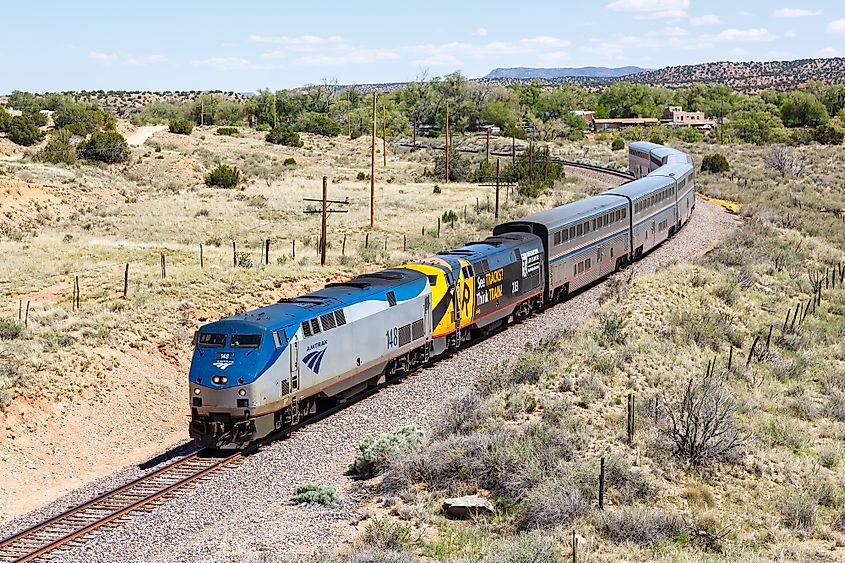 Start the byway from the north and outside Santa Fe, or you can begin at Albuquerque on NM 14. Most passengers take the Interstate highway, but if you take the byway, though it takes a bit longer, it's worth it for the gorgeous views on the way. The historic and beautiful Trail encompasses 15,000 square miles in Central Mexico's heart, linking Albuquerque and Santa Fe. The majestic turquoise-rich geological formations give the Trail its name. It is a fantastic place to immerse oneself entirely in the southern villages of Los Cerrillos and Madrid with artists and old-fashioned businesses. The Pinion and Juniper Hills are a rare site and should be noticed!
Puye Cliffs Scenic Byway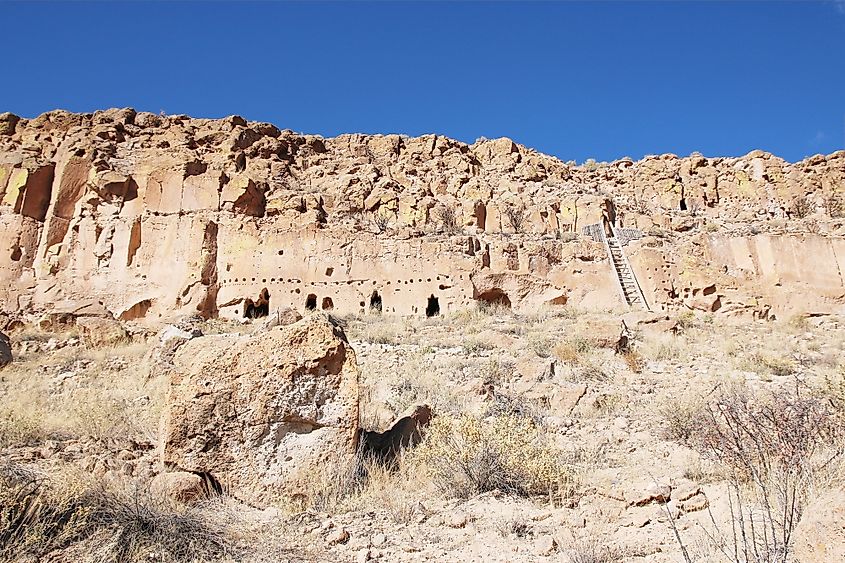 This is one of the best ways to explore the cultural and historic regions of Santa Clara Native Americans. The Puye Cliff Dwellings bring one closer to the 12th-century heritage. The ancient dwellings are carved into the majestic volcanic tuffs of the Jemez Mountains and always welcome a long-tiring traveler's sight. The 14-mile-long Puye Scenic Byway is located 35 miles north of Santa Fe. The Byway is an excellent getaway to explore volcanic remnants, feel the adobe clay, and enjoy the refreshing combination of juniper, gramma grass, and pinions as one drive through four of seven of New Mexico's life zones.
Trail Of The Ancient Scenic Byway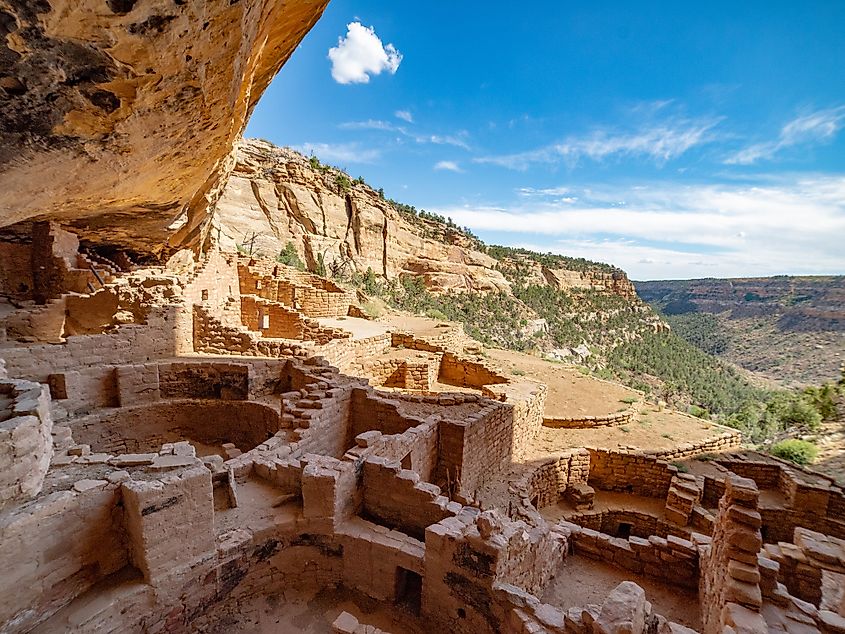 The ageless artifacts in broken and arid landscapes give way to the lands of the Ancient Puebloans. The trail is a 116-mile exploration with crucial pitstops like Mesa Verde National Park , which reflects an ancient town's remains, or the Ancients National Monument's Canyons, with the most archaeological sites in New Mexico.
The Trail of the Ancient Scenic Byway runs from southeastern Utah , southwestern Colorado , northeastern Arizona, and New Mexico, collectively called Four Corners. From Colarado's Mesa Verde National Park is roughly 68 miles to Aztec Ruins National Monument in northwestern New Mexico, where you will find the Great House built by Ancestral Puebloans, where you can go and explore the various rooms and passageways of mortar. Roughly 20 minutes from there is the Salmon Ruins in the south, an excavated village related to the Chaco Canyon. 
The Chaco Cultural National Historical Park in the Chaco Canyon is our next destination, a world-renowned archeological site. Following the National Park's Service directions, you would be guided to an onsite campground. The state-designated scenic byway from Chaco Canyon goes towards Crownpoint, Grants, among other exciting locations. Some of the best archeological sites include the tribal land Trail of the Ancients, Monument Valley, Mesa Verde, and Chaco National Historical Park.
Salt Missions Trail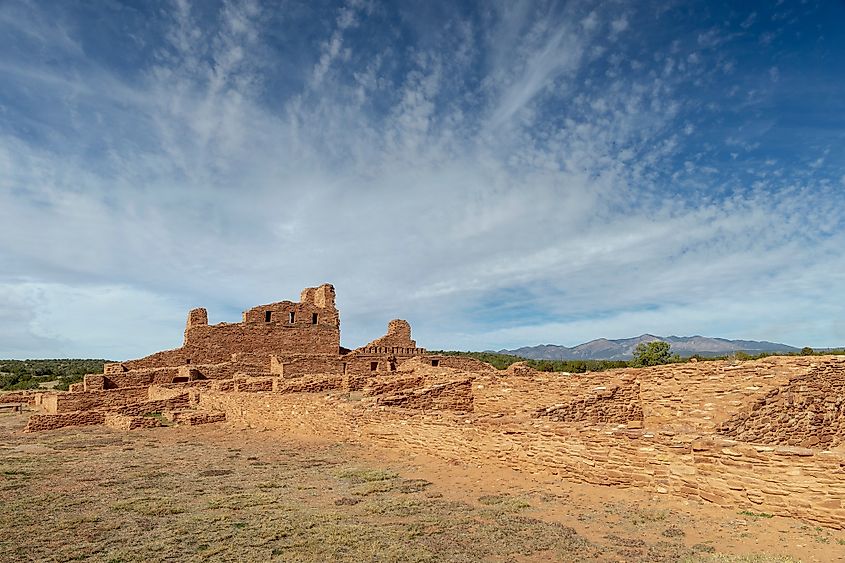 A fascinating adventure awaits as one embarks on the old trade routes of the Salt Missions from mountains to plains. As the road meanders through the ancient Pueblo villages filled with salt lakes and Manzano Mountains, it waves to you. It reminds you of yesteryears of salt collection and other minerals collected, traded, and transported on these beds. The abandoned Santa Fe Central Railroad is a must-see before heading your way to Tjeras. Tijeras Pueblo is a large masonry structure located at the northern end of the byway. Under the jurisdiction of Cibola National Forest, one can enjoy almost 80 rooms most days of the year. From Tijeras, one route of the Salt Missions runs east, going towards NM 333, which takes you to Moriarty. The byway from there runs to McIntosh and Estancia towards US Highway 60. The highway turns southwest towards Mountainair, where the western route of the Salt Missions Trail comes in, leaving the Tijeras. This stretch is filled with mountains and woods. The Abo ruins are close to the Mountain, roughly 9 miles away, while the Pueblo at Gran Quivira is on the south of Mountainair through NM 55. The Salt Missions Trail offers a unique experience to enjoy the vast salt beds while enjoying the breathtaking landscape that surrounds the salt beds.
New Mexico combines history, culture, and geography for a perfect vacation. The best way to enjoy the sights of this magnificent state is a fun road trip with your friends, as it gives you access to the wild wonders and scenic voyages that one might miss if one takes another form of transportation. On the map, New Mexico might remind you of a barren, dry land, but we guarantee it is much more than that, filled with exotic flora and fauna embraced in breathtaking landscapes with rivers and mountains of gems and salts. A magical desert where ancient civilization meets the modern world through well-connected roads.
More in Places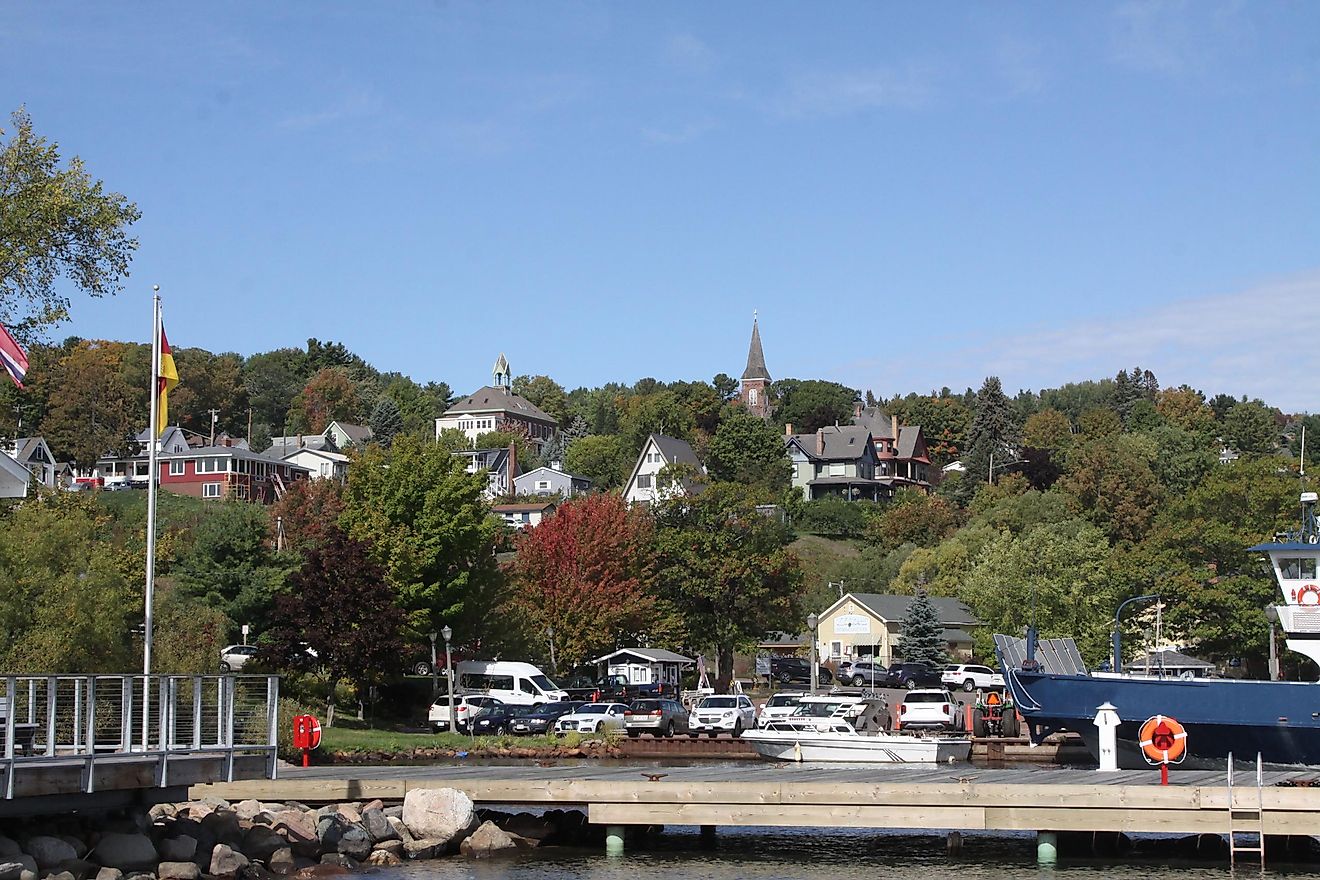 7 Towns in Wisconsin that Are Ideal for Seniors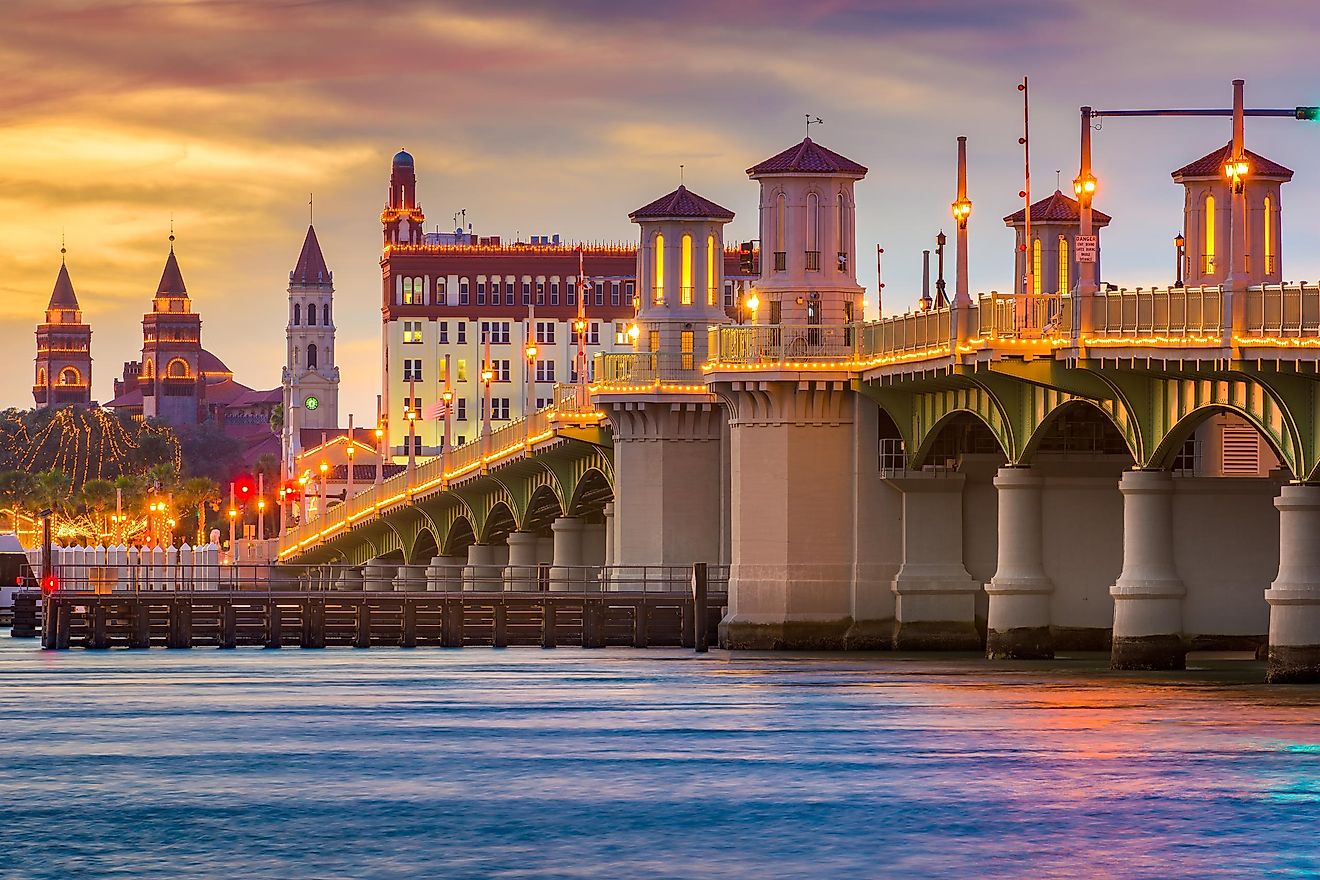 These Small Towns on the Gulf Coast Have the Best Historic Districts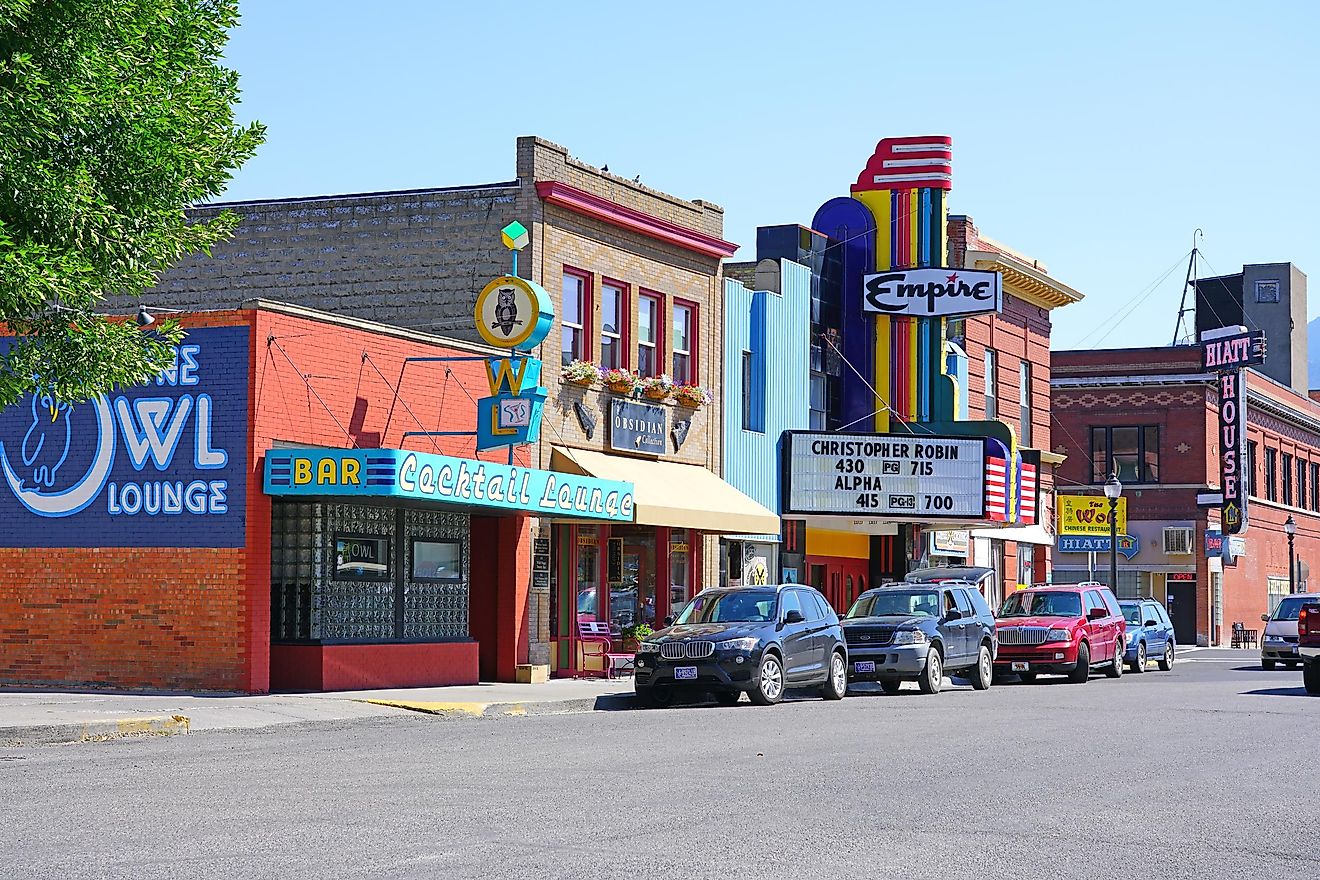 8 Small Towns in Montana to Visit for a Weekend Getaway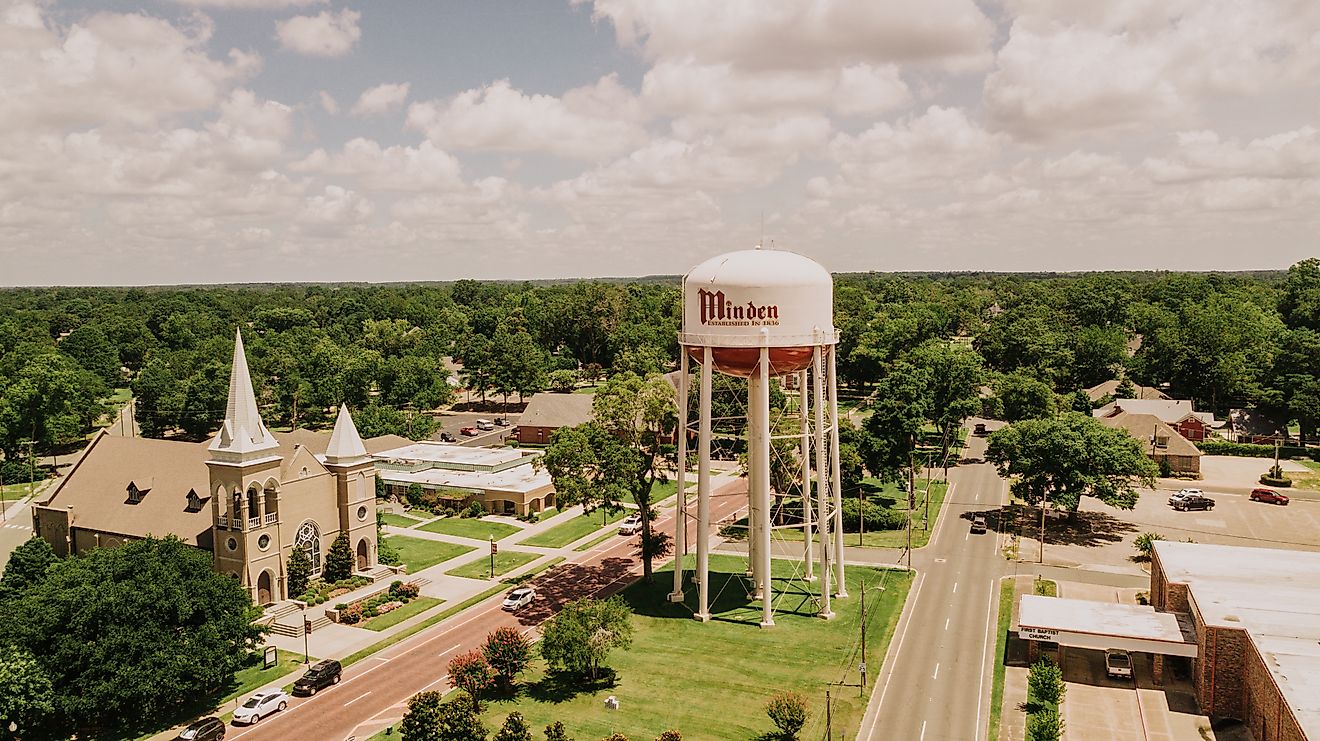 These Small Towns In Louisiana Have The Best Historic Districts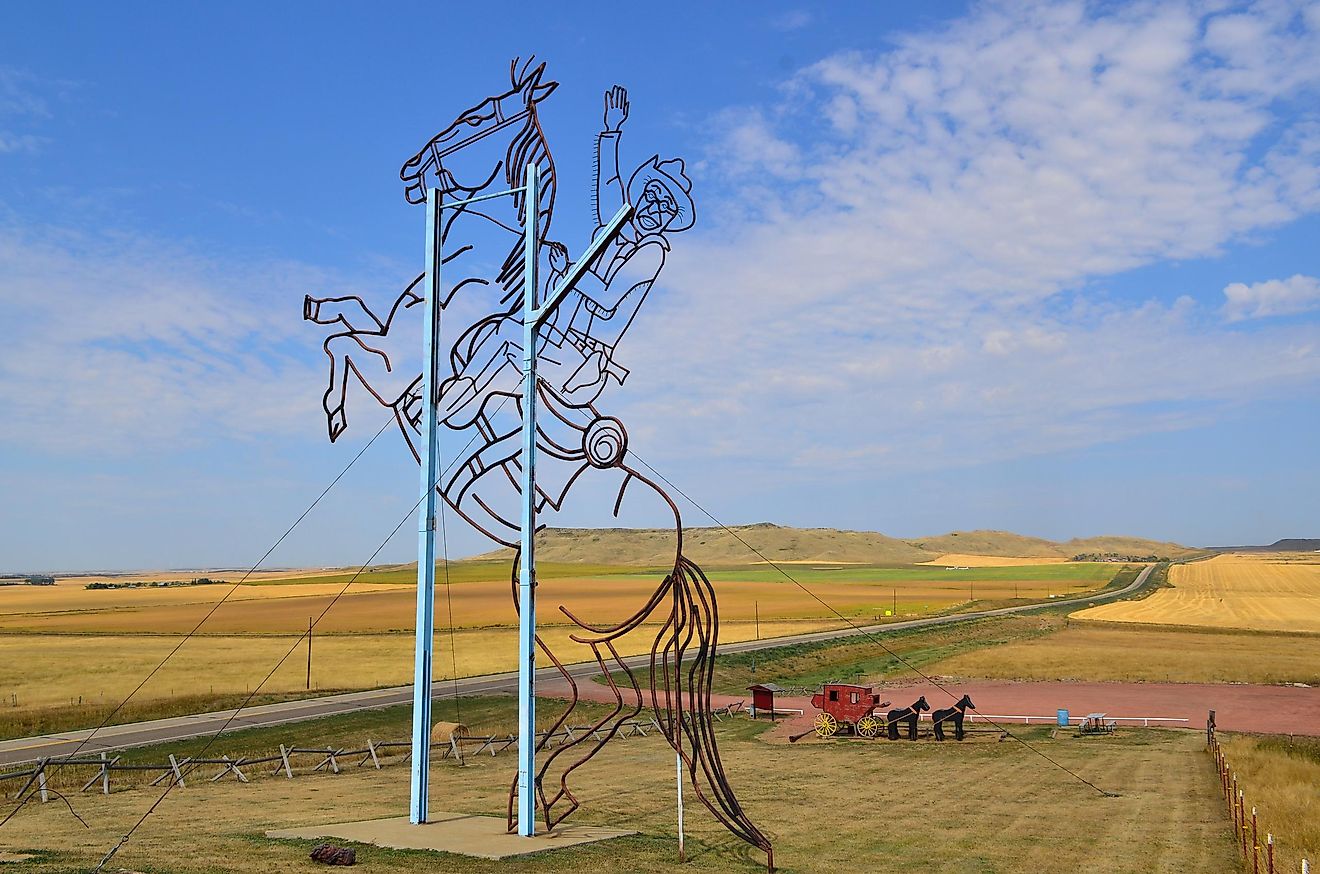 11 Most Scenic Road Trips To Take In North Dakota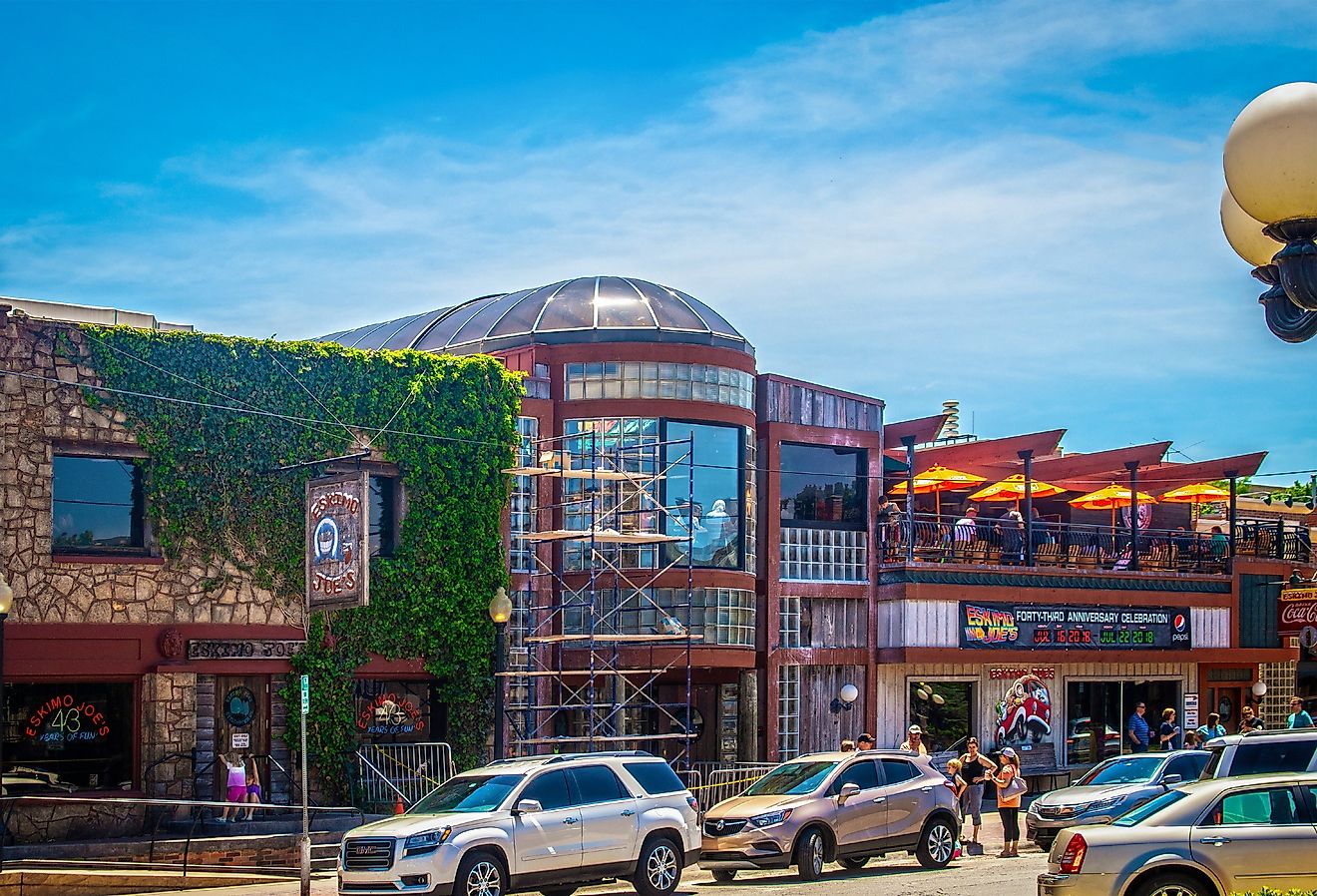 8 Top-Rated Small Towns In Oklahoma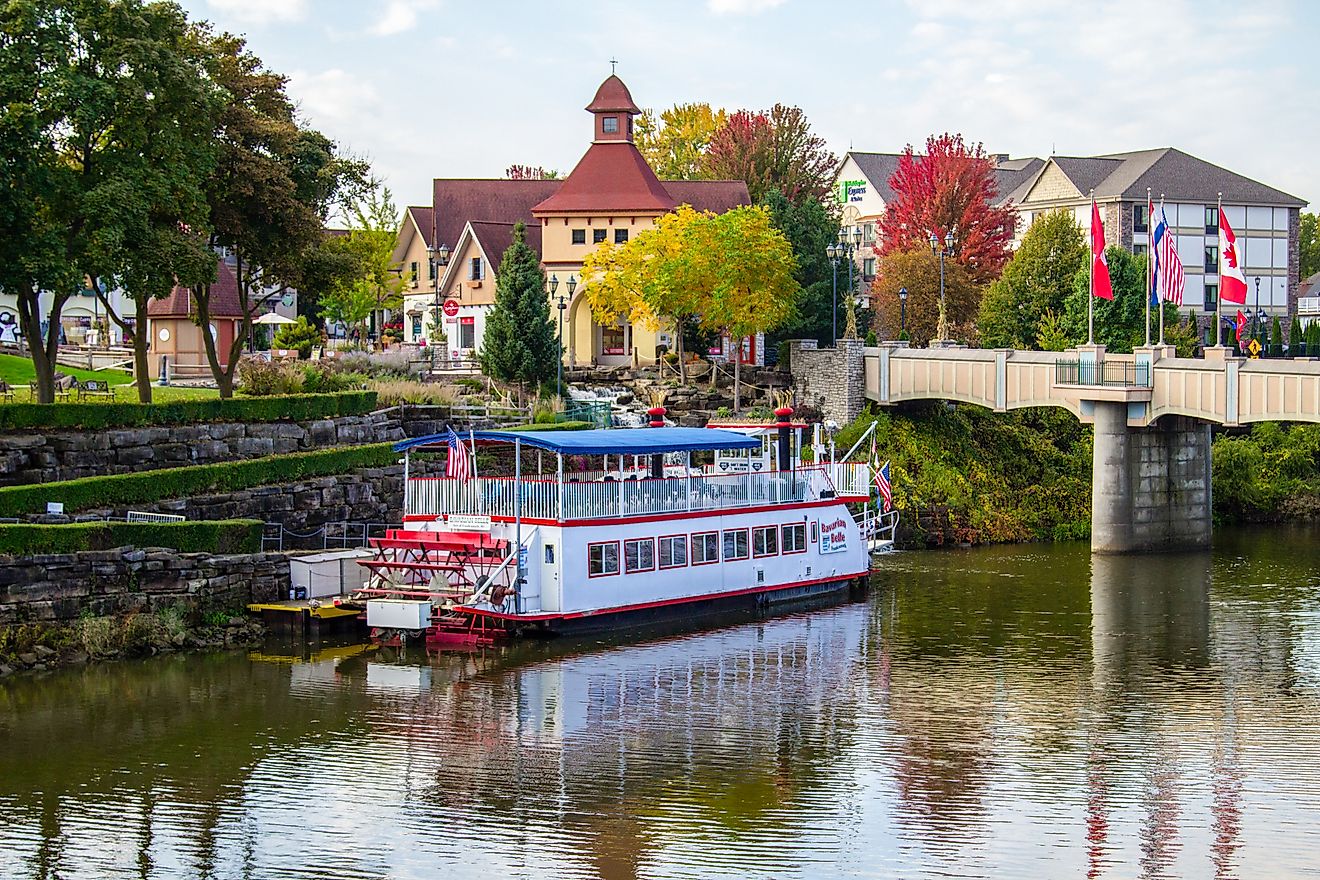 11 Small Town Gateways In Michigan Perfect For Families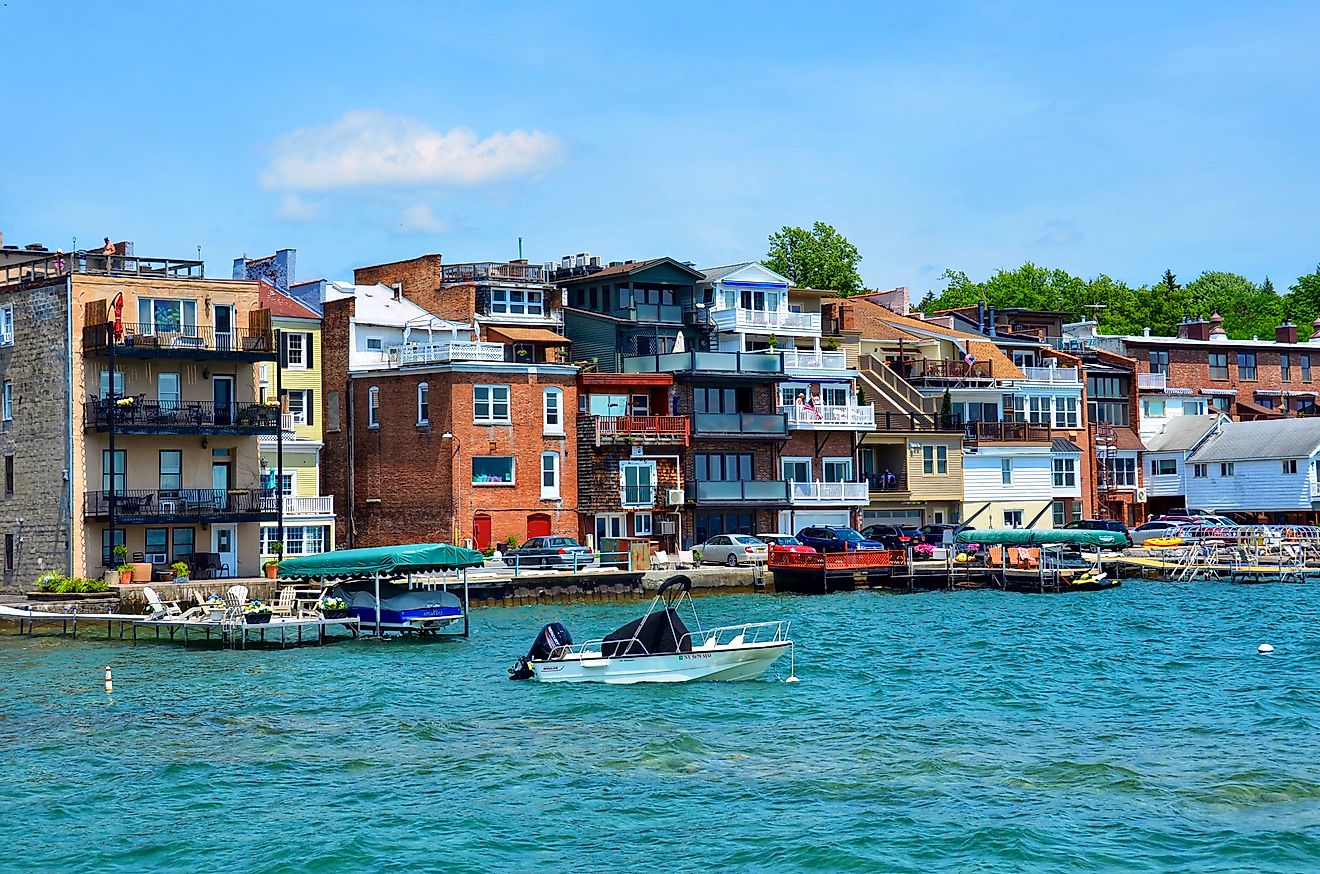 These Small Towns In The Finger Lakes Region Have The Best Historic Districts
Account Options
Top Great Lakes Trips & Tours
Start Date Select Month November 2023 December 2023 January 2024 February 2024 March 2024 April 2024 May 2024 June 2024 July 2024 August 2024 September 2024 October 2024 November 2024 December 2024 January 2025 February 2025 March 2025 April 2025 May 2025 June 2025 July 2025 August 2025 September 2025 October 2025 November 2025 OR, More specific start
River Cruises
Small Ship Cruises
Urban Exploration
Village Visits
Wildlife Viewing
American Countess
Le Champlain
Great Lakes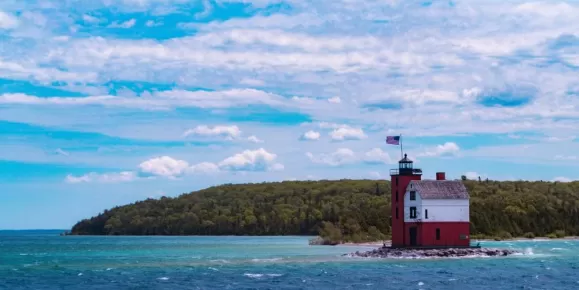 A Voyage Along the Great Lakes – with Smithsonian Journeys
Explore the five Great Lakes
Visit charming Mackinac Island
Learn about Native American history
Visit the Niagara Falls
Cruise Biosphere Reserve of Georgia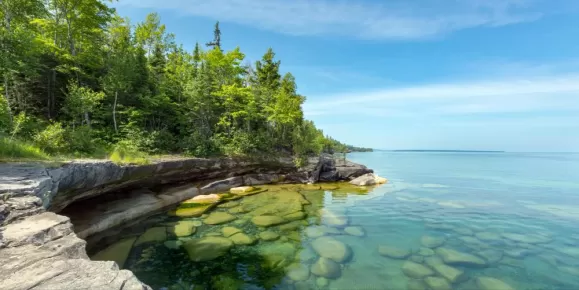 Lake Superior – a Life-sized Expedition
Explore Lake Superior
Set a course for Mackinac Island
See Door County and Sturgeon Bay
Enjoy Silver Islet's splendor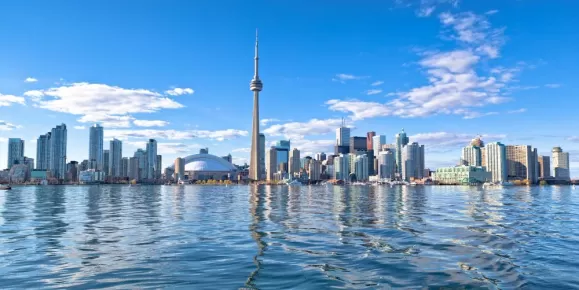 Expedition in the heart of the American Great Lakes
Discover Lakes of North America
Enjoy exceptional sailing
See the Niagara Falls
Visit Mackinac Island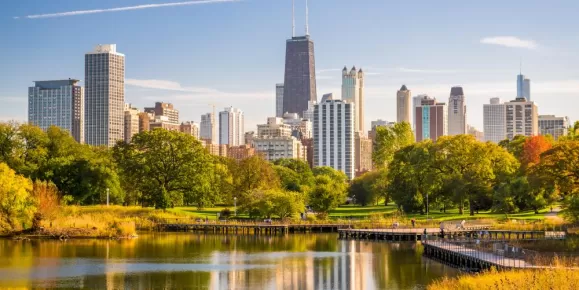 Illinois River: Chicago to St. Louis
Explore the city of Chicago
Discover the hometown of Mark Twain
Find history in Peoria
Enjoy the natural beauty of Alton
Top Great Lakes Travel Destinations
Lake Michigan
Lake Ontario
Lake Superior
North America
Great Lakes Trips by Activity
Great Lakes hiking (3)
Great Lakes kayaking (3)
Great Lakes urban exploration (3)
Why Travel With Adventure Life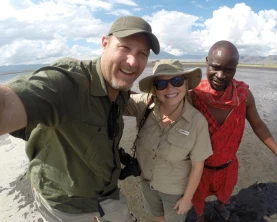 Recognized By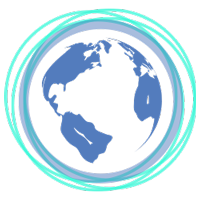 10 Best Road Trips You Can Take Through The Scenic State Of Pennsylvania
Posted: November 4, 2023 | Last updated: November 4, 2023
The Gettysburg Loop is a 150-mile road trip that delves into Civil War history, allowing travelers to explore the battlefield and haunted homes of Gettysburg.
Route 6 stretches 403 miles through northern Pennsylvania, offering opportunities for hiking, boating, and fishing, as well as unique attractions like the Kinzua Bridge Skywalk and PA Grand Canyon.
The Elk Scenic Drive is a 127-mile loop through North Central Pennsylvania, where travelers can spot elk, deer, black bears, and over 200 species of birds in their natural habitat.
Pennsylvania is a state rich in history, culture, and natural beauty. From lush forests and rolling mountains to quaint towns and lively cities, the Keystone State has something to offer every traveler. A road trip allows you to explore Pennsylvania at your own pace, stopping to admire stunning vistas or delve into the past at historical sites. Whether you want to cruise along Lake Erie's shores (travelers can also stop here to dive in shipwrecks in this shallowest great lake ), hike through deep river gorges, or retrace pivotal moments in America's past, Pennsylvania has an unforgettable drive waiting for you. From winding routes through steep Appalachian valleys to roads tracing mighty rivers, scenic byways abound in Pennsylvania. Here are 10 best road trips you can take through the scenic state of Pennsylvania.
Related: Before Gettysburg Was Antietam: It's Now Managed By The NPS
Delve into US History with The Gettysburg Loop
The site of one of the most pivotal battles of the civil war.
The Gettysburg Loop offers travelers a deep dive into Civil War history, where one can explore the haunted homes of the Gettysburg battlefield . The 150-mile loop incorporates the Gettysburg National Military Park , home to the battlefield where the Union defeated the Confederacy in 1863. Visitors can take a self-guided auto tour of the park, viewing monuments and stops significant to the three-day battle, like Little Round Top and Pickett's Charge. The loop also incorporates the Gettysburg National Cemetery, where Lincoln delivered his iconic Gettysburg Address. Beyond the battlefield, travelers can explore the lively downtown of Gettysburg, as well as regional wineries and orchards. With so much rich history to uncover, it's no wonder the Gettysburg Loop is one of the best road trips in PA.
Distance: 7.2 miles
Major Stops: Gettysburg National Military Park , Gettysburg National Cemetery
Discover Hidden Gems on Pennsylvania Route 6
Wind through the remote northern pa wilderness.
Stretching across the state from west to east, Route 6 transports travelers through the untamed forests and pastoral farmlands of northern Pennsylvania. The rustic drive passes through charming small towns like Galeton and Wellsboro, with opportunities to go hiking, boating, fishing, and hunting. Highlights include the Kinzua Bridge Skywalk (one of the most unique places to visit in the state ), where you can gaze down into the Kinzua Gorge, and the PA Grand Canyon, a steep gorge with hiking trails offering spectacular vistas. With many spots untouched by mass tourism, Route 6 lets visitors experience PA's natural splendor and rural character.
Distance: 403 miles
Major Stops: Kinzua Bridge Skywalk , PA Grand Canyon , Pine Creek Rail Trail
Top Attractions: Downtown Wellsboro , Leonard Harrison , and Colton Point State Parks
Admire Wildlife on the Elk Scenic Drive
Spot elk and other animals in their natural habitat.
Wind through the remote forests of North Central Pennsylvania on the Elk Scenic Drive, where you may spot the majestic creature the byway is named after. The 127-mile loop winds through Elk State Park and offers excellent opportunities to see elk, deer, black bears, and over 200 species of birds in their natural habitat. Stop at the park's visitor center to learn about conservation efforts and borrow binoculars to scope out wildlife. The drive also incorporates the village of Driftwood, a prime spot to look for river otters playing in the water. With towering trees and stunning vistas around every turn, the Elk Scenic Drive showcases the region's unspoiled wilderness.
Distance: 127 miles
Major Stops: Elk State Park Visitor Center , Driftwood Branch of the Sinnemahoning State Park
Things to do: Elk viewing, hiking, waterfalls
Related: Canada's Elk Island National Park Is One Of The Best Places To See Bison & Other North American Wildlife
Follow the Flow of the West Branch Susquehanna River Scenic Byway
See the course of the mighty susquehanna river.
This scenic drive follows the path of the Susquehanna River through mountain gorges and rolling farmland. The byway traces the West Branch of the Susquehanna, beginning north of Lock Haven and flowing south to the town of Milton. Travelers will enjoy sights like Karthaus Falls and the charming river towns of Williamsport and Lewisburg along the way. A highlight is R.B. Winter State Park, where you can admire the vistas of the winding waterway. With many spots to put in kayaks, canoes, or inner tubes, the byway is perfect for water lovers. Follow the Susquehanna's flow and experience the natural splendor of central PA.
Distance: 72 miles
Major Stops: Lewisburg , Williamsport, R.B. Winter State Park
Things to do: River views, state parks, kayaking
Explore the Grand Canyon of Pennsylvania on Pine Creek Gorge
Marvel at the vast pine creek gorge.
Stretching over 47 miles with steep, towering walls plunging over 1,000 feet to Pine Creek below, the Pine Creek Gorge certainly earns its "Grand Canyon of Pennsylvania" nickname. The byway follows Route 414 along the rim, offering jaw-dropping vistas of the immense gorge. Stop at various overlooks all along the drive to admire the dramatic views and gaze 800 feet down to Pine Creek. Hikers can trek down the gorge on the famous Mid-State Trail for an up-close perspective. The route also winds through the quaint Victorian town of Wellsboro, making for a scenic drive full of natural splendor and small-town charm.
Distance: 47 miles
Major Stops: Leonard Harrison and Colton Point State Parks , Wellsboro
Top Attractions: Gorge overlooks , hikes with canyon views
Experience the Charm of the Brandywine Valley Byway
Tour through scenic farmlands and historic estates.
With its scenic stops, the Brandywine Valley Byway transports travelers back in time as it winds through the rolling hills and pastures of southeastern Pennsylvania's Amish farmlands. The 38-mile loop incorporates the historic river towns of Chadds Ford and Kennett Square, as well as Longwood Gardens, whose exquisite botanical gardens include 11,000 types of plants. History buffs will enjoy the Brandywine River Museum, housed in a converted 19th-century grist mill, and other attractions related to the du Pont family, like Winterthur Estate and Hagley Museum. With so much early American heritage and horticultural beauty, the drive makes an idyllic day trip from Philadelphia.
Distance: 13 miles
Major Stops: Longwood Gardens , Brandywine River Museum , Winterthur Estate
Top Attractions: Gardens, museums, Amish country scenery
Sail the Seven Seas on the Coastal Great Lakes Seaway Trail
Cruise along lake erie's southern shore.
The Great Lakes Seaway Trail, a National Scenic Byway, hugs the southern shoreline of Lake Erie in Pennsylvania's northwest corner. The drive offers gorgeous views of sandy beaches, wineries, lighthouses, and the lake's shimmering waters. Highlights include Presque Isle State Park, a sandy peninsula jutting into the lake with beaches and hiking trails, as well as the Tom Ridge Environmental Center, an interactive museum dedicated to teaching about the region's ecosystems. Don't miss the Erie Maritime Museum and the iconic Gibraltar lighthouse. Feel the refreshing lake breezes as you cruise along this scenic stretch.
Distance: 518 miles
Major Stops: Erie, North East, Presque Isle State Park
Top Attractions: Beaches, lighthouses, maritime museums
Journey Through the Past on the National Road
Travel america's first federally-funded highway.
Also known as Route 40, the National Road was the nation's first major improved highway connecting Maryland to Illinois. Pennsylvania's 158-mile stretch offers a look into the history of American expansion westward in the early 1800s. Travelers pass through charming historic towns like Washington, Brownsville, Uniontown, and Somerset, dotted with taverns, inns, and tollhouses from centuries past. Highlights include Searights Tollhouse, a restored tollhouse from the 1830s, and the ESA Memorial Footpath with educational panels describing the 19th-century travelers who journeyed west on this iconic route. History buffs will love exploring remnants of the past along the National Road through PA.
Distance: 80 miles in Pennsylvania
Major Stops: Washington, Brownsville, Uniontown, Somerset
Top Attractions: Searights Tollhouse , National Road Heritage Corridor
Related: Pennsylvania Just Introduced A New Charcuterie Trail, And This Is Why A Road Trip Is So Worth The Noms
Unwind on the Bucktail Scenic Byway
A secluded route through the pa wilds.
Get away from it all on this remote and rustic route through the Pennsylvania Wilds region . Driving north from DuBois to Galeton, the byway winds through dense forests and open fields, with stellar views from vistas like Hyner View and Hyner Run Overlook. Outdoor lovers will enjoy hiking trails and fishing spots all along the route. The drive incorporates the tiny town of Renovo, surrounded by mountains and the Susquehanna River . With not a billboard in sight, the peaceful byway lets you feel far from civilization and completely immersed in nature.
Distance: 100 miles
Major Stops: Galeton , Renovo
Embark on an Adventure on the Laurel Highlands Scenic Byway
Venture through the mountains and rivers of southwestern pa.
This scenic drive transports you through the Laurel Highlands, Pennsylvania's most breathtaking mountain vista , following US-30 and PA Turnpike 43. The byway travels past rolling mountains, rushing creeks, and charming countryside villages. Stop for whitewater rafting and kayaking adventures along the Youghiogheny River. Outdoor enthusiasts can hike to majestic views like those at Ohiopyle State Park. The road also winds through Frank Lloyd Wright's famous Fallingwater house. With so many opportunities for outdoor recreation and cultural attractions, the Laurel Highlands Scenic Byway is the perfect PA road trip for adventure and scenery.
Distance: 68 miles
Major Stops: Ohiopyle State Park , Fallingwater house
More for You
I'm a Chef: Here Are 10 Things I Love To Buy at Costco Every Month
Matt Ulrich, former Colts Super Bowl champ, dies at 41
Republican Pushes to Overturn Ohio Election Result
Which Fast Food Chain Has The Best Burger?
Ukraine's successful ATACMS strike shows Russia's willingness to 'take it on the chin' when Kyiv gets new weapons
SoCal housing is so unaffordable that billionaire philanthropist MacKenzie Scott has made yet another multi-million dollar donation to fix the problem
Nestlé cancels yet another beloved chocolate bar
Commanders HC Ron Rivera responds to Chase Young's shot at former team
Judge Chutkan Strikes Blow Against Donald Trump
Letters to the Editor: Gavin Newsom's poll numbers should come as no surprise
The longest-living car engines
Vivek Ramaswamy's campaign says he was 'talking quickly' and 'kind of oscillated in his words' after he appeared to call Zelenskyy a Nazi
Putin ally known as 'the Executioner' killed in Ukraine-planned car bombing: 'it was our operation'
Pastor's suicide brings grief, warnings of the dangers of outing amid erosion of LGBTQ+ rights
White House Delivers Bad News on Ukraine Aid
'No, screw him': Top Democrat balks at Tuberville push to move abortion debate to defense bill
Ranking the top 25 players in women's college basketball
Pentagon UFO boss steps down after explosive admission
California middle-class families hit with $26K cost-of-living penalty: Report
Adam Long breaks 30-year-plus PGA Tour record in Bermuda
Moscow's best free city tour
I love Moscow – this charming metropolis, its people, its history and its unique cityscape. I would like to share my passion for this city with you. It is my job to show you the most exciting corners of this fascinating metropolis. That's why, as a travel specialist and your private tour guide Moscow in Russia, I organize a guided free city tour Moscow – so that everyone, regardless of their budget, would be able to enjoy the insider's view of Moscow.
You get to see what only Moscow residents know and what other tourist guides keep from you. I am a licensed travel specialist in Russia and would like you to enjoy all facets of the capital of the largest country in the world, without demanding any money from you. I'll show you the city on my free Moscow walking tour for 1.5-hours on foot.
Everything you need to know:
My tours take place daily by arrangement, I am the only English-speaking licensed tourist guide Moscow, who offers a free city tour.
My 1.5-hour free tours Moscow do not cost you a cent, I also offer other great paid tours as well.
I am an experienced local, I make the tours informative, but at the same time relaxed and not off the plane.
Free Tours Moscow – Daily
My free tours Moscow city starts on Slavonic Square (Kitay-Gorod Metro Station), passes the world-famous St. Basil's Cathedral, which was built by Ivan the Terrible on the south side of Red Square in the 16th century and where the tsars were once crowned. Then it goes across the Red Square at the Lenin Mausoleum, the luxury department store GUM and with a view of the Kremlin towards the historical museum. Of course, you will also learn more about the stories that once happened behind the thick walls of the Kremlin – from the Tsars and Napoleon to Stalin. Then we continue through the idyllic Alexander Garden.
An advance booking is required!
Practical information:
Time: by arrangement, daily Duration: 1.5 hours Price: Free Language: English
«First acquaintance with Moscow» – a 2.5-hour city tour in the center of Moscow
This Moscow city tour starts on the Theater Square, past Lubyanka Square and the KGB-building, then through Kitay Gorod district and Varvarka Street, past the world-famous St. Basil's Cathedral. Then it goes across Zarjadje Park, over Red Square at the Lenin Mausoleum, the GUM-department store and towards the Historical Museum. We walk through the Alexander Garden.
Time: by arrangement, daily Duration: 2.5 hours Price: 17 $ Students and children: 6 $ Language: English
A 3.5-hour car/bus tour of Moscow.
This is the best tour of Moscow city as all the important sights are visited. I am your Moscow city guide who will walk you through the city explaining the charming history of the city. This tour begins with picking you up from the hotel. 3 breaks are offered for photographing.
First, we will visit the most famous riverside streets and bridges in the center of the city with the most beautiful views of the Kremlin and the Moskva River (e.g. the Kremlin embankment and the Great Stone Bridge).
The first photo break is made at the Cathedral of Christ the Savior. We then pass by the district with numerous museums, Prechistinka Street and the district with numerous medical areas.
We again stop at the Novodevichy Convent, which is a UNESCO World Heritage Site on the other bank of the Moskva River to click pictures.
Then we visit "Sparrow Hills" where you can enjoy a bird's eye view of the city of Moscow from the observation deck. Then there are the skyscrapers of Moscow-City, the Kutuzov avenue, the New Arbat, Tverskaya Street, the world-famous Bolshoi Theater, the KGB building and Varvarka Street. Here there are ample spots to click pictures.
We then drive past the Kremlin again and finally reach Red Square. We take a short tour of Red Square and say goodbye in the Alexander Garden.
Time: by arrangement, daily Duration: 3.5 hours Price for a group: 170-200 $ (depending on the number of travelers) Language: English
Metro tour – daily
Palaces for ordinary people – that was what Stalin promised to the people when the construction of the Moscow Metro began between the World Wars. The communist dictator hadn't promised too much. No other underground system in the world can boast such spectacular architecture – chandeliers, decorations, stucco, paintings on the walls – each station is individually designed. No wonder that Moscow residents love their metro. I will guide you through the bustle of one of the busiest subways in the world and show you the most beautiful stations Moscow city has.
Time: by arrangement, daily Duration: 2 hours Price: 21 $ Students and children: 17 $ Language: English Included in the price: Metro tickets / the guided tour
Tour of Communist Moscow – every day
After the Communist October Revolution in 1918, Moscow became the capital of the Soviet Empire and was the center of socialist orbit for more than 70 years. This left its mark on Moscow, even if the USSR disintegrated more than a quarter of a century ago. The city streets are full of remnants of the communist regime and the Cold War. This is a walking tour where I will show you the most exciting places in Soviet Moscow: from the notorious KGB headquarters, also known as Lubyanka to the Karl Marx Monument to small hidden remains from the time of hammer and sickle. You will also learn about Stalin's Great Terror political campaign and the system of the GULAG and how the USSR, the communist Russian republic, became modern Russia.
Time: by arrangement, daily Duration: 2 hours Price: 21 $ Students and children: 17 $ Language: English Included in the price: the guided tour
Alternative Moscow Tour – daily
Explore the unseen Moscow with your Moscow private guide and discover a range of sights during this alternative walking tour.  Away from the main tourist spots (in the central district of Kitay-Gorod), just a short walk from Red Square and St. Basil's Cathedral, you suddenly find yourself in one of the trendiest districts of Moscow. This place not only has trendy cafes and green squares, but here you can see the most beautiful spray works (according to Albrecht Dürer), hangout-places of the youth and hipsters, as well as learn what Moscow looked like in the 19th century. Here you will also learn exciting and even bloody stories about famous gangsters, eccentric business people and legends like the wandering preacher Rasputin, who is known in Russia either as the "holy devil" or the mad monk. To learn a little more about Moscow's culture, this is the tour for you. On my alternative tour, you will get to know Moscow away from the tourist hotspots. This tour is of 2 hours duration and you will experience the following on the tour:
St. John's Hill, a quiet oasis right in the center, where time has stopped as it did in pre-Communist times
Khokhlovka Art Center, where Russian hipsters and street artists hang out
Samoskvorechye District where you can see beautiful streets and hear stories from old Moscow
Time: by arrangement, daily Duration: 2 hours Price: 21 $ Students and children: 17 $ Language: English Included in the price: the guided tour / tram ticket
Kremlin tour – daily (closed on Thursday)
With its 20 towers and high walls, the Kremlin rises imposingly over Red Square. This world-famous fortress with its area of ​​28 hectares is home to over 800 years of Russian history. Described as the eighth wonder of the world, this historic fortress complex is the principal symbol of Russia that sits on the banks of the Moscow River. Today the Kremlin still harbors numerous secrets and has palaces and cathedrals, surrounded by Kremlin Wall. The current wall was constructed between the 15 th  and 16 th  centuries, but the original wall was made of wood around the year 1147. The Kremlin Wall became an important symbol of Moscow's importance in the Russian Empire. This top tourist destination attracts millions of people every year and there are various sights to see. With my Kremlin tour, you will see the oldest square in the city in the heart of the Kremlin, the once largest cannon in the world and the scene of numerous dramas – from Ivan the Terrible and Napoleon to Stalin. You cannot miss this unique experience.
An advance booking and prepayment for tickets are required.
Time: by arrangement, daily (closed on Thursday) Duration: 2 hours Price on request Students and children: on request Language: English Included in the price: Kremlin tickets / the guided tour
Moscow pub crawl – Friday / Saturday
Experience the real nightlife of Moscow with my Moscow Pub Crawl and enjoy 4 pubs/bars plus 4 welcome shot drinks. Move from one bar to another and get to know travelers from around the world as well as the locals. Play fun adventure games and contests in addition to getting perks in the bars. Between the bars, move from one place to another on foot. The routes are organized as such that you will walk no more than 10 minutes between the bars. Visit the most exciting events, parties, concerts, and dance in the bars. Moscow Pub Crawl is a tour that you will never forget.
This tour runs every Friday and Saturday evening at 8 PM and you need to bring along your passport or an ID card, comfortable shoes, and wear smart casual clothes.
An advance booking and a small prepayment are required!
Time: by arrangement, daily Duration: 4 hours Price on request Language: English Included in the price: the guided tour, 4 shot drinks
1.5-hour boat trip on the Moskva River.
Taking a boat tour in Moscow on the Moskva River is a very pleasant experience. It allows you to know the city from a totally different perspective and admire the beautiful bridges. In this 1.5-hour river trip, you will sail past many beautiful sites in Moscow, so you can take the best photos to commemorate this day. The ship makes several stops on the way. The trip starts from the Ustinskiy Bridge near Sarjadje Park and ends at the Kiev train station.
On this Boat Trip, you can see sights such as: the former Imperial Education House, Sarjadje Park, the "flowing", "floating" bridge, the most beautiful view of the Kremlin, the Great Stone Bridge, the legendary House on the Quay, the Christ the Savior Cathedral , the monument to Peter the Great on the ship, the central sports arena Luzhniki, the Sparrow Hills, 240 meters high Lomonosov University, the numerous architecturally spectacular skyscrapers of Moscow-City, the Novodevichy Convent, the building of the Ministry of Foreign Affairs etc.
Time: by arrangement, daily Duration: 1.5 hours Price on request Language: English
A military tour – riding on tanks in Stupino (Moscow region)
Russian Military is one of the largest military forces in the world formed in 1992. With my Military Tour experience what it likes to be in the Russian military, shooting guns, ride the Tank T-34 and various models of German tanks from the Second World War, as well as armored personnel carriers and vehicles. You will also shoot from the AK-47 and another combat weapon.
The tour will begin with your private tour guide Moscow in a Soviet army van accompanied with some tasty snacks and tea for a tasty start. Upon arriving, you will have to put on the army safety clothing and climb the Russian armored vehicles. The tour will take you on the noisy, smoky tank, driving through mud roads. All participants will get the chance to drive the tank which is coordinated by the Russian military.
Time: by arrangement, daily Price on request Language: English
Alexander Popov
Welcome to Russia! My name is Alexander, I was born in Moscow and I'm a passionate tour guide. I want to share my passion for Russia and my hometown with you. On my website you will find useful information to make your individual trip to Russia as interesting as possible.
Gorky Park and Sparrow Hills: Green Lungs, place to relax and meet
The travel voucher for the russia visa, you will also like, everything you need to know about russia: included..., traveling‌ ‌in‌ ‌russia‌ ‌–‌ ‌how‌ ‌safe‌ ‌it‌ ‌is‌..., choosing the best guide for a free and..., how do i exchange money in moscow, eating out in moscow, the best time to travel to russia, how do i get from moscow airports to..., the best taxi services in moscow, moscow's top 13 – the main attractions of..., with sim card purchase in russia: use whatsapp,..., leave a comment cancel reply.
Save my name, email, and website in this browser for the next time I comment.
@2019-2020 - Moscow Voyager. Alexander Popov
We use cookies to provide you with a better experience. By continuing to use our site you accept our cookie policy. Accept Read More
Meet the Team
Talk to The Broke Backpacker
Czech Republic
Netherlands
Switzerland
Scandinavia
Philippines
South Korea
New Zealand
South Africa
Budget Travel
Work & Travel
The Broke Backpacker Manifesto
Travel Resources
How to Travel on $10/day
Home » Europe » Moscow
EPIC MOSCOW Itinerary! (2023)
Moscow is the heart of Mother Russia. Just the mention of this city conjures images of colorful bulbous pointed domes, crisp temperatures, and a uniquely original spirit!
Moscow has an incredibly turbulent history, a seemingly resilient culture, and a unique enchantment that pulls countless tourists to the city each year! Although the warmer months make exploring Moscow's attractions more favorable, there's just something about a fresh snowfall that only enhances the appearance of the city's iconic sites!
If you're a first-time visitor to Moscow, or simply wanting to see as much of the city as possible, this Moscow itinerary will help you do just that!

Unlock Our GREATEST Travel Secrets!
Sign up for our newsletter and get the best travel tips delivered right to your inbox.
Best Time To Visit Moscow
Where to stay in moscow, moscow itinerary, day 1 itinerary in moscow, day 2 itinerary in moscow, day 3 and beyond, staying safe in moscow, day trips from moscow, faq on moscow itinerary.
Here is a quick look at the seasons so you can decide when to visit Moscow!
The summer months (June-August) are a great time to travel to Moscow to take advantage of the enjoyable mild temperatures. This is considered peak travel season. Bear in mind that hotel prices rise along with the temperatures!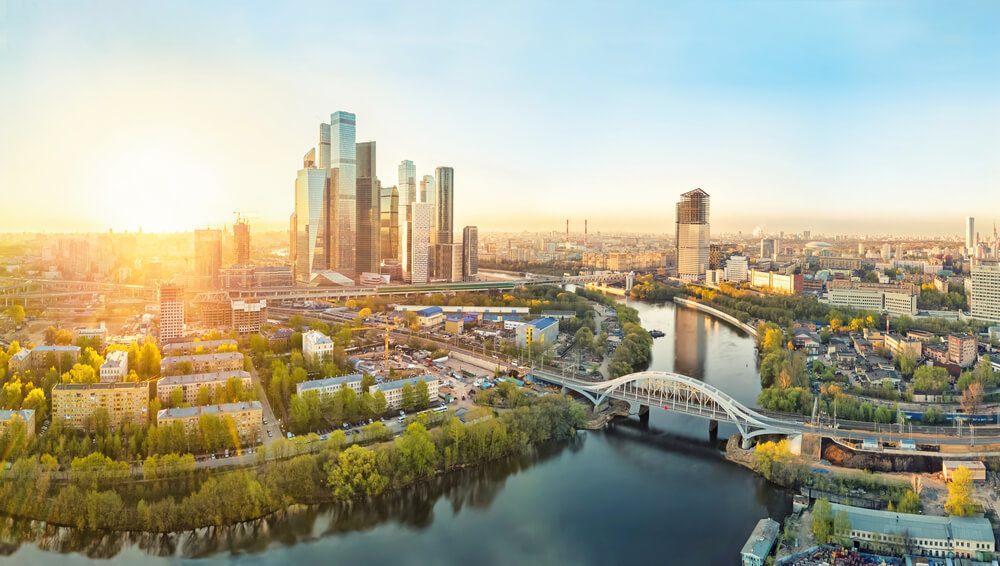 If you're planning a trip to Moscow during fall (September-November) try to plan for early fall. This way the temperatures will still be pleasant and winter won't be threatening.
Russian winters (December-February) are not for the faint of heart as Napoleon learned to his peril. Some days the sun will be out for less than an hour, and snow is guaranteed. Although winters are exceptionally cold, this is when you'll get a true glimpse of the Moscow experience!
The best time to visit Moscow is during spring (March-May). The temperatures will begin to creep up and the sun begins to shine for significant portions of the day. Hotel rates will also have yet to skyrocket into peak ranges!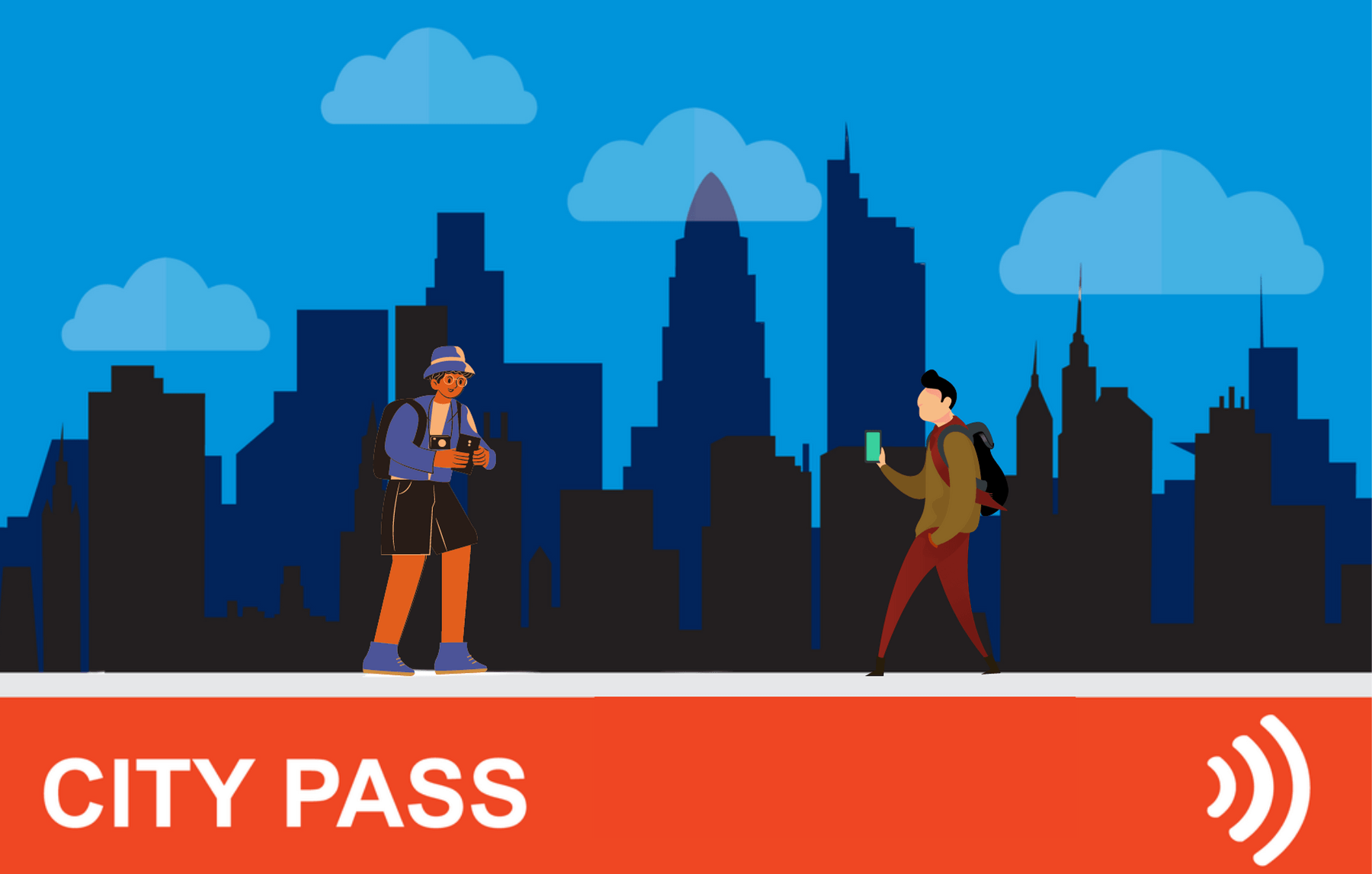 With a Moscow City Pass , you can experience the best of Moscow at the CHEAPEST prices. Discounts, attractions, tickets, and even public transport are all standards in any good city pass – be sure invest now and save them $$$ when you arrive!
Moscow is a large city with many accommodation options to choose from. Staying in a location that fits with your travel plans will only enhance your Moscow itinerary. Here is a brief introduction to a few great areas of the city we recommend checking out!
The best place to stay in Moscow to be close to all the action is Kitay-Gorod. This charming neighborhood will put you within walking distance to Moscow's famous Red Square, thus cutting down on travel time. This will allow you to see more of the city in a shorter amount of time!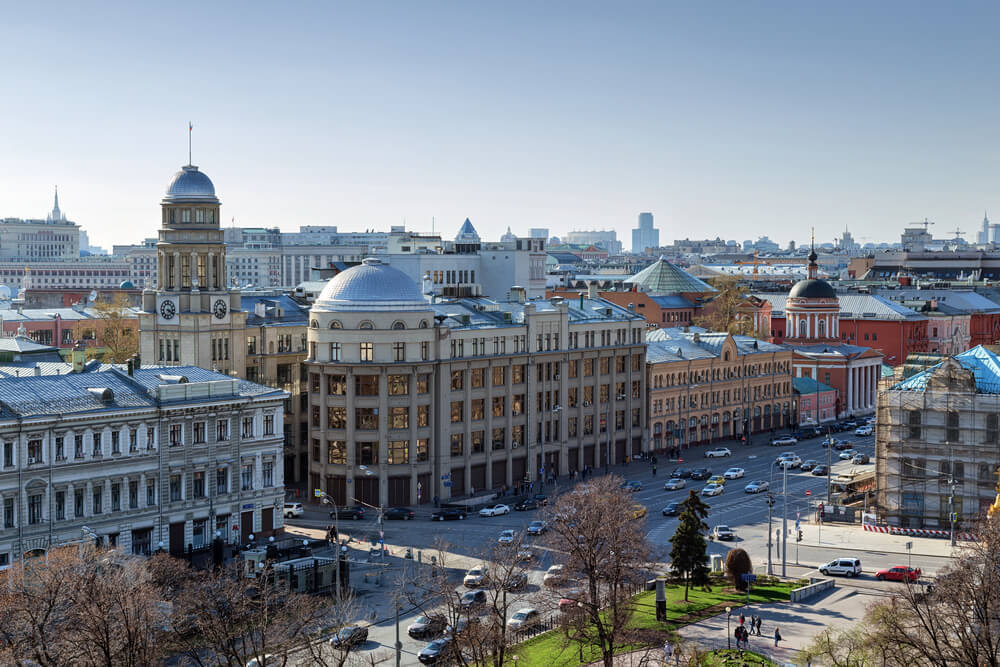 It's surrounded by restaurants, cafes, bars, and shops. If you're a first-time visitor to Moscow, or just planning a quick weekend in Moscow, then this area is perfect for you!
Another great area to consider is the Zamoskvorechye district. This area of the city offers a blend of new and old Moscow. It has an artsy vibe and there are plenty of fun sites you can explore outside of the main touristy areas of Moscow.
Of course, as in all areas of Moscow, it's close to public transportation that will quickly connect you with the rest of the city and make your Moscow itinerary super accessible!
Best Airbnb in Moscow – Exclusive Apartment in Old Moscow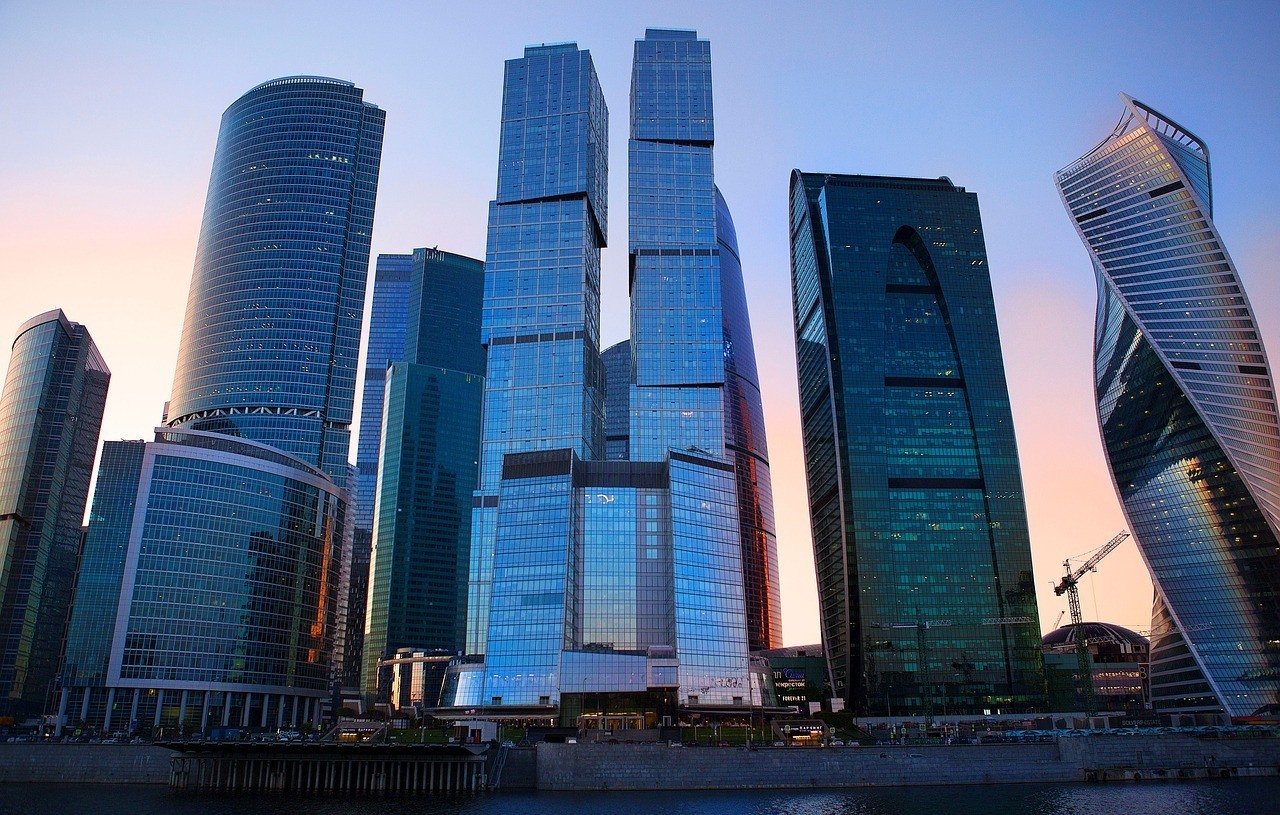 Modern and cozy, this apartment is in the heart of Old Moscow. Bordering the Basmanny and Kitay-Gorod districts, this two-bedroom flat is walking distance to the Kremlin and Red Square. Safe, quiet, and comfortable, this is the best Airbnb in Moscow, no question!
Best Budget Hotel in Moscow – Izmailovo Alfa Hotel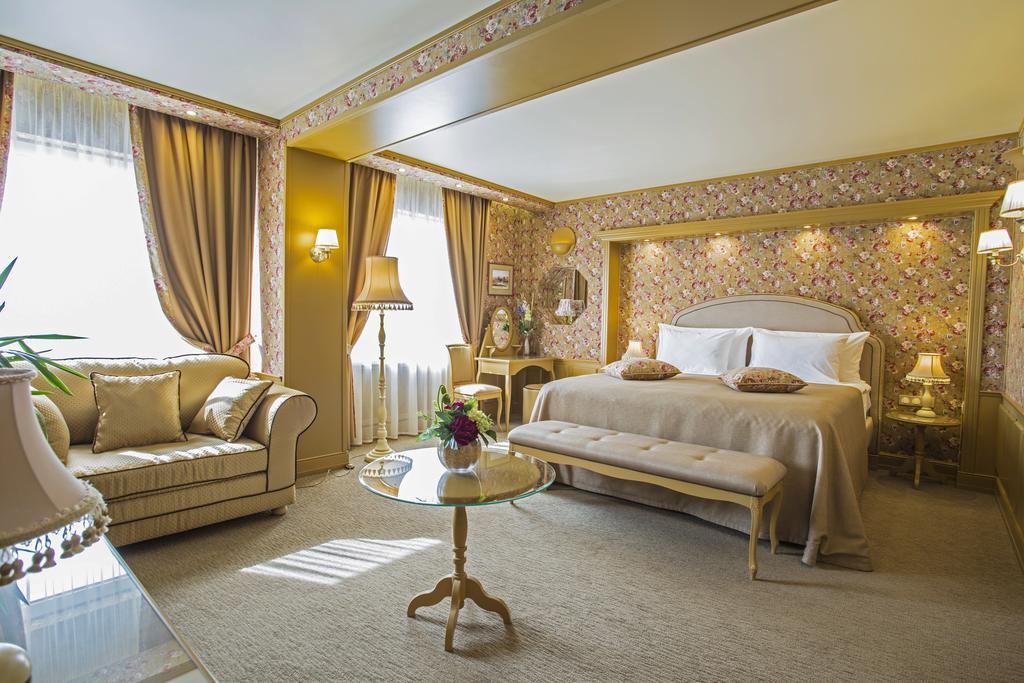 The Izmailovo Alfa Hotel is a very highly rated accommodation that provides all the components necessary for a comfortable trip to Moscow. There is an on-site restaurant, bar, fitness center, and an airport shuttle service. The rooms are modern and spacious and are equipped with a TV, heating/air conditioning, minibar, and more!
Best Luxury Hotel in Moscow – Crowne Plaza Moscow World Trade Centre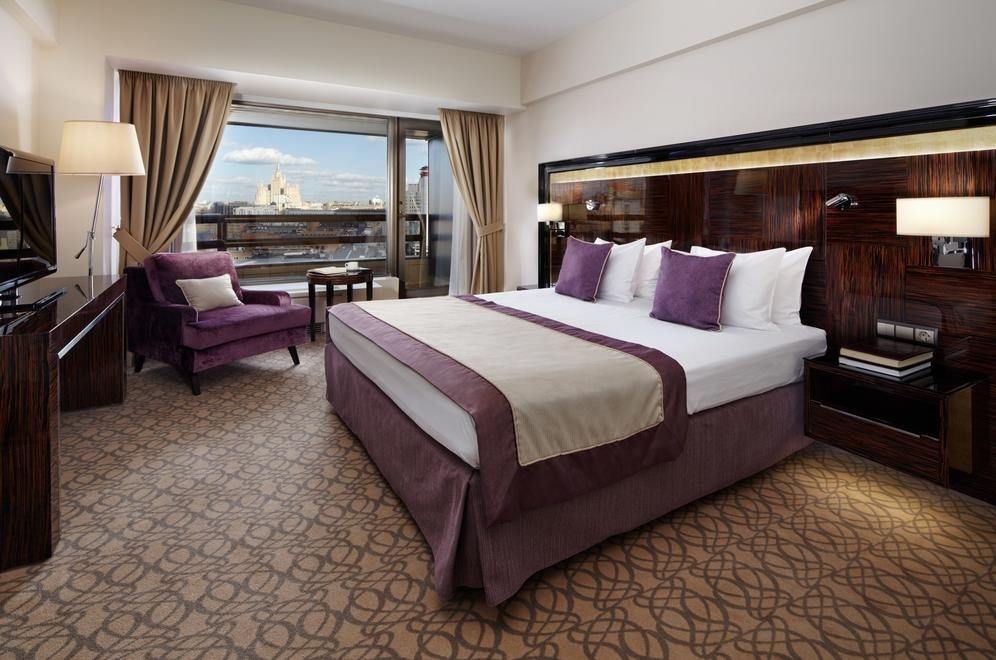 If you're touring Moscow in luxury, the Crowne Plaza Moscow World Trade Centre is the hotel for you! Elegantly furnished rooms are equipped with a minibar, flat-screen TV, in-room safes, as well as tea and coffee making facilities! Bathrooms come with bathrobes, slippers, and free toiletries. There is also an onsite restaurant, bar, and fitness center.
Best Hostel in Moscow – Godzillas Hostel
Godzillas Hostel is located in the center of Moscow, just a short walk from all the major tourist attractions and the metro station. Guests will enjoy all the usual hostel perks such as self-catering facilities, 24-hour reception, Free Wi-Fi, and security lockers. This is one of the best hostels in Moscow and its wonderful social atmosphere and will make your vacation in Moscow extra special!
Godzillas Hostel is one of our favourites in Moscow but they're not taking guests right now. We're not sure if they're closed for good but we hope they'll come back soon.
An important aspect of planning any trip is figuring out the transportation situation. You're probably wondering how you're going to get to all of your Moscow points of interest right? Luckily, this sprawling city has an excellent network of public transportation that will make traveling a breeze!
The underground metro system is the quickest and most efficient way to travel around Moscow. Most visitors rely exclusively on this super-efficient transportation system, which allows you to get to pretty much anywhere in the city! It's also a great option if you're planning a Moscow itinerary during the colder months, as you'll be sheltered from the snow and freezing temperatures!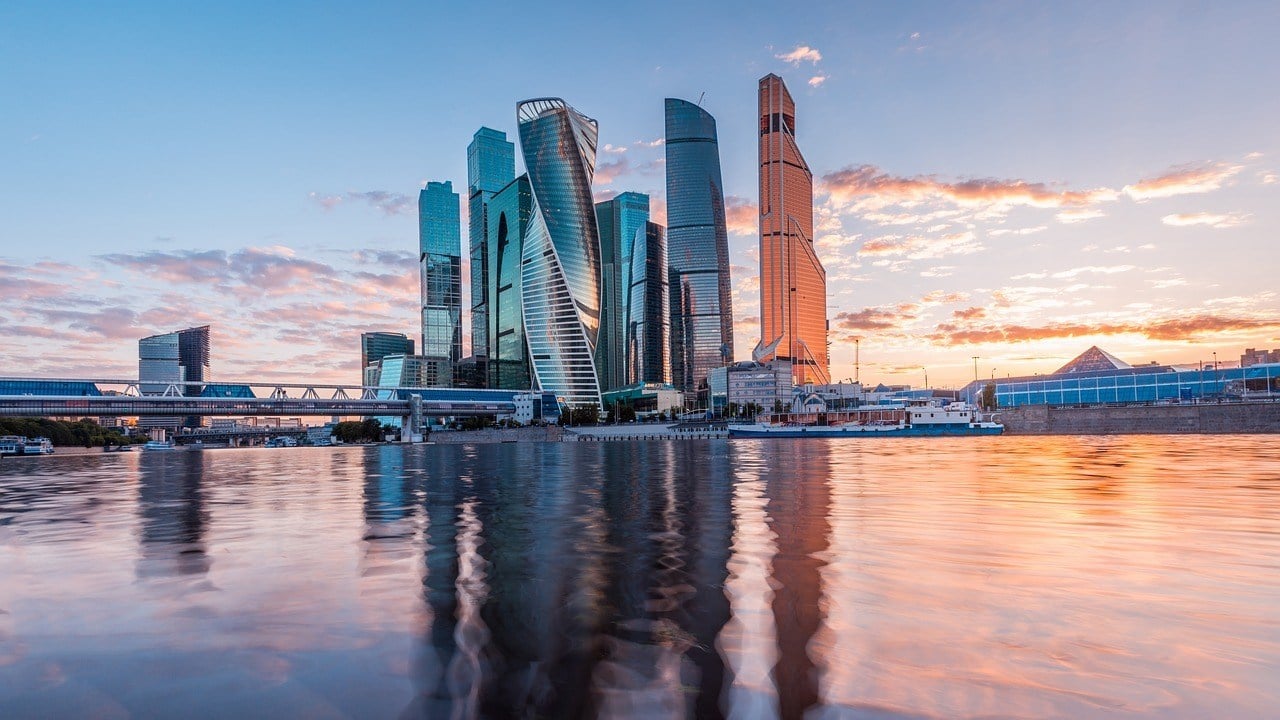 If you prefer above-ground transportation, buses, trams, and trolleybuses, run throughout the city and provide a rather comfortable alternative to the metro.
Moscow's metro, buses, trams, and trolleybuses are all accessible with a 'Troika' card. This card can be topped up with any sum of money at a metro cash desk. The ticket is simple, convenient, and even refundable upon return to a cashier!
No matter which method you choose, you'll never find yourself without an easy means of getting from point A to point B!
Red Square | Moscow Kremlin | Lenin's Mausoleum | St. Basil's Cathedral | GUM Department Store
Spend the first day of your itinerary taking your own self guided Moscow walking tour around the historic Red Square! This is Moscow's compact city center and every stop on this list is within easy walking distance to the next! Get ready to see all of the top Moscow landmarks!
Day 1 / Stop 1 – The Red Square
Why it's awesome: The Red Square is the most recognizable area in Moscow, it has mesmerizing architecture and centuries worth of history attached to its name.
Cost: Free to walk around, individual attractions in the square have separate fees.
Food nearby: Check out Bar BQ Cafe for friendly service and good food in a great location! The atmosphere is upbeat and they're open 24/7!
The Red Square is Moscow's historic fortress and the center of the Russian government. The origins of the square date back to the late 15th century, when Ivan the Great decided to expand the Kremlin to reflect Moscow's growing power and prestige!
During the 20th century, the square became famous as the site for demonstrations designed to showcase Soviet strength. Visiting the Red Square today, you'll find it teeming with tourists, who come to witness its magical architecture up close!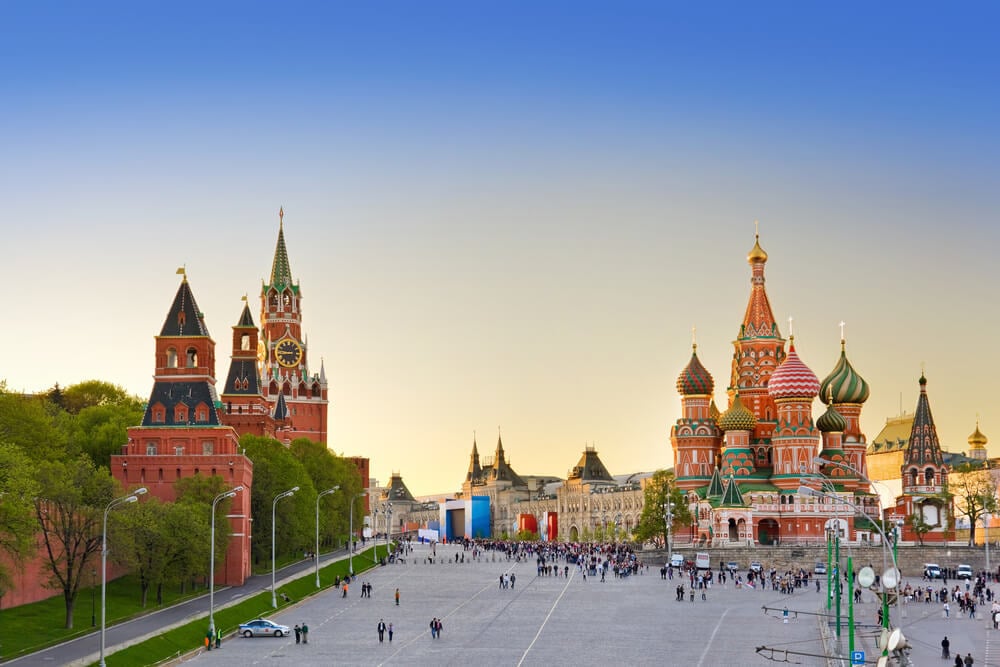 The square is the picture postcard of Russian tourism, so make sure to bring your camera when you visit! No matter the season, or the time of day, it's delightfully photogenic!
It's also home to some of Russia's most distinguishing and important landmarks, which we've made sure to include further down in this itinerary. It's an important center of Russia's cultural life and one of the top places to visit in Moscow!
In 1990, UNESCO designated Russia's Red Square as a World Heritage site. Visiting this historic site is a true bucket-list event and essential addition to your itinerary for Moscow!
Day 1 / Stop 2 – The Moscow Kremlin
Why it's awesome: The Moscow Kremlin complex includes several palaces and cathedrals and is surrounded by the Kremlin wall. It also houses the principal museum of Russia (the Kremlin Armory).
Cost: USD $15.00
Food nearby: Bosco Cafe is a charming place to grat a casual bite to eat. They have excellent coffee and wonderful views of the Red Square and the Moscow Kremlin!
The iconic Moscow Kremlin , also known as the Kremlin museum complex, sits on Borovitsky Hill, rising above the Moscow River. It is a fortified complex in the center of the city, overlooking several iconic buildings in the Red Square!
It's the best known of the Russian Kremlins – citadels or fortress' protecting and dominating a city. During the early decades of the Soviet era, the Kremlin was a private enclave where the state's governing elite lived and worked.
The Kremlin is outlined by an irregularly shaped triangular wall that encloses an area of 68 acres! The existing walls and towers were built from 1485 to 1495. Inside the Kremlin museum complex, there are five palaces, four cathedrals, and the enclosing Kremlin Wall with Kremlin towers.
The Armoury Chamber is a part of the Grand Kremlin Palace's complex and is one of the oldest museums of Moscow, established in 1851. It showcases Russian history and displays many cherished relics. Definitely make sure to check out this museum while you're here!
The churches inside the Moscow Kremlin are the Cathedral of the Dormition, Church of the Archangel, Church of the Annunciation, and the bell tower of Ivan Veliki (a church tower).
The five-domed Cathedral of the Dormition is considered the most famous. It was built from 1475–1479 by an Italian architect and has served as a wedding and coronation place for great princes, tsars, and emperors of Russia. Church services are given in the Kremlin's numerous cathedrals on a regular basis.
The Grand Kremlin Palace was the former Tsar's Moscow residence and today it serves as the official workplace of the President of the Russian Federation (Vladimir Putin seems to have bagged that title for life) .
Insider Tip: The Kremlin is closed every Thursday! Make sure to plan this stop on your Moscow itinerary for any other day of the week!
Day 1 / Stop 3 – Lenin's Mausoleum
Why it's awesome: The mausoleum displays the preserved body of Soviet leader Vladimir Lenin .
Cost: Free!
Food nearby: Khinkal'naya is a charming Georgian restaurant with vaulted ceilings and exposed brick. It's a popular place with locals and right next to the Red Square!
Lenin's Mausoleum, also known as Lenin's Tomb, is the modernist mausoleum for the revolutionary leader Vladimir Lenin. It's located within the Red Square and serves as the resting place for the Soviet leader! His preserved body has been on public display since shortly after his death in 1924.
It's located just a few steps away from the Kremlin Wall and is one of the most controversial yet popular Moscow attractions!
Admission is free for everyone, you'll only need to pay if you need to check a bag. Before visitors are allowed to enter the mausoleum, they have to go through a metal detector first. No metal objects, liquids, or large bags are allowed in the mausoleum!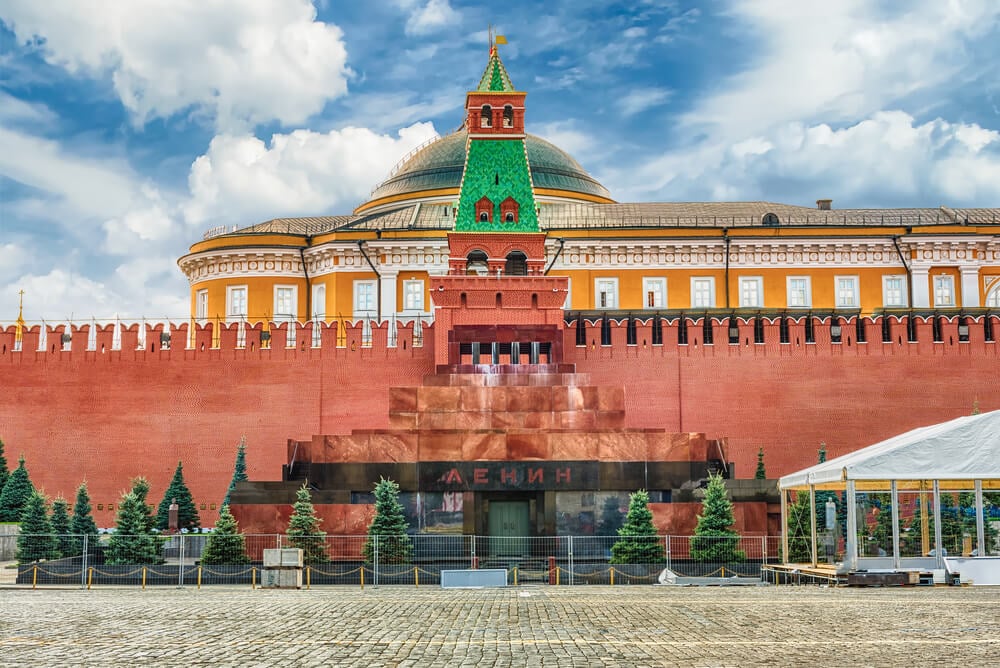 Expect a line to enter the building, and while you're inside the building, you'll be constantly moving in line with other visitors. This means you won't be able to spend as long as you'd like viewing the mausoleum, but you'll still be able to get a good look. Pictures and filming while inside the building are strictly prohibited, and security guards will stop you if they see you breaking this rule.
The mausoleum is only open on Tuesday, Wednesday, Thursday, and Saturday – unless it's a public holiday or a day scheduled for maintenance. The hours it's open for each day are limited, make sure to check online before you visit to make sure you can fit this into your Moscow itinerary for that day!
Insider Tip: The Lenin's Museum is there for people to pay their respect; remember to keep silent and move along quickly, it's not intended for people to congregate around. Also, men are not allowed to wear hats and everyone must take their hands out of their pockets when inside the building.
Day 1 / Stop 4 – St. Basil's Cathedral
Why it's awesome: A dazzling designed cathedral that showcases Russia's unique architecture. This cathedral is one of the most recognizable symbols of the country!
Cost: USD $8.00
Food nearby: Moskovskiy Chaynyy Klub is a cozy cafe serving food items and pipping hot tea; it's the perfect place to go if you're visiting Moscow during the winter months!
Located in the Red Square, the ornate 16th-century St. Basil's Cathedral is probably the building you picture when you think of Moscow's unique architecture. Its colorful onion-shaped domes tower over the Moscow skyline!
The cathedral was built from 1555-1561 by order of Tsar Ivan the Terrible. It was designed with an iconic onion dome facade and enchanting colors that captivate all who see it. Fun fact: If you're wondering why Russian churches have onion domes, they are popularly believed to symbolize burning candles!
This iconic cathedral has become a symbol of Russia due to its distinguishing architecture and prominent position inside the Red Square. It's one of the most beautiful, wonderful, and mesmerizing historical cathedrals in the world!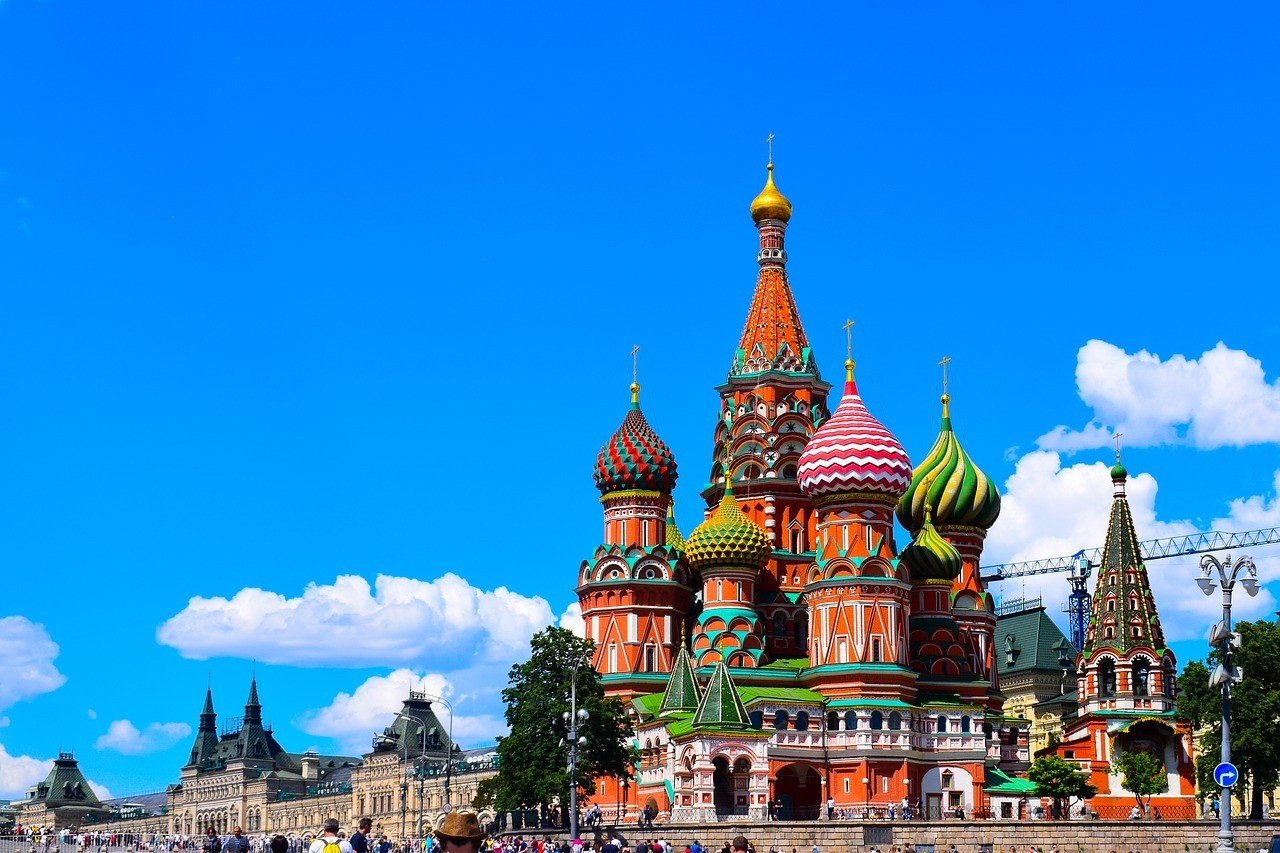 The interior of the church surprises most people when they visit. In contrast to the large exterior, the inside is not so much one large area, but rather a collection of smaller areas, with many corridors and small rooms. There are 9 small chapels and one mausoleum grouped around a central tower.
Visiting the inside is like walking through a maze, there are even small signs all around the cathedral tracing where to walk, and pointing you in the right direction! The walls are meticulously decorated and painted with intricate floral designs and religious themes.
The church rarely holds service and is instead a museum open for the public to visit.
Insider Tip: During the summer months the line to go inside the cathedral can get quite long! Make sure to arrive early or reserve your tickets online to guarantee quick access into the cathedral!
Day 1 / Stop 5 – GUM Department Store
Why it's awesome: This is Russia's most famous shopping mall! It's designed with elegant and opulent architecture and provides a real sense of nostalgia!
Cost: Free to enter
Food nearby: Stolovaya 57 is a cafeteria-style restaurant with a variety of inexpensive Russian cuisine menu items including soups, salads, meat dishes, and desserts. It's also located inside the GUM department store, making it very easily accessible when you're shopping!
The enormous GUM Department Store is located within the historic Red Square. It has a whimsical enchantment to it that sets it apart from your typical department store.
A massive domed glass ceiling lines the top of the building and fills the interior with natural sunlight. There are live plants and flowers placed throughout the mall that give the shopping complex a lively and cheerful feel! A playful fountain sits in the center, further adding to the malls inviting a sense of wonder and amusement!
The GUM department store opened on December 2, 1893. Today, it includes local and luxury stores, including Fendi, Louis Vuitton, Prada, and many more! There are numerous cafes, restaurants, and even a movie theater inside!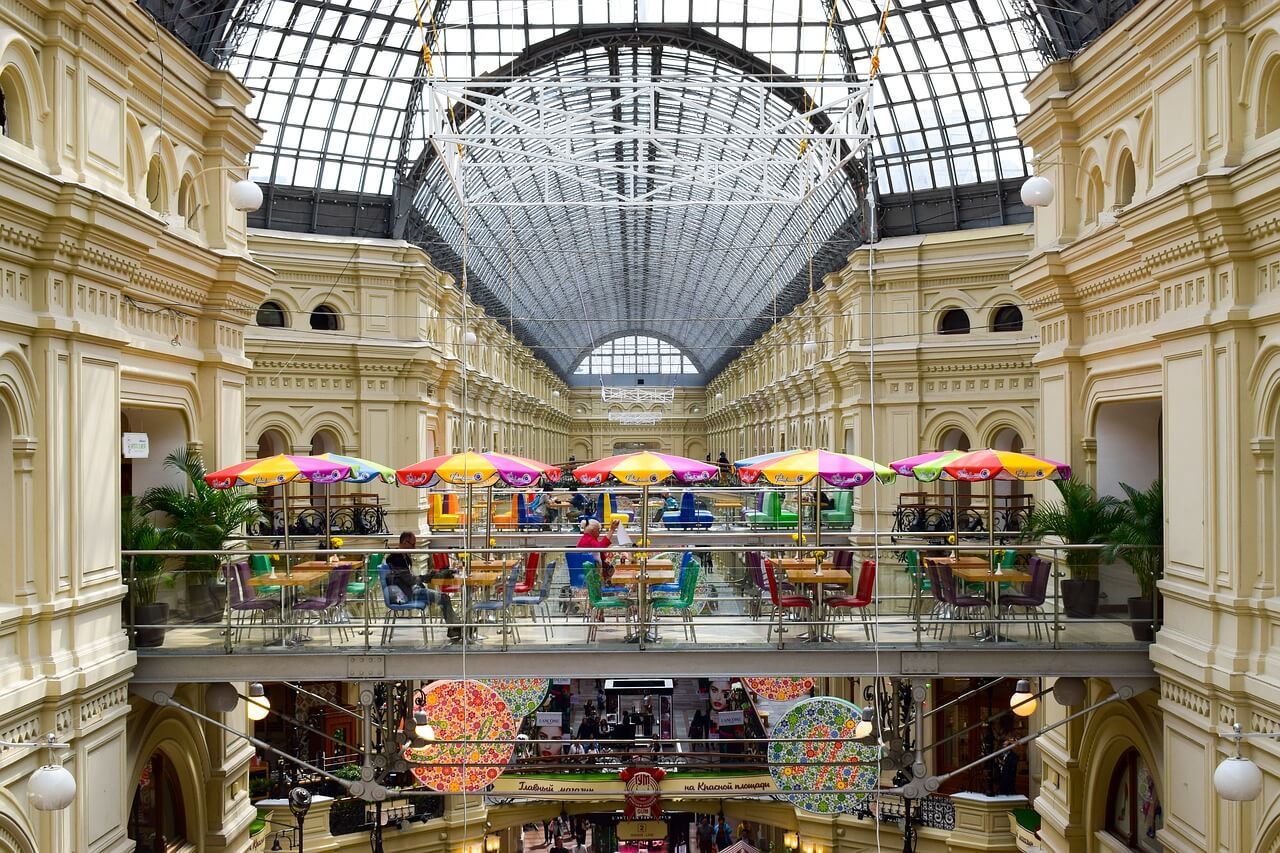 For a special treat, head into Gastronom 1. This 1950s-style shop sells gourmet food items, like wine, freshly-baked pastries, cheese, Russian chocolate, and of course, vodka! Also, be on the lookout for a bicycle pedaling ice cream truck with an employing selling ice cream!
The ambiance is simply amazing, a trip to this idyllic shopping mall is an absolute must on any Moscow itinerary!
Insider Tip: Make sure to carry some small change on you in case you need to use the restroom, you'll need to pay 50 rubles – or about USD $0.80 to use the bathroom in GUM.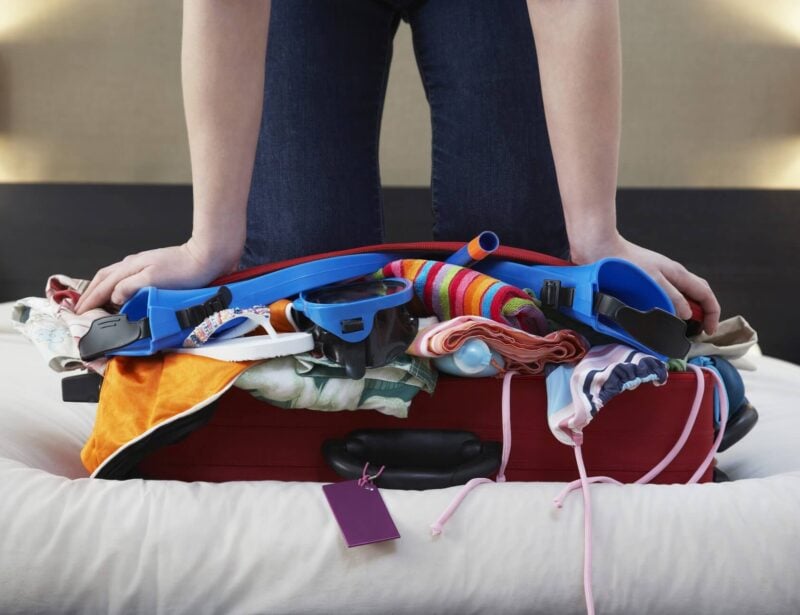 Wanna know how to pack like a pro? Well for a start you need the right gear….
These are packing cubes for the globetrotters and compression sacks for the  real adventurers – these babies are a traveller's best kept secret. They organise yo' packing and minimise volume too so you can pack MORE.
Or, y'know… you can stick to just chucking it all in your backpack…
Novodevichy Convent | Gorky Park | State Tretyakov Gallery | All-Russian Exhibition Center | Bolshoi Theater
On your 2 day itinerary in Moscow, you'll have a chance to use the city's excellent public transportation service! You'll explore a few more of Moscow's historic highlight as well as some modern attractions. These sites are a little more spread out, but still very easily accessible thanks to the metro!
Day 2 / Stop 1 – Novodevichy Convent
Why it's awesome: The Novodevichy Convent is rich in imperial Russian history and contains some of Russia's best examples of classical architecture!
Cost: USD $5.00
Food nearby: Culinary Shop Karavaevs Brothers is a cozy and simple place to have a quick bite, they also have vegetarian options!
The Novodevichy Convent is the best-known and most popular cloister of Moscow. The convent complex is contained within high walls, and there are many attractions this site is known for!
The six-pillared five-domed Smolensk Cathedral is the main attraction. It was built to resemble the Kremlin's Assumption Cathedral and its facade boasts beautiful snowy white walls and a pristine golden onion dome as its centerpiece. It's the oldest structure in the convent, built from 1524 -1525, and is situated in the center of the complex between the two entrance gates.
There are other churches inside the convent as well, all dating back from many centuries past. The convent is filled with an abundance of 16th and 17th-century religious artworks, including numerous large and extravagant frescos!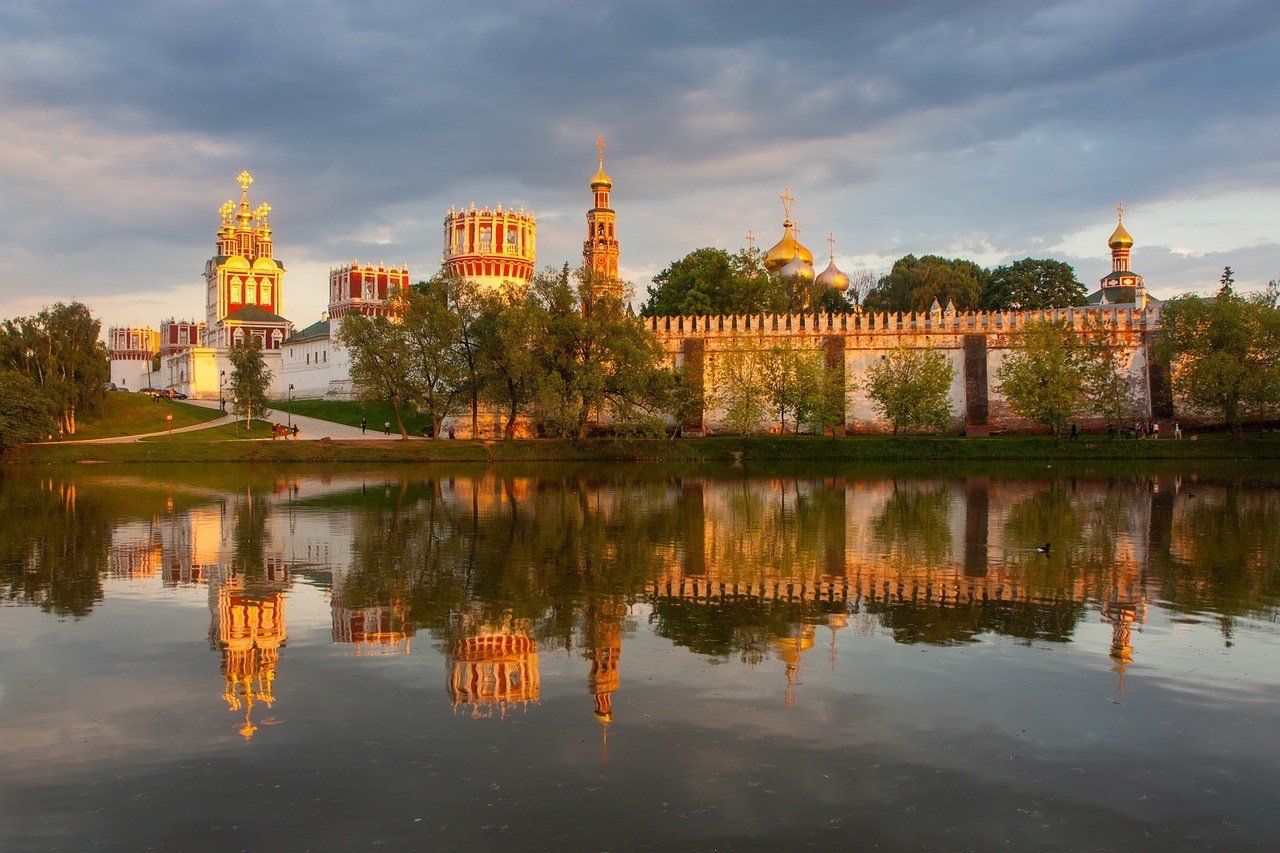 Just outside the convent's grounds lies the Novodevichy Cemetery. Here, you can visit the graves of famous Russians, including esteemed authors, composers, and politicians. Probably the most intriguing gravestone belongs to Russian politician Nikita Khruschev!
The Novodevichy Convent is located near the Moscow River and offers a peaceful retreat from the busy city. In 2004, it was proclaimed a UNESCO World Heritage Site. The convent remains remarkably well-preserved and is an outstanding example of Moscow Baroque architecture!
Insider Tip: To enter the cathedrals inside the complex, women are advised to cover their heads and shoulders, while men should wear long pants.
Day 2 / Stop 2 – Gorky Central Park of Culture and Leisure
Why it's awesome: A large amusement area in the heart of the city offering many attractions!
Cost: Free!
Food nearby: Check out Mepkato, located inside Gorky Central Park for a casual meal in a cozy setting. There are indoor and outdoor seating options and the restaurant is child-friendly!
Gorky Central Park of Culture and Leisure is a large green space in the heart of Moscow. The park opened in 1928, and it stretches along the scenic embankment of the Moskva River. It covers an area of 300-acres and offers a lovely contrast from the compact city center.
You'll find all sorts of wonderful attractions, from boat rides to bike rentals to tennis courts and ping-pong tables, and much more! there are an open-air cinema and festive events and concerts scheduled in the summer months. A wide selection of free fitness classes is also offered on a regular basis, including jogging, roller skating, and dancing!
Although many of the options you'll find here are more suited for outdoor leisure during the summer, you'll also a selection of winter attractions, including one of Europe's largest ice rinks for ice-skating!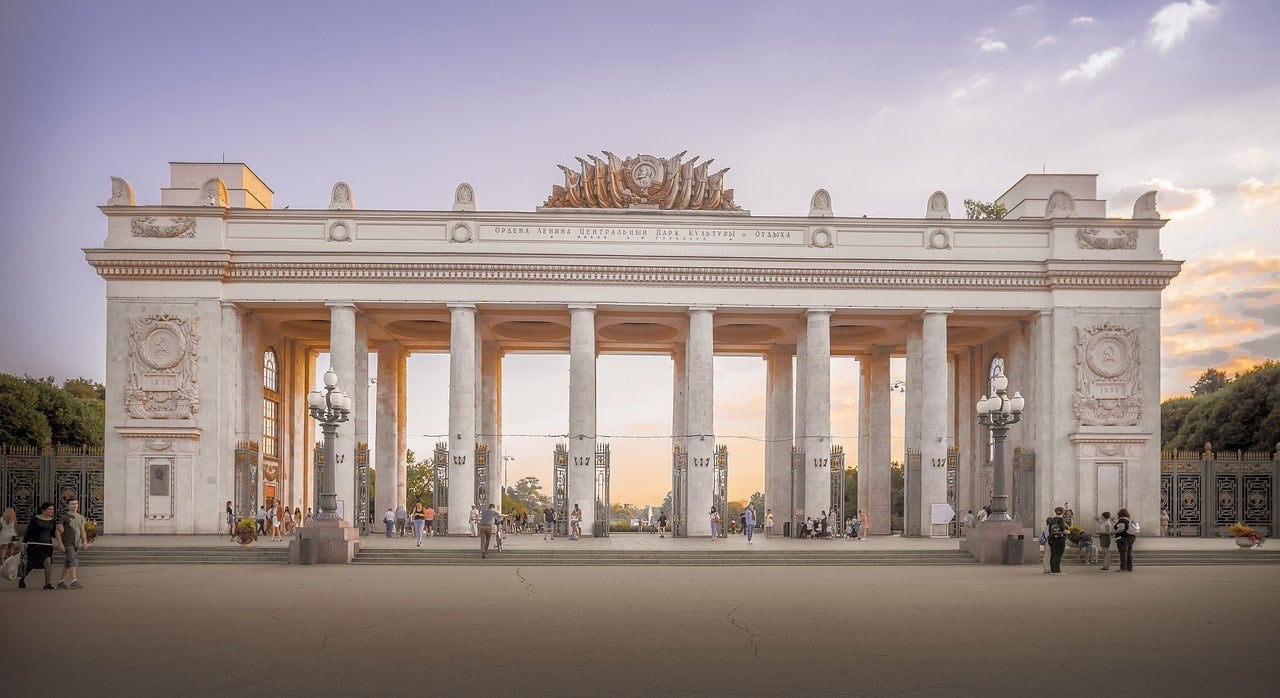 If you're trying to decide what to do in Moscow with kids, the park also offers several venues designed specifically for kids. Check out the year-round Green School which offers hands-on classes in gardening and art! You can also feed the squirrels and birds at the Golitsinsky Ponds!
The park is very well maintained and kept clean and the entrance is free of charge, although most individual attractions cost money. There is also Wi-Fi available throughout the park.
With so many attractions, you could easily spend all day here! If you're only planning a 2 day itinerary in Moscow, make sure to plan your time accordingly and map out all the areas you want to see beforehand!
Day 2 / Stop 3 – The State Tretyakov Gallery
Why it's awesome: The gallery's collection consists entirely of Russian art made by Russian artists!
Food nearby : Brothers Tretyakovs is located right across the street from the gallery. It's a wonderfully atmospheric restaurant serving top quality food and drinks!
The State Tretyakov Gallery was founded in 1856 by influential merchant and collector Pavel Tretyakov. The gallery is a national treasury of Russian fine art and one of the most important museums in Russia!
It houses the world's best collection of Russian art and contains more than 130, 000 paintings, sculptures, and graphics! These works have been created throughout the centuries by generations of Russia's most talented artists!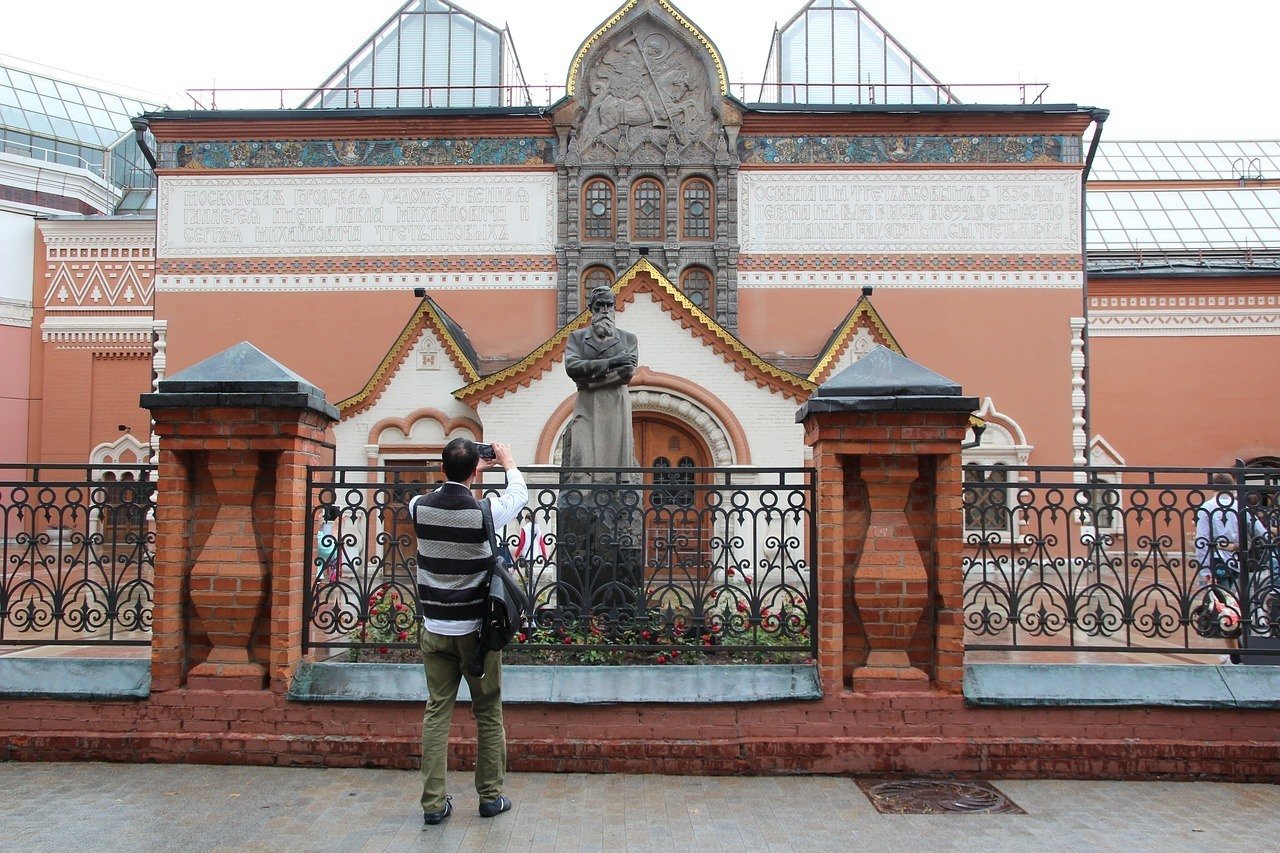 The exhibits range from mysterious 12th-century images to politically charged canvases. The collection is rich and revealing and offers great insight into the history and attitudes of this long-suffering yet inspired people!
All pictures are also labeled in English. If you plan to take your time and see everything inside the museum it will take a good 3-4 hours, so make sure to plan your Moscow trip itinerary accordingly! This gallery is a must-see stop for art lovers, or anyone wanting to explore the local culture and history of Russia in a creative and insightful manner!
Insider Tip: When planning your 2 days in Moscow itinerary, keep in mind that most museums in Moscow are closed on Mondays, this includes The State Tretyakov Gallery!
Day 2 / Stop 4 – All-Russian Exhibition Center
Why it's awesome: This large exhibition center showcases the achievements of the Soviet Union in several different spheres.
Food nearby: Varenichnaya No. 1 serves authentic and homestyle Russian cuisine in an intimate and casual setting.
The All-Russian Exhibition Center is a massive park that presents the glory of the Soviet era! It pays homage to the achievements of Soviet Russia with its many different sites found on the property.
The center was officially opened in 1939 to exhibit the achievements of the Soviet Union. It's a huge complex of buildings and the largest exhibition center in Moscow. There are several exhibition halls dedicated to different achievements and every year there are more than one hundred and fifty specialized exhibitions!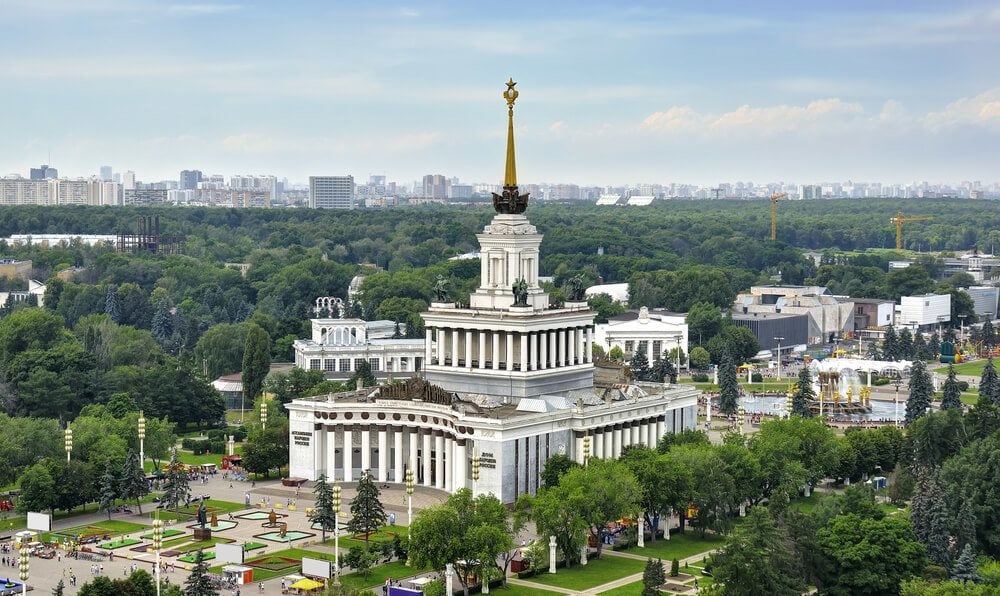 The Peoples Friendship Fountain was constructed in 1954 and is a highlight of the park. The stunning gold fountain features 16 gilded statues of girls, each representing the former Soviet Union republics.
The Stone Flower Fountain was also built in 1954 and is worth checking out. The centerpiece of this large fountain is a flower carved from stones from the Ural Mountains! Along the side of the fountain are various bronze sculptures.
You will find many people zipping around on rollerblades and bicycles across the large area that the venue covers. It's also home to amusement rides and carousels, making it the perfect place to stop with kids on your Moscow itinerary! Make sure to wear comfortable shoes and allow a few hours to explore all the areas that interest you!
Day 2 / Stop 5 – Bolshoi Theater
Why it's awesome: The Bolshoi Theater is a historic venue that hosts world-class ballet and opera performances!
Cost: Prices vary largely between USD $2.00 – USD $228.00 based on seat location.
Food nearby: Head to the Russian restaurant, Bolshoi for high-quality food and drinks and excellent service!
The Bolshoi Theater is among the oldest and most renowned ballet and opera companies in the world! It also boasts the world's biggest ballet company, with more than 200 dancers!
The theater has been rebuilt and renovated several times during its long history. In 2011 it finished its most recent renovation after an extensive six-year restoration that started in 2005. The renovation included an improvement in acoustics and the restoration of the original Imperial decor.
The Bolshoi Theater has put on many of the world's most famous ballet acts! Tchaikovsky's ballet Swan Lake premiered at the theater in 1877 and other notable performances of the Bolshoi repertoire include Tchaikovsky's The Sleeping Beauty and The Nutcracker!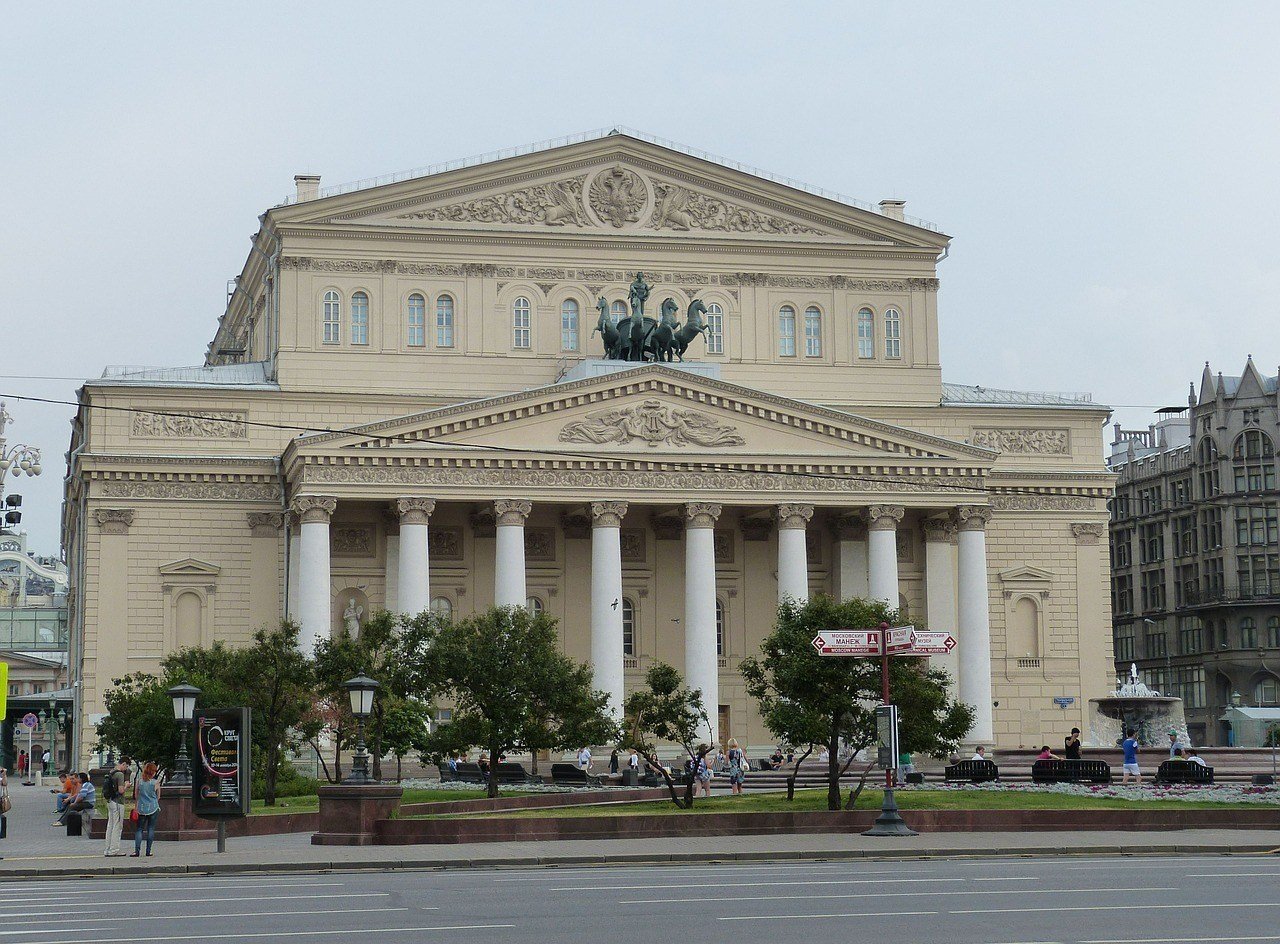 Today, when you visit the theater, you can expect a magical performance from skilled singers, dancers, and musicians with the highest level of technique!
If you don't have time to see a show, the theater also provides guided tours on select days of the week. Tours are given in both Russian and English and will provide visitors with a more intimate look at the different areas of the theater!
The stage of this iconic Russian theater has seen many outstanding performances. If you're a fan of the performing arts, the Bolshoi Theater is one of the greatest and oldest ballet and opera companies in the world, making it a must-see attraction on your Moscow itinerary!
Godzillas Hostel
Godzillas Hostel is located in the center of Moscow, just a short walk from all the major tourist attractions and the metro station.
Cosmonautics Museum | Alexander Garden | Ostankino Tower | Izmaylovo District | Soviet Arcade Museum
Now that we've covered what to do in Moscow in 2 days, if you're able to spend more time in the city you're going to need more attractions to fill your time. Here are a few more really cool things to do in Moscow we recommend!
Memorial Museum of Cosmonautics
Hear the timeline of the 'space race' from the Russian perspective
This museum is fun for both adults and children!
Admission is USD $4.00
The Memorial Museum of Cosmonautics is a museum dedicated to space exploration! The museum explores the history of flight, astronomy, space exploration, space technology, and space in the arts. It houses a large assortment of Soviet and Russian space-related exhibits, and the museum's collection holds approximately 85,000 different items!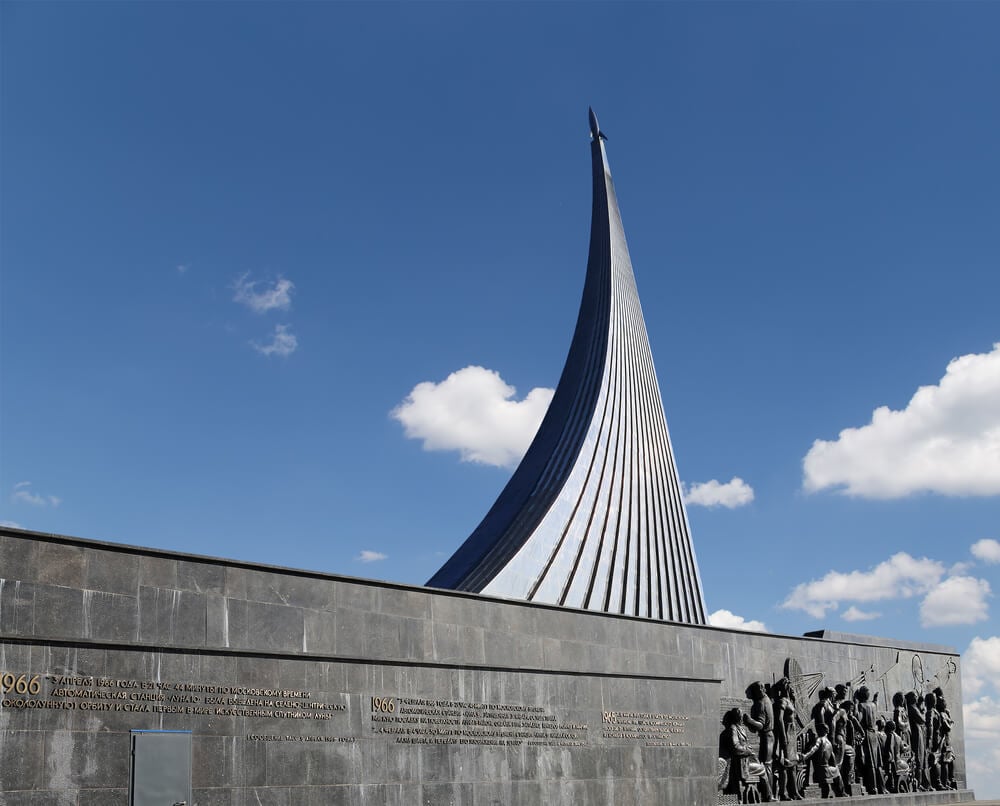 The museum does an excellent job of telling the full story of the exciting space race between the USSR and the US! It highlights the brightest moments in Russian history and humanity and is very interesting and fun for all ages!
If you're a fan of space or just curious about gaining insight into Russia's fascinating history of space exploration, make sure to add this to your 3 day itinerary in Moscow!
The Alexander Garden
A tranquil place to relax near the Red Square
Green lawns dotted with sculptures and lovely water features
The park is open every day and has no entrance fee
The Alexander Garden was one of the first urban public parks in Moscow! The garden premiered in 1821 and was built to celebrate Russia's victory over Napoleon's forces in 1812!
The park is beautiful and well maintained with paths to walk on and benches to rest on. The park contains three separate gardens: the upper garden, middle garden, and lower garden.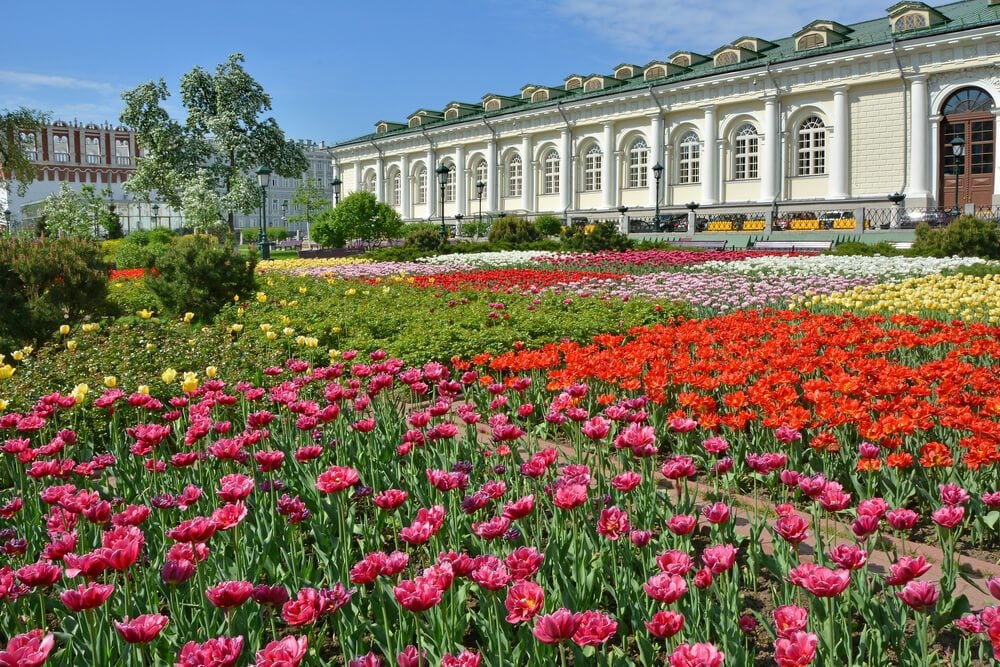 Located in the upper garden, towards the main entrance to the park is the Tomb of the Unknown Soldier with its eternal flame. This monument was created in 1967 and contains the body of a soldier who fell during the Great Patriotic War!
The park stretches along all the length of the western Kremlin wall for about half a mile. Due to its central location in the city, it'll be easily accessible when you're out exploring The Red Square.
It provides a bit of relief from the city's high-energy city streets. Bring a picnic lunch, go for a walk, or just sit and people watch, this is one of the best Moscow sites to wind-down and relax!
Ostankino Television Tower
Television and radio tower in Moscow
Currently the tallest free-standing structure in Europe
Make sure you bring your passport when you visit, you can't go up without it!
For spectacular views of the city, make sure to add the Ostankino Television Tower to your itinerary for Moscow! This impressive free-standing structure provides stunning views of the city in every direction. The glass floor at the top also provides great alternative views of the city!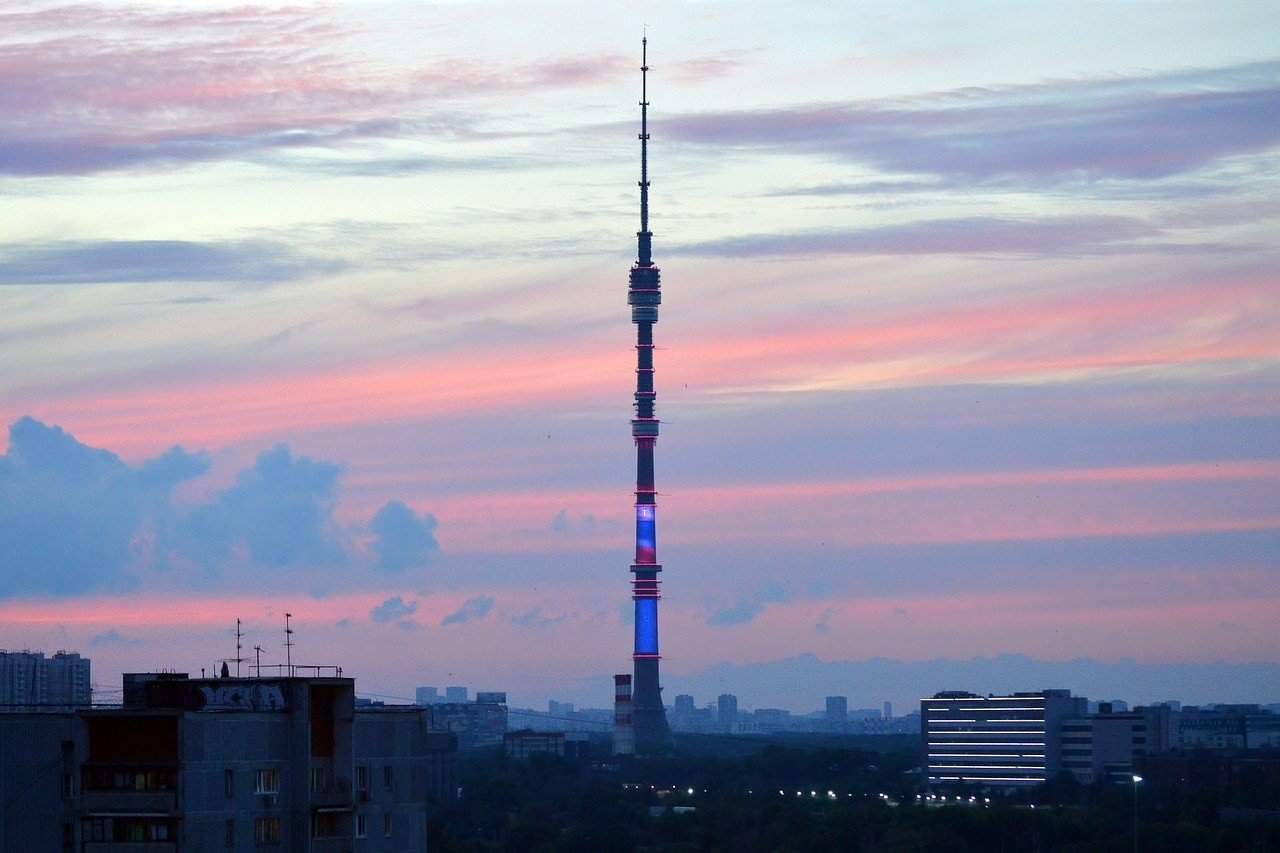 It takes just 58 seconds for visitors to reach the Tower's observation deck by super fast elevator. The tower is open every day for long hours and is a great site in Moscow to check out! There is even a restaurant at the top where you can enjoy rotating views of the city while you dine on traditional Russian cuisine or European cuisine!
The tower is somewhat of an architectural surprise in a city that is not known for skyscrapers! To see the city from a new perspective, make sure to add this stop to your Moscow itinerary!
Izmaylovo District
The most popular attractions in this district are the kremlin and the flea market
Outside of the city center and easy to reach via metro
Most popular during the summer and on weekends
Travel outside the city center and discover a unique area of the city! The Izmaylovo District is a popular destination for locals and tourists alike, and one of the coolest places to see in Moscow! The two main attractions we recommend checking out are the Kremlin and the flea market.
The Izmailovo Kremlin was established as a cultural center and molded after traditional Russian architecture. This colorful complex is home to several single-subject museums, including a Russian folk art museum and a vodka museum!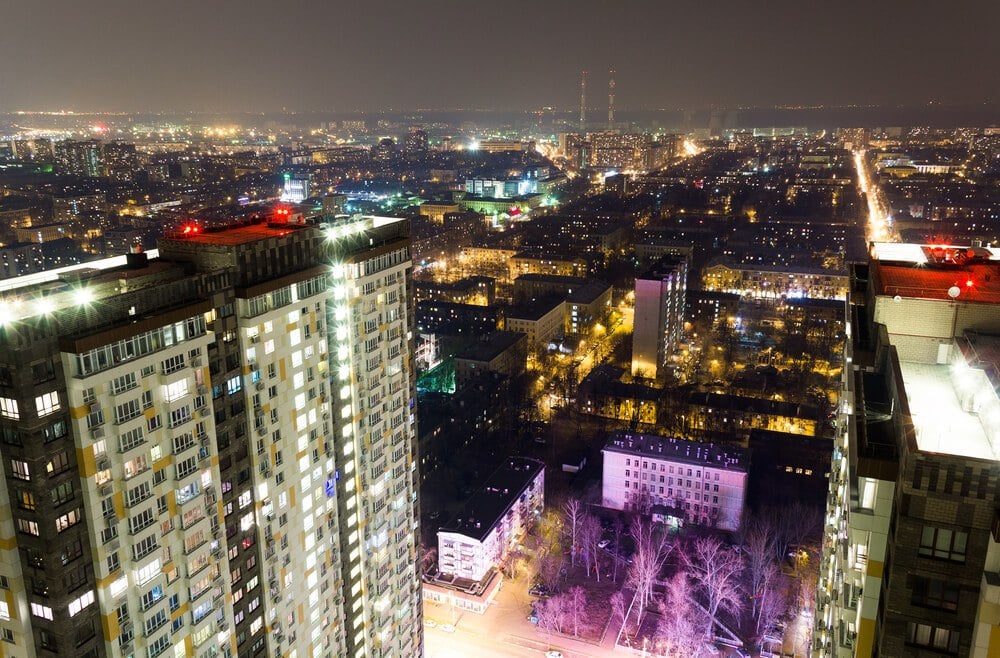 Next to the Kremlin is the Izmailovo open-air market, which dates back to the 17th century! The market is connected to the Izmailovo Kremlin by a wooden bridge. Pick up all your Russian souvenirs here, including traditional handicrafts, paintings, books, retro toys, and Soviet memorabilia!
You will find many hand-made and hand-painted options available at higher prices, as well as mass-produced souvenir options at lower prices!
Museum of Soviet Arcade Games
Closed on Mondays
Filled with old arcade games that visitors get to try out!
The museum also includes a small cafe and burger shop
For something a little different, check out the Museum of Soviet Arcade Games! The museum features roughly 60 machines from the Soviet era, including video games, pinball machines, and collaborative hockey foosball! The machines inside the museum were produced in the USSR in the mid-1970s.
The best part is, most of the games are still playable! Purchase tickets and try the games out for yourself! The museum also has a neat little screening room that plays old Soviet cartoons and an area with Soviet magazines! This unique attraction is a fun addition to a 3 day itinerary in Moscow, and an attraction that all ages will enjoy!
We've tested countless day packs over the years, and now we've found our absolute favourite: the traveller-approved Osprey Daylite Plus .
Want more deetz on why we love it  so damn much?  Then read our comprehensive review for the inside scoop!
Whether you're spending one day in Moscow, or more, safety is an important thing to keep in mind when traveling to a big city! Overall, Moscow is a very safe place to visit. However, it is always recommended that tourists take certain precautions when traveling to a new destination!
The police in Moscow is extremely effective at making the city a safe place to visit and do their best to patrol all of the top Moscow, Russia tourist attractions. However, tourists can still be a target for pickpockets and scammers.
Moscow has a huge flow of tourists, therefore there is a risk for pickpocketing. Simple precautions will help eliminate your chances of being robbed. Stay vigilant, keep your items close to you at all times, and don't flash your valuables!
If you're planning a solo Moscow itinerary, you should have no need to worry, as the city is also considered safe for solo travelers, even women. Stay in the populated areas, try and not travel alone late at night, and never accept rides from strangers or taxis without a meter and correct signage.
The threat of natural disasters in Moscow is low, with the exception of severe winters when the temperature can dip below freezing! Bring a good, warm jacket if you visit in Winter.
However, please note that Russian views on homsexuality are far less accepting than those in Western Europe. Likewise, Non-Caucasian travellers may sadly encounter racism in Russia .
Don't Forget Your Travel Insurance for Moscow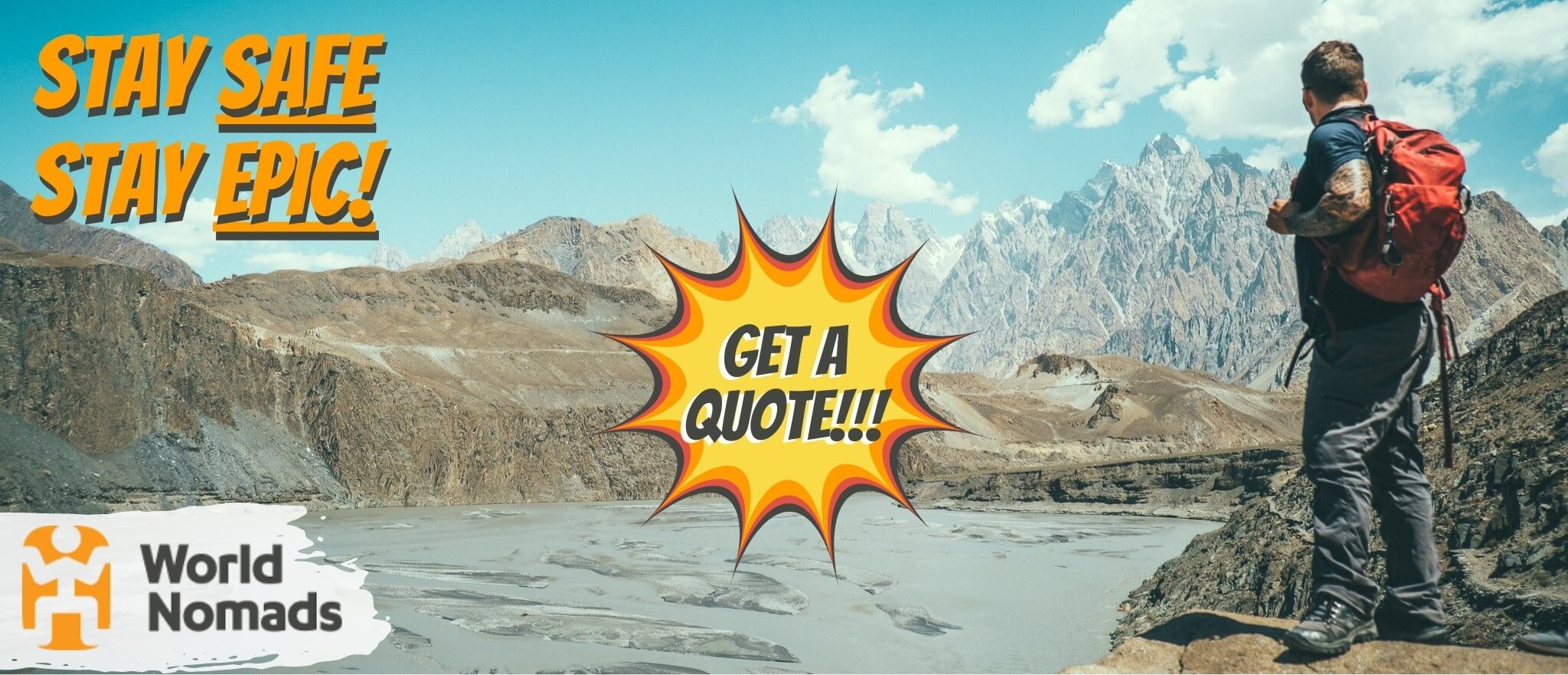 World Nomads ' mission is to support and encourage travellers to explore their boundaries. They offer simple & flexible travel insurance, and safety advice to help you travel confidently.
They've been doing it since 2002 – protecting, connecting, and inspiring independent travellers just like you.
Get a quote below or read our in-depth review!
World Nomads provides travel insurance for travelers in over 100 countries. As an affiliate, we receive a fee when you get a quote from World Nomads using this link. We do not represent World Nomads. This is information only and not a recommendation to buy travel insurance.
Now that we've covered all the top things to see in Moscow, we thought we'd include some exciting day trips to other areas of the country!
Sergiev Posad (Golden Ring)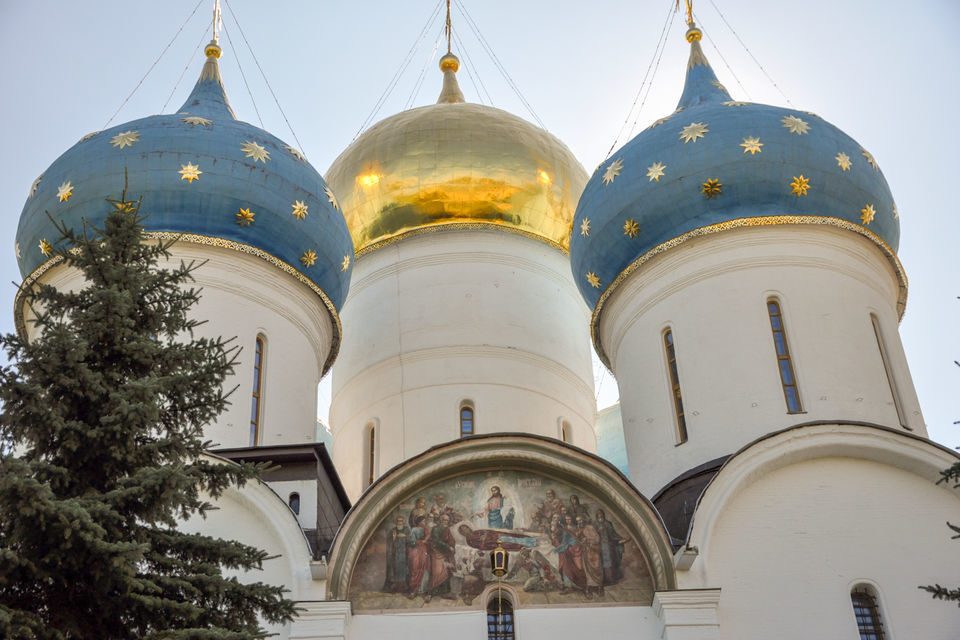 On this 7-hour guided tour, you'll visit several scenic and historic areas of Russia. Start your day with hotel pick-up as you're transferred by a comfortable car or minivan to Sergiev Posad. Admire the charming Russian countryside on your drive and enjoy a quick stop to visit the Russian village, Rudonezh!
You'll see the majestic Saint Spring and the Church of Sergiev Radonezh. You'll also visit the UNESCO World Heritage Site, Trinity Lavra of St. Sergius, one of the most famous Orthodox sites in Russia!
Lastly, you'll swing by the local Matreshka market and enjoy a break in a nice Russian restaurant before returning to Moscow!
Day Trip to Vladimir and Suzdal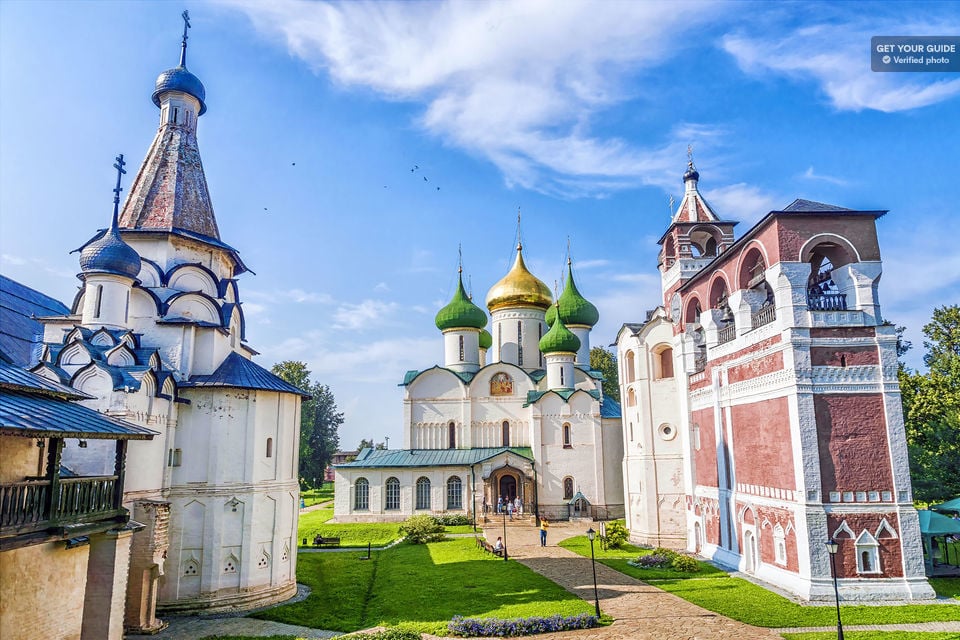 On this 13-hour trip, you'll discover old Russia, with its picturesque landscapes and white-stoned beautiful churches! You'll visit the main towns of the famous Golden Ring of Russia – the name for several cities and smaller towns north-east of Moscow.
Your first stop will be in the town of Vladimir, the ancient capital of all Russian principalities. The city dates back to the 11th century and is one of the oldest and the most important towns along the Ring! Next, you'll visit Suzdal, a calm ancient Russian town north of Vladimir with only 13,000 inhabitants!
The old-style architecture and buildings of Suzdal are kept wonderfully intact. If you're spending three days in Moscow, or more, this is a great option for exploring the charming areas outside the city!
Zvenigorod Day Trip and Russian Countryside
On this 9-hour private tour, you'll explore the ancient town of Zvenigorod, one of the oldest towns in the Moscow region! As you leave Moscow you'll enjoy the stunning scenery along the Moscow River, and make a few stops at old churches along the way to Zvenigorod.
Upon arrival, you'll explore the medieval center, including the 14th-century Savvino-Storozhevsky Monastery. Next, you'll take a break for lunch (own expense) where you'll have the chance to try out the Russian cuisine! Next, you'll visit the Museum of Russian Dessert and sip on tea at a Russian tea ceremony.
The final stop of the day is at the Ershovo Estate, a gorgeous place to walk around and enjoy nature!
Day Trip to St Petersburg by Train visiting Hermitage & Faberge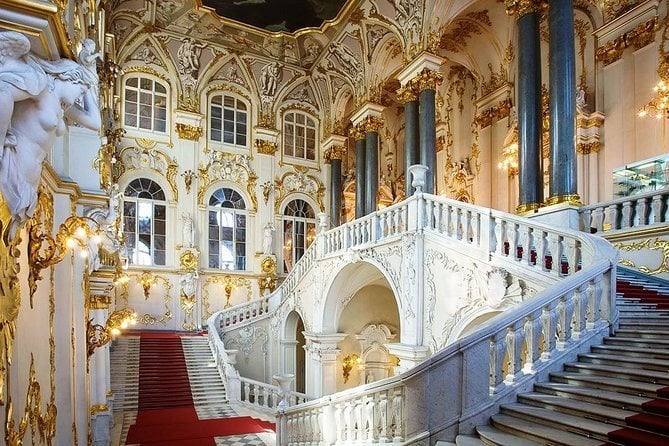 On this full-day tour, you'll enjoy a a full round trip to St Petersburg where you'll spend an exciting day exploring another popular Russian city! You'll be picked up from your hotel in Moscow and be transferred to the train station where you'll ride the high-speed train 'Sapsan' to St Petersburg.
Upon arrival, you'll start the day by touring the Hermitage Museum and the Winter Palace. Next, you'll visit the Faberge Museum, where you'll explore the impressive collection of rare Faberge Eggs! In the afternoon, enjoy a sightseeing boat ride and a traditional 3-course Russian lunch.
If you're spending 3 days in Moscow, or more, this is an excellent trip to take!
Trip to Kolomna – Authentic Cultural Experience from Moscow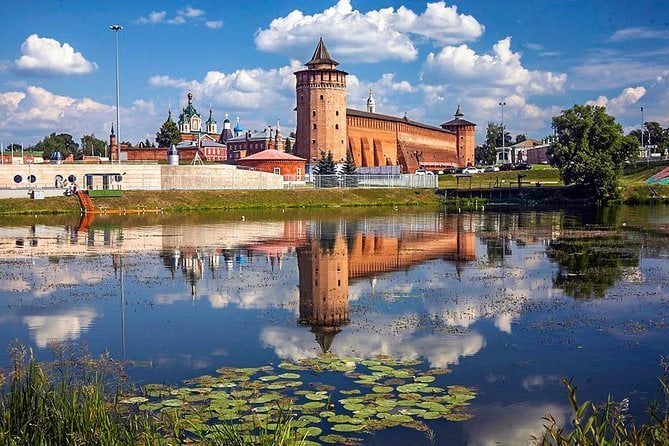 On this 10-hour tour, you'll escape the city and travel to the historic town of Kolomna! First, you'll visit the 14th-century Kolomna Kremlin, home to the Assumption Cathedral and an abundance of museums!
Next, enjoy lunch at a local cafe (own expense) before embarking on a tour of the Marshmallow Museum – of course, a marshmallow tasting is provided! Your final stop is the Museum of Forging Settlements, where displays include armor and accessories for fishing and hunting.
Discover this beautiful Russian fairytale city on a private trip, where all of the planning is taken care of for you!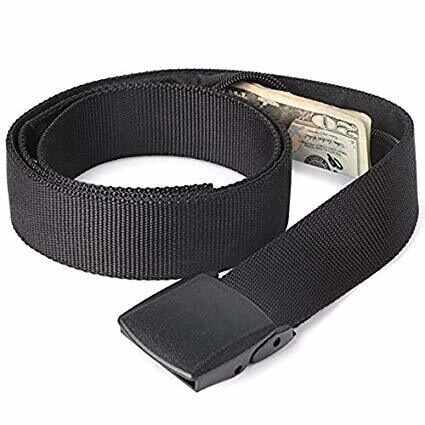 Stash your cash safely with this money belt. It will keep your valuables safely concealed, no matter where you go.
It looks exactly like a normal belt  except for a SECRET interior pocket perfectly designed to hide a wad of cash or a passport copy. Never get caught with your pants down again! (Unless you want to…)
Find out what people want to know when planning their Moscow itinerary.
How many days you need in Moscow?
We recommend that you spend at least two or three days in Moscow to take it all in.
What's the best month to visit Moscow?
The best time to visit Moscow is over the spring, from March to May as temperatures are mild, crowds are thin and prices are reasonable.
What are some unusual things to do in Moscow?
I mean, queuing up to see an almost 100 year old corpse is pretty unsual! Check out Lenin's Mausoleum if you fancy it!
What are some fun things to do in Moscow?
The Memorial Museum of Cosmonautics is a fun place to explore the famous space race from the perspective of the 'other side'!
We hope you enjoyed our Moscow itinerary! We've made sure to cover all the Moscow must-sees as well as some unique attractions in the city! Our addition of insider tips, favorite food stops, and day trips from Moscow is an added bonus and will guarantee you make the most out of your exciting Russian vacation!
Immerse yourself in the modern and traditional Russian lifestyle! Get lost in museums, witness awe-inspiring architecture, and indulge in Russian cuisine! Spend the day strolling through all of the charming sites of Moscow, admiring the beautiful scenery and discovering the city's fairytale-like enchantment!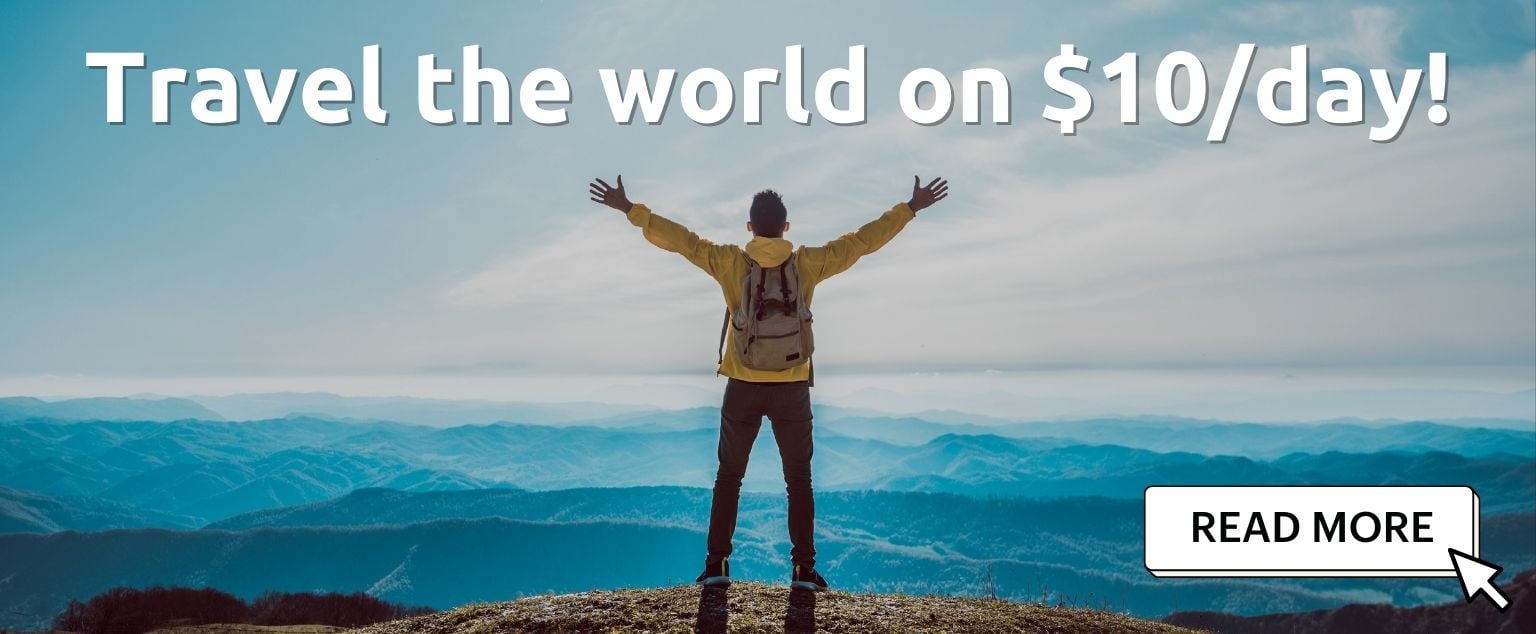 And for transparency's sake, please know that some of the links in our content are affiliate links . That means that if you book your accommodation, buy your gear, or sort your insurance through our link, we earn a small commission (at no extra cost to you). That said, we only link to the gear we trust and never recommend services we don't believe are up to scratch. Again, thank you!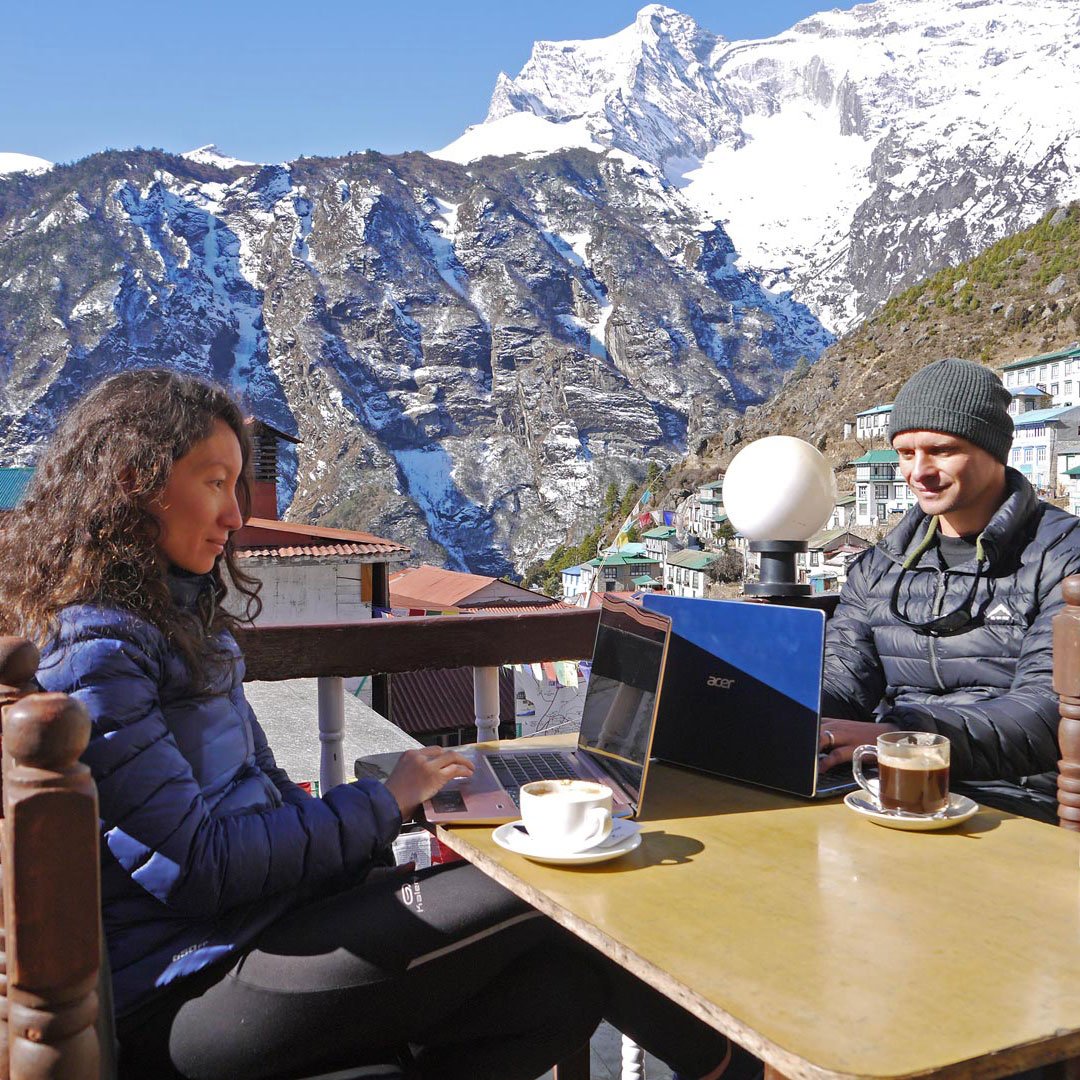 Alya and Campbell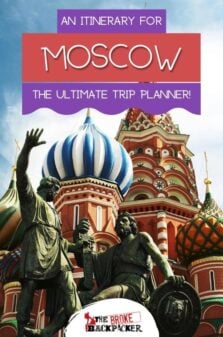 Share or save this post
Leave a Reply Cancel reply
Your email address will not be published. Required fields are marked *
Save my name, email, and website in this browser for the next time I comment.