Ketchikan Fishing Charters
Easily find a Ketchikan fishing guide that fits your needs. Confidently book your next day on the water.
4.94/5 Average Rating
4.94 / 5 Average Review Score
Team of Experts Available 24/7
100% Weather Guarantee
Licensed and Insured Guides
Recently Booked Fishing Charters Near Ketchikan, Ak
Nearshore Fishing Charter in Ketchikan
Ketchikan Multi-Day Fishing
Inshore Fishing Charter in Ketchikan
Salmon Trip - 28' Hewes Craft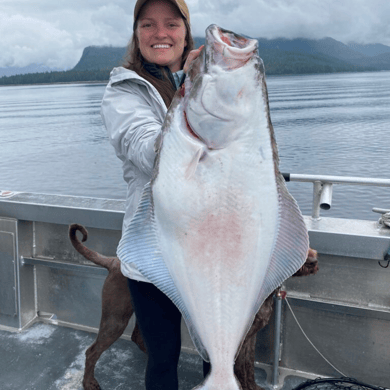 Halibut Trip - 28' Hewes Craft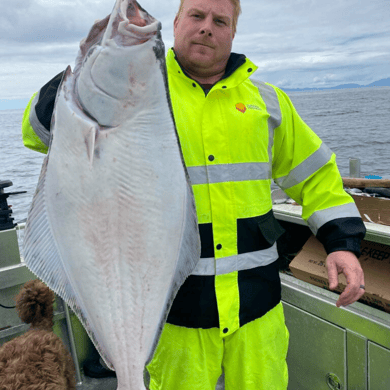 Combination Trips - 32' Crozier Craft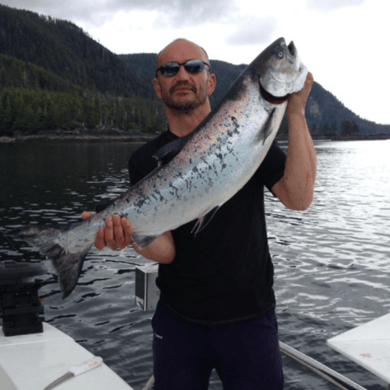 Salmon Trip - 32' Crozier Craft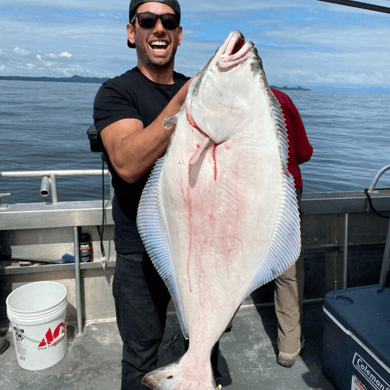 Combination Trips - 28' Hewes Craft
Top types of trips in ketchikan.
Fishing Charters Near Ketchikan, Ak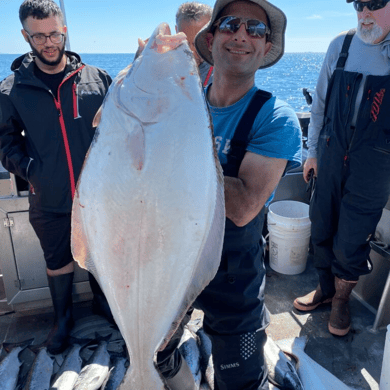 Ketchikan, Alaska is a prime destination for Halibut fishing. Located on the southern coast of the state, the waters around Ketchikan are home to some of the largest Halibut in the world, and Captain William and his 28' Crozier Craft fishing vessel are ready to take you to find one! As you board the boat, Captain William will give you a quick briefing and then it's time to hit the water. He knows all the best spots in the area and will take you to the most productive fishing grounds. Whether you're an experienced angler or a novice, Captain William will provide everything you need for a successful day of fishing, including top-of-the-line fishing equipment and bait. Halibut are bottom-dwelling fish, so you'll be using heavy tackle and bait to target them. Captain William will show you the proper techniques for catching these bottomfeeders and will provide expert guidance throughout the trip. The thrill of reeling in a massive Halibut is unmatched, and you'll have the chance to catch fish weighing up to two hundred pounds! As you fish, you'll be surrounded by stunning scenery. Ketchikan is located in the heart of the Tongass National Forest, the largest national forest in the United States, and the area is teeming with wildlife. Keep an eye out for bald eagles, seals, and even whales as you fish! At the end of the day, Captain William will clean and fillet your catch, so you can take it home to enjoy a delicious meal. A charter fishing trip with Captain William is the ultimate outdoor adventure and a great way to experience the beauty and bounty of Ketchikan, Alaska. In addition, Captain William is able to vacuum-pack and freeze your fish if you want to ship it home. Just ask! Read More
Halibut Trip - 32' Crozier Craft
Everything to know about booking a fishing charter in ketchikan, what are the best fishing charters in ketchikan.
Our Damn Good Guides currently offer 7 trips in Ketchikan, and the most popular trips in the area are Ketchikan Multi-Day Fishing guided by Matt , Halibut Trip - 32' Crozier Craft guided by William , and Combination Trips - 32' Crozier Craft guided by William .
All guides on Captain Experiences are licensed, insured, and vetted by our team. You can access their reviews, click through trip photos, read bios to get to know them, and preview trip details like species, techniques, group sizes, boat specs and more.
Looking for kid friendly charters in Ketchikan? Check out our beginner and family friendly charters in Ketchikan .
What types of fishing charters are common in Ketchikan?
Inshore fishing is the most popular in Ketchikan as well as nearshore fishing.
The most commonly sought after species in Ketchikan are: 1. chinook salmon, 2. coho salmon, 3. halibut, and 4. pink salmon.
The most common fishing techniques in Ketchikan are trolling, heavy tackle fishing, and jigging but artificial lure fishing and bottom fishing are popular as well.
How much do Ketchikan fishing charters cost?
in Ketchikan prices can range anywhere from an affordable $900 to $3,000 and up, but the average price for a half day trip in Ketchikan is $1,410. The average price for a full day trip in Ketchikan is $2,273.
What month is best for fishing in Ketchikan?
The most popular season for fishing in Ketchikan is summer, and most anglers book their trips 16 days in advance.
Do I need a Ketchikan fishing license and what are the bag limits in Ketchikan?
See here for more information on fishing licenses in Ketchikan, bag limits for target species, and fishing season regulations in Ketchikan. When in doubt, your fishing guide will always know the right rules and regulations in Ketchikan.
Ketchikan Fishing Overview
If you want to get off the beaten path for your next fishing trip, look no further. The difficulty of getting to Ketchikan is more than made up for by the quality of the fishing once there. The rivers, creeks, and shorelines are undisturbed and add to the stunning beauty of the area. From Ketchikan, you can head out and fish deep water in strong currents or jump in a plane and hit backcountry fishing spots with a fly. No matter where you choose to fish, you will see and feel how what makes Ketchikan so special. Take a boat out to deep water or fly out to pristine stretches of river and experience some of the best fishing in the world.
Halibut Fishing in Ketchikan
You'll have two options once leaving land, salmon or halibut. Bottom fishing for halibut will test your arms to the max - pulling up a flat 50 pound fish (or if you're lucky, up to 400 pounds) from the very bottom of the water column hundreds of feet down. But your reward is an incredibly tasty white meat fish.
Ketchikan Salmon Fishing
If you want to fish salmon, go no further - Ketchikan is often called the salmon capital of the world. You'll have great access to four out of the five species of Pacific salmon: King Salmon/Chinook, Coho Salmon/Silver, Chum Salmon/Dog, and Pink Salmon/Humpy. The limits and seasons are different based on what you choose to target, but regardless get ready for some action.
Ketchikan Rainbow Trout Fishing
There is something special about catching beautiful fish in their natural habit and better yet, in their native range. Rainbow trout were actually introduced to many of their most famous fishing locations, but not Ketchikan. These untouched stretches of the river are filled with ideal rainbow trout fishing spots and make Ketchikan the best place in the world to catch these gorgeous fish.
Ketchikan Pike Fishing
Although the northern pike is not native to the bodies of water around Ketchikan, they are a blast to catch and are often a welcome bycatch while fishing for rainbow trout or salmon. This exciting fish is a hard-hitting predator with great-tasting white meat. While traditional tackle works well, fly fishing is a common way to fish the river and it may be an even more exhilarating way to catch pike.
Popular Types of Fishing In Ketchikan
Ketchikan fishing charters offer a variety of options for anglers of all levels. The most common types of fishing charters in Ketchikan are salmon fishing charters, halibut fishing charters, and combo charters that offer both salmon and halibut fishing. Salmon fishing charters are popular in Ketchikan because the area is known for its abundant salmon population. The most common types of salmon caught in Ketchikan are king salmon, silver salmon, and pink salmon. Halibut fishing charters are also popular in Ketchikan because the area has some of the best halibut fishing in the world. The most common types of halibut caught in Ketchikan are Pacific halibut and California halibut. Combo charters are a great option for anglers who want to experience both salmon and halibut fishing in one trip. These charters typically visit landmarks such as the Tongass National Forest and Misty Fjords National Monument. No matter which type of Ketchikan fishing charter you choose, you're sure to have an unforgettable experience in one of the most beautiful fishing destinations in the world.
The Best Places To Fish In Ketchikan
Ketchikan, Alaska is a world-renowned destination for fishing enthusiasts. With its pristine waters and abundant marine life, it's no wonder why. Here are some of the best places to fish in Ketchikan, Alaska, whether you're going on a fishing charter or casting your line from shore: 1. Clover Pass Resort: This fishing resort offers both guided fishing charters and self-guided fishing opportunities, with access to some of the best salmon and halibut fishing in the area. 2. Knudson Cove Marina: Known for its excellent halibut fishing, Knudson Cove Marina also offers fishing charters for salmon, rockfish, and lingcod. 3. Southeast Exposure Outdoor Adventure Center: This fishing charter company offers a variety of fishing trips, including salmon, halibut, and bottom fishing, as well as wildlife viewing and sightseeing tours. 4. Mountain Point: A popular spot for shore fishing, Mountain Point is known for its salmon runs and is easily accessible from Ketchikan. 5. Neets Bay: This remote location is accessible only by boat or seaplane, but it's worth the trip for the chance to catch massive runs of pink salmon and the occasional king salmon. 6. Herring Cove: Another popular spot for shore fishing, Herring Cove offers the chance to catch salmon and other species, as well as the opportunity to view bears and other wildlife. 7. Tongass Narrows: This narrow channel between Ketchikan and Gravina Island is a prime location for catching salmon, halibut, and other species, with many fishing charters operating in the area. 8. Inside Passage: For those looking for a more adventurous fishing experience, a multi-day fishing charter through the Inside Passage offers the chance to catch a variety of species while exploring some of the most remote and beautiful parts of Alaska.
Other Things To Do In Ketchikan
While Ketchikan fishing charters are a popular attraction, there are plenty of other things to do in this Alaskan city. Take a scenic flightseeing tour over the Misty Fjords National Monument, go kayaking or paddleboarding in the Tongass National Forest, or visit the Totem Heritage Center to learn about the area's rich Native American history. For a unique experience, take a ride on the Ketchikan Duck Tour, which combines a city tour with a water adventure. And don't forget to try some fresh seafood at one of the many local restaurants.
See more popular questions
Ketchikan Fishing Calendar
Top targeted fishing species in ketchikan.
Chinook Salmon
Chum Salmon
Coho Salmon
Pink Salmon
Sockeye Salmon
Top Fishing Techniques in Ketchikan
Artificial Lure Fishing
Bottom Fishing
Heavy Tackle Fishing
Live Bait Fishing
Top Types of Fishing in Ketchikan
Other featured cities.
Fishing Charters Near Me
Aransas Pass Fishing Charters
Austin Fishing Guides
Biloxi Fishing Charters
Cabo San Lucas Fishing Charters
Cancun Fishing Charters
Cape Coral Fishing Charters
Charleston Fishing Charters
Clearwater Fishing Charters
Corpus Christi Fishing Charters
Crystal River Fishing Charters
Dauphin Island Fishing Charters
Daytona Beach Fishing Charters
Delray Beach Fishing Charters
Destin Fishing Charters
Fort Lauderdale Fishing Charters
Fort Myers Fishing Charters
Fort Walton Beach Fishing Charters
Freeport Fishing Charters
Galveston Fishing Charters
Gulf Shores Fishing Charters
Hilton Head Island Fishing Charters
Islamorada Fishing Charters
Jacksonville Fishing Charters
Jupiter Fishing Charters
Key Largo Fishing Charters
Key West Fishing Charters
Kona Fishing Charters
Marathon Fishing Charters
Marco Island Fishing Charters
Miami Fishing Charters
Naples Fishing Charters
New Orleans Fishing Charters
Orange Beach Fishing Charters
Panama City Beach Fishing Charters
Pensacola Fishing Charters
Port Aransas Fishing Charters
Port O'Connor Fishing Charters
Rockport Fishing Charters
San Diego Fishing Charters
San Juan Fishing Charters
Sarasota Fishing Charters
South Padre Island Fishing Charters
St. Augustine Fishing Charters
St. Petersburg Fishing Charters
Tampa Fishing Charters
Tarpon Springs Fishing Charters
Tulum Fishing Charters
Venice Fishing Charters
Virginia Beach Fishing Charters
Wilmington Fishing Charters
How are fishing conditions in Ketchikan?
View Ketchikan Fishing Reports from our damn good guides.
Fishing Charters
Things to do.
Engage the services of one of our many deep-sea charters and you'll have full access to one of our local fish whisperers, an expert angler who will not only guide you to the hottest spots, but share some of the best tricks of the catching trade. Most boats are equipped to accommodate six fishermen and provide both rain and fishing gear. Hotels and B&Bs offer booking services, or you can contact the charters listed here directly.
Angler's Adventures & Outfitters
P.O. Box 9363 Ketchikan, AK 99901
Phone: (907) 254-0880
More Information
Private, custom fishing charters with an experienced local! Perfect for experienced and novice fisherman, adults, children and families. Offering half day, multi-day, and custom charters. All gear, bait, tackle, and lures included in your price.   More...
Classic Alaska Charters
P.O. Box 6117 Ketchikan, AK 99901
Phone: (907) 225-0608
Wilderness saltwater-freshwater fishing, crabbing n shrimping, and, cruising-wildlife photo adventures for your friends, business group, or family of 4-6 persons. Outstanding overnight 5 day, 4 night private charters away from the crowds.   More...
Chasin' Tail Charters
Box 7033 Ketchikan, AK 99901
Phone: (907) 617-7033
-PRIVATE- -EXCLUSIVE- -SUCCESSFUL- -FAMILY ORIENTED- -FISHING-
Hookup Guide Service
P.O. Box 8514 Ketchikan, AK 99901
Phone: (907) 617-9209
We offer visitors an opportunity to fly fish for trout, salmon, and steelhead. Fly fishing trips via the Ketchikan road system. Guided fishing trips to remote fly-out areas. Fly-out drop-offs for self-guided fishermen, and equipment rentals
Silverking Lodge, Inc.
PO Box 8331 Ketchikan, AK 99901
Phone: (907) 225-1900
Toll Free: (888) 564-4525
Silverking Lodge is located on Grant Island, 20 miles northwest of Ketchikan and is known worldwide as the premier self-guided Alaskan Fishing Lodge. Go with family and friends, and search out some of the most magnificent fish Alaska has to offer.
Ketchikan Charter Boats
131 Front Street, Booth #19 Ketchikan, AK 99901
Phone: (907) 225-7291
Toll Free: (800) 272-7291
This charter is your complete 2023 Cruise ship fishing experience! With 30 years behind us, see the website for more information. Salmon, Halibut, Rockfish PRIVATE and SINGLE options are available
Oasis Alaska Charters
PO Box 1192 Ward Cove, AK 99928
Phone: (907) 302-4115
Toll Free: (833) 347-4586
We're not like a lot of the other charter fishing companies. We take great pride in what we do. We don't just take you out charter fishing because we can, we're passionate about what we do and will work hard to give you the best trip possible!
Alaska King Charter
207 Stedman Street Ketchikan, AK 99901
Phone: 907-821-3399
Cell: 907-821-3399
Our excursions are customized based on your interests and are especially fun for family members and small groups. We can easily accommodate groups of 2-6 people on our boats. If you're flying solo, we'll gladly help you find a group to charter with.
Alaska Strike Zone Sportfishing
PO Box 5663 Ketchikan, AK 99901
Phone: (907) 247-5663
Cell: (907) 617-3336
We Are Locally Owned And Operated, We Take Pride In Being One Of The Oldest Operating Charter Companies In Ketchikan, Since 2000. We Offer Half Day & Full Day Salmon And Halibut Fishing Charters With Convenient Shuttle Transportation To Knudson Cove Marina.
K-Seas Fishing Charters
3924 Big Rock Road Ketchikan, AK 99901
Phone: 9076173872
Charters include fishing gear & bait, rain gear, cookies, soft drinks (alcoholic beverages by arrangement), and an expert & fun captain! We will take your fish to the processor and they will filet, vacuum pack, and flash freeze your catch.
Someday Sport Fishing Charters
4 hr. 6 hr. and all-day salmon fishing charters, groups, and family up to 6 passengers. kids and first-time anglers welcome!
Ketchikan's Finest Fishing Charters
21 Main Street Ketchikan, AK 99901
Cell: 907-617-4717
Privately guided five-star rated Ketchikan fishing charters for salmon and halibut. We run the fastest boats, to the richest fishing grounds to keep you on the fish! Great for all ages and experience levels. We arrange to process your catch too!
The Cedars Lodge
PO Box 8331 Ketchikan, AK 99928-1746
The Cedars Lodge offers complete Alaskan Saltwater Fishing Packages and Alaskan Freshwater Fishing Packages for just about any budget and angler. Plan Your Fully Guided Alaskan Fishing Vacation Now!
BigDogCharters
PO Box 23471 Ketchikan, AK 99901
Phone: (425) 478-3681
BigDogCharters knows how to make the most of your cruise ship stop in beautiful Ketchikan, the "Salmon Capital of the World." We know you will have a memorable day of fishing and sightseeing in the scenic waters of Southeast Alaska!
Dalin Charters & Guiding
7937 Williams Rd. Ketchikan, AK 99901
Phone: (907) 225-8336
Cell: (907) 617-5287
We offer the finest guided Fishing and Hunting Adventures. Our reputation is well earned with the finest fresh and saltwater sportfishing available. We also have fully guided Big Game Hunts for Black Bears, Goats, and Blacktail Deer, and Waterfowl.
The Alaska Catch
2417 Tongass Avenue #111-305 Ketchikan, AK 99901
Phone: 907-617-9585
Cell: 907-617-9585
The Alaska Catch specializes in providing custom saltwater fishing adventures based on your interest. Our dedicated team is here to help plan your next visit to Ketchikan. Call us today or if you prefer online booking is available. Fish On!
Ketchikan Fishing Expeditions
12399 blackberry lane Ketchikan, AK 99901
Cell: (907)617-9106
Ketchikan Fishing Expeditions offers world class fishing and sightseeing charters departing from downtown Ketchikan. Our captains are experts in fishing and hospitality. Catering to both in town and cruising guests, rest assured we have you covered!
Santa's Choice Charters, LLC
391 knudson cove Rd Ketchikan, AK 99901
Phone: (406)871-1054
We provide salmon cruise ship trips as well as extended stay packages for your fishing adventures in Ketchikan
Ketchikan Outdoor Adventures LLC
Bar Harbor Ketchikan, AK 99901
Phone: 309-235-8671
Cell: 309-235-8671
We are proud to offer family friendly sightseeing and fishing charters, as well as rental boats. Private charters are available! Our custom built vessels have twin outboards, sealed self bailing decks & safety equipment that exceeds USCG requirements.
Alaskan Aquamarine Experience
3857 Fairview Ketchikan, AK 99901
Phone: (907) 225-2343
Cell: (907) 617-5646
Let us share Alaska's wilderness with you! Unique, individualized adventures. Fishing charters for cruise ship arriving passengers. Insured and USCG certified for groups of 6+. 30 yrs. Alaskan experience.
Go Fish Charters Ketchikan
412 D-1 Loop Rd Ketchikan, AK 99901
Phone: (206)910-0853
Full-day, multi-day and partial-day charters for salmon and halibut. Cruise ship passengers welcome! Up to 6 passengers. Over 17 years of experience in Ketchikan. The original Go Fish Charters Ketchikan. Take a look at our Trip Advisor Reviews
Explore Alaska Charters
1 Double Eagle Lane Ketchikan, 99901
Cell: 907-617-5902
Explore Alaska Charters specializes in guided and self-guided fishing packages. Book your adventure today.
Action Adventure Charters
P.O. Box 1574 Ward Cove, AK 99928
Phone: (907) 617-0015
We will take you where you can experience the challenge of hooking your "Big One" while enjoying some incredible views of Southeast Alaska. Don't forget your camera to capture any surprise visits to our area wildlife, especially the whale sightings.
Northern Lights Charters
34 Front Street, Suite 202 Ketchikan, AK 99901
Toll Free: (800) 272 7291
Cell: (907) 254 3066
Book your Northern lights fishing charter through KCBI,Inc Cruise ship passengers are our specialty. Book your charter early and with confidence!
Baranof Fishing Excursions
3 Salmon Landing Ketchikan, AK 99901
Phone: 9072254055
Toll Free: 877-732-9453
Cell: 907-617-9579
Baranof has been fishing our coastal waters for decades. We are adept at crafting customizable experiences to immerse you in our way-of-life through Southeast Alaskan fishing. Book your fishing excursion today!
Svenson Sportfishing
92 Moore Dr. Ketchikan, AK 99901
Phone: 907-821-8353
Welcome to world class sportfishing. Guides with years of experience deliver a true Alaskan experience. Locally owned and operated, Svenson Sportfishing provides salmon and halibut fishing in Ketchikan, Alaska. Lodging/fishing packages are available.
Stout Sportfishing
A locally owned & operated charter that offers half and full-day fishing for cruise ship passengers and overnight visitors. We focus on salmon and halibut fishing, and we can arrange to process your catch. Perfect for all ages and experience levels!
Alaska Sportfishing Adventures
1285 Tongass Ave, Suite 1 Ketchikan, AK 99901
Phone: (907) 723-4811
Cell: (907) 617-9382
Taking a cruise and want to catch some salmon? We've customized half-day salmon fishing charters to fit cruise ship schedules. We tailor our outings to fit everyone's needs – families, children, senior citizens, singles and people with disabilities.

Ketchikan Videos

Ketchikan Story Our Native Legacy

Ketchikan Overview
Alaska is a land of exceptional wilderness, stunning scenery, impressive wildlife and some of the best fishing in the world. So, there are few things more uniquely Alaskan than spending a day on the water reeling in salmon. And the best salmon fishing in Alaska is found in Ketchikan . It's for this reason that we're the Salmon Capital of the World ! For visitors, fishing charters in Ketchikan are a unique way to experience a truly Alaskan adventure.
A Ketchikan Fishing Adventure
Ketchikan started as an Alaskan Native seasonal fishing camp and still thrives on the history, tradition and culture of salmon fishing. Because of this, fishing charters in Ketchikan are a glimpse into our way of life and culture, for our visitors.
There are many reasons to choose Ketchikan for your fishing adventure.
We fish in pristine, protected waters, not open ocean. You'll depart right from downtown where the hotels and cruise ships are located. And the best fishing grounds are a short 20-30 minutes away.
When you go, you'll want a guide that knows this town and these waters, someone who's spent their life fishing. And you'll want a trip tailored to you.
I'm Captain Nick and I think you should go fishing, not get taken fishing! So, when choosing a fishing charter in Ketchikan, you should choose Chasin' Tail Charters!
Fishing Charters in Ketchikan with Chasin' Tail
So why is Chasin' Tail your best option for fishing charters in Ketchikan?
This is your trip, your way.
Charters are personalized for you, your wants, schedule, and experience.
A personal experience with me, Captain Nick, Owner-Operator.
You plan with me, book with me, get picked up by me and fish with me.
Ketchikan local.
I'm a 3rd generation fisherman, born and raised in Ketchikan for the past 51 years. I've captained over 2,000 charters and have spent thousands of hours on these waters.
Licensed and safety certified Captain.
I have a US Coast Guard 100 Ton Master License. I'm a Marine Safety Drill Instructor and First Aid and CPR Certified.
The C/V Chasin' Tail is modern, safe and comfortable.
There's an onboard private bathroom, plenty of deck space for fishing, an enclosed cabin, all USCG required safety equipment, plus plenty of modern technology to make fishing more productive and comfortable.
I offer family friendly charters.
Kids are a welcome addition to any of my fishing charters in Ketchikan. I even have a Kids Corner page with more information for our littlest anglers.
Don't leave your catch in Alaska.
Don't worry about being accused of tall tales when you get home. For an additional fee your catch can be processed, smoked (if desired), packaged and shipped straight to your door. And if you don't know how to cook it, I can help. Visit my Recipes page.
Extremely Happy Guests.
I have many happy guests every year. Because of this, I also have many guests that come back to fish with me year after year.
Offering Half and Full Day Salmon Fishing Charters in Ketchikan
I offer half and full day fishing charters tailored to you. All Chasin' Tail Charters are private, custom fishing excursions – your trip, your way.
If you're curious about what questions you should ask before booking fishing charters in Ketchikan, visit my FAQ page.
Booking is personal and easy
Every Chasin' Tail charter is customized for you. Because of this, communication is key.
Simply fill out the contact form to start planning your trip. I'll respond to you as soon as possible and we'll begin working through the details. Once everything is set up you'll receive a confirmation email. We'll meet at the planned location on the day of your trip. For cruise ship passengers , this will be the same berth where your ship is docked. Then we're off on your fishing charter in Ketchikan!
PRIVATE – EXCLUSIVE – SUCCESSFUL – FAMILY ORIENTED – FISHING
Bering Sea Crab Fishermen's Tour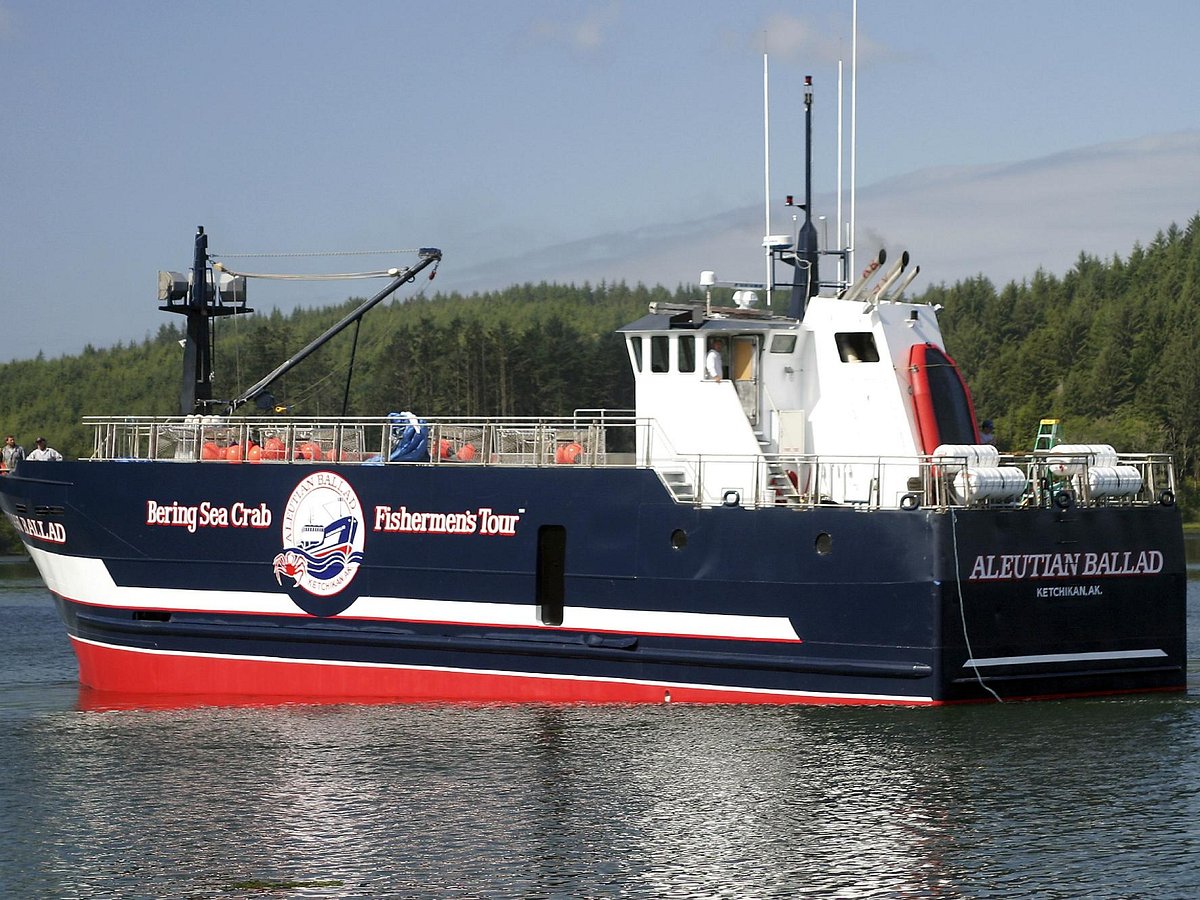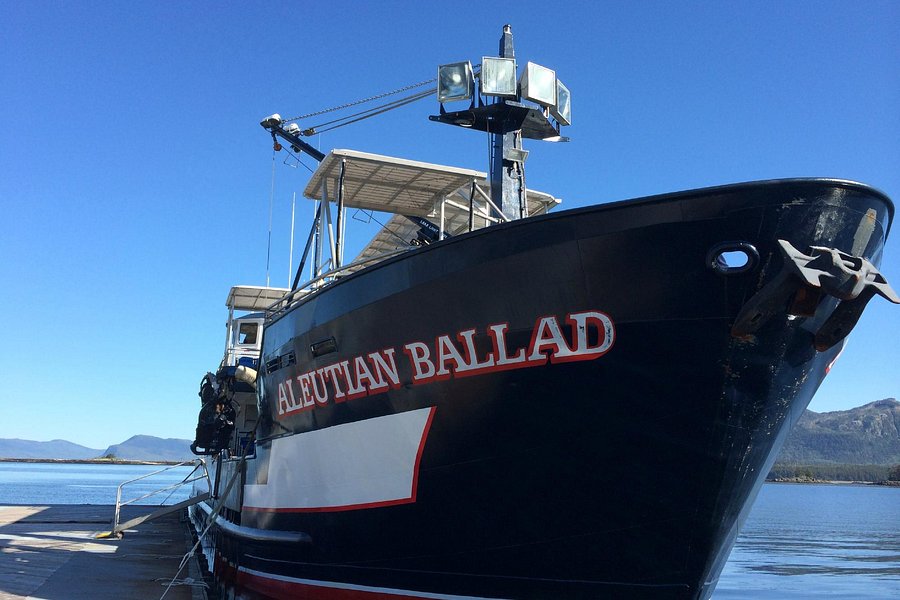 Bering Sea Crab Fisherman's Tour from Ketchikan

Bering Sea Crab Fishermen's Tour - All You Need to Know BEFORE You Go (with Photos)
Bering sea crab fishermen's tour information.
CHICK CHARTERS
Fun, family-friendly salmon fishing trips in Ketchikan, Alaska. Come make memories and catch the experience of a lifetime!
ABOUT CHICK CHARTERS
Chick Charters guarantees the best personalized fishing and sightseeing charters in Ketchikan, Alaska. As a professional charter boat Captain and local, I'm here to help you get the most out of your trip to the "Salmon Capital of the World." I have extensive experience and love sharing my passion for fishing with others.
My trips are customized, family-friendly, and perfect for all fishing levels. Take a moment to explore the various packages I offer and get in touch if you have any questions. You're guaranteed to catch the experience of a lifetime on board the Scarlett Grace!
PICK YOUR CHARTER
Your Adventure of a Lifetime Awaits
Chick Charters offers a variety of charter options, all promising that added personal touch. I create personalized experiences that are perfect for beginners, families, and those with extensive fishing experience. I only book private trips, so you'll always have the boat to yourself. The Scarlett Grace is clean and comfortable 38 foot sportfishing boat, has a bathroom, and accommodates up to six guests.
Ketchikan is a world-class fishing destination, so the calendar fills up quickly. Take a look at the options below, and get in touch to plan and book your charter today!
SALMON FISHING TRIP
For 2-3 people.
$325 per person
This 4 hour fishing excursion is a popular choice for couples and cruise ship guests. Chick Charters is ready to serve your every need, and you'll have a guide as excited about landing fish as you are. You'll fish for king salmon, coho salmon, pink salmon, and/or chum salmon. It is common to see bald eagles, seals, sea lions, a variety of birds, and humpback or orca whales if you're lucky. Get ready for a once in a lifetime trip you'll never forget!
FOR 4-6 PEOPLE
$300 per person
This is a popular choice for cruise ship guests and families. You'll get 4 hours of fishing, and you'll have a guide as excited about landing fish as you are. You'll fish for king salmon, coho salmon, pink salmon, and/or chum salmon. It is common to see bald eagles, seals, sea lions, a variety of birds, and humpback or orca whales if you're lucky. Come make some lasting memories in paradise!
$450 Per Person
This extensive fishing experience is perfect for eager fishermen wanting to learn the art of salmon fishing. You'll have 8-10 hours to learn the best techniques for catching salmon. Everyone has the benefit of fishing their own rod. After a day of jigging, trolling, and mooching, you'll leave knowing the best way to catch whatever species is in season.
SIGHTSEEING TOUR
For 2-6 people.
$225 per person
When you visit a new destination do you enjoy experiencing breathtaking scenery, viewing wildlife, and hearing the local perspective on the wonders of a place? If so, this tour is a great option for you. Enjoy a relaxing 3-4 hour cruise taking in the beauty of Ketchikan's pristine landscape. Look for bald eagles, sea lions, seals, whales, deer, bear, and more! Binoculars and cameras are highly recommended! Get in touch to plan your trip now!
WELCOME TO KETCHIKAN FISHING EXPEDITIONS
At Ketchikan Fishing Expeditions our goal is to bring you and your family the ultimate Alaskan experience. Ketchikan Fishing Expeditions offers everything from marine and wildlife eco-tours to private all-day fishing charters and everything in between.
We can't wait to have you and your family join us on a one-of-a-kind Alaskan adventure! Book a trip today!
We welcome guests of all experience levels and ages, whether you just stepped off a cruise ship for the day or fly in to spend an entire week with us. Ketchikan Fishing Expeditions is always one step ahead of our guests needs as we provide all fishing tackle, gear, and accommodations necessary to have a successful day on the Alaskan water. Guests will be fishing with their own rods and tackle provided for them. No competing with strangers for who gets the next bite here.
Discover The Beauty of ketchikan
what do our guests have to say?
Don't just take our word that you're experience will exceed your expectations. here's what past guests have to say about their experience..
"I have fished with this guide multiple times and have caught fish every time, including giant halibut and king salmon. We also saw several species of whales and even bears!"
– Ethan R.
"Had a great time! He knows how to put you on the fish and is very easy going and knowledgeable. Would highly recommend if you like catching fish."
– Jon M.
"Best captain in Ketchikan! Very knowledgeable, great communication skills, great teacher, he puts you on the fish!!!"
CLICK HERE TO SEE MORE REVIEWS ON TRIPADVISOR.COM!
meet your guide
My name is aaron ramirez and i am the owner and operater of ketchikan fishing expeditions..
Aaron was born and raised in the Sierra Nevada mountains of central California. From a young age he developed a love and passion for hunting and fishing that surprised even his parents who were avid outdoors people themselves. From offshore fishing the California coast to hunting mule deer in the high sierra, Aaron left no stone unturned and no adventure as a mere dream.
The need for adrenaline and excitement didn't stop at fishing, hunting, and winter sports. Through high school and college Aaron rode bulls competitively in the CCPRA (California Cowboys Pro Rodeo Association). This was a way to make some money and scratch the adrenaline itch while pursuing his bachelors degree at California State University, Fresno. Through this community Aaron met a good friend who would lead him to Alaska and a new adventure.
After a few conversations with this new friend a goal was made, Aaron was going to secure his captains license and head to Alaska to try his hand at professional guiding. This was no small feat while pursuing a degree, rodeo, work, and balancing a social and family life. Over the next year Aaron studied and acquired the last of his needed sea time to qualify for the USCG exam. Just a few months before he was due in Alaska the goal was completed and he had a USCG 50 Ton Masters License. 
This was now over ten years ago and Aaron has continued pursuing his outdoor passions to the fullest. This is what makes him the captain and guide that he is. Not only does he have the intimate knowledge of the waters surrounding Ketchikan after a decade of guiding and thousands of days on the water but he knows how to help his guests immerse themselves into nature in a way that will leave them wanting more. 
find a trip or tour now
Ketchikan fishing expeditions provides fully customizable fishing and sightseeing charters. begin your alaskan adventure by booking a trip today, what are you waiting for, "the sea, once it casts its spell, holds one in its net of wonder forever.", -jacques yves cousteau .
Our Commitment to Accessibility
Our Famous Charter Fishing in Ketchikan
Charter fishing in ketchikan for halibut & salmon.
Charter fishing in Ketchikan for halibut or salmon is the best fishing in North America. Ketchikan Alaska is known as the 'Salmon Capital of the World.'
We're not like a lot of the other charter fishing in Ketchikan companies that offer halibut and salmon fishing around Ketchikan Alaska. We take great pride in what we do and not just the bottom line. We don't just take you out charter fishing because we can, we're passionate about what we do and will work hard to give you the best trip possible with the amount of time you have.
We keep our boat and gear in top-notch condition, and all maintenance done at regular intervals. We also participate in an annual voluntary US Coast Guard inspection.
You can contact us at any time with questions or concerns, and I will be happy to answer them.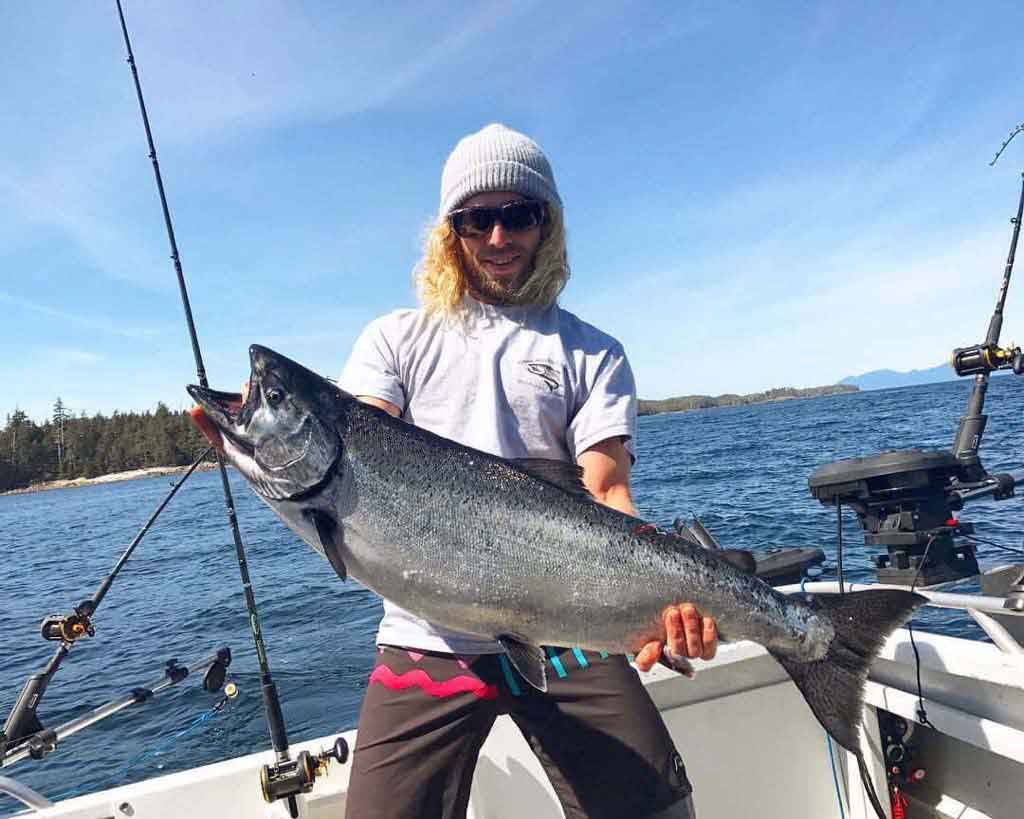 Oasis Alaska Charters
Loves to catch fish.
FISH IN KETCHIKAN, ALASKA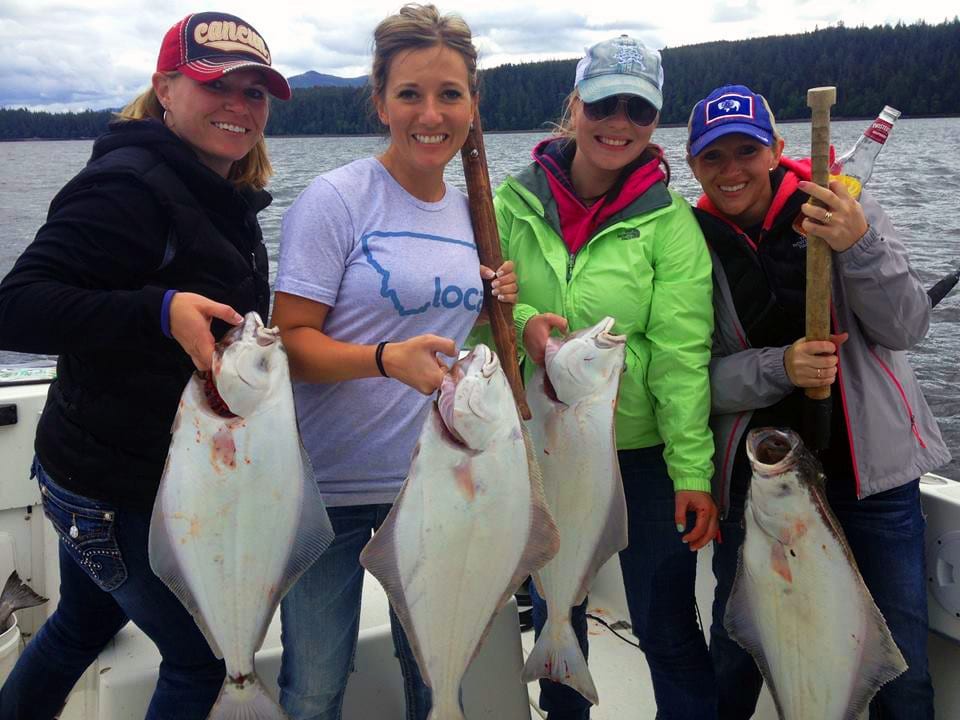 Customized Ketchikan, Alaska Fishing Trips
If you're looking to go charter fishing in Ketchikan, and want a more personal trip that is tailored towards you and your group; you came to the right charter fishing company!
Oasis Alaska Charters only runs private charters; that way, you will only be fishing with your friends and family. Our staff and crew have years of experience in fishing the beautiful Ketchikan Alaska waters.
We believe this will make your Ketchikan Alaska fishing charter a much more relaxing and fun adventure. Oasis Alaska Charters works within your timeline, and this allows us to be very flexible with your Ketchikan Alaska fishing trip making it truly an adventure, no matter if it's your first fishing in Alaska or you have years of experience.
You might want to take a look at our The First-Timer's Guide Fishing in Ketchikan Alaska.
Ready to plan your Alaska Fishing Adventure?
Book today to reserve your spot with one of alaska's most popular fishing guide services., we offer the best salmon and, halibut fishing in ketchikan..
Oasis Alaska Charter fishing Ketchikan has a lot to offer in beautiful Ketchikan Alaska, we offer local fishing charters for Salmon and Halibut as a staple, we accommodate large groups as well as small, and our boats mored very close to the fishing grounds, this makes us a popular option for cruise ship guests who are looking to break away and fish one of the best areas in Alaska during their stay. You will also get opportunities to view local wildlife.
Some of the wildlife you will see includes different types of whales and Bald Eagles. This combination makes this experience a memorable one for everyone in your charter party. These charters are also private, this means you get the boats to yourselves, and we can also plan multi-boat trips for even larger parties. Our website is packed full of information about our services, history, the local fishery, and so much more. Here are some quick links to get you started:
Alaska Fishing  |  Ketchikan Fishing  |  Salmon Fishing  |  Halibut Fishing  |  Videos  |  Cruise Ship Guests  |  Rates  |  Reservations
Our Most Popular Fishing Trip: 4 or 6 Hour Salmon Fishing Charter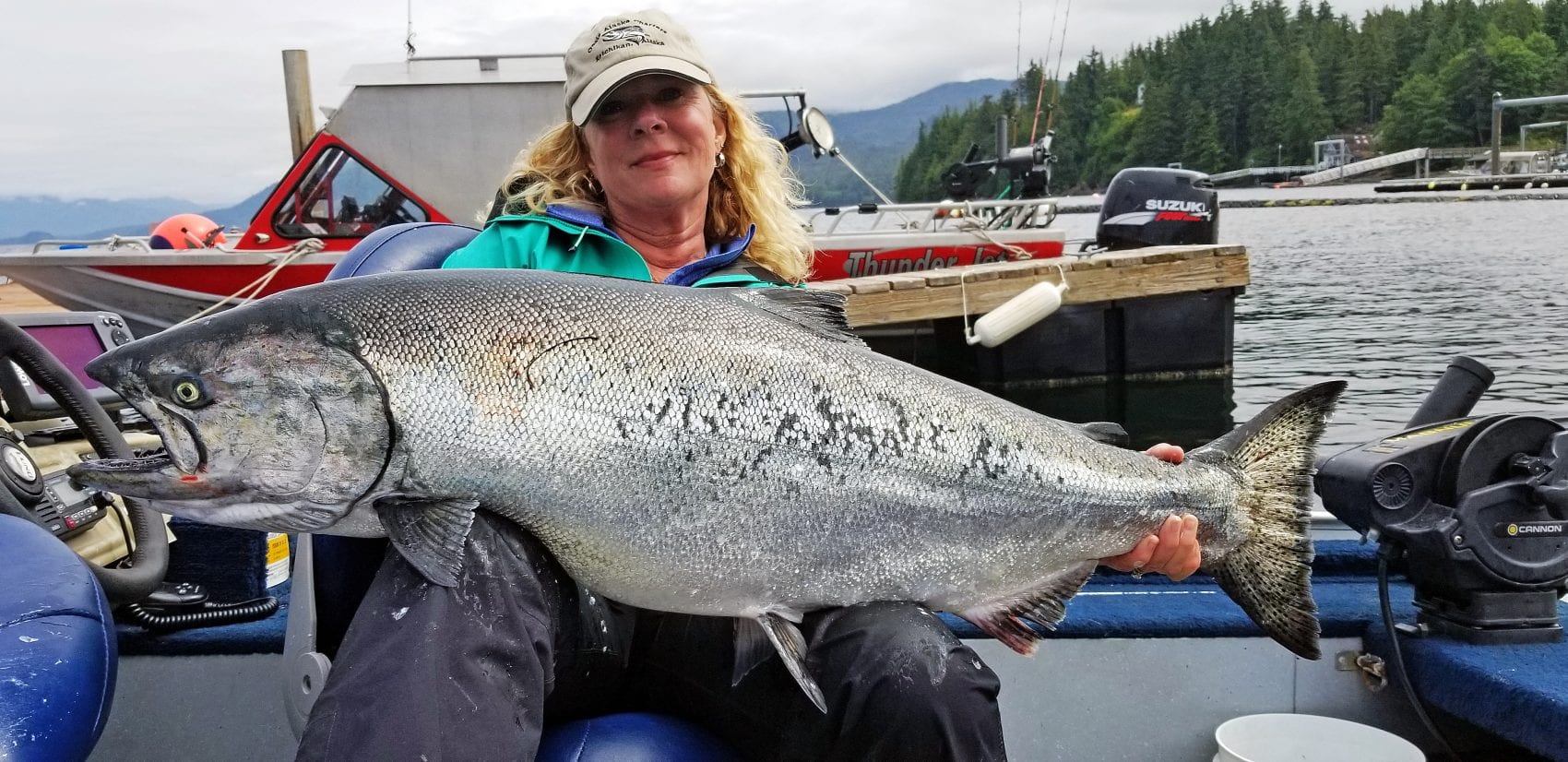 A huge bonus for our guests is all of the wildlife you could see when you're out on your charter. It's very common to see Alaska Bald Eagles, Humpback whales as well as Killer whales to mention a few. You might want to visit our FAQ page for more information.
Bubble Feeding Whale  2:16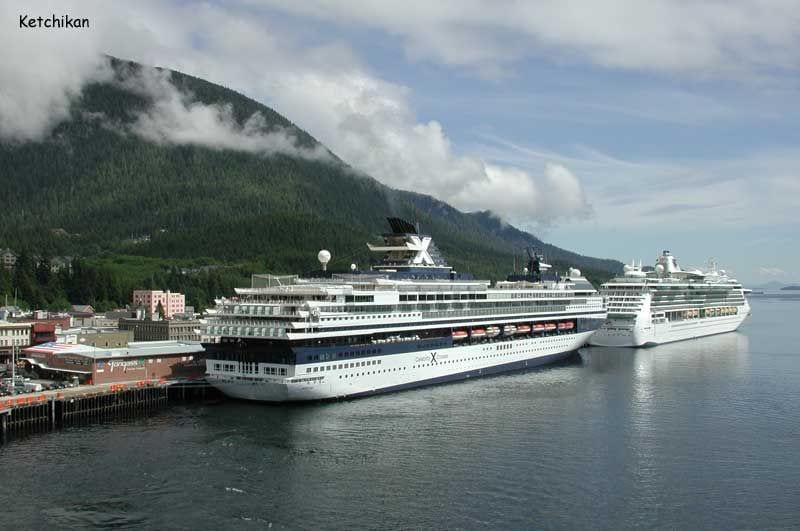 Cruise Ship Guests Can Save Money
Here is where we try to talk you out of purchasing your charter fishing in Ketchikan trip from a more expensive fishing excursion on the ship and to book a private charter with us.
If you get one of the fishing excursions from the ship, you will pay way more and not know very much about it.
You're not going to know things like the condition of the boat or gear, its size, the number of downriggers or how many fishing poles will be used at one time is it clean, is there a toilet, etc.
You will get on a bus with the other people that are going fishing, driven to the dock where you will be grouped up with others that will be in your fishing group and taken to the boat.
In most cases, there will be six of you on the boat. But in some cases, it could be more. It can still be fun, but you also have to share the fishing poles. If the boat should only catch a few fish, you may not get to be one of the lucky ones. In my opinion, this is all about the bottom line and not what is best for the customer. I can only think of one case where this works out in your best interest, and that is if you're the only one in your group that wants to go fishing because all of the charter boats have a two – four-person minimum.
Large Groups
We work with an elite group of charter companies that also meet our high standards, so no matter how large your group is we can accommodate you and your group's needs.  We have the ability to work within your time schedule so you can chase your charter fishing Ketchikan Alaska fishing dreams on the best-equipped boats in Ketchikan.
We understand
That many of our guests might only get the opportunity to fish in Alaska once in a lifetime.  We never take it for granted and our goal is to make it the best fishing experience we can.  We work hard to make it not only a lot of fun but do in it in the safest manner possible.  Fish On!!
Peak Salmon Runs
At the  peak of the salmon  run, it's very common catch anywhere from 2 to 4 salmon at the same time. When this happens, there are few things more exhilarating. The salmon are running all around in different directions and it's one of the most astonishingly beautiful things to witness and experience.
A huge benefit to all of our customers is that we dock our boat at Clover Pass Resort. At Clover Pass Resort we are just around the corner from some of the best salmon fishing in all of Alaska. Being so close to these areas means that we are able to spend more time fishing and less time getting to and from the best fishing areas in the region. When you fish with Oasis, you'll get to fish in Ketchikan and experience Alaska as many of the locals do.
Fish Processing
Upon the completion of your charter trip, Clover Pass Resort is set up to process your catch and get it delivered to you. Clover Pass is top-notch and takes great pride in what they do. You can see how the fish is processed and then just relax.
See Our Charter Options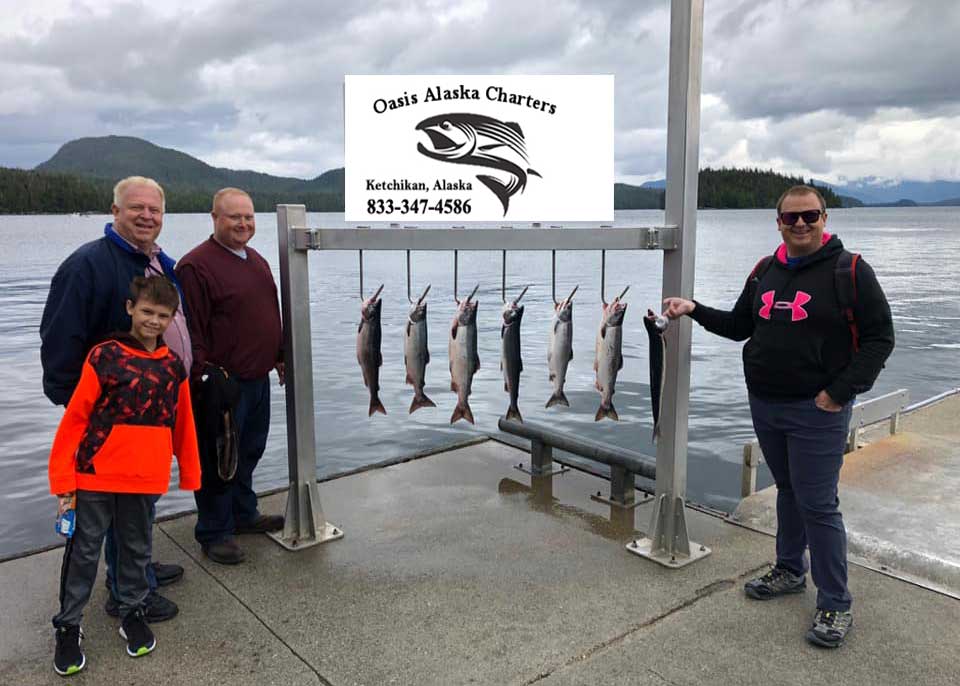 4 Hr. Salmon Charter
Duration: 4 Hours
Price is based on group size.
Maximum Guests: 6 per boat
Private Boat: Yes
Covered Cabin: Yes
Toilet On Boat: Yes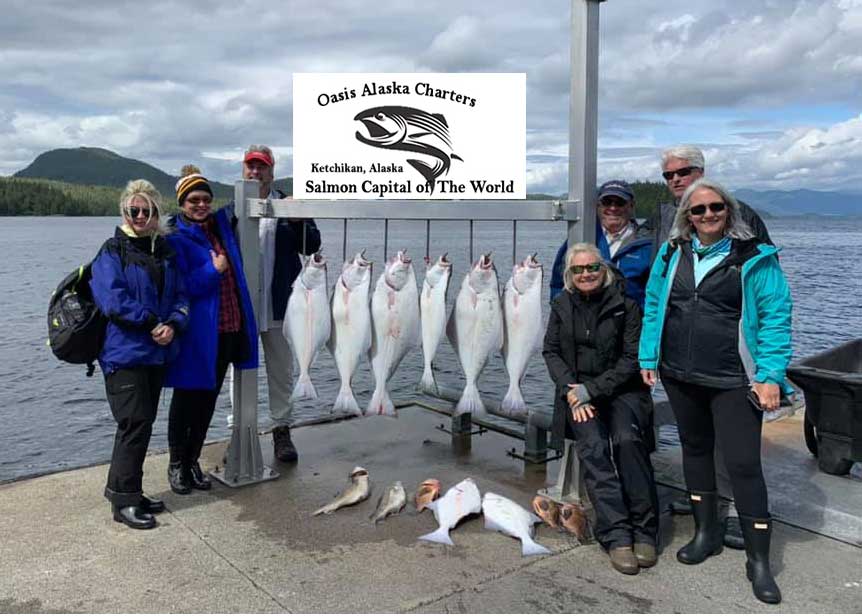 4 Hr. Halibut Charter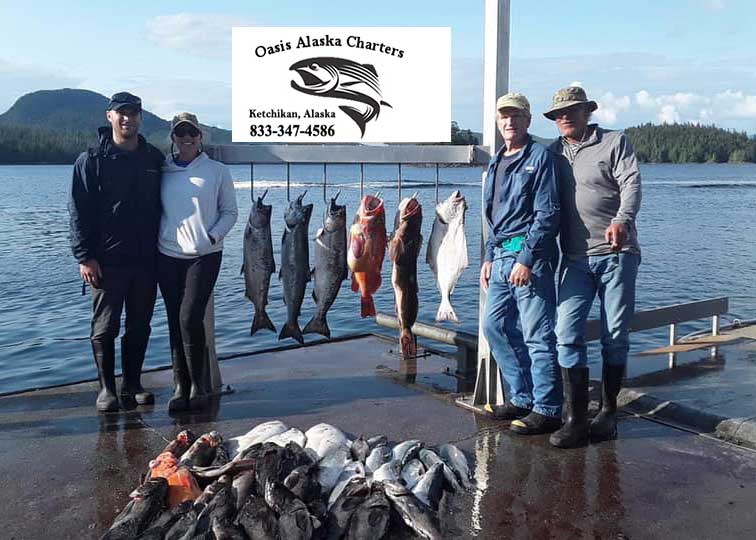 Full-Day Salmon & Halibut
Duration: 9 - 11 Hours
Minimum Guests: 4
Maximum Guests: 6
Alaska Fishing Trips
Lodges & Camps
Overnight Float Trips
Guides & Charters
Featured Trips
View By Region
Southwest Alaska
Southeast Alaska
South Central Alaska
Interior & Far North Alaska
View By Species
King Salmon
Silver Salmon
Sockeye Salmon
Pink Salmon
Chum Salmon
Rainbow Trout
Arctic Grayling
Arctic Char
Dolly Varden
Northern Pike
Kenai Peninsula
Kenai River
Kasilof River
Russian River
Cooper Landing
Anchor Point
Inside Passage
Prince of wales island.
Alagnak River
Kvichak River
Naknek River
Nushagak River
Kodiak Island
Denali National Park
Alaska Parks Highway
Susitna River
Top 10 Fishing Trips
Planning Your Trip
Sport Fishing Species
Places to Fish
Goodnews River
Lake Iliamna
Talachulitna River
Ask the Pros
Fishing Ketchikan, Alaska - Best Fishing Options, Top Rated Ketchikan Fishing Charters & Fishing Resorts
Would you like to contact to check availability or learn more?
No Thanks Yes - Contact
Fill out the info below and someone from will get back to you.
Cancel Send Email
The fishing options in Ketchikan are fantastic. You can book a Ketchikan fishing charter for King Salmon , Silver Salmon , Halibut , bottom fish, big Lingcod, Snapper, Bass, and even Salmon Sharks. You can opt for guided freshwater fishing or DIY fishing for Trout, Dolly Varden, Salmon, and Steelhead. The local area has more trout options than other areas of Alaska. The Trout species include Rainbow Trout, Cutthroat Trout, A hybrid of the two, Brook Trout, and Dolly Varden. The local area, which is dominated by the Inside Passage, is actually "flooded" with small clear water creeks and glacial blue lakes, all of which provide endless options for Trout and Salmon Fishing.
Many of the Saltwater charters are optimized for Cruise Ship Passengers who may have short amounts of shore time…many charters will even pick you up at the dock where the cruise ship dropped you off to make things as easy as possible for cruise ship guests. The most popular cruise ship fishing charters are a 4-hour saltwater fishing charters for halibut & salmon. For those with a longer time in shore you can opt for a 6 hour fishing charter or a helicopter fishing fly out.
You can book a charter or find places where you can DIY fish from roadside or shoreline. You can hire a guide or book a pilot and fly out to remote areas to fish in world-class streams for Trophy, Wild Trout or Salmon.
The fishing season generally begins in mid-spring and stretches into Mid-fall. The Salmon are gone (freshwater) by late summer and early fall, but they and the Halibut are available year-round in the quiet, calm waters of the Inside Passage.
With so much to do and see, it is no wonder that Ketchikan is known as the First City. The accessible lodging and dining options make this a beautiful place to call home, even if that is for a short period. The remarkable fishing - this is the Salmon Capital of the World - makes Ketchikan a place that many return to every year.
Why Visit Ketchikan?
Ketchikan, Alaska, The First City, and the Salmon Capital of the World is a modest city of 8,300 people sitting along the beautiful Inside Passage midpoint on Revillagigedo island. Ketchikan features a deep and vibrant native history and culture that is very much alive and active today. It is known as the city of totem poles and for a good reason. These remarkable pieces of native art and culture are everywhere. It sits in such a spot that one could spend their entire vacation doing nothing more than admiring the beautiful scenery. Yet, many people come here to fish the salmon-rich waters of the Inside Passage and the Tongass Narrows.
The Alaska Marine Highway runs through Ketchikan, and you can fly here thanks to the Ketchikan International Airport . Getting here is not difficult, though the Alaska State Ferry System can take several days. It is much easier to fly here and rent a car unless you are bringing a vehicle or RV.
Ketchikan has a lot to offer everyone. It is a city with a deep and rich native history, and it is full of monuments. It sits in one of the most beautiful places on the planet, and many outdoor activities include options for the whole family. Fishing is one reason people come here, but it is rarely all that they discover they love once they arrive.
Ketchikan is known as the Salmon Capital of the World, and the calm waters around the Inside Passage never disappoint. The town is also a major cruise ship port of call and makes an excellent base for those who want to explore the area.
Things to do here include sea kayaking and guided tours of both the city and the remarkable surrounding area. Misty Fjords National Monument makes a beautiful example. The multi-million-acre national monument runs deep into the Tongass National Park as it sits between the mountains and the ocean. Expect sweeping 3,000-foot snow-capped mountains that end dramatically at the deep and steep Fjords. Sit and watch the glaciers calve or take a tour of the quiet bays and enjoy the wildlife. Sit and watch eagles soar, orcas hunt, or the mountain goats play amid the high reaches of the snow-capped mountains. There are wolves, black bears, wolverines, otters, sea lions, many sea birds, terrestrial birds, and whales here.
The local area has many hiking areas that are DIY or guided, and with two harbors, you can find many companies that offer tours of the Fjords, monuments, and national parks. Inside the city is a wealth of historical and cultural venues. The Ketchikan Waterfront Promenade is park-like and dotted with monuments, historical markers, and benches from which you can watch endless sunsets and take in the majestic wilderness views. An excellent walking tour for the DIY or for those who want a guide is Creek Street, which features a long wooden boardwalk suspended over Ketchikan Creek.
Lodging is relatively easy, though, with the significant number of visitors who come here each summer, reservations are required. You can find luxury fishing lodges , cabins and vacation rentals, and even campgrounds. Settlers Cove State Recreation Area , which is 18-miles outside of Ketchikan, offers RV and Tent Camping. Signal Creek Campground also makes a beautiful destination for tent campers. It is not difficult to find the perfect place to call home in Ketchikan or the surrounding area.
Top Rated Ketchikan Fishing Charters, Lodges & Resorts
Nestled along the tongass narrows, minutes from downtown ketchikan | experience the most beautiful wilderness in the world with our fishing & sightseeing excursions, salmon falls resort, premier all-inclusive ketchikan fishing & adventure lodge | choose from guided or self-guided fishing and customize with adventure & sightseeing options, oasis alaska charters, we take great pride in what we do and will work hard to give you the best trip possible with the amount of time you have., ketchikan's finest fishing charters, ketchikan's finest offers our clients the fastest boats, running to the richest fishing grounds to keep you on the fish, aaa sportfishing company, chick charters, clover pass resort, island wings air service fly-out fishing tours, alaska king charter, anglers adventures & outfitters, the alaska catch, cedars lodge, classic alaska charters, silverking lodge, baranof fishing excursions, explore alaska charters, dalin charters & guides, ketchikan charter boats, true alaskan charters, steamboat bay fishing club, svenson sportfishing, sportsman's cove lodge, waterfall resort, alaskan fishing adventures, ketchikan, chinook shores, yes bay lodge, other fishing destinations to consider.
Saltwater & Freshwater Fishing - Juneau, the state capital of Alaska has a small-town feel and offers a excellent saltwater fishing for Halibut & Salmon on the Inside Passage as well as freshwater fishing for Trout, Steelhead, Dolly Varden & more
Fishing & Adventure on Baranof Island - Visit Sitka for great fishing for Halibut & Salmon, a good variety of lodges from luxury to afforable and a wealth of outdoor activities & wildlife viewing on Baranof Island.
Experience Alaska Fishing & Nature on the 4th Largest Island in the United States - A beautiful & remote island in Southeast Alaska that offers world class saltwater fishing, freshwater fly fishing, hiking, wildlife viewing & more.
A beautiful stretch of calm coastal waters in Southeast Alaska - Fantastic guided saltwater & freshwater fishing, self-guided fishing options, spectacular views, wildlife viewing & more with a wide range of towns & islands from which to base your trip.
The Hailibut Capital of the World - Located at th Southern tip of the Kenai Peninsula. Offers easy access to excellent saltwater & freshwater fishing as well as a wealth of activities, restuarants & lodging options to choose from.
The Kenai Peninsula provides easy access to world-class freshwater & saltwater fishing, fantastic outdoor adventures, friendly and welcoming communities…all within a couple hours drive of Anchorage.
Related Blog Articles
Alaska cruise fishing excursions & charters, fly fishing the bristol bay watershed, where to find the best king salmon fishing in alaska, fly fishing the kenai river.
SE Alaska & Ketchikan Fly-in Fishing Tour
Fly-in fishing tour pricing varies depending on location of lake. Please contact us for information and pricing.
The Experience
Seawind Aviation's guided Ketchikan fly-in fishing trips to the Misty Fjords National Monument take anglers to extraordinary places. Our guests experience a scenic chartered flight that ends on a lake-and-stream system where very few people are privileged to go each year. Most of the hand picked lakes in Misty Fjords receive just a handful of visitors each summer making these fishing holes gorgeous and serene. The fly fishing for Alaska trout is superb and these guided trips are for spin or fly fisherman, novice or experienced. Choose a zone, grab a few friends, and then let's go fishing.
Protected Wilderness Areas
Our fishing guides live in Ketchikan and have been on the water most of their lives. They are a perfect match to take you into the Misty Fjords National Monument for a wilderness fishing experience you won't soon forget. After a scenic and narrated flight, you will touch down on a pristine fresh water lake where world class fishing awaits. Lake selection will be based on the current quality of fishing, the scenery, and the current / forecasted weather conditions. Due to the limited number of permits allowed on those wilderness lakes, the experience is usually undisturbed and pristine.
The Highlights
Zone 1 includes lakes and streams in the heart of Misty
Fjords National Monument that are further away from Ketchikan; as a general rule these lakes get much less traffic and often have stronger fishing.
Zone 2 includes lakes and streams on our island but just inside the border of the Misty Fjords National Monument; these lakes are slightly closer to the Ketchikan area and provide an incredible fishing experience and stunning scenery.
Enjoy world class fishing pristine water few people in the world get to experience.
See incredible scenery on the round trip flight
Personalized narration only – no recorded tracks.
Headsets have interactive two-way communication during the flight.
Click on image to start the video
The Amenities
All fly-in fishing trips include a licensed guide, box lunch, snack, bottled water, raincoat, and fishing equipment (if needed). Fishing equipment includes a fly rod (or spin casting rod), flies (or spinners) and Gore-Tex waders. All ground transportation in Ketchikan is included with a pick-up and drop-off at the Ketchikan Visitors Information Center (the building behind our courtesy van) in front of Ketchikan's "Liquid Sunshine Gauge" on the cruise ship dock. Our fishing guides are avid fisherman and love the Alaska outdoors.  They understand how to safely enjoy Alaska's beautiful back country.
Book Your Ketchikan Fly-in Fishing Tour Today
PRICES: 2-4 passengers, ranges total $3300- $3600. For more information, please call us at 907-225-1206, or email us at [email protected]
"Amazing Fly-Out Fishing Trip"
"My husband and I were celebrating our anniversary aboard the Carnival Legend cruising around Alaska back in May. One of our stops was Ketchikan and I wanted to make sure my husband, who loves to fish, got the chance to do so in such an incredible place. I tried contacting a couple of other places who were booked, but one guy personally contacted Lesley to see if SeaWind was available. Lesley immediately agreed to help plan an unforgettable trip for us with their trusted fishing guide Rick. She was kind, easy to communicate with, and provided us with options so we could pick one that best suited us. Steve was a wonderful pilot and executed an incredibly smooth take-off and landing on the water. It was quite an experience seeing Ketchikan from above in the Beaver plane; I even had my best whale sighting on the way back! Thank you Lesley for being so accommodative and providing us with a trip of a lifetime, and thank you Steve for your excellent piloting skills!"
"Wonderful flight to and from some great fishing!"
"Had a wonderful flight yesterday with Steve on our way to some epic fishing and scenery east of Ketchikan. The airplane was clean and comfortable, headsets at every seat allowing us to communicate during the flight, and Steve is a first-class pilot. As a local who lives here all year, I was glad to have him in the pilot's seat. In addition to the safe flight, Rick Collins of Explore Alaska Charters provided us with some fantastic fishing in an area that only gets fished a handful of times each year."
Misty Fjords Flightseeing
Traitor's Cove Bear Tour
Anan Bear Tour
Prince of Wales Island Bear Tour
Ketchikan Fly-in Fishing Tour
Not sure which flight's for you.
Don't worry, our staff have all flown SeaWind's many tours and can provide experience and guidance firsthand on which tour is right for you and the company you bring.
Call us today to speak with a SeaWind Guide: 907-225-1206
Questions? Read our FAQs
Ketchikan Fly Out Fishing Tour
Plan Your Vacation Right, Get Accurate Booking Availability.
Sample Text Content #1.
Find Your Itinerary:
Holland America
Norwegian Cruise Line
Oceania Cruises
Regent Seven Seas
Royal Caribbean
Viking Cruises
Selection Required
Sample Text Content #2.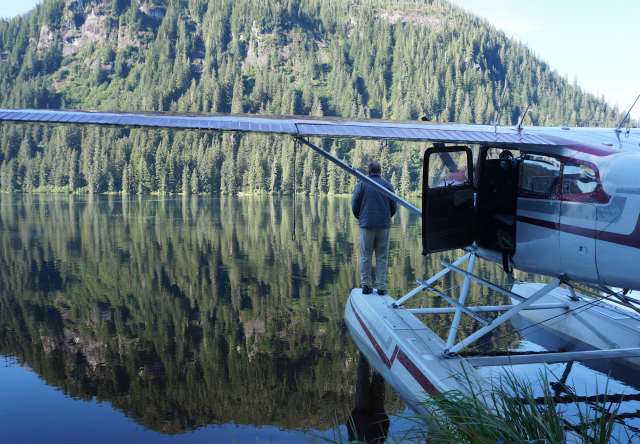 Description
Frequently Asked
Duration: 5-5.25 hours (Roundtrip from the cruise ship terminal. )
Inclusions:
Noise-canceling headset to listen to the pilot's narration during the 30-75 minute flightseeing (length dependent on the location being fished at)
Fishing gear including waders, rods, tackle
Roundtrip transportation from the cruise ship dock
Bottled water
Exclusions:
Fishing License - this will need to be purchased online or on the day of the tour
Rain jacket
Requirements:
Minimum of 3 participants is required for this tour
Minimum age: 5 years old
Guests must be comfortable walking short distances and getting into and out of the float plane.
Not recommended for guests with back or hip problems
Signed liability waiver
Accurate weights are needed to determine the correct size plane for this excursion to fit the balance and weight profile of your aircraft. Reporting inaccurate weights could result in a canceled excursion not eligible for a refund.
Duration: 3 hours. Tour times below are approximate:
30 minutes - roundtrip transportation from the Visitor's Center to the floatplane dock (If your cruise ship docks at WARD COVE, please review detailed meeting instructions for pick-up information)
30-75 minutes - flightseeing via floatplane (length dependent on the location being fished at)
4 hours - fishing
Meeting Instructions:
This tour meets at the Bronze Statue on the north side of the Ketchikan Visitor's Center. Fully detailed instructions are included on your finalized ticket vouchers. Fully detailed instructions are included on your finalized ticket vouchers. All guests docking at WARD COVE, your guide will pick you up at this dock. Please review finalized meeting instructions for more information.
ADA Accessibility of Tour:
This tour is not wheelchair or limited mobility accessible.
How many passengers ride in the floatplane together?
There is a maximum of either 4 or 6 passengers per floatplane depending on weight.
Where can I purchase a fishing license?
We recommend purchasing your one-day fishing license online from the Alaska Department of Fish and Game .
What is the temperature in the floatplane?
The temperature during flight is roughly similar to the ground temperature, and each plane is equipped with heaters if necessary.
Will I get a window seat on the plane?
Yes, all seats on the floatplane have a window view.
Am I guaranteed to catch fish or see wildlife on this tour?
Wildlife is abundant in Southeast Alaska and sightings are possible on any tour, however, this is not a designated wildlife tour and nothing can be guaranteed. While there is generally good success with fishing, there are no guarantees.
Are there any age restrictions for children?
The minimum age for this tour is 5 years old.
Can I bring a backpack?
Small bags may be brought along but must be stored in the rear cargo area of the floatplane.
Can I bring my own food or drink?
Non-alcoholic beverages in closeable containers and snacks are allowed on tour.
Are food and drink included?
Bottled water is provided.
Are there any physical requirements for this tour?
Guests must be comfortable walking short distances and getting on and off the aircraft with minimal assistance. This tour is not recommended for guests with back or hip problems.
What type of clothing should I wear?
Layered clothing and water-resistant jackets are recommended. You will need to supply your own rain jacket.
Not seeing answers to your questions?
Check out other frequently asked questions here !
Absolutely worth it! Great views and good times.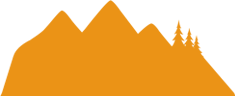 Duration: 5-5.25 hours
Date Required
Time Required
# of Passengers Required
Min of 2 Required to Book
Passenger (Ages 5+): $ 675.00
Similar Alaska Tours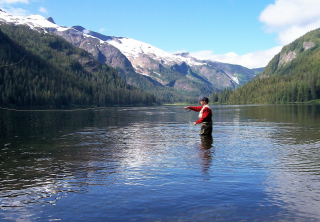 Ketchikan Mini Fishing and Flightseeing Tour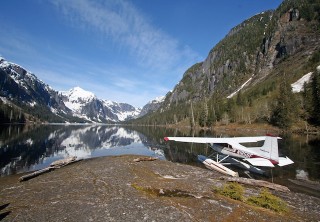 Deluxe Misty Fjords National Monument Tour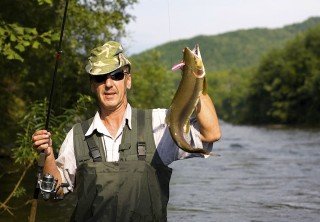 Icy Strait Point Stream Fishing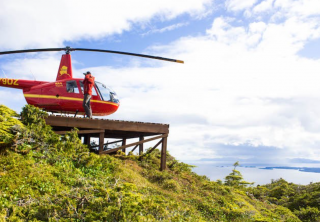 Ketchikan Mahoney Falls Combo Tour
Browse by category: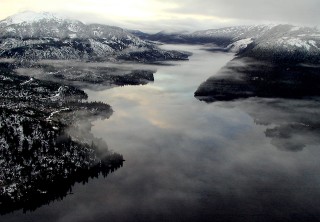 Misty Fjords (4)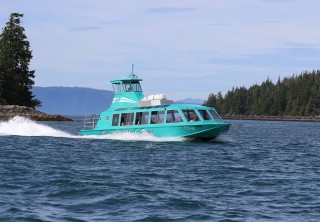 Bear & Wildlife (16)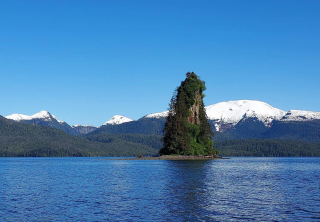 Kid-Friendly (22)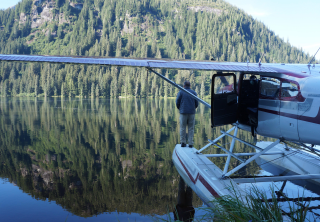 Adventure (19)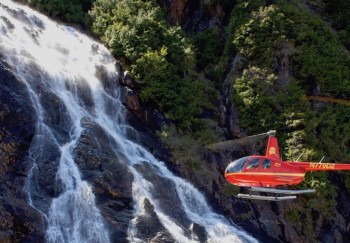 Flightseeing (8)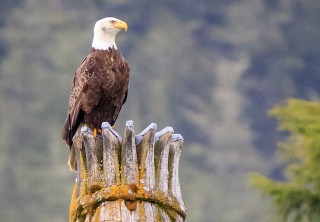 Crab Feasts (7)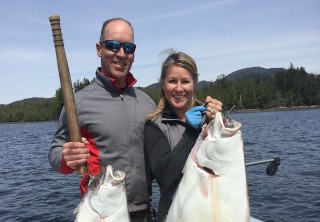 Fishing (5)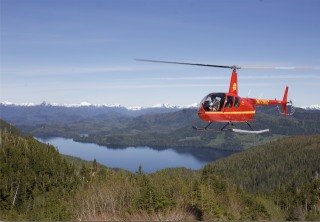 Helicopter (4)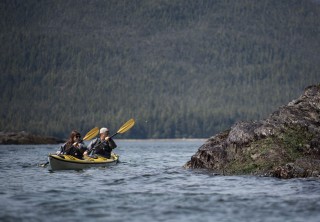 All price on this site are listed in USD
Showing 1–12 of 22 results
Default sorting
Sort by popularity
Sort by average rating
Sort by latest
Sort by price: low to high
Sort by price: high to low
Mahoney Lake UTV Offroad Safari
Zodiac Boat Adventure
Ketchikan Kayak Eco Tour
Bering Sea Crab Fishermen's Tour
Misty Fjords Flightseeing
Neets Bay Bear Watch
Orcas Cove Sea Kayaking
Black Bear & Wildlife Exploration
Aerial Zipline & Rappel Adventure
Ketchikan Ebike & Hike
Wildlife Sanctuary and Eagle Center
Adventure Karts Expedition

Far & Wide
Best Small Fishing Towns for a Waterfront Vacation
Posted: November 6, 2023 | Last updated: November 6, 2023
Feeling like you need a peaceful getaway? Consider planning an escape to a small fishing town. Whether you enjoy the sport or not, these towns are perfect vacation spots. They often boast a welcoming, tight-knit community, historic homes and — best of all — delicious, fresh seafood. 
Here are some of the best fishing towns in the United States with fewer than 11,000 residents, ordered from "largest" to smallest. 
Note: We may earn money from affiliate partners if you buy through links on our site.
Astoria, Oregon
Population:  10,181
Water defines daily life in Astoria, which sits directly on the Columbia River. Its abundant salmon population has provided food and jobs to residents for centuries. And while the economy is a little more diverse, you'll still find that many people here live from their catch.
You're certainly welcome to try your luck in the water. Or relax and enjoy wild salmon at a waterfront restaurant.
Where to stay:  Selina Commodore Astoria  
South Kona, Hawaii
Population:  9,789
The Big Island attracts tourists with its volcanoes and relatively large cities. But if you'd rather enjoy the quiet side of life, head to South Kona. This area is often treated as a day trip or ignored by tourists. But their loss is your gain. If you want to see something special, visit Milolii, which is sometimes called the last true Hawaiian fishing village. 
With around 300 people, this self-sustaining community keeps traditional fishing alive. Virtually everyone in town fishes, so the activity is a central part of life.
Where to stay:  Dragonfly Ranch
Ketchikan, Alaska
Population:  8,037
Near the impressive Inside Passage, Ketchikan attracts fishing and outdoors enthusiasts from around the world. The town's nickname of the "Salmon Capital of the World" certainly helps its reputation. And though tourism is a huge industry — attracting people eager to see glaciers, mountains and wildlife — fishing and salmon canning are also important economic activities. 
If you've never fished and wanted to give it a try, this would be a great place to do so.
Where to stay:  The Landing Hotel & Restaurant 
Islamorada, Florida
Population:  7,107
Islamorada is a popular destination in the magnificent Florida Keys. Located halfway between Miami and Key West, it's a perfect alternative for those who want to avoid the rowdy Key West crowds but still want to be close to the third-largest reef system in the world. 
If you like fishing, you can do a tour or rent your own boat. Dedicate an entire day (or more) to the activity, just like the Keys' famed resident, Ernest Hemingway, used to do. Or spend the day soaking up the sun while snorkeling around corals.
Where to stay:  Lime Tree Bay Resort 
Bigfork, Montana
Population:  5,118
Bigfork fills up in the summer with people looking to have fun on Flathead Lake. Those coming to do some fishing also have access to numerous rivers, including Swan River and Blackfoot River. Needless to say, you won't be in want of a good fishing spot. 
Other activities include water sports like kayaking and boating or on-land adventures like hiking. Surprisingly, this small town of just over 5,100 residents also has an excellent cultural scene, with a community theater that makes the area proud.
Where to stay:  The Inn on Bigfork Bay
For more charming fishing towns, check out Far & Wide.
More for You
These 106 House Republicans voted to defund Vice President Kamala Harris's office
Krispy Kreme is giving customers a dozen free doughnuts on World Kindness Day
Google to delete millions of Gmail accounts next month in huge purge
Israel Discovers Never-Before-Seen Weapons In Gaza
SoCal housing is so unaffordable that billionaire philanthropist MacKenzie Scott has made yet another multi-million dollar donation to fix the problem
Feds bust high-end brothel network used by elected officials
Russia says a battalion made up of Ukrainian prisoners of war is about to be sent to fight against their own country
'Fried rice syndrome' is going viral after a 20-year-old student died. What is it?
Rep. Rashida Tlaib was censured by the House of Representatives. What does censured mean?
Close to Home by John McPherson
Daily horoscope today: November 9, 2023 astrological predictions for your star sign
White House Delivers Bad News On Ukraine Aid
New 'Orwellian' HHS pronoun mandate forces employees to 'deny reality,' violate law: legal expert
40 Classic Homemade Soup Recipes
The Trump Era has been an electoral fiasco for Republicans. What comes next might not be any better.
12 Most Dangerous Places in the World
Lainey Wilson Leads the Pack in Style (and Nominations!) at the 2023 CMA Awards
China Shaken by String of Cancer Cases Tied to Top Oncology Lab
'Greed and corruption': Federal jury convicts veteran DEA agents in bribery conspiracy
25 "TikTok Made Me Buy It" Home Gadgets That Are Totally Worth It
This is the announcement bar for Poornima to test the Close Button.  It will expire May 31 2024.
Special Offers Sign Up
Cruise Deals
You have been logged out
Your window will update in 5 secs
Alaska Cruise Excursions
Experience true adventure in alaska.
Best Shore Excursions
Cruise Critic 2018
Feel like a local with our unique land and shore excursions that give you a taste of true Alaska life. From the historical fortunes of the Klondike Gold Rush to the glacial treasures of the Inside Passage, get up close to the Great Land's famous riches and best kept secrets.
Discovery & animal planet excursions
Unlock a world of adventure with Discovery at SEA™, our exclusive partnership with Discovery™ and Animal Planet™. Immerse yourself in Alaska and see the best the region has to offer with "Recommended" tours or choose "Exclusive" Alaska cruise excursions that you can only experience with Princess – like fishing for king salmon, dogsledding through beautiful terrains and canoeing past Mendenhall Glacier.
Alaska is teeming with wildlife. See the Great Land's most famous animals — like humpback whales — on our Alaska shore excursions. Marvel at bald eagles in their natural habitats while in Ketchikan. See humpbacks play alongside sea lions in Juneau. Or keep a lookout for Denali National Park's Big Five — including moose, caribou, grizzly bears, wolves and Dall sheep — while on a bus tour in the park.
The Great Land was built on a strong culture. On our Alaska shore excursions, step back in time to learn how these traditions came to fruition and how they're practiced today. Attend a lumberjack axe-throwing competition, watch a Native dance performance and excite your taste buds at a salmon bake with locals. Or watch a craftsmen thoughtfully carve totem poles at a Native Alaskan village.
Gold rush history
Strike it rich on any of our cruise excursions in Alaska where you can pan for gold like the many treasure hunters before you. Tour mining camps and meet experienced miners. Visit a restored saloon to craft cocktails from age-old recipes. Or board a gold rush-era train that takes you through Yukon territory and brings you up close to some of Alaska's most historical sites.
With waters as prosperous as the treasures on land, discover what lies below the surface on our Alaska cruise excursions that take you out to sea. Hear thrilling tales from members of the award-winning TV series Deadliest Catch . Or learn to fly fish from an expert guide. As a part of our unique culinary experience, Cook My Catch, bring your fresh-caught fish on board and have our chefs prepare it for your dinner.
Glaciers are the epitome of Alaska. Sailing past them is a sensory experience that inspires both the mind and heart. Watch as Hubbard Glacier calves into the water and listen for the rumble of "white thunder" that it leaves in its path. Land by helicopter on top of Mendenhall Glacier, and feel its strong roots beneath you. Or navigate its rugged terrain by way of flightseeing or dogsled with our Alaska shore excursions.
Sightseeing
There's a world of sights to be seen in the Great Land and our Alaska cruise excursions give you a front-row seat to it all. Bring history books to life when you tour Skagway, the former gateway to the gold rush, and visit Gold Dredge 8 in Fairbanks to learn even more about mining. Travel along the White Pass & Yukon Route Railway, or aboard a riverboat sternwheeler for sweeping views of Alaska's greatest treasures.
Outdoor adventures
There's a reason it's called the Great Land — including its great outdoors. Get up close to renowned glaciers on a flightseeing tour, zipline through Tongass National Forest and hike along the mountainside of Ketchikan's Deer Mountain Trail which takes you 3,000 feet above sea level. Whether you prefer to traverse by land, sea or air, our cruise excursions in Alaska will bring you on a wild ride.
Denali national park tours
Home to the highest mountain in North America, Denali National Park is brimming with magnificence. Search for the Big Five — grizzly bears, Dall sheep, wolves, caribou and moose — while on a bus tour in the park. Most Princess Alaska cruisetours include a tour into Denali National Park.
Why Book Excursions with Princess?
Award Winning Excursions: Discover age-old traditions, relive mining history and make local connections with the people lucky enough to call the Great Land home. Experience the very best of Alaska with Princess.
Guaranteed Return to Ship: Take full advantage of your Alaska cruise activities when you book a shore excursion through Princess. Rest assured that we won't leave without you, so you can focus more on the moment and less on the clock.
Exceptional Value: Book shore excursions with confidence! We offer competitive pricing, friendly service and unmatched destination expertise.
Alaska Cruise Articles and Videos
Read about Alaska's must-see attractions, signature cuisine, and how to prepare for a wild adventure into the heart of The Great Land.
Discover Alaska with Princess in 2023-2024
The best cruise line in Alaska just keeps getting better! From top-rated cruises that visit Glacier Bay National Park to scenic rail travel and exclusive Princess lodges, you will find a seamless Alaska experience with Princess.
Best Dishes to Try on Your Alaska Cruise
No one does seafood quite like Alaska—which is why we brought the best of the Great Land on board, so you can experience it all with Princess.
Top Alaska Cruise Destinations
From exploring Denali National Park to fishing for salmon in Anchorage, discover the top Alaska destinations on a Princess cruise.
Inside Passage Alaska Cruise
From exploring historic gold mines to venturing in the footsteps of early explorers, learn about Alaska's Inside Passage and discover the wonders awaiting you.
Alaska Ports of Call
From the sweeping mountains of Juneau to the fish-bearing seas of Ketchikan, discover our Alaska cruise ports and set sail into the adventures that await you.
What to Pack for an Alaska Cruise
Check out our helpful checklist so that you know exactly what to pack for an Alaska cruise with Princess.
#PrincessCruises Alaska Connection
See Alaska through our guests' eyes.
You May Also Like
Alaska cruises.
See the Great Land's glaciers, wildlife, and national parks.
Alaska Cruisetours
Combine a cruise + train + lodge + Denali for an in-depth Alaska experience.
North to Alaska
Immerse yourself in all things Alaska with our onboard program.