Skip to primary navigation
Skip to main content
Worldwide Wilbur
Budget Vacations to Unusual Destinations
Living on Kwajalein Atoll, Marshall Islands
November 29, 2020 by Worldwide Wilbur 65 Comments
This "Living on Kwajalein Atoll" guide will get you sailing to a desert island, lounging on a white sand beach, eating in the chow hall, and enjoying island nightlife.  It explains how to get here, things to do, where to stay, what to see, where to eat, and more.
by Worldwide Wilbur, November 2018
Living on Kwajalein Atoll is unlike any other US Army post in the world. 
Army Garrison Kwajalein is a restricted ballistic missile research and testing site, on a remote island leased from the Republic of the Marshall Islands (RMI).  Totalling just 1.2 square miles, around 1,000 American soldiers, defense contractors providing logistics support, and their family members, are living on Kwajalein Atoll.   It is covered in palm trees, an airstrip, big concrete buildings, green grass, and paved roads.  One one side of the island is the worlds largest lagoon, on the other side, the open Pacific Ocean.  Living on Kwajalein feels like you've been transported through time and space to a decaying US Army base located in the Florida keys in 1985.
Kwajalein was a major battleground in WWII.
Kwajalein Atoll had little involvement with the outside world until German occupation from 1899, and then a Japanese takeover after World War One.  Japan used Korean slave labor to fortify and militarize Kwajalein in the late 1930's and early 1940's.   U.S. air forces softened up the Japanese defenses by destroying all their aircraft in carrier-based air raids in December of 1943, and January of 1944.  They then took the atoll in a bloody four-day battle known as Operation Flintlock on February 3, 1944.  46,000 US Navy, Marines, and Army soldiers took on about 8,000 Japanese.  36,000 artillery shells were fired from the battleship Tennesee and from Army artillery on captured Carlson island.   B-24's dropped bombs from the air.
After four days, only a couple hundred Japanese soldiers were still alive and they were captured by amphibious landing Army troops.  Mass graves for the 4,300 Japanese casualties were hastily dug, and are at least one is still somewhere hidden underground.  Residents are not allowed to dig more than 6 inches into their lawns, but that's less about mass graves than it is about unexploded ordnance from 1944.
Immediately after WWII, the US kept control of the Marshall Islands, and used Kwajalein as the command center for 67 nuclear bomb tests on Bikini and Enewetak Atolls from 1946 to 1963.  In 1964, the United States started anti-ballistic missile testing with the Nike-Zeus program, with Kwajalein as the hub.
What can you do for fun living on Kwajalein Atoll?
go sailing to desert island Bigej ,  on a friend of a friend's sailboat from the Kwajalein Yacht Club.
go deep sea fishing on another friend's powerboat.
Swim and relax at the man-made  white sand beach.
Snorkel right from shore.  The spot by the beach on the lagoon side is best.  It has a concrete stair entry, and very shallow water.
Go SCUBA diving to one of the many wrecks in the lagoon.  Tank refills are available at the marina shop.
go Windsurfing or Kitesurfing in the reliable 14mph trade winds.  You'll have to borrow the equipment from someone, there is none for rent.
Bicycle laps around the island.  You'll have to borrow a bike from someone, there are none for rent.
Play 9 holes  on the Kwajalein Atoll golf course by the airstrip.
Ride the ferry for a day trip to Ebeye Island .  (free) Just walk over and get on.
Kwajalein is among the most remote spots of land on Earth. 
It is 2000 miles from Australia, 2100 miles from Japan, and 2100 miles from Hawaii.  The only way to truly appreciate how enormous the Pacific Ocean is, is to spend a couple of days flying over it.  Hawaii is 5.5 hours from the mainland USA.  Kwajalein Atoll is another 6 hours in the same direction.  And if there was a direct flight to Australia, it would be a further 6 hours.  That's 17 hours of flying 500 miles per hour, and all you would see in that time is a couple large Hawaiian islands, and some specks of land in the Marshall's.
Living on Kwajalein Atoll is like being in a perpetual summer camp for adults.  
Everyone cycles slowly from place to place, waving to each person they pass. Someone is having a party every weekend and you are invited.  Everyone knows someone who has a sailboat.  Kwaj attracts the adventurous types. Folks are moving there from Antarctica, or leaving on a sailboat for a year.  Some have been there for twenty years. Some would probably prefer to retire, but you can't retire and stay on Kwaj, so they keep working. It's a tight-knit community where people help each other out. 
Kwajalein is in fact a real army base.
Kwaj really is a regular old Army base with the standard brown signs on every concrete building, but with the best background scenery of any base on Earth. You can jump in right off the shore for some excellent snorkeling at one end.  Then relax at a beautiful man-made white sand beach nearby.  The base has all the modern conveniences you'd expect anywhere else.  The grocery store is stocked with all the American staples like Doritos, and doughnuts, and soda.  You can buy the most up to date cell phones and electronic accessories next door.  Apartments and houses have good air conditioning and wi-fi.  People here live a much, much, much better life than on any other remote Pacific island.
Kwajalein Atoll Jobs:  
There are always a few open jobs here.  You must be a U.S. citizen.  Many jobs require a security clearance.   Some are "unaccompanied", so not so good for married folks. Check out open Kwajalein jobs here: KwajNet
Cost of Living on Kwajalein Atoll:
Living on Kwajalein island is not only a great lifestyle, it can also be very lucrative.   You can eat three meals a day for free at the cafeteria. All housing is owned by the US Army, and is free for contract workers. Electricity and water service is free.  If you are a contractor (as most people are) you don't have to pay US Federal taxes on your salary, only a 5% Republic of Marshall Islands tax.  If you are smart enough to claim a US state with no income tax as your "permanent residence", you'd pay no state income tax either.  Most Kwajalein jobs include a stipend for a plane ticket to the mainland once a year for your vacation. You have literally zero expenses, and could conceivably save 85% of your salary!  
What about the Marshallese?
Many Marshallese work on Kwaj, but they all have to be off the island within two hours of the end of their shift.  The Army provides a free ferry to nearby Ebeye island where all the workers live. It seems like a strange version of apartheid, but there are lots of American civilians who work on military bases on the mainland, who also don't get to live on that base. It's just that here instead of driving home after work, they take a ferry to another island.  And believe me, Ebeye is not just another island, it is a whole other planet away from Kwaj.
How can you stay active on Kwajalein?
When you aren't at your job, you can swim in one of two saltwater pools, play on multiple tennis courts, racquetball courts, and basketball courts.  There are playing fields for baseball, softball, and soccer. The Corlett Recreational Center (CRC) has indoor basketball, volleyball and soccer. There is a nine-hole golf course near the airport, a bowling alley, libraries, a fitness center and two movie theaters. You can rent boats for water skiing and fishing at the Kwajalein marina. You can spear-fish, deep-sea fish and scuba dive.  Whatever you like to do, it's happening in Kwaj, and you can find someone to join you. Except for skiing.  The skiing isn't so good.
Go before the islands cease to exist.
The average height above sea level in Kwajalein is only 6 feet.  Once sea level rises 16 inches above its current state, the entire Marshall Islands drinking water aquifer will become undrinkable, rendering the entire nation uninhabitable.  Scientists project that this WILL occur sometime between 2045 and 2083.  The population will have to move.  There is no plan for where as yet.
Things to Know Before you go to Kwajalein:
Kwaj backpacker daily budget:.
$27.  Your housing will likely be free (there are no independent hotels), your meals $6 each at the cafeteria, beers are $3.  There is not much else to spend money on.
Cheap Beer index :
$3 for a Bud Lite at the only bar on island, the Ocean View Club.
When to visit Kwajalein Atoll: 
At 8 degrees above the equator, the temperature never changes on Kwaj.  Highs are 86, lows 77, every day, year round.  There is a rainy season from mid-April to mid-December, and is rains 10-12 inches a month during this time.  January, February, and March are the driest months, with 4 inches of rain monthly.
What languages are spoken on Kwajalein Atoll?  
English, and also Marshallese by the day-workers from Ebeye.
Do you need a Marshall Islands visa?  
Republic of Marshall Islands visas are not required for US citizens, who can stay as long as they like.  Visas are not required for UK citizens (until Brexit), who can stay for up to 90 days.  AUS and CAN citizens can get a free tourist Visa On Arrival to stay for up to 30 days. They must provide a "p olice record" dated within last 3 months, and a "health clearance" showing they are free from HIV/AIDS and TB; dated within last 3 months.   All visitors must have a passport valid for at least six months, must have sufficient funds for stay, and have an onward/return air or sea ticket.  (NOTE: These are Republic of Marshall Islands tourism rules, none of which exactly apply to Kwajalein – see below)
However, living on Kwajalein island is restricted to active-duty US military personnel and civilian contractors with proper orders.  Kwajalein tourism is NOT accessible to the general public.  You can only visit if you are "sponsored" by a U.S. citizen working on the island.  Your on-Kwaj contact will process paperwork to get you "Entry Authorization" orders.  United Airlines will not allow you on the plane without these orders.  So, if you want to visit Kwaj, better start networking among military contractors in the Pacific region.  You could start with the KwajNet facebook group .  Or check out Kwajalein jobs here: KwajNet
Getting to Kwajalein Atoll: 
Flights to Marshall Islands:  99% of visitors to Kwaj arrive via United Airlines at Bucholz Army Airfield (KWA).  United Airlines "Island Hopper" Flight 154 departs from Honolulu, Hawaii on Monday, Wednesday and Friday and costs $1400+ roundtrip.  It makes one short stop in Majuro , taking a total of seven hours.  The Island Hopper flight 155 departs from Guam Monday, Wednesday and Friday and costs $1200+ roundtrip.  It makes stops in Chuuk, Pohnpei and sometimes Kosrae, taking around seven hours.   You REALLY want to fight for a window seat on either of these flights.  Seeing these little islands pop up out of the endless blue ocean is magical.  You can de-plane at any of these stops to look around, take pictures, and buy a snack in the tiny one-room airports.
Ideally, you should book your flight using United Mileage Plus Miles.  While the cheapest round trip flights to Marshall Islands from Honolulu are an eye watering $1400, you can book it for just 55,000 United miles, which have a calculated value of only $825.   I booked a multi-city flight from Maui via Honolulu with three stops in Kwajalein, Pohnpei , and Palau and then back to Maui using just 67,500 United Mileage Plus miles.  If you are booking an island hopping trip, you can choose to stop in any or all of the four Micronesian islands, the two Marshall islands, and Guam and Palau.  To learn the most efficient way to accumulate United Miles, please check out my page Nine Steps to Free Flights Worldwide.
Air Marshall Islands also lands here, and provides service to 13 other islands in the RMI.
When you land at KWA, you'll quickly learn this is not a normal airport.  There will be a flight announcement that it is illegal to take photos of any government buildings once on the tarmac.  Kwajalein is de jure part of the Republic of Marshall Islands, but it is de facto 100% America.  The US pays $18 million a year to the Marshall Islands government to lease Kwaj, which then pays the owners of the islands because all land is privately held.  The lease is in force until 2066, with an option through 2086.
There is no contact with RMI  government for any customs or immigration.   You'll be met at the stairs by a couple of very serious, large, armed American police.  They'll direct you to walk into an open-air cage of concrete and fencing.  You'll sit on plastic chairs, and be given papers to fill out.  The large, serious men with guns will tell you all the rules of being on Kwaj.  No betel nut chewing.  Do not touch fences.  No entering unauthorized areas.  Many of the people in the cage are Marshallese citizens who are continuing on to the nearby island of Ebeye.  Those folks are led into a waiting van, which takes them directly to the ferry to Ebeye .  No one wanders around Kwajalein unknown.  You'll get a badge which you must wear (or at least have) at all times on the island.  Once you have your badge, you'll be let out of the cage, where your "sponsor" has been waiting.  Welcome to Kwaj!
Getting around Kwajalein Island:  
There are no personally-owned cars for anyone living on Kwajalein.  It is possible to rent a truck or a golf cart for a couple of hours if you need to move stuff from one end of the island to another.  The vast majority of your travel on island will be by bicycle.  Bicycles aren't available for rent, but every resident has at least one, and someone will have an extra clunker you can use.  Normen "Auntie" Sablas has a fleet of 85 bikes available for free to visitors.
Kwaj Currency and how to get it : 
U.S. Dollars are used everywhere in the Marshall Islands, and are available at a couple of ATMs.   For more info on your cash-versus-credit card options when travelling, check out my post on How to Access your Money in Foreign Countries .
Kwajalein Internet and Phone Service: 
There are no cell phone towers on the island.  Landline phones are still in use all over the island.  Phone calls are free.  WiFi is available in all homes, and some businesses.   For more info on your telecom options, check out my post on How to Get Cheap Mobile Phone Service Worldwide .
Kwajalein Atoll Real Estate:  
You can't buy a home here.  In fact, there are only two options for lodging; stay for free with your sponsor in their house or apartment, or stay at the Kwaj Lodge.
Kwaj Lodge – basic motel rooms.  You won't find it on Booking.com, cause it can only be booked by your sponsor.
Where to eat on Kwaj:
Captain Louis S. Zamperini Dining Facility – This Army-style chow hall is the biggest food option on island.  Meals here are free for local staff, so pretty much everyone living on Kwajalein eats here.  It's all-you-can-eat buffet style, and pretty darn good.  And it's named for the wartime hero of the book and movie Unbroken  who was held here for 42 days and tortured in a Japanese POW camp.  Watch this film before your visit.  You'll see why it's kinda funny they named, of all things, a dining facility after Captain Zamperini.
Subway – tastes just like your Subway at home.
Burger King – somehow not quite as good as your Burger King back home.
Donato's Pizza  – serves by the slice.  Tastes like pizza.
Kwajalein Island Nightlife: 
There are only four types of nightlife on Kwaj, and they generally occur in the following order:
Start with a backyard barbecue at someone's house by the ocean.  Only married folks and high-ranking military living on Kwajalein get assigned to an actual house.  These tend to be the kind of folks who can afford to feed lots of people.  They may also prefer to shut it down early.
Alternately, there might be a party at the Kwajalein Yacht Club .  You don't even need to own a yacht to attend.
Next you move on to a party in someone's apartment .  Apartments get assigned to single folks.  These parties can go late.  But if it starts to wind down…
You end the night at the Ocean View Club aka " The Snake Pit ".  This is the only actual bar on the island.   It's an A-frame building open to the air, and it has an ocean-side view. It has a full liquor bar, and b eers are $3 and up.   There is a dance floor, and a free computer-jukebox behind bulletproof/drunkproof glass.  You might find 2 or 20 people there on a given night.  It is the last stop of any night out on the town, as is open til 3am.  Expect to find folks too drunk to speak or move.
Get a Marshall Islands guidebook:
There are NO guidebooks that cover Kwajalein.
What to Pack for Kwaj:
You can get the basics you need on Kwaj, but not at Amazon or Walmart prices.  It's better to bring with you quality gear at mainland prices.  You also don't want to be spending your limited vacation time searching for the right stuff.  Here is what I use, and recommend you bring:
While these items are of particular importance to make the most of your visit, it would be worth checking out my Ultimate Travel Packing List  that covers everything you might need for your trip.
Is Kwajalein safe?  
Kwaj is about the safest place on Earth.  Everyone living on Kwajalein had to pass a government background check to get there.  There is no known crime, other than the occasional drunk "borrowing" of a clunker bicycle.
The water is safe to drink, thanks to the efforts of master water engineer Eric Nystrom.
There are big black-tip and nurse sharks in the water by the marina.  Maybe not the best place to go snorkeling.
If you bicycle around the airstrip, pay attention to the sign that reads "WATCH FOR AIRCRAFT".  United flight 154 landing on your head is to be avoided.
Like This Article? Pin it!
Thanks for reading.
Full Disclosure:  Some of the links in this post are affiliate links.  This means that if you buy anything, I'll earn a small commission at  no extra cost to you . I only link to stuff I use, love, and recommend.  I don't accept bribes to endorse garbage. Your clicks help keep this site alive.
THANKS FOR YOUR SUPPORT!
If you enjoyed "Living on Kwajalein Atoll" , please share with your friends:
Reader Interactions
October 2, 2023 at 4:56 pm
My dad was in the Navy CEC and was Public Works officer in 1957 I think. I remember riding my bike everywhere, taking Navy showers to conserve water, going to outdoor movies in the rain wearing ponchos, and feeling really sad when we left for the States without the dog we adopted.
March 14, 2023 at 12:11 pm
My parents lived in Kwaj for close to 20 years. My dad worked for M.I.T. I was 17 when they left the U.S.and my younger brother moved out there with them and graduated from high school on Kwaj. I took six trips there while I was a college student, and I lived and worked in the bowling alley the summer of 1975! My mother and father became scuba divers, my mother discovered a new shell there and it was named after her. She also published her live shell photos in an encyclopedia of tropical shells! My father,Kermit Peardon, just passed away last November age 96. He was quite high up at Roy Namur, and was able to work there as long as he wanted. I'm sure many people remember him.I snorkled every day I was there. My daughter lived in Hawaii for five years while her husband was in the army and I visited them there at least 6 or7 times. Being on Hickham, renting military boats, snorkeling etc. reminded me of those idyllic days on Kwajalein!
June 20, 2022 at 9:35 am
My DH originally went to Kwaj in early 1983 as unaccompanied but was able to turn that into an accompanied position that qualified for housing, so we moved up our wedding date, sold the car, found homes for the cats, and off I went with him back to Kwajalein where I spent what I often refer to as my five-year honeymoon. I loved every single minute of those five years and wasn't ready to leave when it was to go. So many memories; Emon Beach, Air Micronesia, Sam Bellu, Father Hacker, Father O'Brien, silver city, "Macy's", "Safeway", Wally at the Yokwe Yuk and so many more. Thanks so much for taking me back down memory lane.
June 10, 2022 at 9:14 am
Anyone know what it's like to work as a contracted firefighter there?
April 20, 2022 at 9:45 am
I lived there as a kid in the early-mid 60's. My dad worked with the radars and traveled back and forth to Roi-Namur every day. Would love to go back for a visit. Anybody know a current resident that might be willing to sponsor me and my wife?
May 19, 2022 at 6:09 am
there is a 5 day quaratine in hawaii and a 2 week quarantine in Kwaj as of today 5/22. Very difficult to 'hang there' during these difficult times.
May 25, 2022 at 6:09 pm
Was on Kwaj the summers of 1967 and 1968. Do you remember everyone buying a Titus diving watch? Everyone had one:) Do you remember the Army Colonel Black, and his daughter Borden? Thanks
May 25, 2022 at 6:51 pm
I worked on the Tarlang, the ferry to Ebeye in 1967-68, does anyone remember it?
July 29, 2022 at 6:06 pm
Yes! Rode the Tarlang to Ebeye now and again, as well as taking it occasionally for special group outings. Great memories!
December 16, 2022 at 11:43 am
I did not ride the ferry, but I rented sailboats and moored off the island for a half a day and visited the island many times. 1967-1973. Jim
March 31, 2022 at 7:49 am
I lived there as a young boy for a couple years in the 60's and then a second 20year stint from '71-'73. Absolutely the best years of my boyhood! I still have idyllic memories of the experience. So much has changed. I too would love to visit, we'll see…
March 31, 2022 at 7:50 am
Typo. That would be a 2 year stint NOT a 20 year stint. I suppose that 0 really matters.
January 16, 2022 at 5:17 pm
This article nailed it. I lived and worked there and they described it perfectly..awesome memories
January 21, 2022 at 4:16 pm
I also lived there fished every day. I was recently going back until they informed me that the bachelor quarters are now shared living space . I was disappointed but know I need more privacy then that .Your room was the only place you can actually be by yourself .TV ,Skype with family ,read a book bq is about 400 square feet
February 28, 2022 at 6:57 pm
The BQ is still individual dorm-room style apartments. One person per room There are a few suites that have two rooms for couples.
June 6, 2022 at 5:16 am
I have sleep apnea so sharing a room definitely wouldn't work
January 5, 2022 at 8:41 am
I am considering taking a USG job on Kwaj. However, i have a well controlled (by meds) seizure disorder. How do you get prescriptions refilled?
February 28, 2022 at 6:59 pm
You bring a large supply of your meds with you and there is a pharmacy in the hospital.
August 27, 2021 at 7:27 am
We arrived on Kwaj, sponsored by my BFF who is the nurse at the hospital. We got there on St Patrick's Day 2012 and partied into the night. I love Guinness, but my friend didn't. She went looking for a "real beer" only to discover that every single cooler was filled with Guinness. Irish car bombs were being had by many in the kitchen of the house we were in. We stay there for 2 weeks and had a wonderful time. Trip of a lifetime and if we were younger we would have gotten into that contractor world and maybe raise their children on Kwaj. Their schools are excellent with most of their children going on to graduate college, something like 95%. It's not for everyone, but it is something unique and special. We got to see Roi-Namur, a small island that's a major part of the Ronald Reagan Ballistic Missile Defense Test Site. They host several radar systems used for tracking her potential intrusion. We toured the island in a golf cart. Part way through the tour, the golf cart died. The Islanders contractors knew fresh meat was on island, and decided to mess with us, shutting down our golf cart. We ended up at the bar, it was empty at the time we arrived, but within 10 minutes there were 40 people coming to see who we were. Would love to go back again, but I doubt we will. Thank you for your story. Brought back great memories! By the way, if you get caught riding your bike while intoxicated and cause a problem you get kicked off the island. Same with waiting for the aircraft to land before you go across the landing strips. If you don't stop off Island you go. And if you're golfing, don't think you can go fetch your ball if it goes into an area that's not permitted. If you do, off Island you go!
May 13, 2023 at 3:27 pm
I know this was a few years ago but i'd be interested to speak with your BFF who is the nurse at the hospital. Im looking into picking up an assignment there as an ER/critical care nurse. I can't find any reviews/stories on anyone's experience there in the hospital.
August 12, 2021 at 11:04 am
I passed through there on a C-5 hop from Hickam to Kadena in 1990. Pretty cool place. I doubt it's changed much. The cafeteria was indeed a good place to eat. I still have an old-fashioned porcelain coffee mug that I snuck out of there. A couple of coworkers recently spent a 2-year tour on the Kwaj and had a great time.
June 6, 2022 at 5:19 am
Snuck? You mean stole
March 29, 2021 at 10:53 pm
I lived there in there in 90's Loved and hated it. I think I can never visit correct?
May 29, 2021 at 12:21 pm
Can you tell me more about that? I am considering a job position on the island.
September 25, 2021 at 7:40 pm
Take the job its fantastic to live there I lived and worked there in 1985-1991. It was a blast. Ted Farris.
March 20, 2021 at 9:58 am
I was stationed there in 1954-1955 . Served my time as a crew member of YOG 65 at the marina . Wasn't the paradise your story tells at that time. Was still a primitive island where you could still find junk left over from ww 2. There was a EM club, a out door theater, a few barracks and a chow hall …And bomb testing …. Nothing that resembles your story. but it was interesting to see the changes made there .
March 19, 2021 at 8:11 pm
I worked on Kwaj from 75-77,everything was free. There were 3500 people on the island and it was serviced by Air Micronesia and later Continental. There were three military officers and their families on the island. Life on the island was slow paced and comfortable. Sailing, fishing, diving and sports filled the days. There was the Yukwei Yuk Club, which was a restaurant and bar and always enjoyable. The Snake Pit which was earlier and accurately described as a place where the patrons could neither walk nor speak because they were so drunk. It was lots of fun made some lifelong friendships and saved enough to travel around the world for nearly three years. My memories are fond of the island and the people including all the Marshallese from nearby Ebeye.
February 20, 2021 at 9:58 pm
Sorry to hear that there is only one bar left. When I was there, courtesy of the US Army, '68-'69, there was a big bar called the Yokwe Yuk which was conveniently right across from the BOQ is was in (The Reef). For a while I ran the projector at the theater next to the Yokwe Yuk, and then I worked at the bowling alley. (Military Pay sucked even back then). The Ocean View bar had a saltwater pool near it, and there were at least three beer vending machines (like Coke machines, try doing that now) next to the pool. Every morning there was a castle made of beer cans on the picnic table. (I think the only beer we got in cans was Olympia.) Every day I flew to Meck, and there was even a little bar there, called the "Meck Wreck" (probably because of the shipwreck on the beach near there). Great Times
May 25, 2022 at 5:50 pm
Was on Kwaj, the summers of 1967- and 1968, well remember the vending machines where for 25 cents, you got a cold OLY 🙂 would love to go back for a visit, I think I will try to connect with a Kwaj. resident for a sponsor.
December 16, 2022 at 11:46 am
I used to spend a lot of time at the Ocean Front putting quarters in Oly vending machines. We did a lot late night crabbing on the beaches. Jim 1967-1973
December 21, 2020 at 1:09 pm
Lived there from 83-85. Husband worked for Kentron. Great place to live. Kids loved it. Like being at the beach 365 days a year. Schools were great. Small classes, excellent teachers. Eldest graduated from high school there. Loads of things to do. Wish we could turn back the clock.
October 19, 2020 at 3:39 pm
i was on Kwaj from 1965 to 1971, best time of my life as a kid. Wish i could go back and see Kwaj one more time. My dad was known by Cowboy John, he was construction supervisor. My mom worked at Macy's. Just a Hi to all my friends I had back then.
February 5, 2021 at 4:02 pm
I graduated from Kwajalein High School in 1971. I enjoyed my time there, and think of it often.
Pat Hutchings Suddarth
May 25, 2022 at 5:52 pm
Was there summers of 67 and 68. Did anyone know my dad, Robert Sievers? did some softball umpire work. He was with global associates as a civil engineer.
December 16, 2022 at 11:52 am
Bill, I played fast pitch with Kentron Hawaii LTD, and I may have been called out many times by your Dad (Ha). But retention is not my forte at this stage. Jim 1967-1973
August 25, 2020 at 3:53 am
Just offered a position there with USAG, looking for any and all information. Will be bringing wife and daughter.
April 9, 2021 at 11:37 pm
I just applied for a position there as well. I want to bring my wife and daughter as well. Let me know what you find out.
July 21, 2021 at 2:04 pm
My husband was considering a job there. It's a 1 year contract. Would there be housing big enough to house our whole family? There's my husband, me, and our 2 teenage sons. Would they house all of us? Do you know if it would be on Kwaj or Ebeye?
September 11, 2023 at 1:54 am
Houses are large enough for your family. It would be on Kwaj. Ebeye houses only the locals (Marshallese). I too, lived on Kwaj from 71-76. BEST time of my life. Definitely go there, you won't regret it. You would wish you could stay longer…I guarantee it.
August 11, 2020 at 4:08 am
used to work there in the late 80s and early 90s. Is Norman (auntie) SABLAS still a fixture there? If so – a big HELLO from the past. During my time everyone was great, Banjo Kious and many more. The Marshallese made my stay easy and interesting. Many thanks to them.
July 21, 2023 at 6:00 am
Auntie is now in Huntsville!
June 3, 2020 at 10:18 pm
Would love to visit this beautiful place. But I don't have a sponser as it required. So I'll just keep looking at beautiful pics. ❤️
May 22, 2020 at 3:51 am
In 1945-46,I was stationed on the Island of Kwaj ,I was attached to the Seabees ( CBMU 607) There was still a lot to clean up after the large Military battles in 1944. This is a very small Island and I was so proud to be stationed there, I was just a young boy at 17 and 18 years of age. I remember we had the best chow on the Island and members of the Army, Marines. And Naval Personal would have their meals there for the food we ,as Seabees , served there. I was quite a. Experience for me as a young man to have served there,I wish I t could have gone back to visit,I understand , it would be great place to live,,no crime there to worry aboutOn the day I left on July 1- 1946,the Island of Bikini, there, not far from Keajalein,the Nuclear supplies were stored there and of this date,the Iand is still unvisited. The is where the Bathing Suit Bikini , the ladies wear, I got its name, there was nothing left to show. I am 92 years of age,this time I will always remember my tour of duty there.
July 1, 2020 at 8:54 am
Hi, I am the 68 yr old daughter of Carl and Margaret Glommen who served there on Kwajalein. My Dad was an aircraft mechanic. My Mom was a WAC. My sister Carla was born on the island on May 30, 1949. I have lots and lots of pictures and slides from their time there and from their time in Honolulu…still in the military trunks. I also had my Mom make tapes of her experiences in her life…from childhood til they moved back to the states and raised children. If you ask the newspaper there, they will have record of an article/interview with my Mother some years ago.
October 23, 2021 at 3:39 pm
My namesake (my middle name) was my Uncle Bernard Kimmell who was stationed in Kwaj. Bernard, pronounced the Brit way, 'burr' nurd', was just a kid. Of your acquaintance, by any chance? Bernard D. Kimmell S1c (seaman 1st class) Died on Guam (Mt. Tenjo) on 12 September 1945. He was crew on a Douglas C54 Skymaster in the Naval Air Transport Service, flying from Samar in the Philippines. Pilot error or possible radio equipment failure causing the pilot to lose contact with the tower. All 7 on board died. Todd Kimmell, Philadelphia
May 16, 2020 at 9:21 am
Hello Worldwide Wilbur, Your article was very descriptive and tantalizing.
I Just finish the Audible version of "Unbroken" (read 2 times) and watched the movie.
At 59 single and financially set after 40 years of being self employed, this sounds just like a place for me to relax and get away from everything.
By any chance, is there a resource of available sponsors to contact?
Thank you, Dave Stern Las Vegas, NV USA
February 15, 2020 at 10:45 am
My father was a civilian with a government contractor that worked there during the 50's and 60's. I don't remember much about it. I was very young. He was only able to come home for 30 days every 18 months. I always wanted to visit him but it wasn't allowed.
Enjoyed reading the above articles. They gave me some insight on what his job was about.
February 2, 2020 at 9:17 am
Lived here for 2 and a half years when my dad was in the US Navy in the 60's. No car, No TV But had a great time. wish I could go back and visit.
December 3, 2019 at 3:20 pm
For your information the high ranking military aren't the only ones to get houses. There are contractors to get housing too it's by position of their job. Also the military doesn't make that much money as a contractor over there. We don't qualify for the free no tax like the contractors.
October 21, 2019 at 1:40 pm
My ex son-in-law wants to take my 7 yr old Granddaughter there for the summer. I'm afraid she will be traumatized leaving her Mother, as well as extended family and not having many extra-curricular activities. She is very active in dance lessons, church youth groups, summer trips, etc. She has never been in day care as he plans to have strangers keep her while he works. There doesn't appear to be many activities for young children. I'm also wondering about the health care ???
October 21, 2019 at 2:07 pm
Hi there, While I can't speak to your granddaughter's particular needs, I find that kids are surprisingly resilient with new things. If she enjoys the beach, swimming, playing outside in nice weather, she might like Kwaj. There are plenty of kids on Kwaj, so she will make friends. The health care is limited, but adequate for all but serious traumatic injuries. Thanks for reading! Sam
October 15, 2019 at 3:43 pm
Had a chance to take a job there after I got out of the Navy in 63. Sometimes I wished I had of.
August 16, 2019 at 6:54 pm
Thank you! Excellent writing!
August 8, 2019 at 12:31 pm
My fathers ship was used after the war for atomic testing.. it was the USS Pennsylvania after the testing it sit in the lagoon there for quite a while people did research on it and it was later towed to sea and sank. I've often thought about this place.
June 16, 2019 at 8:32 pm
Kwaj is really great. I've lived here for almost 8 months now. Love every day here more and more.
April 20, 2022 at 10:07 am
Hey Bailey – glad you're enjoying the island. On the slim chance you'd like to sponsor a former Kwaj-kid, please let me know. I would love to come back and spend a couple days there but obviously need to be sponsored. I lived there in the 60's during the Nike-Zeus program. My dad ran radars over on Roi and we lived in one of the concrete houses on the island. I went to George Seitz School there for K, 1 and 2. I would love to be able to see the place again as an adult and bring my wife so she could see what it is I talk about so much. Let me know if you'd consider. Thanks!
June 4, 2019 at 6:22 pm
I went to 4th and 5th grade at George Seitz school from 1963-1965. Nike Zeus project was going full blast . Often the signal horn would blow and everyone had to go to the nearest bomb shelter .You would feel the island shake and soon after they would blow the all clear and you could return home .My dad was the marine supervisor and he assigned the boats for week ends . They were free and so were the taxis and buses that went all over the island .Things change !
April 7, 2020 at 6:02 pm
I was there at the same time and in 4th and 5th grade! We must have been in the same class.
May 23, 2019 at 1:08 pm
Great article, I have always wanted to go. Doubt I will. I can dream!
December 1, 2019 at 11:11 am
The fishing is great! Wahoo, Yellowfin Tuna, Skipjack Tuna, Rainbow Runner, Dog Tooth Tuna, Mahimahi, Marlin and Sailfish can all be caught with ten minutes of leaving the small boat marina. See the folks at the fishing club, or check with Rick at the small boat marina and he can hook you up with some fisher men/women. The trip will cost you from $35 to $50. All anglers who have been there a while will have all the equipment needed. You will be welcome muscle in the boat when all lines have fish on! If you are going to be there for a while, it is expected that you have your own gear. Right lines, and Hanapa'a!
December 1, 2019 at 4:44 pm
Thanks Uncle Les!
May 25, 2022 at 6:03 pm
In 1967-1968, all you had to do was reserve a boat, no charge, just bring your own refreshments. remember a trip where the diver brought up a huge killer clam, was great to eat some with sea water:)Has anyone ever gone to Ebeye and exchanged ice col OLY for some hot beer that the fishermen had, just to keep up good relations with the Marshallese? And then go buy fabric and have the women make you a shirt? Great memories
January 31, 2019 at 5:24 am
I'm a disabled vet, any discounts for us?
January 30, 2019 at 5:05 pm
My son is sooo smart. I enjoyed reading this. You are really good at this. Love you
August 7, 2023 at 5:54 pm
Helloo Jim Camp here. 1985-87 employed at Kwaj as plumber. What a good life it was. Played golf every week day after work. People were good to each other. Never saw any arguing or such. That time in my life will never be forgotten.
Bless all of you.
Leave a Reply Cancel reply
Your email address will not be published. Required fields are marked *
This site uses Akismet to reduce spam. Learn how your comment data is processed .
Kwajalein Travel Guide
Australia & Oceania
Marshall Islands
What to see
Facts and practical information
Kwajalein Atoll is part of the Republic of the Marshall Islands . The southernmost and largest island in the atoll is named Kwajalein Island , which its majority English-speaking residents often use the shortened name, Kwaj . The total land area of the atoll amounts to just over 6 square miles. It lies in the Ralik Chain, 2,100 nautical miles southwest of Honolulu, Hawaii .
Kwajalein is the 14th largest coral atoll as measured by area of enclosed water. Comprising 97 islands and islets, it has a land area of 16.4 km 2 (6.3 sq mi) (6.33 mi²) and surrounds one of the largest lagoons in the world, with an area of 2,174 km 2 (839 sq mi) (839 mi²). The average height above sea level for all the islands is about 1.8 metres (5 ft 11 in).
Kwajalein ( Kuwajleen ) Atoll was an important cultural site to the Marshallese people of the Ralik chain. In Marshallese cosmology, Kwajalein island was the site of an abundant flowering zebra wood tree. This was thought to have spiritual powers. Marshallese from other islands came to gather the "fruits" of this tree.
Current use by U.S. military
Kwajalein and Roi-Namur are the main islands used by the U.S. personnel. Provision is made for family housing. Personnel whose family members are not with them live in hotel room style housing.
Wartime memorials
Very few Japanese or Korean remains were ever repatriated from the atoll; thus both Kwajalein and Roi-Namur have ceremonial cenotaphs to honor this memory. The memorial on Kwajalein was constructed by the Japan Marshall Islands War-Bereaved Families Association in the 1960s, and the memorial on Roi-Namur was constructed by American personnel. The memorial sites are dedicated to Japanese souls and to the sacrifices of Koreans, Marshallese, and Americans. U.S. Marine Corps intelligence records and photographs at the U.S. National Archives, together with the testimony of U.S. veterans, indicate that there was a mass-burial site consolidated into one place on Kwajalein islet, at or near the current cemetery. However, remains are scattered throughout the islet, at Roi-Namur, and in places throughout the atoll. Bereaved Japanese and Korean families have mixed sentiments about whether or not to return these remains to their home countries, as none of them are identifiable, and "bone-collecting" missions are sometimes perceived by families as an insult to the dead or a political stunt by the Japanese government.
There was a private flying club from 1963 through the mid 1980s. They owned two aircraft, tied down outdoors off the Bucholtz airstrip. Because they used avgas, they were forced to dissolve when the Army switched over to turbine-powered aircraft and no longer stocked avgas.
Land lease disputes
Under the constitution of the Republic of the Marshall Islands the government can own land only in limited circumstances. Practically, all land is private and inherited through one's matriline and clan. Since the United States began leasing land, the issue of proper land payments has been a major issue of contention for landowners which continues today. "Landowners" here refers to the consortium of irooj (chiefs), alaps (clan heads) and rijerbal (workers) who have land rights to the places used for military purposes by the United States. In the case of Kwajalein Atoll in particular, a "senior rijerbal" is assigned a role to represent families who have claims to land as "workers" of that location.
On Kwajalein Island the primary mode of personal transportation is the bicycle.
Marshall Islands Public School System operates public schools for local Marshallese.
Kwajalein Top Attractions
Kwajalein attractions - what to see and explore.
Kwajalein offers many attractions and places to visit. Here are the most important ones: Coral Sands Beach, Camp Hamilton Beach, Ronald Reagan Ballistic Missile Defense Test Site. Below you will find a complete list of places worth visiting.
Ronald Reagan Ballistic Missile Defense Test Site
The Ronald Reagan Ballistic Missile Defense Test Site, commonly referred to as the Reagan Test Site, is a missile test range in Marshall Islands.
Best Time To Visit Kwajalein
Learn when is the best time to travel to Kwajalein weather-wise and what to expect in each season.
Average temperatures in °C
The air temperature in this location remains at a similar level throughout the year.
Monthly rainfall in mm
The lowest rainfall is recorded in February and March . Most of it rains in September, October and November.
Length of day in hours
The length of the day varies only slightly throughout the year. The difference between the longest and the shortest day is 1 hr and 00 min.
Frequently Asked Questions (FAQ)
What are the top attractions to visit in kwajalein.
Where to next? Explore all the interesting places and tourist attractions in Marshall Islands.
Kwajalein is an atoll in the Marshall Islands .
Although a restricted US Department of Defense missile research and testing site, and not accessible to the general public, Kwajalein is home to around 1,800 Americans who live and work there. There is a fully functioning community including a bank, post office, shops, schools and a small hospital, as well as buildings and installments to support the US military mission.
Get in [ edit ]
By plane [ edit ].
Access to the island is restricted to active-duty US military personnel and civilian contractors with proper orders, although it is possible to travel there as a dependent of a person in either of these categories.
Get around [ edit ]
By car [ edit ].
Rental cars are not available to general public, and no taxis are on island. Residents may rent Quality of Life vehicles for hourly or daily use but most island transport is encouraged to be by foot or bicycle. There is a transport van available for passengers disembarking for Ebeye to carry them from the airport to the ferry dock.
See [ edit ]
Do [ edit ].
Scuba diving and snorkeling in the waters surrounding Kwajalein is a popular pastime for island residents. A 9-hole golf course is present. Tennis courts are available. And volleyball is played on the beach every Sunday morning. Fishing is very popular trolling by boat for mahi, ono, and tuna.
Buy [ edit ]
Eat [ edit ], drink [ edit ], sleep [ edit ], connect [ edit ], go next [ edit ].
Has custom banner
Banner missing from Wikidata
Has map markers
Airport code pages missing
All destination articles
Outline cities
Outline articles
City articles
Has Geo parameter
Pages with maps
Navigation menu
Passport Party
Exploring borders and remote places
Border #59: How to get to Kwajalein Atoll as a tourist
What country does Kwajalein belong to?
Kwajalein Atoll belongs to the Marshall Islands. The U.S. Army has leased 11 of the 97 islands of Kwajalein Atoll on a long-term base. This includes Kwajalein's main island and its airport, Bucholz Army Airfield. The islands populated by Marshallese civilians do not have an own airport.
How to get to Kwajalein Atoll?
Bucholz Army Airfield is a stop on the United Airlines "island hopper" route. The island hopper (UA154/155 and UA132/133) flies four times a week from Guam to Honolulu, stopping multiple times along the way: In Chuuk, Pohnpei, Kosrae, Kwajalein, and Majuro. For some of these places, the island hopper is the only connection to the outside world. The route leads through very remote parts of the Pacific, is quite demanding for pilots and very popular among aviation geeks.
What documents do I need to enter Kwajalein Atoll as a civilian/tourist?
The only way to enter Kwajalein Atoll is through the U.S. army airfield. Civilians are not allowed to visit the U.S. army base unless they have been invited by a sponsor within the army. However, they are allowed to land in Kwajalein, provided they leave the base immediately for a civilian island, which is usually nearby Ebeye. This is where most of the Marshallese civilians of Kwajalein Atoll live. In order to be allowed to deplane and enter Kwajalein, tourists must be in possession of an onward ticket and a hotel booking in Ebeye for the entire stay.
How can I book a hotel in Ebeye?
This proved to be the main challenge for me. There is only one hotel in Ebeye, Hotel Ebeye. The hotel does have a website , which enlists several phone numbers and e-mail addresses. However, none of them seem to work. I eventually managed to get in touch with them via hotels in Majuro, the Marshall Islands' main atoll. It still took more than 20 e-mails within three weeks' time. As of September 2019, the following e-mail addresses of Hotel Ebeye were actually working: hotelebeye.rsvn[at]gmail.com and taihnersonlonger10[at]gmail.com.
Who does the passport check at the airfield – U.S. or Marshall Islands?
Both the Marshall Islands authorities and the U.S. army do immigration checks at Bucholz Army Airfield. You have to fill in migration forms of both countries and you will get two stamps into your passport: One by the Marshall Islands and another one by the U.S. Army Kwajalein Atoll (USAKA). First you have to go to the desk of the Marshallese immigration officers, then you have to hand your passport to a sergeant of the U.S. Navy.
How do I get from the airport to Ebeye?
After immigration control and luggage pick-up, tourists are escorted by car to the dock of the U.S. base. This is a drive of approximately 500 metres which allows you to catch a glimpse of daily life on the air base. Unfortunately, despite the short distance, you are not allowed to walk. From the dock, tourists have to take the next available shuttle ferry over to Ebeye Island. The ferries are provided by the U.S. army and are free of charge, they run every 1-2 hours. There is an American style diner ("American Eatery") at the dock for the waiting time and you can even order Burger King and Subway food from inside the base.
Is there anything to see on Ebeye Island?
Ebeye is not a touristic place and has no classic tourist sights. It is the place where the local staff of the U.S. base live, and the Marshall Islands' 2 nd biggest urban hub with about 15.000 inhabitants. The tiny island is one of the most densely populated places in the world, meaning there is only built-up area and no nature at all, and no beautiful beaches neither. It was no surprise that me and my brother were the only tourists on the island during our stay. I found it nevertheless worthwhile, if only to get an impression of daily life in this very remote corner of the world. There is plenty to discover on the tiny island, and the locals are among the friendliest people I ever met.
Another attraction is indeed the U.S. base in itself and the whole procedure of getting to Ebeye. Where else in the world are civilians allowed on U.S. army bases, even just for an escorted transfer? It is truly bizarre to see the contrast between run-down, impoverished Ebeye and the neat little U.S. suburb on the other island.
Teilen mit:
Gefällt mir:, ähnliche beiträge, 3 kommentare.
An interesting story about this remote place with the special air connection.
Like Gefällt 1 Person
Pingback: Island #14: Marshall Islands – nuclear testing ground – Passport Party
Pingback: My collection of Oceanian passport stamps – Passport Party
Kommentar verfassen Antwort abbrechen
Du hast bereits ein WordPress.com-Konto? Melde dich jetzt an.
Abonnieren Abonniert
Registrieren
Kurzlink kopieren
Melde diesen Inhalt
Beitrag im Reader lesen
Abonnements verwalten
Diese Leiste einklappen
What Should I Know About Kwajalein Atoll?
Kwajalein Atoll , known informally as Kwaj by its largely short-term residents, is part of the Marshall islands chain located in the western Pacific ocean. Kwajalein Atoll is approximately 2,100 miles southwest of Hawaii and 1,400 miles east of Guam. In other words, Kwajalein Atoll is one of the most isolated locations on the planet, although not completely cut off from modern amenities such as schools, stores, restaurants and Internet services.
Virtually all of Kwajalein is under the control or auspices of the United States Army Command, so it is essentially a military base with some accommodations for civilian workers. The primary work performed on Kwajalein Atoll is missile system testing for various government agencies, primarily the military. Most American residents of Kwajalein Atoll are on assignment for private defense contractors or official government agencies. In fact, it is nearly impossible for a private citizen to visit Kwajalein Island without official government clearance.
Life on Kwajalein Atoll is generally said to be similar to living in a small American town, not a large city. Organized sports such as snorkeling , volleyball, basketball and softball are offered. There are fitness centers and other recreational facilities for skating, running and tennis. Although swimming in the ocean is discouraged, there are a number of places where boating and windsurfing are permitted.
Please enable JavaScript
The weather on Kwajalein Atoll is typical for tropical islands located near the equator . There is a fairly constant trade wind, and sudden rainfall is always a possibility. The average temperature remains in the upper 80s Fahrenheit (lower 30s Celsius) year round, and can become uncomfortably hot if the winds shift or die down. Although not common, hurricanes have been known to strike Kwajalein Atoll periodically and cause significant damage.
Although the military commanders who oversee the base have made efforts to improve the living conditions of assigned residents, there are still some difficulties obtaining modern amenities such as Internet service, advanced mail deliveries, and satellite television channels. Dial-up Internet access is available, but it can be very expensive to use. The military does provide some television services through its own network, but residents cannot obtain in-home satellite television as of this writing.
There are some general merchandise stores on Kwajalein Atoll, but they generally work like Army post exchanges, with limited selection and higher retail prices. Residents can visit a neighboring island called Ebeye to purchase necessary hardware items or attend church. Telephone service does exist, and residents actually have an American area code (805), but the local Marshall Islands phone company can add a surcharge per minute of use.
While the living arrangements on Kwajalein Atoll may be somewhat spartan, many contractors assigned to work there believe it is truly a paradise on Earth. The crime rate is relatively low, the working conditions are usually pleasant, and single residents with no dependents are free to adapt a more leisurely island lifestyle when not on duty.
A regular CulturalWorld contributor, Michael enjoys doing research in order to satisfy his wide-ranging curiosity about a variety of arcane topics. Before becoming a professional writer, Michael worked as an English tutor, poet, voice-over artist, and DJ.
You might also Like
Recommended, as featured on:.
Related Articles
What are Nuclear Test Sites?
What are Tropical Countries?
What Should I Know About the Marshall Islands?
Discussion Comments
I worked and live on Kwaj in 2010, and loved it, but it was low paying. After a little over a year, I went to Qatar for twice the pay. To my surprise, I was just offered a job back on Kwaj at a decent pay scale. I was all set to go until the recruiter told me they were doubling up in the bachelor quarters. That was a deal breaker.
It is encouraged that we play, fish, swim, surf, boat, kayak, windsurf etc., but we just need to be aware of the conditions when doing so. And there is no Country Club here. Gyms, bars, and tennis/volleyball courts, skate park, track, baseball and soccer fields yes. No country club. And a bar can be considered an activity on Kwaj. Life on the island is much like living at club med, without having to pay the fees.
Internet is gaining speed, its only 32 bucks a month for the people living here to have a phone connection, dial up internet is free.
Kwaj is beautiful.
Post your comments
Marshall Islands Tourism
Marshall Islands Hotels
Marshall Islands Bed and Breakfast
Flights to Marshall Islands
Marshall Islands Restaurants
Things to Do in Marshall Islands
Marshall Islands Travel Forum
Marshall Islands Photos
Marshall Islands Travel Guide
All Marshall Islands Hotels
Marshall Islands Hotel Deals
Marshall Islands
Things to Do
Restaurants
Vacation Rentals
Travel Stories
Rental Cars
Add a Place
Travel Forum
Travelers' Choice
Help Center
Kwajalein civilian access - Marshall Islands Forum
South Pacific
Marshall Islands
Kwajalein civilian access
United States Forums
Europe Forums
Canada Forums
Asia Forums
Central America Forums
Africa Forums
Caribbean Forums
Mexico Forums
South Pacific Forums
South America Forums
Middle East Forums
Honeymoons and Romance
Business Travel
Train Travel
Traveling With Disabilities
Tripadvisor Support
Solo Travel
Bargain Travel
Timeshares / Vacation Rentals
South Pacific forums
Marshall Islands forum
31 replies to this topic
BackBite is correct. Authorization letters are very difficult to obtain and they are typically only for temporary duty assignments and for family/dependents. Basically, the whole island (and several nearby) are U.S. Army bases so I'm sure you can understand the strict controls.
However, if you are an avionics mechanic, you may want to consider taking a contract job on Kwaj. They are always looking for good avionics professionals. You might also wan to join the Kwaj-Net Facebook page ( http://facebook.com/KwajNet ) and start mingling on there. You can find some great information on there about living on-island.
Best regards,
Bob Raymond
Kwaj-Net Founder
http://facebook.com/KwajNet
How to get invited to kwaj? You need to have official business there.
When we arrived we and the luggage was inspected with dogs sniffing for contaband and thenwe were escorted to the boat dock by a native constable where the locals fro Ebeye picked us up and delivered us to the hotel Anahosa. It was memorable to say the least. Dark hallways, ferell cats giving birth in our room and fresh water only for a couple hours in the am and pm (but the toilet at least flushed with salt water). The island itself was 3rd world and there is nothing at all to do there but read and dive a couple of local wrecks from WW2. One is the Prinz Eugen, a cruiser that accompanied the Bismarck on her fateful voyage, that survived the Bikini atomic tests and then rolled over and sank in the Kwaj lagoon leaving its props still above water.
The westerners on Ebeye were the as missionaries. The island was ramshacle but still provided some scenic views. Majuro, as mentioned, or Kosrae would be other nice out of the way alternatives.
It's a shame that we ruined such a beautiful pristine place. Seems like everything humans touch, we destroy. I doubt with military presence it's a pleasant place to even visit for short while.
RATS. I have long wanted to visit the island too.
When I was stationed on Kwajelein for two years I didn't see that it was "destroyed" by human beings... Sure, there are permanent buildings there and temporary trailer housing for the personnel. But the island of Kwajelein proper (and Roi-Namur) has good roads, a modern airport, is kept clean and, when the 99 year lease runs out in 2046? the Marshallese will have a much more livable and viable island within the atoll than it was at the end of WWII - when, per the Japanese, it had been a war depot replete with gun installations with a total disregard for the land or the natives. Is it some pristine, unihabited place accessible by only PBS TV crews or government allowed 'educational' surveys? No. But it is a much better place to live and work than it ever was. And, if the Marshallese refuse to renew the lease, they'll have two islands including Kwajelein & Roi-Namur that have been vastly improved as far as human habitation is concerned.
Obviously, poster "dixie d" has not been there or lived there.
That's a great response, webdw! If anybody on this thread wants further and current information on Kwaj, and if you're on Facebook, just go jump in the conversations on Kwaj Net Facebook:
https://facebook.com/KwajNet
It's a great community of not only current and former "Kwajers", but there are also numerous Marshallese that participate.
Kwaj Net Founder
In order to visit here, you must be sponsored by a resident. As for hotels? We have the "Kwaj Lodge", a former barrack type building, but it is expensive. Your best bet to visit is to get somebody to sponsor you and stay with them.
I visited as a guest of a resident over Christmas a New Year 2016-2017 and had the most amazing time!
The island is beautiful, there is history everywhere that's really quite poignant. The residents were so incredibly friendly and welcoming, they really made me feel at home. I made new friends, learned an even deeper appreciation for the history of WW2 and enjoyed the best snorkelling I've seen anywhere in the world.
Not an easy island to get to, but very worth a visit if you can.
As a current resident, I can confirm that the area is not ruined. In fact, reefs and marine life are protected and respected. There is a mutually beneficial relationship between the Marshall's and the various temporaty residents here.
Flying United's Island Hopper - One Night on an Island Jun 20, 2023
United Island Hopper - Wifi at MAJ airport. Feb 25, 2023
Shots required Sep 21, 2021
internet connection Sep 05, 2020
Kwajalein civilian access Aug 09, 2020
Day tourist activities Jan 17, 2020
Eniwetok Jan 17, 2020
Lowest cost air route USA to Majuro or other indirect route Jan 17, 2020
email address for Marshall Islands Resort Oct 11, 2019
Post cards - access to post office on a Saturday Aug 15, 2019
Hiv/tb and criminal report Jan 16, 2019
Marshall Islands Travel Report Nov 24, 2018
Marshall island crèche Nov 22, 2018
How to get a local sim card Oct 07, 2018
Official websites use .gov
Secure .gov websites use HTTPS

Dempsey Visits Strategic, Remote Kwajalein Atoll
You have accessed part of a historical collection on defense.gov. Some of the information contained within may be outdated and links may not function. Please contact the DOD Webmaster with any questions.
Army Gen. Martin E. Dempsey, the chairman of the Joint Chiefs of Staff, paid a visit here today to highlight Kwajalein's importance to the U.S. missile defense and space programs.
The atoll, located more than 2,000 miles southwest of Honolulu, is home to the U.S. Army Kwajalein Atoll/Ronald Reagan Ballistic Missile Defense Test Site.
The U.S. rebalance to the Pacific is a matter of "national imperative," Dempsey told a town hall audience at an open-air church with about 200 people in attendance. The general's wife, Deanie, was also on-hand to address family-member concerns and answer questions.
The U.S. rebalance to the Pacific region is important because 7 of the 9 billion people in the world are projected to be living in the arc from India to China by 2050, Dempsey said. Where the majority of the planet's people live is where the issues -- economic, demographic, security, climate change -- will be, he said.
Key U.S. Missile Defense, Space Program Site
In addition, the chairman highlighted the importance of the efforts of the 1,000 people who serve on Kwajalein in support of key U.S. missile defense and space programs.
Eleven of the 100 islands comprising the atoll are leased by the United States from the Republic of the Marshall Islands. Radar, optics, telemetry, and communications equipment on eight islands provide instrumentation for ballistic missile and missile interceptor testing and space operations support.
"The future of space … is contested. It's congested and it's becoming increasingly competitive," Dempsey said. "That's one of those things where if we don't get ahead of it, you're not going to catch up once you fall behind."
The chairman answered questions on variety of topics. The town hall participants, mostly civilian employees, were concerned about the defense budget, health care, the rebalance to the Pacific, and the U.S. response to violent extremism.
The commander of U.S. Army Kwajalein Atoll said the people on Kwajalein are uniquely familiar with the chairman and his spouse because of their greetings over the American Forces Network.
"We all spent a moment or so with the Dempseys, whether they knew it or not, as they enter our homes via AFN and wish us all a happy holiday," said Army Col. Nestor Sadler, drawing laughter from the crowd.
Strategic Site
The visit of the highest-ranking U.S. military officer to this far-flung atoll underscores just how critical Kwajalein is to national security, the colonel said.
"If we're not concerned about what our adversaries are putting in space, and if we're not concerned what is currently in space, then Kwajalein isn't important, but I have yet to find anyone who thinks we shouldn't be concerned," Sadler said.
Kwajalein is the world's premier range and test site for intercontinental ballistic missiles and space operations support, he said.
"This is very important. There are a lot of things that we do here because of where we're located, that we can't do anywhere else in the world," he said.
The U.S. military has a great relationship with the Marshallese people and their government, Sadler said. "Without the Marshallese workforce, we would not be successful here on Kwajalein," he said.
The U.S. ambassador to the Marshall Islands, Thomas Hart Armbruster, said the U.S. is invested in the relationship with the Marshallese.
The United States provides about $75 million a year in compact assistance, education, health and infrastructure to the Marshall Islands, he said. That aid runs out in fiscal year 2023, he said, so that is why the base is so important, because that lease runs through 2066.
"So it's really a partnership between the U.S. and the RMI that's going to last a lifetime, basically," he said.
"We're responsible for their defense and they've played a huge role in the history of the U.S. -- from World War II when Marshallese scouts were here working with our forces," Armbruster said.
During the Battle of Kwajalein the United States wrested control of the atoll from Japan during World War II. The Marshall Islands signed a Compact of Free Association with the United States in 1983 and gained independence in 1986. The two countries negotiated an Amended Compact that entered into force in 2004.  
Subscribe to Defense.gov Products
Choose which Defense.gov products you want delivered to your inbox.
Related Stories
Defense.gov, helpful links.
Live Events
Today in DOD
For the Media
DOD Resources
DOD Social Media Policy
Help Center
DOD / Military Websites
Agency Financial Report
Value of Service
Taking Care of Our People
FY 2024 Defense Budget
National Defense Strategy

The Department of Defense provides the military forces needed to deter war and ensure our nation's security.
War News | Military History | Military News
Kwajalein atoll: a pivotal us army victory during the second world war.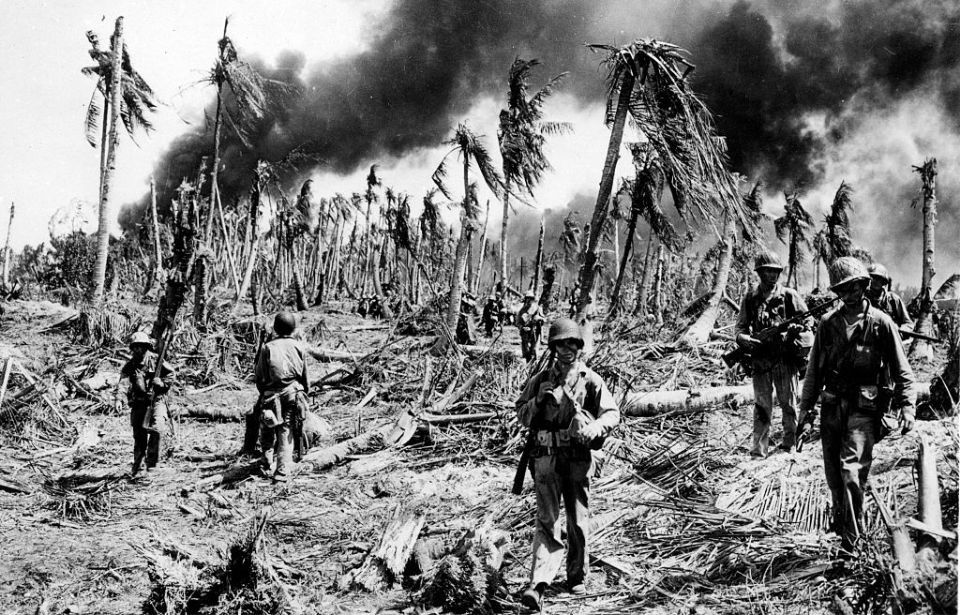 The Kwajalein Atoll is a ring-shaped coral formation in the Republic of the Marshall Islands. The largest and southernmost island in the atoll is Kwajalein, home to Bucholz Army Airfield. It's been in the possession of the United States since World War II, following a fierce battle with Japanese forces.
Japanese control of Kwajalein following World War I
Upon the outbreak of World War I , Japan joined forces with the Triple Entente, which included the United Kingdom, Russia and France. It seized the Marshall Islands with little resistance, and in 1922 was given control of the region under the League of Nations' South Seas Mandate .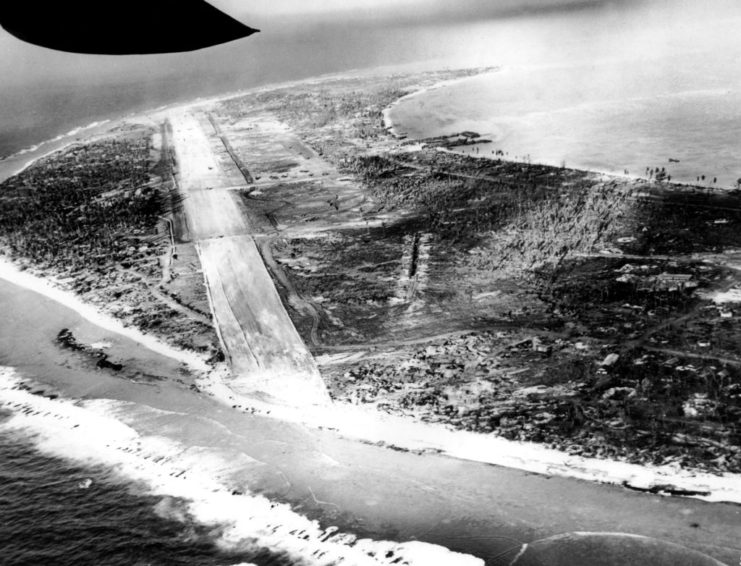 Prior to the start of the Pacific War, Kwajalein Atoll primarily saw Japanese settlement from traders and their families, who lived among island natives. Korean forced laborers were also sent to the Marshall Islands, following Japan's colonialism efforts in Korea. It's believed around 10,000 were sent to the islands prior to the war.
Japan bolsters its defenses after Pearl Harbor
Prior to the Japanese attack on Pearl Harbor on December 7, 1941, military defenses on Kwajalein were meager at best. Efforts were made to bolster them following a series of raids by the USS Enterprise (CV-6) on the airfield at Roi-Namur, north of Kwajalein, and merchant ships in Carlos Pass.
The Japanese had its forced laborers build new military facilities across the atoll. As the US continued its bombing of the region, these laborers were also tasked with repairing any damage. In early 1943, additional Japanese ground and naval forces were sent to Kwajalein from the Manchurian front . However, they were young and poorly trained, which, paired with attacks on supply ships, meant many perished from malnutrition and tropical illnesses.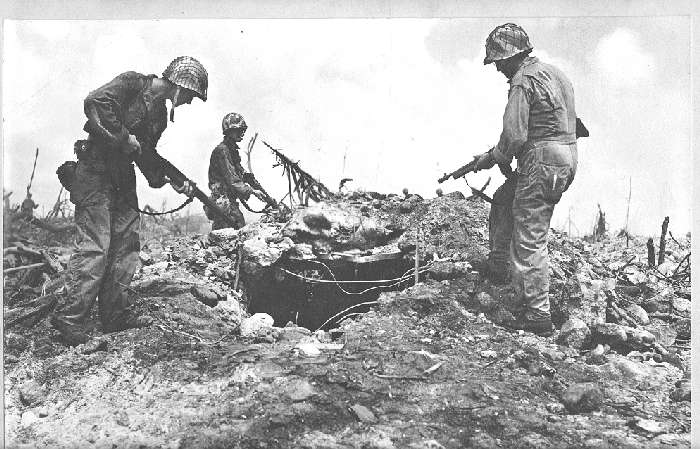 Kwajalein became known as "Execution Island," due to the treatment of forced laborers and the killing of prisoners of war held at its POW camp. Many were not registered with the Red Cross and were forced to serve as test subjects for the Imperial Japanese Army's use of biological warfare agents.
US success during the Battle of Kwajalein
In 1943, US Navy Admiral Chester Nimitz proposed the military change its approach in the Pacific Theater. The Japanese were continuing to score crucial victories, leading Nimitz to suggest the US launch a series of amphibious assaults on select Japanese-held islands – "island-hopping" – on their way toward the Philippines and, later, Japan itself.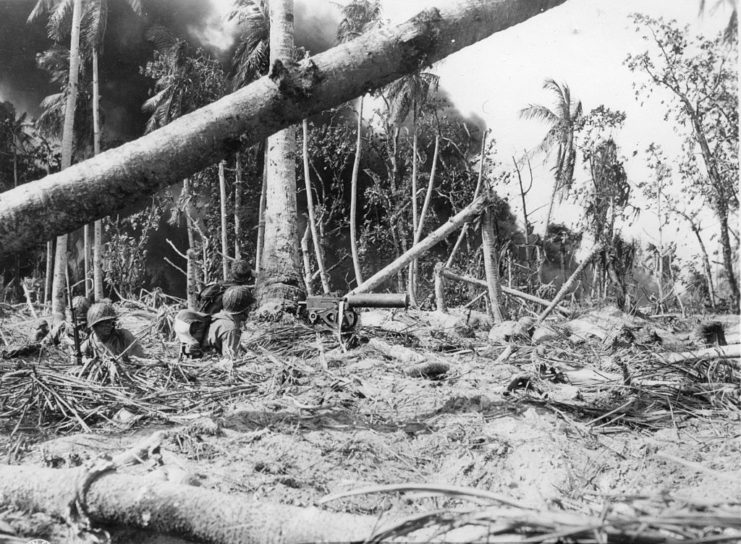 On January 31, 1944, using lessons learned during the deadly Battle of Tarawa in November 1943, the American forces launched an attack on Kwajalein Atoll, later known as the Battle of Kwajalein. The 7th Infantry Division, spearheaded by the 111th Infantry Regiment, led an amphibious assault on Kwajalein, while the 4th Marine Division did the same on Roi-Namur.
The next day, Kwajalein became the target of the most concentrated bombardment of the Pacific War, with an estimated 36,000 shells striking the island from naval ships and ground artillery. B-24 Liberators also conducted an aerial bombardment.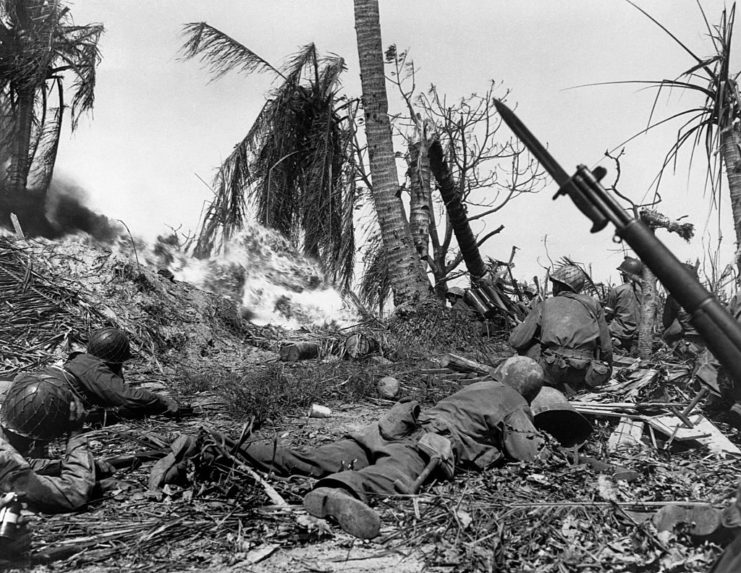 While the Marines were able to capture Roi during the first day of fighting and Namur by noon on the next, Kwajalein took longer to secure. It wasn't until February 4 that US troops felt confident they had subdued the Japanese, and it took another two days for them to lay claim on Kwajalein, along with the rest of the Marshall Islands.
US occupation of Kwajalein following the battle
Following their victory over the Japanese, the US military turned Kwajalein into Bucholz Army Airfield and used it as a staging area for future operations. The atoll was in a strategic position, allowing bombers to attack enemy targets in the Marshall Islands, therefore isolating Japanese-held outposts that had been skipped over during the campaign.
In April 1944, after making repairs to the airfield, the US Army Air Forces (USAAF) moved Headquarters, 7th Air Force to Kwajalein, along with the 11th and 30th bombardment groups and the 28th Photographic Reconnaissance Squadron. USAAF combat units remained on Kwajalein until 1944, after which they moved to the Marianas and were assigned to airfields on Saipan and Guam.
The island was then used as a maintenance and supply hub.
Use of Bucholz Army Airfield during the Cold War
Following WWII , Kwajalein was used as the main command center and preparation base for Operation Crossroads , a pair of nuclear weapon tests conducted at Bikini Atoll in 1946. The purpose was to better understand the effects of nuclear weapons on warships, and saw the sinking of both the USS Pennsylvania (BB-38) and the captured German heavy cruiser Prinz Eugen .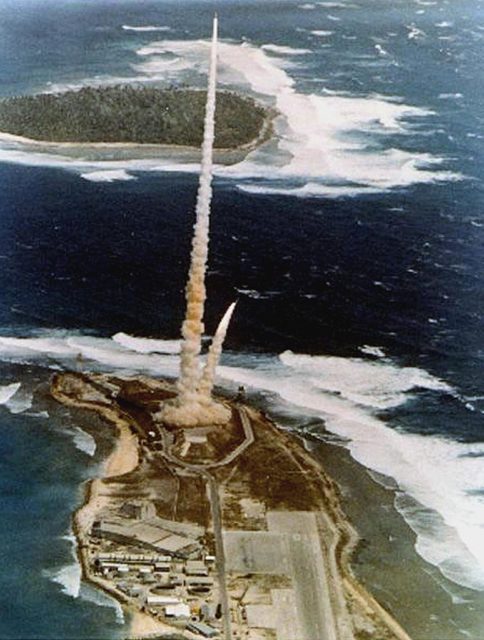 During the 1950s-60s, Bucholz Army Airfield became part of the Atomic Energy Commission Pacific Testing Area. The Army took it over as part of their Nike Zeus efforts – an anti-ballistic missile (ABM) system designed to destroy incoming intercontinental ballistic missile warheads from the Soviet Union.
In 1983, a Compact of Free Association was signed, giving the US full responsibility and authority over the defense of the Marshall Islands.
Kwajalein, today
Today, Kwajalein is part of the Ronald Reagan Ballistic Missile Defense Test Site. It features a host of tracking cameras, radar, support systems and missile launchers. It's also one of five ground stations that control the operation of the GPS navigation system.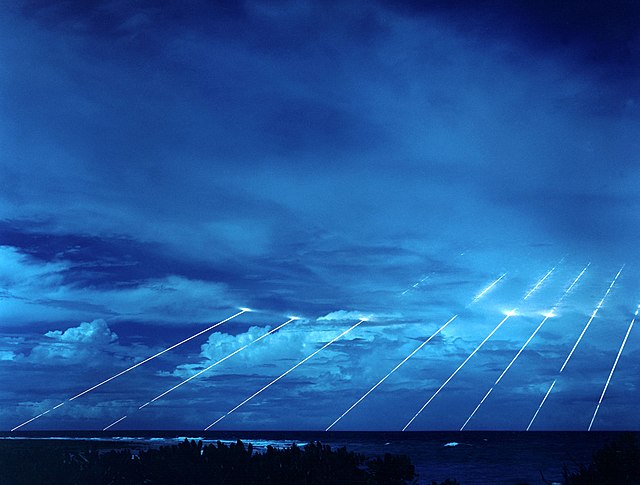 More from us: Radiation Levels Higher in the Marshall Islands Than in Chernobyl
As well, it's considered an ideal location for refueling during trans-Pacific flights. While commercial aircraft stop on Kwajalein, all operations must be given 24 hours' clearance beforehand, and passengers transiting through the island on the same airplane as military personnel are not allowed to deplane, for security reasons. Those who do are transported to and from the island of Ebeye, which is the civilian population center of Kwajalein Atoll.
News & Information
Contract Award Activity
Contract Awards
Discover Companies
Job Postings
You are not logged in
Login/Register
Submit a Job
Living and working on the Island of Kwajalein Atoll – Republic of the Marshall Islands
Post Date: March 11, 2022 | Category: Hiring Information
U.S. Army Kwajalein Atoll/Kwajalein Missile Range (USAKA/KMR) is a remote (located in the Republic of the Marshall Islands), the secure activity of Major Range and Test Facility Base as constituted by DoD.
Kwajalein is one of the world's largest coral atolls as measured by the area of enclosed water. Comprising 97 islands and islets, it has a land area of 6.33 mm , and surrounds one of the largest lagoons in the world, with an area of  839 mi . The average height above sea level for all the islands is about 5 ft 11 in.
Its function is to support test and evaluation of major Army and DoD missile systems, Army Space surveillance and object identification, and National Aeronautics and Space Administration (NASA) scientific and space programs. Programs supported include Army missile defense, Ballistic Missile Defense Organization (BMDO) demonstration/validation tests, Air Force Intercontinental Ballistic Missile (ICBM) development and operational tests, U.S. Space Surveillance Network, and NASA Space Transportation System.
Brief  History
In early 1944, American forces captured the atoll from the Japanese in the Battle of Kwajalein. In the years following, Kwajalein Atoll was converted into a staging area for further campaigns in the advance of the Japanese homeland in the Pacific War. Postwar, the United States used it as a main command center and preparation base in 1946 for Operation Crossroads, the first of several series of nuclear tests (comprising a total of 67 blasts) at the Marshall island atolls of Bikini and Enewetak.
Eleven of the 97 islands are leased by the United States and are part of the Ronald Reagan Ballistic Missile Defense Test Site (RTS), formerly known as Kwajalein Missile Range. RTS includes radar installations, optics, telemetry, and communications equipment, which are used for ballistic missile and missile-interceptor testing and space operations support. Kwajalein has one of five ground stations used in controlling the range that assists in the operation of the Global Positioning System (GPS) navigational system.
[vimeo_embed url="https://vimeo.com/675728609" autopause="true" controls="true" byline="false" portrait="false" title="false" dnt="true" playsinline="true" url="https://vimeo.com/675728609" /]
Island Living
There are a variety of housing arrangements for families, couples, and unaccompanied personnel. Your housing assignment will be based on a number of factors, including the status of your contract (accompanied or unaccompanied), a number of pre-approved dependent family members, and the availability of living quarters. Accompanied or family quarters are similar to stateside homes. Singles quarters are studio-style dwellings, all of which contain fully furnished rooms approximately 400 square feet in area, small kitchenettes, private bathrooms, central air conditioning, and access to free laundry facilities.
Recreational opportunities at Kwajalein are plentiful. There are pastimes and hobbies to suit almost everyone. You may find yourself getting involved in recreational activities you might never have considered.
Play organized sports such as basketball, softball, volleyball, soccer, and inner-tube water polo.
Shoot a round of golf at the Holmberg Fairways Golf Course & Country Club.  The course provides nine holes with 18 tees, 2,945-yard par 36, club and locker rental, themed tournaments, driving range, practice putting green, and an air-conditioned bar.
Bowl a game at the bowling center and/or compete in a league.
Compete in a tournament or play a recreational game of tennis at the outdoor tennis court.
Hit the ramps at the skate park.
Enjoy free membership to the Ivey Gym Fitness Center available 24 hours a day.
Water Sports
Enjoy exploring uninhabited tropical islands, sport fishing for Mahi Mahi, Tuna, Wahoo, Marlin, and Sailfish, scuba diving, water skiing, or sailing. The Small Boat Marina rents marine vessels for a nominal fee. Powerboats and a boat for water skiing are available. Sailboats such as; Cal 20s, Hobie Cats, and Lasers are also available. Kayaks are available for rent for a nominal fee as well. (A Kwajalein/Roi-Namur boat license is required to operate larger boats Boating licensing classes are available for a nominal registration fee.)
Join an outrigger canoe team, the surfing club, or kiteboard and windsurf near the perimeter of the island.
Explore uninhabited tropical islands and historical sites.
Take advantage of swimming opportunities at one of Kwajalein's two saltwater swimming pools or beautiful beaches.
Visit local sea life while reefing, snorkeling in the beautiful tide pools, and diving in the ocean surrounding the island.
Entertainment
Hang out at the recreation center.  The Adult Recreation Center is available to ages 19 and older.   Activities available include pool, air hockey, ping pong tables, video games, shuffleboard, music room, TV room, weekly movies, and Wii computer games.  A conference room, computer access, kitchen, and BBQ area are also available.
See a movie at one of the two theaters.  The Richardson theater is an outdoor theater with free family-oriented movies every weekend.   The Yuk Theater is an A-frame theater featuring free PG13, and R-rated movies every weekend.
Engage in a hobby. The hobby shop provides both woodworking opportunities as well as resources for ceramics and pottery enthusiasts.
Catch up on your reading at the Grace Sherwood Library.
Search jobs on this contract →
In case you missed it:
Tags: Deployed Location , Kwajalein Atoll , marshall islands , Remote Sites
Register or Log in
All Rights Reserved © 2011 — 2023 Professional Overseas Contractors, LLC
About | Terms of Use - Privacy Policy | Help