On the scooter through Laos! † The two most popular motorbike loops
From the well-known Asia circle that is mainly visited by backpackers ( Thailand , Laos , Cambodia en Vietnam ), Laos has been the underdog for years. You may have heard of Luang Prabang, where everyone is known to go bowling as soon as all the cafes close at midnight. Or Vieng, which is known for 'tubing' (read: drifting down a river in a big car tire), always a guarantee for a great party. But what's the best way to experience this country? With the scooter of course! Go through Laos on a scooter like a real local. An incredibly fun and free way to explore the country.
Plan your holiday to Asia here
Itineraries : TUI , Asiadirect , rickshaw travel , king monkey , sawadee , shoestring , Djoser en Travelworld .
Specific trips : Bali travel , Thailandtravel en Srilankatravel.com .
Flight tickets for Asia you book via Skyscanner .
Hostels & Hotels in Asia you book with Hostelworld en Booking.com .
Rental cars book yourself Sunnycars , Alamo en rental cars .
Tours and Activities in Asia you book via GetYourGuide .
travel items such as suitcases, bags and more you can buy at Bol.com .
SIM cards for Asia you buy at International sim .
Parking at the airport you can arrange via Parkos , park care of iParking .
Table of contents
Laos has a lot to offer with its impressive history. For example, did you know that Laos during the Secret War has been attacked by America with 580.000 bombings? That's equivalent to a bomb every 8 minutes, 24/7, for 9 years. And that's just the tip of the iceberg.
But before we dive into that further, it's good to know that Laos is a popular holiday destination for backpackers traveling around South East Asia. Most tourists come here for the beautiful nature and culture of the country, and there is an abundance of it!
Also read: Top 10 | What are the best backpacking destinations in Asia?
Also read: Itinerary Laos in 2, 3 or 4 weeks | All must-sees and travel tips
Buddhism and History
The vast majority of the inhabitants of Laos are Buddhist. There are also many Buddhist temple complexes here, each more beautiful than the other. The first inhabitants of the region where Laos is located were the Hmong people who settled here 10.000 years BC on the banks of the Mekong River. Little is known about the history of Laos from the centuries that followed. In the eighth century AD, Laos was part of the divided kingdom of Chenla. The prince of Chenla Jayavarman II comes to power here and founds the city of Wat Phou. The northern part of Laos is then ruled by Thai kings.
Fourteenth century
In the fourteenth century, Fa Ngum founded the kingdom of Lan Xang here, which will turn out to be the predecessor of present-day Laos. This kingdom lasted for several centuries until it split into three parts in the early eighteenth century. After this comes the Kingdom of Luang Prabang, the Kingdom of Vientiane and the Kingdom of Champassak.
Nineteenth century
At the end of the nineteenth century, the French conquered the area after which it was added to the then Union of Indochina. Before the addition of Laos, Indochina consisted of parts of Vietnam and Cambodia. During World War II, the Japanese occupied the country. After the war, the French took over power here again.
In 1954 the First Indochina War took place here, after which the French were expelled and Laos became an independent Kingdom. After a military coup, the army comes to power here, which together with the United States try to expel the communist guerrilla tropics from the country. This war will later go down in the books as the Vietnam War, also known as the Second Indochina War. Countless bombs were dropped in the border region between Vietnam and Laos during the war. This still makes this region unsafe.
After the Vietnam War, Laos became a communist country with political ties to the Soviet Union. After the dissolution of the Soviet Union, the country became more open and more accessible to tourists.
Safety in Laos
Laos is a fairly safe country to visit as a tourist these days. However, you should at all times keep a close eye on the current political situation. The inhabitants are friendly and hospitable, but in most cases they are very poor.
Especially in the northern part of Laos, adjacent to Myanmar, it is often restless. So always check out the latest travel advice from the Dutch government at this page so you don't get any surprises.
Motorbike / Scooter loops for Laos
But in this article we present something completely different, namely an activity that will show you more of the country than you can initially imagine: motorbike loops † The concept is simple. You rent a scooter, arrange a map, pack a small bag for a few days and go out. We give you a look at the two most famous adventures this country has to offer.
Thakhek – The Original Loop (3-4 days)
Despite the fact that this tour was invented about 10 years ago by the local celebrity Mr Ku, it is still something many people ignore. Thahkek is the largest city in the Khammouane province, and is about 6 to 8 hours by bus from Vientiane. There is little to nothing to do in Thahkek itself; the only travelers you will encounter here will undoubtedly dive straight into the motorbike adventure.
Our advice: At the start of your scooter through Laos adventure, first go to Thahkek Travel Lodge , the place to be to meet like-minded people and ask them about their experiences. There is also a large book in the dining room that is filled with do's and don'ts from predecessors. Mr Ku owns a garage where you can buy your new best friend, the scooter! You pay about 120.000 kip (12 euros) per day for a vending machine, while a semi-vending machine consumes about 90.000 kip (9 euros) per day from your wallet.
When renting the scooter you get a map with all important routes. The loop is a circle of about 450 km and can be done in 3 days, but we recommend doing it in 4 days. So you can take your rest and you don't have to rush to avoid driving in the dark. You don't want the latter; you cross roads where people don't pay much attention to traffic rules and where they are not yet familiar with the concept of 'street lighting'. Riding a scooter through Laos is really cool, but safety goes first!
Kong Lorcave
The 450 km consists of the most diverse sensations. From various caves (Tham Pha Fa, Xieng Liab) where they are only too happy to charge you three times entrance to an enchanting lake (Tha Lang) where you can go for a refreshing swim. The modern asphalt in the beginning is gone as you end up on gritty and dusty roads where you can expect a pothole or hill every two meters. Good to do, as long as you don't decide to go in the rainy season. In every 'big' town (Lak Sao, Tha Bak, Nahin) you can find guesthouses that cater to the driving adventurers. You drive from humid forest hills to quaint villages and from empty lakes with bare trees to endless straight roads.
The highlight of the loop is the Kong Lor cave. This is a cave through which the Nam Him Bun River of 7 km runs. Armed with a life jacket and main flashlight, you will be transported through the cave by two local men via a longtail boat. The only light you can see is from the flashlights, but it is enough to see the impressive immensity of this cave. Stalagmites, stalactites and if you're lucky a spider the size of your hand. The trip takes about 3 hours. Then you return to Thakhek, where you can give your butt some rest after driving quite a few miles.
Pakse – Bolaven plateau (2-4 days)
If you take the bus in Thahkek, you are within 5 hours in Pakse, the next town that is really only visited for two reasons: the 'motorbike loop' through the Bolaven plateau and the easy connection to 4000 Islands. This city cannot be missed on your tour through Laos by scooter. The town and the Bolaven plateau are located in the Champasak province. The area was used by farmers during the time of the French settlers, so the soil has remained fertile over the years. It developed into the place for coffee, tea, rubber and cardamom plantations.
Scooters are a lot cheaper in Pakse, for 85.000 kip a day you have a vending machine, while you can get a semi-vending machine for about 60.000 kip a day. On the card you have two options: the small loop and the big loop. The small loop will take you about 2 days, the big loop will take you about 4 days.
The Bolaven plateau is a unique area where, despite the high temperatures in the interior, you will soon have to get used to about 20 to 28 degrees. Because the altitude also means that rapid wind changes occur, rain showers are no stranger to visitors to this beautiful area. The tour takes you through forests, hills and past many enthusiastic children on the side of the road. It is really a beautiful region in Laos to explore by scooter. Around the Bolaven plateau, different ethnic tribes live with their own customs. It is definitely worth stopping at one of the coffee or tea plantations. The owners who explain to you in poor (ie none) English what they do and serve you a cup of stew is really part of the experience.
A well-known stop in the Bolaven Plateau is Tat Lo, a cute village surrounded by waterfalls and temples. At around 4pm you can watch the mahoots wash the local elephants in the lake while hordes of local children swim around it. Travelers are also thought of in this village. There are about 5 to 6 homestays where you can sleep and eat. The prices are considerably low: you pay 10.000 kip (yes, about 1 euro) for a double mattress in a homestay. For about the same money you can also buy a fried rice with chicken. If you choose the big loop you will also pass Attapeu and Ban Beng. A beautiful region where you will find even more plantations and waterfalls (Tad Fane, Tat Champi).
Also read: On a scooter through Africa !
Maybe after one of these two motorbike loops you can no longer see caves, waterfalls, plantations and scooters and your derrière needs a week of rest. But trust me, riding a scooter through Laos is an unforgettable experience!

Wereldreizigers.nl (World Travelers dot NL)
Wereldreizigers.nl | Everything about long-distance travel, world travel, travel news, travel photography, backpacking, travel tips and more.
Cancel reply
Nice article! Laos is great to travel through.
Would you like to receive great travel tips and benefits every month?
Plan a world trip
Save around the world
World travel route
World trip vaccinations
Cheap tickets
World travel inspiration
World trip banking
World trip and malaria
Why travel the world
Cheapest countries around the world
Continents & continents
All countries in the world
Largest countries
Largest Islands
Most dangerous countries in Europe
Most Dangerous Countries Africa
All countries in Africa
Flight time countries in Asia
Difference AM and PM
World information
National Parks America
National Parks Europe
New Zealand National Parks
Nepal National Parks
Vietnam National Parks
Thailand National Parks
Costa Rica National Parks
National Parks South Africa
Mexico National Parks
Finland National Parks
Bucket list places South America
Bucket list places Africa
Bucket List Tahiti French Polynesia
Bucket list swimming pools
Wildlife Bucket List
Bucket List Dubai
Bucket List Australia
Bucket List Whales
Bucket List Zanzibar
Bucket List Japan
All rights reserved | Copyright © 2023 Wereldreizigers.nl † Part of Orbital Media.
FLIGHT TICKETS
PACKAGE TOURS
BACKPACKING
SCOOTER TRIP
OVERLAND (4×4)
DIGITAL NOMADS
TRAVEL TIPS
TRAVEL ROUTES
TRAVEL GUIDES
BUILD CAMPER
MIDDLE EAST
NORTH AMERICA
CENTRAL AMERICA
SOUTH AMERICA

[vc_row][vc_column width="1/1″][vc_column_text padding="0px 0px 0px 0px" animate="no" animation="none"]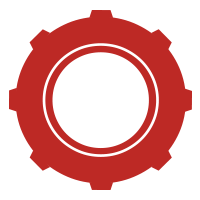 WELCOME TO MOTOLAO
We at MOTOLAO provide exclusive on-road and off-road motorcycle and 4×4 tours in Laos.
Our customized tours provide a chance to journey on a road of self-discovery and encounter life-changing moments along the way.
Exploring Laos by motorcycle or 4×4 is the perfect way to experience rich Lao culture and discover breathtaking landscapes not found anywhere else.
MOTOLAO I Life is a journey. Enjoy the ride.
[/vc_column_text] [vc_column_text padding="0px 0px 0px 0px" animate="no" animation="none"]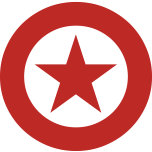 LAO MOTORCYCLE DIARIES
You are on a journey where no day is like the other.
Where a single day can last a lifetime.
You are on a road of freedom exploring a country uniquely Lao.
A place of diverse cultures nestled in majestic landscapes.
You are lighting a path of tales untold.
Where your story is written by each new discovery.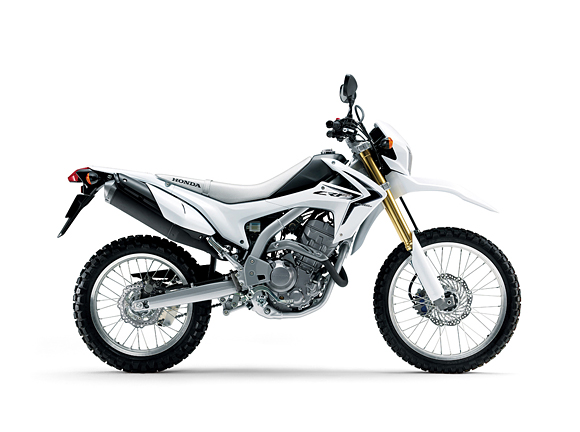 Your browser is out of date. It has security vulnerabilities and may not display all features on this site and other sites.
Please update your browser using one of modern browsers (Google Chrome, Opera, Firefox, IE 10).
Laos Motorcycle Rentals and Tours
Laos is the undiscovered gem of Southeast Asia. It offers some of the best adventure bike riding in Southeast Asia. Here's our recommended motorcycle tour and rental companies in Laos.
Motorcycle Rental and Tour Companies in Laos.
Please contact the companies listed on this page directly for more information.
Big Bike Tours
"Big Bike Tours offer the most exhilarating authentic motorbike touring holidays and adventure motorcycle tours in Thailand, Laos, Cambodia, Myanmar, Vietnam, and Tibet (China) – all starting from Chiang Mai, Thailand."
Services:  Fully inclusive guided motorcycle tours from Thailand to Laos, Cambodia, Vietnam and Tibet.
Tour bikes: BMW G310GS, BMW F80GS, Kawasaki Versys 650, Kawasaki ER-6N 650, Honda CB650F, Honda CB500X, Honda CB300F, Honda CRF250 Rally.
Tour prices: Tours range from 3-20 days with their lowest priced tours starting at £180. There's a huge selection of tours to choose from and prices are dependent on the country, tour time and bikes. Check out their Tour Price page for more info. 
Insurance:  Standard motorcycle damage insurance is included in the tour price and covers incidental damages. Customers are liable for the first £630. You can always opt for additional insurance.
Kit availability:  Helmets, jackets, knee guards and gloves are all provided for free.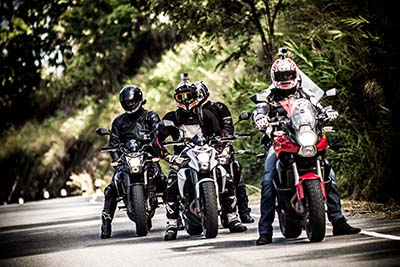 Lao Adv Tours
Lao Adv Tours is run by Chris Corbett who knows Laos like the back of his hand, has an extremely well maintained modern fleet of Honda CRF250Ls and knows what he's doing. 
Services:  Rentals, tours and maintenance.
Rental bikes: Honda CRF250L
Rental prices:  £50 per day with deals for longer rentals.
Tour prices: Around £200 per day. Prices can be cheaper dependent on your group size and the length of the tour.
Insurance: Third party insurance is included.
Kit availability:  Kit is available.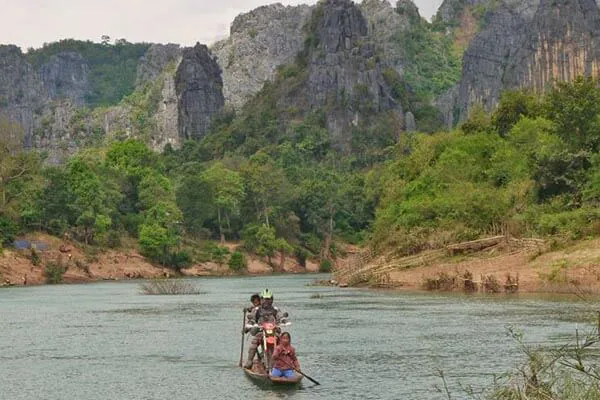 Quick Facts on Laos Motorcycle Rentals and Tours
Typical motorcycle travel costs and prices
Money:  ATMs are not hard to find and issue both USD and Laos Kip. Card is accepted in some hotels and restaurants but be prepared to have cash. 
Currency:  Lao kip ₭
Food:  Local meals and street food £0.50 – £3, Restaurant £4 – £8
Accommodation: Some wild camping spots, dorms £2-£8. mid-range hotel £8 – £25
The best time of year to rent or join a tour
High:  Nov – March
Hot but can still be breezy. Best all-round time to visit although mountains can be cold.
Mid:  July – Oct
Wet in most parts and very humid, but nice scenery and greenery.  
Low:  April – June
Hot season up to 40°C.
Visa, insurance and motorcycle licence
Visa: Visa requirements are dependent on your nationality. Please visit the country's government website for visa information. 
Driver's licence: You need a valid motorcycle licence to legally rent a motorcycle or join a tour. If you risk riding without the correct licence, then not only will you be breaking the law, but your insurance will be invalid too. 
International Driver's Permit: An IDP is a requirement for many countries. The UK Gov website lists every country that requires one and which IDP is required. 
Insurance:  Motorcycle insurance needs to be checked with the rental or tour company. Ask what they offer, what's included and what the legal requirements are. 
You should purchase personal travel insurance separately from your home country before travelling. 
Capital: Vientiane Country code: +856
Emergency:  190 – fire, 195 – ambulance,  191 – police
Language:  Lao
Time:  GMT/UTC + seven  hours
Land Mass:  237,955 km²
The best motorcycle riding routes and attractions
4,000 Islands:  Laos is a landlocked country in Southeast Asia, but the south is home to the incredible 4,000 Islands – a river archipelago of the mighty Mekong. 
Luang Prabang:  No visit to Laos is complete with stopping off in Luang prabang. The ride from Vang Vieng is spectacular. 
For more information on both, check out our  Loving Laos Life Blog Post. 
Flying in/out
The best airport to fly into and out of
Wattay International Airport Vientiane.
FAQs on Laos Motorcycle Rentals and Tours
No, sorry. Mad or Nomad do not offer any rentals, tours or services. Please contact the companies listed on this page directly. 
This page displays motorcycle rental and tour companies from around the world. We do a lot of research into these companies before adding them and speak to the managers and owners. Many of the companies we have also used in the past or have met the owners while travelling.
While we have collected them all together in one place for your ease, we take no responsibility in your business with them. We're simply showcasing companies in one easy-to-use place and are not involved with your dealings with them. Any business you have with these companies is at your own risk. We will not be held liable or responsible in any way.   
From November to March is hot, but still breezy. It's the best all-round time to visit although the mountains can be cold.
Renting an adventure motorcycle in Laos isn't that common. Instead, rental bikes are usually hired in Thailand and brought across the border. There are companies you can rent from though, expect to pay around £50 a day. 
You can easily join a motorcycle tour in Laos though. Expect prices in the range of £200 and are typically off-road. 
Take a video on your phone of the entire bike, do a walk around and film the condition of the chain, fairings, tyres, any bumps, dents and scratches. By doing so, you can't get caught out and blamed for something you didn't do when you return it.
Check the wheel bearings, chain, oil, coolant, brakes, clutch and that the handlebars are straight. Tyres need a decent amount of tread and should be suitable for the terrain you're riding in. Take it for a short test ride and don't feel pressured or rushed. Go with your gut and if there's anything that catches your eye, speak to the owners immediately.
This is down to personal preference, where you're riding and what's available. If you're renting or joining a motorcycle tour in the States and you're going to be primarily on road, then you may want to opt for a big touring bike. If you're headed to rural or mountainous countries and are going off-road in Central Asia for example, then go for a mid-weight single-cylinder. 
We usually find lighter and cheaper rental bikes are better because they're less stress, you don't have to worry about dropping them all the time, are easier to fix and more fun.
For more info on choosing the right motorcycle for your trip, have a look at the below guide and also check out the adventure bikes page too. 
How to Choose Your Adventure Motorcycle
Adventure Motorcycle Guides
We recommend lightweight and comfortable gear suitable for the climate you're travelling in. If you're heading to a particularly cold place, then go for Gore-Tex pro laminate. 
But, the best all-round option is ventilated, light and comfy adventure bike gear. Take the thermal and waterproof liners out and leave them at home. Take a cheap pair of waterproof throwovers and a compressible down jacket that can be stuffed into a small bag. You can use both items as layering if it's cold and rainy and they double up when off the bike and will reduce the amount of gear you have to take with you in your luggage. 
It's always better to take your own bike gear over renting or using kit from the rental company. You know your own stuff fits, works and is comfortable – especially your helmet. The last thing you want is to get a few days into your trip and get a headache from a tight lid. 
Check out our riding gear article for more info on how to choose the right clothing and the guides section for our recommended kit. 
How to Choose Your Adventure Riding Gear
Adventure Bike Riding Gear Guides
Contact the rental or tour company and ask what luggage the bike comes with. Your bike might come with soft bags, hard boxes, a top box or nothing at all. 
You can often leave the gear you don't want to take with you on the trip at the rental or tour company's headquarters. So you can travel on a plane with a larger kit bag and just take the bag and gear you need on the bike. 
The type of luggage you need depends on the type of trip you're on, how much off-roading you're doing and how long you're going for. 
A good option is to go for a waterproof duffle bag and a pair of Rok Straps as this type of luggage setup can be fastened to any bike's pillion seat and you don't need racks. And take an additional small and light rucksack for your important gear (camera, passport etc) so you don't have to worry about it when off the bike. 
For more info on choosing your motorcycle luggage, check out our guide page below.
READ MORE: Adventure Bike Luggage Guides
Companies may offer motorcycle insurance as an optional extra, include it in the price or not offer it at all. This again depends on the country you're riding in. 
It's worth getting insurance if you can and ask what the excess is as you will usually be liable for damage to the bike. 
Motorcycle insurance is separate from personal travel insurance. This is incredibly important and you need to be very careful when choosing your personal insurance policy because the fine print often won't cover you for bikes over 125cc, renting, touring or using a bike as your main mode of transport.
Check out our Admin section as you'll find detailed guides on personal insurance, paperwork and safety on the road. 
READ MORE: Admin Guides
Read more on Motorcycle Travel in Laos and Southeast Asia
Thanks for checking out our Laos Motorcycle Rental and Tour Companies post. We hope you found what you were looking for. Here's a few more articles on motorcycling in Laos and Southeast Asia that we recommend you read next. 
Click here for all of our  Laos Motorcycle Travel Guides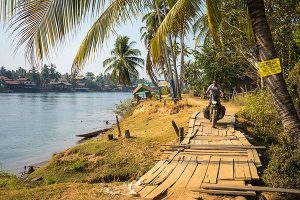 Motorcycle Travel Blog Laos: Loving Laos Life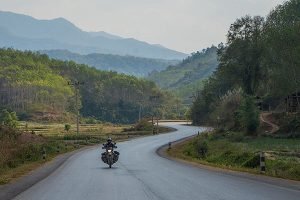 Motorcycle Travel Guide: Laos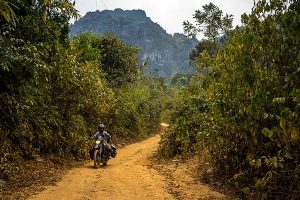 The 5 Best Things to do in Laos on a Motorcycle
Touring Laos By Scooter
Renting a scooter may seem like a scary prospect, but when you're in countries in South East Asia such as Thailand, Laos, Myanmar and Vietnam there is nothing more freeing or awesome than getting on the back of a bike and taking off down on the open road. We guarantee you will meet at least a few people exploring these countries independently on the back of a bike and the stories they will rack up are amazing – especially in Laos, one of the lesser visited South East Asian countries. So how do you do it? Where should you go? Here are some tips – including routes – on renting a scooter in Laos.
The Shop And Scooter
One of the best beginner scooters for travellers are Honda Waves. We're not trying to sell you on Hondas specifically here, but the Wave is a great semi-automatic option that gives you enough power to get up hills but not so much power that you're going to take off and struggle to control the bike. A standard rate for scooters is around seven to ten euros per day, depending on the location you're in. More remote locales may be cheaper, while renting in cities may be more expensive. It's common practice to leave your passport as collateral when renting a scooter, so be sure to take a photocopy of your passport information and Laotian visa page with you if you will be going on a multi-day trip as many guesthouses will need it for check in (although some don't bother when you get out in the sticks).
Route One: Luang Prabang And The North
UNESCO World Heritage city Luang Prabang is a bustling, gorgeous city in the north of the country well worth a visit and basing yourself there. The north includes the villages of Muang Ngoi which is surrounded by karst limestone mountains and set along a river. Formerly a quiet farming village, in recent years it's picking up steam and is now a popular backpacker hangout, but still quieter than its counterpart to the south of Luang Prabang – Vang Vieng. Other popular excursions from the city include the trip out to see Kuang Si falls, Tad Sae falls and if you're feeling particularly brave and adventurous you can take a couple days to drive out to the Plain of Jars – literally a flat plain covered in rock jars, whose origin and purpose remains unknown.
Route Two: Bolaven Plateau Loop
A popular route in the very rustic Laotian south, this route starts and ends in the city of Paske where you can rent bikes easily. This route will take you through tiny rustic villages, tribal areas and truly off the beaten trail locales which are sometimes still comprised of tiny bamboo buildings and tables made of old tree trunks. While it sounds rustic and uncomfortable, in reality it's one of the most endearing and enjoyable treks you can do in Laos, taking around five days to do in its entirety. Be sure to try the local coffee – grown here on the plateau. You won't regret it.
So if you're looking for the ultimate in adventure, consider taking a motorbike tour of Laos. With so many things to see off the beaten trail it's a sure bet you will come back in awe of this beautiful and welcoming country.
adventure , asia , laos , open road , scooter , travelling
Supported by Laos Tourism Board
English
Chinese
Thai
Vietnamese

Two Wheels, Unlimited Freedom; Explore Laos by motorbike
Laos is a beautiful country with many hilly roads and breathtaking scenery. Traveling by motorbike is one of the best ways to see this wonderful country. There's nothing like the feeling of freedom when cycling along mountain roads, stopping whenever you want to take in the sights or explore small villages.
But motorbikes also have their own difficulties and dangers. To ensure that you get the most out of your motorbike riding experience in Laos, we spoke to experts to give you the best tips for safely enjoying your trip.
If you're going to ride a bike, you'll want protection. The minimum is a helmet and gloves. There are many types of motorbike helmets in Vientiane and Luang Prabang, from basic commuter helmets to full-face helmets for mountain bikes. For high-speed highway driving, we strongly recommend wearing a full-face helmet. There's nothing like getting hit in the face by a bug at 80 km/h and ruining your day. Helmets are also mandatory for all drivers under Lao law, so avoid the fine and possibly your brain, and wear a helmet.
We also recommend wearing long-sleeved clothing made from natural materials to protect yourself from gravel rash in case you get off the bike.
Travel insurance
Insurance is a must for all tourists but you should check with your insurance company if you are covered for motorbike accidents in Laos. If you are involved in an accident, you could face a significant bill if you are not insured. In general, most motorbike driving licenses are accepted in Laos and if you are legally allowed to drive in your country then you will be allowed to drive in Laos. Check with your insurance company about your specific situation before traveling.
Choose a bike
Now you need a bike! There are many types of bicycles available in Laos, both to buy and to rent. Think about your experience, skill level, and where you want to go. If you want to ride on dirt roads and get mud on your tires, you'll probably want to buy a dirt bike like the Honda CRF 250. If you plan to ride mostly on pavement, you might want to consider the popular This. Honda Wins is popular with many backpackers. If you want a real local experience, you can consider the Honda Wave semi-automatic. If you've only ever ridden a scooter or an automatic, you should probably stick with a scooter. Each style of bike has its own strengths and weaknesses. A full-sized mountain bike will zip down a muddy road but will be less comfortable on long highway rides. Honda Wins has a small and easily damaged engine but is very fuel efficient and has many replacement parts available. Honda Waves and other semi-automatic models are light and easy to control, but the seating position is not comfortable for long trips. Scooters are extremely easy to ride, but their small wheels don't handle potholes or gravel well.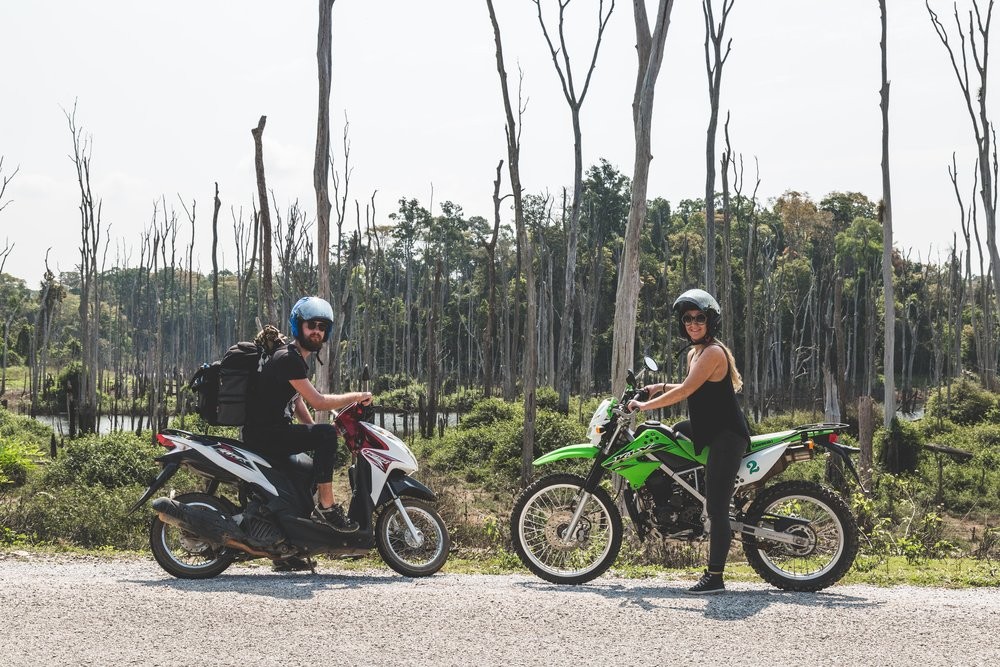 You've got yourself a bike, a helmet and checked that you're legally allowed to ride. Great! Now the most pressing problem is where are you going? Digital maps such as Google Maps and Maps Me are useful, and paper maps such as the GT Rider map are also available. Decide where you want to go and start planning how long you want to spend on the road, where you might want to take breaks and how far you want to cycle each day. If this is your first long trip, you might consider four hours a day a good start.
The next step might be to install a phone mount to your bike, if it doesn't already have one. Basic options can be found for around 50,000 kip. Using an app like Google Maps is a great way to see how far you have to go to get to your next destination as well as how sharp the upcoming road will be. Just be sure not to put too much trust in digital maps as they are notoriously unreliable in Laos. Maps Me is often considered the best digital map for Laos but does not have as many features as Google Maps.
Paper maps are also a great way to explore the country. There are several maps created specifically for riders and provide a wealth of information. M Maps Southern Laos is a great map with lots of details and is updated regularly. The GT Rider Maps cover the entire country, and although they don't have as much detail as the M Maps, they provide a great overview. The biggest benefit of paper maps is that they don't require an internet connection or batteries to operate.
If you've never driven in Asia before, you may be nervous about the traffic in big cities. Despite what seems like uncontrollable chaos, there are still some traffic rules that need to be clear. Vehicles in Laos drive on the right side of the road, at least in theory. Don't be surprised to see a motorbike riding on the side of the road against the flow of traffic. You can turn right at any time, even if you're at a red light. Don't be surprised that this also means 'don't bother looking when turning right' regardless of oncoming traffic. Be aware of your surroundings, but don't expect others to be aware of their surroundings. Right of way exists in theory. In reality, it's a confusing ballet of cars and bikes engaged in constant negotiation about who gets to go first. Flashing headlights in Laos usually mean the vehicle has no intention of changing direction and you should get out of the way. If you are approaching a turn and there is a vehicle waiting to exit, they will often turn in front of you on the assumption that you will turn across the street behind them. Although annoying for drivers in Western countries, this is completely acceptable in Laos. Try to follow the flow of traffic.
Once you get out of the city, the streets are quiet and calm. Be on the lookout for small truck drivers with large trucks and try to drive closer to the edge of the road than in the middle of the road.
Road conditions
Road conditions are what you would expect in a developing country. Many paved roads have more potholes than pavement, and there are more dirt roads than paved roads. There are some exceptions, such as newer roads on the Thakek Circle. When driving, be sure to pay attention to potholes or loose gravel in corners. If you are driving on a wet road, assume that all puddles are deep and do your best to avoid them. Drive according to your skill level and road conditions and don't exceed your abilities.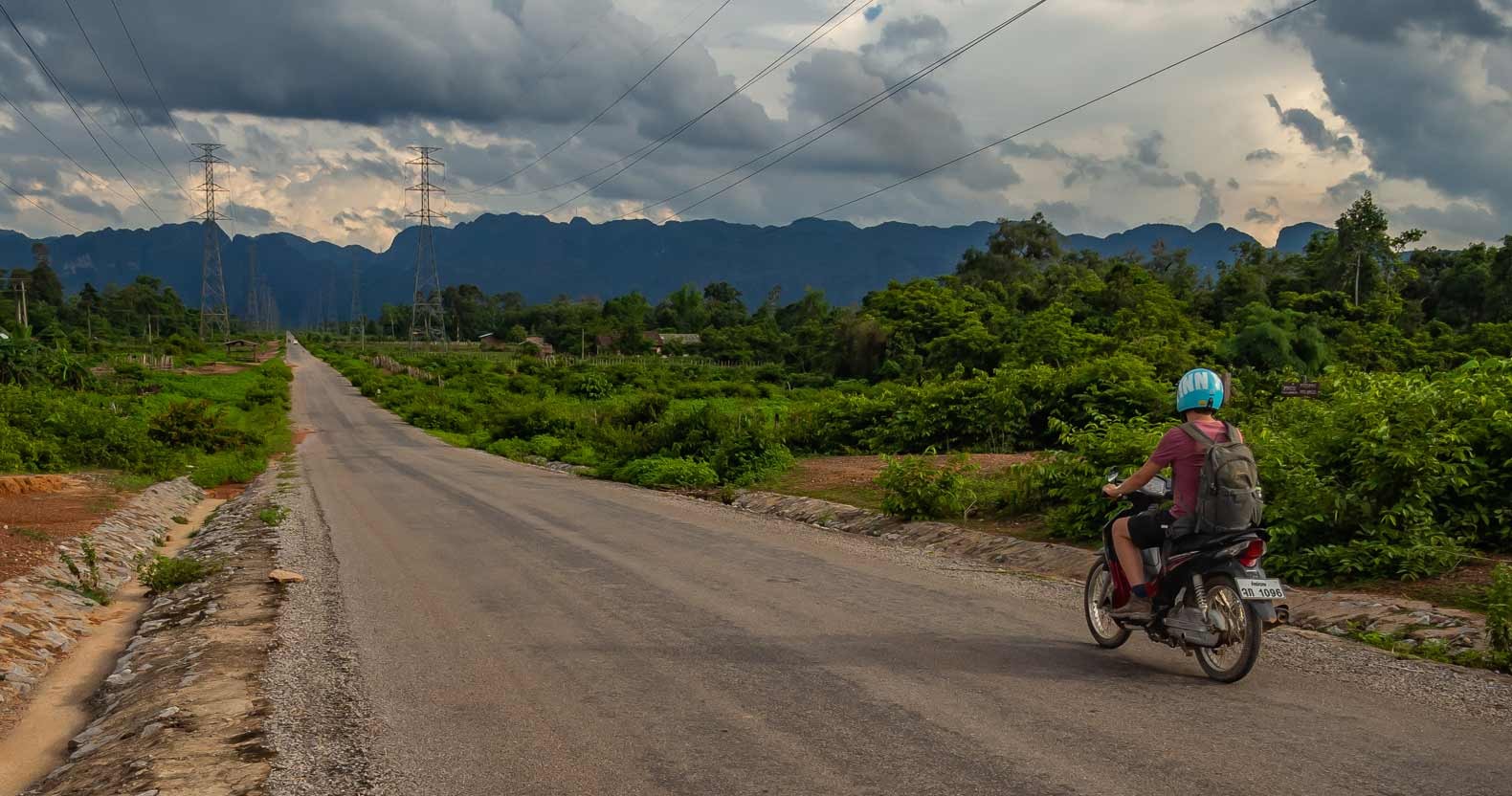 Maintenance and parts
There are plenty of mechanics in Laos, especially along the more popular roads. If you have a relatively common bike then most mechanics will be able to fix most problems. If you have a less common bike, such as a mountain bike or cruiser, you may want to take some spare parts with you on the trip as a mechanic in a small village is difficult to find. There may be anything that can help you. Carry at least one spare tube for each wheel. You might also consider bringing tire levers and a pump if you're going into very remote areas, as a bike with a flat tire will be too heavy to push anything more than a few hundred metres. More experienced riders visiting more remote parts of the country may want to consider bringing additional tools and accessories. In the worst case scenario, you can usually convince locals to help you load your bike into a songteow (minivan) and transport it to the nearest town. With a bright smile and a little kip, anything is possible.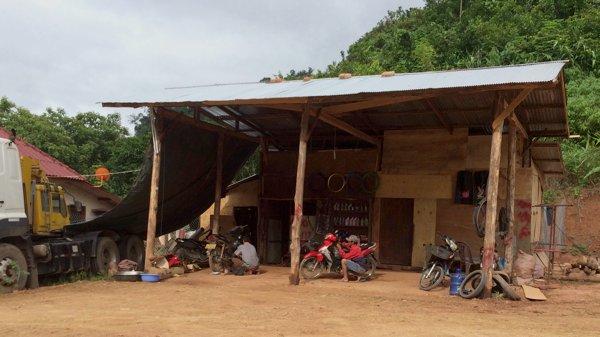 Okay, you're ready and set to explore Laos on two wheels! Check out our destination guides to help you get inspired for your adventures, and be sure to share photos of your adventures with the hashtag #discoverlaostoday so we can see it all Interesting places you explore. Now get out there and Discover Laos Today!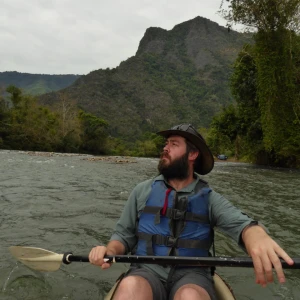 David Ormsby
David is a writer, explorer, adventurer, outdoor educator, and guide. He was worked across the Asia Pacific in a number of different roles within the eco-tourism and outdoor industry. Since 2016 David has lived and worked in Laos, and brings a depth of experience to his writing in Laos.
Related Post
Top 10 tours to experience in vang vieng, discoverlaos.today bucket list guide 2020, top 10 recommended hotels in southern laos, pakse more than a gateway, vat phou and champasak town, ancient and modern cultures, bolaven plateau, coffee, waterfalls and ethnic villages, four thousand islands, embark on a different rhythm of life, xe pian national protected area, wetlands and elephants, essentials for southern laos, phou ya kha, the fireboat festival, temple etiquette in laos, nam et-phou louey national park – the heart of northeast laos, how will your business let customers know they are safe and ready for the return of tourists, ten incredible facts about laos, looking for an exotic adventure in laos explore these hidden gems, wild experiences in laos for every type of adventurer, expert tips for staying safe in laos, when is the best time to visit laos, why laos should be your next travel destination, do's and don'ts while travelling laos, nam et phou louey night safari - a personal account of an incredible adventure, an insider's guide to the rock viewpoint, kong lor cave – an underground adventure, how to reduce your environmental impact as a traveller, hit the road on the thakek loop, spring river resort – a touch of luxury in remote khammouane, the north east loop - lao's latest motorcycle adventure, nong khiaw - viên ngọc quý của nam ou, muang hiam - gateway to the nam et-phou louey, phou khoun - the mountain above the clouds, xieng mieng and the bamboo tube, xieng mieng tricks the king, wonders of the annamite mountains, the beauty of southern laos, sacred stones of the south, travel off the beaten path in laos, hmong new year – noj peb caug, an epic bolaven road trip, the 4000 islands by kayak, the charms of champhone, a milling culture, 48 hours in luang prabang, extreme southern laos, secrets of the stone temple, 4000 islands, 4000 memories, in the footsteps of giants, the latest update of "travel green zone" at the meeting on 18 jan 2022, discoverlaos partners luma insurance for asean travel pass.​ coverages between 10,000 to 100,000 usd for 10 countries in a single pass, laos reopens borders to all fully vaccinated travellers on 9th may; an update on your favorite destinations and what to expect travelling in laos post-covid., immerse yourself in nature: 1-hour kayaking experience on nam lik river in meuang feuang, experiencing the serenity of alms giving ceremony (tak bat) by boat in meuang feuang, exploring meuang feuang district: a sustainable 2-day adventure from vang vieng by electric car, a 3-day electric wuling car adventure: exploring the tranquil beauty of vang vieng to meuang feuang, exploring the best cruises on the mekong river in luang prabang 2023-2024.
Are you sure want to cancel this booking ( )?
Cancellation Policy
Are you sure that you would like to cancel?
Its will take 3-5 Bank working days to process any valid cancellations refund.
THE 5 BEST 4WD, ATV & Off-Road Tours in Laos, Asia
4wd, atv & off-road tours in laos.
Nature & Wildlife Tours
Hiking & Camping Tours
4WD, ATV & Off-Road Tours
Free cancellation
Up to 1 hour
1 to 4 hours
4 hours to 1 day
Visit Vang Vieng
Blue Lagoon 3
Amazing Asia Tours
Asia Safari Laos
Vat Visounarath
Mount Phousi
Laos Group Tours
Monkey Forest Savannakhet
Wat Xiengthong
BCfamilytour.com - The leading Tour Operator in South East Asia
Nam Xay Viewpoint
The ranking of tours, activities, and experiences available on Tripadvisor is determined by several factors including the revenue generated by Tripadvisor from these bookings, the frequency of user clicks, and the volume and quality of customer reviews. Occasionally, newly listed offerings may be prioritized and appear higher in the list. The specific placement of these new listings may vary.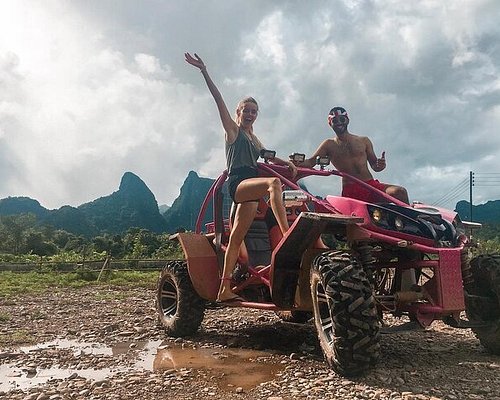 1. Private Buggy Driving in Vang Vieng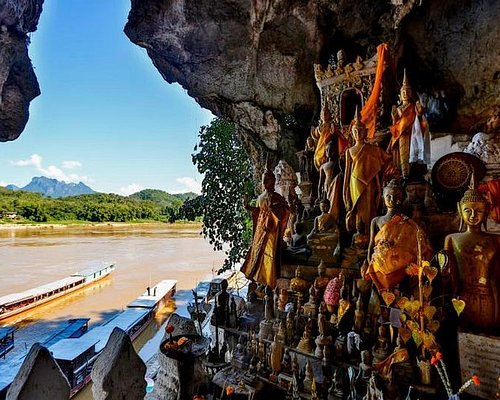 2. Bike to Pak Ou Caves and boat trip back to Luang Prabang City full day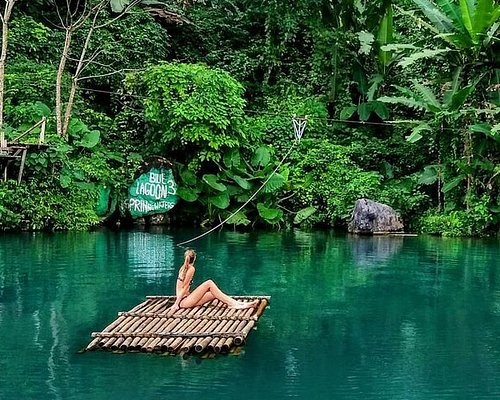 3. Vang Vieng Tour A - Blue lagoon 3 with Caves and Zipline
4. 3 Days Private Xe Champhone Eld's Deer Sanctuary Tour.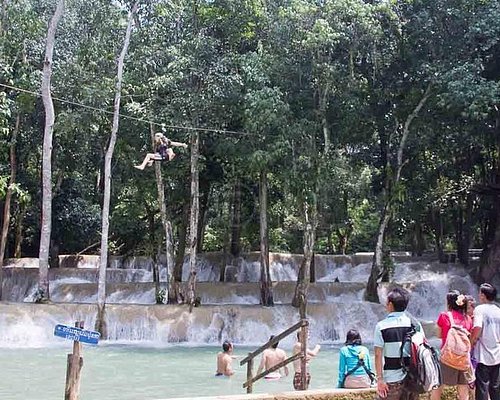 5. Tad Sae Kayaking and Zip-line Adventure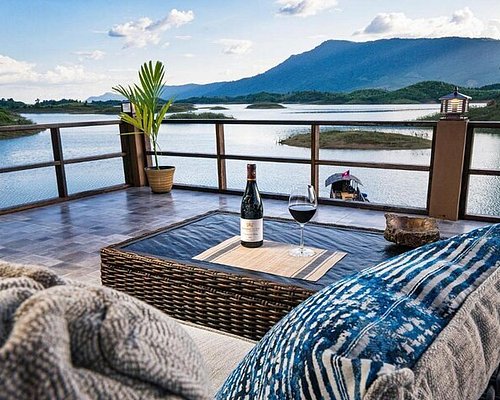 6. Discover Vang Vieng in 4 nights & 5 days (Lakefront Resort)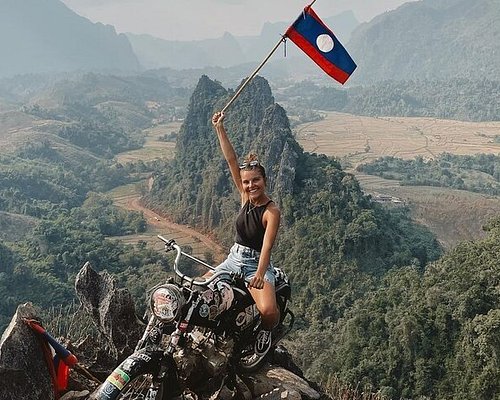 7. Vang Vieng Tour B - Nam Xay Viewpoint Hike & Blue Lagoon 1 Tour
8. Full-Day Private Tour in Luang Prabang with Vintage Jeep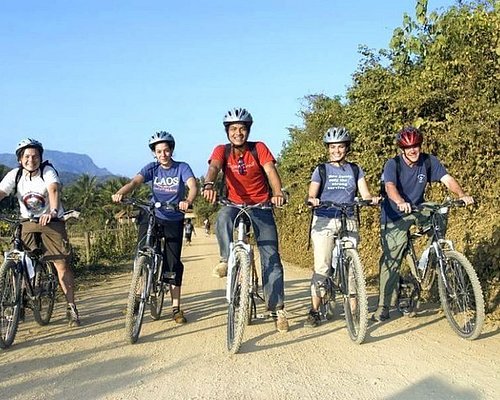 9. 7-day Private bicycle tour from Chiang Mai to Luang Prabang
Laos: atv & off-road tours information.
Ha Giang Motorbike Tour
Hanoi Motorbike Tours
Sapa Motorbike Tours
Halong Bay Tours
Mekong Delta Tours
Da Lat - Phan Thiet Tours
Northern Loop Vietnam
Northwest Vietnam
Northeast Vietnam
Central Vietnam Motorbike Tours
South Vietnam Motorbike Tours
Vietnam Motorcycle Trips
Ho Chi Minh Trail Motorcycle Tours
Off-road/ Vietnam Dirt Bike Tours
Vietnam Enduro Tours
Off-road Vietnam 4x4 Tours
South Enduro Tours
BMW Motorcycle Tours
Asian Bike Tour
Indochina Motorbike Tours
Da Nang - Indochina
Saigon - Indochina
Laos Motorbike Tours
Cambodia Motorbike Tours
Guided Motorcycle Tours
Vietnam – Thailand Motorcycle tour
Female Motorbike Tour
Off-road Enduro
Pillion Tours
Self-guided Motorcycle Tours
Super Enduro Tours
Vietnam Caravan Tours
Adventure Motorcycle Tours
Honda XR150L
Honda CRF150L
Honda CRF250L
Honda CRF250 Rally
Honda CRF300L
Suzuki DR-Z400
Yamaha Tricker 250
Yamaha WR 155cc
KTM 350 EXC F
YAMAHA WR 450 F
Husqvarna 310 TE
Husqvarna FC450
KTM 350 EXC-F Six Days
Himalayan 400
Honda CB500X
Triumph Tiger 800
Interceptor 650
BMW R1200GS
Africa Twin 1100
Triumph Tiger 1200
BMW GSA 1250
Ford Wildtrak
Toyota Hilux
Mitsubishi Triton
Ford Ranger Raptor
Vietnam Travel Tips
E - Visa to Vietnam and BM Travel Visa
Vietnam Motorbike Routes
Vietnam Destinations
Top Gear Vietnam Special
Vietnam Motorbikes
Owner - Founder
Meet Our Local Experts
Why Choose Us
Tours Prices
What To Know Before Booking
BM Travel Motorbike Tour Insurance
BM Travel Motorbike Rental Insurance
Driving License Conversion in Vietnam
Crossing The Border with a motorbike from Vietnam to Laos - Cambodia - Thailand
It's legally possible for any biker to cross the border with their motorbike from Vietnam to Laos, Cambodia, and Thailand. All you need is a vehicle registered in Vietnam and the necessary documents to be ready to go. We successfully organized border crossing tours from Vietnam to Laos and Cambodia, then back to Vietnam without any trouble. That's why we're here to help. Now we'd like to share our best advice on what documents to prepare, which borders you can cross, and some useful tips for crossing the border with a motorbike and traveling in the neighboring countries. Just tell us your plan in advance so we can prepare thoughtfully for your perfect border-crossing tour.
Required Documents For Crossing the Border with a motorbike
To complete the immigration procedures at the border, you must have a passport under any circumstances. Without a passport, you won't be allowed to enter any country because there is no legislative basis for your immigration. Therefore, your border crossing will not be accepted by the immigration authority.
Motorcycle documents
It is noted that you have to bring your motorbike documents. Any problems related to the papers also can cause difficulties in crossing the border gate. In the worst-case scenario, the Customs Department will somehow suspect you of smuggling motorbikes or violating the law. Therefore, working with a professional Vietnam motorbike tours operator with a border-crossing service like BM Travel Adventure will be a smart choice. We have a variety of all-terrain motorcycles for rent like Honda XR150L, Honda CRF250L, and Suzuki DRZ400... (all of which are registered in Vietnam) and host border-crossing motorbike tours with scenic routes which are less visited by tourists. If booking our tour, you won't have to worry about vehicle papers, yet enjoy the trip on your way.
Crossing the border with a motorbike between Vietnam and Cambodia
Xa mat border gate to cambodia.
After showing all the required papers, you can easily take your motorbike across the border. You also have to state why you want to bring your vehicle over the border (traveling, exploring, and experiencing beauty spots of the neighboring countries). But it would help if you also committed to ensuring your safety of yourself, causing no trouble to the indigenous people, and taking full responsibility for any unexpected problems occurring while staying there. When going to the border gate, you wheel your motorbike to the Vietnamese site to complete ​​immigration procedures. When asked where you will go, you need to answer that you go traveling. After that, you take your vehicle through the way for motorbikes to reach the Cambodian side and work with Cambodian customs officers. They will ask for the trip before requiring you to pay a fee of 50,000 VND (~2 USD). After your passport is given a seal of approval, you can continue going..
Crossing the border with a motorbike between Cambodia and Thailand
Poipet border gate.
Here it is quite easy to complete customs procedures for riders and vehicles. You can use English to communicate with the officers of Cambodia and Thailand. You need to move through two locations to finish the procedure. You conduct it on the Cambodian side before you drive your motorbike to the Thai side. You leave the vehicle at the border checkpoint (you also can ask the staff for more instructions). Then, go upstairs for the immigration procedures. After that, you will be photographed and stamped for verification. Afterward, you return to the parking site and give the staff your motorbike papers and passport so that they will make a copy of these documents and conduct some procedures. Wait 30 minutes for your procedure to be completed. Before taking the vehicle back, you pay 40 baht. You ride a short distance to the next destination, where the staff will guide you through the parking site and detailed procedures. Here they will check the information in your vehicle papers. Wait about 15 minutes for this process to be completed; then, you can go on.
Crossing the border with a motorbike to Thailand or Laos
Savannakhet border gate in thailand.
Motorbikes are often banned here, so you cannot bring your motorcycle through this border. The reason is that the borders of Thailand and Laos often go through friendship bridges. Riding a motorbike through these bridges depends on the rules of each border gate. Due to this ban, you will have difficulties gaining entry into Laos. The best solution is to put a motorbike in a car. But there is no car rental service through the border. Therefore, it is advisable to ask for help from someone.
Savannakhet border gate in Laos
You have to explain why you are traveling in Laos and show all the documents given when you go through Cambodia and Thailand. The total fee for this procedure at the borders of both Thailand and Laos is 70 baht. Conducting customs procedures for riders is much easier than that for vehicles, especially motorcycles. You can communicate with customs officers in English or Thai. Vietnamese also can be used when going through the border of Laos. To be sure and convenient, you should cross the land border gate named Chong Mek - Vang Tao.
Tips for traveling in Cambodia, Laos, and Thailand
You may get lost if you go by motorbike in Cambodia, Laos, and Thailand without a guide map and knowledge of the terrains. You should book a guided motorcycle tour of BM Travel Adventure to avoid this situation. Then, you will have a detailed itinerary and receive specific instructions from our guide. Besides, we provide you with all services, including hotel rental, diner service, petrol filling, and purchase of entrance tickets. We will make a great effort to offer a perfect border-crossing motorcycle tour.
Vietnam - Laos Border Crossing Motorbike Tour - 10 days
Route: Hanoi → Laos Border → Sam Nua → Xieng Khoang → Luang Prabang → Muang Khua → Dien Bien Phu → Son La → Phu Yen → Hanoi When traveling to these countries, you need to pay attention to the following points:
In Cambodia
The roads in Cambodia have many similarities to those in Vietnam. Although there are a lot of motorcycles, the local people usually do not honk when riding anywhere, in cities or suburbs. The main public transportation in the city is the tuk-tuk. Note that you should not honk your horn on any roads to reduce noise pollution and promote traffic awareness.
In Thailand
The road system of Thailand is currently in development. High-speed vehicles are the main means of transport that move on the road. You should take notice of the road signs prohibiting motorcycles. Unlike Vietnamese, the people here follow left-hand traffic instead of right-hand one. Public transport is mainly tuk-tuk, taxi, and tram. You will have trouble turning to the roads that apply a motorbike ban.
There are several common points between the roads in Laos and Vietnam. Motorbikes are the main form of transportation on the streets here. Big cities are also filled with cars. Therefore, compared to Cambodia and Thailand, it is quite easy to travel by motorbike in Laos. Traveling over the borders with a motorbike is certainly a memorable experience for those who love adventure and trekking. Don't hesitate to make the most of your leisure time with a border-crossing trip to Cambodia, Laos, Thailand, and Vietnam.
You may like to read:  Motorbike Driving License in Vietnam & Frequently Asked Questions
Crossing borders Vietnam motorbike tours with BM Travel Adventure: Please contact us
Address:  3/7/36 Duy Tan Street, Cau Giay District, Ha Noi City
Mobile:  +84 976 024 986
Email:  [email protected]
Website:   https://vietnammotorbiketoursclub.com/
Share this:
Leave us a message
Related Blog
In-depth review of Sapa Motorbike Tour 3 Days 2 Nights - Amazing Life Experiences
North vietnam food - ride to northeastern lands for an amazing discovery, ultimate guide to making a packing list for motorcyclist riding vietnam, basic vietnamese phrases - easy adventure awaits, vietnam travel tips: motorbike tours as the best way to see a real vietnam.
Well-experienced tour guides and helpful staff, with the support of Ford Ranger Wildtrak 4x4.
A huge variety of beautifully maintained ATVs, Dirt Bikes, and Scooters for your ultimate riding experience.
Over 100 safe and scenic routes, customizable itineraries to experience Vietnam in the most special way.
Eat and sleep in the best locations. We'll take you closer to this beautiful S-shaped, without skimping.
We guarantee to deliver the best motorbike tours price and services with equivalent quality.
99% satisfied customers on TripAdvisor from over the world. Check now.
OWNER - FOUNDER
Binh Phi  is the proud owner and founder of the Vietnam Motorbike Tours . With a great passion for travel, Binh soon set the goal to become a tour guide so that he had the chance to travel all over Vietnam for free and introduce his beautiful country to international friends. He then realized that though Vietnam had so many things to offer to tourists - from gorgeous landscapes , excellent cuisine to unique cultures and hospitable people, most travel agencies hadn't yet tapped the full potentials of Vietnam's tourism and been able to offer a truly authentic and diverse travel experience to international tourists...
VIETNAM MOTORBIKE TOURS
We are enthusiastic, multilingual, and well-experienced Vietnamese people having an endless passion for motorbikes and taking adventures. We have been organizing off-road and cross-border Vietnam motorbike tours for 10 years now and we know how to bring the most stunning experiences for each customer. Our goal has always been the same: to give our customers the chance to experience Vietnam in a special and unusual way. Therefore, all of our motorbike tours are designed to stay away from mass tourism, help you understand deeply the cultures, be closer to local people, and on top of that, gain the best Vietnam motorcycle touring experiences that you will never forget!
Address: 3/7/36 Duy Tan Street, Cau Giay District, Ha Noi City
Mobile: +84 976 024 986
Latest Tours
BM Travel Adventure's Partners
BM Travel Adventure Experience
Top Vietnam Motorcycle Tours
Off-road Motorcycle Tours
Best Ha Giang Motorcycle Tours
Best Sapa Motorcycle Tours
Top Ho Chi Minh Trail Tours
Motorcycle Tours From Hoian
Laos Motorbike Tours
Hanoi Motorcycle Tours
Mekong Delta By Motorbike
Ban Gioc Waterfall
Thac Ba Lake
Ho Chi Minh Trail
Hai Van Pass
View All Destionations
Tour Prices
Honda CRF300L
CRF300 Rally
Honda CRF250L
Honda XR150L
Yamaha WR155R
Terms & Conditions
Whatsapp: +84.985.333.066
Crossing The Border With A Motorbike Between Vietnam And Laos
Some people might be horrified by the idea of crossing the border with a motorbike between Vietnam and Laos.  
But think about it; the idea is not THAT crazy. The two countries are close, and many seasoned riders have successfully traversed to and fro the borders with zero difficulties. 
Even our new biking team – founded just one year ago on our shared passion for travel – rode from Vietnam to Laos on our bikes TWICE. What's there to be afraid of? 
This inclusive guide will reveal all to know and prepare for your motorbike tour . Buckle in! 
Documents Needed For Crossing The Border With A Motorbike Between Vietnam and Laos 
None of us like to handle paperwork; thankfully, our motorbike trips last year weren't as demanding as we thought they would be. Make sure you have all these with you on your BMW motorcycle tour , and the rest will be a breeze: 
1. From Vietnam to Laos:
Immigration officers will ask for your invitation letter and detailed traveling plans. Hence, we suggest obtaining the letter (with red stamps) as soon as possible. Our team members ensured everyone got their letters at least 60 days before departure.
Once the letters are checked, you will receive exit stamps and official visa stickers for Laos. That's it. Quite effortless! 
The only things left to do are to fill out the form at Visas on Arrival counters, provide passport photos, and pay about $35 for the visa in advance. 
To sum it up for those who want a short list of what to prepare: 
1 passport photo
A passport with at least 5 empty pages
1 filled VoA form
1 invitation letter (if you need to return to Vietnam later on)
About 35$ for the Laos visa
Bike blue card
We don't know about others; but from our experience, no authorities asked anything about our bike documents (titles, plates, registry, etc.) What a huge relief!
2. From Laos to Vietnam: 
International tourists (from any country, not just Laos) should turn to the E-Visas, which permits 30-day single entries for your Vietnam motorbike tours . Before applying for E-visas, make sure you don't forget these critical items: 
Valid passport
Digital scans of the biographical page in your passport
25$ as visa fee (online payments are accepted, except American Express credit cards) 
Access this E-visa website to apply and wait for the confirmation. Lastly, print your approved visa to show immigration officers at the international crossings.
Bam! Our bikes safely landed on Vietnam's lands within seconds.
Crossing The Border With A Motorbike Between Vietnam And Laos: 6 Borders That The Two Share
As mentioned, we have crossed the Vietnam – Laos borders twice. But guess what? These two borders are not similar at all. 
In fact, to our surprise, the countries share not two, not even three, but six borders with different regulations and slightly varied fees. Check out each of them to guarantee the best preparation for your day bike trip: 
1. Tay Trang – Sop Hun Motorbike Tour
As one of the Northernmost borders between Dien Bien Phu (Vietnam) and Muang Khua (Lao), the Tay Trang – Sop Hun borderline is not an open door for every rider. We learned the hard way that crossing it is either impossible or very pricey here.
Some of our biking friends stepped through it to buy their motorbikes and ended up getting stuck, unable to exit Vietnam. Worse, a few immigration officials even forced us to pay a huge sum.
Thankfully, nothing that bad happened – or else we wouldn't dare to return to either Vietnam or Laos for the second time. 
> View more: Vietnam motorbike tour to Laos 2023-2024
2. Nam Xoi – Na Meo (Na Maew) Motorcycle Trip
It crosses near Sam Neua (a Lao town), enabling riders to take their Vietnamese motorbikes through different Asian countries.
Upon exiting Vietnam, the authorities will require you to pay $20 for an "importation form," which you are expected to hand back later when you finally leave Laos. They also ask for quite an expensive price (in our opinion) for Laos tourist visas – a whopping $45!
To make matters worse, the roads on both countries' sides are terrible, with thick mud sticking to almost any surface our bikes rolled across. If you still want to tame this challenging terrain, bring enough water and food; your team will have a long day ahead, just like mine did. 
3. Ngoc Hoi – Bo Y Motorbike Route
The next one on our list – Bo Y/ Ngoc Hoi – snugs between Kon Tim (Vietnam) and major Attapeu towns in Laos. Stunning mountain passes set it apart from the other Vietnam – Laos border lines, although you must be careful of oncoming logging trucks. 
I myself didn't participate in the motorcycle travel at that time due to sudden flu; but my other teammates confirmed that the border was a breeze to pass. No extra money, no fees, no bribes – not even any requirement for import permits! 
4. Cau Treo – Nam Phao Biking Tour
Situated conveniently between Lak Xao (Laos) and Vinh (Vietnam), it's another favorite name among avid travelers, including our team: we crossed it so quickly and smoothly that I couldn't help but pinch myself several times to confirm I wasn't dreaming. 
Still, we haven't heard about anyone who did it alone; all success stories thus far involve at least ten people. 
5. Other Border Crossing Motorcycle Paths
Nam Khan – Nam Can Motorbike Tour
Probably the least troublesome of them all, this border is wide open to every international tourist. Some of my friends brought their private motorbikes through this country border (from Laos to Vietnam) with zero problems. 
Lao Bao – Dansavanh Motorcycle Trip
We haven't tried it out yet, and most of us do not have much credible information on whether crossing it is even a possibility. Our team would love to give it a try ourselves someday, though! 
Extra Tips to Smooth Out Your Border Motorbike Tours
These reminders for convenient crossing may sound laughably simple. But trust us, they can save you hours, if not days, of arguing with the border officials: 
Pay more attention to your clothes. A wrinkled, tainted shirt will gain you that look from those grumpy men. Putting more consideration and thoughtfulness into your clothes helps gain their trust more quickly.
Do not show any bad attitude . Never frown, snicker, or swear under your breath at a seemingly unreasonable request. Remind yourself to stay calm all the time. 
Be honest. Lying through your teeth about certain items/ showing obvious hesitancy when answering a serious question; these are the perfect formula for disaster and long hours of interrogation! 
Crossing the border with a motorbike between Vietnam and Laos is a no-brainer, provided you have all the necessary paperwork, photos, and documents beforehand. 
Do your research properly, and feel free to contact us (or any travel agencies/ Laos/ Vietnamese people you know) for more help on international border crossings. Long haul our endless passion for motorbikes! Follow our site for more thrilling Vietnam motorcycle tours
What riders have said about Vietnam Motorcycle Tours on Tripadvisor !
Last minute discounts for SOUTH AFRICA: Save 10% on any SOUTH AFRICA trip until the end of 2023! hidden BOOK NOW
Laos to vietnam adventure, 14 day dirt bike tour across north laos and vietnam, asia laos vietnam.
Witness and experience two different cultures during this 14 day adventure across the stunningly beautiful countries of Laos and Vietnam. Both countries are…
Watch the Video
Home > Trips > Asia > Laos > Laos to Vietnam Adventure
Destinations: Asia Laos Vietnam
Max Group Size: 12 Riders
Trip Type: Guided & Supported
Riding Type: Dirt Bike
Share This Tour:
Tour highlights.
Day 2: Vientiane - Muang Fuang 175km Click to expand
Time to saddle up and hit the road for the first day of our Laos adventure! We head West, following the Mekong River along a mix of tarmac and dirt roads. You will find yourself instantly immersed in rural Laos as we pass through twisting tracks and villages, witnessing spectacular views of the Thailand / Laos Mekong border.
We'll visit a large reservoir to enjoy lunch on a private boat before hopping back on the bikes for an incredible afternoon of riding. As we near our destination of Muang Fuang district we will explore a local market where we will buy ingredients for tonights BBQ!
Accommodation: Charming 'Lao style' wooden house and private tents.
Included Meals: Breakfast, lunch, dinner.
Day 3: Muang Fuang - Xayaboury 270km Click to expand
Some cracking riding today! We ride on dusty roads, logging trails and single track. We will meet with our support vehicle at lunchtime where we'll enjoy a western-style picnic lunch prepared for you by our team.
It's then down to the river for an exciting crossing over the Mekong on small wooden longtail boats over to Ban Namphou. We will then ride winding dirt tracks through the hills before turning North on a scenic tarmac road through a national park.
Accommodation: Bungalows.
Day 4: Xayaboury - Luang Prabang 130km Click to expand
This morning we will enjoy breakfast at an elephant sanctuary where the owner will give a talk to our group, explaining the hugely important role this place plays in North Laos. Whilst we won't actually be able to meet the elephants here, it is still a beautiful place to have breakfast and a great way to learn more about the state of the elephant population in Asia.
Today we will ride some beautiful trails and riverside tracks, stopping to visit an amazingly beautiful waterfall before arriving at the riverside town of Luang Prabang – a city that has been awarded as a UNESCO World Heritage Site.
We will enjoy a sunset cruise along the Mekong river, after which you will have the chance to explore the town by yourselves… there is a fantastic night food market and some great riverside restaurants and bars in this town.
Accommodation: Boutique hotel with a pool.
Included Meals: Breakfast, lunch.
Day 5: Luang Prabang Rest Day Click to expand
This morning if you feel up to the challenge, we will hop onto a ferry across the Mekong river to ride to a remote Hmong village, it is a very technical route as well as steep!  We will have lunch in the village then head back and relax at the pool by 3pm-ish. 
If you feel the need for some well earned rest, you are welcome to have a nice relaxing day at the pool, or a good explore around Luang Prabang – also a good option.
Accommodation: Riverside resort with a pool.
Day 6: Luang Prabang - Nam Ou Cave - Nong Khiaw 185 km Click to expand
We say goodbye to Luang Probang this morning and make our way to Nam Ou. We will visit the Pak Ou caves, a short ride along the main road of Nam Ou – here we will dismount our steeds and spend some time visiting these special Buddha caves across the river.
Once back at the bikes, saddle up for the most beautiful so far… Riding high up in the hills, we will enjoy incredible views and pass through countless little villages where the locals are fascinated by us and the bikes!
Today is a really special riding day and it's polished off by arriving at your beautiful riverside resort in the late afternoon. Refresh yourself with a dip in the infinity pool and enjoy a cocktail or cold Beer Laos while enjoying the view of the karst mountains over the river.
Day 7: Nong Khiaw - Muang Khua by boat Click to expand
It's time to kiss your Laos motorcycle goodbye as these will now be transported back to base in Vientiane.
Wake up at this gorgeous resort, sipping coffee on your balconies overlooking the river and mountains. We will then hop onto our private boat for a relaxed & scenic journey up the Nam Ou river to Muang Khua. Along the way we will stop for a BBQ lunch on one of the many riverside beaches.
Accommodation: Guesthouse.
Day 8: Muang Khua - Mường Lay 240km Click to expand
A minibus will pick us up in the morning and take us to the border… GOOD MORNING VIETNAM!
As we reach Vietnamese soil we will find our new local support team waiting with a clean fleet of dirt bikes, all lined up and ready to take us on the next leg of the adventure. On the way through the hills towards Muong Lay we will stop for a picnic lunch before joining the first of many winding dirt tracks!
Day 9: Mường Lay - Mu Chang Chai 160km Click to expand
We'll enjoy our first Vietnamese breakfast at the hotel before jumping back on the bikes to ride North along the Black River.
A picnic lunch will be provided by our new local support team. It's then onwards and upwards as we climb up to the hill tribe town of Sin Ho – a small market town high up in the mountains, with welcoming locals and spectacular views across the hills.
Heading back down through the mountains we ride single track and double track before getting onto the asphalt and reaching our destination for the day, Mu Cang Chai.
Accommodation: Town guesthouse.
Day 10: Mu Chang Chai - Nghĩa Lộ 180km Click to expand
A steady days cruising as we pass through landscapes that couldn't look more Vietnamese if they tried!
Riverside riding, magnificent rice terraces up the side of mountains and beautiful hill-tribe communities – this is a truly spectacular country.
Today is a varied day of riding: quiet paved roads through tea plantations, narrow dirt tracks and back roads through the mountains and villages.
We arrive at our destination of Nghia Lo town where we can take a stroll to visit the local market and sample a cold beer or two. A perfect end to the perfect day.
Day 11: Nghĩa Lộ - Mộc Châu 180km Click to expand
After a local breakfast of the famous Vietnamese 'Pho', we get back on the bikes and ride through farming communities and over hills to the Black River. We cross the river on a local ferry and will enjoy a picnic lunch on the other side.
Riding back up the hills we will ride narrow roads towards the small village of Moc Chau. Our accommodation for the night sits in the middle of a tea plantation.
Accommodation: Homestay with a local family.
Day 12: Moc Chau - Mai Chau 160km Click to expand
Another relaxing start in this beautiful Vietnamese village. After a tasty breakfast we jump back onto the comfy Hondas and ride over to Mai Chau – an area full of rice paddies and limestone karsts, it's all quite picturesque if you ask us.
There will be plenty of rest stops to meet the local people and take some photographs of the amazing scenery.
We will arrive at today's destination in the afternoon where we will have time to enjoy the welcoming pool for you to cool off in.
Day 13: Mai Chau - Hanoi 180km Click to expand
It's the final day of this epic cross-border adventure, so we will leave on the bikes by 8:30am riding through local villages and rice paddies before joining the blacktop to make our way towards the busy city of Hanoi.
Celebratory beers await back at base in Hanoi. Later that night, it's out onto the busy streets for a farewell dinner.
For those that want a big night, there is no shortage of bars and clubs in this bustling city. There are also plenty of places to sample the local brew – 'Bia Hoi' – a glass of this beer on the streets will cost you as little as 12c!! Yes, 12c, we're not kidding. It's no Stella Artois, but it's surprisingly OK and you can have a lot of fun with just $1!
Accommodation: Quality centrally located hotel.
Day 14: Departure - Transfer to the Airport Click to expand
It's the end of the road with your Laos-Vietnam motorcycle tour with Ride Expeditions, so we'll arrange airport transfers for those leaving today and say our goodbyes.
But the fun doesn't need to stop here. If it's your first time in Vietnam, we would strongly recommend an overnight boat trip in Ha Long Bay. After nearly two weeks of riding, it's certainly a nice way to wind down before your flight home!
Accommodation: Not included.
Included Meals: Breakfast.
Inclusions Click to expand
Included click to expand, accommodation click to expand.
Twin-share accommodation is included as standard – see 'Optional Extras' below for single room pricing.
On this trip we stay in a mixture of hotels, traditional homestays, guesthouses and a few riverside resorts thrown in for good measure.
Please note, neither twin nor single rooms will be available at the homestay accommodations.
Please see the daily itinerary for details on the type of accommodation.
Airport Pickup / Drop-off Click to expand
You'll be collected from Vientiane (VTE) airport (Laos) on the morning of the first day. (You are of course welcome to arrive a day or two earlier, but there will be an extra cost for airport pickup).
At the end of the trip we will arrange transfers from our final hotel to Hanoi (HAN) airport (Vietnam).
Expedition Leader Click to expand
Your tour will be led and managed by a highly experienced member of the Ride Expeditions team (trained as a wilderness first response medic).
Financial Protection Click to expand
Ride Expeditions Ltd is committed to customer satisfaction and consumer financial protection. At no extra cost to you, and in accordance with 'The Package Travel and Linked Travel Arrangements Regulations 2018', all passengers booking with Ride Expeditions Ltd are fully insured for the initial deposit, and subsequently the balance of monies paid as detailed in your booking confirmation form.
The policy also includes repatriation if required, arising from the cancellation or curtailment of your travel arrangements due to the insolvency of Ride Expeditions Ltd. This insurance has been arranged by Towergate Travel through Evolution Insurance.
During the COVID-19 crisis, every rider that requested a refund was issued a cash refund.
Fuel Click to expand
All fuel for your motorcycle is provided by us.
GPS Tracking Click to expand
This motorcycle tour is accompanied by a GPS tracker that displays our live location and track history on an online map. We will provide you with the link and login details which you can then share with your family at home so they can track your progress throughout the trip.
Local Guide Click to expand
This motorcycle tour will be guided by an experienced local Lao guide.
Meals Click to expand
Breakfast, lunch and dinner is provided on most days.
Please see the daily itinerary to see what meals are included on each day.
Mechanic Click to expand
A mechanic will be riding at the back of the group, ready to attend to any issues that may arise.
Medical Support Click to expand
At least one member of the support team will have been trained as a Wilderness First Response medic.
An extensive medical kit including a defibrillator (AED) & stretcher is carried in the support vehicle.
We also have consulting doctors on call, 24/7, who are always ready to assist in the case of an emergency. Our doctors are fully briefed on all riders medical info prior to the tour, they know what we do, where we are riding, exactly what we have in our medical kit and what training our medics have.
Tours are accompanied by GPS trackers and a satellite messenger device so our doctor and office can see exactly where we are and can maintain communication.
Motorcycle Hire (if selected) Click to expand
If you have you your own suitable & reliable motorcycle at the start point, you are quite welcome to use that for this trip. If not, we will provide a rental motorcycle for you… Please see the Dates & Prices section for available bikes.
The cost of shipping the motorcycle to and from the start and finish destination is also included.
Part Profits Donated to Charity Click to expand
Since the day Ride Expeditions started running tours in Cambodia back in 2012, we have been dedicated to supporting the local community.
Part profits from every motorcycle tour are donated to M'Lop Tapang – a local Cambodian charity dedicated to bettering the lives of young children & their families.
Personalised Jersey Click to expand
A Ride Expeditions riding jersey with your name printed on the back.
Rainforest & Wildlife Conservation Click to expand
Playing our part in rainforest & wildlife conservation and in an effort to off-set our carbon emissions, we donate part profits to World Land Trust .
Support Vehicles Click to expand
The Laos leg of this motorcycle tour will be accompanied by a 4×4 support vehicle with a trailer and spare bike. On the Vietnam side, the support vehicle will be a large van. Both are equipped to carry your luggage, an extensive medical kit + stretcher + AED, drinking water, snacks, tools, spare parts and a satellite messaging device.
Welcome Pack Click to expand
We'll welcome you with a bag of Ride Expeditions goodies which will include:
Not Included Click to expand
Flights click to expand.
You'll need to book a flight to Vientiane, Laos (VTE) on or before the morning of Day 1 of this trip. You will then fly back out of Hanoi, Vietnam (HAN) airport on the last day of the trip.
It is important you either:
Book a flexible flight ticket that allows you to make amendments or cancel without penalty;
Have travel insurance that will reimburse you for out of pocket expenses incurred by a cancelled trip;
Do not book your flights until we have notified you that this departure is guaranteed.
Motorcycle Damages Click to expand
Please be aware that you are responsible for all damage caused to the motorcycle.
Other Expenses Click to expand
Any meals that are not mentioned in the itinerary;
Emergency transportation;
Any other item, optional excursion, activity or entrance fee that is not specifically mentioned as being included.
Personal Travel Insurance Click to expand
It is a condition of booking that you obtain appropriate travel insurance that covers you for riding the same capacity motorcycle that you'll be riding on this motorcycle tour.
The insurance must cover emergency evacuation, medical bills, repatriation etc.
Riding Kit Click to expand
Enduro / summer weight adventure style kit is the way to go on this motorcycle tour, rather than road riding kit. If you are opting for enduro kit, we'd recommend you bring extra layers and waterproofs to keep out the wet stuff.
You'll want some decent armoured protection and please do bear in mind that we will sometimes be riding on the road... 'dress for the slide, not the ride!'
Optional Extras Click to expand
Motorcycle damage protection plan click to expand.
All damage to the motorcycle is then covered by us. Please bear in mind that this excludes damage caused by irresponsible riding (for example, a failed wheelie attempt).
Single Room Supplement Click to expand
Single room accommodation is available for 10 out of the 13 nights.
FAQs Click to expand
How much spending money will i need click to expand.
As this is a largely inclusive tour, you won't need much. You will only need money for the items not listed as inclusions, which is mainly just alcohol, souvenirs, the occasional meal and any other personal spending. $100 – $200 should be quite sufficient.
Is wi-fi available throughout the trip? Click to expand
Yes, with the exception of a few of the overnight accommodations.
What will the weather be like? Click to expand
We only schedule our Laos-Vietnam motorcycle tours during the dry season, so we're unlikely to get caught in too much rain (although it's always possible, so we recommend bringing a lightweight waterproof layer that you can stuff into your backpack).
There will be a fairly wide range of temperatures, from as low as 10°c (possibly even lower if we're unlucky!) in the hills, up to 35°c in the lower altitudes. It's therefore important to carry a backpack with some extra layers inside.
Can you cater for vegetarians, vegans or those with food allergies? Click to expand
Laos and Vietnamese locals enjoy their meat and there is very little on the standard menu that is 100% vegetarian or vegan. While we never let you go hungry, and we will bring extra supplies with us if required, please be aware that the options will be quite limited. We'll ask you about your dietary preferences in a pre-tour form, and we'll plan accordingly.
As for food allergies, we will make every effort to communicate your requirements to the kitchen. If you have concerns, please do get in touch so we can discuss these with you.
Do I need a visa? Click to expand
This depends where you are from originally, but the likelihood is that you'll need a visa for Laos. You can obtain tourist visas upon arrival at the airport, or get an e-visa in advance.
For Vietnam, many nationalities now do not need a visa if they plan to stay in Vietnam for 15 days or less.
Follow this link for Laos entry requirements.
Follow this link for Vietnam entry requirements.
These links are for the UK foreign office website – if you are not a UK resident, please search for the equivalent info from your home country's foreign office.
Visa costs, if applicable, are not included in the tour price.
How do I book? Click to expand
To secure your place we simply need a 20% non-refundable deposit (subject to a minimum of £500). The remainder does not need to be paid until 60 days prior to the tour start date.
Is Ride Expeditions insured? Click to expand
Yes. Here at Ride Expeditions, we take the necessary precautions to ensure that we protect both ourselves and you as the customer, with insurances covering financial failure, public liability, professional indemnity and employers liability (you will need your own travel insurance).
To obtain this insurance we must meet strict safety standards and local regulations. We must also carry out thorough risk assessments about all aspects of a tour before tyres can hit tarmac (…or dirt!).
Is my money safe? Click to expand
Yes. All passengers booking with Ride Expeditions Ltd are fully insured for the initial deposit, and subsequently the balance of monies paid as detailed in your booking confirmation form. The policy also includes repatriation if required, arising from the cancellation or curtailment of your travel arrangements due to the insolvency of Ride Expeditions Ltd. This insurance has been arranged by Towergate Travel through Evolution Insurance.
Is this trip suitable for those with limited mobility? Click to expand
Not riding the motorcycle, no (although this will of course depend on the extent of your limited mobility). However, we may be able to accommodate you in our support vehicle. We advise you to give us a call and we can discuss.
What are the health / immunisation considerations? Click to expand
For the most accurate and up to date info, we advise you visit the 'Travel Health Pro' website. Follow this link for Laos info and this link for Vietnam info.
Please also consult with your own doctor at home at least 8 weeks before your trip.
What documents / licenses do I need? Click to expand
To be legally riding in Laos & Vietnam you are required to carry your local driving licence, which must cover the size of bike you will be riding. This will also be a stipulation of any travel insurance company too.
You will also need an International Driving Permit (IDP). An IDP is basically an official, multi-language translation of your driving licence.
What is the average group size? Click to expand
Average group sizes are 8-9 riders and we limit the groups to 12 riders.
What is the cancellation policy? Click to expand
If you cancel your booking before departure, cancellation charges will be applied as follows:
61 days or more before tour start date – retention of deposit
42-60 days before tour start date – retention of 50% of tour price
28-41 days before tour start date – retention of 70% of tour price
0-27 days before tour start date – retention of 100% tour price
Please refer to our Terms & Conditions for further info regarding cancellations, changes and transferring your trip to a friend.
What is the official travel advice? Click to expand
For the most accurate and up to date info on travel advice for Laos & Vietnam, we advise you to visit the foreign office website.
Follow this link for Laos advice from the UK foreign office. Follow this link for Vietnam travel advice. As we are a UK company, this is the official government advice we follow. If you are not a UK resident, we advise you search for the equivalent info from your own country's foreign office, as travel advice may differ.
What riding experience do I need? Click to expand
We'd like all of our riders to have at least two years active riding experience.
As this tour is predominantly off-road, it is more than preferable if you have a good amount of off-road riding experience before booking up. Should you have any doubts, give us a call and we can talk you through it in more detail.
What's the minimum number of riders required for this tour? Click to expand
The minimum required number for this trip to run is 6 riders. We reserve the right to cancel the tour if this number is not met and we will provide you with a minimum of 56 days notice. Please know that this is an absolute last resort for us and we will always do everything in our power to avoid this happening.
Which payment methods do you accept? Click to expand
We accept GBP payments by Visa, Mastercard & American Express and direct bank transfers. Please get in touch if you would rather pay in another currency – we'll do our best to accommodate!
Which plug types are used in Laos & Vietnam? Click to expand
Laos and Vietnam have an array of plugs and sockets: type A, B, C, E and F.
Dates & Pricing
February 2, 2024 - february 15, 2024 (premium package).
Rider (Incl. Kawasaki KLX 250 (in Laos) + Honda CRF 300L (in Vietnam)): £5160
Rider (own bike): £4460
The Motorcycles
Kawasaki KLX 250 (in Laos) + Honda CRF 300L (in Vietnam) Included
Optional Extras
Damage Waiver + £255
Single Room Supplement + £520
Start Date: February 2, 2024
End Date: February 15, 2024
Expedition Leader:
January 31, 2025 - February 13, 2025 (Premium Package)
Start Date: January 31, 2025
End Date: February 13, 2025
Tour Gallery
Related Trips
January 06, 2024
February 22, 2024
June 15, 2024
November 30, 2024
January 04, 2025
February 22, 2025
June 14, 2025
November 28, 2025
Colombian Trailblazer
January 29, 2024
February 19, 2024
June 24, 2024
July 15, 2024
July 29, 2024
January 13, 2025
February 03, 2025
June 16, 2025
July 07, 2025
The Warrior's Trail
June 02, 2024
June 13, 2024
June 27, 2024
July 11, 2024
July 28, 2024
June 01, 2025
June 12, 2025
June 26, 2025
July 10, 2025
July 27, 2025
August 07, 2025
Tribal Trails
November 04, 2023
October 19, 2024
October 30, 2024
November 10, 2024
November 21, 2024
January 11, 2025
October 18, 2025
November 01, 2025
November 15, 2025
Dirt & Secrets
November 11, 2023
January 23, 2024
January 19, 2025
November 09, 2025
The Kingdom of Wonder
January 20, 2024
June 30, 2024
January 18, 2025
June 29, 2025
Tribal Trails – Extended
January 21, 2025
November 27, 2025
Ho Chi Minh Trail
January 08, 2024
November 22, 2024
January 05, 2025
November 21, 2025
COVID-19 NOTIFICATION
For  all  tours cancelled by Ride Expeditions, riders can choose to receive a  100% refund  or to transfer all monies paid to any future tour.
Full details can be found in our  terms & conditions.
Ride Expeditions Ltd is a company committed to customer satisfaction and consumer financial protection. At no extra cost to you, and in accordance with 'The Package Travel and Linked Travel Arrangements Regulations 2018',  all passengers booking with Ride Expeditions Ltd are fully insured for the initial deposit, and subsequently the balance of monies paid  as detailed in your booking confirmation form. The policy also includes repatriation if required, arising from the cancellation or curtailment of your travel arrangements due to the insolvency of Ride Expeditions Ltd. This insurance has been arranged by Towergate Travel through  Zurich Insurance PLC .
Book your next tour with confidence with Ride Expeditions.
Privacy Overview
Phone / WhatsApp: + 84386664688
[email protected]
Testimonials
Terms and Conditions
Charming Places
Laos Motorbike Tours 1 To 8 Days
We are proud to be the leading motorbike tours in Laos with the amazing experiences, professionally tailor tours by updated motorbikes with the reasonable price.
Luang Namtha Adventure To Golden Triangle Tour - 4 Days
Luang Namtha Offroad To Ethnic Diversities Tour - 3 Days
Luang Namtha to Khmu Tribes in Nalae - 2 Days
Luang Namtha Motorcycle Tour - 2 Days
Luang Namtha Loop Motorbike Tour - 6 Days
Luang Prabang Motorcycle To Nong Khiaw - Sam Neua - 4 Days
Luang Prabang Motorbike To Vientiane - 6 Days
Luang Prabang Offroad Motorcycle Tour - 5 Days
Southern Luang Prabang Motorbike Tours – 6 Days
Northern Luang Prabang Motorbike Tour – 8 Days
Laos Exciting Loop Motorbike Tour – 8 Days
Northern Laos Motorbike Trip – 7 Days
Luang Prabang Motorcycle Tour to Kuangsi and Nongkhiaw - 3 Days
Laos Motorbike Adventure Tour – 4 Days
Northern Laos Offroad Motorbike Adventure Tour – 7 days
Luang Prabang Offroad Motorbike Tours – 3 Days
Laos Offroad Motorbike Adventure Tour – 5 Days
Vientiane Motorbike Tour To Luang Prabang - 7 Days
Luang Prabang Motorbike Tour to Jungle Trails and Plain of Jars - 3 Days
Luang Prabang Motorbike Tour and Waterfalls – 1 Day
Luang Prabang Motorbike and Elephants Ride – 2 Days
Laos Motorbike Tours 9 To 25 Days
Laos is country lacks in beaches it more than makes up for in pristine nature and an abundance of gorgeous jungles and mountains ripe for discovery. As one of Southeast Asia's least-explored countries, Laos motorbike tours is a dream for adventurers.
Laos Golden Tarmac Adventure Tour - 14 Days
Laos Adventure Motorbiking Tour - 11 Days
Vientiane Loop Adventure Motorcycle Tour - 9 Days
Pakse Motorbike To Luang Prabang - Vientiane - 14 Days
Laos Motorbike Tour in Ho Chi Minh Trails - 14 Days
Chieng Mai Loop Motorbike To Laos and Vietnam - 15 Days
Vientiane Motorbike Adventure Tour To Hanoi - 15 Days
Laos - Ho Chi Minh Trails Motorbike Tour - 11 Days
Vientiane Motorbike To Hanoi - 14 Days
Luang Prabang Motorbike To Siem Reap - 17 Days
Siem Reap Motorbike to Luang Prabang - 13 Days
Laos Special Loop Motorbike Trip – 14 Days
Laos Motorcycle Tours – 10 Days
Southern Laos Motorbike Tours – 10 Days
Northern Laos Experience Motorbike Tour – 10 days
Vientiane Motorbike Tour To Pakse - 9 Days
Special Motorbike From Cambodia Border Riding Through Laos - 15 Days
Laos Motorcycle Experience Tours – 12 Days
Laos Offroad Experience Tours – 13 Days
Laos Northern Offroad Motorcycle Tour - 12 Days
Luang Prabang Backroad Motorbike Tours - 9 Days
LAOS MOTORBIKE TOURS
Add 1: No107 Nongxai village, Luang Prabang, Laos P.D.R
Add 2: 25 TT 13 Van Phu Invest, Ha Dong Dist, Hanoi, Vietnam
T: + 84386664688
E: [email protected]
Follow us on
Motorbike tours 9 to 25 days, motorbike tours 1 to 8 days, multi-countries bike tours.
Vietnam Motorbike Tours
Cambodia Motorbike Tours
Myanmar Motorbike Tours
HONDA CRF 250L
YAMAHA WR 250
BAJA XR 250
08:00 - 17:00
+84904124997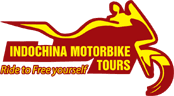 Hot Deals 2023
Cross-Border Tours
Photos Album
Travel Guide
Send us a message
Name * Email Address * WhatsApp /Phone Number * Country Afghanistan Albania Algeria American Samoa Andorra Angola Anguilla Antarctica Antigua and Barbuda Argentina Armenia Australia Aruba Austria Azerbaijan Bahamas Bahrain Bangladesh Barbados Belarus Belgium Belize Benin Bermuda Bhutan Bolivia Bosnia and Herzegovina Botswana Bouvet Island Brazil British Indian Ocean Territory Brunei Bulgaria Burkina Faso Burundi Cambodia Cameroon Canada Cabo Verde Cayman Islands Central African Republic Chad Chile China, People's Republic of Christmas Island Cocos Islands Colombia Comoros Congo, Democratic Republic of the Congo, Republic of the Cook Islands Costa Rica Côte d'Ivoire Croatia Cuba Curaçao Cyprus Czech Republic Denmark Djibouti Dominica Dominican Republic East Timor Ecuador Egypt El Salvador Equatorial Guinea Eritrea Estonia Ethiopia Falkland Islands Faroe Islands Fiji Finland France France, Metropolitan French Guiana French Polynesia French South Territories Gabon Gambia Georgia Germany Guernsey Ghana Gibraltar Greece Greenland Grenada Guadeloupe Guam Guatemala Guinea Guinea-Bissau Guyana Haiti Heard Island And Mcdonald Island Honduras Hong Kong Hungary Iceland India Indonesia Iran Iraq Ireland Israel Italy Jamaica Japan Jersey Johnston Island Jordan Kazakhstan Kenya Kiribati Korea, Democratic People's Republic of Korea, Republic of Kosovo Kuwait Kyrgyzstan Lao People's Democratic Republic Latvia Lebanon Lesotho Liberia Libya Liechtenstein Lithuania Luxembourg Macau North Macedonia Madagascar Malawi Malaysia Maldives Mali Malta Marshall Islands Martinique Mauritania Mauritius Mayotte Mexico Micronesia Moldova Monaco Mongolia Montserrat Montenegro Morocco Mozambique Myanmar Namibia Nauru Nepal Netherlands Netherlands Antilles New Caledonia New Zealand Nicaragua Niger Nigeria Niue Norfolk Island Northern Mariana Islands Norway Oman Pakistan Palau Palestine, State of Panama Papua New Guinea Paraguay Peru Philippines Pitcairn Islands Poland Portugal Puerto Rico Qatar Reunion Island Romania Russia Rwanda Saint Kitts and Nevis Saint Lucia Saint Vincent and the Grenadines Samoa Saint Helena Saint Pierre & Miquelon San Marino Sao Tome and Principe Saudi Arabia Senegal Serbia Seychelles Sierra Leone Singapore Sint Maarten Slovakia Slovenia Solomon Islands Somalia South Africa South Georgia and South Sandwich Spain Sri Lanka Stateless Persons Sudan Sudan, South Suriname Svalbard and Jan Mayen Swaziland Sweden Switzerland Syria Taiwan, Republic of China Tajikistan Tanzania Thailand Togo Tokelau Tonga Trinidad and Tobago Tunisia Turkey Turkmenistan Turks And Caicos Islands Tuvalu Uganda Ukraine United Arab Emirates United Kingdom US Minor Outlying Islands United States of America (USA) Uruguay Uzbekistan Vanuatu Vatican City Venezuela Vietnam Virgin Islands, British Virgin Islands, U.S. Wallis And Futuna Islands Western Sahara Yemen Arab Rep. Yemen Democratic Zambia Zimbabwe Arrival Date * Departure Date * Number of Riders * What type of motorbike do you prefer riding ? Manual dirt bikes 150cc Manual dirt bikes 250cc Additional notes 0 / 180 Send now Please do not fill in this field.
Crossing The Border With A Motorbike Between Vietnam And Laos
You can take a motorbike between Vietnam and Laos. As far as we know you cannot take a Lao-plated bike into Vietnam unless you are the registered owner of the motorbike. The two countries share 6 international border crossings .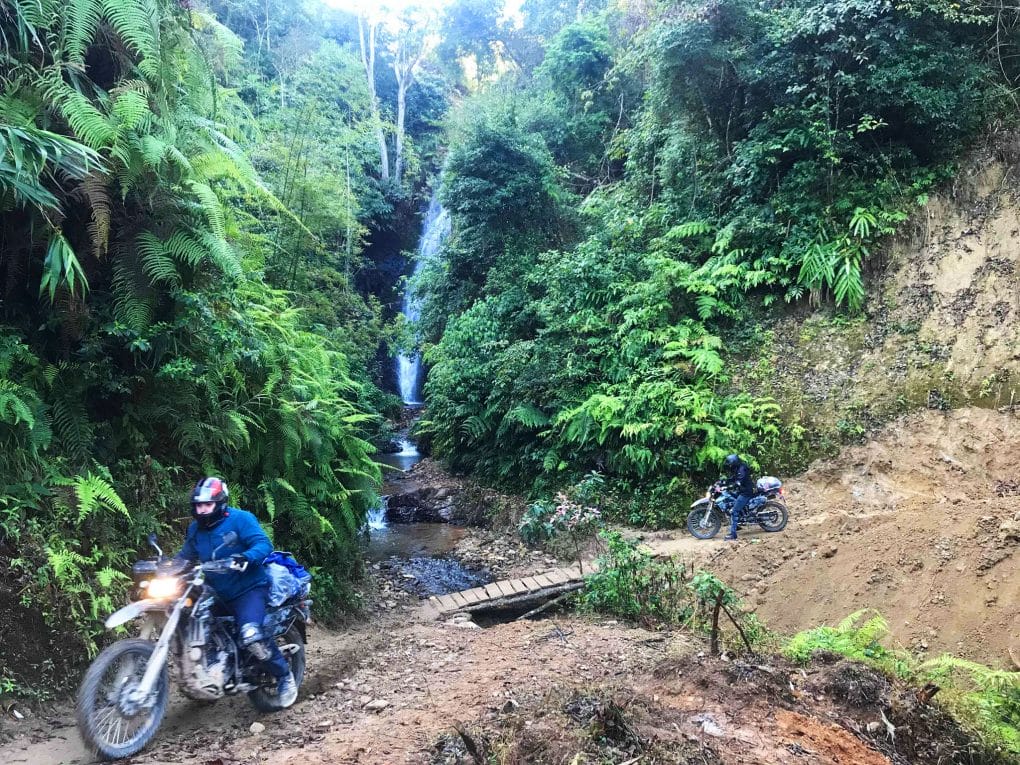 Table of Contents
* Sop Hun / Tay Trang
The Northern-most border in between Muang Khua on the Lao side, and Dien Bien Phu in the Vietnamese side, we have been told that this border crossing is either not possible, or expensive, with a motorbike. The guys who we bought our motorbikes off of in Luang Prabang tried to cross the border here and were not permitted to exit Vietnam with them. We have also heard from other riders that when they rode to this border crossing the immigration officials tried to extort a large amount of money from them.
* Na Maew (Na Meo) / Nam Xoi
This border crossing near the Lao town of Sam Neua allows for taking Vietnamese-plated bikes in between countries. When exiting Vietnam you are required to pay US$20 for an 'import form' which is supposedly meant to be handed back to customs when you leave Laos with your bike. They also charge a very inflated price for a Lao visa (US$45). As of January 2015, the road on the Vietnamese side is in a terrible state, with very thick mud making the journey quite hazardous. Leave yourself plenty of daylight hours if trying to make this crossing.
* Nam Can / Nam Khan
In between the large towns of Phonsavan in Laos and Vinh in Vietnam, the Nam Can border crossing is open to international tourists. We met two guys in January 2015 who took their Vietnamese motorbikes from Laos back into Vietnam at this crossing with no problems.
* Nam Phao / Cau Treo
A convenient crossing point near Vinh and Lak Xao in Laos, we have also heard stories of people successfully crossing at this border. We have not met anyone who has done this personally though.
* Dansavanh / Lao Bao
This border crossing is not too far from the city of Hue in Vietnam. We have no credible information on the possibility of crossing the border with a motorbike at Lao Bao, although we have heard stories that it is possible. Personally we would not hesitate in attempting this border crossing ourselves.
* Bo Y / Ngoc Hoi
This border crossing is between the major towns of Attapeu in Laos and Kon Tum in Vietnam. It is a remote crossing, with the road on the Laos side being a beautiful mountain pass. Watch out for logging trucks on this road. We crossed from Laos into Vietnam at Bo Y with no problems. The border officials in Laos and Vietnam did not ask for any bribes, fees or extra money to cross. No one asked for the import permits that came with our bikes.
How useful was this post?
Click on a star to rate it!
Average rating 5 / 5. Vote count: 4
No votes so far! Be the first to rate this post.
Related Posts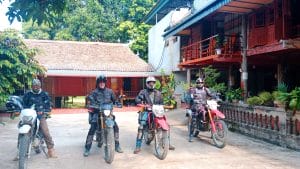 Why should you experience the homestay accommodation for your Vietnam motorbike tours?
A homestay is a form of accommodation where travelers stay in the homes of local...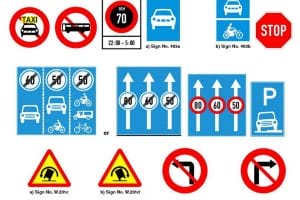 Why Getting A Vietnamese Driving License Is So Important To Foreigners?
For foreigners residing in Vietnam, obtaining a Vietnamese driving license is essential for legal and...
How Can We Convert Foreign Driving License Into Vietnamese Driving License?
Converting a foreign driving license into a Vietnamese driving license typically involves a process of...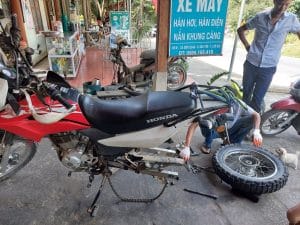 Terms & Conditions On The Liability To Compensate For Damaged Vehicles Or Damages Caused By Traffic Accidents In Vietnam?
1. Grounds giving rise to liability to compensate for damage in Vietnam Pursuant to Article...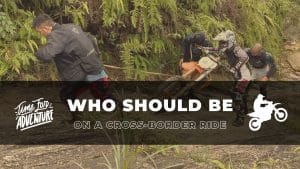 Who should be engaging on an adventure motorbike tour from Vietnam to Laos?
Engaging in an adventure motorcycle tour from Vietnam to Laos is an exciting endeavor, but...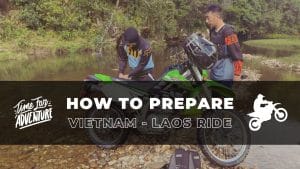 How to prepare for a flawless Vietnam Motorbike Tour to Laos?
There's something undeniably alluring about the idea of riding your motorcycle through picturesque landscapes, venturing...
Who charges the $20. The Laos or Vietnamese side. Import form. Vietnamese people pay $1 for the form and $5 for the air. 555. Will confirm tomorrow if this is for Vietnamese or Lao side. I temporarily imported Thai bike at chongmek border many times. Lao charged 50,000 kip only including insurance for 30 days.
Northern Motorbike Tours
North-East Motorbike Tours
North-West Motorbike Tours
Central Motorbike Tours
Southern Motorbike Tours
Motorbike Tours on Ho Chi Minh Trail
Ha Giang Motorbike Tours
Sapa Motorbike Tours
Hanoi Daily Motorbike Tours
Nomadic Matt's Travel Site
Travel Better, Cheaper, Longer
Laos Travel Guide
Last Updated: September 2, 2023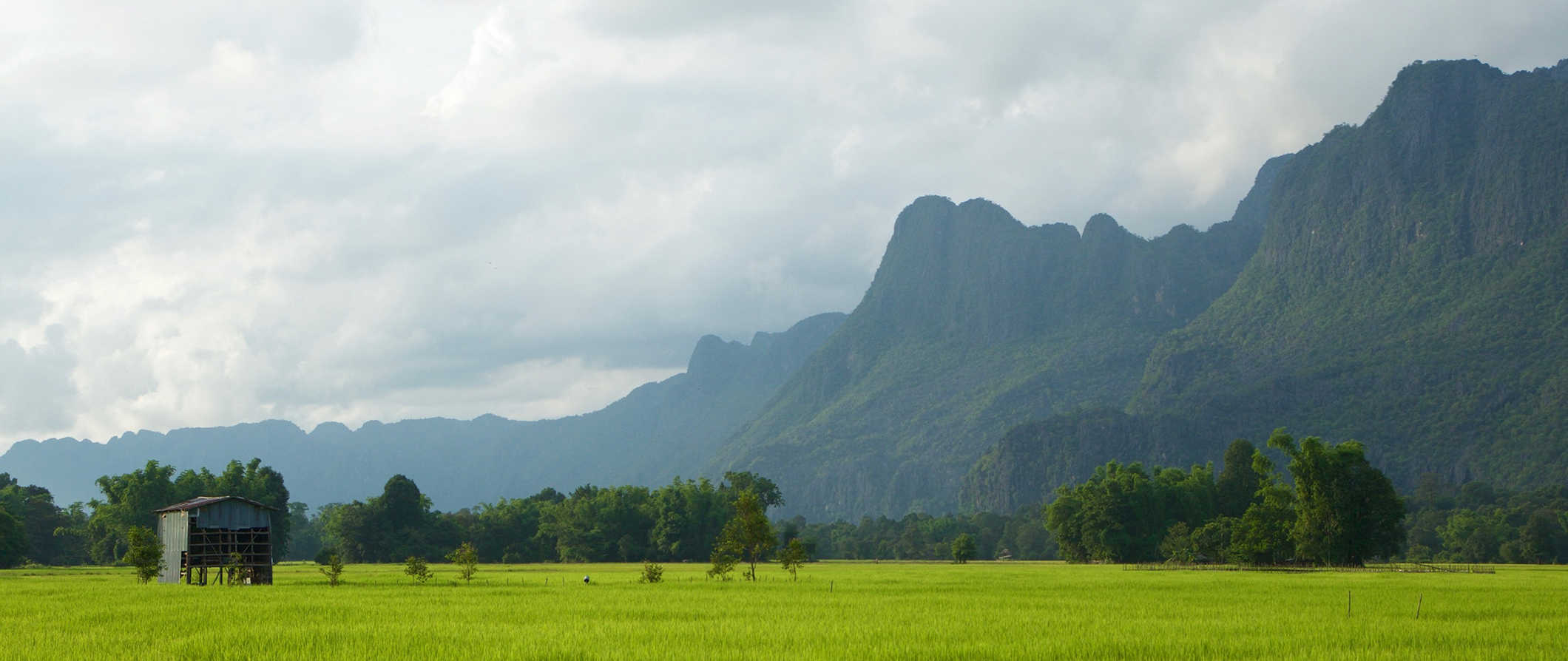 Laos is a landlocked country steeped in nature, food, history, and Buddhism. The country is wrapped in a mountainous landscape, making it one of the most beautiful places in all of Southeast Asia .
While it lacks the beautiful beaches of neighboring countries, adventure travel is big here. You can go zip-lining, kayaking, hiking, and cave tubing all in one day.
I loved my time there and, while the country is no longer a "secret," it's still a lot less visited than its neighbors.
From the bustling night markets and stunning waterfalls of Luang Prabang to the epic mountain sunsets in Vang Vieng , I'm always amazed that more people don't make the journey to this beautiful country.
This travel guide to Laos can help you plan your trip, save money, and make the most of your time in this stunning country.
Table of Contents
Things to See and Do
Typical Costs
Suggested Budget
Money-Saving Tips
Where to Stay
How to Get Around
How to Stay Safe
Best Places to Book Your Trip
Related Blogs on Laos
Click Here for City Guides
Top 5 things to see and do in laos.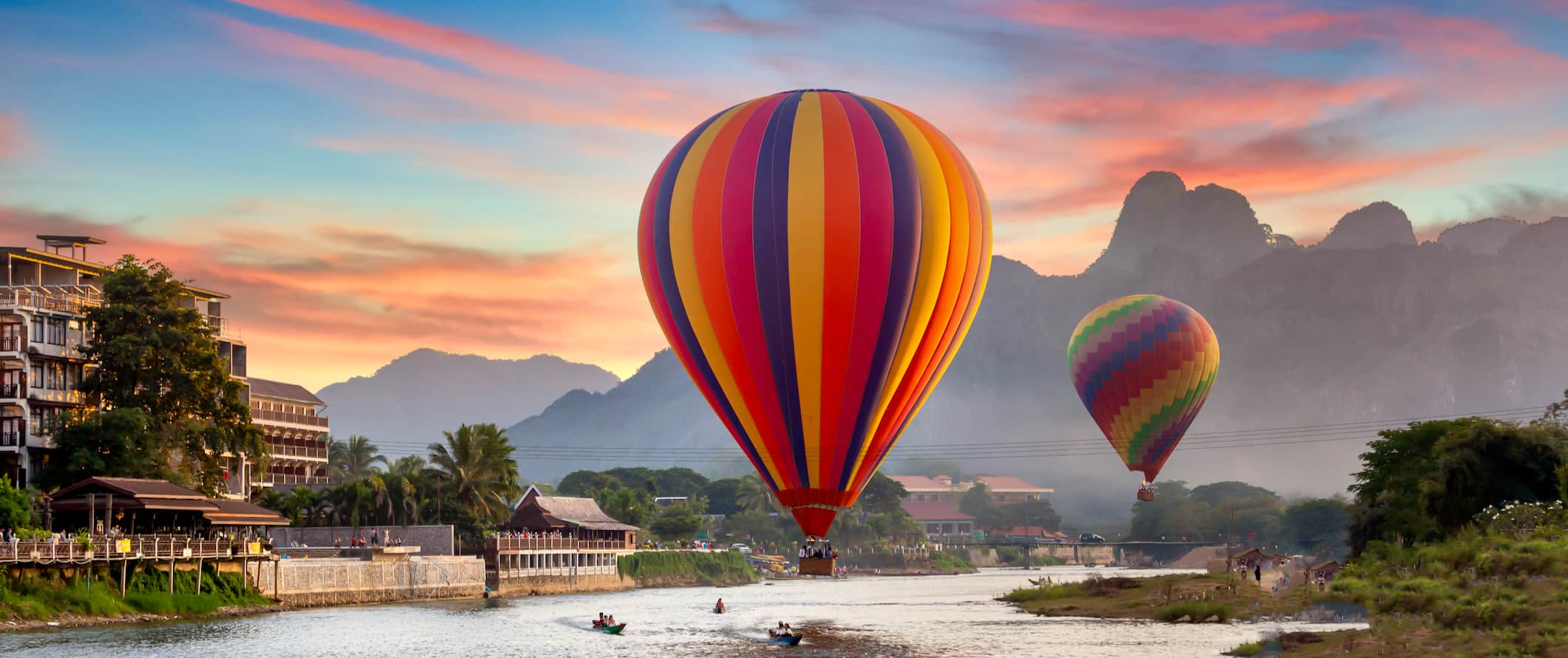 1. Visit Vang Vieng
Backpackers "discovered" this little town in the late 1990s. It didn't take long to develop into a crazy, hedonistic city. There's still a party scene but now it's focused on a handful of bars. It's definitely not like the old days but I think that's a good thing. Nowadays, things have calmed down and the center of Vang Vieng is thriving, with boutique hotels and high-end restaurants replacing some of the party-laden backpacker bars that used to pack the waterfront. The town has also become a hub for outdoor adventure, jungle hikes, and lazy days on the river. It's worth spending a few days here.
2. Explore the 4,000 Islands
Located in Southern Laos, the 4,000 Islands (also known as 'Si Phan Don' in Lao) is an area of tiny, largely uninhabited islands in the Mekong River in Champasak Province near the Cambodian border. They are popular with backpackers and the vibe is laid-back and chill. Accommodation is only available on three of the islands: Don Khong, Don Kon, and Don Det. What's available is cheap and you can spend a few days here reading in hammocks and slowly exploring by bike. Other than that, there's really not much to do here besides chill in the river and relax at night. To reach the islands you need to take a boat from Pakse.
3. Relax in Luang Prabang
Luang Prabang is a slow-paced city. There is not much to do here other than enjoy epic sunsets over the Mekong River, wander the streets filled with colonial French architecture, spend time at the incredible Kuang Si Waterfalls, and shop at the bustling night market. You can also take a river tour, or explore some of the dozens of temples in town. Every morning at sunrise, the monks walk through the main streets receiving alms from the local residents. I went for two days but actually stayed for a week because I enjoyed it so much!
4. Trek to the Kuang Si Falls
This gorgeous waterfall near Luang Prabang is breathtaking. Turquoise waters flow over rock ledges into dramatic tiered limestone pools perfect for swimming. You can float about in some of these natural infinity pools or jump from trees into others. It's a really cool place to visit. Admission is 20,000 LAK, and a shared tuk-tuk from Luang Prabang costs 30,000-40,000 LAK per person.
5. See the Plain of Jars
The UNESCO-recognized Plain of Jars has thousands of stone jars scattered around three different sites. Believed to be part of the burial practices from the Iron Age, this is one of the biggest and most important prehistoric sites in Southeast Asia. Legend has it that the jars were made by a race of giants to store alcohol. Take care not to stray too far from the cleared areas as there are still some landmines in the area. There are eight sites open for visiting: sites 1, 2, and 3 are all close to each other at Phonsavan so they are easy to visit together. Admission to Site 1 (with the best-preserved jars) is 15,000 LAK while entry to Sites 2 and 3 is 10,000 LAK.
Other Things to See and Do in Laos
1. explore the vieng xai cave city.
Located close to Sam Nua (near the Vietnamese border), Vieng Xai Cave City served as living quarters for Laotian soldiers during the 1960s. You can see the living quarters as they were; the Kaysone Phomvihane Cave even has a working air-circulation pump. Guided tours are found at the Vieng Xai Caves Visitor Centre. Admission is 60,000 LAK and includes an audio tour. The bus there is 20,000 LAK while a tuk-tuk is 150,000 LAK.
2. Try the Gibbon Experience
This is one of the best activities in Laos. It's a series of zip lines connecting the world's highest treehouses in Bokeo Forest, where you can stay for one or two nights. You're completely off the grid there, surrounded by gibbons, and it has some intense nature hikes. The three-day, two-night "Classic" package costs around 5,600,000 LAK per person.
3. See the Great Stupa (Pha That Luang)
The Great Stupa in Vientiane is a 45-meter (148-foot) gold-covered stupa (a dome-shaped Buddhist shrine). It's considered the greatest monument in the country. Its exterior looks like a fortress with high walls, but the inside has numerous Buddhist, floral, and animal imagery throughout. You can admire the stupa from outside for free.
4. Head to Vientiane
The capital and largest city in Laos is full of important national monuments and temples, like the Great Stupa and the Sisaket Temple. While there, be sure to check out Buddha Park, a sculpture garden full of giant Buddha statues. It's the most cosmopolitan city in the country, and there's an up-and-coming foodie scene there as well. It's worth spending a few days here exploring.
5. Visit the Elephant Conservation Center
Located in Sainyabuli, the ECC was launched in 2011 by a team of elephant specialists working towards protecting the elephant population in Laos. It's the best way to see elephants in a responsible way that doesn't harm them or involve exploitation. You can stay for one, two, or three nights and prices start at 3,800,000 LAK. A 7-day volunteering session costs around 8,500,000 LAK.
6. Take the slow boat on the Mekong
Drift down the Mekong River on a long, narrow boat with comfortable seating, home-cooked meals, and a unique view of the countryside. You can find a ride typically from the border at Huay-Xai that drops you off in Luang Prabang. Slow boats take two to three days. Prices vary depending on the quality of your tour company. There's also a public boat that leaves daily at 11am.
7. Trek through Phou Hin Poun Conservation Area
Mountains, a limestone forest, rivers full of rapids, and caves await you in the protected Phou Hin Poun area of Laos. The entire area is filled with unique species of flora and fauna, including macaques, tigers, and gibbons. (Yes, tigers.) It's a stunning area for guided treks, which usually last a couple of days. Your accommodation can help you book a guide on arrival.
8. Get outdoors in Nong Kiew (Muang Ngoi)
Life in this quaint village on the Nam Ou River is slow and peaceful, but Nong Kiew is a popular draw for outdoor lovers. The towering limestone cliffs are ideal for experienced climbers, and there are many hiking trails leading to nearby waterfalls and caves. To get there, take a bus from Luang Prabang to Pak Mong and then a tuk-tuk the rest of the way.
9. Chat with a monk
On the first Sunday of every month, monks gather at the Sangha College in Vientiane to chat with tourists. You're able to ask them about their practice and daily life, and in return, they can practice their English. It's a fun and eye-opening way to learn about the culture and the religion from someone whose daily life is much different than yours.
10. Visit the Buddha Caves
The Buddha Caves (Pak Ou Caves) hold over 6,000 Buddha statues that the locals still use for worship. There are standing Buddhas, sitting Buddhas, reclining Buddhas — you name it! To get there you take a scenic 25-kilometer (16-mile) boat trip up the Mekong River or you can take a songthaew (a truck converted into a shared taxi). From there, you're able to explore the two main caves on foot. It's about 20,000 LAK to enter the caves, and a shared boat costs 65,000 LAK round-trip (the boat takes two hours there and one hour to get back).
11. Take a Lao cooking class
Take a cooking class to learn how to make traditional dishes like laap (salad with minced meat and spices), orh (spicy stew), and mok pa (steamed fish in banana leaf). Most classes include a visit to the market and include several dishes, ending with everyone feasting on the food they have just cooked. Prices vary but expect to pay between 250,000-400,000 LAK for a class. If you're in Vientiane, I recommend taking Madam Phasouk's class. She's an amazing cook and her private classes are 150,000 LAK, which includes making 3-4 dishes.
For more information on specific destinations in Laos, check out these guides:
Luang Prabang Travel Guide
Vang Vieng Travel Guide
Vientiane Travel Guide
Laos Travel Costs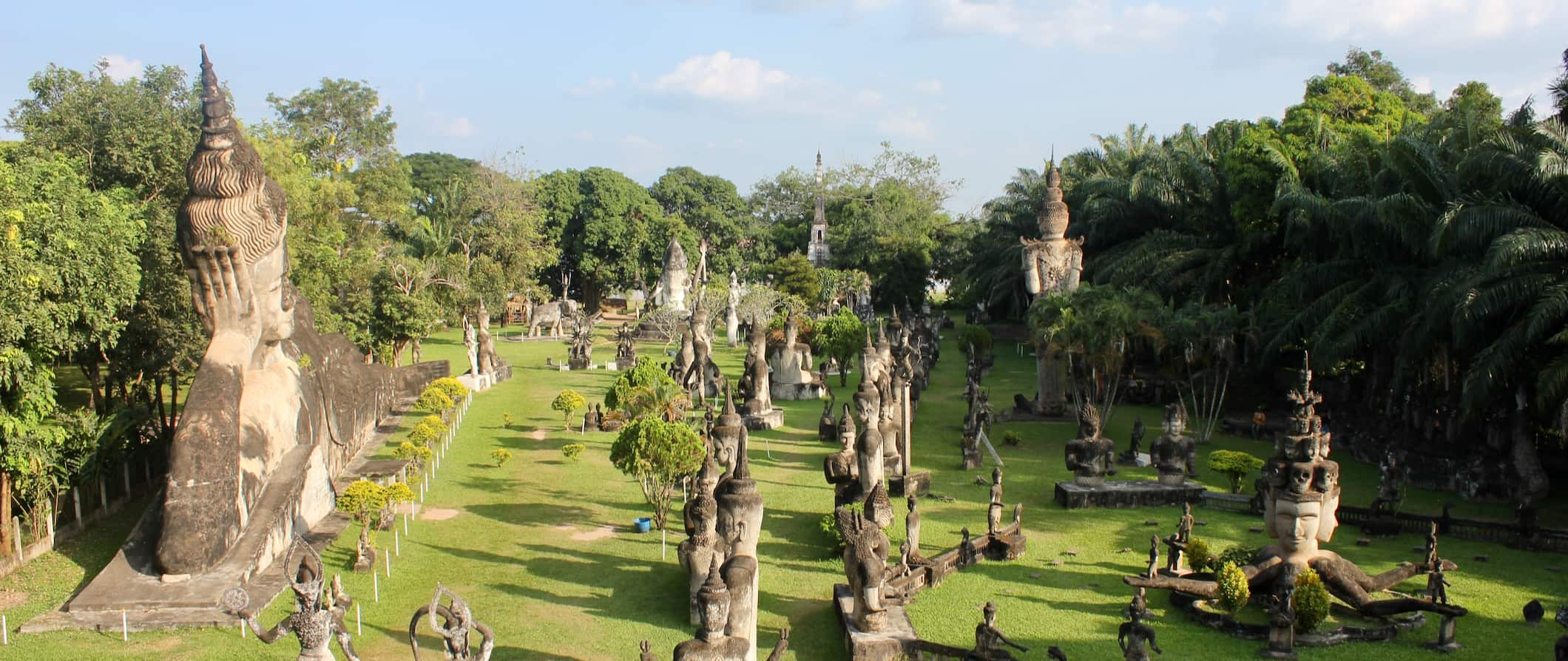 Accommodation – Accommodation in Laos is cheap. Hostel dorm rooms start at around 65,000 LAK per night, although they average closer to 80,000 LAK. Hostels in Vientiane start at slightly higher prices. Private rooms with air-con start at 190,000 LAK but average around 350,000 LAK. Almost every hostel offers free Wi-Fi and most also include free breakfast. It's very rare for a hostel to have a kitchen, so don't count on cooking your meals.
Budget hotels and guesthouses are widely available, usually starting around 150,000 LAK for a twin or double room. If you're looking to splurge on a four-star hotel with a pool, expect to pay at least 400,000 LAK per night.
Airbnb is also available in Laos, with private rooms starting from around 200,000 LAK. An entire home or apartment goes for as little as 500,000 LAK, although prices are generally closer to 1,000,000 LAK. Book early to find the best deals.
Food – Food in Laos has many similarities to its neighbors, with rice and noodle dishes forming the backbone of most meals. Prominent staples include green papaya salad and laap (also known as larb ) (a minced-meat salad that is the national dish, usually featuring fermented fish). Grilled meats, such as chicken, pork, and duck are also very popular, as is feu , the local version of pho.
Most street food and cheap meals of local cuisine cost less than 22,000 LAK, especially in the night market where you can find things like barbecued meats, spicy papaya salad, and noodle soup.
If you want to splash out on a fancy meal, expect to pay around 150,000 LAK for a three-course meal with a drink.
Beer is very cheap here, costing around 14,000 LAK. If you want a latte or cappuccino, expect to pay around 30,000 LAK. Bottled water is around 5,000 LAK.
If you have access to a kitchen, a week's worth of groceries costs around 250,000-300,000 LAK for basic staples like rice, pasta, produce, and some meat.
Backpacking Laos Suggested Budgets
On a backpacker budget, expect to spend around 300,000 LAK per day. This budget covers staying in a hostel dorm, eating street food, drinking a couple beers, renting a bicycle to get around, and enjoying mostly cheap activities like hiking and swimming. Add another 15,000-30,000 LAK to your daily budget if you plan on drinking more.
On a mid-range budget of 650,000 LAK per day, you can stay in a private hostel dorm or Airbnb, drink more, enjoy lots of street food, take some taxis or tuk-tuks, and do more activities like go rock climbing or ATV riding.
On a "luxury" budget of around 1,800,000 LAK per day, you can stay in a hotel, eat all your meals out anywhere you want, enjoy lots of drinks, hire tuk-tuks or rent a motorbike/scooter, and do whatever activities you want. This is just the ground floor for luxury though. The sky is the limit!
You can use the chart below to get some idea of how much you need to budget daily, depending on your travel style. Keep in mind these are daily averages — some days you'll spend more, some days you'll spend less (you might spend less every day). We just want to give you a general idea of how to make your budget. Prices are in LAK.
Laos Travel Guide: Money-Saving Tips
Laos is very affordable so it's hard to save tons of money if you are already traveling on a budget. Sticking to hostels or inexpensive guest houses, public transportation, and street food will ensure you don't break the bank. It's hard to spend a lot when you just do normal travel. That said, here are some ways to save money in Laos:
Buy from market stalls – Buying your own food is infinitely cheaper than going to restaurants (not that they are even that expensive, however). If you're on a budget, though, stick to the local markets. Fresh food is the cheapest there.
Use public transportation – Taxis and tuk-tuks may be convenient, but they slowly ruin your budget. Stick to public transportation if you need to get around. If you do need to take a tuk-tuk or taxi, ask your hotel/hostel staff what you should expect to pay to make sure you don't get ripped off!
Avoid western food – Western food is always more expensive than local cuisine. While the prices aren't that high, it slowly adds up throughout your trip.
Bring a reusable water bottle – The tap water here isn't safe to drink. To save money and reduce your plastic use, bring a reusable water bottle with a filter. LifeStraw makes a reusable bottle with a built-in filter so you can be sure your water is always safe and clean.
Where to Stay in Laos
Laos has plenty of budget-friendly hostels around the country. Here are my suggested places to stay:
Indigo House Hotel (Luang Prabang)
Nana Backpackers Hostel (Vang Vieng)
Vang Vieng Freedom Hostel (Vang Vieng)
Dream Home Hostel (Vientiane)
Vongkham Eco Village (Vientiane)
Sanga Hostel (Pakse)
How to Get Around Laos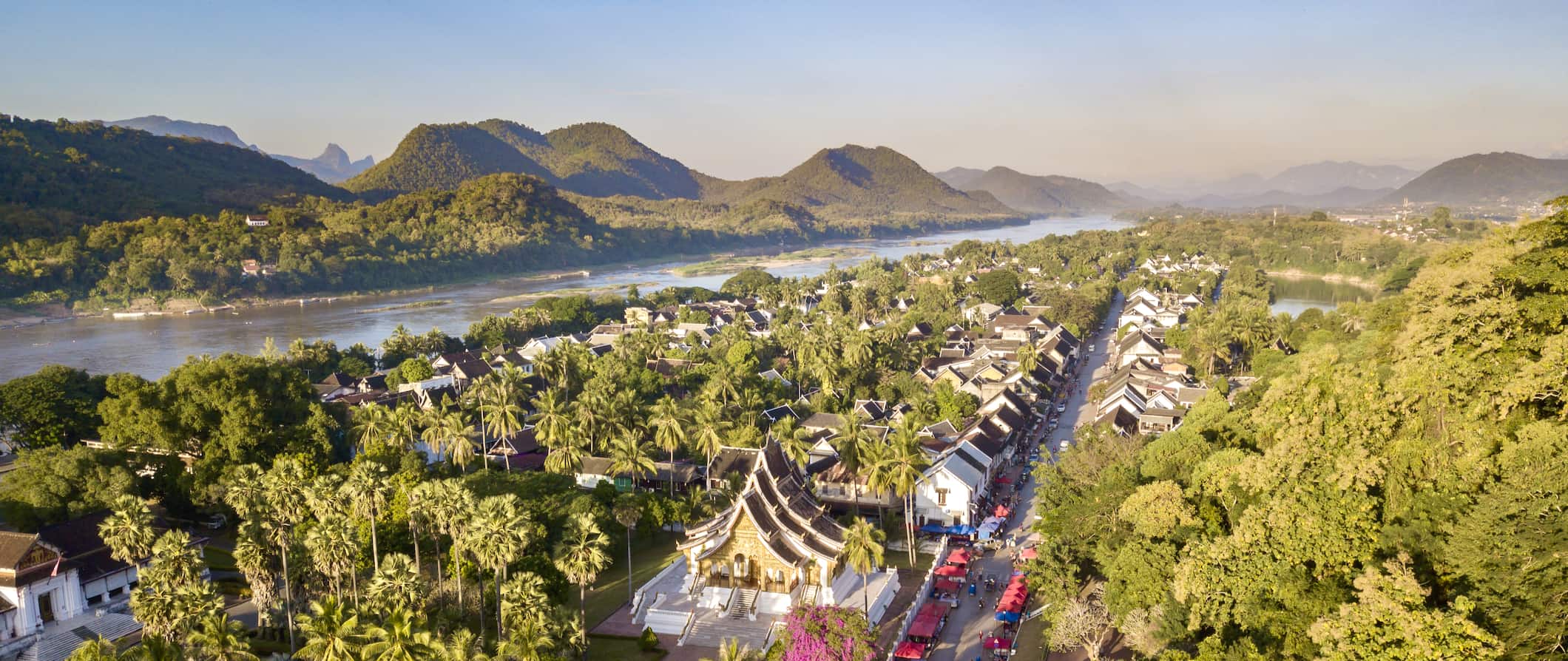 Getting around Laos can be a challenge. The roads are poor, and you have to navigate several mountain passes to get almost anywhere. Nothing is ever on time, and even short trips can turn into endless journeys.
Public transportation – Public transportation is available in some of the larger cities, with prices starting around 5,000 LAK and going up from there based on distance.
Bus – Buses are the most common way to get between cities in Laos. Ticket prices vary between 80,000-130,000 LAK for a 4-6-hour ride. Buses are pretty uncomfortable and many don't have air conditioning, but they get you from point A to point B around the country without breaking the bank.
In busier towns, you can purchase your ticket from just about any tour operator. This includes transit from your hotel/hostel to the station. Otherwise, you can show up at the city's bus station. A trip from Vientiane to Luang Prabang or Pakse shouldn't cost more than 100,000 LAK.
There are also plenty of air-conditioned "VIP" buses. A "VIP" trip from Vientiane to Luang Prabang costs 410,000 LAK. Overnight buses cost 170,000-400,000 LAK depending on the distance. You can usually buy tickets for these buses from your hostel/hotel. You can use 12go.asia to compare prices.
If you're looking to head into a neighboring country, a bus from Vientiane to Hanoi costs around 500,000 LAK. There is also a direct route between Luang Prabang and Chiang Mai starting from 425,000 LAK, but keep in mind the ride is at least 15 hours. A bus from Vientiane to Bangkok also takes about 15 hours and costs about 425,000 LAK.
Boat – One of the most popular ways to see Laos is via a slow boat between Huay Xai and Luang Prabang on the Mekong River. The journey takes two days. For short trips (like Luang Prabang to the Pak Ou Caves), you can get a river taxi for about 65,000 LAK.
Flying – I don't recommend flying unless you are super pressed for time. Domestic flights are costly, and there are frequent cancellations. Even booking far in advance, a flight from Vientiane to Luang Prabang costs upwards of 500,000 LAK for a 50-minute flight. But if you must, these are Laos' airlines:
Car rental – Car rentals in Laos aren't super affordable, costing around 750,000 LAK per day for a multi-day trip. Renters need to be at least 23 and have an International Driving Permit (IDP).
For the best car rental prices, use Discover Cars .
When to Go to Laos
October to April is the best time to visit Laos. This is when the country's weather is consistently warm and dry. (Keep in mind the mountainous areas experience much cooler temperatures year-round compared to the other parts of Laos.) It's also the high season, so you can expect bigger crowds and inflated prices. That said, the crowds here are much smaller than in neighboring Thailand and Vietnam.
Elsewhere, April and May tend to be the hottest months, with temperatures as high as 40°C (104°F). The humidity can be extremely uncomfortable during this time too.
The rainy season lasts from late May to October. It's still a pleasant time to visit as rainfall each day never lasts long. During this time, the waterfalls flow heavier and wildlife becomes more active. There are also fewer tourists around during this time as well.
How to Stay Safe in Laos
Laos is a very safe country to backpack and travel around as violent crime against travelers is rare. Pickpocketing is your biggest concern. It often occurs in busy market areas (especially in Vang Vieng) and on transportation. Keep your valuables close and out of reach at all times just to be safe.
If you're worried about getting ripped off, you can read about common travel scams to avoid here.
If you're hiking or sightseeing, always stay on the marked trail. Some places are strictly prohibited because of unexploded landmines. This is especially true around the Plain of Jars. You shouldn't have a reason to wander off into a dangerous area but pay attention to signs and markers.
When people get into trouble here, it's mostly because they're tangled up with drugs or the sex industry. Laos is strict about punishment when it comes to these offenses, so avoid them at all costs!
Solo female travelers should generally feel safe here, however, the standard precautions apply (never leave your drink unattended at the bar, never walk home alone intoxicated, etc.).
If you experience an emergency, dial 191 to contact the police.
When in doubt, always trust your instincts. If a taxi driver seems shady, get out. If your hotel or accommodation is seedier than you thought, go somewhere else. Make copies of your personal documents, including your passport and ID, in case of an emergency.
The most important piece of safety advice I can offer is to purchase good travel insurance. Travel insurance protects you against illness, injury, theft, and cancellations. It's comprehensive protection in case anything goes wrong. I never go on a trip without it as I've had to use it many times in the past. You can use the widget below to find the policy right for you:
Laos Travel Guide: The Best Booking Resources
These are my favorite companies to use when I travel. They consistently have the best deals, offer world-class customer service and great value, and overall, are better than their competitors. They are the companies I use the most and are always the starting point in my search for travel deals.
Skyscanner – Skyscanner is my favorite flight search engine. They search small websites and budget airlines that larger search sites tend to miss. They are hands down the number one place to start.
Hostelworld – This is the best hostel accommodation site out there with the largest inventory, best search interface, and widest availability.
Agoda – Other than Hostelworld, Agoda is the best hotel accommodation site for Asia.
Booking.com – The best all around booking site that constantly provides the cheapest and lowest rates. They have the widest selection of budget accommodation. In all my tests, they've always had the cheapest rates out of all the booking websites.
Get Your Guide – Get Your Guide is a huge online marketplace for tours and excursions. They have tons of tour options available in cities all around the world, including everything from cooking classes, walking tours, street art lessons, and more!
SafetyWing – Safety Wing offers convenient and affordable plans tailored to digital nomads and long-term travelers. They have cheap monthly plans, great customer service, and an easy-to-use claims process that makes it perfect for those on the road.
LifeStraw – My go-to company for reusable water bottles with built-in filters so you can ensure your drinking water is always clean and safe.
Unbound Merino – They make lightweight, durable, easy-to-clean travel clothing.
Laos Travel Guide: Related Articles
Want more info? Check out all the articles I've written on Laos travel and continue planning your trip: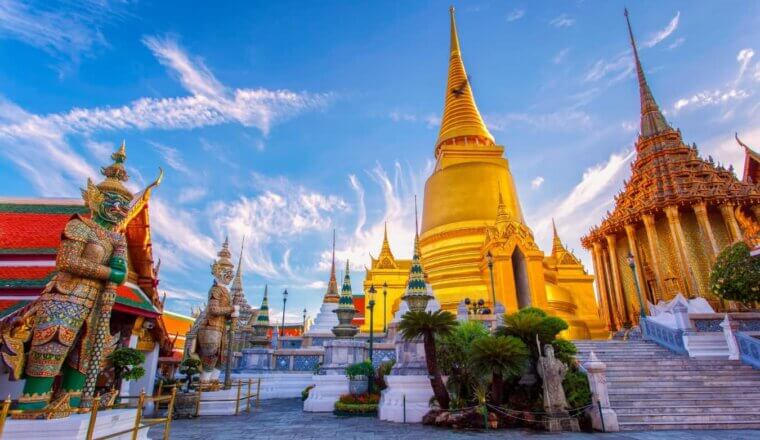 Is Southeast Asia Safe for Travelers?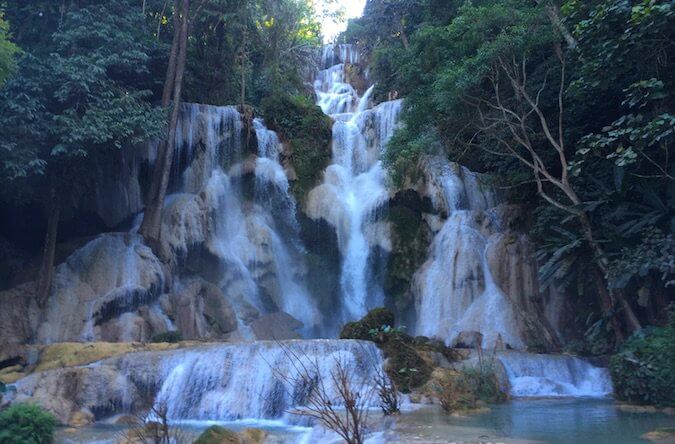 The Secret Pool of Kuang Si Waterfall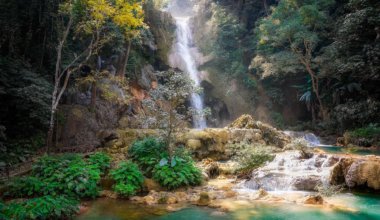 The Cost of Traveling Laos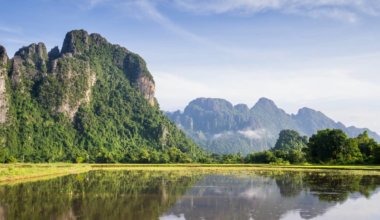 Vang Vieng: A Hedonistic Backpacker Town Reborn
Get my best stuff sent straight to you, pin it on pinterest.
Where To Stay
Transportation
Booking Resources
Related Blogs

uInterview News
Taylor Swift Fans Continue To Attack Scooter Braun Even After Firing By Demi Lovato & Ariana Grande
Posted: August 26, 2023 | Last updated: November 9, 2023
Taylor Swift and music executive Scooter Braun have been engaged in a years-long battle that began over his sale of her early masters in 2019.
Swift, who dropped her most recent re-record of the 2010 album, Speak Now , on July 7, has never talked about her fan base's continued attack on Braun on social media.
Even after Braun was fired last week by his star clients Demi Lovato and Ariana Grande , the venom has continued.
Every album re-release leads to new fan attacks and even Braun's children have been targeted for abuse. Fans have sent Braun everything from anti-Semitic messages to vicious death threats .
In June 2019, Braun bought Big Machine Records for $300 million. The deal included the masters of Swift's first six studio albums. Swift then wrote on her Tumblr, alleging that she had just learned about Braun's purchase and that he had manipulated her for years.
A source told the Daily Mail : "Her team absolutely knew what was on the table. As for the story that Scooter never offered Taylor a chance to buy her catalog when he came to sell it the following year, that is just 100 percent not true."
The same insider said that it was possible that her team didn't let Swift know about the sale but found it difficult to believe that she was completely unaware.
>BEST CONCERT TOURS OF 2023 – SETLISTS & HOW TO GET TICKETS!
Braun's camp believed Swift "crossed the line" when she posted that she didn't learn about the news until it was made public inciting fan outrage as a result.
The post Taylor Swift Fans Continue To Attack Scooter Braun Even After Firing By Demi Lovato & Ariana Grande appeared first on uInterview .
More for You
Krispy Kreme is giving customers a dozen free doughnuts on World Kindness Day
DeSantis blasts Trump for not having Mexico pay for border wall, while Haley says 45th president 'put us $8 trillion in debt'
Letters to the Editor: Gavin Newsom's poll numbers should come as no surprise
White House Delivers Bad News On Ukraine Aid
Russia says a battalion made up of Ukrainian prisoners of war is about to be sent to fight against their own country
SoCal housing is so unaffordable that billionaire philanthropist MacKenzie Scott has made yet another multi-million dollar donation to fix the problem
Biden's latest plan to wipe out fossil fuels should raise alarms with every American
Minnesota Supreme Court dismisses 'insurrection clause' challenge and allows Trump on primary ballot
Pentagon UFO boss steps down after explosive admission
GOP debate: Vivek Ramaswamy attacks NBC's Kristen Welker, other moderators
Entire Loudoun Co. School Board replaced in elections
Never Put These 11 Bills On Autopay
Lainey Wilson Leads the Pack in Style (and Nominations!) at the 2023 CMA Awards
Judge Chutkan Strikes Blow Against Donald Trump
Desperate for water, a desert city hopes to build a pipeline to the California Aqueduct
Feds bust high-end brothel network used by elected officials
Rep. Rashida Tlaib was censured by the House of Representatives. What does censured mean?
5% CDs and savings accounts are great, but 'you're going to have to pay a lot of that back in taxes.' Here's how to prep.
The Raptors found a gem in the NBA bargain bin
Israel Discovers Never-Before-Seen Weapons In Gaza
The Waifs' Donna Simpson thanks Broome hospital after being injured in e-scooter crash
A West Australian folk rock band has been forced to reschedule a concert after its vocalist was injured in a e-scooter crash in Broome.
Key points:
The Waifs vocalist suffered broken ribs and collapsed lungs after an e-scooter accident in Broome
Donna Simpson says she has been "informed she cannot fly" after the incident
E-scooter trials in Australia's north-west have split opinion 
The Waifs' Donna Simpson suffered four broken ribs and collapsed lungs in the crash on September 27.
The musician said she had been in a head-on crash with a backpacker who did not understand the need to keep left on the footpath.
"He was kind of baulking and to avoid colliding with him I went off into the sand," Simpson said.
"I fell onto the handlebars, which went through me — it was a very traumatic incident and [I'm] a very lucky human to be here."
Simpson said the seriousness of her injuries meant her transfer to Perth had to be delayed.
"They took me out onto the tarmac and said I wasn't able to fly due to the altitude and my lungs, so they came back and got me a few days later," she said.
"[The RFDS] are incredible."
Fans have expressed their support online for the recovering vocalist and guitarist.
"Hope you are healing well, it's a tough time for anyone, take good care," Bretto Rice said.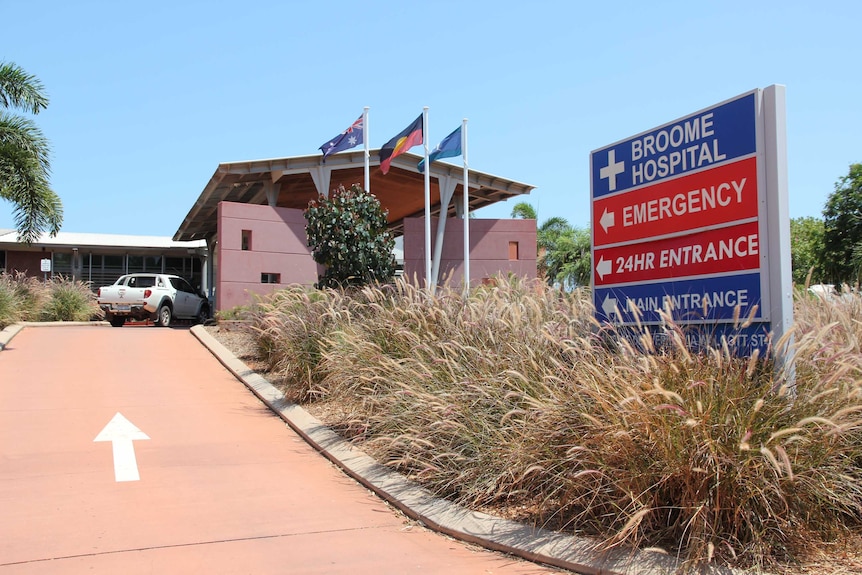 E-scooter usage in WA has been a source of controversy in recent times, with Margaret River cancelling a trial earlier this year .
A trial of rental e-scooters has been launched in Broome , with more than 300 warnings to users issued in the first four months, while two 15-year-old boys were flown from the Pilbara to Perth in July after an e-scooter accident.
Simpson said two friends had had accidents on e-scooters the week she was in Broome.
"There's big dangers around these things that some people don't recognise," she said.
Delayed plans for The Waifs
The band's November 10 show in Geelong has been postponed until March next year.
The Waifs, who have been performing together for more than 25 years, were touring across the country promoting their Up All Night album with 44 shows.
They will still perform without Simpson on November 11 at Adelaide's Handpicked Festival.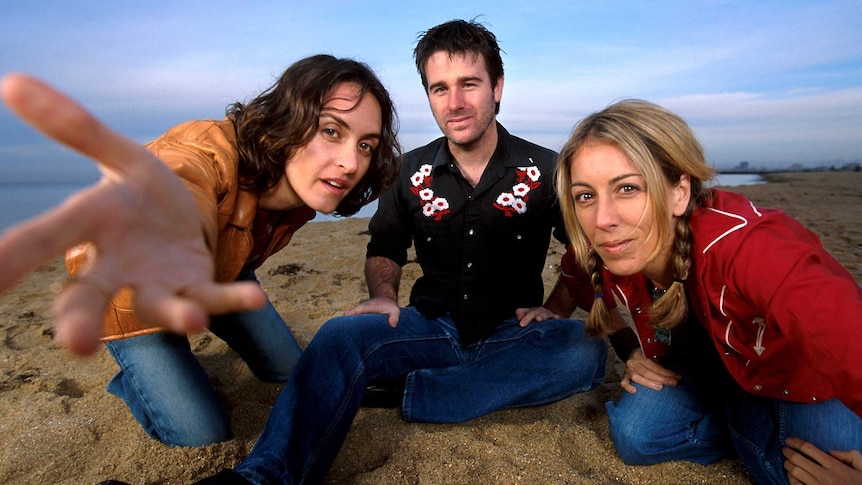 "I am sorry to miss everyone at Handpicked this weekend, but am confident my little sister, Josh, Dave and Ben will deliver you all a stunning set without me," she said.
The RFDS has been contacted for comment.
ABC Kimberley — local news in your inbox
Related stories, if you can buy a car that can do 300kph, why not a faster e-scooter perth riders push for change.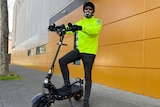 Teens badly hurt in outback e-scooter crash as police grapple with reckless riding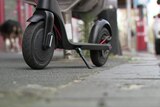 Transport Accidents and Incidents
The Waifs postpone tour date as singer Donna Simpson recovers from e-scooter accident
The singer suffered broken ribs and collapsed lungs and was airlifted to a Perth hospital following an e-scooter accident in September
Australian folk rock band The Waifs have postponed a show on their ongoing 'Up All Night' 20th anniversary tour as lead singer Donna Simpson recovers from injuries sustained in an e-scooter accident.
The band announced via Facebook yesterday (November 7) that their Geelong show this Friday would be postponed to March 8, 2024 "to allow extra healing time" for Simpson, who was hospitalised for broken ribs and collapsed lungs following an e-scooter crash in Broome in Western Australia.
The accident is thought to have occurred after the band's show at the Roebuck Bay Hotel on September 4 where Simpson was airlifted to the Royal Perth Hospital.
"Four broken ribs, two collapsed lungs and a bunch of bruises later, I have realised E Scooters, and I don't mix," Simpson said in The Waif's post.
"I am resting and recovering well and will be ready to go in time for Day On The Green in December."
The Waifs are due to perform this Saturday at Adelaide's Handpicked Festival, but Simpson will not be attending. Instead fans will be treated to a special four-piece set with the remaining band members.
"I am sorry to miss everyone at Handpicked this weekend, but am confident my little sister, Josh, Dave and Ben will deliver you all a stunning set without me," Simpson said.
Other shows The Waifs are due to play after Day On The Green in Queensland include a date supporting The Teskey Brothers in Western Australia, Twilight at Taronga and SummerSalt.
The Geelong show in March will be the last date on the band's 'Up All Night' 20th anniversary tour. All current tickets will be valid for the new date.
The Waifs are an Australian band that formed in 1992 with Vicki Thorn, Donna Simpson, Josh Cunningham, Ben Fraz and David Ross Macdonald. They're credited for supporting Bob Dylan on his 2003 Australian tour and achieving double platinum status for their album 'Up All Night' that same year. Throughout the 2000s their singles consistently achieved positions in triple j's Hottest 100, including for their singles 'London Still' and 'Lighthouse'.
You May Like
Towa bird is writing a queer love story for the ages, 'peter doherty: stranger in my own skin' review: libs man's brutal struggle laid bare, how concert films became big business (again), 'alan wake 2' review: don't sleep on this unsettling horror thriller.