Star Trek Online Achievements
Star Trek Online News
Walkthrough *
3. Star Trek Online The Romulan Republic
Romulans have two main bases and a secondary base, depending on which faction you align with later on. The primary Romulan base is the Romulan Flotilla, found in the Azure sector, fourth row from the top and fourth column from the left on the sector map. It is represented by the symbol of a ship. The missions will direct you back to this place a few times, both once you complete the tutorial and variously when levels are gained. After you have established the New Romulus homeworld, you will then have access to the Command Center, where you'll be directed to the shuttlebay occasionally when you can acquire a new ship.
Now on to the story. Do not skip the tutorial unless you have already done it and know how the basic mechanics of the game work. It will only be available after you have completed it once.
From the Ashes
From the Ashes is the first Romulan specific story arc offered, consisting of seven episodes. The first few episodes serve as a tutorial on how the game works and the various mechanics, most of which has already been explained in the Basic Mechanics page of the walkthrough. After the Romulan home planet has been destroyed in events prior to the game, you start out in one of the colonies trying to survive.
This game has an important mission within it. The sixth mission is called Turning Point. It will take you through several different objectives, and at the end it will give you a choice. You can choose to align with the Federation, or you can choose to align with the Klingons. For the purposes of this walkthrough and the easiest path, choose to align with the Federation. You will then begin to access the Federation storylines that are typically shorter. You will also have the option of flying Federation ships up to a certain tier. Completion of this story arc will grant you an achievement. You will also receive the achievement for reaching level 10 by the end of this arc.
Completed the From the Ashes story arc
At level 10, you get the ability to Transwarp. Transwarp is a type of fast travel available only so often that can quickly jump your ship to different parts of the galaxy. As you progress in levels, you'll find yourself going faster and faster in sector space, but travel can go painfully slow in the beginning. Use travel time to clear out your inventory, sort your missions, update any daily assignments like duty officers, or have a snack.
Between level 10 and level 20, you will begin doing several different daily tasks for progression towards certain achievements. At level 10, you can begin collecting Path to 2409 datachips from Starfleet Academy. You will want to collect one once a day as often as possible to acquire one of the longer collectible achievements in the game. More information can be found on the Path to 2409 page.
At level 11, you will receive a mission to pick up your first complement of duty officers. These are the faceless crew that work behind the scenes on your ship. You can send them out on missions that will earn experience, credits, items, even occasionally other duty officers. There is an AoY DLC achievement related to gaining level 4 in a single commendation track. More information on what you'll be doing for this can be found on the Dailies page.
At level 15, you will have the ability to begin crafting. You must choose a single school and begin 20 hour research assignments once a day to reach level 15 in that school. You can have three research assignments for the same school going at one time. More information can be found on the Dailies page.
Allies is the second Romulan specific story arc, consisting of five episodes. Now that you have chosen which side you want to fight for in the war, you'll be given missions to support that choice. Completion of this story arc will grant you an achievement. If you haven't already, you will receive the achievement for reaching level 20 within this arc.
Completed the Allies story arc
In Shadows is a seven episode arc that has you beginning your conflict with the Tal Shiar, a group of Romulans that will remain your adversaries through much of the game.
Completed the In Shadows story arc
AoY DLC Note - The game lists the Yesterday's War Story Arc as next, but you can not fully complete the arc until level 50, as there are hidden episodes. You may choose to do the first two available if you wish, or skip directly to Wasteland and fully complete Yesterday's War at the point indicated later in the walkthrough.
Wasteland takes you to the desert planet of Nimbus. The majority of these missions are on the ground, so you will want to make sure your Captain and your Away Team have reasonably decent items equipped.
Completed the Wasteland story arc
Vengence is seven episode arc specifically for Romulan characters. It concludes the general story that started in the beginning, and goes after the Elachi.
Completed the Vengeance story arc
Freedom (AKA Romulan Mystery)
Romulan Mystery is an eleven episode arc for Starfleet. Somewhere in the arc you should become level 30. This mission has a somewhat annoying aspect to it, as the episode 'The Vault' requires you obtain and use a shuttle. The game will give you a free token to obtain one at the ship requisitions officer, and you can move over some items onto it. This is also the last Romulan only story arc, with all the rest being available to everyone.
Completed the Romulan Mystery story arc
THIS IS THE ONLY STORYLINE YOU WILL SKIP. Jump directly to Cardassian Struggle by going into the episode guide and skipping each individual episode within the arc, or not starting it altogether if it gives you the option. While there is an achievement related to this storyline, it is a waste of time to do it on your Romulan. During your Federation character playthrough, the game forces you to complete Spectres as part of the Klingon War storyline, giving you two achievements in one storyline there.
Cardassian Struggle
Cardassian Struggle is a ten episode arc starting at level 35. You'll be visiting DS9 and the planet Bajor throughout this arc. The mission 'Of Bajor' within this story arc is one of the longest in the game involving a lot of various running around the planet Bajor, so be prepared for that. At some point during this story, you should reach level 40.
Completed the Cardassian Struggle story arc
Breen Invasion
You want to maneuver your away team to stand on the designated spots, and you want to hit the appropriate switch, all while you stand directly in the middle. Make sure you keep the stairs as an orientation point so you don't get spun around. You can't leave the middle spot the entire time. When you've aligned your crewmembers, the panel will start to glow. The correct panel order is: Panel 04, Panel 07, Panel 03. You might have to run off of the middle circle and quickly hit Panel 03 if the option doesn't show where you're standing. It can also be incredibly frustrating moving your people around, so try and tell them to stand closer to the corner than directly in the circle, as they'll stop short of wherever you tell them to go.
Completed the Breen Invasion story arc
Borg Advance
Borg Advance is a five episode arc that has you fighting the Borg. In space combat, the Borg have a weapon that looks like a small green torpedo. Once hit by this weapon, you will find all of your shields quickly draining. This weapon acts as a debuff, with the only counter being the activation of some type of Science skill that removes debuffs. The easiest to acquire is the Science skill Hazard Emitters, which provides a small hull heal over time, as well as wipes all debuffs. You will want this in your Science tray slot, and activate it quickly when you see your shields dropping. This won't completely protect you, as the Borg use it multiple times, but it will give you a little more survivability and time to heal your shields.
On the ground, the Borg have a unique 'Adaptation' ability. After a certain amount of shots, you will no longer be able to damage them, and every shot will show 'Adapted' in green letters rising from their bodies. You will need a Frequency Remodulator, which you can buy from the Ship Replicator in the inventory menu, or find during the beginning of the missions. Make sure the Remodulator is equipped, and use it whenever you see the Borg adapt to your weapons. After the item is used, you will be able to damage again for a period of time.
On the mission 'Where Angels Fear to Tread', you'll be on the ground fighting various Borg drones. When you come to a place where you can fight a Tactical Drone, remove your armor, shield, and refrequencer. Let the Tactical Drone start to kill you, and he will eventually use a sparkling green attack. Upon death, you'll find your character start to move on its own and become a borg, gaining you another achievement:
Got Assimilated by the Borg
Upon Completion of the story arc, you'll receive:
Completed the Borg Advance story arc
Level 50 and Captain Specializations
Reaching Level 50 is an important milestone within the game that unlocks most endgame content. If you are doing the AoY DLC, you will now want to begin your Admiralty missions, which are explained more on the 'Dailies and Checklist' page of the walkthrough. You will also want to begin performing your Tour of Duty daily mission, as it now pays out the maximum amount of Energy Credits. This will help you begin to afford many datachips already posted on the market. You will now have access to Reputation PVE Queues, which are explained more on the Reputations page.
At this point, Captain Specializations are unlocked. These can be found under the Skills section of the main menu, under Specializations. Beginning at level 50, each level you advance will grant you a single Specialization point. These are skill trees that provide extra bonuses of various types, depending on which you choose. While there are currently six specializations to choose from, only four provide an opportunity for 30 points to be spent, which is what the achievement requires. These are Command, Intelligence, Pilot, and Temporal Operative. The Intelligence specialization is currently the better choice if you are flying a larger, less mobile ship that uses beams, as it provides significant damage increases and damage resistance. If you are flying a smaller, more maneuverable ship, Pilot will be a better choice for a specialization, as it increases your mobility and evasiveness. Whichever you choose, you MUST focus all of your gained specialization points into that single category. The achievement requires you completely fill the category with 30 points, it does not allow for mixing between specializations.
You will receive your first ten points between level 50 and 60. After 60, you will continue to gain experience as normal, but each level will grant a single specialization point instead of raising you past 60. Completing all ten stages of the Federation 'Tour of Duty' under Admiralty missions will grant an additional two specialization points, so pursuing that path to a level 10 Admiralty is recommended. You will receive any number of extra points as you continue through the rest of the story arcs, depending at which point you reached level 50. Still, depending on your play and activity, it is likely this will be the last achievement you receive. If it is, you can either complete PVE Queues for Reputation marks as described on that page, or continue accumulating experience through the Duty Officer and Admiralty missions.
Spent 30 points in any Captain Specialization
New Romulus
New Romulus is a ten episode arc that takes you through the new Romulan planet as they resettle. This story arc will be one you revisit often, as it is frequently used in obtaining one of the datachip achievements. Two missions in this story arc are played frequently, Overgrown Caves and Mountain Base, as they'll provide the items that allow for datachips.
Completed the New Romulus story arc
Now that you have access to New Romulus, begin collecting the Romulan datachips everyday. These can only be acquired by level 50+ characters, and require replaying various missions within the New Romulus story arc. More explanation can be found on the History of New Romulus page.
AoY DLC: Yesterday's War
Yesterday's War is a four episode arc and part of the Agents of Yesterday expansion. The first two episodes of the arc are opened up at earlier levels, but the final two can only be completed at level 50. Once the fourth is completed, you'll complete the arc.
Completed the Yesterday's War story arc
Solanae Dyson Sphere
The Solanae Dyson Sphere story arc is nine episodes long. You'll notice the difficulty of some of these missions increasing, including fights against artillery cruisers. The ships create blue orbs around your ship that end up exploding and often can destroy your ship in one hit. The best defense against this is to keep moving, save your Evasive Maneuvers and your Brace for Impact. This mission will also take you to the Voth Battlezone, which is where you can begin obtaining the Solanae Dyson Sphere Lore (Found on the Exploration page). You can do it now if you like, though it's easier to save for later when you've started collecting better armor and weapons.
It is important, in the first episode of the arc, that you choose the Obelisk Warp Core as the reward, even if you are Romulan and can't use it. Store this in your bank, as it becomes very valuable when you've reached level 60 and begin frequently doing the Tour of Duty mission. This will significantly improve your speed to reach more systems.
Completed the Solanae Dyson Sphere story arc
The Delta Quadrant story arc is sixteen episodes long, which is the largest of the game, and you will really feel it drag on. You'll be joining the Voyager crew and fighting for the Kobali. If you haven't hit level 60 already, you certainly will by the end of this arc.
Completed The Delta Quadrant story arc
The Iconian War
Iconian War is eight episodes long and generally considered one of the better story arcs in the game. You'll find old enemies becoming allies as you travel through time and defeat the invading Iconians you've been hearing about through the other arcs.
It is important, in the third episode of the arc 'Delta Flight', that you choose the Polaric Modulator Console as the reward. This console will be used on your Tour of Duty ship to make you reach more systems.
Completed The Iconian War story arc
AoY DLC: Future Proof
Future Proof is six episodes long, and is rather tame compared to the other arcs you've had to do. It involves the Temporal war, and will require a lot of time travel type stories. This is the final story related achievement that has been released as of the 'Agents of Yesterday' update.
Completed the Future Proof story arc
At this point, the only leveling/story related achievement to worry about is the Captain Specialization, which is explained above. You can do this passively by logging in once a day and doing Duty Officer Missions and Admiralty, explained here , or you can play actively as well, still doing the duty officer missions and Admiralty, but also do PVE queues and work on reputation, explained here .
Overview [ ]
There are 50 levels you may advance to in Star Trek Online, for all 3 factions of Federation, Klingon and Romulan. Every 10 levels you advance a rank up to Level 40; meaning for each rank, there are ten Grades. For example, you may be a Federation player with a rank of Commander, Grade 5; which is equivalent to level 25. Rank names differ by faction but are equivalent to each other.
Level advancement is done by combat, completion of missions or to a lesser extent, by crafting. Leveling unlocks abilities and grants rewards, some specific to your chosen career. Every rank you achieve grants player bonuses, like trait slot unlocks, and a free ship of choice for all ranks except the last. Vice Admiral or equivalent is currently the highest rank attainable, achieved at level 50.
The following table illustrates and compares the levels, achievements and requirements per faction.
KEY: Federation, Klingon, Romulan.
You must spend your Skill Points to advance in Rank and Grade. Unspent points do not count toward your rank in Starfleet or the Klingon Empire . If you have enough skill points to increase Rank, but have yet to spend the skill points, you're considered Grade 0 - i.e. you are an LC 0 until you've spent the skill points to become LC 1.
WoW Classic: Darkmoon Faire Sayge Buffs Answers
WoW Classic: Raid Debuff Slots
WoW Classic Felwood Songflower Locations
Choosing Your Race: Racial Traits & Hitboxes
Know Your Classes: Beginners Class Guide
Leveling Guides
Level Up Your Game Knowledge
Star Trek Online Leveling Guide
Star Trek Online is one of the most known MMO games. It has years of lore and loyal fans who love the franchise, therefore it's no wonder the game enjoys such popularity. While gameplay in STO is quite different from what you can find in most other MMORPG games, that's only one more reason why you should check out some guides. While there are no standard levels or leveling in Star Trek Online, you character obviously progresses through the game in ranks and grades so if you want to speed up the process check out some of the STO guides below!
STO Mastery Guide
Killerguides STO Strategy Guide
KFGuides STO Strategy Guide
Ultimate STO Leveling Guide
1. Star Trek Online Mastery Guide

This guide was just released alongside the official game release and it's obvious the author put a lot of effort in writing this strategy guide. STO Mastery contains various chapters covering even more than the two guides reviewed below and in more detail. It's 100% complete and the author even promises to deliver frequent updates as new information is available. While I'd definitely like to see some parts of the guide go in more detail, as I said Star Trek Mastery is by far more detailed than other guides and is undoubtedly my prime choice !
STO Mastery contains guides on skills, professions & classes, leveling, missions, ships, traits and a whole lot more so if you're confused about any of these and want to learn something new, Mastery Guide will greatly help. Get it!
2. Killerguides Star Trek Online Strategy Guide

This is an all-in-one guide for (almost) every aspect of Star Trek Online. There's a beginners guide included for choosing races and careers, then the ranking guide and mission walkthroughs (basically, a leveling guide) with which you'll speed through the ranks much faster than other players. Killerguides STO Strategy Guide also includes a skill tree guide with comprehensive descriptions showing you exactly which ones you need to your new ship. Also included is the skills guide showing you how to allocate all those skill points in order to get the most out of your character. Overall, this strategy guide covers all the main aspects of the game and will help you familiarize yourself with the game, unfortunately not as much as STO Mastery.
For a general strategy guide I 100% recommend you get STO Mastery above, although you can check out some other more specific guides (ships, PvP, …) from Killerguides as once they are complete it might be just a bit more detailed than in Star Trek Online Mastery.
3. KFGuides Star Trek Strategy & Tips Guide

If you're keeping yourself updated on leveling guides you probably heard about KFGuides Aion leveling guide . I rated their Aion guide 2/5 since it wasn't nearly as good as others and I'm afraid their STO guide isn't much better either. Truth is, their Star Trek strategy guide is actually a strategy guide, therefore it contains a lot more general game information and not just leveling, which gives it a bit higher rating but still it's not comparable to Killerguides guide in my opinion, and especially to STOMastery which is totally better.
KFGuides talks pretty much about the same things as other guides but doesn't go into so much detail, and it's not even very complete yet: some sections have a lot of missing info and some don't have any info at all. Overall, I recommend skipping KFGuides Star Trek Strategy Guide entirely and downloading Star Trek Online Mastery which is my ultimate favorite.
4. Ultimate Star Trek Leveling Guide

Ultimate STO Leveling Guide by Epic MMO Guides (aka Ashling/FTWGuides) is definitely a black sheep. It only contains a leveling guide and absolutely no other information which makes the strategy guides above much better. As for the leveling guide, Ultimate Guide offers two ways to level up: one way recommends repeatedly doing exploration missions which is supposed to get you to Admiral rank in 24 hours, after which your head blows up. The second path is slower but not much better either: the guide simply lists available missions in apparently no particular order and without any details or tips. You'll undoubtedly know more about quest objectives if you simply read the mission journal as it makes this guide completely useless.
In conclusion, Ultimate STO Leveling Guide is one guide you should definitely skip.
Related posts
Warlords of Draenor Leveling Guide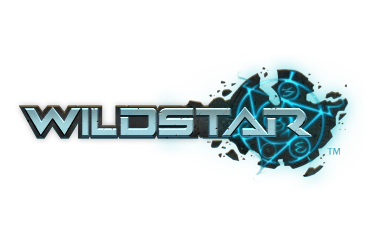 Wildstar Leveling Guide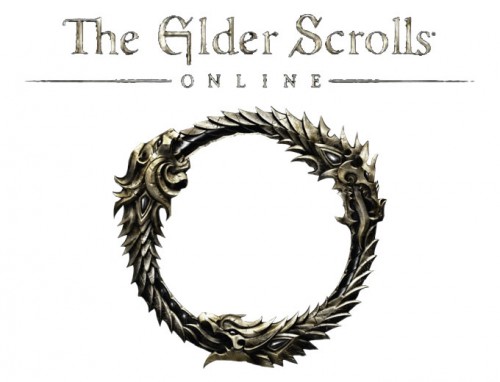 Elder Scrolls Online Leveling Guide

Star Trek Online New Player Ship Build Guide
There are so many overly complex guides to how to gear a ship up so that you don't instantly lose story missions in Star Trek Online. It can be really hard to figure out just what you need to do, soup to nuts, to build out a ship in STO. The game's difficulty starts to really heat up after Dyson Sphere when you enter into the Delta Quadrant and there isn't any handholding in the game on what to get, what to buy and where.
The guides players have made can take an hour or more to read to figure out what to do, where to go and how to get it. The frustrating part is that after, say, you grind everything at level 40 then by the time you're level 50 it becomes time to do it all over again.
Let's help get a ship that'll take on almost anything without
Combat 101 – Learning STO Combat Quickly
The HP (hit points) in STO is in the form of a "hull capacity" and "shields" which, if your hull reaches 0 then the ship is destroyed and you must respawn. Hull is based on your ship, shields is based on the shield equip. Consoles can help increase everything you need, tho ships have limited console slots.
The ship has four subsystems that produce "power" which is used to control damage (weapons), defense (shields), speed (engines) and Auxiliary (a special type used by science bridge officers). Without getting too deep, any amount of power over 50 gives you a boost and you can control those power levels.
Firing weapons or getting your shields hit reduces the amount of power you have. The amount of damage you do is based on your weapons power:
So 100 weapon power would be a 100% multiplier. At 50, its 75%. So understanding that the subsystem power is really important. If you're firing weapons and have no power to fire them and are firing them with low power then you'll do very little damage. So you'll want to keep power to weapons on and use EPS Flow Regulators to increase the power movement between systems. Later on you'll get skills in engineering and better engineering consoles to make Power more managable.
Energy Types and Weapons
There is a lot of choice when it comes to outfitting your ship. Before level 65 my hard recommendation is to stick with beam phasers. There's cannons, but they're harder to aim and require you to have an agile ship. There's torpedos, which you should have one of at least but they don't do well against shields.
There's mines, but you won't have the skills to get the most out of them in the early game. Mines are best when they're able to be moved around via tractor beam and used as sort of kinetic weapon of sorts. Laying mines in a straight line won't do very much damage with them generally.
There's several energy types ranging from phaser to disruptor to antiproton and more. Phaser for all intents and purposes is the cheapest and simplest to get before level 65. I highly suggest using "Phaser Beam Array MK (highest for your level)" until you get to level 65.
Suggested Equipment
Want the best gear for a lower level ship? Just use these options. These are "best in slot" before 65 in our opinion.
Level 10: Phaser Beam Arrays
Level 20: Phaser Beam Arrays
Level 30: Phaser Beam Arrays mixed with Heavy Phaser Cannons or all Heavy Phaser Cannons
Level 40+: All Beam Arrays or All Cannons
Beams have wide arcs and are easy to keep attacking targets. Cannons have long range and high damage and are both great. You can get them through missions and drops and constantly upgrade. Do not spend Dilithium to upgrade ANYTHING before level 65 and don't upgrade without following a guide.
Armor / Equipment
Here's the issue with consoles, plating, warp cores, etc. There's no reason to focus on any particular "build" before level 65. Put the "best" that you've got dropped in each slot.
Tier 6 – Easy Mode
You can not worry about the gear on your ship if you acquire a Tier 6 ship. All of the equipment it's loaded out with levels up with you and is basically really good. You'll need to dismiss and reacquire the ship over and over as you unlock more slots to get the gear itself, but it's a simple process.
Picking a Low Level Ship
For tier 1 through 4 there isn't any "best" ship. Pick the one that you want the most.
For tier 5, any ship will do that looks good to you. I'd say steer closer to something you can use later on, which as a newer player won't be very obvious assuming you are even buying a T5 to begin with and not going straight to a T6 event ship. You won't have access to T5s until later in the game anyway. Any ship basically works.
The The Vulcan D'Kyr and Avenger Battle Cruiser are not bad choices and you'll do well with either one of them if you have to have a recommendation.
David Piner, an accomplished video game journalist since 2001, excels in developing comprehensive guides and engaging content to enrich the gaming experience. As the esteemed former Managing Editor at TTH for over a decade, David established a strong reputation for his perceptive analysis, captivating content, and streamlined guides. Having led skilled teams of writers and editors, David has been instrumental in producing an extensive collection of articles, reviews, and guides tailored to both casual and hardcore gamers aiming to enhance their skills. Dedicated to player-centric content, David meticulously crafts guides and articles with the players' interests in mind. He is a proud member of OUT Georgia and fervently champions equity and equality across all spheres.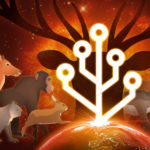 Current Cell to Singularity Code & FAQ 2023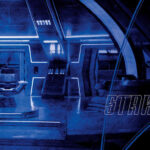 Obtaining Discovery Phasers Easily in Star Trek Online
Related posts.
Why Online Virtual Holiday Video Game Events Feel Less Special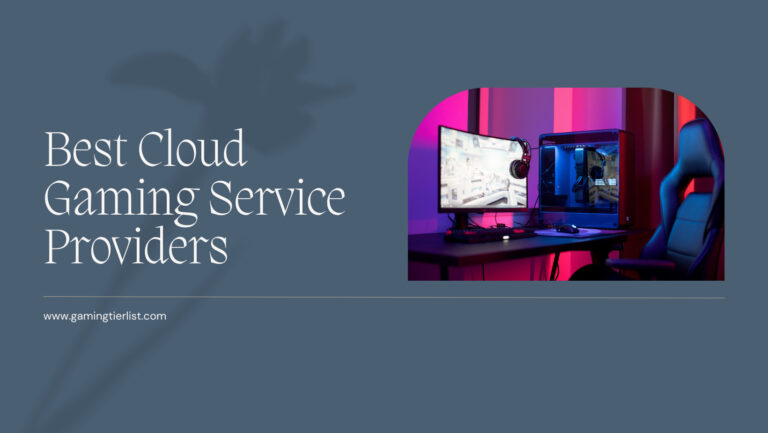 Cloud Gaming Service Tier List
Slay the Princess Story & Endings Explained
Star Trek Online Wiki
See the announcement of the new STOwiki !
If you'd like to help out with updating the wiki, click here for a list of all new items and content!
There are several types of Missions in Star Trek Online ; Episodic Missions focusing on the main story, found missions acquired in sector space and queued missions. The latter two focus on either ground or space combat, but episodic tend to make use of both.
1.1 Mission Journal
1.2 The Galaxy at Large
1.3 Featured Episodes
1.4 Remastered missions
2 Endeavor Assignments
3.1 Patrol Missions
3.2 Deep Space Encounters
3.3 Diplomacy Missions
4.1 Battlezones
4.2 Adventure Zones
5.1 Task Force Operations
5.2 Red Alerts
5.3 PvP Missions
Episodic Missions [ | ]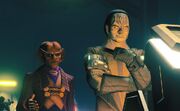 Episodic missions tell the story of Star Trek between 2409 and 2411.
Episodic missions are those which form part of the main storyline of Star Trek Online which are acquired through the Mission Journal . Missions are grouped in arcs focusing on particular stories, such as the Klingon War or The Delta Quadrant . There are however missions within those arcs that do not tie directly into the overarching story. The mission arcs were previously referred to as Episodes, however the term "Feature Episode" is now prevalent for an new individual mission.
Episodes and missions follow a very similar structure to most other MMORPGs . They are received from a non-player character (NPC), added to your assignments, and then carried out by the player. The player then contacts the original NPC that gave the mission (optimally via the "Hail Starfleet" button) to receive their reward(s). Some content objectives are automatically given to the player upon entering a certain area, such as Starbase 24 , or engaging an enemy signal content in sector space . Total mission length tends to be between 15 minutes to an hour.
Rewards for completing episodes and missions are typically Experience Points and expertise . Some missions also award Energy Credits as well as Dilithium . Sometimes they give the player extra rewards, which includes (but is not limited to): a new bridge officer , a piece of armor or a new starship item like a Deflector Array or Cannon . These rewards are reduced on replay (Note: not all missions are replayable).
Mission Journal [ | ]
Starfleet (25c)
Klingon Defense Force
Romulan Republic
Starfleet (TOS)
Starfleet (DSC)
To better comprehend the situation in the Alpha Quadrant, Jem'Hadar characters can play through "holographic simulations" of story missions of their respective ally: Federation or Klingon Empire .
Siding with the Federation will give Jem'Hadar characters access to Klingon War and Romulan Mystery (with 4 additional missions) episode arcs, while allying with the Klingon Empire will give them access to Empire , Warzone , Fek'Ihri Return , and Romulan Mystery episode arcs.
Federation-aligned
Klingon-aligned
The Galaxy at Large [ | ]
In addition to the story missions on the episode tab, further narrative missions are available as side content. These are usually found under the "Available" tab with other kinds of missions. The Spectres , Lost Dominion & Cold War arcs are all former episodes that were removed from the mission journal to streamline it. Wasteland and the Kobali Crisis are also considered side content and relate to adventure zone stories that were previously listed as episodes (although Wasteland is still an official episode for Romulan players). With the release of "Age of Discovery", All but "Wasteland" now requires Rank 65.
Featured Episodes [ | ]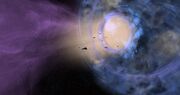 The 2800 Featured episode series
In August 2010 the concept of a "Feature Episode" was introduced whereby a specific arc, starting with Breen Invasion , would be available for a short time with special rewards. There were four of these Feature Episodes composed of 4 to 5 missions each. In 2012 they were added to the main episode run with normal missions, but special rewards were available on them during re-run events.
Starting in 2013, the name of "Featured Episode" begun to be associated with a specific, single story mission released as an event. This started with "Temporal Ambassador" during the 3 Year Anniversary Event . Unlike regular episodes, when these missions are released they are available to players of nearly all levels. They also have special rewards which are staged to encourage replaying at least once a week for about three to four weeks. After that, the Featured Episode joins the regular mission lineup.
Remastered missions [ | ]
A cutscene from "The Doomsday Device" , added after its 2011 revamp, and changed again in Season 15 .
Missions are occasionally remastered to improve their quality to match the latest releases. This is in particular focused on updated the content that was rushed out for the initial launch of Star Trek Online.
Some of the first missions to be revamped were those in the early Klingon War arc, starting with "Stranded in Space" in February 2011. Examples of additions at this stage included cutscenes, accolades and extra sequences that there was no time to address during the initial production. Some unique rewards, such as the Azura Personal Comm Code , were also added at this stage and mechanics pioneered in the early feature episodes were added.
Legacy of Romulus in 2013 launched the Romulan Republic faction and gave new early content to the Klingon Defense Force faction. The quality of these, and of the new Featured episodes , prompted Cryptic to revisit the Starfleet tutorial at the end of 2013 to match its quality to their latest work. In early 2014 they continued this by improving most of the missions of the Klingon War arc, including added a lot of extra voice over to episodes.
Given the amount of work involved in rebuilding the missions, when Cryptic moved to revamp the Romulan Mystery arc they opted to focus on a smaller number of higher quality episodes; in the Romulan case, replacing 14 missions with 4, though producing a far tighter narrative and high quality cutscenes. Borg Advance arc likewise merged the previous Borg Collective and Undine Advance arcs into one story. The Cardassian Struggle was revamped in 2015 to not only streamline its story but ensure the whole arc was cross-faction (whereas before many missions were Starfleet-only).
Minor updates to missions have continued, notably concerning the addition of new characters. For example, with the introduction of Geordi La Forge , Julian Bashir and Nog , their characters were added into earlier episodes in place of previous one-time original characters.
In Season 15 , the Klingon War arc was revisited once more. This time as the Gamma Quadrant arc showcased advanced new graphics. Many of the episodes were improved with these new cutscenes, and generally tightened up by cutting extraneous sections. Other missions were removed for a more comprehensive overhaul, to be returned at a later date.
The Year of Klingon in 2020 is seeing the remastering of KDF faction content including the tutorial and Empire arc with new cutscenes, voiceover and gameplay. [1]
Endeavor Assignments [ | ]
The Endeavor System is a limited-time challenge based reward system for endgame players (Level 60) in Star Trek Online. Every two to three days (Resets on Monday, Wednesday, Friday) at 9AM Pacific Time, a new task emerges ranging from completing R&D tasks or story missions. Upon completion, a small amount of Expertise and Skill Points are awarded along with an [Endeavor Prize Pack].
Found Missions [ | ]
A deep space encounter node as it appears in sector space
Found Missions are missions which are not acquired from a Mission giver; instead, they are typically acquired by interacting with an object in the environment, which then begins the mission and assigns objectives.
Patrol Missions [ | ]
Patrols are a type of Found Mission which can be acquired by approaching a System in Sector Space . If a patrol is available for that system, an option to enter the system and begin the patrol will appear.
Deep Space Encounters [ | ]
Deep Space Encounters are a type of Found Mission which can be found in Sector Space. They appear as a red swirling vortex in sector space; the player acquires the mission by flying to the vortex and entering the encounter.
Diplomacy Missions [ | ]
Diplomacy Missions are a type of Found Mission characterized by a lack of combat; instead, they involve solving problems peacefully, and award Diplomatic CXP upon completion.
Open Missions [ | ]
Missions are present in Battlezones
Open Missions are frequently found in Adventure Zones . It is not necessary to contact a Mission giver or interact with an object to acquire an Open Mission; they operate on a timer and become available at regular intervals. All nearby players may participate in and complete Open Missions.
Battlezones [ | ]
Battlezones, such as the Gon'Cra System or the Badlands Battlezone feature open missions that escalate towards a zone-wide completion objective.
Adventure Zones [ | ]
Similar to Battlezones in that anyone can participate, areas such as Nukara Prime or New Romulus feature content where captains are able to work towards zone-specific objectives without an escalation event similar to battlezones. However, zone-wide alerts may occur for additional awards.
Queued Missions [ | ]
"Swarm" : A space Task Force Operation against Hur'q .
Task Force Operations [ | ]
Task Force Operations (TFO) are multiplayer, queued player versus environment missions available from the TFO screen. They can be ground or space missions with teams between 5 and 20. While usually they have a team of players against NPC forces, some missions involve two groups of players competing against each other in challenges.
Red Alerts [ | ]
Red Alerts are a type of 5-player Space Queue which can be found in Sector Space. When a Red Alert is available, a "Red Alert: Distress Call" button will appear. The player acquires the mission by clicking the button and entering the encounter, or by accessing them through the PvE Queue Window.
PvP Missions [ | ]
PvP Missions are player versus player missions acquired through the PvP Queue on maps with players directly competing against each other in combat.
See also [ | ]
Feature episode
Episode replay
Upcoming content
The Foundry
↑ The Year of Klingon: Part 1
2 Playable starship
3 Federation playable starship

Star Trek Online

Originally posted by Picard's Bald Head : When at the shipyard, and at the vendor, you can filter your options to only show you what ships you can get for your occupation (science, engineer, tactical).

Report this post

Star Trek Online and Neverwinter MMO devs Cryptic are the next Embracer-owned studio to suffer layoffs
Undisclosed number of staff lose their jobs as result of cost-cutting measures
Cryptic Studios, the makers of MMOs including Star Trek Online and Dungeons & Dragons MMORPG Neverwinter , have confirmed a number of layoffs due to the ongoing "comprehensive restructuring" of megacorp owner Embracer Group. The "personnel changes" at Cryptic make them the latest Embracer-owned developer to suffer job losses in what continues to be an unrelenting year for thousands of those working in video games.
Reports of layoffs at the veteran MMO outlet surfaced in October after devs including narrative director Winter Mullenix, senior game designer Jesse Heinig, senior technical artist Chris Penny and community manager Mike Fatum posted social media updates that indicated they were looking for work. Mullenix's status added that the layoffs were "due to a reduction in workforce".
Cryptic have since confirmed to GamesIndustry.biz that an undisclosed number of the studio's 100-plus employees have been laid off, stating that "our commitment to Embracer's directive to reduce costs requires us to undertake difficult personnel changes, including separating from some team members"
Among other Cryptic devs confirmed to be affected are VP of game development Andre Emerson, sound designer Nigel Athanasios Wilson, producer Miles Deponty, senior environment artist Patrick Poage, senior concept artist Kelly Perry, senior concept artist Ahmed Rawi and senior UI/UX designer Jules Norcross.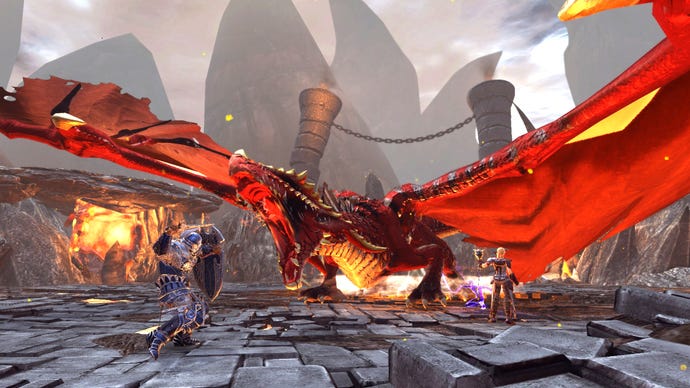 Alongside the layoffs, Cryptic will now operate under free-to-play publisher-developer DECA Games following the restructuring, putting their games alongside MMO shooter Realm of the Mad God and mobile games including DragonVale, Crime City and Kingdom Age.
"Cryptic Studios will provide job assistance and support those impacted to smooth this transition," a studio spokesperson said. "Cryptic remains dedicated to supporting its cornerstone free-to-play games and the communities behind them."
Embracer announced over the summer that they had cancelled upcoming games and would look to close studios and lay off staff across their more than 16,500-strong workforce as part of widespread restructuring. This, of course, came after a number of years spent buying up dozens of studios - resulting in over 130 studios under the Embracer banner as of June - and scooping licences from The Lord of the Rings' Middle-earth and Borderlands to Tomb Raider, TimeSplitters and Alone in the Dark. (Cryptic itself was acquired in late 2021 as part of the Perfect World Entertainment buyout.)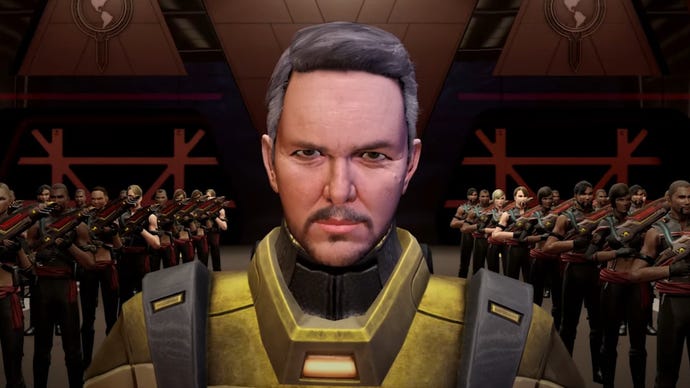 Before Cryptic, Embracer's sweeping layoffs have hit Baldur's Gate Enhanced devs Beamdog - mere days after the studio's cartoony co-op shooter MythForce released - Tomb Raider devs Crystal Dynamics, Borderlands studio Gearbox and Pinball FX makers Zen Studios, among others. Studios closed entirely include storied Saints Row developers Volition and narrative RPG studio Campfire Cabal - the latter less than a year after it was founded by former Hitman and Hunt: Showdown devs.
The devastation wrought by Embracer upon its studios is just one part of the complete shitshow that 2023 has been for those working in the video game industry, with thousands of layoffs spanning developers and publishers from Epic , Bungie , PlayStation and Microsoft to Frontier , BioWare , Creative Assembly and CD Projekt Red .
The latest video game jobs on GamesIndustry.biz

Boss Level Gamer
The Best Star Trek Games To Date
Posted: November 5, 2023 | Last updated: November 5, 2023
Throughout the years, fans have rallied around games of all types. There is one series that started back in the sixties and wasn't met with an extensive fan base, so it was canceled after only three seasons. Then we got the team back together for some new movies, and it kicked off over thirty years of space fun for everyone—the series in question, Star Trek. I have played a lot of the titles, and these are the best ones by far.
Best Star Trek Games – Star Trek: 25 th Anniversary
In the beginning, Star Trek: 25 th Anniversary graced our ancient CRT televisions on the Nintendo Entertainment System . In it, we see the crew of the U.S.S. Enterprise trapped in a spatial tear that sends them to an unknown planet. In the meantime, the dilithium crystals used to power warp speed have been fused and are useless. It is up to you to take your three-man away team down to the planet to find a replacement and then venture back to the spatial tear and try to fix everything.
Released in 1992, this was one of the first AAA titles made for the series. It showed what could be done on an early console of the time. With team-based AI, puzzles to make you think, and good level design, this one is towards the top of my list for a reason. I love this version of the 25 th Anniversary, though there was a second version made for PC a little later on, also.
Best Star Trek Games – Star Trek: Judgement Rites
The follow-up to the adventures of the crew of the Enterprise follows Kirk, Spock, and all of the rest as they navigate the galaxy through an episodic adventure. The ship is trying to get to shore leave when another Federation vessel pops up out of nowhere, warns the crew that the Federation will be destroyed in eight days, and then blows up due to its own damage. Kirk and crew have to set out to save the Federation.
Star Trek: Judgment Rites was specific to the PC and Mac systems. It ran out of MS-DOS (do we feel old yet?), changing how the game was played. Instead of directing your character around with a control pad, you now had to point and click to get them to walk. You could also click on different items and people in the game to open up other menus like inventory, phasers, tricorder, and more. GOG versions are out there, as well as Steam, for you to get relatively cheap and experience the good old days of Trek.
Best Star Trek Games – Star Trek Online
Star Trek Online is up there as one of the best Star Trek games for me for several reasons. These reasons are what happened a year after the game launched originally. When it switched hands, we saw a change to a more episodic feeling with old Star Trek labels for each mission. This alone gives you a sense of immersion into the universe. Character creation for normal Trek aliens and then the alien creator itself is a fantastic feature in and of itself. Starships. Between travel, space combat, and being able to change how your ship looks is something that lets us see how different Star Trek can be for every single person.
Star Trek Online was initially launched only on PC in 2010. Its first year was not all it was cracked up to be as it changed hands and had to go in a different direction. After the pickup, it really skyrocketed for me and others, and now we have a title with lots of ships to play with, multiple expansions, actors who have reprised their roles inside of this universe, and more. It is iconic to hear the late-great Leonard Nimoy voicing a lot of the sector explorations, and having Kate Mulgrew and other high-level cast included is just amazing.
Best Star Trek Games – Star Trek Voyager: Elite Force
Star Trek Voyager: Elite Force is one of those first-person shooters you didn't expect to like, but then you fall in love with it immediately. An FPS made with the Star Trek IP was something I wanted, but I didn't think the studio would go in the direction they did. It worked in how they brought all of the alien races into this one area where no one could escape and send you up against all of these races. Ultimately, you are armed to the teeth as one of Voyager's Elite Response members, and you have to escape the void.
Released in September of 2000, Elite Force shows its age today but is still a solid title to play. It is fun to run around and shoot the Borg and other races with Photon Torpedo Cannons and use your wits to figure out how to get from one place to another. It was released on PC, PlayStation 2, and Mac, and it was great for its time. I feel like a remake or remaster would do this game such a good service. Star Trek could use a few more games like this.
Best Star Trek Games – Star Trek: Starfleet Academy
Starfleet Academy takes place in San Francisco, and it is filled with cameos from famous actors. William Shatner and George Takei specifically were cast in this game to give their mission scenarios to you. They are basically guest instructors who are trying to help you learn about your command style. As a Cadet, you are placed in command of a bridge crew. You have to lead your team through the nuances of starship command and uncover a hidden plot to take down Starfleet.
Starfleet Academy was released in 1997 for the PC only. It came with a pack of discs because of how big it was for a game of the day—a true cinematic experience mixed with excellent simulator gaming ahead of its time.
Best Star Trek Games – Star Trek: Armada
Star Trek: Armada is a Command and Conquer style RTS where you are tasked with building up your forces to defeat the likes of the Klingons, Romulans, and even the Borg. Activision developed it for Microsoft Windows, and it is one of the first titles to give Trek fans the experience of fleet building. Armada was based on The Next Generation, and it also had some voice-over work from TNG characters too.
With some campaign missions to play through across several different races and an instant-action mode, this title will give you plenty to play through. The maps are all based in space, where you will build up your various stations and research technologies to upgrade your fleet. Colonize planets to earn more minerals and workers for your fleets to protect the Federation.
Best Star Trek Games – Star Trek: Starfleet Command
Star Trek: Fleet Command is a different take on fleet action. It puts you in command of one ship at a time to go through your missions. As Captain, you start with a low-level frigate to complete your missions. The more you earn through your travels, the better the ships that you can buy will be.
Choose to be a Captain in one of six groups. The Federation, Klingons, Romulans, Gorn Confederacy, Lyran Star Empire, and the Hydran Empire are the groups to pick from. From start to finish, the game spans a 30-year career where you start as a Lieutenant Commander on a small frigate and can be promoted up to Rear Admiral in command of a battle cruiser. It is a fun time for any starship captain.
Best Star Trek Games – Star Trek: Starfleet Command II: Empires at War
Like the last entry, Empires at War brings us back into a similar war-torn galaxy where the Organians have departed. Enter the Interstellar Concordium and pirate forces to try and make a bid for the Alpha quadrant. Combat is similar to the first Starfleet Command game with some definite upgrades.
Story wise, the new groups want to disrupt the region and have been looking for ways to do that. They have been trying to introduce drugs into the systems of people, which would help to reeducate them by force. Ranking and leveling up ships is much the same, with graphical updates to make everything look nicer. This tabletop-style RTS improves on the former game.
Best Star Trek Games – Star Trek: Armada II
Another RTS title in the style of Command and Conquer in space, Armada II brings back the Borg to fight against the Federation. This also introduces Species 8472 from fluidic space. In the ultimate battle for the galaxy, help the Federation. You will fight in the Alpha quadrant, Borg space in the Delta quadrant, and even in fluidic space.
Ships and weapons have been upgraded for this sequel title. Enemies have been added and upgraded as well. It is up to you to once again build a Starbase and defend it from the enemy while wiping out all enemy forces from the area. It is fun once again to hear Patrick Stewart as Captain Jean Luc Picard as he captains the Enterprise E through several missions.
Best Star Trek Games – Star Trek Voyager: Elite Force II
Elite Force II is the second iteration of Voyager's Hazard team. In this first-person shooter , alien invaders are attacking the Federation. You have to fight your way through derelict ships, through a volcanic planetoid, and more. Utilize your training in heavy weapons that are Federation and alien in origin. The Federation needs good soldiers to defend its borders.
Retake control of Munroe as he and his team face off against the Borg and other aliens on their way to saving the day. It is still all about making it through the hard parts and doing what you can to figure out the puzzles and other hard points of the game. It was released in 2003 and is one of the last good Star Trek games from that time forward until Bridge Crew came out. That was 2017, if that tells you anything about the quality of Star Trek games in recent years.
Best Star Trek Games – Star Trek: Resurgence
A fresh take on the Star Trek franchise, Resurgence is an adventure title by Dramatic Labs set around the U.S.S. Resolute and her crew. You travel through the game as two crew members. The First Officer, brand new to the ship and a young engineer, also new to the ship. It lets you live the story of both officers as you try to complete your mission. Choices matter in this interactive story, and you will be able to see where your choices will lead you.
Take control of Jara Rydek, Carter Diaz, and the crew of the Resolute as they try to protect the galaxy from a strange power that is trying to engulf everything it sees. In true Telltale games fashion, the previous workers from that company bring us a genuinely interactive Star Trek experience that allows us to feel like we are actually in the game. It brings in new characters and old ones to fully merge every part of Star Trek together. We see the likes of Captain Will Riker and Ambassador Spock. It brings our childhood and our adulthood together in one place.
There are clearly a lot more Star Trek titles that have been released over the years. These are some of the best ones I have played. Game mechanics, graphics, story, and immersion are some categories I looked at while determining which games have had the best feeling for me. If you haven't had a chance to play many or any of these titles, then I would recommend them to you.
More for You
Judge Chutkan Strikes Blow Against Donald Trump
60 Crave-Worthy Recipes with Crescent Rolls
Feds bust high-end brothel network used by elected officials
SoCal housing is so unaffordable that billionaire philanthropist MacKenzie Scott has made yet another multi-million dollar donation to fix the problem
Putin ally known as 'the Executioner' killed in Ukraine-planned car bombing: 'it was our operation'
Phillies make final decisions on futures of Bryce Harper, Rhys Hoskins
White House Delivers Bad News on Ukraine Aid
'No, screw him': Top Democrat balks at Tuberville push to move abortion debate to defense bill
'Rich people should not be collecting Social Security,' Chris Christie says at GOP debate
The 'silver tsunami' is about to hit the housing market—but millennials and Gen Zers may not come out any better in the wash
Vivek Ramaswamy's campaign says he was 'talking quickly' and 'kind of oscillated in his words' after he appeared to call Zelenskyy a Nazi
This diet plan helped 1 man lose 130 pounds and reverse pre-diabetes
Israel Discovers Never-Before-Seen Weapons In Gaza
Pastor's suicide brings grief, warnings of the dangers of outing amid erosion of LGBTQ+ rights
DeSantis blasts Trump for not having Mexico pay for border wall, while Haley says 45th president 'put us $8 trillion in debt'
Ranking the top 25 players in women's college basketball
Early season atmospheric river to bring significant rains next week to Southern California
MLB rumors: Phillies open to Nick Castellanos trade, Yankees eyeing two Cardinals, Brewers ready for fire sale
Zelensky Reveals Key Conditions for Ceasefire With Russia
Bo Hines, who lost a close 2022 election in North Carolina, announces another Congress run
Borg Cube Feature Spotlight
By gabriel 7 November 2023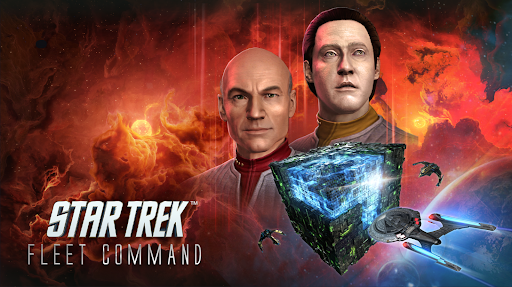 Resistance is Futile!
We are no strangers to the Borg in Star Trek Fleet Command. Whether it's the officer on our ships, the Ex Borg Faction, or the many Borg foes scattered across the galaxy, they are a force to reckon with!. However, for the first time in Star Trek Fleet Command history, we have a piece of their tech never thought to be attainable. Commanders, the Borg Cube is at your disposal now, as one of your ships, and we have all the information you need to get up to speed:
Acquiring and Tiering Up
The Borg Cube is available to all Commanders operations level 28 and above. The blueprints can be obtained from the free and elite tracks of the Update 60 battle pass. Unlike any ship before, the Borg Cube is meant to grow with you as you progress through your Star Trek Fleet Command journey and scales based on the power of your other Faction Ships. The Borg Cube is formidable and will be on par (or better) with your faction ship's power. You can see the breakdown of the tier requirements for the Borg Cube here:
As you can see, the Borg Cube grows progressively stronger, all the way to operations level 70, at which point, it will become the most powerful ship in Star Trek Fleet Command, surpassing the strongest Epic faction ship.
Borg Cutting Beam
On top of its natural combat prowess, the Borg Cube has a Cutting Beam, one-of-a-kind active ship ability that allows you to do damage outside of normal combat. To charge the Borg Cutting Beam, you must deal hull damage in normal combat situations with the Borg Cube. Once charged, you may select the ship you wish to fire upon from anywhere in the same system and select the Borg Cutting Beam Icon on the enemy pop-up. Note: The Borg Cutting Beam can not be used on Armadas, Stations, or Alliance Star Bases. Also, the Borg Cutting Beam will have diminishing returns on its damage when attacking a target a higher ops level than you are.
The Borg Cutting Beam is also unique in that it bypasses all defenses and does direct hull damage. Current officers in Star Trek Fleet Command and research not found specifically for the Borg Cube will not affect its damage or charge rate Destroying hostiles with the Borg Cutting beam provides full loot that you would typically gain from the target as well as Technological Distinctiveness.
Upgrade and Research By destroying enemies with the Borg Cutting Beam, you will be rewarded with Technological Distinctiveness. This material can only be seen in the battle log after destroying a hostile. The amount of Technological Distinctiveness you receive will increase based on the level of hostile you destroy with the Borg Cutting Beam.
This material can then be exchanged in the refinery by navigating to the "Borg Cube Refinery in the "Support Tab" for either upgrade material to tier up your Borg Cube, or for the material needed to progress the new Borg Cube research nodes, which can be found in the Ex-Borg research tree. As you progress your Borg Cube, you will need Borg Data Nodes from one of the three factions (Federation, Klingon, and Romulan). Upon reaching one of the above milestones with your faction ships, you will be rewarded with a Borg Data Node from the corresponding faction, which can be claimed in the gifts tab. This means that if you so choose, you can acquire and tier up three Borg Cubes. Note: If you already have a faction ship high enough for, say, a tier 8 Borg Cube, then you will get all Borg Data Nodes needed to get to tier 8.
This is a power never before seen in Star Trek Fleet Command, and we know you will use it well.
Remember: We are the Borg, You will be Assimilated, Resistance is Futile!
DON't miss THESE from AROUND THE GALAXY
Introducing g6, star trek fleet command update 60 - patch notes.
Create an Avatar Sweepstakes! - 5th Year Anniversary Event
Update 59.1 patch notes, take the conn, download star trek fleet command today.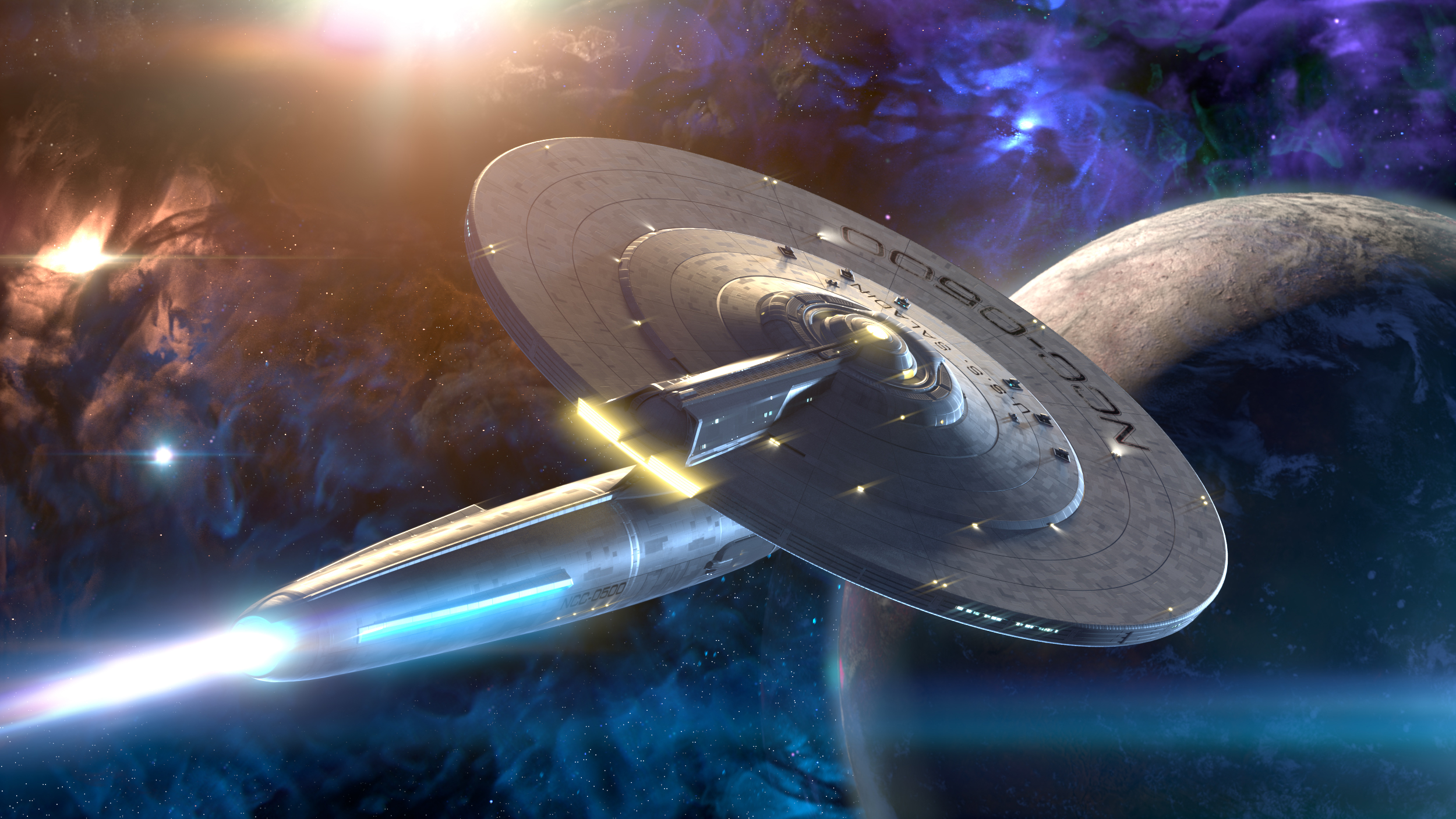 - AVAILABLE FOR -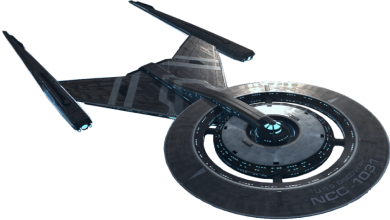 STAY INFORMED AND DON'T LOSE YOUR PROGRESS!
Subscribe for exclusive updates on our launches & more! Sync your progress across platforms and devices
More to Explore
Series & Movies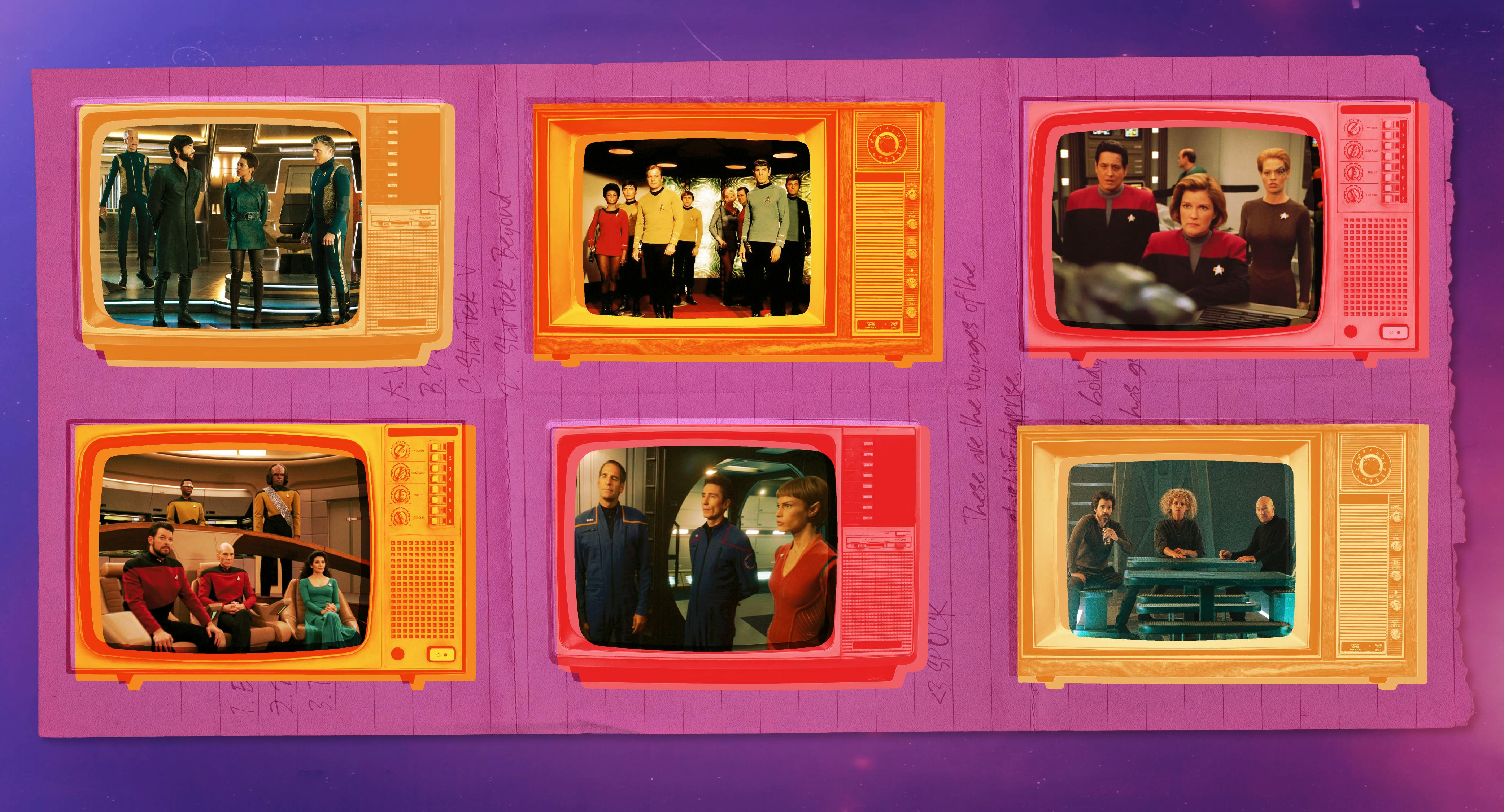 How to Watch Every Star Trek Series (and Movie) in the Right Order
Ready for a rewatch but not sure where to start? We've got you covered.
Have you ever wondered what the best way is to stream Star Trek from start to finish? Look no further.
Approaching the chronological watch of a franchise that's been on over fifty years can be daunting. Especially with a science-fiction universe that has time travel, multiple universes, concurrent shows and entirely new timelines.
Fear not, as we have created a handy binge-watch guide using the Stardate of each series and film. Here is our guide on how to watch every Star Trek series and movie in the right order.
Photo Credit: StarTrek.com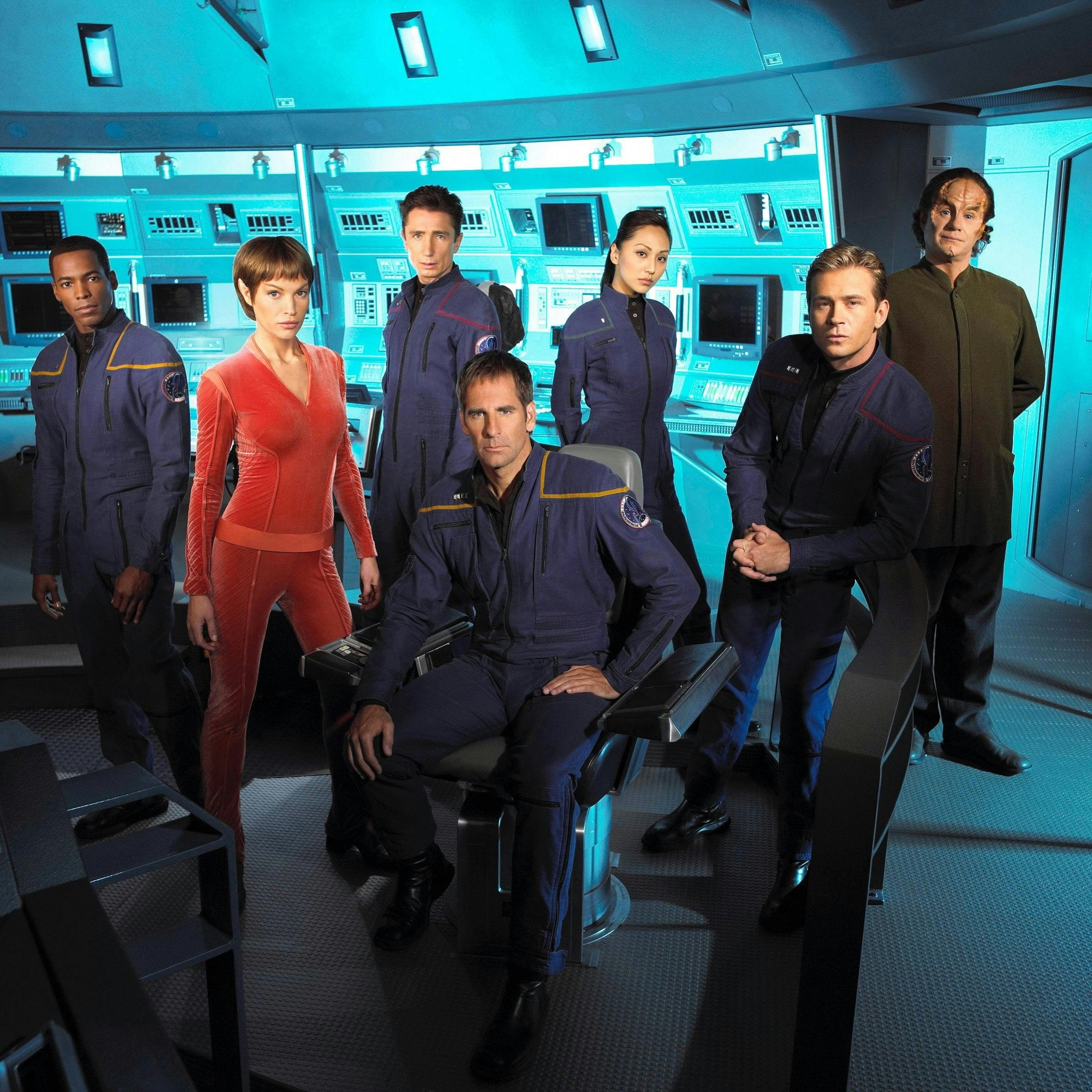 Star Trek: Enterprise was made to be a prequel to The Original Series and is, to this date, the earliest series by timeline.
Photo Credit: startrek.com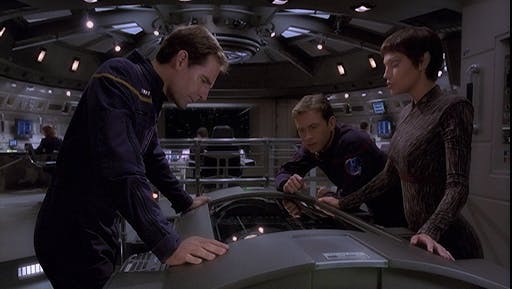 The story revolves around the U.S.S. Enterprise NX-01, Earth's first-ever warp five capable ship. It is captained by Jonathan Archer, who takes his crew deep into space. During the adventure, humans encounter many Star Trek alien staples for the very first time.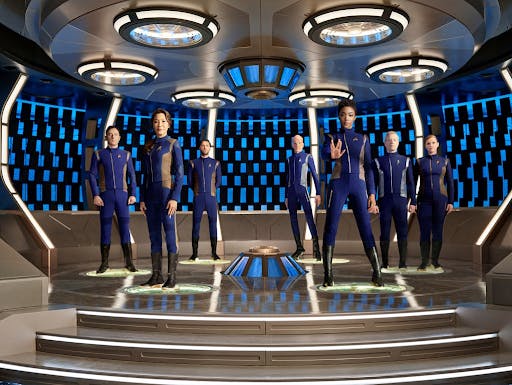 Star Trek: Discovery is the first series to feature an officer as the main character. In this case, it's Michael Burnham , the science specialist of the U.S.S. Discovery NCC-1031. In the first season, Michael and crew deal with a galaxy on the brink of war. In the second, they chase a mysterious entity known as "The Red Angel." Star Trek: Discovery streams exclusively on CBS All Access in the United States and is distributed concurrently by CBS Studios International on Netflix in 188 countries and in Canada, airs on Bell Media's CTV Sci-Fi Channel and streams on Crave.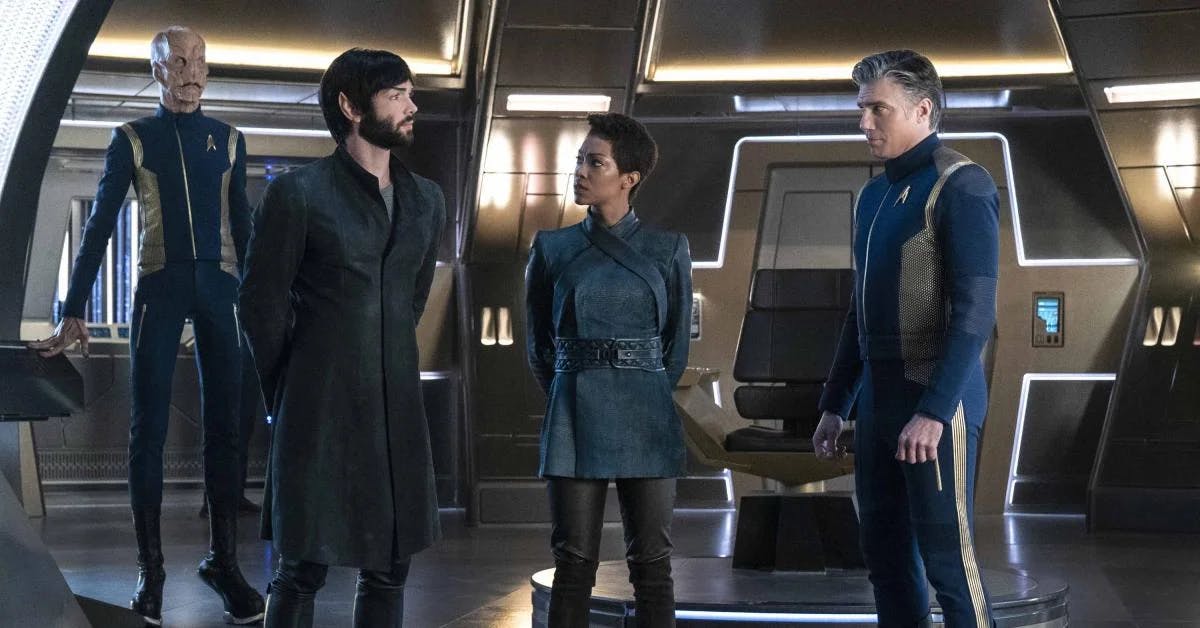 Spoiler alert: the end of the second season sees the Discovery jumping over 900 years forward in time. For timeline reasons, we have put this season further down the list.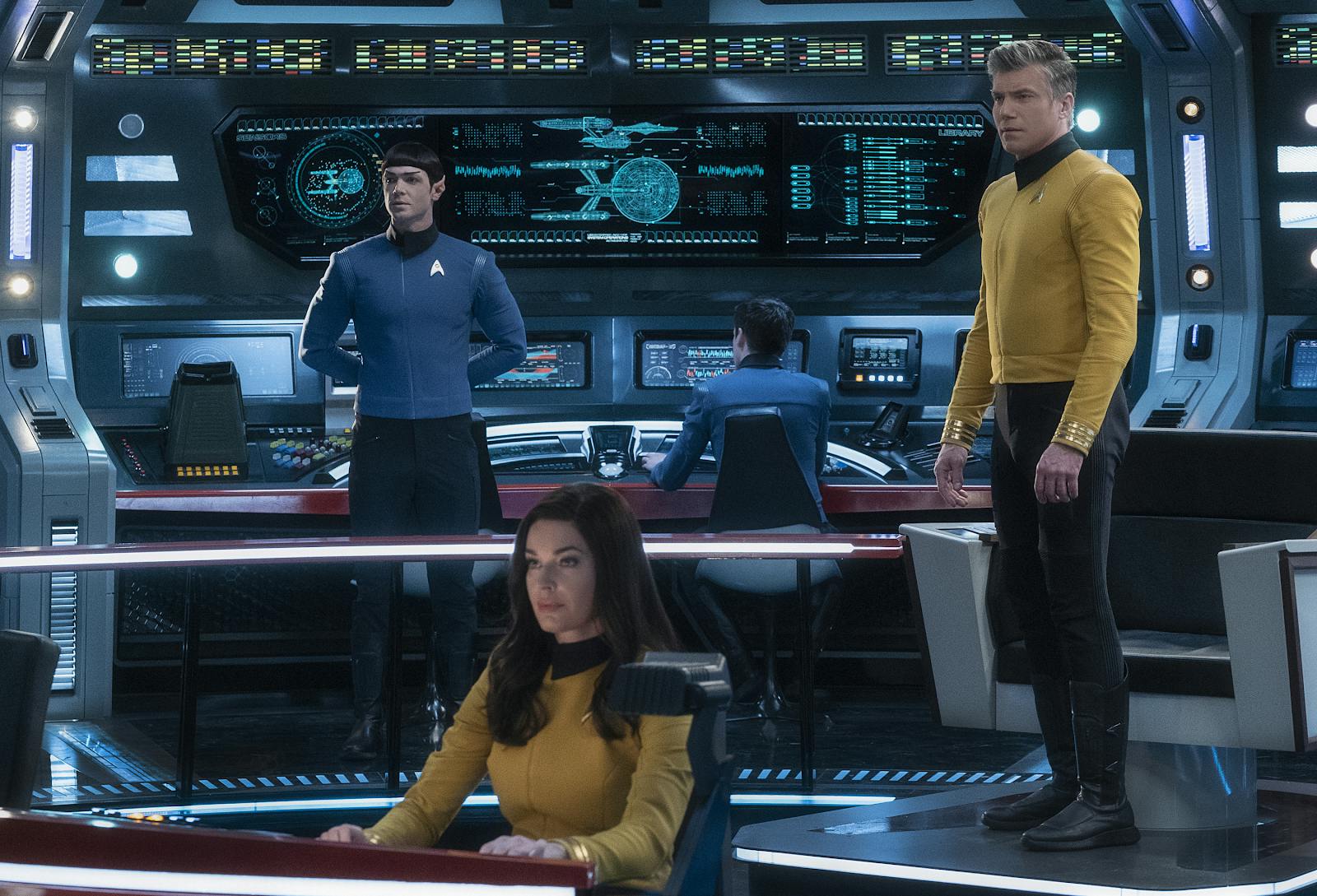 Strange New Worlds will follow Christopher Pike's adventures with Spock and Number One aboard the U.S.S. Enterprise . This series will fill in the decade of time between Discovery and The Original Series .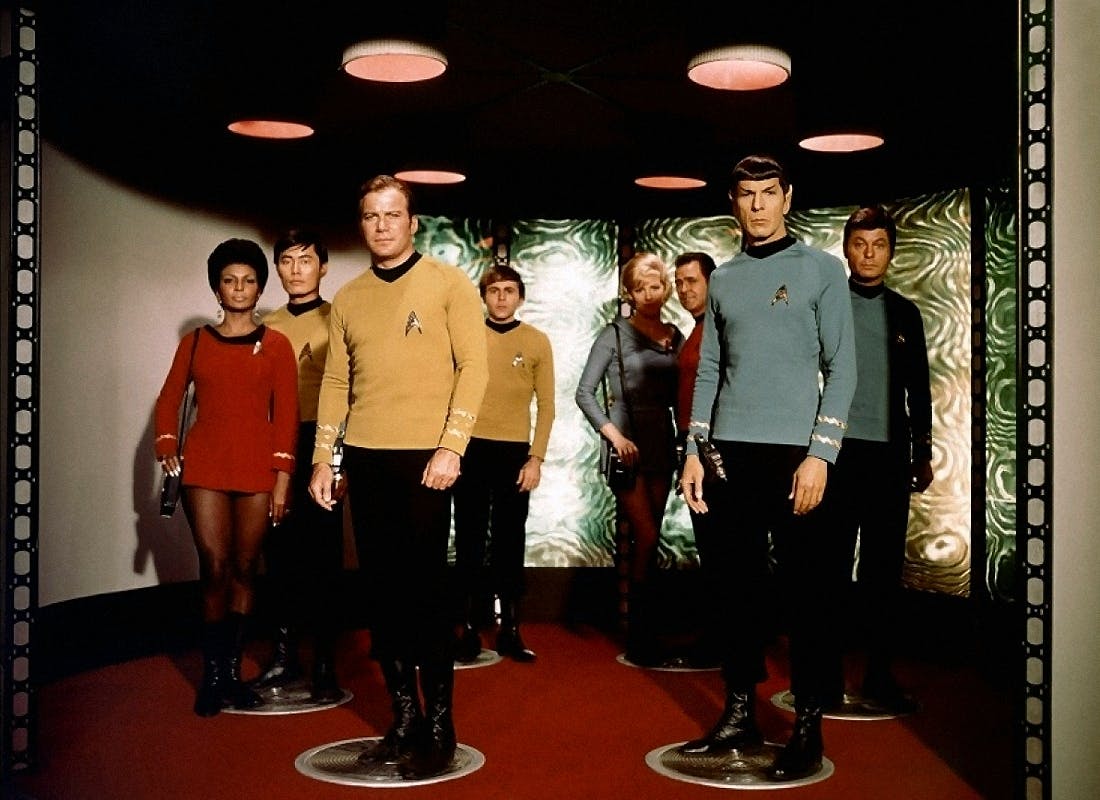 The series that started it all is the third chronologically. It starts in 2265 and follows the five-year journey of the U.S.S. Enterprise .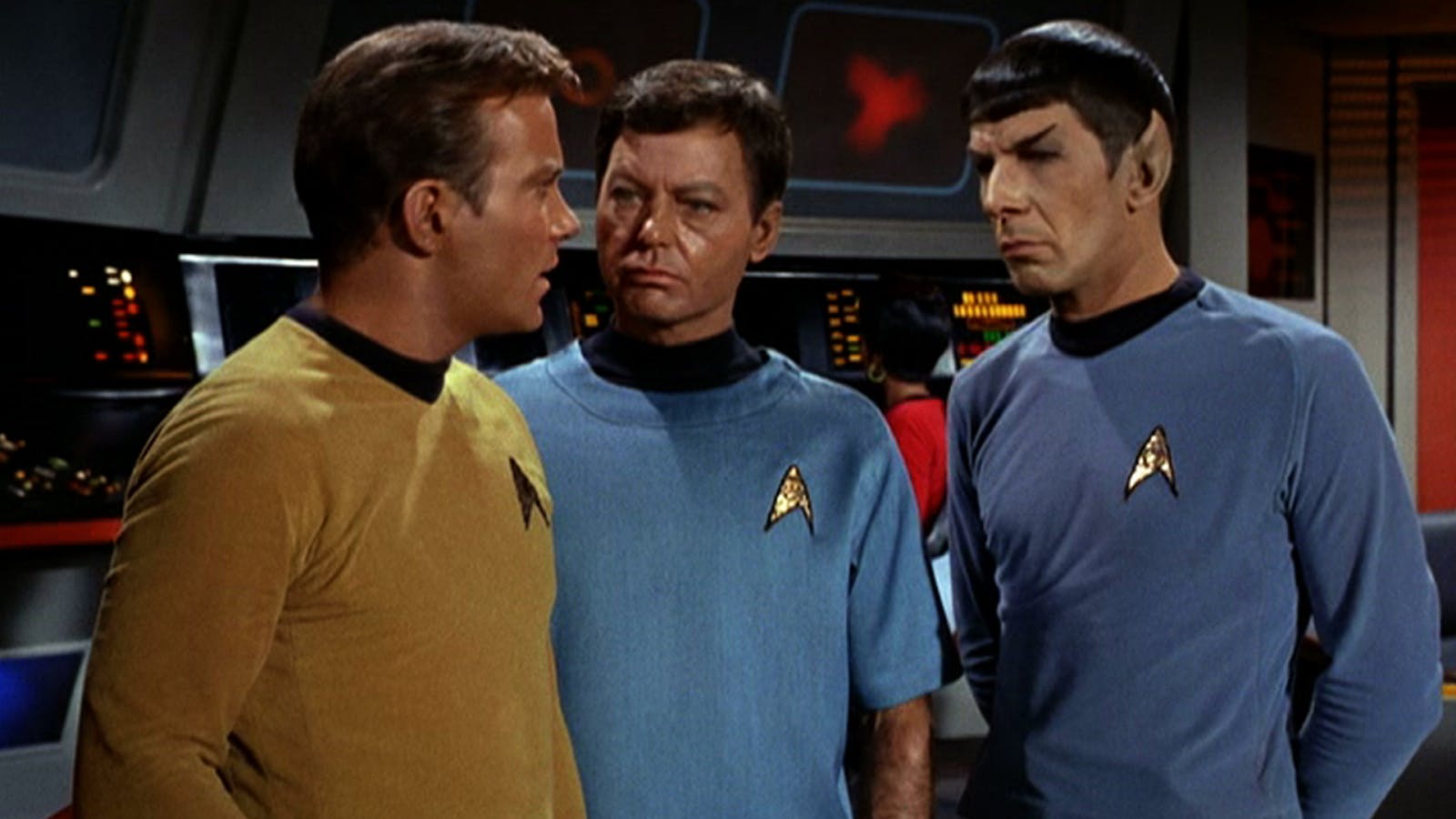 Star Trek follows the adventures of Captain Kirk and his First Officer Spock as they explore strange new worlds, and boldly go where no one has gone before.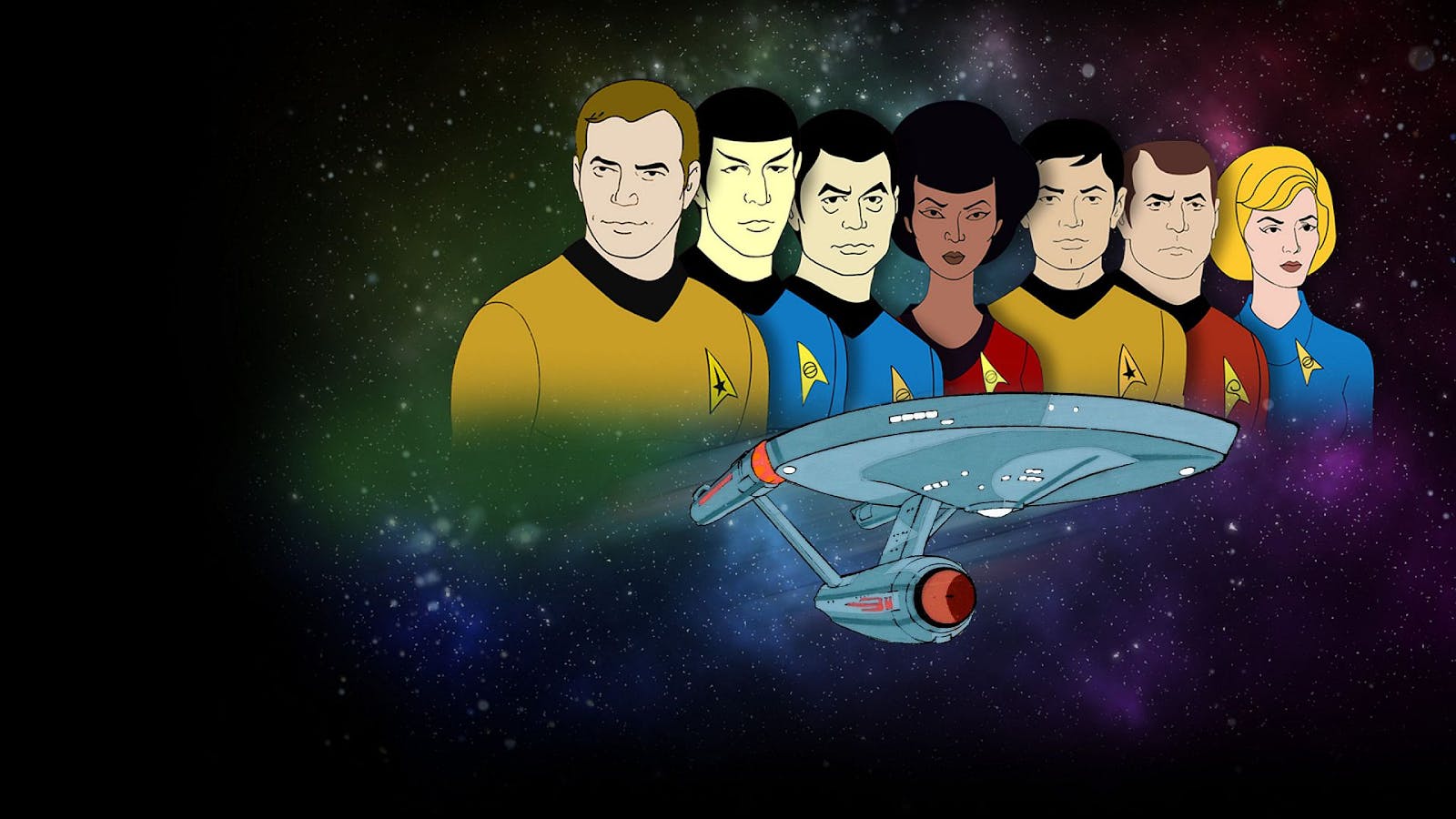 The Animated Series takes place directly after The Original Series following the same characters. It is voiced by the main cast .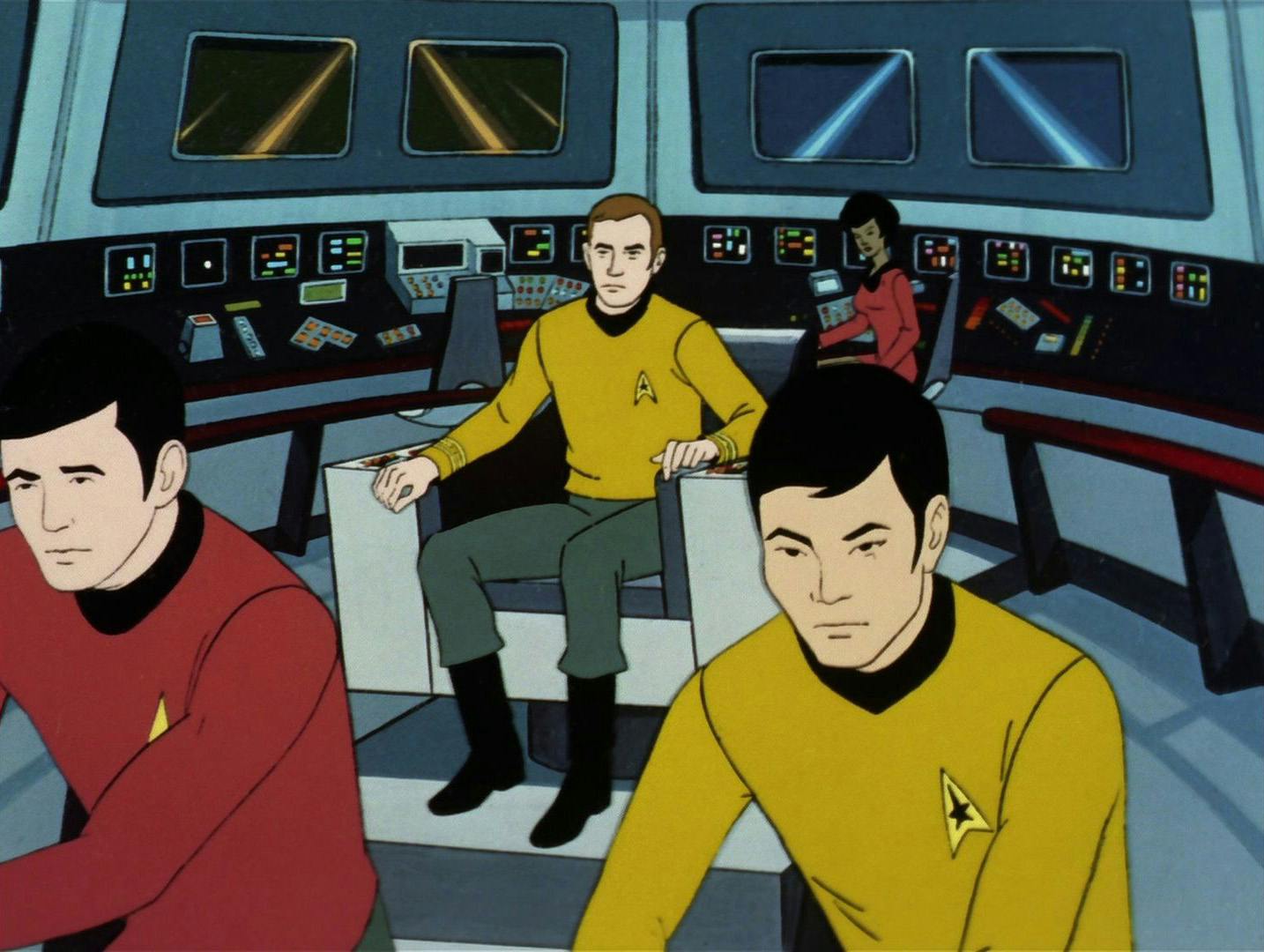 Some episodes act as sequels to stories from the first series, while others are concepts Star Trek's creator Gene Roddenberry didn't get to use before The Original Series ended.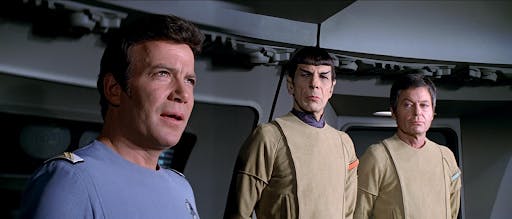 Approximately three years after his adventures aboard the Enterprise , Kirk is now an Admiral at Starfleet headquarters in San Francisco.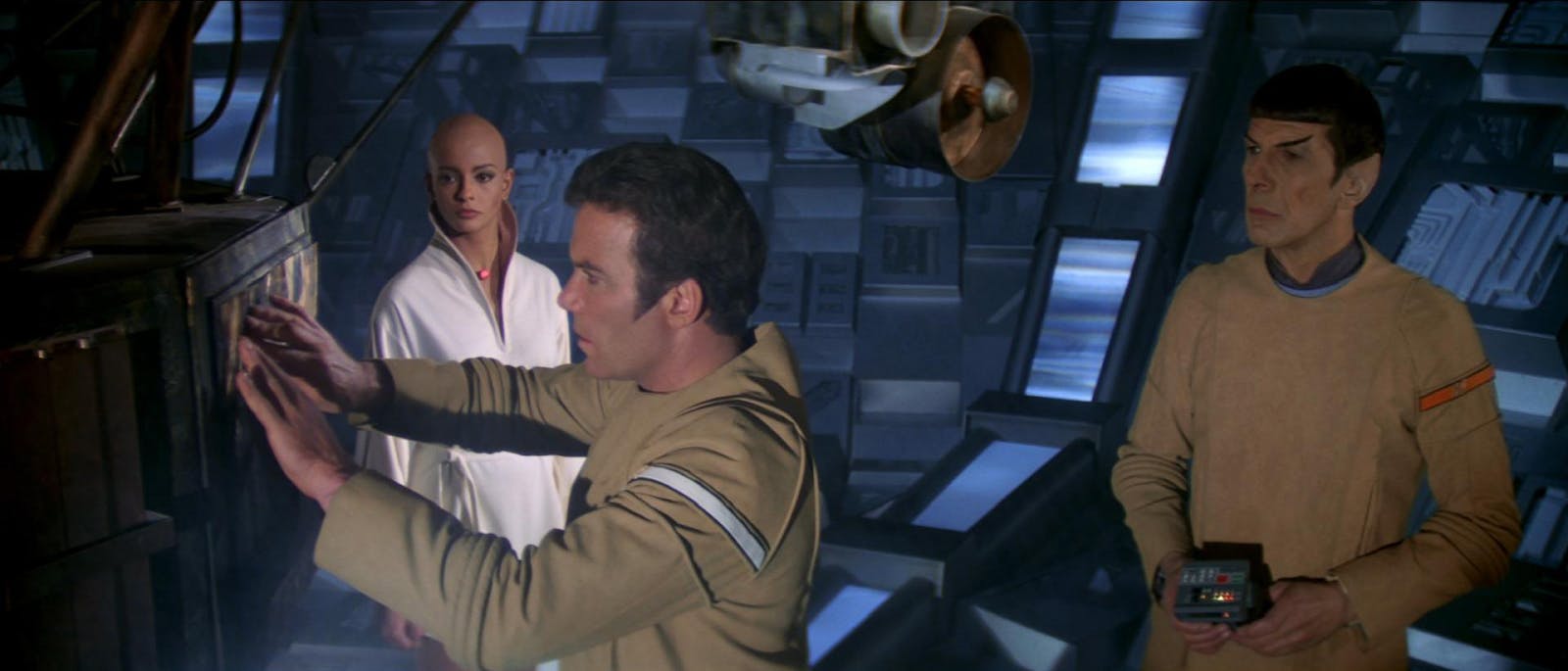 When a mysterious cloud of energy begins wreaking havoc in space, Kirk reunites the Enterprise crew and blasts off to investigate.
Twelve years later, Kirk and the Enterprise run into a familiar foe, the genetically-engineered superhuman Khan Noonien Singh .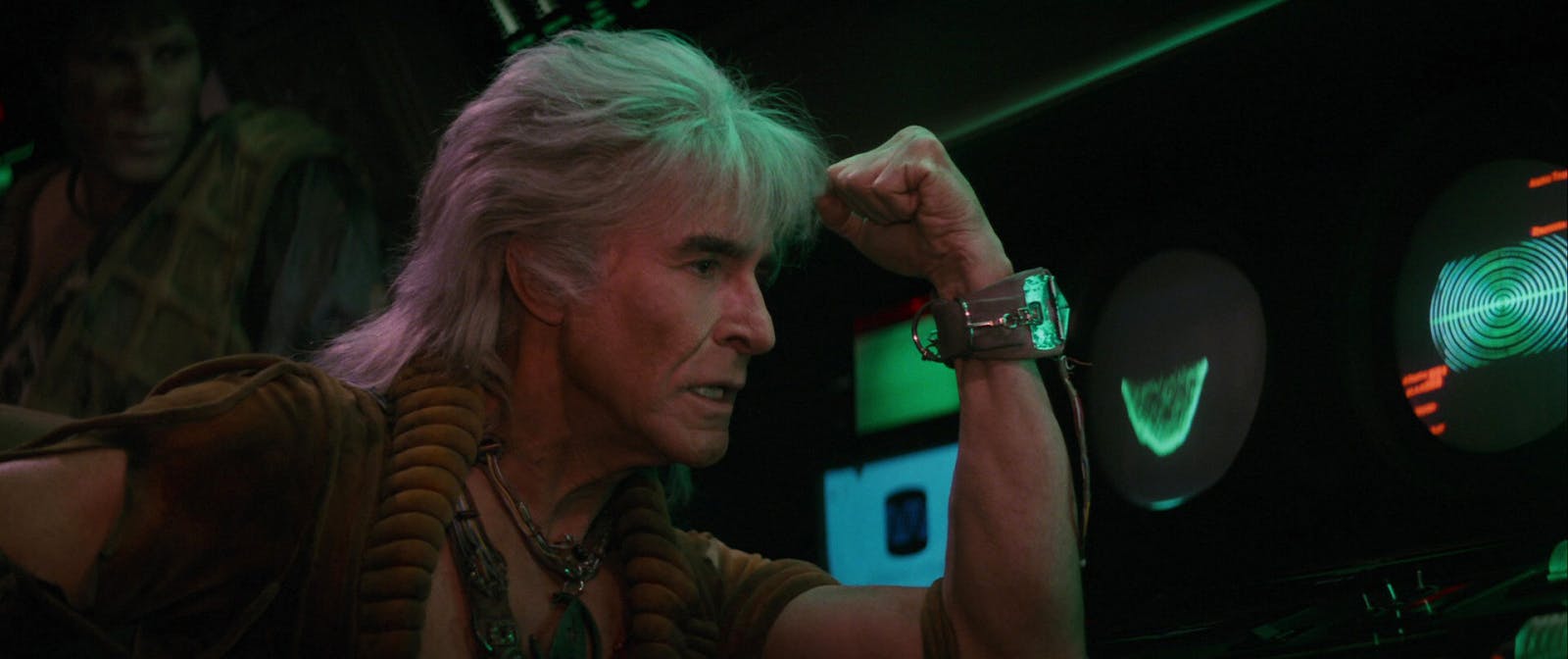 They first encountered Khan around 2265, during their original five-year mission. Now, in 2285, Khan has been released from exile and is seeking revenge on Kirk. The Enterprise must prevent him from getting hold of a powerful space weapon known as the Genesis device.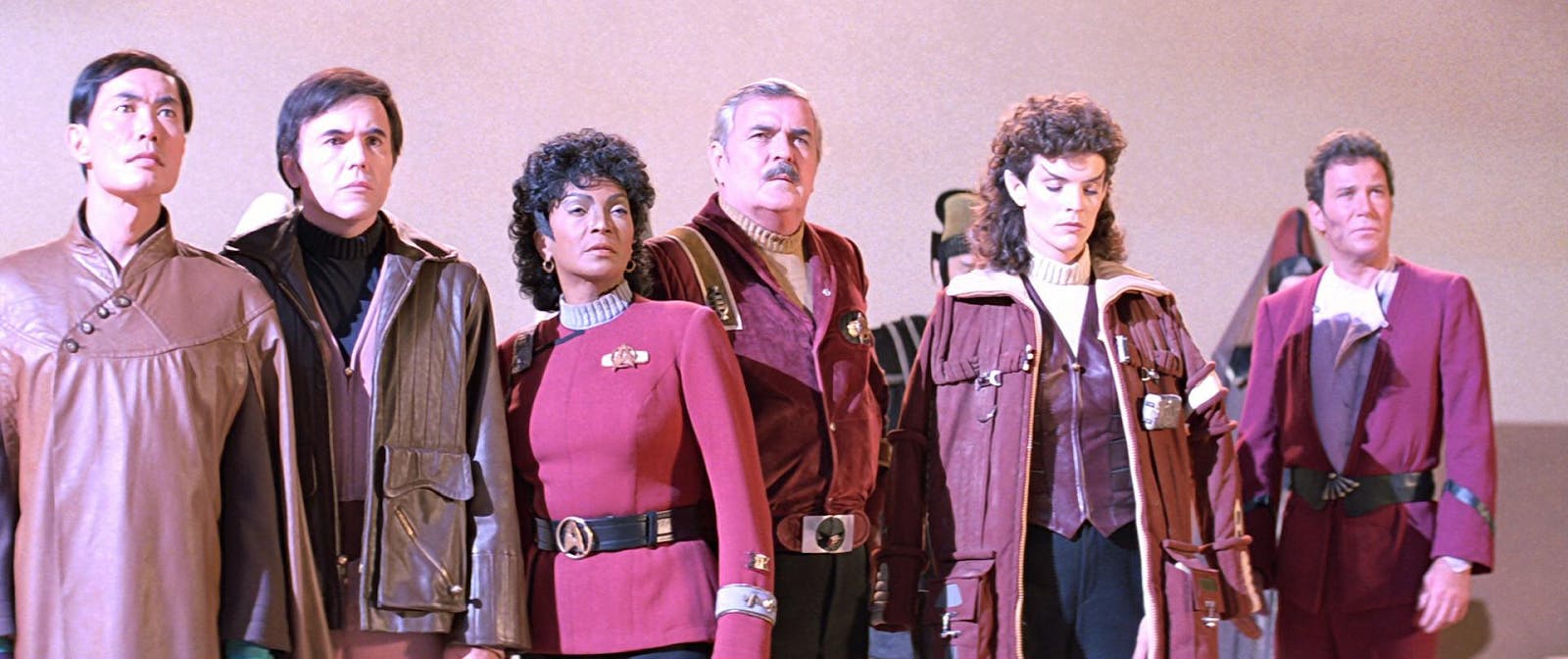 Star Trek III: The Search for Spock opens with the Enterprise returning from their mission against Khan.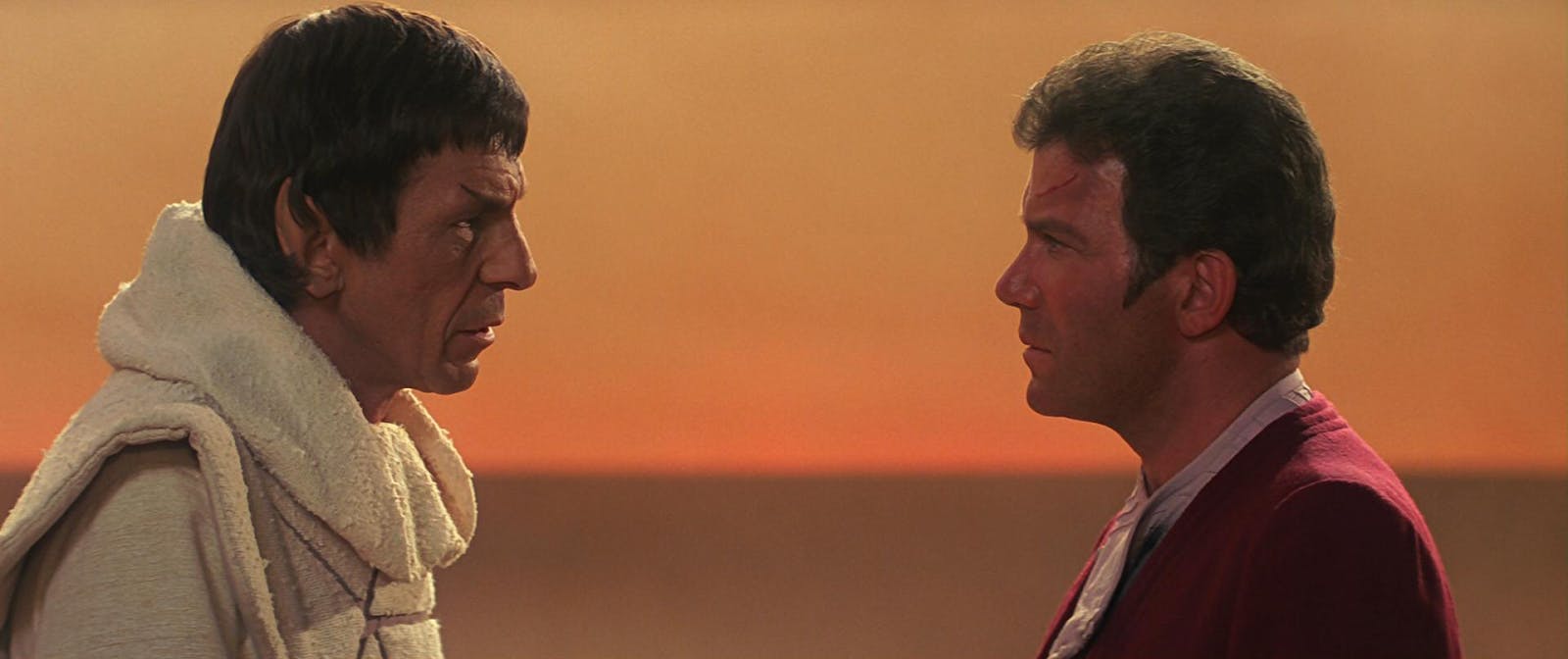 When McCoy begins to go insane, it's revealed Spock has left his living essence inside the ship's doctor. Kirk decides to take action, against Starfleet's wishes, to save both of his officers.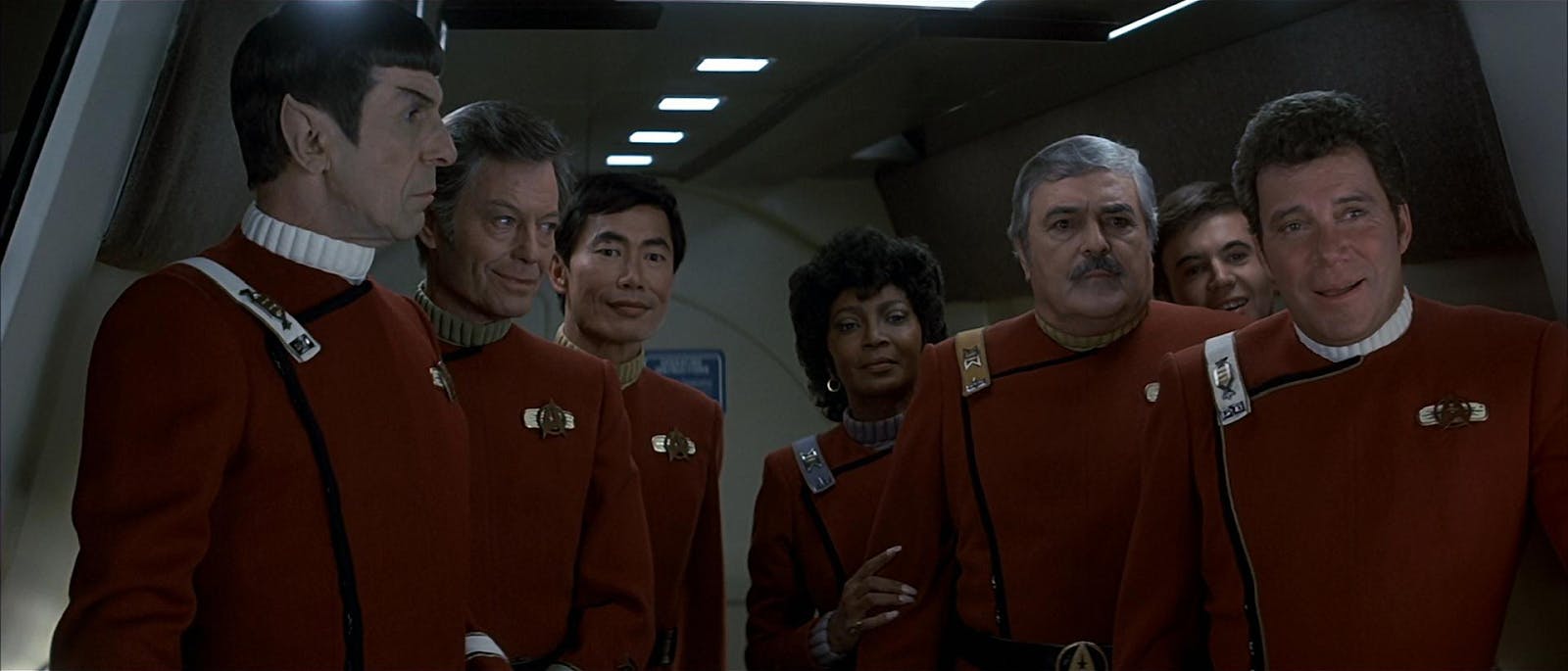 Kirk returns to Earth ready to take the heat for stealing and destroying the Enterprise in order to save Spock.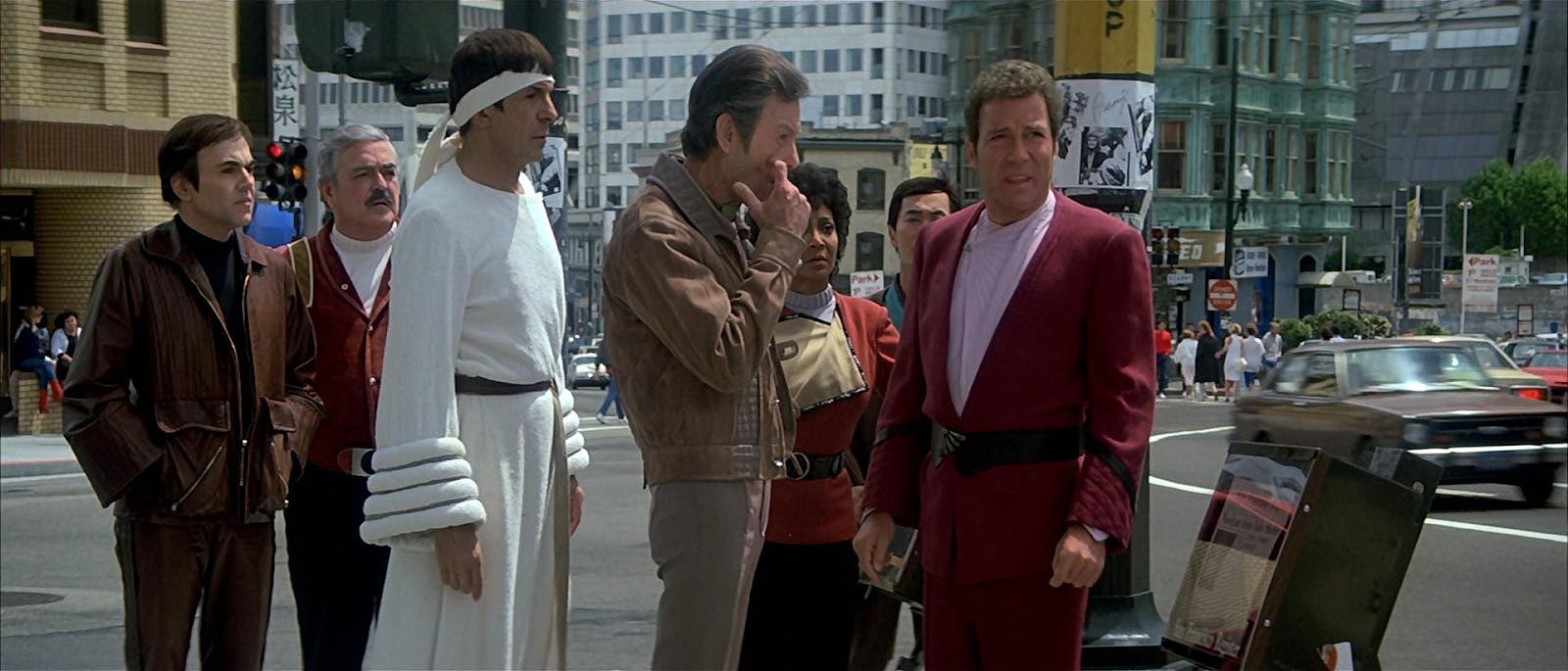 However, Starfleet has bigger problems. Problems that can only be saved by traveling back in time to San Francisco in 1986.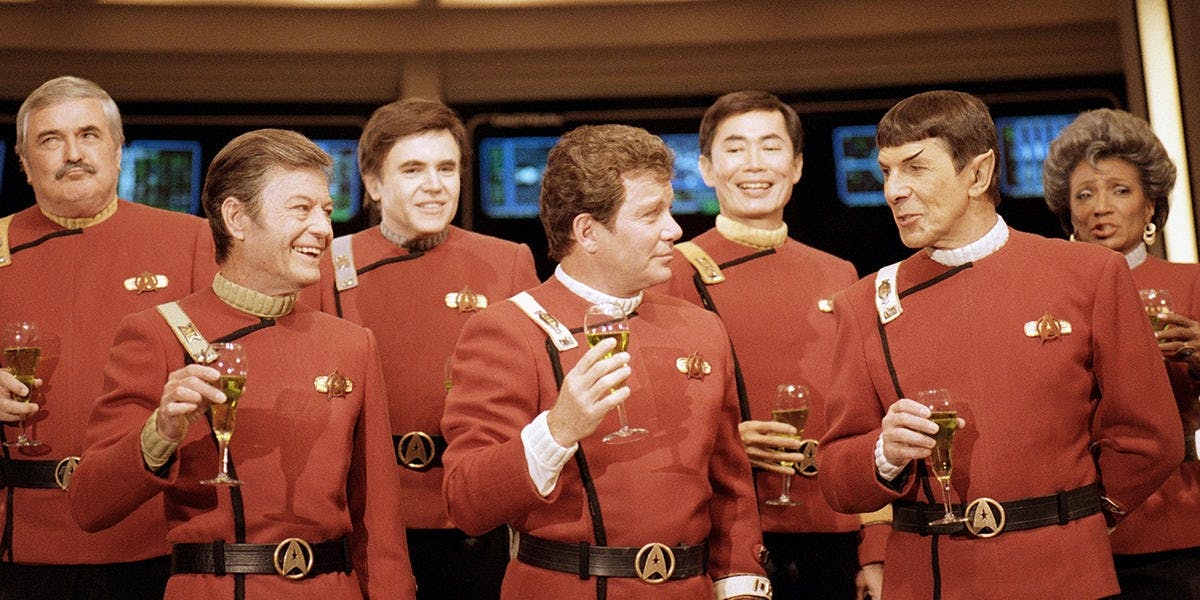 One year later, Kirk and crew must take the brand new Enterprise -A into space to investigate the capture of Federation, Klingon and Romulan Ambassadors.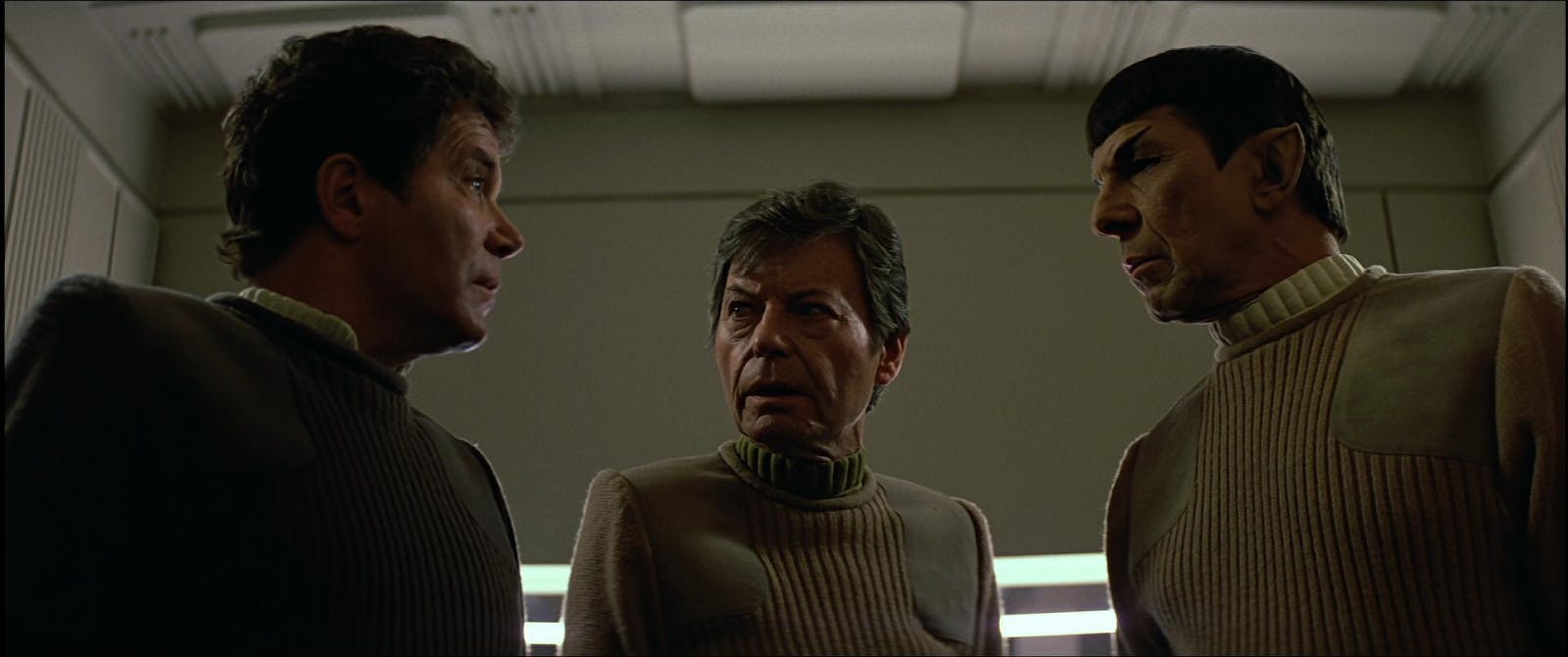 When the perpetrator has a connection to Spock, the mission becomes infinitely more complicated.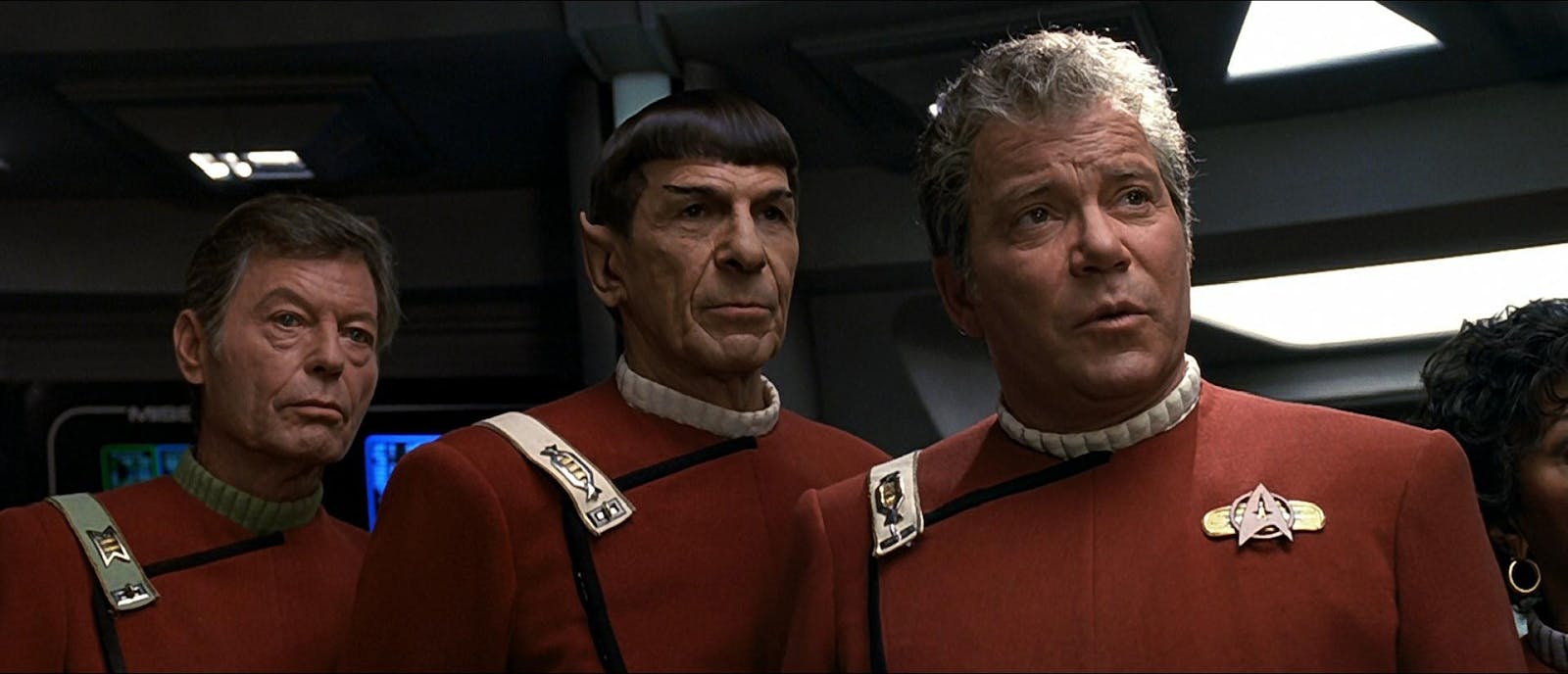 Six years later, Kirk and McCoy are framed for the assassination of the Klingon chancellor.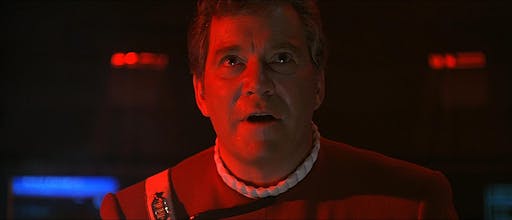 Together, the Enterprise -A and Sulu's U.S.S. Excelsior must investigate and save the galaxy from entering an all-out war.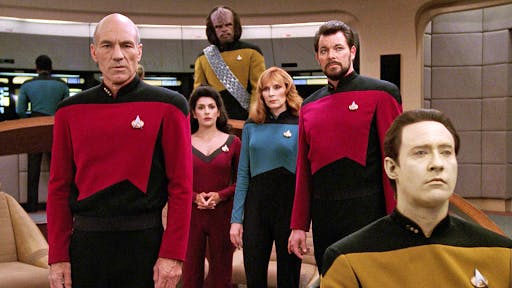 Seventy years after the events of Star Trek VI , and nearly a full century after the initial five-year journey of the U.S.S. Enterprise , the U.S.S. Enterprise -D begins its own exploration mission.
Although humans and Klingons have found peace , there are still a myriad of hostile alien life forms for Captain Picard and crew to encounter.
Approximately five years after the start of The Next Generation , the events of Deep Space Nine begin running concurrently with Picard's voyage. Deep Space Nine does not take place aboard a Starfleet ship like the previous iterations.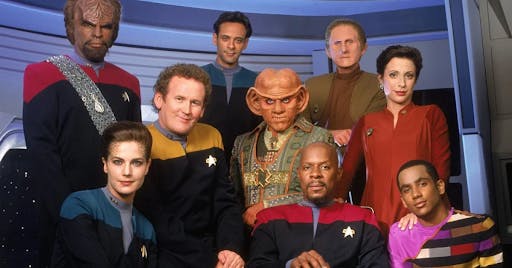 Instead, it focuses on the political, defensive and commercial space station Deep Space 9. It follows Commander Sisko as he deals with everything from minor bar fights to the threat of Dominion War.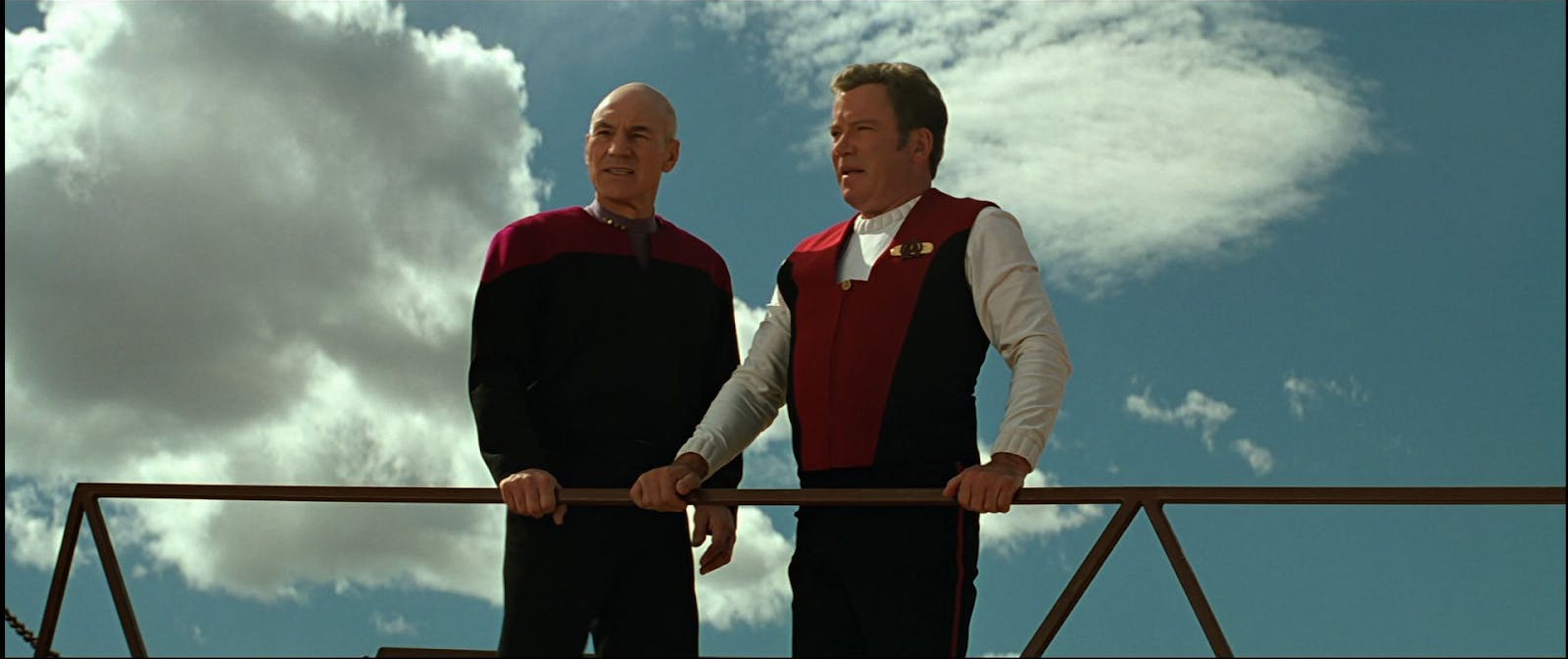 Star Trek Generations opens in 2293, after the events of Star Trek VI , but most of it takes place in 2371.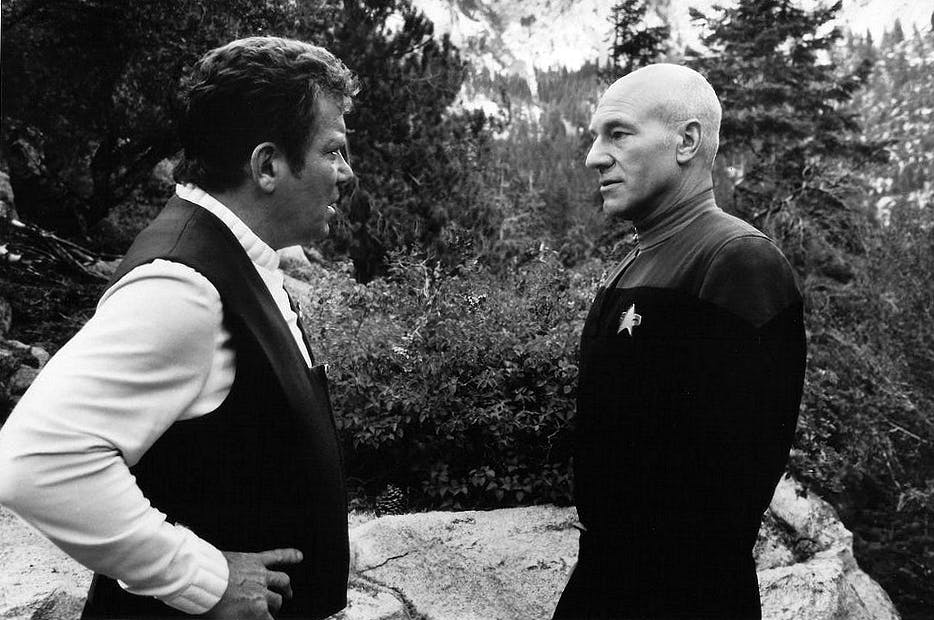 The film is not only meant to be a passing of the torch from Kirk to Picard, but also the epic conclusion of Picard and crew's adventures aboard the Enterprise -D.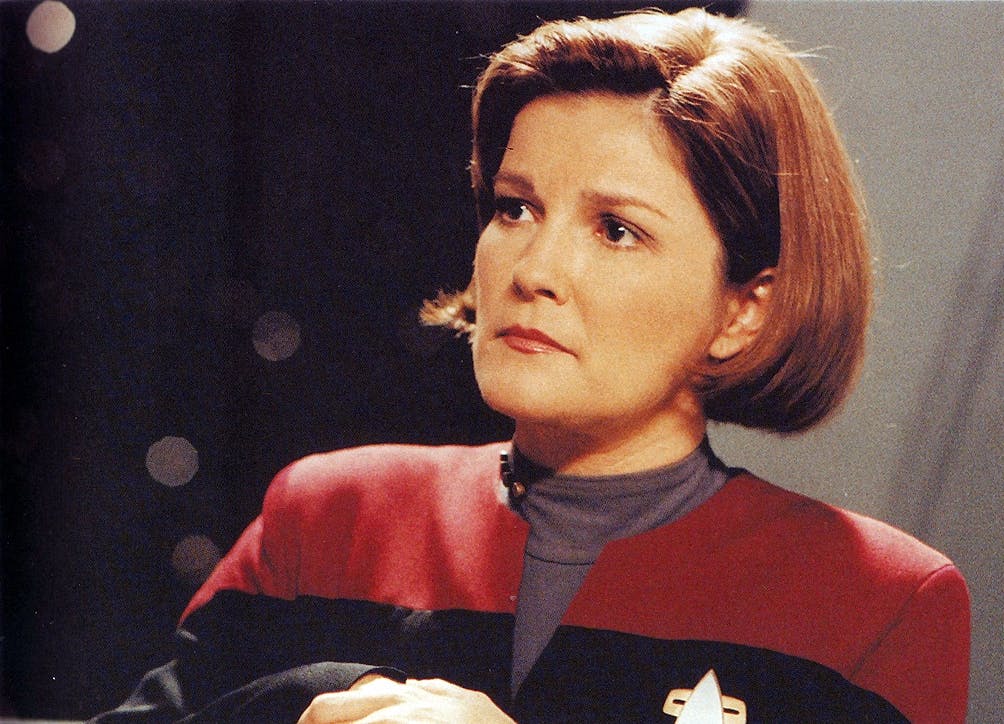 Star Trek: Voyager begins in 2371. After setting out from the Deep Space 9 space station, the Voyager and the Maquis vessel they are chasing are transported 70,000 light-years away from home.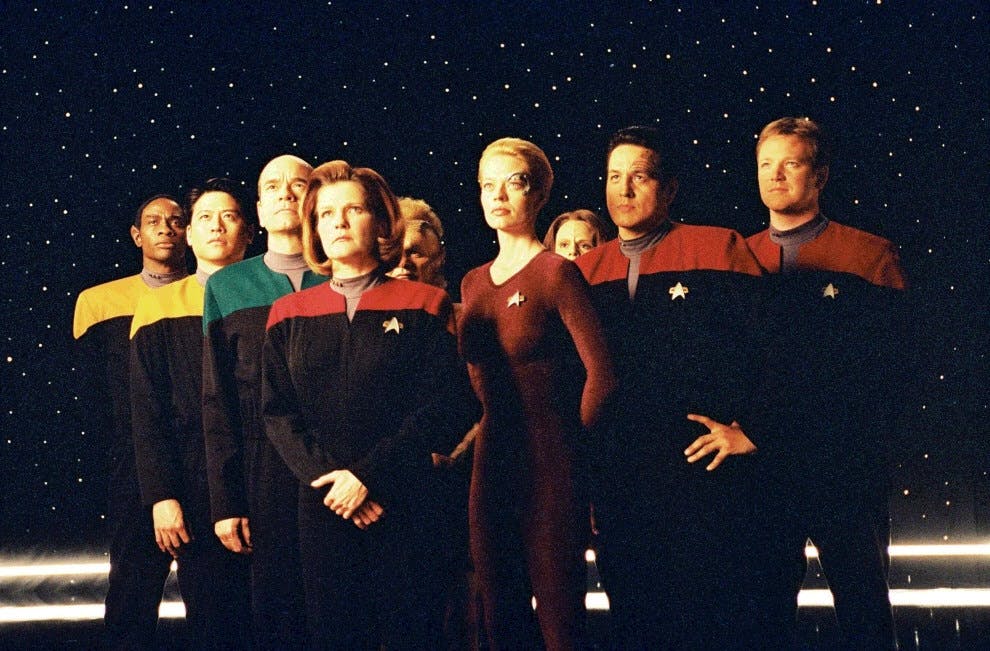 Captain Janeway must unite the two factions and lead them on the long journey back to the Alpha Quadrant.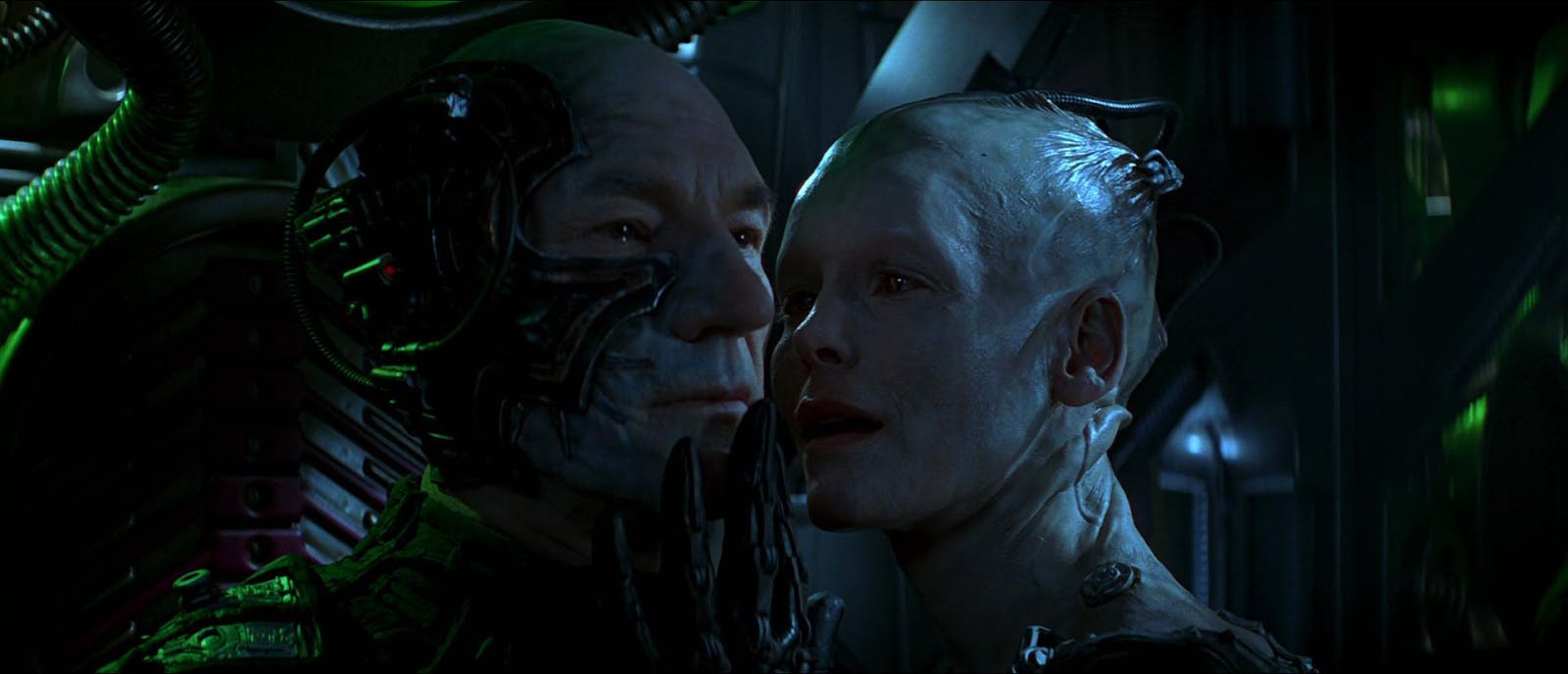 Star Trek: First Contact is the second Star Trek film to feature The Next Generation crew. When Picard disobeys orders and takes the newly-commissioned U.S.S. Enterprise -E into battle with the Borg, they find themselves 300 years in the past.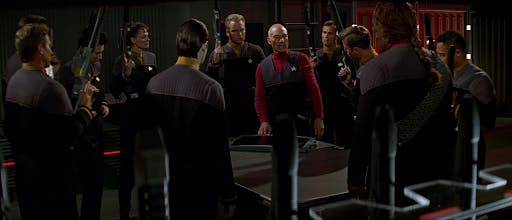 There they must help preserve Earth's first-ever contact with alien life forms, thereby protecting their future.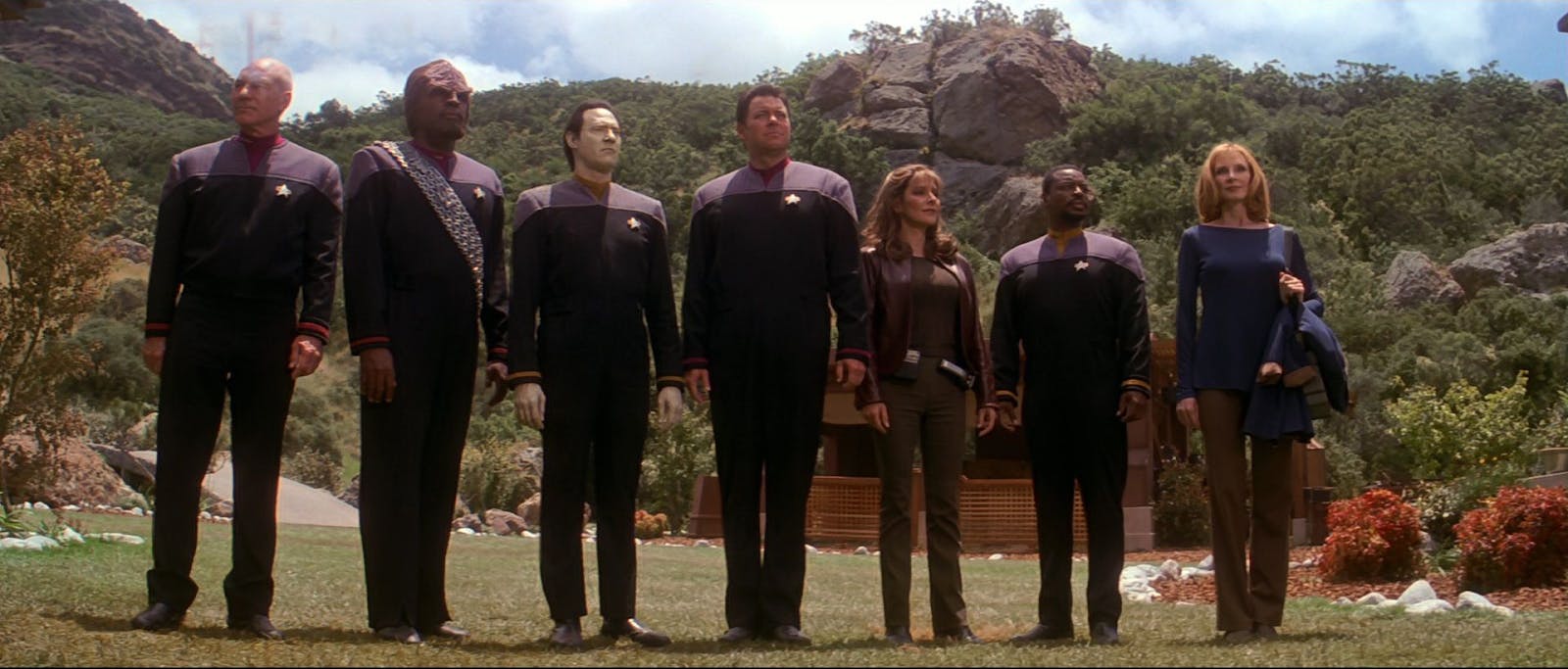 The mission: save the peaceful planet Ba'ku from being exploited for resources by the Federation during the Dominion War. The Dominion War is covered extensively during the final two seasons of Deep Space Nine .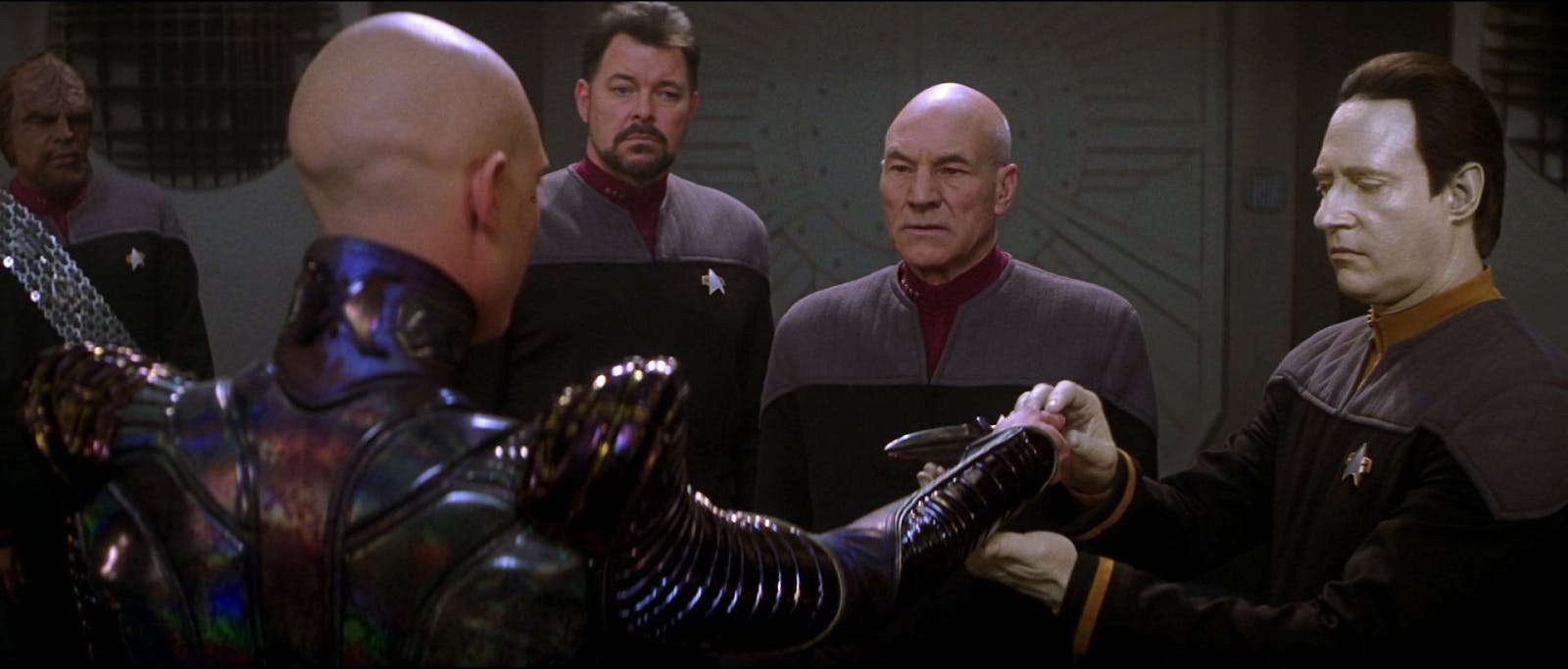 Four years later, with the events of Deep Space Nine and Voyager already concluded, Picard and the Enterprise take their final mission together.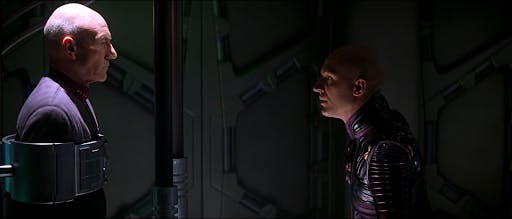 Romulan's new leader is wreaking havoc on the Federation. When the Enterprise investigates, they find he is a genetic clone of Picard.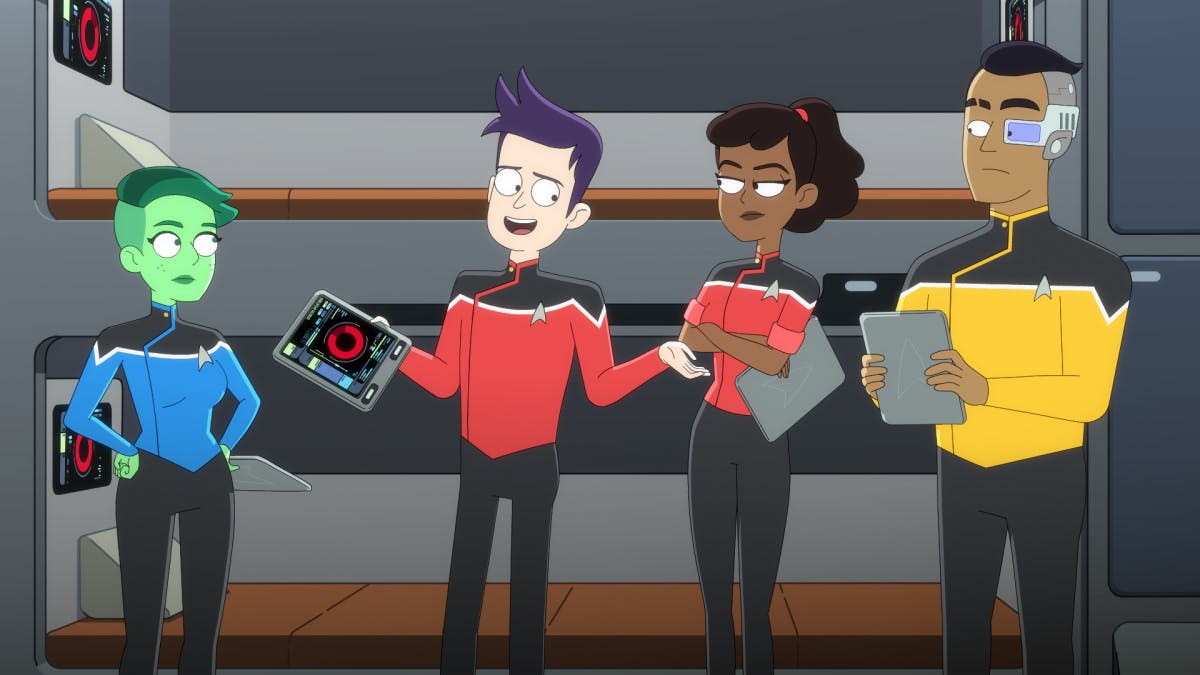 Star Trek: Lower Decks is a forthcoming animated series that focuses on the junior officers of the U.S.S. Cerritos . It takes place after the events of Nemesis and premiered Aug. 6, 2020 on the CBS All Access streaming service. Star Trek: Lower Decks streams  exclusively on CBS All Access in the United States and in Canada on Bell Media's CTV Sci-Fi Channel and streams on Crave.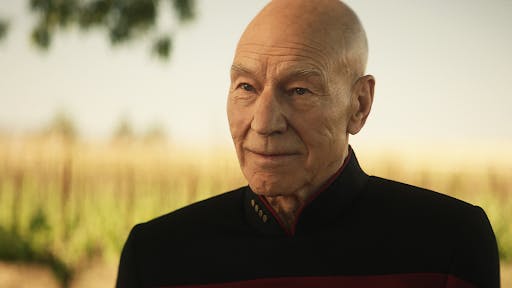 Twenty years after his faceoff with Shinzon, Picard is retired and working his family's vineyard. He mourns the loss of his friends and the planet Romulus (which was destroyed when its sun went supernova in 2387). Star Trek: Picard streams on CBS All Access in the United States,  in Canada on Bell Media's CTV Sci-Fi Channel and streams on Crave, and on Amazon Prime Video in more than 200 countries and territories.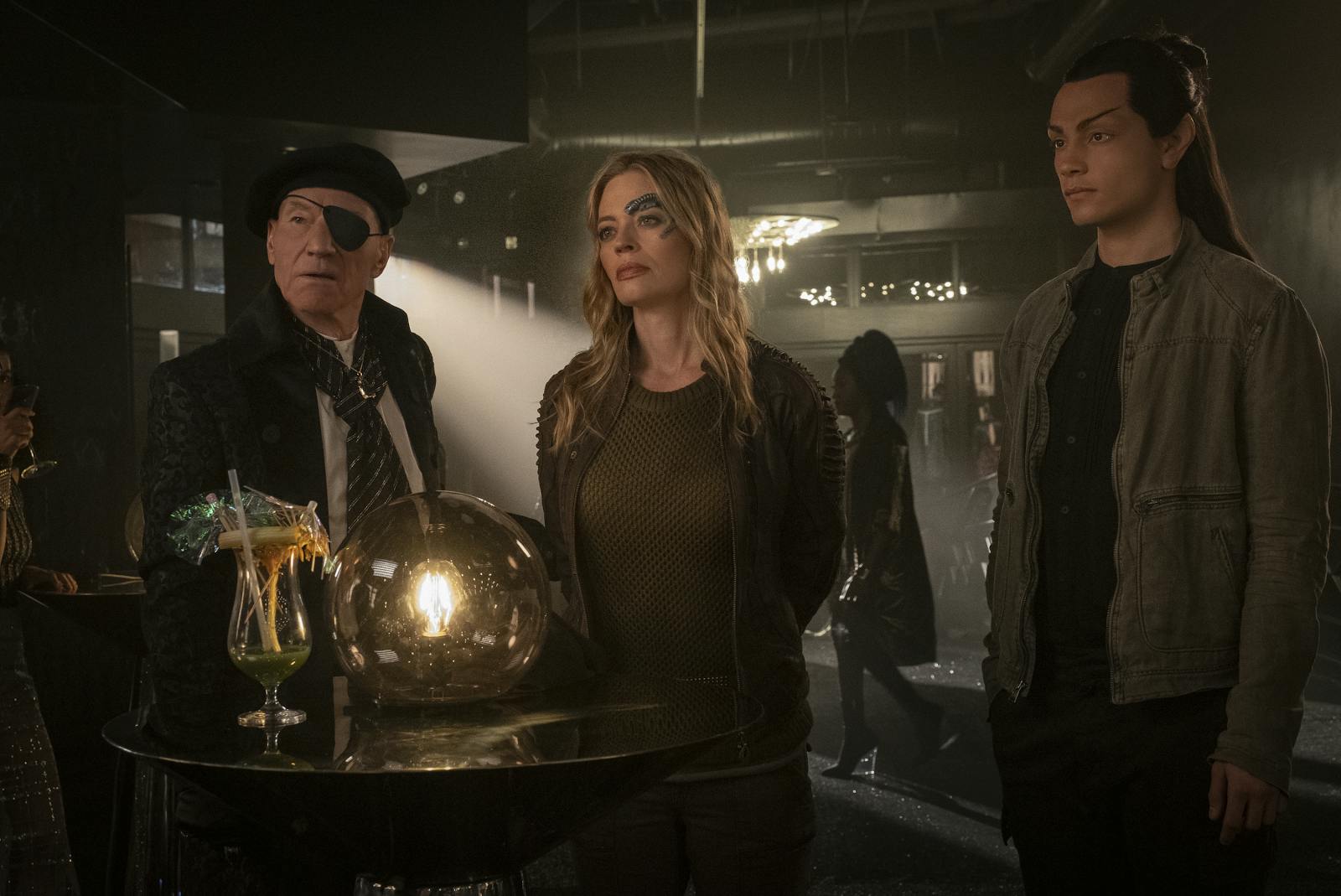 When a stranger with a connection to Picard's past shows up asking for help, Picard is pulled into one last mission.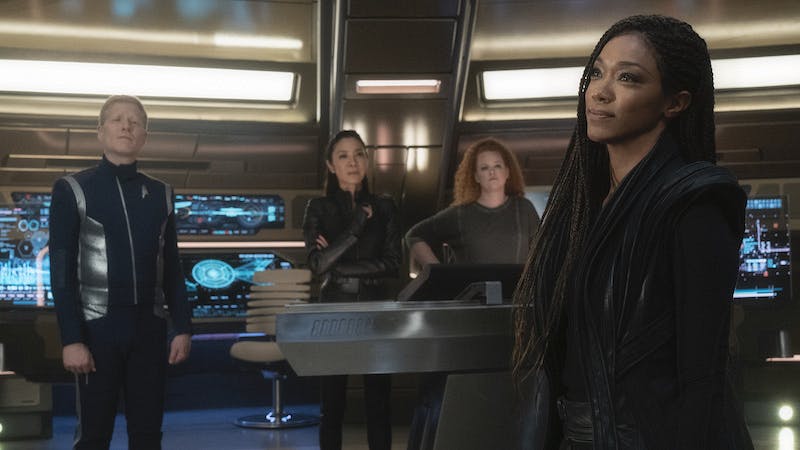 Discovery's third season has not yet been released, but we are enthralled by the setup. Burnham and the gang have traveled approximately nine hundred years into the future. No series has taken place this far in the future, it's exciting to see what the Discovery crew will encounter.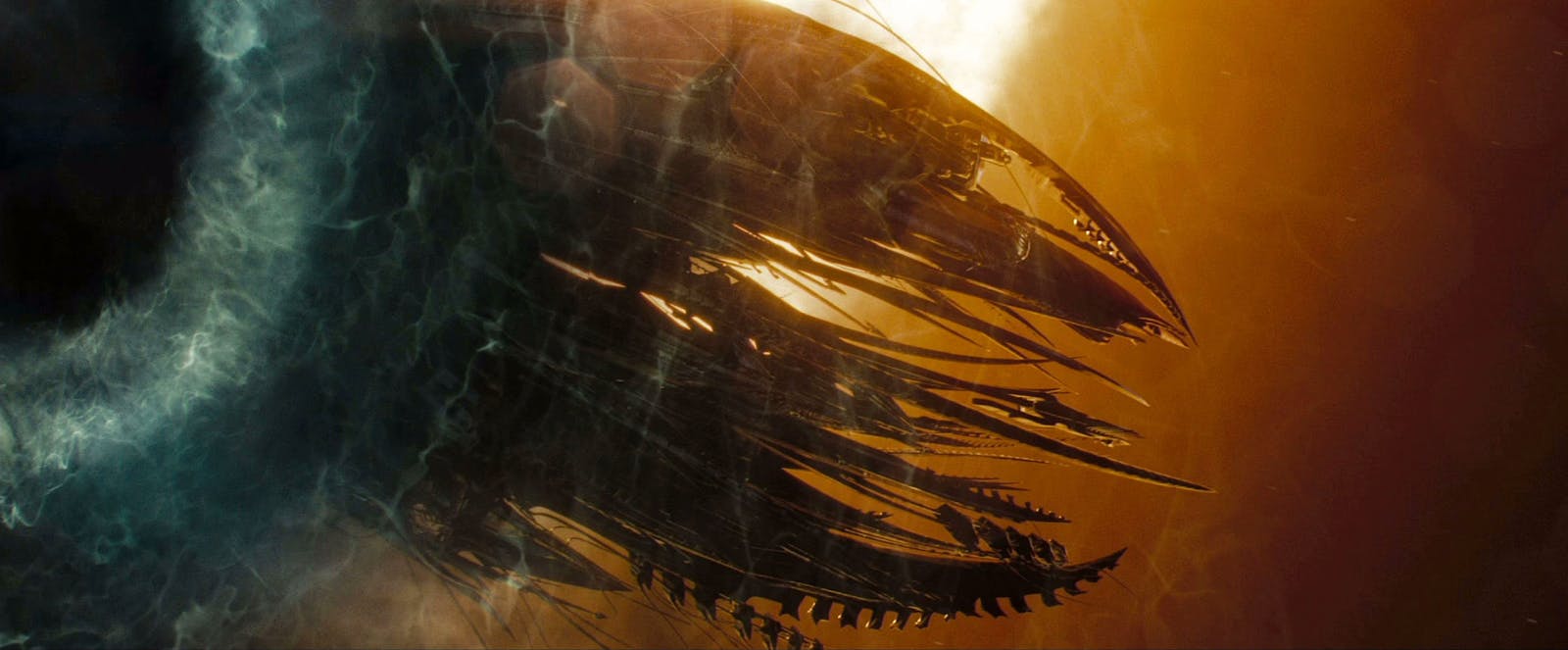 Now things get complicated. Remember when the planet Romulus was destroyed in 2387? A Romulan mining ship was sucked into the ensuing black hole, emerging in the year 2233.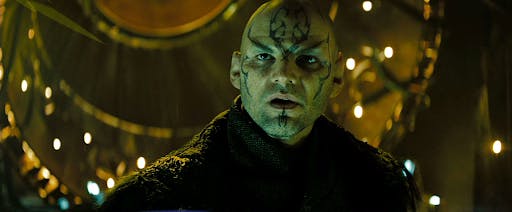 There, its captain, Nero, destroys the U.S.S. Kelvin . This creates an alternate reality known as the Kelvin Timeline (the former timeline is known as the Prime Timeline.) The following trilogy of films takes place in this new reality, which we recommend viewing after the entirety of the Prime Timeline.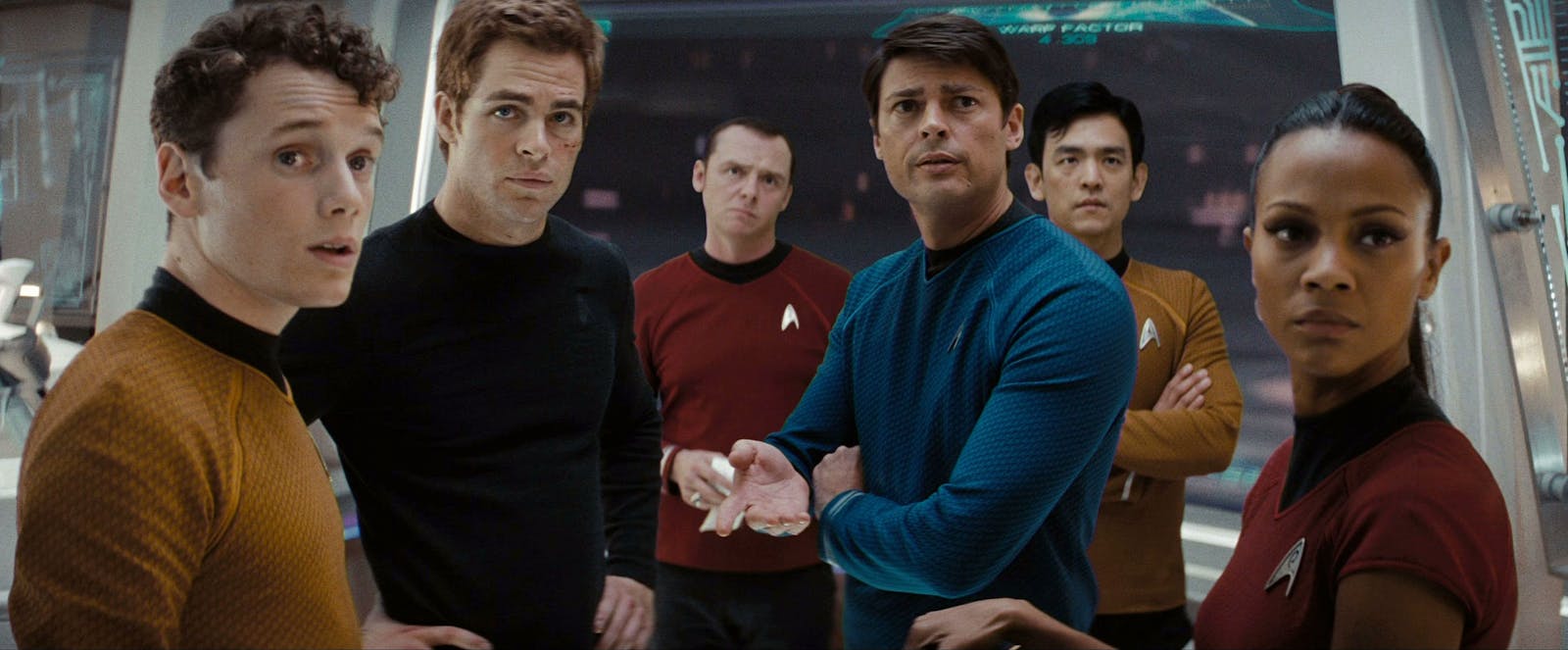 In 2258, a more rebellious, fatherless Kirk is convinced by Captain Pike to join Starfleet. On the Enterprise's very first mission, Kirk, Spock, and the rest encounter a vengeful Nero.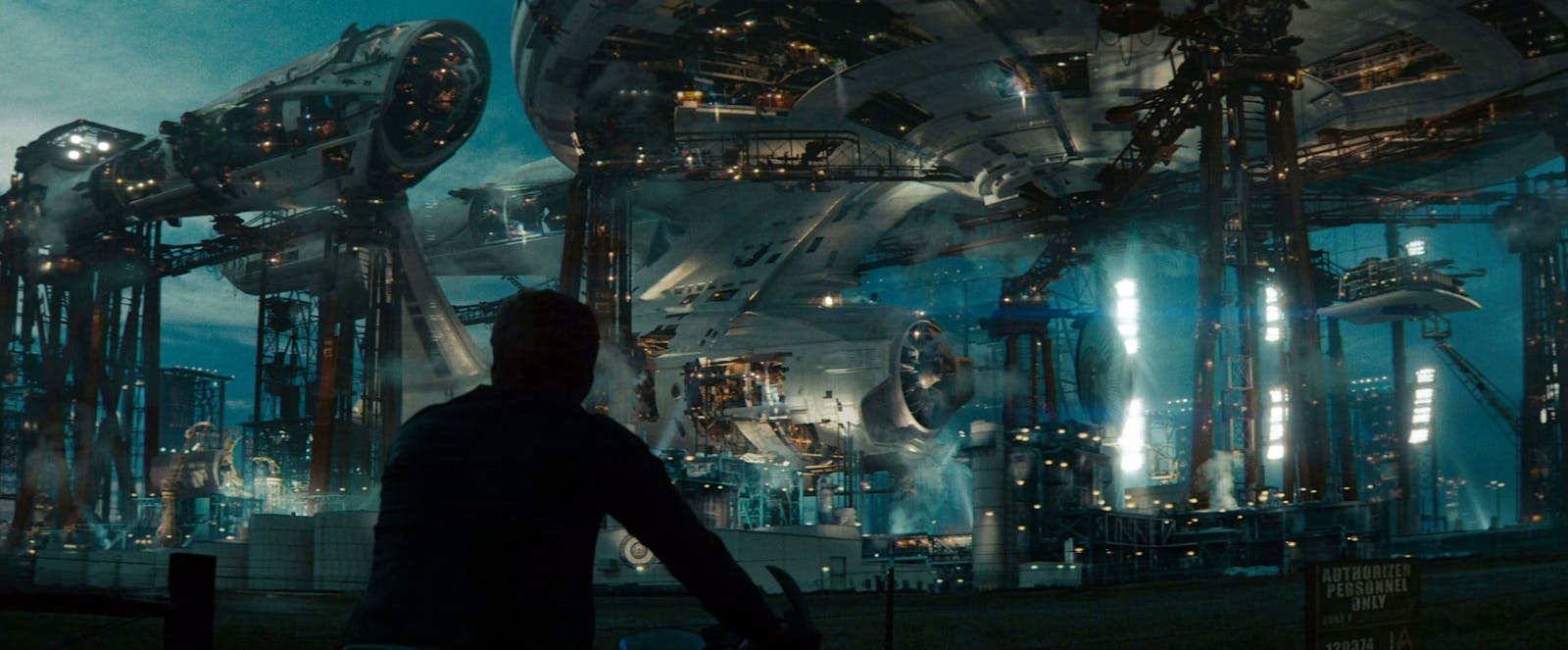 The new crew must work together to prevent Nero's Romulans from destroying the Federation. Along the way, they meet a familiar face from a different time.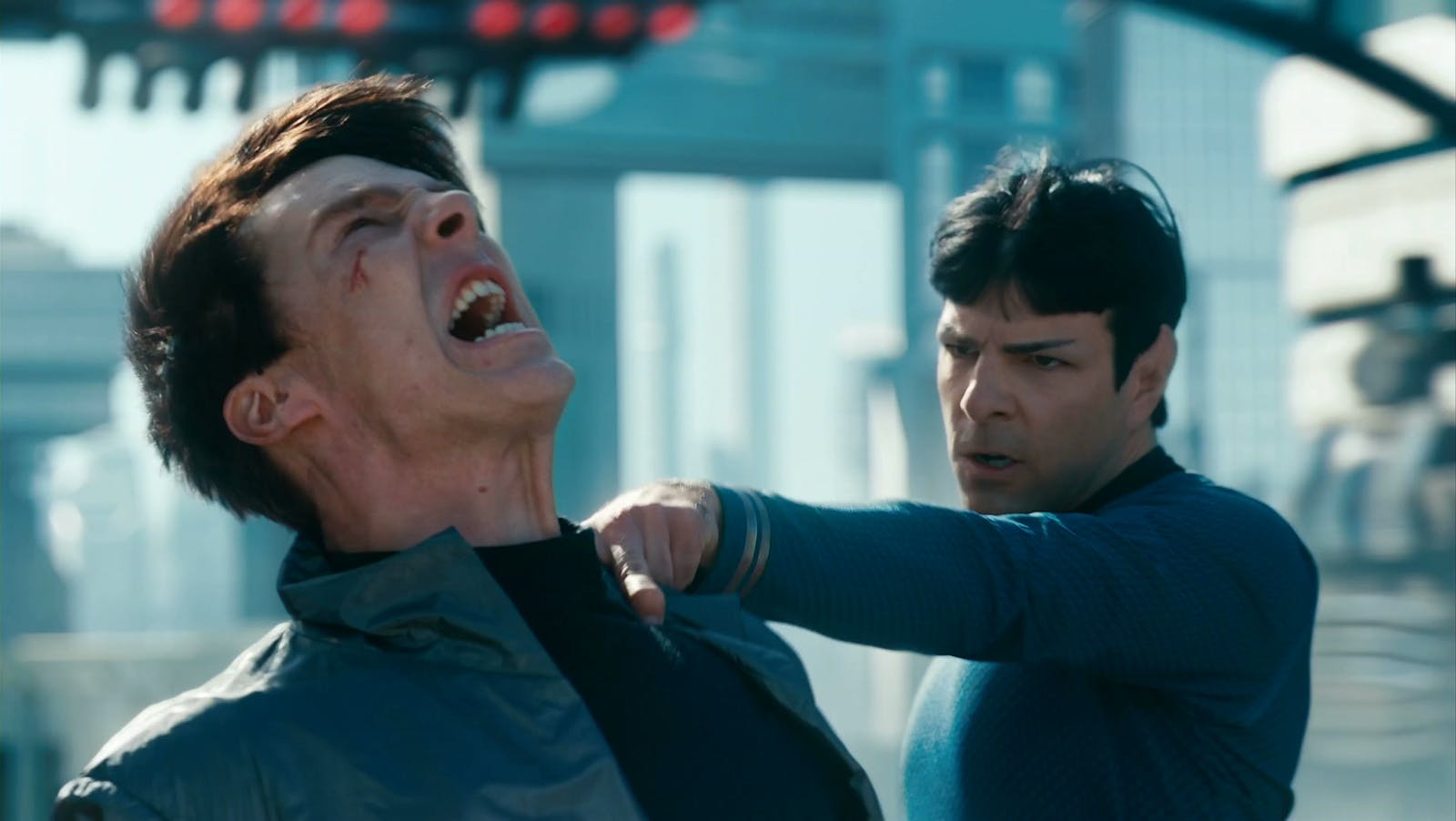 A year later, Kirk is demoted after violating the Prime Directive in order to save Spock and the people of the planet Nibiru from a volcano.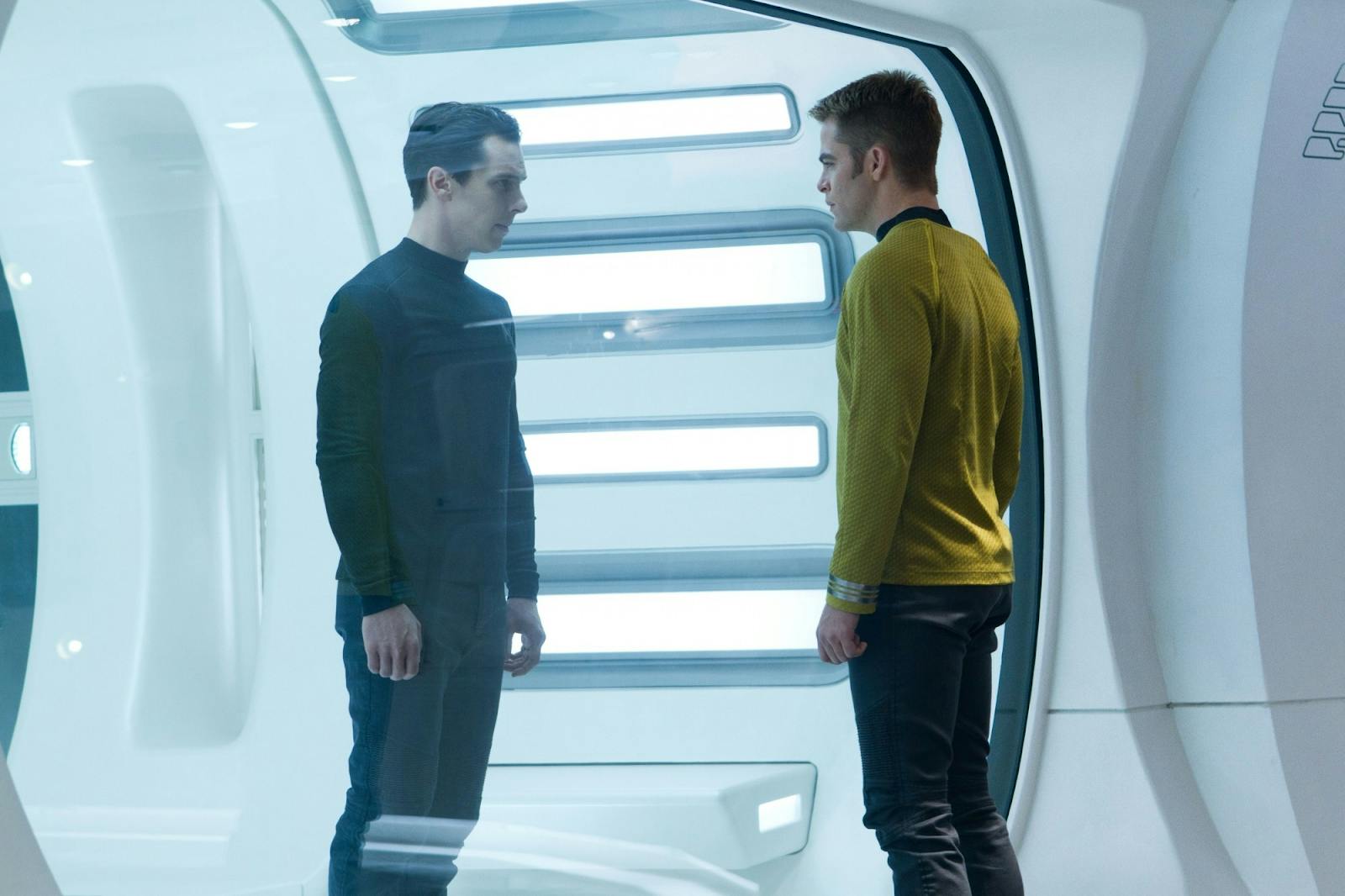 Kirk is reinstated to chase down a terrorist, who has destroyed a key Starfleet facility. This is someone familiar to the Enterprise crew in a different timeline, Khan.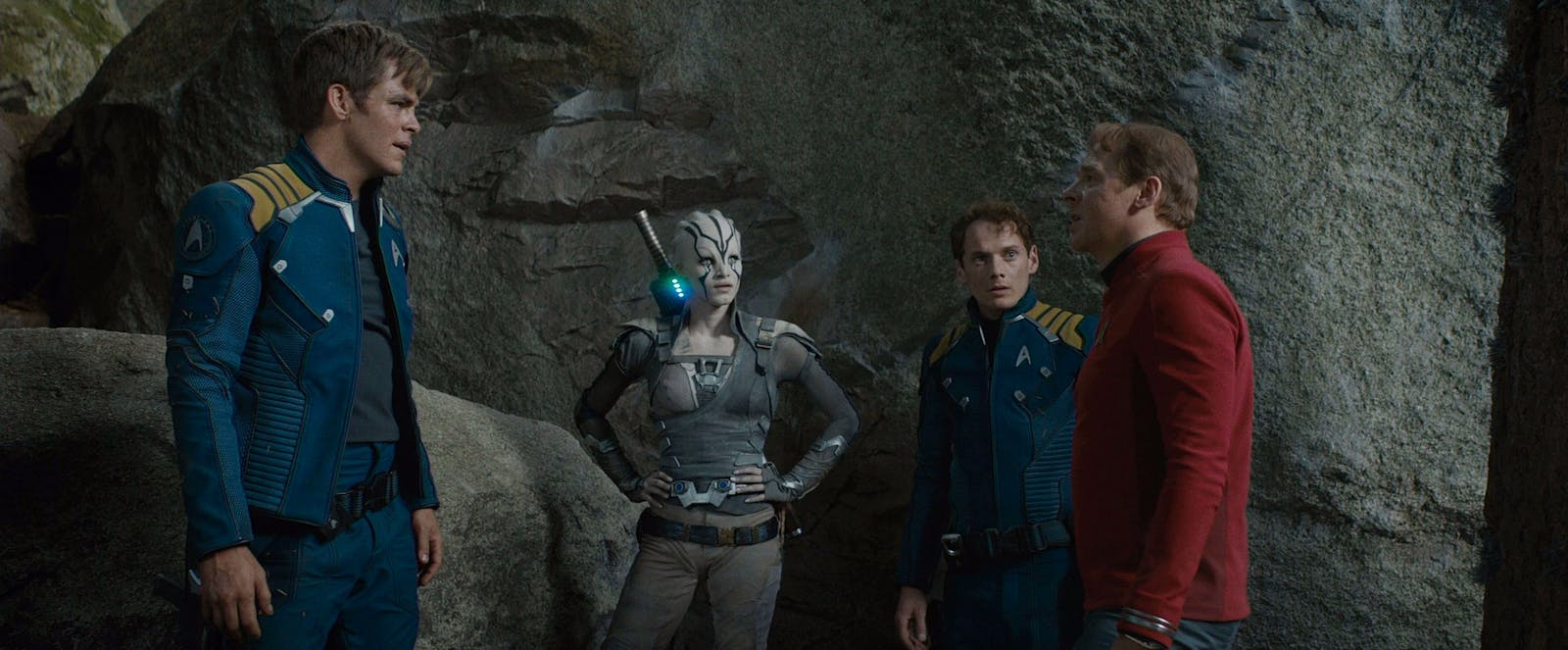 In the Kelvin Timeline, Kirk and the Enterprise start their five-year mission to boldly go where no one has gone before in 2260.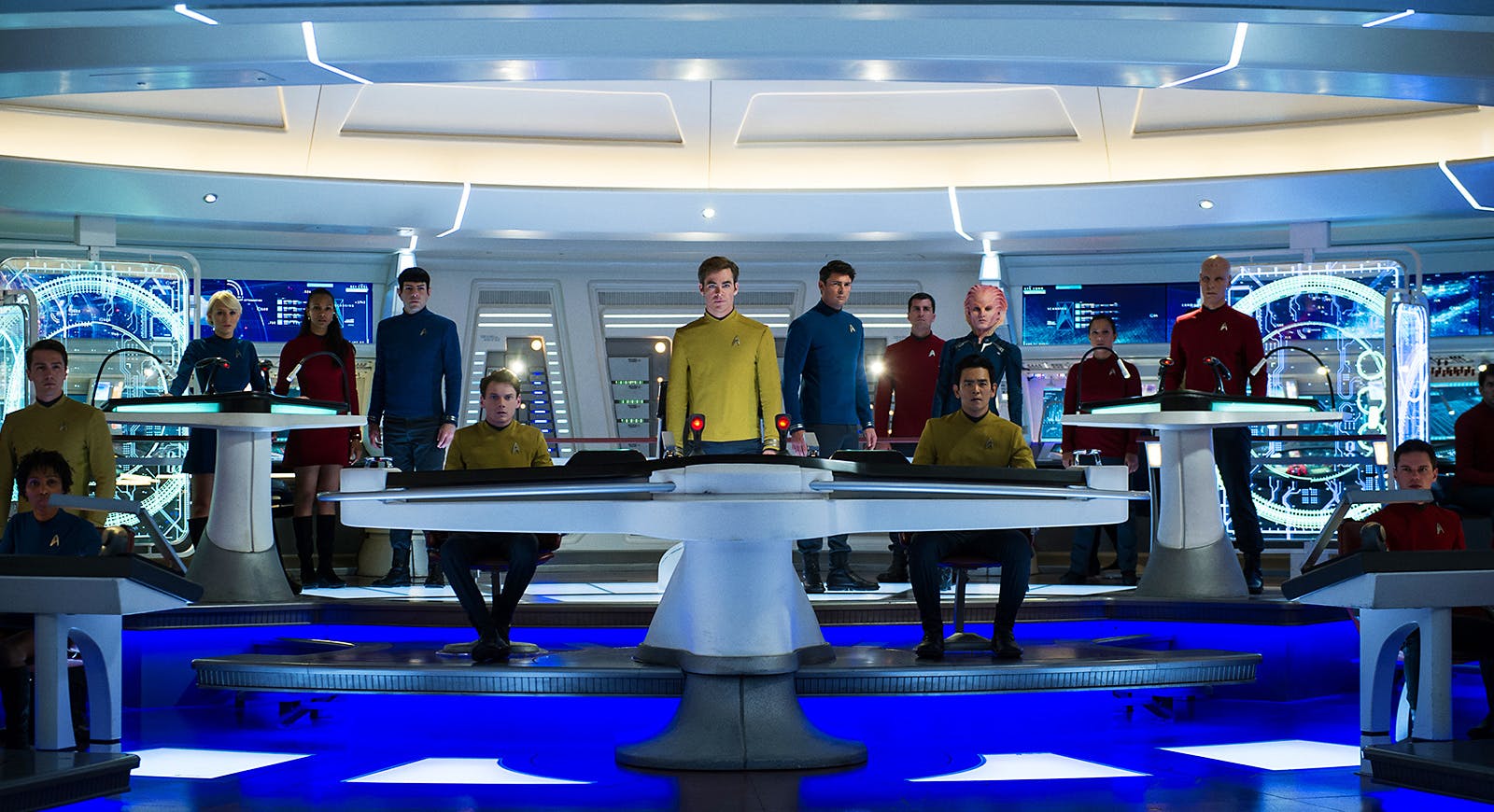 Beyond takes place in 2263. When the Enterprise is destroyed by a swarm of alien ships, the crew must regroup and defeat their powerful mutated leader.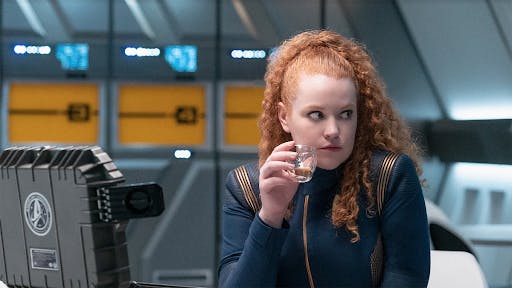 Short Treks is a series of mini-stories in the Star Trek universe. They serve primarily as a companion to Discovery and Picard . Star Trek: Short Treks stream exclusively in the United States on CBS All Access and in Canada on Bell Media's CTV Sci-Fi Channel and OTT service Crave.
The short stories take place anywhere from 2239 to well beyond 3300. We recommend enjoying them last or sporadically throughout your viewing journey.
How to pitch startrek.com
Back to top.