Road Trip from Ottawa to Boston
From the southern tip of Canada to the coast city of Boston, this incredible trip takes you on the beautiful Trans-Canada highway visiting some exciting Canadian cities, stunning forests, pristine lakes, and historic US cities on the way.
The 700 km road trip from Ottawa to Boston takes almost 7 hours to drive, visiting Montreal, Burlington and Concord on a city-forward route, or via Saranac Lake, Lake Placid, Albany, and Lake George taking a slightly longer nature-forward route.
Packed with breathtaking beauty from two countries, tons of cultural attractions, a drive through the Adirondack region, and iconic cities, there is much to discover on this journey. Keep scrolling to find our top recommendations for the best things to do, time to visit, places to see, hotels to stay, and routes to take.
How far is Boston from Ottawa, and how long will the road trip take?
A direct drive to Boston from Ottawa, Canada, via The Montreal Route takes 7 hours to cover 700 km, not considering any stopovers.
You can take The Albany Route for a slightly longer ride, covering 720 km over 8 hours of driving, without any food or gas breaks.
Although you can cover this distance in a day, we highly recommend you take 4-5 days to enjoy the beautiful cities, charming towns, and diverse food, cultural, and historical attractions without exhaustion.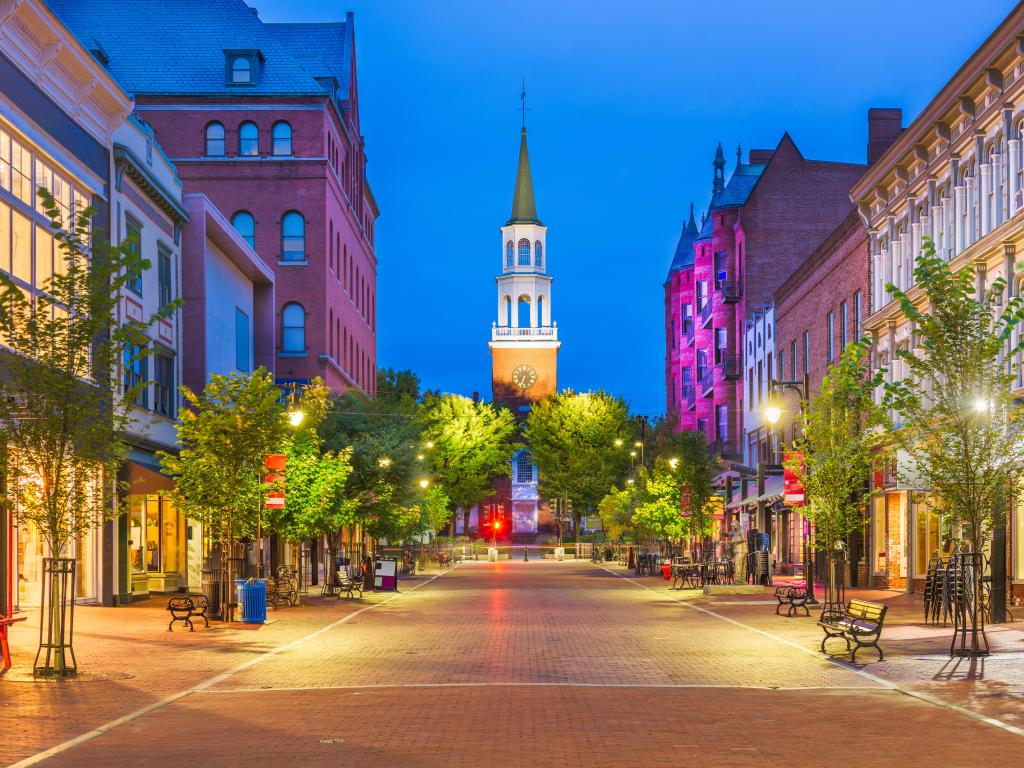 Best road trip route from Ottawa to Boston
We have detailed two different yet excellent road trip routes to reach Boston. Whichever route you pick, you end up in Boston, home of Fenway Park, Harvard, the Boston Tea Party, and many other vacation-making attractions.
On the Montreal Route, you'll discover Montreal, Canada's premiere French-language city boasting many cultural attractions and delicious eats. This city-forward route also snakes along the Ottawa River, giving you glimpses of the awe-inspiring nature.
Notable stops include a halt at Lake Champlain and the charming city of Burlington in Vermont. The gorgeous forests of Vermont and New Hampshire will make this journey worthwhile.
For a drive through breathtaking landscapes, choose the Albany route. Discover the stunning Adirondack region and the surrounding mountains.
Our favorite natural highlights include Saranac Lake, Lake George, and Lake Placid. The route also takes you through the exciting city of Albany before continuing through Massachusetts, with the option of stopping in Springfield and Worcester.
The Montreal Route
Head east, taking ON-417/ the Trans-Canada Highway out of Ottawa, and experience the charming countryside. Continue east and cross the Ottawa River to enter the province of Quebec.
As you drive further along the highway, you'll go past the Lake of Two Mountains and the St. Lawrence River to enter the island of Montreal. After experiencing the cityscapes of Montreal, take Autoroute 10 E out of the city.
Cross the St. Lawrence River again and head south, taking Autoroute 35 S to Vermont. As the road merges into QC-133 S, follow it to cross the Pike River and drive along the beautiful Baie Missisquoi.
Soon you'll enter the US border via the state of Vermont on I-89 S. Continue driving south along the New York – Vermont border through lush forests and the Green Mountains before heading east to cross to New Hampshire.
Travel through the charming small towns of New London and Concord, and then merge into I-93. You'll see the urban landscapes of the Boston skyline come as you drive further south.
The Albany Route
Take the Trans-Canada Highway briefly to get out of Ottawa. Once you arrive at an intersection, take a right on ON-138 to head south. Cross the St Lawrence River on the International Bridge Road to enter the United States.
Hop on to NY-95 to head south, driving through the beautiful Adirondack Mountains. At St Regis Falls, join NY-458 and pass through the gorgeous upstate New York.
Travel south on NY-86 to pass the picturesque water bodies of Saranac Lake and Lake Placid. Exit Lake Placid on NY-73 and drive through the meandering forest roads. Merge into I-87 and head south, passing several wilderness areas to Albany.
After exploring the only major city on this route, take I-90 out of the town and follow it all the way to Boston, bypassing Springfield and Worcester en route.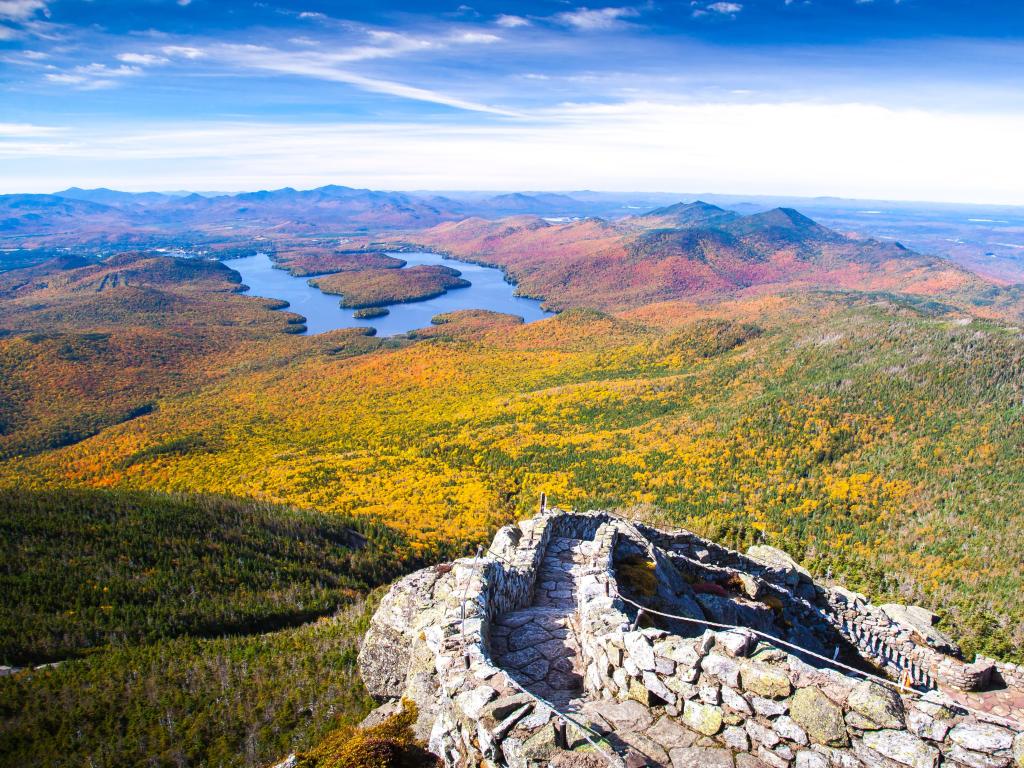 Best places to stop between Ottawa and Boston
Although it is possible to cover this distance non-stop, you'll want to stop and admire the bountiful nature in parts of Canada and the gorgeous mountain forests of Vermont and northern New York. Here are some of our favorite stopover points on both routes.
Spend an eclectic evening in the cosmopolitan Montreal
After covering a third of the distance on The Montreal Route, you'll arrive at the multicultural city of Montreal. The largest city on this route offers many attractions you can visit all year round.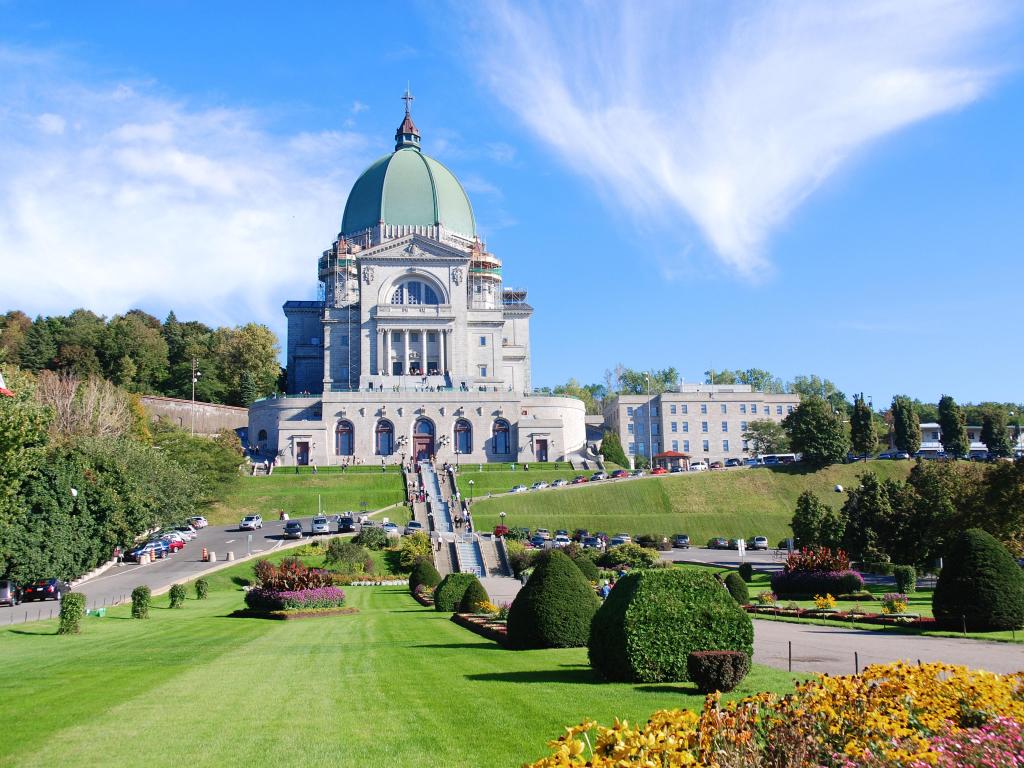 The French influence in the city, its culture, and its architecture is evident. You will also notice it in the Gothic Church of Notre Dame Basilica, one of the historic churches with colorful stained-glass windows and intricate wood carvings.
Head to Mont-Royal Park at the top of the city's central hill to admire the city's stunning skyline. You can take up many recreational activities like hiking, biking, and picnicking there. Montreal Botanical Garden, with over 22000 plant species, is a must-visit attraction if you love strolling gardens.
Centrally located and at walking distance from Montreal's most important and must-see attractions like the Quartier des Spectacles and the Montreal Museum of Fine Arts, The Mount Stephen is nestled in the city's colorful downtown district.
The hotel has been renovated recently with modern amenities like an indoor pool, spa, and fitness center. You can also enjoy unparalleled views of Mount Royal from this hotel.
To explore the city at ease, you can use the city's subway system, and when you're ready to move to the next destination, you can easily access the highway too.
A peaceful respite in Lake George
After covering half the distance on The Albany Route, you'll end up in the historic lake town of Lake George. Aptly called "the queen of the American lakes," the city has over 300 islands and more than 100 miles of shoreline.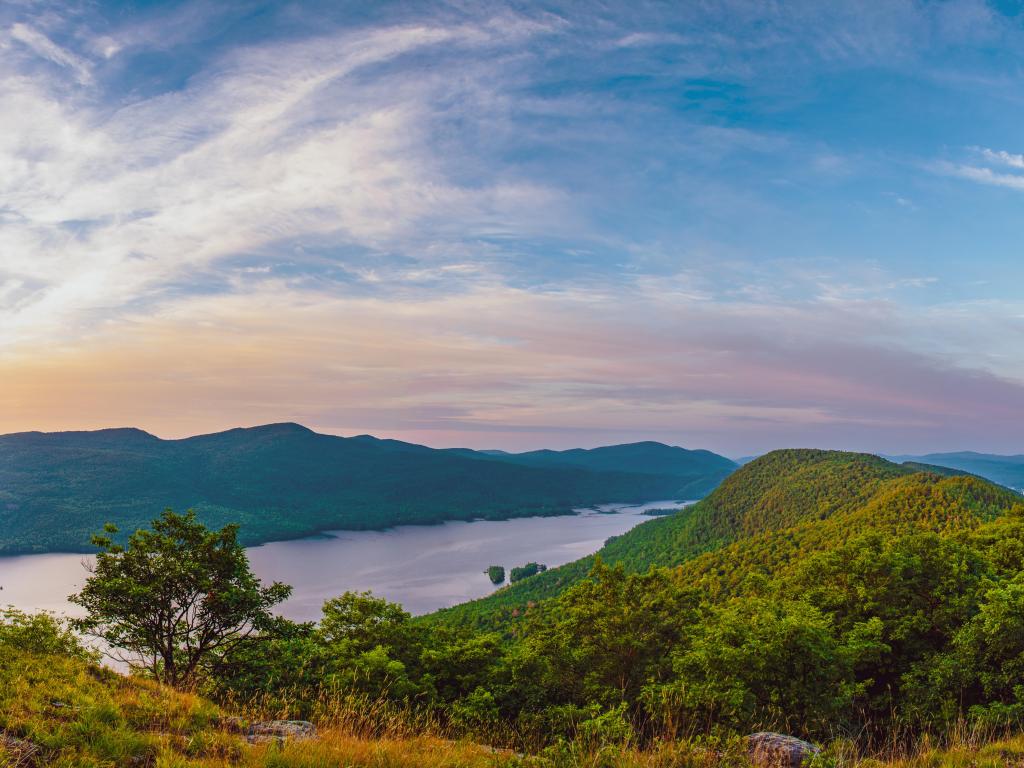 Nestled in New York's lovely Adirondack region, there are enough attractions to keep you on your toes. A trip to Fort William Hens is a must for history lovers. You can visit this 18th Century British Fort where many Anglo-French wars were fought.
Should you visit in winter, the Gore Mountain Ski Center will cover you for your winter sports adventure. And for the rest of the year, you can enjoy the fantastic amusement park at the Six Flags Great Escape and Hurricane Harbor or stroll the Million Dollar Beach casually.
Centrally located within the convenient reach of the lake's shoreline and town's attractions, Courtyard by Marriott Lake George is one of our go-to hotels when traveling to Lake George. What we love about this place is their complimentary car parking that allows us to explore this beautiful town on foot.
Not only is the décor impressive, but each room is also designed with a stylish aesthetic. The hotel rooms are affordable, and you can enjoy a breathtaking view of the Adirondack Mountains from the comfort of your room.
When staying here, you can keep up with your workout schedule at their fitness center and unwind in their indoor pool. When it's time to hit the road, you can reach Highway 9 in minutes.
Where to stay when you reach Boston
As you explore all the historical, educational, and architectural attractions of this vibrant city of Massachusetts, you'll want a comfortable and convenient place to stay. One of the hotels we keep visiting is the centrally located The Seaport Hotel Boston .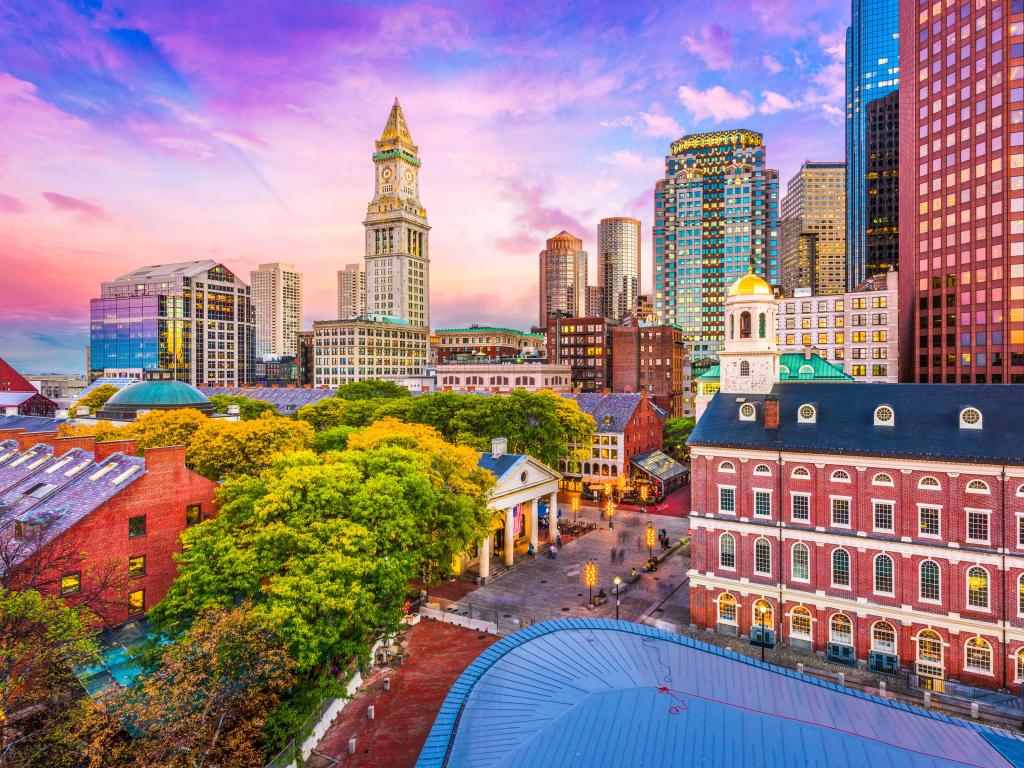 Because of its excellent location, you can visit some of the city's main attractions, such as the Institute of Contemporary Art and the New England Aquarium. You'll have the beautiful South Boston waterfront view from your room.
The hotel has an excellent health club equipped with cardio machines and offers group exercise lessons. For a relaxing swim, take a dip in their indoor pool. You can choose from an on-site café or Tamo Restaurant and Bar when hungry.
Things to see on a road trip from Ottawa to Boston
Both routes have such enthralling scenery and many different attractions that you'll be overwhelmed with choices.
To help you plan better, we have put together a list of our favorite things to do and places to visit on the way to Boston.
Big Apple – Located just off the highway in Colborne, Ontario, this iconic roadside attraction is hard to miss with its giant apple-shaped structure. Stop in for some fresh apple pie and other tasty treats.
Thousand Islands – Take a scenic boat tour of the beautiful Thousand Islands region, just off the Gananoque, Ontario highway. Explore the many islands and learn about the area's rich history and natural beauty.
Saint Joseph's Oratory – This impressive basilica in Montreal is one of Canada's largest churches and a popular tourist attraction. Climb to the top of the church for stunning views of the city.
Montreal Botanical Garden – A perfect destination for nature lovers and photographers, this expansive garden features over 22,000 plant species worldwide, a large greenhouse complex, and several themed gardens.
White Mountains – This beautiful mountain range in New Hampshire offers a variety of outdoor activities, including hiking, skiing, and scenic drives. Be sure to stop at the iconic Mount Washington Hotel for a meal or to stay the night.
Billings Farm and Museum – About an hour from Lake George, you'll find the Billings Farm and Museum. This working farm offers attractions suitable for adults and children alike. Some popular things to do include wagon rides, a gift shop, and barns full of farmyard animals.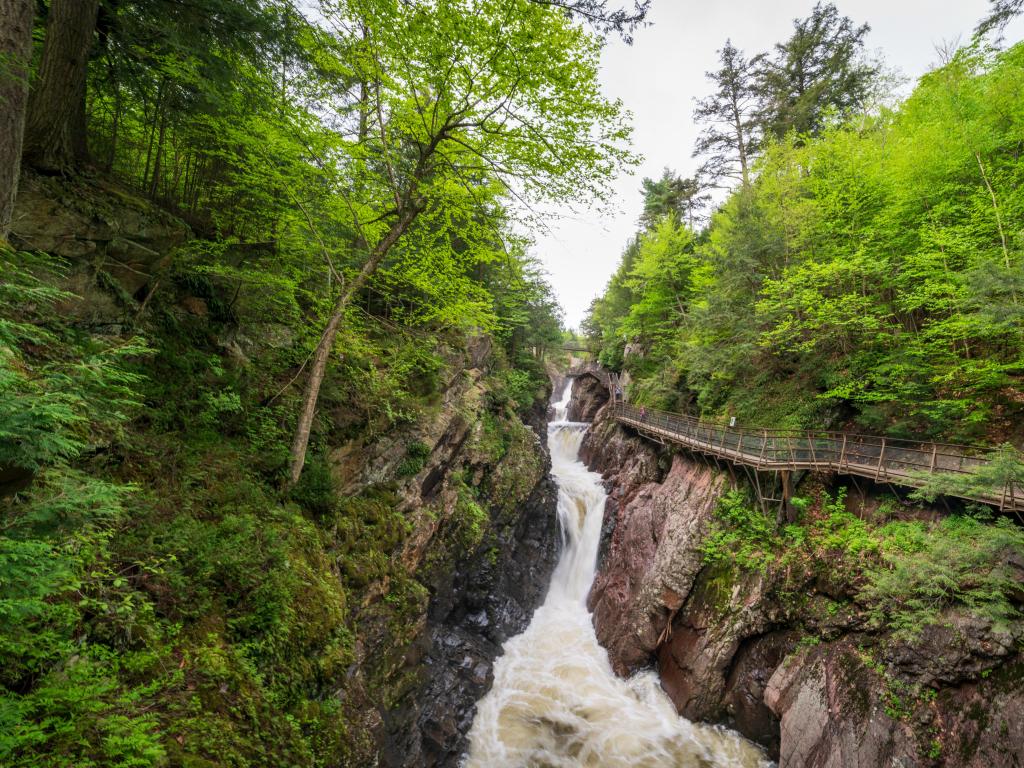 Whiteface Mountain Veterans Memorial Highway – Enjoy a scenic drive up the fifth-highest peak in New York and soak in breathtaking views of the surrounding Adirondack Park.
High Falls Gorge – This picturesque natural attraction features stunning waterfalls, serene nature trails, and an informative visitor center.
Olympic Jumping Complex – Home to the 90 and 120-meter ski jumps used during the 1980 Winter Olympics, this complex now offers year-round tours and events.
Lake Placid Olympic Museum – Showcasing the history and memorabilia of the 1932 and 1980 Winter Olympics held in Lake Placid, this museum is a must-see for winter sports fanatics.
Adirondack Wildlife Refuge – Discover this sanctuary for injured or orphaned animals, where visitors can learn about the rehabilitation efforts and see up-close encounters with wolves, eagles, and more.
The Wild Center – This interactive museum and nature center focuses on the Adirondack region's ecology and features outdoor nature trails and a treetop walk.
The Wild Center's Wild Walk – Enjoy interactive exhibits and views of the Adirondack wilderness from this unique treetop walkway.
Ausable Chasm – This natural wonder featuring a deep, narrow, 2-mile-long gorge and cascading waterfalls is a must-visit site.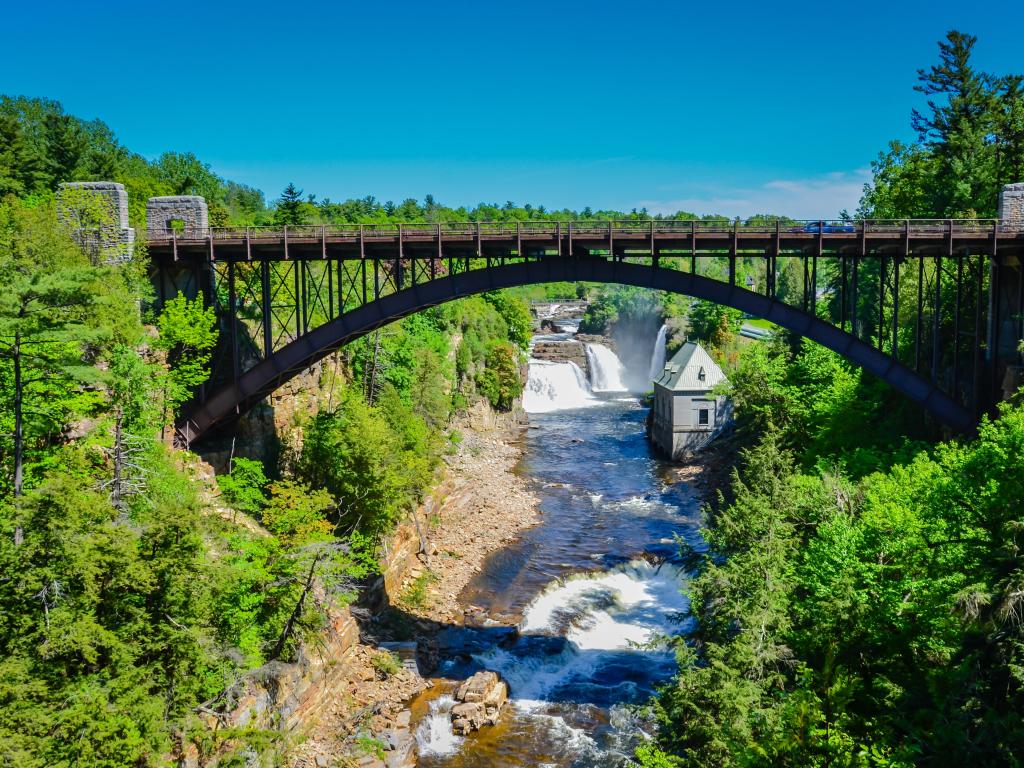 Best time to go on a road trip from Ottawa to Boston
There are enough things to do in Boston throughout the year. Boston is most walkable from summer through mid-fall, when you can explore the stunning outdoors. Spring sees many rainy days, and the winters are cold and wet, which presents an excellent opportunity to enjoy indoor attractions.
The temperature during summer ranges from 65 to 82 degrees Fahrenheit; the climate is best described as warm and humid. You can expect rain and dramatic thunderstorms too. Easily one of the busiest seasons, you'll find people crowding the cruises and strolling Public Gardens.
Being a northern city, Boston sees long and snowy winters. The average temperature is 45 degrees Fahrenheit, but it can occasionally drop as low as 15 degrees Fahrenheit too. Boston Common Frog Pond during winter presents a wonderful opportunity to take up ice skating. And because of the cold weather, you'll find fewer tourists and cheaper accommodations.
Spring is almost non-existent in Boston, with winter hijacking most spring months of March, April, and May. Late spring is better, and the temperature averages between 55 and 65 degrees Fahrenheit.
If you want to experience the beautiful fall in Boston, try to catch it in early September when the temperature is around 77 degrees.
Boston hosts many festivals and events all year long. During spring, you can catch Artweek and St. Patrick's Day. If you visit during summer, try participating in the Boston Pride Festival and Harborfest.
Should you visit in the fall season, you'll love the CiderFest and the Ghost Tours. You can revel in the Christmas spirit at Boston's famed Christmas Market and indulge in food and drinks at the Sowa Winter Festival.
Join our email list!
By joining our email list, you give LazyTrips permission to use your email for sending you newsletters, emails and updates including for marketing purposes. Your email will not be provided to third parties.
Related posts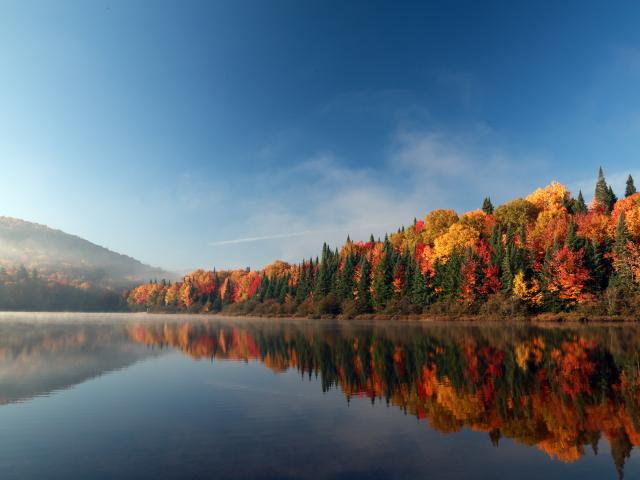 38 Best Stops Between Ottawa and Boston
Navigate forward to interact with the calendar and select a date. Press the question mark key to get the keyboard shortcuts for changing dates.
Navigate backward to interact with the calendar and select a date. Press the question mark key to get the keyboard shortcuts for changing dates.
How long is the drive from Ottawa to Boston?
The direct drive from Ottawa to Boston is 431 mi (693 km) , and should have a drive time of 7 hrs 15 mins in normal traffic.
If you're going on a road trip from Ottawa to Boston, we did the research for you and compiled some great stops along the way — with Montreal , Burlington , Stowe , Portsmouth , Concord , Mont Tremblant , Woodstock , and Manchester , as well as top places to visit like Sommet Saint Sauveur and Rockhill Crescent, or the ever-popular Omega Park.
Top cities between Ottawa and Boston
Mont-tremblant.
Best stops along Ottawa to Boston drive
Sommet Saint Sauveur
Rockhill crescent, mount royal park.
Montreal Botanical Garden
Montreal biodome, old montreal, notre-dame basilica of montreal.
Parc Safari
Zoo de granby, stowe recreation path, ben & jerry's, rock of ages, agri-mark, inc. dba cabot creamery, killington grand resort hotel, okemo mountain resort, sugarbush farm, quechee gorge, the vermont country store rockingham, polar caves park, currier museum of art, mine falls park, nashoba valley winery, distillery, brewery and restaurant, canobie lake park, north bridge, minute man national historical park, uss albacore museum, hampton beach state park, crane beach, top searches in boston, other popular road trips from ottawa, explore nearby places, all related maps of boston.
Map of Boston
Map of Chelsea
Map of Somerville
Map of Cambridge
Map of Everett
Map of Brookline
Map of Winthrop
Map of Revere
Map of Malden
Map of Medford
Map of Arlington
Map of Watertown
Map of Belmont
Map of Melrose
Map of Milton
Map of Winchester
Map of Newton
Map of Quincy
Map of Saugus
Map of Nahant
Map of Stoneham
Map of Waltham
Map of Lynn
Map of Woburn
Map of Dedham
Map of Wakefield
Map of Lexington
Map of Needham
Map of Swampscott
Map of Braintree
Map of Weymouth
Boston throughout the year
Boston in January
Boston in February
Boston in March
Boston in April
Boston in May
Boston in June
Boston in July
Boston in August
Boston in September
Boston in October
Boston in November
Boston in December
Looking for day-by-day itineraries in Boston?
Get inspired for your trip to Boston with our curated itineraries that are jam-packed with popular attractions everyday! Check them out here:
1-Day Boston Itinerary
2-Day Boston Itinerary
3-Day Boston Itinerary
4-Day Boston Itinerary
5-Day Boston Itinerary
Frequently Asked Questions
Can i drive from ottawa to boston.
Yes! You can drive from Ottawa to Boston.
How far is Boston from Ottawa by car?
The drive from Ottawa to Boston is 431 miles (693 km).
How long does it take to drive from Ottawa to Boston?
Driving from Ottawa to Boston should take you 7 hrs 15 mins in normal traffic.
How much would gas cost from Ottawa to Boston?
Gas from Ottawa to Boston would cost around $41 to $96 , depending on your vehicle's fuel efficiency.
Where should I stop on the way from Ottawa to Boston?
You could check out Sommet Saint Sauveur and Rockhill Crescent, or the always popular Omega Park!
What are the best cities to visit between Ottawa and Boston?
People love visiting Montreal, Burlington, and Stowe, among others.
What's the weather like in Ottawa?
It depends on when you visit! We've compiled data from NASA for each month of the year: see the links below for more information.
Weather in Ottawa in January
Weather in Ottawa in February
Weather in Ottawa in March
Weather in Ottawa in April
Weather in Ottawa in May
Weather in Ottawa in June
Weather in Ottawa in July
Weather in Ottawa in August
Weather in Ottawa in September
Weather in Ottawa in October
Weather in Ottawa in November
Weather in Ottawa in December
What are some other road trips from Ottawa?
There are plenty! Below you'll find links to all the road trips we've assembled for Ottawa.
Ottawa to New York City drive
Ottawa to Montreal drive
Ottawa to Toronto drive
Ottawa to Washington DC drive
Ottawa to Boston drive
Ottawa to Orlando drive
Ottawa to Niagara Falls drive
Ottawa to Chicago drive
Ottawa to Quebec City drive
Ottawa to Philadelphia drive
Ottawa to Baltimore drive
Ottawa to New Orleans drive
Ottawa to Nashville drive
Ottawa to Cleveland drive
Ottawa to Pittsburgh drive
Ottawa to Gatlinburg drive
Ottawa to Atlanta drive
Ottawa to Savannah drive
Ottawa to Williamsburg drive
Ottawa to Charleston drive
Ottawa to St. Augustine drive
Ottawa to Saint Louis drive
Ottawa to Kingston drive
Ottawa to Gettysburg drive
Ottawa to Branson drive
Ottawa to Memphis drive
Ottawa to Newport drive
Ottawa to Miami Beach drive
Ottawa to Louisville drive
Ottawa to Myrtle Beach drive
Itinerary + map in one view
Live collaboration
Auto-import hotels and reservations
Optimize your route
Offline access on mobile
See time and distance between all your places

The driving distance from Ottawa, Ontario to Boston, Massachusetts is:
436 miles / 702 km.
Ottawa to Boston drive
trips from Ottawa to Boston
Map of driving directions from Ottawa, Canada to Boston, MA
View a map with driving directions using your preferred map provider: Google Maps , Bing Maps , or MapQuest . You can use DriveDistance.com to get the full driving distance from Ottawa to Boston with directions.
More trip calculations
Driving Time
Cost Of Driving
Reverse Drive Distance
Stopping Points
Hotels near Boston, MA
Flight Time
airports near Boston, MA
airlines flying to Boston, MA
Nonstop Flights
Time Difference
Driving distance from Ottawa, Canada to Boston, MA
The total driving distance from Ottawa, Canada to Boston, MA is 436 miles or 702 kilometers .
Your trip begins in Ottawa, Canada. It ends in Boston, Massachusetts.
If you are planning a road trip, you might also want to calculate the total driving time from Ottawa, Canada to Boston, MA so you can see when you'll arrive at your destination.
You can also calculate the cost of driving from Ottawa, Canada to Boston, MA based on current local fuel prices and an estimate of your car's best gas mileage.
If you're meeting a friend, you might be interested in finding the city that is halfway between Ottawa, Canada and Boston, MA .
Planning to fly a plane instead? You might be more interested in calculating the straight line distance to fly from Ottawa, Canada to Boston, MA .
Ottawa, Ontario
Related links.
airlines serving Ottawa, Canada
hotels near Ottawa, Canada
airports near Ottawa, Canada
cities near Ottawa, Canada
Boston, Massachusetts
airlines serving Boston, MA
hotels near Boston, MA
cities near Boston, MA
Driving distance calculator
Travelmath helps you find driving distances based on actual directions for your road trip. You can get the distance between cities, airports, states, countries, or zip codes to figure out the best route to travel to your destination. Combine this information with the fuel cost tool to find out how much it will cost you to drive the distance, or compare the results to the straight line distance to determine whether it's better to drive or fly. You can print out pages with a travel map.
Home · About · Terms · Privacy

Share this page
How to get from Ottawa to Boston
Compare travel options and prices to find best route from ottawa to boston, ✅ how to travel from ottawa to boston, ➨ how to travel cheap from ottawa to boston, ⚡ what is the easiest way to get from ottawa to boston, ✚ how far is ottawa to boston, ✔ what companies provide bus routes from ottawa to boston, ➢ what companies provide train routes from ottawa to boston, ◉ what airlines fly to boston from ottawa, ✦ what is the fastest bus from ottawa to boston, ➜ what is the fastest way to get from ottawa to boston by train, ► what is the fastest flight between ottawa and boston, ✓ what are the departure stations for buses from ottawa to boston, ➠ what stations do buses from ottawa to boston arrive at, ∎ what stations do trains from ottawa to boston depart from, ➣ what are the arrival stations for trains from ottawa to boston, ◎ what airports do the flights between ottawa and boston depart from, ➥ to which airports do flights arrive from ottawa to boston, ➲ how many buses are there between ottawa and boston, ▲ how many trains operate from ottawa to boston.
Trips from Ottawa
Ottawa to Niagara Falls
Ottawa to Syracuse
Ottawa to Mont-Tremblant
Ottawa to Ogdensburg
Ottawa to Chicago
Ottawa to Montreal
Ottawa to Toronto
Ottawa to Kingston
Ottawa to New York
Ottawa to Cleveland
Ottawa to Pittsburgh
Ottawa to Sault Ste. Marie
Ottawa to Kansas City
Ottawa to Vancouver
Ottawa to Detroit
Ottawa to Campbellford
Ottawa to Washington
Ottawa to Thunder Bay
Ottawa to London
Ottawa to Calgary
Ottawa to Miami
Ottawa to Windsor
Ottawa to Edmonton
Ottawa to Philadelphia
Ottawa to Winnipeg
Ottawa to Dallas
Ottawa to Saint-Hubert
Ottawa to Hull
Ottawa to Iowa City
Ottawa to San Francisco
Ottawa to Seattle
Ottawa to Phoenix
Ottawa to Los Angeles
Ottawa to Gatineau
Ottawa to Chelsea
Ottawa to Buffalo
Ottawa to Quebec City
Ottawa to Carlsbad Springs
Ottawa to Hawkesbury
Ottawa to Barrys Bay
Trips to Boston
Baltimore to Boston
Syracuse to Boston
Montreal to Boston
Pittsburgh to Boston
Rochester to Boston
Toronto to Boston
Philadelphia to Boston
Woburn to Boston
Cleveland to Boston
Atlanta to Boston
Miami to Boston
Ithaca to Boston
Newark to Boston
Buffalo to Boston
Tampa to Boston
Albany to Boston
Providence to Boston
Richmond to Boston
Dallas to Boston
Worcester to Boston
Charlotte to Boston
Hartford to Boston
Cambridge to Boston
Stamford to Boston
Orlando to Boston
Detroit to Boston
Lowell to Boston
Seattle to Boston
New Rochelle to Boston
Washington to Boston
Troy to Boston
Los Angeles to Boston
New Haven to Boston
Halifax to Boston
Fort Lauderdale to Boston
Chicago to Boston
Norfolk to Boston
New York to Boston
Norwood to Boston
San Diego to Boston
Popular routes
Wausau to Madison
Austin to New Orleans
Corpus Christi to Houston
San Antonio to El Paso
Chicago to Wheaton
Aix-en-Provence to Paris
Eat and Drink
Entertainment
Real Estate
Things To Do
9 Road Trips From Ottawa That Are Totally Worth The Drive
I don't know about you,  but I love road trips. Even though some can be long and boring, if you have good music, good friends and good food, you're all set. The road trip part of the trip can actually be the most fun, but only on the way there. On the way back, the post-trip depression sets in hard. 
Ottawa is in a good location where you can road trip to so many places in and out of the country.  Toronto is only about 4 hours away, and so are some places in the States. It honestly just depends on what you're down for!
Some people like to travel to go hiking, some people like to travel to relax, and some people like to travel to go shopping and go sightseeing. There is a mix of everything in here so you and your squad will be able to choose no problem. 
See on Instagram
Old Québec, Québec
4 hours and 45 minutes
Old Québec is the perfect place to go to if you're too broke to travel to Europe.  It's such a stunning city, and it's filled with so much history and knowledge. If you love to learn, Old Québec has a ton of museums that will catch your eye. Seriously, this is the closest you'll get to Europe in Canada. If you love to shop, streets like rue Saint-Jean and rue Saint-Louis are the go-to spots. 
Hershey, Pennsylvania 
This trip is perfect for the chocoholics.  Not only do they have a theme park called Hersheypark that is literally a chocolate-themed amusement park, but they have Hershey's Chocolate World where you can see how the products are made, a free chocolate tour ride, and they carry the most Hershey chocolate you'll ever witness. I've been here twice, and no matter what your age is, you'll enjoy it. i
Scandinave Spa, Blue Mountain 
5 hours and 45 minutes
If you're looking to get away to relax,  this is the place you need to travel to. You'll be able to rejuvenate in nature and they have so much to offer. Whether you just want to relax in a bath all day or want the full treatment, they have it all. 
Bic National Park, Quebec
Too broke to travel to the Bahamas?  Don't worry, you don't even have to travel outside of Canada for this view. This trip is for those who love nature, and love to be adventurous. Bic National Park is filled with amazing sights such as coves, islands, and mountains. You can go on sea kayaking tours which will allow you to watch marine and bird life. There is also 25 km of trails to hike on to see the most gorgeous views. 
Lake Placid, New York
Lake Placid is a great spot for those who love small towns,  but still want something to do. Something you have to do while there is check out the Lake Placid Winter Olympics Museum, and the Olympic Ski Jump sight. The little town is filled with adorable stores and restaurants too. This is definitely a low-key vacation spot, but it's easy to road trip to. 
Alexandria Bay, New York
1 hour and 50 minutes
The good thing about Alexandria Bay is that you can also go to Kingston and Gananoque in the same trip!  Alexandria Bay is known for the Boldt Castle, which is absolutely stunning all year round. Alexandria Bay is perfect for a day trip, and all of the restaurants along the water will make you fall in love with the little town. 
White Mountains, New Hampshire 
5 hours and 30 minutes
The White Mountains are so close to Ottawa,  and the views really put the Gatineau Hills to shame. Located in New Hampshire, you could make this a revitalizing trip by going on wine tours and camping out. I mean, what's more relaxing than that? They have a bunch of different trails, from moderate to difficult, on White Mountains so this is every hiking lovers dream. 
New York City, New York
Let's be real, this is the most worth it.  I've done this drive 3 times now, and it's always worth it. The drive goes by so quickly because of how excited you are to get into the city. I mean, there are the obvious things you can do in NYC like go to the Top of the Rock, visit Times Square, walk the Brooklyn Bridge, but if you need any suggestions, click here . This is definitely the perfect trip for anyone who loves a big city and a fast-paced life!
Niagara-on-the-Lake, Ontario
Niagara-on-the-Lake is the perfect place for wine lovers. It's Canada's wine country, and the town is so charming. It's a must to stay in one of the cute countryside hotels so you're close to everything. Even just walking around the town will make you feel like you're in a movie. Life is perfect up at Niagara-on-the-Lake, and the wineries make it even better. It's only a half an hour drive to Niagara Falls too, so you get the best of both worlds!
5 Stunning Ontario Road Trips With Epic Views & Natural Wonders For A Summer Getaway
8 underrated places to visit in quebec that are just a road trip from ontario, 7 best road trips near each major city in canada you can take this spring, 6 easy road trips from ontario that will make you feel like you're on vacation, 5 canadian day trips to go on this holiday when you need a breather from your family.
Bus from Ottawa, ON to Boston, MA
Facts about the bus from ottawa, on to boston, ma.
Compare all providers like FlixBus that travel 4 times every day by bus from Ottawa, ON to Boston, MA in one click! Book your bus ticket from Ottawa, ON to Boston, MA starting from $144.75!
Cheapest bus connections from Ottawa, ON to Boston, MA
Every day, 4 buses from 1 bus companies leave Ottawa, ON for Boston, MA: in the table below, you will find the cheapest prices for a bus ticket for this route, starting from 11/09/2023 and for the following days.
The cheapest time to travel from Ottawa, ON to Boston, MA
How to save money travelling from ottawa, on to boston, ma.
Book the ticket from Ottawa, ON to Boston, MA in advance! The earlier you book, the cheaper usually the price is. Also, you will be sure to have a place on the bus from Ottawa, ON to Boston, MA, compared instead if you buy it at the last moment, or directly at the station.
Compare all timetables for the bus from Ottawa, ON to Boston, MA

Frequency of bus connections between Ottawa, ON and Boston, MA
Beloved bus companies from ottawa, on to boston, ma, flixbus from ottawa, on to boston, ma.
Here you will find the key facts about the FlixBus bus route Ottawa, ON to Boston, MA:
Find out more on our FlixBus page.
All bus stations and stops in Ottawa, ON and Boston, MA
In the map below, you can see where to find all bus stations in Ottawa, ON and Boston, MA.
Service and Comfort on the bus from Ottawa, ON to Boston, MA
Faqs about the ottawa, on to boston, ma bus, how much does a ottawa, on boston, ma bus trip cost, how much could i save by comparing buses from ottawa, on to boston, ma, on average, how many connections are available from ottawa, on to boston, ma each day, how long does a bus journey from ottawa, on to boston, ma take, what time is the first bus from ottawa, on to boston, ma, what time is the last bus from ottawa, on to boston, ma, which bus companies operate the ottawa, on boston, ma route, is there a direct bus between ottawa, on and boston, ma, what can i take with me on the ottawa, on to boston, ma bus route, what equipment is available for the ottawa, on boston, ma bus route, available seat classes which are offered on the bus route ottawa, on to boston, ma.
The cheapest option available for your ticket, it usually comes with reclinable seats and AC.
More bus routes from Ottawa, ON and Boston, MA
Bus Routes from Ottawa, ON
Ottawa, ON to Atlanta, GA
Ottawa, ON to Barrie, ON
Ottawa, ON to Chicago
Ottawa, ON to College Park, MD
Ottawa, ON to Detroit
Ottawa, ON to Laval, QC
Ottawa, ON to Newark
Ottawa, ON to Philadelphia
Bus Routes from Boston, MA
Boston, MA to Allentown, PA
Boston, MA to Atlanta, GA
Boston, MA to Baltimore, MD
Boston, MA to Bangor, ME
Boston, MA to Camden, NJ
Boston, MA to Chicago
Boston, MA to Glendale, CA
Boston, MA to Pittsburgh
Boston, MA to Toronto, ON
Ottawa, ON to Montreal-Trudeau Airport
Boston, MA to Manchester Airport, NH

The CheckMyBus App
Free Download
We value your privacy!
Ottawa Tourism
Ottawa Hotels
Ottawa Bed and Breakfast
Ottawa Vacation Rentals
Flights to Ottawa
Ottawa Restaurants
Things to Do in Ottawa
Ottawa Travel Forum
Ottawa Photos
Ottawa Travel Guide
All Ottawa Hotels
Ottawa Hotel Deals
Last Minute Hotels in Ottawa
Things to Do
Restaurants
Vacation Rentals
Travel Stories
Rental Cars
Add a Place
Travel Forum
Travelers' Choice
Help Center
Ottawa ON - Boston MA and back - Ottawa Forum
Ottawa ON - Boston MA and back
United States Forums
Europe Forums
Canada Forums
Asia Forums
Central America Forums
Africa Forums
Caribbean Forums
Mexico Forums
South Pacific Forums
South America Forums
Middle East Forums
Honeymoons and Romance
Business Travel
Train Travel
Traveling With Disabilities
Tripadvisor Support
Solo Travel
Bargain Travel
Timeshares / Vacation Rentals
Ontario forums
Ottawa forum
1. Could anyone please advise me which is the easiest of them all? As I don't know what to take into consideration at all (being a tourist) when making the choice.
2. Which border crossing is least congested, are they all open 24/7?
3. Where is a good place to stop for the first night en route? We don't want to drive into the dark. And for the last night to break the drive back from Boston to Ottawa?
4. What stops do you recommend en route? We don't want to side track too much, but we want to enjoy the journey as well.
5. Boston hotels seem very expensive especially since we need 2 rooms and parking. Does anyone have any suggestions of where we should look for accommodation in Boston and vicinity, central enough to park the car and rely mainly on public transportation?
6. We want to buy a GPS in Canada before we start our initial drive to Tadoussac. (we're renting a car for 16 days and figured out it's better value to buy one than add 15CAD a day to the car rental fee ) could someone please recommend one to us.
I'm posting this query on Ottawa, Montreal and Massachusetts Forums.
Thanks for bearing with me
Yours Karyn
Ensure that the car rental company notes on the rental agreement that they authorize you to take the car into the US. You may be asked by Customs when entering the US, or when re-entering Canada, for this documentation.
Some companies offer unlimited mileage, but only within Canada. The rental company will use the onboard GPS to track your usage. The extra per mile charges can add up quickly, so be sure to ask in advance.
Best Regards
As per my investigations...
GOOGLE MAPS will certainly give you a variety of options… and most of them will have you head for Montreal … as this is way that the Route can be completed almost entirely on Expressways / Autoroutes / Interstates.
And you should know that Mr Wine & I have driven all these suggested routes (and many others) as we visit Vermont, New Hampshire or Massachusetts a couple of times a year (been twice already in 2011)
So lets review them (suggest that you take a look at GOOGLE MAPS to follow along)
Take Hwy 417 and Autoroute 40 to Montreal… then once on the southshore… Autoroute 10 East to Autoroute 35 to Hwy 133 to the Vermont Border and then Interstate 89 to Interstate 93 on into Boston . GOOGLE MAPS estimates this route to be aprox 690 Kms and about 7:25 Hours of Driving Time*
Take Hwy 417 and Autoroute 40 to Montreal… then once on the southshore… Autoroute 10 East to Autoroute 55 (at Magog)… Follow Autoroute 55 to the New Hampshire Border and then Interstate 91 to Interstate 93 on into Boston. GOOGLE MAPS estimates this route to be aprox 709 Kms and about 7-1/2 Hours of Driving Time*
Take Hwy 417 to Hwy 416 south to the Prescott… then follow Hwy 16 to the Seaway Skyway Bridge to cross into New York State. From here it is cross-country to the I-87 (lots of choices for routing)… we typically take Hwy 37 to Hwy 11 and then head for the I-87.
At the I-87 you'll have to make another choice…
1- Take Hwy 11 at Rouses Point across the top of Lake Champlain towards the I-89 (OR alternatively take the scenic route on Hwy 2 thru the Champlain Islands and on to Burlington where Hwy 2 meets up with I-89)
2- Head South down I-87 to Plattsburg and take the Ferry across Lake Champlain to Grande Isle… then Hwy 2 thru the bottom of the Champlain Islands until it meets up with I-89 and then as per above on into Burlington.
In both of these choices in Option # 3, you'll continue on I-89 to I-93 and on into Boston.
GOOGLE MAPS pegs Option # 3 Routing at somewhere between aprox 671 Kms and about 7:38 Hours of Driving Time* and 715 Kms and 8 Hours Driving Time* depending which way you go thru the top of Vermont.
All of these options are quite scenic…
And as I said there are many other choices as well that take in the scenery of Upstate New York (the Adirondacks) – Vermont (the Green Mountains) – and New Hampshire (the White Mountains). BUT it will all come down to how much time you can use to discover & explore.
OPTIONS # 1, # 2, and # 3 above are good solutions if you are in a need to make Boston and back in a reasonable (short) amount of time… and still want a bit of a taste for what these areas have to offer in the way of Geography / Scenery.
--- --- ---
As a general rule of thumb… Downtown Ottawa to Downtown Montreal is aprox 200 Kms and just under 2-1/2 Hours Driving Time*
Montreal to Burlington is aprox 155 Kms and about 2 Hours Driving Time*
*NOTE – Driving Time is just that… time spent driving. It doesn't account for Stops, Breaks or Sightseeing… nor for Delays caused by things like Border Crossings, Ferry Waits, Traffic Congestion, Road Construction, or Weather Conditions. It is estimated using GOOGLE MAPS for the shortest most direct route (unless otherwise noted) and driving under "ideal conditions" at the posted speed limits.
And that is the KEY… "Driving under ideal conditions"
Mr Wine have spent a fair bit of time road tripping this summer and I can tell you… that a good lot of the roads in and in around Montreal are under Construction… including some of the Bridges on and off the Island.
As Montreal is an Island, everything ultimately funnels down to either one of the Bridges or the Tunnel.
Your DEPARTURE PLAN is for 2 PM on October 6th… a Thursday… which means you will hit the Westend of Montreal at aprox 4 PM… and as it is a Weekday, you'll be contending with RUSH HOUR TRAFFIC… which means you may not make it across to the other side of the city by 6 PM (and ultimately reaching say Burlington at 8 PM)
A whole lot of wasted time… making NO PROGRESS.
Not to mention that the various Quebec Border Crossing in close proximity to Montreal (I-87 - I-89 - I-91) are always busier than any of the ones here in the Seaway Valley Region… so expect another loss of time at the Border.
DAY ONE - ROUTE OPTION # 3
So although, the trip bypassing Montreal looks longer on a map… in the end you should make better time by cutting cross-country and heading for Upstate NY, and the Border at Prescott.
The Border Crossing there is rarely busy… there is some construction currently happening on the Seaway Skyway Bridge but nothing that will cause much of a delay.
If all goes to plan, you should make the Burlington area somewhere around the 5 Hour Driving Time* Mark out of Ottawa.
Burlington is primarily a University Town… so the good news is there is a fine assortment of Hotels here … the bad news is that some of them are quite pricey ($ 150+ US). Have also had some decent meals in Burlington as well.
Send me a PM, and I can give you the lowdown on what Mr Wine & I have had success with (or as always consult the HOTEL & RESTAURANT REVIEWS here on TA)
Burlington to Boston is aprox 350 Kms and about 3-1/2 Hours Driving Time*
RETURN TRIP
As you can see in the best case scenario you are still going to be looking at somewhere around 7-1/2 and 8 Hours of Driving Time* if you stick with main routes… IF you make any detours for sightseeing reasons (ie I-90 West to Albany… before heading North on the I-87 or cutting thru the Adirondacks Park… home of Lake Placid, which was the sight of two Winter Olympics ~ 1932 and 1980)
If you want to be back in Ottawa by Noon on October 11th.. then you'll want to be somewhere just 3 or 4 Hours away. Possible spots could include…
Saranac Lake NY (3 Hours) – Lake Placid (3-1/4 Hours) – Plattsburgh (3-1/2 Hours)
As a point of reference the times and distances from Boston for these locations are as per follows…
Boston to Plattsburgh (I-93 – I-89 – Hwy 2 – Ferry to Plattsburgh) = 393 Kms = 4-1/2 Hours Driving Time*
Boston to Lake Placid (I-90 – I-87 – and then Cross Country) = 489 Kms = 5-1/2 Hours Driving Time*
Boston to Saranac Lake (I-90 – I-87 – and then Cross Country) = 505 Kms = 5-3/4 Hours Driving Time*
YOUR QUESTIONS…
1- As I said most of these routings will be Expressway / Autoroute / Interstate. The other routes (such as where I've indicated going Cross Country) will be 2 Lane Highways with one-on-one traffic. But they are all well maintained, and pretty straight forward and easy to follow on a map. To be honest although the Expressways are nice… they do have their issues in that they'll take you thru the bigger cities (such as Montreal at Rush Hour)… and they don't really offer up a lot in regards to scenery. Which is why I've proposed the Route thru the Champlain Islands going to Boston, and for the Return trip…if you can swing it… doing a bit of Cross Country thru Adirondack Park
2- Of all the Canada-US Border Crossings the Prescott-Ogdensburg is both the closest and traditionally not a busy one. The Seaway Skyway Bridge is currently under construction… but it shouldn't present any problems.
You plan to leave Canada on a Thursday BEFORE a Long Weekend for both countries (Thanksgiving in Canada and Columbus Day in the USA)… and return on the Tuesday AFTER the Long Weekend… so you shouldn't run into too much Border Traffic / Delay. The Friday and Monday will be much worse !!
The Major Border Crossings that we are discussing here are all OPEN 24-7-365
3- If you leave Ottawa around 2 PM on the Thursday, you should have no issues making Burlington (5 Hours) before it gets really dark… on Thursday, October 6th the sun will be setting at aprox 6:45 PM. Sunset on Monday, October 10th will be at aprox 6:30 PM
4- Stops enroute. I've already discussed some possible spots… but honestly this is a long trek (covering a lot of distance and varied countryside) for you to make in a short amount of time. With the limitations that you've put forward… leaving at 2 PM… Arriving back in Ottawa around Noon.
So, I've tried more than anything here to plan out a route that will allow you to drive fairly solidly… continually moving forward, while at the same time being able to take in some of the scenery that will still present itself around you.
5- Boston Hotels… YES Boston is a fairly expensive city when it comes to Accommodations… that has certainly been my experience. This is most certainly a Question best posed on the BOSTON TRAVEL FORUM where Local Advisors & Des can give you their best info.
6- GPS… Agree at $ 15 per day rental… buying one most certainly makes a lot of sense. I've discovered that everyone I know seems to have one made by a different Manufacturer or Models with various functions. Mr Wine & I have a Garmin… it is pretty basic. And to be honest, although we do use it on occasion, I am of the generation that I was taught how to read a map… I've had great success with that for 50 Years… so it is still how I do most of my Trip Planning / Navigating.
Where I do like my GPS is when I am looking for something while enroute… we decide we want to eat, have coffee, whatever… I can ask the GPS to find me places and make suggestions to me along my route. That comes in really handy, when I am in an area I am unfamiliar with.
Also has proved successful in finding us directions to our Hotels… I just put in the address and the GPS does the work. Which is nice, because sometimes Hotels are on Expressway Service Roads, One-Way Streets etc.
For more info on GPS Units, I suggest that you post this Question on the TRAVEL GADGETS & GEAR FORUM (it is part of TA's BEYOND DESTINATIONS FORUMS… so those organized by theme… not Destination).
TA – TRAVEL GADGETS & GEAR FORUM = http://www.tripadvisor.ca/ShowForum-g1-i12530-Travel_Gadgets_and_Gear.html
For future reference…
You can get to the BEYOND DESTINATIONS FORUM by looking for the box with that name on the right hand side of the screen… click on the SEE ALL within that box, and a full list of FORUMS by Theme will come up.
Hope this is helpful,
Yes, I don't understand why I did'nt notice it before I sent my question.
I see that there is a fourth alternative, you suggested , through Cornwall, that google maps didn't mention.After reading your answer I found it on Mapquest and am trying to familiarize myself with it, being a tourist , still trying to plan the trip without knowing the reality of the terrain , I find your advice valueable and unsubstitutional (is that a word? I can;t think of an accurate word to encompass what I mean )
I also found that the driving time given by mapquest is around an hour longer than that given by google maps for what seems to me identical routes.
Thanks again Karyn
Hi Rescue Team
Thanks I would never have thought that unlimited miles meant anything but that , I'll look in to it and be alert for any loop holes.
Hello Wine 4-2
I'm still trying to figure out how to send a PM to you.
Thank for the info , I'm indulging myself in studying it slowly and looking the suggestions up as I read your answer.
I'm trying to juggle 3 peoples wishes. One of them being myself. I would realy love to go on a boat tour on the 1000 islands, and have looked the schedules up on the sites you sent me in response to my previous question. Do you think that it's doable to take a boat tour either from the USA side on the 10 th Oct , or to reach Rockport by 17;00 on the 10 th to take the Sunset cruise ,without stressing my loved ones and spoiling our return trip by cramming too much in?
You're Welcome, Karyn !
Hi Karyn09,
First off, thank you for your kind words. Glad to help.
<< I see that there is a fourth alternative, you suggested , through Cornwall, that google maps didn't mention.After reading your answer I found it on Mapquest and am trying to familiarize myself with it, being a tourist , still trying to plan the trip without knowing the reality of the terrain >>
1- CORNWALL
I don't think I mentioned it here in my reply to you above… but it is certainly another alternative as a way across the Border to hook up with Hwy 37 in Upstate NY. And although it was the Primary "go to" Crossing* for many years in the Seaway Valley… IMHO it has become a ROYAL PAIN in recent years for a multitude of reasons.
*NOTE – GOOGLE MAPS which has a built in ability to find the quickest and shortest route… has recently stopped picking Cornwall as its primary choice… and now defaults to Ogdensburg (Seaway Skyway Bridge) for anyone wanting to get to Upstate NY.
Foremost, this is the Border Crossing known as the 3 Nations Crossing (Canada – USA – and the Mohawk Nation) there is actually 2 Bridges, with a small drive across Cornwall Island in between them. The Mohawk Nation has had ongoing issues with both the Canadian & US Governments in regards to their land-claims and maintaining their rights to self-governance. The Bridge was CLOSED for 6 Weeks due to a protest in 2009… and since then the Canadian Customs Office has been relocated to the Cornwall side of the Bridge in a "temporary location"… as this isn't a permanent fixture… the flow of traffic isn't ideal.
Consequently there are often Delays at this Border Crossing.
Wikipedia – Three Nations Crossing = http://en.wikipedia.org/wiki/Three_Nations_Crossing
Add in the fact that the Bridge itself (known as the Seaway International Bridge) is undergoing improvements and there are ALWAYS delays at this crossing. For those two reasons, I rarely use this Bridge myself anymore… and don't usually recommend it to others either.
<< I also found that the driving time given by mapquest is around an hour longer than that given by google maps for what seems to me identical routes. >>
2- MAPQUEST
Certainly a very popular On-Line Mapping Program. I used to use MapQuest until I discovered that GOOGLE MAPS was usually far more accurate IMO. Based on conversations I've had with other TA Members, and in particular DEs, GOOGLE MAPS is now the "go to" choice for North American Destinations anyways… no mapping program is 100% correct all of the time… they all have some issues. With GOOGLE MAPS is the fact that for the most accurate results you have to put in the address of a location vs just the Landmark Name... but that is of small consequence (I just use GOOGLE to get the address) with all the other great features of GOOGLE MAPS… Times & Distances for Vehicles, Walking, Cycling and Public Transit – Traffic Flow Stats – Satellite View – and the most valuable Street View… GOOGLE MAPS is an invaluable tool for Trip Planning… so much so that I always have it open in another window on my computer when working with TripAdvisor.
<< I'm still trying to figure out how to send a PM to you. >>
3- PRIVATE MESSAGING
To send a Private Message (PM)… the easiest way is to just click on the Highlighted Name of the other TA Member… (the blue writing of my name… below my icon / avatar here to the left of this post)
This will take you to my TA PROFILE Page… Then look for the SEND MESSAGE option on the left hand side of that screen. Click on that… it is then pretty much the same as sending an email.
When someone sends you a PM… when you next log in to TA there will be an indication in the top right hand corner of any TA Page… that you have a message waiting for you. Click on it… and it will take you to your own TA PROFILE MESSAGING PAGE
Infact all these features are linked back to your TA PROFILE PAGE… you should check it out… there are a lot of cool features that TA can do to help you with your Trip Planning that tie back to your TA Account / TA PROFILE PAGE.
<< Thanks for the info. I'm indulging myself in studying it slowly and looking the suggestions up as I read your answer. >>
4- MY TRAVEL ADVICE
To be honest, sometimes my suggestions aren't always what others would choose… everyone is entitled to their own opinions. I base my info though not just on memory… as many TA Members no doubt do… I base my info on actual experiences and fact… I spend a great deal of time looking things up for Travellers, to make sure I have my info correct and as current as possible. Which is why I don't guesstimate times and distances… BUT always give GOOGLE MAPS calculations in my posts
Example… Many would say the drive from Ottawa to Montreal is 2 Hours… which indeed would be "about right"… but from Downtown to Downtown it truly is more like 2-1/2 Hours (and that would be in "ideal conditions"… Montreal being Canada's second largest city… and having significant Rush Hours that span from 6 AM to 10 AM and 3 PM to 7 PM). With just an allowance of 2 Hours and one will only find themselves on the West Island of Montreal… I KNOW THIS AS FACT… because I used to live on the West Island… and still have family there that I go back to see.
PLUS there is the fact Mr Wine & I as being semi-retired travel a ton… lol, we are oft to say that in an ideal year, there are about 30 Weekends of good driving weather for Road Trips (Spring thru Fall)… we try to take advantage of as many as we can… be it for a full-weekend away, or just a great day's touring. Add in the occasional long weekend the rest of the year (November thru April)… and any of our longer vacations (have driven across Canada and to much of the USA, including our annual treks to the Southern USA & Florida)… and what I offer Travellers here on TA is based on years of experience, and tried-and-true first hand accounts.
<< I'm trying to juggle 3 peoples wishes. One of them being myself. >>
5- TRIP PLANNING
In my honest opinion… being in Ottawa then the 1000 Islands are a MUST DO for your family (lol, as the primary Trip Planner in our family, I ultimately set the Itinerary… Mr Wine rarely complains, he's come to realize that I've done all the research, and actually by the time we travel know a ton more than he ever will. Sure we've had some "misfires" (every vacation seems to have a few)… but for the most part, we've had amazing adventures and have seen & done things that we truly enjoyed, and a good deal is in part to being able to use TA to get some incredible TIPS and info.
<< I would realy love to go on a boat tour on the 1000 islands, and have looked the schedules up on the sites you sent me in response to my previous question. Do you think that it's doable to take a boat tour either from the USA side on the 10 th Oct , or to reach Rockport by 17;00 on the 10 th to take the Sunset cruise ,without stressing my loved ones and spoiling our return trip by cramming too much in? >>
6- THE 1000 ISLANDS
Boston to Alexandria Bay NY (where you'd get a Boat Cruise thru the 1000 Islands) according to GOOGLE MAPS is aprox 595 Kms and about 6-3/4 Hours Driving Time* travelling via I-90 and I-81 and then Hwy 12 to A-Bay.
It is certainly do-able.
The 1000 Islands are greatly different from both sides of the St Lawrence River (a lot like Niagara Falls USA and Niagara Falls Canada are not the same… IF you get down that way… be sure and mark down the Niagara River Parkway as a MUST DO).
Ontario has spent a lot of time and money putting aside areas for Conservation and Preservation, and creating Parkland since the 1960s… this is true here, as well as in the Niagara Region. New York State is well come late to the table, they are only now (some 50 Years on) beginning to realize that their lack of forethought and planning means that some of the great areas of the 1000 Islands could be lost for the enjoyment of future generations.
Here is the simplest of examples… on the Canadian side, there is the very scenic and beautiful 1000 Islands Parkway that runs from Gananoque to Brockville an aprox distance of 50 Kms. The area around it is protected from extensive development… so that all who visit can enjoy the natural beauty of the area.
On the US side there is no Parkway. The "advertised" Seaway Trail is actually Hwys 12 and 37 that skirt along the shoreline here and there. For the majority of the route there is either farmland or extensive development between the Road and the River… and virtually no views of the waterway. In a few spots there are some turnoffs and lookouts where the water is visible. To actually see "the islands"… one has to go into the small towns (many are very commercial) and make a true effort to take in the view and experience... which is in many cases still rooted in the 200 year old tradition that "The Islands" are for the wealthy and no-one else… everyone else ashore trying to make a living by providing services to "the Islanders" with a hope that someday they too can join in the dream.
By contrast, on the Canadian side the 1000 Islands experience and enjoyment is very accessible for everyone. Even in the dead of Winter, one can drive the 1000 Islands Parkway, and see a large amount of the islands, and enjoy the beauty of the region and the wildlife that congregates there. Spring thru Fall… one can take in the various access points to the waterfront be it the various Cruiselines, Boat Launches, Watercraft Rentals (everything from Canoes & Kayaks, Fishing Boats, Dayboats and Houseboats are available), and of course there are also the National & Provincial Parklands, Bird Migration & Conservation Lands, Campgrounds, Public Beaches, Bike Routes and even Hiking Trails that look out from the Canadian Shield in what has recently been named a UNESCO World Biosphere (The 1000 Islands-Frontenac Arch Biosphere = http://www.fabr.ca/pdfs%202011/DRAFT%20FABN%20Brochure%202011.pdf )
ALEXANDRIA BAY NEW YORK - is a village on the mainland in the 1000 Islands… on "the Bay" across from the historic and famous Boldt Castle. Due to its location, and the view to the Castle… it attracts a lot of tourists during the Summer months.
Wikipedia – Alexandria Bay, NY = http://en.wikipedia.org/wiki/Alexandria_Bay,_New_York
"A-Bay" to be truthful, it wouldn't be my first choice for a Destination (many, myself find it to be a tacky-tourist town)… it has a HUGE reputation for rowdy drinking and partying… and sometimes the altercations that come along with that. It is one spot where there is a heavy police presence on the streets in the evening trying to break-up any confrontations before they escalate. It is ok in the daytime, but not so great after dark. And it certainly doesn't have the historic charm of either Gananoque or Rockport. Restaurants and Hotel choices are limited (with too many low-end Hotels to count). Being a long way off from my college years, the attraction to such a place has long passed… I find it mildly ok in the daylight… but I wouldn't want to overnight there !!
CANADA SIDE...
Boston to Rockport according to GOOGLE MAPS is aprox 647 Kms and about 6-3/4 Hours Driving Time* travelling via I-90 and I-81 to the US-Canada Border Crossing at The Thousand Islands Bridge… from there The Thousand Islands Parkway onto Rockport
Boston to Gananoque according to GOOGLE MAPS is aprox 661 Kms and about 7-1/4 Hours Driving Time* travelling via I-90 and I-81 to the US-Canada Border Crossing at The Thousand Islands Bridge… and from there The Thousand Islands Parkway onto Gananoque
*NOTE – Driving Times are just that… time spent driving… they don't account for Stops, Breaks or Sightseeing. Nor for Delays caused by things like Ferry Waits, Border Crossings, Traffic Congestion, Road Construction or Weather Conditions. They are estimated using GOOGLE MAPS for the shortest most direct route (unless otherwise noted) and driving under ideal conditions at the posted speed limits.
Although the distance is do-able… I don't think that it is a risk I'd take.
The 10th of October, is a Monday. It is Columbus Day in the USA and Thanksgiving in Canada… it is a very busy weekend for Travellers… especially so for Canadians… as many tend to see it as one last opportunity to have a carefree get away in what is usually considered decent weather… before the cold rains of late October, and snow flurries of early Winter are upon us. Winter Driving is a HUGE issue for Canadians, many choosing either not to travel much at all… or like others (myself included) realize that plans may have to change. In our Winter most folks who like to travel make "tentative" and very flexible plans… typically with a 3 Day Window… a common phrase would be "We plan to leave Thursday, but if the weather doesn't cooperate, it could be Friday, Saturday or Sunday"
So what does this mean for Thanksgiving Weekend ?
This is a busy weekend for Travellers… trying to "get one last kick at the can" and with it being a Joint US & Canada Holiday Weekend the Border Crossings will be busy. By Friday at Noon, there will be a lot of Canadians hitting the road… The Canadian Dollar is performing well currently against the US Dollar (we are ahead right now) so lots of folks will plan their getaways to include visits to the US to take advantage of the extra buying power that their dollars will offer.
Come Sunday, the first of the Canadians will begin pouring back into Canada… having met their required 48 Hours away to make the most of their DUTY FREE Allowances… Monday at ALL Canadian Border Crossings will be a zoo.
Mr Wine and I were in New England for Victoria Day Weekend back in May… we had plans to cross back into Canada on the Monday via either the Cornwall or Prescott Crossing. We arrived at the Cornwall Crossing to clearly see that there was a HUGE Delay… with cars back up across the Bridge and even as far as Hwy 37 on the US mainland itself. We estimated the wait to be in excess of 2 Hours.
Lol, it was around 7 PM… we thought we'd nip into nearby Massena for a bite to eat, before heading for the Ogdensburg-Prescott Crossing, hoping that it might be better.
At aprox 8:15 PM we arrived at the entrance to the Seaway Skyway Bridge… and proceeded just a short distance before joining traffic (and the back-up) from the Border Crossing. The movement across the Bridge was aprox 5 to 10 cars at a time, with 5 to 10 minutes between advancements. Must say that watching the sunset over the 1000 Islands was nice… but that was about it. When we arrived finally at the Canadian Customs Booth, we had all our paperwork in order, and the Interview Process was under 5 Minutes. As we cleared the area and proceeded to the ramp for Hwy 416, I looked at my watch… it was 9:45 PM… we had spent about 1-1/2 Hours in the Customs Line-Up and most of it sitting atop the Bridge.
The Thousand Islands Crossing at the top of I-81 is a bigger crossing… but it also sees more traffic. Border Waits there on a Holiday Weekend can be similar… although I don't think I've ever sat longer than an hour… I have many friends who claim they've seen even 3 Hour Waits (that reminds me of waits to be found for Travellers making their way to Montreal or Toronto on long weekends… the I-89, I-87 and Niagara Crossings are legendary).
7- MY RECOMMENDATION…
Stick with the Original Plan that I laid out… use the Holiday Monday to make time on the US side of the border… with a leisurely drive thru The Adirondacks… staying in either Lake Placid, Saranac Lake (or even Malone… although bear in mind, that driving will require CAUTION from Twilight thru to Dawn… this is Deer & Moose Country)
If you leave Boston by aprox 9 AM you should make Lake Placid late afternoon (between 2:30 and 4:00 PM say depending on how much you stop etc). On Monday, October 10th the sun is due to set somewhere 6:30 PM (although it might not be quite so strong in the mountains due to the "angle" after 5 PM). With a window of a couple of hours you can certainly take in the charms of this part of New York State. And if you have enough time perhaps visit one of the Olympic Sites.
With an extended visit to the Ottawa area… plan your visit to the 1000 Islands Region as either a One-Night Getaway (combines nicely with Kingston and / or a drive thru the Rideau Canal & Lakes Waterway Region) OR as a Day Trip out of Ottawa. The area really is truly close… by Expressway (Hwys 417 – 416 – 401) you can be in "Gan" in under 2 Hours.
1. have you researched your visa requirements for the US
2. What's the draw of Boston? Can you get something similar in Montreal or Quebec City and forget about the border hassle factor?
..oh, guess that makes 3 questions ;-)
Hotel near Algonquin College theater vs downtown Oct 20, 2023
Rugby World Cup Oct 16, 2023
Headed to Ottawa from Wells Maine Sep 07, 2023
Getting out into countryside without a car Aug 29, 2023
Ottawa Public Transport - Do Over 65 Fares Include Tourists Aug 18, 2023
Presto Cards - Transport Aug 18, 2023
Street Parking Aug 14, 2023
ottawa itinerary Aug 13, 2023
Cost of taxi from Montreal Airport to Ottawa Aug 12, 2023
A September Monday - Whas' Open? Aug 05, 2023
Dining recommendations in downtown Ottawa Jul 28, 2023
Parking near Byward Market. Jul 25, 2023
Breakfast place with TVs or sports pub open for breakfast Jul 22, 2023
How many days in Montreal & Ottawa? Jul 17, 2023
Ottawa- NYC by bus or train? 5 replies
Affordable Jacuzzi/Hot-tub rooms in downtown Ottawa 3 replies
Weekend getaway near Ottawa? 6 replies
Quebec City To Ottawa, Transportation 11 replies
Advice on sunday brunch please 4 replies
Driving time Ottawa / Boston? 3 replies
Great Lunch Spots 8 replies
fun / romantic things to do for couples in ottawa? 6 replies
ottawa to niagra falls 13 replies
Hotels near train station? 4 replies
Ottawa Hotels and Places to Stay
Do I Need a Passport... What Other Paperwork? Crossing the Border into Canada.
Cannabis - Entering Canada
Do I need Canadian Currency?
Bringing Firearms to Canada
What Can You Tell Me about Winter Driving?
Have any TA Members written Trip Reports for Ottawa?
Where can I stay near Scotiabank Place
Is there a Gay Scene in Ottawa ?
Explore Ontario
Hidden gems, gorgeous horizons, quaint small towns and more are waiting to be rediscovered on an Ontario road trip or weekend getaway. When your business is getting away, our business is you.
Explore Ontario! When you're ready to travel, there are plenty of great destinations for Ontario road trips all across this sprawling province.
From venturing north to enjoy Cottage Country's lakes and forests or heading east along the St. Lawrence, Ontario is filled with plenty of beautiful spots for to uncover.
And wherever your summer road trips in Ontario take you, you'll find our Ontario hotels waiting for you.
Stay and Explore with the Ontario Staycation Tax Credit
Travel Top 6
Go On an Ontario Road Trip!
From the shores of the St. Lawrence to the Niagara Escarpment, Ontario is yours to discover this summer.
Beyond Niagara Falls
After checking out the falls, there's so much more to do in Niagara Falls from haunted houses to getting a bird's eye view from the Skylon Tower.
The Ultimate Guide to the Best Waterfalls in Hamilton
With over a hundred waterfalls in its vicinity, Hamilton is your destination for adventure.
24 Hours in Ottawa
Go on an adventure in the capital of Canada! From Parliament Hill to the Byward Market, see everything Ottawa has to offer in just one day.
Our Commitment to Clean
Our Commitment to Clean initiative builds on our longstanding dedication to cleanliness with added precautions and enhanced best practices so you can enjoy peace of mind.
Flexible Cancellation Policy
Book with confidence thanks to our flexible cancellation policy. When you book direct with Choice Hotels, you can cancel or modify your reservation online without worrying about fees or red tape.
Travel Time
Coordinates
Flight Distance
Flight Time
Route Elevation
Get Driving Directions
Driving directions summary, driving directions from ottawa to boston.
Click the Show Map & Directions for detailed information.
Road trip starts at Ottawa, CA and ends at Boston, US .
Trip (688.9 km) Route Directions: Ottawa » Boston
Map & Directions
The Google map above shows directions from Ottawa to Boston.
Note: Clicking on any of the directions above, will automatically zoom in on that location within the map.
Your directions start from Ottawa, ON, Canada and end at Boston, MA, USA .
Like the driving directions from Ottawa to Boston? Need more details on the distances between these two locations? See the chart which displays detailed distance from Ottawa to Boston .
Or maybe you'd like to see a more detailed driving directions map ? One is available which provides satellite imagery on the road map from Ottawa to Boston .
Calculating the travel time to Boston is as important as knowing how to get there. So take a look at the travel time from Ottawa to Boston .
Did you know that you can also calculate the time it takes to fly to Boston? Take a look at the flight time from Ottawa to Boston .
While flying may be quicker, it's always more cost efficient to drive to your destination so you may want to calculate the fuel cost from Ottawa to Boston .
Additionally areas of Boston might be highly elevated which can make it more difficult to drive there... How elevated? See the route elevation from Ottawa to Boston .
Still want more flight details? See the flight distance from Ottawa to Boston .
* Due to road conditions, road work and other unpredictable conditions, these directions should be taken as estimates.
Copyright (c) 2023 Distancesto.com
Bruins at Stars: Boston looks to bounce back from first regulation loss
The Bruins took their first regulation loss of the season on Saturday after a disappointing third period in Detroit from which they'll hope to bounce back with a trip to Dallas on Monday night.
Boston sits atop the Eastern Conference standings with a 9-1-1 record, with only the Rangers (8-2-1) within touching distance at this early point in the season.
The Stars are off to a very strong start after last season's run to the Western Conference finals, with a 7-2-1 record.
Puck drop in Dallas is set for 8 p.m. Eastern. Here's your preview.
When: Monday, 8 p.m.
Where: American Airlines Center, Dallas
Advertisement
TV, radio: NESN, WBZ-FM 98.5
Line: Dallas -135. O/U: 5.5.
Season record: 9-1-1. vs. spread: 7-4. Over/under: 3-8
Last 10 games: 8-1-1. vs. spread: 6-4. Over/under: 3-7
Season record: 7-2-1. vs. spread: 4-6. Over/under: 4-6
Last 10 games: 7-2-1. vs. spread: 4-6. Over/under: 4-6
TEAM STATISTICS
Goals scored: Boston 35, Dallas 29
Goals allowed: Boston 21, Dallas 25
Power play: Boston 16.7%, Dallas 10.7%
Penalty minutes: Boston 133, Dallas 96
Penalty kill: Boston 93.6%, Dallas 94.4%
Faceoffs won: Boston 51.1%, Dallas 49.5%
Stat of the day: Pavel Zacha is on a six-game point streak, scoring four goals in that span.
Notes: Boston let an early 2-0 lead slip away for the second straight game and later surrendered three third-period goals in Saturday's 5-4 loss at Detroit. The Bruins did not have defensemen Charlie McAvoy (who is appealing a four-game suspension for an illegal check to the head), Matt Grzelcyk, and Derek Forbort available to begin their two-game road trip ... The Bruins have followed an exact goalie rotation all season. Jeremy Swayman, who is 5-0-0 with a sparking 1.38 goals-against average, is in line to make Monday's start ... Despite Saturday's loss, rookie center Matt Poitras continued his strong start, matching James van Riemsdyk and David Pastrnak with a goal and an assist ... Dallas is had won three straight before falling 2-0 Saturday at Vancouver. The Stars have been limited to one and zero goals in their two regulation losses ... The Stars' Jake Oettinger (26 saves) was dealt his first loss after a 5-0-1 start, though he still entered Sunday tied for sixth in the league with a .938 save percentage.
Amin Touri can be reached at [email protected] .
School Closings
CBS News Boston: Free 24/7 News
NEXT Weather
CBS Boston App
CBSNews.com
TV Schedule
Watch CBS News
Patriots focused on better execution ahead of Week 10 trip to Germany
By Matt Geagan
November 7, 2023 / 10:47 AM EST / CBS Boston
FOXBORO -- A mid-season road trip can really do wonders to bring a team together. And at 2-7 and currently occupying last place in the AFC, the New England Patriots could certainly use a team-building trip.
How about a nearly 4,000-mile excursion for their next game? The Patriots will do their thing in Foxboro on Wednesday and Thursday, but after Thursday's practice behind Gillette Stadium, the week will get really interesting.
That's when the Patriots will hop on a flight and head to Germany, where they'll take on the Indianapolis Colts in Frankfurt on Sunday afternoon. It will be the second NFL game to be played in Germany this season, following last week's Chiefs victory over the Miami Dolphins at Frankfurt Stadium.
For at least a pair of Patriots, this trip will be their first excursion out of the country.
"It's going to be pretty cool. I've never been to Germany, never really been out of the country anywhere," admitted running back Rhamondre Stevenson. "It's going to be fun to play in front of the German fans."
"I'm excited. I've never been outside of the country, so it will definitely be different for me," added Demario Douglas.
While the setting will be much, much different on Sunday, the focus remains the same for New England's rookie receiver.
"Playing the Colts," Douglas responded when asked what he's looking forward to the most during this trip. "Most definitely playing the Colts."
There won't be a ton of time for fun after the Patriots land in Germany Friday morning (losing six hours in the process), though they will make sure that they soak up the sights leading up to Sunday's game.
But this is a business trip, and the Patriots really need to focus on football after yet another disappointing loss to the Washington Commanders at Gillette Stadium last weekend. It was New England's second straight defeat, and their fifth loss in the last six games.
All of those losses are wearing thin on everyone around Foxboro, with Bill Belichick's job security being called into question for the first time in decades. But if you're worried that these Patriots are getting complacent in their losing ways and accepting defeat before a game even kicks off, Stevenson said that is not the case.
"I'm never going to get used to losing. I think we have good character on our team so I don't think that's the case," he said.
Mental mistakes and missed plays continued to plague the team. At least this trip will give them plenty of time to stick together (or be stuck together) and sort it all out in hopes of putting a winning product on the field come Sunday.
"Just everybody pulling together. It takes all 11 guys on offense, defense, and special teams," Stevenson said when asked about the keys to a mid-season turnaround. "Everyone working together and doing what they're coached to do, believing in their ability and playing ball at an elite, elite level.
"It's just execution," Stevenson added. "Doing what we know how to do individually and putting it all together; 11 guys on one play doing the right thing. It's guys having laser focus on each play and being consistent with it."
Featured Local Savings
Plan a Road Trip
Plan a Flight
Find an Airport
Where to Stay
All Questions

Ottawa to Boston via Cornwall (Canada)
Ottawa to boston road trip planner.
Here's a sample itinerary for a drive from Ottawa to Boston. If you're planning a road trip to Boston, you can research locations to stop along the way. Make sure you check road conditions to double check the weather. Traveling with a dog or cat? Find pet-friendly stops . Camping along the way? Search for RV campgrounds . Find the best hotels, restaurants, and attractions based on the most talked about places recommended by Trippy members.
11:00 am start in Ottawa drive for about 1 hour
12:12 pm Cornwall (Canada) stay for about 1 hour and leave at 1:12 pm drive for about 2 hours
day 1 driving ≈ 3 hours find more stops
10:00 am leave from Saint Albans drive for about 2 hours
11:59 am Woodstock (Vermont) stay for about 1 hour and leave at 12:59 pm drive for about 1 hour
2:05 pm Pat's Peak Ski Area stay for about 1 hour and leave at 3:05 pm drive for about 1.5 hours
4:33 pm arrive in Boston stay at The Westin Copley Place
day 2 driving ≈ 4.5 hours
Where should I stop along the way?
Cornwall (Canada) Saint Albans Woodstock (Vermont) (3 answers) Pat's Peak Ski Area (2 mentions)
Where's the best place to stay in Boston?
Are you going straight to a hotel, or looking for a vacation rental or Airbnb?
The best resource on neighborhoods, areas, and hotels is the Trippy page on where to stay in Boston .
You can also see most people recommend as the best amount of time to visit. Find out how many days in Boston to stay.
If you're looking for a quick answer, you can check out The Westin Copley Place , which was mentioned 4 times on Trippy.
Here are some more hotels people talk about:
Want to research more popular hotels in Boston? Click the blue button below.
Where's the best place to eat in Boston?
Need some recommendations on somewhere to get food?
Trippy members suggest Mike's Pastry , which was mentioned 15 times.
Here are some more restaurants people talk about:
Want to research more popular restaurants in Boston? Click the blue button below.
What are some things to do in Boston?
This section could be endless, so rather than trying to suggest every local activity or attraction, we'll leave it open-ended.
These are some of the places people talk about on Trippy:
Of course, Trippy is the perfect place to ask questions because there's an entire community of travelers talking to each other and sharing tips and advice. Trippy is where you can get answers personalized for your tastes, budgets, trip dates & more!
For example, here are some questions people have asked about Boston. Click on any question to see answers from the community!

Click the button below to explore more questions and answers related to Boston.
Do I really have to go back home?
Yes, even this step is optional, because if you're on vacation who wants the trip to end? It's okay, you can start planning your next trip!
Want to plan the trip back? Get the reverse directions for a Boston to Ottawa drive , or go to the main page to plan a new road trip .
You can also compare the travel time if you're flying or driving by calculating the distance from Ottawa to Boston . Or get a full Ottawa to Boston flight plan .
Don't forget about exploring your own hometown with a staycation. You can also find some cool day trips or get away for a weekend.
And if you know Ottawa well, please help your fellow travelers and answer their questions about Ottawa!
More info on this route:
road conditions from Ottawa to Boston
places to eat
alternate routes
Google driving directions