Islas Marietas Tour
Quick Details
Globe Region: Mexico
Map Marker Location: Puerto Vallarta
Hour Glass Duration: 7 hours
Enjoy the Best Maritime Tour of the Mexican Pacific Ocean!
Start this adventure by taking your place on the boat that will take you on this maritime tour of the Mexican Pacific Ocean. Enjoy beautiful landscapes as we head to the islands, like the sanctuary of migratory birds and a great diversity of marine life. Your guide will tell you about the history surrounding this sanctuary and share the most updated information of this site declared a biosphere reserve by UNESCO. Once on the perimeter of the islands, have the opportunity to learn more about their whimsical rock formations, and venture into these natural caves and caverns.
Continue exploring the area, diving and snorkeling with the greatest diversity of reef fish in the bay of flags. Have the opportunity to appreciate the more than 100 species of fish that inhabit this majestic and secluded place and tour the area on a paddleboard and kayak. An unforgettable experience! Enjoy the company of dolphins that sometimes accompany the boat and in season from December to March you may be lucky enough to see a majestic mammal, the humpback whale!
Notes: Wear comfortable shoes and clothes, biodegradable sunscreen, towel and sweater on winter days. Due to federal regulations, and in an effort to protect endemic bird flying areas, drones are prohibited on this tour. An additional $90-pesos conservation fee per person will be collected at check-in. A portion of the earnings goes toward local surveillance and conservation of the islands. Hidden beach is not included in this activity.
Transportation in aquatic boat
Bilingual guide
Continental breakfast
Snorkel and kayak equipment
Paddleboarding
What to Bring:
Don't forget to bring your camera and sunscreen!
Related Tours
Hour Glass 5 hours
Map Marker Puerto Vallarta
Puerto Vallarta Party in Trimaran Tour
Enjoy a day full of water activities and an excellent party atmosphere aboard a trimaran that will take you to one of the most beautiful beaches of Puerto Vallarta.
Rhythms of the Night Savia
Sail along the beautiful coastline of Puerto Vallarta and get ready to experience a romantic night full of entertainment at Rhythms of the Night Savia.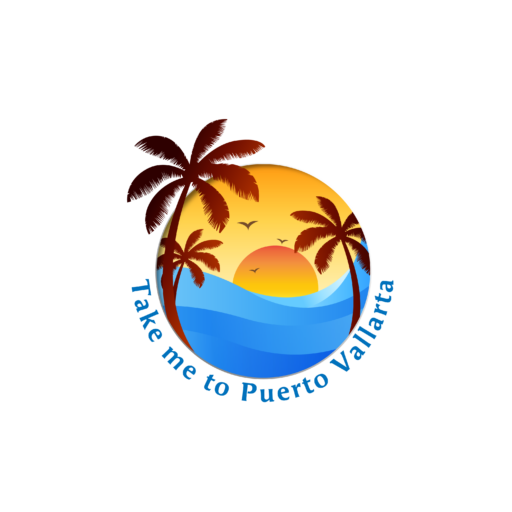 Marietas Islands & Hidden Beach Tour From Puerto Vallarta
By: Author Lora Pope
Posted on Published: July 13, 2021 - Last updated: June 13, 2023
This post may contain affiliate links. By clicking and making a purchase through the links, I earn a small commission at no extra cost to you. See my disclaimer for more information. This allows me to keep the site up to date and expand on resources.
If you're a nature lover, one day trip you cannot miss is the Marietas Islands tour from Puerto Vallarta.
All excursions to the islands, including the hidden beach tour, must be arranged with a tour company, so plan ahead if you want to check out the amazing eco-adventures Marietas Islands have to offer.
This post will explain everything you can do on the islands and how to book a tour here!
Table of Contents
Why Visit Marietas Islands?
Designated as a National Marine Park and UNESCO biosphere reserve , the Marietas Islands are home to some of the most beautiful beaches in Puerto Vallarta , including Hidden Beach, which is among the most famous in Mexico.
Aside from the beaches, the Islas Marietas are one of the best places to see wildlife around Puerto Vallarta.
They are home to over 90 species of birds and marine animals like dolphins, whales, and sea turtles.
What to expect on a Marietas Islands Tour
We booked this all-day tour to Islas Marietas from Puerto Vallarta for my friend Courtney's birthday in May 2021, which was so much fun. It's one of my favorite Puerto Vallarta day trips!
We met the tour guides at the cruise port in Puerto Vallarta and set off for the islands around 9 am.
They leave on time, so give yourself lots of time as the port is big and confusing. You also have to pay your port fee and fee to enter the islands at the marina (140 pesos total).
The islands are 22 miles (36km) west of Puerto Vallarta, so it takes about two hours to get there.
The time went by quickly, eating breakfast and enjoying the views. Continental breakfast is included, which is buffet-style
The views are gorgeous along the way – keep your eyes peeled as we saw dolphins jumping out of the water!
Species of dolphins you can see here include the Pacific Bottlenose dolphins, spotted dolphins, and spinner dolphins.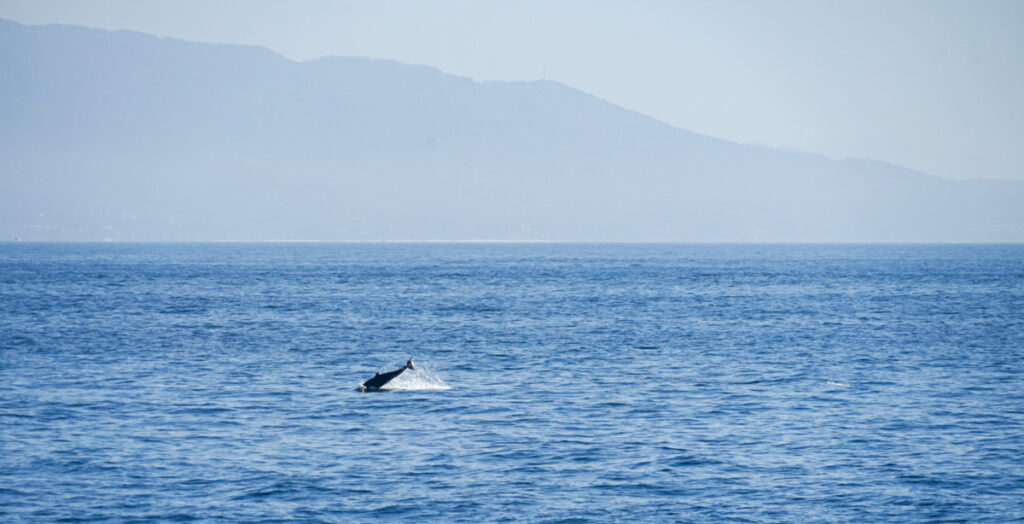 During the winter months, it is also common to see humpback whales in the bay since this is a centuries-old breeding ground for them.
Before arriving at the islands, the guides will ask you if you want to do the extra eco-tour at the islands (see more on that below) or visit hidden beach in case they have permits available to sell.
Once you arrive at the islands, you'll hop in a smaller boat to go on the eco-tour if you booked it.
After that, we hopped in the water for a guided snorkeling tour which was included in the tour. The water here is beautiful and much clearer than anywhere else I snorkeled around Puerto Vallarta.
While you're snorkeling, the staff prepares a deli-style lunch ready to eat when you get back from the water.
If you feel like more adventures, paddleboards and kayaks are also available to take out to explore during that time.
After lunch, we then had some time to explore the beautiful beaches on the island, and those who had permits for Hidden Beach went there.
While Hidden Beach is undoubtedly one of the most unique sights in Puerto Vallarta , the other beaches on the islands are also incredibly beautiful to see. So don't be disappointed if you don't get a permit – the islands are still worth visiting!
Around 2 pm, we headed back to Puerto Vallarta for the journey home. This went much faster than the way there, as they give you unlimited alcohol on the way back.
It was my friend's birthday, and the staff went out of their way to show us a good time.
We played drinking games and by the last hour, the boat had became a massive dance party . It was such a memorable experience!
If you are want to see Marietas islands and all they have to offer, this tour of Las Islas Marietas is a great choice.
Snorkeling and diving at Islas Marietas
The snorkeling at Islas Marietas is easily the best in Puerto Vallarta. The water is crystal-clear, and seeing the rock formations underneath gives you a whole new appreciation for how special these islands are.
I've heard that it's common to see giant rays and sea turtles here, although I wasn't lucky enough to see them. I only saw colorful schools of fish, but still really enjoyed the snorkeling because of the unique underwater landscapes.
You can also go diving at Marietas Islands but you have to book it as a separate trip.
Marietas Islands Eco-tour
At the islands, you have the option to do an eco-tour around the islands for an additional 200 pesos (10 USD). It's absolutely worth it.
They will take you on a smaller boat around the islands to see the birds closer, and a collapsed sea cave.
On the rocks, you can spot the blue-footed booby and some 90 other bird species. It actually made me feel although I'd been transported back to the Galapagos Islands!
Hidden Beach Tour Puerto Vallarta
The Marietas Islands are home to one of the best beaches in Puerto Vallarta – Playa Del Amor. It's also commonly called Hidden Beach or Secret Beach.
Playa Del Amor is an incredible underground crater beach. Someone posted a photo of it a few years ago that went viral on Instagram and as a result, hundreds of people started visiting the beach every day.
This caused adverse environmental impacts, and the government imposed limits on the number of people that could visit each day in an effort to protect it.
Now, only 116 people are allowed to visit the beach each day, and a limited amount of permits are given to each tour company.
If your heart is set on going, you should do that with the tour company in advance as they do sell out. This company says they have more permits than any other.
On our Marietas Islands tour, the captain told us that two permits were available for an additional 50 USD on the way to the islands.
I didn't go as it was my roommate's birthday and she wanted to go with her friend that was visiting. But they loved it and said it was worth the extra money!
Don't be disappointed if you can't get a permit to go to the beach – the islands are still worth visiting on their own. There are other beaches on Marietas Islands which are just as stunning!
What to bring on a tour to Marietas Islands
Biodegradable Sunscreen
Light sweater
Waterproof case for your phone or GoPro
Extra cash for dock fees and photos (they have a photographer there). On top of your ticket, there is an additional 40 pesos fee to enter the marina and 100 pesos to access the islands (government fee).
When planning your itinerary to Puerto Vallarta, be sure to leave a day for a tour to Islas Marietas! These stunning islands are one of the most picturesque places to visit in the Bay of Banderas.
BOOK YOUR TOUR TO MARIETAS ISLANDS
Planning a trip to Puerto Vallarta? Don't miss these posts!
What to pack for Puerto Vallarta
Sheraton Resort Review
15 essential tips for traveling to Mexico
Best hikes in Puerto Vallarta
Lora Pope is a travel content creator who's been wandering solo for over a decade. In 2021, she moved to Puerto Vallarta and fell in love at first sight. After visiting 70+ countries, she decided to make it her base and now helps travelers like you make the most of your time in PV.
View all posts
Leave a comment
Your email address will not be published. Required fields are marked *
[…] Marietas Islands […]
Islas Marietas - Incredible Tour Catamaran from Puerto Vallarta
Insurance on board
Continental Breakfast & Hot Cakes (fruit, yogurth, granola, honey, juice)
Music to dance
Snorkel, Paddle Board & Kayaks equipment
Open Bar (Alcoholic Drinks in The Way Back)
Port fee 2 USD per person
SEMARNAT (Bracelet) 6 USD per person
Puerto Magico, Blvd. Francisco Medina Ascencio, Zona Hotelera Nte., 48333 Puerto Vallarta, Jal., Mexico There is a check in where you must show the boarding pass that we will send you, there one person of our staff will give you instructions to board the ship
Returns to original departure point
Near public transportation
Not wheelchair accessible
Confirmation will be received at time of booking
Not recommended for travellers with back problems
No heart problems or other serious medical conditions
Not recommended for pregnant travellers
Most travellers can participate
Wear comfortable clothes and shoes.
Bring your swimsuit, towels and extra clothes.
Use biodegradable sunscreen and insect repellent.
This tour/activity will have a maximum of 90 travellers
For a full refund, cancel at least 24 hours in advance of the start date of the experience.
Similar experiences
More to explore in Puerto Vallarta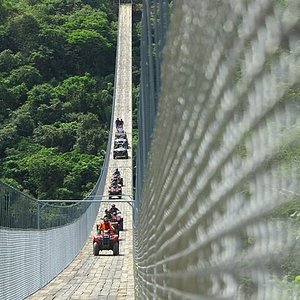 Buy it with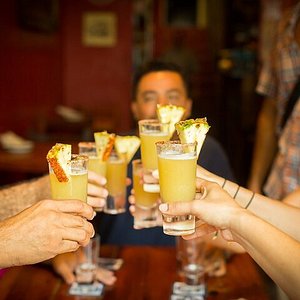 Islas Marietas - Incredible Tour Catamaran from Puerto Vallarta provided by vallarta stap travel ¡¡¡¡¡
Marietas Eco Discovery
On this tour, our guides give you the opportunity to enjoy the natural majesty of the Las Islas Marietas at your own pace. Explore the serene seawater while snorkeling, kayaking, or paddle boarding. No matter what type of natural wonder you're looking for, our tour of Islas Marietas, Puerto Vallarta, will help you find it.
Also included in our Islas Marietas Eco Discovery Tour is a full lunch, as well as a visit by boat to our exclusive Majahuitas Beach Club, which is located at one of the most secluded and beautiful beaches on the Pacific Coast of Mexico. Immerse yourself in its pristine tropical beauty and enjoy an oasis of white sand beaches and turquoise waters by booking Islas Marietas Eco Discovery today!
If you are looking for a breathtaking, cost-effective way to see the Las Islas Marietas in all their natural glory, there is no better choice than our tour of Las Islas Marietas here at Vallarta Adventures. Led by friendly and knowledgeable local tour guides, this comprehensive tour brings you up close and personal with the many natural wonders of the Marieta Islands. Deli-style lunch and open bar are provided, as are snorkeling equipment, paddleboards, and kayaks to help you enjoy the warm waters surrounding the Marieta Islands. To help benefit and preserve this beautiful natural area, we give a portion of the proceeds from our tours to the Islas Marietas National Park in order to fund education and preservation efforts.
RESTRICTIONS:
Child prices apply to children ages 4 to 11 Children ages 12 and up are considered an adult Due to federal regulations, and in an effort to protect the flight path of endemic birds, drones are prohibited in this tour. .
Valoraciones
No hay valoraciones aún.
Tu dirección de correo electrónico no será publicada. Los campos obligatorios están marcados con *
Nombre *
Correo electrónico *
Guarda mi nombre, correo electrónico y web en este navegador para la próxima vez que comente.
Tu valoración *
Related Tours
Marietas and surroundings
Located to the north of Puerto Vallarta, the Islas Marietas National Park is an ecological refuge that has become a must-see tourist attraction due to its spectacular landscapes, reefs and clear waters. The two islands that make up this archipelago are home to a great diversity of birds and marine species…
Marietas + Hidden beach
On this tour, our guides give you the opportunity to enjoy the natural majesty of the Las Islas Marietas at your own pace. Explore the serene seawater while snorkeling, kayaking, or paddle boarding. No matter what type of natural wonder you're looking for, our tour of Islas Marietas, Puerto Vallarta…
Price: $ 85.00
Book the tour
Copyright © 2022 PuertoVallarta.Tours. All Rights Reserved.
Customer Service 888-558-3330
Lowest Price Guaranteed - If you find a better price anywhere we'll match it!
Fri, Nov 10 2023
Things to do in Puerto Vallarta
Marietas Islands Tours

Located on the edge of Banderas Bay, this grouping of three islands is a splendid federally-protected marine reserve. Situated on the border where the placid waters of Bahia de Banderas meets the Pacific Ocean, Tres Marietas is one of the best snorkeling and scuba diving destinations in the Puerto Vallarta region. This site is home to some remarkable underwater topography, formed millions of years ago by volcanic activity.
This dive spot first gained world recognition when it was featured in a nature documentary by the world-renowned oceanographer, Jacques Cousteau. This award-winning underwater documentarian showed television viewers all over the planet the marvelous wonderland below the surface of the water at this amazing site. After Jacques Cousteau presented the wide assortment of exotic fish, gigantic Pacific mantas, and Olive Ridley Marine Turtles on his television program, scuba diving enthusiasts from all over the globe began flocking to Puerto Vallarta in order to explore the marvelous underwater habitat of Tres Marietas themselves.
Situated only twenty 20 miles from the slips in Marina Vallarta, Las Marietas is also an excellent destination for mixed snorkeling and scuba adventures; the shallow reefs are merely 15 feet deep. This is also a challenging dive locale for advanced divers as well since depths descend to ninety feet. One of the most interesting sights to witness at this locale is the manta cleaning station. These mammoth rays glide into the sandy bottom to be cleaned by smaller species. The impressive wing-span of these splendid animals can measure up to 14 feet.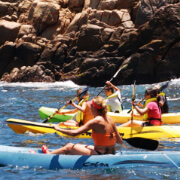 This fantastic ecological excursion visits a pristine marine sanctuary at the mouth of Banderas Bay. The Marietas Islands are a splendid grouping of rocky islands near the Pacific Ocean. These isles are home to a fabulous array of rare nesting birds. An astounding underwater coral habitat thrives below the surface of the water.
07:30 AM 08:00 AM
Adult $89 00 Child (4 to 11) $62 00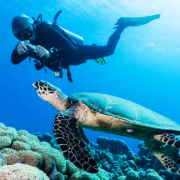 Sail onto the beautiful waters of Banderas Bay on our 60-foot sailboat, the Isis. Venture out to the one-of-a-kind Marietas Islands aquatic preserve for some fantastic snorkeling in crystalline waters over a teeming marine environment full of colorful species.
Click More Info button for pricing information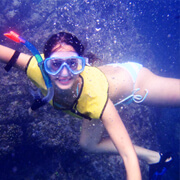 Per Person (10 - 65 years only) $110 00
Call 888-558-3330 now for help finding Things to do in Puerto Vallarta.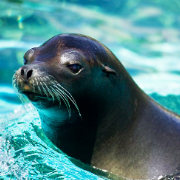 Sea Lion Dive In Las Caletas
If you would like to view sea lions in their native environment, join our naturalist guides for a snorkeling excursion with our specially-trained sea lions in the transparent waters of Banderas Bay near the splendid shores of Las Caletas.
For reservations book online or contact us at 888-558-3330 for more information
Click Below For Reservations
UNITED STATES 888-558-3330
Price Match Guarantee
Found a better price online? We'll Price Match It.
WE WON'T BE BEAT ON PRICE!
In fact, our prices are up to 56% Cheaper*
Vallarta Tour Center is the #1 Tour and Activity Concierge in Puerto Vallarta
To prove it we are matching all online pricing on the tours we offer.
For price matching call
888-558-3330
*Current prices are 30% cheaper than cruise lines!
Parque Nacional Islas Marietas y Playa Escondida: Paquetes Turísticos con Precios
Designado Patrimonio de la Humanidad en 2004, el tour al Parque Nacional Islas Marietas es sin duda uno de los las mejores cosas para hacer en puerto vallarta . Estas islas también se conocen como las "Galápagos mexicanas". A continuación, cubriremos información importante sobre este parque nacional, algunos excelentes recorridos por las Islas Marietas, paquetes de vacaciones y precios.
Tour Privado Islas Marietas
Acerca del parque nacional islas marietas.
Si tienes la oportunidad de visitar las Islas Marietas en Bahía de Banderas, podrás experimentar uno de los parques naturales de conservación más bellos del mundo. Su hermosa playa escondida, Playa del Amor, es increíblemente única, y los alrededores son magníficos.
Además de Playa del Amor, hay toneladas de otras playas escondidas, cuevas oceánicas, formaciones rocosas y túneles. Las Islas Marietas adquirieron su forma y su impresionante geografía debido a la actividad volcánica hace muchos siglos. Para agregar a eso, fue un sitio de prueba de bombas para el ejército mexicano en el siglo XX. Las grandes explosiones hicieron que se crearan muchas de las cuevas y formaciones rocosas. En la década de 1960, el gobierno decidió declarar las islas como parque Nacional .
Mejores Tours Islas Marietas
Para llegar a las Islas Marietas es un viaje en bote de 1 hora desde Puerto Vallarta o un viaje en bote de 20 minutos desde Punta Mita. En el camino, podrás ver delfines, el famoso pájaro piquero de patas azules y probablemente algunas ballenas jorobadas (desde principios de diciembre hasta finales de marzo). Si tienes pensado hacer un tour por las Islas Martietas, te recomendamos lo siguiente:
Planifique con anticipación ya que las entradas se pueden agotar rápidamente y no se permite el acceso los lunes y martes.
Si es propenso a marearse, es posible que desee tomar una dramaturgia antes de salir.
Recuerde llevar toallas, traje de baño y bloqueador solar apto para arrecifes.
Algunas empresas cobran una tarifa de conservación de $50 pesos por CNANP (Comité Nacional de Áreas Naturales Protegidas) y $50 pesos a Bahía Unida .
A continuación se encuentran los tours del Parque Nacional Islas Marietas que más recomendamos (económicos o privados):
Crucero de Snorkel Islas Marietas
765 Comentarios
Explore la magnífica vida marina alrededor del Parque Nacional Islas Marietas en un emocionante recorrido de un día completo. Una vez que llegue al parque nacional, seleccione entre kayak, esnórquel y surf de remo. Esté atento a los delfines, las ballenas jorobadas, las mantarrayas gigantes y las tortugas marinas en esta aventura ecológica. Este tour incluye:
Crucero de 7 horas con esnórquel desde Puerto Vallarta
Uso de equipo de snorkel y kayak.
Surf de remo
Almuerzo y barra libre están INCLUIDOS
A $89 USD por persona, todo está incluido excepto el impuesto federal a la reserva natural de $100 pesos, la tarifa portuaria de $28 pesos y las propinas que le gustaría dejar a la tripulación.
Tour Playa Escondida Islas Marietas
69 Comentarios
Playa Escondida, o el tour Playa Escondida de la Isla Marietas, solo está abierto de miércoles a domingo y tiene un acceso muy limitado. El gobierno sólo permite hasta 115 personas cada día. Aproximadamente 2000 personas visitan las islas todos los días, así que puedes imaginar lo codiciado que son estos tours de la Playa Escondida de las Islas Marietas. También debe hacer esto con suficiente anticipación para asegurarse de que haya boletos disponibles.
Para llegar a la Playa Escondida de las Islas Marietas, tendrás que nadar unos 200 pies (~ 60 m). Se le proporcionarán chalecos salvavidas y máscaras de snorkel para disfrutar de la vista submarina en el camino. Los grupos también se mantienen pequeños para maximizar su experiencia. Descubra excelentes playas y hermosos paisajes entre piqueros de patas azules, delfines y otros animales salvajes.
Qué está incluido:
Recorrido de aproximadamente 5 horas dentro de un santuario de vida silvestre marina.
Un almuerzo en caja y agua potable.
Un biólogo profesional como guía.
Equipo de snorkel y chalecos salvavidas
En un tour privado de Isla Marietas, podrá explorar la playa escondida, los arrecifes de coral y otras islas cercanas, como Isla Nopalera, que es ideal para pasar el rato y relajarse. Con un paquete de vacaciones de tour privado, no solo está evitando las grandes multitudes, sino que también puede programar su recorrido para que salga un poco antes que todas las otras grandes compañías de viajes para llegar a las islas antes que los demás.
La mayoría de estos tours privados se realizan en botes panga tradicionales, lo que agrega aún más a la experiencia. Lo mejor de las pangas es que tienen capacidad para subir y bajar en la playa y son más rápidas que los barcos más grandes. También tienen techos retráctiles, lo que los hace perfectos para explorar la Bahía de Banderas.
Paquetes económicos en Islas Marietas
La mayoría de los tours a Isla Marietas comienzan desde Puerto Vallarta, Punta Mita o Sayulita. Siempre comienzan muy temprano para que pueda aprovechar su paquete de vacaciones en el Parque Nacional.
Una vez que llegue, puede elegir qué actividad le gustaría hacer primero: snorkel, surf de remo, kayak o tubing. Me gustaría bucear en las magníficas aguas para descubrir algo de la colorida vida marina y los peces tropicales.
Qué está incluido
Asegúrese de leer los detalles de cada paquete, pero la mayoría de los tours a las Islas Marietas incluyen:
Paseo en barco a las islas Marietas
desayuno continental
Aperitivos como guacamole, frutas y verduras.
Almuerzo (generalmente hay opciones vegetarianas disponibles)
Barra libre de cortesía con agua, café, refrescos, jugos y cócteles como piña colada, margaritas y cerveza.
Actividades en el océano como esnórquel, surf de remo, kayak y, a veces, ¡incluso pesca!
Precios y Reseñas
Beach Please selecciona y revisa de forma independiente los negocios, restaurantes, tours y expediciones que recomendamos en nuestro sitio web. Si compra a través de enlaces de afiliados, podemos ganar una pequeña comisión sin costo adicional para usted.
Entradas relacionadas
15 mejores restaurantes y bares de bucerías que debes probar, 15 cosas divertidas y gratis para hacer en bucerías, méxico, 20 mejores cosas que hacer en nuevo vallarta.
Excursión de un día de esnórquel a las Islas Marietas
Tour islas marietas.
¡Nuestro tour más popular para toda la familia!
Snorkeling, toboganes acuáticos, piqueros de patas azules, ¡diversión con todo incluido!
  9:00 AM – 3:00 PM
Puntos de encuentro:
Marina La Cruz (Marina Cruz de Huanacaxtle) – Ver mapa O Oficina de Sayulita Chica Locca – Ver mapa
Haga clic aquí para detalles del punto de encuentro
Precio Regular Adultos $2,000 MXN | Niños $1,200 MXN | Niños menores de 3 años Gratis
Consultar Disponibilidad y Reservar
***El acceso a la Playa Escondida NO ESTÁ INCLUIDO EN ESTE TOUR***
El Parque Nacional Islas Marietas limita estrictamente el acceso y solo permite la entrada a 116 personas al día para visitar la Playa Escondida.
– Hay un cargo extra de $1,700 MXN por persona (Solo Pesos Pagaderos en Efectivo) – Hay otras restricciones
( Haga clic aquí para obtener más detalles – si está interesado en visitar Hidden Beach)
El tour principal de las Islas Marietas está abierto para todas las edades y habilidades.
Todo es Todo Incluido
¿Qué significa eso? Disfruta de nuestro Open Bar Premium que incluye una enorme selección de bebidas: agua, refrescos, café, jugos, licuados, Cervezas (Pacífico & Corona Light), Vino, Tequila, Cócteles, Piña Coladas, Margaritas; lo que se te ocurra, lo que elijas tomar. Chica Locca solo sirve marcas premium: Compadre, Bacardi, Captain Morgan, Malibu, Baileys, Smirnoff, Jack Daniel's, Champagne y cualquier mezcla que desees. ¡Solo lo mejor para nuestros clientes!
Su recorrido comienza con un desayuno continental de fruta fresca, muffins y rollos de canela. Luego ofrecemos bocadillos durante todo el día que incluyen nuestro famoso guacamole, totopos y papas fritas.
Para el almuerzo, ofrecemos un almuerzo tradicional de fajitas mexicanas que incluye pollo, carne de res, arroz, frijoles, tortillas y salsa. Si alguien tiene restricciones dietéticas, podemos ayudar con opciones alternativas.
* Tenga en cuenta que las Marietas es un Parque Nacional y no se nos permite servir alcohol mientras estamos en la zona del parque. Nuestro servicio premium de barra libre está disponible antes y después de que estemos en el área del Parque Nacional. Si tiene alguna pregunta, no dude en contactarnos.
¡Todas las actividades acuáticas y los juguetes acuáticos también están incluidos!
>Diviértase en el agua y disfrute de acceso ilimitado a todas nuestras actividades y juguetes acuáticos, que incluyen: tablas de remo, kayaks, pesca, esnórquel, avistamiento de ballenas (en temporada), tubos de agua, redes de agua, colchón de agua, nuestros famosos toboganes de agua y diversión sin fin!
***El acceso a la playa escondida no está incluido en este tour*** El Parque Nacional Islas Marietas limita estrictamente el acceso y solo 116 personas por día pueden visitar Hidden Beach. Haga clic aquí para obtener más detalles.
Galeria de Fotos Islas Marietas
DCIM100GOPROG0030075.JPG
DCIM100GOPROG0040077.JPG
DCIM100GOPROG0280356.JPG
DCIM100GOPROG0050083.JPG
DCIM100GOPROGOPR0028.JPG
DCIM100GOPROGOPR0046.JPG
DCIM100GOPROGOPR0143.JPG
DCIM100GOPROGOPR0333.JPG
DCIM100GOPROGOPR0019.JPG
???????????????????????????????
Explora las Islas Marietas, Puerto Vallarta México
¡Descubra por qué Chica Locca Tours ofrece el Tour a las Islas Marietas Todo Incluido más popular!
Las Islas Marietas son un pequeño grupo de islas a menudo llamadas las Galápagos de México. Ahora, una reserva marina y de vida silvestre nacional, este increíble lugar se une a la vida silvestre tanto por encima como por debajo del agua. ¡Es uno de los pocos lugares en el mundo donde puedes ver piqueros de patas azules!
Mientras navegamos hacia las Islas Marietas, disfrutará de un desayuno continental. Una vez en casa de las Marietas, tendrá tiempo para explorar la playa principal, también conocida como Playa La Nopalera.
Después de explorar la isla, tendrás tiempo para bucear, nadar y jugar en el agua. Hay mucha comida para comer con nuestro almuerzo de tacos y fajitas, así como bocadillos durante todo el día. ¡No te olvides de nuestra Barra Libre Premium! Nuestro equipo se asegurará de que su bebida nunca esté vacía y de que se atiendan todas sus necesidades.
Antes de regresar al puerto deportivo, nos detendremos para tener otra oportunidad de jugar con todos nuestros juguetes acuáticos y darnos un chapuzón en nuestros famosos toboganes de agua.
¡Disfruta del tour más popular a las Islas Marietas!
Marina La Cruz (Marina Cruz de Huanacaxtle) Hora de Reunión 8:45 am Haga clic aquí para ver el mapa
¿Te quedas en Sayulita? Un servicio de transporte de cortesía lo llevará desde nuestra oficina de Sayulita a La Cruz Marina
Hora de Reunión 7:45 am Haga clic aquí para ver el mapa de Chica Locca Tours Oficina de Sayulita
***El acceso a la Playa Escondida NO VIENE INCLUIDO EN ESTE TOUR***
El Parque Nacional Islas Marietas tiene un acceso super limitado y sólo 116 personas al día tienen permiso para visitar la Playa Escondida.
Porfa, revisa y confirma las siguientes condiciones antes de pedir checar disponibilidad:
– Hay un cargo extra de $1,700 MXN por persona. Esto se paga únicamente en efectivo, en pesos mexicanos el día del tour. Debe ser en efectivo porque se paga directamente a la persona que asegura los lugares en el Parque Nacional. Todos aceptan pesos mexicanos, no se aceptará ninguna otra moneda.
– No hay cancelaciones; una vez confirmado, ya no podemos cancelar.
– Los visitantes deben tener más de 12 años y menos de 59, y saber nadar bien. (Tenga en cuenta que el recorrido principal por las Islas Marietas está abierto a todas las edades y habilidades.)
– Es obligatorio el uso de casco y chaleco salvavidas.
– No se permite la entrada a mujeres embarazadas.
– No disponible los lunes y martes.
Dinos si te interesa visitar la Playa Escondida y haremos lo posible por conseguirte acceso.
¡Todo incluido!
Visita la Playa Principal de Marietas Playa La Nopalera
Tiempo para hacer snorkel y jugar en el agua.
Desayuno continental
Almuerzo y meriendas todo el día.
Barra libre premium
Preguntas Frecuentes
¿la playa escondida está incluida en este tour.
No, no está incluido en el precio del tour.
El Parque Nacional Islas Marietas limita estrictamente el acceso y solo 116 personas por día pueden visitar Hidden Beach.
Hay una tarifa adicional que se paga en efectivo el día del recorrido.
El recorrido principal está abierto a todas las edades y habilidades. Si elige agregar la opción de playa escondida, tenga en cuenta que existe una restricción de edad de 12 a 55 años. Debes poder nadar 120 metros desde el bote hasta Hidden Beach. Es obligatorio el uso de casco y chaleco.
Háganos saber si está interesado en visitar Playa Escondida y haremos todo lo posible para asegurarle el acceso.
¿Se recomienda el Tour para Familias y Niños?
¡Sí, nuestros tours son divertidos para todas las edades!
También ofrecemos cruceros con bebidas alcohólicas solo para adultos desde Puerto Vallarta .
¿Hay baños en el barco?
Sí, el ChicaFUN 1 Waterslides está equipado con 4 baños para tu comodidad.
¿Qué tan grande es el barco? ¿Cuántas personas caben?
ChicaFUN 1 Waterslides es un yate trimarán de 65 pies. La capacidad máxima es de 85 invitados, pero solo permitimos hasta 65 invitados en los recorridos para garantizar que haya suficiente espacio y que todos estén cómodos.
¿Tiene opciones de tours privados disponibles?
¡Sí! Tenemos muchas opciones diferentes de tours privados disponibles para grupos de cualquier tamaño.
Obtenga más información sobre las opciones de paseos en bote privado desde Puerto Vallarta o Sayulita , ¡y reserve su experiencia grupal con nosotros hoy!
¿Están incluidas las imágenes?
No, las imágenes no están incluidas. Asegúrese de agregar uno de nuestros paquetes de fotos de fotógrafos profesionales al reservar su recorrido para recibir un descuento y nuestro precio más bajo.
¿Está incluido el transporte?
Si se hospeda en Sayulita, contamos con un servicio de traslado de cortesía que sale de nuestra oficina en Sayulita 1 hora antes del recorrido.
Si se hospeda en un lugar diferente, deberá organizar el transporte para encontrar el barco en el puerto deportivo. Nos complace ayudarlo a organizar el transporte, tenemos todos los mejores contactos de transporte local. Háganos saber si desea que organicemos el transporte para usted.
¿De qué puerto deportivo sale el barco?
Marina La Cruz (Marina Cruz de Huanacaxtle) Hora de reunión 8:45 am Haga clic aquí para ver el mapa
¿Te quedas en Sayulita? Un servicio de transporte de cortesía lo llevará desde nuestra oficina de Sayulita a La Cruz Marina Haga clic aquí para ver el mapa de Chica Locca Tours Oficina de Sayulita
Únase a un Tour a la Isla Marietas
Contacta con nosotros con preguntas.
Háblame, llámame, hagámoslo personal. Estoy aquí para ayudarte a planificar el tour perfecto especialmente para ti. Es mi placer y pasión asegurarme de maximizar tu experiencia y minimizar tus gastos. ¡Estoy aquí para ayudarte, dame una llamada!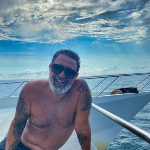 Gil Drory Propietario/Fundador

No confíe solo en nuestra palabra
Tours altamente calificados.

Consulta de gira
Comparta sus datos y le informaremos cuando la reserva esté disponible para este evento.
Solicitud de Transporte
" * " señala los campos obligatorios