Biberach an der Riss
Friedrichshafen
Ludwigsburg
Schwäbisch Hall
Sigmaringen
Villingen-Schwenningen
Hohenzollern Castle
Lichtenstein Castle
Füssen
Neuburg an der Donau
Bad Tölz
Berchtesgaden
Eichstätt
Garmisch-Partenkirchen
Kochel am See
Oberammergau
Reit im Winkl
Andechs Monastery
Benediktbeuern Abbey
Ettal Abbey
Linderhof Castle
Nymphenburg Palace
Ottobeuren Abbey
Lake Constance
Starnberger See
Altmühltal Nature Park
Bavarian Forest National Park
Fichtelgebirge
Franconian Switzerland
Karwendel Alpine Park
Görlitz
Lutherstadt Wittenberg
Schmalkalden
Wartburg Castle
Buchenwald Memorial Site
Alpine Road
Romantic Road
Jakobsweg - Bavaria
Mainau Island
Saxon Switzerland National Park
Thuringian Forest
German Sights
Saxony-Anhalt
Wittenberg, Germany
Where is wittenberg.
Wittenberg is a town of 50,000 inhabitants in Saxony Anhalt that is renowned for its role at the heart of the Protestant Reformation at the start of the 16th century.
Since 1922 the town has been known as 'Lutherstadt Wittenberg' - it was here that Martin Luther took the famous stand of nailing his '95 theses' to the church door.
Sites related to Luther and to his colleague Philip Melanchthon are listed, along with those in nearby Eisleben, as part of the UNESCO World Heritage site.
How to get to Wittenberg
Closest airport to wittenberg.
Saxony-Anhalt does have its own small airport at Magdeberg - currently unused by scheduled services - but by far the most convenient place to fly into is Berlin for the choice of destinations and frequency of flights.
Distance to Leipzig-Halle Airport: 77km Distance to Berlin-Brandenburg Airport: 116km Distance to Hannover Airport: 233km Distance to Erfurt-Weimar Airport: 237km
Leipzig-Halle Airport is the closest but only has a restricted international selection (not counting summer sun holiday destinations).
Train station at Wittenberg
Wittenberg has a number of railway stations within the town boundaries, but the principal is called Lutherstadt Wittenberg Bahnhof, which is served by InterCity trains from Berlin, Leipzig , Dortmund and Munich . The main railway station is probably a 20 minute walk from the tourist information office in the centre of the town.
The other useful train station is Lutherstadt Wittenberg Altstadt, which is served by hourly regional trains in the direction of Dessau. This is much closer to the old town.
Where to stay in Wittenberg
The main UNESCO sights in the town are clustered around a compact area between the train station and the castle church. Most of the hotels are in this area, although independent visitors should book as soon as is possible for town centre hotels as organised tours to the town make the accommodation very popular.
Wittenberg accommodation map
If you know when you are planning to go but haven't decided on accommodation, then use the map below to get an idea of which properties are available and to compare prices during the period you wish to travel.
Enter your proposed dates and use the '+' to zoom in on a location and reveal more properties. Click on the price above a property to see more information.
( Please note that this selection will also include some guesthouses, pensions and self-catering apartments for those who are interested in that form of accommodation !)
Check accommodation availability in Wittenberg
Alternatively, if you would like a list of properties available on your proposed dates of travel, use the search box below to find accommodation:
History of Wittenberg
While Wittenberg is best-known for being one of the centres for the Protestant Reformation, it does have a history both before and after those events.
It was once the residence of the rulers of the region - the Dukes of Saxe-Wittenberg - and was later renowned for its university, which was so well-known in those days that it was the location for Hamlet's studies in the Shakespeare play.
Its position on the Elbe River also made it an important location for tradesmen and markets.
The first use of the name Wittenberg is towards the end of the 12th century, although archaeological sites prove that the area had been settled thousands of years before.
Within a century the town had become the residence of the Saxe-Wittenberg ruling family, one of the many squabbling small states in this part of Germany created by inheritance and dynastic arguments. The settlement also obtained its town charter and around 50 years later the right to hold a market.
The statelet also became the Electorate of Saxony (also sometimes termed Upper Saxony) with Wittenberg as its capital. Electorate meant that the rulers of the town had a vote in the election of a Holy Roman Emperor, a very prestigious position in the Middle Ages.
The original ruling family died out and the Electorate passed into the hands of the Wettin dynasty, who controlled much of what is now Saxony, Saxony-Anhalt and Thuringia.
It was members of this family who started the contruction of the Wittenberg castle as their residence and the castle church of All Saints, which became famous through the later actions of Martin Luther. They also founded the University of Wittenberg for the study of law, theology and medicine, later also to feature heavily in the history of Protestantism.
Martin Luther and Wittenberg
Since the 1920s Wittenberg's official title has been 'Lutherstadt Wittenberg' - literally 'Luther Town'.
Not only did Martin Luther spend much of his life here, but his actions in the town against the traditional church were central to the growth of the Reformation and Lutheranism.
Luther came to Wittenberg near the start of the 16th century and took up a position in the theology faculty, a faculty he later chaired.
His first and major action during his time in Wittenberg was to write the document that became known as 'the 95 Theses'.
At that time, the church was trying to raise money for rebuilding St Peter's Basilica in Rome. One of the ways that they attempted to do this was by selling what were called 'indulgences'. Essentially, what you could do was buy (in the form of a donation to the church) forgiveness for sins that you may have committed.
Martin Luther wrote to his superior, the Bishop of Mainz, protesting against this practice. Allegedly, he nailed a copy of his arguments against the sale of indulgences to the doors of the castle church in Wittenberg although some current historians believe that this action never took place. (The church door visitors see now are replicas from the 19th century - the originals were burned during fighting during the Seven Years' War.)
But it was not until the 95 Theses were translated into German that the protests which would result in the Lutheran Reformation really took off. Luther himself became a tremendously popular preacher who drew large crowds from around Europe. As his personal popularity and support for his beliefs grew, he became a threat to the established church who sent him orders to recant his teachings or face excommunication.
Luther's response was to burn the letter along with other religious writings that he disapproved of on what is now the site of the 'Luther Oak' in Wittenberg. He was promptly excommunicated and went into hiding at Wartburg Castle in Thuringia disguised as a young nobleman ('Junker Jörg').
After his exile in hiding, Luther emerged in Wittenberg once again to become a moderate force in the Reformation where more radical believers were pushing even further against the religious and social structures at the time. He rejected the violent attempts to overthrow the 'natural order' of society which resulted in the Peasants' War and the defeat of the radicals.
Martin Luther preached in the Church of St Mary (the 'town church' as opposed to the 'castle church') in Wittenberg and held the first mass in German there. Luther's marriage to Katharina von Bora, a former nun who he had helped escape from a convent, was also celebrated in the church.
He lived in Wittenberg in the former 'Black Monastery', now known as the Luther House and where there is a Luther Museum with exhibits and some of the rooms that Luther used to spread his teachings.
Martin Luther died in nearby Eisleben where he had been born but his body was returned to Wittenberg and he was buried in the Castle Church.
Wittenberg After Luther
Martin Luther was not the only important Protestant to have lived in Wittenberg. Another theologian, Philip Melanchthon (born as Philipp Schwartzerdt), was a principal collaborator of Luther's and the two are considered to be the founding fathers of Protestantism. His former house can also be visited and his tomb is also in the Castle Church.
Another important personality of the Reformation was the Upper Saxony court painter Lucas Cranach the Elder. He supported Luther and painted scenes which interpreted the new beliefs. The altar in the Church of St Mary is by Lucas Cranach the Elder. His work was followed by his son, Lucas Cranach the Younger, who also worked in the city.
Although it remained the centre of the German Reformation, Wittenberg suffered in the religious wars that followed by losing its status as the residence of the rulers of the area.
Like many cities in the area it was also hit by bouts of the plague and by subsequent wars - the Seven Years' War was when much of the old City Castle and Church were destroyed.
In Napoleonic times it was occupied by the French and was again damaged badly, this time by the Prussian Army, who took control of the city after the defeat of Napoleon.
It became a garrison town and, later, an industrial centre. From the 19th century onwards, its status as a memorial to the events of the German Reformation began to be recognised and nowadays tourism is a main factor in the economy of the town.
The Luther Decade started in 2008 and reached its culmination in 2017 - the 500th anniversary of the year that Martin Luther posted the 95 Theses on the church door.
Other towns and cities on the Elbe river
Dresden is renowned for its baroque and rococo architecture and picturesque Elbe River setting. Visitors will discover historic landmarks, such as the Dresden Frauenkirche, Zwinger Palace, and the Semperoper Opera House, which have been restored after the devastating bombing in World War II.
Meissen is a small town in eastern Germany, known for its porcelain production. The Meissen Porcelain Manufactory remains one of its main attractions. The Albrechtsburg castle overlooking the Elbe river is another major historical sight. Meissen is the centre of a winegrowing area with the vineyards along the Elbe valley.
Tourist Office in Wittenberg
The Wittenberg tourist office is situated near the Schlosskirche at the opposite end of the old town to the main train station. The tourist office is open seven days a week with shorter opening hours at the weekend. Website : www.lutherstadt-wittenberg.de
© GermanSights.com
Contact for organizers
+49 (3491) 4986-16
E-Mail Contact
Our services for event organizers
Tourist-Information Lutherstadt Wittenberg as contact for your event
Advice and booking of venues for conferences, congresses and other events, including seating plans, facilities, etc.
Contacting service providers e.g. equipment hire firms, translators/interpreters, tour guides, performers, event hosts and hostesses, logistics contractors
Approaching possible speakers, including key figures in business, politics, the church and the arts in Lutherstadt Wittenberg
Event services e.g. event hotline, web services, etc.
Contacting caterers
Free advice on accommodation including booking service in and around Lutherstadt Wittenberg
Guided tours and excursions (English and other languages available)
Coordination with other regional events, permit assistance
Contact information:
The Top Things to Do in Wittenberg, Germany

Halfway between Leipzig and Potsdam lies Wittenberg, the birthplace of Martin Luther, the figurehead of the Protestant Reformation. A trip to this German city means that you can delve into the fascinating life and works of the great reformer and learn about his impact on Christianity. Therefore, the city holds a special place in the hearts of history enthusiasts and religious pilgrims. Whether you are drawn to its religious significance or architectural wonders, Wittenberg promises an unforgettable journey through time. Here are the top things you need to experience when visiting.
View all trips, lutherhaus museum.
What was initially built as an Augustinian monastery, served as the home of the Luther family in the early to mid-1500s. These days, the building is listed as UNESCO World Heritage Site and holds a museum dedicated to the life and works of the Protestant Reformation leader. On display are various examples of his manuscripts, paintings, Lucas Cranach the Elder's Ten Commandments and a Lutheran Bible from 1534. Visitors also get to see where Luther participated in the Table Talks.
Destinations Unlocked:
Looking for an expert's perspective.
CentralAmerica

Gorgeous Guatemala
1. guatemala.

Beachy Belize

Colonial Mexico
Back to map, southamerica.

Adventurous Ecuador

Ancient Peru

Seductive Southern Italy

Edinburgh And The Scottish Highlands By Train
2. scotland.

Complete Portugal By Train
3. portugal.

Soulful South Korea
1. south korea.

Thailand, Cambodia & Vietnam
2. thailand.

Secrets Of Sri Lanka By Train
3. sri lanka.

Epic Morocco

Ultimate Egypt

Immersive Kenya
Melanchthon house.
Another famous humanist and reformer who lived and worked in Wittenberg and a great friend to Martin Luther was Philipp Melanchthon . In homage to Philipp Melanchthon's legacy, his former family home has been converted into a museum which documents his doing with artefacts from, including an oversized portrait of the man, created by the renowned artist Lucas Cranach the Younger. The building itself is a sight to see with windows stemming from the late Gothic period, in addition to Renaissance gables.

Castle Church

A must-see during your visit of Wittenberg is the Castle Church. What's considered an architectural gem already, is also a place of historical importance. Martin Luther is said to have nailed his 95 theses to the church door back in 1517, an act which helped bring about the Protestant Reformation. Though the original doors were destroyed, the words are inscribed in the massive bronze doors. Both Martin Luther and Philipp Melanchthon are buried here.
Become a Culture Tripper!
Sign up to our newsletter to save up to 800$ on our unique trips..
See privacy policy .
Hundertwasserschule
None other than the Viennese artist and visionary Friedensreich Hundertwasser designed the Luther-Melanchthon grammar school. The world-renowned architect took it on himself to transform the uninspiring GDR-era block into a piece of art as one of the last projects of his lifetime. Today, the so-called Hundertwasserschule draws art and architecture fans to the site who admire the vivid colours and wavy shapes the artist is known for. Guided tours in English are available but need to be arranged ahead of time.
Church of St. Mary

The castle church mentioned above is not the only one worth visiting. Also known as the 'Mother Church of the Reformation', the Church of St. Mary was the scene of Martin Luther's wedding to Katharina von Bora. Its iconic octagonal twin towers soar high above the city centre, but it's the ecclesial treasures inside that draw the crowds. Lucas Cranach the Elder and his son joined efforts to create the imposing altarpiece which was unveiled in 1547, and are symbolic of the shift happening in the religious art of the time.
Cranach House and Courtyard
As far as famous residents of Wittenberg go, the list wouldn't be complete without shedding more light on Lucas Cranach, the Elder. The painter spent 45 years of his life at Cranach House and was a jack of all trades – artist, pharmacist, farmer and founder of a printing company which was the first to print Luther's translation of the New Testament. Visitors can explore both his former residence and the neighbouring courtyard.
Garden Kingdom of Dessau-Wörlitz
One of Germany's most beautiful gardens is about half an hour east of Wittenberg. Declared a UNESCO World Heritage Site , the sprawling parklands of the Garden Kingdom of Dessau-Wörlitz lure with meadows, colourful flower beds, ponds, lakes and several chalets and palaces. When they were completed in the 18th century, they were the first English-style landscape garden in continental Europe and to this day, they enchant visitors who choose to spend a day strolling around the beautifully-designed park.
Brauhaus Wittenberg
If you're a fan of beer and German food, the Brauhaus Wittenberg brewhouse is for you. The restaurant occupies a lovely spot near the main attractions and dishes up hearty traditional German meals such as matie fillet, beef roulades and Königsberger Klopse (meatballs in caper sauce). Their delicious food is best washed down with their home-brewed beers.
Luther 1517
To celebrate the 500th anniversary of Martin Luther's revolutionary act of nailing his 95 theses to the church doors, the artists Yadegar Asisi opened the 360°-panorama installation Luther 1517 depicting scenes of the reformer's life and thea impact he had on those around him and on religious faith. Visitors can climb a viewing platform to look down on the giant artwork and spot Martin Luther, as well as his wife Katharina von Bora and friends Philipp Melanchthon and Lucas Cranach.
Market Square Lutherstadt Wittenberg
Much of public life centres around the spacious market square, needless to say, it's one of the best spots in town to meet the locals. People come here to do their shop at the weekly farmers' markets, have a chat over coffee at one of the cafés, or to get something to eat. While you're here, have a look at the fountain which overlooks the plaza in memory of both Martin Luther and Philipp Melanchthon, and marvel at the ornate Gothic facade of the 16th-century town hall.
Did you know – Culture Trip now does bookable, small-group trips? Pick from authentic, immersive Epic Trips , compact and action-packed Mini Trips and sparkling, expansive Sailing Trips .
Volcanic Iceland Epic Trip
Meet our local insider.
HOW LONG HAVE YOU BEEN A GUIDE?
What do you love about your job, it's the personal contact, the personal experiences. i love meeting people from all over the world... i really like getting to know everyone and feeling like i'm traveling with a group of friends., what destination is on your travel bucket-list, i have so many places on my list, but i would really lobe to go to africa. i consider myself an "adventure girl" and africa feels like the ultimate adventure.
Every CULTURE TRIP Small-group adventure is led by a Local Insider just like Hanna.
See Our Culture Trips

KEEN TO EXPLORE THE WORLD?
Connect with like-minded people on our premium trips curated by local insiders and with care for the world
Since you are here, we would like to share our vision for the future of travel - and the direction Culture Trip is moving in.
Culture Trip launched in 2011 with a simple yet passionate mission: to inspire people to go beyond their boundaries and experience what makes a place, its people and its culture special and meaningful — and this is still in our DNA today. We are proud that, for more than a decade, millions like you have trusted our award-winning recommendations by people who deeply understand what makes certain places and communities so special.
Increasingly we believe the world needs more meaningful, real-life connections between curious travellers keen to explore the world in a more responsible way. That is why we have intensively curated a collection of premium small-group trips as an invitation to meet and connect with new, like-minded people for once-in-a-lifetime experiences in three categories: Culture Trips, Rail Trips and Private Trips. Our Trips are suitable for both solo travelers, couples and friends who want to explore the world together.
Culture Trips are deeply immersive 5 to 16 days itineraries, that combine authentic local experiences, exciting activities and 4-5* accommodation to look forward to at the end of each day. Our Rail Trips are our most planet-friendly itineraries that invite you to take the scenic route, relax whilst getting under the skin of a destination. Our Private Trips are fully tailored itineraries, curated by our Travel Experts specifically for you, your friends or your family.
We know that many of you worry about the environmental impact of travel and are looking for ways of expanding horizons in ways that do minimal harm - and may even bring benefits. We are committed to go as far as possible in curating our trips with care for the planet. That is why all of our trips are flightless in destination, fully carbon offset - and we have ambitious plans to be net zero in the very near future.

Guides & Tips
Top tips for travelling in germany.

See & Do
A voyage through germany: the lowdown on river cruising.

Craft and Culture in the Lesser-Known Gems of Eastern Germany

Places to Stay
The best hotels to book in thuringia, germany.

The Best Spa Hotels in Baden-Baden

The Best Hotels in Germany for Every Traveller

The Best Hotels to Book in Garmisch for Every Traveller

Stay Curious: Experience Germany From Your Living Room

10 Reasons Why You Should Visit Bavaria

The Story Behind Germany's Neuschwanstein Castle

Architecture
Breathtakingly beautiful buildings in germany.

Places in Germany for History Lovers
Black Friday Offers on Our Trips
Incredible savings.
Post ID: 1000286349
Sponsored? No
View Payload
Harz Mountains
Quedlinburg
Wernigerode
Harz Fairy Tales
Berchtesgaden Area
Berchtesgaden Town
Eagle's Nest
Hitler's Berghof
Obersalzberg
Braunau am Inn
Wartburg Castle
Martin Luther
Hogan's Heroes
Colditz Castle
Flights to Germany
Martin Luther and the 95 Theses
This sleepy little town in rural eastern Germany doesn't look like the center of a revolution. But the events that played out here in the 16th Century shook the foundations of Christendom.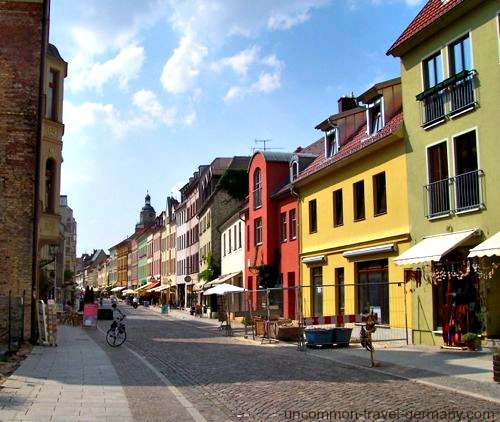 It was here in Wittenberg, Germany, that Martin Luther lived and preached, and on October 31, 1517, he nailed his 95 Theses to the door of the Castle Church. The Protestant Reformation had begun.
Visitors come here from all over the world to see the places where these historic events took place. This could be a good day trip from Berlin; it's about one hour on the IC train. But to see everything without having to rush, I would recommend spending at least one night here.
What to See in Wittenberg
For such a small town, there is a lot to see:
The town itself. A charming collection of 16th Century houses and a striking market square.
The Castle Church . It was on the doors of this impressive church that (allegedly) Martin Luther nailed his 95 Theses. Luther's grave is inside.
The Town Church . Another beautiful Medieval church where Luther preached many sermons.
Luther's Residence . Martin Luther lived in this converted cloister with his family for many years. Now a museum.
The Oak Tree  planted where Luther burned the Papal Bull.
Lucas Cranach's Home  and art studio. This artist documented much of the Reformation with his portraits and woodcuts.
Other things to see:
The Castle Museum , in the castle part of the Castle Church building. History of Wittenberg, from prehistoric times through the middle ages and later as a Prussian garrison town.
Philip Melanchthon's House , on Collegienstrasse. Luther's friend and fellow theologian, who contributed enormously to Lutheran doctrine.
An East German nostalgia museum,  Haus der Geschichte , on Schlossstrasse. Rooms furnished in '50s, '60s and '70s DDR style.
An interesting second-hand shop on Mittelstrasse, crammed with German Army items, WWI to the present.
The town's official name is Lutherstadt-Wittenberg , and this is definitely Martin Luther Central! Everywhere you turn, there's a spot associated with Martin Luther's life.
The shops carry everything you could imagine associated with their most famous resident: books, posters, mugs, statues...even Martin Luther socks! In spite of that, it's really a pleasant little town and crammed with interesting history.
Martin Luther socks.  People have been asking about the  Martin Luther socks  with "Here I stand" on them. You can find them online from these companies:
English version:
Concordia Publishing
Old Lutheran
German version (Hier stehe ich):
I haven't heard any feedback about these yet.
The Town of Wittenberg
Wittenberg is designed for easy walking. The old town is long and narrow, and flat, laid out along two parallel streets: pedestrian-only  Collegienstrasse  (which turns into Schlossstrasse), and  Mittelstrasse .
Most of the historical sights are along Collegienstrasse and Schlossstrasse.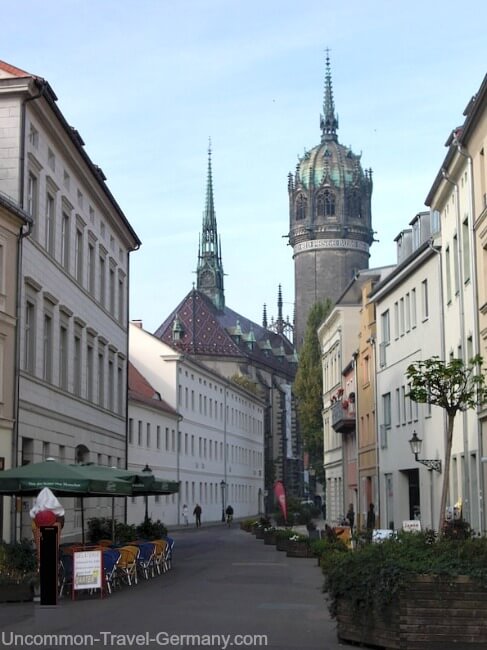 A stream runs along the main street, partially underground. Half way along, the street opens out into an attractive square, or Markt, with a statues of Martin Luther and Philip Melanchthon.
Pretty pastel-colored buildings, many from the 16th and 17th centuries, line the streets and there are a number of inviting restaurants serving hearty German cooking. During warmer weather, many of the restaurants have tables on the sidewalk, great for relaxing and people-watching.
The  Tourist Information Office  is located at the western end of Schlossstrasse across the street from the Castle Church. You can get maps of the town, as well as information on all the local activities. This is a good pace to book a hotel if you don't have reservations. Open daily (except in winter). They also have a smaller office in front of the train station with more limited hours (closed Saturday afternoons and Sundays). www.wittenberg-information.de.
Castle Church
This is the famous church where Martin Luther nailed his 95 Theses to the door. Luther gave some of his sermons in this church and now is buried just under the pulpit.
The church was severely damaged twice during wars in the centuries following the Reformation, but it was rebuilt each time.
The doors you see now were put up in the 19th century (the original wooden doors are long gone, with the Middle Ages). The current doors are made of bronze and are engraved with all ninety-five theses.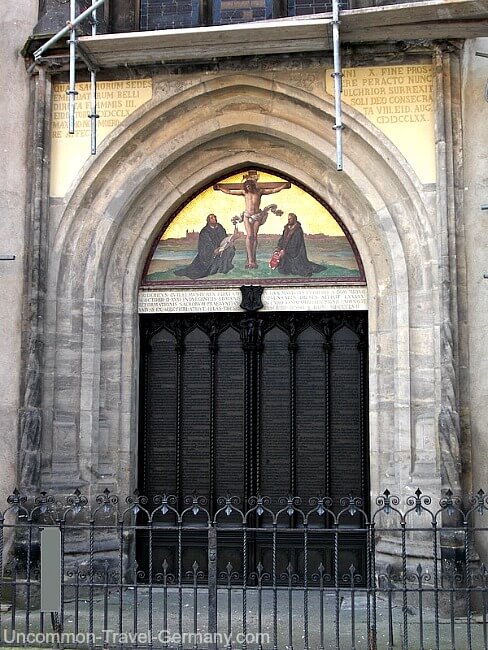 I t is called the Castle Church because it is part of a church-castle complex.
The castle tower rises high above Wittenberg and you can climb the winding stone stairs for a great view of the town. Open daily from noon to 4:00. On the Schlossplatz, at the end of Schlossstrasse.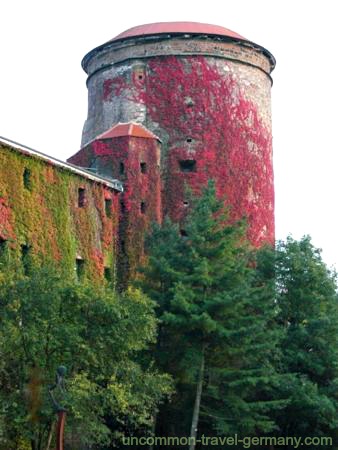 Something cool : English services will be conducted at either the Castle Church or the Town Church, Wednesday through Saturday. 
You will be able to sing Luther's most famous hymn,  A Mighty Fortress is Our God  in English, in the church where he sang it. The hymn is sung at every English-language service. Check for scheduling on the website:  www.wittenberg-english-ministry.com .
Enjoy a beautiful version of A Mighty Fortress...
Town Church
This is a lovely old church (the Stadtkirche), very large, with its double towers reaching high above the town. It is just behind the Markt on Kirchplatz.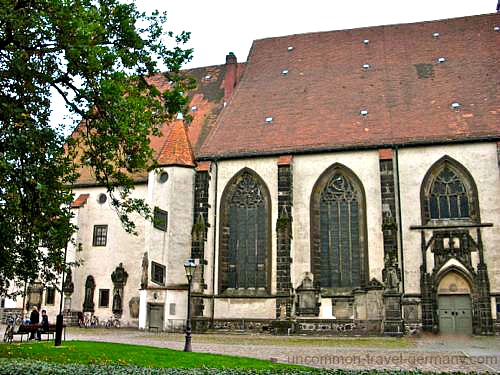 Martin Luther preached many sermons in this church, and he and Katharina von Bora were married here. Their marriage is re-enacted annually in a popular festival. All of his children were baptized in the church.
A large painting by Lucas Cranach the Elder is above the altar showing Luther receiving the cup at the Last Supper.
Martin Luther's Residence
One of the first buildings on the left on Collegienstrasse as you enter the old town is the large cloister that Martin Luther used as a home.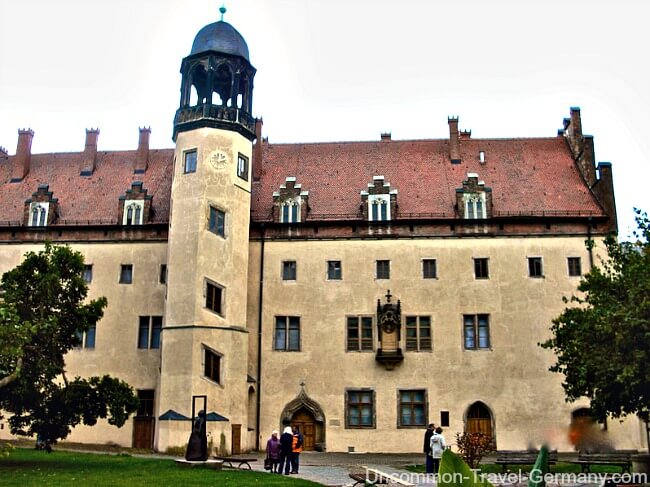 The Luther family, wife and six children, and various students and visitors lived in the central part of the building. He was given the building by one of the aristocrats supporting his movement.
The building is now a museum, open daily, and maintains Luther's living rooms in their original state. This is where Luther sat with his family and friends in the evenings, discussing a wide range of subjects from the sublime to the earthy (yes, earthy, not earthly!)
Martin Luther was known for his rather blunt way of speaking as well as for his eloquence. Students were allowed to be present during these evening discussions; they took notes and later published thousands of his comments in a book called  "Table Talk" . To read a sampling of his sayings, see  Martin Luther Quotes .
Inside the museum are some interesting artifacts from that period, including one of the chests used for collecting money for indulgences, an "indulgence" letter itself, and the pulpit that Martin Luther used for preaching.
Lucas Cranach 's fascinating painting of the  Ten Commandments  is located on wood panels in the refectory of Martin Luther's home. The Wicked Deeds are presented quasi-cartoon style for the faithful to ponder.
Lucas Cranach's House
Lucas Cranach the Elder painted many of the well-known figures of the Reformation, as well as the local princes and princesses, and his paintings, drawings and woodcuts are in museums all over Europe.
His house on Collegienstrasse is now a museum and his artist studio behind the house has some interesting exhibits.
Cranach was not only one of the most accomplished and prolific painters of the 16th century, he was also the mayor of Wittenberg and owned a pharmacists shop that is still doing business as a pharmacy (or Apotheke) in Wittenberg!
Luther's Oak
In 1520, Martin Luther's supporters piled up a stack of writings of Church doctrine and set them on fire. Luther threw in the Papal Bull, the document threatening him with excommunication unless he recanted his writings.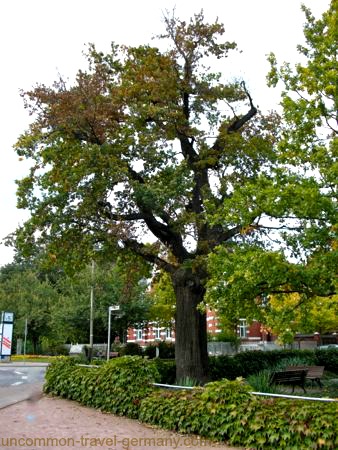 In 1830, an oak tree was planted on the spot where all this allegedly took place. The tree is at the corner of Am Hauptbahnhofstrasse and Collegienstrasse on the way in from the train station, just before you enter the old town.
Wittenberg Tours
English tours : the Tourist Office can arrange English tours for groups, but the regular daily tours are in German. They do have do-it-yourself audio tours in English for rent. In addition, they have a "cell phone tour", where you call a certain number and extension at each sight, and hear information about it in English, for only a connection fee. More info on English tours .
Wittenberg Festivals
Medieval faires.
Twice a year the town of Wittenberg turns into a medieval village, with music, costumes, hearty peasant fare, plenty of wine and beer, and medieval dancing, juggling and processions.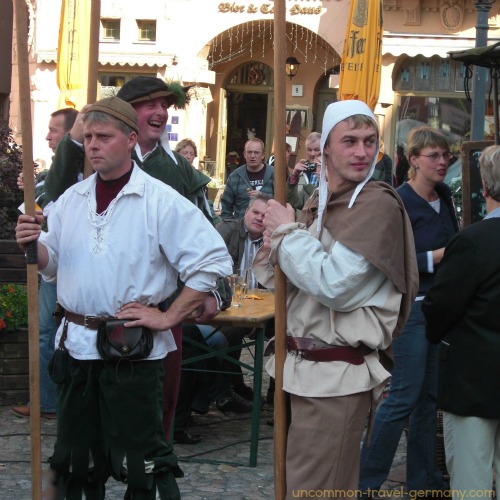 Luthers Hochzeit, or  Luther's Wedding , is a celebration based on the wedding of Luther and Katharina von Bora which takes place in June each year.
The  Reformations Fest  is another Medieval Faire, with additional classical concerts, plays, seminars and special church services. This takes place for several days around October 31 every year (the date the 95 Theses were nailed up).
There is also an annual Pottery Fair in September, where local potters display their wares in the main square.
Wittenberg University
There has been a university here since Martin Luther's time, located on Collegienstrasse. Parts of the structure date back to that period, and Luther himself worked within these walls. Quotations of his are displayed on the walls in the entrance hall.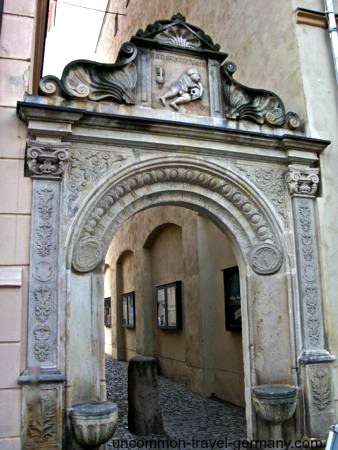 Travel Tips
Hotels in wittenberg.
Note: I may earn a small commission if you make a purchase through some of the links on this page, at no extra cost to you. This helps me provide all the free information I post on this website. Thank you for your support!
There are several charming, older hotels in the heart of the old town, conveniently located and loaded with ambiance:
Hotel Brauhaus Wittenberg , located on the Markt, is an actual brewery, as well as a hotel and a beer garden. They say Martin Luther himself was a regular in their tavern, the Goldener Adler. www.brauhaus-wittenberg.de  More info and booking .
Schwarzer Baer , at Schlossstrasse 2, www.stadthotel-wittenberg.de.  More info and booking .
Alte Kanzley, Schlossplatz 3-5. www.alte-canzley.de.  More info and booking .
Travel to Wittenberg
Wittenberg is located on the Elbe River in eastern Germany,  62 miles (100km) southwest of Berlin  and it's about  one hour by train  from both Berlin and Leipzig.
The  train station  is just to the east of the old town, about a ten minute walk. If you come by train, take a left on the street in front of the station (Am Hauptbahnhofstrasse) and follow that until the street ends near a traffic circle. See maps below.
The famous oak tree is to the right of the circle. Turn right and you will be on the main street of the old town, Collegienstrasse. Most of the main sights are on this street. The Castle Church (Schlosskirche) is at the far end, and you will pass Luther's house, the old University, Melanchthon and Cranach's houses and the Markt. The Town Church (Stadtkirche) is on the parallel street, Mittelstrasse. It has enormous towers; you can't miss it.
Map of Wittenberg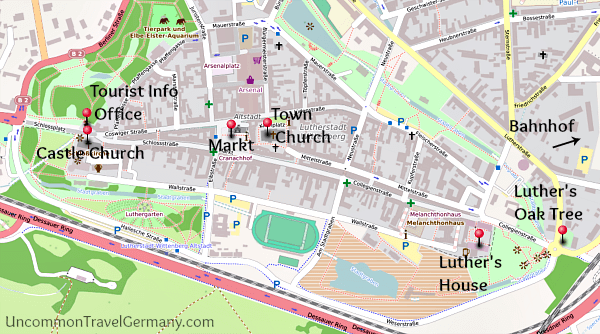 Map data (c)  OpenStreetMap  and contributors,  CC-BY-SA
More Martin Luther...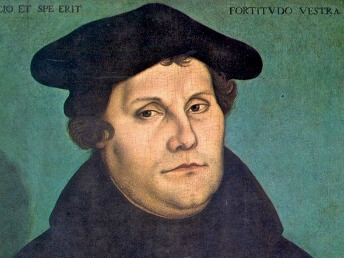 Traveling in Germany

Check the  German Rail website  (Deutschebahn) for train and bus schedules, prices, and ticket bookings.
They've dropped the mandatory vaccine/negative test requirements for German trains and Bavaria has dropped mask requirements for local transport.
Check for current Covid rules for the different German states.
Home            Sitemap            About Me
      Privacy Policy           Contact Me  
  Use Policy         Affiliate Disclosure
As an Amazon Associate I earn from qualifying purchases.
Uncommon-Travel-Germany.com


11 Top-Rated Tourist Attractions in Wittenberg
Written by Bryan Dearsley Updated Mar 30, 2022
The lovely old university town of Wittenberg – officially known as Lutherstadt Wittenberg – is well-known as the birthplace of Martin Luther's Reformation. Located on the north bank of the River Elbe in the southern foothills of the Fläming range, it was here that Luther, a local resident and preacher, famously nailed his 95 Theses to the door of the Castle Church (Schlosskirche), an event that ultimately marked the beginning of the Protestant Reformation.
Little surprise, then, that Luther's legacy is evident everywhere in Wittenberg and is much celebrated by its townspeople and visitors. The town boasts a number of excellent cultural sites and events, including a first-rate professional theater, as well as an open-air theater. Musical performances and events such as the popular Wittenberg Renaissance Music Festival are also big tourist draws.
Find the best places to visit in this charming town with our list of the top attractions and things to do in Lutherstadt Wittenberg.
1. The Castle Church (Schlosskirche)
2. meet the instigator of the reformation at lutherhaus museum, 3. meander through the marktplatz, 4. get outdoors at fläming nature park, 5. visit the historic parish church of st. mary, 6. travel back in time at luther 1517 - wittenberg 360°, 7. melanchthon house, 8. cranach house, 9. take a stroll around piesteritz workers' estate, 10. learn about wittenberg's past at the museum of town history, 11. let the kids run wild at wittenberg zoo.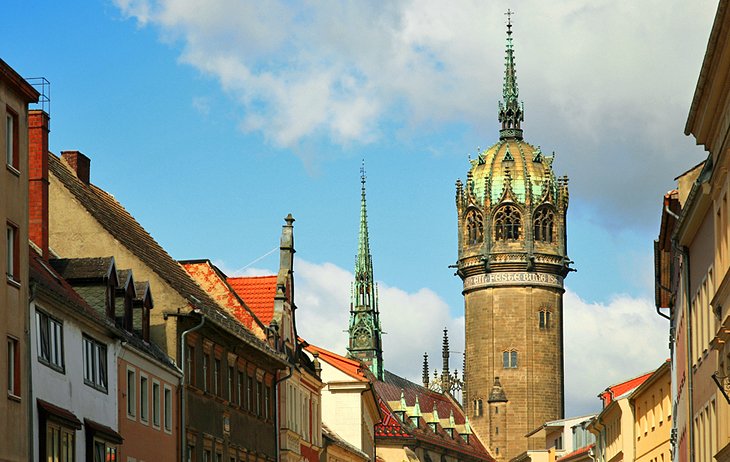 The lovely Late Gothic Castle Church (Schlosskirche), built in 1500 as All Saints Church, is now better known as the Reformation Memorial Church due to its ties with Martin Luther. It was to the church's original wooden doors that Luther nailed his famous 95 Theses in 1517.
Although the original doors were destroyed during the Seven Years War, the present bronze replacements, installed in 1858, bear their Latin text. Inside are life-size alabaster statues of Electors Frederick the Wise and John the Constant of Saxony-Wittenberg, the tombs of Luther and fellow Reformer Melanchthon, and the Early Renaissance monument of Elector Frederick III from 1527. On the columns of the nave are life-size figures of Luther, Melanchthon, and other Reformers.
Be sure to visit the church's unusual rounded tower with its extensive views over the town. Admission is via guided tours only, which are available from the Info Center. English language services are held regularly (check their website for schedules). Regular concerts and music programs are also held and are well worth attending.
Address: Wilhelm-Weber-Straße 1, 06886 Lutherstadt Wittenberg
Official site: www.schlosskirche-wittenberg.de/index.php/en/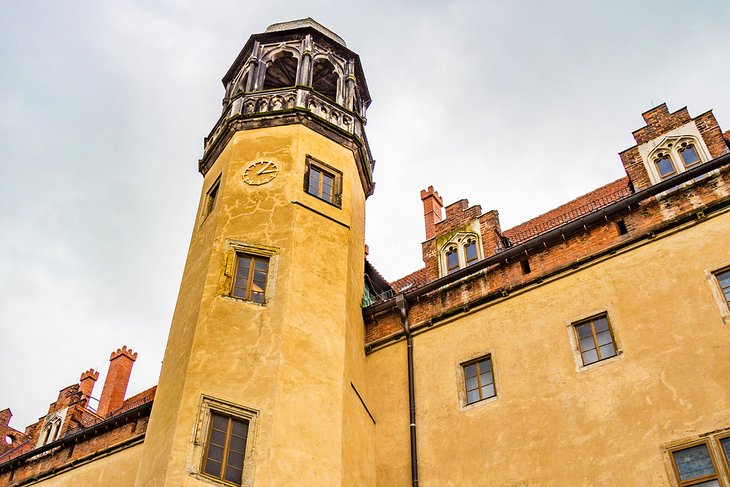 Lutherhaus, or "Luther House," is where Reformer Martin Luther lived from 1508 to 1546. It was built in 1504 and originally used as a house by Augustinian Hermits. An addition, the Augusteum, was added in 1598 and served for a time as a boarding school. Lutherhaus was later converted into a museum dedicated to the Reformation in 1883, and is the world's largest museum devoted to this important religious movement.
The museum's focal point is Luther's living room, the "Lutherstube," which has been meticulously preserved in its original condition. This room remains the same to this day, although the museum gradually grew its collection to include displays of Luther's writings and prints, his medals, university lectern, pulpit from St. Mary's Church , and a number of valuable paintings. Guided tours are available (advance booking is recommended).
Address: Collegienstraße 54, 06886 Lutherstadt Wittenberg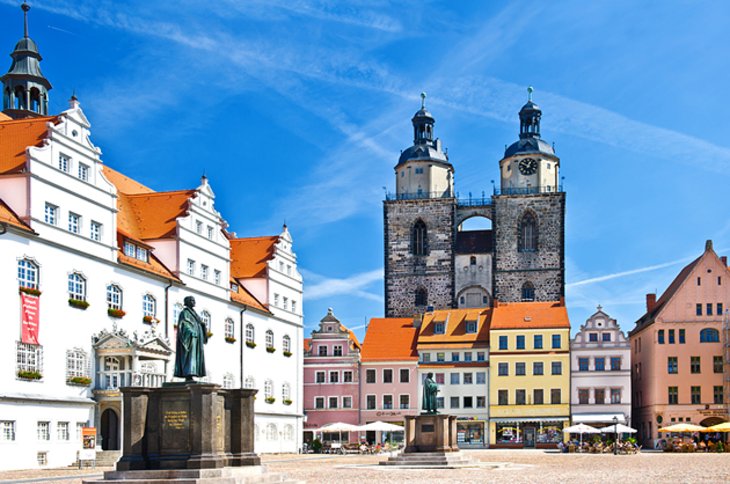 Wittenberg's old market square, the Marktplatz (Marketplace) has been a UNESCO World Heritage Site since 1996 and is home to numerous important historic buildings and tourist attractions. One of the most interesting is the handsome Old Town Hall (Rathaus), built in 1540 and notable for its four Renaissance gables and Late Gothic windows. Also worth seeing is the 16th-century balcony over its entrance.
The building is also known for its rich decoration, including allegorical figures and columns and a statue of the goddess Justitia with scales and sword. Immediately adjoining the Town Hall are the Market Fountain from 1617 and early 19th-century bronze statues of Martin Luther and fellow Reformer, Philip Melanchthon.
Address: Kirchpl. 2, 06886 Lutherstadt Wittenberg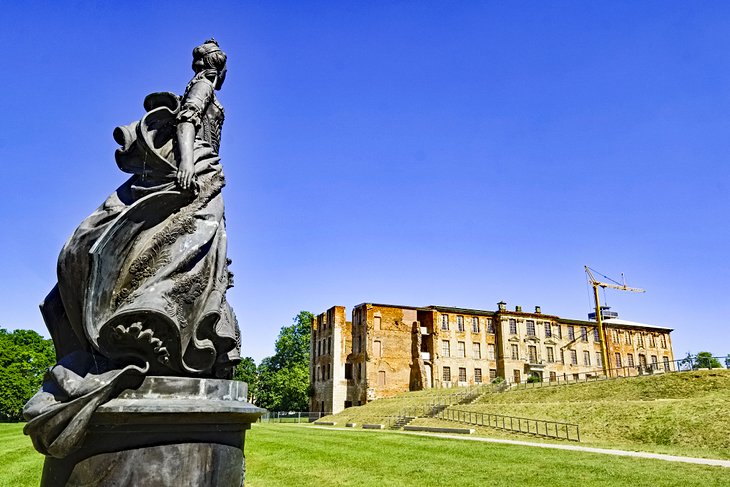 Wittenberg is also an important destination for nature lovers thanks to the Fläming Nature Park (Naturpark Fläming). Established in 2005 and covering an area of 824 square kilometers, this large area of outstanding natural beauty (one of six in the state) consists of important elements of the Fläming low mountain range, of which Wittenberg is a part, and protects a diverse mix of old forests, scenic meadows, and farmland.
Whether you're hiking or biking, or simply doing a driving tour of the area, a good place to start your sightseeing adventure is the visitor center in Jeber-Bergfrieden , a pleasant half-hour drive northwest of Wittenberg. From here, you can gather information regarding the park's many well-marked nature and hiking trails (some suitable for all levels of fitness), as well as details of biking trails, tours, and rentals, along with popular driving routes.
It's easy to spend the best part of the day exploring the park, which encompasses a number of old fortifications, including Zerbst Castle . There are also many historic villages and towns to explore ( Coswig is a must-visit), many of them set against some of the most attractive countryside to be found in this part of Germany.
For those with the time (and the energy), just a little farther north is the equally attractive High Fläming Nature Park (Naturpark Hoher Fläming). Covering an area of 827 square kilometers, it also boasts a good visitor center and plenty of opportunities for fun outdoor activities.
Address: Schloßstraße 13, 06868 Coswig (Anhalt)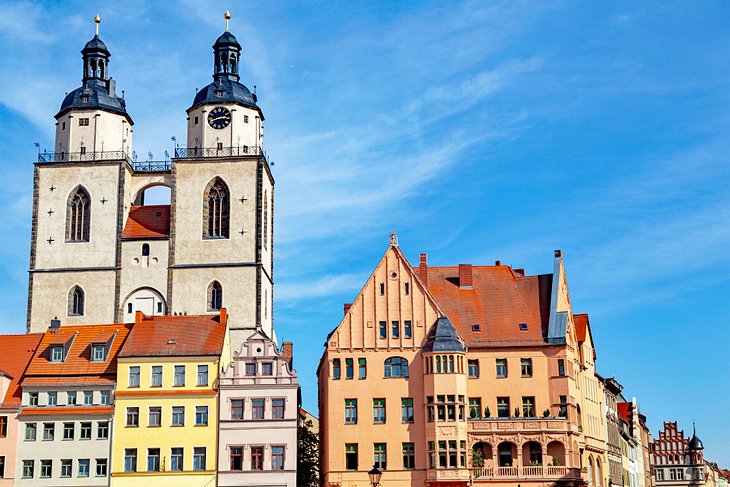 The oldest building in Wittenberg – and quite possibly the most important – is the aisled Gothic Parish Church of St. Mary (Stadtkirche St. Marien). Built between the 13th and 15th centuries, the church is famous the world over as the place where Luther frequently preached, and has been dubbed the "Mother Church of the reformation."
Notable features include the building's twin octagonal spires, constructed in 1558 in Renaissance style, and its winged altar from 1547 designed by Lucas Cranach the Elder. Also of interest is the richly decorated font from 1457, an organ noted for its fine tone, and a number of paintings by Cranach. It's also known for its many Renaissance epitaphs and tombs, including that of the Reformer Johann Bugenhagen, who died here in 1558.
Guided tours of this extensively renovated and extremely well-preserved church are available. Also of interest is the adjoining Chapel of the Holy Body (Kapelle zum Heiligen Leichnam), constructed in 1377 in brick-built Gothic style and notable for its strikingly slender tower.
Address: Kirchplatz 20, 06886 Lutherstadt Wittenberg
Created as part of the 500th anniversary of the Reformation Martin Luther so famously sparked, Luther 1517 provides a fascinating and extremely realistic portrait of the times. What you'll experience is in fact a single huge painting, or cyclorama, a once common form of entertainment in the 19th century.
This remarkable artwork stretches completely around a rotunda's curved interior wall, presenting an incredible panoramic view of Wittenberg just as it would have appeared the day Luther nailed his famous thesis to a church door. In addition to incredibly detailed depictions of the town's most recognizable buildings, you'll also see the key characters involved in the drama, including Luther and fellow Reformers Philipp Melanchthon and Justus Jonas.
It's an extraordinary artwork, and one you'll want to linger in front of just to catch the many remarkable details that so vividly portray this important historical event.
Address: Lutherstraße 42, 06886 Lutherstadt Wittenberg
Official site: www.wittenberg360.de/en/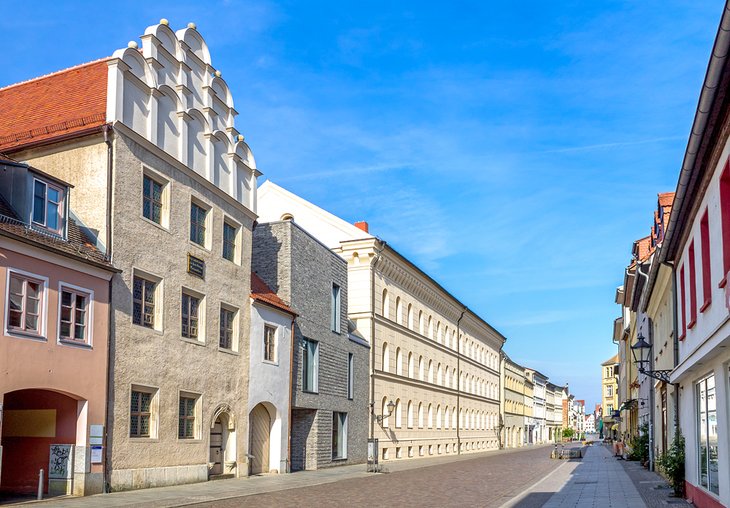 Not far from Lutherhaus is Melanchthonhaus (Melanchthon House), the former home of Luther's friend and fellow Reformer, Philip Melanchthon. Built in 1536, this three-story building with its Late Gothic windows and Renaissance gables was Melanchthon's home and workplace until he died in 1560.
Now an important memorial museum, a highlight of a visit is the chance to view its lovely 16th-century garden with its pump, stone table, herb garden, and old yew trees, all surrounded by a stretch of the old town walls. Other highlights include documents and artifacts once owned by Melanchthon, as well as a large portrait of him by Lucas Cranach the Younger.
Address: Collegienstrasse 60, 06886 Lutherstadt Wittenberg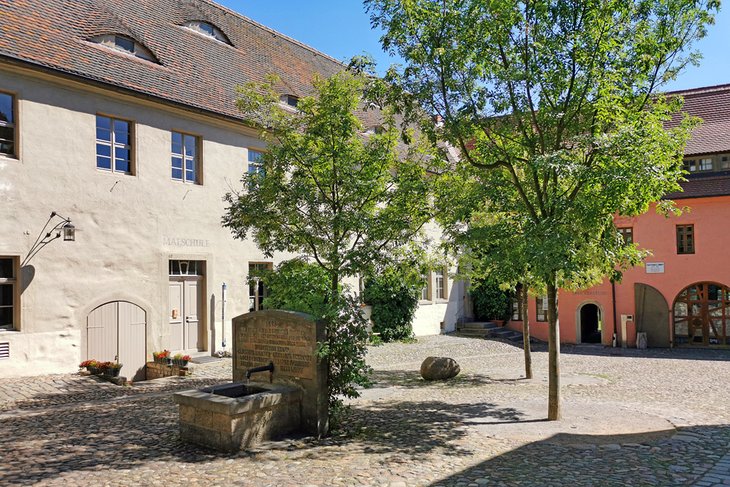 Cranach House (Cranach-Haus) was the home of the famous German artist Lucas Cranach the Elder, who lived in Wittenberg from 1505 to 1547. Court painter to the Elector of Saxony, he also became burgomaster of Wittenberg and owner of a pharmacy in the town. Widely considered one of the most accomplished 16th-century artists, he was responsible for painting portraits of many figures connected to the Reformation, as well as local aristocrats.
Now a museum, this finely preserved medieval house and its studio boast numerous artifacts relating to Cranach's career. The courtyards around the home are also worth exploring and include quaint shops and a café. Budding artists are also encouraged to enquire about the museum's regular painting classes (including fun workshops for kids).
Address: Schlossstraße 1, 06886 Lutherstadt Wittenberg
Official site: http://cranach-stiftung.de/en/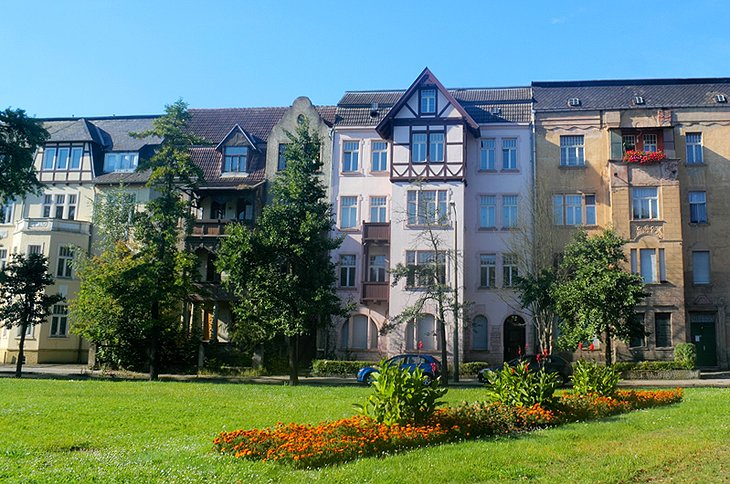 Wittenberg is home to a variety of interesting more modern architectural styles, in particular numerous fine examples from the 20th century. One of the highlights of a walking tour of the town's architecture is Piesteritz (Werksiedlung Piesteritz), a residential area constructed in 1916 to house workers from its industrial areas. Seven styles and sizes of homes were built, with those higher up the pecking order getting the larger abodes (though great pains were taken to ensure the quality was equal for all residents).
A small garden plot was also provided, and pleasant tree-lined pathways built to ensure a communal atmosphere. The estate has recently been completely refurbished and makes for an enjoyable stroll around what was one of Europe's most successful housing projects.
Another notable piece of architecture is the brightly colored Dr. Seuss-like Hundertwasserschule , redesigned and renovated by the famous artist from Austria Friedensreich Hundertwasser in 1999. The school has an interesting visitor center with details of the building's history, along with information relating to the artist.
Address: Schillerstraße 22a, 06886 Lutherstadt Wittenberg
To the south of the Schlosskirche stands the Schloss , the old Electoral residence dating from 1525. The arsenal of this impressive structure is now home to the Museum of Town History (Museum für Stadtgeschichte).
Highlights of a visit include seeing exhibits detailing the development of the town, as well as historical archives and an impressive collection of natural history and ethnographic artifacts from prehistoric times to the middle ages.
Address: Zeughaus, Arsenalplatz, 06886 Lutherstadt Wittenberg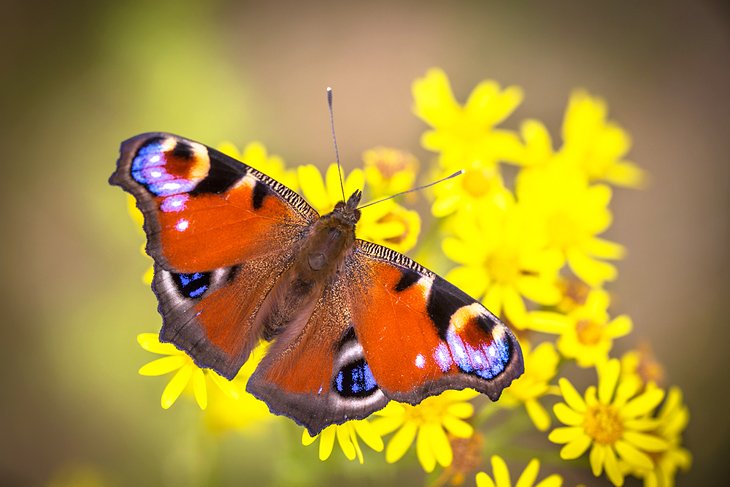 Although one of the smallest zoos in Germany, Wittenberg Zoo (Tierpark Wittenberg) is a great place to let the kids blow off some steam. Situated in a pleasant park-like setting, the zoo offers plenty of exotic species to enjoy.
Highlights include an impressive collection of birds, from regional owls to parrots and parakeets from the tropics. In addition to its large collections of monkeys and meerkats, there's also a fun petting zoo where kids are encouraged to interact with a variety of cute domesticated animals (a deer-feeding station is also available).
A recently added aquarium exhibit with a number of large tanks with local and exotic species of fish and reptiles is also worth a visit. The zoo has also made a name for itself as a center to treat injured wildlife before releasing it back into the wild, and kids will enjoy learning how staff nurse their furry friends back to health.
Other fun things for children to do in Wittenberg include visiting the Science Center futurea , which has a number of interesting displays related in particular to the study of chemistry, and the Alaris Butterfly Park , where guests of all ages can enjoy a walk through a magnificent tropical greenhouse that houses some 140 species of these fascinating creatures (an on-site café is also available).
Address: Pfaffengasse 8, 06886 Lutherstadt Wittenberg
More Related Articles on PlanetWare.com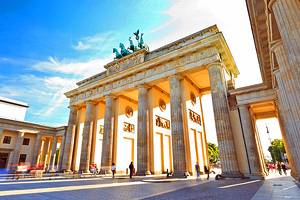 Easy Day Trips : A pleasant one-hour drive from Wittenberg and you're in Potsdam , famous as the seat of Prussian royalty for centuries, and home to the elegant imperial palaces and gardens of Sanssouci. Also an hour away, Brandenburg an der Havel is acclaimed not only for its beautiful and historic Old Town (Altstadt), but also its position as the gateway to over 3,500 lakes and more than 6,700 kilometers of waterways all just waiting to be explored. Travel just a tad farther, and you'll find yourself in the country's capital of Berlin , famous for its majestic Brandenburg Gate and Museum Island, one of the most important groupings of cultural attractions in Germany.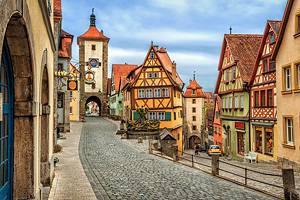 Medieval Times : Germany has done a tremendous job of preserving (or in some cases, rebuilding) its vast catalogue of medieval buildings. Some of the best examples can be found in the old Bavarian Imperial City of Rothenburg ob der Tauber (usually just Rothenburg), one of the most beautiful small cities in the country. Located on Germany's famous "Romantic Road" tourist route, Rothenburg is home to everything from medieval old town walls to the fairytale-like Plönlein, or "Little Square."
Highlights of the ancient city of Nuremberg include its majestic Nuremberg Castle, a magnificent medieval structure that can trace its roots all the way back to the early 10th century. Another top place to visit is lovely Lake Constance , an area of outstanding natural beauty dotted with exquisite old towns and countless medieval castles.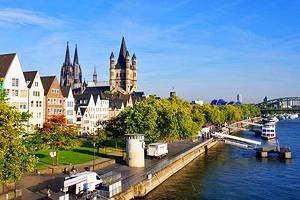 Germany's Top Attractions : Germany is home to some of Europe's top attractions, many of which are responsible for drawing huge tourist crowds to the cities or regions in which they're located. In Cologne , visitors flock from far and wide to see Cologne Cathedral (Kölner Dom), one of the largest churches in Europe and a masterpiece of 13th-century Gothic architecture. Over in the huge historic Port of Hamburg , it's the world's largest model railroad, Miniatur Wunderland, that draws the crowds, while in the beautiful Black Forest region ... well, here it's all about the magnificent countryside and historic communities, like the spa town of Baden-Baden .

More on Germany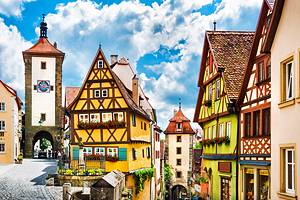 1st inset photo: 1879 woodcut after Lucas Cranach. 2nd inset photo: Klizsch/TourismusRegion Wittenberg. 3rd, 11th inset photos: TourismusRegion Wittenberg.
1.2 By train
1.3 By plane
2 Get around
6.2 Mid-range
6.3 Splurge
8.1 Camping
8.3 Mid-range
8.4 Splurge
Wittenberg is a town in Saxony-Anhalt , Germany . The official name is Lutherstadt Wittenberg for its close connection of the town with Martin Luther's Protestant Reformation . It was here that in 1517, according to the legend, Martin Luther posted his famous 95 Theses on the portal of the Schlosskirche . While historians doubt this particular part of the tale, it is certain that Luther disseminated his Theses from Wittenberg. In 2017 the town celebrated the 500th anniversary of the event. Luther Memorials in Wittenberg are part of a UNESCO World Heritage site. Other historical people with a close connection to Wittenberg are Luther's fellow reformer, Philipp Melanchthon, and the painter Lucas Cranach der Ältere.
Wittenberg should not be confused with the much smaller town of Wittenberge in northwestern Brandenburg .
Tourist Information , Schlossplatz 2 , ☏ +49 3491 - 49 86 10 , fax : +49 3491 - 49 86 11 , [email protected] . M-F 10:00-16:00, Sa 10:00-14:00 .  
Get in [ edit ]
No matter which transport you use, the two closest hubs are Berlin and Leipzig/Halle. If you aren't in the vicinity yet, you will likely pass through one of them.
By car [ edit ]
The A9/E51 motorway passes west of Wittenberg. Use one of the exits Klein Marzehns, Köselitz, or Coswig (Anhalt). The town lies at the crossing of the main roads B2 and B187.
By train [ edit ]
Hourly ICE trains on the Leipzig - Berlin line stop in Wittenberg in both directions. The ride takes 40 minutes from Leipzig Hbf or 45 from Berlin Hbf. As a slower but cheaper option you can also use RE trains, which also run about hourly. The ride takes 1 hr 15 min from Berlin, 1 hr 5 min from Leipzig, or 1 hour from Halle .
By plane [ edit ]
Berlin Airport ( BER  IATA ) and Leipzig/Halle ( LEJ  IATA ) are the closest airports. Of these two, Berlin offers the widest range of international options.
Get around [ edit ]
Most of the Altstadt (Old City) is pedestrian only. All the major historical sites are within easy walking distance.
Vetter Bus . Operates five bus lines in Wittenberg. ( updated Jul 2023 )
See [ edit ]
Museum für Stadtgeschichte , Schlossplatz 1d , ☏ +49 3491-43349-20 . Tu–Su 09:00-17:00 . Historical museum of the town.  
Archeological Exhibition , Alte Canzley, Schlossplatz 3 . Tu–Su 08:00-18:00 .  
Do [ edit ]
Organ-at-Three , Schlosskirche . May - Oct: Tu at 15:00 . Organ music played on the historic Ladegast Organ of the Schlosskirche. Admission free; donations welcome .  
Guided tours , Schlossplatz 2 ( starting point: tourist information opposite of Schlosskirche ). Daily 14:00 (duration 2 hours) . May be cancelled if less than 10 participants show up. Adults €8, children €5 .  
Buy [ edit ]
Eat [ edit ], budget [ edit ].
Kartoffelhaus Zum Schwarzen Bär , Schloßstraße 2 , ☏ +49 3491 419868 .  
Mid-range [ edit ]
Athos Griechisches Restaurant , Am Alten Bahnhof 1 , ☏ +49 3491 414080 .  
Il Castello , Schloßstraße 3 , ☏ +49 3491 414547 .  
51.8664 12.6441 1 [dead link] Tante Emma's Bier & Café Haus , Markt 9 , ☏ +49 3491 414547 , [email protected] . M 09:00-17:00, Tu-Su 09:00-24:00 .  
[dead link] Restaurant von Bora , Collegienstraße 54a, 06886 Lutherstadt , ☏ +49 3491 628 6565 . M closed, Tu Su 11:00-18:00, W-Sa 11:00-23:00 . Modern German cuisine with Mediterranean influences ( updated Jan 2020 )
Splurge [ edit ]
Brauhaus Wittenberg , Markt 6 , ☏ +49 3491 433134 .  
Drink [ edit ]
Charles Bar , Markt 7, 06886 , ☏ +49 170 5961274 . ( updated Jan 2016 )
Sleep [ edit ]
Camping [ edit ].
Marina-Camp-Elbe , Brückenkopf 1 , ☏ +49 3491 454-0 .  
DJH Jugendherberge Lutherstadt Wittenberg , Schlossstraße 14-15 ( Next to Schlosskirche. Take bus 300 or 304 from main station to Schlossplatz ), ☏ +49 3491 - 50 52 05 . Check-in: 15:00 . Youth hostel inside the castle. €18 + €3.50 for bedclothes (in a shared dorm room) .  
Stadthotel Schwarzer Bär , Schloßstraße 2 , ☏ +49 3491 4204344 , [email protected] .  
Brauhaus Wittenberg , Wallstraße 7 , ☏ +49 3491 433130 .  
Luther-Hotel , Neustraße 7-10, 06886 Lutherstadt , ☏ +49 3491 4580 , fax : +49 3491 458100 , [email protected] . Check-in: 15:00 , check-out: 10:00 . 159 guest rooms (141 double rooms, 11 single rooms, 6 family rooms and 1 suite) ( updated Oct 2017 )
Best Western Stadthotel , Collegienstraße 56/57 , ☏ +49 3491 4250 , [email protected] .  
Alte Canzley , Schloßplatz 3-5 , ☏ +49 3491 429190 , [email protected] .  
Go next [ edit ]
Dessau (35 km west), more parks of the "Garden Realm", Bauhaus school of architecture and the model housing estate of Törten, museum of Junkers aircraft factory; 35 minutes by train.
Torgau (50 km southeast), another place closely linked with Martin Luther and the Reformation; 1 h 10 min by train via Falkenberg.
Köthen (60 km west), former residence of the petty state of Anhalt-Köthen, where Johann Sebastian Bach worked and Samuel Hahnemann created homeopathy; 1 h 35 min by train via Halle.
Leipzig (70 km south), 30 minutes by hourly high-speed train.
Potsdam (70 km) and Berlin (100 km northeast), 40 minutes to Berlin main station by hourly high-speed train.
Halle (80 km southwest), one hour by local train.
Eisleben (110 km southwest), the town where Luther was born and died and the other half of the Luther World Heritage Site; no convenient public transport link.
UNESCO World Heritage Sites
UNESCO tag to be fixed
Has custom banner
Has map markers
Go listing with no coordinates
Articles with formerly dead external links
Articles with dead external links
See listing with no coordinates
Do listing with no coordinates
Eat listing with no coordinates
Drink listing with no coordinates
Sleep listing with no coordinates
Has routebox
Usable cities
Usable articles
City articles
Has Geo parameter
Saxony-Anhalt
All destination articles
Pages with maps
Navigation menu
When to visit Wittenberg
How to Reach Wittenberg
Restaurants in Wittenberg
Events & Festivals in Wittenberg
Wittenberg Map
Things To Do in Wittenberg
Wittenberg Itineraries
Wittenberg Hotels
Tourist-information Lutherstadt Wittenberg Ticket Price, Hours, Address and Reviews
Saxony-Anhalt
Things To Do In Wittenberg
Tourist-Information Lutherstadt Wittenberg
Tourist-information Lutherstadt Wittenberg
Address: Schlossplatz 2, 06886, Wittenberg, Germany
Timings: 10:00 am - 04:00 pm Details
Phone: +49-03491498610
Fax: +49-03491498611
Tags: Travel, Tourist Information And Services, Landmarks
95% of people who visit Wittenberg include Tourist-information Lutherstadt Wittenberg in their plan
57.89% of people start their Tourist-information Lutherstadt Wittenberg visit around 09 AM - 10 AM
People usually take around 30 Minutes to see Tourist-information Lutherstadt Wittenberg
77.78% of people prefer to travel by car while visiting Tourist-information Lutherstadt Wittenberg
People normally club together Melanchthonhaus and Garden Kingdom Of Dessau-Worlitz while planning their visit to Tourist-information Lutherstadt Wittenberg.
Tourist-Information Lutherstadt Wittenberg Reviews & Ratings

Attractions Nearby
Asisi Panometer Leipzig
Brandenburg Gate
St. Thomas Church
Museum Island
Pergamon Museum
Dutch Quarter
Things to Do in Wittenberg, WI - Wittenberg Attractions
Things to do in wittenberg.
Good for a Rainy Day
Good for Couples
Budget-friendly
Good for Kids
Good for Big Groups
Honeymoon spot
Good for Adrenaline Seekers
Hidden Gems
Adventurous
Things to do ranked using Tripadvisor data including reviews, ratings, photos, and popularity.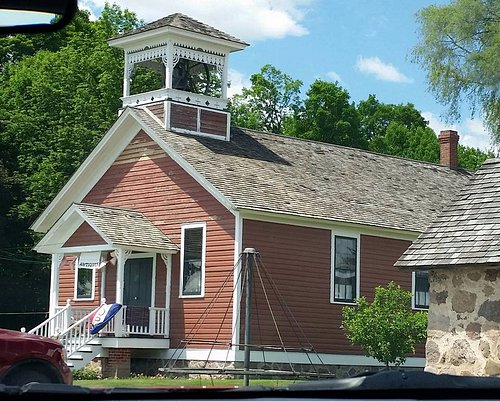 1. Nueske's

2. Walls Of Wittenberg

3. Museum of the Wittenberg Area Historical Society
4. shops on grand.

5. Neuskie's Meats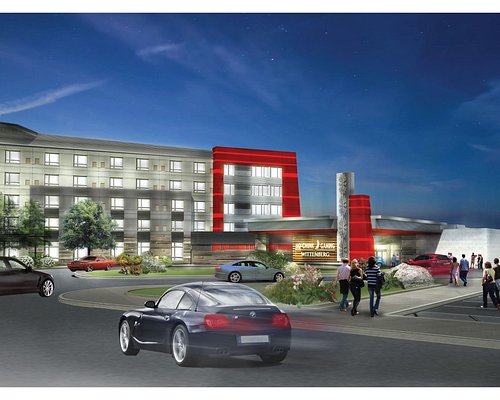 6. Ho-Chunk Gaming Wittenberg
7. Nueske's District No. 3 Antiques

8. Redeemer Lutheran Church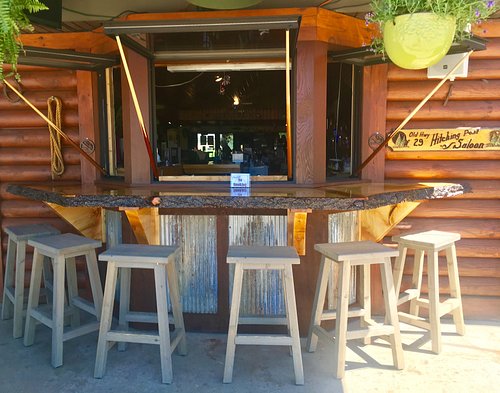 9. Rachel's Roadside Bar and Grill

10. Resch Lanes

11. XENA'S VILLAGE INN
What travelers are saying.
Walls Of Wittenberg
Museum of the Wittenberg Area Historical Society
Nueske's District No. 3 Antiques
Neuskie's Meats
Wittenberg Attractions Information
International travel demand falls after onset of Israel-Hamas conflict, data shows
El Al Israel Airlines planes are seen on the tarmac at Ben Gurion International airport in Lod, near Tel Aviv, Israel March 10, 2020. REUTERS/Ronen Zvulun/File Photo Acquire Licensing Rights
NEW YORK, Nov 10 (Reuters) - International flight bookings around the world have fallen since the onset of the Israel-Hamas conflict especially in the Americas as people cancel trips to the Middle East and around the world, according to travel analysis firm ForwardKeys.
Global travel demand has weakened since the Palestinian Islamist group Hamas killed 1,400 people in southern Israel on Oct. 7, and Israel responded with air and ground strikes on Gaza that Palestinian authorities say have killed over 10,000 people.
"This war is a catastrophic, heartbreaking, human tragedy that we are all seeing daily on our TV screens," said Olivier Ponti, vice president of insights at ForwardKeys in a statement. "That is bound to put people off (from) traveling to the region, but it has also dented consumer confidence in traveling elsewhere too."
International flight bookings from the Americas dropped 10% in the three weeks after the Oct. 7th attack, when compared to the number of tickets issued three weeks before the attack, according to flight ticketing data from ForwardKeys.
People in the Middle East have also been traveling less with international flight tickets issued in the region having fallen 9% in the same period. International flight bookings to travel to the region plummeted 26% in the three weeks following the attack.
International flight bookings fell 5% across regions on average, impacting the global rebound in international travel from the pandemic.
Bookings one day before that attack showed that global air travel in the last quarter of the year would recover 95% of 2019 levels, but as of late October the outlook has fallen back to 88%, Ponti said.
Reporting by Doyinsola Oladipo in New York;
Our Standards: The Thomson Reuters Trust Principles.
Some Ukraine drone pilots fear early advantage over Russia now lost
Private jets of Russian oligarchs keep flying but not to Europe
Islamic Jihad group in Gaza shows new hostage video
Former US astronaut Frank Borman dies at 95
More from Reuters
UnitedHealth unit to add eight insulin products to its reimbursement list
UnitedHealth's pharmacy benefit manager unit said on Thursday it was adding eight insulin products to its reimbursement list that would limit out-of-pocket spend to $35 or less.
Reuters NEXT Treasury's Adeyemo says 'far better' to see Russia buying tankers than tanks
Novo Nordisk to discontinue Levemir insulin in U.S. market
Tesla to roll into South America with first steps in Chile
Global fashion brands say to raise purchase prices for Bangladesh-made clothes
Advertisement
Supported by
T's Travel Issue
The Enduring, Transformational Power of Pilgrimage
The writer Aatish Taseer embarked on a journey through Bolivia, Mongolia and Iraq. What he learned was less a life-altering revelation and more a lesson in curiosity itself.
By Hanya Yanagihara
Travel, the movement of people from one place to another, has always existed. But long before we thought to travel for pleasure, we traveled for purpose: for commerce, and for faith.
Even the most casual student of the Silk Road , that fearsome, wondrous network of routes that people began plying in the second century B.C. (and did so for approximately the next 1,600 years) knows that the two — business and God, whoever or whatever your god was — often intermingled. Merchants and adventurers returned with new kinds of goods, but also with new kinds of ideas: of art, of architecture, of ideology, of faith. The Silk Road brought Islam to India, and Buddhism to Japan. It's why travel has always been both thrilling and dangerous. You never know how a new land is going to change you; it never knows how you're going to change it.
On the Covers
In T's cover story — conceived during the pandemic, and reported over the course of a year — the T writer at large Aatish Taseer embarked upon three pilgrimages: first to the Feast of the Virgin of Copacabana, an Indigenous Catholic festival in the Andes Mountains of Bolivia; next to Mongolia, whose people are still rediscovering their native strain of Buddhism, forbidden to them for nearly 60 years under Soviet-mandated Communist rule; and finally to Iraq for the Shiite observance of Ashura, commemorating the death of the Prophet Muhammad's grandson Hussein in 680 A.D.
There are few writers who have a more poetic understanding of how syncretism operates in the contemporary era than Taseer. Though it may be ancient, he writes, the pilgrimage is "a kind of ur-travel, crucial to so much that we associate with the modern industry of tourism, from early inns, hostels and brothels to guidebooks and travel writing." And while some of the trappings of these pilgrimages might now be specific to their time, many would be familiar to travelers from centuries ago. Here is the integration of local traditions into the dominant faith (and vice versa); here is the economy of food and trinket sellers that inevitably flourish wherever pilgrims go; here are cherished rituals of various provenance; here are faith's companions superstition and luck. The pilgrimage is our most elemental kind of travel, and it endures because, as Taseer writes, it's in fact two trips in one: one external, one internal.
It would be too tidy if Taseer had ended his journey with some great, life-altering revelation about religion, God or even the self. And yet, he says, it transformed him nonetheless — as, he contends, all travel transforms us. "The true lesson of pilgrimage in a secular context is setting out into the world with a questing spirit that is unafraid of looking without finding, allowing curiosity, sympathy and self-improvement to do the work of faith," he writes. "Looking without finding": what better, braver philosophy is there for any of us, especially in a time when every undertaking is expected to have a goal and a result? Sometimes, the looking is the goal. Or rather, not sometimes: always.
Hanya Yanagihara is the editor in chief of T Magazine. More about Hanya Yanagihara
Explore T Magazine
 A Disappearing Act: How did ghosting become the default ending to so much human interaction ?
Backyard Dinners: Cathleen O'Neil and Feisal Lagos, two friends who met in the New York events industry, have started a vibrant, collaborative meal series in Brooklyn .
The World of Yohji Yamamoto: The Japanese fashion designer pulls back the curtain on his creative process .
 Portugal's Creative Hub: Here is what to see, eat and buy in Porto , a city with innate charms whose roots go back thousands of years.
Uncanny Art: As deepfakes and A.I. images proliferate, hyperrealist sculpture has taken on an eerie new relevance .