Awards Season
Big Stories
Pop Culture
Video Games
Celebrities
Best Things To Do In Philadelphia: The City of Brotherly Love
There are always new things to see and do in the city of brotherly love. Even if you're a weekend visitor, a newly relocated resident, or a long-time Philadelphia local. Even though it is the fifth largest city in the U.S., there are many opportunities for enjoying the outdoors and soaking up the natural beauty amongst the city's vibrant streets. This guide will offer a some of the best things to do in Philadelphia so you canexplore this cultural mecca. 
What's Up With Philly Anyway?
There is a rich history behind Pennsylvania's largest city, beginning with its founding as the center of the Pennsylvania Colony by William Penn (the man for whom Pennsylvania is named) in 1681. The colony boomed and grew rapidly. Philly (as everyone calls it) even served as the United States' temporary capital city between 1970 and 1800, while the nation built Washington, D.C. As one of the oldest cities in the country, much of Philadelphia's history can be explored in the city's historic museums .
Today, several different icons come to mind when thinking of Philly, from the cheesesteaks to the American Revolution , to that iconic scene from Rocky (and yes, you can still run up the steps). Regardless of the city's size and rich history, it still maintains an intimate, small-town feel. Most of the largest attractions can be explored on foot. Aside from the museums, you'll wind through immaculate parks and historic architecture.
Getting To Philly 
Philadelphia can be easy to access , depending on where you're coming from. The city neighbors several other notable cities, such as New York and Washington, D.C., all within a short drive.
You don't have to drive, though, thanks to the city's prime location in the middle of the Northeast Corridor railway (Amtrak) and its many options for bus routes offered by Greyhound , Megabus , and Flixbus . If traveling by car, bus, or train isn't your style, you can fly to the Philadelphia International Airport . 
Getting Around Philly
Once you arrive in the city, there are many ways to get around. If you decide to drive, the good news is you can park your car wherever you stay and leave it there. Year after year, Philly has been voted one of the nation's best walking cities . Philadelphia is also known as one of the most bike-friendly cities. It s a city-wide bike-sharing service ( Indego ), which allows site-seeing on wheels with rides starting at $4.
Don't worry, though; there are many other options to get around once your feet get tired. You can take a ride in a cab or ride share service like Uber. Or, you can hop on public transit to get you everywhere you need. 
Best Things To Do in Philadelphia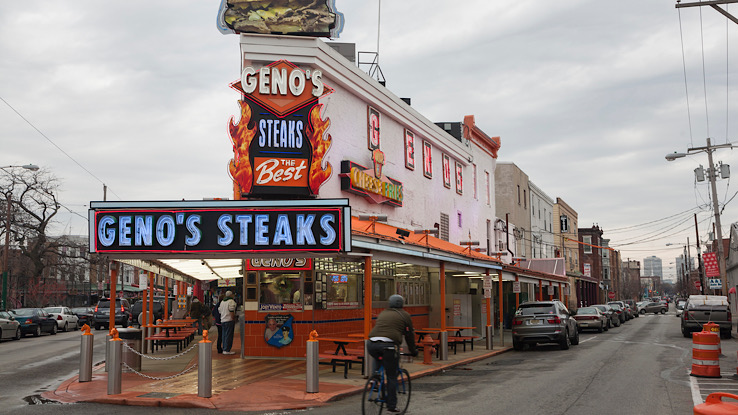 Depending on your interests, you could spend several days eating your way through the city or perhaps hopping from one museum to the next. The possibilities are endless in this accessible, diverse cultural playground. The suggestions below take into account a wide variety of interests. Remember to take your time strolling and sniffing out (quite literally) the rich atmosphere of the city streets.
Visit the Birthplace of the United States
Independence Hall and the Independence National Historic Park are the birthplace of the United States. This is where the signing of the Declaration of Independence took place. The Independence Historical Center offers an extensive opportunity for the whole family to learn about the rich history of Philadelphia and snap a photo with the Liberty Bell . This iconic landmark symbolizes abolitionists, suffragists, and other freedom-seekers throughout history. 
Entrance to all buildings, including Independence Hall, Congress Hall, Franklin Court, the Bishop White House, New Hall Military Museum, and the Liberty Bell, is free. Guided tours are available all year round, and you must book in advance.
Nibble Your Way Through Reading Terminal Market
Settled under an old railroad, Philadelphia's 127-year-old Reading Terminal Market is a great source of fresh produce, seafood, meats, and cheeses. With some of its vendors operating almost exactly as they did back in 1892, this international food haven and public marketplace is one of Philadelphia's most notable cultural experiences.
Marvel at Philadelphia's Magic Garden
For those wanting to explore the quirkier side of Philadelphia, the Philadelphia Magic Garden will make you feel like you fell down the hole into Wonderland. Spend some time wandering through Isaiah Zagar's "unique mosaic art environment and his public murals" while learning about the public art community in Philadelphia.
Artist Isaiah Zagar took the phrase "one man's trash is another man's treasure" as his raison d'être. They repurpose bicycle tires, bottles, and other forgotten items into colorful public art. Wander through the small galleries inside, then head outdoors to the garden and wind your way through the labyrinth of mosaics. The museum is open daily except Tuesdays, and guided tours are available. 
Stroll Philadelphia's Distillery Trail 
In the city's early days, Philadelphia was a domestic distilling capital and hub for whiskey production supplying the rest of the nation. The 18th Amendment nearly killed Philly's distilling industry for the better half of the following century. In recent years, however, the city has seen a comeback in its local craft distilling practices. Taking the Philadelphia Distillery Trail , you can now tour the distilleries, see how they make spirits, and sample the many different alcohols.
Chow on a Cheesesteak 
You can't visit Philly without indulging in a famous Philly Cheesesteak . For this one meal, forget your diet and sink your teeth into this classic rib-eye-beef-and-melted-cheese-on-a-bun delight. For an iconic Philly experience , visit the intersection of South 9th Street and Passyunk Avenue, where rivals Geno's Steaks and Pat's King of Steaks feed the masses daily. Bring cash, and be ready for long lines, but it might just be worth the wait.
Run up the Rocky Steps
Made famous by their screen appearance in the 1976 film Rocky, the 72 famous Rocky Steps outside the Philadelphia Museum of Art have become an international sightseeing destination for Philadelphia visitors. It has become a tourist requirement to run up the steps and then pose with the bronze statue of Rocky.
Museum Hopping on Benjamin Franklin Parkway
While you're there, you may as well visit the Philadelphia Museum of Art . There are also other museums that line the famous Benjamin Franklin Parkway . The parkway was modeled after the Avenue des Champs-Élysées in Paris. It is referred to as Philadelphia's "most artistic mile" for obvious reasons. 
Aside from the art museum, the parkway is home to The Barnes Foundation , The Franklin Institute , and The Academy of Natural Sciences of Drexel University . Another popular attraction is the world's most famous and expensive prison, Eastern State Penitentiary . It has now become a historic site, as well as public art and community space. 
Visit the October Gallery
Founded in 1985, The October Gallery is one of the country's oldest African American art galleries. The intimate gallery is located away from the hustle of the city center. On the first floor of a Victorian home in a residential area of Northwest Philly, it operates as home to an eclectic and ever-changing collection of established artists and up-and-comers.
The gallery is open by appointment daily.
Hang Out in Fairmount Park
After all that sightseeing, you may want to unwind and get some fresh air at Fairmount Park. Home to the Centennial Exposition in 1876, this park offers natural landscapes and peace. There are more than 2,000 acres of rolling hills, walking trails, waterfront views, and forest paths with the Schuylkill River running through.
MORE FROM ASK.COM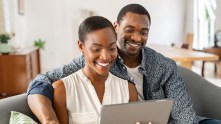 QuestionsAnswered.net
What's Your Question?
How to Read the Philadelphia Inquirer
The Philadelphia Inquirer covers news in Philadelphia and New Jersey including politics, breaking news and education. They also cover sports, business, opinion, entertainment, life, food, health and real estate.
The Philadelphia Inquirer website has a number of posted articles that readers can read for free. Effective 2017, the Inquirer put a cap on the number of free articles readers can read each month. The current cap is at ten per month. In order to read more articles you need a subscription to the newspaper.
There are a number of subscription options for readers of the Inquirer. Subscription options include:
Unlimited digital access
Unlimited digital access plus Sunday print delivery
Unlimited digital access plus seven day print delivery
Unlimited digital access includes access to every article plus an automatic subscription to the Morning Newsletter and Insider Email. Subscribers can also download Philly.com News and Sports Apps for access on smartphones and tablets.
Philadelphia Inquirer Archives
The Philadelphia Inquirer offers readers several options for viewing archives. You can pay a set price per article or pay for monthly access to pictorial archives. The following are some of the options available to view archives:
Pictorial Archives: Readers can view over five million full archived pages of the Philadelphia Inquirer and Philadelphia Daily News print editions. This historical collection includes news, births, marriages, deaths and comics. Date ranges beginning from 1860 for the Philadelphia Inquirer and 1960 for the Philadelphia Daily News are available to subscribers.
Text Only Archives: Over two million text articles without photos are available for download. The text archives available dates range from 1981 to today for the Philadelphia Inquirer and 1978 to today for the Philadelphia Daily News.
Reprints: Available for personal use by visiting the Philadelphia Inquirer online store or emailing [email protected]
Licensing: In order to republish archived material you need to first contact the YGS Group at [email protected]
Philadelphia Inquirer Obituaries
Philadelphia Inquirer Obituaries are published on the Inquirer website and print newspaper. To submit an obituary, you need to contact the Philadelphia Inquirer by phone, email or fax:
Philadelphia Inquirer Delivery
The Philadelphia Inquirer is available for daily delivery service to subscribers. Inquirer subscribers can change their address, put a stop on delivery for a vacation, pay their bill and subscribe to digital access. Subscribers can choose from seven-day home delivery for eight weeks for around $40 or Sunday only delivery for 26 weeks for around $30.
Philadelphia Inquirer Online
The Philadelphia Inquirer is on Facebook, Twitter and Instagram. Visit @phillydotcom to check on the Inquirer on Twitter, Instagram and Facebook. Photos and articles are posted throughout the day, as well as sports updates, interviews and cartoons.
MORE FROM QUESTIONSANSWERED.NET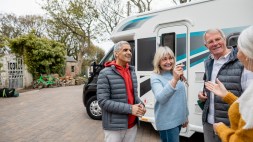 visitPA.com
Hospitality Jobs
Type To Search
A near-comprehensive guide to philly museums & attractions, sixty things to do somehow only scratches the surface of philly's cultural offerings....
It's no secret (or surprise) that a city as grand and expansive as Philadelphia offers a wealth of authentic and top-notch experiences.
And with so many museums, attractions, historic landmarks, parks, markets, family activities and more in this vibrant city and region, it's challenging to decide where to begin.
What do you choose?
Dinosaurs ( The Academy of Natural Sciences ) or daylilies ( Longwood Gardens )?
Vincent van Gogh ( Barnes Foundation ) or Count von Count ( Sesame Place )?
Revolutionary history ( Independence Hall and the Liberty Bell ) or outdoor reveling ( Wissahickon Valley Park and Fairmount Park )?
Below, we've rounded up dozens of attractions and museums that make Greater Philadelphia an amazing place to explore, whether visiting for the first time or have spent your whole life here.
Liberty Bell Center
The Liberty Bell , originally cast in England and recast in 1753 in Philadelphia, originally hung atop the Pennsylvania State House (now known as Independence Hall). It was soon adopted by abolitionists, suffragists and justice-seekers across the globe as an enduring symbol of freedom. The Bell was moved from Independence Hall to a pavilion across the street in 1976 and then to Liberty Bell Center two decades ago. Visitors can view the Bell and tour the center — which offers a number of exhibits — for free year-round.
Where: Liberty Bell Center, 526 Market Street
Independence Hall
Independence Hall is the centerpiece of the renowned Independence National Historical Park . In 1776, the Founding Fathers came together to sign the Declaration of Independence in this historic building. Eleven years later, representatives from a dozen states met here to lay the framework for the U.S. Constitution. Guided tours are available year-round, but visitors must reserve free timed tickets (with $1 service charge) online or by phone in advance for entrance.
Where: Independence Hall, 520 Chestnut Street
The President's House
Presidents George Washington and John Adams each lived at The President's House during their time in office. While the original building has since been demolished, the foundation remains and now serves as a free outdoor exhibit, The President's House: Freedom and Slavery in the Making of a New Nation , where looped videos give a special focus to the lives of the nine enslaved men and women who lived and worked here during Washington's tenure.
Where: The President's House, 600 Market Street
Independence National Historical Park
In the heart of Old City and Society Hill — now known as  Philadelphia's Historic District  — is where the country was born, as evidenced by the seminal locations that make up  Independence National Historical Park . And while the Liberty Bell Center and Independence Hall are no doubt the most iconic things to do in the park, they're far from the only ones. Congress Hall , Old City Hall , Carpenters' Hall , the portrait gallery at the Second Bank of the U.S. and more make up this historic park, which is administered by the National Park Service.
Where: Various locations including Carpenters' Hall, 320 Chestnut Street
National Constitution Center
Dedicated to the four most powerful pages in America's history, the National Constitution Center examines "We the People." Museum-goers can explore exhibits and artifacts, view an original copy of the Bill of Rights, walk among 42 life-size bronze statues of delegates who attended the Constitutional Convention in 1787 and learn more about Constitutional amendments that ended slavery (13th Amendment), and granted the right to vote to Black men (15th Amendment) and some women (19th Amendment).
Where: National Constitution Center, 525 Arch Street
Museum of the American Revolution
The Museum of the American Revolution brings to life the world-changing War of Independence through an unmatched collection of artifacts, including weapons, documents, personal items, works of art and General George Washington's headquarters tent. With powerful films, digital touchscreens and historical vignettes, the museum recreates the drama and the details of the country's climactic birth.
Where: Museum of the American Revolution, 101 S. 3rd Street
The African American Museum in Philadelphia
Founded in 1976, The African American Museum in Philadelphia is the first institution built by a major U.S. city to preserve, interpret and exhibit the heritage and culture of African Americans. The museum takes a fresh, bold look at the roles of African Americans in the founding of the nation through the core exhibit Audacious Freedom. Visiting exhibitions and rotating programs reveal the history, stories and cultures of those of African descent throughout the African diaspora.
Where: The African American Museum in Philadelphia, 701 Arch Street
Betsy Ross House
America's most famous flag maker greets guests at her 18th-century upholstery shop, part of the tiny dwelling which today is the Betsy Ross House museum where visitors learn about Ross' life and legend, and enjoy programs, storytelling and activities. Tours are available either self-guided or with an audio guide with a general admission ticket.
Where: Betsy Ross House, 239 Arch Street
Elfreth's Alley
Elfreth's Alley boasts 300 years of history on its charming cobblestone street lined with quaint still-occupied row houses. While a modern city has sprung up around it, the residential alley preserves three centuries of evolution through its old-fashioned flower boxes, shutters, Flemish bond brickwork and other architectural details. Two adjacent houses, built in 1755, are now a museum open to the public.
Where: Elfreth's Alley, 124-126 Elfreth's Alley
Franklin Square
Enjoy the outdoors at fun-filled Franklin Square park, named in honor of — who else? — Benjamin Franklin. Take a mini-tour of Philadelphia as you putt-putt your way through scale models of the city's iconic sites at Philly Mini Golf , or enjoy a nostalgic ride on the Parx Liberty Carousel , a classic tribute to Philadelphia's great heritage of carousel-making. There's also a large fountain (featuring seasonal shows and nighttime light displays), SquareBurger food stand and lots of open space to lounge or run around. Summer visitors shouldn't miss the annual Chinese Lantern Festival , while winter wanderers should earmark a visit for Winter in Franklin Square programming.
Where: Franklin Square, 200 N. 6th Street
Weitzman National Museum of American Jewish History
Take a journey through 360 years of Jewish history in the U.S. at the Weitzman National Museum of American Jewish History, which is filled with more than 1,200 artifacts and documents, 2,500 images, 30 original films and 13 state-of-the-art interactive media displays — all free to visit (with a suggested donation). The experience delivers a rich tale that traces the path of the nation's Jewish diaspora from struggling immigrants to integral citizens. While you're there, snap a picture of the cheeky OY/YO sculpture installed outside of the museum entrance.
Where: Weitzman National Museum of American Jewish History, 101 S. Independence Mall East
Christ Church and Christ Church Burial Ground
Constructed in the early 1700s, Christ Church was a sacred gathering place for some of the most prominent early Americans, including George Washington, Betsy Ross and Benjamin Franklin, whose reserved family pew is a popular stop on the church's guided 20-minute tour. A few blocks away lies Christ Church Burial Ground , home of the final resting place of many of the nation's first history makers, including Franklin himself. Toss a penny onto his grave for good luck (which can be done with good aim from the sidewalk).
Where: Christ Church, 20 N. American Street
VIEW OTHER LOCATIONS (1)
Christ Church Burial Ground, 340 N. 5th Street
National Liberty Museum
A fixture in Old City since 2000, the National Liberty Museum is a gallery dedicated to teaching visitors about the diversity of Americans and respect for all people and celebrating the stories of heroes across the globe. The museum's eight galleries showcase nearly 80 imaginative and interactive exhibits and close to 200 works of contemporary art (including an expansive collection of glass art), surrounded by the stories of 2,000 difference-makers like Jackie Robinson, Nelson Mandela and Malala Yousafzai.
Where: National Liberty Museum, 321 Chestnut Street
Delaware River Waterfront
Spruce street harbor park.
Spruce Street Harbor Park , the wildly popular spring-to-fall relaxation destination on the Delaware River, attracts impressive crowds with bocce and shuffleboard, tree-slung hammocks and colorful LED lights, floating barges with over-the-water seating, beer and food options, and a variety of events in a fun urban beach setting.
Where: Spruce Street Harbor Park, 301 S. Christopher Columbus Boulevard
Independence Blue Cross RiverRink
In both summer and winter, you can get your skate on at Independence Blue Cross RiverRink , where there's roller skating during Summerfest and ice skating at Winterfest , along with a carousel, rides (including a Ferris wheel), an arcade, and plenty to eat and drink year-round. The site offers a beachy vibe during warm months, and plenty of holiday festivities during the winter season.
Where: Independence Blue Cross RiverRink, 101 S. Christopher Columbus Boulevard
Independence Seaport Museum
Floating on the Delaware River are two incongruous vessels that guests are encouraged to claim aboard and explore: the 130-year-old Navy Cruiser USS Olympia (the nation's oldest steel warship) and World War II-era USS Becuna (a 300-foot Balao submarine). But those museum ships are just the tip of what the Independence Seaport Museum has to offer. The maritime history museum features over 25,000 artifacts across a half-dozen hands-on exhibits including a working boat shop and a collection of large-scale model ships.
Where: Independence Seaport Museum, 211 S. Christopher Columbus Boulevard
Race Street Pier & Cherry Street Pier
Serene, park-like Race Street Pier features two levels for recreation; a multi-tiered seating area for picnics, yoga or watching the tide roll in; and — of course — absolutely transcendent views of the Delaware River and the Benjamin Franklin Bridge. Located just next door, Cherry Street Pier is a bustling indoor-outdoor mixed-use public space, home to artist studios, a marketplace, and food and beverages purveyors serving refreshments alfresco on the pier's garden-style patio café.
Where: Race Street Pier, Race Street & North Columbus Boulevard
Cherry Street Pier, 121 N. Christopher Columbus Boulevard
Adventure Aquarium
Adventure Aquarium — located just across the Delaware River in Camden, New Jersey — delights visitors with scores of sea creatures including hippos to marvel at, a Shark Bridge to cross, penguins to meet, stingrays to feed, and horseshoe crabs, starfish and sharks to touch. The aquarium's big wow exhibit: a massive tank of sea turtles, stingrays, schooling fish and sharks, including a great hammerhead.
Where: Adventure Aquarium, 1 Riverside Drive, Camden, NJ
Battleship New Jersey Museum
Across the Delaware from Center City Philly, the Battleship New Jersey is a floating museum ship open to all who wish to explore America's naval heritage aboard Admiral "Bull" Halsey's flagship and the country's most decorated combat ship. The 887-foot, 45,000-ton gunboat offers a guided tour and interactive exhibits displaying artifacts of the ship's active past (from World War II to Korea to Vietnam to the Gulf War) and its impressive 16-inch turret, where 2,700-pound shells were fired at targets up to 23 miles away.
Where: Battleship New Jersey, 100 Clinton Street, Camden, NJ
Benjamin Franklin Parkway, Logan Square & Fairmount
Philadelphia museum of art.
One of the nation's largest art institutions, the Philadelphia Museum of Art rises majestically at the end of the Benjamin Franklin Parkway. Inside are vast collections, including Renaissance, American and impressionist art, plus rotating special exhibitions. The one-acre Sculpture Garden extends the museum's galleries to the outdoors, as do its famous steps (see below).
Where: Philadelphia Museum of Art, 2600 Benjamin Franklin Parkway
Rodin Museum
At home in the first American city to exhibit his works, the Benjamin Franklin Parkway's Rodin Museum houses the largest public collection of Auguste Rodin's works outside of Paris, including 20 of the French master's sculptures, as well as exhibits of drawings, paintings and academic studies. The museum's garden displays a bronze cast of The Thinker and the only original cast of The Gates of Hell in North America.
Where: Rodin Museum, 2151 Benjamin Franklin Parkway
The Rocky Statue and the Rocky Steps
The Rocky Statue and the Rocky Steps — also known as the entrance staircase to the Philadelphia Museum of Art — are two of the most popular attractions in Philadelphia. Snagging a selfie with the statue and then running up the steps (just like Rocky himself) for a snapshot at the top (with that picture-perfect skyline in the background) is pretty much a must on your first visit to Philadelphia.
Where: Rocky Steps, 2600 Benjamin Franklin Parkway
Barnes Foundation
The Barnes Foundation is home to one of the world's most important collections of impressionist, post-impressionist and early modernist paintings by renowned artists like Renoir, Cézanne, Picasso and van Gogh. The museum also showcases American paintings and decorative arts, metalwork, African sculpture and Native American textiles, jewelry and ceramics, all presented in philanthropist Albert C. Barnes' distinctive arrangements.
Where: Barnes Foundation, 2025 Benjamin Franklin Parkway
Eastern State Penitentiary
Once the most famous and expensive prison in the world, the massive Eastern State Penitentiary operated from 1829 to 1970 and introduced Americans to the concept of prison as a reform (penitentiary for "penance") tool. Today, the site — which once housed notorious criminals like Al Capone and Willie Sutton — offers self-guided tours that explore the attraction's history, along with modern social justice issues that surround incarceration. If your visit brings you in October, be sure to experience the site's popular Halloween Nights immersive haunted house experience.
Where: Eastern State Penitentiary, 2027 Fairmount Avenue
The Franklin Institute
The Franklin Institute , one of the leading science museums in the country, showcases how science affects every aspect of life. In addition to beloved hands-on permanent exhibits like the highly interactive Your Brain , the iconic Giant Heart and the mesmerizing four-story Foucault's Pendulum , a rotating roster of special exhibitions adds to the museum's appeal.
Where: The Franklin Institute, 222 N. 20th Street
The Academy of Natural Sciences of Drexel University
The Academy of Natural Sciences of Drexel University is America's oldest natural history museum. Visitors can wander through a tropical garden filled with live butterflies, meet live animals, see three continents of wildlife in their natural habitats and get face to face with towering dinosaurs.
Where: The Academy of Natural Sciences of Drexel University, 1900 Benjamin Franklin Parkway
Reading Terminal Market
Center City 's iconic railway-terminal-turned-epicurean-haven, Reading Terminal Market is a one-stop shop for local produce, meats, artisanal cheeses, desserts and more. The indoor public market, one of the oldest in the nation, also provides open seating where customers can enjoy meals from dozens of diverse merchants, including popular Amish vendors (and, of course, cheesesteaks). Want to know what to eat and where to get it? We can help with that .
Where: Reading Terminal Market, 51 N. 12th Street
City Hall & Dilworth Park
Philadelphia's City Hall — once the tallest building in the world — has been the city's government headquarters for more than 100 years. The elaborate 14.5-acre masonry structure remains the country's largest municipal building, and its exterior features more than 250 sculptures, including the 37-foot-tall, 27-ton bronze statue of William Penn above the iconic clock tower — the tallest statue atop any building on earth. And Dilworth Park — City Hall's popular western-facing front yard — is a modern and welcoming outdoor space with tree groves, benches, two cafes, and a large programmable fountain that transforms into an ice rink in the winter and a roller rink in the summer.
Where: City Hall, 1400 John F. Kennedy Boulevard
Dilworth Park, 1 S. 15th Street
Mütter Museum
The Mütter Museum is one of America's finest museums of medical history. Its "disturbingly informative" displays (many not for the faint of heart) help the public understand the mysteries of the human body and appreciate the diagnosis and treatment of disease. One of the most popular exhibits: actual slides of Albert Einstein's brain.
Where: Mütter Museum, 19 S. 22nd Street
Pennsylvania Academy of the Fine Arts
The first art museum and school in the nation, the Pennsylvania Academy of the Fine Arts features elaborate Frank Furness architecture that's as compelling as the American art on display within. A Gilbert Stuart portrait of George Washington is a highlight, as are other well-known paintings by both classic and contemporary artists like Winslow Homer, Kehinde Wiley, John Singer Sargent, Jacob Lawrence, Edward Hopper and Cecilia Beaux.
Where: Pennsylvania Academy of the Fine Arts, 118-128 N. Broad Street
A favorite destination for tourists and locals alike, John F. Kennedy Plaza gets its nickname — LOVE Park — from Robert Indiana's iconic LOVE sculpture that sits within the public space and serves as the grand entrance to the Benjamin Franklin Parkway . Just a short walk away stands the equally grand AMOR sculpture, the Spanish version of the LOVE sculpture, on display at Sister Cities Park .
Where: LOVE Park, 15th & Arch streets
Rittenhouse Square
Rittenhouse Square , the one-block commons that gives the surrounding neighborhood its name, is more popular with sunbathers, readers, families, artists, craft and produce vendors, people-watchers and even dogs than city founder William Penn ever could have imagined. One of Penn's five original squares, Rittenhouse is the city's best-known, and perhaps most-beloved, park.
Where: Rittenhouse Square, 210 W. Rittenhouse Square
Schuylkill River Trail & Schuylkill Banks Boardwalk
The Schuylkill River Trail — a 30-mile recreational path running along the Schuylkill River from Center City Philadelphia to Parker Ford in Chester County — is a favorite for bicyclists, runners, hikers, amblers and families. One of the most beautiful portions of the Trail is the Schuylkill Banks Boardwalk , a 15-foot-wide, 2,000-foot-long, ADA-compliant concrete path that juts out over the Schuylkill River, providing runners, bikers and pedestrians with a connection between Locust Street and the South Street Bridge.
Where: Various locations including Schuylkill Banks Boardwalk, South 25th & Locust streets
Masonic Temple
Towering and majestic, the Masonic Temple has stood tall across from City Hall since 1873, serving as headquarters of the Freemason fraternity with 14th-century roots and a membership that included Benjamin Franklin and George Washington, whose statues pose outside its entrance. The temple's Freemasonry artifacts, stunning architecture (Victorian inside, medieval Norman on the exterior) and opulent décor continue to wow visitors on guided tours to this day.
Where: Masonic Temple, 1 N. Broad Street
South Philadelphia
South 9th street italian market.
Italian immigrants established this open-air spot in the late 19th century, which lays claim to being America's oldest outdoor street market. Though still called the Italian Market , the historic strip along South 9th Street in South Philadelphia now reflects the neighborhood's multicultural makeup, offering Mexican, Vietnamese and Korean eats alongside Italian restaurants, bakeries and markets selling cheeses, meats, produce and more.
Where: Italian Market, 919 S. 9th Street
Pat's and Geno's
Eating a cheesesteak is essential when visiting Philly. Pat's King of Steaks founder Pat Olivieri invented the city's signature sandwich back in 1930. The popular shop on Ninth Street and Passyunk Avenue grills 24 hours a day, as does Geno's Steaks , the rival across the street that opened in 1966. For more than half a century, Pat's and Geno's have waged a (mostly) friendly competition, with visitors often ordering from both shops to decide which steak they deem best.
Where: Pat's King of Steaks, 1237 E. Passyunk Avenue
Geno's Steaks, 1219 S. 9th Street
Philadelphia's Magic Gardens
Mosaics bloom at Philadelphia's Magic Gardens , a fantasy-like art showplace on South Street, presenting and preserving the work of artist Isaiah Zagar. Visitors can take a tour and snap selfies throughout the half-city-block wonderland constructed from bicycle spokes, broken mirrors, reclaimed glass, tiles, and an assortment of found items and urban waste.
Where: Philadelphia's Magic Gardens, 1020 South Street
Simeone Foundation Automotive Museum
Ferraris, Alfa Romeos, Bugattis, Mercedes, Mustangs and more of the sportiest of sports cars are on display at the Simeone Foundation Automotive Museum , part of a collection of over 75 historic, fast, sleek and just plain cool rides. The Southwest Philly museum hosts rotating exhibits showcasing the history of sports cars and racing machines, plus regularly takes vehicles from the collection out for a spin during scheduled demonstration days.
Where: Simeone Foundation Automotive Museum, 6825-31 Norwitch Drive
West Philadelphia
Philadelphia zoo.
America's first public zoo and a foremost conservation organization, the Philadelphia Zoo is home to nearly 1,700 animals, many rare and endangered. Zoo360, a first-in-the-world animal travel and exploration train system, enables primates and big cats to move above and across the main visitor pathway. The 42-acre campus features a variety of exhibits, including Big Cat Falls (with lions and tigers and pumas, oh my) and Water Is Life, home to the zoo's popular red panda display.
Where: Philadelphia Zoo, 3400 W. Girard Avenue
Penn Museum
The renowned Penn Museum is known for its collection of art and artifacts from ancient Egypt, Mesopotamia, the Greco-Roman World, Asia, Africa and the Americas (including a Native American exhibit). Items on display include Sumerian cuneiform clay tablets (some of the world's oldest writing), 4,500-year-old jewelry of a Mesopotamian queen and the massive, 3,000-year-old Sphinx of Ramses II. Gardens, fountains and a koi pond make the outside quite impressive as well.
Where: Penn Museum, 3260 South Street
Institute of Contemporary Art
Open to the public free of charge, the Institute of Contemporary Art has been instrumental in showcasing the work of emerging and under-recognized artists since 1963. It led the way with first-ever museum shows from Andy Warhol, Laurie Anderson and Robert Indiana, as well as early exhibits from Robert Mapplethorpe and Cy Twombly. Presented in kunsthalle style, the Institute houses no permanent collections — so every visit is a new experience.
Where: Institute of Contemporary Art, 118 S. 36th Street
Bartram's Garden
North America's oldest botanical garden, Bartram's Garden (dating back to 1728) first belonged to Quaker John Bartram, Sr., self-taught botanist to King George III, who collected, cultivated and sold plant specimens from North America to European aristocrats. Originally seasonal fishing grounds for the indigenous Lenape, today the site includes the 18th-century Bartram family house and outbuildings, a 17-acre meadow, a bike path, public access to the Schuylkill River, and an array of naturalistic, woodland and formal gardens. Garden admission is free.
Where: Bartram's Garden, 5400 Lindbergh Boulevard
Please Touch Museum
Recognized as one of the nation's top children's attractions, the Please Touch Museum includes two full floors of interactive exhibit zones, plus a fully restored 115 year-old carousel. Kids can play and pretend amid Alice's Wonderland, the Rocket Room and other hands-on fun, all inside Fairmount Park's National Historic Landmark Memorial Hall, built for 1876 Centennial World's Fair.
Where: Please Touch Museum, 4231 Avenue of the Republic
Shofuso Japanese Cultural Center
An unexpected gem deep inside Fairmount Park is the Shofuso Japanese Cultural Center , a post-war gift from Japan to the U.S. modeled on a traditional early 17th-century Japanese temple complex with guest house, teahouse and bathhouse. Participate in an authentic tea ceremony, explore the authentic architecture and living history, or find Zen while feeding the fish in the koi pond. The center is surrounded by century-old cherry trees which also host spring's Cherry Blossom Festival .
Where: Shofuso Japanese Cultural Center, Horticultural Drive and Lansdowne Drive
North and Northwest Philadelphia
The rail park.
Rising two stories off the ground, The Rail Park is the city's expansive planned overhead greenway built atop the former Reading Viaduct railway. Eventually stretching three miles from Northern Liberties to Brewerytown when complete, the currently-open quarter-mile Phase One portion boasts a simple meandering pathway, rustic plantings, comfy swings, and plenty of places to relax and take in the stellar views over the city's Callowhill neighborhood.
Where: The Rail Park, Entrance on Callowhill Street between 11th and 12th streets
Boathouse Row & Kelly Drive
Note:  As of March 20, 2023, Boathouse Row's iconic lights are undergoing maintenance, and will remain dark through the end of 2023. Read more  here .
Boathouse Row , a National Historic Landmark, consists of 10 charming boathouses on the banks of the Schuylkill River. At night, the glittering lights that frame the buildings make for idyllic scenery as they reflect off of the river's surface. Boathouse Row sits on scenic Kelly Drive, a prime spot for outdoor recreation that runs along the east side of the Schuylkill River from the Philadelphia Museum of Art to Lincoln Drive.
Where: Boathouse Row, 1 Boathouse Row
Fairmount Park
Endless trails, historic houses, Laurel Hill Cemetery, the Horticulture Center, Smith Memorial Playground and Treetop Quest Philly are among the many pleasant surprises that await explorers at Fairmount Park , one of the nation's largest urban parks stretching from Boathouse Row to West Philadelphia, Strawberry Mansion, Chestnut Hill and Northeast Philadelphia. Pro tip: Head to Belmont Plateau (above) for big skyline views.
Where: Various locations including Belmont Plateau, 1800 Belmont Mansion Drive
Wissahickon Valley Park
With more than 50 miles of rugged trails, Wissahickon Valley Park 's thousands of acres are great for hiking, cycling and exploring. Wissahickon schist bedrock, sliced through centuries ago, has created steep hills punctuated by a creek, with paths for both climbers and horseback riders. Of particular note is Forbidden Drive, a five-mile packed gravel trail deep inside the park offering stunning views. Along this route, don't miss the Thomas Mill Bridge , the last remaining covered bridge in any major American city.
Where: Wissahickon Valley Park, Valley Green Road
Johnson House Historic Site
On a then-quiet boulevard in Germantown in the 1850s, five siblings (and their spouses) from a Quaker abolitionist family served up their home to shelter and care for escaped enslaved Africans, a crucial stop on the Underground Railroad . Today, the well-preserved 16th-century Johnson House Historic Site offers tours that highlight the injustices of slavery and displays artifacts and the spaces where freedom fighters like William Still and Harriet Tubman stayed while shuttling fugitive slaves to safety.
Where: Johnson House Historic Site, 6306 Germantown Avenue
Philadelphia's Countryside
Longwood gardens.
Attracting visitors from around the globe to Chester County, Longwood Gardens features 1,000-plus acres filled with outdoor and indoor gardens, 9,000 different species of plants, spectacular fountains, and picturesque meadows and woodlands. The horticultural haven also hosts many events each year, including flower shows, gardening demonstrations, educational programs, children's activities and concerts.
Where: Longwood Gardens, 1001 Longwood Road, Kennett Square
Brandywine Museum of Art
The grounds are as breathtaking as the art at the bucolic Brandywine Museum of Art , housed in a renovated 1864 gristmill and surrounded by wildflower gardens and the meandering Brandywine River. Inside, works by Andrew Wyeth sit beside other beautifully detailed illustrations, paintings and installations, as well as special exhibitions that have showcased more works from the talented Wyeth family, photographs from the Civil Rights Movement and works by Winslow Homer.
Where: Brandywine Museum of Art, 1 Hoffmans Mill Road, Chadds Ford
Valley Forge National Historical Park
No battles were fought in Valley Forge, but the time the Continental Army spent here went down as one of the Revolutionary War's most trying periods. Today, Valley Forge National Historical Park sits on this site honoring those who helped secure freedom for the United States. Replicated huts and the original headquarters tell the story of the pivotal winter that George Washington and his troops endured, and a visitor center — renovated in 2021 and 2022 — includes artifacts and a lifesize statue of Washington. The 3,500-acre park also includes recreational trails, picnic areas and the grand National Memorial Arch .
Where: Valley Forge National Historical Park, 1400 N. Outer Line Drive, King of Prussia
Peddler's Village
With charming shops and boutiques (more than 60!), a dozen restaurants, the just-for-kids Giggleberry Fair indoor playscape, and festivals for every season (like Bluegrass & Blueberries, the Strawberry Festival and annual Peach Festival), Bucks County's Peddler's Village packs a surprising number of activities into its countryside landscape and winding brick walkways. Keep the fun going by grabbing a room for the night at charming on-site Golden Plough Inn.
Where: Peddler's Village, 2400 Street Road, New Hope
Sesame Place
Big Bird, Elmo and the other stars of Sesame Street come out and play at Sesame Place , one of only two theme parks in the nation featuring the popular television show's most lovable characters. With three dozen kid-friendly rides, daily parades and engaging shows, everyone is invited to come and play where everything's a-okay.
Where: Sesame Place, 100 Sesame Road, Langhorne
LEGOLAND Discovery Center
LEGOLAND Discovery Center is a 33,000-square-foot plastic-brick heaven featuring a LEGO-themed ride, 4D cinema and ten play areas, including a DUPLO Park for the toddler set. An onsite cafe and store ensure every LEGO-maniac walks away satisfied.
Where: LEGOLAND Discovery Center, 500 W. Germantown Pike, Plymouth Meeting
Fonthill Castle
Winding stairways, turrets and balconies give a 13th-century feel to eclectic 115-year-old Fonthill Castle (former home of renowned archeologist, anthropologist and ceramist Henry Chapman Mercer), which boasts 44 rooms, 32 stairwells and 200 windows housing Mercer's massive collection of prints and ancient artifacts, as well as exquisite handmade tiles and mosaics from his adjacent Moravian Pottery and Tile Works .
Where: Fonthill Castle, 525 E. Court Street, Doylestown
Mercer Museum & James A. Michener Art Museum
The towering citadel that houses the Mercer Museum is full of themed rooms dedicated to the tools and crafts of American life before mechanization, like a whaling boat and a Conestoga wagon. Across the street, Pennsylvania impressionist paintings take center stage at the Michener Art Museum , named for Pulitzer Prize-winning writer (and Doylestown native) James A. Michener. The galleries also host photography, sleek woodwork from nearby furniture maker George Nakashima Woodworkers, and other historical and contemporary works.
Where: Mercer Museum, 84 S. Pine Street, Doylestown
Michener Art Museum, 138 S. Pine Street, Doylestown
King of Prussia, a Simon Property Mall
With more than 450 stores (and over 50 eateries), King of Prussia, a Simon Property Mall is the premier shopping destination on the East Coast — and the third-largest mall in America. Find a nice mix of luxury, budget-friendly, national and international brands, as well as stores that cannot be found elsewhere in the region, all located just a 20-minute drive from Philadelphia.
Where: King of Prussia, a Simon Property Mall, 160 N. Gulph Road, King of Prussia
Morris Arboretum & Gardens
Designated Pennsylvania's official state arboretum, Morris Arboretum & Gardens is a stunning nearly 100-acre oasis in beautiful Chestnut Hill . Its endless, multicolored flowering meadows feature more than 13,000 labeled plants and trees of over 2,500 types, including some of the oldest and rarest in the region. Highlights include the 135-year-old Rose Garden, the eight-sided Victorian glass fernery, the Dawn Redwoods forest and the whimsical Garden Railway.
Where: Morris Arboretum & Gardens, 100 E. Northwestern Avenue
Linvilla Orchards
Along Delaware County's Main Line is Linvilla Orchards , a 300-acre working family farm dedicated not just to agriculture but education, entertainment and fun. Visitors can explore the Garden Center to pick seasonal fresh fruits and vegetables, meet the barnyard animals, cast a line for some fishing, play a round of mini-golf, enjoy a hayride, horse ride or train ride and even buy fresh baked pies to take home. And don't miss Ship Bottom Brewery's onsite beer garden.
Where: Linvilla Orchards, 137 W. Knowlton Road, Media
Philadelphia's Countryside
Museums & Attractions
Philadelphia Neighborhoods
Come for Philadelphia. Stay (Over) for Philly.
The only way to fully experience Philly? Stay over.
Book the Visit Philly Overnight Package and get free hotel parking and choose-your-own-adventure perks, including tickets to the Philadelphia Museum of Art, or the National Constitution Center and the Museum of the American Revolution.
Or maybe you'd prefer to buy two Philly hotel nights and get a third night for free? Then book the new Visit Philly 3-Day Stay package.
Which will you choose?
The 10 Most Essential Things to Do on Your...
The can't-miss experiences in the first World Heritage City in the United States...
Stay in Touch
Awesome, you're subscribed!
Thanks for subscribing! Look out for your first newsletter in your inbox soon!
The best things in life are free.
Sign up for our email to enjoy your city without spending a thing (as well as some options when you're feeling flush).
Déjà vu! We already have this email. Try another?
By entering your email address you agree to our Terms of Use and Privacy Policy and consent to receive emails from Time Out about news, events, offers and partner promotions.
Love the mag?
Our newsletter hand-delivers the best bits to your inbox. Sign up to unlock our digital magazines and also receive the latest news, events, offers and partner promotions.
Things to Do
Restaurants
Los Angeles
Get us in your inbox
🙌 Awesome, you're subscribed!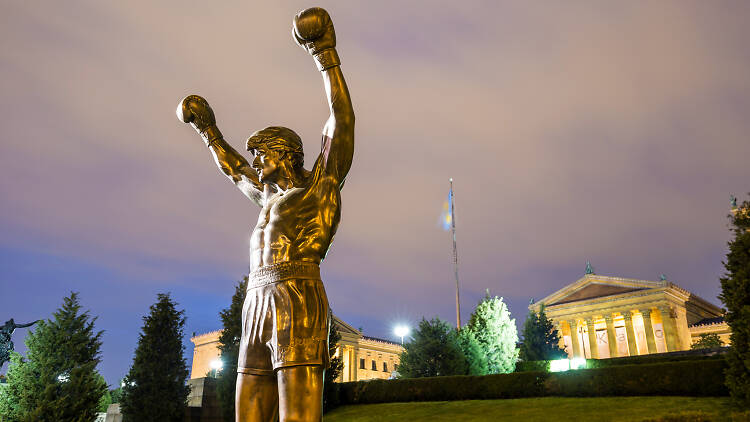 The 15 best attractions in Philadelphia
From fascinating historic sites to iconic photo moments, these are the very best attractions in Philadelphia
Strap yourself in; the City of Brotherly Love is quite the ride. There is no shortage of things to do in Philadelphia , quite the opposite, no matter whether you are a seasoned local or a fresh-faced tourist pounding the streets for the first time. Anyone with a passing interest in American history will find plenty to sink their teeth into, and the theme continues with some of the best food in the country. Much of that delicious food is at the city's markets, where currency and conversation are king. Philadelphia's must-see attractions are a love letter to everything that makes Philly special, then, now, and forever. Charge the camera, because you are about to take a lot of photos.
RECOMMENDED: The best restaurants in Philadelphia
This article includes affiliate links. These links have no influence on our editorial content. For more information, click here .
An email you'll actually love
Best Philadelphia attractions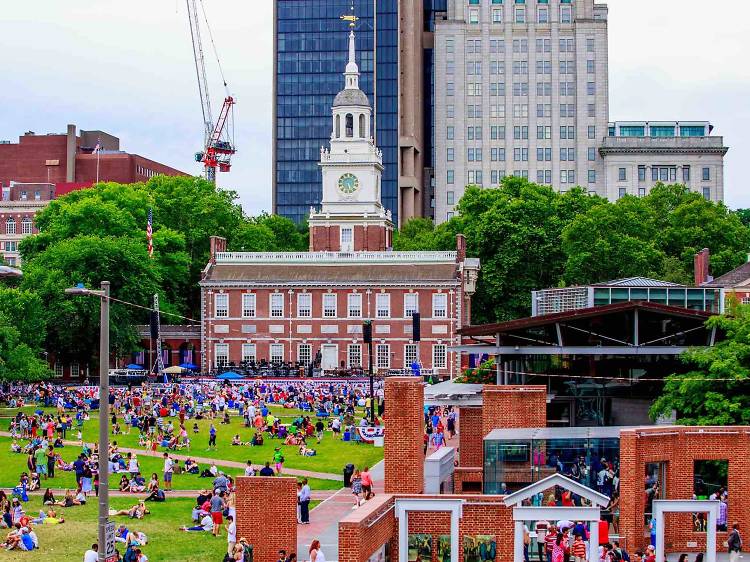 1. Independence National Historical Park
Attractions
Historic buildings and sites
Greater Philadelphia
Don't be surprised if you spot people dressed in character, from tricorn hats down to square-buckled shoes, in this historic part of the city. After all, Philly is the Cradle of Liberty. Visiting these 55 acres of National Park is a must for anyone coming to Philadelphia. The abundance of landmarks in this park—including Independence Hall, the Liberty Bell, and the Ben Franklin Museum—speak to its extraordinary role in the founding of the nation. Pro tip: limited additional 'next day' tickets are available at 5pm for the very popular Independence Hall tours the following day.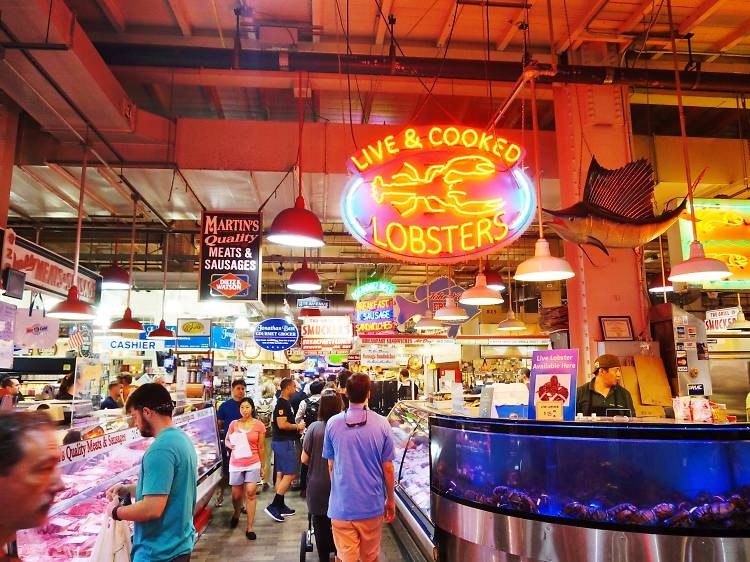 2. Reading Terminal Market
Established in 1892, the historic Reading Terminal Market is America's oldest continuously operating farmers' market. It is also something of a destination for Fromage fans—think rare Pennsylvania Dutch specialties and incredibly fresh mozzarella made on-site. Over 80 local food merchants are plying their trade here, so the choice is mind-blowing. If you are stopping for lunch, seek out Tommy DiNic's roast pork sandwich, one of the best sandwiches you'll find around these parts.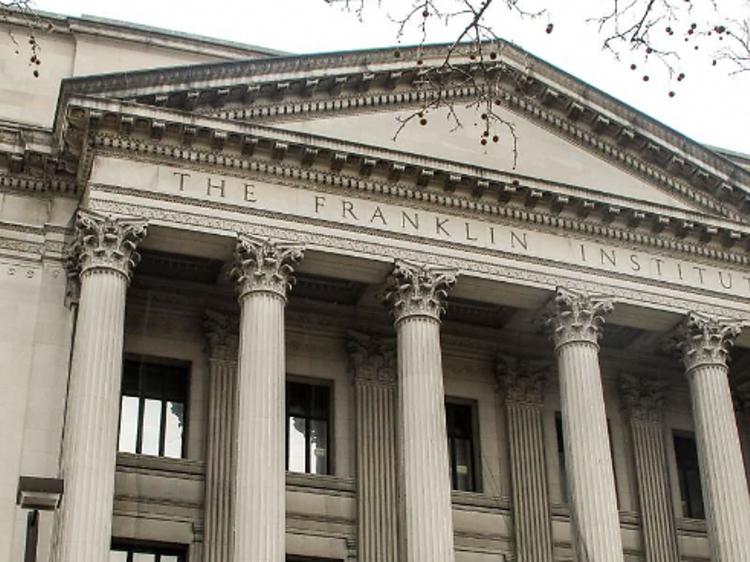 3. The Franklin Institute
Slap-bang in the heart of Philadelphia, the Franklin Institute is a must-see when visiting the city. The science museum, named after Benjamin Franklin (yes, one of the Founding Fathers), is one of the leading science centers in the country. There are daily educational programs, shows, and many exhibitions to explore. It's a great day out for the family and, at the very least, somewhere to spend your time if it's raining outside.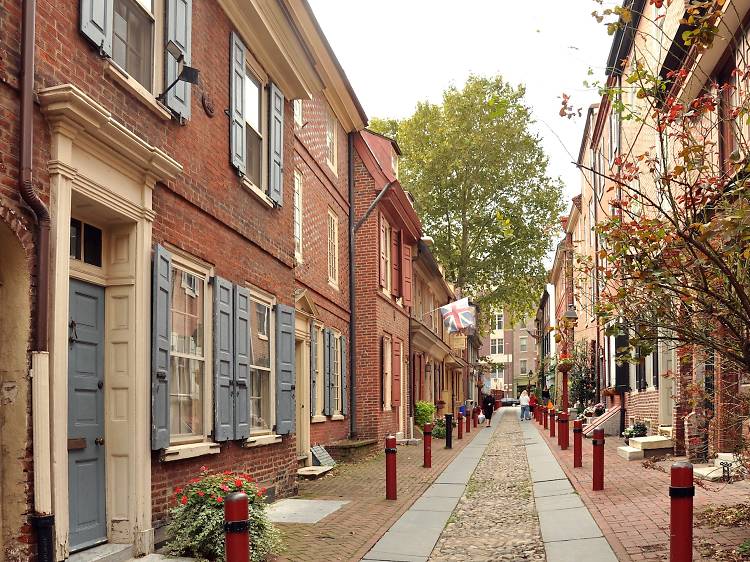 4. Historic Old City
This funky and historic section of town close to the Delaware River is a blend of cafés, boutiques, restaurants, art galleries, and fascinating historical gems. We all learned about Betsy Ross making the country's flag back in grade school, so visit her house to see the birthplace of the flag and the stories behind its making. Want to see the oldest—and cutest—residential street in America? Check out Elfreth's Alley, dating back to 1702, and stop in the Elfeth's Alley Museum to learn more about this National Historic Landmark. Walk a few minutes to the historic Christ Church, founded in 1695 and active today. Revolutionary-era attendees of the Episcopal house of worship included Ben Franklin, George Washington, John Adams, Benjamin Rush, and Sally Franklin Bache.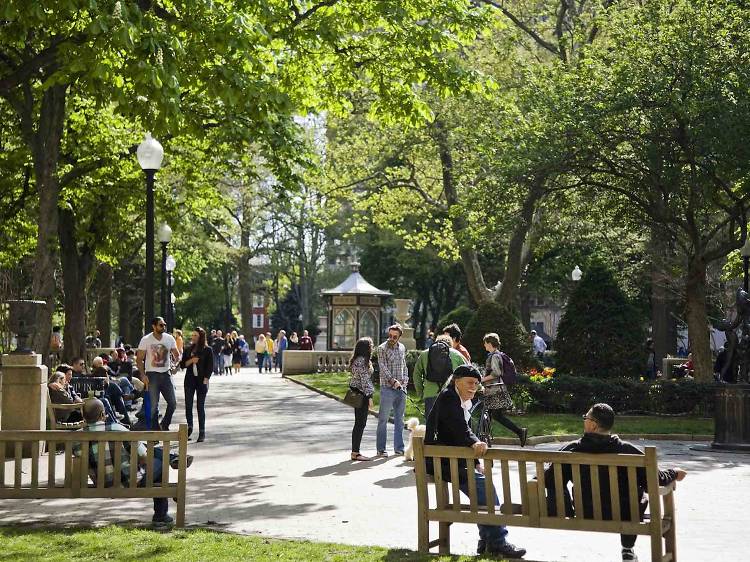 5. Rittenhouse Square
Parks and gardens
Rittenhouse
Love people-watching? Rittenhouse Square is endlessly fascinating. This elegant space has a rich history and is one of the five open-space parks throughout the city originally planned by William Penn and built in 1683. Bag yourself a sandwich from any nearby café, secure your wooden bench and watch the show go by—from chic mommies and daddies playing with their kids to tattooed bike messengers hanging out on the 18th Street corner. Besides the daily parade of Philadelphians, there are often also summer concerts, holiday celebrations, art fairs, and farmers' markets in and around the square.
6. Love Park
Love. Isn't it the most wonderful thing? If you are feeling particularly loved-up, take a trip down to Love Park, a public park in Center City. Also (officially) known as John F. Kennedy Plaza, Love Park has held its nickname since the 1970s, when Robert Indiana's LOVE statue took residence in the area. A very Instagrammable spot, it is well worth a visit for a quick snap, but the surrounding area also deserves attention.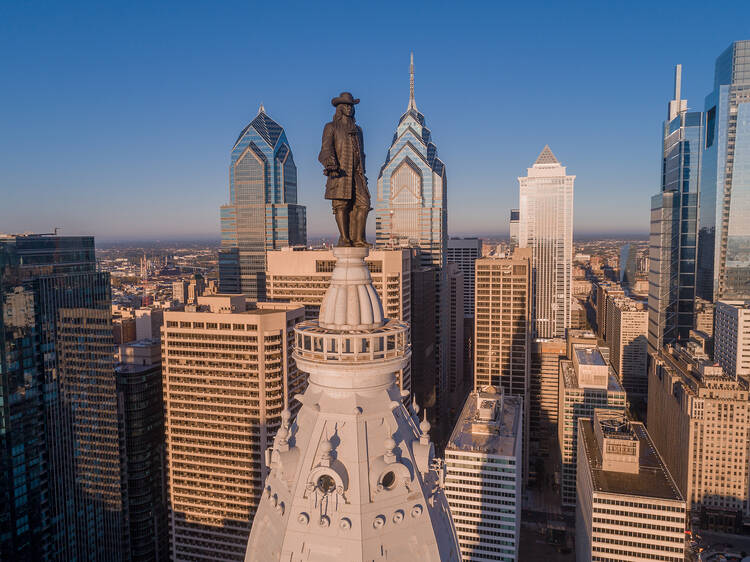 7. City Hall
Wander through the halls of this stunning Beaux Arts-style building, and you'll be rewarded with incredible 360-degree views from the observation deck. (Oh, and before you go inside, be sure to look up – the top of the building is home to a massive bronze statue of William Penn). If you'd like to learn more about the city's history, then no worries—tours and always running. Or, make a beeline for the renovated Dilworth Park, where you'll be able to ice skate in the winter or enjoy live music, barbecue, beer, and outdoor movie screenings in the summer.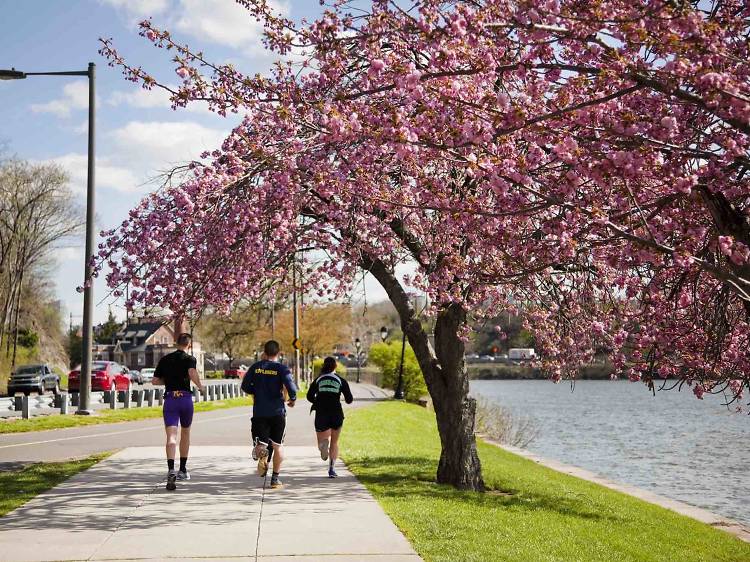 8. Fairmount Park
At more than twice the size of Central Park, sprawling Fairmount Park offers activities both outdoorsy and cultural. Not only is it home to several historic mansions and the intriguing Shofuso Japanese House and Garden (transplanted from a mid-century MoMA exhibition), but also America's oldest zoo. After a day of exploring, stick around for an alfresco concert at the Mann Center. The outdoor performing arts center also hosts the Philadelphia Orchestra's summer series each year.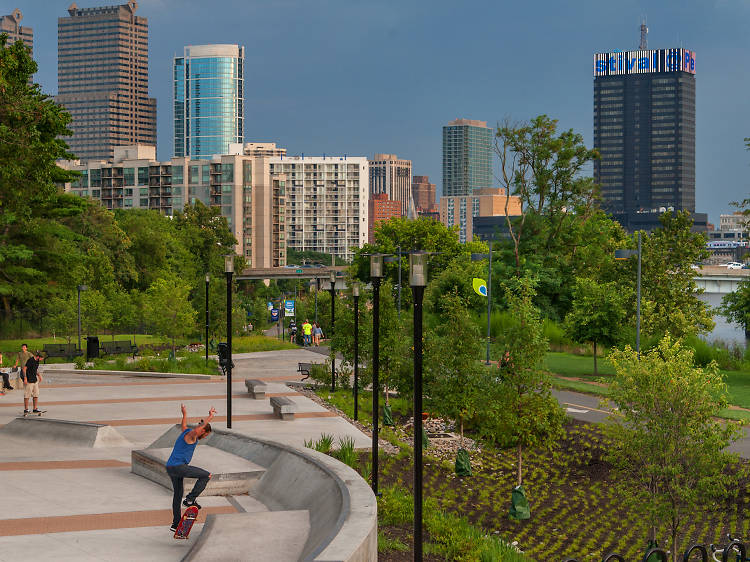 9. Schuylkill River Trail
For a blissed-out walk, run, or bike ride, head to the Schuylkill River Trail, a 26.5-mile protected trail that begins in Center City, winds its way through Valley Forge National Historical Park and ends up in Chester County's Phoenixville. The approximately 10-mile section through Philadelphia runs along the Schuylkill River Banks and—in addition to being a place for walking, running, and cycling—offers plenty of room for activities, like yoga, boarding in a skate park, moonlight kayaking tours, and summer outdoor movie screenings.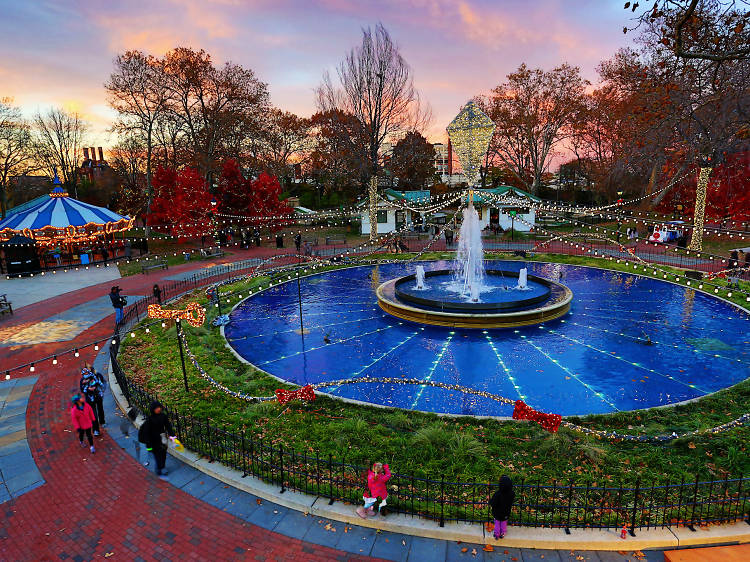 10. Franklin Square
This square, one of William Penn's original five open-space parks, underwent a radical transformation in 2006 when Historic Philadelphia Inc. transformed the spot into a child's heaven. Head here, and you'll find a beautiful fountain at the center (wow your fellow visitors with the fact that it is the oldest refurbished functioning water fountain in the U.S.), the carousel of your dreams that spins and projects jubilant music, and even a Philly-landmark-themed miniature golf course, modern playground and gourmet burger vendor.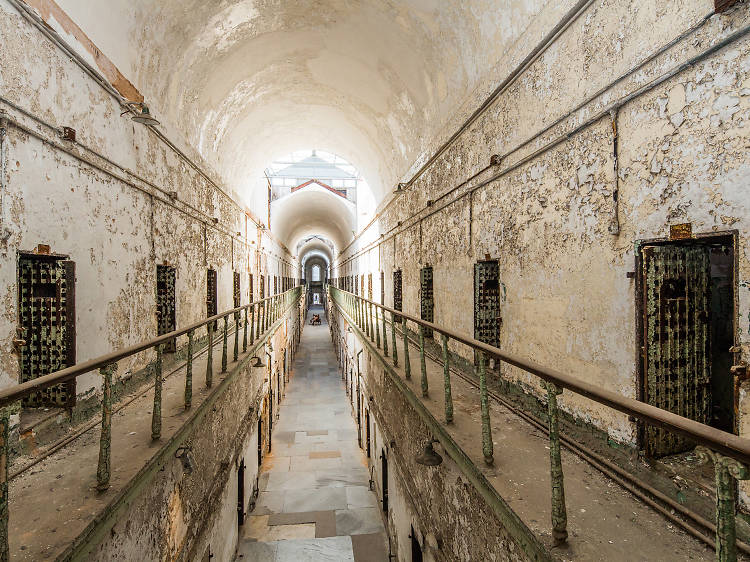 11. Eastern State Penitentiary
Once the world's most expensive prison, today it houses intriguing history and information about criminal life. Both eerie and fascinating, it is probably not the best destination for those looking to revel in a peacefully zen afternoon stroll. A visit is completely unmissable—in part thanks to the engaging audio tour voiced by modern marvel and character actor Steve Buscemi. As you explore the facility, you'll be guided through over 150 years of prison life, learn about inmates (Al Capone is amongst some of the more famous criminals), and recount some notorious prison events (Slick Willie Sutton famously tunneled out in 1945). If that isn't enough, you can enjoy "hands-on" experiences, including how to unlock an escape-proof cell door (well, you never know when you might need the skill).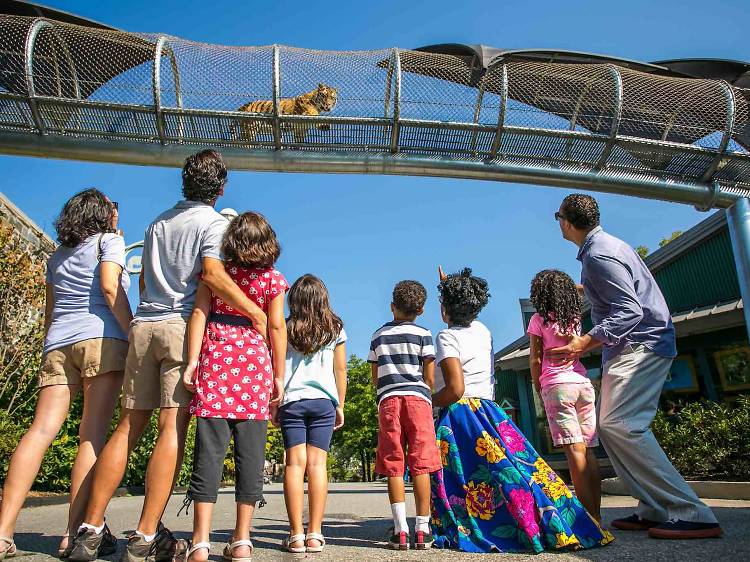 12. Philadelphia Zoo
Whatever your views are on animals in captivity, the Philadelphia Zoo's Zoo360 project is giving its inhabitants more room to roam and a choice of locations to observe visitors. Pay attention; there might be a Sumatran orangutan checking you out from overhead. Though it's the oldest zoo in the nation—opened in 1874—it is a leader in this innovative system to get those animals up high. Established in 2011, the zoo-wide project of animal exploration is built on a series of mesh wire trails about 20 feet above the ground. These trails have expanded to include paths and mazes, including the Big Cat Crossing, the Treetop Trail for monkeys and lemurs, Great Ape Trail for the largest primates, Meerkat Maze, and the Gorilla Treeway running 300 feet.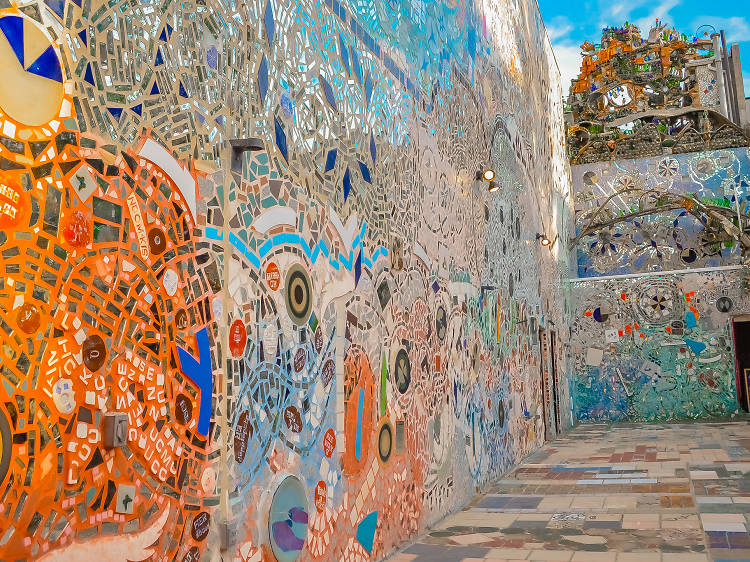 13. Philadelphia's Magic Gardens
Art and design
Bainbridge St Booksellers Row
price 2 of 4
You'll know you're approaching the entrance to Philadelphia's Magic Gardens (a non-profit art museum and gallery on South Street) when you start to notice bits of colored glass and shards of broken pottery embedded into the facades of the buildings surrounding you. Once you arrive, there's no mistaking that you're in the midst of something cooler than you'd ever expected. Artist Isaiah Zagar has been creating art on South Street since the 1960s, and this half-block collection is an immersive experience you won't want to miss. A beautiful place to be that will have you staring in awe.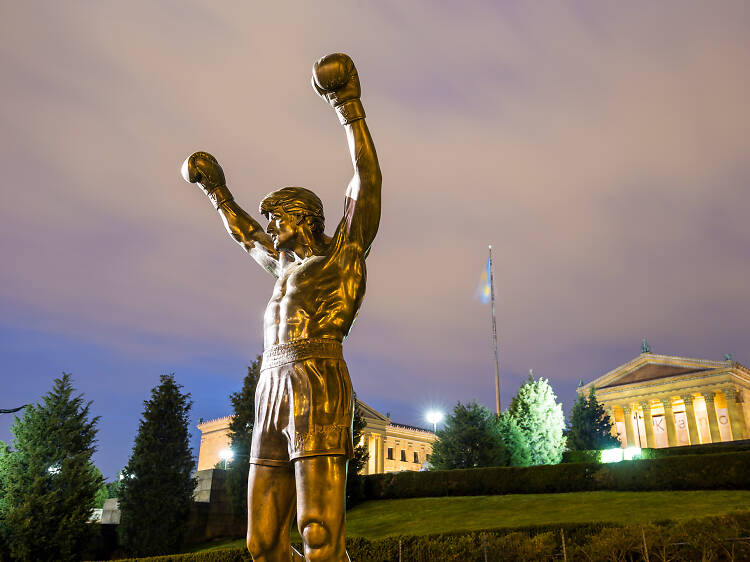 14. The Rocky Statue and the Rocky Steps
Monuments and memorials
Ben Franklin Parkway - Kelly Drive
Everyone has hummed Bill Conti's "Gonna Fly Now", whether or not they've run up the steps of the Philadelphia Museum of Art. It is the Rocky theme, after all. If you've been living comfortably under a rock for the past half-century, you might want to brush up on movie history before sprinting up the 72 steps and raising your arms victoriously. Rocky , the film starring Sylvester Stallone, is still as inspiring as it was when it won the 1977 Academy Award for best picture. At the foot of the steps, off to the north side, is a ten-foot statue of Rocky Balboa created for Rocky III . Snap a selfie with the champ—but be prepared to wait in line for it.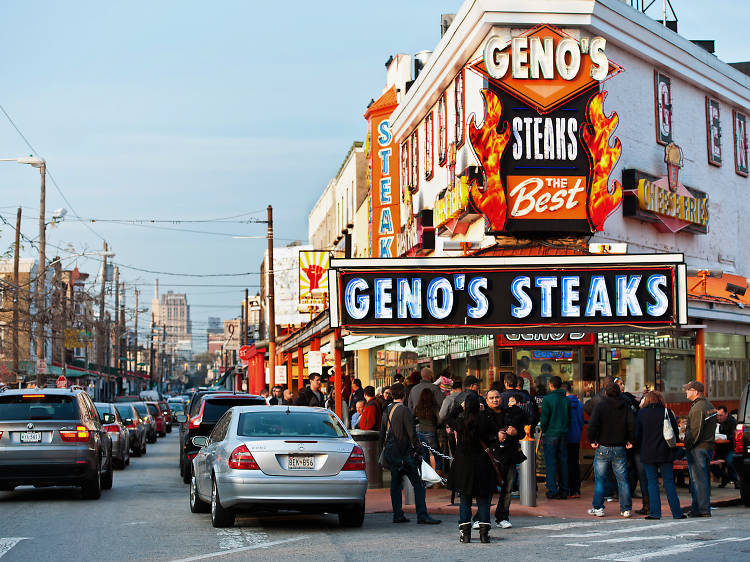 15. Pat's and Geno's
Markets and fairs
Bella Vista
Philadelphians take great pride in telling you where to eat—and where not to. A common refrain you'll hear when the topic of the cheesesteak arises is that you should avoid Pat's and Geno's, the two most prominent griddlers in the game, due to their much-hyped status. Yes, the South Philly intersection of Ninth and Passyunk is touristy, but the neon-covered area known as "Cheesesteak Vegas" is also a cultural crossroads that boasts a delightfully immersive quality for out-of-towners. You don't go there just to eat; you go for the experience.
[image] [title]
Discover Time Out original video
Press office
Investor relations
Work for Time Out
Editorial guidelines
Privacy Notice
Do not sell my information
Cookie policy
Accessibility statement
Terms of use
Copyright agent
Manage cookies
Advertising
Time Out Market
Time Out products
Time Out magazine
Philadelphia   Travel Guide
Courtesy of Tetra Images/Getty Images/Tetra images RF
34 Best Things to Do in Philadelphia, According to a Local
There's more to Philadelphia than its historic landmarks and delicious cheesesteaks (though those are certainly worthy of your time, perhaps on a local tour ). For instance, did you know Philly is known as "The Mural Capital of the World?" An
All Things To Do
1-Day Itinerary
2-Day Itinerary
3-Day Itinerary
Independence Hall Independence Hall free
It is in this red-brick, Georgian-style building that the Declaration of Independence and the Constitution were debated, drafted and signed by our forefathers, and those who visit Independence Hall can see surviving copies of the documents. Visitors can also see the Assembly Room where George Washington was appointed commander in chief of the Continental Army. Recent reviewers agree this is a must-see in Philadelphia.
Located in Independence National Historical Park in Old City, Independence Hall is just steps from the Liberty Bell Center , making it convenient to visit both landmarks in a morning or afternoon.
Liberty Bell Center Liberty Bell Center free
No matter your interests or intentions for a visit to Philadelphia, the Liberty Bell is a must-see. This 2,080-pound piece of history was once mounted in the belfry of Independence Hall , where it was used to mark important historic events, most notably the first public reading of the Declaration of Independence.
It's unknown why or exactly when the Liberty Bell was damaged, though historians believe the first crack developed in the early 1840s. Metal workers were soon tasked with repairing the bell in anticipation of George Washington's birthday in 1846, but the repair was unsuccessful and the bell ceased to chime again.
Rocky Statue and Steps Rocky Statue and Steps free
Created for a scene in "Rocky III," the Rocky Statue sits at the bottom of "The Rocky Steps" at the Philadelphia Museum of Art , where the fictional boxer trained in the original movie.
For the full "Rocky" experience, run up the 72 steps of the museum – don't worry, you can stop for breaks along the way – so you can take in the views of the Benjamin Franklin Parkway (often compared to the Champs-Élysées in Paris) at the top, just like Sylvester Stallone did in the film. Snap a photo with "Rocky" before or after the trek – previous visitors agree the fun photo op alone is worth a visit. They also warn of queues to take pictures.
Popular Tours
Spirit of Philadelphia Signature Dinner Cruise with Buffet
(219 reviews)
from $ 108.09
Philadelphia Half-Day Small-Group Sightseeing Tour
(34 reviews)
from $ 164.00
The Constitutional Walking Tour of Philadelphia
(776 reviews)
from $ 23.00
Reading Terminal Market Reading Terminal Market free
One of the most fun (and delicious) things to do in Philadelphia is taste your way through Reading Terminal Market. Located beneath the Reading Railroad's 1891 train station (a National Historic Landmark) in Center City, Reading Terminal Market houses more than 70 vendors. Sample food from around the world – including Greek, Thai, Mexican and Indian specialties – while perusing homemade crafts and jewelry. Recent visitors agree there's something for everyone at Reading Terminal Market, noting that any lines you encounter are well worth the wait. 
With so many merchants, the market can feel overwhelming so it's best to have a shortlist of places to visit before you head inside. Some of the best food options include:
Mutter Museum Mutter Museum
Housed in a 19th century building at The College of Physicians of Philadelphia, the Mütter  Museum highlights the mysteries of the human body through wet specimens (biological samples preserved in fluid), anatomical models, medical instruments and more. Notable exhibits include Albert Einstein's brain, a tumor removed from President Glover Cleveland's mouth, and the death cast and livers of famous Siamese twins, Chang and Eng Bunker.
Visitors agree the Mütter  Museum is a must-see for anyone visiting Philadelphia, though some say they were disappointed with the museum's small size. Due to the nature of the exhibits, the museum is not recommended for children younger than 10.
Philadelphia's Magic Gardens Philadelphia's Magic Gardens
This mixed media art museum in South Street is a must-visit in Philadelphia, with two indoor galleries and a two-story outdoor sculpture garden. Each of the handmade tiles, bicycle wheels, mirrors, bottles and folk art pieces incorporated into the space represents an aspect of creator Isaiah Zagar's life. Zagar – who first found mosaic art as a form of therapy after suffering from severe depression and nearly taking his own life – is now an award-winning artist whose work can be found throughout the city.  
Travelers say it's an intriguing, beautiful and riveting museum, and that you'll want to take your time to see everything on display. Recent visitors also recommend purchasing tickets online in advance, as entry is timed in 30-minute blocks. Children are welcome, but note that the space is too small for strollers. 
Best Philadelphia Tours
Philadelphia Tours
9 Best Philadelphia Tours: Liberty Bell, Cheesesteaks & More
April 12, 2023
The Franklin Institute The Franklin Institute
U.S. News Insider Tip: The "Giant Heart" exhibit alone is worth a visit. Kids can climb through the chambers of a life-like heart as they listen to the sounds of an actual human heartbeat. – Amanda Norcross, Content & SEO Strategist
Inspired by founding father and scientist, Benjamin Franklin, The Franklin Institute is fun for visitors of all ages – not just kids. Interactive exhibits include "SportsZone," which explains the science behind surfing, rock climbing and more through simulators, and "Changing Earth," where you can calculate your carbon footprint. You can also use your body to complete a circuit and light a bulb, observe 3D printers in action and explore space without leaving earth at the Fels Planetarium.
Museum of the American Revolution Museum of the American Revolution
After it debuted in 2017, the Museum of the American Revolution quickly became one of the best attractions in Philadelphia. The only museum of its kind, it tells the story of this important historical event through interactive exhibits that engage visitors of all ages. Museumgoers appreciate the layout of the museum, which follows a chronological path, and note that George Washington's sleeping and office tent from the Revolutionary War is one of the highlights.
Another highlight, Revolution Place appeals to young kids with four hands-on exhibits: the "Military Encampment," with a recreated soldier's tent; the "8th Century Church;" the "Three Tun Tavern," where kids can see bottles, bowls and more that would have been used at a 1700s tavern; and the "18th Century Parlor," complete with a recreated privy (known today as an outhouse). Note that this part of the museum is only open Saturday and Sunday from 11 a.m. to 4 p.m.
Art & Culture
Longwood Gardens Experience
(38 reviews)
from $ 129.00
Eastern State Penitentiary Eastern State Penitentiary
The castle-like Eastern State Penitentiary is one of Philadelphia's most important historic sites. Having opened in 1829, this Quaker-inspired prison sought to reform prisoners using isolation and reflection rather than capital punishment and physical abuse. Although it was shut down in the 1970s, the Eastern State Penitentiary led the way to reform in the judicial system. Today, you are welcome to tour this National Historic Landmark; the highlight for many is American gangster Al Capone's cell. 
Bear in mind that this attraction may not be appropriate for younger children due to its rather frightening nature. To embrace the terror, visit around Halloween when the prison celebrates the spooky season with five haunted attractions.
Barnes Foundation Barnes Foundation
Art aficionados who gravitate toward French impressionist, post-impressionist and early modernist works should visit the Barnes Foundation. The museum's permanent collection features paintings by Renoir, Cézanne, Picasso, Matisse and Van Gogh, plus an impressive mix of African art, wrought-iron metalwork, Native American pottery and more.
But here's why the Barnes Foundation is so unique: Even if all of the above terms and names sound foreign to you, you'll still find something to enjoy. The museum's late founder, Dr. Albert C. Barnes, sought to teach people from all backgrounds how to appreciate art. As such, all of the museum's artwork is grouped together in what Barnes called his "ensembles" – groupings of art (objects, media and more) from a variety of time periods and cultures – designed to make visitors draw similarities they wouldn't otherwise notice.
Please Touch Museum Please Touch Museum
U.S. News Insider Tip: Visit on a weekday morning to avoid the weekend crowds. You may even be able to nab some free street parking. – Amanda Norcross, Content & SEO Strategist
Widely considered one of the best children's museums in the U.S., the Please Touch Museum offers hands-on fun for children as young as 1. You and your kids can travel to Alice's Wonderland, float boats in a water table version of the local Schuylkill River and ride the precious Woodside Park Dentzel Carousel (extra fees apply). Recent visitors agree the "Food & Family" exhibit is especially fun for kids, with a supermarket, home and industrial kitchens, and a neighborhood festival area.
Philadelphia Zoo Philadelphia Zoo
Established in 1859 and opened in 1874, the Philadelphia Zoo is the first and oldest zoo in the country.  Its mission as an animal care organization, educational resource, and advocate for endangered species also makes it one of the best zoos in the U.S. More than 1,900 animals live at the zoo, including the endangered Sumatran orangutan, Amur tiger and giant otter.
Fun features at the zoo include Zoo360, a property-wide system of mesh trails that allows the animals to wander around and above the zoo's grounds; Wild Works Ropes Course; and SEPTA PZ Express Train, perfect for youngsters.
Citizens Bank Park Citizens Bank Park
U.S. News Insider Tip: Depending when you visit and what's going on at Citizens Bank Park, traffic (particularly to exit the complex) can result in hourslong jams. Take public transportation if you can, or consider leaving a bit early on a night when there are several events going on at the South Philadelphia Sports Complex. – Amanda Norcross, Content & SEO Strategist
Get tickets to see the Phillies play at their home field, Citizens Bank Park, in South Philly. Even if you're not a baseball (or sports) fan, it's fun to walk around the stadium and enjoy the variety of food options along the way; there are a variety of vendors throughout. The Crabfries (perfectly seasoned crinkle cut fries) at Chickie's & Pete's are a must. Other options include Manco and Manco Pizza and only-in-Philly Federal Donuts. If visiting with kids, check out The Yard, an interactive baseball experience that's open during games, or consider a behind-the-scenes tour of the ballpark.
A Day in Amish Country
(147 reviews)
from $ 169.00
Philadelphia to Valley Forge Park, Private 4 Hour Tour
(4 reviews)
from $ 595.00
Philadelphia Self-Guided Audio Tour
from $ 9.00
South Street South Street free
This quirky neighborhood is practically synonymous with Philadelphia. Spanning roughly 14 blocks (it depends who you ask), South Street offers an eclectic variety of independent gift shops, boutiques and thrift stores, many of which are women- and Black-owned. It's also home to Philadelphia's Magic Gardens .
There's no shortage of dining options, either. In fact, Jim's Steaks on South Street (expected to reopen in late 2023 following a fire) serves some of the city's best cheesesteaks. Brahaus Schmitz (German), Tattooed Mom (vegan-friendly bar), and Pumpkin BYOB (top-rated) are also favored by locals and tourists alike.
Italian Market Italian Market free
U.S. News Insider Tip: Make sure Sarcone's Bakery will be open during your visit (and go early for the best selection). It might actually be a sin to visit the Italian Market without buying a few loaves of their fresh bread. – Amanda Norcross, Content & SEO Strategist
In addition to visiting Reading Terminal Market , both locals and tourists agree a visit to the Italian Market on South Ninth Street is an essential food experience in Philly. One of the oldest open-air markets in the country, the Italian Market features a multitude of gourmet food vendors selling imported goods, cheeses, meats, freshly roasted coffee beans, homemade chocolates and more. Travelers appreciate the variety of delicious food and recommend visiting when hungry.
Johnny Brenda's Johnny Brenda's
U.S. News Insider Tip: If you have tickets to a show, get here early to nab a spot on the second-tier balcony — this is where you'll get the best views. – Amanda Norcross, Content & SEO Strategist
Philadelphia has its share of live music venues, including the Kimmel Center, World Cafe Live and the well-known Theatre of the Living Arts. But no place has as much character as Johnny Brenda's, and seeing a show here is as authentically Fishtown as you can get. Previous visitors also agree it's one of the most unique venues they've ever visited.
Spruce Street Harbor Park Spruce Street Harbor Park free
Spruce Street Harbor Park is a summertime favorite in Philly, with hammocks, a beer garden, an arcade, lawn games and a boardwalk on the Delaware River. It's the ultimate place to relax and the closest you'll come to a beach in Philadelphia (though the Jersey Shore beaches aren't far).
There's also a variety of food vendors on-site, and visitors have the option to enjoy their meal on a floating river barge. Spruce Street Harbor Park is especially pretty at night, when the trees are illuminated by multicolored lights.
Elfreth's Alley Museum Elfreth's Alley Museum
U.S. News Insider Tip: For the best photos and overall experience, visit early in the day. – Amanda Norcross, Content & SEO Strategist
The nation's oldest continually inhabited residential street, Elfreth's Alley is one of the most charming walkways in Philadelphia. Not surprisingly, it's also one of the most popular for photos. When visiting and snapping pics, just remember the homes are owned by local residents.
Food & Drink
Flavors of Philly Food Tour
(312 reviews)
from $ 65.00
Chef-Led Taste of the Italian Market Food Tour
(247 reviews)
from $ 80.00
Philadelphia Museum of Art Philadelphia Museum of Art
Modeled after the Parthenon in Athens , the Philadelphia Museum of Art is one of the most recognized buildings in Philadelphia. Once you've made it to the top of the " Rocky Stairs ," take a breath and dive into the museum's impressive works by Matisse, Van Gogh, Picasso, Cézanne and more. You'll also find entire structures from around the world, including a 14th century Buddhist temple.
Recent visitors agree this museum is a must, touting its amazing collections and variety. If you can, budget a full day to explore, and decide what exhibits are the most important before your visit.
Fairmount Park Fairmount Park free
Fairmount Park is the largest landscaped urban park in the world – it's bigger than Central Park in New York City – with more than 2,000 scenic acres affording opportunities for hiking, off-road biking (permit required) and even horseback riding in the city. There are also picnic tables throughout the park, available on a first-come, first-served basis.
Also considered a neighborhood in Philadelphia, Fairmount Park houses popular attractions including The Philadelphia Museum of Art , the Philadelphia Zoo , Boathouse Row , and the indoor-outdoor Mann Center (one of the best live music venues in Philly). Other noteworthy landmarks include Fairmount Water Works, the Philadelphia Water Department's former engine room-turned-event center and a National Historic Landmark, and the Shofuso Japanese Cultural Center, complete with a ceremonial tea house and koi pond. The park begins near the Benjamin Franklin Parkway and extends to the northwest.
Rittenhouse Square Rittenhouse Square free
U.S. News Insider Tip: Make a reservation for breakfast or brunch at Parc, a French-style bistro with great food, ambiance and people watching. – Amanda Norcross, Content & SEO Strategist
This ritzy neighborhood is one of the best places to eat and shop in Philadelphia, with some of the city's top-rated restaurants, high-end shopping and trendy nightlife venues on offer. Many of the best hotels in Philadelphia are also located here.   
Franklin Square Franklin Square free
When William Penn imagined the city of Philadelphia, he planned five open-square parks. Franklin Square, located in Independence Hall National Historical Park, is one of them (along with Rittenhouse Square , Logan Square, Washington Square and Centre Square).
Close to historical landmarks like the Liberty Bell and especially fun for families, Franklin Square offers a carousel and an 18-hole miniature golf course that looks like a pint-size version of Philly. At the center of the square, a 180-year-old fountain puts on a (free) seasonal water show every 30 minutes. When you get hungry, head to SquareBurger for a bite to eat and the Original Cake Shake, made with Philly's own Tastykake Butterstoch Krimpets.
LOVE Park LOVE Park free
LOVE Park, which was designed by city planner Edmond Bacon (father of actor Kevin Bacon), is where you'll find Robert Indiana's world-renowned LOVE statue, one of the most popular spots for a photo in Philly. There's also a welcome center, walking paths, plenty of green space and a fountain (fun for toddlers to splash through on a hot day).
Visitors agree a photo in front of the LOVE sign is a must, though they caution there's almost always a line. Several travelers also suggest visiting the adjacent Philadelphia Holocaust Memorial Plaza. And if you enjoy holiday markets, time your visit around Christmas when the park transforms into Christmas Village, an event inspired by German Christmas markets with dazzling decor and vendors selling authentic European food, handmade ornaments and more.
Seasonal Tours
Liberty History Tour Pub Crawl
(69 reviews)
from $ 45.00
Philadelphia Band, Brewery, and Beer Garden Evening Trolley Tour
(8 reviews)
from $ 44.00
Philly Signature Guided Brewery Tour
(25 reviews)
from $ 105.00
Betsy Ross House Betsy Ross House
It's never been confirmed whether Betsy Ross was the person who sewed the first American flag, though she's widely credited with the task. Her former home, where she would have sewn the first stars and stripes, is now a small museum.
Visitors can take a self-guided tour (with or without an audio guide) of the home before meeting "Betsy" herself. The real Betsy Ross, along with her third husband, John Claypoole, is buried in a courtyard behind the home.
The Weitzman National Museum of American Jewish History The Weitzman National Museum of American Jewish History
The Weitzman National Museum of American Jewish History aims to inspire people of all backgrounds to appreciate the diversity of the American Jewish experience. The three-floor museum covers three centuries dating back to 1654, with more than 30,000 artifacts illustrating immigration, worship, hard work, community and family life. Visitor-favorite exhibits include the "Only in America Gallery/Hall of Fame," which showcases the accomplishments of nearly two dozen well-known Jewish Americans including Leonard Bernstein, Ruth Bader Ginsburg, Estee Lauder and Steven Spielberg.
Recent museumgoers highly recommend a visit to this museum, noting the exhibits are both fascinating and extensive.  
Rail Park Rail Park free
Unused rail lines are being reimagined as this 3-mile trail in Philadelphia. Once finalized, the Rail Park will not only connect 10 neighborhoods, but will also offer a variety of locally inspired art installations and amenities for the public to enjoy.
Phase 1 (called The Cut), which is fully complete, offers swings, bike racks, and an electric platform for events. You'll also spot one of the city's many murals, a story wall depicting Philadelphia's Industrial era, and a variety of plants that are native to Pennsylvania. The current iteration of Rail Park can be accessed at two entrances: 1300 Noble St. and Callowhill Street between 11th and 12th streets.
Wissahickon Valley Park Wissahickon Valley Park free
No, you don't have to drive to the mountains to go hiking near Philadelphia (though the Poconos region and its many things to do aren't far). About 5 miles northwest of downtown, the 1,800-acre Wissahickon Valley Pack offers more than 50 miles of hiking, mountain biking and horseback riding trails. Plus, visitors can go bird-watching, picnicking or fishing along the Wissahickon Creek. For some of the park's best panoramas, visitors suggest strolling along the vehicle-free Forbidden Drive trail. They also note it ca be a popular place to visit, so expect some crowds on pleasant days.
As you trek through the park, you'll notice its historical architecture, which includes a covered bridge built in 1737 and the historic Valley Green Inn, where you can grab a bite to eat.
Rodin Museum Rodin Museum
Home to one of the largest public collections of Auguste Rodin's work outside of Paris , the Rodin Museum boasts almost 150 bronzes, marbles and plasters created by the famed artist. The collection represents every phase of the illustrious artist's career. Highlights include The Kiss, Rodin's famous sculpture of two lovers.
The beaux-arts building itself is also a stunner, designed by French architect Paul Cret, with a formal French garden imagined by landscape designer Jacques Gréber. The lovely outdoor space features eight of Rodin's works, including The Thinker and The Gates of Hell, the latter of which was the defining project in Rodin's career. Recent visitors note that the museum is small, but well worth a stop – especially since admission to the Rodin Museum is included with your ticket to the nearby Philadelphia Museum of Art , and vice versa.
Private Tours
Half Day Private Philadelphia Driving Tour
from $ 182.00
Private 2 hour Walking Tour of Historic Philadelphia
(21 reviews)
from $ 245.00
Dilworth Park Dilworth Park free
One of Philadelphia's many public outdoor spaces, Dilworth Park appeals to locals and tourists alike – especially with its location at City Hall (above Suburban Station, a hub for public transportation) and close proximity to popular LOVE Park .
Features at this park include the Albert M. Greenfield Lawn, a computer-programmable fountain and Pulse, an art installation that sprays colorful mist whenever SEPTA trains pass through the station below. There's also an outdoor cafe, restaurant and Starbucks on-site.
National Constitution Center National Constitution Center
Located in the Old City neighborhood, less than a half-mile from the Liberty Bell Center and Independence Hall , the National Constitution Center houses unique exhibits highlighting the signing of the Constitution and other important events in U.S. history. Noteworthy artifacts include the first draft of what would become the Constitution and one of the surviving copies of the Emancipation Proclamation signed by President Abraham Lincoln.
Previous visitors recommend exploring Signers' Hall, where the 42 Founding Fathers are immortalized in bronze, life-size statues, while others appreciate the abundance of interactive activities for kids.
Independence Blue Cross RiverRink Independence Blue Cross RiverRink
If you're looking for something festive to do in Philly at Christmastime, go ice skating at Independence Blue Cross RiverRink. Located on the Delaware River Waterfront, the NHL-sized skating rink affords views of the Ben Franklin Bridge, especially pretty when lit up at night. This attraction also offers cozy cabin rentals with fire pits—perfect for warming up over hot cocoa. 
Recent visitors say they enjoyed their experience here, adding that Blue Cross insurance holders get a discount (free admission for the insurance holder and three guests).  
Boathouse Row Boathouse Row free
U.S. News Insider Tip: For the best views of Boathouse Row, look for the pullout near the Fish Ladder on Martin Luther King Drive. If you go a little further north, you can get past the netting that runs across the river and also get away from the big fence that's set up in front of the fish ladder. – Binh Nguyen, Senior Director of Communications at Visit Philly
Boathouse Row is one of the most famous landscapes in Philadelphia; however, the only attraction available to visitors is the Lloyd Hall Recreation Center, which offers bike rentals, a visitor center, cafe, and public restrooms, as well as indoor basketball courts. The other historic buildings belong to local rowing clubs, and you'll often see rowers training or competing in regattas on the Delaware River.
Penn Museum Penn Museum
Don't overlook the Penn Museum in Philadelphia, an archaeological and anthropological museum that highlights the human experience through more than a million artifacts from Asia, Africa, the Americas and the Mediterranean. Expect to see the largest ancient Egyptian sphinx in the Western Hemisphere, one of the oldest known wine vessels in the world (5400-5000 BCE), a Native American war bonnet made around 1890, and other one-of-a-kind artifacts.
Museumgoers praise this engaging museum as well as its location at the University of Pennsylvania. The museum hosts a variety of adult-focused and family-friendly events throughout the year so be sure to see what's on deck ahead of your visit.
Tickets & Passes
Go City: Philadelphia All-Inclusive Pass with 30+ Attractions
(28 reviews)
from $ 54.00
Philadelphia Flyers Ice Hockey Game Ticket at Wells Fargo Center
from $ 47.72
Adventure Aquarium Adventure Aquarium
Technically the Adventure Aquarium is in Camden, New Jersey. But with its close proximity to Philly — less than 5 miles east — as well as its reputation as one of the best aquariums in the U.S. , we'd be remiss not to include it on a list of the best things to do in Philadelphia.
Accredited by the Association of Zoos and Aquariums, the Adventure Aquarium is dedicated to animal welfare, housing and caring for more than 15,000 aquatic animals. Up-close encounters include Shark Bridge, a rope suspension bridge that allows guests to walk inches away from sand tiger and nurse sharks; recent visitors say this exhibit was one of their favorites. Other exhibits include Little Blue Beach, where you'll see the smallest penguin species in the world, and Hippo Haven, where the resident Nile hippos live.
Things to Do in Philadelphia FAQs
Explore more of philadelphia.
Best Hotels
When To Visit
If you make a purchase from our site, we may earn a commission. This does not affect the quality or independence of our editorial content.
Recommended
18 Fall Family Vacation Ideas
Amanda Norcross September 11, 2023
The 26 Best Zoos in the U.S.
Rachael Hood August 11, 2023
30 Fun Fall Weekend Getaways for 2023
Holly Johnson July 18, 2023
The 32 Best Dog-Friendly Beaches in the U.S.
Gwen Pratesi July 14, 2023
The 21 Top Ecolodges Around the World
Mackenzie Roche|Amanda Norcross June 30, 2023
The 26 Best Fall Festivals in the U.S. for 2023
Katie Hearsum|Timothy J. Forster June 28, 2023
27 Amazon Prime Day Luggage Deals You Can Shop Now
Amanda Norcross June 27, 2023
The 34 Best Couples Vacations
Gwen Pratesi June 26, 2023
Carry-on Luggage Sizes by Airline
Amanda Norcross June 26, 2023
Photos: InterContinental Boston
Jill LeGrow June 26, 2023

17 Top-Rated Tourist Attractions in Philadelphia
Written by Lana Law Updated May 11, 2023 We may earn a commission from affiliate links ( )
Philadelphia is one of America's most important historical cities. At Independence Hall on July 4, 1776, the Declaration of Independence was adopted, and in September 1787, the Constitution was drafted. A century earlier, William Penn, a prominent Quaker and namesake of Pennsylvania, was a catalyst for the changes that transformed these British colonies into an independent nation.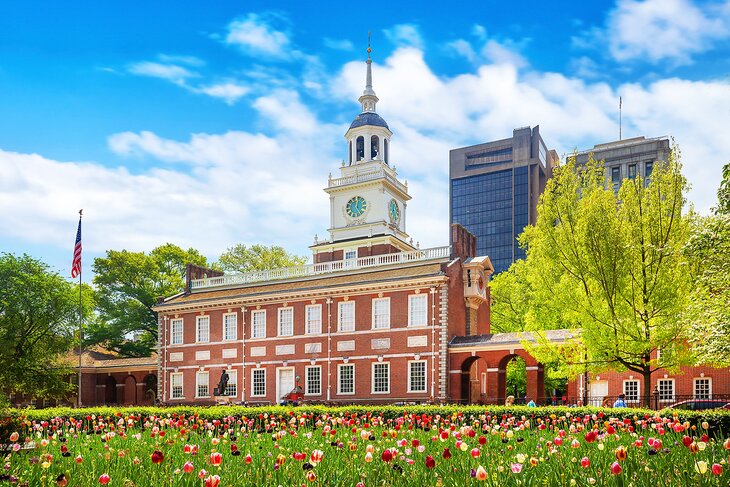 Today, modern office towers exist side-by-side with the narrow cobblestone streets of Independence Historic National Park, which is home to historic buildings and sights, including the Liberty Bell, Franklin Court, and Independence Hall. To the south lies Society Hill, the city's original residential area. Many of these eighteenth-century buildings have been handsomely restored. Similarly, Germantown in northwest Philadelphia, is another old residential section, first inhabited by Germans and the Dutch.
To the west, along the Schuylkill River, lies Fairmount Park, a vast belt of green containing numerous Federal-style mansions, as well as the Philadelphia Museum of Art and the Rodin Museum. Just south of that lies the museum district, including the Franklin Institute of Science Museum and the Academy of Natural Sciences.
If you're wondering where to start, begin with our list of top tourist attractions in Philadelphia.
1. Liberty Bell Pavilion
2. independence hall, 3. independence national historical park, 4. philadelphia museum of art and the "rocky steps", 5. reading terminal market, 6. the barnes foundation, 7. museum of the american revolution, 8. philadelphia zoo, 9. rodin museum, 10. the franklin institute science museum, 11. eastern state penitentiary, 12. pennsylvania academy of fine arts museum, 13. love park, 14. please touch museum, 15. city hall, 16. society hill historic district, 17. fairmount park, tips and tours: how to make the most of your visit to philadelphia, map of tourist attractions in philadelphia.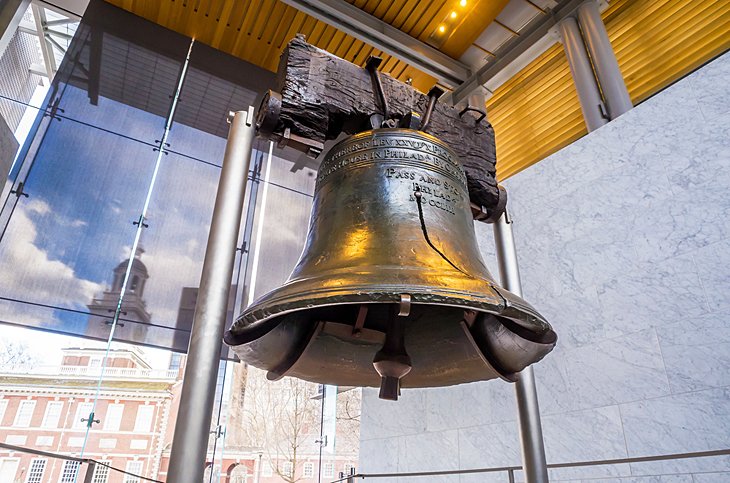 The liberty bell has long been a symbol of freedom and independence in the United States. It rang to mark the signing of the Constitution, but contrary to popular myth, the big crack came in 1846, when it tolled in observance of George Washington's birthday.
You'll learn this and other facts about the bell in the exhibits, and a film shows how abolitionists, suffragists, and other groups adopted the bell as a symbol of freedom. In the late 1800s, the bell went on tour around the country in an effort to conquer divisions left by the Civil War. The bell completed its journey in Philadelphia in 1915, where it has remained.
The Liberty Bell Pavilion is open without admission charge - one of several free things to do in Philadelphia.
Address: 143 South Third Street, Philadelphia, Pennsylvania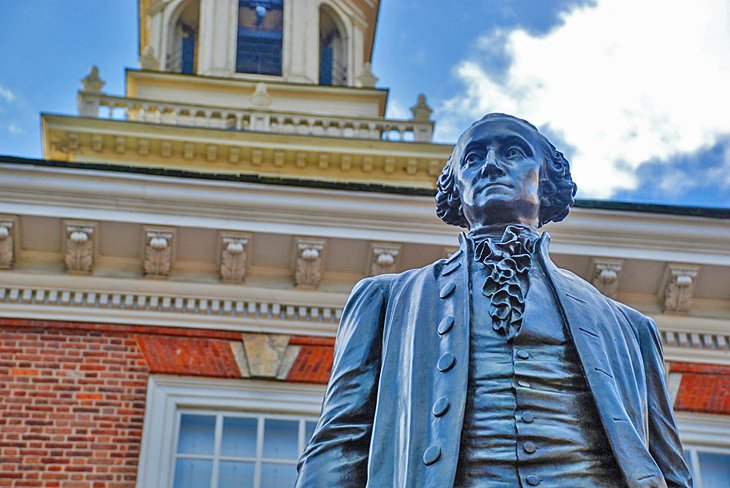 Independence Hall originally served as the State House of the Colony of Pennsylvania and is best known as the place where the Declaration of Independence was adopted by the Continental Congress on July 4, 1776. It was also where the Continental Congress met again 11 years later and wrote the United States Constitution.
The highlight is Assembly Hall, where the Second Continental Congress met behind closed doors to discuss independence from the British. This is where the Declaration of Independence was signed and where George Washington was chosen as Commander-in-Chief of the Continental Army.
Independence Hall sits across from the Liberty Bell Pavilion in the Independence National Historical Park. There is no entrance fee, but tickets ($1 reservation fee) are timed and limited, and all visitors should be prepared for security screening.
An advance booking is required from March through December. No bookings are required in January and February (except for President's Day and Martin Luther King Day long weekends). A visit after 5pm on any day does not require a reservation.
Free ESL services are available with advance request.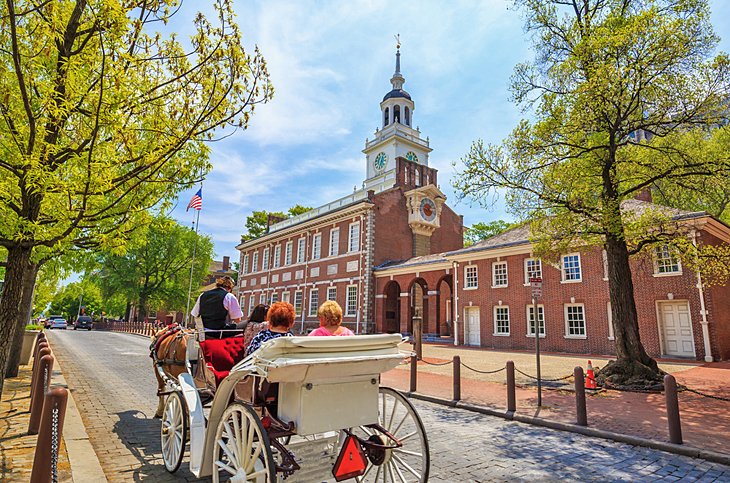 Independence National Historical Park is quite possibly America's most historic square mile. In addition to housing famous sites, such as Independence Hall and the Liberty Bell, many other important attractions line the cobbled streets of this old area.
Independence Hall has seen some of America's most important historical moments and hosted some of its most famous founders. It stood witness to the adoption of the Declaration of Independence on July 4, 1776, and the creation of the United States Constitution in 1787.
It is flanked by Congress Hall, where the first Congress of the United States met from 1790 to 1800 and George Washington and John Adams were elected President, and Old City Hall, which was never, in fact, the town hall but was the seat of the Supreme Court from 1791 to 1800.
To the north of Independence Hall extends the park-like Independence Mall, laid out in 1948. On its east side, at 55 North 5th Street, is the National Museum of American Jewish History. The park is also home to the Ben Franklin Museum , which has a collection of exhibits dedicated to celebrating this revolutionary inventor's many remarkable qualities. The Visitor Center off Dock Street is a good place to begin the day to get current information, tickets, and walking tour maps.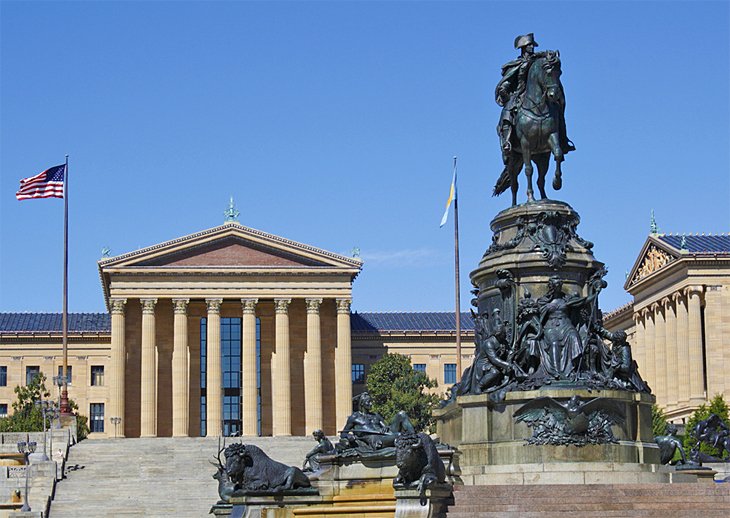 The Philadelphia Museum of Art contains one of the United States' largest collections of paintings and other artworks. Among the finest sections of the museum are the medieval galleries, which include pictures by Rogier van der Weyden and the van Eyck brothers.
In other rooms are Renaissance and Baroque works and art of the 18th and 19th centuries, including pictures by Van Gogh, Renoir, Toulouse-Lautrec, Manet, Cézanne, Monet, and Degas. A collection of 20th-century European art is represented by Picasso, Chagall, Matisse, Miró, Paul Klee, and other artists.
There is also American art by the Philadelphia artists Thomas Eakins, Charles Wilson Peale ("The Staircase Group", 1795), and many others. In addition, there are fine collections of Asian art, with porcelain, jade, and Oriental carpets.
The museum is housed in a Neoclassical building fronted by a broad set of stairs, which now - for many tourists - rival the collections as an attraction. Ever since they were featured in the classic American Rocky films, thousands of fans have flocked to the "Rocky Steps" each day to race to the top and strike a Rocky pose with the city as a backdrop.
Prior to striking your pose on the steps, be sure to swing by the actual Rocky statue located nearby. Study the exact arm and body position and then create your own version on the steps. You'll find the statue just off to the right of the steps in a grassy area.
Address: 2600 Benjamin Franklin Parkway, Philadelphia, Pennsylvania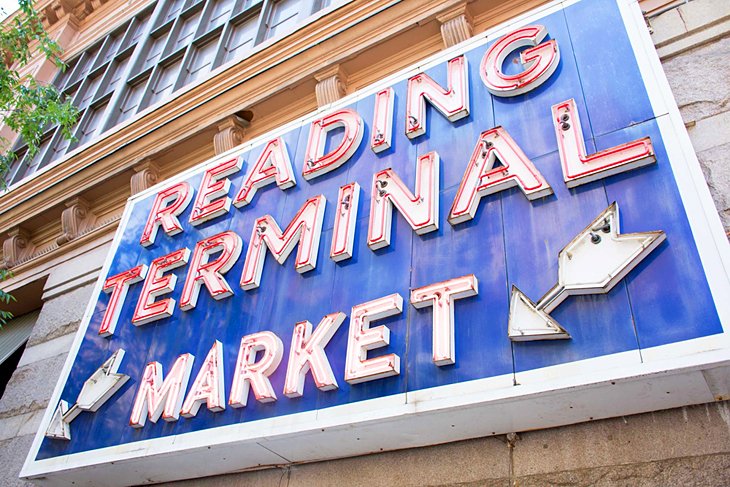 The Market at Reading Terminal has been a National Historic Landmark since 1995 and is a deeply rooted Philadelphia institution. It has been in operation since 1893, when the Reading Railroad Company built this space beneath their new station to accommodate the farmers and butchers who had been using the area for their open-air markets for decades.
The old market has undergone renovations, but it has retained its unique ambience and many of the structure's original features. Today, you will find more than 80 merchants, 75 of whom are small independent businesses. Both locals and tourists come to buy local produce; free-range meats; canned goods; fresh-baked Amish breads; and handmade crafts, including clothing, jewelry, and gifts. Several vendors specialize in traditional Pennsylvania Dutch foods.
Address: 51 North 12th Street, Philadelphia, Pennsylvania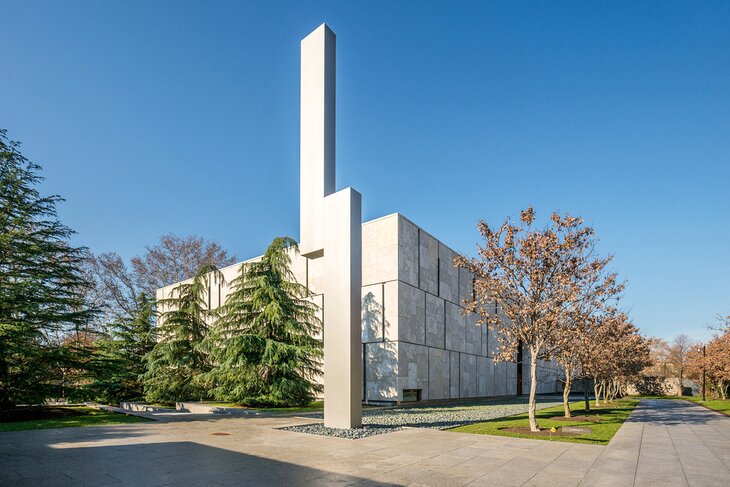 Established by Dr. Albert Barnes, the Barnes Foundation is an integral part of Philadelphia's Parkway museum district. It houses some of the world's biggest collections of French Impressionist and Post-Impressionist paintings, including the world's largest Renoir collection and more of Cézanne's works than there are in all of France. There are just short of 60 Matisse paintings, as well as numerous works by Degas, Manet, and Modigliani.
Additional collections include early modern artists, including Picasso, as well as a large collection of African sculptures. The museum welcomes guests free of charge on the first Sunday of the month for gallery viewings, activities, and family-friendly entertainment, while monthly on the first Friday, adults are invited to spend the evening exploring collections, attending lectures, and mingling with like-minded aficionados while enjoying live music and refreshments.
Address: 2025 Benjamin Franklin Parkway Philadelphia, Pennsylvania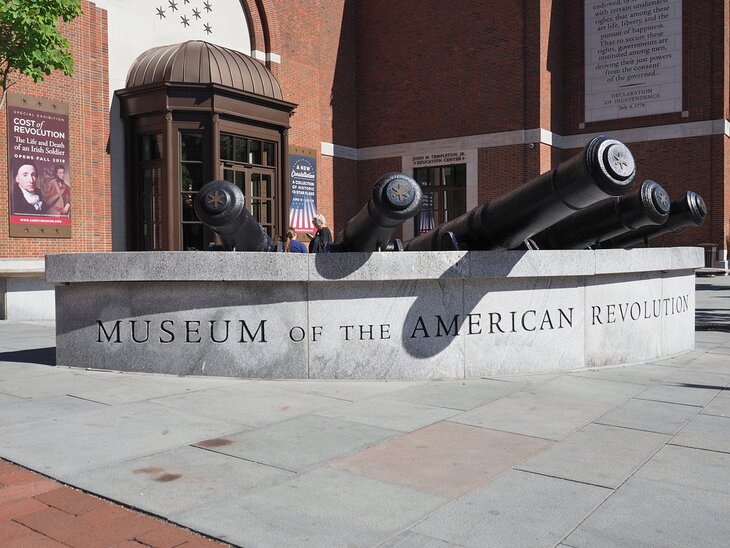 A must-see for any history buff, the Museum of the American Revolution is a fascinating trip back in time to the late 18th century to the conflict that helped form the United States. The museum has an excellent collection of artifacts from the time frame and does a good job of giving the visitor a taste of what life was like back then.
Thoughtfully laid out galleries that are interactive, engaging, and educational make understanding the cause of the Revolution easy. One of the highlights of a visit here is the original headquarters tent that George Washington used during the conflict.
The Museum of the American Revolution is one of Philadelphia's newest museums and is conveniently located near Independence Hall and the Liberty Bell.
Address: 101 S 3rd Street, Philadelphia, Pennsylvania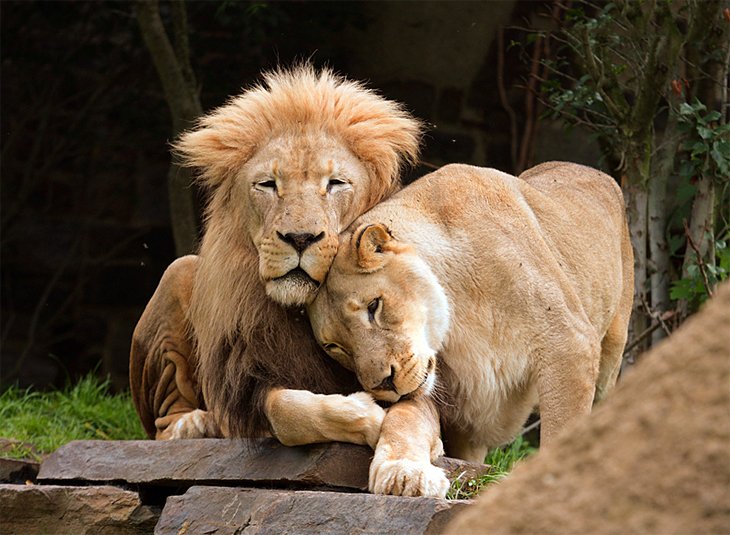 The Philadelphia Zoo is home to a wide range of animals from around the world and is active in wildlife conservation and rehabilitation efforts, focusing on educating visitors about the ways humans impact the earth's other residents.
One of its most remarkable habitats is Big Cat Falls, a spacious area where the world's largest cats can roam among plants and flowing waterfalls, as well as explore the entire park through a system of tunnels that wind above other habitats - including the human visitors. Another favorite with both kids and adults is the African Plains habitat, where you can meet some of the zoo's most impressive residents, including giraffes, hippos, and a white rhinoceros.
Outback Outpost is home to some of Australia's most fascinating wildlife, including red kangaroos and emus. Other habitats include Bear Country, which is home to species from Asia, South America, and North America, and Carnivore Kingdom, where you can meet dwarf mongooses and even the (vegetarian) red panda. There is also a reptile and amphibian house; an aviary; and Monkey Junction, which is home to two pairs of spider monkeys.
At the small mammal house, visitors can see the nocturnal residents as they go about their day, thanks to clever lighting that inverts their sleep cycle. The zoo also operates a primate reserve and a rare animal conservation center, where you can see some of the earth's most endangered animals, learn about issues affecting them, and find out how to help.
Address: 3400 West Girard Avenue, Philadelphia, Pennsylvania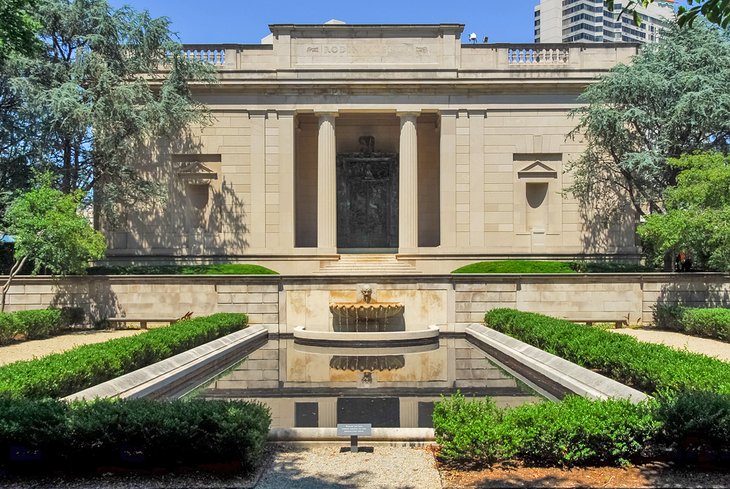 With close to 100 works by famous French sculptor Auguste Rodin, this museum contains one of the most extensive collections of his work outside France. The Rodin Museum includes plasters, bronzes, and marbles of some of Rodin's most famous masterpieces.
In the outdoor sculpture garden, visitors can view some of his best-known works, including The Thinker and Rodin's seminal work, The Gates of Hell. Rodin's career was remarkable for his unconventional training and his philosophy that sculpture should stay true to the natural form, and he is considered the father of modern sculpture.
Address: 2151 Benjamin Franklin Parkway, Philadelphia, Pennsylvania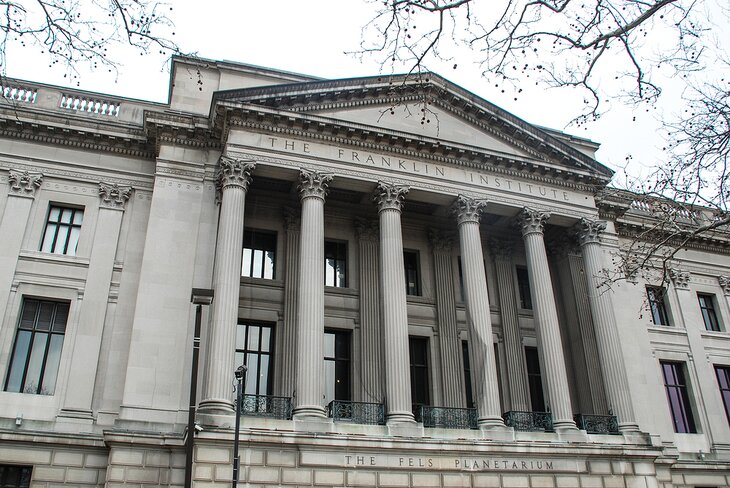 This creative museum is a tribute to scientist Benjamin Franklin, complete with a huge marble statue of a seated Franklin located in one of the large halls. The Franklin Institute Science Museum , which is in fact several museums under one roof, displays many of Franklin's own experiments.
It is particularly concerned with the physical bases of technology and offers visitors the opportunity to try their own experiments, in many fields - computers, information technology, space travel, astronomy, and oceanography. In addition to the museum, the center is also home to an IMAX Theater and the Fels Planetarium.
Address: 222 N 20th Street, Philadelphia, Pennsylvania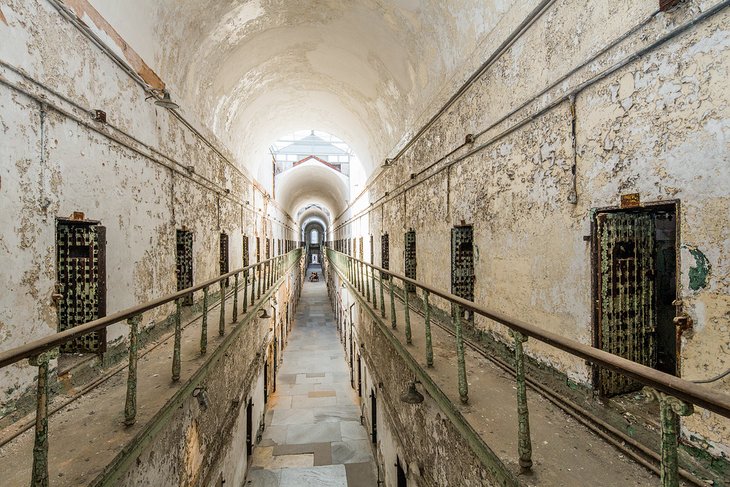 The Eastern State Penitentiary was built in 1829 with the aim of rehabilitating criminals through solitary confinement. At the time of its opening, it was considered the world's most expensive and high-tech prison. Willie Sutton and Al Capone were some of the prison's notable "guests," and visitors can see Capone's lavish cell as it was during his stay.
The prison closed in 1971, and today it is open to the public as a museum. Tours of the facility show many sections that remain much the same as they were during its operational years. Exhibits include an in-depth look at incarceration in the United States, how it compares to other countries, and the ever-increasing disproportionate imprisonment of minorities.
Address: 2027 Fairmount Avenue, Philadelphia, Pennsylvania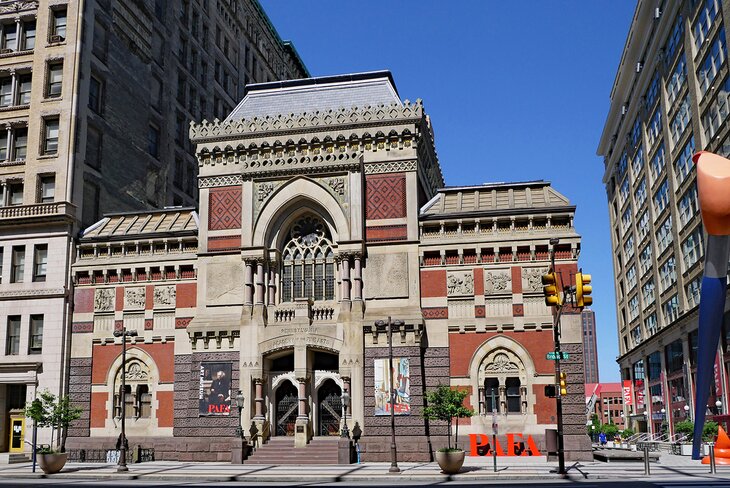 The Pennsylvania Academy of Fine Arts Museum features a collection of American Art from the 18th, 19th, and 20th centuries, including works by early American artists right through to Andy Warhol. It is housed in a N ational Historic Landmark building designed by American architects Frank Furness and George W. Hewitt.
The museum is part of the Fine Arts Academy, and its exhibits and archives are an important resource for the school. In addition to contemporary and historical art exhibitions, the museum features exhibits of work by the academy's students. The academy is the oldest of its kind in the United States.
Address: 118 North Broad Street, Philadelphia, Pennsylvania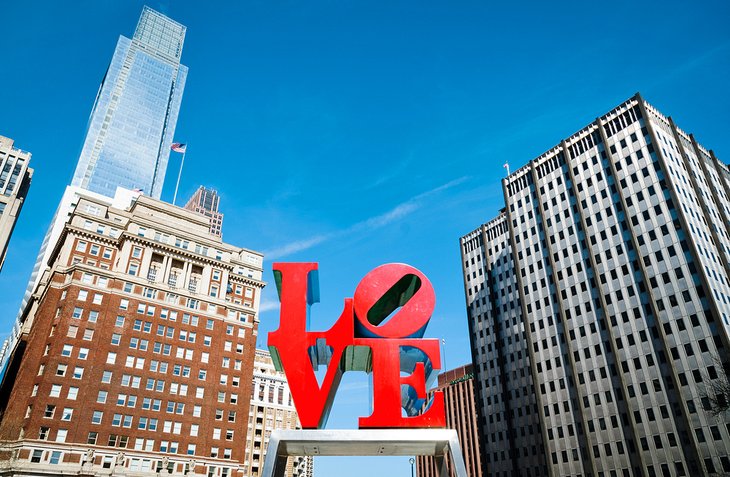 Philadelphia's favorite photo-op celebrates "the City of Brotherly Love" with Robert Indiana's iconic LOVE sculpture, installed in John F. Kennedy Plaza for America's Bicentennial celebration in 1976.
The plaza, now better known as LOVE Park, marks the entrance to Philadelphia's Museum Mile, the Benjamin Franklin Parkway, where you'll find the Barnes Foundation, The Franklin Institute, and the Philadelphia Museum of Art.
Combining green areas, trees, walking paths, benches, and open paved areas for festivals and events, LOVE Park is the scene of frequent pop-up events, including a Christmas village.
Address: 16th Street and JFK Boulevard, Philadelphia, Pennsylvania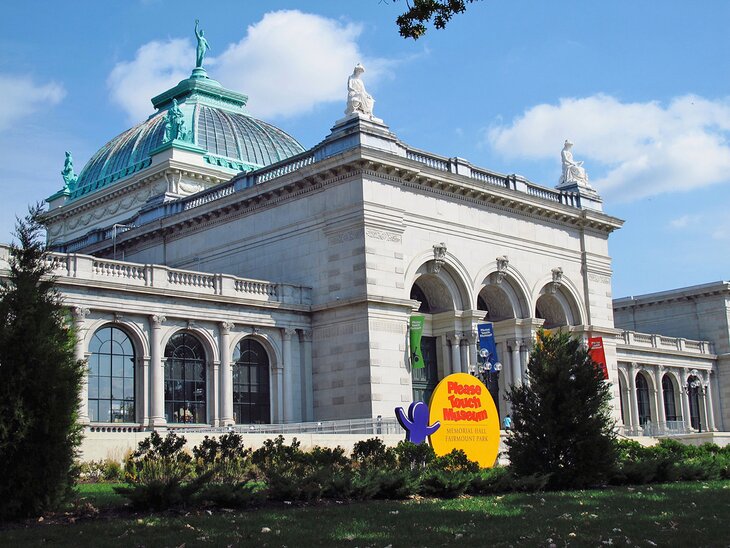 The Please Touch Museum is every child's dream — a place where they can "look with their hands" instead of just their eyes. This completely interactive museum encourages kids of all ages to learn through play, giving them the chance to explore history, fantasy worlds, space, and the big wide world around them.
Exhibits such as the kid-size city include costumes they can use to play the part while experimenting with different professions. As educational as it is fun, the River Adventures exhibit encourages children to learn about science and physics by using dams, waterwheels, levers, locks, and other water-manipulating equipment.
Kids can even explore the garden, where the museum's café grows its produce. Outdoors, you will also find a Dentzel Carousel, which is more than a century old, originally operated at the nearby Woodside Park and now fully restored to its former glory. An afternoon here is one of the favorite things to do for families in Philadelphia.
Address: Memorial Hall, Fairmount Park, 4231 Avenue of the Republic, Philadelphia, Pennsylvania
Address: Reservoir Drive, Philadelphia, Pennsylvania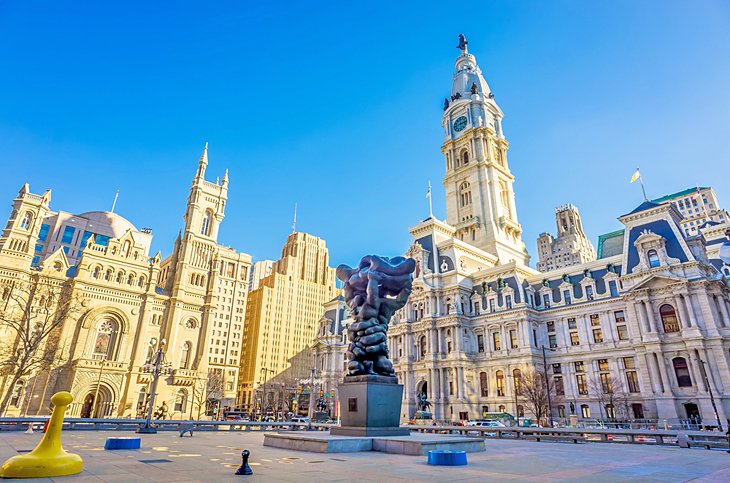 Philadelphia's City Hall is the United States' largest municipal building, with nearly 15 acres of floor space. Built on a foundation of solid granite, the building supports a 548-foot tower, which is the world's tallest masonry structure lacking a steel frame.
At the top of the tower sits a 27-ton statue of William Penn, and at his feet, an observation deck provides tourists with a view of the entire city, as well as the park below, which features a fountain, lawns, and a café. Tickets for the guided tour are required for both City Hall and the observation deck.
Address: 1401 John F Kennedy Blvd, Philadelphia, Pennsylvania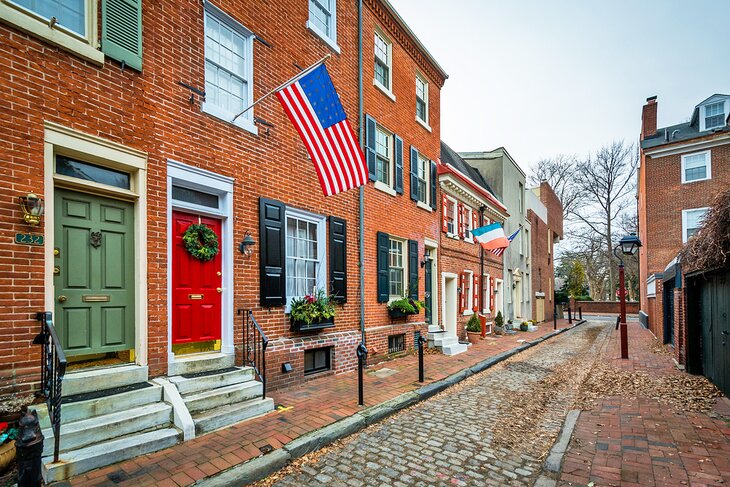 This interesting neighborhood, south of Walnut Street and east of Washington Square, contains a unique blend of 18th Century buildings, restored warehouses, new homes, colonial homes, and apartments. Some of these are occupied by galleries and other tourist-friendly retailers.
Attractions in and around this area include Washington Square, the Polish American Cultural Center, and Old St. Mary's Church, along with the Old Pine Street Presbyterian Church and the Historical Society of Pennsylvania Library.
In Washington Square, once the burial place of those who died in the fight for independence, is the Tomb of the Unknown Soldier of the Revolution, with an eternal flame. The Tomb of the Unknown Soldier is the only tomb in America erected to the memory of unknown Revolutionary War soldiers.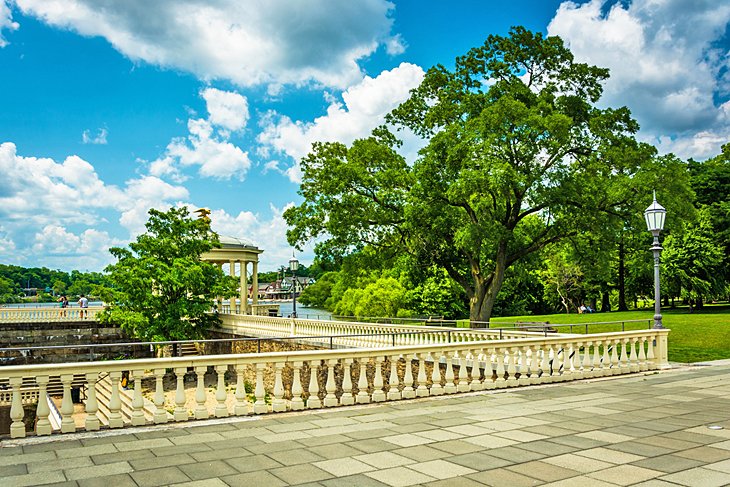 This lovely park along the Schuylkill River and Wissahickon Creek is home to the Philadelphia Zoo , the Rodin Museum , the Philadelphia Museum of Art , and the Shofuso Japanese House and garden , along with numerous other attractions and things to do. There are also gardens, ball fields, swimming pools, tennis courts, hiking paths, picnic areas, and playgrounds.
Shofuso, built in Japan in 1953 using traditional materials and tools, was brought to Philadelphia and placed with other Japanese structures that have been in the park since the 1876 Centennial Exposition. You can tour the house and Japanese gardens with a koi pond and island. In early July, the Tanabata Family Weekend includes family-friendly activities and traditional Japanese crafts.
Another attraction, at the edge of the 2,000-acre park, is the line of 15 historic boathouses along the Schuylkill River, home to local college rowing clubs. The park is a National Historic Landmark, and it is one of the nation's first parks created to serve as both a public green space and a watershed protection area.
Joining an organized tour is a great way to see all the highlights of Philadelphia without the hassle of navigating the busy city streets and finding a parking spot. Along the way, you'll learn stories about the city's history from an audio commentary or a professional guide, depending on the tour selected. Below are some sightseeing tours that guarantee the lowest price:
See the Sights:
On the Philadelphia Hop-On Hop-Off City Tour , you can relax and see all the sights from an open-air double-decker bus. This convenient tour travels on a two-hour loop around the city encompassing 25 different attractions, including the Liberty Bell and Independence Hall, and you can hop on and off at your favorite stops. This pass gives you maximum flexibility to plan your itinerary, with courtesy shuttles from city center hotels and the option of a two- or three-day validity.
If you prefer a more intimate, on-the-ground experience, consider the Philadelphia Segway Tour . You can choose between a five or 10-mile loop around the city, stopping to see sights such as the Philadelphia Museum of Art and the Italian Market. This small-group tour, with a maximum of six people, offers a more personalized experience and includes Segway training and photos.
Travel Back in Time:
If you're a history buff, the Founding Fathers Tour of Philadelphia is a fun way to learn about the birthplace of American freedom on a walking tour around the city. Accompanied by an expert guide, this 2.5-hour tour helps you appreciate all the stories behind Philadelphia's top historical attractions and includes a visit to the Liberty Bell, Independence Hall, and other important landmarks, as well as admission fees and a refreshment.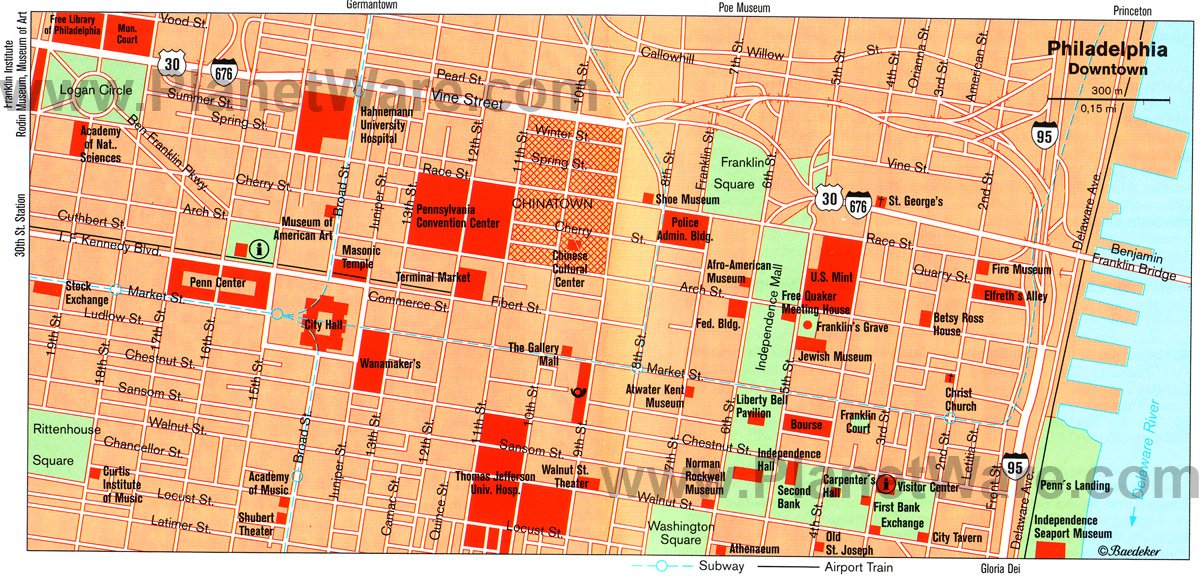 More on Pennsylvania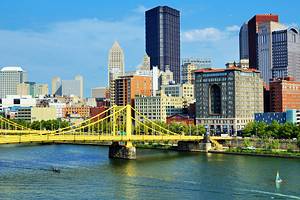 Food & Drink
Arts & Culture
Neighborhoods
Events Calendar
Transportation
Itineraries
Official Visitors Guide™
Official International Guides
Accessibility
Pennsylvania Convention Center
Meeting & Event Space
Meeting Toolkit
Meeting Connections
Attendee Experience
Become a Partner
Partner Login
Partner Business Directory
Photos & Video
Press Releases
In the News
Contact Convention Sales & Service
Contact Global Tourism
Contact Partnership
30+ Free and Budget-Friendly Things to Do in Philadelphia
September 14, 2023
Whether it's a visit to free historical sites, a picnic in one of the city's beautiful parks , or a closer look at the landmark Mural Arts program , Philadelphia has plenty of free things to do. Check out the top ways to see Philadelphia on a budget. As Ben Franklin said, "A penny saved is two pence clear." To save some pennies, check out these budget-friendly and free things to do in Philadelphia.
Free for History Lovers
Philadelphia is the city that helped launch a nation, and there are plenty of ways to engage in its historical significance.
1. Independence National Historical Park
Start at the city's official welcome center Independence Visitor Center, in the heart of Philadelphia's historic square-mile . Multilingual visitor services representatives are available to assist with any trip-planning needs, including on-site ticketing for more than 100 tours and attractions. Stop in for free amenities, including regional maps and brochures, historical films, cell phone charging stations, and Wi-Fi access.
Must-sees include  Independence Hall , the building where the Declaration of Independence and U.S. Constitution were debated and adopted. Tickets for a viewing can be purchased ahead of time for only $1. Or tour Congress Hall , where George Washington was inaugurated as the first President of the United States.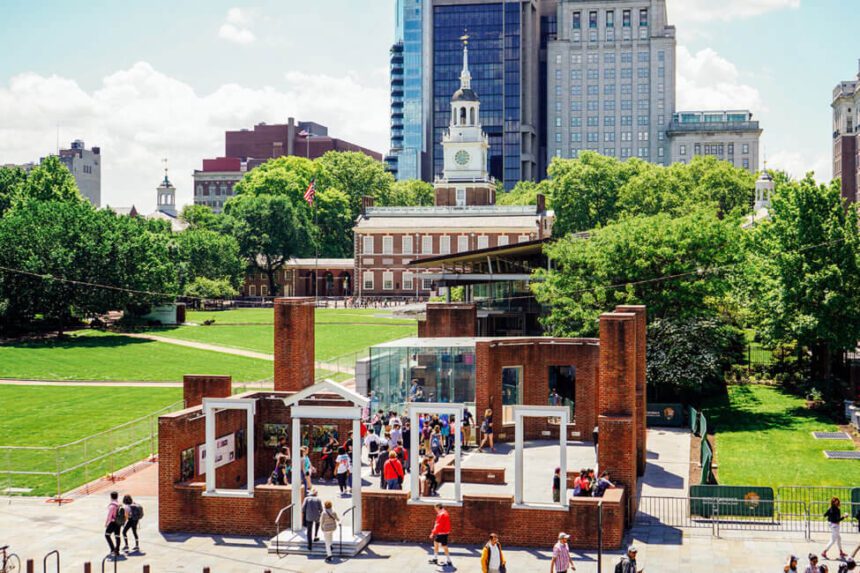 Independence Hall, the Liberty Bell Center and the President's House Historic Site are all free experiences available in Independence National Historical Park. Photo by K. Huff for PHLCVB.
2. The Liberty Bell
The Liberty Bell is the symbol of Philadelphia's historic past, on display in the Liberty Bell Center . Tickets are not required, and access is available daily on a first-come, first-served basis. A walk through the museum provides the history of the famous bell and an up close look.
The Liberty Bell is free to visit and housed within the Liberty Bell Center in Independence National Historical Park. Photo by M. Zugale for PHLCVB.
3. The President's House
Before the establishment of Washington D.C., Philadelphia was once the capital of the United States. Head to the President's House , the executive mansion of George Washington and John Adams, to see where the commander in chiefs once lived. While there, explore the "Freedom and Slavery in the Making of a New Nation" exhibit, paying homage to nine documented people who were enslaved in the Washington household.
4. Carpenters' Hall
Carpenters' Hall was the site of the First Continental Congress in 1774, and later a temporary field hospital during the Revolutionary War. Step back into the past with a free tour of this building.
Carpenters' Hall is another free-to-visit historic site within Independence National Historical Park. Photo by K. Huff for PHLCVB.
5. Once Upon a Nation Storytelling Benches
Join storytellers at six unique benches in Philadelphia's historic district. They will share fascinating stories of the nation's history while visitors can relax on the benches.
6. Elfreth's Alley
Tucked away from Old City's vibrant streets is America's oldest continuously inhabited residential street, Elfreth's Alley . Enjoy the beautifully preserved homes and walk the cobblestone streets to see what life was like for early American settlers.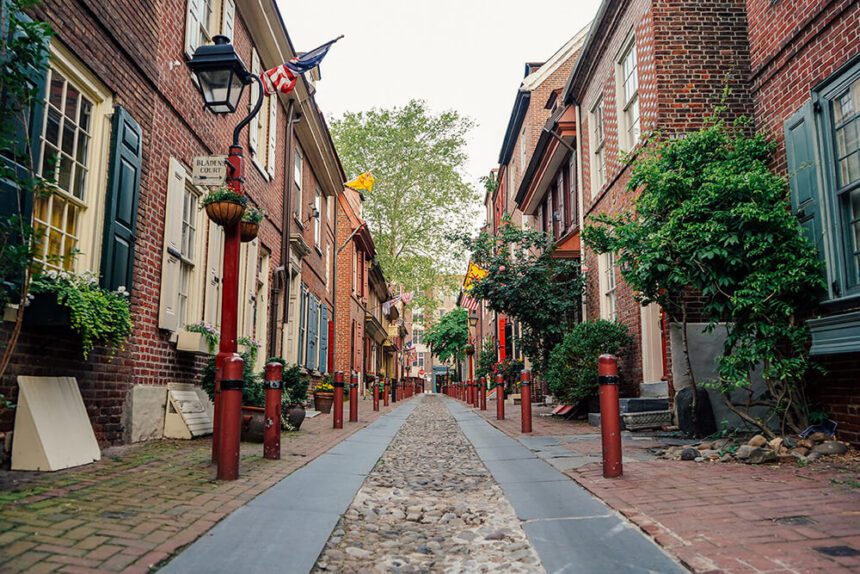 Explore Elfreth's Alley, the oldest continuously inhabited residential street in the nation, for free, in Philadelphia's Old City. Photo by K. Huff for PHLCVB.
7. Fireman's Hall
Philadelphia is the birthplace of the first volunteer fire company, created in 1736 by Benjamin Franklin.  Fireman's Hall  is a unique museum dedicated to the preservation of Philly fire history and promoting fire safety. It is located only a few blocks from Elfreth's Alley.
8. Christ Church
In the heart of Philadelphia's Old City, you can stand in the same church where the Founding Fathers worshipped. Christ Church's Burial Grounds are located nearby at 5th and Arch Streets and are the final resting place of Benjamin Franklin. Paid admission is required for the Burial Grounds, however you can catch a glimpse of Benjamin Franklin's gravesite through a steel fence along Arch Street.
9. Weitzman National Museum of American Jewish History
The Weitzman National Museum of American Jewish History is a free museum detailing the Jewish experience in America starting in 1654. The first floor features the "Only in America" gallery — an exhibition illustrating the choices, challenges, and opportunities Jewish Americans encountered in America.
10. The American Philosophical Society
The American Philosophical Society Museum is the oldest learned society in the United States, founded in 1743 by Benjamin Franklin to "promote useful knowledge." Inside this Old City museum, visitors can see their collection of manuscripts, rare books, photographs, and more.
11. The United States Mint
Visit the United States Mint for a free, self-guided tour featuring a view of coining operations 40 feet above the factory floor. Reservations are not required for the tour, which is available to the public Monday through Friday.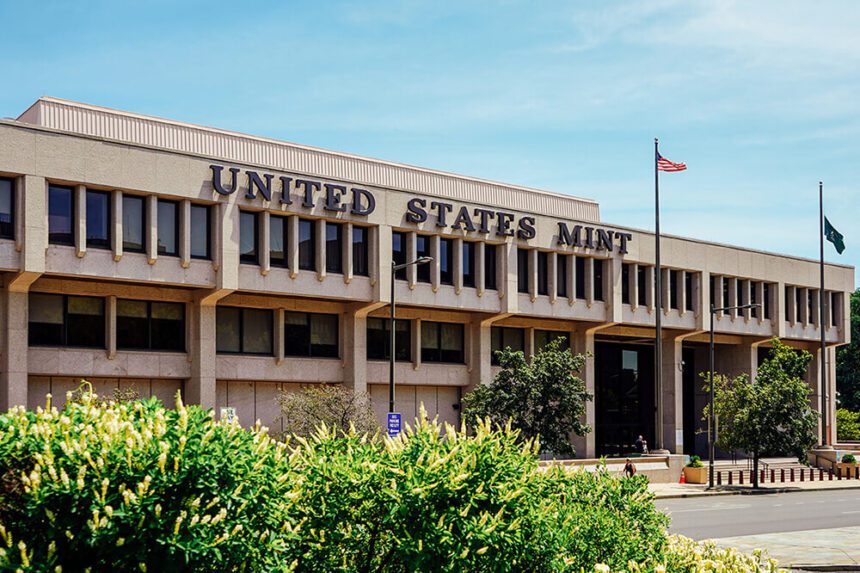 Enjoy a free tour of the U.S. Mint in Philadelphia for a behind-the-scenes look at the coin-making process. Photo by K. Huff for PHLCVB.
12. Mother Bethel A.M.E. Church
Founded by Richard Allen in 1792, Mother Bethel A.M.E. Church is the oldest piece of property continuously owned by African Americans. A small museum is located on the lower level, where the tomb of Richard Allen and 19th-century artifacts also can be found. The archives contain original copies of The Christian Recorder, a newspaper that began publishing before the Civil War.
13. Edgar Allan Poe House
Located in Northern Liberties , the Edgar Allan Poe Historic Site is the former home of the influential author. It is where he is believed to have penned some of his most iconic works, including The Black Cat . You can tour the house for free Fridays through Sundays. And don't miss a mural of Edgar Allan Poe, just across the street from the house.
Free Things to Do Outdoors
Philadelphia boasts an expansive network of trails, riverfronts, and outdoor activities within one of the world's most extensive city-owned urban park systems.
1. Philadelphia's Original Squares
William Penn's original city plan for Philadelphia included five public squares. Today you can visit Philadelphia's picturesque squares including, Rittenhouse Square , Washington Square, Franklin Square , and Logan Square. The fifth square is home to City Hall, known as Dilworth Park . Walk to the center courtyard of City Hall to see a map of all five squares and then enjoy Dilworth Park's refreshments and seasonal activities.
2. LOVE Park
Head to LOVE Park for a photo op with the LOVE statue. The park features a clear view of the Benjamin Franklin Parkway as it runs toward the Philadelphia Museum of Art. LOVE Park also offers plenty of seating, frequent food trucks, and seasonal activities. Be sure to visit the Visitor Center kiosk to shop for souvenirs, acquire visitor information, and purchase tickets for attractions.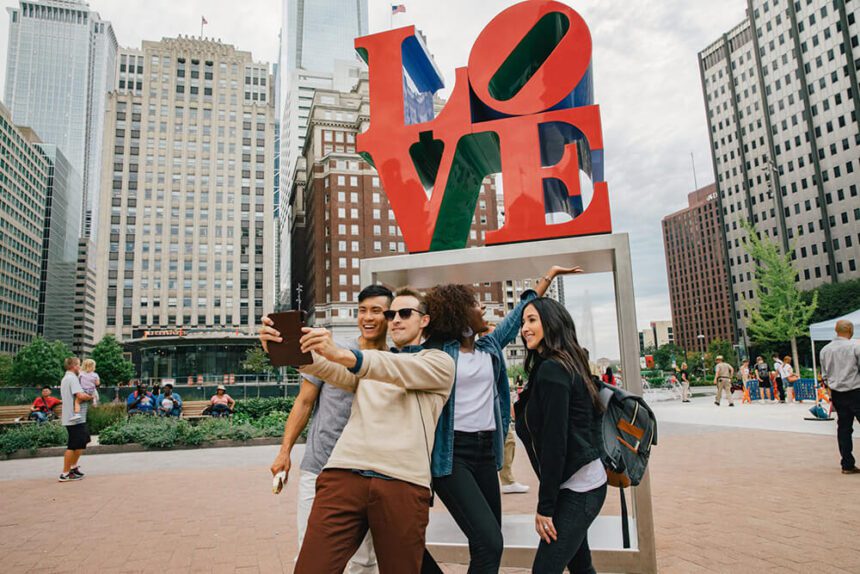 Robert Indiana's iconic 'LOVE' sculpture is one of Philadelphia's most photo-worthy pieces of public art. Photo by M. Zugale for PHLCVB.
3. Fairmount Park
Bike or hike in Fairmount Park on more than 270 miles of recreational trails. The expansive park system provides endless outdoor opportunities to escape into nature. The park connects with the greenways of the Schuylkill Banks , which features a 2,000-foot-long pathway that hovers over the Schuylkill River for walking, running, or bicycling.
4. Smith Memorial Playground
Within Fairmount Park, you can find one of the oldest playgrounds in America—with one of the biggest wooden slides. Smith Memorial Playground is over 100 years old and features a giant playhouse, over 50 pieces of unique play equipment, and the historic Ann Newman Giant Wooden Slide.
5. Bartram's Garden
Bartram's Garden , America's first botanical garden, spans over 45 acres along the Schuylkill River. This off-the-beaten-path gem includes trails, historical buildings, educational programming, and a boat launch.
6. Spruce Street Harbor Park
Relax in a hammock or enjoy the river breeze at the seasonal Spruce Street Harbor Park . Situated atop several floating barges, this park features plenty of seating and lounge spaces, food vendors, and more. At night, the LED light installations glow beautifully along the Delaware River Waterfront .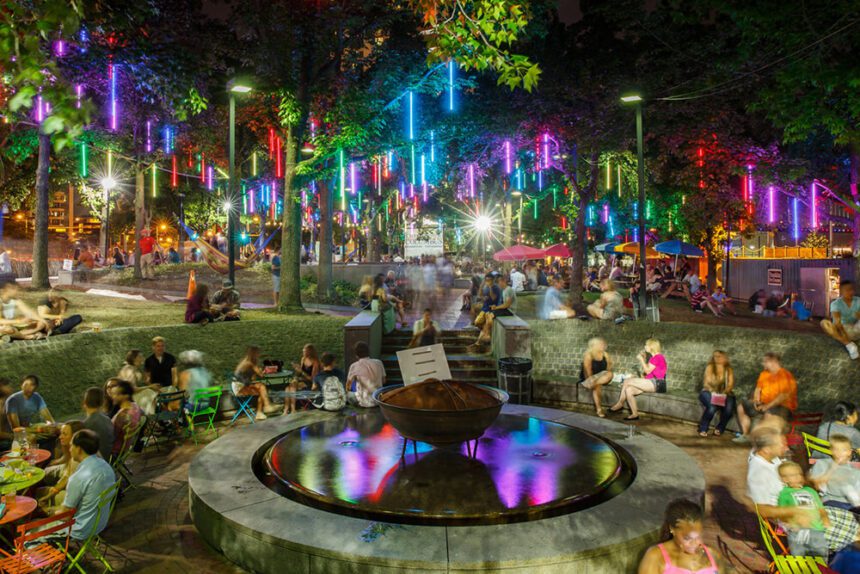 Spruce Street Harbor Park is just one of the many free outdoor experiences found along the Delaware River waterfront. Photo by M. Stanley.
7. Cherry Street Pier
Cherry Street Pier is a redeveloped, century-old municipal pier that offers year-round performances, pop-up shops, food vendors and more. The pier's open-air section, on the eastern end, is home to the Garden pop-up dining experience. Tables can be reserved online to enjoy food and drink while admiring breathtaking views of the Delaware River.
8. Race Street Pier
Just north of Cherry Street Pier, Race Street Pier is a multi-level recreational pier popular among runners. The pier also features lawns, perfect for riverside picnics. Enjoy stunning views beneath the Benjamin Franklin Bridge as ships sail by along the Delaware River.
9. The Rail Park
Swing on a bench and walk the paths of The Rail Park , built on unused rail lines that have been transformed into a beautiful public space. Head to nearby Chinatown for a bite to eat or a sweet treat afterwards.
The Rail Park is an elevated green space located just a short walk north from Chinatown and the Pennsylvania Convention Center. Photo by M. Smith.
10. Cira Green
Located 12 stories up and on top of a West Philadelphia parking garage, Cira Green is a park in the sky. The park hosts events like movie nights and yoga classes in warmer months. Or come by with a group and enjoy local fare and an ice-cold cocktail.
Free & Budget Friendly Arts and Culture Activities
Home to over 4,400 murals and world-class museums, Philadelphia surrounds visitors in art. Explore these artistic activities that are free in Philadelphia.
1. Self-Guided Public Art Tours
Enjoy self-guided tours of Philadelphia's exceptional collection of public art with digital maps offered by Mural Arts Philadelphia and the Association for Public Art . With thousands of murals and treasured sculptures throughout the city, these self-guided experiences are a great way to discover Philadelphia's walkable communities.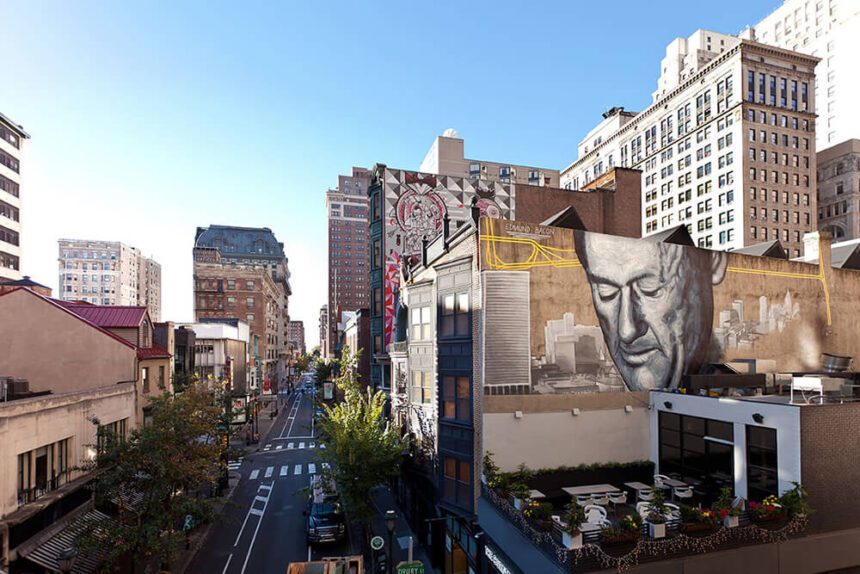 The Father of Modern Philadelphia © 2012 City of Philadelphia Mural Arts Program / Gaia, 1300 Drury Street. Photo by S. Weinik.
2. Curtis Institute of Music
The renowned Curtis Institute of Music offers free admission to their student recital series. Enjoy concerts by some of the most talented young musicians in the world in a historical and inspiring setting.
3. Taller Puertorriqueño
Located in the El Centro de Oro neighborhood, Taller Puertorriqueño serves as a multifunctional hub, offering an art gallery, event space, and community center. They host various Puerto Rican events such as symposia, artist workshops, and film screenings.
4. The Rocky Steps & Parkway Art Museums
Follow in the steps of Rocky Balboa with a morning jog up the Rocky Steps to the  Philadelphia Museum of Art . And don't forget to take your photo with Rocky's statue once you've cooled down. The museum has a "pay what you wish" offer on the first Sunday of every month and each Friday after 5 p.m. The  Barnes Foundation , a short walk from the Philadelphia Museum of Art, also offers free admission on the first Sunday of the month.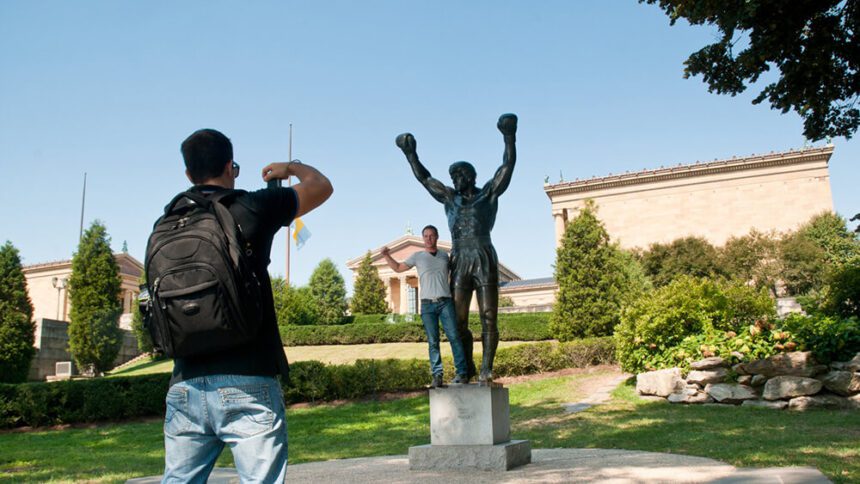 Grab a photo with the iconic Rocky statue at the base of the Philadelphia Museum of Art's eastern steps. Photo by bklphoto.com for PHLCVB.
5. Free Galleries and Museums in Center City
Visit the  Fabric Workshop & Museum , a free, contemporary art museum across from the  Pennsylvania Convention Center . A short walk from The Fabric Workshop & Museum is the  Galleries at Moore College of Art and Design . The Galleries feature the work of significant regional, national, and international artists with distinctive exhibitions and educational programs.
Free Science Attractions in Philadelphia
As a prominent center for life sciences, the city offers an array of must-visit museums and experiences at no cost.
1. Science History Institute
The Science History Institute offers free admission and has an outstanding collection of chemistry-related objects, artwork, photographs, and books,. Its exhibitions illustrate the impact chemistry and chemistry engineering have had on the modern world.
2. Wagner Free Institute of Science
Founded in 1855, the Wagner Free Institute of Science provides free public education in science. The National Historic Landmark building houses more than 100,000 natural history specimens including fossils, shells, minerals, and mounted animal skeletons.
More than 100,000 natural history specimens can be found within the Wagner Free Institute of Science in North Philadelphia. Photo by R. Cardillo.
3. Pennsylvania Hospital
Pennsylvania Hospital , the nation's first hospital, was founded in 1751 by Benjamin Franklin and Dr. Thomas Bond. Take a free tour of the historic Pine Building with stops at a 13,000-volume library and the first surgical amphitheater in the country. Guests can also stroll through the beautiful herb gardens and grounds outside.
4. Fairmount Water Works
Built in the 1800s as Philadelphia's sole water pumping station, the Fairmount Water Works is situated on the east bank of the Schuylkill River between Boat House Row and the Philadelphia Museum of Art. Today, the Fairmount Water Works educates visitors on the importance of water preservation in our daily lives.
Ready to discover Philadelphia? Start planning your trip .
Exclusive Savings for Philadelphia Visitors
Discover more:, top reasons to travel to philadelphia, philadelphia's historic district itinerary, philadelphia's delaware river waterfront, 5 ways to enjoy the outdoors in philadelphia.
Register & Save
Register with DiscoverPHL.com for free to save your favorites for future visits
View My List
See what you've added to "Favorites"
Create a free account with DiscoverPHL.com to save your favorites for future visits.
Your contact information will not be shared with any third parties.
Would you like to receive updates from the Philadelphia Convention and Visitors Bureau?
By clicking Register, you confirm to agree to our privacy policy .
Forgot your password? Click here
Forgot password
Enter your email address and we will send you a new password to use for your account.
Submit Address
Email Notification Sent
An email has been sent to , with a new password to access your account. Please be patient as the delivery of email can be delayed. Remember to check your junk folder if you do not receive the email directly into your inbox.
Email Your Favorites
Add Another Email
Remove Email