Type your email…
Carnival Ship Classes: Breaking Down Each Tier of Carnival Cruise Ships
With eight different tiers of Carnival ship classes, it can be tough to figure out which ship type is right for you. All Carnival ships embody that same essence of fun and relaxation that they are famous for, but many focus on different aspects of the cruising experience. Perhaps you want the luxury and opulence of the Splendor Class. Or maybe you need the extra family-focused features of the Excel Class. Whether you are looking for the modern amenities on newer ships, or the coziness of classic ships, knowing what sets each class apart is important when you are booking. In this article, we will be breaking down each of the Carnival ship classes and what sets them apart.
Excel Class
We start our list of Carnival ship classes with the largest and newest ships in the fleet, the Excel Class. These state-of-the-art ships feature a number of new features that raise the bar for cruise ships everywhere, including the BOLT rollercoaster, the first ever roller coaster at sea. All of these ships are a great choice for families, as they have expansive family-friendly zones like the WaterWorks waterpark, themed family areas, and the spacious Family Harbor staterooms. The ships included in this class include Carnival Celebration, Mardi Gras, and the brand-spanking new Carnival Jubilee.
Vista Class
Next up, the Vista Class of Carnival Cruise ships include Carnival Horizon, Carnival Panorama, Carnival Venezia and Carnival Vista, which were released from 2016 to 2019. These ships are defined by a modern aesthetic that represents the latest in cruise ship design, creating a stylish and exquisite look. Prominent attractions include the SkyRide, which lets passengers cycle along suspended tracks, and Havana Cabana suites, which have an outdoor patio and allow access to an exclusive Havana Bar and pool. On Horizon and Vista, they also feature an IMAX theater that plays the latest movie releases and documentaries.
Sunshine Class
Launched from 2013 to 2019, the Sunshine class represented a new direction for Carnival cruise ships, with a complete redesign that built upon previous Carnival ship classes and enhanced passenger experiences. These ships each feature the WaterWorks water park that has become a staple of the Carnival experience, especially for families. They also feature the Cloud 9 Spa, which provides a variety of wellness treatments, thermal suites, and relaxation areas, as well as the Serenity Adult-Only Retreat, for when you need a break from the kids. Ships in this class include Carnival Radiance, Carnival Sunrise, and Carnival Sunshine.
Dream Class
The Dream Class is next on our list of Carnival ship classes, and it consists of Carnival Breeze, Carnival Dream, and Carnival Magic, all of which were launched from 2009 to 2012. These ships are known primarily for their expansive deck space and large public areas, which allow for more room for cruisers to spread out and relax unencumbered. They also feature both the Cloud 9 Spa and Serenity Adults-Only Retreat for even more relaxation. A variety of dining options are available, such as Guy's Burger Joint by Guy Fieri, BlueIguana Cantina for Mexican food and drinks, The Chef's Art Steakhouse, and The RedFrog Pub which serves Caribbean-inspired drinks and live music.
Splendor Class
The Carnival Splendor, released in 2008, is in a league of its own; quite literally, as it is the only ship in the Splendor Class of Carnival cruise ships. It is marked by an elegant design that is both luxurious and sophisticated. The ship features a spectacular atrium that acts as a central gathering place where live entertainment is put on, as well as the Ocean Plaza, an indoor-outdoor venue for live music, dancing, and socializing. It also has a unique outdoor promenade that encircles the ship called The Lanai, which is good for a leisurely stroll, al fresco dining, and great views of the ocean.
Conquest Class
We have reached a more classic era of Carnival ship classes with the first of the Conquest class being launched over 20 years ago. While these ships are older, they still embody that mix of fun and relaxation that is the essence of Carnival. On these ships, you will find the classic WaterWorks water park, a lively pool deck with live music, and a main show lounge for performances ranging from Broadway-style productions to stand-up comedy acts. The ships in this class include Carnival Conquest, Freedom, Glory, Liberty, and Valor.
Spirit Class
The Spirit class of Carnival cruise ships is focused on smaller ship design making for a more intimate experience that fosters a greater sense of community among its passengers. The smaller size does not keep these ships from offering a wide variety of dining options and an array of bars and lounges, with many acting as a performance venue for live music and other entertainment. Featured on each ship is a Renaissance-style atrium that acts as a central hub. Most ships in this class were released in the early 2000s, including Carnival Legend, Miracle, Pride, and Spirit, with the newest ship, Luminosa, being added nearly two decades later in 2022.
Fantasy Class
Finally, we come to the first of all of the Carnival ship classes, the Fantasy Class. The two ships in this class, Carnival Elation and Carnival Paradise, were both launched in 1998. These smaller ships offer a cozy and intimate experience for passengers, including a diverse menu served in the main dining rooms, a variety of onboard activities, and all the lively entertainment you would expect on a Carnival ship. They also have the Serenity Adults-Only Retreat, for that extra bit of relaxation and rejuvenation. They may be smaller and older, but this is still classic Carnival at its best!
To book a sailing on one of these Carnival cruises , visit Cruises.com — we can help you book the smart way! We give you our exclusive bonus offers and all qualifying cruise line offers , plus all of the cruise line loyalty program benefits . Book online at Cruises.com or call 800-288-6006 today.
Related: Carnival Cruise Line: 5 Reasons to Cruise With Carnival
Share this:
cruises.com
The Best Carnival Cruise Ships of 2023
We independently evaluate all recommended products and services. If you click on links we provide, we may receive compensation. Learn more .
Some cruise lines can feel a bit stuffy, leaving you to second-guess your wardrobe or worry about which fork to use in the dining room. But that's not the case with the approachable, budget-friendly, playful, and laid-back Carnival Cruise Line. With 23 ships currently in its fleet, Carnival is spending 2022 celebrating the 50th anniversary of its maiden voyage.
This cruise line is a perfect choice for multigenerational cruising, thanks to its Camp Ocean kids program (included in the cost) and Club 02 for teens. There are plenty of activities all day long for all ages, plus nighttime entertainment for the adults. Here are the Carnival cruise ships that consistently receive the highest marks.
The 7 Best Carnival Cruise Ships of 2023
Best Overall Cruise: Carnival Horizon
Best for Families: Carnival Vista
Best New Ship: Mardi Gras
Best Ship Renovation: Carnival Sunrise
Best Large Ship: Carnival Dream
Best Budget: Carnival Conquest
Best Amenities: Carnival Miracle
Our Top Picks
Carnival Horizon
Carnival Vista
Carnival Sunrise
Carnival Dream
Carnival Conquest
Carnival Miracle
See More (4)
Final Verdict
Methodology, best overall cruise : carnival horizon.
Having set sail in 2018, the Caribbean-focused Carnival Horizon offers everything you need for a fun and relaxing vacation.
Family Harbor and Cloud 9 staterooms cater to families; Serenity Adult-Only Retreat features signature cocktails and hot tubs; Dr. Seuss Bookville library with whimsical furniture and books
Two restaurants by celebrity chef Guy Fieri: Guy's Pig & Anchor Brewhouse and Guy's Burger Joint
Tons of onboard activities
The Cloud 9 Spa offers massage, facials, body wraps, and more
Ship can feel busy and chaotic 
Pool lounge chairs can be hard to come by when the ship is at capacity
One of Carnival's newest ships sails from Miami with plenty of accommodation choices, including the Family Harbor, dedicated family staterooms with their own lounge and concierge, and the Cloud 9 Spa staterooms with unlimited access to the spa's thermal suites.
The luxurious Havana suites come with swinging hammock chairs on the balconies and exclusive daytime access to the hip Havana Bar and Lounge. The lounge has a South Beach vibe on the outside, complete with chaise lounges, a pool, and a cocktail bar that transforms into a nightclub in the evening, while the inside feels like a nostalgic Cuban cigar bar. Horizon also has a live Lip Sync Battle (a stage version of the hit Spike TV series), plus dazzling playlist productions. And for some outdoorsy fun, the ship has a WaterWorks water park and the SkyRide suspended bikes.
Best for Families : Carnival Vista
The Carnival Vista sees a large number of repeat cruisers, and kids of all ages will be thoroughly entertained with the nonstop action onboard.
Outdoor activities like a ropes course, suspended bike course, and mini golf; family-exclusive staterooms that include free babysitting services
Ship first set sail in 2018, so it's still pretty new
Cruises run from 2–5 days and 6–9 days
Guests can book a VIP multicourse dinner at the Chef's Table (for an extra fee)
Most decks have a mix of public areas and cabins, and light sleepers may find this arrangement too noisy
The two pools are surprisingly small for such a large ship, and they can get crowded
Sailing from Galveston and Port Canaveral, Vista often has a large number of repeat Carnival cruisers, thanks to its nonstop action onboard. As the first and largest ship in the Vista class, the 3,934-passenger Vista set the bar high for sister cruises Horizon (in 2018) and Panorama (late 2019).
Vista has plenty of unique "at sea" experiences, including the 4D Thrill Theater, complete with 3D glasses and added effects like air blowing, mist, and other sensory experiences. There's also SkyRide (bikes suspended in the air), Kaleid-o-Slide (the light-show waterslide), and an IMAX theater. 
Best New Ship : Mardi Gras
Have you ever been on a roller coaster at sea? Nobody has—until now, thanks to the thrilling Mardi Gras cruise ship.
Onboard roller coaster that races at nearly 40 mph and 187 feet above sea level; Family Feud Live, hosted by the cruise director, complete with a face-off podium and fast money round
Restaurants from celebrity partners Guy Fieri, Emeril Lagasse, and Rudi Sodamin
First Carnival ship to be divided into "zones" for food, drinks, and activities
Serenity Adult-Only Retreat features signature cocktails and hot tubs
The Chief Fun Officer is Shaquille O'Neal
Many of the venues (including restaurants, the theater, and the piano bar) are too small to handle a rush of guests
Cabins and bathrooms are more cramped than you might expect
Love sailing on mega-ships? Then you'll love the enormous, 6,465-passenger Carnival Mardi Gras, one of the largest cruise ships in service across all lines. It's also the first ship in North America to be powered by Liquified Natural Gas (as opposed to marine diesel), which reduces carbon emissions by up to 20%.
This ship is so huge that it's been divided into six different zones, so you're never far from food or fun. For instance, the Grand Central Zone features a sushi and teppanyaki spot, a piano bar, and a comedy club. The French Quarter is where you'll find Emeril's Bistro 1396, jazz bar The Brass Magnolia, and shopping spots. And Lido brings you a poolside rum bar, Shaq's Big Chicken restaurant, Guy's Burger Joint, and 24-hour access to soft-serve ice cream. Mardi Gras sails from Port Canaveral and currently runs six- to nine-day cruises.
Best Ship Renovation : Carnival Sunrise
Formerly known as the Carnival Triumph, every cabin on Sunrise was remodeled with fresh new furnishings and dining and beverage additions.
WaterWorks splash zone, Serenity Adult-Only Retreat with signature cocktails and hot tubs, Punchliner Comedy Club, Piano Bar 88, Cloud 9 Spa
Full-ship makeover transformed and modernized this 19-year-old ship
Mid-size ship at 2,984 passengers
Sails short, 2- to 5-day itineraries out of Miami
Difficult to find peace and quiet onboard this busy ship
Buffet lines are unreasonably long
Having recently undergone a $200 million refurbishment, the changes to the Carnival Triumph were so dramatic that the ship needed a new identity. So, in 2019, Triumph was reborn as Sunrise, and it's now part of the Sunshine class of ships.
Every cabin on Sunrise was remodeled with fresh new furnishings, plus dining and beverage additions like Cucina del Capitano, Fahrenheit 555 Steakhouse, Bonsai Express, and Red Frog Pub. A new Sports Court was installed with mini golf, a ropes course, and a WaterWorks water park.
In the evenings, head over to Liquid Lounge, which features dancers, musicians, game shows, and other entertainment. Or, saunter into the Limelight Lounge, which is home to the Punchliner Comedy Club. Sunrise sails from Miami to the Bahamas and the Eastern and Western Caribbean.
Best Large Ship : Carnival Dream
With a variety of fun activities on board, plus plenty of ways to relax and unwind, the Carnival Dream offers the best of both worlds for passengers.
Various restaurant options include a gourmet steakhouse, sushi, and a tequila bar; Cloud9 Spa and Hydrotherapy Pool
Sails from Galveston to the Eastern Caribbean and Panama Canal
Itinerary trips run one or two weeks
Plenty of activities, from bingo and karaoke to themed parties and mini golf
Ship feels overcrowded throughout, but especially the Lido deck and buffets
Casino allows smoking
At 3,646 passengers, Carnival Dream is one of the larger ships in the line's fleet, yet its smart design lends itself to plenty of quiet places. This means you'll have access to the best of both worlds here: tons of fun activities and plenty of ways to relax. There's a wrap-around promenade with whirlpools that extend off the sides, plus an adults-only lounge and plenty of chairs to enjoy the sea breeze.
The children's center is massive, with dedicated clubs for tweens and teens, as well as a sprawling waterpark that includes a 300-foot twisting slide. Passengers can choose from two Guy Fieri restaurants that are both included in the fare, as well as the Pizzeria del Capitano and the Blue Iguana Cantina.
Best Budget : Carnival Conquest
Carnival Conquest is known for its especially budget-friendly rates and short cruises to the Bahamas and Caribbean.
Lip Sync Battle and Punchliner Comedy Club, Serenity Adult-Only Retreat with signature cocktails and hot tubs
Some 3-day cruises start at just $129 per person 
2- to 4-day cruises to the Bahamas and 9- to 14-day Caribbean and Panama Canal cruises out of Miami
Seuss-a-Palooza Parade
This older ship (2002) was refurbished in 2017, but feels a bit dated
Tends to attract a rowdier crowd
Perfect for those interested in cruising for the first time, the 2,980-passenger Carnival Conquest is known for budget-friendly rates and short cruises to the Bahamas and Caribbean. While Carnival Conquest has some of the Fun Ship 2.0 features like the Blue Iguana Tequila Bar (and Cantina), Guy's Burger Joint, Red Frog Rum Bar, and the Alchemy Bar, you won't find the buzzworthy amenities like Sky Bikes or 4D theaters that you see on the newer ships.
Passengers should pay close attention to the daily activity schedule, as most of the onboard fun is all about getting passengers out of the deck chair and actively involved.
Best Amenities : Carnival Miracle
Courtesy of Carnival Cruises
Carnival Miracle includes two unique Promenade spaces, making it a standout choice among other cruise ships.
Three swimming pools and Twister waterslide, Dr. Frankenstein's Lab Dance Club, Serenity Adult-Only Retreat with signature cocktails and hot tubs
Dry docked and refurbished in 2020
Itineraries include 2 to 10 days sailing to Mexico, Alaska, and Hawaii 
Smaller vessel, at 2,124 maximum guest capacity
Lacks state-of-the-art attractions you'll find on newer ships
A number of online reviews point to poor food quality
Built in 2003, the mid-sized Carnival Miracle doesn't have as many of the 2.0 features as her fellow fleet members, but the ship still delivers a solid cruise. Miracle's double Promenade feature is unique: An interior promenade offers window-lined seating and a whimsical garden theme, while the exterior open-air promenade is ideal for joggers. There's also the popular SkyBox Sports Bar for catching the big game or the sophisticated Alchemy Bar for craft cocktails.
If you're attracted to the newest, shiniest ship on the water, then the Mardi Gras is calling your name. Between access to the world's first roller coaster at sea and restaurants backed by celebrity chefs, you're sure to eat well and have a blast. But if budget is your biggest concern, check the sailings aboard the Carnival Conquest. There, you can find options for as little as $129 per person, and that price includes all your meals. Finally, our pick for the best overall cruise is the Carnival Horizon, due to its myriad activities and special room accommodations for families or wellness-focused passengers.
We evaluated the entire Carnival fleet before selecting the best ship in each category. We considered various elements like the ship's design, recent refurbishments, and notable amenities (e.g., swimming pools, entertainment, technology, state-of-the-art features, etc.). We also evaluated each ship's cruise itinerary, dining and relaxation options, and the types of experiences available to guests in addition to reading numerous customer reviews.
David Sacks / Getty Images
The 3 Best Bahamas Cruises of 2023
The Best Alaska Cruises
Best All-Inclusive Resorts for Solo Travelers
Carnival Dream - Cruise Ship Profile
Best Cruises for Teens
13 New Ocean Cruise Ships in 2018
Carnival Breeze
Carnival Liberty Cruise Ship
Carnival Magic - Cruise Ship Photo Tour and Profile
Best California Beachfront Hotels
Best Turks and Caicos Hotels
The 7 Best Monterey, California, Hotels
The Best Hyatt Resorts
The 7 Best Hotels in Sorrento
Best Budget Disney World Hotels
The 9 Best Sandals Resorts of 2023
By clicking "Accept All Cookies", you agree to the storing of cookies on your device to enhance site navigation, analyze site usage, and assist in our marketing efforts.
Best Carnival Cruises
Read Best Cruises Methodology
Find Cruises
Call to plan a cruise: 1-833-468-6732
with a cruise advisor
Carnival Panorama
A member of Carnival Cruise Line's Vista class, the Carnival Panorama debuted in December 2019 as the first new Carnival ship homeported on the West Coast in 20 years. With a capacity of 4,008 guests and 1,450 crew, Panorama is one of Carnival's largest ships.
Among the ship's standout amenities is the Sky Zone – a trampoline park that offers dodgeball and basketball games, toddler bounce sessions and more. Other unique Carnival amenities found on the ship include a suspended bicycle in the air called SkyRide, a sprawling water park, the Cloud 9 Spa and an open-air recreation area and ropes course.
Dining options on board are just as diverse. In fact, there are more than a dozen dining venues aboard Carnival Panorama, including multiple Guy Fieri eateries, a sushi restaurant, a steakhouse, a seafood eatery and more.
Carnival Panorama offers the line's typical range of accommodation classes (Interior, Ocean View, Balcony and Suite) along with Family Harbor and Havana staterooms and suites. Havana Cabana Suites feature rain showers and patios equipped with hammock chairs, along with exclusive access to the Havana Bar & Pool. Meanwhile, Family Harbor accommodations are located next to the ship's Family Harbor Lounge and afford guests special perks, such as a free evening of babysitting and complimentary kids meals in the onboard specialty restaurants.
Sailing from Los Angeles , the ship cruises to destinations in Mexico, including Puerto Vallarta and Cabo San Lucas . It also departs from Singapore for transpacific voyages.
Carnival Radiance
Carnival Radiance (previously Carnival Victory) set sail in December 2021 after a full transformation. The ship, which holds 2,984 guests and 1,108 crew members, boasts plenty of fun indoors and outdoors for cruisers of all ages.
Carnival Radiance features a ropes course, waterslides, a mini-golf course, dive-in movies in the evening and a sports area for activities like soccer, basketball, volleyball and boxing. The ship also offers a kids club for youths ages 2 to 17. The pool is surrounded by lounge chairs – perfect for relaxing – and those seeking additional quiet space can spend some time at the Serenity Adult-Only Retreat. Inside, the spa, the piano bar, the comedy club and the performance event venue, which features musicals, concerts and more, round out some of Carnival Radiance's most popular offerings. Dining options (14 eateries in total, including a Chef's Table experience) abound on this ship as well: Cruisers can enjoy casual fare at Big Chicken or Guy's Burger Joint, or sit down for a more upscale meal at Cucina del Capitano, Bonsai Sushi or the Steakhouse.
Staterooms aboard the ship include Interior (porthole and picture window choices are available), Ocean View, Balcony and Suite category options. Carnival Radiance sets sail from Los Angeles to destinations in Hawaii and Mexico .
Carnival Mardi Gras
There's a good reason why Carnival named one of its newest ships Mardi Gras. The ship – which launched in July 2021 – is not only named after the first Carnival ship that entered service in 1972, but also features amenities and activities that keep guests entertained and the atmosphere energized. Carnival designed the ship with six different zones, each with a unique flair. Kids can play all day in the Ultimate Playground, which features WaterWorks (the onboard water park), SkyCourse (a ropes course) and Bolt: Ultimate Sea Coaster, an onboard roller coaster that travels up to 40 mph. Meanwhile, adults can take advantage of Lido, where the RedFrog Tiki Bar flanks one of the ship's pools. Additional activities include a comedy club, a casino, Family Feud Live (yes – it looks like the famous show's set) and a spa.
As you might expect from its large-scale amenities, Mardi Gras is sizeable: It accommodates up to 6,465 passengers and 1,745 crew members. To keep up with demand, the ship offers close to 20 different dining venues serving everything from sushi to burgers to fried chicken. When travelers need refreshments or a nightcap, they can visit one of seven bars and lounges.
Following a full day of fun, cruisers will need a quiet retreat to rest their heads. Staterooms feature Carnival Comfort Collection linens, TVs and a dedicated room steward. Upgraded rooms may include perks like exclusive access to ship amenities, bottles of water, in-room coffee makers and priority check-in and disembarkation. Rooms range in size from 158 square feet for interior staterooms to the massive 1,120-square-foot Carnival Excel Presidential Suite.
Catch Mardi Gras in Caribbean locales like San Juan, Puerto Rico ; Cozumel and Grand Turk .
U.S. News Insider Tip: To dine at Bonsai Teppanyaki (available on Celebration , Horizon , Panorama , Venezia and Mardi Gras), make your reservation as soon as possible. The restaurant only seats 16 people at a time, so reservations go fast. – Karon Warren , Contributor
Carnival Horizon
Carnival Horizon – which set sail in April 2018 – accommodates 3,960 passengers and 1,450 crew members. The ship offers a plethora of amenities for travelers of all ages. Children can ride the SkyRide suspended bike, play at the Dr. Seuss-themed water park and climb the ropes course, while parents can lounge on an adults-only deck and pamper themselves at the Cloud 9 Spa. At night, the whole family can enjoy live performances.
Onboard dining options are also plentiful, with 11 eateries that serve everything from steaks to Italian classics to burgers. Carnival Horizon was the first in Carnival's fleet to offer a teppanyaki-style restaurant and Guy Fieri's Pig & Anchor Smokehouse and Brewhouse.
The ship has a variety of cabins for passengers to choose from, ranging from budget-friendly Interior staterooms to specialty suites with spa, nautical and Havana themes. Each comes with modern conveniences like a minibar, a flat-screen TV and a Carnival Comfort bed.
Carnival Horizon departs from Miami for voyages throughout the Caribbean.
Carnival Celebration
Carnival Celebration debuted in early November 2022 and boasts a Las Vegas -style theater, a casino, an arcade, a saltwater pool and a top-of-the-line rooftop rollercoaster – the first one of its kind at sea. Complete with six separate zones to explore, including a summer-themed zone and a playground-themed zone, the 1,130-foot-long cruise ship has something for everyone. Celebration can hold up to 5,374 passengers and 1,735 crew members, and it features more than 20 dining venues, including a barbecue smokehouse and a full-service sushi restaurant.
Staterooms are comfortable with plush bedding, vanity mirrors and built-in reading lights, but for additional perks, guests can opt for a room with a balcony or ocean views. If you don't mind splurging a little, the Carnival Excel Suite offers upgrades like concierge service and complimentary admission to Loft 19, the ship's exclusive lounge fitted with infinity whirlpools and shaded cabanas.
Carnival Celebration explores an array of picturesque destinations, including Cozumel, Mexico ; San Juan, Puerto Rico; St. Maarten and more. It sails out of Miami .
Carnival Miracle
Like other Carnival ships, the 2,124-passenger Carnival Miracle boasts activities and entertainment geared toward travelers of all ages. Thanks to a renovation in 2020, the ship features upgrades like Guy's Burger Joint, WaterWorks, RedFrog Rum Bar, BlueIguana Cantina and more. The ship also received a minor refresh to interior and exterior spaces in 2022.
Even with the added venues, a nearly 2-to-1 guest-to-crew ratio ensures service is a priority. And compared to other Carnival ships, Miracle offers a higher percentage of cabins with ocean views. While Interior staterooms provide more wallet-friendly digs, Ocean View, Balcony and Suite category cabins offer more space and scenery. All cabins come equipped with flat-screen TVs and 24-hour room service.
During days at sea, grown-ups can enjoy poolside lounging or the adults-only Serenity Retreat, while kids ages 2 to 17 can play at age-specific programs. There are also entertainment options like the Punchliner Comedy Club, the SkyBox Sports Bar and the Seuss at Sea program. Once the family works up an appetite, they'll have their pick of the main dining room, the Lido buffet, a specialty steakhouse (for an extra fee) and more.
Carnival Miracle departs from Galveston, Texas ; Los Angeles and San Francisco to destinations in the Caribbean, the Panama Canal, Hawaii , Mexico , and Alaska .
Carnival Luminosa
Formerly a Costa Cruises ship, Luminosa joined the Carnival fleet in November 2022. This 2,260-passenger, 926-crew member cruise ship includes highlights such as a casino, a spa, an adults-only retreat and a comedy club.
There are plenty of ways to occupy your time on board, from deck parties and art seminars to karaoke and martini tastings. Plus, Luminosa offers a slew of amenities geared toward kids, including story time, supervised camps, a video arcade and a teens-only hangout space. When hunger strikes, this Carnival cruise ship offers around 10 eateries serving staples like sushi, steak and pizza.
Interior staterooms come equipped with a flat-screen TV, climate control, an in-room safe and a dedicated stateroom attendant. If you'd prefer accommodations with windows, consider upgrading to an ocean-view room or a cabin with a balcony. Guests seeking even more luxury can opt for a suite, which features exclusive perks like priority check-in; boarding and dining assignments; bathrobes and a pillow-top mattress. Cruisers looking for extra relaxation should consider a Cloud 9 Spa stateroom or suite, which includes a welcome ritual, two complimentary fitness classes, unlimited use of the thermal suites and hydrotherapy pool, priority spa reservations and more.
Carnival Luminosa departs from Seattle, Washington , and the Australian cities of Brisbane and Sydney . It sails to destinations in Alaska and the South Pacific, among others.
Carnival Breeze
The 3,690-passenger Carnival Breeze was introduced in 2012 and last updated in 2017. On board, cruisers will find outdoor activities like a water park and a SportsSquare with games like mini-golf, as well as supervised (and free) age-appropriate programs for kids and teens. While the younger passengers play, adults can relax at the adults-only Serenity retreat, get treatments at the Cloud 9 Spa and sip cocktails at one of the ship's bars.
As far as dining goes, cruisers can choose between several food options, including sushi, Indian, 24/7 pizza and more. Guy's Burger Joint and Guy's Pig & Anchor Bar-B-Que Smokehouse, in partnership with celebrity chef Guy Fieri, are passenger favorites. Nighttime entertainment ranges from karaoke to shows at the Punchliner Comedy Club.
Carnival Breeze offers a variety of cabin categories, all of which include flat-screen TVs and 24-hour room service. The ship maintains a nearly 1-to-3 crew-to-guest ratio. While some recent cruisers appreciated the family atmosphere, others were disappointed by long lines and wait times during dinner service.
Carnival Breeze cruises to the Caribbean from Galveston, Texas .
Carnival Conquest
Last revamped in 2022, Carnival Conquest features cosmetic enhancements to select staterooms, as well as upgrades like new carpeting and lighting in public areas. Still, some felt Conquest showed its age despite these upgrades and could use a more major refurbishment. The ship appeals to a wide range of travelers and budgets, with amenities like Seuss at Sea, The Punchliner Comedy Club and the Alchemy Bar. It also includes "Fun Ship 2.0" features like Guy's Burger Joint and an outdoor movie theater, as well as signature bars BlueIguana Tequila Bar and RedFrog Rum Bar.
The ship carries 2,980 passengers and 1,150 crew members. Accommodations, ranging from Interior staterooms to Grand Suites, offer standard amenities such as flat-screen TVs and 24-hour room service. Those looking for more space should consider splurging on a Suite category room, which includes a large balcony, a walk-in closet and a whirlpool tub.
Along with signature line amenities, including a full-service spa, a casino and an expansive pool deck, the ship provides supervised programs and entertainment for cruisers ages 2 to 17, with various activities geared toward specific age groups.
Conquest departs from Miami for sailings in the Bahamas , the Caribbean and the Panama Canal.
Carnival Vista
Introduced in mid-2016, Carnival Vista welcomes up to 3,934 passengers and 1,450 crew members. The ship offers unique dining, entertainment and cabin options not found on other ships in the fleet. In addition to staples like kids clubs, an adults-only retreat and a waterpark, new activities include the SkyRide suspended bike course, the first IMAX theater at sea and a Dr. Seuss-inspired library. The ship's next refurbishment is scheduled for early 2024.
Recent passengers were most impressed with the accommodations. Typical cabin categories (Interior, Ocean View, Balcony and Suite) are available, but cruisers recommend splurging on the Family Harbor or Havana staterooms and suites. Those who select Family Harbor cabins receive exclusive 24-hour lounge access with free breakfast and kid-friendly movies and games. Plus, children staying in these rooms enjoy free meals at most specialty restaurants and a free night of babysitting. Havana category rooms cater to adults, with access to a private bar and pool, as well as extra-large outdoor spaces and rainfall showers in suites.
Dining options are just as diverse. While the Lido buffet offers everything from pasta to stir-fry to salad, other complimentary venues include BlueIguana Cantina and Guy's Burger Joint. A number of specialty restaurants are also available for an extra fee, such as JiJi Asian Kitchen and Cucina del Capitano.
Carnival Vista departs from Galveston and Orlando for sailings in the Bahamas and the Caribbean.
Disclaimers about ship ratings: A ship's Health Rating is based on vessel inspection scores published by the Centers for Disease Control and Prevention (CDC). If a ship did not receive a CDC score within 22 months prior to the calculation of its Overall Rating, its Health Rating appears as N/A; in such a case, the ship's Overall Rating is calculated using the average Health Rating of all CDC-rated ships within the cruise line. All ship Traveler Ratings are based on ratings provided under license by Cruiseline.com.
If you make a purchase from our site, we may earn a commission. This does not affect the quality or independence of our editorial content.
Brands Logos
Carnival Cruises
P&O Australia
P&O Cruises
Princess Cruises
Corporate Information
Vision, Mission & History
Corporate Timeline
Boards of Directors
Officers & Executives
Diversity & Inclusion
Community Relations
Carnival has a portfolio of the world's most widely recognized cruise brands, which complement each other by geography, serve nearly every segment of the cruise industry and provide our guests with virtually endless holiday choices—so many, in fact, that they need to look no further than the Carnival family when selecting a cruise vacation. The cruise lines within our portfolio include the most-recognized brands in North America, the United Kingdom, Germany, Italy, and Australia—areas that account for 85 percent of the world's cruise passengers. This compelling brand recognition and presence will provide us with a solid growth platform as we enter new regions. Our broad product selection is geared to suit every conceivable taste, price preference and target market, including contemporary, premium and ultra-luxury. Our brands truly cater to the desires of different cultures, offering multiple languages and meeting varying entertainment and vacation preferences.
Carnival Cruise Line Princess Cruises Holland America Line Seabourn Cunard AIDA Costa Cruises P&O Cruises (UK) P&O Cruises (Australia)
Carnival Cruise Line
The World's Most Popular Cruise Line®
Carnival Cruise Line, also known as America's Cruise Line, is a leader in contemporary cruising and operates 23 ships designed to provide fun and memorable vacation experiences at a great value.
Founded in 1972, Carnival Cruise Line is one of the most recognizable brands in the cruise industry and carried over six million guests in 2019. Carnival Cruise Line identifies their target customers as those who like to "Choose Fun" and live life to the fullest.
Carnival Cruise Line has a broad consumer appeal, attracting families, couples, singles, and seniors and carrying nearly one million children each year. In 2021, Carnival Cruise Line was voted "Best Ocean Cruise Line" in USA Today's 10 Best Readers' Choice Awards. In addition, Carnival Cruise Line was named "Best Domestic Cruise Line" and "Best Cruise Line for Families" by Travel Weekly.
The new 5,282-passenger Mardi Gras entered service in 2021 sailing from Port Canaveral, Fla. as the first cruise ship in North America to be powered by liquefied natural gas (LNG) and the first ever to have a roller coaster at sea. Mardi Gras will be joined in late 2022 with sister ship Carnival Celebration sailing from Miami and Carnival Jubilee in late 2023 homeporting in Galveston, Tex.
Carnival Cruise Line offers cruises generally from three to eight days with almost all of its ships departing from 14 convenient U.S. homeports. Carnival Cruise Line is the leading provider of year-round cruises in The Bahamas, the Caribbean and Mexico and also operates seasonal cruises in Canada, New England, Alaska, Hawaii, Bermuda, and Europe. In addition, Carnival Cruise Line sails year-round in Australia.
The brand's focus continues to be on enhancing its products and services with innovations that appeal to new consumers to cruising, as well as past guests. Carnival is perfectly situated to tap into the top trends in tourism: multi-generational travel, personalized travel, and experiential travel – anyone can find something fun to do on a Carnival ship
Mardi Gras, which entered into service in 2021, introduces a host of groundbreaking features, including:
Princess Cruises began operations in 1965 and is now the world's leading international cruise line and tour company operating a fleet of 15 modern cruise ships, carrying millions of guests each year to 330 destinations around the globe, including the Caribbean, Alaska, Panama Canal, Mexican Riviera, Europe, South America, Australia/New Zealand, the South Pacific, Hawaii, Asia, Canada/New England, Antarctica, and World Cruises. A team of professional destination experts have curated 170 itineraries, ranging in length from three to 111 days and Princess Cruises is continuously recognized as "Best Cruise Line for Itineraries."  
On board, guests are immersed in the culture, colors and flavors of the places they visit, with authentic folkloric shows, regional cuisine and enlightening presentations by local experts. On shore, Princess introduces the bucket-list sights guests want to see most – as well as hidden jewels not found in travel books – with award-winning Discovery™ and Animal Planet™ Exclusive shore excursions. Guests can also enjoy an array of signature features throughout each cruise, from world-class cuisine by award-winning chefs to live production shows created by Broadway legends, to a true Princess original experience – enjoying a Hollywood film while relaxing poolside, with Movies Under the Stars®. There are also a variety of ways to rejuvenate body and mind, from the Lotus Spa® to the Sanctuary – a tranquil retreat reserved just for adults.
In 2017 Princess Cruises introduced MedallionClass Vacations which begins with the Medallion™ wearable, a quarter-sized, device that enables everything from expedited contactless boarding to locating loved ones anywhere on the ship, as well as enhanced service like having whatever guests need, delivered directly to them, wherever they are on the ship. In addition, guests can share their favorite cruise moments using MedallionNet, the best Wi-Fi at sea, as well as stay connected with friends and family back home, work remotely anywhere on the ship, quickly post content and stream favorite movies and shows.
Holland America Line
At Holland America Line, we believe travel has the power to change the world. It enriches us as we discover new places, cultures and people. It's this belief that drives our guiding purpose to help make the world a better place through opening minds, building connections, and inspiring a shared humanity.
For 145 years, Holland America Line has been carefully crafting your clients' next journey. Our fleet of 10 spacious, mid-sized ships offer a classic style of cruising to more than 425 ports of call in 100+ countries on all seven continents.
To this fleet of 11 ships, we welcomed our third Pinnacle-Class ship, Rotterdam in July 2021.
For clients looking for the most complete and immersive culinary experience at sea, they'll enjoy dining influenced by our global culinary council of seven world-renowned chefs. The Dining Room is renowned for everyday excellence, while restaurants like Pinnacle Grill, Tamarind, and Canaletto offer specialty options. Your clients can enjoy an extensive wine selection, chosen by our Wine Curator James Suckling; and spirits enthusiasts appreciate our classic cocktails, with direction from our Master Mixologist Dale DeGroff. But the experiences don't stop there, as your clients can hone their skills with America's Test Kitchen and explore the culinary side of destinations through exclusive culinary excursions by FOOD & WINE magazine.
Through exclusive partnerships with highly acclaimed brands in entertainment and personal enrichment, Holland America Line ensures both days and nights are filled with delight and inspiration. Music Walk® features live performances at Lincoln Center Stage, B.B. King's Blues Club, Rolling Stone Rock Room and Billboard Onboard. The Mainstage features exclusive live performances and state-of-the-art theater technology. And your clients will enjoy fun and life-enriching activities and workshops in partnership with BBC Earth; O, The Oprah Magazine; America's Test Kitchen; and Microsoft Windows.
As part of our collective social responsibility, the company, employees, and guests have joined together to give back to communities and organizations around the world. Whether it's donating shipboard items to an orphanage, cleaning up a neighborhood park, walking 5K onboard to raise funds for cancer research, or donating money to disaster relief, Holland America Line and our employees share time and resources to make a difference.
We invite your clients to join us for an unforgettable experience. Because travel is more than an itinerary. It has the power to change us and our world. Journey by journey.
Ultra-Luxury Resort At Sea
Seabourn, which began operations in 1988, is the ultra-luxury resort at sea with smaller ships that focus on intuitive personalized service and guest recognition. The line's fleet of three 458-guest and two 600-guest ships, the youngest in the ultra-luxury segment of the cruise industry, offer spacious all-suite accommodations with oceanfront views, award-winning gourmet dining, complimentary premium spirits and fine wines, renowned service provided by an industry-leading crew; and a pedigree in expedition travel. Seabourn launched its newest ship, Seabourn Ovation, in May 2018, and has two ultra-luxury purpose-built expedition ships, Seabourn Venture and Seabourn Pursuit, set to launch in 2022 and 2023, respectively.
Seabourn has received numerous prestigious awards over its history, including being voted the "Best Small-Ship Cruise Line" by readers of Travel + Leisure and Conde Nast Traveler. The line represents the pinnacle of ultra-luxury travel. The all-inclusive, boutique ships offer all-suite accommodations with oceanfront views; award-winning dining; complimentary premium spirits and fine wines available at all times; renowned service provided by an industry-leading crew; a relaxed, sociable atmosphere that makes guests feel at home; a pedigree in expedition travel through the Ventures by Seabourn program and two new ultra-luxury purpose-built expedition ships coming in 2022 and 2023. Seabourn takes travelers to every continent on the globe travel, visiting more than 400 ports including marquee cities and lesser-known ports and hideaways throughout Europe, Asia, the South Pacific Islands, Australia and New Zealand, the Americas and Antarctica. Guests of Seabourn experience extraordinary offerings and programs, including partnerships with leading entertainers, dining, personal health and wellbeing, and engaging speakers.
Experience The World In Style
Cunard is a luxury cruise line, renowned for creating unforgettable experiences around the world.
There are currently three Cunard ships, Queen Mary 2, Queen Elizabeth and Queen Victoria, and a fourth ship, Queen Anne, will be entering service in early 2024. This investment is part of the company's ambitious plans for the future of Cunard globally and will be the first time since 1999 that Cunard will have four ships in simultaneous service.
Renowned for impeccable White Star Service, gourmet dining and world-class entertainment, all three Queens offer luxury accommodations in Britannia, Britannia Club, Princess Grill Suite and Queens Grill Suite staterooms. Cunard is the only line to offer regularly scheduled Transatlantic service between New York and London on flagship Queen Mary 2; the company continues the tradition of World Cruising which Cunard pioneered in 1922; and offer itineraries from two-night Short Breaks to Grand Voyages that visit Europe, North America, South America, Africa, Asia and Australia.
In 2019, Cunard made its grand return to Alaska, offering roundtrip sailings from Vancouver on their youngest ship Queen Elizabeth, bringing the beauty of the Pacific Northwest to guests once again. Future voyages will include the addition of Glacier Bay to the line's Alaska itineraries, one of the most sought-after destinations in the region, giving guests an even more dramatic front-row seat to witness the immense beauty of Alaska.
Founded in 1840, Cunard's heritage of iconic ships and exclusive onboard programming has given the company a unique and distinct position within the luxury travel market. They have received many awards including #1 Mega-Ship Ocean Cruise Line' by Travel & Leisure's World's Best Awards in 2018, 2017 and 2016, and 'Best World Cruise' by Porthole Cruise Magazine's 2019 Readers' Choice Awards.
Cunard is based at Carnival House in Southampton and has been owned since 1998 by Carnival Corporation & plc (NYSE/LSE: CCL; NYSE:CUK).
AIDA Cruises
Home of the smile.
With its casual and premium-quality cruise concept, AIDA Cruises established a new chapter in the history of cruising in 1996. Today, AIDA Cruises is the market leader in the German-speaking cruise market.
AIDA Cruises is the epitome of a premium-quality, relaxing cruise – its guests live and love the unique AIDA Cruises feeling. Instead of a Captain's Dinner, dress code and fixed meal times, unforgettable boundless diversity awaits them on board and on land. Guests enjoy being a part of the AIDA Cruises family and feel at home anywhere in the world. This feeling is cultivated by the friendliness of the crew and by having German as the onboard language.
Every guest can experience a personal vacation and discover a new world every day. AIDA Cruises appeals to the lifestyle of active, open-minded people of any age with an amazing array of itineraries, destinations and shore excursions, culinary delights, world-class entertainment, wellness and fitness, and top-notch programs for kids and teens.
The smiling lips on the prow of AIDA Cruises ships is a promise to its guests: Vacationing with AIDA Cruises brings joy! The brand is passionate about hospitality, and the safety and well-being of its guests is top priority. Exceptionally well-trained personnel, high-quality offerings, carefully selected products and attentive service are a given. AIDA Cruises is setting standards within the international cruise market in every way. Its entertainment, wellness and shore excursion programs, kids and teen offerings, and the culinary variety are among the best on the seas. With a keen sense of what its guests want, exceptional ideas and the courage to innovate, AIDA Cruises wants to continue being one step ahead of its competitors in the future.
AIDA Cruises operates one of the world's most state-of-the-art fleets, currently comprised of 13 cruise ships, including the brand's newest LNG-ship AIDAcosma, which was delivered in December 2021. Featuring Carnival Corporation's "green cruising" design with dual-fuel engines, AIDAcosma is a sister ship of AIDAnova, the first cruise ship in the world that is since 2018 powered by liquefied natural gas (LNG) both in port and at sea. The use of LNG, the world's cleanest burning fossil fuel, prevents emissions of particulate matter and sulfur oxides almost entirely at sea and in port. It also significantly reduces the emissions of nitrogen oxides and CO2.
Costa Cruises
Europe's number one cruise line
Costa has been providing cruises since 1948 and today visits more than 260 ports around the world. In 2019, its ships carried over 1.5 million guests. The brand operates a fleet of 12 contemporary ships including the recent deliveries of Costa Firenze and Costa Toscana.
Costa is a leading cruise line in Italy, France and Spain where it boasts a tradition spanning close to seven decades. Its ships are deployed in the Mediterranean Sea, Northern Europe, the Caribbean, Brazil, Argentina, the Arabian Gulf and the Indian Ocean. The line offers a wide range of unique itineraries, with cruises generally ranging from seven to 20 days and also has longer exotic sailings from 20 to 30 days and one world cruise. Costa is also a leading cruise line in China. Most of its cruises sailing in China are four or five days and cater to Chinese guests.
Costa considers itself the world's ambassador of Italy's finest. Its ships represent the best of Italy by offering beautiful Italian art, unique interior decorations with superb Italian mosaics and precious Murano chandeliers, fine Italian wines, excellent Mediterranean food selections and unique shops that carry well-known Italian fashion brands. Costa attracts international guests due to its multi-lingual service and is considered to be a top vacation provider in Europe. Costa is also known for offering innovative itineraries that combine the excitement of new destinations with pampering onboard service and ambiance.
In 2019, Costa Smeralda , the brand's new flagship became the first vessel to use liquefied natural gas (LNG), both in port and at sea. The ship was designed to immerse guests in experiencing Italy's finest all in one place. New features include Solemio Spa; various entertainment areas, including the Colosseum, with its screens for high-tech content shows; themed bars, in collaboration with major Italian brands. Food experience areas such as LAB where you can put your skills to the test and be a "Chef for a day". Smeralda has multiple Italian eateries including a family restaurant Tutti a Tavola, all in keeping with Costa's Italian heritage.
P&O Cruises (UK)
P&O Cruises (UK)
A world of choice.
P&O Cruises is Britain's favourite cruise line, welcoming guests to experience holidays with a blend of discovery, choice, relaxation and exceptional service catered towards British tastes. The fleet of six ships each have their own appeal from family friendly or exclusively for adults.
With over 200 destinations worldwide, P&O Cruises Itineraries are carefully curated to inspire discovery, and are varied to suit newcomers and experienced guests alike. With a wide choice of holidays from two days to three months there is something for everyone.
Iona joined the P&O Cruises fleet in May 2021 as the next generation of ship. Iona, the first British cruise ship to be powered by liquefied natural gas, sets a new standard for cruise travel featuring enhancements to already successful brand signature venues from across P&O Cruises existing fleet, as well as many new "firsts" such as the first gin distillery at sea and The 710 Club, with music director Gary Barlow.
Sister ship to Iona, Arvia will join the P&O Cruises fleet in December 2022 as its second LNG-powered, Excel-class ship offering a Caribbean maiden season of fly-cruise holidays from homeport Barbados.
Arvia, meaning "from the seashore," is an innovative and future-focused ship and the latest evolution in the P&O Cruises experience, embodying the newest trends in travel, dining and entertainment to offer varied and contemporary holidays. The ship boasts a unique SkyDome with a retractable glass roof and 16 guest decks, and will feature the first Altitude Skywalk high ropes experience, the tropical-themed Altitude Minigolf, the Altitude Splash Valley aquazone, an outdoor Sports Arena, swim-up bar and infinity pool. It will also offer guests several new dining options such as Green & Co featuring Mizuhana sushi bar, Ocean Studios cinema, extensive shopping, and the Oasis Spa and Health Club.
P&O Cruises (Australia)
P&O Cruises (Australia)
Offering a holiday experience that is like no place on earth.
P&O Cruises is Australia's homegrown cruise line and had been delivering unforgettable cruise holidays to Aussies & Kiwis for over 89 years.
P&O cruise from multiple ports across Australia and New Zealand. They have pioneered South Pacific cruising and offer holidays to a wide variety of the region's ports including Papua New Guinea, the Solomon Islands, Fiji, Vanuatu, and New Caledonia. If you like to travel closer to home, they also offer cruise options within our own backyard including Moreton Island, the Great Barrier Reef, Sapphire Coast, Tasmania and much more.
From the minute you step onboard to the moment you return home, you'll love the choice of bars, homegrown entertainment, stage shows, kids clubs and wide variety of onboard activities and shore experiences.
There are also up to 21 delicious dining experiences available across the fleet, including restaurants from celebrity chef Luke Mangan and award-winning Melbourne chef, Johnny di Francesco, created specifically for P&O.
Special event itineraries take celebrations to the next level, covering Australia's favourite events, like Melbourne Cup, Australia Day, Australian Open, Christmas or Tribute to the King.
P&O Cruises currently operates a fleet of three ships including their flagship Pacific Explorer® and new additions Pacific Encounter® and Pacific Adventure® both due to join the family in late 2022.
Pacific Encounter & Pacific Adventure will showcase many of P&O's signature features as well as a range of exciting new ones.
Splurge and book a select suite or mini-suite and along with a host of great benefits, gain access to Byron Beach Club, a private retreat with pool, spas, and comfy seating. Enjoy expansive views and a superior level of service for dining reservations, shore tours, embarkation, and disembarkation.
Familiar favourites include Waterfront, Angelo's, Dragon Lady, Shell & Bones and The Pantry are there to enjoy. Or head to the child-free Oasis for a cocktail or some live music in Ocean Bar. Families will love the dedicated indoor/outdoor family area with a pool, family focussed fun, games, parties, and activities. Plus, don't forget the new Twin Racer Waterslides* for the more adventurous.
There's something for everyone. So, whether you're looking for an island getaway, a foodie adventure or just a chance to sunbake on a fuss free holiday, P&O has the cruise for you.
* Coming to Pacific Encounter in March 2023.
AIDA Cruises is the market leader in the German-speaking cruise market. Home of the smile, AIDA Cruises is the epitome of a premium-quality, relaxing cruise and operates one of the world's most state-of-the-art fleets. Visit: www.aida.de
Carnival Cruise Line, also known as America's Cruise Line, is a leader in contemporary cruising and operates a fleet of ships designed to provide fun and memorable vacation experiences at a great value. Visit: www.carnival.com
Costa Cruises delivers Italy's finest at sea, bringing modern Italian lifestyle to its ships to provide guests with a true European experience that embodies a unique passion for life through warm hospitality, entertainment and gastronomy. Visit: www.costacruise.com
Cunard is the epitome of British refinement for travelers who relish the line's impeccable White Star Service, gourmet dining, world-class entertainment, and the legacy of historic voyages and transatlantic travel. Visit: www.cunard.com
Holland America Line's premium fleet of spacious, elegant mid-sized ships feature sophisticated five-star dining, extensive entertainment and activities, innovative culinary enrichment programs and compelling worldwide itineraries. Visit: www.hollandamerica.com
P&O Cruises (UK) is Britain's favorite cruise line with a fleet of ships combining genuine service and a sense of occasion and attention to detail, ensuring passengers have the holiday of a lifetime, every time. Visit: www.pocruises.co.uk
P&O Cruises (Australia) provides a quintessential holiday experience for Australians and New Zealanders, taking them to some of the world's most idyllic and hard-to-reach places across Asia and the South Pacific. Visit: www.pocruises.co.au
Princess is the world's leading international cruise line and tour company operating a fleet of modern cruise ships, renowned for the innovative design and wide array of choices in dining, entertainment and amenities. Visit: www.princess.com
Seabourn provides ultraluxury cruising vacations in a unique, small-ship style that focuses on genuine, intuitive service, all-suite accommodations, superb cuisine and unique experiences in destinations worldwide. Visit: www.seabourn.com
A beginners guide to picking a cruise line
So you think you want to take a cruise?
First, let me say that you'll likely love it. I've been cruising for nearly 30 years on just about every line out there, and I can tell you it's a wonderful way to travel.
It's not for everyone, of course. Plenty of people have tried it once or twice and aren't fans. The world is also filled with "never cruisers" — people who, for various reasons, wouldn't even think of getting on a ship for a vacation.
For more cruise guides, news and tips, sign up for TPG's cruise newsletter .
However, as survey after survey has shown, most people who try a cruise for the first time give it high marks — and many end up cruising again. The odds are high you'll give it high marks, too.
Still, before you can get to the point where you're raving about your life exploring the world by sea , you have a big decision ahead of you: Which line should you book?
It's not an easy decision. There are dozens of cruise lines, and no two are alike. Some only operate big ships . Some operate small ships. Some sail only in North America. Others sail all over the world. Some offer ships designed for family fun . Others don't even allow children on board .
Related: Is cruising right for you? Start by asking yourself these 7 questions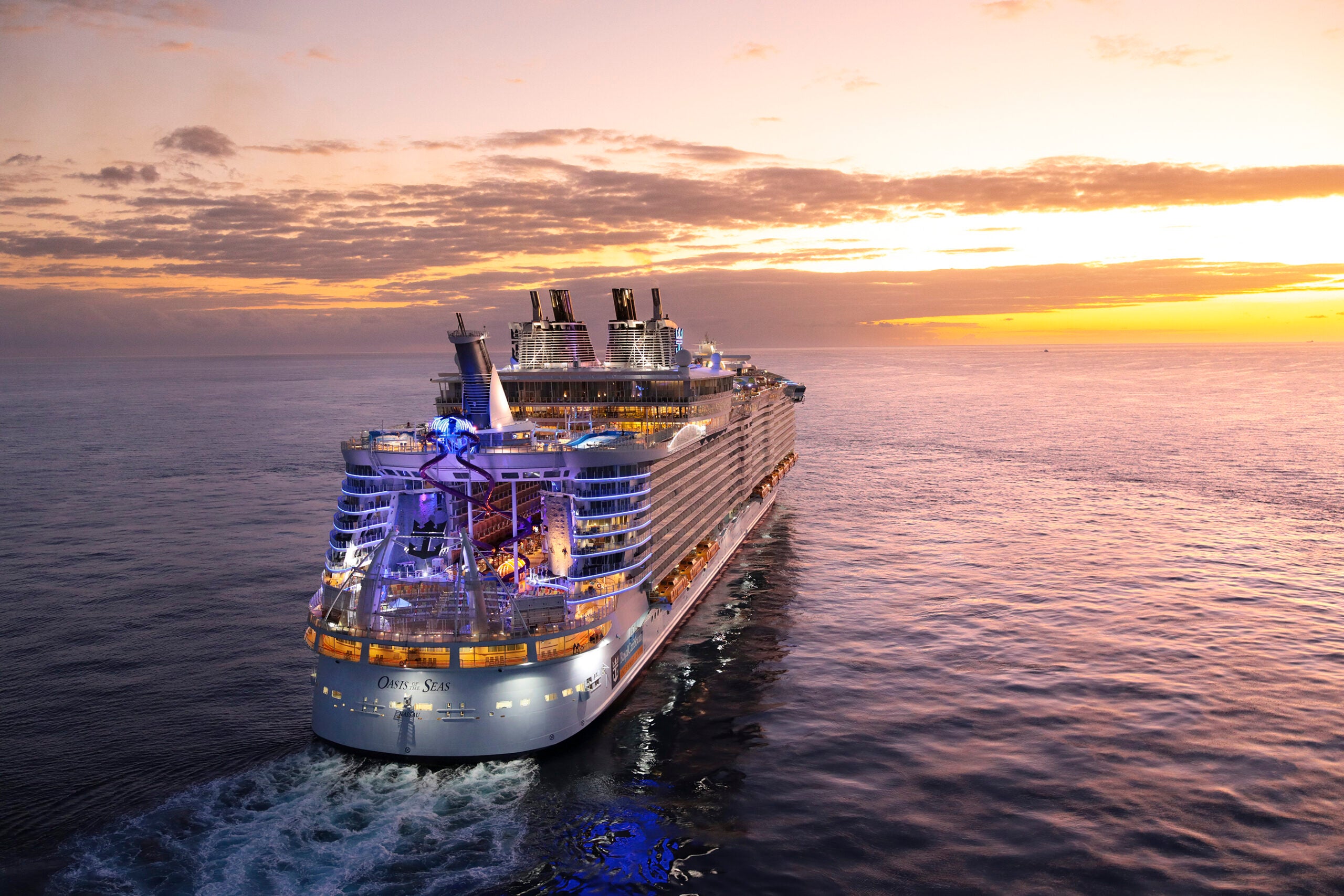 In addition, you'll find cruise lines all over the map regarding price points. As with land-based resorts and hotels, there are cruise lines for people on the tightest of budgets and cruise lines that cater to people for whom money is no object .
In short, a cruise line exists for everyone. However, depending on your preferences, not every line will do. The trick is to find the perfect cruise line for you.
In this story, I'll help you break down the options.
An overview of cruise lines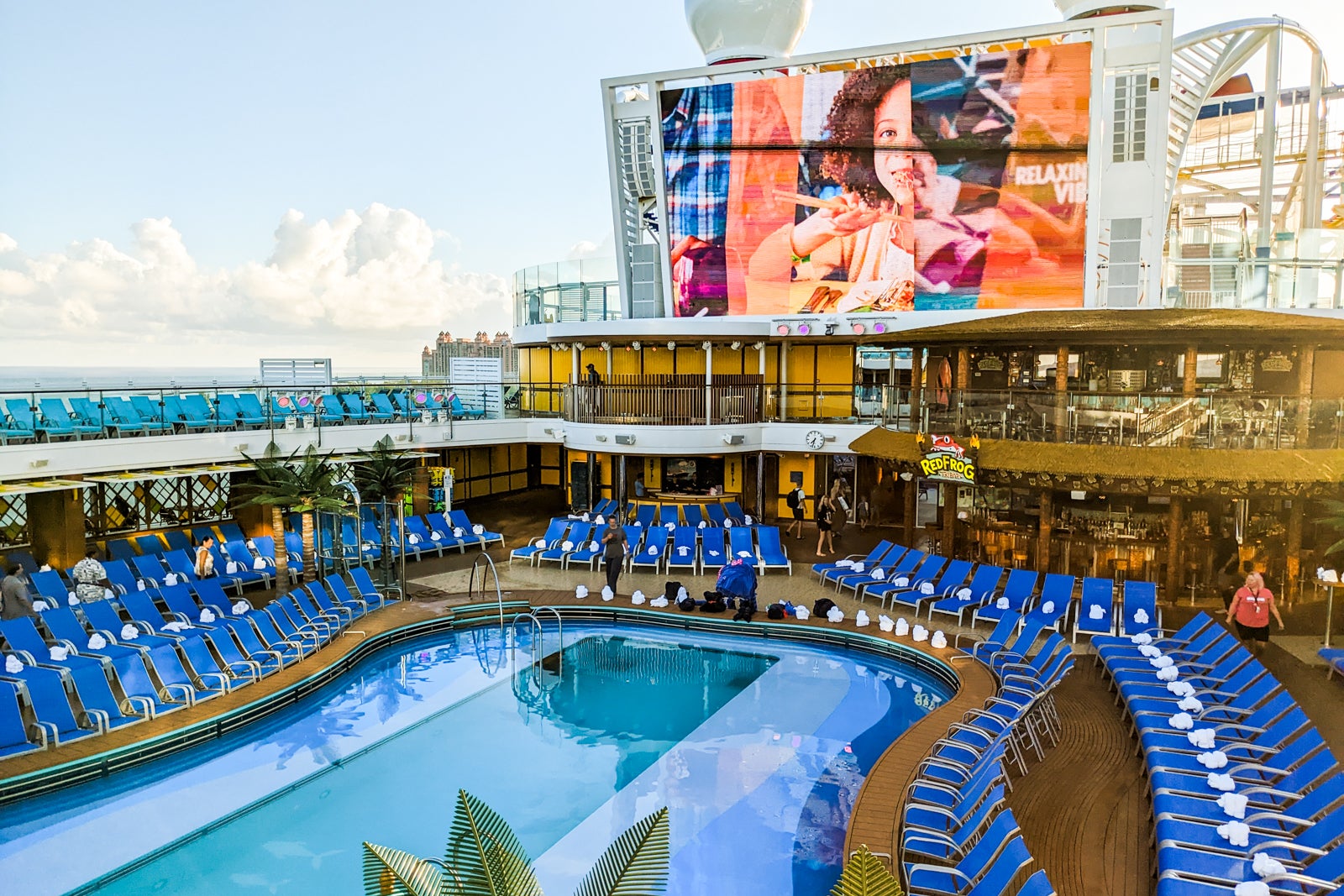 As noted above, dozens of cruise lines operate ships around the world. At last count, I had sailed with 41 different cruise companies, and I still hadn't hit every major brand — despite it being my full-time job for years to test cruise ships.
One thing to understand is that the lists of cruise lines you'll find here at TPG and at other travel sites include companies offering an incredible range of experiences.
When you think of a "cruise ship," you may think of the giant floating megaresorts operated by the likes of Royal Caribbean and Norwegian Cruise Line that you see in television advertisements — the kind of ships that carry thousands of passengers and have all sorts of gee-whiz amusements on their top decks.
But the world of cruising also includes companies that operate far smaller, more intimate vessels that carry a few dozen to a few hundred people. These ships have a completely different vibe. They're more like small boutique hotels that happen to float from place to place.
Related: How to plan a cruise with points and miles
In addition, you'll find adventure-focused "expedition" cruise companies that offer yet another completely different kind of cruising — one that involves heading to off-the-beaten-path places like Antarctica on small, hardy vessels designed for exploring. Some cruise companies specialize in ships that travel on rivers, while others operate sailing ships.
If you hear somebody say they'd never take a cruise because the ships are "too big" or "too crowded," you've met someone who has no idea what's out there.
You can cruise on a big, boisterous ship that carries 6,000 people or a tiny, yacht-like vessel that carries 60 people, and everything in between.
Related: A line-by-line guide to 20 top cruise brands
The cruise industry likes to break down its offerings into a bunch of oddly named categories, such as "contemporary" and "premium" lines. But to me, that's all marketing speak. Just ignore it when you see it. After three decades covering the industry, I like to break things down into the six categories you'll find below and (in a few cases) several subset categories — each of which appeals to a different type of vacationer.
The biggies
Seven big lines account for the majority of cruises taken by North Americans. They are, in order of size (when measured by passenger capacity):
Royal Caribbean : 26 ships; 94,041 berths
Carnival Cruise Line : 25 ships; 79,602 berths
MSC Cruises : 22 ships; 77,832 berths
Norwegian Cruise Line : 18 ships; 53,681 berths
Princess Cruises : 15 ships; 45,816 berths
Celebrity Cruises : 15 ships; 26,733 berths
Holland America : 11 ships; 22,810 berths
If you are cruising for the first time, you will likely travel with one of the above brands — if only because they dominate the market for cruises among North Americans and, indeed, the world. As you can read in our ultimate guide to Royal Caribbean , this single brand alone accounts for nearly 20% of all cruises taken worldwide. Add in the next three biggest players — Carnival, MSC Cruises and Norwegian — and you're up to over 50% of the cruise business.
Read more: Ultimate guide to Norwegian Cruise Line | Ultimate guide to Carnival Cruise Line | Ultimate guide to MSC Cruises
The cruise industry likes to label these seven lines as either "contemporary" (the first four on the list) or "premium" (the next three on the list). The idea is that the latter three brands offer a "premium" product to the first four. Such nomenclature is a throwback to the early days of cruising that I believe doesn't have much relevance anymore.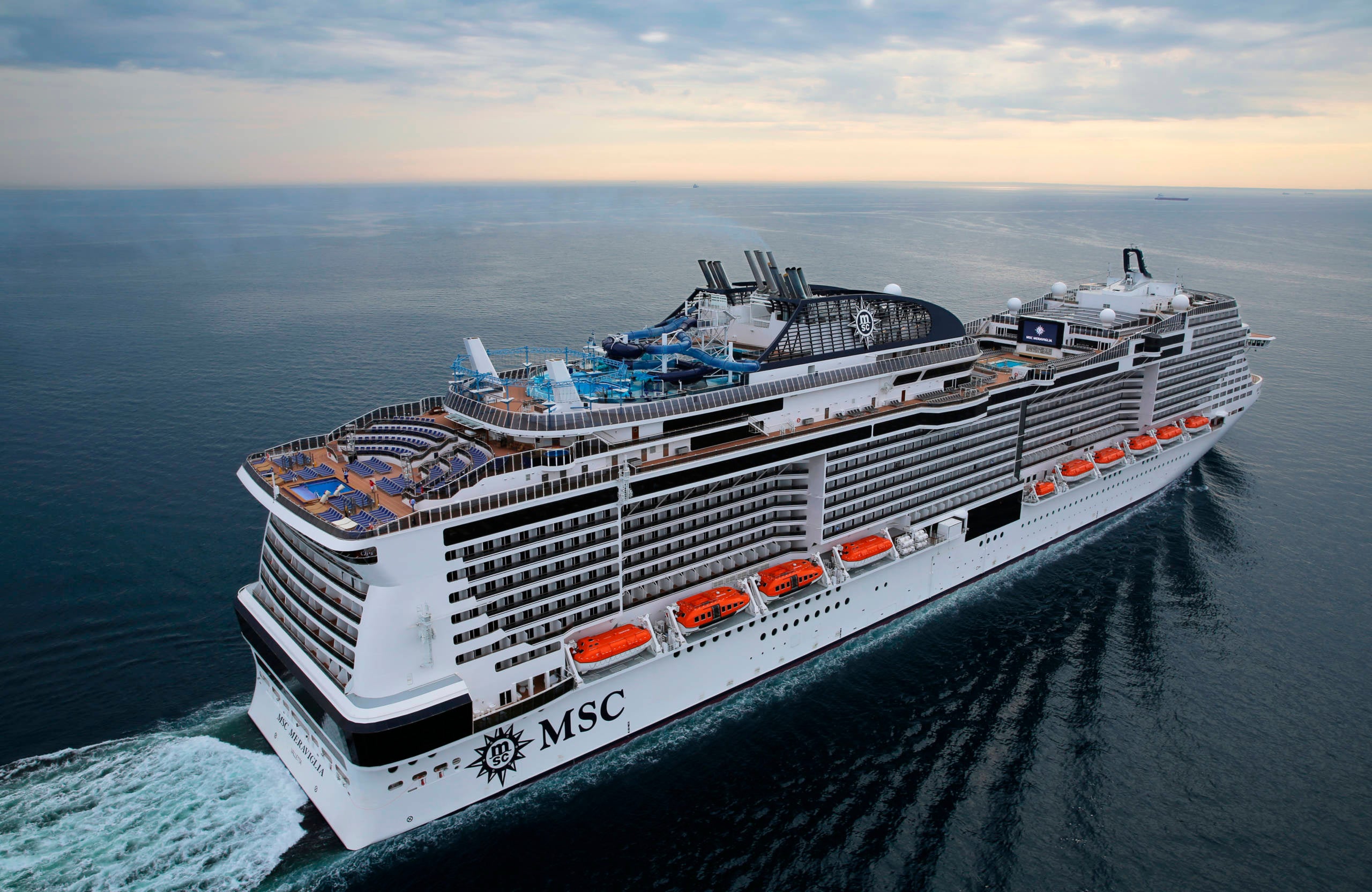 All these brands have changed over the years, and the old distinctions no longer apply. You can get a "premium" experience in the exclusive The Haven area on Norwegian ships, for instance, that will top anything you'll experience on many so-called premium ships. The experience on a Royal Caribbean ship can be just as elegant — or more so — as the experience on a Princess ship.
What all these brands have in common is that they operate relatively large, mass-market vessels with starting prices that are relatively affordable. Just keep in mind that the term "large" is relative. There is a wide variation among these brands in the size of their ships. The biggest Holland America ships, for instance, are less than half the size of the biggest Royal Caribbean ships and hold far fewer passengers.
Indeed, while Holland America vessels are "large" compared with many of the luxury, expedition and river ships that I will talk about later in this story, the brand often is labeled a "midsize" ship operator in the industry to differentiate it from the lines operating the biggest ships.
You'll also find that the size of the ships within the fleets of each of these brands can vary significantly. For instance, Royal Caribbean's biggest ships are three times the size of its smallest ships.
The key thing to know about the seven "biggies," as I call them, is that the type of experience they offer varies greatly. If you're booking a cruise for the first time, know that the seven lines are not necessarily interchangeable — even in cases where they offer similar pricing on similar itineraries. You may love one of these brands but not like another, depending on your tastes and preferences.
I break them down into three broad categories, each appealing to a different type of vacationer:
The floating megaresort lines
Are you a fan of big, bustling megaresorts with every amusement known to humans? You'll probably want to gravitate toward Royal Caribbean, Norwegian and MSC Cruises. These three brands are what I call the "floating megaresort lines" — lines that offer unusually giant ships that are the seagoing equivalent of land-based megaresorts such as Atlantis in the Bahamas.
We're talking ships with a seemingly endless array of deck-top fun zones, from water parks and surfing pools to go-kart tracks and laser tag courses, as well as oodles of restaurants , bars, entertainment venues, spas, casinos and more. These ships can hold as many as 5,000 or even 6,000 people, not including the crew.
Related: The 10 craziest attractions you'll find on a cruise ship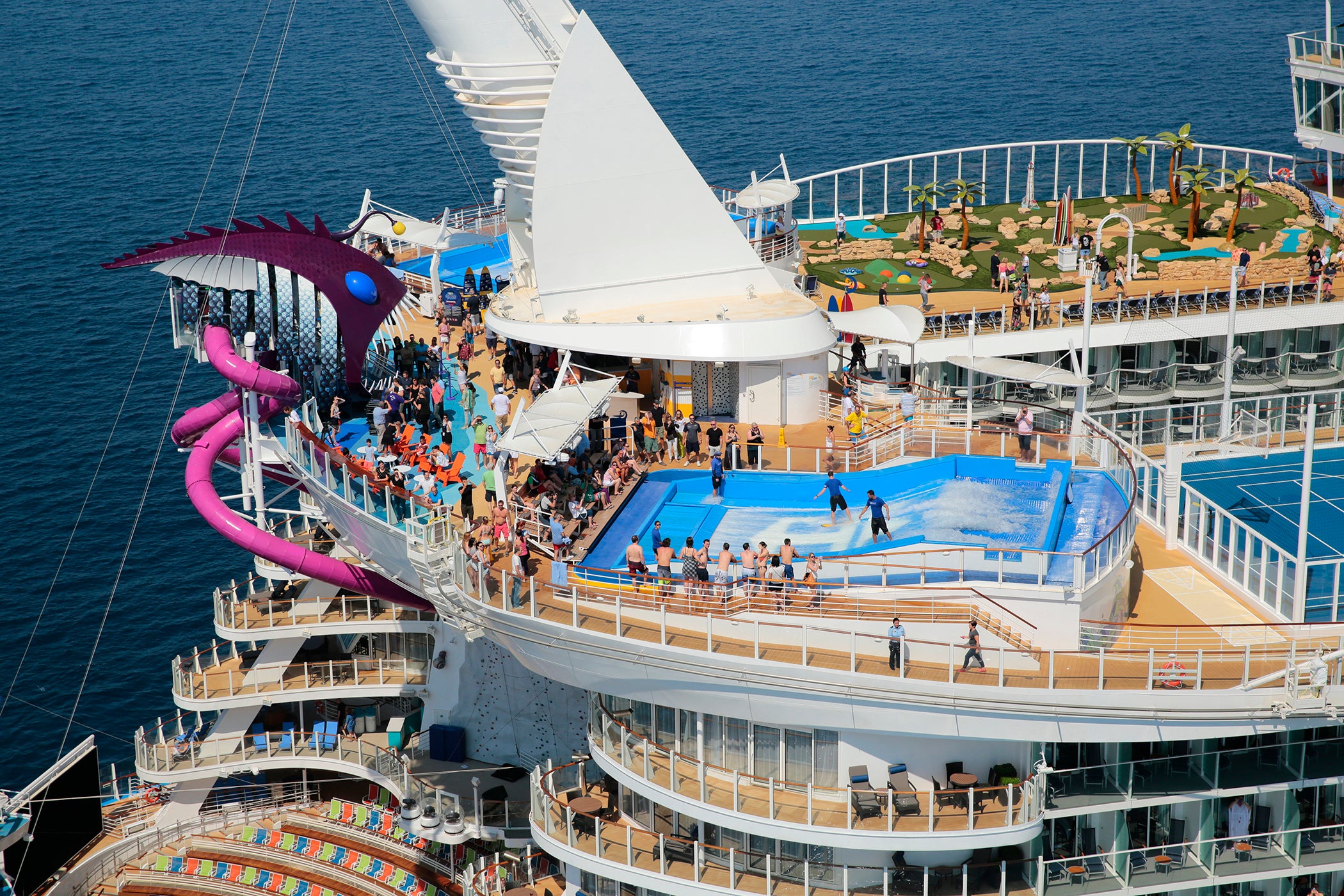 These are brands designed to appeal to a wide demographic, including families with children of all ages. They offer cabins for $100 per night, cabins for $1,000 a night and everything in between. The best way to describe them is that they are like the big Las Vegas resorts, except they float.
As noted above, the size of each ship these brands operate varies. In general, the newer vessels in their fleets are the biggest, most megaresort-like vessels.
The anti-floating megaresort lines
If a ship topped with the cruising equivalent of an amusement park doesn't sound like your idea of fun, your best bets among the biggies are Princess, Holland America and Celebrity. These are what I call the "anti-floating megaresort lines."
Each of these brands operates medium-size to big ships that are not loaded up with water parks, rock climbing walls, surfing simulators and all the other things that are hallmarks of the floating megaresort lines. These are more traditional cruise ships for people who don't want a floating theme park or Las Vegas resort experience.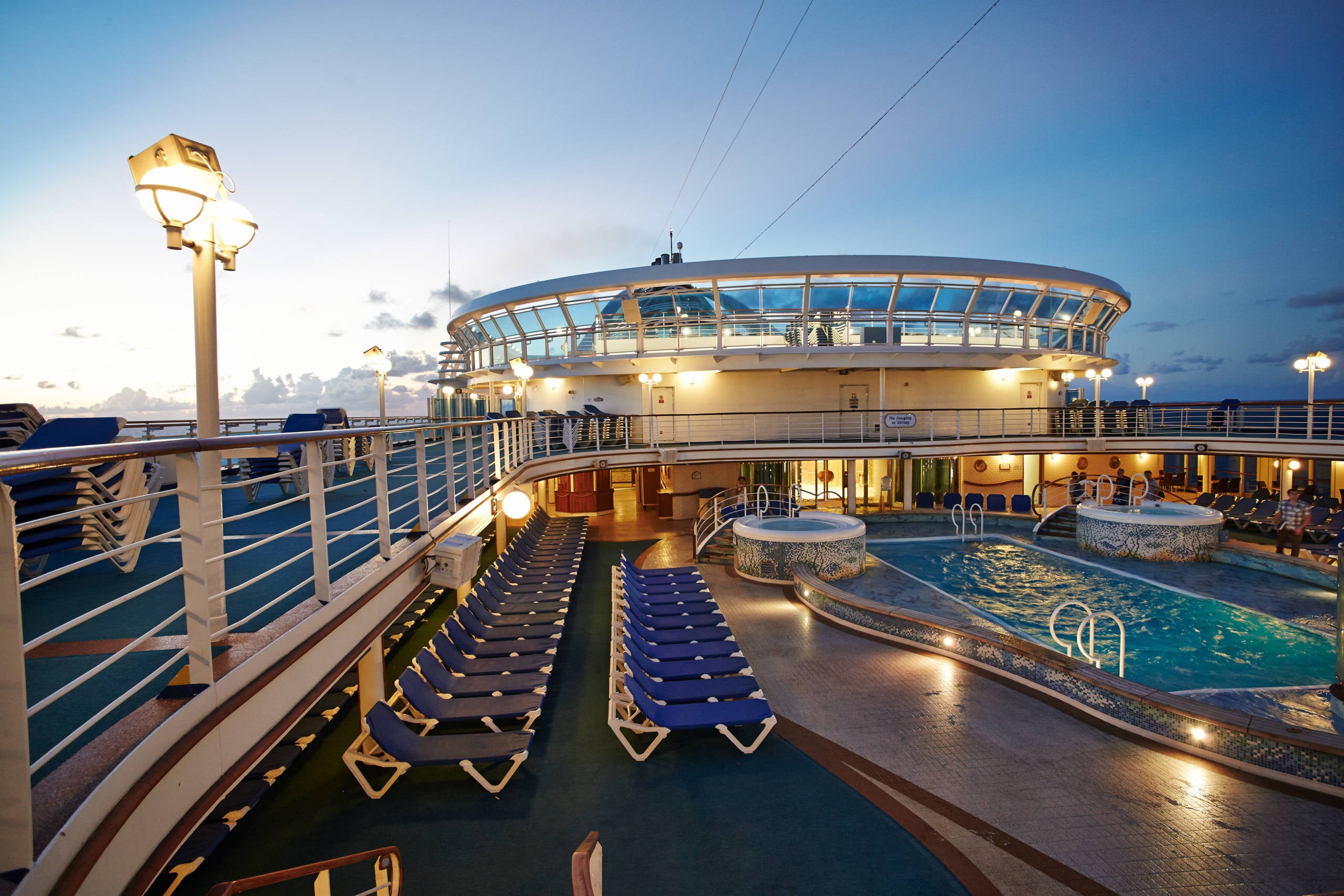 Instead of bustling attractions, the top decks of the ships these lines operate offer lots of quiet and relaxing pool and lounge areas where you can enjoy the experience of being at sea without a lot of hustle and bustle. Inside, the experience often revolves around dining, classic entertainment and a classy bar and music scene.
Read more: Ultimate guide to Celebrity Cruises | Ultimate guide to Princess Cruises
Compared with the floating megaresort lines, these brands draw more couples and fewer families. They skew older. At Princess, for instance, the average age of passengers is 57, and you see a lot of couples in their 50s, 60s and 70s on board.
At Holland America, the average age of passengers is closer to 70.
The budget option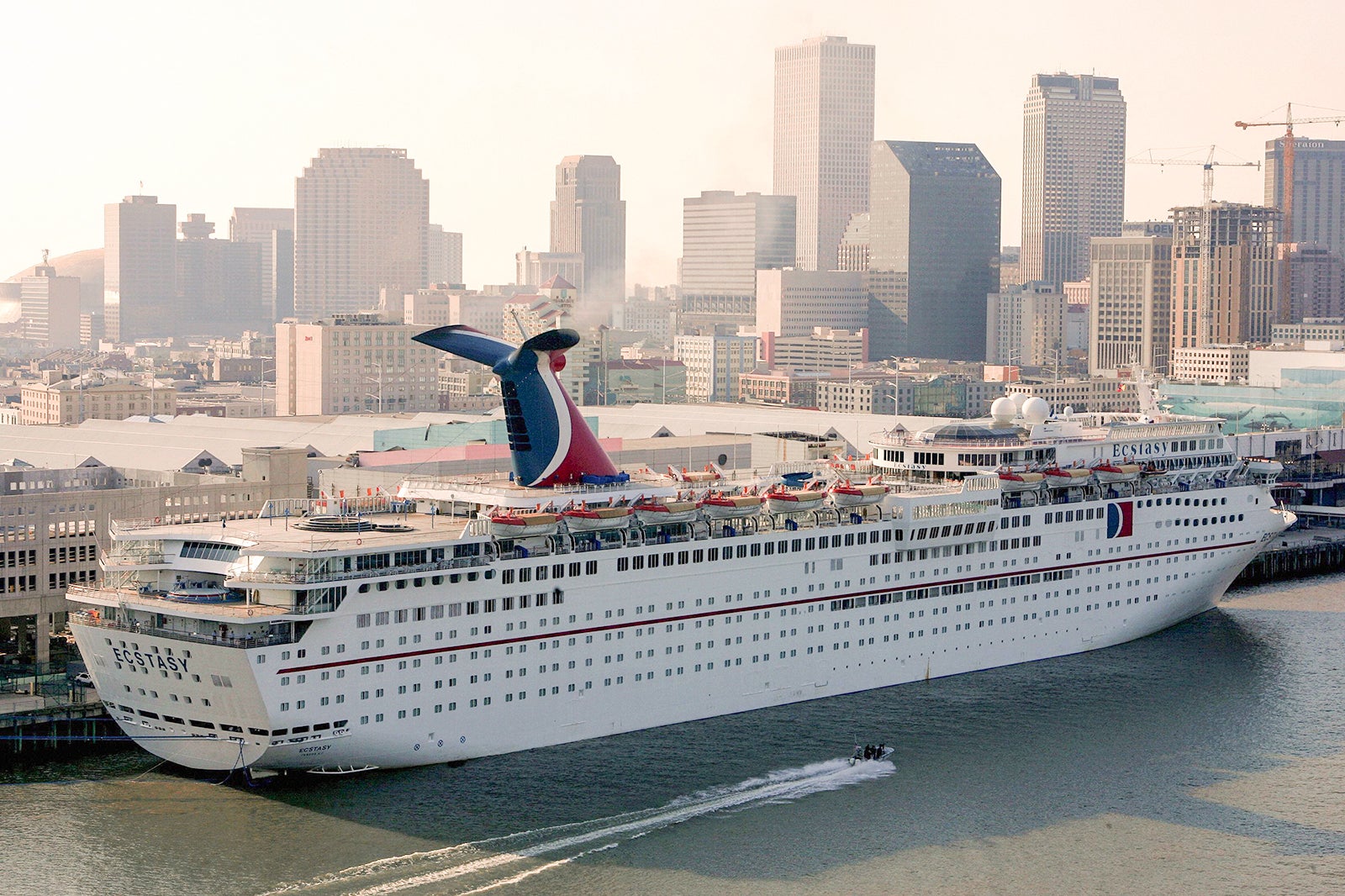 And then there's Carnival. The "fun ship" line is also the budget line among the biggies — a brand all about great value.
If you price the cost of a cruise for a family of four, you'll often find that a sailing on a Carnival ship costs as little as half the amount of a cruise on a Royal Caribbean ship, assuming similar cabins and itineraries. The differential is even greater when you compare the cost of a family vacation on a Carnival ship with the cost of a trip on a Disney Cruise Line ship, assuming similar cabins and itineraries.
In addition to being incredibly inexpensive, Carnival ships are casual, unpretentious, fun-focused and, yes, a bit loud and wild. This is, after all, the brand that long held a Hairy Chest Contest around the pool deck on every voyage to a standing-room-only, hooting and hollering crowd.
Related: The best cruise ships for childlike fun
Like the "floating megaresort lines" above, Carnival also is known for amusements atop its ships, including water park areas, pedal-powered "sky rides," and — on its new ships Mardi Gras and Carnival Celebration — the first roller coasters at sea .
But, in general, Carnival doesn't operate vessels quite as big and venue-packed as the big ships of Royal Caribbean, Norwegian and MSC Cruises. In recent years, until the arrival of Mardi Gras and Carnival Celebration, it didn't have a single vessel among the top 30 biggest cruise ships in the world.
Carnival also doesn't target as wide a demographic as the floating megaresort lines — at least when it comes to income levels. Its ships lack the range of higher-priced suites aimed at upscale travelers that you'll find on, say, a Royal Caribbean vessel. Among the biggies, it's really in a class of its own.
Other biggies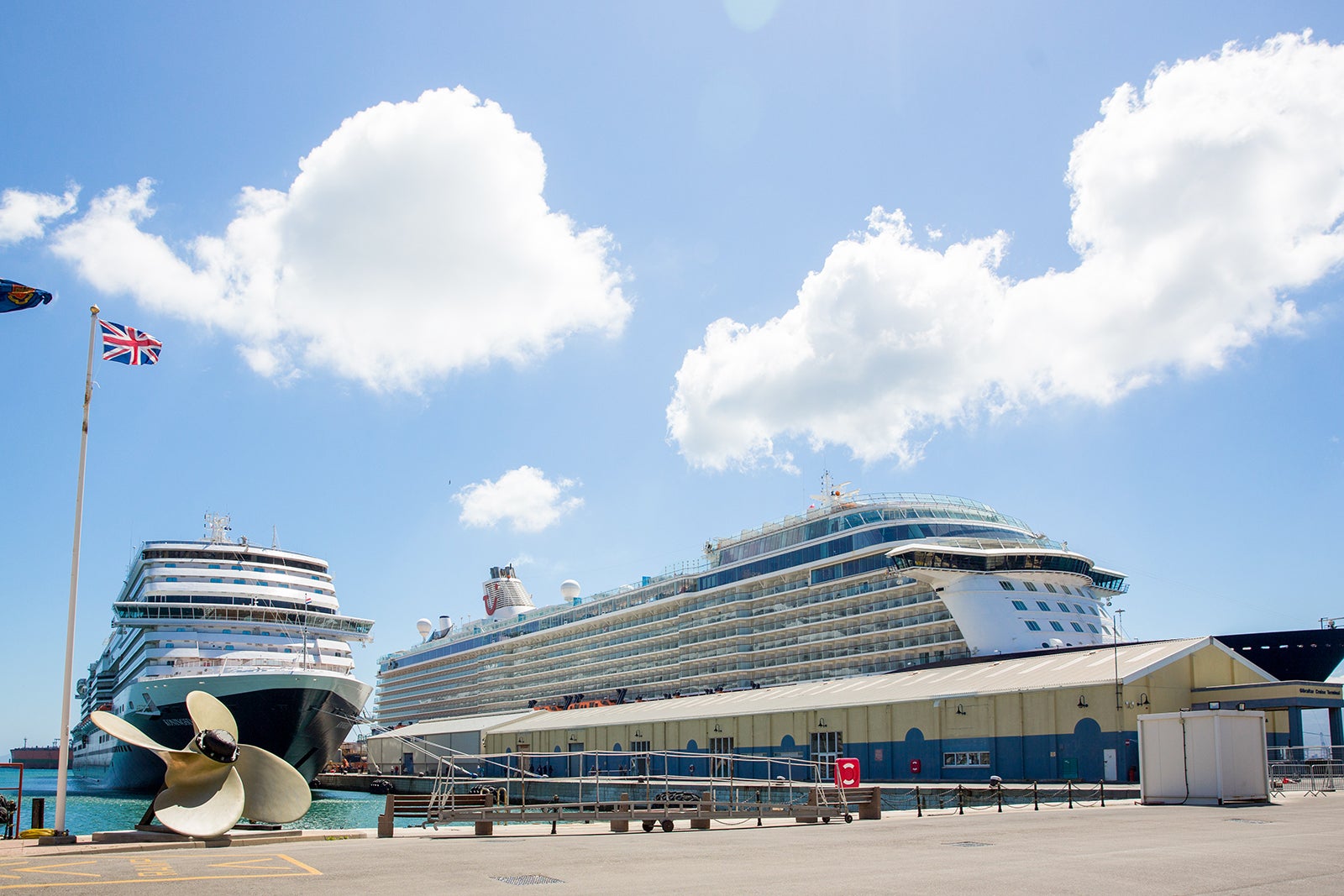 There are a few more relatively large, mass-market lines in the world that I didn't include in the list of biggies as they primarily cater to non-American vacationers.
These lines include Germany's Aida Cruises and TUI Cruises, both aimed at German-speaking travelers with onboard programs conducted in German. Aida, in particular, is a significantly large line — larger than Celebrity or Holland America when measured by passenger capacity. However, unless you live in Germany, Austria or Switzerland, you've probably never heard of it and would be unlikely to ever sail on it.
There's also Italy-based Costa Cruises, which draws about 80% of its customers from Europe but does market to Americans, and United Kingdom-based P&O Cruises. The latter draws about 98% of its customers from the U.K.
When talking about berths in this story, I am referring to the number of beds on a ship based on double occupancy per cabin — or what used to be known as "lower berths" in the industry. The totals do not include extra sleeping spots created with pull-down bunks and pullout sofas that can inflate the "total berths" number some cruise lines list for their ships.
Luxury cruise lines
If your idea of a vacation is being pampered at every turn, and you have lots of money to burn, you'll want to start your search for a cruise line among the luxury cruise operators.
More than half a dozen major luxury players market to North Americans, including:
Regent Seven Seas Cruises
Silversea Cruises
Hapag-Lloyd Cruises
Ritz-Carlton Yacht Collection
Explora Journeys
Compared with mass-market cruise ships, luxury cruise ships typically offer bigger cabins (often every cabin is a suite), more elegant dining and high levels of service. It's not uncommon for luxury ships to have nearly as many crew members as passengers.
Related: Inside Seven Seas Splendor, the most expensive luxury ship ever
Luxury ships also typically offer more onboard space per passenger than mass-market ships. The "space ratio" of interior space to passengers can be twice as high. This means you'll have a lot of room to spread out and never experience crowds. At the same time, luxury ships generally are smaller than mass-market ships — often by a lot. That brings a much more intimate experience.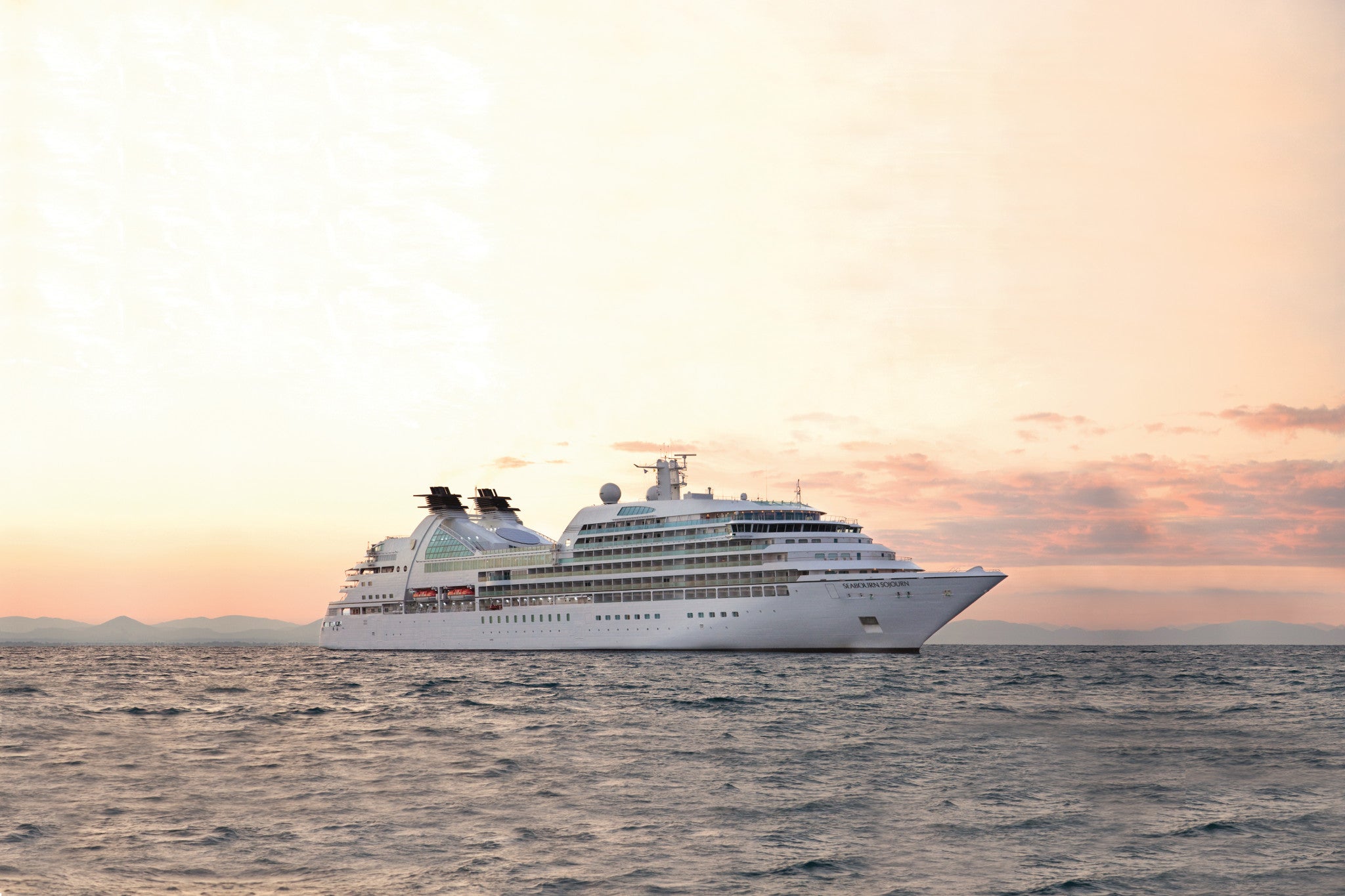 Within the luxury space, you'll find significant differences in the size and style of the ships. Four of Regent's five ships, for instance, are relatively large and famously elegant (think soaring spaces, lots of marble, crystal chandeliers). They carry 700 to 750 passengers. (The line also has one significantly smaller vessel that carries 490 passengers.)
Five of Seabourn's six vessels, with room for 450 to 600 passengers, are noticeably smaller than Regent's larger vessels. The Ritz-Carlton Yacht Collection — a new line that debuted in 2022 — specializes in vessels carrying 298 passengers.
With each step down in size, you can expect fewer onboard venues, such as restaurants and lounges. But you also may find the experience more intimate. Smaller ships can sometimes access off-the-beaten-path ports that bigger ships can't.
What all the luxury lines have in common is that they are pricey. You can easily pay several times as much for a luxury cruise as a mass-market cruise. Indeed, it's not uncommon to see cabins on luxury cruises listed for $1,000 or more per person per day.
Related: This supersuite on a cruise ship costs $11,000 a night
But comparing such high pricing to the pricing of mass-market cruises can be misleading. That's because luxury lines typically include almost every extra charge you could imagine — drinks of all types, gratuities, Wi-Fi and even flights to the ship — in their base fares.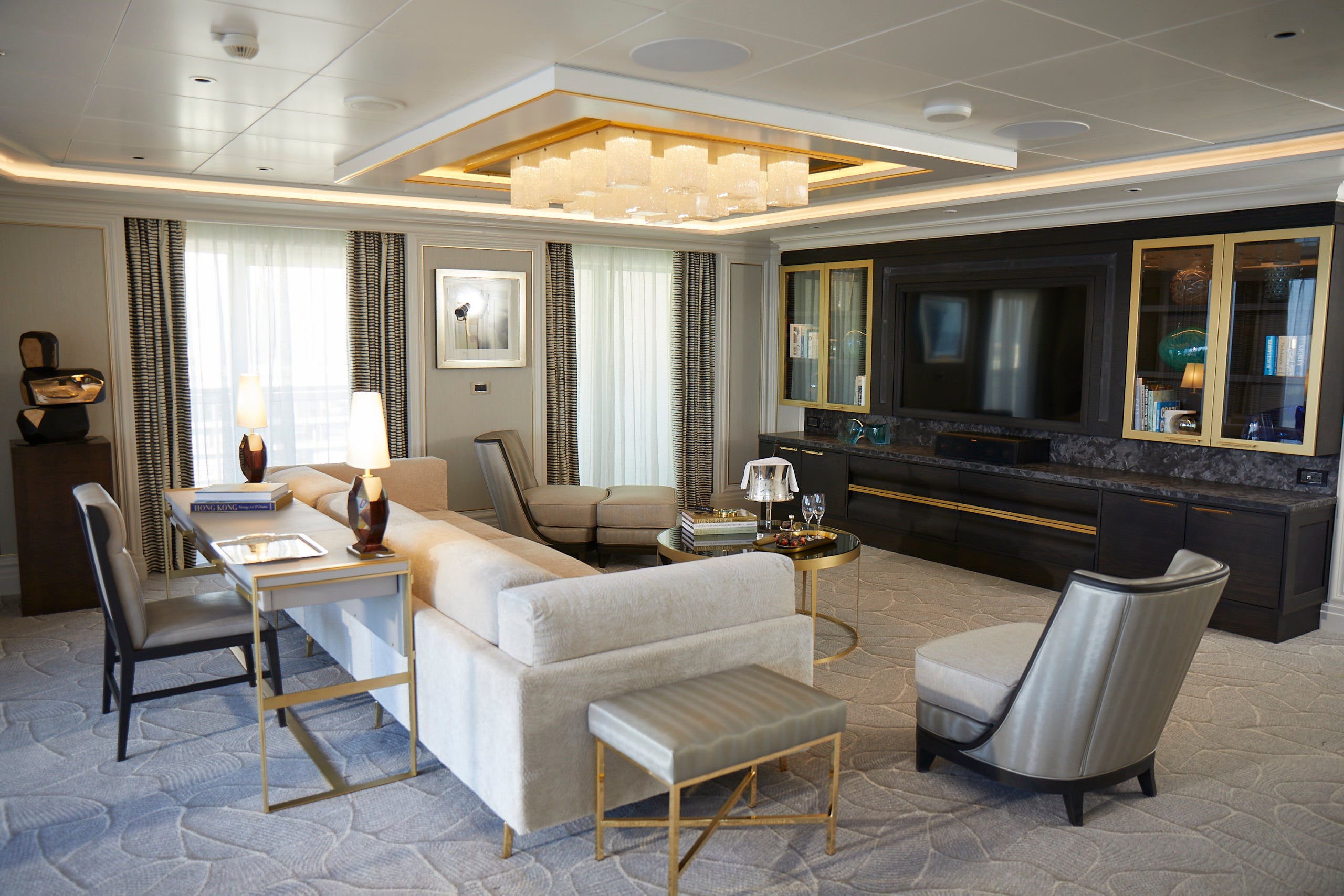 Luxury ships such as Regent Seven Seas Cruises' Seven Seas Splendor offer spacious, elegant suites that rival anything found at a luxury hotel on land. REGENT SEVEN SEAS CRUISES
Note that one of the luxury lines mentioned above, Hapag-Lloyd Cruises, is a German line that operates many of its cruises in German only. But in recent years, Hapag-Lloyd Cruises has increasingly marketed to English speakers with specific sailings operated on a bilingual basis. While relatively unknown in North America, it operates several of the most elegant, spacious and service-focused cruise vessels anywhere in the world.
Also of note: Several new small luxury cruise lines are on the way. Luxury hotel company Four Seasons is building a fleet of small luxury cruise vessels that will begin debuting in 2025. Luxury purveyor Aman Resorts also plans to enter the cruise business in the coming years.
Upscale-but-not-quite-luxury lines
Several additional cruise lines offer an upscale, elegant experience that isn't quite as white-glove as what you'll find on the luxury lines above but is still wonderful. These include:
Oceania Cruises
Windstar Cruises
SeaDream Yacht Club
For the most part, these lines operate ships nearly as small and intimate as the luxury lines' ships. Oceania vessels carry around 700 to 1,250 passengers, for instance, while Viking ships carry 930 passengers. (We're talking about the line's ocean ships; Viking also operates river ships, which we'll discuss below.) Windstar vessels are even smaller, with room for 148 to 342 passengers. SeaDream's two yacht-like vessels hold just 112 passengers apiece.
Like luxury lines, these lines have a high staff-to-passenger ratio — though often not quite as high as the luxury lines. They also generally offer more space per passenger than mass-market lines and bigger cabins — but, again, not quite as big as what the luxury lines offer.
They're also generally less expensive than the luxury lines. But they don't always include as much in their base fares. You'll likely pay extra for gratuities and some drinks on ships in this cohort, for instance.
Compared with the mass-market biggies, the entry-level pricing of this group still is significantly more expensive. Often, an entry-level cabin on a ship operated by these lines is on par with a suite on one of the mass-market lines.
Note that quantifying which lines are "luxury" and which are "upscale but not quite luxury" is a tough business. Fast-growing Viking, notably, is careful to not call itself a luxury line. However, it offers an experience on its ocean ships that some would call luxury, with spectacular onboard service, high-end eateries and many inclusions in its base fares, such as a shore excursion in every port. To me, it straddles the line between the two categories.
Viking also boasts an ocean ship fleet that is all new. Every one of its ocean ships was built in the last seven years. That's relatively unusual among this group of lines.
Three of the lines listed in this segment — Azamara, Windstar and SeaDream — have fleets entirely made up of vessels that are at least a couple of decades old. Often, they are ships that were originally built as luxury vessels and were state-of-the-art in their time but no longer have as wide an array of amenities as newer luxury ships.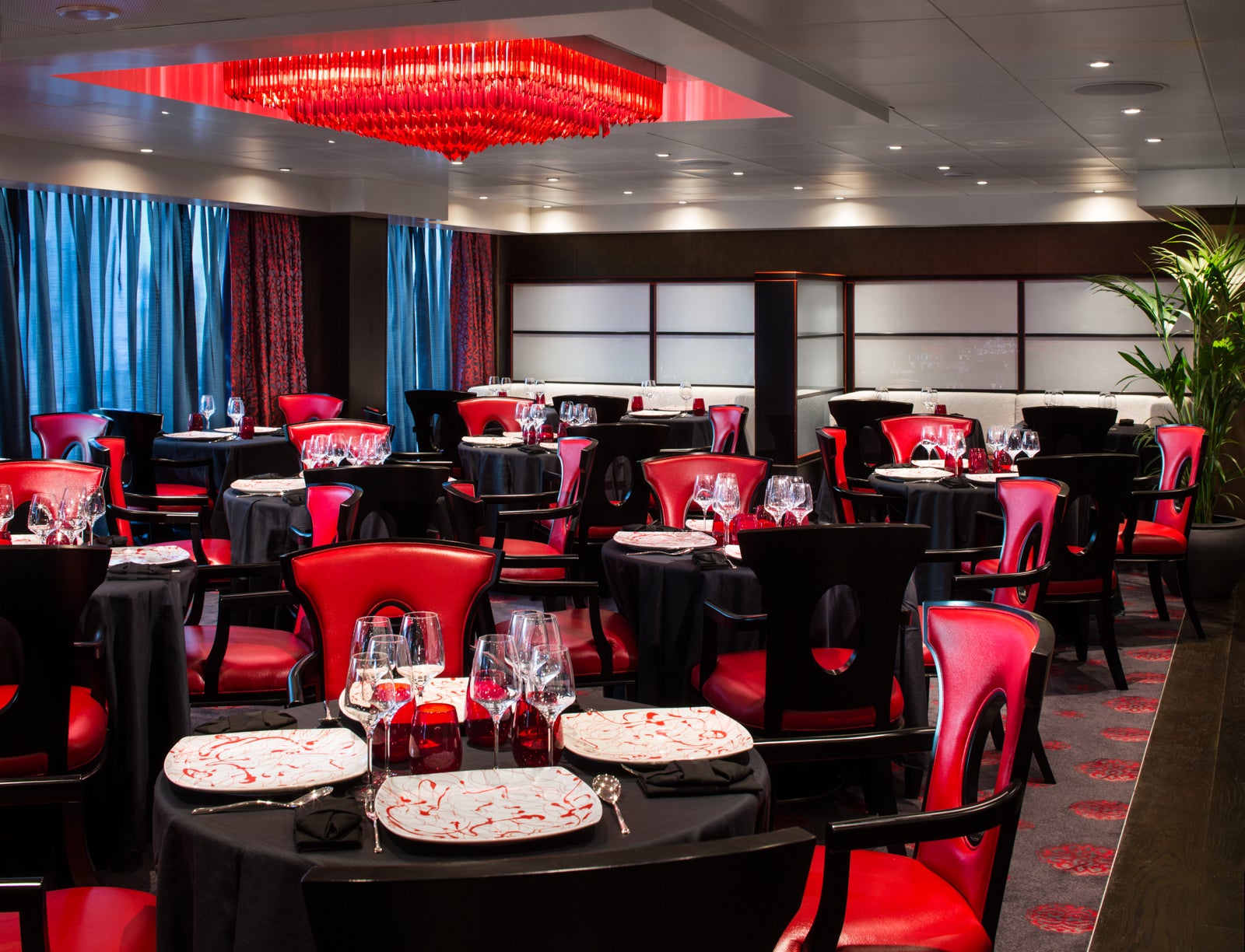 Notably, many cabins on Windstar and SeaDream vessels lack balconies — a feature that was rare on cruise ships a few decades ago but now is standard. All four Azamara ships and the four oldest Oceania ships have relatively small cabins compared with cabins on today's luxury ships.
Upscale line trivia: The four Azamara ships and the four oldest Oceania ships are sister vessels. They all once belonged to long-defunct Renaissance Cruises. You'll sometimes hear cruising aficionados refer to them by their Renaissance-related class name, the R class.
Expedition lines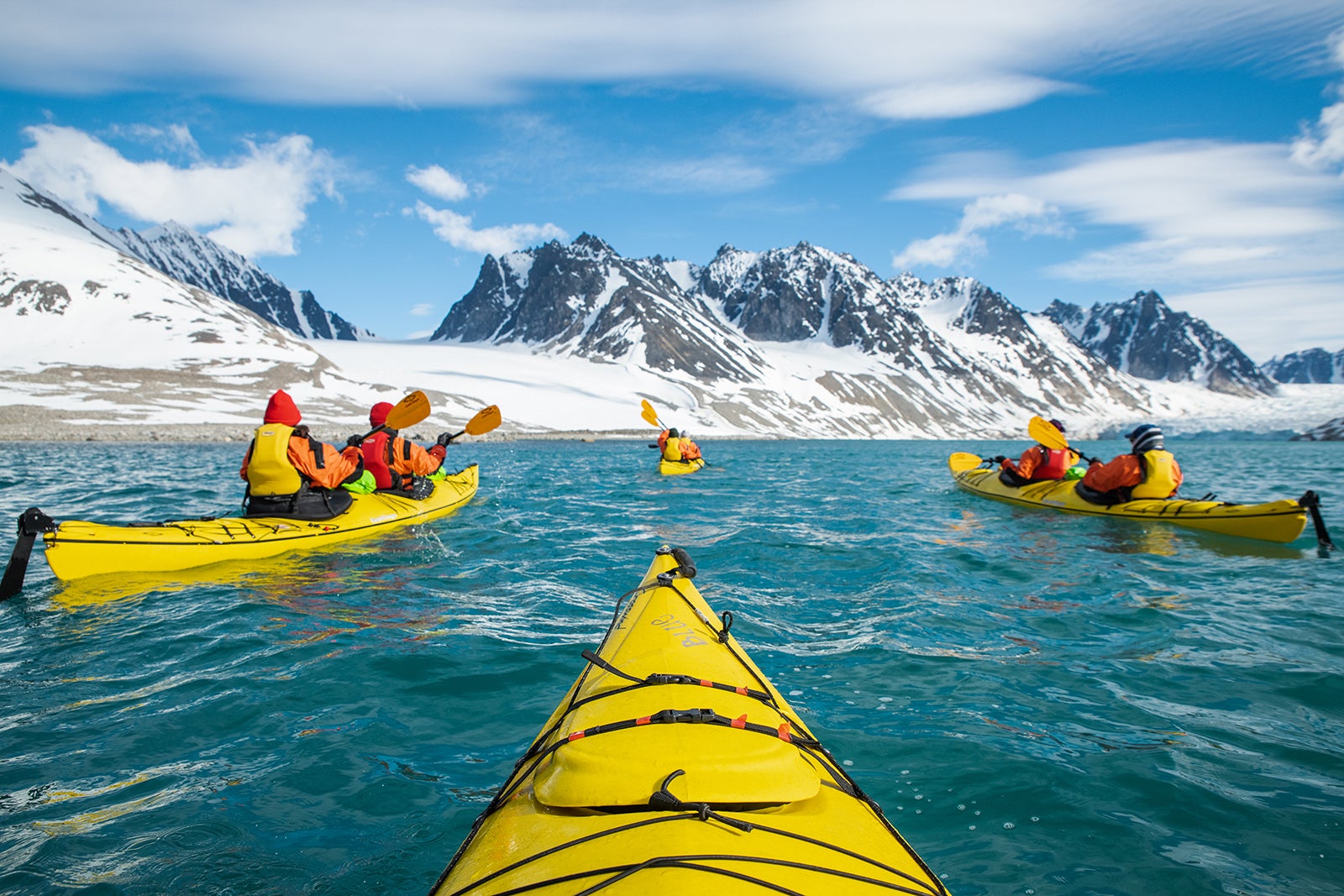 One of the fastest-growing segments of cruising in recent years has been "expedition cruising," a type of cruising that involves traveling to remote, hard-to-reach places such as Antarctica on small, hardy vessels that carry their own landing craft to get you ashore.
This type of cruising is so different from what the big mass-market lines offer that it might as well be considered an entirely different form of travel.
Expedition cruising is all about getting you to off-the-beaten-path places that often have little or no land-based infrastructure. You are traveling to these places by seagoing vessel because that's the only way to reach them.
On an expedition cruise, the focus is often on remote wilderness areas and the wildlife that inhabits them. Expedition leaders with deep knowledge of the destination will accompany you on your journey. Scientific experts such as biologists, geologists and ornithologists and a historian may also be on board to lead landings and give informative talks.
Big expedition cruise destinations include Antarctica and remote parts of the Arctic, including the icy islands of Svalbard, Franz Josef Land and Canada's Northwest Passage. The wildlife-filled Galapagos, where many islands are uninhabited, is another classic expedition cruise market (with a vessel ecosystem all its own, thanks to unusual local regulations).
You'll also find expedition cruise vessels operating in remote parts of South America, Asia and the South Pacific but also in some more mainstream destinations such as Alaska.
Notable players in the expedition cruising space include:
Aurora Expeditions
Atlas Ocean Voyages
Lindblad Expeditions
Hurtigruten
Quark Expeditions
Scenic Luxury Cruises
Oceanwide Expeditions
Poseidon Expeditions
Eagle-eyed readers will notice that four lines listed above — Silversea Cruises, Hapag-Lloyd Cruises, Seabourn and Viking — also appeared in this story's listing of luxury or almost-luxury lines. The four brands are major players in both the traditional luxury ship market and the expedition cruise ship market.
There is a growing trend of traditional cruise lines getting into the expedition cruise space. Two of the brands mentioned above — Seabourn and Viking — only added their first expedition ships in 2022 .
In addition, luxury river cruise specialist Scenic Luxury Cruises & Tours recently unveiled its first two expedition ships. The past two years have also brought an all-new luxury expedition cruise company, Atlas Ocean Voyages . It's calling itself a "luxe-adventure" line.
I also include UnCruise Adventures in this category of lines. It's a hard-to-categorize little line specializing in adventurous, outdoorsy, ship-based trips in remote parts of Alaska. It operates the tiniest of vessels, with the biggest among them holding just 86 passengers. Its trips revolve around hiking, kayaking, whale watching, birding and exploring by skiff.
Historically, expedition ships have carried under 200 passengers — a manageable number for an exploration-focused vessel operating in a remote location such as Antarctica. But a growing number of expedition ships carry more. Viking designed its new expedition ships to carry 378 passengers. Some new Hurtigruten expedition vessels are designed for around 500 people.
Note that expedition cruises are expensive, with pricing on par with traditional luxury cruises. Expedition ships are expensive to build on a per-berth basis and require a relatively high ratio of staff to passengers to operate compared with mass-market cruise ships.
River cruise lines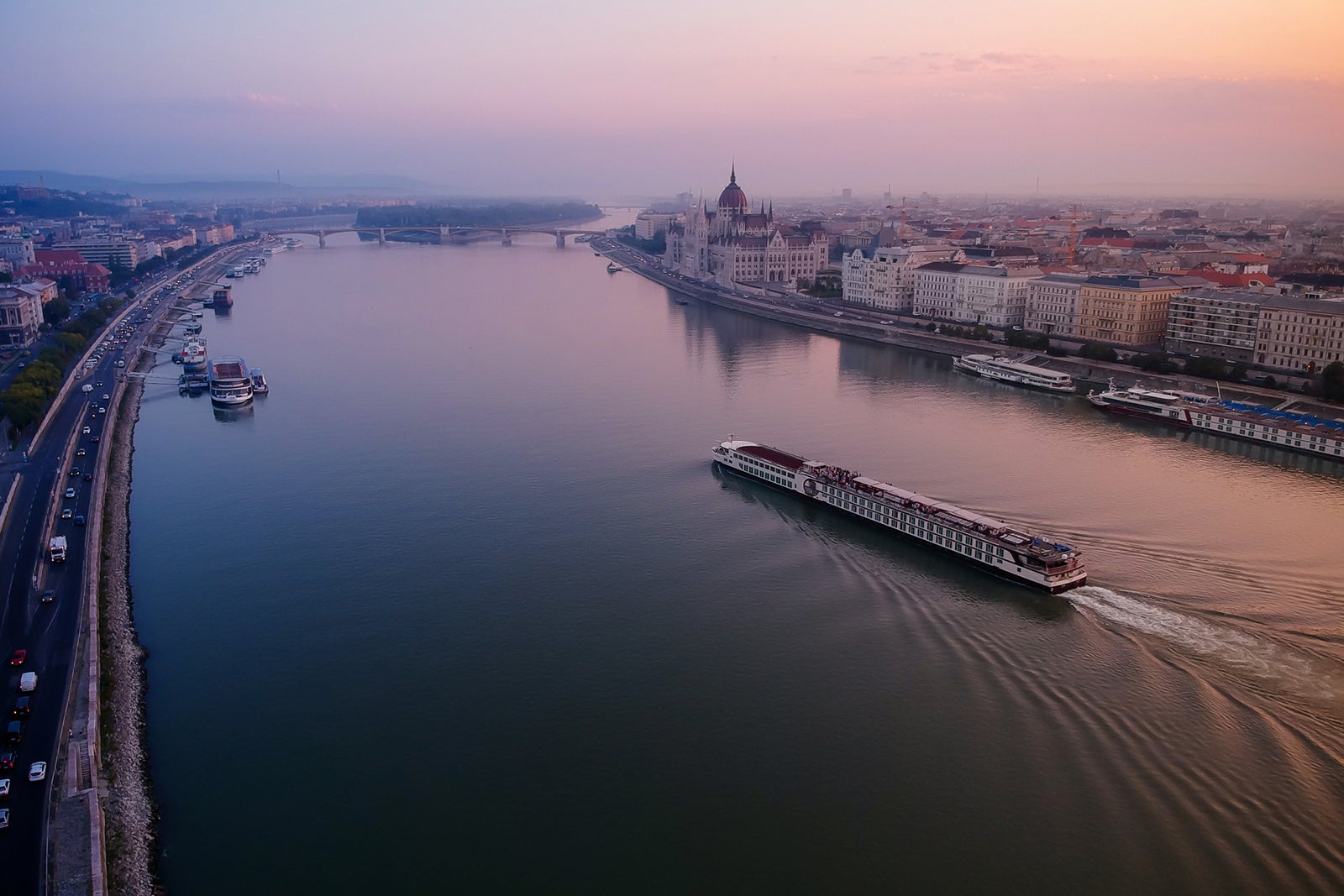 All the lines I have discussed so far have one thing in common: They operate oceangoing ships. Another entire segment of cruising revolves around travel on rivers.
Like expedition cruising, this has been a fast-growing segment of the cruise world in recent years, with capacity among the major river cruise lines growing at a rapid pace.
Much of the growth in river cruising has been driven by the marketing efforts and aggressive shipbuilding program of a single line, Viking. Founded in 1997 with four river vessels, Viking has exploded into a cruising colossus over the past decade with the rollout of more than 60 new river ships. (Starting in 2015, it also began adding ocean ships, which we discuss in the "upscale" segment above.)
Viking now accounts for about half of all river cruises taken by North Americans. However, it's not the only significant river cruise player. Other major brands that market river cruises to North Americans include:
AmaWaterways
Avalon Waterways
Uniworld Boutique River Cruises
Emerald Waterways
Scenic Luxury Cruises & Tours
American Cruise Lines
American Queen Voyages
Grand Circle Cruise Line
As you can see, there is no shortage of companies in the river cruise business. The list above doesn't even include river lines that primarily cater to Europeans, of which there are many, including France-based CroisiEurope and Germany's Nicko Cruises.
Related: Booking your first river cruise? Here's what you need to know
On many rivers, the vessels these lines operate are all roughly the same size due to specific size limitations caused by lock sizes and bridge heights. As a result, there is less variation among river ships than there is among ocean ships. That said, the brands above offer a range of experiences and price points.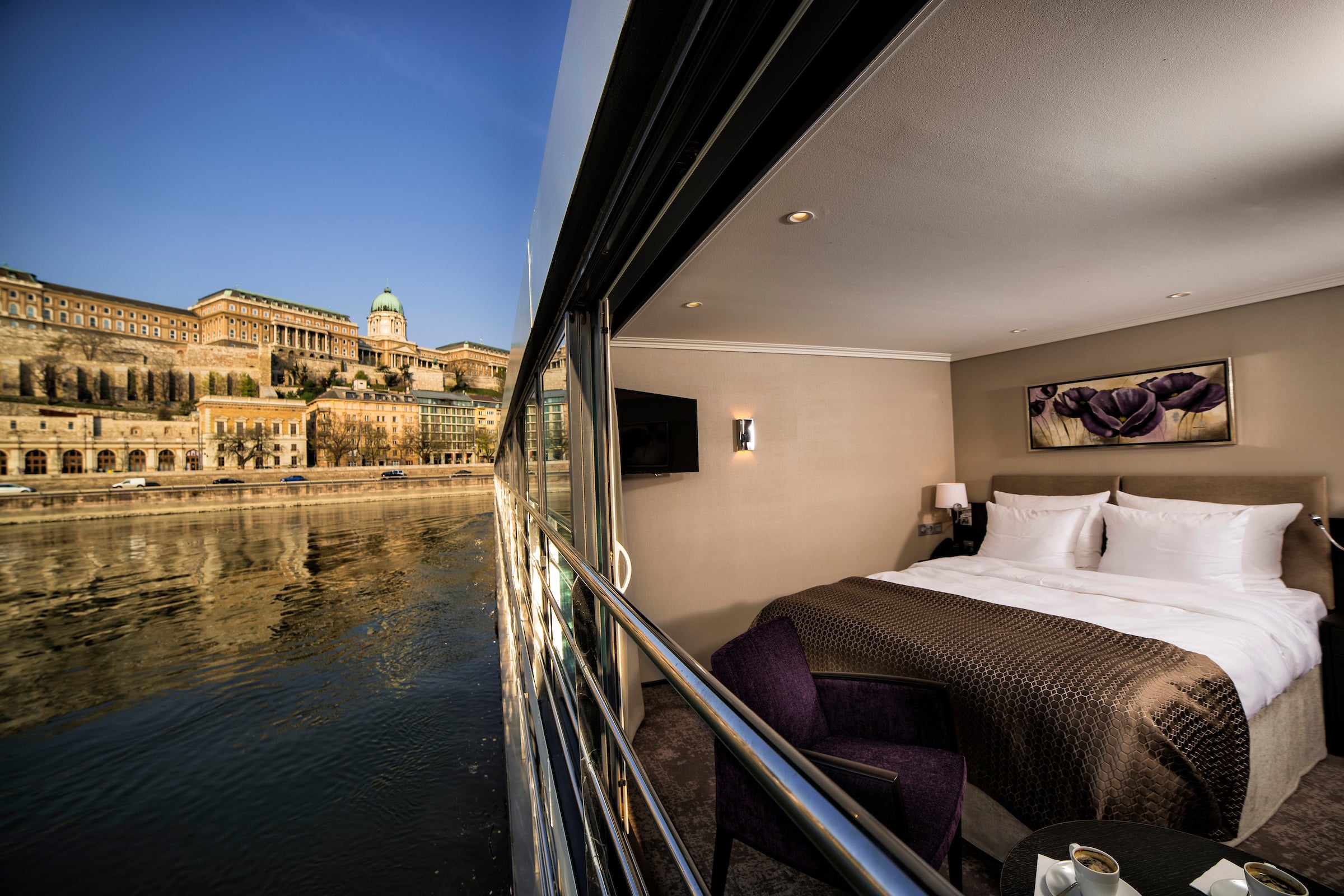 While the outsides of river ships often look similar, their interiors can vary greatly, with some being more luxurious and pampering than others.
One way to judge the relative luxury level of river lines operating in Europe, in particular, is to look at how many passengers each puts in one of its 135-meter vessels. That's the most common standard river ship size on European waterways due to the lock sizes in Europe.
Related: Why a Portugal river cruise may be the perfect friends group getaway
River cruise giant Viking, for instance, designs its 135-meter vessels to carry 190 passengers. Avalon Waterways and AmaWaterways put 166 and 156 passengers, respectively, on the same-length ships. At Tauck, the number is 130 passengers.
As a rule of thumb, the ships with fewer passengers offer a more premium experience — and are priced accordingly. You'll pay a lot more to sail with Tauck than Viking.
Niche lines
Finally, there are lots of little (and in some cases tiny) cruise lines that I call "niche" lines. These lines offer a specialized product, often with just a handful of ships.
In some cases, these lines only operate in a certain part of the world, such as Alaska or the South Pacific. In other cases, they only cater to a narrow range of people, such as sailing aficionados.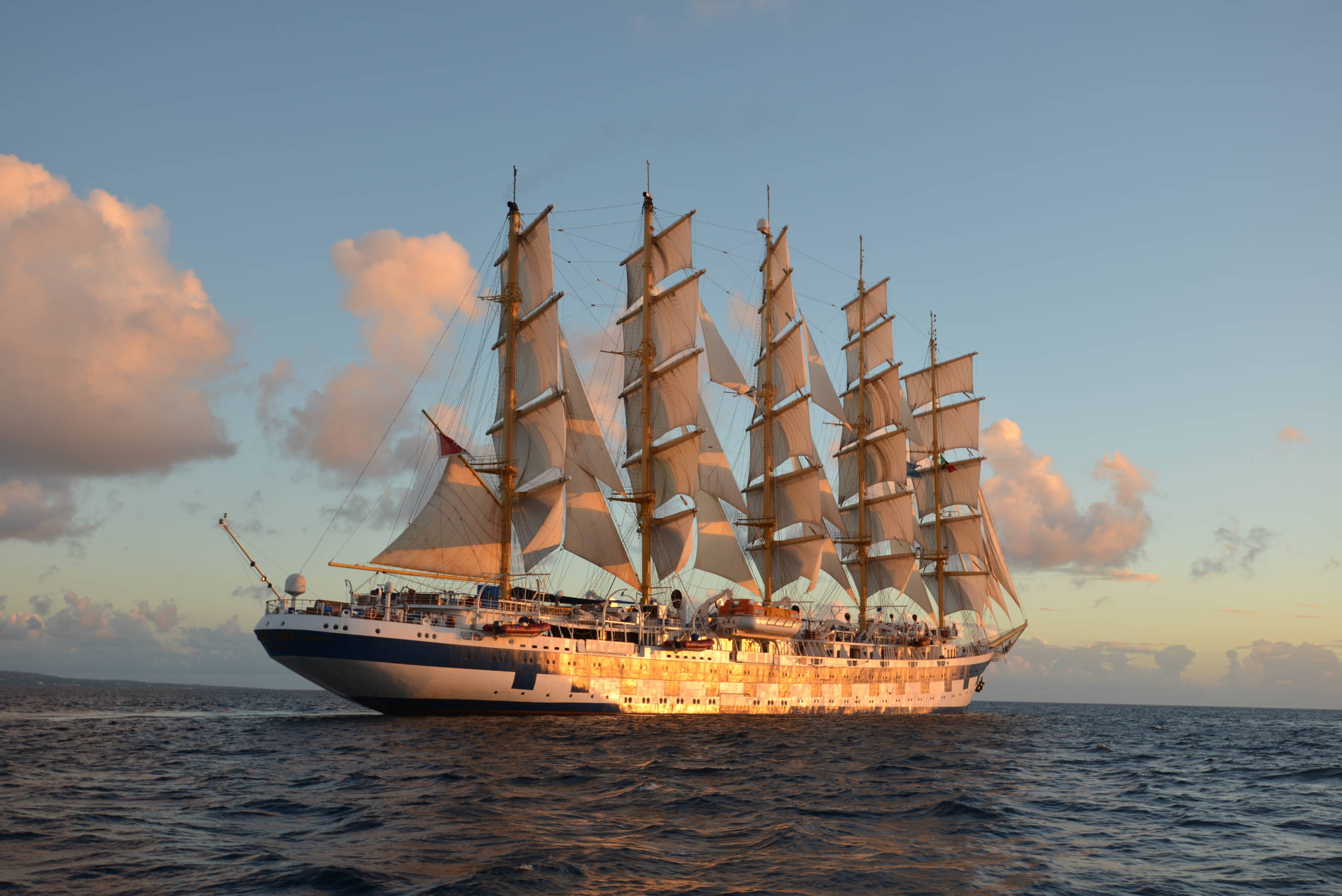 You may end up loving these lines, but you probably won't sail with them all the time — if only because they don't offer all the types of cruises you will want to experience.
Among these lines, I include the following (with its specialty in parentheses):
Disney Cruise Line (cruises for Disney fans, families)
Virgin Voyages (cruises for adults without kids looking to let loose)
Paul Gauguin Cruises (South Pacific cruises)
Star Clippers (cruises for sailing fans)
Sea Cloud Cruises (cruises for sailing fans)
Cunard Line (cruises for ocean liner enthusiasts, Anglophiles, globetrotters)
American Cruise Lines (U.S. waterway cruises)
American Queen Voyages (U.S. waterway and Mexico cruises)
Alaskan Dream Cruises (Alaska cruises)
Celestyal Cruises (Greece and Turkey cruises)
Grand Circle Cruise Line (niche small-ship sailings)
Even the biggest of these lines — Disney — is just one-tenth the size of industry leader Royal Caribbean, when measured by passenger capacity. Some of these brands, such as Paul Gauguin Cruises and Alaskan Dream Cruises, are barely 1% the size of the biggest brands.
Paul Gauguin only has a single, 332-passenger ship, Paul Gauguin. It operates a very specialized set of French Polynesian itineraries out of Tahiti to destinations such as Bora Bora and Moorea that draw a lot of honeymooners and couples celebrating anniversaries.
Related: Why it's easier to meet new people on a small ship
A few of these lines such as American Cruise Lines and Grand Circle, you will have noticed, were already included in the listings above for river lines. They fit in both categories, as they operate river ships but also some very small oceangoing vessels that offer niche itineraries.
All of these lines are niche players in the industry. But, in many cases, they are well known in the travel world for what they do. Disney may have just five cruise ships — compared with 26 for Royal Caribbean — but if someone says the words "family cruise," Disney will likely be the first line to come to mind.
Related: Everything you need to know about Disney Wish
Star Clippers and Sea Cloud Cruises, which both operate sailing ships, are popular with people who want to experience what it was like traveling in the days before steam power. American Cruise Lines has developed a major niche offering small-ship trips along U.S. coastal waterways and rivers, including voyages along the coast of Maine, up the Hudson River and in the Chesapeake Bay.
Dating to the 1800s, the storied, U.K.-based Cunard Line is particularly known for its transatlantic sailings between New York and Southampton, England. Operated by the iconic Queen Mary 2, the sailings are a throwback to the days of grand ocean liner travel. Cunard also is known for its annual around-the-world sailings that include stops in dozens of countries.
Bottom line
The cruise industry includes many lines offering a wide range of experiences. No two are exactly alike. If you want to find the right cruise line and ship for you, do your homework in advance. Think hard about the type of vacation experience you want, and read up on the lines and ships that seem the closest fit for your travel style.
Here at TPG, we offer a growing array of guides to individual cruise lines, as well as ship-specific reviews.
Planning a cruise? Start with these stories:
The 5 best cabin locations on any cruise ship
The 8 worst cabin locations on any cruise ship
21 tips and tricks that will make your cruise go smoothly
15 ways cruisers waste money
What to pack for your first cruise
How to get a deal on a cruise
CRUISE TIPS
Carnival Cruise Lines
Celebrity Cruise Line
Disney Cruise Line
Holland America Line
MSC Cruises
Norwegian Cruise Line
Princess Cruises
Royal Caribbean
Virgin Voyages
Windstar Cruises
Travel Deals
CRUISE SHIP TRACKER
Port Webcams
What Are The Newest Carnival Ships? (In Order)
Carnival Cruise Line currently has 24 cruise ships in service. Carnival Cruise Line is the largest cruise company in the world, based on passengers carried, and the flagship brand of Carnival Corporation & plc. Known as "America's Cruise Line" for carrying more Americans and serving more U.S. homeports than any other cruise line .
The Newest Carnival Ships On Order
Carnival has made things a little confusing for Cruise Addicts by completely renaming and refurbishing some of its older vessels. If that wasn't confusing enough, they have recently moved and renamed several ships from the Costa brand to Carnival Cruise Line. Carnival also has plans to move more Costa ships to Carnival in the future. In brief, not every new ship is brand new.
This guide will give you some insight into what is actually Carnival's newest Carnival cruise ships. This also includes also ships that are currently under construction as well as ships that have been refurbished and renamed.
Let's explore the upcoming additions to the Carnival Cruise Line fleet.
Carnival Jubilee – 2023
Carnival Jubilee is under construction at Meyer Werft in Papenburg, Germany. Her delivery date is expected to be in early December 2023 .
She will be the newest ship in the Excel class , Carnival Jubilee will share many of the same features guests love on Mardi Gras – including the award-winning BOLT, The Ultimate Sea Coaster . She will also feature unique experiences and signature venues of her own.
Carnival Jubilee will begin sailing from Galveston in December of 2023 and will offer seven-day Western Caribbean cruise vacations with stops in Cozumel and Costa Maya, Mexico, as well as Mahogany Bay (Isla Roatan), Honduras.
Carnival Firenze – 2024
The ship will feature the cruise line's new Carnival Fun Italian Style experience, which debuts with the June 2023 arrival of Carnival Venezia in New York . Carnival Fun Italian Style incorporates Carnival's signature high-energy environment, friendly team members and many familiar venues, plus several new, creative concepts – from Italian-themed restaurants, bars and entertainment .
Carnival Firenze will join the fleet in spring 2024 after being transferred from sister brand Costa Cruise Lines. She will sail from Long Beach, Calif. The ship will offer a variety of cruises year-round, with sailings set for popular destinations in Baja , California and the Mexican Riviera . This ship sailed under the name Costa Firenze with Costa and is also a Vista Class ship and sister to the Costa Venezia which has already joined the Carnival fleet.
Previously known as Costa Firenze, this is also a Vista-class ship , and a sister ship to Costa Venezia, which will have joined the Carnival fleet a year prior. Both of these ships are retaining their Costa funnels and a will have modified hull art as a nod to their Italian roots and unique style.
The Newest Carnival Ships Sailing in 2023
Discover the latest and greatest Carnival ships that are currently out at sea. Check out the list below, starting with the newest addition.
Carnival Venezia – 2023
Carnival Venezia was initially launched in 2019 for Costa Cruises and is 133,500 GRTs and carries 4,977 passengers. She is considered part of the Venice Class and was the former Costa Venezia .
Carnival Celebration – 2022
Carnival Celebration is the second ship in the popular  Excel Class  and sister to  Mardi Gra s. She carries 5,282 passengers (based on two per cabin). The Godmother of the ship is Cassidy Gifford.
The ship takes her name from a former Carnival cruise ship,  Celebration , that was part of the  Holiday class . The name also pays homage to the companies long history as the ship was delivered during  Carnival Cruise  Line's 50th birthday year.
Carnival Luminosa – 2022
Carnival Luminosa was originally launched in 2008 for Costa Cruises and is 92,600 GRT's and carries 2,826 passengers. She is considered part of the Spirit Class and was the former Costa Luminosa .
Mardi Gras – 2021
The Mardi Gras is a ship belonging to Carnival's Excellence Class, also known as Excel Class, and is the sister ship of Carnival Celebration. With a capacity of 5,282 passengers based on double occupancy, it is named after a former Carnival cruise ship that sailed for two decades. The Miss Dominican Republic , Kimberly Jiménez, is the ship's godmother.
Mardi Gras made history by being the first ship in North America to run on Liquified Natural Gas (LNG). Additionally, it features BOLT, the Ultimate Speed Coaster, which is the first-ever roller coaster on a ship.
Mardi Gras is also the only ship name in the current Carnival Cruise Line fleet without including the word Carnival. This honors Carnival's original Mardi Gras that first sailed for the brand on March 11, 1972.
Carnival Panorama – 2019
Carnival Panorama is the third ship in the Vista Class . She carries 4,008 passengers (based on two per cabin). She was christened by Godmother Vanna White . The ship debuted Carnival Kitchen, a first-in-fleet culinary center that offers more than 15 different interactive cooking, baking and decorating demonstrations.
Carnival Horizon – 2018
The Vista Class features the Carnival Horizon as its second ship, capable of accommodating 3,960 passengers in two-person cabins. The ship's Godmother is the versatile Queen Latifah, who is renowned for her skills in rapping, acting, and singing.
Carnival Horizon stands out for its groundbreaking features, such as the Guy's Pig & Anchor Bar-B-Que Smokehouse|Brewhouse, and the first-ever Dr. Seuss-themed water park .
Renamed Carnival Ships
Carnival Cruise Line has changed the names of three of its ships over the years. In order to enhance the ships, they have undergone a thorough dry dock renovation process where they are stripped down and updated with new features and décor.
Although the renovated ships are as good as new, they are not as large or have some of the newest features available on the Excel Class ships like Mardi Gras and Carnival Celebration.
Carnival Sunshine
Carnival Sunshine is the first ship in the Sunshine Class and is a sister ship to Carnival Sunrise and Carnival Radiance. It has a passenger capacity of 2,984 based on double occupancy.
This vessel was first put into service in 1996 under the name Carnival Destiny, and was the inaugural ship of the Destiny Class. In 2013, the Carnival Destiny underwent a remarkable 49-day, $155-million dollar refurbishment and was renamed and reclassified as the first Sunshine Class ship. The ship's Godmother is Lin Arison.
Carnival Sunrise
Carnival Sunrise is the second ship of the Sunshine Class, and it is a sister ship to Carnival Sunshine and Carnival Radiance. The ship has a capacity of 2,984 passengers based on two per cabin, and its Godmother is Kelly Arison.
This ship originally entered service in 1999 as the former Destiny Class ship named the Carnival Triumph . In 2019 the Carnival Triumph received an incredible $200 million transformation that resulted in it being renamed and also reclassified as a Sunshine Class ship.
Carnival Radiance
Carnival Radiance is the third ship in the Sunshine Class, along with sister ships Carnival Sunshine and Carnival Sunrise. It has a capacity of 2,984 passengers based on double occupancy.
This ship entered service in 2000 as the former Destiny Class ship named the Carnival Victory . In 2021, the Carnival Victory received a massive transformation that resulted in it being renamed and reclassified as a Sunshine Class ship. The Godmother of the ship is Dr. Lucille O'Neal.
Final Thoughts
Carnival Cruise Line has had a lot of dynamic changes. They scrapped many of their older ships in order to save money and focus on newer and more profitable ships after the Covid-19 pandemic shutdown.
As you can see Carnival Cruise Line builds new ships regularly with a new ship coming out almost one per year. However, Some of the newer ships are also moved from a sister brands or could even be a refurbished older vessel like we've seen with the Sunshine Class ships.
I hope you have enjoyed some of the history and tidbits about the Carnival Cruise Line fleet as we explored the newest carnival ships in the fleet.
Take a look at our full list of Carnival ships, listed from Newest to Oldest .
Related Articles
Uncover the most expensive flashlight: a luxury guide, ncl's all-new norwegian aqua unveiled, more details about disney lookout cay released.
© Copyright 2023 - Cruise Addicts
Affiliate Disclaimer
Privacy Policy
Exclusive Look at Carnival Jubilee's River Conveyance
October 31, 2023
Cruise Industry News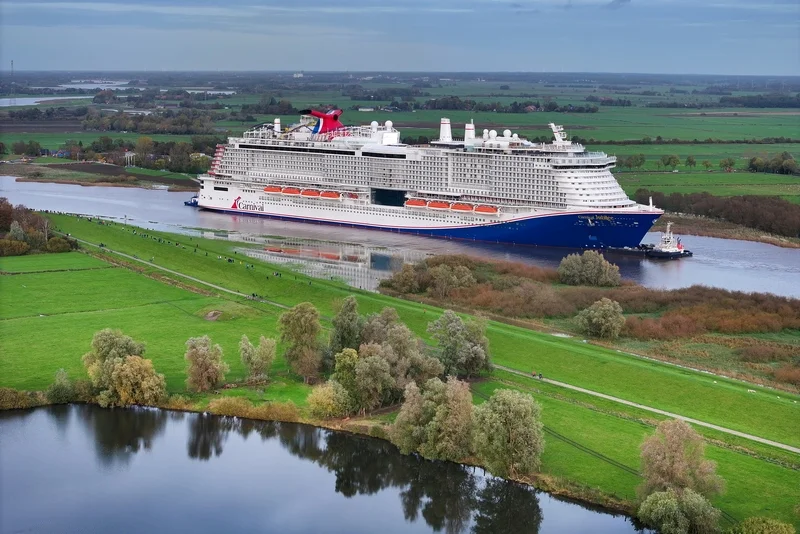 Carnival Cruise Line's latest ship, the Carnival Jubilee, departed from Papenburg on Monday, October 30, 2023, heading to Eemshaven in the Netherlands, traveling along the river Ems backwards. The conveyance was carefully timed with the tidal range on the river.
Cruise Industry News received exclusive photos from Oceanliner Pictures and Oliver Asmussen showing the ship as it makes its way to the North Sea in preparation for its sea trials, where the Jubilee's technical and safety systems will be tested before the ship is handed over to Carnival Cruise Line.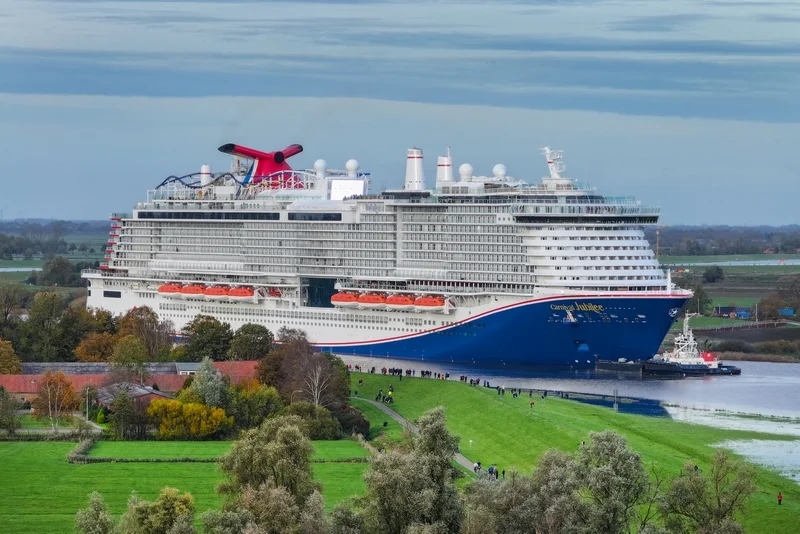 Once the sea trials have been completed, the Carnival Jubilee will be ready to commence its inaugural season, operating week-long sailings in the Caribbean from Galveston.
According to Meyer Werft's statement, the Ems conveyance was scheduled to begin at approximately 9:30 a.m. local time on Monday. The Excel Class ship was set to pass Emden at roughly 3:15 a.m. and arrive in Eemshaven, Holland in the early morning hours on Tuesday, October 31.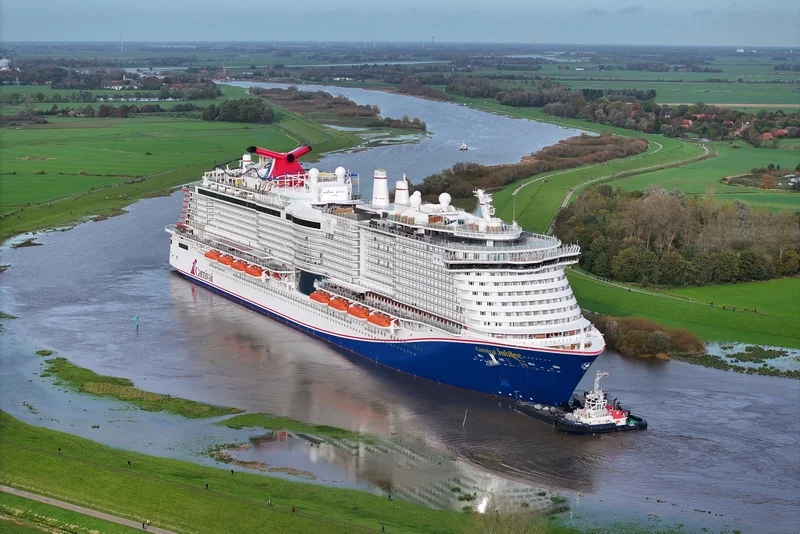 The Carnival Jubilee will make its debut in late 2023, setting sail on its inaugural voyage on December 23, 2023. Homeporting in Galveston, Texas, the ship will offer regular seven-long sailings from the port year-round. The week-long maiden sailing features stops at popular Western Caribbean destinations including Roatan, Honduras and Costa Maya and Cozumel in Mexico before returning to Galveston.
Cruise Industry News Email Alerts
Get the latest breaking  cruise news .  Sign up.
60 Ships | 134,437 Berths | $41 Billion | View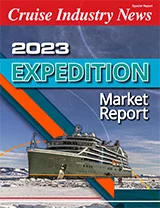 Highlights:
Mkt. Overview
Supply Data
PDF Download
2027 Outlook
Order Today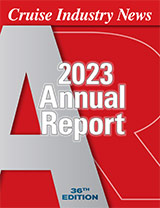 Industry Outlook
All Operators
Easy to Use
Instant Download
Advertising
Cruise News
Magazine Articles
Quarterly Magazine
Annual Report
Email Newsletter
Executive Guide
Digital Reports
Privacy Overview
Carnival Cruise Line shares key dining rule some passengers ignore
Posted: October 29, 2023 | Last updated: October 29, 2023
Carnival and Royal Caribbean often confuse their customers because some written rules get enforced while others seem like suggestions, not actual rules. It can also be confusing as both cruise lines seem to have different policies on different ships and maybe even on different sailings of the same ship.
Main Dining Room (MDR) dress codes can be one source of passenger confusion. Both cruise lines, for example, technically (in their written policies) do not allow men to wear shorts in MDR and both require adult men to wear a collared shirt.
Related: Southwest Airlines makes a big baggage change
It's an unspoken "rule" that the first night on any cruise is an exception because luggage may not have arrived and passengers literally may not have anything to change into. Once you hut the second night, however, dress codes are supposed to be enforced.
The problem is that neither Royal Caribbean RCL nor Carnival generally enforces any MDR dress code aside from not allowing bathing suits. In general, both cruise lines likely don't want to have a fight with their passengers and turning people away because they're dressed too casually creates a customer service nightmare.
The problem is that not every ship for either cruise line has a strict "as long as it's not hurting others we will look the other way" dining room dress code policy. Sometimes, on both Carnival Cruise Line CClL and Royal Caribbean ships dress codes will be strictly enforced down to men not being able to wear hats or open-toed shoes.
It's as confusing as both cruise lines having rules about not "saving" chairs near the pool by leaving your stuff on them. Royal Caribbean and Carnival both have policies outlawing that practice and signs telling you where your stuff will be held if you choose to just leave it on a chair and then disappear.
In reality, neither cruise line enforces the chair policies, because it's very labor intensive to track whether someone has been gone for hours or merely has gone to the bathroom or to get a drink.
So, you can forgive passengers on both cruise lines for sometimes breaking rules that actually are hard and fast. At least one of those rules, which certain passengers ignore, is a health and safety issues.
That's why Carnival Brand Ambassador John Heald shared an important message about a rule that passengers should not ignore on his social media page.
The Arena Media Brands, LLC and respective content providers to this website may receive compensation for some links to products and services on this website.
Carnival Cruise line shares key buffet rule
At any buffet, not just on cruise ships, you may see some people make awful choices. There are always people who opt to use their hands rather than the provided tongs and people who seem to not realize that you can go back as many times as you want, so they mix baked beans and dessert on the same plate.
There are, of course, people who duck their heads under the sneeze guards and those who have no respect for how lines work. Some buffet-goers, however, break a key rule, perhaps because they think they're doing the right thing.  
BOOK YOUR NEXT CRUISE NOW: Plan a dream cruise vacation at the best possible price.
"As it seems to be a topic of conversation today, I would like to ask you this. If you return to the buffet or a restaurant on Lido for a second order, you always take a new plate, correct?" Heald posted.
"Absolutely always and I always get a clean cup for drink each time as well," Patsy Crump posted in response to Heald's question.
Taking a new plate is actually the rule, and in a poll Heald posted 99% of his followers noted that they did. That other 1% may not be consciously breaking the rules, they might think they're doing something environmentally friendly.
SAVE MONEY ON YOUR CRUISE: Let our travel experts get you booked and sailing.
Passengers are also not allowed to refill the same glass or mug at drink stations. That includes the ones at the buffet and elsewhere on the ship. The mug/glass rule is actually posted at most beverage stations while the plate rule, which is in fact a rule, is not posted anywhere.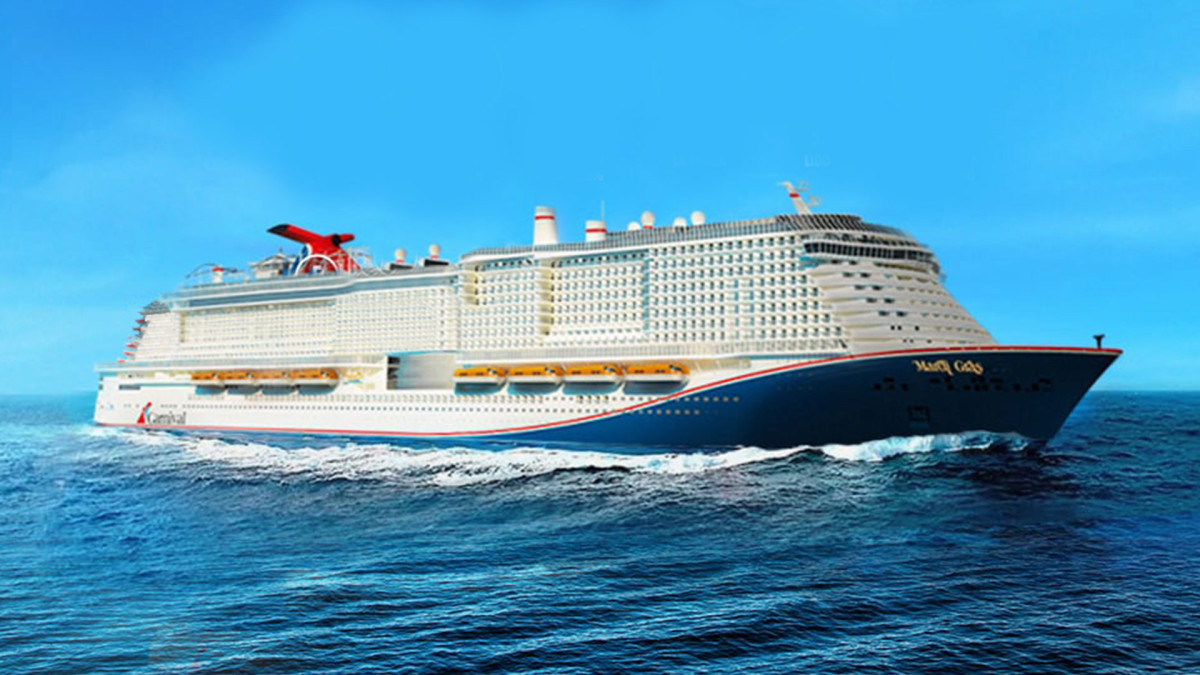 More for You
Most Americans believe they'd be better off financially, U.S. would be kept out of war if Trump reelected
Satellite Photos Show Aftermath of Strike on Russian Black Sea Ship
Rocks From Mars Are Hitting Earth, And Something Is Odd About Their Age
Blondie by Dean Young and John Marshall
Bill Ackman is now calling on Harvard to issue suspensions and disciplinary actions for both antisemitic and pro-Palestinian actions on campus
Saints' Taysom Hill accomplishes something no player has done in over 66 years during win over Bears
Woman identified as State Department employee accuses Biden admin of being 'complicit' in Israel 'genocide'
Florida Taxpayers Could Pay for Donald Trump's Lawyers Under New Proposal
Daily horoscope today: November 6, 2023 astrological predictions for your star sign
Here's the average net worth of Americans by age. How do you stack up?
Hear what Queen Rania of Jordan said about Hamas and the 'root cause' of the conflict
The Most Iconic Diner in Every State
30 Vintage Cakes Like Grandma Used To Make
'Your anger against the truth is reprehensible': Christie lashes out at MAGA crowd after being booed
Lauren Boebert Responds to AR-15 Gun Ban
An Ohio-class submarine, possibly equipped with ballistic missiles, has arrived in the Mediterranean
VA Death Benefits for Spouse: What does a spouse get when a Veteran dies?
Ex-law enforcement officials warn Biden's menthol cigarette ban could 'create a vacuum' for Mexican cartels
Old-School Dinners That Should Totally Make a Comeback
Layered Haircuts and Hairstyles for Every Face Shape
Compare Ships
Which ships have what? See how your selections stack up, or go back for some new ships to compare.
PLAN A CRUISE
Today's Deals
Search Cruises
Travel Agent Finder
Weddings & Occasions
Carnival Mastercard
Financing Powered by Uplift
Carnival EasyPay
Group Travel
Already Booked
Manage My Cruises
Shore Excursions
In-Room Gifts & Shopping
Spa & Salon Services
Internet Plans
Beverage Packages
Customer Service
Have Fun. Be Safe.
Guests with Disabilities
Early Saver Price Protection Form
Lowest Price Guarantee Claim Form
Post-Cruise Inquiries
Legal Notices for EU & UK Guests
Diversity, Equity and Inclusion
Slavery Statement
About Carnival
Cruise Ticket Contract
Passenger Bill Of Rights
Safety and Security
Press/Media
Legal Notices
Privacy & Cookies
Travel Partners
Site Map
Away We Go. Opens in a new window. External site which may or may not meet accessibility guidelines
Facebook. Opens in a new window. External site which may or may not meet accessibility guidelines.
Twitter. Opens in a new window. External site which may or may not meet accessibility guidelines
Instagram. Opens in a new window. External site which may or may not meet accessibility guidelines
Pinterest. Opens in a new window. External site which may or may not meet accessibility guidelines
You Tube. Opens in a new window. External site which may or may not meet accessibility guidelines
© Carnival Corporation. All rights reserved.
Indicates external site which may or may not meet accessibility guidelines.