Connie Mack, Manager
Lefty Gomez
Charlie Gehringer
Earl Averill
Bing Miller
Moe Berg 
Earl Whitehill
Frank Hayes
Rabbit McNair
Hal Warstler
Joe Cascarella
Clint Brown
Lefty O'Doul, Coach
John Quinn, Umpire
1934 Tour of Japan
By PJ Shelley, Tour and Programming Director
With the 2017 World Baseball Classic in full swing, the baseball world reflects and celebrates how global the sport has become. This is the tournament that introduced me and many American baseball fans to Yu Darvish, Aroldis Chapman, Daisuke Matsuzaka, and Yoenis Cespedes, just to name a few.
It's easy to forget that baseball was not always this global. Despite the "World Series" being introduced in 1903, MLB's "world" was restricted to the Northeast and Midwest United States. Even into the 1950s, St. Louis and Washington, D.C., were home to MLB's westernmost and southernmost teams.
Despite MLB's geographic limitations, the spread of the game itself could not be held back by borders or oceans. Baseball was introduced to Japan in the 1870s, and starting in 1908 American professional players had toured The Land of the Rising Sun several times to promote the game. But it was 1934's tour of Japan that stood out the most. Not only was this roster stacked with All-Stars like Lou Gehrig, Jimmy Foxx, Lefty Gomez, and Charlie Gehringer, it had the game's biggest star: Babe Ruth.
( Photo credit )
The All-Stars, skippered by Connie Mack, took on Japan's best players through 12 cities and 18 games. Despite how thoroughly Mack's sluggers routed their competition, winning all 18 games, Japanese fans by the thousands cheered on. Even the aging Ruth did not disappoint. The 39-year-old Sultan of Swat used his R43 Louisville Slugger to wallop 13 home runs, or ホームラン, to the delight of the fans.
Two members of the 1934 traveling team worth noting were a 32-year-old backup catcher with a love of languages from Newark, New Jersey, and a 67-year-old bat maker from Louisville, Kentucky. Moe Berg and Bud Hillerich were part of that tour.
Moe Berg was an eccentric ballplayer. While playing college ball at Princeton, he communicated with his fellow infielders in Latin to confound opposing base runners. He spoke ten languages, but his Washington Senators teammate, Dave Harris, said, "He can't hit in any of them."
Berg split the '34 season between Washington and Cleveland in the backup backstop role. And while his Jersey accent couldn't help him hit a Lefty Gomez fastball, it was his ability to speak Japanese that earned him a ticket to travel with the other star players. While in Japan, he secretly filmed the Tokyo skyline from the roof of a hospital that was one of the tallest buildings in the area. After his playing days when World War II broke out, Berg's multilingual and stealthy skills came in handy once more. He served as a spy for the US government, traveling Europe while gathering intelligence about Germany.
Hand turning the first Louisville Slugger baseball bat in 1884, Bud Hillerich had been crafting bats for the game's greatest for 50 years by 1934. After hand turning World Series bats for players like Hank Greenberg, Frankie Frisch, and Ducky Medwick, to wrap up the season, I suppose Bud had earned a vacation. He was lucky enough to bring his family with the traveling stars to Japan. Lounging on the deck of The RSS Empress Japan while rubbing elbows with Babe Ruth, Lou Gehrig, and future spies sounds like a good time to me. I wonder if any of the star players broke their supply of bats, forcing Bud's wood turning prowess into service while vacationing with his famous customers.
(Hillerich Family Cruise. Bud Hillerich poses with family, Lefty O'Doul, and Babe Ruth on one of their family cruises.
On the deck of the Indraporea. Taken 1934-1935. source: H&B archives)
Baseball passion continues to spread around the world. While we routinely welcome guests to our museum from Japan, Korea, Latin America, and other parts of the world that are baseball mad, I'm always thrilled to welcome guests where baseball is just taking hold. One of our Guest Service Team Leaders is fluent in German, Swedish, and Italian and it seems like every week, she's utilizing her skills to communicate with our international visitors. One tagline for the World Baseball Classic is, "Baseball Spoken Here." I couldn't agree more. They were speaking it in Japan in 1934. We're speaking it in Louisville 363 days a year at 800 West Main Street.
( Header photo credit )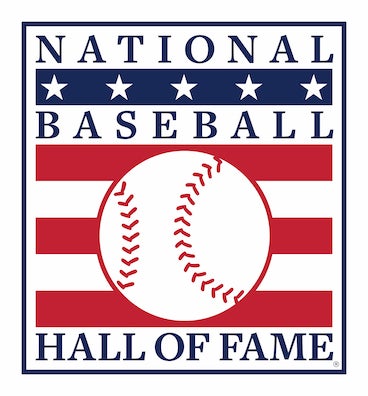 Today's Hours: 9AM - 5PM
Status message
Debug : Image path is empty. in Drupal\twig_tweak\TwigTweakExtension::imageStyleFilter() (line 494 of modules/contrib/twig_tweak/src/TwigTweakExtension.php ).
Our Stories
Team Tours of Japan bridged cultural gap following World War II
As American participation in the Korean War wound down and with Japan still in a state of post-World War II recovery, baseball would again see itself as a bridge between cultural divides.
Several times before World War II, big leaguers and Negro Leaguers visited the Far East on barnstorming junkets or as part of world tours. With the end of hostilities, Lefty O'Doul and Eddie Lopat commandeered major leaguers on barnstorming tours. But no single major league team had yet gone across the Pacific to take on Japanese counterparts.
Until 1953.
On June 29, 1953, New York Giants president Horace Stoneham conditionally accepted an invitation from Shodi Yasuda, president of Japan's Yomiuri Shimbun newspaper, to play a series of exhibition games throughout Japan. One of the teams the Manhattanites would play would be Yasuda's Yomiuri Giants, a powerhouse in Nippon Professional Baseball.
"We are very pleased to have received this invitation," Stoneham told The New York Times . "And, if details are worked out, we hope to make the trip."
The Giants had the blessing of the federal government but not from baseball's highest powers. That would occur two weeks later, however, when major league owners, meeting in Cincinnati for the All-Star Game, voted to allow the Giants to make the trip. The owners needed to waive rules which permitted a limited number of a team's players to participate on a postseason barnstorming club, as well as the rule which forbade barnstorming after a certain point following the World Series.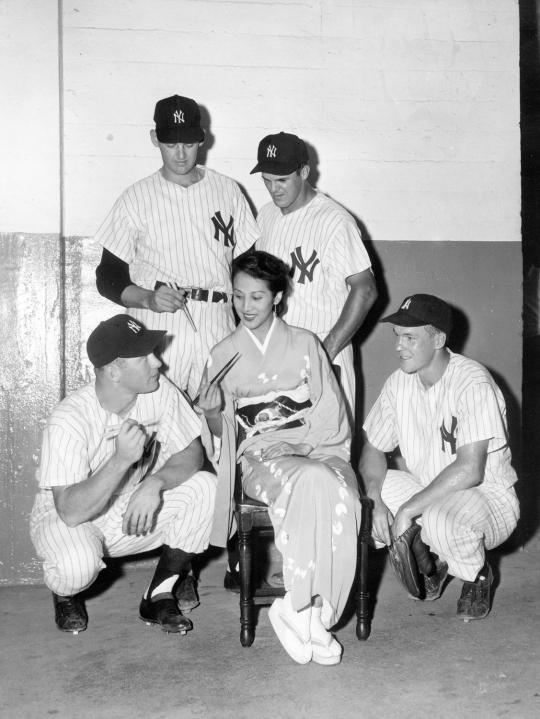 New York Yankees Mickey Mantle (bottom left), Don Larsen (top left), Moose Skowron (top right) and Gil McDougald (bottom right) on a tour of Japan in 1955. (National Baseball Hall of Fame)
Share this image: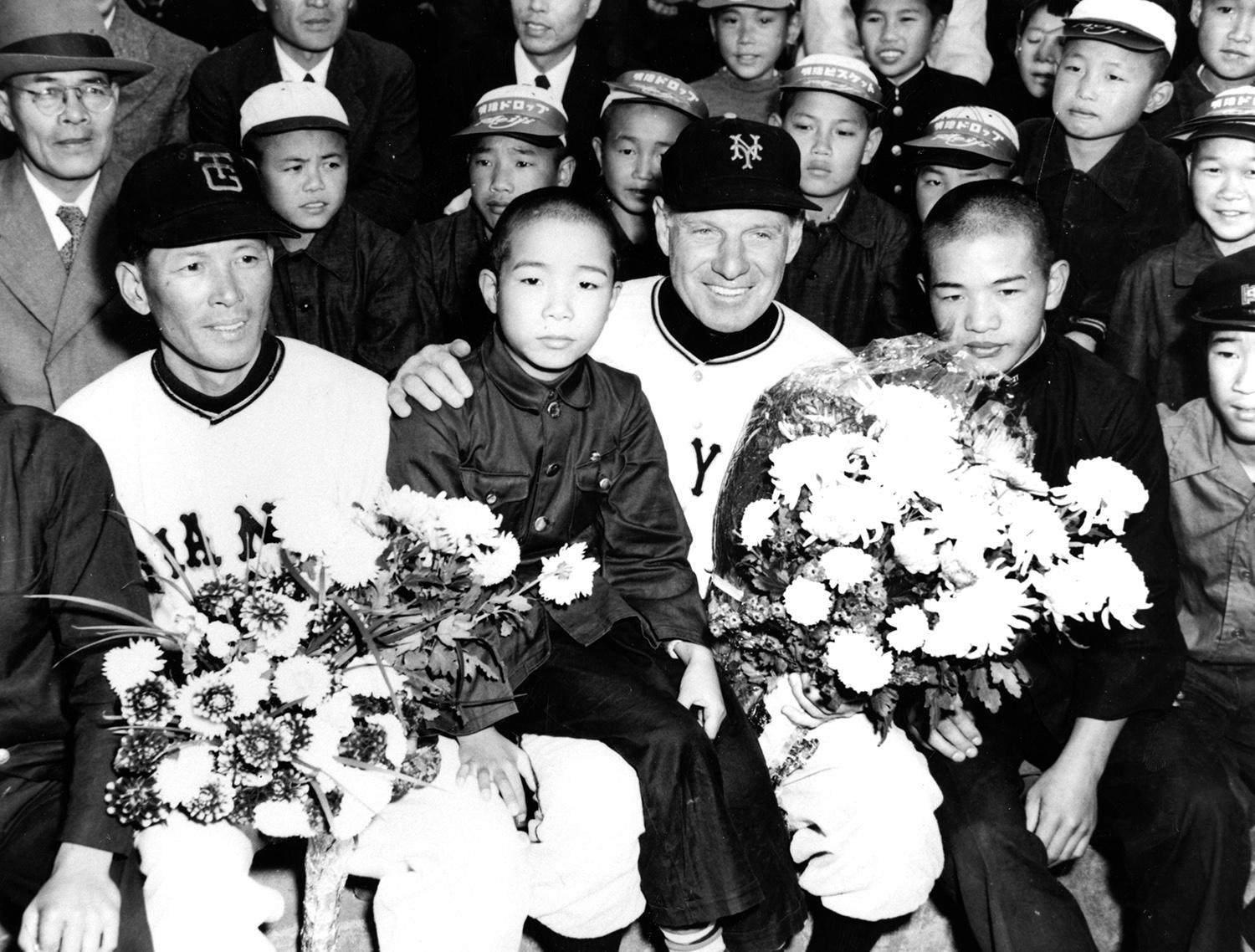 New York Giants manager Leo Durocher said the Japanese "play fine baseball" after returning from the 1953 tour of Japan. (National Baseball Hall of Fame)
Reaction to the news was welcomed in Japan.
"We appreciate Mr. Stoneham's offer of the ball club to go over to Japan. It will be a great thing for both countries," said T.P. Harata, the Tokyo Giants' general manager.
The Japanese newspaper was expected to cover all the expenses of the New York Giants' trip, including airfare. Any profits would be turned over to charities. The Giants left San Francisco on Oct. 9 for Hawaii, where they would play games before flying to Japan.
On Oct. 17, fresh off a victory in the Japan Series, the Tokyo Giants took on the New York Giants in the first game of the Americans' 14-game tour of Japan. The New Yorkers opened the floodgates late in an 11-1 win, the first of nine straight victories against the Japanese. Ultimately, the New York Giants would go 12-1-1 against various Japanese teams in Japan, but the Stars and Stripes newspaper reported there was some disappointment regarding payouts for the Americans.
However, when the Giants arrived in the Philippines on Nov. 13 to play two games, Stoneham called the trip a "great success" and a "goodwill gesture" for which they "received an enthusiastic response."
New York manager Leo Durocher complimented the Japanese, noting "they play fine baseball."
The general good feelings surrounding the tour paved the way for several future visits from other major league squads. In 1955, the New York Yankees travelled to Japan, courtesy of the Mainichi Newspapers Co., Ltd., after their World Series loss to the Dodgers.
But the defeat did not mean much to the Japanese crowd. Throngs packed the streets of Tokyo to welcome the Yankees, and as one newspaper noted, "The Yankees certainly still are the champs to Japanese baseball fans."
Even with the loss of Mickey Mantle halfway through the trip, New York outpaced its competition, compiling a 15-0-1 record – the only undefeated record by any major league team on a Japanese tour. Yet the goodwill gained off the field far offset the Japanese losses on the field. Newspapers reported that the Japanese fans were sorry to see the team end its tour and return to the United States. Others clamored for the Yankees' to come back in the future.
It would not happen, though. In 1956, the Dodgers would make their first trip to Japan, and the Cardinals, Giants, Tigers, Orioles, Mets, Reds and Royals would all make at least one postseason visit before the tours ended in the mid-1980s. San Francisco organized a preseason tour in 1970.
While most of the major league teams handily outperformed the Japanese competition in early tours, by the mid-1960s, it was apparent the opposition's talent was quickly catching up.
The Los Angeles Dodgers' 18-game trip in 1966 was marred by controversy, as Sandy Koufax, Don Drysdale and Wes Parker declined to go to Japan despite pleas from Japanese organizers, hurting ticket sales in the various cities on the tour. It also did not help when team captain Maury Wills left the team a week into the tour to return to the United States for treatment on his injured leg, leaving Dodgers president Walter O'Malley to say "a higher degree of devotion to duty was expected" of Wills as captain.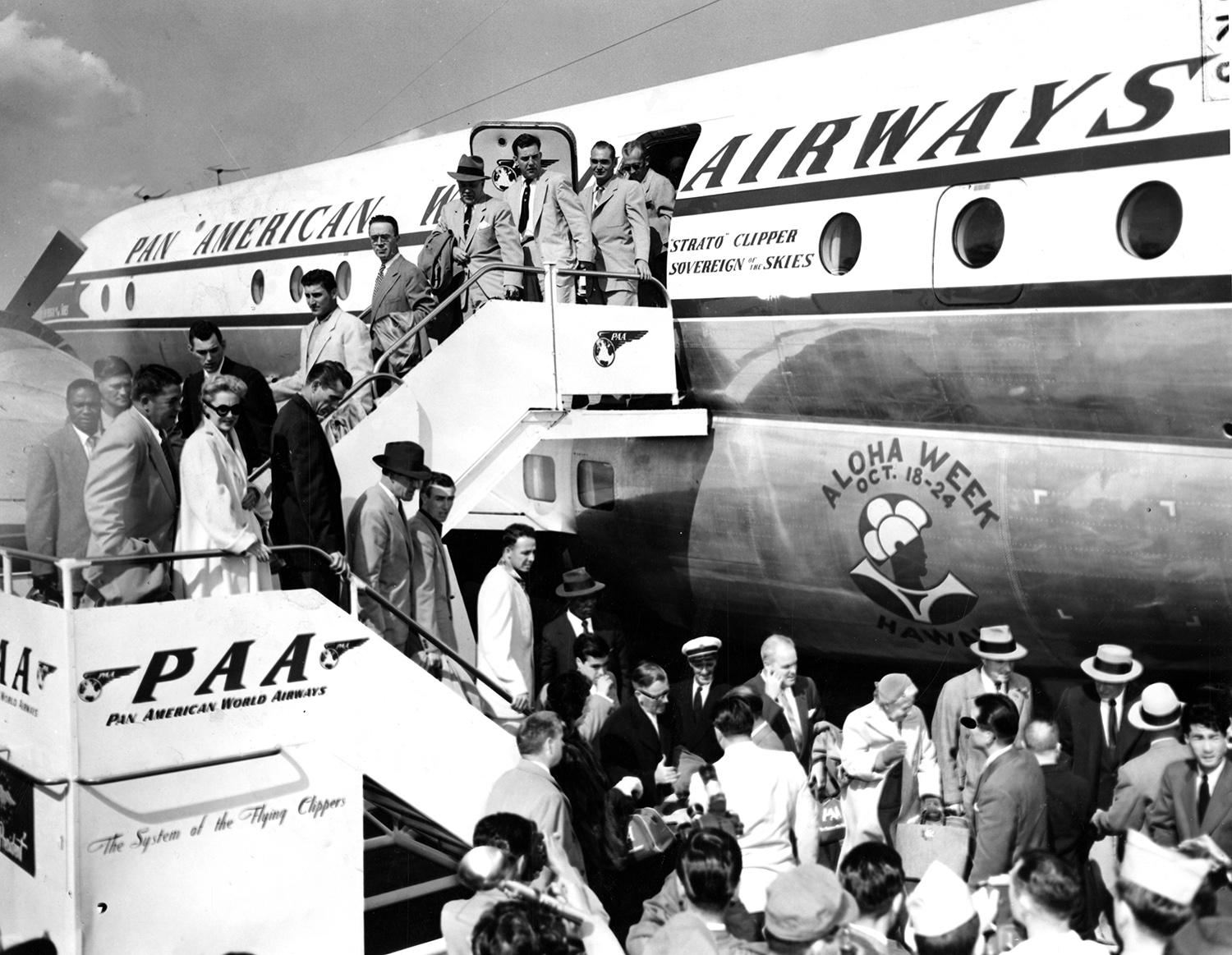 The New York Giants arriving in Japan for their 1953 tour. (National Baseball Hall of Fame)
Koufax announced his retirement shortly before the team's departure from Japan. Ending the tour on a four-game losing streak, the Dodgers' eight losses are the most by any of the major league teams which visited.
When the New York Mets visited in 1974, the tour came with an added sideshow. On Nov. 2, prior to the Mets' game in Tokyo against a Japanese All-Star team, the 50,000 fans were treated to a home run-hitting contest between Hank Aaron and Sadaharu Oh. The duel, broadcast by CBS on a tape delay basis in the United States, saw the major league home run king edge his Asian counterpart 10-9.
Aaron admitted to being "rusty" following a long flight and not having had batting practice in a month. Oh's unorthodox batting stance caught the eye of the Americans.
"I don't know how he keeps his balance when he swings," noted Mets ace Tom Seaver.
In 1978, not even a 14-2-1 record against Japanese teams, following a second-place regular season finish, could save Sparky Anderson. The Cincinnati Reds manager, with two World Series titles to his credit, was fired shortly after returning from Japan.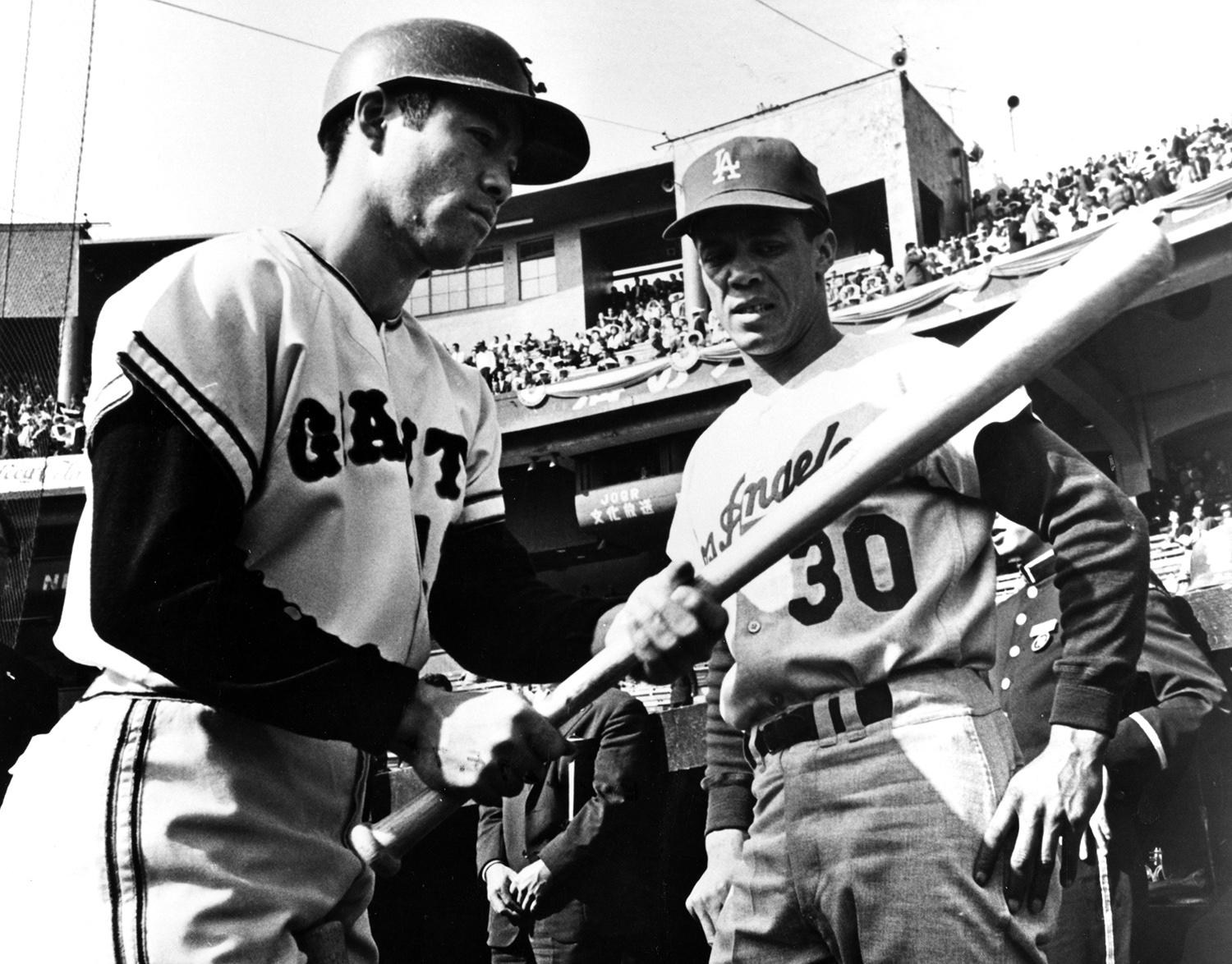 Pictured above, Maury Wills of the Los Angeles Dodgers (right) talks to a Japanese baseball player during the Dodgers tour of Japan following the 1966 season. Wills embarked on the 1966 tour, but had to leave early for a treatment on his injured leg. (National Baseball Hall of Fame)
"The team just got back from Japan, and it was a super trip," Anderson told reporters. "(Reds president) Dick (Wagner) even congratulated me on how we'd done."
Since the Orioles' tour in 1984, the last one done by a single major league team, all-star teams from Major League Baseball and Nippon Professional Baseball have squared off multiple times after the season's end. More recently, Japan's national team has competed against the Americans and took the last challenge, winning three out of five games in 2014. The 2016 series was canceled in favor of the World Baseball Classic, but the series is expected to resume in 2018.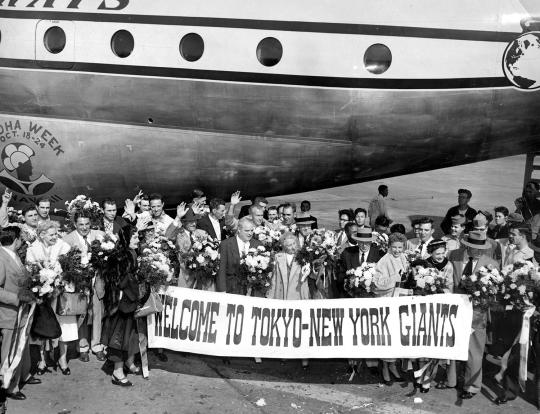 The New York Giants were the first major league team to travel across the Pacific as part of a barnstorming tour. (National Baseball Hall of Fame)
Matt Rothenberg is the manager of the Giamatti Research Center at the National Baseball Hall of Fame and Museum
Related Stories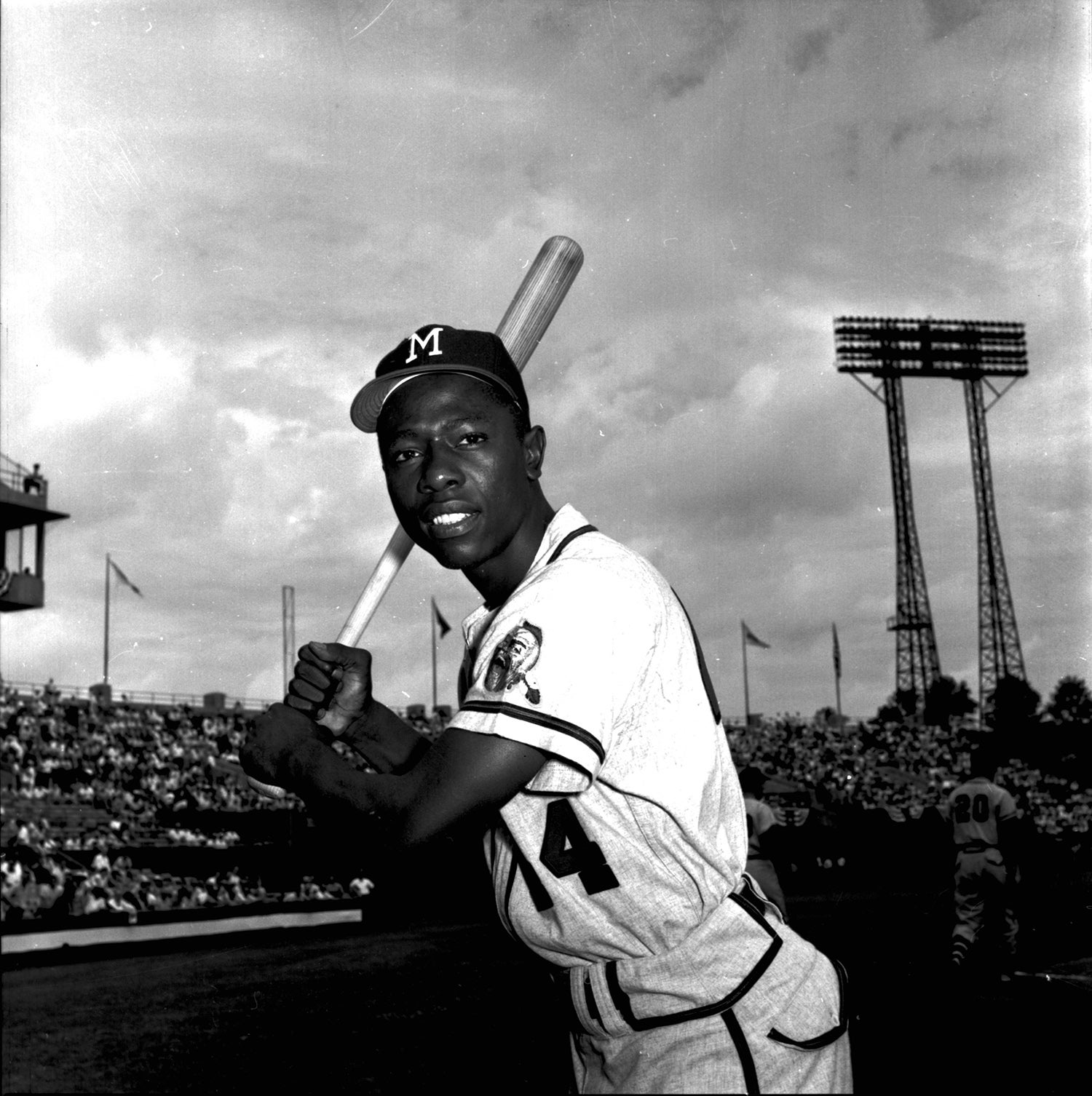 The Braves trade Hank Aaron to the Brewers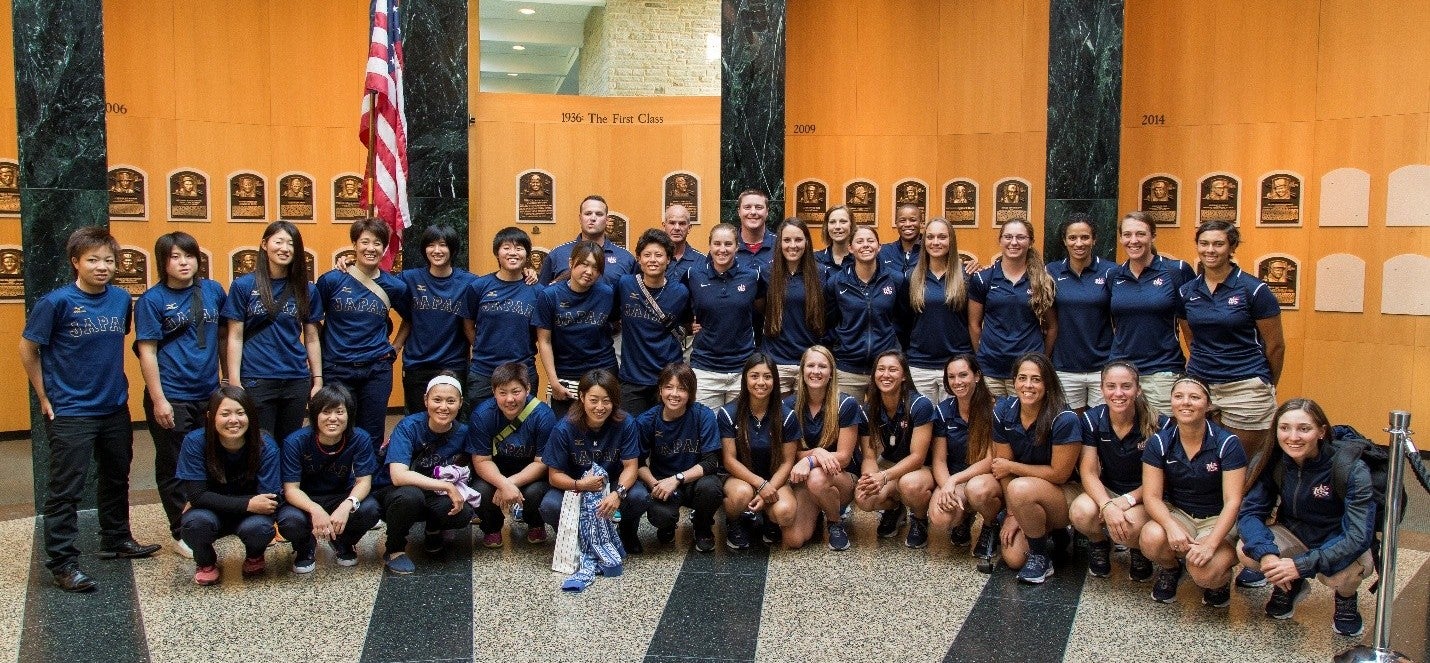 U.S., Japan All-Stars Bring Talents to Cooperstown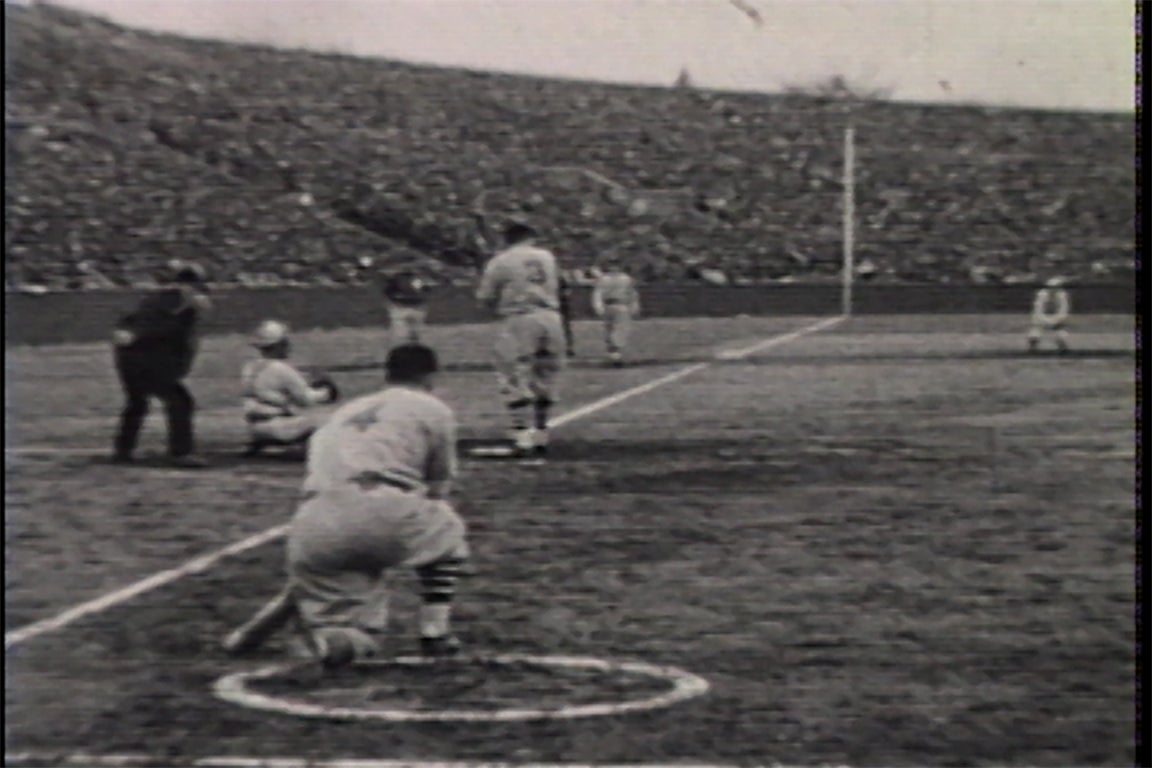 1934 Japan Tour Footage
Mentioned hall of famers.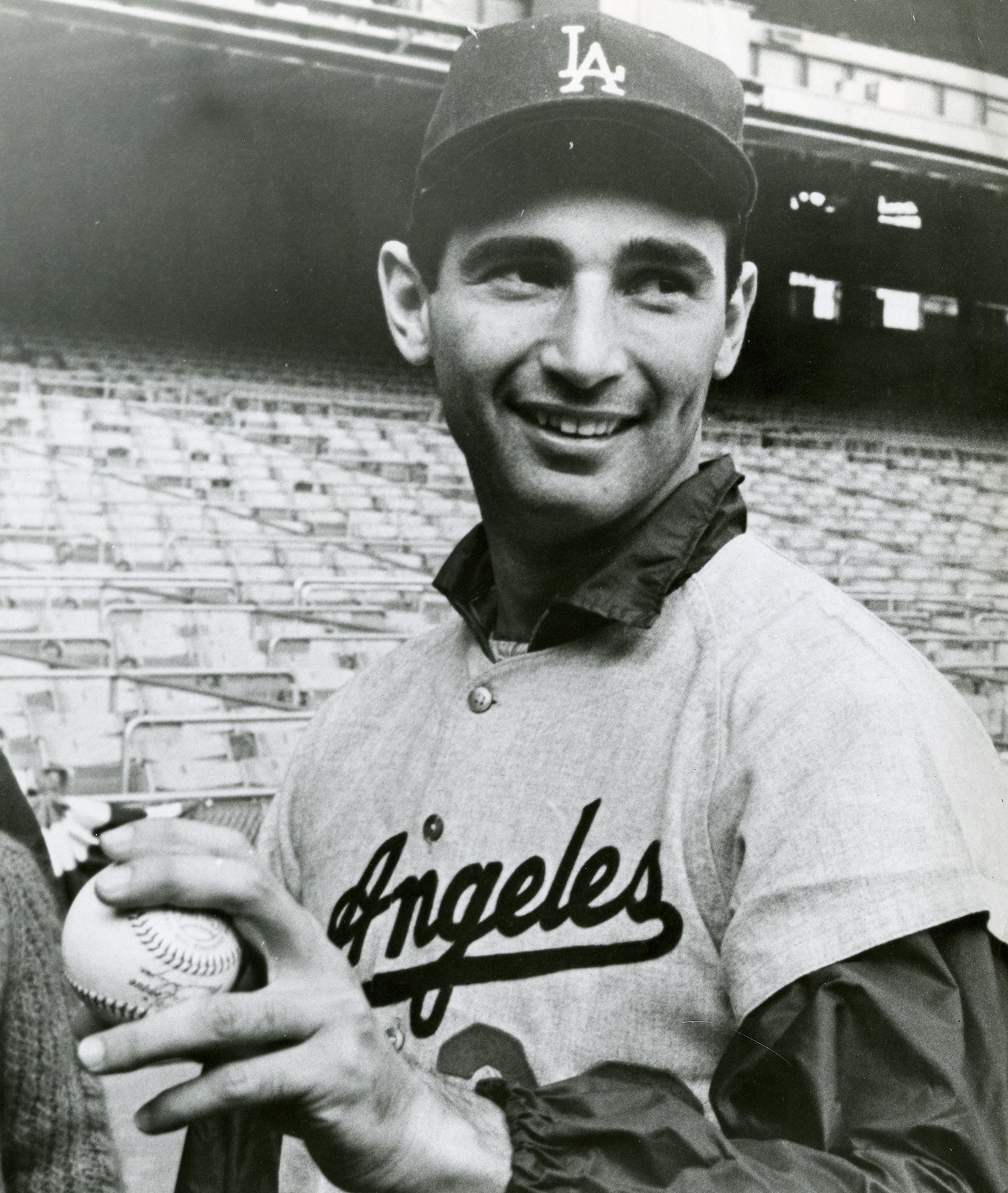 Sandy Koufax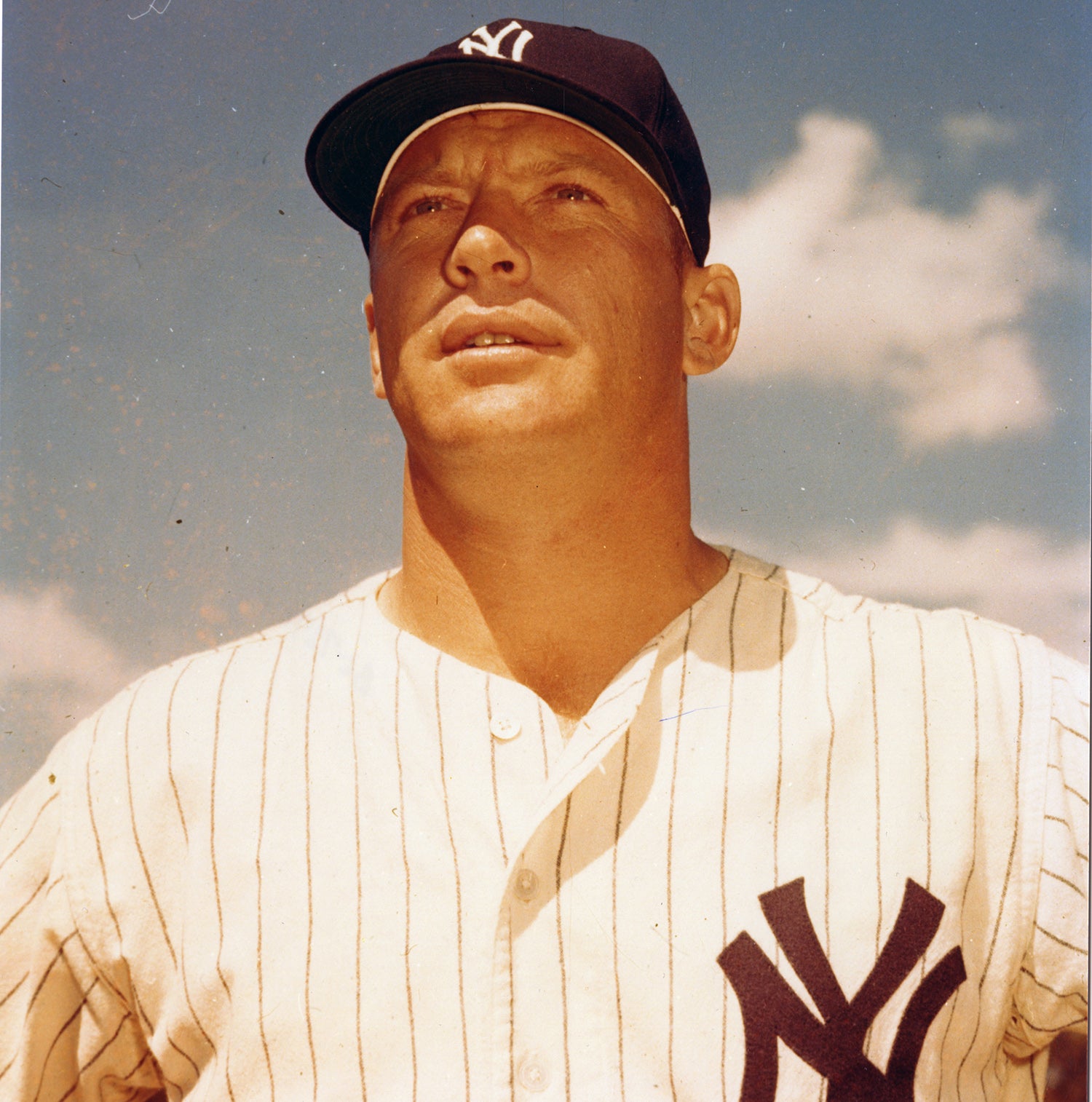 Mickey Mantle
Center Fielder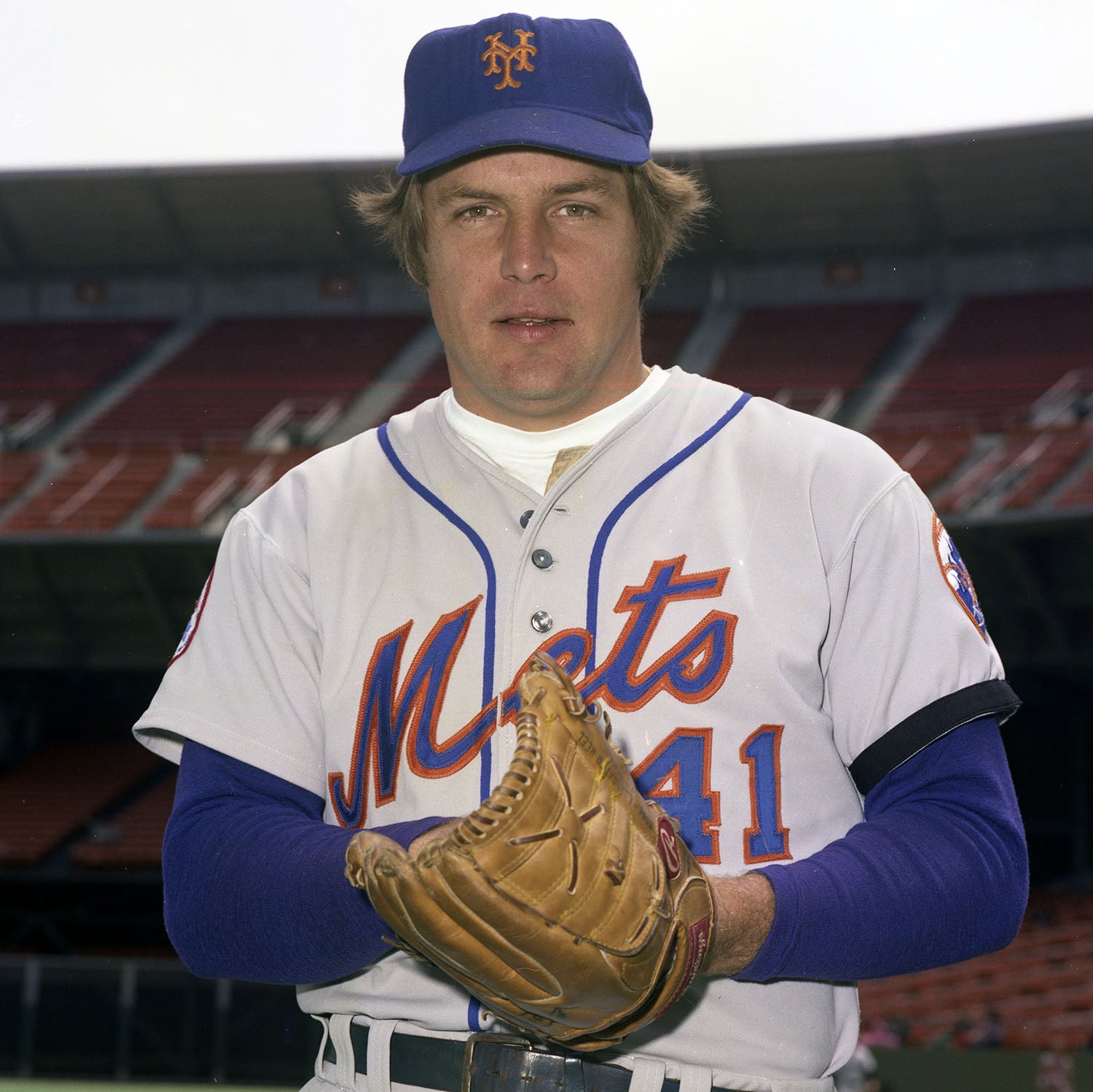 2002 Ford C. Frick Award Winner Harry Kalas
1964 hall of fame game, hall of fame induction weekend visitors urged to utilize special parking options.
Albert Belle's numbers earn him a place on Today's Game Era ballot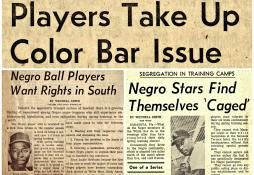 Wendell Smith and Jim Crow Florida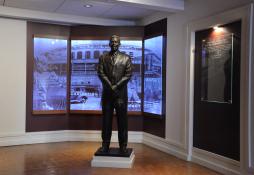 2011 Buck O'Neil Award Winner Roland Hemond
Bl-175.2003, folder 2, corr01c.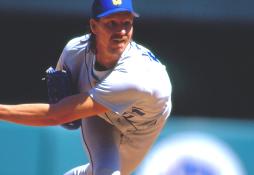 Finley and Johnson take 'Year of the No-Hitter' overseas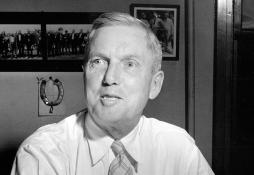 Sam Breadon - Cardinal Rule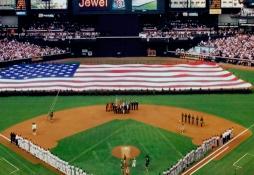 #Shortstops: Heroes, Hall of Famers and Sept. 11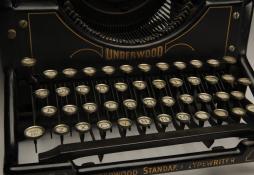 1967 BBWAA Career Excellence Award Winner Damon Runyon
Tigers trade John Smoltz to Braves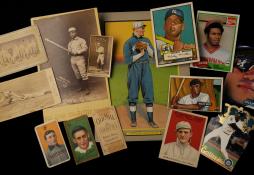 #CardCorner: 1972 Topps Jim Roland
#cardcorner: 1984 topps toby harrah.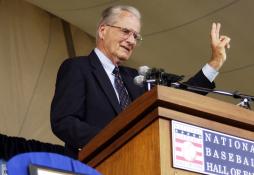 Jerry Coleman is named the winner of the Ford C. Frick Award
#cardcorner: 1973 topps jim ray hart, #cardcorner: 1969 topps gene michael, 1950 hall of fame game, the national baseball hall of fame remembers jim bunning.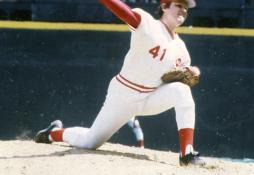 Tom Seaver gets his no-hitter
Sporadically
The 1934 MLB Tour of Japan
This month we take a look at two rather obscure players that crossed paths during the 1934 MLB tour of Japan, Moe Berg and Eiji Sawamura, neither of whom never made much of an in Major League Baseball, but both are great figures of World War II and made their own impacts on the world of baseball.
The baseball season had concluded with the final out on the field after a chilly game in Detroit in October of 1934. Dizzy Dean threw a shutout and the Cardinals had defeated the Tigers in seven games, but it was not this World Series pitching performance that had the most impact of 1934. The most important things to happen in the world of baseball in 1934 happened after the players had stepped off the Tiger Stadium grass, the last American fan had stopped cheering and many of the best players in the world had left the United States.
Some of the best players of the American League traveled to Japan for a barnstorming tour in November and December of that year, forming a team called The All Americans. This wasn't the first US baseball tour of Japan, there had been barnstorming tours dating back to 1908, but this was the first to take place just after the very first MLB All-Star Game was held just the year before at the 1933 World's Fair in Chicago.This tour had greater pageantry to that All-Star game as the Americans were greeted by a half of a million fans cheering them on in the streets of Tokyo.
Although the National League didn't allow their players to be included in the tour, the American League was able to send Hall of Famers Earl Averill, Lou Gehrig, Charlie Gehringer, Lefty Gomez, Jimmie Foxx, Babe Ruth, and manager Connie Mack. Unfortunately, the team was unable to find a quality catcher to come along on the tour before calling Moe Berg at the last moment. Berg was hardly the ideal player to display his bat after having a dreadful season at the dish in 1934, hitting .254 with zero home runs in 62 games as essentially a third string catcher used for his defensive stability. The guy only had six dingers in his fifteen year career. Although he was considered perhaps the oddest person ever to play in the majors, he was invited at the behest of fellow Ivy Leaguer Lou Gehrig (Columbia) to act as an ambassador for the team. You see, Moe wasn't just any old baseball player, he was a graduate of Princeton as an undergrad, had a law degree from Columbia, and studied seven languages: French, German, Spanish, Italian, Greek, Latin and Sanskrit. Some resources cited that he could speak twelve languages, but I think we can agree that anything in double digits is ridiculous nonsense not to be believed.
Berg took his last minute invite as an opportunity to see Japan for a second time. He had previously enjoyed an instructional tour in 1931. After that first tour he continued to travel the world before spring training, seeing more of Japan, various areas of China, India, Egypt and Germany. On this second trip to Japan, Berg was contracted by a newsreel company to bring a 16mm camera to document the tour. He he had not studied Japanese in college but this didn't stop him from surprising his hosts by delivering a welcome address for the tour as well as the legislature in the local tongue.
Berg joined a team that was absolutely loaded with incredible players. Lou Gehrig was coming off a triple crown season. This still wasn't good enough to finish higher than 5th in MVP voting behind the likes of All American teammates Charlie Gehringer and Lefty Gomez. Babe Ruth was coming off of his final season with the Yankees, his last full season in the majors although he still hit 22 home runs with an onbase percentage of .448.
This isn't just the story of an old Jewish catcher and a group of legends that could beat the Springfield Nuclear Power Plant softball team, it's also the story of a 17-year old Japanese ace pitcher who threw more than just baseballs. Eiji Sawamura was just a high school student… well, he was a former high school student pitching for the team representing Japan. The Ministry of Education forbade high school and college players from playing on the same field with each other or to make any money for playing baseball. His chance to face major league players would mean expulsion from school.
At the time, Japan didn't have a professional league and they had to tap the country's amateur ranks for the tournament. It was in the fourth inning of the game of November 20th, 1934, the tenth game in the tour, that Sawamura entered a scoreless game and pitched five innings against the All Americans. He had already started two games on the tour and was rocked in both appearances despite showing promise by striking out both Ruth and Gehrig. During the tournament Berg had an interaction introducing himself in Japanese and welcoming the young Japanese pitcher into the game. It was just another interaction the odd catcher made during the tour that endeared himself to the Japanese fans who delighted to see him walk the streets in a kimono and show genuine interest in Japanese culture.
Sawamura had nine strikeouts over five innings of work including a stretch where he K'd Ruth, Foxx Gehringer and Gehrig in order. Striking out all but one of the American batters in the lineup that day, Sawamura only gave up one run on a Gehrig solo homer in the seventh. The Japanese team lost the game 1-0 that day, the closest the Japanese team came to winning any of the games on the tour. After the game Philadelphia A's manager Connie Mack approached the teenager and tried to sign him to an MLB contract on the spot. Sawamura declined. He didn't want to go so far from home and was unable to speak English.
The true main attraction for the tour was Babe Ruth despite being very much past his prime. The Babe was 39 years old, finishing his final season with the Yankees, having just announced that he was no longer going to be an everyday player in the majors. 1934 was the first season in nine years where he had failed to hit 30 home runs and to hit over .300. The next season would be his last gasp, playing just 28 games with the Boston Braves and hitting only six home runs before retiring. Despite being on his last legs, the Big Fella had one last great run in him for this tour of Japan. The Major Leaguers won all 18 of their games behind Ruth's display of 13 home runs, to leave the Japanese fans awestruck.
Nine days after the Sawamura game, Moe Berg made some history of his during a game that he did not attend. Berg skipped the game to visit an ambassador's daughter at a hospital in Tokyo. He came to the hospital with flowers and his camera, although he did not visit the girl. He went to the roof and filmed a 360 degree view of Tokyo including the harbor. There are varying accounts of why he did this, some stories claim he was asked to do this by the defense department and most others say that he did it on his own accord due to a sense that someday the US would be at war with Japan. It certainly wasn't at the behest of manager Connie Mack who declared after the tour "that there would be no war between the United States and Japan," due to the goodwill gained from the tour. Berg's film was later used for reference in planning the Doolittle Raid. The US fire bombings of Tokyo in the Doolittle Raid in 1942 and later in '44 and '45 had more Japanese deaths than the atomic bombing of Hiroshima.
After the tour, Sawamura was a national hero for Japan headlining a tour of North America for the newly assembled Tokyo Giants. The team barnstormed against Pacific Coast League minor leaguers and semi-pro teams. The teenager's rising fastball was considered to be a major league ready clocking in at least in the mid-90's, with fairly good secondary pitches. While in Milwaukee, Sawamura, who did not speak English, was given a piece of paper to sign that he had assumed was for an autograph. It wasn't. It was a contract from a scout for the Pittsburgh Pirates. The contract was ultimately torn up and he was free to go back to Japan after the tour. Sawamura did not enjoy this sour interaction with a Major League team or his time on tour in the US. He felt he couldn't get adequate rice at meals (it was during the Great Depression), which he blamed for some sub-par pitching performances, he hated the arrogance of Americans and found culture differences from his home too vast to handle. He returned to his homeland to become one of the first members of the Japanese professional baseball league (NPB) where he went on to throw the first no hitter in league history and the Japanese equivalent to the Cy Young Award is named after him in 1947.
It was just a couple of years into his professional career that war broke out in Japan and Sawamura was enlisted into the Japanese military. Having the most famous arm in the country led him to become a proficient grenade thrower in the infantry, later giving displays and training soldiers in technique. He battled across China in the infantry during the Second Sino-Japanese War, a war that started in 1937 and morphed into the Pacific theater of World War II after the Pearl Harbor attack.
Sawamura was considered a war hero in 1937 with his exploits throwing grenades. He was shot in the hand in the fall of '38 but recovered quickly to return to his unit. The strain from grenade throwing demonstrations had worn down his arm and when he returned to the Japanese League in 1940 he was forced to change his throwing delivery to become a sidearm thrower. He didn't quite have the same speed on his fastball anymore although he was still able to throw the third no-hitter of his NPB career.
In late 1941 Sawamura was back in the military. Instead of tossing baseballs at Americans on the baseball field, he was throwing grenades at GI's in the Philipines. THAT'S PRETTY DAMN DARK. His sore feelings of culture clash from his tour of North America in 1935 were lingering inside him and his view that surrendering Americans were acting cowardly because they did not to fight to the death created a dark resentment. He would make public remarks repeating false rumors of American war atrocities and would one of the most prominent figures of anti-American propaganda in Japan.
Moe Berg's hospital roof film of Tokyo from 1934 was so well received with US intelligence that Berg was utilized for other covert missions during the war thanks to his eclectic resume. It wasn't just that he could speak seven languages even if he couldn't hit in any of them. He didn't just use language skills on the field, calling out plays on the field with his double play mate at Columbia who could also understand Latin. He would use an innate ability to read human behavior and body language to know when a runner was about to attempt to steal a base giving him a little advantage to throw the runner out. The OSS trusted his odd toolbox of skills to have him parachute into Yugoslavia in 1943 to determine who the US Government would be best suited to lead the country to assist the Allies. Fortunately for the war effort he decided Tito would be the stronger leader in war. Unfortunately, this was not applied to Tito's ability to lead after the war, as he was a bit of an authoritarian monster.
Slugger Jimmie Foxx and his wife also brought a camera on the tour of Japan, although his videos serve more of a documentary history of the people of the city and the game action . During World War II Foxx was just a bit too old to fight in the war so he managed in the All-American Girls Professional Baseball League depicted in A League of Their Own. He was somewhat depicted in that movie, although the character based on him was one of the few fictional characters. He and former Cub hitter Hack Wilson were merged together into the Jim Dugan character played by Tom Hanks, although the drunken side of the character was taken much more from Wilson's managerial career.
With an encyclopedic understanding of the liberal arts and his secretive personality traits, Berg made a perfect spy. He only had two things against him, he was recognizable and famous although that was only with fellow Americans, and he didn't have as firm of a grasp on hard sciences. This lack of knowledge in science could have been a problem for Berg for a mission in 1944 where he was tasked to determine whether Germany had the capability to build and use an atomic bomb. Lucky for him, he had a crack teacher for crash course by consulting with Albert Einstein (the first one, not Albert Brooks), on the science of atomic technology.
Newfound knowledge in hand, the Jewish Berg traveled to Nazi Germany to attend lectures and to covertly question Werner Heisenberg (the first one, not Walter White), about his progress with atomic capabilities. If he was not able to come to a conclusion, or if he was to find that the Germans had the bomb, Berg was to assassinate Heisenberg onsite. Berg wasn't able to definitively ascertain the scientific capabilities that the Nazis possessed, although he was confident in his profile of Dr. Heisenberg. The Nobel Prize winner Heizenberg had a despondent demeanor as he did not have the capabilities to build an atomic weapon and he could sense the inevitability of defeat for the Axis Powers. Berg left Germany without killing Heisenberg, a move justified by history.
That same year, Sawamura was called to active duty yet again. Just under ten years after his incredible game in the MLB tour he was killed as the ship transporting him to battle was sunk by an American submarine. He was one of the 1,843 Japanese soldiers killed as the ship was destroyed. The tragic loss of both a war hero who was also the greatest sports hero from Japan contributed to growing feelings against militarism in Japanese society after the War.
After the War, Moe Berg was cagey over the speculation that he might have been an assassin for some of his missions. His life as a spy was a secret and his private life was just as secretive. He never tipped his hand on his sexuality, he never married or spoke of any relationships after the war. The movie The Catcher was a Spy portrayed him as bisexual based only on speculation. To their credit, the filmmakers explained that they made that artistic choice in order not to "straight-wash" Berg's secretive personal life.
Although he kept secrets close to his chest, it's clear that the war had a devastating affect on Berg. When awarded the Medal of Freedom, he declined to accept it and never explained his reasoning. He was sent on a few post-war intelligence assignments but failed to get even minimal results. When another agent came to supervise him, Berg was found to be acting "flaky" and sent home. He never worked again either on the field or in the field, living the next two decades with siblings. He was evicted by his brother and he moved in with his sister for the last ten years of his life.
It wasn't until the 1960's that he attempted to write any memoirs of his experiences, but the project was abandoned when he learned the writer assigned to him took the job after mistaking him for Moe Howard of the Three Stooges. True story. After his death, Berg was inducted into the Jewish Sports Hall of Fame and his baseball card is the only trading card on display at CIA Headquarters. He once said that he would rather have been a mediocre baseball player than a Justice on the Supreme Court. He passed away in 1972 with the last words, "how did the Mets do today?"
Video of Chuck Brodsky's song "Moe Berg."
The League of Outsider Baseball by Gary Cieradkowski
The New York Times
Baseball-reference.com
Baseball The Biographical Encyclopedia
SABR Biographies
SABR Japan Tour
MLB.com Cut4
Kurosawa's Rashomon by Paul Anderer, 2016.
Baseball Hall of Fame
Featured Posts
Twelve Angry Men and Rope
Harold Baines Versus...
A Serious Man and Vertigo
The Outfields Part Two: American League
The Outfields Part One: National League
June: The Natural
May: Avengers Infinity War
Extinct Teams Are Good Enough
Recent Posts
2022 At the Movies
L.A. Private Eyes
Ultra Classics
Five Years Later: 2017 Movies
Mock 2023 Hall of Fame Ballot
2021 At The Movies At Home
"Ten" Years Later: 2011 Movies
"Five" Years Later: 2016 Movies
King Richard and the Cinema of Tennis
Mock 2022 Hall of Fame Ballot
Search By Tags
Misc. Baseball
Gathering assorted items of baseball history and trivia, babe ruth's visit to japan in 1934.
Ruth, Lou Gehrig, Jimmie Foxx, and Connie Mack headlined the roster of 15 stars who visited Japan in November 1934 to display their baseball skills. They, and Ruth especially, apparently made a big impression, because Japanese troops famously yelled Ruth's name in jest when they fought U.S. soldiers in World War II. Here, from the Japan Times, are some reports on how the U.S. and Japan teams fared in their much less consequential mid-Depression battles:
Friday, Nov. 2 The most formidable team of the world's best baseball players to arrive in Japan disembarked from the palatial Canadian Pacific white-hulled liner, Empress of Japan, at Yokohama at 10 a.m. today for a series of games in the Empire, its first being against the Tokyo Club Sunday afternoon at the Meiji Shrine stadium. Leading this aggregation of 15 aces of the American major leagues, including the one and only George Herman ( Babe) Ruth , the Sultan of Swat, and Don Gehrig of the New York Yankees, was no less a person than Mr. Cornelius McGillicuddy, better known as Connie Mack, manager of the Athletics who has been actively connected with baseball for 51 years. The visitors were given a great welcome. No sooner had the yellow quarantine flag been lowered than Ruth and the other players were stormed with requests for autographs. "How many home runs are you going to hit in Japan ," Ruth was asked. "I don't know, but I am going to try to knock out as many as I can," he said. Monday, Nov. 5 Babe Ruth , Lou Gehrig and Jimmie Foxx did not find the slow balls of three pitchers to their liking and failed to crash out homers, but the 56,000 or more baseball fans that packed the Meiji Shrine stadium Sunday sat back amazed all afternoon at the tremendous strength of Connie Mack's American all-stars. The Tokyo Club nine, comprised of leading ex-university players, were slaughtered by 17 to 1. With people standing in line for their tickets since Saturday night, every seat in the huge stadium was taken by noon Sunday, two hours before the game. Saturday, Nov. 17 Babe Ruth has become quite the social lion of Tokyo. Together with other members of the American baseball team in Tokyo, he has been tea-ed, lunched, dined and danced, as never before. It was a bright moment for several bellhops and girls of the Imperial Hotel when the baseball hero autographed his photograph for them the other day while having his shoes shined in its barber shop, and a Tokyo woman will always remember the time she had her hair bobbed — she sat in the next chair to the Babe. Sunday, Nov. 18 The southpaw offerings of Lefty Hamazaki proved to be of no mystery to the portside sluggers of Connie Mack's All-American professional baseball team and the latter routed the All- Japan nine by a 15 to 6 score Saturday afternoon at the Meiji Shrine stadium. It was the visitors' final appearance in Tokyo (before they depart for matches in Omiya, Sendai, Nagoya and Osaka, then leave for Shanghai on Dec. 2). Babe Ruth once again led the batting attack with two home runs. One of them came in the eighth inning with the bags loaded. He showed his aptitude to hit any kind of pitching by taking a healthy cut at Hamazaki's slow teaser for a mighty drive into the right-field bleachers.
Wayne Graczyk, writer of the Times' Baseball Bulletin, added that this "was the series when schoolboy phenom Eiji Sawamura struck out four big league superstars. Sawamura, after whom Japan's version of the Cy Young Award was named, fanned Ruth, Gehrig, Jimmy Foxx and Charlie Gehringer in a game in Shizuoka.
"He lost 1-0 on a homer by Gehrig but went on to fame briefly with the Giants until his career was cut short when he was called into service prior to the start of the Second World War. He was subsequently killed in action.
"Sawamura's performance on that November day helped persuade Shoriki to work toward forming Japan's first pro team one month after that major league tour ended.
"That team is still known as the Tokyo Yomiuri Giants."
Babe Ruth on "the Japs" in World War II
On March 18, 1944, the New Yorker, after hearing that the Japanese troops were yelling "to hell with Babe Ruth" as an insult when fighting against the American troops, paid a visit to the Babe at his apartment on Riverside Drive in upper Manhattan. He remembered a postseason trip to Japan in 1934 and said: "Sort of thing you'd expect from the itty-bittys [referring to the insult]. I figured at the time that they were acting awful friendly. Why, we arrive at Yokohama and there's one million of the little fellows lined up, bowing and cheering and carrying American flags in one hand and Jap flags in the other. We take the train to Tokio and there's another million standing around near the station, all too damned polite. . . . They were lovely to us, just lovely."
The Babe said this about their ability to learn baseball tips: "They listen a lot, and then put two and two together." He said this about the '34 tour:  "I knocked out thirteen home runs, but I never saw a Jap hit one over the fence. A bat is about as big as a Jap, and the fact is, the itty-bittys can't hit."
And this about the Japanese fans: "They're wild men in the stands. . . . They don't know the difference between good plays and bad ones, so they yell at everything."
And this about playing before Japanese royalty: "Wasn't a game we played, but some royal uncle or nephew wasn't sitting out there under the canopy, so everybody lined up and saluted the duck, while a cannon went off and a siren blew to let the neighborhood know the game was starting. Hell of a way to play ball."
Video and Audio From Baseball's Early Years
Perfect Games
Yogi Berra and Mickey Mantle, With Some Audio
How Scott Boras Became a Baseball Super-Agent
The Names of MLB, NBA, NFL, and NHL Teams
1876: The Cubs' First Game Ever
Hank Aaron vs. Willie Mays
The Death of Eddie Mathews
More Baseball History
Baseball Almanac
Baseball Historian
Baseball Nuggets
Baseball Past and Present
Baseball With Matt
Hardball Times
High Heat Stats
Pastime Post
Sams League-Baseball in World War I
The On Deck Circle
Email Address:
Subscribe by email
Blog at WordPress.com. RSS 2.0 Comments RSS 2.0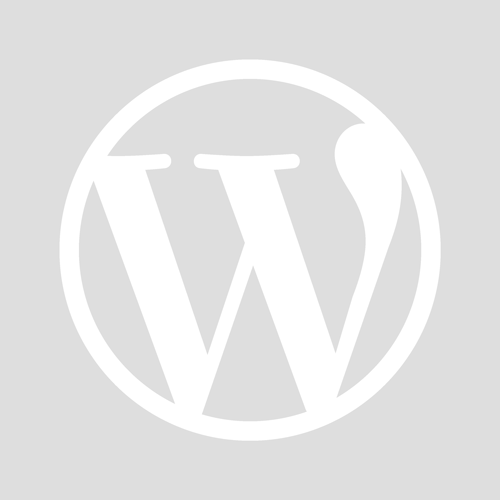 Already have a WordPress.com account? Log in now.
Follow Following
Report this content
View site in Reader
Manage subscriptions
Collapse this bar
Officers/Contacts
Books on Asian Baseball
Websites on Asian Baseball (Links)
Research Project Showcase
WHY JOIN SABR?
"SABR is the Phi Beta Kappa of baseball, providing scholarship which the sport has long needed ... An excellent way for all of us to add to our enjoyment of the greatest game."
Ernie Harwell, Broadcaster, Detroit Tigers
"SABR is baseball's best-kept secret ... its benefits are many for the advanced fan, the aspiring professional, or simply those who cannot get enough good baseball talk and text."
John Thorn, Official Historian, Major League Baseball
Join SABR today!
© 2005 - 2023 SABR Asian Baseball Committee. Designed by JoomlArt.com

Brought to you by
More from Home Plate: A Private Collection of Important Baseball Memorabilia
Free shipping on orders over $125
Flannel baseball jerseys
Football jerseys
Replica Apparel
Sweatshirts
New Arrivals
All Ballcaps
Best Sellers
Vintage Authentic Ballcaps
Vintage Inspired Fitted Ballcaps
Negro Leagues Baseball
Minor Leagues Baseball
Collegiate Ballcaps
Hockey Ballcaps
Soccer Ballcaps
Cotton Ballcaps
Signature Series Ballcaps
Vintage Inspired Ballcaps
Blank Wool Ballcaps
Fungo Shirts
Negro League Baseball
Minor League Baseball
Hockey Shirts
All Flannels
Negro Leagues Flannels
Minor League Flannels
Collegiate Flannels
All Football Jerseys
NFL Jerseys
Collegiate Jerseys
Durene Jerseys
Wool Jerseys
Vintage Inspired Replica Jerseys
Vintage Inspired Replica Shorts
Soccer Jerseys
ALL Jackets
Authentic Jackets
Negro League
Collegiate Jackets
Satin Windbreakers
Vintage Inspired Varsity Jackets
Vintage Authentic Baseball Sweaters
All Sweatshirts
Collegiate Sweatshirts
All Crewneck Sweatshirts
French Terry Hooded Sweatshirts
Vintage Inspired Four Bagger Hoodies
Item added to your cart
U.S. Tour Of Japan 1934 Vintage Ballcap
Low stock: 3 left
Couldn't load pickup availability
Product Details
Description: Authentic reproduction of the original 1934 U.S. Tour Of Japan ballcap. Hand-sewn from genuine wool baseball cloth.
Product Details:
Made in the USA
Genuine navy wool broadcloth, embroidered "US"
Standard visor with green satin under visor
Vintage hair cloth backed buckram crown
Satin taping with cotton sweatband
Item #: UST34C
League: Independent League
History: In 1934 Connie Mack led a group of American League stars including Babe Ruth, Lou Gehrig and Lefty Gomez on a wildly successful month-long tour of Japan. Crowds lined the Ginza in Tokyo shouting "Banzai Babe Ruth!"
Returns/Exchanges
30 day Return Policy . If your item is unworn and in resellable condition you can return for a full refund within 30 days (shipping rates apply).
Doesn't fit? No worries, exchange for the perfect fit within 30 days of delivery.
See our complete return policy
$8.95  Flat-Rate Shipping* |  FREE on orders $125 & up* |   Calculated shipping to Canada
* Within the US.
Customer Reviews
15% off coupon.
JOIN OUR MAILING LIST AND RECEIVE A 15% OFF COUPON FOR USE ON YOUR NEXT ORDER.
@ebbetsvintage
Sizing Chart Apparel
Body Measurements for Clothing (in inches)
Measuring Guide
Sizing Chart Ballcaps
Our caps faithfully replicate historic professional baseball caps from 1900 to 1970 and fit differently than modern caps. Try wrapping a piece of string around your head where a cap would naturally fit and then measure the string to find your size.
Adjustable caps fit up to a size 7 5/8.
We offer three kinds of ballcap visors:
Pre-1940 ballcaps were made with soft visors so players could fold them up and put them in their back pockets. Later visors were done in standard (stiff visor) or short (also a soft visor). Check the product details to see which type of visor each cap has.
Standard Visor
Short Visor
Choosing a selection results in a full page refresh.
Opens in a new window.