A Travel Price Comparison for Families, Couples, and Backpackers Belgium vs. Germany for Families, Museums & Attractions, Food, and Nightlife

Pros & Cons
Museums & Attractions
Culture & History
Small Towns
National Parks
Watersports
Outdoor Activities
Backpackers
Transportation
More time in Belgium or Germany?
Which is Cheaper, Belgium or Germany?
What are the cheapest places in Belgium or Germany?
How can you save money in Belgium or Germany?
When to Visit Belgium or Germany?
Weather: Belgium vs. Germany
Should you visit Belgium or Germany?
Which is cheaper to visit which is more expensive for vacation.
Trying to figure out where to travel next? This travel comparison between Belgium and Germany can help. It includes a travel cost comparison in addition to other factors. For many travelers, the cost of a destination is a primary consideration when choosing where to go.
We'll start with a quick overview, and below we will go into all of the details.
Germany and Belgium are both interesting countries with a lot to offer visitors. They are also very different countries both in size and in personality. Germany is a very large country, so if you hope to explore Germany in depth, you'll need a lot of time. Even though it is large, Germany is a very efficient country to visit. Trains and buses are reliable and run like clockwork. The cities are very clean and modern and the facilities are comfortable.
Belgium is also a very clean and modern country, with an international feel, particularly in Brussels. Because of it's smaller size, it's relatively easy to integrate a trip to Belgium in to a trip to other parts of Europe. One great perk about visiting Belgium is that you can pick one base, and explore the country with several great day trips. The transportation network is excellent and if you don't want to spend a lot of time packing and unpacking, this is the way to go.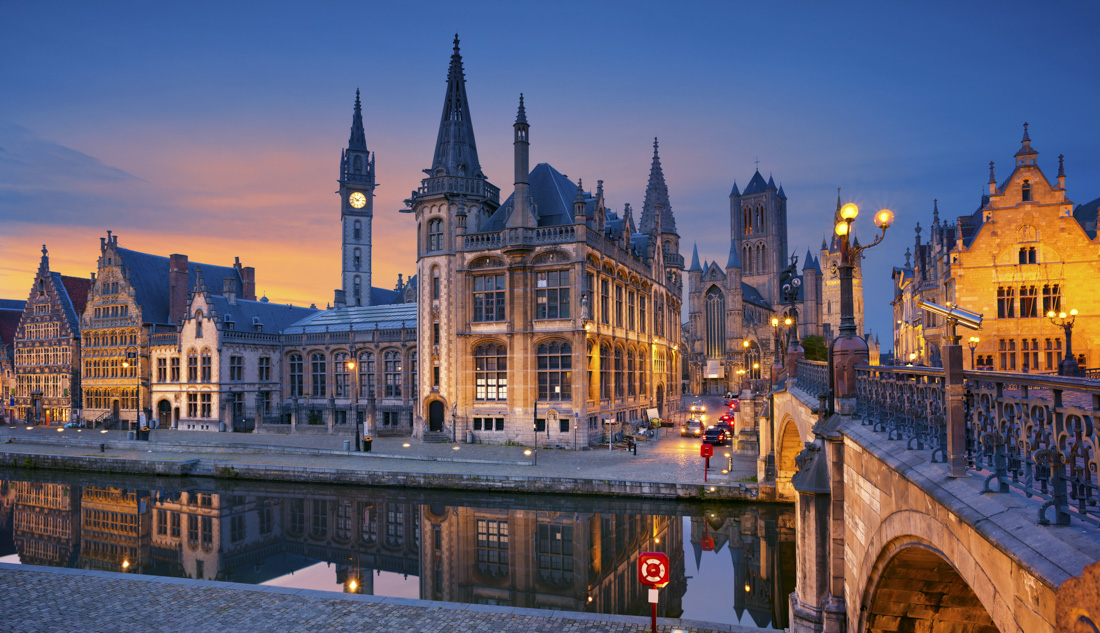 Belgium is a diverse, quaint, and prosperous country. It offers plenty of beauty for visitors. It's also popular because of the history and culture, nightlife, food, and shopping.
Belgium is a smaller but diverse nation with a long history, lots of attractions, and a mix of cultures. As it's at a crossroads in Europe, visitors can see influences from the native Belgian and Flemish people as well as from nearby France, Germany, and Holland. Historic and world-class cities such as Brussels, Antwerp, and Ghent offer amazing cuisine, historic art and architecture, and fun activities for all types of travelers. Smaller cities such as Bruges, Liege, and Leuven let you delve into history in their historic old towns with cathedrals, charming cafes, art galleries, and carriage tours. And as a smaller country, it's easy to get around to see everything on the trains in just a few hours at the most between destinations.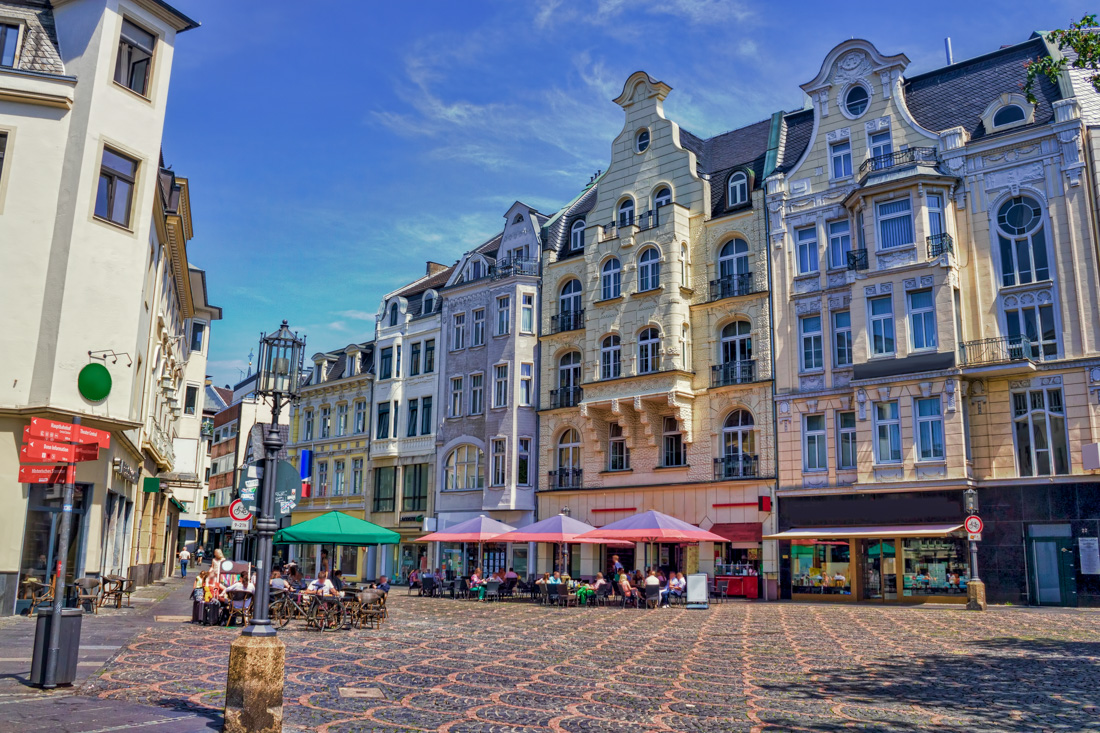 Germany is a industrious, proud, and beautiful country. This is also a very beautiful destination which attracts plenty of visitors. Other reasons to visit include hiking, mountains, shopping, and museums.
At the heart of Europe, Germany is one of the largest countries on the continent and offers visitors a wealth of history, art, and culture mixed with modern attractions and beautiful natural scenery. The large cities offer museums, nightlife, theatre, and cultural activities, while the countryside is diverse with wine regions, gorgeous mountains, winding rivers, national parks, and historic towns.
Belgium and Germany: Pros and Cons
Popular museums and historical sights
Great culture, history, and arts
Family-friendly
Good for couples and romance
Good for backpackers and budget travelers
Less attractive beach
Less popular at Christmas
Less hiking options
Not as many national parks
Less outdoor activities
Not as many road trip options
Popular at Christmas
Good for hiking
Beautiful national parks
Numerous outdoor activities
Great road trips
Impressive beauty
How is Belgium different from Germany?
Which is better for a holiday.
Below we will examine the differences and similarities between Belgium and Germany. With this information, you can decide for yourself which place is better for your next trip.
Are the Museums and Historical Sights Better in Belgium or Germany?
Spend time exploring the great sights and museums in either Belgium or Germany .
You'll find a good number of museums and monuments packed into Belgium . From art to history to culture, you'll find something for everyone. Some of the most popular art museums include The Magritte Museum in Brussels, François Duesberg Museum in Mons, and the Municipal Museum of Contemporary Art (SMAK) in Ghent. But it's not all about art, as visitors also love the Museum aan de Stroom (MAS) in Antwerp which focuses on the city's history as a maritime port. Also, science lovers should check out the Euro Space Center and the Royal Belgian Institute of Natural Sciences. For interesting history lessons, visit the Gallo-Roman Museum, Dossin Casern, and the In Flanders Fields museum.
Visitors can fill many days exploring the museums and attractions around Germany . With thousands of museums, it might be difficult to decide where to go first. Some of the best museums in Germany include the Museum Island area of Berlin which showcases a combination of art and ancient history, the Mercedes-Benz museum dedicated to the automobile, Zwinger Palace in Dresden which hosts historic art and antique weapons, the German Museum in Munich which focuses on Science, and the International Maritime Museum in Hamburg. Plenty more can be found in every corner of the country, though.
Berlin : Famous landmarks include the rebuilt Reichstag, the Berlin Wall Memorial, and Berliner Fernsehturm. Many of the city's oldest and most famous museums are found on Museum Island, where you'll find the Pergamon Museum, the James Simon Gallery, the Altes Museum, and the Neues Museum, among others.
Nuremberg : It's well established on the tourist circuit and it's easy to see why. The history and charm, combined with interesting sights make it a top place to visit in Germany. Make sure you check out Kaiserburg, the Nuremberg Trials Memorial, and Germanisches National Museum.
Würzburg : The Franconian city is known for its history and architecture. One of the most well know sights is the 18th-century Residenz palace. Other attractions in town include the Martin von Wagner Museum, the Würzburg Court Gardens, the Marienberg Fortress, and the Würzburg Cathedral & Museum.
Is Belgium or Germany Better for Culture, Arts, and History?
You'll find great culture, arts, and history when visiting both Belgium and Germany .
Belgium is a terrific destination to visit for history, arts, and culture, as it has many sights worth visiting. Although it's a smaller country, the history and culture here is packed into its cities and small towns. You'll find museums that focus on art, history, science, and more in many of the cities and town. For example, visit the Grand Palace in Brussels, the Castle of the Counts in Ghent, or the grand cathedrals of Antwerp. Large castles dot the countryside, many with grand views such as the one in Bouillon. Theaters are everywhere, too, so you can take in a play, opera, or the ballet in addition to enjoying the cafe culture and the unique cuisine.
See also 14 Free Things to do in Brussels .
Germany is an extremely popular destination for those that want to visit historical and cultural sights and attractions, as it offers plenty. With a deep and rich history, Germany's cities and small towns showcase a variety of architecture, art, theatre, cultural traditions, and more to visitors and locals alike. Many of the big cities are home to not just art museums, but also museums that provide insight into German and European history, technology, food, and its people. Even the small towns across the country offer their own piece of history and art, as the countryside is dotted with castles and ancient ruins showcasing medieval times, Roman history, and modern periods up to and after the major wars.
Is Belgium or Germany Better for Big City Activities?
Germany generally has more big cities and urban activities than Belgium.
Germany has large cities with plenty of activites for visitors as well. Berlin, the capital, offers a diverse set of urban experiences from museums and historical sights to iconic modern music, trendy fashions, delicious cuisine, and more. Other larger cities include Munich, Cologne and Bonn, Hamburg, and Frankfurt, just to name a few. Each has its own personality while still offering typical big city amenities and attractions such as museums, beautiful architecture, fine dining, nightlife, and nice hotels.
See also The 13 Best Free Things to do in Berlin , and Things to do in Dresden .
Belgium has some large cities, so you'll find plenty of things to do when visiting. Brussels and Antwerp are both popular destinations for visitors because of the large number of attractions and activities. In both of these cities you'll find a wide array of hotels, restaurants, historical sites, museums, and activities for every type of traveler. In Brussels, tour the Grand Palace, climb the Atomium, and go shopping at the Galeries Royales Saint-Hubert. In Antwerp, after admiring the historic railway station, check out the Meir area for some shopping and chocolates, the Cathedral of Our Lady Antwerp, and the windows of the Diamond District.
Is Belgium or Germany Better for Small Towns and Villages?
Germany generally has a wider variety of smaller towns and villages than Belgium.
Germany is also a fantastic country to explore small towns with plenty of charm and local activities. One of the main attractions to many regions of Germany is the large number of small, beautiful towns. Many of these towns, especially those along the Rhine river, in Bavaria, and in the Black Forest, are extremely scenic and historic. Visitors to these towns experience history, culture, great cuisine, fun activities, wine tasting, mountain views, and more. Some of the most scenic towns in Germany include Quedlinburg, Cochem, Rottach-Egern, Rothenburg ob der Tauber, Fussen , Bamberg, and Gorlitz, although there are many others that are also popular.
See also The Best Day Trips from Munich .
Belgium offers plenty of small towns along with charming sights and activities, too. Some of the more popular small towns to visit draw large crowds to see the old cathedrals, local markets, narrow canals, historic homes, and delicious local cuisine. Bruges is one of the most popular towns for travelers because it has several gorgeous cathedrals, scenic canals, museums, and terrific restaurants all packed into a small walkable area. Other popular smaller towns include Spa, where you'll find relaxing hot springs; Bouillon, home of a beautiful castle; Durbuy, with its winding narrow streets; Dinant, with cliffs above a scenic river; and Rochefort, famous for its beer from the historic monastery. But dozens more small towns are dotted around the countryside, and if you have the time, are worth visiting.
Is Belgium or Germany Better for Theater?
There are great theater venues available in both Belgium and Germany .
If you have some extra time in Belgium , take in a show. While Brussels has the most theater productions, Antwerp, Ghent, and others host a variety of shows and concerts, too. The most popular theaters in Brussels include the Théâtre Royal du Parc, Vaux-Hall, and the KVS. For other interesting performances, don't miss the Royal Toone Theatre with its myriad of puppets or La Montagne Magique (Magic Mountain) which offers youth and children's productions in French. In Antwerp, a few of the most popular theaters are Koningin Elisabethzaal, De Roma, Stadsschouwburg, and Bourla, among others.
Germany offers a number of shows and performances. Opera, ballet, performance art, and live plays are all very popular and commonly found in the big cities of Berlin, Munich, Cologne, Hamburg, and others. Many of the theatres which host events are historic buildings themselves, making the experiences that much more exciting.
Is the Food Better in Belgium or Germany? Which Country Has the Best Restaurants?
Foodies will appreciated the dining options available in Germany a bit more than Belgium.
The food selection at local restaurants is excellent in Germany. German food traditionally consists of meat and potatoes, along with beer, naturally. But in recent decades the food scene in the major cities has exploded. So, while you definitely should try the bratwurst and other related sausages along with schnitzel (breaded fried pork) and spatzle (egg noodles), you can also find modern cuisine from Germany and abroad in almost every town across the country. Modern chefs, especially in the big cities, are catering to the modern local German population, as well as tourists, with gourmet food in a variety of restaurant styles. But of course, while in Germany you still need to try the potato pancakes, rabbit stew, pork knuckle, and roast beef stew. And wash it all down with some local German beer, of course! You'll find a wide variety of beer styles, flavors, and brewing techniques all around the regions of this beer-loving country.
Baden-Baden : There are Michelin starred restaurants and many opportunities to sip wine and sample local cuisine. Many consider the Baden cuisine to be among the best in Germany. You'll find wine, sausages, game meat, poultry, and more. Make sure you try the Rehrücken Baden-Baden (Roe Deer), Käsespätzle (cheese spatzle), and Schäufele (pig's shoulder).
Visitors will find a budding food and restaurant scene in Belgium. While Belgium is famous for waffles, beer, and chocolate, plenty of other traditional dishes should be on your list as well. Furthermore, as a modern and diverse nation, you can find cuisine from all over the world in the big cities such as Brussels and Antwerp. World-class chefs have started terrific restaurants serving a wide variety of dishes. But if you're after some traditional fare, try the mussels (moules), fries with garlic-mayo, Flemish stew, or Croquettes, and Vol-au-vent.
Is Belgium or Germany Better for Nightlife?
If the nightlife is your priority, you'll find great options in both Belgium and Germany .
The nightlife in Belgium has something for everybody. As the largest city, Brussels not only draws the biggest crowds in the evenings, but has also earned itself a reputation as a party-oriented city at night. With dozens of nightclubs offering every type of music, to the vibrant bar and pub scene, as well as the theater and fine dining offerings, Brussels has an active scene for both locals and visitors alike. Some of the best spots in Brussels include Madame Moustache, the Music Village, Fuse, and Spirito. Antwerp also offers its share of nightlife. Dozens of bars and clubs come alive at night here also. Ghent, Bruges, and other tourist destinations also offer plenty of bars and theaters, although the nightlife scene is not as active later in the night.
Ghent : With its young student population, you'll find plenty of lively bars and clubs around town. There are many places where you can party or dance into the early hours of the morning and some of the best places are around Oude Beestenmarkt, De Overpoort, and De Vlasmarkt. There's also the famous Ghent Festival every July.
Germany offers plenty to do in the evening. Berlin, Munich, Hamburg, and other major cities offer plenty of nightlife options such as bars, clubs, pubs, concerts, theatre productions, and a variety of other options for both tourists and locals alike. Out in the smaller cities and rural areas, nightlife might be limited to the local bar, but it's still not hard to find some of that delicious German beer no matter where you visit.
Berlin : The nightlife scene here is legendary. There are club nights that last for days, bars and parties that appeal to every personality, and a diversity of venues that you can choose from. You'll find the classic techno warehouses, but there are also modern dance clubs, bunker parties, and raves.
Munich : The city has a young and vibrant population that keep the nightlife scene active and fun. There are many bars and clubs around town, but the city is also famous for Oktoberfest during the months of September and October.
See also Party Hostels in Munich , Party Hostels in Hamburg , and Party Hostels in Berlin .
Is Belgium or Germany Better for Beaches?
Both Belgium and Germany are considered to be great beach destinations.
Belgium has a beach you can visit. The relatively short stretch of coastline here has some beautiful beaches which can be enjoyed during the warmer months. Some areas are more natural with sand dunes and open spaces, while others have stretches of hotels, restaurants, cafes, and seaside attractions. Knokke-Heist is a popular area with plenty of activities and hotels. De Panne and Nieuwpoort are also extremely popular with wide, white beaches and a diverse selection of dining options. On the other hand, Bredene is more secluded for those that want to escape the crowds.
You can check out the beach in Germany . Germany actually has a very long and extensive coastline along the North Sea and Baltic Sea. But as you might expect, this is not the warmest part of the world, so swimming and beach activities are limited to the warmest months. But despite this, Germany offers some beautiful stretches of coastline such as Hiddensee Island, Rugen Island, Juist Island, Sylt Beach, and more. Many of these beach towns have wide sandy beaches lined with dunes and sea grasses, plus natural areas for nice walks, local restaurants, and plenty of seaside activities. Also, some of the larger lakes inland have beach areas with fun activities, too.
Is the Shopping Better in Belgium or Germany?
Belgium often provides a better shopping experience than Germany.
Many visitors explore the shopping areas in Belgium . Brussels, Antwerp, Ghent, and other major cities offer plenty of trendy shops, fashionable boutiques, art galleries, and chocolate shops. Also, you can't miss all of the diamond stores in Antwerp. Even if you're not buying, it's fun to peruse the window displays. In Brussels, make sure to visit the Royal Saint Hubert Galleries not just for the shops, but also for the architecture and history of the building. Another nice indoor spot is Passage du Nord, and Boulevard de Waterloo has plenty of upscale shops. In Antwerp, the diamond shops are located not far from the historic train station, while more of the clothing boutiques are found in De Modewijk, the fashion quarter of the city.
Brussels : Although it's famous for diamonds, the city also has many shopping streets where you can find designer brands, vintage shops, and other unique boutiques that are fun to explore.
Antwerp : The city has become known for its fashion scene. The main shopping street is Meir, which is where you'll find a variety of European fashion chains. It's also fun to buy chocolates, art, or other souvenirs around town. You'll find both locals and tourists perusing the main shopping areas around town.
Germany offers some nice shopping areas. Berlin, Munich, Frankfurt, Cologne, Hamburg, and other large cities in Germany offer plenty of trendy and authentic shopping experiences. From high-end fashion to grunge to casual to hipster, the cities of Germany offer something for everyone.
Berlin : Bookshops, flea markets, luxury boutiques and artisan shops all make up the shopping scene in the city. Kurfürstendamm is one of the most famous shopping districts in the city.
Munich : There are many pedestrian areas and shopping centers where you can find everything from luxury items to bargain finds.
Is Belgium or Germany Better for Christmas?
While Belgium and Germany are often visited around Christmas, overall Germany is considered to have more to offer.
People travel from all around to experience the Christmas season in Germany. Germany lights up at Christmas, as the large cities of Berlin, Cologne, Munich, Nuremburg, Dresden, and others host a variety of activities, put up large trees, adorn public buildings with lights, host concerts in their cathedrals, and offers shows, ice skating, and more. Plenty of smaller cities and small towns in the countryside do the same, combining the snowy landscape, alpine architecture, and holiday spirit into one large festive atmosphere in winter.
Cologne : Cologne is one of the top Christmas destinations in Germany. You'll find many different markets spread around town that offer ice skating, curling, warm drinks, and local dishes. Foodies will appreciate the many samplings of local holiday favorites while shoppers will be able to pick up gifts and Christmas decorations that are locally made.
Belgium offers some nice Christmas activities. The large public squares of Brussels, Antwerp, and other historical cities raise large Christmas trees and decorate their town centers with lights and decorations. Many towns have festivals and parades, especially during the arrival of Sinterklaas or Pere Noel (depending on the region). Also, many small towns and big cities host Christmas markets with food, drinks, gifts, crafts, ice skating, and more. Brussels has a Winter Wonderland Christmas Market where the buildings are illuminated. Other touristy towns such as Bruges host special events with entire sections of town covered in lights and special market shops.
Is Belgium or Germany Better for Hiking?
While Belgium and Germany both offer hiking, overall Germany is considered to have more to offer.
Many visitors go to Germany for the hiking trails. From the Alps in the south to the Baltic Sea coastline in the north, plenty of amazing hiking trails can be found throughout Germany. Some of the best include Painters' Way in the Elbe Mountains, the Rheinsteig Trail along the Rhine River in western Germany, Triberg Waterfalls in the Black Forest, and Partnachklamm Gorge in the Reintal Valley in Bavaria. But there are many more places to explore, as Germany is home to 16 national parks plus a number of wilderness and mountain regions.
A few hiking trails can be found near Belgium. Many hiking trails are within easy reach of nearby cities and towns, making them accessible. Many are also easy hikes since Belgium has a fairly low elevation. Some of the best areas to hike include Deux Ourthes Natural Park, Southern Ardennes Natural Park, or Eifel Natural Park.
Is Belgium or Germany Better for its National Parks?
While Belgium and Germany both have national parks worth visiting, overall Germany is considered to have more destinations.
Plenty of travelers enjoy the national parks of Germany. Some of the most popular national parks here include Berchtesgaden National Park in Bavaria, Jasmund National Park in the northeast, Kellerwald-Edersee National Park, and Black Forest National Park. Germany has 16 national parks with landscapes ranging from the mountains to the sea to the forests. Hiking, horseback riding, camping, adventure sports, and bird watching are popular activities in the parks, almost all of which are very accessible from nearby towns and cities.
Belgium has some national parks and wilderness areas for those that seek them out. With only two national parks and 10 other large natural protected areas, most visitors don't come here to see the wilderness. But a variety of beautiful scenery can still be found in this small country. Hiking trails and camping spots providing opportunities to see the rivers, hills, and native birds of the region. They make for a good escape from the cities if you're looking for somewhere nearby to get into nature.
Is Belgium or Germany Better for Watersports?
Both Belgium and Germany offer a fairly equal range of great watersports for travelers.
Belgium is a good destination to participate in watersports, as there are some fun activities. The beach along the coastline offers surfing, kite surfing, wind surfing, and swimming during the warmer months. Also, plenty of the canals and rivers through the country are great spots for kayaking, boating, or swimming, too. While you can explore the waterways of the countryside by kayak or canoe, don't forget that you can often do this in the cities and towns as well, which offer a fun perspective on the historic urban areas.
Germany offers some fun watersports activities and attractions for travelers who seek them out. While the sea on the north coast is a bit cold most of the year, many of the watersports in Germany take place inland on the lakes and rivers. Windsurfing and kitesurfing are popular both on the coast and inland on the larger lakes. Kayaking, canoeing, and fishing are also popular on these rivers and lakes, especially in the mountainous regions where the waters are clean and clear and the scenery is beautiful.
Is Belgium or Germany Better for Outdoor Activities?
Overall, Germany is considered to offer more outdoor activities and attractions to visitors.
Germany offers fun and exciting outdoor activities for visitors. With no shortage of outdoor activities, Germany offers a great deal of variety to visitors. The mountains in the southern regions near the Alps are very popular for outdoor enthusiast looking for hiking, climbing, skiing, camping, fishing, and more. Also, numerous national parks and other wilderness areas can be found in all corners of the country where travelers can find even more to do in the forests and coastline and rivers of the country. Some of the best areas for outdoor activities include Baden-Baden, Eifel, the Rhine Valley, and the Bergstrasse.
Belgium offers some fun outdoor activities and attractions for travelers who seek them out. Wildlife areas and parks are very accessible to the larger cities and towns, many by public transit. So, if you're looking to get out of the urban areas, these parks are a good option. Hiking trails, boating, swimming, and other fun activities are found all over the country. And while the country is smaller than many others, it still has scenic outdoor spots such as the West Coast (Westkust) cycling route from De Panne or the Zwin walking route in Knokke-Heist, or the Eifel Nature Park.
Is Belgium or Germany Better for a Road Trip?
Overall Germany is considered to be better for road trips, as it has more opportunities.
Germany is an extremely popular destination for those that want to take a road trip. The autobahns of Germany make for a terrific way of getting around the country. If you have a car, multiple road trips options throughout the country are very popular, and make it easy to see the Alps and Elbe mountains, the Black Forest, the small towns along the rivers, and the numerous castles. Visitors could easily spend weeks exploring everything from the cities to the national parks to the mountain peaks. A road trip is a great way to see Germany.
Belgium is generally not the best destination for road trips, but it has a few options. To see some of the small towns in the countryside, taking a road trip might be a good option. Since the distances between cities and towns are not large, driving can be quite quick between destinations. The roads are great, and having your own car means that you can see some of the small and quaint places that are not as easy to reach by train or bus. Don't miss some of the castles (such as in Bouillon, or the monasteries that produce beer such as the one in Rochefort. Keep in mind that visiting the big cities with a car is generally not recommended since parking is limited.
Is Belgium or Germany Better for Families?
Germany is considered to a better choice for families.
Germany is an extremely popular country to visit for families. Families with kids will find plenty of activities here from theme parks to historic castles to kid-friendly museums. Almost every major city has some sort of theme park or water park nearby, along with easy to reach historical castles and small towns with fun shops and activities. Neuschwanstein Castle is one of the premier castles which inspired the Disney castles, but it's just one of many. Theme parks such as Phantasialand, Europa-Park, Heide-Park, Legoland, Movie Park Germany, and more. Add on the old medieval towns with their city walls, bratwurst-filled restaurants, and interesting local museums, and the kids will get a fill of history and culture, too. Finally, the mountain ranges to the south offer unique outdoor and adventure activities that the whole family will love such as hiking, horseback riding, ropes courses, and more.
Bonn : Just outside of the town is the Haribo factory outlet store where you can pick up a number of sweet treats and spend some time exploring with the kids. Another favorite activity for the whole family is a trip to nearby Phantasialand. This is one of the best amusement parks in Germany and it has many rides for teens and younger kids alike. In town, you'll find playgrounds and kid-friendly museums. Kids will also love a visit to Schloss Drachenburg Castle.
Belgium is a very kid-friendly country. From fairy-tale cities such as Bruges to the large cathedrals filled with lights, and from the horse-drawn carriage rides and playgrounds to the old Castle of the Counts in Ghent, kids will be very entertained here. After all, this is the country of waffles and chocolate, and the adults can have a Belgian beer on the side, too. Many of the cities are also bike-friendly, which adds to the fun if you want to take a tour on two wheels. Or hop on a boat tour as Ghent, Bruges, and many others have canals and rivers with scenic views, too. And Brussels offers the Pixel Museum which is all about gaming and technology, as well as a puppet theater and various other art and history museums. You can also get into the outdoors to visit hiking trails and national parks, as well as interesting caves. And any kids interested in military history should visit Waterloo as well as the trenches of Ypres
Is Belgium or Germany Better for Couples?
Both Belgium and Germany are great destinations for a couple's getaway.
Belgium is a nice destination for couples. While it might not be the first place that couples think of, the big cities such as Brussels and Antwerp offer plenty of charming and romantic activities. Furthermore, many of the castles and chateaus in the countryside have been turned into luxury hotels, so you can experience history and luxury together. Hikes from some of the small villages to nearby castles are common any time of the year, especially in the spring and fall. And whether you're in a small town or one of the big cities, you'll find chocolate, waffles, and beer all over, not to mention plenty of other gourmet food options for that romantic evening out on the town. Theaters are also common, so take in a show or a concert after dinner.
See also Hostels for Solo Travellers, Couples, & Groups in Bruges , and Hostels for Solo Travellers, Female Travellers, & Couples in Brussels .
Germany makes for a fun place to visit for a couple. Many couples seek out the smaller towns and mountain regions of Germany as romantic destinations. In Bavaria and Baden-Wurttemberg, the southern regions, couples can find small mountain towns along rivers and lakes with views of the Alps. Also, wineries and vineyards are popular in Germany, as the quality of the wine is matched by the beauty of the landscape and quaintness of the small towns. River cruises, ski resorts, and historic cities are also popular options. A few of the best include Heidelberg, Berchtesgaden, Dresden, Fussen (Neuschwanstein Castle), and the Black Forest.
Bamberg : Filled with scenic bridges, beautiful gardens, and historic architecture, this is a top destination for a couples getaway. You can enjoy gondola rides and fine dining on a romantic weekend away.
See also Hostels for Solo Travellers, Couples, and Groups in Cologne , Hostels in Hamburg for Solo Travellers, Couples, & Groups , and Hostels in Munich for Solo Travellers, Female Travellers, & Couples .
Is Belgium or Germany Better for Backpackers and Budget Travelers?
Travelers usually think of Germany as a better destination for backpackers than Belgium.
Germany is very popular with the backpacker crowd. While this country is generally expensive, many affordable options can be found by those looking to save money. While the larger cities have hostels and other budget-friendly activities, the smaller towns also offer affordable amenities for younger travelers or those looking to plan their own route on a tight budget. Using public transit to save money is also a great way to get around, as Germany's rail system and the city's transit systems are top-notch.
Berlin : The city has no shortage of hostels to choose from, many of which organize activities and tours that guests can enjoy.
Munich : The city has many fun hostels that often host events and activities for guests. It's easy to meet other backpackers and take advantage of the nightlife around town.
See also Best Hostels in Berlin , Party Hostels in Munich , and Party Hostels in Hamburg .
Plenty of backpackers visit Belgium. Brussels, Antwerp, Ghent, and other major tourist destinations might not be the most budget-friendly places, but plenty of hostels and low-cost accommodations can be found in and around the cities. Furthermore, food at most restaurants is reasonably priced, especially if you avoid the touristy areas and the higher-end establishments. In generally, there's plenty of activities which are free or low in price. And younger travelers tend to enjoy Belgium's vibrant nightlife and bar scene, which is especially popular in Brussels as well as Antwerp, Ghent, and elsewhere. Transportation is also cheap and readily available.
See also Brussels Hotels & Hostels Near Grand Place , Hostels for Large Groups and Parties in Brussels , and Hostels for Solo Travellers, Couples, & Groups in Bruges .
Is Belgium or Germany Better for Students?
For students, both Belgium and Germany are great places to visit.
It's common for students to visit Belgium . With major universities attracting students from all over the world, along with an active nightlife and bar scene, as well as affordable travel options, this country is a pretty good place for students. You'll find hostels, affordable food, fun cafes, and cheap activities in Brussels, Antwerp, Ghent, and other cities. The largest university areas are found in Brussels, Leuven, Liege, Ghent, and Antwerp, so you might want to focus on these areas if you're visiting or are interested in studying abroad.
Ghent : The city is very popular with international students so it has a young and energetic vibe with plenty to do throughout the year.
See also Hostels for Backpackers and Students in Belgium .
Germany is a good country to visit for students. As a large country, plenty of universities offer programs for students that come to study from countries around the world. Also, most of these universities are located in towns and cities with plenty of nightlife options and other activities for students and younger travelers.
Berlin : With it's rich culture and eclectic creative side, this city appeals to many international students. There's also a great social scene that is perfect for university students.
Munich : The city is an economic hub for both Germany and Europe, so it attracts employees from around the world. There are many wonderful university programs, including a great business school in town. The city's multicultural setting makes it great for international students.
Frankfurt : The city offers prestigious universities and a world class education. The economy offers many internships and job opportunities and you'll find students from around the world studying here. Frankfurt is also well connected to the rest of Europe, so it's easy to explore the region.
See also Hostels for Backpackers and Students in Munich, Germany , and Hostels for Solo Travellers and Students in Frankfurt, Germany .
Is Belgium or Germany Easier for Transportation? Which is Easier to Get Around Without a Car?
Belgium and Germany both offer transportation to get you around.
Visitors in Belgium can get around quickly with the extensive transportation system. The combination of the national train system, city trams and buses, great roads, and a good network of bike paths makes this one of the easiest countries to get around. Belgium is fairly small as a country, so the major cities and towns are not too far apart. The trains run frequently and efficiently, as do the local city trams and buses. Roads are well built for those that want to drive, too.
Traveling by train is extremely popular.
It's fairly easy to travel by bus.
It's possible to travel with an organized tour.
It's possible to travel by car.
Travel by airplane is possible.
Germany has a world-class transit network to take passengers everywhere in the country. The extensive train networks (Deutsche Bahn, among others) connects major cities, small towns, and rural areas so that everywhere is connected and accessible. And once you're in major cities such as Berlin, Cologne, and Munich, you'll find even more local public transit options. Even smaller cities and towns in Germany have their own bus and tram networks to get everyone around quickly. Furthermore, the famous autobahns of Germany can take those who wish to drive around the country quickly as well. On top of all of this, most major cities have airports with multiple international connections on a daily basis.
It's possible to travel by bus.
It's very easy and convenient to travel by car.
Is Belgium or Germany more Comfortable for a Trip?
Both Belgium and Germany are very comfortable to travel around, and offer plenty of amenities for visitors.
People often come to Belgium because it is such a comfortable and luxurious destination. Modern European comforts and luxuries are found everywhere here, so whether you're traveling to the cities or the countryside, you can expect modern conveniences. The larger cities have the most variation in price ranges for accommodations and restaurants, but at any price range you can expect modern facilities and quality service. Transportation is efficient and safe, and a large network of infrastructure for both locals and tourists alike can be found everywhere. The food is also excellent, clean, and safe no matter where you visit in Belgium. So, whether your a family looking for comfortable places for the kids, a couple on a romantic break, or a younger backpacker on a tight budget, everyone can expect to travel around efficiently and in comfort.
Germany is extremely comfortable for travelers as it is a modern destination with plenty of amenities. As a prosperous and wealthy country, it's easy to relax and enjoy a trip in Germany. Every city and town has a wide range of hotel options at all price ranges with modern amenities and conveniences. You'll also find plenty of restaurants, a great transportation network within and between cities, and well-educated tour guides and staff everywhere you visit.
Is Belgium or Germany more Touristy?
Both Belgium and Germany are very touristy.
Belgium is somewhat touristy. Brussels, Antwerp, Ghent, Bruges, and Liege are the most popular destinations for visitors. They each see fairly large numbers of travelers, especially in the summer months. However, the cities themselves are large enough so that any particular area isn't overcrowded and the cities are easily manageable. Bruges is an especially popular place to visit, as this smaller city offers many attractions, so it can feel much more touristy than other places. Also, specific areas of each city are popular, such as the Castle of Counts in Ghent which sometimes has a long queue to enter. Other popular attractions include the Grand Palace in Brussels, the Belfry in Ghent, Bouillon Castle, and Waterloo. It's common to experience crowds at these locations and other popular spots, but again, it's usually manageable.
Germany has a reasonable number of visitors. The most popular tourist destinations in Germany can be very busy, especially during the peak seasons (usually summer). The busiest tourist areas include major cities such as Berlin and Munich, and they see many visitors at their main attractions, museums, and monuments. Also, other major tourist destinations include some of the castles in the countryside, the smaller villages in the Rhine Valley, the Alps, and the Black Forest that offer impressive beauty, the ski resorts during winter, and the various amusement parks around the country. However, the number of tourists can still be manageable at most of these locations and should not dissuade anyone from visiting.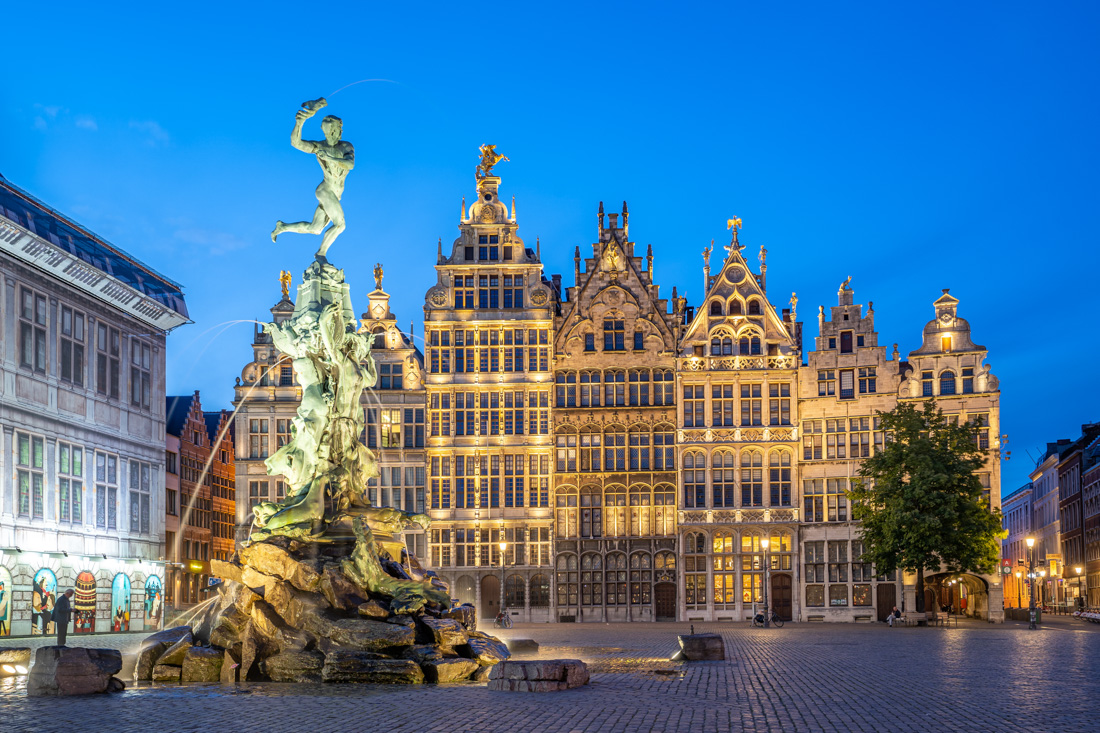 Should I spend more time in Germany or Belgium?
How long in belgium or germany.
Belgium and Germany both offer a nice selection of activities for visitors. Many travelers usually spend more of their time in Germany than Belgium because of the number of activities and things to do in the area. Usually, 3-7 days is a good amount of time for Belgium, and 7-14 days is enough time in Germany.
Families should spend more time in Germany than Belgium. Because of the many family-friendly attractions and fun things to do for kids in Germany, it's a great place to visit with the whole family.
Couples should spend more time in Germany than Belgium. You'll find plenty of romantic sights and fun activities in Germany that are perfect for a weekend getaway or a longer couple's trip.
Backpackers and budget travelers should spend more time in Germany than Belgium if your budget allows for it. With a larger number of budget-friendly sights, good nightlife, and active things to do, anyone traveling on a budget would have a good time in Germany.
How many days in Belgium or Germany? Ideal Length of Stay Belgium 3-7 Germany 7-14
A weekend in Belgium or Germany?
In Belgium, you'll find museums, theater, and history and culture. The length of your trip often depends on your style of travel. Since there is so much to do in the area, a weekend is probably not enough for all of it.
In Germany, you'll find national parks, history and culture, and skiing. The length of your trip often depends on your style of travel. Hiking can easily take up a good amount of your time here, too. Since there is so much to do in the area, a weekend is probably not enough for all of it.
Five days in Belgium or Germany?
Belgium is a great place to explore. It is common to spend five days here. Five days is a great amount of time to relax and see the many things that Belgium has to offer. Anyone can find something fun to do here.
Germany is a great place to explore. Hikers are also drawn to this area. Since there is so much to do in the area, five days is probably not enough for all of it. Anyone can find something fun to do here.
A week in Belgium or Germany?
It's hard to know how much time to spend in Belgium. In Belgium, you'll find history and culture, nightlife, and food. With all of its activities, you can easily fill one week here.
It's hard to know how much time to spend in Germany. In Germany, you'll find skiing, nightlife, and food. Many visitors also spend a good bit of time hiking. With all of its activities, you can easily fill one week here.
Two weeks in Belgium or Germany?
It's hard to know how much time to spend in Belgium. Many people enjoy the history and culture, nightlife, and food when visiting Belgium. Two weeks is more than enough time to enjoy everything. Take some day trips to nearby places to fill the extra days.
It's hard to know how much time to spend in Germany. In Germany, you'll find skiing, nightlife, and food. Many visitors also spend a good bit of time hiking. Two weeks is a great amount of time to relax and see the many things that Germany has to offer.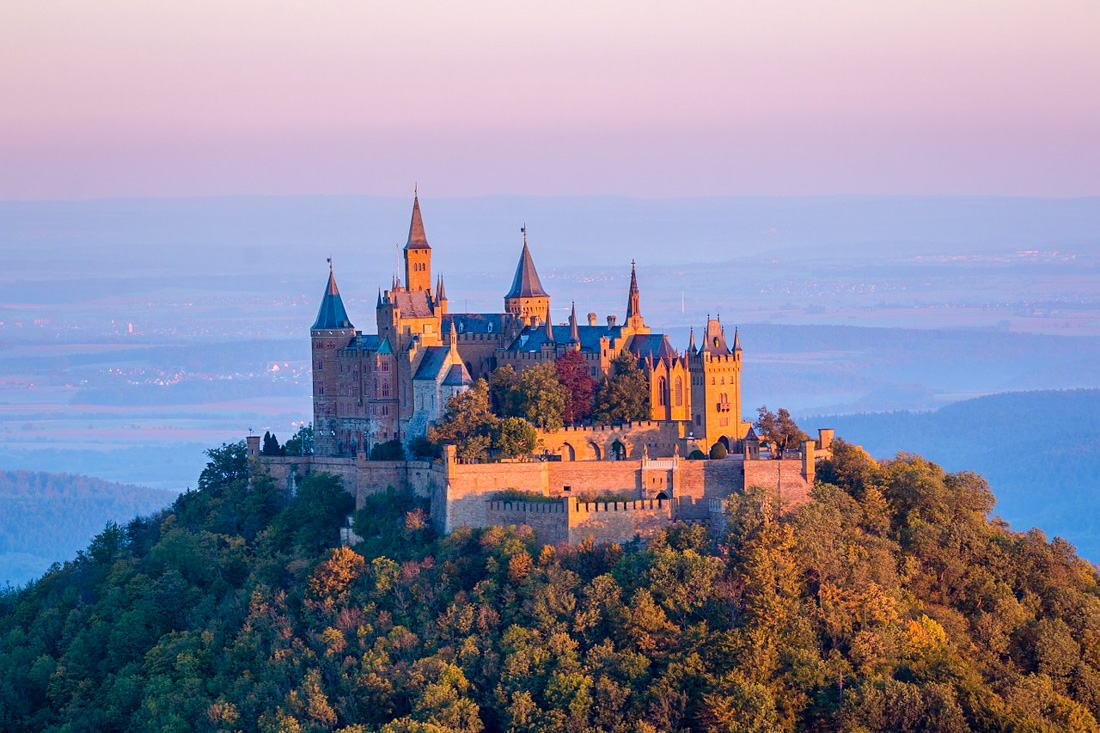 Which country is cheaper, Germany or Belgium?
These are the overall average travel costs for the two destinations.
Belgium Prices Germany Prices
Average Daily Cost Per person, per day Belgium € 142 Germany € 152
The average daily cost (per person) in Belgium is €142, while the average daily cost in Germany is €152. These costs include accommodation (assuming double occupancy, so the traveler is sharing the room), food, transportation, and entertainment. While every person is different, these costs are an average of past travelers in each country. What follows is a categorical breakdown of travel costs for Belgium and Germany in more detail.
Accommodation
Accommodation Hotel or hostel for one person Belgium € 71 Germany € 75
Accommodation Typical double-occupancy room Belgium € 142 Germany € 150
Compare Hotels in Belgium and Germany
Looking for a hotel in Belgium or Germany? Prices vary by location, date, season, and the level of luxury. See below for options and compare which is best for your budget and travel style.

Hotels in Belgium
Hotels in Germany
Kayak helps you find the best prices for hotels, flights, and rental cars for destinations around the world. Compare prices for multiple destinations when planning your next trip.
Local Transportation
Local Transportation Taxis, local buses, subway, etc. Belgium € 17 Germany € 24
Typical Local Transportation prices in Belgium
Some typical examples of transportation costs in Belgium are as follows:
Subway Pass € 4.50
Five Day Bus Pass € 15
Bike Rental for Day € 8.00
Atomium train ticket (2) € 8.00
Hired Cars and Shuttles in Belgium
Also for Belgium, here are a few examples of actual transportation services:
VIP Transfer between Brussels Airport (BRU) and Antwerp: $129
VAN TRANSFER BRUSSELS AIRPORT <-> BRUSSELS CITY (Max. 6 pax) : $100
Try find your better than us ! Airport transfer service in Brussels HTL-APT(BRU): $81
Try find your better than us ! Airport transfer service in Brussels APT-HTL(BRU): $81
Transfer to Brussels National Airport: $58
Transfer from CRL Airport -> Brussels MB S-CLASS 3 PAX: $243
Transfer from Brussels BRU -> Brussels MB V-CLASS 7 PAX: $106
Transfer from Brussels Airport->Brussels MB E-CLASS 3 PAX: $85
Transfer from Brussels Airport to Brussels MB V Class 7 PAX: $106
Transfer from Brussels Airport -> Antwerp MB S-CLASS 3 PAX: $232
Transfer from Brussels -> Paris Center MB V-CLASS 7 PAX: $972
Transfer from Brussels -> Paris Center MB S-CLASS 3 PAX: $1,053
Typical Local Transportation prices in Germany
Here are some examples of typical transportation prices from actual travelers in Germany:
Car Rental € 50
Short Distance Ubahn Ticket € 1.70
Short Trip Metro Ticket € 1.40
Bahn Ticket € 3.00
Short Taxi Ride € 20
Single Zone Trip on Subway € 2.30
Inner District Subway Day Pass € 5.20
City transport day ticket € 11
Hired Cars and Shuttles in Germany
Also for Germany, here are a few examples of actual transportation services:
One Way Private Transfer from Frankfurt to Berlin : $2,699
One Way Private Transfer from Berlin to Frankfurt : $2,699
Frankfurt to Salzburg one way Private Transfer: $2,375
Munich to Vienna Private Full-Day Tour with Private Transfers: $2,160
One Way Private Transfer from Hamburg to Frankfurt : $2,159
Frankfurt to Paris one way Private Transfer: $2,159
One Way Private Transfer from Frankfurt to Stuttgart : $2,159
One Way Private Transfer from Frankfurt to Hamburg : $2,159
Frankfurt to Bruges one way Private Transfer: $2,159
One Way Private Transfer from Stuttgart to Frankfurt : $2,147
Hannover to Amsterdam one way Private Transfer: $2,051
Frankfurt to Winterthur one way Private Transfer: $2,051
Is it cheaper to fly into Belgium or Belgium?
Prices for flights to both Germany and Belgium change regularly based on dates and travel demand. We suggest you find the best prices for your next trip on Kayak, because you can compare the cost of flights across multiple airlines for your prefered dates.
Food Meals for one day Belgium € 42 Germany € 40
Typical Food prices in Belgium
Here are some examples of typical meal expenses from previous travelers to Belgium:
Ice Cream & Macaroons € 4.60
Cup of Tea € 2.00
Sandwich for Lunch € 3.25
Dessert (Turkish Delights) € 4.75
Cheese € 5.60
Olives and Snacks € 6.98
Waffle € 3.00
Food Tours and Cooking Classes in Belgium
For Belgium, here are some samples of tours and activities related to meals and dining experiences:
Brussels: Hard Rock Cafe with Set Menu for Lunch or Dinner: $26
Hard Rock Cafe Brussels with Set Lunch or Dinner : $26
Hard Rock Cafe Antwerp with Set Lunch or Dinner : $27
Chocolate and Beer Food Tour of Brussels: $42
Brussels: City Center Guided Food Tour with Tastings: $59
Mechelen Small-Group Walking Tour with Lunch or Dinner: $75
Vegan Walking Food Tour in Mechelen: $81
Mechelen Food Tour: $81
Walking Food Tour in Ghent: $81
Experience Authentic Belgian Cuisine: Cooking Lesson and Meal with a Ghent Local: $90
Brussels Gourmet Walking (Food) Tour (walking lunch or dinner): $91
Walking food tour: Introduction to Ghent through food: $93
Typical Food prices in Germany
For Germany, here are some examples of average food and meal prices for travelers:
Dinner for Two € 22
Soda € 1.70
Bratwurst € 5.00
Coffee € 3.50
Fast Food Lunch € 3.50
Lunch € 10
Coffee € 4.50
Panini To Go € 2.00
Soda € 2.00
Salami € 1.99
Nutella € 1.00
Yogurt € 1.00
Food Tours and Cooking Classes in Germany
For Germany, here are some samples of tours and activities related to meals and dining experiences:
English Comedy Ticket including Pizza in Berlin Mitte: $18
Berlin: Cosmic Comedy Show with Pizza and Free Shots: $19
Munich: Hard Rock Cafe with Set Menu for Lunch or Dinner: $24
Hard Rock Cafe Berlin with Set Menu for Lunch or Dinner: $24
Cologne: Hard Rock Café with Set Menu for Lunch or Dinner: $24
Hard Rock Cafe Cologne With Set Lunch or Dinner: $26
Hard Rock Cafe Munich with Set Lunch or Dinner : $26
English Comedy Showcase Including Pizza in Berlin Mitte: $28
Hard Rock Cafe Berlin With Set Lunch or Dinner : $30
Traveling Spoon French Quiche Private Online Cooking Class: $40
Munich: Viktualienmarkt Gourmet Food Tour: $44
Köln Südstadt kulinarisch – Die Food Tour: $48
Entertainment
Entertainment Entrance tickets, shows, etc. Belgium € 19 Germany € 28
Typical Entertainment prices in Belgium
For Belgium, here are some examples of average entertainment and activity prices from previous travelers:
Groeninge Museum Entrance € 8.00
Tours and Activities in Belgium
Also, here are some specific examples of entertainment, tickets, and activities for Belgium.
Brussels Beer Tour: $32
Christmas Gems of Brussels - Walking Tour: $258
In Flanders Fields and Passchendaele Half Day Morning Tour: $86
Private 4hr Australian Fromelles Battlefield WW1 Tour: $702
"Edges of Brugge" Photo Tour (2hr open city tour & workshop): $76
"Essential Brugge" Photo Tour (3hr private city tour & workshop): $270
"Hidden Brugge" Photo Tour (2hr open city tour & workshop): $76
"Shades of Brugge" Photo Tour (3hr private city tour & workshop): $270
"The Alchemist" Tournai : Outdoor Escape Game: $21
"Zombie Invasion" Tournai : outdoor escape game: $43
1 Hour Antwerp Citytour Hop On Hop Off: $15
2 day Australian WW1 battlefield tour in Flanders the Somme from Bruges or Ypres: $729
Typical Entertainment prices in Germany
Below are a few sample prices from actual travelers for Germany's activities, tours, and tickets:
Formula 1 Tickets (for 2) € 670
Tower at St. Michael's Church € 3.50
Schack Gallery Entrance € 4.00
Munich Zoo Entrance € 9.00
Pub Crawl Munich Tour € 14
Berlin Zoo (2) € 20
Neuschwanstein Castle (2) € 24
Tours and Activities in Germany
For Germany, here are a few prices for actual activities, tours, and tickets provided by various companies:
2 Hour Private Guided Walking Tour: Jewish Mainz: $194
Access Munich: A Walking Tour for the Blind and Partially Sighted: $97
E-scooter Sightseeing Tours in Berlin: $66
East Berlin and the Berlin Wall 2-Hour Walking Tour : $22
Hamburg Private Walking Tour With A Professional Guide: $250
Romantic Road Ticket from Bad Mergentheim to Frankfurt(Main) (SUNDAY) : $55
Romantic Road Ticket from Würzburg(Main) to Rothenburg/Tauber (SUNDAY): $31
Safari Tour with the Legendary Fish Sandwich: $32
The Best of Berlin: Most Famous Sites Walking Tour: $21
Düsseldorf Tussitour for happy girls (Altstadt / Königsallee): $323
"Alles Kohle"-Tour: $76
"Highlights of Hamburg" Biketour: $37
Alcohol Drinks for one day Belgium € 16 Germany € 22
Typical Alcohol prices in Belgium
Some typical examples of the costs for nightlife and alcohol in Belgium are as follows:
Bottle of Wine € 10
Beer € 6.00
Sample the Local Flavors in Belgium
Some specific costs for nightlife related activities in Belgium:
Bruges: Bourgogne des Flandres Brewery and Distillery Visit: $16
Antwerp: City Brewery De Koninck Interactive Tour: $17
Brussels Pub Crawl - Nightlife & Party Experience: $17
Brussels: Pub Crawl and Nightlife Party Experience: $18
Pub Crawl Party Night in 4 Bars from Brussels: $22
Tour and Tasting if alcoholic Ginger-beer in a gluten-free nano-brewery: $61
Private Ghent Beer & Brewery Tour by a young local: $189
Private: Discover Bruges beers & brewery with chocolate pairing by a young local: $189
Bruges in a Day: Private Full-Day Tour with Brewery Guided Visit: $350
Beer walking tour with visit Brewery Bourgogne de Flandres: $644
Typical Alcohol prices in Germany
Below are a few samples from actual travelers for alcohol and nightlife costs in Germany:
Becks Beer € 2.00
Night Out Drinking € 25
Drinks at a Show € 14
Hofbrauhaus € 12
Sample the Local Flavors in Germany
Here are a few nightlife and alcohol tours and activities from local tour providers in Germany:
Berlin: Mampe Schnapps Brewery Tour and Tasting: $13
Original One80 Berlin Pub Crawl: $14
Düsseldorf: Old Town Pub Crawl Self-guided Tour: $16
Cologne: Old Town Walking Tour with Brewery and Kölsch Beer: $18
Guided tour of the old town with a visit to the brewery in Cologne: $18
Berlin: Guided Brewery Tour and Craft Beer Tasting: $19
Bremen: 3-Hour Beck's Brewery Tour: $20
Berlin: Pub Crawl with Skip-the-Line Club Entry: $21
Frankfurt: Night Pub Crawl through Alt-Sachsenhausen: $21
Hamburg: Night Pub Crawl through The Repperbahn: $21
Düsseldorf: Guided Brewery Tour with Two Beer Tastings: $24
Berlin: Vagabund Brauerei Beer Tasting & Guided Brewery Tour: $24
When comparing the travel costs between Belgium and Germany, we can see that Germany is more expensive. However, the two cities are actually relatively comparable in price, as the difference is somewhat minimal. Generally, this means that you could travel with generally the same travel style and level of luxury in each place. Since both cities are in Europe, it's no surprise that their costs are relatively close, as many destinations here have somewhat similar travel prices overall.

Why is Germany more expensive than Belgium?
In general, prices in Belgium and Germany are very comparable. A diverse range of hotels, hostels, and restaurants are available, so in most tourist destinations it's possible to find options for all budgets.
One noticeable difference is the amount you might spend on transportation within the country. Because Germany is quite large, if you hope to travel throughout the country you are likely to spend more money on trains and buses. Belgium is a much smaller country, and many places can even be visited as day trips, keeping costs to a minimum.
What are the most expensive and cheapest cities and regions in Germany and Belgium?
In Germany, cities like Berlin can be a bit more expensive than the countryside. In some cases though, there may only be one hostel and a few small hotels in a town, with just a few restaurants to choose from in a smaller town. This lack of competition may drive prices up.
Prices in Belgium are relatively consistent throughout. It's possible to find affordable hostels in most cities and towns, and there are a variety of restaurants with reasonable options as well. Travel times are also quite short within Belgium, so the cost of traveling between locations is reasonable.
How can you save money while visiting Germany and Belgium?
Eat where the locals eat. Restaurants that are geared toward tourists will inevitably be more expensive. Try to find a local eatery and you're sure to save a good bit of money. Alternatively, find a street vendor that sells bratwurst or a local dish. Then you can find a great place to sit and people watch while you enjoy your quick and cheap meal.
It's easy to visit either Belgium or Germany during the spring or fall when the prices are a bit less and the crowds aren't as intense. If you want to save some money then this is a great time to explore the area.
Belgium can be explored through a series of day trips. Pick a base and then spend some time in nearby towns. This will give you a feel for the country in a shorter amount of time.
Buses are almost always cheaper than trains, so look into all of your transportation options before buying tickets.
Slow down and take time to really enjoy the cities and towns you're in. Exploring less places in more detail will give you a feel for the area and also save you money, because you'll spend less money on transportation.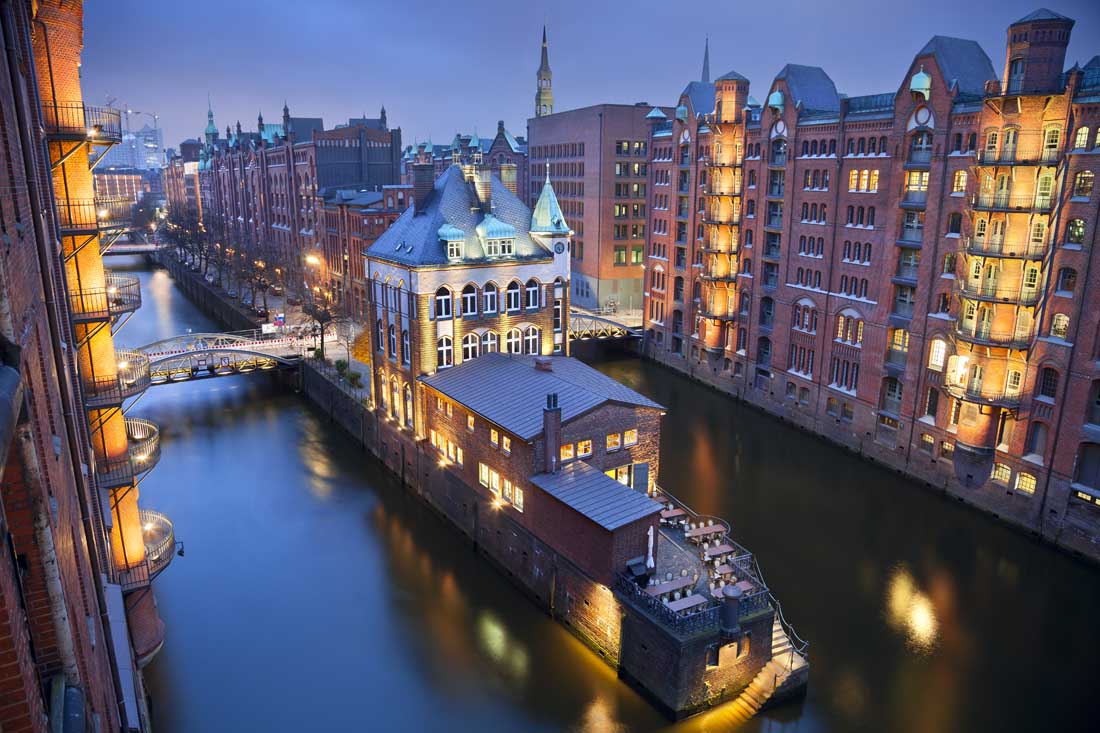 When is the best time to visit Belgium or Germany?
Both destinations experience a temperate climate with four distinct seasons. And since both cities are in the northern hemisphere, summer is in July and winter is in January.
The Belgian climate in northern Europe experiences four seasons with cooler summers and cold wet winters. While the temperatures are often cold in the winter, it only snows periodically near the coast. And because the summers are not too hot, the weather is very pleasant during this popular time to visit.
Germany experiences four seasons with warm summers and cold winters. The mountain ranges in the south are popular with skiers, and as such see quite a bit of snow and cold temperatures in the winter. Summers can be quite warm, especially in the central regions. Spring and autumn are both very pleasant.
Germany and Belgium are beautiful countries to visit year around. Temperatures are most comfortable and crowds less intense during the spring and fall seasons. These shoulder seasons are good options if you don't want to pay peak prices and wish to avoid the most intense crowds. If you do plan to visit during the summer months, the temperature is still much milder than southern Europe and it can actually be quite pleasant.
Winter is a beautiful time to visit both Germany and Belgium. In general, prices tend to be a bit cheaper during this season, but it has become a bit more difficult to get off season discounts in recent years. Even during the cold winter months, many hotels are popular with business travelers or tour groups, which drive up prices. Deals on airline tickets can still be found during these low times. The holiday season around Christmas can also be a more expensive time to visit as vacationers head to both countries.
Should I visit Belgium or Germany in the Summer?
The summer attracts plenty of travelers to both Belgium and Germany. Many travelers come to Belgium for the family-friendly experiences. Also, many visitors come to Germany in the summer for the hiking and the family-friendly experiences.
In July, Brussels is generally around the same temperature as Berlin. Daily temperatures in Brussels average around 18°C (65°F), and Berlin fluctuates around 19°C (66°F).
People are often attracted to the plentiful sunshine in Berlin this time of the year. Brussels usually receives less sunshine than Berlin during summer. Brussels gets 186 hours of sunny skies, while Berlin receives 227 hours of full sun in the summer.
In July, Brussels usually receives more rain than Berlin. Brussels gets 75 mm (3 in) of rain, while Berlin receives 50 mm (2 in) of rain each month for the summer.
Summer Average Temperatures July Brussels 18°C (65°F) Brussels 19°C (66°F)
Should I visit Belgium or Germany in the Autumn?
The autumn brings many poeple to Belgium as well as Germany. Many visitors come to Belgium in the autumn for the shopping scene and the natural beauty of the area. Also, most visitors come to Germany for the hiking trails, the shopping scene, and the natural beauty of the area during these months.
Brussels is a little warmer than Berlin in the autumn. The daily temperature in Brussels averages around 12°C (54°F) in October, and Berlin fluctuates around 10°C (50°F).
In the autumn, Brussels often gets more sunshine than Berlin. Brussels gets 114 hours of sunny skies this time of year, while Berlin receives 106 hours of full sun.
Brussels usually gets more rain in October than Berlin. Brussels gets 70 mm (2.8 in) of rain, while Berlin receives 35 mm (1.4 in) of rain this time of the year.
Autumn Average Temperatures October Brussels 12°C (54°F) Brussels 10°C (50°F)
Should I visit Belgium or Germany in the Winter?
Both Germany and Belgium are popular destinations to visit in the winter with plenty of activities. Most visitors come to Belgium for the museums, the Christmas ambience, the shopping scene, the theater shows, and the cuisine during these months. Also, the winter months attract visitors to Germany because of the skiing, the museums, the Christmas ambience, the shopping scene, the theater shows, and the cuisine.
The weather in Berlin can be very cold. Brussels can be very cold during winter. In the winter, Brussels is much warmer than Berlin. Typically, the winter temperatures in Brussels in January average around 3°C (38°F), and Berlin averages at about -0°C (31°F).
Brussels usually receives more sunshine than Berlin during winter. Brussels gets 49 hours of sunny skies, while Berlin receives 42 hours of full sun in the winter.
In January, Brussels usually receives more rain than Berlin. Brussels gets 67 mm (2.6 in) of rain, while Berlin receives 40 mm (1.6 in) of rain each month for the winter.
Winter Average Temperatures January Brussels 3°C (38°F) Brussels -0°C (31°F)
Should I visit Belgium or Germany in the Spring?
Both Germany and Belgium during the spring are popular places to visit. The spring months attract visitors to Belgium because of the natural beauty. Furthermore, the natural beauty are the main draw to Germany this time of year.
In April, Brussels is generally a little warmer than Berlin. Daily temperatures in Brussels average around 10°C (49°F), and Berlin fluctuates around 9°C (47°F).
In the spring, Brussels often gets less sunshine than Berlin. Brussels gets 147 hours of sunny skies this time of year, while Berlin receives 160 hours of full sun.
Brussels usually gets more rain in April than Berlin. Brussels gets 57 mm (2.2 in) of rain, while Berlin receives 40 mm (1.6 in) of rain this time of the year.
Spring Average Temperatures April Brussels 10°C (49°F) Brussels 9°C (47°F)
Typical Weather for Berlin and Brussels
Related articles for belgium, related articles for germany.

More Destination Comparisons
Subscribe to our newsletter.
By signing up for our email newsletter, you will receive occasional updates from us with sales and discounts from major travel companies , plus tips and advice from experienced budget travelers!
Share This Page
Pin this page.
Some of the links on this website are sponsored or affiliate links which help to financially support this site. By clicking the link and making a purchase, we may receive a small commission, but this does not affect the price of your purchase.
Privacy / Terms of Use
Activities, Day Trips, Things To Do, and Excursions

Germany vs. Belgium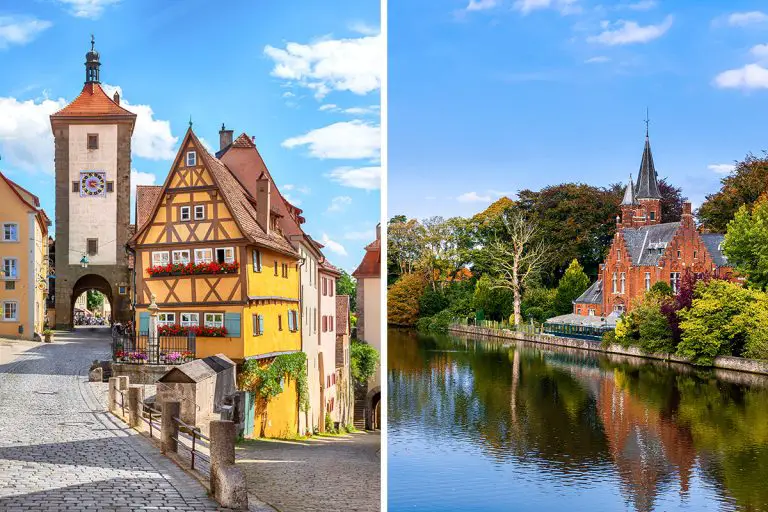 Table of Contents
Both Germany and Belgium are steeped in history and brimming with cultural delights. They offer a myriad of adventures that could cater to your taste, whether you're a history buff, an art aficionado, or a nature lover. Excited to find out more? Dive in and explore what each destination has in store for you!
History & Culture
Delving into the rich histories of Germany and Belgium is like embarking on a fascinating journey through time. Both countries have diverse cultures shaped by their unique pasts.
Germany's history is vast, spanning from the time of the Roman Empire to the modern day. You'll find this reflected in its culture, from its traditional festivals to its architectural styles. German culture is also heavily influenced by its intellectual history, giving birth to some of the world's most renowned philosophers, musicians, and scientists.
On the other hand, Belgium's history, though equally compelling, is distinctly different. Belgium's past is a tapestry of various cultural influences, from Roman to Spanish to French. This blend has resulted in a unique Belgian culture that celebrates diversity. Belgium is also known for its love for comic strips, being the birthplace of beloved characters like Tintin.
While Germany's culture is often associated with precision and efficiency, Belgium's is more laid back and jovial. Both countries, however, share a deep appreciation for the arts and have contributed significantly to various art movements throughout history.
In summary, while both Germany and Belgium boast intriguing histories and vibrant cultures, their expressions are quite distinct. Whether you're drawn to Germany's intellectual tradition or Belgium's multicultural charm, you're in for a cultural feast!
Attractions & Activities
When it comes to attractions and activities, Germany and Belgium are teeming with possibilities. Whether you're an adventurer, a history enthusiast, or an art lover, you're sure to find something that sparks your interest.
In Germany, you can explore grand castles that seem straight out of fairy tales, or immerse yourself in the bustling metropolis of Berlin, where modern architecture stands side by side with historic buildings. If you're into nature, the scenic beauty of the Black Forest or the stunning Bavarian Alps will leave you in awe.
Belgium, though smaller, packs a punch with its range of attractions. Walk through picturesque medieval towns like Bruges or Ghent, with their well-preserved architecture and charming canals. For art buffs, Belgium's numerous museums, housing everything from Flemish primitives to modern art, are a must-visit.
If you're more of an adventurer, Germany's vast landscapes provide plenty of opportunities for hiking, cycling, and winter sports. Meanwhile, Belgium's flat landscapes are perfect for leisurely bike rides or canal cruises.
In a nutshell, both Germany and Belgium offer a wealth of attractions and activities. Whether you're captivated by Germany's grandeur and diverse landscapes or enchanted by Belgium's charming towns and rich art scene, you're guaranteed to have a memorable experience.
While neither Germany nor Belgium is primarily known for their beaches, they each offer unique coastal experiences that could add a refreshing touch to your vacation.
Germany's coasts stretch along the Baltic and North Seas. One of the most notable beaches is Sylt Island, located in the North Sea. Sylt's beaches are expansive, covering a total length of about 40 kilometers (or 25 miles). The sandy shores and dunes, coupled with its breezy climate, make it a popular spot for wind-based water sports.
In contrast, Belgium's coastline is shorter, extending approximately 66 kilometers (or 41 miles) along the North Sea. The town of Ostend is particularly popular, boasting a wide sandy beach and a charming promenade. Here, you can enjoy a relaxing day by the sea, with the added bonus of Ostend's lively city vibe within easy reach.
Summing it up, while Germany's beaches offer a serene escape with the option of adrenaline-pumping activities, Belgium's beaches provide a blend of relaxation and urban entertainment.
Eating, Drinking & Nightlife
Diving into the culinary scene is an essential part of any travel experience, and both Germany and Belgium have a lot to offer in this department.
German cuisine is hearty and diverse, with each region having its own specialties. From succulent bratwursts to the iconic pretzels, there's plenty to delight your taste buds. Germany is also famous for its beer, with hundreds of breweries across the country. A trip to a traditional beer garden is a must-do when in Germany.
Belgian food, on the other hand, is a delightful fusion of French and German cuisine. Known worldwide for its waffles, chocolates, and fries, Belgian dishes are sure to leave you wanting more. And let's not forget about Belgian beer! With a history dating back hundreds of years, Belgian breweries offer a wide variety of brews to suit any palate.
When it comes to nightlife, both countries have vibrant scenes. Germany's Berlin is known for its world-class clubs and diverse music scene. Belgium's Brussels, while more laid-back, offers a mix of trendy bars, pubs, and nightclubs.
In conclusion, whether you're drawn to the hearty fare and beer culture of Germany, or the sweet treats and laid-back nightlife of Belgium, your taste buds and evening entertainment are well-catered for in both destinations.
Shopping can be an integral part of your travel experience. Whether you're looking for unique souvenirs or high-end luxury items, both Germany and Belgium offer a diverse array of shopping opportunities.
In Germany, shopping is a cultural experience. Cities like Berlin and Munich are packed with a mixture of traditional stores, modern shopping malls, and trendy boutiques. You can find locally made crafts, designer clothes, and world-renowned German engineering in everything from toys to cars.
On the other hand, Belgium offers its own unique shopping experience. Known for its fine chocolates, lace, and diamonds, Belgian shops are a treasure trove of distinctive items. Cities like Brussels and Antwerp are particularly famous for their shopping districts.
Ultimately, whether you prefer the rich variety in Germany's shopping scene or the unique specialty items of Belgium, both countries have shopping experiences that cater to a range of preferences and budgets.
Accommodation
Choosing the right accommodation can greatly enhance your travel experience. Both Germany and Belgium offer a wide range of options, ensuring that there's something for everyone.
Germany's accommodation options range from luxury hotels in major cities to charming guesthouses in smaller towns. You can also find unique options like castle hotels, offering you the chance to live out a fairy-tale experience.
Belgium, too, has a diverse accommodation scene. From grand hotels in Brussels to quaint bed and breakfasts in the countryside, the choices are plentiful. Unique to Belgium are the gîtes, or holiday homes, often set in beautifully renovated old buildings.
In summary, whether you're looking for luxury, charm, or something a little different, both Germany and Belgium offer a variety of accommodations that can enhance your travel experience.
Family-Friendliness & Children's Activities
If you're traveling with your family, you'll want to consider which destination offers the most child-friendly attractions and activities. Both Germany and Belgium are known for their family-friendly cultures, but they offer different experiences.
Germany is packed with family-friendly activities. Cities like Berlin and Munich have many parks, zoos, and science centers that are sure to entertain kids of all ages. Additionally, Germany is the birthplace of many classic fairy tales, and the country boasts several theme parks and castles where your children can live out their storybook dreams.
On the other hand, Belgium also offers a wealth of family-friendly experiences. From its famous chocolate shops and comic book museums to the Mini-Europe park and the Atomium, Belgium has a lot to keep kids excited and engaged.
In conclusion, both Germany and Belgium offer a wide array of family-friendly activities. Your choice between the two will depend on the specific interests of your family members.
Getting There & Getting Around
Accessibility and transportation are essential factors to consider when planning your trip. Both Germany and Belgium are well-connected and have efficient public transportation systems.
Getting to Germany from most parts of the world is relatively easy. It has several international airports, with Frankfurt Airport being one of the busiest in Europe.
Once you're in Germany, the country's extensive railway network and autobahns (highways) make traveling around the country straightforward. The distance from Berlin to Munich is about 600 kilometers (372 miles), which can be covered in about 6 hours by car or 4 hours by high-speed train.
In contrast, Belgium is a smaller country and easier to navigate. Brussels Airport serves as the main international gateway.
Belgium also has an efficient railway system, and since the country is small, you can travel from one end of the country to the other in a few hours. For instance, the distance from Brussels to Antwerp is around 50 kilometers (31 miles), and a train ride between the two cities takes less than an hour.
In summary, whether you prefer the vastness of Germany with its efficient autobahns and railways, or the compact and easily navigable Belgium, both countries offer excellent accessibility and transportation options.
When planning a trip, it's important to think about the weather, as it can greatly impact your activities and overall experience. Germany and Belgium, while geographically close, do offer some differences in their climates.
Germany generally experiences a temperate seasonal climate, with moderate to heavy rainfall throughout the year. The winters can get quite chilly, with temperatures often dropping below freezing (32°F or 0°C). Summers in Germany can be warm, with temperatures usually ranging between 68°F to 86°F (20°C to 30°C).
Belgium, in contrast, has a maritime temperate climate. This means that it has mild summers and cool winters. During the summer, you can expect temperatures to hover around 70°F (21°C), while in winter it usually stays above freezing, averaging around 40°F (4°C).
In both Germany and Belgium, the weather can be unpredictable, so it's always a good idea to check the forecast and pack accordingly. If you love snowy landscapes, a winter trip to Germany might be right up your alley. However, if you prefer milder winters, Belgium might be a better choice.
Safety is an essential aspect to consider when choosing a travel destination. Both Germany and Belgium are generally considered safe countries to visit, but like anywhere, they have their issues to be aware of.
In Germany, the crime rate is relatively low, but you should still take precautions, particularly in larger cities. Be aware of your surroundings, especially in crowded tourist spots and public transportation, where pickpocketing can occur.
Similarly, Belgium is a safe country for tourists. However, petty crimes like pickpocketing and bag snatching are common in tourist areas and on public transport. Just like in Germany, you should always keep an eye on your belongings.
While both countries have excellent healthcare systems, it's crucial to have appropriate travel insurance. This can protect you from unexpected costs like medical bills or if you have to cancel your trip.
In conclusion, both Germany and Belgium offer safe travel experiences with some precautions necessary. Always remain vigilant and ensure you're covered by travel insurance to make your trip as smooth as possible.
When planning a trip, cost can be a significant factor. It's important to understand the general expenses you might encounter in Germany and Belgium.
In Germany, the average cost of a hotel room can range from 70 Euros ($84) for a 3-star hotel to 110 Euros ($132) for a 4-star hotel per night. Dining out at a mid-range restaurant could cost around 15 Euros ($18) for a main dish. If you're planning on using public transportation, a one-way ticket typically costs around 2.80 Euros ($3.36).
In comparison, Belgium's prices can be slightly higher. A 3-star hotel may cost around 85 Euros ($102) per night, while a 4-star hotel could be around 120 Euros ($144) per night. A meal at a mid-range restaurant might set you back by about 20 Euros ($24), and a one-way ticket for public transportation is typically around 3 Euros ($3.60).
It's also worth noting that prices can vary depending on the city you're visiting and the time of year. Prices in major cities like Berlin or Brussels are usually higher, especially during peak tourist season.
Which Is Better – Germany or Belgium?
Choosing between Germany and Belgium can be challenging as both countries offer rich histories, unique cultures, and memorable experiences.
If you're a history buff, you might lean towards Germany, with its impressive historical monuments and remnants of its influential past. On the other hand, Belgium's vibrant history and diverse cultural influences also make it a captivating destination.
When it comes to attractions and activities, Germany offers a wider variety, from castles to hiking trails. In contrast, Belgium's charm lies in its quaint towns, iconic architecture, and museums.
As for beaches, neither Germany nor Belgium is particularly renowned for them. However, if you're seeking a coastal experience, Belgium's coastline offers more accessible options.
If you're a foodie, both countries will delight your taste buds. Belgium is famous for its chocolates and beers, while Germany offers hearty meals and world-renowned beers.
Accommodation and cost-wise, Belgium tends to be slightly more expensive than Germany. However, both countries offer a range of options to suit various budgets.
In conclusion, the choice between Germany and Belgium boils down to your personal preferences. If you're looking for a more diverse range of attractions and a slightly less expensive trip, Germany might be your best bet. However, if you're drawn to charming towns and delicious treats and don't mind a slightly higher cost, Belgium could be your perfect destination.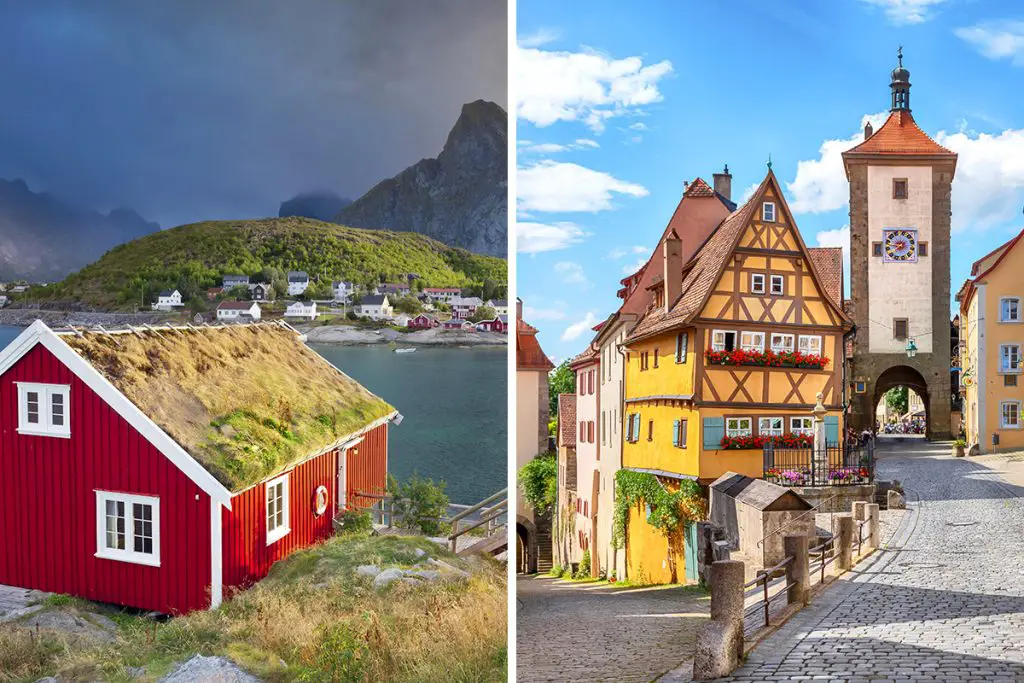 About  | Contact  | Privacy Policy
Copyright © Loco Media
20 Most Beautiful Places to Visit in Belgium
Often overlooked as a travel destination in favour of France, Spain, and Germany it could be said that Belgium is the underrated gem of Europe. Home to a collection of impossibly picturesque suspended-in-time medieval towns and cites Belgium actually offers some of the most beautiful – and romantic – city breaks in Europe.
That's also not forgetting its cosmopolitan capital Brussels, the pockets of truly beautiful countryside, and of course its world-famous beer production. From a few of my very favourite towns in Europe (Ghent, Bruges, and Dinant ) and beyond, here is my choice for 20 of the best and most beautiful places to visit in Belgium…
1. Dinant – a stunning picture-postcard Belgium town set between a dramatic cliff and the river
This under-the-radar beautiful gem of a city sits on the banks of the river Meuse in Belgium's Walloon region.
The picturesque town is backed by a spectacular sheer cliff face and protected by the ancient fortified citadel and the city's historic buildings are steeped in legend – as you meander through the narrow streets you can sense this is a place with many stories to tell.
Perhaps the city's most famous connection comes from it being the birthplace of Adolphe Sax, the man who invented the Saxophone whose house you can now visit.
Foodies don't miss a chance to try the delicious Flamiche (a bit like a Tarte Flambe) or Couques de Dinant which are delicious brittle honey biscuits. Definitely one of the most beautiful places to visit in Belgium!
2. Bruges – one of Europe's most romantic and beautiful cities to visit
One of the most famously beautiful places to visit in Belgium, Bruges – the perfectly preserved medieval city – is the place to head to for couples wanting to head out on a romantic European getaway.
Thousands of visitors can't be wrong and with a collection of attractive market squares, steep-gabled houses lining dreamy canals and winding cobbled streets all tied up in a compact, mostly traffic-free package makes Bruges, the suspended-in-time canal-side city is very romantic, it's also undeniably photogenic.
Make sure you include Burg square, the 14th-century Stadhuis (City Hall) which has an ornately carved ceiling, Market square which features a 13th-century belfry with panoramic views and of course one of the critically acclaimed restaurants (which there are many)!
3. Brussels – Belgium's elegant capital known for its stunning architecture and fascinating history
Forget the dull image that one of Europe's premier cities seems to be saddled with, Brussels is in fact a very beautiful and trip-worthy city. In the last few decades, the city has become a thriving cosmopolitan metropolis.
The historic architecture (including a perfectly-preserved late seventeenth-century centre) is truly superb and add in a fine collection of art galleries, museums, a famous foodie scene – consisting of everything from chocolate and waffles to Michelin star adorned fine cuisine – and of course the delicious beer, then Brussels easily deserves a place on this list!
4. Ghent – once known as Belgium's best-kept secret and a beautiful place to visit and explore
I loved Ghent. While most head for Brussels or Bruges, the small but beautiful port city is arguably Europe's best-kept secret. Ghent was, in fact, the most powerful in Europe but today it's a very relaxed picturesque place with more than a whiff of a bohemian air.
Beautiful Ghent is also story-book pretty with a collection of canal-side medieval architecture, Michelin-starred restaurants, quirky boutique stores and a rich calendar of cultural events.
To really get the feel of the place, skip the touristy canal boat trips and discover all the local hotspots instead.
5. Spa – an elegant Belgium town known for its mineral-rich thermal waters
Spa is a beautiful and elegant place to visit in Belgium which yep you've guessed it, it's famous for being an 'original' spa.
Located in the Ardennes region of eastern Belgium it's naturally blessed with an abundance of mineral-rich thermal waters tourists flock here to relax and enjoy the health and wellness benefits of the water and the hot springs.
It's also very easy on the eye with beautiful buildings, thermal baths, a historic casino, an array of luxury hotels, and an endearing 19th-century retro charm.
6. Eifel Nature Park – a dramatic untamed stretch of wilderness shaped by volcanic activity which is one of the best places to visit in Belgium
With its low-hanging mist and miles of untamed rugged wilderness, this park has a mystical and almost other-worldly beauty. The beech forest-covered conversation area lies mostly in Germany but also borders Belgium.
It also happens to be home to some incredible wildlife – wild cats, wild boars, wildcats, black grouse, red deer, eagle owls all call this beautiful place home and since the new millennium, the lynx has again been sighted in this remote and highly protected area here for the first time in three centuries.
Part of the park's moors dates back to the last Ice Age – definitely a must-see place in Belgium!
7. Durbuy – a pretty town known for its stone houses and cobbled streets which is one of the most beautiful places to visit in Belgium
With the accolade of the smallest town on earth and a population of just 500 Durbury – located just 2 hours from Brussels is living proof that the best things come in small packages.
It's also managed to maintain its charming medieval setting and today its pedestrian streets are flowered, narrow and cobbled, winding between the old bluestone homes and buildings, attracting curious visitors to its shops, fine restaurants, and hotels.
Shop for artisanal produce, gaze at half-timbered houses, visit the beautiful Topiary Park and stop off to quench your thirst at La Ferme du Chêne which brews beer using a 14th-century method. Sporty types can also kayak or raft the Ourthe River that passes through the city.
8. Chateau de la hulpe – a fairytale castle listed as an Exceptional Heritage Site
France isn't the only country that boasts fairytale castles and one of Belgium's finest is truly exquisite.
Located in the municipality of La Hulpe in the Walloon Brabant and less than an hour away from Brussels, this beautiful chateau was modelled after the castles in the Loire Valley in France and served as Marquis Maximilien de Béthune's home.
The castle itself is not open to the public but you can visit the garden which is littered with sculptures and brimming with colourful flowers and also the surrounding park which is known for its rolling lawns, small ponds and fragrant rhododendrons where you can take a walk, take a picnic and or just kick back and relax.
9. The Sonian Forest – an ancient, highly diversified forest classified a UNESCO heritage status
Part of this exceptionally beautiful forest has just been awarded a UNESCO heritage status. Beginning in the Iron Age, the 4,000 hectares of woodlands used to be part of a long natural border of beeches and oaks stretching from Brabant all the way to the north of France.
It's a treasured, peaceful and unspoiled place in Belgium and a perfect naturally picturesque destination to spot roaming and wild boars, foxes, and roe deer.
10. Torgny – widely known as the most beautiful village in Belgium
With more than a whiff of Provence, this idyllic little village is often cited as one the most beautiful in Belgium. Lying on the southernmost tip of Belgium lies Torgny in the Gaume region in the province of Luxemburg, south of the Ardennes and surrounded by France on three sides.
Consisting of ochre-coloured, hand-hewn stones and red curved tiles, the dwellings are reminiscent of the south of France.
The village also enjoys a microclimate, so it is well suited for vineyards. It's a quiet place so don't expect too much going on but just kick, back relax and take in the rolling hills, the honey-coloured houses and the abundance of flowers, the local restaurants' gastronomy and walks and bike rides in the countryside, as well as a visit to the Abbey of the Trappist Cistercian monks of Orval.
11. The Wallonia region – a picturesque region known for its medieval towns, Renaissance-era architecture, and traditional Trappist beers
A visit to Belgium would not be complete without a visit to beautiful Wallonia. This French-speaking region of the country is among the larger areas of the country but still has a traditional and laid-back feel.
Wallonia has a lot to offer both tourists and locals including medieval towns, Renaissance-era architecture, and traditional Trappist beers galore.
12. Veurne – an idyllic Belgium town and a charming place to visit
Veurne was once an area of Belgium encompassed by fortresses to fend off the impending Viking attacks. However, fortification failed and the area was invaded, but thankfully, all the scars of the past have faded and left Verne as a historical, yet beautiful part of Belgium.
As Veurne is a city of historical significance, therefore it maintains obvious markers to the past. Many of the buildings and ruins throughout Veurne depict a distinct Renaissance and Gothic style, so if this type of history is important to you, Veurne maybe your ideal location.
13. Hoge Kempen National Park – a magnificent expanse of 5,000 hectares of forest, heathland and beautiful Belgium countryside
Our national parks are treasures just waiting to be explored and in Belgium's Hoge Kempen National Park, you can explore and stay directly in the park to immerse yourself in its intense beauty.
Hiking and camping are available at this traveller's dream of a park and for those that are not used to such rugged conditions or for those who simply do not want to camp, Hoge Kempen National Park offers modern lodging arrangements for a more comfortable stay.
14. De Haan – a coastal town known for its long beach and restaurant-dotted promenade
Coastal regions of Belgium draw in tourists from all over the world and among the most popular is De Haan.
De Haan is populated by just under 13,000 people maintains a spectacular small-town feel.
Attractions within De Haan range from unique shopping opportunities, traditional mills, and outdoor adventures such as exploring the dune forest.
There is no limit to what you can find in De Haan and unlike other areas that only cater to high-end travellers, this area provides something for everyone and on every budget. Views from Spioenkop are among the best photo opportunities in De Haan.
15. La Roche-en-Ardenne – a beautiful region in Belgium steeped in history, culture and wonderful natural scenery
Driving around Belgium offers some beautiful scenery, but if you are looking for something to enjoy outside of your vehicle, La Roche-en-Ardenne is the perfect place to go. Situated above it all just 25km northeast of St. Hubert, you will find La Roche-en-Ardenne.
This location is full of picturesque scenery from hills to castle ruins. Enjoy your experience exploring this rugged countryside surrounded by vast wilderness.
Cave explorers and outdoor enthusiasts of all types enjoy their time in this spectacular area of Belgium. Bring a camera along, you will need it.
16. Vallee du Ninglinspo – a romantic and pristine river valley to explore in Belgium
Dubbed, "The Most Beautiful Walk in Adrennes," Vallee du Ninglinspo, is one of the biggest outdoor attractions in Belgium. It boasts miles of trails and enjoyable scenery through remarkably beautiful wilderness.
A hiker's paradise to be sure, Vallee du Nignlinspo offers something new around every bend.
Waterfalls, natural pools, and rocky landscapes mix beautifully with unspoiled wilderness in this area.
When you visit Vallee du Ninglinspo, be sure to bring your camera and respect the natural beauty of the land by bringing any trash out so everyone else can enjoy its splendor for many years to come.
17. Damme – a picturesque medieval town with lovely traditional scenery
Damme is an area of Belgium that encompasses Oostkereke, Vivenkapelle, Sint-Rita, Sijsele, Lapscheure, Hoeke, and Moerkerke. The population of this growing area is just under 11,000 people. It remains a remarkably small, intimate town, but has a lot to offer tourists and locals alike.
Book enthusiasts flock to Damme, located in Belgium's north region, as it is home to an increasing number of book stores. If you are among the many bookworms and poetry enthusiasts, you will enjoy your time in Damme!
Damme has a very walkable layout, but also maintains an excellent bus route and is a bike-friendly area, so no matter how you choose to travel in Damme, you will enjoy this picturesque village.
18. Gaasbeek Castle – a romantic-style castle dating from medieval times with artworks and sprawling gardens
Are you looking for a romantic spot to take the one you love? Gaasbeek Castle is the ideal location in Belgium.
From April 1 to August 30, visitors can visit Gaasbeek Castle for an unbelievable tour. Romance surrounds at every turn throughout the castle and the surrounding grounds are among the most beautiful in all of Belgium.
Admission to the grounds is relatively inexpensive and tours of the actual castle are available at various times throughout the day. Be sure to bring your camera as you will want to take advantage of the never-ending photo opportunities at this epic castle.
19. Oud Rekem – once boasted the title of the prettiest village in Flanders
Dubbed, "The Most Beautiful Village in Flanders," Oud Reken is simply waiting for visitors to stroll their historic pathways and cobblestone pathways.
If you are among the many who like to take things a little slower, Oud Reken is the perfect place. The Castle d'Aspremont-Lynden is one of the most famous sites, but it is not the only one.
Visitors enjoy access to this historical village full of various museums, both indoor and outdoor, as well as friendly locals around every corner. If quaint is your idea of perfection, Oud Reken should be on your list when visiting Belgium.
20. Ypres – a pretty and historically important Belgium town surrounded by WW1 battlefields
A city of almost 35,000 people, Ypres is not a small village, but a thriving city ready to make your touristic dreams come true.
Historically, Ypres has seen its share of fighting, including during WWII, but today's Ypres is full of beautiful sites and a key pilgrimage site for those wishing to pay their respects to those who tragically lost their lives during war times.
Among the many historical sites found throughout the city, tourists enjoy walking along the shores of the Yperlee River and taking pictures of the many memorials placed around Ypres.
History comes alive in the city of Ypres, so bring your camera and a good pair of walking shoes to take it all in.
A unique place stay in Belgium
For a beautifully unique place to stay in Belgium, I stayed in Indrani Lodge which is located in the heart of the historic Brabant-Wallon village of Loupoigne, only a 45-minute drive from Brussels.
Combing contemporary stylish luxury with historic elegance and a personalised service, the lodge is a meticulously renovated medieval farm set amidst rural farmland – so a place to get escape city hassles but still in easy reach of the cultural attractions of one of Europe's quirkier cities.
Surrounded by beautiful lush green landscapes hike or walks or horse ride through rural farmland, ancient abbeys, historical battle sites, or a round of golf at one of a number of nearby courses! Indrani Lodge offers 5 luxuriously appointed and designed en-suite bedrooms, a relaxing leafy garden, and a rejuvenating sauna.
In keeping with the harmonious surroundings, they've also recently launched a new retreat programme offering a wide selection of wellness retreats and a focus on the themes of yoga, wellness, mindfulness, and healthy eating. For more information head to the Indrani Lodge website .
We also have posts on…
Places to visit in the Netherlands
Places to visit in Austria
Places to visit in Germany
Places to visit in Switzerland
Places to visit in France
Places to visit in Italy
Was this helpful?
Good job! Please give your positive feedback ⚡
How could we improve this post? Please Help us.✍
Becky Moore – Owner, writer and photographer
My first true adventure began as a six month voyage around South East Asia as a fresh faced backpacker and ever since I've lived a semi nomadic existence, clocking up visits to over 40 countries. I'm a lover of US Road Trips, deserted beaches bathed in warm glow of a sunset, Cuban mojitos, travel destinations far away from the tourist crowds and all things Scandinavian – from cloudberry liquors to Nordic noirs. When not wandering the world and running Global Grasshopper, you'll find me walking my ex Athens street dog in leafy South West London, strolling around the Brighton Lanes on random day trips, hunting for photogenic landscapes or daydreaming about my favourite places; Havana, Copenhagen, Italy, Borneo, Finland, Greece, Berlin, Laos, California and the surreal and beautiful landscapes of a wintry Iceland.
I've been quoted in Forbes, National Geographic , The Times , Yahoo Travel , Huffington Post , Business Insider , Thrillist , British Airways Magazine, Entrepreneur , express.co.uk , Wanderlust , Telegraph Travel, Daily Mail and metro.co.uk . Find me on Linkedin or Facebook .
Related Posts
Top 20 Amazing Places to Visit in the UK in the Autumn
Top 12 Most Beautiful Places to visit in Sierra Leone
Top 15 Cool And Unique Hotels In Stockholm 2023
Top 20 Cool and Unique Hotels in Dublin 2023
Top 15 Most Beautiful Places to Visit in El Salvador
0 thoughts on "Top 15 Most Beautiful Places to Visit in El Salvador"
hi sir who doesnt want to visit those beautiful places… Gaasbeek Castle is cool place for me
I just love traveling, beautiful places, really thanks for blog and photos. This are really gonna help.
Belgium having some many tourist places to visit..Thanks for sharing the photos which has the important places for tourists.
Fantastic looking places!
Belgium looks like a truly beautiful place to visit what wonderful photos too!
Wow I love this, such beautiful places in a beautiful looking country!
Bruges has certainly been on our travel wish list for a while now! We hear it's great for chocolate, beer and bicycling :-).
Wow I didn't know much about Belgium other than Brussels before now, but these look like incredibly scenic places to visit! Thanks for the travel inspiration! 🙂
Belgium is very picturesque.. I have been to Dinant and this city is truly breathtaking I had no idea about Eifel Nature Park before reading this post, looks so beautiful will definitely go there on my next visit. Thanks for sharing Becky!!
Leave a Comment Cancel reply
Must-Visit Attractions in Belgium

Nestled between Germany and France , the small country of Belgium has every reason to be confident in its cultural offerings. From Medieval fairytale settings to vast nature reserves and eerie ghost towns, here are the best places to visit in Belgium.
View all trips.
Did you know – Culture Trip now does bookable, small-group trips? Pick from authentic, immersive Epic Trips , compact and action-packed Mini Trips and sparkling, expansive Sailing Trips .
Destinations Unlocked:
Looking for an expert's perspective.
CentralAmerica

Gorgeous Guatemala
1. guatemala.

Beachy Belize

Colonial Mexico
Back to map, southamerica.

Adventurous Ecuador

Ancient Peru

Seductive Southern Italy

Edinburgh And The Scottish Highlands By Train
2. scotland.

Complete Portugal By Train
3. portugal.

Soulful South Korea
1. south korea.

Thailand, Cambodia & Vietnam
2. thailand.

Secrets Of Sri Lanka By Train
3. sri lanka.

Epic Morocco

Ultimate Egypt

Immersive Kenya
The atomium.
Building, Memorial, Historical Landmark

Nine giant steel balls connected with thin tubes: it's what Belgium and its capital Brussels call one of their ultimate symbols, the Atomium . The remarkable architectural structure was designed to look like an elementary iron crystal blown up to 165 billion times its size. The crown jewel to Brussels' 1958 World's Fair, the gravity-defying Atomium has remained a defining part of the city's skyline. The sculpture now sits on the Heysel Plateau in Laeken, a suburb in northwestern Brussels, where the expo took place.
Become a Culture Tripper!
Sign up to our newsletter to save up to 800$ on our unique trips..
See privacy policy .
Napoleon's Waterloo
Memorial The hundreds of re-enactors who come together annually to remember Napoleon's defeat by the United Kingdom, Prussia, Hanover, the Netherlands, Nassau and Brunswick on the fields near Waterloo in 1815 are proof that the battle lives on in the collective imagination. Besides the yearly spectacle, the Lion's Mound – a man-made hill with a statue of a lion at the top, about 20km (12mi) south of Brussels – and several of other memorials recall the coalition's victory over the French general more than two centuries ago.
Brussels' Grand Place
Building, Memorial

Tell an extravagant architect to come up with a prosperous, late Medieval market square, and chances are you'll get something like Brussels's Grand Place . The plaza, hidden from view and accessible through one of six spindly cobbled alleys, is guaranteed to overwhelm with dozens of baroque guild houses, the ornate King's House, now the city museum, and the 15th-century City Hall. All contribute to the remarkably homogeneous look of Europe's best-preserved Medieval plaza.
Victor Horta's Major Townhouses
Museum, Architectural Landmark

Often exalted as the father of the art nouveau movement, Victor Horta has left Brussels dotted with innovative townhouses that changed the face of late 19th-century architecture in the West. If you're short on time and have to choose between his four Unesco-labelled townhouses, the Horta Museum honours the artist in his former home and workshop, the Maison & Atelier Horta in the Brussels suburb of Saint-Gilles, while Unesco describes the Hotel Solvay in central Brussels as "the most ambitious and spectacular" of his work in the art nouveau period.
St Bavo's Cathedral and the Adoration of the Mystic Lamb
Cathedral, Church The most stolen piece of art in the world resides in Ghent's Saint Bavo's Cathedral , its rightful home ever since Jan van Eyck and lesser-known brother Hubert created it in 1432. More commonly referred to as the Ghent Altarpiece , the 12-panel polyptych has survived a tumultuous eight centuries. Seen as the first great painting that kick-started the Renaissance, the work was taken by Napoleon's troops, commandeered by the Nazis, recovered from salt mines by the "monuments men" and at one point sold by a duplicitous priest.
Flanders Fields
Museum For the better part of World War I, allied troops found themselves buried in a gruesome trench-war stalemate in the fields surrounding Ypres , in the Flemish part of Belgium. Memorials dot the countryside and city, and the nearly destroyed Cloth Hall is now the In Flanders Fields Museum, named after the poem by Lieutenant-Colonel John McCrae.
The Basilica of the Holy Blood
Church, Building, Memorial Squeezed into a corner on the generally pale, cream-coloured Burg Square in Bruges' historic core, the darker-hued, romanesque Basilica of the Holy Blood, built in the 12th century, stands out like a sore thumb. Of course, the extraordinary chapel contains an extraordinary relic; a vial believed to contain the blood of Jesus, which is brought out for worship every day.
The Bruges Belfry

If you're deciding what to see in Belgium, or more specifically its most picturesque city, then climbing the Bruges Belfry 's 366 steps is an excellent way to start – survey the cobweb of Medieval streets in this Venice of the North and decide which buildings you want to see up close. The belfry itself was used for spotting fires or other threats to the city, after it was built in the market square in 1240. The tower itself caught fire 40 years later and although the belfry was successfully rebuilt, the city archives were destroyed.
The Hallerbos or blue forest
Forest Spring forests overflowing with bluebells are not just a feature of the a British countryside. They exist all over Europe, and Belgium's Hallerbos, which lies mainly in the Flemish Brabant region, puts on a particularly lovely display. Timing is everything on this one. The purple carpet of flowers can appear anytime between the start of April and the end of May, and only sticks around for a couple of weeks.
The Beaufort Project's permanent pieces
Architectural Landmark

Since the Beaufort Project started, more and more strange-looking sculptures have popped up in Belgium's coastal towns. From Arne Quinze's giant, indented orange titans ( Rock Strangers ) in Ostend, to Jan Fabre's self-portrait that has him riding a massive bronze turtle ( Searching for Utopia ) in Nieuwpoort, the exceptional pieces that earned a permanent spot at the end of the public art triennial make the country's seaside a more exciting place to explore.
The Grand Curtius Museum
Museum It might not be on many people's lists of what to do in Belgium, but history and anthropology buffs will find their own piece of heaven in Liège's Grand Curtius Museum . Archaeological objects are preserved and displayed in great numbers, telling the tale of humanity and our evolution through the ages. Thanks to the merging of several other museums into the Grand Curtius, including those specialising in arms and decorative arts, it tells this story from several perspectives.
The charming town of Durbuy

Tiny Durbuy, a cheery storybook town on the banks of the Ourthe River in the forested Ardennes region, is one of the cutest places to visit in Belgium. This "smallest city in the world" with a population of around 11,300, is an ideal base for long hikes or kayaking trips. The artisan jam factory and quirky topiary park can't help but up the quirky factor considerably.
The High Fens
Natural Feature, Architectural Landmark In a natural no-man's-land straddling the Belgian-German border, the High Fens nature reserve, with its mysterious moors and rare wildlife, makes for a hiker's dream. Be on the lookout for wild boar, the hen harrier bird, and the protected black grouse. The fens are closed during droughts, when there is a high risk of fire.
The Rubens House

That Peter Paul Rubens was a man of many talents is evident when entering his home and workshop in Antwerp. The Italian-style home now offers glimpses of the painter's art and that of his contemporaries, as well as objects he would have used in his life, including a silver ewer and basin.
Antwerp's MAS and neighbourhood Het Eilandje
Museum Out of Antwerp's tight relationship with the sea – the Belgian capital of cool is also Europe's second largest port – the impressive MAS museum , one of the most imposing of Belgium landmarks, was born. And the MAS, in turn, took care of the rebirth of the old dock neighbourhood Het Eilandje . To get a panoramic view of one of Antwerp's hippest neighbourhoods, climb the museum's freely accessible "horizontal boulevard".
The Plantin-Moretus Museum
Museum, Library

Precious 16th-century dictionaries that creak upon opening, some of the world's oldest printing presses and the copper plates that revolutionised printing technology are among the wonders you'll find at the Plantin-Moretus Museum . The museum is at the former Plantin Press, and this is where the first atlas and the multi-language Plantin Polyglot Bible was printed.
The Carnaval de Binche
Amusement Park In the small Walloon town of Binche, clown-like figures known as "Gilles", which are meant to ward off evil spirits, have been celebrating Mardi Gras by parading around town in ostrich plume hats and pelting oranges at the crowd (don't throw them back – they're considered good luck) for as long as memory serves.
The ghost town of Doel
Architectural Landmark An accidental ghost town in the shadows of a nuclear power plant – and therefore a graffiti haven – the village of Doel in East Flanders was long ago slated for demolition to expand the harbour of Antwerp, but protests have stopped this happening so far, and the town is in limbo. It has become an unofficial urban canvas for Belgian and international street artists in which to go hog-wild. Fittingly, seeing as Doel looks like it's right out of a post-apocalyptic film, there is a dwindling population of rebel inhabitants who refuse to leave.
The abandoned IM cooling tower
Building Talking about urban explorers' pilgrimages, the abandoned IM power plant of Charleroi is one for the books. Entering its sky-high cooling tower, which was built in 1921, and looking up from its moss-covered bowels is enough to send shivers down the spine. Security guards are often on-site to prevent explorers from entering the aging construction, though, as safety can't be guaranteed.
Volcanic Iceland Epic Trip
Meet our local insider.
HOW LONG HAVE YOU BEEN A GUIDE?
What do you love about your job, it's the personal contact, the personal experiences. i love meeting people from all over the world... i really like getting to know everyone and feeling like i'm traveling with a group of friends., what destination is on your travel bucket-list, i have so many places on my list, but i would really lobe to go to africa. i consider myself an "adventure girl" and africa feels like the ultimate adventure.
Every CULTURE TRIP Small-group adventure is led by a Local Insider just like Hanna.
See Our Culture Trips

KEEN TO EXPLORE THE WORLD?
Connect with like-minded people on our premium trips curated by local insiders and with care for the world
Since you are here, we would like to share our vision for the future of travel - and the direction Culture Trip is moving in.
Culture Trip launched in 2011 with a simple yet passionate mission: to inspire people to go beyond their boundaries and experience what makes a place, its people and its culture special and meaningful — and this is still in our DNA today. We are proud that, for more than a decade, millions like you have trusted our award-winning recommendations by people who deeply understand what makes certain places and communities so special.
Increasingly we believe the world needs more meaningful, real-life connections between curious travellers keen to explore the world in a more responsible way. That is why we have intensively curated a collection of premium small-group trips as an invitation to meet and connect with new, like-minded people for once-in-a-lifetime experiences in three categories: Culture Trips, Rail Trips and Private Trips. Our Trips are suitable for both solo travelers, couples and friends who want to explore the world together.
Culture Trips are deeply immersive 5 to 16 days itineraries, that combine authentic local experiences, exciting activities and 4-5* accommodation to look forward to at the end of each day. Our Rail Trips are our most planet-friendly itineraries that invite you to take the scenic route, relax whilst getting under the skin of a destination. Our Private Trips are fully tailored itineraries, curated by our Travel Experts specifically for you, your friends or your family.
We know that many of you worry about the environmental impact of travel and are looking for ways of expanding horizons in ways that do minimal harm - and may even bring benefits. We are committed to go as far as possible in curating our trips with care for the planet. That is why all of our trips are flightless in destination, fully carbon offset - and we have ambitious plans to be net zero in the very near future.

Places to Stay
How to spend a weekend in han-sur-lesse, belgium.

The Best Cheap Hotels to Book in Belgium

The Flemish Masters Every Art Lover Should Know

The Best Eco Hotels to Book in Brussels

Belgian Artist Creates a 60,000kg House of Cards with Fallen Dictators

See & Do
The coolest neighbourhoods in ghent.

The Best Independent Bookstores in Antwerp

Guides & Tips
10 belgian instagrammers to follow.

The Greatest Belgians Throughout History

Home & Interiors
The best neighborhoods in belgium for young professionals.

Restaurants
10 heavenly vegetarian restaurants in belgium.

Things to Know Before You Go to Belgium
Black Friday Offers on Our Trips
Incredible savings.
Post ID: 1301162
Sponsored? No
View Payload
Caution November 9, 2023
Worldwide caution, update november 9, 2023, information for u.s. citizens in the middle east.
Travel Advisories |
Contact Us |
MyTravelGov |
Find U.S. Embassies & Consulates
Travel.state.gov, congressional liaison, special issuance agency, u.s. passports, international travel, intercountry adoption, international parental child abduction, records and authentications, popular links, travel advisories, mytravelgov, stay connected, legal resources, legal information, info for u.s. law enforcement, replace or certify documents.
Before You Go
Learn About Your Destination
While Abroad
Emergencies
Share this page:
Travel Advisory July 26, 2023
Belgium - level 2: exercise increased caution.
Reissued with obsolete COVID-19 page links removed.
Exercise increased caution in Belgium due to terrorism.
Country Summary : Terrorist groups continue plotting possible attacks in Belgium. Terrorists may attack with little or no warning, targeting tourist locations, transportation hubs, markets/shopping malls, local government facilities, hotels, clubs, restaurants, places of worship, parks, major sporting, music, and cultural events, educational institutions, airports, and other public areas.
Read the country information page for additional information on travel to Belgium.
If you decide to travel to Belgium:
Be aware of your surroundings when traveling to tourist locations and crowded public venues.
Monitor local media for breaking events and be prepared to adjust your plans.
Enroll in the Smart Traveler Enrollment Program ( STEP ) to receive Alerts and make it easier to locate you in an emergency.
Follow the Department of State on  Facebook  and  Twitter .
Review the Country Security Report for Belgium.
Visit the CDC page for the latest Travel Health Information related to your travel.
Prepare a contingency plan for emergency situations. Review the  Traveler's Checklist .
Embassy Messages
View Alerts and Messages Archive
Quick Facts
Must be valid for at least three months beyond your planned date of departure from the Schengen area . The 12-page U.S. emergency passport is not valid for visa-free entry into Belgium.
2 pages minimum
Not required for stays under 90 days
10,000 Euros or equivalent
Embassies and Consulates
U.s. embassy brussels.
27 Boulevard du Régent (the Consular Section is at 25 Boulevard du Régent) B-1000 Brussels Belgium Telephone: +(32) (2) 811-4000 Emergency After-Hours Telephone: +(32) (0) 2-811-4000 Fax: +(32) (2) 811-4546 Email: [email protected]
Destination Description
Learn about the U.S. relationship to countries around the world.
Entry, Exit and Visa Requirements
Traveling Through Europe : Belgium is a party to the Schengen Agreement. If you are planning to visit or travel through European countries, you should be familiar with the requirements of the Schengen Agreement.
Your passport should be valid for at least three months beyond the period of stay. If you plan on transiting a Schengen country review our U.S. Travelers in Europe page .
You will need sufficient proof of funds and a return plane ticket .
For additional information about visas for the Schengen area, see the Schengen Visa page.
Visit the Embassy of Belgium website for the most current visa information.
The Government of Belgium does not recognize the 12-page U.S. emergency passport, issued by U.S. embassies and consulates overseas, as a valid travel document for visa-free entry into Belgium. If traveling on this emergency passport, you may be refused boarding and/or entry by immigration officials. Only direct transit through Belgium for a destination in the United States is permitted with an emergency passport. You should check entry requirements of any other country of destination to make sure the emergency passport is accepted for entry.
HIV/AIDS RESTRICITONS: The U.S. Department of State is unaware of any HIV/AIDS entry restrictions for visitors to or foreign residents of Belgium.
Find information on dual nationality , prevention of international child abduction , and customs regulations on our website.
Safety and Security
Terrorism: Terrorist groups and those inspired by such organizations are intent on attacking U.S. citizens abroad, including possible attacks in Europe. Terrorists are increasingly using less sophisticated methods of attack – including knives, firearms, rudimentary IEDs, and vehicles – to more effectively target crowds. Frequently, their aim is unprotected or vulnerable targets, such as:
High-profile public events (sporting contests, political rallies, demonstrations, holiday events, celebratory gatherings, concerts, etc.)
Hotels, clubs, and restaurants frequented by tourists
Places of worship
Parks/festivals
Shopping malls and markets
Public transportation systems (including subways, buses, trains, and airports/scheduled commercial flights)
For more information, see our Terrorism page.
Low-level street crime including robberies, smash and grab car robberies, purse snatchings, stealing electronics, and pickpocketing is common, particularly in major cities, in public areas such as restaurants, the Brussels metro at night, buses/trams, and all train stations. Thieves often operate in teams, by bumping into or shoving the target, especially in crowds. Be alert to distractions.
Theft from vehicles is common. Always drive with your windows up and the doors locked, as thieves sometimes target cars stopped at traffic lights. Thieves may smash the window and grab valuables. Use parking garages when possible, and if you must use street parking, look for a spot near a street light. Do not leave anything visible on the seats, floor, or dashboard.
Theft of bags on trains has increased, particularly the Brussels-Amsterdam route. Thieves often target light bags placed overhead. Keep bags with cash, valuables, and travel documents close to you, rather than in the overhead shelf on trains.
Carry only a minimal amount of cash, credit cards, and necessary personal identification.
Avoid wearing expensive jewelry and watches.
Demonstrations occur frequently . They may take place in response to political or economic issues, on politically significant holidays, and during international events. Avoid areas around protests and demonstrations.
Police routinely monitor protestors and demonstrations.
Even demonstrations intended to be peaceful can turn confrontational and possibly become violent. Check local media for updates and traffic advisories.
Monitor the Embassy website for demonstration alerts.
International Financial Scams: U.S. citizens have lost tens of thousands of dollars in scams in Belgium. See the Department of State and the FBI pages for more information.
Common internet scams include confidence schemes, in which friends, family, or others receive a message that a U.S. citizen traveler is stranded in Belgium and in need of funds to pay for customs fees.
U.S. citizens in the United States who have been victimized by Internet crime should report it to the Internet Crime Complaint Center .
Check ATMs or other machines for skimmers or removeable readers. When possible utilize bank ATMs. In bars and restaurants, have the card swiped in front of you and do not let it be taken away.
Victims of Crime: U.S. citizen victims of sexual assault are encouraged to contact the U.S. Embassy for assistance. Report crimes to the local police at 101 . For all other emergencies, please dial 112 . Contact the U.S. Embassy at +(32) (2) 811-4000 . Remember that local authorities are responsible for investigating and prosecuting crime.
The Belgian Commission for Financial Assistance to Victims of Intentional Acts of Violence provides financial compensation, under specific circumstances, for victims of crime and for those who have suffered injuries and consequent losses caused by such incidents. The Commission also provides for dependents or immediate family members of homicide victims. For more information, contact the Commission by phone at 32-2-542-7208; 32-2-542-7218; 32-2-542-7224; 32-2-542-7229, or 32-2-542-7244; by e-mail at [email protected] or [email protected] ; or visit the Ministry of Justice website (French and Dutch only).
See our webpage on help for U.S. victims of crime overseas .
Help you find appropriate medical care
Assist you in reporting a crime to the police
Contact relatives or friends with your written consent
Provide general information regarding the victim's role during the local investigation and following its conclusion
Provide a list of local attorneys
Provide our information on victim's compensation programs in the United States
Provide an emergency loan for repatriation to the United States and/or limited medical support in cases of destitution
Help you find accommodation and arrange flights home
Replace a stolen or lost passpor
Domestic Violence: U.S. citizen victims of domestic violence may contact the Embassy for assistance.
Tourism: The tourism industry is generally regulated and rules are regularly enforced. Hazardous areas/activities are identified with appropriate signage and professional staff is typically on hand in support of organized activities. In the event of an injury, appropriate medical treatment is widely available throughout the country. Outside of a major metropolitan center, it may take more time for first responders and medical professionals to stabilize a patient and provide life-saving assistance. U.S. citizens are encouraged to purchase medical evacuation insurance. See our webpage for more information on insurance providers for overseas coverage .
Local Laws & Special Circumstances
Criminal Penalties: You are subject to local laws. If you violate local laws, even unknowingly, you may be expelled, arrested, or imprisoned. Individuals establishing a business or practicing a profession that requires additional permits or licensing should seek information from the competent local authorities prior to practicing or operating a business.
Furthermore, some laws are also prosecutable in the United States, regardless of local law. For examples, see our website on crimes against minors abroad and the Department of Justice website.
Arrest Notification: If you are arrested or detained, ask police or prison officials to notify the U.S. Embassy immediately. See our webpage for further information.
Faith-Based Travelers: See the following webpages for details:
Faith-Based Travel Information
International Religious Freedom Report – see country reports
Human Rights Report – see country reports
Hajj Fact Sheet for Travelers
Best Practices for Volunteering Abroad
LGBTI Travelers: There are no legal restrictions on same-sex sexual relations or the organization of LGBTI events in Belgium.
See our LGBTI Travel Information page and section 6 of our Human Rights report for further details.
Travelers Who Require Accessibility Assistance: While in Belgium, individuals with disabilities may find accessibility and accommodation very different than in the United States.
Belgian law requires that any new building with public or community space must be accessible for persons with disabilities.
Many existing buildings as well as public transportation systems are less adapted to individuals with disabilities.
General information on the accessibility of tourist accommodations, public transportation, museums, and other tourist facilities can be found on official tourism sites for Belgium's three major regions: Brussels , Wallonia , and Flanders .
Students: See our Students Abroad page and FBI travel tips .
Women Travelers: See our travel tips for Women Travelers .
High-quality medical facilities and services are widely available in Belgium. The large university hospitals can handle most medical problems. Equivalents for most, but not all, U.S. medications are available through local pharmacies with a prescription from a Belgian physician. The responsiveness of emergency services is also generally excellent.
For emergency services in Belgium, dial 112.
Ambulance services are widely available.
We do not pay medical bills. Be aware that U.S. Medicare/Medicaid does not apply overseas. Most hospitals and doctors overseas do not accept U.S. health insurance.
Medical Insurance: Make sure your health insurance plan provides coverage overseas. Most care providers overseas only accept cash payments. See our webpage for more information on insurance providers for overseas coverage. Visit the U.S. Centers for Disease Control and Prevention for more information on type of insurance you should consider before you travel overseas.
We strongly recommend supplemental insurance to cover medical evacuation.
Always carry your prescription medication in original packaging, along with your doctor's prescription. Check with the Belgian Federal Public Health Service to ensure the medication is legal in Belgium.
Vaccinations: Be up-to-date on all vaccinations recommended by the U.S. Centers for Disease Control and Prevention.
Further health information:
World Health Organization
U.S. Centers for Disease Control and Prevention (CDC)
Air Quality: Visit AirNow Department of State for information on air quality at U.S. Embassies and Consulates.
The U.S. Embassy maintains a list of doctors and hospitals . We do not endorse or recommend any specific medical provider or clinic.
Travel and Transportation
Road Conditions and Safety:
Belgium's road network is generally well-built and maintained.
Adequate lighting exists on major highways, but on rural roads it is often insufficient or nonexistent.
Roadside assistance and information on road conditions are available in English from Touring Mobilis, telephone 02 286-3040. Belgian police will also provide information on road conditions, telephone 02-642-6666.
Emergency services are efficient and responsive. For police emergencies, dial 101 by phone within Belgium. For all other emergencies, dial 112.
Traffic Laws:
Traffic coming from the right generally has priority at uncontrolled intersections, even if coming from a smaller street.
The maximum speed limit on Belgian highways is 120 kilometers (72 miles) per hour but is not always posted.
The maximum speed in urban areas is 50 km (30 miles) per hour, but in central Brussels it is 30 km (19 miles) per hour.
While Belgian authorities strictly enforce speed limits , many Belgians still drive significantly faster than the posted limit. Claiming ignorance of the speed limit may not prevent you from getting a significant fine for speeding, and your vehicle may be impounded if you can't pay the fine on the spot. Automated radars with cameras are common and violators are issued citations through the mail.
Belgian police also conduct breath analysis checks for alcohol use , particularly at night and during major holidays. The legal limit for operating a motor vehicle is .5 grams of alcohol per liter of blood (.05 percent Blood Alcohol Content).
You must use your seat belt while driving in a vehicle.
Bicycling is very common in Belgium, for both recreational and more traditional transportation purposes. Wear helmets at all times and follow vehicle travel rules (stopping at lights, crosswalks, etc.). Follow bike paths when available.
Public Transportation: Brussels and most major cities of Belgium have extensive and efficient public transportation systems. Trains, buses, and ferries connect Brussels with other major cities in Belgium and with the United Kingdom, France, Germany, Luxembourg, and The Netherlands. Traveling by train is considered to be safer than driving.
See our Road Safety page for more information. Visit the website of the Belgian national authority responsible for road safety.
Aviation Safety Oversight: The U.S. Federal Aviation Administration (FAA) has assessed the government of Belgium's Civil Aviation Authority as being in compliance with International Civil Aviation Organization (ICAO) aviation safety standards for oversight of Belgium's air carrier operations. Further information may be found on the FAA's safety assessment page .
Brussels Airport Delays: Travelers have experienced significant delays at passport control at Brussels airport, during both arrival and departure. We recommend outbound passengers check with your airline to find out their cutoff time for check-in and seek your airline's recommendations on how to mitigate potential passport control delays.
Maritime Travel: Mariners planning travel to Belgium should also check for U.S. maritime advisories and alerts . Information may also be posted to the U.S. Coast Guard homeport website , and the NGA broadcast warnings .
For additional travel information
Enroll in the Smart Traveler Enrollment Program (STEP) to receive security messages and make it easier to locate you in an emergency.
Call us in Washington, D.C. at 1-888-407-4747 (toll-free in the United States and Canada) or 1-202-501-4444 (from all other countries) from 8:00 a.m. to 8:00 p.m., Eastern Standard Time, Monday through Friday (except U.S. federal holidays).
See the State Department's travel website for the Worldwide Caution and Travel Advisories .
Follow us on Twitter and Facebook .
See traveling safely abroad for useful travel tips.
Review information about International Parental Child Abduction in Belgium . For additional IPCA-related information, please see the International Child Abduction Prevention and Return Act ( ICAPRA ) report.
Travel Advisory Levels
Assistance for u.s. citizens, belgium map, learn about your destination, enroll in step.
Subscribe to get up-to-date safety and security information and help us reach you in an emergency abroad.
Recommended Web Browsers: Microsoft Edge or Google Chrome.
Check passport expiration dates carefully for all travelers! Children's passports are issued for 5 years, adult passports for 10 years.
Afghanistan
Antigua and Barbuda
Bonaire, Sint Eustatius, and Saba
Bosnia and Herzegovina
British Virgin Islands
Burkina Faso
Burma (Myanmar)
Cayman Islands
Central African Republic
Cote d Ivoire
Curaçao
Czech Republic
Democratic Republic of the Congo
Dominican Republic
El Salvador
Equatorial Guinea
Eswatini (Swaziland)
Falkland Islands
French Guiana
French Polynesia
French West Indies
Guadeloupe, Martinique, Saint Martin, and Saint Barthélemy (French West Indies)
Guinea-Bissau
Isle of Man
Israel, The West Bank and Gaza
Liechtenstein
Marshall Islands
Netherlands
New Caledonia
New Zealand
North Korea (Democratic People's Republic of Korea)
Papua New Guinea
Philippines
Republic of North Macedonia
Republic of the Congo
Saint Kitts and Nevis
Saint Lucia
Saint Vincent and the Grenadines
Sao Tome and Principe
Saudi Arabia
Sierra Leone
Sint Maarten
Solomon Islands
South Africa
South Korea
South Sudan
Switzerland
The Bahamas
Timor-Leste
Trinidad and Tobago
Turkmenistan
Turks and Caicos Islands
United Arab Emirates
United Kingdom
Vatican City (Holy See)
External Link
You are about to leave travel.state.gov for an external website that is not maintained by the U.S. Department of State.
Links to external websites are provided as a convenience and should not be construed as an endorsement by the U.S. Department of State of the views or products contained therein. If you wish to remain on travel.state.gov, click the "cancel" message.
You are about to visit:
The best times to visit Belgium for festivals, fun and tripel beer
May 23, 2022 • 7 min read
Belgium's busy festival calendar means there's something to see at any time of year © Somyot Techapuwapat / Getty Images
A rich history of art and architecture, opulent culinary traditions, scenic towns, picturesque canals – Belgium 's best bits can be enjoyed in any season, so long as you bring a raincoat along.
The best times to visit this small corner of Europe are spring and fall, when the weather is mild, and the sights are not overcrowded. These are also the perfect times for nature lovers, who will appreciate spring's flower fields and fall colors in the forests of the Ardennes.
Here's a monthly guide to what to expect from Belgium throughout the year, and the best things to do, helping you choose the best time for your visit.
The high season (July–August) is the best time for music festivals, beach days, and summer bars
As the hottest months of the year, July and August see locals flock to the coast to escape the summer heat, which can get quite intense in densely-packed cities such as Brussels , where temperatures can rise to 38°C (100°F). Tourists still fill the historic centers of Ghent , Antwerp , and Bruges which are more bearable during the warmest months with rivers, canals, and harbors to keep them cool.
In peak season, Belgium's North Sea beaches come to life, while cities see the opening of guinguettes ( summer bars) galore, and parks brim with outdoor cultural programs. A jam-packed music festival calendar sees events take place all over the country.
The shoulder seasons (April–June & September–October) are the best times for lovers of nature's colors
During the shoulder seasons, crowds and prices plummet. With mild days and cool nights, spring and fall are the best times to visit Belgium. In spring, cities wake up from their winter sleep and cafés and restaurant owners start putting chairs on the sidewalks to greet the first sun rays. The masses take over restaurant terraces, parks fill up, and the concert season is in full swing. There's promise in the air as the countryside bursts into bloom, and magnolia and cherry trees beautify urban scenes.
The fall foliage shows its best side in the rolling hills of the Ardennes , where the receding summer heat provides perfect conditions for hiking and mushroom hunting. September, when the art season restarts after the summer break, is a perfect month for culture vultures to visit.
The low season (November–March) is the time for foodies and Christmas lights
The winter months are relatively cold, quiet and grey, but snow and freezing temperatures are rare in Belgium. Crowds and prices drop again, except during the Binche carnival in February, and December, when cities lure in travelers with Christmas markets, mulled wine and lovely light decorations. Despite the sometimes unpleasant and rainy weather, the off-season is a great time for low-budget city trips, museum visits without waiting in line, cozy restaurant meals, and warming mugs of Belgian hot chocolate.
January is quiet and budget-friendly
January is probably the quietest month of the year, as the country recovers from Christmas and New Year's festivities and life slowly gets back to normal. It's a perfect time if you're traveling on a budget and want to avoid the tourist masses. Key events: BRAFA (Brussels), New Year's Dive (Ostend), Brussels Jazz Festival
Carnival arrives in February
February is carnival season, especially in the Belgian countryside. The most famous celebrations take place in Binche near Charleroi, which is home to one of Europe's oldest street carnivals, with roots in the Middle Ages. Expect over-the-top parades and costumes paired with boozy party vibes. Key events: Carnival in Binche, Bright Brussels
March brings people out into the streets
Prices and visitor numbers are low, and travelers get to witness Belgium waking up from hibernation at the first signs of spring. Locals come out en masse to soak up the sun, even at low temperatures. Cafés and restaurants take over the sidewalks again, and giant bonfires all over Wallonia celebrate the end of winter. Key events: Giant fire of Bouge (Namur), Festival Anima (Brussels), Klarafestival (Brussels)
April brings plenty of culture and blooms
April is a busy month in Belgium and a fantastic time to visit. The magical Hallerbos forest beams with fields of bluebells, the Royal Greenhouses of Laeken open their doors to the public for a limited amount of time, and the international art world meets at the annual Art Brussels fair (hotel rates rise that weekend). At Easter, you'll find a lot of locals at the seaside or staging outdoor egg hunts. Key events: Art Brussels, Tour of Flanders , Bruges Beer Festival , Floralia (Groot-Bijgaarden Castle)
May is the start of the summer bar season
France's culture of guinguettes – wooden drinks stalls in city parks – has taken Belgium by storm, and with summer just around the corner, these refreshment stands open up again in May, making for a convivial holiday atmosphere. In picturesque Bruges, the impressive Procession of the Holy Blood attracts history buffs with a parade that goes back to the 14th century. Key events: Kunstenfestivaldesarts (Brussels), Brussels Jazz Weekend , 20km of Brussels , Procession of the Holy Blood (Bruges)
Summer warms things up in June
With the summer heat not yet at its peak, sunny June is a good choice for hikers, cyclists and fans of canal cruises and other outdoor activities. The cultural calendar is crammed with open-air events from the Fête de la Musique , held at various venues, to a reenactment of the battle of Waterloo featuring up to 800 actors. Key events: Fête de la Musique, Ommegang of Brussels , Ducasse de Mons , BRIFF (Brussels)
July is peak season in Belgium
While it's the high season for tourists, Belgians go on vacation too, resulting in more parking spaces and a refreshing lack of traffic jams in the cities. The coast will be swarming with sunbathers and kite surfers during the hottest month of the year, which also constitutes the pinnacle of the internationally famous Belgian music festival season. Key events: Tomorrowland (Boom), Dour Festival , Belgian National Day, Rock Werchter , Cactus Festival (Bruge), Gentse Feesten (Ghent), Les Ardentes ( Liège)
August sees busy beaches and boisterous festivals
The festival season continues, and seaside towns and tourist attractions remain extremely busy. A popular water-based activity away from the coast is a kayak tour down the Lesse River, leading you through the lush green forests of the Ardennes. Key events: Jazz Middelheim (Antwerp), Procession of the Giants (Ath), Pukkelpop (Hasselt), Medieval Festival of Bouillon , Outremeuse festival
September sees a calmer vibe across the country
Back to school vibes pervade as the country wakes up from its summer daze and slowly goes back to normal. Brussels Gallery Weekend kicks off the art season with a bang as the festival season lingers. Key events: Brussels Gallery Weekend, Festival of Wallonia , Belgian Beer Weekend (Brussels), Brussels Design September
Fall colors shine in October 
If you're lucky, you'll get a golden October, a time to marvel at the Ardennes' fall foliage drenched in sunlight and shimmering in reds and yellows. This is the perfect time for mushroom hunting, or enjoying seasonal hearty dishes in one of Belgium's many high-quality restaurants. Key events: Ghent Film festival ; La Foire de Liège
November is quiet and cold, and people stay indoors
Mostly cold and grey, November is a quiet month, best enjoyed indoors. Go museum-hopping, take in a live gig, or enjoy a craft beer in one of Belgium's countless breweries. A bowl of carbonade , a Flemish stew with beef and beer, or a cup of hot Belgian chocolate will always warm you up! Key events: Armistice Day in Ypres
December sees spirits pick up for Christmas
Cold and wet December is brightened up by Christmas markets galore, plus ice skating rinks and mulled wine. Although it's off-season, the streets are buzzing, and Bruges appears especially magical at this time of year. Key events: Plaisirs d'hiver (Brussels), The Christmas Village (Liège), New Year's Eve
Buy Where to go When Europe
With more than 300 suggestions for destinations across Europe and the best time of year to experience them, this book is the ultimate trip planner for every month of the year.
Explore related stories
Oct 25, 2023 • 19 min read
We've released our Best in Travel 2024 list of the top destinations and experiences for next year. Find out the best time to make these dream trips a reality.
Aug 16, 2023 • 7 min read
May 18, 2023 • 6 min read
May 21, 2022 • 6 min read
May 15, 2022 • 4 min read
May 13, 2022 • 9 min read
Dec 20, 2021 • 2 min read
Dec 17, 2021 • 7 min read
Aug 28, 2021 • 6 min read
Jan 7, 2021 • 2 min read
Change location
UK / International
Call toll-free until 8pm EST 617-223-4521 617-223-4356 or

When is the best time to visit Belgium?
Because it's a year-round destination, the best time to visit Belgium depends on your own personal tastes.
The country boasts warm summers (June to August) that aren't too hot and are packed with cultural events and festivals. Those are the peak months for visitors, who come to enjoy the plentiful sunshine and take advantage of summer holidays taking place across Europe and North America.
You'll also find pleasant weather in the spring (April to May) and fall (September to October) seasons, with mild days and cool nights. The crowds are much thinner than you'll find in the summer and prices are lower.
There's also a plethora of Christmas festivities you can enjoy in November and December, as well as Carnival in February and March. The winter months are generally quieter and offer great value, though Christmas markets and Carnival do cause a sharp increase in crowds.

Make an inquiry
Request a brochure
Month-by-month guide for traveling in Belgium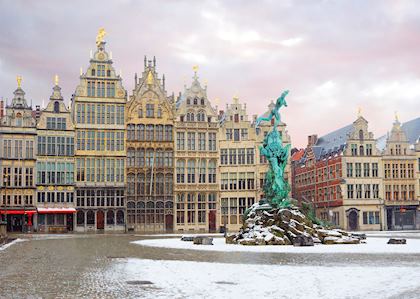 Visiting Belgium in December - March
While these are the coldest months in Belgium, it's still a compelling time to visit. The crowds are much thinner but there is still plenty of entertainment across Belgium's cities around Christmas. March also marks the beginning of Carnival season for many southern towns.
Events & Festivals
In cities and small towns alike, food and gift vendors create a festive atmosphere in the streets and plazas with lights, skating and carols throughout the season.
Bruges Beer Festival sees over 80 breweries take part in one of Belgium's largest beer events, spanning five days.
Easter is celebrated throughout the country and some attractions like museums or galleries are closed certain days. Parades, egg hunts and cultural celebrations fill the gaps.
Salon du Chocolat is a three-day exhibition in Brussels featuring over 100 chefs, chocolatiers, confectioners and plenty of tasting opportunities.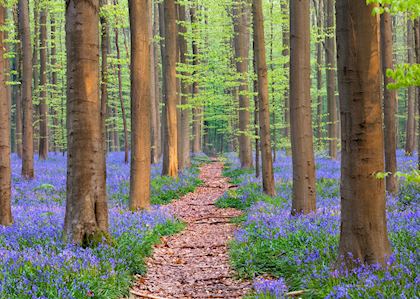 Visiting Belgium in April - May
Warming temperatures and blooming flowers make Belgium an inviting destination in spring months. You'll find that crowds are thinner, except for weekends in Brussels and Ghent — the cities tend to attract locals who are taking a quick city break. For the most part, however, hotels often offer great value in the slower period between Easter and summer.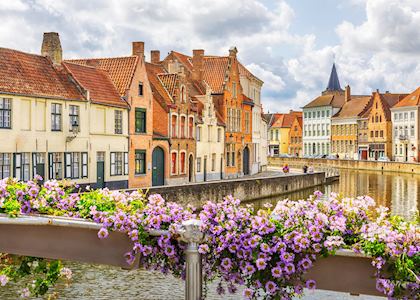 Visiting Belgium in June - August
Belgium's summer months bring the best weather, with warm temperatures and sunny skies. It's also when you'll encounter the largest crowds as local and international visitors take advantage of school summer holidays and the pleasant weather. Additionally, a busy schedule of seasonal festivals and events draws even more crowds. Together, that means that prices are somewhat higher during this season.
Brussels International Film is a ten-day film festival that exhibits a mix of short films, long features and documentaries.
Flowercarpet sees volunteers come together in front of the Grand-Place in Brussels to create an enormous, intricate floral design in the square using more than a million begonias.
The city of Ghent goes a little wild during Ghent Festival, a ten-day event that includes musical acts, comedy shows, theater performances and plenty of street art and food vendors.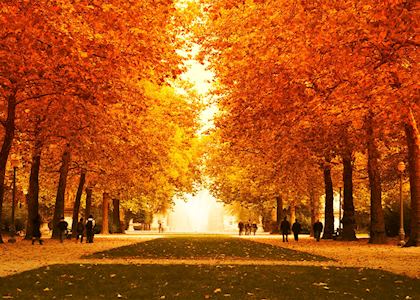 Visiting Belgium in September - November
The fall season sees slowly diminishing crowds — temperatures begin to drop as well. You might find some wind and rain during these months. Several art festivals happen during these cooler months, making it a relaxing time to explore the cultural side of Belgium.
Armistice Day is a solemn day throughout Belgium, as the nation pauses to remember and celebrate the end of World War I.
Film Fest Ghent is a week-long international film festival that celebrates the impact of music on film.
Belgium Climate Guide
Why travel with audley.
100% tailor-made tours
Fully protected travel
Established for over 25 years
98% of our clients would recommend us Travel advice
Practical tips for traveling to Belgium, from social protocols to guidance on money matters, with a link to the latest US State Department travel advice.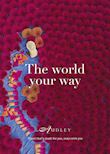 Request our brochure
Covering all seven continents, The world your way shows you how you can see the world with us. It features trip ideas from our specialists alongside hand-picked stays and experiences, and introduces our approach to creating meaningful travel experiences.
Trip ideas and travel guides for exploring Belgium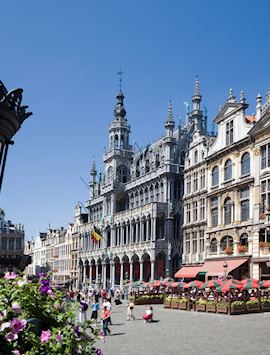 Brussels & Amsterdam by rail
7 days from $3,625pp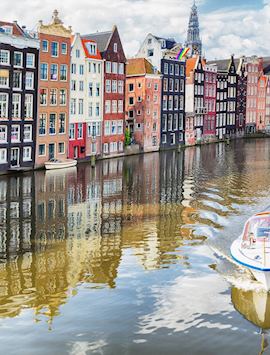 Belgium, Netherlands, Luxembourg self-drive tour
9 days from $3,780pp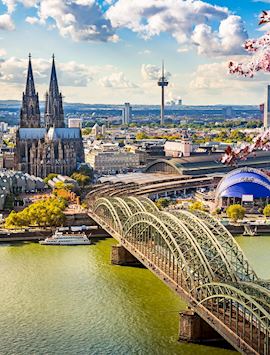 Cologne, Basel, Lucerne & Grindelwald by train
9 days from $5,330pp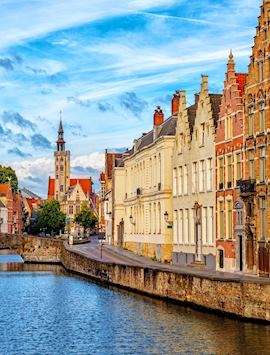 Grand tour of Belgium & Luxembourg
10 days from $5,845pp
Work with us
Tunisia Tunisia travel
Philippines
Australia & Oceania
Bosnia and Hercegovina
Traveling with kids
Travel guides
Travel itineraries
Inspirational
Everyday travel tips and tricks
A roadtrip around Germany, Belgium and Holland – 16 days travel itinerary
This travel itinerary is for everyone enjoying roadtrips, joining well-known places, with the ones, who are not often on tourists' radars. You can either start your roadtrip from Holland , Belgium or Germany , but let's say you will be starting it from Germany, landing in Stuttgart.
Table of Contents
Travel itinerary for roadtrip around Germany, Belgium and Holland
Day 1 – stuttgart – esslingen am neckar (15 km).
You will land at the Stuttgart airport, pick up your rented car (we would recommend www.economycarrentals ) and if you are not into large cities, you can spend your first day in a charming town, just 15 kilometers outside of Stuttgart – Esslingen Am Neckar .
Esslingen Am Neckar (Germany, Belgium and Holland roadtrip)
Half-timbered houses, vineyards, good wine and scenic views… Do we need to say more? If so, read all about Esslingen Am Neckar here .
Hotel recommendation
Park Consul Stuttgart is a nice hotel, just steps away from the old town. It has its own parking garage and offers delicious buffet breakfast. (Coordinates: 48.44.29.6 / 009.18.51.1)
Day 2 – Esslingen am Neckar – Aachen (440 km)
If you are keen on rich history, Aachen is the place to visit, as this is the place of the father of Europe – the Charlemagne. His throne was used for coronation of kings over 600 years.
The city cathedral was the first German sight on Unesco world heritage list, but Aachen is also known as an university city and the city of thermal water. More about Aachen and its sights here .
Aachen (Germany, Belgium and Holland roadtrip)
Mercure Hotel Aachen am Dom at the beginning of the pedestrian zone in Aachen. Beautifully decorated rooms, good breakfast and helpful staff. They also have parking available, but for a fee.
Day 3 – Aachen – Brussels (145 km)
If you can plan your visit to Brussels , make it on Sunday as the city has less traffic and it is easier to navigate. To top it off, you can also park your car on the street parking spots for free on Sundays. There are also many parking garages, which charge 15€/24 hours.
Brussels (Germany, Belgium and Holland roadtrip)
One day in Brussels will for sure not be enough, but for more, we would suggest coming here for couple of days. This one day stop will just be a quick sneak peek into the city vibes. Check out here , what all you can do in Brussels in one day and not spending a fortune.
Ibis Hotel Brussels Centre Ste Catherine is a budget, but nice hotel, from which you can walk to all the major sights in Brussels. Its location is also near pubs, cafés and restaurants, which are offering good food on a budget. (Coordinates: 50.51.00.5 / 004.20.52.1)
Day 4 – Brussels – Bruges (100 km)
Before you leave Brussels, stop at its symbol – the Atomium (Coordinates: 50.53.36.4 / 004.20.34.7). If you want to have a look inside, the Atomium opening hours are from 10 am to 6 pm.
The Atomium (Germany, Belgium and Holland roadtrip)
You will reach romantic Bruges for lunch, so you will be having one afternoon to explore it and get lost on its cobble stone streets, full of history and eye catching scenes. Find out more about Bruges here .
Bruges (Germany, Belgium and Holland roadtrip)
Ibis Hotel Budget Brugge Centrum Station is a renovated budget hotel, close to the train station and with just steps away from a parking garage, where you can leave your car for 24 hours and pay only 3,50 EUR. You will reach the old town of Bruges in 10 minutes by foot. (Coordinates of the parking garage: 51.11.46.3 / 003.13.16.0)
Day 5 – Bruges – Burghaamstede – Renesse (123 km)
Continue your way to Holland along its coast and stop for a local snack ( Bitterballen – a.k.a. meat balls) in a small town Burghaamstede with a fort and a wind-mill.
Biterballen (Germany, Belgium and Holland roadtrip)
Accommodation recommendation
Your next stop will be a coastal town Renesse, which is very popular among local tourists during the summer months. There are many camping grounds – we stayed the night in Kamp de Kempe (Coordinates: 51.44.16.0 / 003.47.30.7). If camping is not your thing, find hotels here .
Day 6 – Renesse – Kinderdijk (85 km)
Holland is not Holland without wind-mills and one of the best places to spot them is Kinderdijk Park. There are 19 wind-mills there and the views on them are simply amazing. (Coordinates: 51.53.16.2 / 004.38.15.8)
Kinderdijk Park (Germany, Belgium and Holland roadtrip)
We stayed at the family run camp Lanhoeve just 6,5 kilometers away from Kinderdijk (Coordinates: 51.53.37.9 / 004.43.22.4), but you can also stay the night in a hotel – check them out here .
Day 7 – Kinderdijk – Gouda – Leiden – Amsterdam (128 km)
Make sure to be in Gouda town on Thursday for the traditional cheese market show. The best timing to reach the town is at around 10 am. Find a parking place before the pedestrian zone and walk to the town square.
Gouda (Germany, Belgium and Holland roadtrip)
After enjoying the cheese market, your next stop for few hours is Leiden – a water canal town, which we loved.
Leiden (Germany, Belgium and Holland roadtrip)
Your last stop for the day is the capital of Holland – Amsterdam , which will be your base for 2 more days.
Amsterdam has many camping grounds – we stayed at the Zeeburg camp (Coordinates: 52.21.51.8 / 004.57.42.7), but there are numerous hotel options for every budget as well.
Day 8 and Day 9 – Amsterdam
No matter how many days you will spend in Amsterdam, its funky vibe will always show you, you could stay few days more. Nevertheless, 2 days of Amsterdam are just enough to walk around the main areas. If you are traveling on a budget, here are some tips, how to do Amsterdam on a budget .
Amsterdam (Germany, Belgium and Holland roadtrip)
Day 10 – Amsterdam – Aalkmar – Texel Island (55 km)
Aalkmar is another town, known for its cheese market, but we were there on a »wrong« day to see it. Even though, we did have a nice stroll around the town.
Continue your way to Den Helder, where you embark the ferry to the Texel Island – one of the best places on our roadtrip.
Texel Island (Germany, Belgium and Holland roadtrip)
You can spend a night in a hotel or decide for camping – there are plenty to choose from. We stayed at the family run Kamp de Hoek (Coordinates: 53.10.12.5 / 004.51.09.6).
Day 11 – Texel Island
The Texel Island might be small in size, but large in sights, so spend one more day here to get to know it. What to do and see at the Texel Island here .
Day 12 – Texel Island – Hindeloopen (95 km)
Not many people stop at Hindeloopen, what makes it even more special. If you are a big kite-surfer fan, you will want to stay for more than a day, as it is one of the popular kite-surfing spots in Holland.
Hindeloopen (Germany, Belgium and Holland roadtrip)
There are many camping grounds and also some hotels can be found – check them out here . We stayed in one of the camps in a walking distance from the town. (Coordinates: 52.56.05.9 / 005.24.15.7).
Day 13 – Hindeloopen – Sloten – Giethorn (80 km)
If we were not forced to leave Sloten because of the storm and heavy rain, we would easily spend few hours there. The town is small, but sipping a cup of coffee in the morning can stretch for few hours easily. (Free parking Coordinates: 52.53.45.8 / 005.38.48.1)
Just before leaving Holland , you should definitely stop at the romantic Giethoorn and rent an electric boat to explore its charming water canals. (Free parking coordinates: 52.43.19.1 / 006.05.12.6)
Giethroon (Germany, Belgium and Holland roadtrip)
Stay the night in Giethoorn and enjoy its romantic feel – check out hotels here .
Day 14 – Giethorn – Rüdesheim (460 km)
You will go back to Germany today and you will be closing your roadtrip with a town on the famous Romantic road along the river Rhein valley – Rüdesheim .
Rüdesheim (Germany, Belgium and Holland roadtrip)
Rüdesheim is such a gorgeous little town, with plenty to offer, but mostly it is known for its cable car above the vineyards, taking you to the panoramic viewing point over the river Rhein.
How to enjoy your day in Rüdesheim to the fullest in a separate blog post here .
Breuer's Rudesheimer Schloss is a top notch boutique hotel in the heart of the old town of Rüdesheim. Great location, amazing food, spacious rooms and with a story to tell. Visit also hotel's restaurant for a local food with a modern twist.
Day 15 – Rheingau region – Wiesbaden (50 km)
Rheingau region has few more rewarding sights and places, which you should put them in your roadtrip travel itinerary – mansions, monasteries, vineyards, small towns… More about Rheingau and its sights here .
(Rheingau (Germany, Belgium and Holland roadtrip)
End your day in Wiesbaden and if you have the energy, take a funicular Nerobergbahn to see the views over the city, before heading to your hotel.
Hotel Klemm is near the main square in the old town, what makes it a nice place for an evening walk. One of the best features of the hotel is its breakfast.
Day 16 – Wiesbaden – Stuttgart (240 km)
You will be ending your roadtrip again in Stuttgart, where you can continue your way back home or stay few more days exploring Stuttgart.
*The given coordinates are in h ddd°mm'ss.s format."
You may also like
This looks so amazing. Love the pictures
Hi Wesley, thank you! It is always a pleasure seeing someone like your work. 🙂
Leave a Reply Cancel reply
Your email address will not be published. Required fields are marked *
Save my name, email, and website in this browser for the next time I comment.
Notify me of followup comments via e-mail.
Subscribe and follow
Free travel tips & updates – subscribe, popular posts.
1 Continents / Countries , Europe , Germany One day in Frankfurt – Best things to do and see
2 Continents / Countries , Europe , Portugal Best food in Madeira – what to eat and drink?
3 Continents / Countries , Iran , Middle East , Oman , UAE Interesting facts about date fruits and date trees
4 Continents / Countries , Europe , Georgia 12 best Georgia tourist attractions
5 Continents / Countries , Europe , Germany 14 best things to do at Chiemsee Germany
6 Africa , Continents / Countries , Uganda 16 Best things to do in Uganda
Privacy Overview
Strictly Necessary Cookies
Cookie Policy
This website uses cookies so that we can provide you with the best user experience possible. Cookie information is stored in your browser and performs functions such as recognising you when you return to our website and helping our team to understand which sections of the website you find most interesting and useful.
Strictly Necessary Cookie should be enabled at all times so that we can save your preferences for cookie settings.
If you disable this cookie, we will not be able to save your preferences. This means that every time you visit this website you will need to enable or disable cookies again.
Check out our Privacy policy page for all informations about cookies used on this site. Privacy policy
How to Get Around Belgium Like a Local
Belgium, grouped with Luxembourg and the Netherlands to make up the Benelux countries, is a fascinating tourism destination. It's a required side trip on the Grand Tour for beer and chocolate lovers. The landscape is a lush green, and it's flat for easy rural walking. There are plenty of castles and gardens to keep the traveler enamored with the medieval period busy.
Art lovers can be kept busy viewing the likes of the masters Peter Paul Rubens, Sir Antony van Dyck and Rene Magritte. Adolphe Sax, born in Dinant , invented the famous jazz instrument that takes his name--and jazz has become increasingly popular in Belgium in recent years.
And talk about diversity! Belgium is divided into three regions, each with language, culinary and cultural differences. The Flemish Region or Flanders occupies the north, the Walloon Region or Wallonia occupies the south, and the Brussels-Capital Region is central to Belgium.
Belgium doesn't seem to take the standard prizes in the "What's the best place in Europe to visit?" popularity sweepstakes, which is why I tend to think of it as Europe's Best Kept Travel Secret.
Belgium Tourism Map Showing Rail Lines
One of the great things about visiting Belgium is its diminutive size and the interesting cities crammed together so they're just a short train ride from each other. You won't spend a lot of time (or money) getting from one destination to another. Plus, it's very easy to get to London and Paris as well as other destinations in Germany, the Netherlands and Luxembourg.
The Thalys high speed train whisks you from Brussels to Paris in about an hour and a half. Brussels to London takes a little over two hours. You can be in Cologne, Germany from Brussels on the cheaper normal trains in under three hours.
Belgium Cities and towns
The major cities popular with tourists are Brussels , Bruges , and Ghent, and Antwerp, followed by smaller cities like Liège, Dinant , Damme , Mechelen, and Mon.
Belgium is also a focal point for World War I sites, many including remnants of the rather brutal trench warfare as in the Trench of Death in Dixmude .
Where to Stay
Belgium has a wide range of accommodations. There are usually hotels near train stations, many budget, a few seedy. You may inspect a hotel before committing to it. There are many hostels in larger cities like Brussels.
Belgium has many self-catering accommodations, from small apartments to sprawling villas for large families and groups. Self-catering can save money over renting hotel rooms, especially for families. HomeAway lists almost 400 vacation rentals in Belgium (book direct).
Farm stays are popular with those who like the rural environment; we enjoyed our stay at Hoeve Spreeuwenburg.
What to Eat and Drink in Belgium
Frites  -or the misnamed "french" fries. Pretty much the national dish, except for the superb waterzooi. You have them with mayonnaise. Find: The Best Belgian Frites
Waterzooi -from a Flemish word meaning "simmering water" comes a hearty stew of local fish (or chicken) with vegetables and herbs, often enriched by a trio of the kitchen god's best: butter, egg yolks and cream.
Carbonnades  - meat cooked with brown beer, the national dish of Belgium. (Cabonnades Flamandes recipe)
Belgian Endive  - White Gold, an endive kept in darkness for most of its life. Often served braised (recipe)
Chocolate  - Belgian Chocolate! Yes, it goes without saying. See: The Best Belgian Chocolate Shops Travel Guide
Beer  - Aficionados of Bud Lite need not read further. The rest of you who like variety and flavor must try one of these: Lambic Ale, Abbey and Trappist Ale, Witbier (wheat), Sour Ale, Brown Ale, Amber Ale, or Strong Golden Ale. You can even order Pilsner. See: Belgian Beer Styles and Food Pairings.
The language spoken in the northern region of Flanders speak Dutch. People in the southern region, Wallonia, speak French. German is spoken in the East near the German Border. English is widely spoken in main tourist areas.
If you would like to learn a few words of Dutch, there are online resources enabling you to do so. One of them is SpeakDutch .
Transportation to and within Belgium
Brussels Airport , east of Brussels, is the only international airport in Belgium. "Taxis with a taximeter are permanently available in front of the arrivals hall. The fare from the airport to the city centre of Brussels is normally around € 45. Licensed taxis can be recognized by the blue and yellow emblem. Travellers are advised to avoid unlicensed taxis!" There is also bus service.
Getting to Belgium - By Train
The Eurostar goes between Brussels and London and fast TGV trains link Brussels with Paris and Amsterdam . There is a Benelux rail pass available as well as one which adds France, and one which adds Germany (buy direct). See Our Belgium Map and Travel Essentials for more detailed transportation information.
Belgium is served by an extensive rail system as you can see in the map above. The Belgian Railway is called the SNCB and its website is here . Many discounts and passes are offered to the tourist or occasional traveler.
The fast trains in Belgium are the TGV trains. They run on three routes shown in red on the map. The red Thalys high-speed train links Paris to Amsterdam, Brussels, Cologne and Dusseldorf.
Railpasses: A Benelux Tourrail Pass is good for five days unlimited rail travel throughout Belgium, Luxembourg and the Netherlands within a one month period. Two adults traveling together get a discount. The Youth Pass will save money for folks younger than 26. A France-Belgium-Luxembourg-Netherlands Pass is also available.
The Eurostar will take you quickly from London to Brussels and other cities in Belgium.
There is direct bus transportation from the airport to Antwerp, Eindhoven (Sabena) and to Rotterdam (Virgin Express).
There are about 150,000 miles of highways in Belgium. You will need a car to take you to the smaller villages.
Belgium enjoys a moderate climate. It rains frequently but for short durations in most of Belgium. For an overview of climate throughout the year in some of Belgium's most popular destinations see the interactive map at Belgium Travel Weather .
Etiquette and Culture in Belgium
Visitors to Belgium might be concerned about cultural habits and etiquette, especially when business is part of the plan. Executive Planet has information on the most common situations that might get you in trouble.
Restaurants in Belgium
A restaurant in Belgium is a pretty elegant eating place. If you're looking for something a little more informal, look for a bistro, café, restaurant-café, or brasserie. While food is relatively expensive in Belgium, you can also find broodjeswinkel (sandwich shops), or pannekoekhuije (pancake houses) offering good bargains in food.
Lunch is generally served from 12 to 3pm and dinner from 7 to 10 pm.
A "menu" refers to the special of the day.
See the food section of our Belgium article for what to look for in the way of food and drink.
Service charges are included in hotel, restaurant, shopping bills and taxi fares. Belgians commonly round up the total amount to determine the tip.
Alison Wellner, our guide to Culinary travel, recommends the 6 Belgian Food Experiences for Travelers.
Currency in Belgium
The currency in Belgium is the Euro. At the time the Euro was adopted, its value was set at 44.3399 Belgian Francs.
Belgian Chocolate and How It Became Popular
You have checked into your hotel. Bags have been dumped on the bed, a map has been procured from the front desk, and off you go.
It won't be more than 5 minutes before you will encounter a shop with things made of chocolate. Yes, there are little shells like you'll encounter in Guylian chocolates--but there are way more tempting ways to market chocolate for some people: if you don't want your children to gander upon the lusty wonders as you see in the picture, you may need an opaque shopping bag to throw over their heads. Belgians do not flee, especially from breasts.
Belgians make a relatively pure chocolate, but so does Italy. There's a reason you think of Belgian chocolate before you think of Italian chocolate. First of all there are over 2,130 chocolate shops in little Belgium. Then there's consumption:
"According to the International Cocoa Organization, Belgium ranks number two in per capita consumption of chocolate, with Belgians enjoying an average of 11.03 kilograms per year." ~ Belgium Chocolate .
During the 17th century Spain ruled Belgium. The Spanish consumed chocolate as a drink from chocolate they got in South America.
Once the Belgians got a taste for it, they looked for their own source. Remember the deep, dark, Belgian Congo? Yep, they exploited it for cocoa beans.
Neuhaus, Belgium's first chocolate shop, opened in Brussels in 1857. They're still kicking, and you can even order their chocolate from the US: Neuhaus Chocolates .
Antwerp Central: The Railroad Cathedral
It wasn't so long ago that railway stations weren't tall sheds or malls with shopping and a jumble of train tracks. Even in the 1970s there were some great, elegant restaurants in some of Europe's train stations. To go to the station wasn't all a burden but an adventure.
The station that's stood out to frequent travelers is Antwerp's central station. Built between 1895 and 1905, it replaced a wooden station built in 1854 by Auguste Lambeau.
The station is surrounded by diamond and gold shops. If that wasn't enough to be reverential about, the 44-meter high glass vault reaching toward the heavens was designed by the architect J. Van Asperen.
You should visit, even if you're not going anywhere. But then again, there are compelling cities not so far from Antwerp to explore. Look at the chart of departing trains. Dreaming is planning, too.
You could, after all, head to Rotterdam to buy a warm Belgian waffle with chocolate melted on top
The Railway cathedral was recently updated, the renovation started in 1993 was completed 16 years later--in 2009. This, like the chocolate, horses, mussels in great, steaming pots, and long, rambling countryside walks are things about Belgium to remember.
Walking and Biking in the Belgian Countryside
The picture you see above shows you just about all you need to know about the Belgian countryside near the Netherlands border. There are those horses. They are everywhere. The ground is flat. The polder landscape holds a secret: amongst those trees in the background there are waterways, and many of the waterways had tow paths which are now bike and trekking paths that criss-cross the country, even ​between big cities. Here are some resources:
The 16 Best Things to Do in Belgium
How to Travel from Amsterdam to Antwerp by Train, Bus, and Car
Top Eurostar Destinations from London
How to Travel From Brussels to Bruges by Train, Bus, and Car
Brussels Travel Guide
How to Travel From Amsterdam to Bruges by Train, Bus, and Car
Travel Guide to Bruges, Belgium
How to Travel from Amsterdam to Ghent by Train, Bus, and Car
How to Travel From Amsterdam to Charleroi Airport by Train, Bus, and Car
Traveling by Train in Europe: Where, Why, and How
How to Navigate Paris Train Stations and Transfers
Maps of Northern European Countries Visited by Cruise Ships
What to Do in Lille in Northern France
How to Travel From Paris to Strasbourg by Train, Bus, Car, and Plane
High-Speed Train Travel in Europe Is About to Get Even Easier
How to Travel From Amsterdam to Paris by Train, Bus, Car, and Plane
By clicking "Accept All Cookies", you agree to the storing of cookies on your device to enhance site navigation, analyze site usage, and assist in our marketing efforts.
Home » Travel Guides » Belgium » 15 Best Places to Visit in Belgium
15 Best Places to Visit in Belgium
A real gem of the European Low Countries, Belgium might be small but boy does it pack a punch! Ranging from the Francophone villages of Wallonia in the south to the Flemish diamond towns and North Sea coast, this nation hosts everything from buzzing European parliaments to sobering war memorials between its borders. Here, we take a look at all the best places to visit in Belgium , checking off the energetic capital, the wilds of the Ardennes, culturally-rich Mons and plenty, plenty more along the way!
Catapulted to fame by the 2008 hit film In Bruges, this pop-up cut-out of a medieval town in the heartlands of Flemish Belgium rarely fails to impress.
Its old centre is an enchanting labyrinth of winding stony streets, each fringed with the rising apses of Low Country townhouses. Here, soaring belfries clad in Gothic carvings and twisted gargoyles peak above the Grote Markt; chip merchants tout double-fried cones of Belgian frites next to ubiquitous Irish pubs (there's an unexpectedly lively nightlife), and romantic gondolas drift up and down the canals.
Oh, and don't miss the Basilica of the Holy Blood – a Gothic masterpiece that's said to house a vial of Christ's congealed blood! Also see our guide to Bruges !
It's just a matter of time before Ghent begins to vie against Antwerp and Brussels for the top spot on lists of Belgium's must-see metropolitan destinations.
Once one of the most powerful city states in Europe, it opted to take something of a backseat in the modern age; preferring to hide its gorgeous location on the confluence of the Scheldt and Leie and that chocolate box old town area (the largest pedestrianised urban zone in the country).
Today, travelers head in to explore the postcard-perfect rows of Flemish townhouses that line the Graslei docks, or delve into the Gothic medley that rises with the bulwarks of the Gravensteen castle. Others sip Belgian brews in the riverside pubs, or devour platters of moules frites amidst the tight-knit alleyways. Read more in our best things to do in Ghent !
Nestled deep in a wooded valley in the midst of the Wallonia Ardennes, Durbuy enchants visitors with a rustic web of winding cobblestone lanes and bucolic cottages dressed in rhododendron, ivy vines and poppy blooms.
A clutch of hearty and welcoming Belgian beer joints rubs shoulders with accomplished fine-dining restaurants between the streets of the medieval centre, while narrow lanes like Rue des Récollets are a real treat for strollers.
Summertime brings booming crowds to the craft boutiques of the self-proclaimed 'smallest town in the world', while winter gives a wilder hue to the riparian setting in the middle of pretty Luxembourg province.
Cool, confident and classically subversive, Antwerp has really honed its rep as the second city of Belgium.
A booming diamond trading centre and moneyed to the hilt, the town touts grandiose Flemish houses, winding medieval streets overshadowed by the looming Gothicism of the city Cathedral, the glorious old home of Rubens, and an endearingly gaudy Red Light district where Toots Thielemans tunes echo past candlelit beer bars.
And then – of course – there's the Het Zuid neighbourhood; Antwerp's sleepless modern edge, where bohemian coffee shops rub shoulders with antique emporiums, fixie riders glide past graffiti artists and the acclaimed MUHKA art gallery offers cutting-edge avant-garde. See our post on the best things to do in Antwerp to learn more!
Etched into the minds of many as the site of one of the most bloody and destructive battles of the First World War, little Ypres in the midst of the Westhoek is a real must for any history buffs making their way through Belgium.
From 1914 onwards, the rolling fields around this ancient city were dug-out by French, Canadian, British, ANZAC and other allied troops as they vied for control of West Flanders and attempted to push German lines back over the infamous Passendale Ridge.
Today, this bloody struggle is commemorated by the Menin Gate Memorial and the In Flanders Fields Museum, which has been hailed as the most comprehensive World War I exhibit in all of Europe.
6. The Hoge Kempen National Park
Belgium's solitary National Park is a real patchwork of natural beauty that does well to sum up the wild hinterland of Eastern Flanders.
Covering 60 square kilometers of the picturesque Limburg region, the park is home to rolling heath and undulating hills, misty pine forests and mirror-like lakes, all dotted with packs of wild deer and sweeping blooms of lavender and thistle.
With a whopping total of more than 200 kilometers of winding hiking trails and countless bridal paths and biking tracks besides, it's hardly surprising that this one's now a real favourite amongst outdoorsy types making their way through the Low Countries.
Touting its 800-year-old university, a booming student population of more than 25,000 beer-loving erudite Belgians and the famous Grand Béguinage district (a UNESCO-attested area of cobbled streets, enchanting red-brick buildings and pretty Flemish facades), it's hardly a surprise that Leuven is on the up.
Yes sir, travelers are now more eager than ever to delve into the elegant streets that weave around the Grote Markt below the filigreed Gothic spires of one eye-watering City Hall, while others will come just for the beer – this is the home of the sprawling InBev brewery (one of the largest of its kind in the world), along with countless specialist craft bars touting ancient Trappist ales and Belgian abbey beers to boot!
Also see: the 15 best things to do in Leuven .
8. Brussels
No list of Belgium's top must-see sights could possibly be complete without at least a mention of its sprawling, action-packed and indelibly exciting capital city.
Not only is Brussels the beating heart of modern European politics, drawing lawmakers from Estonia to Portugal, but it's also the home of the iconic Grand Place market square, where a palimpsest of the Gothic, the Baroque the  fin de siècle and Beaux-Arts styles coalesce amidst the apses and spires.
And all around this historic plaza, hidden alleys conceal Belgian beer bars bursting with Trappist brews and frothy ales, famous chocolatiers, holes-in-the-wall touting waffles and stacks of double-cooked Belgian frites, fine art museums bulging with Bruegel and Rubens, regal parks with soaring monuments like the Cinquantenaire – the list goes on as you'll see in our guide on Brussels .
Proud former European Capital of Culture and the home of perhaps the most elegant historic centre in all of Belgium, Mons and its array of Luxembourgish-come-Germanic townhouses sits draped over the southwestern hillsides just a stone's throw from the border with France.
The action focusses on the irresistible Grand Place square, where the elaborate facades of one seriously photogenic town hall sit in the shadow of Belgium's only Baroque belfry (a UNESCO World Heritage Site to boot).
The town is also home to the erstwhile house of the totemic Dutch post-impressionist Vincent Van Gogh, while the famous Ducasse festivities in the spring make for a striking display of local religious traditions, complete with biblical re-enactments, pitched battles between St George and the dragon, horse parades and more.
Responsible for adding the prefix 'spa' to destinations famed for their bubbling mineral springs right across the globe, this charming little town in the heart of Liege province comes complete with row upon row of regal facades and La Belle Époque architectural pieces.
It has been hailed for its healing waters since way back in the 14th century, and today folk still flock to the all-new Thermes baths that look over the downtown streets where once Dumas and Victor Hugo and the fictional Hercule Poirot would have flitted between Parisian-style cafes and babbling fountains.
A patchwork of traditional Mosan-style homes built from grey brick and stoic black slate, crisscrossing cobblestone lanes and pretty riverside promenades, Namur belies its official status as a regional capital with a laid-back, historic vibe.
Its undisputed piece de resistance is the sprawling medieval Citadelle that crowns the hillsides above the Sambre. More than 1,000 years old, it remains one of the largest fortresses in all of Europe and comes complete with oodles of escape tunnels and bulwarks that were used right up until WWII.
And once travelers are done touring the castle complex on the hill, Namur's cobbled Place du Vieux Marché beckons; a pretty European square that's awash with al fresco cafes and Belgian beer bars aplenty.
Straddling the Meuse River as it meanders northwards through the grassy valleys and woods of Wallonia, Liege is one of the less-trodden cities in Belgium. However, travelers who linger here just a little before heading out to explore the wilds of the Ardennes are in for a real treat.
For one there's a seriously pretty medieval old town area that cascades down from the fascinating Citadel of Liege to the riverbanks, encompassing the flying buttresses of a reconstructed city cathedral, acclaimed institutions like Musée des Beaux-Arts and the eclectic Egyptology-come-Bonapartist collections of the Curtius Museum as it goes.
And then there's the nightlife – a medley of student-led jazz bars and Low Country pubs that bustles between the Victorian and Art Deco homes of the Le Carré neighbourhood. Learn more about Liege: best things to do in Liege .
13. The Ardennes
A sprawling section of southern Belgium that's famed as one of the most beautiful hiking destinations in all of Northern Europe, the Ardennes ranges from the city of Namur, across the valleys of the meandering Meuse River and down to the wild plateau Fens on the edge of the German Eifel Mountains.
Between its borders travelers can seek out rock-clad castles like Chateau de Bouillon, Mardi Gras festivities in Malmedy , beautiful canoeing waters along the River Lesse, stalactite-dotted caves and grottoes amidst the Ourthe hills, dense woodlands and Trappist monasteries in Rochefort , rugged cliffs in Dinant , verdant valleys that give way to winding river channels, misty forests that go on for miles and oodles, oodles more!
Escape the inland cities and towns of Belgium for a blast of North Sea air along the sun-splashed (at least by summer!) esplanades of Ostend , which runs its way along the windswept coastline of West-Flanders just a short ride out of Bruges.
Much-loved by locals for its buzzing atmosphere and sandy beaches between June and August, it's actually surprisingly easy to fall in love with this one's cookie cutter seaside hotels, curiously English tearooms and hedonistic clubs along Langestraat.
There's history to explore too, most notably at the infamous Atlantic Wall Open Air Museum, which chronicles German fortification of the European seaboard, while aquariums and various marine-themed expos relate the town's indelible connection to the North Sea.
15. Bastogne
Perched right on the borderlands with Luxembourg to the south, the now sleepy, 15,000-strong town of Bastogne boasts a history going all the way back to the centuries when Gallic tribes waged war with Roman centurions in the Low Countries.
However, the spot is now better known for its place at the heart of the tumultuous and dark histories of the 20th century. In 1944 it was from here that German divisions planned the Battle of the Bulge, and the town subsequently played host to the heroic 101st Airborne Division as they were encircled by Axis troops.
Today, this pivotal moment of the Western Front is commemorated at the acclaimed Bastogne War Museum, the colossal Mardasson Memorial and the Bastogne Barracks alike.
15 Best Places to Visit in Belgium:
The Hoge Kempen National Park
The Ardennes

Touropia Travel Experts
Tours & Top Tens
10 Best Places to Visit in Belgium
Last updated on November 2, 2023 by Touropia Editors - Leave a Comment
Traveling in Belgium brings forth images of medieval rooftops, lovely canals, tasty beer, and even more indulgent chocolates. However, there is much for one to see in this remarkable European country, where time seems to move at a slower pace and the people are friendly and welcoming to tourists. From modern cities boasting designer shops and glamorous galleries to cobblestone streets laden with museums and native indulgences, the best places to visit in Belgium have something for everyone to enjoy on a vacation.
10. Mons [SEE MAP]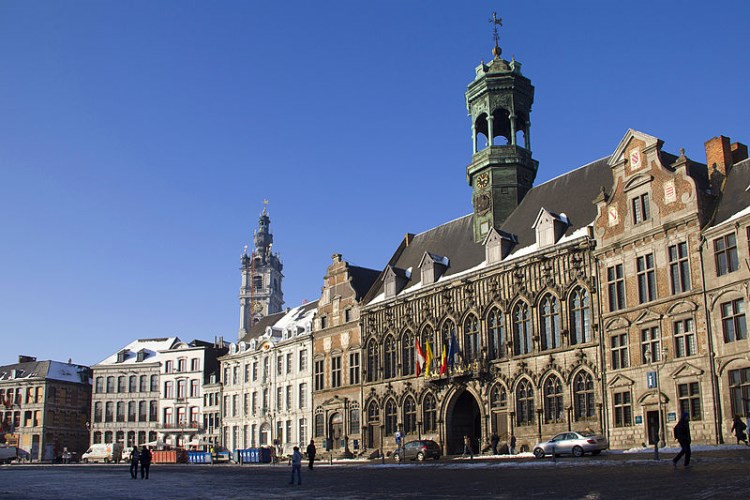 As the capital of the province of Hainaut, Mons is best known for the magical and surprising ringing of the town's glorious Belfry bells, which hail from the 80 meter (270 foot) tower. Winding streets allow visitors to easily traverse the city sites that are a rich mixture of architectural styles. The Gothic-style Mons Town Hall is eye-catching, and the Collegiate Church of Sainte-Waudru boasts a highly impressive collection of 16th century Jacques Du Broeucq alabaster statues. Naturally, a stop by the Van Gogh House is a must to see amazing reproductions of this master's works.
9. Dinant [SEE MAP]
This city lies along the sparkling Meuse River in the Namur province just 65 km (40 miles) south of the capital city. The Caves of Han and the Grotto of Dinant are some of the natural attractions that bring visitors here. These caves are some of Europe's largest and most beautiful and are situated in within a Wildlife Reserve teeming with native flora and fauna. However, the city's landmark, The Collegiate Church of Notre Dame is still remarkable after being partially rebuild post a massive landslide, as does the restored Citadel that overlooks the city. Accesses to most of Dinant's sanctuaries are accessible with an appointment, but the Sanctuary of Beauraing is open daily.
8. Leuven [SEE MAP]
Home to the oldest Catholic university in the world, Leuven is home about 100,000 residents with nearly 35,000 of them being students that keep the city lively when classes are in session. Two seemingly endless streets are laden with interesting shops and galleries, while the more historical section of the city boasts sites such as the The Belfry on St. Peter's Church and the Grand Beguinage. Visitors will find much action and things to do in the Grote Market in Leuven, where sites like the City Hall are adjacent to exceptional dining options and street side pubs and cafes. This city's location makes it an ideal alternative to Brussels as a vacationer's main hub to explore the rest of the country.
7. Tournai [SEE MAP]
Adjacent to France, the quaint and lovely community of Tournai is an excellent place to tune out the hustle and bustle of larger Belgium cities. More than 2000 years of rich cultural history can be explored here, and this city is home to what is believed to be one of the most beautiful churches in the world – the five-towered Gothic and Romanesque Notre Dame Cathedral. Constructed in the 12th and 13th centuries, the cathedral houses the Shrine of Our Lady and works by Ruvens and Jordaens. The town Belfry is the oldest in the country and offers visitors 257 steps to the most remarkable views in the city of Tournai. The Museum of Fine Arts is filled with masterpieces from primitive and contemporary artists ranging from Campin and Rubens to Roger Van der Weyden and Van Gogh.
6. Mechelen [SEE MAP]
A vibrant town that doesn't draw the tourism that many other Belgium cities do, Mechelen is actually one of the best places to visit in Belgium. From tours of the Beguinage Brewery to river boat tours, there's much to see and do in this Flanders locale. A trip to the top of the St. Rombout Cathedral's massive tower is the best way to get a panoramic view of the Antwerp Port and this lovely city. One don't miss stop is the magnificent Carillion School, where students come from across the globe to get instruction on playing this complex instrument of bells.
5. Ardennes [SEE MAP]
For hiking, biking and camping, visitors to Belgium should head to the rugged hills of the Ardennes with their tight forests, caves and cliffs. They are home to wild boar, deer and lynx and hide a number of friendly villages, lots of castles and a few other notable sights. The impressive caves of Han-sur-Lesse, the castle of Bouillon and the modern Labyrinth of Barvaux are some of the best picks. The city of Namur makes a great base from where to explore the Ardennes and has some fine sights itself too.
4. Antwerp [SEE MAP]
Antwerp is a city with many faces. While it may not be as historically preserved as Bruges or Ghent, it is a very dynamic city, offering a perfect mix of history and present-day modern life. Lovers of great food, great beer, and good times, this city is most well-known for the Diamond District, where more than 70 percent of the world's rough diamonds are traded. Art abounds in Antwerp , with Revenshuis celebrates the baroque works of Peter Paul Ruebens and the Plantin Moretus Museum is the home of printer and bookbinder Christoffel Plantin. Architectural wonders await with the 1351 construction the gothic Cathedral of Our Lady, and the majestic combination of baroque and Gothic architecture of the Saint Paul's Church.
3. Ghent [SEE MAP]
Belgium's best kept secret, Ghent is a city of history. During the Middle Ages, it was one of the richest and most powerful cities in Europe. It was once considered the second largest city north of the alps, after Paris. The impact of this rich past can be clearly seen when viewing the imposing architecture of churches and the houses of rich traders. The whole of the city center is restored in this fashion, and still breathes the atmosphere of a thriving late-medieval city state. This is particularly so along the scenic old Graslei harbour, and grand medieval cathedrals and the Gravensteen castle.
2. Brussels [SEE MAP]
Known for its diversity of sites and places of interest, Brussels is the capital city of Belgium and is likely where visitors will begin their sightseeing. As the headquarters of many European institutions, Brussels might also be considered something of a capital for the European Union.
Most notably, the Grand Place is the city's center and was established in the 13th century. Terrace cafes and pubs are plentiful around this central square, as are other sites of interest such as the stunning Gothic style Town Hall. Shopping is plentiful amid the Galeries St. Hubert, a centrally located glass-roof arcade filled with shops, cafes, and theaters.
1. Bruges [SEE MAP]
Located in northwestern Belgium, Bruges is one of Europe's most well-preserved medieval towns, boasting an old world charm and romantic atmosphere. Once an important center for Flemish art and textiles, Bruges today is best known for its beautiful canals.
Bruges may be the largest city in the West Flanders province, but it is still small enough to explore by walking. The main attraction in Bruges is the postcard-perfect Old Town. Surrounded by picturesque canals and medieval walls, the historic district is teeming in beautiful old architecture including Romanesque and Gothic churches like the Church of Our Lady that houses a Michelangelo sculpture, and the Basilica of the Holy Blood, which claims to possess a vial of blood from Jesus Christ.
The city's most famous landmark is the Markt Square belfry. Visitors can climb this 13th-century bell tower to admire spectacular views of the city. Other sites not to miss include the spectacular Gruuthuse Mansion, and the impressive Saint John's Hospital, which was built in 1188.
Must-do activities in Bruges include visiting the museums, which exhibit the city's culture, traditions and art works by famous Flemish artists. Strolls down cobblestone streets offer dozens of shops selling delicious chocolates, Belgian beer and traditional lacework. Scenic canal cruises are readily available, while horse-drawn carriage rides present romantic experiences.
Map of Belgium
Plan Your Trip
3 best day tours in belgium, share this post:.
Belgium Travel Guide
10 Top Tourist Attractions in Belgium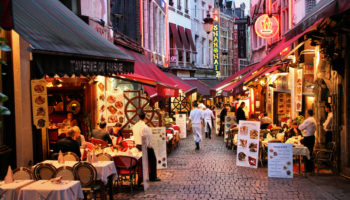 11 Most Beautiful Regions in Belgium
15 Best Cities to Visit in Belgium
How to Travel from Paris to Amsterdam by Train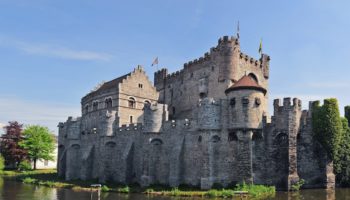 12 Best Things to do in Ghent, Belgium
12 Best Things to do in Antwerp, Belgium
7 Best Places to Stay in Bruges, Belgium
10 Most Popular Attractions in Bruges, Belgium
Reader interactions, leave a reply cancel reply.
Your email address will not be published. Required fields are marked *
This site uses Akismet to reduce spam. Learn how your comment data is processed .
Destinations | EUROPE
Road trip from belgium to germany.
10 May 2022 | Destinations , Europe , Germany
One of the amazing ways to spend the summer holidays is to go road-tripping! And how about a road trip from Belgium to Germany with stops along the way. And spend a day or two in Germany before returning back home. In this post, I will also share the best things to do in Essen, one of the prettiest German towns. 
Road trip from Belgium to Germany: Things to do in Essen
Disclosure: This is a sponsored post and I was invited on a press trip, but all the experiences and opinions are my own. 
Travel time and distance from Belgium to Germany: Essen to Essen
The travel time from Essen in Belgium to Essen in Germany is about 2 hours and 15 minutes if you drive nonstop. The road distance is 209.3 km via A58, A67, and A40. 
You can easily make a day's worth of road trip as you stop along the way, and savor all the pretty moments!
To travel between the two countries, you will also drive through the Netherlands, and can explore it as well. 
Note that all these three countries are part of the Schengen zone, so you can travel visa-free between them. Car rental can be booked in Belgium for this road trip. 
These are the 2 possible routes I recommend,
Option 1 Germany Belgium road trip: 
Essen, Belgium > Roosendaal, Netherlands >  Arnhem Centraal, Netherlands > Oberhausen, Germany
In the first option, you will start from Essen and then head to Roosendaal and Arnhem Centraal in the Netherlands. Your stop in Germany will be Oberhausen before reaching Essen.
This is what you can explore in the following areas,
Roosendaal: Need retail therapy? Head over to Designer Outlet Roosendaal . Home to over 85 stores, you will find everything from clothing to shoes and with over 30-75% discount. You can also hang out and sit down for brunch or lunch after shopping!
Museum Tongerlohuys: Museum Tongerlohuys is a specialty museum located in Roosendaal. You can spend 30 minutes to an hour there checking out the various exhibits. 
Arnhem : Arnhem deserves a longer visit if you are into history, as it is home to one of the most infamous battles of World War II. 
Other attractions in Arnhem include the Burgers' Zoo and the Open air museum . Plus you can also stop to shop here.
Oberhausen: Oberhausen in Germany makes for a perfect stop before arriving in Essen for the night. This formed Germany's coal-mining region in the past and was a bombing target in 1945. 
Option 2 Germany Belgium road trips: 
With more stops along the way, here is an additional route to follow from Essen Belgium to Germany. 
Essen, Belgium > Breda, Netherlands > Tilburg, Netherlands > Eindhoven, Netherlands > Duisburg, Germany > Oberhausen, Germany > Essen, Germany
Breda : Located in the Netherlands, Breda is known for its charming and historic town centre. It is home to beautiful old buildings that also include churches and markets. Plan to stop at the Breda Castle, which is also located at the centre.
Tilburg : Stop at this University town, for shopping or a bite to eat. You will love the ambience of their city centre, so definitely worth visiting!
Eindhoven: The birthplace of Philips, this is the 5th largest city in the Netherlands, Eindhoven is filled with stunning architectural buildings. But there are pockets of greenery within the city, where you can stretch your legs as you embark on this road trip. 
Duisburg : With this stop, you enter Germany, and do visit this charming city of Duisburg. Duisburg is home to nature and architectural delights. Its close proximity to Düsseldorf makes it great for exploring both. Duisburg is located at the junction of the Rhine and Ruhr Rivers, and it has the world's largest inland port. 
Oberhausen : This is your final stop on this route before arriving in Essen in Germany!
Things to do in Essen, Germany in 2 days
Essen is a city in the Ruhr area of North Rhine-Westphalia, West Germany. It is located on the Ruhr river and is the largest city in the Ruhr region. 
The city has a long history as an important cultural and religious center. Many of the city's attractions are located in and around the Old Town area.
Along with historical and cultural sites, Essen is also home to a number of large companies, including ThyssenKrupp, Siemens AG, and Gelsenkirchener Bergwerks-AG. 
The city also has a number of tourist attractions, including the Zollverein Coal Mine Industrial Complex, the Folkwang Museum, and the Cathedral of Essen. Other notable sights include the red-brick castle Schloss Borbeck, the Margarethenhöhe estate with its Jugendstil architecture, and the teepee-shaped gasometer.
The city has a vibrant nightlife, with numerous clubs, bars, and restaurants. Essen is also home to a number of festivals and events throughout the year, including the Ruhrfestspiele festival of arts, the Jazzopen jazz festival, and the Rock Im Revier rock music festival.
Here is how you can spend a weekend in Essen, after an epic road trip!
Day 1 of Germany road trip itinerary: Arrive in Essen, and explore
Once you arrive in Essen, check in to Art Hotel located in Körschen Hindenburgstrasse 6,  45127 Essen. The hotel is situated close to the city center and very affordable.
Depending on your arrival time, you can either check in and relax or go sightseeing. 
City tour of Essen
Embark on a sightseeing tour through the city area. The main station is a good starting point, and you can always park your vehicle and use other means of transportation in the city.
High Cathedral of Essen
Head to the Essen City Center, home to everything that is culturally stimulating. Begin at the High Cathedral of Essen. 
Essen Cathedral has a rich history of over 1150 years. It dates back to 850 when a small convent was founded here and was the site of much religious work for women that was performed in the early and high Middle Ages.
The main highlights include its late Baroque interiors, and you must check out the Essen Cathedral Treasury. Access to the Cathedral has an entrance fee. It starts at 8 euros for families. Highlights of a visit include the late Baroque interior and its Treasury.
Old (Alte) Synagogue of Essen
Up next is the Old Synagogue. The Old Synagogue of Essen is considered to be one of the largest, and best-preserved sites to appreciate Jewish culture in pre-war Germany. It was built in the year 1913, and today you can check out the historical exhibits, and stories.
This freestanding structure is designed in Art Nouveau, Jugendstil, and Byzantine Revival architectural styles. 
Access to Essen's Alte Synagoge is free. However, you can make donations on site, if you like. This helps to maintain the site, and keep it open for visitors to see.
Colosseum Theatre
You must have heard about or seen the Colosseum in Rome , Italy. This one is similar in the sense that it is a theatre – a musical theatre. The building is also an impressive sight to behold. You can watch a show, along with food and drinks!
Next is a drive along the Gruga Park to the oldest part of Essen – Werden. It is located in the southern part of the city of Essen. Werden is home to an old basilica and charming small cafes.
Founded in 796, the Basilica of St. Ludgerus, the former residence of the Werden abbots, is today the seat of the Folkwang University and the Lucius Church. 
Villa Hügel
Head to Lake Baldeney to visit the Villa Hügel, which was the former home of the Krupp family. The Villa Hügel is a 19th-century mansion, which was built by the industrialist Alfred Krupp in 1870-1873 as his main residence.
It was the home of the Krupp family for seven decades, until after World War II. Since 1953, on the initiative of the last company owner, Alfried Krupp, major internationally important art and cultural history exhibitions have been held here regularly to this day. 
The Villa Hügel became one of the most important cultural centers in the country. Outside the exhibition times, the historical living quarters, the extensive park and the historical Krupp exhibition can be visited.
Spend a few hours at the complex admiring the building and exhibits on display. The entry fee starts at 5 euros (for adults).
Before leaving for the city center, you can also visit the Baldeneysee lake area , and maybe go biking. There is also a magnificent reservoir, located in the south of the city. 
Gruga Park – Botanischer Garten Grugapark
Have more time? Visit the beautiful botanical garden – Gruga Park, which dates back to the year 1929. Grugapark is a central park and was opened as the first Große Ruhrländische in the city. 
There is an entrance fee of 10 euros per person, to explore the park.
For the evening (more options)
To finish off an exciting day of sightseeing, you can either go to Rüttenscheder Straße or enjoy dinner and drinks at the Tiger Rooftop Terrace Restaurant. Both spots are located near the hotel.
Day 2 of Germany road trip itinerary: Visit stunning historical and cultural sites in Essen 
Kickstart your day 2 of the Essen itinerary, with more cultural appreciation starting with the World Heritage Zollverein. 
Zollverein Coal Mine Industrial Complex
In Germany there are many famous sights , Zollverein Coal Mine Industrial Complex is probably one of the coolest landmarks in the country  you can visit.
It has been  awarded the designation of UNESCO World Heritage Site in 2001. If you love machines and industrial history, this is the place to be!
On-site, you can see exhibits of not only industrial art but also culture and creativity. 
The stunning building was the largest coal mine in the world at one time, and also the largest coking plant in Europe. Along with its size, and interiors Zollverein is considered to be one of the most beautiful coal mines in the world.
Guided Tour: Coal and Mine (Colliery)
The landmark of the old and new Ruhr area: World Heritage Zollverein. The 35-hectare site is now divided into three areas and includes shaft XII (area A), shaft 1/2/8 (area B), and the coking plant (area t).
Until its decommissioning in 1986, the central Zollverein XII mine was not only the most modern, but also the "most beautiful colliery in the world". 
Together with the Zollverein coking plant and the foundation pit 1/2/8, it is now one of the world heritage sites of mankind. This is where 12,000 tons of coal used to be mined and processed.
Visitors can immerse themselves in the industrial past on the monument paths of the Zollverein colliery and coking plant. The recommended Denkmalpfad or Heritage Trail, is a must-do at the coal mine site, as it offers all visitors an immersive experience into the time when the Zollverein plants were still active.
Numerous guided tours present the Zollverein in all its facets.
Red Dot Design Museum
Also located at the complex is the unique Red Dot Design Museum. Here you will discover the world's largest and probably most unusual exhibition of contemporary design. There are around 1,000 products from all over the world that are presented in an area of more than 4,000 square meters – all of them awarded the Red Dot prize.
The names of the designers and companies read like a who's who of design. You will find a similar museum in Singapore too, but this one has the breathtaking architecture of the boiler house of the Zollverein colliery and of course the stunning exhibits waiting for you to explore. 
The entry fee starts at 7 euros. 
Margarethenhöhe in Essen
Fancy a nice afternoon walk? Head to the English garden, set up by the Krupp family. The journey leads to Margarethen höhe, a settlement donated by Margarethe Krupp in 1906 and built in the style of an English garden city. 
The idyllic district was donated by Margarethe Krupp in 1906 on the occasion of the wedding of her daughter Bertha. 
Essen in the early 20th century was made up of the workers and employees of the Krupp steel company. According to the plans of the architect Georg Metzendorf, comfortably furnished apartments were built in two-story houses for workers and employees.
Museum Folkwang
Finish sightseeing for the day at a renowned art museum in Germany, the Museum
Folkwang in Essen. This museum takes you through a challenging journey through art history. 
At the art museum, you will find both German and French painter's exhibits from the early 19th century, to modernist paintings after 1945. There are displays of arts and crafts objects, including photographs. 
Entrance to the permanent collection of Museum Folkwang is free of charge.
So there you have it – an epic Belgium to Germany road trip with an extended stay in Essen! 
Essen is a city rich in history and culture, and I highly recommend visiting. Here you will find world-renowned museums, art galleries, and architecture located throughout the city. 
Plus there is greenery, a lake view and more. So whether you're interested in industrial history or contemporary design, there's something for everyone in Essen Germany.
Or are you looking for other things to do in Germany? Discover here the best itinerary for two days in Berlin . Or what about a seven-day road trip visiting the most wonderful German cities and castles.
Pin: Belgium to Germany road trip travel tips: Essen to Essen Germany
RELATED POSTS
Road trip to Einbeck Germany
May 31, 2022 | Destinations , Europe , Germany
Best 2 days in Berlin – Itinerary and Travel Guide
Nov 20, 2021 | Destinations , Europe , Germany
7 day road trip in Germany visiting cities, castles & more
Aug 17, 2021 | Destinations , Europe , Germany
Submit a Comment Cancel reply
Your email address will not be published. Required fields are marked *
Save my name, email, and website in this browser for the next time I comment.
Submit Comment
Pin It on Pinterest

11 Best Places to Visit in Belgium
Written by Lura Seavey Updated May 3, 2023
Tourists will find a surprising variety of things to do in Belgium , from beautiful natural settings to historic landmarks and cultural attractions.
Couples looking for romantic places to visit will enjoy the medieval ambience of old cities like Bruges and Ghent, while those traveling with kids will find plenty of family-friendly activities in the capital city of Brussels and the historic port town of Antwerp.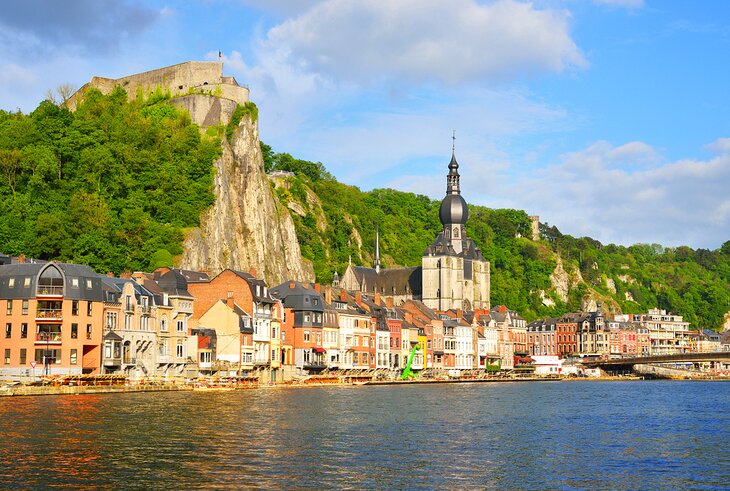 Military history buffs have plenty to look forward to as well, from the remote battlefields of Flanders to numerous excellent museums dedicated to Belgium's role in the two World Wars.
Find all this and so much more with our list of the best places to visit in Belgium.
1. Medieval Bruges
2. upper meuse valley, 3. brussels: the heart of europe, 4. memorials and battlefields of flanders, 5. antwerp: the cultural capital of flanders, 6. canals, castles, and cathedrals of ghent, 7. mons (bergen), 9. the beaches of belgium, 11. belgium's cathedrals and churches, map of places to visit in belgium.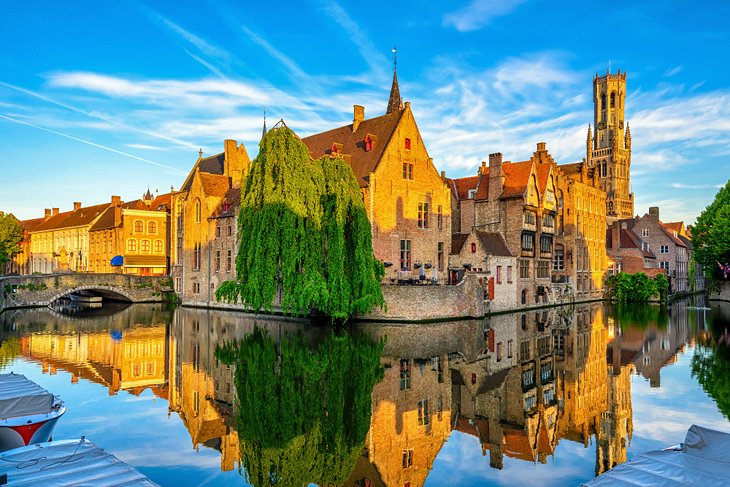 Bruges is one of the most visited cities in Belgium due to its medieval architecture and thoroughly romantic ambience. Bruges' canals are one of its most charming features, and no visit to the town is complete without a scenic canal boat tour .
From the water, you will be able to enjoy a different perspective of the city; land-lovers can likewise stroll along the canals to watch the boats go by, and the local tourist office has free walking tours available. Of particular note are the mansions along the Dijver Canal , some of which now house museums.
The historic center's two main squares, Burg Square (also known as simply "the Burg") and the Markt Square , which sit adjacent to each other in the middle of the city. Markt Square is surrounded by several impressive buildings, but the Halle and its 83-meter belfry are by far the most imposing structure. The belfry, which was started in 1282 and completed in 1482, is home to 47 bells and has a viewing area for tourists who are brave enough to climb the 366 steps to the top.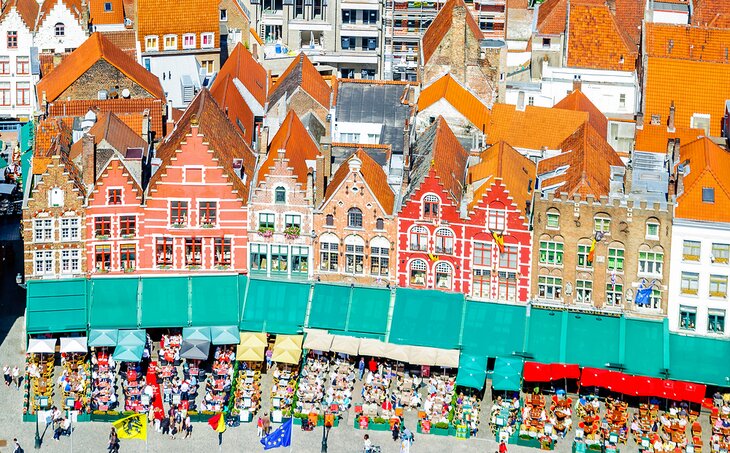 Aficionados of ecclesiastic architecture will want to visit the Basilica of the Holy Blood on Burg Square, which has a combination of Romanesque and late Gothic styles. The Burg is also home to the historic Town Hall ( Stadhuis ), which was completed in 1420, and the tourist office, which is housed in the Liberty of Bruges , the former Law Courts .
Those staying in Bruges will find many fascinating towns and tourist sites within a short drive. For a walk or pedal bike ride, the trails along the Schipdonkkanaal are particularly nice, and canal boat tours are also available here. The small down of Damme is home to several historic buildings and a traditional Flemish atmosphere.
Located near the coast, Bruges is also convenient to the seaside and beach communities of Knokke and Ostend , as well as the popular cruise ship port at Zeebrugge. Knokke is best known for its upscale resort community of Knokke-Heist , but is also a hub for art lovers, with an astounding 85 galleries and numerous public art installations. Along with the beaches of Ostend, tourists can visit several good museums including the De Plate Museum , with local history, and the Museum of Fine Art .
Top-Rated Tourist Attractions in Bruges
Top-Rated Day Trips from Bruges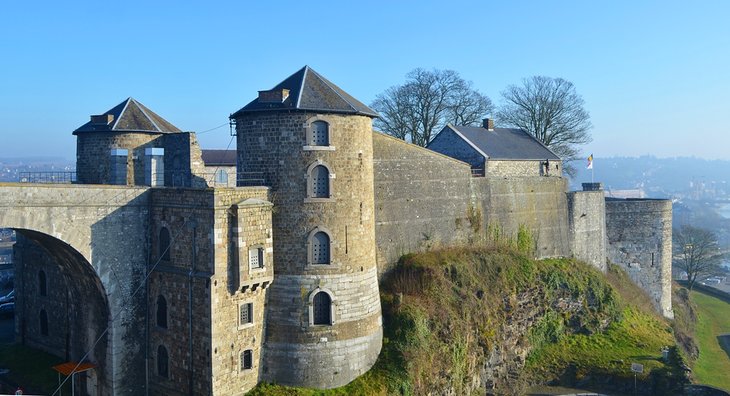 The Meuse River splits the country north and south, E42 from Liege to Namur, and from there to Dinant. The valley is known for its idyllic small towns, dramatic limestone cliffs, and lush forests that are ribboned with trails.
Namur (also called Namen) sits in the heart of the valley and is home to several historic landmarks, as well as a large university. The Namur Citadel sits on an outcropping above the town and is a fun place to explore, as well as an excellent spot for panoramic views of the valley.
In town, the best sightseeing areas are along the Rue de Fer and in the central Old Town , where you will find several good museums, as well as shops and cafés. You can also see historic churches, including the 18th-century Cathedral of Saint Aubain and the Church of Notre-Dame and its ecclesiastical Treasury , which houses several priceless religious items.
About 28 kilometers to the south sits another of Belgium's loveliest cities , Dinant, which is also home to a stately citadel. West of Namur, the village of Floreffe is home to a stunning 12th-century abbey, formerly the Premonstratensian Abbey , which now houses a seminary. The abbey church still contains some of its original features and is a lovely place to visit.
The next town over is Fosses-la-Ville , also home to a 12th-century monastery. Unfortunately, very little of the original is intact, however visitors can still admire the crypt, choir, and tower.
Northeast of Namur near Franc-Waret is Franc-Waret Castle , a beautiful 17th-century fortified residence. Visitors can tour the castle and grounds; the interior has a variety of original furnishings, artwork, and rare items, while the gardens are carefully tended to appear as they did during the castle's heyday.
Read More: Top-Rated Tourist Attractions in Namur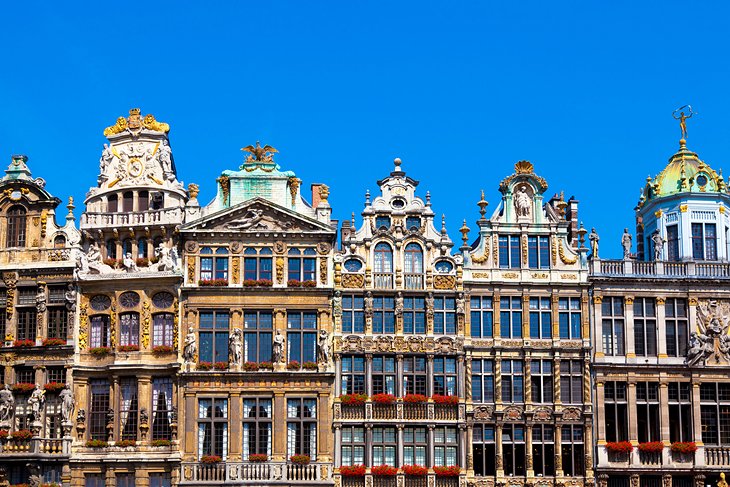 The capital city of Brussels is a must-see destination for any tourist visiting Belgium, home to not only the seat of the Belgian Royal Family but also the central offices of the European Union.
Thanks to the diverse mix of the city's residents, Brussels is known for its variety of restaurants and cafés that represent many gastronomic heritages. In addition to a thriving and lively city center, the Old Town is home to many historic landmarks and fine examples of Baroque and Gothic architecture.
In the heart of the Old Town, tourists will find the main square, the Grand Place (Grote Markt) . This is home to the imposing Brussels Town Hall (Hôtel de ville de Bruxelles), as well as the city's numerous historic Guild Houses ( Gildehuizeb ).
Nearby, on the Rue de l'Etuve, is the famous Mannekin Pis statue. Also nearby is the stunning Saint-Michel Cathedral , a Gothic church that was begun in 1225 and features twin towers and spectacular stained-glass windows.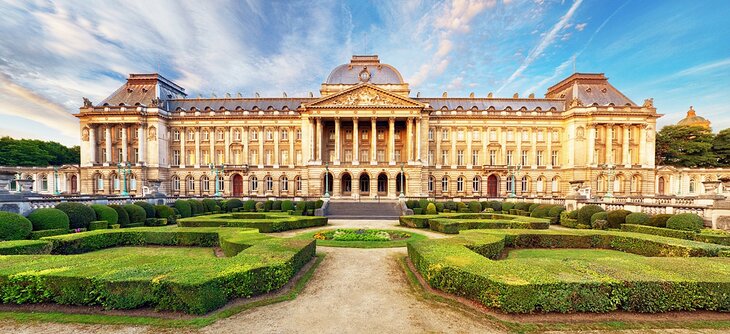 Overlooking the old city center is the royal family's official residence, the Palais Royale . On the palace grounds is the excavated Coudenberg Palace Archaeological Site , a fascinating dig site of the original palace's foundations and long-buried streets that is open for tourists to explore.
Adjacent to the palace is The Mont des Arts , home to several museums, including the Belgian Royal Museum of Fine Arts , which features an ancient art wing and a modern art wing.
More national museums can be found on the grounds of the expansive Parc du Cinquantenaire , which is located near the European Union Headquarters. Here, you can find the Belgian Army Museum and Museum of Military History , as well as the Royal Art and History Museum .
Read More: Top-Rated Day Trips from Brussels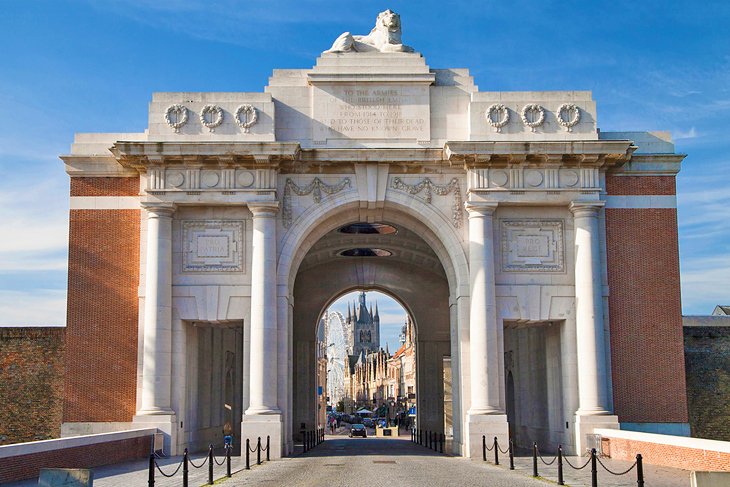 Tourists who want to visit some of the most important battlefields, memorials, and conflict-related landmarks will want to start their pilgrimage in Ypres, the sight of some of the most brutal trench warfare during WWI. To get a good overview of the area's involvement and history, as well as see artifacts from the conflicts, visit the In Flanders Fields Museum , located in Ypres's historic Lakenhalle on its main square, the Grote Markt .
After visiting Rijselpoort , the fortified gate where British soldiers set up the command center, tourists typically begin the battlefield tour from Menin Gate. It was from Menin Gate that troops marched into battle, and today it also serves as a memorial to the British soldiers who never returned home after the battles — 54,896 names are inscribed in its surface, and Last Post has been sounded at this spot every night at 8pm since 1928.
The area around Ypres is home to several war cemeteries, including Tyne Cot Cemetery , the largest of the British cemeteries in Flanders. Located about 12 kilometers from Ypres, it is the final resting place for approximately 12,000 soldiers and a memorial to over 35,000 more.
Nearby, tourists will find a smaller memorial dedicated to Canadian soldiers who died in 1915 in the first German gas attack. In the nearby town of Langemark , there is a cemetery for German soldiers with nearly 45,000 graves of the shockingly young men who died here in 1914.
There are additional sites clustered in and around the village of Kemmel , a region that saw heavy fighting. Tourists will find several war cemeteries in the Kemmelberg area, as well as a water-filled crater that was created by the British blasting local mines. Today it is known as Lone Tree Crater , and the body of water is the Pool of Peace .
Read More: Top-Rated Tourist Attractions in Ypres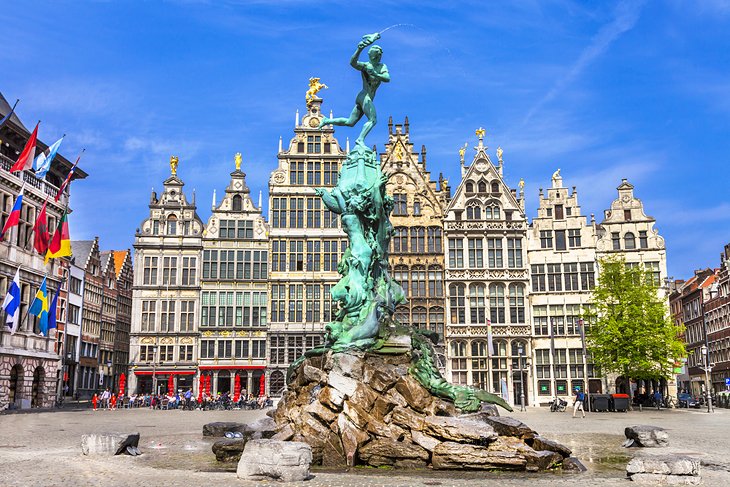 The port city of Antwerp has many cultural and historic sites to visit ; it's known both for its industry and artistic influences. The majority of the city's most significant buildings are on and around the Grand Place ( Grote Markt ) in the center of the old town. In this area, tourists will find the 16th-century Town Hall (Stadhuis), the Butcher's Hall (Vleeshuis), and Rubens' House (Rubenshuis) .
Those arriving by train into the impressive Central Station ( Middenstatie ) will find a treat waiting for them next door at Chocolate Nation , the world's largest Belgian chocolate museum . This is a big hit with families, conveniently adjacent to the Antwerp Zoo . The zoo, which was founded in 1843, is known not only for its population of over 950 species but also for its beautiful Art Deco architecture and stylized animal habitats.
Antwerp is also known for its excellent museums, which explore a variety of topics. History lovers will enjoy the Red Star Line Museum , which focuses on emigration during the late 19th and early 20th centuries, as well as the Museum aan de Stroom (MAS) , which includes exhibits about local history, as well as artifacts from around the world. The Museum Mayer van den Bergh is an excellent fine arts museum, as is the Royal Museum of Fine Arts .
Read More: Top-Rated Day Trips from Antwerp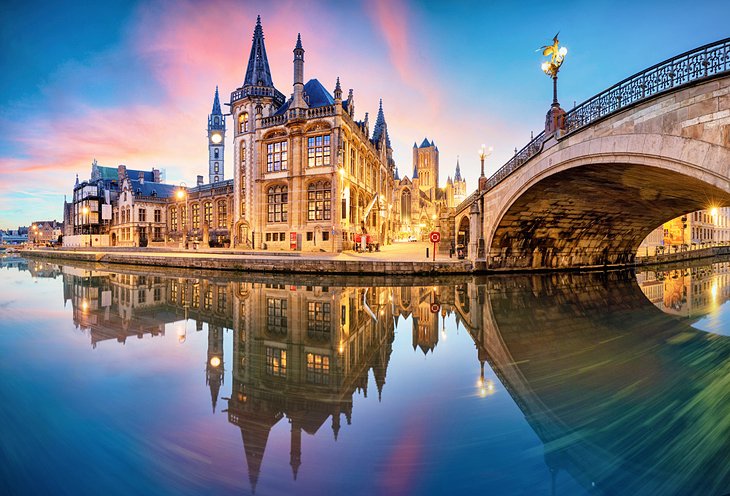 Tourists who want to enjoy the romantic atmosphere of a medieval town without the crowds of Bruges will want to visit Ghent, a rival in architectural and historical significance.
The majority of Ghent's historic guild houses can be found along the Graseli Canal and the Korenlei Canal, including the Koornstapelhuis, which dates from the early 13 th century; the Gildehuis der Metselaars (House of the Masons) built in 1527; and the Tolhuisje (Customs House), which was built in 1682. Those lucky enough to visit in the evening should make time for a canal boat cruise to appreciate the sight of these lovely buildings lit from below.
In the heart of Ghent's Old Town , the impressive Gravensteen is moated by the diverted waters of the Lieve River. This massive medieval fortress was constructed in the late 12 th century and has all the grandeur and classic elements of a fairy-tale castle. Today, it is home to a museum that features artifacts from the building's varied uses, from a royal residence to a textile factory.
If you love exploring castles, you can also visit the beautiful Laarne Castle , which is located just 11 kilometers from Ghent. This pentagonal fortress was built in the 11 th century and also houses historic exhibits.
Read More: Top-Rated Tourist Attractions in Ghent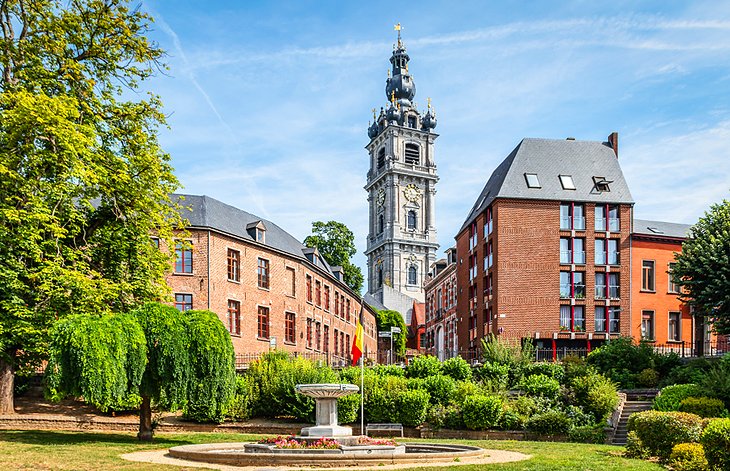 Located near the French border, Mons sits between the Trouille and Haine rivers along the route between Paris and Brussels. The Grand-Place de Mons sits in the city center and is home to several historic buildings, as well as plenty of shops, cafés, and restaurants along its picturesque cobblestone streets.
The City Hall ( Hôtel de Ville de Mons ) stands at the head of the city's main square, and the remaining four sides of the large courtyard are flanked by buildings dating to the 15th through 18th centuries.
Just a couple of blocks away from the main square at the top of a hill, you will find the Belfry of Mons , also known as El Caitau. This UNESCO-listed bell tower was constructed in the 17th century in the Baroque style and stands at 87 meters tall with a carillon of 47 bells. Here, you can climb the stairs to the observation platform at the top for panoramic views of the city. At the foot of the hill sits the 15th-century Brabant Gothic Collegiate Church of Sainte-Waudru .
Mons is also home to several good museums, and history buffs will want to prioritize a visit to the Mons Memorial Museum , formerly called the War Museum . The museum has over 5,000 artifacts relating to the country's involvement and occupation during both World Wars and also includes interactive exhibits.
Art lovers will appreciate the paintings at the Musée des Beaux Arts (Fine Arts Museum), as well as the unique collections at the Decorative Arts Museum Francois Duesberg .
Read More: Top-Rated Tourist Attractions in Mons (Bergen)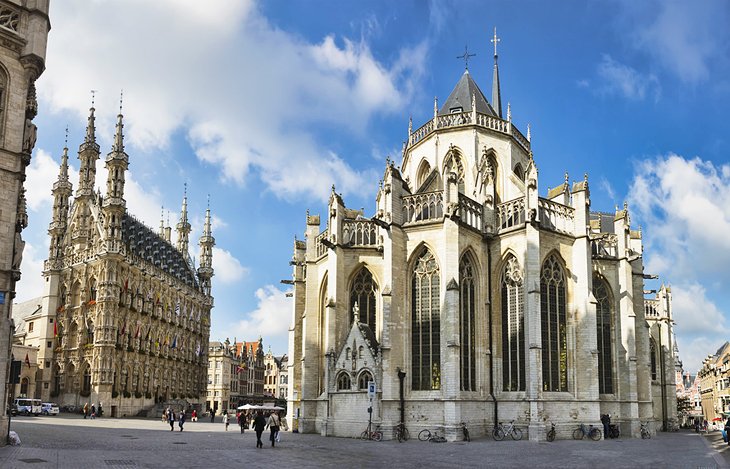 Located about 30 kilometers east of Brussels, Leuven sits on the river Dijle and is home to one of the country's oldest and most famous universities. You can see many fine examples of Gothic and other architectural styles on the university campus and throughout the city, starting with Leuven's City Hall that features 236 figures on its ornate façade.
Just next door across the Grote Markt sits St. Peter's Church ( Sint-Pieterskerk ), a fine cathedral built in the Brabant Gothic style that houses the Museum of Religious Art . The university's most historic buildings can also be found nearby along the Naamsestraat .
Outside the historic city center, Leuven has several lovely tourist attractions for nature-lovers. The Leuven Botanical Garden Kruidtuin, originally created in 1738 as the medicinal plant garden for the university's medical students, is now home to a variety of flora.
About four kilometers from the center of town, the borough of Kessel-Lo is home to a large nature park that is free to visitors, featuring swimming and paddleboating in the lakes, a petting zoo, and other activities.
Read More: Top-Rated Tourist Attractions in Leuven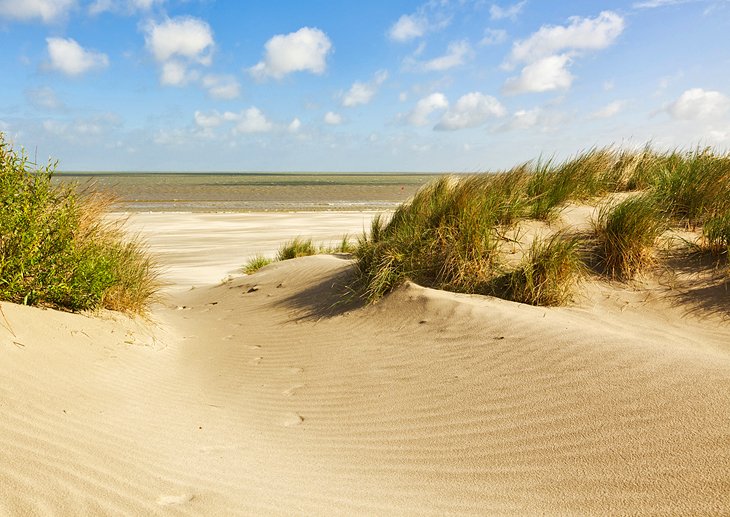 Although most people don't immediately think of beaches when planning a trip to Belgium, the west coast offers several excellent choices for those who want to soak up some sun and take a dip.
If you're staying in Bruges and Ghent, you can get to most beaches by car in 30- to 45 minutes at most, but day trips from Brussels and even Antwerp are still reasonable at around an hour-and-a-half by car, with additional options via train. Once you're on the coast, it's super-easy to hop from beach to beach on the Coastal Tram, which has 70 stops.
Knokke-Heist is one of the best known of Belgium's beach resort communities and is located near the Dutch border, only about 19 kilometers from Bruges. The town has four beaches along its 12-kilometer coastline, as well as numerous walking, hiking, and cycling trails that wander through the dunes. Visitors will find that Knokke is also home to an astounding number of art galleries, as well as two excellent museums about local and Belgian history.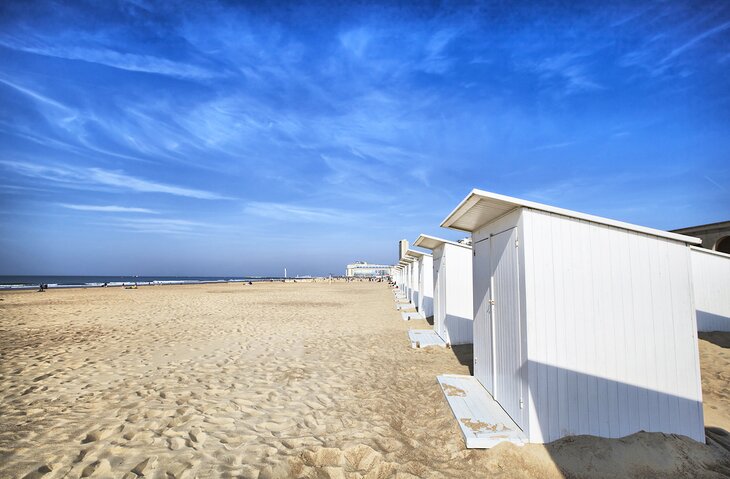 The town of Ostend may be best known as the main ferry port between Belgium and Great Britain, but it is also home to seaside resorts and beaches, conveniently located only 29 kilometers from Bruges. There is a lovely promenade that runs along the beach, and a breakwater that offers good views of the small city.
Ostend is home to six distinct beach areas, including Sportstrand (Sports Beach), which is dedicated entirely to active fun-in-the-sun, with designated areas for volleyball , kite-flying , and surfing , among other beach sports.
If you want to admire the beautiful architecture of the Koninklijke Gaanderijen (Royal Galleries) while you enjoy the water, head to the western end of the two-kilometer Groot Strand.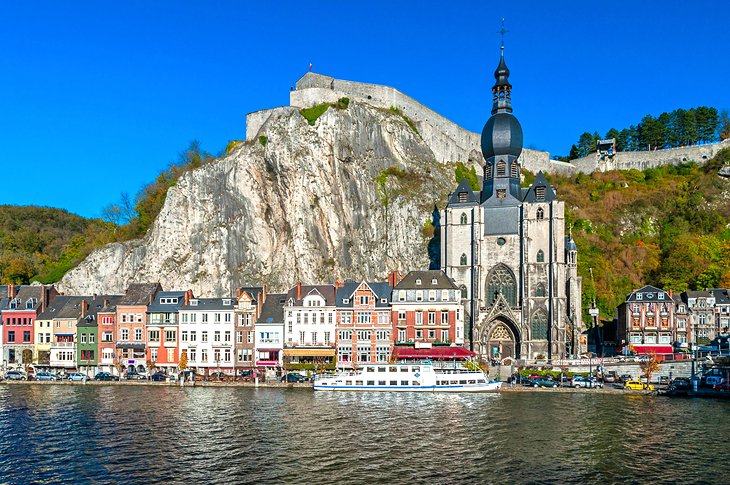 The town of Dinant is located 28 kilometers south of Namur and is a popular place to visit for tourists in the upper Meuse Valley.
The heart of this charming town sits in a narrow swath between the Meuse River and an imposing limestone cliff, atop which a citadel has perched since the 11 th century. The Dinant Citadel can be reached via a 408-step stone stairway that was built in 1577, but nobody will judge you if you opt for the scenic cable car ride instead. Once here, you can explore the battlements, former barracks, kitchens, and dungeons, as well as enjoy stunning views of the valley below.
The 16th-century Collegiate Church of Notre-Dame is another of Dinant's major landmarks, featuring a 100-meter onion dome and a unique perch in the side of the cliffs below the citadel. Other top tourist destinations include the Grotte la Merveilleuse , a major limestone cave system that can be explored, and the Rocher Bayard , an impressive pillar of limestone.
The Meuse Bridge is an excellent spot for photography, and boating on the Meuse River is a popular activity in Dinant. The town is also known for being the birthplace of Adolphe Sax, the inventor of the first saxophone, and visitors will find multiple monuments honoring him throughout the town, as well as tour his former home, which is now a museum.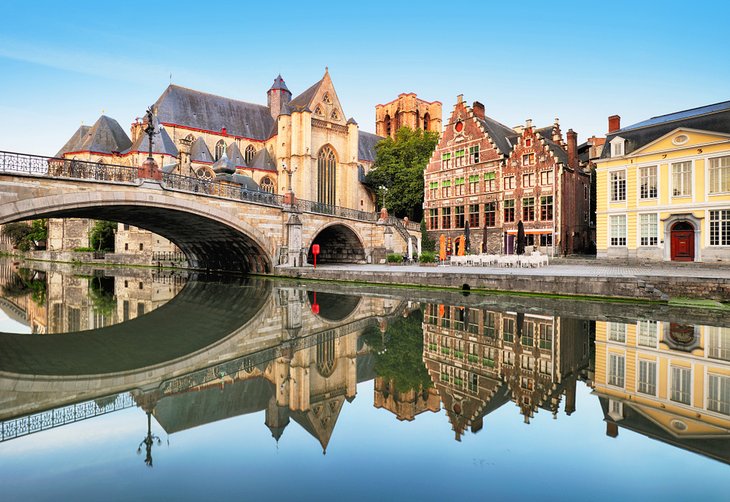 The city of Ghent is home to several of Belgium's most beautiful historic churches, the most lovely of which is the impressive Saint Michael's Church , constructed in the Gothic style of Belgian sandstone. Adjacent to this church is Sint-Michielsbrug ( Saint Michael's Bridge ), and together they are one of the most iconic landmarks in the city.
Another excellent example of Gothic architectural styles is Ghent's Cathedral of St. Bavo (Sint-Baafskathedraal), with a choir dating back to the 13th century and a tower constructed in the 15th century.
Among Antwerp's historic churches is the late Gothic St. Paul's Church ( Sint-Pauluskerk), which is home to paintings by Van Dyck, Rubens, and Jordaens, and the country's largest Gothic cathedral, the Cathedral of Our Lady, which was begun in 1352.

More on Belgium
Welcome to Belgium! We're delighted that you have chosen us for your next holiday.
Discover our surprising regions and let yourself be seduced by all Wallonia, Brussels & Flanders has to offer.
Select your destination and start your discovery. Have a great trip!
VISITWallonia
Avenue Comte de Smet de Nayer 14, 5000 Namur
+ 32 81 84 41 00
visitwallonia.be
Tourist Office for Flanders - Brussels
Grasmarkt 61, 1000 Brussel
+32 2 504 03 00
www.visitflanders.com
Brussels Tourist Agency
Rue Royale 2-4, 1000 Bruxelles
+32 2 513 89 40
visit.brussels
You will be redirected to your dashboard shortly. We will also call you back in 24 hrs .
32 Places To Visit In Belgium That Make The Country Irresistible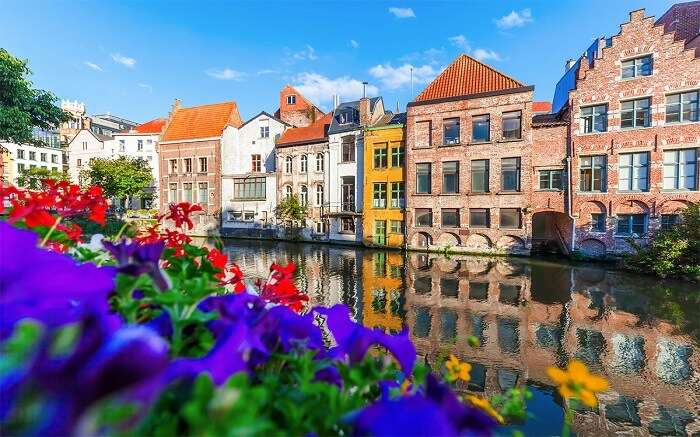 23 Mar 2023
Belgium is all about a harmonious fusion of old world charm and modern culture and trends. From vintage castles, mansions, museums, and churches to modern architecture, shopping arcades and amusements; this European gem is the home of many spectacular places for all types of vacationers. And if you are planning a trip to this mesmeric country, here's a complete list of places to visit in Belgium . You may get spoiled by choices while going through the list, so it is recommended to pick the places as per the time in hand, vacation itinerary, and the like. Promising to add a zest of fun and excitement to your journey, these places in Belgium will surely make it a memorable affair while you're in the beautiful country of Belgium.
32 Places To Visit In Belgium
Wondering which are the best places to visit in Belgium ? Check out our list of famous places that you should visit while you are exploring Belgium. Keep scrolling down and read along! Don't forget to include the places you like in your itinerary for a truly cherishable trip to Belgium.
Brussels : Nightlife And Shopping
Bruges : Palaces And Canals
Ghent : Art And Serenity
Antwerp : The Food Capital
Ardennes : Hills, Forests, And Adventures
Tournai : World's Most Beautiful Cathedrals
Dinant : Caves And Wildlife
Leuven : Best Belgian Breweries
Mons : Peace And Relaxation
Mechelen : Cruises And Picnics
De Haan : Picturesque Beaches
Durbuy : Blooming Rhododendrons And Poppies
Arlon : A Battle-Scarred History
Beguinage : A Lost World Made By Women
Genk : Parks And Nature Reserves
High Fens : Rare Flora And Faunas
Hoge Kempen National Park : Lakes And Pine Woods
Knokke-Heist : Unmatched Scenic Beauty
Kortrijk : A Shopper's Paradise
La Roche-en-Ardenne : Famous Museums & Animal Parks
Liege : Hep Nightlife Scenes
Malmedy : Hiking And Biking Trails
Zwin : A Birdwatcher's Heaven
Ostend : Beaches And Gothic Architecture
Rochefort : World Famous Cafes
Namur : Medieval Forts And Rivers
Spa : Birthplace Of Thermal Springs
Bastogne : Home Of The Wood Of Peace
Hasselt : A Classic Destination
Ypres : For War Memorials
Charleroi : Observe Rich Art
Meuse Valley : A Lush Place
1. Brussels: Nightlife And Shopping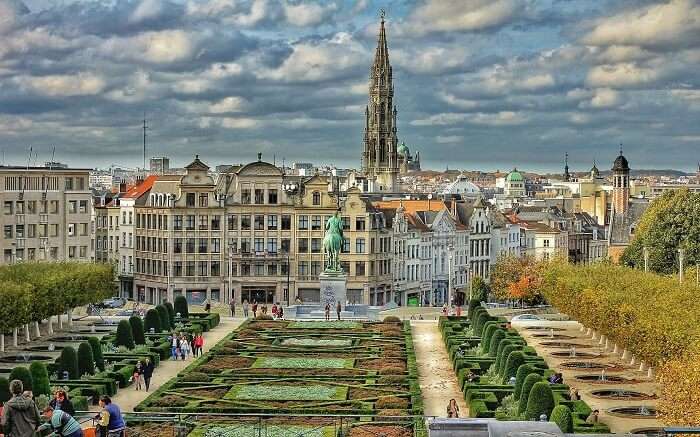 Image Source
Being the capital city and one of the largest hubs of great museums, palaces, chapels and mansions, Brussels is one of the most popular places to visit in Belgium. This is also the administrative capital of the European Union and pulls tourists from different parts of the world. Famous for world-class cafes, pubs, restaurants and shopping arcades – Brussels offers a plethora of options to make your European holiday enchanting and exciting. There are various Brussels sightseeing options in Belgium , for all kinds of travelers that won't disappoint!
Tourist Attractions: Grand Palace, Atomium, Mini Europe, Mannekin Pis and Tintin Museum Where To Stay: Hotel Amigo, NH Brussels Grand Place Arenberg, Radisson Blu Royal, Floris Ustel Midi
Must Read: 10 Things To Do In Belgium That Are Fun, Delicious, and Delightful
Europe Holiday Packages On TravelTriangle

Magnificent Switzerland Holiday 6D/5N Package @ Rs 69,999
Plan your trip today!

Magnificent Europe Tour 7D/6N Package @ Rs 70,975
Get quotes from multiple travel experts.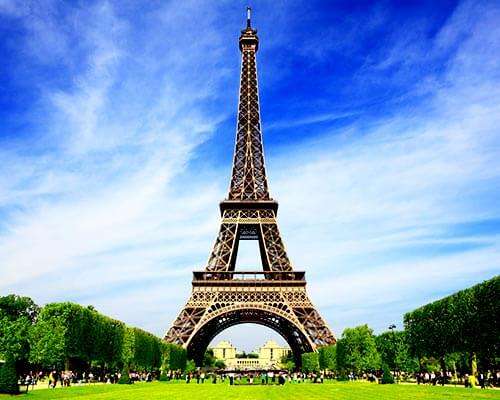 France & Switzerland Tour Package 8D/7N @ Rs 90,000
Compare & customize quotes before booking.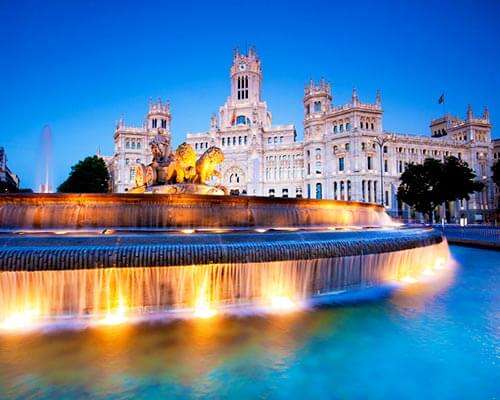 Scintillating Spain & Portugal Tour 11D/10N @ Rs 101,150
Have Questions? Talk to our travel experts today.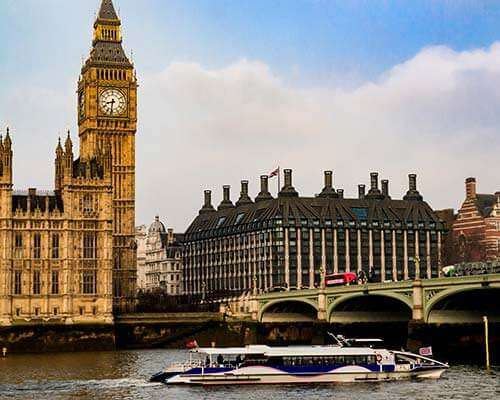 6 Country Europe Tour Package 12D/11N @ Rs 118,650
Best prices guaranteed. EMI option available.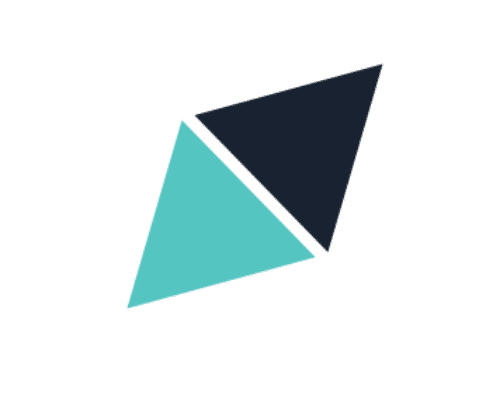 See more at TRAVELTRIANGLE.COM
2. Bruges: Palaces And Canals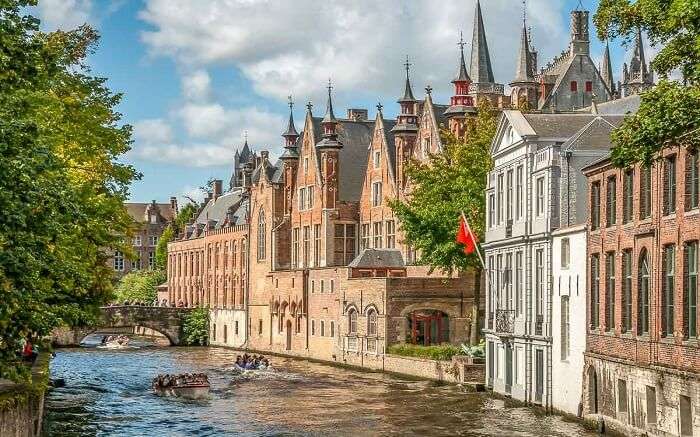 One of the most stunning Belgium sightseeing spot is Bruges- a picturesque medieval town, gifted with historic buildings and canals. The gorgeous palaces, chapels, and mansions of Bruges reflect the history of Vikings while the network of canals, flowing through the city has helped Bruges to earn the title of 'Venice of the North'. Explore this quaint town in bicycles, enjoy boating in the canal or indulge with Belgian hot chocolate at any of the quaint cafes of the main market square. It is without a doubt the best city to stay in Belgium .
Tourist Attractions: Grote Market Square, Belfry Tower, and Gruuthuse Mansion Where To Stay: Hotel Aragon, Floris Hotel, and Golden Tulip Hotel de' Medici
3. Ghent: Art And Serenity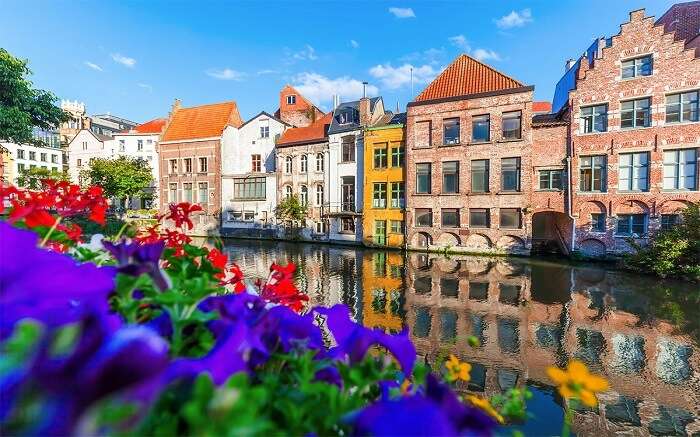 Another one among the famous places in Belgium is Ghent – a quaint and serene town, endowed with historical sites, medieval structures, and churches of Belgium . Famous for housing the Alter Piece; Ghent is a favorite destination for art lovers and history buffs, but the quietude and charm of the place attract travelers of all kinds. This surreal blend of history and laid back vibes make this town one of the most unique places to visit in Belgium .
Tourist Attractions: St Bavo's Cathedral with Alter Piece located inside, Gravensteen, Belfry of Ghent and Saint Nicholas Church Where To Stay: Ghent Marriott, Golden Tulip Hotel de' Medici and Hotel Gravensteen
Suggested Read: Belgium Nightlife: 5 Ways To Enliven The Dark Hours
4. Antwerp: The Food Capital
A true Belgian delight; Antwerp is all about culture, art, and traditions. On one hand, it showcases vintage architectural wonders and palaces but on the other, there are some modern and trendy art galleries and museums. Known for great food and beer, this place is the diamond district of Belgium as more than 70% of the world's uncut diamonds are traded here. It is one of the best places to visit in Belgium in 2 days .
Tourist Attractions: Plantin Moretus Museum, Rubenshuis, Museum aan de Stroom and Antwerp Zoo. Where To Stay: Leonardo Hotel, Ibis Hotel and TRYP by Wyndham
5. Ardennes: Hills, Forests, And Adventures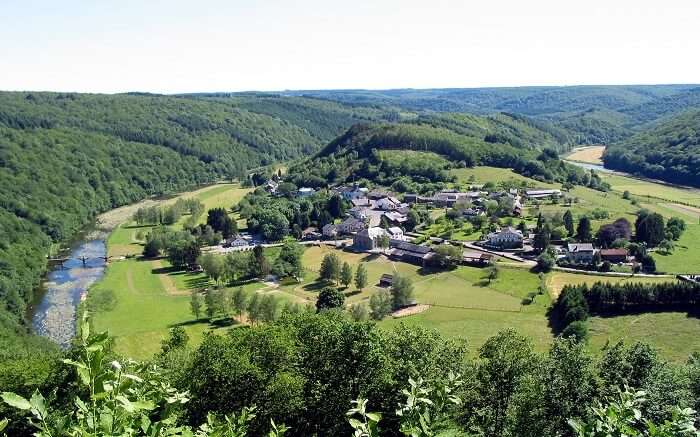 Ardennes is a hilly destination and one of the most favorite places in Belgium, among adventure enthusiasts. Ideal for trekking, camping, and biking, Ardennes boasts of thick forests, cliffs, caves and is known for Belgium wildlife and wild animals like lynx, deer, and wild boar. If adventure is what you are seeking on your trip to Belgium, you won't be disappointed after your visit to Ardennes. It is one of the best places to visit in Belgium in one day .
Tourist Attractions: Castle of Bouillon, Han-sur-Lesse and Labyrinth of Barvaux Where To Stay: Azur en, Hotel Eden and Hotel des
Suggested Read: 12 Grand Castles In Belgium All Architecture Admirers Should Visit
6. Tournai: World's Most Beautiful Cathedrals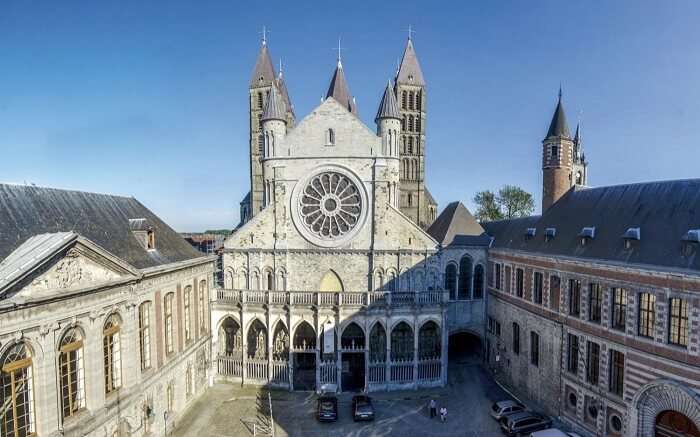 Located at the Belgium-France border, this buzzing city houses one of the most beautiful cathedrals of the world. This is a hub of art and sculptures and allures art lovers and history buffs throughout the year. As one of the most beautiful places to visit in Belgium, Tournai has some great museums and art galleries and the town Belfry is the oldest in the country. If you are looking for interesting things to see in Belgium then do head to this place. 
Tourist Attractions: The Belfry of Tournai, Folklore Museum, Musee d'Histoire Naturelle et Vivarium and Notre Dame Cathedral in Tournai Where To Stay: Hotel Cathedral, D' Alcantara and Floreal le Panoramique
7. Dinant: Caves And Wildlife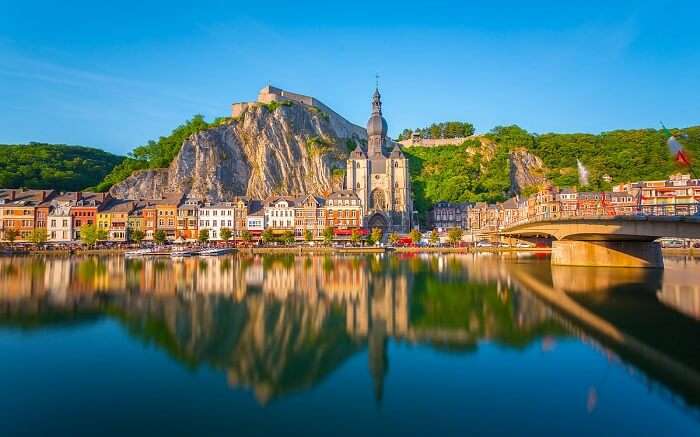 Situated by the banks of Meuse River in the Namur province of Belgium, Dinant is another tourist delight and one of the finest places to see in Belgium. Home to famous natural caves, caverns of Europe such as Caves of Han and the Grotto of Dinant, as well as the best national parks in Belgium , Dinant has a rich wildlife reserve with exotic biodiversity. Located 65 km from Brussels, Dinant is one of the must-visit Brussels sightseeing spot.
Tourist Attractions: Collegiate Church of Notre Dame, La Citadelle, Charles-de-Gaulle Bridge, Adolphe Sax Statue and Parc de Furfooz Where To Stay: La Panama, Hotel Ibis and Castel-de-pont-a-Lesse
Suggested Read:  15 Festivals In Belgium: Extravaganzas That Will Fill Your Life With Unparalleled Jubilance
8. Leuven: Best Belgian Breweries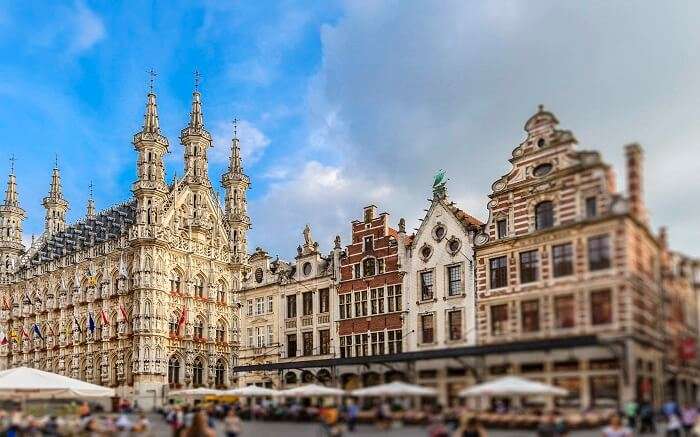 Flaunting of best Belgian breweries, Leuven is another name in the list of best places to see in Belgium . This picturesque place is famous for happening marketplaces, street side pubs, cafes and churches, and galleries, like any other Belgian city, but being home to world's oldest Catholic university, Leuven always buzzes with a student population from different parts of the world. Here, you will also find one of the best hotels in Belgium .
Tourist Attractions: Town Hall, Botanical Garden Kruidtuin, University Library & Bell Tower and Saint Peter's Church. Where To Stay: Pentahotel, Park Inn by Radisson and Hotel Ibis
9. Mons: Peace And Relaxation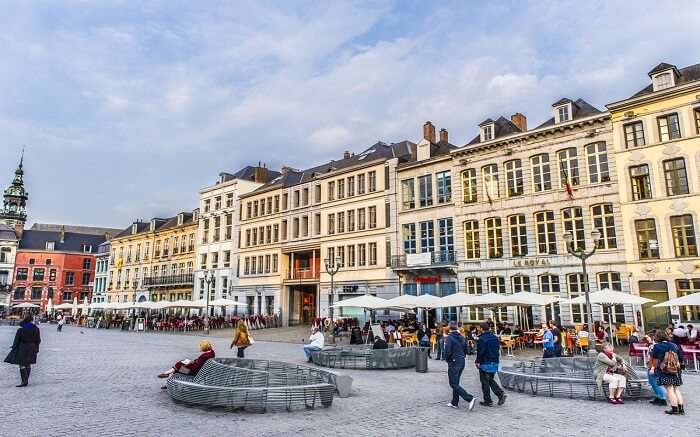 The list of best places to see in Belgium also features Mons. A large cobblestone square, Grand Palace, and age-old town hall await every tourist at Mons- the picturesque capital of Hainaut province of Belgium. But what attracts and fascinates every traveler here is the sweet tunes of town's magnificent Belfry bells, perched at the top of 270 feet tower. This is one of the best Belgium tourist places .
Tourist Attractions: Collegiate Church of Sainte-Waudru, Jacques Du Broeucq alabaster statues and Van Gogh House Where To Stay: Congress Hotel Mons Van der valk, Hotel Dream and Hotel Lido
Suggested Read: 10 Best Belgium Beach Resorts For An Elegant Holiday Experience!
10. Mechelen: Cruises And Picnics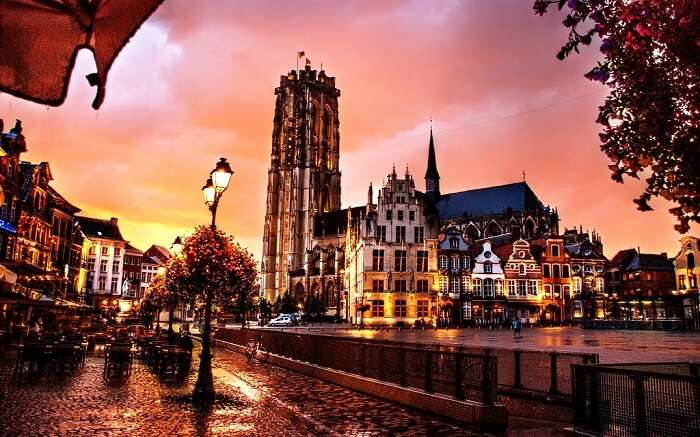 Located close to Antwerp is Mechelen – another lively and picturesque place in Belgium. Mechelen is unique in many ways. Famous for boat tours and brewery tours; one can climb the massive tower of St. Rombout Cathedral to enjoy the breath-taking view of the Antwerp port or visit the world-famous Carillion School, which is famous for lessons on the complex instrument of bells. It will be really unfair if we don't mention Mechelen while talking about the best places to visit in Belgium. 
Tourist Attractions: Brouwerij Het Anker, St. Rumbold's Cathedral and Provincial Groendomein Vrijbroekpark Where To Stay: Hotel Hobbit, Best Western, and NH Mechelen
11. De Haan: Picturesque Beaches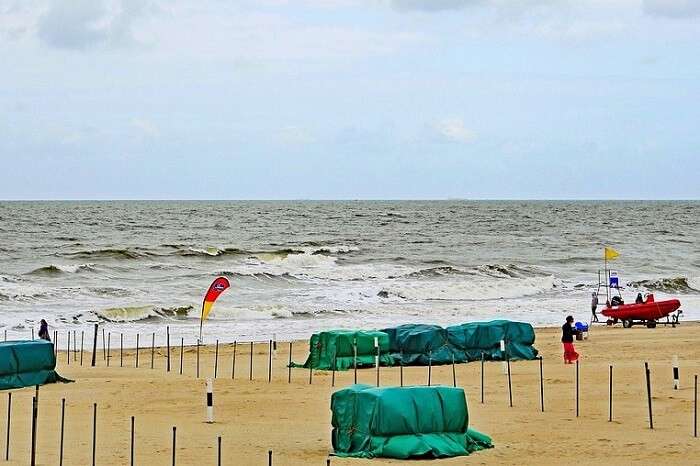 Image Source Located in northern Belgium, De Haan is a picturesque village situated on the shores. It is most popular for its 11-kilometer-long beach which is lined with great restaurants, chic cafes, exciting bars, and some of the best homestays in Belgium . But it's fine white sand and amazing nightlife aren't all that it boasts. Couples also love to roam around in the streets of Concessie, which is another enjoyable part of this seaside town and makes it one of the most romantic places to visit in Belgium .
The stunning Belle Époque buildings and the grand town hall are something you must not miss out on when you're here. When here, one can also try hiking and biking on the enormous sand dunes or visit the exciting amusement parks.
Tourist Attractions: Belle Époque, Villa Savoyarde, Spioenkop, La Potinière, Astridpark, De Grote Schamele Weecke, and more Where To Stay: Hotel Astel, Hotel Rubens, B&B Yaca, Villa Verde, and more.
Suggested Read: 15 Offbeat Destinations In Europe That Are Straight Out Of Fairy Tales
12. Durbuy: Blooming Rhododendrons And Poppies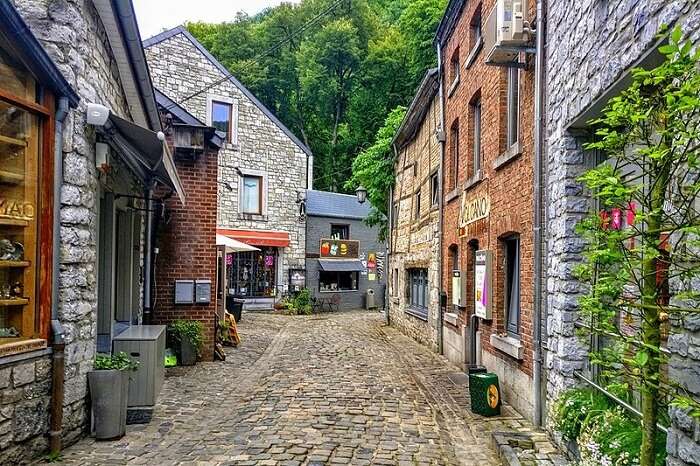 Image Source Are you still looking for Belgium tourist places ? Tucked away deep inside a serene valley bordered by lush woods, Durbuy always manages to enchant its visitors with its old world charm and its rustic cobblestone lanes and cottages draped in various kinds of flowers like rhododendron, ivy vines, and poppy blooms. The streets and lanes all appear to be laid out across the town in the form of a spider web, making it one of the best places in Belgium for photographers and artists.
The locals are super friendly and might just treat you to a hearty mug of chilled beer once you set foot into the hamlet. Though the town is an ideal place to lay low if you wish to get away from urbanization, don't be fooled by its laid back and rural vibes. You're sure to find a number of fine-dining restaurants and craft boutiques here to keep you busy.
Tourist Attractions: Rue des Récollets, Amblève, Topiary Park, Cave Comblain, and more Where To Stay: Azur En Ardenne, Hotel des Comtes, La Lisiere, Hotel Victoria, and more
13. Arlon: A Battle-Scarred History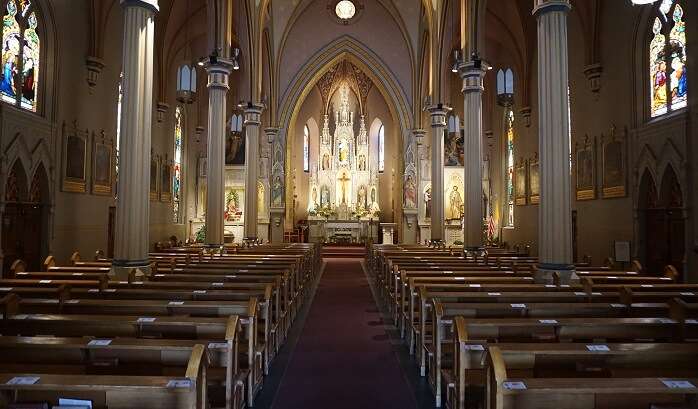 Another popular Belgium tourist attractions is Arlon. Arlon is densely populated. It is close to the borders of Luxembourg and France. It is on the crossroads of multiple invaders. There were Celtic, Roman, and Gaullish settlements in the area, and all the fascinating traces of the rich past can be found in Arlon. The Archaeological Museum of Arlon is one of the best places to go in Belgium with your family and friends. This is amoungst the most popular Belgium tourist attractions .
Tourist Attractions: St Donatus' Church Where To Stay: La ferme d'a Yaaz, Van Der Valk Luxembourg Arlon
Suggested Read: Safaris In Belgium: Top 7 Safari Parks For A Wildlife Getaway with Your Family
14. Beguinage: A Lost World Made By Women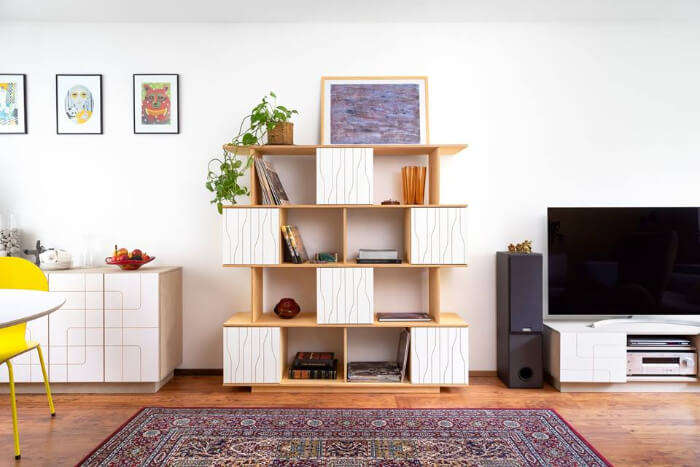 In the thirteenth century, women who wanted to dedicate their entire lives to God without completely withdrawing from the world founded the Beguinages, which were communities created to meet their physical and spiritual needs. They were called the Beguines. This is the history of Beguinage. There are 13 Flemish Beguinages. They are surrounded by ditches and walls.
Tourist Attractions: Princely Beguinage Ten Wijngaerde Where To Stay:  Thon Hotel Bristol Stephanie, 9 Hotel Central, The Dominican
15. Genk: Parks And Nature Reserves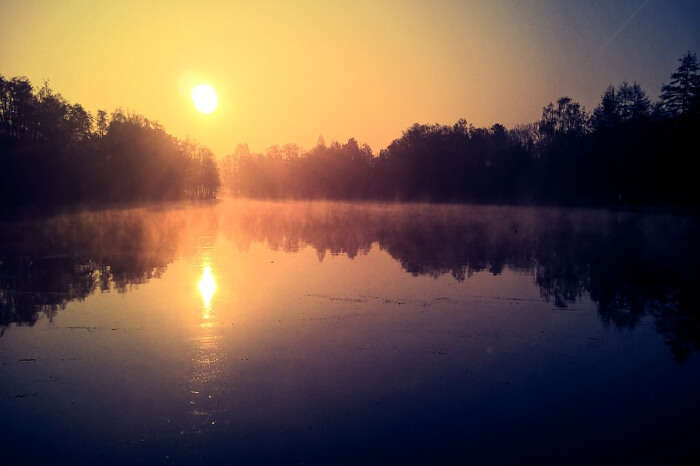 Genk is one of the best places to visit in Belgium in 2 days. The city is located in the Belgian province of Limburg near Hasselt boasting great garden-city design, marshland nature reserves, quiet park and more. You can learn about coal mining in Genk by visiting one of the old coal mines such as André Dumont or take a hike or a bike ride through beautiful Hoge Kempen National Park while in the city. You can also explore the distinctive outdoor museum of sundials at the Genk Sundial Park, which provides one of a kind experience to its visitors.
Tourist Attractions: Bokrijk, an open-air museum, Hoge Kempen National Park, old coalmines of Andre Dumont Where To Stay: Carbon hotel, Hotel Ecu and Green hotel
Suggested Read: 10 Places For Shopping In Brussels That Will Give You A Shopper's High
16. High Fens (Eifel Nature Park): Rare Flora And Fauna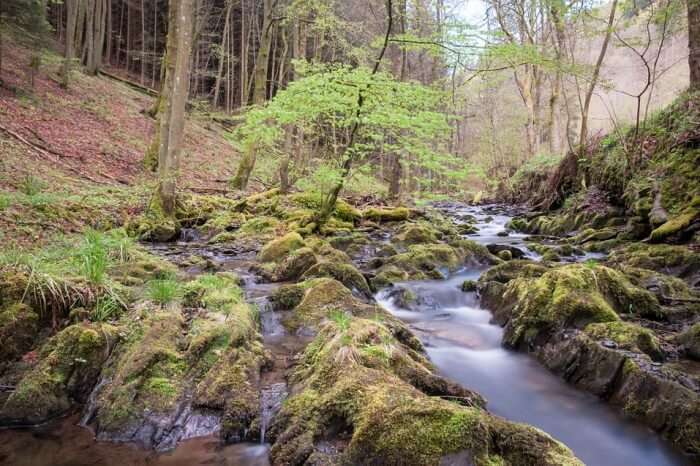 High Fens – Eifel Nature Park also called North Eifel Nature Park is truly a heaven for nature lovers. The beautiful landscape is home to rare species of flora and fauna, deep valleys, forested mountain sides. If you are lucky, you can spot the very rare violet copper butterfly, starling-sized dipper which is easily recognisable by its white breast and its liking for swimming and diving. This is the best amongst Belgium tourist attractions . 
Tourist Attractions: Rare species of flora and fauna, rolling mountains, picturesque villages. Where To Stay: Hôtel des Bains & Wellness, Hostel Malmedy – Youth Hostel and Au Chat'rme des Blanches Pierres
17. Hoge Kempen National Park: Lakes And Pine Woods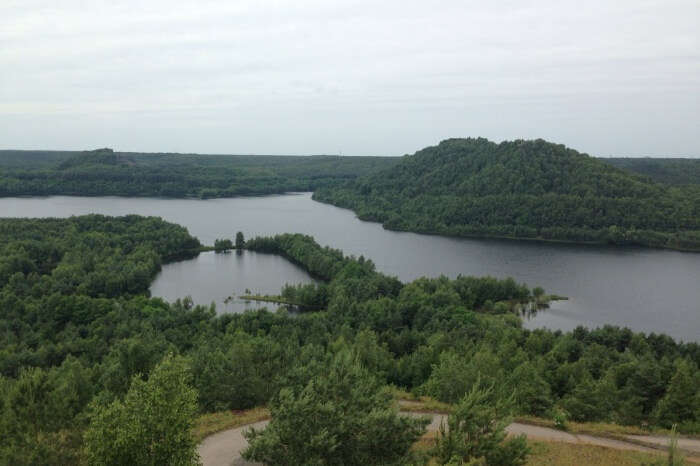 Another stunning Belgium tourist places is Hoge Kempen National Park, which is the first National Park in Belgium located between Genk and the Meuse River Valley. Spread over 5,000 acres, the park consists of big lakes, large pine woods and purple flowering heathland. The highest spot in the park offers a mesmerizing view. The park is home to many rare and special animals such as roe deer, the slippery snake, the swallowtail butterfly and the European beewolf living in the natural habitat.
Tourist Attractions: Information kiosks, Cafeterias, Hiking and mountain biking Where To Stay: Arte Hotel, Hotel Atlantis and Hashotel
Suggested Read: 10 Beaches In Belgium That You Must Visit On Your Trip
18. Knokke-Heist: Unmatched Scenic Beauty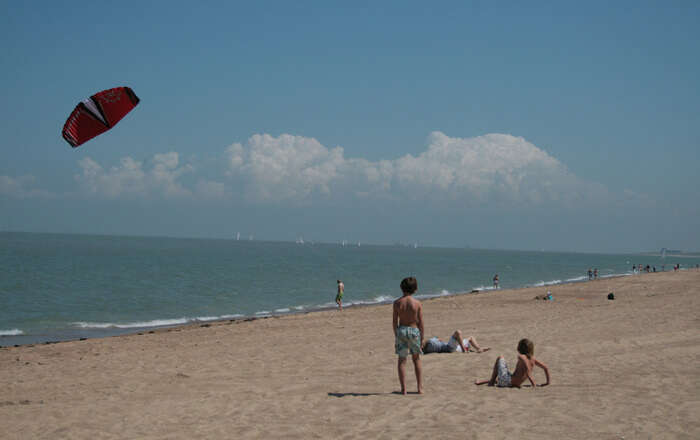 Knokke-Heist is one of the best places to visit in Belgium in one day. It is a small Belgian coastal town located on the edge of the famous Zwin Nature Park. The place attracts tourists from all across the world as the place boasts of its scenic beauty and rich history. It's known for the surrounding mudflats and gorgeous sandy beach. The most commonly seen birds are oystercatchers and storks. It is also known for The For Freedom Museum which describes the history of the area during the Second World War.
Tourist Attractions: For Freedom Museum, The Zwin, Zwin Nature Park and Knokke Casino Where To Stay: Hotel Adagio, Villa Verdi, Manoir du Dragon and Hotel Binnenhof
19. Kortrijk: A Shopper's Paradise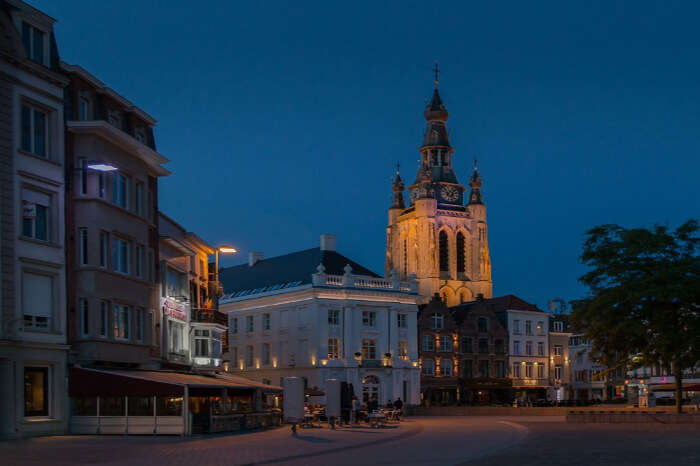 Kortrijk is a beautiful city in Flanders, the northern part of Belgium. The city has a wonderful historic center with several market squares, churches, colourful shopping areas and also a creative area. There are these towers called the Broeltowers which are the icons of Kortrijk and make up some of the top places to visit in Belgium. You can visit many restaurants, lunchrooms and coffee places to try some amazing dishes. Also, they have really good vegetarian options.
Tourist Attractions: Broel Towers, Lys and béguinage of Courtrai Where To Stay: Hotel Messeyne, Parkhotel, Bootel Ahoi
Suggested Read: Belgium In June: Explore The Best Of This European Land With This Mini Guide
20. La Roche-en-Ardenne: Famous Museums And Animal Parks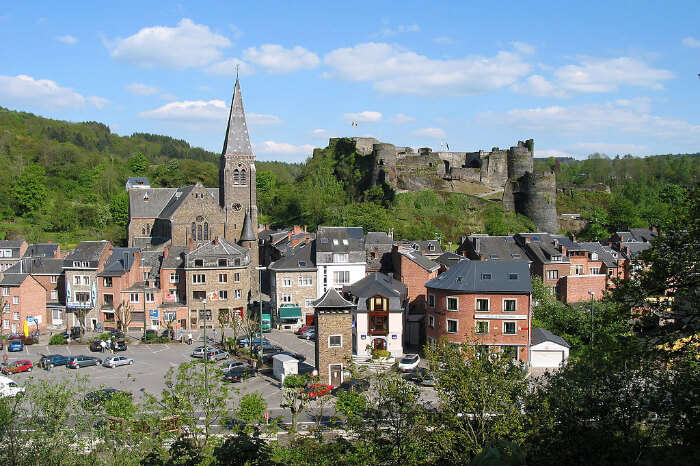 Located about 70 kilometers from Liege on the banks of the River Ourthe, La Roche-en-Ardenne is an attractive little town offering you with a variety of things to do and Belgium attractions. Make sure to visit the WWII Museum, Ardenne Ham Museum and the Pottery too to learn about the region's tradition and history. You can find red deer, wild boar, pheasants, wild sheep, wolves, and many farm animals in the famous animal park on the Deister plateau.
Tourist Attractions: Ourthe, Lake Nisramont, Parc Chlorophylle, WWi Museum Where To Stay: Hotel Beau Rivage, Domaine de I'Alu and Hotel Les Arcades
21. Liege: Hep Nightlife Scenes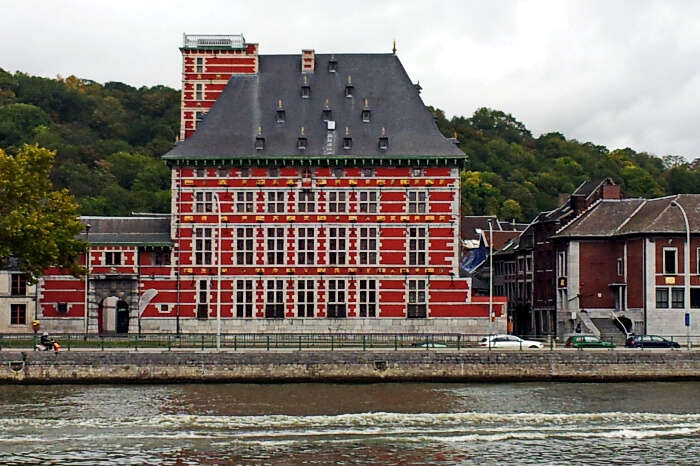 Liege is the third largest city in Belgium with vibrant nightlife, lip-smacking food, and drink. The place is known for top class museums and churches as well as art galleries that makes Liege one of the must-visit places for architecture and art lovers in Belgium. Take a long walk through the Coteaux de la Citadelle or enjoy a picnic at the beautifully maintained Parc de la Boverie. To add more charm to your visit to this city, make sure to plan your trip to Liege during festival time. Your one trip during the many different festivals celebrated throughout the year, will tempt you back every now and then.
Tourist Attractions: Montagne de Bueren, Curtius Museum, Parc de la Boverie and St. Paul's Cathedral in Liege Where To Stay: Hotel Neuvice, Amosa, Smartflats and Crowne Plaza Liège
Suggested Read: 10 Things To Do In Belgium That Are Fun, Delicious, and Delightful
22. Malmedy: Hiking And Biking Trails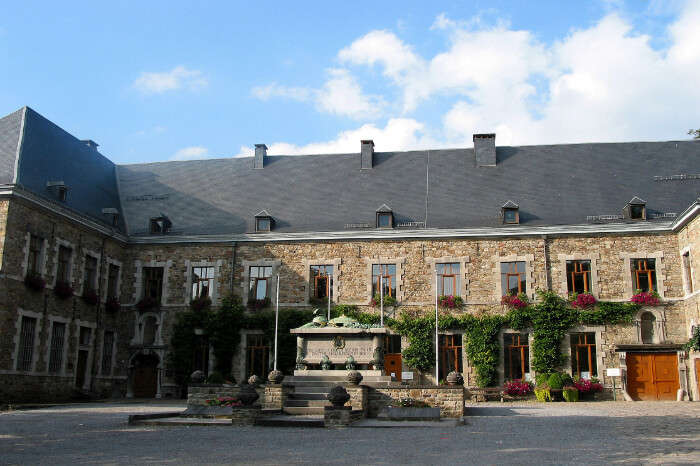 Malmedy, a small town in the Belgian province of Liege offers many key attractions for its visitors. The Baugnez 44 Historical Centre attributes the history of Malmedy during the Second World War. Another historical place, Malmundarium covers the history and culture of the area. All around Malmedy you have got opportunities for hiking and biking trails that will offer spectacular views of the area as you walk past the flowering fields.
Tourist Attractions: Baugnez 44 Historical Centre, Malmundarium and hiking around the city Where To Stay: La Ferme du Pere Eugene, Hotel La Forge, Terrasses de Malmedy 2 and L'Horizon Chambres, Studios & Apparts
23. Zwin: A Birdwatcher's Heaven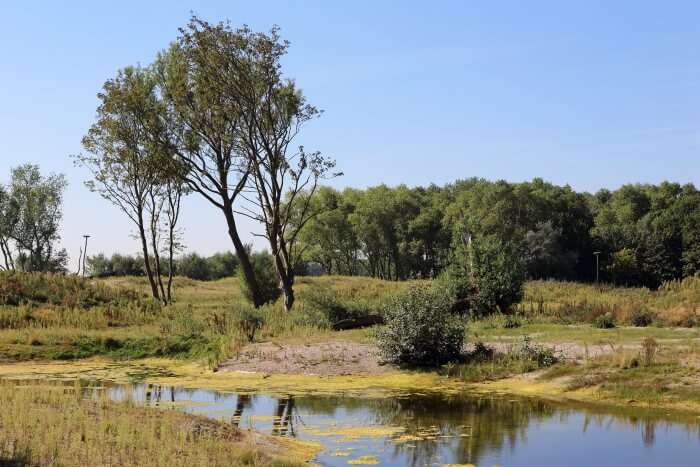 Zwin is an enchanting nature reserve on the border between Belgium and the Netherlands. It was established in 1952 with its bigger part in Belgium(158 hectares) and a smaller portion in Netherlands.(33 hectares) The reserve is famous for its varied diversity of salt-resistant plants, including a huge number of bird species. It is truly a haven for bird watchers. The reserve has a small zoo as well that houses a number of captivating domestic birds.
Tourist Attractions: Zwin nature park, Zoo Where To Stay: Hotel St. Pol, Strandhotel Cadzand and Ibis Budget Knokke
Suggested Read: Belgium Travel – Cockpit Of Europe: A Mini Guide To The Unique Side Of Belgium
24. Ostend: Beaches And Gothic Architecture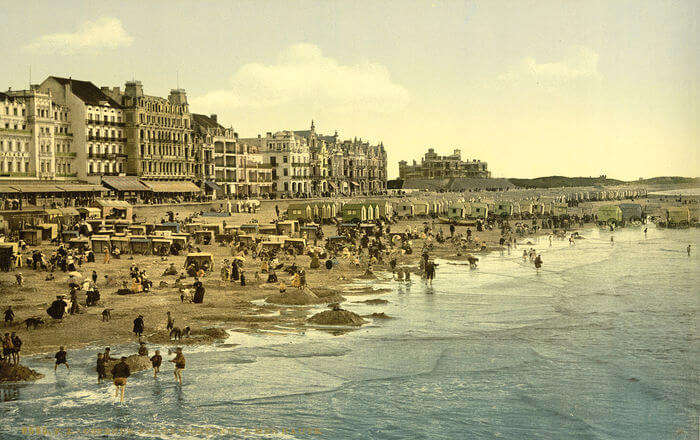 One of the largest cities on the Belgian coast, Ostend has gained popularity because of its port's strategic location. It is one of Belgium's favourite tourist destinations famous for its gorgeous sandy beaches, Atlantic Wall Open Air Museum and more. The best way to know the city well is by walking through the narrow streets around Het Visschersplein while enjoying the local produce at the local markets. Don't forget to notice the magnificent architecture of the Gothic Church of St Petrus and St Paulus.
Tourist Attractions: Atlantic Wall Open Air Museum, Gothic Church of St Petrus and Fort Napolean Where To Stay: Hotel Botteltje, Hotel Monarc and Otia Bij Nacht
25. Rochefort: World Famous Cafes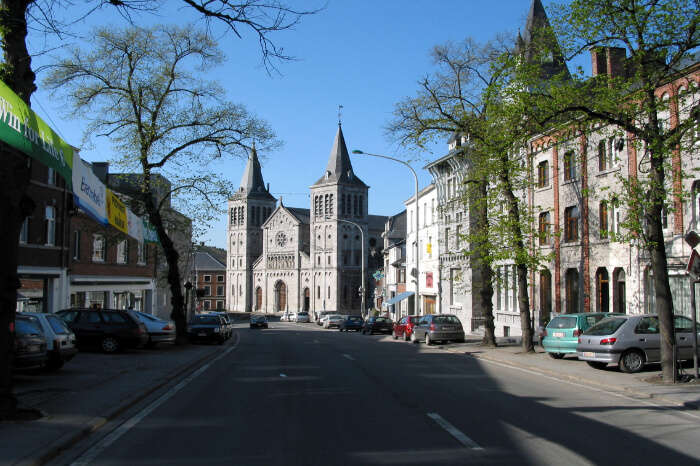 Rochefort is a mesmerizing city in the Belgian province which is famous for its many shops and cafes, top class churches. There is a lesser-known gem of a cave system in the city. It is an easy to explore city with almost everything on the main street. known variously as Rue de Behogne, Place Roi Albert 1er and Rue Jacquet. Along the way you will walk past a number of cafes where you can taste Rochefort's famous Trappist beer.
Tourist Attractions: Domain of the caves of Han, Lessee and Veves castle Where To Stay: Hotel Le Limbourg, La Fayette hotel and Hotel La Malle Poste
Suggested Read: Gorgeous Places To Visit In Europe In January On A Dream Vacay
26. Namur: Medieval Forts And Rivers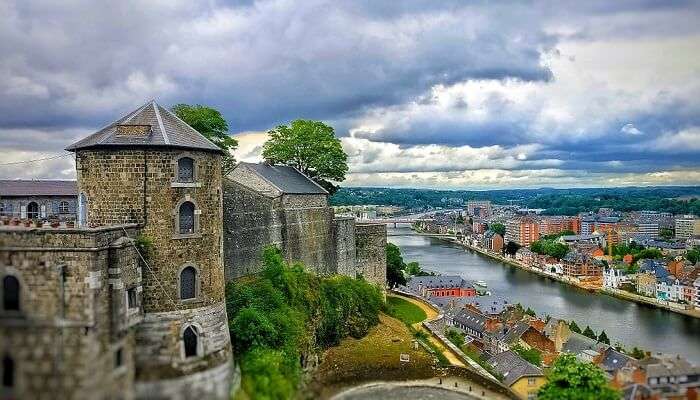 Image Source Sandwiched at the confluence of the two serene rivers of Meuse and Sambre, Namur is famous for its high rise citadel that sits overlooking the city and gives it its fame. Namus is, without a doubt, one of the most beautiful places in Belgium owing to this medieval fortress as well as the warm smiles of its people you will be greeted with here everyday. While this citadel was once Europe's mightiest fortress, it now lies sombre and still, but is still capable of drawing in tourists from far and wide courtesy its oozing charm and overwhelming outlook.
It's beauty is even compared to that of the many world famous castles in Bruges . Adorned with splendid gardens, offering breathtaking views of the rivers and the city beyond, and bearing a dashing bronze statue of an enormous turtle, this citadel is one of its kind in all of Europe.
Tourist Attractions: Rue de Fer, Hôtel de Gaiffier d'Hestroy, Museum of Ancient Art, Cathedral of Saint Aubain, Diocesan Museum, St. Loup Church Where To Stay: Ibis Namur Centre, Hotel Beauregard, Hotel Les Tanneurs de Namur, Château de Namur
27. Spa: Birthplace Of Thermal Springs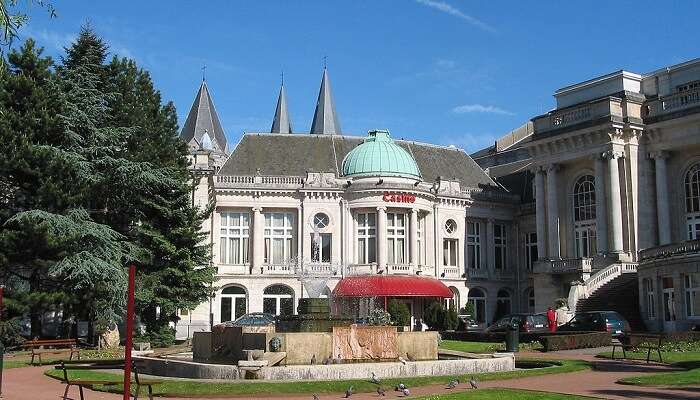 Image Source Tucked in a serene valley in the Ardennes mountains, Spa is a beautiful town in Belgium that is popular for its mineral springs as well as the fact that the word "spa" actually comes from here. Other than being the birthplace of spa, it is one of the best places to visit in Belgium also because of the annual Belgian Grand Prix that is held right in the village next door – Francorchamps. It's also the origin of the famous mineral water brand Spa that is exported all across the world from here.
Tourist Attractions: Musée de la Ville d'Eaux, Church of Notre Dame, St. Remacle Church, Thermes de Spa Where To Stay: Radisson Blu Palace Hotel Spa, Radisson Blu Balmoral Hotel, Manoir de Lébioles, Villa Des Fleurs
Suggested Read: 5 Great Things To Do In Europe In December That You Have Only Imagined About
28. Bastogne: Home Of The Wood Of Peace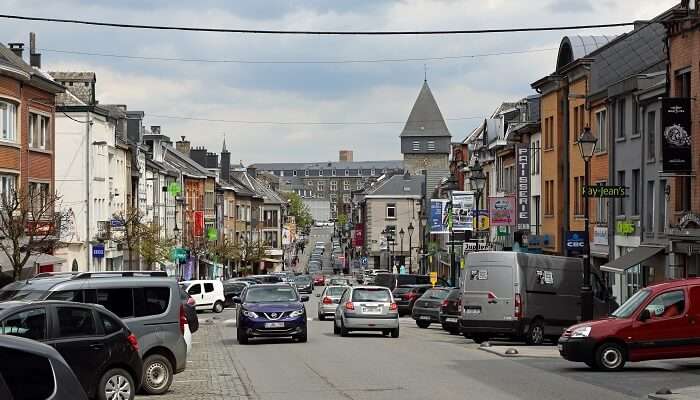 Image Source This tiny yet charming town in Belgium is located very close to the Luxembourg border and is a great spot for patriots and history lovers. It is the very place where many American soldiers had died one of the biggest battles of WWII's – the "Battle of the Bulge". There are many unique memorials across the city that have been established to honour the fallen soldiers and their contribution in shaping this country to make it what it is today.
You must also visit the Wood of Peace dedicated to those American veterans, Belgian combatants, soldiers, and even civilians who had laid down their lives for Ardennes. A dense forest of over 4,000 trees planted to commemorate the 50th anniversary of that historic battle, this Wood of Peace is one of the best places to visit in Belgium courtesy of its unique design. The trees are laid out in the image of the UNICEF emblem that can only be seen from above.
Tourist Attractions: Grand Place, Sherman Tank, Mardasson Memorial, Wood of Peace Where To Stay: L' Ardenne Buissonière, Hotel Leo Station, Hotel Melba, Merceny Motel
29. Hasselt: A Classic Destination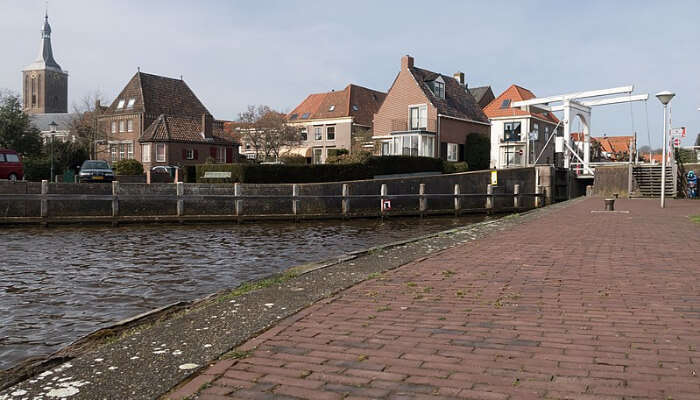 A flemish city and municipality, Hasselt is a classic destination known for housing the best villas in Belgium . The town is composed of several small communes like Spalbeek, Wimmertingen, Kuringen, and Stokrooie, and the hamlets of Kiewit and Rapertingen. You can also take a boat ride at the Demer river and Albert Canal, which runs through the town. Perhaps, this destination is one of the must see places in Belgium.
Tourist Attractions: Bokrijk, Japanese Garden, Plopsa Indoor Hasselt, Herkenrode Abbey Where To Stay: Villa Saporis, Grandes Villas de France, Radisson Blu Hotel
Suggested Read: 5 Things To Do In Europe In May To Make The Best Of Your Spring Holidays
30. Ypres: For War Memorials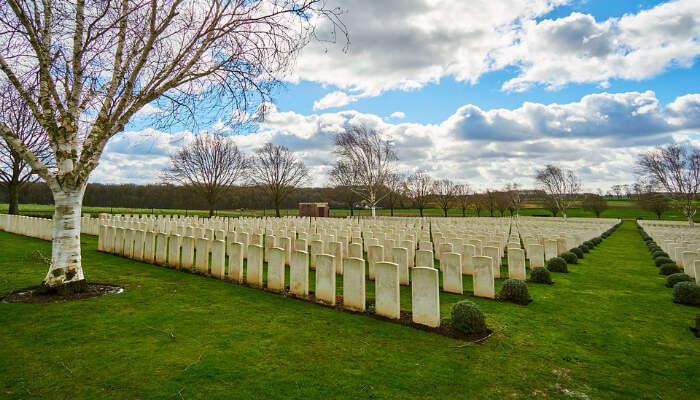 A major town located in the western Flanders region, Ypres is one of the must visit places in Belgium. The town represents the losses of World War 1 through the battlefields around, war museums and memorials. Many important buildings were destroyed during the war but the Belgians have managed to re-constuct a few including the famous St. Martin's Cathedral. It is one of the topmost places to visit in Belgium in Winter . You can also  enjoy multiple shopping destinations such as the Grote Markt.
Tourist Attractions: Cloth Hall, Bellewaerde, Menin Gate, Tyne Cot Where To Stay: Hotel Novotel Ieper Centrum Flanders Fields, Albion Hotel Ypres, Chez Paul
31. Charleroi: Observe Rich Art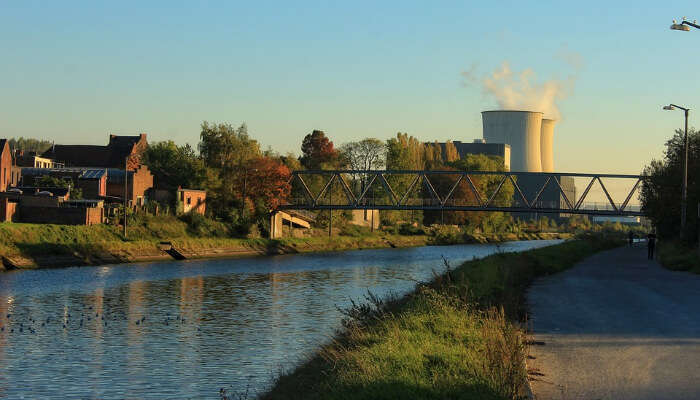 If you are wondering about where to visit in Belgium that's offbeat as well as modern, then the answer to your question is Charleroi, an art-centric modern city in Hainaut. You can explore an overload of art in the city including the City Hall, depicting Belgian folk songs, St. Christopher's Church signifying the old times of Mosaic, the Museum of Fine Arts showcasing the ultimate painting collection. In short, there are plenty of art places to explore. Once you are done with the art, you can actually taste the best of Belgian food at the restaurants and cafes – another form of cultural exploration.
Tourist Attractions: River Sambre, Bois du Cazier, Musée de la photographie à Charleroi, Aulne Abbey Where To Stay: Hotel ibis Charleroi Centre Gare, Auberge de Jeunesse de Charleroi, Class'Eco Charleroi
Suggested Read: 8 Spots For Scuba Diving In Europe That Will Blow Your Mind Away
32. Meuse Valley: A Lush Place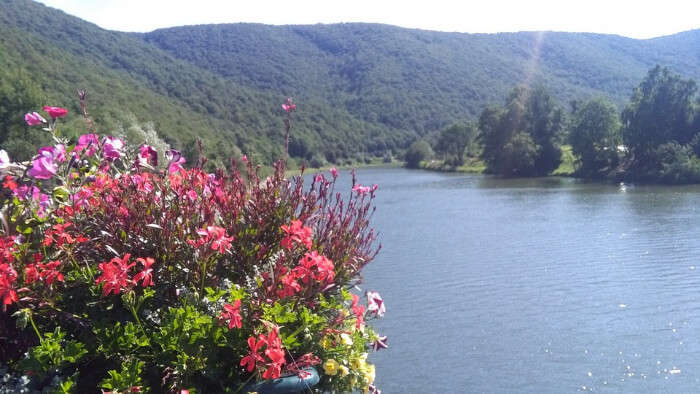 A valley in a European country means the very best of mother nature. Located in the southern part of Belgium, you can get the true feel of a lush countryside. Take a boating trip across the river, admire the beautiful scenery and visit the beautiful towns surrounded by dense forests. This is one of the most famous romantic places to visit in Belgium, located between the towns of Dinant and Namur. You can find the best places and opportunity for hiking, cycling and trekking in Belgium . 
Tourist Attractions: Argonne massif, Lorraine Regional Nature Park, Verdun historical sites Where To Stay: Le Château De Conde En Barrois, Chez John et Thomas, La Chambre d'Amis
Further Read: DO NOT Leave For Europe Without Packing These 8 Things
Belgium is the dream of many travelers and if you ever get to live it, make sure you see at least some of these incredible places to visit in Belgium that make the entire nation proud. Don't think much and book your trip to Belgium right away! And if you know of any more places to explore in this beautiful country, let us know in the comments section below.
For our editorial codes of conduct and copyright disclaimer, please click here .
Frequently Asked Questions About Places To Visit In Belgium
What is the best city to visit in Belgium?
All the cities in Belgium are awesome and have something unique to offer to travelers. From Brussels, Bruges, Ghent to Antwerp, every city in Belgium is worth visiting.
What is there to do in Belgium?
There is a range of fun and exciting things to do in Belgium, like eating fries and waffles and drink copious amounts of beer. You must go for sightseeing tours in Belgium to catch the true vibe of the place.
What can you see in Belgium in 3 days?
There's a lot you can do in Belgium on a 3 days trip. From touring the many cities like Brussels and Antwerp to engaging in the many popular activities like tasting craft beer and chocolates, visiting the museums and castles, cycling around the cities, hiking and trekking, and much more.
How many days do you need in Belgium?
A duration of 4 nights and 5 days is ideal for exploring the best of Belgium. However, the place is full of surprises and you won't regret staying even for a week in Belgium.
How long do you need in Brussels?
A duration of 2 days is enough for exploring places to visit in Belgium Brussels.
Where should I go for a weekend in Belgium?
If you're in Belgium, you can spend a weekend in Antwerp, Ghent, Hasselt, and Ypres.
Is it safe to go to Belgium?
Yes, it is safe to go to Belgium. If you're a solo female traveler, make sure you exercise caution and stay alert at all times. Carry a pepper spray or Swiss knife with you.
Looking To Book An International Holiday?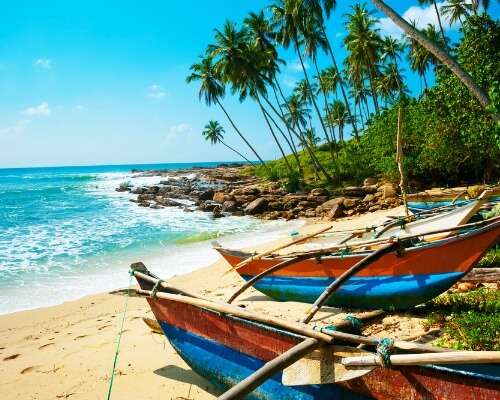 Trip to Sri Lanka at Rs 13,500/-
Plan Your Vacation Today!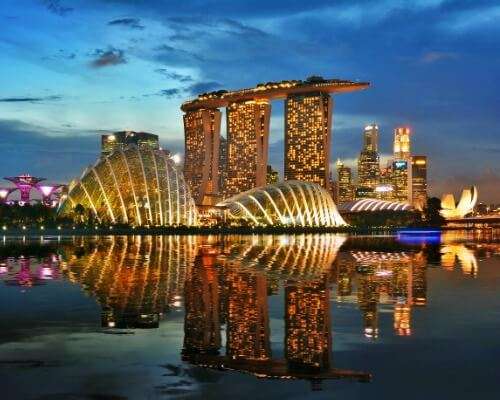 Trip to Singapore at Rs 20,499/-
Get Quotes From Local Experts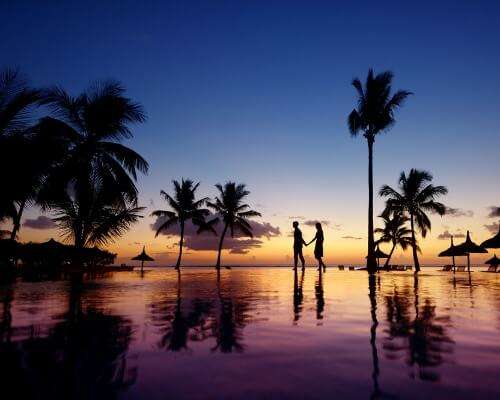 Mauritius Holiday Starting at Rs 65,000/-
Talk to Our Experts Today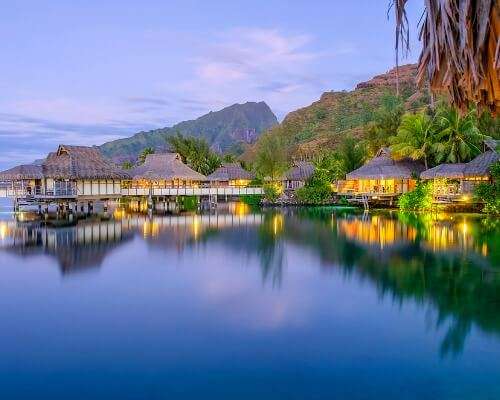 Maldives Honeymoon Trip at Rs 39,800/-
Pay with easy EMI Option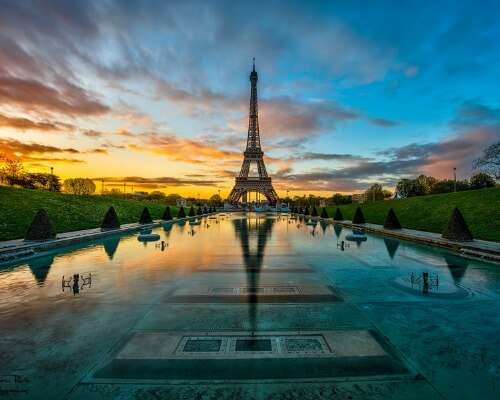 Europe Trip at Rs 89,999/-
All Inclusive Deals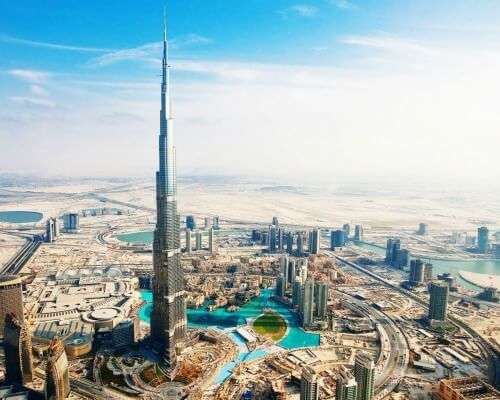 Vacation in Dubai at Rs 27,499/-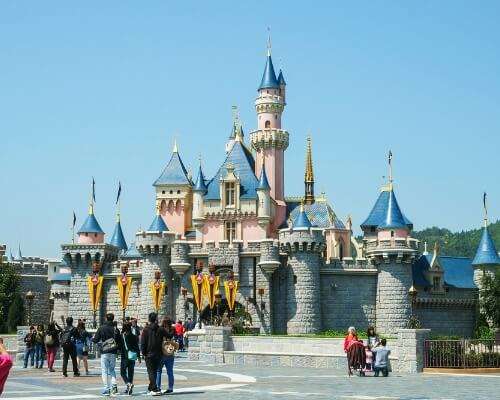 Hong Kong Holiday at Rs 24,999/-
Money Safe Guarantee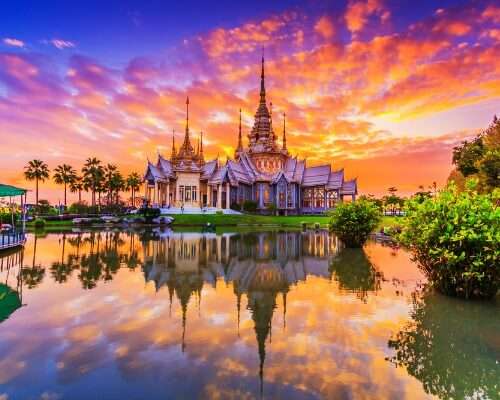 Thailand Holiday at Rs 7,999/-
Flights Excluded
People Also Read
Places To Visit In Austria Places To Visit In Netherlands Places To Visit In Denmark
Recent Posts
34 meilleurs lieux à visiter en Autriche en 2023 qui semblent tout droit sortis d'un livre d'images
Top 44 Amazing Places To Visit In Uttarakhand
12 Restaurants In Poland That Will Make You Fall In Love With Polish Cuisine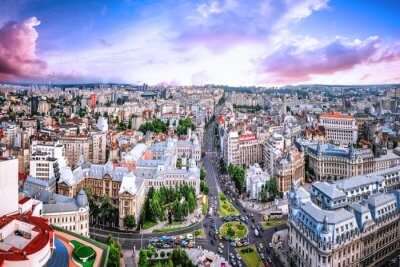 Summer In Bucharest: 10 Things To Do For A Refreshing & Rejuvenating Vacation In 2023!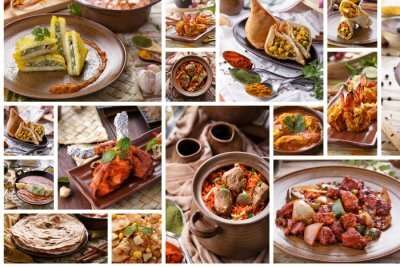 14 Indian Restaurants In Poland That Will Ensure A Savory Experience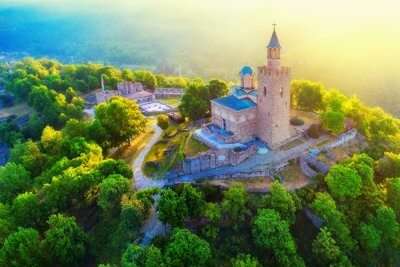 10 Stunning Castles In Bulgaria That Showcase It's Awesome History & Heritage
Trending Blogs
20 Mysterious Places In India To Visit In 2023 More Bizarre Than The Bermuda Triangle
10 Scariest Roads In India That Are A Driver's Nightmare
101 Places To Visit In India Before You Turn 30 in 2023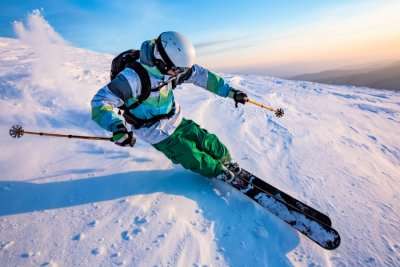 35 Exotic Places To Visit In December In India 2023 To Enjoy A Surreal Vacation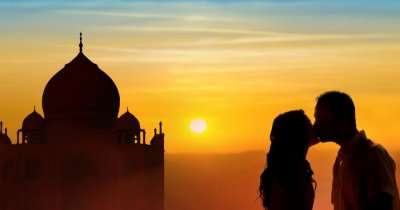 60 Best Honeymoon Destinations In India In 2023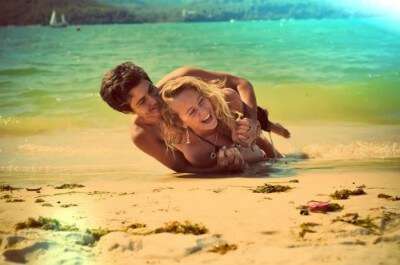 95 Best Honeymoon Destinations In The World In 2023 For A Romantic Escape!
Best Places To Visit In India By Month
Best places to visit outside india by month.
TravelTriangle
International
Europe » Belgium »
Tour Packages
Honeymoon Packages
Family Packages
Budget Tour Packages
Luxury Tour Packages
Adventure Tour Packages
Group Tour Packages
Maldives Tour Packages
Bali Tour Packages
Dubai Tour Packages
Singapore Tour Packages
Thailand Tour Packages
Europe Tour Packages
Sri Lanka Tour Packages
Tour Packages From Delhi
Tour Packages From Mumbai
Tour Packages From Bangalore
Tour Packages From Chennai
Tour Packages From Kolkata
Tour Packages From Hyderabad
Tour Packages From Ahmedabad
Thailand Tourism
Bali Tourism
Singapore Tourism
Maldives Tourism
Mauritius Tourism
Dubai Tourism
Europe Tourism
Hotels in Thailand
Hotels in Maldives
Hotels in Mauritius
Hotels in Bali
Hotels in Dubai
Hotels in Singapore
Hotels in Sri Lanka
Latest Headlines
English Edition Edition English 中文 (Chinese) 日本語 (Japanese)
Print Edition
More More Other Products from WSJ Buy Side from WSJ WSJ Shop WSJ Wine
This copy is for your personal, non-commercial use only. Distribution and use of this material are governed by our Subscriber Agreement and by copyright law. For non-personal use or to order multiple copies, please contact Dow Jones Reprints at 1-800-843-0008 or visit www.djreprints.com.
https://www.wsj.com/world/europe/storm-ciaran-rips-through-western-europe-killing-at-least-11-0b1c64dc
Storm Ciaran Rips Through Western Europe, Killing at Least 11
Gusts up to 130 mph rip trees and knock out power across france.
Nov. 3, 2023 8:47 am ET
Violent winds battered much of Western Europe, leaving at least 11 people dead, dozens injured and millions without power.
The storm, named Storm Ciaran by the U.K.'s Met Office, brought high winds and torrential rain to large parts of France, Germany, Belgium, the Netherlands, the U.K., Italy and Spain, forcing school closures and disruption to rail and air travel.
Copyright © 2023 Dow Jones & Company, Inc. All Rights Reserved. 87990cbe856818d5eddac44c7b1cdeb8
What to Read Next
DSW : Redeem now: Free $10 DSW promo code
Finish Line : Redeem $10 Off for students - Finish Line promo code
TurboTax : Save up to $15 with TurboTax coupon 2023
The Motley Fool : Epic Bundle - 3x Expert Stock Recommendations
Top Resume : Top Resume Coupon: 10% off professional resume writing
Walmart : 20% off your next online order - Walmart coupon code
Most Popular news
Most popular opinion, most popular opinion, recommended videos.
Copyright © 2023 Dow Jones & Company, Inc. All Rights Reserved
We've detected unusual activity from your computer network
To continue, please click the box below to let us know you're not a robot.
Why did this happen?
Please make sure your browser supports JavaScript and cookies and that you are not blocking them from loading. For more information you can review our Terms of Service and Cookie Policy .
For inquiries related to this message please contact our support team and provide the reference ID below.