We've noticed that you're using an out of date browser. We recommend that you update to the latest version to enhance your browsing experience.
Availability Search for Falkirk And The Forth Valley
Terms & conditions.
This booking system and any information appearing on this page relating to the availability of any accommodation is provided by third parties and not by VisitScotland. It is intended to provide real time availability information relating to accommodation which is also provided by third parties. You may use this booking system to place direct bookings with third party accommodation providers. Any booking you make will not be placed with VisitScotland and we will have no liability to you in respect of any booking. If you proceed to make a booking you will leave our Website and visit a website owned and operated by a third party. VisitScotland does not have any control over the content or availability of any external website. This booking system and any information appearing on this page is provided for your information and convenience only and is not intended to be an endorsement by VisitScotland of the content of such linked websites, the quality of any accommodation listed, or of the services of any third party.
VisitScotland / Kenny Lam
Falkirk And The Forth Valley
Falkirk, Clackmannanshire and the Forth Valley has a rich and vibrant heritage dating back to Roman times, one that visitors have ready access to today.
Cookies are required to view this content. Change your preferences at Manage Cookie Settings
The content of many of our web listings is provided by third party operators and not VisitScotland. VisitScotland accepts no responsibility for (1) any error or misrepresentation contained in third party listings, and (2) the contents of any external links within web listings ((1) and (2) together hereinafter referred to as the "Content"). VisitScotland excludes all liability for loss or damage caused by any reliance placed on the Content. The Content is provided for your information only and is not endorsed by VisitScotland.
terms and conditions
Crafts and industry
Family days out.
Parks, nature and garden centres
Town Centres
Food and Drink
Getting here
Itineraries
About Falkirk area
Brochures & Guides
Group travel
Falkirk in Film
Accessible Falkirk
Business Image Bank
Falkirk Area Tourism Economic Information
Things to do
The Falkirk area has a huge range of things to do - whether it is a day out with kids, a trip to our World Famous Kelpies,The Falkirk Wheel or a trip on a steam train at Bo'ness and Kinneil Railway, you can be sure of a great day out in Falkirk and the surrounding area. 
There are lots of fun activities to choose from in the Falkirk area
From pottery making to amateur theatre productions and more, there's a great variety of craft and industry activities in the Falkirk area
There's plenty to do for all the family in the Falkirk Area.
The Falkirk area is steeped in history, why not come and find out more?
Parks and nature
See the great choice of Parks in the area
Town centres
From shopping and eating out, to Victorian fairs, public art and festivals each of the town centres around Falkirk offer their own unique experiences.
With a great choice of independent retailers and chain stores, you can shop till you drop in the Falkirk area.
Food and drink
Take a look at what food and drink the Falkirk area has to offer
Plan your visit by viewing our itineraries
Falkirk VisitScotland iCentre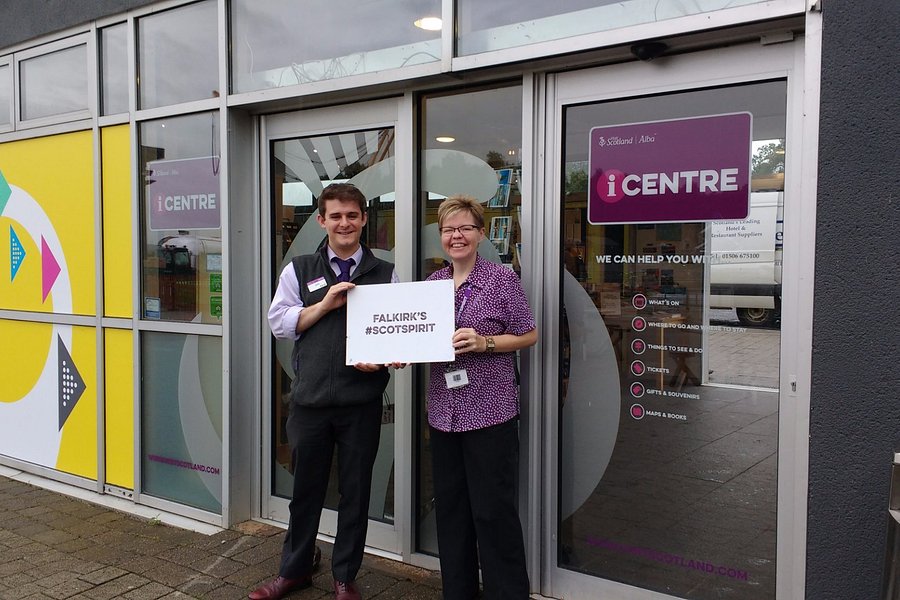 Top ways to experience nearby attractions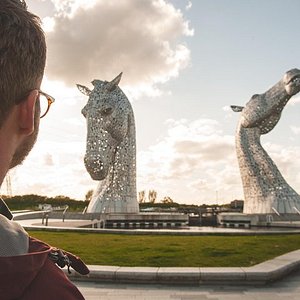 Falkirk VisitScotland iCentre - All You Need to Know BEFORE You Go (with Photos)
New cycling campaign for Falkirk
Get on your bike in falkirk.
The Visit Falkirk team at Falkirk Council, has launched a new tourism campaign to encourage visitors to the region following an investment of over £6 million in cycle infrastructure.
With over 800km of cycle paths ideal for a wide range of abilities, Falkirk is fast becoming one of Scotland's top cycling destinations and was the fastest growing sector in the local area pre-pandemic.
From 2009 - 2019:
Visitor numbers increased by 53% to around 950,000
Employment in the sector grew by 31.4% to just over 2200 jobs
The overall economic impact of tourism increased by 87.9% to around £136 million.
From kid's learner zones in Zetland and Helix Parks, 114 e-bikes with Forth Bikes, accessible cycling through local charity: Cycling Without Age Scotland, to adrenaline-fuelled distance and mountain bike options, there is genuinely something for everyone.
The new campaign has been funded through the VisitScotland Destination & Marketing Fund and work so far has included a new dedicated cycling section on the Visit Falkirk website w ith interactive itineraries to inform and online videos to inspire. The new work will focus on social media campaigning and influencer marketing to highlight the range of cycling options in the region and increase tourism, particularly for day trips and short breaks.
Visit Falkirk for cycling
Falkirk Council has also approved planning for a new Callendar Park cycleway plus bike repair, storage and changing facilities.
Falkirk Council launched the VisitFalkirk brand in 2013 to promote the area as a tourist destination through investment and development of the former industrial area as a location, with award-winning path networks and outdoor green spaces and attractions. The cycling campaign follows on from other successful marketing campaigns to promote the area for tourism.
Falkirk Council has invested over £6.15 million in upgrading its paths network since 2017, with over £500,000 into the e-bike network. Since 2019 the council has also invested £7 million in active travel initiatives. Since it started, there have been over 46,864 e-bike rides, the most popular station being the Helix, followed by the Falkirk Wheel.
Falkirk Growth Deal
In December 2021 Falkirk Council signed the Falkirk Growth Deal with the UK Government and the Scottish Government. This will bring £1 billion investment and 2000 jobs to the area which will include net zero projects including a central sustainable transport hub, a canal visitor centre and an outdoor art park.
Find out more about the Falkirk growth deal.
Related links
Outdoor activities, a spotlight on working in scotland's visitor attractions sector, new community cycling fund launches, stirling to host 2023 uci cycling worlds time trial. Cawley Group Website
Contact Cawley
Book a Table
01324 272427 or Email Us
Things to do in falkirk .
What's there to do in falkirk.
Like all Cawley venues, Boardwalk is incredibly accessible – it's under 1 hour away from both Glasgow and Edinburgh.
Although Falkirk has a rich history spanning the publishing industry, the industrial revolution & famous Scottish clan battles, the modern day landmarks of the Falkirk Wheel and The Kelpies (found within tourist mecca Helix Park) are arguably now the biggest draws to the region.
Looking for things to see and do in Falkirk? Just like our menu – there really is something for everyone.
The Falkirk wheel.
Opened in 2002, the Falkirk Wheel is the only rotating boat lift of its type in the world. As part of a wider nationwide strategy to reconnect central Scotland waterways, the Falkirk Wheel reconnects the Forth and the Clyde Canals (the first time since the 1930s.) Departing from the Visitor Centre approximately every hour, voyagers are taken on an unique 50 minute journey up into the air to join the Union Canal 35 metres above, sailing onwards from the Wheel to the Union Canal before returning to the Visitor Centre where you can hop-off, skip and jump to Boardwalk to refuel!
Check out their website for cheaper family tickets rates and further information.
Find out more
Launched in 2013, the Helix is a newly developed expansive parkland providing activities such as cycling, walking, watersports and much more. Famed for being home to the infamous, engineering feats 'The Kelpies,' there is plenty to be explored and enjoyed.
Walkers and cyclists of all ages can explore many Falkirk attractions using the park's 500km of cycleways, towpaths and parkland. The Helix also boasts a lagoon, cafe, adventure zone and splash play area – discover more on their website.
The Kelpies
Although The Kelpies are situated in Helix Park, they are an engineering and creative marvel deserving of an introduction of their own! Part of a larger project to regenerate vast underused land and canal systems, the Kelpies are a result of a collaboration between many public and private bodies and Glasgow-based artist Andy Scott.
Standing at 30 metres tall, The Kelpies tower over a new canal extension that links the Forth & Clyde Canal to the North Sea and represents the working horses that used to pull barges along Scotland's canals.
Callendar House, Park & Roman Antonine Wall
Callendar House is a Visit Scotland awarded 4* attraction featuring a section of Roman Antonine Wall, (UNESCO World Heritage site) 14th-century French chateau-style house, Georgian kitchen visitor experience, par-three golf course and kid's play park and adventure trails like no other! The Park Gallery offers a changing programme of contemporary visual art exhibitions, whilst children will be delighted to find a bouncy castle, inflatable slide, crazy golf, go-karts, and swan pedalos in the large children's play park.
Most of the park's amenities are seasonal, so do make sure to check their website for Park, House, Gallery and Golf opening hours, not to mention upcoming events.
TOURIST INFORMATION CENTRE
Please contact us here at Boardwalk for our recommendations for things to see and do in Falkirk – however if you're out and about, why not pop into Visit Scotland's iCentre?
Falkirk Visit Scotland iCentre The Falkirk Wheel, Lime Road, Tamfourhill, Falkirk, FK1 4RS
Tel:  +44 (1324) 620244 [email protected]
HOW TO GET Here
We're only 35 minutes away from central Glasgow and 55 minutes form Edinburgh!
From Glasgow follow the M8 (Stirling directions). Take the M80 to A883 Falkirk/Denny. Take first exit from M876. Turn left onto the A883. At the roundabout, take the 2nd exit staying on the A883. At the roundabout take 2nd exit. Boardwalk will be on the left.
Keep up to date with Boardwalk
Sign up to the newsletter….