Search Please fill out this field.
Manage Your Subscription
Give a Gift Subscription
Sweepstakes
The Best Food Tour in Vietnam Includes Clinging to the Back of a Scooter in Between Slurps of Beef Noodle Soup and Bites of Crab Legs
It's one tasty journey.
David Bokuchava / Getty Images
Growing up, my mom implemented just two major rules: no motorcycles and no tattoos. Until the age of 29, I had obeyed both of these boundaries, but the motorcycle one seemed like a deal-breaker at this point. After all, I had just landed in Vietnam, and as Bourdain famously said, the only way to experience Hanoi is on a scooter.
While I was going to Saigon, not Hanoi, I felt that his point was still valid. Regardless, whenever I asked anyone for suggestions on what a tourist should do while there, one thing came up again and again: XO Tours , a motorbike tour through the city involving stops for street food along the way.
But as my trip approached, my itinerary was sparse, and I became increasingly nervous. How would I eat what locals eat? Sure, I'd be getting pho and banh mi, but where were the best snails, and bottom line, could someone please, for the love of god, show me foods that I never knew existed? XO Tours turned out to be my ticket to all of that and more. 
I felt that familiar rush of excitement the moment my guide, a young woman named Han, greeted me with a wave outside my hotel, the Ramada Encore by Wyndham in District One . She told me to get on the back of her white Vespa, and as we cannonballed through traffic, I held onto the back for dear life but couldn't help grinning. It seemed like being on a scooter in the city unlocked a whole other dimension (and this may be true in all cities, though I haven't tried scootering them all yet). I was able to appreciate the sights — whole families piled on scooters, packages dangling dangerously from the back, helmet fashion, and even dogs balancing by their owner's feet.
Huy Nguyen / Getty Images
It started out with soup, importantly, not pho. Instead, we had Bún Bò Huế. The bowl was massive, and even though we had at least three more food stops, I slurped down the entire mixture of spicy rice noodles and sliced beef, savoring each refreshing bite as the added lemongrass hit my tastebuds.   
Before I could properly wipe my mouth, we sped off again, this time to a market in Chinatown, one of the largest wet markets in the country. Everything was out on the street, there were carts filled with fruits, blankets covered with fish, and live animals being sold to be slaughtered. Our next stop was appropriately for a barbecue. 
Tableside, we grilled up goat breast while the very same goat hung from the rafters at the end of our table, being picked apart by the in-restaurant butcher. This was, I was told, to prove that it was a goat (a more expensive animal) and not a pig. Dipped in a garlic sauce, the goat tasted more or less like beef, and the spring onions and peanuts we gobbled down in between waiting for pieces to come off the charcoal paired perfectly with the (unlimited) beer.  
Next was a seafood stop, where we saw scallops shucked and then grilled before being smothered in nuts and sizzling scallion oil. Crab legs were cracked open at the table, and there was even an embryonic duck egg, which I was instructed to eat like a soft-boiled egg, cracking it at the top, then scooping out the innards. "I don't look at it when I eat it," my guide said, but I couldn't help but stare. 
Filipe Lopes / Getty Images
Through it all, I white-knuckled the back of the scooter around twists and turns, roundabouts and alleyways, as we sped past neon signs and billows of smoke from carts filled with delicacies. There was, ever so thankfully, unlimited beer (included), which I slugged in order to keep up with the beads of sweat dripping from my chin to my thighs, thanks to the combination of the 100% humidity and full belly.
Altogether, the tour was a magical one. It didn't even really feel like a tour. Maybe all tours should be on the back of scooters. And if you're still worried about my mom, don't be. I sent her a video of me on the scooter with a text that read, "Don't worry, I'm wearing a helmet."
By clicking "Accept All Cookies", you agree to the storing of cookies on your device to enhance site navigation, analyze site usage, and assist in our marketing efforts.
Ho Chi Minh City
Things to Do
Restaurants
Holiday Rentals
Travel Stories
Rental Cars
Add a Place
Travel Forum
Travel Guides
Travellers' Choice
Help Centre
Xo food tour saigon - XO Tours
Asia
Vietnam
Ho Chi Minh City
Ho Chi Minh City - Things to Do
Very well coordinated tour and all the drivers are very friendly, professional and made us feel... read more
The tour was extremely satisfying. Had fun riding on the bike. Service is excellent and food was... read more
Xo food tour saigon
This was our first tour in Vietnam and it was a beauty. I was recovering from a stomach illness and this tour was still impressive. This tour not only shows you the best places to eat in saigon but shows you many districts around saigon and the tour guide speaks very good english. All the drivers are very safe and speak very clear english. They have a lot of information to tell you when you are driving from place to place. Highly rate this one for couples!
There's really no new information I have to share given the already excellent rating reviews here. Book and go. It's as simple as that! Huge thanks to Tien and Duyen for an amazing evening. Your steady, confident driving made the ride feel like the thousands of other drivers were yielding to us. We appreciated all the stories you shared with us and for caring so much that we were having a good time. Thank you!
We had a great evening with XO tours. We went with family; our 6y old and her grandparents. We all loved it! You feel a but worried at first as it is so busy in the city and looks chaotic, but seriously this was great fun, amazing food and a great way to see the city. The girls are lovely and make you feel comfortable and looked after. Thank you so much for such a memorable evening!
What can I say? What an amazing and incredible experience I'll never forget! Ive travelled a lot across the world and this has got to be one of the most thrilling tours ever! I took the Saigon by night tour with my wife, daughter aged 6, and my wife's parents (early 70s). Communication with the team to book the tour was extremely efficient & courteous. Both my in laws were a bit nervous having already seen the crazy traffic in Saigon. But the moment the ladies arrived we all were relaxed! We had such a brilliant time! From the moment we got onto the bikes, and the various stops and sights we saw, it was unforgettable! China town, luxury districts, districts where the Mafia used to operate, were just some of the stops. Wonderful short stop for dinner and then later for dessert, whilst all along seeing the city in a completely unique way! The guides (led by Loc) were so friendly, incredibly knowledgeable and a lot of fun! Great sense of humour too, Loc! We all fell in love with Saigon! The people, the sights, the smells, the sounds. And most definitely we will be back. PS: If you can, also book the video option! A fantastic way to remember such an experience.
Probably the best tour my wife and I have ever done. Riding theough the traffic is an experience on its own. Felt safe the entire time. Our guide and riders were fantastic and fun. The food is not the standard Pho or spring rolls, every meal was delicious and there was more than enough. They are more than happy ro cater for any tastes or allergies. This is a must do tour if visiting Ho Chi Minh City.
We had the most amazing time on the motorcycles with our 3, 5 and 7yo children. It was the best thing we did in our 5 week holiday. Thank you to Loc, Han and the other ladies who were so knowledgeable, warm and reassuring with us. We learnt so much and felt safe the entire time. The bikes stay very upright and move slowly in the thick traffic. There is zero road rage despite the traffic appearing quite chaotic. We did the tour day one and it vastly increased our confidence in venturing out and crossing roads in Vietnam. The staff are so kind and friendly, wonderful with our kids. I cannot rate this tour highly enough. It's a MUST DO! We paid the extra US$40 to have an edited video of our trip which we love!
Hotels and Resorts
Budget Stay
Travel Tips
Travel Resources
South Korea
Switzerland
Book a Room
Privacy Policy
HO CHI MINH CITY | XO Foodie Tour: Saigon's Food and Culture on Two Wheels
When a friend uploaded clips from his Vietnam trip, I was intrigued by the night food tour he tried. Considering the crazy traffic and thousands of motorbikes in Ho Chi Minh City, the tour on two wheels is quite interesting and a different way of exploring the city.  XO Foodie Tour , is one of the most trusted tours when it comes to night food tours in the city. The company promotes the intriguing bike culture of Saigon as a venue in discovering the hidden gems of the city.
The XO Foodie Tour is at 75USD and others may consider it a bit steep. To tell you, the price already covers at least 8 entrees that are overflowing until you surrender. In addition to the package are accident insurance, free hotel pick-up and drop-off, English speaking tour guide and professional motorbike driver, helmet, lot of pictures, and meeting travelers all over the world!
XO Foodie Tour starts at 5:30PM and a guide will meet you at your accommodation around 5:15PM. Quynh, my driver/tour guide, arrived in front of The Common Room Project  in her Ao Dai, the Vietnamese national costume. Before we left the area, she gave instructions and reminders for a safe ride in weaving Saigon's chaotic avenues. Seeing the jammed streets on my arrival, I was excited as a kid to finally try riding on a motorbike in Saigon.
XO FOODIE TOUR
Best bun bo hue in district 5.
After few minutes of swirling and speeding on the street, we arrived on our first destination. On the restaurant, all members of the food tour were introduced to one another. I was the only Asian in the group; 2 Australians, 4 Germans, and 2 Americans. We shared few of our plans in Vietnam while the guys of XO Tours were busy preparing a surprise.
The crew paraded from the kitchen to our tables and offered a hefty bowl of Bún Bò Hue to every one. I was really eager to dig in because the inviting aroma of lemon grass on the soup. But before that, Ahn, the tour leader, introduced the Viet noodle; how it is prepared, and ingredients. The noodle is literally translated as 'beef noodles from Hue' .
The bowl was served with side dish like beansprouts, scallions, and banana blossoms. You also have the option to boost the sharpness of the soup by adding dash of the powdered red chili. Everyone was so excited for the first slurp of the hot soup. The beef soup infused with lemon grass was really great that I could hear a choir singing from the cathedral. Kidding aside, the soup was really flavorful and the noodles perfectly cooked. Meat toppings were tender and the veggies on the side added some textures on every spoonful of the meal. It was just the first food stop but everyone was already ranting because of how heavy the meal was. Unfortunately for us, it was only the first stop that night.
Chinatown and the Moving Bushes
Before our next destination, the XO guys dropped us somewhere in Chinatown to give a brief introduction of the district. Like any country in Asia, Vietnam also has its Chinatown and considered one of the largest. The guide mentioned that the place is the main source for products and food being sold by people at night markets and vendors on food carts. If you intend to do souvenir shopping in Vietnam and want to save a lot, then go to Chinatown. The only catch here is that products are sold by volume, wholesale.
A long ride coursed us through the moving bushes. The guide mentioned that Vietnamese families employ extended family culture where several generations stay in a single house. Some couples living in the same house have no place for their private moments. With this, they rent a chair somewhere, hidden by the bushes and facing the Saigon River, that becomes their private place. The guide even joked that you can see the actions if you take a photo with a flash.
To expose us more with the Vietnamese culture, before going to our next food stop, the driver went through some narrow streets that led us to a night street market. Here, you can see locals on their motorbike hopping from one street vendor to another. Items available that time were seafood, meats like chicken, pork, and beef, some vegetables, and a lot of herbs and leaves.
Grilled Meats and the Chopsticks Challenge
Several intersections and we finally arrived on our second food stop. Everyone dining in the area was on low stools and crowding aluminum-steel tables filled with grilled meats on bright-colored plates. The XO Team started to bring out food for us and they were so generous to grill, de-shell, and do every minor thing like squeezing the citrusy fruit for our sauces. There were two dips created for us: chili fermented tofu sauce and garlic and lemon.
Meat served were goat and beef that were grilled into perfection and paired with three kinds of leaf: basil, mint, and fish mint (a heart-shaped leaf). The tender goat meat, marinated with fermented tofu sauce and cola, went really good with the fish mint leaf. I also liked how the flavors ensemble for the beef and basil dipped in rock salt and garlic sauce. Apart from that, the team challenged us to chow on some frogs. It's not a new thing for me as I grew up eating fried frogs from the rice-fields.
But hell no, the frogs they served still have their skin on and it freaked me out! Taking the challenge, I slowly calmed myself and tried dipping a slice on the garlic sauce. It wasn't that bad so I took another one and tried having the other dip. The grilled frog with toasted skin has more texture and aroma. If you can't stand the taste, you can easily ask for bottles of beer that also comes free with the package, unlimited! In addition are grilled okra and prawns.
Before we ended our unique meal, the guys introduced the chopsticks game where the guests and guides teamed up to snatch the most coveted prize. The guides will pick, using chopsticks, peanuts from the bowl and transfer it to the guest's chopsticks. The guest will then transfer the peanut to an empty bottle of mineral water. Since Asian blood runs in me, I was one of the winners! Winners got XO key chains and button pins as prizes. It was a fun game!
District 7: The Expat's District
Next stop was a bit personal when it comes to the information shared to us by Ahn. He lived in the US for quite a while but decided to go back to Vietnam because he wanted to be a millionaire (currency conversion). Kidding aside, he wanted to be with his family and also be part in helping his country. According to him, a Vietnamese is either poor or rich and the gap between these buckets is really significant. Wealthy people have more than one car and numerous real state properties. For their counterpart, having a motorbike is great and staying on the same house with several generations and just waiting the upper hierarchy to pass the ownership of the property is usual.
District 7 is cleaner, avenues with high-end cars sans the bikes, towering apartments, and foreign food chains and brands, the expat's place of Vietnam. The discussion went a bit deeper discussing the economy, stock market, and purchasing power of the people. When most countries rely on credit cards and loans, Ahn mentioned that Vietnamese people purchase stuff in full amount and don't depend on credits.
Narrow Streets of District 4
Enough with the Vietnamese culture and we again boarded our bikes to our next food destination now on the hip area of District 4. Bikes were speeding as my guide trying to park her bike on the side. She went the other side of the road first instructing me to follow. Crossing the road is not new to me because in the Philippines, you can also cross on any part of the road.
The crew already set all the stuff we needed to try on the last stop. Fried quail, crab pinchers in spicy rock salt, scallops with scallions and nuts, and undeveloped duck egg (locally called as balut ). The group started to feast and out of all the items prepared for us, the scallops stood out. I normally have baked scallops with garlic butter and cheese but the version of Vietnam is way better. The roasted nuts add texture and distinct aroma that really make it more delectable by having some drops of the chili rock salt with lemon.
Quail meat tastes similar to chicken while the spicy rock salt made the crab meat really appetizing. Since I'm the only Asian in the group, I demonstrated the proper way of eating balut. I took out the egg from its shell and chowed the entire of it. The show earned me applause from the Vietnamese guides and recognition from the non-Asian guests. That was the last stop of the tour and the organizers allowed us to order anything we wanted: beers and food, at their expense. Unluckily, we declined as we were already full and a tiny more meal would definitely explode our tummies.
Prior to the food tour, I've read from other online magazines and websites that XO Foodie Tour lets their guests experience the best local foods in Ho Chi Minh City. What I didn't know is that the tour is not only meant for eating best and delightful meals in Saigon. If you want to ride a bike in the city but scared to navigate the roads, the XO Foodie Tour is the best way to discover the city. On two wheels, you'll get to know not only the food of Saigon but also its history and culture.
Website: https://xotours.vn/ Facebook: www.facebook.com/xotours
Share this:
Click to share on Facebook (Opens in new window)
Click to share on Twitter (Opens in new window)
Click to share on Tumblr (Opens in new window)
Click to share on Reddit (Opens in new window)
Click to share on Pinterest (Opens in new window)
Click to email a link to a friend (Opens in new window)
RELATED ARTICLES MORE FROM AUTHOR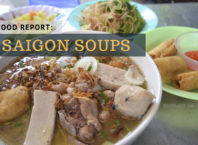 HO CHI MINH CITY | Saigon Food Trip: Soups and Whatnots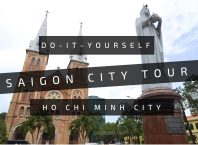 HO CHI MINH CITY | Do-It-Yourself Saigon City Tour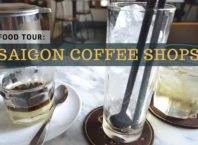 HO CHI MINH CITY | SNOB Coffee and The Loft Cafe
Leave a reply cancel reply.
Save my name, email, and website in this browser for the next time I comment.
Notify me of follow-up comments by email.
Notify me of new posts by email.
This site uses Akismet to reduce spam. Learn how your comment data is processed .
Hotel Deals
Eating Saigon!
Enjoying saigon street food with xo tours.
When our friends, Carol & Alan, from Berkeley, California told us that they would be in Saigon for a few days while we were here, we asked ourselves – What could we do to give them a wonderful introduction to Saigon – and especially to Saigon's great street food??
The answer came easily.  Let's introduce them to XO Tours' evening street food adventure!
Our friends, Carole & Alan caught in the act of enjoying they're Saigon street food tour!
It had been over ten years since Hai and my first street food tour with XO Tours .  So, the question we had was – How had the tours changed?
A wonderful surprise – It was better than ever!
The first stop on our four-plus hour eating adventure immediately set the mood for the evening.  
Bún bò Huế – absolutely delicious! A rich flavorful broth, a large serving of fresh Vietnamese herbs, and tender beef slices. 
It was going to be a great evening!
Each of the 20+ guests this evening had their own personal young woman guide wearing a traditional blue áo dài .  
They carefully explained the evening's route, the food we would be enjoying, motorbike travel safety tips, and general Vietnamese culture. A truly rich and delicious Saigon experience.
Between courses at the evening's various neighborhood eateries (giving us time to appreciate and digest the previous entree), the evening's tour took us to street markets and more distant Saigon neighborhoods to experience the full social and economic breadth of the city's population. 
[Try to find us in the video being accompanied by our blue áo dài guides].
Did Carole enjoy it?? 
What do you think.
The evening also provided us with an opportunity (for those who dared) to test the limits of our culinary adventurism … with a serving of hột vịt lộn xào me (steamed duck embryo in a rich tamarind sauce).  Reactions ranged among the guests from shrieks of horror to request for a second serving! [I ate Carole's portion :-)]  
We ended our tour on a delicious seafood note.
The BBQ'd scallops and crab were the perfect way to complete a truly extraordinary evening in Saigon.
An absolute "Must Do" for any visitor in Saigon … Enjoy an amazing experience with good people and the best Saigon Street food!
Take a look here at our post from over a decade ago about our very first experience with XO Tours .
2 Responses to "Enjoying Saigon Street Food with XO Tours"
Wow!! Looks like fun . Where is the market? My husband and I will be in Saigon in 2 weeks and we love going to markets. Thank you for the excellent blog and outstanding information you provide.
The tour went to the sprawling Binh Tay Market that offers everything from fresh produce and seafood to fabric and lacquerware. Eateries and street food stalls selling Chinese-style noodles, roast pork, and salted duck eggs pack narrow lanes along with traditional herb stores.
Our favorite market, though, is Cho Ba Chieu – see: https://www.eatingsaigon.com/2014/08/10/saigon-market/
The most popular Cho Ben Thanh is really just for tourists & over-priced!
Leave a Reply Cancel reply
Your Comment
Name (required)
E-mail (required)
Notify me of follow-up comments by email.
Notify me of new posts by email.

Exploring Saigon's Food Scene by Motorbike with XO Tours
December 20, 2019
Adventure Travel , Affordable Travel , City Escapes , Food & Wine , Vietnam
Discovering Ho Chi Minh City by Motorbike
I was apprehensive when we pushed the 'Book Now' button. I hadn't even been on a motorbike before, and here I was signing up to sit on the back of a stranger's bike as we zipped through one of Vietnam's busiest cities. Is that even sane? Maybe yes, maybe no, but as it turns out, exploring Saigon's food scene by motorbike with XO Tours is pretty much the most fun food tour you'll ever go on in your life. Their reviews speak for themselves and give uncertain guests (like me!) the confidence to book. Add to the fact that it's a female operated business, and I was absolutely sold. Here's how it works: visitors sign up for the tour – $78 for a tour that lastly roughly 5 hours and includes 11 dishes over 5 spots – and get matched with a female tour guide for the night.
Plus, experiencing a night on a motorbike is kind of a must in a city that's widely considered the world's capital of motorbikes. In a city of around 9 million people, there are roughly 7.5 million bikes. Why not get a quick taste of the city's main mode of transportation?
What to Expect
I'm about the size of an average Vietnamese woman, but if you're at all concerned about being too big to have a petite woman take the reigns, don't fret. My husband, who was roughly twice the size of his driver, had zero issues. These ladies have been riding motorbikes their entire lives and go through a pretty rigorous weeding-out process to make the cut. Driving is part of the equation, yes, but sparkling personalities and great English skills are clearly the other part.
Both of our guides – and all of the ladies we encountered – spoke perfect English and were so  fun and bubbly. Your guide is more than just a driver; she's really your best friend for the night. Ngoc and Hong, Scott's and my drivers (respectively) picked us up at the Le Meridien Saigon right on our home turf and we set off on our adventure. I had  never  been on a motorbike in my life but it only took a couple of minutes to get comfortable with the balance, the flow, and the other scooters whizzing past. By the time we arrived at the first stop, I was already having a blast. Surely we should own a motorbike at home, right? These things are way too fun to not be my primary mode of transportation.
During each leg of our journey, Hong provided insight on what we'd just eaten, what we'd just seen, and where we were off to next. It was the perfect opportunity to ask questions, not just about the food scene in Vietnam, but about  life  in Vietnam. We were partnered up for five hours so by the end of the night I felt like I was saying goodbye to a friend.
The food was plentiful and the company was great. As you'd imagine, the company goes beyond your guide and extends to the group that's joined for the adventure. Motorbike tours max out at around 16 people and our evening was on the busier end during our visit in September. So, who's the typical traveler on a tour like this ? Well, there is no 'typical' as it turns out. I expected our group to be primarily adventurous twenty and thirty-somethings but I was only partly right. Beyond Scott and myself, there was a mother/daughter duo (teenage daughter), two middle-aged couples traveling together from Australia, and two couples in their late twenties/early thirties from the US. The tour is really suitable for a broad range of travelers with an adventurous spirit wanting an authentic experience. I had originally thought that kids and elderly travelers may be the exception, but it turns out that XO Tours accommodates the gamut, with their oldest passenger being a 91-year-old traveler! Anyone with mobility or joint issues may want to reach out to verify whether the tour would work.
What about the food?
At its essence, this is a food tour (though it feels like much more), so the natural question is what's the food like?  If I'm being honest, Vietnam as a whole left something to be desired as far as food went. I  love  Vietnamese food and grew up in an area with a sizable Southeast Asian population (Vietnamese specifically) where we were lucky enough to enjoy regional cuisine regularly. Generally speaking, the food we had while in Vietnam wasn't as vibrant as I'd imagined it being. This food tour was a great counter to our other experiences in the country though and brought some of the best local cuisine we tried during our two weeks in Vietnam. It also offered us opportunities to try unique local bites that we hadn't been exposed to at home (like balut , which Scott gallantly tried for our team).
And for those with dietary restrictions, XO Tours manages it perfectly. I don't eat meat and much of the local cuisine uses beef broth or meaty inputs in their food. They were aware of my diet and had options for me every step of the way. Our meeting point brought a vibrant bowl of noodle soup; a beef version for the group and a veg-friendly version for me. We stopped at a local Vietnamese BBQ spot which involved family-style service, serving up a slew of veggies and grilling up prawns at the table. Our guides doubled as our chefs, grabbing perfectly-seasoned bites of seafood, laying them on a tiny grill in front of us until they were ready to eat. Other stops included vegetarian-friendly bites and the crème de la crème in my book, the scallops,  which were the most memorable bite of the night for me.
For those curious about the length of the tour: yes, it's about five hours, and it absolutely flies by. I'd originally raised my brows a bit about a five-hour food tour, but as I mentioned above, it's so much more than a food tour. It's a food tour couched inside of a broader tour of Saigon. I found the transit times between spots, sitting on the motorbike chatting with Hong, just as fun as the stops where we were actually dining.
By comparison (in the context of Vietnam), the tour is a bit of an investment at about $78 per person but is absolutely worth every penny. As the tour came to an end, we were escorted back to our hotel for the night along with another couple who was based at the Le Meridien as well. We all agreed that it was one of the best tours we'd ever done in our travels. Truth be told, as far as a tour experience goes, it could very well be the single best  tour we've done during our travels. The entire evening is perfectly orchestrated with thoughtful stops, great cuisine, incredible guides, and brings a unique local layer that makes it extremely memorable. I mean, how many opportunities do you get to zip through the streets of Saigon on the back of a motorbike? We were also fortunate that our primary tour leader for the night, Ming, doubled as our group photographer and graciously shared photos from the evening with us. As you can imagine, trying to snap photos or videos while riding on a motorbike is ill-advised for newbies so we took virtually zero photos during our tour. Thankfully, Ming shared snapshots from most of our stops during our evening to help fill the void (very much appreciated)!
All in all, a perfect finale to our time in Vietnam and perhaps our most memorable evening during our month in Southeast Asia . ?
Have you ever done a motorbike tour? Would you?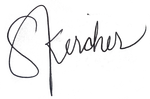 More about Shannon Kircher
Shannon Kircher is the founder and editor of The Wanderlust Effect. Founded in 2009, she has continued to document her international escapes as an expat in Europe and the Caribbean. Additionally, Shannon is the founder of Compass & Vine, a luxury boutique travel design firm, and is the Director of Marketing for the Frangipani Beach Resort. Shannon holds an MSc in Social Policy and Development from the London School of Economics and is a current candidate for WSET Level 3 in Wines & Spirits.
Related Posts
Top 5 Pintxos Bars in San Sebastian
November 10, 2015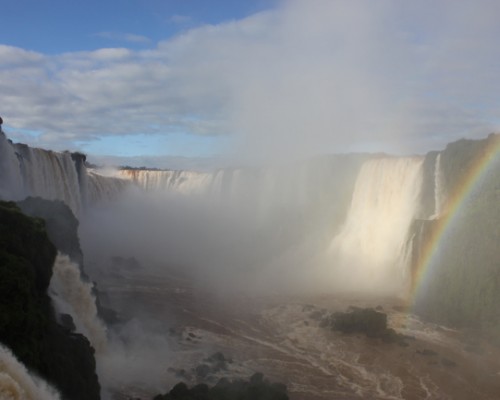 5 Must Have Experiences at Iguassu Falls
June 8, 2015
5 Tips for Wine Tasting in La Rioja
November 2, 2015
Saigon Food Tours Review
Ho Chi Minh City (Saigon) is famous for its food, but finding the best places is difficult because there are many choices, so we decided to try some Saigon food tours to see if they're worth it. 
Here's a list of what we tried!
The company offers a premium food tour called The XO Foodie , where you journey around much of the central part of this bustling city and try at least ten different dishes.
We tried out this tour and had a blast.
Our tour guides were professional, friendly, and incredibly knowledgeable. Besides trying different delicious dishes, we learned a lot about Saigon's history.
Saigon Adventure
We gave the Saigon nightlife and food tour from Saigon Adventure a try on a Saturday night.
Our tour guides were friendly and informative, explaining the history of Saigon throughout the trip.
We started by having a drink on a rooftop bar that overlooked the whole city, then moved to different sightseeing spots and restaurants.
Like the tour guides from XO Tour, they also drove us around the city in traditional Ao Dai. Their driving skills were excellent, and we felt safe along the way.
A highlight was visiting the shrine of Thích Quảng Đức , where our tour guides explained this significant location very thoroughly.
Saigon Kiss Tours
With the slogan #GirlPower, Saigon Kiss Tours also offered us a fantastic experience in Saigon with guides in Ao Dai.
Besides hopping on and off the bike to try different dishes, we had a great time visiting the old apartment buildings and especially enjoyed seeing District 1 from the other side of the river.
Our tour guides were fluent in English and had excellent driving skills.
Saigon Street Eats
Unlike other food tours on this list, Saigon Street Eats focuses more on one area, and we had lots of time walking around and exploring.
If you're a bit of a scaredy-cat when it comes to riding a motorcycle in Vietnam, this is a good choice.  
Mr. Lam, our guide, was the highlight of our tour. He was very informative, friendly, and professional.
Our tour group was especially interested, and Lam answered every question clearly with great cultural insight.
We had unlimited food and drinks, and we finished the tour satisfied!
Scooter Saigon Tour
We had a private street food tour with Scooter Saigon , and we enjoyed it.
Our guides, Navi and Ramsey, were energetic and had a great sense of humor. They introduced us to delicious Vietnamese dishes and took us to different local hidden spots in the city.
We especially love the Broken rice stop. The owners were friendly and smiling, and the dish was delicious.
Saigon Vibes Tour
Saigon Vibes Tour offers budget food tours around Ho Chi Minh city . Although the fee is slightly cheaper than other tours on this list, the quality remains good.
We visited different street food stops in this tour, where we sat on tiny chairs and experienced Saigon like a local.
Most of the places we visited had been in the business for more than 20 years, some over 50! The dishes tasted amazing.
Street Food Man
We decided to try the food tour that ranked GetYourGuide's Best food and drinks tour 2019 , and we were happy with the experience.
We visited some local restaurants and sampled different dishes while learning about Vietnamese food culture and the interesting stories behind each dish.
Also, we enjoyed discussing the city's history when visiting sightseeing spots.
So is a food tour worth it? We think definitely yes. We discovered many new places that serve the most delicious Vietnamese food.
The more you pay, the better the experience, as with most things. We found this generally true. The pricier tours had full-time staff, who were more informative and professional. They also usually offered unlimited food and drink.
The cheaper tours typically have part-time student tour guides. Their English was always good, but their knowledge and explanations were sometimes lacking. Food and drink were also usually limited.
All in all, if you want to try good food, the cheaper tours are still a great option. However, if you're a bit of a culinary, history, or cultural nerd who wants to ask many questions, perhaps a more expensive option is better.
Ha is an avid traveler and writer with a background in marketing & hospitality. She's lived in a few countries and traveled to more than 30. When she's not traveling or writing, Ha loves trying new recipes.
Similar Posts
Best Time To Visit Hanoi Vietnam
Hanoi is one of the most attractive tourist destinations in Vietnam, offering visitors many exciting experiences. When is the best…
Hue Imperial City Vietnam: Discover Historical & Cultural Values
Recognized by UNESCO as a World Cultural Heritage, Hue Imperial City is one of the famous destinations in Vietnam that…
10+ Best Things To Do In Phong Nha Vietnam
With a complex geographic structure formed hundreds of millions of years ago, which stands out as Son Doong – the…
Vietnam Airlines Information: Ticket, Luggage & Services
As the first airline in Vietnam, Vietnam Airlines has quickly won the trust of many domestic and foreign passengers. Nowadays,…
Phan Rang to Nha Trang Vietnam: Transport Guide
With photogenic islands and beaches, Nha Trang is a lovely destination after your trip to Phan Rang. In this transportation…
How to get from Noi Bai Airport to Hanoi Vietnam
How to get from Noi Bai airport to the Hanoi center? Choosing a transport method from Noi Bai airport to…
Leave a Reply Cancel reply
Your email address will not be published. Required fields are marked *
The Sights of Saigon
Saigon by Night
Saigon through the lens.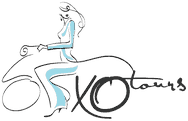 6:00pm – 9:00pm
(1,421,000 VND)
Our tours fill up fast,
so book early
to secure your spots!
Share this with your friends
Explore the Unseen Saigon by Night with the XO Girls!
Want to see a different side of Saigon? Let us take you outside of District 1 and show you parts of the city that most visitors don't get to see. Saigon looks much different at night than it does in the daytime… from the lights of the red paper lanterns in Cholon, to the food ghettos of District 10, our amazing XO Girls will safety guide you through hidden streets and tiny alleyways that very few travelers to Saigon ever experience!
Feel the rush of driving down the newly built Saigon freeway, and gaze upon the magnificent Bitexco Tower, one of the tallest buildings in Vietnam! See the crowds of people gather at many of the makeshift sidewalk cafes that magically appear at night. We'll also show you the wide contrast between the old Saigon and the new modern city that is developing! So hop on and let us take you for a joyride!
" This tour includes plenty of food but is not a food tour, The Saigon by Night Tour focuses on the culture of Saigon, so you'll really see how the locals work, live and eat!
Top Things to do in Saigon at Night that are included on this tour
Food –  Authentic street food provided by the same company that offers the famous "XO Foodie"  street food tour 
Sights – Shotgun through 4 of the most famous (and infamous) districts at night
Culture  – Our fun and enthusiastic staff will share many local insights while on and off the bike
The "Saigon by Night" tour is one of the most fun things to do in Vietnam at night and offers a completely different experience than our day tours. We'll bring you to 4 of the most popular local districts in Saigon that most tourists don't frequent and also give you a chance to try some delicious Vietnamese street food! Eat your fill of dishes like the extremely popular " Banh Xeo " (crispy, fried pancakes stuffed with various meats and vegetables ) and the lesser known Bo La Lot (Grilled beef wrapped in betel leaves)  which is our personal favorite! Don't worry vegetarians, we also have you covered with a variety of delicious options!
To see more fun videos and photos from all our city tours
or visit our Blog
for some of the best Vietnam Travel Tips!
How many people in a group?
Please note that this tour is offered on a join in basis, so there may be other guests joining you on the tour. Our maximum group size is 8 people . For guests that do not want to go in a group, we also offer a private tour option for an extra charge.
Want a cool momento to show off to your friends and family?
We can film your ride (for an extra 50USD) and create a special video of your Vietnam Adventure! We can also mix in a custom music track in your video upon request.
See Optional Services ↓
Not all motorbike tours are created equal!
To find out why we're different, and why you should book with XO Tours
Our tours fill up fast, so book early to secure your spots!
Our other tours.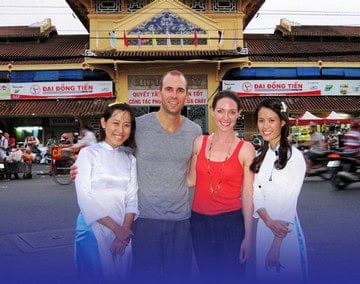 The XO Foodie
Over 6000 five star reviews! What our customers say about XO!
XO Foodie Tour Saigon Review | Expatolife
About XO Tours
With about ten-spot years of experience, XO Tours has become one of Saigon ' s most trust food tours and was the beginning to feature all-female motorcycle drivers.
Reading: XO Foodie Tour Saigon Review | Expatolife
We tried their chancellor enlistment – The XO Foodie – listed as one of the crown nine food tours in the earth by Forbes Magazine. XO Foodie offers a unique and authentic look into the lives of the local people and lets guests try some of the not-so-well-known vietnamese dishes .
What to expect on The XO Foodie?
We were picked up from our hotel by our indicate tour drivers, Hang and Hong. Before we got on the motorcycle, our guides explained the dealings in Saigon and how to safely mount and be a passenger on a motorbike. traffic in Saigon is crazy, we know ! They spoke clearly, with good English. Throughout our rides together, they continuously talked with us and explained each sphere we were driving through. They made us feel identical comfortable and were very knowing .
First Stop – Introductions and Soup
Second Stop – China Town
We then rode onto Chinatown. The moment we entered this vibrant community, we could see the differences in architecture and life style. We noticed the shops had signs in taiwanese characters. The neighborhoods were lively and colorful, with many wholesale shops selling Christmas and Tet decorations. We took a brief stop and gathered together. Our go leader then explained the significance of this historical place and talked about many things that most tourists wouldn ' thymine know, using photos on his tablet to help. Sang spoke well, and we learned a set. We then moved on to a local market in a nearby zone. Along the means, our guides explained how things work in a vietnamese market and why many people in this market sleep nightlong at their stalls.
Read more: Best Dallas Banh Mi Finds
Third Stop – Barbeque and Beer!
Fourth Stop – 'Little Singapore'
The adjacent check was a wealthier sphere in a central district, where Sang gave us some insightful details about this singular part of the city. " District 7 is like a little Singapore in Saigon, " – Sang explained. This neighborhood looked distinctly different from the other areas. There were not many motorbikes on the streets, but alternatively expensive european cars .
Last stop – Seafood Finale
Our XO guides
Our tour guides, Hang and Hong were amazing ! Their drive skills were excellent, and they spoke fluent English. We besides liked that they were wearing the Ao Dai – a traditional vietnamese dress. They were both identical friendly. We learned a fortune from them about each vicinity we journeyed through .
Pros and Cons
Incredibly attentive and safe drivers
Unlimited food and drinks, with plenty of encouragement to ask for more!
Opportunities to try some more 'unusual' foods
Very informative guides, with clear English
Vegetarian and vegan options
Photographs are taken throughout and emailed to you later
Offer a professionally edited video option
Included comprehensive medical motorbike insurance, up to $10k
Limited availability due to popularity – booking two weeks early is recommended!
A bit more expensive compared to other tours – although we argue it's worth it.
People with fish allergies are limited to the vegetarian option
Since the tour tries to give an overview of much of the city, there was a lot of time spent riding
Some of the more unusual dishes might put off the squeamish
How to book the XO Foodie tour? If you ' d like to join the XO Foodie on your trip to Ho Chi Minh city, the book process is agile and simple.
Read more: Bánh Mì Thịt Xá Xíu
We received our confirmation e-mail cursorily .
Final thoughts
wholly, we were very print by the tour. Our drivers drove safely and talked to us all the means. The food was incredible and bountiful, and the drinks were unlimited excessively ! As constantly, all opinions are our own .
Recent Post
Snakehead Fish Soup – Famous Vietnamese Food
ContentsAbout XO ToursWhat to expect on The XO Foodie?The pickupFirst Stop – Introductions and SoupSecond Stop – China TownThird Stop – Barbeque and Beer!Fourth Stop
Mam hot pot – The typical culinary culture of the West
Banh Nam Hue – Famous Delicacies No 1
Kitchen Buffalo – Typical Northwest cuisine
Ga U Muoi Thai Nguyen
Bun Ca Long Xuyen
[email protected]
213-361-6238
Ho Chi Minh City
Things to Do
Restaurants
Holiday Rentals
Travel Stories
Add a Place
Travel Forum
Travel Guides
Travellers' Choice
Help Centre
Excellent Motorbike Food Tour by XO... - XO Tours
Asia
Vietnam
Ho Chi Minh City
Ho Chi Minh City - Things to Do
The tour was extremely satisfying. Had fun riding on the bike. Service is excellent and food was... read more
What a fantastic experience - riding on the back of a scooter through the peak hour and evening... read more
Excellent Motorbike Food Tour by XO Tours
Very well coordinated tour and all the drivers are very friendly, professional and made us feel very comfortable.
The tour was extremely satisfying. Had fun riding on the bike. Service is excellent and food was great. Will do it again and will definitely recommend to everyone.
What a fantastic experience - riding on the back of a scooter through the peak hour and evening traffic of amazing Saigon (Ho Chi Min city) to then sample some of the best food in southern Vietnam and sightseeing across the many districts. The girls and Vy (2) were amazing - so helpful and interesting to learn more about the city and the people and of course the food. XO supports young Vietnamese women so support them and have the best food tour experience.
My husband and I recently went on a private foodie tour with XO Tours and it was one of our favourite experiences during our ten day stay in HCMC. Our guides were amazing - safe drivers, funny and intelligent. The food was delicious and I got to tick off many menu items that were on my wish list. We also purchased a video of the night which is fabulous! We've been watching it and laughing while reliving our memories. Thank you, XO!!
Awesome experience! Loved it. The tour guides were amazing Giang, Van and Tan. Loved all the food, the logistics are superb. Very professional and educated guides. Felt safe all the time even when there was heavy traffic. The girls are excellent drivers. Book this tours for the food, the history, the customer service is 5 stars and you see the part of Vietnam that tourist don't see.
Felt like royalty the way this company runs their tour. A great first day experience in Southeast Asia for me!