How to Arrange Your Bromo Tour (The Complete Guide)
The Bromo Tengger Semeru National Park offers some of the most amazing landscapes in the whole of Indonesia. It is especially beautiful at sunrise as the mist rolls over the valley and the sun rises behind Bromo Volcano. However, arranging a Bromo Tour can be surprisingly difficult. It's easy to get over charged, stay in the wrong place or make a silly mistake (like not bring a warm coat).
To help you arrange your Bromo trip I created this short guide. The guide covers everything you need to know to arrange a Bromo tour. The guide has been broken down into easy to navigate sections. You can click the link to jump directly to a certain part of the Bromo Tour Guide.
Where to Stay: Find Out More
Entrance Fee: Find Out More
Jeep Rental: Find Out More
Bromo Tour: Find Out More
Booking a Tour: Find Out More
Let's get started.
Where to Stay
When you visit Bromo you can stay in one of the following three cities; Malang, Surabaya or Probolinggo. Surabaya is the furthest away from Bromo. It is a 90 minute car drive from Surabaya to Mt Bromo. Malang is a little closer. It is a 60 minute car drive from Malang to Mount Bromo. Probolinggo actually overlooks Mount Bromo.
The 3 Mount Bromo Tours
From surabaya: bromo midnight tour.
If you decide to book a hotel in Surabaya you will join the Bromo Midnight tour. The reason it's called the Surabaya to Bromo midnight tour package is because you get picked up from your hotel at midnight. From Surabaya you will be driven directly to Bromo for sunrise.
From Malang: Bromo Sunrise Tour
The Bromo Sunrise Tour is for people who are staying in Malang (which is closer to Bromo). The driver of your car will pick you up from your hotel in Malang at 3:30am. It's a one hour and forty minute to 2,5 hours from Malang to the Bromo Tengger Semeru National Park at night. During the day it is around 3-3,5 hours journey. To actually visit Bromo you need to swap cars, because only members of the local community can drive the jeeps you need to take to visit the volcano.
From Probolinggo: Bromo Probolinggo Tour
The Bromo Probolinggo tour is the most convenient of the three options. The hotels in Problinggo actually overlook Mt Bromo volcano. If you are staying in Probolinggo then you have the option of either walking to the Penanjakan viewpoint or renting a jeep to take you there. It's a 3 hour walk from Probolinggo to Penanjakan, which means that you will need to set off at approximately 1:00 am – 2:00 am to reach the viewpoint for sunrise (the walk is almost all uphill).
Visiting Savana Hill. It's a beautiful green landscape in the wet season.
Mount Bromo Entrance Fee
There is an entrance fee to enter Bromo-Tengger-Semeru National Park. For Indonesians the price for entrance to the national park is at around Rp30,000 per person. For foreigners there are two price prices. On weekdays the price for the entrance ticket is at around Rp 240,000. On weekends and Indonesian public holidays the cost is at around Rp 340,000.
Jeep Rental
To take the Bromo tour you will need to arrange a jeep rental. There are two different tours you can choose from, the short tour and the long tour. On the short tour you will visit Penanjakan Viewpoint to watch sunrise and climb Mount Bromo Volcano, before returning to your hotel/ driver.
If you go on the long tour you will go to Savana Hill and Whispering Sands (Sea Sands). You can arrange a jeep rental on arrival in Bromo, but it is more convenient and cheaper to pre-book the jeep. All of the jeep rentals at Bromo are pretty much the same model. A Bromo jeep rental can fit up to five passengers. The price for a Bromo jeep rental changes according to the tourist season. See the table below for more information on jeep rental prices.
Mt Bromo Tour
If you take either the Bromo Mindnight or Bromo Sunrise tours you will need to change cars to a jeep to get to Penanjakan. If you are staying in the Bromo National Park area the jeep will pick you up at your hotel. Penanjakan does get really crowded for sunrise. There will be a big crowd. For the best experience visit on a weekday, because it's not as packed and it's also cheaper (it's still quite busy though).
Whichever tour you take, the first place you will stop is Penanjakan viewpoint (or other viewpoints such as King Kong Hill, Cinta Hill, etc). This is where you will watch sunrise from (it's where everybody takes those beautiful photos that Bromo is so famous for). There's a perfect 15 minutes or so to take some amazing photos and then it's over for another day. Those 15 minutes are worth waking up really early in the morning for.
Climbing Bromo
After sunrise the jeep will take you to Bromo crater. It is a 25-minute car drive from Penanjakan to the crater. The jeep will drop you off on the dusty valley floor. From there it's a relaxing 30-minute walk to the crater. If you have children, or you just want to do something different, you can ride a horse to the crater.
It is an easy climb to the top of Bromo crater. On the final part of the climb there are concrete stairs dug into the side of the crater. From the top of Mount Bromo you can look inside the crater, which is normally smoking. Many locals throw offerings into the crater. The view from the top are really beautiful. If you are on the short tour the driver will take you back to your hotel after climbing Mt Bromo.
The rugged landscape of Whispering Sands.
The Long Bromo Jeep Tour
After you've climbed the volcano you will visit the Tengger Sea Sands and the Savanna Hill.  This part of the tour takes around an hour. During the tour you can ask the driver to stop so you can take some photos. The landscape is really impressive. At the Tengger Sand Sea you see the volcanic sand. This area is popular for people who do off road motocross.
In the Savannah area you are surrounded by an island of green (or brown-ish if it is dry season). The visit to these two places is a real chance to see the contrasts in the landscape of Mount Bromo. On the tour of Bromo Tengger Semeru National Park you're guaranteed to take beautiful photos that you'll want to share with your family and friends.
Arranging a Bromo Tour
The Bromo tour is really special. The view of the sunrise is an unforgettable experience. You can probably understand why I tell all my friends they have to join this tour if they visit Surabaya or Malang or Probolinggo. To help you arrange a tour without the usual hassle I've partnered with some local independent drivers and we can take care everything.
Here's What's Included in the Package:
Pick up from your hotel or the train station/ airport
Transport in a comfortable car
Experienced local driver
Entrance costs for Bromo
Drop off at your hotel
FYI Bromo is an active volcano. We do monitor the volcanic activity at the crater. Sometimes people are not allowed to visit the crater when the authorities request the visitors to be 1-3 km away from the crater. You can still enjoy the amazing landscape of Bromo.
Interested in joining the Bromo tour and visiting the most famous tourism sites in East Java? Press the button below to find out more.
Have you ever visited Bromo? Do you have any tips, advice or places you'd recommend?
Next post Review: Tugu Hotel Blitar
Previous post 9 fun and interesting things to do in blitar.
About the Author Firsta
Related posts, bromo marathon: racing towards the future.
96 Comments
Take me there kak Fisrta…. 🙂
Ah Kak Indra, namaku aja salah tulis. 🙁 Yuk berkunjung ke pulau Jawa, nanti kita main ke Bromo!
keren kali kak Fistra!
Thanks Kak Wira 🙂
Very nice article, Firsta. Masih terus terkagum-kagum kalau baca blog yg pake Bahasa Inggris. Kapan aku bisa nulis casciscus gitu ya 😀 *e koq malah curcol
Yes, you give so much reason to come back to Bromo. Longing for it 😉
Thank you Uniek! Namanya seru sekali 🙂 Ini jg masih banyak latihan, dan kadang masih suka aku revisi karena kalau dibaca lagi suka ada yg aneh / salah tulis. Hahahaa.. Yes, I really want to go to Bromo again! Hopefully in the near future. Thanks for dropping by here, Cheers!
bagus…….. aku punya kenalan anjing disana, namanya ROCKY…
What? Mas Arik, anjingnya domisili sebelah mananya Bromo? :p
Di warungny mas Adi, sebelah timur pangkalan bensin buat jeep. https://www.facebook.com/arik.bintang/media_set?set=a.4275326685054.2180677.1342818519&type=3
[…] – Bromo, Baduy, Bale Kambang and so much […]
[…] over 7,000 feet to challenge the skyline with impudent spumes, the still-active Mount Bromo is a cantankerous old volcano that shows no sign of retiring. Particularly impressive at sunrise, […]
I just discovered Mt Bromo while researching for inspiring weekend getaway from Brunei. There is a direct flight to Surabaya from here and I am so tempted to see Mt Bromo. Your article convinced me to visit, but the flock of tourists may change my feeling about visiting. Just want to compliment on your article 🙂
Hi Emily, Thank you for your kind words and the visit to my blog. You should go to Bromo. 🙂 Promise that you will not regret. :p It is pretty amazing!
Firs..ini kyknya gw mau ke bromo december nanti.. hehe.. waktu itu elo berangkat dr mana dan sewa mobil ga yah? hehe
Jenitaaa.. Aku udah kirim infonya by email yaa. 🙂
Great articles! Very inspiring. What is the best way to get from Yogyakarta to Surabaya or Probolinggo? We are leaving in one week to Indonesia 🙂 I'm very excited.
Kind regards, Ayla
Hi Ayla. Thanks for the kind feedback. I'd recommend taking the train from Yogyakarta to Surabaya or alternatively the plane. It really depends on your timetable and budget. If you haven't done the train before I think it's worth it though 🙂 Hope that helps.
Thanks for your information. Can you please email me a package for a midnight tour from Surabaya airport?
Hi Anton, We sent you an email on Sept 22. Please let me know if you receive the email ok. Look forward to hearing back from you, Anton.
Can you help me with the tour, i fly from Jog to Surabaya and from Suryabaya i intend to stay at Malang so i can avoid the midnight ride to Bromo, can you help me with best way to get to Malang frm Suryabaya airport. i would like you to help me stay and a tour for Bromo as well, from here i intend to flyout to Bali. appreciate your help
Though on the google maps you can go to Bromo through Wonokitri / Poncokusumo, but it is not the usual route. I personally never tried it. I always go through Probolinggo, this means it takes 3-4 hours drive from Malang to Bromo. From Surabaya to Bromo is 4-5 hours. The best way to travel from Surabaya to Malang is by rent a private car. If you don't want to do anything in Malang, it is better to go straight from Surabaya to Bromo. When is your travel date? Please get in touch with us through email: [email protected] . Thank you.
Hye Firsta..ur article is very helpful for me to plan my trip to Bromo next April 2018. Im looking forward to experience milky way in Bromo..heard the view was awesome!! Can u give any tips on combining the milky way session with sunrise?will be reaching at Juanda Airport airport around 5:55p.m. Is the camping site at Bromo being recommended anyway?and if it yes, any suggestion on how to rent it for a night?
Hi Sue, I don't have the experience of camping in Bromo so I don't know if they have a campsite around the area. My suggestion is to stay overnight at Lava View Lodge, it is one of the best lodges in Bromo in regards to location. From in front of the lodge, you can see the Bromo volcano, Mount Batok, etc. The view is something like this (I took this shot). You can come out from the hotel around 10-11 pm or 1 AM to see the milky way. You can get some rest afterwards and start the sunrise tour with the jeep at 3:30 AM. Hope this helps. If you are interested in arranging the tour with us, complete the form closer to your travel date (1,5 months before is sufficient). Have a good day!
Thanks Firsta for your prompt reply.. the shot is so beautiful!!!
Thanks Sue!
Hi Firsta. Very Useful information. I am planning to visit mount bromo in march 2019 and may I know what time i should arrive the Surabaya airport if i wish to join the 3 days 2 night Bromo and Ijen tour which mean pick me up in the airport directly.
Arrival max at 10 am on day 1 is the best. 🙂
Could you please send me detail and price of Bromo tour. We plan to come at Surabaya airport at 9:00 am in 22.11. Thank you.
We sent you an email. Hope you receive it ok. Look forward to hearing back from you.
Plan March 2019. Deciding go on weekday or weekend. From surabaya Town.
Hi Jerry, We have sent you an email. Look forward to hearing back from you. 🙂 Bromo is a very popular tourist destination in Indonesia so it is mostly busy. However usually weekday is better than weekend.
Halo Kak Firsta salam kenal, kalau berkunjung ke Bromo di bulan Desember apakah recommended Kak? rencana ingin hunting sunrise dan milkyway, thank you Kak Firsta!
Dear Hutama, Sekarang ini sudah masuk musim hujan, biasanya sampai Maret. Kalau musim hujan seperti ini biasanya kesempatan lihat sunrise dan milkyway-nya lebih kecil.
Hi Firsta, Thanks for your useful information. I'm going to Bali in March 2019 and planning to go to Ubud, visit Mt Batur, Lombok, Bromo and Ljen in 2 weeks. Can you give me some advice to fit all all those places in 2 weeks. Thank you x
Dear Phuong Le, Sure. I'll get in touch through email. Speak soon.
Hi! Im going to do a bromo + ijen 3d2n in late feb. Any guide/tours for this? Theres 3 of us.
Dear Steph, Yes, we can help to arrange that. We will contact you through email. Speak soon.
We are going to bromo + Ijen 4 days 3 nights. Any guide or tour for 4 pax on 7/2/19 to 10/2/19.Thanks
Hi Chea Sow Eng, I have sent an email to you. Look forward to hearing back from you.
Firstly thank you so much for this very informative article.
I am traveling from Singapore, and wish to visit Bromo, Ijen, as well as head onward to Borobudur.
We are two young adults traveling with a 1 year old baby. Heard that Ijen is very sulfuric. Is it suitable for a young baby?
Is the best way to do this trip to book a tour before arriving in Indonesia? Or can I book a tour when I am there?
Dear J Choo,
We have sent a reply through email on Jan 28. Hope you receive it ok. Look forward to hearing back from you.
I am planning for midnight tour to bromo from Surabaya. Single traveller. Please let me know the available packages.
Dear Azsrina,
We have sent a reply through email. Look forward to hearing back from you.
hey there, we are planning to visit mt bromo from jakarta around mid of june..also wish to see milky way..we are a group of 4 adults n 1 kid please lemme knw the best pacakage
Hi Manisha,
I'll get in touch through email. Speak soon.
Hi planning for 5d4n to bromo/ijen in aug 2019
Hi YC, We have sent you an email. Please let us know if you receive it ok. Look forward to hearing back from you.
Hello, I am a KITAS holder and i really want to go to brom from surabaya. I have asked to a travel agent and they said I have to pay for bule price for this year (2019). I always have local price in Indonesia (borobudur, bali, komodo island). Is this thing true?
Hi Elizabeth, Sorry for the late reply. Yes, I think started from 2016 or 2017, you can't get a local price with Kitas anymore.
Hey Firsta, my girlfriend and I have just arrived to an airbnb in Malang and we are looking for a genuine driver willing to take us to either one of these Bromo tours or to a bromo tour followed by Tumpak Sewu. Do you have anyone honest to recommend as most drivers start throwing the randomest numbers out there thinking that we "bule" produce money out of our ass ? And it's definitely not the case. Please help ???
Hi Benjamin, Riri sent you an email a few days ago, but I think its probably too late. Hope you had a great time in Indonesia.
Dear Fiesta,
We are planning to do a 3d2n Bromo Ijen tour on 2nd of June. Any tips?
4-5 June is Idul Fitri, it is one of the biggest Muslim celebrations in Indonesia. Usually some destinations especially those in Java will be quite packed and the traffic will be generally bad. If you can, I recommend to change your travel date.
Dear Firsta, Looking to do the Bromo & Ijen tour 7th and 8th of May. I'm a single traveller on a tight budget. Could you please help me out? Thanks!
Dear Danique, Unfortunately we don't have recommendation for a shared tour for Bromo and Ijen. We only run a private tour arrangement. Hope you can find something and have a great time in Indonesia.
Hai, saya Faridha dari Bandung rencana long tour Bromo di awal Juli sekitar tgl 5. Kalo saya menginap di Plataran Bromo jam brp Jeep jemput ? Dan berapa biaya nya ? Terimakasih
Hi Firsta, thanks for your informative guide. Me and my girlfriend will be in Probolinggo in the first two weeks of August and want to do a Bromo tour. How much is the long tour for this period? And are there any options to do a two day tour with a night near Bromo?
Kind regards,
Dear Jon, My colleague Riri has sent you an email. Please let me know if you receive it ok. PS: Please check your spam folder too. Look forward to hearing back from you.
Hello, I will travel to Bali on 12th of June and will stay in Ubud. Would you please give me an advice how can i arrange to book a Bromo tour 3D2N? I'd love to join it, from 13th is okay to me. This is the first time i visit Bali…?, your recomendation is really valuable to me. Can you send me tge detail of the tour and price as well? Thanks. Have a great day! Best regards, Emma
Sorry for the late reply. I have sent you an email. Look forward to hearing back from you soon.
Hi Firsta I would like to do a Bromo-Ijen tour 16-19 Jun. Can you please send me an itinerary with prices, inclusions/exclusions. I am available from evening of 16th from Surabaya and would like to be back there at the end of tour. I am single and would appreciate help. I am also okay to extend the tour by a day if necessary but would prefer to be back on Wednesday night at Surabaya. Thanks.
Hi Varun, Sorry for the late reply. We have sent an email to you. Hope you receive it ok.
Hi can i know a packages to the bromo and ijen
I have sent you an email yesterday. Look forward to hearing back from you.
Firsts Read ur article on Mount Bromo .Interesting.should I carry warm clothing.Is the temperature on minus degree now
Dear Vasantha, yes, bring a warm jacket. It can be as cold as 3C. You can also rent a warm jacket on the spot, if you don't bring any.
What a complete guide you have here, kak! I'm sure everyone will need this guide. Nice post 😀
Hi Walter! Thanks for dropping by 🙂 Hope to see you again sometimes in the future! Safe travels and keeps on blogging.
Hi Firsta, I will be travelling to Surabaya in Oct 2019 with my husband and two kids age 4 & 2 years old respectively. We are planning to do the 1 day sunrise tour. Would need some advice from you.
I have sent you an email a few days ago. Look forward to hearing back from you.
Hi, I am thinking to go bromo. I have 4 days 3 night on August 2019. Can u recommend different type of tour. Can I bring my 11 n 13 years old kids along?
Hi Yolanda, Yes, you can definitely bring your 11 and 13 yo kids. We have sent you an email a few days ago. Look forward to hearing back from you.
Hi Frista, I will be there with my 2 friends in August 2019. We will need a guide from Surabaya airport. We reach Surabaya in the morning around 9.30 am. Need your favor to give us complete guide to enjoy our trip in Bromo.
My colleague will email you the details. Thank you.
Me and 2 two are planning to go to Bromo from Malang. We are planning to arrive by train at 3:30am and go directly to Bromo. I have no idea if it is possible but we were thinking to go to Probolinggo after Bromo instead of coming back to Malang.
We would like to know if it is an executable idea, and how should we do in terms of renting the car, the tour, etc etc.. ? Can you please help us with that?
Thank you a lot in advance, Diogo Aguiar
I have sent an email to you. Look forward to hearing back from you.
Hi, there is 2 of us arriving on Saturday night in Surabaya airport at 11pm and would like to go to Mount Bromo straight from there. Would it possible to let me know prices. Thank you Mauricio
Hi Mauricio, we'll get in touch through email. Speak soon.
Hey Firsta!
We like to have the long tour with starting in Malang on Wednesday the 25th. We are 2 people. Do you have prices and can you arrange the tour, starting at our hotel? Please leave me a mail.
Best regards Marcus
Hi Marcus, I have sent you an email. Looking forward to hearing back from you.
Hello Fiesta,
I would like to go this Monday, I am alone, is it possible to arrange a tour fro. Malang?
Hi Jorge, I have sent you an email. Look forward to hearing back from you.
Hi Firsta, my husband and I are interested in a Bromo Tour next week. Best, Christina
Hi Christina, We sent you an email 5 days ago. We haven't heard anything back from you. I hope you receive it ok.
Hi! Can I check the price for the Bromo tour?
We have sent two emails to you. Hope you receive it ok.
Hi, 1. Is Ijen safe for a 6 year old child? 2. Surabaya–> Bromo/Ijen –> Batu, Malang (price for the transfers/package please)
Dear Shazwani,
My colleague Riri sent you an email. We need more information from you to be able to send a quotation. Look forward to hearing back from you.
Hi there, What will the price be if picking up from Plataran Bromo? And is it possible to visit Madakaripura Waterfall as well?
Hi Ru, We will get in touch through email. Thank you.
i wish to do a 3-4days trip to Surabaya that include : Mt.Bromo, Tumpak Sewu and Madakaripura waterfalls.
May i know any suggested itinerary and price.
Traveling date : 23 JAn – 28 Jan 20201
Thanks for the message. We have sent you an email a few days ago. I wonder if you receive it ok.
Me & my family plan to visit Bromo in June. We'll arrive from Surabaya. Could you send me the itinerary for private tour please. We plan stay stay 3-5 for this trip. Sincerely- Ana
Dear Ana, I have sent an email to you (please check the Junk folder if you can't see it in your inbox). Look forward to hearing from you.
Dear Firsta,,
Apa khabar, saya physically disabled (using elbow crutches). Is it possible for me to enjoy Mount Bromo trip ?
Hi Rosli, I think it should be fine. The journey to the crater will be challenging. You can take a horse, but you need to hike some stairs. Bromo is also nice to see from afar (from the viewpoint or several points around the sea sands and the savannah, which you don't need to hike to reach). Take care!
Leave a reply Cancel reply
Your email address will not be published. Required fields are marked *
Pin It on Pinterest
Mount Bromo Sunrise In Indonesia: The Volcano Crater Tour
The Mount Bromo sunrise and volcano tour in Indonesia is easily one of the most amazing travel experiences you can have anywhere in the world.
Climbing the Mount Bromo crater in Java isn't very hard and you get to look directly into a smoking volcano, complete with the nasty sulfur smell!
The first time we visited Mount Bromo Indonesia, we did an independent road trip through East Java that included Mt Bromo and the Kawah Ijen crater, along with some epic waterfalls, before ending in Bali.
Our most recent visit was a bit different because we used a Mount Bromo tour package . This time we booked a one day tour from Surabaya to Mount Bromo, complete with a jeep ride around the volcano. We liked this even better.
Whether you use a tour package or not, the Mount Bromo volcano is a 'bucket list' item you shouldn't miss on your journey through Asia, and you can even travel from Bali to Mount Bromo without much hassle.
This travel guide will explain how to go to Mount Bromo, where to stay, entrance fees, how to be safe, and everything else you need to know before you go!
The iconic volcano lineup at Bromo Tengger Semeru National Park. Bromo is the smoking crater on the far left. Semeru is the volcano erupting in the background.
Where Is Bromo?
Mount Bromo is an active volcano crater located in East Java, Indonesia.
It's located between the cities of Malang, Surabaya, and Probolinggo, and you can visit it from any of those places.
The Bromo mountain is part of the Bromo Tengger Semeru National Park, where you can see a famous cluster of 5 volcanoes (including Bromo), and Java's highest mountain Semeru puffing out smoke in the background.
Needless to say, these volcanoes are an incredible sight!
Drone pic of the smoking Bromo crater
How To Visit Mount Bromo
The easiest way to visit Bromo is to fly to Malang or Surabaya, and then book a day tour or a multi-day trip from there. If you're in Bali, you can also do it in the opposite direction, starting overland from Bali and then ending at Malang or Surabaya.
Bali has direct flights to and from Malang (MLG) and Surabaya (SUB) every day, and a one way ticket can be as cheap as 600k Rupiah ($40 USD). You can shop for flights to Malang or Surabaya at Skyscanner.
Once you arrive in Malang or Surabaya, it's easy to book a day tour to Bromo or you can arrange everything yourself if you prefer. A full day tour is enough time to see all the highlights of the park.
We normally like to do things without a tour, but this is one case where I think the tour is definitely a good idea. Mt Bromo is a bucket list item and you want to do it justice.
A tour lets you do extra activities like Jeep riding around the volcano, and it really doesn't cost a whole lot more when you total everything up, plus you don't have to hassle with buses, etc.
Best Mount Bromo Tour Package
Here's a top rated Mount Bromo day tour package with Klook starting from Surabaya or Malang.
You can book this as a private tour or shared tour, and it includes all of the highlights like the Mount Bromo sunrise, jeep ride in the sea of sand, optional horse ride, Mount Bromo crater hike at the volcano, and you can also add the Madakaripura Waterfall as a bonus to the itinerary.
If you're wanting to do a multi-day trip, Klook has overland tours to Bromo and Ijen from Bali with guides, accommodation, and other expenses included. You can even add on a visit to the Tumpak Sewu waterfall .
We've used Klook for lots of tours and activities around the world, and they're great. Highly recommended!
Book Now: Mount Bromo Day Tour / 2D1N Ijen Combo / Overland Tour From Bali
Jeeping around the volcano is one of the highlights of a Mount Bromo tour package
Another drone pic
Looking down into a smoking volcano
Where To Stay
In East Java you have the option of basing yourself in Surabaya, Malang, Probolinggo, or Mount Bromo itself ( Cemoro Lawang village ).
Surabaya has the most comfy hotels since it's a major city in Indonesia, and Malang has some great options too. Probolinggo is smaller, but also has a few good hotel options .
Here are some of our top hotel recommendations below for the city of Surabaya, which is where we stayed on our last trip to Mount Bromo.
Surabaya Hotels
JW Marriott
Sheraton Tower
Royal Singosari
Four Points Hotel
Staying At Bromo
If you want to stay really close to the action, there are some Bromo hotels at Cemoro Lawang village but they tend to be pretty basic, and a bit overpriced for what you get.
Cemoro Lawang is generally not a fun place to stay because it's very undeveloped and hasn't caught up to mass tourism at Bromo yet. That may change someday, but for now, most of the budget friendly hotel options at Cemoro Lawang are really rough.
Our top recommendations there would be Cahyo Homestay Bromo , Good Karma Guesthouse , or Guesthouse Gunung Bromo . Again, don't expect luxury.
You can see the highlights of Mount Bromo in one full day tour, so it's not really necessary to stay there longer unless you're a serious photographer or just want more time exploring the area.
Best Things To Do At Mount Bromo
• mount bromo sunrise.
First things first — witness the famous Mount Bromo sunrise from above the volcanoes!
Before you start exploring the Bromo mountain up close, you have to see the sunrise from the top of the caldera. Every Mount Bromo tour package starts like this, and for good reason.
It's probably one of the best places in the world to watch the sunrise. The colors are amazing, and on a clear day you can see all the way to Mount Argopuro in the east.
• Mount Bromo Volcanoes Viewpoint
The viewpoints on the north side of the caldera are where you can get those iconic pics of the Bromo volcano cluster.
Your main options are Seruni Point , King Kong Hill , Bukit Perahu , Bukit Cinta , or the highest viewpoint Penanjakan . You can click each of these links for map coordinates.
To be honest, there is very little difference between these viewpoints and the only reason so many of them exist is to help space out the crowds at Bromo, which can be pretty crazy (especially on weekends).
In other words, don't worry about which viewpoint you go to — they're all amazing, so just enjoy the epic scenery! Photography here in the early morning is ideal because you'll get nice shadows and atmospheric fog around the Bromo mountain complex.
• Sea of Sand
After sunrise, the next stop is the 'sea of sand' at the bottom of the caldera. The locals call it Lautan Pasir, which means the same thing in Bahasa Indonesia.
This is a really neat place and you'll need to pass through it anyway to reach the Bromo crater. You can explore the sea of sand by Jeep, horse, or motorbike.
It's a perfect photo spot with the steep ridges of the Mount Widodaren volcano in the background.
Mount Bromo Jeep Tour
Horseback riding
• Mount Bromo Crater Hike
Possibly the most amazing thing to do at the Bromo mountain complex is the hike to the top of the smoking volcano crater.
The full hike to the top of the Mount Bromo crater (starting from the sea of sand) takes about 1 hour, although you can speed it up if you ride a horse partway.
The last part of the hike has to be done on foot, and it's a short but steep climb up a concrete stairway to the top of the crater. It's not too hard for non-hikers, and even kids can do it.
Be careful at the top because there's not much of a safety railing, and on a windy day it has nasty sulfur fumes that are hard to breathe. Generally you can't see red lava here, but you can peek right into the smoking crater of the active volcano!
Is The Volcano Safe?
Mount Bromo is generally safe to visit, but it's a good idea to check the current status before you make plans, otherwise you may not get the full experience if part of the park is closed.
There were eruptions in 2010, 2015, and 2019. Usually no one is hurt, and you can still get some great views from a distance, but at the very least they may close access to the Mount Bromo crater hike , because during a 2004 eruption two tourists were killed by flying rocks there.
Nowadays, the area is closely monitored and they have earthquake detectors underground to anticipate any volcanic activity from Bromo.
No one has been hurt by the volcano in almost 20 years, and it gets close to 1 million visitors per year, so overall the safety record is pretty good.
Mount Bromo Entrance Fee
Weekdays: 220k IDR (~$15 USD) / person / day
Weekends: 320k IDR (~$21 USD) / person / day
These Mount Bromo entrance fees are current as of 2023.
It's a bit pricey by Indonesian standards, and I wish they would at least make the tickets last longer (like 3 days) so you could get more bang for your buck.
Weather / Climate — How Cold Is Bromo?
Even though this is Indonesia, Mount Bromo and Cemoro Lawang can be pretty chilly before sunrise since they're 2,329 meters (7,641 ft) above sea level, and the sunrise viewpoints are even higher!
The elevation at the Penanjakan viewpoint is a whopping 2,770 meters (9,088 ft). For Indonesia that's unusually high.
Temperatures can drop below 7 Celsius (45 F), and that doesn't even factor in wind chill. It can get incredibly windy on the mountain peaks, and dry season is cooler than rainy season.
However, you'll only be chilly before sunrise. After that it warms up pretty quick, and the sun at this elevation is plenty strong.
If you're too cold at Mt.Bromo while waiting for sunrise, you can also rent a jacket at your hotel, or rent a jacket from one of the many small local shops near the sunrise viewpoints.
Mount Batok is an extinct volcano in the Bromo Tengger Semeru National Park
Inside the caldera
Volcano X-ing
What To Bring
Jacket: This is essential for sunrise because it can be very chilly. After sunrise, you'll want to shed the jacket.
Footwear: Regular shoes are fine, but sturdy hiking shoes are better for the Mount Bromo hike. If you go to the crater, you'll be walking on slippery gravel and steep inclines or declines at times.
Sunglasses: Can be good to protect your eyes from sandstorms in the sea of sand.
Poncho: If you visit Mount Bromo during the rainy season in Indonesia (especially December to February), you might want to bring a rain jacket just in case.
Snacks: Even though most Mount Bromo tours include free breakfast, it's skimpy and you'll probably be wanting energy snacks to go with it.
Headlight: This is useful for hiking before sunrise, especially if you plan to do the Mt Bromo hike without a tour guide.
Camera: Mandatory! A small tripod could be handy too since it'll be dark before the Mount Bromo sunrise.
Drone: So far, there aren't any rules against flying a drone at the Mt Bromo volcano, although I wouldn't recommend doing it at the sunrise point since it's so crowded. Once you go down to the Sea of Sand, there's a lot of wide open space to fly without bothering people.
The stubby peak of Mount Batok
Best Month To Visit
There's not really a best month to visit Mount Bromo, although any time in the dry season is definitely ideal.
Indonesia's dry season runs from April to November, and during this time there's less rain and the mountain visibility is best. This applies to East Java too.
You can still visit Mount Bromo during the rainy season in East Java (December to March), but if it's cloudy you may miss the sunrise and the iconic view of the volcanoes, so it's not ideal.
With that said, both of the times we went to Bromo were technically on the tail end of the rainy season, and we still had perfect weather, so don't write it off completely.
In general, it's hard to avoid the crowds at Mount Bromo because this place has become a bucket list item for so many people. Definitely try to avoid weekends and public holidays, because the park can get especially crowded during those times.
If you want to see an active volcano in Indonesia without any crowds, check out Mount Dukono in North Maluku. This one is more remote than Bromo and requires a harder hike to reach, but it's spectacular and you might have it all to yourself!
Is Mount Bromo Open / Closed?
Yes, Mount Bromo is currently open for tourists as of November 2023! I'll update this travel guide if anything changes. Mount Bromo was temporarily closed on September 7 because of wildfires in the area, but it officially re-opened for tourists on September 19, 2023.
The mountain is rarely closed to the public, and that would only happen temporarily if there's some kind of special ceremony, or if there's unusual volcanic activity or other safety concerns. It's also briefly closed every year for Silent Day (March 11-12, 2024) and Yadnya Kasada (July 6-7, 2024).
You can also check on status updates for all of Indonesia's volcanoes at Magma Indonesia .
Happy travels!
More Things To See Near Bromo
There are lots of good things to see and do near Mount Bromo in East Java, Indonesia, including the spectacular Tumpak Sewu Waterfall and a bunch of other nice waterfalls near Malang and Probolinggo.
After visiting Mt Bromo, most travelers head on to Kawah Ijen , a spectacular crater lake on the eastern end of Java island.
You could even climb Mount Semeru, which is Java's tallest mountain. It's the volcano peak you see erupting in the distance behind the Bromo Tengger Semeru National Park.
Don't forget to check out my 1-Week Java itinerary for more ideas of what to do in East Java and Central Java!
Tumpak Sewu Waterfall is another popular sight near Malang
Mount Bromo vs Kawah Ijen: Which Is Better?
So which is better, Mount Bromo or Kawah Ijen ? And if you only have time to see one of them, which should it be? That's not an easy question, actually.
In my opinion, Bromo has a more spectacular landscape, and you get to look into a smoking volcano crater. The hiking is also easier compared to Ijen, and it's closer to a major airport (Surabaya), although the drive from town is longer.
On the other hand, Mount Ijen has the world's biggest acid lake, with a spectacular turquoise color, and you can also see the 'blue fire' phenomenon if you go there at night. Ijen also has the advantage of being closer to Bali, and closer to a town (Banyuwangi).
Overall, it's hard to choose between Mount Bromo vs Kawah Ijen. I lean toward Bromo as my favorite, but that's just my opinion and I'm sure plenty of people would disagree with me. If you have time, definitely try to see both places in East Java!
Read More: Kawah Ijen Volcano
After visiting Mount Bromo, most travelers go to the spectacular crater lake of Kawah Ijen in East Java.
More Indonesia Travel Guides
Thanks for looking! I hope you enjoyed this Mount Bromo travel guide.
Seeing the sunrise viewpoint and Mt Bromo volcano tour was one of the best parts of our visit to East Java, Indonesia.
While you're visiting Mount Bromo, don't forget to check out my Kawah Ijen guide , as well as my complete Indonesia Travel Guide with more tips, info, and photos!
1-Week East Java Itinerary – Temples, Waterfalls, & Volcanoes
Kawah Ijen Crater Lake – Complete Travel Guide
Best Hikes In Indonesia – Volcanoes, Jungles, & Waterfalls
Most Beautiful Indonesian Islands – Best Places To Visit In Indonesia
Indonesia Waterfall Guide – Best Waterfalls In Indonesia
Indonesia Beach Guide – Best Beaches In Indonesia
Indonesia Travel Guide – Tips, Info, & Photos
You may also like
Samet nangshe viewpoint: best sunrise spot in thailand, tiger's nest monastery bhutan hike (paro taktsang), seram island & ora beach travel guide (maluku, indonesia), antelope canyon tours: which is best (upper, lower, x), vietnam incense village tour (quang phu cau) from hanoi, palau scenic flight over the rock islands + pictures.
Hi David. Hope you're well. My name is Sujay, I'm from Mumbai, India – and I've been planning a trip to Bali and Java for the past few months to come hike a few volcanic mountains and shoot some videos for a personal art project. I've been reading your blog a lot and have really enjoyed the pics and details – very helpful. However, just 5 days before I was arrive in Bali, I heard the news that the Bali government, just last week, has banned entry to ALL mountains for tourists and locals alike. I was wondering if you know anything about this – is the ban in effect and super strict? Or are there guides still taking tourists on hikes?
The ban is specifically for the province of Bali and whatever places comes under its jurisdiction – I think this includes east Java too. I wanted to know if trips to Mt. Bromo and Kawah Ijen are still happening or these sites are also banned from climbing?
Are there any other active/smoking volcanoes outside of the official Bali province which you'd recommend? I was also looking at visiting smoking lava fields, hot springs etc…
I'm already here in Bali, so it would be great if I hear back soon!
Thanks so very much. Looking forward, Sujay
Hi Sujay, thanks for your comment. I just replied on email. The Bali mountain ban being pushed by the governor is not in effect at the moment, and I think it's very unlikely it will happen. In any case, it wouldn't affect any of the mountains in Java, including Mount Bromo and Kawah Ijen. Good luck on your trip!
Could you please elaborate on: "and you can even travel from Bali to Mount Bromo without much hassle." If we want to travel overland from Malang to Bali, what would be the best way to do so?
Hi Kelsey! We hired a private driver and did a road trip starting from Malang and ending in Bali. We saw a bunch of waterfalls near Malang, and then did Bromo and Ijen on the way to Bali. You can see some of our itinerary ideas here . If you want to simplify it, Klook has multi-day tours to Bromo and Ijen from Bali with guides, accommodation, and other expenses included. Before covid there were also direct flights from Bali to Malang (and vice versa), but right now the only flight options are Yogyakarta or Surabaya. Good luck! I'm happy to answer any questions.
Love the post, lots of great information please keep updated….
Hi David, my name is Paula and I be travelling to Surabaya over this weekend for a Bromo Crater hike. Heard this was an off limit activity since the fire. Wonder if this ban has been lifted and if there is anywhere online that I can check for this update? By the way, thanks so much for sharing your journeys and beautiful pictures.
Hi Paula! Thanks for your comment. Bromo officially re-opened for tourism yesterday (September 19). I haven't heard if that includes the crater hike, but I would think it's open as well. The fire is already extinguished. Good luck!
Leave a Comment Cancel Reply
Save my name, email, and website in this browser for the next time I comment.

Visit Mount Bromo Volcano: Everything You Need to Know
Mount Bromo is a 2300-meter-high volcano in Java, Indonesia . A Mount Bromo sunrise tour at this active volcano is the highlight of your trip to Java . It is surrounded by a wide-stretched sea of sand where most visitors drive around with a 4×4 jeep. The volcano is active every 5 years, and the lava always stays inside. Bromo can be visited in many ways, and the visit can be done by young and old. This is everything you need to know about a Bromo tour.
Sunrise at Mount Bromo
In the middle of the night, hundreds of jeeps drive up towards King Kong Hill, where you have the best sunrise view on Mount Bromo. The drive up starts at 3 AM and takes 1 hour.

Another option, instead of a jeep, is to jump on the back of a motorbike.
At the drop-off at King Kong Hill, you will have to walk for about 5 minutes to reach the small stalls with coffee, tea, fried bananas, and a cozy fire. Book your tour here .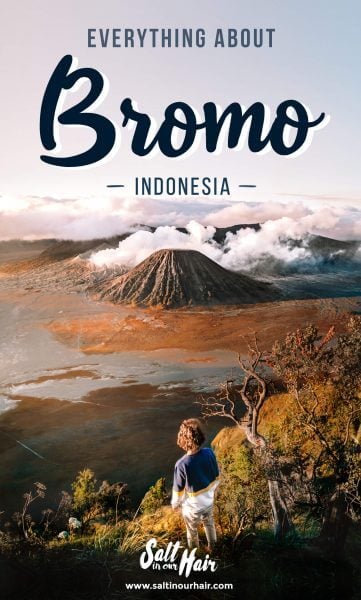 Temperature at Bromo
It is freezing cold in the morning at Bromo. The temperature will be between 0-10 degrees with a cold, strong wind. The small fires at the food stalls are, therefore, super comfortable.
Must Read:   8-day Java Route Guide

What to wear during a Bromo tour?
Be prepared to wear long trousers, socks, closed shoes, a shirt, and a jacket or multiple sweaters. The good thing is that you can rent a jacket at your hotel or at the top of King Kong Hill for ~ 30,000 IDR.
Here are all your hotel options in Bromo .

Best viewpoints Bromo
The best viewpoints are on Gunung Penanjakan. The two popular viewpoints on the mountain are called King Kong Hill and Seruni. From both viewpoints, it will be busy, but you will always have a higher and less crowded point.
See availability and tickets for a tour of Mount Bromo

Walk to one of the viewpoints and experience a magical sunrise over Bromo, Mount Batok, and Mount Semeru. It will rise around 5:30 AM. Right after sunrise, you can get rid of the jacket or sweater as the temperature rises quickly.
Good to know: There are toilets at both the bottom and top.
Secret Sunset viewpoint
When you are spending the night at Cemoro Lawang, try to visit this location and see the sun disappear behind Bromo.

Visiting the Bromo Crater
Head back to your jeep and get prepared for the drive down towards the Bromo crater. Due to the many jeeps, traffic jams are unfortunately very common so the drive down can take a little longer. Leave the sunrise point as early as possible if you want to skip this traffic jam.

The jeep drives you to the Luhur Poten Hindu Temple at the foot of Mount Bromo. From here, you have to walk about 10 minutes on a dusty road to reach the stairs. Please don't take a horse for this small walk. These animals are not treated well (learn more about wildlife tourism here).
Tip: Take a scarf or dust mask for all the dust. You really need this!

On top of Bromo
Another 10-minute walk up the stairs, and you are on top, where you can admire the crater. Every few minutes, white smoke spews out from the volcanic crater. Walk along the edge of the crater to a more quiet point. There is a concrete barrier to hold on to; don't worry!

How to get to Bromo?
Plan to spend one day at Bromo. The entrance fee is 215.000 IDR during the weekday and 315.000 IDR on the weekend. Contact our great driver Azhar on Whatsapp (+6281336042045) . Make sure to tell him you came via 'Salt in our Hair' so you'll get the best price. Visiting Bromo can be done from these three locations:
Cemoro Lawang (Bromo town)

It is useful to figure out which of the three towns you prefer to stay near Bromo and what your destination will be afterward. If you are planning to visit the Ijen Crater then staying at Probolingo or Cemoro Lawang is the best option. The last thing to decide is whether you are going on a tour to Bromo or not.

Bromo Tour
The easiest and probably best way to visit Bromo is via a tour. A tour with a 4×4 jeep from Malang to Bromo and Ijen Crater is the popular way to go. On your way, visit the Coban Pelangi waterfall, drive through the vegetable mountain range (Ngadas Village).

Follow your way through the Savannah and Sea of Sand until you reach Cemoro Lawang, the village at Bromo. Don't forget to shoot some cool photos with your jeep! The next morning, you will follow the sunrise Bromo tour as described before .
Note: You can do this trip from Probolingo too but without Savannah, Ngadas and Pelangi.

Price of a Bromo tour
Prices for a tour to Bromo range anywhere from 500,000 to 2,500,000 IDR (30 to 170 USD) depending on the number of days, private or not, and the comfort you are looking for. The usual Bromo tour includes:
Coban Pelangi (waterfall)
Sea of Sands experience
Overnight at Cemoro Lawang
Sunrise Top of King Kong Hill
Visit the top of the Bromo Crater
Breakfast at the hotel
We had a 2-day Bromo and Ijen Crater tour ourselves, and it was 100% worth the money.
Contact our great driver Azhar on Whatsapp (+6281336042045) . Make sure to tell him you came via 'Salt in our Hair' so you'll get the best price.
Visit Bromo without a tour
Traveling on a tight budget? The Bromo National Park can be visited without an organized or private tour. Your best option is to take a local bus from Probolingo to Cemoro Lawang, which takes around 90 minutes. Keep in mind that there is another 10,000 IDR entrance fee at Cemoro Lawang.
Where to Stay
Plan to spend the night at a guesthouse or hotel. The village is entirely focused on accommodating visitors, so you should always be able to find a place. Please note that you may not have hot water at a homestay.
Hotels in Bromo 😴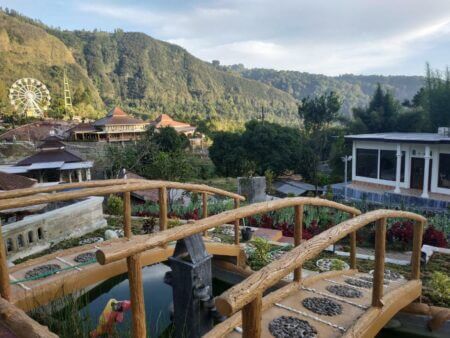 Tip: In the morning, jump on the back of a motorbike that takes you up to the viewpoint.
When you purchase something through our links we earn a small fee. However, you still pay the same. Win-win!
Find Hotels via Booking.com
Find a Rental Car via Sunny Cars
Find Cheap Flights via Skyscanner
Get a Travel Insurance via Heymondo
Book Tours & Attractions via Viator
Book a Bus/Train/Transfer via 12Go

Indonesia Travel Guide: The Ultimate Itinerary to Bali, Java & Flores

Tumpak Sewu: Best Waterfall in Indonesia (Java)

Java Travel Guide: Best Things to do (8-day Route)
Looking for more travel information? Plan a chat with us for personalised travel advice or get an answer from the Salt in our Hair Travel Community on Facebook.
Hey! Just wanted to ask you, did you use your tour guide Azhar for Bromo&Ijen too? Where is he based?
Yes we did, he is based in East Java himself!
Your email address will not be published. Required fields are marked *
Notify me when new comments are added.
Mount Bromo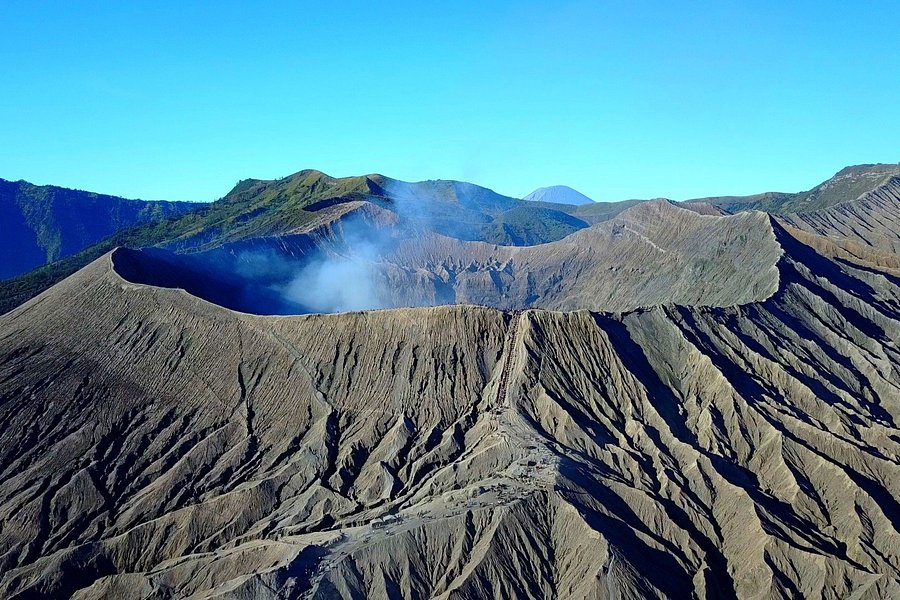 Mount Bromo - All You Need to Know BEFORE You Go (with Photos)
Mount Bromo Sunrise Private Tour - From Surabaya (23:30 - 15:00) (From $134.44)
1 Day - Amazing Bromo Sunrise tour with 7 spots // 00.30 -13.00 (From $45.29)
Active Volcanoes Bromo and Ijen - Start Surabaya 3 Days and 2 Nights (From $301.29)
3Days - Adventure Bromo Ijen via Surabaya (From $245.00)
Bromo sunrise tour via Tumpang - start Malang // 1 day tour (From $92.31)
(5.99 mi) The 1O1 Malang OJ
(5.33 mi) Grand Mercure Malang Mirama
(6.20 mi) Hotel Tugu Malang
(6.70 mi) The Shalimar Boutique Hotel
(0.69 mi) Atmosfera Pakis
(0.44 mi) Disambal Republic
(6.24 mi) SaigonSan Restaurant & Rooftop Terrace
(6.20 mi) Melati Restaurant
(4.35 mi) Taman Indie River View Resto
(7.00 mi) Java Dancer Coffee Roaster
(5.52 mi) Smartway Indonesia Tours
(6.20 mi) OURTRIP1st - Day Tours
(6.10 mi) Smartine Indonesia Travel
(6.81 mi) IDN Trip Experiences
(6.16 mi) Travelife
Mount Bromo Information
Amazon River
Galápagos Islands
Indonesian Archipelago
Mekong River
Irrawaddy River
India Cruises
Machu Picchu
Iguazu Falls
Southeast Asia Tours
Indonesia Tours
Mount Bromo
Mount Bromo Tours & Trips
Indonesia boasts more volcanoes than any other nation on earth, but Mount Bromo (Gunung Bromo) is regarded as the most iconic and breath-taking. An active volcano, Mount Bromo's smoldering cone rises from massive Tengger Caldera in East Java , flanked by several other volcanoes. At 7,641-feet-tall, Gunung Bromo isn't the highest peak, but ranks as Indonesia's most hiked mountain and its incredible lunar-like setting and volcanic landscape outshines them all.
On an unforgettable Mount Bromo tour, watch the sun rise over Mount Bromo, Mount Batok and Mount Semeru from your perch on the edge of a towering crater rim before venturing into the old caldera, or – like most who visit Mount Bromo – hike to the summit itself to share the awe-inspiring vistas with an ancient Ganesha figurine, laden with offerings, who protects local villagers from the volcano's angry spirits.
Bangkok To Bali: Thailand & Indonesia
Indonesia Wildlife Holiday
View last remaining Christmas & New Years availability for Amazon and Galapagos
Work With Us
Blogging Bootcamp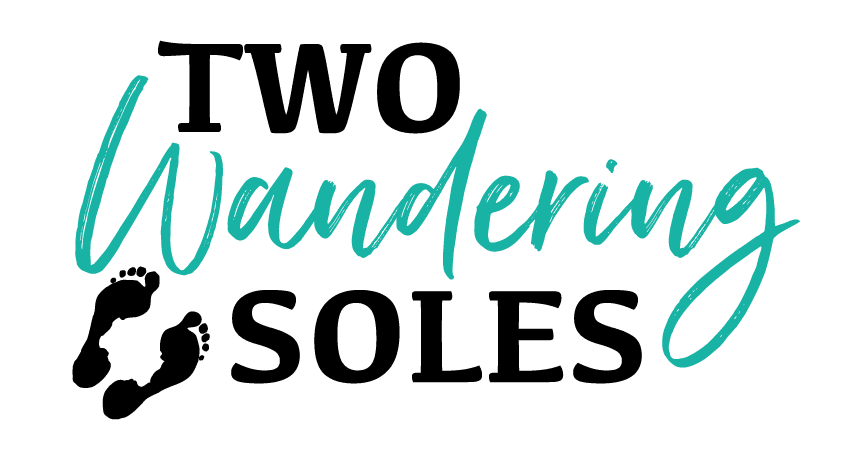 Campervan Life
Van Conversion Academy
Campervan Shop
Campervan Rentals
Plan a Trip
Itineraries
Destinations
Responsible Travel
Family Travel
Budget Travel
Scuba Diving
Travel Credit Cards
Digital Nomad
Teach English Abroad
Blogging Resources
Income Reports
Travel Shop
Meet Katie & Ben
About Two Wandering Soles
Personal Stuff
Portfolio & Press
Mount Bromo Tour: Sunrise at Indonesia's Most Famous Volcano
Home » Blog » Indonesia » Mount Bromo Tour: Sunrise at Indonesia's Most Famous Volcano
Indonesia has plenty of volcanoes, but amongst the most spectacular is Mount Bromo, which is located in East Java. Arranging a Mount Bromo tour for sunrise will be one of the highlights of your trip to Java… if you know what to expect and are prepared, that is! We're sharing insider tips and everything you need to know about visiting Bromo mountain!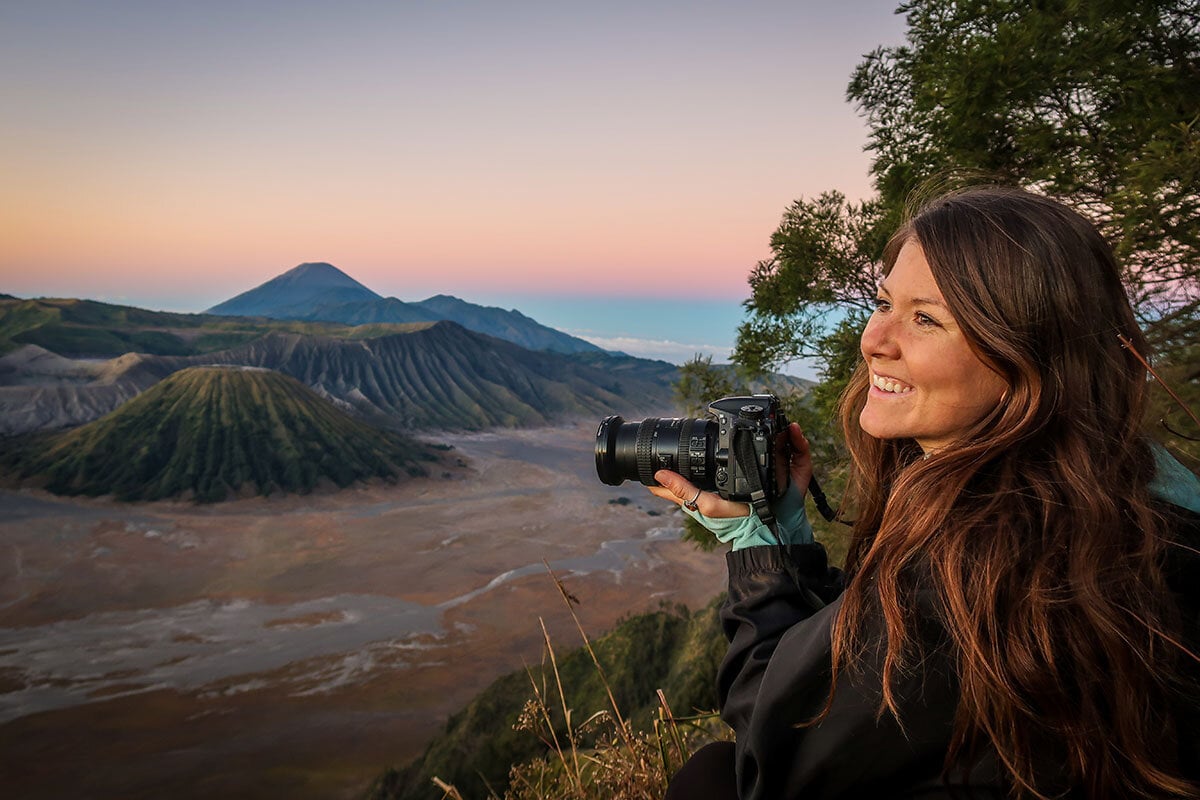 While planning our trip to Java, one of the very first things I put on our itinerary was seeing sunrise at Mount Bromo. I had seen pictures on Instagram and I couldn't help thinking that it looked like a perfect volcano, like a kid's science fair project or something out of Jurassic Park or some other adventure movie .
Whether it's because of its postcard perfect beauty or the sheer number of people that flock to see it each morning, there's no arguing that Mount Bromo is one of the most famous volcanoes in Indonesia. (And Indonesia is a country with a lot of volcanoes!)
In this article, we're sharing our experience witnessing sunrise at Mt. Bromo as well as what to wear, how to book a Jeep tour, and tips for getting away from the crowds (as much as possible!).
Article Contents:
Mount Bromo Location & How to get there
How to see Sunrise at Mount Bromo
Jeep Tour: What to expect
Jeep Tour Example Itinerary
How Crowded is Mount Bromo?
Cost of Mount Bromo Tour
Mount Bromo Tips
What to wear & what to pack.
Visit Mount Bromo without a Tour
Hotels near Mount Bromo
Mount Bromo Facts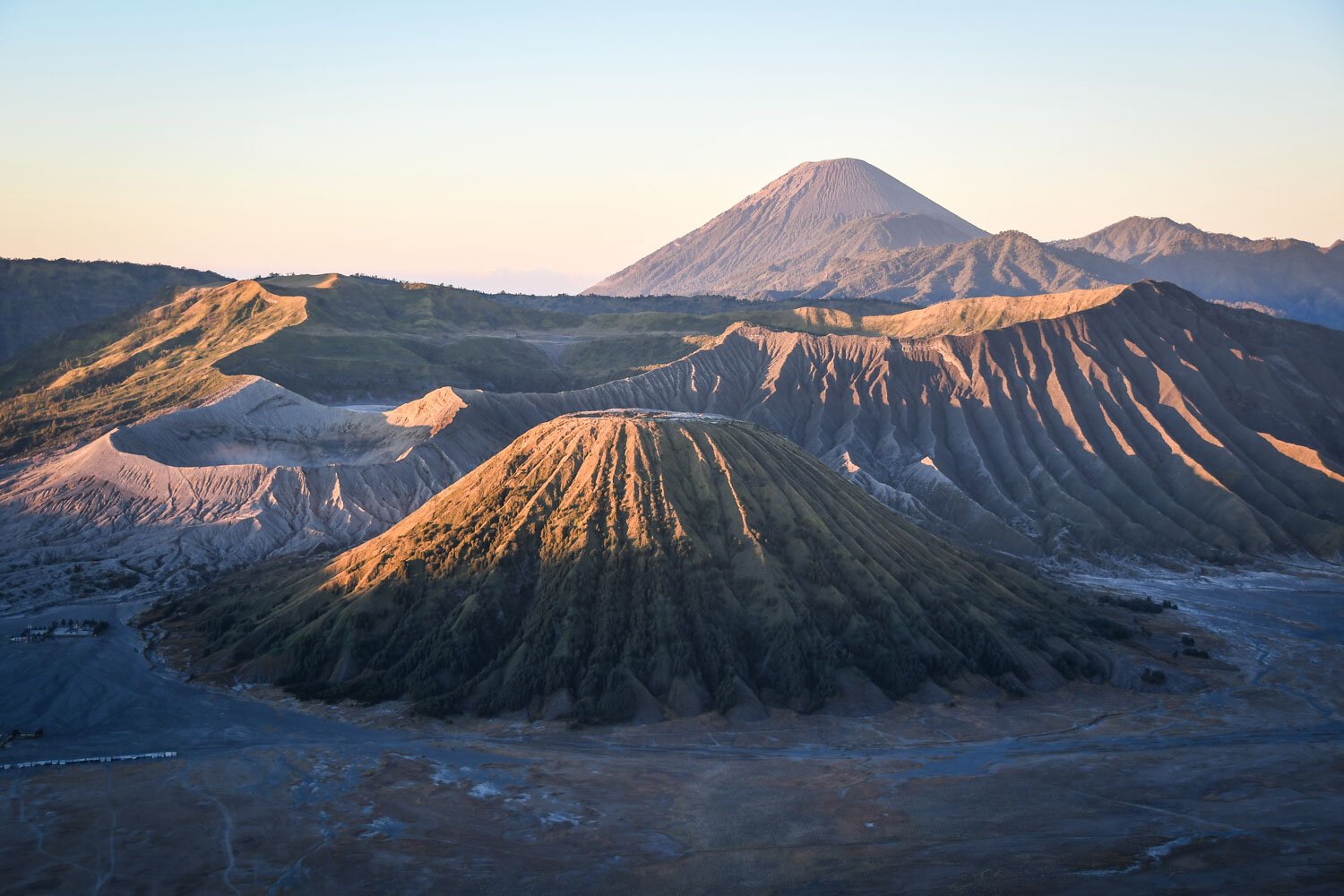 What: Active volcano
Where: Located in Tengger Semeru National Park (in East Java), Mount Bromo is part of a group of group of volcanoes called the Tengger Massif.
Height: 7,641 feet/2,329 meters (from sea level)
Mount Bromo is not the tallest volcano in the massif, but it is the most famous.
Name: Bromo actually comes from the Javanese pronunciation of "Brahma", the Hindu god of creation.
Temperature: It can get cold (very cold!). We've read that the area surrounding Mount Bromo can get as cold as 32º – 50ºF (0º – 10ºC). Make sure you're prepared to endure the cold as you wait for sunrise!
Tourism: Mount Bromo is one of the most visited attractions in East Java.
Best time to Visit Mount Bromo
The National Park in which Mount Bromo is located is open year round, so you should be able to visit this iconic volcano no matter what time of year you travel to Indonesia .
However, it's good to know that Indonesia has two seasons:
Dry Season: from April to October
Monsoon Season: from November to March
Good to know: East Java (where Bromo is located) typically experiences less rainfall than the western reaches of the island.
Mount Bromo Location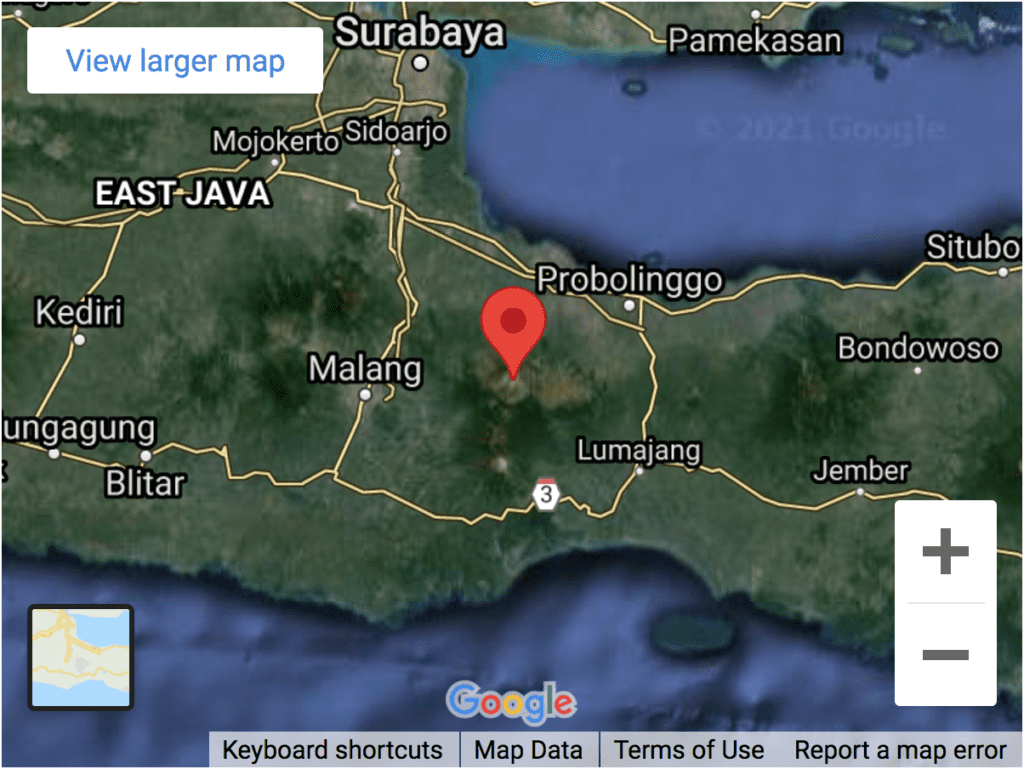 Situated smack dab in the middle of East Java, Mount Bromo isn't super close to any major cities… But then again, is anything close to each other in Java?! (If you've checked out our East Java guide, you'll know the answer is NO!)
That said, the three closest towns to Mount Bromo are cities you'll likely need to travel through during your time on the island, so they make a decent base if you want to visit this iconic volcano.
Malang: 2+ hour drive (this is where we stayed and it took us 2 hours and 15 minutes)
Probolinggo: 1.5-hour drive
Surabaya: 2.5-hour drive
Hotels or hostels in each of these cities should be able to arrange a Jeep tour for you.
Alternatively, you could spend the night in Cemara Lawang ("Mt. Bromo Village") . This is the closest town to the volcano, and is a good place to stay if you don't want to do a Jeep tour, and would prefer to hike to the viewpoint on your own. We have more information about visiting Mount Bromo independently here .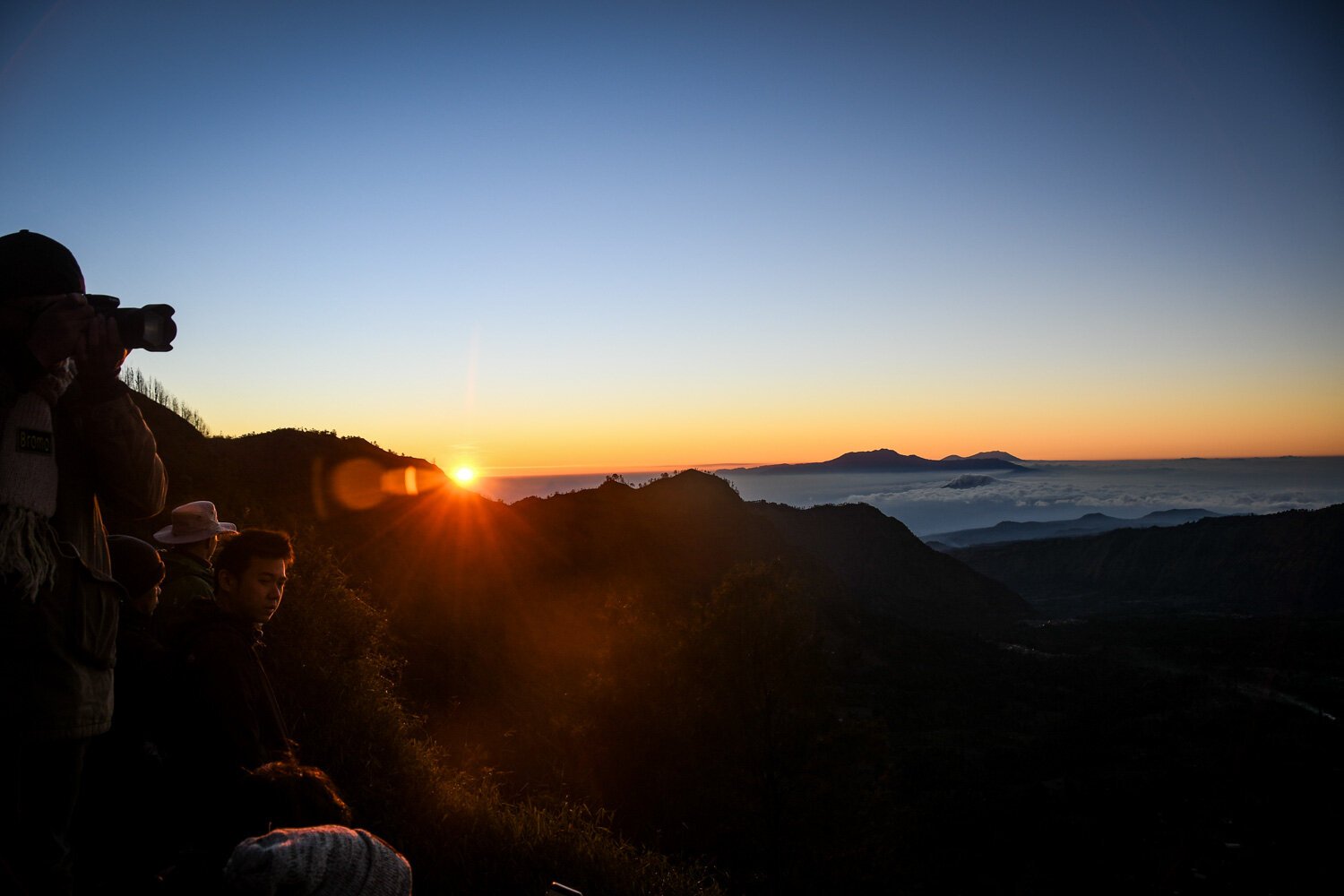 Seeing the sunrise over Mount Bromo is a sight you'll never forget. It is truly breathtaking.
There are essentially two ways to see sunrise at Mount Bromo, and both have their pros and cons:
a) Take a Jeep Tour
You can arrange a Jeep to pick you up and drive you from your hotel to the Mount Bromo viewpoint. You can arrange tours from most of the nearby cities (Malang, Surabaya, and Problingo).
Pros: easiest way to get there, no hiking involved (this may not be a "pro" for you)
Cons: more expensive, less adventurous
b) Hike to the sunrise point on your own
Arrange your own transportation to Mount Bromo Village, which is at the foot of the volcano. You can wake up early in the morning and make the hike to the viewpoint on your own.
Pros: cheaper and more adventurous, you don't need to follow anyone else's timeline
Cons: requires more planning (you still need to arrange transport or drive yourself)
Psst! If this is more your style, jump to the bottom of this article where we have more info!
Our Experience: Mount Bromo Jeep Tour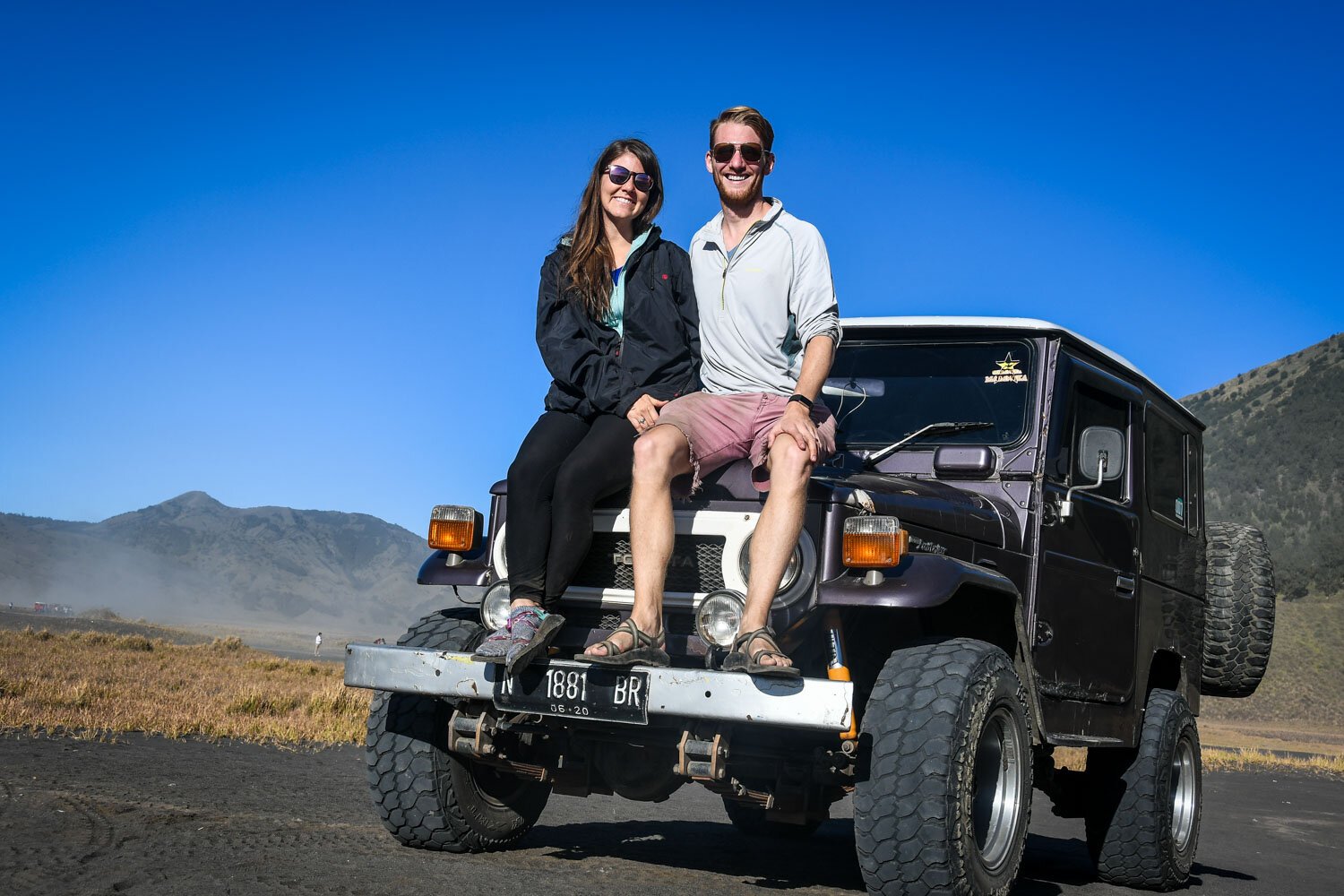 While we typically prefer to go the cheaper and more adventurous DIY route, we chose to take the Jeep tour since we were limited on time. We stayed in Malang and traveled to Mount Bromo as a day trip (well, more like a middle-of-the-night trip, as our pickup time was just after midnight).
Things to know before you go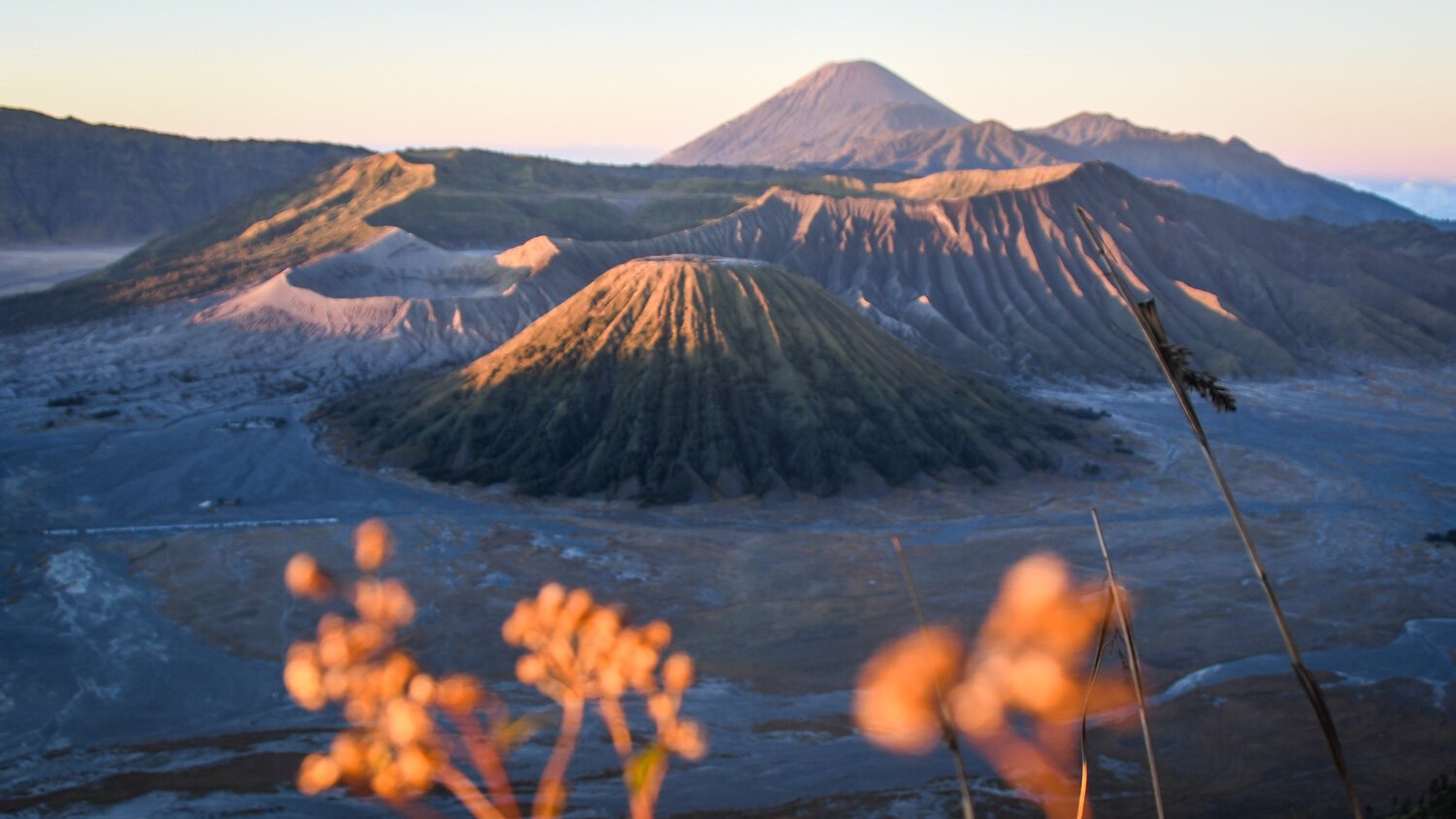 It gets crowded. Like really crowded. This is one of the most popular attractions in all of Indonesia, so don't let photos fool you into thinking you'll be enjoying sunrise alone. We have tips below on how to avoid the biggest crowds.
You won't watch sunrise from Mount Bromo. You will be watching the sunrise over Mount Bromo in the distance from a viewpoint on Mount Penanjakan.
You might not be able to hike to the crater rim. Depending on current volcanic activity, the trail to the crater rim might be closed. It was closed when we visited.
You won't be in an actual Jeep. The 4×4 vehicles are often referred to as "Jeeps" (most of them were Toyotas), so that's what we'll call them for the purpose of this article.
There are three main parts of the tour (each are described in detail below):
Sunrise over Mount Bromo from a Viewpoint
Hike to Mount Bromo Crater
Photos in the "Sea of Sand" & other stops
Mount Bromo Viewpoints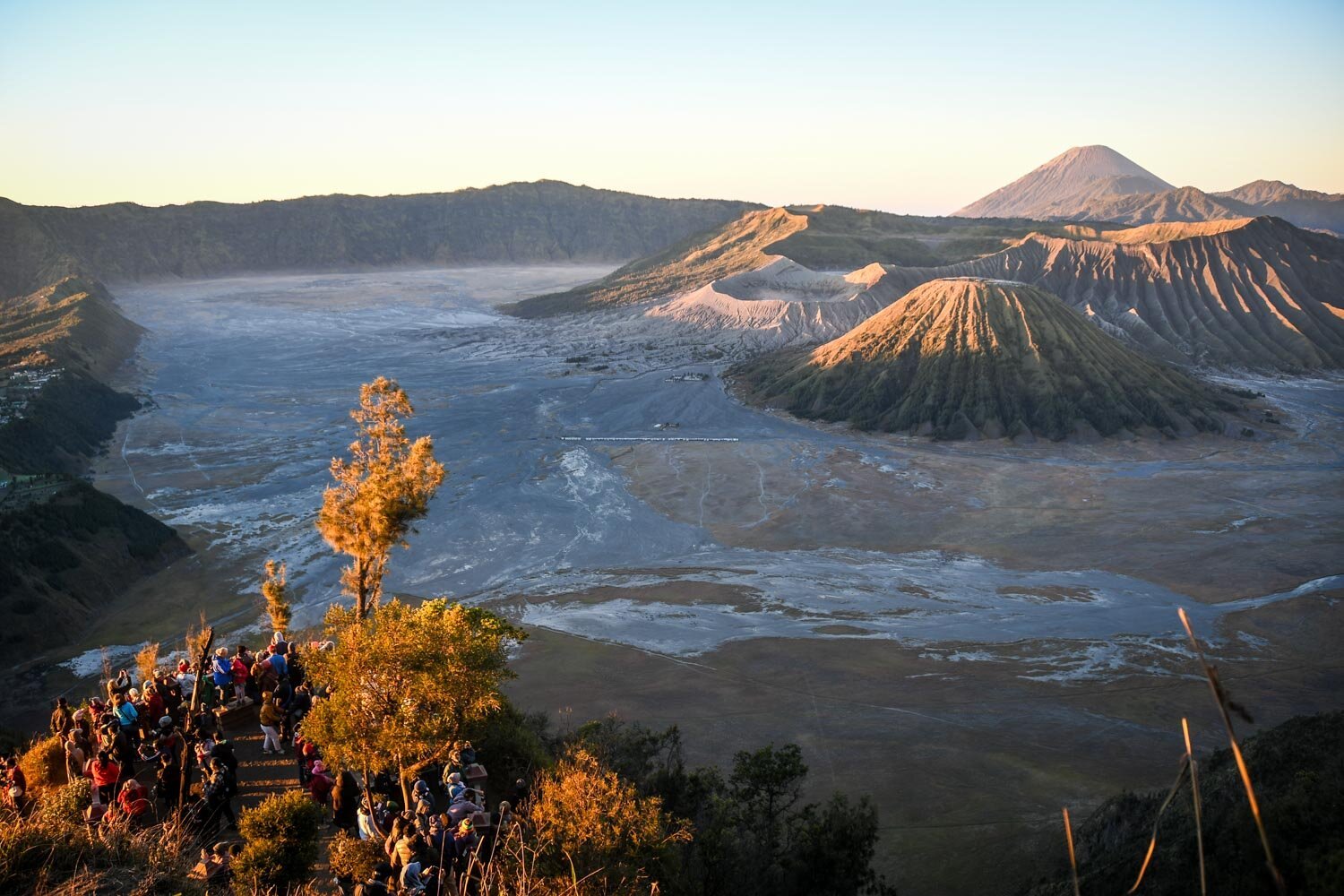 After driving in the dark for quite some time, your driver will finally park and you can get out, stretch your legs, and hope you wake up as the cold air hits your face.
The parking spot is located on Mount Penanjakan and is a very short walk to what's known as "King Kong Hill" ( Bukit Kingkong ), which is the highest viewpoint on Penanjakan. It offers sweeping views over Mount Bromo and the "Sea of Sand" in which the volcano sits.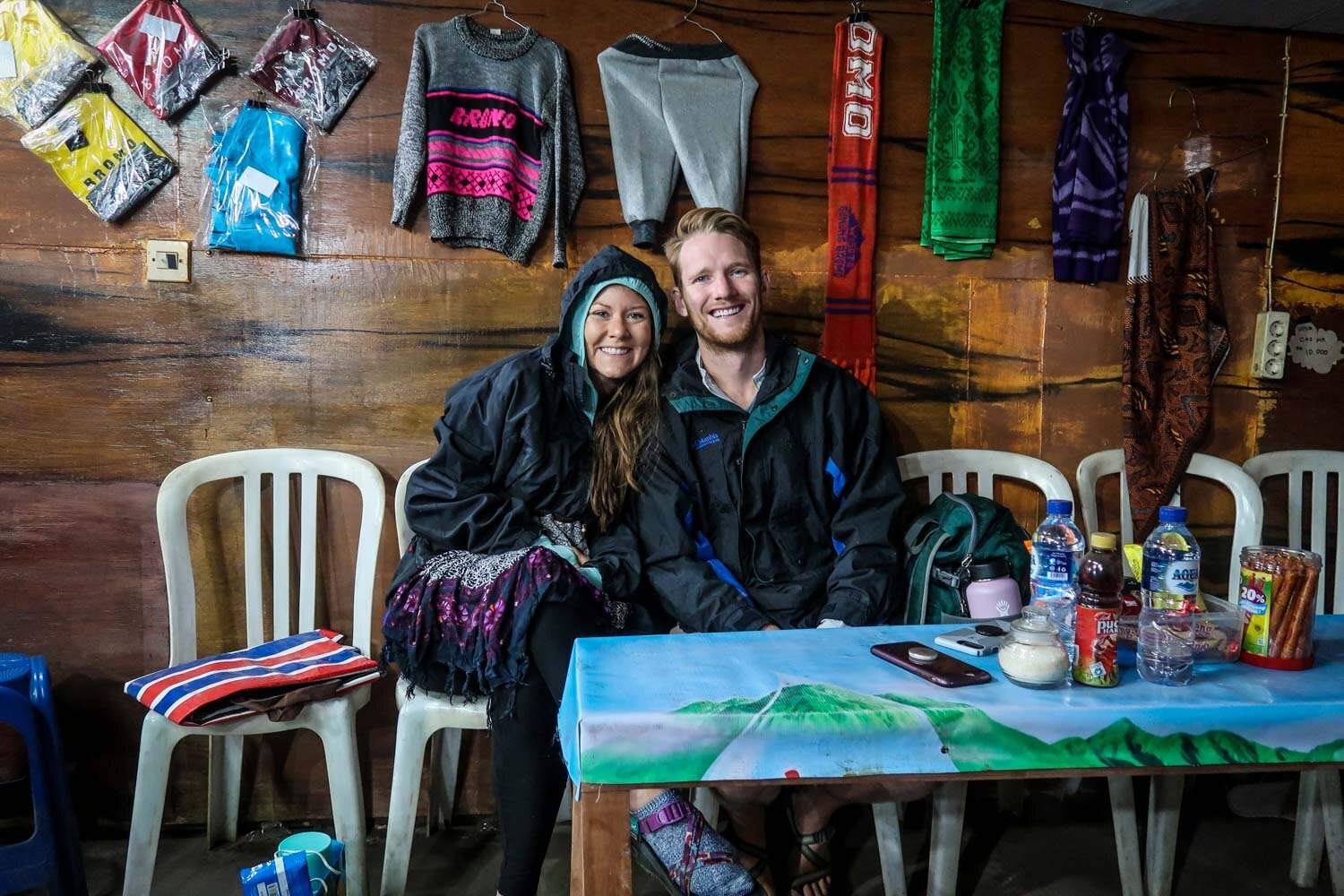 Insider Tip: In the hours before the sun rises, this hill can get incredibly cold and windy (even for us Minnesotans!), so unless you've got an incredible tolerance to the cold or have a very warm jacket, you'll want to head to one of the small shops where you can order hot tea or (instant) coffee and noodles. Our driver came and sat with us around a charcoal fire for a while and ordered us a bowl of instant noodle soup (which tasted suspiciously like sulfur), and then retreated to the Jeep to sleep until sunrise was over.
King Kong Platform: From the row of shops its a short walk to the King Kong Platform, which will soon become packed full of bundled up people, big cameras and selfie sticks. heed our advice in the tip above.
Seruni Platform: There is also a path that continues onto Seruni Platform, which supposedly tends to be a bit less crowded.
Our recommendation: Skip the platforms and find a "hidden" viewpoint instead.
As mentioned, the platforms have nice views, but they get very crowded. If you're like us, and the thought of being packed like sardines makes you a little queasy, keep reading.
"Hidden Viewpoint"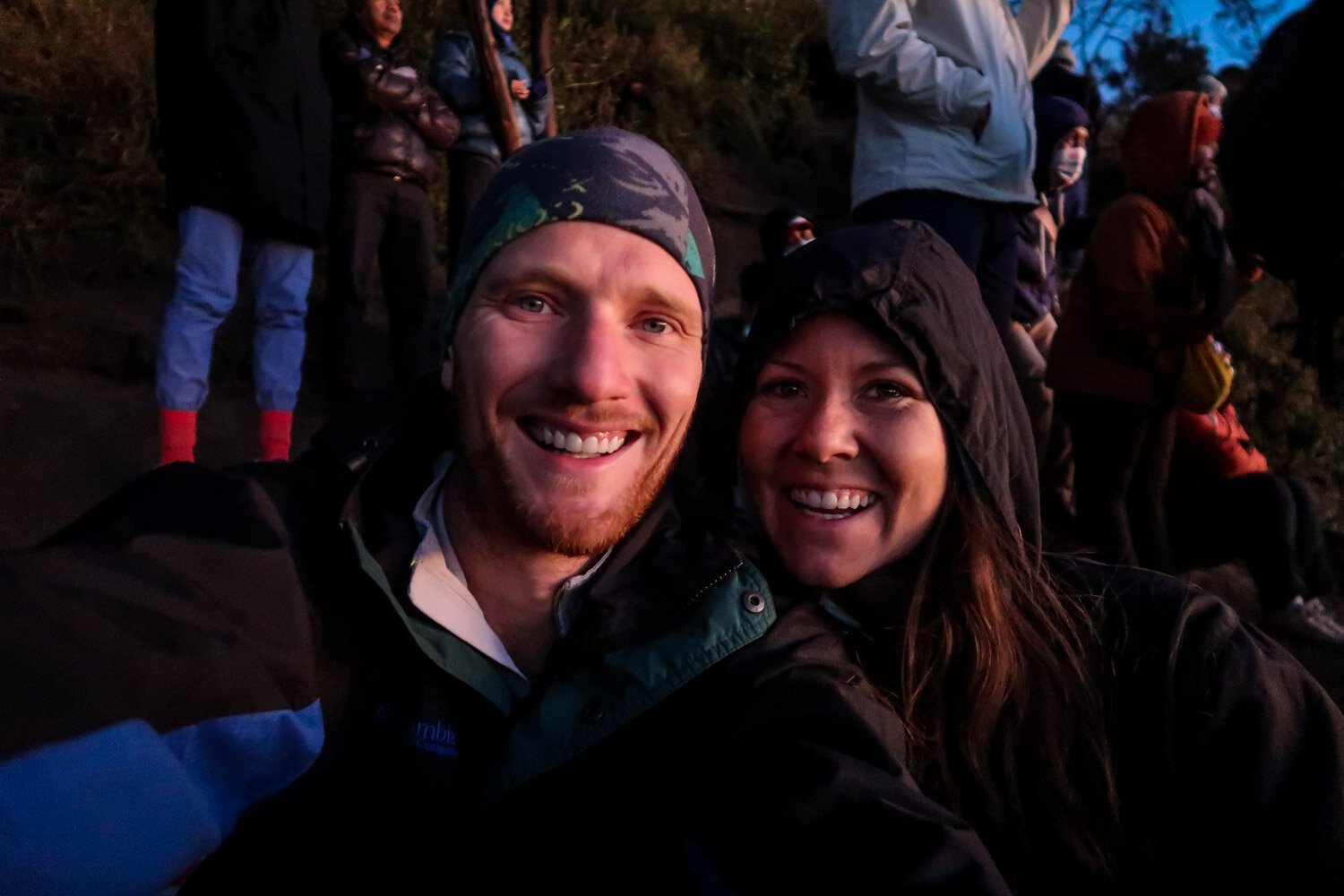 As you're walking toward the King Kong platform, look for a small dirt path to your right (on the mountainside). While we didn't have it completely to ourselves (and people started to come up once they saw lights or heard talking), it was far from crowded.
There were somewhere between 20 – 30 people, and we all had plenty of space to take photos without a bunch of people in the way (that's a win in our book!). You can see Mt. Bromo to the south and the sunrise in the east.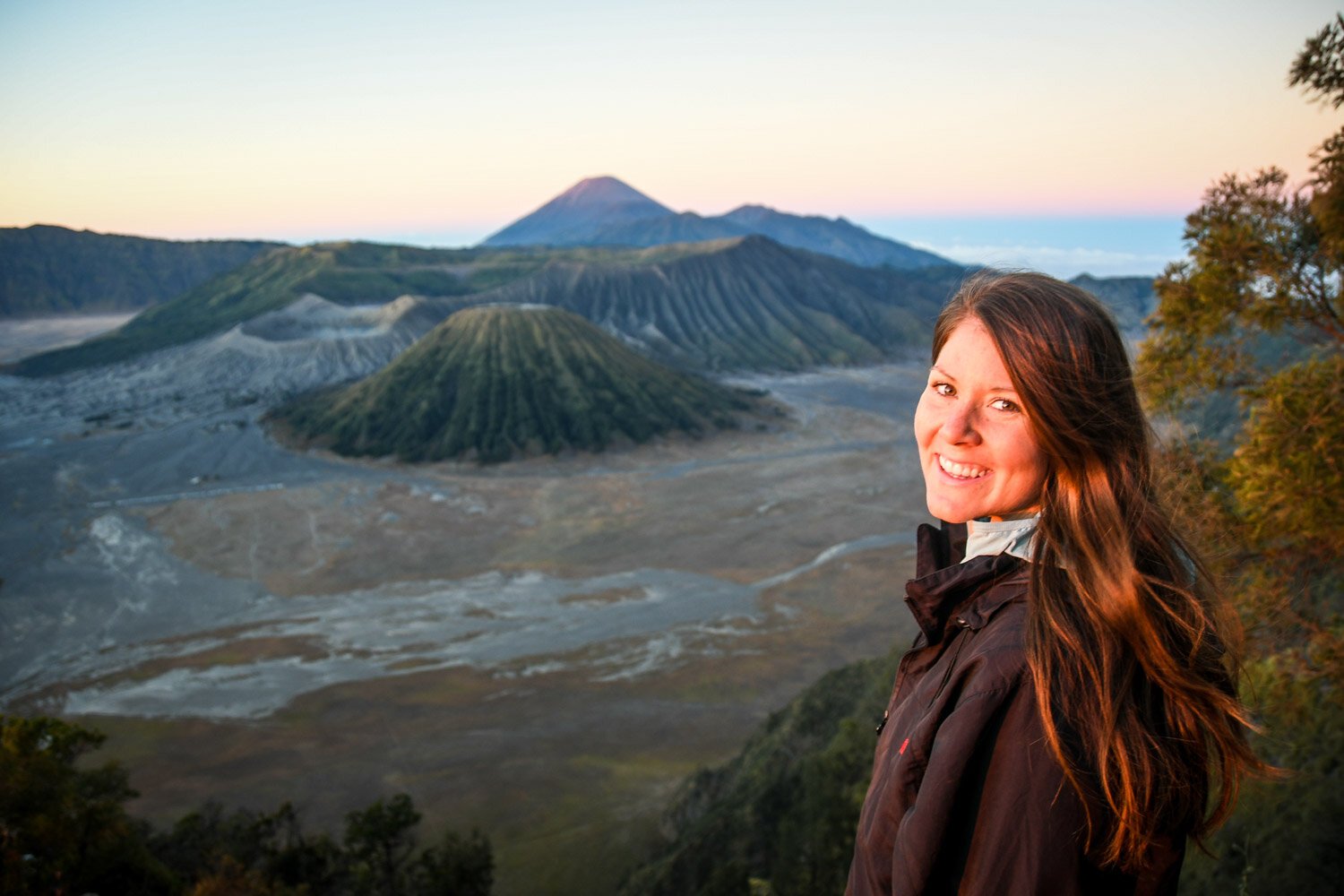 Unlike the platforms that have a railing, this viewpoint has no barriers. Just be careful and try to avoid sitting or walking on the vegetation, as this helps prevent erosion.
Good to know: If you plan to sit down while you wait for the sun to rise, be prepared to get a little dirty, or bring a blanket or sarong to sit on.
If you can't find this area – or it's too crowded when you arrive – you can continue on the path toward Seruni Viewpoint and look out for more viewing spots along the way. They will all more or less have the same view of Mount Bromo in the distance, so find one that is least crowded, and enjoy the morning light!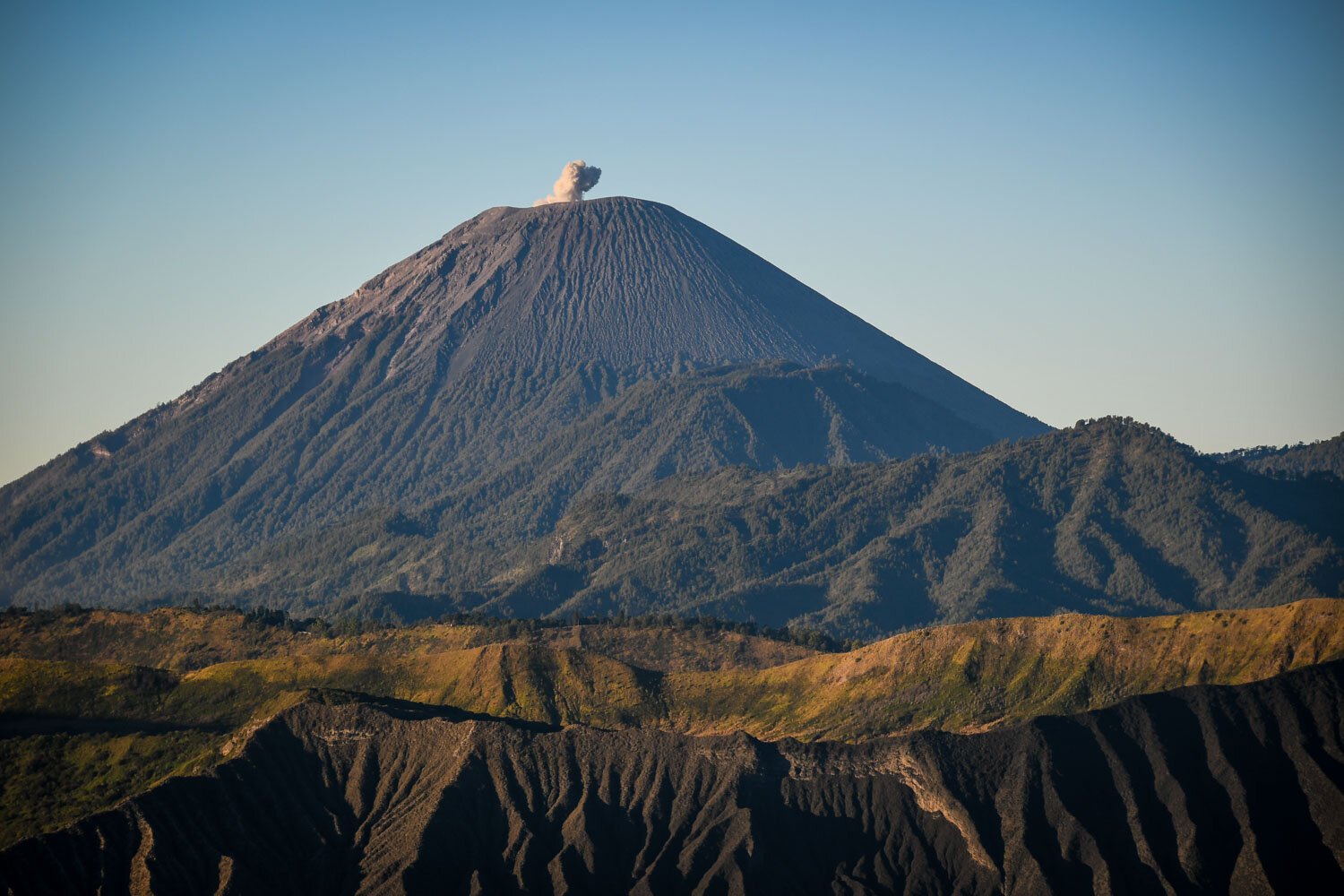 Wherever you are, be prepared for a magical morning (with other people around). Keep an eye on the volcanoes in the distance too.
When we were there, Mount Semeru (which is just behind Bromo) had a small eruption and a little cloud of smoke billowed up right after sunrise. It was pretty cool to see. Ben missed it because he was waiting in the line for the bathroom. Bummer, dude!
Mount Bromo Crater Hike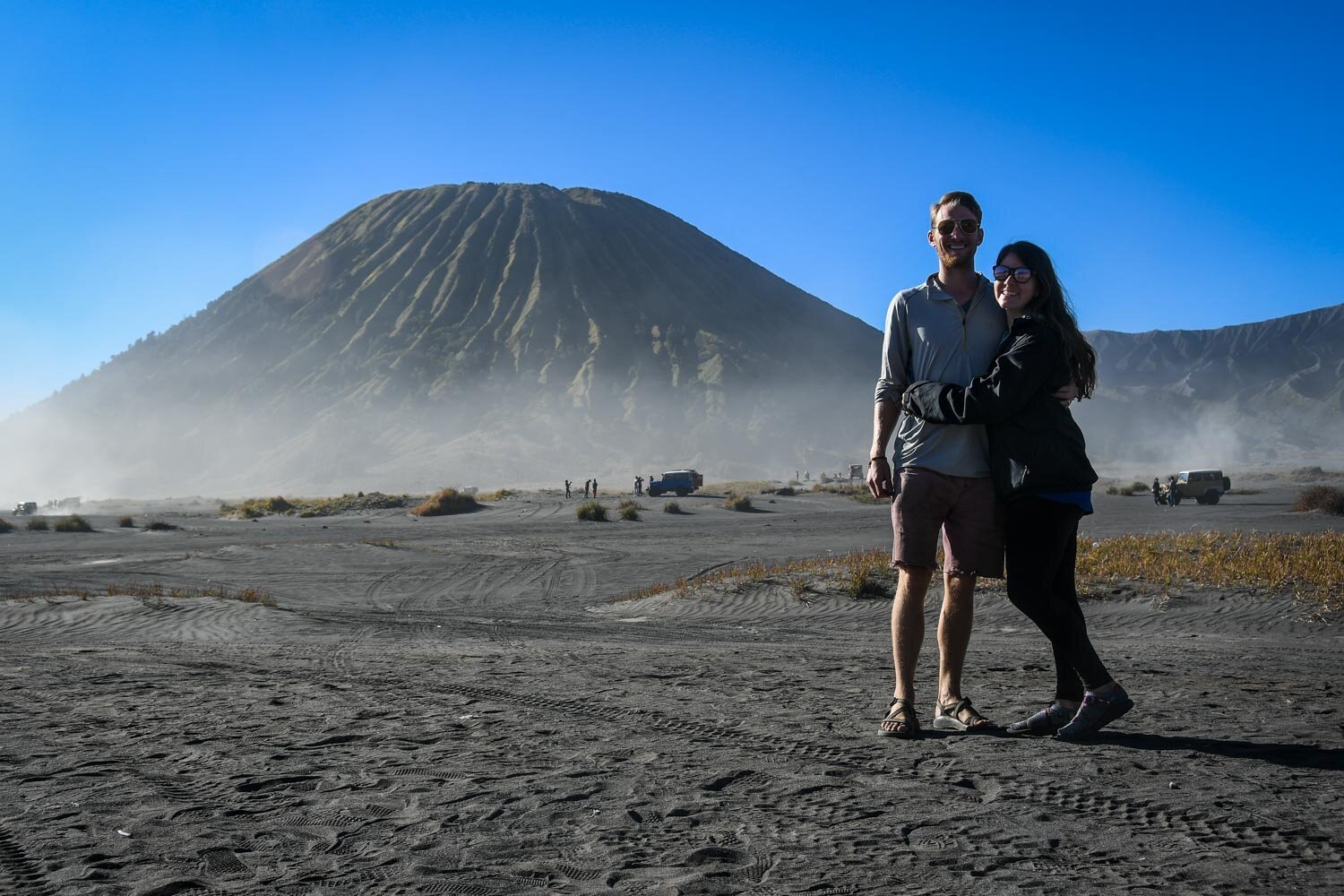 Just because the sun has risen doesn't mean your tour's over!
After chugging along with the traffic (expect lots of it!) after seeing sunrise, we drove down into the basin from which you can actually hike up to the rim of Mount Bromo's crater.
We've heard the hike takes roughly 20-30 minutes, and is on a very dusty path (actually, it's mostly volcanic ash, not dust!). Wear closed toe shoes so you're prepared!
Good to know: This hike is NOT always possible.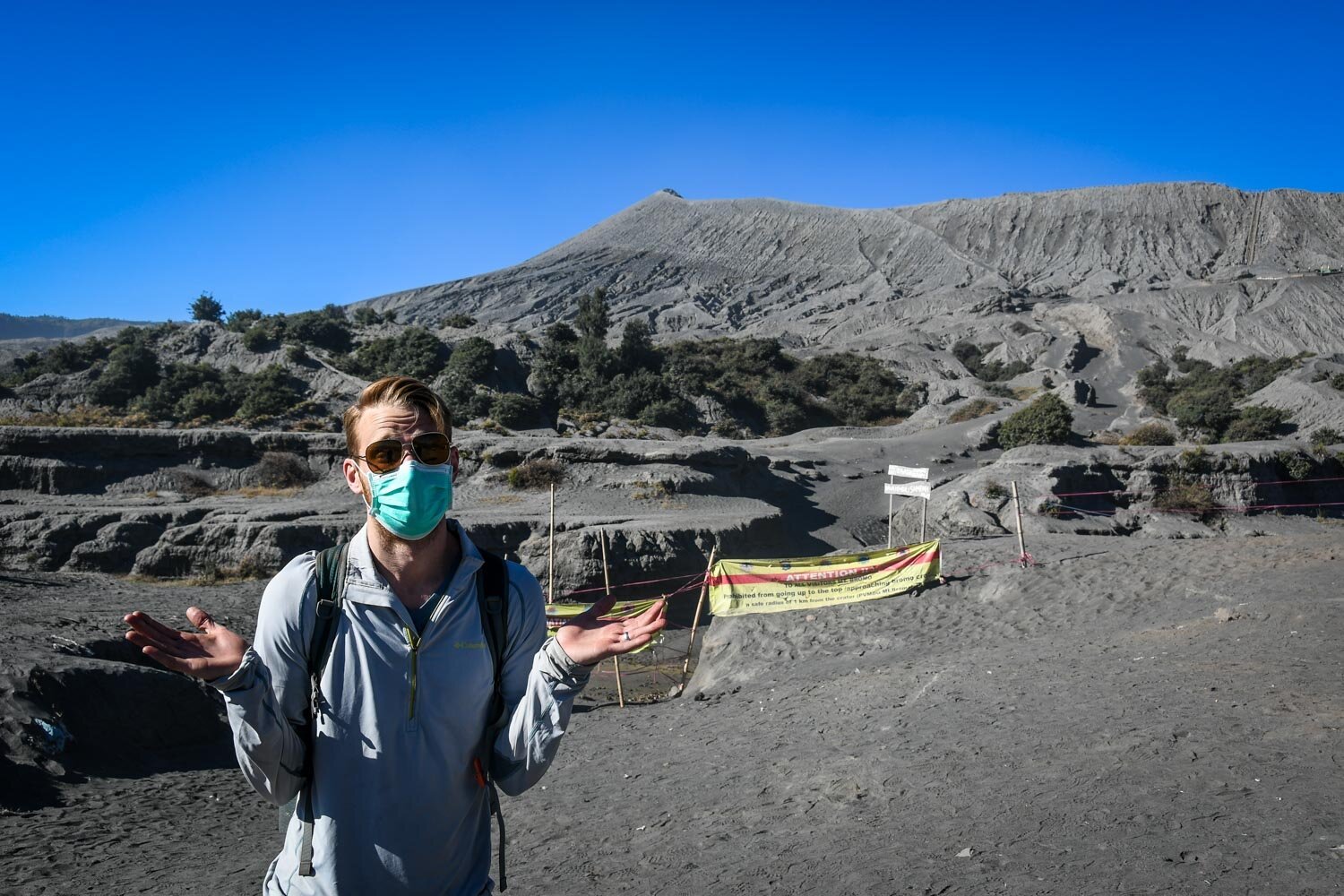 Unfortunately this path was closed during our visit (July 2019) because of heightened volcanic activity. We've read that this happens somewhat frequently and is done for the safety of all visitors, so just keep this in mind so you're not too disappointed if it happens on your visit.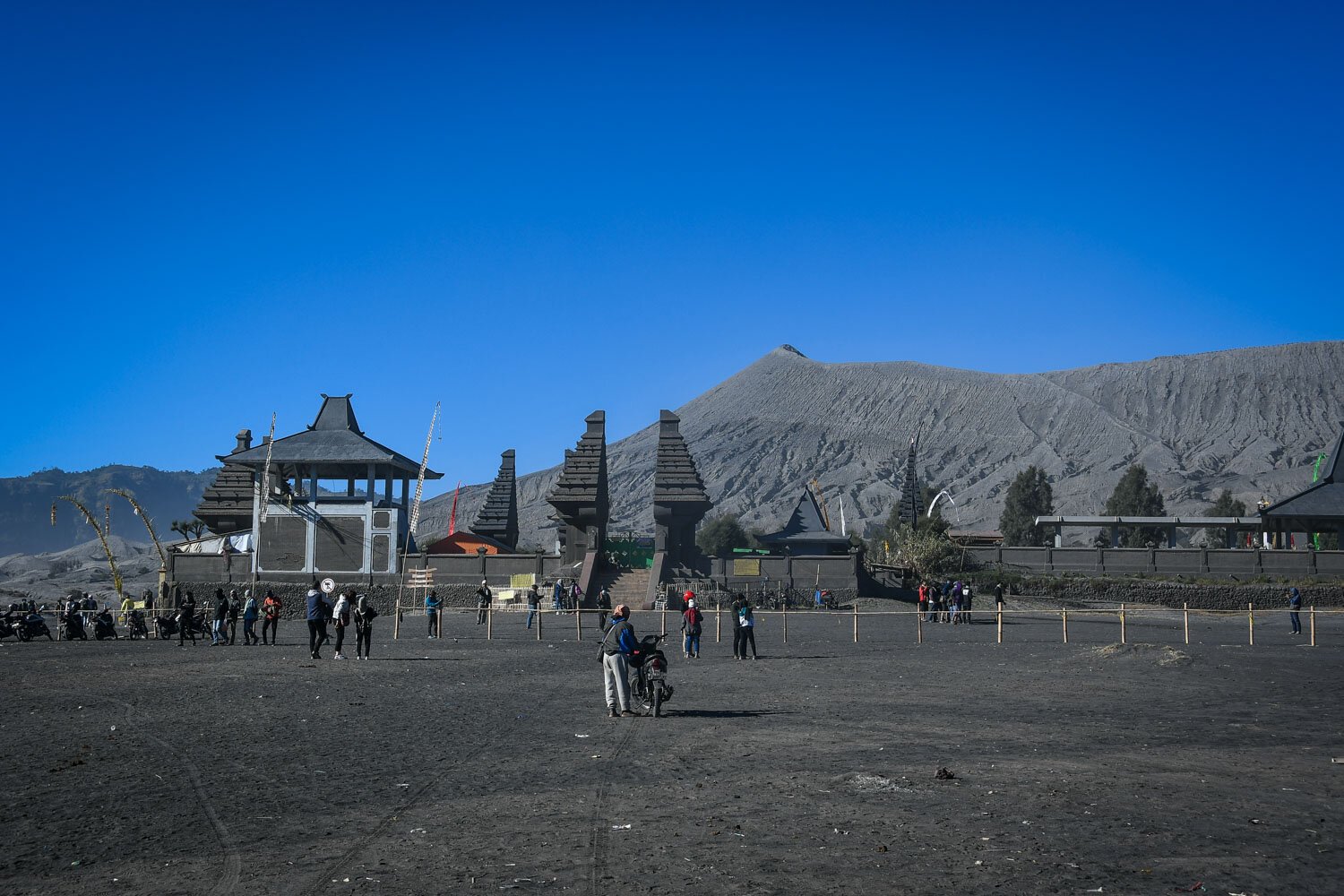 It was still possible to walk up pretty close to the crater, we just couldn't actually hike up to the rim. There is actually a temple at the base of the crater if you want to check that out. Ask your driver on the day of your visit and they should be able to tell you the current conditions.
Tip: Bring a buff or bandana to cover your face. Without one, soon you'll have sand in your teeth and nose. Our Jeep driver provided face masks for us, but we didn't see many other drivers do this.
A note on the horses: From the parking lot, you'll see men on horses trying to offer you a ride to the bottom of the crater. In our opinions, the horses looked very poorly taken care of or fed. The area is very sunny with no shade, and even at 7 a.m. when we were there, we saw many horses frothing at the mouth. It was pretty sad to see.
We would not recommend supporting this practice. Plus, it's a flat 15-minute walk, so we don't think this service would be necessary for most people.
Basin Photos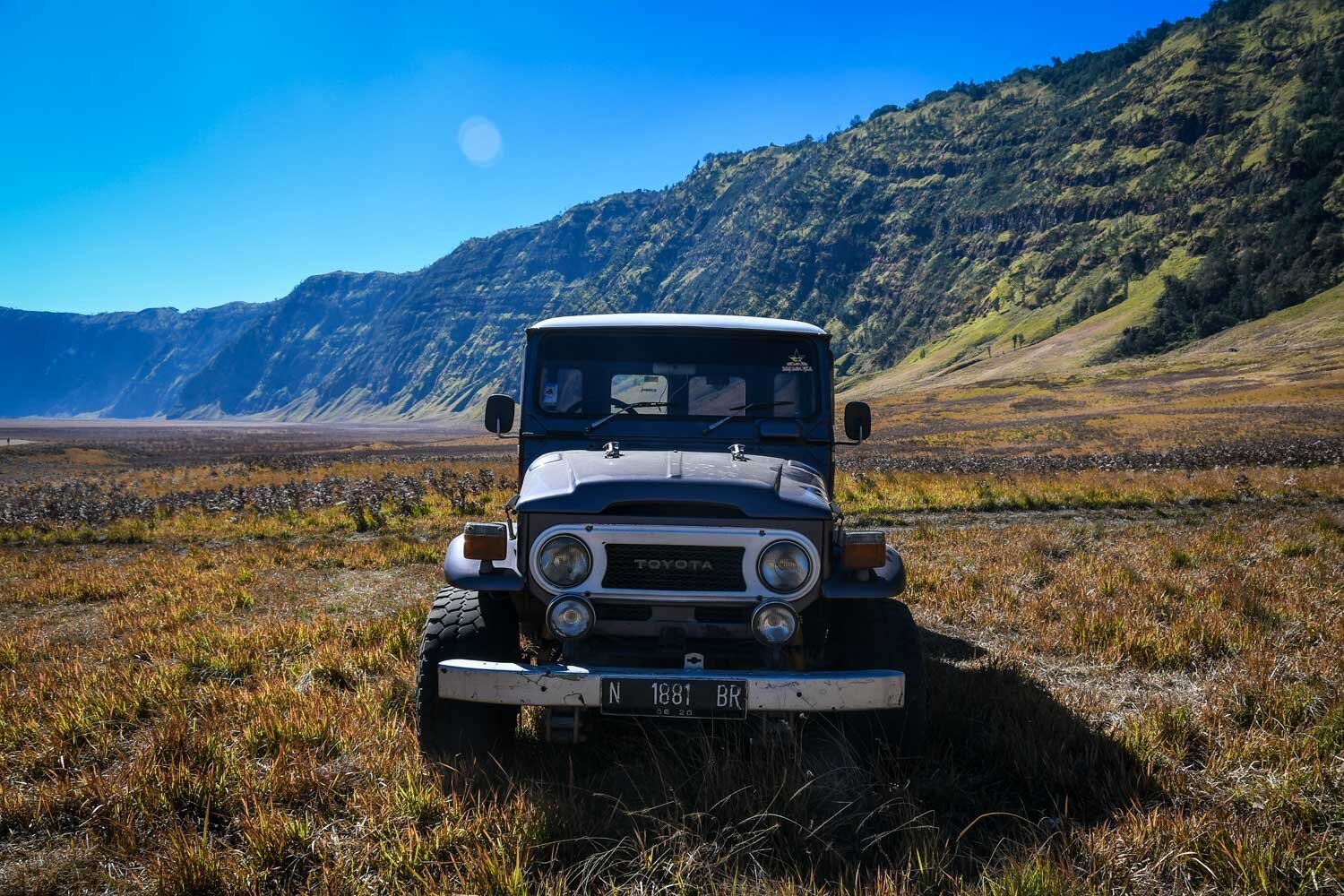 Mount Bromo sites inside a basin known as the "Sea of Sand". Including Bromo, there are 5 volcanoes in this crater, and together they comprise an otherworldly landscape that'll make you wonder if you've been transported to Mars.
In this basin, be prepared to make lots of stops for photos!
Our Jeep diver suddenly transformed from a sleepy, not-so-talkative guy to a goofy photographer, telling us where to stand and how to pose. He'd get down low on the ground, almost like it was a scene from Zoolander . It was pretty funny, and after comparing stories with a friend, she said her driver did the same thing.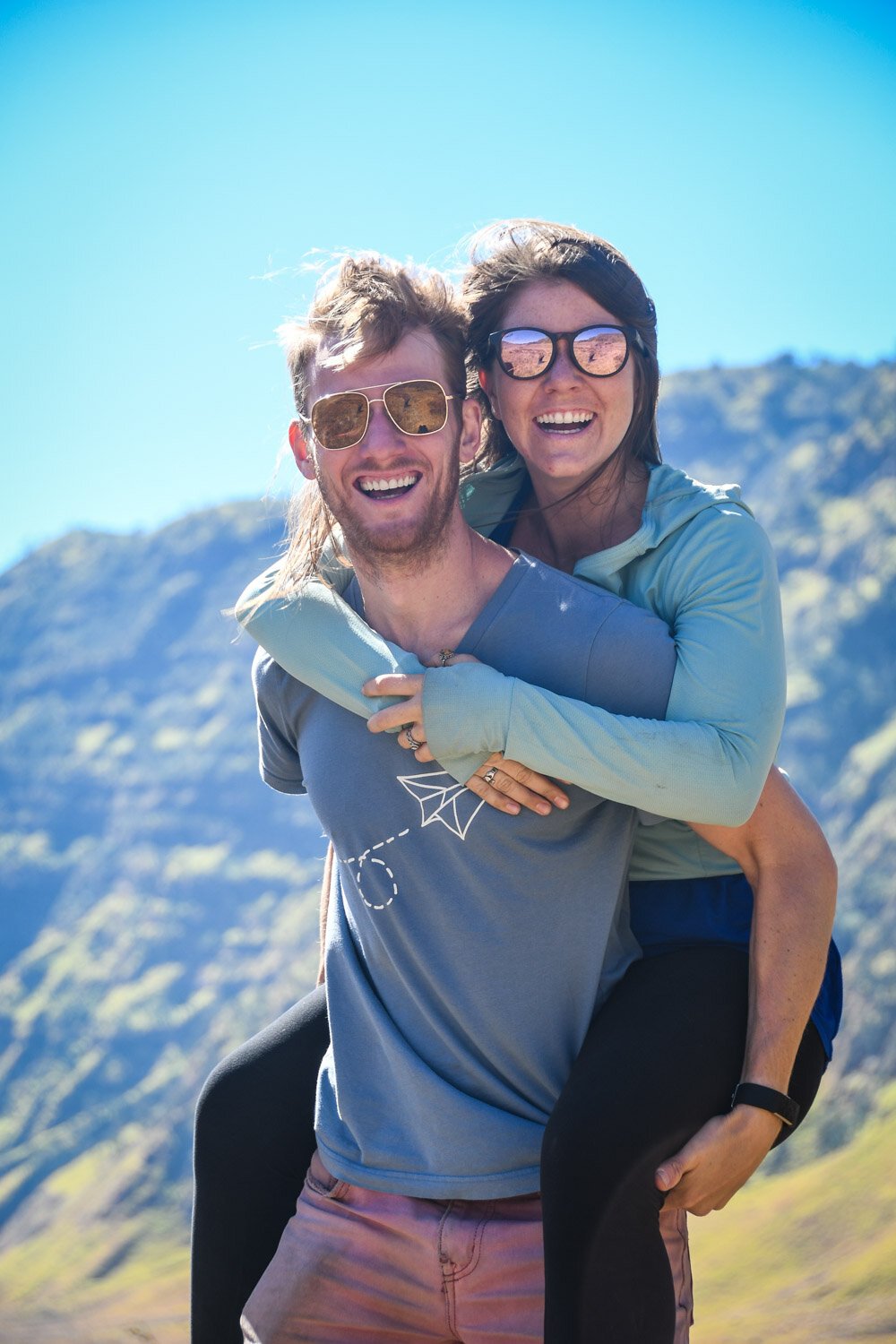 Interesting connection: If you've ever traveled to Bolivia and gone on a Salt Flats tour in Salar de Uyuni , this part of the tour feels kind of similar!
Rainbow waterfall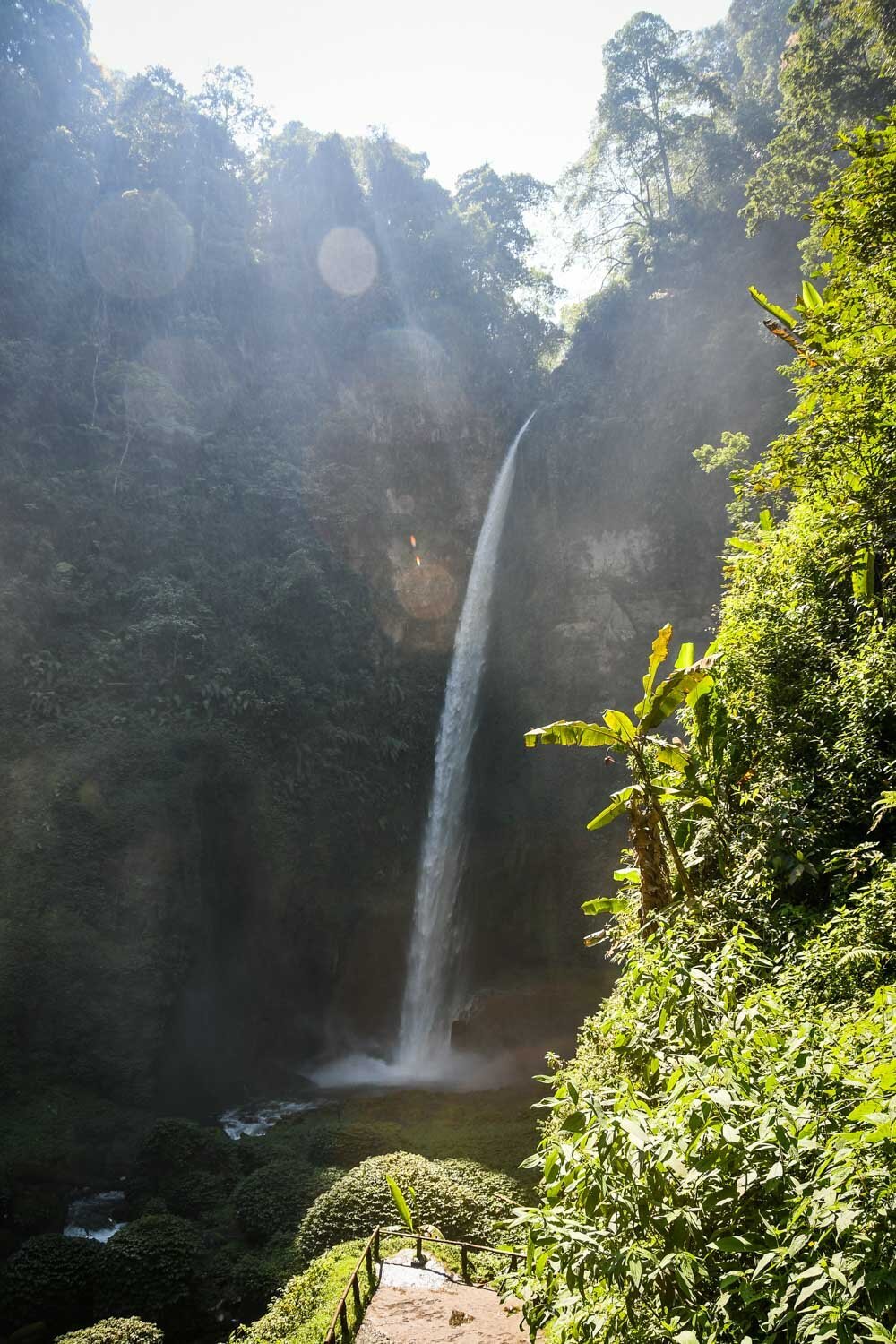 After all our photo stop, we were getting kind of tired (I suppose the fact that we had woken up at midnight didn't help either!). But our driver informed us there would be one more stop on our drive back to Malang, at a waterfall. Specifically, at Air Terjun Coban Pelangi, otherwise known as "Rainbow Waterfall".
It was nice to see but the day before we had taken an epic waterfall tour to Tumpak Sewu (you should 100% put this on your Java itinerary!), so our expectations were high and our energy was low.
The easy, 15-minute walk down and back up wasn't bad though, and it was nice to stretch out legs a bit.
Mount Bromo Jeep Tour Itinerary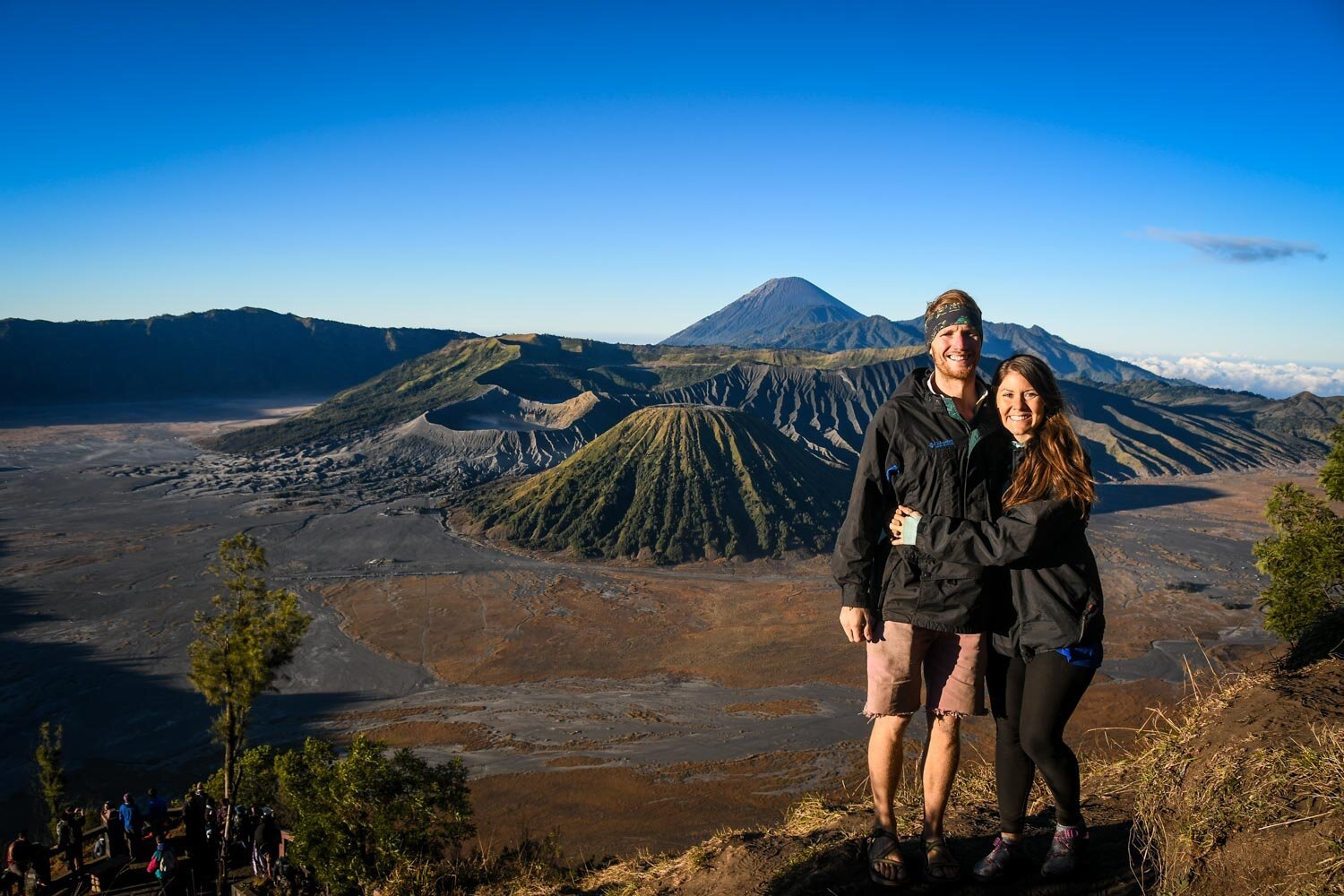 Below is the rough timeline of our tour. Your timeline may vary a bit, but hopefully this gives you an idea of what to expect.
12:00 am: Driver picked us up from our guesthouse and we began the 2+ hour drive to the National Park.
There was one other guy in our Jeep who had been picked up from a different hotel.
I tried to sleep on the way there (I brought an eye mask and headphones). The ride was pretty bumpy though, so I didn't get much sleep.
Lots of 4×4 vehicles jeeps going through sand and steep hills. Saw a few motorbikes and it looked terrible. Not recommended.
2:15 am: Arrived at the National Park
Sit in coffee shop, noodles, coffee, tea, charcoal fire pit
It felt pretty ridiculous that we arrived so early, but in hindsight I'm sure it's because it allowed our driver to get a good parking spot and avoid the traffic jams. For example, a friend of ours was picked up at 12:30 a.m. instead of midnight but the drive took much longer due to traffic (she still arrived an hour before sunrise with plenty of time, but the drive took much longer).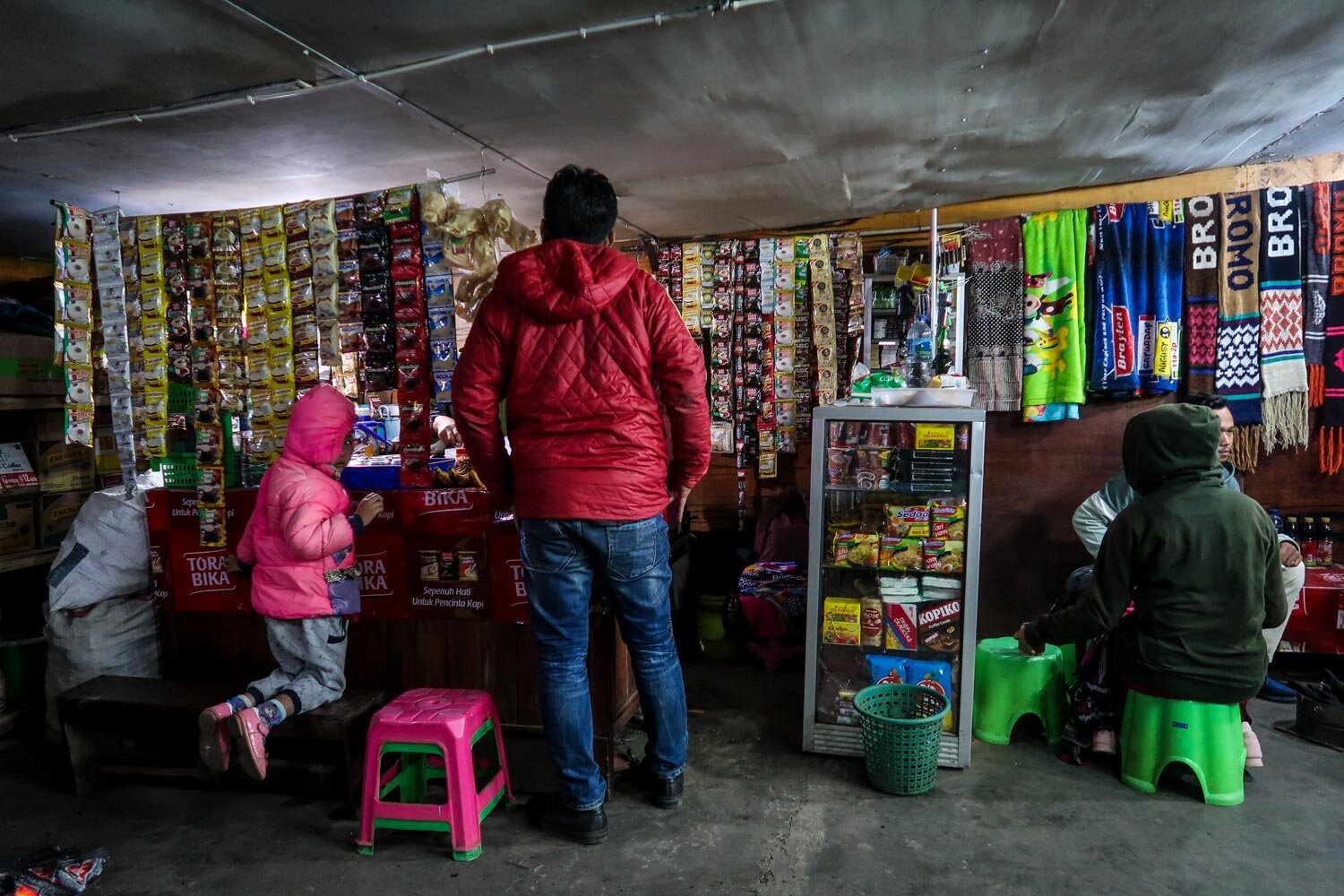 4:00 am: It started to feel much more busy and more and more groups arrived
4:20 am: We found a spot that wasn't very crowded, and we laid out a blanket to wait for sunrise
5:00 am: We began to see the first light of the morning.
Note: The sunrise time in Java is pretty consistent through the year, but does fluctuate some. It appears that sunrise can be as early as 5:42 a.m. and as late as 6:13 a.m. This website allows you to input the date of your visit to check the exact time of sunrise.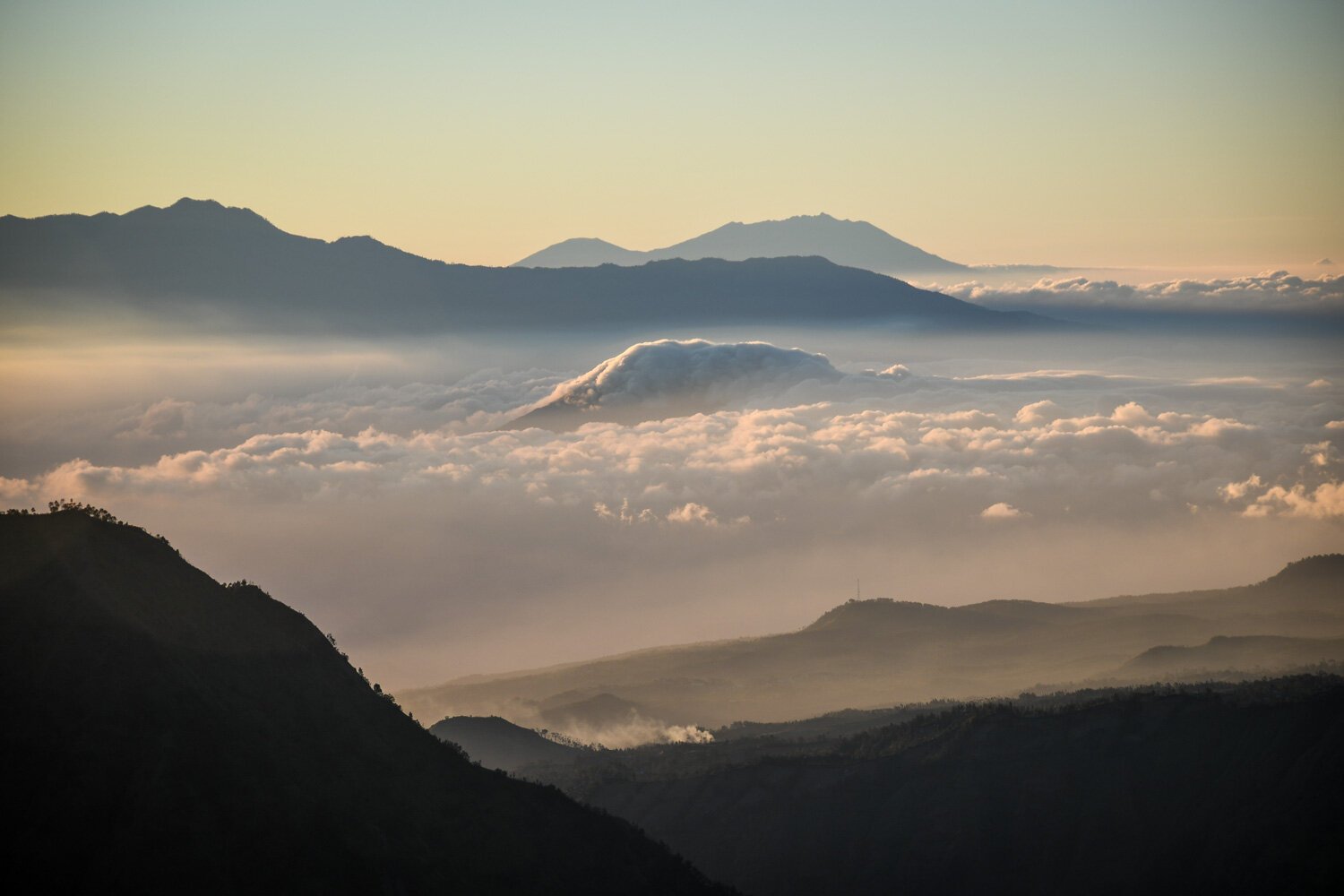 5:30 am: The sky started to really light up as the sun rose.
Note: On the date of our visit, the sunrise time was 5:55 a.m., which just goes to show that you that you'll want to be there early to get the full effect.
6:00 am: The crowds started thinning as people headed back to their Jeeps.
6:30 am: We got back to the Jeep (a little later than we were supposed to because we were enjoying the view!).
Tip: Try negotiating a later meeting time with your driver ahead of time if you think you'll want to stay after most of the crowds leave.
7:00 am: 45-minute stop at the base of Mount Bromo. This would have been the time that we could hike to the crater rim, but it was closed due to excess volcanic activity during our visit.
8:00 am: We made lots of stops in the basin and our driver did little "photo shoots" for us (without being asked haha!).
10:00 am: Stopped at "Rainbow Waterfall" which was a short walk from the parking lot.
10:30 am: Started the drive back to Malang.
11:30 am: Arrived back at our guesthouse!
All in all, the whole experience was just under 12 hours!
How crowded is Mount Bromo?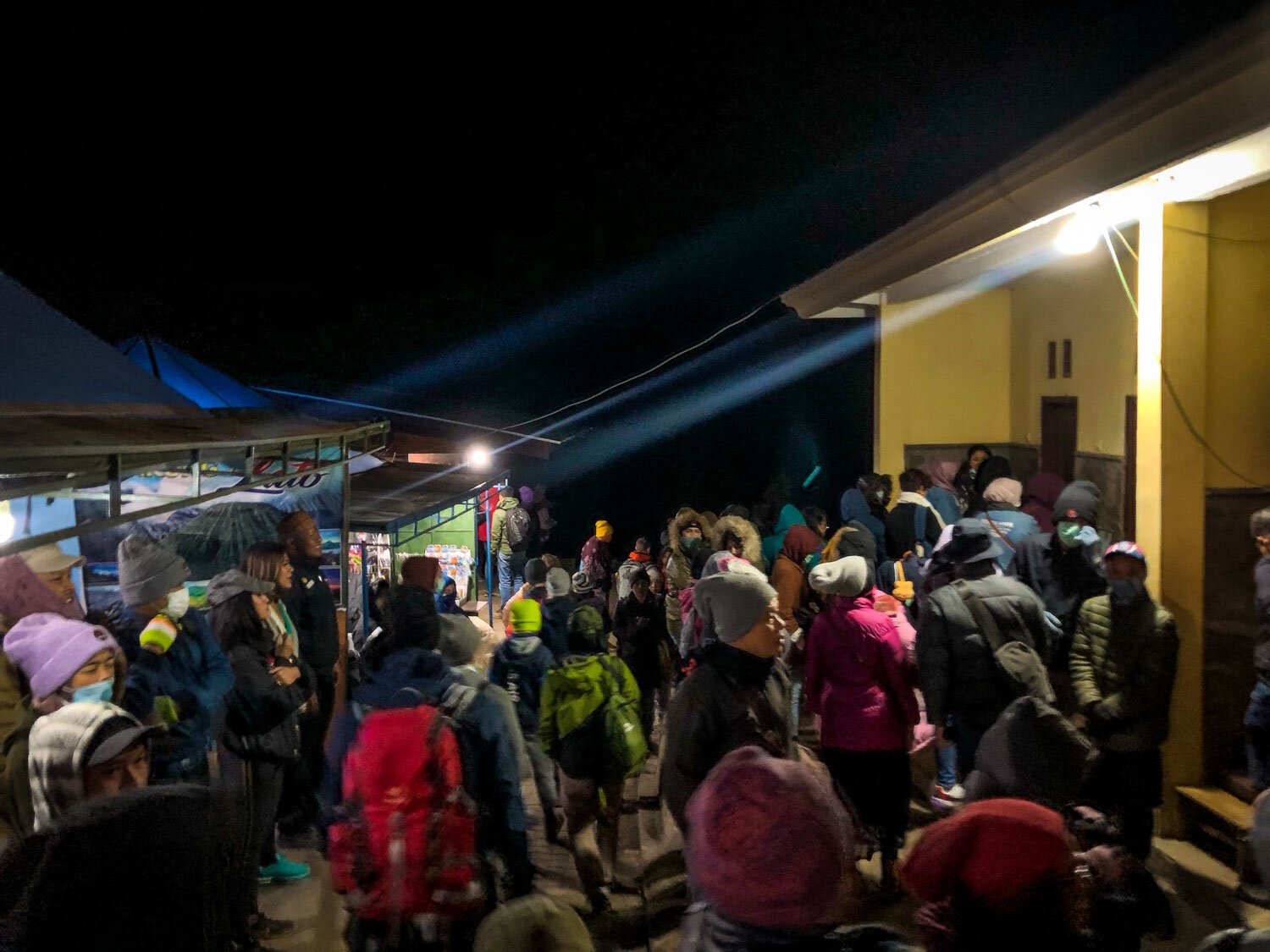 Before Sunrise: This is the line for the bathroom… Make sure you bring your own TP!
As high as my expectations were, I also knew that we wouldn't be enjoying the morning glow in solitude. Just weeks before our trip to Java, I had two different friends visit the island and they each told me the same thing: Sunrise at Mount Bromo gets crowded. Like, really crowded.
And they were right.
Hordes of people that make the journey each morning to glimpse Mount Bromo in all its magnitude and glory. (Doesn't that sentence sound like it belongs in a Planet Earth documentary?!)
But here's the good news: I did lots of research ahead of out trip and asked everyone I knew who had been to Mount Bromo for tips. And I found that while there's no way to avoid the crowds altogether, there are a few ways you can sort of get away from the masses.
But first, why is it so crowded?
it's friggen beautiful
lots of Indonesian people love traveling within their own country, so much of the crowd is domestic visitors
it's relatively accessible. Explained below…
Many other sunrise experiences (like seeing Ijen Crater ) require a tough hike, making it difficult or impossible for some. So you can probably imagine that part of what makes this such a popular activity is that it is very accessible. Not in the sense that it's close to any major city or town (it's not), but in the sense that people of most ages and abilities are able to see it because you can take a Jeep to the top instead of hiking.
Tips for avoiding the crowds at Mount Bromo
Find a spot away from the actual platforms. Look for other, less built up viewpoints which will have far fewer people. See our tips above on how to find a hidden viewpoint!
Stay after the sunrise. The crowds will thin out and depending on the day, it might be after the actual sunrise that you experience the most beautiful colors. Just arrange this with your driver ahead of time (we had to do some negotiating).
He wanted us back and leaving at 6 a.m. (when sunrise was only at 5:30) But we swayed him to leave around 6:30 a.m. which we were thankful for because the crowds started to leave around 6 and the colors in the sky were amazing! (Though friends told us to stay until 7 for the sky to really light up.)
How much does a Mount Bromo Jeep Tour Cost?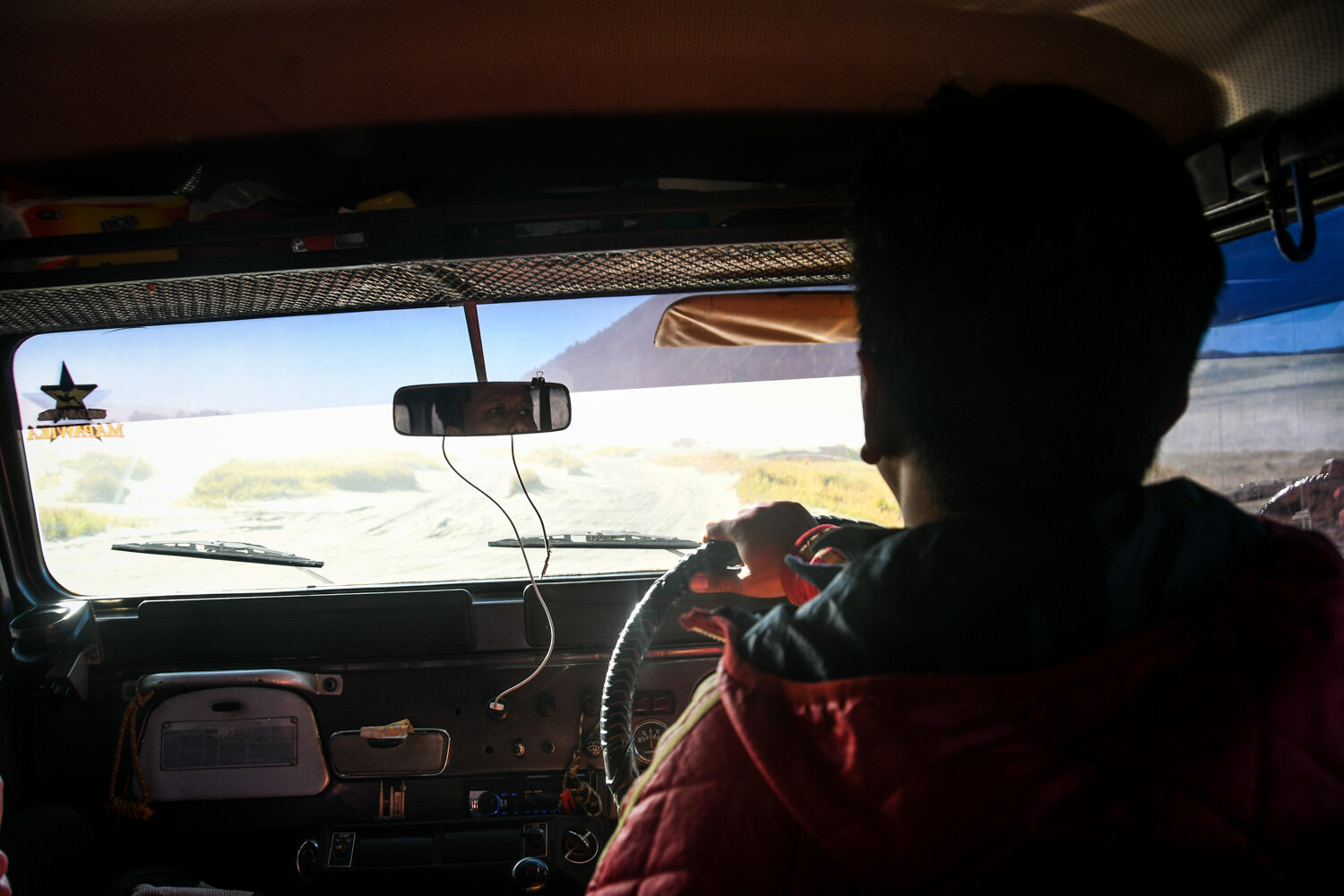 Cost: 600K – 700K* IDR per person total ($38 – $45 USD); the price for domestic tourists will likely be cheaper since they have a much lower National Park fee. (Prices and exchange rates are from April 2020.)
This includes:
Transport to and from your hotel
National Park entrance fee (which is $15 on a weekday or $22 USD on a weekend)
Hike to crater rim
Photo stops in the basin and at waterfalls
Optional: Snacks & a mat to sit on (our hotel provided these with our booking)
*The price may vary slightly, here's why: There are lots of drivers in Central Java that Jeeps and guesthouses will likely have a couple drivers they typically work with. Depending on what that specific driver charges as well as any fees the hotel takes as commission, your price may vary slightly, but it should be around this range. If not, you can try negotiating.
Also, the admission fee for the National Park (which is included in your Jeep tour) is cheaper during the week than it is on the weekends. So if you are going to Mount Bromo on a Saturday or Sunday, you may pay a bit more.
Our personal experience: We paid 650,000 IDR each. A friend who did the tour a few weeks before us paid 600,000 IDR, and we also heard of people paying a bit more.
How to book your Mount Bromo Jeep Tour
We arranged our tour through our guesthouse in Malang . We weren't sure how far in advance we needed to make a booking, so we emailed our accommodation to inquire, and they were very chill about it and basically told us we could just remind them when we checked into the hotel.
This worked just find for us, and our other friends who visited a few weeks before us did it this way too.
However, if you'd prefer to have your tour secured in advance for peace of mind, you can book a Mount Bromo Tour here .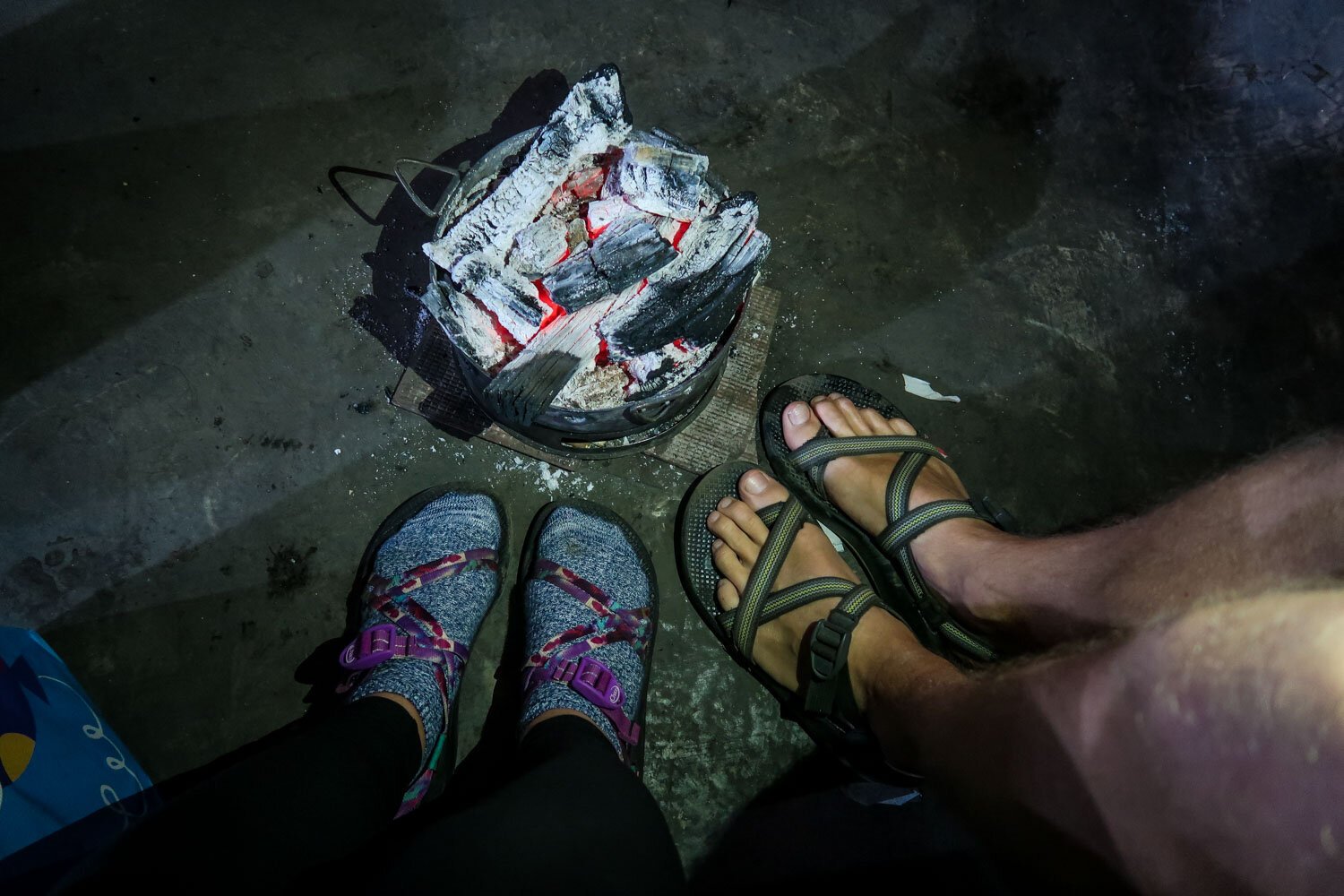 Don't be like Ben, Pack warmly and don't wear sandals. It gets really cold in the morning!
Wear warm clothes. It's colder up there than you think it will be. Trust me. Temps can hover around 32º-50ºF (0º-10ºC). It can also get pretty windy.
Pack snacks. There are small shops selling snacks like instant noodles, but if you want something, umm, more healthy, bring your own.
When you arrive, you'll see rows of small "shops" where you can order tea or (instant) coffee and escape the wind and cold as much as possible in a 3-walled building (none of them have doors!). Choose one with a fire pit for maximum warmth! We had a couple of hours to kill in the dark (and you likely will too), and this was the best way to do it!
There are a handful of toilets near the King Kong platform , and lines can get long, so if you see a short line take advantage and go! It costs 4,000 IDR ($0.30 USD) to use the toilet, so bring some small change with you for this purpose.
Also, wherever you're traveling in Java, it's a good idea to keep some toilet paper in your backpack , as you won't always find it in public restrooms.
Mount Bromo Photography Tips & Info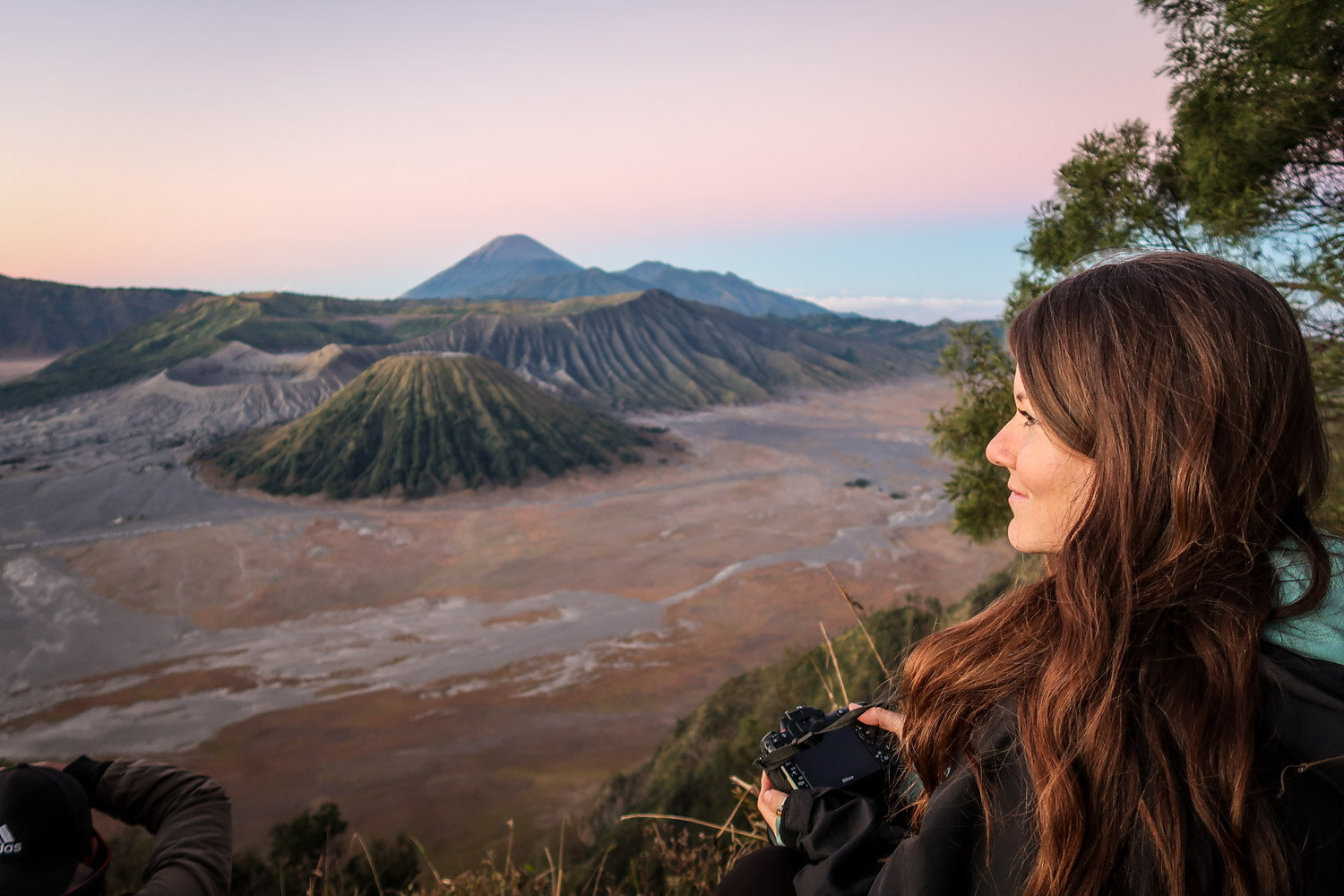 It is possible to fly your drone from the viewpoints , just be respectful to those around you. We asked the people near us if it was okay, and we tried to be quick. Also, you are not allowed to fly your drone over the crater itself.
Know that Mount Bromo sits to the southwest of the viewpoint, so the sunrise is not over the crater itself , but nevertheless casts a nice glow over its surface.
Think about what shots you'd like to capture, and brush up with these photography tips !
Really vibrant sunrises happen here, but not super often . A friend of ours who visited Mount Bromo just weeks before us had a Crayola sky (she said it peaked around 7 a.m.). However, on the day we visited, the colors were more subdued.
This tour is nearly 12 hours long, so you'll want to be sure you're dressed properly and have some essential items packed.
Layers: Wear a jacket for sure!
Hat & gloves
Closed toe shoes: the trails are very dusty
Camera and/or drone
Buff or bandana: to keep dust out of your mouth when you hike to the crater rim
Toilet paper
Small change: for using the toilet
Headphones : for the drive there and back
Sarong or blanket: to sit on and to cover up with while waiting for sunrise. (They sell used blankets at some of the shops, but they were pretty expensive for what they were!)
Book or Kindle
Mount Bromo without a Jeep Tour
Want to skip the Jeep Tour? If you're planning to hike, our advice would be to stay in a guesthouse nearby so you can roll out of bed and start the hike before sunrise.
In this section, we'll explain how you can visit Mount Bromo independently as well as costs and where to stay nearby.
How much does it cost to go to Mount Bromo on your own?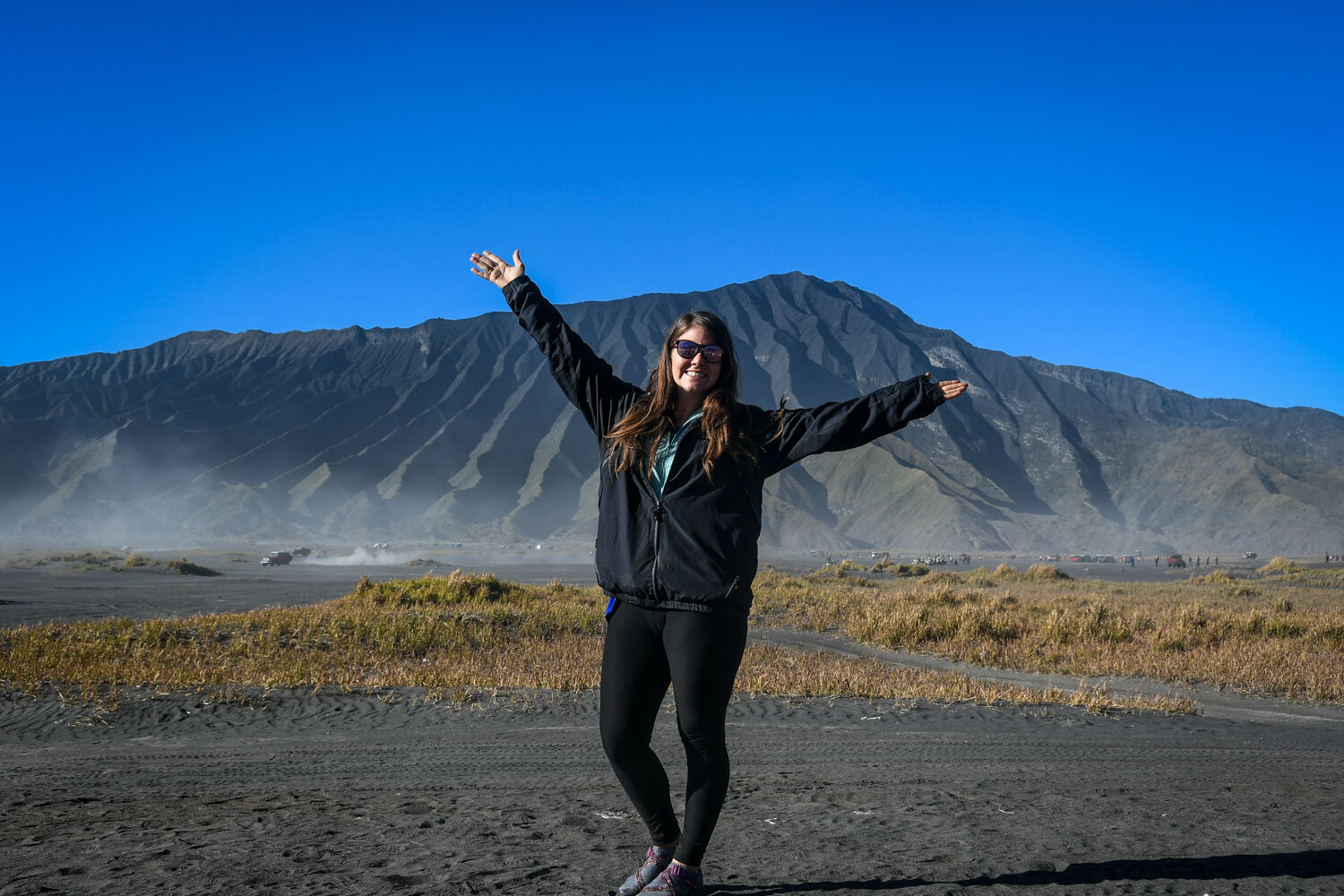 If you forgo the Jeep tour, you'll save a bit of money, but probably not as much as you're expecting.
You'll still need to pay for the following:
a) Transportation to (and from) Mount Bromo
Drive yourself on a motorbike or in a rental car.
Beware, the "roads" in the basin are actually just dust and can get very slippery!
We'd recommend driving in the daylight and spending the night in Mt. Bromo Village so you don't need to make a 2-hour drive in complete darkness.
Only choose this option if you are very comfortable driving in Indonesia and have insurance that covers you in the case of an accident.
You'll also need to pay some small parking fees, but they shouldn't be very much (maybe around 10,000 IDR / less than $1 USD).
OR Find transportation : public transport, ride share, hire a driver
b) National Park fee*
This fee is included in the Jeep tour price, but if you want to visit independently, you'll have to pay this fee on your own.
Foreign Visitor: 240,000 IDR | $15 USD
Domestic Visitor: 27,500 | $1.75 USD
Foreign Visitor: 340,000 IDR | $22 USD
Domestic Visitor: 37,500 IDR | $2.50 USD
*Prices and exchange rates as of April 2020.
Responsible Travel Note: We've seen a few other bloggers recommending ways to avoid the fee station so you don't have to pay. However, we feel this is unethical (and could potentially get you in trouble). We try to see National Park fees as a way to support the environment, conservation, and staff. Whether this is where the money goes isn't always known, but thinking of it this way makes it less of a frustration to pay the significantly higher "foreigner price".
Accommodation near Mount Bromo
If you do plan to hike to the Mount Bromo viewpoint on your own, we think it makes most sense to book a room as close to Bromo as possible. (Otherwise, you have to wake up just as early as all the people on Jeep tours to catch your ride, so there's not a real benefit.)
At the basin of the volcano, there is a tiny village called Cemara Lawang (or sometimes referred to as "Mount Bromo Village"). There are a handful of guesthouses, most of which have very basic facilities.
Here are our recommendations based off price, location, and guest reviews:
Guesthouse Gunung Bromo : Simple, yet clean and comfortable, this property has the highest guest ratings in the surrounding area. Plus, the included breakfast looks nice and it is very close to the starting point of the hike. This would be our pick!
Bromo Otix Guest House : With a large terrace and close proximity to the volcano, this makes another great pick if you want to stay near Mount Bromo.
Good to know: Your guesthouse will be able to arrange onward transportation for you.
Booking Tip: If you're searching for accommodation near Bromo on a site like Booking.com or Agoda , make sure you're viewing the properties in "map mode" because they tend to default to showing hotels in the larger cities like Malang or Problingo.
Is it worthwhile to visit Mount Bromo it on your own?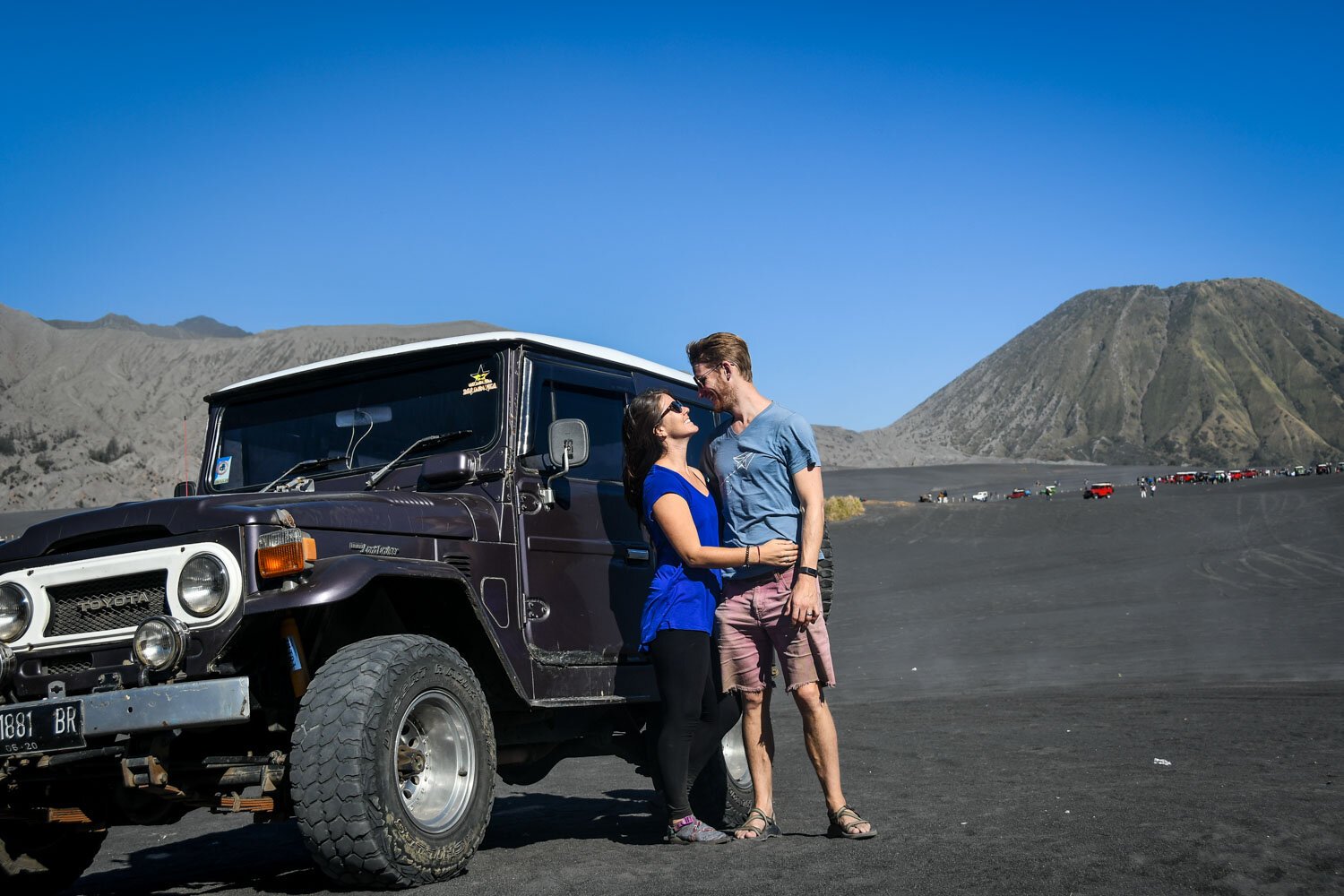 If saving money is your biggest concern, probably not . All things considered, going on your own isn't going to save you all that much money in the end once you pay for transportation and the National Park fee. If we were to do it all again, we would probably book a Jeep tour again.
However, if you'd prefer to do things on your own time and like the idea of spending the night near the volcano and doing the hike, by all means, go for it!
What is the hike to the Mount Bromo viewpoint like?
While we can't speak from personal experience (because on the Jeep tour you are just driven to the viewpoint!), we've read the hike can take between 1.5 and 2 hours from the basin to the viewpoints.
Good to know: Since you'll be hiking in the dark, there's not much to see, so it wouldn't be that exciting of a hike on the way up. It's also worth mentioning that the trails are very dusty, so be prepared to hike through dust and ash.
Note: The hike to the Mount Bromo Crater is a different hike and takes roughly 20-30 minutes. All the Jeep tours will make a stop here.
You may also like…
We have TONS more resources on Java, so if you're planning an Indonesia trip , you'll definitely want to check out our other articles too!
Kawah Ijen Crater Sunrise Hike + Blue Flame
Best Temples in Yogyakarta: Borobudur & Prambanan Guide
Tumpak Sewu Waterfall: Essential Guide to Java's Best Waterfall
Visiting Malang's Colorful Rainbow Village: Kampung Warna Warni Jodipan
Save this article on Pinterest for later!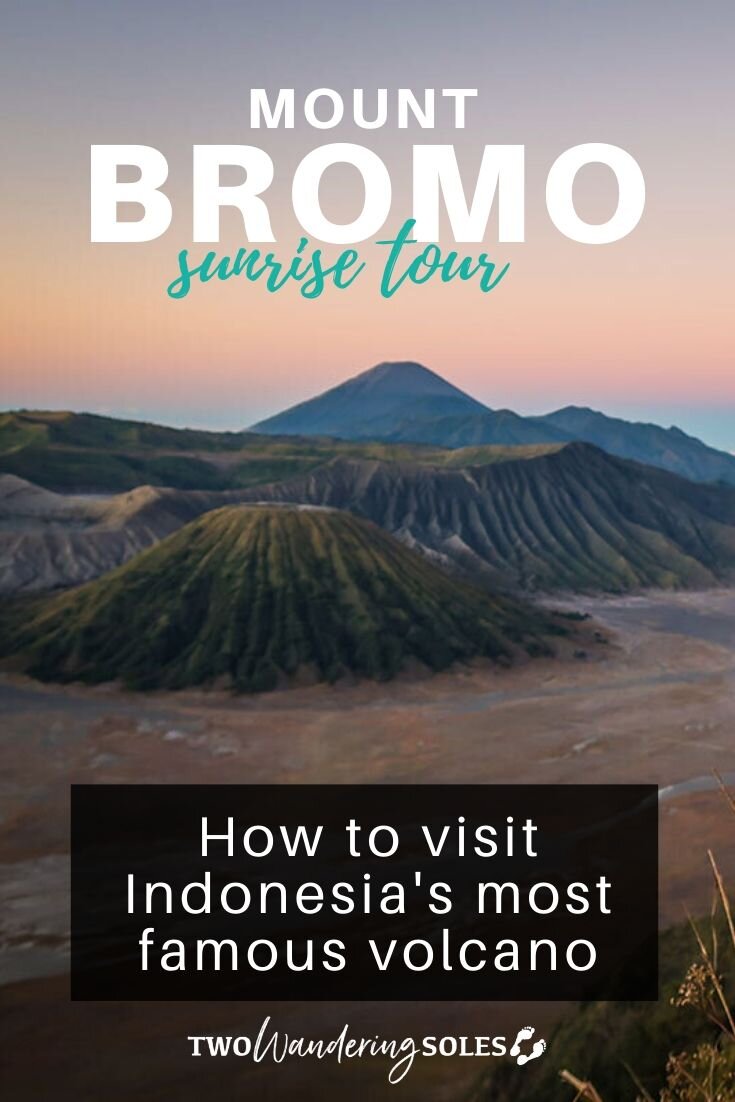 We want to hear from you!
Still have questions about visiting Mount Bromo? Comment below and we'll do our best to get back to you!
Comment (1) on " Mount Bromo Tour: Sunrise at Indonesia's Most Famous Volcano "
Hi, my name is Fani, I live in Malang and I'm a local guide. I can take you to bromo and ijen and other places near. Just let me know @ +6281219807329
Leave a Reply Cancel reply
Your email address will not be published. Required fields are marked *
Save my name, email, and website in this browser for the next time I comment.
Sunrise at Gunung Bromo - 1-Day Tour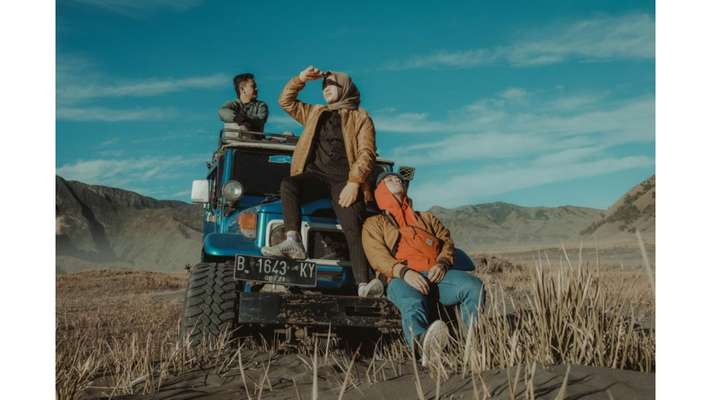 Product Details
Tour itinerary, what you'll experience.
Begin your day with a breathtaking sunrise over the majestic Mount Bromo. Find the best spot at the View Point Penanjakan and watch as the sun slowly casts light over its surroundings. If you're lucky, you might even see the Milky Way! Your journey doesn't stop there though, because as you descend the view point, you'll see more gems that the national park has to offer.
Make way to many more photogenic spots, such as Bukit Cinta, Mount Bromo and its crater, the stunning vastness of Pasir Bercepat and the savanna. Don't forget to see the picturesque Bukit Teletubbies that will make you feel like you're in the middle of a fairy tale setting. If you're still up for more adventure, you can add a visit to the Coban Pelangi Waterfall to your itinerary!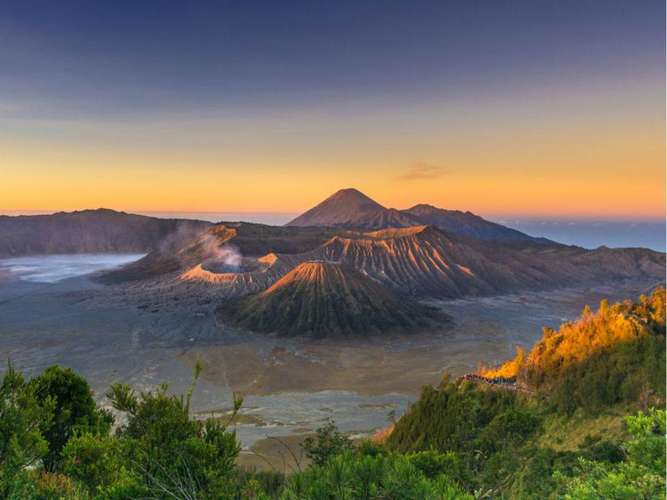 Good morning from Mount Bromo!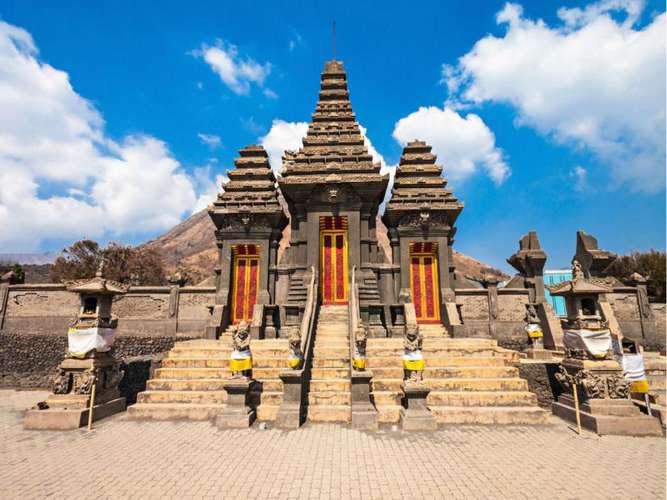 The beautiful Pura Luhur Poten in the midst of a vast sea of sand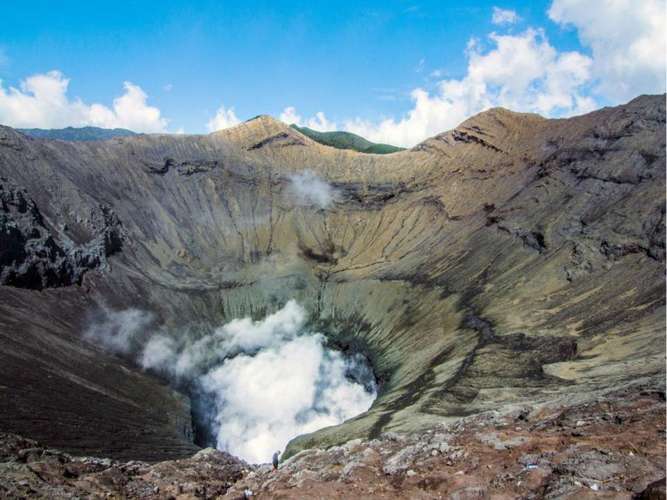 This stunning crater watches you on the top of Mount Bromo
Location Details
How to get there.
Malang city area except for the station.
Additional Information
- Please bring a mask and a flashlight. - Please wear shoes instead of sandals.
Pick-up Service
Free pick-ups available Malang city area except for the station.
Frequently Asked Questions

Other activities similar to Sunrise at Gunung Bromo - 1-Day Tour

Payment Partners

About Traveloka
Follow us on
Flight + Hotel
Airport Transport
Traveloka Affiliate
Privacy Policy
Terms & Conditions
Register Your Accommodation
Register Your Experience Business
Traveloka Press Room
Download Traveloka App
Early Black Friday Deals: Solo Adventures Up to 50% OFF
Destinations
Tours & trips including mount bromo.
Find the right tour for you through Mount Bromo. We've got 51 adventures going to Mount Bromo, starting from just 3 days in length, and the longest tour is 34 days. The most popular month to go is August, which has the largest number of tour departures.
51 Mount Bromo tour packages with 104 reviews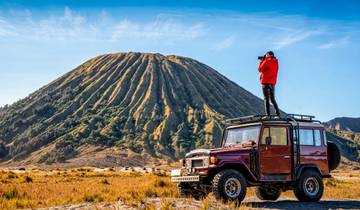 Hiking & Trekking
Fully Guided
Personalized
Christmas & New Year
Prime Bromo Ijen 3 Days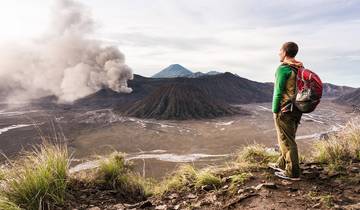 Jakarta to Ubud
"It has been amazing trip, great scenery, and wonderful experience."
Book With Flexibility This operator allows you to rebook your dates or tours with them for free, waiving change fees.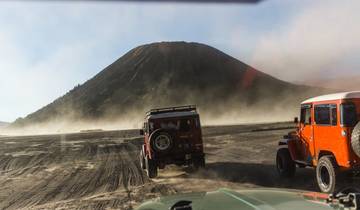 Festival & Events
Partially Guided
4 Days Java Bromo Ijen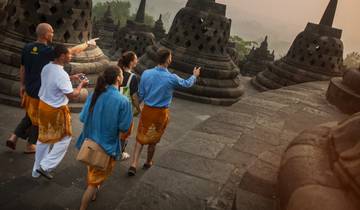 Indonesia: Hammocks & Hikes
"Tour should start in Yogyakarta. Half of current trip you spend the whole day in..."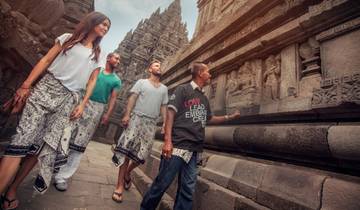 Indonesia Java, Bali & Lombok
"Form me it was great advenutre with G Adventures.The tour guide named Hans was the..."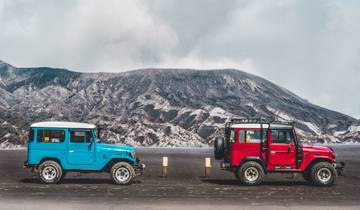 11 Days in Java, Bali, & Gili Trawangan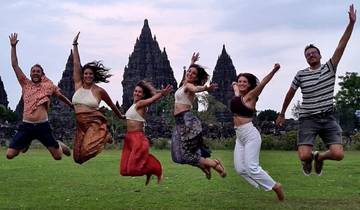 Superb Java Bali Tours: Private Tour
"Done this tour as a private tour for me and my wife. Very happy with the friendly..."
Black Friday 2023 is coming!
Subscribe to our newsletter to get notified about the year's biggest deals at TourRadar
By submitting this form, I agree to the TourRadar T&Cs and Privacy policy .
You've subscribed! Stay tuned for our Black Friday deals.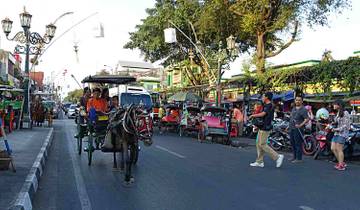 Prime Central Java to East Java 6 days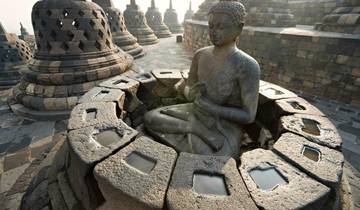 Essence of Indonesia, Private tour
"I have never been to Indonesia before. This trip was very well organised from start..."
Tailor-Made Indonesia Tour of Volcano & Nature, Daily Departure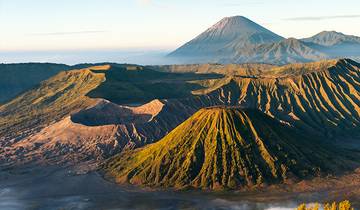 Java & Bali Explorer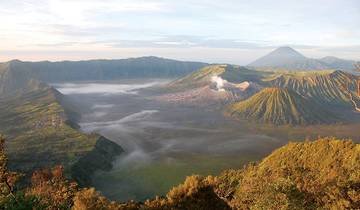 Exotic Java and Bali
10% deposit on some dates Some departure dates offer you the chance to book this tour with a lower deposit.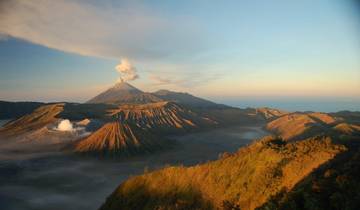 Symphony of Indonesia, Private Tour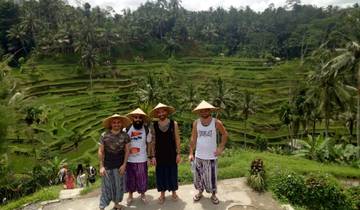 Indonesia Highlights Tour With Local (Private & All Inclusive)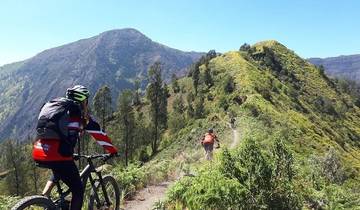 Bali & East Java Enduro Mountain Bike 9D8N
Mount bromo trip reviews.
"Great trip to see Java and interact with the locals. Our guide was excellent, even..."
"Loved traveling with G Adventures. Great tour with experienced local guide. Loved..."
"We explored and enjoyed this amazing country in 2 weeks. We got to see every aspect..."
Indonesia Travel Guide | All You ...
Best 2 Weeks Indonesia Itinerarie...
International Versions
Deutsch: Mount Bromo Rundreisen
Nederlands: De berg Bromo Rondrei...
BROMO TOUR & TRAVEL
Bromotour.co.id . – Kamu Mau liburan praktis ke gunung Bromo dengan harga hemat dan memuaskan? tenang saja, kami agent Bromo Tour Travel menyediakan pilihan paket wisata Bromo, biaya murah, terbaik dan telengkap. Fasilitas sudah termasuk penginapan, Tiket masuk ketempat wisata dan transportasinya. Dengan demikian perjalanan liburan Anda di Jawa Timur menjadi lebih praktis, Aman dan menyenangkan. Selain itu, Anda juga dapat memodifikasi perjalananmu dengan tempat wisata lain seperti wisata Malang Batu, wisata Kawah Ijen, Wisata Banyuwangi, Wisata air terjun, Pendakian dan camping di Semeru atau di Kumbolo, Wisata Rafting, family gathering dan wisata Outbound.
Wisata Gunung Bromo
Indonesia merupakan negara yang terkenal dengan keindahan alamnya dan tempat wisatanya yang menakjubkan. Salah satu Obyek wisata yang ditawarkan adalah Gunung Bromo . Gunung eksotis ini terletak di Jawa Timur dan merupakan bagian dari Taman Nasional Indonesia. Gunung yang memiliki ketinggian 2.329M dpl ini berada dalam empat wilayah kabupaten, yakni Kabupaten Probolinggo , Pasuruan , Malang , dan Kabupaten Malang .
Pesona alam yang di suguhkan sangat langka sekali di dunia, seperti melihat matahari terbit, kawah Bromo yang masih aktif, padang rumput savana dan lautan pasir berbisik. Tidak heran jika banyak wisatawan lokal dan asing tertarik untuk liburan ke obyek wisata gunung Bromo ini karena ke unikannya.
Bagaimana cara ke Gunung Bromo?
Cara menuju ke obyek wisata Bromo saat ini sangat mudah, banyak rute alternativ pilihan yang dapat kamu tempuh. Mulai dari kota Surabaya, Malang, Banyuwangi lalu menuju pintu masuk di 4 kabupaten yaitu via Probolinggo, via pasuruan, Malang dan lumajang.
Pada umumnya akses jalan ke lokasi wisata tujuan tersebut dapat di tempuh melalui jalur darat menggunakan kendaraan motor dan mobil. Namun, jika kamu dari Jakarta, Bali, Yogyakarta atau dari luar Pulau jawa akan menggunakan jalur udara. Maka kamu bisa menuju ke Bandar Udara Abdul Rahman Saleh Malang, atau melalui jalur akses Bandar Udara Juanda Surabaya.
Kemudian di lanjutkan menggunakan jalur darat seperti yang saya jelaskan. Lebih lengkapnya bisa klik Rute dan Akses Menuju Wisata Gunung Bromo .
Pilihan Paket Wisata Bromo Terbaru 2023
Bromo Tour & Travel menawarkan paket terlaris, dengan keunggulan dalam kemudahan dan kenyamanan saat liburan. Kami dapat menghandle Perjalanan wisata keluarga, sekolah, perusahaan, atau tour honeymoon lebih romantis berkesan.
Selanjutnya di dukung dengan akomodasi transportasi lengkap dan tim yang berpengalaman selama lebih dari 11 tahun. Oleh karena itu, Kami siap mengantarkan Anda dengan pilihan paket trip Bromo yang sudah di kemas menjadi 4 paket unggulan, antara lain sebagai berikut;
1 . Paket Bromo Midnight 1-Hari
Paket Bromo tour midnight ini merupakan paket populer yang banyak di pesan oleh wisatawan asing dan domestik. Selain menyingkat waktu hanya durasi 12 jam, juga harganya pun sangat ekonomis.
Paket midnight dimulai tengah malam yakni pada pukul 12 malam dan berakhir pada pukul 11 pagi. Karena waktu yang terbatas maka wisatawan harus mengikuti jadwal yang telah ditentukan dengan tertib.
Jadwal Perjalanan paket ini di mulai dari kota Probolinggo, Surabaya atau bisa dari Malang. Kami akan menjemput anda di lokasi yang telah di sepakati. Setelah tiba di Bromo, kemudian Jeep akan mengajak anda melakukan aktivitas Adventure di kawasan taman nasional Bromo. Seperti menyaksikan Matahari terbit dari puncak Pananjakan, mendaki kawah Bromo, mengunjungi Pura Luhur Poten, menikmati keindahan savana dan hamparan Pasir Berbisik.
Setelah midnight tours selesai, kami kan mengantar anda pulang ke tujuan akhir. Setelah itu perjalanan selesai.
2 . Paket Tour Bromo 2-Hari & 1-Malam
Selain paket midnight, Paket trip 2 hari ini juga banyak di ambil oleh para wisatawan untuk dapat menikmati keindahan Bromo secara lengkap dan tidak terburu-buru.
Pada umumnya kebanyakan wisatawan ingin melihat sunrise. Namun, jika anda beruntung kamu juga bisa menyaksikan fenomena Milky way yang dapat di lihat pada malam hari. Jadwal itinerarynya di bawah ini:
3 . Paket Bromo Tour Milky way & Camping
Bagi Anda yang suka adventure dan fotografi maka paket camping cocok untuk kamu coba. Jika paket pada umumnya menyediakan penginapan seperti hotel/Penginapan, di paket milky way & camping ini kamu akan menyaksikan fenomena milky way dengan berkemah.
Tentu paket milky way dengan camping lebih seru dan lebih menyenangkan karena kamu menikmati suasana camping di kawasan Bromo dengan cuaca yang dingin. Adanya camping ini berarti membutuhkan waktu 2 hari sebagai berikut:
4. Paket Wisata Surabaya Bromo 2 Hari
Menghabiskan waktu liburan akhir pekan paling cocok dengan paket city tours wisata surabaya dan gunung Bromo ini. karena perjalanan liburan ini sangat menyenangkan jika melakukan bersama keluarga, teman-teman, dan pasangan.
Jadi, Kamu akan mendapatkan pengalaman yang baru tentang apa saja yang ada di kota Surabaya. Paket perjalanan wisata ini juga memiliki waktu singkat yaitu 2 hari, namun anda akan menginap di kota Surabaya dengan jadwal perjalanan sebagai berikut.
Daftar Harga Paket Bromo Tour Travel (Private Trip)
Fasilitas & cara pemesanan paket.
Pilihan Paket wisata Bromo di atas terutama no.1 dan 2 ini sangat cocok jika kamu membiarkan biro perjalanan terbaik mengatur program tersebut.
Tarif yang kami tawarkan sudah termasuk mobil ber-AC, sopir, bahan bakar, dan juga biaya parkir. Selain itu, harga hotel/penginapan dan sarapan sudah termasuk. Sangat nyaman untuk memilih paket tersebut karena tiket sudah termasuk semua. Hanya pengeluaran pribadi dan makanan yang tidak termasuk.
Jadi, kamu perlu membuat pilihan yang baik untuk menemukan pengalaman terbaik. Pemesanan paket silahkan hubungi agent Bromo Tour Travel untuk perjalanan tak terlupakan di Jawa Timur.
Kontak Kami Call/WA: +6282-3349-009-24 Website: https://bromotour.co.id
Bromotour.co.id adalah travel agency online terbaik di Gunung Bromo Jawa Timur. Kami memiliki pengalaman 10 tahun. Layanan kami meliputi: Trip wisata Bromo, City Tour Malang Batu & Surabaya, Tour Kawah Ijen Banyuwangi, Pendakian Semeru, Camping, Rafting, Outbound, dll.
Kantor Kami
Brantas Regency Kav. F5
Probolinggo City, East Java
Call/WA: +6282-3349-009-24
Latest Post
Gunung Bromo and Kawah Ijen Travel Guide – Java, Indonesia
Gunung Bromo, Kawah Ijen, Java
In the far eastern regions of Java lie two extraordinary sites. The first is the massive volcano named Gunung Bromo. The second is the sulphuric crater lake of Ijen. These are two of the most impressive sites in Java, not to mention the whole of Indonesia. Sounds amazing, right? Well like most amazing places it comes with a catch. Bromo and Ijen and very remote places, making accessing here quite difficult and tedious. Transport from Yogyakarta can take up to twelve hours to Bromo and eight or nine from Bali to Ijen. The weather is also a major factor here, as clouds often cover up Bromo and heavy rains make Ijen hazardous. Apart from all these factors, witnessing sunrise at Bromo and the miners of Ijen will be an experience you are unlikely to ever forget.
Gunung Bromo
Reaching and altitude of 2396m, Gunung Bromo is, quite possibly, Indonesia's greatest attraction. The landscape, resembling the surface of the moon, is unlike anywhere you have ever seen. Nearby is Gunung Semeru, Java's highest peak, and one of the most active volcanoes in the region. Visiting Gunung Bromo is a must when traveling through Java. Seeing the volcanic clouds twirling around Bromo, while the sunrise streaks shades of orange and blue across the horizon, is stunning.
Getting to Gunung Bromo
There are a few ways to get to Gunung Bromo. Most travelers begin their journey from Yogyakarta in central Java. From Yogyakarta, your options are to take a train, plane or tour.
Flight – Obviously the most expensive option, but also the fastest, is to fly. You can fly to Surabaya then take the train or bus from there to Probolinggo. Lastly, it's another few hours from Probolinggo to Cemoro Lawang (Gunung Bromo).
Train – Probably the best option is to take train. From Yogyakarta, there are now direct trains all the way to Probolinggo. It's comfortable, but still takes around nine or ten hours. Once you reach Probolinggo, you will most likely get forced into taking a tour up to Gunung Bromo, although it is possible to take public transport all the way to Cemoro Lawang and arrange the rest there. This option is great if you have lots of time and are not on a tight schedule.
Tour option – The most popular option, and most convenient, is the tour. Just because it's popular and convenient does not mean it's the best option. The tours usually make promises of an AC bus, hotels with hot showers and great food. I can promise you this is not the case. The air-conditioned bus is actually a small, hot and sweaty minivan that crams tourists in like sardines. The hotels are usually cold, dirty, unfriendly shacks. The tour is not all bad, however. It's cheap, usually starting at about $60 US, and you get to meet tons of other travelers. I recommend the tour if you are pressed for time, or a solo traveller who wants to meet others.
Top Sights in Gunung Bromo
Bromo is not just a volcano, there are many things you can do here as well. If you have time you can easily spend two or three days here, exploring some of the unknown parts of Bromo that very few people actually see.
Sunrise View Point – Witnessing the sunrise over Bromo is breathtaking. The shades of pink, yellow and purple slowly crawl down the majestic volcanic peak. Below in the crater, fog rolls in, creating a mystical scene. This is all seen at the Sunrise View Point, a designated, well known spot that you will see advertised all over the Indonesian Tourism industry. Some people walk here from Cemoro Lawas and others take the Jeep, which charges a steep 15 dollars per person. I highly recommend you take the jeep as it's a steep, seven kilometer walk through the dark.
The jeep picks up passengers around 3:30 am and gets you to the view point at about 4:30am. From the drop off point, it's another kilometer walk to the top. During high season, don't expect to have the place to yourself. When I was there, I saw about three hundred people fighting at the view point.
Sunrise View Tip – When you reach the view point platform, go directly to your right. You will see a small wire gate with an opening near the cement wall. Crawl through here and there is a small, bush covered trail that will take you down through the forest on the hill side. Just a few minutes' walk down will bring you to a big opening that reveals the same view as the platform, but with no noise and no other tourists.
Bromo Crater – The dusty crater resembles an apocalyptic scene. Almost no vegetation grows here. Often, the crater is filled with thick fog in the morning, really giving you that zombie-apocalypse feeling. Walking around here is a great experience. In order to get up to the volcanic crater, you will be required to cross the dusty plateau either on foot or by horseback.
The climb up to the volcanic crater is not difficult, but be careful as it can get slippery when it rains. Once you reach the lip of the crater, you will be in awe. Smoke billows out from the deep, powerful, vibrating crater. If you are feeling adventurous, you can climb around the rim of the smoking crater, but be warned it is very dangerous.
Trekking – Gunung Bromo area offers some great trekking opportunities as well. Small villages dot the lush countryside out of the Bromo Crater. You can see potato and cabbage farms, unique houses built specifically to retain heat, and beautiful vistas overlooking the valley. There are also plenty of other viewpoints that you can hike up to see different angles of Bromo.
The Sulphur Mines of Kawah Ijen
Kawah Ijen, also known as the Ijen Plateau, is the most volcanic region of the area. This boreal forest region is unlike anywhere else in Indonesia. The climate is chilly, and the vegetation resembles that of western Canada's forests. The majority of visitors to the region are here to visit Gunung Ijen. Gunuig Ijen, which is Bahasa for "Lonely Mountain," is an inert volcanic crater. Deep in the centre of the crater is an acidic blue lake that contains a large concentration of sulphur deposits. Paired with Gunung Bromo, these two sights are, quite possibly, the main draw of Java.
Getting to Kawah Ijen
Most people do a tour from Yogyakarta, combining both Gunung Bromo and Kawah Ijen, in a rushed, three-day blast. Coming here on your own time is a much better alternative, and will give you a better perspective of this natural wonder.
Getting here on your own really isn't that difficult. There are two towns from which you can access Kawah Ijen.
Bondowoso – Getting to Bondowoso is a cinch. After getting to Probolinggo from Yogyakarta, you can take the three-hour bus to Bondowoso. Once in Bondowoso, you can take public transport as far as Sempol, and then hire a private vehicle after that. Or, just take a private hire right from Bondowoso for about 750 000 Rp.
Banyuwangi – Getting to Banyuwangi is also very simple. You can either take the train or bus from Probolinggo. Once in Banyuwangi, you can take the newly paved road by Ojek for 200 000Rp (drivers wait by the ferry harbour), which will require a few hours wait for other passengers to fill up the vehicle. Or, you can hire a private vehicle, which will cost 650 000Rp for the few hour journey.
Tour Option – Tours from Yogyakarta make the journey to Gunung Bromo and Kawah Ijen all the way to Bali in a two-night stressful run. The tour vans are usually crammed to the max, and will drop you off at less than appealing hotels. They also only give you a few hours to spend at each destination.
The up side to the tour is that, if you are on a time budget, as most travelers are, then you can see the both these amazing places, and be in Bali in a fashionable timeframe. You can also get the chance to meet some amazing people who have joined you on the tour! Lastly, taking the tour is considerably cheaper then doing it yourself. I have seen tours in Yogyakarta offering both Gunung Brom and Ijen together for 800 00Rp. This does not include entrance fees, or the jeep at Gunung Bromo
Top Sights at Kawah Ijen.
Kawah Ijen's obvious highlight is the crater itself, but there is much more to do and see in this beautiful region of Indonesia.
Kebun Balawan Coffee Plantation – This semi jungle region offers great opportunity to grow grade A Arabica coffee. A visit to the Kebun Balawan Coffee plantation will give you a whole new perspective on the work that goes into producing some of the highest quality coffee in the world.
A tour will consist of visiting the coffee plantation, and watching the field workers harvest the beans. Then you can see the factory that roasts and manufactures the coffee into a sellable product. Nearby are some thermal pools and waterfalls that are worth visiting.
Hiking/motor biking in Kawah Ijen – Kawah Ijen region has plenty of paved and unpaved roads. These roads give some great opportunity for hikers and motor bikes as there is very little traffic up here. From Sempol, you can ask about scooter rental, and hiking trails. By spending a few days exploring here you will get to do what very few tourists do. Visiting the Indonesians that actually live here is a unique cultural experience. Most tourists just see the crater and ship out.
Kawah Ijen Crater – The Crater of Kawah Ijen is why everyone comes here. Its emerald blue lake is picturesque and stunning. To get to the crater, you will be required to do some strenuous hiking. From the trail head, it can take anywhere from 45 min to 2 hours depending on your physical capability.
As you climb up the steep trail to the crater you will be offered to buy masks by locals. If the crater billows out sulphuric smoke it can irritate your eyes and cause respiratory problems. If you suffer from any respiratory illness I would highly recommend these masks. If you are in great shape and have no issues you can hike right up to the crater rim in almost 30 minutes as I did.
At the crater rim you can go one of two ways. You can continue up the rim to the "view point" which will give you a different view of the crater. Or, you can head down to the bubbling blue acidic lake. If you have limited time, then I highly recommend you head down the crater to the lake.
Visiting the Sulphur Miners – This was my favorite thing about Kawah Ijen. Deep in the crater there are large yellow Sulphur deposits. This is where all the sulphuric clouds originated from. Brave miners walk into these clouds and dig large chunks of this sulphur by hand. When the sulphur has been dug out, they haul it up the dangerous steep path up to the crater rim using wicker baskets that are placed upon their shoulders.
The miners put themselves at much risk doing this. They ruin their lungs from the sulphuric gas, and have deformed shoulders from hauling up to 80kg of sulphur per trip up the mountain side. Witnessing these incredible hard workers is an amazing sight.
The workers get a real kick out of watching tourists try to pick up the baskets they almost seemingly barley even notice lifting. When I lifted, it I could walk, but definitely not climb up a mountain! Many of the miners are used to tourism, and will pose for a picture or two, but they are expecting something in return. A small monetary tip or a cigarette or two is fine. Think of it if it were the other way around. You would want a tip from gawking tourists as you labored away!
Blue Fire – In Yogyakarta, you will see many signs at the tour agencies advertising the Blue Fire ! What they are referring to is one of the processes the miners do in Ijen to mine Sulphur. In the early hours of the morning (usually 3am!), the miners light the Sulphur on fire,making the extraction easier for the day workers. The fire creates a beautiful blue blanket over the sulphur mounds.
This is a great option, but if you're on a tour there are some issues. The first being that after being rushed and sleep deprived from Gunung Bromo, you will be required to hike up a mountain and down a crater on three hours of sleep. The second is that its quite dangerous to do this as you cannot see the clouds of sulphur smoke and you cannot see the trail in the dark.
On your own time this can be a valuable experience, but otherwise I would skip the blue flames and focus on the crater and miners.
          Useful information
Location:  Gunung Bromo, Kawah Ijen, Java, Indonesia
Daily Costs:  30 USD
Tips:  Really think it over whether you want to take a tour or not, going slower here in my opinion is worth it!
Recommended Guide: Lonely Planet Indonesia  
Stephen Gollan
Uncharted Backpacker is a glimpse at the past eleven years of globetrotting I have done. Now at over ninety countries I share my travel knowledge for you so you too can travel the world and see what wonders it has to offer.
Related posts
Travel Iraq Guide
Uncharted Backpacker – A Recollective Journey into the World of Traveling
The Impact of Traveling the World – How Travel Has Changed Me
Leave a reply cancel reply.
Your email address will not be published. Required fields are marked *
This site uses Akismet to reduce spam. Learn how your comment data is processed .
Really great article, Glad to read the article. I enjoy reading through your article post. Thanks for sharing. – best shirdi tour package from chennai, shirdi flight package
https://myshirditrip.com/shirdi-flight-package-from-chennai.html
Theme Options
Tentang Kami Blog
Bromo - Surabaya
Bromo Everyday
Bromo - Madakaripura
B29/P30 - Tumpak Sewu
Tumpak Sewu
Bromo Kawah Ijen
Kawah Ijen Blue Fire
Jeep Bromo Malang
Jeep Bromo Batu
Jeep Bromo Pasuruan
Jeep Bromo Probolinggo
Jeep Gunung Semeru
Destinasi bromo
MY BROMO MY ADVENTURE
Savana Gunung Bromo, Padang Rumput Luas di Sisi Kaldera Selatan Bromo
Pura Luhur Poten Bromo
Kawah Gunung Bromo, Dahulu dan Sekarang
5 Tips Aman dan Nyaman Wisata Ke Bromo dengan Kendaraan Pribadi
Toyota Land Cruiser FJ40, Kendaraan Tangguh Jeep Wisata Gunung Bromo
Puncak Penanjakan 1 Jadi Incaran Wisatawan Melihat Sunrise Bromo
Bukit Mentigen, Spot Camping & Prewedding Populer Selain Sunrise di Bromo
Air terjun tumpak sewu.
My Bromo Destinasi
My bromo populer.
My Bromo Gallery
My bromo informasi.

Welcome d'travelers !
Ayo share cerita pengalaman dan upload photo album travelingmu di sini. Silakan Daftar atau Masuk

DOMESTIC DESTINATION
10 obyek wisata gunung bromo, kapan kamu mau ke sini.

ADVERTISEMENT
SCROLL TO CONTINUE WITH CONTENT
Bromo Selain menyaksikan keindahan matahari terbit, ada satu lagi keindahan yang begitu dinantikan para wisatawan, yaitu keindahan kawah Gunung Bromo. Di sini Anda akan dimanjakan dengan kecantikan kawah Bromo yang begitu memesona. Namun untuk bisa melihatnya dengan jarak yang lebih dekat, pengunjung harus rela berjalan kaki sekitar 2 km dari area parkir. Belum lagi, masih ada ratusan anak tangga yang harus Anda takhlukan. Namun jika merasa malas untuk menapaki anak tangga di sini ataupun merasa tidak kuat, Anda bisa memilih dengan menunggangi kuda sambil menikmati keindahan yang ada di sekelilingnya. 4. Pasir Berbisik Sebelum sampai ke kawah Gunung Bromo , Anda akan disambut dengan hamparan pasir yang cukup luas. Hamparan pasir ini diberi nama dengan sebutan pasir berbisik. Areanya cukup luas, pengunjung bisa dengan mudah mengambil spot terbaik untuk berfoto. Selain itu, di pasir ini Anda juga dapat menikmati kegiatan lain, seperti mengendarai motor tril, menunggangi kuda, dan masih banyak lagi. Lokasinya berada di sebelah timur puncak Bromo. 5. Pura Luhur Poten
Masih berada di kawasan pasir Bromo, ada salah satu tempat terbaik yang bisa Anda datangi, yaitu Pura Luhur Poten. Pura di sini merupakan tempat ibadah warga sekitar yang memeluk agama Hindu. Tidak heran saat perayaan Nyepi tiba, kawasan ini selalu diramaikan dengan kunjungan warga lokal yang ingin melakukan ibadah di sana. Biasanya kawasan Taman Nasional Bromo Tengger pun juga ikut ditutup demi kenyamanan warga yang ingin melaksanakan ibadahnya di Pura ini.
6. Bukit Kingkong Bukit Kingkong menjadi salah satu tempat yang sering digunakan untuk melihat kecantikan sunrise di Bromo. Tempatnya tidak jauh dari penanjakan 1, jaraknya sekitar 2,5 km saja. Meskipun menjadi alternatif untuk melihat sunrise, namun tempat ini begitu populer di kalangan wisatawan. Sehingga untuk bisa menyaksikan keindahan sunrise pun Anda harus rela berdesakan dengan wisatawan lain yang sama-sama ingin menyaksikan keindahan sunrise dari bukit ini. 7. Bukit Cinta Bukit cinta atau love hills merupakan tempat yang sangat populer untuk dikunjungi. Di sini selain bisa menyaksikan keindahan sunrise di pagi buta, Anda juga dapat memanjakan mata dengan deretan bukit yang mengelilinginya. Di pagi hari Anda bisa menyaksikan keindahan lembah dan bukit yang masih tertutup awan kabut. Namun di siang hari meskipun sedikit panas, namun Anda bisa menyaksikan hijaunya pegunungan dengan deretan bukit-bukit yang nampak cantik dan mempesona. Lokasi bukit cinta ini masih bersebelahan dengan bukit kingkong. 8. Bukit Teletabis Bromo Nama bukit teletabis Bromo mungkin sudah tidak asing lagi bagi Anda. Bahkan obyek wisata Bromo ini menjadi tempat favorit untuk kalangan wisatawan. Selain bisa menikmati kecantikan gunung Bromo dengan deretan bukit hijau. area ini juga menjadi spot foto terbaik. Bukitnya dipenuhi dengan rerumputan hijau yang sangat cantik. Bahkan rumput di sini sangat terjaga sehingga nampak begitu rapi. Jadi, saat berkunjung ke kawasan Bromo Tengger, maka jangan lewatkan untuk berkunjung ke sini. 9. Desa Ngedas Setelah melihat kecantikan Gunung Bromo yang khas dengan matahari terbitnya, tak ada salahnya untuk mempir ke Desa Ngedas. Desa ini merupakan area pemukiman warga asli suku Tengger. Lokasinya masuk ke wilayah Kecamatan Puncokusumo. Meskipun nampak seperti desa pada umumnya, namun saat datang dan berbaur dengan masyarakat sekitar, Anda akan merasakan tradisi dari suku Tengger yang hingga kini masih dipertahankan. Bukan hanya wisatawan lokal, namun wisatawan dari luar negeri pun banyak yang menyempatkan diri untuk mampir ke desa ini. Kebanyakan mereka ingin mengenal lebih dekat kebiasaan-kebiasaan warga asli suku Tengger yang masih lekat dengan tradisinya. Selain itu, desa ini juga sering mengadakan acara tradisi yang bisa Anda saksikan secara langsung, seperti kuda kencak, atraksi kuda lumping, bentengan, dan masih banyak lagi.
10. Desa Ngadisari Selain Desa Ngedas, ada satu desa lagi yang tak kalah menariknya. Desa bernama Ngadisari ini hampir sama dengan Desa Ngedas, yaitu warganya merupakan keturunan asli suku Tengger. Di desa ini selain bisa menikmati tradisi warga sekitar, Anda pun juga bisa berbaur langsung dengan mereka. Jangan takut, warga di Desa Ngadas dan Ngadisari ini umumnya sangat ramah dengan penduduk asing atau para wisatawan yang memang sengaja datang ke sini. Selain bisa mengenal dan berbaur dengan mereka, Anda pun juga bisa menikmati keindahan alam yang ada di desa ini. Desa ini juga menyediakan beberapa fasilitas seperti penginapan, rumah makan, toilet umum, dan masih banyak lagi. Kini pesona Bromo bukan hanya terkenal dengan keindahan sunrisenya saja. Melainkan terdapat beberapa obyek lain yang sayang untuk dilewatkan. Jadi kapan Anda mau ke Bromo?
7 Gunung Paling Angker di Jawa Timur, Berani Mendaki?
Wisata gunung bromo dan aktivitas seru yang wajib dilakukan, gunung bromo: peraturan, larangan, dan tiket masuk tahun 2023, kesaktian mario dandy dan rubiconnya, lolos masuk ke sabana bromo, jembatan kaca seruni point, calon spot asyik nikmati gunung bromo, bromo steril dari kendaraan saat wulan kapitu 23 desember, turis jalan kaki, paket wisata bromo, bisa lihat sunrise, savana, dan pasir berbisik, cek 6 wisata alam yang bikin bangga jadi orang indonesia.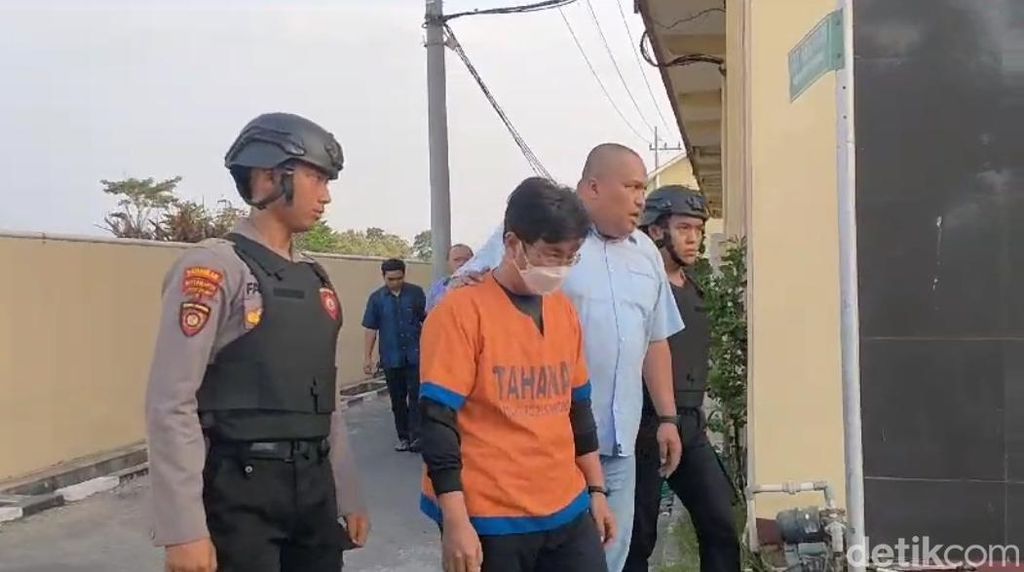 Berkas Kasus Manajer WO Tersangka Kebakaran Bromo Diserahkan ke Jaksa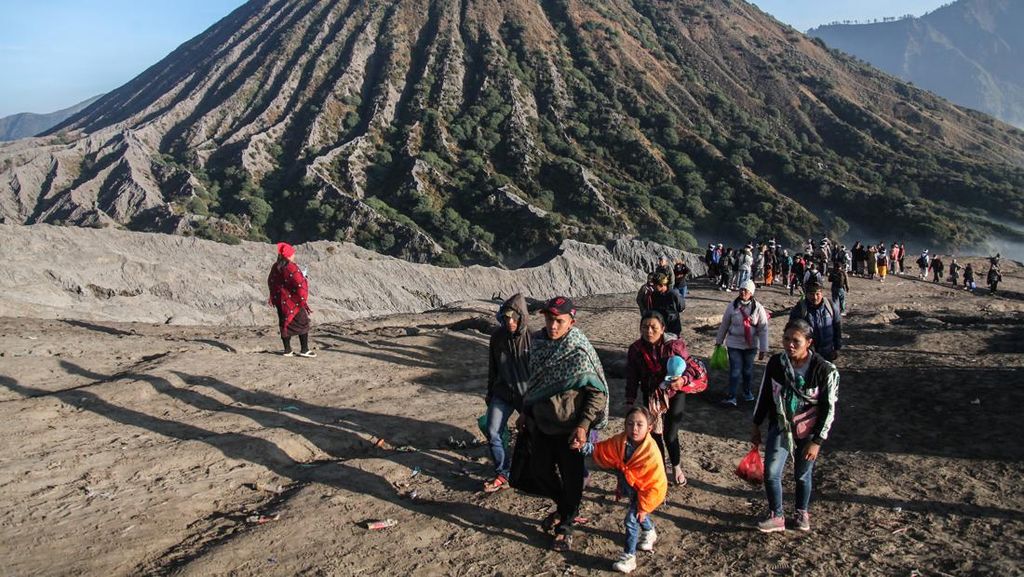 Suku Tengger Mendiami di Wilayah Sekitar Gunung Apa? Ini Jawabannya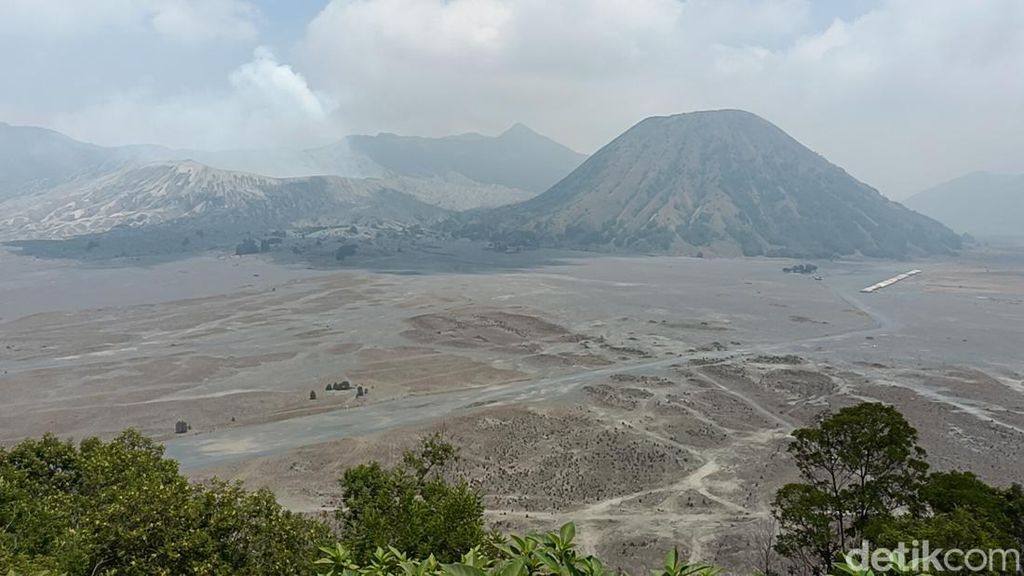 Kerugian Kebakaran Bromo Imbas Flare Prewedding Capai Rp 5,4 M!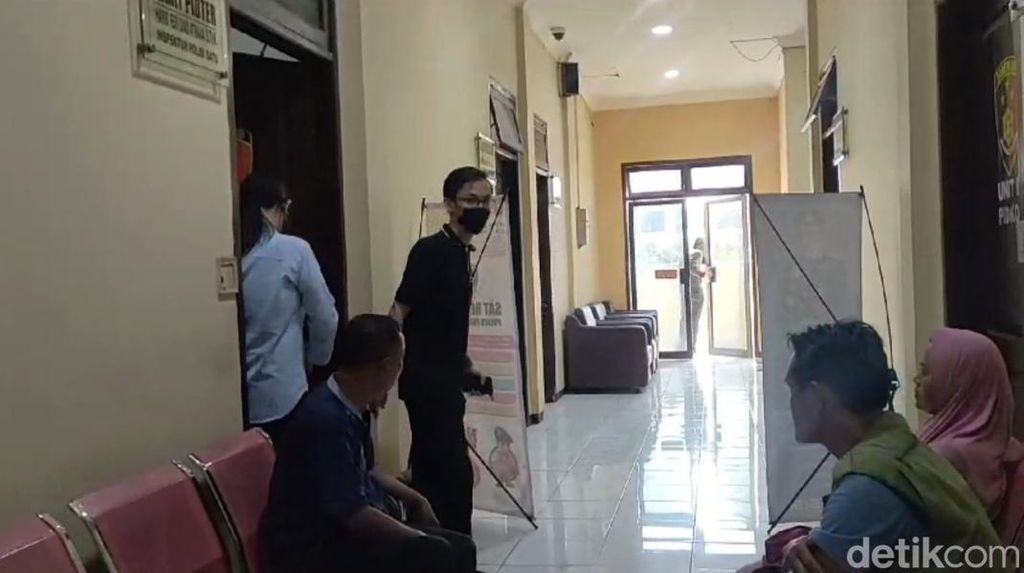 Pasangan dan 3 Kru Prewedding Picu Kebakaran Bromo Penuhi Wajib Lapor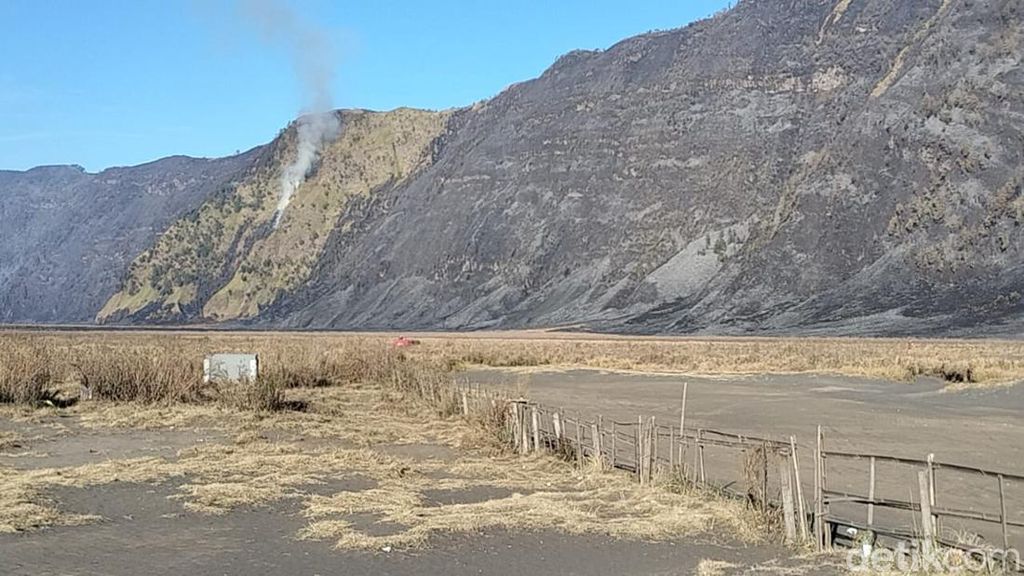 7 Fakta Rombongan Prewedding Lapor Balik TNBTS Soal Kebakaran Bromo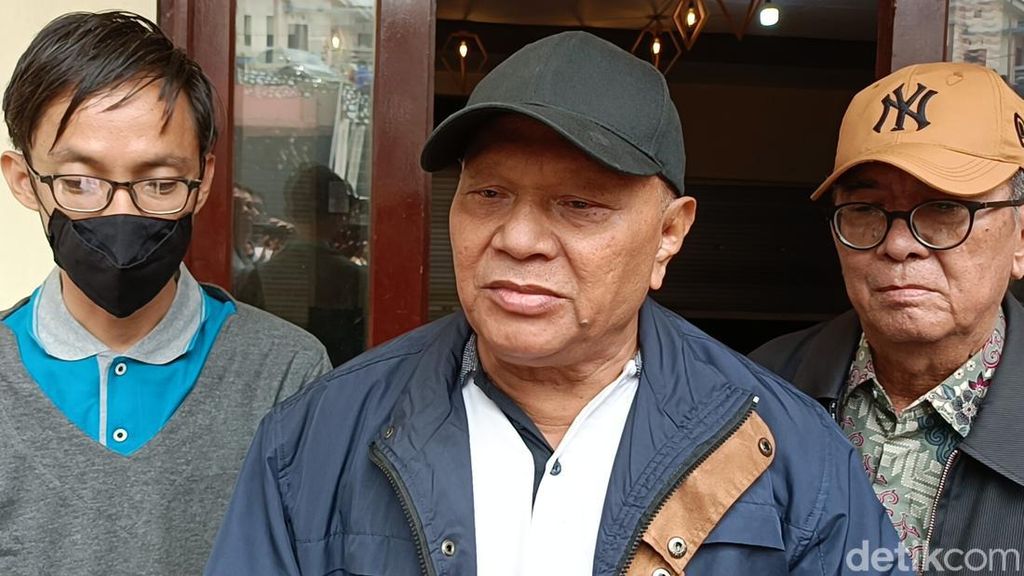 Pihak Prewedding Bikin Kebakaran Bromo yang Tak Mau Disalahkan Sendiri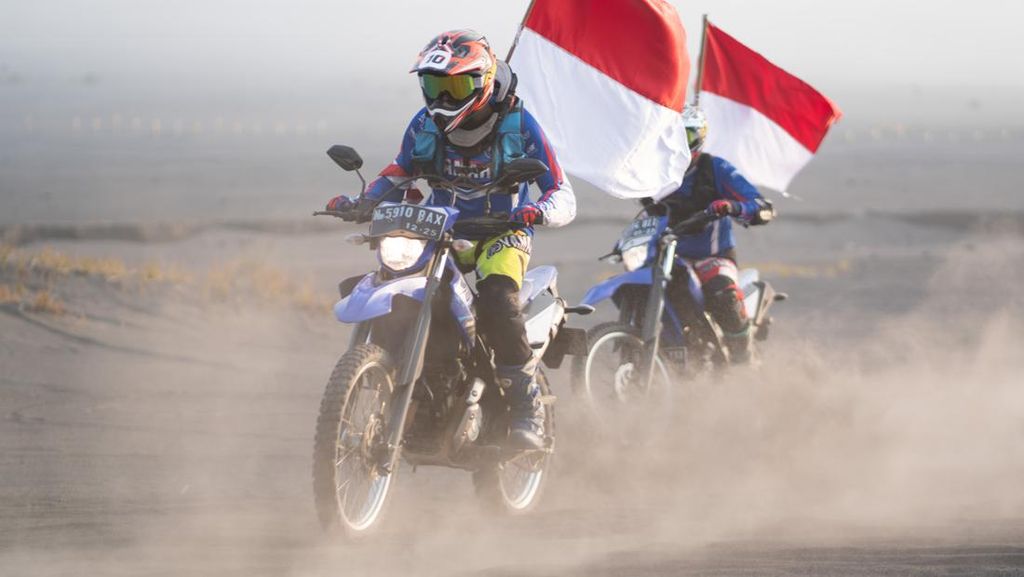 Momen Seru Naik Motor Trail di Trek Pasir Bromo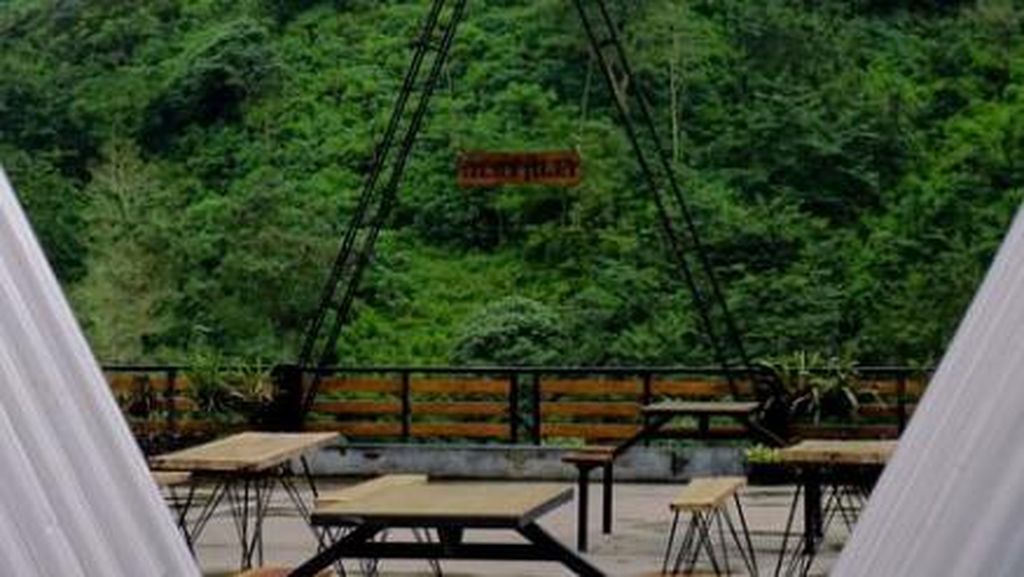 10 Kafe di Sekitar Gunung Bromo yang Punya Pemandangan Indah
Search Search Search …
Search Search …
How to Visit Bromo Without a Tour [ Bromo Independently ]
After our superb visit to the active volcano of Kawah Ijen, we continued across Java and visited Mount Bromo without a tour. It takes quite a bit of time to visit Bromo independently, if you're short on time, it's definitely best to combine this with a tour – and your travel. However, we were doing this the slow and more difficult way, so here's how to get to Gunung Bromo without a tour.
THIS POST MAY CONTAIN COMPENSATED AND AFFILIATE LINKS MORE INFORMATION IN  OUR DISCLAIMER
Most folks who visit Bromo come from the East. On a tour from Yogyakarta, that takes them to Gunung Bromo, to Kawah Ijen, and then onto Bali. We came from Kawah Ijen, aiming to visit Bromo independently. We arrived in Probolinggo on an 11:20 bus from Banyuwangi, which took us 6 hours, and which got into Probolinggo at 17:30. We'd spent the previous night climbing Kawah Ijen before getting on the bus, so slept most of the way.
How to Visit Bromo
There are several ways to visit Bromo. You can take a tour as part of a trip from Bali to Java or as part of a route from Java to Bali. Combining seeing Bromo and Ijen is very popular and an easy way to see both volcanoes in a short space of time. If you plan on visiting Bromo independently, then you'll need to factor in the time (just getting to Bromo will take most of the day), and if you want to see the sunrise at Bromo (you really should) then you need to plan to stay at least one night unless you're on a tour that provides the transport to get you there for sunrise. Here are the options for how to visit Bromo.
Visiting Bromo and Ijen on a Tour
If you're short of time, then taking a small group tour that includes both Bromo and Ijen is a great way to see both of these magnificent attractions. You'll save a lot of the time that visiting Bromo independently needs – and you'll get to see Bromo at sunrise. This combined tour is a great deal and will save you a lot of time.
Visiting Bromo from Bali
If you're in Bali and looking to visit both Bromo and Ijen, then you can combine the two with your transport from Bali. This overland trip takes in both Kawah Ijen, Bromo and you can take it as part of your trip to Java, and also get to Yogyakarta. It's a super option if you're super squeezed on time.
Visiting Bromo on a Tour from Yogyakarta, Surabaya or Malang
Moving onto to different accommodations every night or two can be exhausting (believe me, I know, we've been traveling for more than 9 years now!), so keeping your base in Yogyakarta, Surabaya, or Malang and taking a visit out to Bromo, knowing you don't have to pack your backpack AGAIN is a great option. Here are some of the best options for visiting Bromo from Java.
Visiting Bromo on a tour from Probolinggo
If you've made it as far as Probolinggo, then it's easy to take a tour to get you up to Bromo for sunrise . No waiting around for the minivans or a motorbike. And stay in Probolinggo for one or two nights.
Visiting Bromo independently
If you want to spend longer at Bromo than the tours offer you, then coming here independently is the best way to come. You'll want to stay up at Cemorro Lawang (see later for how to get here from Probolinggo) – the village near the crater for one or two nights, depending on how you plan to see the crater and the sunrise.
How to Get to Bromo
To visit Bromo independently, then you'll need to make your way to the city at the bottom of the volcano, this is called Probolinggo. Here's how to get to Probolinggo.
Getting to Probolinggo
You'll either approach Probolinggo from the west (i.e. Banyuwangi or the island of Bali), or you'll come from the east. So here are a few more details on how to get here. There's both a train station and a bus station at Probolinggo and there's a lot of accommodation here, so it's a good place to base yourself, especially if you plan to take a sunrise – or – sunset tour of Bromo.
There's quite a distance between the train station in Probolinggo and where the minivans go up to Bromo from, so you'll want to factor in the cost of a taxi or a bemo (shared truck).
Banyuwangi to Probolinggo
It's relatively easy to get to Probolinggo from Banyuwangi, it just takes some time. You can take a bus or a train to get from Banyuwangi to Probolinggo. The decision will likely be made for you by what time you can leave Banyuwangi. It's about 200 kilometers (124 miles) from Banyuwangi to Probolinggo. The bus takes between 5 and 7 hours. Several trains run this route and this takes about 4.5 hours.
Book the bus from Banyuwangi to Probolingo here.
You can book tickets for the train on tiket.com
Yogyakarta to Probolinggo
You can take either the train to Probolinggo from Yogyakarta, although you'll need to change trains at Surabaya. Check the train times from Yogyakarta to Probolinggo here . The pain is that there are only two trains a day from Surabaya to Probolinggo. For a direct journey take the bus from Yogyakarta to Probolinggo.
Surabaya to Probolinggo
If you're in Surabaya, then you can take either the train or a bus to Probolinggo. There are two trains a day between Surabaya and Probolinggo (book tickets here ). There are loads of buses from Surabaya to Probolinggo, so you can reserve your preferred time here.
Probolinggo to Bromo – Probolinggo to Cemorro Lawang
As I mentioned Probolinggo is at the bottom of the volcano area, but to see Bromo you need to get to the village at the edge of the crater. It's called Cemorro Lawang.
In Probolinggo shared minivans leave the minivan station. This is just outside and to the north of the Probolinggo Bus station on the road called Jalan Bromo, I've marked it on the map later in this article. The Probolinggo minivan to Bromo station is about 5km and a 10,000 IDR bemo ride from the train station.
Minivans from Probolinggo to Cemorro Lawang
There are no signs to the minivan "station". The row of small eateries (warungs), and stores selling snacks with minivans parked in front of them will tell you that you're in the right place.
Schedule for Minivans to Bromo
Once you get to the minivan "station" all you need are 14 other folks to join you in the van. Vans from Probolinggo to Bromo have 15 seats. You can wait in one of the warungs, or on the bamboo platforms until those other 14 folks arrive.
The cost from Probolinggo to Cemorro Lawang is 35,000 IDR per person. That's not the tourist rate, that's just the rate because the only folks taking these vans are the tourists. You may find some domestic tourists, but they're in the minority.
Bags go on the roof (and they're tied on) and there are 15 seats in the van. The vans will go when full. It's possible to negotiate with the drivers to depart with less than 15 people, but the rate will be 525,000 IDR per van.
Well, not all the time. It's a case of supply and demand.
When we first arrived in Probolinggo (at 17:30 mid-week in the third week of August), we waited for two hours until there were a total of four of us wanting to go to Cemoro Lawang. When the two of us walked away, the driver offered us a deal. 120, 000 IDR each to go now. We'd been waiting for 2 hours, one guy had hung around for significantly longer than us.
When we countered with 60,000 IDR per person, he came back with an offer of 75,000 IDR each. In the end, we declined and were in Probolingo for the night and tried our luck the next morning.
If you're traveling solo, there's also the option of a motorbike ojek from Probolinggo to Cemorro Lawang. They go from the same location as the minivan "station". Just ask around and expect to pay 70,000 IDR.
Taking the Minivan from Probolinggo to Cemorro Lawang
The next morning, we arrived at the minivan stop at 0900. Four folks had been waiting since 0400, several since 0600, and two since 0830. Our arrival made 12 people, but it was 10 am before the driver offered to leave "now" if we all paid 45,000 IDR each.
We all agreed. We lucked out with the front row of seats (normally for three) for the two of us. (here's a hint, be the first to get into the van. If there are two or more of you, leave one with the bags to go on the roof and go grab those seats!)
The seats are tragically uncomfortable. The best seats are either the two in the front with the driver or the front row in the back. There's more legroom and a little more to brace yourselves with when the driver hurls it around corners.
Arriving in Cemorro Lawang by Minivan from Probolinggo
In Cemoro Lawang, the van will either drop you in one of two places. Either outside their favorite homestay or at the only junction of note here in Cemoro Lewang. You can see this on the map.
Most people arrive in Cemoro Lawang mid to late afternoon. So to get on a minivan that leaves quickly your best bet is after lunch and before 4. The journey from Probolinggo to Cemorro Lawang takes "around 1 hour and 20 minutes". We were caught in an Independence Day carnival and wiled away 2 hours and 30 minutes in the van on the way up to Bromo. Our return journey from Cemorro Lawang to Probolinggo took us just 1 hour and 5 minutes. On the return the van drops you where you were picked it up from, or just across the road from the bus station.
Cemorro Lawang to Probolinggo
Leaving Bromo and getting out of Cemorro Lawang is simply the reverse of getting in. You go to where the van dropped you off. Go back to the junction, give your bag to the driver or his mate, and wait around. Once the van is full, or the "full van fee" is met the van will leave.
If you want to catch a train, then leave plenty of time. We left Cemoro Lawang at 09:20 and managed to make it to Probolinggo in time to catch the 11:12 train to Yogyakarta. Surprisingly, we made it! We had to take a yellow bemo from the bus station on Jalan Bromo for 10,000 IDR each. The local rate might be 5,000, but the Bule or foreigner rate is double that.
We left the "bus station" at 10:28 and arrived at the train station, where there were no ticket lines, and bought tickets at 10:55 for the 11:12 train. Here's another hint, if you get those good seats on the minivan, you'll be first out. This means you'll be the first to get into a bemo to get to the train station! If you're taking a bus or a train out of Probolinggo, then book it in advance
Book train tickets in Indonesia on tiket.com
Book bus tickets in Indonesia on 12goAsia.
Cemorro Lawang – the Villlage at Mount Bromo
A single road comes in from Probolinggo and leads to a fork, which if you take the left will take you to the Bromo Permai Hotel, and the National Park ticket office and barrier. The right-hand fork leads to the Cemara Indah hotel, where a path takes you down to the Sea of Sands and to the Bromo Caldera for free and is also the route for the sunrise point if you wish to walk uphill for two plus hours in the dark.
Bromo Accommodation – Where to Stay in Cemorro Lawang.
The best place to stay to visit Bromo independently is in Cemroro Lawang. The village perches on the edge of the larger Tengger caldera and allows you to walk into the Bromo National Park. You can find Bromo hotels such as the Cemarra Indah, the Bromo Permai, and others that you can book online. Most Bromo accommodation is in-home stays. It's cool here on a night, so blankets are generally provided, but no fans or AC unless stated by the hotel or homestay.
Cahyo Homestay Bromo, Bromo, Indonesia: The Cahyo Homestay Bromo is located in the heart of Bromo. This mid-range homestay in Bromo offers free Wi-Fi and the staff here will help you with the route to the sunrise viewpoint. Rooms at this homestay at Bromo have a hot shower, and they provide towels too. It's really close to places to eat in Bromo too. Want more information on the Cahyo Homestay Bromo?
Good Karma Guesthouse, Bromo, Indonesia: The Good Karma Guesthouse is a budget guesthouse in a great location in Bromo. This budget-friendly homestay in Bromo is in a great location for the sunrise hike to the Bromo viewpoint. There's free WiFi and private bathrooms available here. There are also family-sized rooms available here, great if you're sharing or traveling together. Check the prices of the Good Karma Guesthouse here.
Where to Eat at Cemorro Lawang
There are many warungs in Cemoro Lawang – serving standard dishes from a pot of Pot Mie (Pot Noodles) to Mie Goreng, Nasi Goreng, Gado-Gado, and soups. Many warungs simply serve Pot Mie with a kettle and some soft drinks. You can also buy drinks and snacks from several small shops around the village.
Visiting Bromo – Walks, Sights & Views
There are three primary elements to visiting Bromo independently.
Walking across the Laotian Pasir – the Sea of Sands and up the steps to the Bromo crater
Viewing the Huge Tengger Crater (it's 10km across) and the Batok volcano alongside Bromo.
Seeing the sunrise from the sunrise viewpoint.
Visiting Gunung Bromo and the Tengger Crater
Tickets to Bromo National Park cost 220,000 IDR (2023 prices) for foreign visitors during the week and 320,000 IDR on weekends and 29,000 IDR for Indonesians (34,000 at weekends). There is a single National Park checkpoint on the road just after the Cafe Lava Hostel. I've marked it on the map. All these prices have been updated for 2023.
This is where you buy your ticket. You can continue on this road, which passes the Bromo Permai Hotel and slopes down to the right. It leads you across the Sea of Sands (a 45-minute walk) and to the base of the Bromo Crater. You can also view the Hindu Temple as you walk across the Sea of Sands. Tickets are valid for a single day and are date stamped. Tickets issued to Indonesian Nationals look different from those issued to foreign visitors (apart from the obvious price difference!).
Getting into Bromo for Free
It's possible to visit the Bromo crater for free. If you take the right fork at the junction in Cemorro Lawang and walk up this road for 5 -6 minutes you'll come to the Cemara Indah Hotel on your left, immediately at the edge of the crater.
Map of Cemorro Lawang and Sea of Sands Access
You can see the full map here .
After you've taken all the photos that you want (come back here at sunset, it's pretty), take the small sandy track that you see to the right of the parking barrier box.
This is described by some locals as the "horse track". It's a narrow sandy track, with deep sand in places.
It winds back on itself several times and you'll get great viewpoints on the way right down to the Sea of Sands. There is no ticket office or any ticket checkpoint this way and you can walk all the way around the Tengger Crater, up Gunung Batok and Bromo, and enjoy the park.
From the Hotel Cemara Indah across the sea of sands to the base of the 253 concrete steps that rise to the top of Bromo took us 40 minutes walking.
Before getting to the steps, there's an uphill slog that takes perhaps 10 minutes (it's sandy and a little slidey).
The steps will take around 8-10 minutes to go up, depending on how many times you stop.
When you're done seeing the crater, then walk back down the steps, or run down the sand, you're filthy and sandy now anyways and it's fun.
If you visit Bromo as part of a sunrise Jeep tour, after your sunrise viewpoint at Penanjakan, your jeep will drop you in the center of the major caldera – near a "Toilet" building.
Return the same way. (when you're returning, head for the right-hand red and white communications towers).
Seeing Bromo without Sunrise Crowds
Visiting the Crater in the afternoon will give you the solitude that a morning visit (when 99% of tours visit) does not. The mid to later afternoon light also gives beautiful views over the Sea of Sands to Gunung Penanjakan, which is the point where everyone heads for sunrise and the iconic views of Bromo.
Seeing Bromo at Sunrise
If you decide to take a jeep tour from Cemorro Lawang, then to get to the sunrise point they drive INTO the Tengger caldera (hence you HAVE to pay the National Park fee), through the caldera and up the other side, then up to the Bromo sunrise viewpoint on Gunung Penanjakan. Our jeep left Cemoro Lawang at 03:50 and we arrived at Viewpoint 1 at 04:28. We then had to hike up for 10 minutes to the actual viewpoint, returning to the jeep for a 06:00 departure.
The jeeps return the same way in reverse. We were in the crater again by 06:20 and had walked to the base of Bromo's steps by 06:38 and at the top by 06:45. Our jeep departed the crater parking at 08:00.
Walking from the "parking" near the toilet building in the center of the Tengger caldera to the uphill slope area takes 10-15 minutes. That's why they drop you here, next to where you can hire a horse to take you to the base of the steps (and back if you wish).
Note that there are usually 80-90 jeeps on these morning tours – with 5 people per jeep, you can expect 400 people. They won't all be at the rim of the volcano at the same time, but you shouldn't expect to get any peace and quiet!
Bromo Sunrise View Points
If you've traveled to Bromo independently, you can get a sunrise view of Bromo from several different places.
from the Bromo Caldera rim
by walking up to the viewpoint on Gunung Penanjakan
by taking a Bromo jeep tour to Penanjakan and to Bromo-Tengger Caldera afterward
Here's how to get to all those sunrise points.
1. Sunrise From the Bromo Caldera Rim
Walk down past the ticket checkpoint and pay the entrance fee, take a torch, and warm clothes. Alternatively, see a Bromo sunrise for free by heading down the "horse track" immediately to the right of the Cemara Indah Hotel Parking booth and pay nothing. In both instances, walk across the Sea of Sands and head up the steps to the rim of Bromo.
BEST RECHARGEABLE HEADLAMP
Rechargeable Headlamp
Nitecore is a fabulous brand, and this is a great rechargeable headlamp for all your travels. Charges really quickly and it's super bright too.
2. Gunung Penanjakan Bromo Sunrise Viewpoint for FREE
You'll need to set off from Cemoro Lawang around 02:30, as this hike will take around 2-3 hours. The route goes up past the Cemara Indah Hotel, this map may help. It's steep and it's dark. And a set of hiking poles as well as a headlamp will definitely help.
3. Taking a Mount Bromo Tour for Sunrise
You can organize a jeep tour with your homestay, or with the driver of the minivan who brings you up or possibly with the Cafe Lava Hostel who ran a shared jeep service. Make sure you organize this the night before.
The standard jeep tour will take you to the Bromo viewpoint on Gunung Penanjakan where you can watch the sunrise. This will be with 400 plus new close friends.
But you will get to take in the views over the entire Tengger Caldera. The jeep takes you back down to the center of the caldera. You'll have around 90 minutes to hike up to the Bromo Caldera Rim and back. The jeep will then return you to the Cemoro Lawang village center (by the Cafe Lava Hostel or the road junction). You could of course hike back to the village in about 40 minutes).
If you take a jeep tour you HAVE to pay the National Park fee.
Be aware that the route that the jeeps take goes through the National Park. There is NO WAY to avoid paying the national park fees if you take the jeep tour.
You can get to the same (or stop at a slightly lower) viewpoint by doing the hike instead of taking a jeep.
The jeep tours arrive back into the Bromo Tengger caldera at around 06:30, they will park in the center, near to a building marked "Toilets".
Map of Bromo Sunrise Points & Cemorro Lawang
What to do in the Caldera at Bromo
If you've traveled to Bromo independently and want to spend longer in the bigger caldera, then you can take a horse ride, wander around or get some breakfast. I recommend the breakfast, it's really, really good.
Bromo Horse Ride Tour
You'll be besieged by locals with horses at this point, offering you the chance to ride the horse to the base of the steps up to the caldera and back. The horse tour price depends on your ability to negotiate, and again on supply and demand. The walk will take you around 20 minutes to the base of the steps and 8-10 to climb up the 253 steps.
Bromo Breakfast in the Tengger Caldera
En route to the caldera, there are also various stalls selling Bakso, coffee, water, soft drinks, and Pot Mie. I can recommend the bakso and coffee for breakfast after you've tackled the caldera steps.
There are benches under tents to sit on and stay away from the sun. There's nothing much to stop the chain-smoking locals who are just waiting and watching for your eyes to water and your nose to run from the very very spicy sambal.
Map of Visiting Bromo Independently
[Probolinggo bus station and minivan station, probolinggo train station Minivan station in cemorrow lawang, Horse track to crater, National Park ticket checkpoint, Sea of Sands, Jeep Road to sunrise, Crater, sunset viewpoint, sunrise viewpoint free (!)
FAQ about visiting Mt Bromo
Here are some of the questions we get asked about visiting Gunung Bromo.
Do you need to stay at Bromo to see the sunrise?
No. You do not need to stay up at Cemorrow Lawang to see the sunrise at Bromo. You can stay in either Probolinggo or other cities and take a tour. You don't need to stay at the crater.
Is it cold at sunrise at Bromo?
Yes. It's cold at sunrise at Bromo. You'll want to take a light coat or a fleece.
Do you need a mask at Bromo?
You'll be offered (for a fee of course) masks (surgical masks) on your way up – this is primarily for the dust. You're walking on very fine volcanic sand and it is pretty dusty (bring your own mask or a scarf). The sulfur fumes at the top aren't very strong, just stand upwind of where they're blowing. We found no requirement for a mask or a gas mask on either of our trips up this caldera. (unlike Kawah Ijen )
What are the scams at Mt Bromo?
While there is an official National Park fee for foreign tourists, the Lava Hostel folks (and other jeep drivers) will offer to "consolidate" if you pay them a slightly reduced amount instead. If you do this, your jeep is waved through the checkpoint and you are unlikely to receive a ticket from the National Park.
If you want to have more of a chance of your tourist dollars actually reaching the National Park organization, then you can offer to pay at the ticket checkpoint when you pass through in the morning. Be sure to exit the jeep and pay at the ticket office itself, and get a ticket.
You may get offers of "door service" when they will sell you the ticket. You are, though paying over the odds and may not receive a ticket, which means that your fee is going straight into someone's pocket.
Also if you can pass for an Indonesian national or are of Asian descent, you may be charged full foreign tourist price, but only receive an Indonesian ticket. Demanding a ticket that covers the amount that you hand over reduces in some small way the amount going straight to those who are ripping you off. The Vietnamese girl in our jeep paid foreigner rates and was given an Indonesian ticket. An instant backhander for someone!
Travel Tips for Exploring Indonesia
Considering travel insurance for your trip? World Nomads offers coverage for more than 150 adventure activities as well as emergency medical, lost luggage, trip cancellation and more. .
Download and install a VPN BEFORE you travel to Indonesia > discount coupon here
Save money in Indonesia with a Wise debit card
Or with GetYourGuide
Book Buses & Trains in Indonesia with Bookaway
Book accommodation in Indonesia with Agoda
Final Words on How to Visit Bromo Independently.
The Bromo area is beautiful, the landscape is lush as you drive up, while the Sea of Sands is desolate and has the feel of the vastness of Mongolia. The village of Cemorro Lawang is sleepy and peaceful. While the accommodation prices may be high for Indonesia comparatively speaking, it's a chilled-out place that we enjoyed immensely. Visiting, even independently comes at a price, though – in both time spent getting there and seeing the main attraction whilst you're there. Enjoy! We had an amazing time here and here's some assistance if you're looking for more amazing Indonesian landmarks to explore !
We receive a fee when you get a quote from World Nomads using our affiliate links. We do not represent World Nomads. This is not a recommendation to buy travel insurance.
ASocialNomad is a participant in the Amazon Services LLC Associates Program, an affiliate advertising program designed to provide a means for sites to earn advertising fees by advertising and linking to amazon.com, amazon.co.uk, and amazon.ca. Amazon and the Amazon logo are trademarks of Amazon.com, Inc. or its affiliates. As an Amazon Associate, I earn from qualifying purchases .
Sarah Carter
Leave a comment cancel reply.
Your email address will not be published. Required fields are marked *
Save my name, email, and website in this browser for the next time I comment.
10 thoughts on " How to Visit Bromo Without a Tour [ Bromo Independently ] "
This is the most accurate online report on Mt Bromo and I wanted to thank you warmly for the time and energy you spent on collecting info and sharing it. It is extremely useful to enjoy Mt Bromo with peace of mind, despite endless attempts of scams and tons of tourists. I suggest everyone in good health to favor walking over using a jeep. Your experience will be superior, the damage done to the park and your wallet reduced. Cheers
Thanks so much for your kind comments. I agree on the jeeps – the crowds at the top where the jeeps go to were MASSIVE – and walking into the crater when there are no jeeps is just incredible. Enjoy the rest of your travels!
This is so helpful! Thanks for writing in such exhaustive detail haha I feel fully prepared for the trip now!
Great to hear Ellie – hope it goes well – we loved it and are the masters of the exhaustive detail 😉
Brilliant info! Greatly appreciate all the detail and work you've put in to write this up! Heading up to Mount Bromo tomorrow morning 🙂
Great to hear Tom, enjoy the trip – hope you get clear weather and a good run!
Hi Sarah, Nigel! Thank you so much for the great work – the indications marked on a map for our easy references, your kind recommendations on the hotel and the reminders note! We are a young couple from UK and Hong Kong planning to visit Mount Bromo independently in late Aug 2018. Thank you so much for your help in making this piece of informative article! Hope we will be able to make it! Thanks!:)
Thanks! We hope you get there, exploring Bromo without the crowds is fabulous!
Thanks! We loved our visit to both Bromo and Ijen – https://asocialnomad.com/indonesia/kawah-ijen/
Thank you for the useful report Sarah! I have a question: I want to avoid haggling and was thinking of renting a car myself, and head to Ranupani and reach Bromo in a longer hike from there. Happy to pay park fees, but I want to be a master of my schedule. Do you think the road is good enough to reach by rental car? I realise since you aren't mentioning Ranupani, that you haven't been there probably, but interested in your good perspective. Thanks anyhow
Privacy Overview
Kartu Kredit
Kredit & Pinjaman
Tabungan & Asuransi
Promo & Tips
Cek Skor Anda
9 Wisata Gunung Bromo yang Wajib Dikunjungi, Pesonanya Bikin Takjub
Kawasan wisata Gunung Bromo telah dibuka kembali sejak Agustus akhir lalu. Buat kamu yang ingin travelling ke sana, yuk datengin beberapa tempat wisata Gunung Bromo yang wajib dikunjungi ini.
Beberapa tempat yang masuk dalam daftar wisata Gunung Bromo yang wajib dikunjungi ini, memang sudah cukup populer di kalangan pelancong.
Pesona alamnya yang memukau ajaibnya bisa langsung membius "jutaan mata" yang berkunjung ke sana.
Sehingga, jangan heran jika tempat-tempat wisata tersebut tak pernah sepi bahkan setelah dibuka kembali di masa new normal ini.
Rekomendasi Wisata Gunung Bromo yang Wajib Dikunjungi
Beruntungnya, pengunjung kini sudah bisa kembali menikmati keindahan dari tempat wisata Gunung Bromo.
Sebelum berkunjung, kamu bisa membeli tiket masuknya lewat https://bookingbromo.bromotenggersemeru.org/ . Informasi mengenai pemesanan online ini bisa kamu baca sehabis pembahasan poin utama ya.
Kembali pada topik pembahasan, berbicara mengenai tempat wisata Gunung Bromo, mungkin beberapa diantara kita masih belum tahu apa saja lokasi wisata Gunung Bromo yang wajib dikunjungi.
Hal ini wajar kok, apalagi jika memang belum pernah berkunjung ke sana.
Oleh karena itu, sebelum travelling , yuk kepoin dulu apa saja rekomendasi wisata Gunung Bromo yang wajib dikunjungi, lewat pembahasan di bawah ini.
1. Site Pananjakan 1 & 2
Site Pananjakan merupakan kawasan wisata Gunung Bromo yang wajib dikunjungi. Bahkan tempat ini adalah spot favorit para pelancong kala berlibur ke sana.
Di Site ananjakan ini, kamu bisa menikmati dinginnya puncak pegunungan Bromo sekaligus menyaksikan matahari terbit atau bahasa gaulnya sunrise.
Baik Site Pananjakan 1 maupun jalur Pananjakan 2, sebetulnya bisa dilalui dengan kendaraan seperti sepeda motor atau jeep.
Hanya saja, akses menuju Site Pananjakan 1 memang dikenal lebih ekstrim ketimbang jalur keduanya.
Pastikan pula kamu sudah menggunakan baju hangat dengan perlengkapan penunjang seperti syal, sarung tangan, dan kupluk, saat berada di Site Pananjakan ini.
Kalaupun lupa membawanya, kamu bisa menyewa atau bahkan membeli perlengkapan tersebut di kios-kios yang menjual perlengkapan itu.
2. Pasir Berbisik
Penamaannya yang unik pastinya membuat lokasi ini menjadi salah satu wisata Gunung Bromo yang wajib dikunjungi.
Dinamakan "Pasir Berbisik" karena katanya, kawasan yang berada di sebelah timur Puncak Bromo ini, masih berkaitan dengan film jadul karya sutradara Nan Achnas pada 2001 silam, yang berjudul sama, yaitu Pasir Berbisik.
Namun dibalik itu semua, penamaan Pasir Berbisik sendiri sebenarnya tak lepas dari fenomena yang terjadi di kawasan itu.
Di mana saat angin bertiup, butiran pasir yang menyerupai gelombang laut ini bakal beterbangan dan terdengar seperti sedang berbisik.
Nah, di lokasi wisata ini, kamu dapat melakukan beragam aktivitas menarik, yang enggak hanya hunting foto saja. Melainkan juga berkuda hingga mengendarai motor trill.
3. Kawah Gunung Bromo
Wisata Gunung Bromo yang wajib dikunjungi berikutnya adalah kawah dari gunung tersebut. Letaknya kira-kira sekitar 2 km dari area parkir.
Kawah yang tergolong masih aktif ini bisa secara langsung kamu saksikan.
Menurut beberapa cerita yang beredar, kawah Bromo disebut pula Gunung Tengger, di mana sejak dulu sudah ditinggali oleh masyarakat Suku Tengger.
Untuk bisa mencapai lokasi Kawah Bromo, ada dua alternatif yang bisa dilalui oleh pengunjung.
Pertama, berjalan kaki dengan melewati ratusan anak tangga. Kedua, dengan menunggangi kuda.
(Baca Juga: 8 Tempat Camping Paling Hits di Bogor )
4. bukit cinta.
Gak kalah bagus dari tempat wisata Gunung Bromo yang wajib dikunjungi sebelumnya, panorama alam dari Bukit Cinta pun dijamin bakalan membuat kamu terpesona.
Di Bukit Cinta, kamu bisa menyaksikan secara langsung bagaimana cantiknya matahari terbit di pagi buta.
Tak hanya itu saja, di sini juga terlihat lembah dan deretan bukit yang mengelilingi kawasan Gunung Bromo. Pokoknya, siap-siap dibikin takjub deh!
5. Bukit Kingkong
Berada di sebelah Bukit Cinta, tempat ini juga termasuk dalam list wisata Gunung Bromo yang wajib dikunjungi lho.
Betapa tidak, di Bukit Kingkong inilah banyak pengunjung yang rela berdesak-desakan, agar bisa mengabadikan momen melihat sunrise .
Dinamakan "Bukit Kingkong", sebab kawasan yang berada lebih rendah ketimbang Site Pananjakan 1 ini, memiliki salah satu tebing yang tampak menyerupai kepala kingkong.
Di atas bukit ini pula, kamu bisa langsung melihat keindahan Gunung Arjuna sekaligus Kota Malang, yang terletak persis di bawah bukit tersebut.
For your information , selama masa new normal ini, kunjungan ke Bukit Kingkong sangat dibatasi, per harinya cuma boleh 86 orang pengunjung saja.
6. Pura Luhur Poten
Berbicara mengenai rekomendasi wisata Gunung Bromo yang wajib dikunjungi, gak afdal rasanya jika tidak memasukkan Pura Luhur Poten ke dalam daftar ini.
Tempat ibadah masyarakat Tengger yang menganut kepercayaan Hindu ini, berada tepat di bawah kaki Gunung Bromo.
Hamparan lautan pasir yang eksotis di sana, semakin membuat suasana di Pura Luhur Poten kian menakjubkan.
Seperti pura pada umumnya, tempat kediaman Isa Sang Hyang Widhi Wasa ini juga selalu menyelenggarakan Upacara Yadya Kasada, yang diselenggarakan rutin setiap tahun.
7. Bukit Teletubbies
Hamparan bukit hijau di lokasi ini, membuat Bukit Teletubbies dikenal sebagai salah satu wisata Gunung Bromo yang wajib dikunjungi.
Ajaibnya, area ini dipenuhi rerumputan hijau yang terlihat rapi, dan jadi spot foto terbaik kala pelancong berkunjung ke sana.
Di Bukit Teletubbies pula terdapat beberapa tumbuhan seperti pakis, ilalang, dan tanaman lavender.
Gak cuma bagus buat foto-foto saja, kawasan wisata ini juga paling nyaman untuk melakukan berbagai aktivitas, mulai dari menunggangi kuda hingga camping bersama kerabat terdekat.
8. Puncak B29
Selain Bukit Teletubbies, kamu juga bisa mendatangi Puncak B29 untuk camping.
Wisata Gunung Bromo yang wajib dikunjungi ini, berada di ketinggian yang melebihi kawasan Pananjakan 1.
Sehingga udaranya tentu saja lebih dingin, dan kamu pun harus siap berbekal banyak pakaian hangat kala nge-camp di Puncak B29.
Tak hanya menyuguhkan hawa dingin saja, area yang dijuluki "bukit di atas awan" ini juga menawarkan banyak sekali spot foto terbaik, apalagi di saat malam hari.
Sungguh ciptaan Tuhan yang sangat menakjubkan!
9. Bukit Mentigen
Terakhir, tempat wisata Gunung Bromo yang wajib dikunjungi saat berlibur ke sana adalah Bukit Mentigen.
Lokasinya ada di Lawang Desa Ngadisari, Kabupaten Probolinggo, Jawa Timur.
Hamparan awan bercampur dengan pemandangan punggung Gunung Bromo dan Gunung Batok di bukit tersebut, bakal bikin kamu melongo lho.
Bahkan saking indahnya, banyak pengunjung yang mengabadikan momen di sana, apalagi karena tampilannya yang masih sangat alami.
Untuk per harinya, kawasan wisata ini hanya boleh dikunjungi wisatawan kira-kira sekitar 100 orang saja.
(Baca Juga: 10 Kawasan Gunung di Jawa untuk Pendaki Pemula )
Ingin berlibur ke gunung bromo cek cara booking onlinenya dulu.
Nah, sesuai janji CekAja sebelumnya, di poin ini kami bakal memberikan informasi kepada kamu mengenai pemesanan tiket online ke wisata Gunung Bromo.
Dan berikut langkah-langkahnya seperti yang dikutip dari laman resmi Booking Online Wisata Bromo:
Akses laman https://bookingbromo.bromotenggersemeru.org/
Klik menu "Booking Sekarang Juga", di bagian tengah kanan halaman utama website
Lengkapi dan centang seluruh data sesuai daftar check list , hingga muncul menu "Daftar"
Pilih tanggal keberangkatan
Pilih area pintu masuk, jenis dan jumlah kendaraan
Lengkapi form booking dengan mengisi data ketua kelompok, beserta jumlah anggota
Lengkapi total jumlah anggota WNI maupun WNA
Klik menu "Kirim", kemudian cek nomor virtual account lewat website ataupun email calon ketua
Lakukan pembayaran secepat mungkin, atau paling lama 2 jam setelah mendaftar
Setelah pembayaran lunas, ketua kelompok akan menerima sms dan email bukti pembayaran
Simpan bukti tersebut untuk nantinya diperlihatkan kembali saat berada di kawasan wisata Gunung Bromo
Bagaimana dengan Penerapan Protokol Kesehatan di Wisata Gunung Bromo?
Penerapan protokol kesehatan di kawasan wisata Gunung Bromo bisa dibilang cukup ketat.
Contoh kecilnya saja pada aturan pemesanan tiket, yang mana pihak pengelola hanya menerima booking online.
Selain itu, berikut ini beberapa aturan yang diterapkan dalam kawasan wisata Gunung Bromo:
Seluruh pengunjung wajib membawa surat keterangan sehat dan bebas dari kondisi Infeksi Saluran Pernapasan Atas
Setiap pengunjung akan dicek suhu tubuh sebelum memasuki kawasan wisata Gunung Bromo
Apabila suhu tubuh diatas 37.30, pengunjung akan diperiksa kembali suhu tubuhnya dengan jeda waktu paling lama 5 menit
Seluruh pengunjung wajib membawa hand sanitizer atau sabun cuci tangan sendiri
Seluruh pengunjung dilarang berkerumun di satu lokasi wisata, dan harus selalu menjaga jarak
Usia pengunjung yang diperbolehkan masuk ke dalam kawasan wisata Gunung Bromo ini, minimal 14 tahun dan maksimal 60 tahun
Seluruh pengunjung wajib memakai masker dan sarung tangan
Tiap spot wisata diberlakukan kuota, sehingga tidak bisa melampaui batas kunjungan
Nah, itu dia informasi mengenai tempat wisata Gunung Bromo hingga cara booking onlinenya serta aturan protokol kesehatan yang diterapkan.
Untuk bisa berlibur ke sana, buat kamu yang berasal dari luar Jawa Timur, sebaiknya sih selalu menyiapkan kartu kredit sebagai alat transaksi.
Dengan kartu kredit, kamu bisa mendapatkan potongan harga tiket pesawat, hotel, hingga beragam transaksi lainnya.
Jadi, tunggu apalagi?
Yuk apply kartu kreditmu di CekAja.com, dan dapatkan beragam promo terbaru dari kami.
Tentang kami
Ayunindya Annistri
Jelajahi Produk
Kredit dan pinjaman, informasi produk.
Mitra Produk Perbankan
Mitra Produk Multifinance
Mitra Pinjaman Online
Mitra Produk Asuransi
Skor Kredit
Promo CekAja
Info & Blog
Berita & Tips
Promo Cekaja
Tentang Kami
Tentang Cekaja.com
Press Release
Publikasi Media
Pusat Bantuan dan Layanan Pengaduan Konsumen
Temukan Kartu Kredit yang Tepat
Kartu Kredit Belanja
Kartu Kredit Rewards
Kartu Kredit Cashback
Kartu Kredit Promosi
Kartu Kredit Perjalanan
Kartu Kredit Wanita
Kartu Kredit Air Miles
Kartu Kredit Promo Isi Bensin
Kartu Kredit Tanpa Biaya Tahunan
Kartu Kredit Pemula
Solusi Masalah Utang
Kredit Tanpa Agunan
Kredit Dengan Agunan
Pinjaman Online
Pinjaman Cepat
Kalkulator KTA
Kalkulator KPR
Kalkulator Modal
Kalkulator UKM
Usaha Kecil Menengah
Buka Tabungan
Buka Tabungan Syariah
Asuransi Terbaik
Asuransi Kendaraan