Order by phone:
An independent show guide not a venue or show. All tickets 100% guaranteed, some are resale, prices may be above face value. We're an independent show guide not a venue or show. We sell primary, discount and resale tickets, all 100% guaranteed prices may be above face value. We are an independent show guide not a venue or show. We sell primary, discount and resale tickets, all 100% guaranteed and they may be priced above or below face value.
Mamma Mia! ON TOUR
Broadway Shows Musicals
See Mamma Mia! in a city near Boston
Tue 2nd Apr 2024
Buy tickets
Tue 16th Apr 2024
Tue 13th Aug 2024
Tue 9th Apr 2024
What you thought
Seen Mamma Mia!? Loved it? Hated it?
Help your fellow Boston Theater visitors by leaving the first review!

Additional Information
Spread the word
Sound good to you? Share this page on social media and let your friends know about Mamma Mia! at Emerson Colonial Theater.
Get the T-shirt
Official Mamma Mia! broadway souvenir merchandise
Please note: The term Emerson Colonial Theater and/or Mamma Mia! as well as all associated graphics, logos, and/or other trademarks, tradenames or copyrights are the property of the Emerson Colonial Theater and/or Mamma Mia! and are used herein for factual descriptive purposes only. We are in no way associated with or authorized by the Emerson Colonial Theater and/or Mamma Mia! and neither that entity nor any of its affiliates have licensed or endorsed us to sell tickets, goods and or services in conjunction with their events.
Mamma Mia! to Launch New North American Tour
In celebration of the 25th anniversary of ABBA's Tony Award-nominated musical Mamma Mia! , producer Judy Craymer has announced the launch of a new North American tour. The production will open at the Denver Center for the Performing Arts. Tour dates and a full list of cities will be announced.
After premiering in London in 1999, Mamma Mia! toured North America in 2000 before debuting on Broadway in 2001. It ran at the Winter Garden Theatre through October 2013 and then moved to the Broadhurst Theatre, where it finished out its run on Sept. 12, 2015. It played a total of 5,772 performances and earned five Tony nominations, including one for Best Musical.
To date, Mamma Mia! has grossed over $4 billion across 50 productions worldwide.
Another tour went out in 2012, which ended in 2017. Featuring the songs of ABBA, with music and lyrics by Benny Andersson and Björn Ulvaeus, Mamma Mia! features a Tony-nominated book by Catherine Johnson, direction by Phyllida Lloyd and choreography by Anthony Van Laast.
The musical features production design by Mark Thompson, lighting design by Howard Harrison, sound design by Andrew Bruce and Bobby Aitken and musical supervision and additional material/arrangements by Martin Koch.
Casting, by Tara Rubin Casting, will be announced at a later date.
Mamma Mia! is produced by Craymer, Richard East and Ulvaeus of Littlestar in association with Universal. The tour is being booked by The Booking Group. Amy Jacobs of Bespoke Theatricals is executive producer in association with Work Light Productions.
Read original article on broadway.com
Topic* * Topic Season Subscriber Corporate Partnerships Customer Service Group Sales Marketing Public Relations Rent Our Space Accessibility Box Office Account/Login Help Blue Man Group
Name * First
Your Message *
I agree to the Privacy Policy
Phone This field is for validation purposes and should be left unchanged.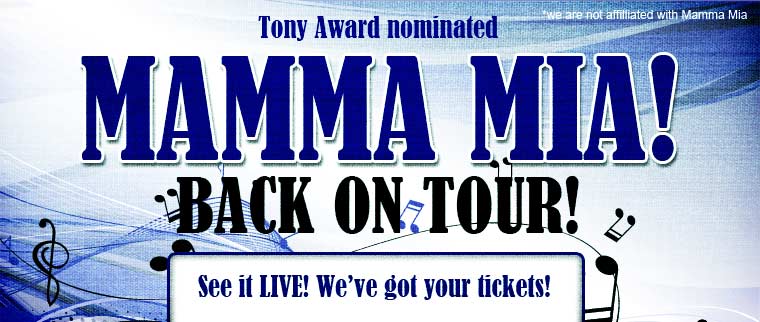 Mamma Mia Tickets
Calling all dancing queens in 2023-2024.
Find Mamma Mia Tickets:
MammaTickets.com contains event schedules and ticket information. We are not affiliated with Mamma Mia or any box office, venue, sponsor, performer, or other organization. Any trademarked terms that appear on this page are used for descriptive purposes only.
Copyright © 2023 MammaTickets.com - All Rights Reserved.
Mamma Mia! Boston | Boston Opera House
Boston will be exclaiming 'Mamma Mia!' this summer when Broadway's ultimate feel-good show hits the Boston Opera House for a week-long summer run from June 19 to 24, 2012. Tag your friends, reminisce the good old days of ABBA infused disco hits and be touched by this heartwarming mother-daughter tale that is 'Mamma Mia!'.
Set in the breathtaking Greek paradise of Santorini, this musical chronicles a daughter and bride-to-be's search for her father on the eve of her big day. In her quest, she uncovers her mother's colorful past involving three men, any of which could be her real daddy. To her mother's surprise, she invites all three men to her wedding. The mother and daughter bond between these two lead characters are tested as one revisits her past while the other settles into her future, a series of present-day events that will have everyone laughing and a bit teary eyed with all the comedy and drama dashed in between. 'Mamma Mia!' features all of the well-loved iconic disco hits from ABBA, adding more color, texture and life into this musical that celebrates love, family and friendship. Come to Boston this summer and see why the entire world loves to exclaim 'Mamma Mia!' over and over again.
Review the ticket options featured below for premium seating and sold out tickets. Tickets may be above face value and this site is not affiliated with the venue.
MAMMA MIA! The Global Smash Hit
★ ★ ★ ★ ★ 'ABBA-solutely fabulous' Daily Mail
★ ★ ★ ★ ★ 'The sunniest of all musicals it provides new pleasures every time' Sunday Express
'One of the most successful musicals ever' Evening Standard
'Ridiculously enjoyable' The Daily Telegraph
'Fantastic fun' Classic FM
Choose Your MAMMA MIA!
A mother. a daughter. 3 possible dads. and a trip down the aisle you'll never forget, mamma mia london.
Novello Theatre Aldwych, London, WC2B 4LD Venue Information
Monday, Wednesday – Saturday 7.30PM
Thursday & Saturday 3.00PM Sunday 2.30PM
0844 482 5115 Calls cost 7p per minute, plus your phone company's access charge. -->
MAMMA MIA! UK & International Tour
Next playing at.
The Grand Theatre, Nita Mukesh Ambani Cultural Centre, Mumbai
Starting 29 November 2023
Coming Soon
More UK & International Tour dates will be announced shortly. Please follow our social media channels to be the first to hear.
Stay Up To Date with MAMMA MIA!
To receive our latest updates and news by email please subscribe to the MAMMA MIA! newsletter.
This site is best viewed in portrait mode Please rotate back to portrait view