20 Christmas Things to Do in Washington, DC
Kelley Smith
November 10, 2023
Bundle up this year to celebrate the holiday season in the DMV! Enjoy light shows, holiday markets, and festive performances.
I will do my best to update this post as often as possible but please refer to each event's website for the most up-to-date information. Events that have not announced full details for the 2023 season are noted below.
Christmas in Washington, DC
The National Christmas Tree : This year, the National Christmas will be open to the public starting December 2. Visiting the National Christmas Tree is a wonderful family tradition day or night. Consider visiting on a weeknight or during the day when the area is less crowded. Guests can also see the Pathway Of Peace – 1 miniature tree to represent each state and territory with ornaments made by children local to that state. Check our tips for visiting the tree .
The US Capitol Christmas Tree : Not to be outdone by The National Christmas Tree, you'll find another holiday tree on the Capitol lawn. It generally draws fewer visitors than the National Christmas, especially on weeknights. If you visit during the day or early evening, you can pair it with a visit to the Botanic Gardens (listed below). The Capitol tree is harvested from a different location each year. This year, it will travel from the Monongahela National Forest in West Virginia.
Season's Greenings at the Botanic Gardens : The Botanic Gardens invites guests to enjoy an outdoor holiday display with model trains, DC landmarks made from plants, and holiday decor. This display will be set up from November 23 to January 1 from 10 am to 5 pm (closed Christmas Day). The Botanic Gardens are located very close to the Capitol so you visit the gardens and the Capitol Tree in one visit.
DC Neighborhood Lights : DC's Main Streets are joining together this year to bring holiday cheer and highlight local businesses this holiday season. Find festive lights plus special promotions and events from November 17 to January 7. Participating neighborhoods include U Street, Columbia Heights, Mount Pleasant, Woodley Park, Cleveland Park, Dupont Circle, Lower Georgia Ave, and Logan Circle.
Georgetown Glow : Georgetown Glow is back this year from December 1, 2023 to January 7, 2024 with light displays throughout the neighborhood. These displays are not holiday-themed but are a great way to enjoy the neighborhood after dark.
National Cathedral Christmas Concerts : The National Cathedral is hosting holiday concerts in person and online this year. Notable dates include:
Handel's Messiah: December 8 at 7:00 pm, December 9 at 12:00 (family-friendly) and 4:00 pm, December 10 at 4:00 pm. The December 10th performance will also be live streamed.
Christmas with the King's Singers: December 15 at 7:00 pm (in person and live streamed)
Christmas Lesson and Carols: December 23 at 7:00 pm and December 24 at 6:00 pm (in person and live streamed)
Christmas Day Organ Recital Webcast: December 25 at 1:30 pm (in person and live streamed)
Winter Festival at the National Arboretum : On December 2 from 10 am to 4 pm, get some holiday shopping done at the Arboretum. Find local vendors, holiday greenery, and family friendly activities. You can also pre-order a Christmas tree for pick up. You must order trees and holiday greenery ahead of time. I have tried to buy day of but they are usually sold out.
Downtown Holiday Market : The Downtown Holiday Market will be set up daily from noon to 8 PM from November 17 to December 23 at 8th and F Streets. (Closed Thanksgiving Day and December 4.) Vendors will be selling arts, crafts, jewelry, specialty items, and more! For fewer crowds, try to visit early or on a weekday. Read about our 2020 experience .
Ice Skating at the Sculpture Garden : Ice skating in the Sculpture Garden returns for the 2023 season! Enjoy the winter season from November 20 to March 3. Single sessions and season passes are available. Fees cover 2 45-minute sessions. Adults skate for $12 + $6 skate rental.
Christkindlmarkt at the Heurich House Museum : Get started on your Christmas shopping at the Heurich House Museum German-style market featuring local craftspeople and artisans from December 1-3. Tickets are $12 plus an additional cost for food and beverage.
The District's Holiday Boat Parade : The boat parade at The Wharf is back! Enjoy the boats decorated with holiday lights on December 2 from 6 to 9 pm. Enjoy holiday activities like roasting s'mores, lighting the Christmas tree, ice skating, pictures with Santa, and winter drinks at the Pacifico Beer Garden. Get there early to snag a good seat.
12 Days of Christmas at The Conrad: Join The Conrad Hotel near Metro Center for holiday fun on select dates through December 24. Enjoy special musical performances, including harpist Abbie Palmer on select weekends, brunch with Santa on December 10 and 17, and a special holiday menu available after the CityCenter Christmas Tree lighting on November 25. Check their website for more events!
Holiday Events at Metrobar : Metrobar on the Metropolitan Beer Trail has a variety of holiday events throughout the season. Look out for a holiday market (December 9), Gingerbread House Workshop (December 10), Last Night of Hanukkah Party (December 15), and Midnight Train: New Year's Eve Party (December 31). Metrobar also offers a family-friendly New Year's Eve celebration from 4 to 7:30 pm.
Light Shows and Historic Spots Ready for the Holidays in Virginia
Bull Run Festival of Lights : Drive through a 2.5 mile holiday light display in Centreville, Virginia. Open weekends starting November 10 and daily from November 20 to January 7. Tickets are $30/car online at $40/at the door with discounts on select weekdays. Pack your car with some friends, put on your favorite Christmas music, and enjoy this light show. You can also enjoy the carnival open nightly (weather permitting) to enjoy rides, holiday treats, and more. Rides require 3 to 5 tickets and can be purchased in packs. Or get a ride-all-you-want pass for $27.
Meadowlark's Winter Walk of Lights : Located in Vienna, the Meadowlark Botanical Gardens sparkle with holiday lights. Walk through light displays of nature and holiday themes. Open November 10 to January 7 including holidays. Tickets range from $18-$22. Advance tickets are required from December 8 to January 1 but highly recommended for all nights. Dress warm! Read about our visit.
A Christmas Carol : The Little Theatre of Alexandria presents A Christmas Carol from December 2-16. Enjoy this classic holiday story in this cozy theater. Tickets go on sale November 2.
Alexandria Holiday Boat Parade : The Alexandria Boat Parade is back for 2022. Head to the waterfront on December 2 at 5:30 to enjoy the boats and small business shopping. Holiday activities begin at 2 pm. (Note the parade continues to The Wharf – listed above.)
Christmas at Mount Vernon: Join Mount Vernon on December 15-16 at 5:30 for fireworks, a winter market, food, drinks, and decorations. The grounds glisten with holiday cheer including Christmas trees, candlelight walkways, and cozy fires. Tickets range from $50 to $60 for adults depending on membership and if you choose a mansion tour.
Manassas Christmas Parade : The Manassas Christmas Parade steps off on December 2 at 10:00 am. Head to Downtown Manassas to enjoy Christmas floats, music, and Santa. Visit the night before on Friday, December 1 at 5:15 pm for a tree lighting, live music, and visits with Santa.
Reston Ice Skating & Holiday Fun : Reston Town Center will light its tree on November 24 with a large parade and festive fun. Enjoy a holiday parade at 11:00 am following by local shopping and dining. Stick around for the tree lighting at 6 pm on Market Street.
Fairfax Festival of Lights and Carols : Head to Old Town Hall in Fairfax on December 2 from 12 to 6 pm for holiday fun including music, hot cider, and a tree lighting ceremony (5:30 pm). Be sure to also check out the Fairfax Holiday Market on select dates in December!
Gray Ghost's Christmas Cork and Cheese Celebration : The title says it all: ring in Christmas with wine and cheese at Gray Ghost Vineyard in Amissville (west of Warrenton) December 2-3. Tickets (price TBD) let you enjoy live holiday music with wine tasting, 1 full pour, a limited edition holiday logo glass, and a cheese plate. Plus, don't miss an opportunity to see Santa on December 10 (free).
Leesburg Holiday Parade : Head to Leesburg on Saturday, December 2 from 6 to 9 pm for lights, food samples from local restaurants, and Santa. The parade begins at 6 pm.
Shopping and Light Shows to Celebrate Christmas in Maryland
Winter Lights Festival : Head to Seneca Creek State Park in Gaithersburg, Maryland for the Winter Lights Festival open nightly from November 24 to December 31 (closed December 25). You'll see over 365 displays including Winter Woods, Teddy Bear Land, and the North Pole on this 3.5 mile drive. Tickets are $15/car on weekdays and $25/car from Friday to Sunday. Tickets go on sale on October 17 and purchasing tickets in advance is required.
Merriweather Symphony of Lights : Drive through the Symphony of Lights in Columbia to see thousands of holiday lights! Open nightly from November 23 to January 1 (closed November 27-29 and December 4 and 11. $25/car. Closed to cars on walkthrough nights on November 26 (family-friendly), December 5 (dog-friendly), December 7 and 12 (Lit at the Lights with cocktails and a beer garden), and December 31 (Midnight at 7 with fireworks and food trucks.)
Bethesda's Winter Wonderland : Head to Downtown Bethesda on December 2 from 1 to 4 pm for a winter wonderland! Enjoy a ice sculpturing demo (1 to 2), facing painting, crafts, music, and more! Visit and take photos with Santa from 2 to 4 pm.
Polar Express Train Ride : The Baltimore and Ohio (B&O) Railroad Museum a Polar Express Train Ride from November 24-26, December 1-3, 8-10, and 15-19, 2022. Enjoy the Polar Express story on the train with your little ones. After, enjoy visits with Santa.
Holiday Concerts at the Strathmore : Join the Strathmore on select dates throughout December for holiday concerts. Some big names include:
Mannheim Streamroller Christmas: December 1 at 8 pm
The Nutcracker: December 2 at at 3 and 7 pm
Dave Koz and Friend Christmas: December 3 at 8 pm
BSO: How the Grinch Stole Christmas: December 7 at 8:30 pm
Sean Heely's Celtic Christmas: December 8 at 8 pm
Washington Bach Consort: The Christmas Story: December 9 at 7 pm
The Washington Chorus: A Candlelight Christmas: December 15 at 8 pm
Handel's Messiah: December 16 at 7:30 pm and December 17 at 3 pm
Hip Hop Nutcracker: December 19, 20, 22 at 8 pm and December 21 at 2 pm
Baltimore Christmas Village : The Baltimore Christmas Village will be back this year in the Inner Harbor. Join them November 18 to December 24 for German-style treats and decorations plus shopping from local vendors. Enjoy both boozy holiday drinks and kid-friendly options. Read about our visit from 2021.
Garden in Lights : Located in Dowell, The Annmarie Sculpture Garden and Arts Center presents the Garden in Lights. Experience thousands of lights, nightly entertainment on this walking tour light show. Join them nighly from November 24 – January 1. (Closed November 27-28 and December 4, 5, 24, 25.) Guests are encouraged to purchase tickets online. Free for members or $17 for non-members.
Holiday Candlelight Stroll : Join the historic district of Annapolis for a 90-minute stroll by candlelight for the holiday season. Select dates during the holiday season: November 24-25, December 1-2, 8, 15-16, 22-23, and 29-30.
Holiday Concerts with the Baltimore Symphony Orchestra : The Baltimore Symphony Orchestra is back with holiday performances this season!
How the Grinch Stole Christmas: December 7-8 at 7:30 and December 8 at 1:30 pm
Baroque Christmas: December 15 at 7:30 pm
Cirque Nutcracker: December 16 at 7:30 pm and December 17 at 3:00 pm
Holiday Spectacular: December 22 at 7:30 pm and December 23 at 3:00 pm
Garden of Lights at Brookside Gardens : Head to Brookside Gardens in Wheaton for a stroll through the Garden of Lights! Enjoy over a million lights and special effects. Garden of Lights is open from November 17 to December 31 except November 20-23 and December 24-25. Advanced timed tickets are required for $10 per person over 5 years. The event is open rain or shine.
Annapolis Lights Parade : Annapolis is one of the best places near the DVM to see boats and they know how to deck out for the holidays. Head to the harbor on December 9 at 6 pm to see the boats dressed in festive lights!
Sign Up for Monthly Updates
Welcome City Explorer!
Hi there! I'm Kelley and I love exploring new cities. I want this blog to help you plan your next trip to Washington, DC and the surrounding areas. Get ready to explore the sites, eat great food, and navigate with ease.
This website uses cookies to improve your experience. We'll assume you're ok with this, but you can opt-out if you wish. Read More
30+ Things To Do in Washington DC During the Holidays in 2023
Andy Feliciotti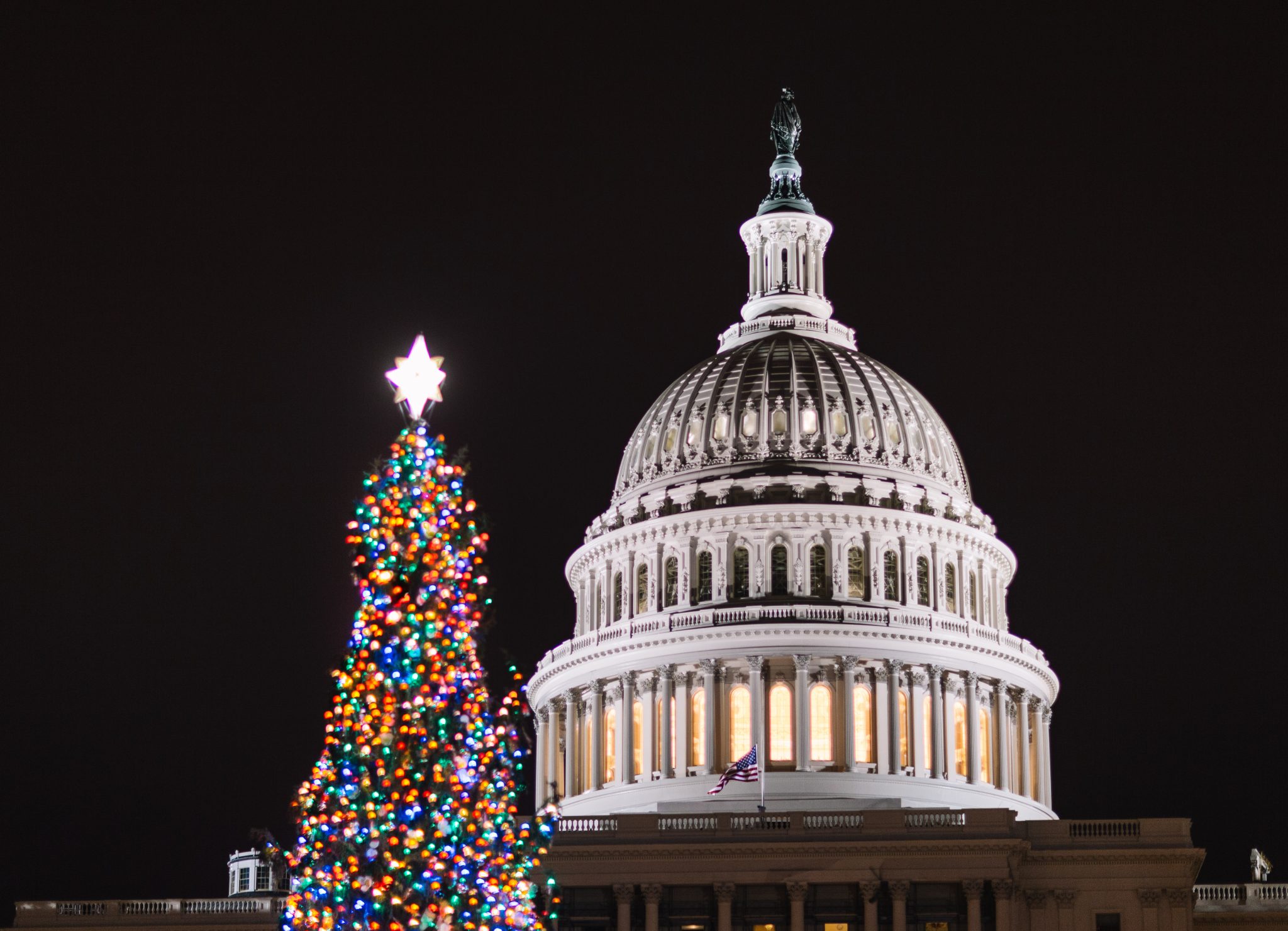 The DMV is full of magic in December and we look forward to seeing how you capture the holidays every year. This year, we decided to create a guide of all the sights that will make any photographer happy.
From stunning Christmas lights to events for kids we've covered all types of events in the DC area to fill your holiday todo list.
Here is IGDC's list of the best things to do in DC for the Holidays :
1. Enchant DC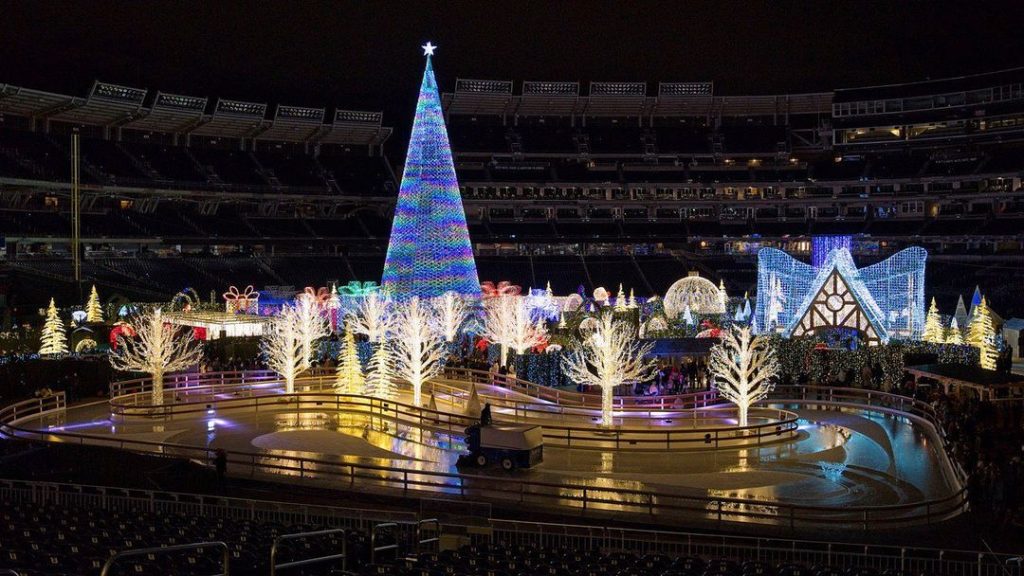 Want to surround yourself in lights? How about inside a baseball stadium? Then Enchant DC will have your eyes twinkling and your lens overloading on bokeh. There's a light maze, ice skating, Santa and more. Adult tickets from $35 and kids under 2 are admitted free. Enchant DC is located inside Nationals Park at the Yards.
2. Union Station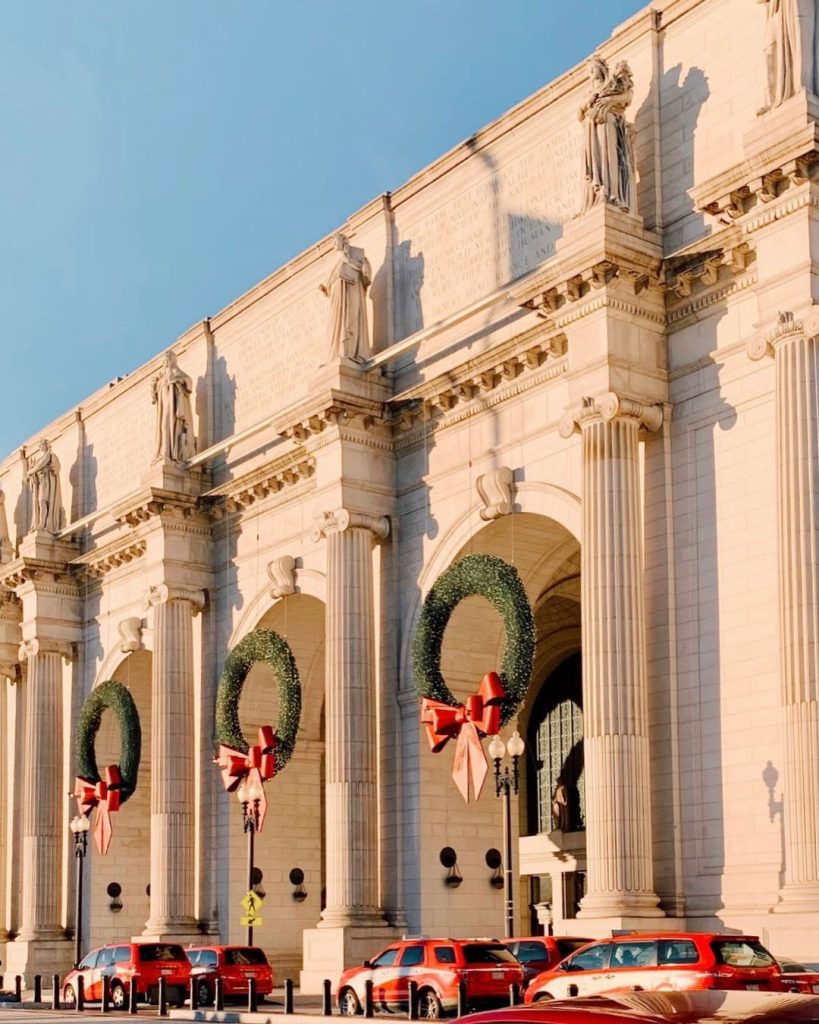 Union Station offers so many holiday delights. Outside are the iconic wreaths but inside you can visit the Norwegian Christmas Tree, a 22+ year tradition with the Norwegian Embassy. And of course there's a holiday train display!
3. Capital Christmas Tree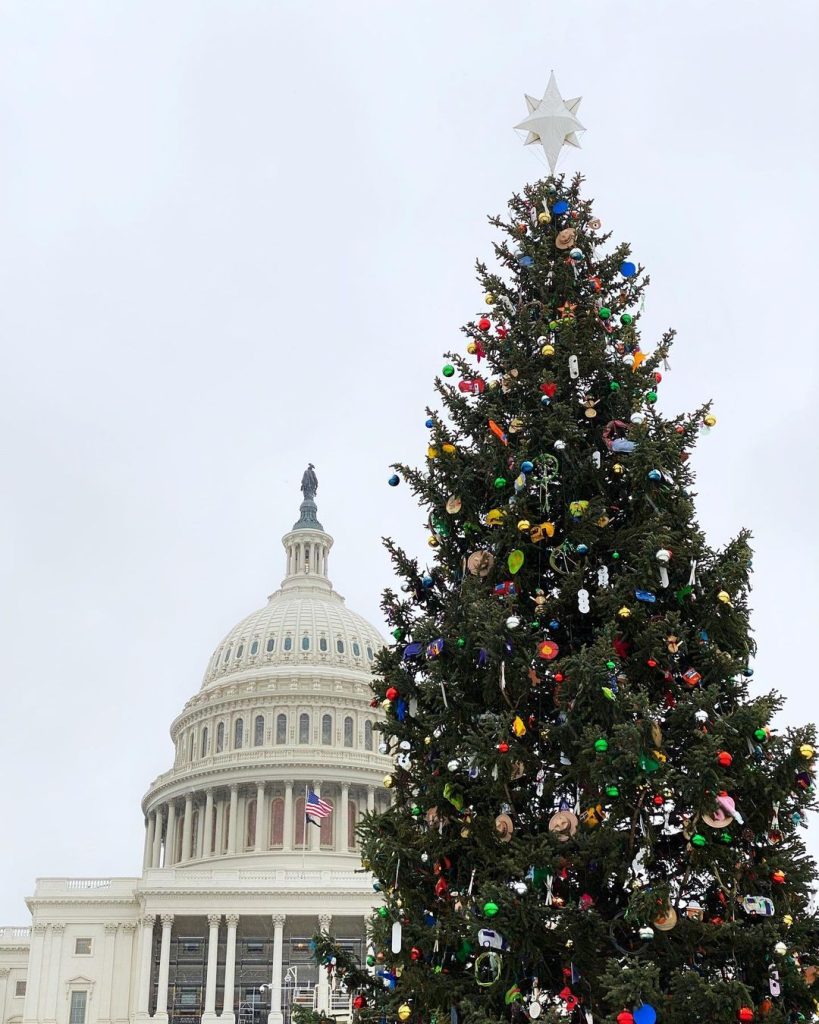 Each year, "The People's Tree" is chosen from a different national forest and places in front of the US Capitol. Once selected, residents from the respective state then create decorations celebrating our national forests and the great outdoors. The Capitol tree has become a beloved tradition for DC residents.
4. National Menorah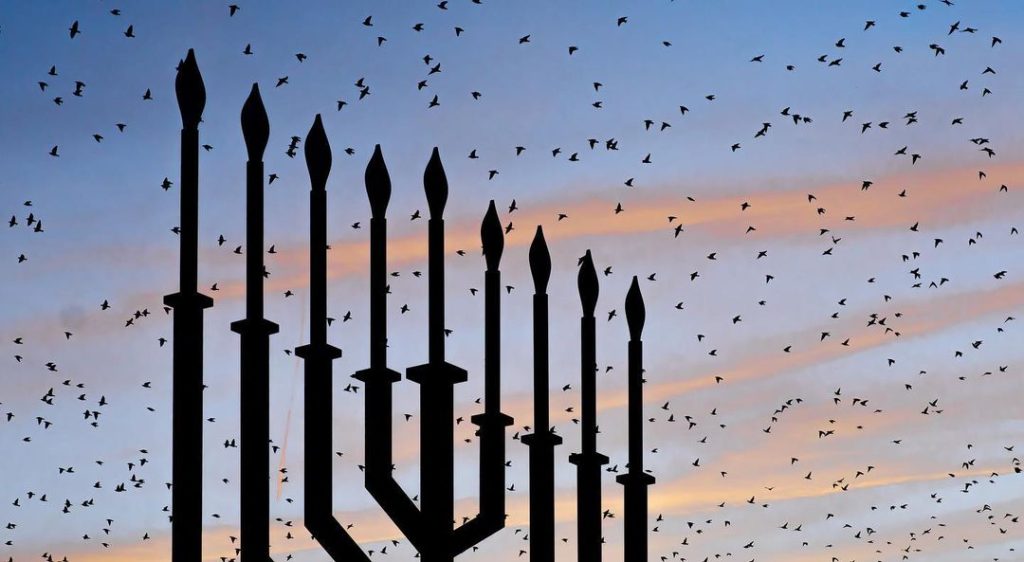 Located on the Ellipse, steps away from the National Christmas Tree, the National Menorah stands 30 feet tall and enjoys stunning backdrops like the Washington Monument and the White House.
5. Willard Hotel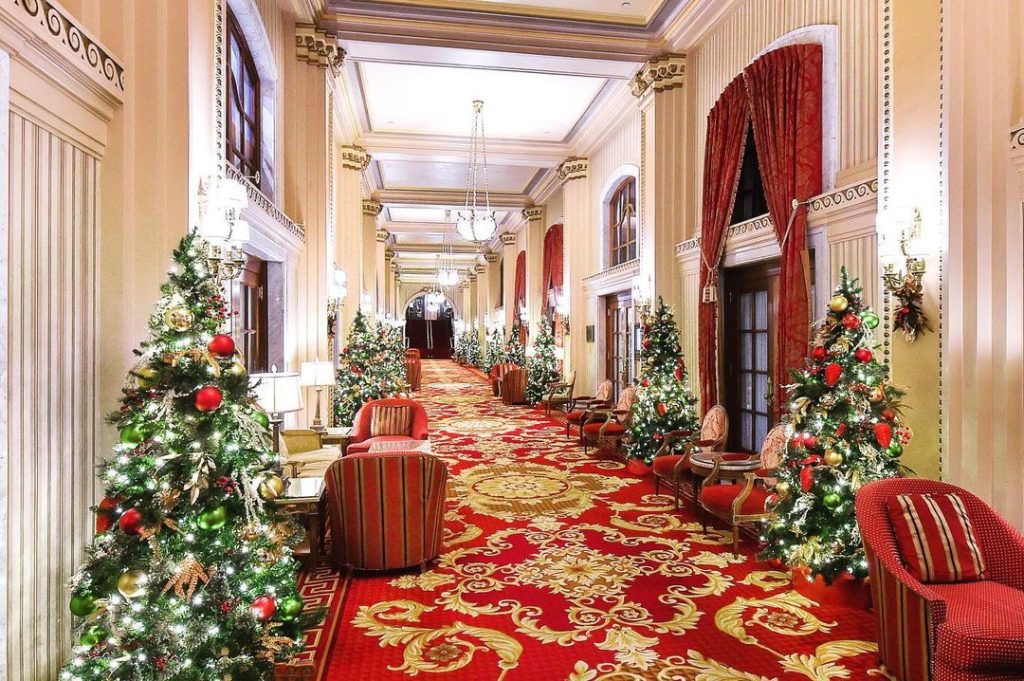 The historic Willard Hotel features dozens of Christmas trees with decor that matches the already-opulent interior and you may be lucky to catch local chorus from around the city singing in the lobby!
6. Canada Embassy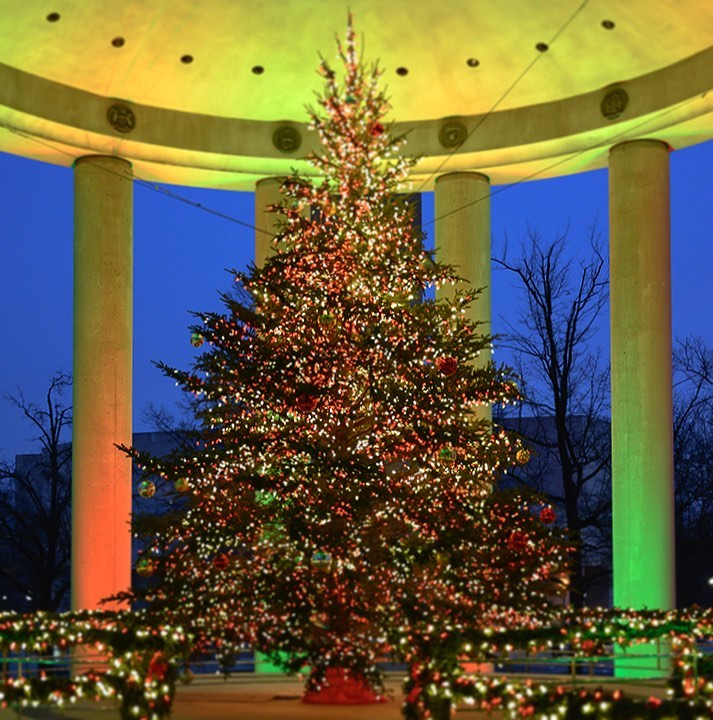 Christmas Tree display inside rotunda at Canadian Embassy fits in well with the rotunda as a backdrop which perfectly frames it and gives it a timeless classical look. The added lights on the pillars are also a nice touch.
7. Georgetown Waterfront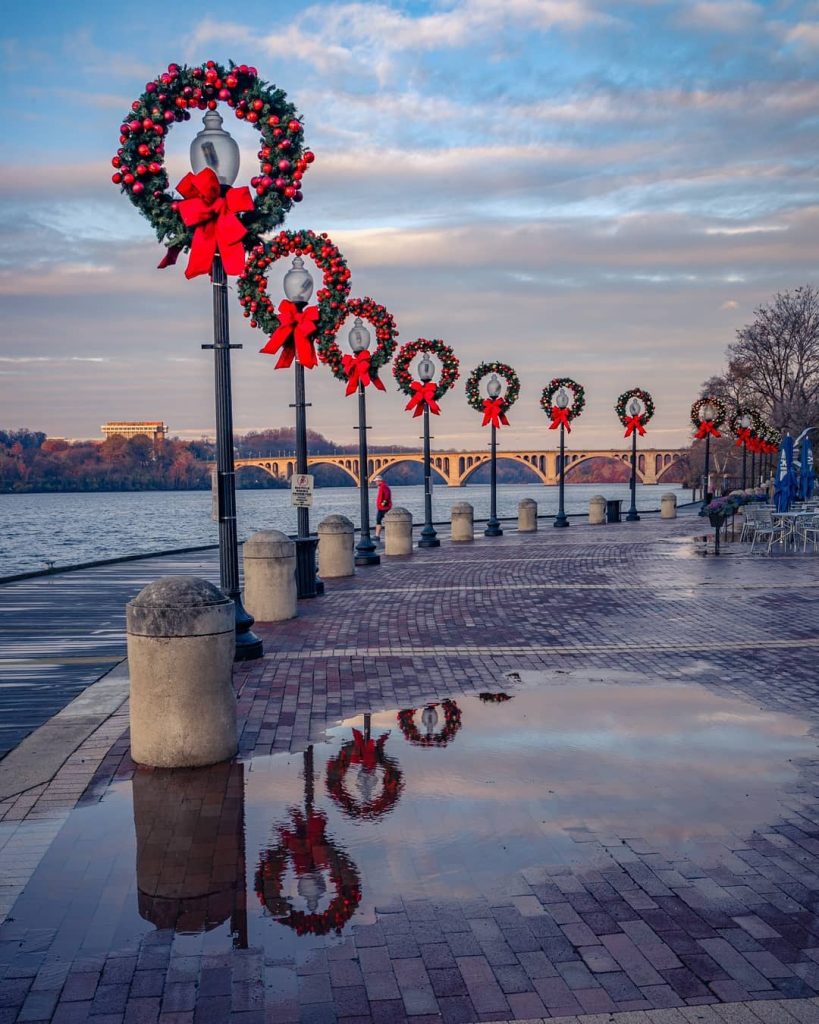 Holiday wreaths on every lamp post and lights along rooftops makes the Georgetown Waterfront Park an enchanting walk along the promenade.
8. ZooLights at the National Zoo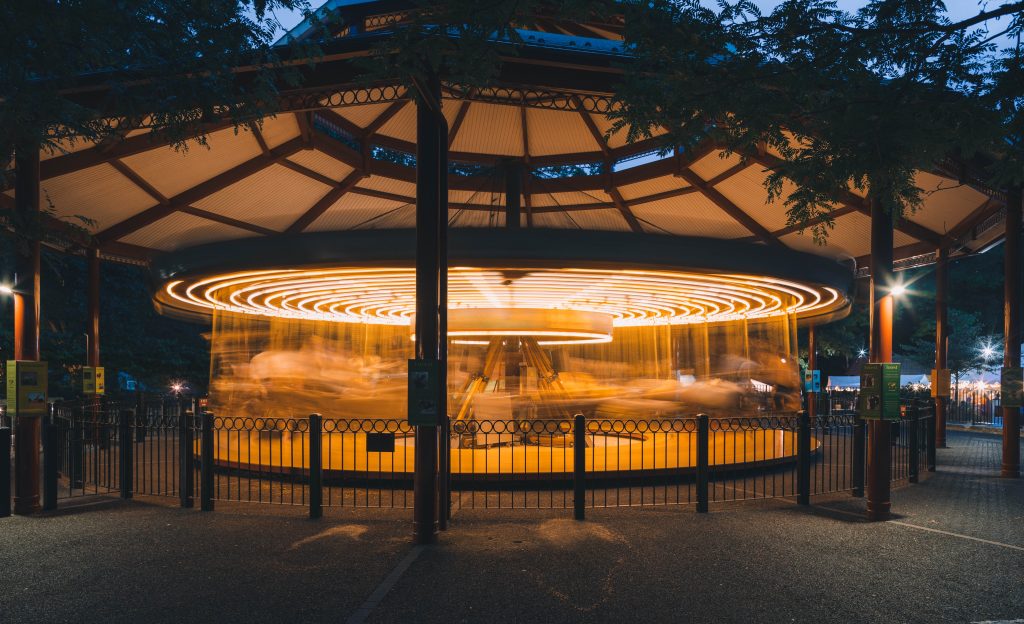 One of the classic family-friendly DC traditions for the holiday's is ZooLights at Smithsonian's National Zoo. There is plenty to enjoy at ZooLights including LED lights, dozens of animal lanterns, live music, and much more.
9. Filomena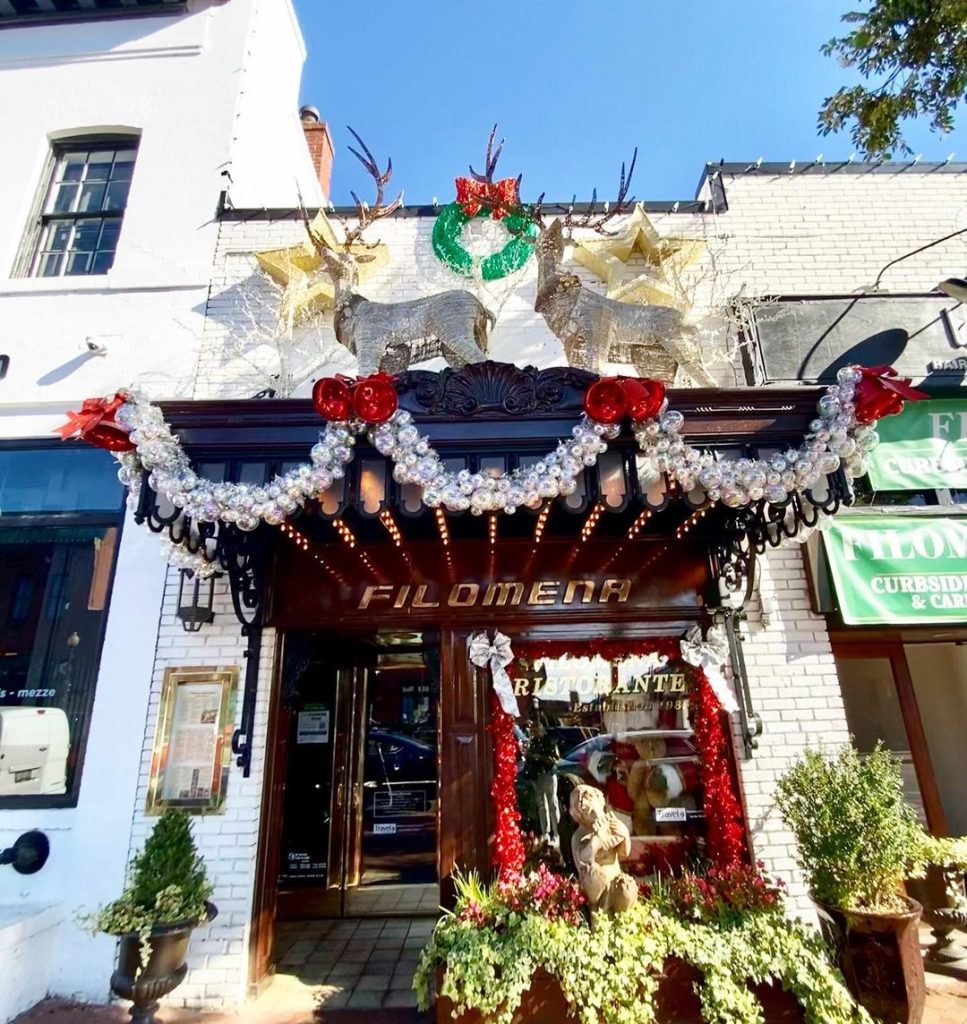 Honoring a long family tradition of holiday decorating, Filomena's is filled each with a spectacular tree and fun, silly and whimsical decorations inside and out. The over-the-top display is a visual delight.
10. Botanic Gardens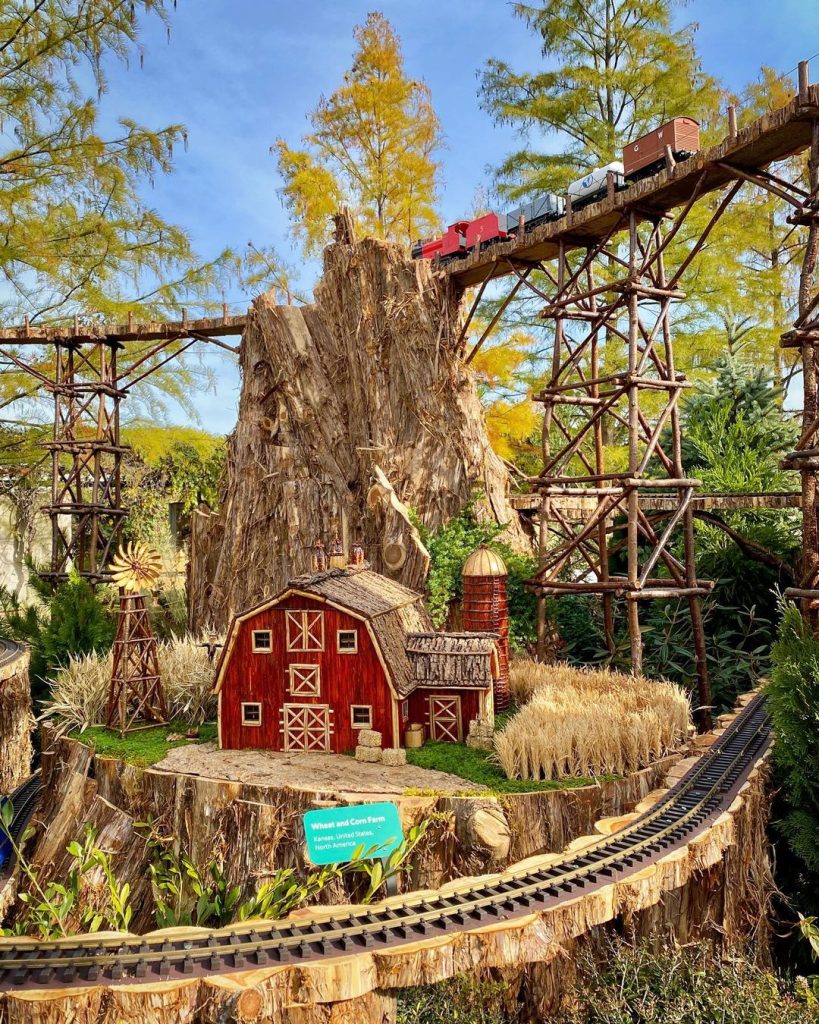 A highlight of the season is seeing the holiday display at the US Botanic Gardens. The US Botanic Garden features a large outdoor displays with model trains. All displays are made from plant parts and feature farming scenes from around the world. Window displays in the main building will have some of the DC landmarks that visitors typically expect to see but that are likely too fragile for the outdoor life this year.
11. City Center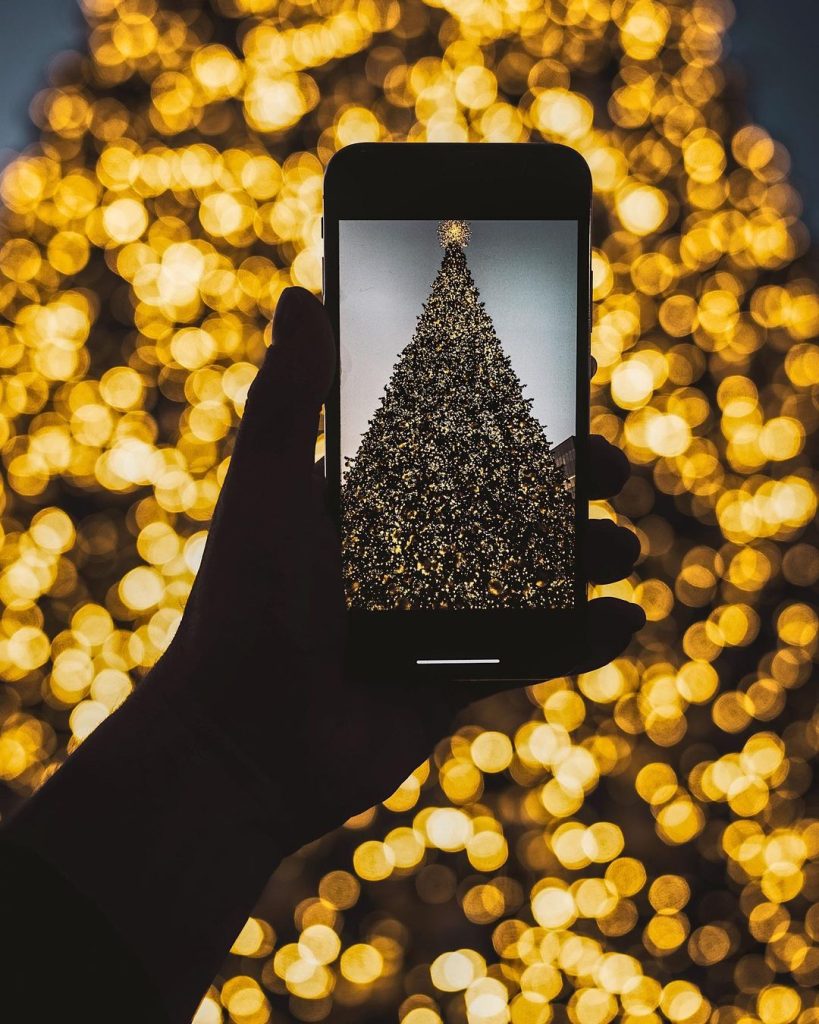 Whether you're at City Center to shop, or just see the holiday lights, there is plenty of spirit along the promenade including ice sculptures, string lights, and not one but two 25-foot tall reindeer. And the stores festive windows take it to a whole new level.
12. Light Yards at the Yards Park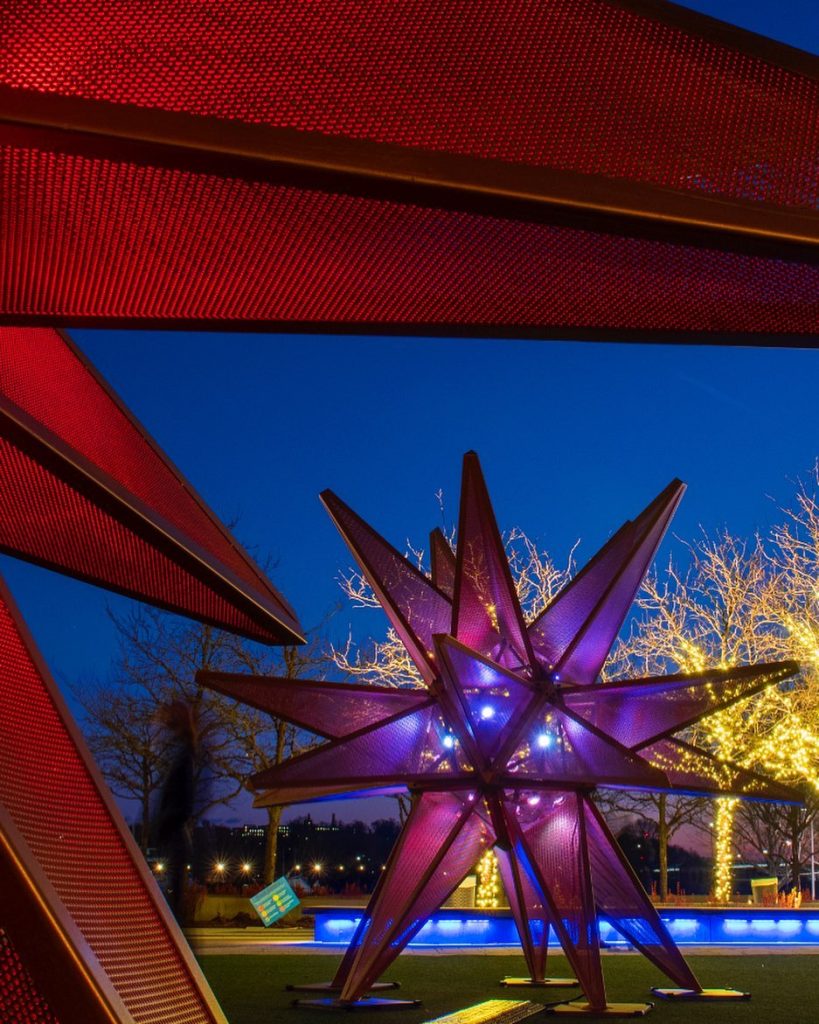 Along the Anacostia River comes an annual light instillation for the whole family. This year, from December 1 through January 1, 2022, several 22-feet tall trees will light the sky from 6 p.m. to 10 p.m. every night. Enjoy the lights and browse into the 20+ local restaurants and shops near Yards Park.
13. Light Up The Wharf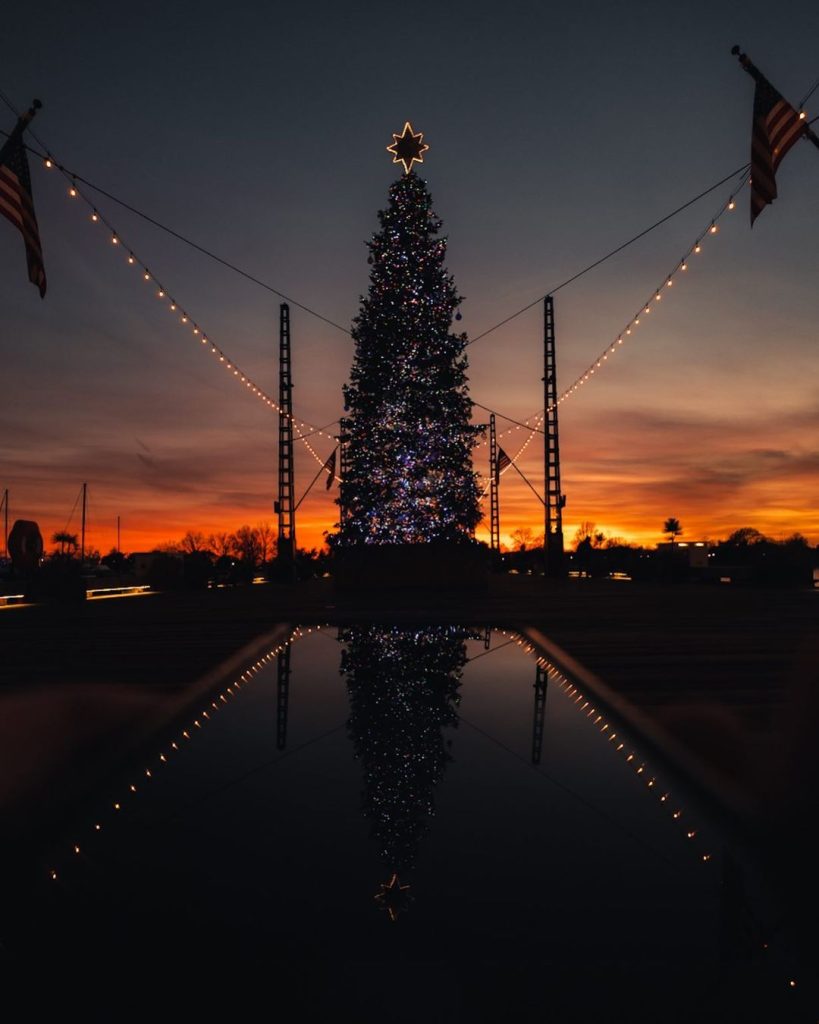 Camp Wharf (aka the fire pit) eating s'mores, caroling, or watching the District's Holiday Boat Parade with more than 60 decorated and glittering boats, the DC Wharf is a wonderful place to spend the day or night!
14. Tudor House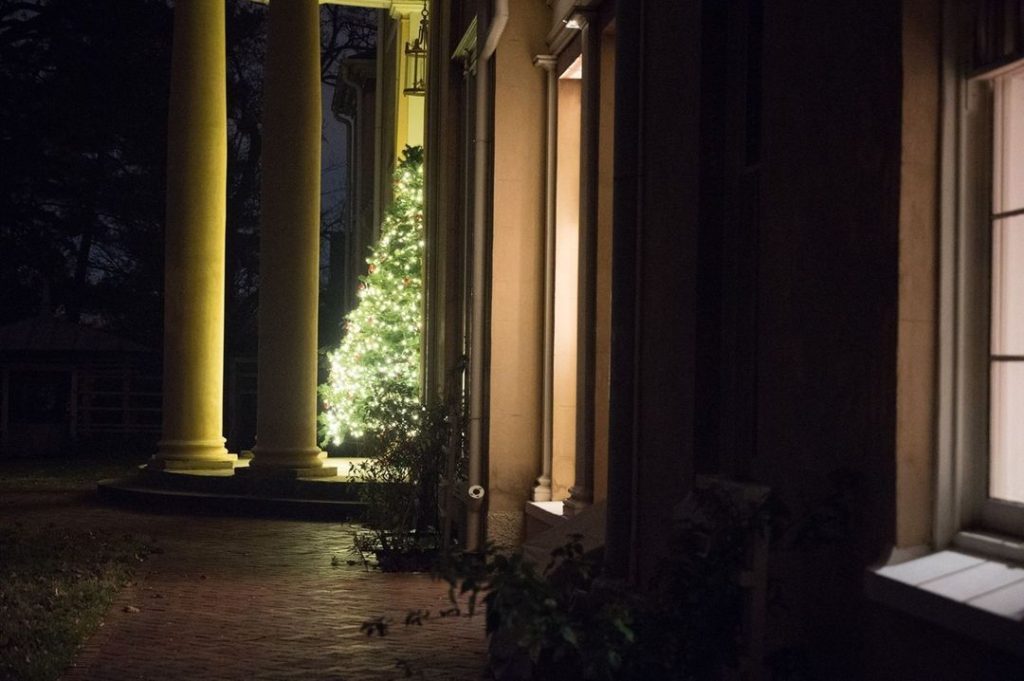 Every year, this 1815 Federal-style mansion with a connection to Martha Washington decorates for the holidays. On December 7th, they are hosting a Lantern Light Tour from 6 p.m. to 7:30 p.m. to see this year's decorations and learn about the mansion's past Christmas traditions. Tickets are between $15-$25.
15. NGA Ice Rink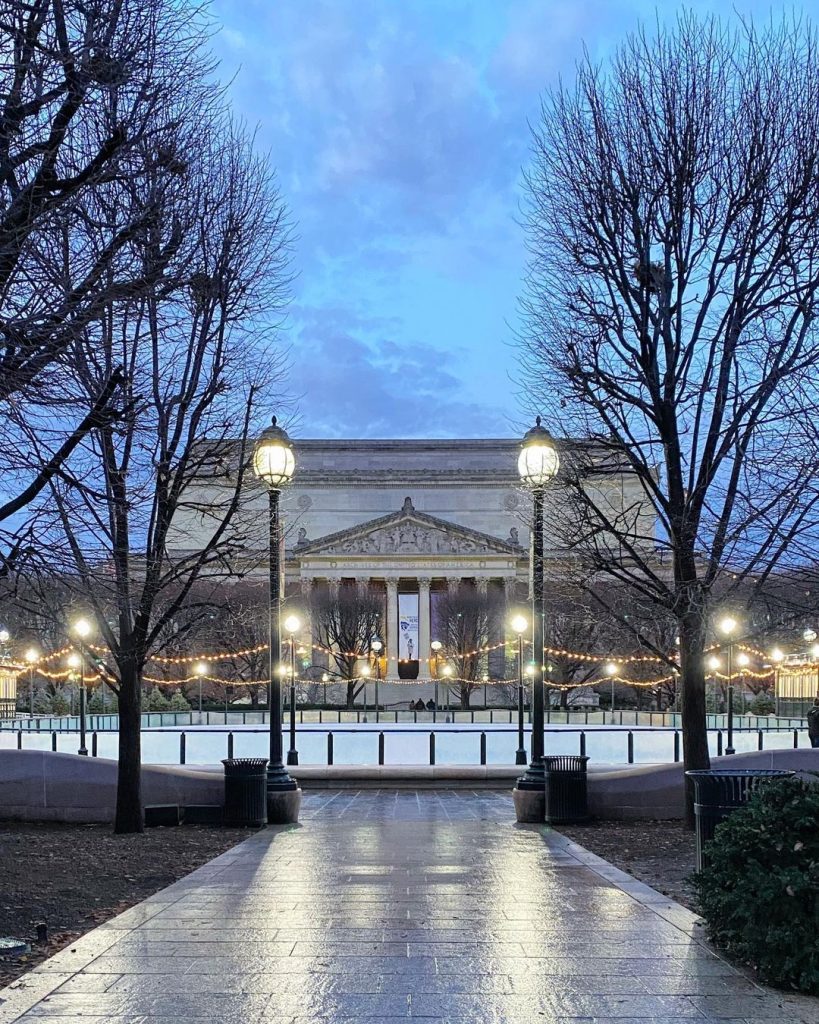 One of the more charming ice rinks in the city is surrounded by artwork and neoclassical architecture. The National Gallery of Art's rink is the perfect spot for a first date or to have that first skating lesson. Open daily and a 2-hour session runs between $6 and $7 plus a $3 skate rental if you don't bring your own.
16. DC Georgetown Ice Rink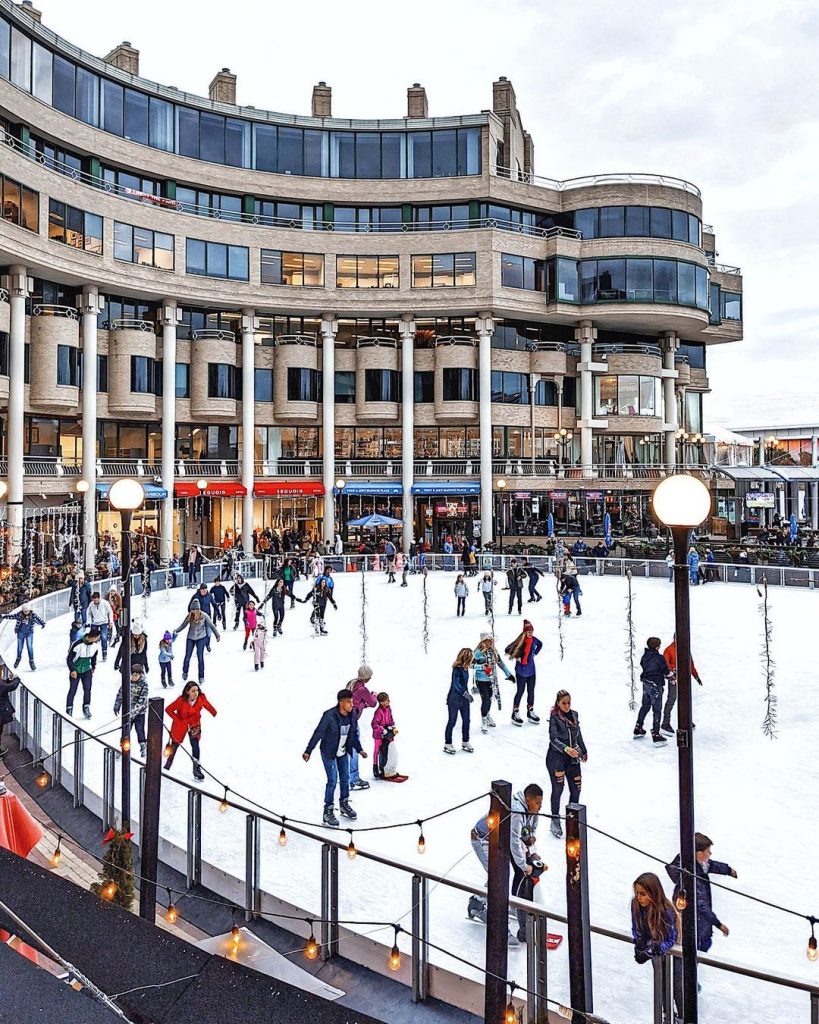 Skate every day at DC's largest outdoor skating rink at The Washington Harbour–open for skating every day, including the holidays. Tickets run between $9 and $10 plus a $7 skate rental if you don't bring your own.
17. Canal Park Ice Rink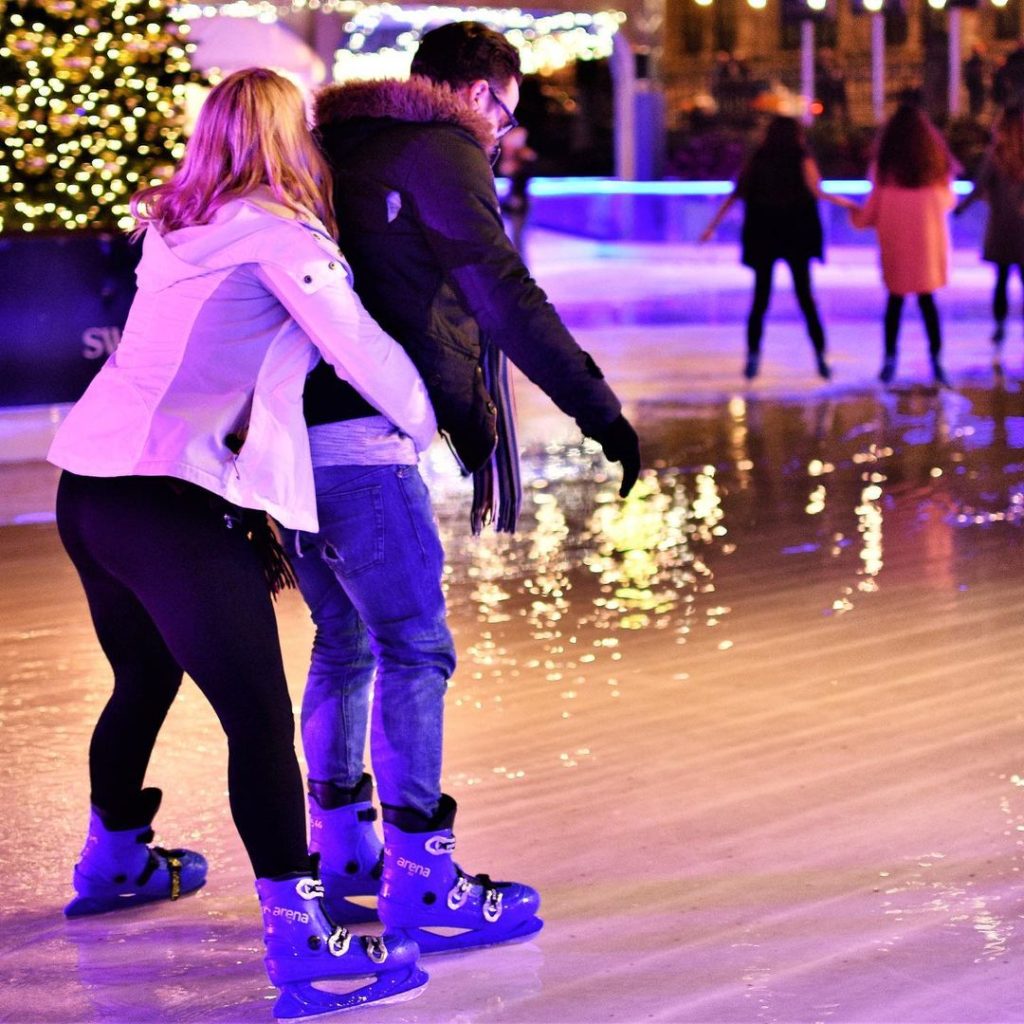 Every year, Navy Yard's Canal Park's splash park transforms into an ice rink from the end of November through February 2022. Skate rentals and admission range between $13 and $14. After skating, grab pizza and ice cream from nearby Wiseguy Pizza and Altani Gelato.
18. Maxwell Park Christmas Bar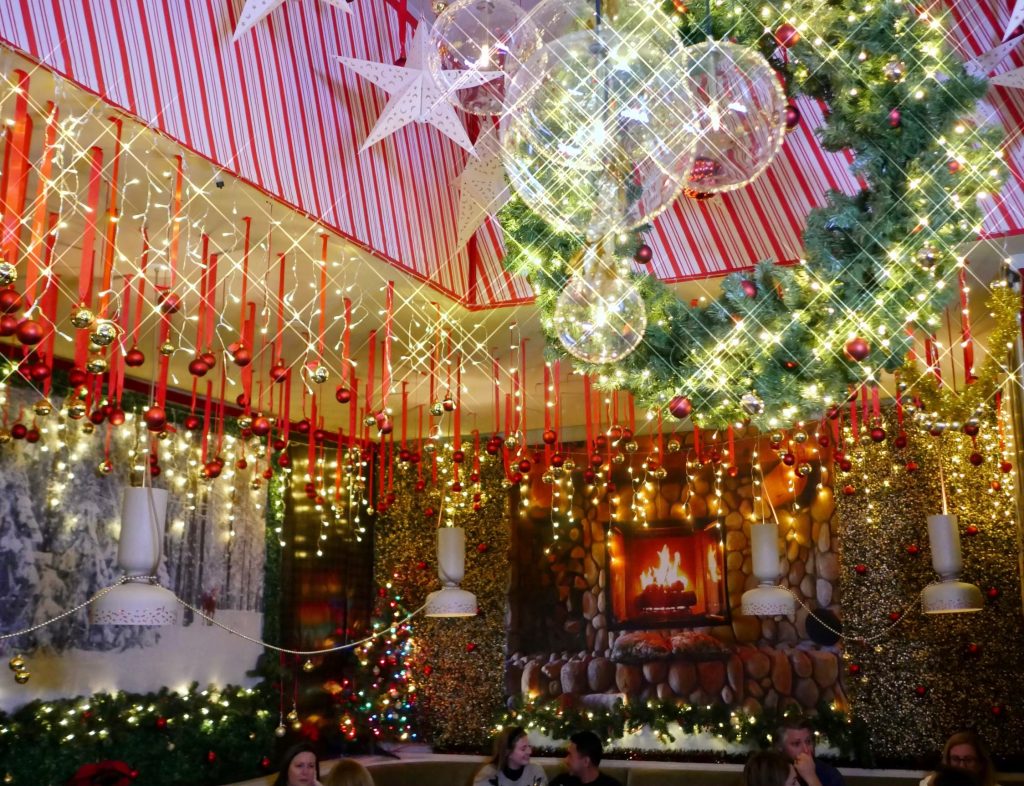 Looking for a cozy bar decked to the halls in holiday decor? Maxwell's has tapped the brilliant installation artist Adriana Salame Aspiazu to transform their space and it is a visual delight.
19. National Christmas Tree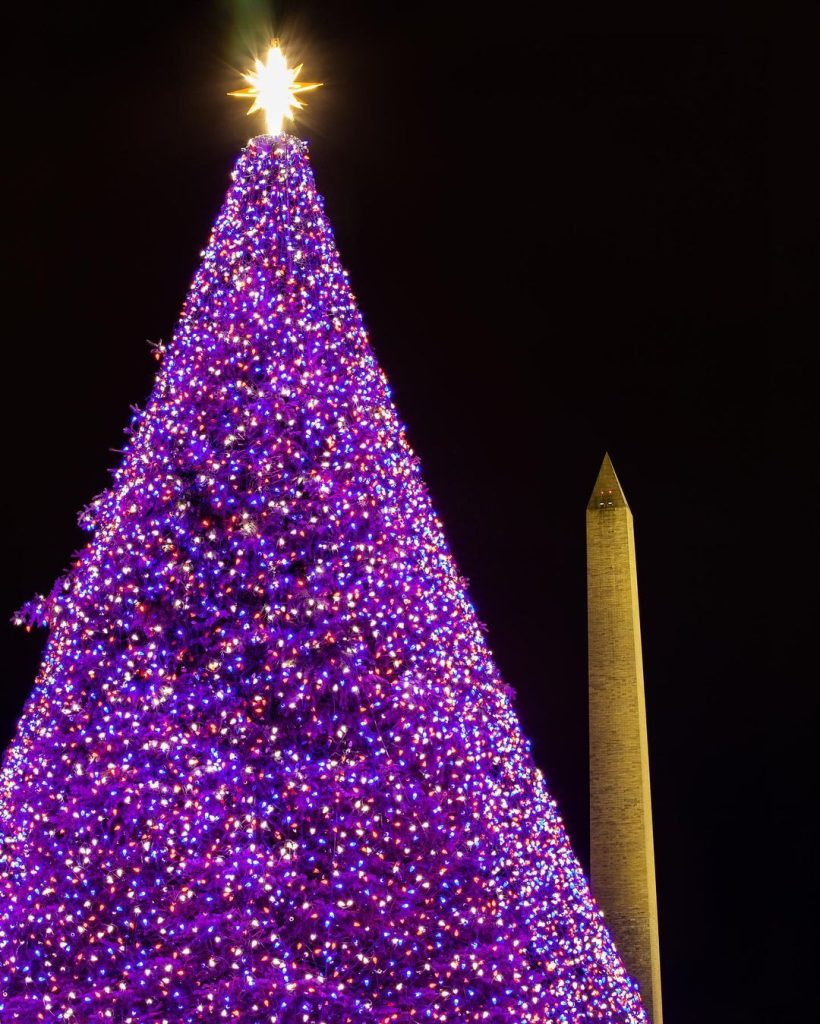 A tradition since 1923, the U.S. President lights the National Christmas Tree on The Ellipse. This year's tree is an 18.5-foot Fraser fir from North Carolina and it's surrounded by smaller trees honoring each U.S. state and territory.
20. Seneca State Park Winter Lights Festival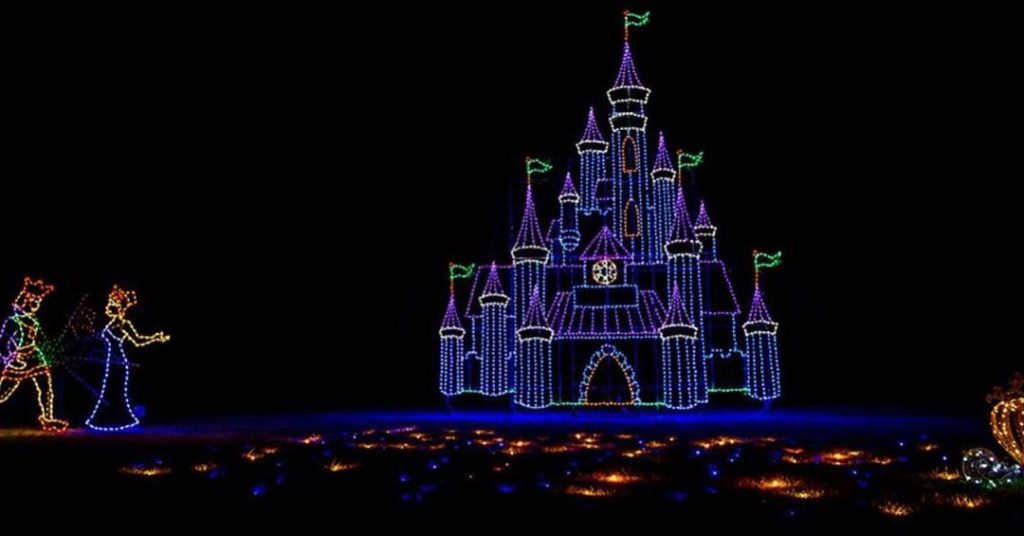 Long before the pandemic hit, the Winter Lights Festival at Seneca State Park has been social distancing. Visitors stay in their cars, driving 3,5 miles passing 450 illuminated displays and lit-up trees. Tickets are $15-$30 and they are open daily from November 26th through December 31st. (They are closed Christmas Day.)
21. Brookside Gardens' Garden of Lights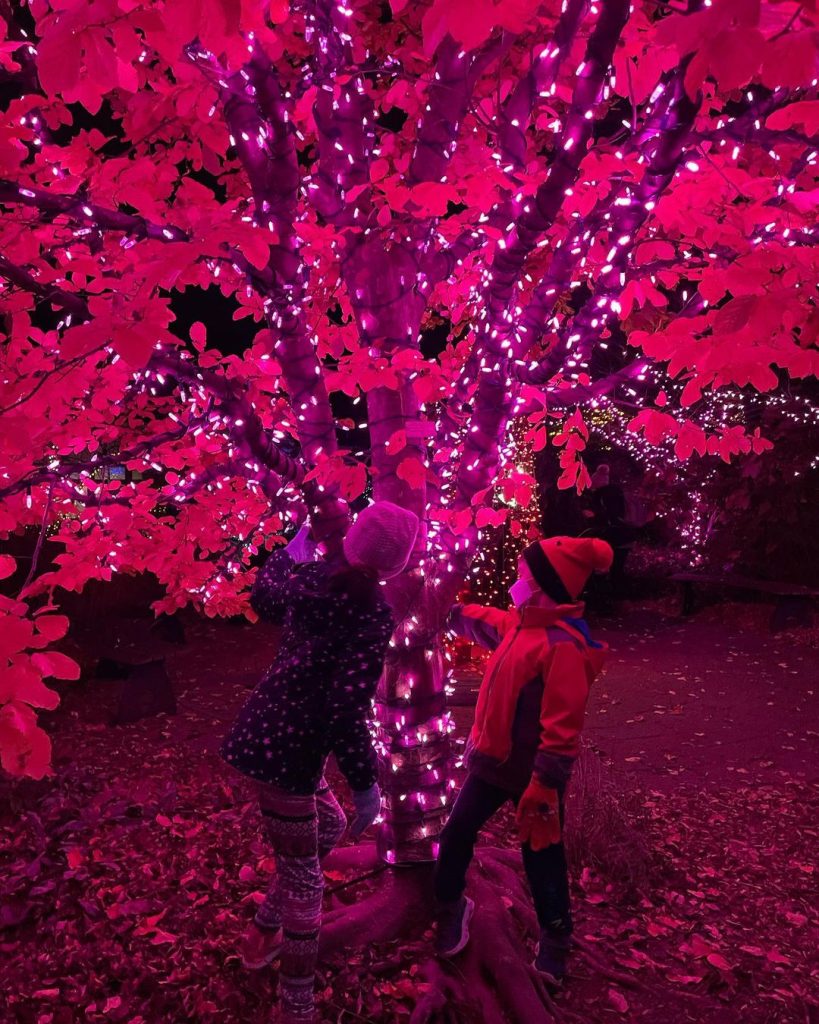 For the 23rd year, Brookside Gardens' 50 acres are transformed into a holiday light extravaganza with over one million LED lights decorating the gardens. Admission is free and it's open daily from November 19th through January 2nd, 2022. Note that the gardens are closed Christmas Eve and Christmas Day.
22. Holidays at the Harbor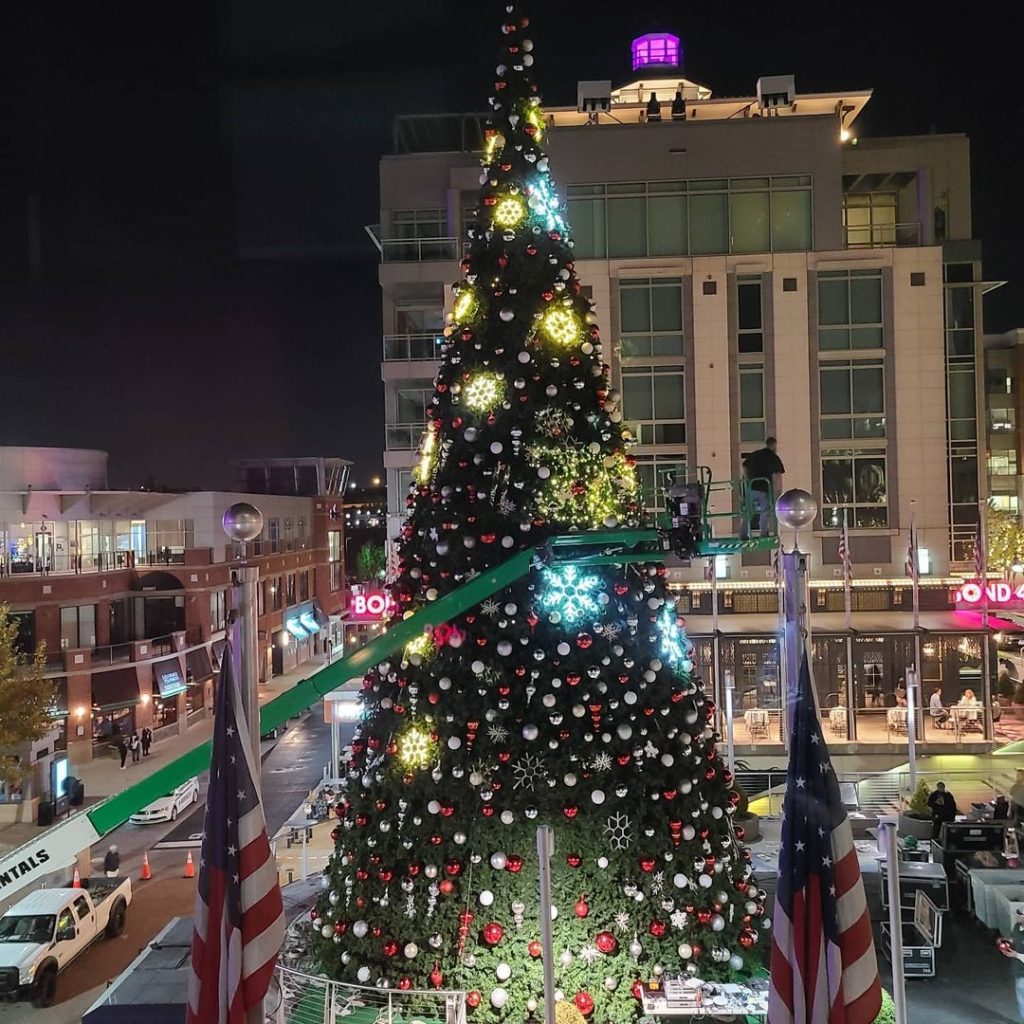 Just south of Washington, D.C. is Holidays at the Harbor at the National Harbor. From holiday storytime on Saturdays at 2 p.m. to free hot chocolate at select stores on weekends, there's much to do! Every night from sunset to 9 p.m. there's a light show on a 54-feet Christmas tree. At 5:30 p.m. on Saturday through December 1 8th, a holiday firework show is set off. They even have a holiday pop-up bar and classic holiday movie nights!
23. Reston Town Center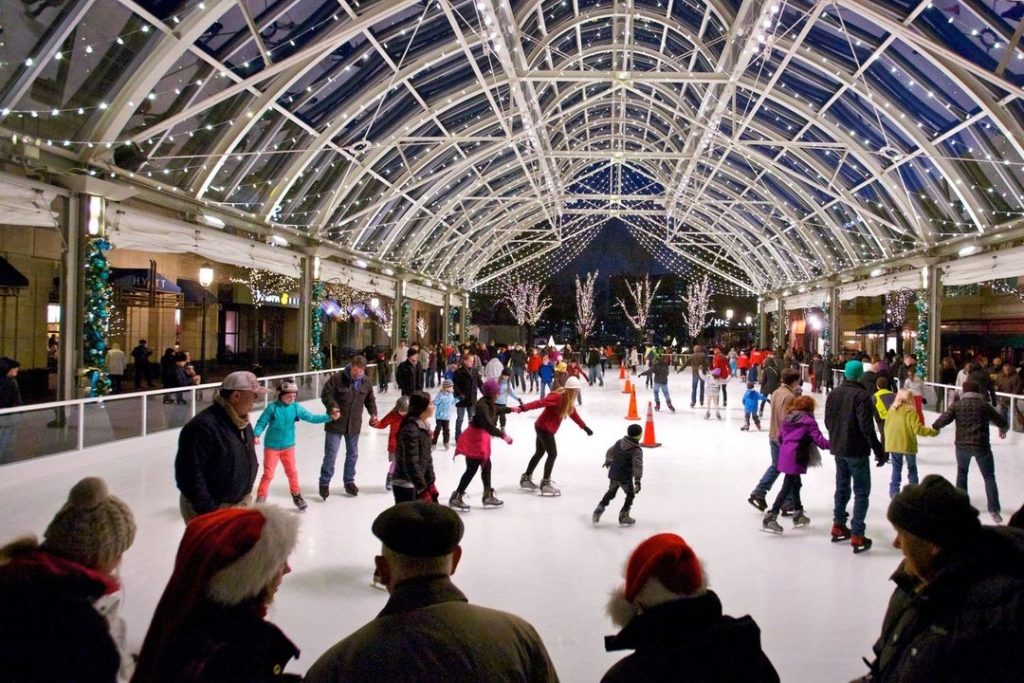 The ice rink underneath the grand pavilion certainly takes center stage for a picturesque holiday experience but the Reston Town Center shimmers in thousands of strands of lights at every turn. There's a weekend horse-drawn carriage and a mini-train ride, too. You will have SNOW MUCH FUN dining, shopping and playing in this dynamic urban destination.
24. Meadowlark Walk of Lights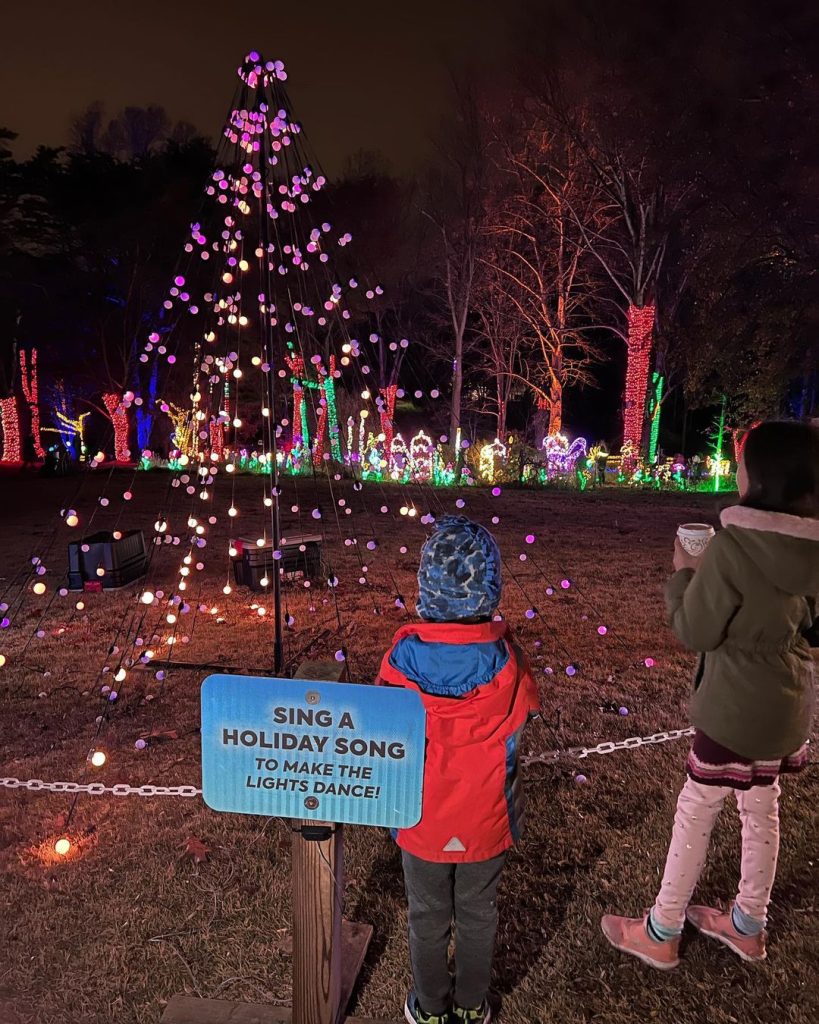 This 95-acre garden in Vienna, Virginia hosts a holiday half mile Winter Walk every night now through January 2nd. Tickets are between $5 and $18 and it's one of the few places open on Thanksgiving Day, Christmas Day and New Years Day.
25. Mount Vernon's Christmas Illuminations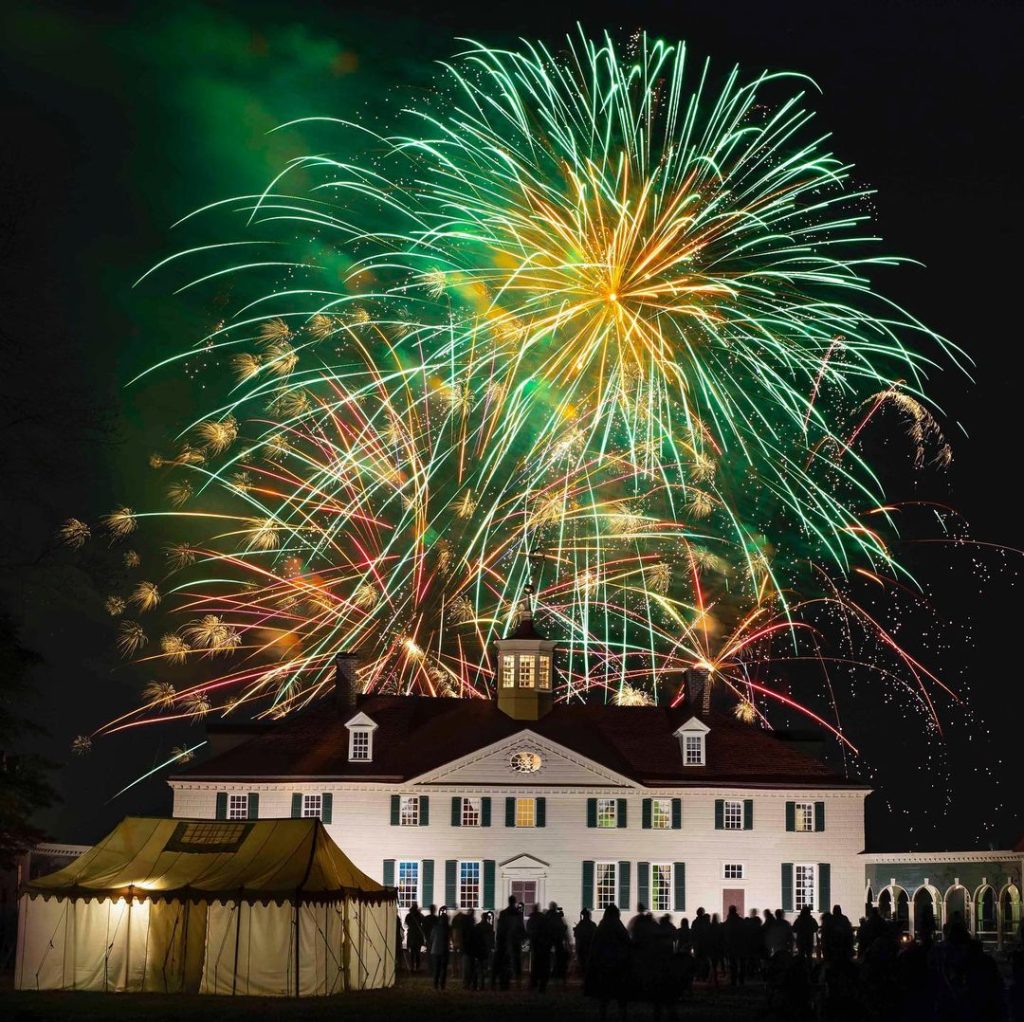 For historic buildings and properties, holiday decor must be historically accurate and can be limiting in our modern day of visual overload. What better way to push the limits than with a grand firework display? George Washington's Mount Vernon gets it right and we love to see the mansion framed in light bursts. The event only runs for one weekend in December–the 17th and 18th this year–and tickets are available at www.mountvernon.org
26. LuminoCity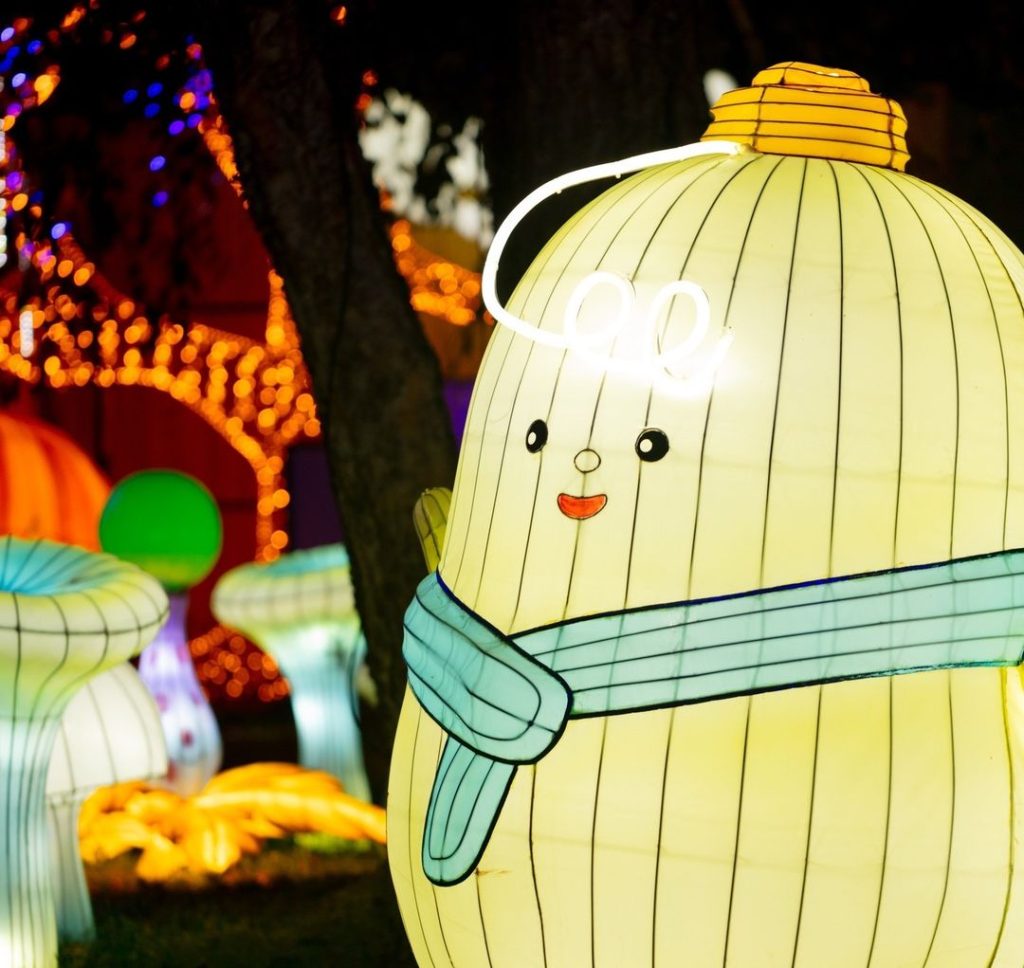 Once Roer's Zoofari closes in Vienna, Virginia, it transforms into a holiday light show depicting animals from around the world, including a dinosaur exhibit. Tickets are $32 per adult and $22 per kid age 3-12. On-site parking costs $5. It's open most Thursday, Friday, Saturday and Sunday nights in December and it's open every day of Christmas Week. Go early to enjoy the zoo too!
27. Christmas Card Lane in Del Ray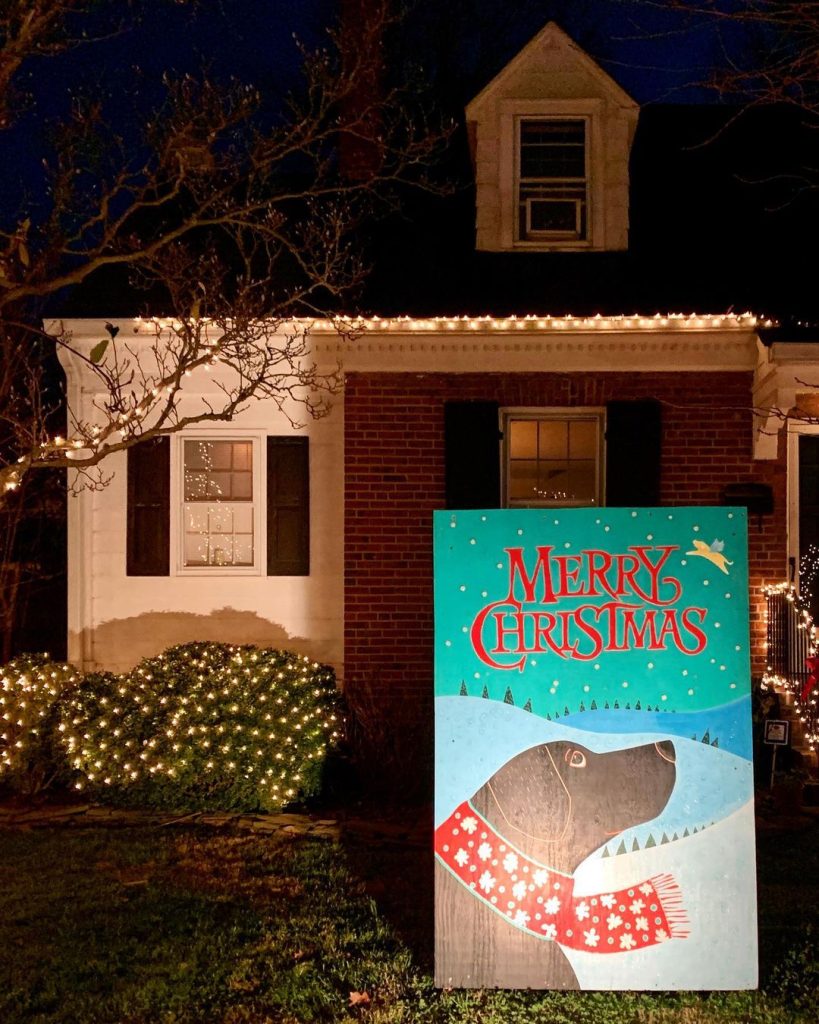 Dubbed "Christmas Card Lane," Del Ray's East Luray Avenue decorates for the holidays by painting large cards for their lawns. It started when a woman wanted to replicate the tradition from her hometown in Michigan. For a fun outdoor family activity, grab frozen custard from The Dairy Godmother and walk along East Luray Avenue.
28. Pentagon Row Ice Rink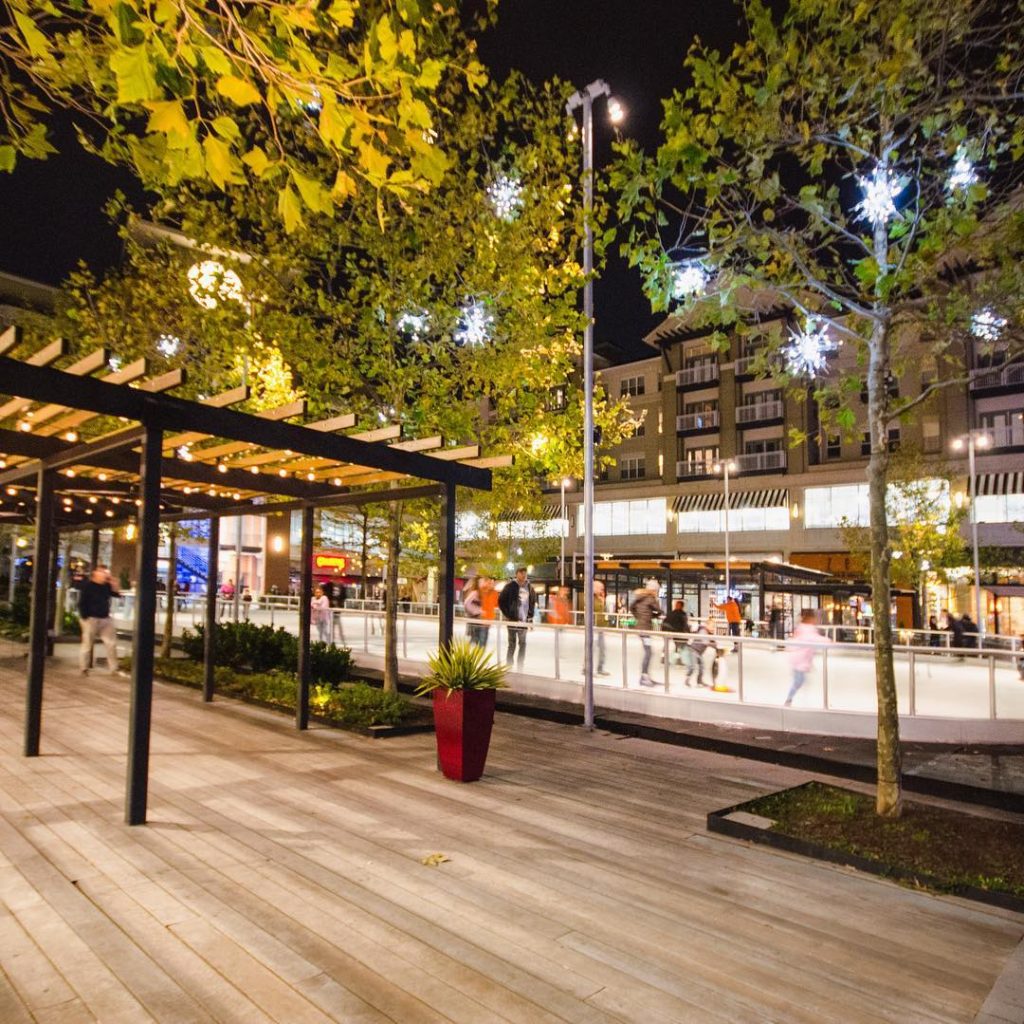 Pentagon Row's 6,840 square foot ice rink is the largest in Northern Virginia. Open daily, admission and rentals range between $15 and $16. Online reservations are required. Surrounding the ice rink are fire pits making for cozy breaks from the ice.
29. Old Ebbitt Grill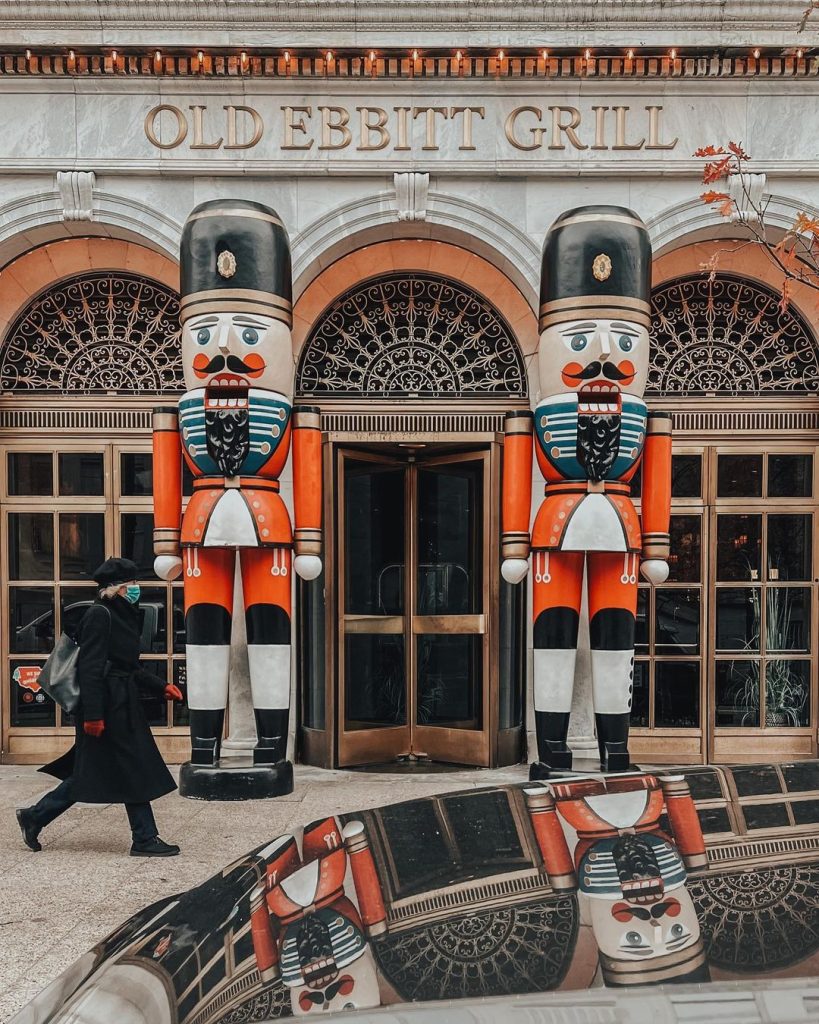 The Old Ebbitt Grill is Washington's oldest saloon and dates back to 1856. Every year we look forward to the giant Nutcrackers that flank the entrance to this beloved establishment and the coziness inside makes it a holiday tradition for both visitors and residents.
30. Old Town Alexandria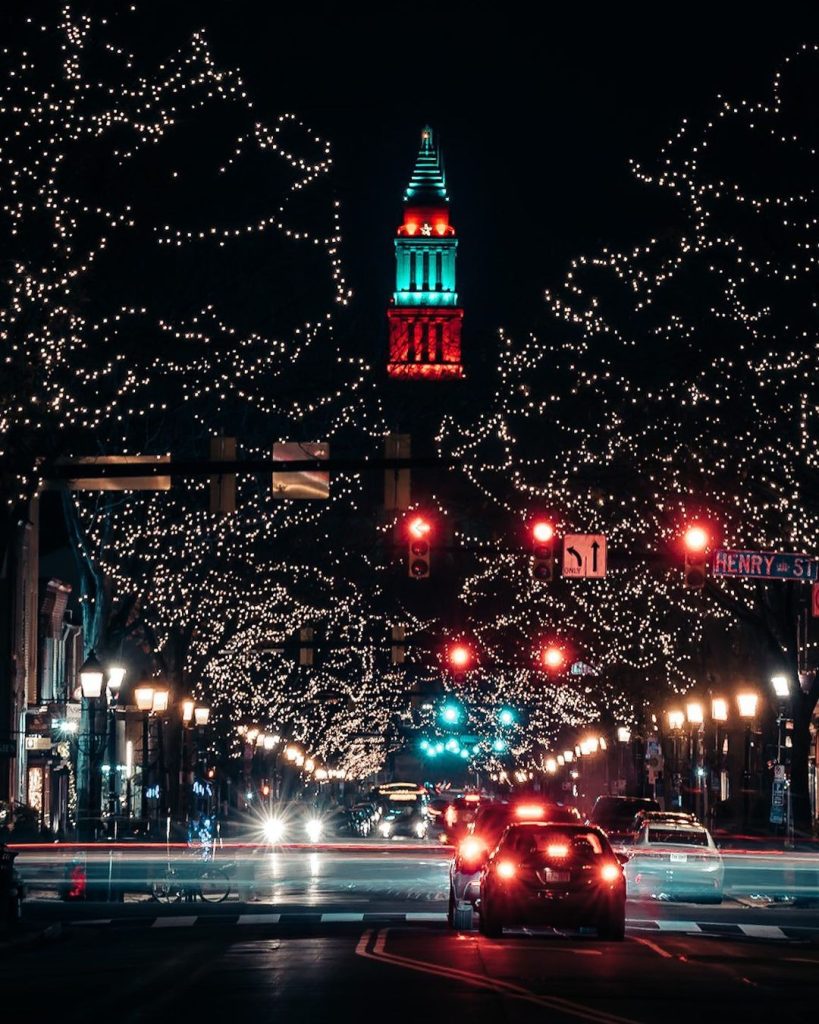 Across the river in Old Town Alexandria, VA, all the trees are decorated along King Street and the historic homes hang the best wreaths. The George Washington Masonic Temple lit up in red and green offers the perfect backdrop!
31. Downtown Holiday Market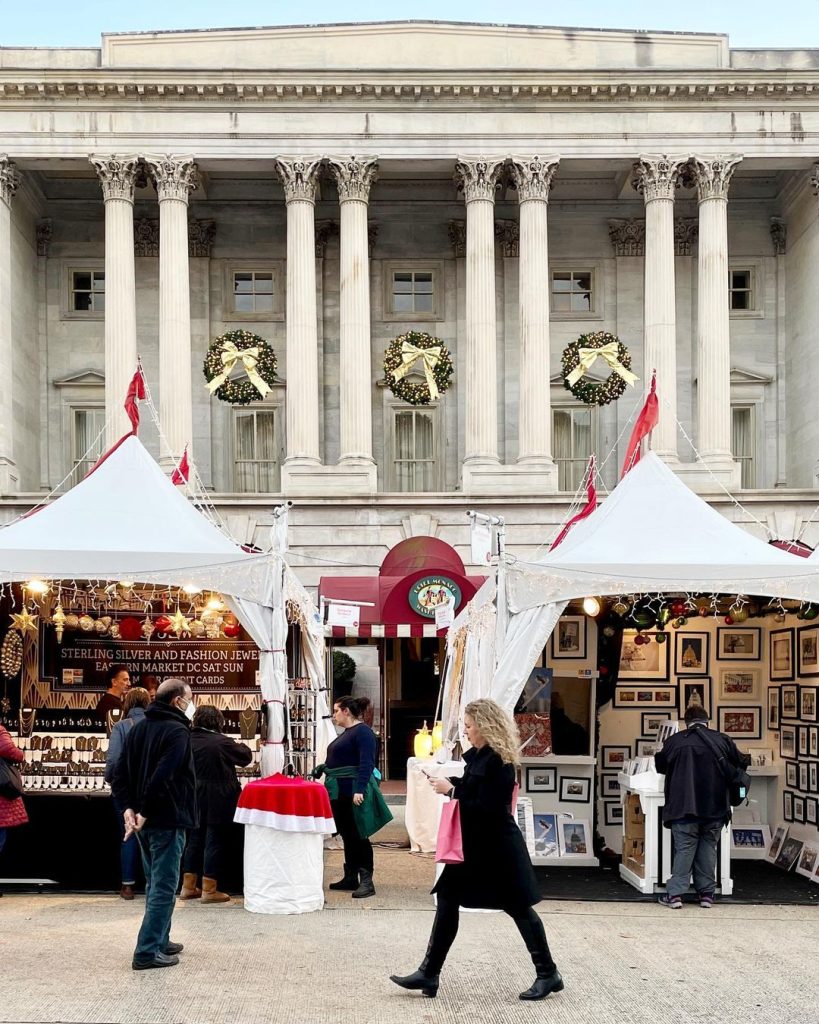 Live music, mulled wine and goods from over 70 local businesses, the 18th annual holiday market is open daily from 12 p.m. to 8 p.m. now through December 23rd, 2022.
Thank you to everyone who shared holiday cheer with #igdc ! We appreciate your help to create this valuable guide
We hope you enjoyed our list of places to see in things to do in DC in December .
If you have any recommendations or places that we missed, hit us up in the comments below.
Written by @golightly , @dccitygirl , and @austinkgraff
2 responses to "30+ Things To Do in Washington DC During the Holidays in 2023"
Fantastic post!
Great list! Planning spots to hit on a staycation in DC Christmas week!
Leave a Reply Cancel reply
Your email address will not be published. Required fields are marked *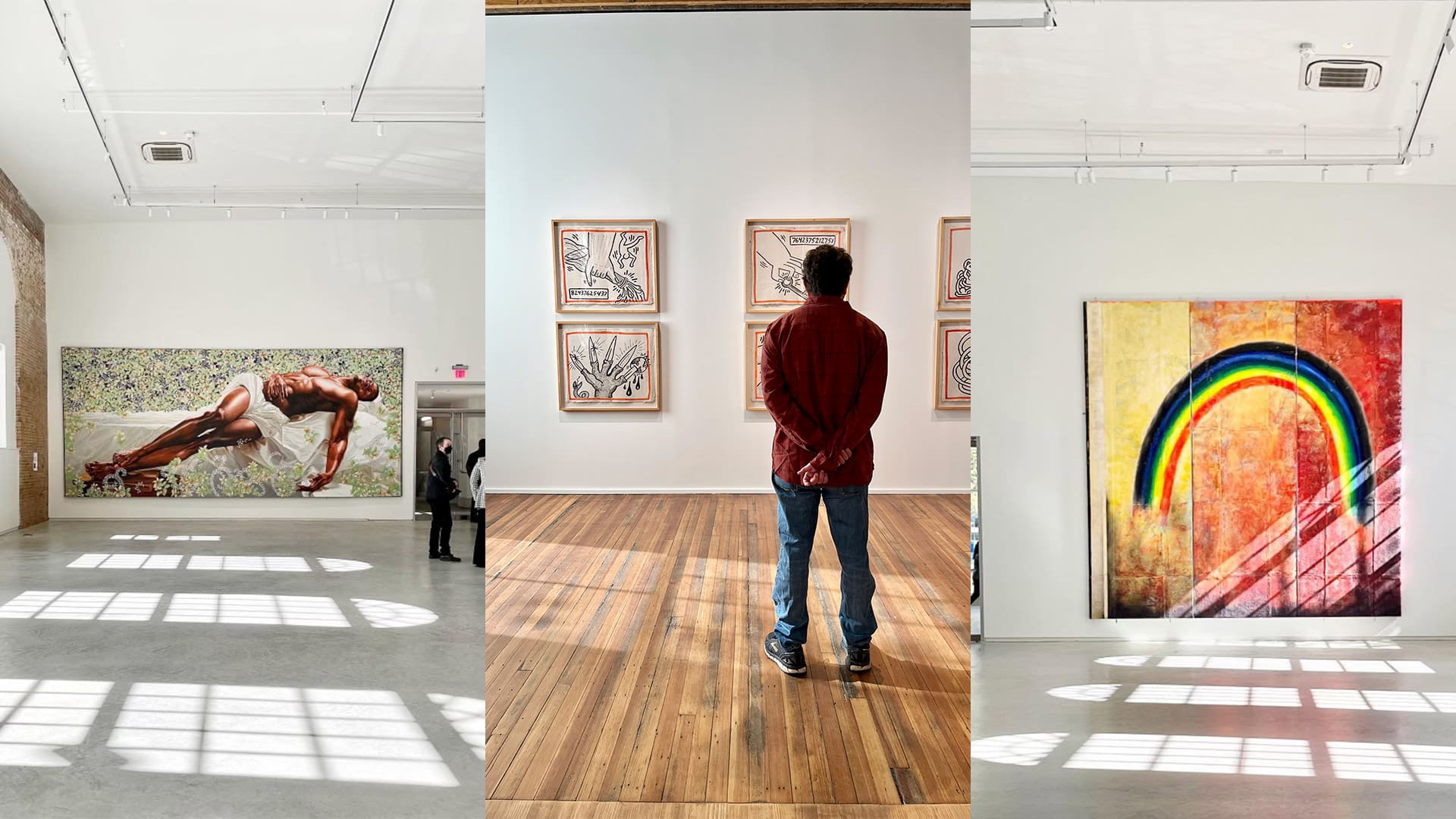 Rubell Museum DC: Visiting Washington DC's Latest Museum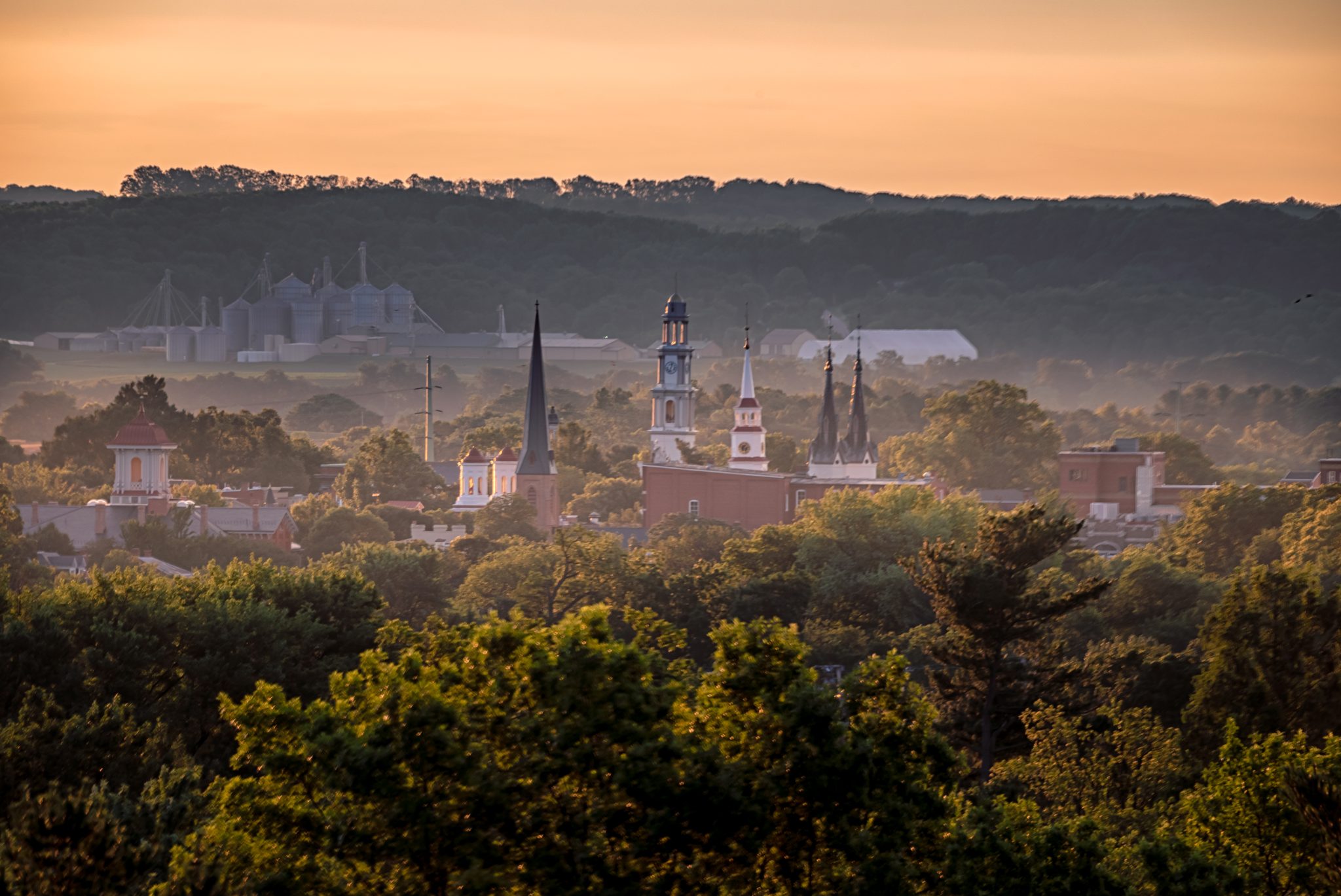 7 Best Places to Catch Sunrise in Frederick, MD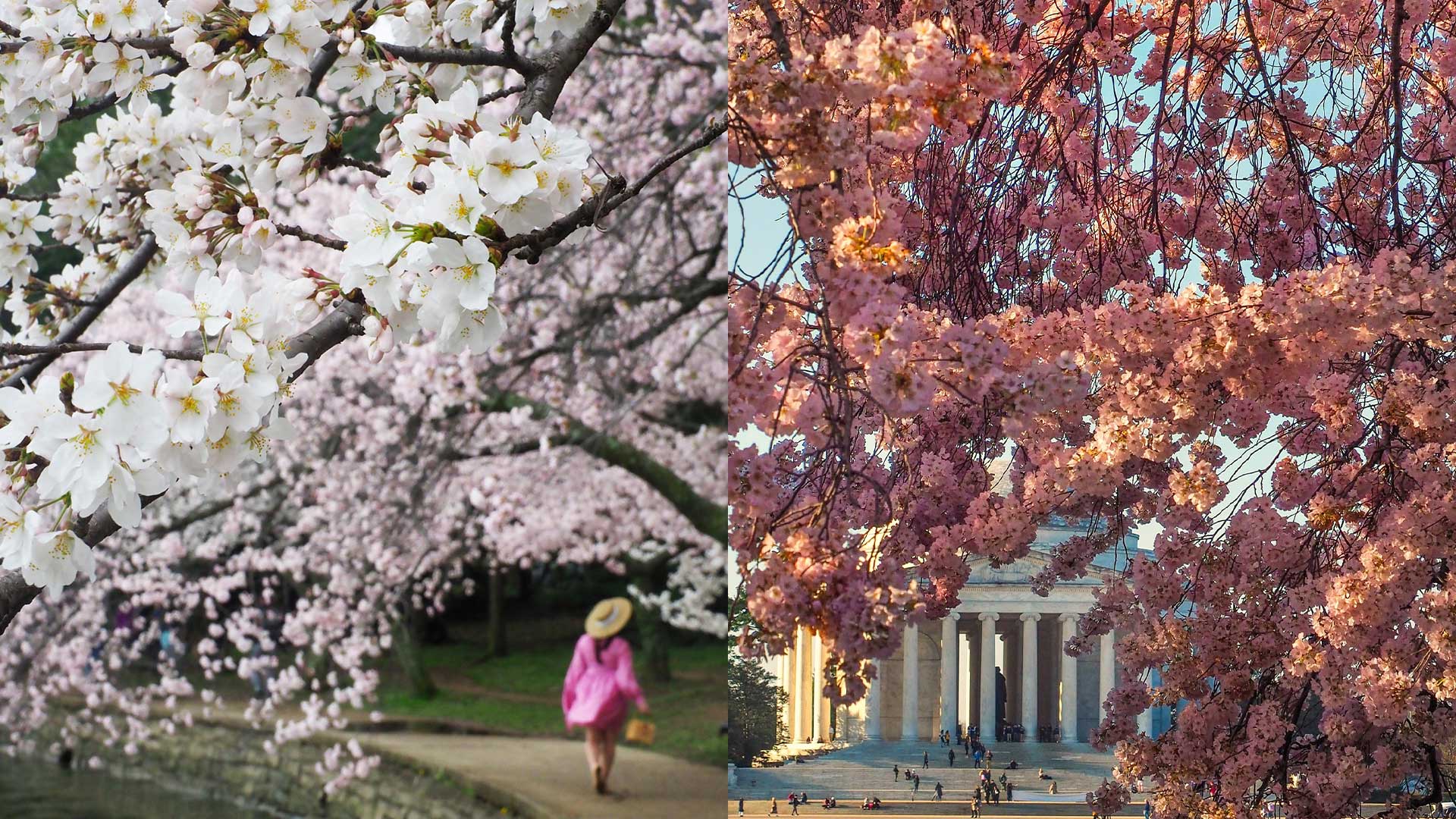 Washington DC Cherry Blossoms: Instagrammers Guide

11 Magical Things to do in Washington DC at Christmas Time
Posted on Last updated: October 24, 2020
Washington DC at Christmas time is absolutely magical. When I was planning my trip there last year I had no idea what I was in for. Sure, I had a long list of political landmarks, monuments, museums, and galleries that I wanted to visit. But what I didn't expect was just how FESTIVE Washington DC is during the Christmas season. All it took was one afternoon of strolling around downtown to fall completely in love with Washington DC at Christmas time.
Washington DC at Christmas time truly is magical
Why Visit Washington DC at Christmas Time?
There's something about seeing a city with such historical and beautiful architecture that's all decked out for the holidays that makes you feel like you've walked into a Hallmark Christmas movie. I'm not kidding. That's exactly how I felt walking around Washington DC last Christmas. Washington DC at Christmas time is absolutely beautiful. Every corner is more festive than the next and you will feel like you stumbled into a Christmas dream.
What to See and Do in Washington DC at Christmas Time
If you're wonder whether visiting Washing DC at Christmas time is a good idea, let me tell you I would go back in a heart beat. Beyond being incredibly beautiful this time of year there's just so much to see and do.
I hope this list of incredibly festive things to do in Washington DC at Christmas time inspires you to plan your own trip there during the holidays.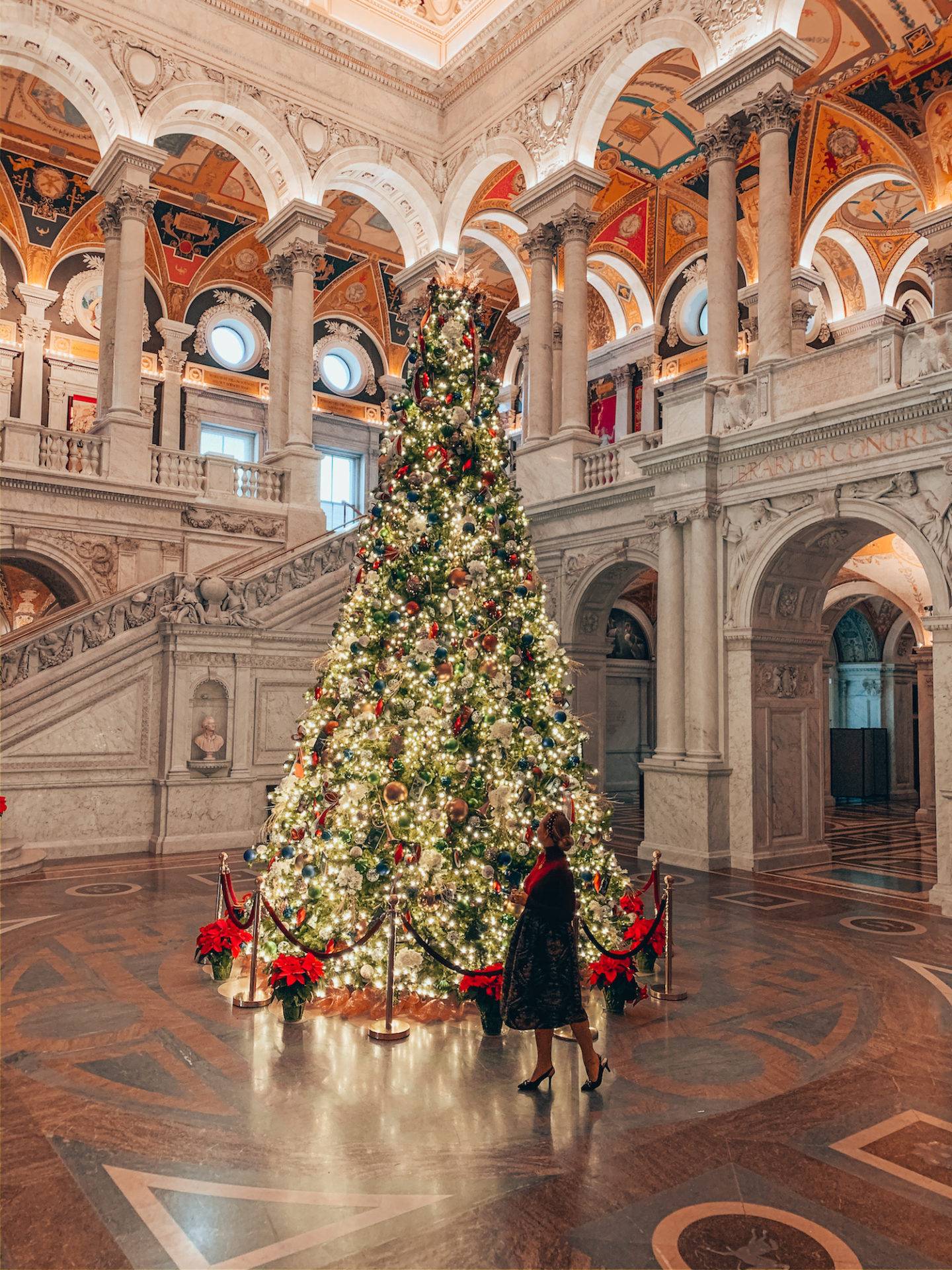 1. Visit the Library of Congress – FREE activity to do in Washington DC at Christmas Time
The Library of Congress is the oldest federal cultural institution in the United States. It officially serves the United States Congress and is also one of the top tourist destinations in Washington DC. Although the Library of Congress is absolutely stunning year round, it's even more beautiful during the Christmas season. Entrance is completely free so you should definitely plan to pop by while you're in Washington. Visit the Thomas Jefferson building to take in the beautiful Christmas tree before exploring the rest of this historically stunning library. You'll see why it's such a beautiful site to see in Washington DC at Christmas time!
2. Grab a Holiday drink at the Old Ebbitt Grill
The Old Ebbitt Grill is Washington's oldest saloon and was founded in 1856. To this day it remains one of the city's greatest treasures and is a definite must visit while in Washington DC. Stop by for a picture with the adorable nutcrackers outside before venturing in for cocktails and oysters in their beautiful Victorian bar. You'll quickly realize why the Old Ebbitt Grill is always so busy and it's especially beautiful to visit at Christmas time.
I just loved the giant Nutcrackers outside Old Ebbitt Grill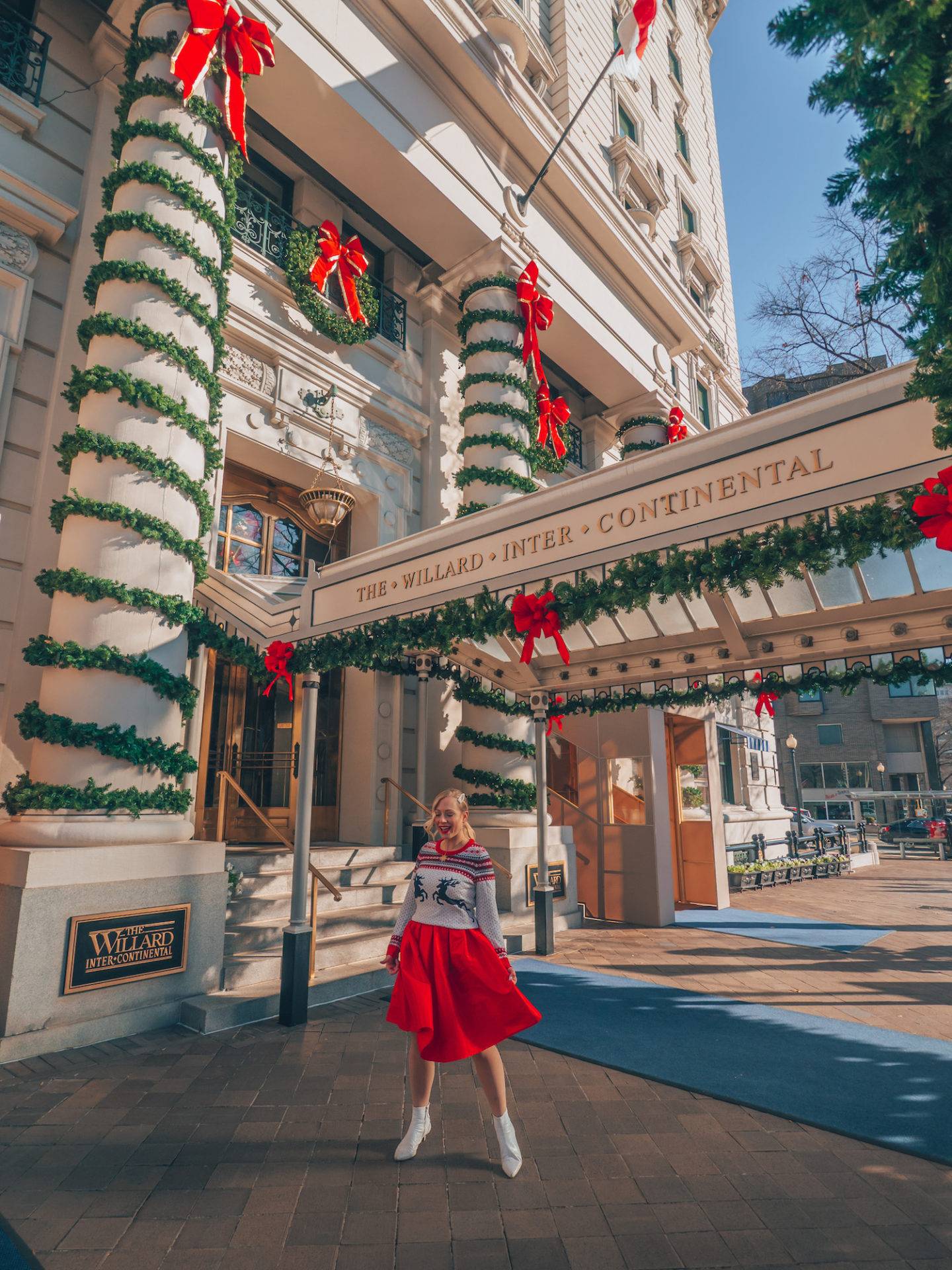 3. Enjoy the Festive Decor and Holiday Christmas High Tea at the InterContinental the Willard
The Willard InterContinental is a AAA four diamond hotel located in the heart of downtown Washington DC. If you think the Willard is stunning year round (which it is) it's even more spectacular during the holiday season. One step into the lobby of the Willard will transport you into an elegant Christmas wonderland that's sure to take your breath away.
If you're looking for a one stop shop of the most incredible Washington DC Christmas decorations then the Willard hotel is definitely for you. From the incredible tree lined hallways to the stunning lobby, to the garlands, wreaths, and lights galore outside. Every corner at the Willard is more breathtaking than the next.
Once you're done taking in all of the Christmas decor you should enjoy the Willard's Holiday high tea. The Willard's Holiday High Tea is complete with holiday themed teas and treats which are a must to help get you into the Christmas spirit! This is a definite must do while you're in Washington DC at Christmas time.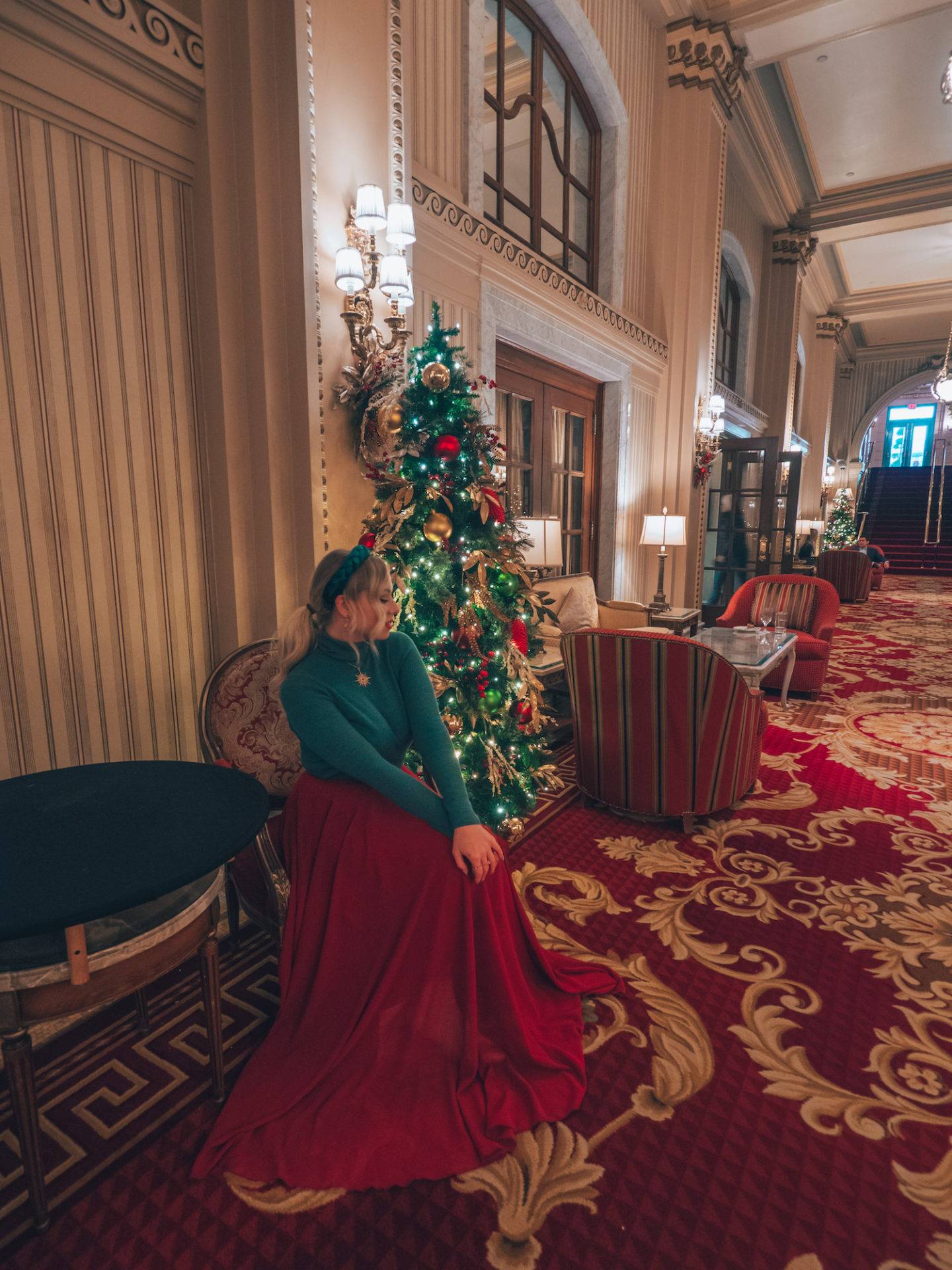 4. Stop for dinner and enjoy the festive decor at the Occidental
Located just steps from the Willard is the Occidental , a local landmark of Washington DC. The Occidental serves high-end American meals in a posh space lined with portraits of statesmen. Stop by for a true DC dining experience and enjoy the beautiful Christmas decorations and tree outside. You'll also enjoy portraits of famous past patrons including political powerhouses, sports figures, authors and celebrities on display throughout the main dining room. The Occidental is the perfect place to dine to give you a truly American holiday experience in Washington DC at Christmas time.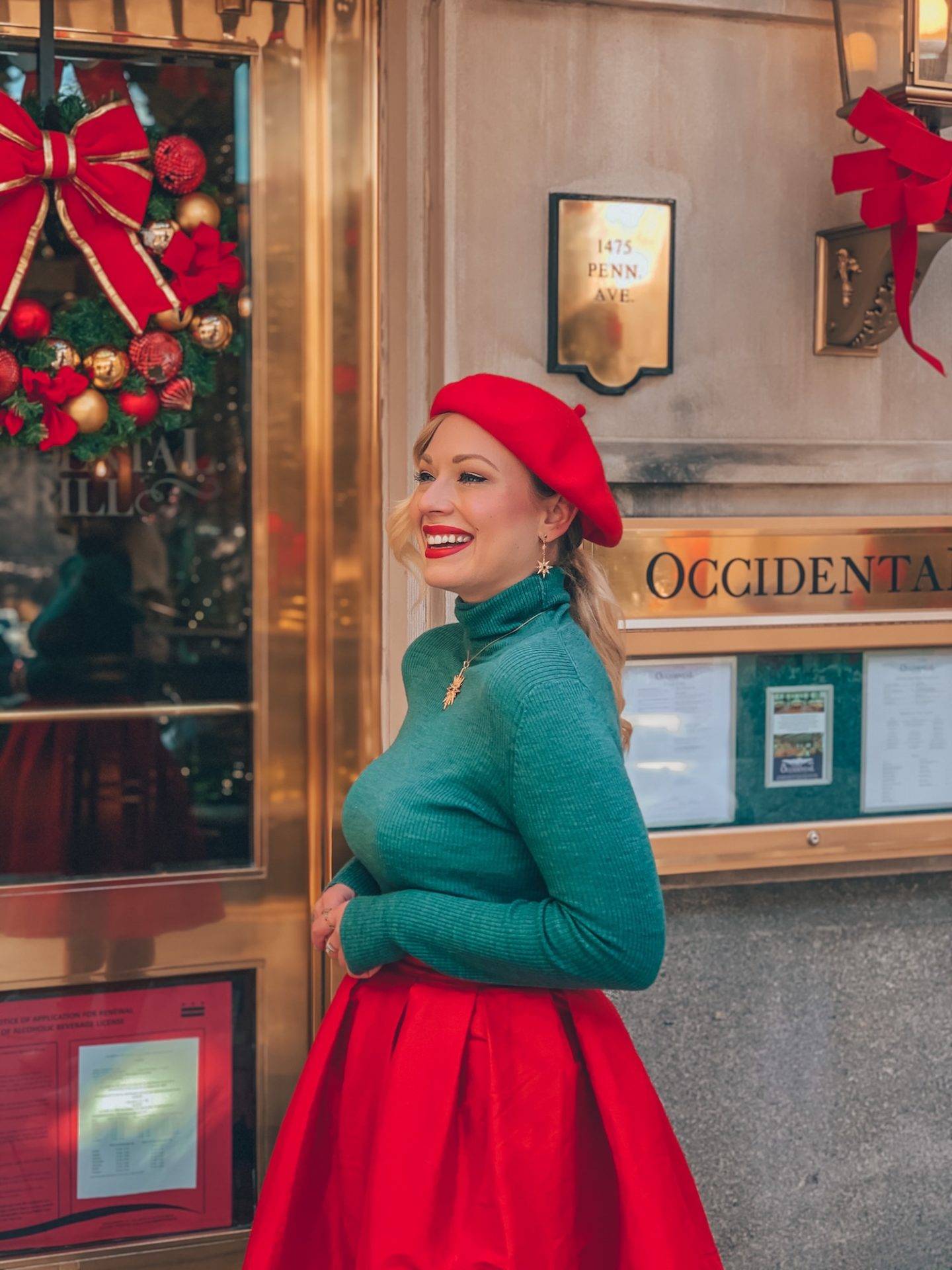 5. Browse the Boutiques and Enjoy the Holiday Decor at CityCentreDC
If you haven't gotten all your Christmas shopping done yet here's the perfect opportunity to kill two birds with one stone. CityCentreDC is an expansive outdoor shopping centre in downtown Washington DC boasting boutique after boutique that'll make all your shopping dreams come true. Featuring the best in haute couture shops, restaurants, luxury skincare boutiques and more that are even more fun to visit during the holidays. From light lined walkways to giant reindeer to a massive Christmas tree, there's tons of festive decor to stumble upon at it's such a magical place to visit in Washington DC at Christmas time.
Strolling through CityCentreDC at night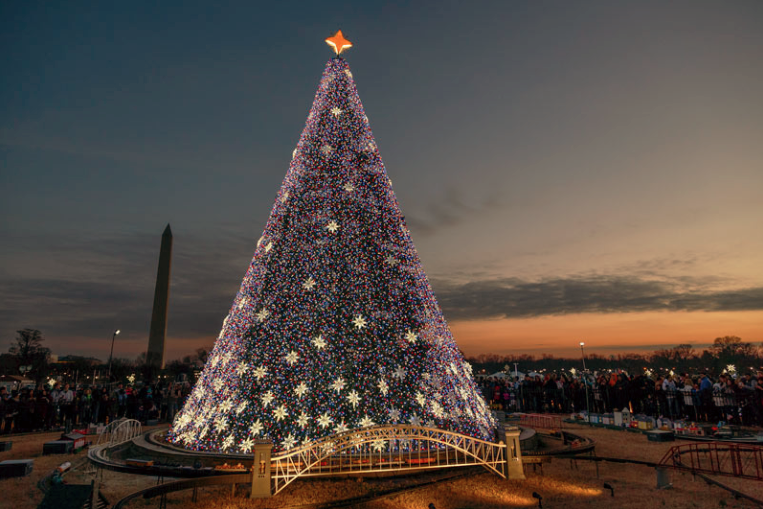 6. Take in the Beauty of the National Christmas Tree – A FREE activity to do in Washington DC at Christmas Time
Although I didn't get the chance to visit it this year, the National Christmas Tree was high on my list of things I wanted to do in Washington DC at Christmas time so I had to include it in this list! The National Christmas tree is an almost 100 year old tradition and is completely free to visit. The tree is lit every night from 4:30pm-midnight as part of the America Celebrates display at President's Park. Musical entertainment also happens every night for the 2 weeks leading up to Christmas.
Surrounding the National Christmas Tree is the America Celebrates display which features 56 trees each representing a U.S. state, territory, and the District of Columbia. The 2019 ornaments were handcrafted by students of 56 schools across the US to celebrate the history, culture, and heritage of their homeland. It will be exciting to see what this year brings!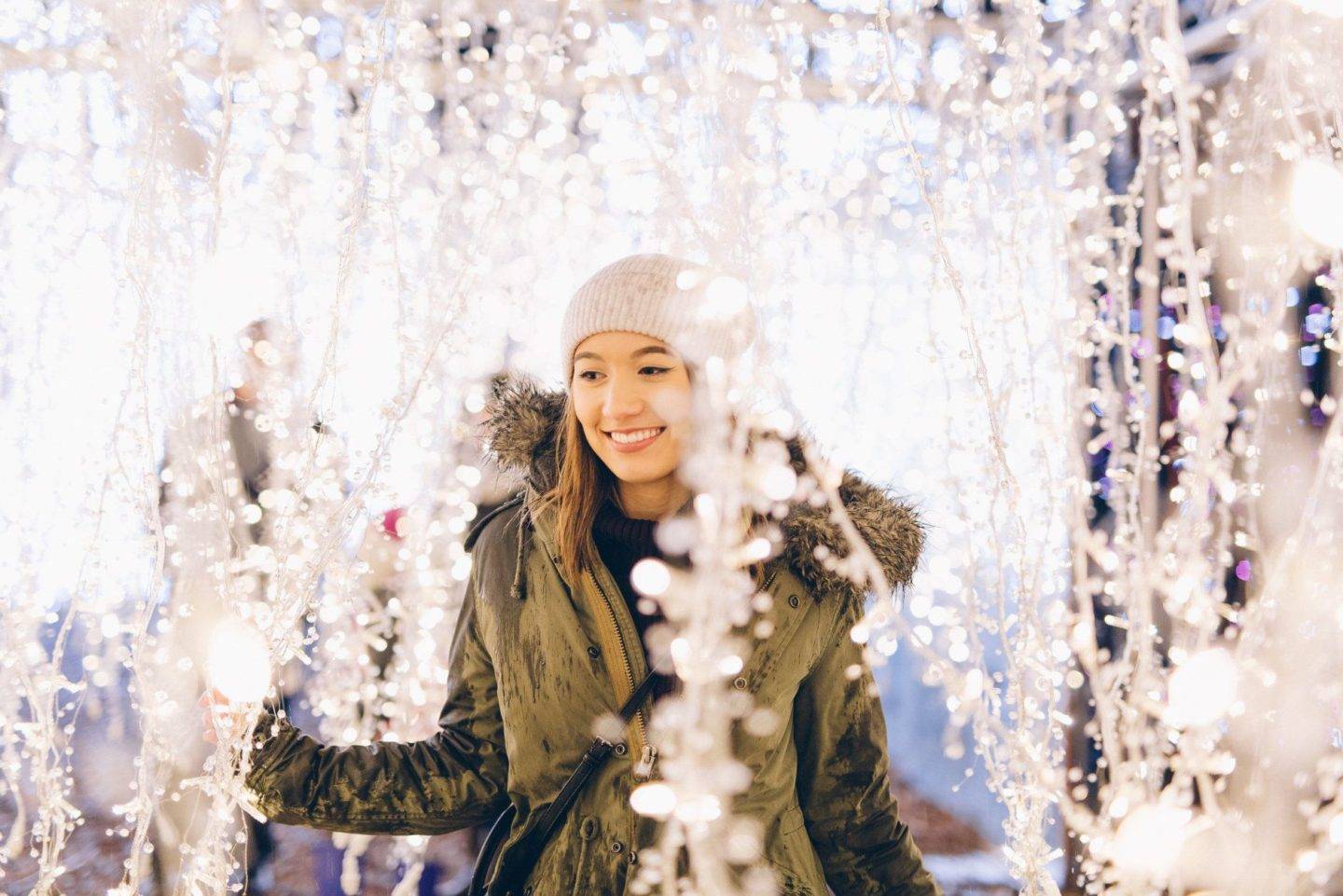 7. Get lost at Enchant Christmas – the World's Largest Christmas Light Maze and Holiday Market
Open November 22 to December 29th at National Parks in DC, Enchant Christmas is the world's largest Christmas Light maze! If you're looking for something new to try this holiday season then this should definitely be it. Centered around a 100 foot lighted pine tree that's bigger than the Christmas tree in Rockefeller Centre in New York, the Enchant maze is like a living storybook of larger than life stunning lit sculptures and displays. There's also an ice skating trail which makes it a perfect afternoon activity to do with friends or family while in Washington DC at Christmas time.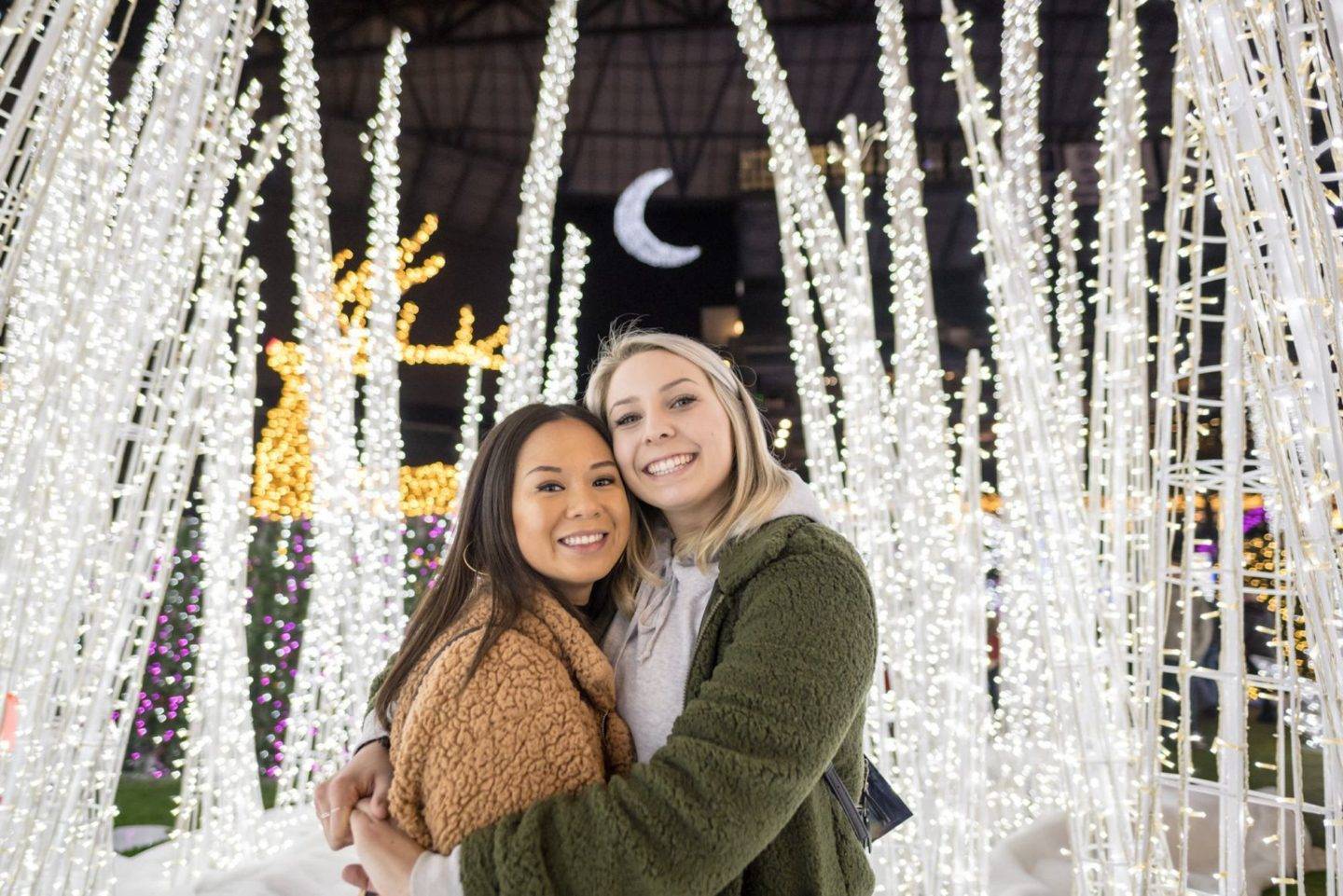 8. Browse the Unique Vendors and Enjoy a Hot Apple Cider at the Downtown Holiday Market
Located conveniently right downtown Washington and next to the National Portrait Gallery, the Downtown Holiday Market is a great daytime activity to do while visiting Washington DC. Loaded with tons of unique vendors ranging from artists to apparel brands, jewelers and chocolatiers, the holiday market has something for everyone. It's completely free to attend and they also feature live music throughout the afternoon and evening!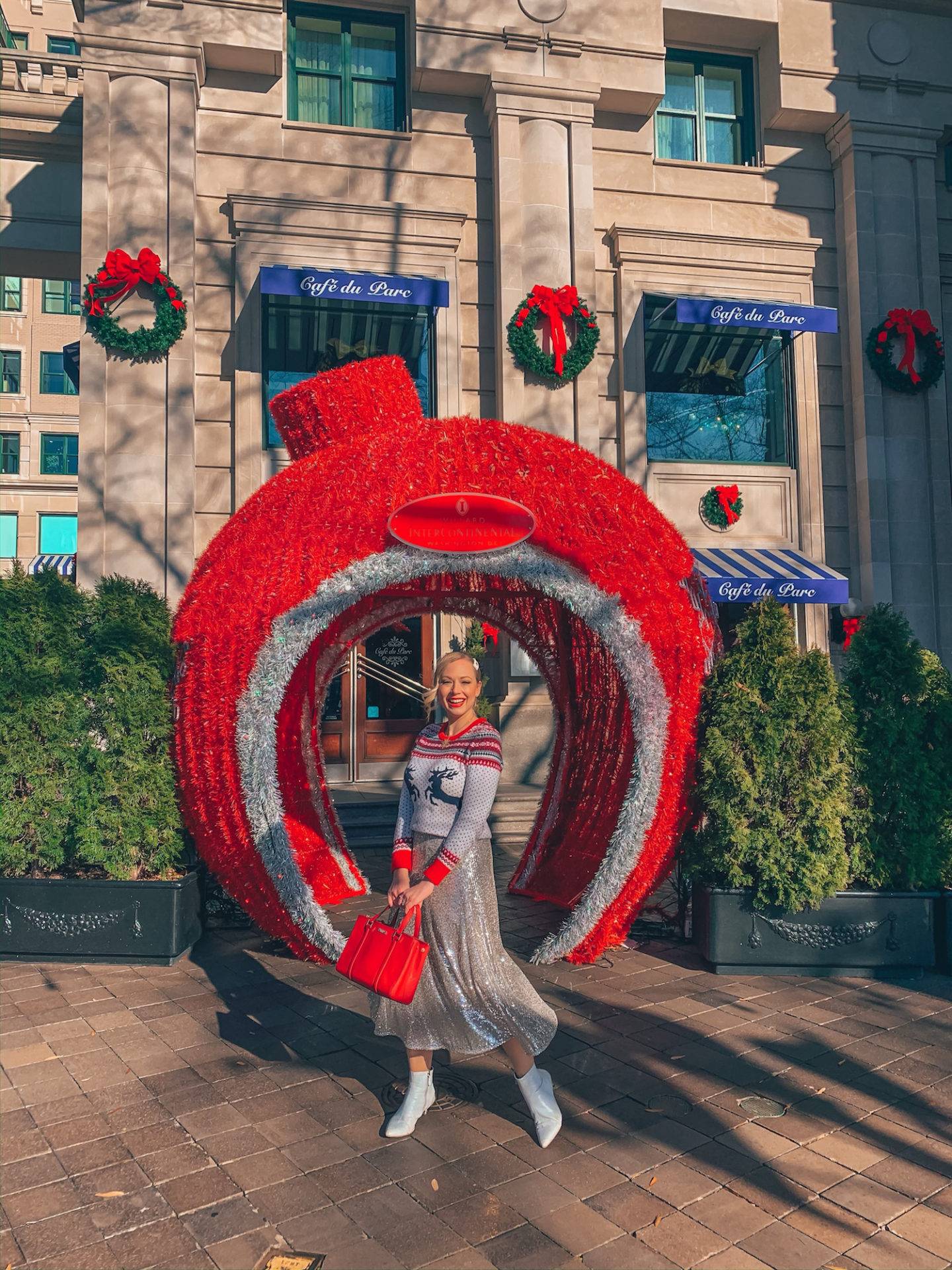 9. Take a walk around the Downtown core and Enjoy all the Decorations – A FREE activity to do in Washington DC at Christmas Time
After checking out the downtown holiday market why not head for a stroll and just enjoy all the festive decorations in the downtown area? I was so in awe of how festively decorated downtown Washington DC is at Christmas time. Every single business building and hotel we passed was even more festive than the next. Peek into the lobbies of the buildings you pass and you'll be amazed! It's so impressive how festive Washington DC becomes at Christmas time. You will feel like you walked into a Christmas movie.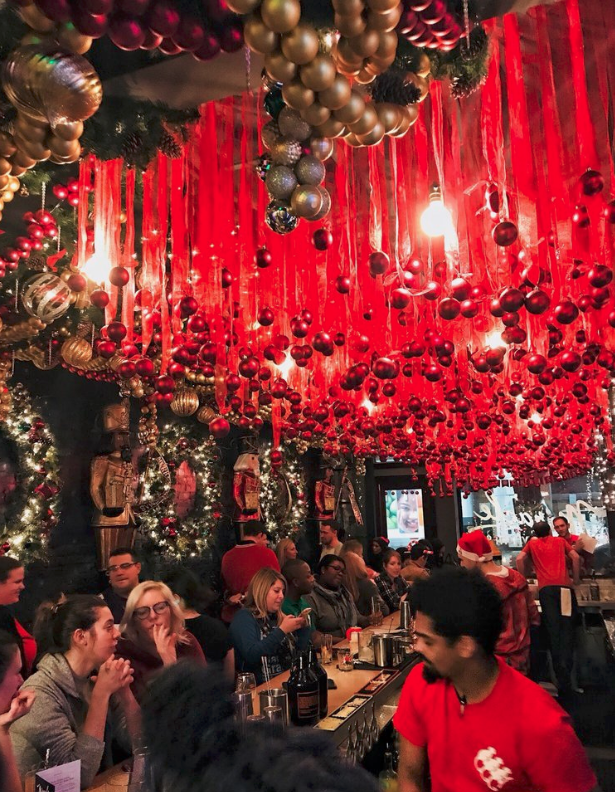 Sunday 25th of October 2020
So magical!!! Your outfits are so festive and cute too, love them!
Saturday 24th of October 2020
I don't know how I lived right outside of Washington D.C for almost all of my life and didn't know about all these events! Saving this for when I move back!
I lived in DC last Christmas and you totally nailed it! These are definitely all of the best things to do in DC over the winter holiday season! beautiful pictures!
Love your festive outfits! We have visited DC several times but never during the holidays - thanks for the tips!

Christmas in Washington DC: 17 Top Festive Things to Do
ID);?>"> post_title;?>
Washington DC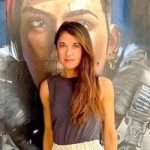 Sleigh Bells, roasting chestnuts, and the lilting lyrics of your favorite Christmas carol. There's nothing like twinkling light displays, seasonal treats, and festive monuments to set the stage for Christmas in Washington DC.
Follow along to discover the 17 best Christmas events in DC
From the towering and perfectly decorated National Christmas Tree to historic candlelight tours of the homestead of George Washington, our Nation's Capital overflows with Yuletide ambiance.
Admire miniature trains, winterberries, lights, and more at the lush U.S. Botanic Garden. Or get wild at the Zoo with a kid-friendly extravaganza of animals, sculptures, and more.
Keep things classic with a Dickens' production at Ford's Theatre, or embrace the winter's chill with an invigorating ice skating session.
Whether you are a Capitol City veteran or a first-time visitor of D.C. during Christmas, there's nowhere more full of tradition and trimmings this holiday season. Ready to uncover the treasures of DC during Christmas? Read on…
Things to do in DC in the Winter
Wondering what to do in Washington DC in December? Just because it's sweater weather doesn't mean the fun stops at the United States capital. Pull on those mittens and bundle up to enjoy the bounty of things to do in Washington DC in December.
Get a jump start on holiday shopping at Georgetown. Or break out those ice skates for a session at the Wharf or the Washington Harbor Ice Rink. Pay respect to our nation's fallen heroes with an Arlington Cemetery Tour , or take in the iconic sights via a D.C. Bus Tour.
Thinking about Washington DC for Christmas? Secure those lodgings now, and see even more of Washington DC in Christmas attire. Sleep steps from the White House, or hole up in charming Arlington when you stay in any of our premier Washington DC Hotels .
Still puzzled over what to do in DC in December? Combine your eating and entertainment with the spectacle and sword fighting of Medieval Times Dinner & Tournament Baltimore . This year-round activity promises pageantry, jousting, and finger-licking good delights. 
Things to Do in Washington DC at Christmas*
Christmas events in washington dc.
Presidents, poinsettias, and piping hot cups of cider! Washington DC at Christmas time is so picturesque; it might have come straight from a storybook. Whether you are angling to hear Silent Night or wish to dive back in time at Mount Vernon. There are endless ways to commemorate a Washington DC Christmas.
From holiday light shows at the Botanic Gardens to parades of illuminated boats, there's Yuletide spirit everywhere from Dupont Circle to the Lincoln Memorial.
*Please note that this is not an exhaustive list of things to do in DC for Christmas, things to do in Washington DC Christmas, or things to do in Washington DC in December, but rather a round-up of our top seasonal activities and attractions.
ICE! featuring Rudolph the Red-Nosed Reindeer
Two tickets to a winter wonderland. Yes, please! While it might be frosty inside the Gaylord Hotel's annual celebration of Holiday fun, that won't stop you from seeking out every moment of action. ICE! Featuring Rudolph the Red-Nosed Reindeer returns this year from November 19th through December 31st, 2023.
Wander through 17,000 square feet of brilliant ice sculptures and immersive experiences based on the animated Christmas classic. Catch up with Rudolph and admire hand-carved figures from more than 2 million pounds of ice.
Don't forget to enjoy frosty slides through awe-inspiring tunnels or snap a selfie in your fetching parka.
Photo Credit: Gaylord Opryland Resort & Convention Center via Facebook
Joy of Christmas
Season's greetings from the Washington National Cathedral! Melt that heart of coal when you attend the jubilant Joy of Christmas  concert this year. Revel in the love and abundance of the holiday with help from this annual concert this winter.
Listen up as the enchanting vocals, and melodious notes of trumpets, drums, and more come together. Then, hum along to old holiday favorites and newer contemporary tunes as you usher in the Season of Giving. 
Complement your itinerary of carols and candy when you see even more of the Chocolate City with a Washington DC, nighttime sightseeing tour . Festive monuments aglow with the holiday spirit are the perfect way to admire Washington at Christmas. 
Dickens' A Christmas Carol
"God bless us, everyone." Prime yourself for an evening of Tiny Tim and Ebenezer Scrooge when you head to Ford's Theatre for a riveting rendition of Dickens' A Christmas Carol . Audiences, young and old, will be captivated by this timeless tale of regret, love, and redemption.
This musical production opens on November 17th and will run through December 31st, 2023. Already heralded by critics as a 'rich visual treat' and 'infectiously jolly,' this 2-hour play will feature actor Craig Wallace as Scrooge.
Children ages five and over will fall in love with the songs and well-meaning lessons imparted by the ghosts of Christmas Past, Present, and Future.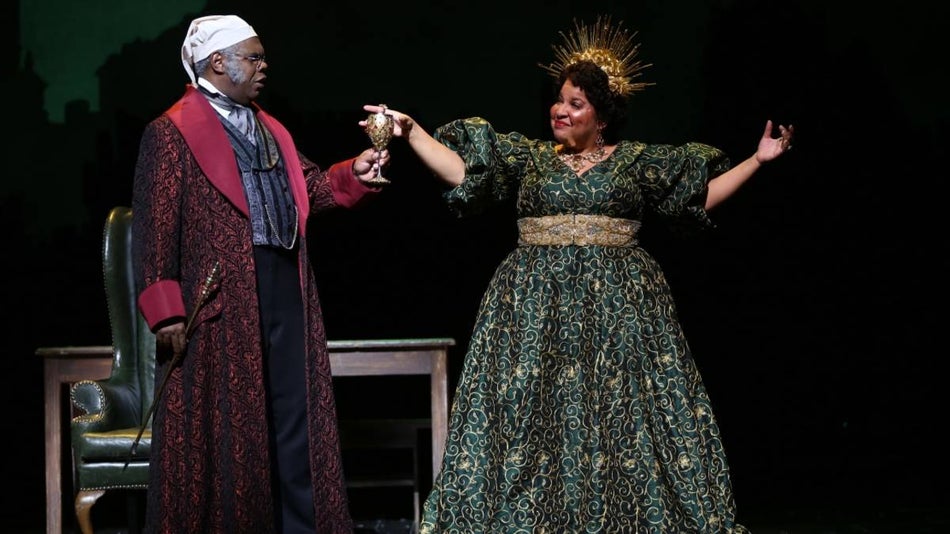 Photo Credit: BroadwayWorld Washington DC via Facebook
George Washington's Mount Vernon
Bring back the Christmas traditions of our forefathers when you pay a visit to the rolling hills and sprawling estate of our country's first president. George Washington's Mount Vernon always offers a delightful reprieve from the hustle and bustle of the Capitol.
However, come wintertime, this oasis of gardens, tombs, and working farmland is transformed. Guests can experience the inner workings of an 18th-century Virginia Christmas with Mount Vernon by Candlelight . This guided tour highlights the customs and traditions of Yuletide at the Washington mansion.
Meet a costumed Mrs. Washington, walk through a lantern-lit historic area, or clap along to carolers. Sip on complimentary spiced cider and sample ginger cookies, or participate in historically accurate 18th-century dancing. 
Immerse yourself in even more holiday razzle-dazzle when you schedule your tour to coincide with Christmas Illuminations . This family-friendly multi-colored display of fireworks, lights, and 18th-century crafts is sure to wow. Don't forget to budget extra time to soak in the atmospheric setting of the winter encampment, working blacksmiths, and Aladdin, the live camel.
No need to break the bank over your D.C. Christmas. Keep that budget in check when you bundle your D.C. attractions, tours, and accommodations. Tripster's top-tier Washington D.C. Vacation Packages make it easy to save.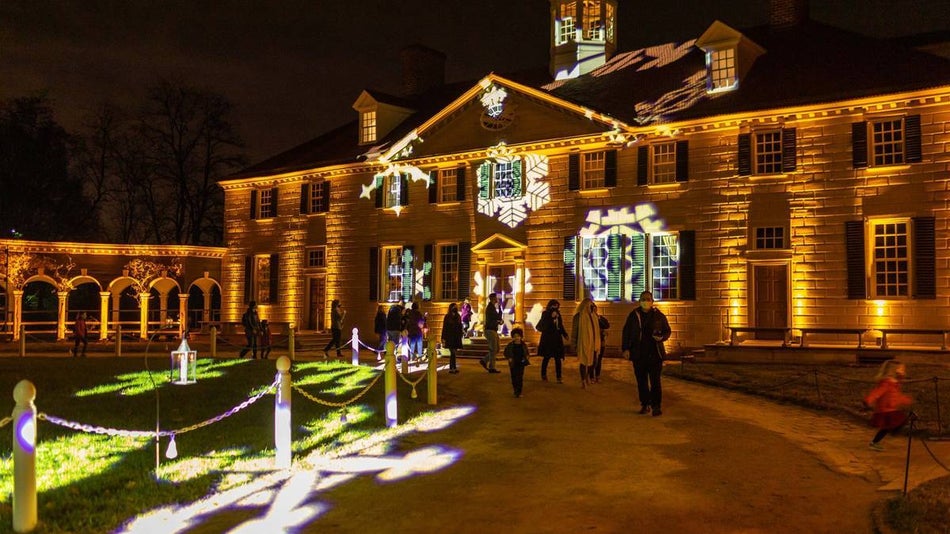 Photo Credit: Dan Chung via George Washington's Mount Vernon on Facebook
Washington DC Christmas Lights and Parades
The district's holiday boat parade.
Psst! We've just received some sneaky news that Santa may be ditching his reindeer for the sea! Get ready to bask in the glow of thousands of lights on over 60 beautifully decorated boats at the District's annual Holiday Boat Parade . Muster up your sea legs on December 2nd, 2023,  and watch in awe as these stately vessels parade along the Washington Channel.
Prior to the parade's commencement, ease into the atmosphere of the Holly season with ornament decorating and face painting by Recreation Pier. Toast those frozen fingers by the firepit, take in the 40ft Christmas Tree, or skate at Transit Pier.
Capture your child's first Santa encounter, and stay put for the evening's firework finale. Of-age adults can even partake in delicious hot toddies and other winter drinks at the Pacifico Waterfront Beer, Wine, and Whiskey Garden. 
ZooLights at National Zoo
Giant Pandas aren't the only draw to the Smithsonian's National Zoo once the D.C. temperatures drop. Besides awesome encounters with otters and Asian elephants, animal-loving adventurers should flock to this esteemed conservation institution for a night of illumination.
Every year after nightfall, the Zoo is set ablaze by the glow of thousands of LED lights, sculptures, and festive designs. Spend your ZooLights strolling past lit-up zebras, lions, monkeys, and more as you catch live musical performances.
Take a minute to pursue the wares at the many unique holiday stalls set up for shopping. Or, wind down with a cup of cocoa or hot cider. This year's event will begin will begin on November 24th and run on select evenings through the end of the year.
Wondering what landmarks you absolutely can't miss in the District? Plan your D.C. Christmas to perfection with our Guide to 13 Absolute Must-See Washington DC Landmarks .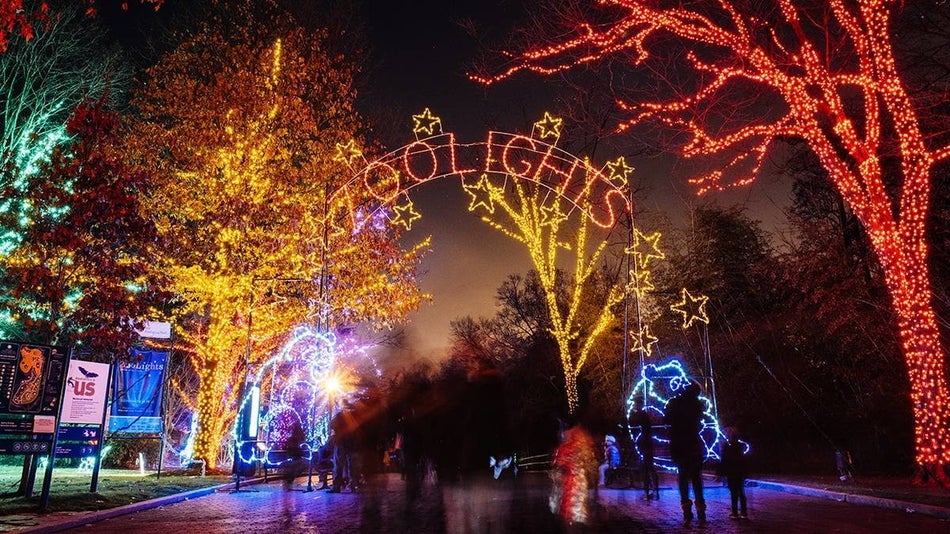 Photo Credit: Smithsonian's National Zoo and Conservation Biology Institute: Smithsonian's National Zoo
Winter Walk of Lights
For over a decade, Meadowlark Botanical Gardens has served as a shining example of the artistry and creativity of winter lights. Pull on those walking shoes, as merry elves of all shapes and sizes will be drawn to the sights, sounds, and sweet snacks of the Winter Walk of Lights . 
Traipse through the elegant half-mile garden trail complete with animated displays, photo opportunities, and an ice pond. Spot the animals, enjoy lively synchronized lights lakeside, or sing along with the 'sing to me' tree. Participate in an interactive search, munch on a fluffy fresh pretzel, or assuage that sweet tooth with a gooey chocolatey s'more made over a crackling fire.
Garden of Lights and Train Show
All aboard! Thrill the mini conductors and green thumbs in your life when you drag them to the U.S. Botanic Garden. Ease yourself into months of candy canes, mistletoe, and more when you carve out an afternoon to observe the charming Garden of Lights and Train Show .* 
Fawn over festive adornments, lighted trees, shrubs, conifers, and more. From plump winter berries to painstaking recreation nature train displays, the attention to detail is unparalleled. Don't forget to take a gander at the greenery-filled farming scenes made from plant parts from all over the world. 
*Please note that this year's event information is awaiting confirmation.
The Smithsonian, SeaQuest, Medieval Times, oh my! Reap the benefits of our best Washington, DC deals here.
Washington DC Christmas Tree
The lighting of the national christmas tree & national menorah at the white house.
Christmas Tree, oh, Christmas tree! Treat yourself to a once-in-a-lifetime tree lighting ceremony when you celebrate 100 years of the lighting of the National Christmas Tree. Since 1923, Americans have delighted in the celebration of the Yuletide spirit on the west lawn. Each year, a different national forest is chosen to provide the Capitol Christmas Tree.
This year's tree will come from the Monongahela National Forest in West Virginia. Her regal boughs will be draped in unique ornaments representing every U.S. State. Keen to see this momentous display of lights, patriotism, and live music? This year's lighting is scheduled to occur on November 30th, 2023. However, you can also catch the televised broadcast in December.
CenterDC Holiday Tree Lighting Celebration
Looking to inject some sugar and spice into your social media presence? Brighten up your Instagram feed with plenty of ice sculptures, lights, and 25 ft tall reindeer when you stop by the CityCenterDC. Then, get swept away in the luxurious fantasy of decadent window displays from Louis Vuitton, Hermes, and Tiffany & Co. Or, perform quality control on cookies for Santa.
To appreciate the drama of the tree lighting, come by and jam out to the live musical entertainment. Tiny tykes can participate in holiday activities, including balloon artists, face painters, and more.
Beep Beep! Give those barking dogs a rest when you see the Capitol by comfortable bus. Washington DC Bus tours are a terrific way to see the sights and skip out on the less-than-favorable elements. 
Union Station Tree Lighting Ceremony
'Tis the season for friendship, festivities, and tons of tinsel. Become part of a twenty-plus-year tradition when you witness the lighting of the Union Station Tree  this November 2023*. As is customary, the Royal Norwegian Embassy, on behalf of the citizens of Norway, will present a holiday tree to the people of Washington, DC.
This towering evergreen gift symbolizes Norway's gratitude for the assistance received from the U.S. during WWII. Take in all 32 feet of this glorious fir, which will be decorated with recycled materials in an ocean theme. This marine homage is being executed to bring awareness to sustainable ocean care.
In addition to opening remarks from Norway's Ambassador to the United States, there will be stirring performances by the Washington Performing Arts Children of the Gospel Choir and the Howard University Gospel Choir.
Keep your eyes peeled for Mr. and Mrs. Santa, and don't move a muscle as this magnanimous evening will conclude with a simulcast concert of the Yo-Yo Ma Bach Project from the National Cathedral.
*Please note exact dates for this year have yet to be confirmed. Musical acts are based on the previous year's entertainment.
Washington DC Christmas Market
Downtown holiday market.
Shop til you drop and support local small businesses when you conquer your Christmas to-do list at the Downtown Holiday Market . Under the glow of fairy lights and falling snowflakes, stroll through this iconic outdoor market, showcasing more than 70 vendors.
This year's retail, food, and artisan wares will stretch over two blocks from F Street N.W., from 7th to 9th Street N.W. Beginning on November 18th, 2022, visitors and locals alike can enjoy regional musical performances, mouthwatering food options, and more. 
Ruby red slippers from the Wizard of Oz, antique airplanes, and the Hope Diamond. Let yourself be entranced by the wonders of our nation when you visit any of the Smithsonian Museums this winter. 
The Holly Days
Tender gingerbread, hand-painted ornaments, and fresh Christmas trees are what's in store for the lucky purveyors of Eastern Market's most merry event. Pop into the Holly Days for a healthy helping of holiday charm, themed music, seasonal lighting, and tasty eats.
This local community market promotes small businesses and will run through December 31, 2023. This year's events will include special after-hours such as kiddo crafts, holiday photo booths, and silent discos.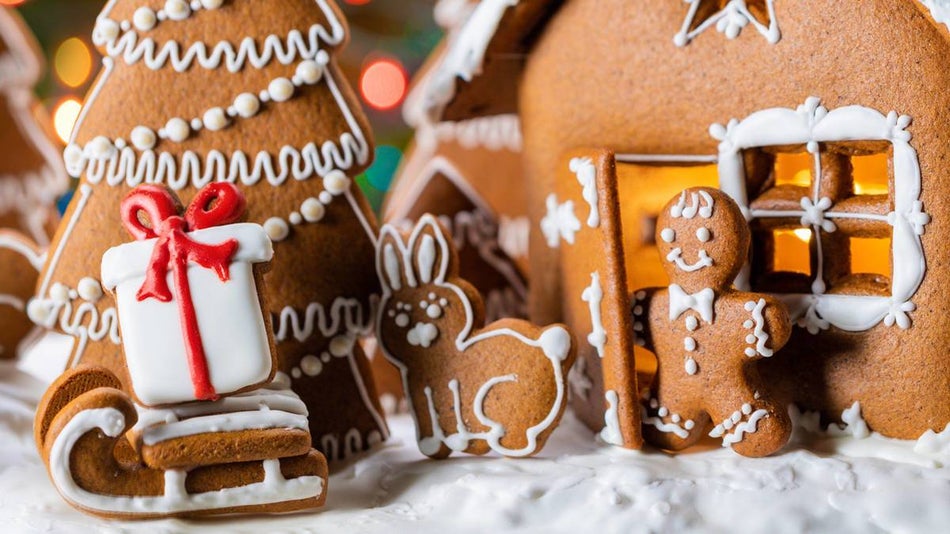 Washington DC at Christmas, is a magical place chock full of history, culture, and fun.
Pretend your Rudolph as you make your way through feet of ice slides and tunnels. Or learn about Norway and the U.S.' special relationship to the Union Station tree lighting.
From holiday tunes and lights lakeside in Virginia to witnessing the outrageous colors of the stunning Washington Monument, there's no better gift than Washington DC at Christmas.
Tell us, How Will You Spend Your Christmas in DC?
Did we miss any of the best Christmas Washington DC events?
Leave us a comment below and tell us your plan for Washington DC Christmas time!
Written By Isis Maya
A New York native, Isis-Maya spent most of her professional life working in TV production until a vacation whisked her away to Central America and her love o ...
Are you a Tripster?
Create an account to get access to exclusive pricing and rewards.
Book your trip
Things to Do in Washington DC
Washington DC Packages
Tagged in this post
Read more about
Become a Tripster Today!
Christmas in Washington, D.C: 10 Things to do in Washington, DC at Christmas
*FYI - this post may contain affiliate links, which means we earn a commission at no extra cost to you if you purchase from them. Also, as an Amazon Associate I earn from qualifying purchases. Check out our Privacy Policy and Disclosure for more info.
The United States' hub of history and politics, Washington, D.C brings millions of visitors each year to see its museums, monuments, and the famous White House. A great city for visitors all year, it gets even better as the holidays near.
If you're planning to visit Washington, D.C over the holidays, be sure to check out our list of 10 things to do in Washington, D.C at Christmas for some festive fun and yuletide cheer at the capital of the United States.
Winter Packing Essentials :
👕 Warm Base Layer: A MUST for staying warm
👖 Thermal Leggings: Magical for layering under jeans
🔥 Cozy down layer: Lightweight & keeps you SO warm
🧥 Waterproof Coat w/ Hood: Better than an umbrella!
🥾 Cozy boots: Ideal for city breaks
🧦 Merino wool socks: Breathable & don't smell, even after days!
🔋 Portable charger: A must because cold drains batteries faster
🧤 Phone-compatible gloves: So you can stay warm while navigating
🧳 Packing cubes: For staying organized
🔌 Universal adaptor : A must for electronics
💳 Wise: (Free) travel friendly credit card
🌎 WorldNomads: For travel insurance
1. The National Christmas Tree
A tradition for nearly 100 years, the National Christmas Tree at the White House almost needs no introduction. Crowds from all over gather each December to watch the lighting ceremony of one of the world's most recognizable Christmas trees.
The Tree Lighting ceremony always kicks off the holiday season in Washington, D.C, full of spectacle, pageantry, and live music to brighten anyone's holiday spirit. If you miss the ceremony, you can still visit this beautiful tree throughout the month of December. 
In addition, you'll want to see the famous Pathway of Peace, a walkway of 56 smaller Christmas trees representing all 50 states, 5 US territories, and the District of Columbia.
2. Downtown Holiday Market
Looking for a place in Washington D.C to get your Christmas shopping done? Washington, D.C's outdoor Downtown Holiday Market will delight any holiday shopper seeking unique gift ideas from local artisan vendors.
With over 70 exhibitors featured, as well as ample food and drink options, you can find that unique D.C souvenir and sample some tasty local cuisine at the same time. 
Stay into the evening to enjoy some festive ambience while you stroll along listening to live music and make a date of it by grabbing a nice cocktail at a number of local restaurants nearby.
3. Christmas at the Wharf
The Wharf , one of Washington, D.C's lively neighborhoods, provides waterfront shopping, food, places to stay, and entertainment year-round along the Potomac River.  At Christmastime, the Wharf provides a variety of things to do throughout the holiday season.
Visitors will want to see the Wharf Christmas tree lighting, as well as the famous District's Holiday Boat Parade , which showcases over 60 boats adorned in Christmas lights and decor cruising along the Washington Channel.
In addition, visitors can go ice skating, enjoy classic outdoor Christmas movies, and connect with friends while roasting s'mores by the fire at Camp Wharf, a refurbished airstream trailer.
4. A Christmas Carol at the Historic Ford's Theatre
By attending a performance of A Christmas Carol at the historic Ford's Theatre you can experience a fascinating combination of live entertainment and history in one setting.
As the location where President Abraham Lincoln was notoriously assassinated, Ford's Theatre is a historic site that still continues to host live performances to this day.
It's long-running production of A Christmas Carol remains a popular tradition each year. You'll want to get tickets in advance for this unique Christmas experience that allows you to take a step back in time to 1865 while enjoying a wonderful classic Christmas tale.
5. An Italian Christmas Dinner at Filomena Ristorante
A dining staple in Washington, D.C for over 30 years, locals and visitors come to Filomena Ristorante in Georgetown especially during the holidays. 
For a fun and festive Christmas dinner filled with hearty Italian dishes (some of the best in the city), you'll want to add a stop at Filomena to your Christmas in Washington, D.C visit.
While the food is excellent, Filomena Ristorante really draws the crowds at Christmastime for its famous holiday decor. Get your cameras ready!
A whimsical and magical place at Christmas, the restaurant boasts over 5,500 Christmas ornaments, over 10,000 Christmas lights, and its popular centerpiece Christmas tree.
6. Christmas at Mt. Vernon
A short drive from Washington, D.C, visitors come to Mt. Vernon all year to immerse themselves in the history of George Washington's famous home and estate. During the holidays, Mt. Vernon provides a winter wonderland of activities full of history and fun.
Guests can take a fascinating step back in time touring Mt. Vernon by candlelight during the holidays and learn about area Christmas traditions in the 18th century over some cider, cookies, and live music. Other holiday festivities include:
Christmas Illuminations holiday lights and fireworks show
Meeting Washington's Christmas camel
Touring Mt. Vernon with Martha Washington
Listening to holiday fifing performances
Decorating Christmas ornaments
Chocolate making demonstrations
7. Water Skiing Santa Christmas Show
For over 30 years, Alexandria, VA (a Washington, D.C suburb) has been the place to see Santa on Christmas Eve, but not in a way you'd expect. While most people see Santa at the mall or in a parade around the holidays, you can see him water ski only in Alexandria. 
On Christmas Eve, visitors and locals come out to the historic Old Town Alexandria waterfront to see Santa put on a holiday water skiing show with some other festive friends, braving the chilly Potomac waters. Afterwards, attendees can meet and take pictures with water skiing Santa.
8. Christmas Concerts at the National Cathedral
Christmas in Washington, D.C wouldn't be complete without a visit to the National Cathedral , the second largest cathedral in the US and 6th largest in the world. 
Since its final completion in 1990 after 83 years of construction, locals and tourists have been attending concerts, recitals, and services there each holiday season. Hearing the sounds of a large choir singing Christmas carols and songs in such a beautiful setting mesmerizes and lifts your spirits at the same time.
In addition, visitors can tour the cathedral and see this opulent structure covered in festive holiday decor and learn about its impressive history.
9. The US Capitol Christmas Tree
Each year, a special tree from a different US national forest is selected to become the US Capitol Christmas Tree . Once the tree is selected, it goes on a tour across the nation with stops along the way until it arrives at the US Capitol.
An annual tradition for over 50 years, the US Capitol Christmas Tree is decorated with over 10,000 ornaments made by kids from the tree's home state and lit on the West Lawn of the US Capitol by the Speaker of the House.
A visit to see this gigantic, magnificent tree is a must during your Christmas in Washington, D.C visit. The backdrop of the US Capitol behind the tree provides excellent holiday selfies and family photos.
10. Gray Ghost's Annual Christmas Cork and Cheese
Needing a break from the big city during your Christmas in Washington, D.C visit? You'll want to take an hour's drive to Amissville, VA to attend the annual Christmas Cork and Cheese celebration at the scenic Gray Ghost Vineyards . 
Attendees can enjoy Gray Ghost's wine and local cheese tastings, festive desserts, vineyard tours, live holiday music, and a souvenir holiday glass to take home. Plus, you can see the world's largest cork Christmas display with decorations made from over 120,000 corks!
Looking for more US travel inspiration?
Check out these guides on the best places to visit in…
Massachusetts
New Hampshire
North Carolina
North Dakota
Pennsylvania
Texas (North)
Texas (South)
Texas (East)
Texas (West)
South Carolina
South Dakota
Washington, D.C
Did we miss any of your favorite things to do in Washington, D.C at Christmas?
Let us know in the comments so we can add more to the list!
Leave a Comment Cancel reply
Save my name, email, and website in this browser for the next time I comment.
Skip to right header navigation
Skip to main content
Skip to secondary navigation
Skip to primary sidebar

Discover the best that Southern USA has to offer! Hidden gems, vibrant cities and more!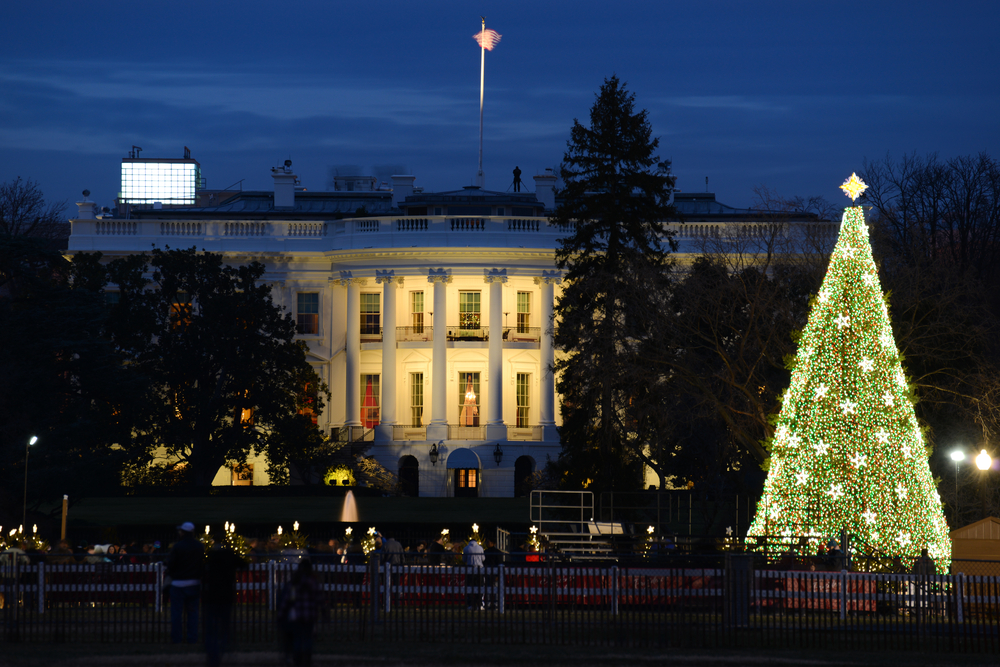 12 Festive Ways To Celebrate Christmas In Washington DC
July 12, 2022 // by Southern Trippers
Are you looking for festive ways to celebrate Christmas in Washington DC? Then you've come to the right place! One of our favorite cities in the south to visit is Washington DC. The Nation's Capital is beautiful all year round. However, it really shines during the holiday season. Whether you're there for just a weekend or have a whole week to explore, a trip to Washington DC at Christmas time is worth it!
Planning your trip to Washington DC last minute?
Hotels and tours sell out fast! Make sure to book in advance to ensure availability. Here are our top picks for Washington DC:
Top Experiences And Tours To Book In Advance:
Monuments By Moonlight Tour (Our pick!)
Hop-On Hop-Off Bus Tour (Easy to get around)
Gourmet Dining Cruise (Can choose brunch or dinner)
Capital Wheel Entry Ticket (Save time in line)
Best Places To Stay In Washington DC:
The Architec t (Our choice for location)
Citizen M Washington DC Capito l (Hip and modern)
Glover Park Hotel Georgetown (four stars)
Hotel Washington (Panoramic views!)
Of course, many of the best things to do in DC are available all throughout the year. However, Washington DC during Christmas means an abundance of special activities and events. Many of the museums have special seasonal displays or events happening. You'll get to take part in everything from holiday movie nights, candlelight tours, and Christmas light mazes.
Another great perk about visiting Washington DC for Christmas is that most activities are free. Because so many of the best Christmas in DC activities take place in the museums, they are generally free to attend.
That's not the case for everything, but a vast majority of the Christmas activities in DC are free or relatively cheap. So, you could splurge on an amazing hotel or vacation rental in DC and still be able to participate in a ton of fun events. With all that in mind, let's take a look at some of the most festive ways to celebrate Christmas in Washington DC! Don't forget to check out our list of the best boutique hotels in Washington DC to plan your visit!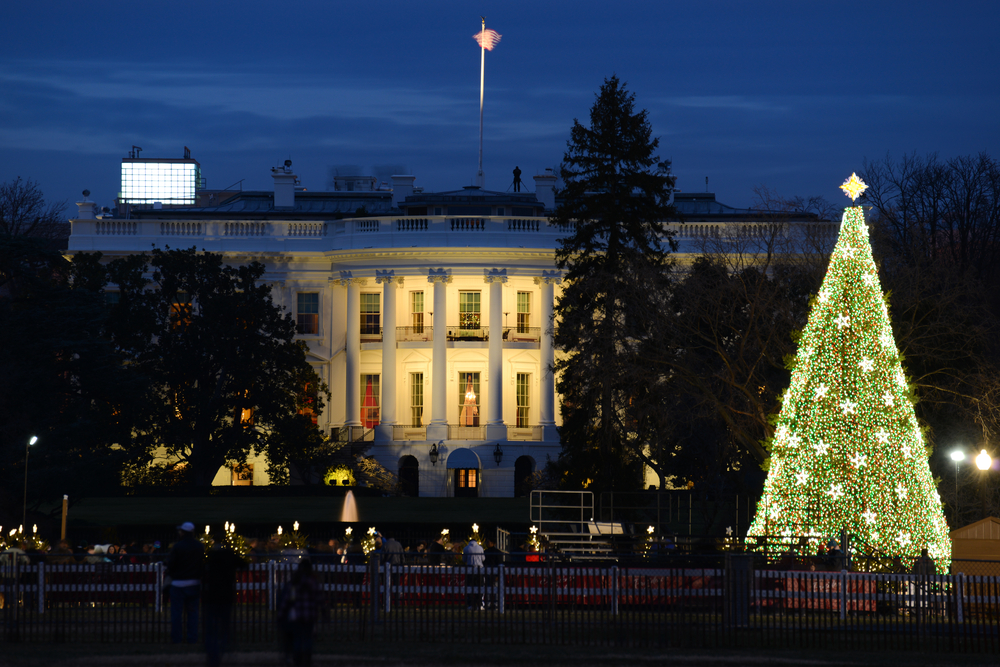 Is Christmas A Good Time To Visit Washington DC?
Christmas is an excellent time to visit Washington DC! In general, the weather is typically fairly mild. Plus, there are tons of Christmas activities in Washington DC to enjoy. There really isn't a bad time to visit Washington DC.
It just depends on what you want to do and see while you're there. However, we think one of the best times to visit Washington DC in winter is in December! That way you can partake in all the fun Christmas things to do in Washington DC.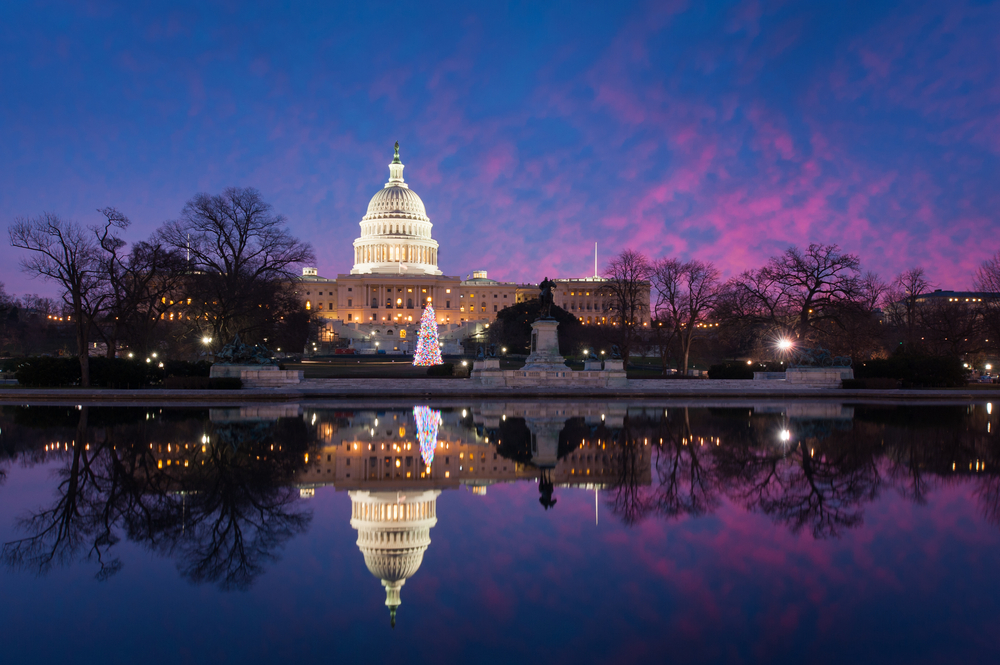 Washington DC Weather In December
As we said, the weather in Washington DC in December is typically fairly mild. However, you can expect it to get a bit cold. During the day, the highest temperature is around 50 degrees and at night it can drop to about 30 degrees.
So, if you're walking around the city, you'll definitely want to wear layers or pack a nice coat. Make sure to dress warmly, and remember that most of the museums offer coat checks.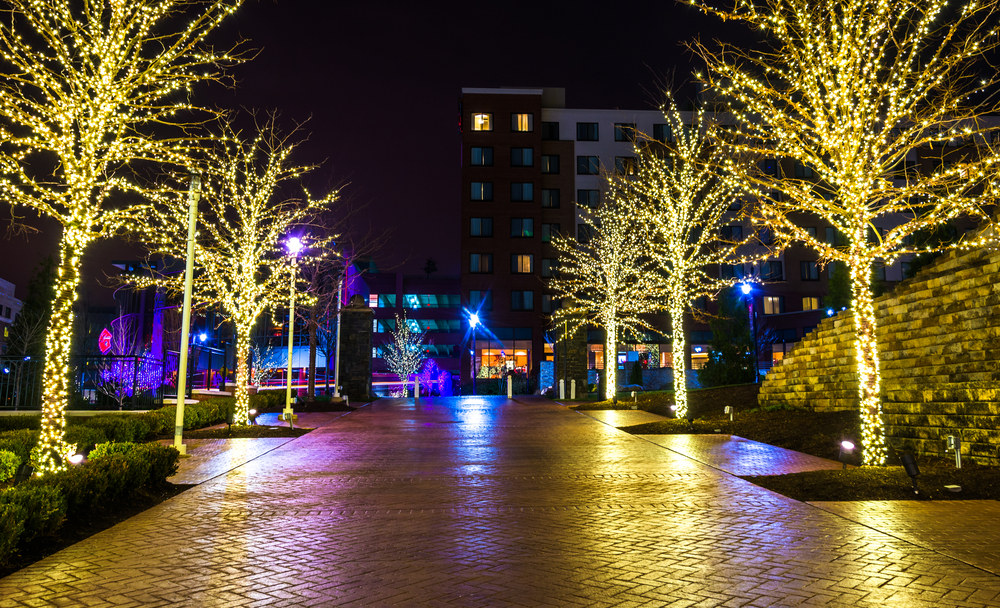 Does It Snow In Washington DC At Christmas?
Yes, it can snow in Washington DC in December. However, December is often the first month it snows in Washington DC. That means that there is a good chance it won't snow at all. If it does snow, it typically snows towards the end of December. If you're visiting in late November or early December, you most likely won't encounter any snow.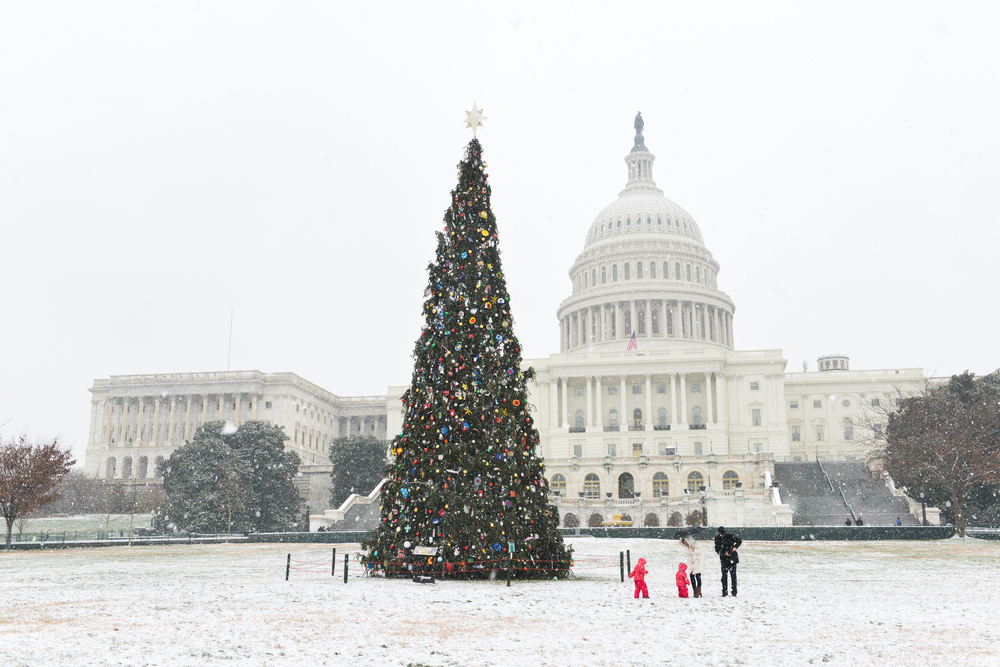 Best Christmas Things To Do In Washington DC
Go ice skating.
There are several places throughout Washington DC during Christmas that have ice skating rinks set up. The most popular temporary ice rink is probably the one on the National Mall. You'll find it outside of the National Gallery of Art. It's set up in their sculpture garden, which is super pretty. Plus, how often do you get to ice skate surrounded by National Monuments? Another popular ice skating rink is located in Georgetown. Georgetown is one of the coolest areas of DC to explore.
If you have the time, we highly suggest exploring Georgetown before you go ice skating there. You'll find tons of cool restaurants and cafes to enjoy afterward too. You can also find ice skating rinks set up in the Navy Yard, the Southwest Waterfront, and Pentagon Row. They are all great, it just depends on what area of the city you want to be in. Outdoor ice skating is one of the best Christmas activities in Washington DC though.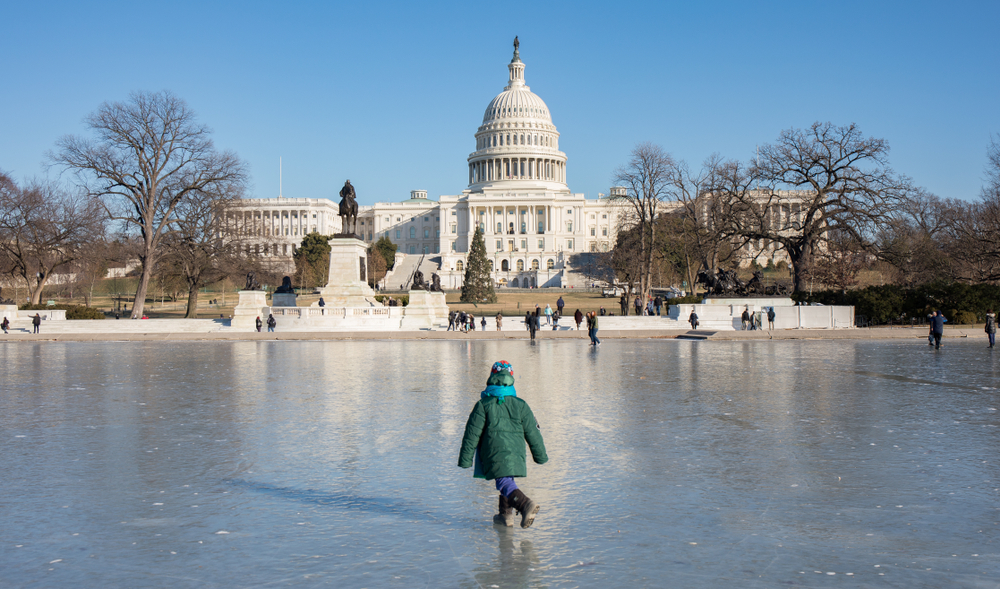 See The National Christmas Tree
You can't spend Christmas in Washington DC and not go check out the National Christmas Tree. You'll find it near the White House, near 15th St NW and E St NW. It is a large evergreen that is actually planted there. So, unlike the Christmas Tree in NYC, it's permanent and the same tree every year. Every year since 1923 the massive evergreen has been decorated for Christmas.
If you're visiting early in December, then you won't want to miss one of the coolest Christmas events in Washington DC. Every year, in early December, the President and the First Lady host the Lighting Ceremony for the tree. If you get to attend the Tree Lighting Ceremony, you'll get to hear the President give a short speech and, of course, light the tree. It's one of the most unique Christmas activities in Washington DC.
This is truly one of the best things to do in Washington DC at night!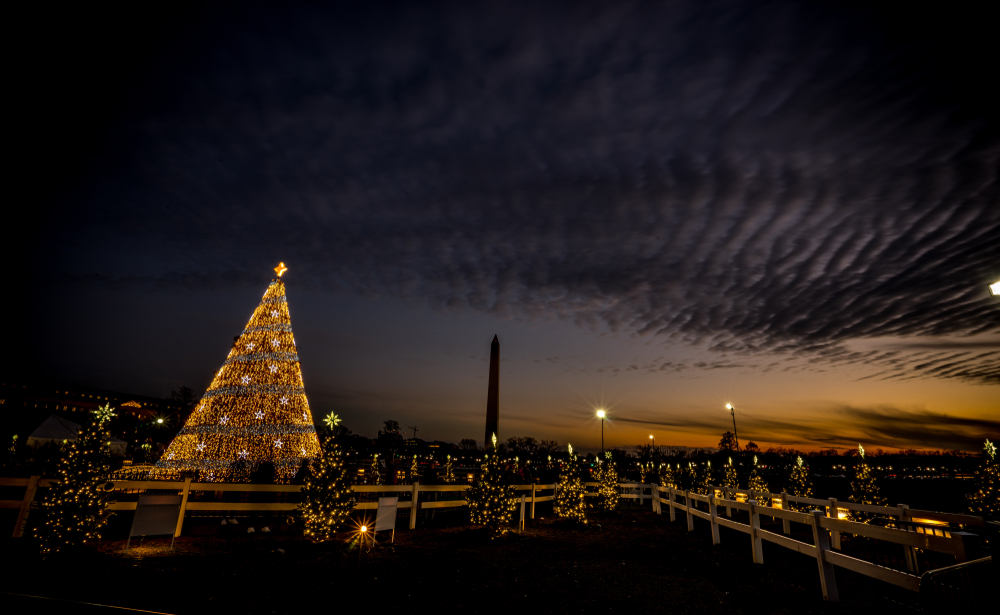 Every year, the National Zoo holds its ZooLights festival. It's one of the best places to see Christmas lights in DC. There are over 500,000 LED lights on display during this Christmas activity in Washington DC. The ZooLights festival typically opens up in late November and lasts through the beginning of January. It's a free event that is perfect if you are bringing little ones with you on your trip to Washington DC during Christmas.
Throughout the festival, there are nights where they have live performances. They'll typically announce the schedule for them right before the festival returns. Along with the lights, the National Zoo also has a variety of stalls set up. You can do some Christmas shopping or just grab a cup of hot cocoa. It's one of the best Washington DC Christmas markets to explore. If you're looking for one of the best displays of Christmas lights in Washington DC, this is it!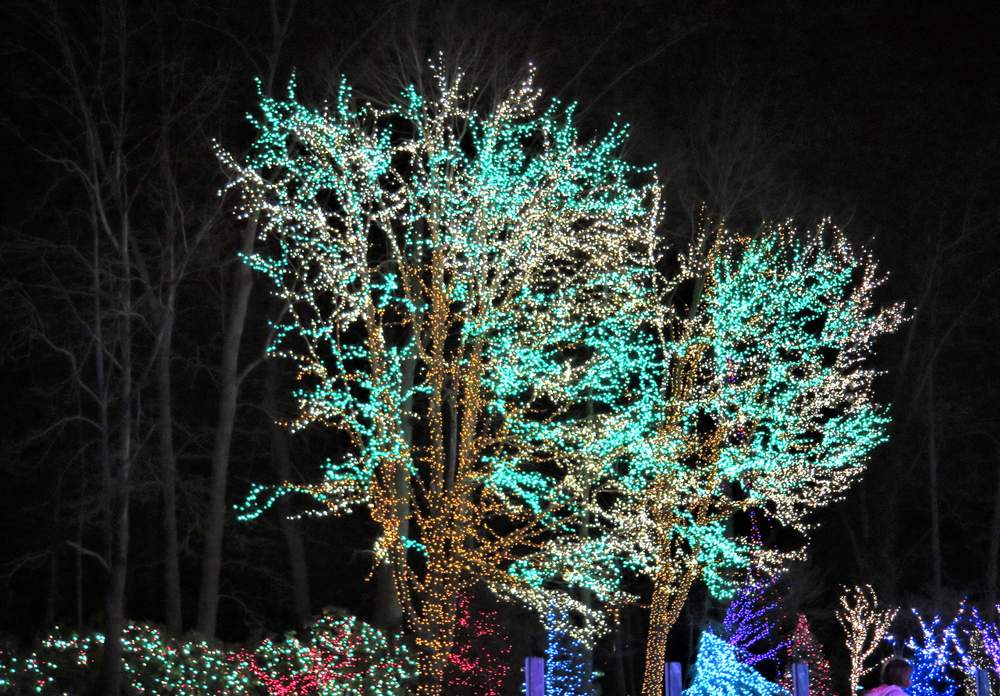 Tour Mount Vernon By Candlelight
Mount Vernon is President George Washington's private residence. He moved there after his presidency ended. It's actually located in Virginia, but it's very close to DC. So close that it's typically considered one of the top DC activities. During Christmastime, you can explore Mount Vernon by candlelight. It's one of the best Christmas activities in Virginia .
Tickets for this candlelit tour go on sale in early October, and they often sell out. You'll walk through the estate with a lantern and learn more about its history. As you walk, you'll learn what Christmas would have been like for the mansion's original residents. Included in your ticket are light refreshments, the tour, and a period-accurate performance by carolers.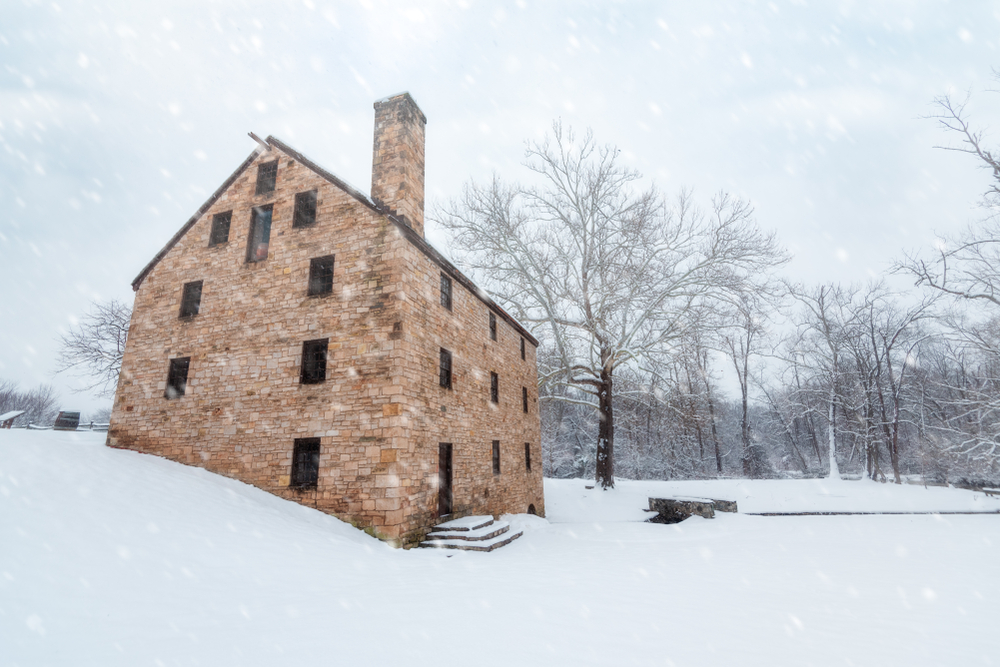 Go Window Shopping In CityCenter DC
CityCenter DC is a huge shopping district in Washington DC. Every year, they decorate the entire district for Christmas.
However, you won't find stores like Macy's or American Eagle. Instead, you'll find designer stores like Burberry, Chanel, and Tiffany & Co. Even if these stores are far outside of your price range, we suggest stopping by CityCenter DC.
All of the stores go all out with Christmas decorations and it's fun just to admire all the window displays and decorations. It's a really cool Washington DC Christmas market with an upscale twist.
Within CityCenter DC there are also a number of restaurants and cafes. These are fine dining restaurants, which makes sense with the designer stores in the area. The restaurants also go all out with their decorations. If you're wanting to splurge on a nice dinner while you're enjoying Christmas time in DC, this is the place to go. It's a really cool area to visit in Washington DC during Christmas, even if it's a little outside your budget to actually buy anything.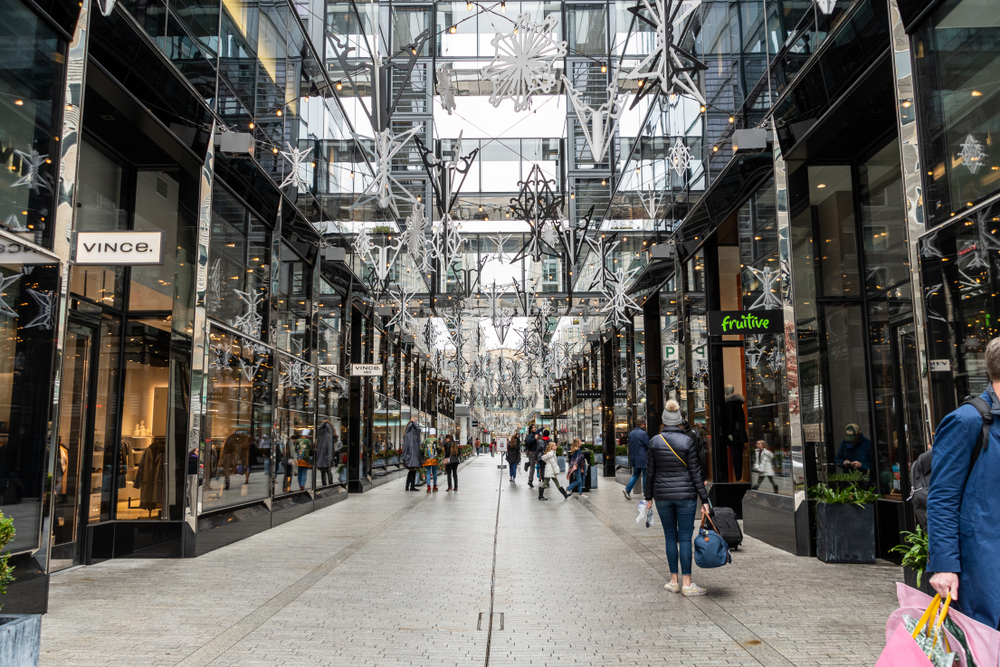 Visit Union Station
Union Station is the main train terminal in Washington DC. Every year during Christmas in DC, Union Station hosts a variety of events and exhibits. The holiday season starts at Union Station with the Annual Norwegian Tree Lighting Ceremony. For over 20 years, the train station has hosted a traditional Norwegian Christmas tree. The ceremony typically includes performances by local musical programs, the tree lighting, and even an appearance from Mr. and Mrs. Claus.
The train station also typically has a display of model trains set up during the Christmas season. You'll find the train display in the West Hall. It's a super intricate scene with Norwegian elements to pair with the station's tree. Kids in particular love to spend some time enjoying these unique and fun Christmas things to do in Washington DC. Like so many other activities in DC, it's completely free to enjoy!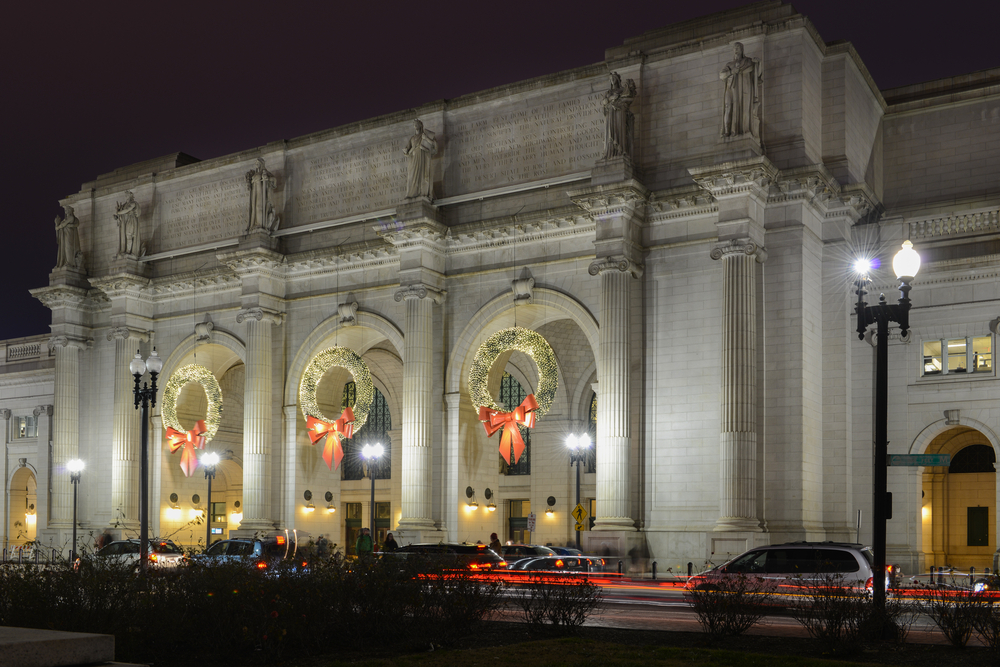 The United States Botanical Garden Holiday Display
Each year the United States Botanical Garden puts on a themed display for Christmas. In the past, themes have been National Parks, Pollinators, and Roadside Attractions. The theme for the year is typically announced in the fall. Starting after Thanksgiving, you'll be able to visit the botanical garden and see their holiday display. The display is typically up until the first weekend in January. It's open every day except for Christmas.
Outside, you'll find a train display that pairs with the year's theme. Inside the different conservatories, they have another set of displays. They typically include hundreds of poinsettias and recreations of historic landmarks in the city. Even if you don't love exploring gardens, this is one of the best Christmas things to do in Washington DC. It's certainly one-of-a-kind!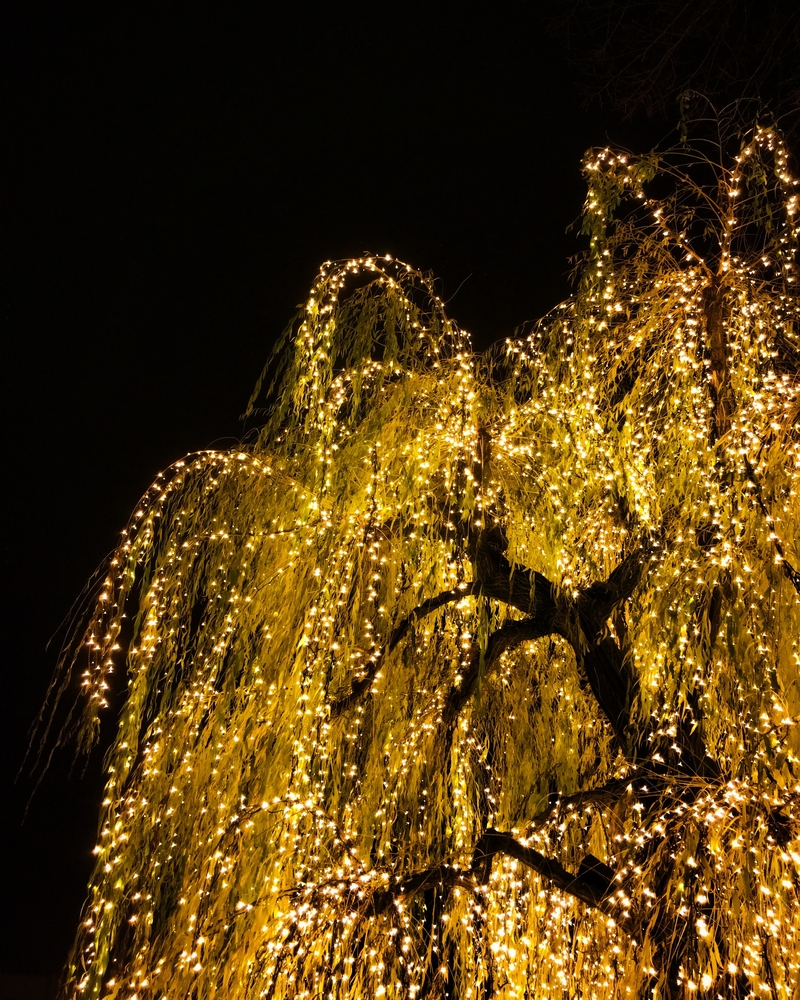 The Holiday Boat Parade
One of the more unique Christmas events in Washington DC is the Annual Holiday Boat Parade. Washington DC is actually on the water, so it's only fitting that they'd host a boat parade. The Holiday Boat Parade takes place in the District Wharf. You'll be able to see the boats float along the Washington Channel.
The Annual Holiday Boat Parade traditionally happens on the first Saturday in December. It lasts about two hours and is at night. That's because the boats are decorated with tons of Christmas lights on the outside. During the parade, you'll see over 60 boats decorated with an abundance of Christmas lights. On land, you'll be able to visit Mr. and Mrs. Clause and enjoy live entertainment. It's a really fun way to celebrate Christmas time in DC.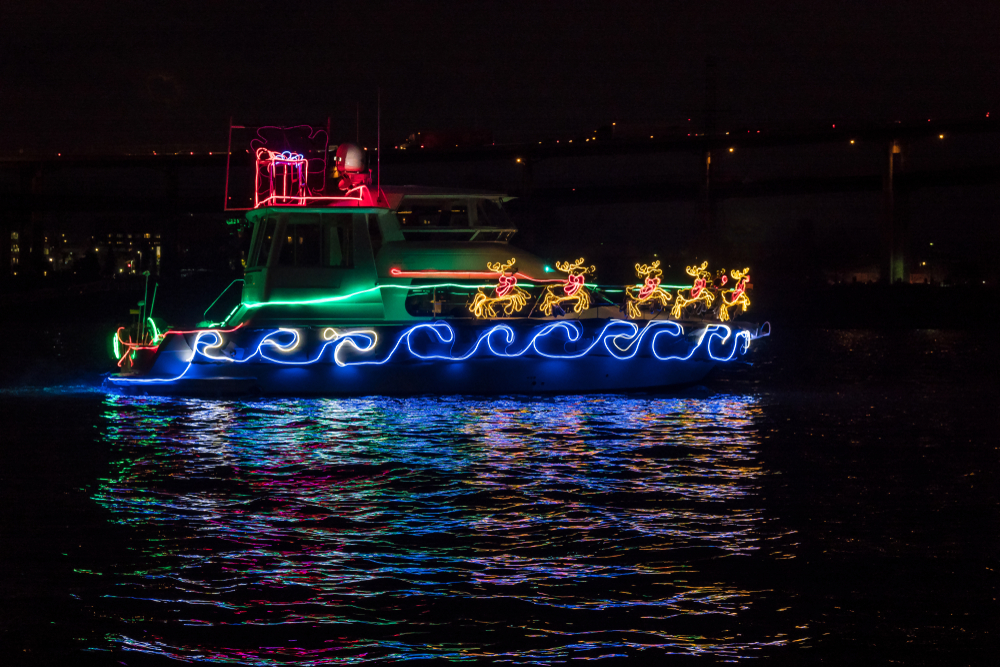 Stroll The Downtown Holiday Market
Starting in the middle of November, you can stroll through the Washington DC Christmas Market. The Downtown Holiday Market, as it's called, is located on the corner of 8th and F Streets, NW. It is open from the middle of November until December 23rd. The only days it's closed are Thanksgiving and December 6th. With over 70 vendors, you'll easily be able to leave with a few gifts for your family and friends.
The Downtown Holiday Market is a great way to support local and small businesses in DC. All of the vendors at the Washington DC Christmas market are hand-picked. That means it's not full of things you may find at a swap meet. Instead, it's all well-made or handcrafted goods. There are also food vendors, so you can get something to eat or hot cocoa while you shop.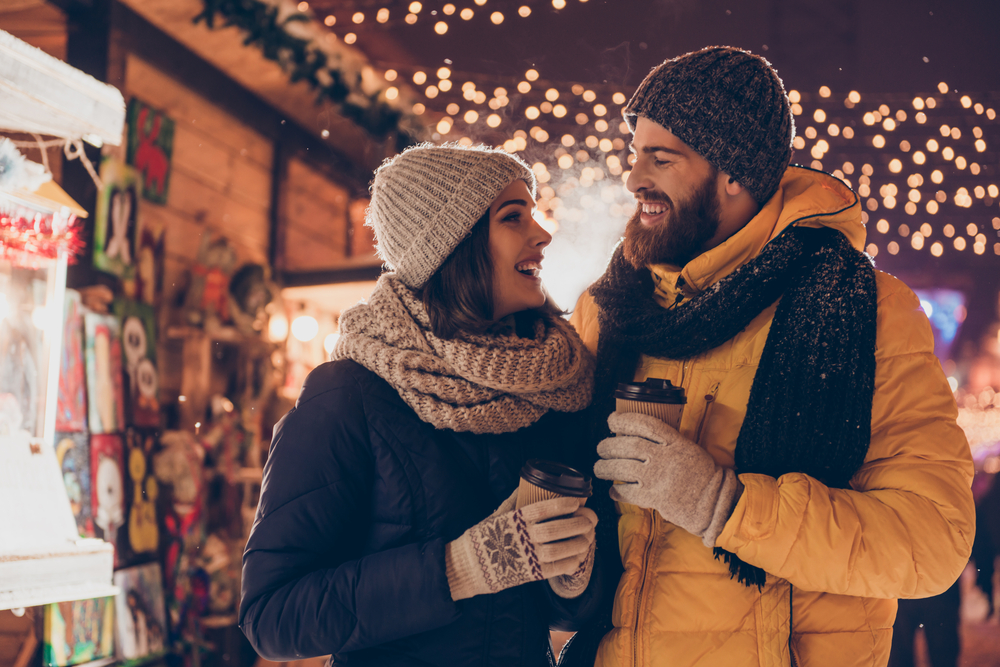 ICE! At The Gaylord
At the Gaylord National, you'll find a huge Christmas celebration. The Gaylord National is a luxury hotel, located in the National Harbor. Every year they host ICE! , which is their Christmas festival. It's open from the end of November until New Year's Eve.
You can rent a room at the hotel and they have special packages that include a variety of ICE! activities. However, you don't have to be a guest at the hotel to partake in all that ICE! has to offer.
It's one of the most popular Christmas activities in Washington DC for a reason. There are tons of things to do at this massive Christmas festival.
There is snow tubing, snowman building, ice bumper cars, live performances, and plenty more. If you're traveling to spend December in Washington DC and you have kids, you won't want to miss ICE! at the Gaylord National. This is truly one of the best places to stay in Washington DC!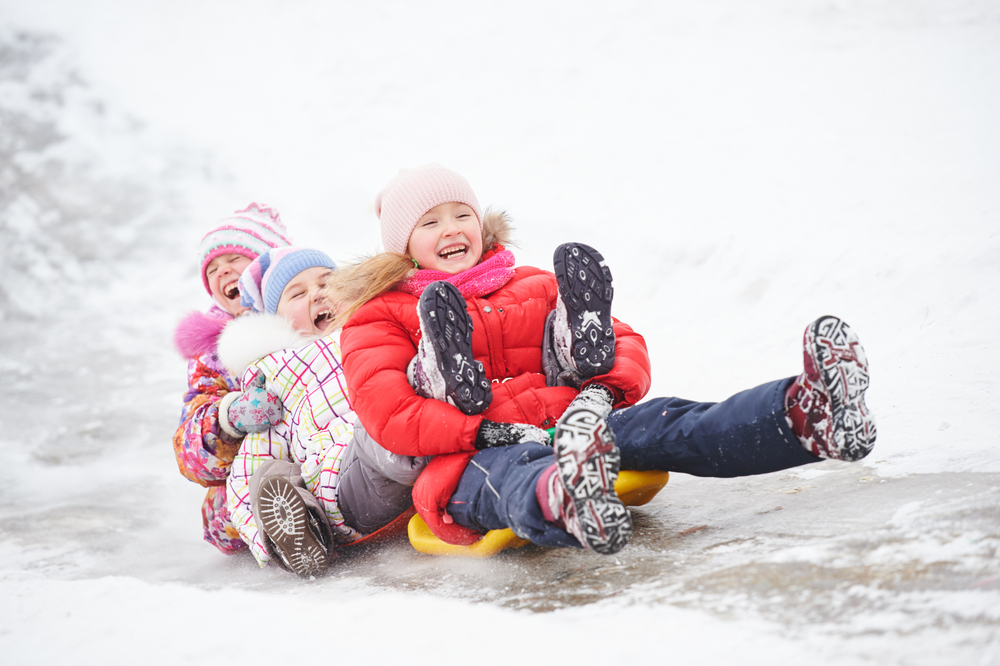 At Enchant you'll get your fill of Christmas lights in Washington DC. Enchant is the 'World's Largest Christmas Light Maze' and one of its locations is in DC. When you visit Enchant , you'll be able to explore over 10 acres of Christmas lights in DC. The main feature of this Christmas light festival is the huge maze. However, there are a few other attractions at Enchant as well.
After you make it through the maze, there is still plenty more to do. In the magical Christmas Village, you'll find ice skating, shops, dining, and Mrs. Claus. Enchant opens in DC right after Thanksgiving and lasts until December 26th. You'll want to book your tickets ahead of time because this super cool Christmas event in Washington DC can sell out.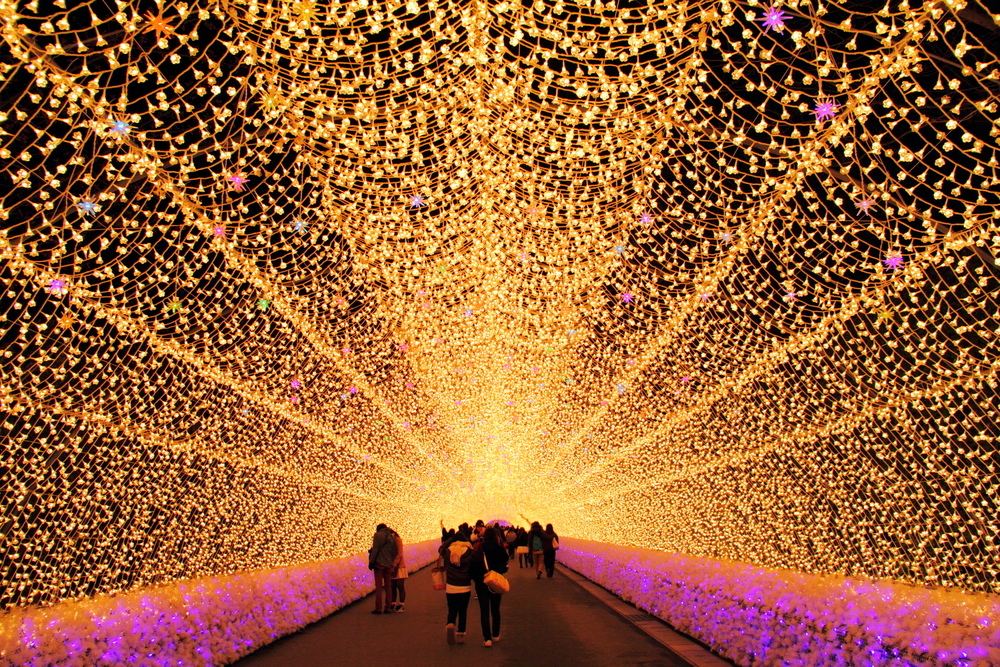 See The Nutcracker At The Washington DC Ballet
One of the most iconic things to do in December in Washington DC is to go see a performance of The Nutcracker . The Washington DC Ballet Company puts on one of the best performances of this classic Christmas ballet. For this particular performance, the classic play is set in Georgetown, in 1882. The main players are George Washington and King George III, to give it a slight twist.
You won't see a performance of The Nutcracker quite like this anywhere else. The Washington Ballet performs the show starting in late November and all the way through December. Throughout the month, they also have special performance nights. Like Military Appreciation night or Family Night. They also have a few extras like a tea party after the performance on select days. You can't go wrong with seeing a performance of The Nutcracker if you're in Washington DC during Christmas.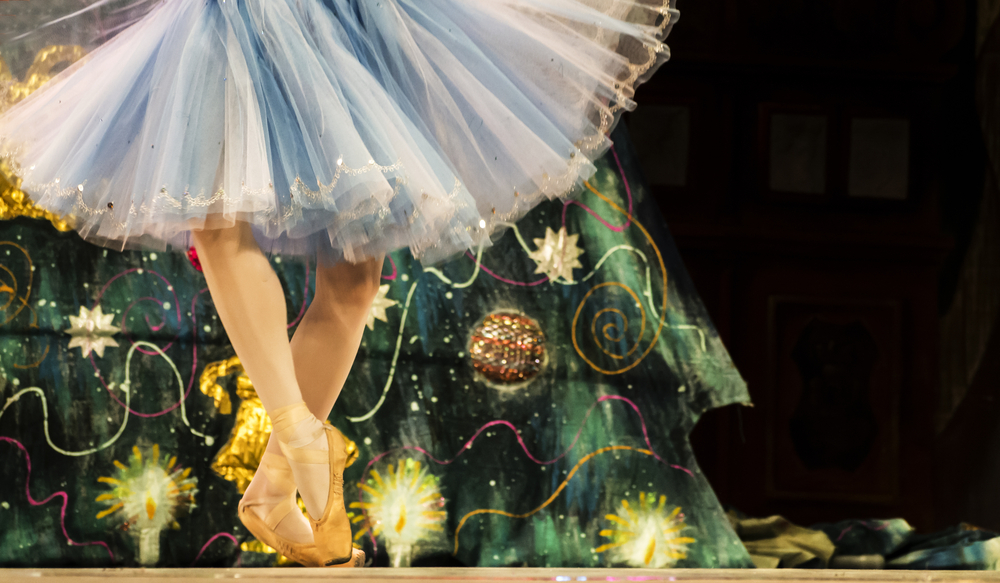 Christmas in Washington DC is truly a magical experience that everyone should get to enjoy at least once. Whether you're strolling through the Christmas markets, seeing a performance of The Nutcracker , or spending the day at one of the many festivals. December in Washington DC is a great time to visit and experience the charm and magic of the Nation's Capital City.

Search Search Please fill out this field.
Manage Your Subscription
Give a Gift Subscription
Sweepstakes
Washington DC
22 Washington D.C. Christmas Festivities To Experience
For those able to visit our nation's capital during the holidays, there is so much to do to celebrate the season.
Washington D.C. goes all out for the holidays. The Big Apple has the iconic Rockefeller Center Christmas Tree , high-kicking Radio City Rockettes, and elaborate Fifth Avenue window displays—all of which are well worth seeing. But our nation's capital, our very own city on a hill, brings a little something extra. D.C. rivals NYC's celebrations with a dizzying array of tree lightings, events, performances, and all-around festive fanfare that are guaranteed to get you in the Christmas spirit.
Whether you want to marvel at the majesty of the famous National Christmas Tree, go ice skating on a massive rink, or shop at an authentic German Christmas market, once December rolls around (and maybe even a little before), D.C. is all about tinsel, garland, and decor galore. Certain traditions like the Capitol Christmas Tree Lighting have been around for decades, while others like the Downtown Holiday Market are a little newer on the scene. One thing's for sure, there's never a dull moment when it comes to Christmas in the Capital. Here are some of our favorite ways to celebrate the season in Washington D.C.
See The National Christmas Tree
Going to Washington D.C. over the holidays and not seeing the National Christmas Tree would be like going to Paris and not seeing the Eiffel Tower. Each year, a massive live evergreen is erected and decorated in President's Park near the White House. If you can't make it for the president's official lighting during the first week of December, you can stop by any day after 4:30 p.m. throughout the month to see it lit in all its glory.
Experience ZooLights At The Smithsonian National Zoo
This free holiday lights display kicks off Thanksgiving weekend and runs through the end of December. It's a favorite for D.C. families, as well as visitors from near and far, who flock to the zoo to see the 500,000 LED lights and glowing lanterns put on their brightest show for the holidays. There's also an adults-only sister event called BrewLights that features craft beer tastings and snacks alongside the regular show.
Skate At Washington Harbour Ice Rink
Rivaling the Rink at Rockefeller Center, the Washington Harbour Ice Rink is D.C.'s largest outdoor ice skating space. Make an evening of your visit by grabbing dinner at one of many surrounding restaurants like Fiola Mare, Guapo's Restaurant, or Farmers Fishers Bakers, then rent some skates and go for a twirl on the ice. The rink opens on November 17 this year (weather permitting) and will remain open through most of February 2024.
Visit The U.S. Capitol Christmas Tree
The U.S. Capitol Tree travels far and wide before reaching its final display place on the West Lawn of the U.S. Capitol. Each year, a Christmas tree farmer from somewhere in the U.S. is given the honor of having his or her tree selected as the U.S. Capitol Tree, and thus begins its harrowing journey to the capital. The massive tree is often twice as tall as the National Christmas Tree and has measured up to 75 feet in the past. It's also decorated with more than 10,000 ornaments, so it's truly a sight to behold.
Attend Mount Vernon By Candlelight
This attraction isn't technically within the parameters of the city, but we give it a pass because it doesn't get much more festive than visiting the former estate of President George Washington during the holidays. This special event begins with a tour of several Christmas trees highlighting the Washington family history, then launches into a walking tour of the property where you'll learn all about historic holiday traditions and the Washingtons' personal family celebrations. The tour concludes with some 18 th century dancing, live music, and cider and cookies.
Attend The CityCenterDC Holiday Tree Lighting Celebration
Head to this mixed-use development in the heart of downtown D.C. for fun and fanfare all season long. The excitement kicks off on the Saturday after Thanksgiving when the area unveils its 75-foot lit Christmas tree with a massive party featuring live music, vendors, food, and holiday-themed activities. While you're in the area, be sure to peek into the windows at Louis Vuitton, Hermes, and Tiffany & Co. for Fifth Avenue vibes.
See Union Station's Model Trains
As one of the country's busiest train stations, there's always a sense of hustle and bustle around Union Station, but the energy becomes truly electric around the holidays. Part of that has to do with the added foot traffic from visitors stopping in to see the model trains and giant Christmas tree, both gifts from Norway. The trains are located in the West Hall and are handmade replicas of real Norwegian trains. Little ones will love spotting all the tiny details like skiers, mountains, and fjords meant to depict the Nordic landscape.
Visit The U.S. Botanical Gardens
Red and green are the official colors of Christmas, and you can find plenty of the latter at the U.S. Botanic Garden . In addition to seeing gorgeous holiday displays full of pine, poinsettias, and maybe even a little mistletoe, you should also take special care to find each of the gardens' replicas of landmark D.C. buildings. They're on display in the gardens year-round, but they're only outfitted in their Christmas best for the season!
Watch The Holiday Boat Parade At The Wharf
This one-of-a-kind D.C. event puts a spin on the classic Christmas parade by taking the celebrations out to sea. The Holiday Boat Parade features more than 60 boats covered from bow to stern in colorful Christmas lights. Bring the whole family to watch them peacefully glide by The Wharf, then stick around for the big firework show at the end of the night. Kids can sip on hot cocoa and cider, while parents can grab an adult beverage from the Waterfront Beer and Wine Garden.
Catch A Movie At The National Museum Of American History
There's not a better setting to see a classic Christmas movie than at the National Museum of American History . See seasonal favorites like It's A Wonderful Life , White Christmas , and A Christmas Story on the big screen, and don't forget to grab a bucket of popcorn and some Junior Mints to complete the night.
See The Washington Ballet Perform "The Nutcracker"
Watch a special D.C. version of the famous ballet courtesy of the Washington Ballet . Their interpretation of the classic story is set in historic 1882 Georgetown with George Washington, King George III, and other historic figures all joining in on the fun. The performance features original period costumes, stunning set design, and more than 100 dancers, including students from The Washington Ballet.
See "A Christmas Carol" At Ford Theatre
This landmark is best known as the theater where President Lincoln was shot. It's open to the public for tours year-round, but around the holidays it's a stunning setting to see the traditional Christmas play A Christmas Carol . The Ghosts of Christmas Past, Present, and Future take up their residence from November 17 to December 31 this year.
Attend A National Cathedral Christmas Concert
As the world's sixth-largest cathedral, D.C.'s National Cathedral is a must visit. Plans for its construction were born in 1791, but it didn't open as Bethlehem Chapel until 1912. Today, you can attend a Christmas concert at the historic church featuring a mix of Medieval and modern music from a live choir and accompanying instrumentalists. A performance of Handel's Messiah is especially resounding in the setting.
Shop The Downtown Holiday Market
Christmas shopping is a real treat at this annual holiday market held in front of the Smithsonian American Art Museum and National Portrait Gallery. The market is open from 12 p.m. to 8 p.m. daily, with more than 150 vendors and craftspeople selling artisan goods. You'll also find local roasters ready to keep you warm with coffee and tea, plus holiday treats like mini donuts and pastries.
Browse Christkindlmarket At The Heurich House Museum
This traditional German Christmas market is celebrating its 10 th anniversary at the Heurich House Museum this year. From Dec. 2-4, stroll through the German-style craft market, where you can find gifts from more than 50 local small-scale makers. Make sure to grab a mug of Gluhwein to keep you warm, and get shopping!
Georgetown Glow
Georgetown GLOW
The Georgetown GLOW in D.C. is a free outdoor light installation experience. In its ninth year, these immersive and artful displays will feature five different artists in 2023. Starting on December 1 and running to January 7, the installations are featured in different parts of the city and are lit from 5 pm to 10 pm.
ICE! Featuring Rudolph The Red-Nosed Reindeer™'
Gaylord National Resort
This is a magical journey through immersive scenes from the iconic classic 'Rudolph the Red-Nosed Reindeer™' carved from over two million pounds of ice. In this larger-than-life holiday experience, you'll zip down two-story-tall slides made of pure ice, traverse through immersive ice tunnels and arches, and step into colorful, multi-sensory scenes that will be the Christmas activity to end all activities.
Enchant: Reindeer Games
Enchant Christmas
Enchant is an immersive experience weaving magic into every corner, perfect for joyful seasonal celebrations. Adventure through Enchant's newest adventure Reindeer Games , a captivating light maze that is the foundation of the Enchant experience. Wander the Enchant storefronts that feature artisans, specialty crafters, and boutiques. Indulge in a seasonal treat with the availability of vendors who are there to satisfy your holiday cravings.
DC Winter Lantern Festival
Winter Lantern Festival
The Winter Lantern Festival's unique luminescent night walk brings the culture and craftsmanship of traditional Chinese lantern festivals into your holiday celebration. Step into a dazzling world of light with over one thousand Chinese lanterns; all handmade by artisans with decades of experience. Each unique piece holds a story of its own that will be told to visitors to help contextualize their experience even more.
Alexandria Scottish Christmas Walk Parade
Visit Alexandria
Alexandria was founded in 1749 by Scottish merchants and was named after Scotsman John Alexander. Today, the city continues celebrating its heritage with the classic Alexandria Scottish Christmas Walk Parade . This year the event will be held on Saturday, December 2, 2023. Dozens of Scottish clans dressed in colorful tartans and parade through the streets of Old Town, joined by pipe and drum bands from around the region.
By clicking "Accept All Cookies", you agree to the storing of cookies on your device to enhance site navigation, analyze site usage, and assist in our marketing efforts.
16 Places to Celebrate Christmas in Washington, DC
Updated: 1 day ago
UPDATED FOR 2023
Christmas has to be one of the best times of the year in DC ! Whether you're new to the city or you've been here for years, there are new things going on all over to celebrate Christmas in Washington, DC each year. I've been exploring for six years and am sharing my favorite ways to celebrate Christmas in DC with you!
Christmas in Washington, DC has something for everyone. Every year, I update these posts and share the new things I explore to bring you the best of the area. I've got so many guides on Washington, DC and I hope you find them helpful!
PS if you're looking for more info about visiting DC, I have a ton of information for you! Check out my DC archives for all your trip-planning needs.
1. Christmas Markets
There are so many different Christmas markets to check out around town. They start in early December and will run all the way through the month. The most popular by far is the Downtown Holiday Market which is also the one set up most often. My favorite is the free one that happens at Union Market (check their website for changing dates). You'll find that Embassies also hold Christmas markets and the ones at the European markets tend to be the most popular! They are really fun as well.
Lucketts Holiday House , November 9-December 10, $25 timed-entry ticket
Maryland Christmas Show ,November 17-19, 24-26, $10
Heurich Christmas Markt, December 1-3, $12
Norwegian Festival, December 1-2, free but registration recommended
Del Ray Artisans' Fine Art & Fine Craft Holiday Market, December 1-23, free
Winter Festival and Christmas Tree Sale, December 2-3, free but registration recommended
Silver Spring Christmas Market and Holiday Craft Fair, December 3, free
Old Town Alexandria Christmas Market and Holiday Craft Show, December 9, free
Unique Market, December 16-17, $12+
Procrastinator's Holiday Market, December 16, free
2. Eastern Market
Saturday 7 am – 6 pm, Sunday 9 am – 5 pm, 225 7th St SE
Eastern Market is a year-round food, flea, and local goods market open Saturdays and Sundays (the actual historic market is open daily 7 am – 7 pm, no outdoor vendors). Around Christmas, there are tons of special festivities happening like special musical performances and fresh-cut Christmas trees for sale. It's a great way to spend a Saturday walking around and grabbing a few gifts (and maybe a few things for yourself).
3. City Center
10 am – 8 pm, 10th & H St NW
City Center is known for its different displays year-round, but every year they do something fun and unique at Christmas. One year, they did a giant igloo, another a ball pit, this year it's an ice maze! Every year the events change, but there's always a Christmas tree and merriment to be found.
4. Dog Pictures with Santa
If you've got a furry friend, there's no better way to celebrate Christmas in Washington, DC than pictures with Santa. Charities all around DC have special dog pictures with Santa that happen throughout the month. Here are some of the places to get a picture of your pup with Santa this holiday season.
5. Union Station
6 AM – 12 AM (shops hold various hours), 50 Massachusetts Ave NE
Union Station is Washinton, DC's main train station and beautiful year-round. The Christmas tree and holiday shopping here are definitely a great way to enjoy the season right downtown. It may just be my favorite Christmas tree in DC!
6. Botanical Gardens at US Botanical Gardens
10 am – 5 pm, 100 Maryland Ave SW, Washington, DC 20001
The U.S. Botanic Garden (USBG) will offer a gardenwide "Season's Greenings" holiday display this year, running from Thursday, Nov. 24, through Monday, Jan. 2, 2023. As part of the festivities, G-gauge model trains will run between 10:00 a.m. and 5:00 p.m. each day in the gated outdoor gardens and the Conservatory will feature poinsettias, holiday decor, and D.C. landmarks made from plants.
The Capitol you see above? It's made of plant parts! How amazing is that? There are other important buildings made of plant parts as well as large poinsettias places all around the main corridor. On weekends prepare to wait a long time in line (often outside) in order to experience the amazing displays. Go on a weekday if you can to skip the lines.
7. Capitol Christmas Tree
Every year, a different national forest is selected to provide a  tree to appear on the west lawn of the U.S. Capitol building for the holiday season. The tree takes a tour across the US before making it to the Capitol and does have a large ceremony each year. You can also visit later throughout the month of December.
8. Martin's Tavern
11 am – 1:30 am, 1264 Wisconsin Ave NW
A few years ago my now husband showed me this charming pub located right in Georgetown. It's always decorated perfectly for the holidays with great cocktails to complement the season. I also love this spot because John J. Kennedy along with many other presidents and politicians enjoy visiting this cozy place. History is always charming to me and they do a great job making it look wonderful for Christmas in Washington, DC.
9. WunderGarten's Winterfest
WunderGarten is a really cool beer garden located in the NoMa neighborhood of Washington, DC. During the holidays, it's decorated with different holiday decor, has fire pits, smores, and specialty beers to get you into the holiday spirit. It's a great spot to cuddle up around a fire and enjoy a good local holiday beer! Definitely a favorite non-touristy spot in DC .
10. ZooLights
The ZooLights are a free, ticketed event that happens at the National Zoo every December. Light displays are throughout different parts of the zoo and it stays open late for visitors. You'll also find a giant slide (perfect for adults too I promise), hot drinks (alcoholic and not), and indoor spaces open. On weekends there are special events for families during the day so check out the zoo's website for details.
ZooLights includes live music performances, tasty winter treats and plenty of opportunities for holiday shopping. Environmentally friendly LED lights and dozens of glowing animal lanterns transform the Zoo into a winter wonderland.
11. National Christmas Tree President's Park
The tradition of the National Christmas Tree on the Ellipse by the White House began with President Calvin Coolidge over 90 years ago when he lit a 48 foot Balsam Fir from Vermont decorated with 2,500 electric bulbs in red, white, and green on Christmas Eve 1923. Today, the tree lighting remains a beloved holiday event in Washington, DC.
Each state decorates and provides a Christmas tree. You can walk the Pathway of Peace site and see every state and terriroty's tree decorated.
It's open to the public in early December through January 1, 2022. Hours are 10:00 am-10:00 pm Sunday-Thursday, and 10:00 am-11:00 pm Friday and Saturday.
12. Iceskating
I love going ice skating at least once every winter in DC . I'm not that coordinated, but it's fun. There are lots of locations to choose from, but my favorites are the ice skating rink in the Sculpture Garden (closed in 2020)  and in Navy Yard at the  Capitol River Front .
There are also chances in Georgetown on the waterfront and on top of the Watergate Hotel (there's a bar on the rooftop too!). They've also got igloos you can drink in there , but they require a promise to spend over $50-$75 or more per person on your tab so be prepared.
13. Enchant Christmas
This event is confirmed in DC for the next three years and I honestly hope that it continues! Enchant Christmas is the biggest light maze in the US and located inside Nationals Stadium. Tickets are anywhere from $28-$39 depending on the dates and you'll want to buy in advance for the best price. Spend a few hours here to see the lights, meet Santa, enjoy a holiday cocktail, and shop at the Christmas market. It's a fun way to spend the evening!
14. Scottish Christmas Parade and Holiday Boat Parade
Every year on the first Saturday of December, Old Town Alexandria hosts a day full of holiday events you won't want to miss. In the morning is the Scottish Christmas Parade where you'll see plenty of kilts, bagpipes, and Santa! The parade has been a tradition for 50 years and is such a fun way to spend a Saturday morning. I've never seen so many people playing the bagpipes before!
After this parade, in the evening around 5:30 pm, the boats begin to fill the harbor in Old Town. Boats are welcome to come to the harbor all lit up with lights to celebrate the holiday season. There's also a light parade that happens after dark that is fun to enjoy too! Doing both is definitely a long day, but both events offer something different and unique to enjoy.
15. Willard InterContinental Hotel
If you're looking for a spot that's perfectly decorated for Christmas, look no further! The Willard is located next to the White House and each year is decorated inside and out for the holidays. Inside you'll find an incredible gingerbread display, beautiful Christmas decorations, and a round hotel bar that is famous for the senators and dignitaries that regularly visit.
The holiday spirit is all around in this hotel, but if you want to stay here during the holiday season, be prepared to pay $250 or more to stay there depending on dates!
16. Glen Echo National Park
Glen Echo National Park is the only National Park that also acts as a theme park! The holiday colors pop here on the buildings and art deco buildings, but they've also got a Christmas Market, social dances, and performances all winter long that will help feel you with the holiday spirit. Their website with upcoming events is linked above!
17. District Boat Parade
Similar to the boat parade in Old Town Alexandria , DC hosts it's own holiday boat parade in the Wharf. Watch more than 60 beautifully decorated boats pass by the Wharf at this iconic annual DC holiday event. Other activities include ornament decorating, family photos with Santa, and live music.
Christmas in Washington, DC is pretty magical and after spending so many Christmas seasons here, I can tell you there is something extra special about DC around the holidays!
Related Posts
Washington, DC Itinerary + Day Trips You'll Love from a Local
Best Time to Visit Washington, DC
Top Things to Do Your First Time in Washington, DC
TWO WORLDS TREASURES
Explore Texas & beyond from Dallas/Ft. Worth
A Trip to Washington DC During Christmas Break: 6 Days Itinerary
Disclaimer: This post may contain affiliate links, which means I may earn a commission from the discount codes used or when a link/ad is clicked. All purchases made will come at no extra cost to you. Also, Two Worlds Treasures is a participant in the Amazon Services LLC Associate Programs. As an Amazon Associate, I earn from qualifying purchases.
Thinking about a trip to Washington DC during Christmas Break but no itinerary yet? You are at the right place as I am going to share my itinerary with you when we visited DC during Christmas vacation.
Washington DC has so many things to offer to its visitors. From places of interest and history to outdoor and enjoying the food. First time visitors will be overwhelmed in making itinerary.
Then you might ask, "How many days do I need to spend in Washington DC?" It all depends on what kind of attractions you want to see.
Next, are you going alone? With friends, family? Are you taking your dog to DC ?
You will find out that two or three days, or even a week will probably not enough, because there are so many places you want to visit. So, what to do?
I was in your shoes. I wanted to see this and that, but I was visiting with my family. So, I had to make an itinerary that fit my husband and our son also, who was a first grader at the time.
After searching around, I finally came with this itinerary. A six days itinerary that you can follow bit by bit, or adjust to your like. But first…
Why visiting Washington DC during Christmas Break?
Once again, the dentist waiting room gave me an idea for a vacation trip. This time I read a short info in a parenting magazine about visiting Washington DC at the end and beginning of year, between Christmas and the first week after New Year.
It is said that end of year to the beginning of year is the only time of the year when the city is not crowded, when all the Congress and Senate people went home to celebrate the holiday with their family. Also, it's when not too many tourists think about visiting the capital because of the weather. That way hotels are cheaper and Metro is not crowded. Moreover, the Smithsonian museums are still open except on the 25th of December.
Added with a promo price from Southwest Airlines flying from Dallas to DC, my family and I had a memorable Christmas Break in DC at the end of year.
Visiting Washington DC During Christmas Break – Day 1 (10 places)
After returning our rental car (we went to Pittsburgh first to celebrate Christmas with family) and checked-in to the hotel, we took a Metro to the National Mall & Memorial Parks area. It was already in the afternoon and we didn't want to waste our time in the capital. This was not a slow travel. There are so much to see in DC.
Here are the spots we got to visit or see on our first day in the capital, in order, from afternoon to evening:
#1 Washington Monument
#2 World War II Memorial
#3 Reflecting Pool
#4 Lincoln Memorial
#5 Vietnam Veterans Memorial
#6 White House
#7 Lafayette Park (across the White House)
#8 National Christmas Tree
#9 Boy Scout Memorial
#10 National Museum of American History
Note: We stayed in Arlington, Virginia and took a Metro from Crystal City Station. We got out at Smithsonian Station and started our walk from there. Also, we stopped at each places to read the information, to talk about what we saw with our son, and took pictures. So, we didn't only stop for a few minutes, took pictures, and left. The National Mall & Memorial Parks is a National Park, so our son got to do the Junior Ranger program. All of these places are located in a big loop.
Washington DC – Day 2 (2 places)
It's the last day of the year. We left early to visit one of the Smithsonian museums that easily became my son and husband's favorite.
#11 National Air and Space Museum
Believe it or not, we spent the whole day here, from they open until they closed. My astronaut wannabe son and my husband found their home here. I couldn't blame them. This museum is awesome!
When you go, try to arrive early in the morning. National Air and Space Museum is very popular, you want to beat the crowd when enjoying this museum.
#12 China Town for our New Year's Eve Dinner
Note: If you are not like us, you can add other Smithsonian Museums in your itinerary. National Museum of the American Indian and Hirshhorn Museum (acclaimed contemporary art showcases) are next door.
Visiting Washington DC After Christmas – Day 3 (6 places)
On the first day of the new year, we woke up early so we could get tickets to climb the Washington Monument. Sounds crazy, but we're not even the first on the line. Apparently cold weather didn't stop people to enjoy Washington, D.C.
#13 Climbed the Washington Monument (with escalator)
From here we made a loop to the south mall and continued to west before we went back to the hotel. Here are the places we visited:
#14 Thomas Jefferson Memorial
#15 Franklin Delano Roosevelt Memorial
When you come to DC with your dog, you must take a picture of your dog with the famous Fala, a statue of FDR beloved dog.
#16 Martin Luther King, Jr. Memorial
#17 DC War Memorial
#18 Korean War Veterans Memorial
Note: We could get tickets to Washington Monument online but we weren't sure on what day we would visited. If you want to get the tickets in advance , make sure you will arrive on your preferred time because they will voided your ticket if you don't show up at the right time. And don't forget to join the tour guide when visiting Korean War Veterans Memorial for a deeper information. I would say it's my favorite war memorial in town.
Visiting Washington DC After Christmas – Day 4 (1 place)
Today we ventured out from the Mall area. We went to Chantilly in Virginia (near Dulles Airport) to see another museum that was also under Smithsonian that made my son and husband mouth-watering.
#19 Steven F. Udvar-Hazy Center
Note: From where we stayed near Reagan Airport, we took a combination of Metro and bus to get here. It's quite long but worth the ride. Then my aunt came to pick up us from the center and we spent the rest of the night with her and her daughter.
Christmas Vacation in DC – Day 5 (3 places)
#20 Smithsonian Zoo
#21 Union Station
#22 National Museum of Natural History
Note: Too band the pandas were in the cage that day. But I would say although the zoo is not that big, it's a pretty good one. We had lunch at the Union Station because my niece told me about the best sandwich she had here during her school field trip, but we're not sure which one. Haha.. At the museum, our son had fun exploring and learning in the lower ground. This is became his third favorite Smithsonian museum.
Christmas Vacation in DC – Day 6 (6 places)
Our last day in DC and we didn't leave until evening. So, we still had time to enjoy the capital. I only put US Capitol in my itinerary, then we walked following our legs took us. Here are places we visited on our last day:
#23 US Capitol
Since the decision to visit DC came in early December, we didn't have enough time to contact the local Representative to tour the Capitol. We did it on our second visit in DC. You can't just walk in, you must make a reservation online in advance.
#24 Ulysses S. Grant Memorial
#25 American Art Museum National & Portrait Gallery
We didn't stay long at this museum as my son and husband are not into art.
#26 Ford's Theater National Historic Site
I wasn't sure we would have time to visit Ford's Theater, and we did. A couple of years later we visited President Lincoln Presidential Museum in Springfield, Illinois and they have this theater replica in their exhibition. A cool museum that you must visit when in the area.
#27 Petersen House (house where Lincoln died)
The house is located right across the street.
#28 FBI Building
By the time we had to leave for the airport, we knew that we will be back. Lots of places that we didn't get to visit, like the Arlington Cemetery, Iwo Jima Memorial, Mt. Vernon, Holocaust Museum, National Cathedral, and more. Not to mention the eating places around town and just strolling admiring the old buildings in the capital.
I didn't put the Arlington Cemetery, Mt. Vernon, and Holocaust Museum in our itinerary because our son was still too young to understand those places. Other because we ran out of time.
Like I mentioned above, even a week stay won't be enough to explore Washington, D.C. You just have to make more visits.
Tips for visiting Washington DC during Christmas Break
Tour the Mall involves lots of walking; wear your most comfortable shoes.
It's winter, so dress properly because you're going to stay outside for hours.
Don't forget to carry snacks and drinks.
Make sure your cell phone and camera are fully charge and have plenty of room in the memory card.
Smithsonian Museums are free of charge .
It's easier and faster to take a Metro around the city rather than driving your own or rental car.
Hotels around the Mall are more expensive and mostly don't come with breakfast and airport pick up. You better find one outside the city but close to the Metro station, and offers breakfast and airport pick up (if you fly.) We stayed in a hotel in Arlington , Virginia.
Have you ever visited Washington DC during Christmas Break? What do you think? Tell me your opinion by leaving a comment below.
Thank you for sharing this:
Similar posts.
How to Afford Family Travel During High Season: 6 Families Reveal Their Secrets
Disclaimer: This post may contain affiliate links, which means I may earn a commission from the discount codes used or when a link/ad is clicked. All purchases made will come at no extra cost to you, and I only include products and services that I have personally used and would recommend. Also, Two Worlds Treasures…
Guide to Dinosaur Valley State Park Tracks in Glen Rose, Texas.
Where can I find dinosaur tracks in Dinosaur Valley State Park? Is it close to parking? Do I need to hike for hours? When people visit Dinosaur Valley State Park for the first time, this is one of the questions they have. Disclaimer: This post may contain affiliate links and Two Worlds Treasures is a participant…
Where to see a Dickens Christmas in the U.S.
What a 10-year-old boy said about long haul flight.
Carlsbad Caverns National Park Self-Guided Tours
Carlsbad Caverns National Park is a hidden gem in New Mexico that will leave you speechless. More than 120 caves are known to exist in this park; they were all created when sulfuric acid dissolved the limestone in the area, leaving behind caverns of varying sizes. There are two ways to access this hidden wonder:…
Pick Your Own Fredericksburg Peaches at Jenschke Orchards
Fredericksburg peaches as well as Stonewall peaches are the main part of summertime in the Texas Hill Country. You can find farmers and growers selling baskets of this sweet fruit along Highway 290 between Fredericksburg and Stonewall, and along Highway 87, south of Main Street in Fredericksburg. But that's not it. You can also pick…
25 Comments
I did not know Washington DC had so many things to do. I visited the city for a few days and I saw only a few touristy things. I wish I had known about National Museum of the American Indian and Hirshhorn Museum. I would have definitely gone. But I remember visiting one or two of the museums there. This is a really good guide, I will follow it the next time I am there.
There are so many things to see and do in DC. Even after a couple of visits, we still haven't visited half of them.
Washington DC seems to be a great Christmas break destination! Visiting all these places linked to American history must have been an experience!
We really had a great time! I've never thought about visiting DC before and I was wonder why people visiting DC. Now I understand why.
I've always wanted to visit Washington DC but I had no idea there were so many places to visit and see! Will definitely remember a lot of these for the future!
I've only ever visited DC in summer, but it would be interesting to visit around the holidays! I've heard the winters are fairly mild, especially compared to New York and Boston. One of the things I love about Washington DC is that there's so much to do both indoors and outdoors with all the museums, so it's very easy to choose an activity based on the weather.
I've never been to NY or Boston, but you are right, DC in December is not as cold as those two cities. I heard summer is humid and crowded, so I will think twice to visit DC at this season.
Wow such a comprehensive list of things to do in Washington DC! Sorry to say that I always thought it was a bit boring city to explore but I have been proved so wrong. Thanks for sharing 🙂
I never thought about visiting DC, but I proved myself wrong. And if you like museums, and it's really a must visit.
DC would be a fun road trip over Christmas. We visited a few years back when we were in NYC but we only had a day. We've been wanting to go back and spend a little longer there next time. It's also a good time to go because it's not like you need it to be warm for the sights and there's lots of indoor museums too.
You are right. We went back for the second time during Christmas holiday, too.
Love this…you gave me a great memory. My family is from Northern Virginia, so for most years, we went up from New Orleans to that area for Christmas. Of course time was spent with family but my mom would often pile us in the Metro or our old VW van and we would roll over into DC to see all the Christmas Decorations and especially the National Christmas Tree! We loved seeing the Smithsonian Museums too especially the Air and Space. I had no idea that there was a Boy Scout Memorial. That would be cool to see too. I think hopefully we can get back next Christmas and maybe tour around again.
There's so much monuments waiting to be found around DC. I just couldn't believe my eyes.
Pingback: Over 100 Bloggers share their favorite Road Trip Snacks
Pingback: United States Bucket List: Places to See Before the Kids Leave the Nest
Such a lovely list – I get all christmassy reading this!
Well, hope you will have a great time this Christmas holiday.
I have a student in Washington DC who told me about many of the places you mentioned and she also said that entrance to the museums is free with some exceptions. Didn't know that the zoo had pandas. However, they're normally quite lazy, aren't they?
The pandas are the most attracting animal in the zoo, I think. If it snows in D.C., there must be TV station airing pandas playing in the snow. Every year.
Looks like a pretty jam-packed trip! How awesome that you were able to visit so many important sites. I've only been to Washington, D.C. once before for a school trip. It never ceases to amaze me how much history there is in such a condensed location!
Yeah! We're not the type of family who would spend sometime at the hotel unless it's a resort. Left in the morning, came back in the evening. Still, there are so much historic places that we haven't get a chance to visit. I guess that's why D.C. is (or one of) the most visit in the U.S.
D.C is so close to me, yet I've never visited for more than a couple of hours! You just inspired me to make a weekend trip 🙂
So funny! Because when we were there, we wondered whether people who live in D.C. and surrounding area been to the places we visited. I said probably only during school field trip.
Awesome list!! I've never been with kids, so definitely have to keep this list in mind when I go there with them!
Great to help!
Any thoughts? Leave your reply here. Cancel reply
This site uses Akismet to reduce spam. Learn how your comment data is processed .
Travel Guide
Recommended Hotels
Things to Do in DC on Christmas Day
The holidays are a wonderful time to visit Washington, DC. We have several blog posts with ideas for holiday things to do , less touristy Christmas activities , and an entire podcast on the holiday season in DC, so be sure to check those out.
However, this article is specific to one single day: Christmas Day in DC. Christmas Day deserves its own post because it's one of the only days of the year when a significant number of things in DC are closed, so you need to be strategic with your plans.
How to Get Around DC on Christmas Day
Let's start with transportation. Metro runs 365 days per year, so it will be open and operating on Christmas day. However, Metro will reduce the service down to holiday levels, which means there can be long waits for trains. But, on the plus side, there probably won't be any track maintenance, so it will likely be more reliable than on a typical weekend day. 
You can still hail a cab, Uber, or Lyft; there will always be some drivers who elect to work on Christmas day. As another option, Capital Bikeshare also operates every day of the year. And of course, if you're staying downtown, you can still walk to your destination if you're up for it.
Where to Eat in DC on Christmas Day
Next, let's talk about where you're going to eat. Start by assuming that most restaurants will not open at all on Christmas Day. That said, there will be some Starbucks locations that will open, so you can check the Starbucks app or website to find one. But for sit-down restaurants—or even fast casual restaurants—most of them will take the day off. 
With that in mind, I recommend going on OpenTable and Resy a few weeks before Christmas to see who is open, then make reservations as soon as you can. Also, so you're aware, some restaurants will switch to fixed menus on Christmas to make things easier for their kitchen staff. That means you may not see every dish on the menu, but there could be some fun holiday specials.
What to Do in DC on Christmas Day
Smithsonian Museums are open 364 days per year (barring a government shutdown, pandemic or weather emergency). In other words, every day except this one. The same goes for the National Gallery of Art and most other museums. Likewise, the Capitol and Library of Congress will be closed, as will many other federal sites.
One big exception is the U.S. Botanic Garden , which hosts the awesome Seasons Greetings exhibit . However, be warned: this attraction does get pretty crowded. Since everyone in town is looking for something to do on Christmas Day, most of them wind up here.
If you have transportation to Northern Virginia, Mount Vernon , George Washington's Home, is open on Christmas Day and a very festive place to be. Keep in mind that Mount Vernon is a private historic site, so it charges an entrance fee, but it's well worth the price of admission.
The Benefits of Being in DC on Christmas
Back in the city, monuments and memorials on the National Mall are always open. If you're a photographer, this is a chance to get photos with almost no bystanders in the way—or just enjoy the sites with much less traffic.
Unfortunately, most tour companies usually don't operate on Christmas. Trip Hacks DC tours take the day off for the holiday. But there are a handful of companies that still operate, so if you really want to do one, you can check their operating calendars or contact them in advance. 
Lastly, Christmas is a great day to just stroll around some of DC's neighborhoods and enjoy the city in peace while no one else is out and about.
Book a Tour!
Private Tour with Rob Monumental Trivia Tour Historic Georgetown School Group Tours
About Trip Hacks DC
Trip planning resources.
DC Airports: a Guide to Navigating DCA, IAD and BWI
The Ultimate Washington DC Travel Guide (2023)
Hotels in DC: A Guide On Where to Stay
The 5 Best Local Washington DC Tours
Washington DC Trip Planning: Trip Hacks DC E-book
Packing for Washington DC: What To Bring for Your Trip
Newest Podcast Episodes
Podcast Ep.53 Why I Don't Recommend Airbnb in Washington DC
Podcast Ep.52 Washington DC Experiences to DO and SKIP
Podcast Ep.51 Rob's Washington DC Travel Philosophy
Podcast Ep.50 Trip Hacks DC Turns 50!
Podcast Ep.49 Washington DC's Food & Restaurant Scene in 2023
Podcast Ep.48 Accessible Travel Tips for Visiting Washington DC
Podcast Ep.47 Tips for Visiting Washington DC in the Summer
Podcast Ep.46 Visiting Washington DC with Kids of All Ages
Proceed Booking
Already a member.
Username or E-mail
Forget Password?
Don't have an account? Create one.
Or continue as guest.
Things to do in the DC area: Holiday markets, drag Santa afternoon tea … and more!
Michelle Goldchain | [email protected]
November 30, 2023, 6:27 AM
Share This:
share on facebook
share on twitter
share via email
There's so much to do in the D.C. area in the coming days, and WTOP has you covered with our weekly roundup of area events worth anticipating.
Check back every Thursday for a roundup of  Things to do in the D.C. area .
For the 11th year, the Heurich House Museum is hosting its weekend Christmas Markt . Expect over 50 local vendors from Dec. 1 through Dec. 3 with wares that vary from jewelry to woodworking to food vendors to printmakers to candlemakers and more.
On Saturday, guests will be able to enjoy Right Proper Brewing Company's Senate Beer, which is a historic revival of the Chr. Heurich Brewing Co.'s classic corn lager from the 1890s.
For family fun, there will also be a free kids craft station on Saturday and Sunday with ornament making and coloring sheets, according to Alex Fraioli, director of small business development at the Heurich House Museum.
Registration is required to enter the market. The last day to get discounted presale tickets online is Nov. 30, but tickets will also be available in person at the door.
Along with the Christmas Markt at the Heurich House Museum, here is a list of over 30 upcoming holiday markets worth looking forward to in the DMV.
Dec. 1 through Dec. 3: McLean Holiday Art & Crafts Festival (1234 Ingleside Avenue in McLean, Virginia)
Dec. 1 through Dec. 3 and Dec. 8 through Dec. 10: Fairfax City Holiday Market (10415 North Street in Fairfax, Virginia)
Dec. 2: Canal Center Holiday Art Mart (11 Canal Center Plaza in Alexandria, Virginia)
Dec. 2: Winter Festival (National Arboretum at 2400 R Street NE in D.C.)
Dec. 2: Her-Story Makers Market (Hotel Zena at 1155 14th Street NW in D.C.)
Dec. 2: Cleveland Park Winter Market (Connecticut Avenue between Macomb and Ordway streets NW in D.C.)
Dec. 2: Van Ness Main Street Holiday Pop-Up (4340 Connecticut Avenue NW in D.C.)
Dec. 2: Dupont Holiday Market Pop-Up (9 Dupont Circle NW in D.C.)
Dec. 2: The Parks Holiday Market & Celebration (1010 Butternut Street NW in D.C.)
Dec. 2: Wheaton Wonderland (Westfield Wheaton at 11160 Veirs Mill Road in Wheaton, Maryland)
Dec. 2 and Dec. 3: Holiday URBN Market at City Ridge (14 Ridge Square NW in D.C.)
Dec. 2 and Dec. 3: Native Art Market (National Museum of the American Indian in D.C.)
Dec. 2 and Dec. 3: Global Holiday Market (St. Thomas Church at 1517 18th Street NW in D.C.)
Dec. 3: Congressional Cemetery Holiday Market (1801 E Street SE in D.C.)
Dec. 3: Silver Spring Christmas Market (Veterans Plaza at 1 Veterans Place in Silver Spring, Maryland)
Dec. 3: The Little Grand Holiday Market (808 7th Street NE in D.C.)
Dec. 3: Winter Wonderland Market (Wonderland Ballroom at 1101 Kenyon Avenue NW in D.C.)
Dec. 7: Union Station Holiday Market (Union Station at 50 Massachusetts Avenue NE in D.C.)
Dec. 8: Columbia Heights Artisan Market (1400 Park Road NW in D.C.)
Dec. 8: Takoma Park Gift Market (201 Ethan Allen Avenue in Takoma Park, Maryland)
Dec. 9: Old Town Alexandria Christmas Market (300 John Carlyle Street in Alexandria, Virginia)
Dec. 9: Chevy Chase Winter Market (Connecticut Avenue NW between Livingston and Oliver streets NW in D.C.)
Dec. 9: Small Planes Holiday Market & Cafe (2400 T Street NE in D.C.)
Dec. 9: Art Enables & Friends Holiday Market (2204 Rhode Island Avenue NE in D.C.)
Dec. 9 and Dec. 10: Art & Things Holiday Market (The Stew at 925 Emerson Street NW in D.C.)
Dec. 10: Mt. Pleasant Holiday Market (Lamont Plaza at 3258 Mount Pleasant Street NW in D.C.)
Dec. 16: Rock'n'Shop (Black Cat at 1811 14th Street NW in D.C.)
Dec. 16: NoMa Holiday Market (Eckington Hall at 1611 Eckington Place NE in D.C.)
Dec. 16: Procrastinator's Holiday Market (Kraken Kourts & Skates at 514 Rhode Island Avenue NE in D.C.)
Dec. 16 and Dec. 17: Unique Market (Dock5 space inside Union Market at 1309 5th Street NE in D.C.)
Dec. 17: Happy Daze Vintage Market (Hook Hall at 3400 Georgia Avenue NW in D.C.)
Through Dec. 17: Metro's First Stop Pop-Up Shop (Martin Luther King Jr. Memorial Library in D.C.)
Dec. 19: Queen's English Holiday Market (3410 11th Street NW in D.C.)
Through Dec. 23: 19th Annual Downtown Holiday Market (8th and F streets NW in D.C.)
Through Dec. 23: The Markt at MLK (Martin Luther King Jr. Memorial Library in D.C.)
For more holiday content, be sure to check back in next Thursday for the next weekly event guide. Here's what else is happening in the D.C. area:
Pet live sketch at Conrad DC In CityCenterDC, the Conrad DC hotel will host local artist Alex Schmeling on Dec. 3. She will create holiday-themed sketches of four-legged friends. Schmeling is a professional watercolor painter and pet portrait artist based in Arlington, Virginia.
Drag Santa afternoon tea Make this year's holiday cheer extra glamorous by going to Hank's Oyster Bar on Dec. 3, 10 and 17 for afternoon tea paired with drag Santa, kings and queens . For $65, tickets include your choice of tea from a holiday tea menu, a 45-minute drag performance and cookie decorating. Additional beverages and food may be purchased.
Watercolor workshop Get creative at the Shilling Canning Company in Navy Yard with Marcella Kriebel. Tickets, which cost $75 each, will include a guided, in-person watercolor lesson, plus art supplies and "watercolor-inspired" cocktails. The event is Dec. 6.
Martin Sexton Singer, songwriter and guitarist Martin Sexton performs new music from his 10th studio album, 2020 Vision , Nov. 30 at AMP at Pike & Rose. Ticket prices range from $35 to $55, not including fees.
National Harbor tree lighting and fireworks A 60-foot-tall Christmas tree will come to life on the waterfront of National Harbor on Dec. 2. To learn about more tree and menorah lightings, parades and other holiday displays, check out WTOP's weekly event guide from this past week.
The Eric Andre Explosion Comedian and actor Eric Andre will bring his explosive presence to the D.C. area at The Fillmore in Silver Spring, Maryland, Dec. 6. Tickets start at $55.
The Lodge at National Landing From Dec. 1 through Dec. 3, Metropolitan Park in Arlington, Virginia, will transform into a ski-themed winter festival with family-friendly activities and a dog treat bar. Adults will be able to enjoy spiked hot chocolate and mulled wine. There will also be a Sleigh All Day Drag Show on Sunday starting at noon at Freddie's Beach Bar. The Lodge event is free and open to the public.
Kidsgiving Fair On Dec. 2, enjoy a family-friendly event at Arlington Science Focus Elementary School in Arlington, Virginia, where you and your children can learn about local nonprofits to support during the holiday season. The event will also include music and entertainment, a kids scavenger hunt, snacks and refreshments and holiday greeting cards to decorate.
Steven F. Udvar-Hazy Center 20th anniversary celebration
Since opening in December of 2003, the Steven F. Udvar-Hazy Center in Chantilly, Virginia, has welcomed over 24 million people. On Dec. 2, celebrate this anniversary with hands-on, family-friendly activities, curator talks and a behind-the-scenes look at the Mary Baker Engen Restoration Hangar. Parking will be free on the day of the event.
Have an event you'd like featured in WTOP's  Things to do in the DC area  weekly guide?  Fill out this contact form  to have your event considered.
Michelle Goldchain's reporting has focused primarily on the D.C. area, previously working as Editor of Curbed DC for Vox Media and Audience Growth & Engagement Editor for Washington City Paper. She is the author of "D.C. by Metro: A History & Guide." She also reports for Artsplained on YouTube.
202-895-5179
@goldchainam
@michellegoldchain
Related News
Things to do in the DC area: Holiday lightings and parades, DC Cocktail Week … and more!
Things to do in the DC area: Thanksgiving takeout, art fairs … and more!
Things to do in the DC area: Prohibition pop-up, Veterans Day events, film festival … and more!
Recommended.
18-year-old arrested in string of at least 18 robberies along DC trail
New surgical and research facility opening at MedStar Georgetown University Hospital
A strong geomagnetic storm could make the Northern Lights visible in the DC area. What to know — and how to take pictures
Related categories:.
Request tickets now: How to visit the White House at Christmastime
Update: Some offers mentioned below are no longer available. View the current offers here .
We have a long (and always growing) list of trips we want to take, from which we create and build our travel dreams. One dream that had been shining at the top of the list for quite some time was a Christmas visit to the White House. We love the holidays, and -- politics and partisanship aside -- admire the elegance and importance of the White House. We knew visiting while it is decked in its holiday finest would be a memorable treat.
But, as we have discovered in the past, wanting to visit the White House and getting to visit the White House are two very different things. Before we get to the holiday magic we saw inside The People's House, let's look at what it takes to get in the door.

How to visit the White House
To arrange a White House visit , you need to contact the office of your congressional representative. Requests can be submitted up to three months in advance of your anticipated travel dates, which means you may be booking your trip to DC before you know if you will get approved for a White House visit. However, the sooner you apply the better, because the tours only allow a limited number of people each day. If you want to take a tour at Christmastime, send in your request in September.
Your chances of securing a tour spot will be better if you can designate multiple days on your trip when you would be available for a tour. Once the request is submitted by the office of your representative, White House Tours will contact you for security information. Unfortunately for advance planners, the outcome of your request won't be known until 10 to 14 days before your date(s). If the White House visit is only a part of a planned DC visit, then it may not be a big deal. But if a White House tour is the sole or primary reason for your trip, that late notice could create some last-minute adjustments to your plans. Tours are typically scheduled for Tuesday through Thursday from 7:30 a.m. to 11:30 a.m. and on Fridays and Saturdays from 7:30 a.m. to 1:30 p.m. Tours are free, but subject to change due to White House scheduling and events that cannot be foreseen.
Planning our holiday White House visit
The official White House Christmas tree is usually delivered the day after Thanksgiving, when decorating the property for Christmas is in full swing. The seasonal décor is ready for public viewing a few days after Thanksgiving. Our request for a Christmastime tour was submitted on Sept. 10 for a Dec. 11, 12 or 13 visit. We found out via email on Friday, Nov. 30 that we were approved and accepted for our visit.

With that approval in hand, we found a cheap Spirit Airlines flight into Baltimore for $64. Normally, we would have used 5,000 Spirit miles to cover the fare, but because we were so close to our travel date, reward booking fees were more than the actual cost of the flight, so that strategy didn't work. Thankfully, there are plenty of affordable hotels in Baltimore using points or cash. Since we arrived pretty late in the evening, we just booked a decent cash rate at the Aloft BWI Baltimore Airport and rested for the night. The same hotel (a Category 3 Marriott property) can be booked for 17,500 Marriott points.
Once we headed to Washington, DC, we stayed at to the Hyatt Place White House, which we have visited in the past. It is within easy walking distance to the White House, includes free breakfast and only costs 15,000 World of Hyatt points per night. The nearby Grand Hyatt Washington is also a good choice at 15,000 World of Hyatt points per night, especially if you have access to its club lounge (which our daughter, Mommy Points, has scored for us on some trips). Either could be booked with a Hyatt Category 1–4 award from the World of Hyatt Credit Card, though we just used points earned from that card on this trip.
To avoid spending extra time, money and an additional night in the DC area, we ponied up $200+ each for a United nonstop evening flight home from Washington National directly to our home airport in Houston. It wasn't a great deal financially, but maximized our time and energy during the busy holiday season.
Visiting the White House at Christmas
As the precious few days passed from our approval to our departure, we held our breath that our tour would not be affected by a Christmas cancellation. Even as we approached the tour entrance, we kept one eye out for unusual Secret Service movement and the other eye scanning our phone looking for breaking news that might bear bad tidings. Fortunately, we were greeted by an open gate and a welcoming gesture and into the line we went.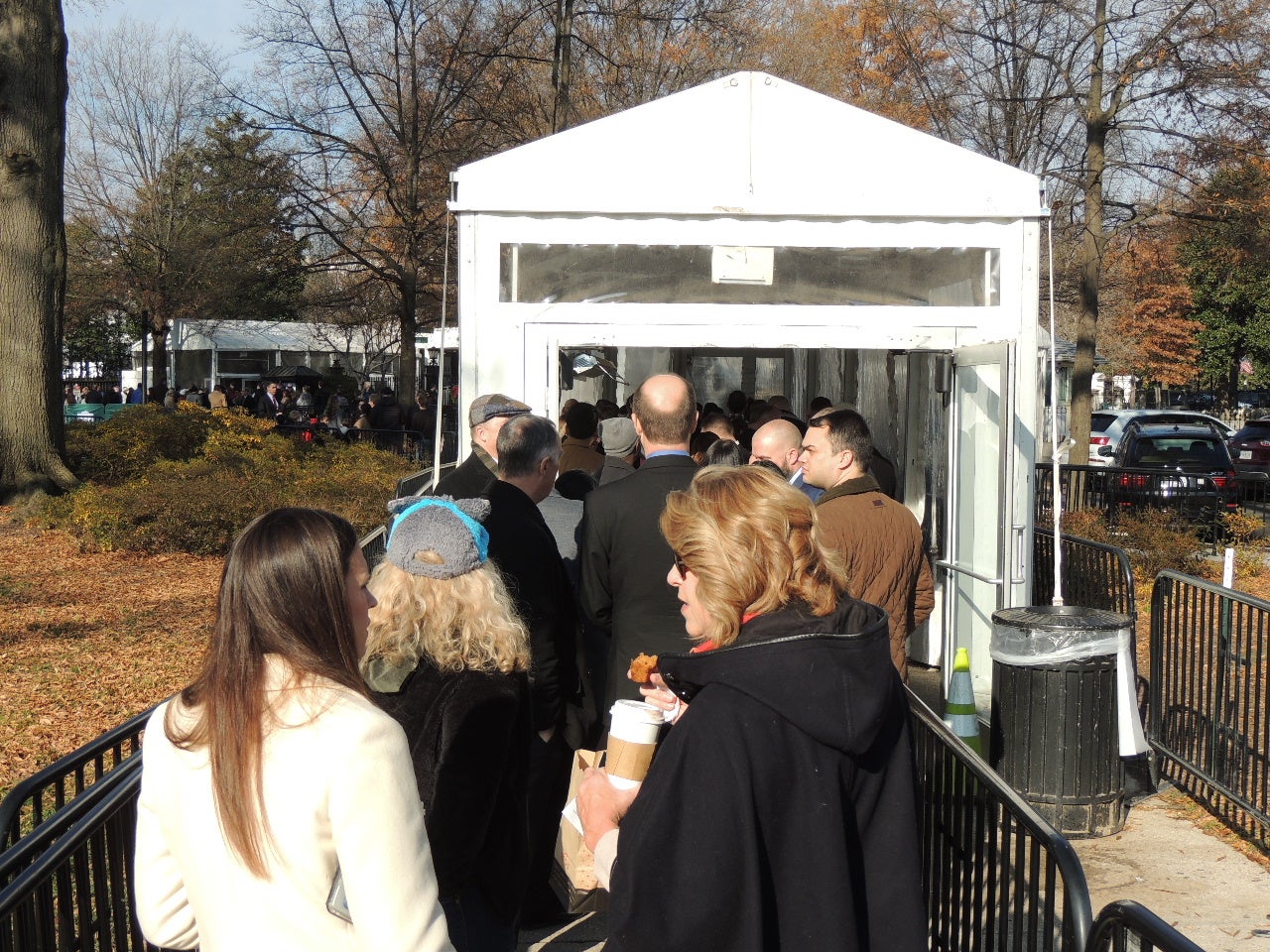 The Secret Service officer checked our IDs and cross-checked the master list to verify if we were indeed on "the nice list." Three additional screenings later and we were ready to enter the White House.
The tour enters from the East Wing, where we passed through a hallway that led to the first of many grand Christmas trees. The initial tree was dedicated to the Gold Star families of our armed forces and was decorated in red and blue ribbons and rich gold ornaments.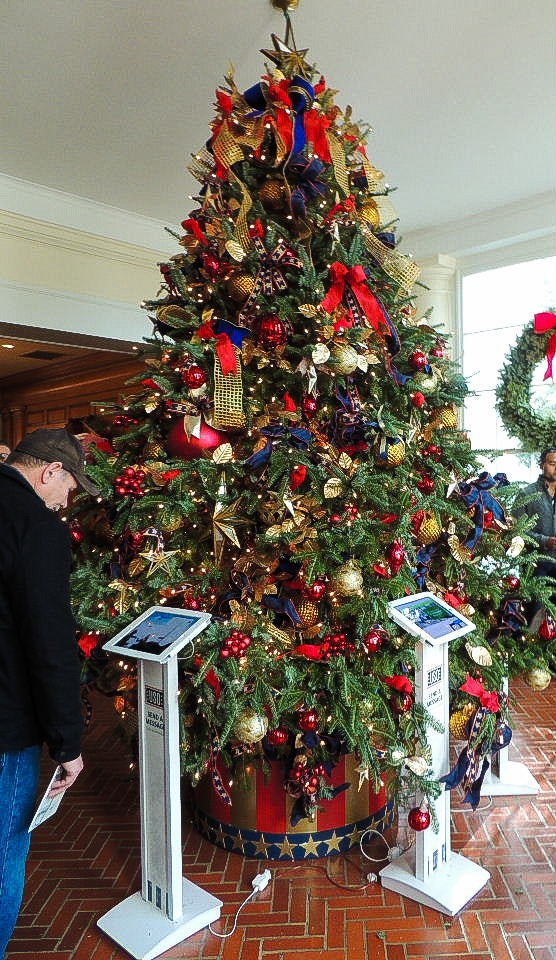 As we turned the corner, we came up the East Colonnade, which was lined on both sides with bright red berry trees of varying heights naturally lit by the multiple large windows that look out into the Kennedy Garden. The trees had received some unfavorable reviews when first introduced, and we were curious as to what our impression would be in person. When standing in front of the trees, we found them to be colorful, festive and appropriate for the season. A muted green carpet provided a seasonal balance to the somewhat narrow walkway. Judging by the number of photos being taken of the trees, they seem to be a hit with the crowd. Fortunately, cameras (with some limitations) are permitted on the White House tour.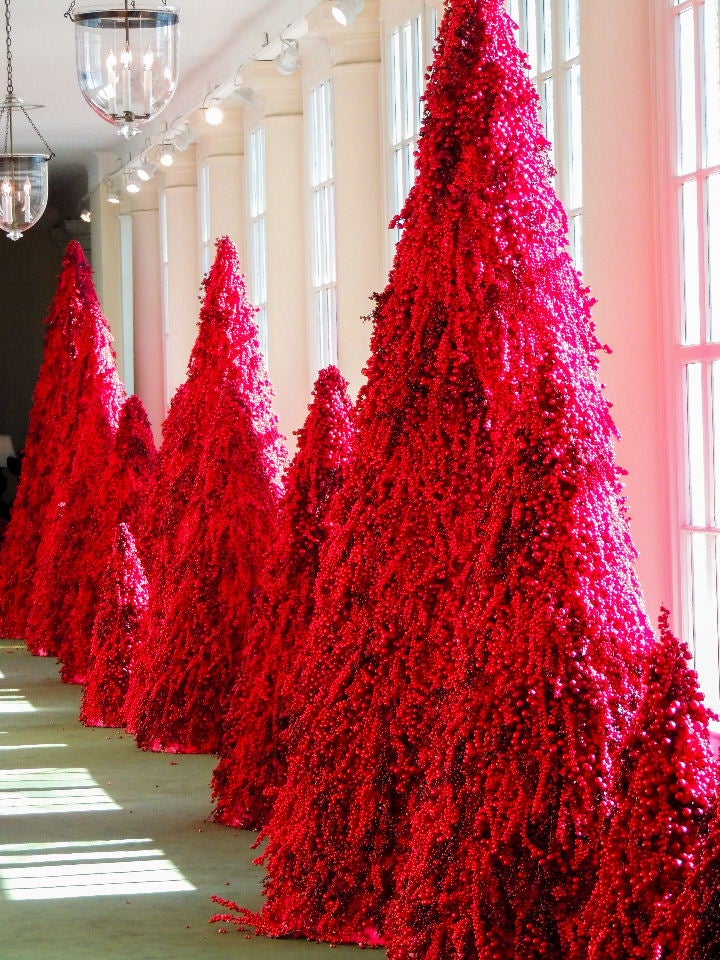 The next interesting encounter was the display of official White House Christmas cards from presidents over the past 91 years. Sixteen administrations were covered; their choices reflected not only each president's personal style and attitude, but also graphically illustrated the number of Christmases each experienced as the leader of our country. Eisenhower, Reagan, Bush 43, Clinton and Obama all had eight cards. Johnson and Nixon had five, Carter and Bush 41 had four, Ford had three, Kennedy only two and Trump also had two. We found this exhibit to be a poignant and educational history lesson with a direct seasonal correlation.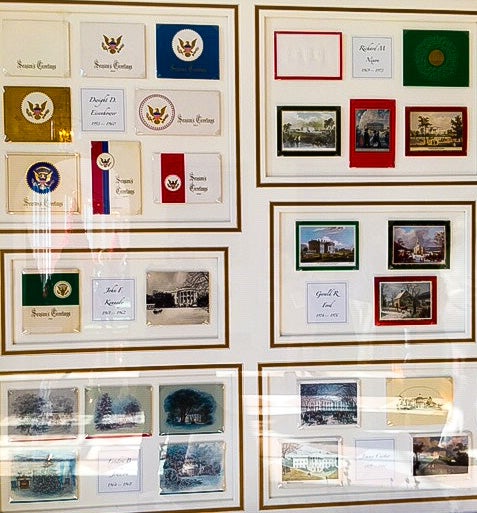 After this point we physically entered the White House proper and enjoyed rooms with familiar names: the China Room, the Vermeil Room and the Library. Of these three, the Library was my personal favorite. The room emitted a warm and comfortable glow, and one could easily imagine a classic Christmas carol playing quietly in the background.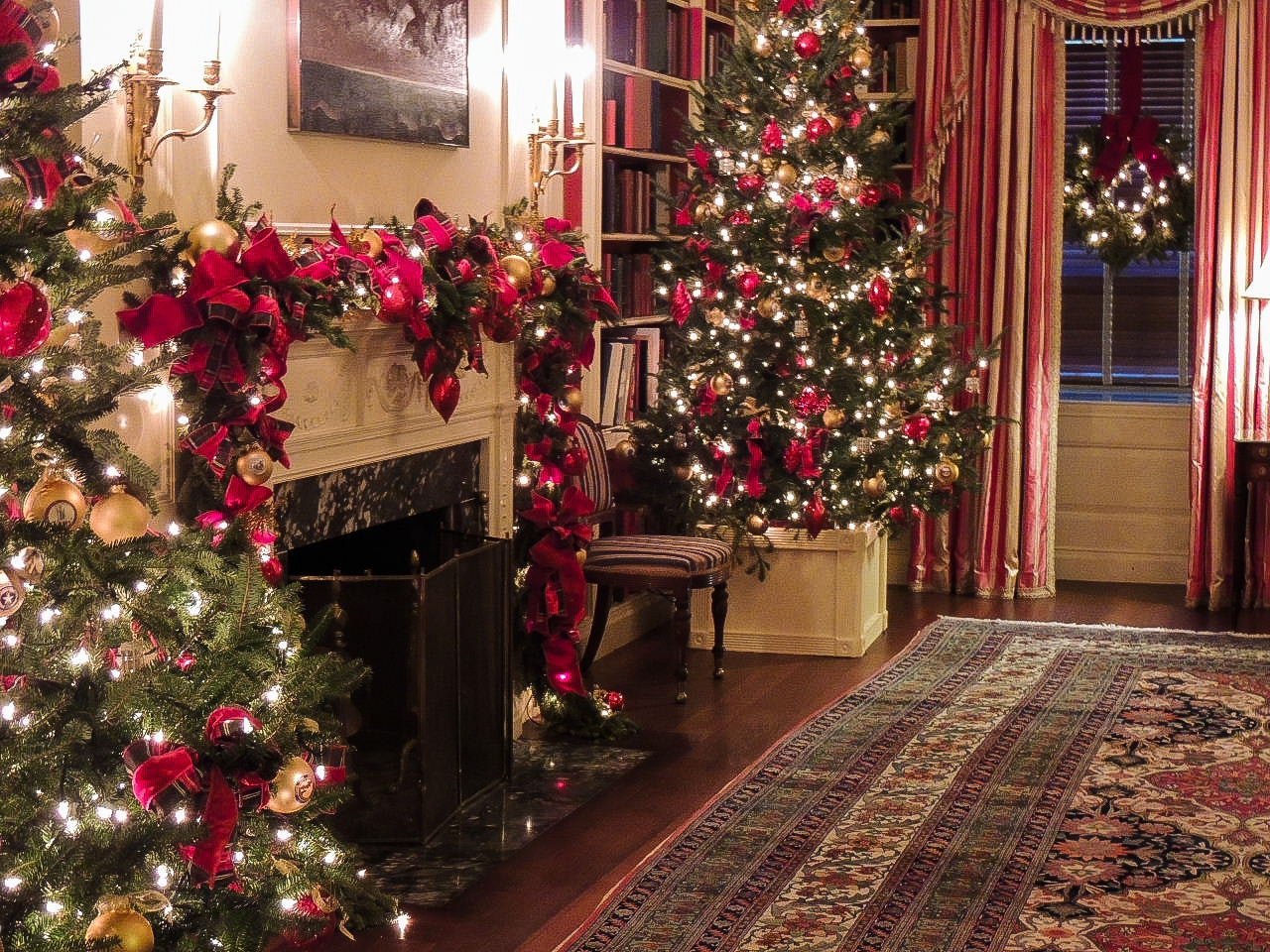 Next, we ascended to the state floor via a significant wooden stairway to the East Room, the largest and most utilized room in the Executive Mansion. It has been the site of press conferences, Medal of Honor presentation ceremonies, entertainment, weddings, funerals and even a senior prom. Large chandeliers, grandiose garlanded mirrors and gold-hued drapes elegantly highlighted the room while two 14-foot fir trees flanked a traditional Nativity scene that was in its 51st year of display. The East Room traditionally is quite spacious and open with few furnishings.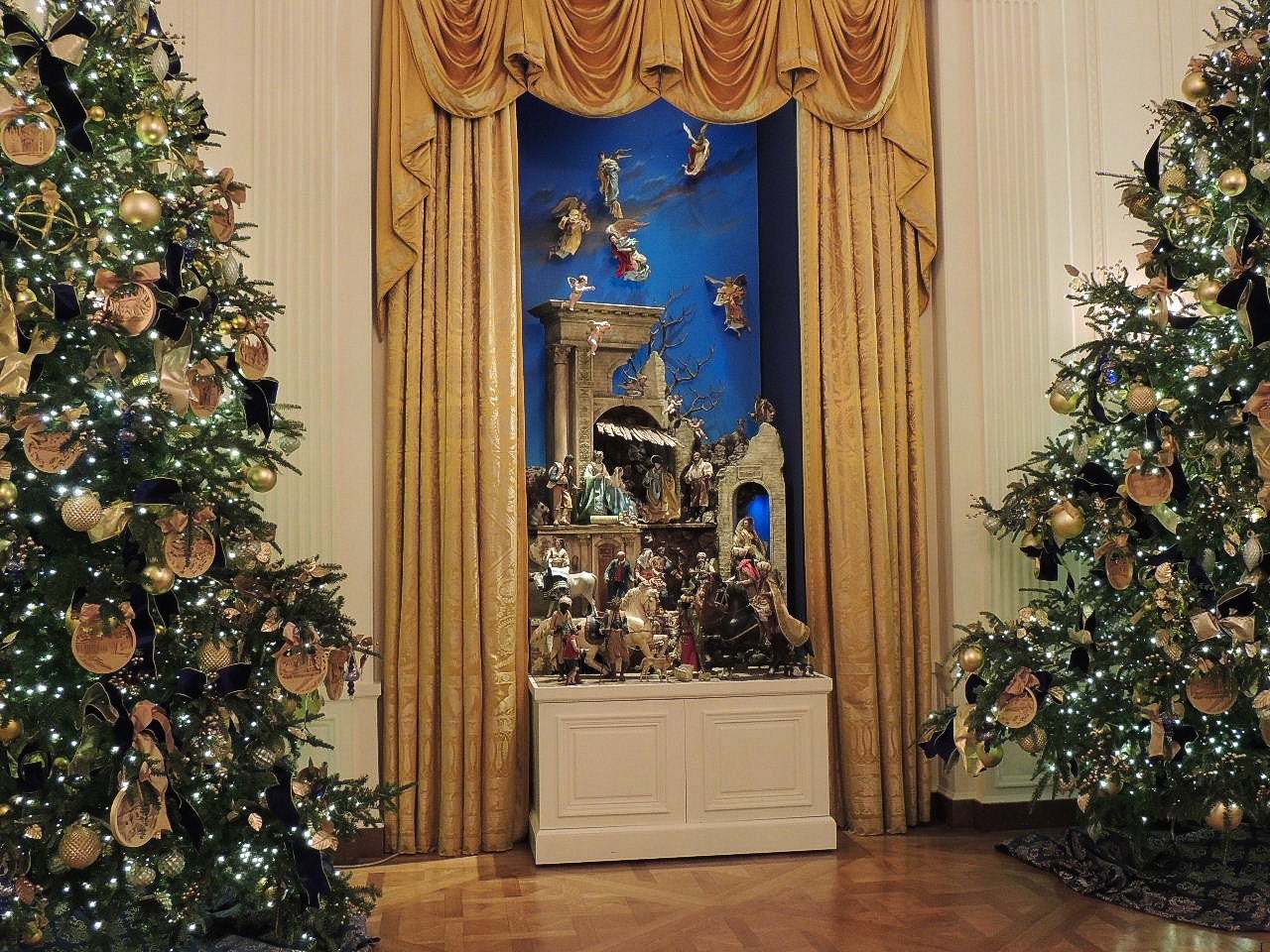 After exiting the East Room, the famous Red, Green and Blue rooms were only steps away. The Green Room now serves as a parlor for small receptions. Its decorative theme for the holidays illustrated and highlighted the great work ethic of American farmers and the fruits of their labor. Harvested produce, grains and nuts were found in the garland on the mantle, the boughs of the tree and as accents on the tables.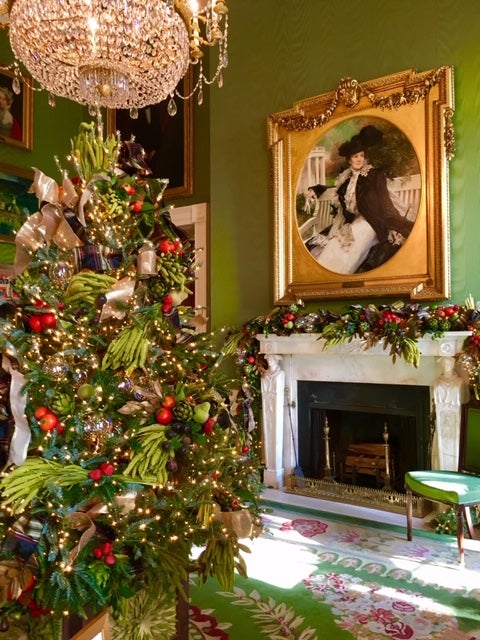 The oval-shaped Blue Room is an elegant, handsome and inviting space that most would love to have in their own homes. It occupies the center of the White House, and its windows look out onto the South Lawn and toward the Washington and Jefferson monuments. The Blue Room is often used by the president to receive guests, but during Christmastime, this room proudly plays host to the official White House Christmas tree. When viewing the White House from outside, the 18-foot North Carolina-grown Fraser fir is easily seen through the South Portico.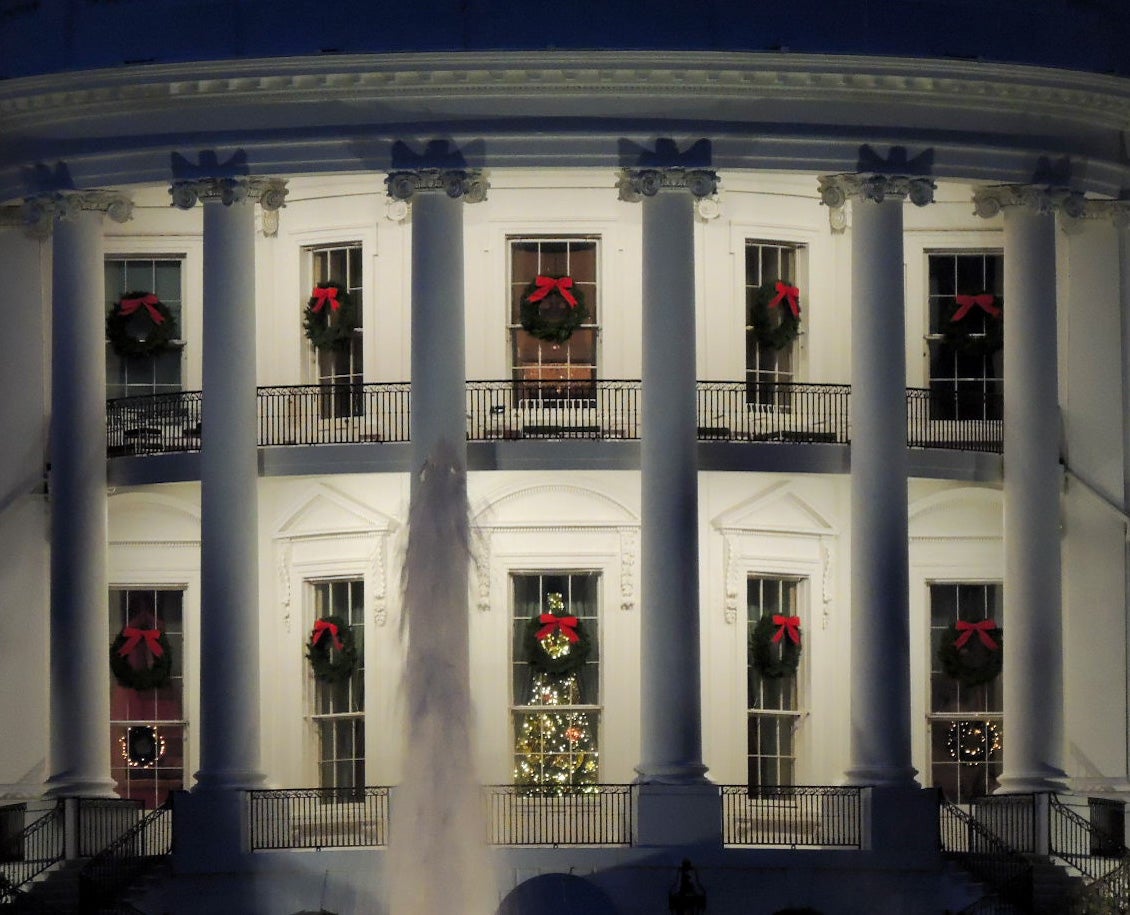 The Blue Room just feels like what I think of when I envision the best of America, and the tree there was decorated to enhance this ambience. A long continuous blue velvet ribbon curled itself throughout the tree with the names of all the states and territories proudly embroidered with a rich gold thread. Red and gold ornaments filled the green branches that reached toward and touched the ornate ceiling medallion.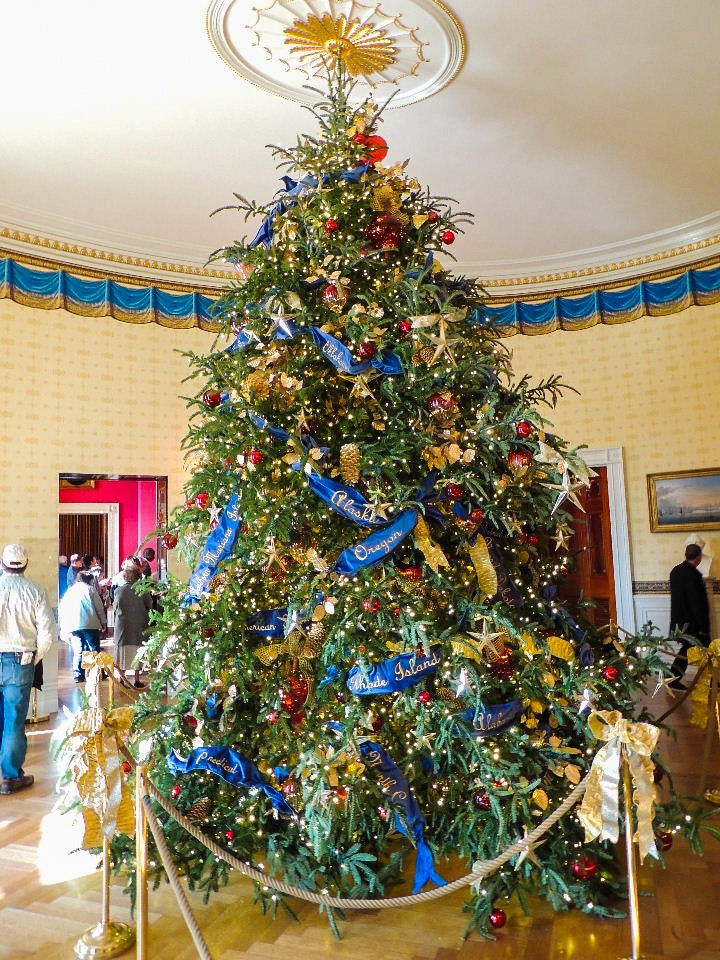 (As an aside, the Blue Room, due to its shape and position in The White House, might lead an outsider to assume this is where the Oval Office must be located. In reality, the Oval Office is not in the White House proper, but down in the West Wing in an area not visible to the public.)
The Red Room's bold color grabs your total attention as you enter its doorway. The centerpiece tree was adorned with ornaments depicting popular activities of American youth ranging from sports to drama to music. The contrast of the white Italian marble fireplace and mantle with the red, green and white garland spray was simply stunning and, in keeping with the spirit of the tree, fun.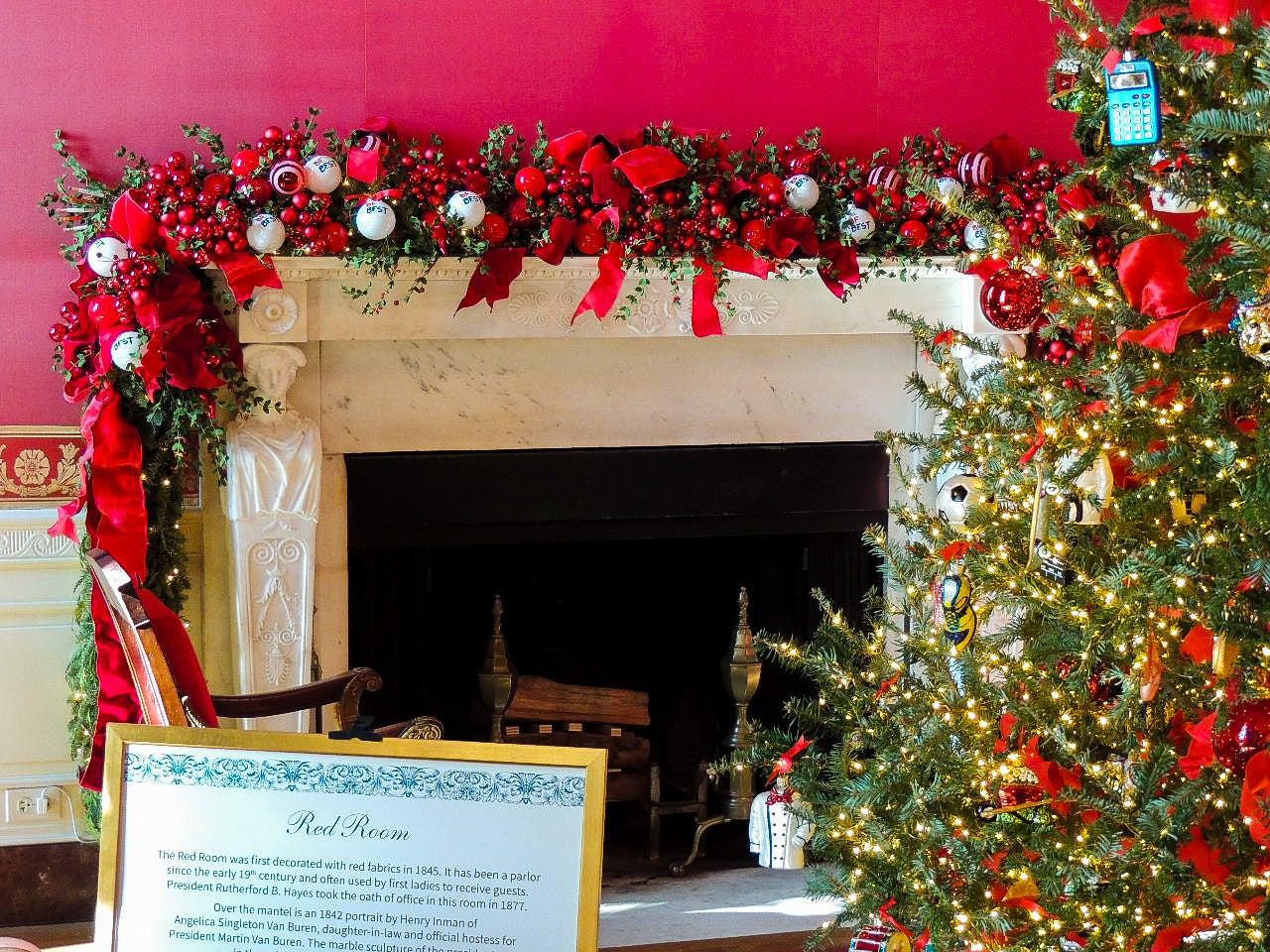 A meal is sadly not included in the White House tour, but, if it was, the State Dining Room would be the logical place for it to be served. It can accommodate over 100 guests, but my blue jeans likely would have needed a serious upgrade. Eagles support the furniture and topped the trees in homage to one of our national symbols. A large edible gingerbread creation sat under one of the classic White House mirrors and depicted famous monuments and structures on the National Mall. The piece was made with almost 400 pounds of ingredients by the pastry team.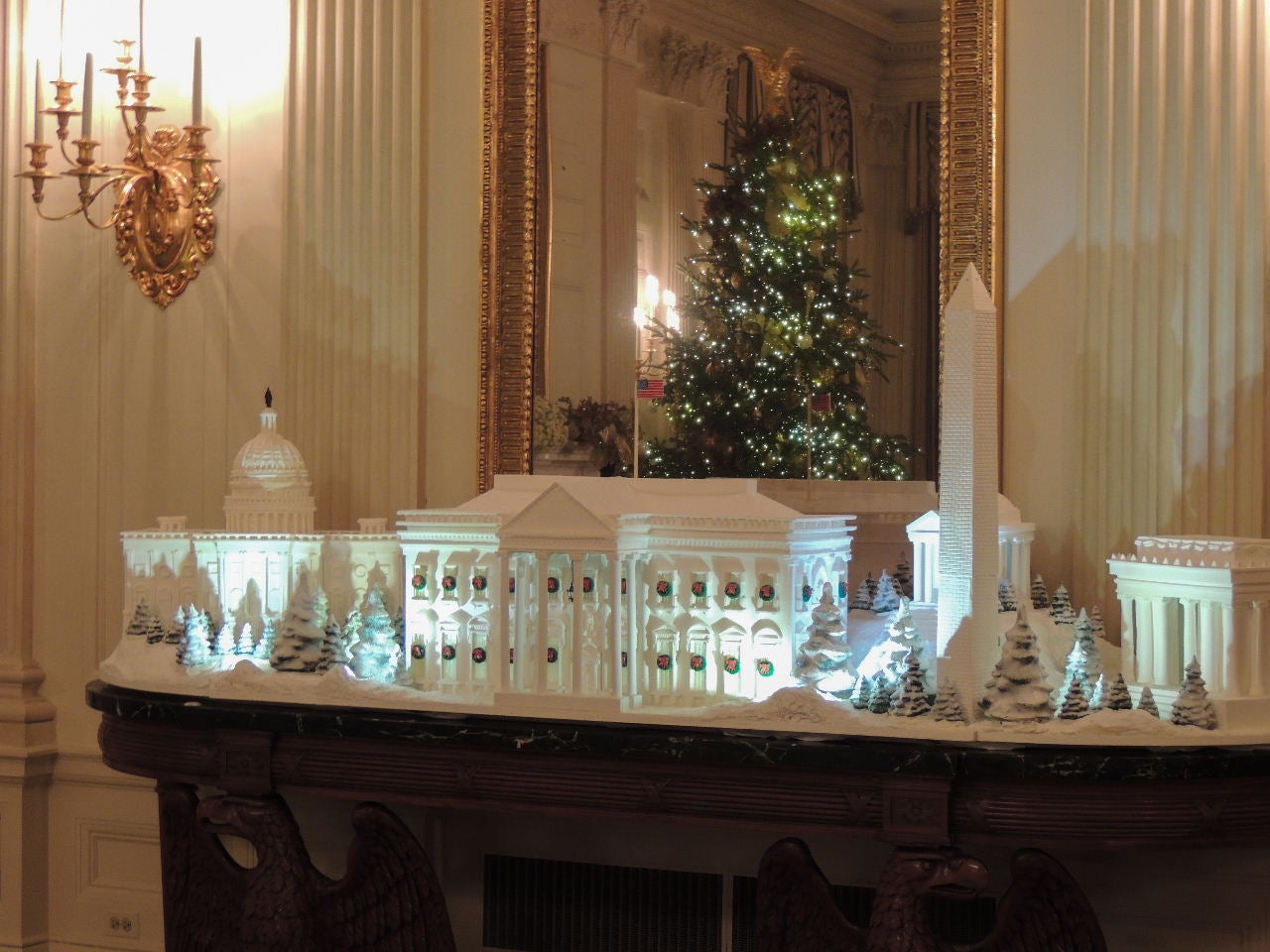 And, if the White House had not already impressed you enough with its Christmas trappings, when we passed the Kennedy portrait into the Entrance and Cross halls, we came upon an indoor forest of Christmas treasure.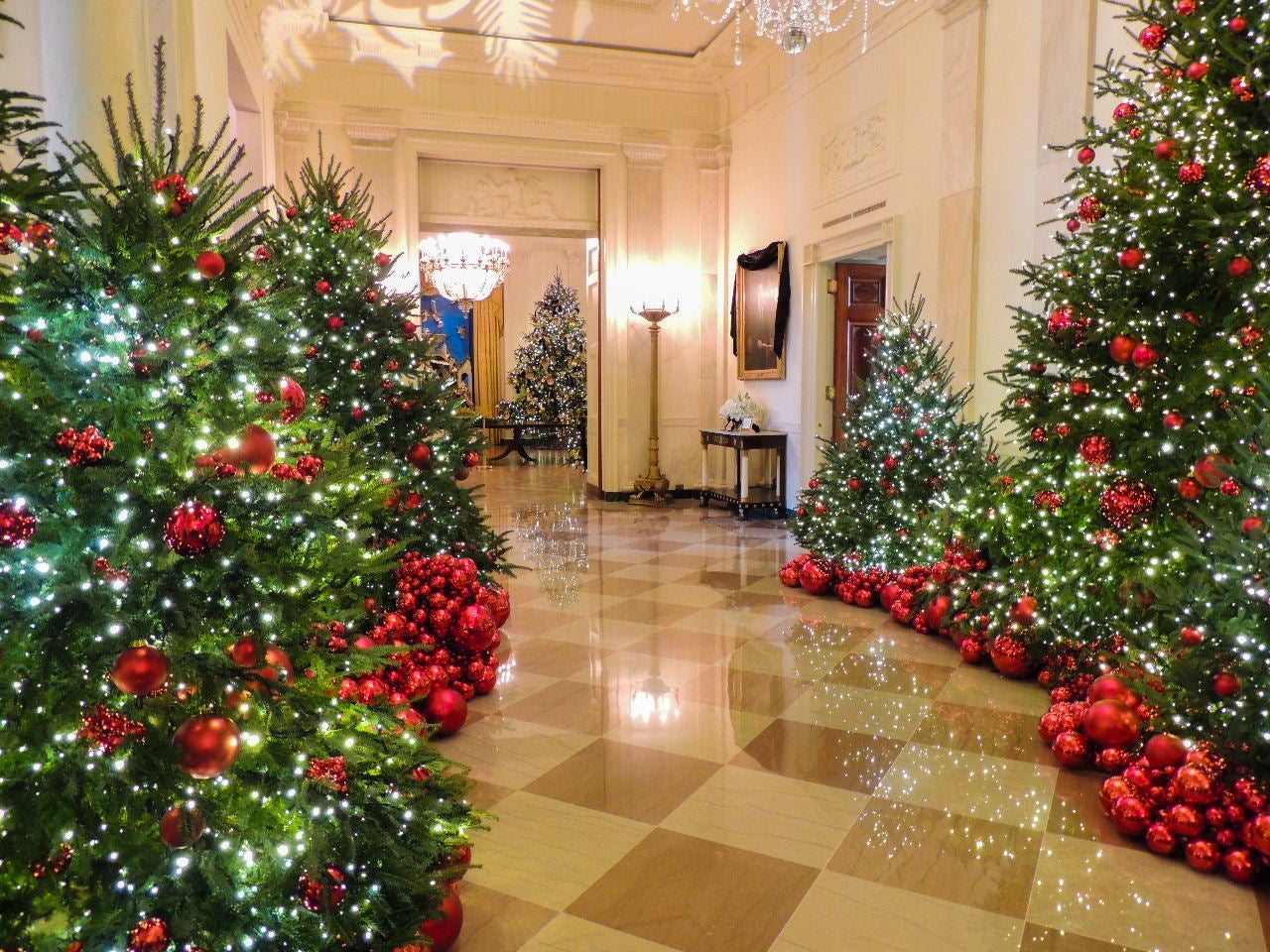 Thousands of red ornaments lined the hallway and graced the trees' deep green branches. The scene was so rich with Christmas spirit that we fully expected Bing Crosby and Rosemary Clooney to come out from behind the trees singing "White Christmas" at any second. The projected light on the ceiling added sparkle and pizzazz to a room that was already a full holiday palette. The presidential seal rising above the multilayered décor was a popular photo op for all.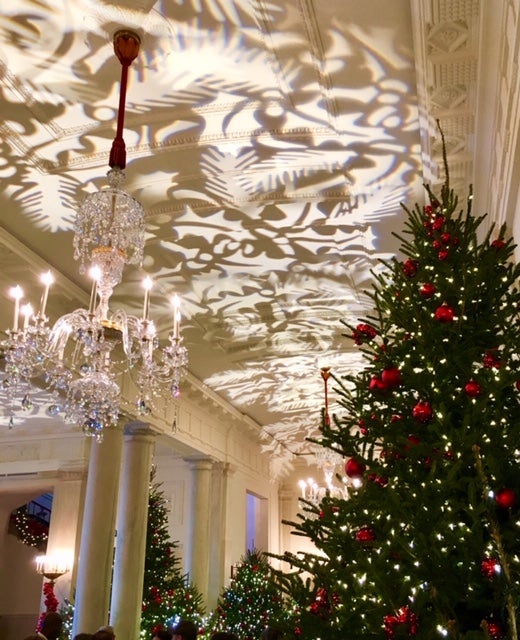 This space was about 2,500 square feet of elegance and color. It was hard to absorb it all in the time allotted, but easy to love. We were the last two to leave for the day, and we lingered and looked as much as we could. We could have easily spent longer reflecting on all we had seen, but the business of the White House had to go on.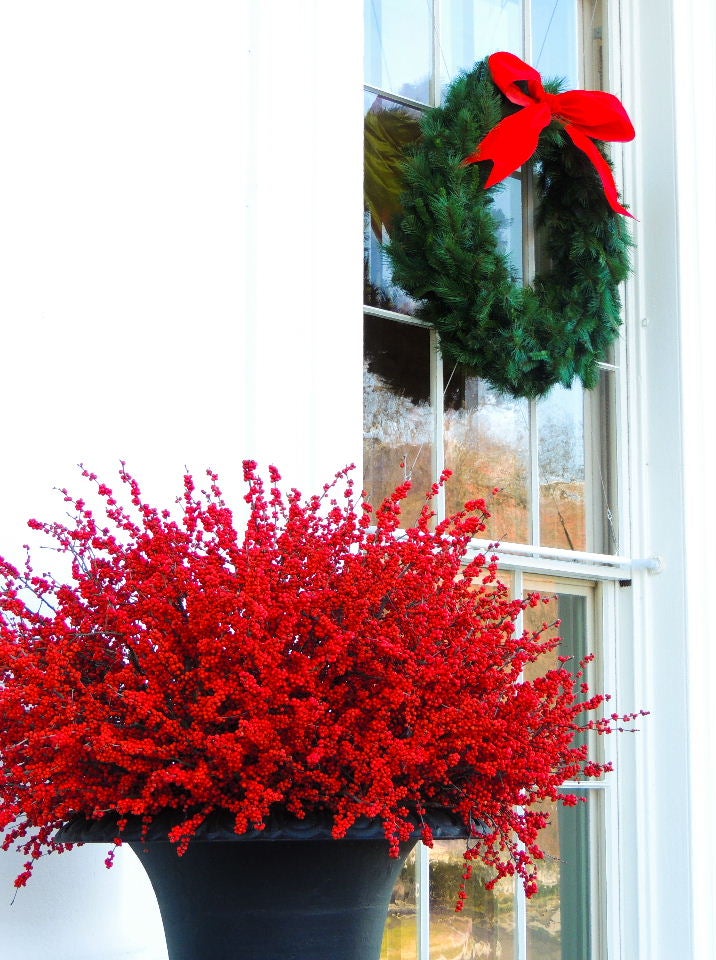 It was such a privilege and thrill to tour "The People's House" at Christmas. Even though we are very common people, we felt special because we had this opportunity. It was a great Christmas gift, indeed.
Other holiday sights in Washington, DC
The White House tour was the reason for the trip, but since we were there, we also took full advantage of some other DC Christmas traditions and offerings that we would recommend to others, including visiting the trees at the US Capitol, the Supreme Court and Union Station.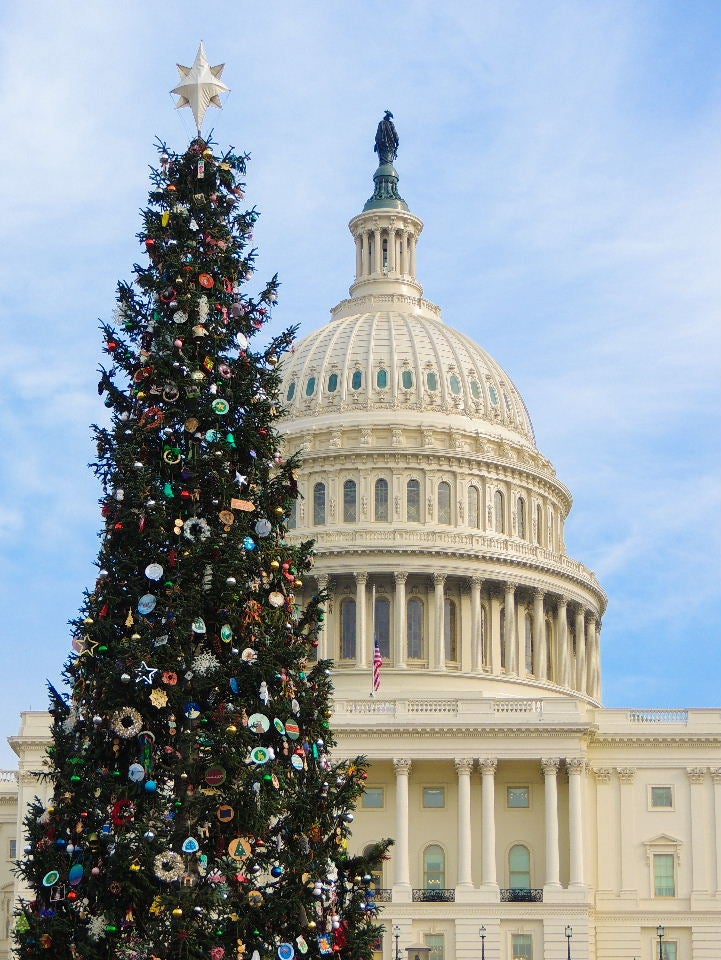 The United States Botanic Garden had a beautiful display of scale model monuments made entirely of plant material. The same artistic skill and methods were used to build the famous American train depots that were central to the garden's themed "All Aboard" model train exhibit.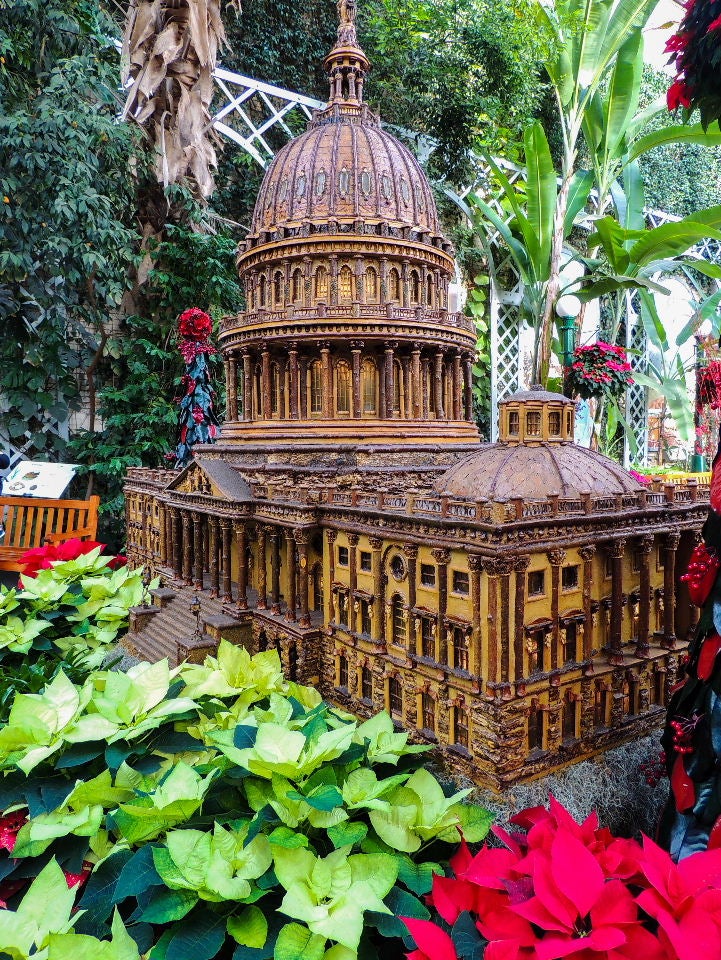 We spent part of one evening at the National Christmas Tree located on The Ellipse between the White House and Washington Monument. The tree is surrounded by 56 smaller trees that border a winding walkway and represent each state and territory. Trains are also an integral part of the National Tree display, with multiple sets surrounding the tree's base. Live entertainment is frequently offered, and at dusk, the atmosphere is magical as the red and green lights of the tree glow in the foreground with either the lights of the White House or the evening sky in the background.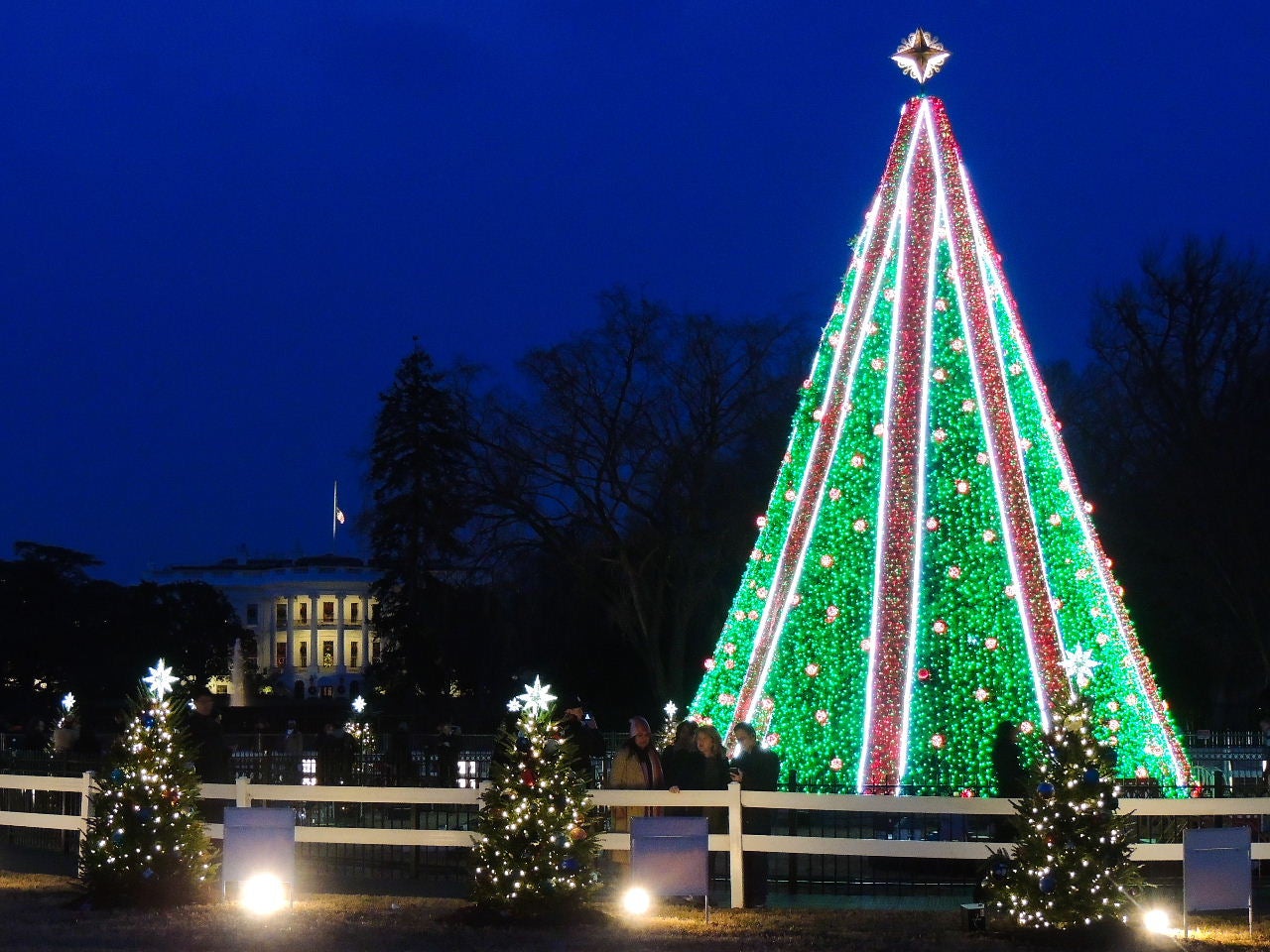 Overall, we were blessed with good weather, grand sights and memorable moments. We departed for the trip full of Christmas spirit and came back with even more.
And as an epilogue, our congressman was, coincidentally, on our Thursday evening flight home and our window seat paid dividends as we witnessed two shooting stars as we looked to the north. Or perhaps it was Santa making some practice runs before the big day? Anything is possible.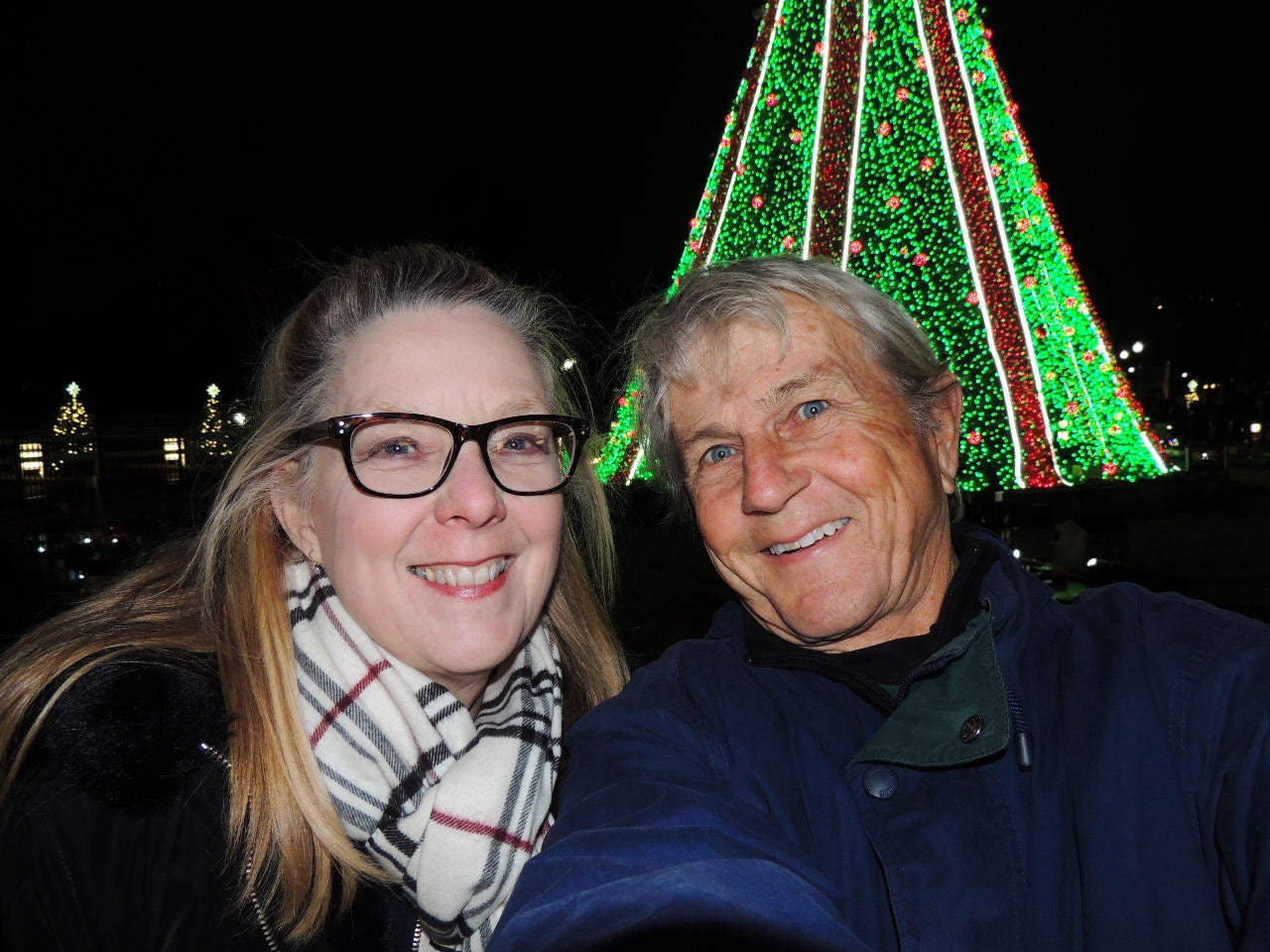 This website uses cookies to improve your browsing experience and analyze the use of the website. Learn More
Top Things to Do in December in DC
This post covers the top things to do in December in Washington, DC.
We include nighttime activities, free things to do, and family-friendly options, all updated for 2023.
Be sure to read our master post on things to do in DC for even more ideas.
Nighttime Activities
Free Things to Do
Family-Friendly
How's the Weather
Free Tours by Foot
TOP 10 THINGS TO DO IN DECEMBER
December is a very festive month, so for the full list of Christmas-themed things to do in DC, check out the post here .
For more ideas on favorite things to do in DC, check out the following posts:
Walking Tours - be sure to look for our Downtown Holiday Lights tour. We offer a walking AND a bus tour of the holiday lights and trees.
Boat Cruises
Top DC Memorials
Some of the items listed in this post are included for free with the purchase of a tourist attraction discount pass . 
1. Attend a Sporting Event
Many of the DC area's sports teams will be playing at home in December , giving you several opportunities to enjoy a game.
Washington Capitals
Washington Wizards
Georgetown Hoyas
Washington Commanders
Baltimore Ravens (Baltimore)
For more family-friendly ideas, check out our things to do with kids section.
2. Go to a Concert
The DC area sees some amazing musicians coming through.
Some of the concerts featured will be hosted at the Anthem, Capital One Arena, and the Wharf .
Holiday Concerts
Mannheim Steamroller | December 1st
Marcus Johnson and Band - Jazz for Christmas | December 2nd
Dave Koz & Friends Christmas Tour | December 3rd
A Celtic Christmas at Dumbarton | December 3rd
American Festival Pops Orchestra - Holiday Pops: Sounds of the Season | December 8th, 9th
National Symphony Orchestra: A Holiday Pops! | December 8th, 9th
Trans-Siberian Orchestra Tribute | December 15th
National Symphony Orchestra: Handel's Messiah | December 14th, 15th, 16th, 17th
Capital City Symphony: Sleigh Ride! | December 17th
43rd Annual Holiday Concert & Gala Kennedy Center | December 18th, 19th, 23rd, 27th
Rock/Pop Concerts
Postmodern Jukebox | December 1st
Jonas Brothers | December 3rd
Madonna | December 18th, 19th
Classical/Opera Concerts
Candlelight Concerts
National Symphony Orchestra
Washington National Opera
Baltimore Symphony Orchestra
Keep an eye out for more great concerts in the DC area .
3. See a Stage Performance
The DC area has a large number of venues that draw all sorts of talented and fascinating people.
In December, you are sure to find some interesting events to attend.
Holiday Shows
The Washington Ballet: Nutcracker | December 2nd-30th
Nutcracker! Magical Christmas Ballet | December 3rd
How the Grinch Stole Christmas | December 8th | Baltimore
A Charlie Brown Christmas | December 15th | Baltimore
A Candlelight Christmas | December 15th, 16th, 20th, 21st, 22nd
Fairfax Ballet - The Nutcracker | December 17th
A John Waters Christmas: Blow it Up | December 21st | Baltimore
Step Afrika | December 8th, 10th, 2th, 13th, 16th, 17th
Pretty Woman | December 12th, 14th, 15th, 16th
Girl From the North Country | December 13th-30th
Frozen | December 20th-30th
Peppa Pig Live | December 17th
David Spade | December 1st
Bert Kreischer | December 2nd
Chris Tucker | December 7th
Check out this entire list of theatrical productions in and around Washington DC to see everything else available this December.
4. See the National Christmas Tree
The lighting of the National Christmas Tree is one of the best holiday traditions and takes place right after Thanksgiving.
You can visit this beautiful tree for free all of December!
It is located at the Ellipse, the park south of the White House , and it is a beautiful sight to see.
There are also mini trees from all the states around it, a train display, and great music to enjoy as well.
For more information on the event, read our post Visit the National Christmas Tree and Lighting Ceremony .
For more free things to do in DC in December, check out our free section below.
5. Christmas at the National Cathedral
The National Cathedral is a beautiful place to visit during any trip to DC. It offers something special in December, however.
The Cathedral Choral Society celebrates the holidays with a special "Joy of Christmas" concert the whole family can enjoy in this stunning setting.
Events take place on December 16th and 17th, and tickets can be purchased here .
For more information, read our post on Visiting the National Cathedral .
6. The District's Holiday Boat Parade
The Wharf neighborhood in Washington, DC has recently been renovated and has some amazing things to see and is constantly hosting great events throughout the year.
One of these is the completely free District Holiday Boat Parade taking place on December 2nd.
There will be beautiful boats lit up for the parade, hot chocolate to enjoy, and even a fire pit to roast marshmallows!
Along with great food spots and a gorgeous view of the water, the Wharf has a lot of history to uncover, which we do on our Wharf walking tour .
For more information, visit The District's Holiday Boat Parade webpage.
7. Wreath Across America at Arlington National Cemetery
Wreaths Across America is an organization that sponsors the laying of beautiful holiday wreaths on graves at military cemeteries.
This is a beautiful way to pay homage to our lost heroes and makes a striking impression upon entering Arlington National Cemetery, one of the participating places.
You are welcome to sign up and participate as a volunteer, or simply enjoy the sight by visiting on your own or on our free walking tour .
National Wreath Across America Day takes place on December 16th.
To participate and learn more, click here .
8. Attend Winternational
Winternational is a festival that showcases the world in one place.
The Ronald Reagan Building and International Trade Center will transform into a global marketplace where each embassy presents its country with foods to try, arts and crafts for purchase, and tourism exhibitions.
This event is free and is a frugal way to "travel" the world and do some holiday shopping.
The dates for 2023 haven't been posted yet so visit the Winternational website to find updates.
9. Enjoy Mount Vernon
Visiting Mount Vernon, George Washington's home, is a worthy addition to your itinerary when visiting Washington, DC.
Located in Virginia just a few miles south of the city, the home of our first president is a national treasure.
Some December activities include:
Holiday Fifing | November 27th - January 5th
Mount Vernon by Candlelight | December 1st-2nd, December 8th-9th, December 17th
Christmas Illuminations , on December 15th and 16th.
For information on tickets and about what you can see there, read our post Mount Vernon Tickets and Tours .
For a full list of Mount Vernon events, click here .
10. Look into a Tourist Attraction Discount Pass for Savings
Tourist attraction discount passes bundle together many popular attractions and tours into one discounted price and can save you over 50%.
They also can save you time with skip-the-ticket-line privileges.
Attractions you can see with these passes include:
CitySights Hop-on Hop-off Bus Tour
International Spy Museum
The Capital Ferris Wheel
George Washington's Home
We detail how these passes work and help you decide which, if any, is best for you.
THINGS TO DO AT NIGHT IN DECEMBER
DC is lit up during December for the holidays, making nighttime a great time to explore the city.
Lights and wreaths decorate the streets, making even a simple stroll magical.
For more nighttime activities, visit our post on things to do at night in DC .
Attend Zoo Lights
The National Zoo lights up the winter with colorful fairy lights and illuminated animal silhouettes during their ZooLights event each season.
Visitors will find live music, food, and shopping, in addition to a stunning illuminated wonderland.
Access is free, and folks can visit on select dates in December.
See Georgetown Glow Light Experience
Georgetown GLOW takes place December 1st - January 7th.
This free curated outdoor light art exhibit takes place throughout the Georgetown neighborhood.
There are also GLOW events like yoga or a silent disco and some late-night shopping options.
We offer a Georgetown Glow and Street Art Tour .
Each creation has a theme or a story behind its creation, so this is the perfect time to take a GLOW-related walking tour through Georgetown.
Shop the Downtown Holiday Market
DC's 19th Annual Downtown Holiday Marke t returns in 2023, with two blocks dedicated to an outdoor shopping village.
More than 70 vendors line up on F Street, from 7th to 9th Streets, with vendors selling goods and food. There will also be live music!
The Downtown Holiday Market runs from November 17th - to December 23rd and stays open until 8 p.m. each night.
For additional nighttime activities, see our post on things to do at night in DC .
FREE THINGS TO DO IN DECEMBER
DC is loaded with free things to do! A lot of the items we've listed in other sections like visiting the National Christmas Tree are completely free to do!
Here are a few more free activities to do in DC in December.
For even more budget-friendly ideas, check out our post on free things to do in DC .
Visit a Museum
While DC doesn't get too cold in December, it's nice to spend a chilly day inside exploring one of our many free Smithsonian museums.
Explore on your own or go on a guided tour . Some of our favorites are the American History, Natural History, and Air & Space Museum.
It's also the slow season, so you can enter museums that usually require tickets without reservations, like the Holocaust Museum and the African American History & Culture Museum.
Attend the American Holiday Festival
Come out for the annual holiday concert performed by the musicians of The U.S. Army Band "Pershing's Own."
This event will be hosted at the DAR Constitution Hall in the heart of Washington, DC.
It will be an evening of beautiful music to put you in the holiday spirit! The show lasts approximately 90 minutes.
Tickets are free online! For showtimes and tickets, check out their website here .
The shows run between December 2nd and 4th.
See Ford's Theater
Ford's Theater is best known for being the place where President Lincoln was assassinated.
While still an active theater, simply exploring the theater and its museum is free to the public. There are ranger talks as well.
Tickets are free to go inside, or you can reserve yours online for a small fee to guarantee a spot.
A production of A Christmas Carol runs at the theatre from November 17th - December 31st.
We also recommend attending our Lincoln Assassination tour , which tells the full story of what went down the night of the assassination.
Attend the Silver Spring Christmas Market and Holiday Craft Fair
Discover Silver Spring, MD, and explore their Christmas and Holiday Craft Fair this December 3rd.
There will be plenty of vendors to peruse and get your holiday shopping done!
The event takes place from 12 pm - 4 pm at the Veterans Plaza and is free to attend.
To learn more click here .
Take a Walking Tour
Our tours cover several different neighborhoods - from our popular ticketed Historic Georgetown tour to our name-your-own-price National Mall tour.
Our Capitol Hill tour runs during the day, but you'll still be able to see the Capitol Christmas tree on the West Lawn after the tour.
Starting in December, our popular Downtown Holiday Lights will run on a name-your-own-price basis!
You can find out more about all our walking tours here .
THINGS TO DO WITH KIDS IN DECEMBER
Washington, DC is super family-friendly!
There are so many things to do, there is sure to be something to fit everyone's tastes.
A few activities we've listed above are also kid-friendly, like checking out the Holiday Boat Parade at the Wharf, so be sure to read through the other sections for more ideas.
Be sure to read our master post on things to do with kids in DC for even more ideas.
See DC's Holiday Lights
This new month-long community event will feature businesses along various neighborhood Main Streets decked in holiday lights for everyone to enjoy!
There will be amazing holiday-themed events, activities, and more all month long.
Holiday Lights is great for locals wanting to meet their neighbors and those visiting to see the local side of DC.
Lights are up from November 18th, 2022 - January 9th, 2023.
Some select neighborhoods will also have a self-guided tour written by us at DC by Foot!
Visit the Library of Congress
The Library of Congress is one of the most beautiful buildings in America, home to the largest collection in the world.
The Jefferson Library will also have its annual Christmas tree put up, making it a beautiful place for taking holiday-themed pictures.
The library runs free tours throughout the day.
Our post - Library of Congress Tours - explains how to get tickets, the best time to visit, the types of tours that can be taken, and more.
Jingle All The Way 5k and 15k
The best way to keep off the holiday pounds is to get your run on!
In anticipation of all the holiday goodies you'll be consuming, we suggest you come out to the Jingle All the Way races taking place in the heart of DC.
This holiday-themed race always has a huge turn-out, with racers of all skill levels dressed in bells and costumes jingling their way to the finish line.
The Jingle All the Way runs take place on December 10th. To register and learn more, click here .
Visit the Washington Monument
The Washington Monument is one of the most iconic monuments in Washington, DC.
This 555' (170 m) obelisk honors George Washington, the commanding general for the Colonies during the American Revolution and our very first president.
It is usually open to the public and free to go into and boasts the best view of Washington, DC.
We have a post that explains how to get tickets and how to plan your visit.
Visit the United States Botanical Gardens
Adjacent to the US Capitol and free to enter, the United States Botanical Gardens is known for its festive exhibit.
It showcases a number of plant-based recreations of conservatories, fountains, and sculptures.
They often have a special holiday exhibit , so check their website for holiday events.
The gardens are open daily from 10:00 am - 5:00 pm.
RELATED POSTS
Things to Do in November and January
Things to Do Any Time of the Year
How's the Weather in December?
Where to Store Your Luggage
Tourist Attraction Discount Passes
Choose a Destination... I want them all PLUS general travel tips. Amsterdam Berlin Boston Charleston Chicago Dubai Lisbon London Los Angeles Miami Nashville New York City New Orleans Paris Philadelphia Prague Rome San Francisco Washington DC
About The Author
Canden Arciniega
North america, united kingdom & ireland, middle east & india, asia & oceania.
3 Days of Holiday Wonder in Washington, DC
The holidays are a magical time to plan a trip to the district. discover an array of seasonal activities, many of which are free, through our three-day itinerary below..
More To See
You may also like..
Things to Do This Week in Washington, DC
Dazzling Holiday Light Displays & Events in Washington, DC
Dog-Friendly DC: The Best Places to Bring Your Pets in Washington, DC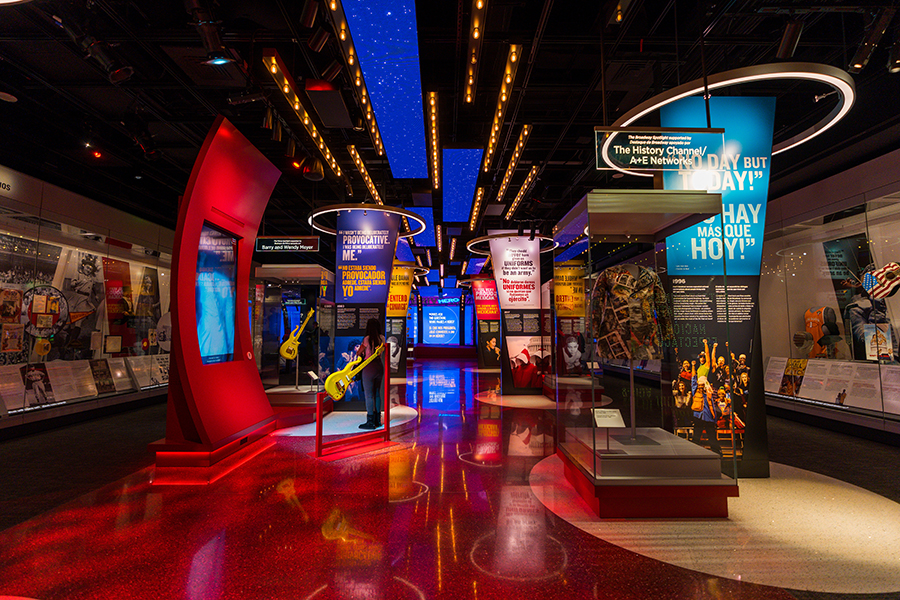 Warm up your morning with a visit to one of Washington, DC's many Smithsonian museums on the National Mall . From dinosaurs at the National Museum of Natural History to new displays at the recently renovated National Air and Space Museum to the vital stories featured inside the National Museum of African American History and Culture , each museum is a treasure trove for families.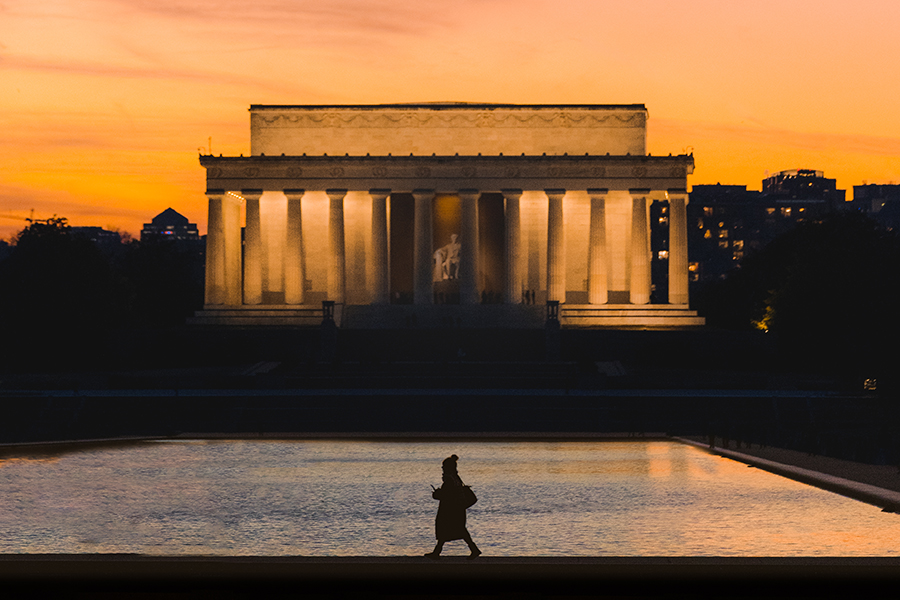 Spend your day seeing DC's iconic monuments and memorials on the National Mall . With Big Bus Tours , you can stay warm and cozy as you see some of the city's most popular attractions, such as the Washington Monument , memorials dedicated to Lincoln and Jefferson , the Martin Luther King, Jr. Memorial , the World War II Memorial and many more.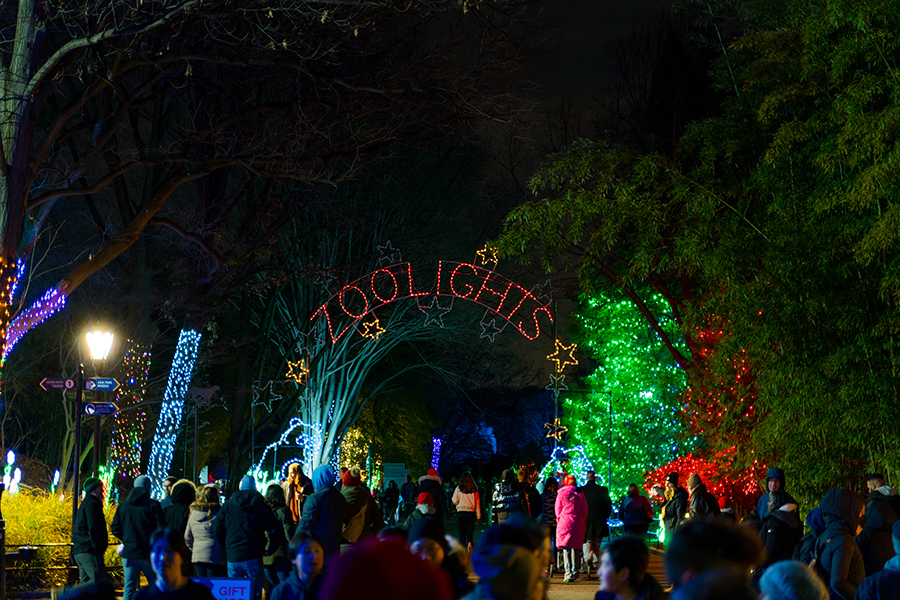 Venture over to Adams Morgan, where kids can enjoy ZooLights at the Smithsonian's National Zoo . The free exhibit features environmentally friendly animal light displays. Many of the animal houses also remain open in the evening for special animal keeper talks.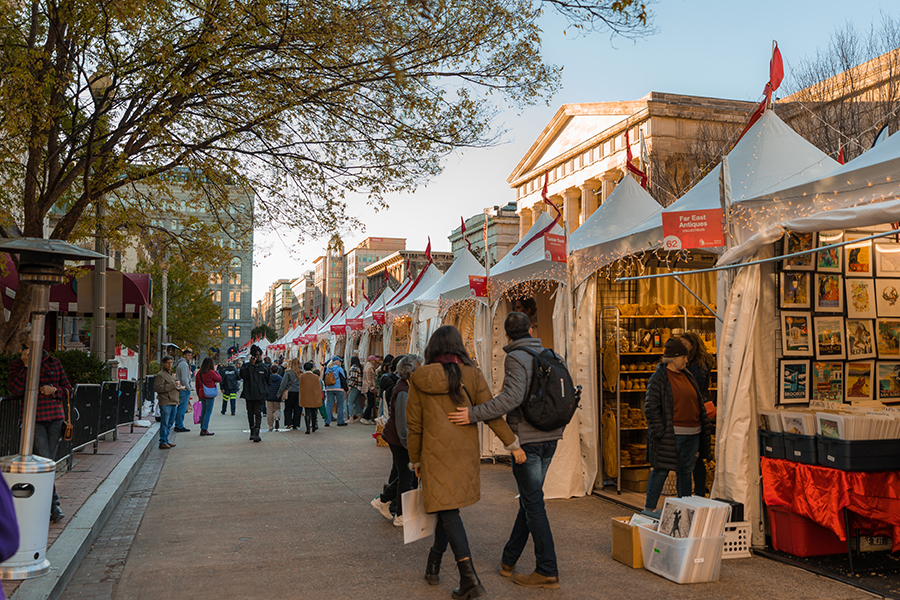 Head over to Chinatown for some shopping at the Downtown Holiday Market . With dozens of exhibitors and artisans displaying everything from fine arts to fair trade, you can find great gifts for everyone on your list. Live music also sets the mood and the on-site mini doughnuts are an annual favorite.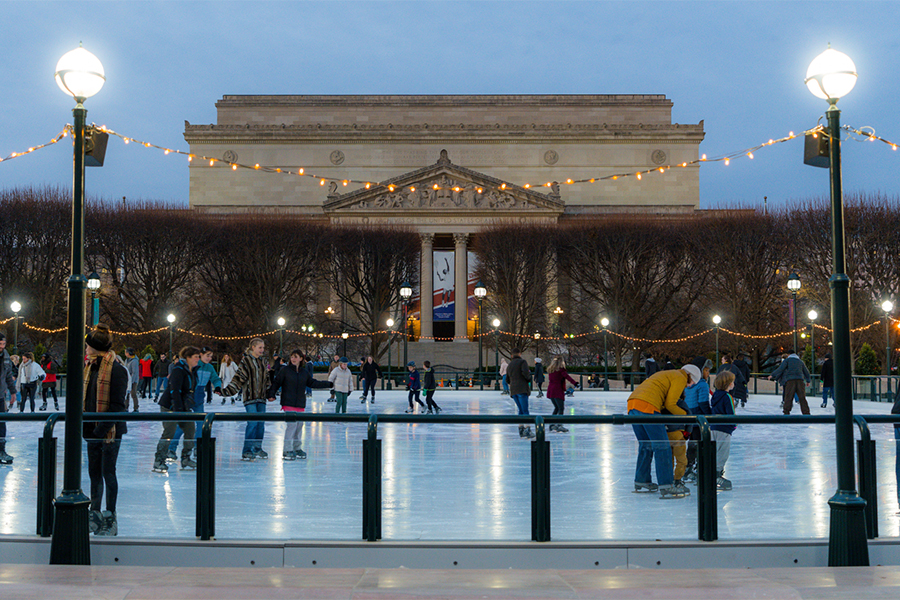 Feel like a kid again at the National Gallery of Art , where you can go ice skating in the Sculpture Garden and then warm up with some hot chocolate. Of course, the museum's East and West Buildings contain some of the finest works of art in the world, if you're into that sort of thing.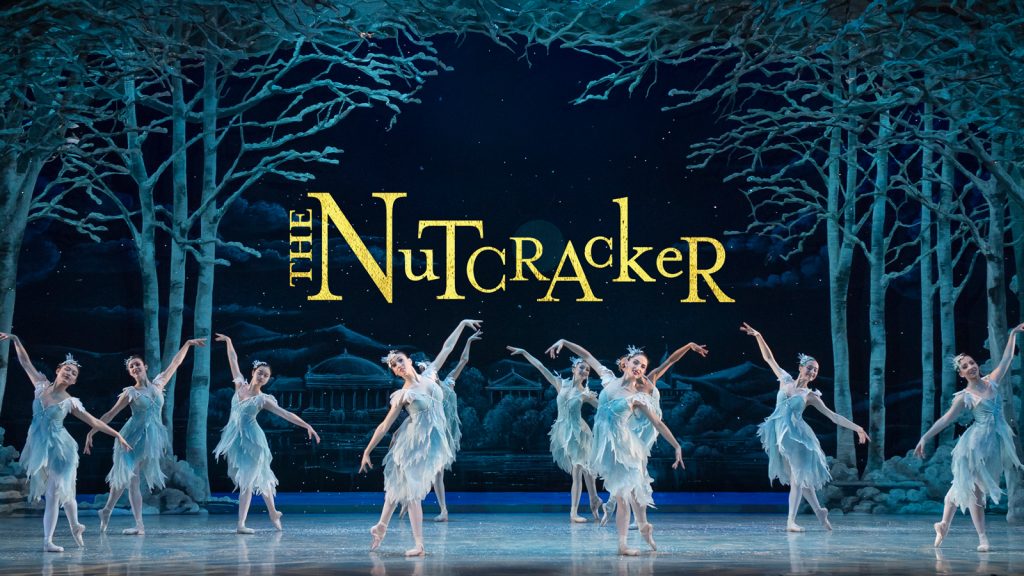 Take in a holiday-themed show at one of DC's many reputable theaters. The John F. Kennedy Center for the Performing Arts , the historic Ford's Theatre , Arena Stage , Warner Theatre and many others all offer seasonal programming.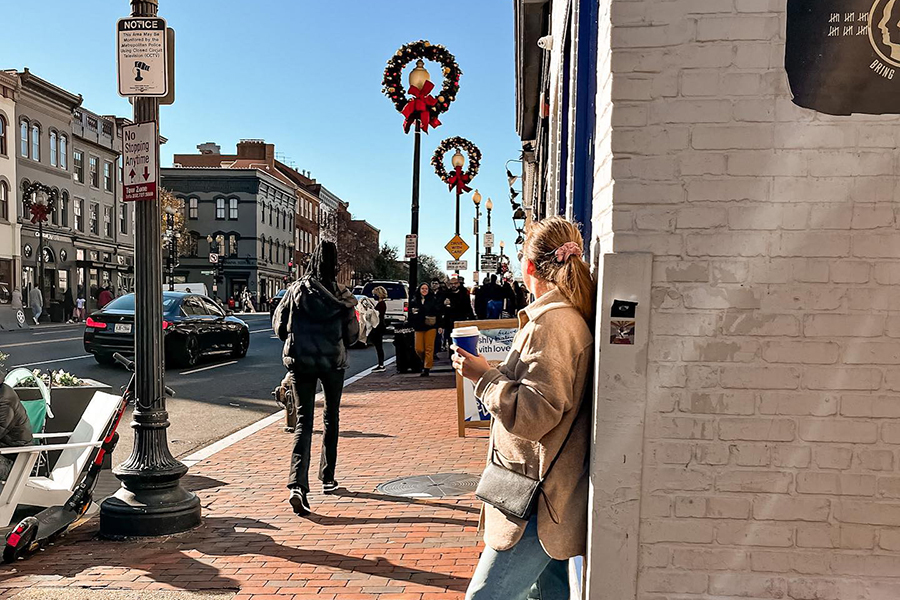 Um, you might have some presents to buy, no? If so, the cobblestone streets of Georgetown make for an awesome morning destination. Get some shopping done in the city's most fashionable neighborhood, where you'll find a wonderful selection of high-end options.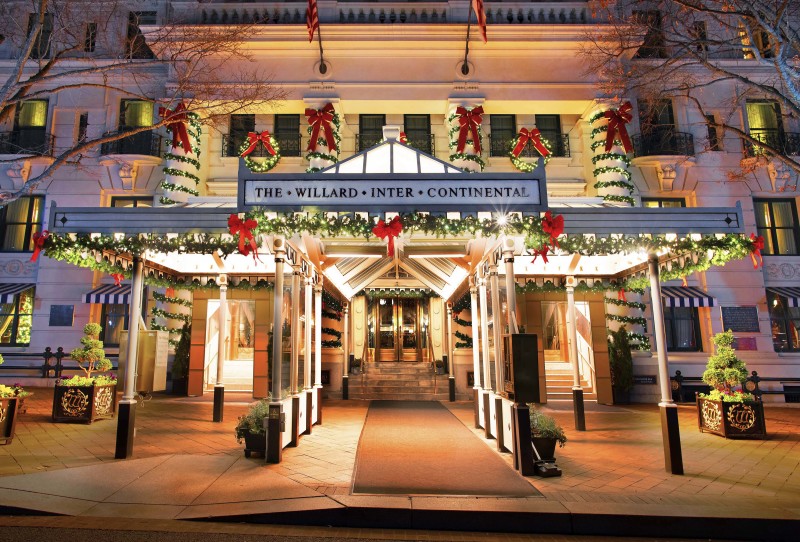 The Willard InterContinental Hotel 's gorgeous lobby gets decked out with all the holiday trimmings each year. Warm up with a hot toddy in the hotel's lavish Round Robin Bar or reserve a special holiday tea service.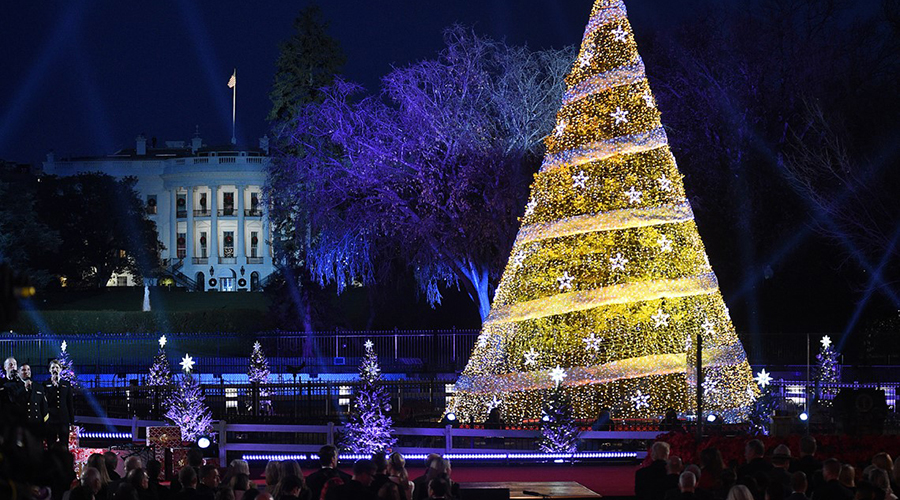 National Christmas Tree Lighting
We saved the best for last. Each evening, the National Christmas Tree is lit on the White House Ellipse, creating a holiday atmosphere that cannot be beaten. You can view and visit the tree for free throughout the day (the tree is lit up for the night at approximately 4:30 p.m.). The Pageant of Peace features smaller trees decorated for every state and territory, so make sure to pick yours out. The National Christmas Tree opens to the public with a special lighting ceremony.
It's Not Christmas In Washington DC Until You Do These 12 Enchanting Things
Maura is a freelance writer and consultant from Washington, DC.
More by this Author
With the lighting of the National Christmas Tree, it is officially the holiday season in the nation's capital. If you love this time of year and find yourself humming carols all day long, then you are in for a treat because DC is the place to be during the holiday season. Washington DC goes crazy for Christmas and the best way to enjoy the entire season to is experience the 12 best Christmas attractions in Washington DC.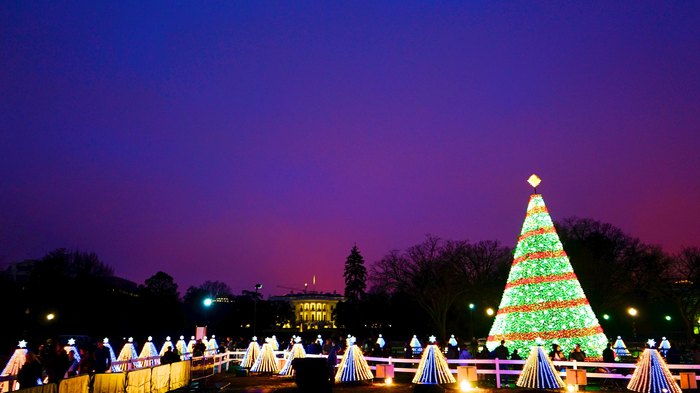 Related Stories
10 Main Streets Surrounding Washington DC That Are Pure Magic During Christmastime
The Winter Walk In DC That Will Positively Enchant You
10 Things No One Tells You About Surviving A DC Winter
There are also so many holiday attractions in the areas surrounding Washington DC. You will absolutely want to visit these amazing Christmas towns near Washington DC!
OnlyInYourState may earn compensation through affiliate links in this article. As an Amazon Associate, we earn from qualifying purchases.
Want more D.C. in your inbox?
Get the latest on things to see, do, and eat around D.C.!
Thank you! You'll receive your first newsletter soon!
An error occured.
Related Articles
9 Majestic Spots In DC That Will Make You Feel Like You're At The North Pole
The Easy 1-Mile Winter Hike In DC That's Positively Bewitching
9 Picturesque Trails Around Washington DC That Are Perfect For Winter Hiking
The Christmas Lights Road Trip Around Washington DC That's Nothing Short Of Magical
Here Are The 7 Most Dangerous Places In Washington DC After Dark
The Beautiful Lavender Farm In Virginia Near Washington DC Is An Enchanting Summer Day Trip Destination
6 Gorgeous Lakes To Visit Around Washington DC This Summer
These 10 Waterparks Around Washington DC Are Pure Bliss For Anyone Who Goes There
Pet-Centric
Washington DC
Reflections
Washington DC's 2023 Christmas Activities
Washington DC's Christmas activities will make anyone feel festive, regardless of whether you are a shopper, theatergoer, walker, or ice skater. Here is my list of the Top 13 Holiday Things to Do in the nation's capital. Holiday magic abounds for visitors as well as residents.
Table of Contents
Georgetown GLOW
One of my favorite things to do is visit the outdoor holiday light show in Georgetown. 2023 represents the 9th edition of Georgetown GLOW . Running 5 p.m. – 10 p.m. nightly from Friday, December 1 through Sunday, January 7, it features five works and artists.
In 2022, the most popular installation was The Cloud Swing. It was a series of swings suspended from three glowing cloud structures located in East Market Lane (3276 M St NW). Color and light were created as people swung through the air.
DC Holiday Lights
Described as "DC Dazzle, DC Holiday Lights features multiple DC neighborhoods decked out for the holiday. It will run through January 7. More than a dozen commercial corridors are participating, including the historic Chevy Chase, Cleveland Park, Dupont Circle , Georgetown , and U Street neighborhoods. Visitors can participate in a scavenger hunt to win prizes.
"Secret codes for the citywide DC Holiday Lights Scavenger Hunt have been hidden in businesses around DC." DC Holiday Lights
Hillwood Museum
Hillwood Estate, Museum & Gardens hosts its annual Holiday Open House on November 28. Former home of Marjorie Merriweather Post, the museum's holiday decorations are a feast for the eyes. Discover elaborate Christmas trees staged in the family's personal rooms.
Explore the decorated Christmas trees located throughout the mansion. Visitors can participate in hands-on workshops, guided holiday tours, and the annual Russian Winter Festival at the mansion. 
" A Very Merriweather Christmas  at Hillwood draws inspiration from the new biography  Marjorie Merriweather Post: The Life Behind the Luxury , with resplendent Christmas trees and holiday decor throughout the estate." Hillwood Museum
In the visitor center, visitors will see a dramatic tree decorated in bold black, white, and red. It takes its inspiration from the  LIFE  magazine covers on view in the special exhibition  Mid-Century Master: The Photography of Alfred Eisenstaedt . The holiday exhibit includes vintage cameras and mid-century-style ornaments.
A Christmas Carol
While you might want to say Bah Humbug to seeing A Christmas Carol at the Ford's Theatre, ignore your Ebenezer Scrooge inclination. This is a family tradition for most Washingtonians.
Charles Dickens' novel presents the ghosts of Christmas Past, Present, and Future. They frighten, cajole, and ultimately drag the miserly Ebenezer Scrooge on a journey of transformation and redemption.
"I will honour Christmas in my heart, and try to keep it all the year …" Charles Dickens
While billed as "A Ghost Story of Christmas," A Christmas Carol is a perennial reminder that Christmas lives in our hearts.
Downtown Holiday Market
Conveniently located just blocks from Ford's Theatre, the Downtown Holiday Market features small businesses and entrepreneurs across the region selling their wares. I like to just wander from stall to stall to smell the candles and soaps and browse gifts.
There are 70+ exhibitors including Black-owned and minority-owned businesses from the DC Department of Small and Local Business Development (DSLBD).
The 18th Annual Downtown Holiday Market runs daily through Dec. 23. Hours of operation are 12 p.m. to 8 p.m. The city closed an entire block on F Street NW between 7th and 9th Street. The main grand entrance is located on the sidewalk in front of the National Portrait Gallery and Smithsonian American Art Museum. Several "selfie stations" are set up to pose with loved ones (human or furry friends).
No purchases are necessary as DC's outdoor shopping village is free. But there are vendors selling food and hot beverages. Buy a donut and then find a seat in the pavilion to watch singers and musicians perform on the live stage.
After you finish your shopping, head over to Jaleo's to enjoy tapas and sangria. Seating is provided outside in a covered area festooned with holiday decorations.
Or you choose among three other restaurants operated by ThinkFoodGroup in the Penn Quarter. They are Zaytinya, China Chilcano, and Oyamel Cocina Mexicana. After you finish your cocktail and a small bite, button up your coat and head down to the U.S. Capitol.
Capitol Christmas Tree
Known as "The People's Tree," the Capitol Christmas Tree looms large on the West Lawn in front of the U.S. Capitol. Since 1970, the U.S. Park Service has procured the Christmas tree from different national parks for Christmas in Washington. Over the last decade, the species of the tree include Nobel Fir, Engelmann Spruce, Sierra White Fir, and Lutz Spruce (the first tree from Alaska).
This towering tree stands in the shadow of the U.S. Capitol—which is "a symbol of the American people and their government, the meeting place of the nation's legislature" ( www.VisitTheCapitol.org ).
The 2023 tree came from the Monongahela National Forest in West Virginia. The park is located in the central Appalachian Mountains of West Virginia. Monongahela National Forest announced that the 2023 U.S. Capitol Christmas Tree has been named "wa'feem'tekwi" by the Shawnee Tribe.
"The name means 'bright tree' in the Shawnee language and is pronounced phonetically 'wa thame tech we.'"
U.S. Botanical Garden
If you manage to wake up before sunrise, you can enjoy the U.S. Capitol Tree shimmering in a glow of red, yellow, green, and white lights. It is then a short walk across the circle to the U.S. Botanic Gardens . The Architect of the Capitol also lights the trees in front of the entrance . In previous years, the lights rotated between different colors. I was bathed in purple, blue, and red lights. (I also recommend visiting at sunset.)
This year, the Botanical Garden presents "Season's Greenings." An outdoor G-gauge train display can be visited in the gated outdoor gardens during these dates between the hours of 10 a.m. and 5 p.m. Tickets are not required.
I visited the train display with Parker (my Golden Retriever). He was fascinated by the black Santa Fe train rushing across the bridge.
The train display is located in the gated outdoor gardens. It also features Patrick Dougherty bicentennial stickwork sculpture, Rose Garden, and Regional Garden of native plants, and more). It is open from 7:30 a.m. to 5 p.m. daily.
Visitors can also now go inside to see the garden exhibits. The Conservatory will feature poinsettias, holiday decor, and D.C. landmarks made from plants. My favorites are the U.S. Capitol and the White House.
The Conservatory and outdoor train display will be open until 8:00 p.m. on Tuesdays in December.
Festive adornments, winterberries, lighted trees and shrubs, and conifers and greenery are placed throughout the Botanical Gardens. It is closed on Dec. 25.
Canadian Embassy Christmas Tree
Within view of the U.S. Capitol is the Canadian Embassy. It is located on Pennsylvania Avenue NW. Each year the Canadian Embassy decorates a huge outdoor Christmas tree inside the Rotunda of the Provinces & Territories.
At night, the columns glow red and black. The majestic tree can be seen by all who drive or walk down Pennsylvania Avenue NW. It is definitely worth a detour.
Capitol Hill Neighborhood
Roaming through the streets of the Historic Capitol Hill neighborhood is one of my favorite jaunts during the month of December. I describe it as " Miracle on A Street NE ." I love to walk my Golden Retriever dog (Parker) here in the morning before work. A sign posted on one resident's house points to "Sleigh Rides," "Hot Cocoa," and "Ice Skating."
Neighbors compete to create Christmas tableaus featuring cartoon characters, reindeer wearing red light necklaces, hedgehogs in LL Bean hats, and chubby gnomes. There is even an inflatable Christmas monster. My favorite is Snoopy lying on the roof of his dog house. It is decorated with a string of Christmas lights.
Usually, near Christmas Eve, a few houses on A Street NE will hang a string of colored lights and giant red Christmas ornaments on the stately trees. Check out my YouTube video: https://m.youtube.com/shorts/KpANZ2Olt9o
National Christmas Tree
Not to be confused with the U.S. Capitol Christmas tree, the National Christmas Tree adorns the northeast quadrant of The Ellipse. According to the National Park Service, "the tradition of the National Christmas Tree on the Ellipse began with President Calvin Coolidge over 90 years ago when he lit a 48-foot Balsam Fir from Vermont decorated with 2,500 electric bulbs in red, white, and green on Christmas Eve 1923."
The lighting ceremony for the 2023 National Christmas Tree occurs on November 30. The National Christmas Tree site will open to the public on December 2. CBS Network will broadcast the National Christmas Tree Lighting special at 8 p.m. ET on December 15.
Visit the National Christmas Tree in President's Park on the White House Ellipse. You will also see trees decorated with handmade ornaments from 56 U.S. states and territories. There are nightly musical performances.
Christmas "Markt"
The Heurich House in Dupont Circle organizes an annual Christmas market German-style (December 1-3) in Washington D.C. Held in the walled garden, the market features artisans selling gifts.
Consumers can sip on a "Senate" brand beer or consume mulled wine ("gluhwein). The market features handmade gifts, such as candles and jewelry as well as chocolates. A ticket costs $2-$19. The "Christmas Cheer" ticket includes an adult beverage as well as an entrance to the market.
"2023 marks the start of a new decade for the Heurich House Museum's annual Christmas Markt. Supporting over 1,000 small businesses since its inception, the small garden market has evolved into a key incubator for Washington, DC's makers and craftspeople." Heurich House
This is the 12th edition of the Christmas market which features local artisans. The Heurich mansion was built by local artisans in 1894. Craftsmanship and entrepreneurship are an important part of the museum's history.
Willard Hotel
The term lobbying is reportedly derived from businessmen who congregated in the lobby of the Willard Hotel during the Lincoln Administration during the Civil War. While you will still see business people, the Willard Hotel also attracts well-heeled tourists.
During Christmas, the Willard Hotel is decked out with a giant Christmas tree as well as poinsettias. In the evening, the hotel features local singers who perform in the lobby. Hum along with Michael Buble's version of It's Beginning To Look A Lot Like Christmas everywhere you go . . .
"There's a tree in the Grand Hotel, one in the park as well . . ." Meredith Wilson
Located at 1401 Pennsylvania Avenue NW, the Willard Hotel is an easy walk to the Metro Center shopping district as well as restaurants. Opened in 1818, this luxury hotel is known as the "Residence of Presidents."
Kennedy Center
No holiday celebration is complete without seeing a holiday concert at the Kennedy Center. This year, the calendar of events includes Handel's Messiah and Bach's Magnificat." NPR's "A Jazz Christmas" is always a sellout. The National Symphony Orchestra (NSO) Pops will stage "A Holiday Pops" in mid-December. In addition, the Millenium Stage North features free tickets (requiring ticket reservation in advance) for 6 pm shows. The NSO also will take its programming on the road. The Anthem will feature the NSO's Ugly Sweater Holiday Concert.
My name is Terri Markle. I love to travel & blog about it. Please join me on my adventures.
You Might Also Like
Woodland Normanstone Walking Tour in DC
Locorotondo, Italy
Cleveland Park: DC Street Car Suburb
73 comments.
Yes there are a lot of activities which returned in 2021 including the train display. We are so glad to return to the theater. It was dark for a long time in DC!
Thanks for sharing a cozier, lighter hearted side of D.C. Very inviting!!
My fave is the Canadian Embassy (though to be fair I might be biased!). Happy holidays!
Who would have thought that there is so much to do in Washington DC during the holidays! And I love how Parker was mesmerized by the holiday train! Adorable!
What a dream – the National Christmas Tree looks so pretty. As an European, I'm dreaming of Christmas in the USA – hopefully I'll get there as soon as possible. Thanks for sharing!
I hope you get to visit the USA and Washington DC in particular during December. There are so many cool things to do. Our National Christmas Tree is spectacular.
simplyjolayne
So many similar activities as we have here in Denver. We are going to visit the Christkindlmarkt tonight. I love all of the markets you highlight as well. That's what I would love to visit.
I am so glad that the Christmas markets continue to expand into new neighborhoods in Washington DC. I love to explore the artisan gifts. They are one of a kind.
It's wonderful to read about all the traditions of Christmas in DC. It makes me want to go visit during the holidays. Such a comprehensive write up of all there is to do there.
I hope one day that you can visit Washington DC during the Christmas season. There is so much to do.
I never considered DC for Christmas, but it looks magical! I think I would love exploring the Downtown Holiday Market. And there are so many extraordinary Christmas trees to see! Wow! It looks like DC has some great holiday cheer!
Yes we pride ourselves on our Christmas cheer! We're not just about politics & cherry blossoms lol! 🌸🌸
So much to see and do over the holidays! I'd love to see the Canadian embassy tree. Thanks for sharing 🙂
The Canadian Christmas tree can be seen from the US Capitol grounds. It is spectacular.
Rachel-Jean Firchau
Ahh this is giving me all the Christmas feels! I miss DC. Need to return soon!
DC is amazing right? I hope you get back soon for a visit.
I absolutely the festive atmosphere of cities during Christmas and New Year. There are, for sure, lots of things to do in Washington, DC. I'd love to experience the city one day, and why not in winter? By the way, the Capitol looks stunning.
Everyone should see the Us Capitol once during the Christmas season. The Capitol Christmas tree is always stunning.
Oh wow, how I love the holidays up north with snow! It looks and feels like Christmas. You captured it so well – and the photography is just stunning too! I would love to see the Christmas tree at the US capitol and the botanical gardens.
I am so glad you like my photos. I work so hard to capture the magic of the season by photographing at daylight and also sunset.
What a wonderful list. Brought back a lot of good memories. I'm so glad you included the Willard. I tried to go every year for the Christmas carolers. I would get there early to secure a seat on one of the comfy couches. And they had free sugar cookies too. This list made me want to squeeze in a quick weekend back to DC in December!
The Willard is such a treasure. I can't wait to head back again this year to hear the carolers.
WOW, I'll definitely be adding Washington DC to my list to visit for the holidays! It all looks so magical! Plus, I love all the light displays and dreamy Christmas trees!
I highly recommend visiting DC during December. The city really does outdo itself with all the holiday lights!!
What a fun, seasonal to do list for DC! Have yet to visit this timenof year so apprrciate the extra motivation here. The Canadian Embassy would be my first stop 🙂
All my Canadian readers express so much excitement about visiting the Embassy to see the Christmas tree! I hope you get to visit one day.
Wow, there's so much to do in Washington DC during the holidays! It looks like a great time to be there!
It is magical!!
It looks so festive in DC. I would definitely want to check out the botanical gardens.
The highlight is the model train setup! The children get so excited seeing it travel around the track.
Jenn | By Land and Sea
DC looks magical with all the Christmas festivities!
Pure magic in the nation's capital 🎄
ANUKRATI DOSI
The model train setup looks so worth seeing in person.
The model train is so cool. Children adore it.
Hard to choose a favourite thing, A Christmas Carol is a favourite, The Willard hotel looks amazing as do all the festive lights about at night…I am a sucker for Christmas Markets so I would definitely attend those… thank you for a wonderful look at Christmas in Washington DC
Thank you! All these events are so special to attend in Washington DC. They really get you in your holiday spirit.
Lots of magical things to do around Christmas. It's starting to feel a lot like Christmas! Enjoy Christmas 2022.
Enjoy your Christmas! I know I am excited.
Terri I love the wonderful holiday sights you recommended to see! Many are my favorite I can feel Christmas in the air Thank you
So many locals wrote me that they have cherished memories of their Christmas traditions in Washington DC. I will never miss seeing the annual Pops holiday concert at the Kennedy Center. Merry Christmas!
DC is one of my favorite U.S. cities for Christmas! I lived there for almost 10 years and always loved the holidays. Great recommendations!
I wholeheartedly agree. You can find something different to do every night for the 24 days leading up to Christmas Eve in DC. It is magical. 🎄🎄
Washington looks fantastic to visit around Christmas. I was there one summer and really enjoyed walking around the different neighbourhoods.
I hope you get to visit DC in the winter. It is so beautiful at Christmas.
Christmastime in DC is lovely! I especially love your neighborhood photos!
My favorite thing is to roam through DC's neighborhoods,like Capitol Hill, to admire the Christmas decorations.
Linda (LD Holland)
We were enchanted when we visited NYC for holiday activities. But it looks like we need to add DC to the list too. Such a great way to get in the holiday spirit. We would not want to miss the train display in the Botanical Garden. And all the trees lit up around town.
I highly recommend visiting Washington DC in December so you can enjoy all the activities that I describe in my post. We don't have NYC's extravagant window displays, but NYC doesn't have the Capitol Christmas Tree or the National Christmas Tree!
I love how festive Washington DC is for Christmas! All the trees dazzling and light displays are cool but I'd love to visit the Hillwood Museum decorated for the holidays, it looks beautiful!
Hillwood Mansion is probably one of my 5 favorite places to visit in Washington DC during Christmas. The decorations in the mansion are gorgeous!
Wonderful! DC looks so magical at Christmas! So many lovely places to visit and I love that some are dog-friendly!
As a dog owner, I love that Parker and I can enjoy so many places in DC where we can enjoy the holiday decorations. Of course, he cannot go into the Willard Hotel. But sometimes there are carolers outside in the historic neighborhoods near Christmas.
I've visited Washington DC previously, but never during the Christmas season. The festive vibe seems enchanting, and there's so much to see! Imagining the Capitol during this time is truly magical. Can't wait to experience it!
I wish everyone could see the Capitol Christmas Tree lit up at night on the West Lawn in front of the U.S. Capitol building. It is so beautiful!
Wow, there are so many things to do in Washington DC during the festive period. It looks like a great time of the year to visit.
DC at Christmas looks so magical! Would love to visit soon, so saving this for a future trip 🙂
Celebrating Christmas in Washington DC is not to be missed. I hope you get to visit one day.
December is definitely a wonderful time to visit Washington DC. You can get some great airfares between Thanksgiving and Christmas. It gets expensive between Christmas and New Year when the kids are on break from school, however.
Catherine - Savvy Family Travel
How magical! I'd love to see that tree with the capital building in the background. Give me all the markets too!!
I get to enjoy the Capitol Christmas tree for 30 days since the lighting occurs in early December. I walk my Golden Retriever on the Capitol Grounds every day. Plus we visit the US Botanic Gardens and enjoy the holiday train and the holiday lights.
Ah I love DC but I've never visited at Christmas! It looks like there are so many fun, festive activities to enjoy! I'd love to visit during the Christmas season. Hillwood Museum looks especially stunning decorated for Christmas. Thanks for the great guide!
I will be attending the Open House for the holiday decorations this year at Hillwood Museum. I would never miss it. It is so festive plus they serve cookies and tea!
Laureen Lund
Amazing. I have very fond memories of a DC Christmas years ago. I'd Love to visit again.
I always recommend people visit Washington DC between Thanksgiving and New Year. It is usually never bitter cold and you can enjoy the beautiful decorations and activities. I struggle to fit all the activities in each year.
Washington DC looks so magical and fun at this time of year. I love all the lights.
Many owners in the historic neighborhoods, such as Capitol Hill and Georgetown, decorate their houses and trees with twinkling lights. It is magical to stroll in these neighborhoods after sunset!
Love the festive trees everywhere! And the historical mansions all decked out in festive decor! I presume from Thanksgiving to pre-Christmas season it all goes in one swift ride in the US, with a bit of Chanukkah in as well? Thank you so much for sharing.
The holiday decorations begin in late November at the private homes. Thanksgiving weekend is often the big reveal for the DC holiday market near the Smithsonian museum. I have been out of town for the last two years when the National Lighting of the National Menorah in Washington DC. I need to get a friend to go and take photos!
I love Christmas in DC! I have an almost identical article, actually, but I think the only one i'm missing is the Christmas Makt – I'd never heard of that! I'll have to check it out this year.
I update this article annually because even some locals don't know about these Christmas events. You definitely need to check out the Heinrich Heurich House Museum. Their annual Christmas Markt is so cool!
Wow it looks so magical and pretty at Christmas! The German style markets sound so fun!
Washington DC is definitely magical during the holidays.
What a delight, thank you for such a festive post! I loved visiting D.C. and now am inspired to return for the holidays. It looks like Parker is living the good life seeing all of the sites too!
Leave a Reply Cancel Reply
Mobile Menu Overlay
The White House 1600 Pennsylvania Ave NW Washington, DC 20500
Holidays at The White House
2023 White House Holiday Theme:
The 2023 White House Holiday Display is designed to capture the pure, unfiltered delight and imagination of childhood, and encourage visitors to reflect on this time of year with hearts open to the "Magic, Wonder, and Joy" of the season.
The 2023 White House holiday theme is inspired by how children experience this festive season: completely present in the beauty and bounty around them, their senses alight, with hearts open to the "Magic, Wonder, and Joy" of the holidays. In this season of reflection and goodwill, we hope you will embrace your inner child and delight in simply being present with those you love. It is a time for our senses to awaken—for each of us to smell the aroma of favorite family recipes, to hear the warmth of a dear friend's voice, to see the glow of lights and decorations, to taste the sweetness of candies and treats, and to feel the quiet stillness and strength of faith.
We hope you enjoy the holidays at the White House— "The People's House," your house. May the memories made here remind us all of the blessing that is our Nation.
– The First Lady and President wrote in a welcome letter at the beginning of the commemorative 2023 White House Holiday Guide.
Welcome to the White House
Each room and design element throughout the White House holiday display encourages you to embrace your inner child, indulge your senses, and delight in the "Magic, Wonder, and Joy" of the season.
The East Wing
Guests enter the East Wing of the White House under the festive branches of an enchanting and magical Christmas tree. The decor invites visitors to summon joyful memories of childhood at the holidays: lying under the Christmas tree and gazing up with wonder, marveling at the twinkling lights, and feeling the soft pine needles above. Holiday candy and sweet treats of the season float overhead in both the East Wing Lobby and East Colonnade, reminding children and families of the delicious flavors of the holidays.
The Gold Star Tree
The first Christmas tree featured inside the White House is adorned with wooden Gold Star ornaments that are engraved with the names of fallen service members. The Gold Star tree honors the heroic men and women of our Nation's military who have laid down their lives for our country, those who are Missing in Action, and the families who carry on their legacies. May God bless our troops and their families.
The Ground Floor Corridor
The marble arches of the Ground Floor Corridor are sprinkled with holiday messages sent from Americans across the country to the President and First Lady. Letters to Santa Claus are magically flying in and out of vintage mail boxes, ready to be sent to the North Pole with a stamp and a wish. Also on the Ground Floor Corridor is the first nod to the 200th Anniversary of the publication of ' Twas the Night Before Christmas , a poem and book deeply etched into so many childhood memories. The Library of Congress provided a sampling of editions from the last 200 years to the White House, displayed in cases for visitors to remember and enjoy.
The Library
The Library honors the tradition and magic of bedtime stories during the holiday season. Golden moons and shimmering stars are suspended above, with treasured holiday storybooks throughout the peaceful scene. Santa and his sleigh are seen through the window, flying past a full moon on his way to the White House.
The Vermeil Room
The decor of the Vermeil Room (French for gilded silver) represents the joy of music and performance during the holidays.
At the center of the room is a mechanical theater creation with rotating United States Marine Band figures entertaining guests with herald trumpets. Flanking the stage are Christmas trees draped with whimsical handcrafted instruments and snare drums, inviting guests to sing their favorite holiday tune. The mantel is graced with sculpted ballerinas, spinning out of music boxes.
On the walls of this room are the portraits of the first ladies, including Mamie Eisenhower, Claudia "Lady Bird" Johnson, and Jacqueline Kennedy. Over sixty years ago, Mrs. Kennedy founded the White House Historical Association to protect, preserve, and provide public access to the rich history of "The People's House."
The China Room
Favorite flavors and scents of the season are featured in the China Room. A White House sweet shop sets the scene in this room, with holiday cakes, cookies, and gingerbread enhancing the space. Piles of cooking supplies and baking ingredients remind guests of familiar recipes that bring generations of families together year after year during the holidays.
The China Room, which was first introduced as a display room by First Lady Edith Wilson in 1917, houses tableware used by past presidential families. Most presidents, beginning with George Washington, are represented by either a personal or State Service of porcelain, glass, or silver. Each piece recalls the State Dinners and celebratory meals that have brought together world leaders and diplomats.
The East Room
The joyful anticipation of the holidays is front and center in the East Room, with Advent calendars counting down the days to Christmas. Behind each number is a special surprise for children of all ages to enjoy.
As the largest room in the White House, the East Room has hosted public receptions, ceremonies, bill signings, and other memorable occasions. It also includes Gilbert Stuart's portrait of George Washington, which First Lady Dolley Madison helped save in 1814 when the White House was about to be set aflame during the War of 1812.
The East Room features a Neapolitan crèche, or Nativity scene, with over 40 figurines, most dating back to the eighteenth century. The crèche has been displayed during every White House holiday season since 1967.
The Green Room
Glowing candles and shimmering stained glass symbolize the peace, strength, and joy we find in faith. It is often in quiet, candlelit rooms when we can see most clearly, center ourselves in faith, and embrace the wonder of our world around us.
Arranged in the windows are colorful sprays of crystal and prisms, mixed with shimmering fabric and embroidered starbursts to reflect light. Colorful orchids, a favorite of First Lady Jill Biden, and holiday florals are incorporated throughout the room.
Once Thomas Jefferson's dining room, the Green Room houses Henry Ossawa Tanner's Sand Dunes at Sunset, Atlantic City. Tanner mixed actual sand into his paint to illustrate the windswept beaches of our coasts.
The Blue Room
The Blue Room showcases the official White House Christmas Tree. This year's tree is an 18½ foot Fraser Fir from Fleetwood, North Carolina and stands floor to ceiling, filling the oval room. Every year, the Blue Room's chandelier is removed to accommodate the Christmas tree's full height.
The stunning tree celebrates cheerful scenes, landscapes, and neighborhoods from all across the country, with names of every state, territory, and the District of Columbia, showcased throughout the decor. With bright colors and three-dimensional elements, guests will gaze in wonder as they are taken on a delightful adventure around the tree. A replica of a vintage passenger train, on loan from the Train Collectors Association, magically weaves through the tree's base.
This year's official White House Christmas Tree was presented to the First Lady by siblings Amber Scott and Alex Church of Cline Church Nursery, the 2023 Grand Champion Grower in the National Christmas Tree Association's annual contest.
The Red Room
The decor of the Red Room represents the joy of making holiday crafts together. Whether sewing a costume for the Christmas pageant, stringing popcorn for the tree, or fashioning homemade ornaments, the holidays are a time for creativity and imagination. As part of the First Lady's Joining Forces initiative to support military and veteran families, caregivers, and survivors, the ornaments in this room were created out of the handprints and painted family portraits of military-connected children, ensuring that military and veteran families can see themselves and their talents reflected in this year's holiday display.
A Red Room tradition since 1975, fresh cranberries are integrated into the decor as topiary forms. Marking a new twist to the time-honored tradition are cranberry red beads incorporated into the room's handmade popcorn garland.
State Dining Room
Embodying the "Magic, Wonder, and Joy" of the holidays is Santa's Workshop in the State Dining Room. Elves' workbenches, stools, and ladders circle the Christmas trees, with tools and gifts-in-progress filling out the decor. Life-sized nutcrackers and dancing ballerinas flank the Christmas trees and reside within the window wells, with festive ribbons and gift tags lining the fireplace.
An engraving on the mantel reads, "I Pray Heaven To Bestow The Best of Blessings On This House…" The words were taken from a letter written by President John Adams to his wife, Abigail, dated November 2, 1800. These words are now known as the White House blessing.
2023 Gingerbread White House
A favorite for all during the holidays is the annual Gingerbread White House. Inspired by the 200th anniversary of the publication of 'Twas the Night Before Christmas , this year's gingerbread White House features a recreation of this storied tale. The display includes a sugar cookie replica of the famous book, as well as Santa's sleigh flying above the White House grounds. This magical poem has delighted children for 200 years, with families across the world gathering together for generations to recite the lyrical lines by memory.
The Cross Hall
The Cross Hall unites the State Rooms of the White House, with the East Room and State Dining Room at the opposite ends, and the Green, Blue, and Red Rooms opening from the south side. The slightly arched ceiling springs from the cast plaster molding designed during the Theodore Roosevelt renovation of 1902.
During the holidays, the Cross Hall features the official White House Menorah, created in 2021 by the White House Executive Residence Carpentry Shop. The menorah was constructed using wood that was removed more than seventy years ago during the Truman-era renovation of the White House.
The Grand Foyer
Closing out the 2023 White House holiday display is an incredible, eye-catching recreation of 'Twas the Night Before Christmas in the Grand Foyer.
With Santa's enchanting sleigh and reindeer suspended in the air, and the Cross Hall's architectural niches featuring elements of the famous story, guests will leave their White House holiday experience with hearts full of "Magic, Wonder, and Joy."
2023 White House Holidays
Approximately 14,975 feet of ribbon, over 350 candles, over 33,892 ornaments, and over 22,100 bells were used this year to decorate the White House.
There are 98 Christmas trees throughout the White House complex.
The Gingerbread White House creation includes 40 sheets of sugar cookie dough, 40 sheets of gingerbread dough, 90 pounds of pastillage, 30 pounds of chocolate, and 50 pounds of royal icing.
Over 142,425 holiday lights decorate the trees, garlands, wreaths, and displays in the White House.
72 classic wreaths adorn the north and south facades of the White House.
It takes over 300 dedicated volunteers from across the country working a full week to decorate the inside and outside of the White House.
Get your copy of the
2023 white house holiday guide.
Thank you to children's book illustrator, Raúl Colón , for his inspired artwork throughout this book, which perfectly captures the "Magic, Wonder, and Joy" of the holidays.
2022 Holidays at The White House
Stay connected.
We'll be in touch with the latest information on how President Biden and his administration are working for the American people, as well as ways you can get involved and help our country build back better.
Opt in to send and receive text messages from President Biden.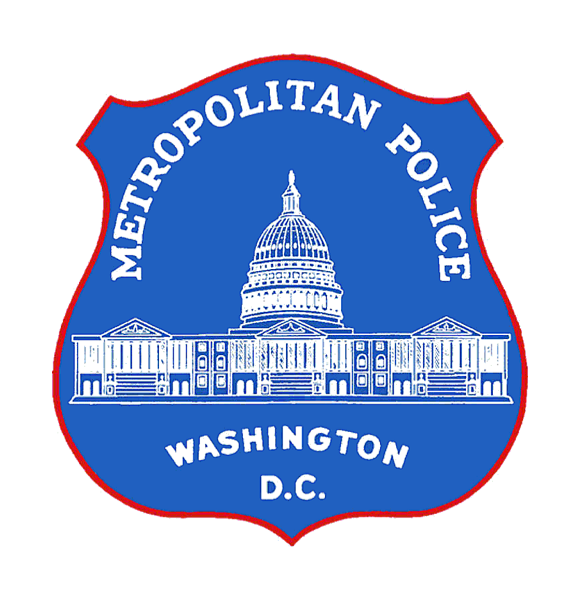 Contact Police
Annual Reports
Closed Circuit TV
Community Briefing Videos 2023
Community Briefing Videos 2022
Community Briefing Videos 2021
Community Briefing Videos 2020
Community Briefing Videos 2016-2019
Crime Cards
Crime at a Glance
Block 1: Introduction to Policing
Block 2: Basic Investigative Skills
Block 3: Report Writing
Block 4: Introduction to Criminal Law
Block 5: Introduction to Crime
Block 6: Criminal Offenses I
Block 7: Criminal Offenses II
Block 8: Criminal Offenses III
Block 9: Complex Criminal Offenses I
Block 10: Complex Criminal Offenses II
Block 11: Serious Criminal Offenses
Curriculum Block 12: Traffic I
Curriculum Block 13: Traffic II
Crime Data at a Glance
Adult Arrests
Hate Crimes
Homicide Closure Rates
Juvenile Arrests
Marijuana Arrests
ShotSpotter Data
Staffing and Attrition Data
Traffic Fatalities
Use of Force Data
Adverse Action Data Sheets
Adverse Action Hearing Schedule
Open Government and FOIA
General Orders
Special Orders
Standard Operating Procedures
Bureau/Division Orders
Recovered Property
Specialized Reports and Resources
Staffing, Attrition and Budget
Use of Force Review Board Public Release Documents
Community Affairs
Community Engagement Academy
Community Outreach
MPD Rewards
Partnerships With Other Agencies
Police Initiatives
Protection Orders
Special Liaison Division
Training Partnerships
Unsolved Homicides
Victim Assistance
Youth Outreach
Find Your Police District
About the Community
District Commander
District Roster
Download a High-Resolution Map
School and Child Safety
Campus Safety
Boating Safety
Business Safety
Drug Safety
Financial Safety
General Safety
Seasonal Safety
Traffic Safety
Press Releases
Testimonies
Biographies
Organization
Specialized Units
Telephone and Contact Directory
Translated Documents
TRAFFIC ADVISORY: NATIONAL CHRISTMAS TREE LIGHTING
On Thursday, November 30, 2023, the National Christmas Tree Lighting will take place in the District of Columbia. In conjunction with this event, there will be parking restrictions and street closures motorists should take into consideration:
The following streets will be posted as Emergency No Parking from 9:30 a.m. to 7:00 p.m .:
17th Street from Pennsylvania Avenue to Constitution Avenue, NW
Constitution Avenue from 14th Street to 18th Street, NW
15th Street from F Street to Constitution Avenue, NW
The following streets will be closed to vehicle traffic from approximately 1:00 p.m. to 7:00 p.m .:
17th Street from H Street, NW to Independence Avenue, SW
15th Street from F Street, NW to Independence Avenue, SW
Jefferson Drive from 14th Street to 15th Street, SW
Madison Drive from 14th to 15th Street, NW
C Street from 17th Street to 18th Street, NW
D Street from 17th Street to 18th Street, NW
E Street from 17th Street to18th Street, NW
F Street from 17th Street to 18th Street, NW
G Street from 17th Street to 18th Street, NW
New York Avenue from 17th Street to 18th Street, NW
Pennsylvania Avenue from 14th Street to 18th Street, NW
For timely traffic information, please visit twitter.com/DCPoliceTraffic.
All street closures and listed times are subject to change based upon prevailing or unexpected conditions.
The public should expect parking restrictions along the street and should be guided by the posted emergency no parking signage. All vehicles that are parked in violation of the emergency no parking signs will be ticketed and towed.
Motorists could encounter possible delays if operating in the vicinity of this event and may wish to consider alternative routes. The Metropolitan Police Department and the D.C. Department of Transportation also wishes to remind motorists in the vicinity of this event to proceed with caution as increased pedestrian traffic can be anticipated.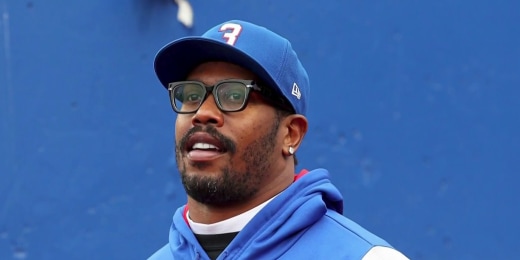 Von Miller turns himself in after pregnant girlfriend accuses him of sexual assault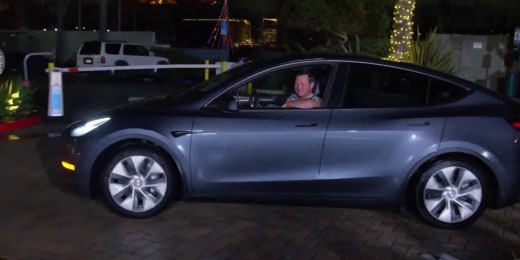 Engineer becomes first person to finish cannonball run using solar power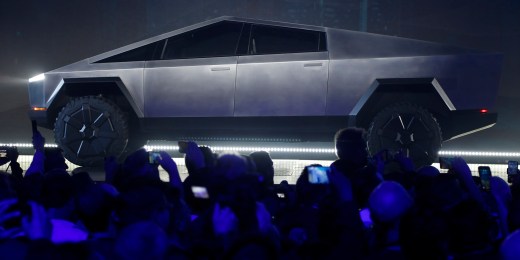 Tesla begins deliveries of its Cybertruck years after viral glass test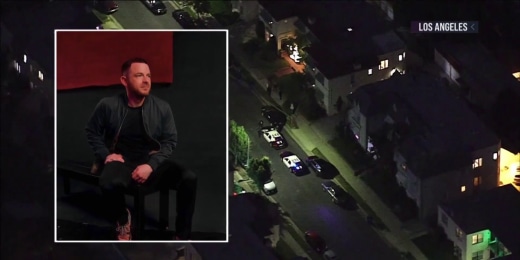 Murder of Hollywood social activist Michael Latt was targeted, authorities say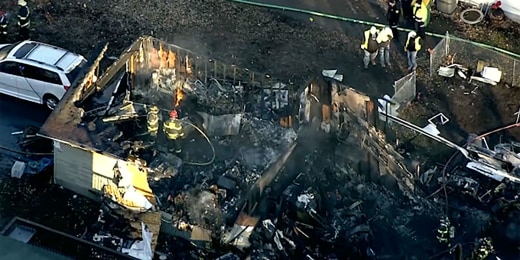 Video shows aftermath of deadly Minnesota home explosion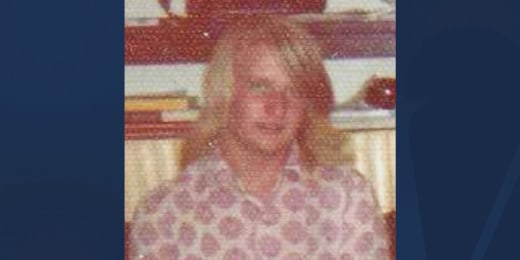 Remains of missing Iowa teen identified decades after death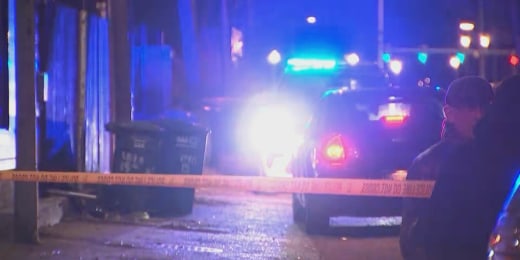 FBI employee carjacked near Capitol Hill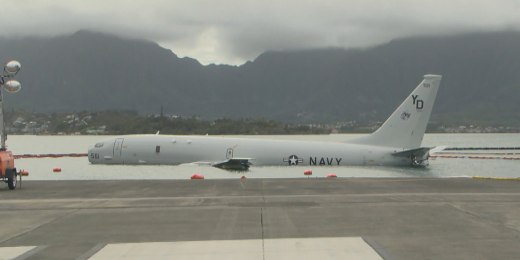 Recovery of downed Navy plane continues
Nephew of woman killed by Texas police receives $3.5 million settlement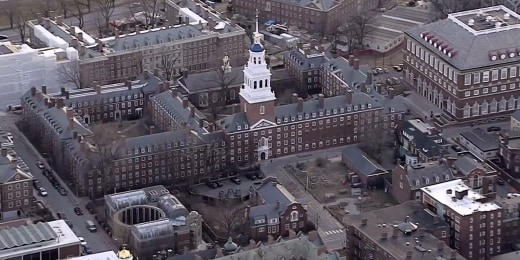 Harvard antisemitism claims under investigation by Education Department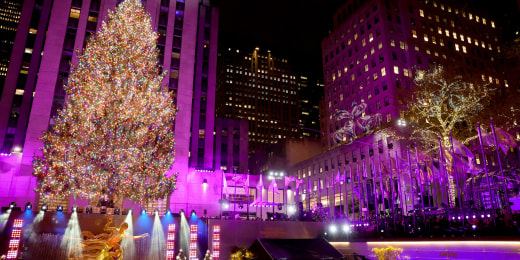 Watch the moment the 80-foot Rockefeller Christmas tree lights up NYC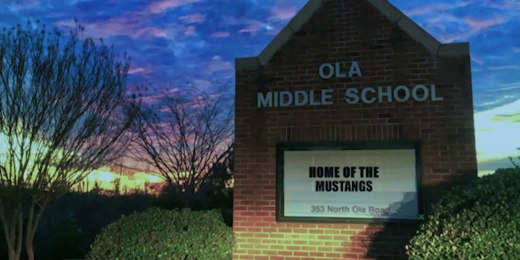 Mother of student sues Georgia school administrators after alleged stabbing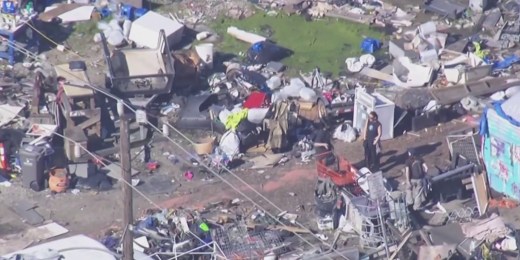 California Gov. Newsom pledges $300 million to clean up homeless encampments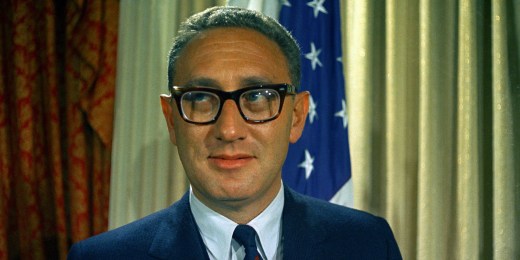 Henry Kissinger, former secretary of state, dies at 100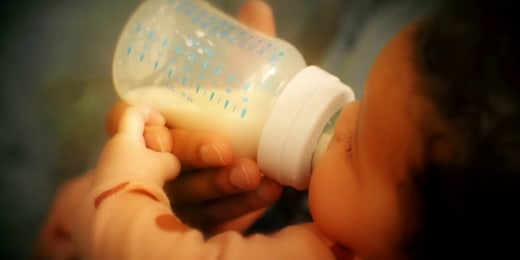 Federal regulators propose new standards for infant loungers after deaths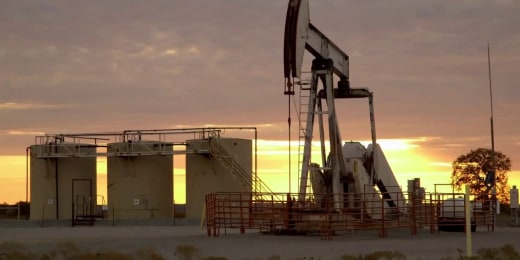 Gas prices are down as U.S. oil production is back up to record levels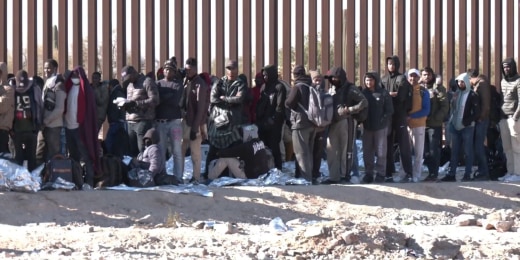 Dramatic rescues on the Rio Grande, amid shift in migration trends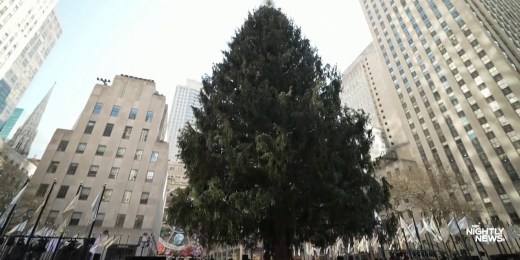 The family behind this year's Rockefeller Center Christmas Tree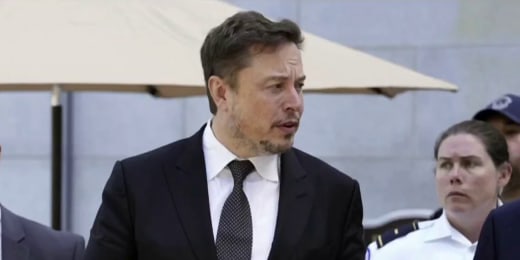 'Go f--- yourself': Elon Musk responds to advertisers boycotting his social platform
Internal probe clears Ohio officers who fatally shot Jayland Walker
Nbc news channel, national christmas tree topples over amid strong winds in d.c..
Video captured the moments outside the White House when the National Christmas Tree was re-erected after toppling over due to high winds in the Washington, D.C. area. Nov. 29, 2023
Best of NBC News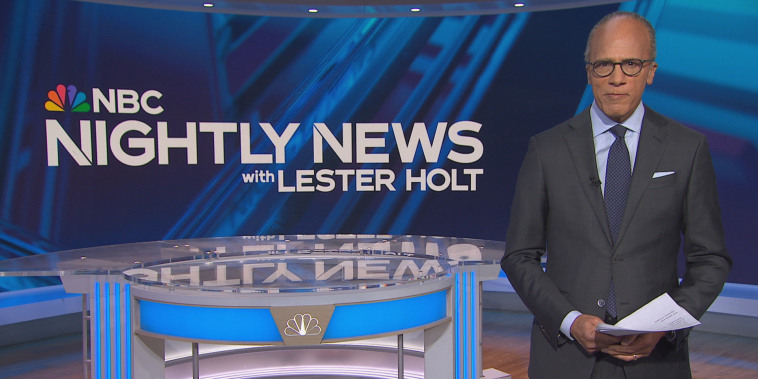 Nightly News Netcast
Nightly news full broadcast (november 30th.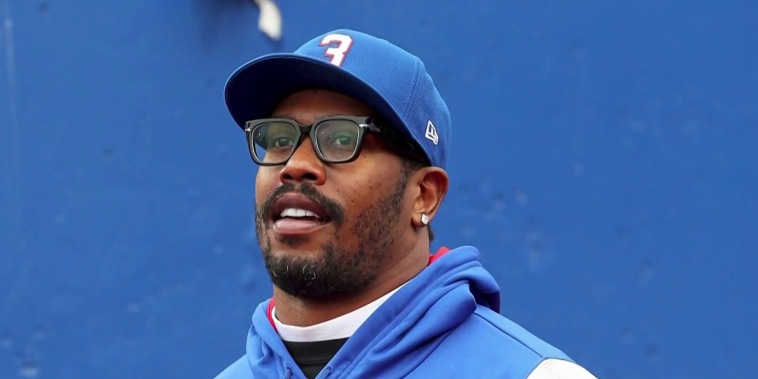 NBC News NOW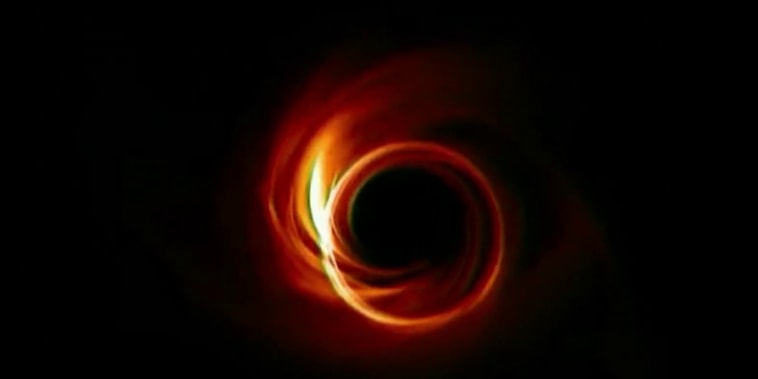 Scientists find rare six-planet solar system that moves in sync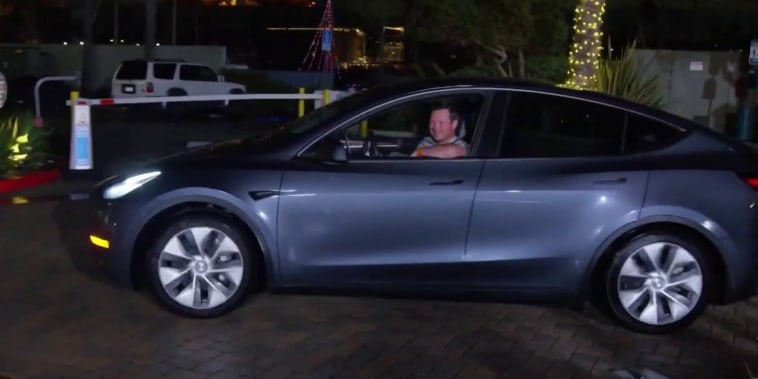 Family fights for carbon monoxide detectors in Airbnb's after son's death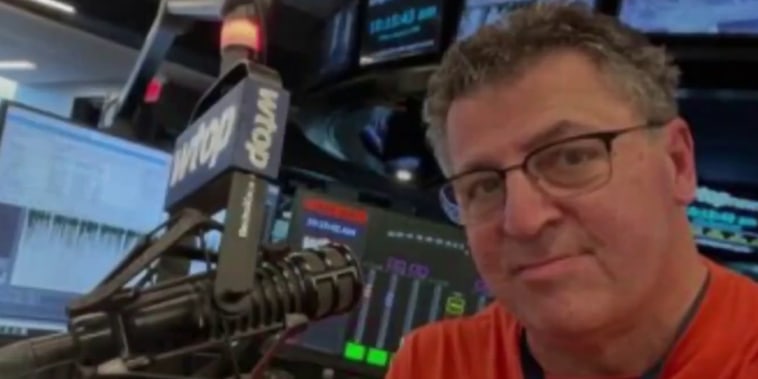 Life-changing treatment helps DC radio reporter regain his voice 
Mountain View, CA
Mountain View
Around the Globe
Hurricane tracker.
Severe Weather
Radar & Maps
News & features, winter center, news / weather news, national christmas tree topples in gusty dc winds.
By Sam Fossum, CNN
Published Nov 29, 2023 5:15 AM PST | Updated Nov 29, 2023 6:41 AM PST
The National Christmas Tree, on the Ellipse south of the White House, blew over just two days before an official lighting ceremony.
(CNN) — The National Christmas tree was no match for Washington's gusty weather Tuesday afternoon, toppling over at one point because of high winds.
CNN spotted the tree on its side around 4:40 p.m. Tuesday afternoon, with at least one worker climbing atop the structure. It was later righted, and the National Christmas Tree Lighting ceremony remains scheduled to take place Thursday.
In this image made from video, the National Christmas Tree hangs from a crane in front of the White House as a crew works to lift it back up after it fell, Tuesday, Nov. 28, 2023, amid high winter winds. (AP Video)
CNN has reached out to the National Park Service for comment.
The DC area saw wind gusts of more than 30 mph on Tuesday, with the highest reported above 40mph at Reagan National Airport.
The tree – a 40-foot Norway spruce – was installed on the Ellipse earlier this month, according to a previous news release from the National Park Service.
The National Christmas tree fell November 28 as DC saw wind gusts over 30 mph. (CNN)
A previous tree, planted on October 30, 2021, was removed on November 11 after developing needle cast, a fungal disease that causes needles to turn brown and fall off, the NPS said.
The holidays are in full swing in the nation's capital, with first lady Jill Biden unveiling the White House holiday decorations this week. The decor, revealed Monday, features 98 Christmas trees, 72 wreaths, 2.8 miles of ribbon and more to fit this year's theme: "Magic, Wonder and Joy" of the holiday season.
CNN's Taylor Ward contributed to this report.
Continue Reading:
The-CNN-Wire ™ & © 2023 Cable News Network, Inc., a Warner Bros. Discovery Company. All rights reserved.
Top Stories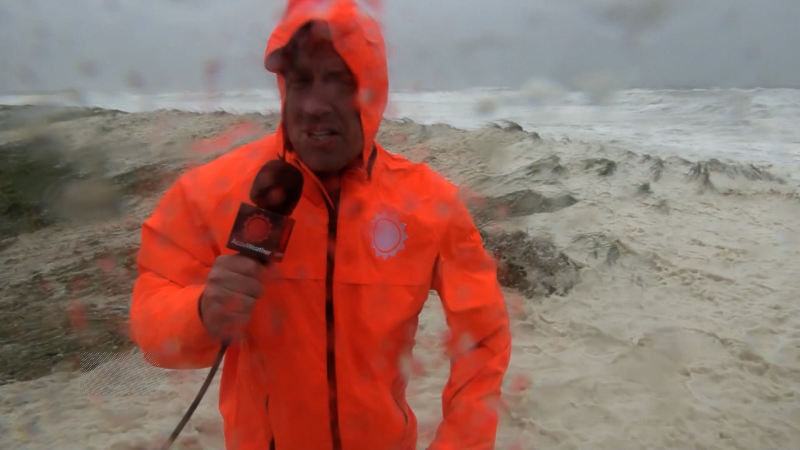 Looking back at the 2023 Atlantic Hurricane season
Houston at risk for storms, tornadoes, flooding into Thursday night
Geminids to outshine all other astronomy events in December
Accuweather early, accuweather prime.
6 hours ago
US has the rare chance to see the northern lights Thursday night
10 hours ago
Weather Forecasts
Back-to-back storms to bring rain, snow to Northeast and Midwest
Atmospheric river to wallop Northwest to start December
7 hours ago
Drenching rain, strong thunderstorms to roll through southeastern US
Featured Stories
Weather News
Researchers find 'witch bottles' washed up on Texas beaches
12 hours ago
Astronomers reveal a rare family of six planets
Elephant herd tramples car after baby struck along Malaysian highway
5 Native American inventions that are still used in our modern world
First lady Jill Biden unveils White House holiday decorations
We have updated our Privacy Policy and Cookie Policy .
Get AccuWeather alerts as they happen with our browser notifications.
Notifications Enabled
Thanks! We'll keep you informed.