Banks Power
The Leader in Diesel Performance
'99-04 V-10 Super Duty Power Upgrade: More Power, Better Mileage
Sport truck october 2004.
Installing And Testing Gale Banks Engineering's PowerPack System.
Ford's 6.8L gasoline-fueled V-10 Triton is a torquey over-square engine that comes in most F-250 Super Duty pickups as well as several popular motorhome chassis. It's a tough 415ci engine that, in stock trim, puts 310 hp and 425 lb-ft to the flywheel, and it loves to tow heavy-duty loads. It's reliable and pretty thrifty on fuel, at least as far as a 415-inch engine can be thrifty. In short, Ford's V-10 is well-engineered, so when you make changes, they better be good ones.
Gale Banks Engineering (GBE) is known for making good changes to engines. The company's been at this a long time and has a solid track record—literally. GBE has helped set and break a ton of racing records in just about every venue. So when offered a chance to review and test the company's PowerPack® system for '99-04 gasoline-fueled 6.8L V-10 Triton-equipped Super Duty pickups, we didn't hesitate.
Our test mule, a brand-new '04 Ford F-250, was strapped on to GBE's Mustang dyno for a baseline test the day before the installation of the PowerPack. The stock truck produced 200 hp at 4,300 rpm and 268 lb-ft of torque at 3,700 rpm at the rear wheels on GBE's Mustang chassis dyno. As you can see from the dyno charts, it made substantially more after GBE installed the PowerPack system.
Owner's Report As good as the dyno figures are for this system, the ultimate test is driving it on the road. Fortunately for us, the owner of this truck was taking it on the road for a month, hauling a 10,500-pound fifth-wheel trailer, so we were able to get a lot of good information on driveability, reliability, and fuel efficiency. After living with the system for 7,500 miles, the overall impression of the Banks system is completely positive.  
Especially regarding fuel efficiency. The owner reports he got between 8-1/2 to 9-1/2 mpg while towing, depending on the grade of the road he traveled. And on empty, he got as good as 14-1/2 mpg. Drivability and throttle response were much better, and it pulled hard when he needed it. The truck was noticeably quicker to accelerate and more responsive to throttle input, making it a lot more fun to drive. When he needed the torque, he'd gear down and put it at the torque peak, and the V-10 proved to be as tough as the toughest grade he needed to climb.   
Hey, what more can you ask of a product? More power, better mileage. It sounds like a good combination to us.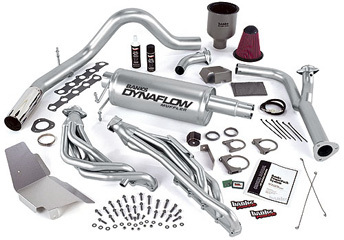 ← Twin-Turbo Revival: Part 2
Guys Talking Cars →
Leave a Reply
You must be logged in to post a comment.
Customer Review
There was a problem loading comments right now. Please try again later.
Product details.
Amazon Newsletter
About Amazon
Accessibility
Sustainability
Press Center
Investor Relations
Amazon Devices
Amazon Science
Start Selling with Amazon
Sell apps on Amazon
Supply to Amazon
Protect & Build Your Brand
Become an Affiliate
Become a Delivery Driver
Start a Package Delivery Business
Advertise Your Products
Self-Publish with Us
Host an Amazon Hub
› See More Ways to Make Money
Amazon Visa
Amazon Store Card
Amazon Secured Card
Amazon Business Card
Shop with Points
Credit Card Marketplace
Reload Your Balance
Amazon Currency Converter
Your Account
Your Orders
Shipping Rates & Policies
Amazon Prime
Returns & Replacements
Manage Your Content and Devices
Your Recalls and Product Safety Alerts
Conditions of Use
Privacy Notice
Your Ads Privacy Choices
Text Us 877-786-1576
Job Application

Your shopping cart is empty!
PERFORMANCE +
SUSPENSION +
Chassis Upgrades +
Workhorse Parts +
Service Documents
Instructions & Downloads
Contact Us +
Ford F53 97-03 V10 Performance Package Stage 3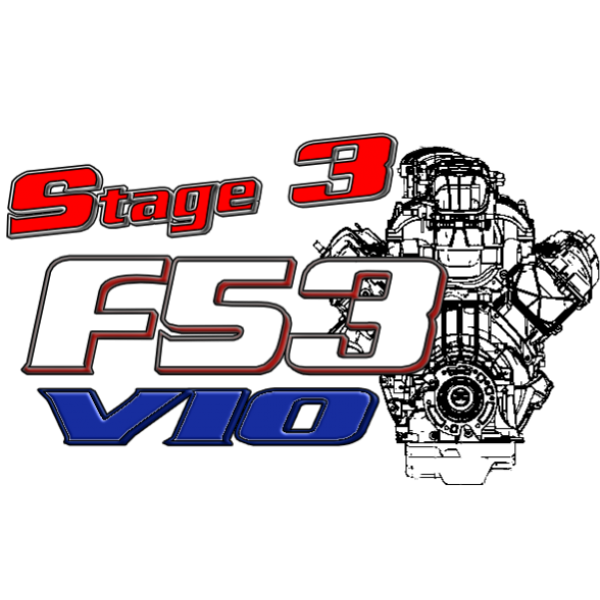 PLEASE READ!!!
Most orders are shipped within 24 hours from the order date. Orders placed on the weekend or after cutoff on Friday, and orders placed on select holidays are processed on the next business day . Please see our shipping terms for more information.
Description
Reviews (0)
Prop 65 Warning
Ford V10 UltraPower Custom Tuning
Part# UPFORD
Description:
UltraPower Custom Programming is the best modification you can make to your Ford 6.8L V10 for both performance and fuel economy for the price. For example, from the factory the V10 engine is detuned and in the 2V application (99-05), the fuel system will not go into Power Enrichment, or Open Loop, so you will never achieve maximum power when climbing hills. Probably the most noticeable difference will be the elimination of the annoying downshifts that occur at even the slightest of hills. Because of the changes made to both the engine and transmission, you will be able to maintain higher gears for much longer and under a higher load...this alone makes a great deal of difference in driving comfort. UltraPower Custom Tuning also works very well in conjunction with aftermarket headers, exhaust and intake, such as the Banks PowerPack.
Applications:
· 1997-2016 Ford 6.8L V10 Engine
· Both 2 & 3 Valve Applications
· Used in Ford Trucks and RV Chassis
· Gains of 40-55 HP and 45-70 lbs TQ
· Gains of 1/2 - 1 MPG
· Downshifts much less approaching hills
· 60 days of tune preference changes. If you want something changed or modified after 60 days you will need to purchase our Tune Update for $50.
49190 - Banks Power Ram-Air Intake Ford F53 Class-A 97-05 V10
Part # 49190
Open up your 6.8L's breathing with the Banks Ram-Air intake system. With its giant air filter housing, lifetime high-flow filter and streamlined tubing, Banks Ram-Air outflows stock by up to 60% for greater power and improved fuel efficiency. Banks' bellows accommodate engine movement, preventing component damage and prolonging service life. Meticulously tested by Banks engineers, Banks Ram-Air Intakes are triple validated before the name "Banks" is stamped on.
· 1997-2005 Ford F53 Class-A Motor home - V10 - 2 Valve Head
49164 Banks Power Torquetubes Ford F53 Class-a 97-03 V10
Part # 49164
One look at Banks TorqueTubes tells you how radically different they are from the stock exhaust manifolds. Constructed of heavy-wall, 400-series stainless steel, TorqueTubes have 1/2-inch-thick flanges that are welded on both sides and then machined perfectly flat (no gaskets needed). They never crack, leak or fail.
Banks' streamlined, stainless steel TorqueTubes are the industry's only parallel 5-tube exhaust manifolds for RVs. Unlike competitors who add a separate tube length to a 4-tube formation, Banks integrates five tuned-length tubes into a design that allows rotational firing of the cylinders through the exhaust, minimizing backpressure and maximizing torque. Now your Ford climbs faster and stronger, without the transmission struggling between gears. The muscle to stay in higher gears longer not only stops annoying "shift happy" performance, it lessens the load on your engine and transmission. Here's power to reach freeway speed sooner for safe merging and passing.
53071 - Ford F53 V10 Performance Muffler
Part# 53071 - Ford F53 V10 Performance Muffler
This is a direct replacement for the Ford F53 muffler, minus the factory flanges which should be reused. This muffler flows much more air than the factory muffler and has been proven to increase performance and extract exhaust heat from the engine. These gains are also achieved while still retaining the factory mellow sound. We have seen on average a 10 horsepower increase with this muffler installed when tested on the chassis dyno.
· Ford F53 V10 Motor home 1999-2016
· Gains of 10 HP and 15 lb-ft TQ
· Gains of .25-.5 MPG
· Downshifts less approaching hills
Write a review
WARNING: Products may contain one or more chemicals known in the State of California to cause cancer and/or birth defects or other reproductive harm. For more information, visit www.P65Warnings.ca.gov
VIN Verification Service Item
This is not an automatic VIN check, it is done by a parts specialist once order is placed.
This service will give you piece of mind that even if you order the incorrect part(s), our parts specialists will review and correct the order as needed.
When you provide your VIN below we will personally verify your part selection by your VIN before shipment of your order.
If you would like to have your part selection verified prior to purchase please call, text or email.
Views: 20767

Product Code: KIT-F53-3PERF-97-03
Availability: In Stock
Please fill in Qty of each part desired
0 reviews / Write a review