Ghent Walking Tour: A Self-Guided City Trail (Belgium)
by Aileen Adalid Things to Do , Belgium 55 comments
All About YOU: Letters from My Readers / Volume 5
How to Apply for a France Schengen Visa for Filipino Tourists (Manila, Philippines)
Best Hotels in Delhi, India: From Cheap to Luxury Accommodations and Places to Stay
Belgium Facts & Trivia: 25 Interesting Things That You Didn't Know
Deal Grocer: For the Best Exclusive Deals on Getaways & More! (Review)
Best Hotels in Rovaniemi, Finland: From Cheap to Luxury Accommodations and Places to Stay
French Riviera Road Trip: Top 10 Places to Visit (Côte d'Azur)
Pan Pacific Hanoi: An Upscale Staycation in Vietnam's Capital
Best Hotels in Siargao, Philippines: From Cheap to Luxury Accommodations and Places to Stay
Hike to Taal Volcano, Tagaytay: Tips, Guide & What to Do (Philippines)
Ghent and Bruges , the charming ' darlings ' of Belgium, have long been pitted against one another — not only by tourists but even by locals themselves! It's no wonder though because both of them are filled with rich history and sights. (Ghent Walking Tour)
In fact, I still fondly remember how a mini-debate ensued when I first asked my Belgian friends' thoughts on the most beautiful town/city in Belgium. As soon as the question rolled out off my lips, there was instantly a divide: the Ghent team and the Bruges team. (Of course, there were biased people in the bunch since they lived in or close to either of the two.)
At the end of the day though, there wasn't a 'winner' in the argument so I simply decided that I will check these two places for myself! The final verdict?
Well, trust me when I say this: BOTH were soooo lovely may it be daytime or night time and it's all because of their equally spell-binding structures and canals — naturally, I can't just pick one! Even if they're not entirely the same, both Ghent and Bruges have their individual strengths and weaknesses that in the end, they just balanced out.
Top Tour to Try?
Check out this hassle-free Ghent and Bruges day trip tour !
For instance, Bruges wins in the ' cuteness ' department for being such a small yet enchanting historical and medieval city (some would even say that it's like a 'city museum' in itself); however, due to its long-standing popularity as one of Europe's stunning little cities, it typically results to a very touristy atmosphere. On the other hand, Ghent has a bigger area, resulting in a more dynamic city with lesser tourists (it's even contested as an underrated picturesque destination in the country); however, some would say that it loses a bit on the romantic side of things as compared to Bruges, especially with the more urban atmosphere that surrounds Ghent.
Given these points, I bet you can imagine by now that if you combine the two, they would surely become an unbeatable pair! So I say: arrange a trip for the both of them if you have the time. But if you don't, then with your knowledge now of the pros and cons of each, as per your traveling style, you can determine the best destination for yourself.
To read and know more about Bruges as well as the things that you can do, come and check out my post here:
» READ: Things to Do in Bruges
Meanwhile, to know more about the city of Ghent, do continue reading through this article especially since what I am sharing with you today is my own self-guided Ghent walking tour or route that will help make your travel ordeal a lot more hassle-free.
Table of Contents
DIY Ghent Walking Tour
» quick travel planning.
Top tours & experiences
Find flights to Ghent
Visa requirements
Best places to stay
Travel insurance (5% discount)
Stay connected
– – –
Quick Ghent Facts
It is Gent in Dutch and Gand in French. (It helps to know since Belgium predominantly speaks [Flemish] Dutch and French).
It is the capital and largest city of the East Flanders province with a population that is around 248,000+ as of January 2013.
One of the well-known festivities would be Ghent Festival / Festivities or 'Gentse Feesten' which is held every year for 10 days by mid-July and attended by millions of visitors!
Ghent residents are called as rope or 'noose bearers' ( Stroppendragers ) since in the past, after revolting in 1539 against the regime of Charles V (who was the Holy Roman Emperor and King of Spain in 1539) and failing in doing so, Charles made the nobles of Ghent to parade around town barefoot and with a noose rope around their neck. (You'll see a statue somewhere in Prinsenhof commemorating this time in the past, and you will also notice that some signs feature this 'element').
Ghent Walking Tour Map
Even though it's a big city, you can actually explore the town on foot in just a day! For your ease, I have included a Ghent walking tour map below showing the address and routes of the top hotspots in Ghent, followed by a listed section that briefly explains each of these places.
Things to Do in Ghent
» patershol.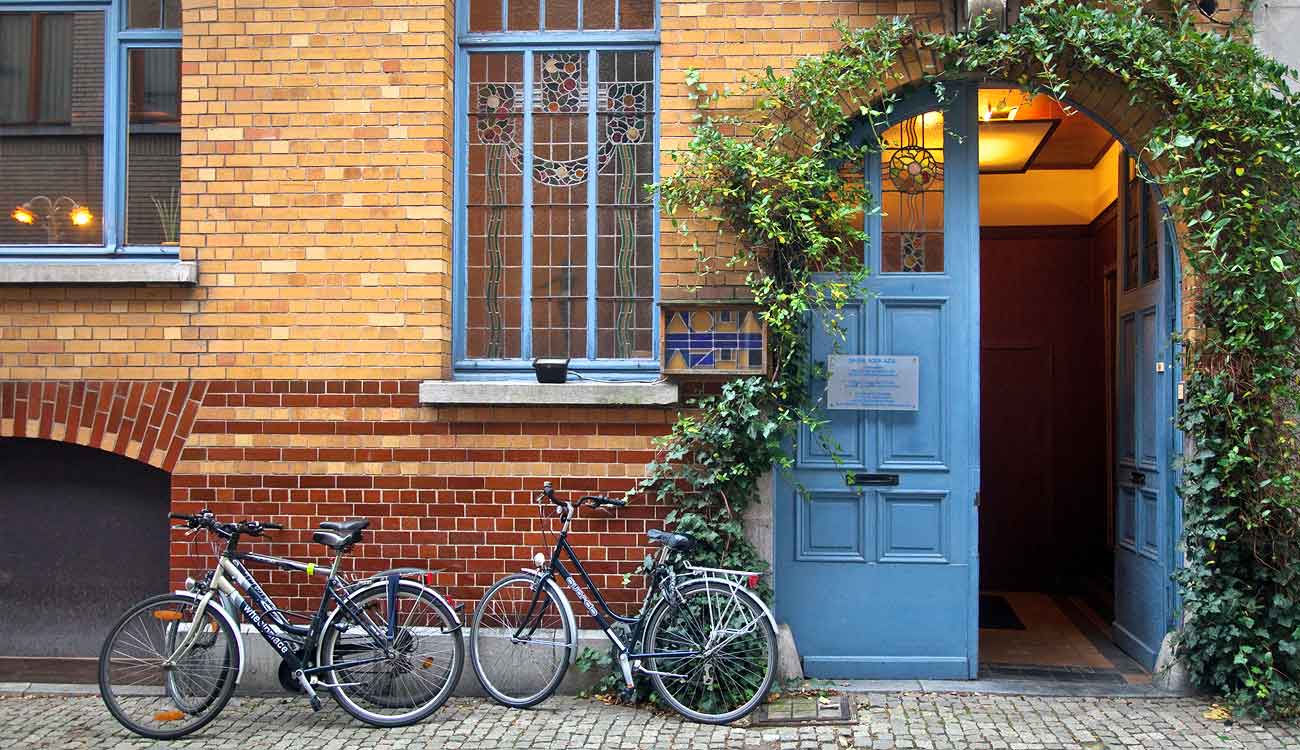 An old and medieval quarter in Ghent, Patershol is your go-to place if you truly want to find the 'gastronomic' or 'foodie' center of the city. Lined with an array of small cafes and restaurants, there is definitely something for everyone here. Besides, this area holds a charm given its closed street pattern — truth be told, this is said to be one of the most desirable neighborhoods in the city!
TRIVIA: This side of the river is called the 'Domain of the Counts' as it was originally the property of the count (meaning that it was not owned by the city).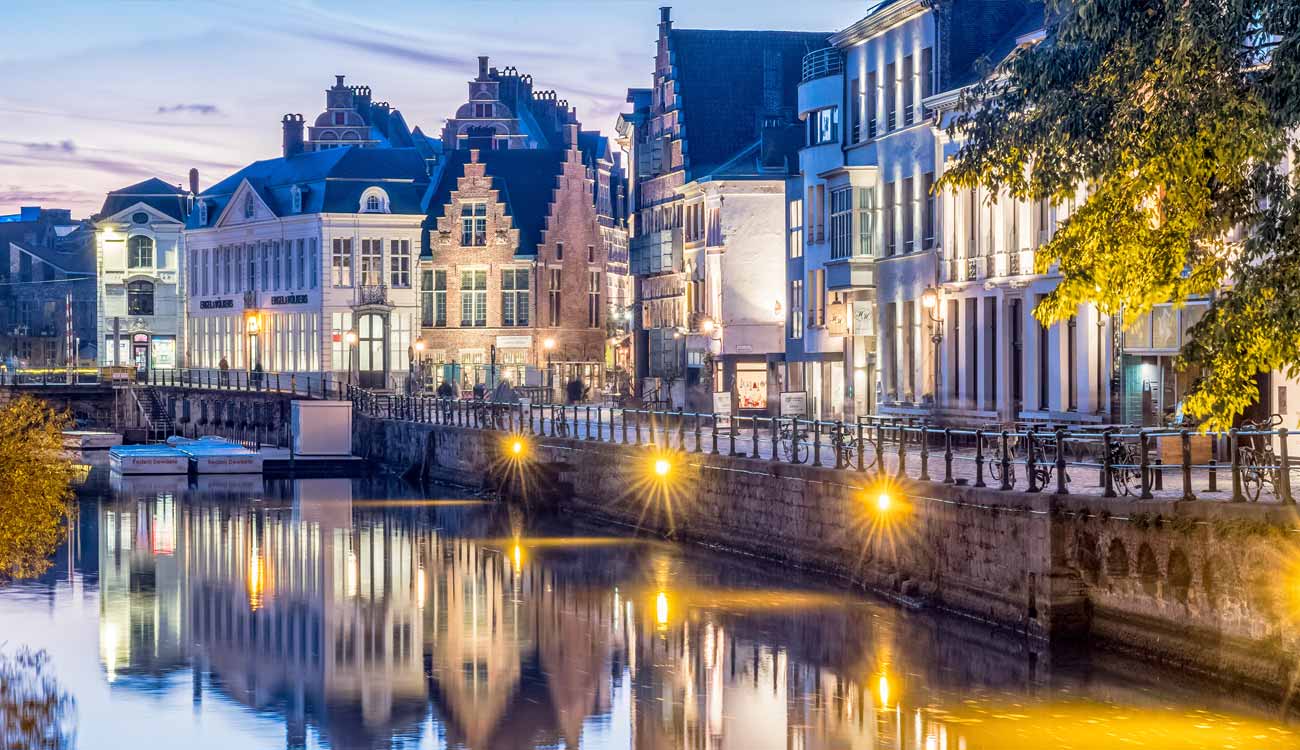 Follow the route indicated on the Ghent walking tour map above and you will arrive at the street of Kraanlei which is by the river.
Right somewhere in the middle of this stretch, you will see two interesting houses. First will be Kraanlei 81 which is a baroque house richly decorated with a flute player, the five senses, a flying deer, and many others. Next will be Kraanlei 79 which is just beside it. It's called the Six Works of Mercy adorned with 6 figures. However, historians are arguing that there was a seventh which depicts the burial of the dead and they claim that it could have been omitted as it was too grim.
NOTE: Today, this house is a shop that sells Ghent specialties. A must-try would be the cuberdons, that are sweet raspberry-flavored gum. It's fondly called as ' Gentse neus ' or Ghent nose because, as it is, it looks like a human's nose.
» Other surrounding sight to see : Ghent's version of Manneken Pis which they claim to be older than the Manneken Pis in Brussels .
» Gravensteen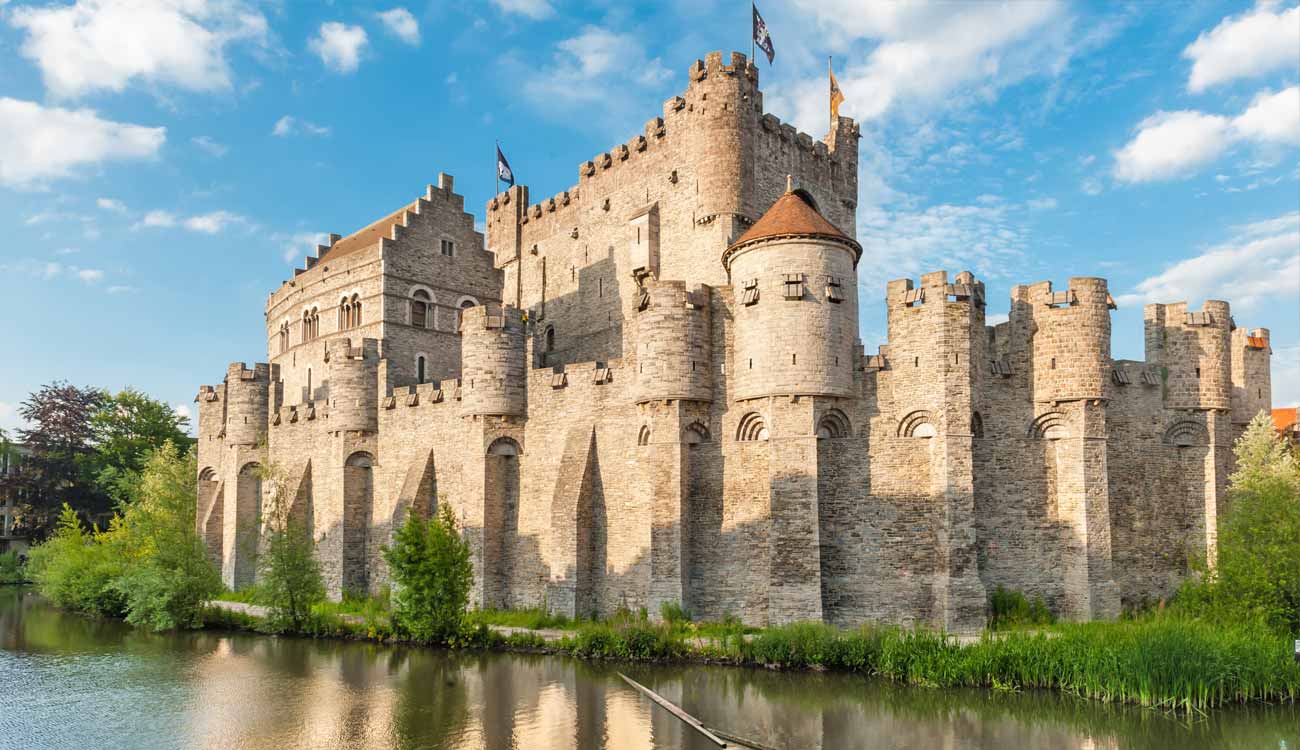 Smacked right in the middle of the city stands the imposing Gravensteen or 'Castle of the Counts' that is referred to as one of the strongest moated fortresses in Western Europe. Originating from the Middle Ages, this was built by the past count Philip of Alsace and has since then become the seat of the Counts of Flanders. But somewhere along the way, it was abandoned which lead the castle to become a courthouse and a prison at certain points in time.
Today though, it is a museum that does not only showcase medieval armors but medieval torturing devices as well. I took the chance to do the tour here and it was interesting and… refreshing. (I say this because the first time that I visited this castle, I had just finished visiting the castles in France which were predominantly filled with stuff from royalty. Therefore it was quite a new experience when I finally landed in a castle that actually shows historical weapons, warfare, and the like).
» Fees : Basic price €10.00 / For +65 years €7.50 For those below 26 years €6.00 / For 19 years and below €0.00
» De Oude Vismijn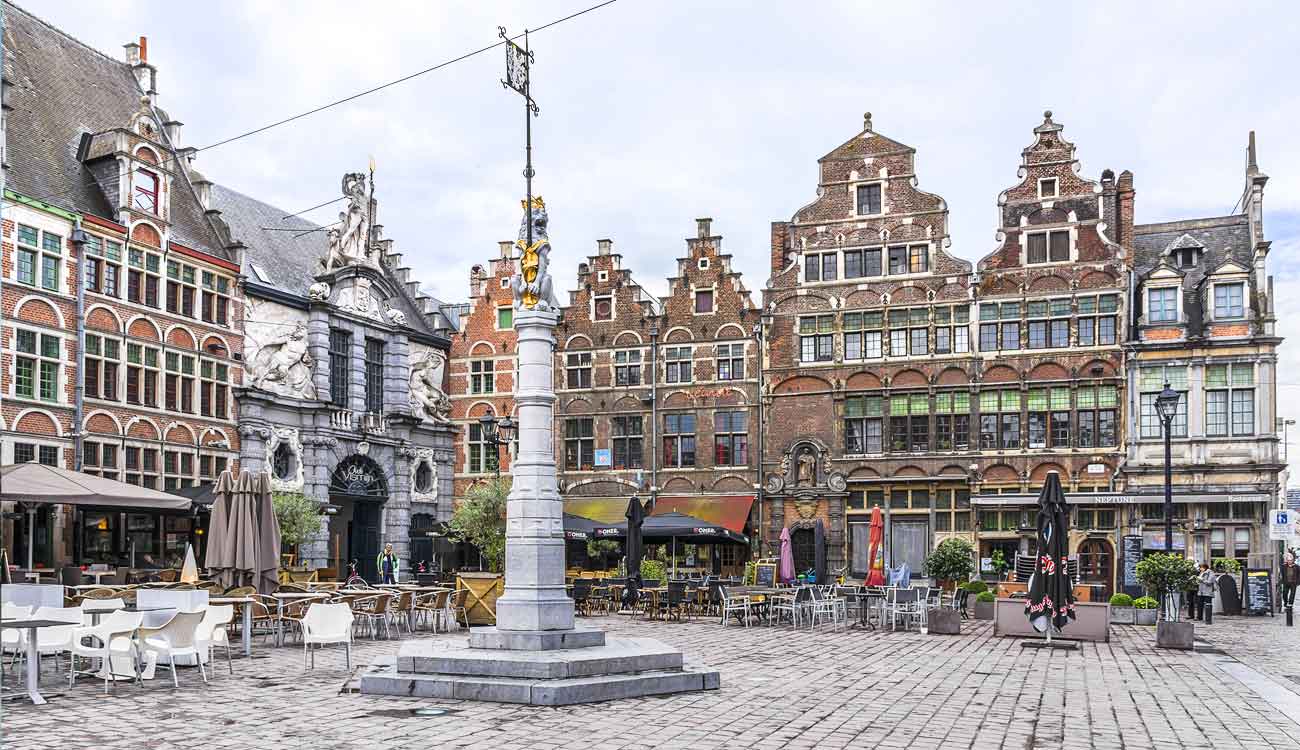 Or 'Old Fishmarket' is located in the square of Sint-Veerleplein and it is one of the oldest markets in the city. In here, you will see the gatehouse built in Rococo-style. It was originally decorated with three statues of sea gods but after a fire in 1872, only the statue of Neptune (in the middle) was saved. The rest were replaced by statues of a man and a woman that respectively represents the River Scheldt and River Leie.
NOTE: It's in this area where you will find Ghent's Tourist Office.
» Jan Breydelstraat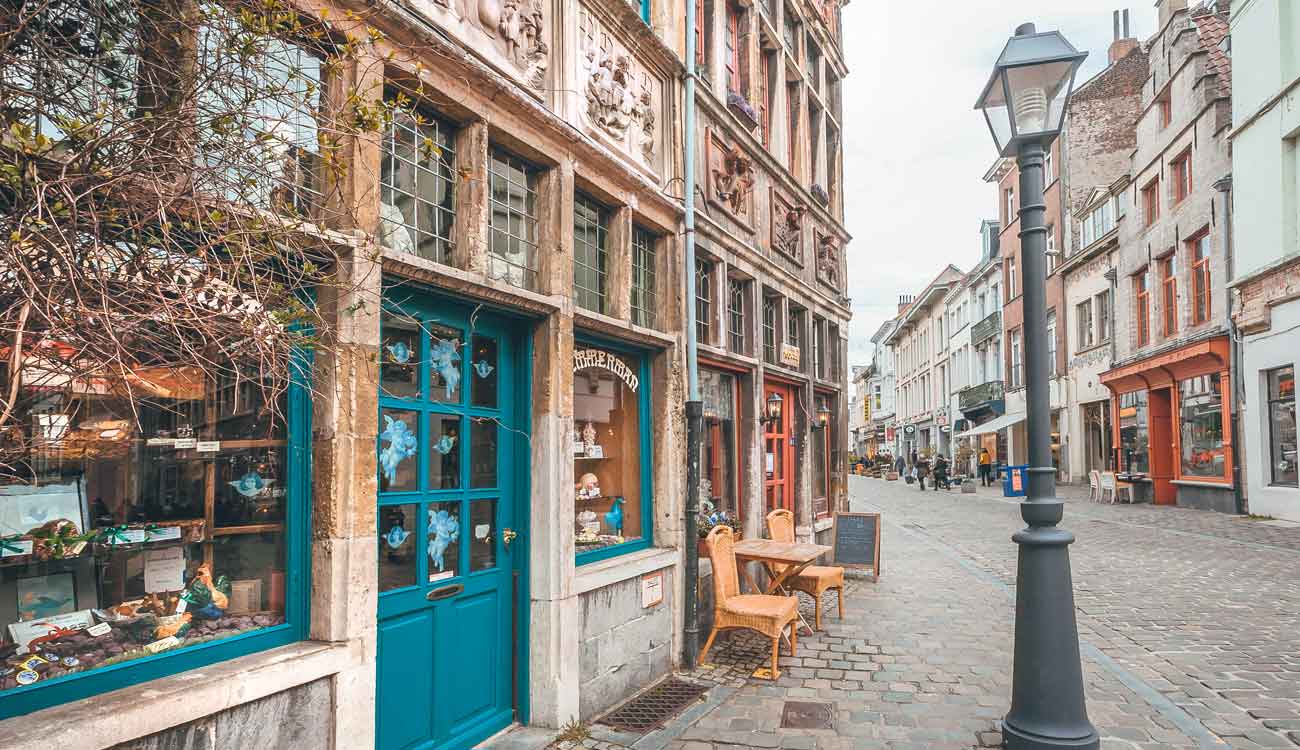 If you are into unique finds, make sure that you pass by this narrow yet picturesque street of Jan Breydelstraat. In here you will find several interesting shops and restaurants such as that of:
The Fallen Angels : for those who want a touch of nostalgia, you will find here a lot of old and vintage stuff!
Bloemenijs : come try out a unique flower ice cream.
House of Elliot : one of the top restaurants in Ghent and a Michelin-accredited restaurant, it's a must to try their lobsters! Just make sure you reserve in advance.
You will also find key spots like:
Het Design Museum : this is a good place to visit if you're into contemporary and interior design.
Appelbrugparkje : one of the many hidden gems in Ghent, this is a park that has a really nice view of the river.
» Graslei & Korenlei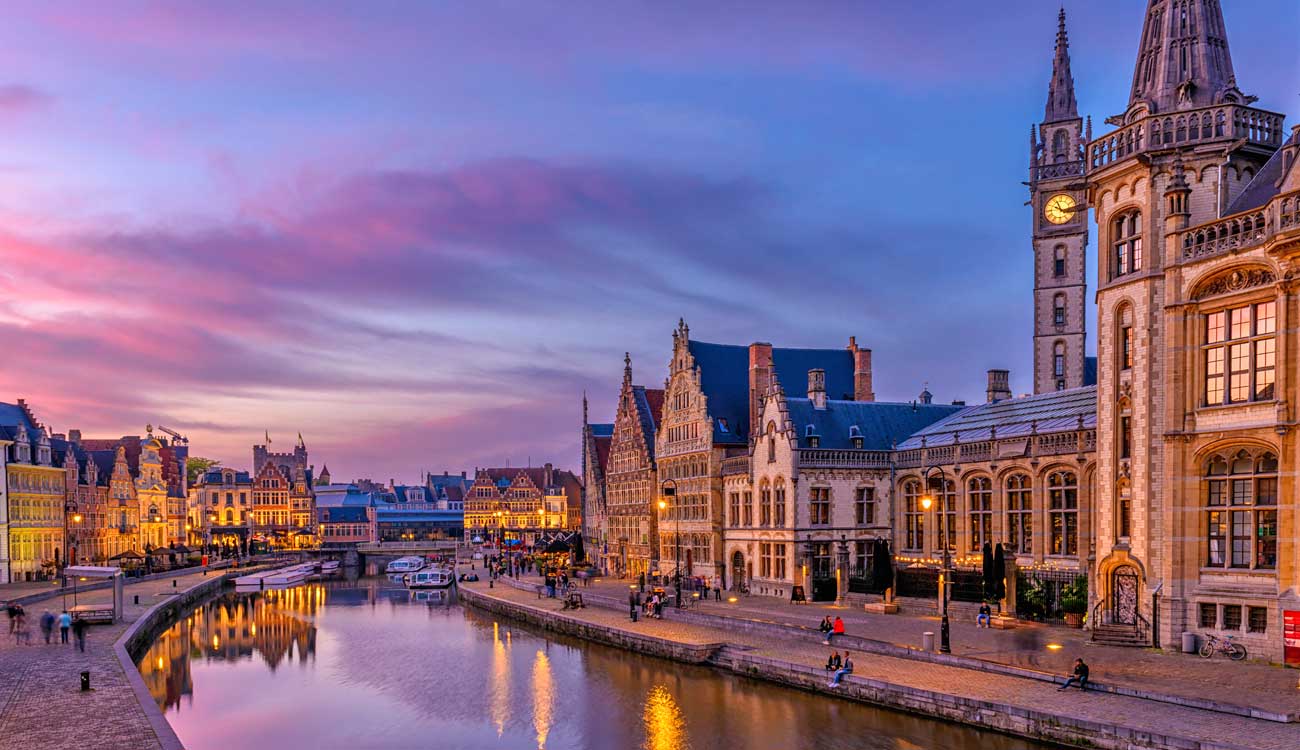 The most-pictured area in Ghent is this area around and between the streets of Graslei and Korenlei . (If you're following my map above, you'll be standing at the Korenlei side with the Graslei street on the other side of the water).
A lot of the locals would proudly claim that this is the most beautiful spot in their city and I have to agree with them! It was truly and absolutely magical both during the day and the night. Back in the 11th century, these both formed the city's first trading harbor.
In this time though, amidst several medieval guild houses that have survived the years (such as the Grain Weighers, the Guildhall of the Free Boatmen, and more), it is mainly a 'hangout place' speckled by cafes and restaurants here and there so that visitors and locals alike can enjoy the amazing view while eating. (You will also find a lot of people who would just resort to sitting by the river, so feel free to do the same!)
» Sint-Michielsbrug
(St. Michael's Bridge) Walk down a bit further and go up the bridge! This is the best place to enjoy a panoramic 360 view of almost all the top attractions in Ghent.
You will see the Graslei and Korenlei in front of you on your Ghent walking tour, the St. Michael's Church behind you, the Castle of the Counts in the distance, and the main 'three towers' ahead: Saint Nicholas Church, Belfry Tower, and Saint Bavo's Cathedral. You should NOT miss taking a view and a shot from this vantage point!
» Sint-Michielskerk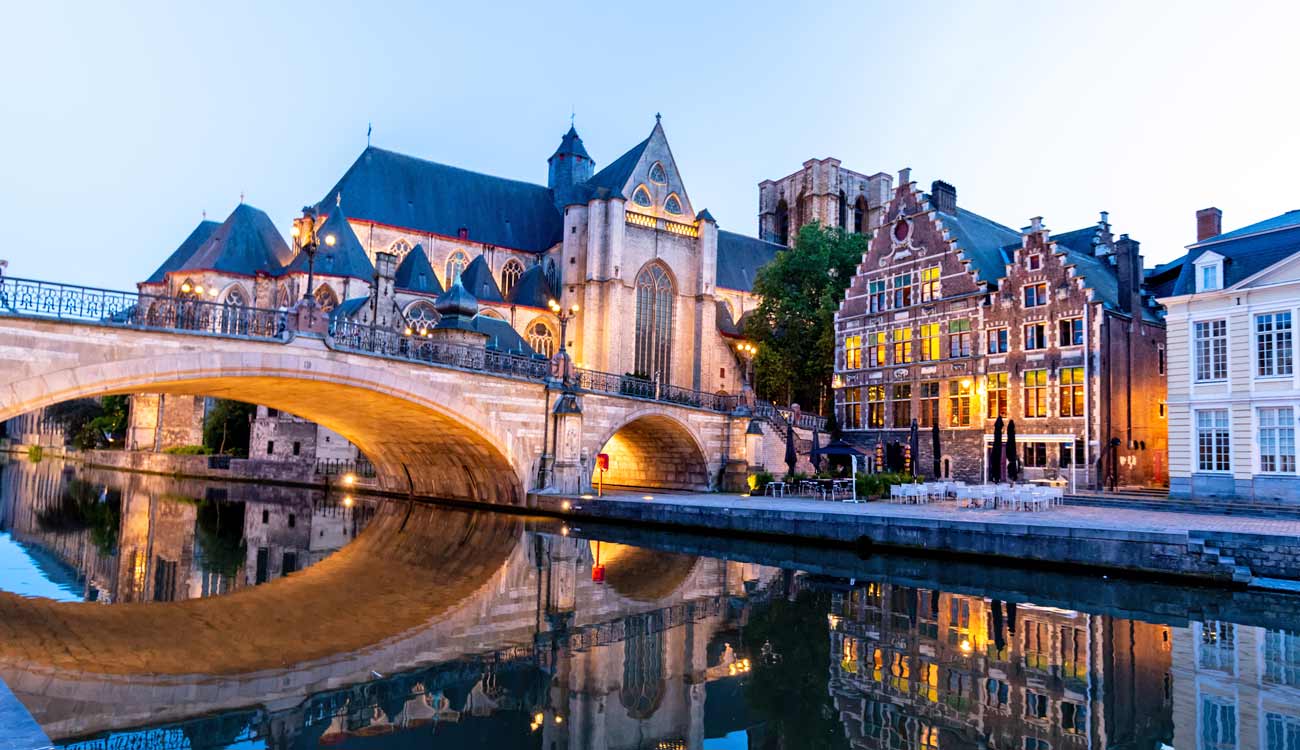 As I've mentioned above, just beside the St. Michael's Bridge would be Saint Michael's Church (that's why the bridge was called as such). Clearly, as you have seen from the featured photo of this post as well as from the photo above, this Roman Catholic church is a wondrous sight that you must see on your Ghent walking tour!
Supposedly, this was planned to be 134 meters high, but due to delays and cost concerns, the tower was never completed and it just stands now at 24 meters — which is absolutely fine. I personally think that it looks really good this way!
NOTE: You will find here the famous painting 'Christ on the Cross' by Anthony Van Dyck.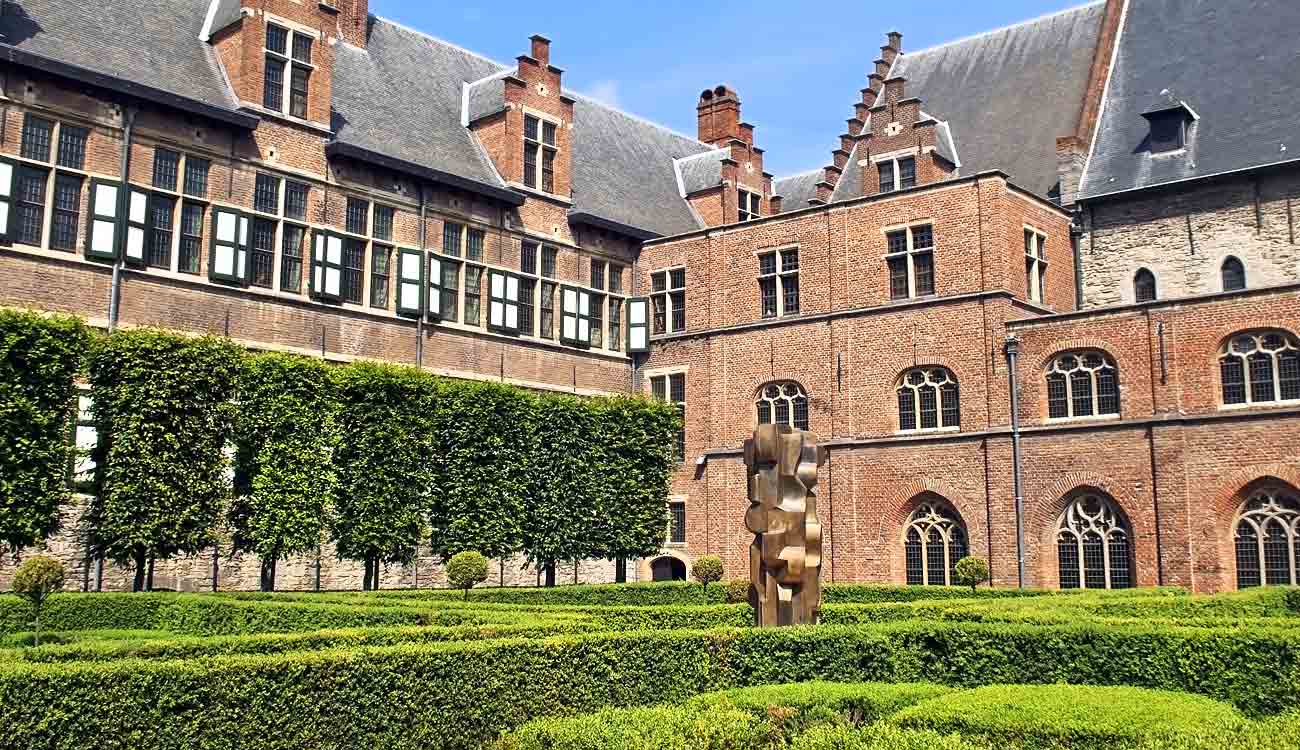 Walk a little bit further and you will see Het Pand, a former Dominican monastery and hospital which is now a cultural and congress center owned by Ghent University. As a recognized monument, this is worth checking out! Besides, the courtyard is quite a pretty sight.
» Sint-Niklaaskerk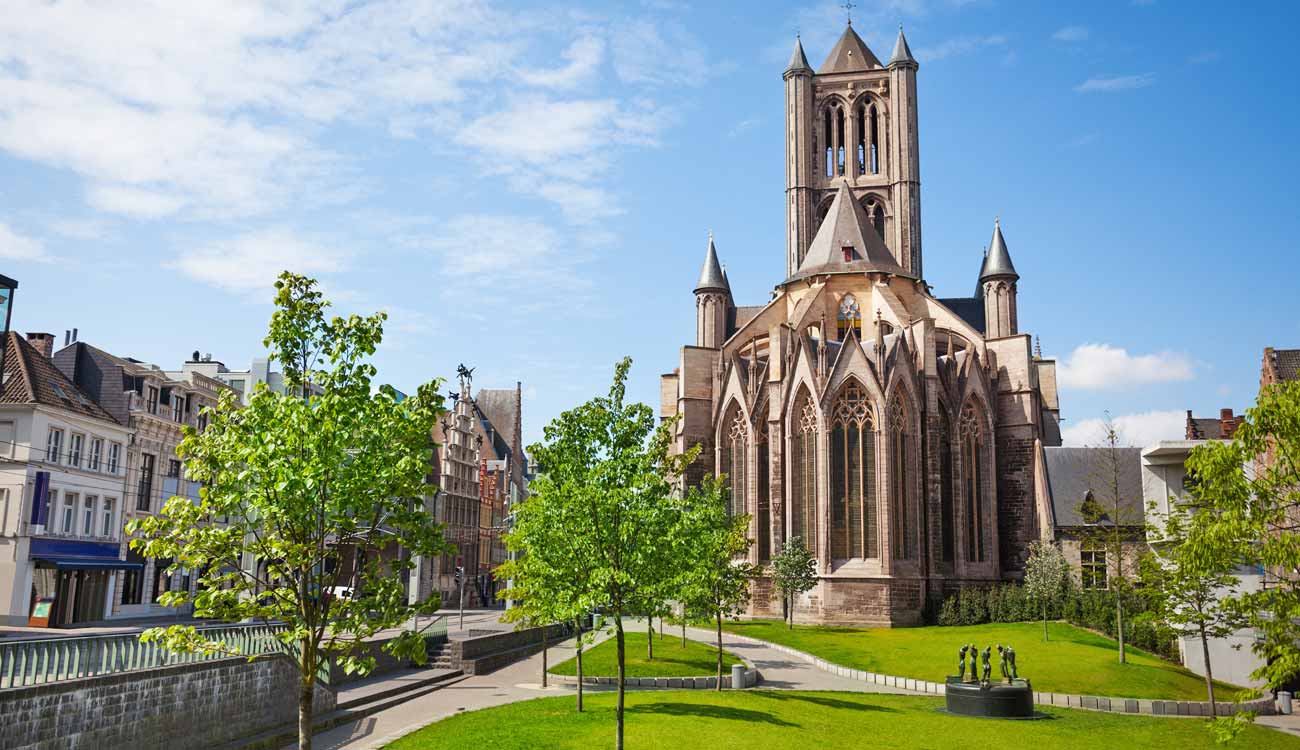 By now, you are at the commercial heart of Ghent, but smacked right in the middle would be the old St. Nicholas' church which is an exemplary example of the Scheldt Gothic architectural style. One of the highlights of this church would be its organ which is produced by the famous French organ builder Aristide Cavaillé-Coll.
» Metselaarshuis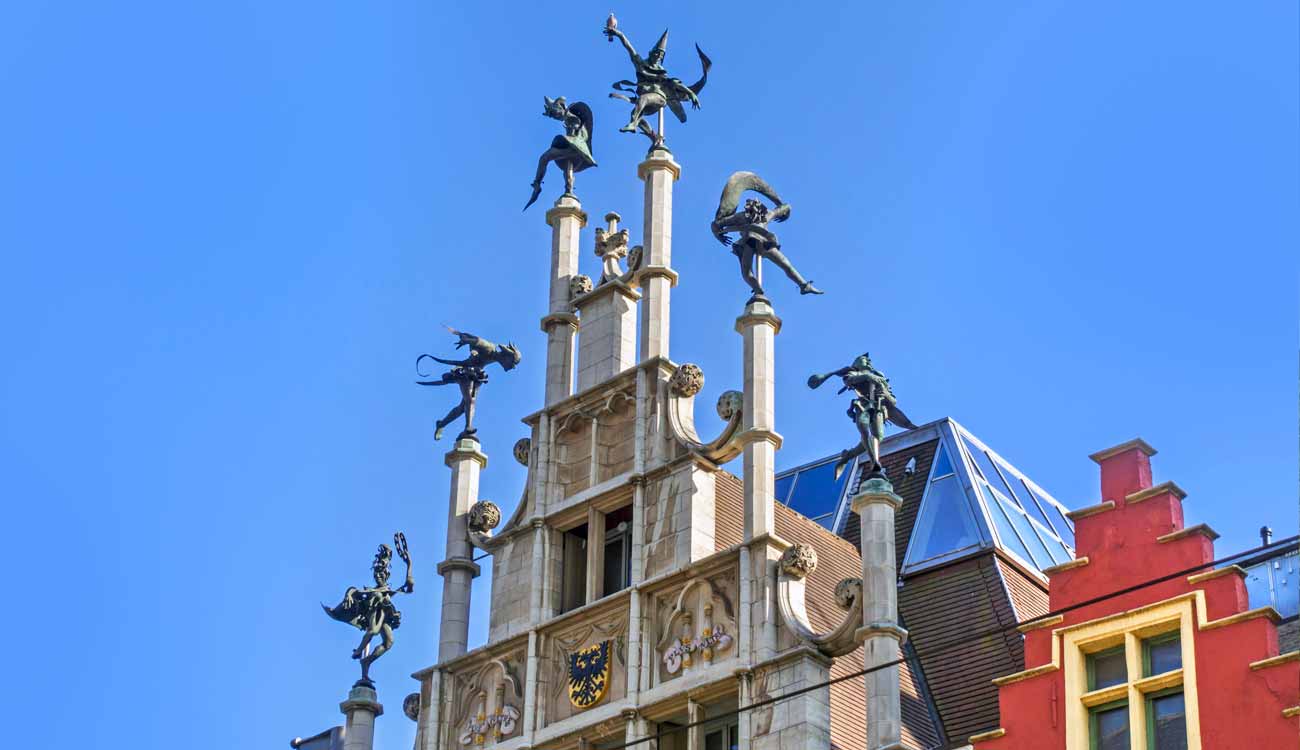 Called as Masons' Guild Hall in English, this structure that's just opposite of St. Nicholas' church is the original 16th century Masons' Guild Hall (" original " since there's an exact copy of it on the Graslei ).
And like any other typical guild hall, you will see on the top of their stepped gable some distinguishing statues — this one has 6 dancers that look like they're merrily frolicking around. This was placed by Ghent sculptor and folk-singer Walter De Buck, the one who spearheads the Ghent Festival.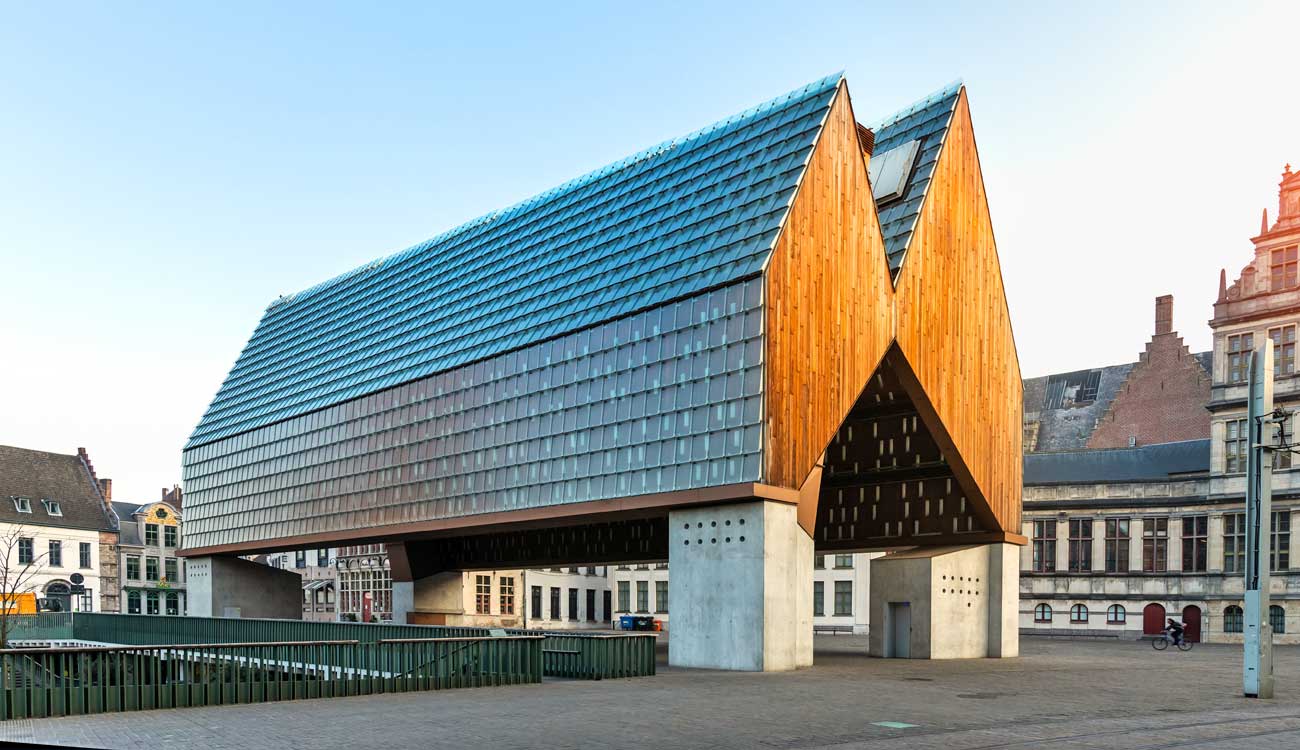 After a string of old historical landmarks, this will be the first modern structure that you will see in the city! A large open canopy structure that demands attention in the middle of the Emile Braun square, Stadshal, or 'Town Hall' was erected as part of the urban reconstruction goals for this public area. Underneath, there is an area that includes a brasserie, dressing rooms, public toilets, and a bicycle park.
Nearby you will see other landmarks like:
Emile Braunplein : a small park that also has the…
De Bron der Geknielden: (The Fountain of the Kneelers) a masterpiece composed of 6 naked young men who are seemingly staring into the reflection of the fountain's water. Made by a Belgian artist, George Minne, this artpiece is said to signify Narcissus from the Greek mythology who did the same thing out of narcissism.
Mammelokker : this was quite a sight! It depicts the legend of Cimon who was condemned to starve to death, but he was saved by his daughter who breastfed him every day. (The name means exactly as is! "Mamme" = breast. "Lokken" = suck.)
» Het Belfort van Gent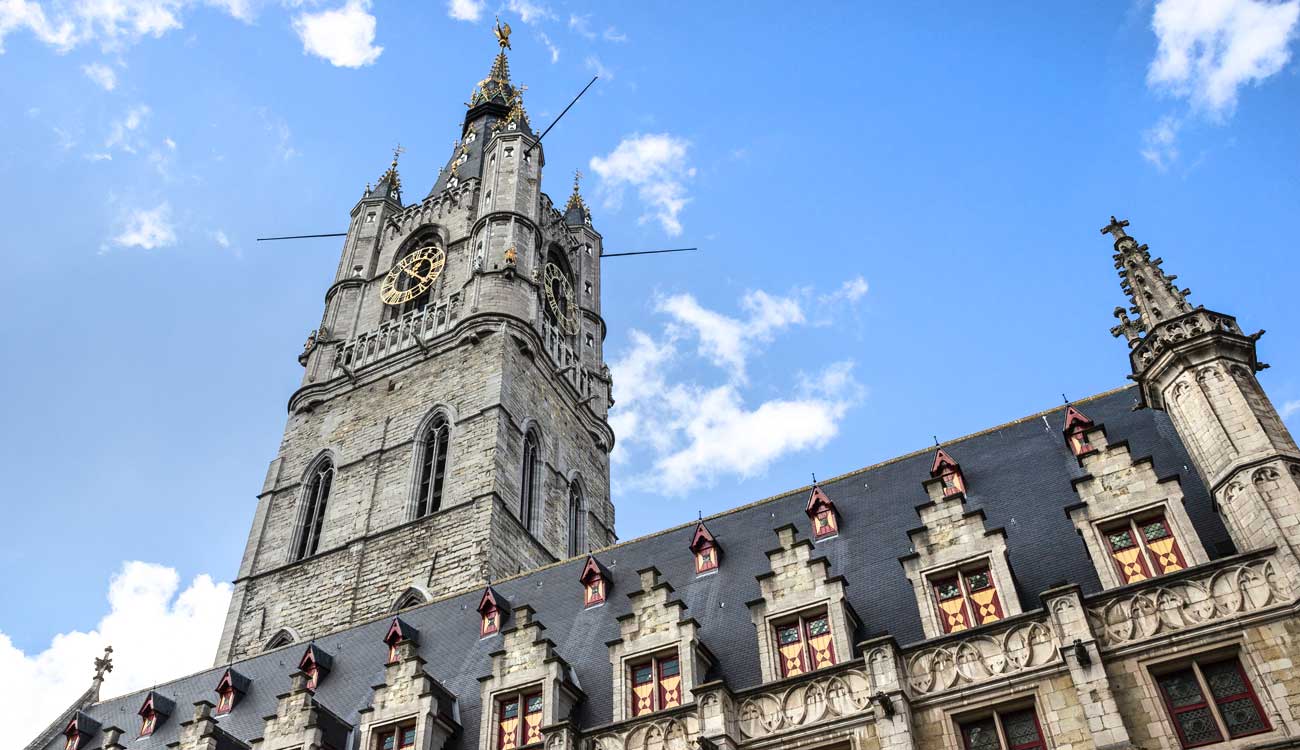 The 'Belfry of Ghent' is about 91 meters high, making it the tallest belfry in the whole of Belgium. In the past, it used to be a bell tower, a watchtower, and a place where records of municipal privileges were kept.
With its adjoining rectangular hall, it also used to be the cloth hall that handled the cloth trade in the city during the Middle Ages (at the entrance of the small annex connected to this hall, you will see Mammelokker which I've just discussed above).
NOTE: This is listed under the UNESCO World Heritage List.
» Koninklijke Nederlandse Schouwburg (NTGent)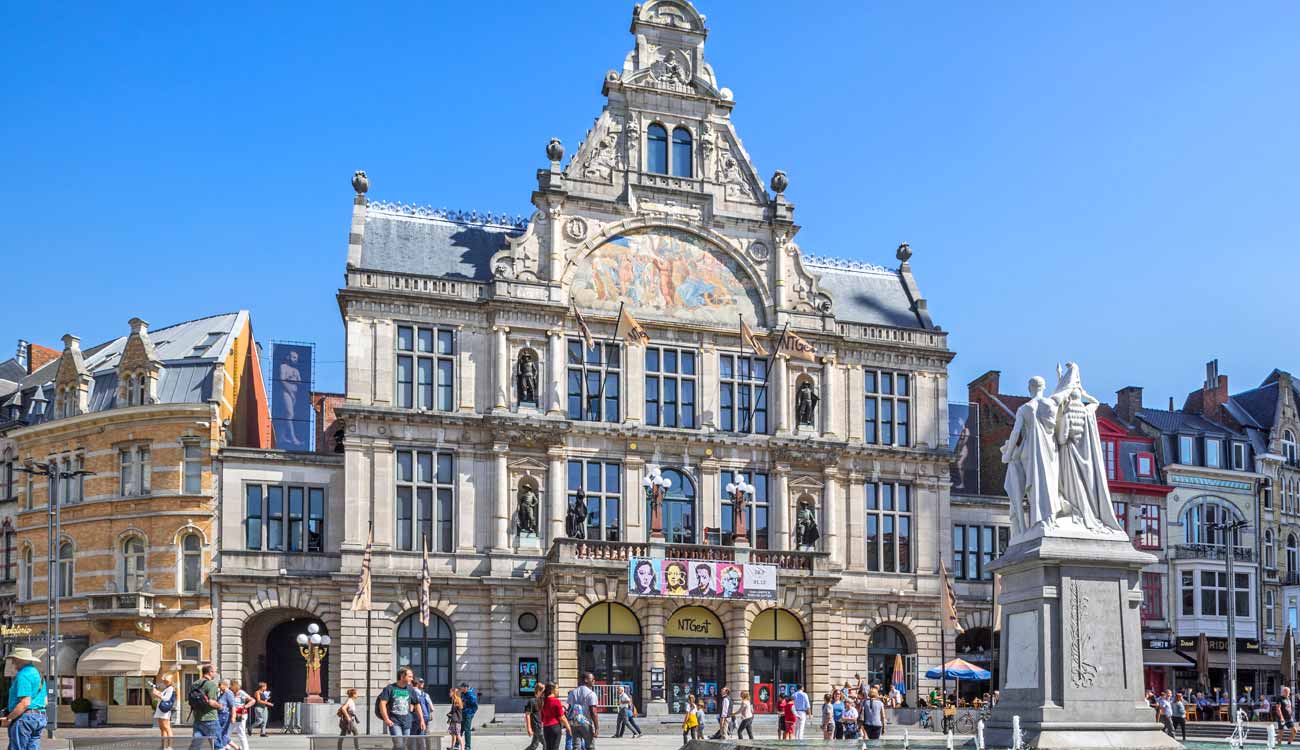 The Royal Dutch Theatre is the city's municipal auditorium where you can enjoy both classical and contemporary plays.
Not only is it a spectacle from the inside, but from the outside as well as the god, Apollo, stands in the middle of the square upon a fountain! To learn more about the theatre's schedule, see here .
» Sint-Baafskathedraal Gent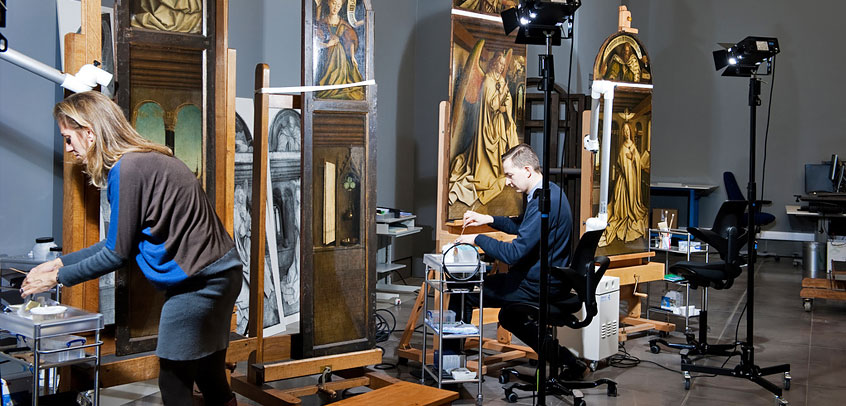 Photo by: VisitGent / CC
(St. Bavo's Cathedral) This is the 'seat' of the diocese or bishop of Ghent. In 942, this used to be a small wooden church but later on expanded in Romanesque style by 1038 and onwards. Come 1559 when the Diocese of Ghent was founded, this church became its cathedral. Today, St. Bavo's Cathedral holds a lot of treasures!
From famous paintings ( Saint Bavo enters the Convent at Ghent and The Calvary Triptych by Justus van Gent, View of Gent by Lucas de Heere, etc.) to key treasures ( rococo pulpit, Baroque high altar, tombs of bishops, etc.), there are surely a lot of things to see here.
But of course, the one work that stands out from all of the rest is the world-famous 12-paneled Ghent Altarpiece (Adoration of the Mystic Lamb) . As one of Belgium and the world's greatest masterpieces (for being the first major oil painting depicting the A to Z of Christianity), it is said to be the most stolen artwork of all time ! Why so? Well, it was robbed by Napoleon, nearly burned by Calvinists, hunted in WWI, and repeatedly stolen in WWII (Hitler and Nazis really wanted to own it) . In fact, up till now, a part of it is still missing which is 'The Just Judges' panel.
TRIVIA: If you watched the movie, The Monuments Men , this is one of the paintings that they were trying to recover.
When I first visited Ghent in 2013, I saw this painting up close in Museum voor Schone Kunsten* (Gent Museum of Fine Arts) as they were doing a routine fix for it. It's still there since they are doing a 7-year restoration, so you can definitely visit this museum to get a look at it up close and LIVE as they do their work. So what then is in St. Bavo's Cathedral? Two-thirds of the original work and the missing panels that are being restored are replaced by black and white replicas.
* The location of the museum is a bit far outside the city center so I didn't include it in the Ghent walking tour map above.
» Geeraard de Duivelsteen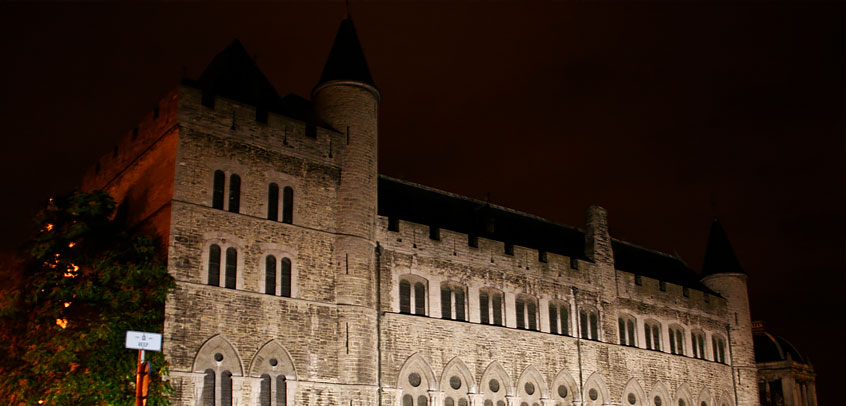 Photo by: Lech Linkel / CC
This is the 'Castle of Gerald the Devil' named after the Knight, Geeraard Vilain. He was no devil but he was nicknamed that way and this edifice played a vital role in defending the Portus Ganda , a trading post that was the foundation of the creation of Ghent in the past.
Over time, it has been a knight's residence, an arsenal, a monastery, a school, a bishop's seminary, a madhouse, and a prison.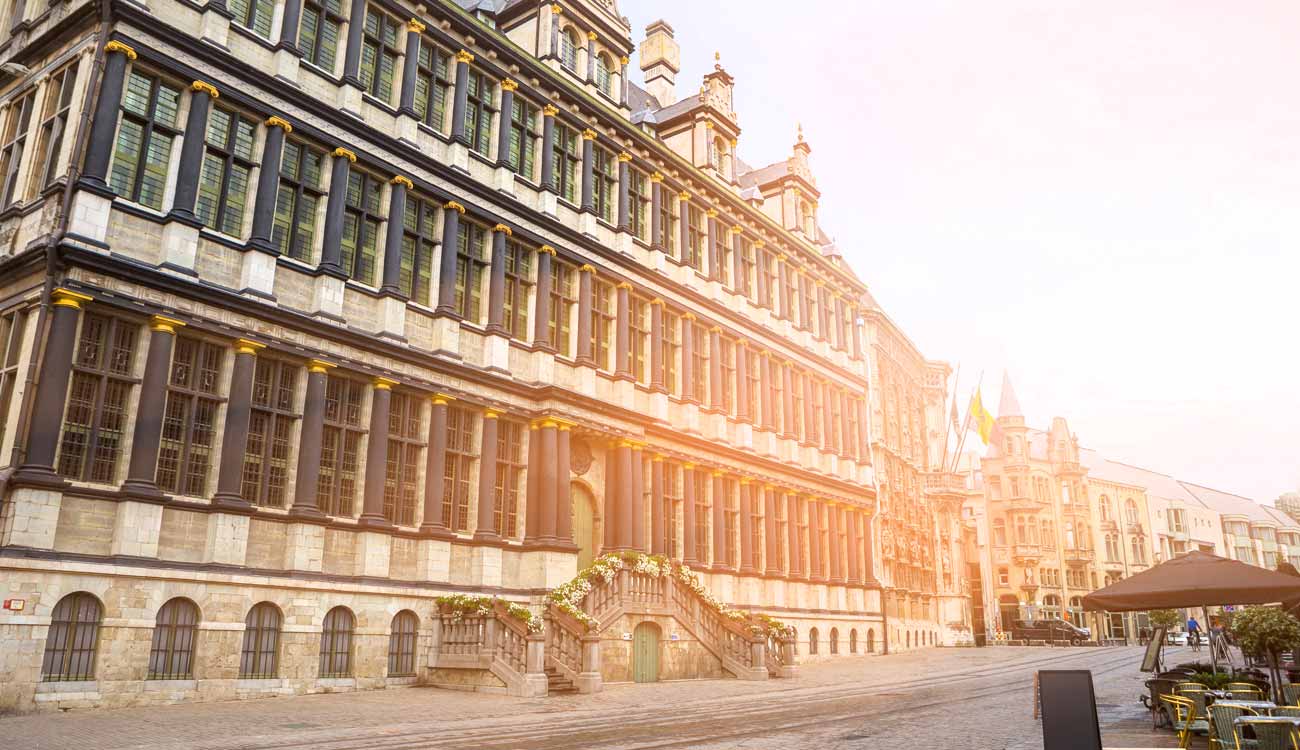 This is the official Town or City Hall of Ghent (not to be confused with Stadshal above) and you would immediately be struck by awe with its two 'faces': the flamboyant Gothic style on the right (by Hoogpoort street) and the dark Renaissance style on the left (by Botermarkt street) .
You can also see a lot of architectural styles in this building: the Arsenal Hall's wooden vaulting, the Pacification Hall with its labyrinth, the Wedding Chapel with its stained glass windows and so much more!
NOTE: Nearby, you will see Sint Jorishof which is the oldest hotel in Western Europe where Maria of Burgundy stayed in 1477.
» Werregarenstraat or Graffitistraatje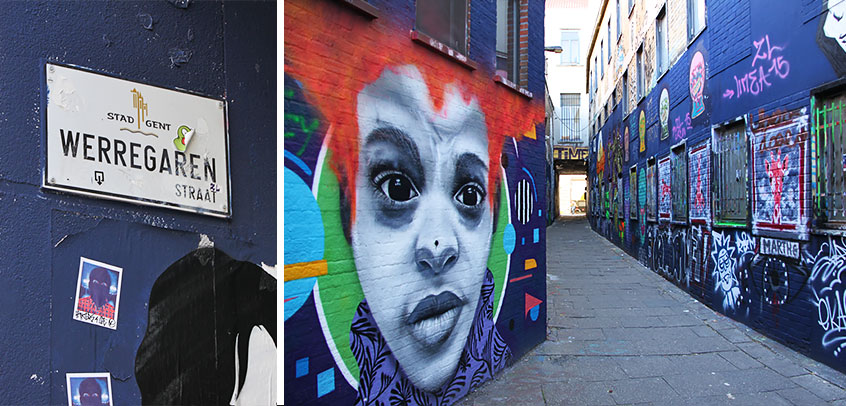 Launched as a graffiti project during the 1995 Ghent Festival, this has since remained as a 'tolerant zone' for all types of graffiti and where all street art is to be placed.
Artists are even given the freedom to change the artworks as they please; therefore, you could expect that the view here will change from time to time. This is a fun place to visit for your DIY Ghent walking tour so keep your camera on hand!
» Sint-Jacobskerk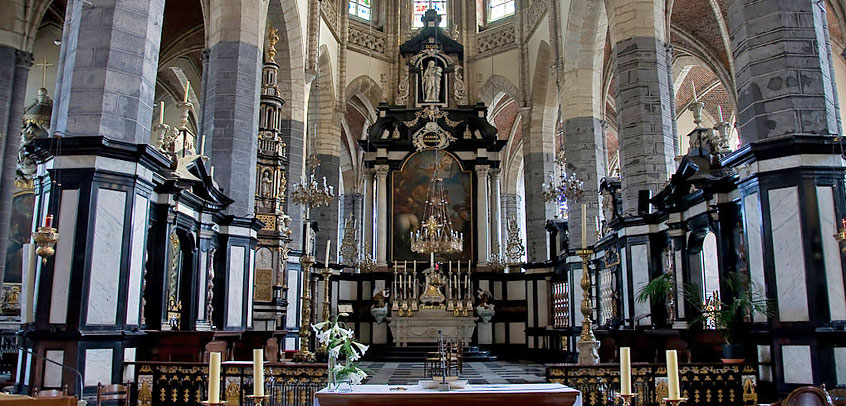 (St. James' Church) Dating back to the Romanesque period, this church has gone through a lot of renovation, destruction, and expansion.
Meanwhile, the surrounding square called Bij Sint-Jacobs and the Trefpunt café is the epicenter of the Ghent Festivities every year.
» Vrijdagmarkt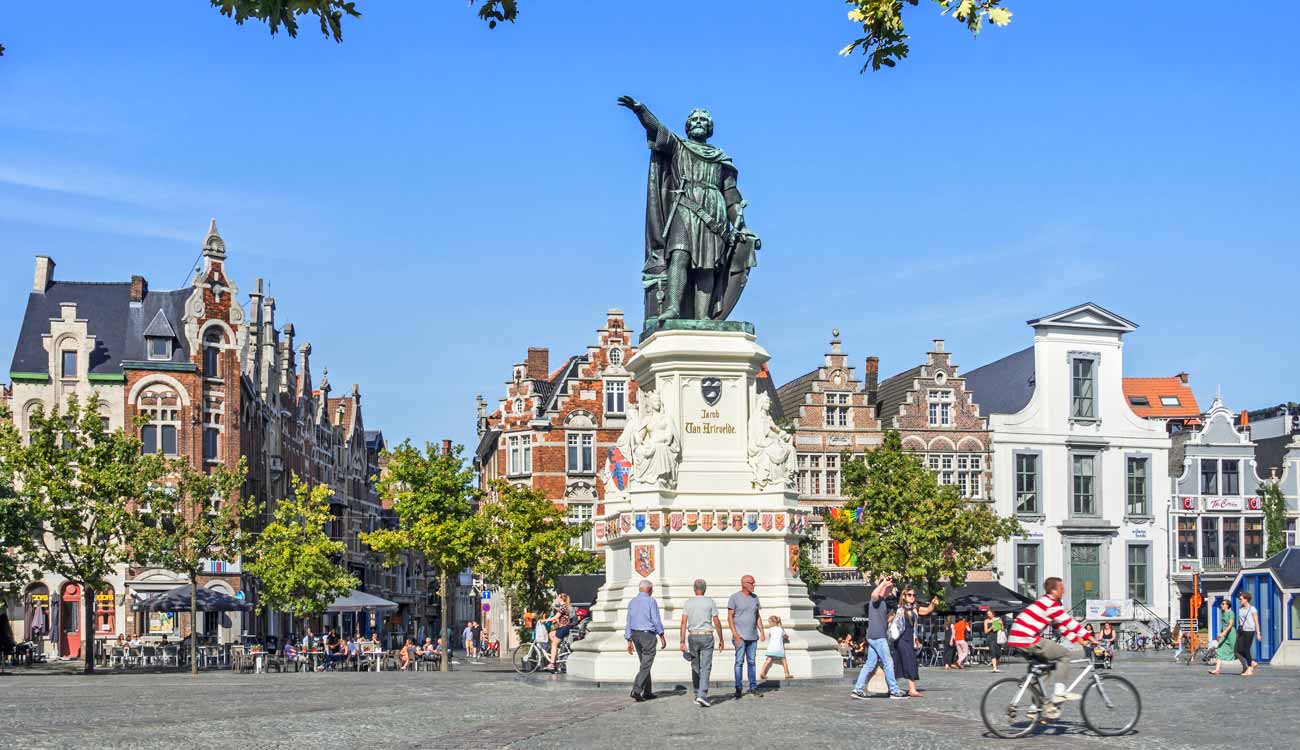 (Friday Market) This is another one of the oldest squares in the city and it played a big role in history as it used to be where all political and social life in Ghent took place — though it's also where public executions were done. Surrounding this area are restaurants as well as key landmarks that you could check out:
Toreken : a 15th century tower where trade regulations were used to be announced from
Ons Huis : (Our House) a monumental home of socialist trade unions
Jacob van Artevelde statue : a key figure and the 'Wise Man of Ghent' whose support of the English King kept the city (as well as Flanders) to remain neutral and unharmed during the Hundred Years War. He was murdered years later by rivals and Ghent is still called today sometimes as the 'City of Artvelde'
Tavern Dulle Griet : this is not a historical spot per se, but I highlighted this since it's a legendary café to go to for Belgian beers! They have over 260 types, and customers can swap one of their shoes for a Max beer (served in a boot-shaped glass). But don't worry, you can get your shoe back afterwards.
» Dulle Griet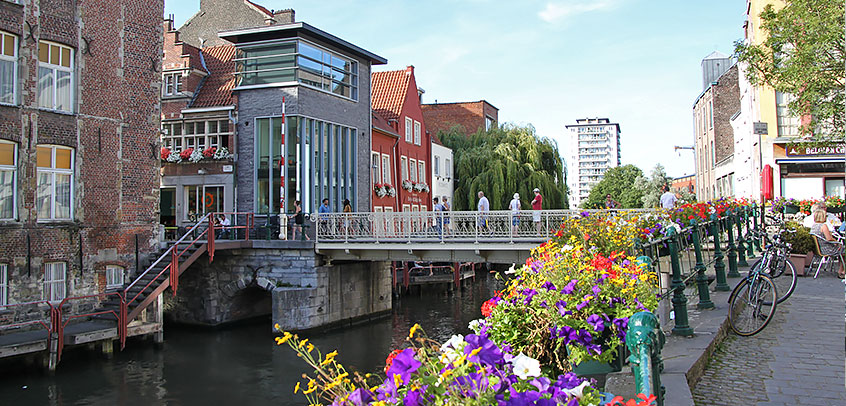 Photo by: Wernervc / CC
By the River Leie, you will chance upon this quaint-looking spot on your Ghent walking tour where you can not only unwind but also glance upon the Dulle Griet (Mad Meg) which is a medieval supergun bombard constructed in the first half of the 15th century.
This was employed by the city in the siege of Oudenaarde (a nearby municipality) .
» Groentenmarkt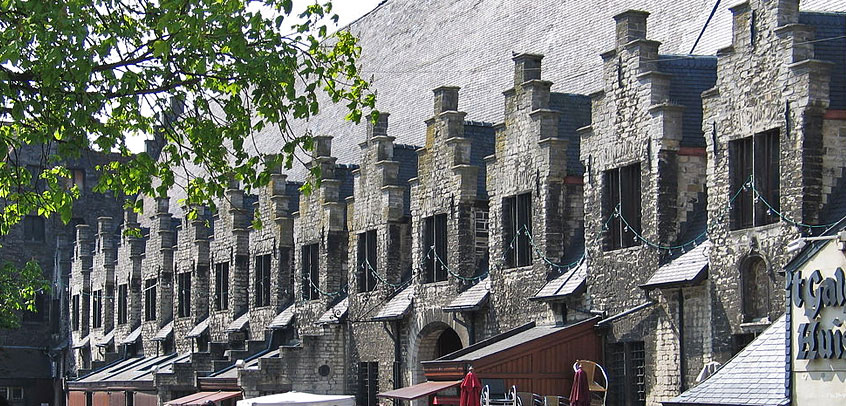 Photo by: Paul Hermans / CC
Yet another Ghent square but this time around, it holds establishments where you can primarily buy fresh products and Flemish specialties like Ganda ham, sweet cuberdons, or the Tierentyn mustard. Make sure that you visit the medieval Great Butcher's Hall which has an impressive open wooden roof and great selections of Flanders cuisine.
Ghent Travel Guide
» how to get to ghent.
By Car. Belgium has an impressive motorway so it's very easy to reach Ghent by car. Just take either the two main highways E40 or E17 and you'll see ample signs that will lead you to the city. (These two highways intersect to Ghent).
By Train. Likewise, Belgium has a good train system and from the capital, Brussels, heading to Ghent will only take you 30 minutes. Depending on your location, you can pick either Gent-Dampoort or Gent-Sint-Pieters for your arrival station. Gent-Sint-Pieters is the main station and all trains pass through this, whereas Gent-Dampoort mainly serves towards/from Antwerp and is closest to the city center.
TIP : Pick the "IC" marked trains since they travel faster as compared to "IR". The "L" trains are the slowest since they travel 'locally', meaning that it stops at more stations.
By Bus. Eurolines and Megabus both go to/from Ghent.
By Plane. The closest airport would be Brussels Airport (Zaventem Airport).
» If you want a more detailed transportation planner, try using Rome2Rio ! I am in love with this platform since it gives you all the possible routes.
» Where to Stay in Ghent
Having landed in such a medieval city like Ghent, you should absolutely grab the chance of making the most of your experience by staying in an equally historic accommodation! With Historic Hotels Ghent's collection of 3 privately-owned establishments — the Ghent River Hotel (4 stars), the Hotel de Flandre (4 stars), and the Hotel Gravensteen (3 stars) — you are sure to have a meaningful and comfortable stay! Guaranteed.
Besides, with their range, you can pick the hotel that best suits your needs whether it be by price or by location (but then again all 3 have a prime location within the city center).
» If you happen to have a tighter budget, you can always check by Booking.com for the best deals on other hotels, inns, and hostels in Ghent!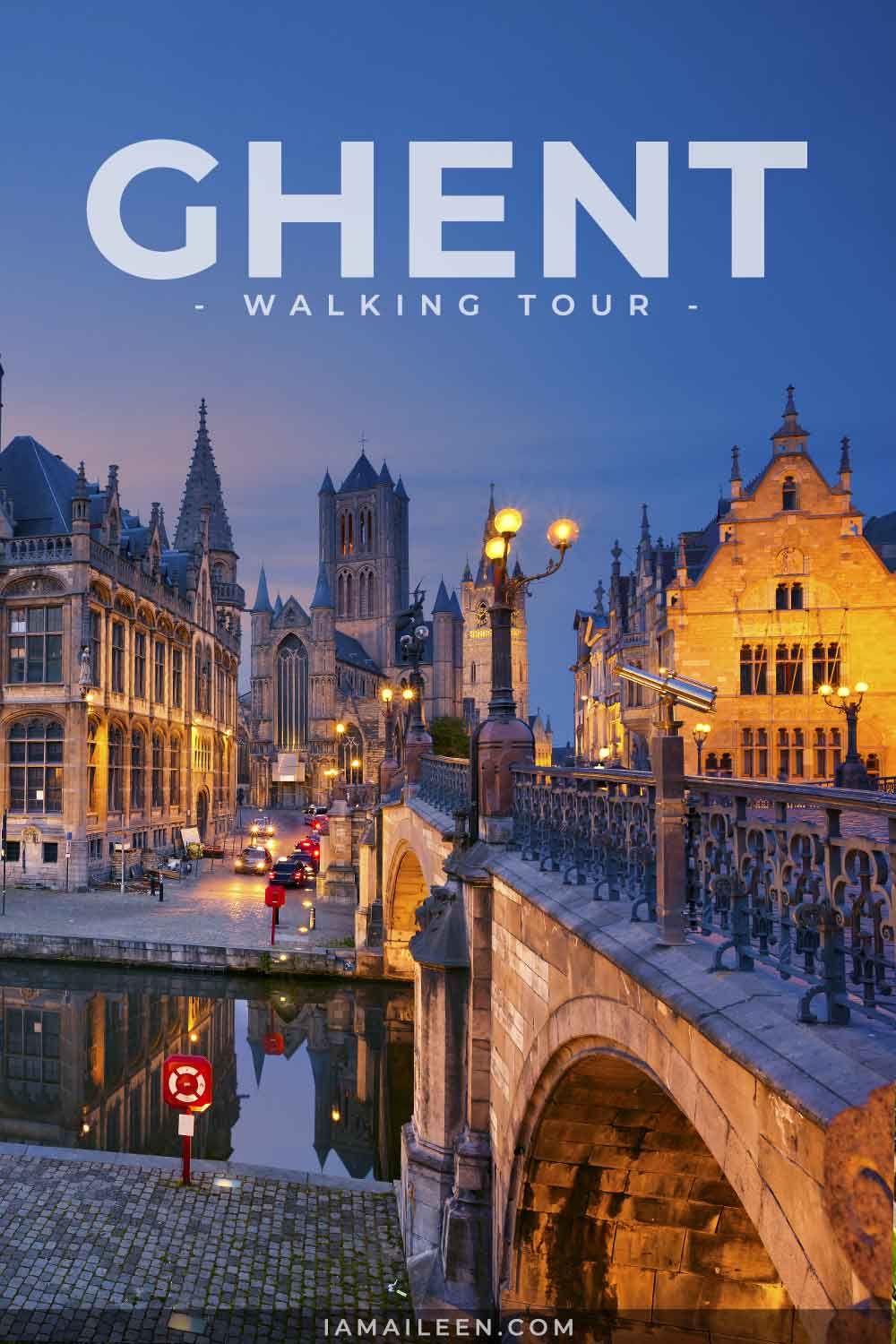 You can clearly see that Ghent is full of wonders that you must explore! Add the fact that it's a car-free city, you'll never have to worry about traffic and you can even take your sweet time in enjoying the charming streets fully.
All in all, I hope you'll enjoy your trip fully with the help of my guide. Do tell me how it goes!
Have you seen my latest vlog?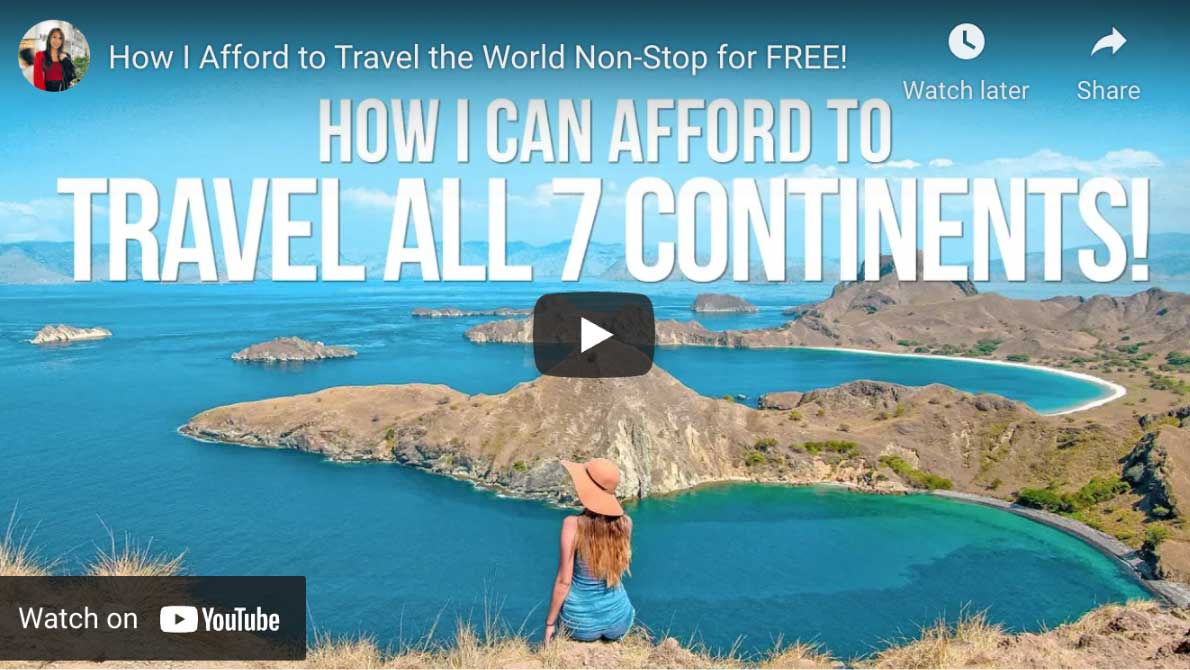 Hey there! I am Aileen Adalid. At 21, I quit my corporate job in the Philippines to pursue my dreams. Today, I am a successful  digital nomad  (online entrepreneur, travel writer, & vlogger) living a sustainable travel lifestyle.
My mission?  To show you how it is absolutely possible to  create a life of travel no matter the odds — and I will help you achieve that through my detailed travel hacks, guides, resources, tips, and MORE!
Follow Along
CURRENTLY BASED IN: The Philippines
100k Followers
51k Followers
80k Followers
10k Followers
23.1k Followers
Join over 1 million readers worldwide and get my FREE packing checklist, gain exclusive access to travel giveaways and more!
Success! Next, please check your email to confirm your subscription.
GET FREE PRINTABLE NOW!
Trending Now
7 surprising and wonderful facts about south korea you need to know.
Explore these 7 must-know surprising facts about South Korea and discover the fascinating culture and traditions of this vibrant nation!
20 Best Spots for Autumn in Japan: Top Places for Fall Foliage Viewing
Find out the top 20 places for autumn foliage viewing — experience the breathtaking beauty of autumn in Japan like never before!
Korean Visa Application Requirements for Filipino Tourists in Manila, Philippines (Single / Multiple Entry)
Make your South Korea travel dreams come true and get a single or multiple South Korean visa in Manila, Philippines!
Seoul Itinerary: Ultimate DIY Travel Guide for South Korea for 5 Days (More or Less)
Heading over to South Korea anytime soon? Follow this ultimate DIY travel guide in order to make the most of your Seoul itinerary!
53 Non-EU Countries You Can Visit with a Schengen Visa (2023 Update for Visa-FREE Entry Worldwide)
Aside from 26 member countries, there are 50+ more countries you can visit with a Schengen visa that has single, double, or multiple entries!
Latest Posts
Learn Today
How to start a successful blog, up for grabs, 55 comments.
Thank you for sharing this information about this beautiful city. Ghent is my favorite city in Belgium. The Graslei during Ghent Festivities is excellent <3
Ghent, just like many cities in Belgium, is absolutely gorgeous. Walking along the river or sitting by it people watching was one of my favourite things to do. Especially at night when the lights illuminate the old buildings, such a lovely place
Wow you have done Belgium a great service because Ghent looks like an amazing place to visit!
Just did this walk – loved it and great link to google maps to follow the tour
Hi Aileen, was planning for my solo trip to Belgium and came across your site. Very informative and I am certainly gonna bookmark this! Thanks dear!
Submit a Comment Cancel reply
Your email address will not be published. Required fields are marked *
Be notified of follow-up comments by email
Be notified of new posts by email
Submit Comment
Pin It on Pinterest
Best things to see and do in Ghent
Free walking tour near ghent, others cities to visit after ghent, find other guruwalks in ghent, where are you traveling to.
All fields are mandatory, unless indicated otherwise.
Ghent city walk: quirky charm
Start your city trip with a visit to the "Kuip" of Ghent, the historic centre . This walking route will take you along the highlights of the city. Smell the mysticism, let yourself be guided to the Castle of the Counts , the Graslei and Korenlei and Ghent's three famous towers. Give your eyes a glimpse, explore the modern architecture of the c ity pavilion and the rustic "Patershol ", an old quarter with a medieval street pattern, full of restaurants.
Ghent is a very lively city. That's why we foresee five things to do during your walk. So don't just let your eyes do the rounds, but let yourself be completely immersed.
Feel like discovering more of Ghent? In addition to the regular city walk, you can also choose from five walks along hidden gems in our city. Choose, walk and discover!
Essential Map - citywalk
Looking for the perfect travel companion for your first introduction to Ghent? Then 'the essential map' is the perfect option for you: the handy map of the city centre provides information about what you need to have seen, done and discovered in Ghent. It also includes a brief summary on practical matters, tram lines, etc., as well as a fun city walk you can completely personalise with additional loops centred around certain topics.
Available in 6 different languages: Dutch, French, English, German, Spanish and Italian
A paper version of this brochure is also available in  the tourist office .
Download the essential city map with city walk here
Fairy-tale walks: Ghent sparkles at night
If you can wait for nightfall, you'll be rewarded with magical lighting effects. When the sun goes down, Ghent undergoes a sparkling transformation. Fiery Ghent is aflame with lights!
Magical Ghent in the evening
Winter is here! Check out the winter wonderlands at these 5 amazing winter destinations in Montana
Ghent Walking Tour: A Self-Guided City Trail (Belgium)
Published: September 8, 2023
Modified: September 26, 2023
by Moyra Estrella
Introduction
Welcome to Ghent, a charming city in Belgium that offers a perfect blend of historical architecture, cultural landmarks, and a vibrant atmosphere. Ghent is known for its medieval charm, where cobblestone streets, picturesque canals, and centuries-old buildings create a unique ambiance that transports visitors back in time.
As you immerse yourself in the rich history and captivating beauty of Ghent, embarking on a self-guided walking tour is an ideal way to explore the city at your own pace. This article will guide you through the must-see attractions and hidden gems that sum up the essence of Ghent. Whether you're a history buff, an art enthusiast, or simply seeking a memorable adventure, this walking tour will ensure you make the most of your time in the city.
The self-guided tour will take you on a journey through Ghent's architectural marvels, religious landmarks, and vibrant neighborhoods. You'll have the opportunity to discover iconic sites such as the legendary St. Bavo's Cathedral, the imposing Belfry of Ghent, and the medieval fortress of Gravensteen Castle. Along the way, you'll also encounter hidden gems like the picturesque streets of the Patershol district and the picturesque Graslei and Korenlei waterfront.
Ghent is also renowned for its vibrant art scene, and the tour will lead you to the Museum of Fine Arts, where you can marvel at a diverse collection of artworks spanning various eras and styles. Additionally, a visit to the Saint Peter's Abbey will uncover the fascinating history of this ancient monastery.
One of the highlights of the Ghent walking tour is the opportunity to witness the masterpiece "The Adoration of the Mystic Lamb" at the St. Bavo's Cathedral. This famous altarpiece, painted by the Van Eyck brothers, is a true artistic marvel with captivating and intricate details.
Whether you choose to follow the entire walking tour or cherry-pick specific attractions based on your interests and time constraints, Ghent promises a truly enchanting experience. So put on your most comfortable shoes, grab a map, and get ready to embark on an unforgettable adventure as you explore the magical city of Ghent.
Getting Started
Before you begin your Ghent walking tour, it's important to make a few preparations to ensure a smooth and enjoyable experience. Here are some tips to help you get started:
1. Plan your route: Ghent is a compact city, making it easy to navigate on foot. Take some time to plan out your route and mark the attractions you wish to visit on a map. This will help you optimize your time and avoid any unnecessary detours.
2. Wear comfortable shoes: As you'll be walking extensively throughout the tour, it's essential to wear comfortable shoes. Opt for sneakers or comfortable walking shoes that provide adequate support and cushioning.
3. Check the weather: Ghent's weather can be unpredictable, so be sure to check the forecast before setting out. Dress accordingly and bring an umbrella or rain jacket, if necessary.
4. Bring a guidebook or download a digital guide: While this article serves as a comprehensive guide, having a physical guidebook or a digital guide on your smartphone can provide additional information and insights about the attractions you'll be visiting.
5. Carry essentials: Pack a bottle of water to stay hydrated during your walk, especially on warmer days. Don't forget to bring a small snack or energy bar to keep your energy levels up. It's also a good idea to have a portable charger for your smartphone in case you need to access maps or other digital resources.
6. Respect local customs and regulations: When visiting religious sites or historical landmarks, it's important to dress modestly and behave respectfully. Follow any guidelines or restrictions indicated at the attractions to ensure a positive experience for both yourself and other visitors.
7. Take breaks: Pace yourself throughout the tour and take breaks whenever needed. Ghent is filled with cozy cafes and charming squares where you can sit back, relax, and soak in the unique atmosphere.
8. Capture memories: Don't forget to bring a camera or smartphone to capture the beautiful sights and moments along your walking tour. Ghent is a city of picturesque landscapes and stunning architecture, so be sure to capture those memories to cherish long after your visit.
Now that you're prepared, it's time to embark on your Ghent walking tour. Get ready to discover the captivating history, architectural wonders, and hidden gems that await you in this enchanting Belgian city.
St. Bavo's Cathedral
Your Ghent walking tour begins with a visit to the magnificent St. Bavo's Cathedral, a Gothic masterpiece that showcases the city's rich history and architectural prowess.
Located in the heart of Ghent, St. Bavo's Cathedral is a renowned religious landmark that dates back to the 14th century. As you approach the cathedral, you'll be awestruck by its imposing presence and intricate details.
Step inside to marvel at the stunning interior, adorned with beautiful stained glass windows, towering columns, and ornate chapels. The highlight of the cathedral is undoubtedly the world-famous altarpiece, "The Adoration of the Mystic Lamb" by the Van Eyck brothers.
This remarkable masterpiece is one of the most important works of art in Western history. The altarpiece consists of 12 panels that depict various religious scenes and figures. Each panel is a testament to the Van Eyck brothers' exceptional craftsmanship and attention to detail, with intricate brushwork and vivid colors that bring the artwork to life.
As you gaze upon "The Adoration of the Mystic Lamb," you'll be captivated by the expressive faces, delicate drapery, and the subtle play of light and shadow. Take your time to appreciate the intricacies of this masterpiece, which has survived centuries and still manages to inspire awe.
Adjacent to the altarpiece is the Chapel of the Holy Sacrament, a serene space where you can reflect and admire the beautiful paintings and decorations. The cathedral also houses the impressive tomb of Bishop Antonius Triest, an intricate marble masterpiece that pays homage to this influential figure in Ghent's history.
Don't forget to climb the 400-step belfry tower for a panoramic view of Ghent's skyline. From the top, you'll be rewarded with breathtaking views of the city's enchanting rooftops, canals, and landmarks.
St. Bavo's Cathedral is not only a place of worship but also a testament to Ghent's rich heritage and artistic legacy. It is a must-visit attraction that will leave you with a profound appreciation for the city's cultural and historical significance.
After exploring St. Bavo's Cathedral, your walking tour of Ghent continues to the next exciting destination: the iconic Belfry of Ghent.
The Belfry of Ghent
Continuing your Ghent walking tour, you'll come across the iconic Belfry of Ghent, a striking medieval tower that dominates the city skyline and offers panoramic views of the surrounding area.
Standing at an impressive height of 91 meters, the Belfry is a symbol of Ghent's prosperity and independence during the Middle Ages. Constructed in the 14th century, this UNESCO World Heritage Site is a remarkable example of Gothic architecture.
As you approach the Belfry, you'll be captivated by its ornate facade and intricate details. Step inside to explore the historical exhibits that showcase the tower's significance throughout the centuries. You'll discover the tower's role as a watchtower, a treasury, and a symbol of civic power.
But the real highlight of your visit to the Belfry is the opportunity to climb the 300 steps to the top. As you make your way up, you'll pass various levels that were once used as meeting rooms, prisoner cells, and even a treasury. This climb is not for the faint of heart, but the reward is well worth the effort.
Reaching the top of the Belfry, you'll be greeted with breathtaking panoramic views of Ghent. From this vantage point, you can admire the city's historic skyline, with its majestic spires, gabled houses, and winding canals. On a clear day, you might even catch a glimpse of the Belgian countryside in the distance.
As you soak in the stunning view, take a moment to appreciate the significance of the Belfry. This tower has stood witness to Ghent's tumultuous history, from medieval times to modern-day, and has become a symbol of the city's enduring spirit and resilience.
Before you descend from the Belfry, don't forget to listen to the enchanting melodies of the carillon bells. These melodious tunes have been filling the air of Ghent for centuries and add a touch of charm to this iconic landmark.
Once you've experienced the majesty of the Belfry, your Ghent walking tour will continue to another fascinating destination: Gravensteen Castle, a medieval fortress that will transport you back in time.
Gravensteen Castle
As you explore the enchanting city of Ghent on your walking tour, you'll come across the impressive Gravensteen Castle, a medieval fortress that exudes a sense of grandeur and history.
Located in the heart of Ghent, Gravensteen Castle, also known as the Castle of the Counts, dates back to the 12th century and has played a significant role in the city's rich past. With its imposing towers, fortified walls, and a moat that surrounds the castle, it's a sight that will transport you back to medieval times.
Step inside the castle to discover its fascinating history and explore the various rooms and exhibitions. Wander through the imposing corridors, climb up the defensive towers, and admire the panoramic views of Ghent from the top.
As you delve deeper into the castle's interior, you'll encounter exhibits that bring the medieval era to life. Learn about the castle's former function as a residence for counts, a seat of power, and even a courthouse. Marvel at the ancient weaponry and armor on display, which provide insights into the castle's role in medieval warfare.
One of the highlights of Gravensteen Castle is the torture chamber, a chilling reminder of the harsh methods used in the past. While the displays can be quite intense, they offer a glimpse into the darker side of history and the castle's role in maintaining order and control.
Outside the castle, take a stroll in the castle's courtyard and enjoy the peaceful ambiance. Admire the well-preserved architecture, including the castle's defensive features and the picturesque bridge that spans the moat.
Gravensteen Castle is not only a historical treasure but also a venue for cultural events and activities. Throughout the year, the castle hosts various exhibitions, reenactments, and medieval festivals, allowing visitors to experience the vibrant atmosphere of the past.
Visiting Gravensteen Castle is a journey back in time, as you immerse yourself in Ghent's medieval history and experience the grandeur of a bygone era. After exploring the castle, your walking tour of Ghent continues to another captivating destination: St. Michael's Bridge.
St. Michael's Bridge
Continuing your exploration of Ghent on your walking tour, you'll come across the picturesque St. Michael's Bridge, a charming vantage point that offers stunning views of the city's enchanting medieval architecture and scenic canals.
Located in the heart of Ghent, St. Michael's Bridge is a historic crossing that spans the River Leie. As you approach the bridge, you'll be captivated by its elegant stone arches and the iconic row of statues that adorns its balustrade.
Once you step onto the bridge, you'll be greeted with breathtaking views in every direction. Look to the west, and you'll see the impressive skyline of Ghent, with its majestic spires and striking facades. To the east, you'll be treated to panoramic views of the Graslei and Korenlei, two picturesque waterfronts lined with beautifully preserved medieval buildings.
As you take in the scenic surroundings, you'll notice the row of statues adorning the bridge's balustrade. These statues represent various figures from Ghent's history and mythology, adding a touch of artistic flair to the bridge. Among the statues, the figure of St. Michael slaying the dragon stands out, symbolizing the triumph of good over evil.
St. Michael's Bridge is not only a vantage point but also a gathering place for locals and tourists alike. It's an ideal spot to rest, soak up the atmosphere, and capture stunning photos of the city's architectural beauty.
During your visit to St. Michael's Bridge, be sure to look down and admire the gentle flow of the River Leie. As boats pass beneath the bridge, you'll witness the harmony between nature and the bustling city.
As you continue your walking tour, don't forget to explore the charming streets and vibrant squares that surround St. Michael's Bridge. The area is filled with delightful cafes, boutique shops, and hidden gems waiting to be discovered.
St. Michael's Bridge offers a moment of tranquility and a chance to truly appreciate the enchanting beauty of Ghent. It's a must-visit destination that will leave you with a lasting impression. As you continue your adventure through the city, the next stop on your Ghent walking tour is St. Nicholas' Church.
St. Nicholas' Church
As you continue your Ghent walking tour, you'll come across the magnificent St. Nicholas' Church, a stunning example of Gothic architecture that has stood tall in the city for centuries.
Located in the bustling heart of Ghent, St. Nicholas' Church is an impressive structure that dominates the skyline with its soaring spire and intricate design. The church, dating back to the 13th century, is dedicated to St. Nicholas, the patron saint of sailors and merchants.
Step inside the church to marvel at its grandeur and intricate details. The soaring ceilings, graceful arches, and intricate stained glass windows create an atmosphere of tranquility and reverence. Take a moment to admire the elegant nave, with its rows of pillars and beautifully crafted altars.
As you explore the church, you'll notice the stunning collection of religious art and sculptures that adorn its interior. The highlight is undoubtedly the exquisite pulpit, a masterpiece of woodcarving that tells the story of St. Nicholas. The pulpit's intricate details and lifelike figures are a testament to the skill and craftsmanship of the artisans who created it.
St. Nicholas' Church has undergone extensive restoration over the years, ensuring that its beauty and historical significance are preserved for future generations. The church was once at risk of demolition but was saved thanks to the efforts of passionate locals who recognized its architectural and cultural importance.
As you step outside the church, take a moment to appreciate the picturesque surroundings. St. Nicholas' Church is located in the heart of Ghent's historic quarter, surrounded by charming cobblestone streets, lively squares, and vibrant cafes.
One of the notable features of St. Nicholas' Church is its close proximity to other architectural gems, such as the adjacent Belfry of Ghent and St. Bavo's Cathedral. These landmarks together form a trio of Gothic masterpieces that define Ghent's skyline and add to its overall charm.
St. Nicholas' Church is not only a place of worship but also a testament to Ghent's rich history and architectural heritage. Its striking presence and artistic treasures make it an essential stop on your Ghent walking tour.
After exploring St. Nicholas' Church, the next destination on your journey through Ghent is the historic and vibrant district of Patershol.
Patershol District
Continuing your Ghent walking tour, you'll venture into the charming and historic district of Patershol. Tucked away in the heart of the city, this area is a hidden gem that showcases the rich cultural heritage and vibrant atmosphere of Ghent.
Patershol is a maze of narrow streets and picturesque squares, lined with beautifully preserved medieval buildings. As you meander through this enchanting neighborhood, you'll feel as if you've stepped back in time. The cobblestone streets, colorful facades, and quaint courtyards create a captivating ambiance that is both romantic and authentic.
One of the highlights of Patershol is its vibrant culinary scene. The district is renowned for its diverse range of restaurants, cafes, and eateries, offering a variety of cuisines to suit every palate. From traditional Belgian specialties to international flavors, Patershol has something to satisfy every food lover's cravings.
While exploring Patershol, be sure to wander off the main streets and venture into the smaller alleyways. This is where you'll discover hidden courtyards, secret gardens, and charming little squares that are perfect for a moment of relaxation and tranquility.
Patershol is also home to a number of boutique shops, art galleries, and artisanal workshops. Browse through the unique offerings and discover one-of-a-kind souvenirs, handmade crafts, and locally produced goods.
As you explore the district, keep an eye out for the hidden gems and historical landmarks. You may stumble upon remnants of the city's medieval fortifications, ancient city gates, or hidden chapels. Every corner of Patershol has a story to tell and offers a glimpse into Ghent's rich past.
Whether you choose to indulge in a culinary delight, browse through the shops, or simply soak up the ambiance, a visit to Patershol is a must during your Ghent walking tour. This historic district will leave you enchanted with its quaint charm and vibrant energy.
After immersing yourself in the beauty of Patershol, your Ghent adventure continues to the picturesque Graslei and Korenlei, where you'll encounter Ghent's iconic waterfront.
Graslei and Korenlei
Prepare to be captivated by the picturesque beauty of Graslei and Korenlei, two iconic waterfronts that exude charm and character in the heart of Ghent. These historic quaysides along the River Leie are the perfect setting for a leisurely stroll, offering stunning views of the city's architectural wonders.
Graslei and Korenlei are lined with beautifully preserved medieval buildings, displaying a range of architectural styles that tell the story of Ghent's rich heritage. The facades of these buildings showcase a mix of Gothic, Renaissance, and Baroque elements, creating a unique and visually appealing sight.
As you walk along the waterfront, you'll be enthralled by the reflections of the buildings in the calm waters of the river. Take a moment to admire the intricate details of the facades, the ornate gables, and the charming waterfront terraces that add a touch of romance to the scene.
Graslei and Korenlei were once bustling commercial hubs, serving as important trade centers in Ghent's history. Today, these quaysides attract locals and tourists alike, offering a vibrant atmosphere with lively cafes, restaurants, and souvenir shops.
Stop by one of the riverside cafes and indulge in some people-watching while sipping a cup of coffee or enjoying a delicious local delicacy. The outdoor terraces provide the perfect spot to relax, soak in the view, and appreciate the beauty of your surroundings.
For a unique perspective, hop on a boat cruise along the River Leie. From the water, you'll have an even more stunning view of the notable landmarks that line the quaysides, including St. Michael's Bridge and the Guildhalls of the Meat Hall and the Grain Hall.
Graslei and Korenlei are often buzzing with activity and host various events throughout the year. From art fairs and cultural festivals to live music performances, there's always something happening along these historic waterfronts, adding to the lively atmosphere of Ghent.
As the sun sets and the lights illuminate the buildings along the waterfront, Graslei and Korenlei take on a magical ambiance. This is the perfect time for an evening stroll, when the buildings are beautifully illuminated, creating a romantic and enchanting setting.
Graslei and Korenlei are a true testament to the historical and architectural beauty of Ghent. A visit to these picturesque waterfronts should not be missed during your Ghent walking tour, as they offer a glimpse into the city's grand past and showcase the timeless charm that continues to captivate visitors.
After immersing yourself in the beauty of Graslei and Korenlei, your Ghent adventure continues to the stunning Saint James' Church.
Saint James' Church
As your Ghent walking tour progresses, you'll encounter the awe-inspiring Saint James' Church, a magnificent place of worship steeped in history and architectural splendor.
Situated near the bustling Korenmarkt square, Saint James' Church stands as a testament to Ghent's rich religious heritage. Dating back to the 13th century, this Gothic church showcases a harmonious blend of architectural styles and intricate details.
Step inside Saint James' Church to be greeted by a serene and contemplative atmosphere. The soaring ceilings, soaring arches, and stained glass windows create a sense of grandeur that is befitting of this sacred space. Take a moment to absorb the tranquility and meditate in the presence of the magnificent altars.
As you explore the church, you'll encounter several notable features. One of the highlights is the impressive Baroque pulpit, adorned with intricate carvings and delicate details. The pulpit serves as a focal point and a reminder of the rich artistic tradition prevalent during the period.
Another notable feature is the breathtaking pipe organ, which dates back to the 18th century. Its majestic presence and powerful sound fill the church, adding to the divine and ethereal experience within its walls.
While the interior of Saint James' Church is undoubtedly captivating, don't forget to admire the exterior as well. The elaborate facades, adorned with sculptures and decorative elements, stand as a testament to the craftsmanship of the era.
Adjacent to the church, you'll find the Saint James' Churchyard, a peaceful green space that offers a respite from the bustling city. Take a leisurely stroll or find a bench to sit on, allowing you to soak in the peaceful ambiance and reflect on your journey through Ghent.
Like many of Ghent's iconic landmarks, Saint James' Church is rooted in history and holds significant cultural and religious importance. It serves as a reminder of the city's rich spiritual heritage and architectural prowess.
Once you've explored the marvels of Saint James' Church, your Ghent walking tour continues to the Museum of Fine Arts, where you'll further immerse yourself in the city's vibrant artistic scene.
The Adoration of the Mystic Lamb
A visit to Ghent would not be complete without experiencing the mesmerizing masterpiece known as "The Adoration of the Mystic Lamb." Housed within the St. Bavo's Cathedral, this iconic altarpiece is a testament to the Flemish Renaissance and the genius of the Van Eyck brothers.
Painted in the 15th century by Jan and Hubert Van Eyck, "The Adoration of the Mystic Lamb" is an extraordinary panel painting consisting of 12 panels. This monumental altarpiece is renowned for its exquisite detail, masterful technique, and profound symbolism.
As you stand before the altarpiece, you'll be immediately drawn into its intricate world. Each panel depicts a different scene, from the central adoration of the Lamb to the depiction of biblical figures, saints, and angels. The level of precision and realism in the figures and landscapes is truly awe-inspiring.
One of the most renowned panels is the Ghent Altarpiece's central panel, featuring the adoration of the mystic lamb. The figure of the lamb, symbolizing Christ, is surrounded by a multitude of figures, representing various religious and spiritual figures, including angels, prophets, apostles, and the Virgin Mary.
What makes "The Adoration of the Mystic Lamb" even more extraordinary is its ability to captivate viewers with its hidden details. Through the use of microscopic pigments and tiny brushstrokes, the Van Eyck brothers created a level of realism and depth that was revolutionary for their time.
The altarpiece has not been without its trials. Over the centuries, it suffered damage from wars, theft, and even a botched restoration. However, ongoing efforts to restore and preserve the masterpiece have ensured that its beauty continues to shine through.
A visit to "The Adoration of the Mystic Lamb" is truly a transformative experience. Standing before this artistic marvel, you can't help but be moved by the beauty, skill, and profound spiritual expression that emanate from each panel. It's an opportunity to witness the genius of the Van Eyck brothers and to appreciate the artistic legacy they left behind.
Be sure to take your time to observe the altarpiece from different angles and distances, allowing the intricate details and symbolism to unfold before your eyes. The visual richness and emotional depth of "The Adoration of the Mystic Lamb" are sure to leave a lasting impression.
After immersing yourself in the splendor of "The Adoration of the Mystic Lamb," your Ghent walking tour continues to the Museum of Fine Arts, where you'll encounter even more artistic treasures that Ghent has to offer.
The Museum of Fine Arts
Continuing your Ghent walking tour, you'll make your way to the Museum of Fine Arts, a cultural haven that houses an impressive collection of artworks spanning various periods and styles.
Located in the heart of the city, the Museum of Fine Arts, also known as the MSK Ghent, is a treasure trove for art enthusiasts. The museum houses a diverse range of works, including paintings, sculptures, and decorative arts.
As you enter the museum, you'll be greeted by a carefully curated collection that reflects the rich artistic heritage of Ghent and beyond. The museum boasts an extensive collection of Flemish and Dutch art, with works by renowned masters such as Jan van Eyck, Peter Paul Rubens, and Hieronymus Bosch.
Wander through the museum's galleries, allowing yourself to be immersed in the beauty and significance of the artworks on display. From intimate portraits to grand landscapes, each artwork tells a story and offers a glimpse into the artistic traditions and cultural contexts of the time.
In addition to Flemish and Dutch art, the Museum of Fine Arts also features works from other European schools, including French Impressionism, Italian Renaissance, and German Expressionism. This diverse range of styles and movements allows visitors to appreciate the development and evolution of art across different periods.
Throughout the year, the museum also hosts temporary exhibitions that showcase a wide range of themes and artistic disciplines. These exhibitions offer a fresh perspective and an opportunity to discover new artists or delve deeper into specific artistic movements.
As you explore the Museum of Fine Arts, take advantage of guided tours and audio guides that provide insightful commentary and background information about the artworks. These resources enhance your understanding and appreciation of the pieces on display.
The Museum of Fine Arts not only serves as a sanctuary for art lovers but also as an educational platform for visitors of all ages. The museum offers workshops, lectures, and educational programs that allow individuals to engage with the artworks and explore their own creative potential.
Before you leave the museum, take a moment to relax at the museum's café or browse through the well-stocked gift shop. Here, you can find art-related books, prints, and unique souvenirs to commemorate your visit.
The Museum of Fine Arts in Ghent is a haven for art enthusiasts and a place of discovery for those seeking to expand their artistic horizons. It celebrates the richness and diversity of the art world, offering a truly immersive experience for visitors of all backgrounds.
As you bid farewell to the Museum of Fine Arts, your Ghent walking tour continues to the intriguing Saint Peter's Abbey, where you'll uncover more of Ghent's fascinating history and cultural heritage.
Saint Peter's Abbey
As your Ghent walking tour progresses, you'll make your way to the captivating Saint Peter's Abbey, a site steeped in history and cultural significance. Nestled within a tranquil courtyard, this ancient abbey offers a glimpse into Ghent's rich past.
Saint Peter's Abbey, also known as Sint-Pietersabdij, dates back to the 7th century and has served various purposes throughout its existence. Originally founded as a Benedictine monastery, it later became an important center for religious studies and art production.
As you wander through the abbey, you'll witness the architectural evolution that spans centuries. The Romanesque and Gothic elements blend harmoniously, creating a distinctive and engaging aesthetic. The abbey's tranquil gardens, cloisters, and courtyards evoke a sense of serenity and peace.
Within the abbey's walls, you'll find a treasure trove of cultural artifacts, artworks, and fascinating exhibits. The Ghent City Museum is housed within the abbey, showcasing the city's history through various displays and multimedia presentations.
One of the most striking features of Saint Peter's Abbey is the majestic Refectory, where the monks used to dine in silence. This monumental space now hosts temporary art exhibitions, adding a contemporary touch to the ancient surroundings.
Adjacent to the abbey is the Saint Peter's Church, a neo-Gothic marvel that offers a glimpse into the abbey's religious legacy. Step inside to admire the stunning stained glass windows and the intricate details of the altars.
The abbey's serene ambience makes it an ideal place for reflection and contemplation. Take a moment to sit in the abbey's courtyard, surrounded by centuries-old architecture and tranquil greenery. The gentle sound of the flowing water and the peaceful atmosphere provide a welcome respite from the bustling city.
Aside from its historical and cultural significance, Saint Peter's Abbey is also a venue for various cultural events and concerts. From classical music recitals to contemporary art installations, the abbey continues to serve as a vibrant hub for the arts, bridging the gap between the past and the present.
A visit to Saint Peter's Abbey offers a unique opportunity to step back in time and immerse yourself in the rich history of Ghent. It's a place where the past and present converge, inviting visitors to explore the intertwining threads of spirituality, art, and heritage.
As your walking tour of Ghent nears its end, take a moment to reflect upon the remarkable experiences and discoveries you've encountered throughout the city. Ghent's allure lies not only in its architectural wonders but also in the preservation of its cultural heritage.
Before bidding farewell to Ghent, take the time to indulge in the city's culinary delights, browse through the local shops, or simply find a quiet spot by the canal to savor the beauty and charm that make Ghent a truly captivating destination.
Your Ghent walking tour may be coming to an end, but the memories and impressions you've gathered along the way will surely stay with you long after you've left this enchanting Belgian city.
As your Ghent walking tour concludes, you can reflect upon the incredible journey you've experienced through this captivating city. From its medieval charm to its vibrant cultural scene, Ghent has undoubtedly left a lasting impression.
Throughout your tour, you've delved into the city's rich history, exploring architectural marvels such as St. Bavo's Cathedral, the Belfry of Ghent, and Gravensteen Castle. You've witnessed the breathtaking beauty and symbolism of "The Adoration of the Mystic Lamb," and immersed yourself in the vibrant art scene at the Museum of Fine Arts.
You've explored charming neighborhoods like Patershol, reveled in the picturesque waterfronts of Graslei and Korenlei, and discovered the tranquility of Saint Peter's Abbey. Each step of your journey has revealed a new layer of Ghent's charm, history, and cultural heritage.
But Ghent offers more than just its architectural wonders and cultural gems. It is a city vibrant with life, filled with bustling cafes, lively squares, and a culinary scene that will tantalize your taste buds. The proximity to nature, with its serene canals and peaceful gardens, adds to the city's allure and provides moments of tranquility amidst the urban setting.
Ghent's magic lies in its ability to seamlessly blend its historical past with a modern and innovative spirit. It is a city that celebrates its cultural heritage while embracing contemporary arts, design, and gastronomy. This dynamic blend creates an atmosphere that is dynamic, inspiring, and captivating.
As you bid farewell to Ghent, take with you the memories of its enchanting streets, the sound of the church bells ringing, and the warmth of the local hospitality. Ghent has welcomed you into its embrace and offered you a glimpse into its soul.
So, whether you were drawn to Ghent for its history, art, architecture, or simply to immerse yourself in the city's unique atmosphere, you have undoubtedly experienced the allure and beauty that make Ghent a destination worth exploring.
Remember the moments you've created, the stories you've uncovered, and the connections you've made during your time in Ghent. Carry them with you, and let them inspire you to seek out new adventures, discover new cultures, and continue exploring the wonders of this remarkable world we inhabit.
As you venture onward to your next destination, take with you the spirit of Ghent and the memories of your remarkable walking tour through this truly magical city.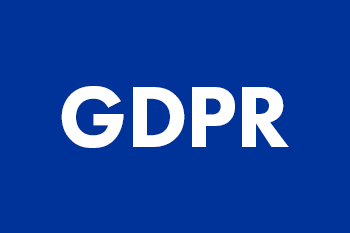 Privacy Overview
Strictly Necessary Cookies
This website uses cookies so that we can provide you with the best user experience possible. Cookie information is stored in your browser and performs functions such as recognising you when you return to our website and helping our team to understand which sections of the website you find most interesting and useful.
Strictly Necessary Cookie should be enabled at all times so that we can save your preferences for cookie settings.
If you disable this cookie, we will not be able to save your preferences. This means that every time you visit this website you will need to enable or disable cookies again.

We have received your request correctly.
You will receive an email with a summary of your bookings.
Can't find it? Leave us your email and we'll send you a summary of your bookings.
Share it straight to social media with your campaign ID and name
Free Walking Tour of Ghent
9.30 / 10 336 reviews | 2,456 travellers It was really great! Worthwhile to try! You will get much deeper understanding about Ghent! 10 Anonymous
Discover the history and hidden secrets of one of the prettiest towns in Belgium with this Free Walking Tour of Ghent accompanied by an expert English-speaking guide.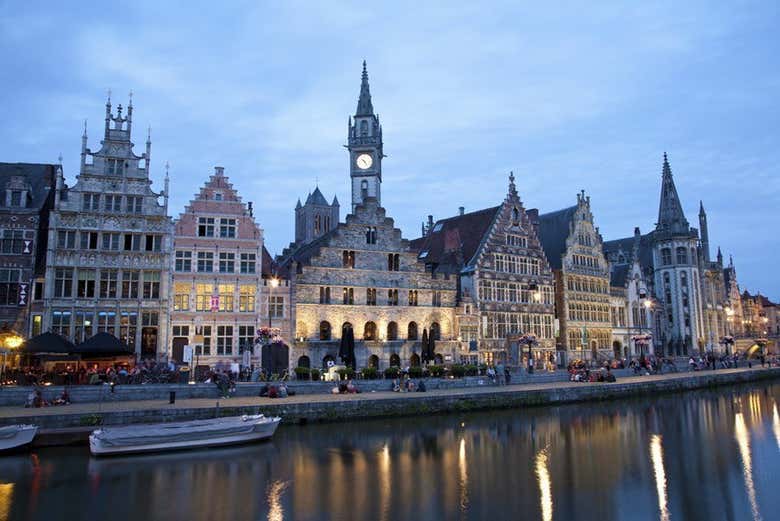 Embark on this free tour of Ghent and be mesmerized by the outstanding beauty of the canals, monuments and squares . Every house hides its own story and there are myths and legends behind every façade.
The tour will begin from the Hostel Uppelink. You'll discover more about the city's turbulent history, its urban legends, and how the young student population is bringing life to the city.
During the tour, you'll visit symbolic locations around Ghent, such as Saint Nicholas' Church , Saint Michael's Bridge , the Belfry and Gravensteen Castle . You'll also find out where the locals like to go for a drink and have a good meal.
Ghent has a preserved medieval centre, and several of the Gothic buildings are listed as UNESCO World Heritage Sites. An unmissable visit when travelling to Belgium!
The tour will end two hours later at Duivelsteen.
How to get to Ghent from Brussels
There is a frequent train service to Ghent from the Belgian capital (principally Gare du Midi and Brussels Central Station). The journey to the Gent-Sint-Pieters takes only 1 hour.
If you prefer, you can also choose to reserve the trip to Ghent from Brussels.
More Information
The activity takes place with a guide that speaks in English.
English speaking guide.
Not included
When to book.
You can book up to the start time, as long as there are places remaining. Book now to guarantee your spot.
Type of voucher
Electronic. Show the voucher on your phone.
Accessibility
Wheelchair accessible.
Sustainability
All services published on Civitatis are carried out in accordance with our Sustainability Code .
Our providers commit to:
Provide a safe and satisfying experience.
Reduce, reuse, recycle.
Incorporate eco-conscious technologies.
Uphold fair employment standards.
Foster the growth of local communities.
Preserve the integrity of local culture.
Safeguard both cultural and environmental heritage.
Ensure ethical treatment of animals.
Operate with honesty and transparency.
Encourage sustainable behaviors among customers and staff.
This particular activity contributes as follows:
Printed material is avoided.
No single-use plastics are used.
The activity helps the dissemination of local cultural heritage.
No printing of documentation required.
Promotes local employment.
Has a gender equality policy.
Legends Tours & Activities Show more
Corporate name: Travelling Teddy Tours, vzw
Not permitted.
Frequently asked questions
Q - Why do this activity with Civitatis?
A - All Civitatis activities go through a selection process. Within our listings, you won't find two equal activities offered by different providers: we simply take the company with the best reviews and quality and stick with that one. If our users start leaving negative reviews on an activity, we understand that something is off, and we contact the provider to establish a solution. If this situation persists, we look for another company that responds to our commitment to excellence. That's why doing an activity with Civitatis means getting it right every time and ending up satisfied with the service.
Q - How to book?
A - To reserve the activity, choose the date and complete the form on this page. You will receive your confirmation immediately.
If you have any other questions please contact us.
Free cancellation
If you are not able to attend the tour, please cancel your reservation, otherwise the guide will be waiting for you.
Meeting point
Hostel Uppelink
You may also be interested in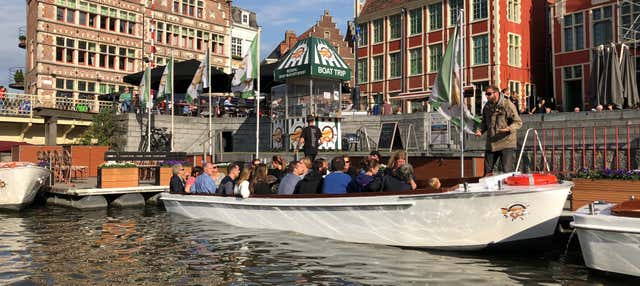 Ghent Boat Tour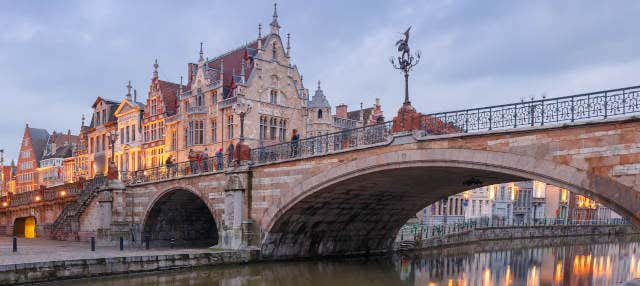 Ghent Free Evening Tour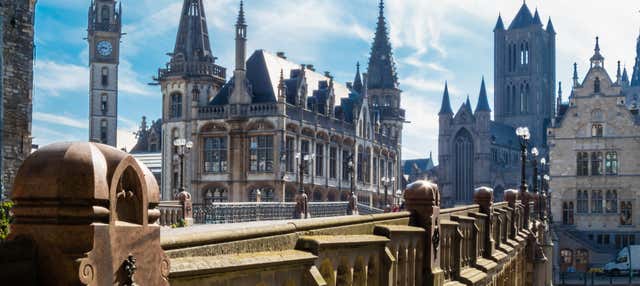 Ghent Guided Tour
Login to add activities to your favorites and access them from any device
This site is reCAPTCHA protected and Google's privacy policy and terms of service apply.

Voted top 20 best experiences in Western Europe
by Viator in 2023.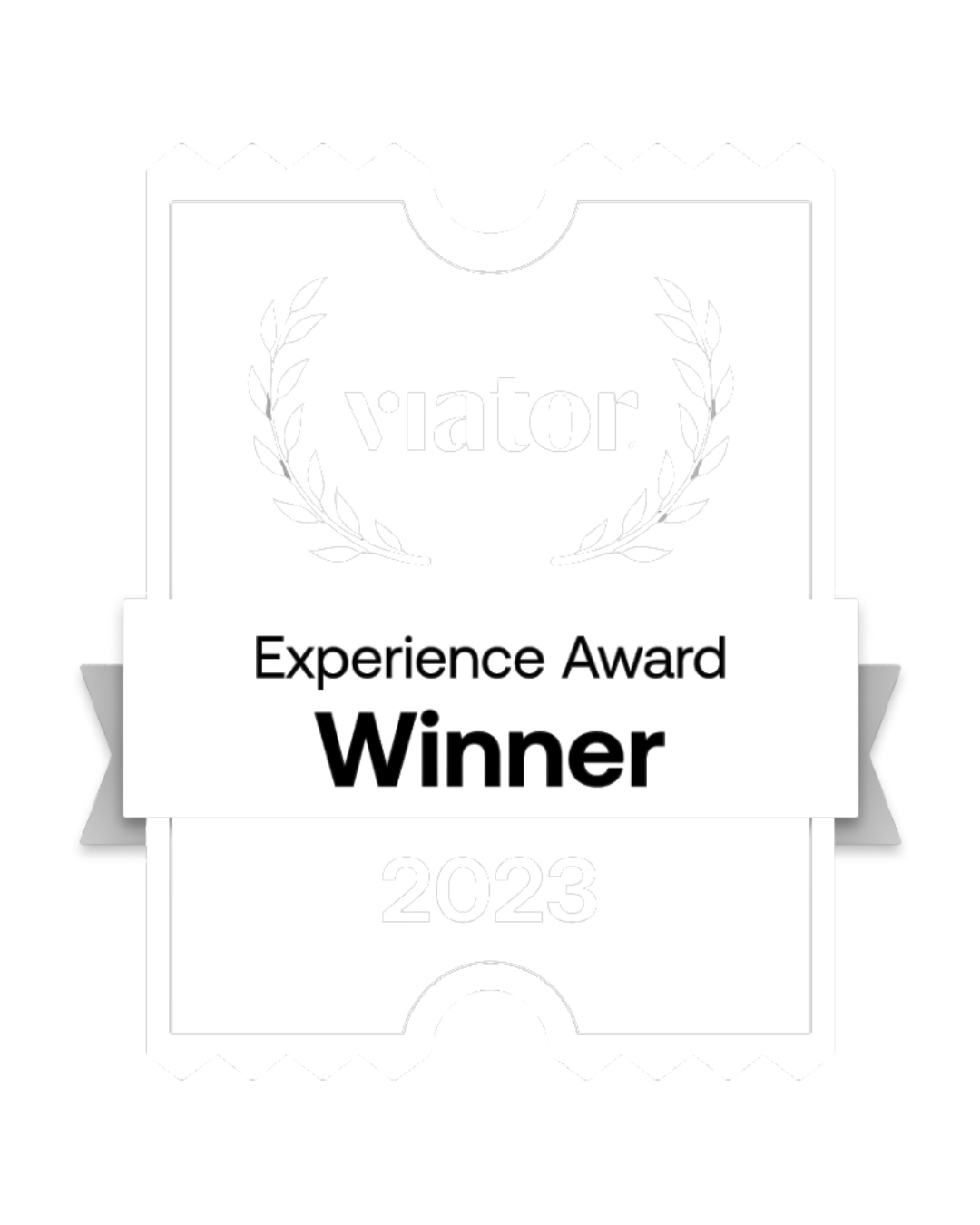 A legendary city requires a legendary tour!
Book online to secure your spot now, choose your favourite free tour, or join both to get the complete overview of gent.
Main Historical Tour
Discover the highlights of Ghent
🎤 In English
⏰ 10:30 - 13:30
🏷️ Pay what you like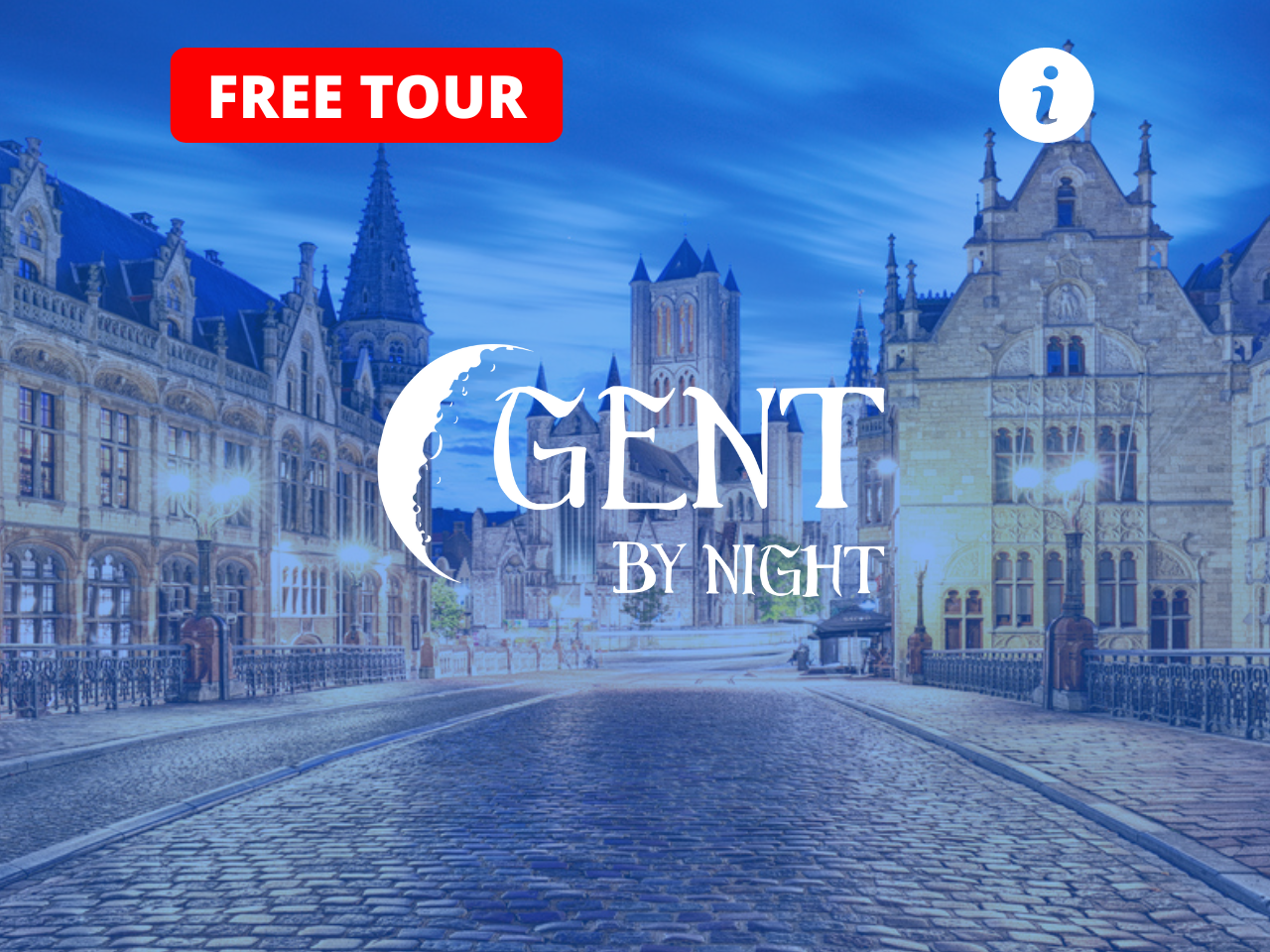 History with a Touch of Mystery
Visit the dark side of Ghent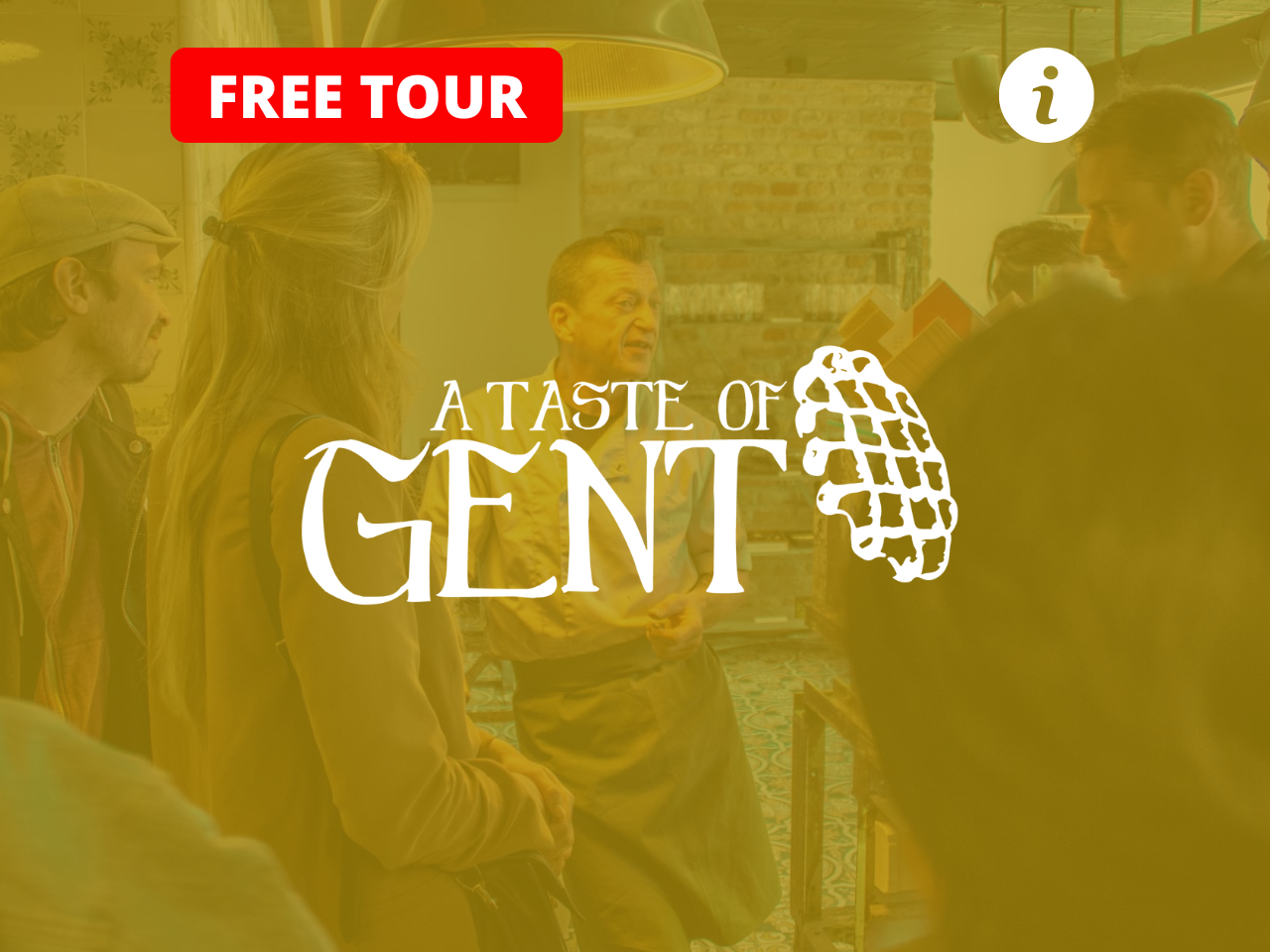 The Story of our Gastronomy
Explore & taste the local food culture
🎤 In English
⏰ 11:30 (Tue-Sun) / ⌛ 1.5h
🧇 Tasters included
Do you prefer the VIP experience?
Book a legendary guide for your private tour.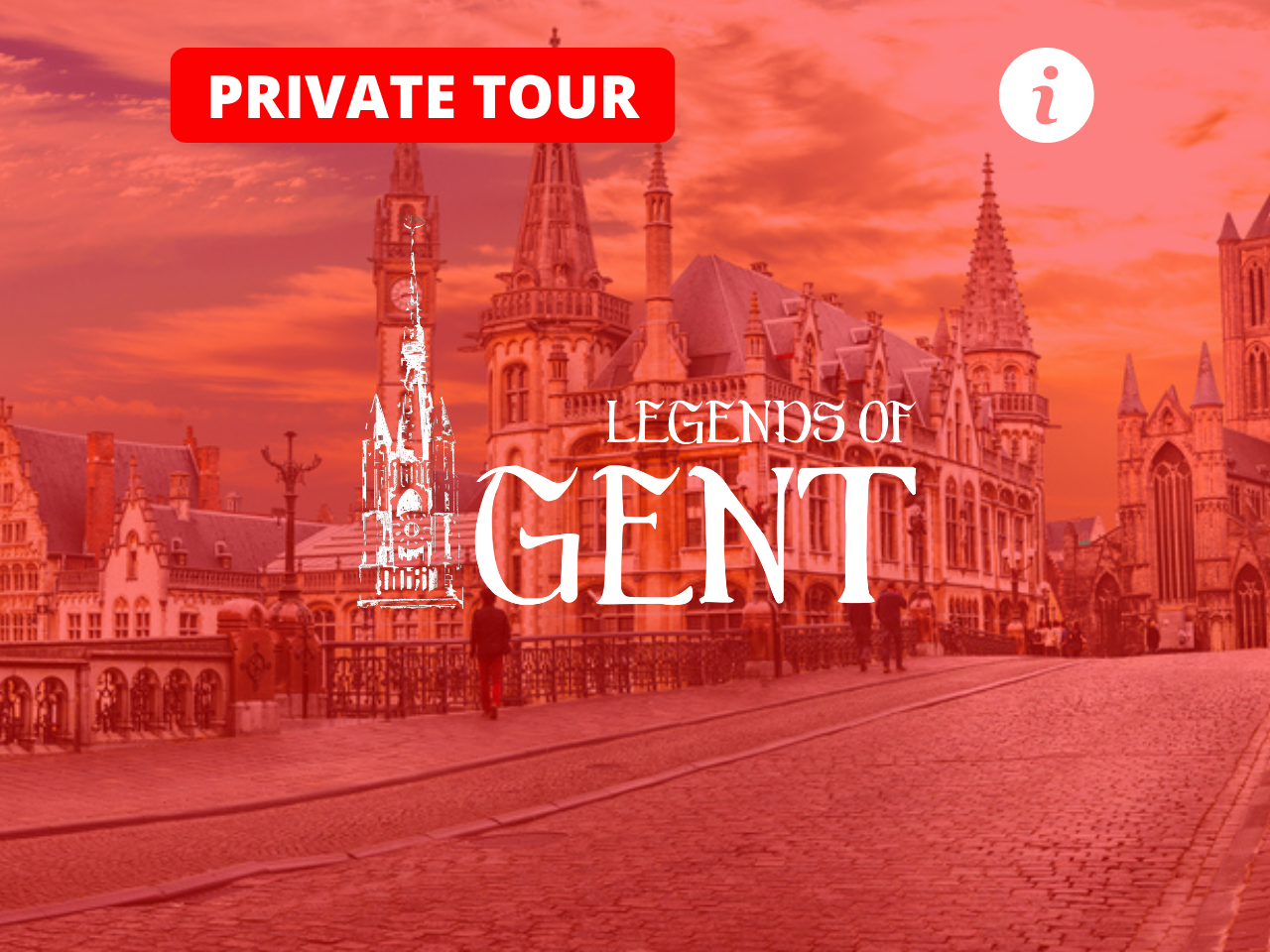 ⏰ Choose your time
🏷️ From €165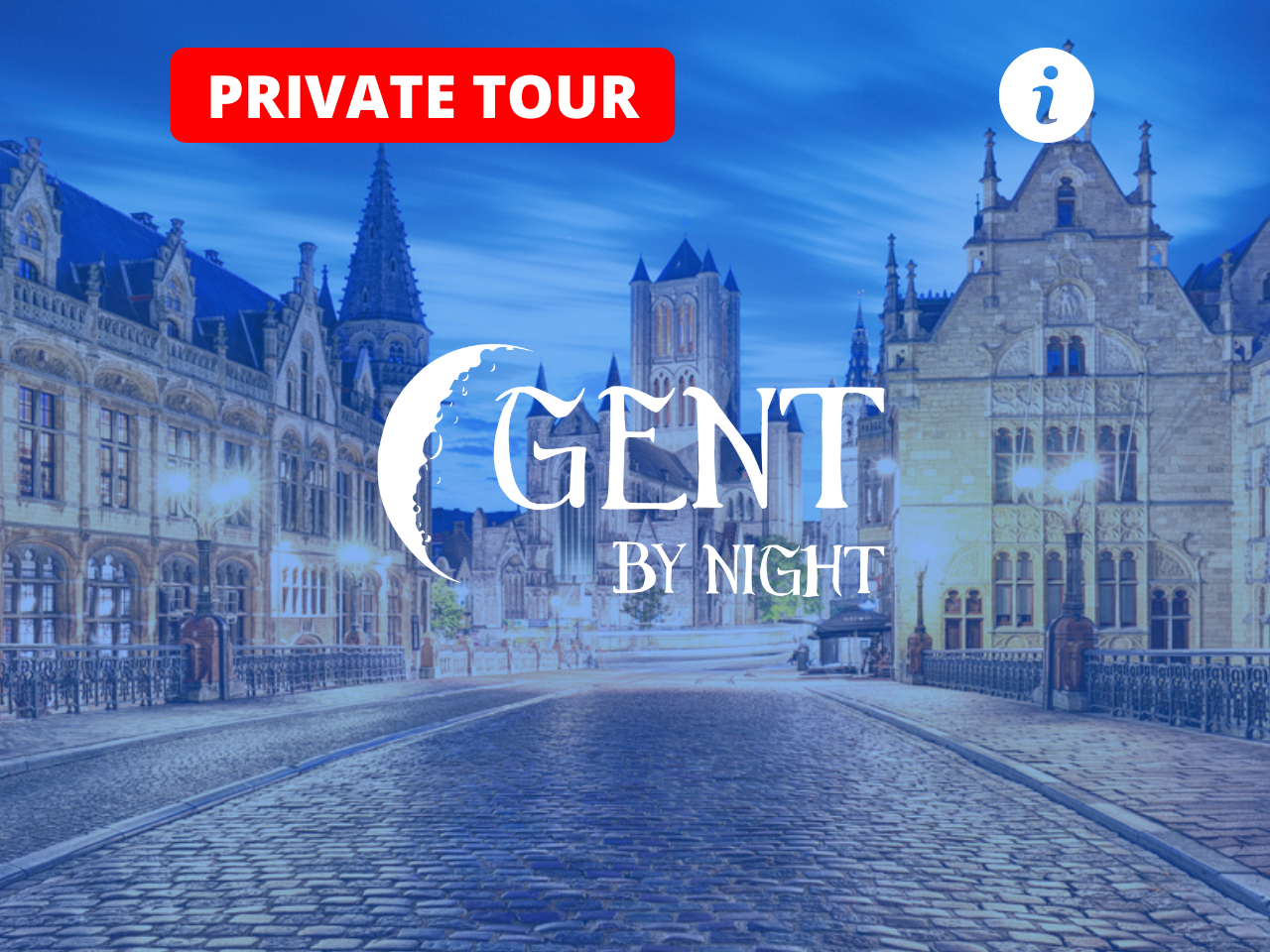 Meeting Point
We meet by Hostel Uppelink at the Sint-Michielsplein in Gent.
Look for the red umbrella .
Sint-Michielsplein 21,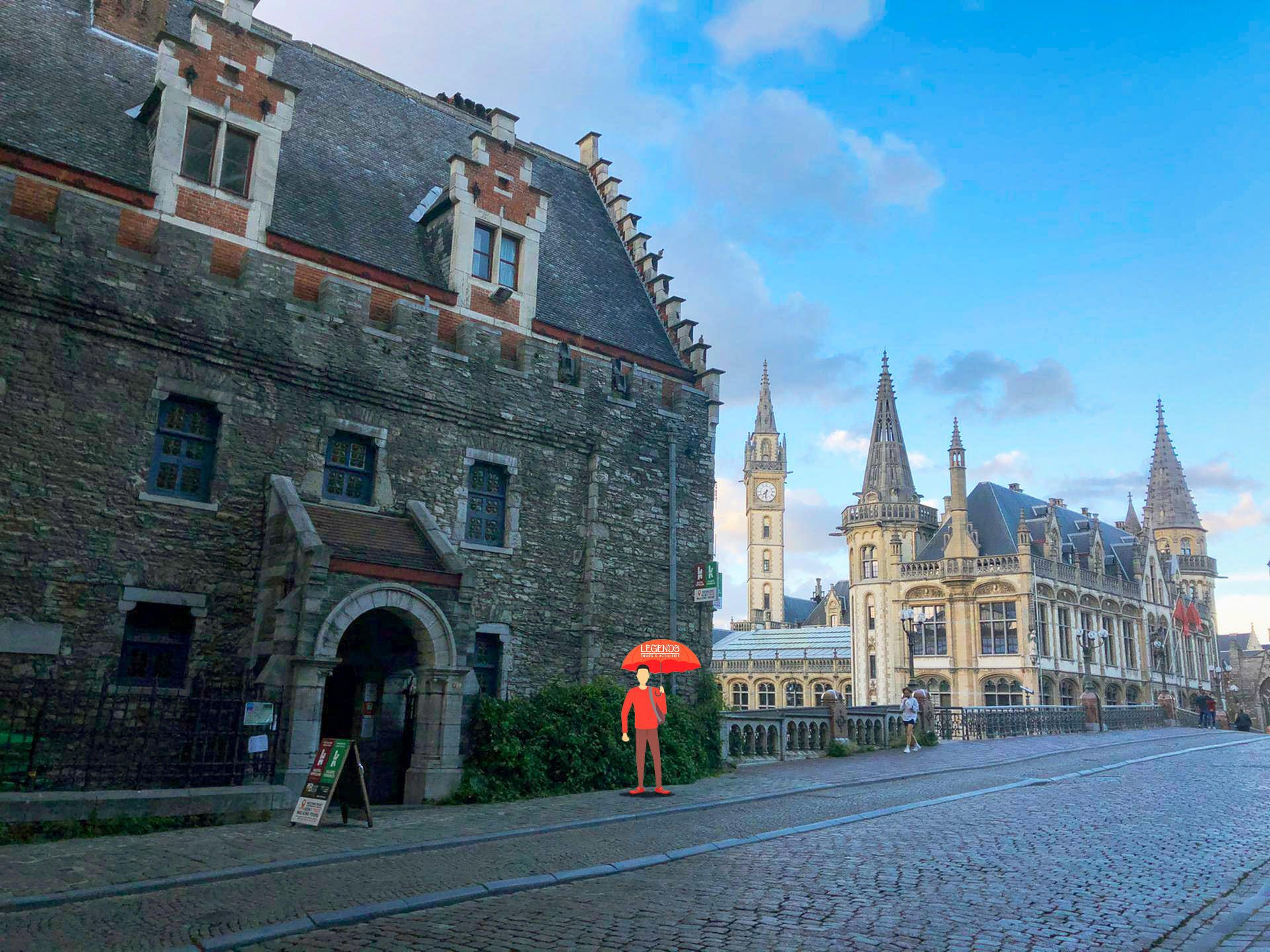 Rent a Kayak and explore Ghent
 from the water.

Tours by legends for legends
Legends vzw, Sasplein 12, 8000 Brugge
VAT: BE 0607.943.144
Netherlands
Switzerland
Solo Location Guides
Solo Travel Advice
Solo Inspiration
Luxury travel
BELGIUM , DESTINATIONS , EUROPE
A perfect one day in ghent: itinerary + best things to do.
With its network of narrow canals, red-brick buildings and magnificent Gothic architecture, Ghent is one of Belgium's glittering jewels. And as this is a small city, a day trip to Ghent (Gent in Flemish) will allow you to hit its highlights with ease.
But what are the best things to do during one day in Ghent?
This is where I can help you. I used this lovely city as a base to explore other places in Belgium and put together a Ghent 1-day itinerary to make sure that I didn't miss the good stuff.
I've also included more things to do in Ghent if you are there for two or three days, plus advice on where to stay, how to get there and how to get around.
Some articles on this website contain affiliate links. This means that I may earn a small commission if you make a purchase through these links. As an Amazon Associate, I earn from qualifying purchases . Read the full disclosure here .
TOP 5 THINGS TO DO
Gaze in wonder at The Adoration of Mystic Lamb
Take in the view from St. Michael's Bridge
Climb Ghent's Belfort
Visit Gravensteen
Join a Belgian beer tour with a local (find out more here )
HOW TO DO A GHENT DAY TRIP: Ghent is 30 minutes by train from Brussels or Bruges.
BEST WAY TO GET AROUND GHENT: On foot
CURRENCY: Euro. Cards are widely accepted.
LANGUAGE SPOKEN: Most locals speak Flemish, which is similar to Dutch. Many people speak English.
IN THIS ARTICLE
Is One Day Enough for Ghent?
You can cover most of Ghent's main attractions in one day. However, I recommend allowing two days to do this in a more relaxed way.   I used Ghent as one of my bases for spending a week in Belgium . From here, I took a day trip to lovely Leuven and ate my way through the best chocolate shops in Bruges . 
Best Things to Do in Ghent in a Day: A Self-Guided Walking Tour
It is easy to hit the highlights of Ghent in one day on a self-guided walking tour.
From the starting point at St. Bavo's Cathedral to the endpoint at Graffiti Street, the total distance is less than two miles . I suggest that you break off at the halfway mark for a relaxing boat cruise.
Here is a map to help you on your way. For an interactive map with walking directions, simply click here or on the image itself.
But if you prefer someone else to take care of the arrangements for you or you want to benefit from local knowledge, join an organised walking tour . This is also one of the best ways to meet people as a solo traveller .
>>> CLICK HERE TO BOOK YOUR GHENT WALKING TOUR. IF YOU PREFER A PRIVATE WALKING TOUR, CHECK THE PRICE & AVAILABILITY HERE .
1-Day Ghent Itinerary
St. bavo's cathedral & the mystic lamb.
Our day in Ghent begins with one of the world's artistic masterpieces, Jan van Eyck's Adoration of the Mystic Lamb .
Housed in the Gothic St. Bavo's Cathedral (Sint-Baafskathedraal), the so-called Ghent altarpiece has survived wars, fire and theft. It has been restored to its former luminous glory and is sited in the cathedral's Villa Chapel.
St. Bavo's Cathedral is also home to a typically energetic Rubens painting ( St Baaf entering the Abbey of Ghent ) and a massive marble and oak Rococo pulpit , representing the Tree of Life.
GERALD THE DEVIL
After you exit St. Bavo's Cathedral, take a short detour to take a look at Gerald the Devil.
Don't be fooled by the name. A devil has never lived in this sombre 13th-century fortress.
Staring life as a knights' residence, it has been used as an arsenal, a monastery, a school, a bishop's seminary, a 17th-century institution for the mentally ill and a home for male orphans.
BELFORT OF GHENT
Across from the cathedral, on the west side of the main square, is the UNESCO-listed Belfort of Ghent (Ghent's Belfry).
Built from blue-grey limestone ferried from Tournai, work started on this tower in 1313. The building was tinkered with many times over the centuries and its current dragon-topped spire dates from the 20 th Century.
Take the elevator to the roof of the belfry for windy views over the city centre. The entrance is on the south side of the adjoining Lakenhalle, Ghent's historic Cloth Hall .
GHENT CITY HALL
Ghent's striking City Hall or Stadhuis is a building of two halves.
The later section, dating from the 1580s, is pure Italian Renaissance with its perfect symmetry and majestic columns and pilasters. But turn the corner, and the flamboyant façade is pure Gothic. This style was intended for the entire building until the collapse of the wool trade killed the finances.
ST NICHOLAS'S CHURCH (SINT-NIKLAASKERK)
St. Nicholas's Church (Sint-Niklaaskerk) is a few minutes walk from Ghent's City Hall. This Gothic church was built from blue-grey Tournai stone and was completed in the 13 th Century.
Step inside to take a look at the Baroque high altar and its representation of the Last Judgement.
ST. MICHAEL'S BRIDGE
No day in Ghent is complete without stopping to admire the view from St. Michael's Bridge (Sint-Michielsbrug). This landmark was built in 1913 to offer visitors to the Great Exhibition the best vantage point to view the city's skyline.
To the south, there is the handsome Gothic Sint-Michielskirk . In the opposite direction is Tussen Bruggen , Ghent's oldest harbour and its iconic quays, the Graslei and the Korenlei.
THE GRASLEI
Back in medieval times, Ghent's boatmen and grain weighers were essential to the fortunes of the city. A lasting legacy is the row of gorgeous guildhouses that line the Graslei, the gable of each decorated with a symbol indicating its function.
THE KORENLEI
On the opposite side of the harbour, the Korenlei is home to an ensemble of 18 th Century merchants' houses built in the Neoclassical style. Take a look at the Guildhouse of the Unfree Boatmen at number 7 which has a façade that features exaggerated dolphins and lions.
GHENT BOAT TOUR
Now it's time to rest those feet. You deserve it.
Boats depart the Graslei and the Korenlei for a 50-minute trip along Ghent's canals. This is an excellent way to learn more about the city.
>>> CLICK HERE TO BOOK YOUR GHENT BOAT TOUR
JAN BREYDELSTRAAT
We are now going to make our way towards Ghent's castle via Jan Breydelstraat. This is one of the city's prettiest streets and is lined with inviting shops and restaurants.
HET GRAVENSTEEN
The hulking and forbidding walls and turrets of Het Gravensteen, or the castle of the counts in Flanders, look like they have been lifted straight from a child's storybook. It was first built in 1180 to intimidate and protect Ghent's unruly citizens in equal measure.
A kitsch (and overlong) self-guided tour takes you through its main buildings, passing medieval military hardware and instruments of torture along the way. From the castle's wall, there are lovely views over Ghent's city centre.
Northeast of Het Gravensteen is the Patershol, a picturesque labyrinth of brick terraced houses, dating from the 17 th Century. This was once the heart of the city and is a good spot to grab a bite to eat.
VRIJDAGMARKT
For centuries, the Vrijdagmarkt was the political heart of Ghent and the site of public meetings and executions. The imposing statue in the middle of the square is that of the guild leader Jacob van Artevelde.
GRAFFITI STREET (WERREGARENSTRAAT)
From the artwork in Brick Lane in my home town of London to checking out the MUAS Initiative in Málaga , I try to seek out street art wherever I am. Visiting Ghent was no exception.
Street artists are let loose with their spray cans on Werregarenstraat, otherwise known as Graffiti Street. It's worth taking a detour to this narrow alleyway to look at works by artists such as Roa and Bué the Warrior.
JOIN A BEER TOUR WITH A LOCAL
If you are staying overnight in Ghent, you must join this excellent beer tour with a local guide.
Beer is one of the things for which Belgium is famous and prior to World War II, there were over 100 breweries in Ghent. Today's brewers have rediscovered Ghent and both microbreweries and larger breweries are booming.
Liselot, our super-enthusiastic and knowledgeable guide, introduced us to five types of Belgian beer in three bars. At the end of the tour, she provided personalised recommendations for beer that is widely available in Belgium.
In case you're wondering, I should go for Gulden Draak Quadruple, a mere 10.7% ABV. Cheers.
>>> CLICK HERE TO BOOK YOUR TOUR
Other Great Places to Visit in Ghent, Belgium
But perhaps you are spending two days in Ghent (or longer) and want to squeeze in more sights. Here is my pick of the best of the rest.
ST. PETER'S ABBEY
St. Peter's was a Benedictine abbey founded in the 7th Century by St Amand. It thrived during the 14th and 15th Centuries, growing into a sort of abbey village with farms, gardens, homes and estates.
Its garden is gorgeous and has a fine courtyard and vineyard. But the highlight for me was clambering up to the organ for a view over the fabulous Renaissance Our Lady of St. Peter's Church.
HOUSE OF ALIJN (ALIJN HUIS)
This folklore museum is housed in a former children's hospital, St Catherine's Hospital, the only conserved almshouse in Ghent.
The almshouse was founded in 1363 to resolve a long-running blood feud between two of the city's patrician families: the Rijms and the Alijns. Think of them as the Flemish version of the Montagues and Capulets in Romeo & Juliet .
The museum's rooms depict life and work in 19th and 20 th Century Ghent with reconstructions of living spaces and shops.
FINE ARTS MUSEUM (MSK)
Ghent's Fine Art Museum displays over 600 pieces from its collection of about 9,000 works, spanning the Middle Ages to the first half of the 20th century. These works are arranged thematically, starting with Religion and ending with Progressives vs Conservative (I liked room 16: Travelling around the World).
If contemporary art is more your thing, head across the road to the Stedelijk Museum voor Actuele Kunst, or the S.M.A.K. for short. It's not my cup of tea but its collection is considered to be the most important of its kind in Flanders.
Is the Ghent City Card Worth It?
Like many cities, Ghent has a tourist pass – CityCard Gent – that offers free or discounted admission to its main attractions from €38. It also includes a boat tour and bicycle rental for one day.
But is the Ghent City card good value ?   I'm not usually a massive fan of these city cards but, for me, it was a travel bargain. Like any of these city cards, you will need to do the maths to work out if it is the right choice for you.   You can pick one up at the city's tourist information centre or at participating attractions.
READ THIS NEXT : Is the Ghent City Card Worth It?
How to get to Ghent from Brussels or Bruges
Ghent is located at the midpoint of the train line between Brussels and Bruges. From either city, it's a 30-minute journey.
Trains are frequent and not expensive.
The only downside is that Ghent St. Peter's Station is a 30-minute walk from the historic city centre. However, if you are feeling weary or want to save time, tram line 1 runs from the station to the city centre every ten minutes.
Thanks to Eurostar, you could even take a day trip to Ghent from London . You will need to change trains at Brussels Midi / Brussels Sud.
For example; if you caught the first Eurostar train from London St. Pancras International at just after 8 am, you would be ready to start your day in Ghent at midday. The last train for London departs Brussels just before 9 pm.
Getting Around Ghent
Ghent is a very walkable city. Its main attractions are spread over a small area and the best way of getting around is on foot.
Where to Stay in Ghent
If you are staying overnight in Ghent , base yourself in its historic centre to be close to the attractions included in this one-day itinerary.
Here are my top choices:
Snooz Ap Holiday & Business Flats
I stayed at this superb apartment in the heart of the historic city centre, which is a great self-catering choice in Ghent. The washing machine, Nespresso machine and roof terrace were welcome bonuses.
>>> CLICK HERE TO CHECK RATES
Here are some other choices of accommodation that may suit other tastes and budgets:
B&B Inn Between
If you are looking for a first-rate accommodation choice that is closer to the train station, this could be it. This 4-star B&B has gardened fabulous reviews.
>>> CLICK HERE TO TO CHECK RATES
B&B The Verhaegen
Push the boat out and stay at this guesthouse housed in a historic building in the heart of the city. There is also a peaceful garden in which to relax after a hard day's sightseeing.
READ THIS NEXT: Where to Stay in Ghent, Belgium: The Best Areas for All Travellers
Visiting Bruges and Ghent in One Day
As Bruges and Ghent are only 30 minutes apart by train, it is possible to visit them both in one day. These two cities are very walkable. Whilst there are similarities between Bruges and Ghent cities, they each have something unique to offer. However, visiting both of these cities in a day will be a rushed experience. Furthermore, you will need to be highly selective in what you see and very organised to make the best of your day. My advice is to spend a day in both cities if possible. If that's not an option, then pick a city. But life isn't always perfect. If you are short on time, I recommend joining an organised day tour to make the most of your precious day. This day trip to Ghent and Bruges from Brussels is affordable and has excellent reviews.
Is Ghent Safe for Solo Travellers?
Belgium is an easy country for solo travellers, even if you are travelling alone for the first time . It has an excellent infrastructure, relatively affordable accommodation, a rich history and buzzing nightlife in the main cities.   Keeping safe is a key concern of female solo travellers . Ghent is a friendly city with locals, students and tourists enjoying its attractions, bars and restaurants. Even after dark on weekdays, I felt safe.   That said, a little bit of common sense goes a long way. Watch out for pickpockets, especially in popular tourist areas and transport hubs. Remain vigilant and keep your belongings close to you. If you have a safe at your accommodation, use it to store valuables. 
Thank you for reading my guide to what to do in Ghent for a day
Whilst Ghent is not as well-known as either Brussels or Bruges, ignore it at your peril. It attracts a fraction of the visitors descending on these two cities which has to be a good thing. If you ever visited Bruges on a weekend day in summer, you will know what I mean. It has history and culture in spades, friendly locals, glorious architecture and meandering canals. And if that's not enough, Ghent also has a lively restaurant and bar scene and is home to a growing number of breweries. I hope that you have a wonderful day in Ghent. If you've enjoyed this guide, take a look at my other Belgium articles to help you plan your trip:
A Perfect 1-Week Belgium Itinerary by Train
11 Awesome Reasons to Visit Mechelen, Belgium
One Day in Leuven, Belgium: Top 10 Things to Do
10 Reasons to Visit Hasselt: Belgium's Hidden Gem
One Day in Brussels: Itinerary and Best Things to Do
How to Find the Best Chocolate in Bruges, Belgium
About Bridget
Bridget Coleman has been a passionate traveller for more than 30 years. She has visited 70+ countries, most as a solo traveller.
Articles on this site reflect her first-hand experiences.
To get in touch, email her at [email protected] or follow her on social media.
Private offer
About & Partnership
Antwerp Belgium
Barcelona Spain
Belfast Northern Ireland
Berlin Germany
Bratislava Slovakia
Bruges Belgium
Brussels Belgium
Bucharest Romania
Budapest Hungary
Bydgoszcz Poland
Cadiz Spain
Cordoba Spain
Dresden Germany
Dublin Ireland
Dubrovnik Croatia
Edinburgh Scotland
Gdańsk Poland
Ghent Belgium
Granada Spain
Istanbul Turkey
Jerusalem Israel
Krakow Poland
Leipzig Germany
Lisbon Portugal
Liverpool England
London England
Lublin Poland
Lviv Ukraine
Łódź Poland
Madrid Spain
Malaga Spain
Mostar Bosnia & Herzegovina
Munich Germany
Naples Italy
Paris France
Porto Portugal
Poznań Poland
Prague Czechia
Riga Latvia
Sarajevo Bosnia & Herzegovina
Seville Spain
Sintra Portugal
Sopot Poland
Split Croatia
Tel Aviv-Yafo Israel
Tirana Albania
Toruń Poland
Valletta Malta
Vienna Austria
Warsaw Poland
Wrocław Poland
Zadar Croatia
Zagreb Croatia
Zakopane Poland
Ghent Free Walking Tour | Guided Tours and Day Trips
Tours in ghent pay what you wish tours.
What attractions does Ghent have to offer?
The capital of East Flanders impresses with its mediaeval architecture and picturesque views. It is the ideal place for those following in the footsteps of UNESCO World Heritage sites – the mediaeval centre of Ghent and the two abbeys that constituted the beginning of the city's existence were added to this famous list in 2002. In Ghent, mediaeval architecture mixes with modern one, and this vibrant city hides many, often dark, secrets. Dreaming of a trip to Ghent? Explore its finest attractions by joining our tour!
Ghent – a trip you won't forget!
Ghent is sure to delight any lover of architecture and religious buildings. One of the symbols of the city is the Cathedral of St. Bavo. Inside, there are many valuable works of art, including the 'Ghent Altarpiece (Adoration of the Mystic Lamb)' by Hubert and Jan van Eyck or 'St. Bavon arrives at the Ghent Monastery' by Rubens. Also worth a visit is the Church of St Nicholas, dating from the 13th century and an excellent example of Scaldic Gothic (a cross between the Romanesque and Gothic styles).
While visiting Ghent make sure to see the majestic Gravensteen Castle . There was probably already a wooden castle by the river Leie in the 9th century, but the stone fortress was not built until the late 12th century. Philip of Alsace is considered to be the builder of the Castle, and in its museum you can see, among other things, exhibitions of weapons and torture instruments. The best vantage point in the city, on the other hand, is the 95-metre-high Het Belfort Tower, also known as the "dragon tower", once used as a watchtower. Not far from it is the Ghent Town Hall (Stadhuis), whose construction began in 1518. In 1576, the Ghent Pacification was signed here, which for a time united southern and northern Flanders against the Habsburgs.
For those who are keen on beautiful views, we recommend going to St. Michael's Bridge, from where you can enjoy a breathtaking panorama of Ghent. Located over the River Leie, the bridge connects the Korenlei and Graslei streets. St Michael's Church, built in the late Gothic style, is located right next to it and is also worth a visit. A canal cruise is also a good idea for exploring Ghent. The cruise takes about 40 minutes and allows you to see the Old Town from a completely different perspective.
Free walking tour – Ghent with a local guide!
Are you dreaming of visiting Ghent but don't know where to start exploring? Take a free walking tour with Walkative! and discover Ghent with a professional, local guide! Wondering how much such a free tour costs? It's all up to you! There is no predetermined price, it is the tourist who prices the commitment and work of the guide. A free walking tour of Ghent is an ideal option for individual tourists, couples, families and small groups of friends. When booking a walking tour on the Walkative! website you can be sure that your guide will show you around Ghent's most interesting places and tell you stories you can't find in guidebooks. With us you will also visit other Belgian cities such as Brussels, Bruges or Antwerp.
Check nearest tours
Oddly enough, the main town was the last in the various walking tours I have done with Walkative over two trips to Gdansk. There is very little overlap and this one really gives you a solid grounding in the history dating back four or five centuries in some cases. The guide (Macin I think - sorry!) did a wonderful job retelling some of the gore and much of the wonder that's as old Gdansk. These guides do an amazing job!
We had just one day in Wroclaw and a decision to join Walkative tours was the right one! These guys are amazing! Their stories are very informative, full of history, legends, funny jokes! They took us to all astonishing places of Wroclaw. Perfect for a day trip to this lovely city! Thank you, Lukasz and Matt for the brilliant tours!
We spent a pleasant two hours walking around Wroclaw, visiting significant historical sites to do with the Jewish community and the Second World War. Our guide Lukasz was very knowledgeable and informative and also very friendly. We learnt a lot in the time we spent with him on the tour and saw parts of the city that we wouldn't have probably come across wandering on our own. I'd highly recommend this tour and would give Lukasz five stars for his knowledge and delivery of the subject matter! Thanks
To provide the best experiences, we use technologies like cookies to store and/or access device information. Consenting to these technologies will allow us to process data such as browsing behavior or unique IDs on this site. Not consenting or withdrawing consent, may adversely affect certain features and functions.