Get my latest goss
Travel & Expat Blog
The Ultimate Self-Guided Walking Tour in Kuala Lumpur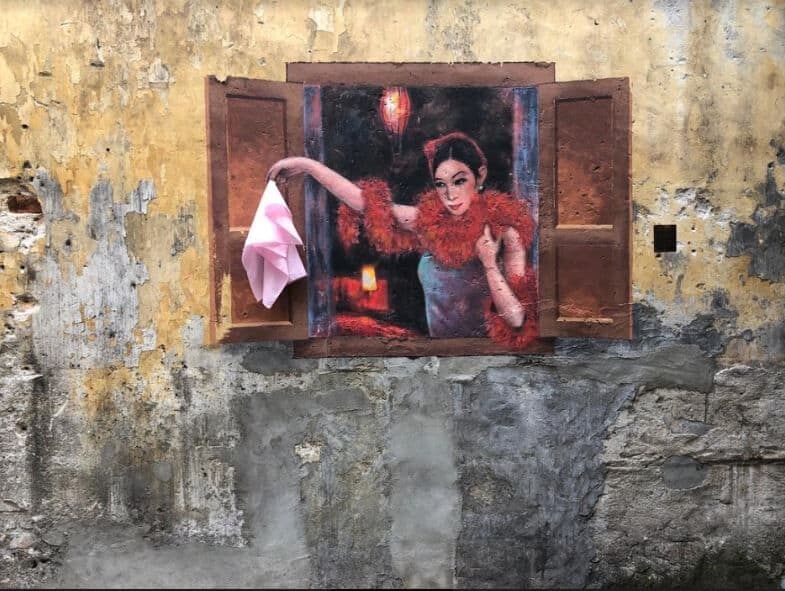 This self-guided tour will take you through Kuala Lumpur's Chinatown and Heritage Trail, brimming with history, food stops and photo ops!
W alking down the bustling streets of Kuala Lumpur, it's often overlooked how young it actually is. At least, I'm speaking for myself.
It's inconceivable that just a mere 140 years ago , what was a small town had only just qualified as 'the capital of Selangor'. For some perspective, that makes KL 1'860 years younger than London and Paris, 260 years younger than New York City and roughly 100 years younger than Sydney and Bangkok. It's also probably younger than the world's oldest person , at 146. That's insane!
Yet in such a short space of time, it has completely outgrown itself into one of Asia's biggest powerhouses, sprawling with outer suburbs and a population of over 7 million.
When I put this tour together for you guys, I was amazed with what I discovered. Together with Merdeka Square I learnt that Chinatown is one of the oldest and most fascinating areas of KL, filled with forgotten stories and shadows of yesteryear. Both of which I want to share with you.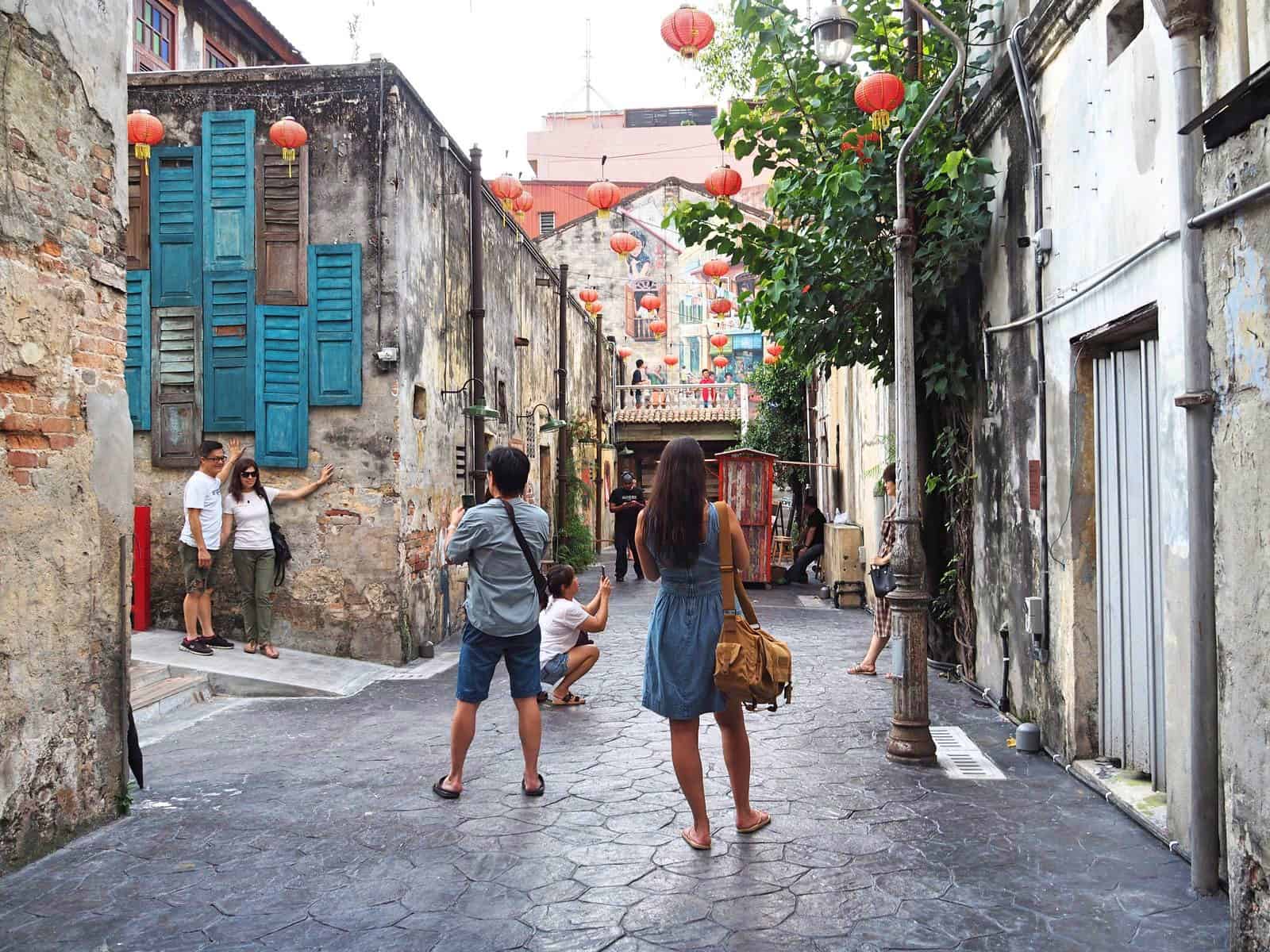 Starting in Chinatown, I've curated a route that will take you to all my favourite parts in the area before meandering to the colonial district- including:
a stop by the recently opened heritage lane Kwai Chai Hong
sighting the heart of KL's first settlement in Medan Pasar
viewing the exact point that the city was conceived along the Klang River
drooling over the impressive grand colonial buildings in Merdeka Square
pukka local eateries (so leaving an empty stomach is highly recommend…don't go crazy on that breakfast buffet!)
Aesthetically speaking, perhaps don't go to Chinatown with sky high expectations. It isn't as manicured as say George Town in Penang or Singapore, and many of its decaying 1920's shophouses are crying for a revamp. But there's some diamonds in the rough, and for the most part it's like walking through an unrestored museum.
I've walked this route a couple of times and without stopping, it's achievable in 45 minutes. But counting in time for photo ops along the way, as well as some exploration and optional food stops, it may take you anywhere between 1-3 hours.
Tip: You're going to sweat on this tour in KL's unrelenting heat, so try to wear light cotton or linen clothes and avoid synthetics! Don't forget your hat, sunnies and plenty of water.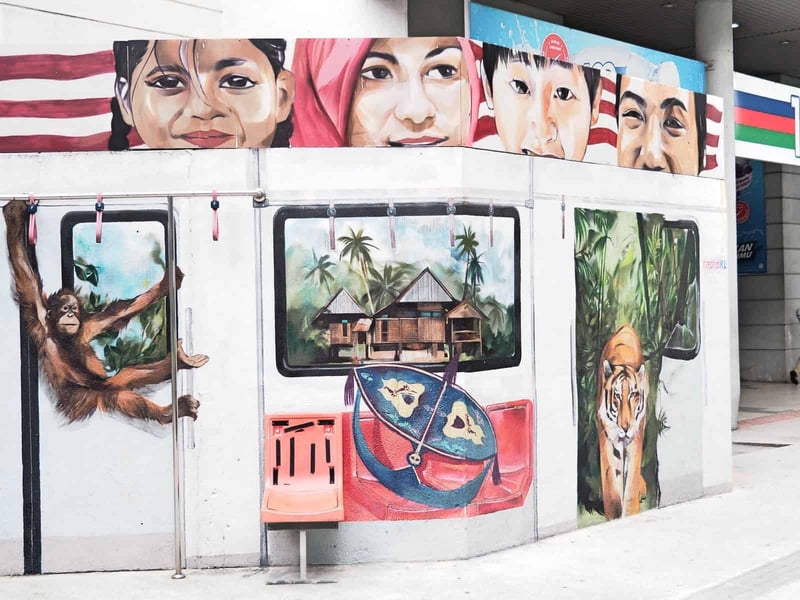 I created this tour using 'My Maps', so all you need is Google Maps on your smartphone. If your iPhone is missing it, you can download it for free from the Apple iOS store.
To access the tour, just hit the enlarge icon 👇🏼 on the map below and it will automatically open in Google Maps.

Once opened, a blue circle will appear showing your location so you can see where you are at all times. As it uses the satellite, even if you lose internet connection you'll still know where you're standing. Phew. No-one's getting lost today! (Joking, you won't get lost. Hopefully. 😳)
I've marked the points of interest on the map (30 in total) which are all the brown icons. If you click on one, then I've written info to explain what it is you're looking at. A picture will appear too (phones only…not sure why it doesn't show up on the computer!).
The blue line you'll see on the map is the walking route I've proposed. There's A and B which are connected to each other- A is for Chinatown and B leads into the colonial district . My Maps wouldn't let me do a really long line for some reason without it messing up…it has its limitations!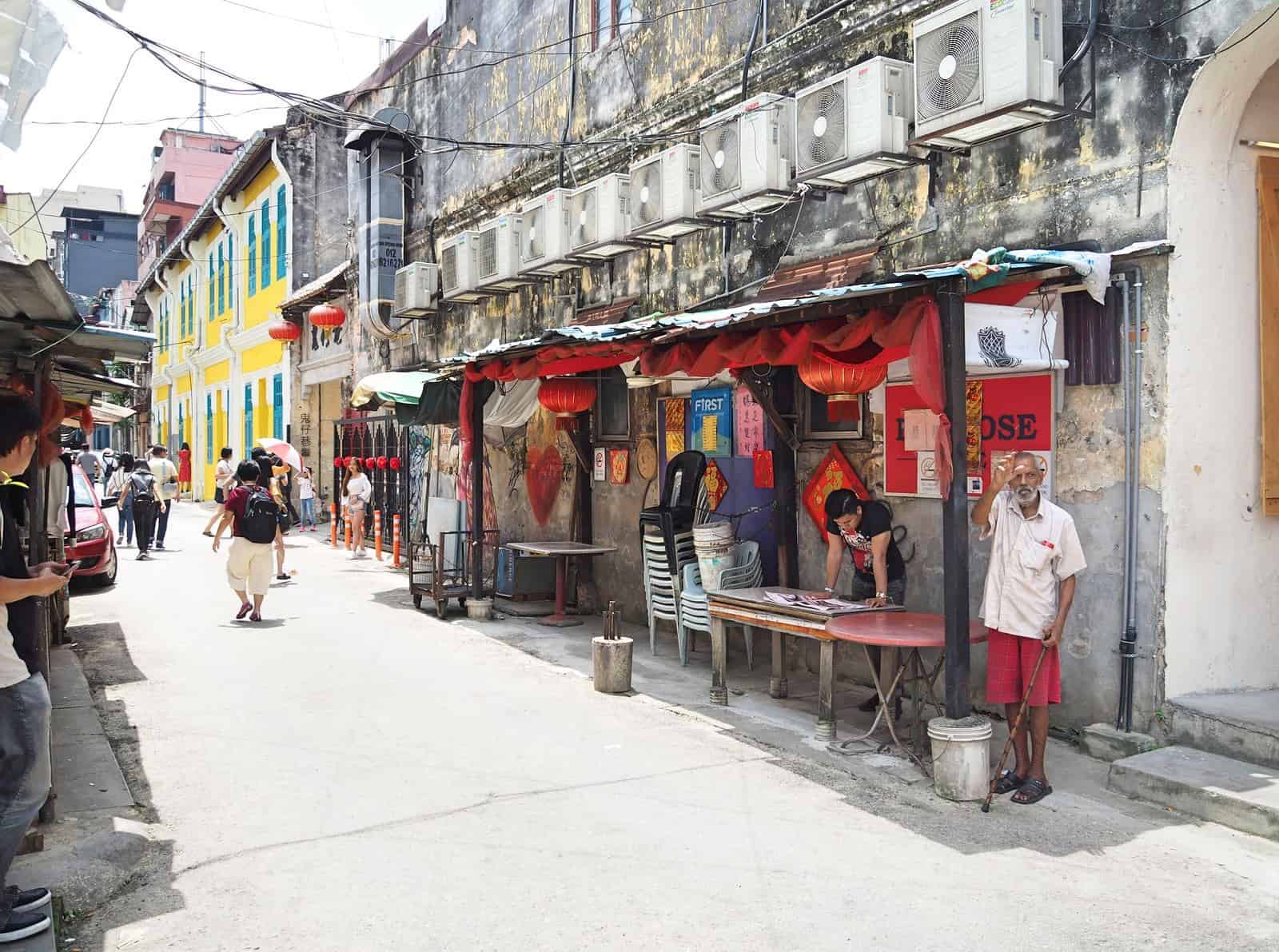 If you don't have the internet on your phone in KL, then you can buy a cheap MyMaxis SIM card from most malls. Then you just need to download the Hotlink app to top it up. You can purchase a 7-day 4G internet pass for RM10 (approx. £2 GBP).
Or if you can't get the internet, then you can still access the tour by opening up the map up as explained ☝🏼 when you have connection at a hotel or coffee shop, and then it should stay on Google Maps even if you lose connection.
The only limitations is, that you won't be able to access the descriptions (or pics) this way. So just in case this happens, I'll write them all for you below in this article, which you can also open up when you have Wi-Fi. You're welcome! 🙌🏼
Optional First Stop: Petronas Towers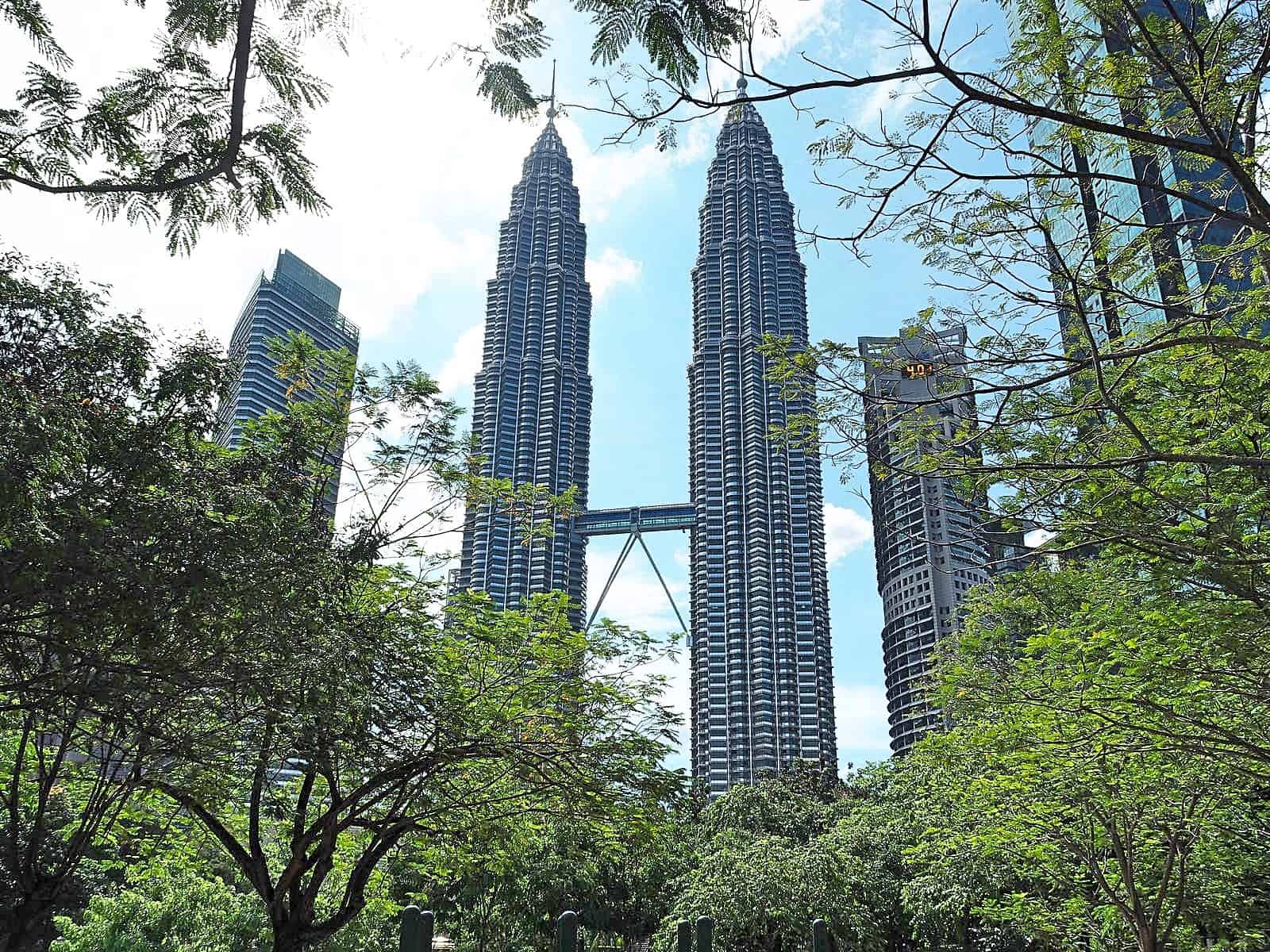 I've not included this on the tour, but if you're a complete KL newbie and haven't even seen these twins yet, then you've got to christen your stay and head there first.
Some people like to pay to travel up the towers and stand in the Skybridge and Observation Deck which you can prebook online. Although I haven't been up them, personally I always prefer to save my RM80 and visit a sky-bar or sky-restaurant where I'll have a view of them, rather than from it.
As Karl Pilkington once said about Petra, "You're better off living in the hole looking at the palace, than living in the palace looking at the hole". 😆
Just kidding, the view from the towers is awesome too and far from a hole. But if you head somewhere like Marble 8  then you can see both the towers and the impressive KLCC park from above, whilst filling your stomach.
But each to their own.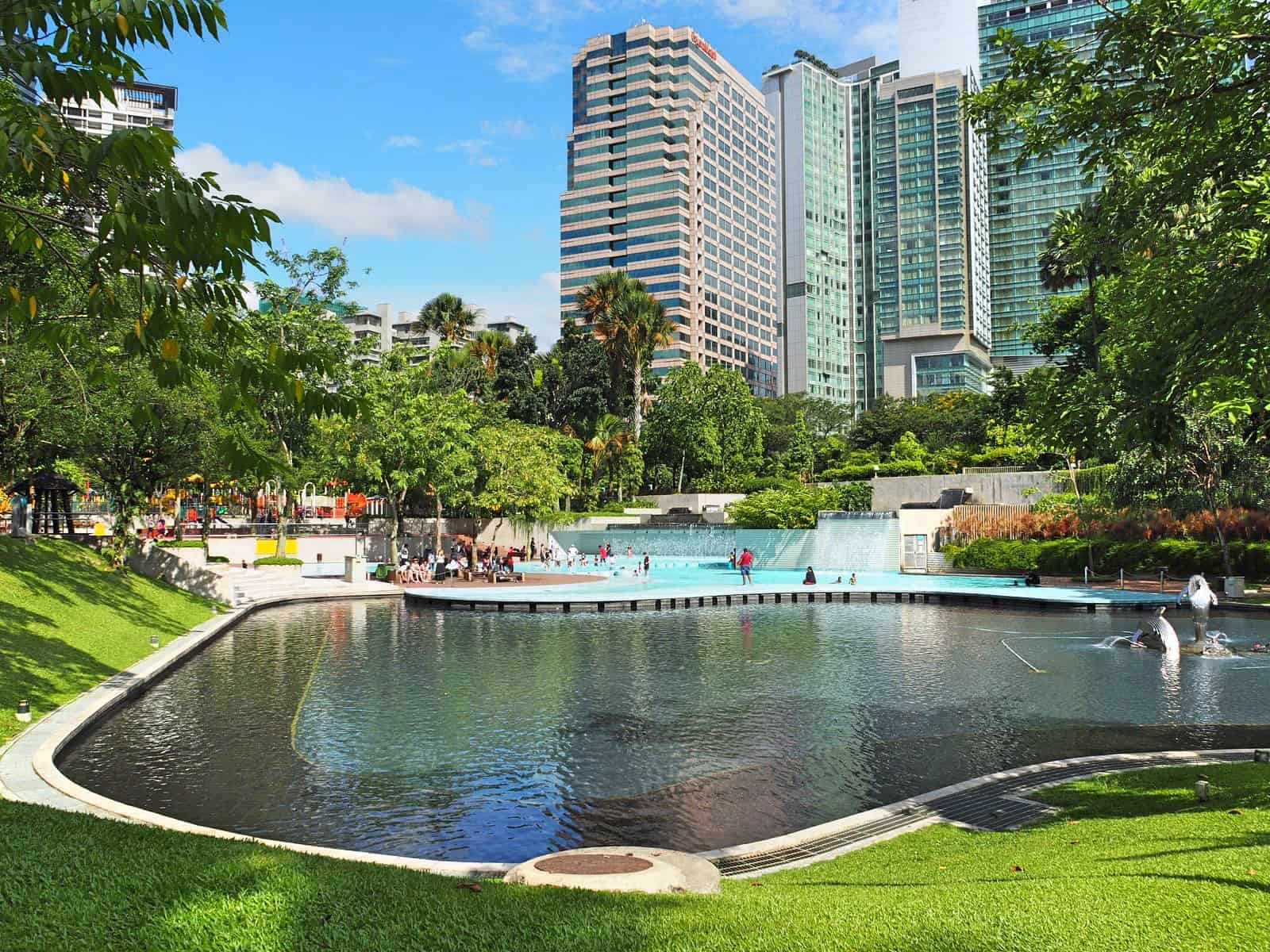 The Petronas Towers were opened in 1998 and designed by an Argentinian architect, Cesar Pelli. For six years they were the tallest structure in the world until 2004, were the Taipei 101 took reign. Although they still remain as the tallest twin towers on Earth. Impressive huh.
It reaches 88 storeys high with arabesque patterns, and the five tiers represent the five pillars of Islam. They are truly a symbol of KL's emergence into the 21st-century, from a humble tin-mining town into a mega Southeast Asian metropolis.
KLCC park makes for a pleasant stroll when it's not scorching at midday. Although there's plenty of shade and a wading pool for the kids to cool off, as well as outdoor restaurants and bars for the adults at Suria KLCC (I'd suggest heading to Delirium Cafe for a generous selection of craft beers).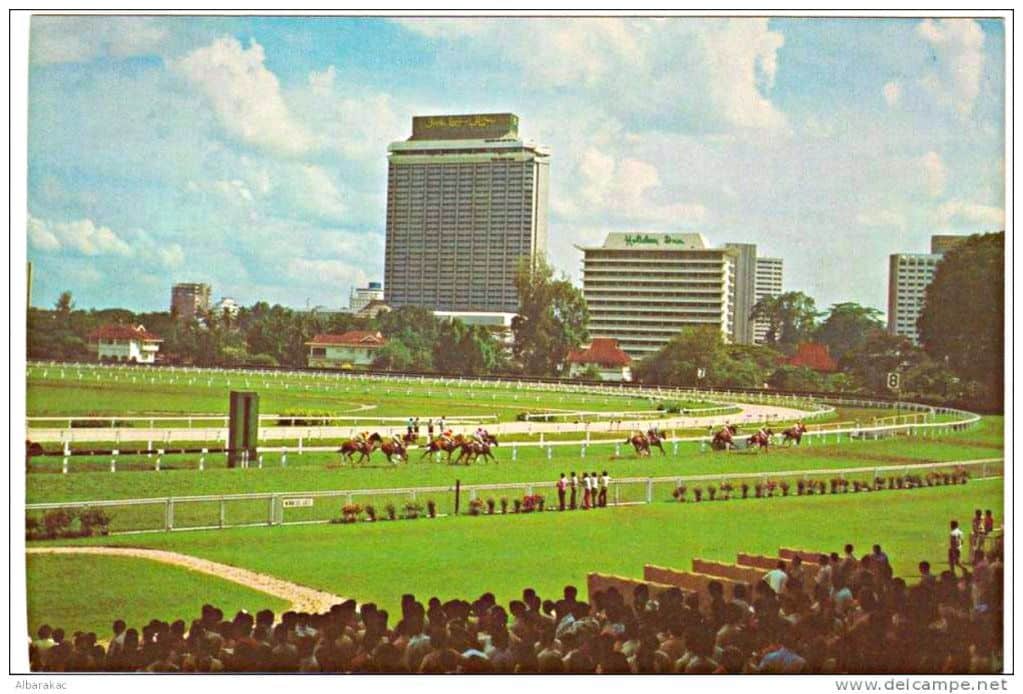 Before KLCC Park and the twin towers were erected, the site was used by the Royal Selangor Turf Club as a horse racing track. My taxi driver alerted me of this when I was on my way to research the tour, saying that he'd frequently go to bet on the horses. Hard to imagine that now.
Once you're finished here, you can jump in a Grab taxi to Chinatown and be there in 15 minutes (I'd call it to Chocha Foodstore , a restaurant a few doors down from Chan She Shu Yuen Clan Ancestral Hall as it's on a busy road). Or if you're feeling energetic, you can walk there in about 50 minutes. Just use Google Maps to navigate an easy route.
Stop 1: Chan See Shu Yuen Clan Ancestral Hall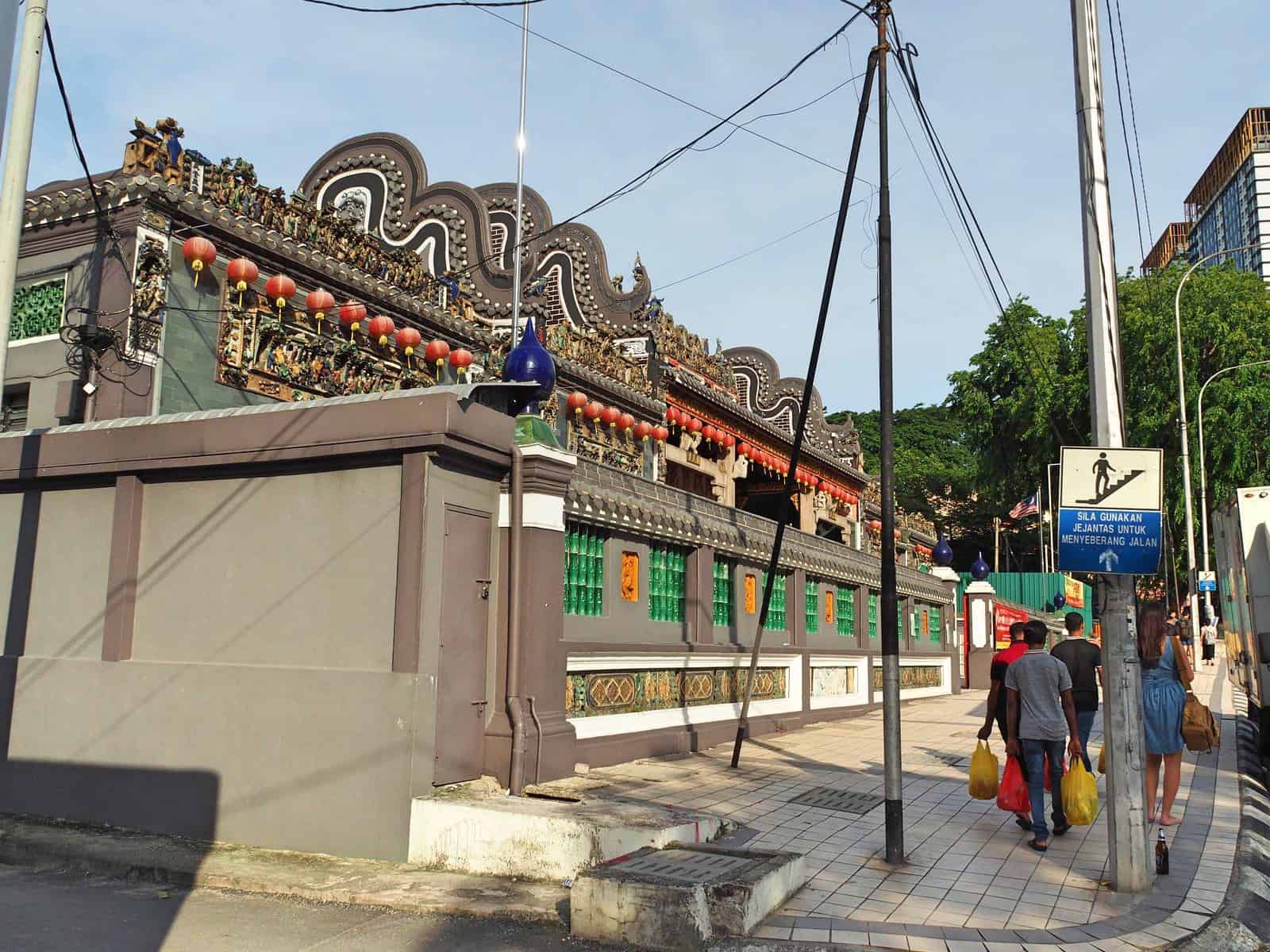 Clan houses in Malaysia were meeting halls for Chinese migrants who shared the same surname. Their purpose was to act as a place where new arrivals can get together and make friends with others who speak the same dialect, as well as to help them get set up and provide financial assistance.
The Chan See Shu Yuen Temple was erected between 1897 and 1906 by four tin miners and a few businessmen. It's KL's oldest clan house, once serving people with the surnames Chan , Chen or Tan . As you can imagine, this was a pretty epic group!
Nowadays, it's utilised as a Buddhist temple and is open to visitors. You can take a peek from 9am – 5pm.
Stop 2: Chocha Foodstore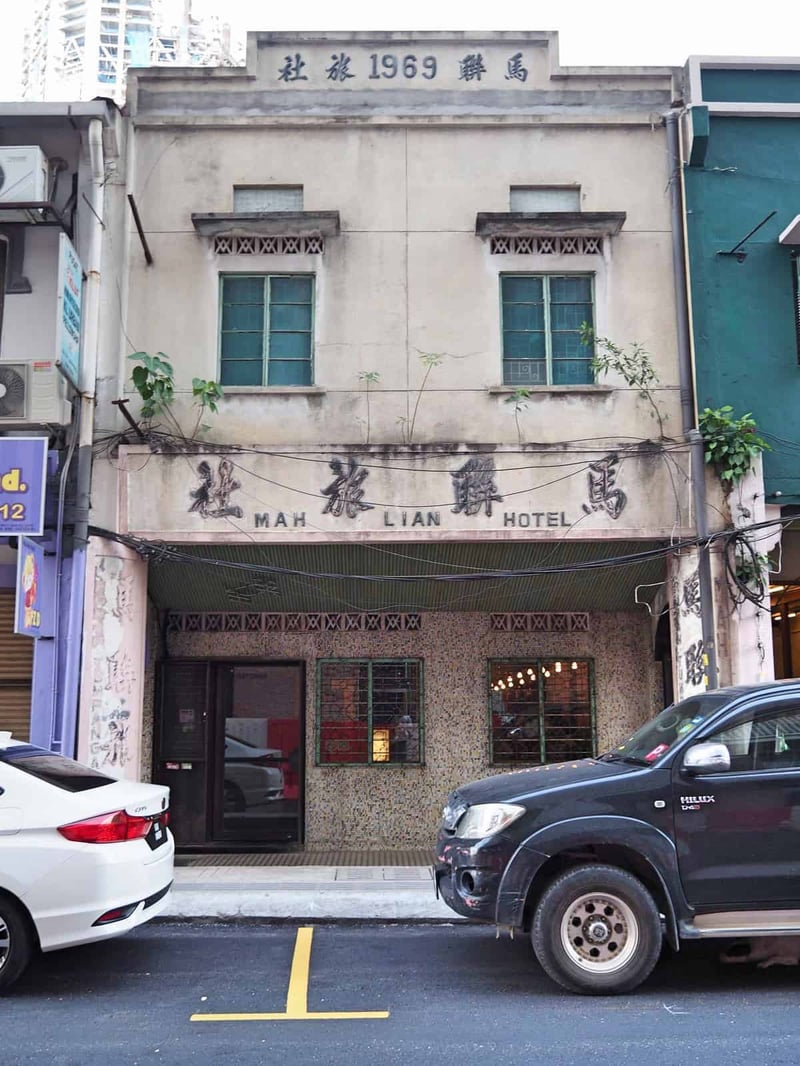 Take a look outside. What do you think? Is it a dreary, old-school hotel. Or something else?
Written on the front of this nondescript facade is the name of its former business 'Mah Lian Hotel', founded in 1969. But those days are long gone.. sort of.
Back in the day, one part of the building was utilised as a hotel, whilst other rooms were reserved for different businesses and a co-working space. Amongst them was a fortune-telling enterprise and a brothel.
This former abandoned building has recently been beautifully restored inside by its current owner, architect Shin Chang. He made it structurally sound whilst maintaining its character and traditional features, even down to the peeling 40-year-old paintwork.
It's still utilised as a flexible working space, with the bottom reserved for Chocha Foodstore and a bicycle repair shop, whilst the top functions as a bar with a separate co-working office for a group of architects. The brothel of course, is long gone.
The restaurant itself is unpretentious and nocks up some awesome contemporary, local dishes, and is one of my absolute favourite KL restaurants. It uses a farm-to-fork concept, with produce supplied from a small plot behind the owner's parents house. I'd highly recommend booking a seat for dinner… the food alone will give you multiple foodgasms.
Stop 3: Ho Kow Hainam Kopitiam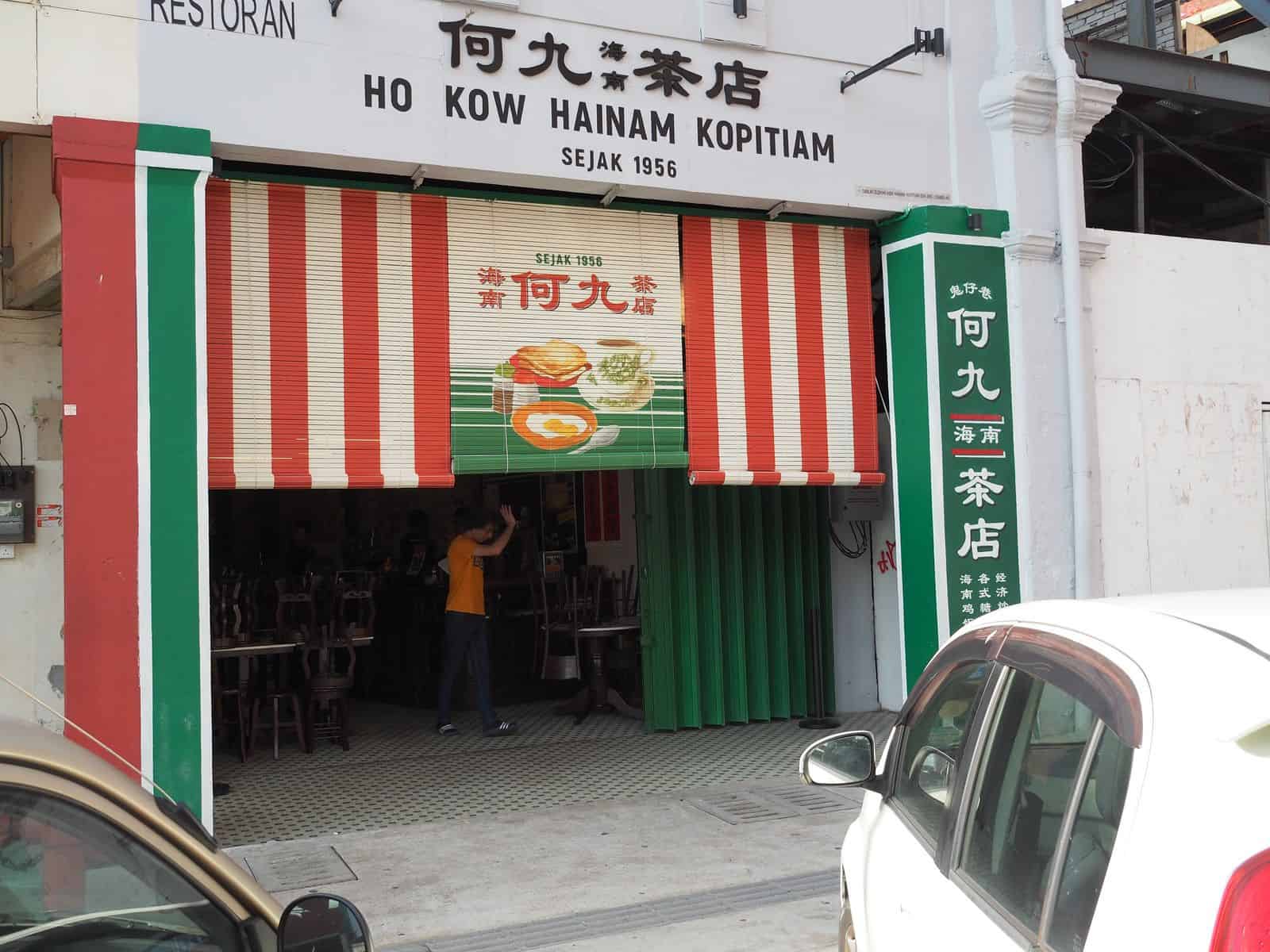 One of Chinatown's longest standing kopitiams , this place is a bit of an institution here.
A kopitiam is a coffee shop that serves food, and they're all over KL. The word kopi is Malay for 'coffee' and tiam is Hokkien for 'shop'. These popular eateries were originally created by the Hainanese-Chinese community, many of whom became chefs when they first arrived to Malaysia, working for Straits-born Chinese and British colonial families.
When the Brits left Malaysia, many cooks then went on to open their own restaurants and bakeries, and some established kopitiams.
Due to their experiences with the colonials, they traditionally serve up a hybrid breakfast consisting of buttered toast with kaya (coconut jam), and a soft-boiled egg which people seasoned with soy sauce and black pepper. They also usually serve a range of Hainanese-Chinese inspired dishes, as well as some old-school Malaysian fare.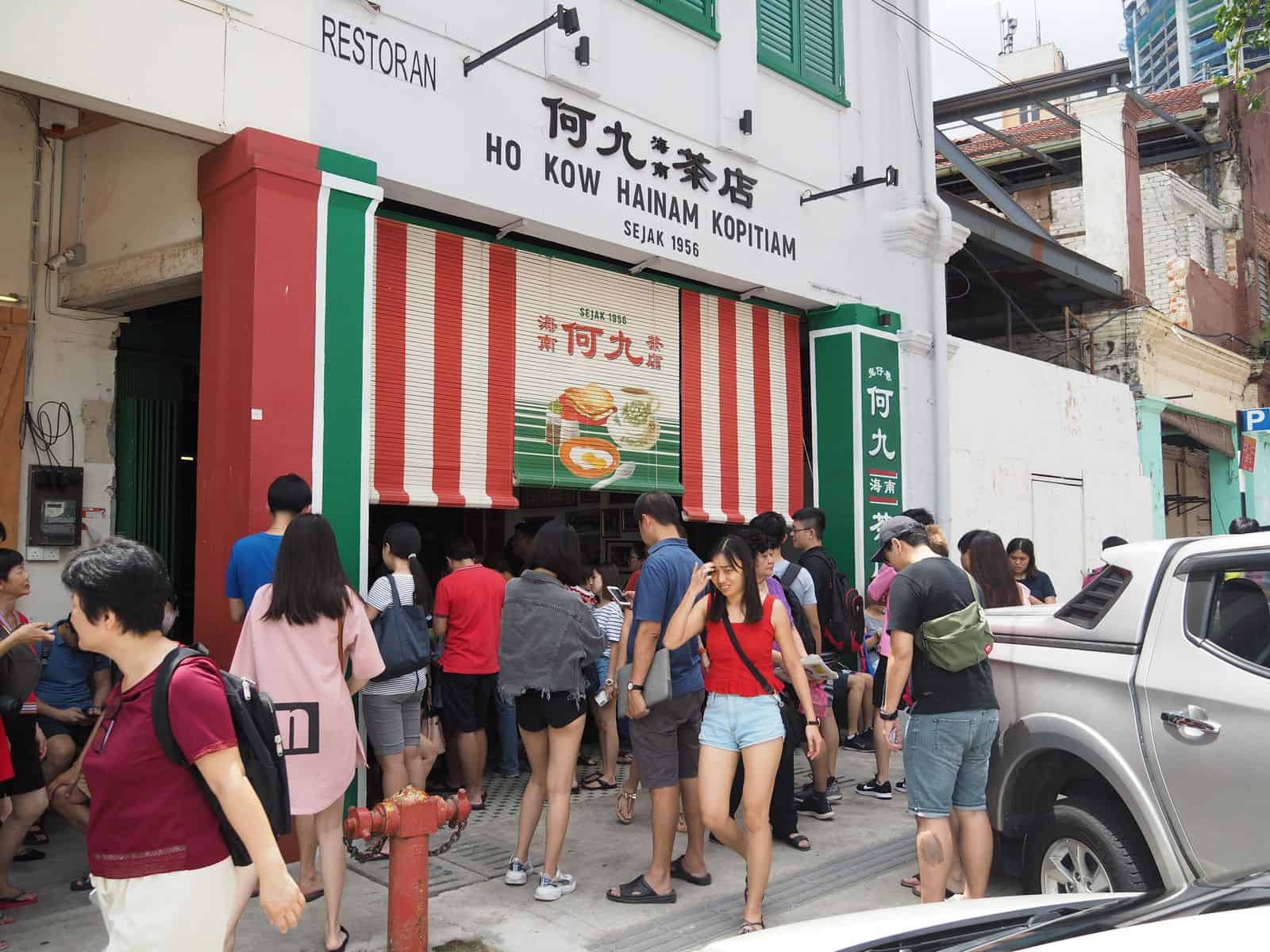 They're definitely nostalgic places for many Chinese-Malaysians, which is why golden oldies such as this will usually see a long line out the door. So if you're planning on eating here, you should come early! (Otherwise, if it's heaving, check out kopitiam 'Ali, Muthu & Ah Hock' a few doors down).
Ho Kow Hainam Kopitiam used to be positioned over to your left along Lorong Pangung , until they moved to this site to make way Kwai Chai Hong (you'll be heading there soon). Since then they've had a facelift and now don this fresh, insta-friendly look.
Stop 4: Ali, Muthu & Ah Hock Kopitiam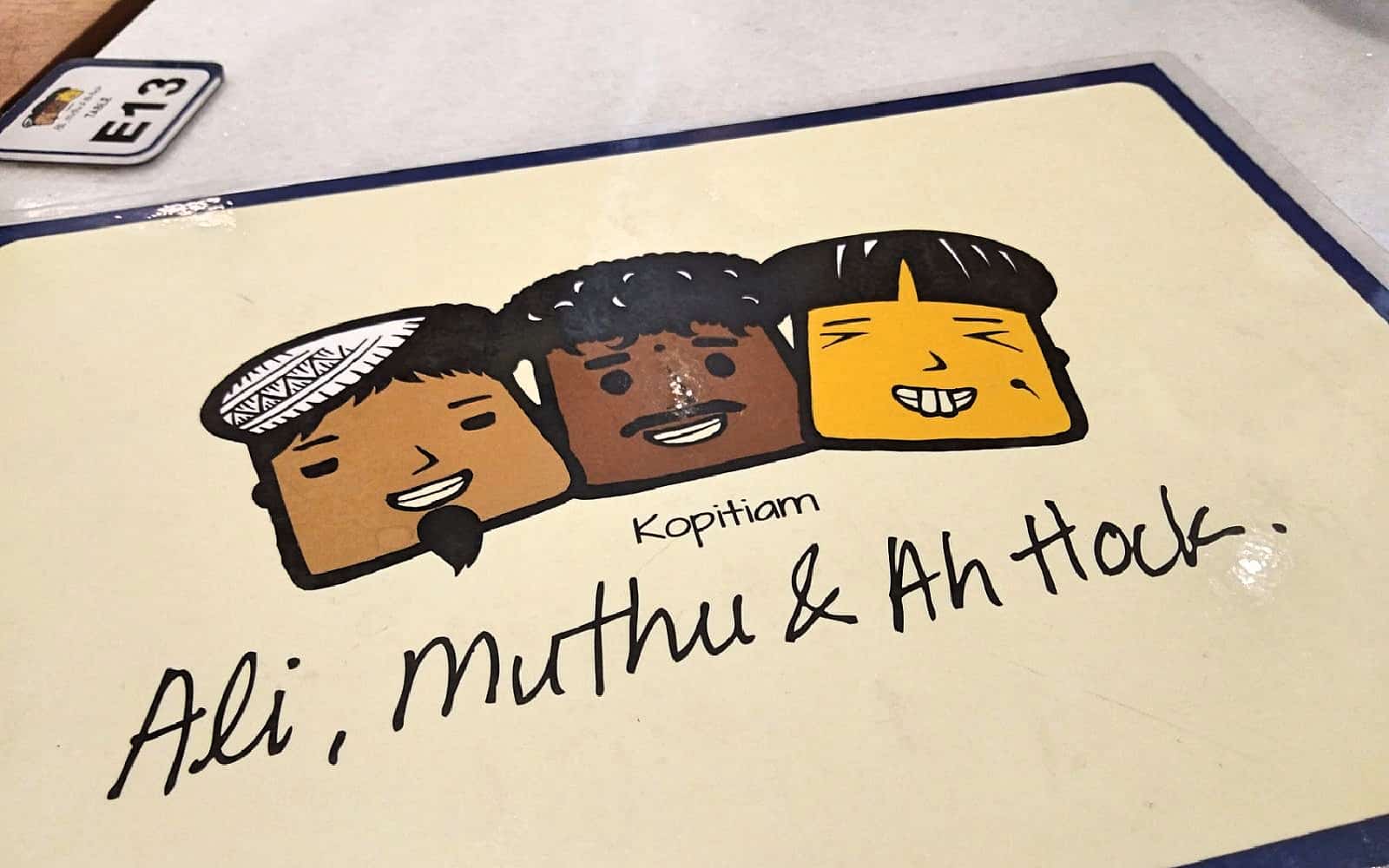 If you took my recommendation and came with an empty stomach (I told you to go easy on that breakfast buffet!), then this award wining kopitiam is a good place to stop. I ate at their Publika branch which recently opened in my burb of Mont Kiara, but this spot is their flagship.
Unlike most other kopitiams, Ali, Muthu & Ah Hock is unique in that it's run by a Malay, a Chinese and an Indian guy, whom I call 'The Three Musketeers'. Therefore you're presented with the best of Malaysia's eclectic cuisine.
I'd recommend trying their Nasi Goreng (or Nasi Lemak Ayam Goreng), Hokkien Mee and Chicken Rendang (Ayam Rendang). Just grab a seat and there's table service. You can ask your waiter for help if you're not sure what anything is.
Try having a traditional teh tarik with your lunch too, which is a tasty Malaysian 'pulled' tea with condensed milk that hails from India.
Stop 5: The Attic Bar
This awesome secret bar is hiding above The Travel Hub Guesthouse, which you should pencil in later for as a sundowner… or now if you want, I'm not judging! 😆 No wait, they open at 6pm so you'll have to come back (check out my post for more details on how to find it).
It serves pukka artisanal cocktails & has the added bonus of a rooftop offering a low-key KL view.
Stop 6: Old Post Office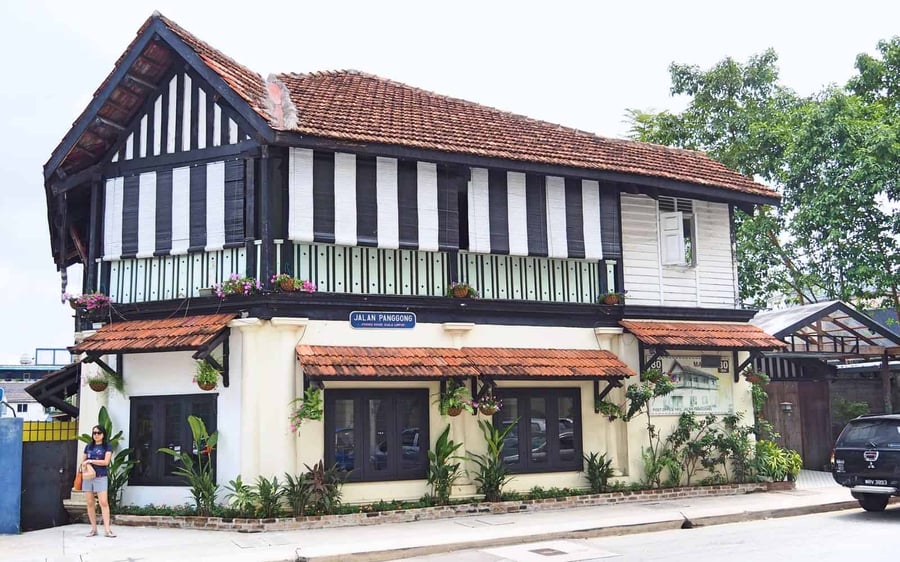 This Tudor style colonial building was built (I believe) in the early 20th century. It used to be a post office, and on the front you can see a poster of an old 80 cents stamp.
It was then turned into a traditional kopitiam called Malaya Hainan Restaurant for many years. An online source states that allegedly the owners were forced to close the business after sightings of a phantom lady on the upper floor.
Do you think this place could be haunted? Take a minute to see if you can spot her peering from between the black and white blinds. Or go one further and head inside for a coffee.
The premises has since been taken over and rebranded as Station Kopitiam . For now.
Stop 7: Goldsmith Mural
Sitting at the end of a beautiful row of restored clan houses, this large mural is of a goldsmith at work. It was created by a Russian artist, Julia Volchkova in 2016 who also has a range of other artwork in Penang's hipster capital, George Town.
I'm guessing it's created in homage to the many Goldsmiths that were attracted to the area prior to the 1900's, and a few of their shops can still be found on the 'old' high street.
The goldsmith is seen working dextrously with a shaping hammer, whilst being severely dwarfed by an imposing building development sitting in the distance- and, oh yes, below it lays a glowing preview of brightly painted shophouses. Go and take a closer look to inspect them.
Stop 8: Yellow Chinese Shophouses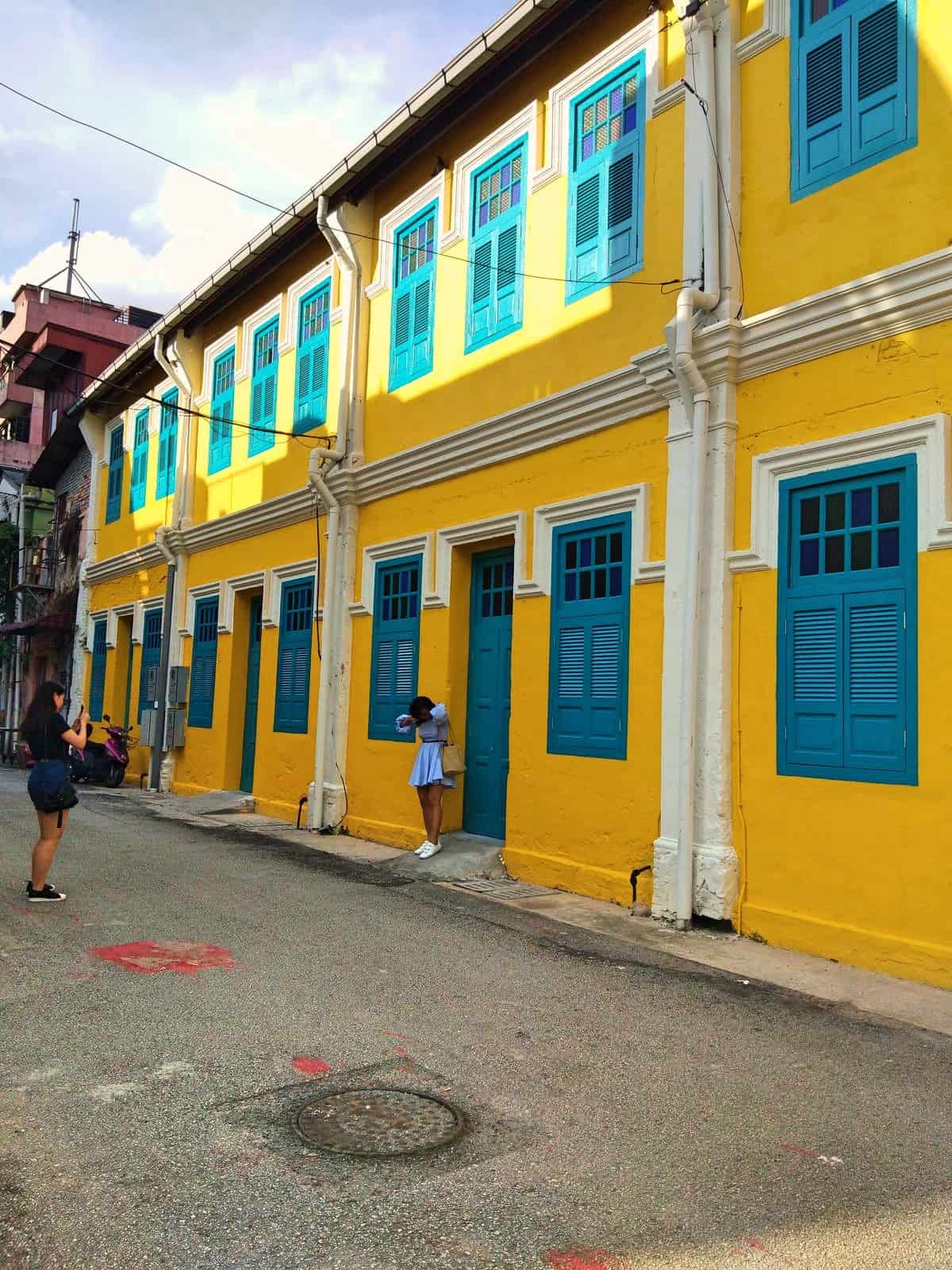 If you take a closer look, you'll notice that these bright yellow and blue shophouses are mere Insta-bait for what sits beside it: the [not so secret] heritage lane, Kwai Chai Hong .
These freshly painted shophouses are just '4 out of 10' buildings that sit around Kwai Chai Hong, and they were purchased by a space management company who saw them as a business opportunity to promote the arts. Instead, they ended up falling in love with the locals and the area and began focusing their efforts on developing the laneway behind it into a heritage feature.
When I visited earlier this year the shoplots were empty, but I wouldn't be surprised if they're now occupied. Go and check them out!
Stop 9: Kwai Chai Hong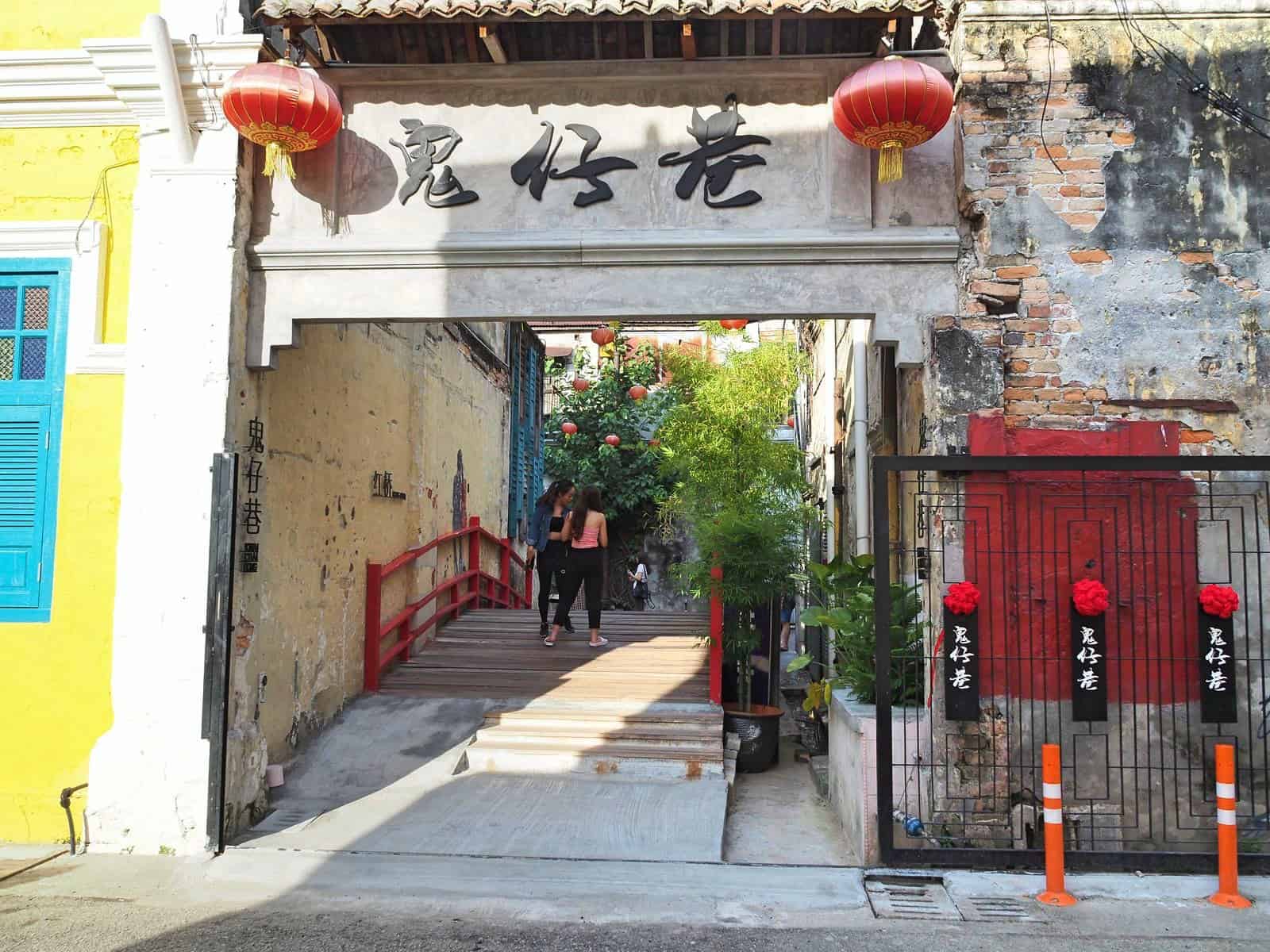 Until a mere year ago, no-one really had a reason to walk down Lorong Panggung, except to get a quick bite to eat. The entrance to this laneway was nowhere to be seen and instead, a building sat in its place which housed an unfussy Kopitiam called He Jiu .
Wind forward to now and the area has been transformed. The kopitiam is long gone, the premises was nocked down and the once derelict lane was transformed into a much-talked-about heritage feature.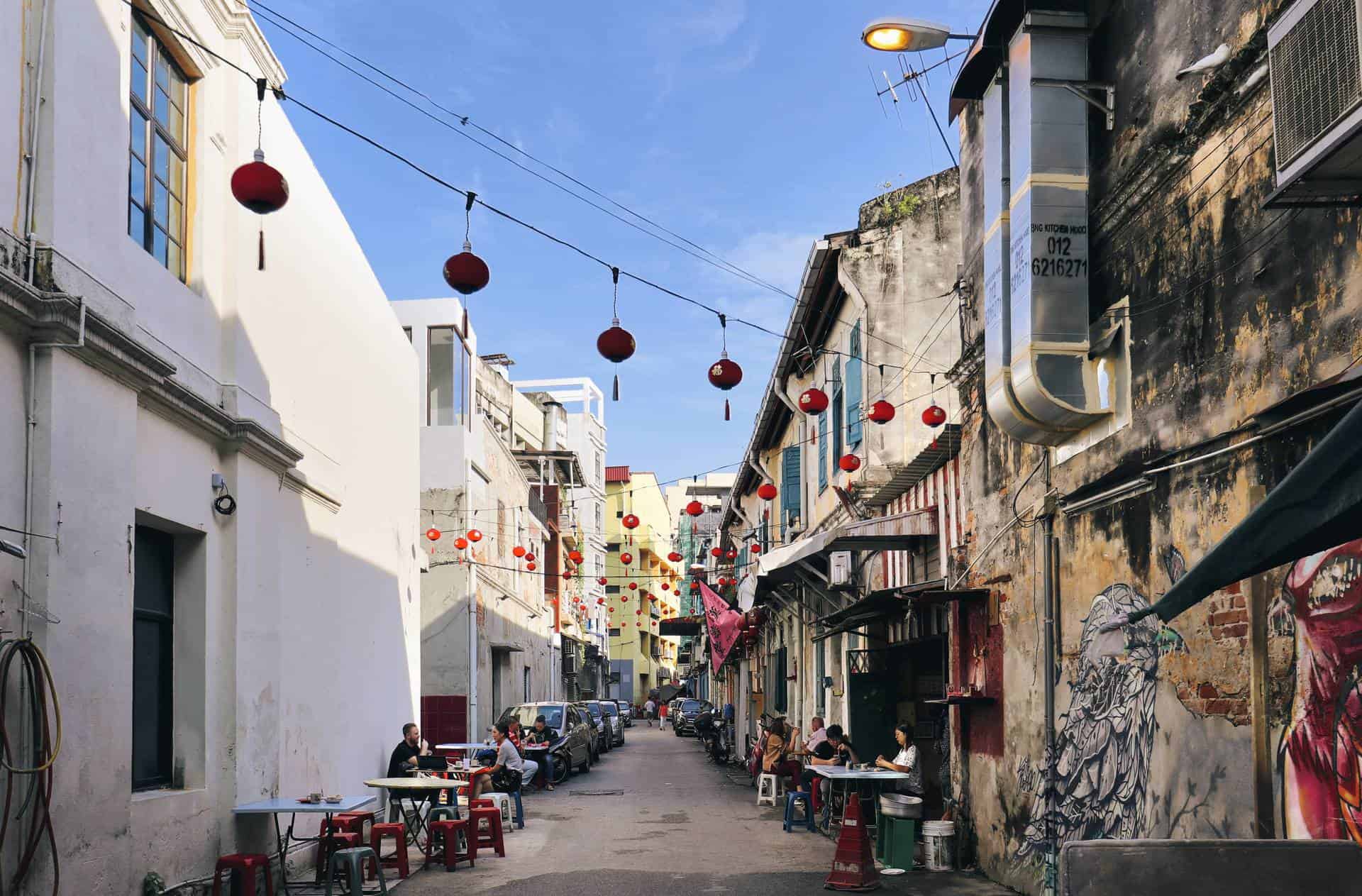 I accidentally stumbled along Kwai Chai Hong after it first opened in April this year (2019) and it was nice and quiet then. But it's since gained a lot of traction, so try and arrive early to avoid the crowds.
If you walk inside then you'll see that the lane is littered with endearing murals, illustrating the lives of local Chinese settlers from the 60's as a way to relive its former glory days.
The creators were thoughtful enough to add QR codes to the artwork, although non-Mandarin speakers will need to ask a friendly local to translate it into English. I'll give you some context too though guys.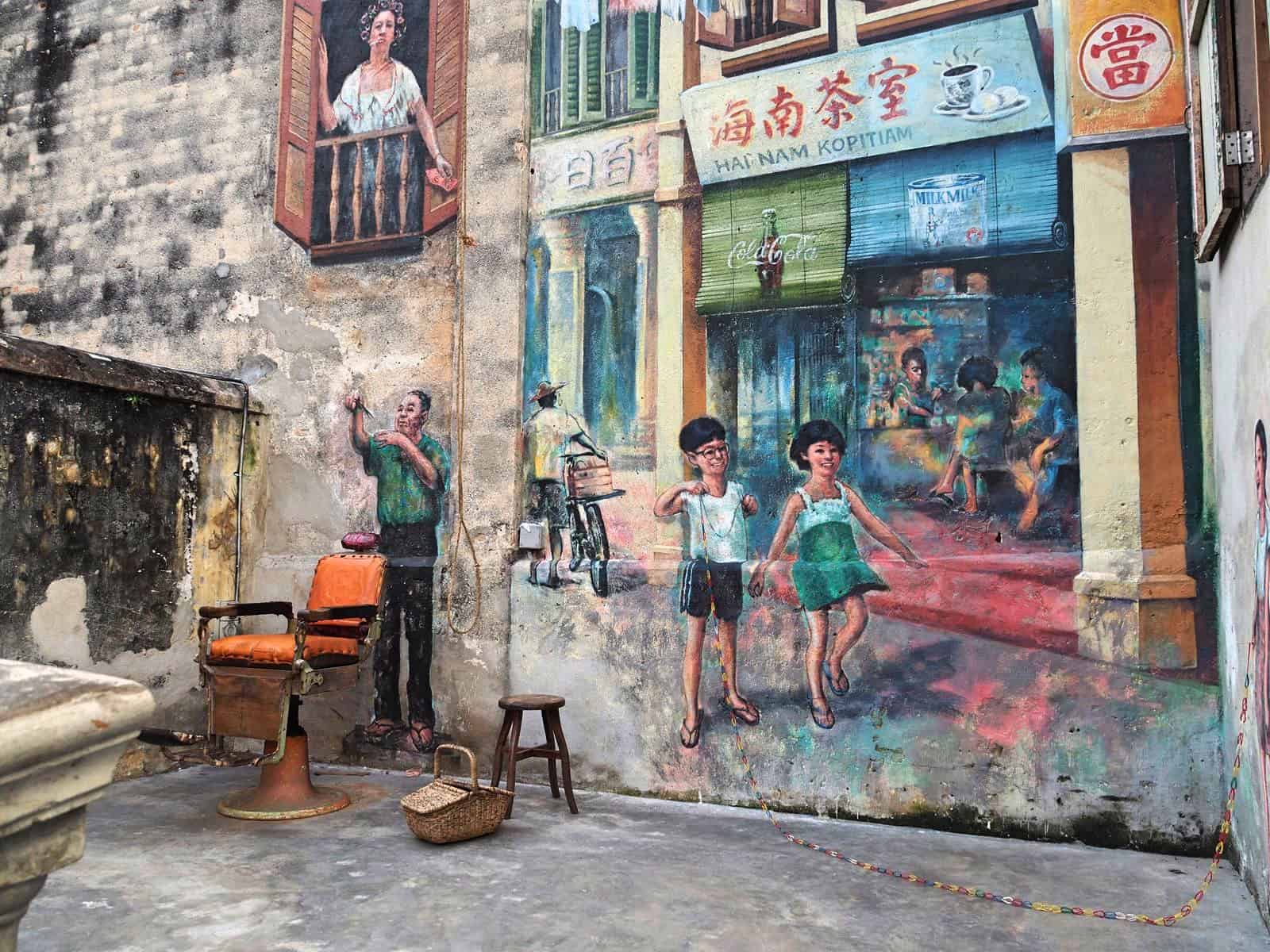 Above the weathered balcony, you can see a landlady looking out of a widow with a fag draped from her mouth. Much like modern-day central London, it was common for single flats in Chinatown to be split into tiny rooms, and once for the landlord to go around collecting rent.
You can also spot the 'Hai Nam Kopitiam' that you just passed around the corner, as well as the Yan Keng Benevolent Dramatic Association building. Founded in 1920, it is one of KL's oldest opera clubs that also functioned as a charity fundraiser, using donated money to help local schools, hospitals and old people's homes.
Like many other long-standing structures in Chinatown, it recently survived demolition from the MRT expansion, but others weren't so lucky.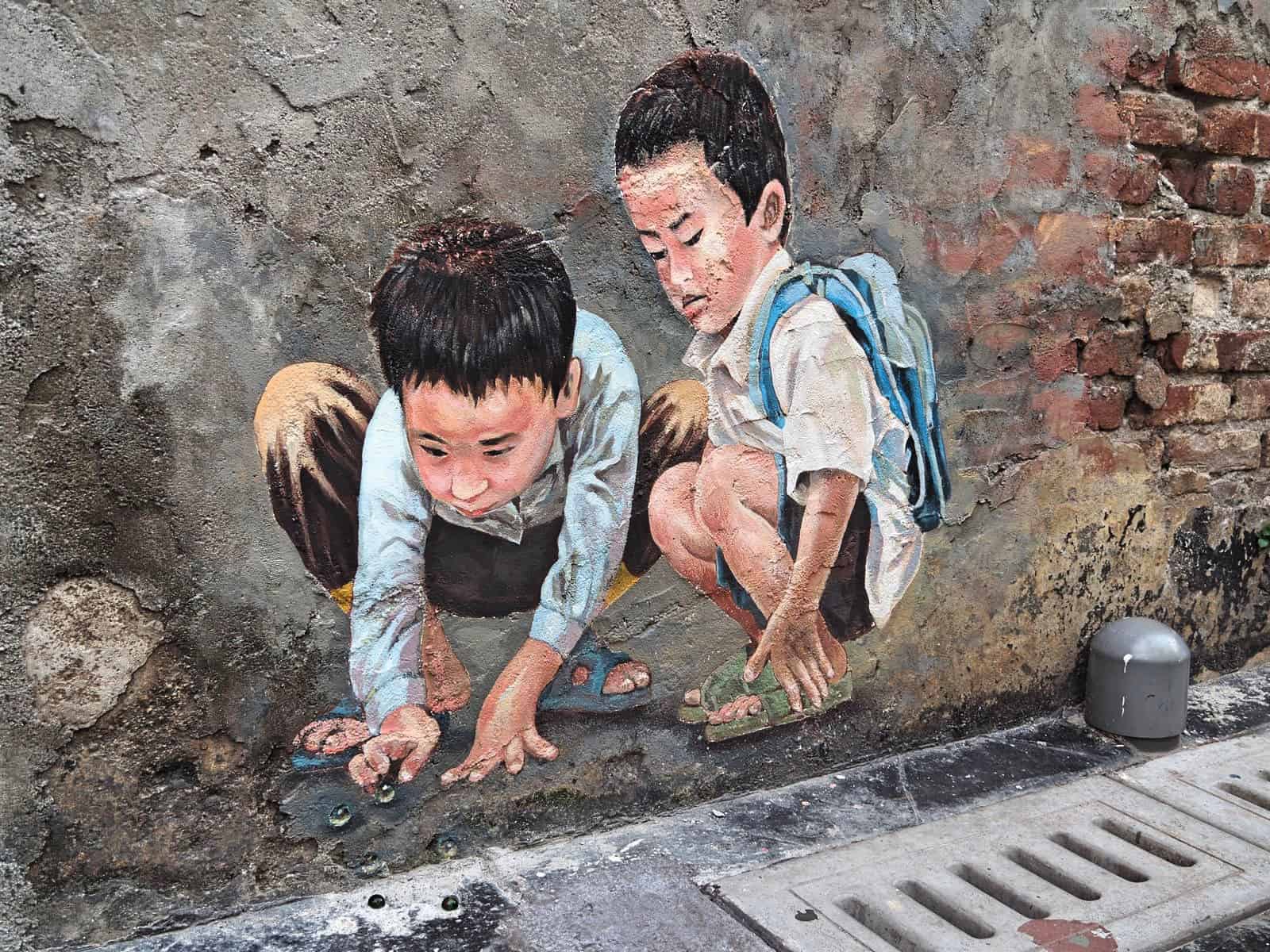 Downstairs, amongst the artwork is an earnest calligrapher writing auspicious sayings, with a chair propped at his table to help local Chinese settlers write letters back home.
Next to him sits a smiling uncle playing the erhu (a two-stringed fiddle) and- wrapped in a red feather boa- an attractive prostitute waves her pink handkerchief seductively from inside a traditional wooden window.
KL is usually so censored from sexual references that painting 'a lady of the evening' would normally be taboo. Yet, much of Chinatown was once surprisingly peppered with crime, corruption and carnality.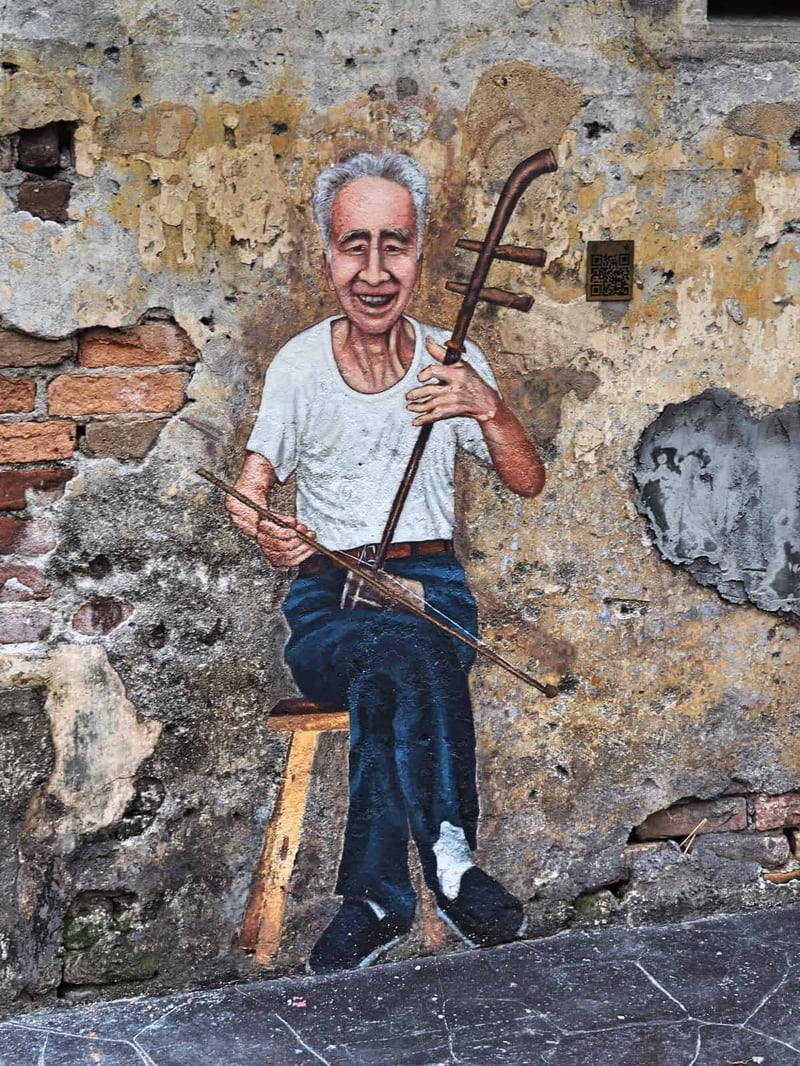 The lane's name is believed to stem from this colourful past. In Cantonese, the street Lorong Panggung  literally translates to  Kwai Chai Hong , meaning 'Ghost Lane' or 'Prankster Lane', for one of two suppositions.
The first, more PG version is that it was named after the local mischievous kids who would run around the street and play pranks. They were believed to be called 'Kwai Chai' by the locals due to their cheeky behaviour.
The other more 18+ theory that I prefer, is that the lane was where all the notorious vices took place, like prostitution, gambling and drug taking. This was said to attract a local gang called  Dragon Tiger , whose leader named his members 'Little Ghost', or  Kwai Chai .
Which do you believe?
Stop 10: 'Birds' Street Art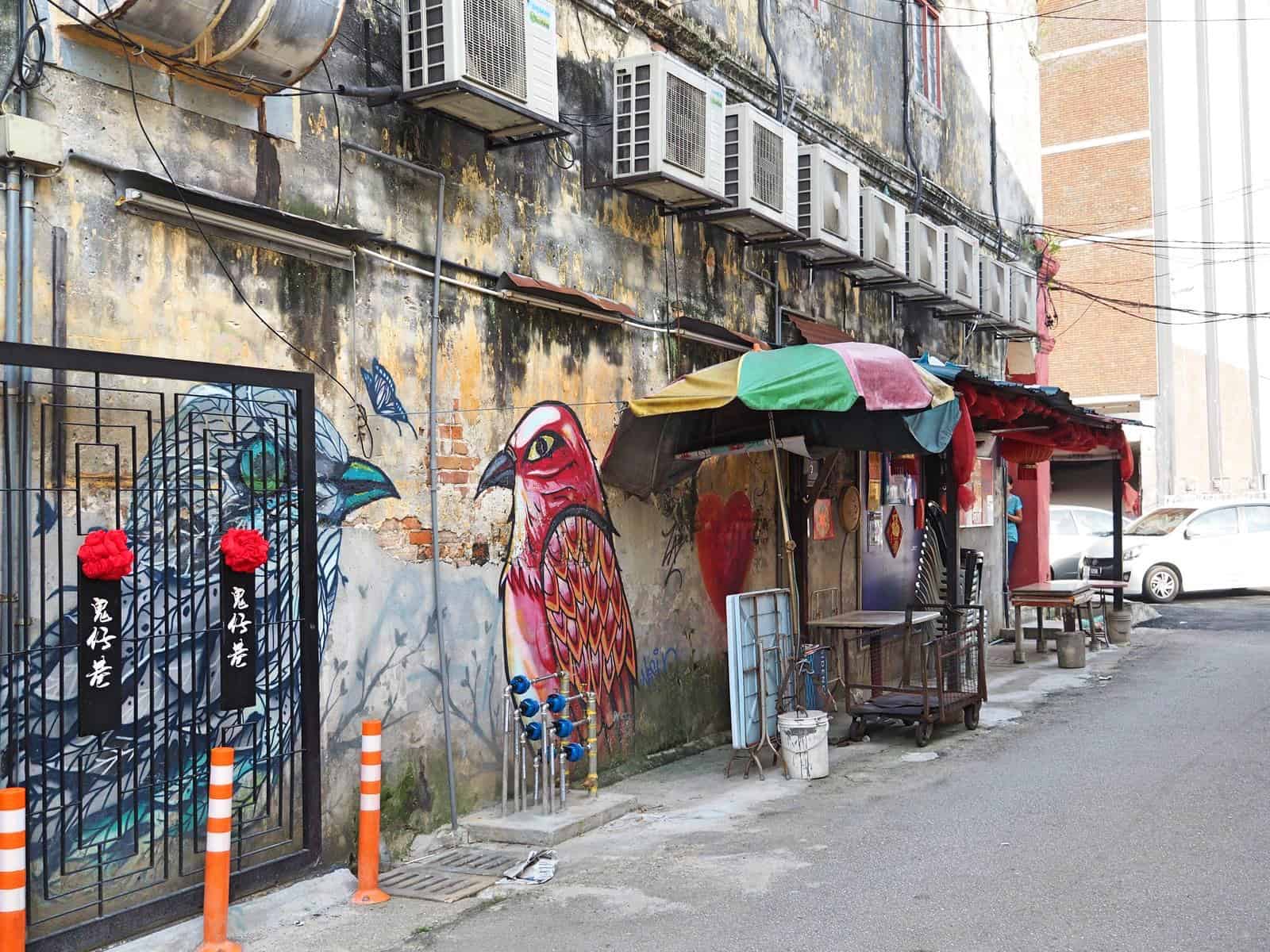 I'm not going to lie, I don't really know anything about this artwork of two birds! But they brighten up the road nicely.
However I do know they were perched here before Kwai Chai Hong was restored (thank you Google Maps). You can see a picture of it below, which also displays the kopitiam that traded at the entrance to this 'now' heritage lane.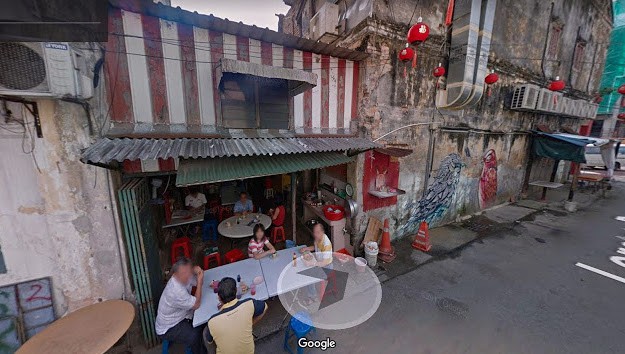 Stop 11: Bubble Bee Cafe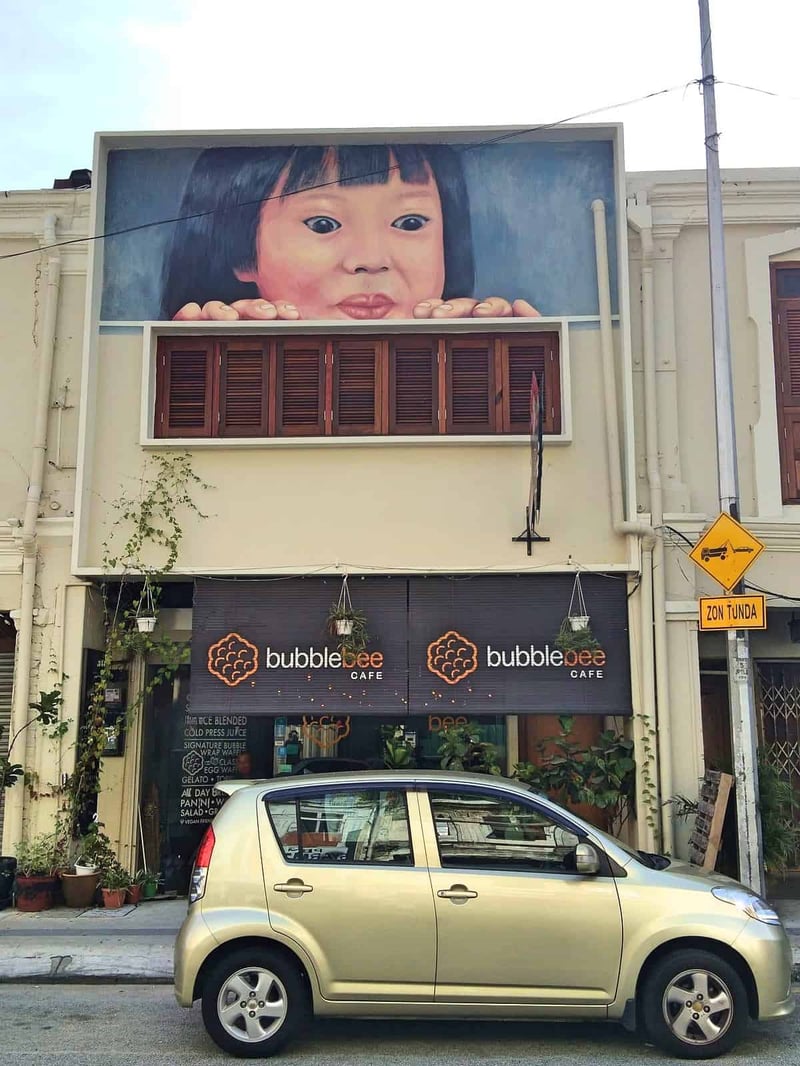 Bubble Bee is one of a few revamped shoplots along Petaling Street, which first opened for businesses in 2017. If you've accumulated a sweet tooth after lunch, then this trendy cafe could be a good waffle stop.
It's [so far] the only business with direct access to Kwai Chai Hong.
Stop 12: Petaling Street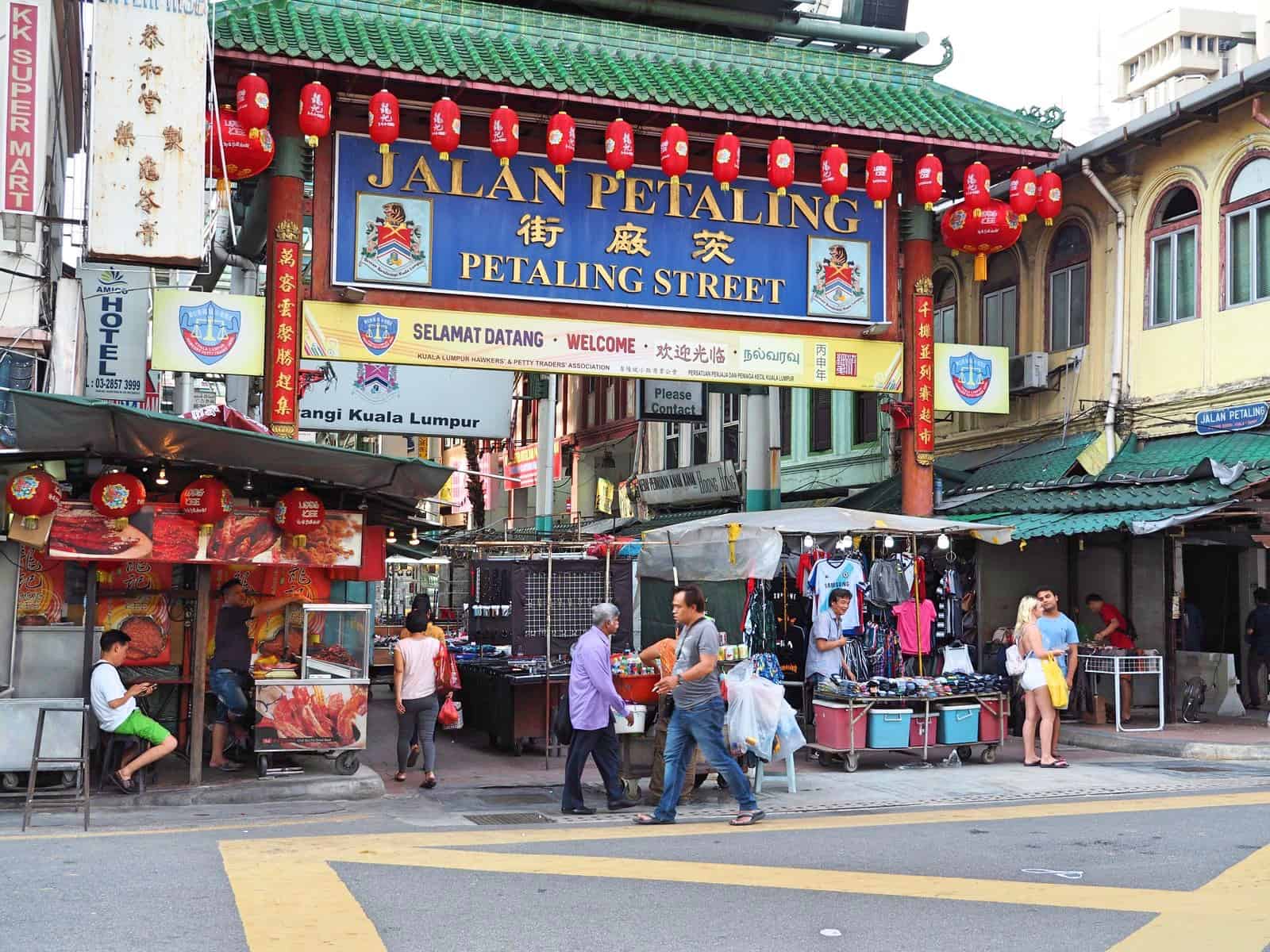 I detoured past this tourist magnet when I visited, on the judgement that I wouldn't be interested in the back-to-back stalls selling counterfeit goods. But I later regretted my decision when I found out about its legacy.
You should now choose whether to walk down Petaling Street, or skip it and read the history below.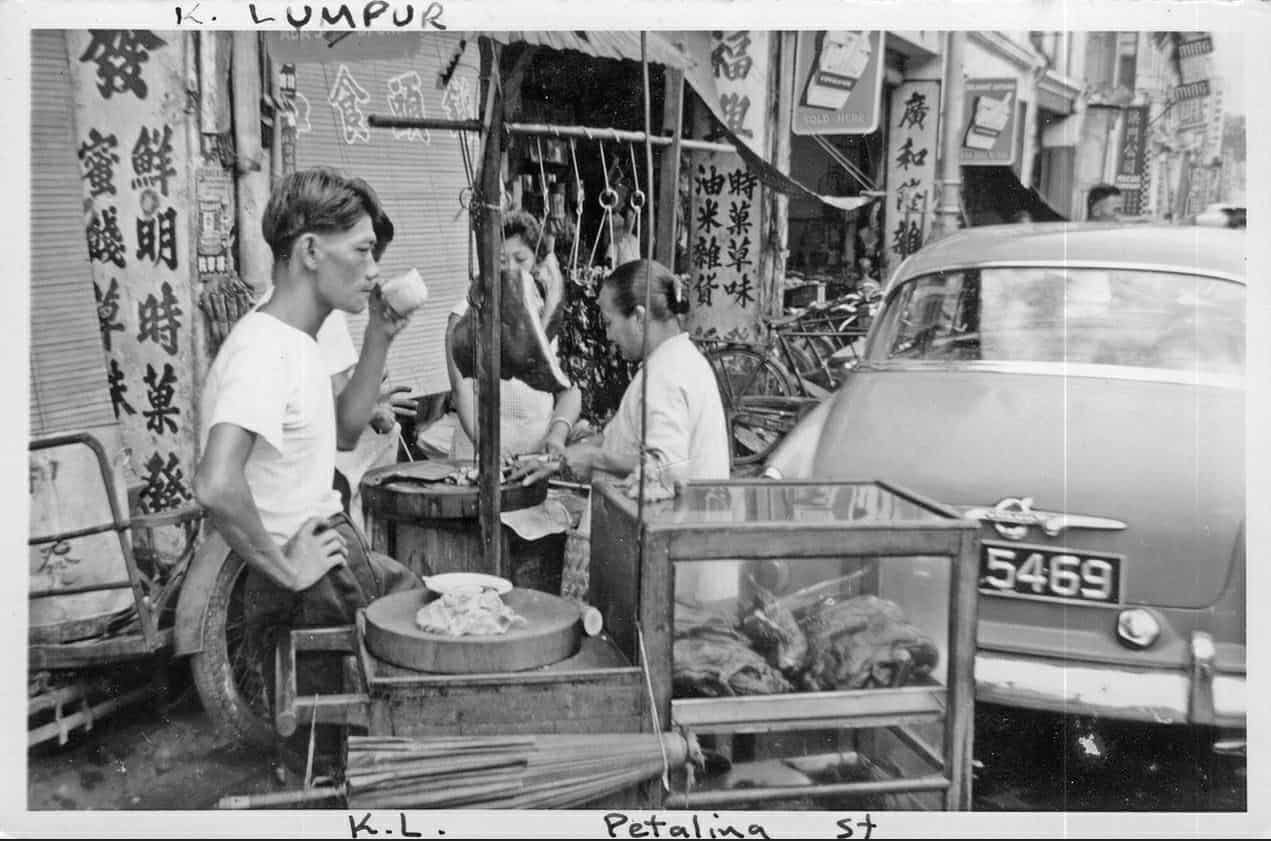 Petaling Street used to lead to tin mines in the area and was one of the first streets in KL to be named. The majority of its residents were Hakka and Cantonese, who came to prosper from the roaring tin industry.
In the 1900s, like now, it was an equally bustling place filled with stalls and food vendors, but with the addition of rickshas, carriages and trishaws that would tote up and down. But even more significantly, it bears witness to a turning point in KL's history.
Let's get deep a little.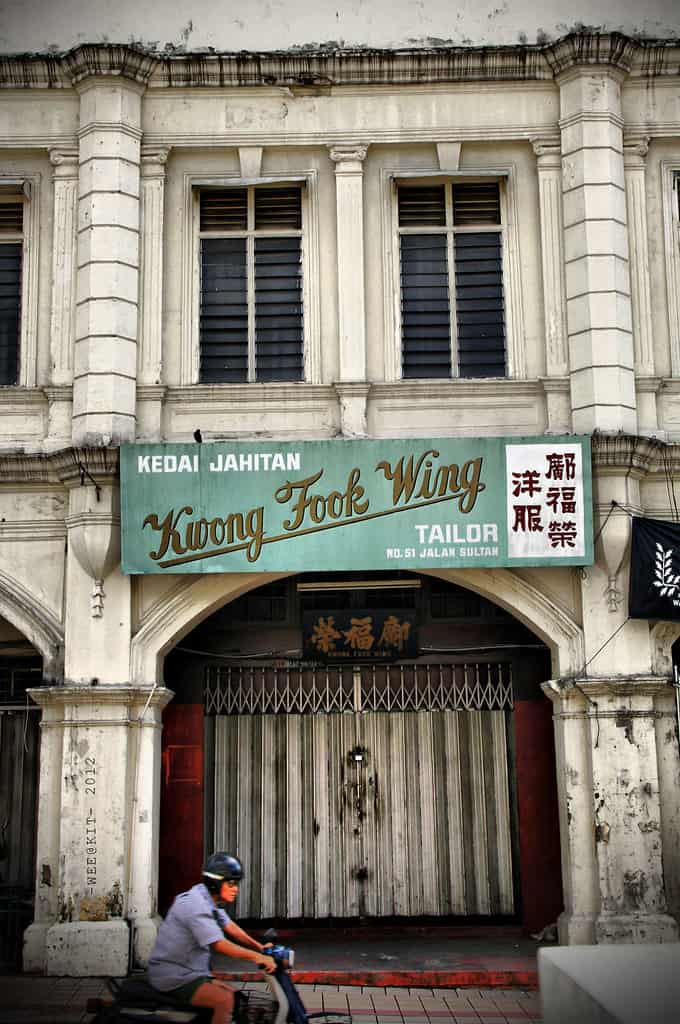 The Chinese communities in the area used to be ruled by Kapitans (captains) who were pivotal in developing the 'town' during its early stages.
Dubbed as 'the Bruce Lee of his time', its third but most famous Kapitan was Yap Ah Loy . Historian and writer Lam Seng Fatt describes him in an Insider's Kuala Lumpur :
[He] was a domineering character. Any Kapitan Cina worth his salt had to be, given the wayward behaviour of the Gangs of Chinese immigrants who had journeyed to these parts to seek their fortune. Fisticuffs and fights with knives, swords, pipes and wooden poles were common and Yap Ah Loy was the greatest fighter of them all – the Bruce Lee of his time.
Apparently during the gang wars between the Hakkas and Cantonese, Ah Loy would pay good money for an enemy's head on a platter. He wasn't a man to mess with.
But this Kapitan wasn't just a good at combat, he also helped ensure the survival of this burgeoning city.
After a civil war broke out in 1970 between the two clan groups, many buildings were destroyed and mines were abandoned, causing them to flood out.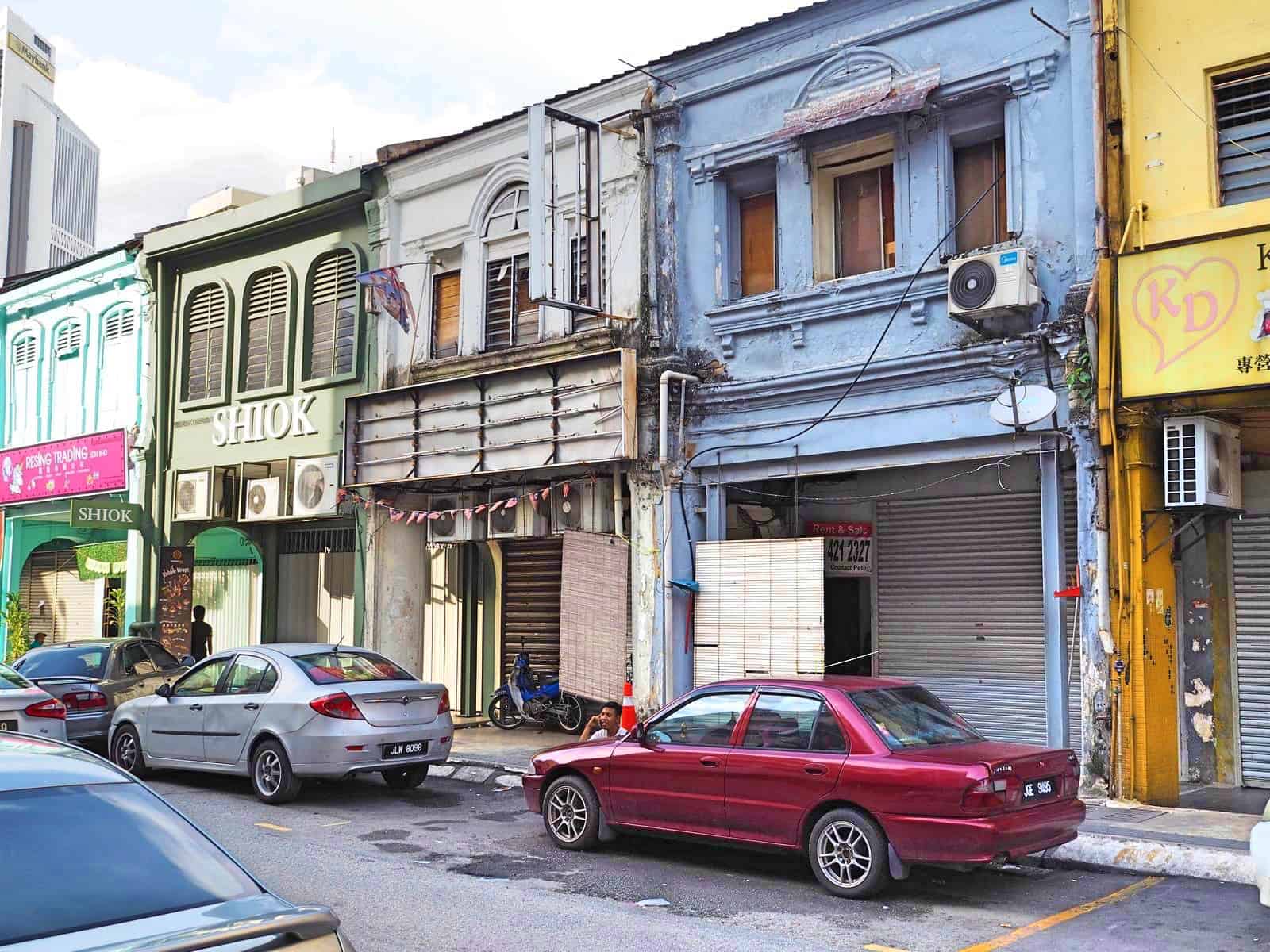 But instead of giving up on KL and allowing the miners to flee the city in search of work elsewhere, Kapitan Yap Ah Loy convinced them to stay. He encouraged workers to focus on agriculture and set up a tapioca mill on Petaling Street. It was then dubbed 'Tapioca Factory Road', or Shu Chong Kai in Cantonese, which is still what the Chinese locals call it today.
Nowadays, the street is closed off to motor vehicles and has been given a slight facelift, with many long-standing businesses moving out when rents were hiked in the early 2000's. But there's still a light sprinkling of golden oldies left, like Koon Kee's famous Wanton Mee and Kim Lian Kee's birthplace of Hokkien Mee .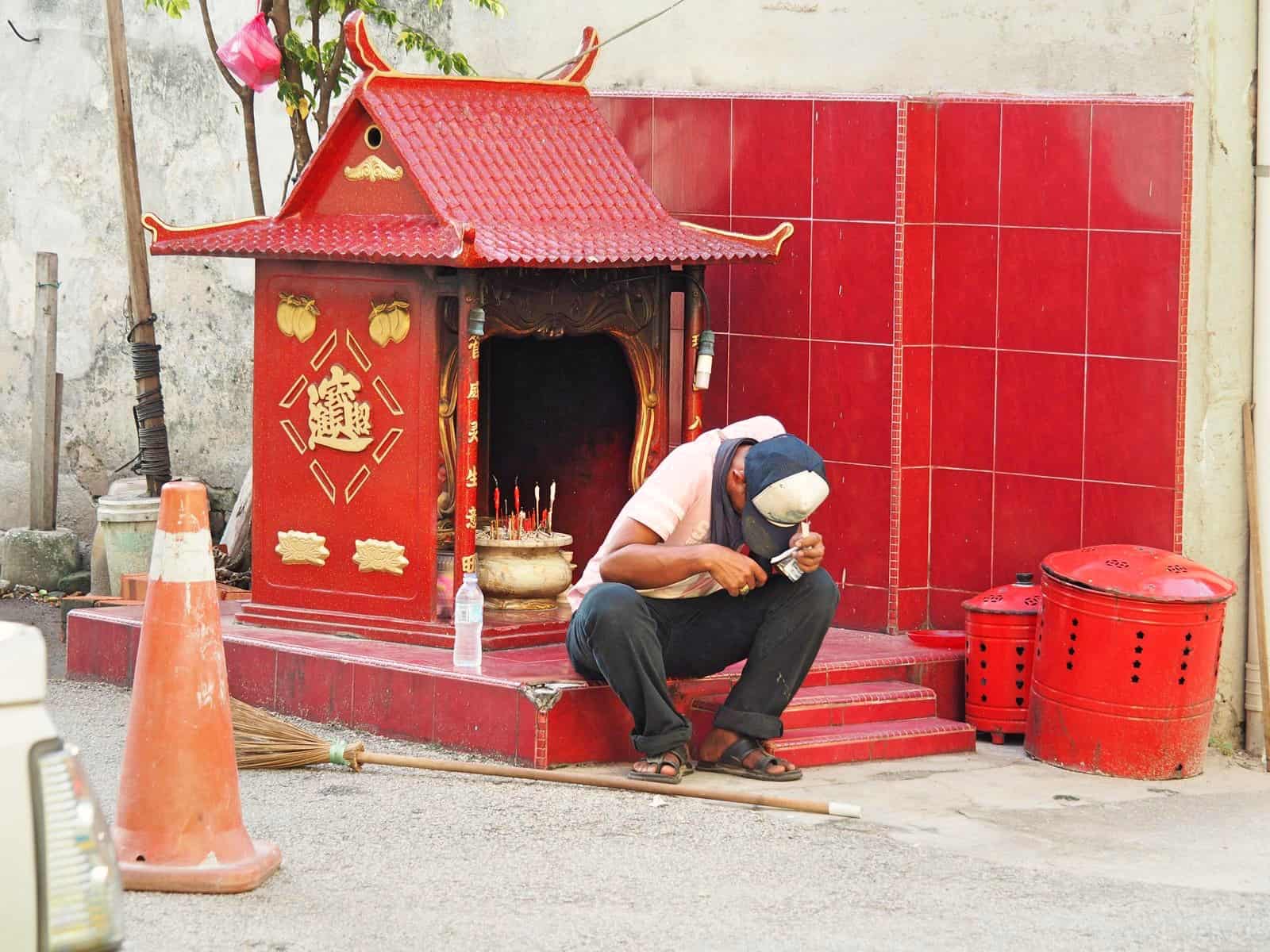 There have been many righteous success stories of Chinese business owners along Petaling Street who have worked hard to change their fortunes, as well as some that haven't. As Lam Seng Fatt mentions:
'Most of the Chinese traders in Petaling Street do not impress with their simple dressing and lack of ostentation, but they have Mercedez Benz cars parked in the back lanes, live in bungalows, watch satellite television and spend their holidays in Australia'.
Good on them. That's more than I own.
Stop 13: Sri Maha Mariamman Temple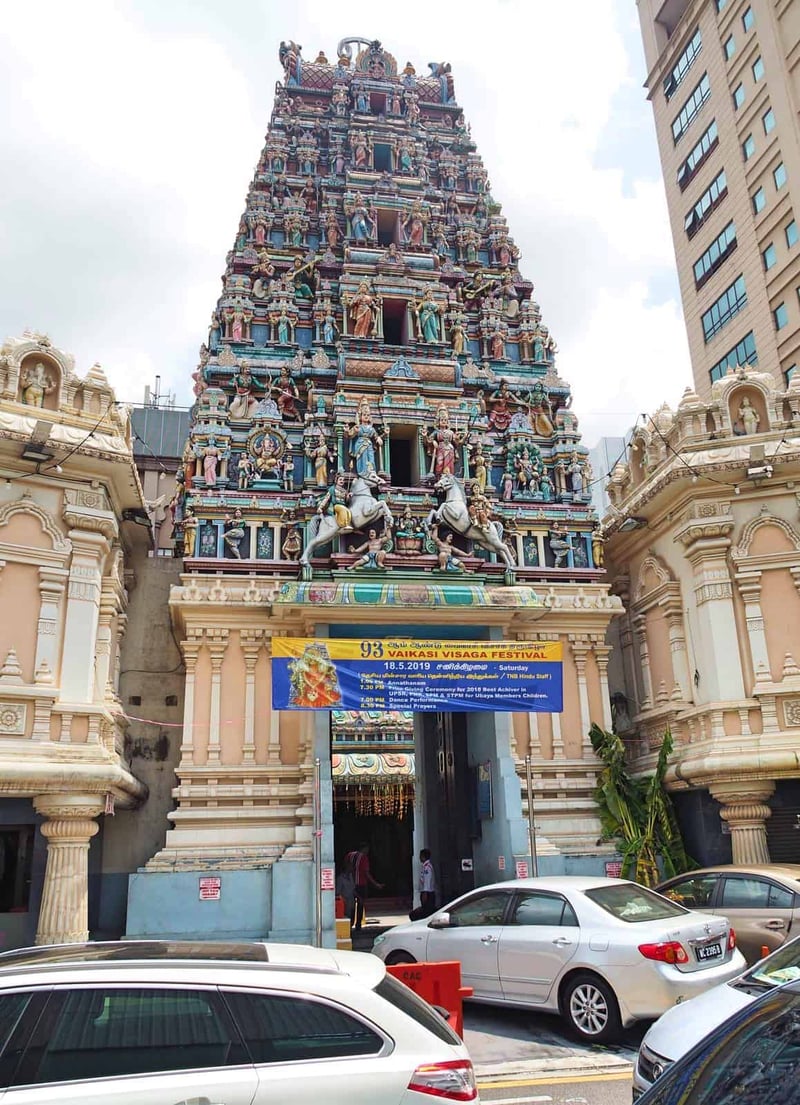 Known to be Malaysia's oldest and richest Hindu Shrine, Sri Maha Mariamman was founded in 1873, but what you see today was erected much later.
Although undeniably striking, I think it looks a bit misplaced on this busy street in Chinatown and almost gets lost in the noise. What do you think?
The temple was first built by a wealthy Indian for fellow Tamils to worship the deity Mariamman , who was meant to protect them in foreign lands. For 50 years it was a private shrine until 1920s when it opened to the public, although the current building was remodelled substantially in the 60's.
Non-Hindus are welcome to enter, just leave your shoes at the entrance. It's open from 6am to 8:30pm.
Stop 14: Guan Di Temple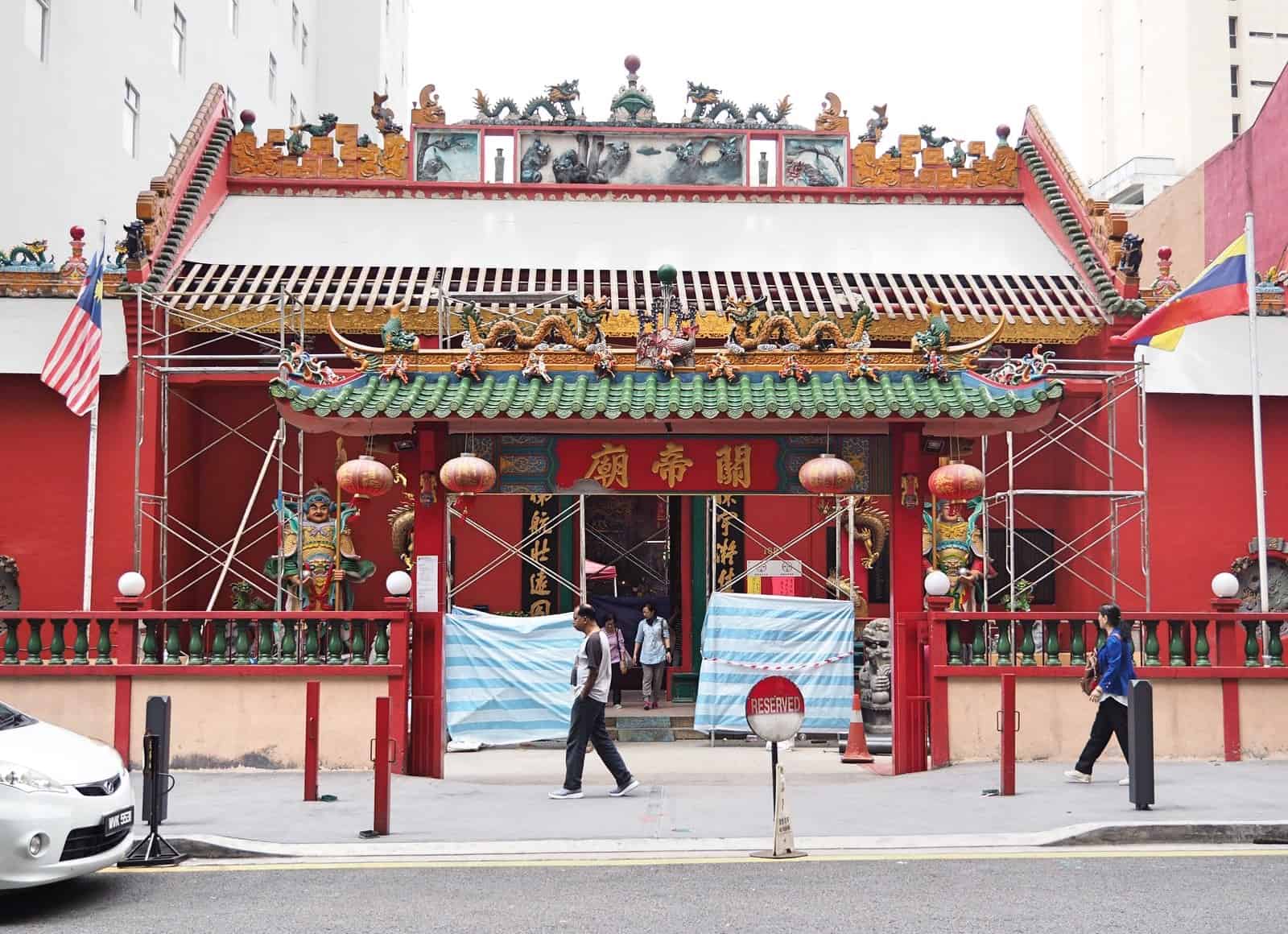 This temple is where many locals pray to one of China's great warriors General Kwan- aka. 'Guan Di'. He was named 'God of War' and many worship him for his superb fighting skills, believing that they'll receive better wellbeing with his protection.
The morning is probably the best time to visit as it'll be less busy and the aroma of incense from worshipers will calm you from the busy KL streets.
Inside there's a sword that's meant to have special powers and will bless and protect a person if they touch it. Go on, give it a feel and see!
Stop 15: Kasturi Walk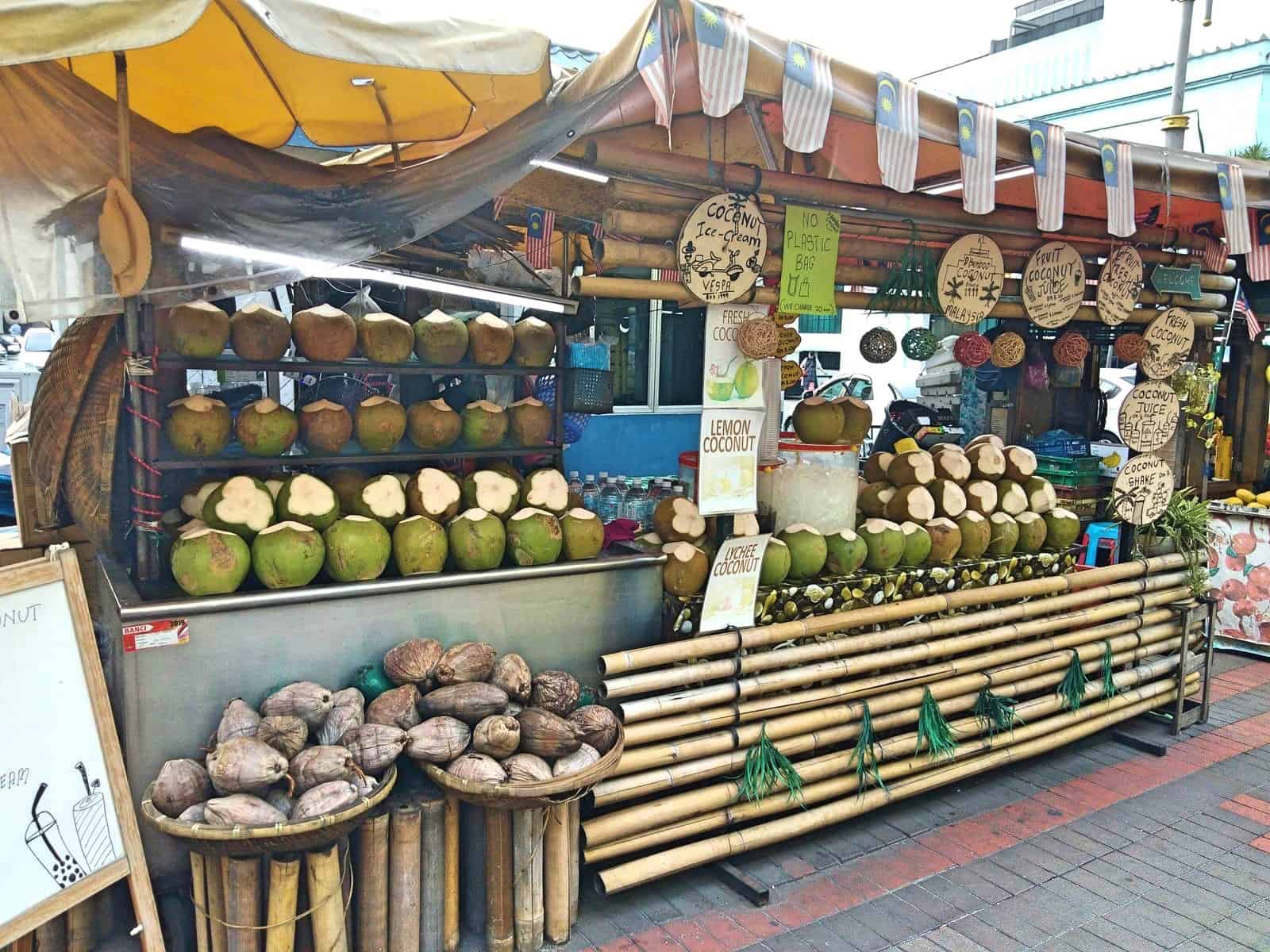 This relatively new, pedestrianised street featuring various outdoor stalls aimed at tourists. It's a good spot to buy a fresh coconut, but otherwise it sells pretty much the same merchandise as Petaling Street.
There's a half hour dance or martial art performance nightly here at 9pm, and the market opens from 10:30am – 10:30 pm.
Stop 16: Central Market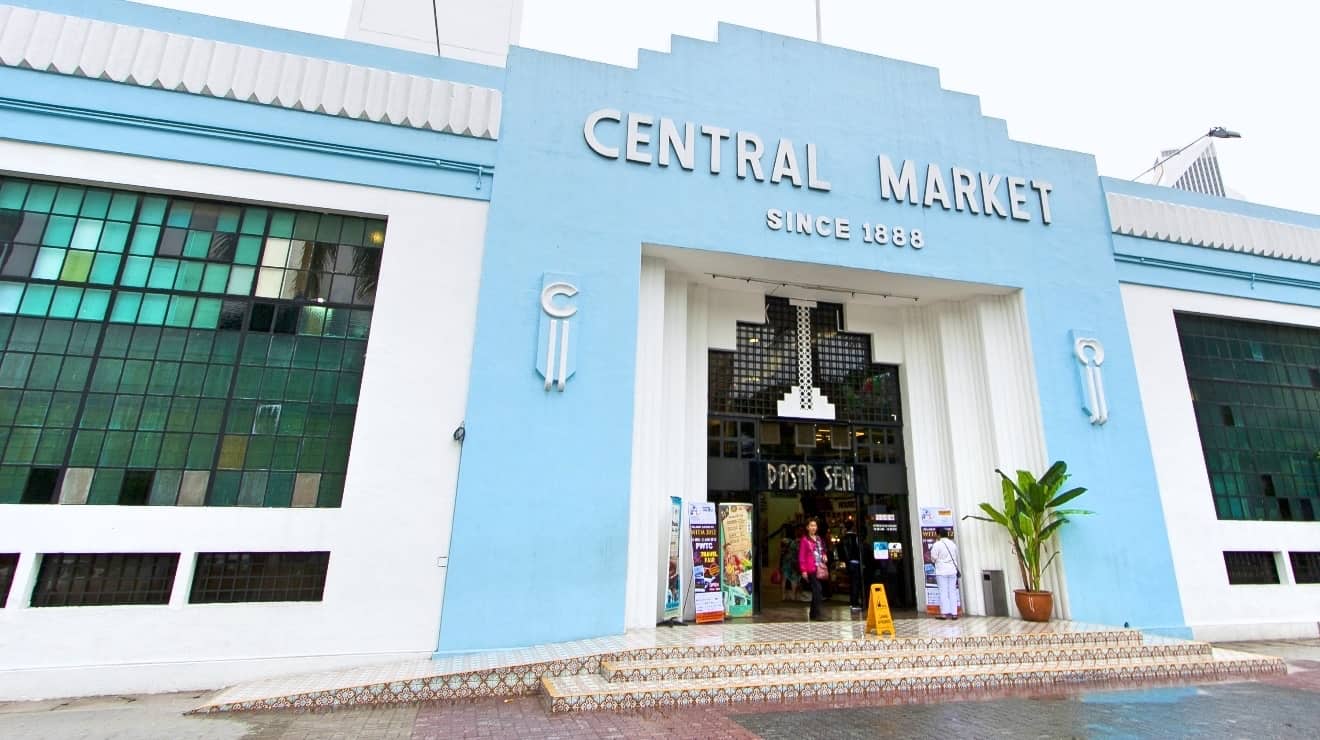 I'm sure you're getting pretty sweaty now in KL's unrelenting heat, so step inside to enjoy the AC before reading this!
To say this grand art-deco building has had a colourful past is putting it lightly. It is, in fact, one of Yap Ah Loy's greatest legacies, which recently survived demolition.
Central Market was first located in Medan Pasar , or 'Market Square', which you'll be walking to soon. Nowadays when you walk inside, it's brimming with Malaysian arts and handicrafts, with floods of eager beavers keen to get their hands on some of the better souvenirs in the area. Although its current condition and use is far from the old days.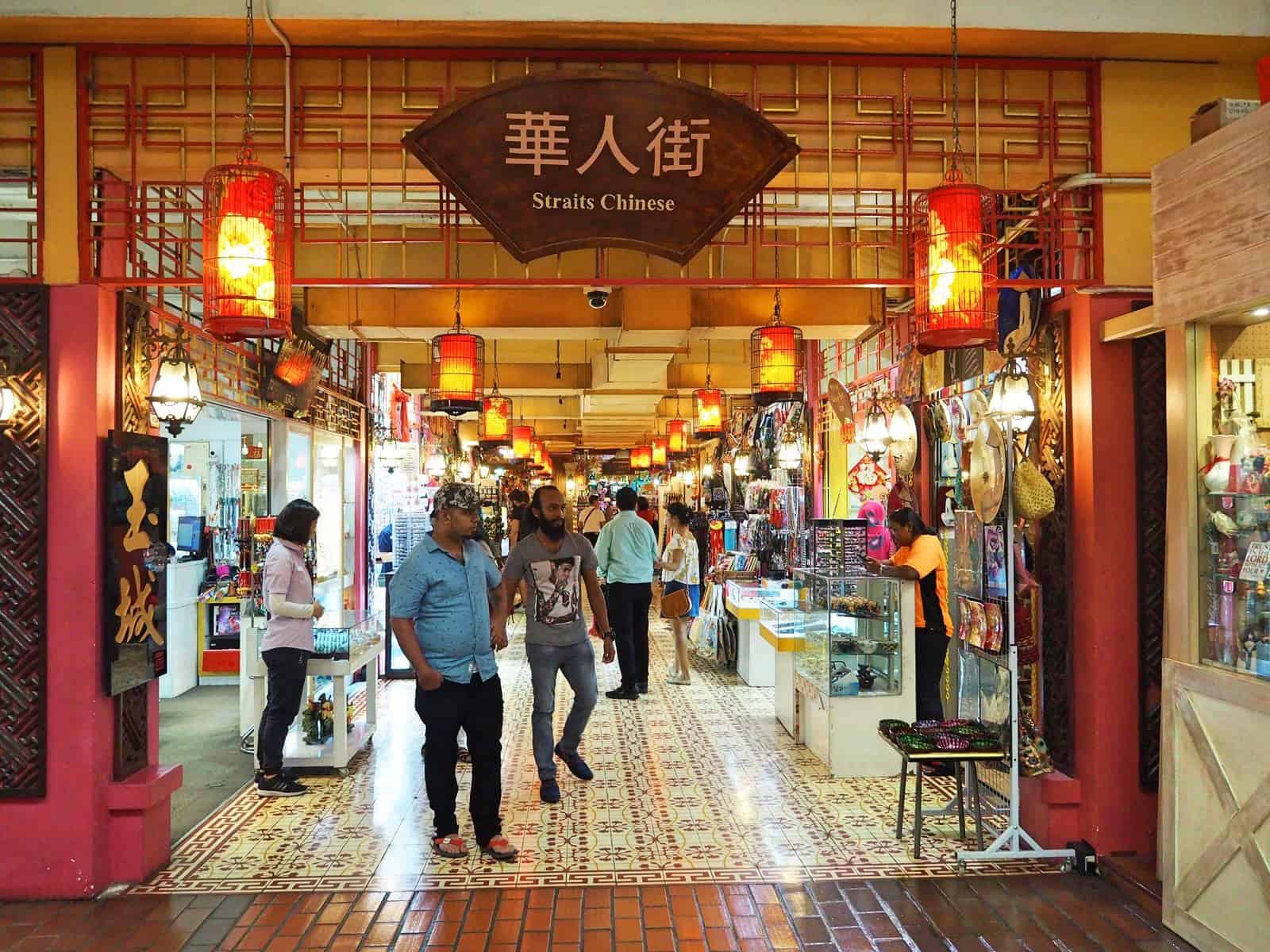 Central Market always used to function as KL's primary wet market, feeding the city with a range of fresh fruit, vegetables, fish and meat – as well as its gambling addiction.
It was described in the late 19th century by a prominent British colonial administrator- Sir Frank Swettenham- as " a huge gambling booth…in which literally all day and all night long, gambling is pursued by a crowd of often excited Chinese and Malays ", saying the " filth of the market is indescribable ".
Could you imagine it now as a dingy market selling food, or being packed with gambling tables? It's definitely come a long way.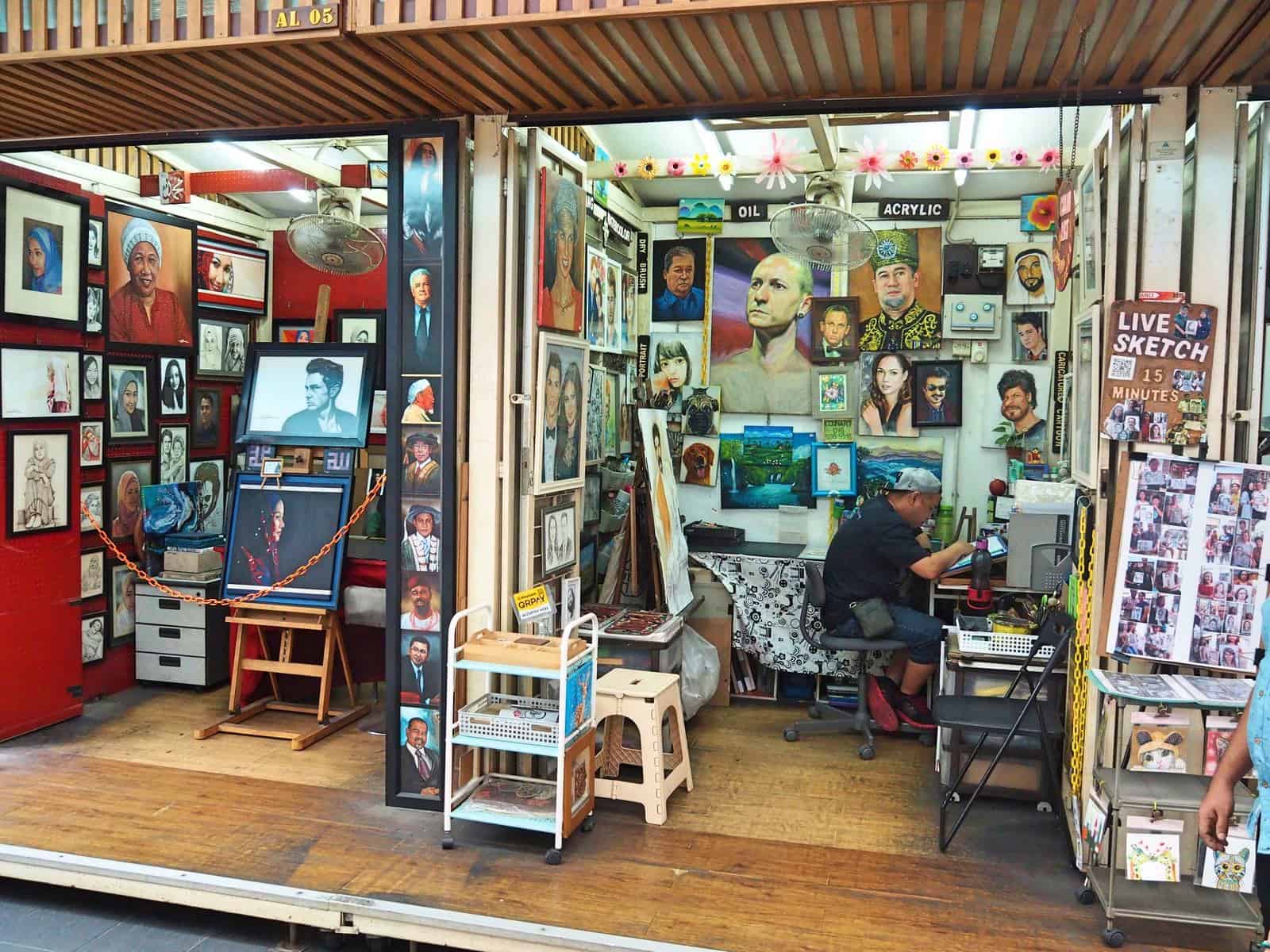 When Central Market burned down in Medan Pasar in 1881 (along with Yap Ah Loy's house and much of KL at the time) Ah Loy worked hard to rebuilt it nearby on land he leased from the authorities. At the time, it was a fundamental food source and he didn't want KL-ites to go hungry.
After his death in 1885, it was relocated again to this site, which sits behind his former house (you'll visit it soon).
Wind forward another 40-years, and the market's humble wooden walls were knocked down and rebuilt into this art-deco fantasy you see before you.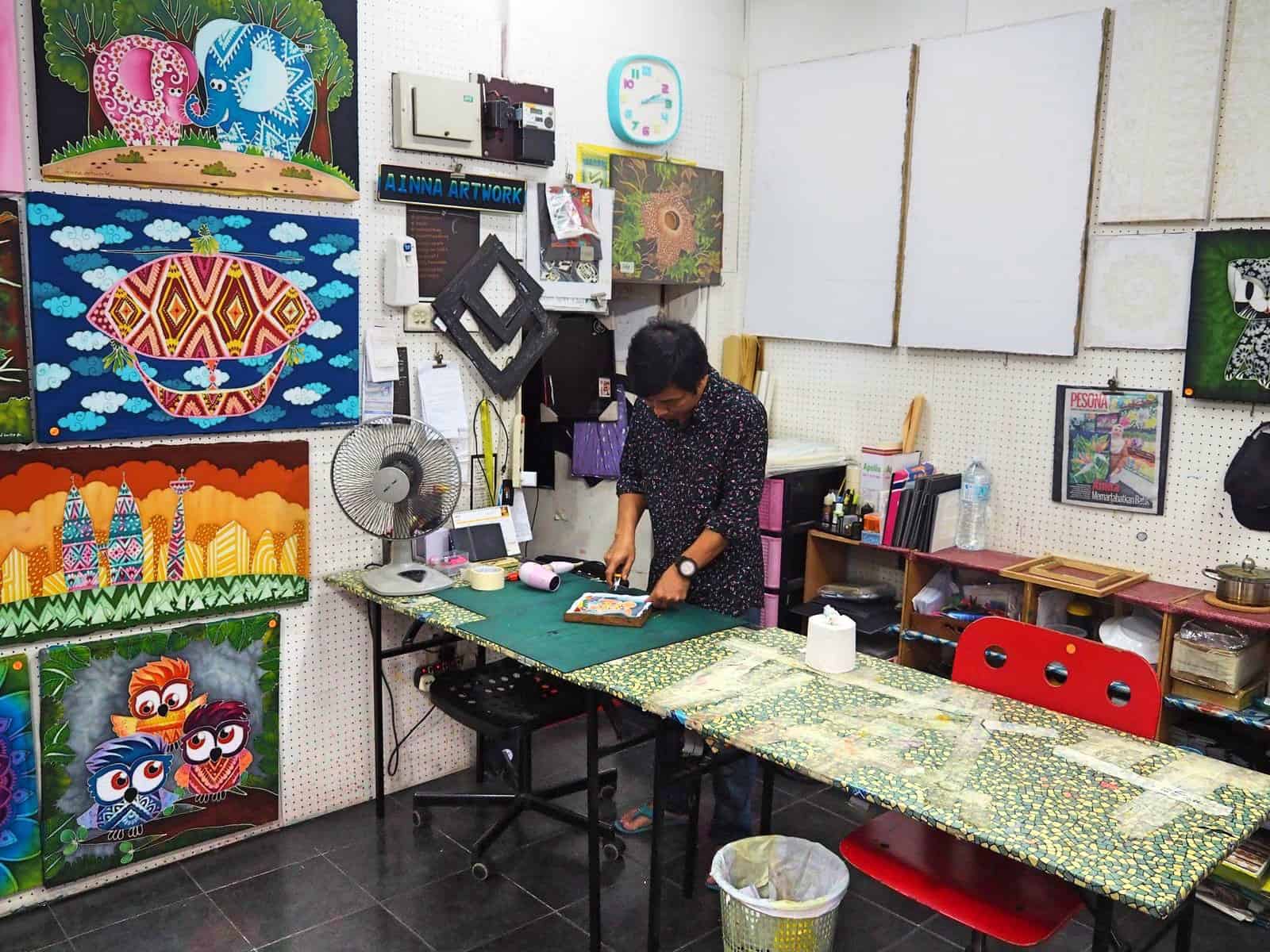 When wet markets were set up in the city's suburbs during the 1980's, city council wanted to demolish Central Market and turn it into an office block. Thankfully it lived to tell the tale and was saved, refurbished and rebranded into a thriving heritage centre.
It's been nicely organised into different sections- Malay, Straits Chinese and Little India. The products on offer seem a little better here if you're after a gift or souvenir. Don't forget to head out into the annexe right at the back where you'll find portrait and caricature artists. Open: 10am to 9pm.
Stop 17: OCBC Building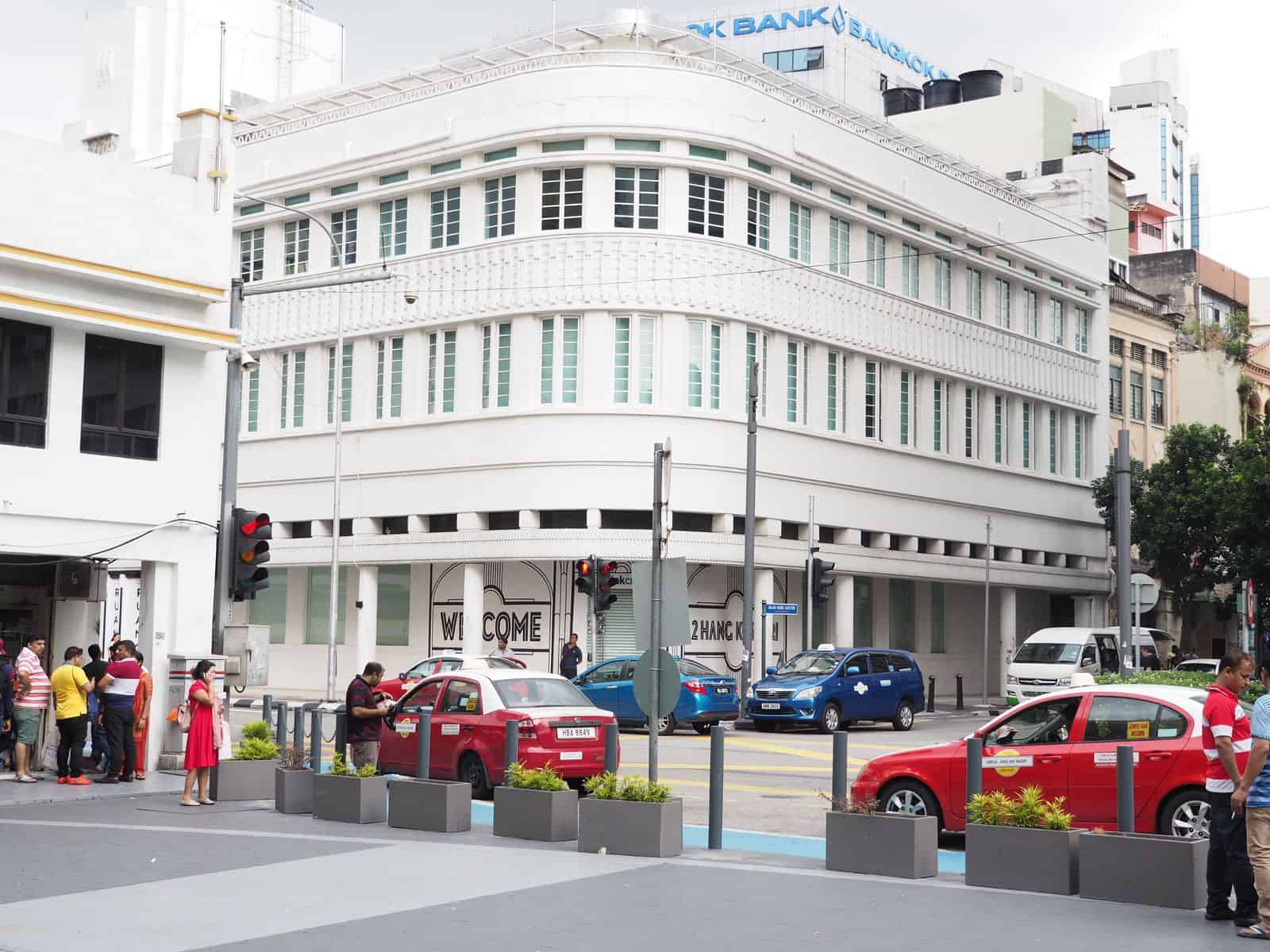 This iconic art deco building was sold for RM 21 million in 2016. It's a 5 storey block (although I can only see 3 floors, plus the basement 🤔) that was initially designed in 1938 for the Overseas Chinese Banking Corporation (OCBC) which was fully functioning until 2015. They utilised the basement as 'a parking hall for bicycles' (I couldn't imagine that now in KL) and as a strong room , which is similar to a vault.
There were talks of the new owners wanting to make a hotel out of it, but licences for new hotels were frozen from City Hall. So, what's even better than yet another lodging?
A creative space 🖖🏼. Currently it's used by Urbanescapes who promote the arts through exhibitions, events and festivals. Check out their schedule for a list of shindigs.
Stop 18: Medan Pasar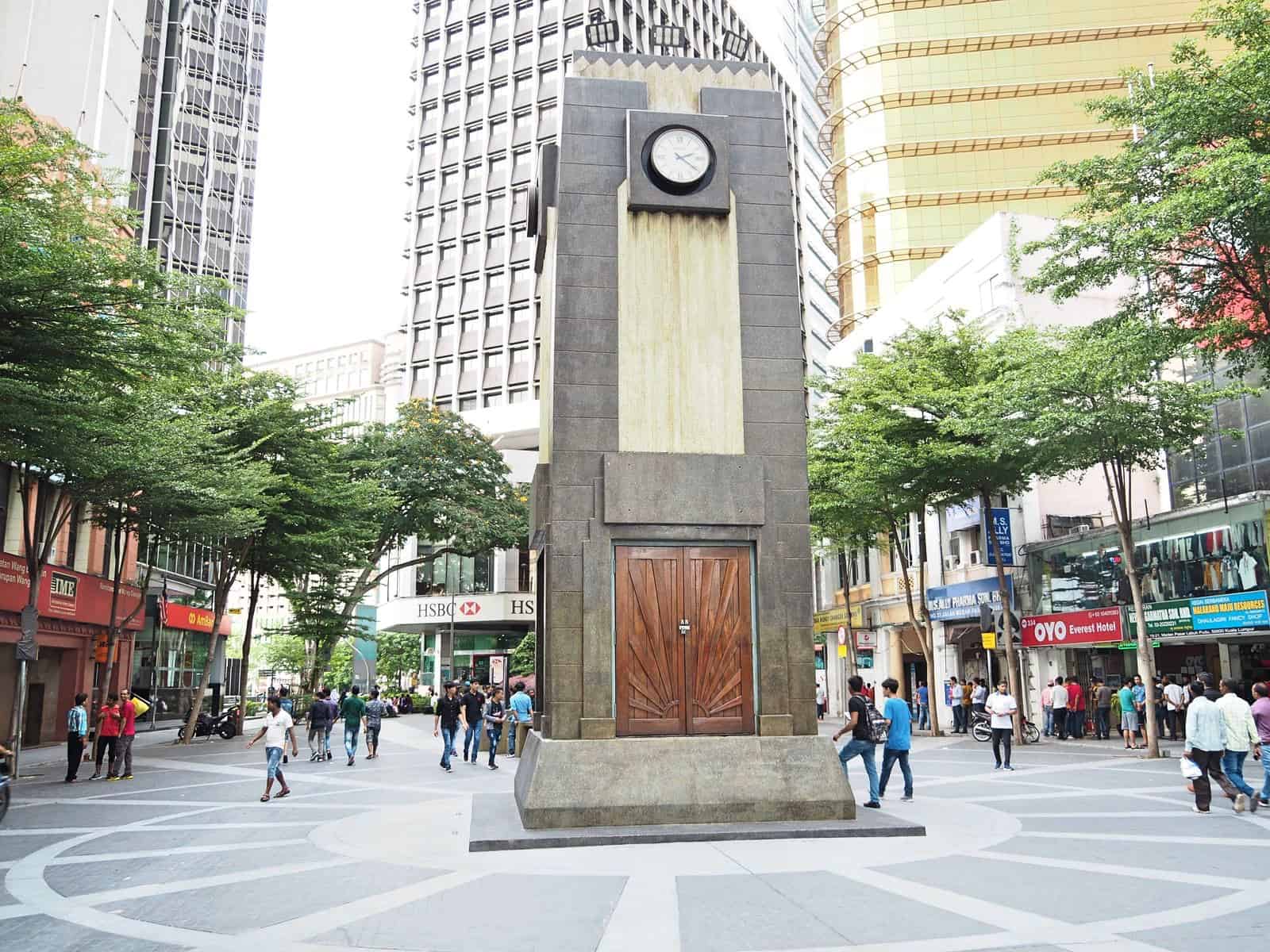 You are now, my friends, looking at the square that housed KL's first settlement. So take a breath and try to imagine it 140 years ago. Can you feel the ghosts of KL's past behind the walls of the shophouses that lined either side?
I did. This place feels really old to me, and like it has some serious stories to tell.
The most prominent feature now is the art deco Clock Tower that stands before you, which was built in 1937 to commemorate the coronation of King George VI. But like I mentioned before, it once housed the buzzing Central Market and for many years, the square was the heart of the city. Hard to imagine that now. All I could see were groups of tourists and Indian lads killing time.
Standing behind your left shoulder is the memory of Yap Ah Loy's house, which stood where the 'Pacific Express Hotel' is now. It was strategically positioned to give him the bes t view of happenings in the square. He'd be looking at you now if he was still around.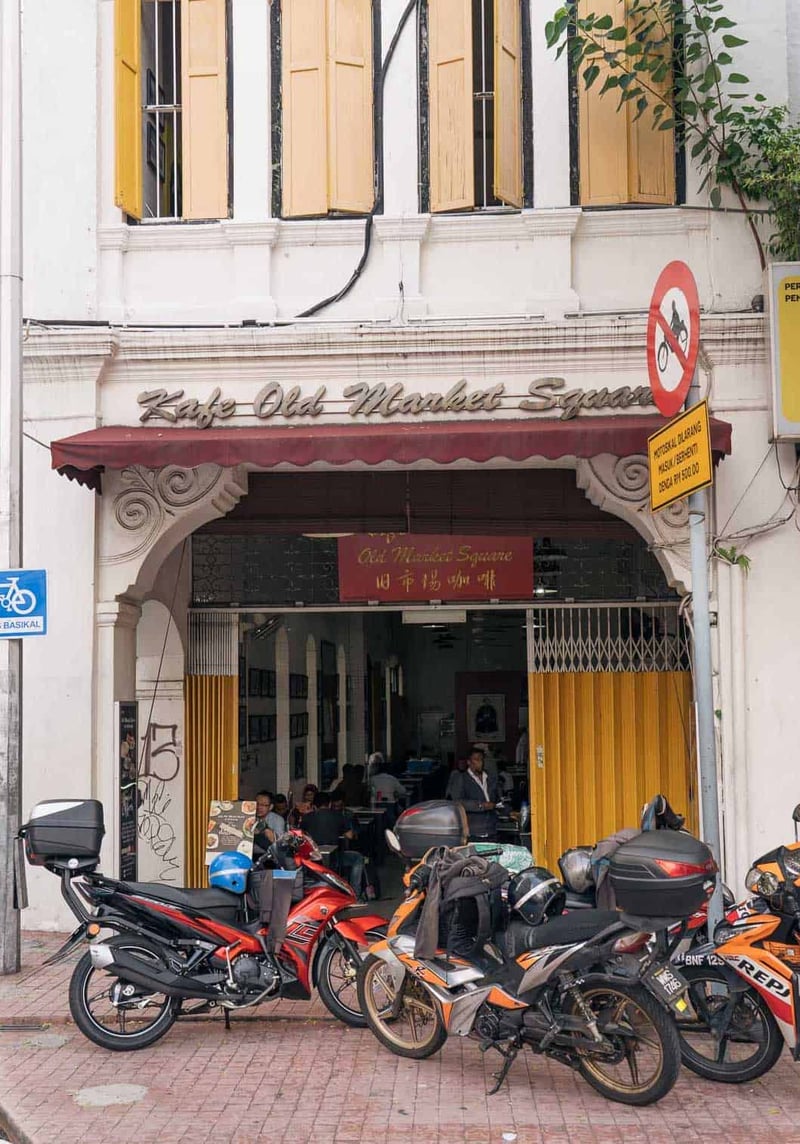 Kafe Old Market Square just opposite is likely to be the original site of the gambling den he set up. Along with brothels, it was created as a 'lifestyle' centre to keep the hard-working miners entertained, allowing them to work hard and play hard. They'd arrive nearby along the Klang and would bet their miserable earnings hoping to make a fortune.
Now, it's a popular kopitiam, that even gets the likes of Boris Johnson stopping by for a visit (seriously, this dude gets everywhere!).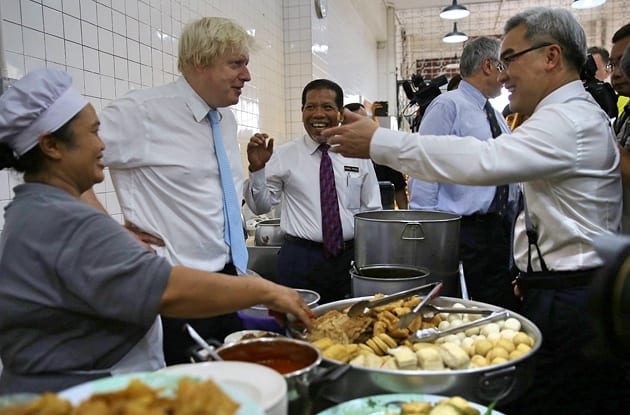 But it has to be said in respect for Yap Loy's hard work, that as well as engineering the city's vices and owning 225 prostitutes, he also set up public services such as [primitive] hospitals, prisons and the police. Even Sir Frank Swettenham complimented his strengths, saying:
"His perseverance alone, I believe, has kept the Chinese in the country…his energy and enterprise are extraordinary".
His dogged determination to develop Kuala Lumpur is why, many regard Yap Ah Loy as the founder of KL.
Stop 19: The Birth of KL (and view of Masjid Jamek)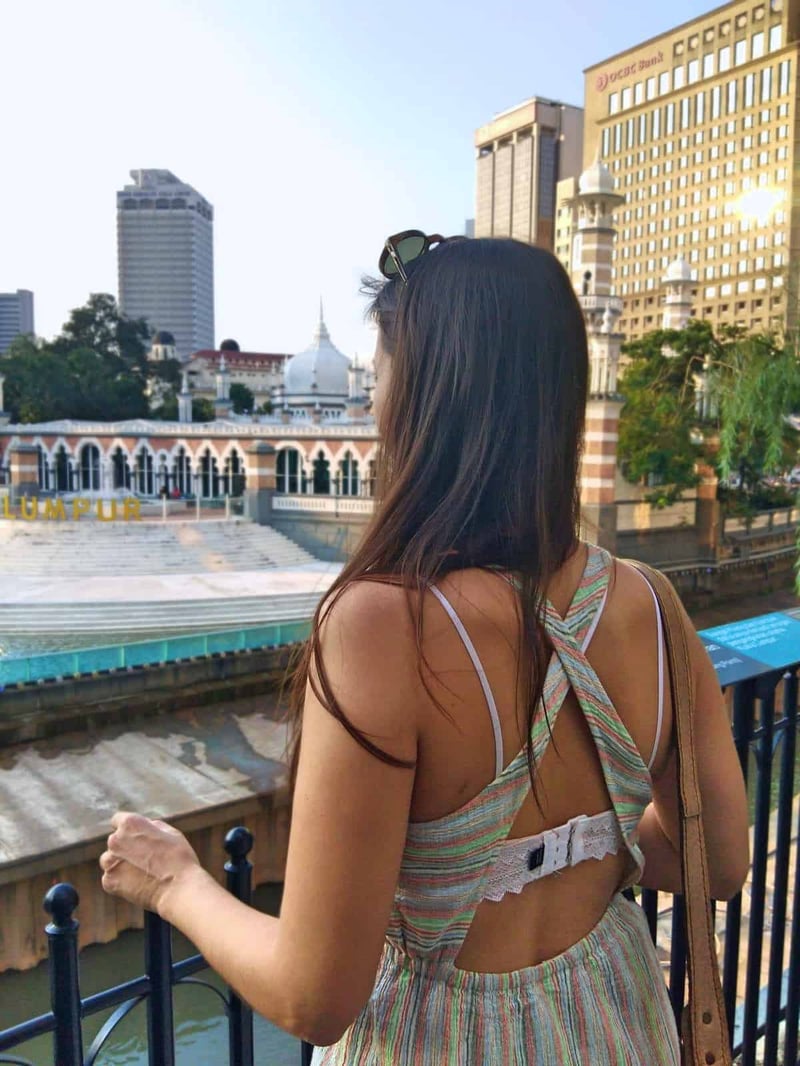 At this stop, you are witnessing KL's conception along the Gombak and Klang river.
Try to imagine the group of 87 Chinese tin miners that arrived upriver in small boats in 1857. They stopped at the confluence (where the two rivers meet) because the water was too shallow to continue, alighting [on the right] at the Klang.
In their boats were necessities like weapons for protection, including gunpowder, knives and spears, as well as tools and sustenance like sacks of rice, jars of coconut oil, spirits, tobacco and chests of opium – standard . Sadly, only 18 survived after contracting malaria.
These Chinese miners were commissioned by Raja Abdullah , who was the first Malay tin-mining pioneer. Along with Yap Ah Loy, people also regard him as the founding father of Kuala Lumpur- but whether KL's conceiver was a Malay or a Chinaman still remains a touchy subject.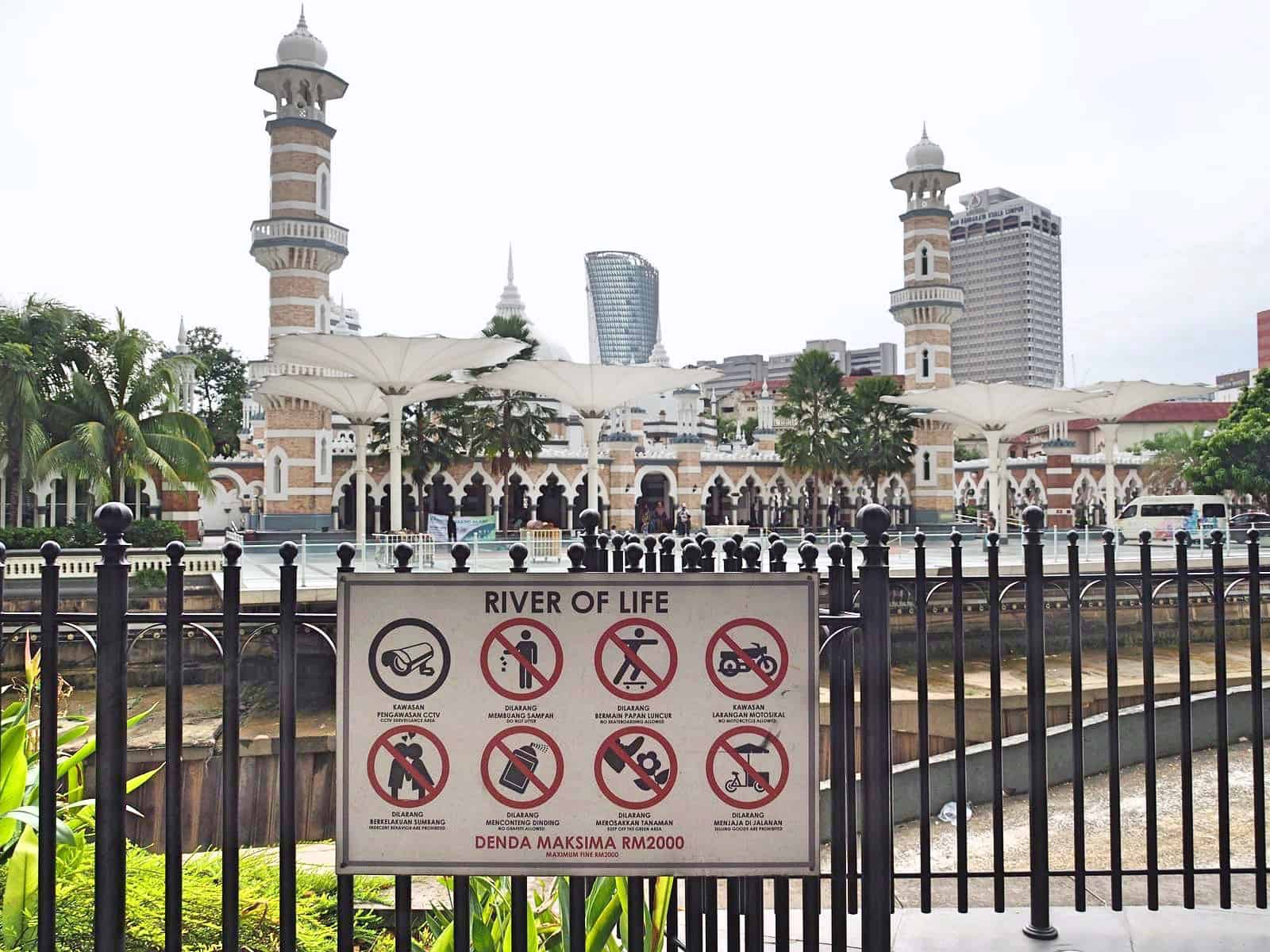 Back then, this location must of been a muddy place, as Kuala Lumpur's exact translation is 'muddle confluence'. Now along the riverbank, the site has recently been transformed into a pleasant estuary walkway through 'The River of Life' project.. an interesting name considering the water's grim appearance and a couple of dead fish I saw floating downstream.
If only Yap Ah Loy and Raja Abdullah could fast forward in time. From what was nothing but a muddy river lined with tin, jungle and potential, has- 162 years later- grown into one of Southeast Asia's most modern cities.
Do you think they would have been impressed with it?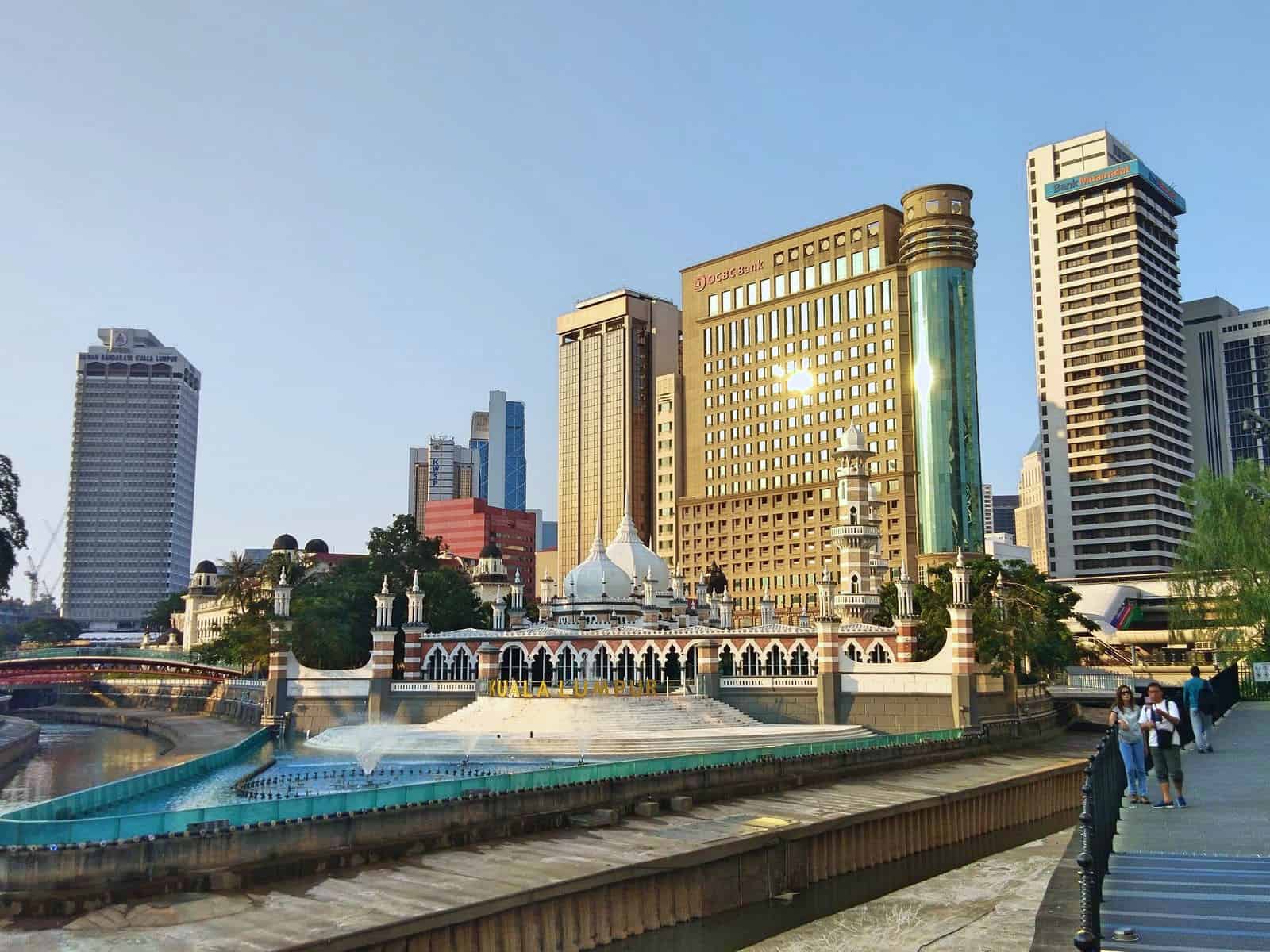 Now, the triangular site cradles the stunning Masjid Jamek mosque, whose beauty still manages to outshine the huge skyscrapers erected behind it.
You can stay on this newly built 'River of Life' route and cross the bridge around the mosque to the next stop (recommended), or continue along the blue route on My Maps.
Stop 20: Masjid Jamek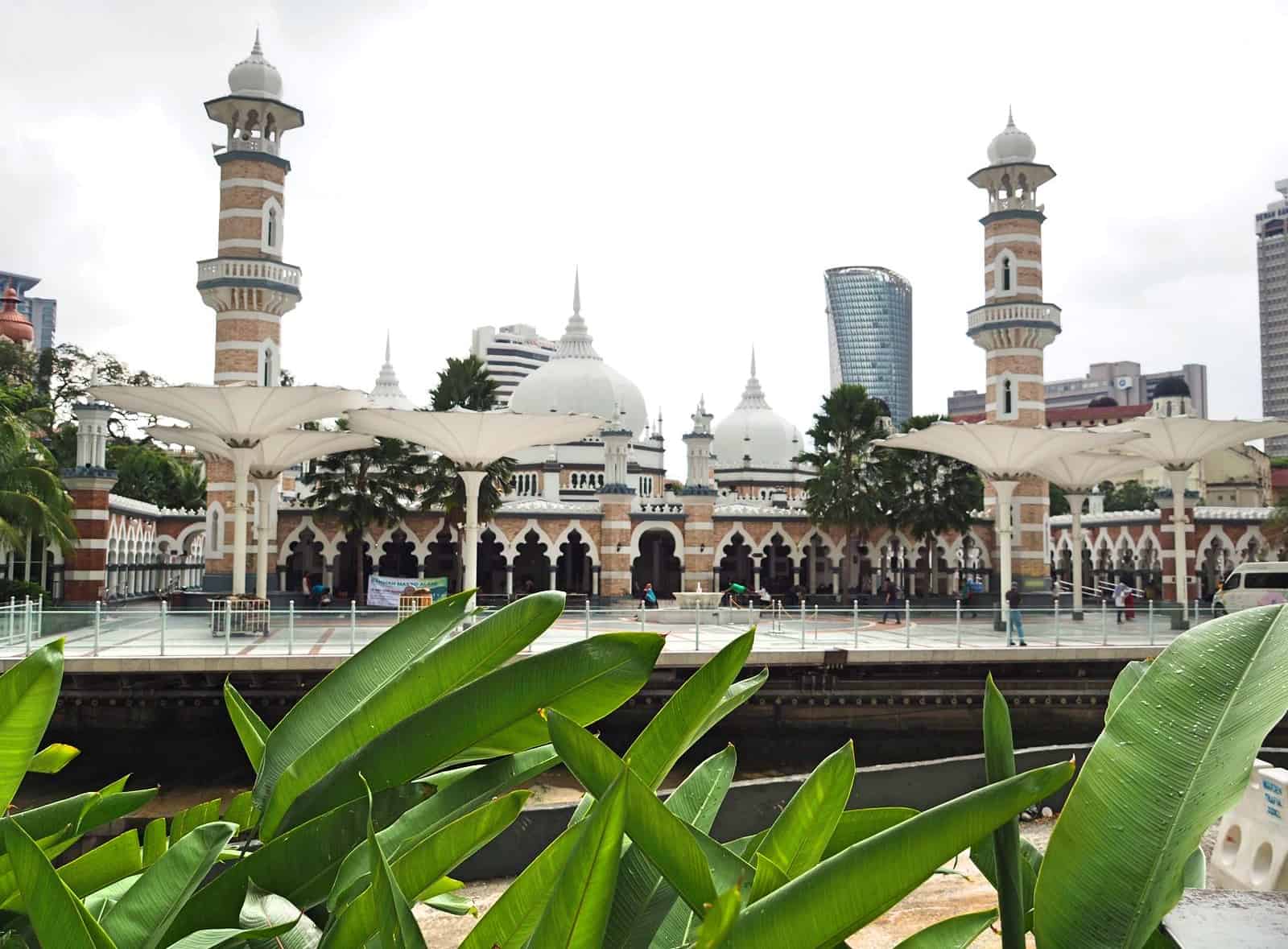 Completed in 1907, this striking place of worship was the largest mosque to be built in KL. Prior to that, the land was used as a Malay cemetery, and if you go back even further, then sources state it already housed a small settlement of tin miners from the 1820's.
The mosque was designed by British architect Arthur Benison Hubback , who is credited for at least 25 colonial buildings across Malaysia. He came to KL in 1895 just after the Brits decided to move their administration here from the Klang, for a slice of that good 'ole tin mining pie.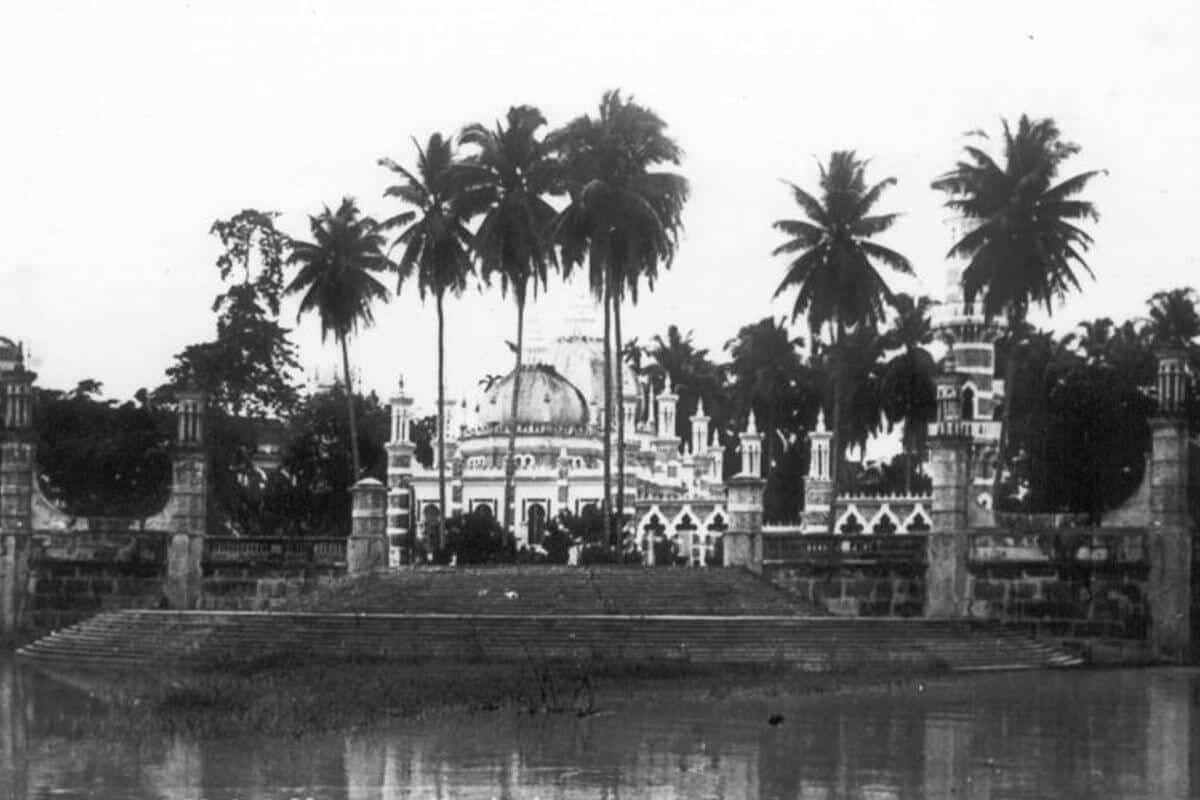 Masjid Jamek was KL's main place of worship for Muslims until the National Mosque -Masjid Negara- opened to the public in 1965. The style is a combination of islam and ancient Moorish (originating from North Africa, as well as parts of Spain and Portugal)…and I'm going to pretend I know exactly what those styles look like! 😄
When I arrived to KL in 2017 it was undergoing upgrades, but works have since finished (along with the River of Life project) and it's a pretty sight from the river bank. So reserve a few moments to take it all in.
If you want to go a step further and walk around the grounds, ladies can borrow headscarves and robes and reception, but I wouldn't go in unless you've got your shoulders and legs to your knees covered. Open for visitors: Saturday – Thursday 08:30-12:30 & 14:30-16:30.
Stop 21: Former Survey Office
Like Masjid Jamek, this handsome structure was designed by Arthur Benison. It's the first court in a row of former government buildings that line Merdeka Square, and it functioned as a Survey Office for many years after it's 1910 completion.
In the 1980's it was then used by the old sessions & magistrates courts before they moved to Putrajaya.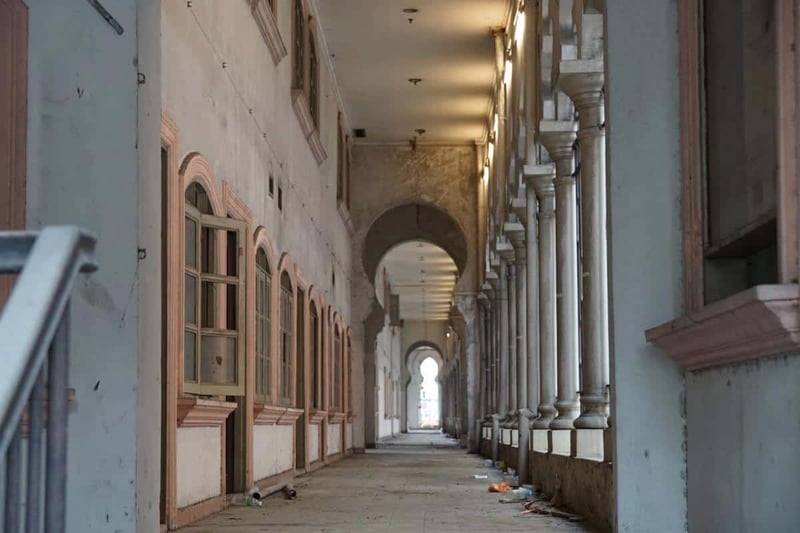 If you take a closer inspection, like many of the shophouses in Chinatown, you'll notice that the building has seen brighter days. I spotted a few broken windows, apparent mould issues and sprouting weeds. One of the dome's spires even collapsed in 2017 after a heavy spout of rain.
Jeez. If that's not a cry for help, I don't know what is.
The building now belongs to the Tourism and Culture Ministry, although judging from the state of it, they're not in a rush to move in.
I guess, properties that are easily maintained in England's temperate climate are tricky to keep fresh in Malaysia's tropical weather. But surely a better job can be done in maintaining the city's heritage listed buildings, right KL?
Stop 22: Old City Hall (Now: Panggung Bandaraya or 'City Theatre')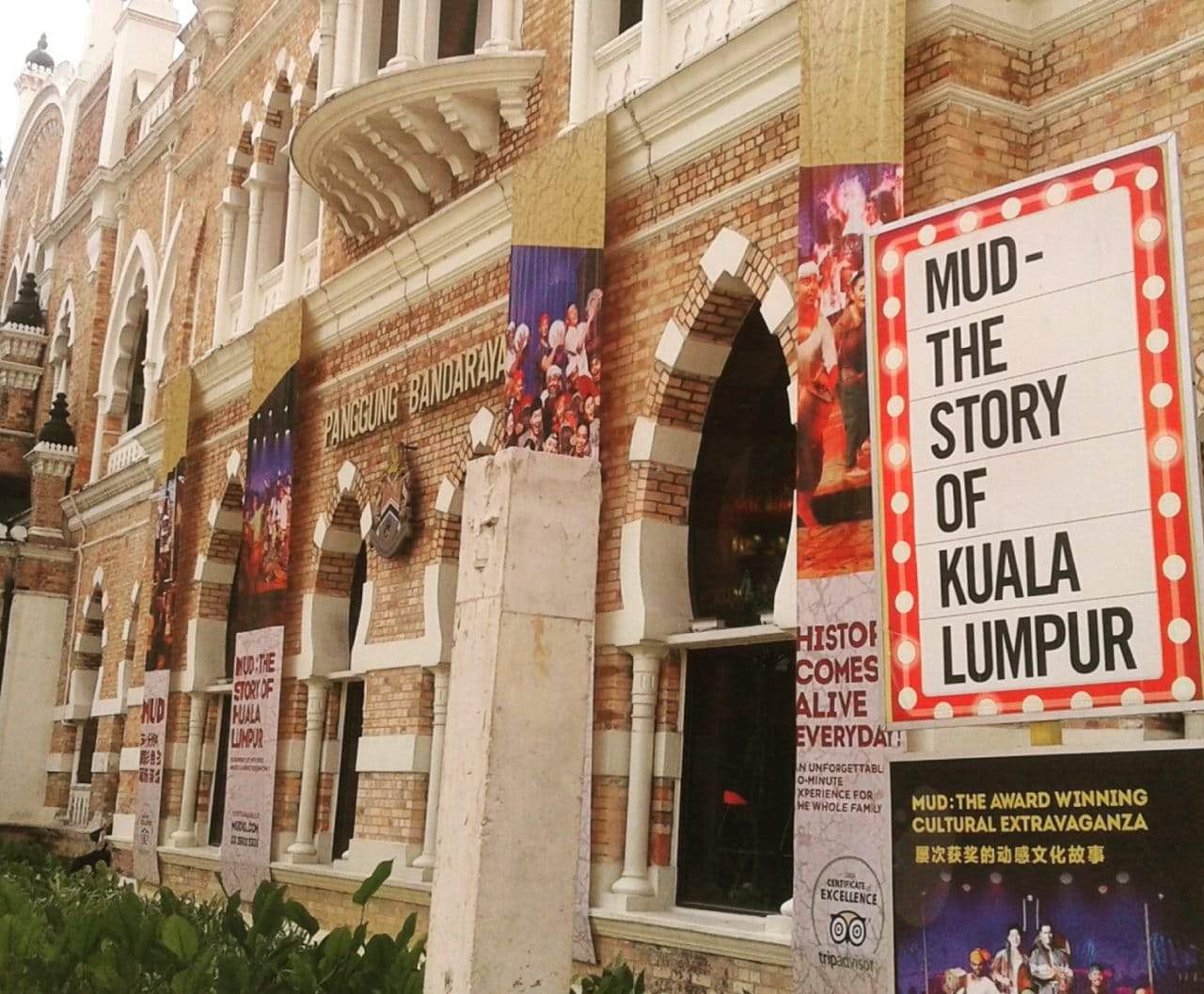 Built in 1904, this heritage listed theatre hall is yet another foxy Arthur Benison creation.
It acted as a 'buy one, get one free' building, used to house municipal offices and act as a town hall for KL's high society. Back in the glory days, it once held lavish dances and plays on stage.
The exterior you see today is still the original facade, although the interior has been completely remodelled since a major fire destroyed it in '92. Thankfully, this one didn't get left to rot and City Hall restored it soon after, giving it a thorough revamp.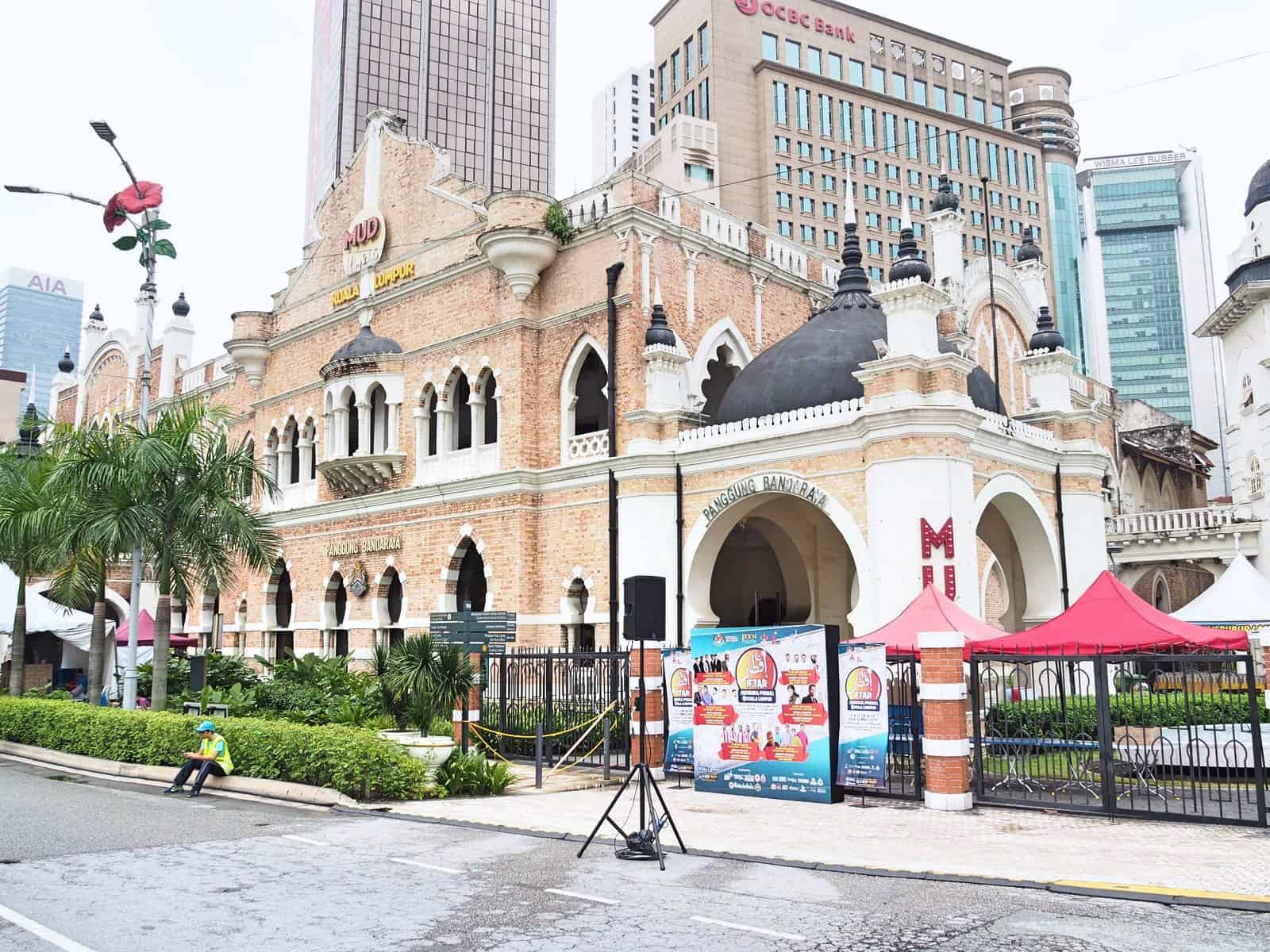 Later the building was rebranded as Panggung Bandaraya DBKL  in 2003.
It's still a venue for performances and was taken over by the musical ' Mud – the story of Kuala Lumpur ' from 2014-2017, as well as staging Malaysian Idol and So You Think You Can Dance .
Although, waiting for a performance here is like waiting for paint to dry. As far as I know, over the past two years I was in KL, there wasn't a single public performance. Let's just say it's not as busy as London's West End!
Stop 23: Former High Court Building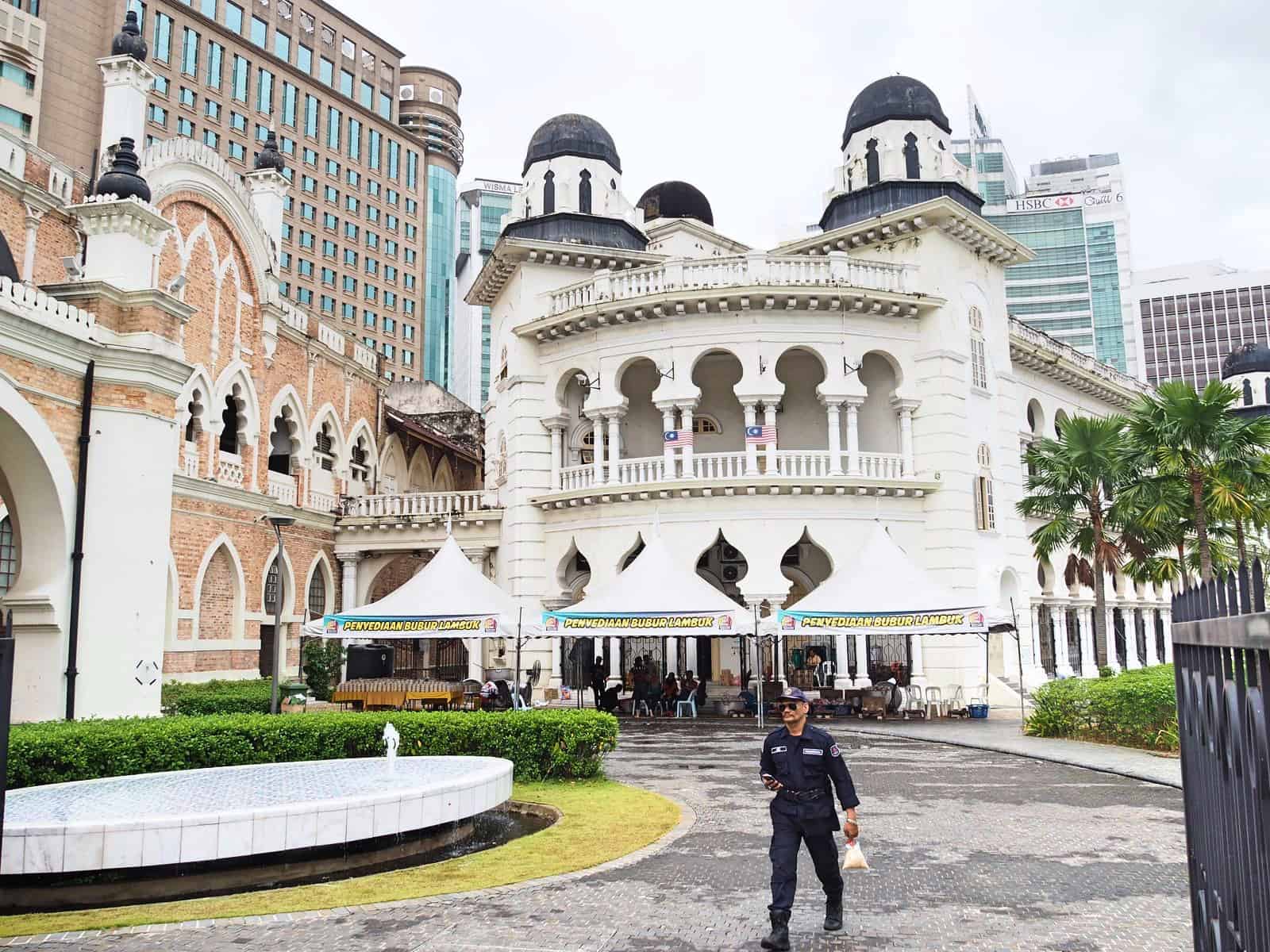 Built in 1915, the former High Court building was designed by another major colonial architect – A.C. Norman (who was, surprisingly, also called Arthur!)
As KL's population was growing rapidly at the time and the number of civil trials increased, the initial High Court building was no longer suited for purpose and so this one was erected on the Gombak riverbank.
I'm not sure when it stopped functioning as a high court, but in 2014 there were talks of it becoming a gallery . Now, this 104 year-old-building is occupied by the Ministry of Information, Communications and Culture, whom also occupy the Sultan Abdul Samed building next-door. Nice offices eh.
Stop 24: Sultan Abdul Samad Building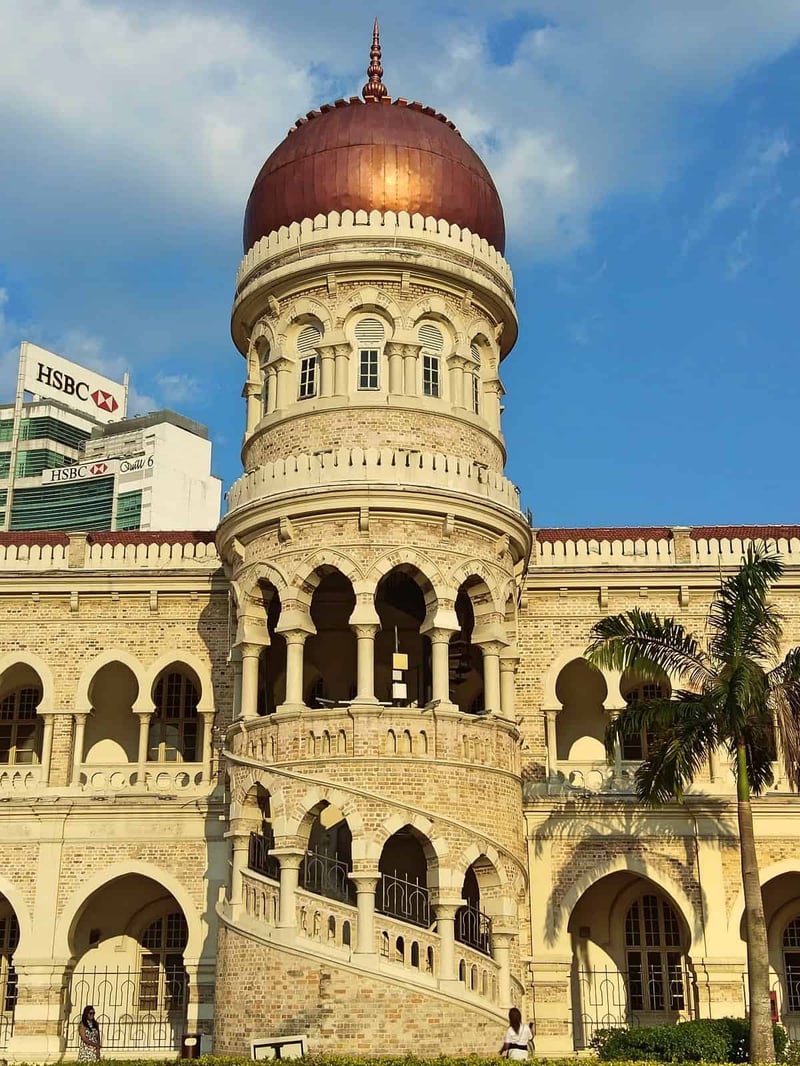 What a beauty.
Although the Petronas Towers gets all the Insta-hype these days, this little stunner was the most photographed until it showed up. It's undoubtedly the most striking structure in Old KL , would you agree?
Built in 1897, the Sultan Abdul Samad Building (let's call it SASB) was again design by A.C. Norman. It was his masterpiece.
SASB features Islamic and Moorish inspired architecture, with red bricks that were made in kilns in Brickfields – hence its name.
The grand, 122-year-old clock was designed to resemble London's Big Ben, and was built in Croydon, England (hey, my old stomping ground!). But it takes a lot to maintain the antique timepiece theses days, requiring four Malaysians to volunteer daily to work on its upkeep.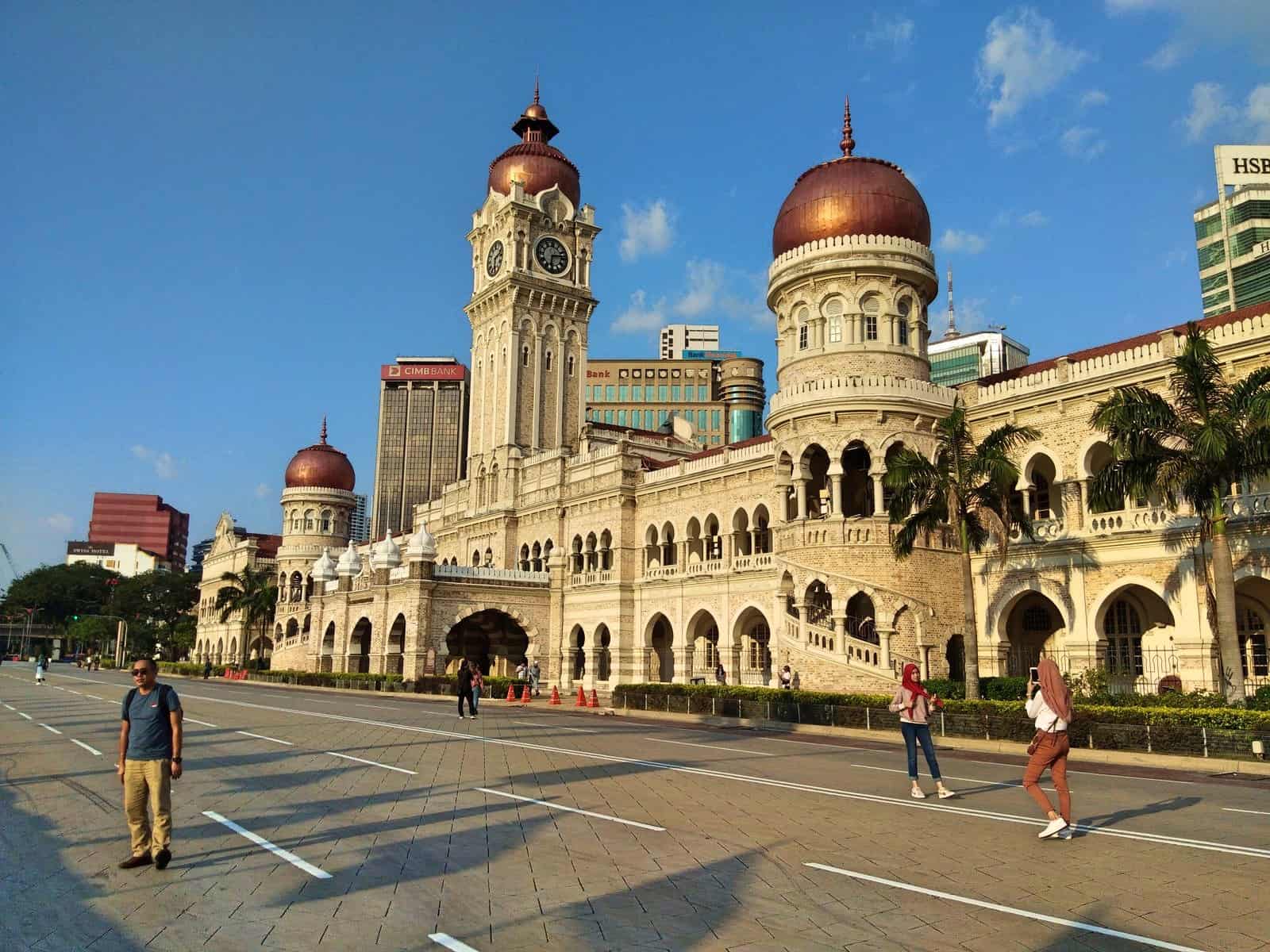 Like the Former Survey Building, prior to 2017, SASB was in need of urgent upgrades, with 'algae and plants growing in the crevices' according to the Malay Mail .
Thankfully, the government has since pledged $350 million to renovate this building (and 3 others nearby) to get it back to its former glory days.
SASBs used to be called Government Offices and over the years there were many governmental departments that moved in (including a registry office). Then from '78 it functioned on-and-off as a High Court and Supreme Court, until they shifted elsewhere in the early 2000s.
In '74 it was renamed to SASB after the Sultan of Selangor, as he reigned during its completion.
Now, it's occupied by the Ministry of Information, Communications & Culture , who must be in somebody's good books to have cherry-picked this babe.
Stop 25: Old General Post Office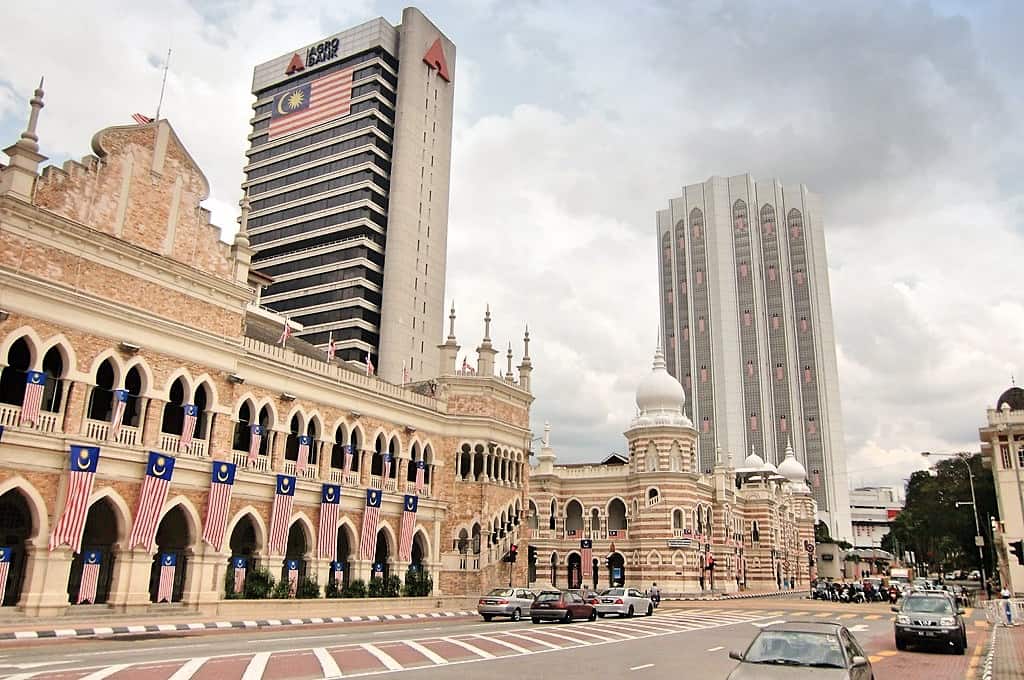 Completed in 1907, this is [yet] another AC Norman creation, designed in a similar style to the Sultan Abdul Samad building .
The Kuala Lumpur General Post Office was housed here until it moved in '84, and now it's occupied by the Court of Appeal .
Stop 26: National Textile Museum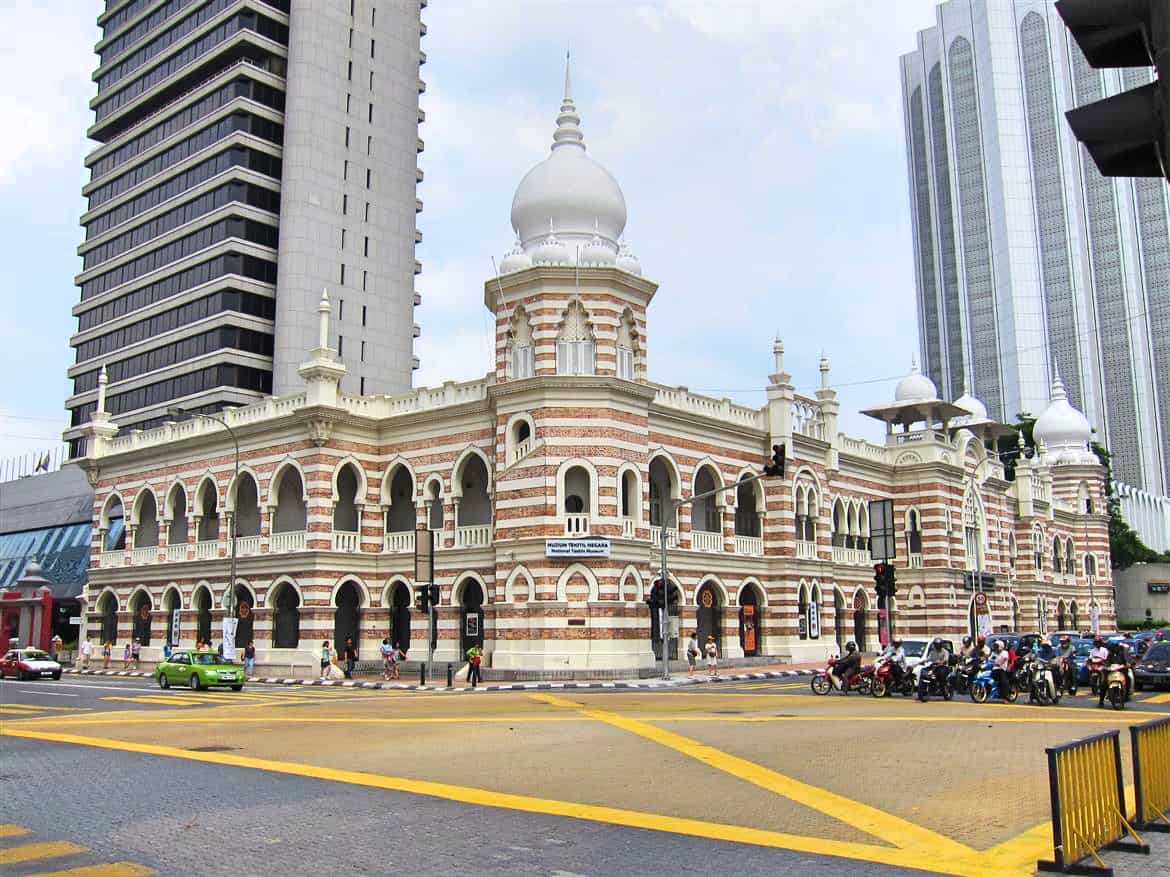 This grand Arthur Benison design was built in 1896, and used to house the headquarters of the Federated Malay States Railways. It was later occupied by various government departments before being refurbished as a textile museum , which opened to the public in 2010.
Textile museums may not sound like the world's most exciting place, but it's meant to be one of the better museums in KL -plus- it provides a bit of respite from the heat if you fancy taking a look!
There are four galleries that can be found within the two-storey block which give you an insight into how batik is made. You can also learn about woodblock printing techniques and see samples of fabric made from pineapple fibre. It opens daily from 9am to 6pm.
Stop 27: Old Chartered Bank Building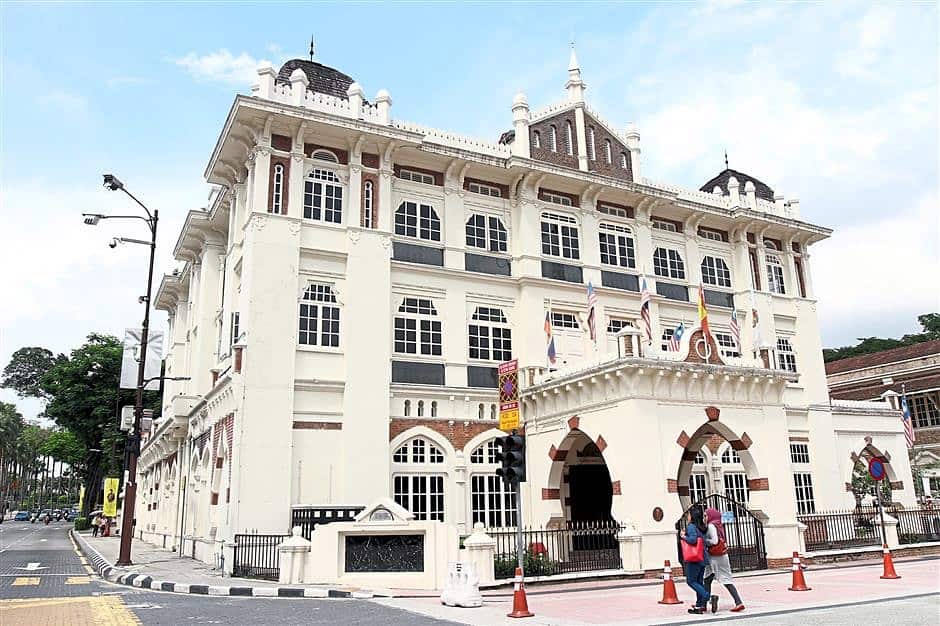 This was the first bank to operate in Kuala Lumpur, but in reality, it's going through one huge identity crisis.
Built in 1919, it operated as the Chartered Bank of India, Australia and China before being used by the Japanese as a telecommunication base during the Second World War.
After 1945 it functioned as a commercial bank until '65, where it was used by various governmental departments.
Then in '91, it was handed over to the Department of Museums and Antiquities to be used as the National History Museum , followed by a short stint as a restaurant . Finally, it reopened as a Music Museum in 2015 before abruptly closing two years later due to a 'lack of funds'.
The poor thing just doesn't know what it wants to be.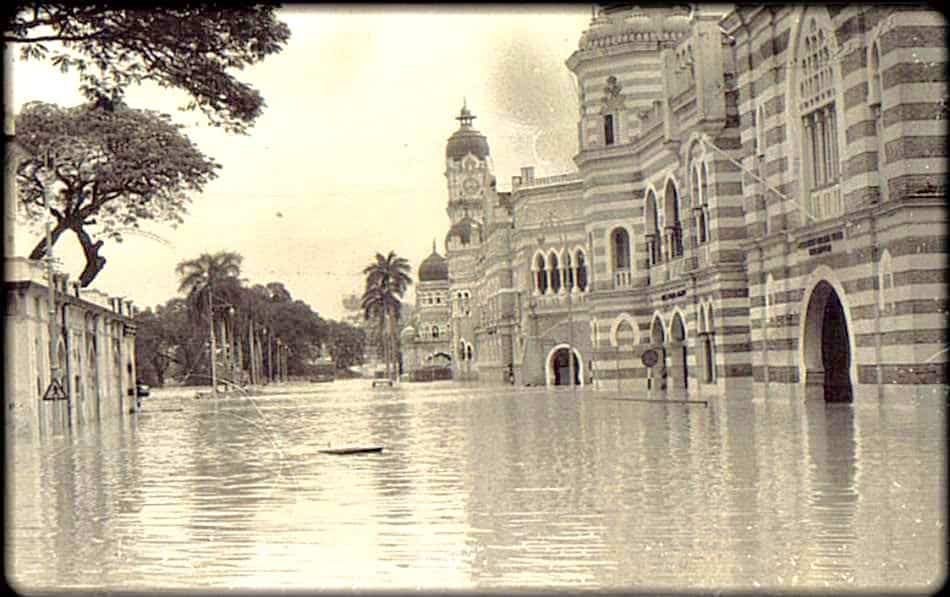 The most famous story about this bank was when its vault was submerged in water during a ridiculous flood in 1926. Despite workers trying to cement it dry, the basement was completely flooded out. Let's just say the money got a little bit saturated.
So what do you do when millions of dollars of banknotes get wet? Just take a look behind you at that huge field, laying in the heat of the Malaysian sun.
Yes my friends, all the banknotes were left to dry on it! Could you imagine seeing it now? What a spectacle.
Stop 28: Old Government Printing Office (City Gallery)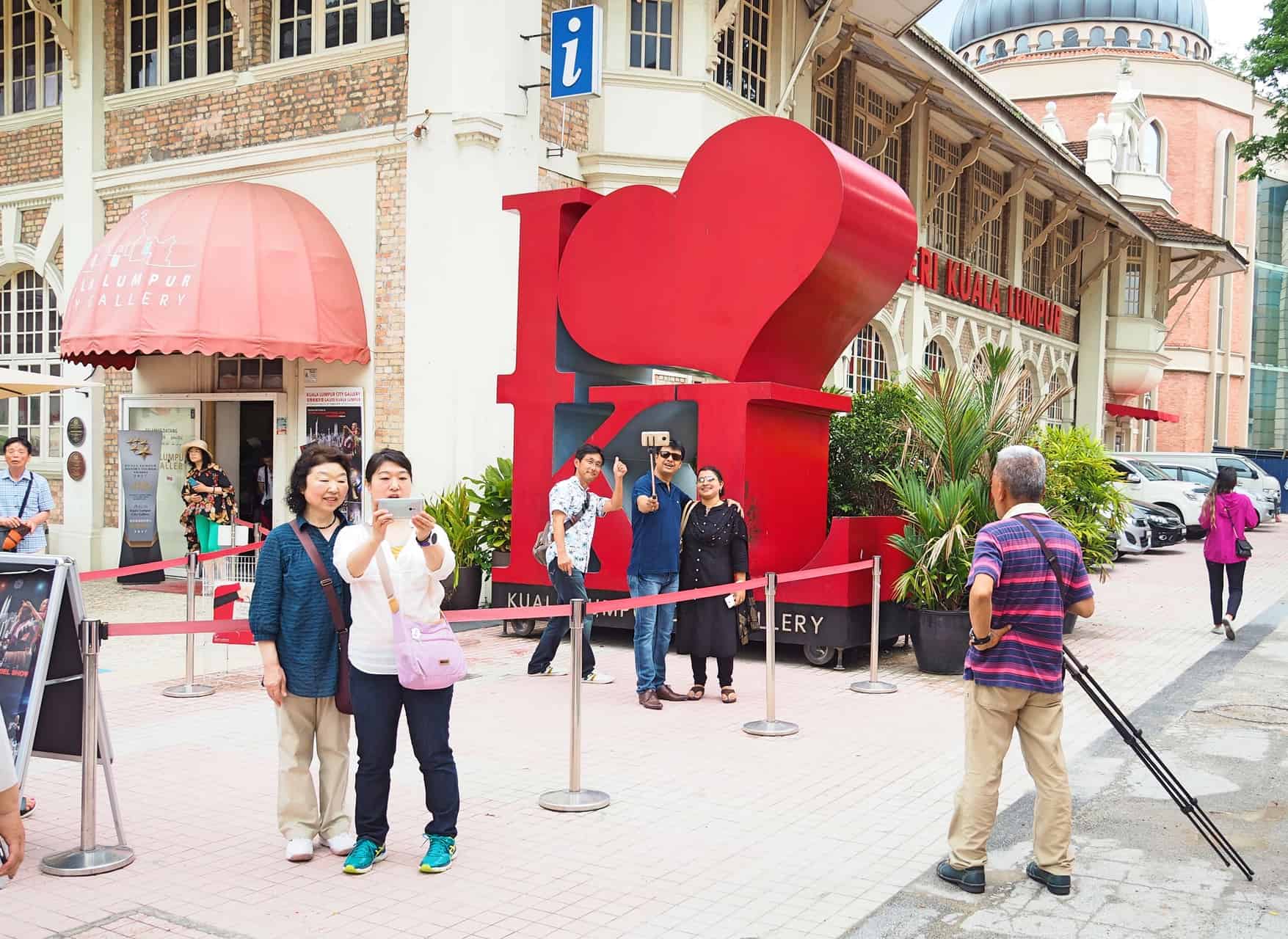 This is another major KL Instagram attraction due to the 'I ❤️ KL' sign in front. Like the Old Chartered Bank next door, it too has had a topsy-turvy life.
It started out as a Government Printing Office , designed to meet the administrative needs of KL. For years, it produced official government reports, government books and train tickets.
In '61, the Ministry of Labour took over the building and later in '77, it was converted into the Metropolitan Postal Security Office .
Then in '86 the Kuala Lumpur City Hall bought it for over RM3 million. After a thorough renovation and kitting it out with library equipment, it became the first public library in Kuala Lumpur .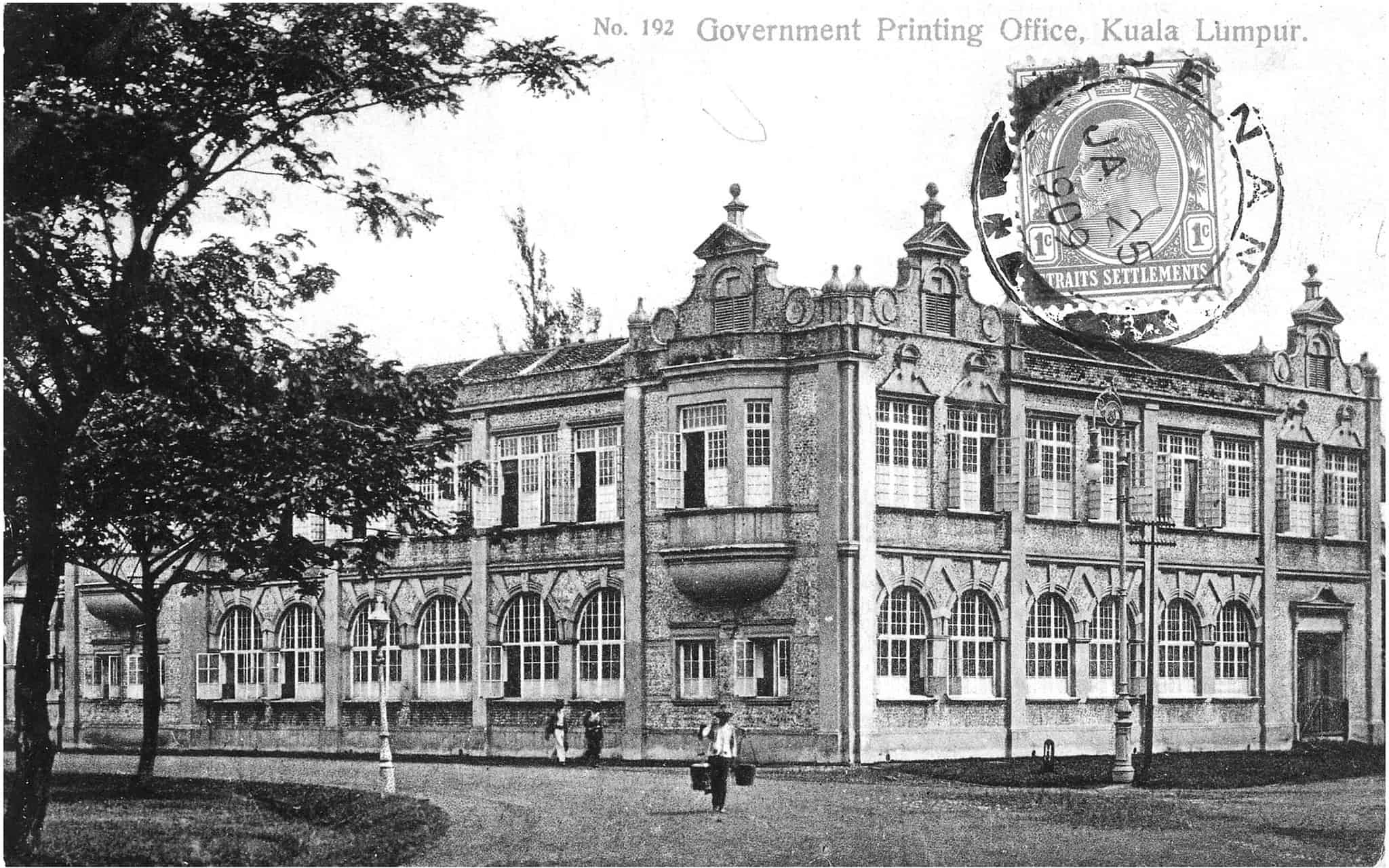 The Kuala Lumpur Memorial Library , as it was named, also acted as a research centre on all things related to Kuala Lumpur – its history, administration and development, as well as exhibitions on objects and artefacts connected to the heritage of the city.
Since opening its doors in '89, the library grew quickly and after three years, it made history by being the first public library in Peninsular Malaysia to go online. The library was then renamed the Kuala Lumpur Library in 2000, and a new annex was added on in 2004.
And finally, in 2016, it was rebranded and opened to the public as the KL City Gallery . If you're still feeling hot, head inside to have a gander at their 360° city model exhibition . It's open daily from 9am – 6:30pm.
Stop 29: Independence Flag – Merdeka Square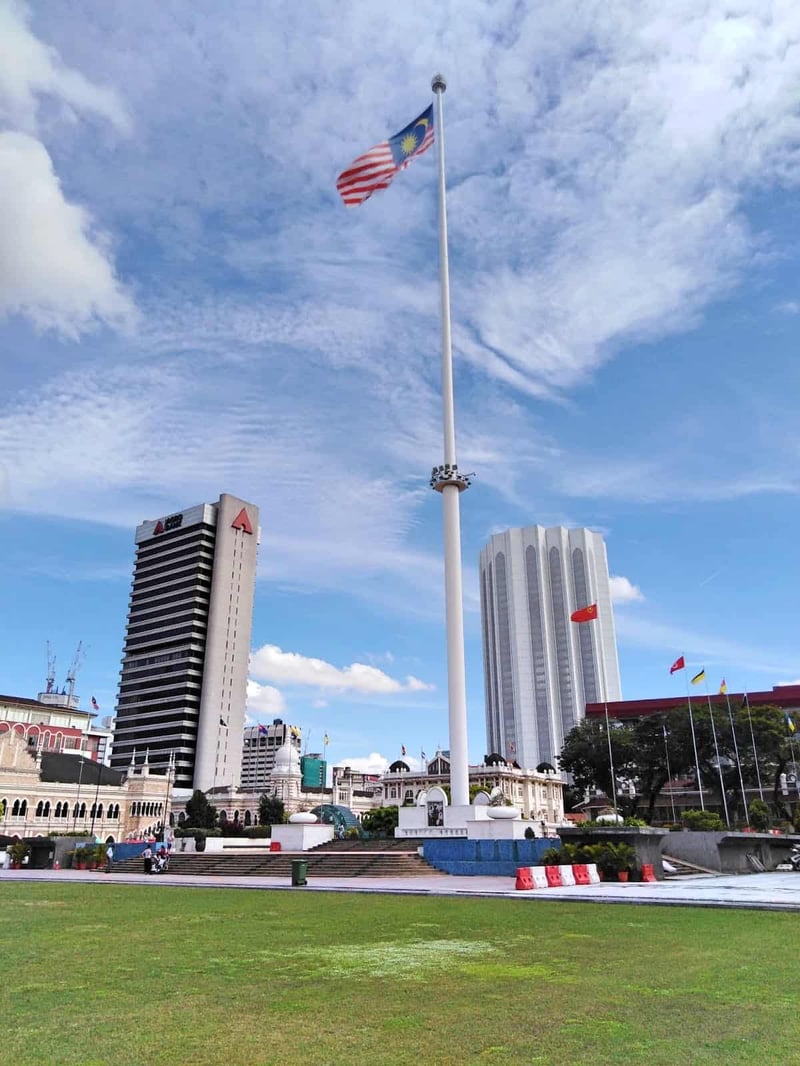 This is where Malaysia was ceremoniously freed from British control, marking the start of its independence in 1957.
At midnight on 30th August, when the Sultan Abdul Samad clock chimed, the Union Jack was lowered to God Save The Queen , and the Malayan flag was raised, with people shouting ' Merdeka ! Merdeka!' (independence). So in 1969, the square was renamed from Padang (field) to Merdeka Square .
Now, every Monday between 9:45am and 10am there is a flag-raising ceremony.
It's nice to have a stroll around the Padang if it's not roasting hot. Prior to 1892, it used to grow fruit and vegetables for the tin miners. But when the Brits came to town, they had other ideas. In fact, one of the first things they done was to clear and flatten the land so it could be turned into a cricket ground.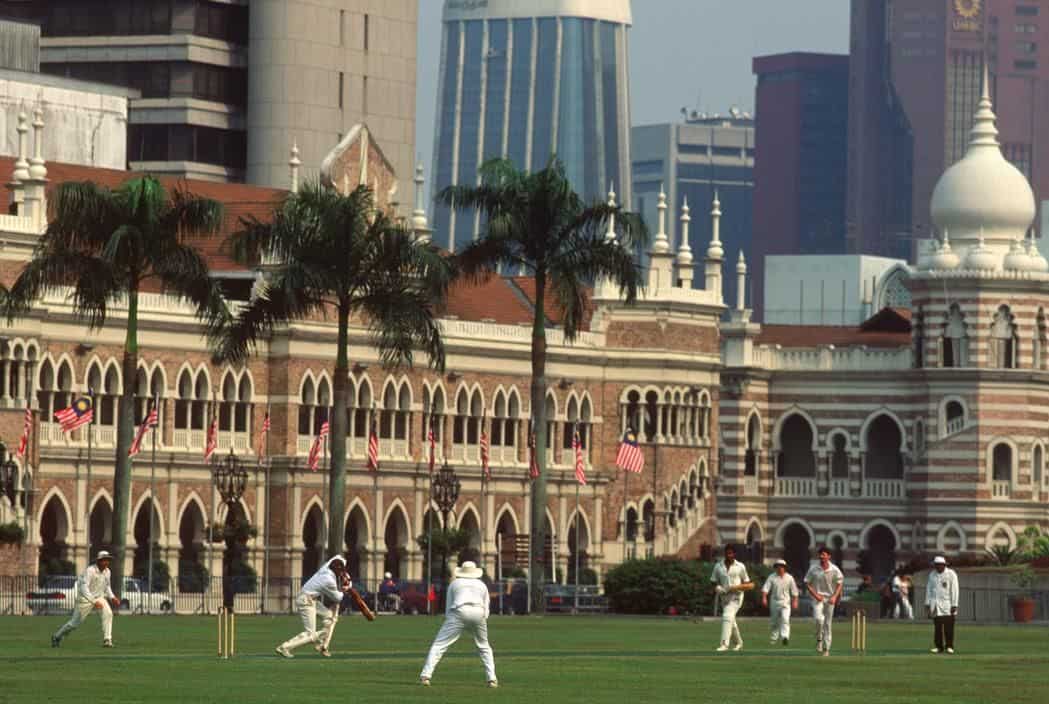 Since then, it became the heart of colonial KL.
It would regularly house cricket events, parades and celebrations, and even had two tennis courts near the Selangor Club. When an important match was playing, supporters were said to come out in their droves to cheer on the teams.
There were also twice-weekly musical performances by a Filipino band who would rig up their bandstand, playing whilst Club members would sip on their stengahs (a drink of half whiskey and soda over ice, popular with British colonials).
Except in 1988, the Padang was bulldozed when an underground parking project started, halting cricket on the field after a century. Artificial turf was laid in 1991, and shortly after, cricket reconvened, although players groaned that the field wasn't the same.
Stop 30: Royal Selangor Club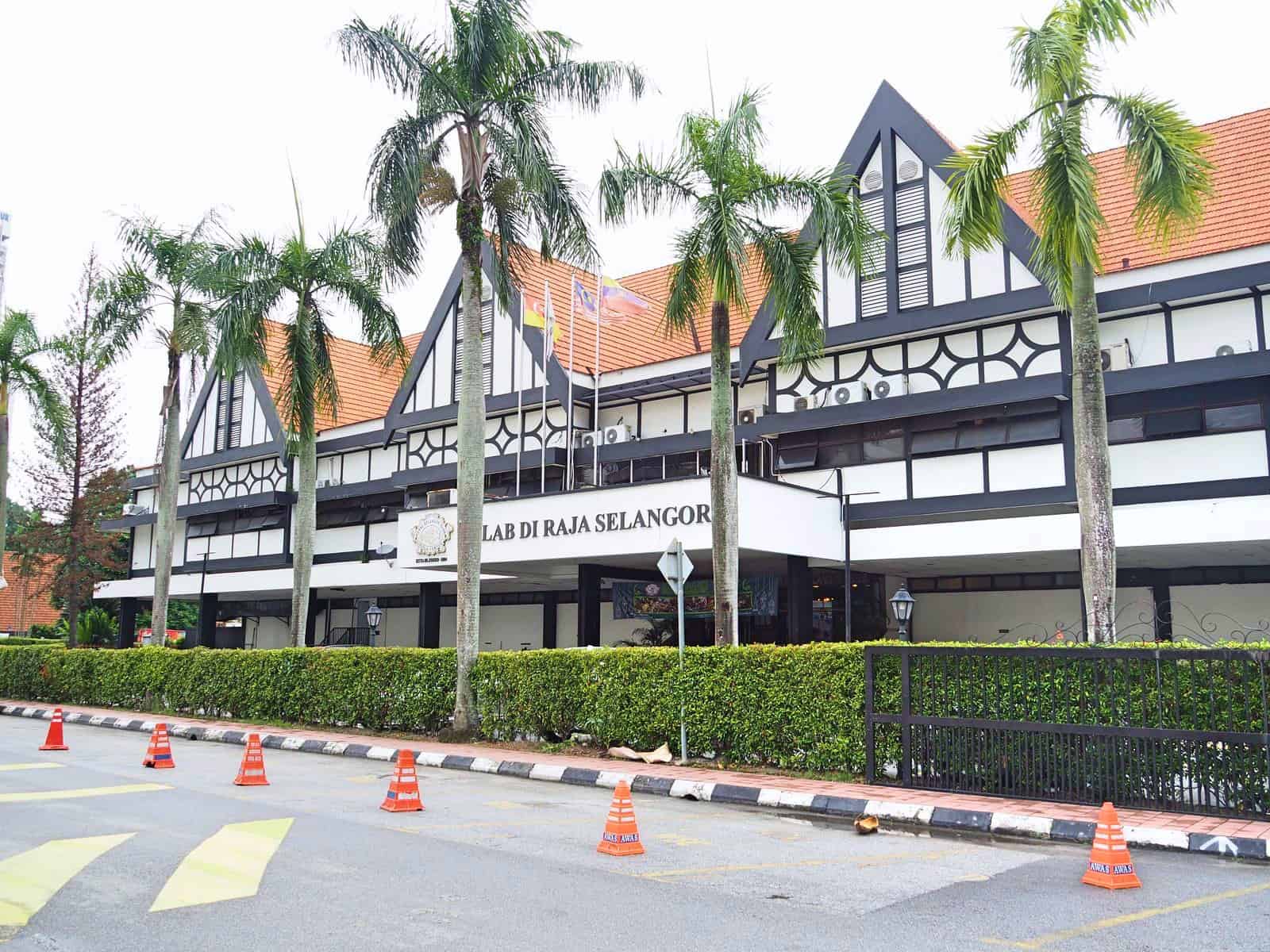 Walking by the Royal Selangor Club, it looks a bit 'out of the way' and humdrum.
But wind back nearly 140 year ago, and it was "the" place to be .. if you weren't of colour , that is.
Almost all members of the RSC were European, although a few Malaysians who were considered 'a cut above' were allowed in too. It acted as a meeting point for members of the British Colonial Society , as well as a place where their wives would idly gossip on the terrace.
But it was predominantly a Snow White only club… even though the RSC states that membership was determined by 'high educational and social standards', and not by race or citizenship. Hmm, I think that's code for 'white supremacist'.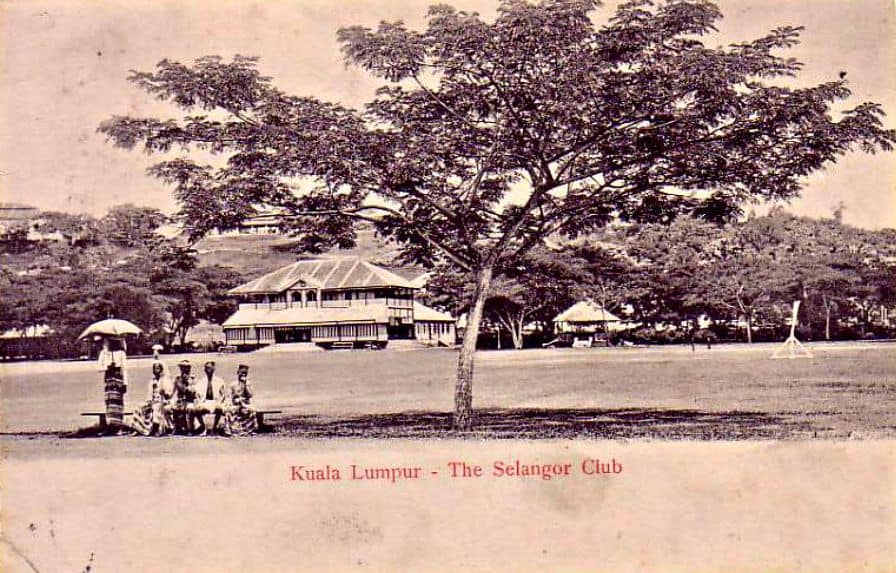 The Spotted Dog , as it was fondly nicknamed (probably because two Dalmatians belonging to a club member were frequently found there) was created in 1884 as a 'social and cricket club' – complete with a bar, billiard hall and reading room. You know, all the stuff that the Brits back then would lap up.
It used to host particularly lively parties and special gala events, where generous amounts of alcohol were knocked-back by the 'high society'. Merriment generally lasted until the early hours of the morning.
White planters would also come by frequently. Many owned thriving coffee plantations in and around KL, and would visit the city once a month or so to see their bank managers. They'd also have to stop by at The Spotted Dog (or 'planters' club, as it was also known) to catch up on the news and goings on, which they'd often miss living in their remote estates.
In the 1890's, the planters switched their crops from coffee to rubber when Brazil started supplying the world with their coffee beans.

Nowadays the club has a more Malaysian vibe and a lot of its members are Indian lawyers. Checking their events schedule online, there doesn't seem to be any cricket matches anytime soon, but they do have a Deepavali Ball and Tamil night.
The Tudor building you see before you now was built in 1889 and was extended somewhat after that. But originally, it started out as a tiny wooden building where St Mary's Church is now (around the corner).
Wow, that was epic! 🤟🏼
I hope you enjoyed my KL tour as much as I did putting it together.
If you're hungry after all that walking, here's a list of my top KL restaurants . Or if you want to get your mouth around some traditional Malaysian fare, here's my top 10 dishes to try and where to find them.
No Shezz, I need liquids not solids. Now worries, you're not far from some awesome speakeasies ! Go check them out.
Trying this tour later? Pin it!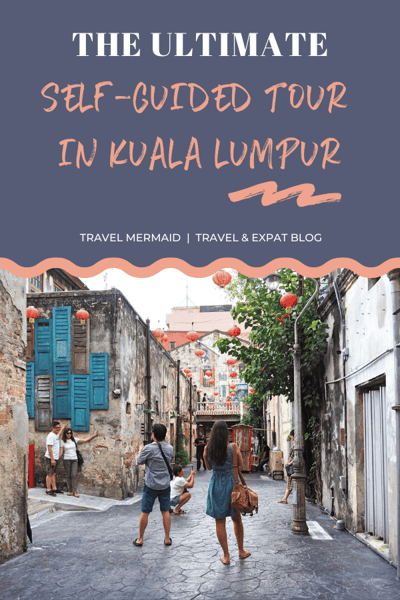 What do you think? Cancel reply
Your email address will not be published. Required fields are marked *
Thanks for sharing your itinerary. My friend and I had a good time following your footsteps to better acquainted with our beloved city. Cheers & keep up the good work and writing skills 😉 💪
Amazing, that's so lovely to hear Joanne! There are so many interesting histories in central KL, it was fun putting this piece together. I'm pleased you both had a good time. 😉
Thanks for sharing. I have been checking KL on foot and visited most of the places that you have highlighted before I came across your travel blog. You article was well researched and thanks for highlighting the historical buildings which provided me with much better insights. If you head this way again perhaps we can do the walkabout together and share our interests.
Hi William, I'm glad to hear the article was useful! It was a great one to research and experience also. I'd love to walk it again if we're back in KL, I'm sure a bit would have changed since my last visit
Thank you so much this is very helpful and interesting walking route
You're very welcome lovely! I'm glad you enjoyed the walking trail as much as we did, there's lots of interesting histories around KL. Shezza.x
I used to live in KL and I'm taking my wife there for her first time. This is a great map to follow! Thank you!
That's awesome Matt, I hope you both have a great time! 😊
Meet Travel Mermaid
Ahoy! I'm Shezz, a London-born School Teacher who left Blighty behind 10 years ago with my Sailor. After stints in Prague, Thailand, Melbourne & Malaysia, we're now based in Australia's Tropical North.
On the blog I write about adventure travel & expat life, with a passion for nature, good food and sustainability. Through my travel stories, destination guides & photography, I hope to inspire your next adventure!
Find out more about me here , or stalk my social media channels below.
travel_mermaid
Follow me at @travel_mermaid
Like & Share
10 mouthwatering malaysian foods to try in kl.
Kuala Lumpur in 1 day – Self-guided walking tour + route map
You are going to travel to Asia and want to visit Kuala Lumpur in 1 day following a self-guided walking tour. Indeed, Kuala Lumpur, which is generally the starting point for trips to Malaysia, is a very pleasant city to explore on foot.
In this article you will find my guide to visiting the most emblematic sites of Kuala Lumpur in 1 day. You will have a Google map with the route to follow on foot to follow my tourist circuit of Kuala Lumpur.
How to visit Kuala Lumpur in 1 day?
To visit Kuala Lumpur in 1 day, you have the choice between:
Discover the city by Kuala Lumpur tourist bus tourist bus ;
Book a guided tour of Kuala Lumpur
Visit for yourself by following my self-guided walking tour which allows you to see most of Kuala Lumpur in 1 day.
What to see in Kuala Lumpur in 1 day?
Just like Hong Kong , Bangkok ou Singapore , the capital of Malaysia is a melting pot of cultures that offers visitors a unique blend of traditions, cuisines and historic and modern architectural heritage. In 1 day visit to Kuala Lumpur, you can discover the emblematic Petronas Twin Towers, beautiful parks, Hindu and Buddhist temples, go shopping and discover the Chinatown and Little India district.
Kuala Lumpur Self-Guided Walking Tour Itinerary
Here are the steps of the route that you will follow with my self-guided tour, the map of which you will find below:
Aquarium KLCC
Historical center of Kuala Lumpur
Eko rimba park, central market.
Chinatown and its temples
Little India and its temples
Palais Royal
Kuala Lumpur Sightseeing Circuit Map in 1 Day
Here is the Google maps to follow in pedestrian GPS mode to visit Kuala Lumpur in 1 day:
Kuala Lumpur Self-Guided Walking Tour Tours
By following my tour to visit Kuala Lumpur in 1 day, you will cover a little over 7 km on foot. This represents less than 1 hour of walking in the morning and around 1 hour of walking in the afternoon.
Discover now the visits that you will make following my self-guided walking tour of Kuala Lumpur:
The Petronas Towers in Kuala Lumpur
The Petronas Towers are undoubtedly one of Kuala Lumpur's most iconic icons. Dominating the city's skyline, these twin towers impress with their bold architecture and majestic stature reaching 452m in height.
Not only do they offer breathtaking panoramic views from their peaks, but they are also home to a shopping center, office spaces and even an art gallery. The Petronas Towers are open to visitors. The visit begins with an interactive exhibition which presents the towers project and its particularities. Then, an elevator leads to the walkway connecting the twin towers before subsequently reaching the summit on the 86th floor.
KLCC Park is a beautiful urban park located at the bottom of the Petronas Towers. This park offers a haven of greenery and tranquility in the middle of the hustle and bustle of the city. With an area of ​​50 hectares, KLCC Park is a large and well-appointed space. In its center there is a beautiful artificial lake. It is adorned with elegant fountains and waterfalls creating a calming environment. It's very pleasant to walk there. There is also lush vegetation with a wide variety of trees, plants and flowers. Large lawns invite you to relax, picnic or admire the Petronas Towers. Children can also have fun in the playground.
In the evening, the park is lit by artistic illuminations, creating a magical and romantic atmosphere not to be missed.
Aquaria KLCC is an aquarium located in the same area as the Petronas Towers. With more than 5 marine species from various habitats, this aquarium offers to explore the different ecosystems represented, such as coral reefs, flooded tropical forests and underwater caves, admiring a variety of colorful fish, rays majestic, impressive sharks and even rare species like the stonefish. The aquarium's modern facilities, such as transparent tunnels and cylindrical tanks, provide a unique immersive experience. Aquaria KLCC is not only a major tourist attraction, but also a conservation and education center that raises awareness about the importance of preserving the oceans and their biodiversity.
Kuala Lumpur City Walk
Still in the KLCC district, you can stroll on the KL City Walk. This is a pedestrian promenade that extends over part of the Bukit Bintang shopping district. This car-free zone is lined with many shops, restaurants, cafes and bars, making it a great place to shop and relax. You will also find a wide range of shops there, from big brands to independent local boutiques. When it comes to taste buds, you can delight with a diverse selection of restaurants serving Malaysian, Asian and international cuisine, as well as street food stalls. Keep your eyes peeled to also appreciate the artistic installations, sculptures and live performances that line the promenade. In the evening, the atmosphere is particularly nice with the illuminations.
After exploring the KLCC district, you can reach the Menara Tower via the Eko Rimba park. This park is a prolific and lush oasis nestled between skyscrapers. As you enter, you are immediately immersed in a plant world. Inside it we even find an even more natural place, the Bukit Nanas reserve with its tropical forest and its walkways between the trees. It's very surprising to find yourself here in a city as huge as Kuala Lumpur. Crossing the park, we soon see the Menara Tower protruding from the treetops. A nice natural link between the city's iconic buildings.
Menara Tower (KL Tower)
The Menara Tower, also called KL Tower, is also one of the symbolic buildings of Kuala Lumpur. It rises up to 421 meters in height.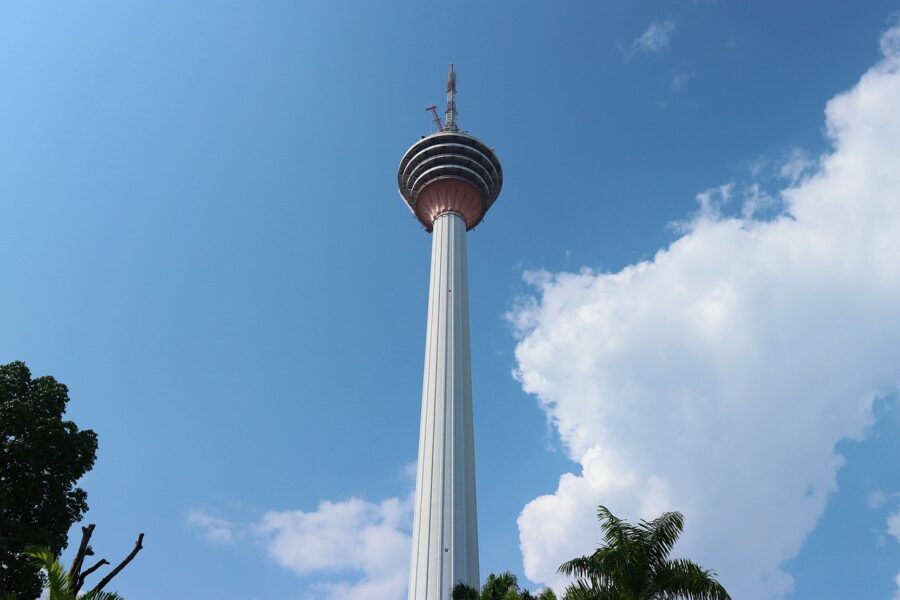 Inside, at the very top, the observation platform allows you to take in the city at a glance and get a few scares with its transparent floor. The tower also houses a 3D theater, exhibitions and a restaurant at its top. This one is called 360 Atmosphere, dining there is the only way to enjoy the 360° view of Kuala Lumpur. This building is one of the most visited places in the city, it is better to book your ticket in advance to avoid queuing.
By following my circuit, you will arrive at Independence Square. Located in the historic center of Kuala Lumpur, it is a must-visit destination for those interested in the history and culture of Malaysia. Indeed, it was here that the Malaysian flag was first raised in 1957, marking the country's independence from British colonial rule.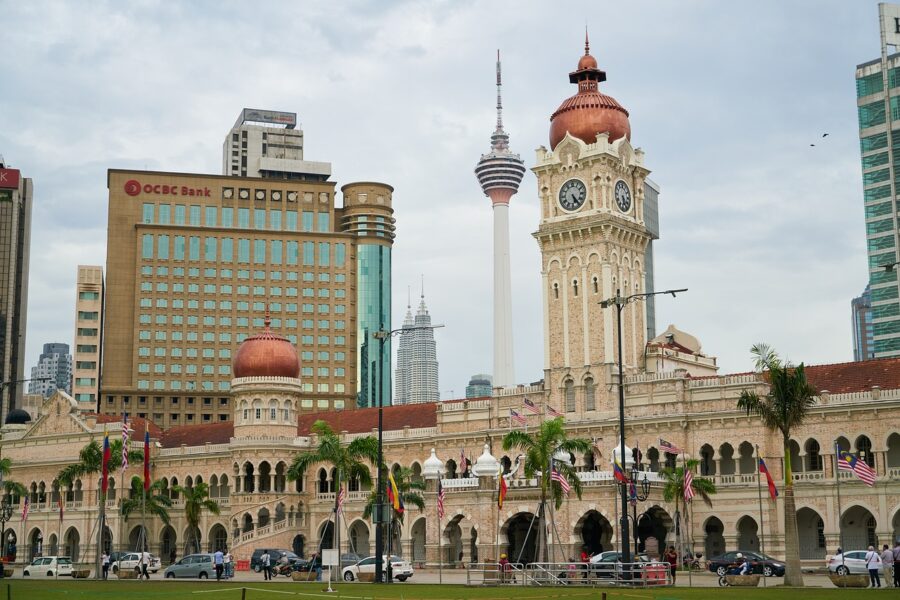 This iconic square is surrounded by monuments that offer visitors a glimpse into the country's past. One of the most important monuments of the district is the Sultan Abdul Samad Building , built during the British colonial era and which today houses government offices. Its stunning Moorish architecture makes it a favorite spot for tourists to take photos.
Not far from Independence Square, there is another important place of life in Kuala Lumpur: the Central Market (Pasar Seni). It is a shopping center located in a historic building from 1888 which, despite renovations, has retained its old-world charm. There are particularly arts and crafts shops ideal for bringing back a more authentic souvenir. The "Pasar Seni" also welcomes many artists for concerts, shows or performances. Again, there are many restaurants or food stalls to complete your knowledge of Malay gastronomy. I recommend enjoying satay skewers or nasi lemak (coconut rice).
Kuala Lumpur's Chinatown
Kuala Lumpur is a multicultural city, which can be seen in particular by strolling through the historic and lively Chinatown district which revolves around the Petaling Street . This pedestrian street is lined with shops, market stalls and restaurants. It is teeming with life and products of all kinds. It comes particularly alive in the evening and it's a great experience to come and taste local specialties.
Beyond this excitement, you can also recharge your batteries in one of the many temples or places of worship.
The Taoist temple of Sin Sze Si Ya is the oldest and was built in 1864. Its red and gold portal with its numerous ideograms arouses curiosity. It was built in honor of two soldiers who fought to defend the city. Inside, calm reigns between the lanterns, chimes and vases that make up the decor.
In the same district, you can also enter the Guan Di Temple, it is also striking with its bright red facade and its many typically Chinese decorations. It seems stuck in time between its two neighboring buildings that are as imposing as they are modern. Don't be afraid to enter temples to observe traditions and rituals. If you are respectful of the rules and discreet, you will be very well received. Don't forget that these are above all places of worship and contemplation. By truly enjoying the moment, you will feel calm and be enchanted by the swirls of incense.
To finish your visit to this neighborhood, I simply advise you to wander through the streets and alleys. They will take you to the neighboring district: Little India.
Little India
The Indian district "Little India" is adjacent to the Chinatown. If the profusion of decorations and colors persists, the inspirations are different. With the numerous shops selling spices, saris, jewelry and Indian decorations, you will quickly realize that you are in Little India. Arriving from the central station, an imposing colorful portico with repeating patterns masterfully confirms the entrance to this district. During your stroll, don't miss the fragrant and intoxicating flower market. Artisans make necklaces and other decorations that will serve as religious offerings. This delicate work is remarkable.
Right next to the Little India district is the Sri Mahamariamman temple. It is the oldest Hindu temple in Kuala Lumpur. Its facade is dizzying, it is so beautiful and there are many details to look at. Here again, we find a unique atmosphere filled with captivating smells and flower necklaces.
Just like Chinatown, Little India is dotted with temples, this time Hindu. They are easily spotted with their exuberant architecture and teeming with sculptures. The pediments are full of details and colors. In the neighborhood, you can notably discover the Sri Kandaswamy Kovil temple. Inside, the spiritual atmosphere is contagious and you will undoubtedly be invited to participate in the ceremonies and rituals. During your walk, you may also come across the Sri Kali Amman temple, dedicated to the goddess Kali, revered for her power.
It is also the ideal area to taste Indian specialties, curries, dosas and other samosas for example. During the market, street stands multiply in the neighborhood. Otherwise, you can sit at one of the many restaurants. Impossible to resist the scent of curry and other spice mixtures.
Where to stay to visit Kuala Lumpur on foot?
The center of the capital offers a wide variety of accommodation to suit all budgets. But I recommend that you choose a hotel while avoiding certain neighborhoods of Kuala Lumpur .
To visit Kuala Lumpur on foot, I recommend staying in one of the many hotels in the heart of the KLCC district. Indeed, many hotels in this area offer breathtaking views of the Petronas Towers.
The hotel Ascott Star KLCC is located just 700 meters from the Twin Towers. Its location is therefore ideal for doing my self-guided tour to visit Kuala Lumpur on foot in 1 day.
Similar publications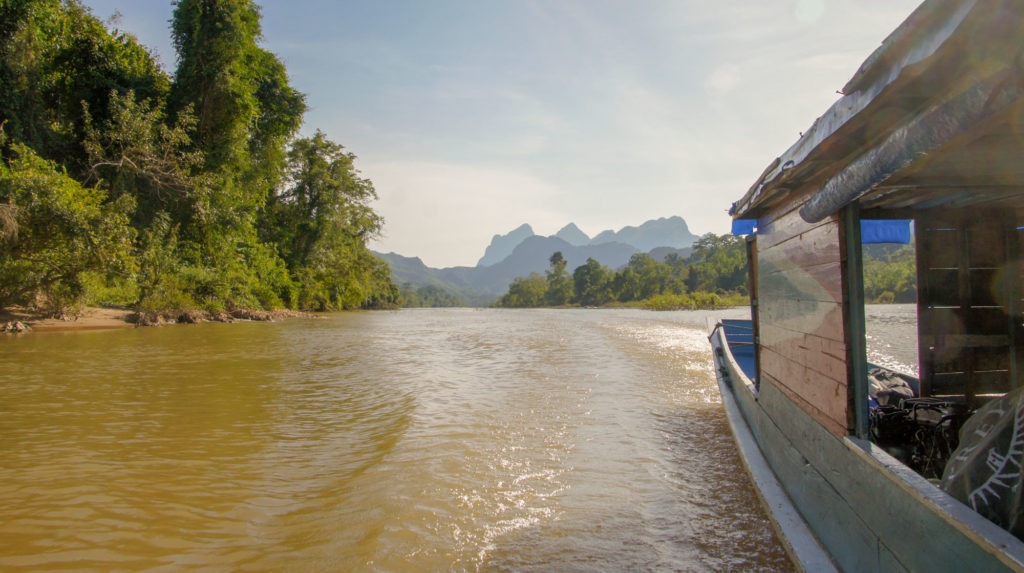 Which agency, which local French-speaking guide for my tour in Laos?
Northern Laos - Visit Luang Prabang in 2 days
Northern Laos - Pak Ou Caves, Tad Kuang Si and Tad Sae waterfalls
Northern Laos - Muang Ngoy a timeless site
Leave comments cancel reply.
Your email address will not be published. Required fields are marked with *
11 Walking Tours Of Kuala Lumpur-Epic and Fun! [2023] 
By: Author Aisha Preece
Do you want to go on a walking tour of Kuala Lumpur?
You're probably interested in exploring KL the old-fashion way, one step at a time. You love to keep fit by walking and you want to take in the city's beauty leisurely.
Look no further! I know the BEST KL walking tour the vibrant city has to offer.
I live in KL and spent my childhood years growing up here, so I know KL's best-kept secrets only locals know.
My Choice: Best Walking Tour Of Kuala Lumpur: Highlights & Hidden Gems With Locals: Best Private Walking Tour Of Kuala Lumpur
Plus, walking is one of my favorite ways to discover a new place when I travel too.
I'm excited to share a round-up of the 11 best walking tours in Kuala Lumpur with you.
Let's get started!
Affiliate Link Disclosure
Some of the links on here are affiliate links and I may earn if you click on them, AT NO EXTRA cost to you. Hope you find the information here useful! Thanks.
You could go on a self guided walking tour in Kuala Lumpur but I assure you it's not the same as having a local show you around.
After all, there's so much history and cross-cultural influences in KL for you to learn. And all the amazing sights for you to see!
I would recommend this Instagram tour in Kuala Lumpur but the attractions are too far to walk in between.
So, see parts of KL you wouldn't normally discover by reserving one of the walking tours below:
Runner Up For Best Walking Tour Of Kuala Lumpur: Kuala Lumpur Heritage Walk
Best walking tours in kuala lumpur city center, 1. highlights & hidden gems with locals: best private walking tour of kuala lumpur .
⭐️ RATING: 5 out of 5 stars – With more than 90 positive reviews! | ⌛️ TOUR LENGTH: 4 hours
Why choose this tour?
This private walking tour tops the list as you get to explore the best of both worlds – at least 10 highlights and hidden gems of KL!
Guided by a passionate local guide, you'll explore iconic landmarks like the historical Railway station and modern skyscraper Petronas Twin Towers.
Included in the comprehensive sightseeing itinerary are Masjid Jamek, Petaling Street, and KL Forest Eco Park. These underrated attractions will let you take a glimpse of the cultural diversity in the city.
The best part about this private tour is that it can be customized to your preference. So rest assured you'll get a personalized experience.
Get ready for a fun time walking in Kuala Lumpur and book this private walking tour in KL today!
The Highlights & Hidden Gems With Locals: Best Private Walking Tour Of Kuala Lumpur includes:
Private tour
Local guide
1 local drink/tasting
What past guests loved about the experience:
" My partner and I were staying in Kuala Lumpur for a couple of days and booked a tour with Brendon to explore the city, learn about Malaysian culture, get food tips and to meet a local. Brendon delivered all of that! We met in the city center, told him what we had been up to the previous days, our dietary restrictions and based on that Brendon guided us through the city. We learned a lot, got recommendations and had a lot of fun throughout the tour. We will recommend Brendon as a guide to anyone coming to KL. Ideally, you book him on the first day so you know what to do the following days too. Thanks, Brendon! " – Marina (read more reviews )
2. Kuala Lumpur Heritage Walk
⭐️ RATING: 4.5 out of 5 stars – With more than 10 positive reviews! | ⌛️ TOUR LENGTH: 4 hours
This Kuala Lumpur guided tour takes you through the historic heart of KL, where you'll discover the city's cultural heritage in under 4 hours.
Your knowledgeable guide will share insights about KL's heritage, a former tin mining settlement, and the diverse KL population.
The walking tour starts off with a savory breakfast at a local restaurant where you can sample authentic Malaysian food. With the steps you'll take, make sure to eat up for energy!
Next, you'll visit the oldest Taoist and Hindu temple in KL, Sin Sze Si Ya Temple and Sri Mahamariamman Temple, to learn more about the Tao and Hindu culture.
Enjoy strolling through Central Market, a popular tourist attraction that brims with Malaysian art and craft. It's a repurposed heritage building with plenty of artworks and souvenirs you can purchase.
This heritage walk is guaranteed to let you in on Malaysian culture and tradition, so book your spot on the tour!
The Kuala Lumpur Heritage Walk includes:
Bottled water
Food tastings
English-speaking guide
" What an amazing tour! Our guide, the food, the places tourist don't go to: just an amazing tour. Highly recommend to anyone going to Kuala Lumpur to do this Heritage Walk " – Lynette B (read more reviews )
3. Private Customized KL Walking Tour With A Local
⭐️ RATING: 4.6 out of 5 stars – With more than 20 positive reviews! | ⌛️ TOUR LENGTH: 2 – 6 hours
If you're looking for a fully customized private walking tour in KL, this Kuala Lumpur city tour is for you!
Upon booking, a representative from the tour operator will reach out to confirm all details and share a questionnaire to get to know your preferences.
Based on your interests, they will assign the best local guide to host you during the tour.
You'll get to pick which KL attractions you want to visit and decide on how long the tour will be, usually between 2 to 6 hours.
While the tour is unique to you, you'll still get to explore Kuala Lumpur through the eyes of a passionate local. It's also an opportunity for you to get insider tips on how to make the most out of your stay in KL.
Enjoy walking through the streets of KL on this private walking tour!
The Private Customized KL Walking Tour With A Local includes:
Customized private walking tour
" Stefan took us on a tour of the Batu Caves, the National Mosque, the Presidential Palace and Petaling Street/Central Market. He was very competent, entertaining, and flexible and could tell us a lot about his life in KL. Finally, there were numerous good tips for going out and eating in the evening. All in all, just as we imagined for a tour " – GetYourGuide traveler (read more reviews )
Best Kuala Lumpur Culinary Walking Tours
A day tour in Kuala Lumpur is incomplete without exploring all the good food that Malaysia offers!
Locals often greet each other with the question, "Dah makan?" which translates to, "Have you eaten yet?" instead of the typical greeting, "How are you?".
It's a testament to how delicious food is more than just a meal in the KL culture, but rather an opportunity for people to connect and bond.
Explore the flavors of KL on foot with any of the culinary walking tours below:
4. Kuala Lumpur Food And Walking Tour Through Chow Kit
⭐️ RATING: 5 out of 5 stars – With more than 70 positive reviews! | ⌛️ TOUR LENGTH: 4 hours
Named in the NY Times List of 52 Places to Visit in 2020 , Chow Kit is an underrated neighborhood in KL that's off the typical tourist path.
Go on this city tour of Kuala Lumpur and walk through the vibrant Chow Kit wet market to explore some of the best food in KL.
You can expect to sample tasty dishes like Chicken Stay paired with flavorful sauce and a Malaysian classic, Nasi Lemak with spicy Sambal.
Most food stalls in the Chow Kit food street have been in business for generations.
You'll get to learn about Malaysian cuisine and culture, and maybe a secret or two behind legendary local dishes from the great cooks themselves.
Led by a passionate foodie guide, this walking tour is limited to an exclusive small group, so you can expect a personalized experience.
If you're looking for a walking tour with good food, then it's time to book this tour!
The Kuala Lumpur Food And Walking Tour Through Chow Kit includes:
Beverages and dinner
Professional English-speaking guide
Small-group walking tour
" Just what we were looking for in a food tour! Pauline really knows KL and the wet market. We enjoyed the walk through the wet market and tasting various prepared foods as well as fruits and vegetables. Not something we would have done on our own and wouldn't have known what was what without a guide. Chili-pan-mee was the best meal we had in 3 weeks in KL! I couldn't finish it or barely touch anything at the final stop. Highly recommend this tour! " – Lisa B (read more reviews )
5. Chef Designed Kuala Lumpur Food Walking Tour
⭐️ RATING: 5 out of 5 stars – With more than 10 positive reviews! | ⌛️ TOUR LENGTH: 4 hours
This is a walking tour specifically designed for food lovers – planned by a professional chef and led by a team of knowledgeable, passionate food guides.
Make sure to come to the tour with a big appetite and an empty stomach because you will sample at least 15 delicious tastings!
This includes banana-leaf grilled mackerel and coconut-steamed Nasi Lemak with Chicken Rendang, among many other tasty samples.
By the end of the tour, you'll be happy with a full belly and also a deeper appreciation for the variety of Malaysian cuisine.
If you don't have enough time for a day tour in Kuala Lumpur and only have 4 hours to spare, I highly recommend booking this walking tour perfect for foodies!
The Chef Designed Kuala Lumpur Food Walking Tour includes:
15 + food tastings included, more than any other Kuala Lumpur food tour
4 hours of feasting around the backstreets of old Kuala Lumpur
Designed by a Kuala Lumpur chef, led by professional foodie guides
Maximum of 8 exclusive guests on each tour
Bottled water and local soft drinks included
" We enjoyed the food tour so much! Mr Siddoz was a great guide, full of knowledge about the food, city, culture, and more. He took us around two local foodie areas and we tried at least 15 types of food and drinks – we ate so much. We also got to try and make roti (it's really hard) and see pulled coffee being made. Siddoz was so friendly and he was a great bridge between the local people and us. " – A Tripadvisor Reviewer (read more reviews )
6. The 10 Tastings Of Kuala Lumpur Walk With Locals
⭐️ RATING: 4.8 out of 5 stars – With more than 20 positive reviews! | ⌛️ TOUR LENGTH: 3 hours
This tour lets you explore the best 10 street food tastings in KL!
With countless food spots with mouth-watering dishes in the city, it helps to have a local guide show you around.
From sweet local delights to savory food paired with flavorful local drinks to enjoy, you're in for a tasty time during this tour.
Make sure you try the Paper Dosa, a thin pancake usually served with coconut chutney or curry if you can handle the spice. The authentic flavor is delicious and worth a try.
In between food tasting, you'll get a chance to walk and admire the beautiful sights of KL while learning about the diverse Malaysian culture at Petaling Street.
Book this package tour of Kuala Lumpur to discover the best street food while sightseeing in under 3 hours!
The 10 Street Food Tastings Of Kuala Lumpur With Locals include:
Local guide who is knowledgeable and passionate about food
10 food and drink tastings (vegetarian options available)
" I highly recommend this tour for anyone interested in experiencing the Malay food scene! Our guide Joel was amazing — he shared a lot of his knowledge of the country's history and culture while introducing us to some delicious dishes on the way. I always take food tours when I travel, and I can tell this one was the perfect combination of food (quality, variety, and amount), history, and laughs! " – Rafaela Mazzone (read more reviews )
7. Half-Day Local Food Walking Tour Kuala Lumpur
⭐️ RATING: 5 out of 5 stars | ⌛️ TOUR LENGTH: 4 hours
Explore the flavors, traditions, people, and places that make Malaysia an amazing melting pot of culture on this walking tour.
Led by a passionate local food guide, you will walk to popular landmarks and discover secret food spots frequented by locals.
The tour starts in the Central Market area, locally known as Pasar Seni. A landmark for Malaysian culture and heritage, it's also home to delicious food stalls.
On your next stop at Jalan Masjid India, you'll step into a bustling street where you can sample a variety of food and snacks influenced by the Indian community.
If you are short on time and can't make it for a one day tour of Kuala Lumpur, then I recommend going on this half-day walking tour, perfect for food lovers!
The Half-Day Local Food Walking Tour Kuala Lumpur includes:
Food sampling
Professional tour guide
" Excellent tour. The guide was very knowledgeable and the food was delicious! We learned so much about the culture and history of KL. " – Brady (read more reviews )
8. Local Kuala Lumpur Street Food Night Walking Tour
⭐️ RATING: 4.6 out of 5 stars – With more than 40 positive reviews! | ⌛️ TOUR LENGTH: 2 hours
If you're a night owl, then this night walking tour is right up your alley!
Instead of a day tour of Kuala Lumpur, you'll spend the evening discovering the best KL street food.
Follow in the footsteps of the locals and feast your way through KL at multiple food spots on a night's outing.
Together with a local guide, you'll eat at 3 different locations and learn about the diverse Malaysian cuisine and its influences from the Malay, Indian, and Chinese communities.
At the famous KL street food called Jalan Alor, you'll sample tasty treats, including Satay, Chicken Karipap, Dim Sum, and Paper Dosa.
Get ready for a fun night out when you book this tour!
The Local Kuala Lumpur Street Food Night Walking Tour includes:
" This was a superb tour. This tour is an introduction to Malaysian food. I enjoyed it so much that I am doing a longer food tour tomorrow! My guide was very knowledgeable and gave me a cultural and historical background of Malaysian food. He was very warm and welcoming. It felt like I was doing a tour with a friend. This tour is a must for your first time in Malaysia! " – GetYourGuide traveler (read more reviews )
Best Kuala Lumpur Walking Tours In Nature
If you love walking then chances are you love being in nature too.
Luckily for you, Malaysia is home to lush rainforests, vast parks, and amazing waterfalls that are waiting for you to explore them.
I've compiled the best walking tours in nature you should try and they are worth the day tours from Kuala Lumpur:
Related Posts
Malaysia Itinerary 3-Weeks: Secret Tips From A Local!
21 Hiking In Selangor Trails You Probably Don't Know About 2022!
Day Trip To Melaka – Fun And Affordable Itinerary!
13 Best Parks in Selangor in 2022
9. Day Tour To Taman Negara Rainforest
⭐️ RATING: 4.5 out of 5 stars – With more than 35 positive reviews! | ⌛️ TOUR LENGTH: 12 hours
When you visit Malaysia, Kuala Lumpur tours that bring you through lush rainforests are a must on your to-do list!
This tour brings you to Taman Negara , a vast tropical rainforest that's home to endangered animals like elephants and tapirs.
You'll spend the day walking through the wilderness with your guide and learning about the abundant flora and fauna. If you're lucky, you might spot beautiful Rafflesia flowers.
The hike can be vigorous depending on your fitness level, so be prepared with suitable shoes. I recommend bringing an extra set of clothes to change into at the end .
The Kuala Lumpur local tour operators will also bring you to a nearby indigenous village where you'll get to learn more about the local culture.
If you're a nature lover who's looking for a memorable walking tour, then you'll enjoy this day trip to Taman Negara!
The Day Tour To Taman Negara Rainforest includes:
Lunch and round-trip hotel transport provided
Taman Negara nature guide
Park permits and forestry boat for visit to aborigine village
What past guests loved about the tour:
" Fantastic trip, worth the investment of the day during our holiday and great value. The tour guide in the forest was also fantastic, very friendly, attentive and knowledgeable and you could chat and ask any questions and get a real understanding of the forest, the people and the wildlife. The trip down the river to see the aboriginal village was enthralling and such a privilege to be able to do. Brilliant tour, one of the best we have ever done. " – Craig S (read more reviews )
10. Magical River Trek To Waterfall
⭐️ RATING: 5 out of 5 stars – With more than 190 positive reviews! | ⌛️ TOUR LENGTH: 10 hours
Get away from the hustle and bustle of KL city and trek through a beautiful Malaysian rainforest instead.
Not your typical guided tour of Kuala Lumpur, this tour allows you to immerse yourself in the tranquil and lush greenery located on the outskirts of the city.
Crossing crystal-clear rivers and navigating bamboo thickets before swimming in the cool waters near a magical multi-tiered waterfall sounds amazing, right?
If it's your first time swimming by a waterfall, try to stand and let the cascading water massage your back. You'll feel so relaxed and refreshed! Just remember to be safe when you do this.
Your knowledgeable guide will also share stories about the flora teeming in the jungle and the animals, so take your time to learn while you enjoy the tropical paradise.
Don't miss out on this hidden gem and book your spot on the unique tour today!
The Magical River Trek To Waterfall includes:
Breakfast, lunch, and dinner
Snacks and bottled water
Driver/guide
Hotel pickup and drop-off
Transport by air-conditioned minivan
Coffee and/or tea
" This was an amazing experience and we loved every part of it. It was really cool to swim by the waterfall after hiking through the jungle. Chen was a great guide, really friendly, and planned the day out including the food stops really well. The food stops themselves were fantastic, some of the best food we had whilst in Malaysia. During the trek, he would stop to explain some of the fauna and even Malaysian history, which was all very interesting. Would highly recommend this tour to anyone who enjoys the outdoors. " – A Tripadvisor Reviewer (read more reviews )
11. Templer Park Hike, Batu Caves And Fireflies Park
⭐️ RATING: 4.5 out of 5 stars | ⌛️ TOUR LENGTH: 11 hours
This tour packs so much action in a day's worth of a local tour in Kuala Lumpur!
Your day starts with a hike at Templer Park, where you'll trek through the rainforest past six waterfalls. Nothing beats fresh air and a refreshing walk to kickstart your day.
The next stop is a tour of the iconic Batu Caves, a beautiful limestone temple with magnificent views. You'll also enjoy an Indian vegetarian lunch while you're there.
After lunch, the guide will take you to Bukit Melawati, where you can see silver leaf monkeys up close. You'll notice that the placid monkeys are gentle creatures.
On the final stop in Kuala Selangor, savor a delicious Chinese dinner before you board a boat and cruise through mangrove trees to see the enchanting glimmer of fireflies.
If you enjoy exploring the outdoors and love animals, then you'll have fun and clock in a lot of steps on this tour!
The Templer Park Hike, Batu Caves And Fireflies Park include:
Chinese dinner with Chinese tea
Lunch (Indian bread with non-spicy curry)
All activities – visiting monkeys, Templer park waterfall, hiking, fireflies
Driver and guide
Hotel pickup and drop-off
Transport by air-conditioned minivan
" We had a superb day on this tour. The guide was so helpful, informative, and friendly. He added to our day. " – Bill S (read more reviews )
FAQs On The Best Walking Tour Of Kuala Lumpur
Is kuala lumpur walkable .
So, is Kuala Lumpur walkable? Yes! The capital city of Malaysia paves new walkable areas continuously, starting with the River of Life.
The beautiful waterfront is planned and designed with pathways that lead to popular tourist destinations. This includes attractions like Merdeka Square, Central Market, Masjid Jamek, and more.
Where Can I Stroll In KL?
Wondering where you can stroll in KL? Take a stroll with your family in Kuala Lumpur at these 5 popular parks:
Perdana Botanical Gardens
KLCC Park
Shah Alam National Botanical Garden
Taman Jaya Park
Bukit Jalil Recreational Park
What To Wear On Walking Tours?
Wear quick-dry and lightweight fabrics for your walking t-shirts , shorts , and pants . This will help wick moisture and sweat off your skin and help prevent you from becoming overheated or chilled.
Comfort is essential and to make sure you're comfortable on the hike, it's important to wear appropriate walking clothing.
What Are The Benefits Of Walking Tours?
Wondering what are the benefits of walking tours? Here are 5 reasons why you should go on a walking tour:
Learn about the city with a guided tour led by a local
It's a fun way to burn calories
Walking tours are eco friendly
It's socially distanced and safe
You don't lose out on pedestrian-only areas
Tie Up Your Shoelaces For An Epic Walking Tour Of Kuala Lumpur
That's all, folks!
Here is a comprehensive guide on the best walking holiday tours of Kuala Lumpur, Malaysia, that will take you on an exciting journey through narrow alleys, hidden gems, and lush rainforests.
You'll get to see up close the beauty of Kuala Lumpur as an eclectic and vibrant hub of culture and class.
Now that you know the best walking tours of Kuala Lumpur, it's time to pack your shoes and book a tour of Kuala Lumpur to reserve your spot!
If you enjoyed reading this guide, share it with a friend who you know would love to explore KL on foot too :).
15 Tours Of Kuala Lumpur: Highest Rated In 2023!
31 Hotels With Spas In KL For All Budgets (2023)
21 Hotels With Swimming Pools In KL For All Budgets (2023)
27 Hotels With A Jacuzzi In KL For All Budgets!
21 Hotels With Bathtubs In Kuala Lumpur (2023)
9 Hikes in KL, Malaysia You May Not Know About
17 Best Nyonya Food in Melaka In 2023 (Tested Personally!)
41 Malaysia Short Getaways to Explore in 2023!
BEST Kuala Lumpur Food Tour: 11 Tastiest Tours In 2023!
The Best of Petronas Tour: 11 Highest Rated in 2023!
Search site
8 Walking Tours To Let You Explore Downtown Kuala Lumpur Like A Pro
These walking tours will have you exploring Downtown Kuala Lumpur like never before. Choose among these eight guided and self-guided tours that will take you through city trails like a true local. (Left: Image by @adikintaro . Right: Image by @jiun_sheng .)
What if we told you that there's probably a lot more you didn't know about Downtown Kuala Lumpur (KL)? Nothing beats exploring your own backyard , especially with domestic travel being more enticing right now. Whether you'd like someone experienced to guide you through the city or you're more of an intrepid explorer, we've got you covered.
But before we get into it, here are some tips for prepping. While Malaysia may be hot and sunny all year round, it's best to prepare for rainfall as weather can change drastically in KL. Pack a light bag with an umbrella, sunscreen, a poncho, and a water bottle. Most importantly, wear breathable clothes, comfortable shoes for walking, and DON'T FORGET your camera!
There's always strength in numbers for self-guided tours, particularly if you're anxious about walking around alone. Exploring with your friends will make the trip more memorable too! For more tips, check out our guide on safely exploring Downtown KL here .
Guided Tours
1. free walk kuala lumpur unscripted (fwklu).
Be mesmerised by all the stories you've never heard of, even if you're a long-time KL-ite. Free Walk Kuala Lumpur Unscripted (FWKLU) doesn't just show you landmarks and historic buildings — their walks are unscripted because it is neither a presentation nor a lecture.
These walks are hosted by a group of passionate guides who have more than 10 years of experience in conducting walks. FWKLU is led by Jane Rai, an award-winning tourist guide, and has been conducting tours since 1993!
Conversation and questions are welcome during the tour, so come with a curious and open mind. You are encouraged to support the local artisans, shops, and communities that you meet along the way. FWKLU is a walking tour so you will be leaving no carbon footprint!
FWKLU currently offers two tours:
Old Kuala Lumpur: East-West Connection Tales of Sultans | Chinese Kapitans | Colonial Times Every Sunday Starts: 9:30am at Cosmo Hotel Kuala Lumpur Ends: 11:30am at Kuala Lumpur City Gallery @ Independence Square
Old Kuala Lumpur: Chinatown Cultural Walk Tales of Chinese Migrants | Diverse society | Traditional Trade Every Saturday Starts: 10am at Four Points by Sheraton Kuala Lumpur Ends: 12pm at Four Points by Sheraton Kuala Lumpur
How to book: WhatsApp or send them a Facebook message Price: Free, but tipping is highly encouraged Contact: +6019 699 2668

2. Bike with Elena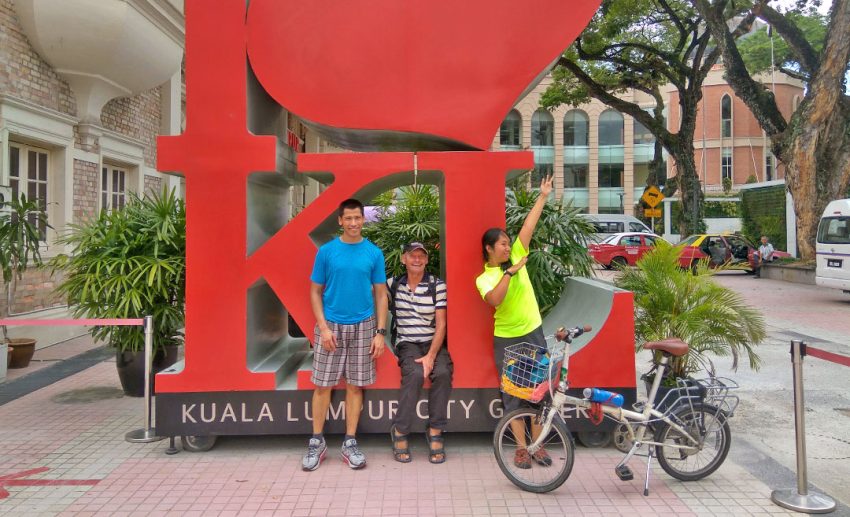 Not too sure if walking will be your thing? Well, you can take a bike tour! Get that daily exercise in while discovering the hidden gems of Downtown KL . Elena loves the outdoors and will be caught doing anything and everything adventurous. She is committed to a lifelong mission advocating for nature, conservation, and cultures.
Join her and other local guides, cycling at a slow, relaxing pace, to uncover the secrets of KL, and listen to the stories of the local community. You will be provided with a bicycle, helmet, a bottle of water, and meals, depending on the time of your bike tour.
Downtown KL tours offered by Bike with Elena:
Hidden Secrets of Kuala Lumpur Hidden alleyways | Historical gems | Locals only secret spots Cycling distance: approximately 10km Starts: 7:30am at MATIC, Jalan Ampang, KL Ends: 11:30am Tour page .
Hidden Secrets of Kampung Baru KL's first Malay village | Sample local delicacies | Raja bot market Cycling distance: approximately 7km Starts: 7:30am at MATIC, Jalan Ampang, KL Ends: 11:30am Tour page .
Hidden Secrets of Pudu – The Real Little Chinatown of Kuala Lumpur Famous eats | Best for food enthusiasts Cycling distance: approximately 8km Starts: 12:30pm Ends: 4:00pm Tour page .
How to book: Book here Price: Starting from USD60 per pax (approximately RM260) Contact: +6013 8500 500

3. Chow Kit food tour by A Chef's Tour
No Downtown KL tour is complete without a sampling of local street food . Join this Chow Kit Food Tour for an evening of food heaven. It will be a four-hour walking tour with plenty of rest (read: eating) stops along the way!
Discover the local flavours of KL with passionate guides who have extensive knowledge of the local cuisine . Some of the food you may get to taste is rendang, satay (flame-barbequed meat skewers with peanut sauce), ikan bakar (grilled mackerel wrapped in banana leaf), cendol durian (creamy shaved iced dessert topped with durian—the king of fruits), and nasi kerabu (a blue rice dish coloured with butterfly pea flowers).
How to book: Book here Price: Starting from USD55 per pax (approximately RM240) Contact: Contact form .
4. Simply Enak food tour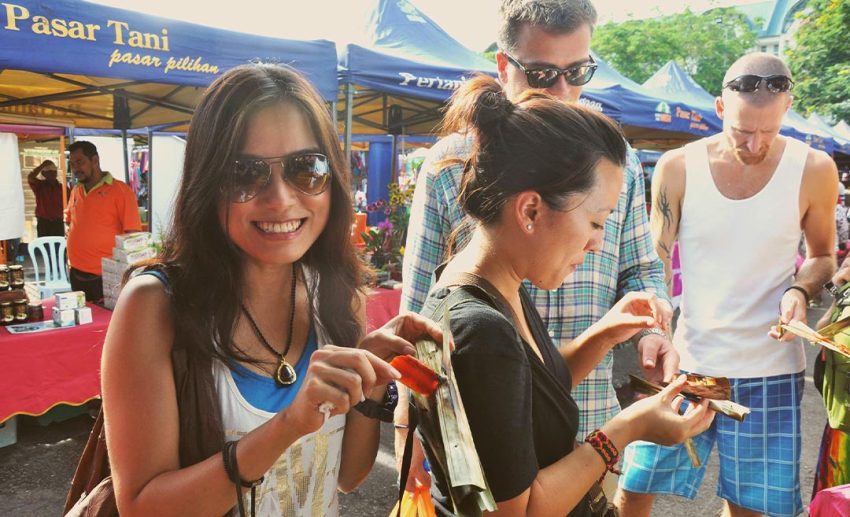 At Simply Enak, they believe food stories extend beyond the palate. Every food tour that Simply Enak hosts will include the heritage, culture, and story of the people who serve the dish. This is how they marry history and food while supporting local businesses and sharing authentic Malaysian flavours with you.
Here are three of their food tours in the Downtown KL area:
Secrets of KL – Nightlife, Street Art, Cocktails & Craft Beers! *For adults aged 21 and above only. Street murals | Night market | Speakeasies | Chocolates, cocktails & craft beers Starts: 4:30pm Ends: 8:30pm Book this tour here .
Flavours of Malaysia (Off the Beaten Track) Wet market | Heritage | Culture | Little Indonesia Starts: 3:30pm Ends: 7:30pm Book this tour here .
Kuala Lumpur Street Food Handmade pau | Chinese Medicine | Culture and heritage | Charity Cafe Starts: 9:15am Ends: 12:45pm Book this tour here .
Price: Starting from USD63 per pax (approximately RM275) Contact: +6017 287 8929
Self-guided tours
5. kuala lumpur's must-visit attractions trail card.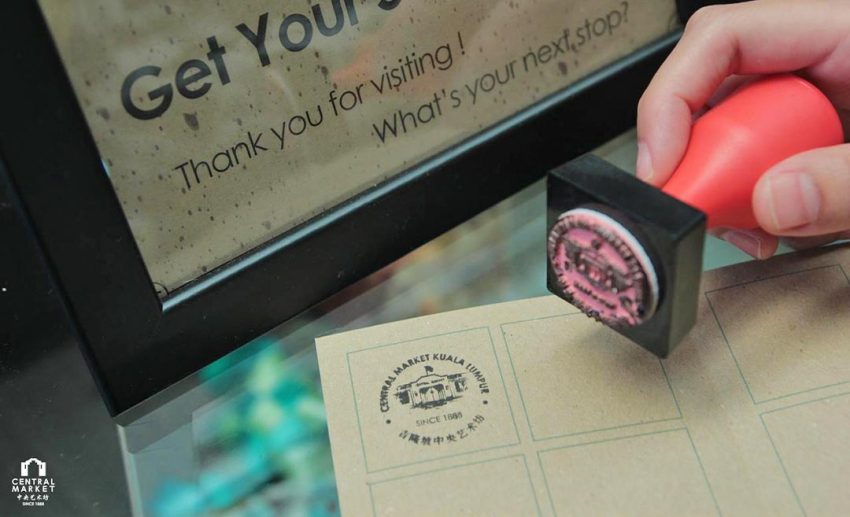 This is a special self-guided tour because you will be collecting novelty stamps at each stop as you visit 12 iconic destinations in KL! You can collect this trail card at the Central Market Information Counter, which is also the trail's starting point. Here are the 12 destinations you'll be visiting:
Central Market Kuala Lumpur (starting point)
Sri Maha Mariamman Temple
Petaling Street
Sin Sze Si Ya Temple
Sultan Abdul Samad Jamek Mosque
St Mary's Cathedral
Sultan Abdul Samad Building
Merdeka Square
National Textile Museum
National Mosque
Chan She Shu Yuen
MATiC, Malaysia Tourism Centre (finishing point)
We're sure that this completed trail card will beat any average postcard souvenir you've ever had of KL.
Pro tip: If you're in KL for a few days, take your time spreading out the locations over the days — the operating hours of each site may vary. You'll be able to enjoy the different areas of Downtown KL and soak in its ambience at your leisure.
Address: Lot 3.04-3.06, 06, Jalan Hang Kasturi, City Centre, 50050 Kuala Lumpur Contact: +603 2031 0399
6. Cafe Hopping Tour
Did you know we have a humungous list of cafes in downtown KL ? There are so many charming and trendy cafes in the area that you can make a day trip out of visiting them! Most of the cafes are within walking distance of each other and easily accessible by public transport.
If you need help planning your own Cafe Hopping tour, use the GPSmyCity application to help you map out your route. Or, you can always use Google Maps and put pen to paper to have your little handmade map of downtown KL cafes!
7. An Arts and History Tour
Are you the kind of tourist who frequents museums and art galleries when visiting a new city or country? Check out our list of museums and galleries in the Downtown KL area and beyond! Learn about the history of KL and how it came to be, the story of money in Malaysia, marvel at Islamic and ethnic arts, and so much more.
8. 'Heritage Tour' and 'Old KL & Nature Walk'
Not a fan of digital or handmade maps? Well, grab yourself one of those maps designed for tourists! You can get yourself a copy of the Kuala Lumpur Walks & Tours Map at the Kuala Lumpur City Gallery . It includes a map of the city, a transit map, highlights in the Chinatown area, and heritage sites.
This map also features two trails: Kuala Lumpur Heritage Tour and Old KL & Nature Walk. Take note that different attractions will have varying operating hours. Not to worry if they're closed, though — the buildings are picture-perfect from the outside!
Kuala Lumpur City Gallery Address: No. 27, Jalan Raja, Dataran Merdeka, 50050 Kuala Lumpur Contact: +603 2698 3333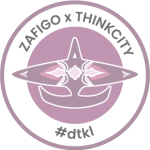 (they/them) River is a pawrent to 2 cats and an introvert. Part of the UBI (Useless Bits of Information) brain club, inspiration usually strikes when they're in the shower, on the toilet bowl or during commutes.
8 Must-Try Street Foods In Downtown Kuala Lumpur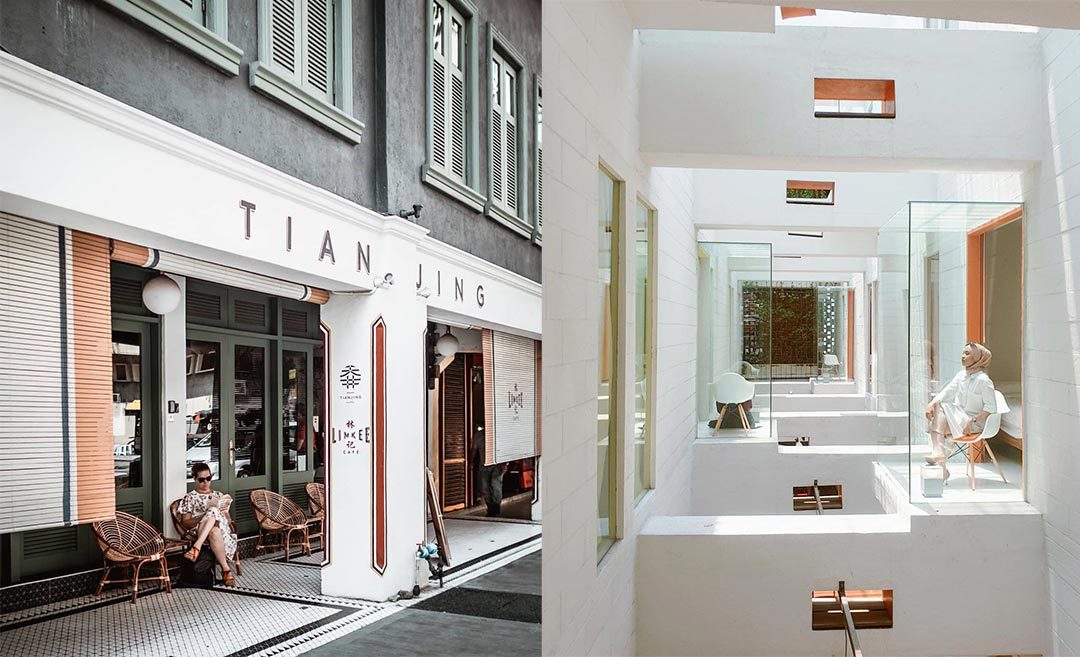 9 Stays In Downtown Kuala Lumpur For Your Next City Escape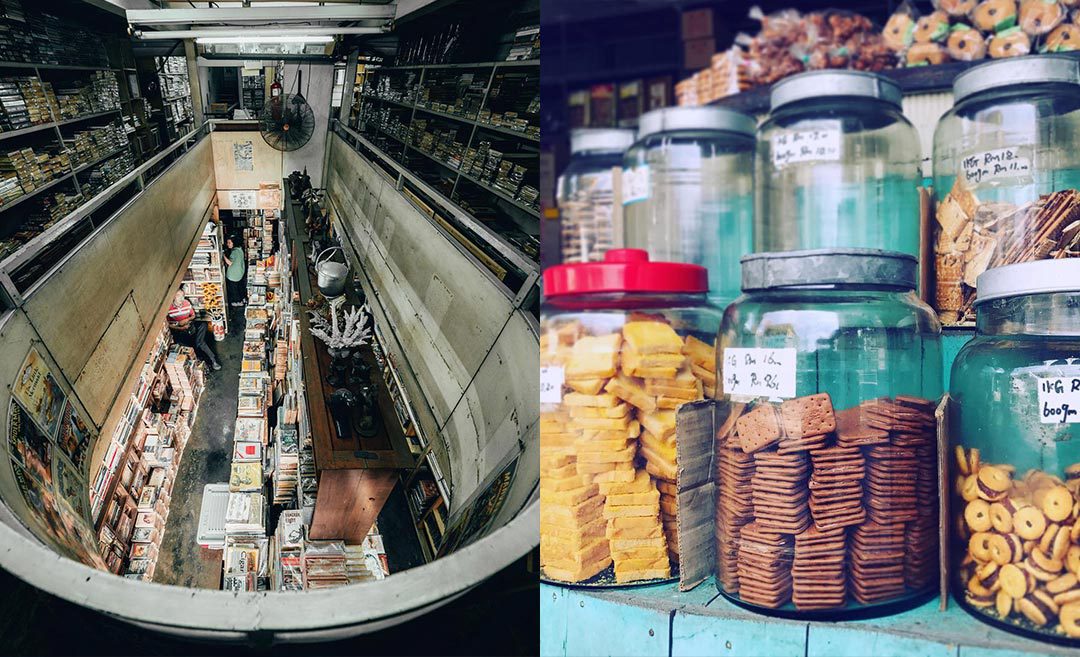 Discover The Enduring Spirit Of Downtown Kuala Lumpur At These Unique Shops
Skip to primary navigation
Skip to main content
Skip to primary sidebar
Going Places by Malaysia Airlines
Dedicated in publishing the latest, trending and unique stories.
The best free walking tours in Kuala Lumpur for foodies and history buffs
Words by Sarah Khan
5 minute read
Explore the capital's fascinating heritage core in Merdeka Square, enjoy a sensory jaunt through Brickfields or take a rejuvenating tour of sprawling Lake Gardens
One of Southeast Asia's most exciting cities, Kuala Lumpur boasts plenty of noteworthy attractions for travellers to check out. While it can be an expensive city for tourists, there is plenty to do in the buzzing capital that won't set you back a single ringgit. In fact, we'd wager that one of the best ways to experience its essential sights is completely free – and on foot. So slip on your comfiest pair of shoes and soak up the city via its wonderfully diverse walking tours. These include a self-guided exploration of the capital's fascinating heritage core in Merdeka Square, a sensory jaunt through Brickfields, as well as a rejuvenating tour of Lake Gardens, its sprawling urban lung.
Ahead, we've rounded up the best walking tour trails to discover in Kuala Lumpur. They're free and fairly easy to tackle alone (or with a guide, if you prefer.)
1. A glimpse into Malaysia's history: Merdeka Square
Perfect for : History buffs
What to see: Sultan Abdul Samad Building, St. Mary's Anglican Cathedral, Royal Selangor Club, KL City Gallery
This huge open-air square is historically significant for many reasons, most notably as the location where Malaysia's independence was first declared in 1957. During the British Rule, it served as a cricket pitch; today it's a choice spot to admire heritage Malaysian architecture in the city, thanks to the eclectic cluster of colonial buildings that each tell a story of the country's past. Dominating the square is the striking Sultan Abdul Samad Building: its brick-walled exterior, domed turrets and arched balconies is a stunning example of classic British Raj-era architecture. You can also spy one of the world's tallest flagpoles here, marking the spot where the Malay flag was first raised in 1885 to signify the nation's independence from British rule. Not far from the square, you'll find the original (and still operational) Kuala Lumpur Railway Station.
Tip: Prefer exploring with a guide? KL City Hall organises a free guided tour every Monday, Wednesday and Saturday from 9am to 12.30pm, taking you around the 12 heritage buildings around Merdeka Square.
2. Take a breather in KL's urban lung: Tun Abdul Razak Heritage Park
Perfect for: Those seeking a dose of nature, with a surprising dash of history
What to see: KL Bird Park, ASEAN Sculpture Garden, Perdana Botanical Gardens, Carcosa Seri Negara
The next time someone tells you KL is all concrete jungle, direct them to the Tun Abdul Razak Heritage Park. Best known as Lake Gardens, this sprawling 227-acre park in the heart of the city is where you'll find many of Malaysia's most popular attractions, such as the KL Bird Park (the world's largest walk-in aviary), the neighbouring Deer Park (where you can see the adorable mouse deer up close), a sculpture garden and butterfly park, as well as the Perdana Botanical Garden. The latter, home to an idyllic man-made lake, is a popular picnic spot and houses both an orchid and hibiscus garden. Follow the main road through the Lake Gardens leading to the Tun Abdul Razak Memorial, the former residence of the country's late second Prime Minister. Now an unofficial museum, visitors will find preserved documents, speeches, books as well as his collection of walking sticks and wooden pipes. Among the other significant landmarks within the park grounds are the National Monument, Parliament House and the Neo-Gothic Carcosa Seri Negara.
Tip: Free guided walks of the gardens take place between 8am and 10am on weekdays.
3. Discover KL's Little India: Brickfields
Perfect for: Culture vultures
What to see: Vivekananda Ashram (an elegant early 1900s building), Our Lady of Fatima Church, Maha Vihara Buddhist Temple
This vibrant neighbourhood, also referred to as KL's Little India, might lack the sleekness of KL's skyline or the grandeur of its heritage center, but one might argue that's precisely where it's charm lies. A predominantly Indian enclave, Brickfields teems with vibrant shops blasting upbeat Bollywood tunes and peddling everything, from saris to spices. Brickfields has recently undergone a facelift. Interspersed in between in its pre-war shophouses, you'll also stumble upon churches, temples and shrines, and its proximity to KL Sentral Station also makes it a tourist hotspot. Food stops are a must and spots like Mr. Naan and Mrs. Idly (for affordable South Indian buffets) and MTR 1945 (for delicious masala dosai) won't disappoint.
Tip: Fancy a guided tour? KL City Hall runs a Little India @ Brickfields Guided Walking Tour every 1st Saturday of the month at 9.30am (tour kicks off in front of the YMCA building).
4. For a time capsule into KL's past: Chinatown
Perfect for: Foodies, bargain shoppers, street art lovers
What to see: Petaling Street marketplace, Kwai Chai Hong, Kuan Ti Temple
Home to preserved Buddhist temples, vintage shophouses, traditional coffee houses and art galleries, Chinatown is one of KL's oldest areas and a must-visit, whether it's your first, second or umpteenth time in the city. Hit the Central Market for retail therapy, Chinatown-style. This market dates back to the 1880s and is a haven for handicrafts and souvenirs. For the best bargain finds, however, make your way to Petaling Street's marketplace. Prices are dirt-cheap, but bring your haggling A-game anyway. After all the shopping, make a pitstop at Ho Kow Hainan Kopitiam, one of Chinatown's long-standing kopitiams, to refuel with a quintessential local breakfast of soft-boiled eggs and kaya toast. Continue to the newly-restored Kwai Chai Hong, a mural-filled alleyway that dates back to the 1920s. There's plenty of historic temple sites to visit in Chinatown too: the century-old Kuan Ti Temple is recognisable for its bright orange facade, but you'll also find KL's prime Hindu temple – the elaborately decorated Sri Mahamariamman – here too. A delightful mix of old and new, Chinatown is also home to arguably some of KL's trendiest watering holes. Pull up a stool at the likes of PS150 and The Attic Bar for a well-deserved drink after a day of exploring on foot.
Related Articles
Places + Malaysia
5 top golf courses in Malaysia
Outdoors + Malaysia
5 top spots for angling in Malaysia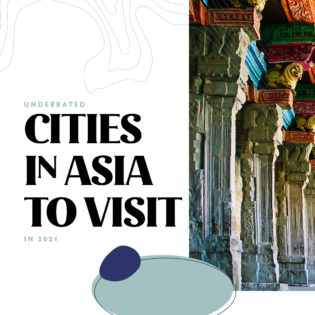 Free walking tour near Kuala Lumpur
Others cities to visit after kuala lumpur, find other guruwalks in kuala lumpur, where are you traveling to.
404 Not found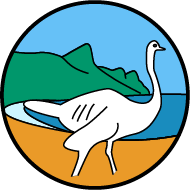 Ostrich Trails
Because it is a walking bird and walking is what we do.
Kuala Lumpur Walking Tour
Home » Asia » Malaysia » Kuala Lumpur Walking Tour
When you buy through links highlighted with an asterisk (*) on this site, we may earn a small affiliate commission at no cost to you.
Visit the famous heritage sites of central Kuala Lumpur on this walking tour to all the main attractions including Merdeka Square, Central Market and Chinatown.
How to get to Kuala Lumpur from Singapore
Kuala Lumpur is on the western side of Malaysia, a five- to six-hour bus ride from Singapore. We always book our tickets with 12GoAsia *, a handy website that shows you all the available buses. You can either book directly from Singapore * (most buses leave from SunCity), or you can get a much cheaper ticket by booking from Johor Bahru *. The buses go to the main bus terminal of Kuala Lumpur – Terminal Bersepadu Selatan (TBS Terminal) – which is on the south side of Kuala Lumpur. From there you can take a Grab or light rail to the centre of Kuala Lumpur.
With a bus directly from Singapore to Kuala Lumpur, the bus drops you at the border to complete border formalities and picks you up again on the other side. If you take a bus from Johor Bahru to Kuala Lumpur, you have to travel yourself to Johor Bahru Larkin Sentral Bus Terminal . The 170 bus from Singapore goes directly from the Malaysian side of the border to Larkin Sentral and you can pay with your EZ-link card, so this is a convenient option.
Central Kuala Lumpur from the Airport
Kuala Lumpur International Airport is quite far from the centre of the city. The quickest, most convenient way to get between the two is with the KLIA Transit train. This brings you directly from the airport to KL Sentral railway station. You can buy tickets in advance * for the train, and just scan the QR code from your phone to get on board.
If you are visiting more places in Malaysia, it may be more convenient to hire a car for your holiday from Kuala Lumpur, check options on Rentalcars *.
Kuala Lumpur Walking Tour Map
Get the route by downloading the .gpx or .kml file below. For navigation with Maps.me on your mobile phone, simply download the .kml file and open to add it to the Maps.me bookmarks.
Tips for Kuala Lumpur Walking Tour
Traffic can be bad – the light rail is a cheap and efficient way to get around. You can buy individual tickets at the machines at the stations.
Early mornings are a good time to enjoy this walk to avoid the heat of the day – spend the hottest part of the day in a museum.
Check out our other walking tours of Malacca or Johor Bahru , or other great hikes on our Singapore Hiking Page .
Attractions on the Kuala Lumpur Walking Tour
On this walking tour you'll see the main sites and attractions of Kuala Lumpur:
Jamek Mosque
Merdeka Square
Central Market
Islamic Art Museum
Perdana Botanical Garden
National Museum
If you don't want to walk, the Kuala Lumpur Hop-on Hop-off bus * stops at the main attractions, or go on a Kuala Lumpur Half-Day Tour * to be driven around the main sights.
Kuala Lumpur Walking Tour Route
This walking tour starts from Masjid Jamek Light Rail Station in the centre of Kuala Lumpur. From here you will see the first stop on the walking route, Jamek Mosque, right in front of you.
1. Sultan Abdul Samad Jamek Mosque
Key Information: Free entry, open 8:30am-12:30pm and 2:30pm-4:30pm. You have to dress modestly to visit Jamek Mosque, but if not you are given a long gown.
Jamek Mosque ( Tripadvisor Reviews *) is a wonderfully beautiful mosque in the centre of town, near Merdeka Square. You can go in or just admire it from the outside. The mosque is set amongst palm trees by a confluence in the river, and it's the oldest mosque in Kuala Lumpur, dating back to 1909.
Directions: Head around the right-hand side of the mosque and across the river on the glass-sided Masjid Jamek Pedestrian Bridge, into Merdeka Square.
History of Kuala Lumpur
The city of Kuala Lumpur is located at the confluence of the Klang and Gomak Rivers. Initially, a little township grew up here along the banks of the rivers, surrounded by very fertile land. It grew up with the tin mining boom and is now a booming, modern city. In the centre of town, many historic buildings are well preserved, and others are beginning to crumble into ruins, in a way even more evocative of the past.
2. Merdeka Square
Key Information: Free entry, open 24/7. Lit nicely at night and pedestrianized at the weekends.
Merdeka (Independence) Square (Tripadvisor Reviews*) is a large grassy square in the centre of Kuala Lumpur, surrounded by historic buildings. It's a sight not to be missed in Kuala Lumpur. Important parades are held here, where independence was gained by the Malaysians from the British. It was here in 1957 that the old Union Jack was lowered and the Malaysian flag was raised. The road along the edge of Merdeka Square is pedestrianised on certain weekends.
Directions: Head straight on, across a road, then right to reach the Count Down Clock
Count Down Clock and St Mary's Cathedral
At the Count Down Clock monument, you can slip inside beneath the water and look out through the rain drops while simultaneously being cooled down by the damp air. Oppoiste this new buildings is the Panggung Bandaraya DBKL Theatre , a historic theatre in a lovely building.
Directions: Head left across the river, then left again to walk along the river to the front of St Mary's Cathedral.
St Mary's Cathedral ( Tripadvisor Reviews *) is an old colonial British cathedral, a gathering place for Christians from the British colonial era. You can visit inside. It's next to the Royal Selangor Club , a unique building from 1884, now with a mock-Tudor style. It's always been a posh members club, so you can't go in.
Directions: Now make a loop of Merdeka Square, passing the important monuments on the way.
Museums and historic buildings
The Kuala Lumpur City Gallery ( Tripadvisor Reviews *) is a great museum about the history of Kuala Lumpur City, located in the fancy building at the far end of the Square. It's open 9am-6pm every day apart from Tuesdays.
The gorgeous long building with the clock tower is the Sultan Abdul Samad Building ( Tripadvisor Reviews *). From 1897, it used to be the base of the colonial British administration in Kuala Lumpur. The design is Moorish-European, with clock towers covered in burnished copper.
To the right of the Sultan Abdul Samad Building is the old post office, and next to that in another lovely building, is the National Textile Museum ( Tripadvisor Reviews *, open 9am-6pm daily, RM2-5). This museum is about how textiles have been important in the fashion and culture of Malaysia, with a focus on Batik.
Directions: Head towards the river, and then left to walk along the banks.
From the walkway by the river, there are great views of Jamek Mosque and the back side of the Sultan Abdul building, along with a peaceful garden and several benches.
Directions: Continue along the river, across Jamek Mosque Pedestrian Bridge and then right along the street past the light rail station where you started. Now head right down a side street immediately after the overhead bridges. Continue walking along the river until you reach the front of the Central Market.
3. Central Market
Key Information: Open 10am-6pm. Allow 30 minutes.
The Central Market of Kuala Lumpur ( Tripadvisor Reviews *), founded in 1888 for the local tin mining community, used to be a bustling wet market selling fresh produce. It's now transformed into a huge warehouse selling mainly tourist goods, antiques, clothes and craft works, along with food upstairs. The building itself is from 1888. Batik products. There are also sometimes cultural shows and eating places in the market upstairs. The current building, Art Deco style, is from the 1930s.
Directions: Head out of the far end of the market and turn right. Take a right, then quickly left and right again down Jalan Hang Kasturi. You're now near the centre of Chinatown.
4. Chinatown
In Chinatown ( TripAdvisor Reviews *) there are Chinese Buddhist temples, Sri Mahamariamman Temple , shophouses, street food and bars, with lots going on along the streets, and that shopping street. The Chinatown area feels more busy and authentic than some other more sterilized areas of Kuala Lumpur. It's a great place to walk around.
On your left you'll soon see the famous Taoist temple, Sze Ya Temple , a small but ornate temple that you can visit during daylight hours.
Directions: Walk down the street and cross the main road. Turn left and soon you'll reach the entrance to pedestrianized Petaling Street.
Petaling Street
Petaling Street Market ( Tripadvisor Reviews *) is in the centre of Chinatown. It feels quite different, very busy and more authentic than some of the other neighbourhoods in Kuala Lumpur. The street is covered, so shady and sheltered from the rain. There are many little stalls along the street, selling fabrics, crafts and much more, at quite good prices, and haggling is excepted at most stalls. Petaling Street is also a great place to visit at nighttime when there's a night market.
Directions: At the end of Petaling Street, continue straight on through busy Chinatown. You'll reach a roundabout and see Chan See Shu Yuen Temple on your left.
Temples in Chinatown
Chan See Shu Yuen Temple is an old, atmospheric Chinese temple with many red lanterns in the central courtyard.
Directions: Head back a short distance, then left and right to walk along a street parallel to Petaling Street. Cross Jalan Sultan, head slightly right then left again to continue north. At the next crossroads turn left.
You'll soon see Guan Di Temple (open 7am-7pm, free entry), another Taoist Temple, dedicated to the God of War. There are several fierce temple guardians, calming incense and wooden statues.
Directions: Just down the street on the opposite side of the road is Sri Mahamariamman Temple.
Sri Mahamariamman Temple ( Tripadvisor Reviews *), from 1873, is a Hindu Temple of southern Indian origins for the Tamil community and the oldest Hindu Temple in Kuala Lumpur. The gopuram is very colourful and wonderfully carved. On non-festival days you can visit inside, with free entry at 6am-noon and 4:30-8:30pm. Women must have covered shoulders and knees.
Crossing the Railway and the River
Directions: Just right of the temple, head towards the river. You'll see an escalator going up to a walkway and bridge across the railway. You'll cross the river first, then a highway, then head right to parallel the railways before the walkway turns left and into a multistory car park. Head out of the car park and right along the road to a large roundabout.
From the roundabout, you'll see Kuala Lumpur Sentral Railway Station ( Tripadvisor Reviews *), an atmospheric crumbling old colonial building. It's very picturesque and quite an anomaly in the middle of the town. Opposite the Railway Station building is another colonial building in a slightly better state of repair.
Directions: Cross over the road (there is an underground passage, but it's quite dark, or go back to the roundabout), and at the roundabout head left towards the Islamic Art Museum.
5. Islamic Art Museum
Key Information: Open 9:30am-6pm every day. Tickets to the Islamic Art Museum cost RM14/7 for adults/discounts. Allow 1-2 hours.
The Islamic Art Museum ( Website , Tripadvisor Reviews *) is a large museum containing thousands of Islamic objects, all housed in a beautiful gallery space. The building is also lovely from outside, with a large blue onion dome. The museum has various exhibits focusing on architecture, books, and textiles, and also displays models of important mosques from around the world. It's well worth a visit.
You'll pass the National Mosque ( Tripadvisor Reviews *) before reaching the Islamic Art Museum. It's less attractive than Masjid Jamek and quite a contemporary building, but it's very large and can accommodate up to 15,000 worshippers. To visit, head to the visitor's entrance (you'll be provided with robes and headscarves) which is open 9am-12pm, 3-4pm and 5:30-6:30pm every day, but not Friday mornings.
Directions: Head back down the street a little way and turn right opposite the mosque up a road towards the Botanical Gardens. Follow the signs towards the National Planetarium, up some steps into the park.
Just before the gardens, you'll pass the Royal Malaysia Police Museum ( Tripadvisor Reviews *, open 9am-5pm (until 2:30pm on Fridays), closed Mondays, free admission). It's a museum about the history of the police in Malaysia, from British colonial rule until the present.
6. Perdana Botanical Garden
Key Information: Open 7am-8pm, free entry.
The Perdana Botanical Gardens ( Website , Tripadvisor Reviews *) are a peaceful place to relax near the centre of Kuala Lumpur, and a break from walking. There are several sections of the gardens to explore, including the Sunken Garden, the Hibiscus Garden, the Bamboo Garden, and several walks around lakes.
Bordering the gardens is the KL Bird Park ( Tripadvisor Reviews *, open 9am-6pm, RM42-63). It has a very large walk-in aviary and a restaurant/cafe, a great place if you like birds. If you're interested in birds, butterflies and Orchids, try a tour that combines them all *.
The National Planetarium ( Tripadvisor Reviews *, open Tue-Sun 9am-4:30pm, RM12/8 for foreign adults/children) is also located in the Botanic Gardens. There are exhibits about space and how past great Islamic civilizations have contributed to astronomy.
Directions: Your route through the Botanical Gardens is not important, but end by heading towards the southern end of the park, at the south end of the lakes. There is a tunnel here underneath a highway, and once across you'll see the National Museum, and the final stop on the walking tour, on your left.
7. National Museum of Malaysia
Key Information: Open 9am-5pm every day. Closed first Monday of every month. Allow roughly 2 hours. R5/2 for foreign adults/children.
The National Museum of Malaysia ( Tripadvisor Reviews *) is divided into four exhibits about four different periods of Malaysia's history, starting far back in time and ending in the current day. There are also several exhibits around the museum grounds, such as old planes and trains.
This is the end of the Kuala Lumpur Walking Tour. There is a useful Metro stop right by the National Museum, from which you can take a train back to the beginning of the hike, or to other attractions in Kuala Lumpur further away from the centre, as described below.
Best Museums in Central Kuala Lumpur
The best museums in Kuala Lumpur are the National Museum of Malaysia (the last stop on this walking tour) and the Islamic Arts Museum (stop 5).
National Museum of Malaysia : Overview of the history of Malaysia, from ancient times until the present.
Islamic Arts Museum : Beautifully displayed items from great Islamic Civilizations.
Kuala Lumpur City Gallery : History of Kuala Lumpur City.
National Textile Museum : Focusing on batik and the importance of textiles in the culture and history of Malaysia.
Royal Malaysia Police Museum : History of the police force from British colonial times until the present.
National Planetarium : Galleries about space, and astronomical advances made by former great Islamic Civilizations.
Attractions in Kuala Lumpur further Afield
The Batu Caves ( Tripadvisor Reviews *, open 6am to 9pm) are quite far from the centre of town, but definitely worth a look as they are one of the most unique sights in Kuala Lumpur. The spectacular limestone hills contain many caves, several of which are known as the Batu Caves, which contain a temple complex roughly 100 years old.
The main cave is free to enter, though there are several additional caves that you have to pay a small fee to enter. One cave displays the story of the Ramayana, and is worth the small entrance fee. Women must cover their knees – you are forced to buy a sarong to wrap around if your knees are not covered.
To reach the Batu Caves either take a taxi/Grab or go via train – there's a station adjacent to Batu Caves. In rush hour, the train can be much quicker than Grab. The trains, however, are not that frequent, running roughly every hour or so. Alternatively, you can go on a guided tour to the Batu Caves * from central Kuala Lumpur.
Petronas Towers
The Petronas Towers ( Tripadvisor Reviews *) are the most famous landmark building in Kuala Lumpur. They used to be the tallest towers in the world, and have come to define the city. These towers have 88 stories each, with a bridge between them roughly halfway up, called the Skybridge (check out tickets on Klook *, open 9am-9pm, closed Mondays). You can also visit several rooftop bars in the area for sky-high views.
To visit the Petronas Towers, Batu Caves and the KL Bird Park, organized for you, check out this full-day tour on Klook *.
Menara Kuala Lumpur (KL Tower)
The KL Tower Observation Deck ( Tripadvisor Reviews *, open 11am-7pm Mon, Wed, Thu, Fri and open 10am-10pm on Tue, Sat and Sun) is another tower viewing option and is much higher than the Petronas Towers Skybridge. It has the added advantage of being already built on a hill.
Kuala Lumpur Aquarium KLCC
The Aquarium near the Petronas Towers is very popular. There are tiger sharks, sea snakes, sea horses and much more. One of the highlights is walking through a long glass tunnel surrounded by many fish, sharks and other sea creatures. Get tickets to the aquarium online * to avoid the queues and secure a spot.
Accommodation in Kuala Lumpur
There are many, many places to stay in Kuala Lumpur. They vary from cheap hostels to the most luxurious hotels.
Best Budget Hotel : BIG M Hotel * has a great location close to both Jamek Mosque and a train station. The rooms are clean (some with views of the Mosque), there's good WiFi and a 24-hour reception.
Best Comfort Hotel : Mingle Highstreet * also has a great location close to the Jamek Mosque. It's a cute hotel with a lovely swimming pool and it's a great place to meet other travellers. The staff are friendly and the hotel offers many activities every day.
Best Luxurious Hotel : The RuMa Hotel and Residences * is not far from the Petronas Towers and has large, stylish rooms and great service. There's a gorgeous infinity pool and bar on the sixth floor, as well as a gym and WiFi throughout.
I hope you enjoyed this walking tour of Kuala Lumpur. If you want to see another historic Malaysian city, check out historic Malacca , or explore Johor Bahru just opposite Singapore.
FAQS – Kuala Lumpur Walking Tour
The main attractions of Kuala Lumpur are Jamek Mosque, Merdeka Square, Central Market, Chinatown and Petaling Street, the Islamic Art Museum, Perdana Botanical Garden and the National Museum of Malaysia.
The best museums in Kuala Lumpur are the National Museum of Malaysia and the Islamic Arts Museum.
Drive, fly, or take a bus directly from Singapore or from Johor Bahru. The buses go to the main bus terminal of Kuala Lumpur – Terminal Bersepadu Selatan (TBS Terminal) – which is on the south side of Kuala Lumpur. From there you can take a Grab or light rail to the centre of Kuala Lumpur.  
Related Posts
Gunung Pulai
Malacca Walking Tour
Johor Bahru Walking Trail
Leave a comment cancel reply.
Your email address will not be published. Required fields are marked *
Events Calendar 2023
PR Newswire
Johor Attractions
Kedah Attractions
Kelantan Attractions
Top KL Attractions
Labuan Attractions
Langkawi Attractions
Melaka Attractions
Negeri Sembilan
Pahang Attractions
Penang Attractions
Perak Attractions
Perlis Attractions
Putrajaya Attractions
Sabah Attractions
Sarawak Attractions
Selangor Attractions
Best of Terengganu
Kids' Attractions
City Walking Trails
Hiking Trails
Malaysia Mountains
National Parks
Beaches & Islands
Hill Resorts
Malaysian Wildlife
Malaysian Museums
MM2H Programme
Malaysian Churches
Malaysian Mosques
Chinese Temples
Hindu Temples
Sikh Temples
Thai Temples
Historic Schools
Clock Towers
Lighthouses
KL Nightlife
Malaysia Trivia
Philippines
Chinatown Walking Tour

Welcome to the Chinatown Walking Tour.
Chinatown is the name given to the original commercial heart of Old Kuala Lumpur. The area surrounds Petaling Street which is a busy street market and one of the most popular tourist destinations for any visitor to Kuala Lumpur.
Your tour begins at  Maharajalela Monorail Station  which might be a convenient if you are arriving by public transport.
Right next to the station you will see the colourfully decorated  Guan Yin Temple  dedicated to Guan Yin, the Goddess of Compassion. This temple was built in 1880 in ornate style. People prayer here in the hope of acquiring the Buddhist quality of compassion.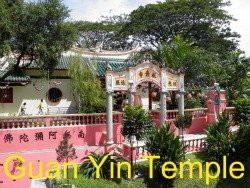 Across the busy street, seemingly surrounded by motorways, you will see the  KL & Selangor Chinese Assembly Hall . This whitewashed, domed building was completed in 1923 and is mainly used for meetings and functions. In 2005 it was recognised as a National Heritage site.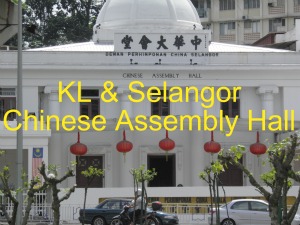 Next up on your Chinatown Walking Tour is a handsome low green building, the  Chan See Shue Yuen Clan Association temple . A clan association is a kind of club for people with the same surname which in this case is 'Chan' and includes 'Tan' and 'Chen' whose names are written using the same Chinese characters. That makes it a very big clan!
The association would have helped new immigrants to settle, find work and so on. This temple was built between 1897 and 1906. All the materials and craftsmen were imported from southern China which is where this clan originates.
As a result the temple is similar in architectural style to ones which you might find in Guangdong province, China.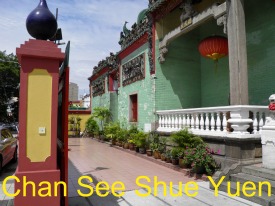 Proceeding along Jalan Petaling you will see a traditional-looking shophouse to your left opposite the police station. This shophouse, complete with bamboo chick blinds and a saloon-style half door, is home to the  Old China Cafe,  a cosy restaurant serving tasty  Peranakan  food.
The cafe oozes character and is decorated with antiques, old photos and paintings.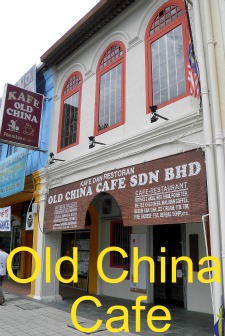 Further up,  Petaling Street  becomes pedestrianised and lined on both sides with stalls selling souvenirs, bags, shoes, T shirts, pens, watches, fake DVDs, and imitation/pirated branded goods. Selling fake products is of course illegal in Malaysia but these vendors still seem to find ways to remain in business.
Open till late in the evening it is very popular with foreign tourists. You will need to practice your bargaining skills to avoid being overcharged. Compare prices (all stalls are selling the same sort of stuff) and it is possible to get some very good bargains. But if you pay RM50 for a 'Rolex' watch don't expect it to work for very long!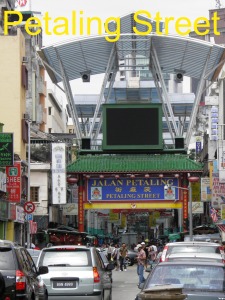 You will need to make a detour away from Petaling Street if you want to see  Guan Di Temple  (see Chinatown Walking Tour map).
Earlier you paid your respects to the Goddess of Compassion at Guan Yin temple. Now it is time to admire the statue of the Taoist God of War (Guan Di) which is believed by its devotees to have special powers. It is said that well-wishers who touch the statue will receive its protection and have their wishes granted provided they have a pure mind (having a pure mind is, of course, the hard part!)
The coiled incense spirals hanging from the roof and the general antiquity of the building lends a special atmosphere to this temple.
Be sure to leave a small donation towards the temple's upkeep and to ensure that you do not get on the wrong side of Guan Di!
Nearby is a Hindu temple,  Sri Maha Mariamman Temple  and if you are still in the mood for visiting temples it is worth the effort.
Said to be the oldest functioning Hindu temple in Malaysia, a temple has stood on this site since 1873 though the current building was remodelled substantially in 1968.
Elaborate wall friezes tell tales from Hindu scriptures. The finely decorated entrance gate  (gopuram)  is constructed in typical Tamil style and measures 23 meters high.
If you wish to enter you have to leave your shoes outside and you might wish to employ the locker service to ensure they are still there when you get out. (I usually do not have to bother due to the shabby state of my footwear!).
From here it is a short stroll to  Kasturi Walk , the newly pedestrianised and covered Jalan Hang Kasturi featuring various kiosks aimed at the tourist market.

The next door  Central Market  is the last stop on the Chinatown Walking Tour and for many people it would be the highlight.
The sign on the entrance says 'Since 1888' but the current building dates from 1933 and is designed in the Art-Deco style that was popular at that time.
In those days the building served as a wet market but today it is probably the biggest and best place in Kuala Lumpur to shop for handicrafts, gifts and souvenir items. It is air-conditioned too which will be a relief after your long sweaty walk!
On the upper level you can find various eating outlets including  Precious Old China (the same company as the Old China Cafe and serving similar delicious Nyonya cuisine) and  Ginger Restaurant  (serving Thai/Malaysian cuisine).
Before finishing up at Central Market make sure you visit the  Annexe  ,across an alleyway at the far end of Central Market, where you can find a number of art galleries showcasing various local and regional artists. In particular you should drop in at Art House Gallery Museum of Ethnic Arts and see their unrivalled collection of tribal arts from Borneo and beyond.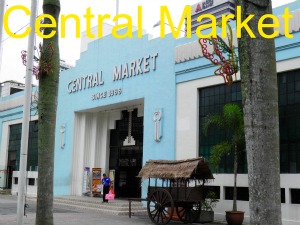 If you have any energy left after completing this Chinatown Walking Tour you can continue walking from Central Market and follow the guidance in my next city trail, the KL Heritage Trail .
Accommodation Near Chinatown Walking Tour
Looking for somewhere to stay in Kuala Lumpur? Take a look at Agoda's website for a wide range of hotels to suit all budgets at discounted rates.
Share this page:
Like this website? Head over to my Facebook page and leave a like or comment:
You can also contact me via the link at the bottom of this page.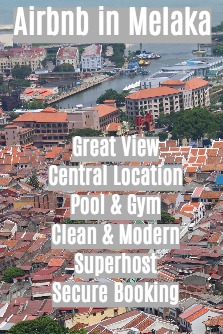 Recent Articles
Malaysian National Parks
Nov 03, 23 10:49 AM
Malaysia Events Calendar 2023 - Major Events & Festivals
Aug 18, 23 07:04 AM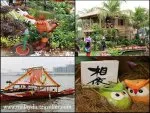 Encore Melaka Theatre - 2023 Ticket Prices
Apr 13, 23 04:48 AM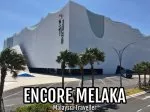 More Recent Articles Here
Getting Around
Free KL City Bus
KL Hop-On Hop-Off
BRT Sunway Line
Malaysia By Coach
Malaysia By Train
Pangkor Ferry
Marina Island Ferry
Penang to Langkawi Ferry
Visa Requirements
Pet Friendly Hotels
Majestic Hotel KL
Hotels in Melaka
Hotels in Penang
Hotels in Putrajaya
Port Dickson Resorts
CONTACT ME   |    PRIVACY POLICY     |     TRAVEL BLOG     |     ABOUT ME  
Over 10 Million Unique Visitors Served Since 2011. Over 27 Million Page Visits. Statistics up to end October 2023.