Gullfoss Travel Guide
Gullfoss (translated to 'Golden Falls') is one of Iceland's most iconic and beloved waterfalls, found in the Hvítá river canyon in Southwest Iceland.
For those who rent a car or take a Golden Circle tour , Gullfoss waterfall can be reached within two hours from Iceland's capital. Most of the guided packages around the country include a stop at Gullfoss, such as this popular 6-Day Vacation , as do almost all self-drive journeys, like this 7-Day Winter Road Trip .
The water in Hvítá river travels from the glacier Langjökull, before cascading 32 meters (105 feet) down Gullfoss' two stages in a dramatic display of nature's raw power. This incredible site is seen by most visitors, as it is on the Golden Circle sightseeing route .
Because of the waterfall's two stages, Gullfoss should actually be thought of as two separate features. The first, shorter cascade is 11 meters tall (36 feet), whilst the second drop is 21 meters (69 feet). The canyon walls on both sides of the waterfall reach heights of up to 70 meters (230 feet), descending into the great Gullfossgjúfur canyon. Geologists believe that this canyon was formed by glacial outbursts at the beginning of the last age.
In the summer, approximately 140 cubic meters (459 cubic feet) of water surges down the waterfall every second, whilst in winter that number drops to around 109 cubic meters (358 cubic feet). With such energy, visitors should not be surprised to find themselves drenched by the waterfall's mighty spray should they get too close.
As mentioned, Gullfoss makes up a part of the highly popular Golden Circle sightseeing route, alongside the Geysir geothermal area and Þingvellir National Park . Many Golden Circle tours include additional activities that can be taken from Gullfoss, such as ascending the mighty nearby glacier Langjökull and entering its ice tunnels or snowmobiling along its gleaming surface.
In the early days of the last century, Gullfoss was at the center of a controversy regarding foreign investors and their desire to profit off Iceland's nature. In the year 1907, an English businessman, Howell, sought to utilize the waterfall's energy and harbored ambitions to use its energy to fuel a hydroelectric plant.
At the time, Gullfoss was owned by a farmer named Tómas Tómasson. Tómas declined Howell's offer to purchase the land, stating famously "I will not sell my friend!" He would, however, go on to lease Howell the land without the knowledge of a loophole that would allow him to proceed with his plans.
It was Tómas' daughter, Sigríður Tómasdóttir, who would lead the charge to stop Howell's ambitions. Having grown up on her father's sheep farm where she helped pave the first road to Gullfoss, she sought to get the contract nullified, hurriedly saving her own money to hire a lawyer.
The ensuing legal battle was an uphill struggle; the case continued for years, forcing Sigríður to travel many times by foot to Reykjavík, a distance of over 100 kilometers (62 miles). Circumstances became so difficult that Sigríður threatened to throw herself into the waterfall if any construction began.
Her tenacity, however, resulted in success. In 1929, Howell withdrew from the lease, unable to keep up with the costs and difficulties of his plan. The waterfall thus fell back into the hands of the Icelandic people.
Today, Sigríður is recognized for her perseverance in protecting Gullfoss and is often hailed as Iceland's first environmentalist. As such, she is one of the most famous figures in Iceland's history . Her contribution is forever marked in stone; a plaque detailing her plight sits at the top of Gullfoss.
Interestingly, the lawyer who assisted Sigríður, Sveinn Björnsson, went on to go down in history too; he became the first president of an independent Iceland in 1944.
Restaurant / Cafe
Besides Gullfoss, visitors can enjoy the views from Gullfoss Cafe, a locally run delicatessen that serves a wide variety of refreshments and meals. The menu has options to tantalize everyone's taste buds: hot soups, sandwiches, salads, and cakes. There is also a shop on site where visitors can browse and purchase traditional Icelandic souvenirs.
FAQs about Gullfoss waterfall
Gullfoss, also known as the "Golden Waterfall," is one of Iceland's most popular and iconic waterfalls. It is located in the southwest of the country, along the Golden Circle tourist route.
Gullfoss has two drops, one measuring 11 meters (36 feet) and the other 21 meters (69 feet), for a total height of 32 meters (105 feet).
Gullfoss was formed during the last ice age, when glacial runoff carved out a deep canyon in the Hvítá river. The waterfall is created by a series of cascades and drops that plunge into the canyon below.
Can you walk around Gullfoss?
Yes, there are several walking paths and viewing platforms around Gullfoss that offer stunning views of the waterfall and canyon. Visitors should be careful and stay on designated paths, as the terrain can be slippery and dangerous.
Can you visit Gullfoss year-round?
Yes, Gullfoss is open to visitors year-round. However, the best time to visit is during the summer months (June-August), when the weather is milder and the days are longer. During the winter months (December-February), the waterfall can be partially frozen and covered in snow, creating a beautiful winter wonderland scene.
Is there an entrance fee for Gullfoss?
No, but there is a parking fee at the Gullfoss visitor center, which is used to maintain the area and facilities. Visitors can pay the fee at a self-service machine in the parking lot. If you are visiting on a guided tour, then the parking fee is included.
What are some other nearby attractions to Gullfoss?
Gullfoss is located along the Golden Circle tourist route, which includes several other popular attractions, including the Geysir geothermal area , Thingvellir National Park , and the Kerið volcanic crater.
Popular Tours to Gullfoss
Golden circle small group minibus tour with transfer from reykjavik, small group sightseeing tour of the golden circle & kerid volcanic crater, afternoon 6 hour golden circle tour to gullfoss, geysir & thingvellir with transfer from reykjavik, attractions nearby.
Marteinslaug Hot Spring
Popular categories.
Golden Circle Tours
Winter Tours & Packages in Iceland
Summer Self Drive Tours
Winter Self Drive Tours
Ice Cave Tours
Top things to do in iceland.
Book your complete trip with the best companies only
Explore an Ice Cave
Find the Northern Lights
Visit the Blue Lagoon
Go on a Road Trip
Do the Golden Circle
Visit Reykjavik
See the Glacier Lagoon
South Coast Tours
Skip to right header navigation
Skip to main content
Skip to secondary navigation
Skip to primary sidebar

Learn how to easily plan your dream trip to Iceland with helpful guides and tips!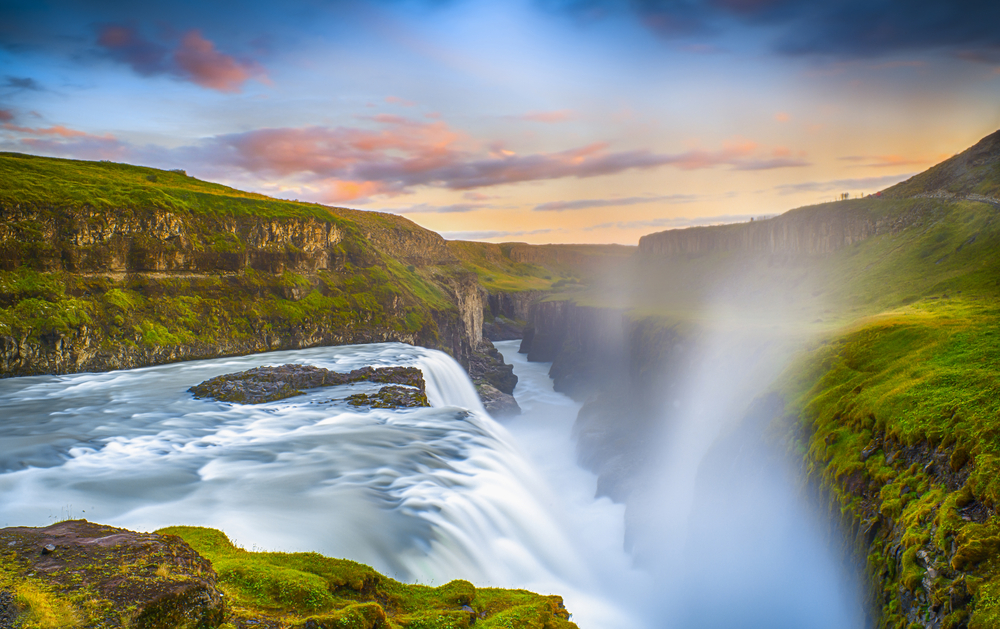 5 Things To Know Before Visiting Gullfoss Waterfall Iceland
July 5, 2021 // by Iceland Trippers // 3 Comments
Looking to explore Gullfoss Waterfall in Iceland? Gullfoss Iceland is one of the country's signature waterfalls and it is no surprise to see why!
The waterfall is beautiful, unique, and in a good location so if you get a chance to visit, you should take it! Gullfoss brings something to the table that you don't normally see which is what makes it so special. Before you visit Gullfoss Iceland, there are a few things you should know to have a safe and enjoyable experience.
Planning your trip to Iceland last minute?
Make sure to book your hotels and tours in Iceland in advance to ensure availability! The longer you wait, the more difficult it gets. Here are my top picks for your trip :
Top Experiences And Tours In Iceland:
Golden Circle Full Day Tour From Reykjavik (Likely to sell out!)
Silfra Snorkeling Tour (Includes photos + only small group)
South Of Iceland Full Day Trip (Our pick!)
Whale Watching In Reykjavik (On a luxury yacht)
Northern Lights Bus Tour (Great to go with a local)
Ice Cave Tour And Glacier Hike (Likely to sell out)
Tickets You MUST book in advance:
Keflavik > Reykjavik Bus Airport Transfer (Skip the line!)
Sky Lagoon Entrance Ticket (Includes 7-step spa ritual)
Blue Lagoon Entry Ticket With Drink (Likely to sell out!)
Top picks for places to stay in Iceland:
Hotel South Coast (Great central location)
Grandi Reykjavik (Includes free breakfast)
Hotel Kria (Close to black sand beach)
Hotel Skaftafell (Mid-range price)
Gullfoss Waterfall is probably one of the first waterfalls you will visit in Iceland. For us, we arrived into Reykjavik and the next day we drove the Golden Circle and saw Gullfoss for the first time. Gullfoss Waterfall is such a fantastic introductory waterfall to see in Iceland because it is so unique and beautiful. It will not disappoint and you are really going to enjoy seeing this beautiful waterfall!
Get a FREE printable "Hidden Gems In Iceland" E-book by joining our private Iceland Facebook Group and share your photos and ask for tips and tricks.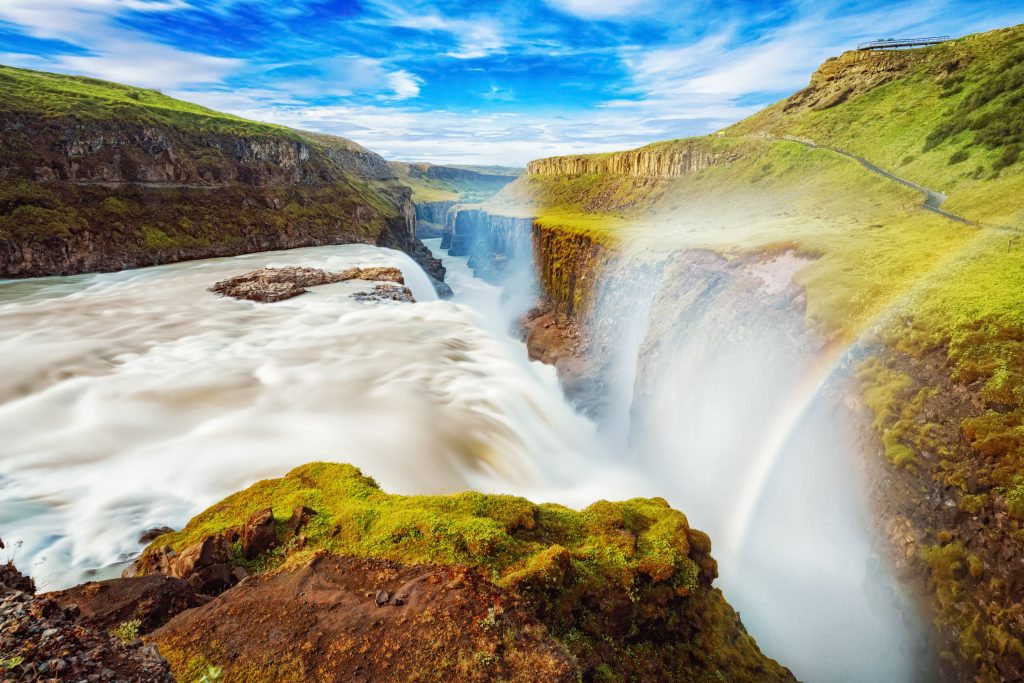 #1. Gullfoss Waterfall Is Only 1.5 Hours From Reykjavik On The Golden Circle
If you are staying in Reykjavik and only have a little time, Gullfoss Waterfall Iceland is a great choice to visit because it is relatively close to town and very memorable. Gullfoss is located on Iceland's Golden Circle Drive which is a circle drive that begins and ends right outside Reykjavik.
Gullfoss Waterfall is located smack dab in the middle of the drive and is about 1 hour and 31 minutes from Reykjavik. The drive to Gullfoss on the Golden Circle is easy, well kept, and beautiful! To see Iceland's Gullfoss Waterfall, budget at least four hours of time to get to the waterfall, explore, and then drive back. We promise you are going to also want to stop at all the beautiful viewpoints along the drive to Gullfoss too!
A visit to Gullfoss Waterfall makes a wonderful day trip from Reykjavik. You can easily drive yourself or you can choose to take a tour. Either way, the experience is memorable and the drive is easy. If you aren't familiar with driving on the "right" side of the road or if you are visiting Iceland in winter and you aren't used to driving in snow and ice, make sure to drive slowly and cautiously.
The roads in Iceland that lead to Gullfoss Waterfall are in very good condition, especially for an Arctic location. They are smooth and kept up, with no potholes and sketchy cliffs.
We are happy to report that a self-drive day trip to see Gullfoss Waterfall is easy and attainable for most people to visit on their own. This is one of the best stops along the Ring Road in Iceland and you really shouldn't miss it!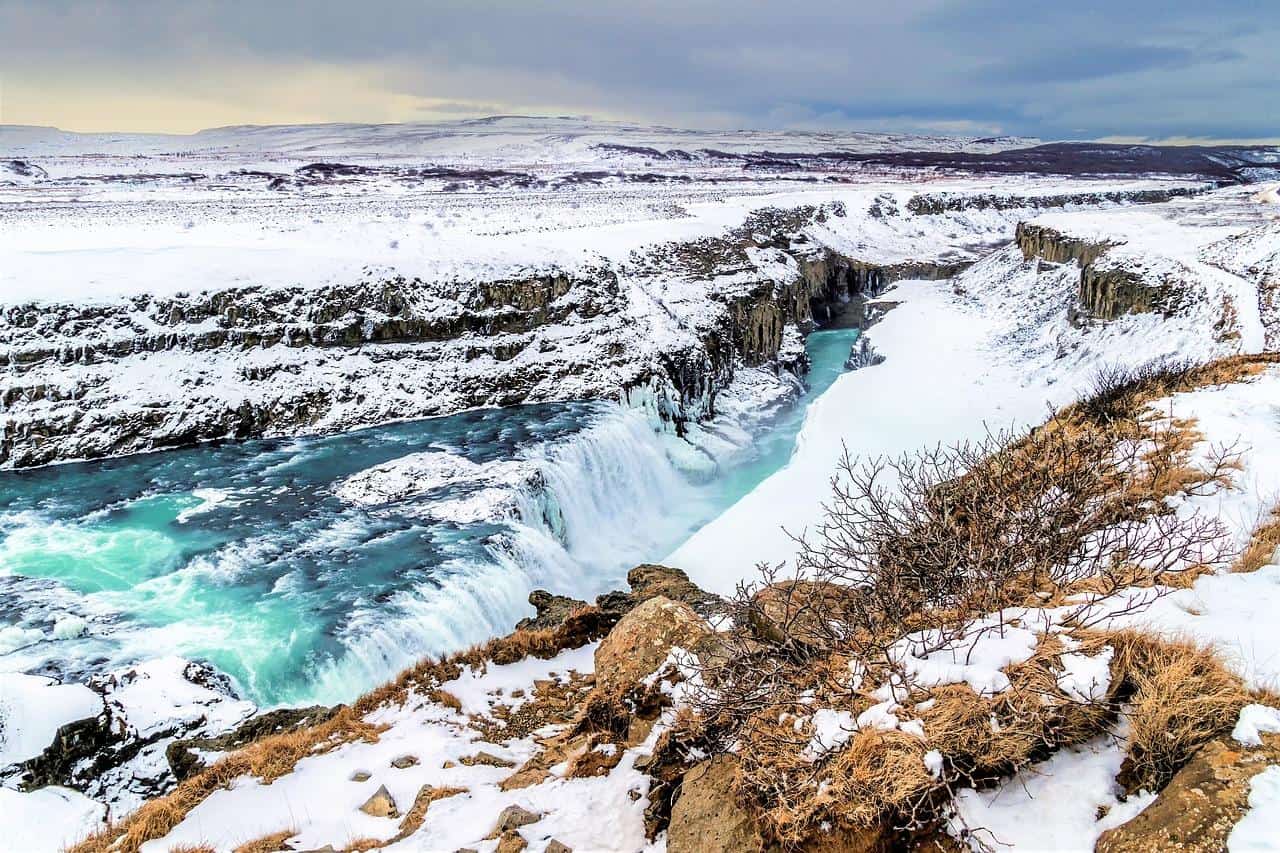 #2. Visiting Gullfoss Is Unique Because You View The Waterfall From Above Instead Of Below
Think of any waterfall you have been to. Chances are pretty high that you viewed that waterfall from the bottom! Gullfoss Waterfall is one of the natural wonders of Iceland and it is unique because you view the falls from above and it appears that the Iceland waterfall is actually going underground!
It is a very interesting perspective making Gullfoss one of Iceland's most famous waterfalls. If this is one of the first waterfalls you see in Iceland, you will certainly remember it because it is one of the only waterfalls in Iceland with such a unique formation.
Gullfoss plunges into a gorge of foaming water so there is no way you could possibly even view it from the bottom. There are multiple angles that you can view Gullfoss from above and each offers a stunning perspective of the powerful waterfall crashing into the river below.
Seeing a waterfall seemingly disappear into the earth is a very memorable experience! Whether you love photography or just want some great travel photos for your vacation scrapbook, Gullfoss Waterfall will not disappoint.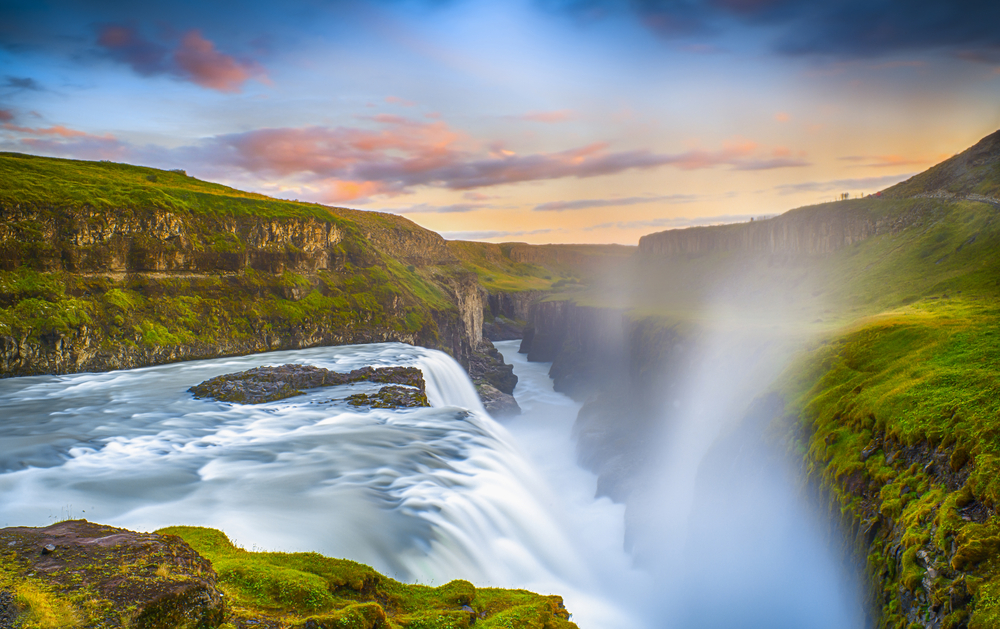 #3. Gullfoss Iceland Is Open Year Round, But Some Viewpoints Aren't Always Accessible
If you are visiting Iceland in winter, it is still very doable and easy to visit Gullfoss Waterfall. As we said above, the roads in Iceland and especially the roads that lead to Gullfoss are very well kept up. We have driven this route in the dead of winter and the roads were always in great condition. That being said, you will not have access to the same range of viewpoints as you may when you visit in summer or visit during another part of Iceland's off-season.
The viewpoint from the Gullfoss Visitor Center is safe and well maintained and open year-round. There are also steps down to a lower viewpoint of Gullfoss that are open during winter too but they can become quite icey. Wear crampons if you have them and plan to explore in winter.
How do we know? Because we have visited Gullfoss in winter and have slipped and fallen on the stairs and onto our butts. Not only did it hurt but it is also potentially very dangerous! We were wearing snow boots with good grip, but it was still no match for the ice all around the viewpoints!
There is a trail that leads down to an overlook that is directly on top of Gullfoss Waterfall that is open during the warmer months but now closed during the winter. If you are looking to see the waterfall from this view, understand that you may have to visit during a warmer time of the year. Visiting Gullfoss in the snow isn't a bad experience at all and the ice all around the waterfall makes it look dreamy and unique!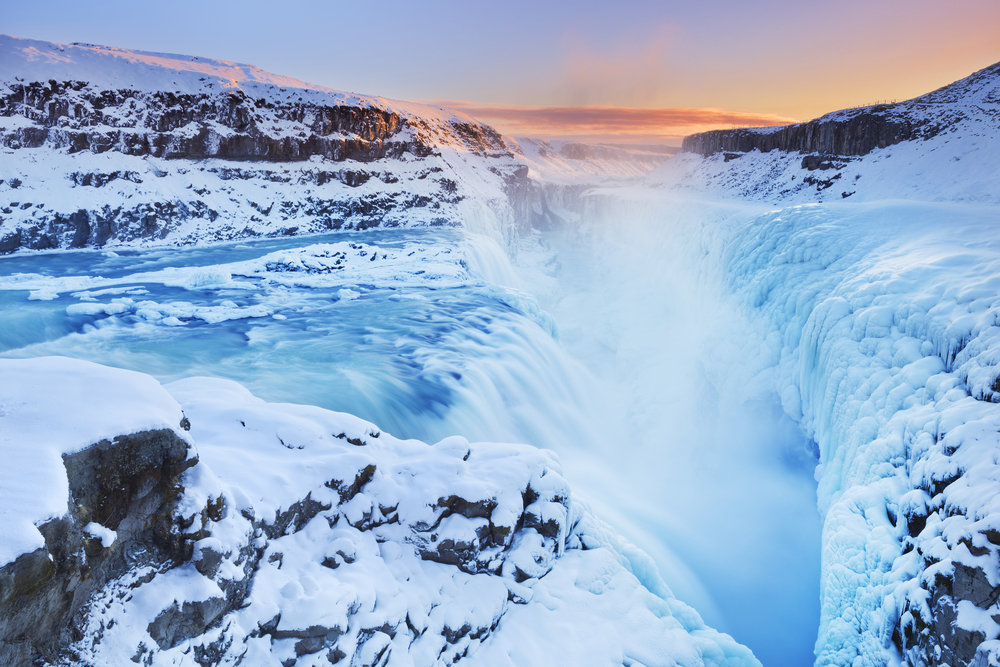 From the lower viewpoint, you will see a gate that will be blocked off during icy conditions or inclement weather. This gate leads to a pathway that brings you right next to Gullfoss Waterfall Iceland. It is an impressive view and allows you to get up close and personal with Gullfoss.
If you hope to see the traditional Gullfoss Waterfall view, you will always have the chance from the safety of the visitor center and nearby viewing platforms.
If you hope to stand right next to Gullfoss and shoot downstream, you may or may not be able to depend on what time of year you visit. We visited Gullfoss during the dead of winter at the beginning of March and this pathway was open. Another time, we visited during November in no snow and the pathway was closed. If you want to ensure you will get an up-close view of Gullfoss, plan your drive in Iceland during the warmer months.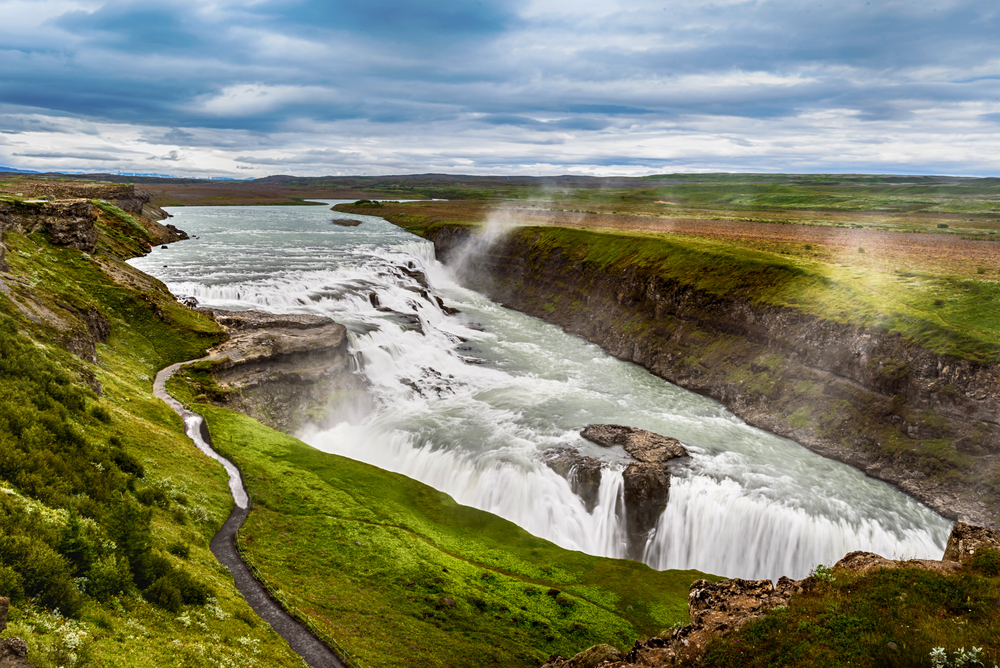 #4. Using The Restroom At Gullfoss Waterfall Costs Money…..But There Is A Hack!
In case you didn't know, many bathrooms in Iceland cost money to use! This is a super foreign concept to those of us from North America, but quite usual in Europe so be prepared! When visiting Gullfoss in Iceland, there are very nice and modern bathroom facilities in the Gullfoss Visitor Center parking lot.
They are quite prominent, clean, and often busy as Gullfoss Waterfall is a popular stop when driving in Iceland. These restrooms cost money to use and many people don't know that until it is too late and they don't have any spare change which is especially inconvenient if you are trying to visit Iceland on a budget.
That being said, if you simply go inside the Gullfoss Visitor Center you will be able to use the restroom 100% for free! There is a shop and lunch cafe-style restaurant inside and nearby there is a warm and free bathroom! The majority of people don't know about this free option and are stuck having to pay for the outdoor facility or not go at all! If you plan to visit, simply park your car and head inside for a free restroom experience!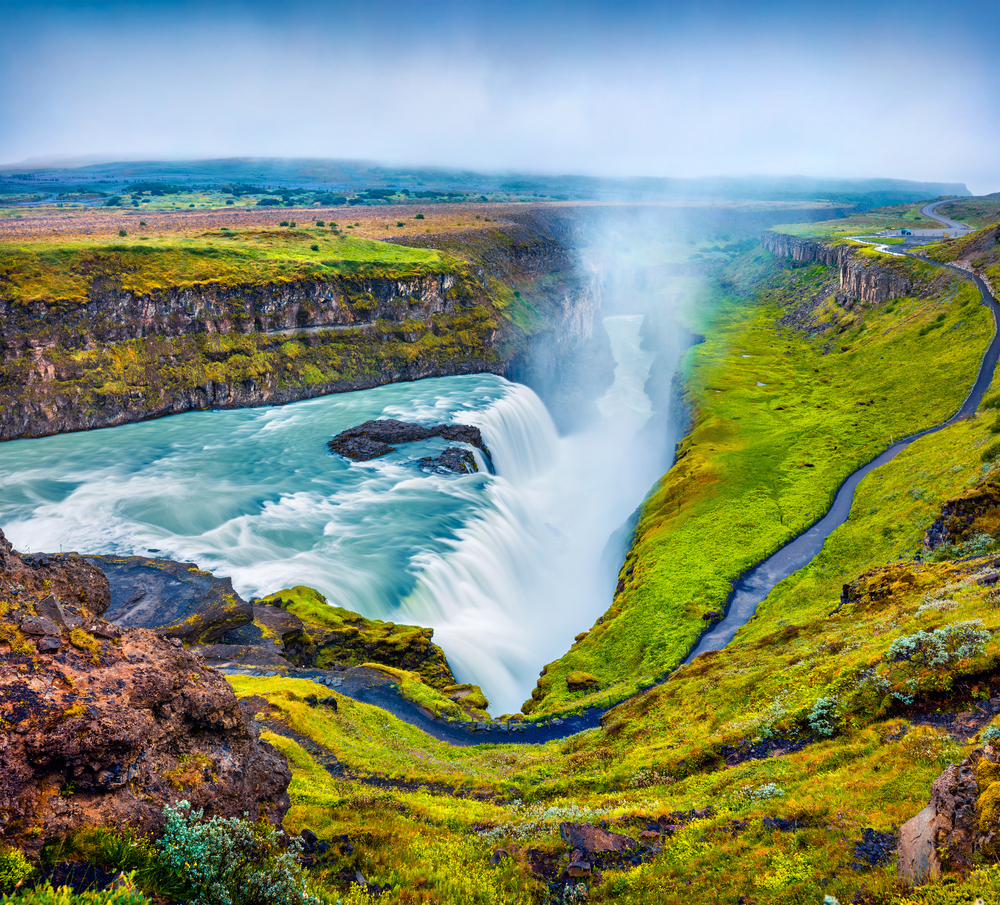 #5. Gullfoss Literally Translates To "Golden Falls" And It May Be Marked As Such On Your GPS
In Icelandic, Gull means Golden, and Foss means falls/waterfall. When you hear Gullfoss, that literally translates to Golden Falls. The rushing water of Gullfoss Iceland looks like a golden waterfall when the sun hits the water on a sunny day.
This name translation is worth noting because sometimes your GPS will call the location "Golden Falls" instead of Gullfoss Waterfall. Apple Maps vs Google Maps also have different markings depending on what you put in. You want to be sure you are heading to the correct location and not to some random part of the country!
If you don't know the translation, you could get very frustrated with your GPS for not bringing up the exact address or for taking you somewhere else. If you begin to type in Gullfoss into your GPS and "Golden Falls" comes up first with an address on Iceland's Golden Circle, you are good to go and well on your way to Gullfoss Iceland!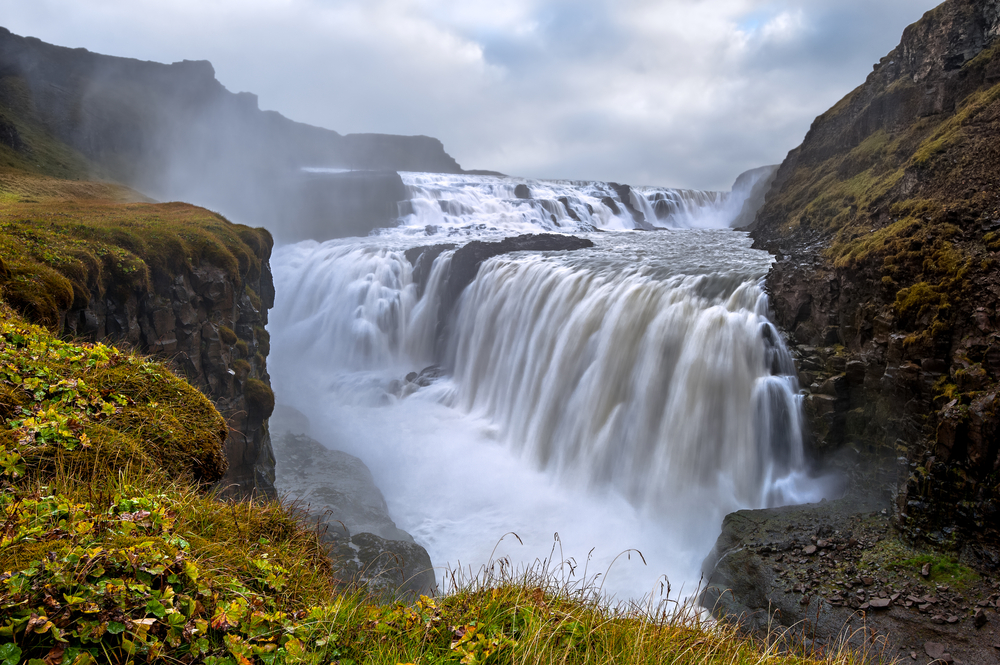 Quick Tips For Visiting Gullfoss Waterfall
-Any Time Of Day Is Perfect For Visting Gullfoss Waterfall. Gullfoss Waterfall is great to visit any time of day. Whenever you have time, you should go! There is truly no optimal time and the way the falls are situated means that you can easily photograph them without people being in your way!
There is no need to get here very early in the morning. If you are looking to photograph Gullfoss Waterfall, make sure to check the weather for the day you are looking to visit. If it is going to be cloudy, you are set to visit at any time of the day. If there won't be a cloud in the sky, it will be better to go during "golden hour" which is during sunrise and sunset.
-Stay On The Approved Trails And Walkways. When visiting Gullfoss, we highly recommend following caution signs and staying on the approved trails. It can be tempting to go off trail to get the perfect photo, but that photo isn't worth your life!
Gullfoss Waterfall is very powerful and the ground may be unstable or uneven. This is especially true during the winter because snow may look safe but may end up being deceiving. Tourist deaths have sadly become more common in Iceland and the trails can get very slipperty. You don't want to put yourselves or the Icelandic rescue team in danger so make sure to practice safety and caution.
-Dress Appropriately When Visiting Gullfoss Waterfall. You are going to want to enjoy your visit to Gullfoss Waterfall in Iceland so be sure to wear the proper clothing! During the summer, the surrounding areas can be slippery and wet and during the winter, they will be icy or slushy. We have seen many people walking around Gullfoss Waterfall wearing wet Converse shoes or sneakers and we don't want this to be you! Check out the best jackets for Iceland and the best shoes for Iceland for our tried and true recommendations!
-Leave No Trace. While this may sound obvious, it begs to be said. The more popular Iceland gets the more trash people leave behind. This is thoughtless and damages the environment. When visiting Gullfoss Waterfall Iceland, make sure to leave no trace. Out on a hike? Don't litter, and this includes cigarettes. If you are eating a candy bar or finish a plastic bottle of water, keep it with you until you reach a trash or recycle bin. Only you can help keep Gullfoss Waterfall trash free and beautiful!
-You Don't Have To Drive To Visit Gullfoss Waterfall. If you are planning a trip to Iceland and don't want to drive, you can still totally visit Gullfoss Waterfall! Many people visit Iceland on a stopover or aren't comfortable renting a car or shelling out extra money and that is okay!
Many tours in Iceland will take you to Gullfoss Waterfall and these tours are actually the most affordable tours you can go on in Iceland! So if you want to see Gullfoss Waterfall Iceland and you don't want to deal with driving, simply find a "Golden Circle Tour" and you will be all set! Check out Golden Circle Tours Here!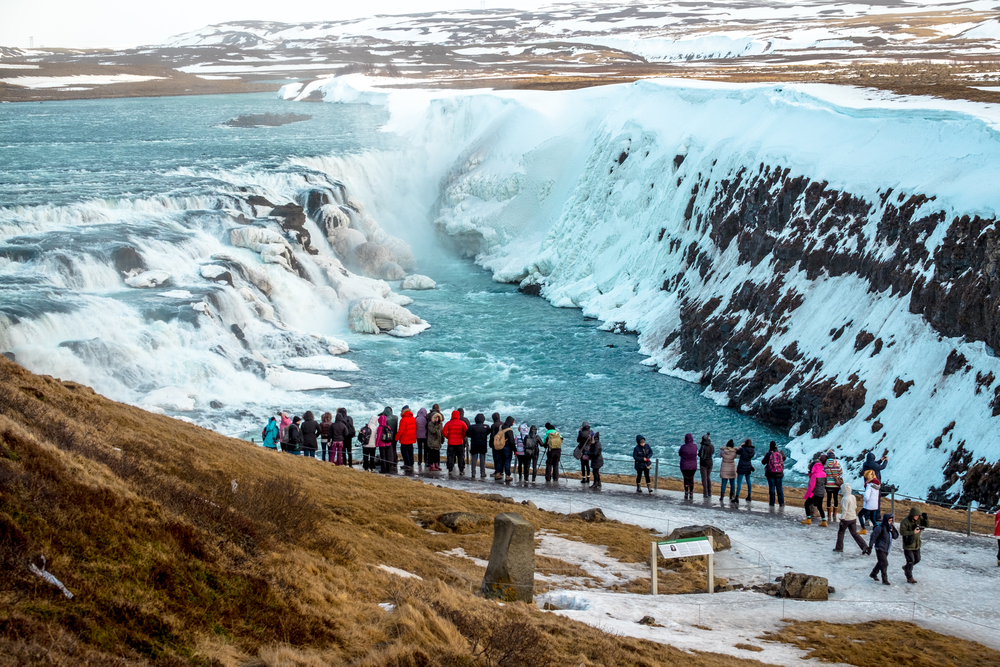 Tips For Photographing Gullfoss Waterfall
If you are visiting Gullfoss Waterfall as a photographer or you just want to capture some beautiful images of this stunning place, here are some tips for you! First of all, sunrise or sunset will provide the best lighting. That being said, if you visit on a moody day when it is cloudy or there is weather in the area you are in luck because you can photograph it at any time of day.
No matter what time of day you visit, the waterfall is stunning and a great photography location. Our favorite time of day to photograph Gullfoss Waterfall is when it is cloudy/moody because you get to take great photos at any time of day and for as long as you want without rushing around early in the morning or later in the evening.
If you are looking to capture a long exposure image of Gullfoss Waterfall where the waterfall looks silky smooth in your image, you are going to want to bring a tripod. We use this Benro Travel Angel tripod and love it for shooting in Iceland.
When choosing a tripod for your trip to Iceland, make sure to choose one that is very sturdy and reliable because Iceland can get quite windy and you don't want your camera to fall over and get damaged. In order to get the silky smooth look, you are going to want to take a long exposure at Gullfoss Waterfall.
Put your camera on a tripod and then you are going to want to make sure that the shutter is open for 0.5-2 seconds [or more] depending on the lighting and time of day you are shooting Gullfoss Waterfall.
When photographing Gullfoss Waterfall, there are multiple viewpoints you can shoot from as well! You can take photos from an overlook by the visitor center which is a great overall view of the waterfall. If you walk down the nearby stairs you will see a "lower" version of the same view.
If you visit during the winter, some viewpoints will be closed, but the waterfall makes for a stunning photographic centerpiece in the winter! If you visit during the warmer months, you are able to walk to a viewpoint which puts you right on top of the waterfall. This is such a great and unique viewpoint for shooting Gullfoss Waterfall. This is truly one of the best photography locations in Iceland!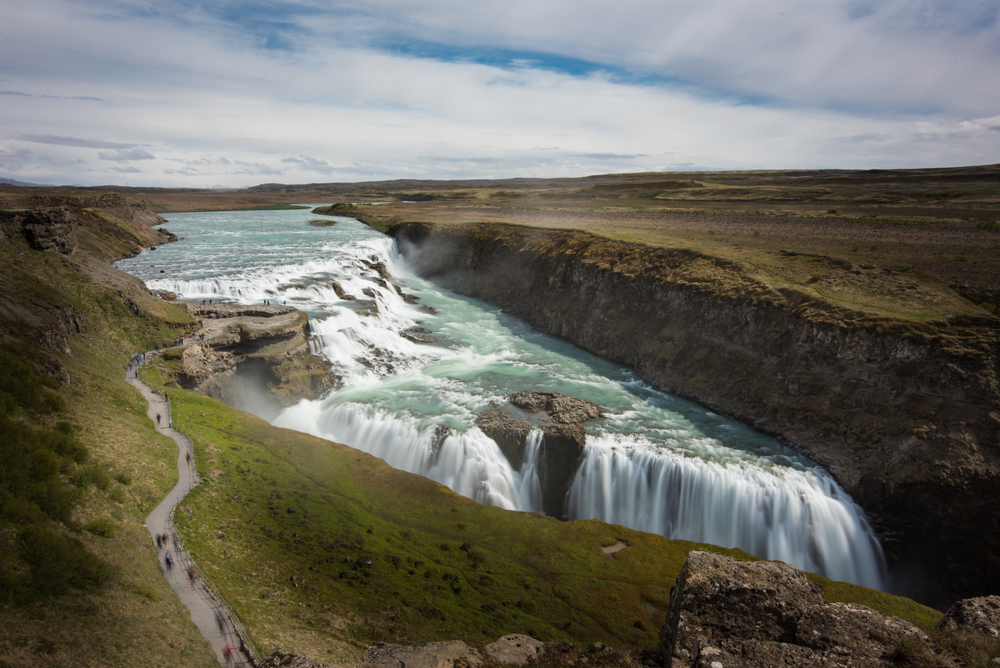 Reader Interactions
February 25, 2023 at 9:39 pm
Can you please give me information on the walking trail from the parking lot to the observation point of the Gullfoss waterfall. Is it a steep rocky path?
February 27, 2023 at 7:14 pm
The view from above is easily accessible and not steep its almost a flat walk to view from above
April 16, 2023 at 7:09 am
No, very easy path to walk on, some paved and some on compacted gravel and no steep path. there are some steps and again they are concrete steps, easy to walk down and up with handrails.
Leave a Reply Cancel reply
Your email address will not be published. Required fields are marked *
Save my name, email, and website in this browser for the next time I comment.
Travel to Iceland
Tours & Vacation
Your In-depth Guide to Gullfoss Waterfall
With over 10,000 waterfalls in Iceland, what makes Gullfoss such a must-visit site? In this article, we tell you just why the falls can be found as a top attraction in most tourist brochures,
where to find it, how to get there and reveal all the other interesting things one can do in the surroundings.
So, if you've got an upcoming trip to the island, or are just curious to learn more about this intriguing waterfall, read on. What you get to learn about Gullfoss Waterfall might surprise you.
Gullfoss Waterfall; a Powerful Waterfall that Makes for Powerful Images
Gullfoss Waterfall is incredibly beautiful, and has quite a distinct feature; instead of tumbling over cliffs like most of the fall
s on the island, Gullfoss plummets into a massive crevice.
Add the fact that the power of the falls can range from between 109,000 to a staggering 2,000,000 liters PER SECOND , and it's easy to understand why it's such a popular subject matter amongst both professional and amateur photographers here on the island.
Where is Gullfoss in Iceland?
Gullfoss Waterfall lies in the southwestern part of Iceland , in the canyon of the Hvita River. It's just 113 kilometers from the capital city of Reykjavik, and conveniently located along the popular Golden Circle route.
How High is Gullfoss Waterfall?
This is not such a simple question because Gullfoss Waterfall actually consists of two tiers. So, whilst the entire waterfall totals a height of 32 meters, it consists of one tier that's 11 meters and another that's 21 meters.
What Does Gullfoss Mean?
Gullfoss means "golden falls" . And whilst many say that it got its name because of the golden-brown hue the falls have on a sunny day because of the sediment in the water, we prefer to believe that there's some truth to the Gullfoss legend…
What is the Legend of Gullfoss Waterfall?
The details of the legend will slightly differ depending on who you ask, but everyone can agree on the basics of the story; a man called Grygur was incredibly rich. But his greed and selfishness matched his incredible wealth. He was determined that no one will inherit his wealth after his death.
And, so the legend goes, Grygur hid his treasure behind the falls . With the powerful falls crashing down at thousands and thousands of liters of water per second, no one has ever been able to establish whether there's any truth to the legend (and we don't recommend you try to be the first), but we enjoy visiting the falls and imagining Grygur's secret stash hidden away behind the veil of vast amounts of water.
How was Gullfoss Formed?
Gullfoss is the end result of a domino effect. Studies have proven that the glaciers of Iceland melted at the end of the last ice age . It is unsure of exactly why, though, and there are many theories regarding climate change and volcanic activity or even a combination of both.
But these melting glaciers caused major glacial flood s that carved their way through the earth, forming various canyons, caves, and crevices all across the country. One of these crevices is the one at Gullfoss that the Hvita River is now seen tumbling into.
When is the Best Time of the Year to Visit Gullfoss Falls in Iceland?
Both the roads around Gullfoss as well as the waterfall itself are open to the public all year round . And whether you visit during the warmer or colder months of the year, each offers a different type of magical experience.
From the rushing water running into a crevice with a lush green landscape surrounding it to a fall with frozen tentacles dangling into the crevice surrounded by a landscape covered in a thick blanket of snow. But it's because of cold temperatures and other weather conditions that can make the hike to the falls unpleasant and slippery, that most will recommend that you visit the waterfall during the summertime here in Iceland.
What is the Best Time of the Day to Visit Gullfoss Falls in Iceland?
There is no specific time that makes visiting Gullfoss better than any other time. But we do recommend that you visit the falls either early in the morning or late in the afternoon when visiting during our busy peak season summer months. This is just so you can avoid most of those peak season crowds.
How Much Does it Cost to Go to Gullfoss?
Absolutely nothing. Visiting Gullfoss Waterfall won't cost you a cent.
How Long Does it Take to See Gullfoss Waterfall?
You should set aside roughly 1 – 2 hours for visiting Gullfoss. This should give you enough time to take the walk down, spend some time at the various observation decks, and take all the photos you want.
Do you Get Wet at Gullfoss Waterfall?
Powerful waterfalls such as Gullfoss create a lot of mist and spray. So, depending on how the wind blows, you can get quite wet during your visit to the falls. We recommend that you wear waterproof clothing and bring a raincoat along.
The Gullfoss Hike
Unlike some of the other waterfalls in Iceland , there's no need to take an actual hike to get to the falls, but it does require a short walk from the parking lot. But it's a neat and easy trail to the falls.
How to Get to Gullfoss Waterfall
There are essentially three ways to visit Gullfoss:
Take a Guided Tour
You will find plenty of tour operators on the island that offers tours to Gullfoss. These range from day tours to multi-day tours that include a variety of Icelandic attractions. But all of these will take care of everything on your behalf, so you don't need to think or worry about a thing regarding your excursion.
Catch a Bus
Various buses travel to Gullfoss from towns and cities all across Iceland. Some of the bus routes offer a direct trip to the falls, whilst others will require a bit of "bus hopping"
Drive Yourself
This is another easy way to get to Gullfoss and a great way to explore the island if you do a Golden Circle road trip.
Things to Do and See Near Gullfoss Waterfall in Iceland
Whether you're planning on making your visit to Gullfoss a day trip, or a stop on a Golden Circle road trip, you should consider adding the following to your trip itinerary:
Ride snowmobiles on Langjökull Glacier.
Check out Faxafoss Waterfall.
Take a snapshot of a geyser eruption at Geysir.
Go on a hike in Haukadalur Valley.
Where to Stay Near Gullfoss Waterfall in Iceland
With so much to do around Gullfoss, it's a good idea to sleep over so you can enjoy everything the area has to offer. There are plenty of accommodation options to choose from – from budget-friendly options like the Geysir Modern Log Cabin to more luxurious options like Hotel Gullfoss .
Gullfoss Waterfall; a Golden Opportunity for Amazing Photos
Although the sheer size of Gullfoss is already impressive, its unique coloring and the fact that the water plunges into a crevice make it an amazing spot to take photos. Add the legend of the mysterious treasure to the mix, and you have quite the interesting subject. If you go on one of our guided tours in Iceland , we're sure you'll learn even more facts about this intriguing waterfall here on the island.
Recent Posts
Your Guide to Dettifoss Waterfall in Iceland
Your Complete Guide to the Best Time to Visit Iceland
Guide to Iceland in November: Things to do in Iceland in November
Tour Packages
Tours From Reykjavik
Meet on Location
Family Friendly
Shore Excursions
Private Tours
Northern Lights Tours
Itinerary Planner
Custom Itinerary
Travel Guides
Things To Do in Iceland
Locations in Iceland
Hot Spring Map
Gullfoss Waterfall: The Golden Falls of Iceland
Basic Information
Located in the Hvítá river canyon, Southwest Iceland, Gullfoss Waterfall is crowed as one of Iceland's most iconic falls. Translating directly to 'Golden Floss', the waterfall is one of the top three landmarks in the Golden Circle and surely does justice to its name! With the high sediment glacial water making the falls glow, The Golden Floss is a two-tiered waterfall offering a deviating view over the seasons. The summer sees a cascading veil of heavy water flow down from two levels. While the waterfall produces numerous rainbows by the clouds of sprays from the continuously tumbling water in summers, the winter freezes it into glistening waves of ice. The stunning waterfall is a must-see location when in Iceland in any season.
Tours that take you to Gullfoss
Golden Circle Classic Excursion
From 11,990 isk.
Golden Circle Tour of Iceland
From 11,500 isk.
Golden Circle & Snorkeling Silfra
From 34,900 isk.
Golden Circle, Kerið Crater & Friðheimar Farm
From 12,990 isk.
Golden Circle & Blue Lagoon – admission included
From 28,900 isk.
Golden Circle & Northern Lights Tour
From 19,490 isk.
Snowmobiling on Glacier – Meet on Location
From 32,500 isk.
Snowmobile & Ice Cave on Langjokull glacier – From Gullfoss
From 44,100 isk.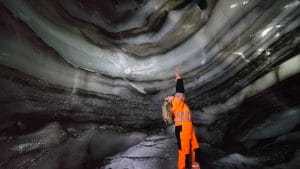 Snowmobile & Ice Cave Tour from Reykjavik
From 52,600 isk.
Golden Circle & Snowmobile
From 45,000 isk.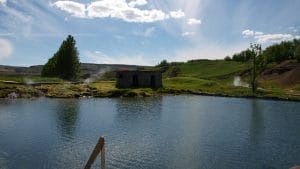 Golden Circle & Secret Lagoon
From 14,590 isk.
Golden Circle Private Tour | with extra stops
From 182,100 isk, golden circle & blue lagoon private tour / secret lagoon, from 199,900 isk.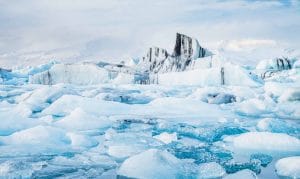 3 Day Winter Package | Blue Ice Cave, South Coast, Golden Circle & Northern Lights
From 109,900 isk.
4-Day Package | Blue Ice Cave, Golden Circle, South Coast, Snaefellsnes & The Northern Lights Tour
From 199,990 isk.
5-Day Winter Package | Blue Ice Cave, Golden Circle, Snæfellsnes, South Coast & The Northern Lights Tour
From 204,900 isk.
3 Day Summer Tour – Golden Circle & South Coast
From 119,000 isk.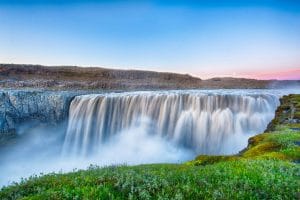 6 Day Iceland Ring Road Tour – Summer
From 319,000 isk.
8 Day Iceland Tour – Summer
From 399,897 isk.
Golden Circle & Lava Cave
From 21,990 isk.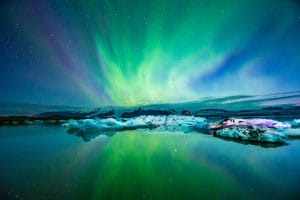 8 Day Iceland Northern Lights Tour Package
From 299,990 isk.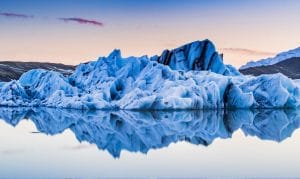 6 Day Iceland Ring Road Tour – Winter
From 279,900 isk.
Glacier Super Truck Tour
From 22,982 isk.
Golden Circle & Horse Riding Tour
From 23,490 isk.
Golden Circle Jeep Tour | Glacier & Super Jeep
From 39,900 isk, private golden circle & snowmobile, from 208,000 isk.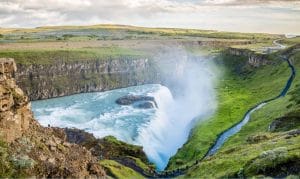 Golden Circle Afternoon Tour
From 10,990 isk.
Golden Circle, Friðheimar & Sky Lagoon | Premium Tour
From 24,990 isk.
Best of Iceland in 5 Days | South Coast, Golden Circle & Snaefellsnes
From 192,990 isk, golden circle private tour – pick up at airport available, from 142,000 isk.
Best places on the Golden Circle.
Golden Circle Secret Locations. 
Discover  hidden gems in Iceland.
Read about more  waterfalls in Iceland.
Self Driving in Iceland
How to Get There and What You Will See
The glory of the Golden Circle, the Gullfoss Waterfall is situated in the majestic Haukadalur Valley, in the Hvítá River, meaning the White River. If you are driving the Golden Circle, you might be arriving to Gullfoss from two directions. From the south if you are coming straight from Reykjavik, or from west if you have visited Thingvellir National Park and Geysir geothermal area first.
Both routes are well marked so the waterfall will be easy to find. If you are arriving from the south, the route will direct you to the waterfall while following the Ring Road. Around 113 km away from Reykjavik, take a turn for route 35 after driving east for about 54 km. Following the directions, you will find the parking to the waterfall, right next to a Visitor Center.
If you are arriving to the waterfall from Geysir geothermal area, you will simply keep on driving on route 35 for around 10 minutes, or 9,5 km.
Activities close to Gullfoss waterfall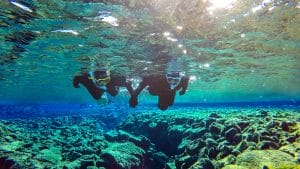 Silfra Snorkeling Tour | Snorkeling between tectonic plate
From 21,900 isk.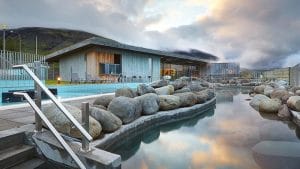 Laugarvatn Fontana – Admission to the geothermal baths
From 4,900 isk.
Helicopter: Glacier Landing & Waterfalls
From 113,900 isk.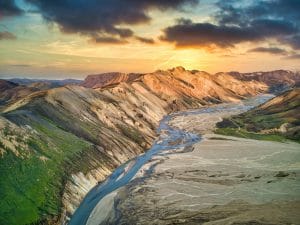 Icelandic Grandeur Helicopter Experience
From 195,900 isk.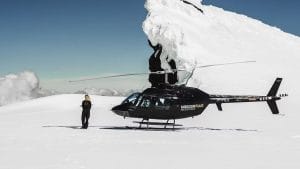 Fire and Ice Helicopter Adventure
From 125,900 isk.
Skyfall Iceland: A Helicopter Tour of Waterfalls and Valleys
From 69,900 isk.
Rye Bread Cooking | Geothermal Bakery in Iceland
From 2,990 isk.
Diving in Silfra Iceland | Tectonic Plates
From 34,990 isk.
Dropping from a total of 32 meters, the waterfall gushes down the jagged canyon, in two stages, creating the most beautiful golden hints dancing along the water in the sun.  After a gentle three step staircase, the two grand descents follow, creating a mesmerizing curtain of water and producing spray thick enough to feel like standing in the clouds. A kilometer away from the falls, the river takes a sharp right to flow through a dramatic canyon and further gushes itself through a narrow channel.
Formed by the meltwater of the Lángjökull glacier, the combination of the falls and the river meandering elegantly through the crevasse, Gullfoss makes a majestic point for photography and a serene view. Rather than at the foot of the falls like other waterfalls, Gullfoss waterfall holds more of a magnificent painting from above. Watching the water flow over two layers creates a stunning wonder.
More Locations in the Golden Circle
Thingvellir National Park
Geysir geothermal area
Secret Lagoon
Hrunalaug hot spring
Faxi waterfall
History of The Falls
The grand water-body has been considered as a power source multiple times over centuries, but with stories being associated with it, the 20 th century lore takes us elsewhere. Tómas Tómasson, the gentlemen whose original property the land was, approached investors seeking to harness power from the gigantic source and after convincing, agreed to it. However, his daughter, Sigriður Tómasdóttir believed otherwise. She was convinced that such developments would lead to irreparable damage to the waterfall and was not the slightest bit in favor of working against nature.
Though her legal means of saving Gullfoss proved incompetent over several years, the lease eventually expired and the family were in no position to take the decision. She vowed to jump into the water itself before watching a damn being constructed on it and soon, her adopted son acquired the falls. Later selling it to the Icelandic government, he took a step towards preserving the Gullfoss Waterfall to see it become what it is today. On your visit, you will see a monument built there to honor Sigriður Tómasdóttir's efforts towards saving the natural wonder.
Golden Circle & Secret Lagoon Tour | Family Friendly & Small Groups
From 15,900 isk, golden circle private tour.
Golden Circle Tour | Starts at 12
From 9,990 isk.
7 Days Around Iceland | Complete Iceland Tour
From 314,990 isk.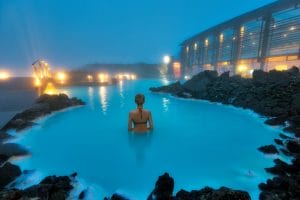 Golden Circle & Blue Lagoon | Family Friendly Tour
From 31,490 isk.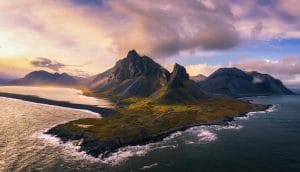 Icelandic Highlights: 8 Day Tour to Iceland's Best Attractions
From 349,990 isk.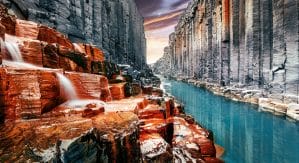 Around Iceland Tour | 6-Day Adventure on Iceland's Ring Road
From 279,990 isk, 8 day iceland tour – winter, from 329,900 isk.
3 Day Golden Circle & South Coast Tour
From 114,990 isk, gullfoss waterfall on a map.
Interesting locations in the area
Þingvellir National Park
Helgufoss waterfall
Þórufoss waterfall
The Cave People
Nesjavellir
River Rafting
Snorkel Silfra
Diving Silfra
Laugarvatn Fontana
Glacier Snowmobile
Glacier Snowmobile & Ice Cave
Hotels & Restaurants
ION Adventure Hotel
Golden Circle Apartments
Friðheimar Tomato Farm
Efstidalur Farm
More Nearby Locations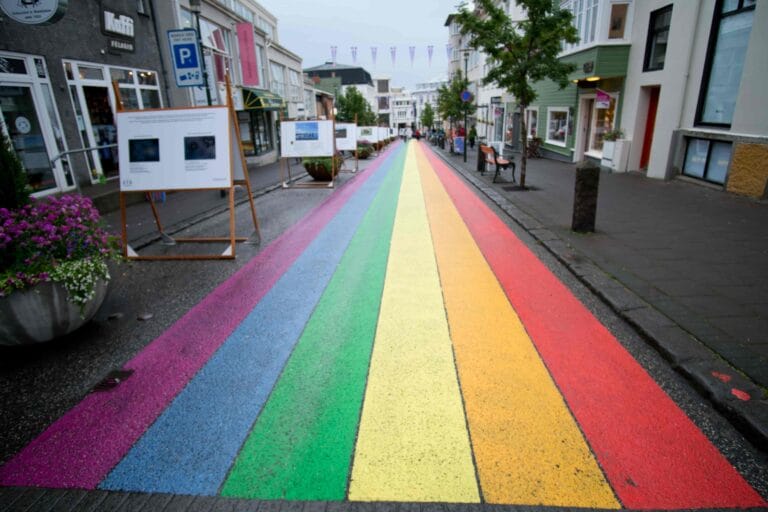 Laugavegur Shopping Street
Eyjafjallajökull Volcanic Glacier
Helgafell Mountain
Popular articles.
Best Selling Self Drive Activities in Iceland | Summer 2023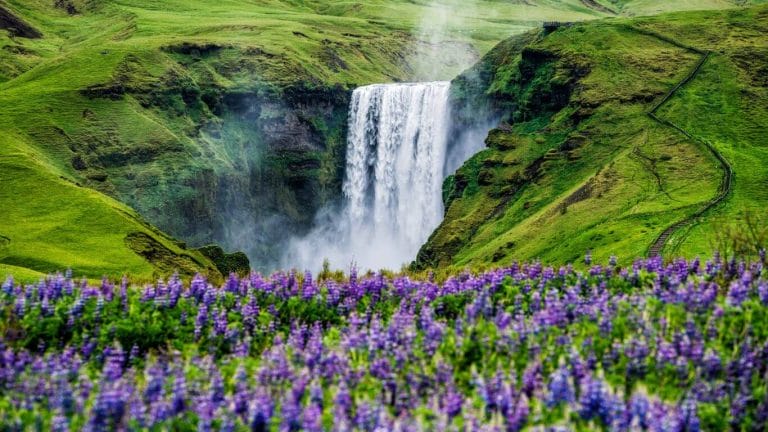 Top 10 Iceland Locations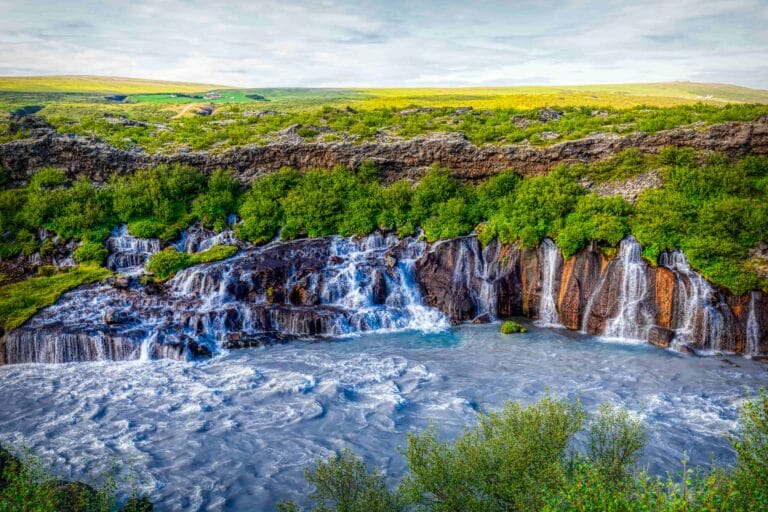 The Silver Circle of West Iceland
Top 103 Locations in Iceland – Map
Top Things to do in Reykjanes Peninsula
Top 10 things to do in west iceland, most popular tours.
South Coast Private Tour
From 130,000 isk.
Northern Lights Photography Tour | Small Groups & Professional Photographer
From 14,990 isk.
Volcano Helicopter Tour
From 55,900 isk, south coast & sky lagoon, from 25,990 isk.
Landmannalaugar Hiking, Hot Springs & Haifoss waterfall | Day Tour from Reykjavik
From 23,990 isk.
South Coast & Jokulsarlon | Day Tour from Reykjavik | Boat Tour Available
From 24,000 isk.
Snowmobile Tour on Langjokull
From 29,000 isk.
South Coast, Waterfalls & Glacier Hike
From 22,990 isk.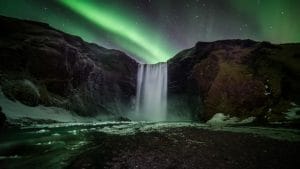 South Coast, Glacier Hike & Northern Lights Tour
From 30,590 isk.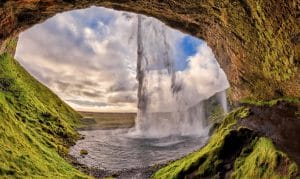 South Coast of Iceland – Glaciers, Waterfalls & Black Sand Beaches
From 15,990 isk.
Katla Ice cave & South Coast – Go under the Volcano
From 37,900 isk.
Northern Lights Small Groups
From 13,500 isk.
Northern Lights Super Jeep
Jokulsarlon Glacier Lagoon Tour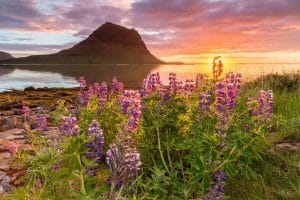 Snaefellsnes Peninsula & National Park
From 18,900 isk.
South Coast & Glacier Hike
From 22,900 isk, subscribe for updates, new travel guides, tours, locations, travel plans & itineraries every week, most popular things to do in iceland.
Ice Cave Tours
Sightseeing Tours
Hiking Tours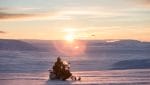 Snowmobile Tours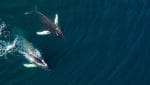 Whale Watching Tours
Glacier Hiking Tours
Horse Riding Tours
Hot Spring Tours
Explore iceland by region.
Golden Circle
South Iceland
Snaefellsnes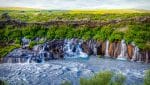 West Iceland
East Iceland
North Iceland
Hidden Gems

Gullfoss Waterfall in Iceland: Height, Flow, Location, and Tours
Gullfoss Waterfall is one of the most famous and popular waterfalls in Iceland. It is 32 meters (104 feet) tall with two major drops. However, it isn't an impressive height that sets the Gullfoss Waterfall in Iceland apart. Instead, it is very wide, covering an area of 175 meters (575 feet) in the stunning blue waters of the falls. 
Gullfoss is also called the Golden Falls of Iceland because of the way the sunlight hits the waters during certain times of a sunny day. Because it is so popular, there are many tours you can take to see both Gullfoss and the nearby Geysir. 
The waterfall itself offers a dramatic display of the power and thunder of nature, no matter the season. It has been protected from greed's intentions, such as a hydroelectric plant that would have massively changed the waterfall and its surrounding geology.
What are the Tourist Activities for Gullfoss Waterfall?
Gullfoss isn't the only major tourist attraction in the area. There is also the Great Geysir, one of the first to be described as such. This feature earned the common noun 'geysir' for the rest of these similar geothermal occurrences. 
What are the Hotels for Gullfoss Waterfall?
Because of the popularity of this waterfall, there are plenty of hotels nearby even though it is far from the Ring Road. These include Hotel Gullfoss, Geysir Hestar, Litli Geysir Hotel, and Hotel Geysir.
What are the Facts about Gullfoss Waterfall?
Gullfoss Waterfall is about an hour and 45 minutes away from Reykjavik . 
What are the Hiking Trails in Gullfoss Waterfall?
The hike to and around Gullfoss waterfall gives you beautiful panoramic views of the stretch of falls. It is an easy hike, but you should prepare with plenty of waterproofs. The mist from the waterfalls often covers the paths around the falls, drenching hikers that wander too close. The hike itself is an out & back route that is 2.1 kilometers long, on which you will only experience 31 meters of elevation gain.
Is there a National Park for Gullfoss Waterfall?
Gullfoss is relatively close to Thingvellir National Park . Thankfully, there is a route you can take across the countryside primarily using Road Nr. 365 instead of having to drive back to the Ring Road and then back up North towards the waterfall. Thingvellir is about an hour's drive away from Gullfoss.
Is Gullfoss close to the Blue Lagoon?
Gullfoss isn't very close to the Blue Lagoon . It is about two hours drive away from the famous tourist attraction.
Which Canyons are Connected to the Gullfoss Waterfall?
The waterfall lies in the canyon associated with the Hvita river . This river flows southward. Before it reaches the falls, it takes a sharp right down and cascades down a sort of triple stepped staircase right before plunging down the two stages of the waterfall into the crevice of the canyon .
Which Rivers are connected to the Gullfoss Waterfall?
The Hvita River is the one that feeds the waterfall. This river is a glacial river that can trace its origin point back to Lake Hvitarvatn 45 kilometers to the north of the waterfall.
Information about the seismic activity in Reykjanes. Read updates here !
Explore the regions of Iceland:
North Iceland
East Iceland
South Iceland
West Iceland
Gullfoss waterfall
Gullfoss is two separate waterfalls; the upper one has a drop of 11 meters and the lower one 21 meters. The rock of the river bed was formed during an interglacial period.
Water flows over Gullfoss at an average rate of 109 cubic meters per second. The heaviest floods have recorded a flow of 2000 cubic meters per second. During the summer, the flow is 130 cubic meters per second, which would take only 3 seconds to fill this building. People were eager to exploit the power potential of Gullfoss, and many plans for hydroelectric developments on the river Hvítá have been proposed.
The trails by Gullfoss can be closed, so it's good to check the conditions before going. To check whether it is open or closed to visitors, check out the website of Safetravel.is.
N64° 19' 38.220" W20° 7' 8.135"
Get directions
Postal code: 806
Road number: 36
Sleipnir Glacier Tours Iceland Visiting Gullfoss Waterfall Iceland: A Practical Guide
Gullfoss Waterfall stands as one of Iceland's most prominent waterfalls – a tough call in a country that's pretty much packed with them. Tucked away in Iceland's famous Golden Circle, it's one of the must-see sights on any Icelandic travel itinerary. Here's why.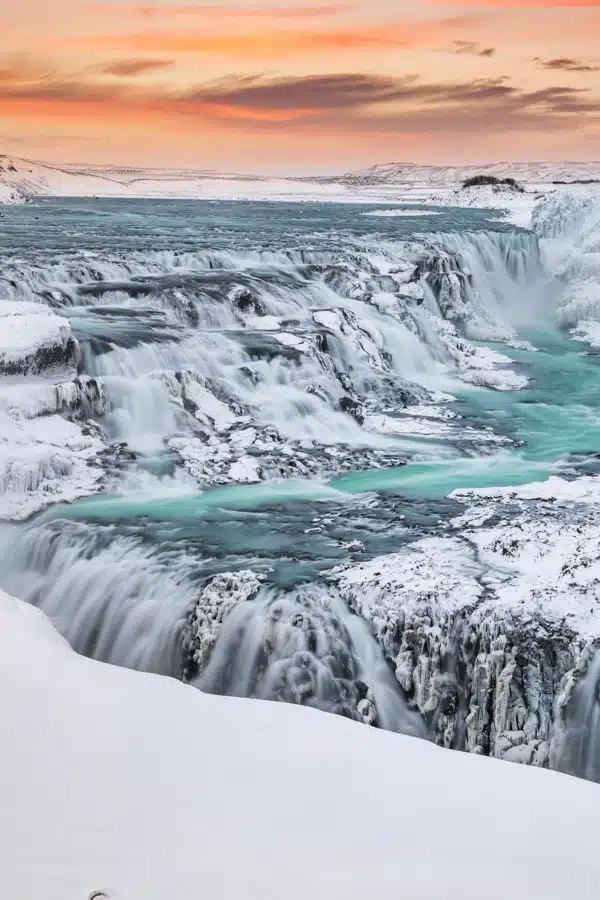 OK dudes. I went on a trip to Iceland a couple of weeks ago and it pretty much blew my mind.
Where else can you go where you can see golden waterfalls, black sand beaches, mossy landscapes, glaciers and geysers all in the course of one day?
One of the real highlights of the trip was taking a peek at Gullfoss waterfall. Iceland's waterfalls have to be seen to be believed.
Gullfoss is a place that has been on my travel bucket list for a long, long time. Millions of litres of water thundering into the abyss in a striking setting – it was always going to be a winner right?
If you're visiting Iceland, there's no doubt that Gullfoss is going to be on your itinerary. Read my practical guide to help you plan the perfect visit.
Visiting Iceland? You should also check out these articles
The Best Time To Visit Iceland
Planning a Trip to See the Northern Lights
Reynisfyara – Visiting Iceland's Most Famous Black Sand Beach
How to Visit the Reynisdrangar Sea Cliffs
How expensive is it to travel to Iceland?
Why Visit Gullfoss Waterfall?
Gullfoss Waterfall sits in The Golden Circle, a route that is brimming with spectacular natural sights that even give Gullfoss a run for its money.
Sure, the Golden Circle is crowded and the chances of you getting any of the sights within it to yourself are slim to none, but it's so very worth it.
This two-tiered waterfall is situated on the Canyon of the Hvita River and cascades from heights of 32 meters.
The stunning natural surrounding coupled with the golden falls creates an air of mysticism around Gullfoss.
The atmosphere is only enhanced by a gentle layer of mist that cloaks the scenery on a cold day (watch out though, this mist is like the dementor's kiss for your camera).
It's not only one of Iceland's most famous falls, but it's also one of its most legendary. If you only do one thing in Iceland outside of visiting Reykjavic , this should be it.
OK, I Want To Go, Tell Me More About Gullfoss
Why is gulfoss known as the golden falls in iceland.
Gullfoss, Iceland, translates as Golden Waterfall, and there is a good reason for that.
When the light hits the water on a sunny day it reveals a beautiful golden colour. But why?
Gullfoss Waterfall contains plenty of coloured sediment, chiseled from glacial ice. It's the yellow hue of this sediment that is the reason why Gullfoss is known as the Golden Falls in Iceland.
Have you Heard about Gullfoss Waterfall Sad History? And the Kickass Young Lady That Changed It.
Despite Gullfoss being a thing of beauty, it has something of a dark past.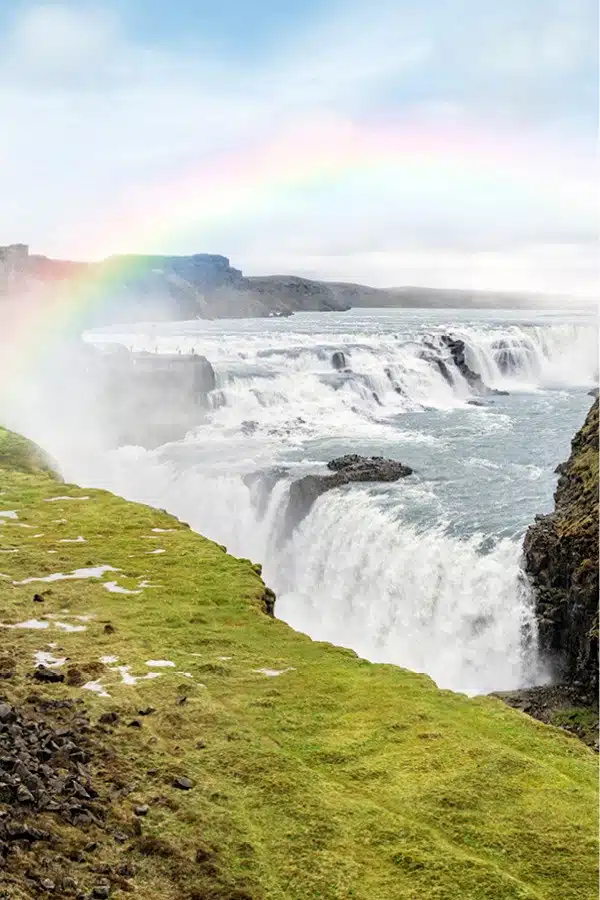 In the early 20th century, the owners of Gullfoss, Tómas Tómasson and Halldór Halldórsson, saw business potential in the waterfall. They wanted to harness its powerful energy to generate electricity.
Foreign investors caught wind of the idea and proposed building a hydroelectric power plant that would destroy the natural beauty of Gullfoss.
It is said that Sigridur Tomasdottir, Tómas Tómasson's daughter, vehemently rejected this idea and did all she could in her power to prevent Gullfoss from changing.
She lead intense protests, walking barefoot from the falls to Reykjavík until her feet were bloodied and sore to show just how much this cause meant to her. She even went as far as threatening to throw herself into the Gullfoss Waterfall to prevent it from being destroyed.
Thankfully this was avoided with the help of her lawyer Sveinn Bjornsson, who later went on to become the first president of Iceland. They won the case and Gullfoss became the people's property and remained open to the public.
There is some skepticism about the truth of this story. But you shouldn't miss the chance to see the commemorating memorial of Sigridur Tomasdottir. Sculpted by Richard Jonsson, it sits by the Gullfoss Waterfall to be seen by thousands of tourists every year.
Is Gullfoss the Only Golden Circle Iceland Waterfall?
Gullfoss isn't the only waterfall you can experience on The Golden Circle. Approximately 12 km away from Gullfoss is the Faxi Waterfall.
This small but gorgeous waterfall is an ideal spot to enjoy a slightly quieter waterfall experience. The river Tungufljót flows with salmon, making it a perfect fishing location.
Faxi is considered the smaller version of Gullfoss, and while it may not be as powerful, it's well worth a visit too.
Can You Visit Gullfoss Waterfall in Winter?
Iceland thrives in winter and Gullfoss is no exception.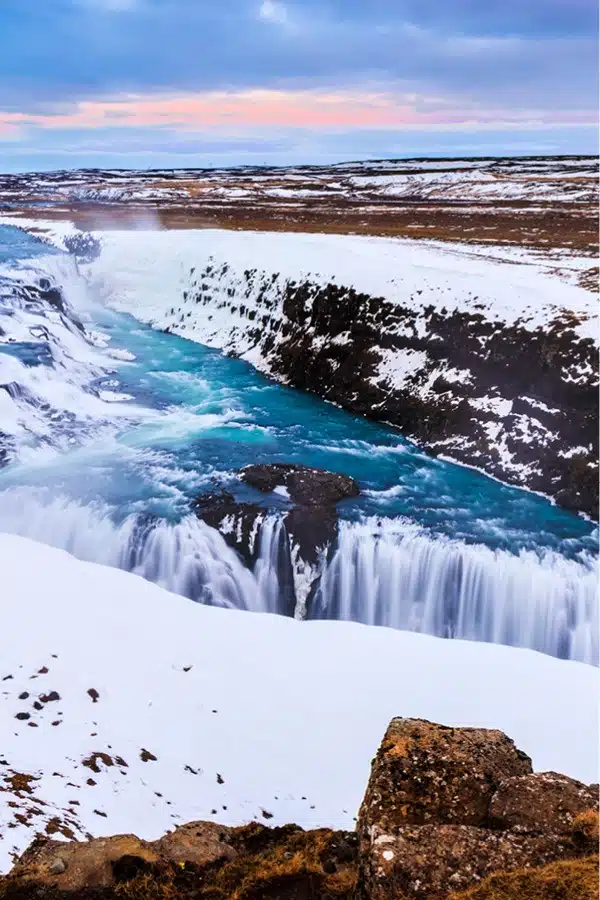 Gullfoss Waterfall can most definitely be visited during the winter periods. There are many people who argue that it is even more picturesque when it is cloaked in snow. Guess the only way to know for sure is to visit in the summer and the winter right?
If you do visit Gullfoss in the winter, be aware that some paths to the waterfall may be closed off during the snowy season. The view from the Gullfoss Visitor centre is safe and available all year round.
Before venturing out onto the slippery paths, be sure to wear sensible shoes with good grip on them.
If you visit during the winter, there's a good chance you can see the striking sight of the semi-frozen waterfall – the reason it's also called Gullfoss frozen waterfall. Get your cameras ready, this is something that you won't want to miss.
Planning Your Visit to Gullfoss
Here is the practical information that you need to know to plan your trip to Gullfoss.
Gullfoss Waterfall Iceland Address
Bláskógabyggð
801 Selfoss
Opening Times
Weekdays: 10:00 – 19:00
Weekends: 10:00 – 19:00
Travelling to Gullfoss Independently
The distance from Reykjavik to Gullfoss is around 120 km. You can get to Gullfoss in a number of ways.
Enjoy the best of the Golden Circle on this Golden Circle Full Day Tour . This fully guided tour offers visitors to Iceland a chance to explore the Golden Circle, with pick up and drop off in Reykjavik.
Along with Gullfoss Waterfall, the tour covers the famous geothermal Geysir area, the explosive hot spring of Stokkur and meanders through the Þingvellir National Park, where the Eurasian and North American tectonic plates meet.
Add to that a memorable trip to the volcanic crater at Lake Kerið and it's undeniably one of the best ways to see the area if you are short on time. Powered by GetYourGuide. Become a partner.
Driving to Gullfoss from Reykjavik
If you want more independence, I would recommend checking out car rentals and driving the Golden Circle so you have the freedom to roam as you please. Head to Holiday Autos to prices to rent a car.
Setting off from Reykjavik, head around 54 kilometers east on the Ring Road then turn left onto route 35. Stay on route 35 for 68 kilometers until you reach the waterfall.
Getting to Gullfoss by Bus
A one way bus journey usually costs about Kr 3400-4000 per person.
Bus timetables can vary so always allow for some flexibility in your schedule. The Bílar og fólk Bus Line 2 runs twice a day from July to August from Reykjavik bus station. The Bílar og fólk buses run between Reykjavik and Akureyri, stopping at Geysir and Gullfoss.
Read more: When Is the Best Time to Visit Iceland?
Suggested Stay: Hotel Ranga
For accommodation, check out the gorgeous Hotel Ranga . The hotel provides stunning panoramic views and is considered one of the best for seeing the Northern Lights as well as being widely recognised as one of the best hotels in Iceland.
I absolutely loved my stay at Hotel Ranga: there's nothing these guys don't know about Iceland and they will move heaven and earth to make sure that you have an absolutely kick-ass time during your time in their much-loved country.
Each comfortable and stylish room is equipped with all the amenities you could need; WIFI, satellite TV and a relaxing seating area. There are great facilities to unwind in, such as an spa and saunas – not to mention a really rather spectacular restaurant.
Hotel Ranga is located 91km from Thingvellir National Park – a 45 minutes drive away from the falls.
Check availability and reviews of Hotel Ranga on Tripadvisor. Alternatively, check all accommodation near Gullfoss here .
What to Pack for Gullfoss Falls Iceland
Sensible shoes.
Travellers to Iceland beware. This is most definitely not the trip for your latest Louboutins or new pair of Nikes. Think more hiking boots and less what's going to make me look as glam as possible.
They may not be the most fashionable accessory, they'll be the safest, helping you from slipping on the narrow paths and I like to think that we all value our safety just a teeny bit more than our appearance.
Waterproof Jacket
The spray of Gullfoss Waterfall, whilst refreshing and fun, can also leave you a bit damp and cold, so be sure to walk with a waterproof jacket.
Read more: The Best Hard Shell Jackets For Men and Women
If visiting Gullfoss in winter, I would highly recommend getting some thermals. I am a cold, cold soul so basically never leave for cold climates without thermal vests, trousers, socks and underwear.
Gullfoss Map
Find your way to Gullfoss Waterfall with this handy Gullfoss Map:
Found this guide useful? Save and share on Pinterest!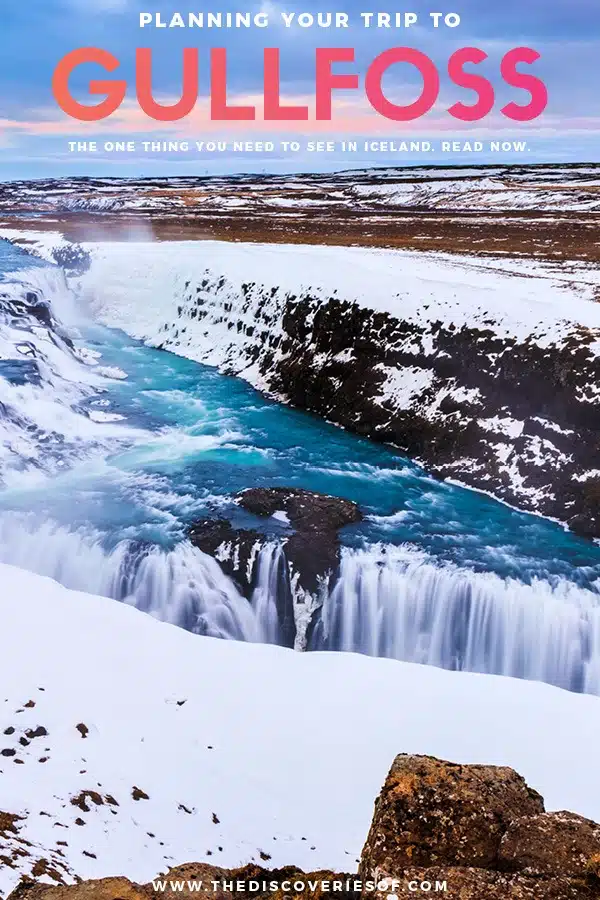 I'm Julianna Barnaby - a professional travel writer and geek extraordinaire. I started The Discoveries Of to help you to discover the best of new destinations from around the world.
Discovering new places is a thrill - whether it's close to home, a new country or continent, I write to help you explore more and explore differently.
Related Posts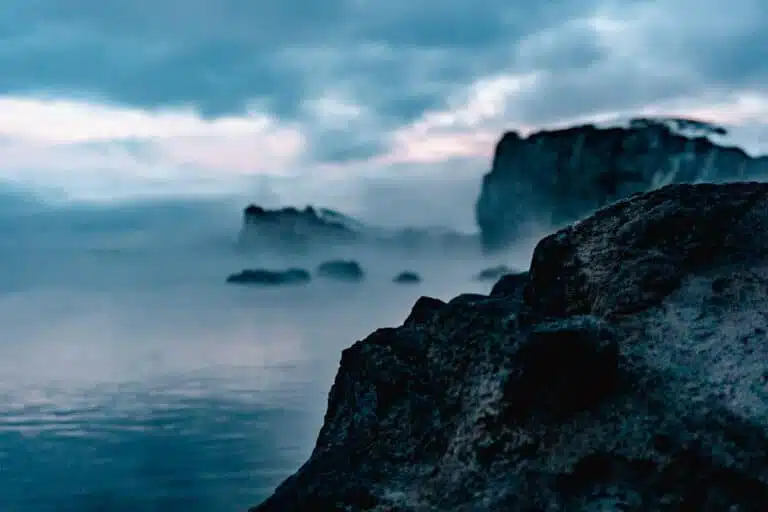 12 Hot Springs in Iceland You Have to Visit | The Ultimate Guide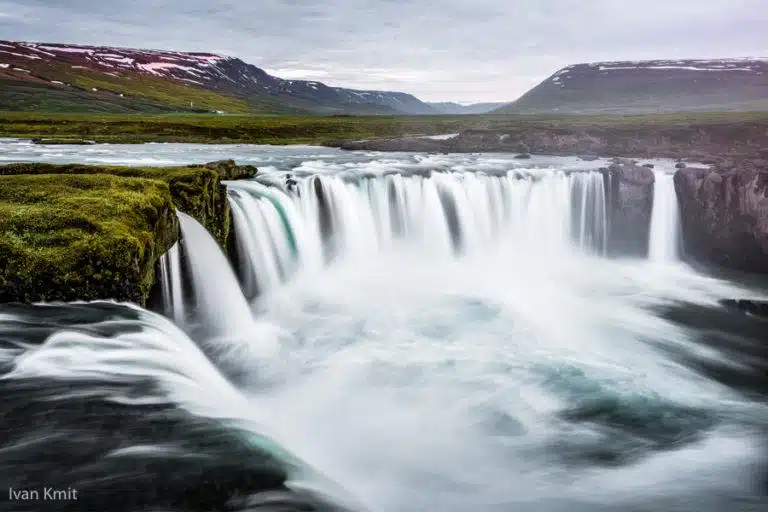 21 Spectacular Iceland Waterfalls You Need to See: Complete with a Handy Map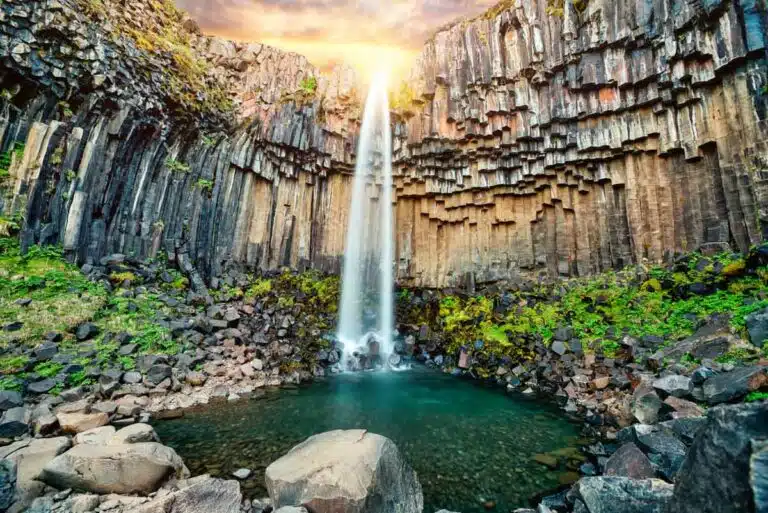 Everything You Need to Know Before Camping in Iceland
The Definitive Iceland Packing List: A Month By Month Breakdown of What to Pack for Iceland
Nice photos! I dont get tired looking at them. The places are so beautiful but you made them a lot more beautiful with your great skill. I don't know what am I waiting to see Iceland with my own eyes ? Beautiful pictures ? it seems really cool! Iceland is great, no matter what time of year. Hope i get to tick that item off my bucket list soon. ? is there an entrance/admission fee to see the Gullfoss Waterfall/ Pingvier National Park? Thank you so much.
Hey Oliver – so glad you enjoyed. I really hope you get there soon – nope, no admission fees to enter. ?
Comments are closed.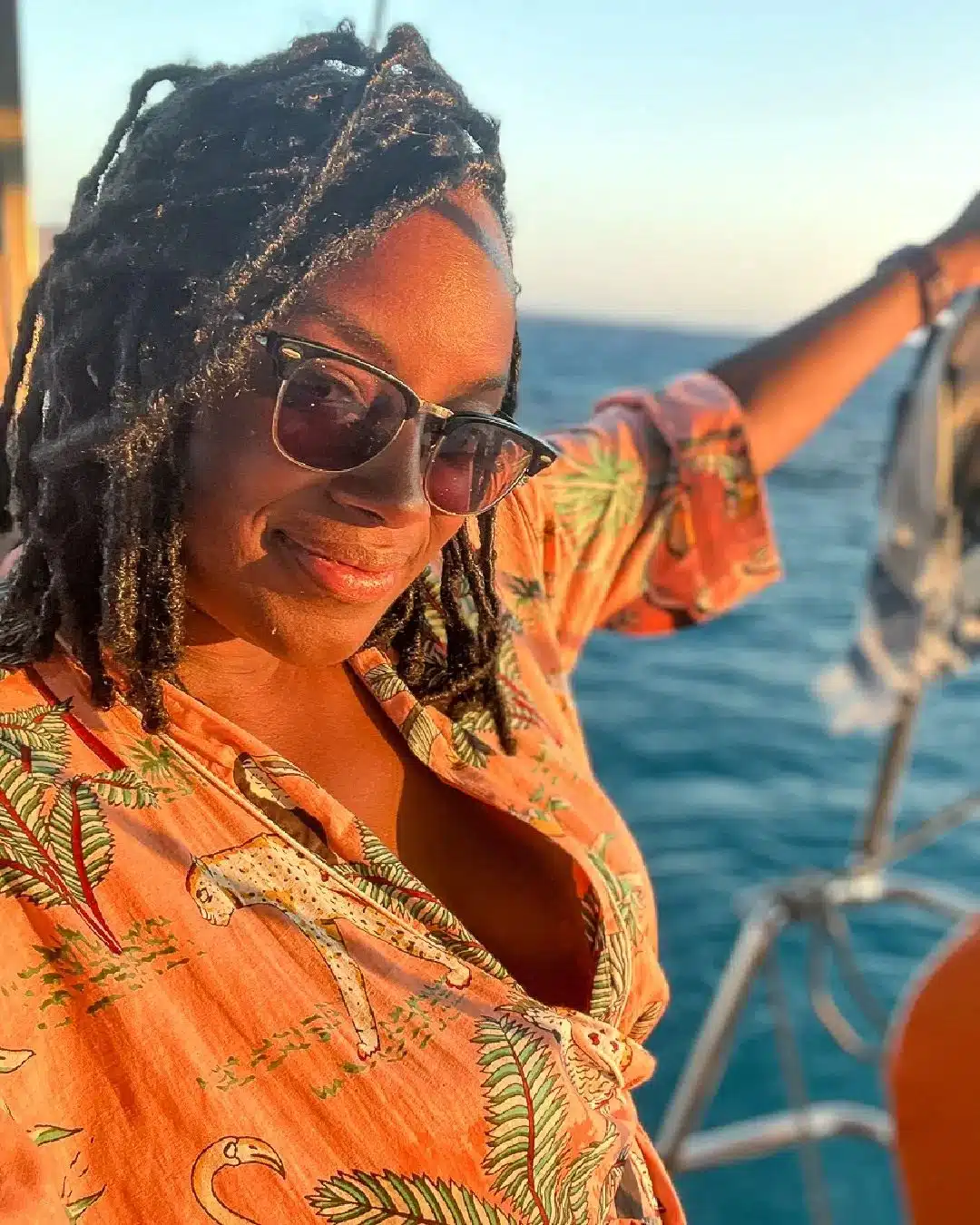 Follow me on Instagram for travel inspiration, tips, and guides.
Thanks for visiting nordicvisitor.com! For the very best browsing experience on our website, we urge you to upgrade to the most recent version of your browser . Some of our site features may not function properly on older versions.
Iceland travel update
Search Suggested Results View All Results
EUR (€)
GBP (£)
Self-Drive i
Privately Guided i
Guided Small Groups i
Multi-Day i
Northern Lights i
Honeymoon & Romance i
Christmas i
New Year's i
All Types & Themes
All Iceland Tours
Best Sellers
Special Offers
Book With Confidence i
ICELAND IS OPEN i
Iceland Volcano Update i
Why book with us i
Travel Update
Booking Terms i
Sustainability Policy i
Iceland at a Glance i
Useful Information i
Iceland Attractions i
Iceland Blog i
Scandinavia
Switzerland
United Kingdom
Privacy policy
Iceland Bíldshöfði 20 110 Reykjavík +354 578 20 80 View Map
Sweden Scotland View Details
Travel Guide
Attractions
South Iceland
Visit the Golden Waterfall
Gullfoss, or the 'Golden Waterfall', is a breathtaking two-tiered waterfall that drops 32 metres into a narrow canyon 70 metres deep and 2.5 kilometres long. From the car park there's a footpath leading to a viewing platform where you can experience the waterfall in all its glory.
Standing above the falls is a stone memorial to Sigríður Tómasdóttir, who, a number of years ago, threatened to throw herself into the falls in protest against foreign investors who wanted to buy the waterfalls and use them as a power supply. The government eventually intervened, bought the falls and made them the property of the Icelandic nation.
Caution should be exercised at many Icelandic natural attractions. Do not stray from clearly marked paths and respect all warnings and signs.
Gullfoss Waterfall in South Iceland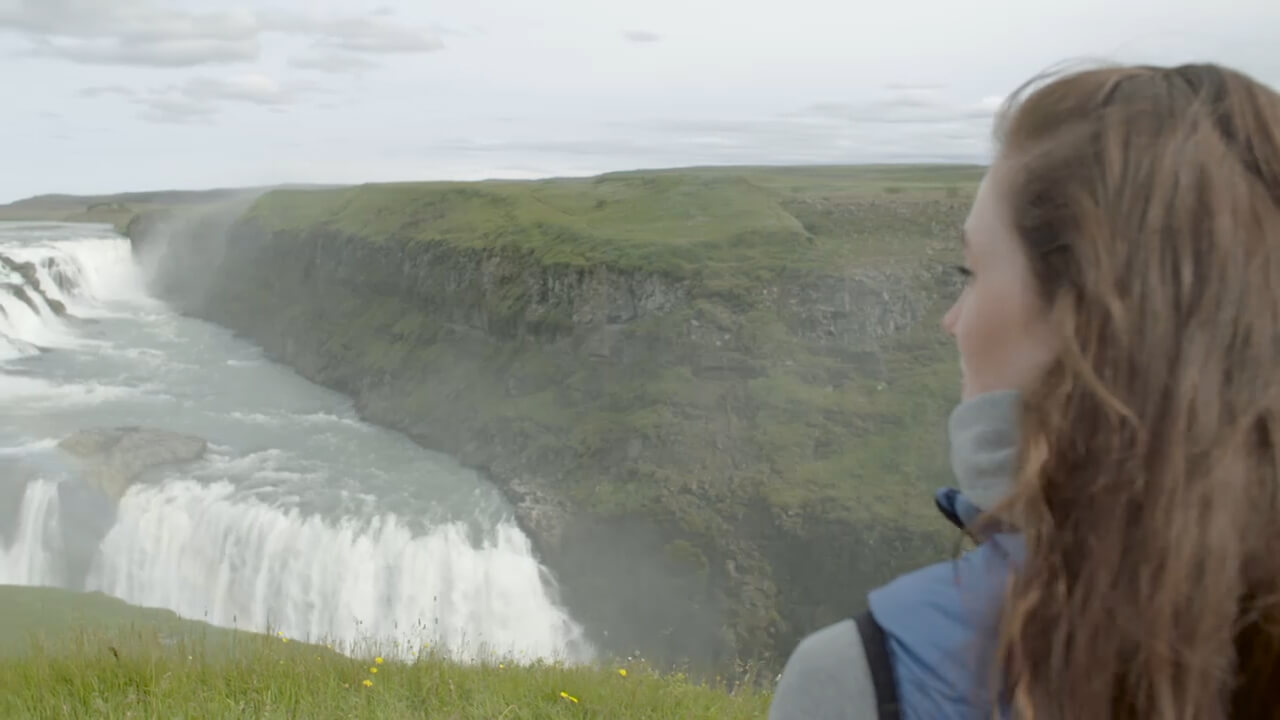 View attractions close by Gullfoss
Seljalandsfoss, þingvellir national park, tours including gullfoss.
You could experience Gullfoss through any one of these tours below.
4 days / 3 nights
Golden circle & south coast, golden circle & south coast - winter, 17 days / 16 nights, iceland grand tour, 10 days / 9 nights, iceland full circle classic, we are here to help.
Whether you have a single question or a special request, we're here for you.

Select your tour
Destinations, travel styles.

Guide to Gullfoss Waterfall in Iceland
By: Author Emily
Posted on Last updated: November 25, 2023
There are thousands of waterfalls in Iceland, but Gullfoss is one of the best. It's not the tallest or quite the largest by volume, but it is the most popular and rightfully so. If you're planning a trip to Iceland, Gullfoss waterfall absolutely needs to be on your itinerary. Let's learn more about this magnificent natural wonder as we help you plan the perfect visit to Gullfoss waterfall.
In This Guide
Here's what we're covering in this guide. We invite you to read the full post or jump ahead to the section you're most interested in.
Gullfoss Waterfall Facts & History
How to See Gullfoss Waterfall
Plan Your Visit to Gullfoss Waterfall
Get Ready for your trip to Gullfoss
What is Gullfoss Waterfall
Gullfoss is a large waterfall located on the Hvita River in Iceland. The name Gullfoss translates to "Golden Falls," which is a reference to the golden tint of the water at times. Hvita River is a glacier river, and the high volume of sediment in the water is what creates the golden effect.
What's interesting about Gullfoss is that the waterfall falls down into a narrow canyon, as opposed to falling from a great height. The landscape around Gullfoss is surprisingly flat, and the waterfall and river cut through it. In fact, you actually have to walk down to get to the top of the waterfall.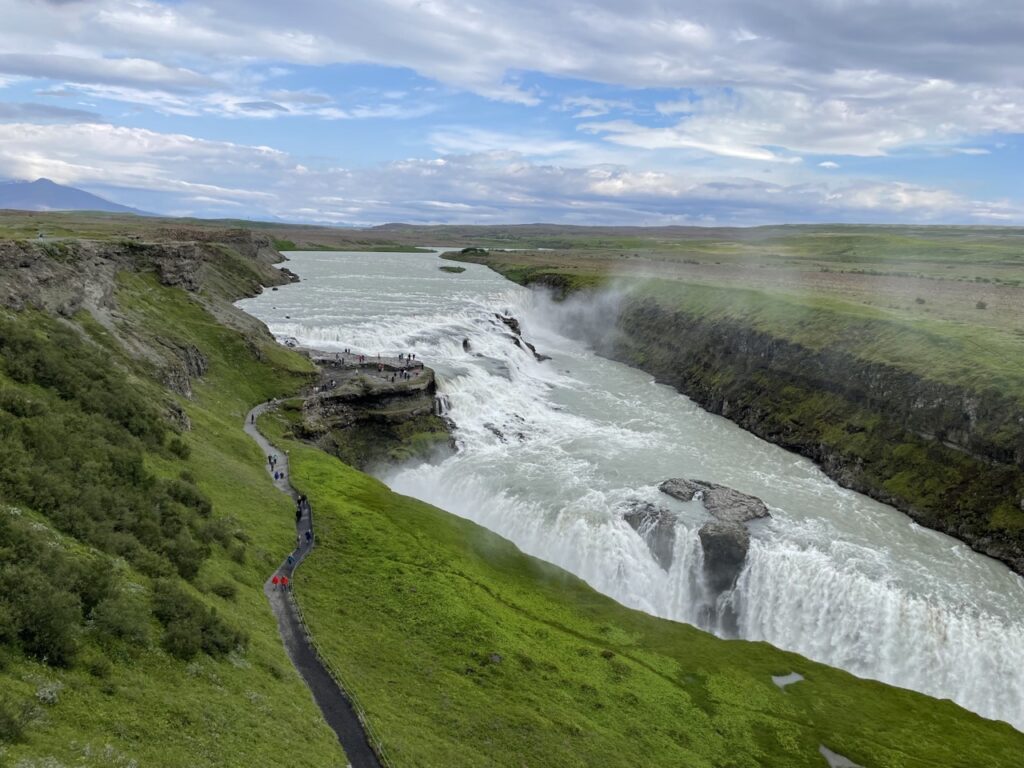 The waterfall is made up of two tiers, totaling 106 feet in height. While this isn't particularly tall relative to other waterfalls, the width and volume of the waterfall is truly impressive.
Gullfoss averages 575 ft across and dumps an average 4,200 cubic feet of water off its ledge every second (according to World Waterfall Database ). This makes Gullfoss is the second largest waterfall by volume in Iceland, second only to Detti Falls.
While the waterfall doesn't earn many superlatives, the one Gullfoss has earned is most popular. Not all waterfalls in Iceland track visitor information, but this seems to likely be a true claim.
In 2021, Gullfoss attracted 313,399 total visitors. That is an average of 26,117 visitors per month or about 850 visitors a day. The four summer months of June through September accounted for two-thirds (66%) of the total visitors in 2021. (This is all based on numbers provided by Visit Iceland .)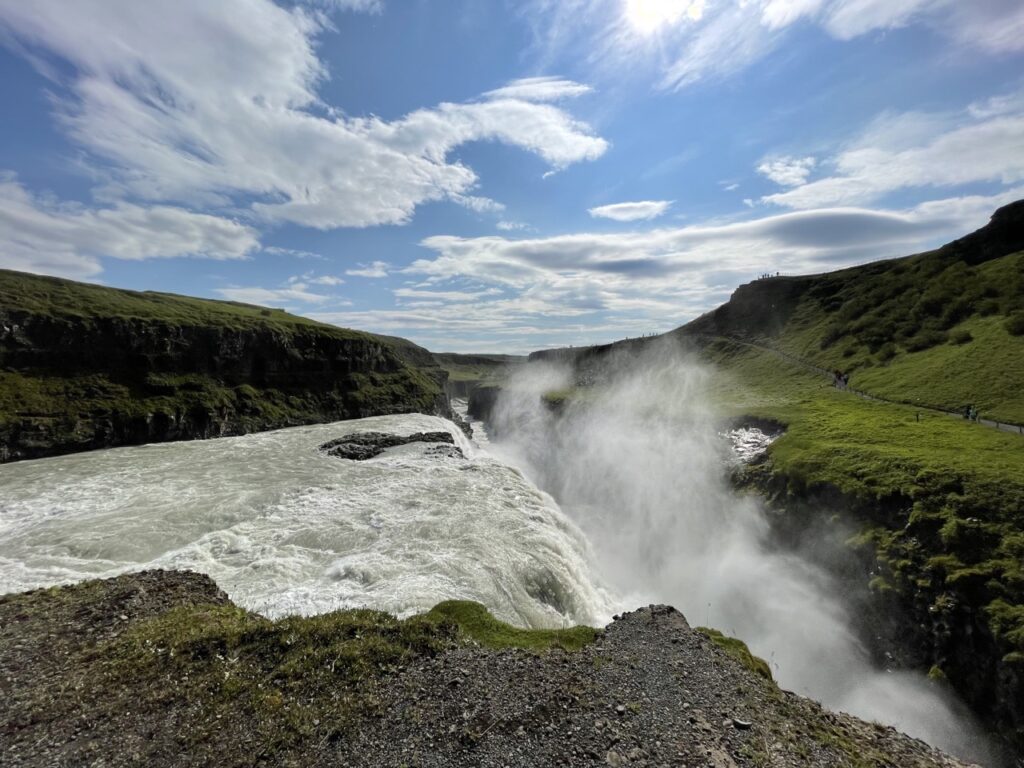 Gullfoss Waterfall Quick Stats
Height: 106 ft (total for 2 tiers)
Height Ranking : Not ranked in the top 20 tallest in Iceland
Volume : 4,200 cfs (cubic feet per second)
Volume Rank: 2nd in Iceland after Detti Falls
Average Width: 576 ft
Water Source : Hvita River
Annual Visitors: 313,399 in 2021
Visitor Rank: #1 most popular waterfall in Iceland (probably, given the stats available)
High Tourism Season: June – September
History of Gullfoss
I wouldn't usually go into human history relative to natural sites, but this one is interesting so let's do it!
In the early 1900s, Gullfoss waterfall was located on land that was privately owned by a sheep farmer named Tómas Tómasson.
An English businessman had heard about the powerful waterfall and wanted to build a hydroelectric power plant there. He approachedTómas with hopes of purchasing the land, but Tómas declined. He famously said, "I will not sell my friend."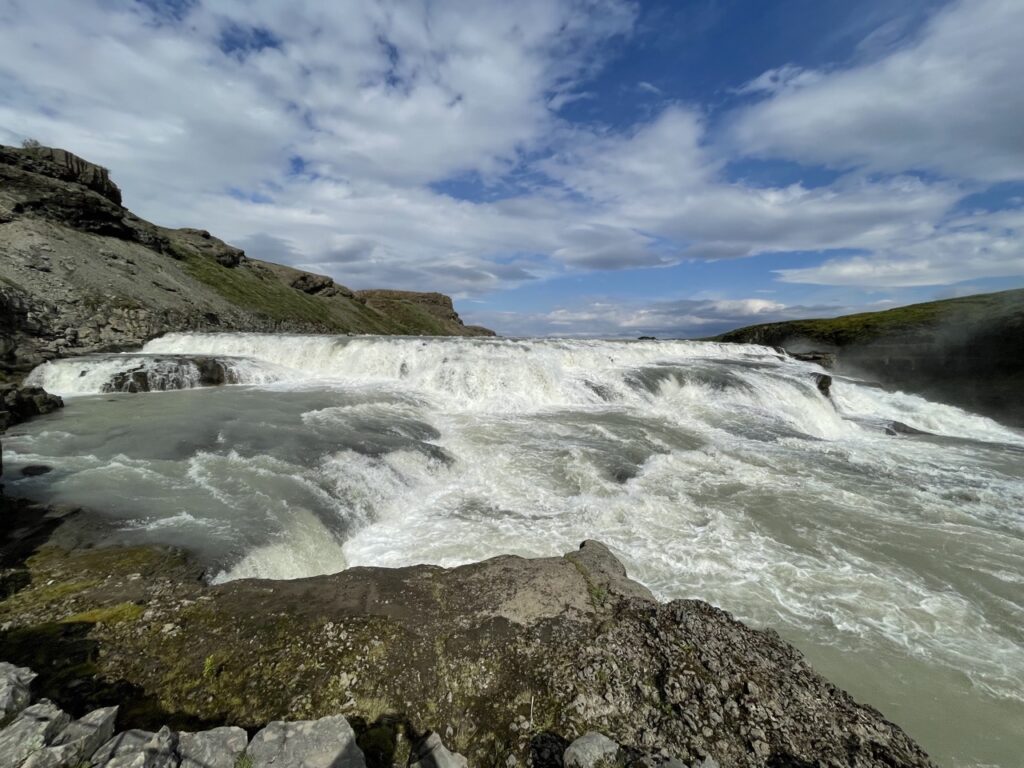 However, he did later agree to lease the land to the businessman. Like any good businessman, the Englishman worked in a loophole that would allow him to move forward with his power plant plan anyway.
Tómas had a daughter, Sigríður, who led the legal battle to protect the waterfall. It was a lengthy and expensive fight, butSigríður was notably relentless in her determination. Ultimately, the businessman could not keep up with the effort and costs required to moved forward with his plan and abandoned it.
Sigríður is hailed as Iceland's first environmentalist. There is a plaque dedicated to her at Gullfoss and the walkway to the lower observation area is named after her.
In 1979, Gullfoss was designated as a nature reserve, which protects it under Icelandic law.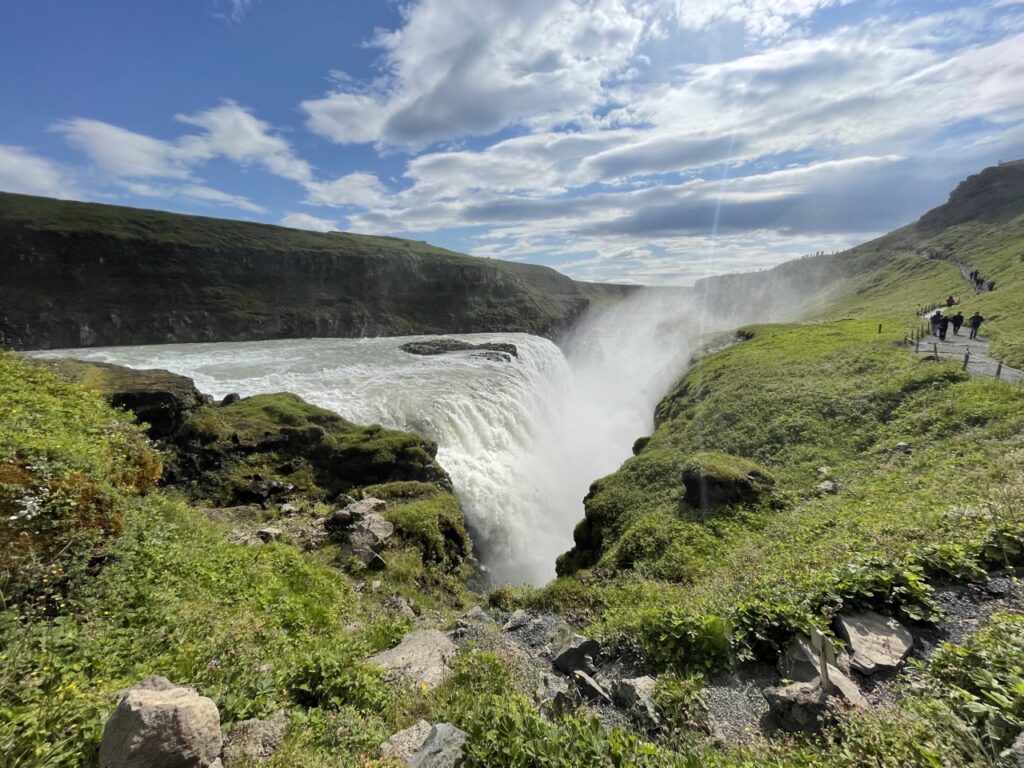 Gullfoss waterfall is one of the most popular waterfalls in Iceland largely because of how easy it is visit. Unlike many waterfalls that require hiking through rugged terrain or driving to far corners of the island, visiting Gullfoss only requires a two-hour drive from Reykjavik and a 5-10 minute walk.
The area on the northwest side of the Hvita River at Gullfoss has been developed to safely allow visitors to see the falls. There are two main viewpoints, upper and lower.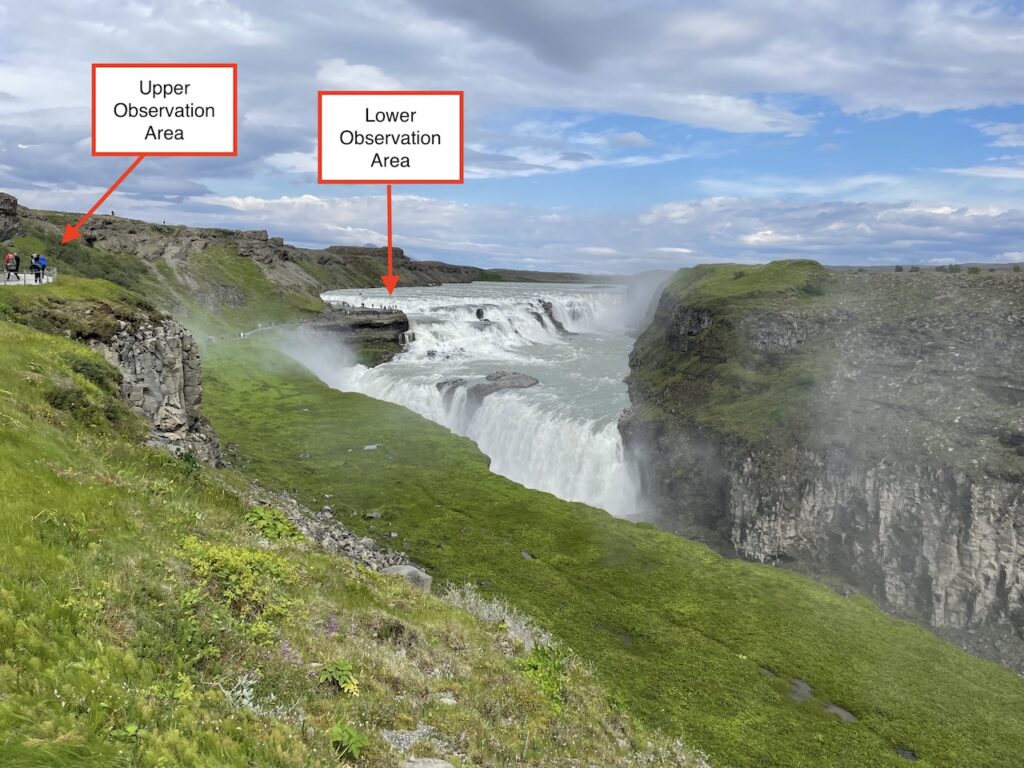 Upper Observation Area
The upper observation area provides a stunning view of Gullfoss from above. This is the best place to see the full landscape around the falls. You can see the upper tier of the falls and watch as the lower tier disappears within the gorge.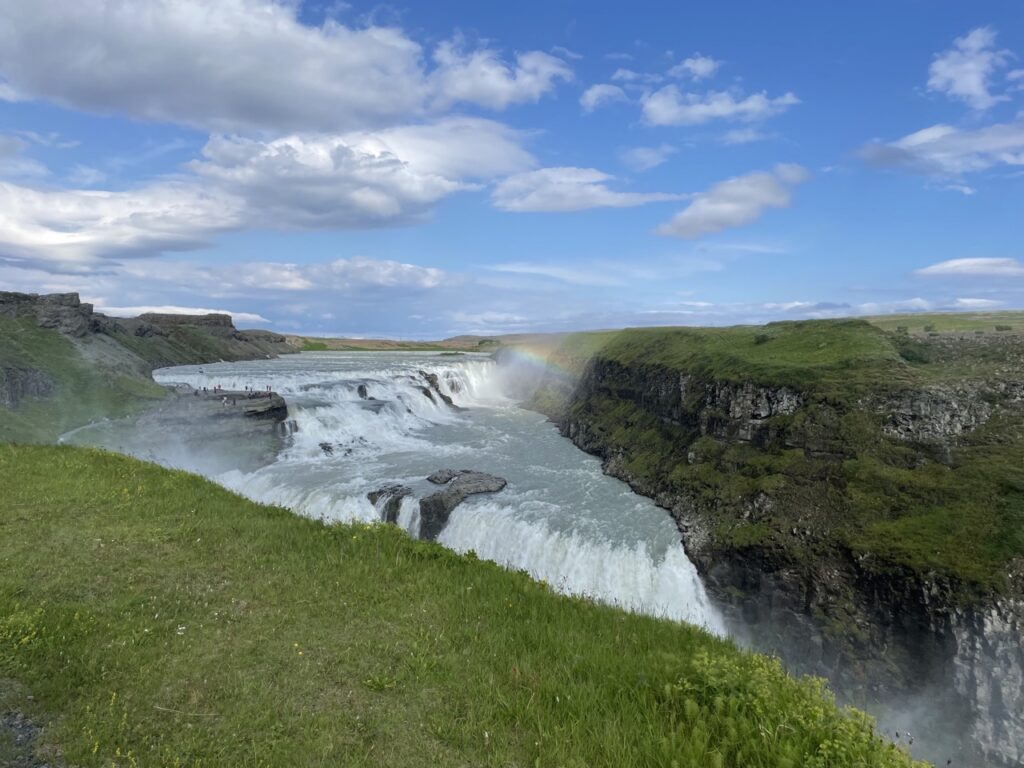 There is a flat, paved path that leads to the upper observation area. It is about 400 meters (1/4 mile) from the main parking lot to the viewpoint. The flat, paved path makes the viewpoint accessible to wheelchairs and strollers, or anyone with mobility issues. In fact, this is the most accessible site I recall visiting in all of Iceland.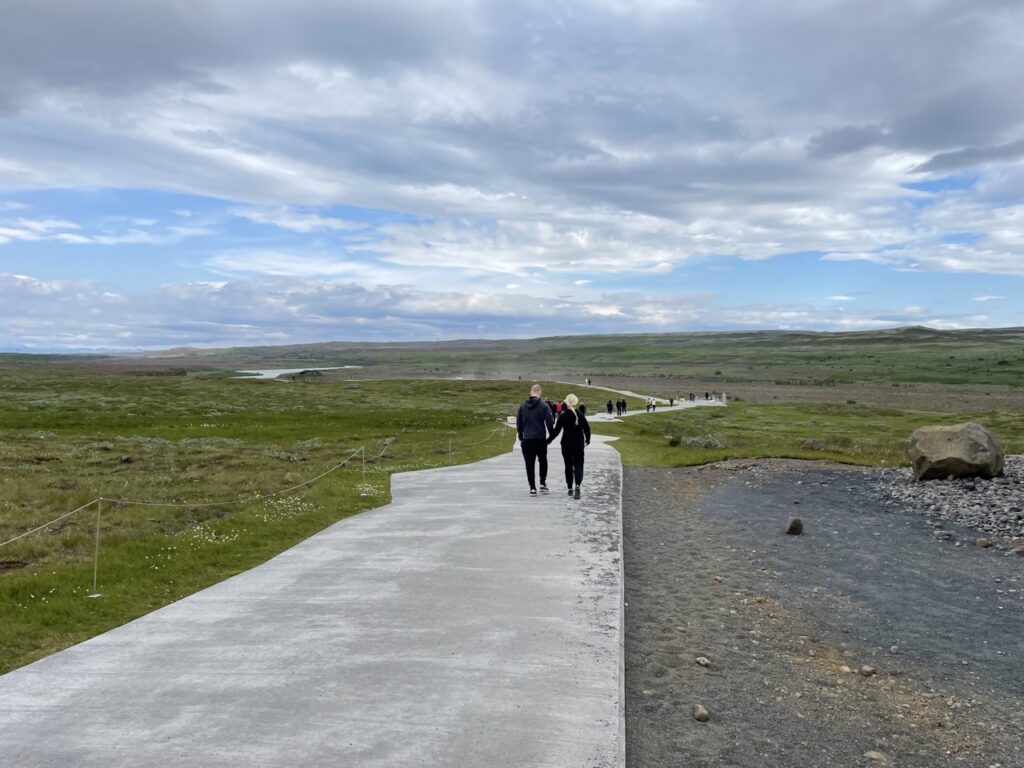 This area can be really windy, though, making it feel quite cold even in the summer. You'll definitely want to hold on to your hats and pack your favorite windbreaker for this spot.
The upper observation area is open all year.
Lower Observation Area
If the upper observation area provides the best overall view of the landscape, the lower observation provides the best closeup view of the falls themselves. Don't let the term "lower" confuse you, though. It's lower relative to the surrounding area, but it's actually situated right at the top of the falls.
The lower observation area provides an up-close look at the top tier of the falls and a great view of the Hvita river as it cuts through the ravine after the falls.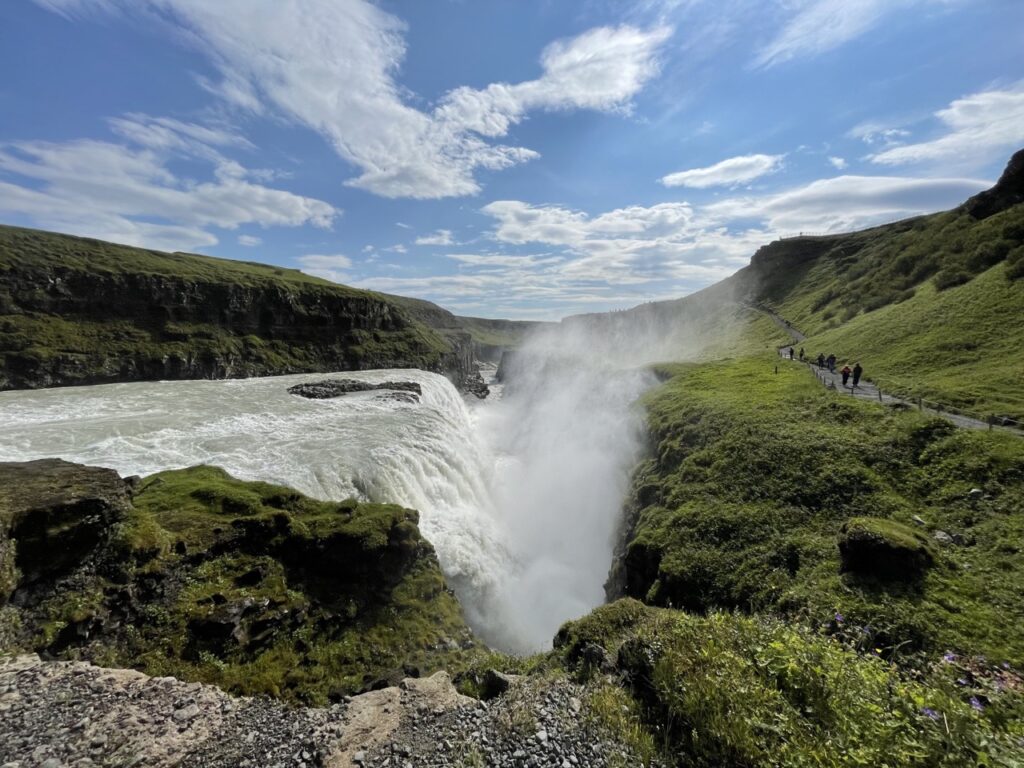 To get to the lower observation area, you'll need to go down about 100 steps from the visitor center and then walk about 250 meters. (The path is called Sigríður-Pfad, named after the daughter who saved the falls.)
The lower observation area is not any sort of developed platform. It's actually just the rocks that make up the top of the falls.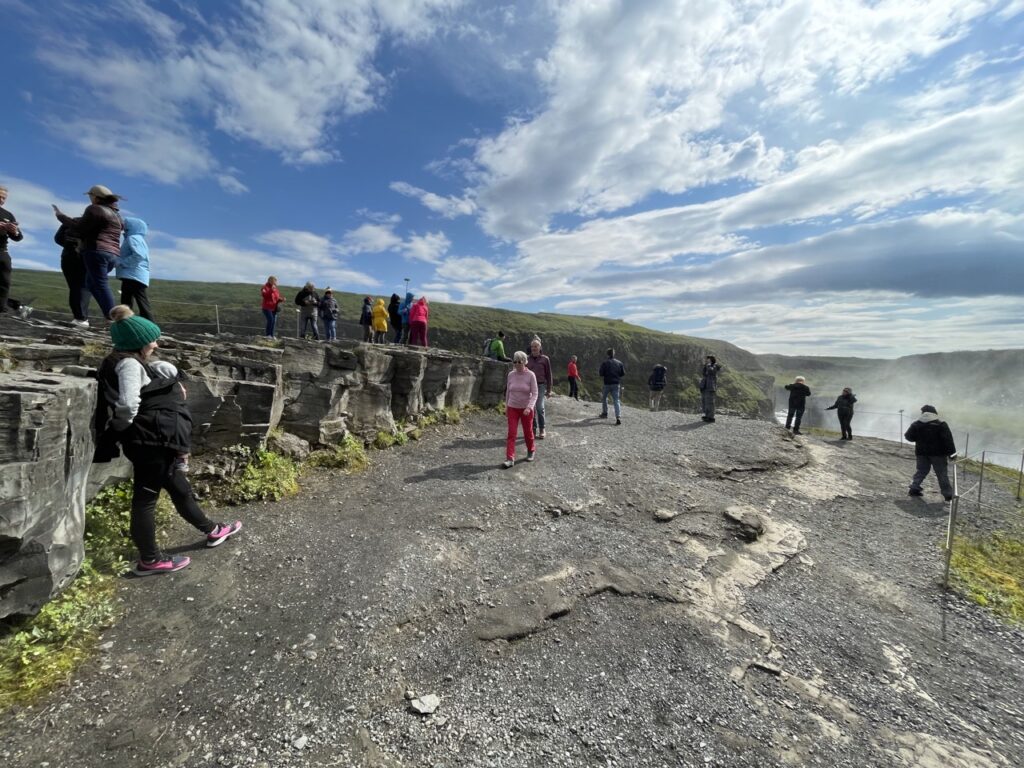 There are two levels, which you can see in the photo above. It takes some finesse to to reach the upper level, so you'll want to be really careful. You could easily skip this portion though, as the views are not actually better than the flatter section just below it.
The path to the lower observation area is just as stunning as the viewing area itself, if not more so. When the pathway passes the lower tier of the falls, you will catch the most full view of the falls that is visible to pedestrians.
This lower pathway is not as accessible as the one to the upper observation area, but as far as hiking trails go, it would be categorized as easy. The walkway is primarily gravel, with a slight gradient. It is not suitable for strollers or wheelchairs.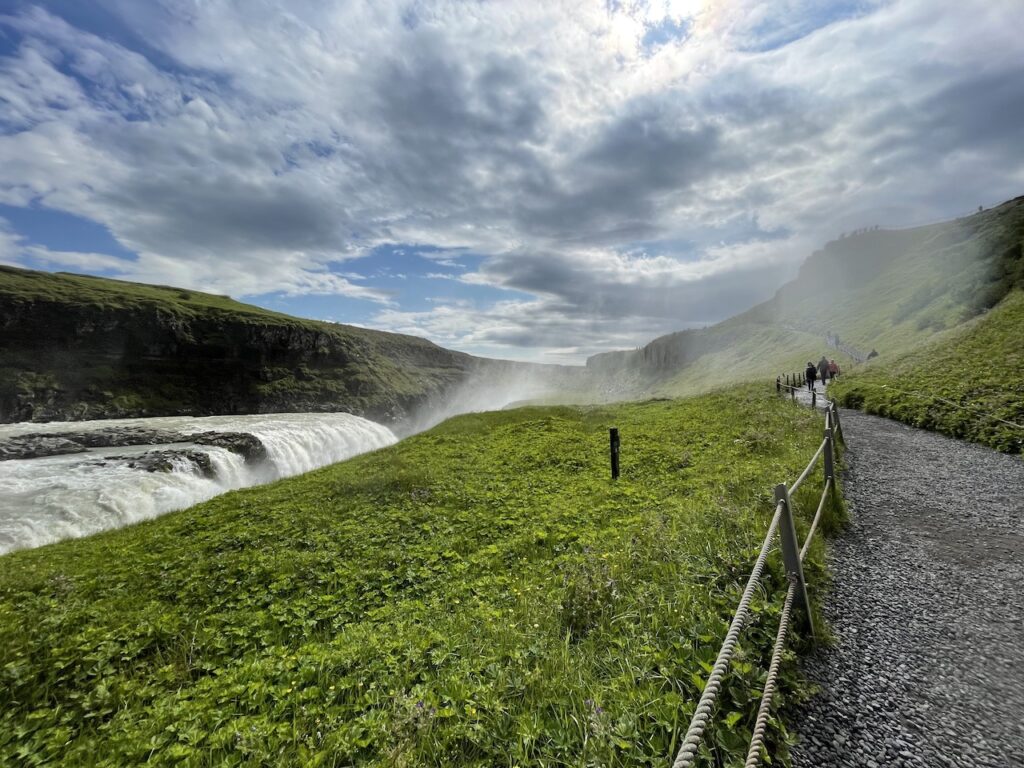 The mist from the falls can get quite intense and it is not uncommon for visitors on the pathway to get wet. We didn't experience this when visiting in July, but others have. That will likely depend on the wind and water volume when you're there.
The lower observation area is frequently closed in the winter months due to unsafe conditions. Please respect any closure signs or boundaries. They're there for your safety.
Plan Your Visit to Gullfoss
Now that we've convinced you visit Gullfoss (JK, of course you didn't need convincing!), let's start planning. Let's break down all the logistics so you can plan your perfect visit to Gullfoss.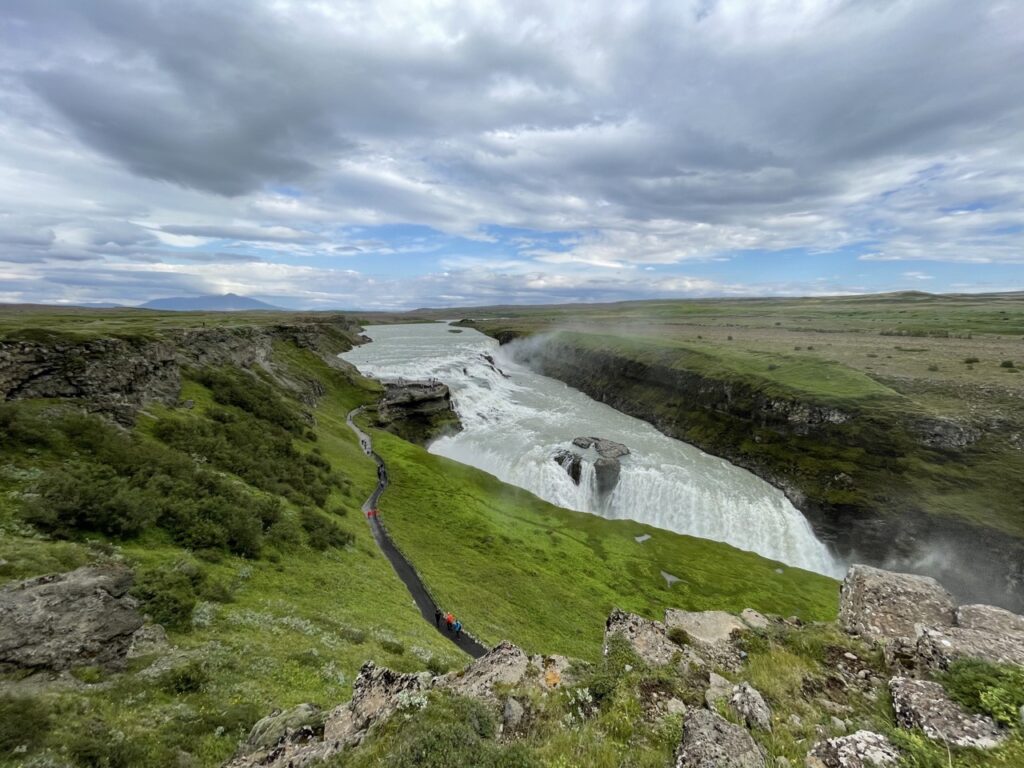 When to Visit Gullfoss Waterfall
We suggest visiting Gullfoss in the summer. While Gullfoss is open all year, the green grass and crisp blue sky at summertime really accentuated the beauty of the landscape. It was also pretty cold, even in the summer, so it'd be real cold in the winter. We also really loved the lower observation area and that path is not open during the winter.
The summer months between June and September are the most popular time to visit the waterfall. Even though the crowds are higher, it's a pretty large space and the crowds should not significantly deter from your visit. We visited in July during peak season and had no problems taking photos without other people in them.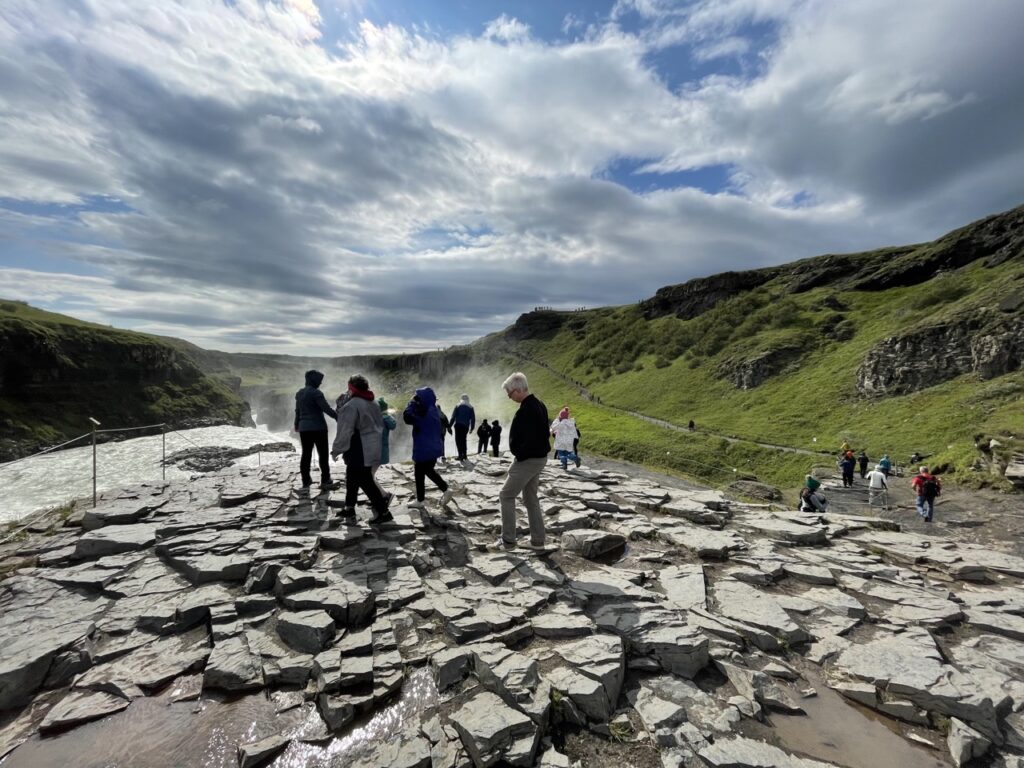 If you are visiting in the winter though, the snow and ice covered falls does look like something out of a storybook. Exercise caution as the walkways can get slippery. And again, the Sigríður-Pfad pathway to the lower observation area is closed in the winter.
The main roads to Gullfoss, the parking lots, and the main upper walkways are plowed during snow. That said, severe winter weather may occasionally result in road closures for safety.
How to Get to Gullfoss Waterfall
Gullfoss is located 72 miles east of Reykjavik . It is easily accessible via car and takes about 1 hour 45 minutes to get there. The route passes Thingvellir and Geysir Hot Spring Area , which most people taking a Golden Circle tour will stop at as well.
Unfortunately you cannot get to Gullfoss by bus or public transit.
If you don't want to or can't rent a car to drive to Gullfoss, the other option is to visit with a tour group. Most of these tours will cover the full Golden Circle route and span a variety of activities and durations.
Parking at Gullfoss Waterfall
There are two parking lots at Gullfoss. Most visitors should park at the main parking lot located near the restaurant and gift shop.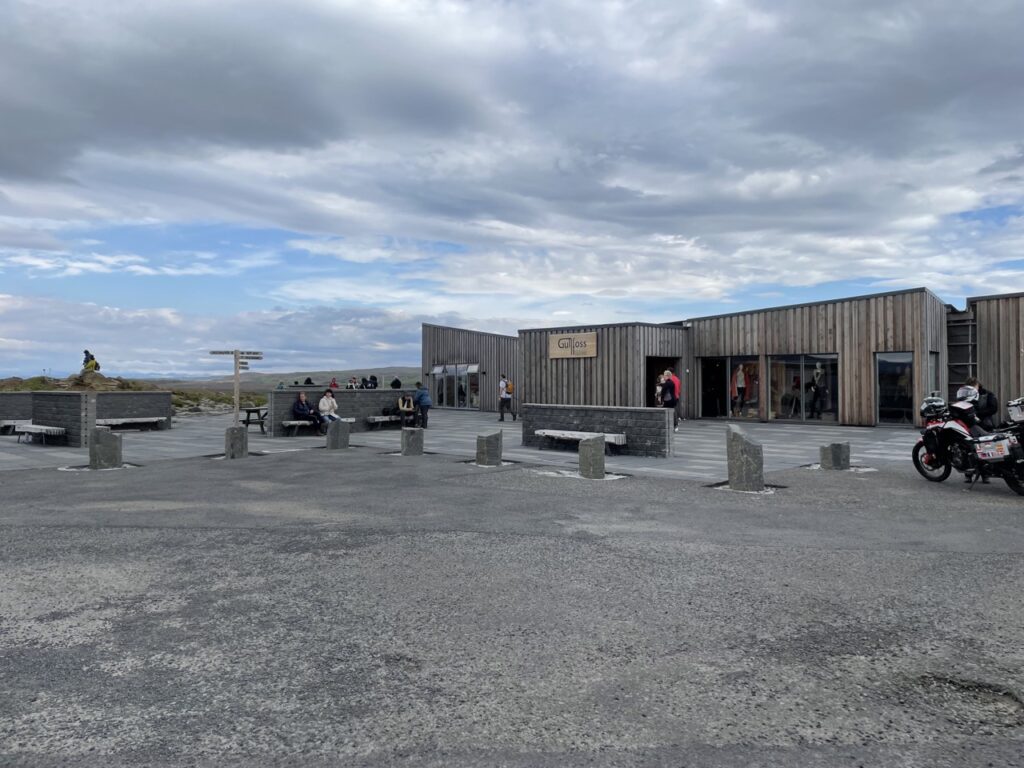 There is a second, lower parking which is located near the bottom of the stairs from the main lot and at the start of Sigríður-Pfad. However, this lower parking lot is only for buses and handicap visitors. There is a sign stating this at the entrance to the road leading to this lot.
If you're not handicap or a bus, continue past the lower parking lot entrance and you will see the main parking lot. Near the main parking lot, you'll find bathrooms, the cafe, the start of the walkway to the upper viewing area and the stairs down to the walkway to the lower viewing area.
How Much Time to Spend at Gullfoss Waterfall
Plan to spend 1 to 2 hours at Gullfoss waterfall.
One hour is enough time to walk to the upper observation area and take a few photos, and then walk to the lower observation area and have time to soak it in (hopefully not literally).
Photographers trying to get really good photos or waterfall enthusiasts who just really like waterfalls, may end up spending another 30 minutes – 1 hour there. Anyone who wants to warm up with a bowl of lamb stew (we're vegetarian, so that's a pass for us, but rumor has it it's great) or do some shopping should also plan for an extra 30 minutes.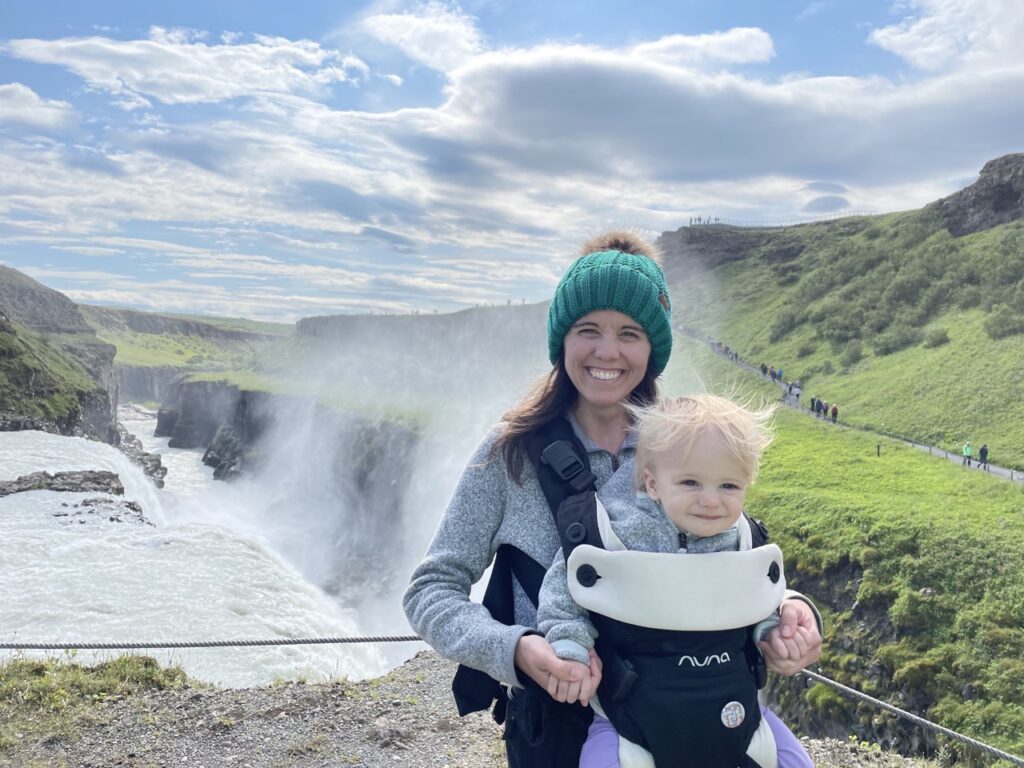 How Much Does it Cost to Visit Gullfoss Waterfall?
It is free to visit Gullfoss waterfall. Parking at Gullfoss is also free.
The only additional costs at Gullfoss are for the optional purchase of food, drinks or souvenirs.
Amenities at Gullfoss Waterfall
There is a cafe and gift shop located by the main parking lot. The following services are available at this location.
Wifi: Yes, free wifi is available at the cafe.
Bathrooms : Yes. There is a small, separate bathroom building near the cafe which costs a small fee to use. There are also bathrooms inside the cafe which are free to use when the cafe is open.
Souvenirs: Yes, there's a variety of trinkets and clothing available for purchase.
Parking: Yes, free parking
Coffee: Yes, there is a coffee shop inside that serves coffee and espresso beverages.
Food: Yes, a limited variety of sandwiches, stew, and snacks are available. Of the three stops on the Golden Circle, this is the most limited selection.
Dining Space: The tables for dining are located indoors. There are benches available outside as well. (Noting this due to the pandemic for people who may only want to dine outdoors.)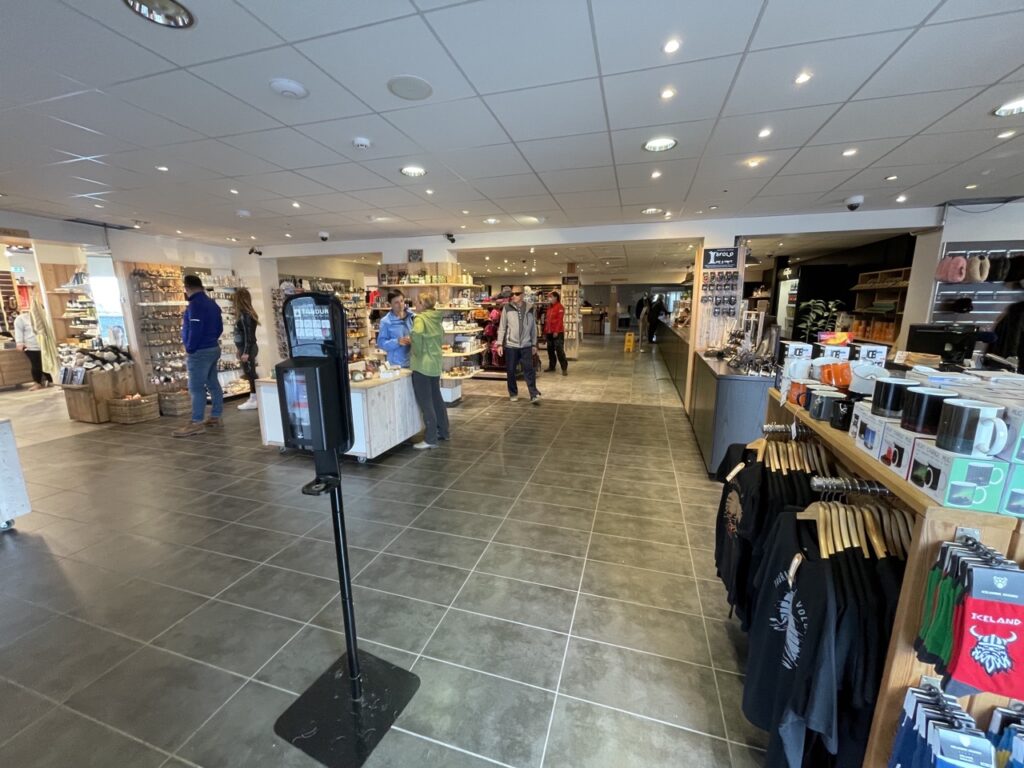 Where to Stay
For most visitors, we recommend staying in Reykjavik. Gullfoss is an easy day trip from there, especially when combined with Thingvellir and Geysir Hot Spring Area for the Golden Circle tour .
As the country's largest city, Reykjavik is where you'll have the best selection and prices for places to stay. We stayed at Kex Hostel, a family-friendly hostel along the shore walk. We loved it and highly recommend it for all travelers, not just families.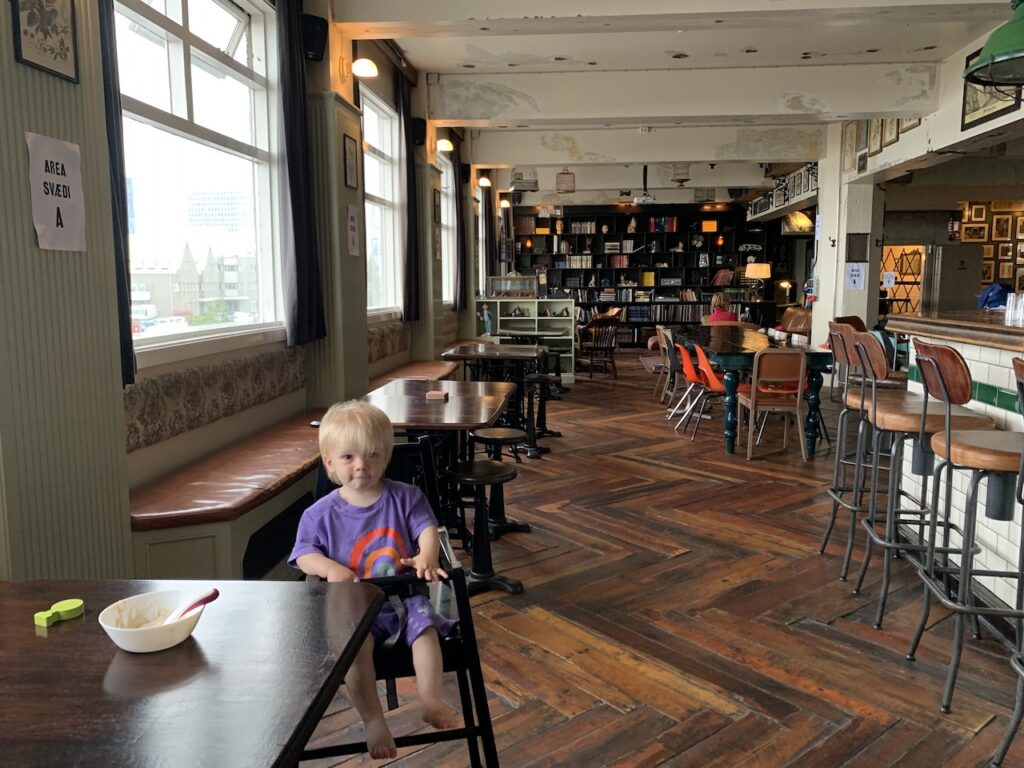 For some visitors though, the Golden Circle may just be the beginning to a longer journey. These travelers may be driving the full Ring Road or exploring the southern coast ( glacier lagoon anyone?). For those people, it doesn't make sense to go back to Reykjavik.
For that group of travelers, we recommend staying in the town of Fludir. It's a small town about 30 minutes from Gullfoss. There are a handful of guesthouses to choose from, several restaurants and a grocery store. We stayed at Guesthouse Fludir and it was lovely.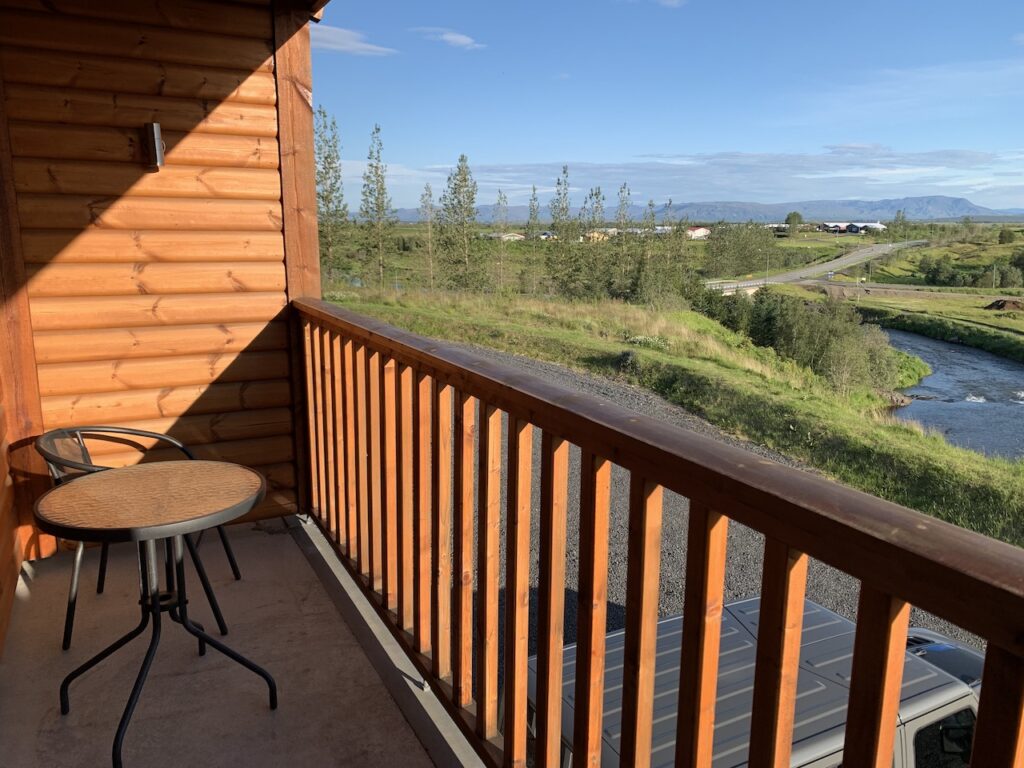 Get Ready for your Visit to Gullfoss Waterfall
Now that your trip is planned, it's time to get ready. Here's a few things to get in mind as you prepare for your visit to Gullfoss.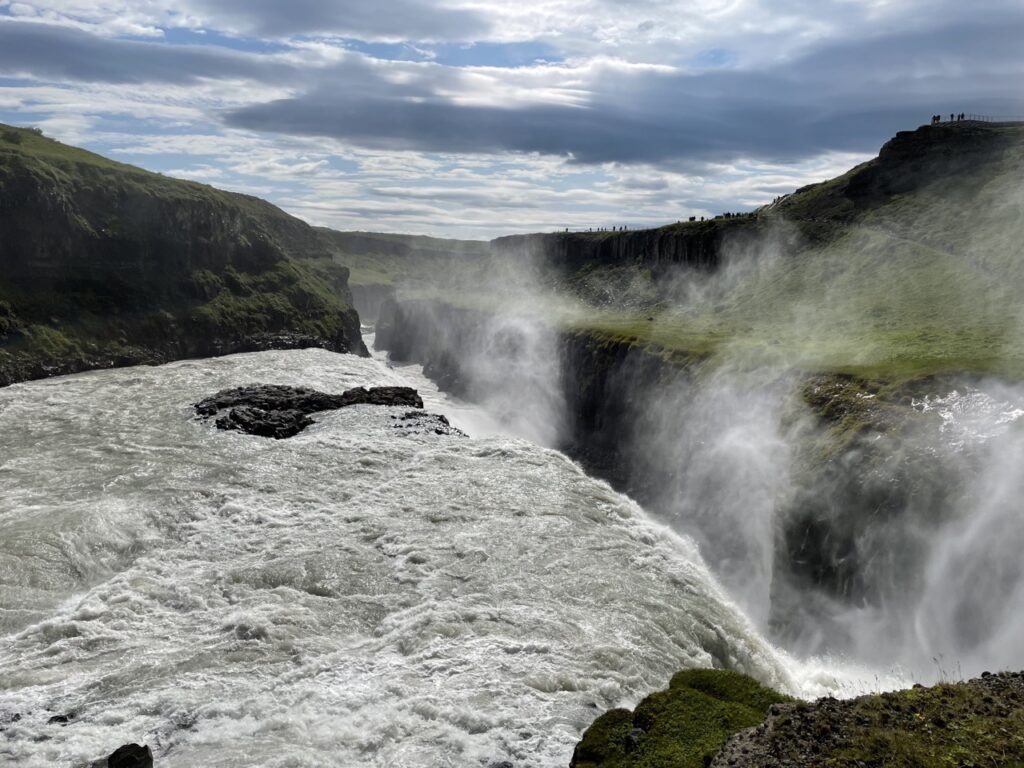 Tips for Visiting Gullfoss
Wipe off your camera lens often . It can be very misty at the lower observation area, which can splash on or fog up your camera lens. The last thing you want is all your photos to be blury! I do this frequently in all situations, but's extra important with all of the moisture at Gullfoss.
Stop frequently along Sigríður-Pfad. Most people are walking the pathway as a way to get to the observation area near the top of the falls, but some of the best views of the falls are from the path itself! Take breaks along the way to observe the falls from the different angles. (Be sure to actually stop though – don't let the views distract you from walking safely!)
Visit both observation areas. If you're able, don't pass up the chance to visit both the upper and lower observation areas. They both give such great and different views.
What to Wear to Gullfoss
Windproof & waterproof jacket : The upper observation area can be really windy, and the walk to the lower observation area can be really wet (not only during the rain). One jacket that is both windproof and waterproof is the way to go. I live and die by my North Face Apex Bionic jacket, but when mine wears out I will definitely buy the hooded version .
Wicking base layer : Waterproof jackets cant get really steamy on the inside, so I like to have a sweat wicking layer closest to my skin.
Cozy Fleece : This depends on the season, but we were there in July and I was happy to have it. I call my Patagonia Better Sweater + North Face Apex Bionic shell my "cozy combo." I like that the fleece is cozy and the shell protects from the elements. I had to shed my outer layer to wrap up my sleeping toddler, so I was extra happy to have a fleece.
Sturdy Shoes: Hiking shoes or boots aren't completely necessary for Gullfoss, but you'll want something with decent traction if you'll be walking the pathway to the lower observation area.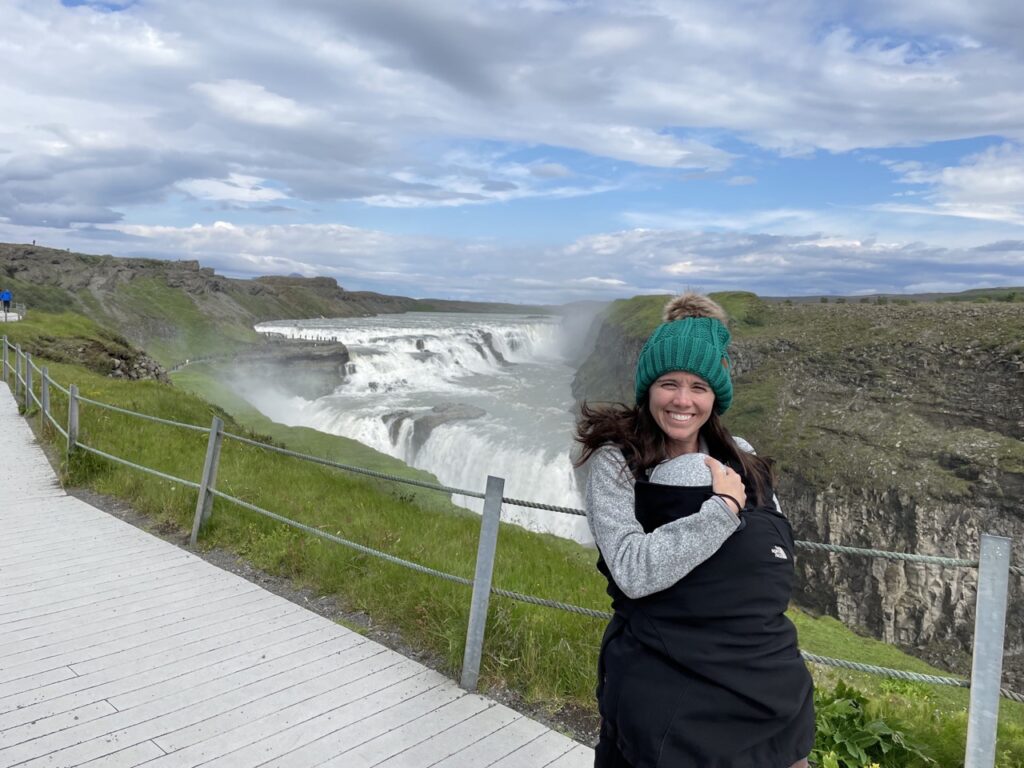 What to Bring to Gullfoss
Since you don't have to venture too far to view Gullfoss, there's actually not too much that you need to bring with you. We did think of a few things, though!Also be sure to check our minimalist Iceland packing list to help get ready for your whole trip.
Waterproof Backpack Cover: Even if the weather doesn't call for rain, you may get wet on the pathway to the lower observation area. We loved having a waterproof backpack cover with us so we never had to worry about our stuff getting wet.
Warm Beanie : As you can see from my husband's killer look, it was too windy to wear a baseball hat without worrying about it flying away. Keep your head covered with a cozy knit hat instead. I picked up this hat up a few days before our trip and wore it almost every day.
Baby Carrier: Parents of small children will want to pack a baby carrier. The path to the lower observation area is not safe for strollers. It's also narrow and has a horrifying drop so we did not feel comfortable letting our toddler walk around on the lower path or observation area. We used the Nuna CUDL carrier. We have a separate post dedicated to baby wearing for travel, which includes are best tips and reviews of our favorite baby carriers.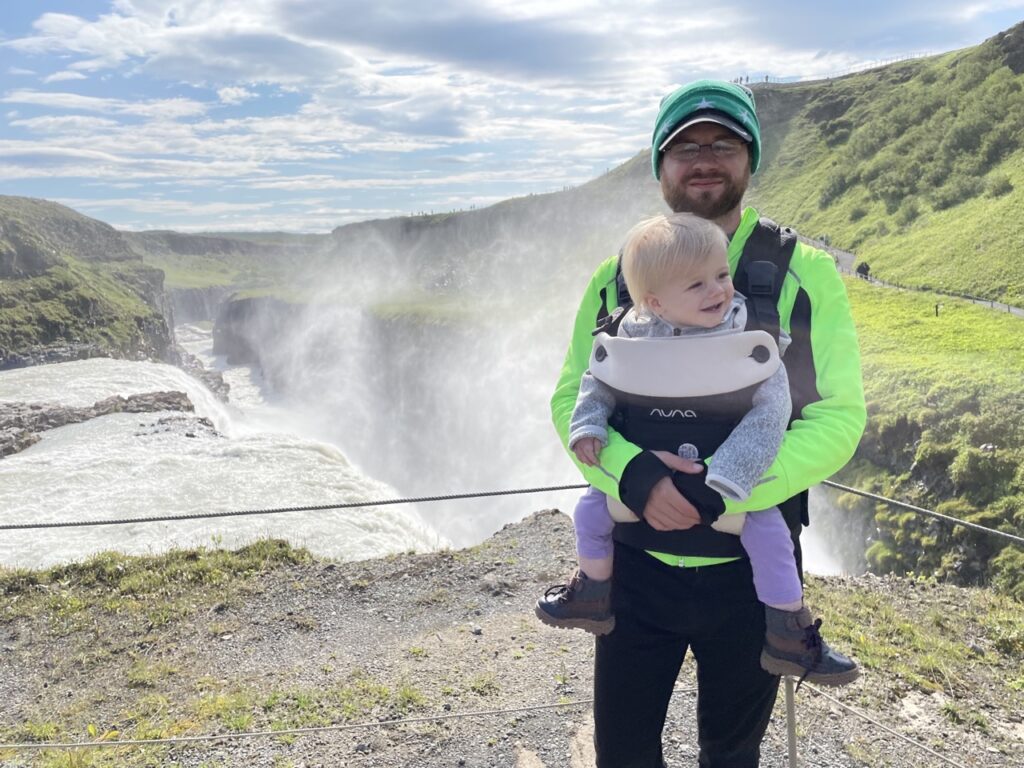 Conclusions
Gullfoss waterfall is truly stunning. I will never forget its power and beauty. If you have the chance to visit Iceland, don't pass up the opportunity to see this gem in person.
We hope you found this guide helpful! If there's anything we're missing, please let us know in the comments.
Whether you're in Iceland now or planning your dream trip, we hope you have an amazing adventure.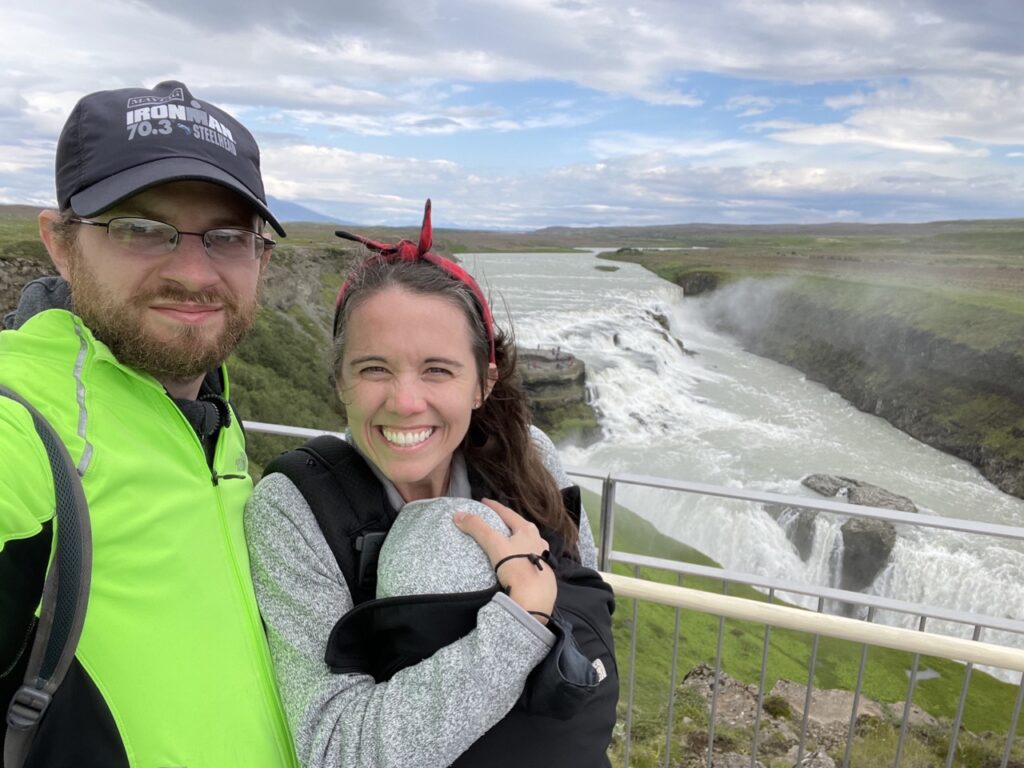 Our Full Iceland Itinerary
Planning a trip to Iceland? Here's a look at our full itinerary for this trip…
Minimalist Iceland Summer Packing List (That Fits in One Carry-On!)
Detailed 3-Day Reykjavik Itinerary with Walking Routes
Reykjavik City Guide – Everything to Know About Iceland's Capital City
Whale Watching in Reykjavík with Special Tours
Planning Guide: Self-Drive the Golden Circle in Iceland
Guide to Thingvellir National Park in Iceland
Guide to Iceland's Geysir Hot Spring Area
A Perfect Visit to Seljalandsfoss Waterfall + Bonus Hidden Waterfall
Planning Guide: Skogafoss Waterfall in Iceland
Guide to Dyrhólaey Nature Reserve on Iceland's Southern Coast
Complete Guide to Vik, Iceland
Guide to Reynisfjara Black Sand Beach in Iceland
Guide to Jökulsárlón, Iceland's Glacier Lagoon
All Tours & Activities
Northern Lights Tours
Golden Circle Tours
South Shore Tours
Blue Lagoon Tours
Sky Lagoon Tours
Volcano Tours
Hvammsvík Hot Spring Tours
Reykjavik City Tours
Adventure Tours
Super Jeep Tours
Highland Bus
Special Offers
Private Tours
Meet on Location
Your Cart is empty
Looks like you haven't picked any tours yet!
Gullfoss Waterfall in Iceland - your guide
Find out why gullfoss is one of the most popular spots to visit in iceland with our full guide to these thundering falls..
October 10, 2022
Iceland isn't short of waterfalls. They tumble from cliffs and thunder over rocks. But Gullfoss is considered the king of them all. Catching a glimpse of this natural wonder, it's easy to see why it's been the backdrop to blockbuster films and attracts thousands of tourists every year. One of the major sights on the route, most Golden Circle tours in Iceland include a stop at Gullfoss. It would be remiss to visit Iceland and not stop at this magnificent waterfall.
Facts about Gullfoss waterfall in Iceland
Gullfoss actually consists of two falls – the smaller cascade is 11 metres (36 feet) tall, and then the dramatic drop that people flock to see is 21 metres (69 feet) high.
There is a big difference between the falls in winter and summer. In the summer months, the glacier melt means that around 140 cubic metres (459 cubic feet) of water tumbles over the rocks every second in an almighty cascade. While in winter, as there is less glacier melt and the river water remains frozen in places, it drops to around 109 cubic metres (358 cubic feet) every second.
You might recognise the waterfall when you arrive as Gullfoss has been used as a filming location for several blockbusters and popular TV series. It was used in Eurovision Song Contest: The Story of Fire Saga and also as the other-worldly backdrop for the new TV series of Lost in Space. You can also spot it as a location in the popular Vikings TV series.
History of Gullfoss waterfall
Geologists believe that Gulfoss was formed at the end of the last age, around 5,000 years ago. Run-off from Iceland's second-largest glacier, Langjokull, flooded the landscape, creating the river Hvita that tumbles into the ravine and creates this waterfall.
Gulfoss was left to tumble away without threat or disturbance for centuries, millenia even, until the early 20th century. In 1909, Gullfoss caught the eye of an English businessman who thought the raw power of the waterfall could be harnessed to fuel a hydro-electric power plant. The farmer who owned the land that Gullfoss stood on refused to sell, but the Englishman managed to lease the land and use a legal loophole to continue with his plans to dam the ravine. It was the farmer's daughter, Sigríður Tómasdóttir, who saved her money for a lawyer and battled with the Englishman over decades to prevent his plan from going forward. Eventually, after many trips of over 100km of foot by Sigríður to Reykjavik, the lease was ended in 1929 and Gullfoss was given back to the Icelandic people. Sigríður is considered Iceland's first environmentalist.
The name "Gullfoss"
Gullfoss translates as "golden waterfall" and there are a couple of theories as to why these falls have been named this. One legend goes that a Viking dumped his hoarded treasure into the pool at the base of the waterfall so that nobody could enjoy his riches after he had passed away. Another says that it was named after the rainbows that form in the water mist on sunny days, in keeping with the old Celtic brief that there is a pot of gold at the end of every rainbow. Of course, it may just be that on a sunny day the water pouring over the rocks takes on a golden-brown colour as it carries with it sediment from the glacial valley.
Whatever the reason for the name, the popular Golden Circle route covering Iceland's biggest natural wonders has been named after the golden falls, giving this spectacle pride of place on the route.
Explore a landscape studded with thundering waterfalls
From fairytale falls cascading against the mossy greenery to clifftop cascades tumbling into the sea, Iceland is famous for its waterfalls. Gullfoss in one of Iceland's must-see waterfalls – check out the other must-see falls that made our list .
Where is Gullfoss waterfall?
As we've mentioned, Gullfoss waterfall is on the popular Golden Circle Route, which leads from Reykjavik to the continental divide at Þingvellir national park, Gullfoss and then the Geysir area of geothermal activity. Gullfoss is usually the central stop along this route. It sits in the Haukadalur Valley, within the river Hvita and is about 107km (66 miles) from Reykjavik. It takes around 1 hour and 30 minutes to reach Gullfoss if you are driving straight from the capital.
How to get to Gullfoss waterfall?
The road to the waterfall is well-paved and easy to navigate from Reykjavik, so you could easily drive yourself if you are hiring a car. The route of the Golden Circle is one of the most popular day road trips from Reykjavik.
However, in the harsh Icelandic winters when snow coats the ground and blizzards reduce visibility, it can be stressful driving yourself and joining an organised tour from Reykjavik might be a better option. Gullfoss features on every Golden Circle tour, which can be combined with loads of other quintessentially Icelandic experience. Perhaps embrace the idea of the Land of Ice and Fire on the Golden Circle and Lava Tunnel tour , for example.
Being one of the most popular sights in Iceland, there are loads of different options to visit Gullfoss on a guided tour, whether you're interested in combining it with a snowmobile experience on a glacier , or perhaps slowing the pace with a tour that finishes with a session at the Fontana Wellness Centre .
Take in Iceland's biggest natural wonders in a single day on the Golden Circle
Throughout the year, Reykjavik Excursions run tours of the Golden Circle . This popular route from Reykjavik covers the absolute must-sees of the island . Read more about it with our ultimate guide to the Golden Circle in Iceland .
How long is the walk to Gullfoss waterfall?
Most people that visit Gullfoss waterfall will take the short, paved track to the viewing point to admire the main falls. From the carpark, it only takes around five minutes to walk this track and you're met with a dramatic and beautiful sight on arrival. There are some steps on the path and it can be slippery in winter, so bear this in mind when selecting your footwear for the day.
Those that enjoy a bit of a longer walk can explore the viewing points of the upper and lower falls, and follow the 2.1 miles of trails that weave in and out past the various stages of the waterfall. Exploring every nook and cranny of this route would take around half an hour.
Is Gullfoss waterfall free?
There is no fee to access Gullfoss waterfall, and parking in the carpark is free too. In the middle of the Golden Circle route, it's a popular lunch spot and there is a café here serving hearty, traditional Icelandic soups and sandwiches so you may want to bring some money for that. There is also a shop selling knitwear, outdoor gear and souvenirs.
Do you get wet at Gullfoss waterfall?
Unlike Iceland's other popular waterfalls, Gullfoss tumbles into a ravine and you view the falls from above, rather than looking at them from below. In fact, you can't spot the falls from far away and it's only when you get close to the edge that you can see the falls, so it looks like they disappear into the earth. While you tend to get coated in the cold water mist at the likes of Skaftafell and Skogafoss, at Gullfoss you are unlikely to get wet from the water spray.
Of course, Iceland's weather is notoriously fickle, and even in summer it might rain, so it's best to bring a waterproof jacket, good walking shoes and something with a hood so you don't get caught out.
Discover the rest of Iceland's rugged, volcanic landscape and glacial scenery with a journey along the South Coast.
Iceland's South Coast is home to black-sanded beaches, ethereal rock formations and glacier lagoons alongside beautiful waterfalls like Gullfoss. Check out our guide to the South Coast of Iceland to see what you can uncover.
How much time do you need at Gullfoss waterfall?
It's possible to spend just half an hour at Gullfoss, if all you want to do is head straight to the main falls, snap a few pictures and breathe in the scenery for a few minutes. However, if you want to explore the upper and lower viewing points, perhaps walk a bit of the 2.1 miles of pathways leading around the waterfalls and stop in the café for a bowl of soup and a hot drink, then you'll want around an hour or even an hour and a half.
When is the best time to visit Gullfoss waterfall?
Gullfoss is a year-round destination and there are benefits to going in both summer and winter. In summer, the cascade is mightier as more water tumbles over the rocks and into the ravine. It's also a delight to see this waterfall against a summery backdrop of green moss and wildflowers. Summer in Iceland is when you get the balmiest weather and you have a chance of spotting the midnight sun.
However, it can be just as dramatic to visit Gullfoss in winter when the landscape around it is frozen and icicles dangle from the rocks. Iceland in winter is a sight to behold as the landscape changes to snow-covered and ethereal. Though, if you do visit Gullfoss in the colder months, bear in mind that the paths might be slippery and make sure to wrap up warm.
We've got a handy guide on when is the best time to visit Iceland , based on your interests and preferences.
Tours to Gullfoss waterfall and the Golden Circle in Iceland
Taking the hassle out of navigating Iceland's roads and driving yourself, Reykjavik Excursions have a variety of tours that take in the sights of the Golden Circle and stop at Gullfoss. If you're pushed for time and want to see Þingvellir national park, Gullfoss and Geysir at lightning speed, opt for the Golden Circle Direct tour which spends just half an hour at each sight and has you back in Reykjavik in just 6 hours. For a more leisurely pace the Golden Circle and Friðheimar greenhouse tour has more time at each stop and includes a visit to the famous tomato greenhouse for lunch.
Those with a heart for adventure might want to combine their Golden Circle excursion with a monster truck experience on Langjokull glacier . This is a great way to see the glacier that birthed the mighty Gullfoss all those millenia ago. Or, take it easier and combine a trip to Iceland's major natural wonders with a relaxing soak in the Sky Lagoon . After a day of hiking to the continental divide, spotting waterfalls, waiting for geysers to erupt, there's nothing better than ending in the bath-warm waters overlooking the wild Atlantic Ocean.
Over 5,000 years old, Gullfoss waterfall is an integral part of Iceland's wild landscape and it's safe to say that no trip to Iceland is complete with a stop at these mighty falls. They've been the backdrop to blockbusters, and fought over in courts of law. It's easy to see why when you witness the thundering cascade into the deep ravine yourself. Although they're easy to reach from Reykjavik, a Golden Circle tour can combine these falls with the wonders of Þingvellir and Geysir too. Tours to see Gullfoss waterfall in Iceland take the hassle out of navigating the island's snowy roads in winter and are a great way to experience the falls for yourself.
REYKJAVIK EXCURSIONS BLOG
Get inspired! Information and tips and must see places in Iceland, fun facts, customs and more.
Litli-Hrútur Eruption 2023 - The New Eruption near Fagradalsfjall on the Reykjanes Peninsula
Once again, the enthralling spectacle of Iceland's Reykjanes volcano is back in the limelight! After 11 months of peaceful dormancy, the volcano is now alive and kicking, treating locals and tourists to another captivating visual performance. If you've been yearning for an adventure that's truly out of this world, this might just be your calling!
I Am Reykjavík
Flights to Iceland
Itineraries for Iceland
Restaurants in Iceland
East Iceland
North Iceland
South Iceland
West Iceland
Iceland Map Explained for Tourists
BSI Bus Terminal in Reykjavik
Ferry to Iceland: A Different Way of Traveling
Reykjavik Highlights: Essential Sights
Best Cities in Iceland to Visit
East Fjords Iceland: What to See and Do
6 Best Iceland Beaches
Iceland's Best Luxury Hotels – Exclusive Accommodation
The Ancient Stories Written in The Iceland Viking Sagas
Basic Phrases In Icelandic For First Timers – Let's Have A…
Sunshine and Daylight Hours in Iceland Per Month
Climate in Iceland: Temperature and Average Monthly Precipitation
Iceland's Sky Lagoon – The Ultimate Experience
Dog Sledding in Iceland Year-Round
Driving the Highland F208 in Iceland
Your Iceland Honeymoon: An Amazing Experience
Hunting Dragons in Iceland – Lake Lagarfljót and Beyond
Best things to do while visiting Gullfoss
G ullfoss is one of the main country attractions, located on the Hvítá River. This waterfall was once rented to produce energy, but it was finally sold to the Iceland Government bu its owners Tómas Tómasson and Halldór Halldórsson. None of the plans to use this place to generate power has been successful as it would completely change the place and it's a protected landmark now.
If we can still enjoy Gullfoss as it was is in part because of Sigríður Tómasdóttir, a young farmer who threaten to jump on the waterfall if it was sold to the electric company. One of the best things to do while visit Gullfoss is try to find a rock monument there to remember this heroic act.
This beautiful waterfall is part of the Golden Circle , an interesting route near Reykjavik. It's formed by the fracture of two huge plaques which allows a 11, 21 and 32 meters falls being one of the most amazing waterfalls in Europe because of its dimensions and the high water flow it has. Because of its form, the river seems to disappear inside the earth until you reach the very end of the land next to the waterfall. This place is of course free of charge and it's open all year-round.
How to get there?
Gullfoss is 110km away from Reykjavik on road 35, around 1 hour and a half driving. Buses run daily from Reykjavik in summer but the rest of the year are not really frequent so it's advised to rent a car to get there or arrange an excursion with one of the many local companies. You don't need a 4×4 car to get to Gullfoss, the road is in good conditions but if visiting during winter always check road and weather conditions before starting your trip.
Where to stay?
As previously mentioned, Gullfoss is a protected place, but still you can find some accommodation options nearby as little hostels and farms
We recommend Hotel Gullfoss , in Selfoss. This hotel well deserved its name as it is located only 5 minutes away from the waterfalls and it's a really nice place to enjoy the northern light as there are no lights around –this is also one of the best things to do while visiting Gullfoss: northern lights hunting!- This place is open almost all year, only closed from 15 th December to 15 th January.
There are other nice options as Hotel Borealis and Hotel Geysir, both of them are around one or away from Gullfoss.
Gullfoss Waterfall
What to do.
One of the best things to do while visiting Gullfoss if looking for a place where to recharge your batteries is to visit Gulffoss Kaffi. This café is located just a few minutes walking on the wooden boardwalk from the waterfall. It opens everyday from 10am to 6pm ad they serve hot food, sandwiches, drinks and cakes.
You can watch the waterfall from this point or from downwards. To get to this second viewpoint you need to walk down the wooden boardwalk – not recommendable for reduce mobility people or if carrying baby chairs- or you can also get by car to the free car parking located right down the waterfall. Keep in mind you will get wet if looking for this viewpoint, so any rain jacket would be a good idea!
As mentioned, Gullfoss is part of the Golden Circle route. You can visit Gullfoss, Thingvellir and Haukadalur geyser in one day, but not spending much time on each place. This is a good idea if coming only for a short time and you want to have an overall idea of Iceland wonders.
RELATED ARTICLES MORE FROM AUTHOR
Stunning Reynisfjara Black Sand Beach in Iceland
Iceland's South Coast: Vík and Environs
Main Stops on Iceland's Ring Road: The South Coast
Leave a reply cancel reply.
This site uses Akismet to reduce spam. Learn how your comment data is processed .
Weather Today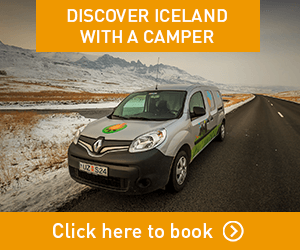 Stay connected
Our favourites.
Costco Iceland: Low prices or fair prices?
Car Rental Iceland. Which is the best car rental in Iceland?
Iceland Holidays for Seniors – Iceland Tours & Tourism
Most popular.
EDITOR PICKS
Icelandic Women: Feminism in Iceland
POPULAR POSTS
Campervan Iceland: Ranking Top 5 Campervan Rental Companies in Iceland
Popular category.
Activities and Adventure in Iceland 41
Things to See and Do 34
Travel Tips 34
Featured Posts 31
Reykjavík 26
Practical Advice 22
Life in Iceland 19
Around Iceland 18
Advertisement
The beautiful and popular Golden Circle

05 Jan Visiting Gullfoss Falls in Iceland
Do not pass up the opportunity to visit Gullfoss falls while in Iceland. The two-tiered waterfall cascades into a canyon, and visitors are able to walk right up next to it. There is a waterfall lookout beside the parking lot, but those seeking a little more adventure can walk the 1.3 mile out and back trail to the falls. We even saw a rainbow over the falls! However, we did get fairly wet. The mist from the falls sprays everywhere , including right over the path. Bring some boots and a raincoat to keep dry. 
If you would prefer to  not handle the logistics of visiting Gullfoss, then book a tour of the Golden Circle . The vast majority of tours include a stop at Gullfoss as well as multiple other attractions within the Golden Circle.
1) Location of Gullfoss Falls 
2) Opening Hours and Entrance Fee
3) The Best Time to Visit
4) Quick Facts
5) Background
6) Viewpoint and Trail Information 
7) Recommended Items to Bring
8) Nearby Attractions
1) Location of Gullfoss Falls
Gullfoss was one of the first waterfalls we visited after we arrived in Iceland. Its convenient location within the Golden Circle fit perfectly within the itinerary for our first day. First we started out with snorkeling at the Silfra fissure , and then we checked out Öxarárfoss and Almannagjá . Next we made a quick stop at Geysir Hot Springs before heading over to Gullfoss. Gullfoss is located at the top of the Golden Circle. 
Due to its location, visiting Gullfoss is possible if you are in Iceland for a whole week or even just a weekend. It is less than a two hour drive from Reykjavík and just over a two hour drive from Keflavík International Airport.
There is an upper as well as a lower parking lot for Gullfoss falls. We parked at the upper lot and then had to walk down a set of stairs to reach the trail for the falls. Honestly, we did not even know the lower lot existed. However, the lower lot is closer to the falls. Park there if you want a shorter walk. For some good news, there is no parking fee. 
Next to the upper parking lot there is a small café and shop. Stop for a quick bite to eat or buy souvenirs to take back home for friends and family. 
Nearby Lodging
For nearby accommodations, check out Skyggnir Bed and Breakfast or options in the town of Bláskógabyggð . We stayed at Skyggnir Bed and Breakfast our first night in Iceland, and we would definitely recommend it to others. 
For additional recommendations, check out some of the best hotels in the Golden Circle as well as the most romantic hotels in Iceland .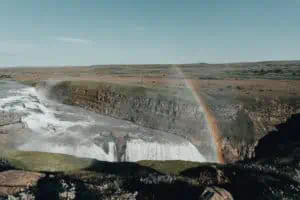 Rainbow over Gullfoss Waterfall
Gullfoss falls is open to visitors all day, every day. There are no hourly or holiday restrictions. Therefore, you can visit at 2:00pm or 2:00am. 
Additionally, there is no entrance fee nor is there a parking fee to park in either of the lots for Gullfoss. Yay for free, beautiful attractions! However, let us each do our part to keep this attraction beautiful by respecting signs, staying on the trail, and picking up after ourselves.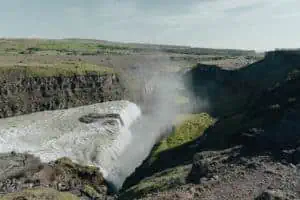 View of Gullfoss Waterfall from the path
3) The Best Time to Visit Gullfoss Falls
If you would like to avoid the crowds, plan to visit Gullfoss falls in the early morning or evening. The peak visit time is often in the afternoon, which is thus when you would encounter the most crowds. 
Best Season to Visit
Let me start off by saying that Gullfoss looks beautiful in all seasons. In summer you will see the sun shining down on the falls, possibly even with the addition of a rainbow.
On the other hand in winter, the water is partially frozen and the surrounding scenery is covered in snow. It thus looks like a winter wonderland. However, it is also possible the trail to the falls will be closed in the winter due to unsafe trail conditions. You will thus not be able to get as close to the falls as you would in the summer season.
Estimated Visit Time
Plan for at least one hour to visit and truly enjoy the beauty of Gullfoss falls. There is a 1.3 mile out and back trail to the falls, which will take you around 15 to 30 minutes round trip to complete. We visited in the summer and thus had to deal with the peak crowds. That being said, it took a bit longer for us to walk along the trail because it was so crowded and we had to wait at times. 
Additionally, you will want to spend some time appreciating the beauty and the strength of the waterfall. A quick stop at the café or gift shop might also be on your list.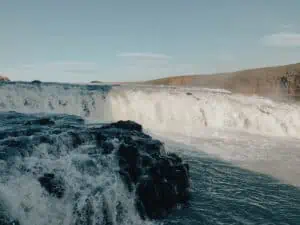 Up-close view of Gullfoss
1. Gullfoss waterfall is located in the Golden Circle in Iceland. 
2. There is a 1.3 mile out and back trail from the lower parking lot to the falls. 
3. If you walk along the trail to the falls, you will get wet due to the mist spraying out from the falls. 
4. Gullfoss stands at over 100 feet (~32 meters) tall. 
5. Sigríður is praised as one of the first environmentalists of Iceland and is also responsible for preserving Gullfoss.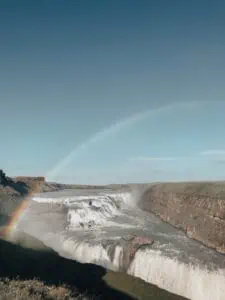 Rainbow shining above Gullfoss
5) Background of Gullfoss Falls
Gullfoss means "Golden Falls" in Icelandic. The water originates from Langjökull glacier and then flows in the Hvítá river before reaching the falls.
Iceland is full of stunning waterfalls , so make sure you plan time in your itinerary to visit a few more. For example, Svartifoss has basalt rock columns behind the falls and Kirkjufellsfoss has Mt. Kirkjufell looming in the background. 
Waterfall Dimensions
At its tallest, Gullfoss stands 105 feet (~32 meters). There are two sections of the falls, with the second being much larger than the first. The first section is only about 36 feet (~11 meters) tall while the second is 69 feet (~21 meters). From Gullfoss, the water then flows into Gullfossgjúfur canyon, which is around 230 feet (~70 meters) tall. 
Head to Fjaðrárgljúfur Canyon if you want to feel as though you stepped inside of a fairytale.
Preservation of Gullfoss Falls
Many years ago businessmen desired to utilize the water and power of Gullfoss falls in Iceland to power a hydroelectric plant. Tómas Tómasson, the owner of the land on which Gullfoss is located, refused to sell, though he did lease the land. However, Tómas' daughter, Sigríður, refused to let the waterfall be ruined. She saved all the money she could, traveled on foot to Reykjavík various times, and worked as hard as possible to preserve Gullfoss. By the way, the trip to Reykjavík was over 60 miles – and she did that ON FOOT. At one point she even said she would throw herself into Gullfoss to demonstrate her commitment. 
Thankfully, the businessmen stepped out of the lease in the late 1920s, thus allowing the waterfall to remain untouched. Sigríður is hailed as one of the first environmentalists in Iceland. Additionally, Gullfoss is now a protected natural reserve. 
Another waterfall with an interesting history in Iceland is Goðafoss , for an Ástarú priest once threw idols into the waterfall.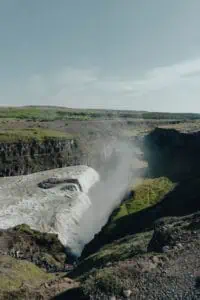 The water from Gullfoss cascades down into a canyon
6) Viewpoint and Trail Information
When we visited Gullfoss falls in Iceland, we stopped for a brief moment at the viewpoint by the lower parking lot. We then continued on and walked along the 1.3 mile out and back trail to get a closer look at the falls. If you are able, I would highly recommend walking along the trail as it gives you an incredibly close-up view of the falls in all their beauty and strength. You might also get an up-close view of a rainbow. 
Another waterfall in Iceland that commonly has a rainbow around it is Skógafoss in southern Iceland.
Viewpoint of Gullfoss Falls
There is a viewpoint for Gullfoss right next to the lower parking lot. You thus do not have to worry about a long walk or stairs to be able to see the waterfall from this angle. 
However, if you park in the upper lot, you will have to walk down a set of stairs to reach the lower parking and viewpoint. 
Trail to Gullfoss Falls
To get up close and personal while visiting Gullfoss, follow the 1.3 mile (~two kilometer) out and back trail down to the falls. There are some stairs at the beginning, and for that reason it is not wheelchair accessible. While walking along this trail, visitors will get wet . The mist from the falls sprays over the trail, and thus it is recommended to bring along waterproof shoes and a raincoat. Otherwise, view this as an opportunity to shower (especially for those camping around Iceland).  
You can visit Gullfoss in both the summer and winter in Iceland. However, it is possible the trail to the falls will be closed due to hazardous conditions in the winter. Even if the trail is closed, visitors can still stop at the viewpoint by the lower parking lot mentioned above. If the trail is open, be sure to have crampons and also consider walking poles/sticks for assistance if there is any trace of snow or ice on the trail. Amazon offers a variety of crampons and walking poles, including these crampons by Cimkiz and trekking poles by TrailBuddy .
Seljalandsfoss i s another waterfall in Iceland at which you might get a bit wet while visiting, for you can walk on a path behind the falls. 
Gullfoss on a day full of clear skies
For additional recommendations, check out my Iceland road trip packing list as well as my list of international travel essentials .
1. Water bottle : Be sure to bring water with you while visiting. Even though Iceland has cooler temperatures, you still need to drink water to stay hydrated. For example, I brought my Yeti water bottle everywhere in Iceland.
Waterproof Items
2. Waterproof phone case : You might want to protect your valuables, including your phone, especially if you visit on a particularly windy day.
3. Rain boots : Let me say this – you will most likely get pretty wet   while visiting Gullfoss. Protect your other shoes and switch into your rain boats for this stop. 
4. Waterproof jacket : As I just said above, you will get a bit (or a lot) wet while visiting Gullfoss. It all depends on how windy it is, for the wind carries the mist from the falls over the trail. I wore my rain jacket during our visit, and I am sure glad I did. 
Hiking Items
5. Hiking poles : Hiking poles are not a necessity to visit Gullfoss due to the fact the trail is fairly short. However, bring them along if you want a bit of extra support. 
6. Crampons : These are only necessary in the winter months if there is snow or ice on the trails. Crampons are spikes that attach to the bottom of shoes.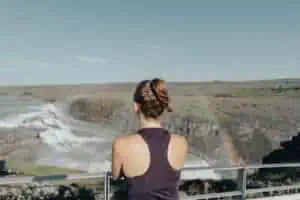 Taking in the view at Gullfoss
8) Nearby Attractions to Gullfoss Falls
Before or after visiting Gullfoss, take some time to also stop and check out the attractions listed below. They are all conveniently located within the Golden Circle. 
Another attraction worth visiting within the Golden Circle (but not listed below) is Thingvellir National Park . The park holds the rift between the North American and Eurasian tectonic plates. You can walk between the plates at Almannagjá or snorkel between them at the Silfra fissure .
Geysir Hot Springs
There is a nice 1.2 mile path around the entire geothermal area. It will take 15 to 30 minutes to complete depending on pace and the amount of pictures taken. The largest geyser here is Strokkur, and it goes off every five to 15 minutes. Additionally, hike the small hill for a view from above. 
Geysir Hot Springs is located only 10 minutes west from Gullfoss. If you need lodging in the area, check out Skyggnir Bed and Breakfast and/or the best hotels in the Golden Circle .
For more information: Strokkur and Geysir Hot Springs in Iceland .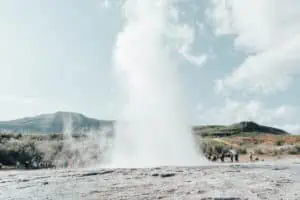 Strokkur erupting at Geysir Hot Springs
Tarn (Mountain Lake) in Flúðir
We did not originally include the tarn in our itinerary, but instead only found out about its existence when talking with the owner of Skyggnir Bed and Breakfast . She said it was one of her favorite activities in the area, and we thus decided to give it a try. The hike up the mountain was fairly short, and the view at the top was incredible. A lake was awaiting us at the top after we made the journey. 
The tarn is located 35 minutes south from Gullfoss. The coordinates for the parking lot are Skeiða-og Hrunamannavegur 64.118726, -20.317397. If you need lodging in the area, check out Skyggnir Bed and Breakfast and/or the best hotels in the Golden Circle .
For more information: Discovering the Tarn (Mountain Lake) in Flúðir, Iceland .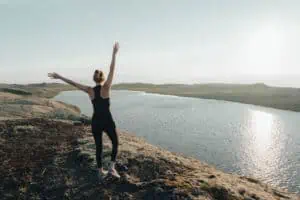 Enjoying the views at the Tarn in Flúðir
Kerid Crater
Although this was a fairly quick stop for us, we enjoyed our time here. The lake at the bottom of the volcanic crater is so unique, and we decided to walk around the top as well as walk down to the water's edge. In my opinion, it is definitely worth the $3 entrance fee to see it. 
Kerid Crater is located 45 minutes southwest from Gullfoss . If you need lodging in the area, check out Skyggnir Bed and Breakfast and/or the best hotels in the Golden Circle .
For more information: Kerid Crater in Iceland .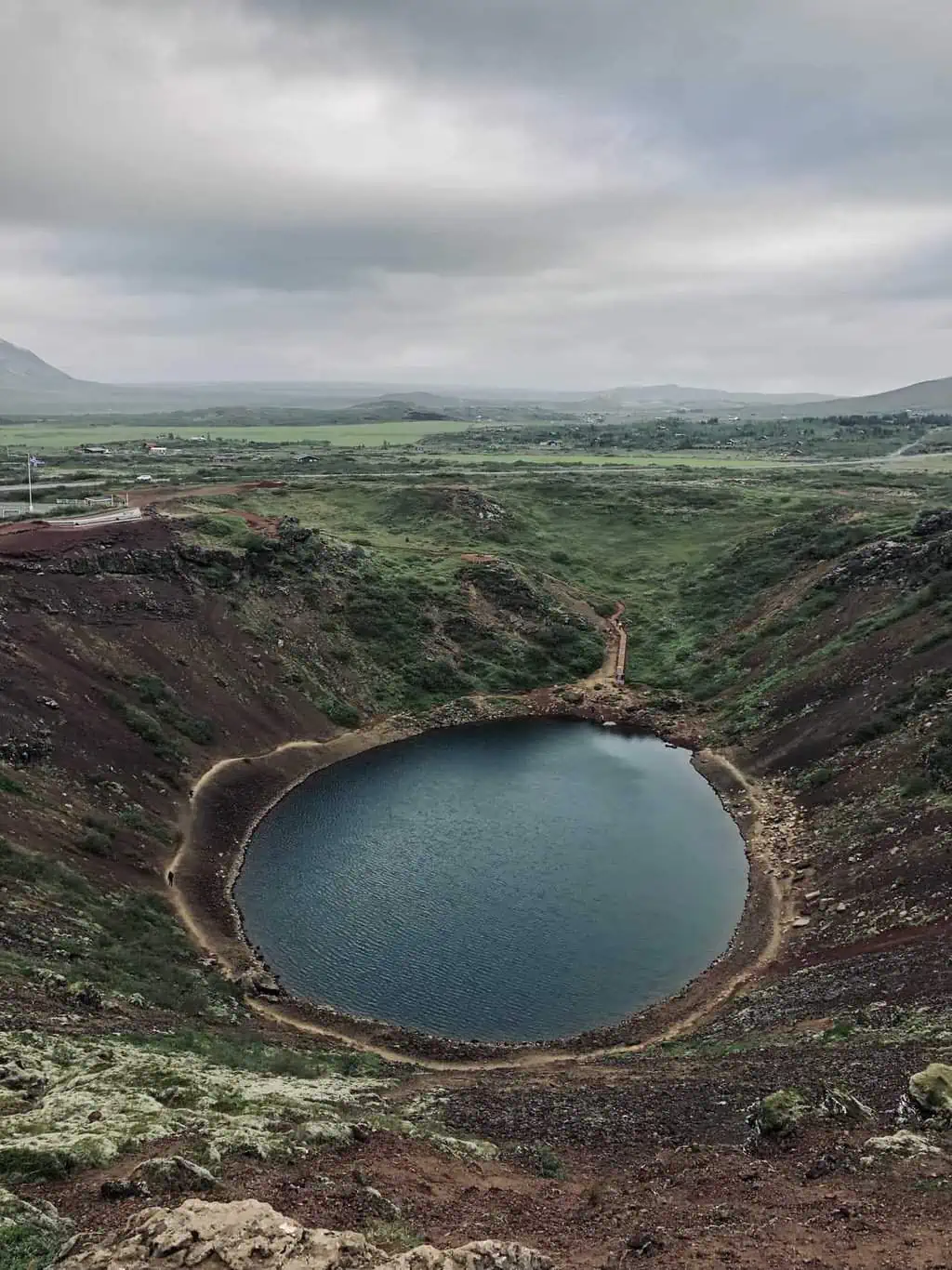 View of Kerid Crater from the path around the top
PIN IT to save it for later!
Check out some hidden gems in Iceland: 4 Hidden Gems in Iceland .   
Book your excursions before they sell out: Best Excursions in Iceland .
Hello there 👋 Thanks for joining the adventure.
Sign up now to receive our free "beginner's guide to travel hacking: how to travel for free".
We don't spam! Read our privacy policy for more info.
Thanks for signing up! Check your inbox or spam folder to confirm your subscription.
RELATED POSTS
10 comments.
Wow, it looks so different in summer! I was here in winter years ago and we could hardly stand it was so icy and windy 😛 I love your photos with the rainbows they turned out so great! Hopefully I can visit one summer.
Alaina Thomas
Oh I would love to visit sometime in the winter! If you have any tips, let me know!
Gullfoss was one of the coolest waterfalls I saw while in Iceland! It was so magical. I love the rainbow in your photo, that must have been spectacular to see!
The rainbow was beautiful! We thought we were just particularly lucky to see a rainbow by the waterfall, but then we kept seeing them throughout our trip and realized they are a little more common than we thought.
Linda (LD Holland)
We were very happy we visited Gullfoss when we were in Iceland. We did it as part of a tour but would want to go back on our own and wander with no time constraints. I am sure a visit in the winter would be quite magical. But I will be prepared for the ice.
It is nice to have the flexibility and freedom to visit for as long as you like without a tour. And I would love to travel back in the wintertime as well. I can only imagine how beautiful Iceland becomes once it is a winter wonderland.
Seeing the waterfalls and geysers in Iceland sounds like an awesome experience. Thanks for sharing all the details. I've added Gullfoss to my Iceland list.
It is an incredible experience! I am pretty sure you could spent an entire week in Iceland just visiting waterfalls, for there are so many.
Iceland has always looked absolutely magical! Clearly Gullfoss lives up to its name. I love that you mentioned other nearby sites too – that Crater looks like a must visit!
Gullfoss is one of the most visited waterfalls in Iceland, and it is easy to see why! It is beautiful by itself, but then just add in a rainbow and it is top tier. Also definitely recommend visiting the crater! It was one of our unique attractions, for I had never seen anything like it.
Save my name, email, and website in this browser for the next time I comment.
Yes, add me to your mailing list
Notify me of new posts by email.
Gullfoss: Full Guide to Iceland's Majestic Waterfall
The great thing about a country having 269 glaciers is that they create some pretty wonderful natural features. As Iceland's ice caps melt and freeze throughout the year, their meltwater births waterfalls.
No matter what area of the country you're in, you'll find a beautiful, famous fall to marvel at. None, however, is more famous than the Golden Circle's Gullfoss waterfall. Let's learn all about it!
Gullfoss Waterfall Facts
Gullfoss translates to 'Golden Falls'. It was probably named this for the golden hue of its water, or the way the sun hits its sprays. Another explanation lies in an old story, featuring a farmer called Gýgur. It's said that he didn't want anyone possessing his gold after he died, so he threw it in the waterfall to keep it away from eager eyes.
Gullfoss height
Gullfoss waterfall is one of Iceland's South Coast main attractions . The waterfall is 32 meters (105 feet) high and lies in the Hvitá (meaning white in English) river. It falls in two stages and is formed by meltwater from the Langjökull glacier, which lies a short distance above. The waterfall is a busy one, with an average water flow of 110 cubic meters per second .
The heroine of Gullfoss
With such power, it's not surprising that Gullfoss once attracted the attention of energy companies. In the early twentieth century, investors wanted to create a hydroelectric dam. The land's owner, Sigríður Tómasdóttir , Iceland's first environmentalist , refused to allow this, as she wanted to preserve the waterfall in its natural state.
She managed to win the first legal battle, and eventually the site was purchased by the Icelandic government to ensure its protection. Fast forward to today and it's of the most popular places for tourists to visit, having become part of the Golden Circle route.
How to Get to Gullfoss
Gullfoss is about 115 km (71 miles) west of Reykjavík, a journey of about an hour and a half . However, it is rare to find people who drive straight to Gullfoss and back to the capital. Instead, they take the world-famous tourist route.
Gullfoss is just one spot of many that lie on the Golden Circle route . The other two most popular stops are Þingvellir National Park and Geysir Geothermal Field. The Circle begins at the capital, taking Route 1 (the Ring Road) either clockwise or counter-clockwise.
Those that are traveling clockwise will turn onto Route 36, whereas those that choose counter-clockwise will follow Route 1 until they reach Route 35 . However, it does not matter which direction you travel, as the furthest point from Reykjavík will be Gullfoss from either direction.
Many choose to rent a car in Iceland and drive the Golden Circle themselves. This gives you the freedom to stay at each stop for as long as you like, setting your own pace. Alternatively, many companies offer Golden Circle packages that include a Gullfoss waterfall tour. These will generally be in large coaches with a knowledgeable tour guide, and time is allotted to explore each site.
Ultimately, the choice is yours. While it's nice to not have to drive, it's also great to have an open schedule. Whichever way you view the Golden Circle , expect to be out for the whole day. In total, the route is about 230 km (143 miles) . We spent about 10 hours exploring this wonderful part of Iceland.
At the waterfall itself you will find a Visitor's Centre equipped with a gift shop and restaurant. There are two vantage points available at which to view Gullfoss: at the top or bottom of a small hill, accessible with steps. There is also a stone memorial dedicated to Sigríður Tómasdóttir near the Center.
The car park is practically in front of the waterfall, so you won't have to walk far. But wear decent footwear regardless, because there will be walking involved at other stops along the route.
When to Visit Gullfoss
The great thing about Gullfoss is that its majestic appearance is completely different depending on when you visit.
In the summer, the sun's reflection and the larger volume of water truly showcases its power. On the other hand, winter sees it completely framed by snow and ice, with the air's chill giving the site an extra freshness.
We have been to Gullfoss twice, both times in the winter season, so we can firmly attest to its frigid nature. Ensure you are properly dressed, because you're going to want to stand and stare for a while.
Since the waterfall lies in a valley and you are viewing it from above, you'll be exposed to all the elements . Strong wind is common in Iceland's winters, which dramatically reduces the air temperature. So, ideally, pick a day with low wind speeds .
Keep in mind that if you do visit in the summer months, you'll be in the midst of the country's 'high season' and there will be many others at Gullfoss waterfall. Bring your camera along, but just know you'll have to be patient to get a photo.
Where to Go after Gullfoss
Spending one hour is more than enough to fully enjoy Gullfoss. So, where to go next?
The Geysir geothermal field is where you can see one of the world's few active geysers, Strokkur . It erupts approximately every 6-10 minutes, shooting boiling hot water up to 40 meters (130 feet) into the air. Whether or not you've been in the presence of a geyser before, this site is a must-visit.
Take a walk around the area, taking care to stick to the roped paths. The geothermal field is full of bubbling mud pools and other geysers for you to enjoy—from a safe distance.
Thingvellir
Þingvellir is one of Iceland's three national parks, and it's both culturally and geologically significant. It is the site where Iceland's—and possibly the world's—first parliament was held; Þingvellir translates to 'Assembly Field'. It is located nearby Gullfoss so it's a perfect stop to make along the way.
This is also where the earth's tectonic movement is clearly on display, as the national park sits atop where the North American and Eurasian tectonic plates are moving apart , at 2.5 cm per year. As a result, many crafts and rifts can be observed at Þingvellir. Here's our guide to Thingvellir National Park for more information.
Kerið Crater
Kerið Crater is a deep red volcanic crater lake along the Golden Circle route, and is 170 meters (558 feet) wide and 55 meters (180 feet) deep. This is because the crater is young by geological standards: about 3000 years.
The lake also helps this site to stand out; due to minerals in the soil, the water is bright blue. Finally, the moss that lines the sides of the crater contrasts beautifully with the blue and red colors, making Kerið a piece of natural art. In order to preserve the area, the land owners now charge an entrance fee of ISK 400.
The Blue Lagoon
The Blue Lagoon is not the only geothermal spa in Iceland; the Secret Lagoon lies in the Golden Circle. Like its blue sister, the Secret Lagoon is man-made but utilizes naturally heated water from nearby hot springs.
The water stays at a comfortable 38-40°C all the time, and there's even a small geyser nearby to entertain you. This is the most popular natural spa in Iceland, so be sure to book in advance to guarantee the time slot you want.
A Stop at Gullfoss
Few of the waterfalls you will see around the world will dazzle you as much as Gullfoss waterfall in Iceland. With its powerful plunges, bright colors, and churning action, it will be hard to turn your back on this natural beauty.
It's also only one out of many stops on one of the most highly rated tourist routes in the world: The Golden Circle. If you can't decide when to visit—summer or winter—do both. You can experience the waterfall and the other wonders of Iceland as two different worlds.
Recent Posts
A Comprehensive Guide to Visiting Seljavallalaug
Grjotagja; Our Local Celebrity
Langjökull Glacier; The Perfect Setting for Your Icy Adventures
Skip to main content
Skip to secondary menu
Skip to footer
ZigZagonEarth
Plan unforgettable road trips!
Gullfoss in Winter (Iceland) – Tips + Map + photos of waterfall
Last updated on November 1, 2023 by Claire Robinson - this article contains affiliate links. If you purchase through them, I get a small commission ( more )
Visiting the waterfall Gullfoss in winter is one of the highlights of the Golden Circle in Iceland. The powerful falls are captivating surrounded by snow. Below is my guide to help you plan your winter visit with map, tips, photos and a video.
Before my tips + photos, here are my favorites for Iceland:

My favorite platform to rent a car in Iceland: DiscoverCars
The unmissable boat tour: Whale Watching
Fun activity: Swimming in Silfra Fissure
My favorite places to stay:
Reykjavik: see best rated hotels – e.g. Vintage Boutique Hotel
Lake Myvatn: see best rated hotels – e.g. Hotel Laxa
Vik area: see best rated hotels – e.g. Hotel Vik i Myrdal
Why visit Gullfoss in Winter?
The waterfall of Gullfoss is in 2 stages: the top section cascades on rocks over 11m (36ft) while the second section drops 21m (69ft) into a canyon. I will share the different views of the waterfall you can enjoy, but let's start with my favorite in alignment with the canyon. The average amount of water running over this waterfall is 140 m³/s in the summer time and 80 to 110 m³/s in the winter time. Quite impressive… This is why it is worth visiting it!
Video – Virtual tour
Below is a short video of my Winter visit to Gullfoss. If you want to see pictures of Gullfoss in Summer, head to this article .
This is the magic of the Icelandic landscapes in Winter and one of the most famous waterfalls to visit in Winter . More photos after the planning tips
Planning Tips & Map – Waterfall Gullfoss Iceland
How to get to gullfoss – map.
Located on the Golden Circle , North East of Reykjavik
Reykjavik to Gullfoss = 2h drive
Thingvellir to Gullfoss = 1h drive
If you don't want to drive, you can book a day trip of the Golden Circle from Reykjavik – see options
Below is a map of the Golden Circle to help you get oriented and locate Gullfoss:
Gullfoss is included in my Winter road trip guide to help you easily plan your itinerary :
Plan your dream trip in Iceland thanks to my guide
6 maps to easily plan your itinerary
75+ pre-selected locations
GPS coordinates direct to the carparks
Winter tips to make the most of your time
115+ original photos to help you choose
Accessibility in Winter
This attraction is open in Winter
The road and both carparks are cleared to allow access – easy to add to your Winter road trip
Of course road closure can always happen due to snow and wind – check out the status on road.is
As it is a very touristic spot, they clear the marked walking paths – but it can always get icy, so carry spikes ( see options ) that you can add on your shoes at any time
One path is closed: the one going close to waterfall on the lower level.
Need to rent a car in Iceland?
Compare prices on my favorite platform: Discovercars.com – one of the best rated comparison sites!
Prefer a compact car for the narrow streets in villages
Consider their full coverage option – it for peace of mind!
Book early to have a large choice of vehicles!
See all my tips
Visit Tips
Visitor center at the upper carpark with food and toilets
There is nothing at the lower carpark
There are staircases between both levels
Where to stay nearby
There are no hotels or B&Bs right in the National Park. But you can find nice options South of the lake and on the Golden circle.
you can have a look at the best rated accommodations on the Golden Circle
Or head to Selfoss, if you are on your way to the South Coast after the Golden Circle – see best rated accommodations
Or head to Fludir near the secret lagoon – see accommodations
Where to stay in Iceland?
My favorites:
Reykjavik , capital city: see best rated accommodations – or my article on where to stay
Selfoss , between Golden Circle and South Coast: see best rated accommodations
Vik, near waterfalls and glaciers: see best rated accommodations
Höfn , gateway to the East fjords: see best rated accommodations
Egilsstadir , between fjords and North Iceland: see best rated accommodations
Reykjahlid , for the wonders of Lake Myvatn: see best rated accommodations
Akureyri , capital of the North: see best rated accommodations
Grundarfjordur , on the Snaefellsnes Peninsula: see best rated accommodations
Gullfoss – Winter accessibility in photos
The Golden Circle is probably the most visited area after Reykjavik. The roads are cleared frequently all the way to both Gullfoss carparks: the upper and lower one. Sorry I forgot to take a picture of the upper carpark.
At the upper carpark you can find a visitor center. Inside are restaurants, souvenirs and toilets. Behind is where the path starts to the upper viewing platforms over the waterfall.
At the top, there are clear pathways to the viewpoint. The level of snow will vary from one day to the others, so always carry your spikes with you to add to your shoes if needed. As you can see below, when I visited it was really easy, although a few area had ice and were slippery.
Between the upper and lower level viewpoints there is a staircase. It is in metal grid so it does not hold the snow. The stairs are quite easy. But you can also take your car between both carparks.
Main upper platform
And now, let's talk about the views. The most visited is the upper viewing platform. It is part of the trail of Sigridur. It is named in memory of Sigridur Tomasdottir because she is the reason you can see this view today. She lead a long fight to conserve it, so that no hydraulic plant was built to harness its power. The area became a nature reserve in 1970.
This is the view you can enjoy from the platform. You can see the upper cascading flow and the top of the top in the canyon. The water you see flowing arrives via the Hvita river. It is fed by the second biggest glacier Langjokull.
Below are a few pictures of Gullfoss where I zoomed on some features. You can see how the snow is finding any surface it can stay on but the water is still flowing around it.
I don't drink coffee
But I also like other drinks and sweets! Do you like the free content you find on my blog? All my tips and practical information, without intrusive advertising…

Gullfossgljufur – Canyon view
Let's head to my favorite view. Many people don't go further on the upper cliff and head to the staircase. Don't make that mistake! You only walk for a few minutes and then you discover the canyon.
I love how narrow it is at its base, like a deep cut in the Earth. At some point the walls of the canyon Gullfossgljufur reach 70m in height (230ft). According to geologists, it may have been created by glacial outbursts during the last Ice Age. With the pictures below you can understand why it is one of the top things to do in Iceland in Winter .
In Winter this is the best place to see the rush of the second level of the falls, since the lower path is closed.
And if you walk to the really end of the path you can see the Hvita river before it drops into the falls. When the sun shines, it sparkles!
On the opposite side that gets less sun, ice has formed on the wall. This is quite a contrast to the rushing water. Below I zoomed on it:
Gullfoss waterfall in winter – Lower platform
Then you can head to the lower viewing platform. I am sorry I forgot to count the steps. As you can see they are quite easy and in stages.
You can admire the waterfall from different angles. Just note that it is a little bit more slippery than the top section.
Below is the view from the lower viewpoint. It is quite similar to the upper viewpoint but with a lower angle. If you are limited in time, I recommend the 2 upper viewpoints in priority. On the left on the picture below you can see the walking path that leads closer to the waterfall. However it is closed in Winter as it would be very dangerous.
Closer to the carpark is a different angle where you can see the drop a bit more.
Gullfoss FAQs
What does Gullfoss mean? It means the golden waterfall. However it is not clear why it is called that way. There are 2 theories. Maybe it is because of the golden hue in the evening. Another story says it comes from a travel journal which states that a farmer had plenty of gold and he did not want anyone to own it after his death. So he threw it into the waterfall.
Does Gullfoss freeze in Winter? The waterfall never freezes entirely. There are more or less icicles forming
How long to visit Gullfoss in Winter? 40min to walk around the 3 different viewpoints, more if you bring your tripod and take a lot of pictures.
Do you have to pay to see Gullfoss? Access to the waterfall of Gullfoss is free
Can you drive the Golden Circle in Winter? Absolutely. This is a tourist road that is cleared quite quickly. However snowstorms can always come quickly so check out the road status on road.is
Want to see more of Iceland in Winter:
Best things to do in Iceland in Winter – read article
35 pictures of Iceland in Winter – read article
Iceland Ice Cave Tours and tips – read article
Tips for visiting Iceland in Winter – read article
Planning an Iceland Winter Road Trip – read article
Iceland Winter itinerary suggestions – read article
Driving in Iceland in Winter – read article
Planning a trip to Iceland in Winter
Check out my travel guide to help you plan:
And keep track of your own trip!
Want to see more of ICELAND IN WINTER
PREVIOUS:
Golden Circle in Winter
NEXT:
Thingvellir National Park in Winter
Inspired? Share it on your favorite platform!
Par Claire Robinson Region Lovers SARL 76600 Le Havre FRANCE VAT FR21845103191
Follow ZigZag on Facebook
Follow ZigZag on Pinterest
Website in French: ZigZagvoyages.fr
Website in German: ZigZagreisen.de
Website in Spanish: ZigZagviajes.com
And discover the French regions:
Normandielovers.fr LoireLovers.fr CorsicaLovers.fr Provencelovers.fr
Privacy / Terms of Use / Disclosure Policies / Refund policy
Become an affiliate for the ZigZag road trip guides
As an Amazon Associate I earn from qualifying purchases. ZigZagOnEarth.com is a participant in the Amazon Services LLC Associates Program, an affiliate advertising program designed to provide a means for sites to earn advertising fees by advertising and linking to Amazon.com, Amazon.uk and Amazon.ca
HIT ICELAND
Gullfoss waterfall is the most beautiful and interesting waterfall in iceland.
Updated: Nov 15
Why should you visit the waterfall Gullfoss?
1. The waterfall Gullfoss is one of the most beautiful natural wonders in Iceland.
2. The distance from Reykjavík is 120 kilometers (75 miles)
3. Gullfoss is only about 10 minutes drive from Strokkur erupting Hot Spring at Geysir
4. The two cascades make the waterfall unique worldwide when it comes to beauty
5. One of the first waterfalls in the world to create a dispute building a power plant
6. Waterfall Gullfoss is part of Hvítá, the longest river in Iceland
7. You can visit waterfall Gullfoss any time and every season of the year
8. The area around the waterfall has a good parking lot
9. By the waterfall Gullfoss is a good restaurant, public toilets (restrooms) and a café
10. Admission is free
Waterfall Gullfoss ( The Golden Waterfall) is Iceland's best-known landmark and national wonder. Gullfoss waterfall is gorgeous and has made it to many lists of the most beautiful waterfalls in Europe or even on the planet. Icelanders will insist it is the most beautiful waterfall in Iceland and in the world. However, the waterfall is stunning and, in any sense of the word, a great place to visit as it contains many geological and geographical ingredients.
The waterfall, origin, and geology
The river that feeds the waterfall gullfoss.
The river Hvítá feeds the waterfall Gullfoss and is one of Iceland's largest rivers. It originates in many branches of smaller rivers, creeks, lakes, direct runoff streams, spring-fed rivers, and glacial rivers from beneath two large glaciers, which spread over a large area in the Highland . One of the primary sources is the Hvítárvatn lake , a glacier lagoon by the east side of Langjökull glacier. The river rushes 40 km, 25 miles, from the lake through the Highland before cascading into a two-step gorge that makes up the base of the spectacular Gullfoss waterfall.
The two parts of the Gullfoss waterfall
The above step facing south is 11 m high, 36 feet , and the other level facing west is 22 m high, 72 feet . The gorge below the cascade that the river has carved out throughout thousands of years, called Hvítárgljúfur, is about 40 to 50 meters, 160 feet deep, and around 4 kilometers. 2.5 miles long. All ingredients contribute to the spectacular natural wonder that is the waterfall Gullfoss.
The volume, force, and flow of the water in waterfall Gullfoss
Even though waterfall Gullfoss is always a powerful sight with a massive flood of water as the mighty river Hvítá falls down to the gorge; there is an enormous difference in the volume deepening at the time of year. The average flow is about 110 cubic meters pr. second . The river can be twentyfold in its most aggressive mode during spring, and the flow becomes around 1800 to 2000 cubic meters pr. second. Occasionally, the water flow increases to a point where the lower waterfall disappears as the water fills the gorge. Therefore, similar to many other natural wonders in Iceland, the Gullfoss waterfall is not static but an ever-changing phenomenon. This fact also provides waterfall Gullfoss with many faces as the waterfall is quite different from one season to another.
Service and parking lots by the tourist attraction
It was as early as the late 19th century that the waterfall Gullfoss became a tourist attraction. It was possibly one of the first natural wonders visitors experienced when they came to Iceland. Explorers who came to Iceland usually advertised the waterfall as one of Iceland's most exciting places to visit. Therefore, Gullfoss became one of the major attractions early on. However, it wasn't until the last two decades that the number of visitors drastically increased. As a result, Icelanders and people responsible for the region around the waterfall developed the area for providing both services and safety.
Service today by the waterfall
Currently, the area around the waterfall Gullfoss is in good condition to receive thousands of visitors every day. There are good food and restroom services along with the typical tourist shops. The paths to the observation platforms are great in all weather conditions, and like the waterfall, lead you to the observation platforms both at an upper and lower level.
Like many places in Iceland, the waterfall Gullfoss has its folklore
A little ahead from Gullfoss lies beautiful and dangerous rapids that is not wise to cross, although some have. One of them was a young man overseeing his father's livestock on the river's west bank. On the opposite side, a young woman had the same duty toward her family. Finally, they started communicating by shouting to each other over the water's noise. As fate would have it, they fell in love, and the young man shouted a proposal across the river. The young woman accepted on one condition: that he crosses the river to seal their engagement. He fulfilled her wish and they lived happily ever after.
History: The farmer's daughter that saved the waterfall
In the early 20th century, interest in producing electricity and building hydroelectric power plants increased as there were many rivers and waterfalls present in Iceland. A farmer who held the Hvítá water rights made a Gullfoss contract with an English firm to build a hydroelectric power station. However, the farmer's daughter, Sigríður Tómasdóttir , did not appreciate the plan and became so incensed that she threatened to throw herself into the falls if her father didn't withdraw the contract. She fought this imminent disaster alone until a young lawyer—who later became Iceland's first president—joined her in this mission. Together, they managed to save the waterfalls. In 1978, the farmer's daughter was commemorated by a monument by her much beloved Gullfoss.
Photographing Gullfoss
Most visitors find it sufficient to take a picture on either the upper or the lower level of Gullfoss. The upper level is by the service center and the best place to park a vehicle, and it is the most common viewing point. Many visitors also take photos of the path that stretches from the lower level to the small cliff that is west of the upper waterfall. This part is usually closed during winter and should not be used when the closed signs are up. On the other hand, the variables that define the waterfall Gullfoss are many and of great interest to professional photographers. The pioneer photographer Sigfús Eymundsson (1837 – 1911) was the first to take Gullfoss photos. He had a photographic studio in Reykjavík and was the first person to work as a photographer in Iceland. Eymundsson was instrumental in defining many of the current natural wonders in Iceland as he was also the first to take photos of places like the waterfall Gullfoss, Geysir, and Seljalandsfoss waterfall. Interestingly, many landscape painters at the time painted their paintings after photos from Mr. Eymundsson. It is also noticeable when we look at his pictures of Gullfoss, for instance, that he discovered all the best angles and views that we appreciate today. You could even say that he defined how Gullfoss is still seen today. Mr. Eymundsson was also an entrepreneur and started and owned a bookstore in Reykjavík. You can still visit his bookstore, that he started in 1874, at Skólavörðustígur in Reykjavík.
The volume and the seasons
The volume of water that varies between seasons has already been mentioned; the winter season is also impressive when the waterfall is frozen. Even during summer, the long hours of sunlight define infinite possibilities to photograph this spectacular natural wonder, not to mention the nights the northern lights come out. The waterfall Gullfoss is undeniably an incredible natural wonder and an experience to be felt in any condition.
To visit the waterfall Gullfoss from Reykjavík city
If you are visiting Iceland for a vacation or just a short tour, waterfall Gullfoss is one of the places you should visit. It only takes a few hours to drive to the waterfall from Reykjavík. To organize your tour in a rental car , I recommend that you read my article about the Golden Circle drive .
Location of Gullfoss waterfall
Related posts.
Geysir and Strokkur hot springs
Öxarárfoss waterfall in Þingvellir National Park
Þingvellir National Park
Gullfoss Falls – Most Beautiful Waterfall in Iceland
Gullfoss Falls are part of the famous Golden Circle of Iceland.  Things to do at Gullfoss Falls;
Upper viewing platform
Lower viewing platform (Summer only)
Visitor Center and Cafe
Gullfoss is a 90 minute drive from Reykjavik so it's easy to visit whilst staying in the capital .
Gullfoss Parking
It's easy to park at Gullfoss as there is complimentary parking 200 meters from the viewing platforms.  In addition, there's a visitor center in the car park with information, a cafe as well as complimentary and clean bathrooms.  Lastly, the  visitor center cafe sells delicious cakes if you are looking for a snack.
Gullfoss Waterfall Winter
I recommend you visit Gullfoss Falls after you have visited the other waterfalls on the Golden Circle such as Skogafoss and Seljalandsfoss .  The reason is because Gullfoss Falls are by far the most beautiful.  As a matter of fact, Gullfoss Falls are so impressive that they appeared in the Tom Cruise movie  Oblivion .
Upper Viewing Platform
Gullfoss Fall Lower Viewing Platform
If you visit the falls in the winter, the lower viewing platform is closed.  In fact, it's covered in snow and ice therefore a little dangerous.  If you visit in the summer however, you can view the falls close up from the lower viewing platform.  Finally, there is an additional car park adjacent to the lower viewing platform so you can access it very easily.
Best Time to visit Gullfoss Falls
When is the best time to visit the falls?  I have looked at pictures taken of Gullfoss during the summer and I prefer how they look during winter in the snow, surrounded by ice.  The only negative about visiting in winter is that the lower viewing platform is partly closed due to ice.  It can get pretty cold in the winter but you should have come to Iceland in winter prepared for cold weather anyway!
How to get from Gullfoss to Geysir
The drive from to Gullfoss to Geysir is about 10 minutes, as a matter of fact, you probably passed Geysir to get to Gullfoss.  Whilst driving watch out for the iconic Icelandic buildings, these photograph well in both winter and summer months.
Geysir to thingvellir
Share This Story, Choose Your Platform!
Related posts.
Things to Know Before You Visit Spitsbergen (Svalbard)
3 Unforgettable Trips for Outdoorsy People
Cruise the Norwegian Fjords + Top Photo Spots
Why Is Solo Travel To Iceland Such A Good Idea?
Beautiful Places to Visit on a Northern Europe Cruise
Reykjanes Peninsula Iceland + Bridge Between Continents
Seltun Iceland and Krysuvik Geothermal Area
Things to do in Reykjavik + Northern Lights
Þingvellir Game of Thrones Filming Location – Eyrie
Visiting Geysir Iceland + Blesi and Konungshver Geyser
Seljalandsfoss Waterfall + Hidden Gljufrafoss Falls
Skogafoss Waterfall – Wonders of Iceland + DC3 Plane
Fjallsarlon Glacier Lagoon + Road Trip to Skogafoss
What to see on a day trip to Jokulsarlon Glacier Lagoon
Things to do in Helsinki + Ferry to Tallinn
17 comments.
Such a pretty spot to photograph and something so unusual to see! We are from the deep south in the United States and I've never seen anything even close to this! We travel with the kids and it would be awesome to show them a waterfall in the middle of so much snow!
The waterfalls look so beautiful! This place is so nice that it is only 90 minute drive from Reykjavik. I hope I can visit it in my trip to Iceland this May 🙂
I don't recall seeing any photos of the Gullfoss waterfalls, but your photos are amazingly beautiful. These would be quite the waterfalls to visit; a must see while in Iceland. And I agree, I think they would be more spectacular to visit in the winter time with the ice and snow surrounding them. Thanks for sharing.
I like the fact that you share some very practical travel tips. Gullfoss looks pretty impressive. Now, I have to re-watch Oblivion to spot it. Thanks for sharing that tidbit!
How are these waterfalls even on this planet?! So beautiful! I haven't seen Oblivion (mainly because Tom Cruise makes me shudder) so obviously didn't recognise them from that, but now I feel like I might need to watch it just to have a look! Every time I read one of your posts I feel like I learn something new about the planet and some obscure part of it. Two years out of uni and my brain is losing its sponginess, so thanks for keeping it alive 😉
It's so great to hear that there are cool things to see this close to the capital. I always assumed you had to drive for hours to see some of the famous Iceland sights! I will be adding this to my bucket list 🙂
Oh, I do have a thing for waterfalls! This one is so gorgeous. I haven't heard of this waterfall before and I did a quick Google search of it. It looks as lovely in winter as it is other times of the year. But I can't deny that the snow does make it seem truly magical!
It's impressive to see such amazing scenery covered in snow. Gullfoss Waterfalls do look impressive, no matter they were used as background scene in a top Hollywood movie. Iceland never stops to surprise me, I really have to visit sometimes soon.
The waterfall looks spectacular! I would like to visit this place in the evening. I'm sure that there are so many tourists during the day.
I love seeing waterfalls in the winter. The ice creates shapes and textures that fascinate the imagination. The falls certainly look like they should be featured in a science fiction film with the water slipping into the earth from all sides. Someday we'll have to get to Iceland.
Wow, the waterfall looks spectacular! Gullfoss seems like a great spot for a day trip from Iceland capital. Would love to visit the beautiful waterfall of Iceland,it would be a dream come true.
Thanks for the detailed blog post, Myself and my wife are planning our first visit to Iceland next year so reading up on a lot of reviews and places to see. Can't wait to see and experience it all.
The weaterfalls looks amazing! I love seeing waterfalls in the chill of winter. It's such a different way to experience nature. I'd love to see these photos replicated in summer time.
The waterfalls seem beautiful. Such a huge waterfall in the snow covered scapes of Iceland is out of imagination. Good that it near to the capital I would like to visit it some day.
I've read so much about Iceland recently, it's like the universe is trying to tell me something! Haha love the waterfall. I'm a sucker for beautiful scenery and this looks tonhave it all!
This place looks like a photographer's delight. And it's so cool that parking, toilets and viewing of Gullfoss are all free of charge. Winters do make me a bit lazy and I guess the car park at each viewing platform would be ideal for someone like me 🙂
Wow this place looks out of this world!!! I plan to visit Iceland sometime soon (hopefully) so this is really helpful. I'll pin it for the future 🙂
Leave A Comment Cancel reply

Hitched to Travel
Gullfoss Waterfall – Guide & Map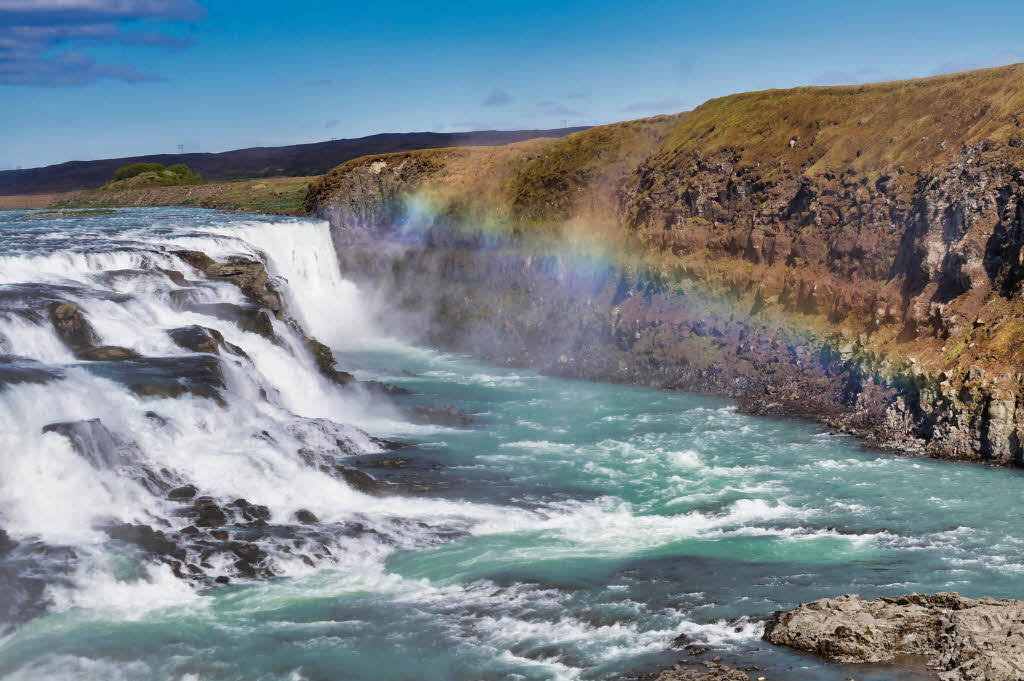 Gullfoss waterfall is one of the highlights along the Golden Circle in Iceland . The waterfall is located in the canyon of the Hvítá river in southwest Iceland. Gullfoss means Golden Falls and this is exactly what gave the Golden Circle its name. The falls often have a golden hue because of their glacial waters. Another reason might be that the naming of the fall was inspired by the rainbow you often see at Gullfoss.
Exploring the Waterfall Gullfoss
Gullfoss is an enormous waterfall and has 3 different drops. The first drop is an 11 meters (or 36 feet) fall. The second drop is 21 meters (or 69 feet) high and the third and last drop is a 32 meters plunge. Wherever you're standing on the hiking trail, the Gullfoss will always look slightly different. That's what makes it a great place for taking many many pictures.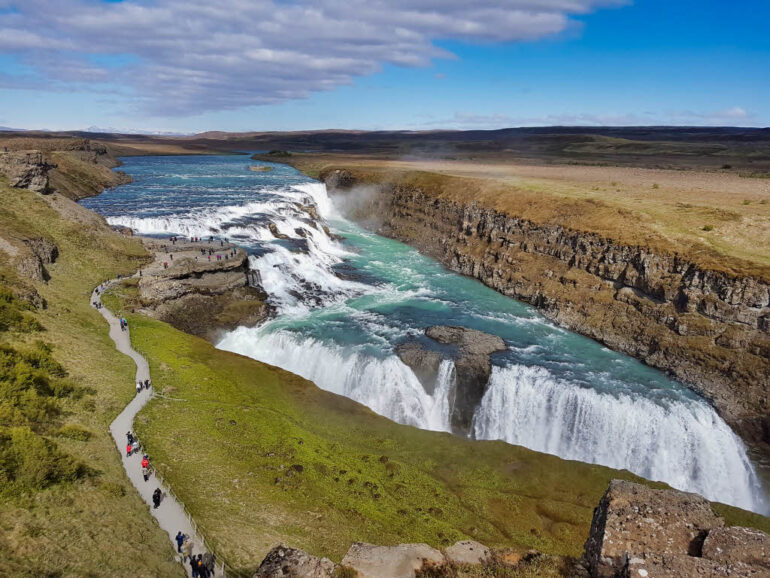 Gullfoss attracts many visitors every year. I find it very surprising that so many tourists visit this place, but the entrance remains free of charge. There's no parking fee or anything! Of course, if you do want to support the park or the local economy, there is a cafe/restaurant and a shop on site.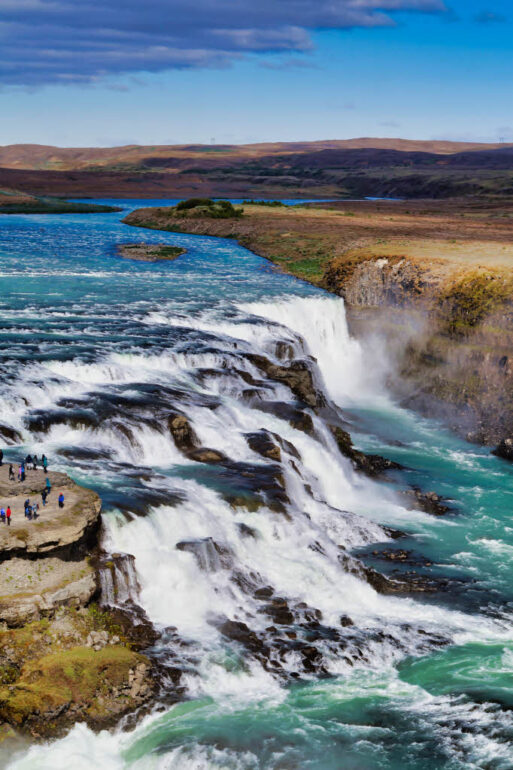 Legend of Gullfoss: Sigriður
If you plan to visit Gullfoss, you should definitely know about Sigríður Tómasdóttir. The waterfall Gullfoss might not have been what it is today if it wasn't for Sigríður. In 1907 the existence of Gullfoss as we know it today was threatened.
Sigríður was the daughter of the farmer Tómas Tómasson and Margrét Þórðardóttir. She had 1 brother and 11 sisters in total and Sigriður was the second eldest child. She lived on the farm Brattholt all her life. This farm even still exists today. Sigriður was born in February 1871 and the Gullfoss waterfall belonged to her family.
After her parents passed, Sigriður became the leader of the family because her elder sister and her brother had left the farm at an early age. She always helped tourists see the beauty of the waterfall. Even when its access was difficult. She and her sisters would guide the visitors to the waterfall. They built the first trail that led to the waterfall.
When Gullfoss was going to be rented by foreign investors to generate electricity, Sigriður took these investors to court and even allegedly threatened to throw herself in the river if they would proceed with their plans. The legal battle lasted for years. Luckily, the investors couldn't pay the lease anymore and the property was sold to the Icelandic Government.
She passed away in 1957. You can find a plaque in remembrance of Sigriður actions at the waterfall. This is also why Sigriður is often seen as one of the first environmentalists of Iceland.
💡 Fun fact about this story: the man who stood by Sigriður as her lawyer, Sveinn Björnsson, became the first president of an independent Iceland in 1944.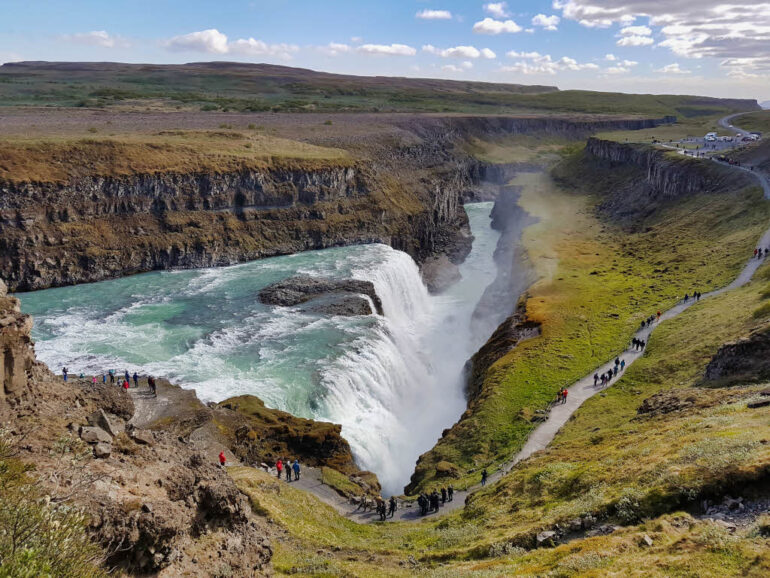 Gullfoss Itinerary: Upper and Lower Viewpoint
From the parking lot, you can go to an upper and a lower viewpoint (Sigríður-path) for a magnificent view of the waterfalls. We recommend doing both viewpoints, as both have a different angle of view on the waterfall. From the lower viewpoint, you see the last drop up close and from the upper viewpoint, you see the first drop.
The trails are well marked and you can't miss the viewpoints. The trails are also marked on Google Maps, and for your reference on the map below. Close to the parking lot, there is a viewing platform (green dot on the map) from where you have your first great view of Gullfoss! But don't stop here though, there are more great views on the trails!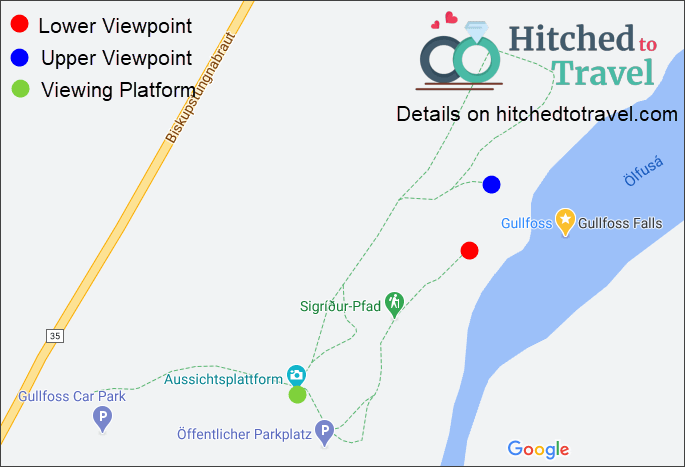 If you parked your car in the parking lot at the top, you have to go down some stairs to go to the lower viewpoint (red dot on the map). From the trail to the lower viewpoint you can see the drop of Gullfoss into the canyon.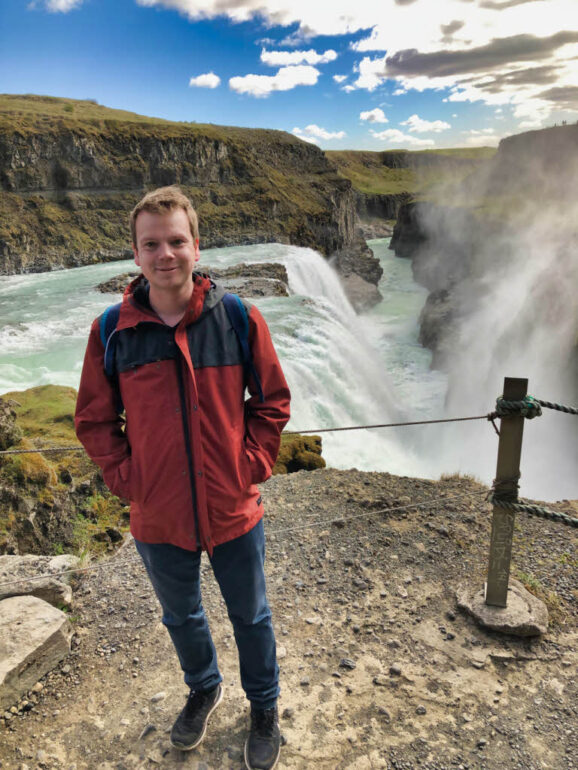 After going to the lower viewpoint, retrace your steps and hike to the upper viewpoint. From there you'll see the Hvítá river flowing down over rocks creating a spectacle of cascades.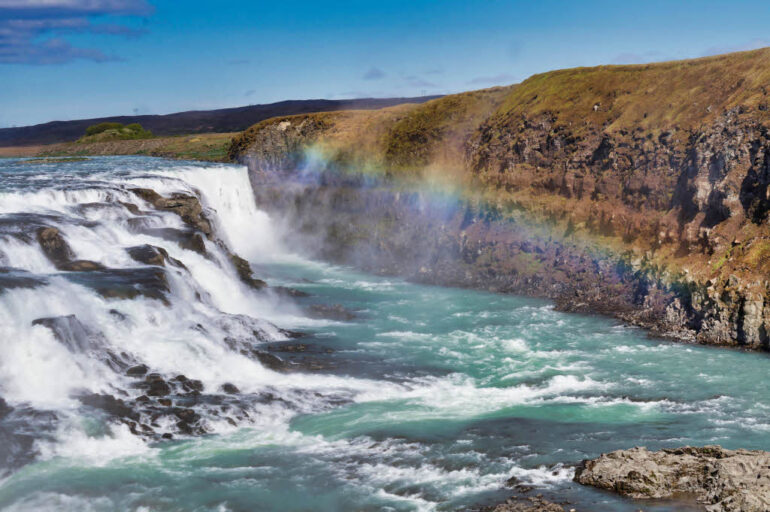 How Long do you Need to Visit Gullfoss Waterfall?
We spent about half an hour at Gullfoss. So I think an hour should be enough to take in all of Gullfoss' beauty. We mostly don't spend too much time in one place because we always want our agenda to be filled completely! We think our day has been a success when we arrive in our hotel or apartment and feel our feet ache and are dying to get some rest.
At least then you know you've done everything you could, see all you could've seen. Now don't worry, many fellow travelers have told us already that we're a tad crazy, so we always try to rethink the timelines when we suggest an itinerary to other people. 😉
After our visit, we drove to our final stop, Geysir Geothermal Area in the Haukadalur valley . This is also the place where we will be spending the night.
Save our Guide to the Gullfoss Waterfall for Later
Like our article? Share it on social media to support our website.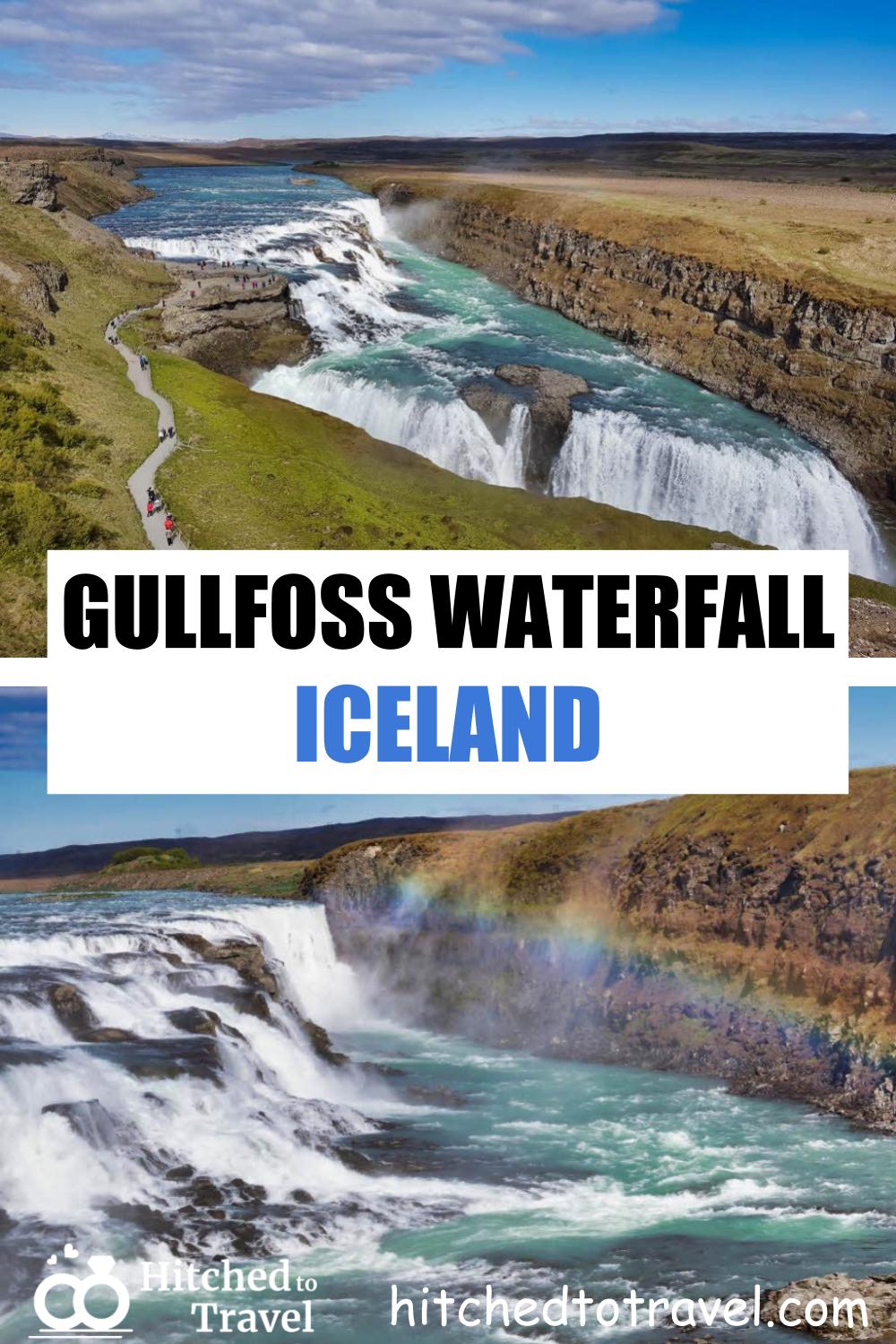 Hi, I'm Elke 👋! I am Steven's better half! 😉 I write articles for our travel blog. I love writing about our trips because I always relive everything and fall back in love with the places we visited 🥰. I also fell in love with the smartest guy I know. So if I'm being honest, I'm just writing articles and Steven does most of the magic with our website. I'm not great with all the tech-lingo, but hey I'm getting there! 😄 Hope I'll have the pleasure to get to know you too!
Leave a comment Cancel reply
Your email address will not be published. Required fields are marked *
Save my name, email, and website in this browser for the next time I comment.
Gullfoss Waterfall Iceland: A Complete Guide
Located on the Hvítá River, Gullfoss is one of Iceland's most beautiful and iconic waterfalls. This landmark is our final stop on the Golden Circle, and we were impressed by its beauty.
Before planning your trip, check out our Gullfoss travel guide for useful information and tips for an enjoyable experience.
Where is Gullfoss waterfall?
Gullfoss (Golden Falls) is one of the three top landmarks of the Golden Circle. It's located in Haukadalur, South Iceland, about 116 km (72 miles) from Reykjavík.
The waterfall is just a 10 minutes drive from Geysir, so you can visit them as a part of the Golden Circle, just like we did.
Gullfoss falls facts
Gullfoss has a total height of 32 m. It has two falls, of which the longest drop is 21 meters tall.
On average, the water flows at 110 m 3 /s, but it can reach 2000 m 3 /s when floods happen. It means that Gullfoss can fill almost 1 Olympic pool every second or 50 Olympic pools in one minute! Impressive, isn't it?
Gullfoss origin can trace back to the glacier Langjökull about 35 km (21,7 mi) away.
The mighty glacier river Hvítá takes its meltwater from Langjökull, then travels through the highlands and into the canyon and drops down two stories.
The history of Gullfoss waterfall
The waterfall has opened to visitors since 1875, but getting there was difficult back then.
Sigriður and her sisters, the land owner's daughters, often guide travelers to the falls. To make things easier, they built the first trail that led down to the waterfall.
During the 1920s, a team of foreign investors wanted to dam the Hvítá river for a hydroelectric project. Sigriður protested by walking barefoot to Reykjavik and threatening to throw herself in the waterfall.
Fortunately, the project was nullified, and Gullfoss has become a nature reserve since 1975.
How long is the hike to Gullfoss waterfall?
Gullfoss Waterfall is a 1.9 km trail featuring a powerful waterfall accessible all year. We spent about 2 hours exploring the area.
From afar, the waterfall was hidden from view because of cliffs, giving a false impression.
However, only when we came very close and saw the masses of water pouring down the rocky crevices, hearing the roar of the water like thunder, could we fully feel the grandeur of Gullfoss.
Gullfoss waterfall entrance fee
It's free to visit Gullfoss waterfall.
How to get from Reykjavik to Gullfoss falls
You can easily drive to Gullfoss or take a tour to get there.
From Reykjavik, you can drive in the direction of Thingvellir National Park. Following road 36 East, you'll pass Laugarvatn and Geysir and finally reach Gullfoss.
Read more : You can read our car rental guide and Iceland driving tips to prepare for your trip.
Iceland Gullfoss tour
If you can't drive, don't worry because you can tour the majestic Gullfoss.
An 8-hour Golden Circle tour will take you to the Geysir area and Gullfoss waterfall. You'll also see where the North American and Eurasian tectonic plates meet in Þingvellir National Park.
You can read reviews and offers of the tour here.
Best hotels near Gullfoss Iceland
Just 3 km away, Hotel Gullfoss is an attractive choice if you plan to spend a night here. The establishment offers comfortable rooms, an in-house restaurant, and a hot tub.
Cafes and restaurants near Gullfoss Falls
A short walk from the falls and parking area is Gullfoss Café (Gullfosskaffi). It's an excellent place to stop by if you're in the area.
I recommend trying the Icelandic lamb meat soup, the most popular item on the menu. The restaurant also serves sandwiches, cakes, and coffee.
Ha is an avid traveler and writer with a background in marketing & hospitality. She's lived in a few countries and traveled to more than 30. When she's not traveling or writing, Ha loves trying new recipes.
Similar Posts
8 Fun Things To Do At Night In Copenhagen, Denmark
Copenhagen, the capital of Denmark, is a beautiful city, especially at night. From its vibrant nightlife to its rich culture…
Copenhagen on a Budget: Your Ultimate Guide
Copenhagen is known for its fantastic culture, stunning architecture, and vibrant nightlife. But let's address the elephant in the room:…
Renting A Car In Madeira, Portugal: Car Rental Hacks
Madeira is a beautiful island in the Atlantic Ocean, off the coast of Portugal. It is known for its stunning…
Budapest to Vienna: Transport Guide
If you love classical music, Vienna is a perfect place to visit after your trip to Budapest. In this travel…
8 Fun Things To Do At Night In Porto Portugal
Porto, a city brimming with charm and character, truly comes alive when the sun sets. Famed for its port wine…
8 Best Day Trips From Zurich, Switzerland
Whether you're looking for outdoor adventures, cultural attractions, or picturesque scenery, you'll find the best day trips from Zurich with…
Leave a Reply Cancel reply
Your email address will not be published. Required fields are marked *
11 Amazing Gullfoss Waterfall Facts and Tips to Plan a Perfect Visit
About the Author: Gretchen Stuppy Carlson
A passionate adventurer dedicated to getting families outside and exploring. Gretchen is an expert in adventure travel with 15+ years of experience working in outdoor education and travelling with her own family.
View all post by Gretchen Stuppy Carlson | Website
Thundering over two levels, Gullfoss is an impressive site and one of the main attractions on the Golden Circle in Iceland. The strength of the falls fills the air with spray and you not only get to see this stunning waterfall but experience the power as you walk up to the edge of the river. We put these Gullfoss Waterfall facts and tips together to help you plan.
We visited Gullfoss during our first day in Iceland and it was the first of many waterfalls on our journey. This waterfall is stunning and sets the bar high for the rest of your visit. Below you can find 11 Iceland Gullfoss waterfall facts and tips to help you plan a successful visit.
See more about how to plan an amazing visit to the Golden Circle or see our 7 day Iceland Itinerary: Driving the Amazing Ring Road
Golden Circle Itinerary
Looking for a printable book or downloadable ebook of this Golden Circle Itinerary. This 11 page book shares the best things to do on the Golden Circle. This Iceland travel guide will help you figure out how much time you need, where to stay and where to eat.
You can also find a complete printable Ring Road Itinerary as well.
11 Gullfoss Waterfall Facts and Tips to Know Before You Visit
Gullfoss is actually two massive waterfalls.
Gullfoss is actually 2 very large waterfalls on different levels. The water thunders over the top waterfall shaped like a sideways horseshoe and continues down only to plunge off another waterfall almost directly below the falls. There are two walking trails to view the falls – the first goes to the top of the falls and looks down on both waterfalls from above. The lower walking trail goes right to the point where the water plunges over the upper waterfall.
If you have time, walk both trails, but if you only have time for one I recommend hiking the lower trail for a better view, and the fun of walking into the spray of the falls.
Gullfoss is Known as the Golden Falls
The word Gullfoss translates to Golden Falls. This gentle-sounding name is a bit at odds with the raw power of these massive falls. Named for the golden color of the mist that rises from the falls, if you visit on a sunny day, you may also see rainbows dancing in the water.
Gullfoss is Easy to Get to From Reykjavik
Gullfoss is found on the Hvítá river canyon in Southwest Iceland about 1.5 hours from Reykjavik. You can either visit the falls as part of a guided tour or rent a car and drive yourself. Gullfoss falls are at the farthest point of the Golden Circle and can be reached on well-maintained roads. It's important to note that Gullfoss is open year round although some of the viewpoints are closed in the cold and icy months.
If you are visiting on a tour, make sure to check out this one-day tour of the Golden Circle . Almost every tour of the Golden Circle or Southern Iceland includes a visit to Gullfoss with time to explore the walking trails.
Gullfoss is Near Other Amazing Sites on the Golden Circle
As part of the Golden Circle sites, you can also visit other amazing spots near Gullfoss. Our favorite part of the Golden Circle was the variety of types of sites and activities. It is also just a short drive from Reykjavik, making it easy to visit in a day. If you are looking for other places to visit, make sure to check out:
The Secret Lagoon: This man-made hot spring pool is fed directly from geothermal features and offers and wonderful, warm soak during your day on the Golden Circle
Kerid Crater : This is a quick stop right on the way Golden Circle with a beautiful little walk around a crater lagoon
The Great Geysir and Strokkur Geysir : Located close to Gullfoss, this is another stop worth making to see the Geysirs erupt
Thingvellir National Park: The mid-Atlantic Ridge leaves the ocean floors and runs right through this National Park in Iceland.
Hike to Bruarfoss Waterfall: This relatively short hike passes 3 beautiful waterfalls along on the bluest rivers in Iceland
Walking around Gullfoss is Easy, but can get Crowded
As one of the most popular sites on the Golden Circle, Gullfoss can get crowded. We visited Gullfoss during an afternoon in late June and found it one of the most crowded sites during our visit to Iceland. Even with the parking lot mostly filled, the hiking trail provided enough room for folks to walk. When we walked the lower trail into the mist of the falls there was a steady stream of people.
To avoid the crowds, consider visiting in the off-season, or try to get to the falls early or late in the day.
Wear a Raincoat and Pants when you visit Gullfoss
If you want to stay dry, walk on the upper trail, when you visit the lower trail, you will get wet in the mist and water spraying up from the falls below you. This is absolutely part of the fun, but if it is cold you will definitely want to bring a raincoat and even rainpants – we had coats but were still a bit underdressed and got pretty soaked. It was also pretty windy between the normal Icelandic wind and the power of the waterfall.
For recent walking conditions, you can visit the trail guide on All Trails .
Gullfoss was created at the end of the Last Ice Age
As the ice receded after the last ice age, it left behind rivers and a new landscape. Gullfoss was formed as water pulses left the glacier. Today, the waterfalls is fed directly from the HV Glacier. The water flows down Gullfossgjúfur Canyon over the two falls with the canyon walls standing 70 meters high on both sides.
Gullfoss was almost Used to Generate Electricity
In addition to an interesting geological history, Gullfoss was part of an interesting and failed attempt to turn the river into a hydroelectric energy project funded by foreign investors. In 1907, a plan was put forward to create a hydroelectric facility on the river that runs through Gullfoss. The landowner,  Tómas Tómasson, sold the land to the developers unaware that a loophole would allow development.
 Tómas Tómasson's daughter Sigríður Tómasdóttir started a legal battle that would last for years, and eventually, in 1929, the lease was withdrawn. Sigríður is recognized today for her perseverance and you can find a plaque with her story at Gullfoss. The lawyer who defended the case went on to become the first president of independent Iceland in 1944.
There are some Facilities Available at Gullfoss Waterfall
Located right next to the parking lot is a welcome center/building at Gullfoss. You can find toilets (you will need to pay to use the toilets), a small cafe, and a shop with Icelandic gifts. This is a nice stop on your visit and you can grab a warm or cold drink, sandwiches, and snacks.
Highlights of Our Visit to Gullfoss Waterfall
We visited Gullfoss Waterfall on our first day in Iceland as part of our visit to the Golden Circle right after visiting the Secret Lagoon in the midafternoon. The parking lot was mostly full during our visit and the walking trails were relatively crowded. After a short stop to use the bathroom and visit with the horses that were standing nearby, we walked down to the lower trail to the falls. There is a good view as you approach the falls.
As the trail winds its way on the hillside, the vegetation is noticeably lusher with wildflowers from the mist. We continued on to the end of the trail where you have a view out across the upper falls and down into the mist to the lower waterfall. The viewpoint here is big but slippery and a bit crowded.
After snapping some photos we walked the upper trail to see the falls from above. This is a nice walking trail with a very unique viewpoint and is worth exploring. After our visit to the falls, we stopped in at the shop briefly, before heading on our way to the Great Geysir.
Looking for more articles like 11 Gullfoss Waterfall Facts for your visit to Iceland? Check out our Iceland Planning page.
You can see a list of some of the other amazing sites on the Golden Circle to include in your visit.
The Short but Beautiful Kerid Crater Hike, Iceland
Hiking to the Beautiful Bruarfoss Waterfall (3 Blue Waterfalls on the Golden Circle, Iceland)
Geysir Geothermal Area
Secret Lagoon
What's Your Next Adventure?
Exactly How to Hike to Cala Murta and El Castello, Mallorca
How to Hike the Cúber Reservoir Circuit Trail in Mallorca Spain
How to Hike the Epic Archduke Trail Mallorca as a Loop via Valdemossa
Leave a reply cancel reply.
Your email address will not be published. Required fields are marked *
Save my name, email, and website in this browser for the next time I comment.