Brussels   Travel Guide
Courtesy of Getty Images
19 Best Things To Do in Brussels
Updated February 2, 2023
Discover your inner child at the Belgian Comic Strip Museum , take a whirlwind tour of the continent at Mini-Europe or tickle your taste buds at a chocolate shop ( Les Galeries Royales Saint-Hubert is a good place to start). The Grand-Place is another
Grand-Place Grand-Place free
Whether you're just passing through Brussels or here for a week, you can't miss the Grand-Place. This square, which is a UNESCO World Heritage Site, sits in the heart of Brussels and is renowned for its many Gothic and Baroque-style buildings. The Grand-Place is close to many of the city's main attractions, including the St. Michael and St. Gudula Cathedral and the beloved Manneken Pis . At Christmas, enjoy the Winter Wonders light show at night along with a massive Christmas tree, and every August, admire an enormous carpet made of flowers inside the Grand-Place.
Travelers love the Grand-Place for its stunning architecture. Recent reviewers suggested visiting during the day and night; during the day to see the details of the architecture, and at night to witness the vibrant life that takes over the square. However, a common complaint among tourists was the constant crowds (and higher prices), but that's to be expected at such a big attraction. 
St. Michael and St. Gudula Cathedral St. Michael and St. Gudula Cathedral free
Built in the Brabantine Gothic style and so named for its chapel dedicated to St. Michael and for housing the relics of St. Gudula, this cathedral's current structure dates back to the 11th century and took some 300 years to build. Inside, you will find stained-glass windows, statues, paintings, a new Grenzing organ and a crypt that may contain the remains of St. Gudula with ancient Roman graffiti on it. Below the current church are the remains of a 10th-century Romanesque church. Outside the cathedral is a square where you can sit on benches under the shade of honey locust trees.
Past visitors appreciated the architecture of the church, with some noting the beauty of the stained-glass windows in particular and described it as "amazing" and "stunning."
Musical Instruments Museum Musical Instruments Museum
A former Old England department store built in the 19th century, the Musical Instruments Museum, also known as the "MIM," is housed in an Art Nouveau building located about a half-mile from the Grand-Place . Inside you'll find more than 1,200 instruments from around the globe displayed across four galleries. The museum gives visitors the opportunity to hear what these instruments sound like, as well. Inside, a restaurant touts fantastic views of the city.
Recent visitors were impressed with the variety of instruments inside the museum, as well as with the building itself. Some advised that there are few signs in English, so it can be a bit confusing. Many suggested parting with a few more euros to take advantage of the audio guide. Travelers also recommend taking a trip to the cafe, which offers great views of Brussels.
Popular Tours
Belgian Chocolate Making Class and Tasting in Brussels
(191 reviews)
from $ 46.80
Bruges and Ghent - Belgium's Fairytale Cities - from Brussels
(3536 reviews)
from $ 52.86
Brussels Walking and Tasting Tour
(528 reviews)
from $ 75.44
Parc du Cinquantenaire Parc du Cinquantenaire free
Meaning "50th anniversary," Cinquantenaire Park was built in 1880 in honor of the 50th anniversary celebration of the independence of Belgium. It is a large French-style park inside the city surrounded by museums and filled with gardens with a large triumphal arch. The park also hosts a variety of festivities throughout the year, including concerts, fireworks and sporting events.
Past visitors said the park is a relaxing and peaceful place to get away from the hustle and bustle of Brussels. They also recommend checking out the car tunnel that runs underneath the park.
Les Galeries Royales Saint-Hubert Les Galeries Royales Saint-Hubert free
Want to get in a little shopping while visiting Brussels? Make time for a visit to Les Galeries Royales Saint-Hubert, a Renaissance-style arcade built in the mid-1800s. With a glass roof once known as the "umbrella of Brussels," the building is worth seeing whether or not you want to indulge in any retail therapy. Around 6 million visitors come to the Galeries every year to enjoy stores selling everything from clothing to chocolate to diamonds. The Galeries Royales also house restaurants, art galleries, a cinema and theaters. Victor Hugo even once enjoyed hanging out here.
Past visitors said it makes a great place to see on a rainy day and described the building as stunning. Many also recommended checking out the extensive chocolate shops.
Horta Museum Horta Museum
Art lovers should not pass up the chance to see where Victor Horta – one of the founders of the art nouveau movement – lived and worked. The home, which was built between 1898 and 1901 features murals, stained glass and mosaics that are largely intact from its original construction. As you walk through, keep your eyes open for Horta's influences, from the wing-like skylights to the winding banisters to the overhead lights stemming down from the ceiling like vines.
Recent travelers said the museum is a must-see attraction for architecture aficionados, but warned that you cannot take photos inside the museum and that lines are sometimes long.
Cantillon Brewery Cantillon Brewery
When it comes down to it, a trip to Brussels isn't complete unless you've sampled the beer. Cantillon has been brewing traditional Belgian beers, including lambic, gueuze, faro and kriek, since 1900. During your tour, you may learn about brewing, bottling or even how barrels are cleaned, and if you plan ahead, you can even attend a public brewing session to see the action first-hand.
Recent visitors said they enjoyed exploring the brewery and learning how the beer is made. Others enjoyed sampling the unique taste of lambic beer. Reviewers recommended signing up for a guided tour to make the most of your visit.
Mini-Europe Mini-Europe
This theme park north of central Brussels features scale models of more than 350 of Europe's most famous landmarks, from Athens' Acropolis and the canals of Venice to London's Big Ben and Paris' Eiffel Tower. Each replica comes complete with visual and sound effects. Be sure to bring your kids: Many of the park's miniature attractions are interactive, such as Naples' Mount Vesuvius and the Berlin Wall. 
Many past visitors agreed that Mini-Europe is a great place to bring children. They described it as adorable, cute and informative and recommended adding it to your itinerary.
Classes & Workshops
Brussels Waffle Workshop
(110 reviews)
from $ 35.24
Chocolate Workshop and Self-Guided Museum Visit at Choco-Story in Brussels
(26 reviews)
from $ 38.54
Royal Museums of Fine Arts of Belgium Royal Museums of Fine Arts of Belgium
The Royal Museums of Fine Arts of Belgium, located in Brussels' historic center, is a group of six different art museums: the Oldmasters Museum, Modern Museum, Meunier Museum, Wiertz Museum, Magritte Museum and the Fin-de-Siècle Museum. Together, they offer a collection of 20,000 works, dating from the 15th century to modern day. Walking through the halls, travelers will be able to see works from Rubens, Rodin, Gauguin, Magritte and many more. There's also an impressive collection of works from the Flemish school, including Pieter Bruegel.
Past travelers were impressed with the museum's vast collection of art. Considering the size of the collection, many suggested allotting 2 1/2 or more hours to not just see the works, but to appreciate and enjoy them.
Royal Museum of the Armed Forces and Military History Royal Museum of the Armed Forces and Military History
For those interested in military history, this museum makes for a great afternoon. Located within Cinquantenaire Park , the Royal Museum of the Armed Forces and Military History traces the world's military history over the last 10 centuries, displaying weaponry, uniforms and airplanes from various points in time. Spend a fair amount of time in the airplane hangar, which features some 130 aircraft, including zeppelins, F-16s and more. 
Recent visitors said this museum is well worth a visit and recommend seeking out the view of the city atop the terrace of the triumphal arch. Some warned that no cash is accepted and advised allotting several hours to spend in the museum.
Museum of Natural Sciences Museum of Natural Sciences
Set aside plenty of time to spend at this museum, which will delight the science and dinosaur lovers of all ages. With some 38 million specimens on hand (only a fraction of which are on display), this museum has the largest natural history collection in Europe behind those in Paris and London. Don't miss the dinosaur gallery, the largest room in Europe devoted to dinos, to see a replica of the largest and most complete male T. rex known today, along with 30 complete iguanodon skeletons that were discovered in Belgium 1878. 
Past visitors said the museum is a great activity for kids, with many praising the dinosaur collection. Some reviewers advised visiting a weekday to avoid crowds.
Atomium Atomium
The most popular tourist attraction in Brussels, the Atomium is a depiction of an iron crystal magnified more than 100 billion times that was originally built for the 1958 World's Fair in Brussels. Today, it houses multiple exhibitions, a panoramic view over the city and a restaurant with excellent views, and is considered to be a symbol of both Brussels and Belgium.
If there's one reason to head to the Atomium, it's the spectacular views of the city, according to many recent visitors. Travelers advised that it is far from other attractions, however, and that there can be long lines.
Église Notre-Dame du Sablon Église Notre-Dame du Sablon free
Just south of the Grand-Place , the impressive  Église Notre-Dame du Sablon – which dates back to the 14th century – is worth a visit, according to recent travelers. The church's interior features two chapels dedicated to saints and decorated with marble statues. There are also statues of St. Paul and St. Augustine inside.
Past visitors said they were impressed by the statues and stained-glass windows in the church and used words like "stunning" and "magnificent" to describe the interior.
Art & Culture
Bruges and Ghent Day Trip from Brussels
(369 reviews)
from $ 51.76
Belgian Comic Strip Center Belgian Comic Strip Center
Belgium is the birthplace of many legendary comic characters, including Tintin and the Smurfs, and is also home to more than 700 comic strip artists. So it's no wonder the city pays tribute to the comic art in the form of a museum. The Belgian Comic Strip Center tells the story of European comics from their beginnings to modern day through a variety of permanent and temporary collections and a Comic Strip Library boasting more than 60,000 works.
Recent visitors enjoyed their experience at the Belgian Comic Strip Center with many feeling nostalgic to learn about comics they recall growing up. Past travelers were also impressed with the beauty of the art nouveau building, which was designed by architect Victor Horta (you can learn more about him at the Horta Museum).
Manneken-Pis Manneken-Pis free
This little boy has become a renowned Brussels landmark. The Manneken Pis (which translates to "little man pee" in Dutch) is a bronze statue of a child relieving himself that also serves as a public fountain. Though the original statue dates back to the 17th century, the statue on display is actually a replica. Located just south of the Grand-Place , the statue has been the recipient of about 800 different costumes, many of which you can see at the Museum of the City of Brussels. He's even been kidnapped and returned multiple times. The statue's origin story is a bit disputed, but wherever it came from, its allure has endured.
Recent travelers were torn over Manneken Pis. Most agreed they were surprised by the boy's small size, and some maintain it's a must-see, while others say to skip it. Past visitors also warned that it is crowded at most times of the day.
Train World Train World
Train enthusiasts will enjoy a stop at Train World, which sits about 3 miles north of the Grand-Place . Inside you can see restored train stations, dating to the late 1800s and early 1900s, learn about the history of Belgium's railway, see the oldest remaining steam engine in Europe, explore the reasons people use trains from travel to commuting and more.
Past visitors said they loved the interactive exhibits and that their kids did not want to leave. They also recommended a visit to the on-site restaurant.
Parlamentarium Parlamentarium free
Read More »
Mont des Arts Mont des Arts free
Private Brussels Tour with a Local, Highlights & Hidden Gems, Custom
(68 reviews)
from $ 106.43
BOZAR Centre for Fine Arts BOZAR Centre for Fine Arts
Things to Do in Brussels FAQs
Explore more of brussels.
Best Hotels
When To Visit
If you make a purchase from our site, we may earn a commission. This does not affect the quality or independence of our editorial content.
Recommended
The 26 Best Zoos in the U.S.
Rachael Hood November 16, 2023
44 Cheap Tropical Vacations That Feel Expensive
Holly Johnson|Alissa Grisler November 10, 2023
18 Fall Family Vacation Ideas
Amanda Norcross September 11, 2023
30 Fun Fall Weekend Getaways for 2023
Holly Johnson July 18, 2023
The 32 Best Dog-Friendly Beaches in the U.S.
Gwen Pratesi July 14, 2023
The 21 Top Ecolodges Around the World
Mackenzie Roche|Amanda Norcross June 30, 2023
The 26 Best Fall Festivals in the U.S. for 2023
Katie Hearsum|Timothy J. Forster June 28, 2023
27 Amazon Prime Day Luggage Deals You Can Shop Now
Amanda Norcross June 27, 2023
The 34 Best Couples Vacations
Gwen Pratesi June 26, 2023
Carry-on Luggage Sizes by Airline
Amanda Norcross June 26, 2023

18 Top-Rated Tourist Attractions in Brussels
Written by Jess Lee Updated May 25, 2023
Brussels, capital of Belgium, principal seat of the Belgian Royal Family, and capital of the European Union, is a remarkably small, easygoing, and human-sized city for all its importance.
Unlike beautiful Bruges and Ghent, with their hordes of tourists, Brussels is Belgium's main economic and educational hub, which gives the city a more workaday feel than other towns.
Here, you get a proper feel for Belgian life, especially its fantastic restaurant and café culture.
Although Brussels may not have the star tourist attractions of other Belgian towns, the capital has more than enough things to do to keep visitors occupied for a couple of days, with a clutch of world-class museums and art galleries, as well as quirkier sightseeing highlights, such as the Atomium, and some wonderful remnants of old architecture in the old town quarter.
Once you've craned your neck at Gothic and Baroque splendor, don't forget to stock up on Brussels' famous chocolate.
Find out more about the best places to visit with our list of the top attractions and things to do in Brussels.
1. Stroll through Grand Place (Grote Markt)
2. visit mannekin pis, 3. saint-michel cathedral (sint-michiels kathedraal), 4. see belgium's famed comic heritage at the belgian comic strip center, 5. tour the place royale (koningsplein), 6. view the masterpieces inside the belgian royal museum of fine arts, 7. enter the atomium, 8. explore coudenberg palace archaeological site, 9. view mont des arts, 10. admire the stained glass of notre-dame du sablon, 11. visit the museums of parc du cinquantenaire, 12. stroll the parkland surrounding château royal, 13. enjoy the cupola view at basilique nationale du sacré coeur, 14. explore the abbaye de la cambre, 15. learn about chocolate at choco story brussels, 16. meunier museum, 17. shop inside royal gallery saint-hubert, 18. find foodie treats at place du châtelain market, map of attractions & things to do in brussels, brussels, belgium - climate chart, more must-see places to visit near brussels.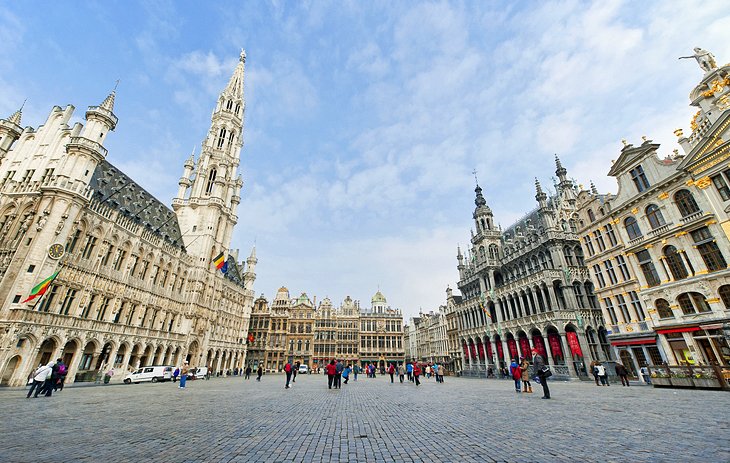 Right in the heart of Brussels Old Town, the city's main plaza (known as Grand Place) is one of the best preserved in Europe and the city's top tourist attraction.
Much of the square's elegant character is due to the unique architecture of its elegant Gildehuizen (guild houses) with their magnificent gables, pilasters, and balustrades, ornately carved stonework, and rich gold decoration.
Grand Place's defining character is its uniformity of Baroque style, with some Flemish influences.
The harmony of its architecture is achieved by the short period of construction here, with most buildings raised between 1696 and 1700.
The history of the Grand Place dates back much earlier though. It was first established in the 11th century and evolved soon after, to become the political and economic center for the city.
The most recognizable building on the square is the Hôtel de Ville (Town Hall), built in 1402 with the intention of upstaging the Stadhuis in the rival city of Bruges.
Inside are several magnificent rooms. Among the most impressive are the Maximilian Chamber, hung with Brussels tapestries; the large Council Chamber with a superb ceiling by Victor Janssens and tapestries to his designs; the great banqueting hall and the Marriage Chamber, both beautifully paneled; and the Escalier d'Honneur, with murals illustrating the history of Brussels.
Address: Grand Place, Central Brussels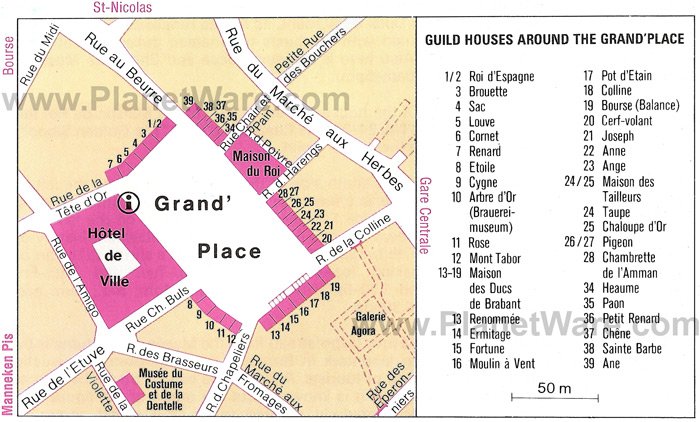 Along the Rue de l'Etuve is Brussels' best-known landmark, the Manneken Pis, usually besieged by a throng of tourists.
Although he can be traced back to at least 1388, nothing much is known about the origin of the figure of a little boy urinating, popularly referred to as "the oldest citizen of Brussels."
The Manneken is, however, surrounded by various legends. According to one, the fountain is a memorial to a courageous infant who averted a conflagration, according to another, it commemorates the son of a count who succumbed to a pressing urge while taking part in a procession.
The present statue was made in 1619 by Jérôme Duquesnoy the Elder and has been stolen on several occasions though always recovered. During major celebrations, events, and festivals in Brussels, the statue is famed for being dressed in costume.
Note that to see a collection of the range of costumes Mannekin Pis has been dressed in over the years, visit Garderobe Mannekin Pis just down the road. This small museum displays around 140 costumes from the fountain's very extensive wardrobe collection.
Address: Rue de l'Etuve, Central Brussels
Official site: https://www.mannekenpis.brussels/en/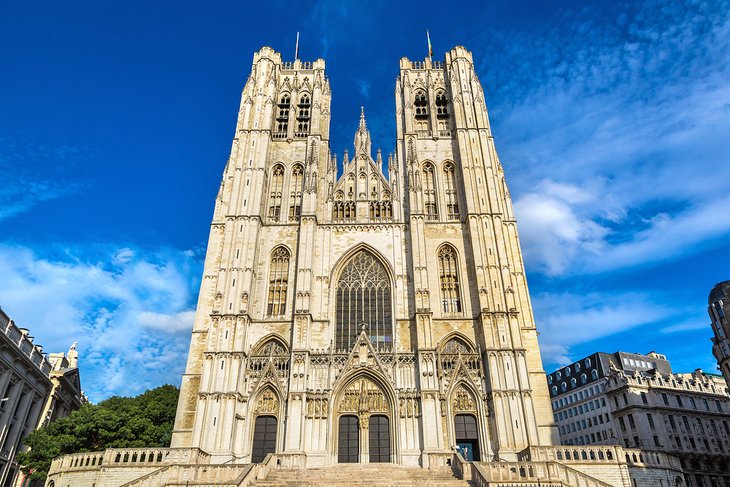 Dedicated to St. Michael and St. Gudula (the patron saints of Brussels) this Gothic church was first founded in 1225 but only completed in the 15th century.
The facade is impressive, rising majestically above a broad flight of steps and crowned with twin 69-meter-high towers designed by Jan van Ruysbroeck.
The beautifully proportioned interior (108 meters by 50 meters) is lavishly furnished and is home to some outstanding stained glass windows created by Bernard van Orley.
Head to the transepts to see the finest examples depicting Charles V and Isabella of Portugal (south transept) and the Hungarian royal pair Louis II and Mary (north transept), and then into the Chapel of the Holy Sacrament, to the left of the choir, where the window illustrates the story of the Miracle of the Host .
Address: Parvis Street Gudule, Central Brussels
Official site: www.cathedralisbruxellensis.be

This gorgeous 1906 building, designed by Victor Horta, is home to the wonderful Comic Strip Center, devoted to the history of cartoons and comic strips in the country that gave the world The Smurfs and Tintin .
A constantly rotating exhibition of 200 original comic strip drawings by Belgian and French comic artists is shown here.
In addition, the museum documents the rise in popularity of Belgian and French comic strips through a cleverly curated collection of original manuscripts, draft sketches, and imaginatively reconstructed sets including Lucky Luke's saloon and Tim, Struppi, and Captain Haddock's moon rocket.
Address: Maison Waucquez, 20 Rue des Sables, Central Brussels
Official site: https://www.cbbd.be/fr/accueil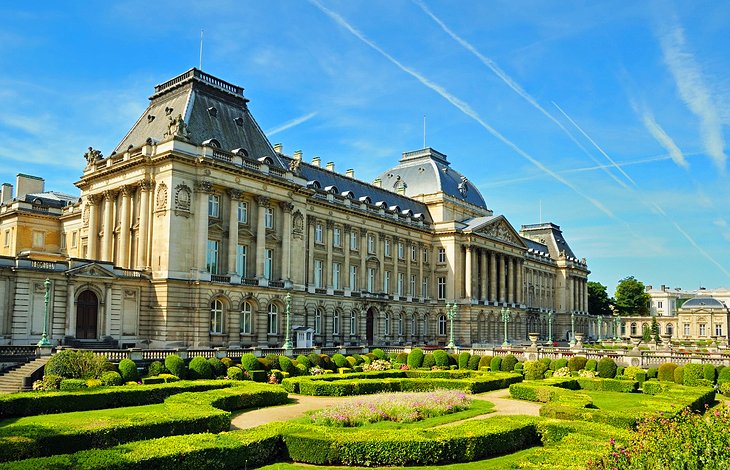 A favorite attraction for photo-ops, the most important building on this square is the Royal Palace (Palais Royal), which is used by the Belgian royal family as an official residence.
The Belgian flag, flown from the roof, signals the sovereign's presence, and a ceremonial Changing of the Guard takes place every day at about 2:30pm.
From late July to late August, free guided tours of the palace's interior, taking in the grand reception rooms and halls, are available.
Surrounding the palace are an ensemble of cultural buildings boasting Neoclassical facades.
The Palais des Académies, home of the Royal Academy of Sciences and once the residence of the Crown Prince of Orange, and the Palais des Beaux-Arts (Paleis voor Schone Kunste) on the west side of the plaza, designed and built in the 1920s by Victor Horta, are two of the finest examples.
Address: Place des Palais, Central Brussels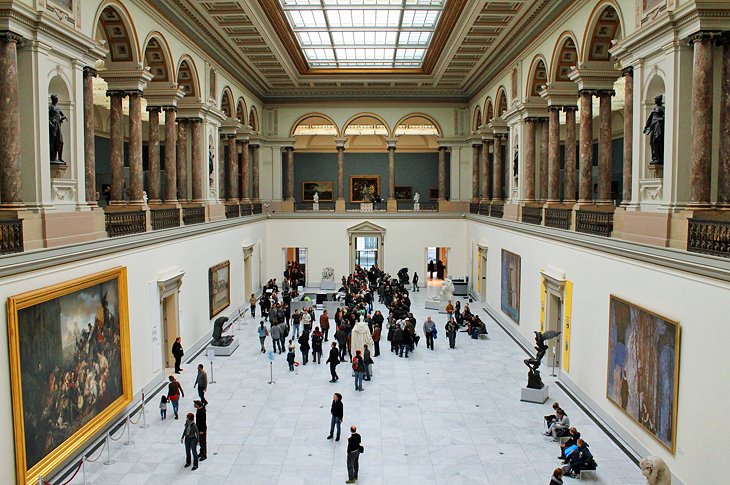 Belgium's Royal Museum of Fine Arts (1875-81) combines four separate art museums, which together are one of the largest and best art galleries in the world.
The museum grew out of a collection first set up in 1797 and was originally housed in the former palace of Charles of Lorraine. This was transferred to the newly established Musées Royaux in 1846.
The Musée Old Masters holds a collection of famous works by Flemish and Dutch Old Masters. Well-known works on display here include Gerard David's Adoration of the Magi , Rogier van der Weyden's The Mourning of Christ , Pietà by Petrus Christus, and Dirk Bouts' Judgement of the Emperor Otto .
The halls of the Musée Modern concentrate on artwork from the late 19th century to the present. It combines temporary exhibition halls with the basement galleries of the Musée Fin-de-Siècle, dedicated to artwork from the period between 1884 and 1914, when Brussels was one of Europe's cultural capitals.
Neighboring the main building is the Musée Magritte , dedicated to the work of Belgian surrealist artist René Magritte. This museum holds the largest Magritte collection in the world and is considered by many visitors to Brussels as the highlight of the city's many art tourist attractions.
Magritte (1898-1967) was one of the major artists of Belgium's surrealist art scene, and the museum displays its collection of his work chronologically, so visitors can view how his art changed across the years according to world events and his own personal and political influences.
Address: Rue du Musée 9, Central Brussels
Official site: www.fine-arts-museum.be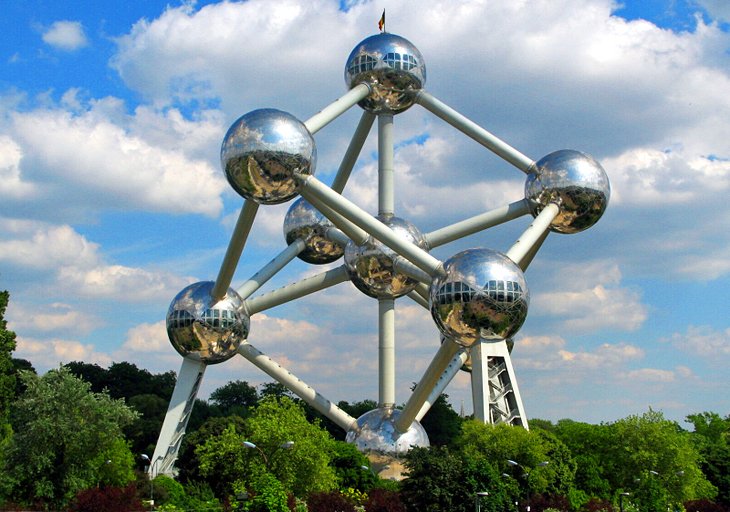 Along with Manneken Pis, the Atomium is Brussels' best-known landmark attraction, and although it's a bit of a journey by tram to get out here, the bizarre 102-meter-high steel and aluminum structure, designed by the architect André Waterkeyn for the 1958 Brussels World Exhibition, is the city's most surreal sight.
The building represents a molecule of iron magnified 165 million times.
Today, visitors can enter the building to explore its sci-fi-style interiors. The lower spheres are home to a permanent exhibition on the history of the structure. The upper sphere has incredible panoramas across the city.
Address: Eeuwfeestlaan 20, Boulevard du Centenaire
Official site: http://atomium.be/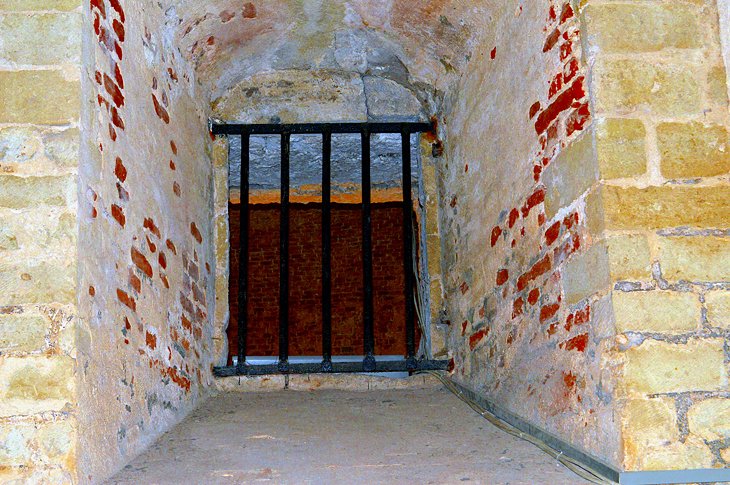 One of Brussels' most unique things to do is explore this active archaeological site, which was rediscovered in the 1980s.
Coudenberg Palace has been excavated to reveal the cellars and tunnels of the former Palace of Brussels, as well as forgotten streets that had been buried beneath the city for centuries.
The foundations of the medieval palace have been cleared to allow tourists the opportunity to explore, and the museum has free audio guides that take you through the dig site.
There are also interactive programs that encourage children to become involved, like the "Underground Treasure Hunt," which includes a flashlight, treasure map, period costume pieces, and a puzzle for them to solve.
Address: Place des Palais 7, Brussels
Official site: https://coudenberg.brussels/en
The Mont des Arts was created between 1956 and 1958, occupying the elevated site between the Place Royale and the Place de l'Albertine.
The architecturally imposing complex of large buildings includes the Bibliothèque Albert I and the strikingly modern Palais de la Dynastie and Palais Congrès.
From the square between them is a fine view of the lower central city. The Bibliothèque Albert I was founded during the period of Burgundian rule and comprises more than three million volumes together with a valuable collection of manuscripts and several interesting museums.
Address: Boulevard de l' Empereur, Central Brussels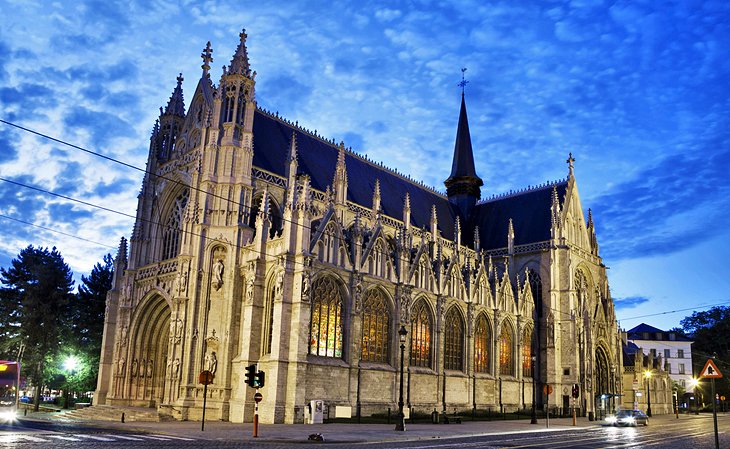 The 15th- to 16th-century church of Notre-Dame du Sablon (Onze Lieve Vrouw op de Zavel), generally considered one of the loveliest Late Gothic churches in Belgium, was built as a replacement for a small chapel first erected on the sandy expanse of the Sablon by the Crossbowmen's Guild in 1304.
The interior of the church is breathtaking, in particular because of its marvelous stained glass.
Also of interest is the burial chapel of the Thurn und Taxis family, partly the work of Luc Fayd'herbe.
Kept in the sacrarium is a figure of the Virgin, a copy, so legend has it, of a Madonna brought to the chapel in 1348 by a woman from Antwerp, Baet Soetens, to whom the Virgin had appeared.
Address: Rue de la Regence, Central Brussels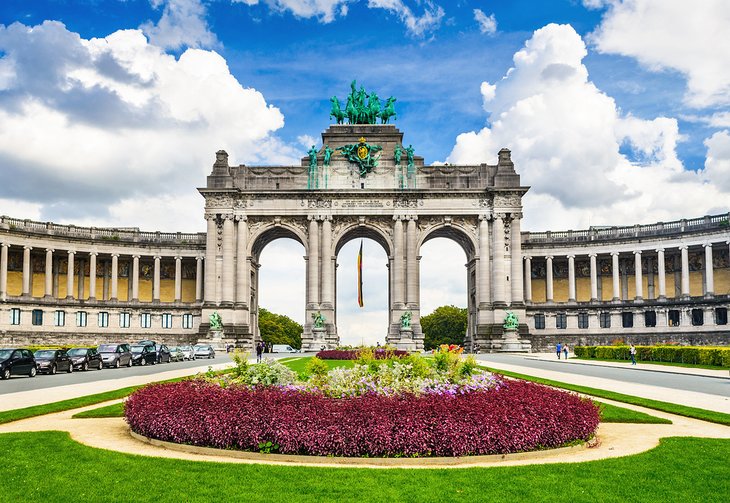 The Parc du Cinquantenaire was established in 1880 to commemorate the country's 50th anniversary.
Its centerpiece is the monumental Palais du Cinquantenaire, the two wings of which, linked in 1905 by a massive triumphal arch designed by the French architect Charles Girault, house two of Brussels' most interesting museums.
The Royal Art and History Museum is home to Belgium's national archaeology collections, with pieces drawn from throughout the world, as well as one of the most extensive tapestry collections in the world.
The Belgian Army Museum and Museum of Military History (Koninklijk Museum van het Leger en van de Militaire Geschiedenis) provides an overview of the development of military technology and of the major campaigns fought on Belgian soil.
Address: Avenue de la Renaissance, Central Brussels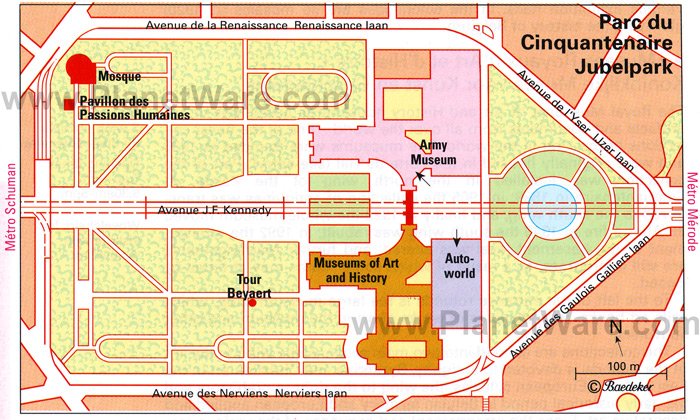 Although the Château Royal, home of the Belgian Royal Family, is not itself open to the public, the park surrounding it at Laeken is.
There are delightful footpaths and a number of attractions worth seeing, such as the monument to Leopold I at the center of the circular flowerbed in front of the palace.
The Japanese Tower , in the northernmost corner of the park, was originally built for the Paris Exhibition of 1900.
The hothouses, erected in Leopold II's time, are the highlight of the gardens and are open to the public during April and May when many of the plants are in flower.
Address: Avenue de Madrid, Laeken, Brussels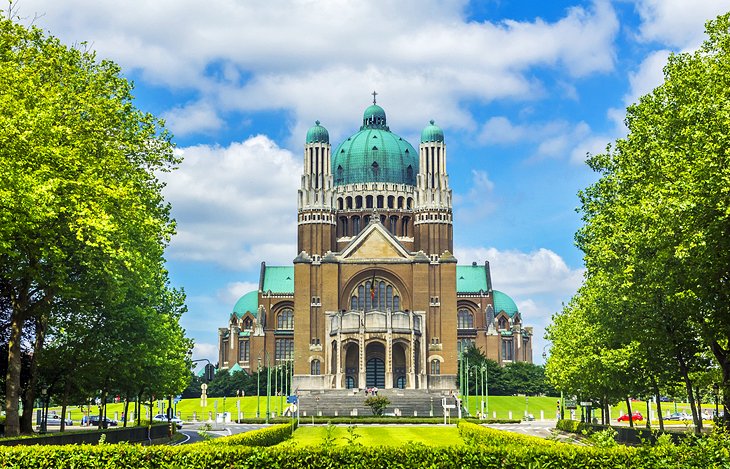 The Koekelberg district is dominated by the massive Basilique Nationale du Sacré Coeur (Nationale Basiliek van het Heilig Hart), the fifth largest church in the world and brainchild of Leopold II, begun in 1905 to mark the country's 75th anniversary.
The building was only completed in 1970. Not surprisingly, it displays something of a mixture of styles, impressing nevertheless by its sheer size (141 meters by 107 meters).
Inside is an excellent collection of art and an ongoing exhibition on the history of the basilica.
The picture of Christ giving his blessing, which hangs above the altar, is by Georges Minne.
From the cupola is a breathtaking view of the city and across the countryside to Antwerp . Binoculars can be rented on-site.
Address: Parvis de la Basilique 1, Koekelberg, Brussels
Official site: http://www.basilicakoekelberg.be/documents/home.xml?lang=en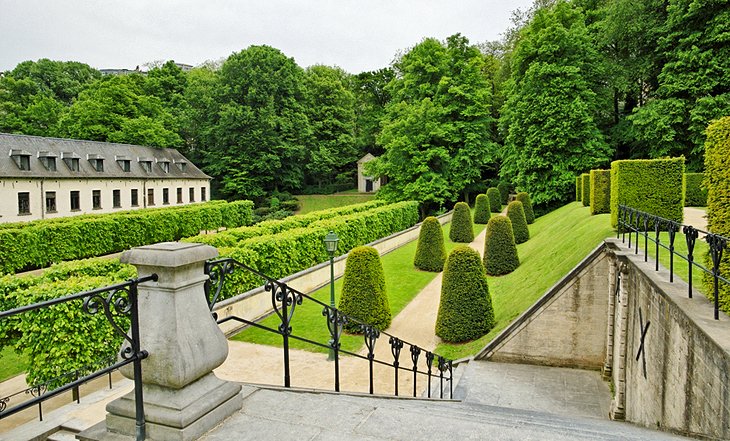 In 1200, Cistercian nuns founded an abbey here, which was later destroyed in the 16th century but then rebuilt.
Now, set in lovely French gardens, the abbey houses the National Geographical Institute and an art college.
The former 14th-century abbey church is a slender, elegant building with Baroque vaulting.
Inside is a painting by Albert Bouts ( The Mocking of Christ) and the shrine of St. Boniface, a 13th-century Bishop of Brussels. The windows of the cloister are decorated with the arms of more than 40 abbesses and nuns.
Address: Rue du Monastere, Saint Gilles, Brussels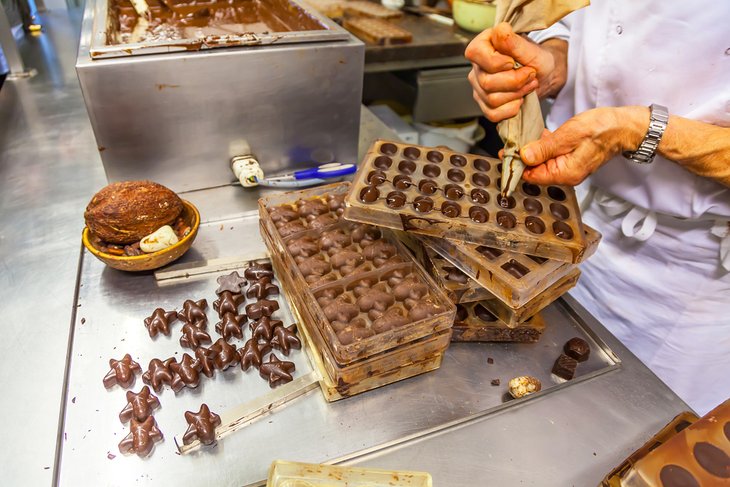 Right in central Brussels, this specialist museum's exhibits both tell the history of chocolate from the cocoa tree's early use by the Mayans and Aztecs through to the modern day, and show how chocolate is produced from the cocoa bean.
The museum's chocolatiers also do live chocolate-making demonstrations of Belgium's famous praline chocolates, with free tastings, throughout the day.
This is a good stop if you've got small children in tow, and you need to break up an itinerary heavy on art museums and architecture.
The museum also hosts chocolate-making workshops, where the chocolatier will guide you in creating your own chocolate.
Address: 41 Rue de l'Etuve, Brussels
Official site: https://choco-story-brussels.be/en
The house and studio of Constantin Meunier (1831-1905) is now home to a museum dedicated to his work.
Meunier was a Belgian artist who, in his later paintings and sculptural works, concentrated on a social realist style that was hugely influential on artists throughout the early years of the 20th century. His sculptures of industrial workers are particularly well known.
The museum displays a selection of approximately 150 paintings, drawings, sculptures, and plaster models from its collection of 700, providing an excellent grounding and introduction to Meunier's work.
The building itself, which Meunier had built towards the end of his life, is a good example of Brussels' vernacular terraced housing.
Address: 59 Rue de l'Abbaye, 1050 Ixelles
Official site: https://www.fine-arts-museum.be/en/museums/musee-meunier-museum#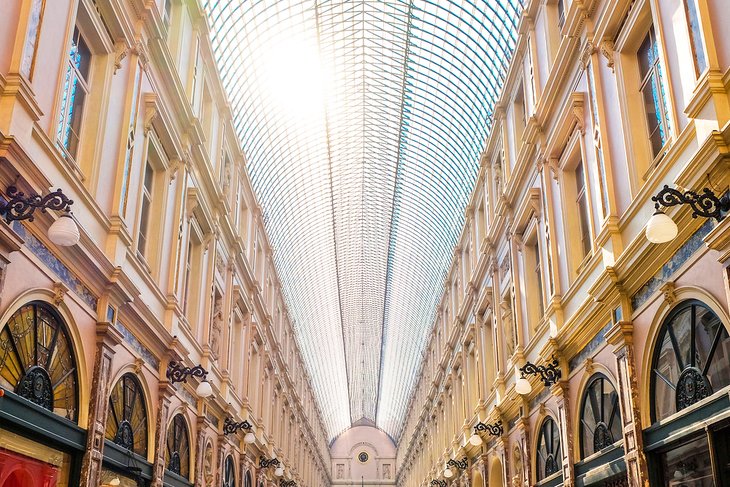 This elegant shopping arcade was designed by Belgian architect Jean-Pierre Cluysenaer and opened to the public in 1847.
Built in the popular, ornate Italianate style, with a glass-panel roof and arched shopfronts, the grand 213-meter-long arcade revolutionized retail architecture in Europe, replacing the narrow market alleys that had gone before and becoming the continent's first shopping center.
Its opening set off a trend for building similar arcades both elsewhere in central Brussels and in other cities across Europe.
Today, the Royal Gallery Saint-Hubert is prime territory for shoppers, especially if you want to pick up and take home some of Belgium's famed specialist chocolates, with plenty of chocolatiers in residence along the arcade's length.
The cafés within the arcade are also a good choice for an atmospheric break between sightseeing in central Brussels.
Address: 5 Galerie du Roi
Official site: https://www.grsh.be/en/home/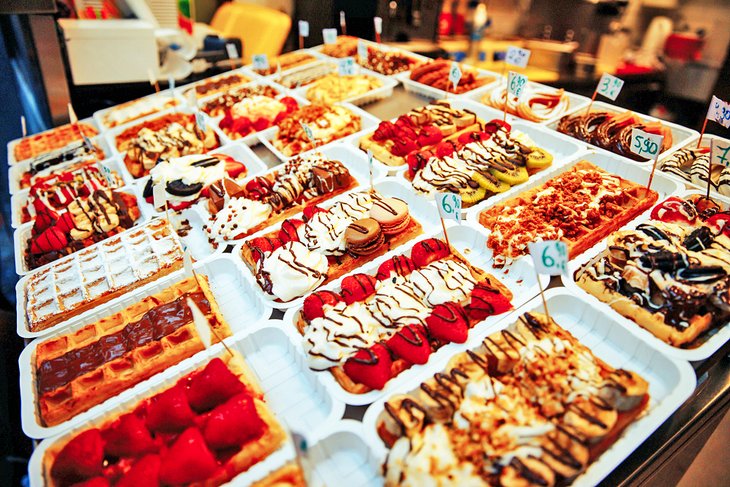 Head to Place du Châtelain on a Wednesday for the weekly food market, where you'll find everything from fruit and vegetables to pop-up stalls and cafés selling both local Belgian foods and cuisines from across the world.
For visitors looking for foodie souvenirs, there are plenty of traders selling local cheeses and cured meats, as well as fresh produce and baked goods.
Many people head here, though, for the market's casual dining options, with food stalls here offering everything from waffles and vegan burgers to Vietnamese and Middle Eastern dishes.
The market takes place every Wednesday from midday to 7pm. The surrounding streets are also full of cafés and restaurants, so the area is a lively dining hub throughout the week.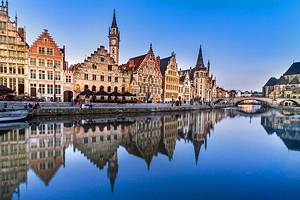 Brussels, Bruges & Ghent : Brussels sits in the center of the country, making it the perfect home base for trips to some of Belgium's top tourist attractions , as well as sightseeing in neighboring countries. Near the coast to the northwest, in the Flanders region, the city of Bruges is a favorite tourist destination because of its medieval architecture and romantic canals. Between here and Brussels, the smaller city of Ghent has a similar ensemble of narrow alleys, beautiful buildings, and canal boats, without the mass of tourists.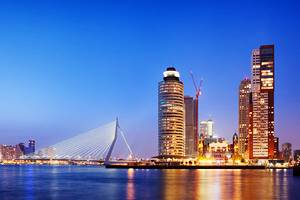 North Belgium & The Netherlands : To the north of Brussels, the town of Antwerp gained its fame as a center of art and craftsmanship and is home to several noteworthy museums. The border with the Netherlands is not far from here, where you can explore the stunning churches of Breda , enjoy vibrant entertainment in Rotterdam , visit the countless museums of The Hague , or even spend some time enjoying the iconic city of Amsterdam .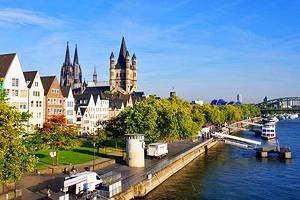 Leuven, Liege & Germany: Back in Belgium, the small university town of Leuven sits east of Brussels on the way to Liège , the country's third largest city, which is celebrated for its industrial roots. Near the border with Germany, the cities of Cologne , Bonn , and Düsseldorf are easily within reach. West of Liège, Namur's central location at the junction of the Sambre and the Meuse Rivers made it an important trade city, and its citadel was a strategic military site, resulting in an interesting array of architectural choices.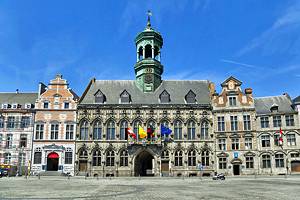 Mons & France: Farther west and sitting near the border with France, the city of Mons (Bergen) is between Brussels and Paris , and is known for its impressive buildings and festivals. The town of Ypres sits closer to Belgium's coast, famous for being the site of major WWI battles, and just to the south in France, the city of Lille has many Flemish influences.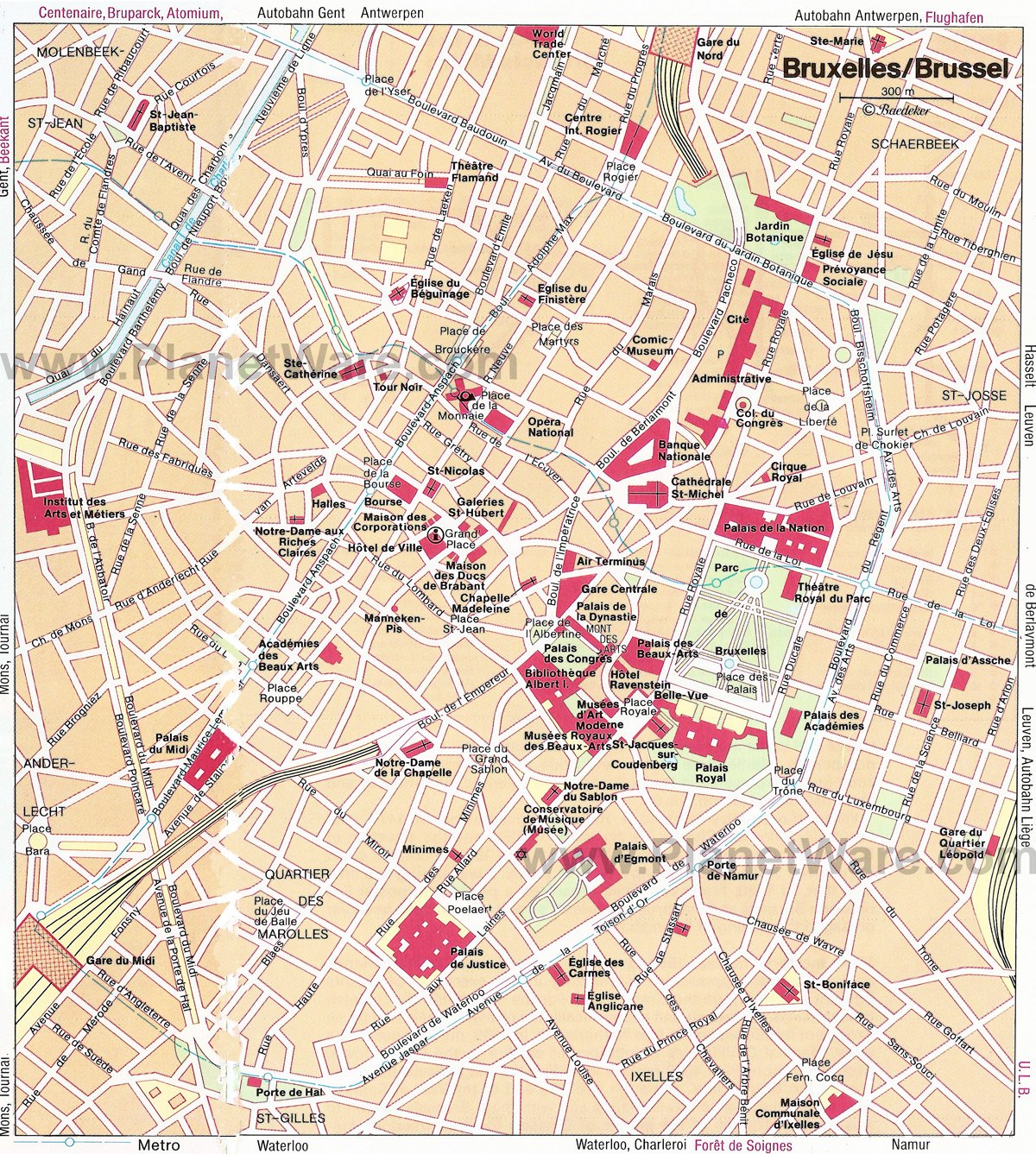 More on Belgium
20 Must-Visit Attractions in Brussels

Vibrant Brussels is known for being many things at once, and that versatility extends to its attractions. Peeing statues, parks and hills with specific cultural missions, resplendent Art Nouveau and Art Deco villas, and even Europe in miniature – Brussels has it all. Here, you'll find 20 essential attractions to visit when in the heart of Europe.
View all trips, manneken pis, jeanneke pis and zinneke.
Historical Landmark

Grand Place
Building, Memorial

Building, Memorial, Historical Landmark

Become a Culture Tripper!
Sign up to our newsletter to save up to 800$ on our unique trips..
See privacy policy .
Victor Horta's major town houses
Museum, Architectural Landmark

Brussels is a treasure trove of Art Nouveau architecture, and shining examples of the revolutionary pre-war movement are Victor Horta 's town houses. The Hôtel Tassel, Hôtel Solvay, Hôtel van Eetvelde and Maison & Atelier Horta clearly show their architect as a pioneer of the elegant curves, decorative ironwork and spacious floor plans so essential to the style.
Villa Empain

Galeries Royales Saint-Hubert
Shop, Architectural Landmark

Mont des Arts

Musical Instruments Museum
Building, Concert Hall, Museum, Shop, Store

Mini-Europe

Magritte Museum and Magritte House Museum

St Michael and St Gudula Cathedral

Bar, Cocktail Bar, Beer, Cocktails

If you only frequent one legendary bar while in Brussels, let it be L'Archiduc. Sitting in the authentic wooden booths with a strong cocktail in hand, while listening to the mellow tunes from the jazz piano, it's easy to see why Miles Davis would pop in for a jam session at this soulful Art Deco establishment. Ring the bell to be let through the magnificent cast-iron door.
Van Buuren Museum and Gardens
Royal Greenhouses of Laeken

Train World and Schaerbeek Station

Brussels's Winter Wonders
Place du jeu de balle.

Cinquantenaire Park
Museum, Park

Bois de la Cambre

Volcanic Iceland Epic Trip
Meet our local insider.
HOW LONG HAVE YOU BEEN A GUIDE?
What do you love about your job, it's the personal contact, the personal experiences. i love meeting people from all over the world... i really like getting to know everyone and feeling like i'm traveling with a group of friends., what destination is on your travel bucket-list, i have so many places on my list, but i would really lobe to go to africa. i consider myself an "adventure girl" and africa feels like the ultimate adventure.
Every CULTURE TRIP Small-group adventure is led by a Local Insider just like Hanna.
See Our Culture Trips

KEEN TO EXPLORE THE WORLD?
Connect with like-minded people on our premium trips curated by local insiders and with care for the world
Since you are here, we would like to share our vision for the future of travel - and the direction Culture Trip is moving in.
Culture Trip launched in 2011 with a simple yet passionate mission: to inspire people to go beyond their boundaries and experience what makes a place, its people and its culture special and meaningful — and this is still in our DNA today. We are proud that, for more than a decade, millions like you have trusted our award-winning recommendations by people who deeply understand what makes certain places and communities so special.
Increasingly we believe the world needs more meaningful, real-life connections between curious travellers keen to explore the world in a more responsible way. That is why we have intensively curated a collection of premium small-group trips as an invitation to meet and connect with new, like-minded people for once-in-a-lifetime experiences in three categories: Culture Trips, Rail Trips and Private Trips. Our Trips are suitable for both solo travelers, couples and friends who want to explore the world together.
Culture Trips are deeply immersive 5 to 16 days itineraries, that combine authentic local experiences, exciting activities and 4-5* accommodation to look forward to at the end of each day. Our Rail Trips are our most planet-friendly itineraries that invite you to take the scenic route, relax whilst getting under the skin of a destination. Our Private Trips are fully tailored itineraries, curated by our Travel Experts specifically for you, your friends or your family.
We know that many of you worry about the environmental impact of travel and are looking for ways of expanding horizons in ways that do minimal harm - and may even bring benefits. We are committed to go as far as possible in curating our trips with care for the planet. That is why all of our trips are flightless in destination, fully carbon offset - and we have ambitious plans to be net zero in the very near future.

Places to Stay
The best bed and breakfasts to book in brussels, belgium.

Hip Apartments in Brussels You'll Want to Call Home

Where to Book Your Stay in Brussels for a Local Experience

See & Do
Uncover the hidden history of brussels.

Get a Unique View of Belgium With These Day-Trips From Brussels

A Walk Along the Comic Strip Route in Brussels

The Best Hotels in Brussels to Make the Most of the City

Experience Bright Brussels: The Festival of Light

A Journey Through Brussels's Alternative Nightlife Scene

The Best Hostels in Brussels

Food & Drink
Chocolatier: the best job in brussels.

How To Discover Brussels on a Budget
Black Friday Offers on Our Trips
Incredible savings.
Post ID: 1045999
Sponsored? No
View Payload
Explore Brussels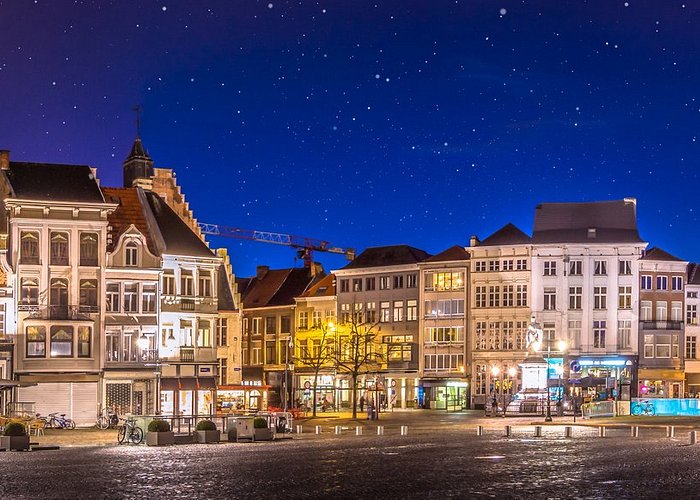 Brussels Tourism: Best of Brussels
Essential brussels.
Trending in the forums

Brussels Is Great For
Beer glorious beer.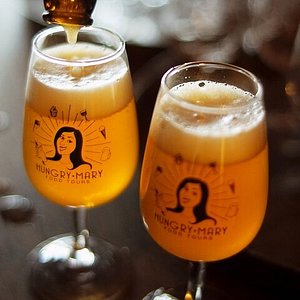 Thon Hotel Bristol Stephanie
Hilton Brussels Grand Place
Warwick Brussels
The Dominican, Brussels
Hotel Amigo
Pasta Divina
Tonton Garby
The Lobster House
Grand Place
Les Galeries Royales Saint-Hubert
Mini-Europe
Royal Museums of Fine Arts of Belgium
Bruges and Ghent - Belgium's Fairytale Cities - from Brussels
Luxembourg and Dinant Day Trip from Brussels
Hungry Mary's Famous Beer and Chocolate Tour in Brussels
Bruges Day Trip from Brussels
Brussels Walking and Tasting Tour
Meet the Team
Talk to The Broke Backpacker
Czech Republic
Netherlands
Switzerland
Scandinavia
Philippines
South Korea
New Zealand
South Africa
Budget Travel
Work & Travel
The Broke Backpacker Manifesto
Travel Resources
How to Travel on $10/day
Home » Europe » Belgium » Brussels
18 BEST Places to Visit in Brussels (2023)
As the capital of Belgium, Brussels is known for many things. It could be the European Parliament that first springs to mind.
Some people jump straight to chocolate, cheese, and beer (and deservingly so). Of course, the history is what makes all this possible – the city even houses a UNESCO World Heritage site. This combination of qualities is what makes it such a popular destination for tourists from all walks of life.
There's nothing quite like munching on some high-class Belgian chocolate while you check out architectural wonders that hold the weight of a very long history. And this is definitely something you should do when you travel to Brussels.
Brussels is a relatively small city, but that doesn't mean that it's always easy to navigate. When you travel to this city, you don't want to miss out on some of its best, quirkiest, and tastiest sites.
That's why we've created this list of the best places to visit in Brussels. It includes some standards and some places that only the locals know so that you get the best of all worlds during your trips.
Need a place quick? Here's the best neighbourhood in Brussels:
These are the best places to visit in brussels, faqs on the best places to visit in brussels, final thoughts on the coolest places to visit in brussels.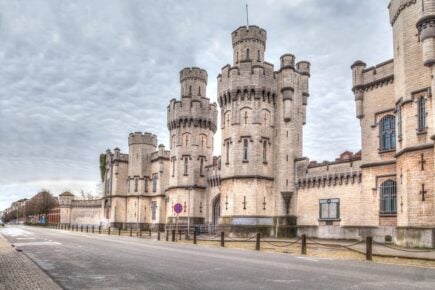 Saint Gilles
Our choice for the coolest place to stay in Brussels, Saint Gilles is a youthful, bohemian, trendy, multicultural, and lively part of the city.
Be inspired at the Art Nouveau Horta Museum.
Take a peek inside Horta pre-metro station to see architectural pieces signed by famous architects.
Enjoy fresh air and greenery at Parc de Forest.
As well as being the capital of Belgium, it's also (arguably) the capital of Europe – housing the European Union too. That means you can expect all your stereotypical European delights, packed into one city. You'll find incredible architecture, fantastic transport, an eclectic mix of cultures, and history coming out of its ears.
When you're planning your European dream tour , you can't miss some of these top attractions in Brussels. Let's jump right into the city center.

Unlock Our GREATEST Travel Secrets!
Sign up for our newsletter and get the best travel tips delivered right to your inbox.
#1 – Grand Place – A great place to see in Brussels for architecture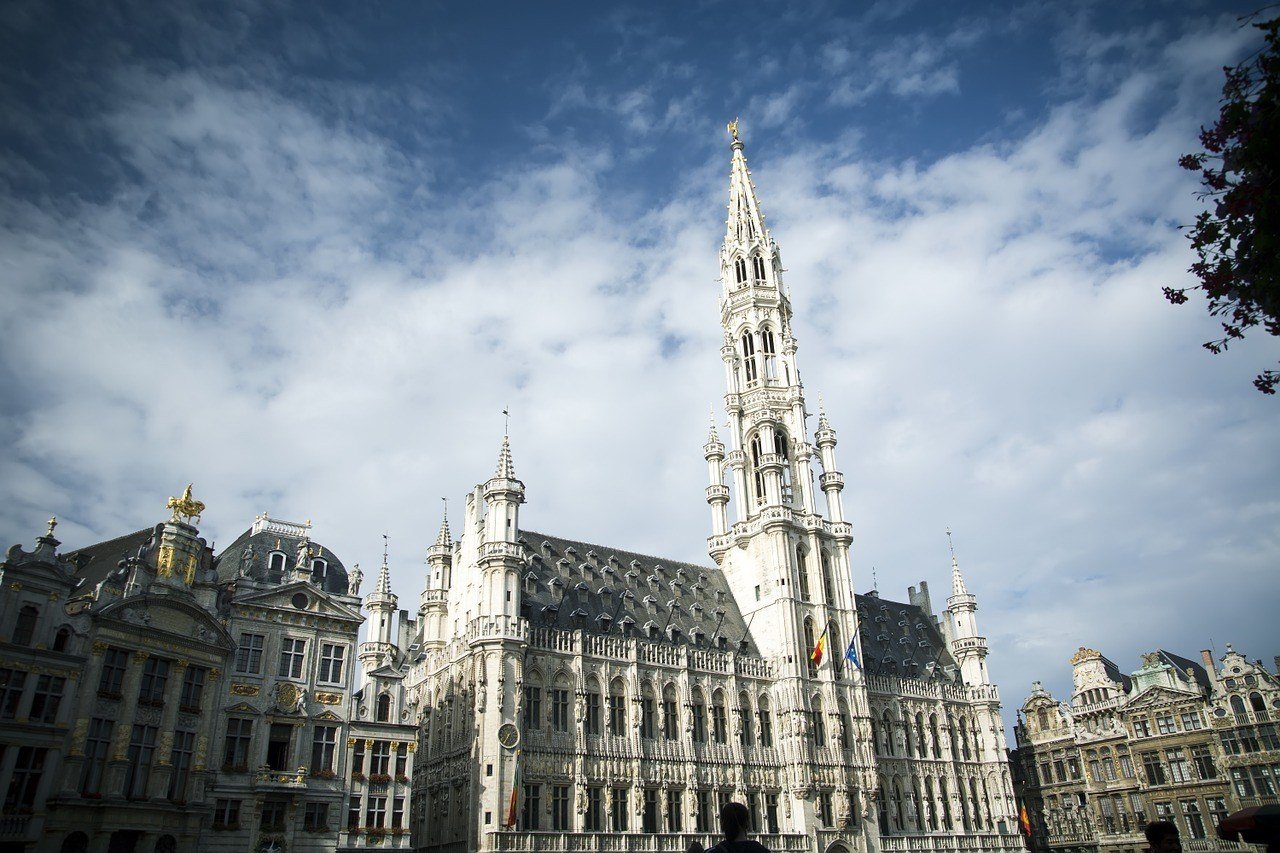 The best place to start your travels in Brussels!
A beautiful and historic spot with amazing architecture everywhere you look.
Why it's so awesome: There are several important must-see buildings in this area to check out as you're visiting Belgium . At the top of the list of must-see places is this UNESCO world heritage site: the Grand Place. The Grand Place is right in the heart of Brussels, the Town Hall is one of the best-preserved areas in all of Europe. The architecture in this area is simply spectacular, mostly because of the Gildehuizen or guild houses, which have amazing stonework and gold decorations in the Baroque style with Flemish influences.
What to do there: You'll want to spend plenty of time looking at the buildings in this area, because they're both historical and stunningly beautiful. Afterwards, make sure you take some pictures of the famous Hotel de Ville or Town Hall, which was built in 1402. When you're tired of taking pictures, check out the cafes and restaurants in the area for a rest surrounded by incredible beauty.
#2 – The Royal Palace – the best place to visit in one day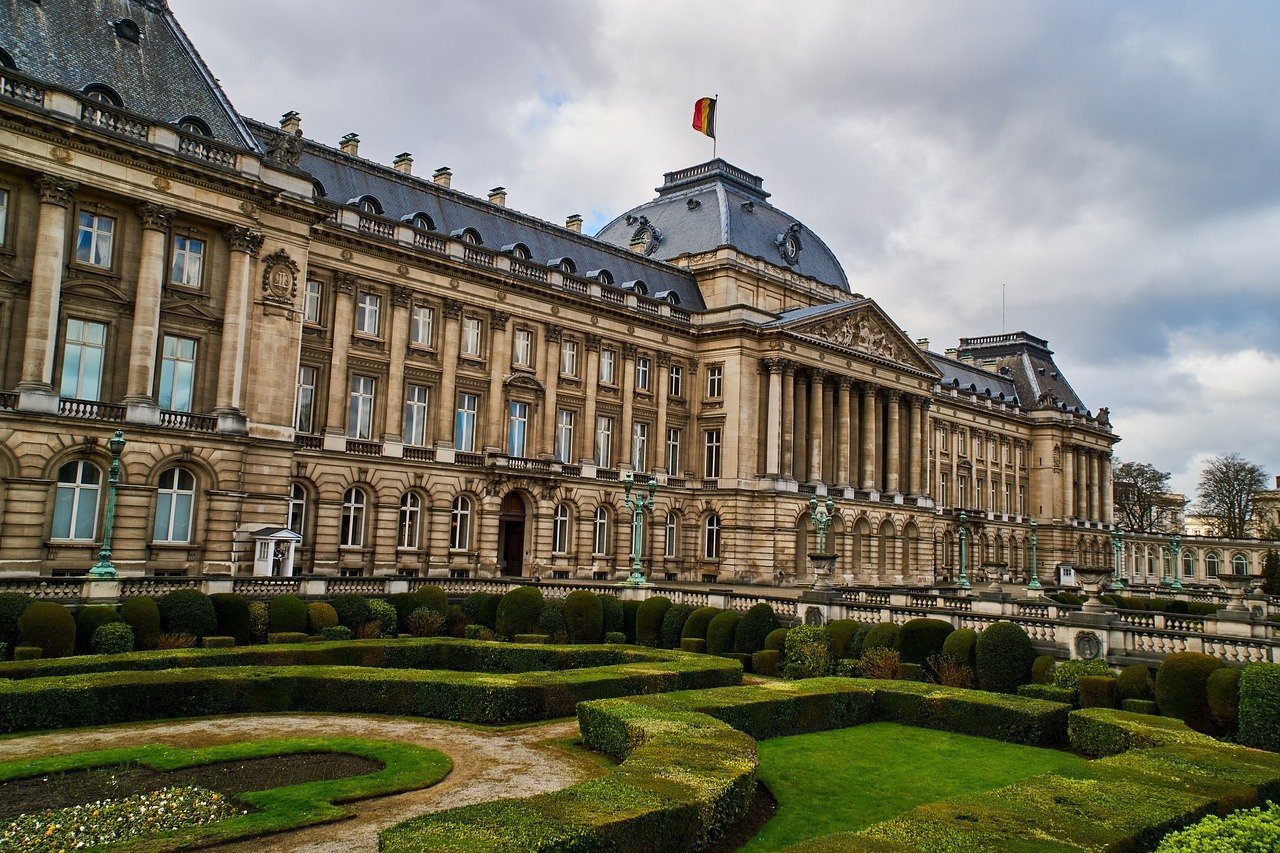 You'll get some amazing photos at this palace when you're visiting Brussels.
The official residence of the Belgian royal family.
Why it's so awesome: This is the most important building in Brussels and probably in Belgium as a whole because it's the official residence of the royal family. When they're home you'll see the flag flying high. It's an imposing building surrounded by lush green and looks great in photos.
What to do there: You probably won't be able to enter the building because the royal family is there, but it's still worth visiting. At 2.30 pm, the ceremonial Changing of the Guard occurs, so that's worth planning your day around. There are also several neoclassical buildings around the palace that you should explore including the Palais des Academies and the Palais des Beaux-Arts.
#3 – Manneken Pis – the best free thing to visit in Brussels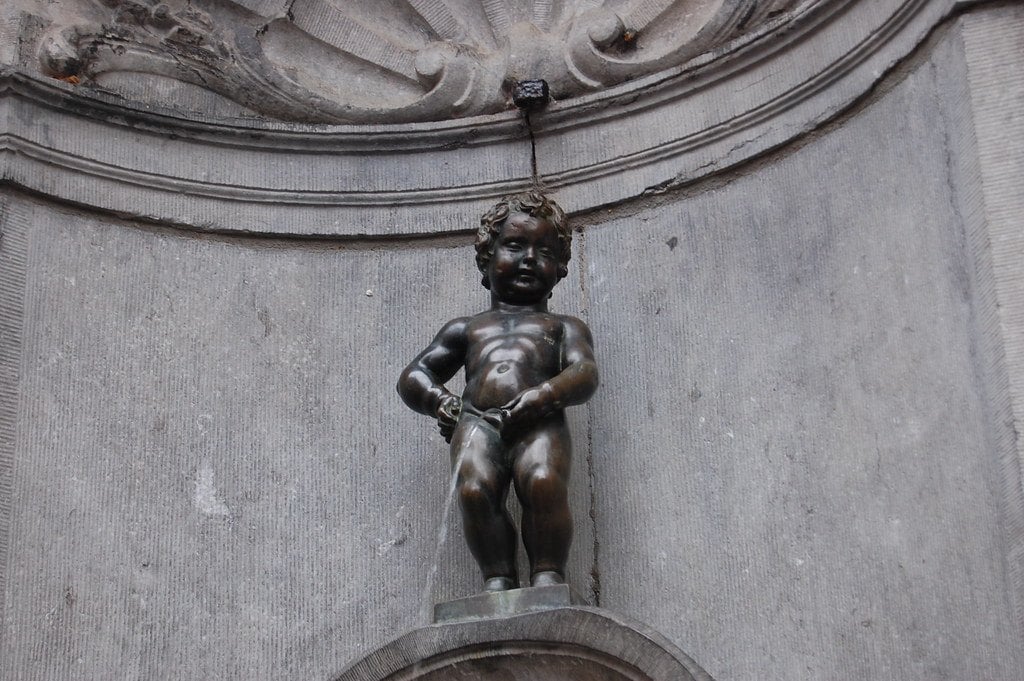 A slightly naughty statue that's one of the most popular points of interest in Brussels.
This statue is usually besieged by tourists, so get there early if you want to see it properly.
Why it's so awesome: The clue's in the name: this little guy is located along the Rue de l'Etuve – and has been traced back to 1388 – but little more is known about it. It's often referred to as the oldest citizen in Brussels and is an image of a little boy urinating. As far as Brussels attractions go, Manneken Pis is surely a unique sight. There are lots of legends about this statue so go ahead and make up your own too.
What to do there: Arrive early to beat the crowds and get that iconic photo of the little boy urinating (you choose how rude you want to be). If you're in Brussels during city celebrations, this statue is often dressed in costume, so make sure you have a look if you're there at the right time.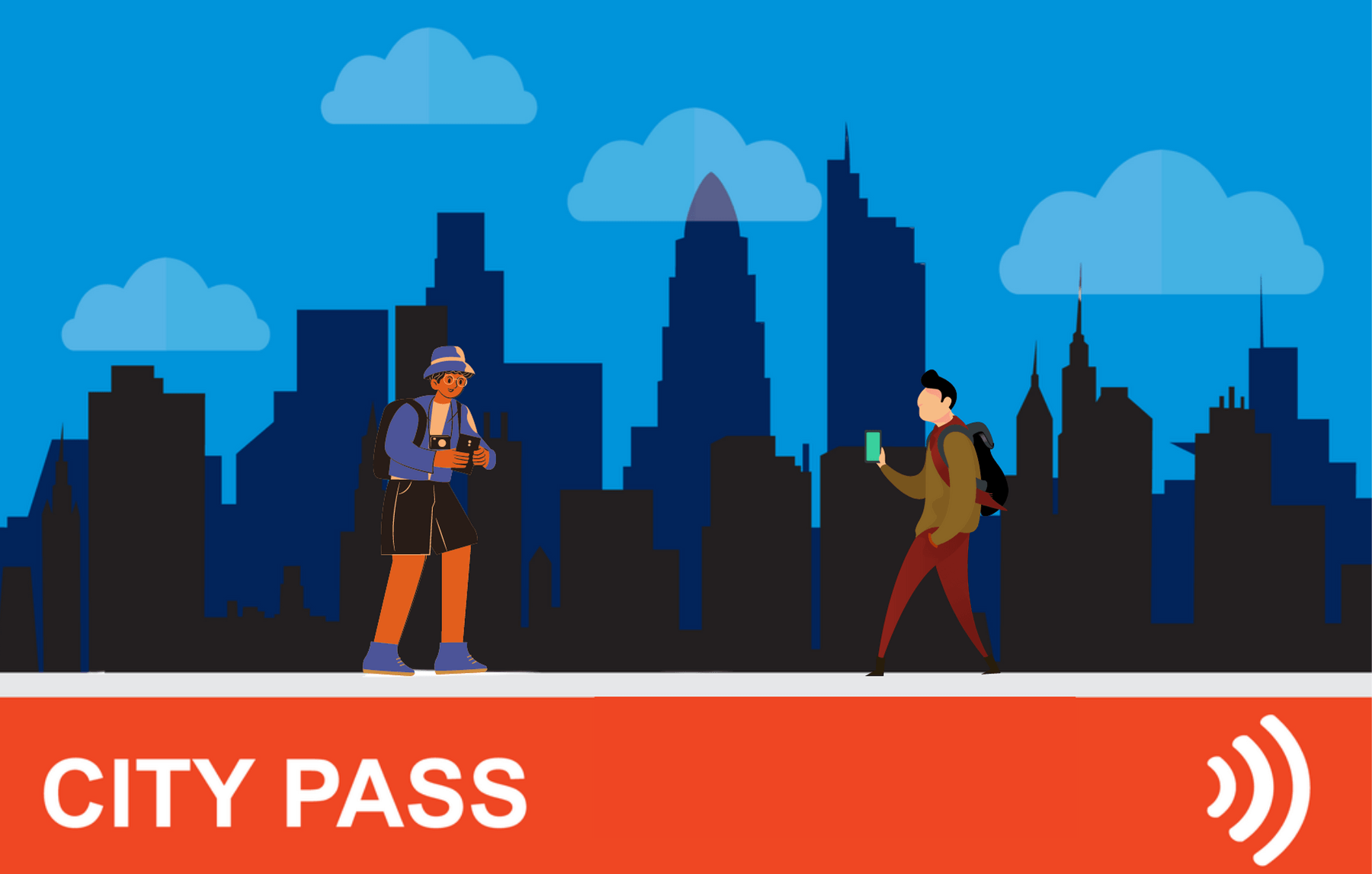 With a Brussels City Pass , you can experience the best of Brussels at the CHEAPEST prices. Discounts, attractions, tickets, and even public transport are all standards in any good city pass – be sure invest now and save them $$$ when you arrive!
#4 – Belgian Comic Strip Centre – One of the more unique places to visit in Brussels!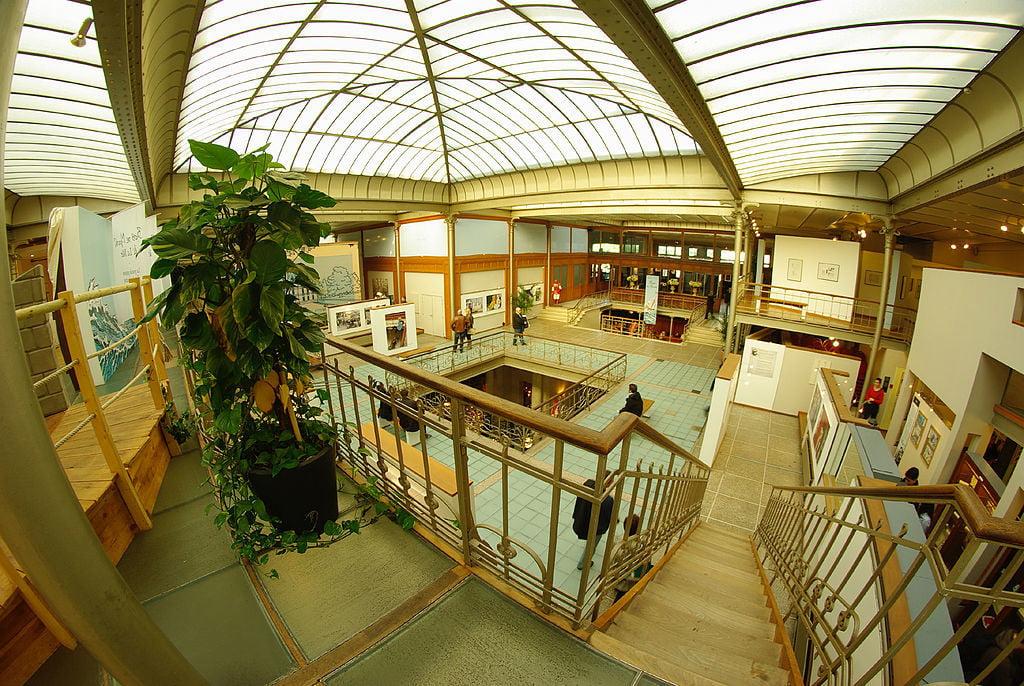 A great place to visit in Brussels if you remember the Smurf and TinTin.
This comic arts museum is held in a gorgeous building that was designed by Victor Horta.
Why it's so awesome: This building is dedicated to cartoons and comic strips that were first created in Belgium. You might not know it, but the Smurfs and Tintin were born in Belgium, and the display celebrates this history as well as other works by Belgian and French comic artists over the years. This is one of the more unusual things to do in Brussels , which is why we like it so much!
What to do there: The displays at this venue rotate constantly, so every time you go, you'll get to see something different. There are 200 original comic strip drawings included in the exhibition, and you'll also learn more about the rising popularity of comic books. So, make sure you check out the sketches, sets, and manuscripts that explore this history as well.
#5 – Coudenberg Palace Archaeological Site – A fascinating educational place to visit in Brussels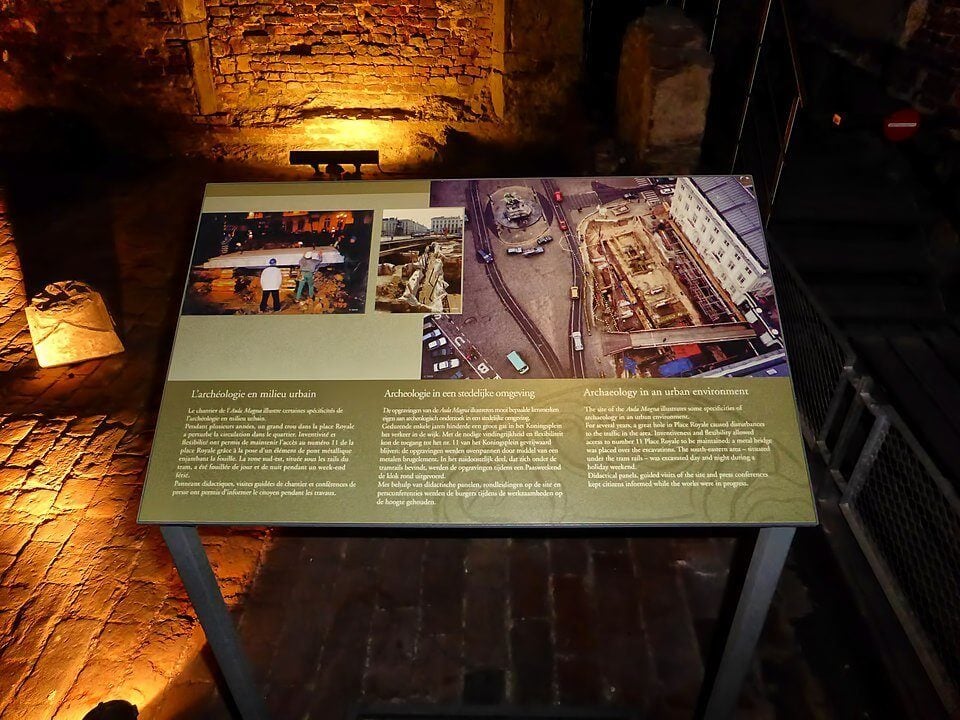 An active archaeological site that was discovered in the 1980s and is now open to the public.
This site was the former Palace of Brussels and excavations have uncovered cellars, tunnels and forgotten streets underneath the modern-day city.
Why it's so awesome: It isn't often that you get to explore an active archaeological site, but this is your chance to do just that. Since its discovery in the 1980s, researchers have found numerous tunnels and forgotten streets around the former castle, all of them buried by time and forgotten until very recently. So, if you're interested in exploring a medieval palace with all its secrets, add this to your Brussels itinerary .
What to do there: Put aside a couple of hours to explore this site. The foundations of the palace have been cleared for tourists, and there are free audio guides available so you can more fully understand what you're looking at and why it's important. This is also one of the best hotspots in Brussels to take the kids, as the museum holds interactive programs to get them involved in the explorations.
#6 – Saint Michel Cathedral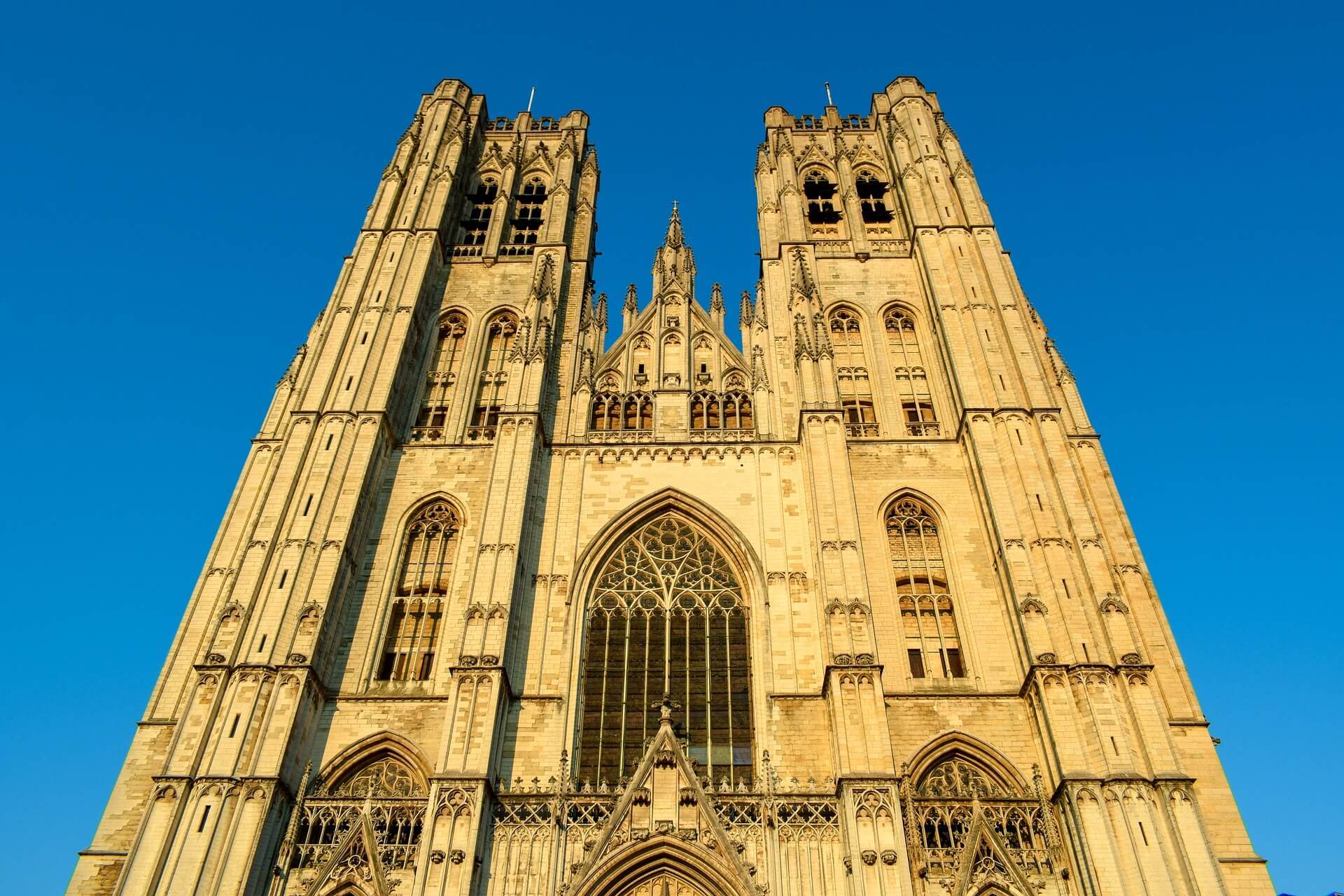 A gothic style cathedral that was completed in the 15th century after centuries of work.
This cathedral looks amazing in person and even better in pictures, so make sure you take your camera with you.
Why it's so awesome: This gothic cathedral is dedicated to St. Michel and St. Gudula, the patron saint of Brussels. It was founded in 1225 but wasn't completed until the 15th century and is an amazing example of Gothic architecture. It's topped by 69-meter-high towers and is lavishly furnished inside.
What to do there: The outside of the building is stunning but it's the inside that will take your breath away. Make sure that you spend some time examining the stained-glass windows. The south transept depicts Charles V and Isabella of Portugal and the north transept shows Louis II and Mary. There's also a chapel inside known as the Chapel of the Holy Sacrament, and the stained glass in there depicts the Miracle of the Host, so make sure you see it.
#7 – The Atomium – One of the most incredible free places to go to in Brussels
This strange looking construct is one of the most famous places in Brussels for tourists and locals alike.
You'll need to take the tram to reach this attraction, but it's worth the trip.
Why it's so awesome: The Atomium is a surreal-looking construct created by architect Andre Waterkeyn for the 1958 Brussels World Exhibition. It's one of the most popular attractions in Brussels. This 102-meter-high aluminium and steel attraction is designed in the shape of a molecule of iron that's been magnified 165 times. So, if you're the type of person who's always wanted to know what iron really looks like, this is your chance!
What to do there: It's worth the tram journey to get to the location of this Brussels must-see, mostly because it's so odd-looking. Make sure you take the chance to explore the interior as well, where four of the nine spheres present a show about human life called Biogenium. It's one of the best free places to visit in Brussels. Take your picnic, or a beer, and enjoy this unique backdrop.
#8 – Mont des Arts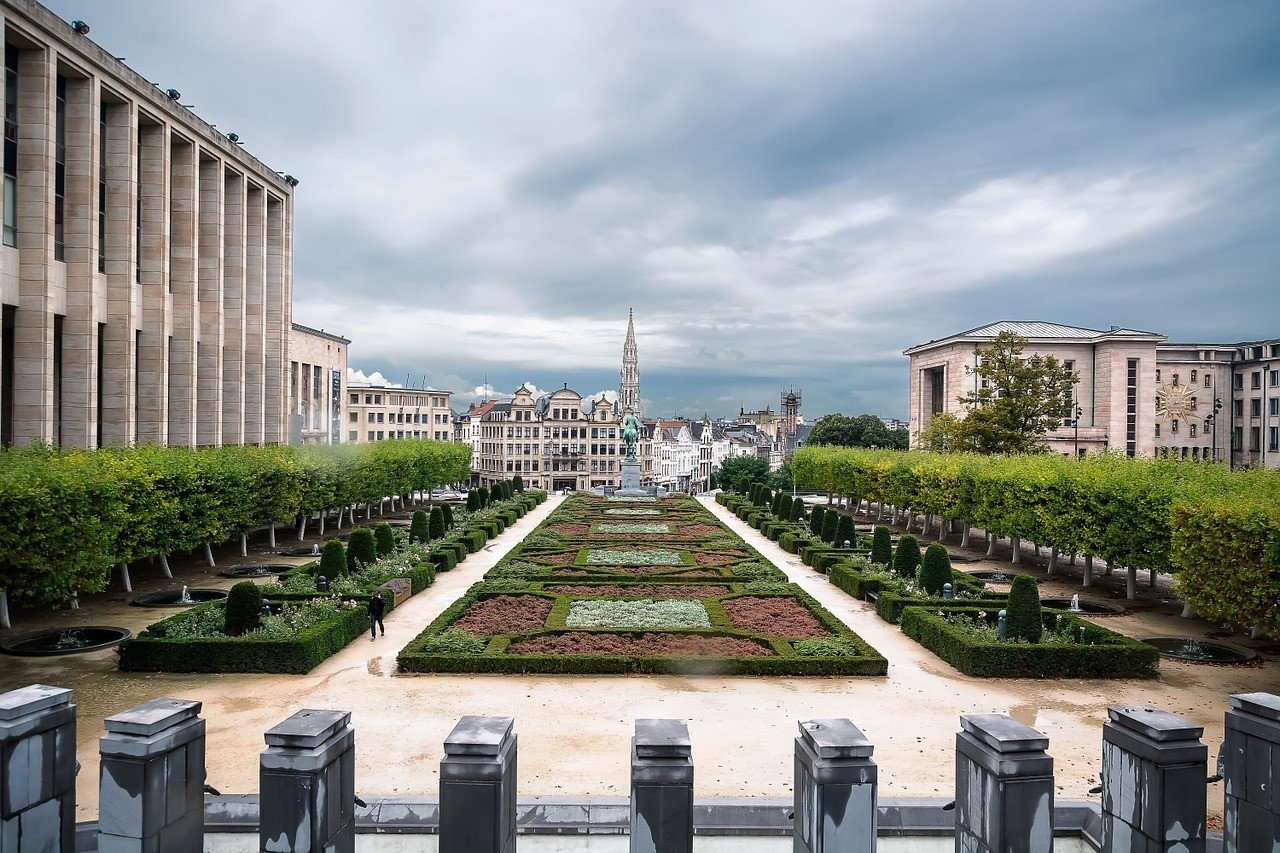 An architecturally striking collection of buildings that holds the Royal Library of Belgium, the Square – Brussels Meeting Center, the National Archives of Belgium, and a public garden.
There are not only some amazing books in this building but great museums.
Why it's so awesome: The Mont des Arts was built between 1956 and 1958, so it's a modern building that somehow fits perfectly with the buildings around it. The site sits between the Royal Palace and the Place de l'Albertine and is a complex of modern buildings that hold the city's library, national archives, and meeting center.
What to do there: If you're looking for Brussels vacation ideas, this is a great place to start because it's close to most of the best tourist attractions in Brussels. The complex also offers amazing views of Brussels. From the elevated buildings, you can see all the way from the Grand Palace to the Atomium and everything in between. And at the other end of the building, you can see the Royal Square and the done of Saint-Jacques on the Coudenberg.
#9 – Notre-Dame du Sablon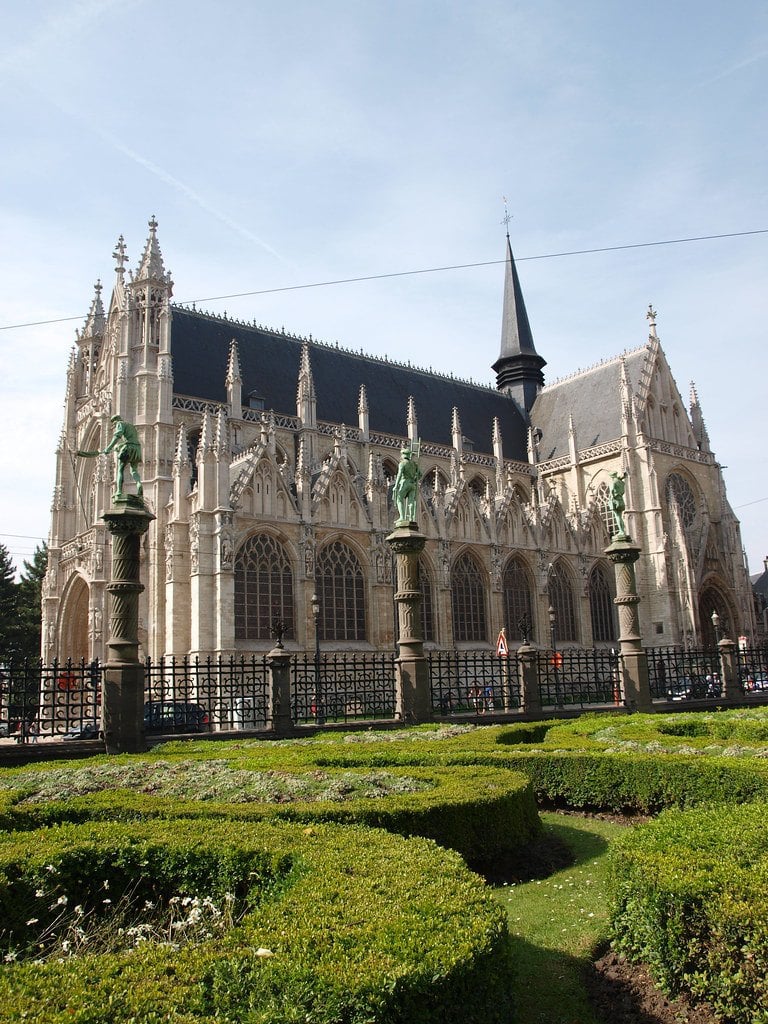 Built around the 15th-16th century to replace an older chapel that was built around 1304.
The inside of the church is incredible, with some of the most beautiful stained-glass scenes you'll ever see.
Why it's so awesome: This church is considered to be one of the most beautiful Gothic churches in all of Belgium. The inside and outside of the building are equally amazing and look just as good in photos as well. The church also contains the burial chapel of the Thurn und Taxis family and a figure of the Virgin which is a copy of the figurine that was supposedly bought to the chapel by a woman the Virgin appeared to back in 1348.
What to do there: This is a truly stunning church and you'll be amazed at the architectural mastery and the artwork when you visit. The stained-glass images inside the church are particularly popular, so make sure you spend time examining the scenes they depict.
We've tested countless day packs over the years, and now we've found our absolute favourite: the traveller-approved Osprey Daylite Plus .
Want more deetz on why we love it  so damn much?  Then read our comprehensive review for the inside scoop!
#10 – The Parlamentarium – One of the most important places to visit in Brussels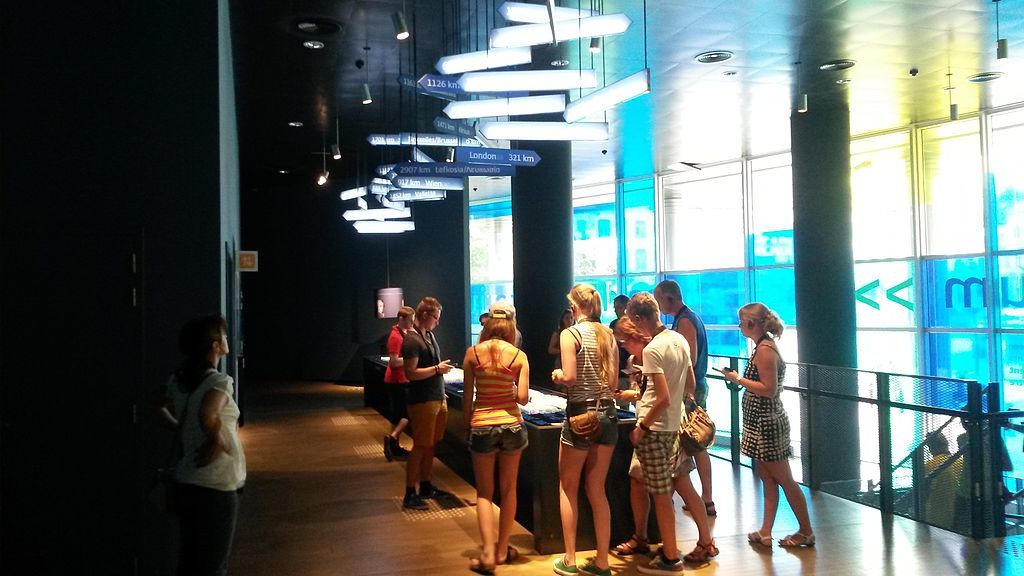 The best place to learn about Europe's past and how to it came to be.
A fascinating display, even if you aren't interested in politics.
Why it's so awesome: The Parlamentarium is just outside of the city center and it has a visitor's center that will give you a deeper insight into the Brussels of the present by exploring Europe's past. The center has multimedia exhibits that explore what the World Wars were really like and how they influenced politics in Europe today.
What to do there: If you've ever wanted to learn about why the European Union was developed and how it influenced how Europe grew, this is the place to do it. So, take the tour at the center to learn more about the world you live in now and the people and events that shaped it. This is also a great place to take the kids if you want them to understand the larger stage of the world.
#11 – Cinquantenaire Park – most beautiful place to visit in Brussels
On a fine day, there's no better place to visit in Brussels if you need to relax in nature.
There is a museum in the park as well if you want to get a little culture in at the same time.
Why it's so awesome: When it's sunny in Brussels, all the locals head out to this park to enjoy the sunshine. In a busy modern city, it's important to get out in nature sometimes and this is the easiest and the fastest way to do that. There is also a great museum in the park called the Royal Museum of the Armed Forces and Military History if you're a war buff.
What to do there: This is the perfect place to have a picnic, hire a bike and do some cycling, or just enjoy the sights and sounds of nature right in the middle of the city. So, take a picnic and enjoy it on the grass, or just hang out near the fountain on the weekend in Brussels (Saturdays are always the best day for people-watching).
#12 – Mini Europe – a unique place to visit in Brussels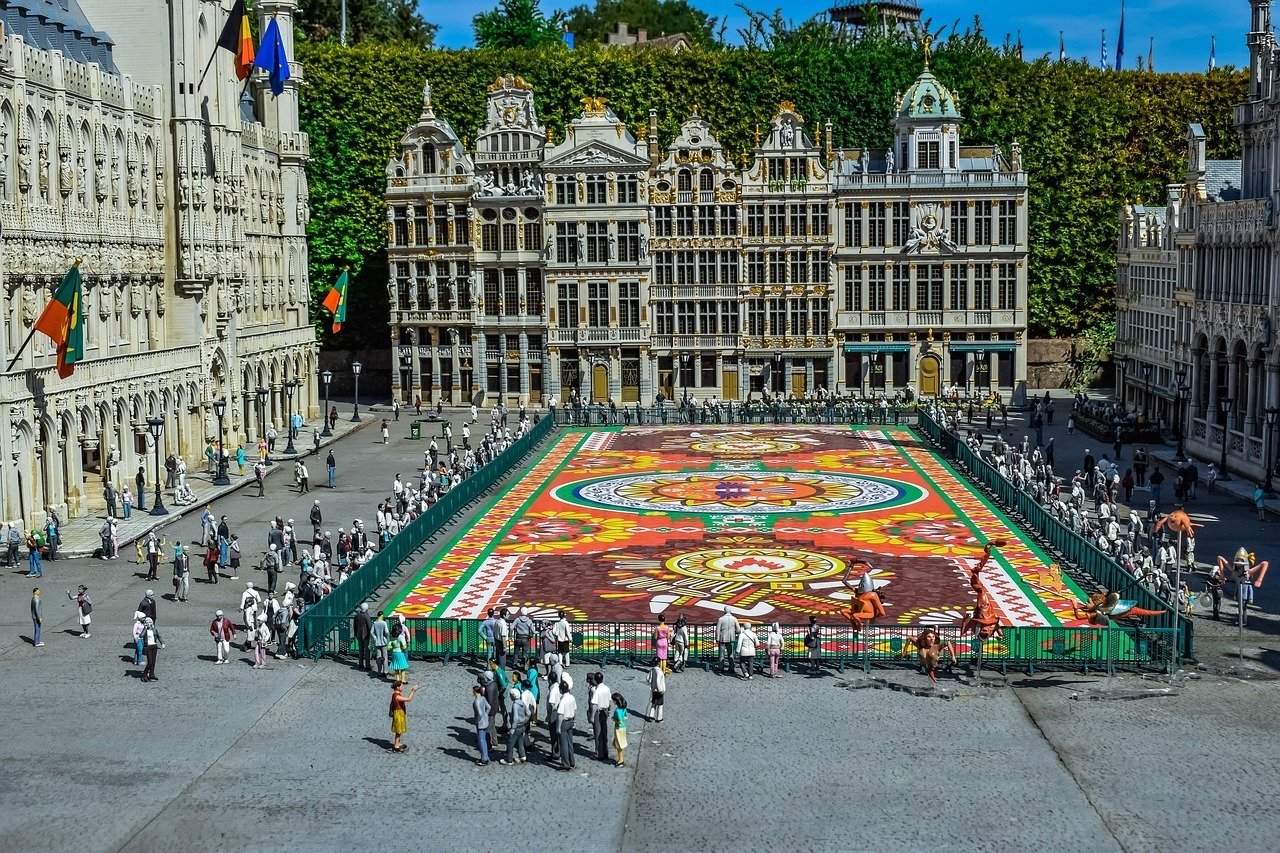 A theme park with 1:25 scale models of the best monuments in the EU.
This theme park is at the base of the Atomium, a huge model of an iron molecule, which makes this area a study of contrasts.
Why it's so awesome: This park opened in 1989 and features 350 monuments from all around Europe. To dive into European top sights, this is the place to start. It's the only place to see Mount Vesuvius, Big Ben, and the Leaning Tower of Pisa all in the same place. In fact, the theme park explores the most famous buildings from 80 cities in Europe and the attention to detail in each is simply astonishing.
What to do there: You have to admire the attention to tiny detail in this park. Each model is created using a silicone mould and resin or casts. They each took a long time to build, but some of them represent a level of dedication that most people just don't have. For example, the Cathedral of Santiago de Compostela took 24,000 hours to build. Also, make sure you spend some at the new interactive exhibition at the park for an introduction to EU history through multimedia games.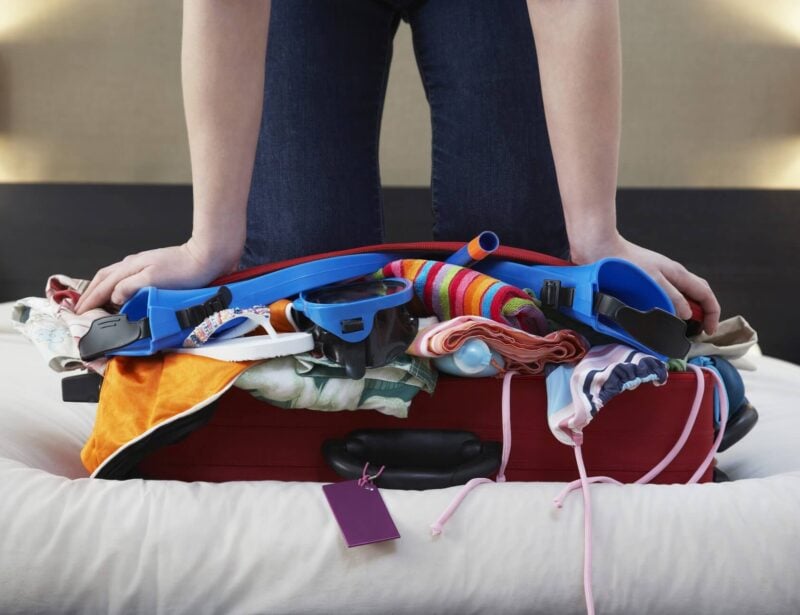 Wanna know how to pack like a pro? Well for a start you need the right gear….
These are packing cubes for the globetrotters and compression sacks for the  real adventurers – these babies are a traveller's best kept secret. They organise yo' packing and minimise volume too so you can pack MORE.
Or, y'know… you can stick to just chucking it all in your backpack…
#13 – The Belgian Royal Museum of Fine Arts – A great place to visit in Brussels if you are traveling solo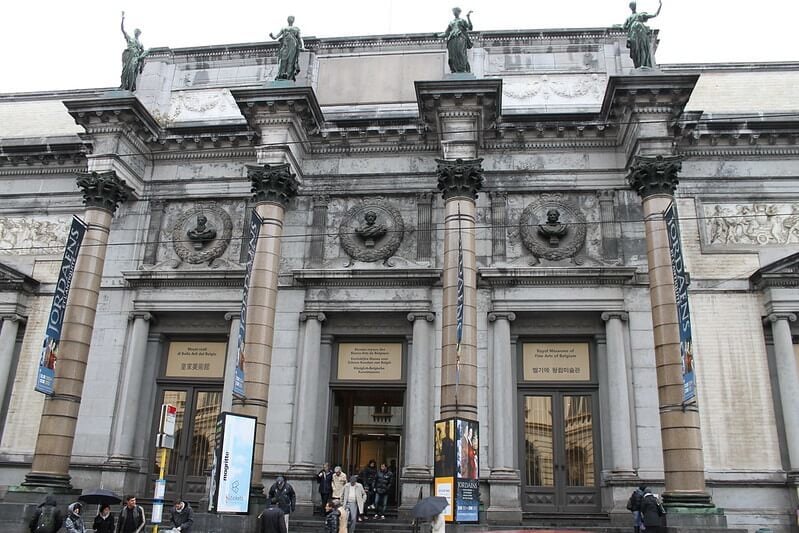 One of the biggest and best art galleries in the world.
The museum has been open since about 1875, but the collection was first set up in 1797.
Why it's so awesome: When you think of the best art in the world, you probably think of Paris and Italy. But when you travel to Brussels, you'll discover a collection that rivals those famous places. In 1797, the art collection which is now in the museum was created in the former palace of Charles Lorraine. The collection is divided into two parts, the first focusing on Ancient art and holding pieces by Flemish and Dutch Masters from the distant past. The second part of the collection consists of modern art and mostly holds 19th and 20th-century works.
What to do there: Set aside some time to explore both the ancient and modern parts of this museum. These collections absolutely must be on your Brussels itinerary. Check out the artwork by Flemish and Dutch Masters; Petrus Christus, Dirk Bouts, Hans Memling and Gerard David. And afterwards, spend some time exploring more modern pieces and see how art in Belgium has changed and evolved over the years.
#14 – Royal Greenhouses of Laeken – An unknown (but awesome!) place to see in Brussels!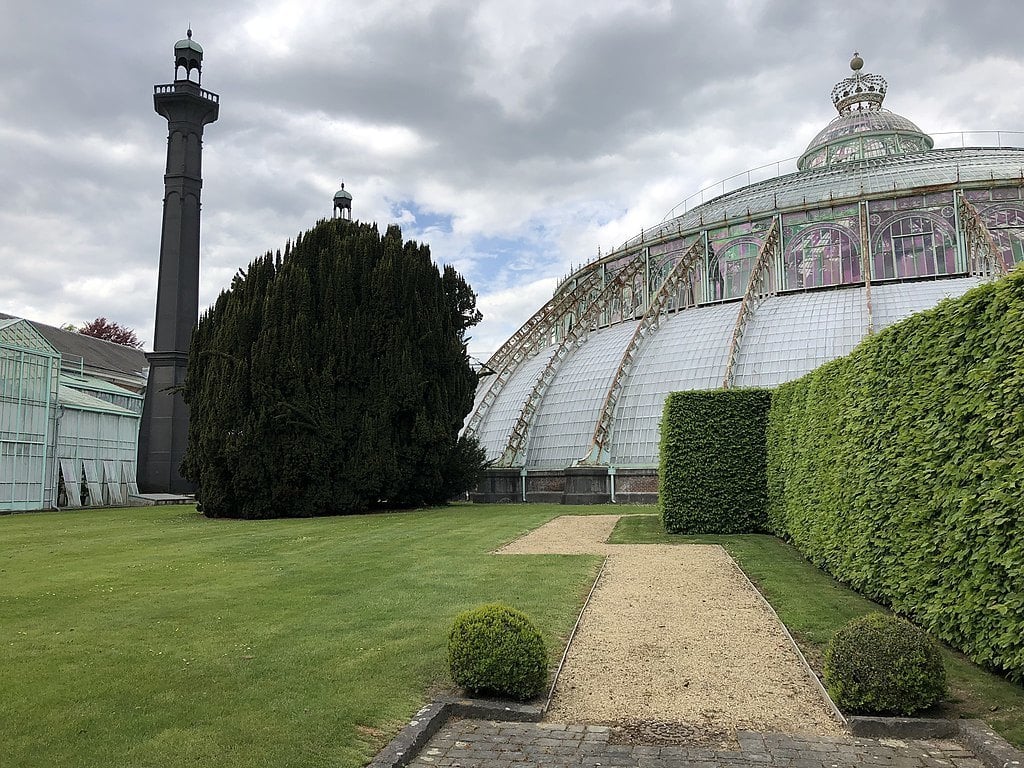 This location is only open to the public for 2 weeks in spring, but if you're there at the right time of year then you're in for a treat!
Why it's so awesome: King Leopold II of Belgium created the Royal Greenhouses of Laeken between 1884 and 1886. They're part of a huge complex, with thirty pavilions that are all connected to the Winter Gardens. From the outside, the greenhouses are massive glass domes that shine in the sun. And on the inside is a collection of exotic and tropical plants that are incredibly pleasing to the eyes and to the nose.
What to do there: These greenhouses are only open for 2 weeks in late April and early May, so if you want to see them then you'll have to time your trip to coincide with the opening days. This is at the time when the flowers are blooming though, so it's a beautiful time to appreciate the display. If you do manage to enter the greenhouses, make sure that you check out the geraniums and azaleas, which light up the corridors and catch the sunlight perfectly. The Greenhouse of Congo is also worth seeing for its collection of African plants and the dark history of colonialization this greenhouse represents.
#15 – The Musical Instrument Museum – Quite the quirky place in Brussels!
A great place to learn about a different side of Belgium's history.
This is one of the best places to visit in Brussels if you're interested in music.
Why it's so awesome: This museum is located in central Brussels and holds a collection of over 1,500 instruments. This includes both European and non-European instruments as well as a detailed exploration of how Brussels contributed to the making of recorders in the eighteenth and nineteenth centuries. The museum also explores the history of instrument inventor and Belgium native Adolphe Sax, who lived in the nineteenth century.
What to do there: The museum is open from Tuesday to Friday, so check out the opening hours before you just show up. Once you're there, check out the floors of different types of instruments including mechanical, traditional, and keyboard instruments. Also, make sure you listen to the instruments as well as look at them. The museum offers free headphones that allows you to listen to up to 200 musical pieces created by the instruments on display. There's also a sound lab where you can experiment with the instrument and see what sounds you can make.
#16 – Delirium Café – Cool place to see in Brussels with friends!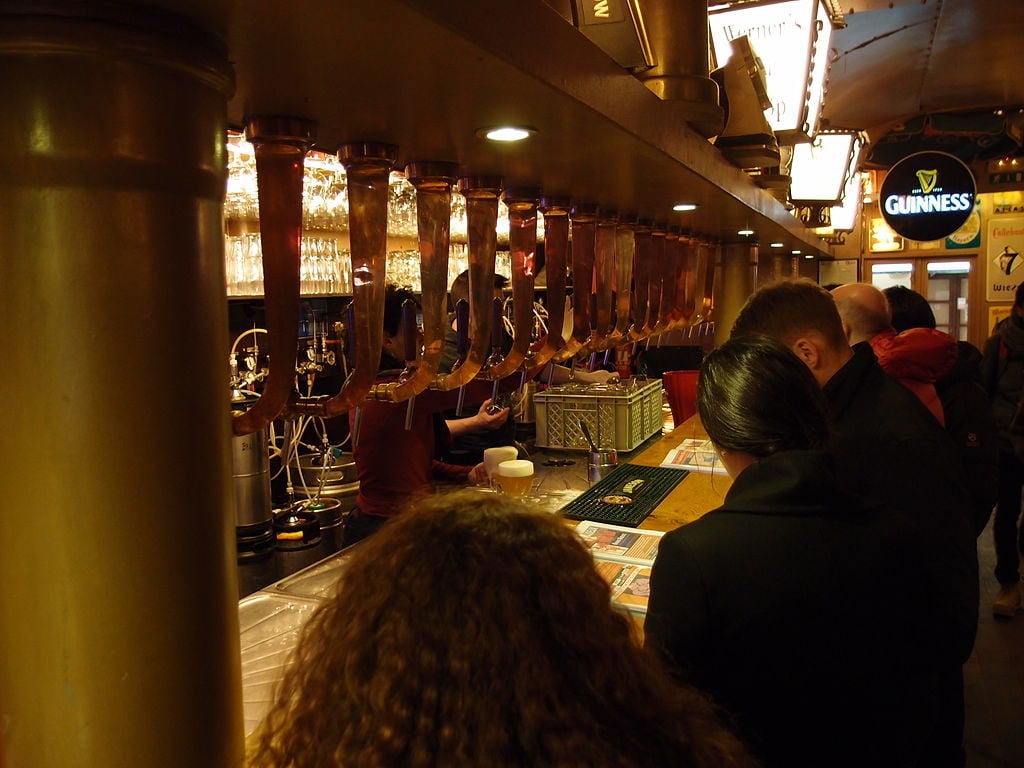 One of the best places to visit in Brussels for beer fans.
This café has over 2,000 beers on tap.
Why it's so awesome: This café claims to have the best beer in the world and they might just be right! Located in one of Brussels' cobblestone backstreets, the café has one of the biggest beer selections you'll ever see, which is why it's really popular amongst the locals! The bar itself is also quirky and welcoming, with neon signs and posts from years past.
What to do there: Grab a few friends and head to this café at the start of a great night out! Try some of the Belgian beers and see for yourself if they offer the best beer in the world. And if you have trouble choosing a beer from the textbook-sized menu, just ask the bartenders. They have a vast knowledge of beer and can steer you towards something delicious. The café also offers a range of cheeses and other snacks to soak up the alcohol.

Our GREATEST Travel Secrets…
Pop your email here & get the original Broke Backpacker Bible for FREE.
#17 – Le Musée du Jouet (Toy Museum) – Awesome place to visit in Brussels with kids!
A great place to take the kids or even the young at heart!
This museum is interactive, and the toys are meant to be played with, not just looked at.
Why it's so awesome: This museum is housed in an old mansion and is 3 floors and 20 rooms of toys, most of them dating from the 1950s through to the 1980s. However, there are some older toys on display, some of them from the 1800s! Some of the toys were donated, others purchased, but all of them are there to be enjoyed and played with.
What to do there: There are a huge range of toys at this museum, including the incredibly rare and the everyday. And best of all is the fact that you can play with them. So, take the kids with you, or just leave your inhibitions behind, and follow in the steps of children from generations before. There's also a theater and old tram inside the museum, so you could spend hours at play!
#18 – Maison Dandoy – A must-see for foodies!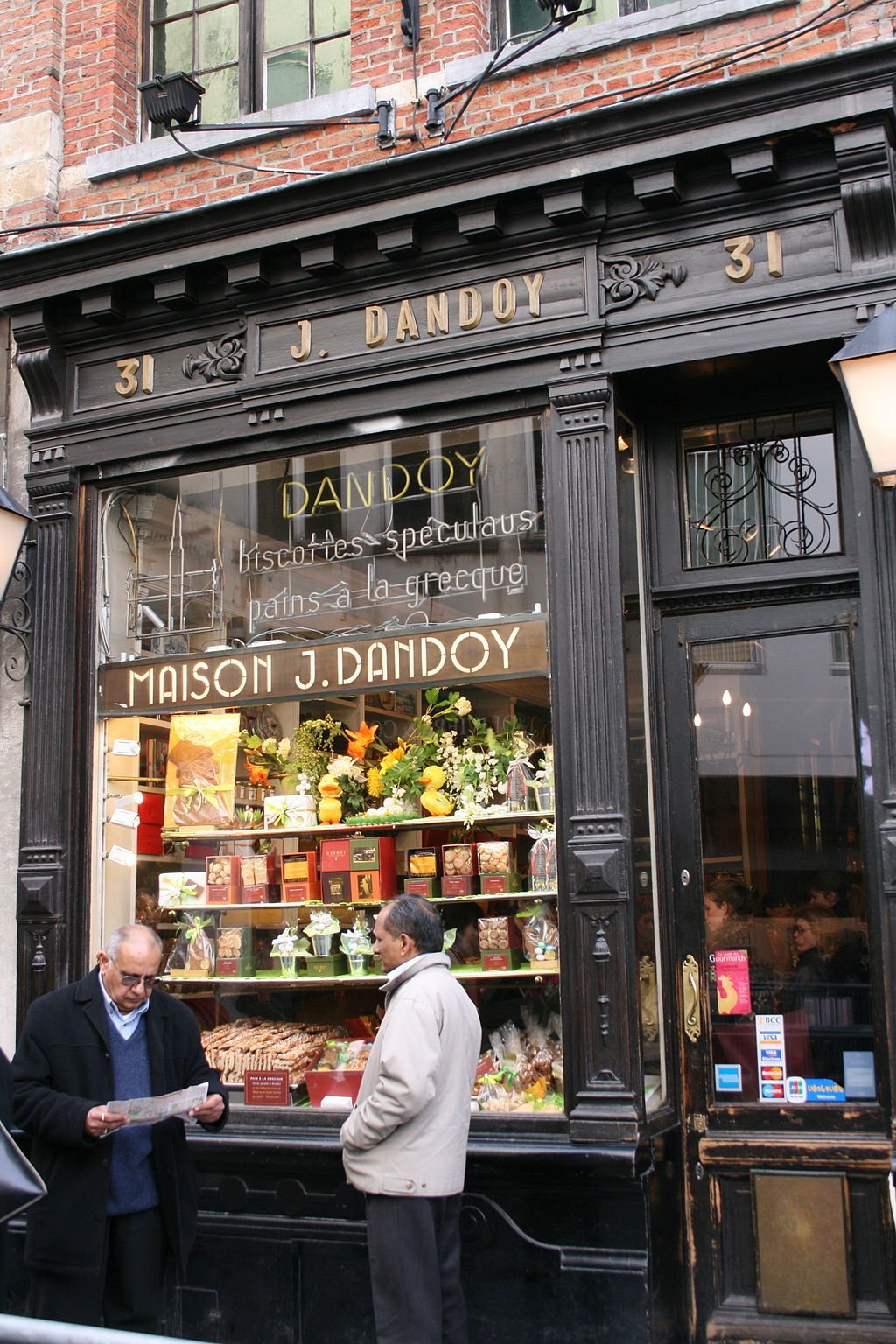 You can't visit Brussels and not eat Belgian waffles, and this is one of the best places to eat in Brussels !
All the waffles here are made to order, which is why they're better than the waffles you'll get at most places.
Why it's so awesome: You can't visit Brussels without eating Belgian waffles. They're available at a lot of places in the city, but Maison Dandoy has the tastiest range. This shop has been making baked goods since 1829, which is why they know how to make the best waffles in the city. There are a few locations, so find one near where you're staying in Brussels and indulge your sweet tooth! And everything is made fresh, which is what makes all the difference.
What to do there: You'll probably need to visit this shop a few times while you're visiting Brussels because no one can eat all the tasty varieties they have in a single sitting. Try the sweet Liege waffle as well as the fluffier Brussels waffles to see which one you enjoy the most. And you can have almost every sweet treat you can imagine on top of your waffles, including hot chocolate sauce, caramel and ice cream!
Get insured for your trip to Brussels!
I know what you're thinking… Do I really need travel insurance for Brussels?
Absolutely, yes. Don't forget to look after yourself first.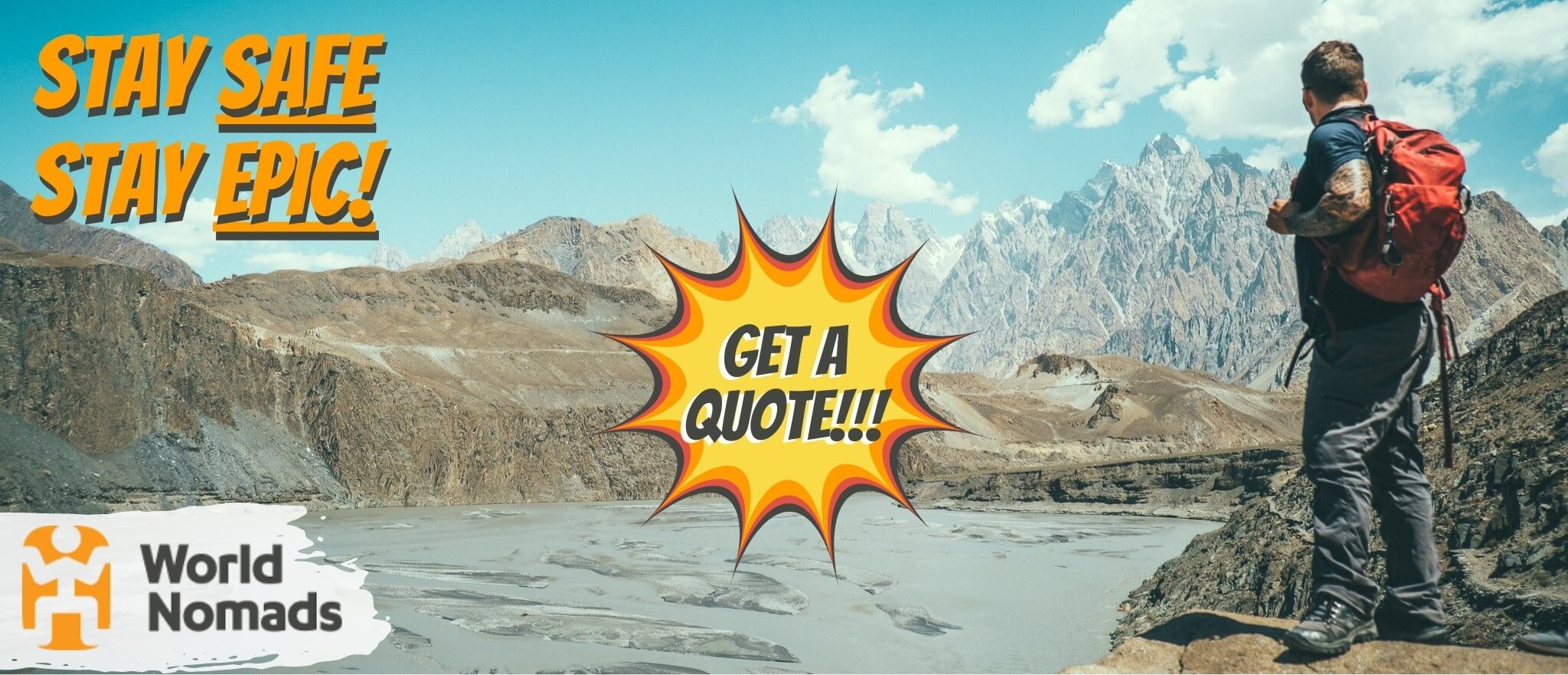 World Nomads ' mission is to support and encourage travellers to explore their boundaries. They offer simple & flexible travel insurance, and safety advice to help you travel confidently.
They've been doing it since 2002 – protecting, connecting, and inspiring independent travellers just like you.
Get a quote below or read our in-depth review!
World Nomads provides travel insurance for travelers in over 100 countries. As an affiliate, we receive a fee when you get a quote from World Nomads using this link. We do not represent World Nomads. This is information only and not a recommendation to buy travel insurance.
Find out what people want to know about the best places to visit in Brussels.
Is Brussels worth a visit?
Brussels is definitely worth a visit. There are so many epic places to visit that you'll probably feel a bit overwhelmed. From great food and culture to nightlife, parties and Belgian festivals , Brussels is great travel destination.
Which places in Brussels can you visit for free?
Check out these free places to visit in Brussels: – Grand Plaza – The Atomium – The Royal Palace
What places in Brussels can you visit at night?
The Delirium Café is one of the best places to visit at night in Brussels. With over 2000 beers on tap, you're promised a tasty experience and a really good time.
Are there any good places to visit in Brussels during winter?
When it's starting to get cold outside, these are the best places to visit in Brussels: – Belgian Comic Strip Center – The Parlamentarium – Maison Dandoy
Brussels is brimming with history and should be on every traveller's itinerary when backpacking Europe. When you travel to Brussels, you want to experience all that this amazing and historic city has to offer. I mention that in homage to the importance of its incredible history before I mention the insane Belgian beer, waffles, and chocolate.
There are some MUST-SEE places to visit in Brussels: the Grand Place, the Royal Palace, and the town hall should be at the top of your list! But you should do that and combine your travel plan with the confidence to wander and find amazing sites, cafes, and eateries on your own. Hopefully, this list will spur on your imagination.
This is just a starting point to find the Brussels that you've always dreamed of experiencing. And that's the only way that you'll be able to discover your own list of the best places to visit in Brussels. That's where the real Belgian adventure begins.
And for transparency's sake, please know that some of the links in our content are affiliate links . That means that if you book your accommodation, buy your gear, or sort your insurance through our link, we earn a small commission (at no extra cost to you). That said, we only link to the gear we trust and never recommend services we don't believe are up to scratch. Again, thank you!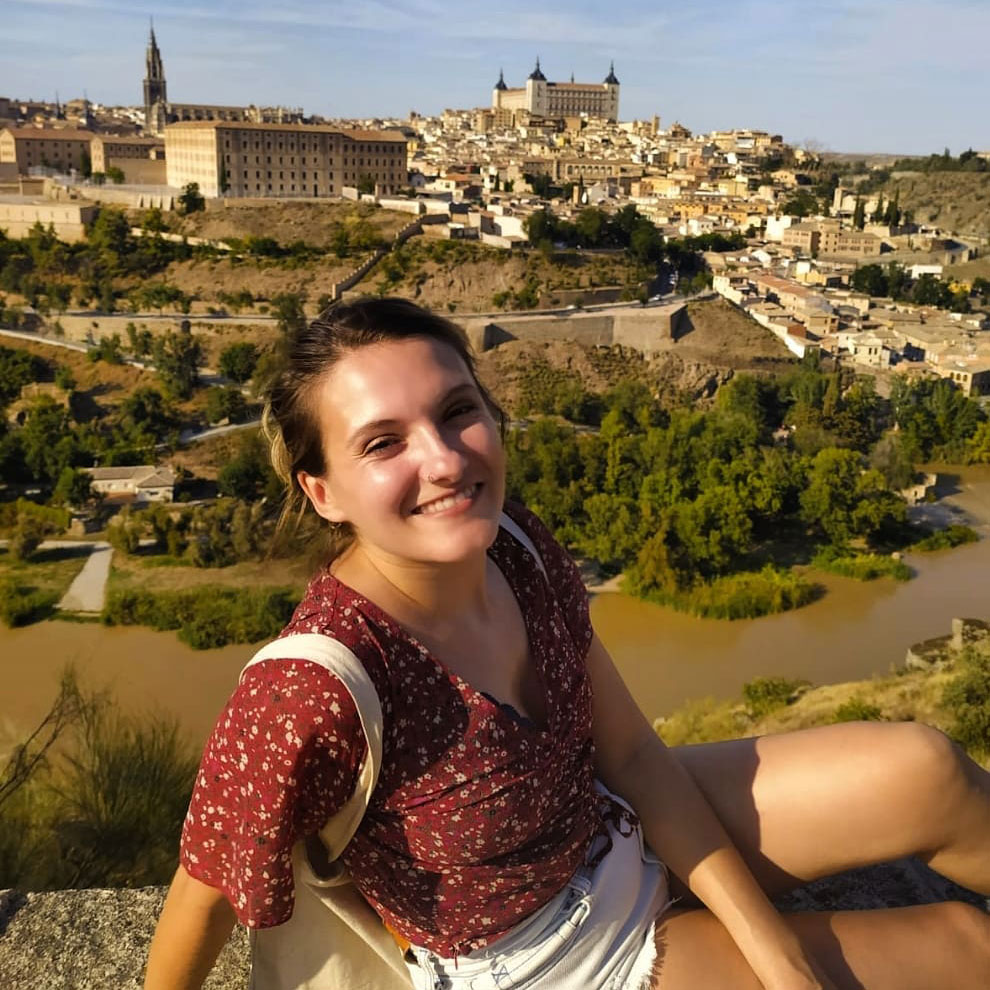 Mathilde Magnier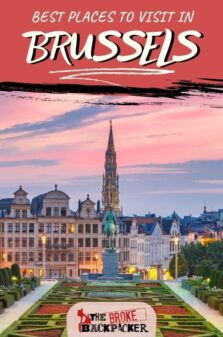 Share or save this post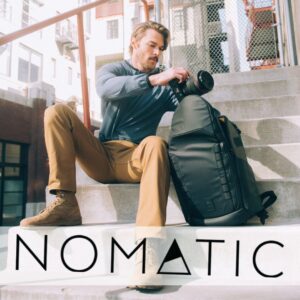 Leave a Reply Cancel reply
Your email address will not be published. Required fields are marked *
Save my name, email, and website in this browser for the next time I comment.

Touropia Travel Experts
Tours & Top Tens
27 Top Attractions & Things to do in Brussels
Last updated on October 3, 2023 by Carl Austin and Spencer Leasca - 1 Comment
The capital of Belgium might be best known as the headquarters of the European Union and the seat of the country's Royal Family. But it is also a fabulous tourist destination.
Whether you are visiting on a day trip to stock up on chocolates and beer, spending a weekend to immerse yourself in culture, or going there for your annual holiday, you will have a wonderful time in Brussels.
The city oozes charm and sophistication. It has gorgeous Gothic churches as well as a variety of other medieval buildings. The historic tourist attractions in Brussels blend well with it's 21st century attractions. There are many fine museums and galleries, historic statues and lovely green parks. For sure, travelers won't lack for things to do in Brussels.
In this post, we'll cover:
27. Place du Jeu de Balle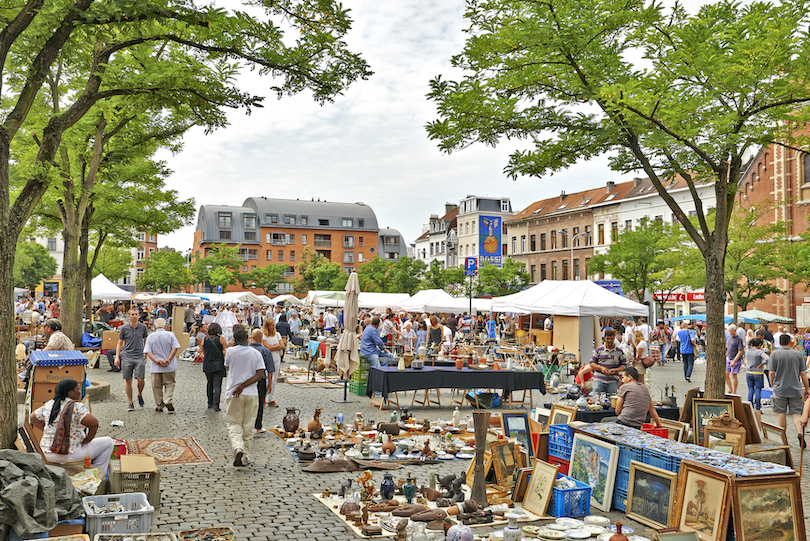 Also known as Vossenplein, The Place du Jeu de Balle is an historic square in the heart of the Marollen district. It is best known for a famous flea market that has operated there since 1873.
Fondly and appropriately referred to as the 'Old Market', this market is the only flea and antique market in the world to be open 365 days a year. When browsing through the various market stalls, you will find an eclectic mix of items for sale. They range from antique porcelain, vintage clothes and rare books to 19th-century crossbows, canvas artwork and old vinyl records.
The market is somewhere you can easily spend hours wandering around. Around the square, there are several shops you can browse in too.
26. Royal Museum of the Armed Forces and Military History
If you are fascinated by history and war, you will want to visit the Royal Museum of the Armed Forces and Military History.
Located within the historic Parc du Cinquantenaire, the captivating museum takes you on a journey from the Middle Ages to the dawn of the aviation age – focusing on battle, conflict and warfare. It showcases several galleries devoted to specific exhibits like the French empire, Russian Gallery and the Navy. Visitors can also take in its magnificent aviation hall and the arms and armour gallery.
Even if you are not a fan of the military or armed forces, it is worth coming here to see the outstanding panoramic views of Brussels from the top of the Triumphal Arch, which you can access from the museum.
25. Royal Theater Toone
If you are traveling to Brussels with children or should you want to unleash the big kid in you, be sure to visit the Théâtre Royal de Toone.
Locally known as Toone, this folkloric theater specializes in puppet shows. Founded in 1830 by Antoine 'Toone' Genty, it is now the only authentic marionette performance still operating in the city. Notably, many of the plays they present are in Marollien or Marols. The traditional dialect of Brussels.
During the performances, other languages are spoken. These shows customarily incorporate the essence of zwanze – a quintessential form of sarcastic humor that is distinctly Brusselian. As well as the shows, the theater has a small museum of puppetry and a tavern.
24. Comic strip murals
Brussels has been synonymous with comic books since Tintin and Spirou launched around the 1930s.
Although the city hosts the iconic comic book museum – the Belgian Comic Strip Centre – it also boasts several murals devoted to characters like Lucky Luck, The Smurfs, Gaston Lagaffe, Tintin and Spirou. These murals illuminate the side of buildings and are so prevalent you can even book a guided bike or walking tour to see some of the most popular ones.
If you prefer to tour them independently, pick up a map and head off for a self-guided exploration. Be sure to have your camera ready when you check out Brousaille Wall, Victor Sackville Wall, Le Jeune Albert Wall and Olivier Rameau's Wall.
23. Bois de la Cambre
If you want to relax during your visit to Brussels, there is no better place to do this than at The Bois de la Cambre.
One of the larger public recreational spaces in the city, the park was named after La Cambre Abbey. Its layout is reminiscent of the manicured parklands of England and features immaculately cut grass and bosky woodland. There is a lovely path to go walking or jogging on, and children will enjoy the opportunity to play on the playground or go on a pony ride.
Set within the center of the park, Chalet Robinson sits on Robinson Island. There you will find a terrific restaurant and will be able to rent out pedalos or boats and partake in a friendly game of pétanque.
22. Horta Museum
If you are a fan of the Art Nouveau movement, make sure you take the opportunity to visit The Horta Museum.
Situated on Rue Américaine, this museum is devoted to the life, vision, philosophy and work of the acclaimed architect Victor Horta. Presented in his former townhouse residence, which dates back to 1898, the museum features on UNESCO's World Heritage list.
The museum showcases permanent displays of furniture, art objects and utensils. All of which were designed by Horta and his peers. You can also see documents that convey certain aspects of his life and the time. In addition, the museum showcases temporary exhibitions that further highlight the excellence of the man and his art. If you go there, be warned photography is not allowed in the museum.
21. Parlamentarium
You might be aware of the European Parliament. But do you know what it does and how it may impact your everyday life? Well, if not, then you might want to pay a visit to the Parlamentarium .
Situated within the impressive Espace Léopold on Place du Luxembourg, this serves as the visitor center for the European Union. Opened in 2011, it features notable attractions like a role-playing game, a massive interactive floor map and a 360° cinema.
Whilst at the Parlamentarium, you can do a self-guided tour – which is available in 24 languages. During it, you will gain a deeper insight into the sometimes maligned institution and learn more about what they are doing to counter some of the continent's most pressing issues.
20. Museum of Natural Sciences
Are you fascinated by dinosaurs? Then pencil in a trip to the Museum of Natural Sciences .
You will have to head to Rue Vautier 29 to do so. But once you are there, you will experience the wonders of The Dinosaur Hall. Officially the largest museum hall in the world solely devoted to dinosaurs, it features the famous Ishango bone that the Belgian geologist Jean de Heinzelin de Braucourt discovered in 1960 in the Belgian Congo.
Incorporated within the Royal Belgian Institute of Natural Sciences, other exhibits at the museum include a collection of fossilized Iguanodon skeletons uncovered in 1878. Dinosaurs aside, you can discover more about the evolution of the human body in the Gallery of Humankind and travel back in time via the Gallery of Evolution too.
19. Cantillon Brewery
Belgium is renowned for the quality of its beer. So, if you are a fan of amber nectar, it would be churlish not to try a few local samples. One of the best places to do this in Brussels is on a tour of the Cantillon Brewery.
A traditional family-run brewery which opened in 1900, you'll find it at Rue Gheude within the Anderlecht district of the city. It features original equipment and beer cellars used by Paul Cantillon, who founded the establishment.
Whilst there, you can tour their facility and try out some of their fabulous lambic-style beers. These include Kriek, a brew made with cherries, or Fou' Foune, a beverage derived from apricot. If any beer takes your fancy, you can buy some from their shop.
18. Royal Museums of Fine Arts of Belgium
For art lovers, The Royal Museums of Fine Arts of Belgium should be a massive drawcard during your visit to Brussels. Comprising not one but six different museums, they collectively house some of the country's most important cultural and artistic treasures.
The six institutions are the Magritte, Oldmasters, Antoine Wiertz, Constantin Meunier, Fin-de-Siècle and modern museum. Between them, these venues showcase an impressive collection of paintings, sculptures and drawings that date back to the early 15th century.
Exploring the complex of museums is among most popular things to do in Brussels. Expect to spend a lot of your time marveling at the works of celebrated artists like Robert Campin, Rogier van der Weyden, Anthony van Dyck, Bruegel, Peter Paul Rubens and Jacob Jordaens.
17. Autoworld
If you love cars, then Autoworld is somewhere you will have to visit when you go to the Parc du Cinquantenaire. Situated in the South Hall, this fantastic vintage car museum boasts a vast collection of automobiles from Europe and the USA.
The collection spans the late 19th century up until the 1990s. It features a Bentley made in 1928 and a Cord and Bugatti from 1930. It also presents Minervas and several limousines owned by the Belgian Royal Family.
In addition, several Belgian-made vehicles like Fondu, Vivinus, Imperia and FN are on display. Along with various other sports cars, passenger cars, motorcycles, carriages and fire engines. Throughout the year, the museum also runs celebrated events for the automotive industry.
16. Royal Palace
Separated from Brussels Park by a stately square called Place des Palais, the Royal Palace is one of the city's most impressive examples of Neoclassical architecture. As construction started in 1783 and was not completed until 1934, this should give you an idea of how expansive the building is.
Although it is the official palace of the Belgian monarchy, the king and queen do not use it as their royal residence. However, as is tradition, they open their doors to the general public for five weeks every year in July and August.
At this time, you can visit it for free and gain access to certain rooms. Some of these rooms contain state portraits of Leopold I, Napoleon, Leopold II and Louis Philippe I.
15. Serres Royales De Laeken
Brussels can get a bit nippy in the winter. So, a good place to escape this chill is The Royal Greenhouses of Laeken.
Located within the Avenue du Parc Royal, this magnificent complex of classically designed, heated greenhouses features tropical, sub-tropical and cold zones. Created in 1874 on behalf of King Leopold II, under the jurisdiction of Alphonse Balat, the complex also features arcades, pavilions and several cupolas.
It now belongs to the Belgian Royal Family, who only open it to the general public a handful of days in the year. If you can visit it when it is open, you should see its famous Royal Botanic Collection. It includes the world's oldest and largest collection of camellias cultivated in a greenhouse setting.
14. Parc du Cinquantenaire
As previously mentioned, The Parc du Cinquantenaire is home to The Royal Museum of the Armed Forces and Military History. However, there is much more than that to Jubelpark – as it is colloquially known.
The beautiful green space covers 30 hectares within the eastern part of the city's European Quarter. It was inaugurated in the 19th century and has beautifully landscaped grounds with fountains, ponds, waterfalls and floral gardens.
The park features a U-shaped building complex that houses numerous institutions of high cultural relevance. These include a centerpiece memorial arch, the Art & History Museum and the Autoworld vintage car. It also features a monument dedicated to Belgian Pioneers in the Congo, The Temple of Passions and the Great Mosque of Brussels.
13. Rene Magritte Museum
Art lovers should make a point of visiting the Magritte Museum . Situated on the Palace Royale, within the exquisite, neoclassical, five-storey Hôtel du Lotto, this terrific attraction presents the work of René Magritte.
An acclaimed Belgian surrealist artist, the museum features a permanent, multidisciplinary collection of his original drawings, paintings and sculptures. Amongst the notable works on display are 'The Empire of Light', 'Scheherazade' and 'The Return'.
The museum serves as one of the Royal Museums of Fine Arts of Belgium's constituents. It is the largest archive of Magritte's work anywhere in the world, with much of it coming from his widow's private collection. Other exhibits include photography and short surrealist films that Magritte experimented on.
12. Train World
If you are into ferroequinology, your first stop in Brussels should be a trip to Train World .
Tucked away in the renovated buildings of the former Schaarbeek railway station, this attraction is the Belgian National Railway Company's official museum. Overall it presents iconic steam locomotives like Le Belge and 'L'Eléphant', both built in 1835, and the Pays de Waes (1844). It also exhibits a railway bridge built in the 19th century and even provides an experience of what driving a train feels like.
Found at Place Princesse Elisabeth, the museum is open every day of the week except Monday. There is a restaurant onsite in case you get hungry, and you can rent audio guides in different languages whilst you are there.
11. Belgian Comic Strip Center
If you've seen the comic strip murals, then you should be ready to visit the Comics Art Museum. If you make it down to its Rue des Sables 20 location, you will see another Victor-Horta-designed Art Nouveau building.
For over 30 years, this terrific attraction has been championing the leading players and characters of the 9th Art. it spans four floors, and there is plenty to see here. The first floor has a comic store, library, study center, restaurant and a room honoring Victor Horta.
The first floor comprises rooms with original pages of comic books and animation, as well as an auditorium. Whilst the second has a permanent exhibition of characters and publications. The top floor is devoted to merchandising.
10. Notre Dame du Sablon
Notre Dame du Sablon is a lovely 15h century Gothic Catholic church located in the historic Sablon district of Brussels. Also known as Our Blessed Lady of the Sablon, church parishioners included Belgium's royalty and nobility. Indeed, some royals are buried in the chapel of St. Ursula.
This gray-white church is famous for its beautiful stained glass windows that are illuminated from the inside at night. Other must-sees are the two baroque chapels with funeral symbols carved into the marble and the statue of St. Hobart that once was stolen by Antwerp and recaptured by Brussels in 1348.
9. Mini Europe
A visit to Mini Europe may remind many people of the old movie, "If it's Tuesday, it must be Belgium," in which travelers make the Grand Tour of Europe in just a few days. At Mini Europe, however, they can see the best on the continent in just a few hours.
A tour of Mini Europe will take visitors from the gondolas of Venice to Big Ben in London. They can also experience Vesuvius erupting in Italy and the fall of the Berlin Wall in Germany. In all, Mini Europe offers 350 miniature settings that explore the best of Europe.
8. Musical Instrument Museum
The Musical Instrument Museum is a must-visit for anyone who plays a musical instrument or just plain loves music. The museum houses more than 1,100 musical instruments, ranging from ancient to modern.
Considered one of the top musical instrument museums in the world, the museum also houses a concert hall in its uniquely designed Art Noveau and Neoclassical building. Exhibits feature keyboards, types of music from medieval to the 19th century, and mechanical and electronic instruments.
The most popular gallery features traditional musical instruments from around the world. Here, visitors may be surprised to learn the Scots weren't the only ones who played bagpipes.
7. Galeries Royales Saint-Hubert
In a city replete with incredible architecture, it is a testament to how the design of The Royal Saint-Hubert Galleries manages to capture people's attention.
Lording over the Galerie du Roi 5, just a stone's throw from the Grand Place, it takes the form of a trio of ornate, glazed shopping arcades. Consisting of the King's, Queen's and Prince's galleries, they opened in 1847 after being designed and constructed under the project management of Jean-Pierre Cluysenaer.
Representing the Italianate Cinquecento style, this historic monument features shopfronts with glazed arches separated by two upper floors and pilasters. Among the many upscale retailers are Neuhaus chocolatiers and the revered Delvaux leather goods. The Royal Theater of the Galleries is also within the complex.
6. Mont des Arts
Cats may have nine lines, but the Mont des Arts, a hill in the center of Brussels, is giving them a run for the money. Once a densely populated neighborhood, the buildings were torn down; the land lay vacant for many years. Then a garden was put in but it, too, was torn down to make way for buildings, which include the Royal Library and Congress Palace.
A new garden shares space with the buildings today. Visitors to the "hill of the arts" will find some of the best views of Brussels from here, with the Town Hall spires reaching up into the sky.
5. Manneken Pis
The Manneken Pis is undoubtedly the most visited landmark in Brussels. While visitors may skip many of the fine museums, no one leaves Brussels without visiting the Manneken Pis: a unique water fountain that features a naked little boy urinating into a fountain.
The statue isn't always naked, however, as it has a wardrobe that would make the Kardashians jealous: It has 900 costumes that are changed frequently. Visitors can view them at the City Museum. The small bronze statue has been amusing residents and visitors alike since the early 1600s, though there is mention of such a statue a century or two earlier.
4. Brussels Cathedral
The Brussels Cathedral, formally known as the Cathedral of St. Michael and St. Gudula is a truly magnificent structure. The main part of this Catholic chuch dates to the 11th century while the towers were constructed in the 13th century. All told, it took about 300 years to build this impressive stone church.
Named after the country's patron saints, it is Belgium's main church. Visitors will be awed by the beautiful stained glass windows, especially the ones by Bernard van Orley, a 16th century painter. The Last Judgment window is lit from within at night.
3. Town Hall
While many cities rush to build modern town halls, the City of Brussels is sticking with its early 15th century Gothic town hall. It is the last remaining medieval building on the Grand Place. Of course, there's a newer addition, but it's not as interesting.
The old town hall is decorated with 137 statues of important people, like nobles and saints, in the city's history. Visitors will only see copies there, as the originals are in the nearby city museum. The building is topped with an elegant spire that itself is topped with a 5-meter (16-foot) high statue of the archangel Michael.
At first glance, the Atomium looks like a space-age Ferris wheel, but looks can be deceiving. This Brussels landmark actually represents a portion of an ion crystal that's been magnified 185 billion times.
Built in 1958 as the main pavilion for the Brussels' world fair, it was named the world's most bizarre building in 2013 by CNN. But beauty is in the eye of the beholder, and the Belgians love it. The Atomium consists of nine spheres, only six of which are open to the public. An elevator takes people to the top of the structure, but otherwise visitors travel between the spheres on escalators.
1. Grand Place
The Grand Place is indeed grand. As the city's central square, it is a most visited landmark, home to two of the main attractions in Brussels, the Town Hall and City Museum, as well as former guildhalls. Also known as Grote Markt, the Grand Place was a major market place that dates back to the 10th century.
The large square is filled with a carpet made from flowers every second August. Today it's lined with many cafes, making it a good place to sample traditional Brussels' foods, such as moules (mussels), waffles and french fries, which originated in Belgium, not France.
Map of Things to do in Brussels
Share this post:
Belgium Travel Guide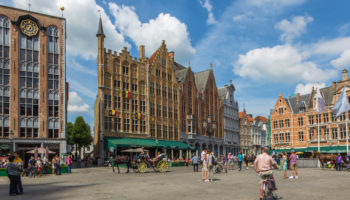 9 Best Day Trips from Brussels
10 Best Places to Visit in Belgium
10 Most Popular Attractions in Bruges, Belgium
7 Best Places to Stay in Bruges, Belgium
10 Top Tourist Attractions in Belgium
3 Best Day Tours in Belgium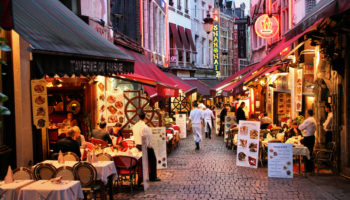 11 Most Beautiful Regions in Belgium
15 Best Cities to Visit in Belgium
How to Travel from Paris to Amsterdam by Train
Reader interactions.
November 20, 2017 at 8:42 am
Just so you know, the Musical Instruments museum is not very tourist friendly if you don't speak one of the three languages in Belgium. I lived in Belgium for 6 years and visited two years ago with a friend, and found that there was nothing written in English. Therefore, I had act like a translator for a friend. Also fun fact: there is also a peeing dog and a peeing girl statue in Brussels. If I can recommend one more thing to add to the list, it would be the Magritte Museum. Fantastic art museum of the famous surrealist painter.
Leave a Reply Cancel reply
Your email address will not be published. Required fields are marked *
This site uses Akismet to reduce spam. Learn how your comment data is processed .

23 BEST Things to Do in Brussels (+Map & Insider Tips for Top Places)
By Author Jurga
Posted on Last updated: October 4, 2023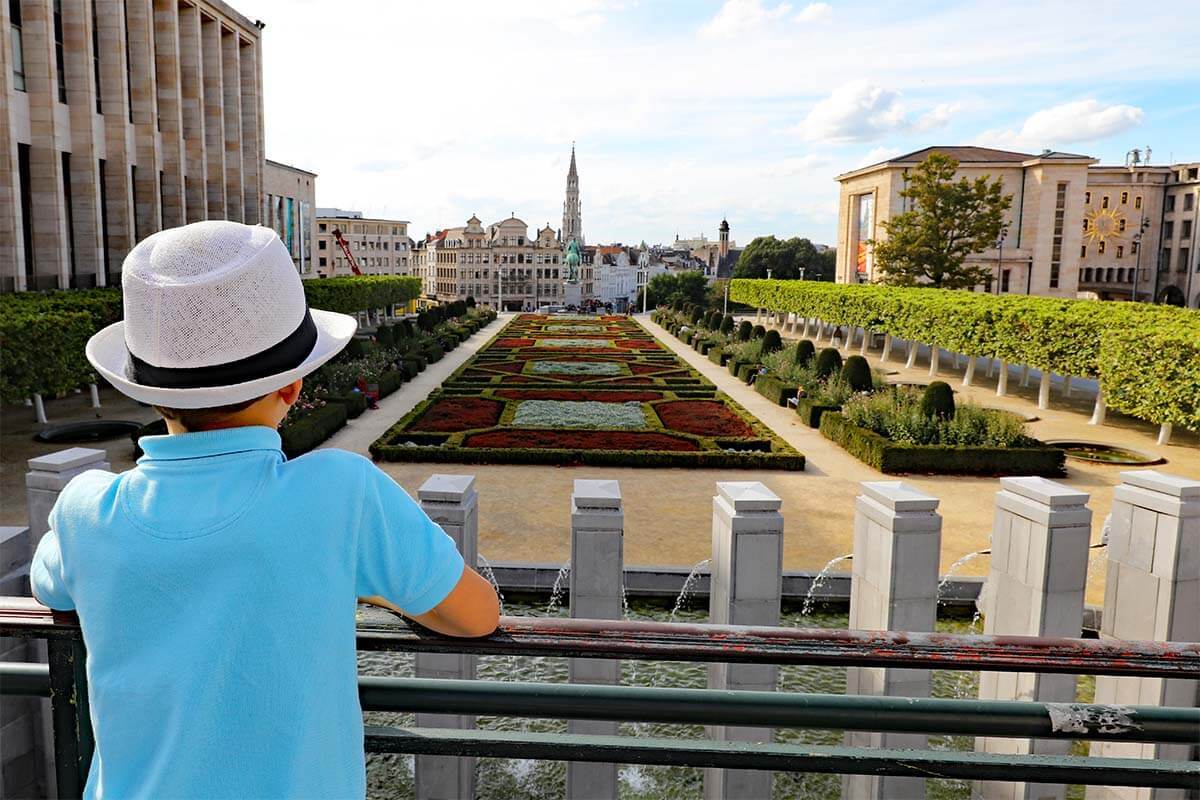 Visiting Belgium's capital city for the first time and wondering what to see and do in Brussels? In this article, you can find our recommendations for the very best places to see and things to do in Brussels. It will help you to make the most of your trip and explore the city just a bit deeper. Take a look!
Good to know: We are from Belgium and have lived in and near Brussels for several years. So I can immediately tell you that there's so much more to see in Brussels than you'd ever be able to cover on a short visit… Therefore, in this guide, we mostly focus on the most popular attractions that first-time visitors shouldn't miss .
For each place and activity, we also share our insider tips and recommendations.
Read on to learn more about the most beautiful places to see in Brussels, the very best things to do, and the most typical Belgian experiences that will make your trip more memorable!
TIP: In order to help you plan your trip, we also created this map indicating all the best places to visit in Brussels. That way, you can see where everything is located and can easier plan your sightseeing itinerary.
How to use this map: Use your computer mouse (or fingers) to zoom in or out. Click on the icons to get more information about each place. Click the arrow on the top left corner for the index. Click the star next to the map's title to add it to your Google Maps account. To view the saved map on your smartphone or PC, open Google Maps, click the menu and go to 'Your Places'/'Maps'. If you want to print the map or see it in a bigger window, click on 'View larger map' in the top right corner.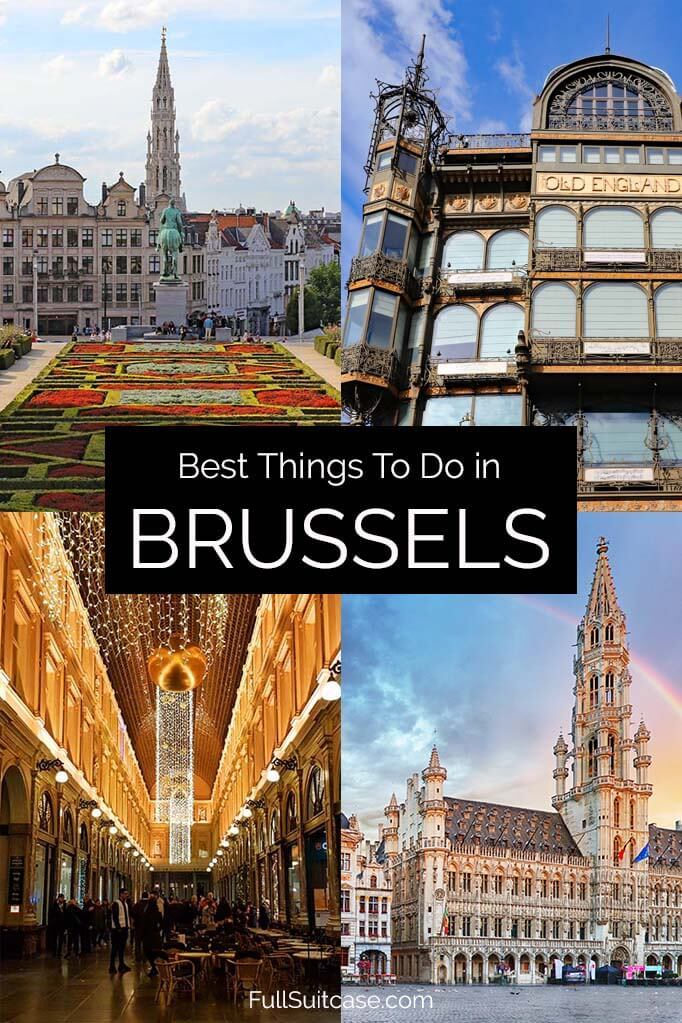 Good to know: We list the main landmarks and tourist attractions in the center of Brussels first, followed by places a bit further away.
In addition to all the 'must-sees', we include some of the most typical Belgian food experiences as well. After all, no visit to Brussels would be complete without tasting Belgian waffles, beer, or trying moules-frites . Find out!
BEST OF BRUSSELS IN A NUTSHELL: * MUST-SEE: Grand Place, Manneken Pis, Royal Galleries, Mont des Arts, Royal Palace, and Magritte Museum . * FUN TO DO: Belgian Beer World , Atomium , Mini-Europe , EU headquarters, food tours . * MUST TRY: Brussels waffles, moules-frites, Belgian beers, and Belgian chocolate. * WHERE TO STAY: See our guide to the best areas to stay in Brussels and also to the most popular hotels in Brussels . * DAY TRIPS: Bruges , WWI Battlefields , Antwerp . Best day tour – Ghent & Bruges in a day .
Here are the best things to do in Brussels:
1. Grand Place & Brussels Town Hall
If there is one place that you absolutely have to see in Brussels, it's the Grand Place (or de Grote Markt , in Dutch). Grand Place is the main town square of Brussels, home to the impressive Brussels Town Hall and the most beautiful guild houses in the world.
Grand Place is a UNESCO World Heritage Site and one of the most beautiful town squares in Europe. Even if this would be the only place you see in Brussels, Grand Place is worth a trip on its own!
Brussels Grand Place is amazing at any time of the day and in any season. Lots of big events take place here, including the annual Brussels Christmas Market in winter and the bi-annual Brussels Flower Carpet in summer. Often, there are (free) light and music shows at the town square in the evenings. It's always magical!
But even if there is nothing special going on, I recommend visiting Grand Place during the day and also in the dark. The buildings are beautifully lit at night and it's well worth coming back for it.
Practical info: You can visit Grand Place at any time and it's free of charge. Brussels Town Hall can also be visited inside, but only with a guided tour that runs just a few days a week. More info here .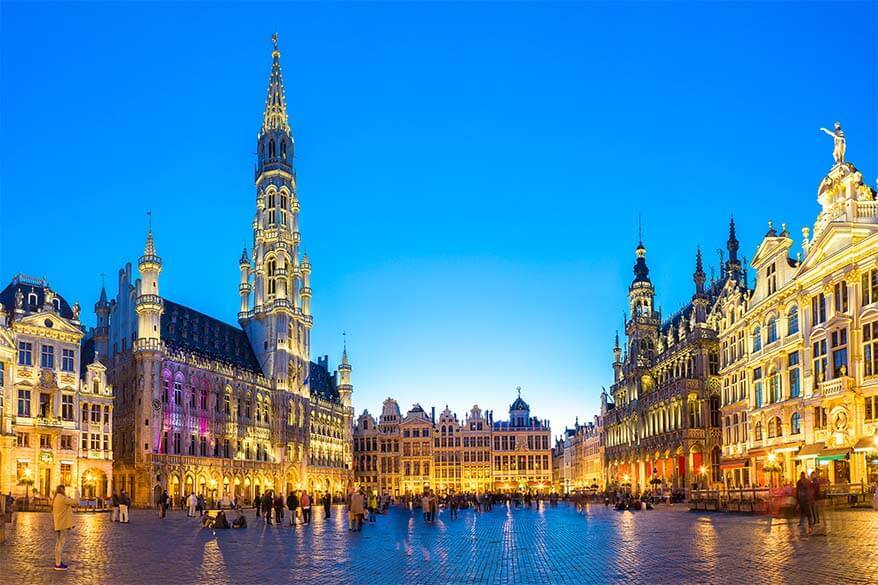 2. Royal Gallery of Saint Hubert
The Royal Gallery of Saint Hubert is one of the most beautiful landmarks of Brussels! In fact, there is not one, but two connecting galleries – Galerie du Roi (Gallery of the King) and Galerie de la Reine (Gallery of the Queen).
Opened in 1847, these impressive galleries not only transformed the formerly poorer part of the city, but also put Brussels on the map as one of the greatest cities in Europe at that time. It quickly became the place to see and to be seen, attracting the rich and the famous. The former Café des Arts (now Taverne du Passage) was a popular meeting place for writers and artists, such as Victor Hugo, Alexandre Dumas, and many others.
Nowadays, this impressive arcade houses many luxury boutique shops, beautiful cafés, and stores selling local delicacies and traditional Belgian chocolates. Inside, you'll also find the Cinéma des Galeries, the historic movie theatre dating from 1939.
Practical info: The Royal Galleries are always open and it doesn't cost anything to walk through them. The shops and the restaurants inside have varying opening times.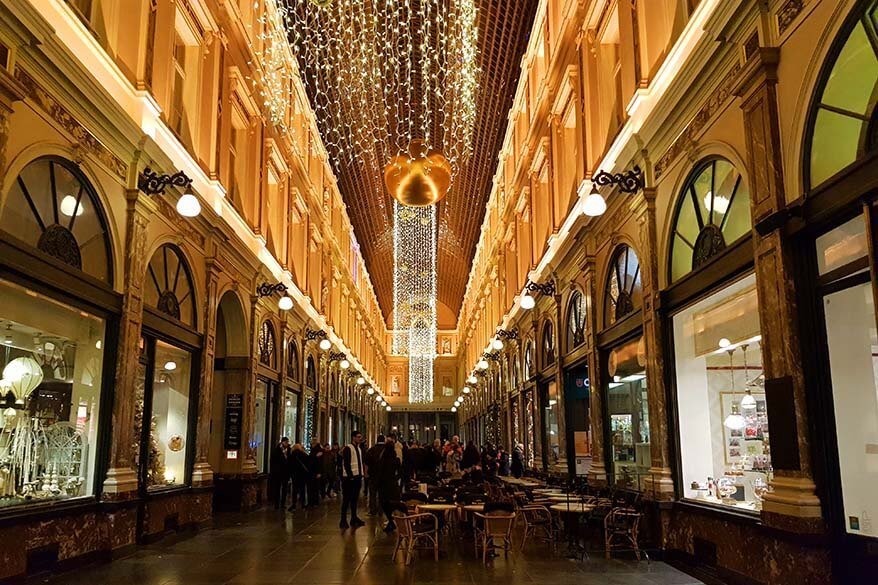 3. Manneken Pis
Manneken Pis (the peeing boy) is the quirky symbol of Brussels. And while you'll most likely be underwhelmed by the sight of this tiny statue, it's one of the main landmarks of Brussels that every first-time visitor absolutely has to see.
A popular legend has it that a small boy stopped a fire from spreading in Brussels by peeing on it. And so the city was saved and the little peeing boy became its symbol. However, this is just one story and the origins of Manneken-Pis could be totally different – see below)…
The current statue dates from the early 17th century, but archives show that there was a similar fountain here as early as the 14th century.
Manneken Pis is normally naked, but he also has a huge collection of costumes that he wears for a variety of different occasions. He received his first set of clothes in the late 17th century and his oldest surviving costumes date from the 18th century.
Nowadays, Manneken Pis has over 1000 costumes, with 20-30 new items added to the collection every year. If you want to see his wardrobe and learn more about this peculiar little statue, check out the museum GardeRobe Manneken Pis .
LEARN MORE: The Real Story of Manneken-Pis in Brussels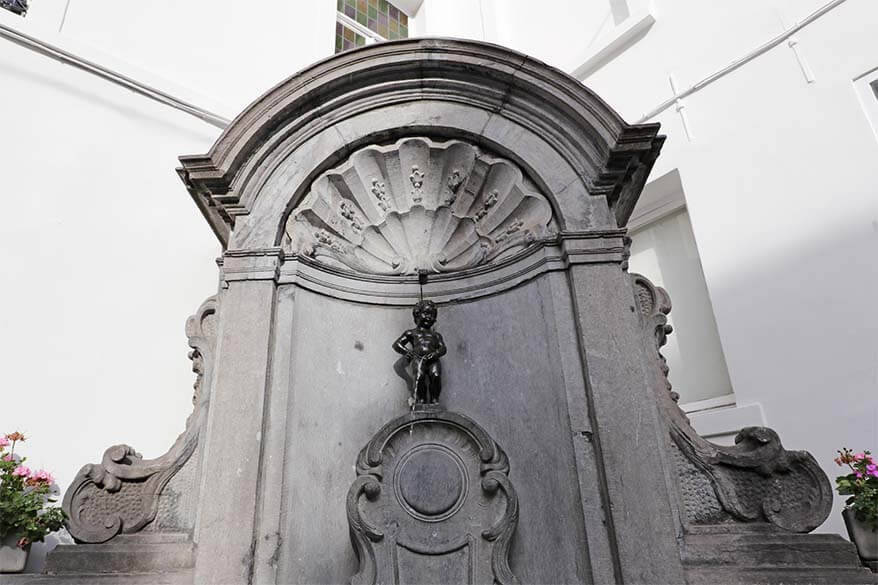 TIP: If you have the time, you may also want to locate the statue of a little peeing girl – Jeanneke-Pis . While not as famous as Manneken Pis and usually locked behind metal bars, this little fountain has always been a popular 'hidden gem' in Brussels. If you want to check it out, I indicated its location on our map above.
And no, that's not all. Brussels has something with 'urinating' statues. There is also a Zinneke Pis , which is a statue of a peeing dog. This – for now – completes the trio of peeing statues of Brussels. But tourists sure seem to like them, so I wouldn't be surprised if we see a few more of those appearing in the future.
Practical info: You can see Manneken Pis and other statues at any time and there is no fee. If you are interested in the museum, check the above link for more information.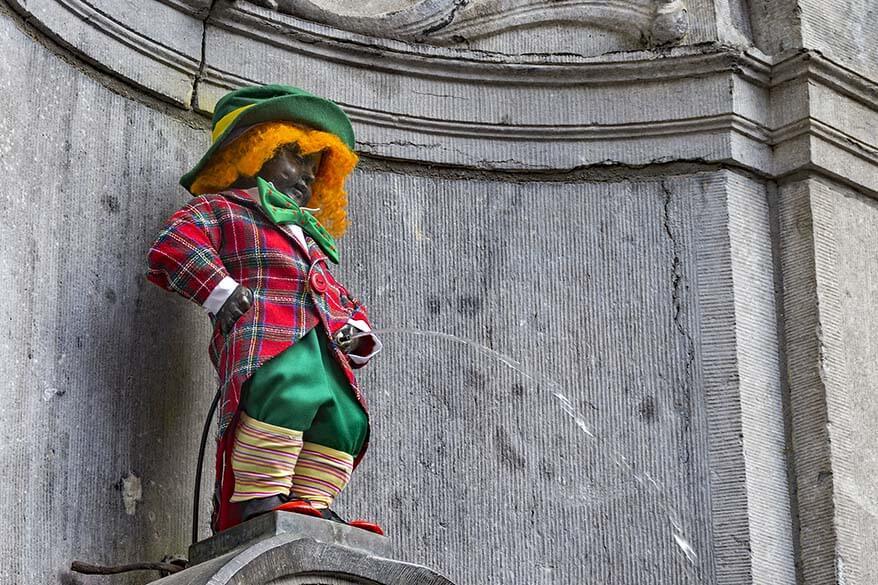 4. Brussels Cathedral
One of the most impressive buildings of Brussels – St Michael and St Gudula Cathedral – is another must-see in the city. It's just 5 minutes walk from Grand Place and well worth the short detour.
St Michael and St Gudula Cathedral is the main church of Belgium, where all the Royal religious ceremonies take place. This is where Belgian Royals get married, princes and princesses are baptized, etc.
The exterior of the Cathedral is really impressive. However, it's very hard to appreciate its beauty because it's literally squeezed in between different streets and buildings, which makes it difficult to see it in its full grandeur. The front façade is best visible as there is a small square in front of it, giving you a better perspective in order to admire this colossal building.
The interior of the Cathedral is beautiful too and can be appreciated much easier than its exterior.
Practical info: The Cathedral is open daily and you can visit freely. So if there's no Mass celebration at that time, definitely take a look inside.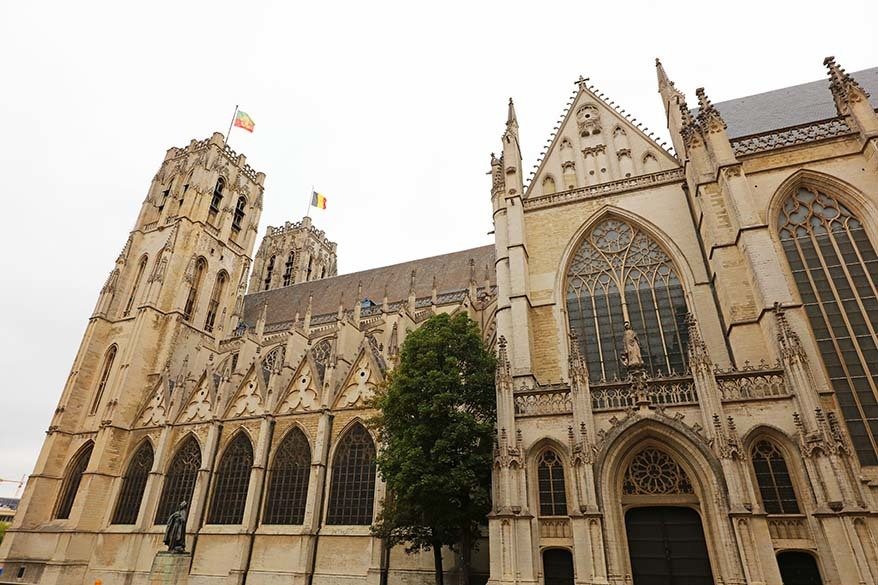 5. Mont des Arts
Mont des Arts (Hill of the Arts) is a little hill in the center of Brussels, offering one of the best viewpoints of the city . As you walk the stairs all the way to the top, you get to see a beautiful panorama of the Brussels skyline. This is the typical postcard view of Brussels.
Historically, this hill connected the lower working-class part of the city with the upper part where aristocrats used to live. The Royal Palace of Brussels can be found on top of the hill, whereas the Town Hall can be seen below.
At the bottom of the hill, you'll find the statue of Belgium's King Albert I and the landscaped Mont des Arts Garden . Another thing to look out for is the Carillon of Mont des Arts . It has 24 bells and an impressive star-shaped clock, but is a bit hidden out of sight and often overlooked by first-time visitors. However, it's also well worth seeing, so make a little effort to locate it. You can find it on the eastern side of the archway above the street of Mont des Arts.
Practical info: All these places are outdoors and can be seen at any time. Also, don't worry about the stairs – this is not a steep hill at all. Furthermore, if you don't want or can't do the stairs, you can just take the sidewalk of Mont des Arts Street that brings you to the top of the hill.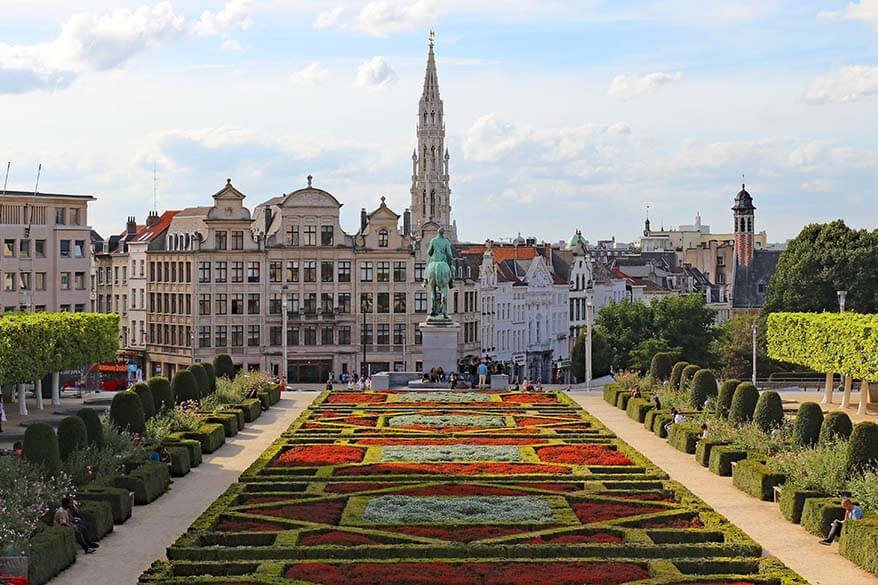 6. Musical Instruments Museum
Just at the top of the Mont des Arts, stands an impressive Art-Nouveau-style building that houses the Museum of Musical Instruments (MMI). This is one of the most beautiful examples of the Art Nouveau architecture that Brussels is famous for.
MMI has been established in 1877 and now has over 7000 musical instruments from all over the world and from many different periods. This is one of my personal favorite museums in Brussels.
Every visitor receives headphones that start to play the music of the instrument near you. This makes the visit even more special.
But even if you have no time to visit the museum inside, you really shouldn't miss this beautiful building. It's located on the popular tourist route anyway, so no need to make an extra effort or get out of your way for it.
Practical info: The museum is open daily except on Mondays and some public holidays. For more up-to-date information and opening times, please check the official website . This is one of the museums that's included with the Brussels Card .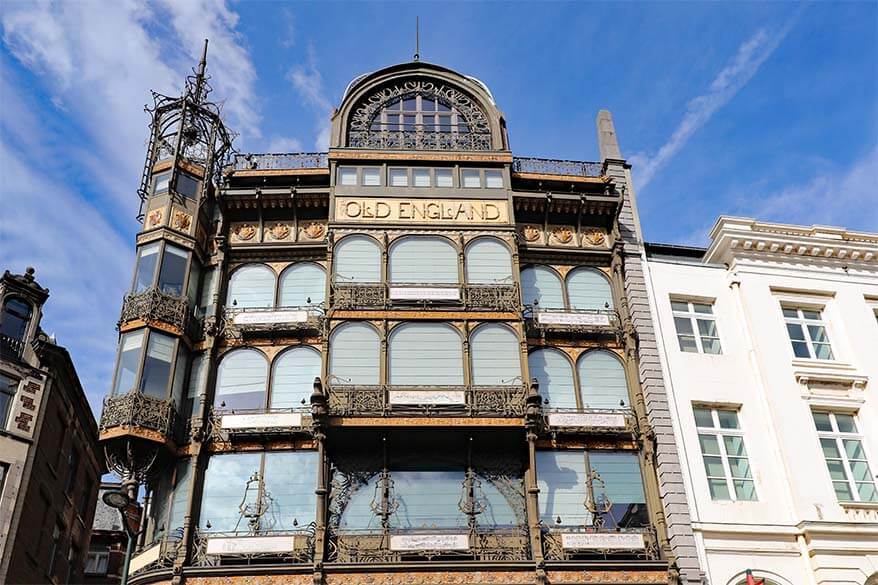 7. Royal Palace & Place Royale
Belgium is a monarchy and we have a beautiful Royal Palace right in the middle of Brussels. The Royal Family actually lives in another palace in Laken, on the outskirts of Brussels. The palace in the city center is where the Belgian King works. It's also used for various ceremonies, state dinners, and other official occasions.
Normally, you can only admire the palace from the outside. Nevertheless, it's worth passing by here because it's a truly impressive building. Also, you can't really miss the Place Royale Bruxelles , a big square with an equestrian statue of Godefroid de Bouillon in front of the Saint Jacques-sur-Coudenberg Church .
Good to know: The Royal Palace is only open for visitors for a brief period of time in the summer. It opens to the public after the 21 st of July (Belgian National Holiday) and stays open until the last week of August. You can visit every day except Monday and it's free of charge. If you happen to be in Brussels during this time, it's definitely worth a visit, but be prepared for the crowds.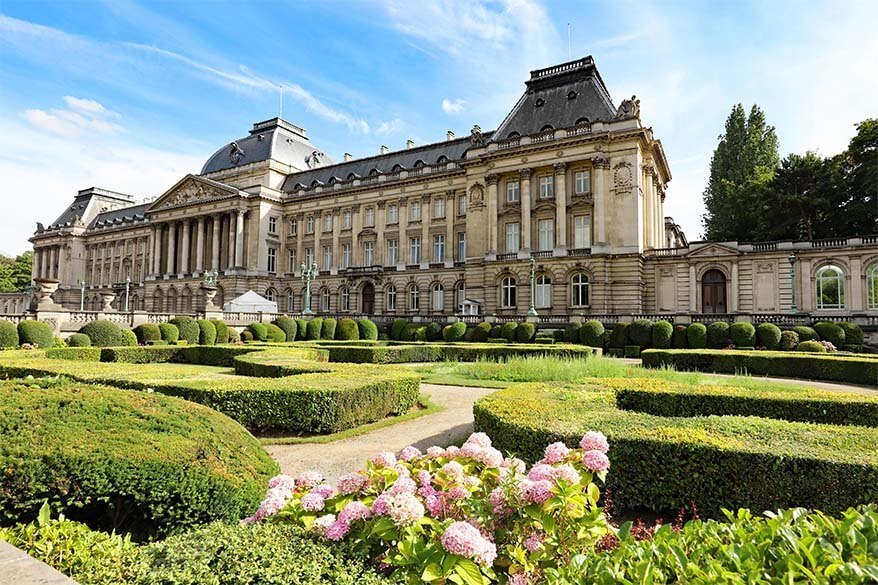 8. Brussels Park
Right in front of the Royal Palace, there is a nice small city park – Royal Park , also known as Brussels Park . Located on the former hunting grounds that in the past were reserved for the aristocracy, this public park was established in the 18th century.
Brussels Park is quite small and you can see everything in 15-30 minutes. It has several fountains and beautiful statues, and you can escape the hustle and the bustle of the city for a few moments here. There are also one or two cozy outdoor cafés in the park.
Practical info: The park is open daily, from 6 AM to 10 PM, and is free to enter. It's more lively in the afternoons and on the weekends.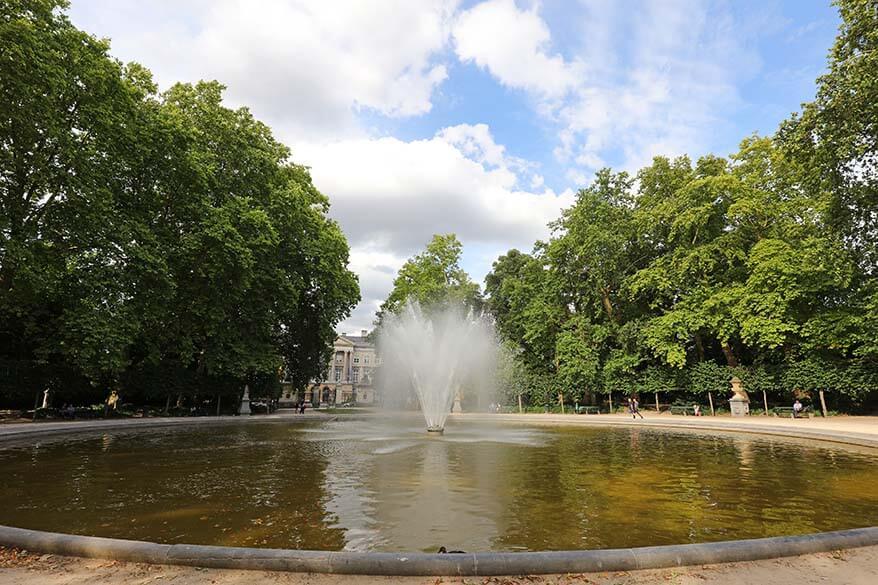 9. Petit Sablon Neighborhood
Just a short walk from the main tourist attractions, in the heart of Brussels, lies a very nice local neighborhood called Petit Sablon . It's an area where historic architecture and modern artsy lifestyle mingle to create a very unique atmosphere. This is one of the nicest, trendier, but also very local parts of Brussels.
Don't miss the Église Notre-Dame des Victoires au Sablon (Church of Our Lady of Victories at the Sablon). It's one of the most beautiful churches in Brussels! The little park at the Square du Petit Sablon , just opposite the street from the church, is also very nice. Don't miss it.
For the rest, just stroll through the neighborhood, following the information panels that indicate all the main sights. One of my favorite places here is the town square Place du Grand Sablon . It's lined with art galleries, trendy boutiques, artsy cafes, and luxury chocolatiers. On the weekends, this is where you'll find Brussel's most famous antique market.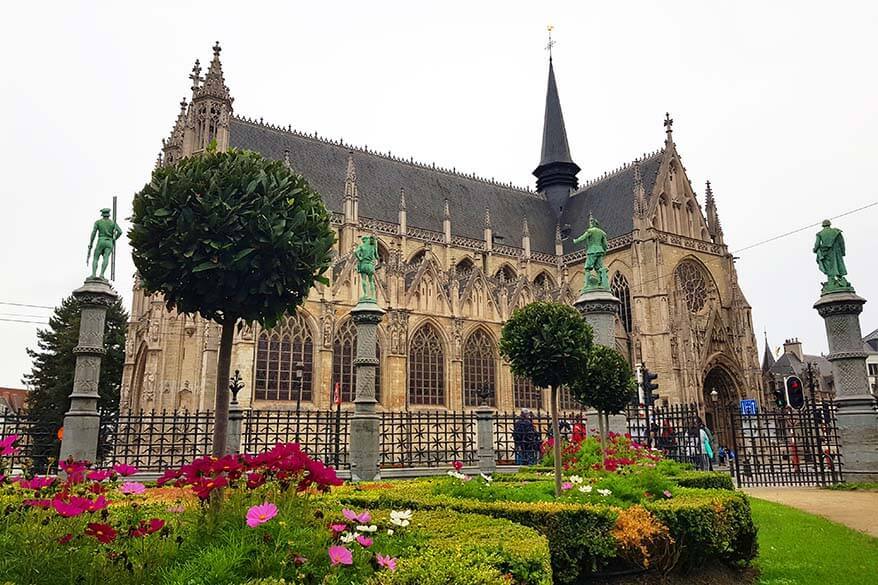 10. Rue des Bouchers
Probably the most famous restaurant street in Belgium, Rue des Bouchers is another top tourist attraction in Brussels. It's a colorful, lively pedestrian street, packed with bars and restaurants. Most of them offer all kinds of seafood, and you'll see impressive displays of shellfish on ice all over the place.
Most restaurants here are really oriented towards tourists, with pictures on the menu, food displays, and waiters trying to convince you to sit down at their restaurant. It will take some willpower to cross this street without actually sitting down for a meal. But it's also a very well-known place to see in Brussels, so even if you don't plan to eat here, you should definitely check this street out!
Good to know: Rue des Bouchers is a popular place to try the traditional Belgian 'moules-frites' (mussels and fries) . However, in general, you'll get better value for money in the more local restaurants. The best season for Belgian mussels is from the beginning of July to around mid-April.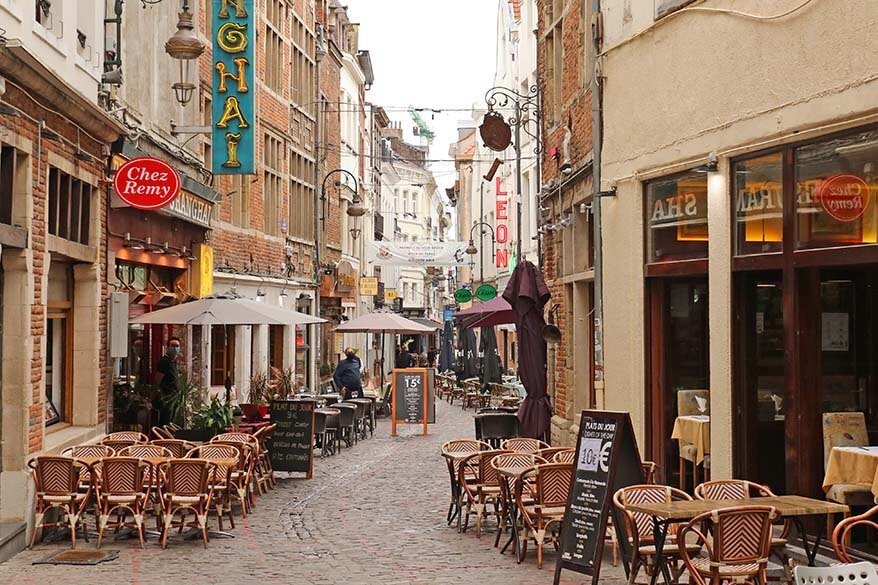 11. Place de la Bourse & Belgian Beer World
Place de la Bourse (Stock Exchange Square) is a town square in front of the old Brussels Stock Exchange building. It's a popular place for all kinds of events and also political demonstrations.
The Stock Exchange building itself doesn't really have an official name and is often simply called Palais de la Bourse (the Stock Exchange Palace).
This colossal 19th-century building has an impressive facade that makes you think of Greek temples. It's even guarded by lion statues on the sides. After year-long renovations, the building is now beautifully restored and is home to the newest attraction in Brussels – Belgian Beer World .
This is an interactive family-friendly exhibition that introduces you to Belgian beer culture. At the end of the visit, you get to sample some beer at the Sky Bar. The bar is located on a beautiful rooftop terrace and offers nice city views – another great reason to come here.
Practical information: Stock Exchange Square is located just near Grand Place, so it's really easy to include a visit here in any itinerary. If you want to visit Belgian Beer World, you can find more information and get tickets here .
Good to know: During the opening hours of the museum, you can only visit the rooftop terrace with a ticket. But in the evenings, when the museum is closed, you can go up to the Sky Bar for free.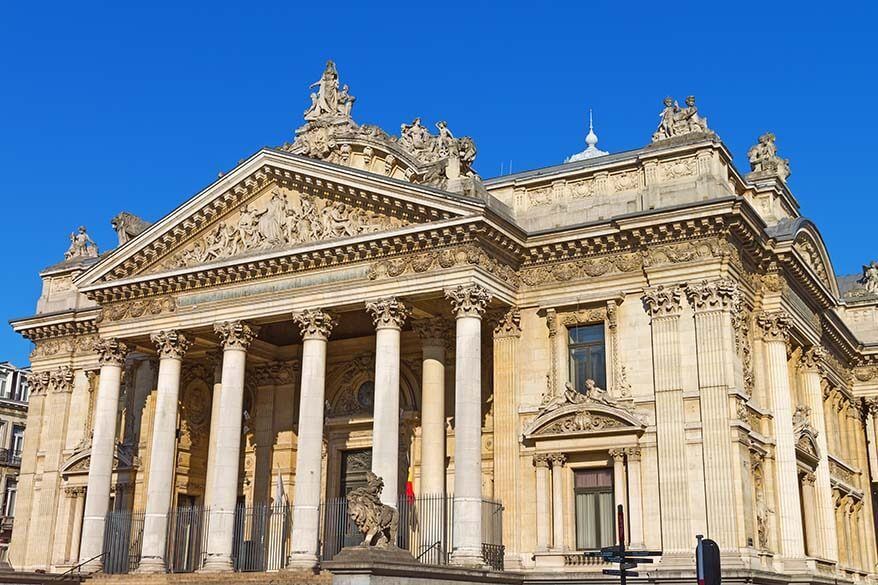 12. Saint Catherine & Fish Market
Another really nice and more local area to see in the Brussels city center is the Saint Catherine neighborhood . It's concentrated around the Saint Catherine Church and several town squares. The best-known square is Marché aux Poissons (Fish Market), where the old Brussels port used to be.
There is no actual fish market here. However, this part of Brussels is also a good place for (sea)food lovers and you'll find many restaurants and cafes lining the streets. If locals go for seafood in Brussels, they'll likely come here and not to Rue des Bouchers. Prices tend to be higher here as well, but you also can expect better quality.
In winter, this is one of the places where the Brussels Christmas market takes place. And in summer, you'll find a lively area with outdoor restaurant terraces and a very pleasant vibe.
TIP: Don't miss the Tour Noire (the Black Tower), a restored medieval tower surrounded by modern buildings.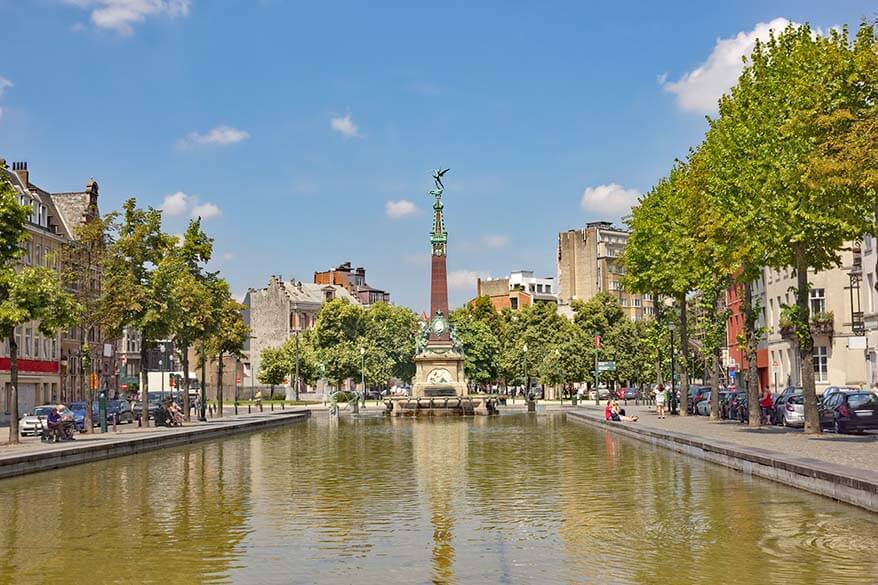 13. Atomium
While most of the main Brussels tourist attractions mentioned above can be found in the city center, the most remarkable landmark of Brussels – the Atomium – requires a separate visit. It's located on the western side of Brussels and can be reached by metro or with a hop-on hop-off bus (more info on the bus below).
The Atomium was built in 1958 as the flagship building of the Brussels World's Fair, Expo 58. The nine spheres represent an iron crystal (magnified 165 billion times) and it was supposed to be torn down soon after the event, but it quickly became an unmistakable symbol of Brussels. It has recently been renovated, looks more impressive than ever before, and nobody can imagine the city without the Atomium anymore.
At the moment, Atomium is one of the most visited tourist attractions in Brussels. It's impressive both, from the outside and well as on the inside. Inside, you'll find is a museum, a panoramic restaurant, and a magnificent 360° panorama with unparalleled views over Brussels and its surroundings.
Practical info: You can see the Atomium from the outside at any time and it's beautifully lit at night. For visits inside, see practical info and get your tickets here .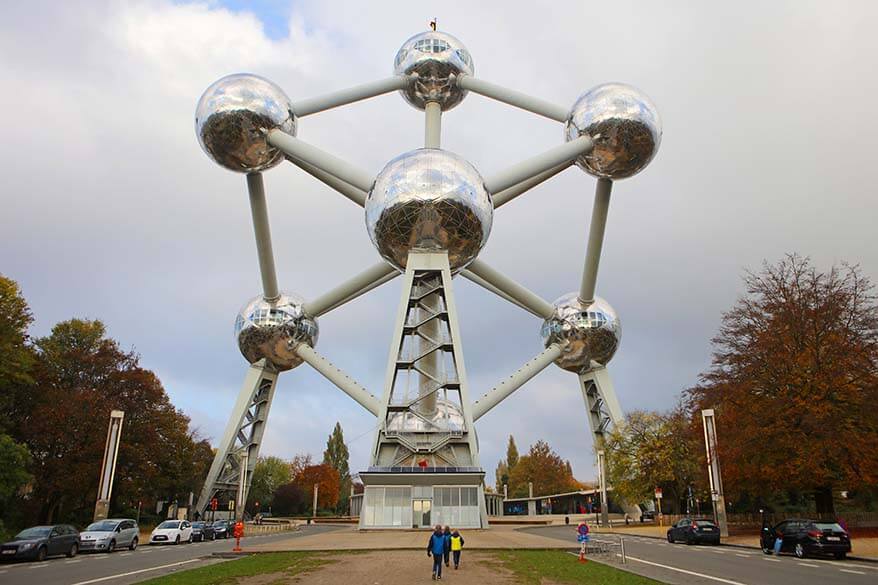 14. Mini-Europe
If you already make it all the way to the Atomium, then definitely visit the adjacent Mini-Europe as well. Here, you'll find miniature buildings and landmarks from all over Europe, scaled to the size of 1:25.
It's a fun way to discover the main landmarks from various European countries and maybe even find some travel inspiration for future trips. And if you ever wanted to take some fun pictures with the mini versions of the Eiffel Tower or Big Ben, this is your chance!
Mini-Europe is great for all ages. It's fun for families visiting Brussels with kids, but it's definitely not only for kids.
Practical info: Mini-Europe is an outdoor attraction, but is open daily, all year round, and is just one of the many places you can also visit in Belgium in winter . See here for more info and tickets.
TIP: If you are planning to visit both, Atomium and Mini-Europe, you can get a combi-ticket that saves a few euros.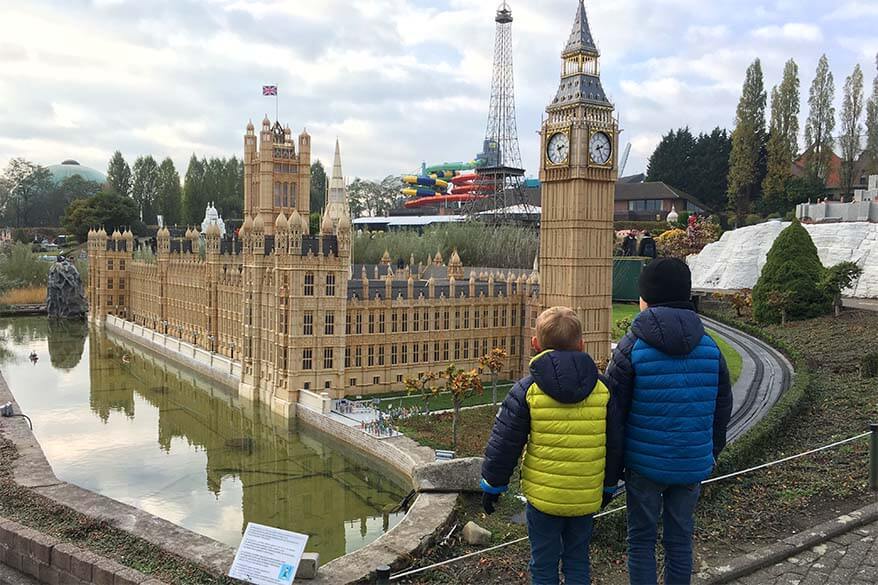 15. European Quarter
Brussels is the capital of Europe and there are many EU institutions in the city. Most of them are concentrated around Place Schuman, Place du Luxembourg, Place Jourdan, and Place Jean Rey. All these places are a few metro stops from the old town.
If you want to get to know more about the EU, then it might be interesting to visit the European Parliament in Brussels. There are several unique experiences that you can choose from, and it's also free of charge. You should book in advance.
Practical info: You can see all the buildings from the outside at any time. For more information for a visit inside, please check the official website of the European Parliament in Brussels.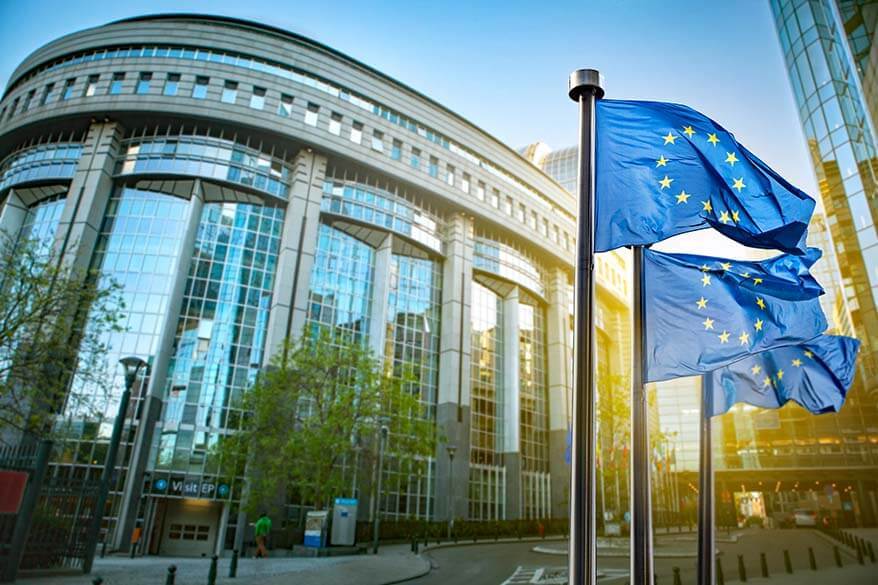 16. Cinquantenaire Park
Located outside the city center, a short walk from the EU Quarter, the Parc du Cinquantenaire (Park of the 50th anniversary of Belgian independence). This is one of the biggest and most famous parks of Brussels. It has nice lawns, flower displays, fountains, playgrounds, a huge triumphal arch in the middle, and several big museums.
The Royal Museum of the Armed Forces and Military History is a nice place to see all kinds of military equipment, armory, but also tanks, and even aircraft. More info .
Autoworld is a car museum, with a big collection of vintage vehicles. This is one of the best museums to visit in Brussels with children and it's not just for boys. More info .
The Art & History Museum has an impressive collection of works of art dating from various periods of time, from Ancient Egypt and the Roman Empire to the Renaissance, and more. More info .
Most tourists who come to Brussels just for a day don't get to this part of the city. But if you take a hop-on hop-off bus (more info below), you'll definitely pass here. If you have more time, take a stroll through the park and visit one of the museums.
Practical information: You'll need at least 30-45 min for Autoworld or for the Royal Museum of the Armed Forces. The Art & History Museum requires at least 2 hours of your time. For more information and opening times, please check their websites linked above.
TIP: All these museums are included with the Brussels Card .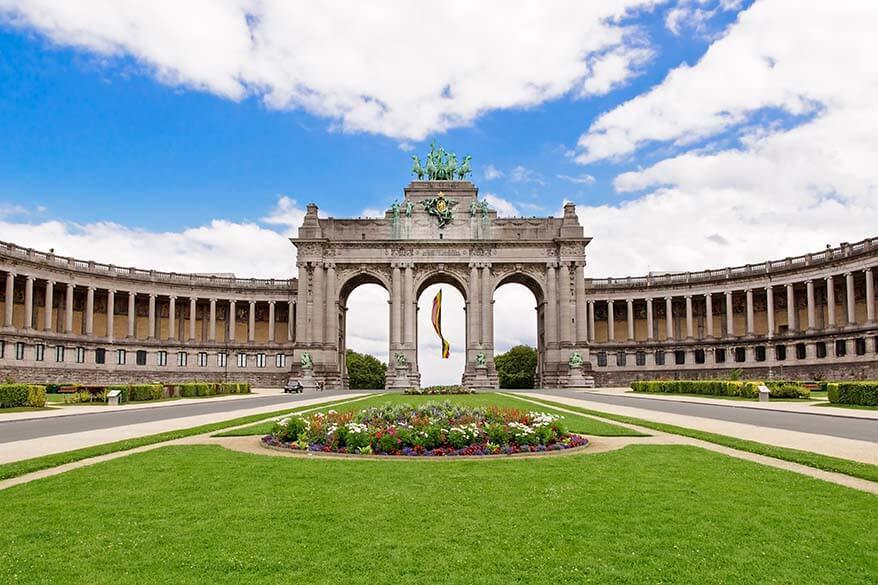 17. Hop-on Hop-off Bus
If you want to see a lot of Brussels in a short time, then consider taking a hop-on hop-off bus . It's especially convenient if you are planning to visit the attractions located a bit outside the city center. For the Atomium, Mini Europe, but also the EU buildings or Cinquantenaire Park, the hop-on hop-off bus is the best way to easily get there.
There are two routes and your ticket covers both of them. For the western side of the city including Atomium, take the Blue Route (aka Atomium Route). For the easter side, including the European quarter and Cinquantenaire Park, take the Red Route (aka Europe Route).
The advantage of taking the sightseeing bus is that it also passes the Royal Palace in Laken, the National Basilica of the Sacred Heart in Koekelberg, the Japanese Tower at the Royal Greenhouses of Laeken, and several other interesting Brussels landmarks. You also get to see some colorful neighborhoods of Brussels that you'd totally miss otherwise.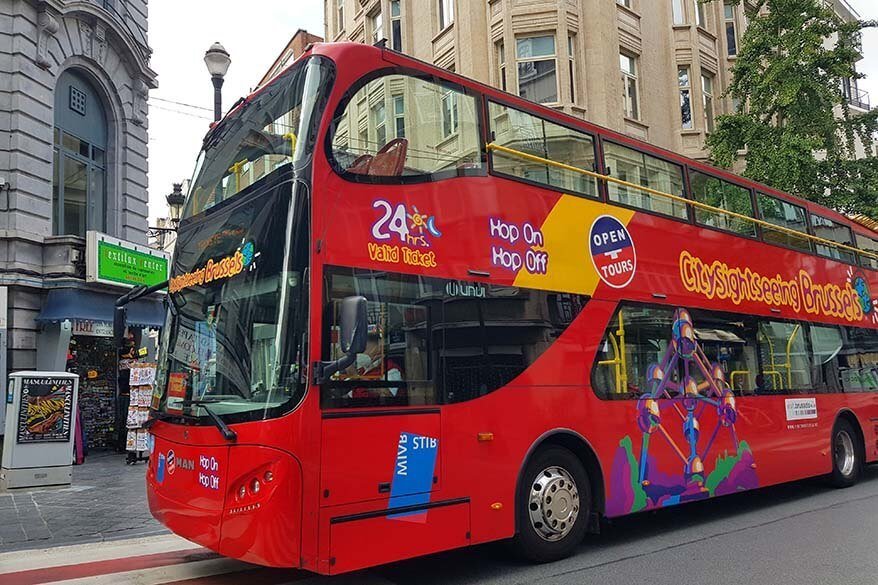 18. Brussels Museums
Brussels has many museums and, depending on your interests and the time you have, you could consider visiting a few of them. However, with so many choices, it can be really overwhelming to decide where to go. So here are a few more suggestions, in addition to the ones already mentioned above. (You can also find these on our map of Brussels attractions).
In the heart of Brussels and just near the Musical Instruments Museum, you'll find the Royal Museums of Fine Arts of Belgium . This is a complex of two museums – the Old Masters Museum and the Magritte Museum . You can visit one or both of them (combination tickets are available). The building is so large that you can spend a big part of the day here. More info here . If you have time for just one museum in Brussels, make it the Magritte Museum !
For nature, history, and dinosaurs, head to the Museum of Natural Sciences . The museum houses the largest Dinosaur Gallery in Europe and is a favorite among kids. However, it's located somewhat far away from all the attractions in the city center. So you really have to make an effort in order to visit. More info here .
Brussels City Museum , located at the Grand Place town square, is dedicated to the city of Brussels. This museum is a great place to learn about Brussels and its history from the Middle Ages to modern times. More info here .
Other Brussels museums that are also worth considering are Comics Art Museum, Train World , BOZAR, and Choco-Story Brussels . But even if you'd somehow manage to visit all of these, you'll just scratch the surface of all that there's to see in Brussels.
TIP: If you are a museum fan and plan to visit several of Brussels museums in one trip, then definitely get Brussels Card . It will save you a lot of money.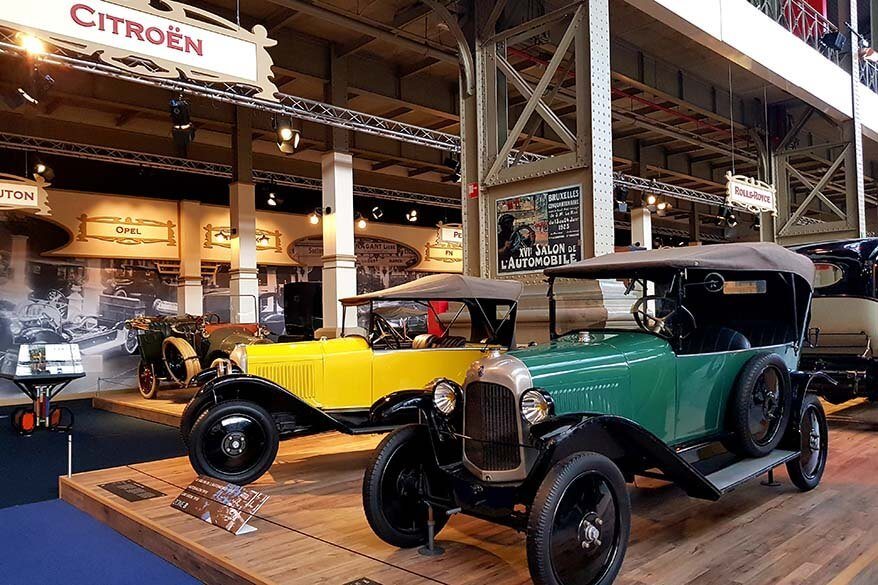 Now that we covered all the best places to see in Brussels, here are some additional experiences that you don't want to miss. Ok, you can skip the shopping but definitely don't skip all the food and drinks that Belgium is famous for. Take a look at our suggestions with some insider tips!
19. Shopping at Rue Neuve or Avenue Louise
In addition to all the tourist sights and attractions, many people come to Brussels for shopping. It's a great place for that indeed, with countless options and plenty of choices for all styles and budgets.
The busiest place in Brussels, Rue Neuve is the main shopping street of the city. It's lined with big chain stores and looks and feels like any other big shopping area in the world. But if you'd like to do some shopping, this is the place to be.
For a more high-end shopping experience, head to Avenue Louise on the other side of the city center. Here, you'll find expensive designer boutiques, with names as Louis Vuitton, Tiffany & co, Michael Kors, and similar.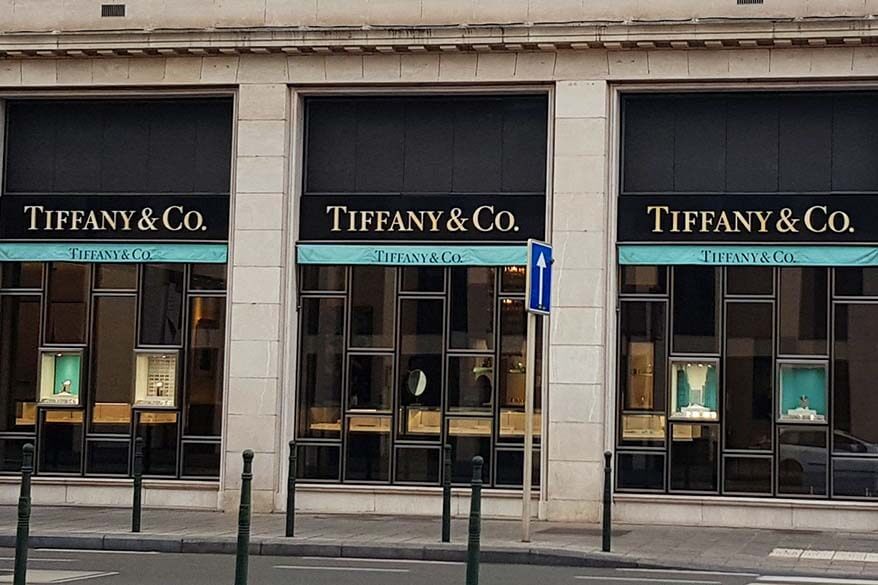 20. Belgian Chocolate
No trip to Brussels would be complete without tasting some really good Belgian chocolate . There are probably hundreds of shops selling chocolate in the center of Brussels. And you can also visit Choco-Story Brussels , where you can learn more about Belgian chocolate and taste some of it.
TIP: If you are looking to taste some truly good Belgian chocolate, I recommend checking out the shops of traditional Belgian chocolate brands such as Neuhaus , Godiva , Leonidas , or Pierre Marcolini .
The traditional Belgian chocolate brands such as Neuhaus (est. 1857), Leonidas (est. 1913), and Godiva (est. 1926) have a long history, whereas Pierre Marcolini is the newcomer that opened his first shop at the end of the 20 th century.
Leonidas offers some of the best price-quality Belgian chocolates. Godiva and Neuhaus are somewhat more expensive and some of their chocolates require an acquired taste that not everybody will appreciate.
The chocolates of Pierre Marcolini are more contemporary and often quite daring. They come with a high price tag as well. But if you want to taste some of the best chocolate in the world, then definitely stop by one of their shops in Brussels.
Our personal favorite Belgian chocolate is the white 'Manon' praline from Leonidas . These pralines have coffee-flavored buttercream in a shell of white chocolate, with hazelnut in the middle. You can find them without hazelnut, with milk chocolate or dark chocolate as well, but definitely try the original one too! They were invented back in 1934, but are just as popular nowadays as they were almost a hundred years ago.
Our kids' favorites are the Côte d'Or Praliné chocolates that come in many different varieties. You'll find them in all Belgian supermarkets. They are much better and much cheaper than the chocolates sold in tourist stores.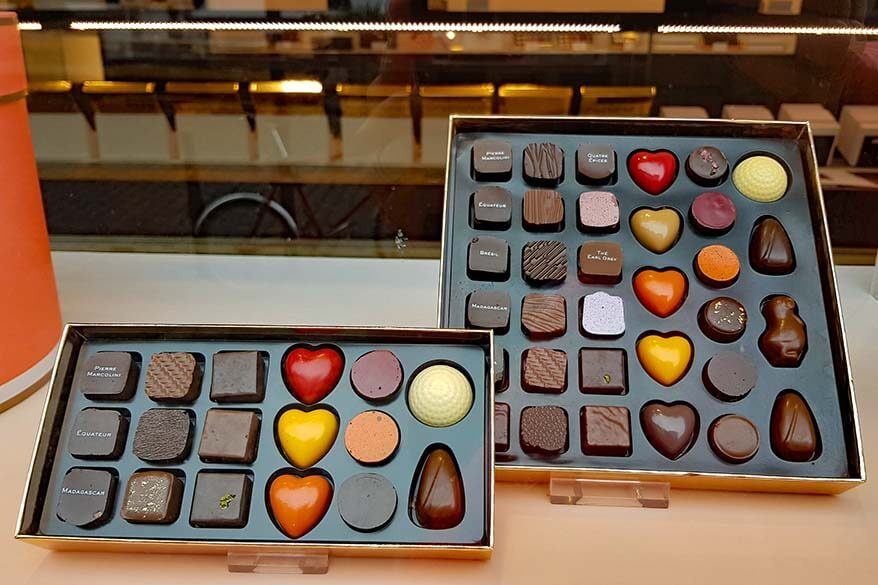 21. Belgian Waffles
It's impossible to not mention Belgian waffles when writing about any major city in Belgium. You'll see and smell the waffles in all the tourist areas in Brussels. And they're so hard to resist.
There are so many different types of Belgian waffles, but the tourist places usually all sell just one or two kinds – the Brussels waffles and the Liege waffles . Usually the latter. The Brussels waffles are somewhat bigger, more 'airy', and not as sweet. They are rectangular in shape. Whereas the Liege waffles are quite thick and heavy, and they also contain more sugar. They are also somewhat more rounded than the Brussels waffles.
In addition, you can choose extra toppings that vary from whipped cream and chocolate to fresh strawberries and many others. If you dare, try a few toppings at once. Just keep in mind that you'll have to try to eat it all while standing in the busy street, with hundreds of people walking by. This is the reason why we usually simply opt for a plain waffle when buying Belgian waffles from the street shops.
Still, the best traditional waffles are the ones you'll find at these street stands and not at restaurants. Definitely give it a try!
TIP: If you have a few hours to spare, you can also check out this waffle-making workshop . It's something fun to do in Brussels that you won't find in many other places.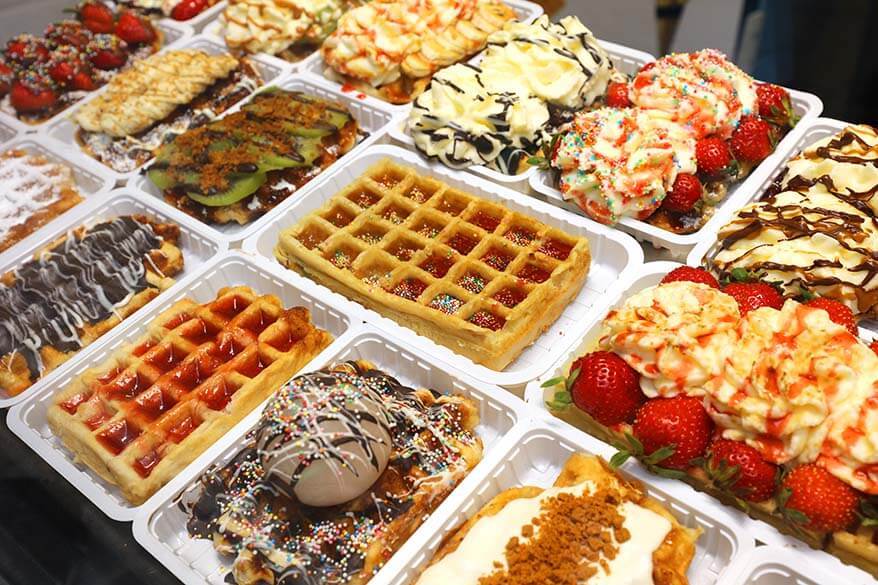 22. Belgian Beer
One of the best things to do in Brussels is go bar-hopping and try different Belgian beers in various pubs and cafes. There are many tourist-oriented places, but for a more authentic experience, look for older, traditional pubs and cafes.
Some of them have hundreds of different Belgian beers , many on tap, and always with their own matching glasses (see more about this in our guide to fun facts about Belgium ).
Here are just a few of the best beer cafes in Brussels (we also indicated them on the map): Delirium Café , Moeder Lambic , Café Mort Subite , Bier Circus , etc.
Don't settle for the typical mass-production Belgian beer that you find all over the world. Make sure to ask for some local suggestions and try something that you can only find in Belgium!
Good to know: Some Belgian beers are very strong, so be careful if trying more than one or two of them on the same evening. On the other hand, there are also very light, fruity beers, that you will enjoy even if you are not a big fan of beer, like me.
Local's recommendation: My husband's favorite Belgian beers are the Trappist beers: Westmalle , Westvleteren , Orval , Rochefort , Achel , Chimay , and La Trappe . In Brussels, Lambic , Geuze , Mort Subite , La Chouffe , or Rodenbach are just a few popular choices.
TIP: If you want to taste various Belgian beers, but are not sure where to start or what to choose, check out this popular pub crawl or – if you are in the mood for more – this highly-rated tour that includes 7 beers and snacks .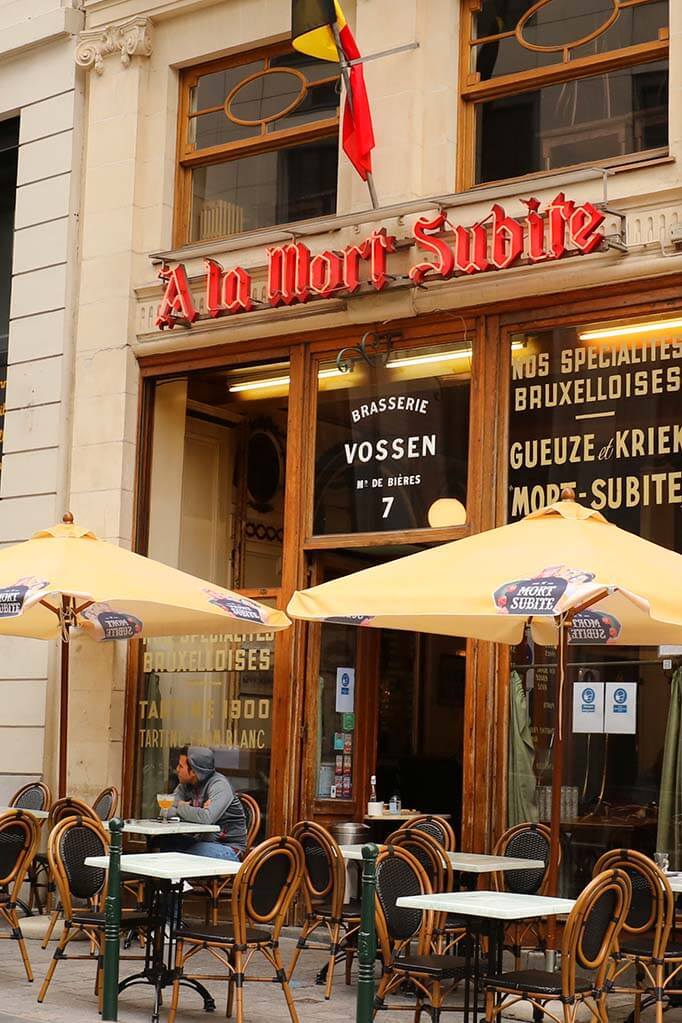 23. Belgian Fries with Mayo
No visit to Belgium would be complete without trying some typical Belgian fries with mayo (and no, it's nothing like fries or mayo that you'll find anywhere else in the world). And while you can find good fries in the restaurants as well, the best ones come from the street stands called ' friterie ' or ' fritkot' .
For a couple of euros, you can have a delicious and quick meal. It's perfect when you don't want to sit down for a long meal during the day and rather spend your time sightseeing.
And yes, it's not the healthiest option, but with all the chocolate, waffles, and beer, you'll likely need to loosen your belt in Brussels anyway. So why not go for a full experience and try it all!
TIP: The most popular place to taste traditional Belgian fries in the center of Brussels is the friterie called Fritland , located on the western side of the Stock Exchange building. No matter what time of the day, there's always a queue here, you can't miss it. Another good place is Friterie Tabora , very close by to the Grand Place as well. I indicated both of these on our map, but there are many, many more good places throughout the city.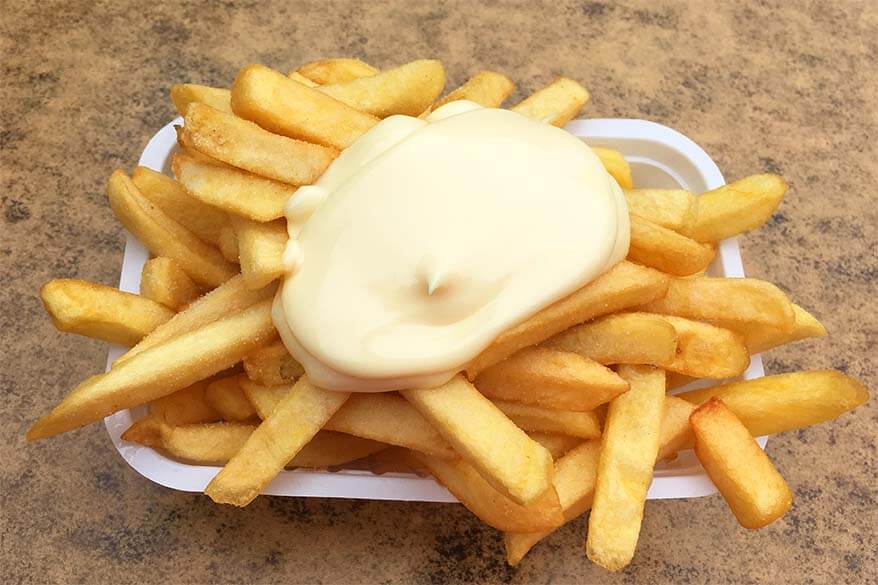 Where to Stay
There are so many nice hotels in various areas of Brussels that it's really difficult to recommend just a few accommodations. For sightseeing, we recommend staying in the city center, close to Grand Place – this area really has it all and is also easy to access by public transport.
Here are some of the best hotels in the heart of the city center, close to Grand Place, for all budgets:
€€€€€ Rocco Forte Hotel Amigo .
€€€€ Warwick Grand Place .
€€€ NH Collection Brussels Centre .
€€ Motel One Brussels .
READ ALSO: Where to Stay in Brussels (best areas & hotels for all budgets) & Most Popular Brussels Hotels (top 10 most-booked hotels in the city center)
So, this is our guide to the top things to do in Brussels and the main tourist attractions that you shouldn't miss when visiting the Belgian capital. I hope that this will help you make the most of your visit and get to know Brussels a bit better.
If you are visiting other Belgian cities as well, make sure to also check our guide to the best things to do in Bruges and also the best things to do in Antwerp (+ don't miss our favorite local places in Antwerp ).
TIP: If you are looking for ideas on how to plan your trip, see our suggested Belgium itinerary for 3-4 days . It also includes tips for where to stay and how to get around. Check it out!
Have a great trip to Brussels!
If you found this post useful, don't forget to bookmark it and share it with your friends. Are you on Pinterest? Pin these images!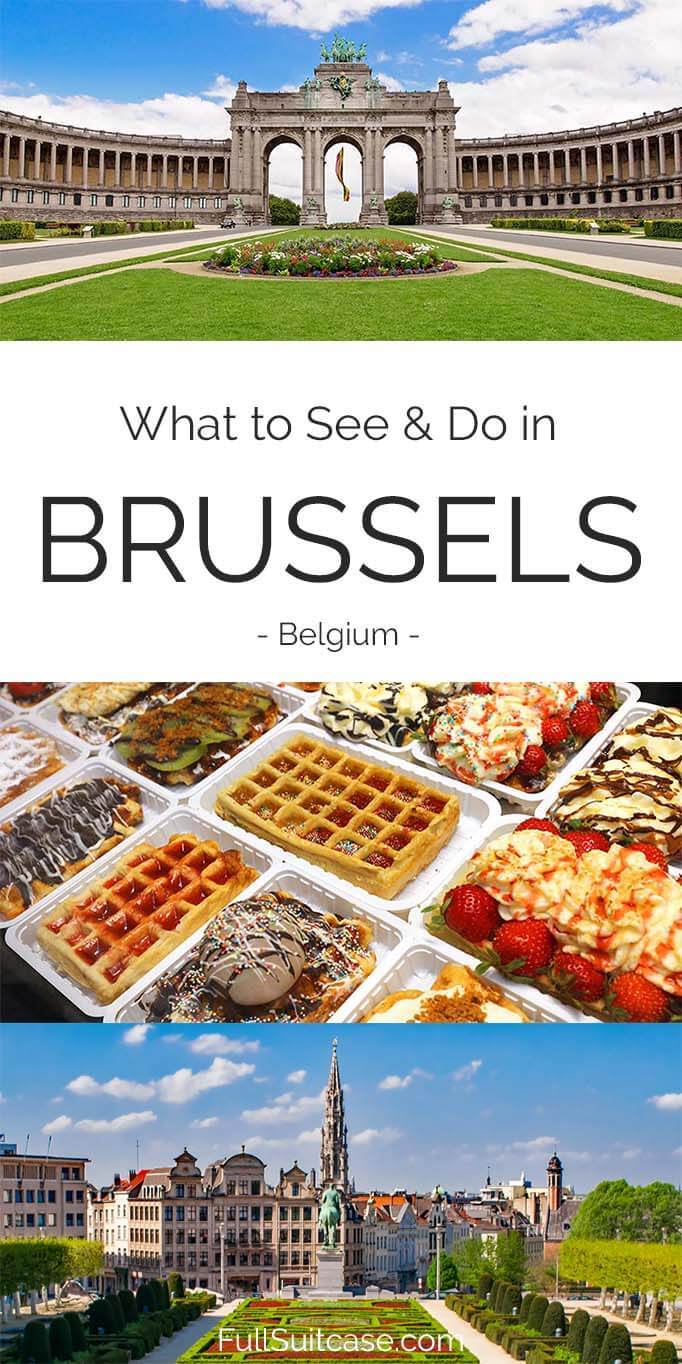 More travel inspiration for some of the most beautiful cities all over Europe:
Best Things to Do in Amsterdam
Best Things to Do in Barcelona
Best Things to Do in Rome
Best Things to Do in Venice
Best Things to Do in Florence
Best Things to Do in London
Best Things to Do in Edinburgh
Best Things to Do in Liverpool
Best Things to Do in Manchester
Best Things to Do in Milan
Best Things to Do in Krakow
Best Things to Do in Lisbon
Best Things to Do in Geneva
Best Things to Do in Lucerne
Best Things to Do in Bern
Best Things to Do in Colmar
Best Things to Do in Salzburg
Best Things to Do in Reykjavik
This site uses Akismet to reduce spam. Learn how your comment data is processed .
R. Robinson
Monday 18th of September 2023
Your travel guides are amazingly helpful! Thank you very much. I used the Iceland guide in June and currently in Brussels.
Thursday 21st of September 2023
Glad to help. Hope you enjoyed Belgium!
Colin Peart
Tuesday 15th of February 2022
Thanks for the great tips. The best blog I've found for Brüssels.
Wednesday 16th of February 2022
Glad to help, Colin. Have a great time in Brussels! (and don't forget that there's more to Belgium than its capital ;))
How it works
Become a Host
Download the app
Top Destinations
United States
United Kingdom
What type of experience are you looking for?
Non-Profit School
Permaculture project
Eco Village
Holistic Center
Guest House
How Worldpackers works
Learn from the most experienced travelers of the community
Traveling with worldpackers, planning and budgeting for travel, make a living while traveling as a lifestyle, travel with worldpackers.
Using Worldpackers
Work exchange
Social impact
Plan your trip
Women traveling
Budget travel
Solo travel
Language learning
Travel tips
Get inspired
Digital nomads
Travel jobs
Personal development
Responsible travel
Connect with nature
Top destinations
South America
Central America
North America
More destinations
WP Life WP Life
Exclusive discounts Discounts
Europe travel guides
15 best places to visit in Brussels
No trip to western Europe would be complete without visiting Brussels, Belgium's capital city. Read on to discover all the best places to visit in Brussels, as well as practical travel advice for exploring Belgium on a budget.
Gabrielle Budget Travel With Gabby
Sep 10, 2021
Belgium is a small but powerful country. Belgium has played a significant role in European and world history, and it is the current headquarters for the European Union.
It is also an amazing tourist destination. Because it is a small country, it is located only a few hours away from the Netherlands, France, Luxembourg, Germany, and the United Kingdom. You can easily fit Belgium into a tour around Europe .
No trip to Belgium would be complete without visiting Brussels, the capital city. Brussels is a charming city with a lot of history and a lot of fun things to do. The city is relatively small, so it makes a great weekend trip from other nearby European countries.
In addition to the incredible landmarks, monuments, museums, and parks, Brussels is a gastronomic superstar. From the crispy fries served in paper cones, to the loaded Belgian waffles, to the world-famous Belgian beer, there is no shortage of comfort foods to try in Brussels.
In this article, I'll list all the best places to visit in Brussels as well as some other useful travel tips. I'll touch upon general knowledge of Belgium , the best places to visit in Brussels , what to eat and drink in Brussels , the best time to visit , how to get around the city , and helpful safety tips .
I'll also highlight a few Worldpackers work exchanges in Brussels and around Belgium , so travelers who want a deeper cultural experience can volunteer if they want to.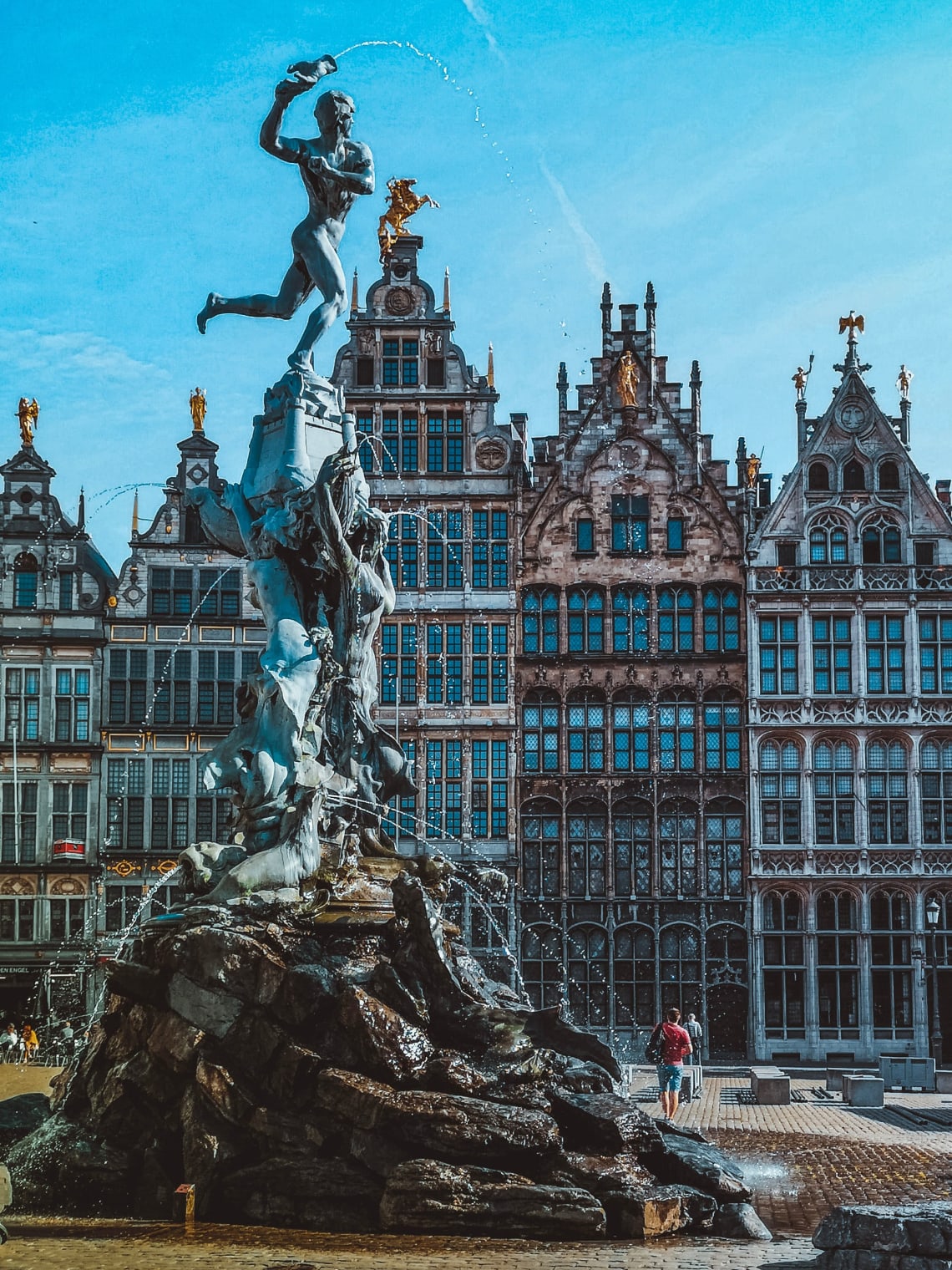 General knowledge of Belgium
Language : French, Flemish
Currency : Euro (€)
Population : 11.4 million (The population of Brussels is 174,383)
Religion : The main religion is Christianity, with Roman Catholicism being the most popular denomination.
Visas : People from most nationalities do not need a visa for a stay of less than 90 days.
Political significance : Headquarters for the European Union
Best places to visit in Brussels
Brussels has lots of amazing tourist attractions that are affordable, if not free. Here are all the best places to visit in Brussels , most of which are located in the city center and are very accessible for travelers.
1. The Grand Place
2. the museum of musical instruments, 4. the museum of cocoa and chocolate.
5. Place du Jeu de Balle Market
6. Manneken Pis
7. Bois de la Cambre Park
8. The Gothic Cathedral of St. Michael and St. Gudula
9. Galeries Royales Saint-Hubert
10. Cinquantenaire Park
11. The Royal Palace of Brussels and Brussels Park
12. Train World and Schaerbeek Station
13. Winter Wonders
14. The European District
15. Mont des Arts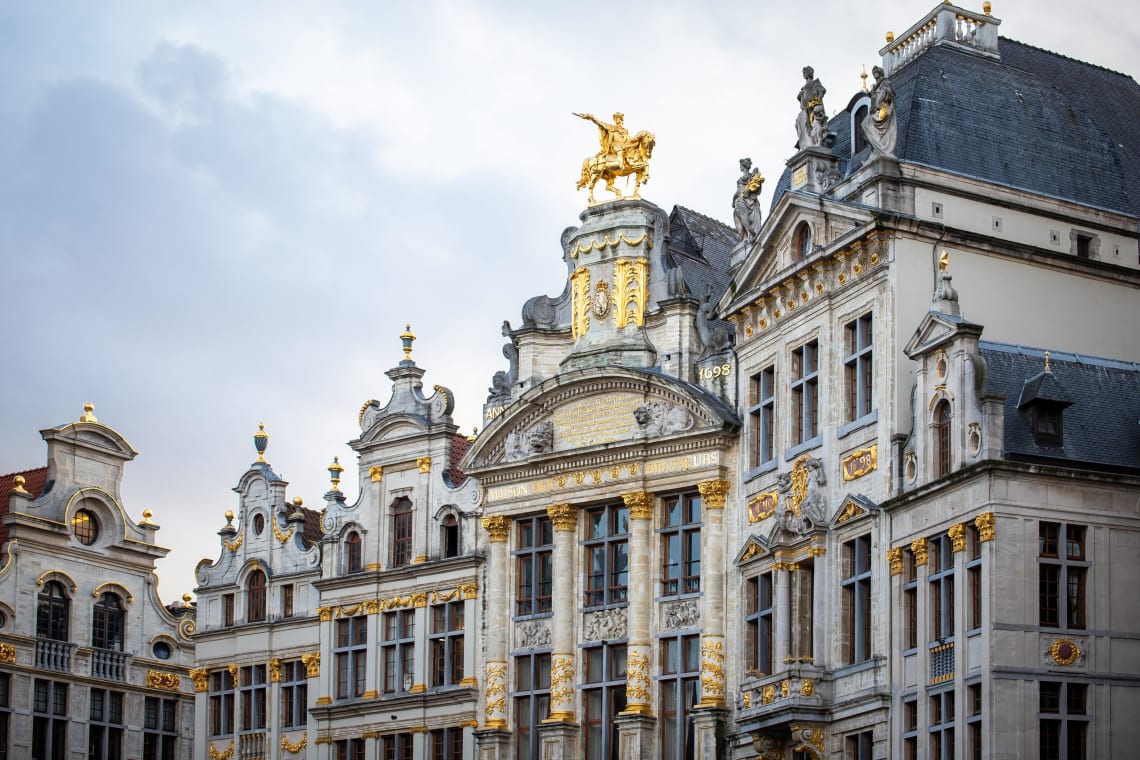 The Grand Place is the main square of Brussels , and it is easily one of the city's best attractions.
Quaint cobblestones fill the ground and incredible gold-trimmed buildings surround the square. The most famous building in the Grand Place is the magnificent Town Hall that was built in the early 15th Century.
The architecture and historical significance of the Grand Place is very impressive, and the spot has been named a UNESCO World Heritage Site .
This is one of the best places to visit in Brussels for free , and also one of the best places to visit in Brussels during Christmas because the square fills up with charming markets. Even outside the Christmas Season, sometimes you can find a little flower market in the Grand Place on weekends.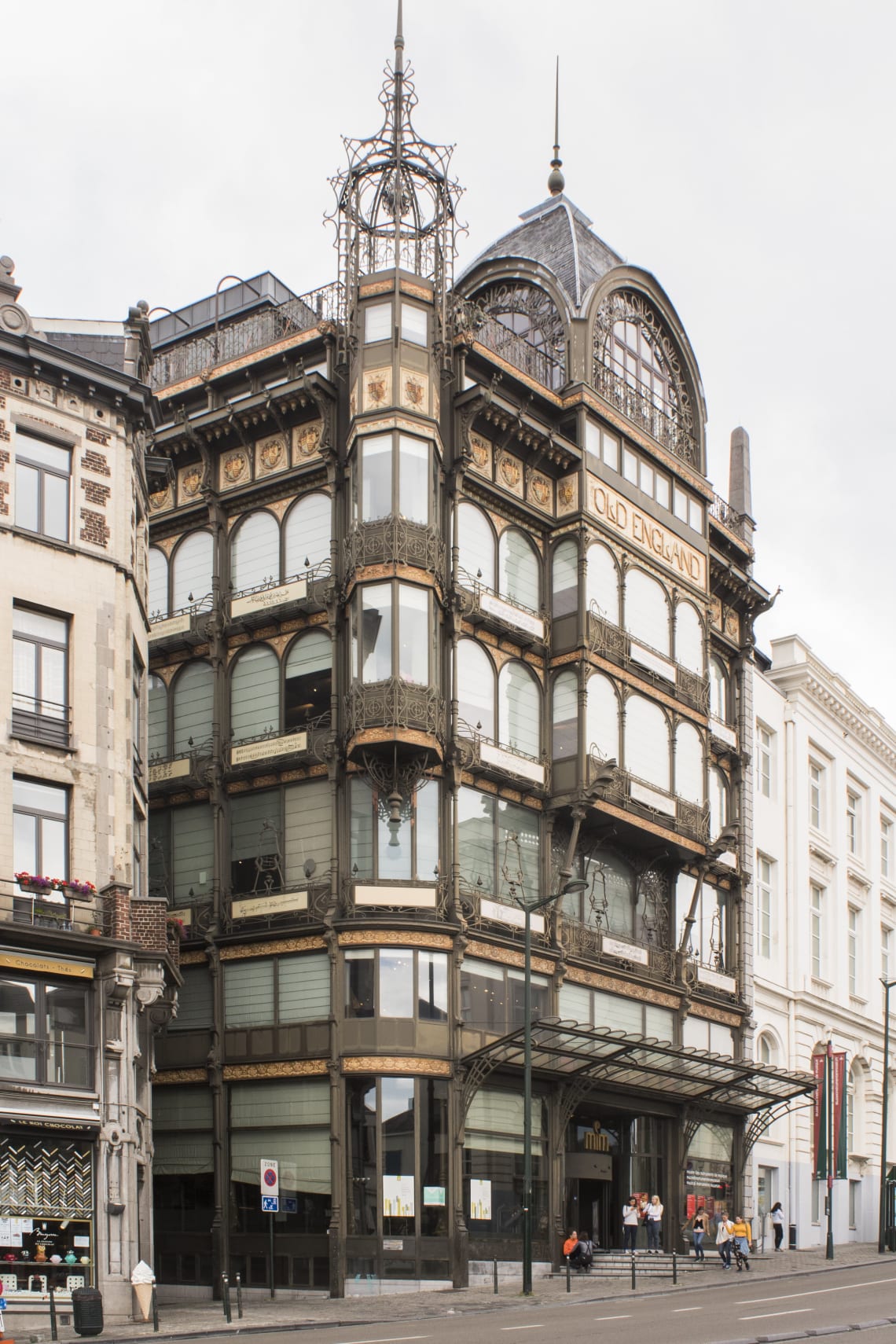 For a small fee of €6, you can enter the Museum of Musical Instruments and embark on a journey through time. The museum displays instruments from lots of different periods in history, some of them small and simple, some of them massive and magnificent.
There are over 7,000 instruments to view, and you'll get a headset that plays the instrument for you when you stand in front of it. This is super cool because you'll be staring at a weird instrument from the middle ages, having no clue what it sounds like, and then your headphones will actually play the music for you so you can understand the instrument better.
On the tenth floor of the museum, you can witness an amazing view of the city. The museum is open on Tuesdays through Fridays from 9:30 am to 5 pm, and Saturdays and Sundays from 10 am to 5 pm.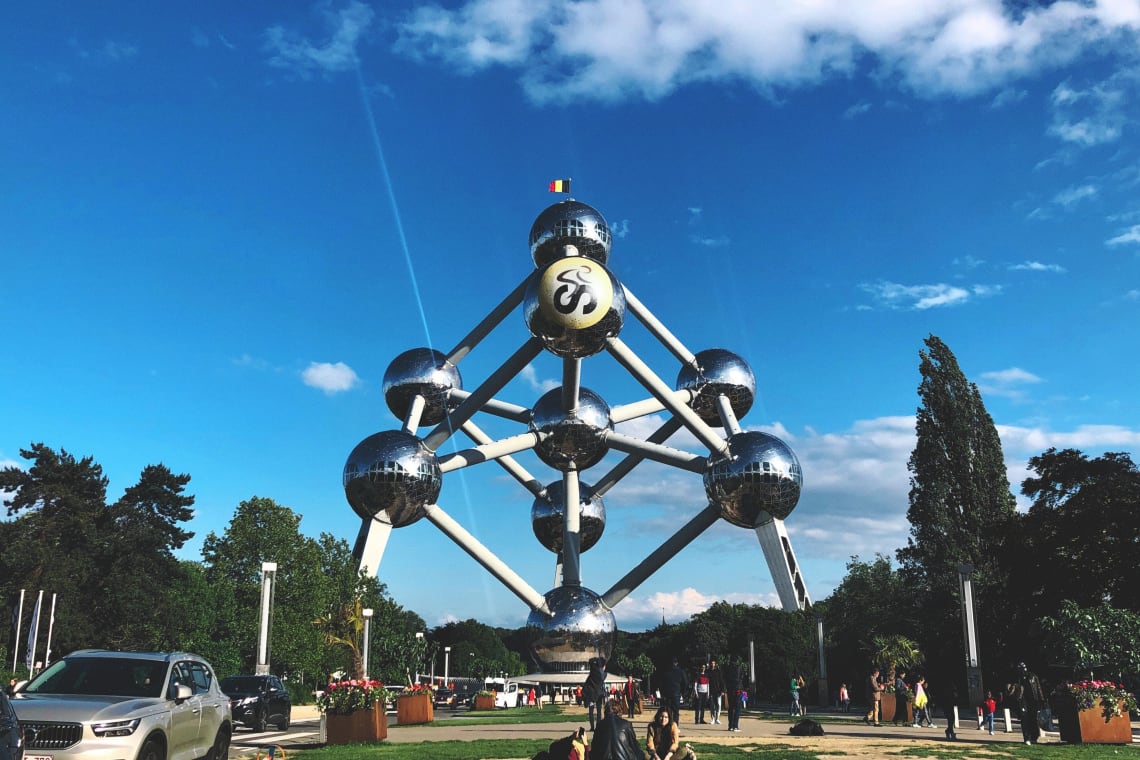 Originally created for the Brussels World's Fair in 1958, Atomium is now a significant landmark and museum of the city. The massive iron spheres are meant to show the composition of an iron crystal, and the whole structure stands at 102 meters tall.
Designed by engineer André Waterkeyn, the landmark symbolizes the importance of science. To enter Atomium, it costs €12 and you can visit all but three of the spheres. Inside is an exhibition that changes from year to year.
The top sphere has a nice restaurant, aunt here are also event spaces inside for various happenings in Brussels. Atomium is open every day from 10 am to 6 pm.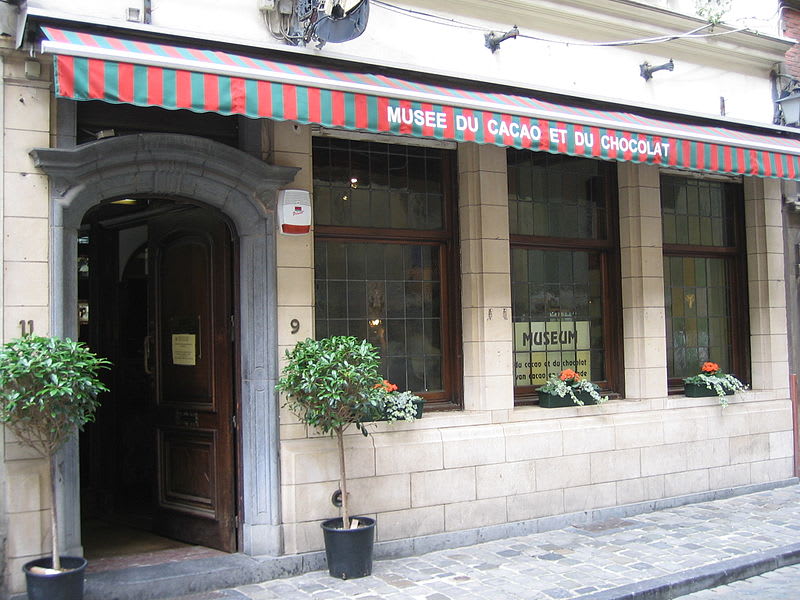 Locally known as the Le Musée du Cacao et du Chocolat , the Chocolate Museum is an amazing place to visit if you're a chocoholic or just a food lover in general.
Belgian chocolate is world-famous, so why not learn a bit more about how the heavenly treat is made?
The Museum of Cocoa and Chocolate has a lot of interesting chocolate sculptures and informative exhibits, as well as lots of free samples and a spinning wheel pouring out melted chocolate for dipping. You can also watch a demonstration to see exactly what the chocolate making process is like.
The museum is open every day from 10 am to 5 pm, and the entry fee is €6.
5. Place du Jeu de Balle Market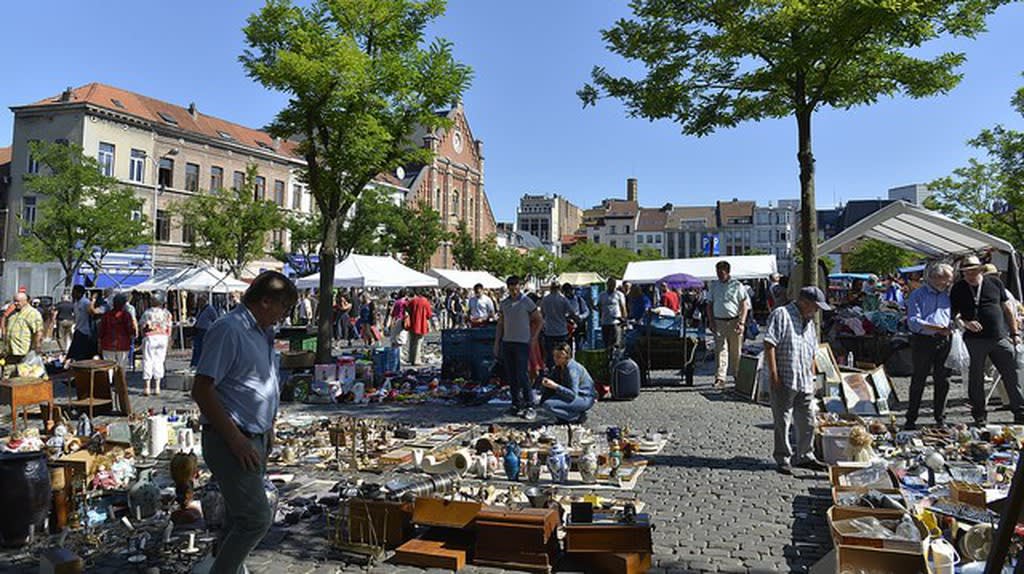 This outdoor flea market is also known as the "Old Market" to locals, maybe because the market has been running since 1873. This is one of the most-visited markets in Brussels , and it is open every single day.
The flea market is massive, and you can find everything here from vintage clothes, shoes and accessories, to books, CDs and records, to sculptures and artwork. The theme of the market leans towards the vintage side, so you'll find lots of antiques and unique items.
Even if you don't plan on buying anything, walking through the market is a fun and interesting experience. You'll see lots of cool stuff, including artifacts and antiques from hundreds of years ago.
The market takes place in the Marolles District, where markets and merchants have been thriving since the 17th Century. At 7 am the market opens, and it closes at 2 pm on weekdays and 3 pm on weekends.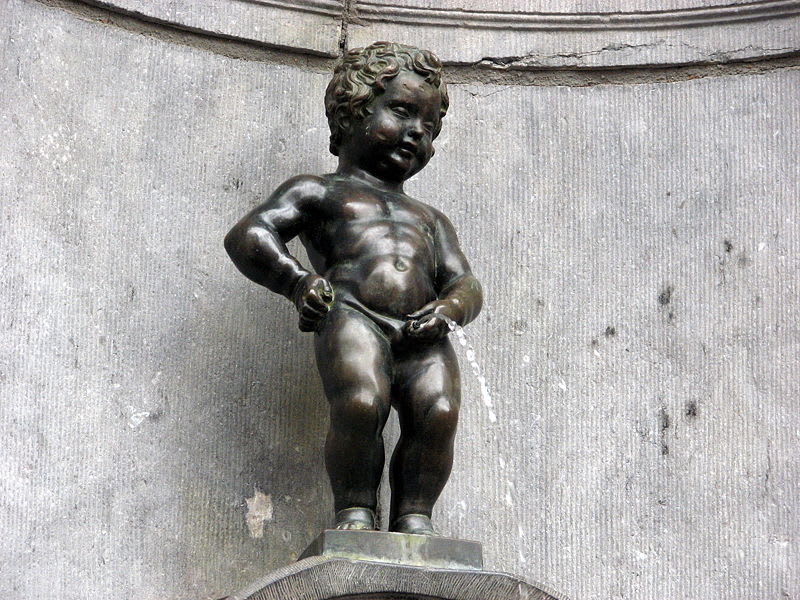 This is one of Brussels' weirdest and most famous landmarks . Manneken Pis is a small bronze statue of a little boy peeing in the fountain below. Locals dress the boy up for events in the city, and even though the statue is silly it has become a vital part of the framework of Brussels.
He represents the joy and lightheartedness of Brussels' citizens, and tourists flock from all over the city to snap a photo of the little boy. This is an easy place to visit in Brussels for free , so if you're in the area you might as well stop by.
7. Bois de la Cambre Park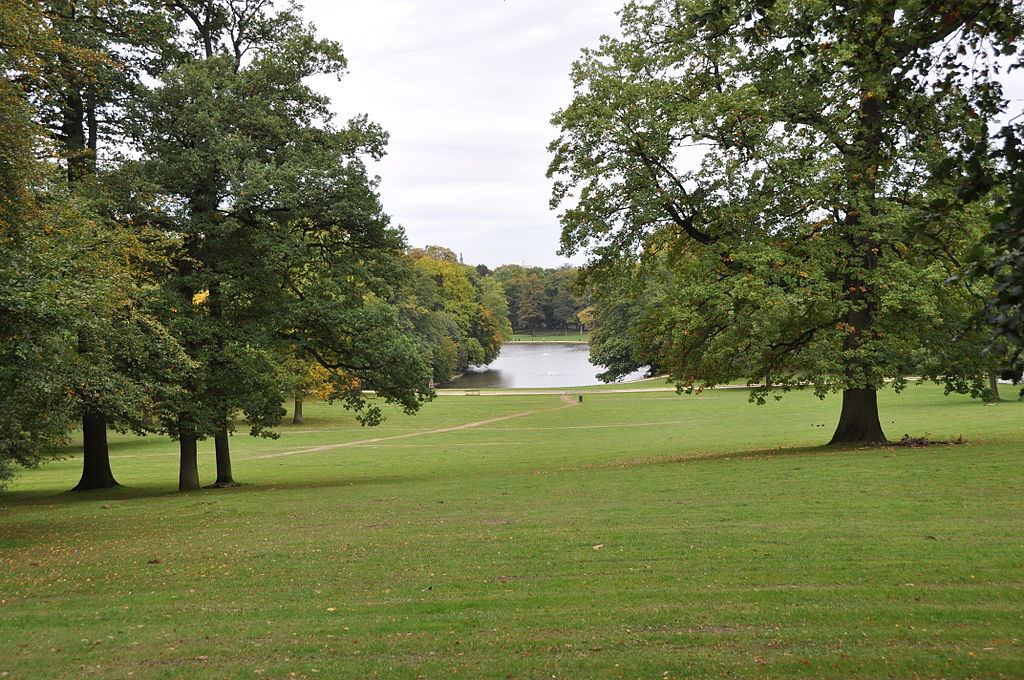 Just south of the city center lies Bois de la Cambre Park , a public green space that provides an escape from the busy city. The park borders the Sonian Forest and covers over 100 hectares.
You can come here for a day to explore the forest and its walking trails, have a picnic in the grass amongst local families, or to take a short boat ride on the lake.
The park is closed to cars on weekends, so it is a great spot for biking, running, or roller blading without worrying about car traffic. It is also completely free to visit!
8. The Gothic Cathedral of St. Michael and St. Gudula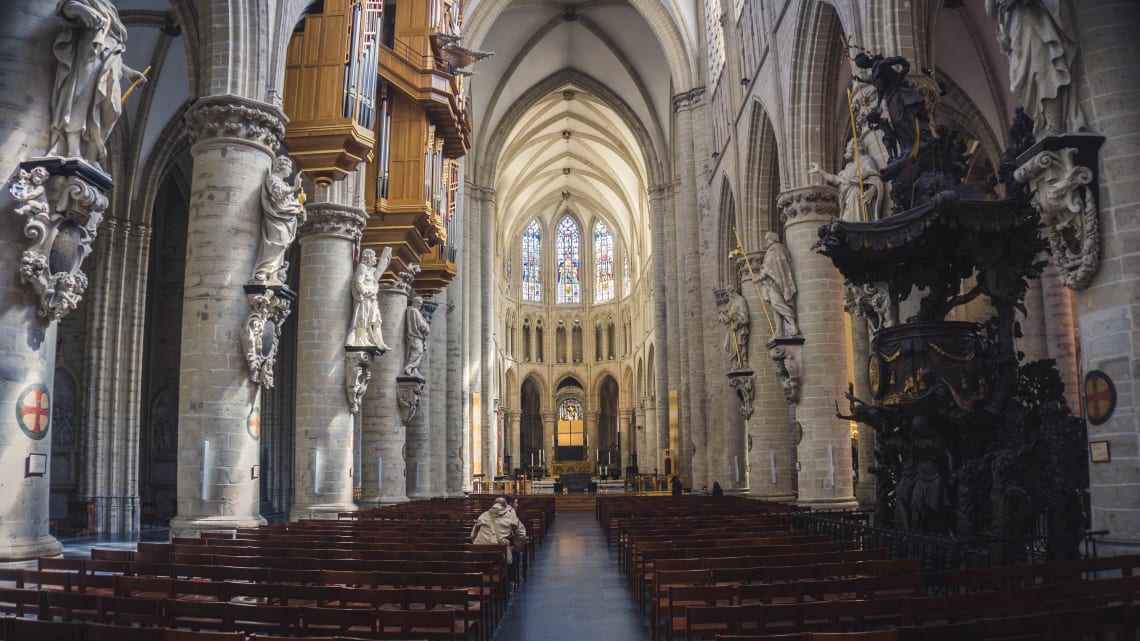 This gothic style Roman Catholic Church is located on Treurenberg Hill and is a beautiful addition to the urban landscape of Brussels. In addition to the Grand Place, this is also one of the best places to visit in Brussels during Christmas as you can often find carolers and concerts here.
It costs only €1 to enter the cathedral, and the opening hours are from 7:30 am to 6 pm on Mondays through Fridays, 7:30 am to 3:30 pm on Saturdays, and 2 pm to 6 pm on Sundays.
9. Galeries Royales Saint-Hubert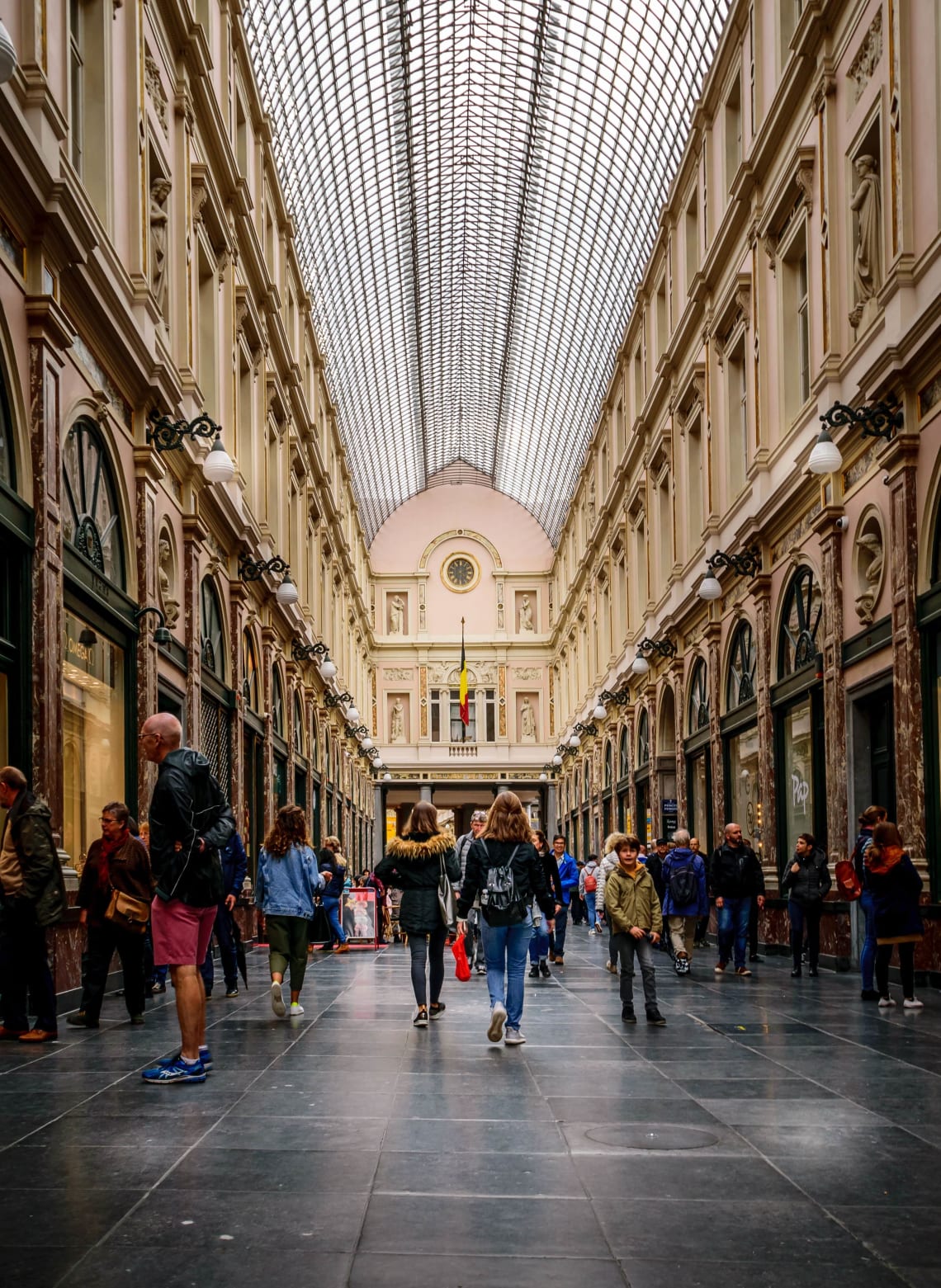 For those who like to shop, this is one of the best places to visit in Brussels . Built in the middle 1800s, this indoor shopping center is much more beautiful than your average mall. The ornate decoration, arched windows, and rustic styling makes the shopping center a stunning place to visit even if you don't plan on shopping.
There are three halls: the King's Gallery, the Queen's Gallery and the Princes' Gallery. All three are long and spacious with high ceilings, so this is the perfect place to come and window-shop on a rainy day.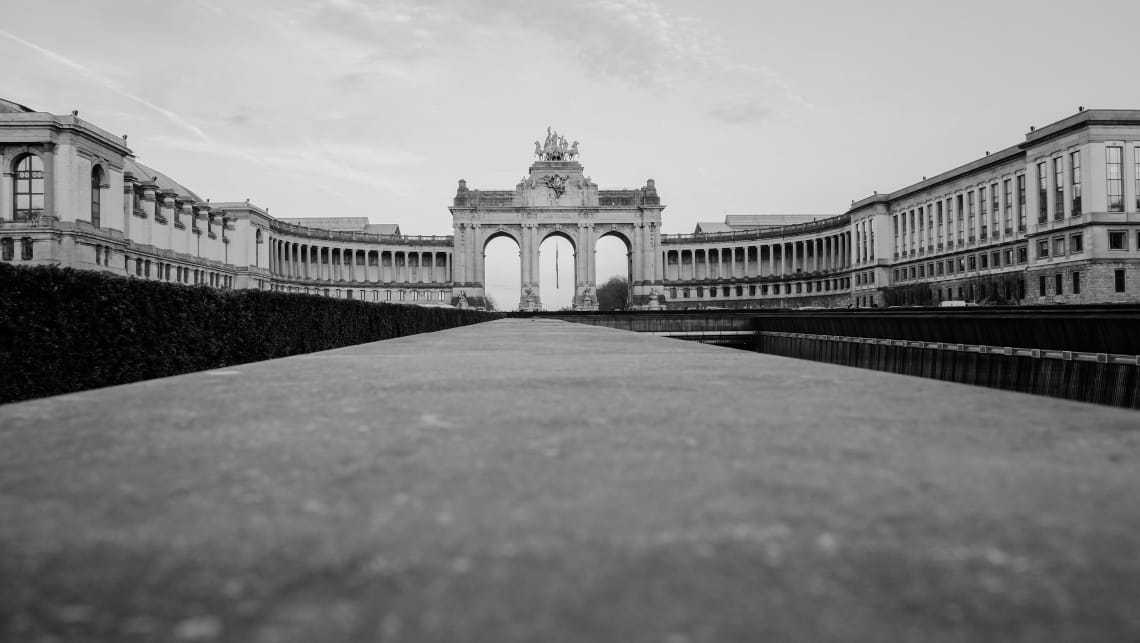 Also known as Jubelpark, this wide green space has lots of museums and monuments in addition to the beautiful gardens, picnic tables, and fountains. The park was built in the 1800s by King Leopold II in order to celebrate 50 years of Belgian independence.
There are three museums in the park: Autoworld, the Royal Military Museum and the Cinquantenaire Museum of Art. The most famous landmark in Cinquantenaire Park is the Arcade du Cinquantenaire, which is a magnificent and regal triple arch right in the middle of the park.
11. The Royal Palace of Brussels and Brussels Park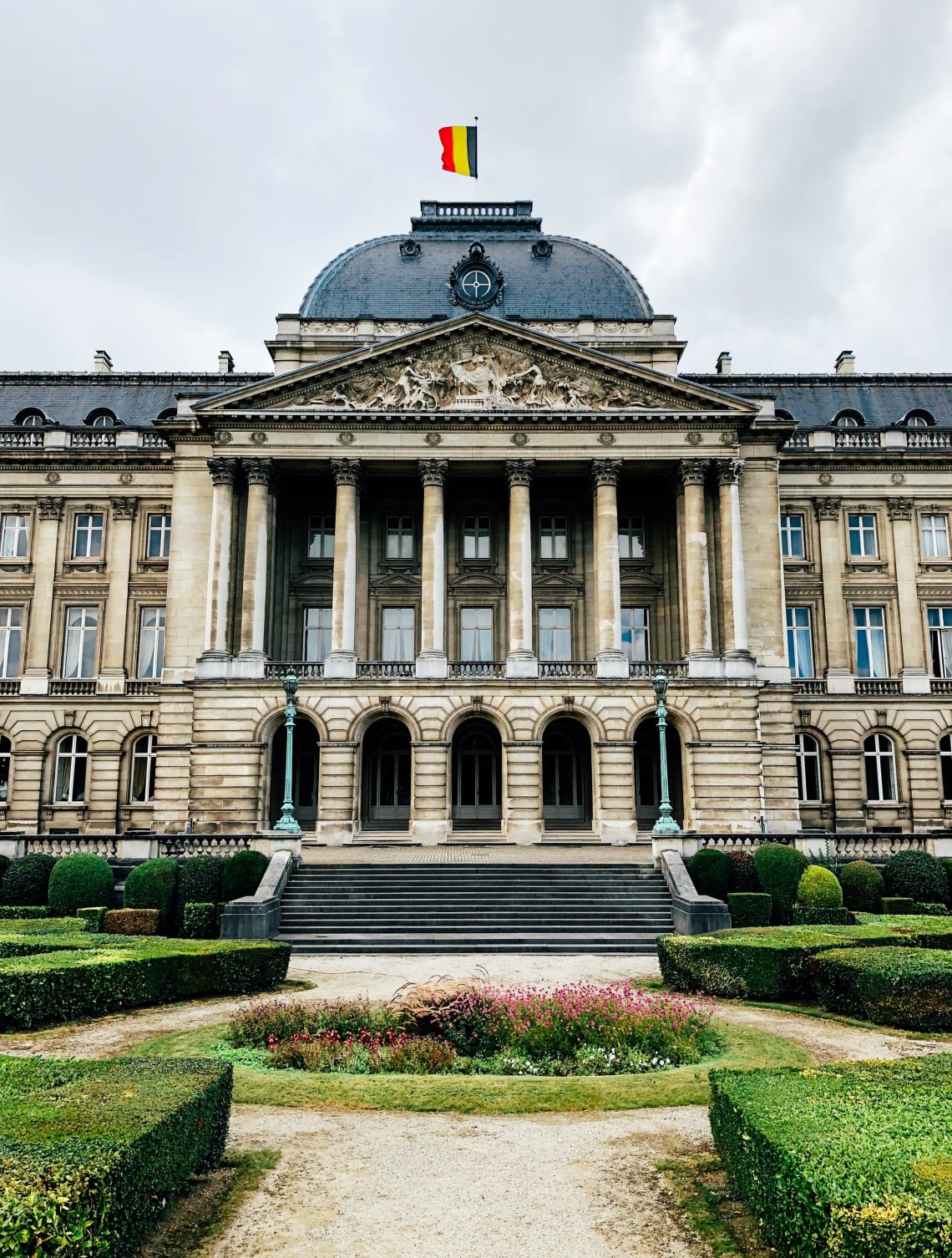 The Royal Palace of Brussels used to be the home for the Royal Family, but they now live in the Royal Palace of Laeken just outside the city. But the King of Belgium still used the Palace of Brussels as his headquarters, so it is a very important building to the city and the country.
The Palace is only open to the public in the summer . During July and August, you can enter the palace for free between the hours of 10:30 am to 5 pm (closed on Mondays). This is a great opportunity to witness the grandeur of one of Brussels' most significant buildings. Even for the rest of the year when the palace is closed to the public, it is still amazing to admire the building from the outside.
Brussels Park, also known as Warandepark, is located right next to the palace and is the largest public park inside the city center. So if you don't have enough time to venture to one of the further parks, this is a great stop inside the city for a picnic or a stroll.
12. Train World and Schaerbeek Station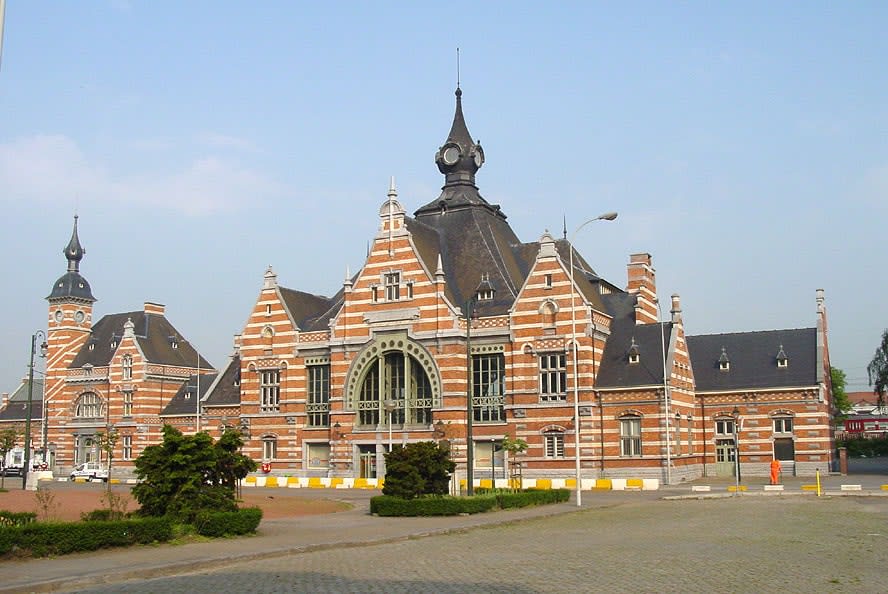 Train World is a relatively new museum in Brussels. It opened in 2015 inside Schaerbeek Station, a rustic red and white striped train station that is a famous landmark in the city.
The museum is, of course, about trains. It has the oldest preserved train in Europe on display, as well as lots of other cool pieces of locomotives throughout history. For those who love trains and learning about history, this is the place for you.
Train World is open from 10 am to 5 pm every day except Mondays . The last admission is at 3:30 pm because they recommend close to 2 hours for a visit. Tickets are €12 for people ages 18-64, and €9 for anyone outside that age range.
13. Winter Wonders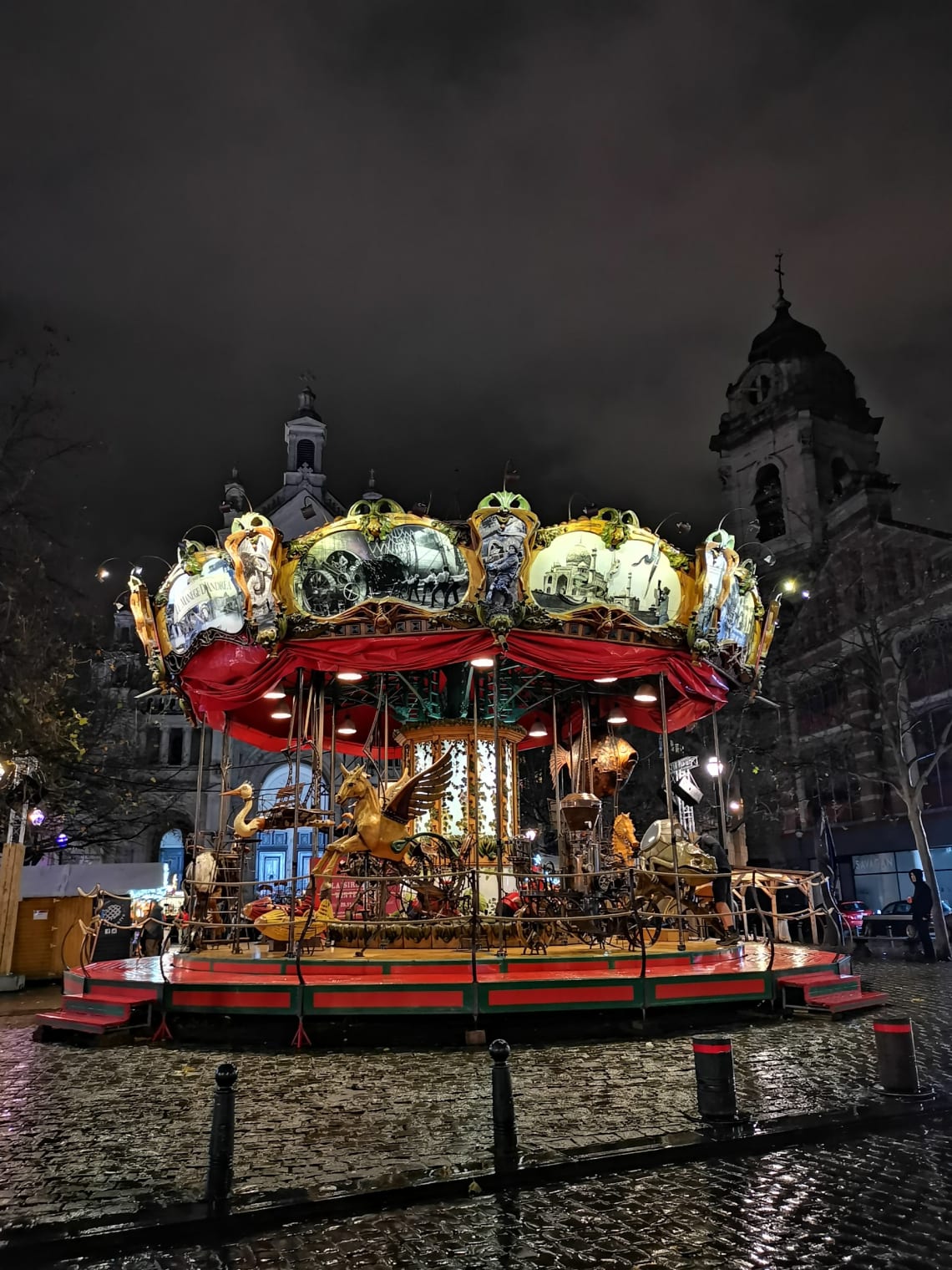 If you are visiting Brussels during the wintertime , you have to check out the Christmas markets. The entire " Winter Wonders " phenomenon is a collection of different Christmas-themed events and locations, and within the realm of Winter Wonders is all the places to visit in Brussels during Christmas .
The Grand Place is one of the most exciting parts of Winter Wonders to visit. Other public squares in the city that become festive are the Place de la Monnaie , the Place Sainte-Catherine , the Place de Brouckère and the Marché aux Poissons .
Common finds in Winter Wonders are lively Christmas markets selling trinkets, food, and drinks, Christmas trees, light shows, a ferris wheel, merry go rounds and other carnival rides, music performances, and parades.
14. The European District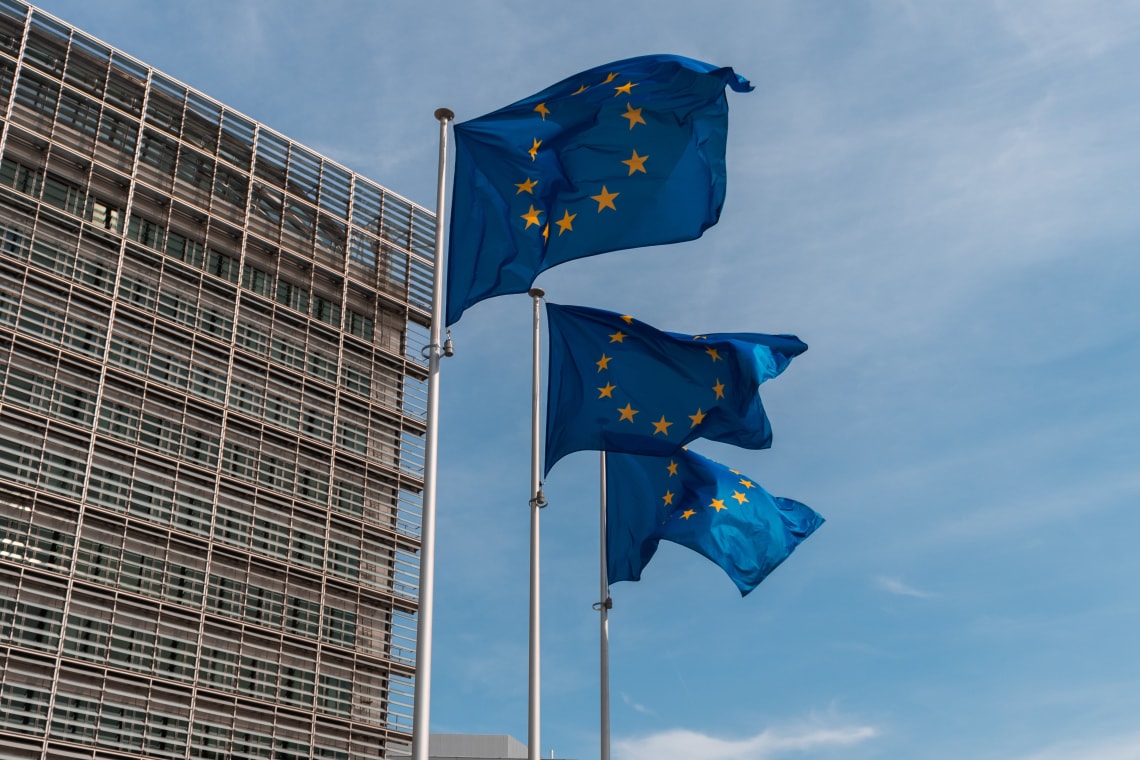 Brussels is the headquarters for the organization that serves to guide and unite some countries in Europe through economics, politics, and social rights: the European Union. This is such an influential part of European culture and history, so it is cool to see the place where all the magic happens.
The European District is the area where all the European Union offices are based, including the European Commission , the European Parliament , and the Council of Ministers . In the evenings, lots of EU employees hang out in the nearby parks and bars, so it is a very lively area to experience at night.
15. Mont des Arts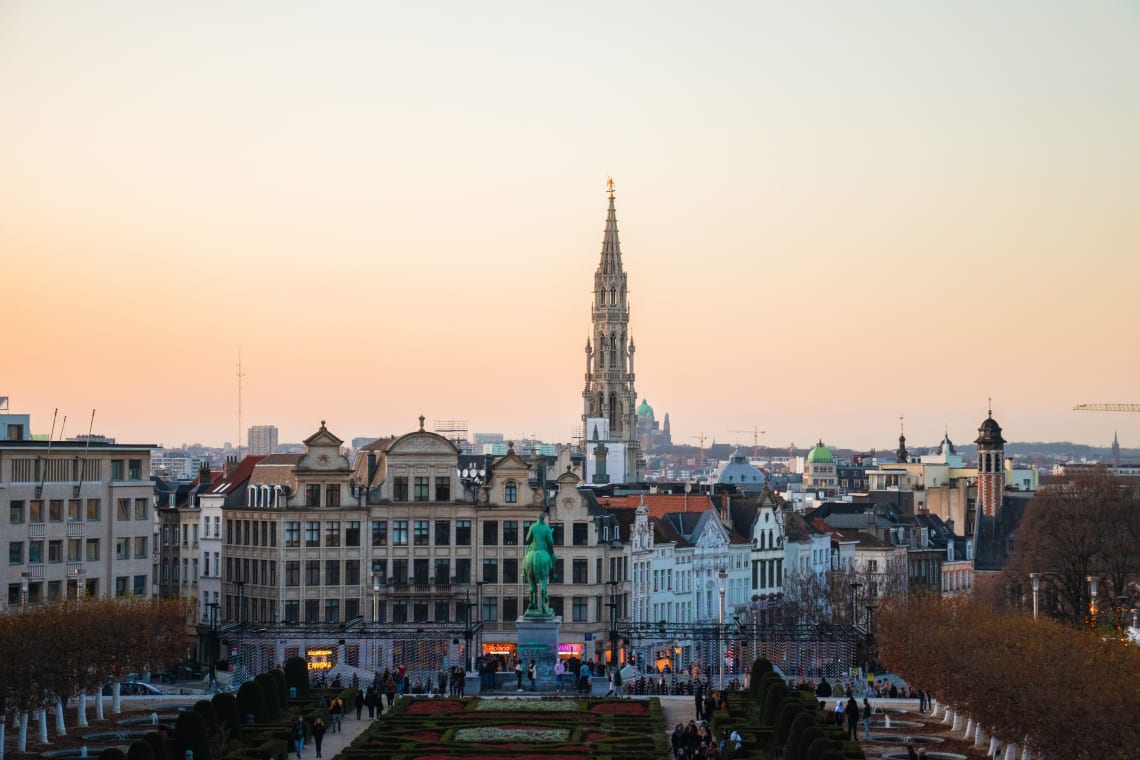 One of the best places to visit in Brussels for free is Mont des Arts , which translates to "Mountain of Arts." This is an area in central Brussels and was built under the orders of Leopold II. This king clearly had a lot of influence over the city and created lots of monuments that remain in modern Brussels.
In Mont des Arts, you can find landscaped gardens, statues, fountains, and other displays of public art, stairs leading up to a spectacular view, lots of museums, the Royal Library of Belgium and the National Archives of Belgium .
Many of the other Brussels attractions are located within walking distance of this central hub, so you'll definitely pass through here a few times while exploring Brussels. Mont des Arts is great for photo opportunities and for acting as a starting point for sightseeing in Brussels .
What to eat in Brussels
Belgium has so many local foods that are simply delicious. No visit to Belgium is complete without indulging in a few of the country's specialties.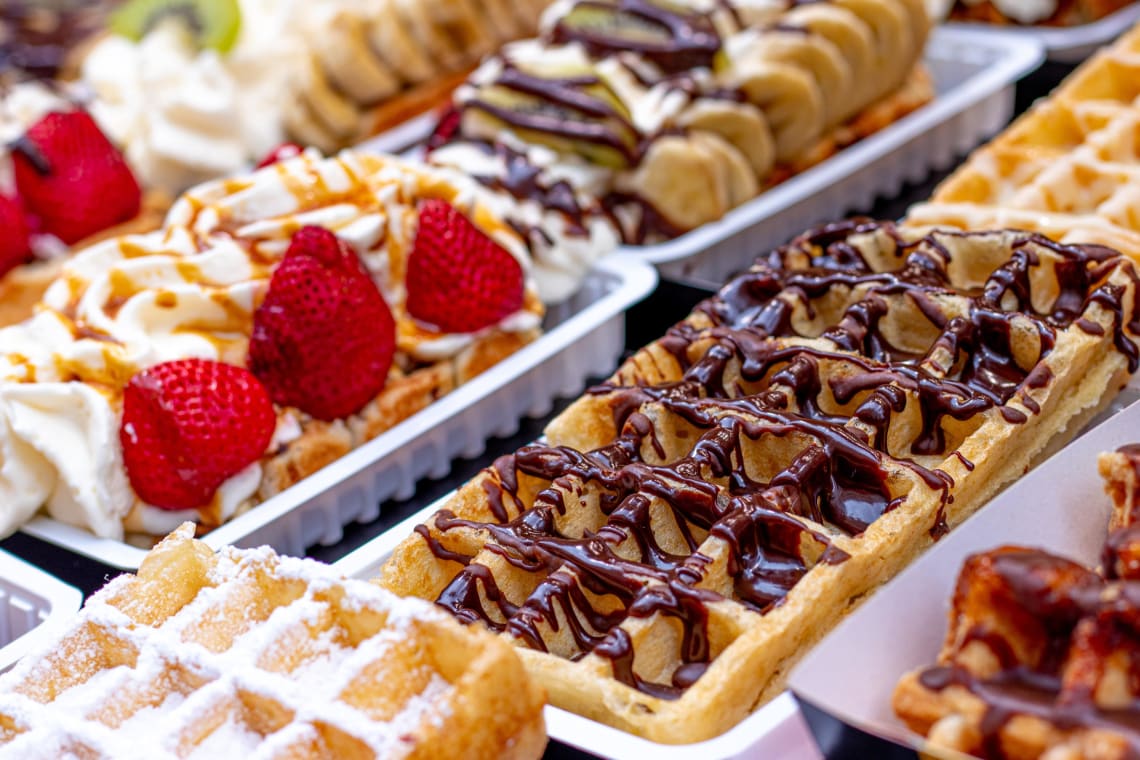 Brussels is quite cosmopolitan, so you can find lots of international cuisines in addition to the local classics. There is a Chinatown in the city where you can find delicious Chinese food, and all the usual international restaurants, like Italian, Thai, American, Indian and Japanese are scattered all over the city.
But for those who want to taste the staple food items of Belgium, here are the best foods to try in Belgium .
The Belgian Waffle
Belgian waffles are heavenly. They are light and fluffy, but large and thick at the same time. You can get them topped with everything under the sun, and they are cheap and plentiful in Brussels.
There are two main types of Belgian waffles: the Brussels waffle and the Liege waffle . A classic, fluffy Brussels waffle is the most popular, whereas the Leige waffle is a bit denser and doughier with sugar chunks caramelized into the dough.
You can't walk a few blocks through Brussels without finding a waffle shop. But some of the best cafés or restaurants to find classic Belgian waffles are Gaufres de Bruxelles , Maison Dandoy , Mokafé , and the café located right next to Manneken Pis, Le Funambule .
Pomme Frittes
For those who think french fries are French, think again. Classic french fries were actually created in Belgium, and the locals refer to them as "pomme frites." However, Belgian fries are much better than your average French fry from McDonalds.
They are soft on the inside and extra crispy on the outside, mainly because they are always cut by hand and fried twice. Sometimes they are cooked in animal fat for extra flavor, and they are usually served in a paper or cardboard cone with sauces on the side.
You can find Belgian fries in restaurants and cafés, but most locals get them from little stands or stalls in the street. Some of the best places to try high quality Belgian fries are Fritland , Belgian Frites , Chez Fernand and Chez Clémentine .
Belgian Chocolate
For those who love chocolate, (and seriously, who doesn't love chocolate?) Belgium has some of the best chocolate in the world.
Lots of well-known chocolate companies around the world, like Godiva , Neuhaus , and Côte d'Or , were founded in Brussels. There is an abundance of chocolate shops all over the city, in addition to the Chocolate Museum .
Pierre Marcolini is one of the greats, Laurent Gerbaud specializes in dark chocolate, and Zaabär Chocolate Factory and Planète Chocolat both have chocolate-making workshops available. In any of these shops you can buy chocolate bars, truffles, drinking chocolate and other snacks, all in unique flavors or just plain.
All you have to do is wander to any chocolate shop you see and taste anything your heart desires; you definitely won't be disappointed.
Pastries and Desserts
If waffles and chocolate aren't enough, indulge in some of Belgium's best pastries. People normally associate lots of desserts with France, including éclairs and macarons, but you can still find high quality ones in Belgium due to the close geographical proximity.
Éclairs et Gourmandises is an amazing bakery that sells sweet and savory éclairs. Ladurée is a famous Paris-based dessert shop that also has a location in Brussels, so you can try these colorful little treats there.
Other pastries that are native to Belgium are mattentaart, a flaky pastry stuffed with cheesecake, Flemish beignets, hot dough balls sprinkled with powdered sugar, and merveilleux, little meringue cakes covered in cream, chocolate chips, and any other desired toppings like fruit or nuts.
Like chocolate shops, bakeries and pastry shops are scattered all over Brussels so you won't have any trouble finding some sweet treats in the city. Some of the most famous bakeries in Brussels are Les Temps des Tartines , Charli , and Chouconut .
Where to drink in Brussels
Heading to a pub, bar or restaurant for a glass of beer or wine is a widespread part of European culture. But beer is definitely the most cherished beverage in Belgium.
The Belgians have been making beer for hundreds of years now, and their beer is known and loved all over the globe. There are so many different beers produced in Belgium that you just have to ask the locals what they recommend.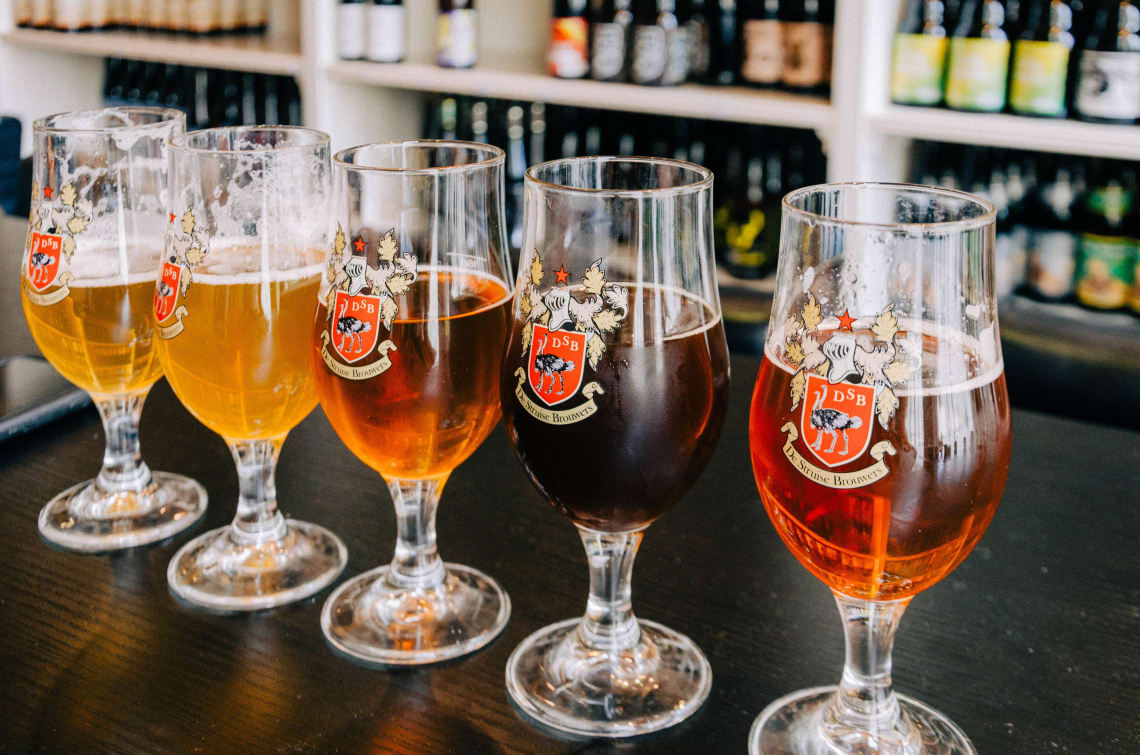 If you're a beer fanatic, you can definitely learn a lot about Belgian beer just by talking to the local bartenders and brewers. Even if you are not a huge fan of beer, kick back in a bar and order a glass or two just to taste the country's favorite beverage.
Delirium Café is the most famous place to drink beer in Brussels. This café holds the Guinness World Record for the most beers offered in one establishment. They sell over 2,000 beers, so you have lots of options when ordering a drink!
Toone is a classy bar that also doubles as a puppet theater, and L'Archiduc Bar is a rustic jazz bar with lots of high quality international wine options.
Other highly rated and unique places to drink around Brussels are Goupil Le Fol Wine Bar and À La Mort Subite .
The best time of year to visit Brussels
Located in northern Europe, Belgium has a temperate climate, meaning the summers are warm and the winters are cold.
Summer has the nicest weather, with warm temperatures and sunny days that are perfect for exploring. Because summer is peak tourist season, the city's attractions get a bit more crowded and flights are a little more expensive.
The winter can get very cold and bitter, so the weather is not ideal. But the charming Christmas Markets that fill the city in December make the cold seem cheerful and festive rather than dreary. Brussels is magical at Christmastime, and because this is the off-season the flights to Belgium will be a bit cheaper.
Spring and Autumn are probably the best times to visit Belgium . The weather is favorable and the crowds are tame. But there really is not any bad time to visit Belgium!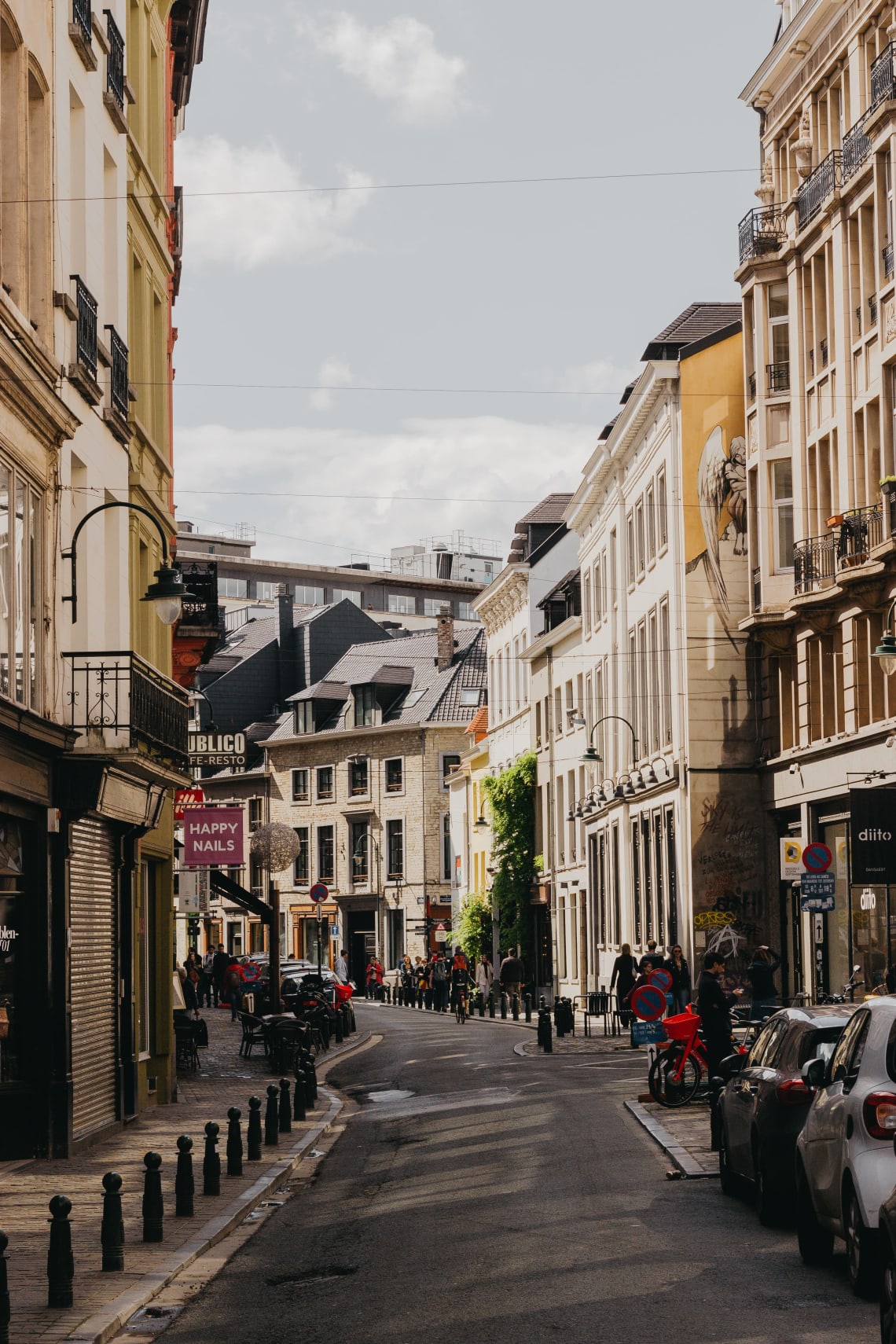 Safety in Brussels
Brussels is, overall, an extremely safe city for travelers to visit. Public transport is straightforward, though you can pretty much walk anywhere.
The biggest concern while traveling to Brussels is petty crime like theft and pickpocketing. To avoid these issues, follow simple travel safety tips and just keep your wits about you while exploring the city. Try to avoid walking alone, especially at night. While walking through crowded areas, keep a close eye on your belongings and leave most of your valuables locked up in a safe in your hostel or hotel.
The biggest crowds you'll find in Brussels are in the Grand Place and in the Christmas Markets. Just be smart while exploring these areas, especially at busy times. If you use common sense, you shouldn't have any problems in Brussels.
How to get around Brussels
This is easily the best way to get around Brussels. The city is small and pedestrian-friendly, so it is very simple to reach all the best attractions on foot. You should probably have a map or a navigation app like Maps.Me or Google Maps to help you navigate your way around.
It is very common to hire bikes in Brussels so you can travel more quickly around the city. Some popular bike rental places are CyCLO , Pro Velo , Blue-bike , and Swapfiets . Jump and Billy Bike also offer shared electric bikes for rent.
The metro in Brussels is very simple. It has only six lines, and a one hour ticket costs €2,10. You always have to validate your ticket before you get on the subway to avoid being charged a fine.
Bus or Tram
The bus is a bit slower than the metro and a ticket also costs €2,10. The tram is another great public transport option, as it runs on its own tracks and doesn't interfere with road traffic.
You can buy a bus or tram ticket in a metro station or local newsstand. On the bus, you can even buy a ticket from the driver, but it is recommended to buy your ticket beforehand just in case the driver runs out of tickets. If you plan on taking lots of public transport, you can get an unlimited one day pass for only €6.
Traveling in and out of Brussels
Europe has such an advanced system of public transportation that traveling around is a breeze.
Trains and long-distance buses are cheap and easy when traveling to other cities in Belgium or to other nearby countries. Brussels also has an international airport for flying in and out of the country.
For those who really want to save money while traveling , you can also take an overnight bus to and from Brussels to nearby cities like Amsterdam , Paris or London . Overnight buses aren't the most comfortable, but they are super cheap and they help you save money for a night's accommodation.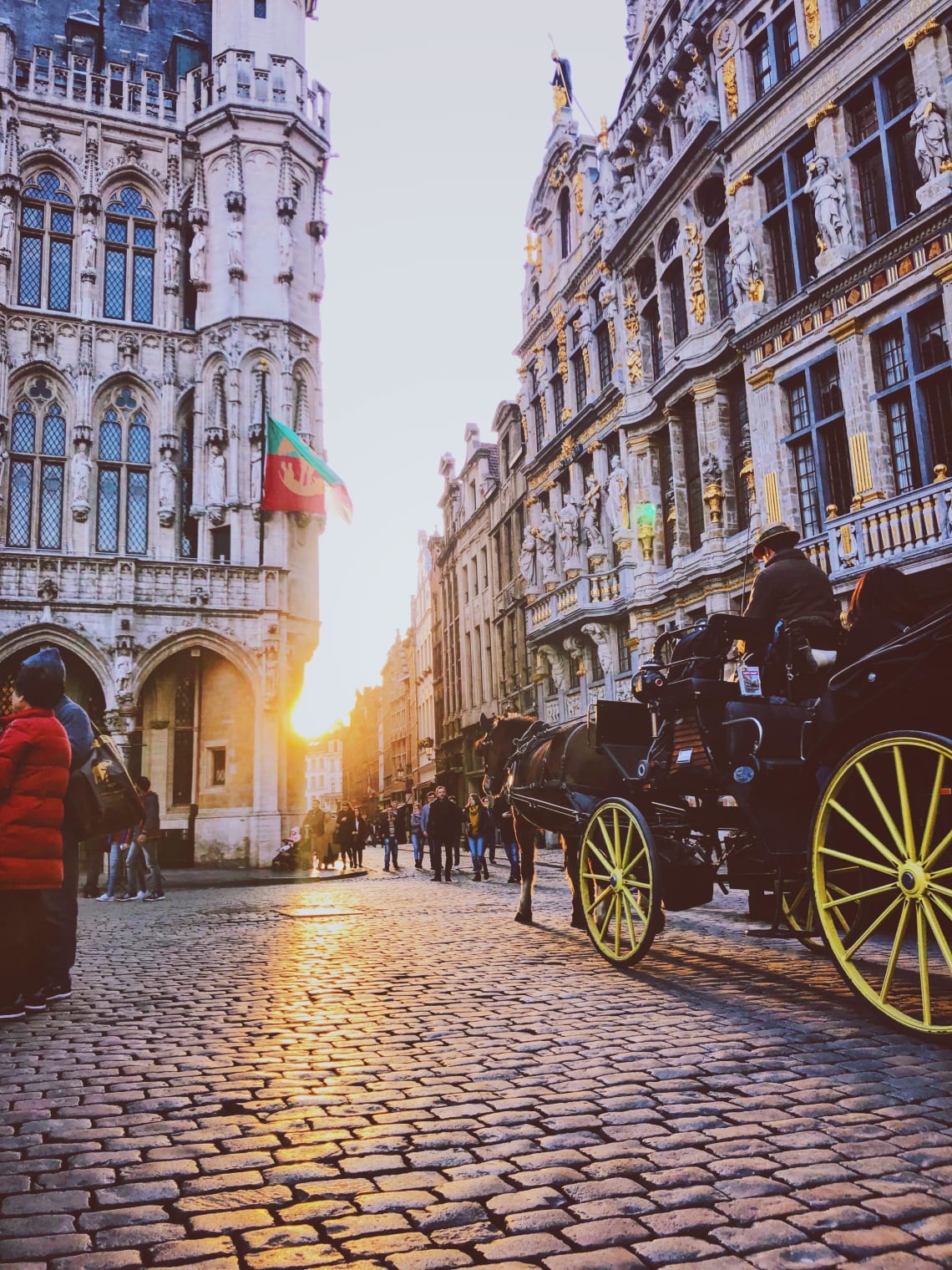 Worldpackers experiences in Brussels
If you have a few weeks or more to spend in Brussels, why not try something different than the average tourist experience?
Doing a work exchange allows you to live like a local while working in exchange for free accommodation. This means you can experience the local culture more in-depth while saving money.
For budget travelers who are keen to learn about different ways of life and have enriching cultural exchanges, this is the perfect opportunity .
There are two amazing volunteering opportunities within Brussels , both of them in hostels. Hostels are amazing places to do a work exchange because they are social environments where you can meet lots of locals and other travelers. You are bound to make close new friends, and you'll have ample time to explore Brussels on your time off.
This hostel needs housekeepers and bartenders . You will work 27 hours per week with one day off, and you'll have free breakfast, lunch and dinner in addition to a free bed in a shared staff dorm. You will also get free laundry and events, and you'll get to learn some useful new skills.
This hostel needs kitchen-hands, gardeners, housekeepers, and reception workers . There are different jobs here to suit all sorts of skill sets, and you'll have three days off per week plus free breakfast.
If you are traveling around Belgium, there are plenty of other work exchanges available around the country . For example, you can volunteer at a holistic retreat center in Kapelle-op-den-Bos , help out with garden projects at a retreat center in Galmaarden , or learn about permaculture at an eco-farm in Heist-op-den-Berg . These volunteer experiences allow you to get outside, connect with nature and work with your hands.
For those who prefer the cities and like the idea of working in a fun, social hostel, you can also volunteer in hostels in Bruges or Antwerp .
So head on over to Belgium, do a work exchange, explore Brussels, eat lots of waffles and chocolate, drink beer, and enjoy yourself!
Join the community!
Create a free Worldpackers account to discover volunteer experiences perfect for you and get access to exclusive travel discounts!
Gabrielle Boucher
Budget Travel With Gabby
Hello! I am a 25 year old from the USA with a knack for traveling on a budget. I fell in love with traveling while studying in Europe, and that love grew even more when I started volunteering abroad in South America. Since then, I've worked odd jobs and volunteered all over the globe while cultivating passions for hiking, wildlife photography, food, wine, animals, permaculture, and more!
Be part of the Worldpackers Community
Already have an account, are you a host, leave your comment here.
Write here your questions and greetings to the author
More about this topic

25 absolute best things to do in Berlin
Top 10 best christmas markets in germany to visit.
The ultimate Worldpackers guide to backpacking the Balkans
How do Worldpackers trips work?
As a member, you can contact as many hosts and travel safely as many times as you want.
Choose your plan to travel with Worldpackers as many times as you like.
Complete your profile, watch the video lessons in the Academy, and earn certificates to stand out to hosts.
Apply to as many positions as you like, and get in contact with our verified hosts.
If a host thinks you're a good fit for their position, they'll pre-approve you.
Get your documents and tickets ready for your volunteer trip.
Confirm your trip to enjoy all of the safety of Worldpackers.
Have a transformative experience and make a positive impact on the world.
If anything doesn't go as planned with a host, count on WP Insurance and our highly responsive support team!
After volunteering, you and your host exchange reviews.
With positive reviews, you'll stand out to hosts and get even more benefits.
Hi, I'm Charlotte
Browse the blog.
FREE RESOURCES
TRAVEL TIPS
CHARLIES WANDERINGS
THE BLOG FOR THE ADVENTUROUS TRAVELER WHO LOVES A TOUCH OF LUXURY NOW AND THEN
Belgium , BRUSSELS , Destinations · May 17, 2021
16 Best And Beautiful Places To Visit In Brussels, Belgium
There's a reason that Brussels attracts so many tourists every damn year. This vibrant city, which is the capital of Belgium, is home to a ton of beautiful sites and here you'll be able to enjoy some of the most typical things to do in Belgium!
Brussels, the cultural heart of Belgium , is home to some of the most well known landmarks in the entire country and even Europe! With a population of more than 2 million people it's the largest municipality and historical centre of the country.
And while the city of Brussels already has a lot to offer there are also some beautiful places you must see right on the outskirts of the city.
This article will walk you through all of the top sights within the city centre of Brussels but I will also show you the best things to do around Brussels . Be prepared for historical landmarks, fairytale castles, beautiful gardens and magical forests!
Best And Beautiful Places To Visit In Brussels, Belgium
1. grand place, the most famous place in brussels.
The Grand Place is the central square of Brussels and also the most visited place in our capital. That's why if you can you should plan on visiting it in the early morning. Especially on the weekend you'll then have one of the most beautiful squares in Belgium all to yourself!
It's a magnificent place surrounded by guild houses and here you'll also find the city's Town Hall and the King's House which now hosts the Brussels City Museum. The Grand Place was even voted the most beautiful square in Europe in 2010 and is a UNESCO World Heritage Site .
A lot of festivities and cultural events are organized here such as a beautiful light show during the Christmas Period. But the most famous one has to be the Flower Carpet where every two years an enormous flower carpet is set up in the Grand Place for a few days. This is event is called Flowertime and a must visit if you haven't so far! This year the event still has to be confirmed. And at least once in your life you should enjoy a Belgian beer at one of old bars surrounding the market!
2. Royal Gallery of Saint Hubert
Welcome to the oldest shopping arcade in Europe ! The Royal Gallery of Saint Hubert was even built before the Galleria Vittorio Emanuele II in Milan and The Passage in St Petersburg. The gallery is split into two sections and is divided in the middle by the Rue de Boucher. This little street is lined with restaurants and is one of the biggest tourist traps in entire Brussels.
The Royal Gallery is the perfect place to do some window or real shopping during your day in Brussels. Here you'll find some of the most beautiful and exclusive stores such as:
La Folie des Cadeaux – A magnificent toy store that you simply have to enter.
Les Ecuadors – If you're looking for unique jewellery you'll love this shop.
Maison Dandoy – Try their home made speculoos, it's amazing!
Delvaux – A luxury designer brand from Belgium , known for it's beautiful handbags. You might want to check your credit card balance before entering :p.
3. Mont des Arts
The Mont des Arts is a historic site in the centre of Brussels, including the Royal Library of Belgium, the National Archives of Belgium and a public garden. It offers one of the most beautiful viewpoints over the historic centre of Brussels from where you can admire the spire of the City Hall. And on a sunny day you can even see the Atomium and the Koekelberg basilica from here!
These days the place is really popular with the locals. In the evening they will gather here for drinks which unfortunately also leads to a lot of empty bottles and cans laying around. If you really want to enjoy this place I suggest you visit in the morning or in the early afternoon. It's definitely one of my favorite places to visit in Brussels thanks to the spectacular view over the city .
4. Grand Sablon
If you're visiting Brussels during the weekend you have to pass by the Grand Sablon, one of the most beautiful places in Brussels! Every weekend there is the Sablon Antiques and Books Markets where you'll find over 40 stalls selling artwork, porcelain and much more.
Surrounding the square are antique stores, designer boutiques, hotels, restaurants, an auction house and well-known Belgian chocolatiers such as Neuhaus, Pierre Marcolini and Godiva.
5. Palace of Justice, the most impressive building in Brussels
The Palace of Justice is the most important court building in entire Belgium and has been under renovation for decades . Seriously, ever since I was a little girl I have only known it to be surrounded by scaffolding.
At the end of World War II the Germans started a fire inside of the building which caused an insane amount of destruction. Because of this never ending renovation the scaffolding got so rusted and unsafe that the scaffolding itself is in need of renovation. Nevertheless it's one of the most beautiful and well known landmarks of Brussels.
If you're visiting during the week make sure to also take a peek inside cause it's one of the most impressive architectural marvels in Belgium!
6. National Basilica of the Sacred Heart in Koekelberg, the most beautiful church in Brussels
The National Basilica of the Sacred Heart is located on top of a hill in Koekelberg and can be spotted from miles away. It's architecture was inspired by the Basilique du Sacré-Coeur in Paris and it is the largest building in Art Deco style in the world . Even that you can spot the National Basilica from miles away due to its grandeur it's also one of those hidden gems in Belgium that not many tourists tend to visit.
Behind the Basilica you'll find the Parc Elisabeth which offers an amazing view over this majestic building. It's the perfect place to relax a little and maybe even enjoy a pic nic in the afternoon or early evening!
You can reach the National Basilica of the Sacred Heart with line 2 or 6 of the Brussels Metro.
The Atomium was originally constructed for the 1958 Brussels World Expo, also known as Expo 58 , and is now a museum . The top sphere even hosts a restaurant which offers a panoramic view over Brussels. The Atomium depicts nine iron atoms in the shape of the body-centred cubic unit cell of an iron crystal, magnified 165 billion times. It wasn't supposed to stand after the exhibition, but year after year it's demolition was postponed until the city's authorities decided to keep it.
You can easily reach the Atomium with line 6 of the Brussels metro and it's also located close to the Parc of Laeken. Especially during spring it's a wonderful place to go for an evening stroll. There are a ton of magnolia trees and cherry blossom trees in the surrounding area and in front of the Atomium itself is huge grass field.
The Atomium is one of the best places to visit in Brussels, especially if it's your first time visiting the capital!
Opening hours – The Atomium is open every single day (including holidays) from 10am to 6pm
Entrance fee – €16
8. Château de la Hulpe, a beautiful castle around Brussels
Did you know that Belgium holds the record for the highest amount of castles per square meter ? It's crazy to think that a country this small holds over 2000 castles and more. It comes as no surprise that visiting one of these castles actually makes for the perfect day trip from Brussels.
The Solvay Castle is located in a beautiful park and is only 20 minutes driving from Brussels. It is surrounded by a beautiful park and offers the perfect contrast with the hustle and bustle of our capital.
To my knowledge there isn't a real parking lot in the area but you're able to park your car alongside the road.
Opening hours – 8am to 9pm (6pm during the Winter)
Due to new police regulations the park remains open for visiting on the weekdays but is closed on the weekend. Access to the terraces of the Château, the houses/gardens and closed-off meadows is forbidden.
Entrance – The park is free to enter
9. The Royal Greenhouses of Laeken
Every year the Royal Greenhouses of Laeken open their doors to the public. It's one of the most beautiful and unique places to visit in Brussels during Spring. During this time most flowers are in full bloom and you get to witness what hundreds of gardeners work tirelessly on during an entire year!
This event only lasts for 3 weeks so make sure to arrive very, very early!. When I visited 2 years ago I made sure to be there at 8.30am , even that it only opens at 9.30am. And, it's safe to say that I was very happy that I did cause not long after people started cueing up and a ton of tour busses started to arrive. There was a small rope on the other side of the street in front of the entrance which was pointed out as the designated waiting point.
As soon as it opens make sure to go to one of the ticket booths ( 2,5€ , free under 18) and head inside.
READ MY FULL GUIDE ON THE GREENHOUSES OF LAEKEN, INCLUDING A LOT MORE DETAILS & PHOTOS – THE ROYAL GREENHOUSES OF LAEKEN, PLAN THE PERFECT VISIT
10. Castle of Groot Bijgaarden
The Spring flower exhibition in the park and the greenhouses of the castle of Groot-Bijgaarden offers an unforgettable flower experience! The park of 14 hectares incorporates nearly all spring bulb varieties and for the new flowering time, the gardeners of the castle have planted more than one million bulbs by hand. Special attention goes to the tulips, with almost 400 varieties, hyacinths and daffodils are also well represented.
I highly recommend visiting Floralia and it completely blew me away! There were soooo many stunning flowers and it was so easy to take beautiful photos!
Wearing a mask is obligatory for now but a lot of times you'll find yourself at a distance of more than 5 meters of other people so it's safe to take a photo without a mask on. I do recommend keeping it on when you're just walking around!
Opening hours: from 10 am to 06 pm. The ticket desk closes at 05:30 pm.
Ticket price : €14
FOR MORE STUNNING SPRING LOCATIONS IN BELGIUM MAKE SURE TO READ MY DETAILED ARTICLE INCLUDING A TON OF PHOTOS – SPRING IN BELGIUM, THE MOST BEAUTIFUL PLACES TO SEE SPRING FLOWERS .
11. Parc Josaphat, a beautiful park in Brussels
There's a beautiful park near Laeken in Brussels and once a year its entrance becomes a stunning arch of pink flowers. The cherry blossom trees are perfectly lined up in a way that you'll get the feeling that you're walking through a pink tunnel.
Parc Josaphat is a rather unknown park compared to the others in Brussels but definitely worth a stop if you're in the area! And especially during spring it's one of the best places to visit in Brussels!
12. Botanical Garden of Meise, a unique place to visit in Brussels
The Botanical Garden of Meise is definitely worth a visit and in April it's pretty easy to combine it with a visit to Floralia Brussels !
There are two main highlights at the park. On one hand there's the castle of Bouchout and on the other you have an enormous greenhouse which is filled with all sorts of tropical plants and flowers.
It can get pretty toasty inside the greenhouse so if you want to spend some time here make sure to wear layers! In total you really don't need more than 2 hours to visit the entire domain. Unless you want to read everything about every plant then you'll need an entire day ;).
Opening hours : 9.30am until 6.30pm
Ticket Price : €9
13. Dinasty Monument
The Dinasty Monument can be found right in front of the main entrance of the Royal Greenhouses of Laeken . This beautiful monument is dedicated to the very first king of Belgium, Leopold I . It shows the King looking over to the Royal Castle, surrounded by nine columns, arranged in a circle. These columns represent the then existing 9 provinces of Belgium and each column holds a statue that embodies that province.
The Dinasty Monument is located at the Vorstenlaan and is a part of the park of Laeken. Make sure to visit this place at the end of March when the magnolia trees are in full bloom!
14. Chinese Pavillion and Japanese Tower
The Chinese Pavillion and Japanese Tower are both located at the edge of the royal estate and both of them were commissioned by Leopold II. Since 1946, the place has become an annex of the Royal Museums of Art and History where are exposed Chinese porcelain, furniture and tapestries dating from the 19th and early of the 20th century. But due to architectural weaknesses the museums have been closed since 2013.
It is however still possible to visit the park surrounding both buildings!
15. Hallerbos Forest, one of the best places to visit in Brussels
The Hallerbos forest, also known as the bluebell forest, is one of the most magical places in Brussels. Once every year the forest transforms itself into a purple haze and the entire ground is covered with these pretty flowers.
Hallerbos Forest is located in Halle, South West from Brussels and can be easily reached by both car and bus. It's free to visit and there are hikes especially dedicated to see as many bluebells as possible!
READ MY FULL GUIDE ON THE BLUEBELLS OF HALLERBOS, INCLUDING A LOT MORE DETAILS & PHOTOS – HALLERBOS FOREST, A TRAVEL GUIDE TO THE BLUEBELL FOREST IN BELGIUM
16. Gaasbeek Castle
Gaasbeek Castle was built in around 1240, during the middle ages. The Duke of Brabant created the "Land van Gaasbeek" (the country of Gaasbeek) in order to defend the Duchy of Brabant against the nearby counties of Flanders and Hainaut.
Gaasbeek Castle is surrounded by a huge park which is free to enter and definitely worth a visit! There is also a Museum Garden which will reopen on May 2021.
The park is open every day from 8am until 8pm (only 5pm until the end of March).
Across the street there is a spacious parking lot to leave your car.
Where to stay in Brussels
The Hotel Brussels – Wake up with a view over the beautiful city of Brussels. The Hotel is a modern luxury hotel right next to all of the best luxury stores in Brussels and only 20 minutes walking from the Grand Place
Warwick Brussels – Located only a short walk from the major sites in Brussels. On the hotel's roof top terrace guests can enjoy the gorgeous open Brussels skyline and an unbeatable view of the Town Hall building.
Vintage Hotel – The most spectacular feature is an experience named 'glamping': a vintage Airstream Caravan from 1958 parked in a courtyard of the hotel. Here guests can relive a nostalgic experience with the bonus perks of modernity.
Charlotte Lint is the founder of Charlies Wanderings. Charlotte has traveled all over the world and is based in Belgium where she also owns her very own dental practice. She is an expert on writing efficient travel guides and finding unique places to stay. Every month she helps over 134.000 people discover the most beautiful places in the world through her detailed travel guides.
You'll Also Love
Leave a Reply
You must be logged in to post a comment.
Free Resources
Privacy Policy
Charlies wanderings is a travel blog filled with unique adventures and wonderful storytelling through colorful photos and insightful travel guides.
COPYRIGHT © 2017 - 2022 CHARLIES WANDERINGS
All rights reserved. Photography and written content may not be reproduced without my permission.
Copyright © 2023 CHARLIES WANDERINGS Theme by 17th Avenue
Copyright © 2023 · Charlotte on Genesis Framework · WordPress · Log in
You will be redirected to your dashboard shortly. We will also call you back in 24 hrs .
13 Best Places To Visit In Brussels In 2023 That Highlight The Charm Of The City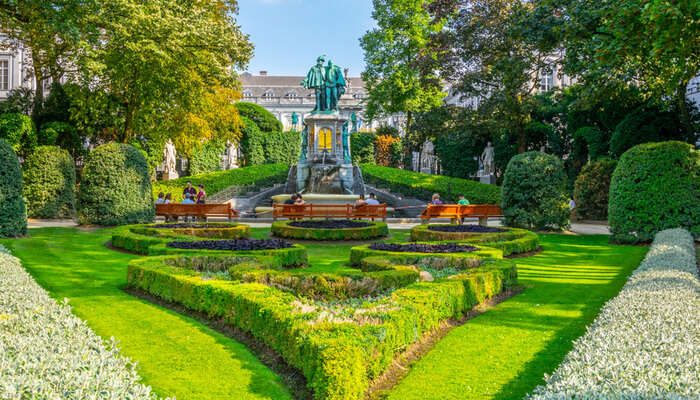 23 Mar 2023
Brussels, the unassuming, easy going capital city of Belgium and the administrative hub of European Union offers the quintessential Belgian experience without the touristy hype.
Grand facades, magnificent cathedrals, some amazing and quirky museums, the unique and imposing Atomium and melt in mouth Belgian chocolates – there are a lot of places to see in Brussels that await your presence. So if you're on a holiday, then this fascinating small city with big surprises and a glorious history will delight you.
13 Best Places To Visit In Brussels
Here is a list of the best places to visit in Brussels city that you must go through before you leave. Take a look!
Grand Place
Atomium & Mini Europe
Belgian Comic Strip Centre
St. Michael And St. Gudula Cathedral
Royal Museum Of Fine Arts
Manneken Pis
Jardin Du Petit Sablon
Notre Dame Du Sablon
Mont De Arts
Villa Empain
Galeries Royales Saint-Hubert
Magritte Museum
1. Grand Place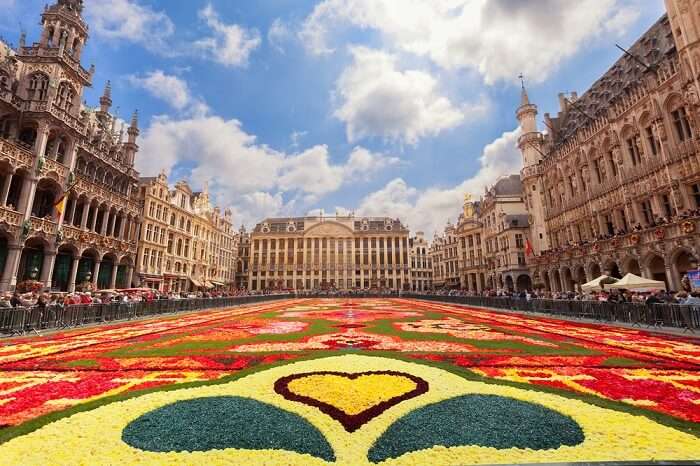 The grand city centre oozing with history, magnificent architecture and a splendid flower-carpet (twice a year) is one of the best places to visit in Brussels to feel the vibe of the city. Probably the largest and most beautiful square in Europe, flanked by the majestic Gildehuizen (guild houses) is one of the best places in Brussels to enjoy a drink, pick a tour or simply sit and feel the pulse of this vibrant city. The ornate historical buildings surrounding the cobblestoned square displaying intricate stone-work, stunning gold decoration, baroque gables and awe-inspiring architecture give the Grand Place its unmatched grandeur and elegance. You can stroll over to breathe in the fragrance of local flower market thrice a week and be awed by its surreal beauty when it is lit up at night. Ideal for: Architecture, History, People-watching
Suggested Read: In Pictures: 35 Most Beautiful Cities In Europe Will Make You Want To Trip There
Europe Holiday Packages On TravelTriangle
Explore the most beautiful places to visit in Europe, from Paris to the Venice canals and from the Greek islands to the Swiss alps. Book customized packages by expert agents on TravelTriangle. Inclusive of airport transfers, cab, resort, sightseeing and meals. Best holiday experience Guaranteed. Book Now

Magnificent Switzerland Holiday 6D/5N Package @ Rs 69,999
Plan your trip today!

Magnificent Europe Tour 7D/6N Package @ Rs 70,975
Get quotes from multiple travel experts.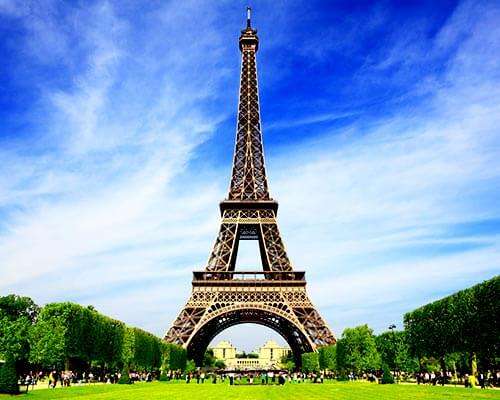 France & Switzerland Tour Package 8D/7N @ Rs 90,000
Compare & customize quotes before booking.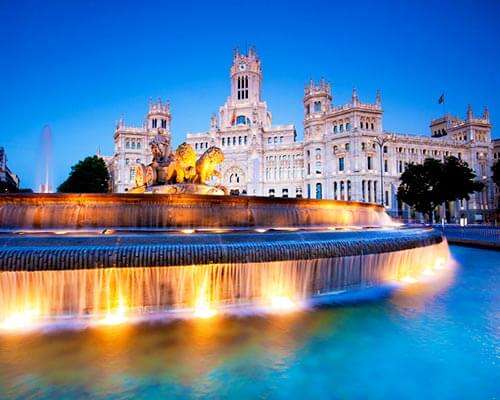 Scintillating Spain & Portugal Tour 11D/10N @ Rs 101,150
Have Questions? Talk to our travel experts today.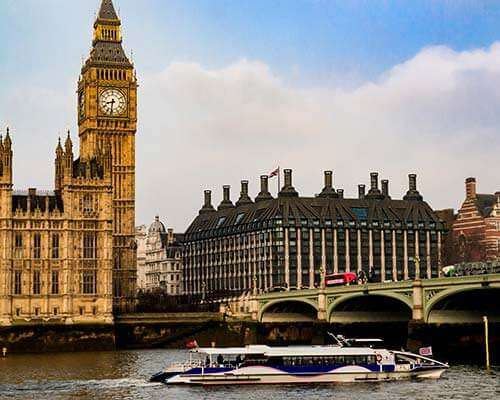 6 Country Europe Tour Package 12D/11N @ Rs 118,650
Best prices guaranteed. EMI option available.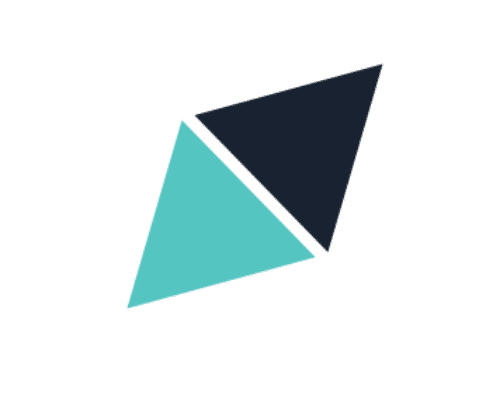 See more at TRAVELTRIANGLE.COM
2. Atomium & Mini Europe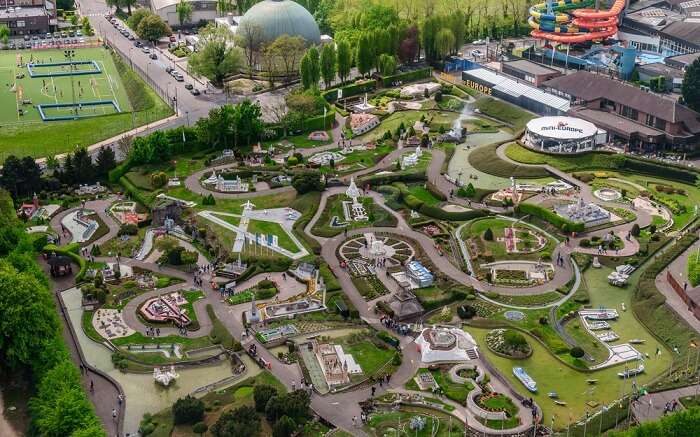 The impressive and iconic steel-aluminium wonder is to Brussels what Eiffel Tower is to Paris. It's amazing to look up at this model of an iron atom magnified to 165 times its size and a thrilling experience to be whisked to the top of this 100m high gleaming architectural marvel. You can combine the trip and ticket with a visit to Mini Europe which is equally riveting and exciting for kids as well as adults. With detailed models of the best European cities, interactive sections and working models this miniature wonder is a popular Brussels attraction.
Ideal For: Family time, Photography
Suggested Read: 10 Places For Shopping In Brussels That Will Give You A Shopper's High
3. Belgian Comic Strip Centre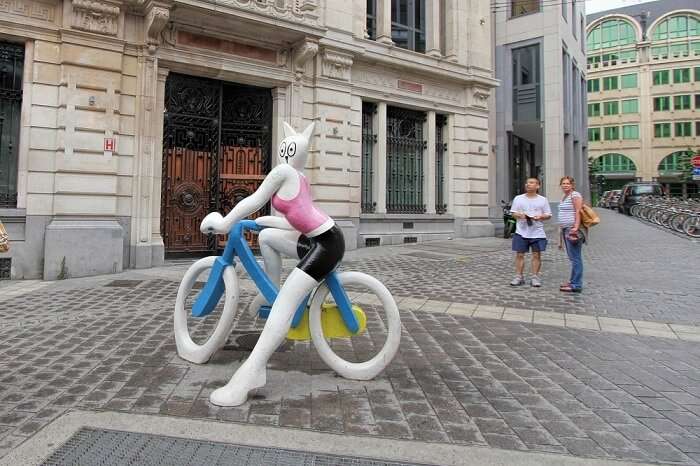 Let the child within gaze with delight and wonder at those familiar comic strip characters that have made you laugh and filled your heart with joy. In this magnificent 19th century art deco building designed by the master architect Victor Horta, you can walk through a 3D Smurf village, visit Captain Haddock's moon rocket and peep through Lucky Luke's salon. With dedicated sections for Tintin, Asterix, Smurfs and many other Belgian and French comic strips, you can delve deeper into the magical world of your favourite characters. The detailed history of comic strips and the journey to their present day graphic novel form is fascinating.
Timings: 10AM to 6PM every day Entry fee: 10 Euros/adult; 3.5 Euros/child. Concessional fee for senior citizens, students and group tickets
4. Town Hall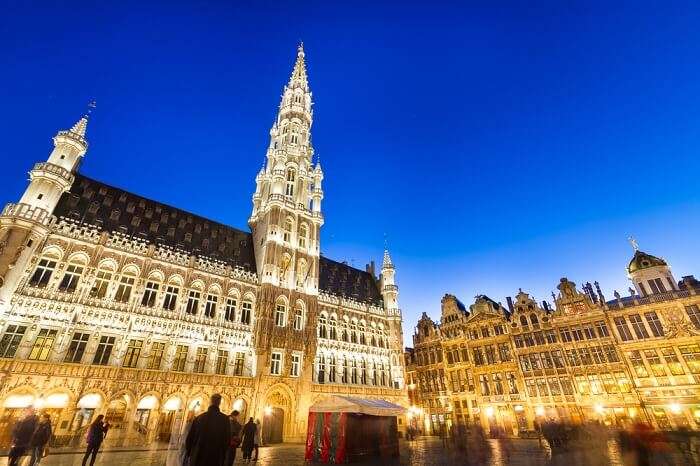 The most spectacular building around the Grand Place, the Town Hall has several grand rooms displaying its magnificence. With its spire towering above all other buildings, the Town Hall is considered a masterpiece of Gothic architecture. While the impressive facade adorned with numerous sculptures is a sight to behold, the opulent interiors will leave you spellbound. Rich tapestries and stunning ceiling of the Council Chamber, beautifully panelled walls, amazing artwork and murals will take your breath away. The seat if the Mayor of Brussels, the Town Hall also hosts many free concerts and looks stunningly beautiful when lit up at night. Ideal for: Architecture, History
Suggested Read: These 12 Hostels In Brussels Will Add Comfort To Your Experience
5. St. Michael And St. Gudula Cathedral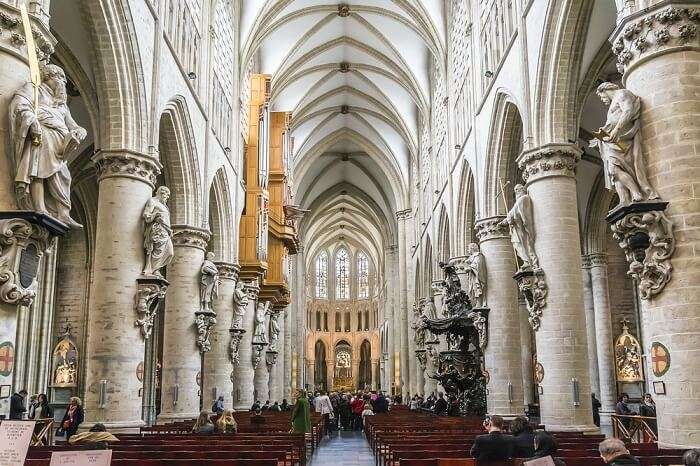 Dedicated to the patron saints of Brussels, this majestic poetry in stone is as beautiful on the inside as it is spectacular on the outside. The magnificent preaching stand, impressive archways, pretty sculptures and the gorgeously detailed stained glass windows are a treat to the eyes. A short walk from the main station, this fantastic Gothic-style cathedral is a must-visit on your Brussels sightseeing itinerary. It is worth spending an hour here reading up on its history, architecture and spiritual significance and stealing some tranquil moments.
Ideal for: Tranquillity, Photography, Architecture
6. Royal Museum Of Fine Arts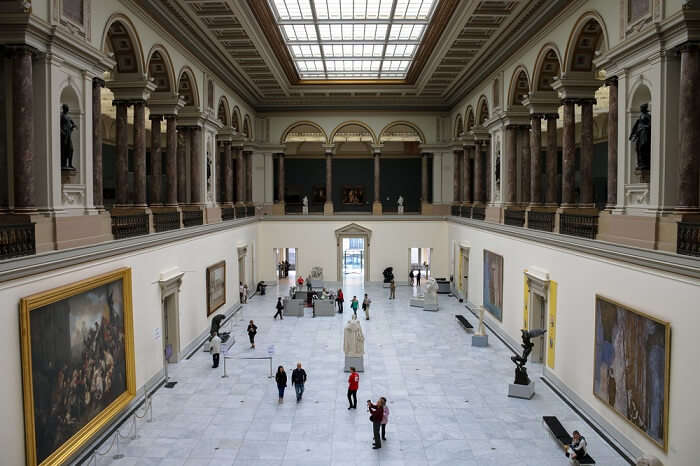 Even though not as famous as the Louvre or Musee d'Orsay, Belgium's Royal Museum of Fine Arts will surprise you with its amazing collection of jaw-dropping art and is one of the finest places to visit in Brussels for art aficionados. Curated into three different and interesting sections, it is one of Europe's largest art galleries featuring the works of masters like Rubens, Van Dyke, Rembrandt, Magritte and Brueghel.
Timings: 10AM to 5PM (Mon-Fri); 10Am to 6PM (Sat-Sun) Entry fee: 13 Euros for all three sections. Free entry on first Wednesday of every month.
7. Manneken Pis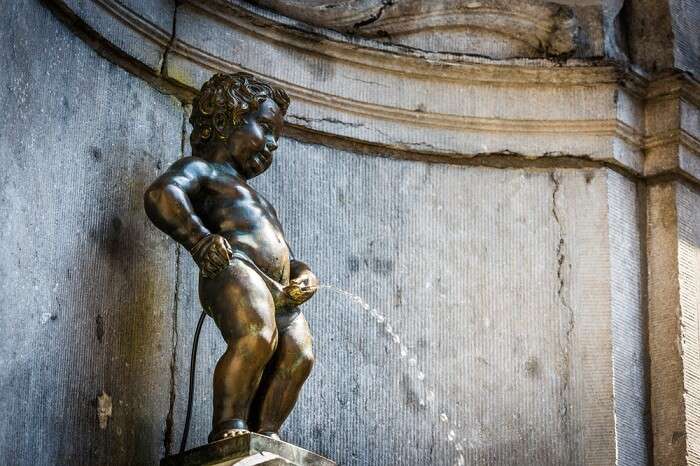 Undoubtedly one of the most popular Brussels tourist attractions, this quirky bronze sculpture of a small boy urinating in the fountain must not be missed while in Brussels. A copy of the original one (which is now in the Brussels Museum), this landmark attraction is an embodiment of Belgian humour and rebellious spirit. Manneken Pis (literally meaning the small man) has a wardrobe of more than 900 costumes which he is dressed up in couple of times a year on special occasions. Ideal for: Photography, History
Suggested Read: 15 Most Romantic Cities In The World
8. Jardin Du Petit Sablon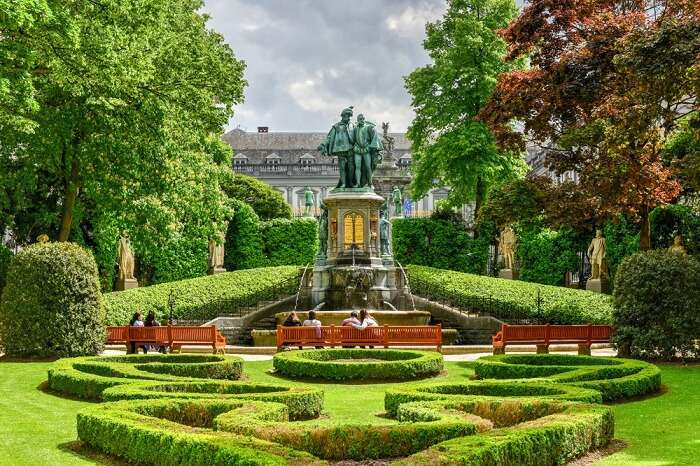 This serene oasis in the heart of the city is a great place to take a break from the hectic Brussels sightseeing and breath in the refreshing air. The charming landscaped garden with an impressive Egmont and Hornes Fountain is studded with 48 bronze sculptures depicting historical occupations. It's the perfect spot for a truly European experience while soaking in some history on the side.
Ideal for: Relaxation, History
9. Notre Dame Du Sablon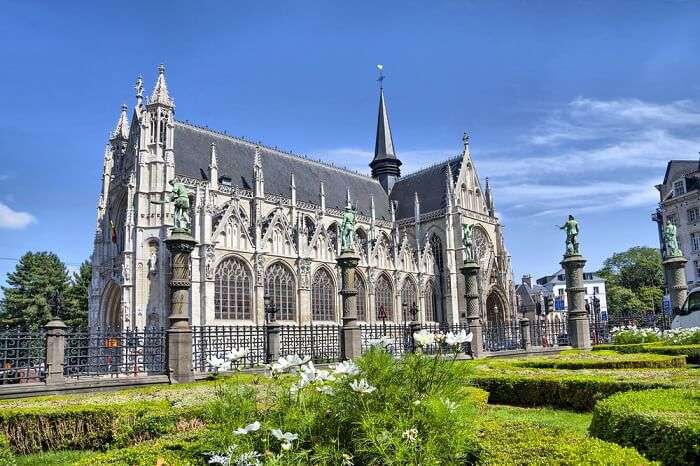 As you stroll through the city ticking off the best places to visit in Brussels, don't miss out on this strikingly beautiful cathedral. Displaying an elegant amalgamation of the Gothic and Renaissance styles of architecture, the church interiors are adorned with exceptional stained glass windows and an ornately carved pulpit and organ. After visiting the church you can stroll to the beautiful park nearby, sip a coffee at the local cafes and marvel at this majestic structure.
Ideal for: Architecture, Photography
Suggested Read: These 10 Best Craft-Beer Bars In Brussels Will Leave You Wanting For More
10. Mont De Arts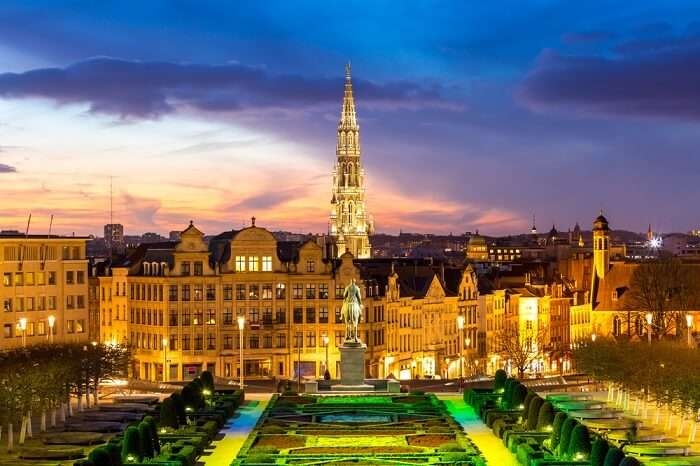 A lovely little hill dotted with as many as 10 museums and an atmosphere that can't be beaten, Mont De Arts is surely one of the top places to visit in Brussels for experiencing the best that this charming city has to offer. You simply sit here and enjoy the street performances, walk up to some of the interesting (Magritte Museum for art lovers, the unique Musical Instruments Museum, amongst others) or marvel at the panoramic city views. Sunset is a great time for some picture postcard-worthy shots of the city, and then witnessing the glittering spectacle as night sets in. Ideal for: Photography, Museums, Relaxation
11. Villa Empain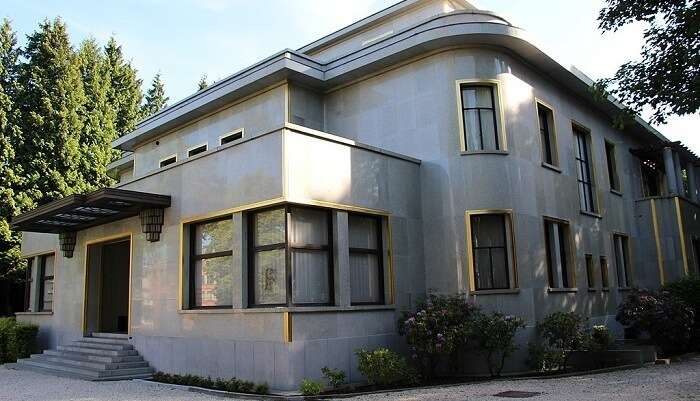 Image Source
Built by the famous Swiss architect, Michel Polak in 1930-1934, Villa Empain is a place that you ought to add to your list of places to visit in Brussels. It was a private house before but after its restoration in 2009-2011, it was opened for public. Villa Empain is a marvelous piece of artwork which is popular throughout Belgium due to its stunning interiors.
Ideal For: Art Lovers
Suggested Read: 11 Churches In Brussels That Will Make Your Experience Worth Remembering
12. Galeries Royales Saint-Hubert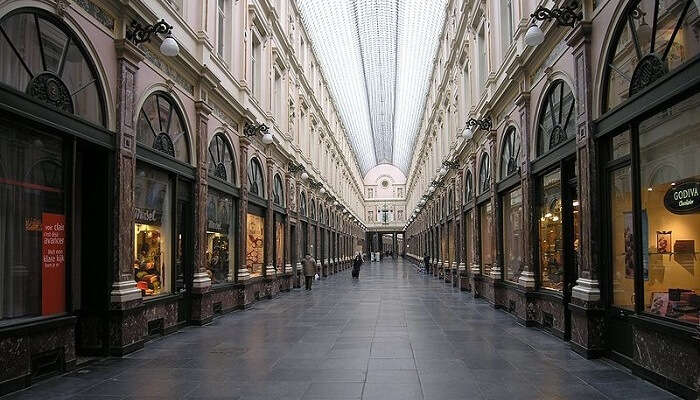 Galeries Royales Saint-Hubert is Europe's first covered shopping arcade and if you are a shopaholic you should totally visit this great spot in Brussels. Designed by architect Jean-Pierre Cluysenaer in the years of 1846 and 1847 and since then it attracts a lot of tourists every year. You must visit all the three galleries which are called The King's Gallery, the Queen's Gallery and the Prince's Gallery on your shopping spree to make the most out of it.
Ideal For: Shopping buffs
13. Magritte Museum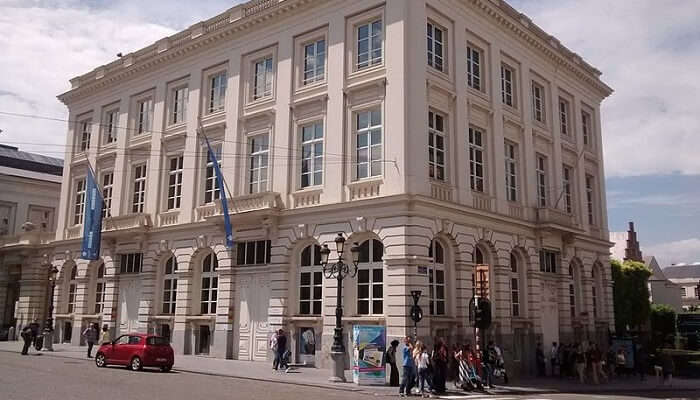 Opened in 2009 to the public, Magritte Museum is one of the most frequented places to visit in Brussels. All the travelers who love art and history must pay a visit to this museum which is dedicated to the Belgian artist, René Magritte. The museum has 200 original sculptures, Magritte paintings, and drawings. You can have a look at the famous artworks like Return, Scheherazade and The Empire of Lights once you step in this museum.
Further Read: 10 Most Popular Europe Trips To Plan Ultimate Escape
There is no end to the Brussels attractions and experiences to savour in this wonderful city. At the end of a long day of sightseeing, sip some uniquely Belgian beer and let the city work its magic. And now you must plan your European vacay with TravelTriangle and enjoy a personalized itinerary and trip.
Disclaimer: TravelTriangle claims no credit for images featured on our blog site unless otherwise noted. All visual content is copyrighted to its respectful owners. We try to link back to original sources whenever possible. If you own the rights to any of the images, and do not wish them to appear on TravelTriangle, please contact us and they will be promptly removed. We believe in providing proper attribution to the original author, artist or photographer.
Please Note: Any information published by TravelTriangle in any form of content is not intended to be a substitute for any kind of medical advice, and one must not take any action before consulting a professional medical expert of their own choice.
Frequently Asked Questions About Places To Visit In Brussels
Where should I go near Brussels?
There are so many places you can visit near Brussels like: 1. Gaasbeek Castle 2. Flemish city of Ghent 3. Villers Abbey 4. Lion's Mound 5. Hallerbos 6. Antwerp 7. Sonian Forest
What is Brussels famous for?
The cuisine and gastronomy are the two things Brussels is famous for. You will find a number of historical and architectural landmarks, some of which are listed under UNESCO. Try waffles and fries when in Brussels. There is a huge variety of beer that you will find in Brussels.
Is Brussels a good tourist destination?
Yes, Brussels is absolutely amazing destination where there is so much to explore and see. From chocolate to beer, Brussels is famous for quite a things. If you like exploring medieval cities with cobbled streets, then you are going to love this place. Besides, you will find a lot of lively cafes and restaurants in Brussels.
How many days do you need in Brussels?
If you want to explore Brussels at its best, then you should spend 3-4 days otherwise a couple of days are fine if you can't squeeze in much time.
Do they speak English in Brussels?
Most people speak French in Brussels. The english-speaking native speakers are very less but it is safe to assume that they understand Engish language.
What to pack when visiting Brussels?
Here is what you should pack for visiting Brussels: 1. Down jacket 2. Raincoat 3. Sweatshirt 4. Comfortable shoes 5. Refillable water bottle
Can I drink the tap water in Brussels?
Yes, it is safe to drink tap water in Brussels, unlike in other countries. It tastes pleasant.
What to visit in Brussels in 2 days?
Some of the most popular places to visit in Brussels in 2 days are: 1. Manneken Pis 2. Jeanneke Pis and Zinneke 3. Grand Place 4. Atomium 5. Victor Horta's major townhouses 6. Villa Empain 7. Galeries Royales Saint-Hubert 8. Notre Dame du Sablon 9. Mini Europe 10. Musical Instrument Museum
How many days in Brussels is enough?
If you are planning to visit Brussels solo or with your family and friends, two days is often enough to enjoy sightseeing tours, culinary retreats, and more. If you want to enjoy slow travel and travel around the entire length of this city, we would recommend a 7-day trip to soak in the culture of this place.
Looking To Book An International Holiday?
Book memorable holidays on TravelTriangle with 650+ verified travel agents for 65+ domestic and international destinations.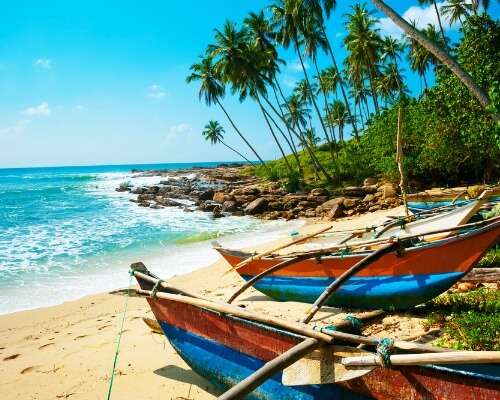 Trip to Sri Lanka at Rs 13,500/-
Plan Your Vacation Today!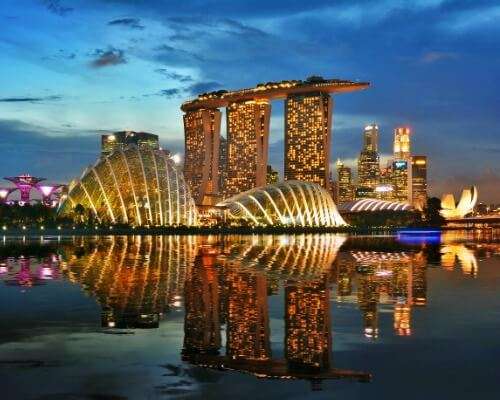 Trip to Singapore at Rs 20,499/-
Get Quotes From Local Experts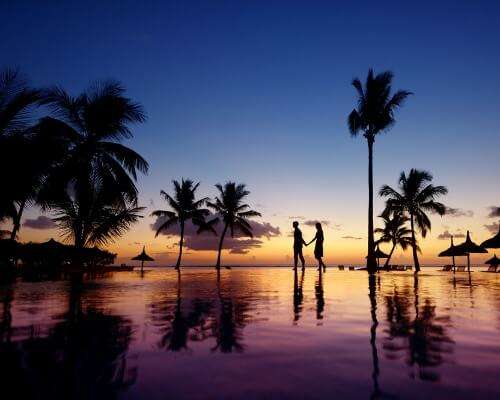 Mauritius Holiday Starting at Rs 65,000/-
Talk to Our Experts Today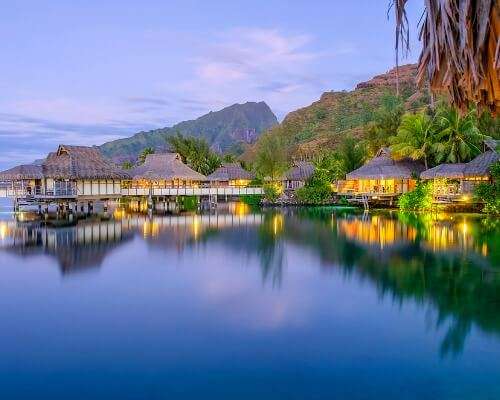 Maldives Honeymoon Trip at Rs 39,800/-
Pay with easy EMI Option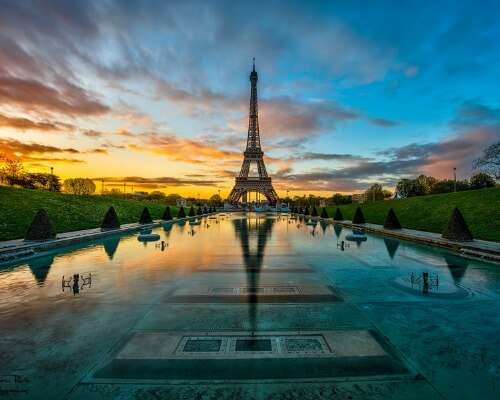 Europe Trip at Rs 89,999/-
All Inclusive Deals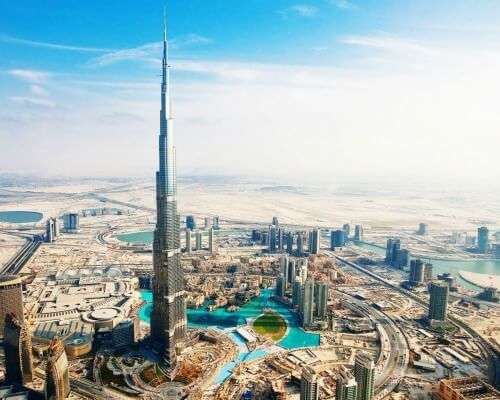 Vacation in Dubai at Rs 27,499/-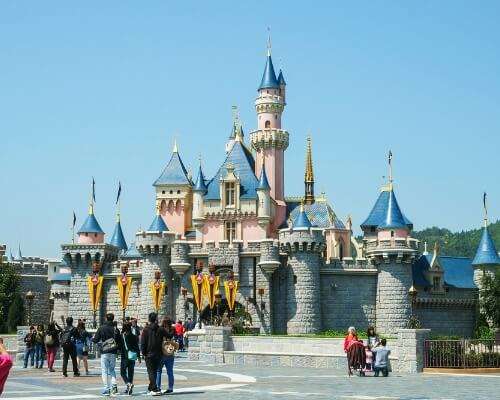 Hong Kong Holiday at Rs 24,999/-
Money Safe Guarantee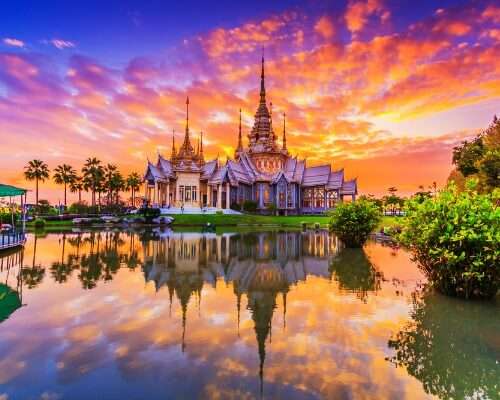 Thailand Holiday at Rs 7,999/-
Flights Excluded
Recent Posts
32 Lieux à visiter en Belgique qui faire le monde Irrésistible
30 Lieux à visiter à Andhra Pradesh en 2023.
42 meilleurs lieux à visiter à Pondichéry en 2023: la colonie française de l'Inde.
32 lieux à visiter à Chennai pour des vacances intrigantes en ville en 2023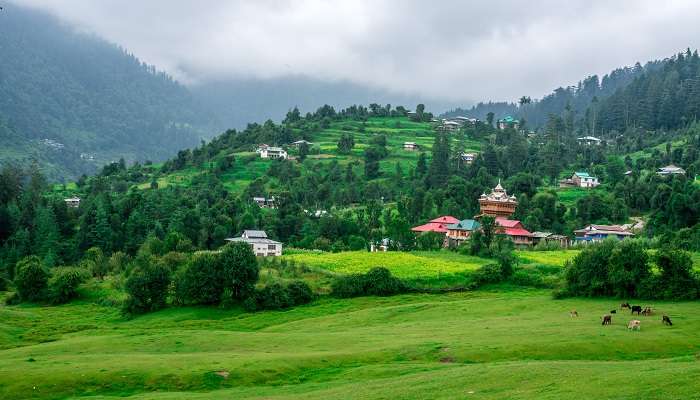 Explorer les Himalayas: 48 meilleur lieux à visiter à Himachal Pradesh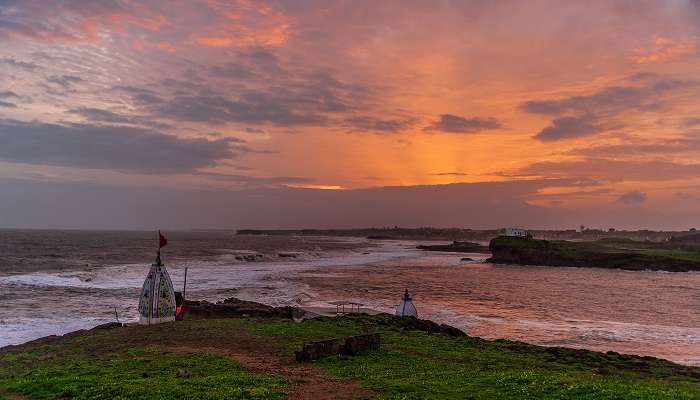 Ces 16 meilleurs endroits à visiter à Daman vous feront sûrement tomber amoureux de cette ville côtière en 2023
Trending Blogs
20 Mysterious Places In India To Visit In 2023 More Bizarre Than The Bermuda Triangle
10 Scariest Roads In India That Are A Driver's Nightmare
101 Places To Visit In India Before You Turn 30 in 2023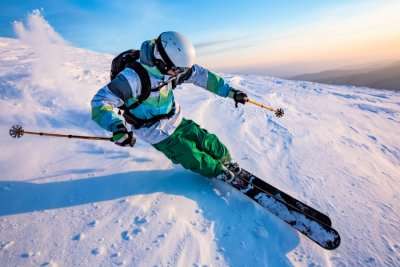 35 Exotic Places To Visit In December In India 2023 To Enjoy A Surreal Vacation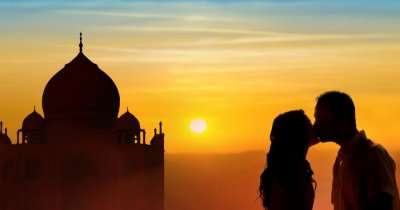 60 Best Honeymoon Destinations In India In 2023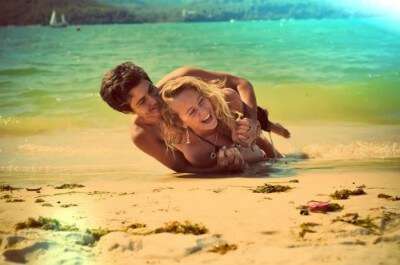 95 Best Honeymoon Destinations In The World In 2023 For A Romantic Escape!
Best Places To Visit In India By Month
Best places to visit outside india by month.
TravelTriangle
Places To Visit »
Tour Packages
Honeymoon Packages
Family Packages
Budget Tour Packages
Luxury Tour Packages
Adventure Tour Packages
Group Tour Packages
Kerala Tour Packages
Goa Tour Packages
Andaman Tour Packages
Sikkim Tour Packages
Himachal Tour Packages
Uttarakhand Tour Packages
Rajasthan Tour Packages
Tour Packages From Delhi
Tour Packages From Mumbai
Tour Packages From Bangalore
Tour Packages From Chennai
Tour Packages From Kolkata
Tour Packages From Hyderabad
Tour Packages From Ahmedabad
Kerala Tourism
Goa Tourism
Sikkim Tourism
Andaman Tourism
Himachal Tourism
Uttarakhand Tourism
Rajasthan Tourism
Hotels in Kerala
Hotels in Goa
Hotels in Sikkim
Hotels in Andaman
Hotels in Himachal
Hotels in Uttarakhand
Hotels in Rajasthan
Home » Travel Guides » Belgium » 15 Best Day Trips from Brussels
15 Best Day Trips from Brussels
Brussels, the capital of Belgium, is now one of the most interesting destinations in Europe.
People from all over the world visit this fascinating city in order to get in touch with Belgium's history, art, and culture.
In addition, Brussels is one of the cities favoured by foodies who are eager to indulge in its famous delights, such as the waffles, chocolate, fries, as well as its famous beer.
Besides the interesting things to see and do in Belgium's capital, there is also a lot to explore within a day trip from Brussels.
So here are 15-day trips that will conquer even the most sceptical traveller.
Located 100 kilometres northwest of Brussels and only 15 kilometres from the North Sea, Bruges, also known as the "Venice of the North", is a great choice for a day trip from Brussels.
Great history, beautiful architecture, and the chance to indulge in some of the best chocolate in Belgium are some of the many things this charming medieval city offers its visitors.
Wander around the beautifully arranged streets and catch a glimpse of the fascinating architecture.
Admire the Belfry of Bruges, a medieval bell tower in the centre of the city and one if its symbols, see the famous Hospital of St. John, and the Saint-Salvator Cathedral.
Get in touch with history at the Historium Bruges, a unique museum with audio guides, and explore the beautiful Flemish art at The Groeningemuseum.
Known for being one of Belgium's medieval treasures, Ghent is also a cultural city defined by music, theatre, film and visual arts.
It is located only 60 kilometres far from Brussels and can be easily reached by car or by train.
One of the best things to do in this charming medieval city is to explore it by foot, in order to catch a glimpse of its incredible medieval architecture, as well as to feel its vibrant atmosphere.
Praise "The Adoration of the Mystic Lamb" by the Van Eyck brothers located inside the Saint-Bavo's Cathedral.
Visit the Belfry of Ghent, the Town Hall, and get closer to Ghent's trading history at the Old Fish Market.
3. Amsterdam
There are 200 kilometres between Brussels and Amsterdam, so the beautiful Dutch capital is a good choice for an unforgettable day trip.
Not only does it offer an incredible scenic beauty thanks to its canals and waterfront views, but Amsterdam is also an oasis of history, culture, and art.
Get in touch with the past at Anne Frank House, learn about art at the Rijksmuseum, Van Gogh and Rembrandt House museums, and enjoy the famous Heineken Experience.
Adventurous travellers can rent a bike and explore the streets, historic landmarks, and main pubs of Amsterdam.
In the meantime, romantics can have a unique Amsterdam experience while enjoying a relaxing boat ride.
4. Luxemburg
Luxemburg is a fantastic day trip from Brussels especially for travellers who are fond of beautiful rural sceneries.
After two hours and a half you get to the capital of the Grand Duchy and begin your tour with exploring the Kirchberg quarter and its many important buildings such as the European Court of Justice, and the European Commission.
Luxembourg is also a great destination for architecture enthusiasts who have the chance to marvel at the Notre-Dame Cathedral, a landmark that perfectly combines the late Gothic architecture with Renaissance adornments.
Continue with wandering around the charming streets, and don't miss catching a glimpse of the Palace of the Grand Duke and the city's fortifications.
Antwerp is a delightful port city on Belgium's Scheldt River.
With a Middle Age-history, fascinating art and architecture, Antwerp is an old, but cool place to visit.
Located only 55 kilometres far from Belgium's capital, the city makes a perfect destination for a day trip.
Visit the largest Gothic church in the Low Countries and see two of the most beautiful masterpieces of the baroque painter Paul Peter Rubens.
See the Central Train Station, explore the diamond district, and don't miss getting closer to the locals in the marketplace.
History aficionados who visit Brussels and want to remember some of the bloodiest battles of the WWI must visit Ypres.
There are only 123 kilometres between Belgium's capital and this interesting place and the road is filled with breathtaking views.
The charming town is surrounded by the Ypres Salient battlefields, giving visitors the chance to go back in time while visiting the war museums, memorials, as well as cemeteries and discovering the horrors of war, its heroes, and villains.
Langemark- the German cemetery, the Menin Gate Memorial, and Saint George's Chapel are some of the most important landmarks of this area.
Located to the east of Brussels, and known for its youthful atmosphere during the month of September and for its breweries, Leuven is another amazing choice for travellers who want to enjoy a day trip from Belgium's capital.
Visit the Grote Markt or 'Plaza Mayor,' admire the imposing St.
Peter's Church, and the well-known Town Hall, a great monument of 'Gotico brabantino'. In addition, makes sure you don't miss seeing the "longest bar in the world" in the Oude Mark.
Hasselt can be reached in an hour by car and it is a great place for visitors who want to spend a day surrounded by peaceful exotic landscapes.
Wander around the impressive 17th-century Japanese tea garden and let the paths, waterfalls, and cherry trees inspire and relax you.
Get in touch with history at the Bokrijk, an interesting park and museum complex and have some fun at Plopsa Indoor Hasselt, an amazing theme park with Indoor rides and attractions, as well as a great outdoor zone.
9. Waterloo Battlefield
History enthusiasts who want to satisfy their thirst should spend a day visiting the famous Waterloo Battlefield, located just 30 kilometres from Brussels.
The most important attraction at the battlefield is the Butte du Lion, translated as Lion Mound.
Don't leave without checking out the Memorial 1815, a compelling underground centre illustrating the battle's historic significance.
Furthermore, for those who are passionate about the past and want to enlarge their knowledge, visiting the Musée Wellington, in the town of Waterloo is also a great option.
10. Tournai
Tournai is an adorable Belgian city with a unique history, including a short period of time when it was under British rule.
The main landmark of the city is its magnificent cathedral, as well as its surrounding area which is a fantastic example of 12th and 13th-century architecture.
Make your way to the belfry in order to admire the whole city centre below.
Then, wander around the beautifully arranged streets of Tournai and stop at The Museum of Fine Arts, where amazing pieces of art can be cherished.
There are only 30 kilometres between Brussels and Aalst and the road is filled with unique sights.
The city has a rich history and great landmarks that could satisfy history and art enthusiasts from all over the world.
Visit Aldermen's House, a UNESCO World Heritage Site, catch a glimpse at the 15th-century belfry next to the town hall, and admire the Gothic style "unfinished" St. Martin's Collegiate Church.
Enjoy a long walk around the city and stop at the statue of Dirk Martens, the first printer in the Netherlands.
In addition, taste your way around Aalst and explore the old breweries that produce their own hops.
Though modest in size, Namur is an intriguing town located in a lovely area between two rivers and surrounded by castles.
It can be reached in just an hour from Brussels and it gives visitors the chance to relax and get in touch with the great history of the area.
Walk around the graceful alleys, then stop and admire the most important landmarks such as the Saint Aubain Cathedral and the Felicien Rops Museum.
In addition, if the weather is fine, enjoy a short Namourette boat ride.
13. Moorsel
Travellers who want to get closer to the traditions of Belgium must visit Moorsel, an inviting village in the province East Flanders, dating back from the early Middle Ages.
Visit the 14th century Saint Gudula chapel and the Renaissance castle.
Even if this might sound impossible, the castle is still preserved in its original condition.
Then, unwind and enjoy the quiet beauty of an old Flemish village before going back to the busy city of Brussels.
Situated in Belgium's Walloon Region, only 105 kilometres from Brussels, Dinant welcomes all people who want to have a relaxing day filled with culture and breathtaking landscapes.
Wander around the picturesque village of Dinant, exploring its fifteenth century collegial, the citadel, as well as the tiny, but very interesting saxophone museum.
In addition, beer enthusiasts must visit Maison Leffe, an inviting beer museum.
Last but not least, stop at the famous Brasserie Caracole and indulge in the goodies served there.
15. Maastricht
Famous for its medieval-era architecture and vibrant cultural scene, Maastricht is a perfect destination for a day trip from Brussels, especially if you want to visit two countries in one day.
Visit the Romanesque Basilica of St.
Servatius and the Gothic-style church Sint Janskerk, explore the amazing cobbled old town, and get in touch with history at the tiny, but interesting Maastricht Natural History Museum.
Take your time admiring the lovely streets and interesting architecture, then stop for a drink at one of the inviting terraces.
15 Best Day Trips from Brussels:
The 10 best day trips from Brussels: castles, cool cities, and culture
Dec 20, 2021 • 7 min read
From mesmerizing medieval cities to Waterloo Battlefield, here are the best day trips within easy reach of Brussels © Dhwee / Getty Images
Brussels is Europe's beating bureaucratic heart, but beyond the stiff shirts and secondary legislation, the Belgian capital is a heady mix of strong beer, artistic expression, and medieval architecture.
It's a geographical boon too, with storybook castles, cool cities, and cross-border curios all within easy reach. Here are the best day trips from Brussels.
Try out Antwerp's cafe culture
It may be Belgium's second city, but Antwerp certainly steals the crown as the country's coolest. This beguiling medieval behemoth, one of Europe's most important cities in the mid-16th century, still drips with diamond dealers and fashion houses. 
There's plenty to keep you occupied during a day trip from Brussels too. Home of the baroque superstar painter Peter Paul Rubens — as museums like the eponymous Rubenshuis will regularly remind you — the city boasts cafe-filled cobbled lanes, a riverside castle , and Belgium's finest place of worship, the Gothic Cathedral of Our Lady . 
How to get to Antwerp: Trains from Bruxelles-Midi to Antwerpen-Centraal take 46–60 minutes. The journey is around 50 minutes by car, but Antwerp is a Low Emission Zone, so check whether your vehicle is allowed into the city via the Low Emission Zone website .
Explore the architecture of Ghent
As one of Belgium's oldest cities, there's a wealth of medieval and classical architecture in Ghent . A tour of its best-known sights –  The Adoration of the Mystic Lamb altarpiece, the 14th-century Belfort belfry and Gravensteen , a 12th-century stone castle – are easily covered in a day, but there's a vibrancy away from the big-hitters too. 
Korenmarkt , the popular waterfront square, has some dazzling centuries-old buildings, whilst the Graslei area on the River Leie where the locals wine, dine, and soak in the surroundings. A wander along the beautiful canals could keep you engrossed for a morning, but leave time to see the works of Belgian artists like Magritte, Emile Claus and Pieter Brueghel the Younger in the MSK art gallery .
How to get to Ghent: Twice-hourly trains take 36 minutes from Brussels to Ghent. The same journey takes 75 minutes by car.
Take a canal boat tour of Bruges
This fairy-tale medieval city is one of Europe's best-preserved: picturesque cobbled lanes and dreamy canals lead to grand market squares lined with soaring towers, historical churches and whitewashed almshouses . An easy trip from Brussels, Bruges is dominated by day-trippers in the warmer months.
Overlooked by the 13th-century Belfort belfry, the Markt is the city's vocal point: a medieval square where horse-drawn carts still circle past classical and neo-Gothic facades. Venture south to see the fantastic Groeningemuseum with masterworks by Flemish painter Hans Memling, but don't miss viewing Bruges from the water. Canal boat tours can be booked from the Rozenhoedkaai and Dijver jetties.
How to get to Bruges: Twice-hourly trains go from Brussels to Bruges. The trip takes around 90 minutes by car.
Learn about Napoleon's defeat at Waterloo Battlefield
Tourists have been swarming to Waterloo in Wallonia ever since Napoleon's 1815 defeat. Sightseers were seen poking around as early as the morning after the seminal battle – and it still attracts thousands of visitors today. 
Best visited as a day trip from Brussels, a new high-tech underground museum peps up the site of the Waterloo Battlefield and helps you make sense of the vast, attractive patchwork of gently undulating cropland dotted with memorials and historically meaningful buildings. The main battlefield is Hameau du Lion (Lion Hamlet), some 3 miles (5km) south of central Waterloo town.
How to get to Waterloo: TEC bus W runs every 30 minutes from Ave Fonsny at Brussels-Midi to Braine-l'Alleud train station. By train, get off at Braine-l'Alleud (45 minutes) rather than Waterloo station, and switch to bus W to reach the battlefield. The journey from Brussels to Waterloo takes around 45 minutes by car.
Visit the mighty citadel in Namur  
Strategically located at the confluence of the Meuse and Sambre Rivers, Namur is crowned by a vast citadel that was once one of Europe's mightiest fortresses. As well as terrific views, compelling Citadelle de Namur has ramparts, tunnels and grey walls that run all across the hilltop.
Down below, Namur's gently picturesque old town has lots to discover, including Église St-Loup , the baroque church Baudelaire reputedly described as a "sinister and gallant marvel", as well as some charming museums. Even the cafes, bookstores and vintage shops of its cobblestone lanes are relaxed enough for many visitors to lose a morning. 
How to get to Namur: Trains from Brussels to Namur take around 65 minutes. It takes a similar length of time by car.
Lille is a cultural and commercial hub
France's most underrated metropolis is under two hours from Brussels. Recent decades have seen Lille transform from an industrial center into a glittering cultural and commercial hub. The enchanting old town is awash with magnificent French and Flemish architecture, but the renowned art museums like Palais des Beaux Arts and legions of fantastic restaurants make it well worth the trip.
Don't miss La Piscine Musée d'Art et d'Industrie , 7 miles (12km) northeast of Gare Lille-Europe in Roubaix. This former art deco municipal swimming pool has been converted into an innovative museum of fine art. The pool is still filled and the sculptures are reflected in the water.
How to get to Lille: It takes around 50 minutes to get from Brussels to Lille via train. By car, it takes 1 hour 45 minutes.
See Tournai's remarkable five-spired cathedral
Tournai's gorgeous triangular main square is ringed with cafes in fine gable-fronted guild houses merrily flying guild banners. But many will make the journey from Brussels just to see the five spires of Cathédrale Notre Dame which dominate the skyline.
The city's remarkable cathedral, one of Belgium's finest, survived WWII bombs only for a freak tornado to compromise its stability in 1999. Despite the scaffolding, the interior remains a fascinating example of evolving architectural styles, from the magnificent Romanesque nave through a curious bridging transept into an early-Gothic choir.
How to get to Tournai: Trains from Brussels to Tournai take around 70 minutes. The same journey by car takes around 90 minutes.
Leuven is a must-visit for beer lovers
Lively Leuven is an ancient capital, Flanders' oldest university town, and a prominent brewing center – you will have heard of Stella Artois, but brewers have been making beer since the 13th century. It's only 25 minutes back to Brussels, so if you're visiting for the day, stay until early evening to see Oude Markt come to life. The 30 bars that cram together here are collectively known as "Europe's longest bar". 
Much of Leuven's historic townscape was obliterated in the World Wars, but a few eye-catching baroque churches still survive, including St-Michelskerk and OLV-Ter-Koorts . The city's best site is the 15th-century Stadhuis , a late-Gothic architectural wedding cake flamboyantly overloaded with terraced turrets and fancy stonework.
How to get to Leuven: Direct trains from Brussels to Leuven take 22 minutes. The same journey by car takes around 50 minutes.
Hasselt is Belgium's unofficial gin capital 
Hasselt is famed as Belgium's unofficial jenever (gin) capital. As such, it's packed with cafes and good restaurants. To make the most of a day here, hire a bicycle from behind the attractive old town hall and ride out to Bokrijk's country parks, where the splendid open-air Bokrijk Openluchtmuseum offers a nostalgic look at Flanders' past. 
Whilst here, get your camera ready as you cross the FDHW , a half-sunken concrete gully cycle path that gives the impression you're parting the water in the lake.
How to get to Hasselt: Trains from Brussels to Hasselt take around one hour. The same journey by car takes around 80 minutes.
Dinant has a striking setting, strung along a riverbank under spectacular cliffs. The village makes a pleasant outing for a day trip from Brussels, highlighted by a visit to its clifftop citadel and a leisurely cruise along the Meuse. 
As the birthplace of the famed Leffe abbey ale, Dinant and a fair amount of great beer. The creator of the saxophone, Adolphe Sax, also grew up here, hence sculptures dotted around the city center paying homage to the instrument. 
How to get to Dinant: The drive from Brussels to Dinant takes around 90 minutes. The same journey by train and bus takes around 2 hours 15 minutes.
You may also like: Brussels' best city parks with a Belgian twist    Brussels for art lovers: 10 incredible galleries    13 classic experiences to have in Brussels      
This article was first published February 2021 and updated December 2021
Buy Where to go When Europe
With more than 300 suggestions for destinations across Europe and the best time of year to experience them, this book is the ultimate trip planner for every month of the year.
Explore related stories
Destination Practicalities
May 18, 2023 • 6 min read
Brussels is an incredible city and we've got some excellent tips to help your first visit go smoothly. Here's what you need to know before you go.
May 21, 2022 • 6 min read
May 15, 2022 • 4 min read
May 13, 2022 • 9 min read
Aug 28, 2021 • 6 min read
Aug 20, 2019 • 2 min read
Jun 14, 2019 • 2 min read
Oct 23, 2017 • 5 min read
May 24, 2016 • 2 min read
Aug 17, 2012 • 4 min read
Brussels is rich in history, architecture, gastronomy, culture and so much more! Warm, welcoming and quirky, Brussels is a bustling city where there's always something going on. Visit us to discover hidden gems and meet people with hearts as big as this vibrant city.
Must-see attractions
You've just arrived in Brussels and you don't know where to start? Don't worry, we've put together a list of must-see attractions for you.
Autumn in Brussels
Visiting Brussels in autumn? You definitely should! When the days shorten, the city is enveloped in a glow of colours that makes it even more beautiful. It really is the ideal season to put on your comfiest walking shoes and discover the capital's parks, historical city centre and quirky neighbourhoods on foot. There is plenty to experience inside too: from museum visits and shopping to heavenly culinary discoveries. You'll be amazed by Brussels' unique autumnal charm!
Art Nouveau 2023
An exceptional programme to celebrate Art Nouveau
Upcoming events
River jazz festival.
Théâtre Marni & Jazz Station & Le Senghor
Brussels International Guitar Festival & Competitions
Dedicated to Freedoms, we welcome you to the 12th edition of the Brussels International Guitar Festival & Competitions, the not-to-be missed and eagerly awaited event in the capital of Europe for music fans and aficionados of the guitar.
Dedicated to Freedoms, we welcome you to the 12th edition of the Brussels International Guitar Festival & Competitions, the not-to-be missed and eagerly awaited event in the capital of Europe for music fans and aficionados of the guitar. The only one of its kind, « the Brussels guitar fiesta » attracts a large crowd and over the years has established itself as one of the major festivals in Europe. The splendid Théâtre du Vaudeville, located right in the heart of Brussels in the Galeries Royales Saint-Hubert, will host concerts, shows, master classes, a lecture, an exhibition as well as the public final rounds of the national competition, the international competition and the composition competition. Classical, Latino, Baroque, modern, contemporary music, Brazilian jazz as well as a Flamenco show… The many facets of the world's most played instrument will be showcased thanks to a rich and varied programme : solo, duo, ensemble, guitar with orchestra, saxophone, percussion, singing, violin… Always seeking new experiences, the festival offers the public the chance to attend numerous world and Belgian premieres and listen to big names in guitar music from various countries (Belgium, Brazil, Spain, Hungary, France, Italy, Austria…) as well as young artists on the verge of a promising career, for whom the festival serves as a launch pad. The 2023 selection, via a new exhibition, pays tribute to the Masters Ilse & Nicolas Alfonso, who opened the first guitar classes in the Belgian Music Academies as well as the guitar class at the Conservatoire Royal de Bruxelles in 1965, thereby becoming the founders of the Belgian Guitar School. Finally, the ever popular « Luthiers & Exhibitors Salon » will welcome its visitors in the impressive Exhibition gallery located under the Théâtre du Vaudeville. Open to everyone, whether just curious or confirmed music lovers, this exceptional edition will be more than ever full of joy, emotions, discoveries and conviviality… Hugues Navez Founding President and Artistic Director Full Professor of the Guitar Class & Head of the Guitar Department at the Brussels Royal Conservatory
Théâtre du Vaudeville
Winter Wonders
The City of Brussels is celebrating the 23rd edition of Winter Wonders from 24 November to 31 December 2023.
Featuring one of Europe's most popular Christmas markets and a host of different activities, you certainly won't be disappointed when you visit the capital this winter! Come and enjoy a magical end of the year. The event is open every day from 12pm to 10 pm. The festivities of the Grand-Place, with its Christmas tree and sound and light show, of Place De Brouckère, with its ice rink and curling rinks, and place de la Monnaie are extended until Sunday 7 January 2024.
City of Brussels
GRRRABUGE - Future Wine Festival
Natural Wines & Fermented Beverages Festival || November 26 and 27, 2023 in Brussels || Tastings - Conferences - Concerts
GRRRRRRRRRRRR! GRRRABUGE - Future Wine Festival! November 26 & 27, 2023 in Brussels. 2 days of celebration, conferences, concerts and discussions to celebrate natural wines and think about the future of wine with respect for the people and environment. What to expect: - Some thirty winemakers, fermenters and zinzin distillers (the lineup is coming soon) will be on hand to taste their products. - Natural wines, ciders, beers and other fermented beverages - Talks by speakers on topical subjects such as hybrids, agroforestry and the future of mondovino orchestrated by Julie Reux of @vinofutur - Concerts that will help you hear the sound of tomorrow's wines (line-up coming soon too) - Foodtrucks, a bar and lots of other surprises! All of this in an iconic location at LaVallée Brussels GRRRRRRRRRRRR!
Molenbeek-Saint-Jean
Fairs and shows
Coudenberg Sound Box Fest 2023
Much more than a classical music festival, Coudenberg Sound Box Fest aims to reconnect its audience with Belgium's archaeological, historical and artistic heritage by bringing the remains of the Coudenberg Palace into dialogue with the eclecticism and the dynamism of its present. From early music dating back to the 14th century, through baroque, jazz, folk and electronic music, to contemporary compositions, the subtle and invisible links between these different styles will be revealed by internationally renowned musicians from the City of Brussels and Belgium. PROGRAMME Sunday 26/11/23 – 18:30 AIR: SWINGING VIBRATIONS AS TIME FLIES * Duo Coordonné (Thomas Langlois, Baroque lute & Anna Nuytten, mezzo soprano) - Music by Jacques Brel, Luc de Vos, Bart Peeters et al. * Christophe Morisset (compositions and serpent) & Gilles Doneux (composition and live electronics) – Original compositions * Tickets: https://tinyurl.com/22674mdy Sunday 03/12/23 – 18:30 WATER: ACOUSTIC AND DIGITAL WAVES * Ludovic van Hellemont (Ondes Martenot and Buchla synthesizer) – Music by Johann Sebastian Bach, Ludovic van Hellemont et al. * The WIG Society (Classical quintet) – Music by Joseph Haydn, Joseph Schmitt, Wolfgang Amadeus Mozart * Tickets: https://tinyurl.com/5n7u4akc Sunday 10/12/23 – 18:30 EARTH: THE DEEP RESONANCES OF LOW STRINGS * Petar Pejčić (cello) – Music by György Ligeti, Zoltán Kodály, Jacqueline Fontyn * Anneleen Boehme (double-bass) – Jazz impro session * Tickets: https://tinyurl.com/2kyn3pfw Sunday 17/12/23 – 18:30 FIRE: BETWEEN BAROQUE AND MARTIAL DANCES * La Cetra d'Orfeo (Baroque ensemble) ft. Guillaume Houcke (countertenor) – Music by E. Adriaenssens, C. Negri, P. Philips * Tsubasa Hori (Japanese percussions) – Hōgaku - traditional japanese music * Tickets: https://tinyurl.com/e6h44fmc PRACTICAL INFORMATION: Wear warm clothes and/or shoes or bring a blanket. ADDRESS: Coudenberg Palace, Place Royale 10, 1000 Brussels TICKETS: €20 / €10 (-26) per concert - €65 for all 4 concerts TEAM: Music Curator CSBF: Dr Matteo Gemolo Administrative Assistant CSBF: Justyna Novakovic Director Coudenberg Palace: Frédérique Honoré WITH THE SUPPORT OF: • Ville de Bruxelles • Fédération Wallonie-Bruxelles • Ceci&Sons • the European Festivals Association • Musiq3 • Loterie Nationale • Brussels 2023 • Urban • Visit Brussels
Coudenberg Palace
Joseph Jongen 150 Festival
Conservatoire royal de Bruxelles
23rd Cinemamed
Cinemamed is coming back from December 1 to 8 for its 23nd edition in Palace, Aventure and Bozar. Since 1989, Cinemamed invites the public to discover quality films by authors anchored in the Mediterranean landscape. Check out our website www.cinemamed.be and social networks to discover the entire program and guests.
The Brussels Cinemamed Festival returns from December 1 to 8 for its 23nd edition. Since 1989, Cinemamed invites the public to discover quality films by authors anchored in the Mediterranean landscape. Cinemamed is committed to promoting multiculturalism by highlighting essential themes. The festival will take place in Cinema Palace, Cinema Aventure, Bozar and many cultural centers in Brussel. Check out our website www.cinemamed.be and social networks to discover the entire program and guests. This 23nd edition will make you discover striking films in the Official Competition as well as in the RêVolution Competition : a glance at tomorrow that highlights youth and the challenges they face. In addition to these competitions, Cinemamed offers, as usual, a meDoc section and a Panorama section, respectively featuring a selection of committed documentaries and fiction films reflecting on the social and cultural realities of the Mediterranean countries. Cinemamed is also a place for reflection, meeting and exchange between people and cultures. The festival's audience will be able to exchange directly with filmmakers, personalities from the film industry or various speakers during the screenings or debates that are organized. The festival also wants to address everyone, that's why Cinemamed organizes screenings for the Brussels associative sector at a democratic price (2€ per seat). Theses films deal with themes that are often essential for the associations and allow them to speak out on sometimes delicate subjects. In collaboration with many cultural centers in Brussels, the Cinemamed also offers about twenty free school screenings in different municipalities of Brussels. Don't miss the concerts, the med market for a delicious snack and the numerous events that make the warm and friendly atmosphere of the Cinemamed.
Find out who are the guests and jury members of 23rd Cinemamed in November on www.cinemamed.be
Cinéma Palace
Alice au Cabaret !
Gare Maritime - Tour & Taxis
Music Chapel Festival
The 14th edition of this classical music festival pays tribute to Mozart. A unique opportunity to discover or rediscover the richness of the work of this genius composer who said he was "looking for the notes that love each other".
From his symphonies to his most famous concerti, from his most beautiful arias to his intimate chamber music compositions, immerse yourself in the brilliance of his musical repertoire. Music Chapel Festival Pass 2023 : € 90 Access to all concerts of the festival. Reservation is mandatory using the code indicated on your pass. Music Chapel Festival Pass 2023 Red - 26 : € 50 Access to all concerts of the festival. Reservation is mandatory using the code indicated on your pass.
Porsche Driven by Dreams
Everyone knows the name Porsche, however there are still many secrets to be discovered about the make. Autoworld, in collaboration with Porsche Belgium and the Stuttgart Museum, are presently gathering "Unseen" models, cars never before revealed to the general public. Stay tuned... Come and dream with Porsche, from 8th December 2023 until 23rd February 2024!
The ultimate chance to meet the filmmakers of today and tomorrow.
The SYSTEM_D platform has been in existence for twelve years. Its goal? To give up-and-coming visual talents from Brussels a leg up. The organisation has been coaching young autodidactic filmmakers since 2011 with research, production, and dissemination of their cinematographic projects. SYSTEM_D mainly aims at decolonisation, visibility and strengthening of stories. It investigates which survival strategies and coping mechanisms we use when we tell something from deep in our underbelly, something that hurts and that can only come from ourselves. This film festival is the culmination of the SYSTEM_D trajectory. Who can join? Anyone who feels young, did not receive a formal cinematographic education, and has created a film that offers an alternative view of Brussels. A wide field of participants! This way, filmmakers get the chance to show their work and to receive valuable feedback from a professional jury and the audience. The jury hands out three prizes during the festival, and the audience can also cast their vote for the much-desired audience award. The ultimate chance to meet the filmmakers of today and tomorrow.
Noël au théâtre
Brussels Jazz Festival 2024
2024 opens with the emblematic event for jazz lovers: the Brussels Jazz Festival.
La Semaine du Son
Various places in Brussels
ceramic brussels
As the first contemporary art fair dedicated to ceramics, ceramic brussels will bring together more than 50 galleries, institutions and key players in contemporary ceramics in a unique scenography.
This new event will take the form of a militant fair, resolutely focused on showcasing contemporary ceramics, with an intense agenda that includes visits and exhibitions, a series of conferences and the publication of an annual review. ceramic brussels will emphasize the experience and encounter of content, while at the same time creating an international market and networking platform. The fair will demonstrate its commitment to continually questioning its format and to promoting and bringing together all actors in the world of contemporary ceramic art. Over the past few years, ceramic has enjoyed a remarkable comeback, grabbing the limelight on the contemporary arts stage. Supported by a string of pioneering artists who have gradually and largely contributed to its revival (Johan Creten, Miquel Barceló, Grayson Perry, Klara Kristalova, Carolein Smit and Anne Wenzel), ceramics has been given a new lease of life. As such, it is crossing over into the practices of contemporary artists, opening the field to new experiments and being showcased by contemporary art galleries. Ubiquitous in artists' studios, in international centers and museums, ceramics is in a constant state of (r)evolution, subject to multiple influences and practices, possessed by the Zeitgeist and driven by a varied and high-quality scene. The fair is supported by an advisory board made up of Johan Creten (artist, guest of honour 2024), Christine Germain- Donnat (director of the Musée de la Chasse et de la Nature, FR), Magdalena Gerber (CERCCO - centre d'expérimentation et de réalisation en céramique contemporaine de la HEAD à Genève, CH), Geertje Jacobs (Director EKWC -internationale artist-in-residence en centre-of-excellence voor keramiek, NL) and Ludovic Recchia (Director of Keramis, Musée, espace d'art et de création dédié à la céramique, La Louvière, BE). The fair is co-directed by a Franco-Belgian duo, Gilles Parmentier and Jean-Marc Dimanche.
Participants include some very fine proposals from galleries such as Almine Rech, Michel Rein, Papillon, Transit, Ceramica Suro, Sorry we're closed, Lefebvre & fils, Puls Ceramics, Bernard Jordan, and many others. We will be welcoming Johan Creten as our guest of honour for this 2024 edition.
Tour & Taxis
Photo Brussels Festival
"Les fleurs" by FRANCE DUBOIS is about the unheard conversation for human between 2 trees in Brussels, cherry and magnolia. FRANCE DUBOIS followed their evolution for years and years now. It makes the artist think of the way human being grow as well . France uses only a polaroid camera and then scanned the photo and printed them on a high quality cotton paper. A must see!
Two trees blooming in turn, in a silent conversation imperceptible to humans, markers of everything that happens, disappears and returns. Nothing lasts, everything repeats itself, France Dubois seems to tell us, as she observes the same magnolia and cherry trees blossom year after year, in a gesture that is not static, but marks a cyclical rebirth that only spring allows. Faced with these two trees watching each other blossom in a wordless dialogue of love, we find ourselves dreaming of being a flower in the midst of the chaos of the world around us. The language of flowers alone conveys this promise of eternal recommencement, and shows walkers, strollers and spectators how sweet it can be to forget oneself for a moment, and perhaps dream of the possibility of being just a flower. The photographer witnesses the passage of time, reminding us through her series without beginning or end that everything is temporary, light and uncertain, and that the apparent fragility of nature conceals only a cycle that repeats itself indefinitely. Like love, like flowers, like the seasons.e
The Palm Beach art gallery is pleased to participate at the Photo Brussels Festival for the second year. FRANCE DUBOIS will be shown with her work "Les fleurs". A solo show!!!!
The Palm Beach
Brafa Art Fair
BRAFA is one of the most prestigious art fairs in Europe; an exceptional 8-day event in which rare works, ranging from antiquity to the twenty-first century, are exhibited in a refined setting at Brussels Expo.
BRAFA is one of the most prestigious art fairs in Europe; an exceptional 8-day event in which rare works, ranging from antiquity to the twenty-first century, are exhibited in a refined setting at Brussels Expo. Since 1956, the year of its creation, its taste for excellence has contributed to its constant evolution. Over time, it has grown, internationalised and changed venues several times without losing its charm, pursuing one simple objective: to offer the most qualitative of art fairs in order to satisfy the desires of collectors in search of treasures. Each year, 130 international galleries occupy the 21,000 m² of Brussels Expo's Halls 3 and 4. Be it ancient or modern painting, tribal art, jewellery, silverware or design, the most qualitative galleries in each specialty are carefully selected for each edition. Upon arriving at BRAFA, visitors are embarked on a journey throughout the aisles which boast a mix of eras and styles, enabling the gaze to remain alert. The variety of specialties on display also offers collectors the possibility of opening up to other fields. Every year, more than 65,000 visitors come from Europe and abroad to discover the new edition of the fair. Whether you visit alone, as a couple, with friends or with family, BRAFA is an opportunity to exchange, learn, share, be inspired, or simply fall in love with an exceptional work. BRAFA delights in sharing its passion for art with its visitors and presents traditionally a special theme or guest of honour, daily conferences on the stand of the King Baudouin Foundation and guided tours in several languages.
Brussels Expo
Courts mais Trash 2024
Les Riches-Claires
Ici commence la mer
The "Here begins the sea" awareness campaign refers to the journey that waste often takes, from land to sea, and aims to raise awareness of the impact waste can have on our own immediate environments. And in reality, "here" refers to everywhere, so also to our own homes, and to initiatives both inside and outside the walls of the Brigittines, in the form of performances, neighbourhood initiatives, lectures, climate frescos, days for professionals, workshops for schoolchildren and temporary bookstores: from seabeds to textile industries, from consumption to eco-concepts, from information to sharing knowledge and know-how.
Les Brigittines
In Movement
The biennial festival In Movement combines creations, revivals and composed evening performances. A mix of styles that testify to the passionate commitment of choreographers of all generations within the world of contemporary dance. Beyond the differences in their artistic views and origins, the artists taking part in the festival all have links with Brussels, having lived and, above all, worked there. The performances will be accompanied by meetings and lectures, which will stimulate reflection and open up to the challenges facing contemporary dance and its role within the City.
Festival Nouvelle Senne - 3ième édition
Zinneke Parade
Zinneke asbl
Couleur Café
The Couleur Café festival, located in the verdant Osseghem park next to the Atomium, is a vibrant melting-pot of musical genres, spanning from hip-hop, reggae, and afro to RnB, funk, and dub. For 34 years, the festival has welcome thousands of beautiful people, featuring dozens of both established and emerging artists, as well as remarkable DJs.
The greenest urban festival in the country is getting ready for its 33rd edition. On the 28th, 29th and 30th of June 2024, the breathtaking Osseghem Park by the Atomium will welcome a diverse mix of established and emerging hip-hop, soul, funk, reggae, dub, dance and afro artists, as well as dozens of DJ's on 6 stages, countless experiences and culinary highlights, an enchanting decoration and thousands of beautiful people who perfectly represent the diversity of Belgium. Couleur Café is more than a festival, it is a journey around the globe that'll keep you dreaming for the rest of the year. And it has been for 34 years. Discover more on couleurcafe.be.
Osseghem Park
Where to eat
The best places to eat chips in brussels.
Check out all our addresses!
Street food in Brussels: a whole world of flavours at your fingertips
Are you a fan street food? Brussels is packed with places where you can taste and savour authentic street cuisine.
Brussels' breweries
Over the last ten years, Brussels has seen a renewed interest in artisanal production and craft beers.
Sustainable restaurants in Brussels
Looking for a sustainable restaurant? Seventy-six establishments in Brussels hold the "Good Food Resto" label.
Let's get practical
Arriving in brussels.
Plane, train, bus or car? All roads lead to Brussels.
Getting around
Get around by tram, bus, metro, train, bike... Transport is easy to use in Brussels!
Tourist information offices
In Brussels already and looking for a bit of inspiration? Pop in at one of our offices!
Low Emission Zone
Brussels is striving for cleaner air and knows how to get it done.
Brussels from all angles #visitbrussels
Brussels Card
The key to easily discover Brussels!
Free access to 49 Brussels museums
Discounts at attractions, shops, restaurants, bars and guided tours
Free information guide, city map and museum map
Optional: unlimited access to public transport, Hop on Hop off buses and access to the Atomium
Europe in Brussels
The European Quarter
European Parliament
Experience Europe
Our latest news in your mailbox
Don't miss a thing, sign up for our newsletters!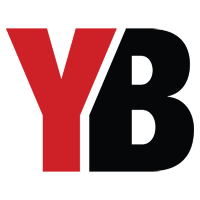 The 11 best places in Europe for chocolate lovers
Posted: November 8, 2023 | Last updated: November 8, 2023
Europe is known for amazing food, from Italian espresso and gelato to French pastries, Czech beer, and Mediterranean seafood. It's also an amazing continent for chocolate lovers, with numerous companies headquartered in various cities. Here are 11 European destinations to visit if you enjoy the sweet treat!
Brussels, Belgium
This list wouldn't be complete without mentioning the EU capital, which also happens to be the chocolate capital of Belgium and one of Europe's leading hubs for the sweet treat! Home to numerous producers of infamous Belgian chocolate, such as Neuhaus, Godiva, and Mary, a trip to Brussels won't disappoint! Additionally, if you want to learn about everyone's favorite candy, check out Choco-Story Brussels or the Museum of Cocoa and Chocolate.
You may also like: The best uses for overripe bananas
Zurich, Switzerland
Home to world-renowned Lindt chocolate, the Swiss city also houses Teuscher chocolate (famous for its champagne truffle), Laderach, Vollenweider, and more. You can even take a ferry across the lake to tour the Lindt factory for a nice outing and educational day. Of course, Toberlorone can be found across the city — although, as of 2023, much of the production has been shifted to Slovakia. Thus the company can no longer claim to be "Swiss-made chocolate" and will soon have to cease using the Matterhorn on the packaging. 
Follow us on MSN to see more of our exclusive lifestyle content.
Milan, Italy
Italy is known for its gelato and espresso, so it's no surprise the chocolate found here is top-quality. Milan is famous for using Piedmont Hazelnut, which gives chocolate here a unique taste. You'll find it featured in many desserts around the city.
You may also like: 22 foods and drinks you didn't know contain gluten
Vienna, Austria
The coffee house capital of Europe is also home to some amazing chocolate, including Demel, originally the royal confectioner, which is now a favorite among locals and tourists. Vienna is also the birthplace of the Sachertorte, Austria's official dessert, dating back to the 1800s. The chocolate cake is layered with jam (typically apricot) and covered with a chocolate glaze. If you want to learn more about the history of chocolate in the country, don't miss the Viennese Museum of Chocolate!
Barcelona, Spain
The Spanish are famous for their churros, which often come with melted chocolate. However, the country also produces delicious other forms of chocolate, particularly in Barcelona. Don't miss Chacao Sampaka, Petritxol Xocoa, and Chocolates Brescó — all fantastic producers of the sweet treat.
You may also like: 15 unconventional uses for olive oil
Bruges, Belgium
There are numerous chocolate shops in the charming town of Bruges, and it can be difficult to decide where to go. The Old Chocolate House is known to have the best hot chocolate in the city. For locally-made candies, check out Olivier's (where you can sample local beer), Galler for dark chocolate, and Chocolatier Van Oost for seasonal creations.
Paris, France
France is typically known for top-rate pastries, wine, and cheese, but don't forget it's also home to chocolate truffles! Its most popular city is a must-visit for chocolate aficionados. La Maison du Chocolat is the place to go for truffles and hand-made caramels. And everyone knows Angelina's is worth the wait in line for the famous hot chocolate.
You may also like: 15 tips for preparing your home for the winter
Tuscany, Italy
This region known for wine is also great for connoisseurs of chocolate as it houses the little-known Chocolate Valley of Florence, Pisa, and Montecatini. Amongst the rolling Tuscan hills and in these cities are numerous small chocolate factories and shops. Definitely worth a stop in-between wine tastings!
Cologne, Germany
The Christmas Capital of Germany is also the birthplace of Stollwerck Chocolate Company, a large exporter to the U.S. There's also a large chocolate museum worth checking out, featuring numerous company histories around Europe.
You may also like: 20 top travel destinations for epic marine life
Turin, Italy
This northern Italian city is known to be the country's "capital of chocolate" and has been a center for chocolate production for centuries. Today, Turin is a great place to visit to learn about the production of chocolate in Italy — and to sample it, of course. Don't forget to stop by the Chocolate Museum on your visit!
Most famous for Cadbury, the United Kingdom is a great place to visit if you're a fan of chocolate. In recent years, though, the capital city has begun to turn out a large number of gourmet chocolatiers. So, if you're looking for a city with a sweet tooth, London is a great option!
Did you enjoy this slideshow? Follow us on MSN to see more of our exclusive lifestyle content.
More for You
Newly released audio reveals Trump's words about January 6 crowd
Experts raise alarm after Biden strikes agreement with China to shut down fossil fuels
Between Friends by Sandra Bell-Lundy
Iran's betrayal leaves Hamas nowhere to go
Balance of Nature ordered to stop sales of supplements after FDA lawsuits
Chilling map shows the utter devastation of a nuclear attack on the US
Donald Trump's Interactions With Secret Service on Jan. 6 Revealed in Audio
Honda recalls nearly 250K vehicles because bearing can fail and cause engines to run poorly or stall
It's not just a stereotype: Gen Z really does 'have a work ethic problem'
The seven new types of old age – and how to tell which one you are
Maria Bartiromo: This is 'quite worrisome' for Americans
A Russian official said soldiers are dying in large numbers, but he'll get in trouble if he doesn't send more to fight, leaked video shows
Map Showing U.S. Targets Sparks Fears of Attacks
The flu is soaring in seven US states and rising in others, health officials say
The Lockhorns by Bunny Hoest and John Reiner
69 Finger Food Party Appetizer Recipes For The Best Party Ever
Chase Elliott injury: NASCAR Cup series star undergoes shoulder surgery, plans to be ready for start of 2024
How chefs feed 100,000 Michigan fans at America's biggest football stadium
Leaked coup tapes upend the Georgia RICO case: Melber Report
Osama Bin Laden's Letter to America: Transcript in Full