Skip To Main Content
Hotels with Swimming Pools
Guesthouses & Bed and Breakfasts
Pubs with Rooms
Holiday Cottages
Narrowboats & Boats
Hostels & Budget Accommodation
Family-Friendly Places To Stay
Accessible Places To Stay
Dog-Friendly Places To Stay
Romantic Places To Stay
Group-Friendly Places To Stay
Special Offers
Where to Stay Blogs
All Attractions
Cultural Attractions
Family Attractions
Top 10 Things To Do
Bus, Boat & Cycling Tours
Guided Walks
Bridgerton Tours
Day Tours from Bath
Food & Drink Tours
Self Guided Tours
Alternative Tours
Private & Group Guided Tours
Private & Group Attraction Tours
Tour Operators
Translated Tours
Spa Heritage
Wellness Activities in Bath
Museums & Galleries
Parks and Gardens
Historic Sites
Spectator Sports
Indoor & Outdoor Adventure
Hot Air Ballooning
Boating & Rowing
Driving & Motorsports
Theatre & Performance
Live Music & Comedy
Hen & Stag Parties
Evening Tours
Night Clubs & Clubs
Pubs in Bath
Cocktail Bars
Experiences
Canals & Waterways
Outdoor Attractions
Walks in Bath
Gardens & Parks in Bath
Indoors & Rainy Day
Family-Friendly
Dog Friendly
Group-Friendly
Restaurants
Afternoon Tea
Cafes & Tearooms
Breweries, Distilleries & Vineyards
Pubs & Gastropubs
Bars & Cocktail Bars
Group- Friendly
Dog-Friendly
Sunday Lunch
Vegetarian & Vegan
Food Markets & Events
Food Shops, Bakeries & Delis
Cookery Schools
Breweries & Craft Beer
Local Specialities & Produce
Outdoor Dining
Takeaway & Food Delivery Services
Private Dining
Events Calendar
Christmas Events
New Year's Eve
Annual Events
Family-Friendly Events
Literary Events
Sports Events
Exhibitions
Accessible Events
LGBTQ+ Events
Virtual Events
Shops in Bath
Independent & Individual
Central Bath
Walcot Artisan Quarter
Milsom Street
Bath Gift Card
Online Shopping
Maps of Bath
Bath Official Visitor Guide
Travelling to Bath
Travelling around Bath
Public Transport
Parking in Bath
Coach Parking & Drop-Off
Great West Way ®
COVID-19 – Information and Advice
Essential Information
Before Your Visit
Towns and Villages
Book Tickets
Accessible Things To Do
Accessible Places to Eat & Drink
Study in Bath
History and Heritage
Famous People from Bath
Facts about Bath
What does water mean to Bath?
Wellbeing in Bath
Persuasion in Bath
Filmed in Bath
Bridgerton in Bath
How to Spend a Three-Day Wellbeing Break in Bath
Top 10 Must-Sees in Bath
Top 10 Things To Do in Bath
Three Days in Bath
Visit the Highlights of Bath on a Two-Day Trip
Have the Ultimate Spa Day in Bath
Foodie Inspiration for a Two-Day Break in Bath
Gardens of Bath
Beyond Bath Itinerary
Dog Friendly Things To Do
Dog-Friendly Places To Eat
Family Friendly Places To Stay
Family Friendly Things To Do
Family Friendly Places To Eat
Literary Festivals & Events
Jane Austen's Bath
Authors with a Bath Connection
Student Special Offers
Green and Sustainable Bath
Virtual Tours of Bath
Online Museums and Exhibitions
Weddings in Bath
Great Gifts
Spring in Bath
Autumn in Bath
Winter in Bath
Sign Up to Newsletter
Competition
What's On
There isn't anything in your planner. Please have a browse through the site and add the things you're interested in.
Already saved an Itinerary?

Welcome to Bath - The Original Wellbeing Destination
An elegant city full of traditional heritage, contemporary culture, green spaces and a few surprises..
Built for pleasure and relaxation, beautiful Bath has been a wellbeing destination since Roman times. The waters are still a big draw today, both at the ancient Roman Baths and the thoroughly modern Thermae Bath Spa, which houses the only natural thermal hot springs in Britain you can bathe in.
Bath's compact, visitor-friendly centre is overflowing with places to eat and drink, plus some of the finest independent shops in Britain, making it the ideal city break. Immerse yourself in Bath's remarkable collection of museums and galleries, and enjoy year-round festivals, theatre, music and sport.
Bath's stunning, honey-coloured Georgian architecture is straight from a Jane Austen novel; highlights include the iconic Royal Crescent and the majestic Circus. There's plenty to see beyond the city, too, with beautiful Somerset countryside to explore, as well as attractions including Stonehenge, Avebury, Castle Combe, and Longleat Safari Park.

We Recommend...


13 Oct 2023 7 Jan 2024
25 Nov 2023 1 Jan 2024


Let's get to know Bath

Here are some of the best restaurants in Bath where you'll find mouth-watering roast dinners.

Find out where to capture Bath on camera during autumn, when the city looks even more photogenic than usual.

From gleaming Georgian townhouses to budget staples, here's our guide to the best city centre hotels in Bath. From spectacular Georgian crescents to immaculate gardens, explore ten of the most stunning sights in Bath.
Plan your visit
To get the very best out of your visit to Bath, let us help you to think ahead and work out the details of your trip in advance. Our wealth of resources and information make getting to (and around) the city simple, fuss-free and enjoyable.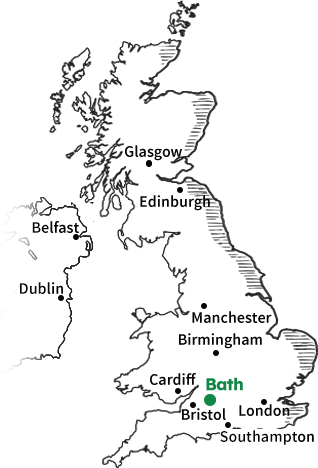 Terms and Conditions
Accessibility Statement
Visit Bath Privacy Policy
Submit Event
Keep in touch
Follow Visit Bath on all your favourite social media platforms for updates and inspiration.
Ratings Powered By

Don't Miss

Win a Festive Christmas Break in Bath

Hotels in Bath

Bath at Christmas

© Visit Bath 2023. All Rights Reserved

South Africa
Philippines
South Korea
New Zealand
Dominican Republic
Netherlands
Switzerland
City breaks
GREEN TRAVEL
Staycations
Best uk hotels
24 of the best things to do in Bath
Oliver Berry
Destination Expert
Thursday November 9 2023, 13:14pm
Bath may be small, but it packs a lot into its steep, hilly streets. It's celebrated for its Georgian architecture, of course — it's home to a host of architectural landmarks, from the Palladian lines of Pulteney Bridge and Prior Park to the magnificent statements of the Circus and Royal Crescent, and Bath's soaring medieval abbey. Thanks to the geothermal waters that bubble under the city, it's also home to the best-preserved Roman bathhouse in Britain — sadly off-limits to bathers these days, but you can still take a dip at Thermae Bath Spa or Cleveland Pools.
Bath is a great city to explore on foot, as long as you don't mind the hills — and the Kennet & Avon Canal makes a peaceful spot for boat trips or bike rides. Whether you're planning a weekend getaway or a trip to the markets at Christmas, these are the best things to do in Bath.
Main photo: the historic cityscape of Bath (Getty Images)
This article contains affiliate links, which may earn us revenue
1. Marvel at the Roman Baths
Say what you like about the Romans, but they knew how to take a bath. The Roman Baths are the city's top visitor attraction, and comprise one of the largest and best-preserved Roman bath complexes anywhere in Europe. Built on top of natural geothermal springs that provide a never-ending hot water supply — perfectly heated to a balmy 46C — the complex is centred around the Great Bath and King's Bath, surrounded by 18th-century buildings. Several other pools and rooms can also be visited, and you can see the hypocaust system that allowed steam to travel around the bathhouse. There's even a museum that explores the site's history, including its pre-Roman origins as a sacred Celtic spring dedicated to the goddess Sulis, more than 2,000 years ago. Look out for the striking gilt bronze head of the goddess Minerva, to whom the temple was dedicated — it's incredibly well preserved, and a true treasure of Roman Britain.
2. Walk across Pulteney Bridge
Designed by Robert Adam, and built in 1774, this supremely graceful Palladian bridge spans the River Avon, and is one of only four bridges in the world that has shops lining both sides. It's a thing of sublime beauty and has still not been pedestrianised, despite this being mooted for many years. There are fine views over Pulteney Weir.
3. Visit the Jane Austen Centre
Few cities are as indelibly linked with Jane Austen as Bath. The city provides the setting for several tales, including Persuasion and Northanger Abbey , and many adaptations of her novels have been filmed here — although Austen actually only lived in Bath for six years, from 1801 to 1806. A fun activity in Bath for families, this small museum explores her connections with the city and costumed guides are on hand to bring the era to life. There's also a popular shop for souvenirs and a quaint tearoom where you can take a Regency-style afternoon tea. The centre hosts lots of activities during the annual Jane Austen Festival in September.
4. Go boating on the Avon
Is there anything more tranquil than a paddle down the River Avon? You decide. Pack a picnic and choose from a wooden skiff, punt or canoe — all can be hired from the charming Bath Boating Station on the southeast side of the city. If you prefer to let someone else work up a sweat, Pulteney Cruisers also offers open-top motorboat trips to the nearby village of Bathampton.
5. Go on a guided walk
To get under the city's skin and learn more about its history, free walking tours are provided by the Mayor of Bath's Honorary Guides ( bathguides.org.uk ). You'll set off from outside the Roman Baths and cover around two miles of walking in Bath city centre. Several other walking tours are offered by private guides — including ghost tours, Jane Austen tours, Bridgerton locations and plenty more. Ask at Bath's tourist office for details.
Where is Bridgerton filmed?
6. Stroll the city's grandest street
The Royal Crescent is the city's most prestigious address: a perfectly symmetrical crescent of princely Palladian townhouses, overlooking Royal Victoria Park, built by John Wood the Younger from 1767 to 1774. Constructed from honey-hued Bath stone and framed by neoclassical columns, the entire crescent is grade I listed. Most of the houses are privately owned, but it's possible to get a peep inside at No 1 Royal Crescent. Originally owned by the wealthy landowner Henry Sandford, and now the headquarters of the Bath Preservation Trust, the house has been painstakingly restored using only 18th-century materials, including period paints, furniture and wallpapers. You'll get a fascinating insight into what life would have been like for Bath's fashionable elite. Highlights include the grand drawing room and the vast basement kitchen: costumed guides are on hand to tell stories about the house's past.
no1royalcrescent.org.uk
Best Christmas markets in the UK for 2023
The best hotels in Bath
7. Climb Bath Abbey's tower
You can't miss Bath Abbey: its hulking medieval façade and central tower dominate the city centre. There's been a site of worship here since at least the 7th century, but the present cathedral largely dates from the 14th and 16th centuries. Highlights include the dramatic stained-glass windows, fabulous fan-vaulted ceiling and ornate façade (on the west front, look out for angels climbing up and down ladders, which appeared in a dream of the abbey's builder, Bishop Oliver King). It's worth slogging up the 212 steps to the top of the tower for panoramic city views: you'll learn about the history of the abbey's clock and its famous bells along the way. During December, the Abbey is next to the site of Bath's Christmas markets , meaning you can tick two things off your city visit list at once.
bathabbey.org
8. Take a bath in Bath
If you want to take a dip in Bath's geothermal waters, the only place to do it these days is the Thermae Bath Spa, a strikingly modern — and highly controversial — steel-and-glass addition to the city's 18th-century centre. It offers several floors of pools, steam baths, saunas and treatment rooms, but the pièce de résistance is the postcard-worthy rooftop pool, where you can do laps while looking out over the Bath skyline. Needless to say, it's a very popular thing for couples to do in the city, so book well ahead — twilight swims are particularly impressive.
thermaebathspa.com
9. Take the plunge into Bath's newest (oldest) swimming pool
Built in 1815 on the banks of the Avon, Cleveland Pools has the honour of being the oldest public swimming pool in Britain — but spent decades in sad disrepair (it was briefly used as a trout farm and came very close to demolition). It's been masterfully restored by a dedicated team of local enthusiasts, and is finally back to looking its Georgian best. Reopened in 2023, it's a wonderful spot for a dip — but note that you must book a swimming slot via the bath's website. Plans are afoot to restore the river pontoon in the coming years.
clevelandpools.org.uk
10. See the Assembly Rooms
During the 18th and 19th centuries, the heart of Bath's social scene was the Assembly Rooms. Here, dandies, revellers and aristocrats gathered to socialise, gamble, play cards, dance and listen to chamber music (an archaeological dig revealed the remains of a rare 18th century 'Cold Bath', where the well-to-do might have once enjoyed an intimate private dip). The building is another John Wood the Younger masterpiece, built in 1771. It was reduced to a roofless shell by bombing raids during the Second World War but has since been impeccably restored. It's looked after by the National Trust, who maintain the building and run the obligatory guided tours.
nationaltrust.org.uk
11. Get arty at the Holburne Museum
Throughout the 19th century, Bath's most prominent and keen-eyed art collector was Sir Thomas William Holburne, who amassed an amazing collection of sculptures, ceramics, silver, porcelain, objets d'art and old masters — including works by luminaries such as George Stubbs and Thomas Gainsborough. After Holburne's death, his sister bequeathed the collection to the city, and it's now displayed inside this imposing Georgian building (originally the Sydney Hotel) at the eastern end of Great Pulteney St, surrounded by the trimmed lawns and trees of Sydney Gardens.
holburne.org
12. Sample a Sally Lunn bun
For a flavour of old England, this venerable tearoom in central Bath is a must. It's allegedly the city's oldest house, and was once the home of the eponymous Sally Lunn, a Huguenot baker who escaped from France and developed her namesake brioche-style bun, still baked according to her recipe. It's a fun place for lunch or tea and cake; book ahead as it gets very busy. There's a little museum in the basement recreating what Sally's kitchen would have looked like.
sallylunns.co.uk
13. Hike the Skyline Trail
Looping for six miles around the edge of the city, this circular walk takes in Bath's green spaces, including ancient woodland, fields and meadows, the National Trust has a downloadable trail map and walk guide on their website. It's mainly easy-going — suitable for kids and adults — and ends with a stunning view from Bathwick Fields.
nationaltrust.org.uk/bath-skyline
14. Take high tea at the Pump Room
Afternoon teas don't get fancier than those served at the Pump Room, the upmarket tearoom attached to the Roman Baths. There's a choice of sweet or savoury, and the formal setting — crisp tablecloths, bone china crockery, smartly dressed waiting staff — makes for a very English experience. You can also sample mineral water from the underground spring, believed by some Bathonians to have curative properties.
thepumproombath.co.uk
15. Learn about Bath's architectural history
Head to this little museum to hear the tale of how Bath was transformed into one of England's most exclusive spa towns during the late 18th and early 19th centuries by entrepreneur Ralph Allen and architects John Wood the Elder and Younger. Architects' drawings, maps, videos and vintage tools provide background, and there's a 1:500 scale model of Bath that gives an interesting god's-eye view.
museumofbatharchitecture.org.uk
16. Shop Walcot Street
Bath's main retail area is SouthGate, but it's mainly the big chains there. Swap them out for a quirkier shopping experience by heading to Walcot Street. This is the spot to rummage in antiques shops, try samples at the artisan cheesemonger, meet a local glass-blower and find your next upcycling project at the reclamation yard.
walcotstreet.com
17. Blow your own bauble at Bath Aqua Glass
This renowned glassmaker on Walcot St offers workshops where you can learn the art of glassblowing, and go home with a personalised bauble or paperweight as proof of your efforts. There's also a shop selling jewellery and glassware in case things don't turn out as well as you hoped.
bathaquaglass.com
18. Wander around Prior Park
This princely Palladian house belonged to Ralph Allen, a man who arguably did more than anyone to create Bath. He made a fortune providing postal services (a forerunner of the Royal Mail), but also owned quarries: these provided the amber stone from which so much of Bath was built. Prior Park was built as a kind of architectural shopfront to demonstrate what could be achieved with the stone. The house is off-limits (it's now a private school), but you can explore the landscaped grounds, which are now owned by the National Trust. Look out for the famous Palladian bridge, built in 1755: it's one of only four such structures around the world.
Best city breaks in the UK
19. Browse the stalls at Green Park
Head to this former railway station and you'll find a host of intriguing independent traders and food stalls, as well as regular markets on Friday and Saturday (there's also a popular antiques market on the last Sunday of every month, and an artists' fair on the second Sunday of the month). It's an atmospheric location and the stalls are all housed under an arched glass roof.
greenparkstation.co.uk
20. See Bath by e-bike
Despite its many hills, Bath is a fun city for cycling. There are several easy routes, including the 13-mile Bristol and Bath Railway Path, the Two Tunnels Greenway and the peaceful towpaths of the Kennet & Avon Canal, which pass historic canal structures including the Claverton Pumping Station and Dundas Aqueduct. Bath Cycle Tours provides both private and organised tours, with the option of e-bikes for easier pedalling.
bathcycletours.com
21. Ponder the skies at the Herschel Museum of Astronomy
William Herschel (assisted by his equally brilliant sister, Caroline Lucretia) was one of the great citizen astronomers of the 18th century. He's best known for discovering Uranus in 1781, using a self-built telescope which he constructed in his back garden on New King St. His house is now a museum exploring the astronomer's life, and you can get up close to his most interesting possessions: telescopes, globes, planetaria and even a mirror-grinding machine he invented to polish his telescope lenses.
herschelmuseum.org.uk
22. Bake with a master
Richard Bertinet may be French, but he's well known as one of Britain's best bakers. He's been based in Bath for years, and runs a buzzing bakery in the city centre, as well as a cooking school that offers courses in everything from sourdough to saucery. The one-day bread masterclass is the one to go for if you're serious about crafting the perfect loaf.
thebertinetkitchen.com
23. Step into America's past
Here's a Bath curiosity: the only museum of Americana this side of the Atlantic. More than 12,000 pieces of American ephemera are on show: Native American artefacts, Renaissance maps and vintage shop signs will all catch your eye — and there are several rooms decorated in period style. Founded in 1961, the museum is worth visiting for its location alone: it's lavishly housed inside the 18th-century Claverton Manor, and surrounded by sprawling Italianate Gardens overlooking the Limpley Stoke Valley.
americanmuseum.org
24. Sip Bath's boozy side
Craft booze seems to be everywhere these days, and Bath's no exception. The award-winning Electric Bear Brewing runs brewery tours and beer-quaffing sessions, and also has a lively tap-room that's open from Thursdays to Sundays. For something stronger, cocktail bar Sub 13 runs mixology masterclasses.
Romantic city breaks in the UK
Best Christmas train rides in the UK
Take me there
Inspired to visit Bath but yet to book your trip? Here are the best Cottages.com and Booking.com breaks.
The best time to visit Bath for spas, festivals and crowd-free sights
Nov 19, 2021 • 4 min read
It's always a good time to see the stunning Roman Baths © joe daniel price / Getty Images
Bewitching Bath makes for one of Britain's best urban breaks. This city's gorgeous Georgian buildings gleam, richly deserving their UNESCO World Heritage status and tempting the Bridgerton location scouts . Add rare Roman baths, a vibrant cultural scene, fine restaurants, superb shopping and an utterly indulgent geothermal spa, and you have an elegant city with an array of reasons to visit year-round.
Summer brings better weather to Bath, it also pushes hotel bills up and draws bigger crowds. Prices and visitor numbers also spike around Christmas and Easter – and at weekends. Late-summer, with its wealth of festivals, and spring and autumn, with fewer visitors and lower room rates, are the best times to visit Bath.
High season: June to September
Best time for sunshine in bath.
Bath is a compact city best explored on foot – the key attractions are all within easy walking distance. So summer's dryer weather and temperatures of around 22 degrees Celsius, make it the best season to stroll the streets drinking in all that extraordinary architecture. The downside is this is also peak visitor season – expect your hotel to cost more and longer lines at some sights. 
September brings a calendar packed with everything from fringe festivals to events for foodies, hikers and literature fans.
Low season: November to February
Best time to soak in the spas.
Christmas sees Bath bedecked in twinkling lights; artisans showcase their creations, including at the famous Christmas markets; and festive food abounds. Sights and attractions remain open and the weather isn't terrible –  with averages of 6 to 8 degrees Celsius, it's relatively uncommon to have serious snow in Bath, but you may get lucky. The big draw is a night-time dip at Thermae Bath Spa in its geothermally-heated, open-air, roof-top pool, as the steam rises through your views of those festive lights.
Shoulder season: March to May & October 
Best time for exploring bath without a crowd.
Mild weather, spring flowers in parks and seasonal leaf displays – spring and autumn are arguably the best seasons to visit Bath. The big sights are minus their summer crowds so you get to see the Roman Baths , the Royal Crescent and the Circus without having to sidestep someone else's selfie. The city's more relaxed too – either gearing up to or recovering from the summer rush – so you get a more authentic, calmer vibe.
New Year celebrations bring revellers out in force. The January sales begin. Accommodation prices drop and restaurants offer deals to temp customers in. The Bath Rugby season hots up.
Key Events: Gallagher Premiership, European Rugby Champions Cup
A quiet time for tourism is punctuated by Valentine's Day – expect über-romantic menus, spiking hotel prices and heart-smothered goods in stores. 
Key Events: Bath Bach Fest
Spring flowers show in city parks, some sights and attractions start extending opening hours. Pulteney Cruisers boat trips resume.
Key Events: Bath Half Marathon
The Easter holidays bring a mini-visitor boom. Prepare to laugh your socks off as hoards of comedians arrive for the annual comedy festival.
Key Events: Bath Comedy Festival
As temperatures edge higher, vintage boat hire at the Bath Boating Station re-opens. The city's biggest cultural celebrations ensure a festival feel takes hold.
Key Events: Bath Festival
Visitor numbers edge up, as do hotel rates. When school summer holidays start (from the third week) things get busier still.
Key Events: Bath Fringe Festival
Alfresco cafes set up shop. Those summer holidays are now in earnest – if you want to visit now, book well ahead. There are no big events, which makes it a great time for enjoying the sights.
Accommodation prices peak, as do visitors, but some sights stay open extra late. When it gets hot, the locals lounge in Sydney Gardens .
Key Events: Bath Bike
Schools go back (usually around the end of the first week), accommodation prices begin to dip – a little. Festivals bring everyone from foodies and hikers to Jane Austen fans to town.
Key Events: Great Bath Feast, Jane Austen Festival , Bathscape Walking Festival , Children's Literature Festival (starts)
Likely to be cooler, wetter – and definitely quieter – autumn sees Bath look to cultural pursuits – making it a prime time to enjoy an art exhibition or cinema event.
Key Events: FilmBath Festival, Bath Society of Artists Annual Exhibition
Fireworks light up the skies around the 5th. Autumnal leaf displays light up the city's trees. Hotel prices are at their most reasonable. Classical music takes centre stage.
Key Events: Bath Mozart Fest
Christmas lights illuminate the streets, pubs and restaurants welcome you in. Bath Abbey offers 20-minute services, packed with carols. 
Key Events: Shoppers Carols , Bath Christmas Market, New Year's Eve celebrations
You might also like:  Soak up Bath with these wonderful things to see and do Swoon over the filming locations for Netflix's new series Bridgerton Jane Austen's England: a traveller's guide to finding Mr Darcy  
Buy Where to go When Europe
With more than 300 suggestions for destinations across Europe and the best time of year to experience them, this book is the ultimate trip planner for every month of the year.
Explore related stories
Jul 1, 2011 • 3 min read
Nestled into the hollows of its seven enfolding hills, honey-hued and historic Bath – all Regency splendour and Jane Austen ambience amid Somerset's…
Jul 13, 2023 • 11 min read
Jul 5, 2023 • 5 min read
Jun 30, 2023 • 6 min read
Jun 7, 2023 • 7 min read
Aug 8, 2022 • 7 min read
Jul 14, 2022 • 6 min read
Jul 11, 2022 • 6 min read
Jun 30, 2022 • 10 min read
Feb 9, 2022 • 7 min read

A weekend in Bath: 2-day Bath itinerary
Posted on Last updated: October 19, 2023
How to spend a weekend in Bath: Discover the best things to see, do, eat and drink in Bath in a two-day itinerary featuring this historic city's Georgian architecture, thermal spas and literary links.
* This site contains affiliate links , where I get a small commission from purchases at no extra cost to you.
With its famous golden-stone Georgian terraces, steaming spa waters, afternoon teas and Jane Austen links, you can't say Bath isn't on the UK tourist trail. Its quintessentially English charms pull in visitors from around the world and it has so many historic buildings that the entire city centre has been designated a UNESCO World Heritage Site.
But although you might have to dodge a few tour groups, it's more than worth it to explore one of England's most beautiful historic cities. So here's my two-day Bath itinerary to help you plan the perfect weekend in Bath, with what to see, where to eat, drink and stay.
How to spend a weekend in Bath
Friday evening
Check into your accommodation then start your weekend in Bath with a pre-dinner drink at the Canary Gin Bar on Queen Street. The bar is run by the Bath Distillery, who brought distilling back to the city after a 250-year absence. They've created a menu of 'Gin' Austen cocktails using their small-batch gins, as well as serving 230 other gins.
Then head to Green Park Brasserie & Bar on Green Park Road for dinner – a steakhouse and jazz bar located inside a former 1870s railway station booking hall. It's a relaxed place, serving produce sourced from the adjacent Bath Farmers' Market in dishes like steak, cider-glazed ribs and wood-fired pizza. There's also live music on Saturday nights.
Saturday morning
For an insight into Bath's history, start the day with a walking tour with the Mayor of Bath's Corps of Honorary Guides . These two-hour tours are led by knowledgeable local guides who share their love of the city on a relaxed stroll through some of its highlights. Tours are free (with no need to tip) and leave from the courtyard by the Roman Baths at 10.30am.
Or you can take your own tour of Bath's honey-stone highlights. Start at the Royal Crescent, one of Bath's most famous landmarks. This curved terrace of Georgian townhouses arcs around a perfectly manicured lawn. The Royal Crescent was built in the 1770s and its buildings haven't changed much since then, at least on the outside.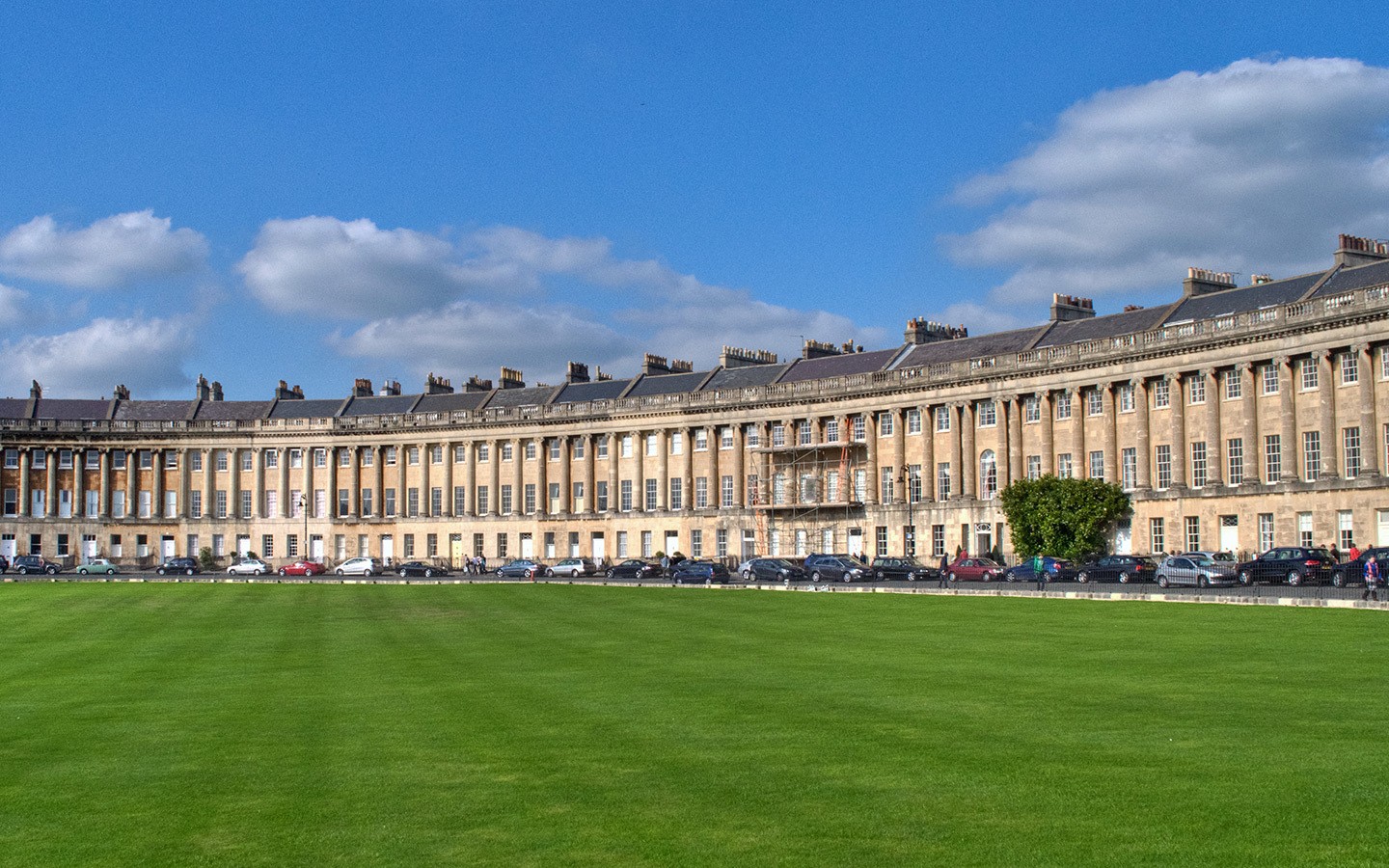 Most are private residences – when they're not being used by film crews for period dramas like Bridgerton . But Number 1 Royal Crescent has been converted into a museum. Inside you can go back to the 18th century and see how wealthy Georgians lived, complete with authentic furniture, décor and fascinating details of their everyday lives.
The Royal Crescent is one of many buildings made from the distinctive golden Bath Stone. Quarried out from the hills around the city, it's a type of limestone that was first used by the Romans and later for churches, bridges and houses around Bath.
Another impressive Bath address is The Circus, with three sections of curved buildings forming a circle. And it's just a few minutes walk from there to the Bath Assembly Rooms . These were the hub of the 18th-century social scene, with elegant rooms for tea drinking, cards and dancing. Today they're open to the public when not in use for events.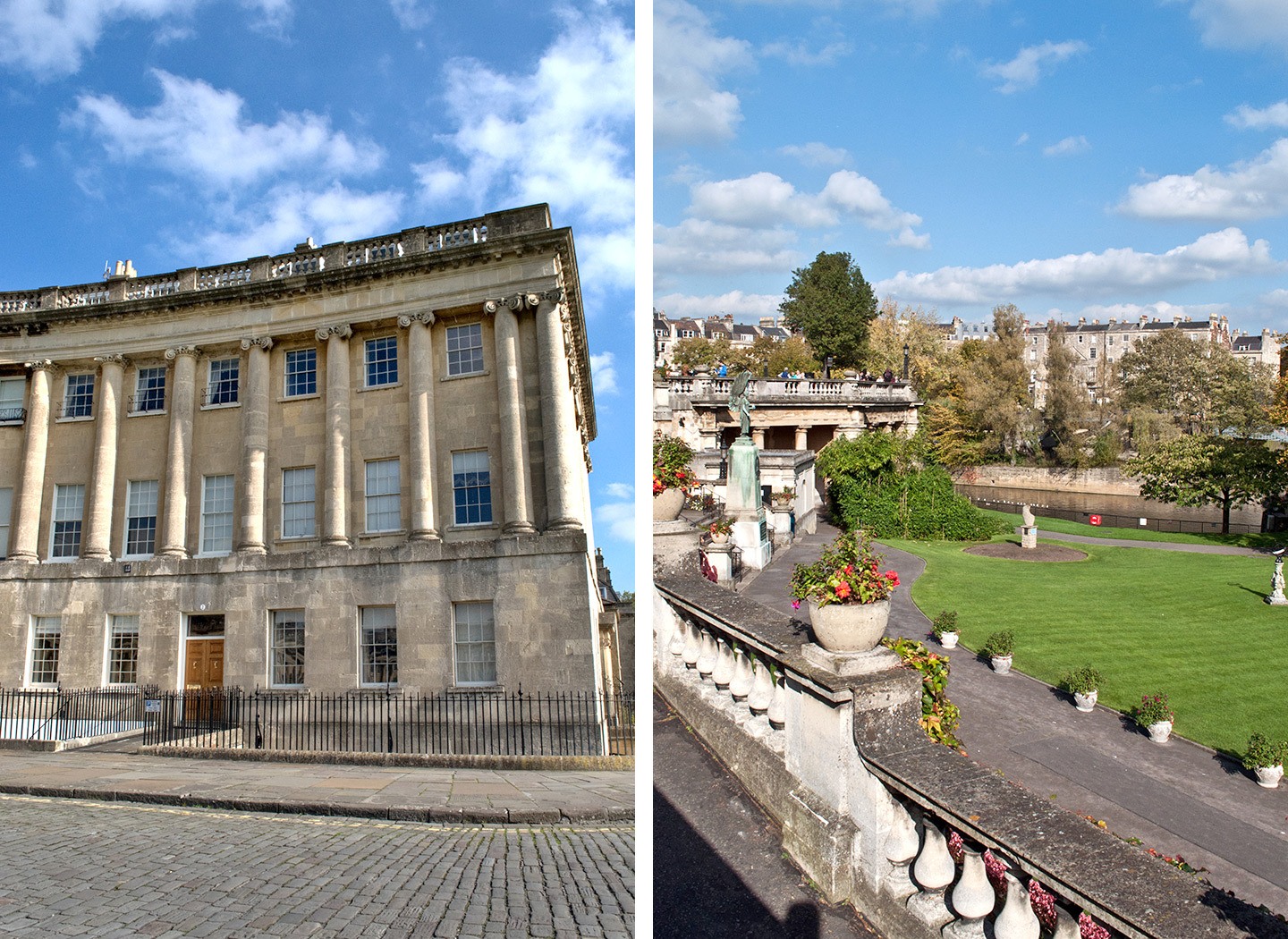 Follow in the footsteps of Jane Austen, who attended balls at the Assembly Rooms when she lived in Bath in the early 1800s and featured them in her novels Northanger Abbey and Persuasion . You'll also find the Jane Austen Centre on Gay Street a few minutes' walk away, which tells the story of her life in Bath (and has lots of dressing up opportunities).
Then stop for lunch at Sally Lunns , the oldest house in Bath. It's home to a Bath classic – the 'Sally Lunn bun'. This kind of brioche is spread with butter or cream, made to a recipe allegedly brought to the country by a 17th-century French emigrant.
Saturday afternoon
After lunch, cross the Abbey Church Yard to Bath Abbey. The current abbey was built in 1499 but there's been a church on the same site since the 8th century. Admire the west front, with carved stone angels climbing Jacob's Ladder to heaven, then head inside to see the cathedral's impressive fan-vaulted ceilings and stained-glass windows.
Or take a guided tower tour and climb 212 spiral steps to the abbey roof for panoramic views over Bath and down to the Roman Baths below you. Tours take 45–60 minutes and also give you a behind-the-scenes view of the ceilings and bell tower.
Then head to Pulteney Bridge, passing the Parade Gardens, which was a popular spot for a promenade in Jane Austen's day. The bridge was built in the 18th century for William Pulteney to connect Bath to the other side of the River Avon to help drive up land prices. He wanted his bridge to be eye-catching and elegant and certainly managed it.
Pulteney Bridge is one of only four bridges in the world with shops built into both sides, like Florence's Ponte Vecchio – Les Misérables fans might also recognise it as the spot Javert jumped from in the 2012 film. Today it's home to independent shops and cafés.
For a good view of Pulteney Bridge, take an open-top boat trip along the River Avon. The tour starts at Pulteney Weir below the bridge and takes around an hour (though trips don't run if the river level is too high). You travel under Pulteney Bridge and out into the countryside as far as the pretty little village of Bathampton before returning to Bath.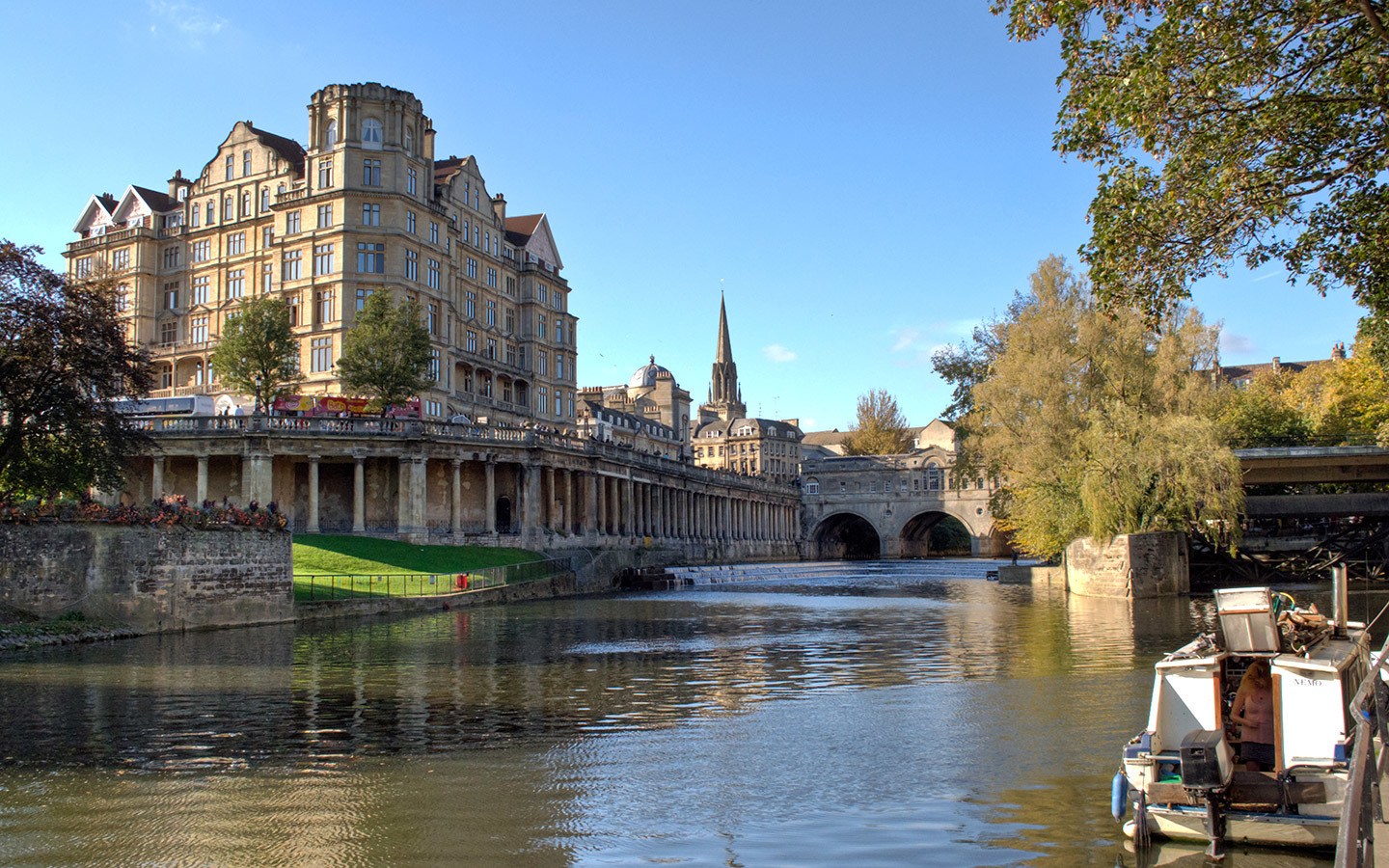 Before dinner, call into Le Vignoble , an independent wine merchant and bar on Milson Street. Their wine selection changes every month, with 64 different wines to taste including small producers and unusual varieties, so it's a good place to try something new.
Then head back towards the Royal Crescent for dinner at The Circus , an award-winning family-run restaurant in a Georgian building which serves modern European food using local and seasonal ingredients, like Wiltshire lamb, Devon scallops and Cornish fish.
Sunday morning
Start your Sunday with a late breakfast at the Green Bird Café near the Royal Crescent. It has won awards for Bath's best breakfast, with tasty French toast with maple syrup and bacon, scrambled egg and chorizo hash or you can 'build your own breakfast'.
Then go back in time at the Roman Baths , built on the site of Britain's only natural hot springs which gave Bath its name. In 70 BC, the Romans built a bathing complex around the steaming waters, with hot and cold pools, steam rooms and an elaborate temple dedicated to the goddess Sulis Minerva – giving the town its Roman name Aquae Sulis.
Over a million litres of water heated to 46°C still flows into the baths every day, but don't be tempted to take a dip. If the bright green colour doesn't put you off, tales of bacteria and radioactive lead pipes might. Instead take a tour of the baths which includes the Sacred Spring of Sulis Minerva, the original foundations and open-air Great Bath.
There's also a museum of Roman artefacts like statues and carvings, as well as some of the 17,000 Roman coins which were thrown into the spring, and prayers or curses written on lead tablets which visitors threw in to ask for the goddess' help.
Sunday afternoon
Then compare the Roman spa experience with the modern version at the Thermae Bath Spa . This huge spa building has taken historic buildings and transformed them with a modern glass and steel extension. There are two separate spa areas – the main New Royal Bath and the smaller circular Cross Bath, which you can hire for small groups.
The New Royal Bath is spread over three floors, with spring waters flowing into the ground floor Minerva thermal baths. There are circular glass steam rooms, a sauna and spa treatment rooms above, where you can book a relaxing massage, facial or body wrap.
But the Thermae Spa's star attraction is the rooftop pool, where you can soak in mineral-rich steaming water with spectacular views across Bath's skyline. Entry to the spa costs £43 for a two-hour session at weekends, and includes towel, robe and flip flop hire.
Then finish your weekend in Bath with afternoon tea at a city institution – the Pump Room . Located next to the Roman Baths, the Pump Room was built in 1776 for visitors coming to take the waters and, like the Assembly Rooms, it was at the heart of the city's social scene for the fashionable 18th-century set, including Jane Austen and Charles Dickens.
Indulge in a traditional Champagne afternoon tea (with gluten-free, vegetarian and vegan options available) with sandwiches, scones and cakes served in opulent splendour under the chandeliers and accompanied by music from the Pump Room Trio.
And while you're there, don't forget to taste the spa waters from the King's Fountain (free to Pump Room customers). With 43 different minerals it is reputed to be the cure for all sorts of ills, though lukewarm water with a metallic tang is definitely an acquired taste.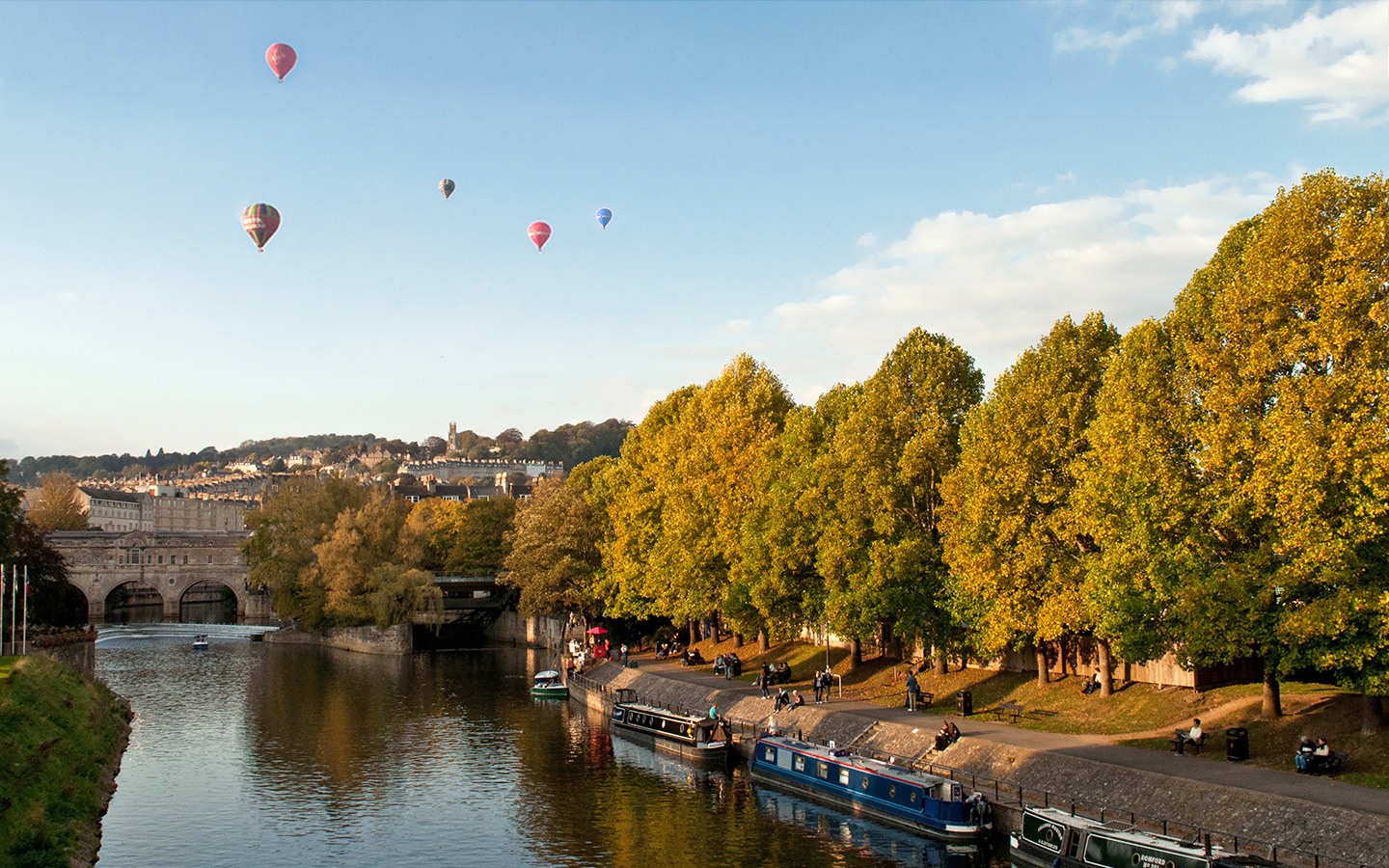 Map of things to do in Bath
The details
How to get to bath.
Bath Spa train station is around 1 hour 20 minutes by direct train * from London, and there are frequent rail services from around the UK to nearby Bristol Temple Meads station, where you can catch the train on to Bath, which only takes 12 minutes.
If you're driving, Bath is 13 miles from Bristol or 115 miles (around 2.5 hours' drive) from London. Overnight parking is available in the city centre at Charlotte Street (BA1 2NE), Avon Street (BA1 1UF) and Manvers Street (BA1 1JQ) car parks.
Bath's roads are narrow and can get very busy, so if you want to avoid driving in the city you can use the Park and Rides on the edge of the city at Lansdown, Newbridge and Odd Down. Parking is free, you just pay for the bus in and out of the city.
The nearest airport is in Bristol, which is around 45 minutes' drive from Bath. You can also catch the Bristol Airport Flyer bus from the airport to Bristol Temple Meads train station (25 minutes) and then catch the train from there on to Bath (12 minutes).
Getting around Bath
The centre of Bath is fairly compact with the main attractions all within walking distance – though beware that it's pretty hilly so you will get a bit of a workout.
Where to stay in Bath
At the Royal Crescent Hotel *, two 18th-century Georgian townhouses have been merged together to create a five-star hotel and spa. It's full of original features with period artworks, classical statues and chandeliers. There's a luxurious spa with indoor pool, a restaurant, bar and an acre of landscaped gardens tucked away behind the hotel.
The Hotel Indigo * is another Georgian property, which stretches along the length of South Parade. Inside it mixes historic features with lots of quirky, colourful prints, fabrics and curios. The 166 rooms are more restfully designed, and range from stylish standard rooms to big two-room suites, and there's also a restaurant and terrace bar.
Or if you're on the budget, one of the city's best deals is Bath University's student residences . There's a mix of double, twin and single rooms with en-suites in buildings ranging from Georgian terraces to modern residences. Availability is mainly in the Easter and summer holidays, with rooms available to book two–three months in advance.
Looking for somewhere to stay in Bath?*
Save for later
You might also like
10 great UK weekend break ideas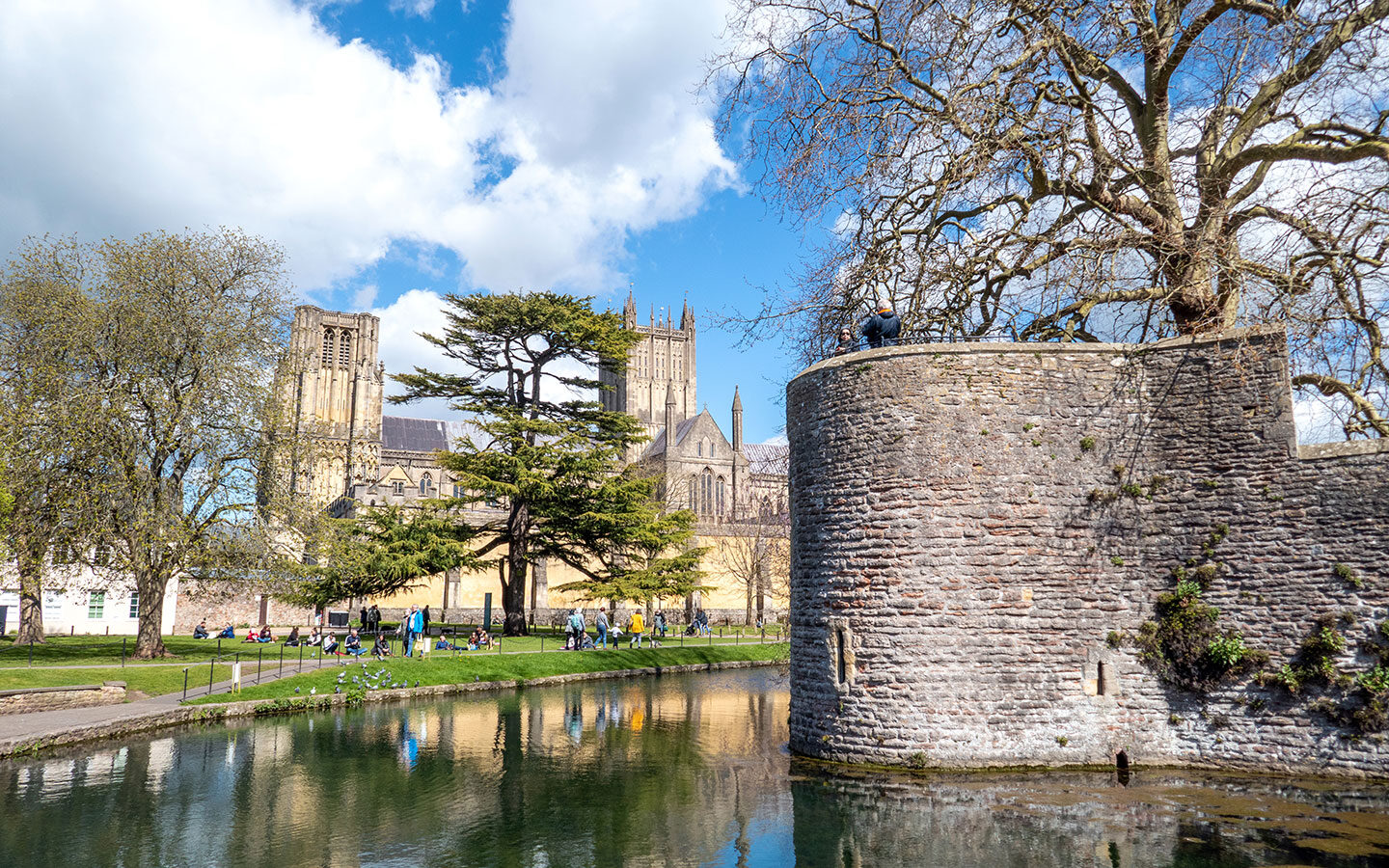 What to do in Wells, Somerset: England's smallest city
A weekend in The Cotswolds: 2-day Cotswold itinerary
Lynn Oliver
Monday 7th of September 2020
Thank you for this reminder of my wife and my weekend in Bath. We stayed at a lovely B&B a few hundred feet from the Abbey, Baths and shoppes... Three Abbey Green. Bath has a plethora of lovely B&Bs that are decidedly not 5-Star, but great. Also, the free guided walks are wonderful and the buskers in the plaza in front of the Baths and Abbey were a hoot. I pull out the photos of the unicyclist for a smile. Thanks for the reminder. I'd love to go back someday... another world from Florida where we live.
Lucy Dodsworth
Monday 28th of September 2020
Bath is such a lovely place – so much history! Glad to bring back some good memories.

How to Spend One Day in Bath: Itinerary with the Best Things to Do and See
Thanks to its compact city centre, one day in Bath is enough to see the top attractions in this gorgeous World Heritage city. Use this handy 1-day Bath itinerary to find the best things to do and see in Bath, England. From the 2,000-year-old Roman Baths to grand architecture and charming cobbled lanes, here are 12 reasons for visiting Bath, one of the prettiest cities in England.
This article contains affiliate links. Please refer to my  Disclaimer  page to learn more about this.
Go straight to: 1. Bath itinerary: the 12 best things to do and see in Bath 2. Know before you go: travel essentials for your day trip to Bath
Oh! Who can be ever tired of Bath?" Jane Austen, Northanger Abbey
Memoirs of one day in Bath, England
The lovely city of Bath is famous for its elegant tearooms and cosy cafés. Indulging in delightful treats, their ravenous guests come here to relive the city's Golden Age. The era when, after centuries of decay, Bath had flourished into a fashionable city break destination.
Becoming a popular spa resort amongst socialites in the 18th century, the fabulous Georgian architecture of the time remains one of the main draws of this UNESCO World Heritage Site.
Yet, here I am.
Sat on a bench in the city's most touristy street, devouring a cheap baguette and getting most of its contents on my face.
I spent the morning sightseeing in Bath and was too famished to venture to a sophisticated café for a graceful lunch like a proper grown-up.
Instead, I grabbed a convenient takeaway lunch from the bakery just outside the Roman Baths. Suspicious of it being an evident tourist trap, I'm pleasantly surprised by the quality of my freshly grilled Mediterranean vegetable roll.
While I wipe the hummus off my chin, a wildly overdressed man across the street catches my eye. Distracted by his top hat and 19th-century black tailcoat with its gold-coloured buttons shimmering in the sunlight, it takes me a moment to notice the sign he's holding in his hand. 'Free Jane Austen walking tours' it says.
Ah, yes, of course.
Jane Austen, one of the most famous British novelists of all time, lived in Bath for a few years during its heyday. Soaking up the atmosphere of the vibrant early 19th-century Bath, the city would inspire her to write her two novels Persuasion and Northanger Abbey .
Curious to learn what made this city so special to her and her contemporaries?
Then use the tips in this itinerary for your perfect day in Bath, one of the most beautiful places in England.
How to spend one day in Bath: the 12 best things to do and see in Bath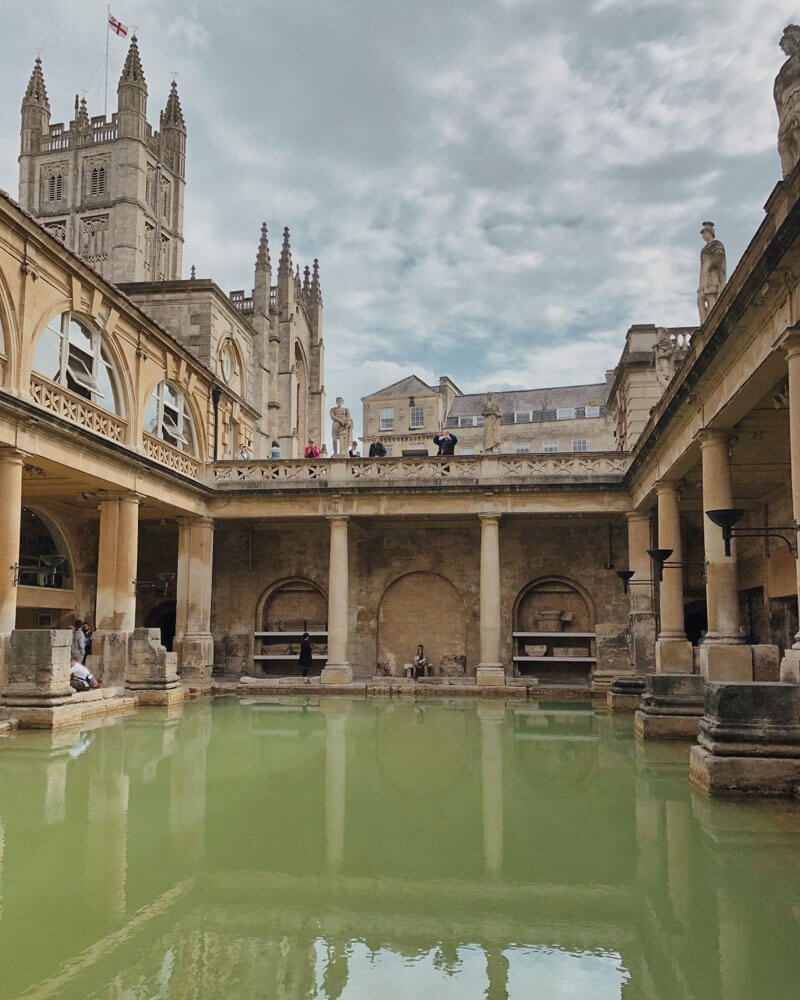 1. Your Bath itinerary starts at the Roman Baths
Ever wondered about the origins of certain curious place names?
Beer. Ham. Sandwich.
Not quoting some local caf's lunch menu here. (Sorry if it made you hungry). But did you know that these are all actual places in England?
Bath fits perfectly in this list. That's not me suggesting that you should have your beer and ham sandwich in bath. (Not stopping you if you want though.)
It's just my convoluted way to point out that Bath is a rather strange name for a city. Or is it? Because, you see, long before it was the gorgeous city it is today, the Romans actually founded Bath as a bath and spa complex.
They built the expansive baths and sauna rooms right on top of the bubbling hot springs. But to them, the thermal pools were more than a sanatorium. It was actually a sacred place. That's why the Romans also built a temple next to the baths which they dedicated to the Celtic-Roman goddess Minerva Sulis whom they believed to be the mystical source of the hot springs.
For the next centuries, Bath remained a popular spa retreat, ever attracting visitors to its healing mineral springs. Yet, the original Roman Baths had to give way for more modern buildings.
Buried underground for years, the baths were eventually excavated and restored in the 1970s and are now open to the public. You can explore the baths either on a guided tour or self-guided audio tour.
For me, the Roman Baths were the main reason for visiting Bath. As a lover of ancient cultures, I've wanted to see the baths so badly after first hearing about them over twenty years ago.
Yet, despite ending up living in England, for some reason I just never made the effort. I guess I expected the entire city to be packed with tourists which would obviously make my long-anticipated trip to Bath far from enjoyable. But I was dead wrong about this as it wasn't nearly as busy as I expected. And that was in August, peak season. So, don't be a Miss Travel Clogs and do make a day trip to Bath.
You won't be disappointed. Pinky promise.
Want to learn more about the Roman Baths and what to expect from your visit? Then head over to my full article about the Roman Baths .
2. Must-do in Bath: climb the Bath Abbey Tower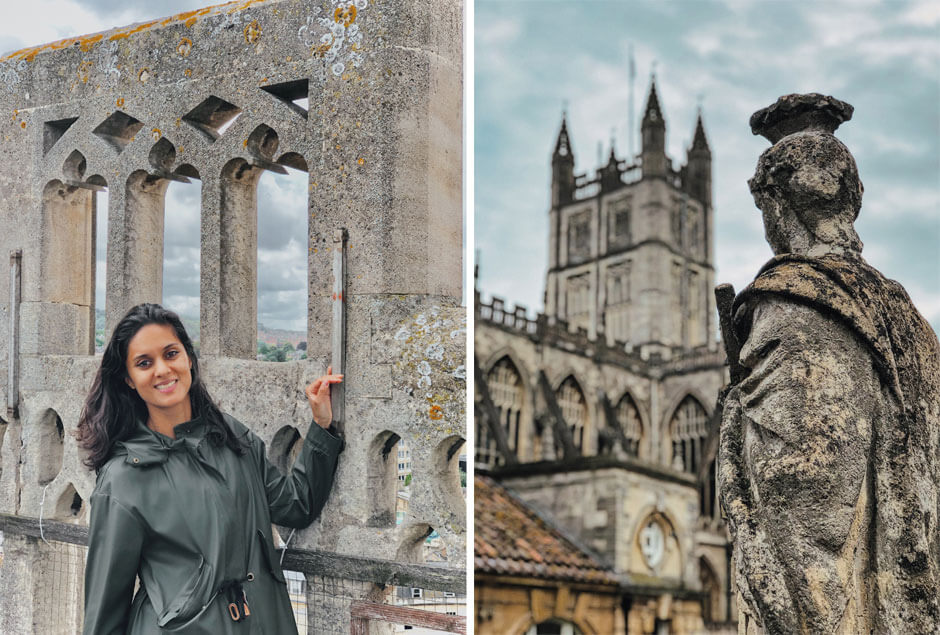 The second must-visit tourist attraction in Bath is the beautiful Bath Abbey . It is conveniently located next to the Roman Baths so you won't have to walk too far after you've ticked off the first item of your Bath itinerary.
You can enter the abbey for free and admire the gorgeous interior at a casual pace. Or if you're like me and enjoy wearing yourself out (only slightly!), opt for the guided tour instead. When we visited, it only cost £8 per person. It gives you exclusive access to the abbey tower. And it also includes a strenuous climb up 212 steps through a narrow staircase. (She added quietly.)
Hubby was initially less excited about that prospect. But having grown used to what my idea of 'having a good time whilst travelling' is by now, he agreed to my suggestion.
A choice he didn't regret I might add.
The 40-minute long Tower Tour includes several interesting stops on the way to the top. Not only giving you a chance to catch your breath again, these stops also allow entrance to areas that are otherwise off-limits for visitors.
One of the stops I enjoyed most was the hidden room behind the abbey clock. I imagined people in the street looking up at the clock to see the time without realising a small group were sitting right behind the clock face.
Now how often have you sat in a clock tower?
Yeah, that's what I thought!
But the main reward for your mildly strenuous activity awaits at the very top of the tower. From here you'll get to enjoy spectacular views of the myriad of ancient lanes laid out beautifully beneath you and the neighbouring Roman Baths.
3. Have lunch in one of the many pretty tea rooms and cafés in Bath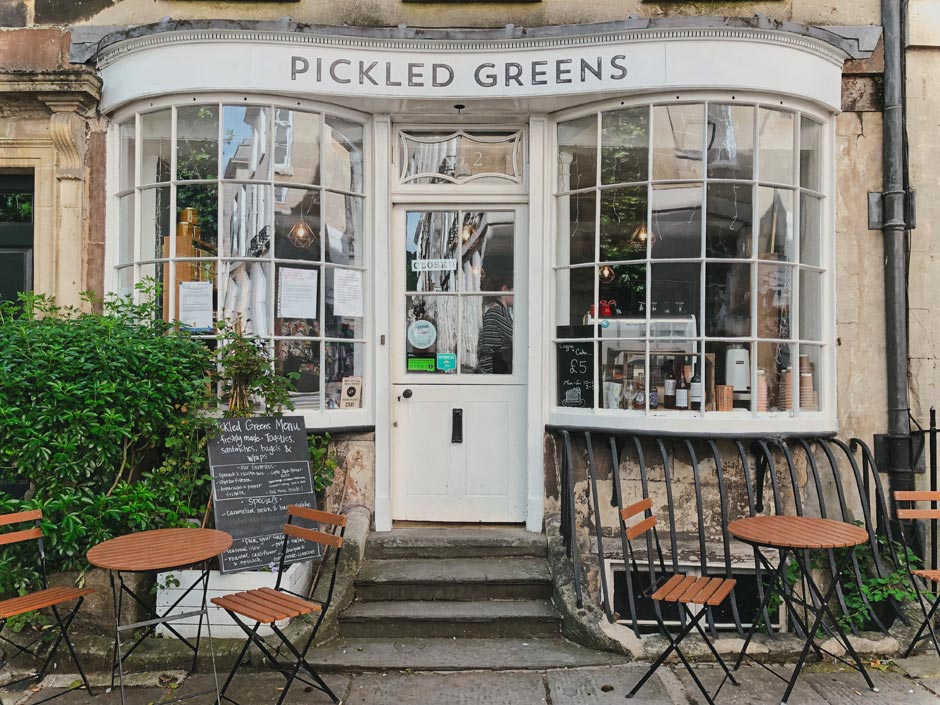 After having visited the top two tourist attractions in Bath, I suspect you'll be craving lunch. I know I was.
There are dozens of lovely places to eat in Bath with plenty of options within walking distance from the Roman Baths and Bath Abbey.
Within a 2-minute walk you'll find Sally Lunn's , the most famous tea house in Bath. Your wobbly legs will thank you for this short walk after the climb to the abbey top.
Established around 1482, this is the oldest remaining house in Bath. Namesake of the historic tea house and museum is Sally Lunn, a Huguenot refugee who worked in the former bakery on these premises. She's forever immortalised by her invention of the world-famous Sally Lunn Bun. (Try saying that out loud ten times in a row.)
Despite the name, this special treat is more like a light French brioche than a bun. The original recipe was passed onto the owners with the deeds for the property. Although there have been attempts all over the world to copy the bun, you'll only get the real deal here.
And if you don't have the energy to walk for 2 minutes, I can assure you that the sandwich shop La Baguette just outside of the Roman Baths (located on 3 Stall Street) does some mean baguettes. You're welcome.
4. Discover Jane Austen's Bath at the Jane Austen Heritage Centre
Feeling energised again, the first stop for the afternoon is the Jane Austen Heritage Centre . Housed in a 270-year-old Georgian townhouse, this museum is yet again one of the top tourist attractions in Bath.
The permanent exhibition gives great insight in the life and work of Jane Austen. Providing the context of Jane Austen's Bath during the Regency era, the guides are actors dressed in dapper costumes whilst they enthusiastically share their extensive knowledge with their visitors. Now, I can guess your burning question. Are any of these actors Mr Darcy lookalikes? Well, you will have to visit to see for yourself!
And while you're at it, I recommend you visit the gift shop too. I managed to contain myself and left with only a few memorabilia and promised myself to re-read the complete Jane Austen box set when I got back home again.
This may or may not have happened by now. (Hey, I did a special course on just Jane Austen at Uni so I think I deserve some kudoz here.)
Save yourself time and buy your ticket for the Jane Austen Heritage Centre online !
5. Explore the museums in Bath
Jane Austen wasn't the only famous female British novelist to live in Bath. Whilst living in a boarding house around 1820, teenager Mary Shelley penned down her Gothic novel Frankenstein in Bath. Perhaps not as charming as Mr Darcy, but the iconic monster she created would equally enthral millions of people all over the world for centuries.
Two hundred years after the publication, this seminal book would even lead to the opening of the Mary Shelley's House of Frankenstein in Bath. Spread over four floors, the house offers an immersive experience leading visitors through ominous rooms filled with curious artefacts.
Other, more traditional, museums and galleries in Bath include the Bath Postal Museum , Fashion Museum and Victoria Art Gallery .
If you're planning on visiting any of the two latter museums, you may want to take advantage of the special Museums Saver ticket. This ticket allows you entrance to the Roman Baths, Fashion Museum and Victoria Art Gallery for a greatly reduced price. You can purchase it directly at any of these three venues.
6. Wander through the historical lanes
Determined to seek out the mesh of historical lanes I spotted from atop the abbey tower in the morning, Hubby and I left the tourist attractions in Bath behind us for a moment.
The great thing is that you don't have to ramble far from the main sights in Bath to discover the most alluring hidden corners. Just turn off into some side streets and allow yourself at least an hour to wander through the historical lanes and ancient passageways of Bath.
It's not hard to imagine how around a hundred years ago these picturesque streets were filled with handsomely dressed people in their beautifully cut gowns and high collared waistcoats.
Barely seeing any tourists around, I was again surprised at how quiet it really was in Bath. Perhaps I'm more accustomed to the throngs of tourists venturing through the West End of London during holiday season. The relative quietness of Bath did make it a joy to stroll around, whilst soaking up the atmosphere and taking in all the beautiful architecture.
7. Seek out quaint shops
The historical centre of Bath is home to numerous fabulous shops. Just window shopping alone is a real delight in this pretty British city. As a lover of vintage maps , I was especially attracted by The Antique Map Shop which you'll find on Pulteney Bridge.
As you'd expect from a city that oozes sheer elegance and sophistication, there are various marvellous book shops in Bath that will keep any booklover entertained for hours at end. My absolute favourite was Topping & Company Booksellers.
With its inviting atmosphere, cosy reading nooks and genuinely helpful staff, I found myself in literary bliss. Struggling to say goodbye to the beautiful books I'll never get to read, we eventually continued our explorations of Bath.
8. Visit The Circus
Not as exciting as acrobats flying across the air, but The Circus in Bath is still a sight not to be missed. Derived from the Latin word circus meaning 'circle' in English, The Circus refers to a ring of grand historic townhouses in Bath.
Built in the mid-18th century, these curiously curved large Georgian houses make for a perfect romantic backdrop. It's no surprise that The Circus is one of the top Instagram spots in Bath today.
9. Marvel at the Royal Crescent
I don't know where this particular fascination with curved streets in Bath comes from, but at less than five minutes from The Circus, you'll find another striking row of houses. This time they're laid out in a semicircular shape rather than a near perfect circle.
The 152m-long Royal Crescent is a row of 30 terraced Georgian houses and Grade I listed buildings. Looking out onto a large park, the Royal Crescent is one of the most iconic landmarks in Bath. You might even recognise it from the many films and period dramas it has featured in, including Jane Austen's Persuasion .
I do like the sight of such arched streets, also called 'crescents' (meaning sickle-shaped, like a moon). I've seen many of them whilst wandering through London's posh areas. They're typically affluent residential streets lined with imposing homes ordinary people like you and I could only dream of living in.
Curious to see what these stunning houses look like from the inside? Then take the opportunity to visit No. 1 Royal Crescent . This former private residence now functions as a museum about Georgian Bath. It's a great opportunity to learn more about this prosperous period and get a taste of what it must have been like to be a socialite during the Regency era.
For the most of us, this will be a more affordable option than the luxury 5-star Royal Crescent Hotel & Spa just a few metres away.
10. Admire Pulteney Bridge
Nearing the end of our one day in Bath, we're slowly weaving back towards the train station. Taking a slightly different route, passing the Fashion Museum, make your way to the river Avon. There's just one more must-see landmark to tick off your Bath itinerary: Pulteney Bridge.
This striking stone bridge was built around the 1760s. It is only one of the four remaining bridges in the world to have shops on them. The aforementioned antique map shop being one of them.
However, the most eye-catching feature isn't physically part of the bridge but is actually in the water. It's the horse-shaped weir (a low dam) near the bridge that makes this popular attraction in Bath such a picture-perfect sight.
Hop on this short cruise on the river Avon and see the picturesque Pulteney Bridge from a unique vantage point!
11. Parks and recreation
Having crossed Pulteney Bridge, follow the river southwards and enjoy the glorious city views from across the water.
There's always something special about cities that have a river flowing through its centre. Forming the life and heart of a place, walks along the riverbank are often so soothing. It's like life moves slightly slower here.
From across the river Hubby and I caught amazing views of the lovely Parade Gardens. Eager to visit this beautiful looking park, we crossed the river again at the bridge on North Parade.
Outraged about the fact that we needed to pay entrance to visit the park, we decided it wasn't as pretty was we imagined after all (it still was though), clicked our heels and turned around.
Fortunately, Bath is home to plenty of free parks and gardens. The Royal Victoria Park being a good example.
Opened in 1830 by Queen Victoria herself, this gorgeous 57-acre park offers plenty of activities for children. It's therefore a perfect destination in Bath for families.
One of the best spots in the park are the enchanting Botanical Gardens. Here you'll enjoy some of the most idyllic sights in Bath.
12. Traverse the Bath Skyline Walk
Depending on how much time you have left, you may want to grab some dinner in Bath now. Or you may even make your way back home.
But if you have some time left you could end your one day in Bath itinerary with (part of) the Bath Skyline Walk . This 3-mile circular walk from Bath centre leads you to the most breath-taking views such as Sham Castle, pristine woodlands and picturesque vales.
Take the opportunity to catch exceptional city views of Bath, whilst being surrounded by romantic landscapes and beautiful wildlife.
Could there be a possibly better way than to end your day trip to Bath? No, I wouldn't think so either.
I really believe I shall always be talking of Bath, when I am at home again – I do like it so very much…." Jane Austen
Know before you go: how to prepare your day trip to Bath, England
Where is Bath? | Bath is located in South West England. It lies perched on the river Avon in the county of Somerset. The city lies at the edge of the Cotswolds. This area is famous for its idyllic towns and rolling green hills, making it a popular UK road trip destination. Travel | It's very easy to reach Bath by train. From London Paddington it takes 1.5 hours to Bath. From the bustling city of Bristol (also a must-visit!) it's only a 15- minute train ride to Bath. Find the exact train schedules and tickets on Trainline , the most popular train website in the UK. Alternatively, drive to Bath with your comfortable hire car from Rentalcars.com . Accommodation | Want to spend the night in romantic Bath? Check availability and the best prices here . Tours | Being a London city guide myself, I often join guided tours when visiting a new city. I believe this is the best way to see the top attractions while learning more insider tips and stories about the place as well. You can choose from various guided city tours in Bath to choose from, including a special Bridgerton film location walk . But there are also bus tours that combine a visit to Bath with Stonehenge and even Windsor Castle so you can see various impressive World Heritage Sites in one day. Click here to find the best Bath guided tours that match your personal interests and budget. Books | Bath's most famous resident, author Jane Austen, wrote two of her novels in Bath: Northanger Abbey and Persuasion . Find inspiration for your day trip to Bath with the fantastic travel guides about Bath: Rough Guide and Lonely Planet Pocket .
Like this 1 day Bath itinerary? Pin it for later!
The Roman Baths in Bath: a Must-visit in Somerset, England
Cornwall Road Trip Itinerary: 7 Days | Top 10 Must-Visit Places
Related posts, get a taste of the 'crazy days' of cologne carnival.
Wow, such a useful writeup! Thanks for this!
Bit late reply but I'm very happy it was of use to you! 🙂
Makes me want to visit Bath! Such a lovely city.
Thank you for your lovely comment! Happy it made you want to visit Bath, I hope you'll get the chance!
A beautiful city that absolutely needs to be visited! Your guide is essential for anyone making this trip. Well done!
Thank you! Glad you enjoyed this guide to things to do in Bath 🙂
Write A Comment Cancel Reply
Save my name, email, and website in this browser for the next time I comment.
This site uses Akismet to reduce spam. Learn how your comment data is processed .

Home » Blog » Europe » United Kingdom » The Perfect Day Trip to Bath, England
The Perfect Day Trip to Bath, England
By Author Macca Sherifi
Posted on Last updated: January 3, 2023
Are you planning a day trip to Bath? From visiting Bath Spa to seeing the Royal Crescent, start planning your trip with my 1 day Bath itinerary!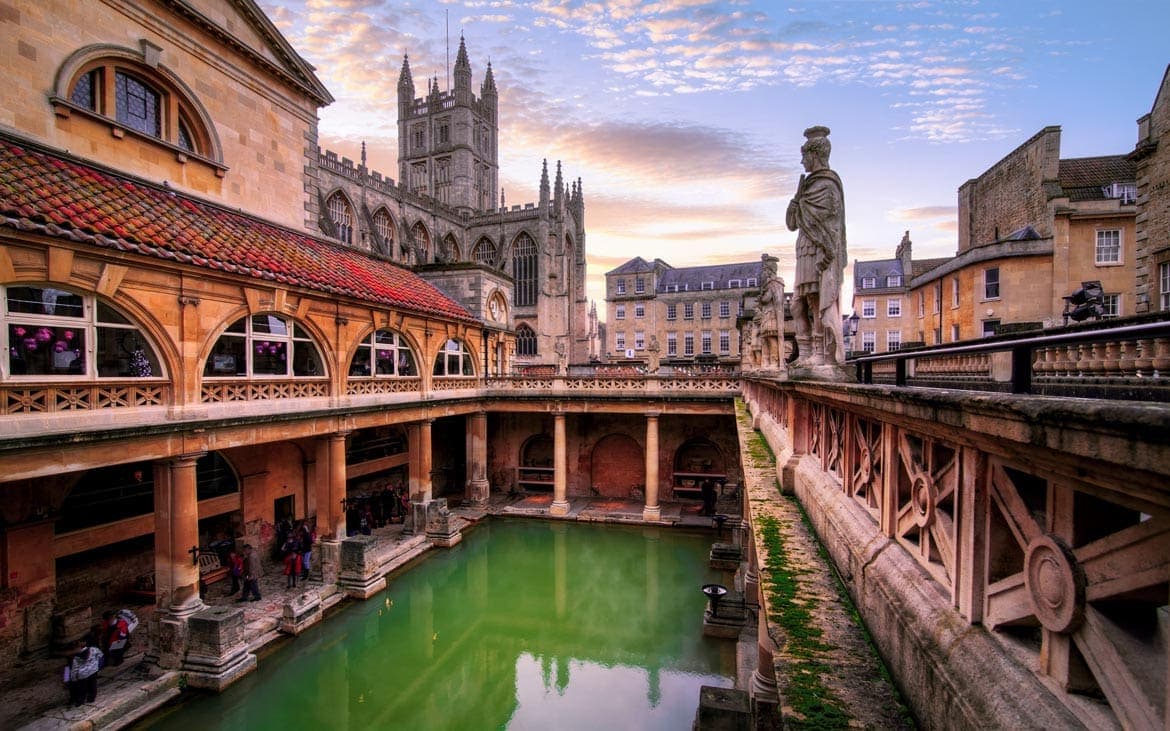 Bath is without a doubt one of the most popular places to visit in the England. Once you've spent some time here it's very easy to see why!
This quaint city feels a world away from the sprawling urban metropolis that is London , delivering a drastic change of scenery and character. For me. it's the stuff of Jane Austen novels. That means if you're looking for a stereotypical English town, you'll find it here.
I've been on a day trip to Bath a couple of times now and I just love wandering around the city. It feels a million miles away from London and there is so much to do here. From delicious Michelin-starred restaurants to gorgeous Georgian architecture, it's got something for everyone too.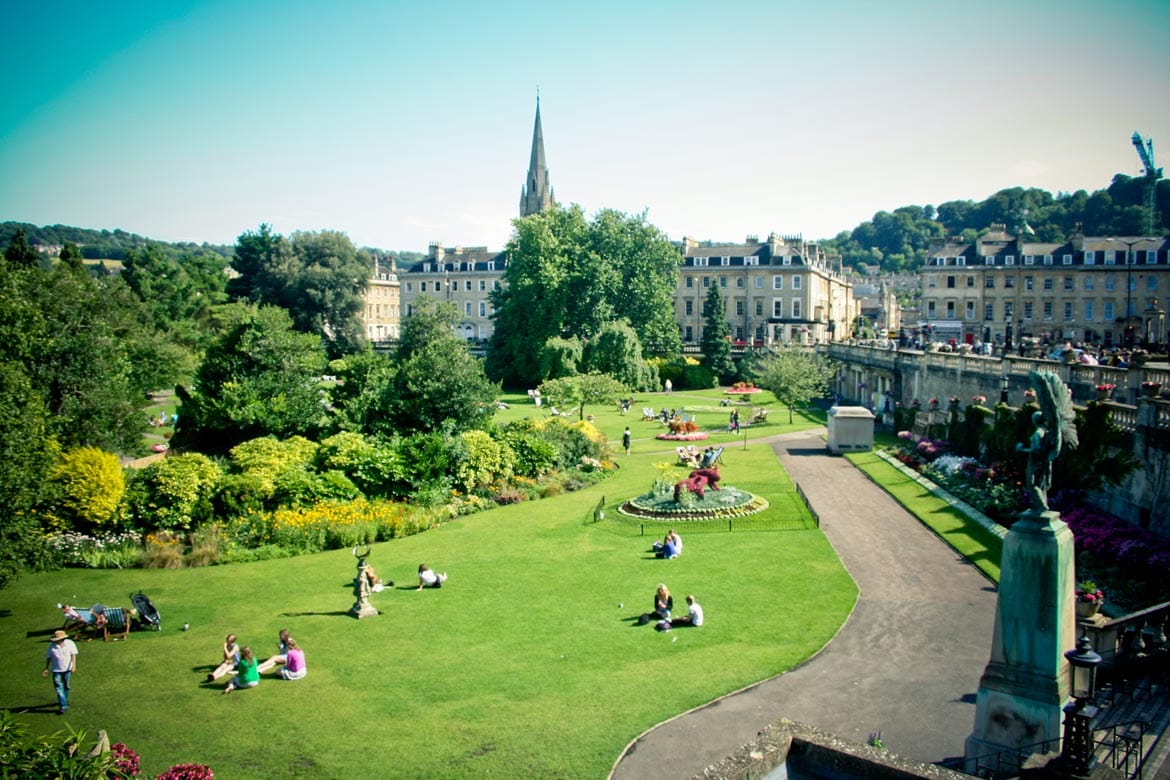 There are heaps of other things to in Bath – Bath Spa, Pulteney Bridge, the Sally Lunn museum – I could go on here. And I can assure you the Roman Baths aren't the only thing to see in the city.
Don't worry if you only have one day in Bath though. You can still squeeze in plenty of must-see sights and activities in this time, thanks to its easily walkable size.
So, if you're wondering what to do in Bath for a day, I've narrowed down my top suggestions to help you get the most out of your time in the city. Enjoy!
Getting from London to Bath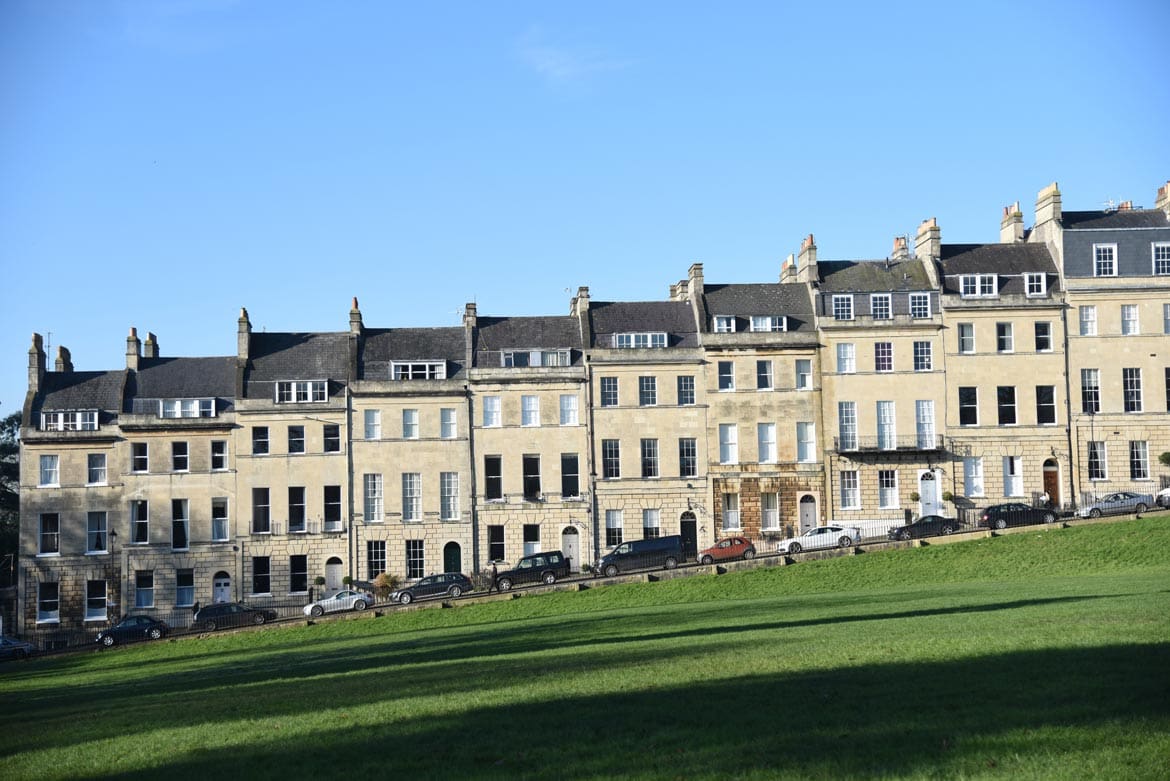 Arranging a day trip to Bath from London is super simple.
Direct trains from Paddington Station run regularly and only take around 1 hour 30 mins. Tickets can cost as little as £12.60 when you buy in advance. This is why I always recommend buying in advanced if you can.
Even kinder on your wallet is catching one of the National Express coaches. Incredibly, you can hop on one of their services from Victoria Coach Station for just £5. This is a great money saving tip for travelling.
There is always the option of driving too. It's only a 2.5-hour journey, depending on where in London you set off from and traffic. Once you get out of London it's a really beautiful drive too.
However, Bath is definitely not the most car-friendly city. So unless you want the freedom to stop off at a few sights like Stonehenge on the way, I'd stick to the train or bus.
Things to do in Bath, England
Visit the ancient roman baths.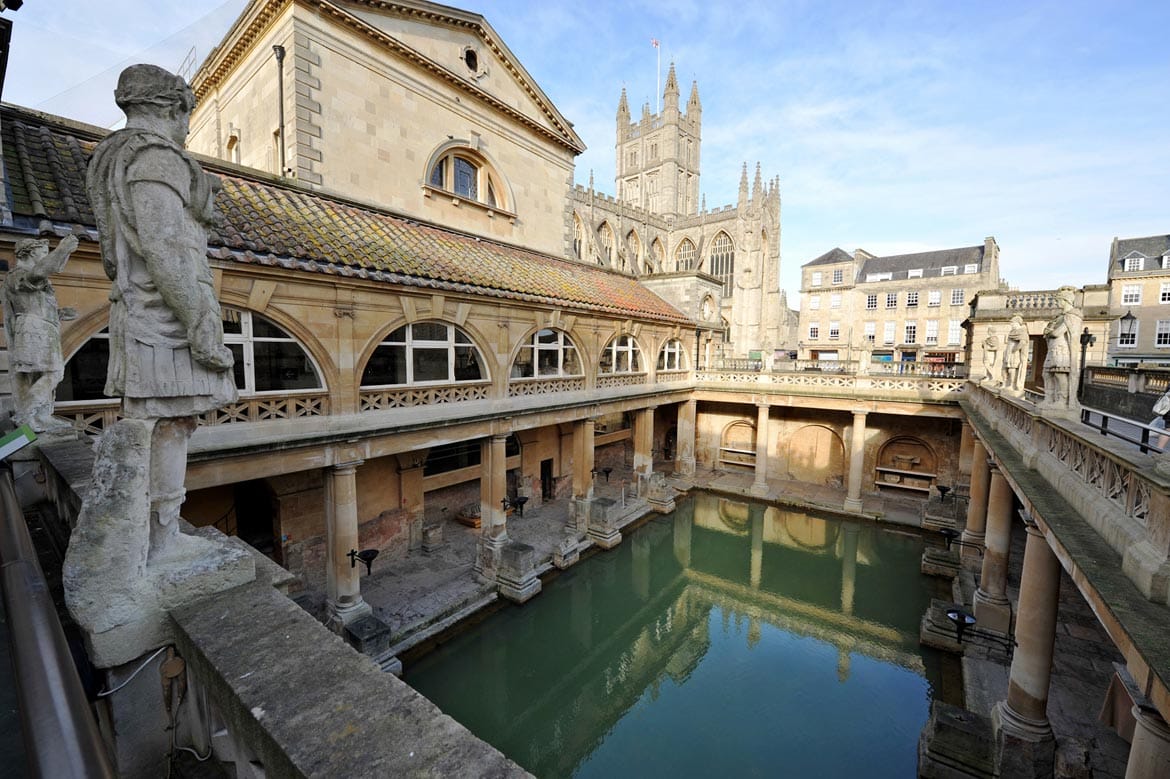 Even if ancient history isn't usually your thing, I really wouldn't leave without visiting the Roman Baths . It's the reason Bath is what it is today, after all.
Dating back to 70AD, the baths are amazingly well-preserved and it feels like you're stepping right back into Roman Britain. I was surprised by how entertaining the audio guide that's included in the ticket is. It's a real treasure trove of fascinating history, and the interactive museum is worth checking out too.
As you'd expect, the original baths aren't open, so you can't wash in the mineral-rich water. However, you can actually get a taste of it in the Pump Room.
The only downside is that the Roman Baths are on everyone's itinerary for a day trip to Bath, so it's always busy. Head there as early in the day as you can to beat the crowds.
A great way of seeing the baths is on a Roman Baths and City Walking tour where you get to visit some of the best sites in the city with a local guide.
Take a stroll along Royal Crescent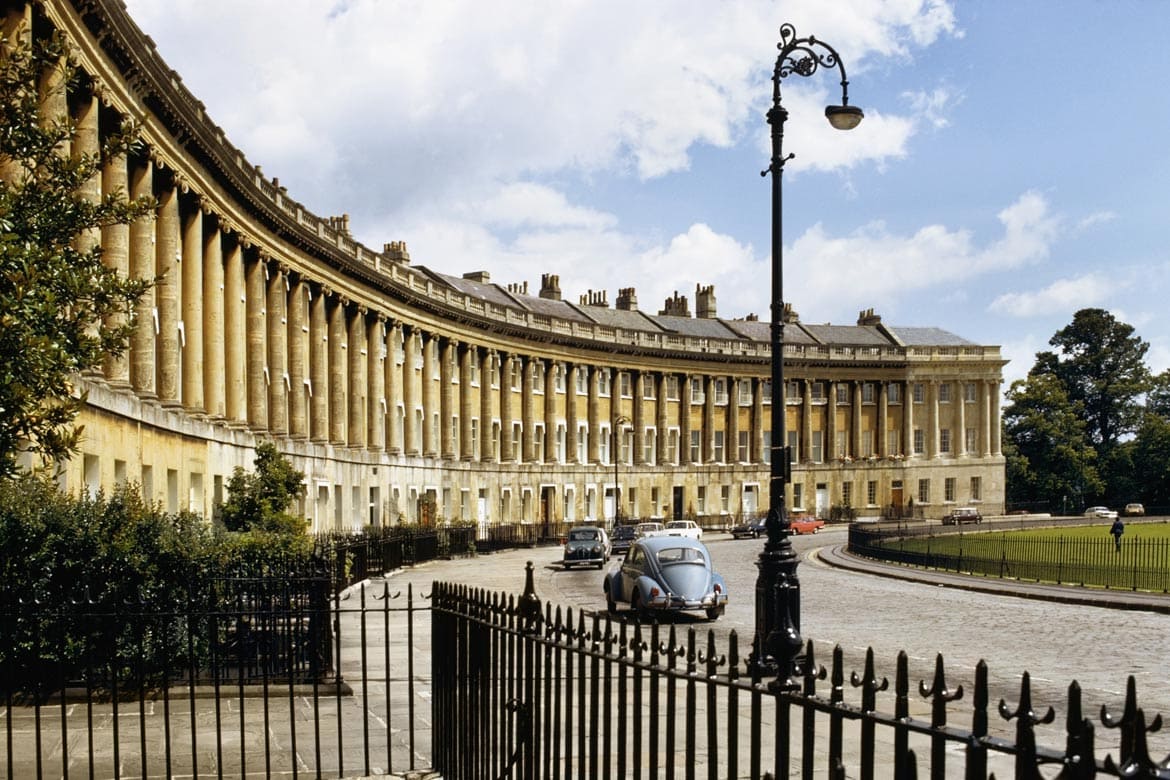 This is another classic Bath landmark, made up of a glorious curved terrace of Grade I listed houses.
Aside from being lovely to look at from the outside, there's another chance to dig deeper into Bath's history inside No. 1 Royal Crescent . It's a museum, furnished and decorated just as it would have been back in the 18th century. This is like stepping into a time machine and going back a couple of hundred years.
If you're lucky the sun will be out and you can relax on the inviting stretch of lawn just in front of the crescent. This is a great picnic spot in the city.
Marvel at Bath Abbey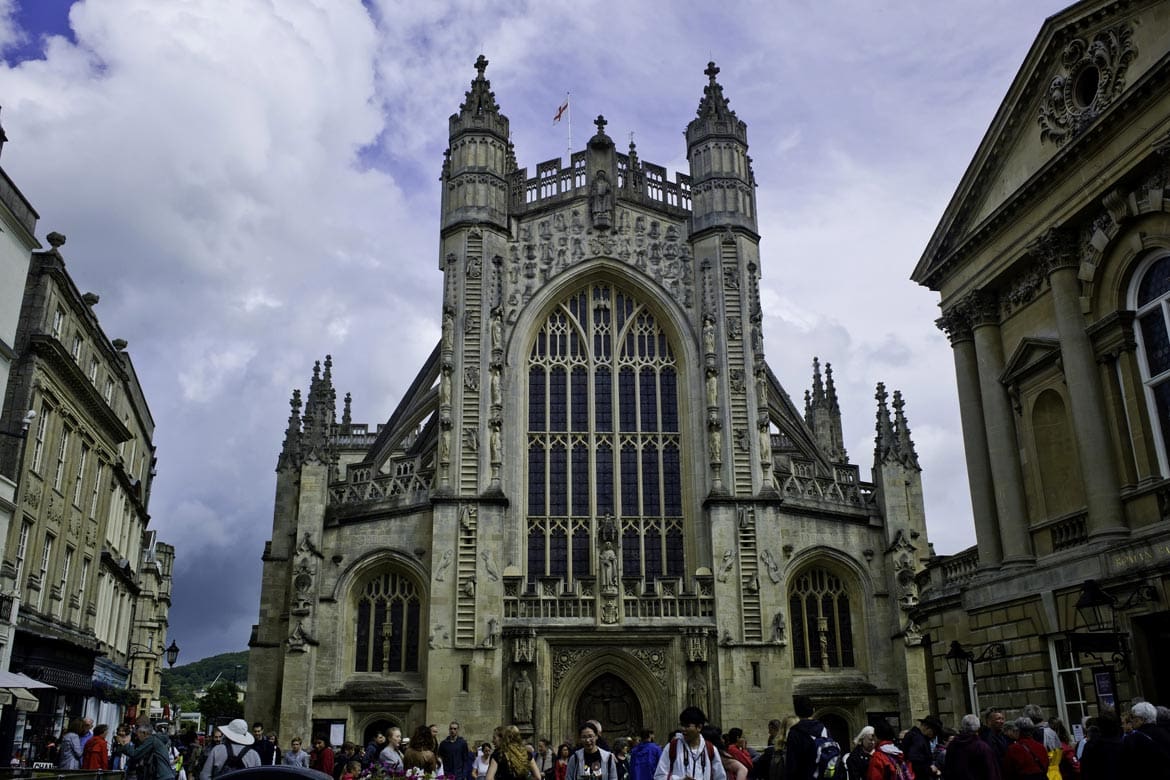 It's not all Georgian architecture in Bath – the abbey is Victorian Gothic in style and seriously impressive. A place of worship has been stood here for over 1,200 years, so as you can imagine the atmosphere is something special.
Admiring the Bath Abbey from ground level was awe-inspiring enough, but I do wish I'd done the tower tour. These only take 45-50 minutes and you get to see the ringing room, sit behind the clock face and much more. The views from the top are said to be the best in Bath.
Wander around Pulteney Bridge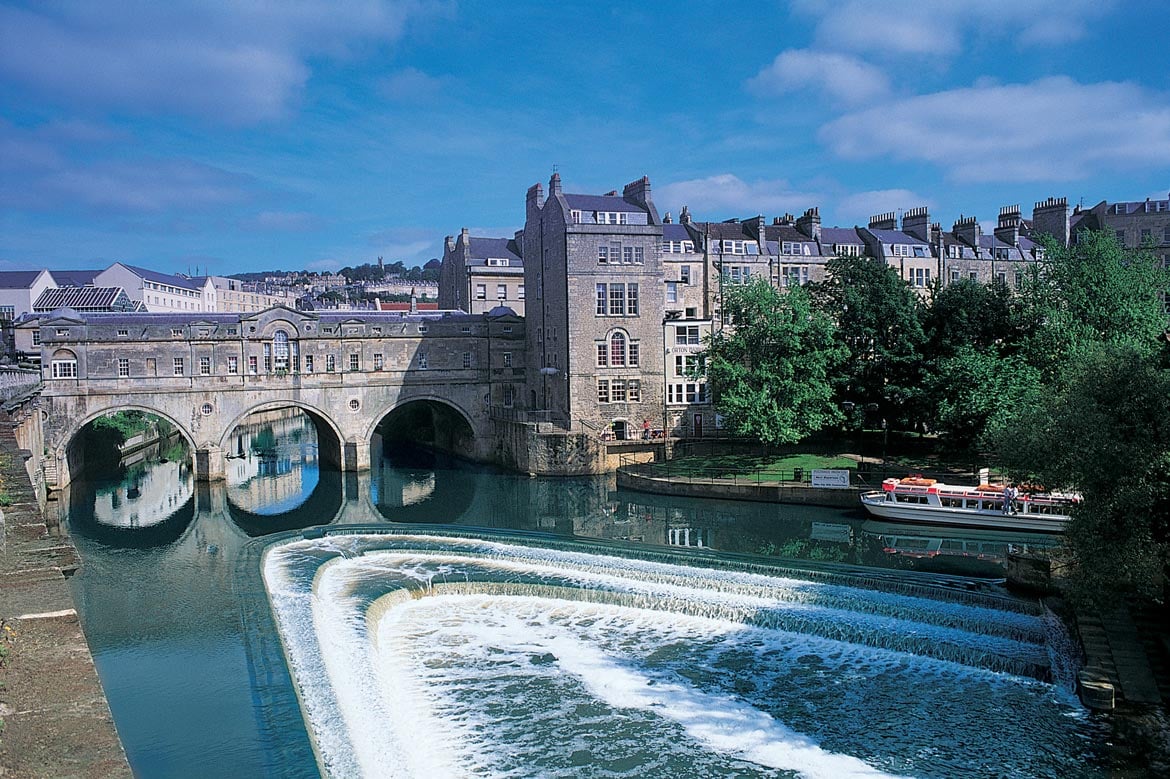 Only four bridges in the world are completely lined with shops on either side and this is one of them. Fellow architecture geeks like me will love it.
It was built at the request of an ambitious and important man in Georgian Bath, William Johnstone Pulteney. He wanted this bridge to be a major talking point. Today, it's a symbol of the city and photographed constantly, so I guess you could say he succeeded.
As well as marvelling at the bridge, I followed the lead of locals and popped in for a coffee at The Bridge Coffee Shop . A perfect pick-me-up while sightseeing!
Take in stunning art at the Victoria Art Gallery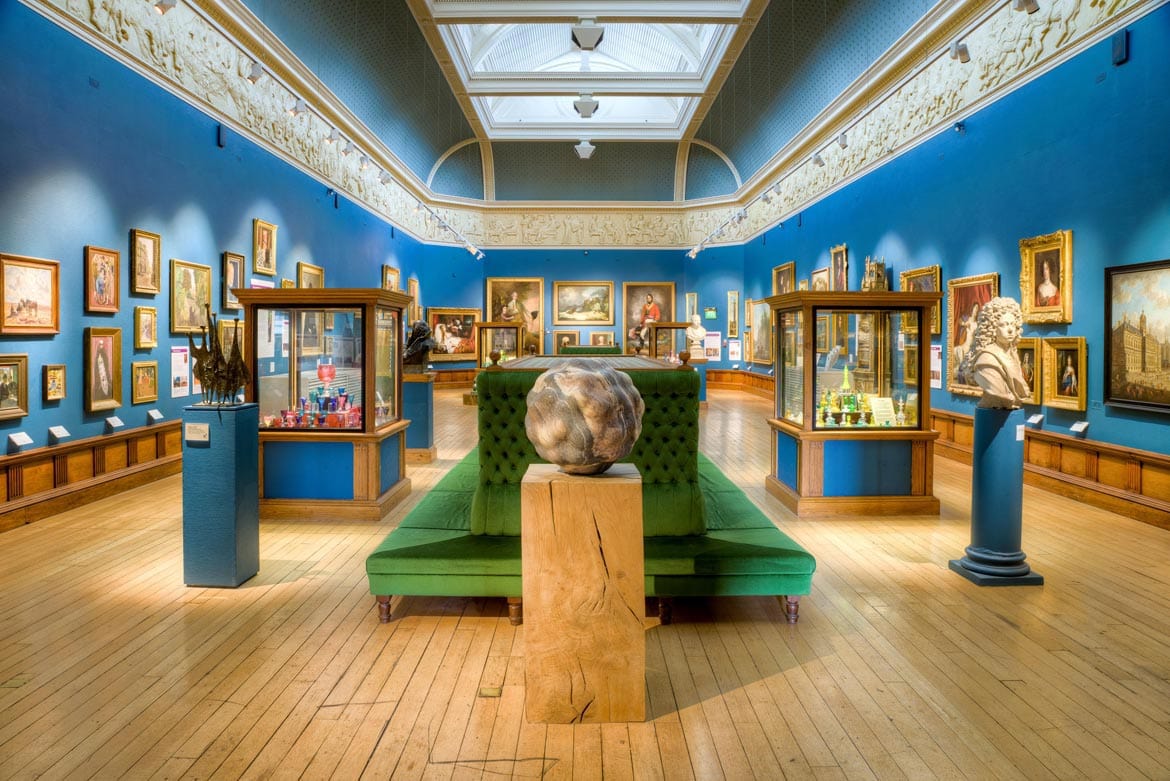 Just a stone's throw from Pulteney Bridge, the Victoria Art Gallery is definitely one for any art lovers wondering what to do in Bath. Ever since its opening in 1900 entry has been completely free, which is always a bonus if you're on a budget.
Even the dome-topped Grade II listed building that houses the gallery is a sight to behold. Inside, I could have easily spent hours taking in the paintings and sculptures. But with just a day in Bath, I pulled myself away after checking out the permanent collection, to fit in the rest of my schedule.
Go on a boat tour along the river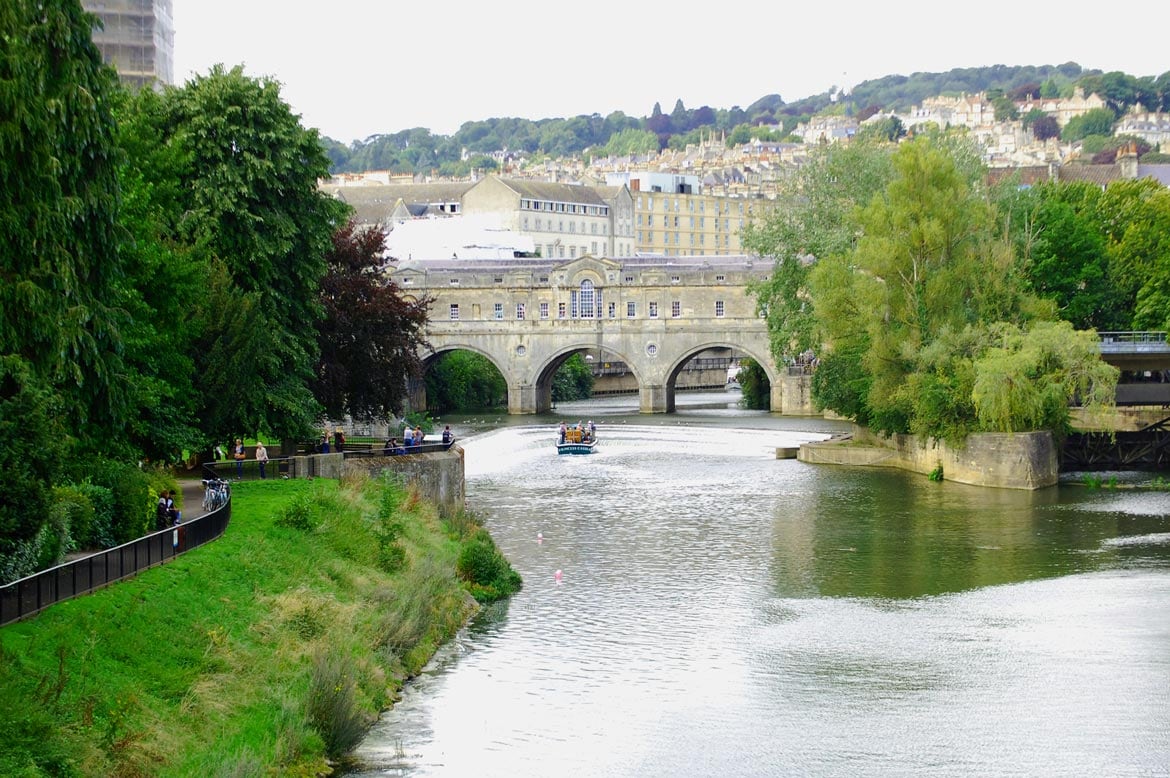 The River Avon snakes through Bath, making a boat tour a fun way to see the city. You pass plenty of the most notable points of interest as you cruise down the river.
Depending on which tour you choose, you can also get a good glimpse of the scenic countryside just beyond Bath and lots of wildlife too. It's a relaxing ride and a good excuse to rest your feet for a while.
For something a bit more unique, I recommend hiring a narrowboat and steering yourself along the Kennet and Avon Canal. The hire company will give you the lowdown on what to do beforehand and set you on your way. This is definitely a must on any Bath itinerary.
Wander around Prior Park Landscape Garden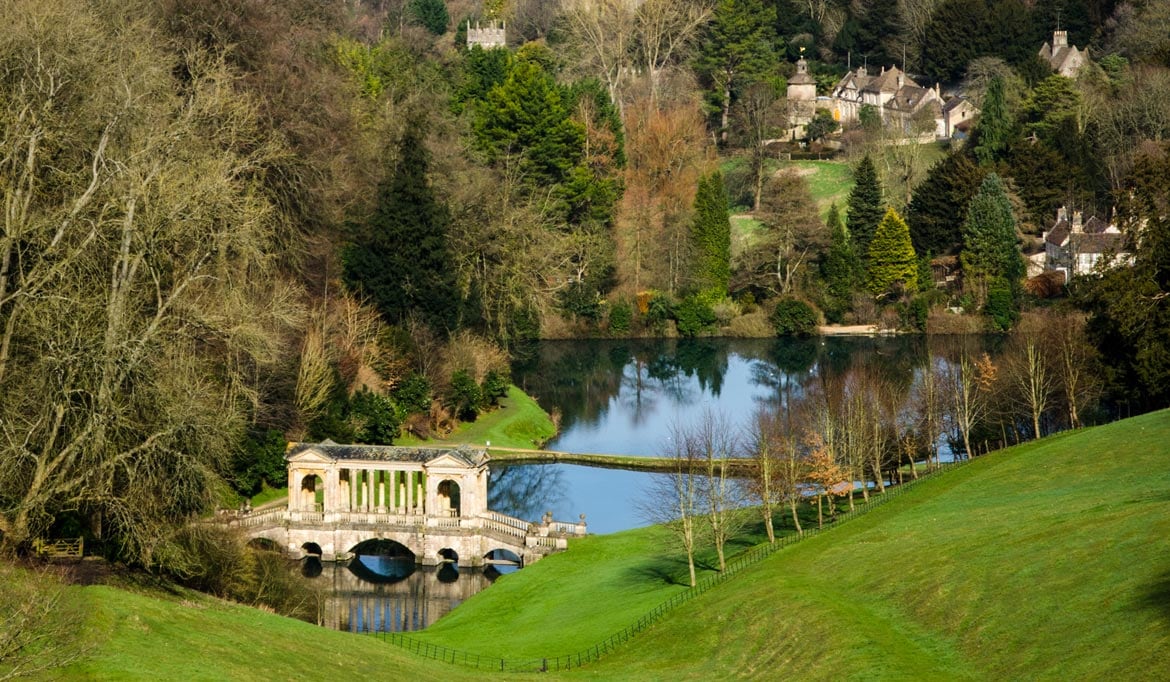 Another place to enjoy the great outdoors and do some wildlife spotting during your Bath day trip is the Prior Park Landscape Garden. Trust me when I say this place is beautiful! A lush green valley, pretty woodlands and sweeping city views. What more could you want from a city garden?
Oh, and there's yet another unique bridge here too. Like the Pulteney Bridge, the Palladian Bridge is one of just four of its kind in the world. And people think neighbouring Bristol is where all the cool bridges are at – I'm starting to think Bath deserves the reputation!
If you get a ticket for the Bath hop-on, hop-off bus then you'll be able to hit up a fair few of these spots. Very easy if you've only got one day in Bath!
Eat at Chez Dominique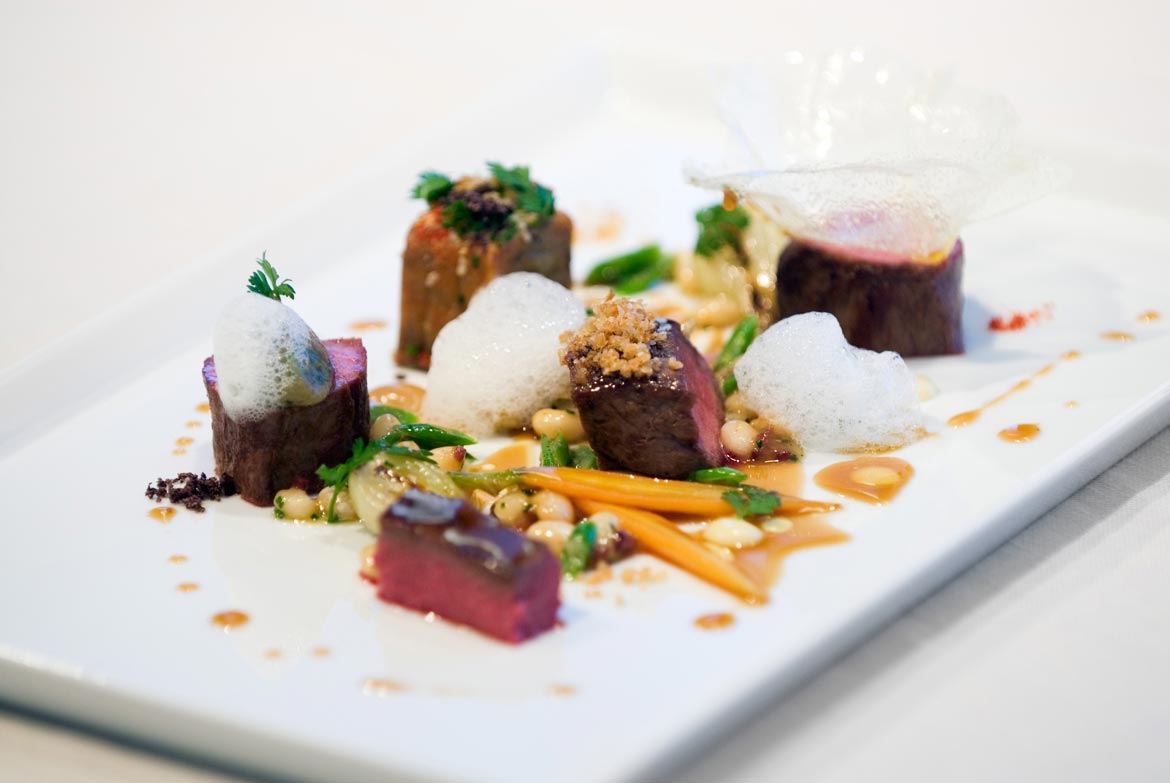 I have a long old list of restaurants I love eating at in Bath, but that's a whole other blog post. For now, I'm just going to tell you about one of my favourites – Chez Dominique .
This family-run, French-inspired bistro has scooped up a handful of impressive awards. Their menu is full of interesting European dishes, all perfectly cooked, and the desserts are especially dreamy.
But even better than the food is the views from the private dining room. Looking out over the Pulteney Weir while you indulge in some of the city's best food is a real treat. It would be the ultimate place for a date night dinner.
Pop into Sally Lunn's House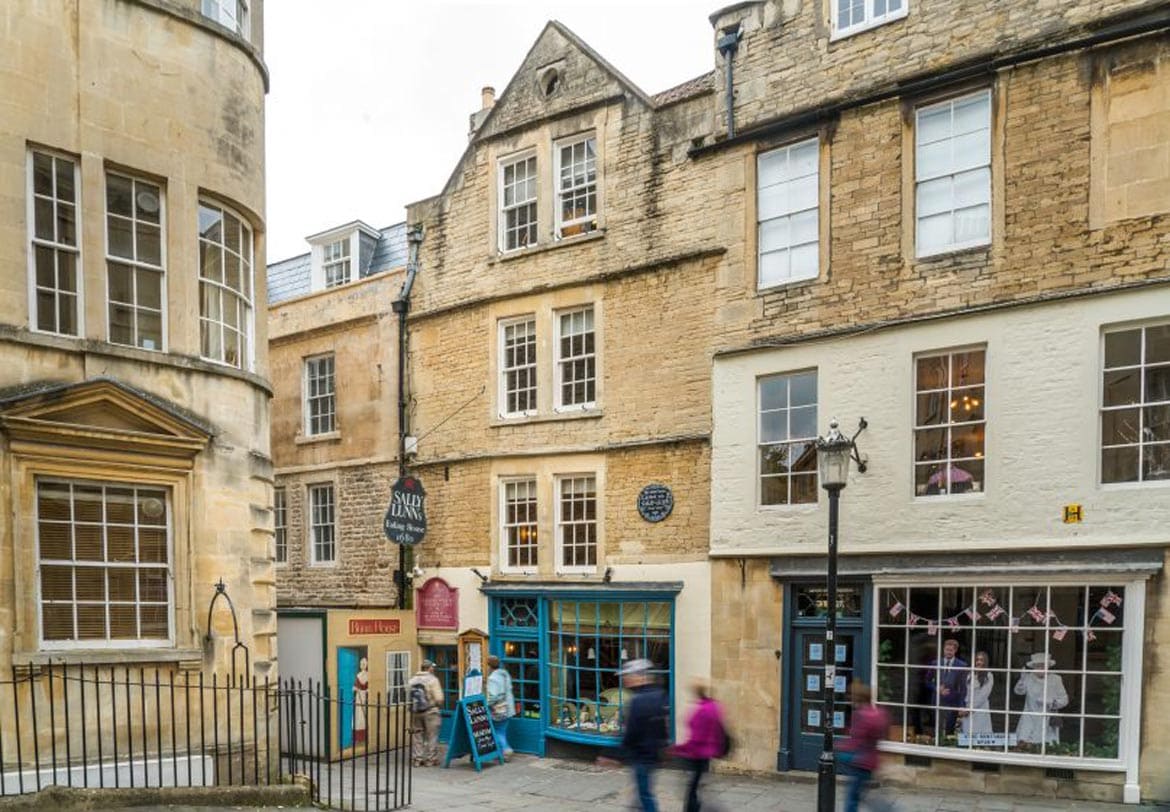 A world-famous sweet treat originated in Sally Lunn's Historic Eating House – the Bath Bun. They have a similar taste to brioche, which makes sense when you find out Sally Lunn was a French Huguenot. She brought her baking skills to Bath as a refugee, way back in 1680.
What makes tucking into one of these even more special is knowing the tea room is inside one of the city's oldest houses. Take a look around the micro-museum down in the cellars too. You get to see the original kitchen, bakery and oven, which dates back nearly 1,000 years.
There's also the option to grab a bun or two to take away. Perfect if you've already filled up on food from Chez Dominique.
Hit the pubs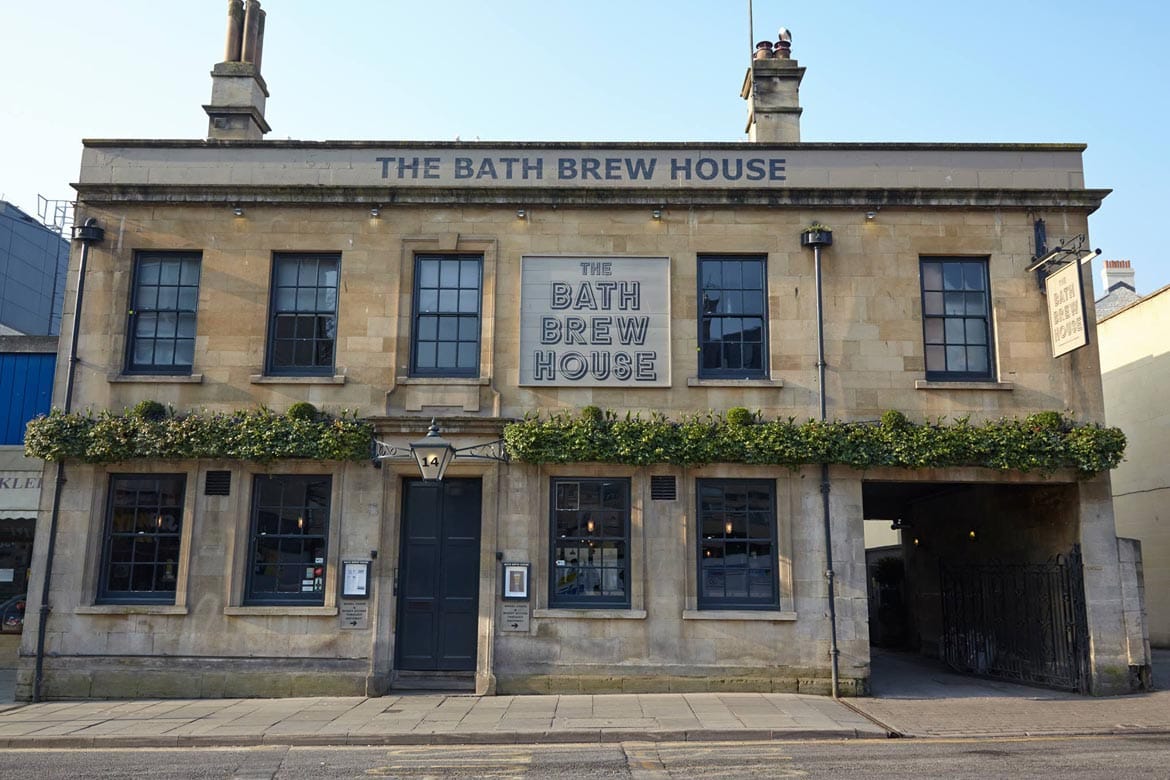 Where better to round off my Bath 1 day itinerary than at a traditional British pub?
There are plenty to choose from and as with practically everything in the city, many of them have an interesting history. If the weather's wintry and you want to cosy up by an open fire, I would head to The Star Inn . It's on the Paragon and a pub has stood in its place since the 16th century.
On sunny days, you can't beat the beer gardens at the Marlborough Tavern and The Bath Brewhouse . The brewery tour at the latter is great too.
Which of my suggested activities will you be doing on your day trip to Bath? Share your thoughts or let me know if I've missed your favourite spots in the comments!
Like this blog post? Then make sure you Pin it!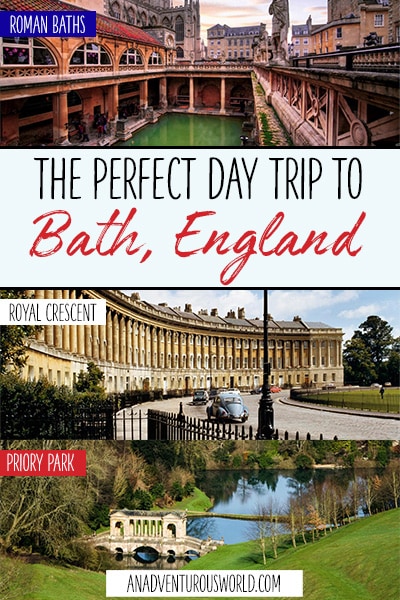 About the Author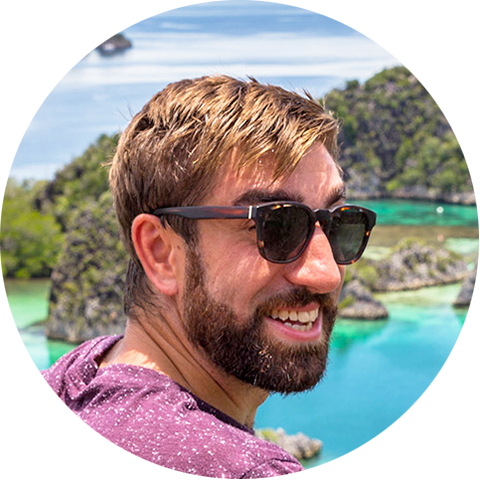 Macca Sherifi is the founder of the multiple award-winning blogs An Adventurous World and the Great British Bucket List. Every month he inspires over 200,000 avid readers to travel the world.
View all posts
Thursday 8th of August 2019
Yes exactly! This is the perfect trip to from London in my opinion. I loved the Marlborough Tavern and The Bath Brewhouse... some great beers there!
Macca Sherifi
Saturday 28th of September 2019
Yay! I'm so glad you agree with me Joe! There are some cracking pubs in Bath - sounds like you found a couple of these yourself!
We Are Travel Girls
A Community Created To Inspire, Connect, Educate & Empower Female Travelers
ENGLAND , EUROPE , UNITED KINGDOM · May 19, 2020 Last Updated on June 8, 2023
ULTIMATE CITY GUIDE TO BATH, ENGLAND
This post may contain affiliate links. As an Amazon Associate I earn from qualifying purchases. We may receive a small commission when you make a purchase using our link.
Bath has been firmly stamped in the minds of the British public, and nowadays across the globe, as being one of the most important cities marking Britain's cultural identity. Visitors to Bath can experience quintessential British culture, face Britain's history head-on, and delight in a wonderful culinary scene, in addition to relaxing in the famous thermal baths that give the city its name.
Keep reading to learn everything you need to know about visiting the magical town of Bath, England!
History Of Bath
"I really believe I shall always be talking of Bath" – Jane Austen in her novel Northanger Abbey.
Austen couldn't have been more accurate! Indeed, ever since Bladud, legendary king of the Britons supposedly cured his pigs of leprosy in a hot spring and subsequently founded this city in 863BCE, people have travelled from all over to relax and recuperate in the waters.
From the Romans to the Georgian elite, Bath became the place to see and be seen. Elite society, of whom Austen mingled, waltzed nights away at The Assembly Rooms, paraded The Pump Room in search of eligible husbands while strolling in pleasure gardens like The Sydney Gardens.
Bath is rich in historical facts like these, and they seem more like wild fantasies than attainable reality. However, to this day millions of travellers desire such wild pleasures.
The timeless beauty of the honey-hued Georgian architecture, romantic cobblestone streets to the survival of the Roman Baths, the Assembly Rooms, and much more means that these images of the past are accessible.
Best Time Of Year To Visit Bath
From a local's perspective, the best time to visit Bath is between September and October .
The summer months are often inundated with thousands of tourists and a plethora of large tourist busses. The streets are full, there are queues into top sites running for miles and it is almost impossible to relax.
If you head over in September, the weather is still mild, streets are deserted (better chance of capturing that Instagram photo), it is easier to gain quick access into all the best places, and eating out is a breeze.
How To Get Around Bath
The most convenient way to reach Bath is by train , especially if you're coming from down south from places like Cornwall or London . This way you'll get a direct train journey for affordable prices or catch a National Express coach that travels into Bath every day.
If, however, you're driving to Bath there are several car parks around the city, all of which are affordable and easy to get to.
When in the city, walking is the most convenient form of transport, as busses and cars cannot drive up the highstreets and everything is within walking distance. However, if you're coming into town from one of the many hills in Bath, there are local busses that run every 20-minutes into the city centre.
Subscribe to get our FREE eBook with tips on saving money when you travel!
Top Things To Do In Bath
1) bath abbey.
Proudly located in the centre of Bath city is Bath Abbey .
Steeped in history with staggering architecture, the church imposingly dominates the scene and hypnotises thousands of people to visit daily. To enter is free, although they do welcome donations (usually £2) and the Tower Tours cost a small fee and only run between 10 am-4 pm.
Climbing the 212 steps up to the top of the tower is a must as it offers a visit to the bell chamber, the chance to sit behind the clock face and to witness unrivalled rooftop views of the city.
Inside the Abbey, one can see extraordinary examples of Norman Perpendicular Gothic architecture and architectural evidence dating back to the Anglo-Saxon.
The Abbey is still a place of worship and therefore might be closed for service. If this is the case, check the door times or Abbey's website for when it will reopen.
2) The Roman Baths
Quite possibly the 'it' attraction in Bath, the Roman Baths shouldn't be missed.
As one of the best-preserved Roman remains in the world, you'll find an interactive museum filled with artifacts and videos of Romans as well as archaeological excavations of the original baths. With a pinch of imagination, you'll be transported back in time and will experience Roman life for yourself.
Tickets start from £14 but with them, you get an audio guide, an optional guided tour and the opportunity to try the natural spa water.
3) The Pump Room
To enjoy Bath like an 18 th century English Lady, you'll need to head to the Pump Room to try their wonderfully delicious afternoon tea. Its opulent interior design speaks volumes of the aristocracy who once socialised here.
If you're a fan of Jane Austen, then you'll be delighted to know this was the building she, and other elite members of society, met, enjoyed lavish entertainments and gathered to drink the therapeutic waters.
4) The Assembly Room & The Fashion Museum
The Assembly Rooms was another centre of Georgian social life. The two-tiered chandeliers and stunning pillared balconies provide a glimpse into the place where many attended grand balls and sought eligible husbands.
On the lower ground of the Assembly Room is the Fashion Museum and it holds a display of contemporary and historic dress, tracing Bath's history through objects and clothing.
Open every day of the week, tickets start at £8.55 for adults and £6.53 for children.
5) The Crescent & The Circus
If you're looking for a little bit of celebrity head to the Crescent and the Circus .
These are probably the most iconic landmarks in Bath and are a row of terraced houses laid out in a crescent shape. Its exterior has remained unchanged since it was built in the 1700s and has been home to many celebrities, including Nicolas Cage and Johnny Depp!
If you're looking for a little history, you can visit No1 Royal Crescent . Now a museum, it has been remodelled to resemble a Georgian Town House and the interior gives a sense of how the wealthy lived.
6) Milsom Street & Pulteney Bridge
Bath city has some of the quaintest and quirkiest independent shops in the United Kingdom. Head to Milsom Street for some of the more expensive shops while Pulteney Bridge has more unique shops lined on both sides.
This is significant because it is one of only four bridges in the world to have shops on it, with one of the others being in Florence. Bath has everything from designer outlets, craft shops to unique bookshops. A perfect location for a little retail therapy.
7) The Holburne Museum Sydney Gardens
While in Bath it is imperative you visit The Holburne Museum . It was originally a Georgian villa-style hotel, but now houses a collection of 17 th -18 th century paintings.
From Thomas Hoare to Sir William Holburne, The Holburne Museum is your gateway into British art. It's free to enter but they again welcome donations.
Right behind the museum is Sydney Gardens . Here you can walk around a garden paradise, take in the lovely river and see where the elite once went for entertainment, public breakfasts, orchestras and fireworks.
8) Prior Park
Prior Park is one of Bath's best-kept secrets. Hidden among many houses, this 18 th -century landscape garden is bewitching.
Situated slightly on a hill, Prior Park Garden offers exceptional views of rolling hills, winding woodlands and Bath's Georgian rooftops.
Here, you'll see an exquisite Palladian Bridge and a grand mansion that is set against an idyllic pastoral landscape. It was originally designed by Ralph Allen in 1734 to show off his wealth and the famous Bath Stone; the golden-hued stone that now builds every house in Bath.
9) Thermae Bath Spa
The healing waters in Bath have been famous for centuries. While it is no longer possible to bathe in the Roman Bath's healing waters, the Thermae Bath Spa offers similar relaxing ways to improve your health.
For a reasonable price, you can enjoy the rooftop thermal pool, panoramic city views or unwind in their wellness suite, featuring steam rooms, a relaxation room and an ice chamber. You can also enjoy dinner in your robe in the Spa's on site restaurant for a unique experience.
Day Trips From Bath
While there is so much to see and experience in Bath city centre, it is really worthwhile heading out to the surrounding areas and explore the true English countryside.
Under 40 miles away from Bath, Stonehenge is one of, if not the most famous prehistoric monument in the world. It should not be missed during your visit to Bath.
The stone circle at Stonehenge has a history reaching back 4,500 years and is a spellbinding piece of architecture. Here, you'll also see Neolithic Houses and discover the tools and objects of everyday Neolithic life.
To get to Stonehenge, you can take the train or bus from Bath Spa train station to Salisbury, but you will need to take a bus from Salisbury to Stonehenge. You can also buy admission tickets in advance.
The easiest way to get to Stonehenge is to drive from Bath directly to Stonehenge or hop on a bus tour guide .
Stratford Upon Avon
Just a few hours by train or car is the birthplace of the legend William Shakespeare. No mention of England, or the United Kingdom, would be complete without some reference to Shakespeare.
He is considered the best British writer of all time and has given us sonnets, plays to read, performances to watch and films to devour. Without him, Britain wouldn't be in Britain. That being said, a trip to Stratford-upon-Avon will be time well spent.
Start your day at Shakespeare's Birthplace , a beautifully restored 16 th -century half-timbered house. Continuing on the journey of Shakespeare's life, head to Shakespeare's New Place ; his home in retirement.
Here, you'll find statues from his well-known plays, such as Hamlet pondering life with his skull. Then head to the Church of Holy Trinity where you can visit Shakespeare's grave.
While at Stratford make sure to check out Anne Hathaway's Cottage (this is the former home of Shakespeare's wife), Shakespeare's Schoolroom and Guildhall, and the Royal Shakespeare Company.
If you're lucky enough you might get to see one of the best productions of Shakespeare's plays at the Royal Shakespeare Company and if not, check out their exquisite shop and café.
Getting to Bristol is the easiest day trip from Bath. Head over to Bath Spa Train Station, get on a train to Bristol Temple Meads and you'll be in the city centre in under 20 minutes.
Being a university city, Bristol is a vibrant and electrifying place to visit. For things of historical importance head to Bristol Museum and Art Gallery (entry is free), and here you'll find geology, Eastern art, Bristol's history, natural history and famous, as well as modern, paintings.
For more art, you can go on a Banksy street art walking tour with a guide around the city.
Bristol Cathedral should definitely be on your list. Founded in 1140 and consecrated in 1148, it was originally St. Augustine's Abbey but later became the seat of The Bishop of Bristol.
For more historical sites head to Brunel's SS Great Britain Ship, Cabot Tower, Tyntesfield (a serious must) or for something more modern, Bristol Zoo or one of the many quirky book shops.
For other day trips, be sure to read our full article on 10 Places To Not Miss In Southwest England !
Salisbury & Salisbury Cathedral
Much like Bristol, Salisbury is really easy to get to by car, bus and train. Besides shopping and eating in one of the many renowned restaurants there is so much to see and do in Salisbury.
The obvious choice would be to visit Salisbury Cathedral . Considered to be one of the leading examples of Early English architecture, the cathedral is exquisite and awe-inspiring in itself, but it is also home to the four original copies of the Magna Carta and the oldest working clock in the world.
Right next to Salisbury Cathedral is Mompesson House; an 18 th -century house which was originally home to Sir Thomas Mompesson, MP for Salisbury. The Salisbury Museum and Arundells (former home to Prime Minister, Edward Heath from 1985 to 2005) are also great to visit.
Where To Stay In Bath
Bath's city centre is littered with quaint B&B's, quirky hostels and elegantly preserved manor hotels.
Macdonald Bath Spa Hotel
Set in sweeping and beautiful gardens of which include fountains, ponds and a terrace, the Macdonald Hotel offers guests celebrity treatment with world-class service and an award-winning restaurant. The spa features a swimming pool, outdoor hot tub, and a fitness centre.
It is a 10-minute walk from Bath Abbey (city centre) which means the hotel makes for the perfect city-country experience. Spending your day surrounded by nature and tranquillity, then spending your night under the neon lights of Bath's energetic nightlife.
BOOK YOUR STAY
Lansdown Park Hotel
The hotel itself is a magnificently preserved Georgian mansion and was designed in collaboration with the Country Living Magazine.
With the country lifestyle in play, everything was designed with comfort in mind and all the 55 rooms have comfy sofas and cosy beds. The restaurant overlooks the garden and serves fresh local produce in the à la carte breakfast menu and the classic dinner dishes while the bar is open all day and has an extensive drinks menu.
The Royal Crescent Hotel & Spa
If the Bath hotel scene had to be known for anything, it would be its Royal Crescent .
While slightly more expensive, guests can stay in one of the Crescent's elegant houses.A 5-star hotel, with a history that spans more than 250 years, staying here is certainly a luxurious experience.
With a fully equipped gym, a truly relaxing spa and a secluded landscaped garden, the hotel offers guests the closest thing to time travel. The bedrooms are decorated in an 18 th -century style while modern comforts, such as WIFI and TV, make you feel even more pampered.
Anabelle's Guest House
For the best B&B in the city, head Anabelle's Guest House .
Located near the Roman Baths, the B&B is a quick walk to the Bath Abbey, Pulteney Bridge and The Circus. The rooms are clean and kitted out with a wardrobe, TV and free toiletries. If you'd like a continental breakfast it is an additional £4 per person.
YHA Bath Hostel
For those backpackers or travellers on a budget, YHA Hostel is perfect for you.
The building itself is a visually striking Italian-style mansion with private gardens, laundry facilities and a restaurant. Each morning there is an option for a hearty breakfast and in the evenings a home-cooked meal.
Guests also have the option of using the large shared kitchen facilities. There is a TV lounge overlooking the garden with comfortable sofas while the bar serves a variety of drinks and the WIFI is available in public areas.
Where To Eat In Bath
Bath's fame and close association with the British elite has given rise to an exquisite array of cuisine. From local delicacies to exotic Asian dishes, visitors experience not only a taste of history but are transported around the globe, with a promise of returning home.
Some local dishes to look out for are Bath Buns (sweet dough covered in sugar and currants), Bath Oliver Biscuits (which compliment cheese perfectly), Bath Chaps (pork tongue wrapped in pork cheek, marinated in brine and herbs, then rolled in breadcrumbs), and the Bath Soft Cheese.
Sally Lunn's Eating House
This eating house has its roots deep in history. According to legend, Sally Lynn, a Huguenot refugee arrived in Bath in 1680. Here she worked in a bakery and produced the now-famous Sally Lunn Bun; a light, brioche-style bun.
Not only does this restaurant serve this local favourite but the building itself is one of the oldest houses in Bath, featuring a kitchen museum in the basement that shows the original kitchen used by Sally Lunn.
Open for Breakfast, lunch, afternoon tea, and dinner, the menus serve local and authentic dishes. Perfect for a quintessentially English experience.
For an exotic flavour head to Koh Thai restaurant. Not known to many tourists, but a popular choice among locals, Koh's is a place where the irresistibly rich flavours of Thailand are brought to the tiny streets of Bath.
Located on Broad Street and open Monday-Sunday, the menu includes mouth-watering curries, seafood platters, well-known delicacies such as Chicken Satays and Spring Rolls to unique desserts and fiery cocktails.
Regency Tea Room
For those of you searching for a little history or a quintessentially British afternoon tea experience, the Regency Team Rooms is perfect.
Located on the top floor of The Jane Austen Centre, the tea rooms have a lovely period atmosphere where the staff are decked out in regency fashion while the menu serves cakes, sandwiches, scones and toasties named after Austen's characters.
Especially popular are the 'Tea with Mr Darcy', 'Lady's Afternoon Tea' and 'Crawford's crumpets'.
Hall and Woodhouse
If you're looking for a restaurant that allows four-legged furry friends, then Hall and Woodhouse is your place.
Built-in the 1960s and originally designed as an auction house, this restaurant has a stunning bar with alcohol bottles vibrantly on display. The rustic, brown décor and open space make for a charming and relaxing atmosphere, perfect for a quick lunch, celebratory dinner, or just a few drinks.
The normal, vegetarian and vegan menus also make this the ideal inclusive dining experience.
Evening Hangouts and Bars
There are a number of places to explore during the evening if you're looking for somewhere to hang out or a bar to enjoy the night away.
Among the best places to go to is The Hideout , with its wood interior and walls decked out with whiskey, cocktails, draught beers and a range of spirits.
Speaking of cocktails, Sub 13 is Bath's premier cocktail bar with leather booths – perfect for a girls night out – while the Opium Bar has a vintage feel and speakeasy décor.
Bath Wrap Up
With so much history, culture and culinary delights, Bath is an intoxicating, exciting and unique city to visit. There is an abundance of quintessential English experiences to be had, a plethora of hangouts to enjoy a drink and several day trips to the most famous landmarks in the United Kingdom.
We hope that this article has helped inspire you to visit Bath, England. If you have any questions about the destination or have your own travel tips to share please leave these in the comments below.
Want to share your own travel tips by guest writing for We Are Travel Girls? Go to our Contribute page for guidelines and to submit your article.
Subscribe to get access to our FREE eBook with tips for saving money when you travel!
Read More About England
A Guide To Adventurous Activities In Cornwall
A Complete Guide To Hiking Mount Snowdon
Hiking The Pap Of Glencoe In The Scottish Highlands
The Seven Sisters Day Trip From London
72 Hours In Ireland
We Are Travel Girls Contributor Jade Braham JadeBrahamsOdyssey.com Connect with Jade Instagram | Facebook | Pinterest | Twitter
Pin For Later
This article may contain affiliate links, if you purchase something using one of our links we may receive a commission. Please see our Disclosures for more information.
You'll Also Love
Leave a reply cancel reply.
Your email address will not be published. Required fields are marked *
Notify me of follow-up comments by email.
Notify me of new posts by email.
Travel Girls Getaways
DESTINATIONS
TYPE OF TRAVEL
TRAVEL RESOURCES
TRAVEL GIRLS GIVING
Get Access To The Travel Resources Library
Subscribe to receive free access!
Work With Us
TESTIMONIALS
DISCLOSURES
TERMS OF SERVICE
PRIVACY POLICY
ACCESSIBILITY
COPYRIGHT © 2023 WE ARE TRAVEL GIRLS
Exclusive Member of Mediavine Travel
Home » Travel Guides » United Kingdom » England » 15 Best Bath Tours
15 Best Bath Tours
Named after its famous Roman-era baths that have been designated UNESCO World Heritage Sites since the '80s, the town of Bath is one of England's premier historic and recreation destinations.
With just shy of 90,000 residents, it's small by big-city standards, but it's located on a particularly beautiful stretch of the River Avon only about 100 miles west of London.
In addition to baths, the town features an abundance of traditional and contemporary eateries, as well as museums, galleries, and a number of fairs and festivals that are held annually.
Below are 15 of the best tours of Bath and the surrounding area.
1. Roman Baths and City Walking Tour
Bath Abbey is one of the area's premier Roman-era attractions, and it features some of the country's most impressive gothic architecture.
On this two-hour tour, guests and their guide will set out on foot to explore the baths and abbey while learning about the Romans' cultural and historical traditions.
Tours also include brief stops at the Royal Crescent, several prominent homes built in the Georgian style, and Pulteney Bridge, which made a cameo appearance in a famous filming of Les Miserables.
Tours are available with morning and afternoon start times to accommodate those with different schedules.
2. City Boat Trip and Walking Tour
As a UNESCO World Heritage Site city, Bath draws tourists from all over the world.
This 80-minute tour allows guests to see the city from land and water while benefiting from their guide's unique insights into what makes it such a special place.
Tours meet at a convenient location in central Bath, after which participants depart on a scenic river cruise followed by a leisurely walk through town.
Highlights include St. John's Church, Half Penny Bridge, Bath Abbey, and Paradise Gardens.
For those who've just arrived, this tour would be a great way to see lots of attractions quickly and familiarize yourself with the town's layout.
View Prices & Reviews
3. City Sightseeing Hop-on Hop-off Bus Tour
For do-it-yourselfers and those who prefer not to commit to lengthy traditional tours, hop-on-hop-off tickets are both fun and economical alternatives.
One ticket gives guests access to two distinct bus routes, each of which offers a full list of attractions to explore.
Tickets are valid for 24 hours from the time of purchase, which means eager sightseers have an entire day to make the most efficient use of their time.
City Tour attractions include the Roman Baths and the historic Abbey that was the coronation site for the country's first king.
Skyline Tour highlights include the Terrace Walk, Manvers Street, and the Holburne Museum.
4. Small-Group Tour to Stonehenge and Bath with an Oxford Professor
Tours that offer guests access to more than one of the county's premier sites are great value for savvy travelers.
This small-group combo package has the distinction of being led by an Oxford professor and includes tours of both Stonehenge and Bath.
The Bath portion of the tour includes Pulteney Bridge, the Circus, and the Abbey, where guests will learn about each attraction's significance and have time for questions and photos.
Then the group will make their way to Stonehenge, where they'll enjoy skip-the-line tickets to one of the world's most alluring and mysterious sites.
Tours include everything except meals and tips.
5. 25-Minute Boat Trip to Pulteney Bridge
From the comfort of a restored '60s river cruiser, guests and their guide will take to the water to see one of Bath's most iconic attractions.
During the warm summer months, guests can bask in the sun on the deck as their skipper points out key sights on the way to historic Pulteney Bridge.
Tours wind their way past several canals that link to nearby cities. It's common to see a variety of birds as well as North Parade Bridge, St. John's Church, and Bath Abbey.
If the weather isn't cooperating, participants can retreat indoors and relax with a coffee, beer, or glass of wine.
6. 1 ½-Hour Walking Tour with Blue Badge Tourist Guide
Stretching your legs and exploring the historic city of Bath couldn't be easier for those who take advantage of this 90-minute walking tour.
As a UNESCO World Heritage Site, the town of Bath is chock-full of significant attractions that are best explored with an official Blue Badge guide.
Tours include premier sites like the Royal Crescent, Circus, Queen Square, and the majestic Abbey. At each stop, guests will benefit from their guide's unique local perspectives and insights.
Guests typically discover things that those on larger tours tend to miss, so don't be shy about asking for suggestions for things to see and do later on.
7. Jane Austen Center Ticket
Though it's not so well-known outside literary circles, author Jane Austen is Bath's most famous deceased resident.
Her works have been favorites for generations, and there's a museum in Bath that's dedicated to preserving and promoting her legacy.
Guided tours of the Jane Austen Center are offered every 30 minutes; they're given by enthusiastic local docents decked-out in Georgian garb, which makes for a truly memorable experience.
While on-site, guests will have the option of having their photo taken with a Jane Austen wax figure, sampling period food, or relaxing with a drink in the Regency Tea Room.
8. Short Orientation Walking Tour
Apparently, most visitors to Bath have pretty tight schedules, because short tours are more prominent than they are elsewhere.
For those who bore easily and value free time, that means lots of opportunities to see prominent attractions without dedicating big chunks of time to traditional tours.
This 50-minute walking tour focuses on Bath's city center and is a great option for those with kids who've got short attention spans.
Plan on seeing the Roman baths, the Abbey, and Queen Square, and learning about what makes each so unique and significant.
Tours begin at the Quay Waterside and require a moderate amount of leisurely walking.
9. Canapés and Prosecco Boat Cruise
There may be no better way to spend a relaxing hour while in Bath than by relaxing on a laid-back river cruise while noshing delectable finger foods and enjoying a glass of Prosecco.
Tours are available in the morning and afternoon to accommodate those with varying schedules. They take guests past some of the city's premier attractions, like the 17th century Bath Abbey, St. John's Church, and Halfpenny Bridge.
Depending on the prevailing weather conditions, participants will have the option of both in and outdoor seating areas, and tours begin and end in a convenient location along the Quay.
10. The Cotswold
Though many visitors spend most of their time within Bath's city limits, getting out into the countryside is a great way to see things from a different perspective.
The English countryside is characterized by rolling hills, quaint villages, and obscure historic attractions that are well worth checking out.
This full day excursion focuses on discovering the Cotswolds. As such, guests aren't likely to run into buses full of camera-wielding tourists at every turn.
11. Ghost Hunters Silent Disco Guided Tour
Rumor has it that more than four decades ago, a young ghost hunter descended on Bath in an attempt to prove once and for all that the historic town harbored spirits from the past.
Sadly, his work was inconclusive, primarily because he met a mysterious and untimely death.
For those interested in picking up where he left off and listening to the music that was pumping through his Walkman's headphones at the time of his death, this ghost hunters silent disco tour would be a great fit.
Tours are unique, fun, and eerie, and are open to groups of between 10 and 28 participants.
12. Cotswold Discovery Tour from Bath
Featuring historic villages, impressive castles, and one of the country's most picturesque Abbeys, the Cotswolds are the perfect day-trip destination for those looking to get out of town for a few hours.
Tours begin and end at a convenient central location in Bath and include stops at attractions like Castle Combe, Bourton-on-the-Water, the tomb of King Athelstan, and the quaint market town of Malmesbury.
From their local guide, guests will learn about the region's history, culture, and economy. They'll visit a few filming locations for popular movies like War Horse and Dr. Dolittle, which was filmed in the area in the '60s.
13. Stonehenge Private Half Day Tour from Bath
Stonehenge is arguably England's most unique archaeological site, and it's just a short drive for day-trippers staying in Bath.
According to those in the know, the site dates back more than 5,000 years. Though it's been studied for centuries, it's still full of fascinating mysteries and unsolved riddles.
Along with their private guide, tour participants will learn about the world-famous landmark, get close enough to take stunning pictures, and maybe formulate their own theories as to why it was built in the first place.
The return trip winds its way through the impressive Salisbury Plain before ending back in central Bath.
14. Lunchtime Cruise to Riverside Pub
Scenic cruises along the beautiful River Avon are popular vacation activities for visitors to Bath.
This lunchtime cruise makes its way past many of the town's most iconic attractions, including the junctions of Avon and Kennet canals, St. John's Church, Bath Abbey, and Pulteney Bridge.
Along the way, the skipper will describe each attraction, while guests relax in comfy chairs with refreshing beverages.
When the boat has docked at Locksbrook Inn, guests will enjoy stunning riverside views from the comfort of their reserved tables.
Each guest also gets a complimentary drink to sip while they're deciding what they'll have for lunch.
15. Wells, Cheddar Cheese and Cheddar Gorge Day Tour from Bath
The small city of wells is home to one of the region's most impressive cathedrals that dates back to the 13th century.
On this value-packed combo tour, guests will delve into the past while enjoying a number of prominent human-made, natural, and culinary centerpieces of the English countryside.
After Wells, guests will drive to the town that's the birthplace of Cheddar cheese.
According to locals, it's the world's most popular variety. Guests will visit the last remaining cheese making facility in the area.
Before the drive back to Bath, the group will stop at Cheddar Gorge, which is consistently ranked as one of Britain's most iconic natural attractions.
15 Best Bath Tours:
Roman Baths and City Walking Tour
City Boat Trip and Walking Tour
City Sightseeing Hop-on Hop-off Bus Tour
Small-Group Tour to Stonehenge and Bath with an Oxford Professor
25-Minute Boat Trip to Pulteney Bridge
1 ½-Hour Walking Tour with Blue Badge Tourist Guide
Jane Austen Center Ticket
Short Orientation Walking Tour
Canapés and Prosecco Boat Cruise
The Cotswold
Ghost Hunters Silent Disco Guided Tour
Cotswold Discovery Tour from Bath
Stonehenge Private Half Day Tour from Bath
Lunchtime Cruise to Riverside Pub
Wells, Cheddar Cheese and Cheddar Gorge Day Tour from Bath

12 Best places to visit on day trips from Bath
Discover 12 of the very best places to visit for day trips from Bath including practical tips & information to plan your trip. Options to visit by tour, car and train are covered too!
Bath is a fabulous city to spend time in – there's lots to discover and it also makes a great UK base for visiting other attractions close by.
Sights well worth seeing that are within easy reach of Bath include ancient Stonehenge, the charming Cotswolds area with its beautiful villages, breathtaking Cheddar Gorge, bohemian Glastonbury and the stunning but small cathedral city of Wells.
The easiest way to see what lies beyond the city and the countryside surrounding it is to take an organised day trip from Bath. Booking onto a Stonehenge tour from Bath for example, means you don't have to hire a car in order to reach this must-see in the nearby county of Wiltshire.
So read on to find the perfect tour for you. Coach trips from Bath to glorious places all over south west England are all covered, and within each listing, we reveal a little more about what makes each destination special.
This guide includes coach tours from Bath in addition to some trips taken by private car, and there is also a walking tour of Bradford-on-Avon thrown in too for good measure. Booking many of these tours is also risk-free, as you can cancel up to 24 hours before to receive a full refund.
If you prefer to take public transport you will find information about possible day trips from Bath by train included in this post with information about the best routes and timings.
Here they are – 12 of the best places to visit on a day trip from Bath you'll find anywhere, all handpicked by a pair of well-travelled Brits!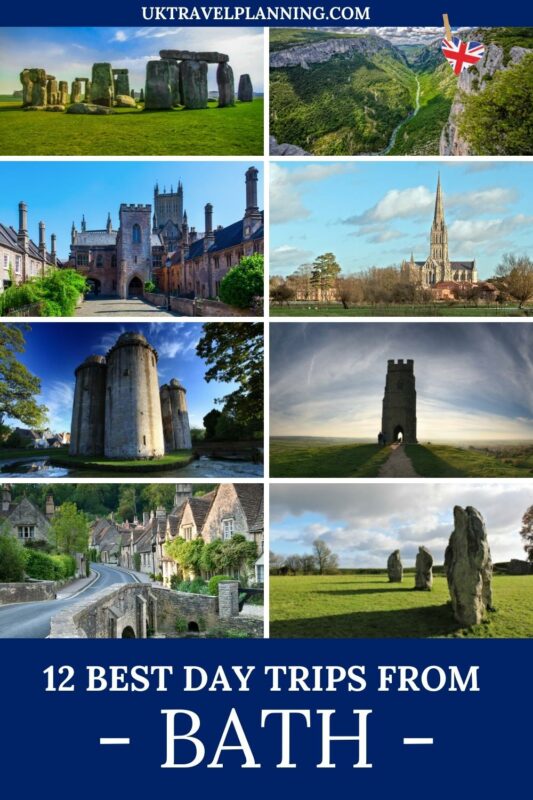 📍The Cotswolds: Area of Outstanding Natural Beauty
📍stonehenge: neolithic stone circle, 📍avebury: neolithic stone circle, 📍glastonbury: mystical place with spiritual connections, 📍salisbury: pretty cathedral city, 📍longleat house: tudor mansion and home of the marquis of bath, 📍nunney castle: moated medieval castle, 📍bradford-on-avon: picturesque village.
📍Wells: Beautiful cathedral in one of the UK's smallest city
📍Cheddar Gorge: Limestone gorge in the Mendip Hills
📍bristol: historic port and city, 📍cardiff: welsh capital, stonehenge, cotswolds & avebury trip from bath, cotswolds experience tour from bath, half-day stonehenge tour from bath, private tour of stonehenge and avebury, hot air balloon flight from bath, private day trip to the cotswolds from bath, private tour of glastonbury from bath, salisbury, nunney castle, longleat house & magna carta tour, half-day bradford-on-avon walking tour, wells and cheddar gorge day trip from bath, salisbury and stonehenge, bradford on avon.
⭐️ At a glance – 12 Best places to visit near Bath ⭐️
12 of the best places to visit near Bath and precisely why you should include them on your UK itinerary.
Even the most jaded Brits cannot get enough of the Cotswolds . Covering an area of almost 800 square miles in size, this gentle landscape is incredibly easy on the eye.
Parts of Worcestershire, Gloucestershire, Wiltshire, Oxfordshire and Warwickshire all belong to the area in central England.
The area is famous for some of the prettiest villages you'll find anywhere on earth, all lined with old, honey-toned cottages constructed centuries ago from the local stone.
There are also rolling green hills, stately homes, historic castles and grand palaces to discover.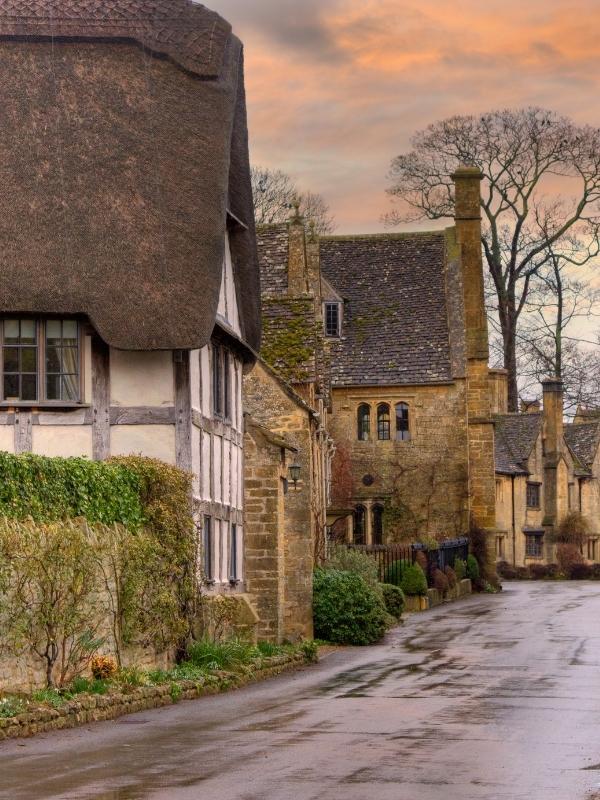 Stonehenge barely requires an introduction – the circle is one of those iconic sights that's known all over the world.
Exactly how the standing stones got there is something of a mystery, and the intrigue only adds to the appeal of this ancient site featured in Thomas Hardy's Tess of the D'Urbervilles .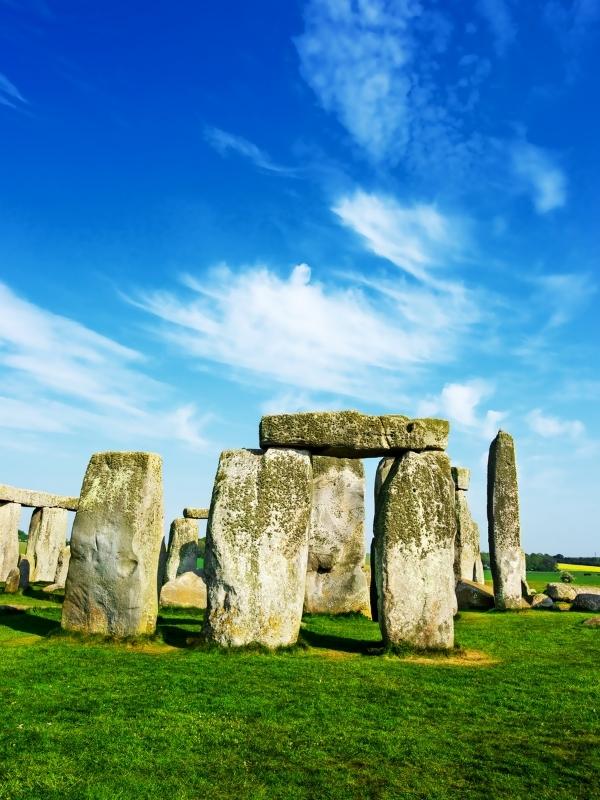 Though lesser-known than Stonehenge, Avebury gives the former a serious run for its money. It comprises a range of ceremonial sites dating from Neolithic times and the Bronze Age.
Here you can find the biggest stone circle in Britain as well as smaller ones and other prehistoric points of interest.
Glastonbury in Somerset is known for its Tor (hill), its Abbey and of course the renowned music festival held every June (often, when it's wet, this becomes a mud bath).
The town itself is also a fascinating place to visit, and is packed with folklore, New Age and alternative shops and cafes and an eclectic mix of people.
Just don't call it Glastonbury Festival while you're here. It's referred to as the Pilton Pop Festival by locals, after the village down the road where the venue Worthy Farm can be found.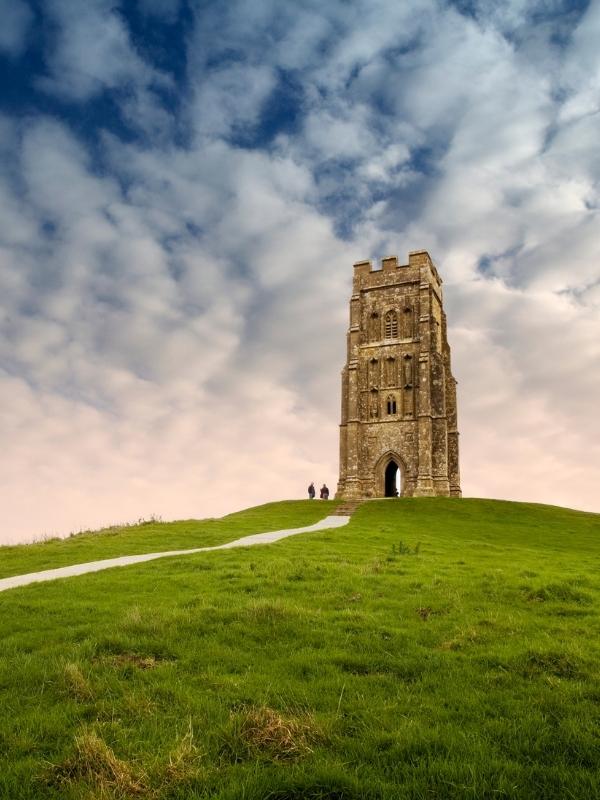 Salisbury is located in Wiltshire and is a cathedral city dating from the Mediaeval era. As it's less than 10 miles from Stonehenge on Salisbury Plain, it's easy to combine the two destinations in one day.
You can see a copy of the historic 12th century Magna Carta at 13th century Salisbury Cathedral. The 14th century clock still actually works too.
Much like Bath, Salisbury is a lovely city to spend time in too, with a lively market, smart shops and some very appealing cafes and restaurants.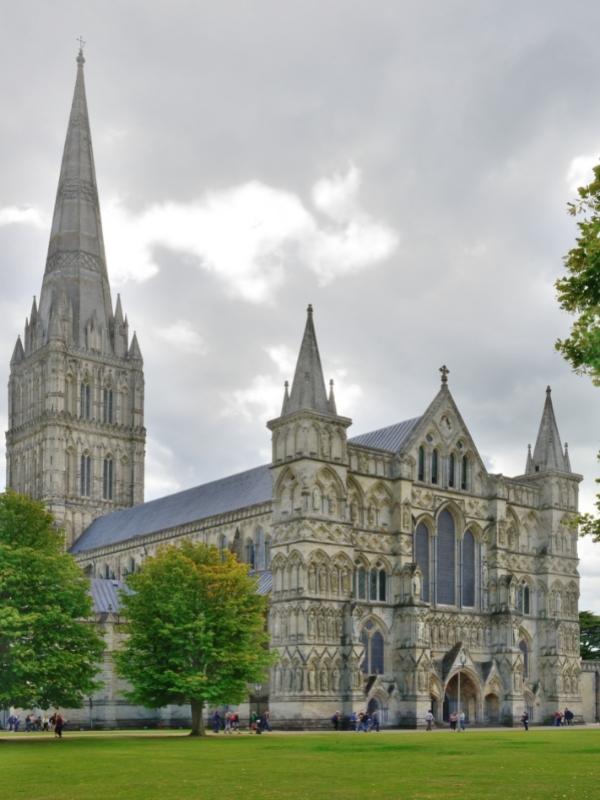 The Marquesses of Bath own Longleat House, an imposing country manor located in Wiltshire. You can tour the Elizabethan home and the gardens, which were landscaped by the famous Northumbrian gardener Capability Brown.
Inside Longleat House there is a considerable collection of books, furnishings and artwork to explore.
Nunney Castle is also in Somerset and is like something from a fairytale. In reality it dates back to mediaeval times, and the 14th century structure is surrounded by a moat. Originally it was intended for defence purposes, and was built using profits from the Hundred Years War.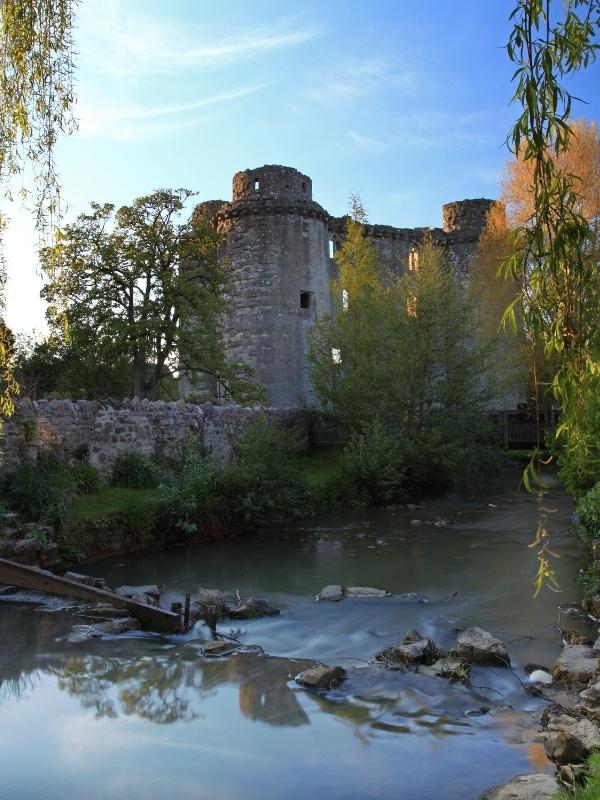 While Bradford on Avon isn't exactly undiscovered, it's not as much on the beaten tourist track as other places in Wiltshire and Somerset.
It's a very pleasant town positioned between Salisbury Plain, the Cotswolds and the Mendip Hills. The streets are lined with graceful old buildings and the town is also intersected by the Kennet and Avon canal.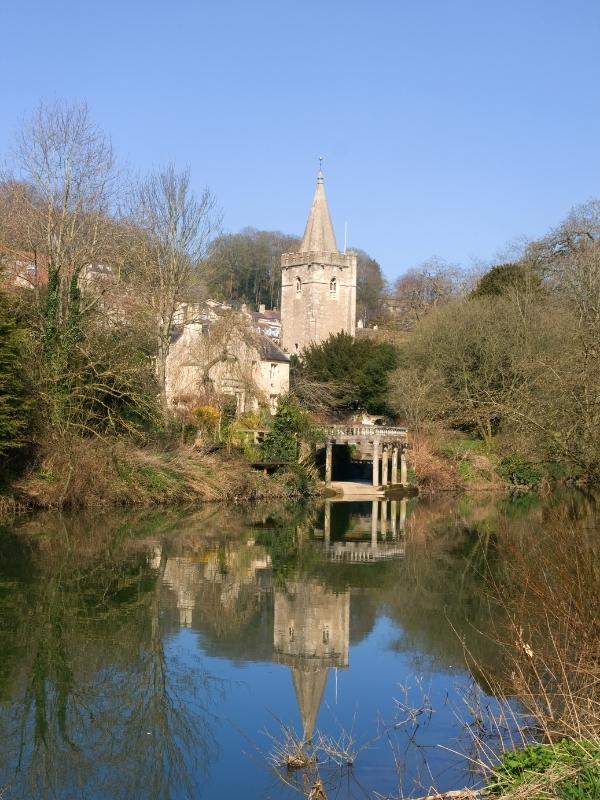 📍Wells: Beautiful cathedral in one of the UK's smallest city
Wells in Somerset is only around 20 miles south west of Bath and is one of (if not the) smallest cities in England . This is correct as long as you discount the City of London, which occupies less space but is of course part of a much bigger urban area.
Wells was named for three water wells located in the city and is famous for its cathedral, the Bishop's Palace and the Vicar's Close.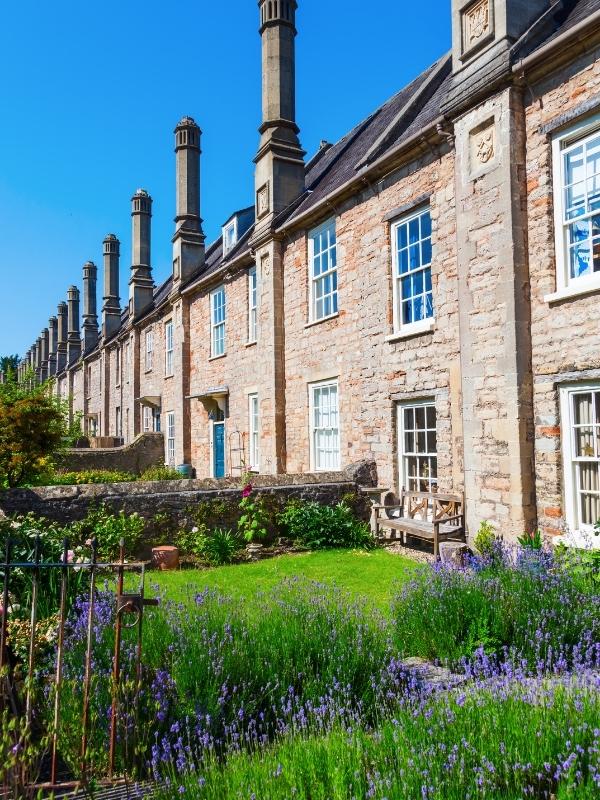 Cheddar Gorge is just one of the attractions of this part of Britain famous for being where the cheese of the same name originated. The village is a pleasant spot, bisected by the Cheddar Yeo river. Unsurprisingly there are lots of cheese, fudge and gift shops here.
The Cheddar Caves area is also an attraction, and the oldest skeleton in the UK was found here at the start of the 20th century. As for the limestone Gorge, it's an incredible sight and quite unlike anything else in the land.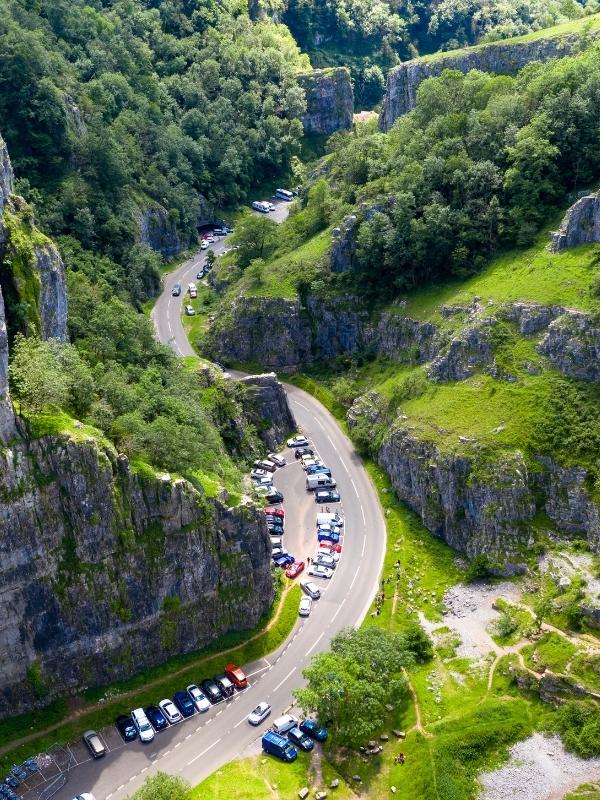 Two names are linked with Bristol . One is Victorian engineer Isambard Kingdom Brunel. The other is artist Banksy. Both of their works can be admired in Bristol – from a famous suspension bridge to an ocean liner to 11 works of Banksy's street art you can see it all in the city.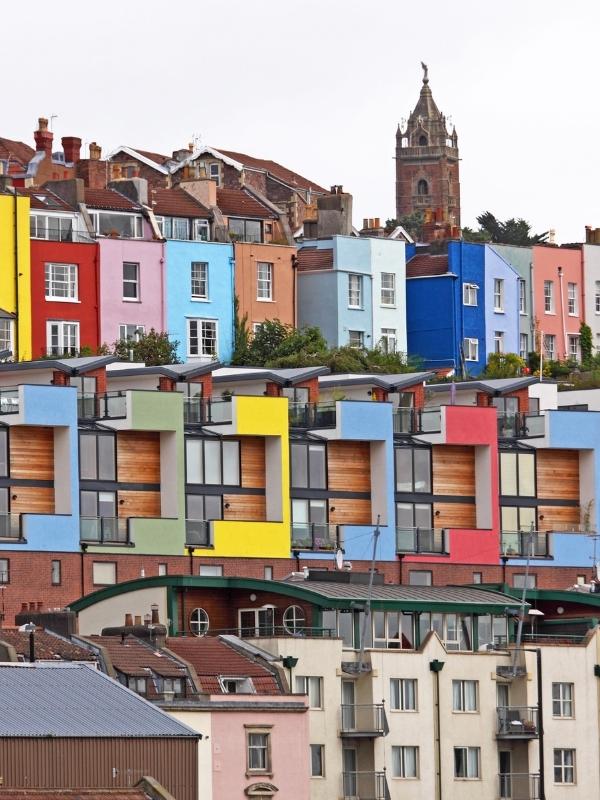 Why not pop over the border into another country ( Wales ) and explore Cardiff on a day trip? A must for Gavin and Stacey or Doctor Who fans.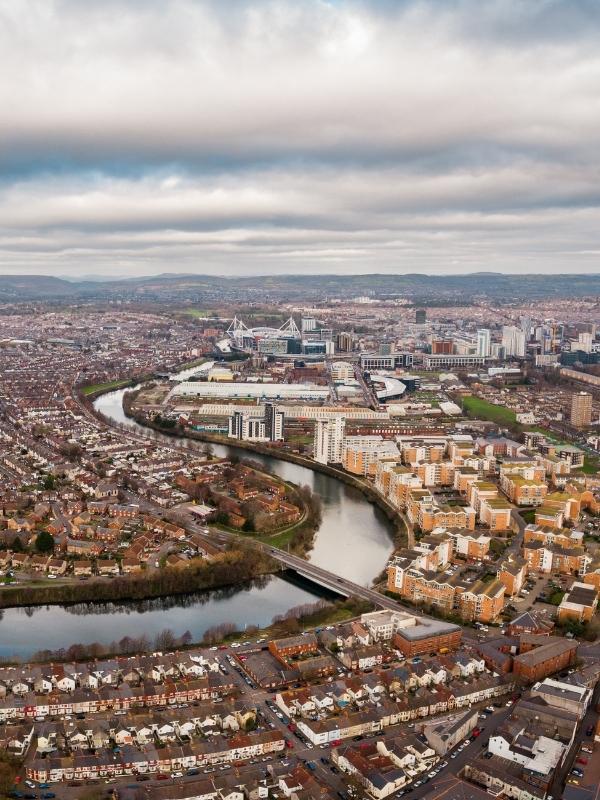 🌟 Essential Resources for your UK Trip 🇬🇧
📒 UK Travel Toolkit – Organise your travel plans with our essential UK Travel Toolkit
🛤 UK Train Travel Guide – Our guide to travelling the UK by train. Remove the stress and overwhelm of travelling on an unfamiliar system with our ebook
📍 UK Itinerary Planners – Plan your visit to 9 popular UK destinations with our itinerary planners
📋 London Travel Guide Itinerary Planner – Plan your London visit with our essential planner (+ 4 bonus ebooks)
10 best tour options for day trips from Bath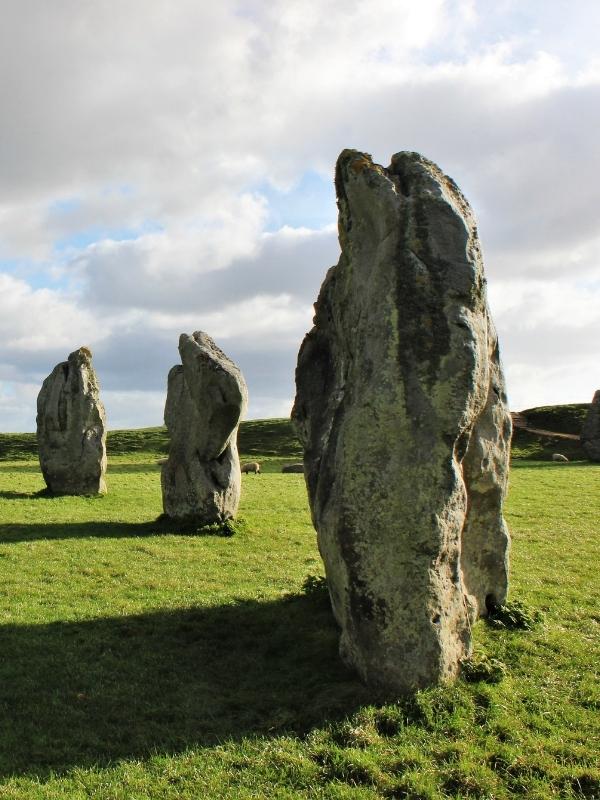 Duration: 9 hours
Destination: Stonehenge, Avebury & the Cotswolds
Departure time: 08:20
Departure point: 1 North Parade, Bath BA1 1NS (outside Abbey Hotel)
What's included: Transport & tour guide
What's not included: Stonehenge entry fee, lunch & extras
This from-Bath day trip will take you on a journey of discovery that takes in not one but two ancient stone circles. As well as world-famous Stonehenge, you'll see the magnificent stones in the village of Avebury, also in Wiltshire.
During the day you'll see Cotswolds villages in addition to ancient UNESCO World Heritage Sites. Your tour of Stonehenge includes an audio guide so you learn about the mysteries surrounding the stone circle's construction.
En route to Lacock Abbey you'll pass Silbury Hill and the Cherhill White Horse, and will take a lunch stop at the Abbey where there are several places to eat. The last stop is in the Cotswolds village of Castle Combe, voted England's prettiest.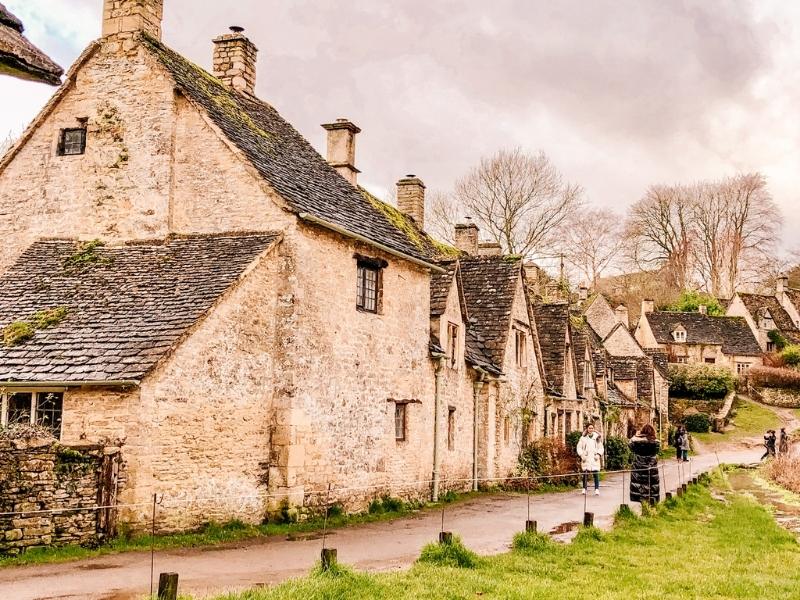 Destination: Stow on the Wold, Bibury, Malmesbury Abbey & Bourton on the Water
What's included: Mini coach transport & tour guide
What's not included: Lunch & extras
This Cotswolds tour from Bath gives you a full day to experience all the key sights of the Cotswolds Area of Outstanding Natural Beauty. You'll be part of a small group of 10 or less, so it's easy to ask your guide questions and meet other visitors to England.
The tour kicks off with a visit to picturesque Castle Combe before a lunchtime stop in Stow-on-the-Wold, a larger place that's packed with old traditional pubs and antique shops. Next up is Bibury for the must-see Arlington Row before calling at Malmesbury Abbey.
Your last destination is Bourton-on-the-Water, known as the Venice of the Cotswolds due to the low bridges spanning the River Windrush in the centre.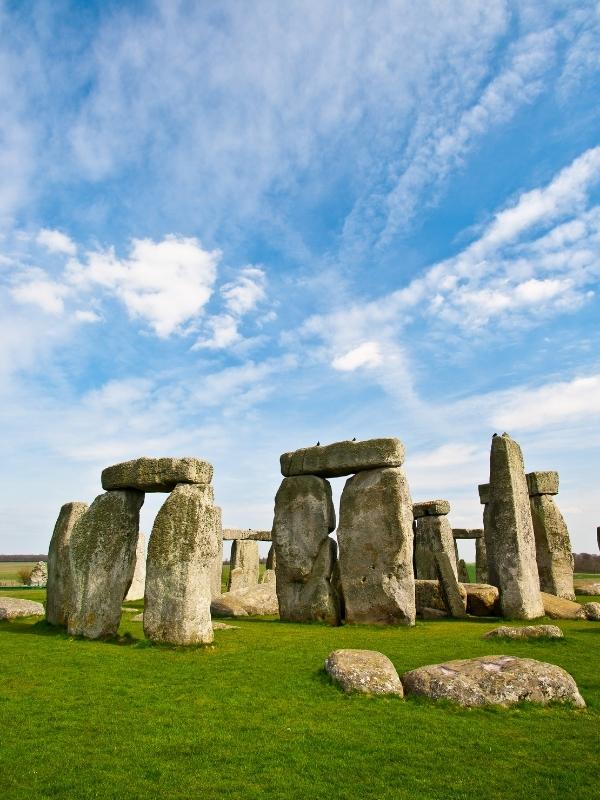 Duration: 4 hours
Destination: Stonehenge
Departure time: Varies
Departure point: Terrace Walk, Terrace Walk, Bath
What's included: Transport, tour guide & Stonehenge entry fee
If you only have half a day to spare and want to see Stonehenge, then do book this Stonehenge from Bath tour that only takes 4 hours of your time. You'll get a couple of hours to spend at the historic monument, and there is a museum, shop and cafe there.
Along the way you may also get to see the Westbury White Horse, Salisbury Plains and the thatched houses of Shrewton, as the coach ambles along at the end of your Stonehenge day trip from Bath.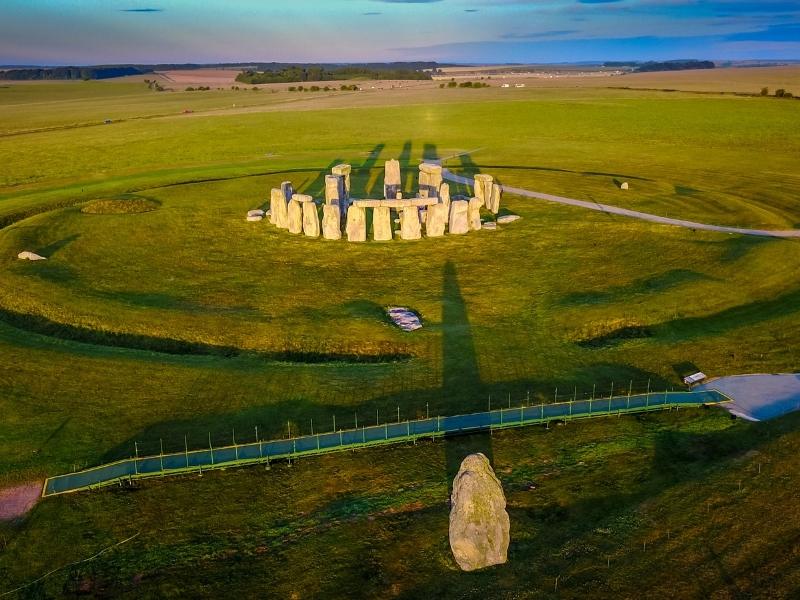 Duration: 5 to 8 hours
Destination: Stonehenge & Avebury
Departure point: Wiltshire hotel pick-up
What's included: Private transport, tour guide & bottled water
What's not included: Entry fees, lunch & extras
If you prefer to avoid the crowds, you can arrange day trips from Bath, England that include a private guide and transport. Your local guide is an archaeology expert who will also share interesting sights along the way, including the best pubs to eat at and historic sites like West Kennet Long Barrow, Durrington Walls and Silbury Hill.
With this tour, the itinerary is fully flexible to suit you and can include pick-up at your Bath hotel at an agreed cost.
As well as the sites mentioned above, the day can include stops at the Wiltshire Museum, Old Sarum and Salisbury Cathedral in addition to Stonehenge and Avebury.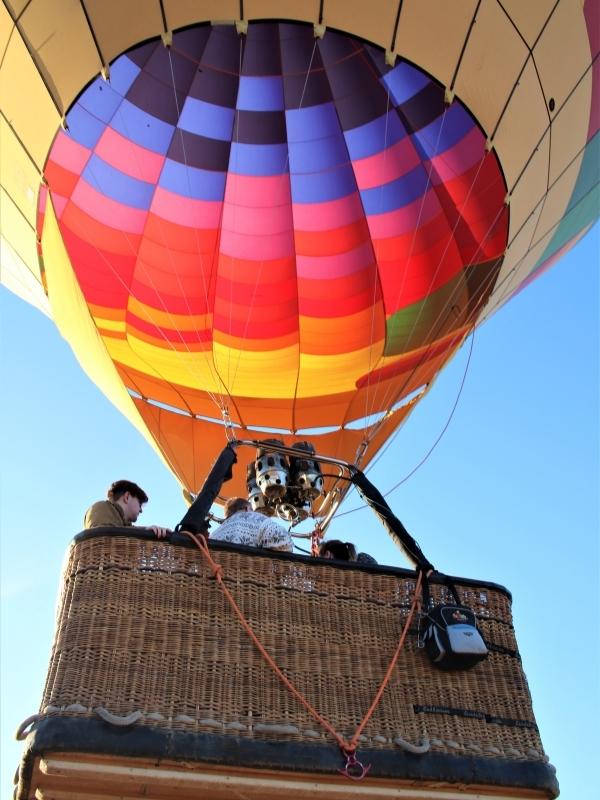 Destination: The skies above Bath
Departure time: 05.30–07.00 or 17.00–18.30
Departure point: Royal Victoria Park, Bath, BA1 2DS
What's included: 1 hour hot air balloon flight, certificate & glass of fizz
Taking a hot air balloon flight over Bath allows you to see the city from a truly unique perspective. As you float through the skies you'll spot Bath landmarks like the Royal Crescent, the Roman Baths, Pulteney Bridge and Bath Abbey from the air.
The ticket price includes a celebratory glass of fizz plus a flight certificate to frame or simple show off to your envious friends.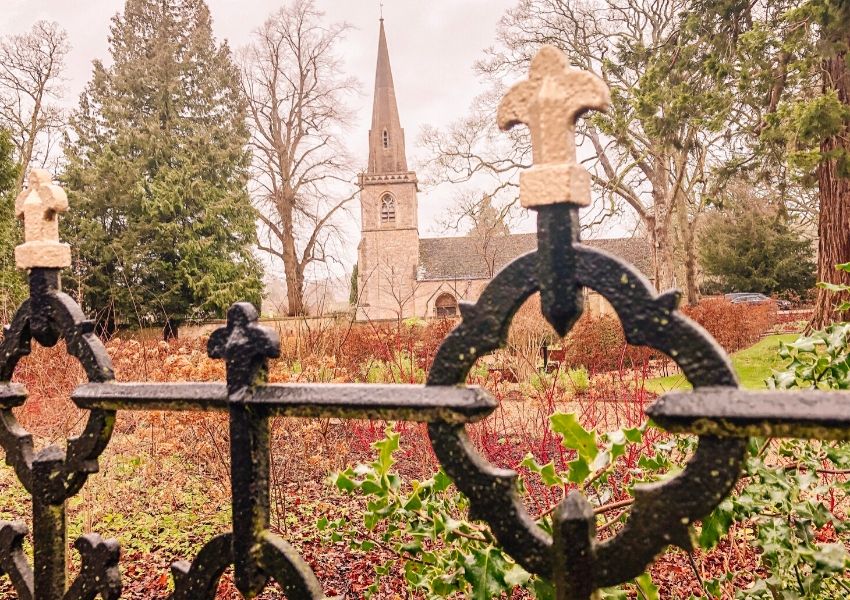 Duration: 9 to 10 hours
Destination: Tetbury, Bourton-on-the-Water, Lower Slaughter & Bibury
Departure time: 09:00
Departure point: North Parade, Bath BA1 1LF
What's included: Car transport & private guide
This is the pick of the day tours from Bath for those who want to see the Cotswolds in their full glory. You'll travel by private air-conditioned car with a local guide, so the itinerary can be adjusted to suit your preferences.
Typically the day includes a visit to Tetbury, where Prince Charles' shop is located, before stopping in pretty Bourton-on-the-Water to see the river, honey stone cottages and the low bridges.
After this you can also stop in Lower Slaughter, where Jane Austen's Emma was filmed, before Stow-on-the-Wold, Burford Bibury and Castle Combe. This tour has been carefully planned by your local guide to showcase all the Cotswolds' best sights.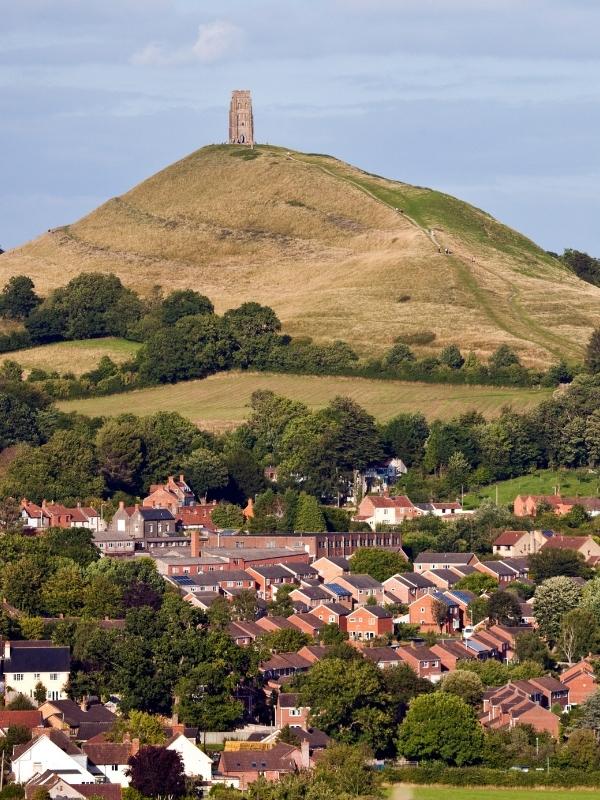 Duration: 5 hours
Destination: Glastonbury town, Abbey and Tor
Departure point: Bath hotel pick-up
What's included: Car transport, private guide & entry fees
For many Glastonbury is an unmissable English destination, as it's quite unlike anywhere else. This tour allows you to see Glastonbury Tor and the abbey as well as the town, and your guide will explain all about the links to King Arthur and the Holy Grail as you go.
Glastonbury Tor is a famous landmark, and also offers sweeping views over the surrounding area from the summit. You may make out the nearby village of Pilton, where the Glastonbury Festival is held each summer.
Glastonbury Abbey, meanwhile, offers pleasant gardens to explore as well as the ruins.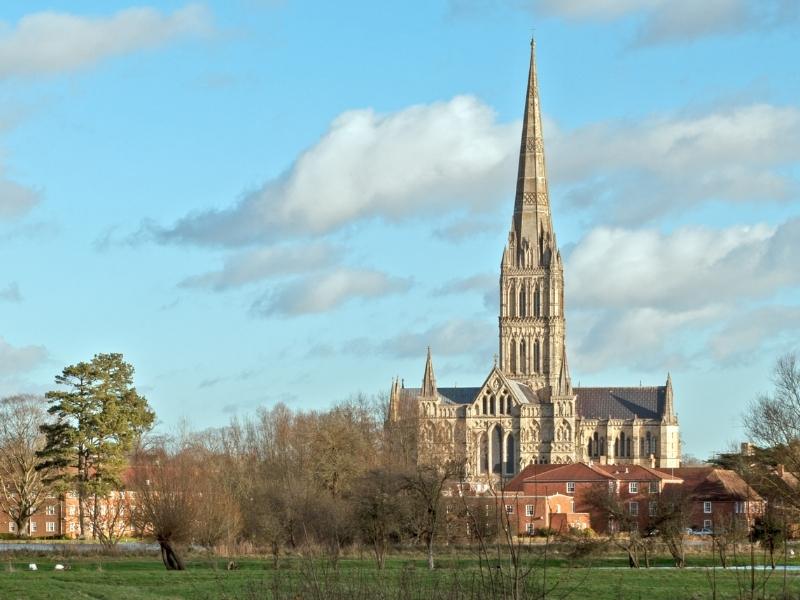 Duration: 8.5 hours
Destination: Salisbury Cathedral, Mells, Longleat House & Nunney Castle
The Magna Carta dates back to 1215, and you can see a copy of it on this tour that takes you to Salisbury Cathedral by private car. You'll have around 90 minutes here before heading to Mells for a lunch break, after which it's time to see the ruins of Nunney Castle.
Another hour-and-a-half is spent at Longleat House during the afternoon. This is a grand stately home and the family seat for the Marquesses of Bath, and is your last stop before returning to your Bath hotel.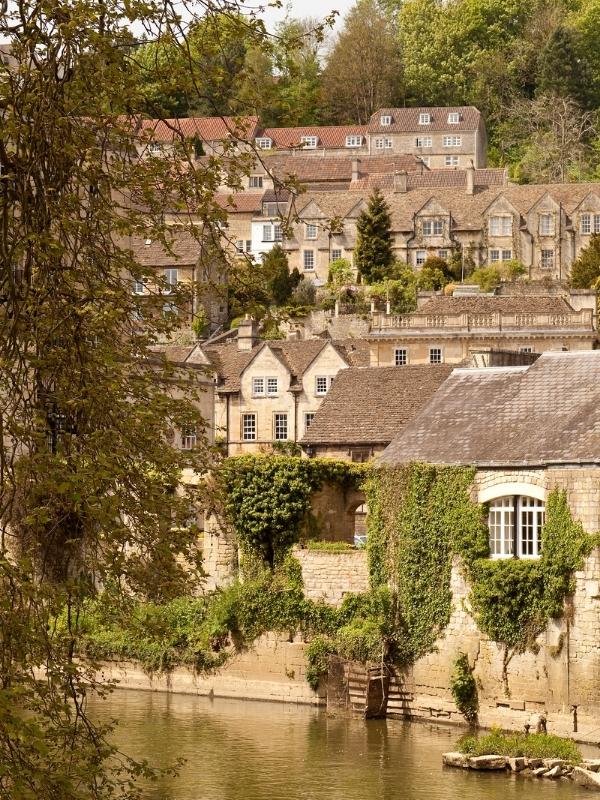 Duration: 3 hours
Destination: Bradford-on-Avon
Departure point: Meeting point by arrangement
What's included: Local guide
What's not included: Public transport tickets, lunch & extras
Bradford-on-Avon is lesser-known than Bath or the Cotswolds but is perhaps all the more charming for not being so packed with tourists. It's the kind of place you might spot from a train carriage, wishing all the while that you actually lived there.
The walking tour led by a local can share with you an insider's guide to life in this characterful town. Born and bred in Bradford-on-Avon, he'll take you through an astonishing 2,500 years of history. This tour can be tweaked to suit your interests.
Over the centuries, Bradford-on-Avon has been a Saxon, Iron Age and Roman settlement, a wool-spinning centre, a film set and more. During the course of the day, you'll see all sorts, from a Saxon church, the town bridge, an authentic mediaeval tithe barn, the canal, weaver's cottages and Victorian factories.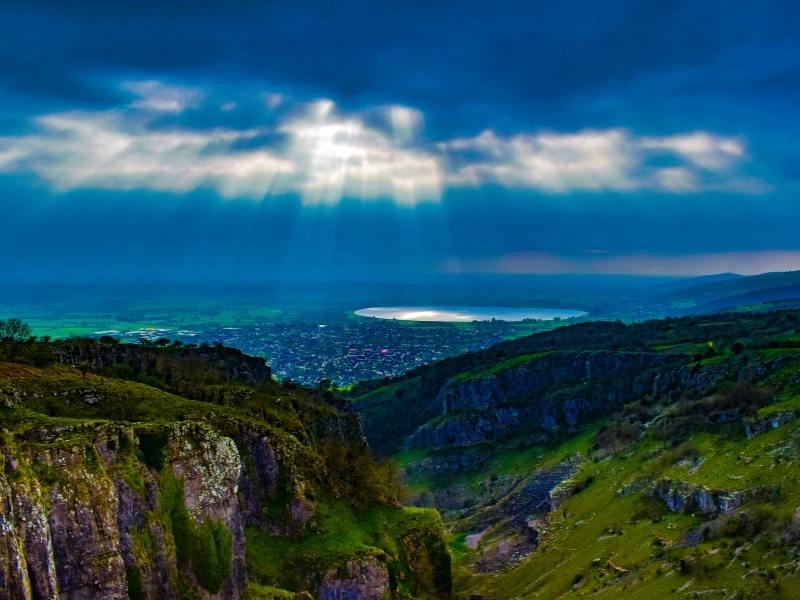 Destination: Wells, Cheddar village & Cheddar Gorge
Departure time : Varies
What's included: Car transport, local guide & entry fees
Cheddar is the most popular type of cheese sold and eaten in the UK and this tour takes you to where it all started. Not only that, but you also get to see one of the smallest cities in the country at Wells in Somerset, which is home to a very beautiful cathedral indeed.
The tour includes two hours in Wells, where you may see the cathedral close and the market place and pass by Bishops Palace in addition to the impressive cathedral itself. You will then go to Cheddar to visit a small local cheese factory; this part of the day includes a tasting session.
Seeing majestic Cheddar Gorge is every bit as jaw-dropping as Wells cathedral and you can hike up to the best vantage point under guidance if you're able (if not, an alternative viewpoint option is offered).
The day ends with your return trip to Bath. If you want day trips from Bath to Cheddar Gorge, this one is a great option.
5 Best places to visit on a day trip from Bath by train
If you prefer to take the train it is possible to visit some of these places from Bath in a day. In our view, some destinations are better visited with a tour such as most of the Cotswolds but these are our top picks from Bath if you prefer to take the train.
Distance from Bath – 40 miles
How to get to Salisbury and Stonehenge by train from Bath – Take the train direct from Bath Spa to Salisbury then hop onto the Stonehenge Tour bus .
Travel time? Just under 1 hour
Read more – Salisbury Travel Guide
Distance from Bath – 7 miles
How to get to Bradford on Avon by train from Bath – Direct from Bath Spa
Travel time? 15 minutes
Distance from Bath – 54 miles
How to get to Cardiff by train – Generally one change at Bristol Parkway (there are some direct train services)
Travel time? 1 hour 20 mins
Read more – Cardiff Travel Guide
Distance from Bath – 13 miles
How to get to Bristol by train – Direct train Bath Spa to Bristol Temple Meads
Travel time? 20 mins
Read more – Bristol Travel Guide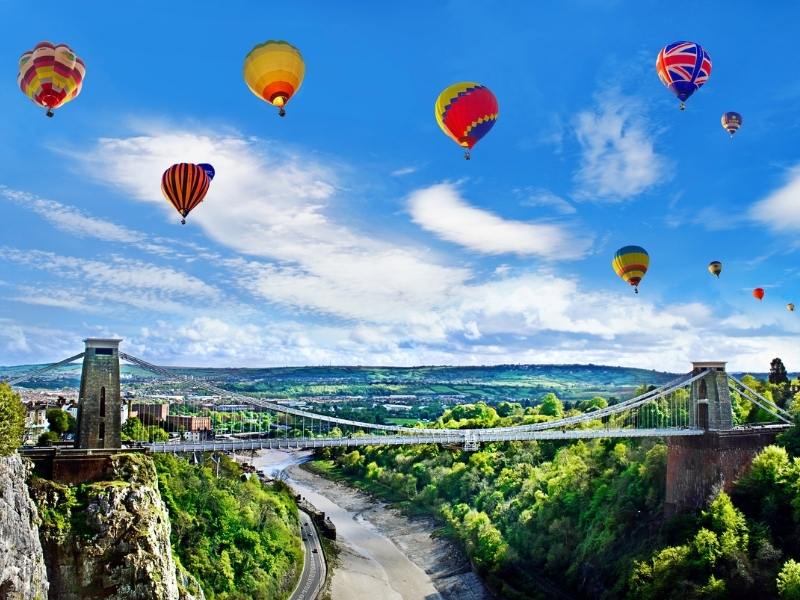 Which are the best day trips from Bath for you?
With a wealth of day trips near Bath to choose between, which one (or ones) will you go for? Whether it's several separate coach day trips from Bath, a walking tour of a fascinating town or a private Stonehenge trip from Bath with your own car and guide, there's so much to see in this part of south west England that it would be such a shame to miss out!
More to read about visiting Bath and surrounding areas:
Bath Travel Guide
One day itinerary for Bath – our popular guide for those planning one day in the city
Things to do in Bath
Where to stay in Bath
7 Best Day Trips to Bath from London
How to get to Bath from London
Guide to England's Regions
B ATH TRAVEL RESOURCES
Book your accommodation – Booking.com or VRBO
Book tours & tickets in Bath – Get Your Guide or Viator
Car Hire – Discover Car Hire
London Tourism
London Hotels
London Bed and Breakfast
London Vacation Rentals
Flights to London
London Restaurants
Things to Do in London
London Travel Forum
London Photos
London Travel Guide
All London Hotels
London Hotel Deals
Last Minute Hotels in London
Things to Do
Restaurants
Vacation Rentals
Travel Stories
Rental Cars
Add a Place
Travel Forum
Travel Guides
Travelers' Choice
Help Center
Travel ideas from London to Bath - London Forum
Europe
United Kingdom (UK)
England
London
Travel ideas from London to Bath
United States Forums
Europe Forums
Canada Forums
Asia Forums
Central America Forums
Africa Forums
Caribbean Forums
Mexico Forums
South Pacific Forums
South America Forums
Middle East Forums
Honeymoons and Romance
Business Travel
Train Travel
Traveling With Disabilities
Tripadvisor Support
Solo Travel
Bargain Travel
Timeshares / Vacation Rentals
England forums
London forum
I should have indicated we will have a car . Thanks again.
15 replies to this topic
Sorry could you clarify what sort of help you're looking for? Are you looking for places to stop off at en route and if so how much time are you allocating for this?
When is this trip?
There is a lot to explore in.Bath , so 2 nights doesn't give long to explore elsewhere around.
Just teasing out the reasons for the car as historic Bath is compact and walkable, not very car friendly with limited and expensive parking.
Also , as you probably don't want to drive 'in London' by the time you've got out to Heathrow or somewhere else to hire the car and done all the formalities, you could have been in Bath in 90 mins by train …..
If there are particular places that you want to explore en route, fair enough, just make sure your Bath accommodation has parking. Otherwise, consider going by train, consider hiring a car for a day at Bath to explore from there.
Or were you thinking of staying somewhere more rural for 2 nights and going into Bath for the day, in which case the Park and Rode facilities might be relevant. What are your interests, what are you aiming to achieve.
Sorry for all the questions, you'll get best advice if you explain what it is that you want help with …
Stay the two nights in Winchester. During your trip visit Winchester plus your choice of options including Chawton, Portsmouth Historic Dockyard, Salisbury, Stonehenge.
I'd be tempted to ditch the car , get to Bath by train and maybe do 2 nights there but a lot depends on how many nights overall you've got.
Oh, I see,it's
2 night Somewhere
3 nights Bath
You did actually say that but somehow it didn't read very clearly ….
Please tell us more about your interests, so that we can best advise on the somewhere.
OK your 3 main options are basically
- head due west, but getting off the M4 motorway you can explore market towns like Marlborough and Devizes, and the prehistoric landscape around Avebury, and (very close to Bath) Lacock and Bradford on Avon.
- head south-west a bit for the Winchester etc ideas (and the New Forest) as suggested by KWUK
- head north-west a bit to somewhere in the Cotswolds , as suggested by Parkland Walk.
As stated, it depends a bit on your interests. Are you looking for country walks, stately homes, grand gardens, feats of canal engineering, maritime history, prehistoric sires, cathedrals …
You won't need a car in London or bath and you don't need one to travel and stay in Oxford.
Salisbury is another possibility, again direct trains London to Salisbury and Salisbury to Bath. There is a dedicated bus service from Salisbury to Stonehenge if that appeals.
Then a train to Bath for 3 nights there before the train back to London Paddington.
Accommodation west of London with parking 12:18 pm
Toddler-Friendly Restaurant Recommendations 12:03 pm
London in December with a 9-month baby 11:45 am
spending a morning/afternoon around Battersea power station 11:31 am
afternoon tea in London? 11:26 am
Heathrow Arrival Christmas Eve Transport to Hotel 11:16 am
Christmas lunch near Premier inn London county hall? 11:10 am
Restaurant for foodie teens 10:47 am
Heathrow to Stansted transportation 10:38 am
Dinner before Back to the future 10:37 am
Offbeat/unusual/interesting London attractions? 10:36 am
London stansted to the oval 10:10 am
TFL Query 9:09 am
From Brentford to Gatwick at 3am... are Uber rides reliable? 8:29 am
Best Area of London to Stay for 2 nights 15 replies
How to get to Victoria Station from Heathrow? 10 replies
The London Pass...worth it or scam? 10 replies
Best hotel for Heathrow Terminal 3? 8 replies
Hostel/Hotel Near Liverpool Street Station 4 replies
outlet shops in London? 12 replies
Heathrow to Kings Cross 7 replies
London - factory / designer outlet malls 12 replies
weather in december 5 replies
Best Area to Stay in London 8 replies
London Hotels and Places to Stay
Please read this before posting a hotel request
Budget Hotels in London
What can I do in London on a budget?
2-4-1 Travelcards, Step by Step
How to use Oyster Cards, Travelcards and 2-4-1 offers in London?
What is open in London on Christmas Day
The Championships, Wimbledon
Harry Potter in London - FAQ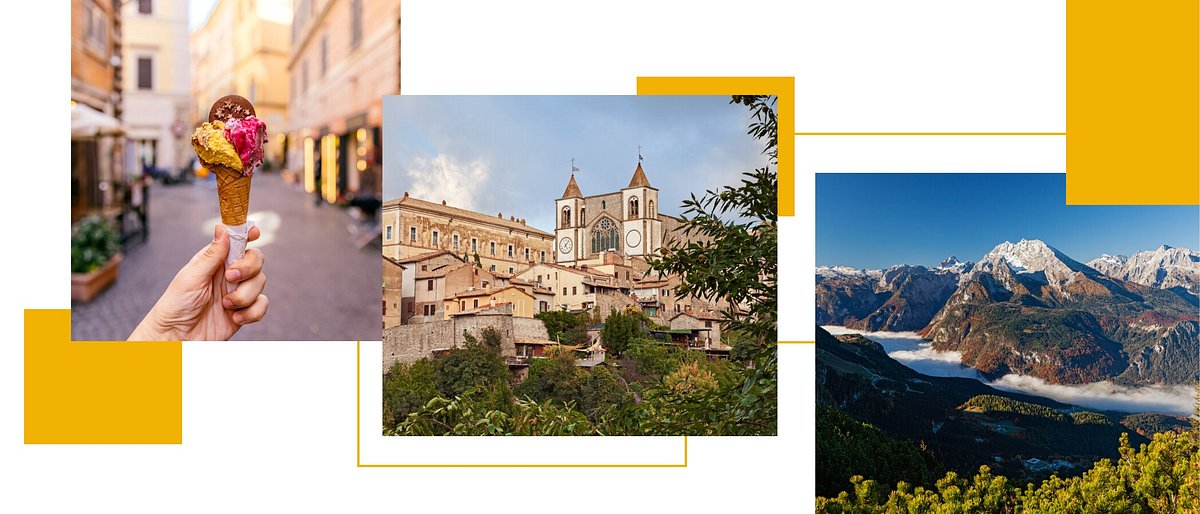 Bedfordshire
Cambridgeshire
Hertfordshire
Leicestershire
Lincolnshire
Nottinghamshire
Northamptonshire
Greater London
County Durham
Northumberland
Tyne & Wear
Greater Manchester
Buckinghamshire
East Sussex
Isle of Wight
Oxfordshire
West Sussex
Gloucestershire
Herefordshire
Staffordshire
Warwickshire
West Midlands
East Yorkshire
North Yorkshire
South Yorkshire
West Yorkshire
Work With Us
10 Best Day Trips from Bath (All Within 1 hr 10 Mins!)
Bath is one of the most picturesque cities in England, and if you live there you're blessed with an almost never-ending list of fun things to do. If you fancy heading out of the city for a change though, the surrounding areas of England have lots of brilliant, fascinating days out just waiting for you. These are our top picks of the best day trips from Bath.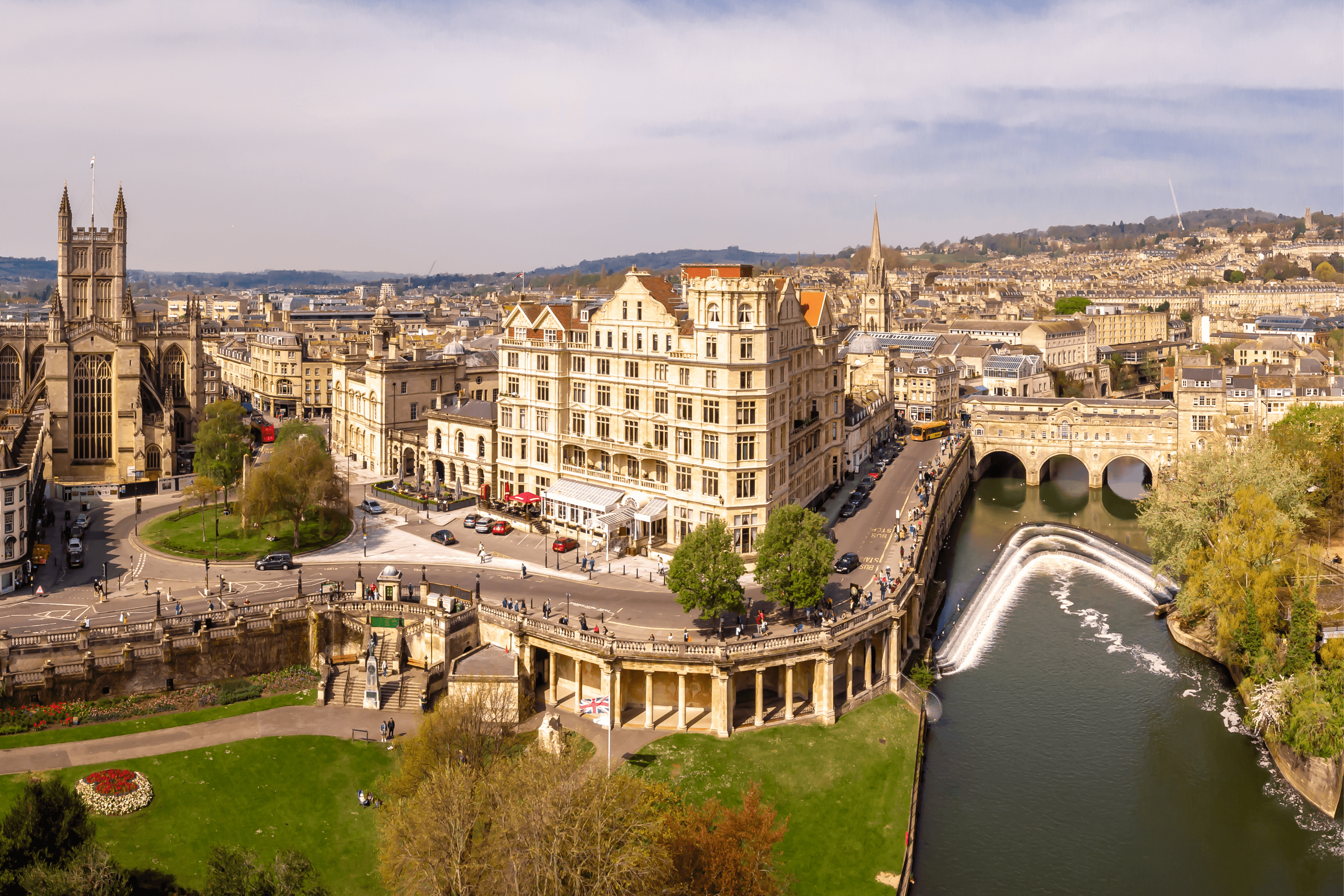 12 Unforgettable Days Out to Propose in London - 26 October 2023
8 Spots for the Best Afternoon Tea in Brighton - 16 October 2023
15 Brilliant Days Out for Christmas in Surrey 2023 - 11 October 2023
Do you want to see your favourite England attraction, event or activity listed here? Email us at [email protected] !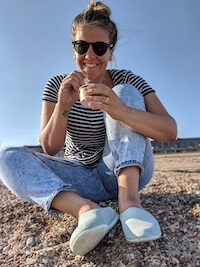 Headed up by award-winning travel blogger VickyFlipFlop, our site is filled with guides and itineraries to England's best days out. The team has a wealth of knowledge from all over the country, and our local experts give the insider advice on what to do, see and experience.
Best Zoos in England
Best Days Out for Adults
Best Aquariums in England
Best Days Out for Teenagers
Top Theme Parks in England
LOOKING FOR CHRISTMAS DAYS OUT ?
FEATURED IN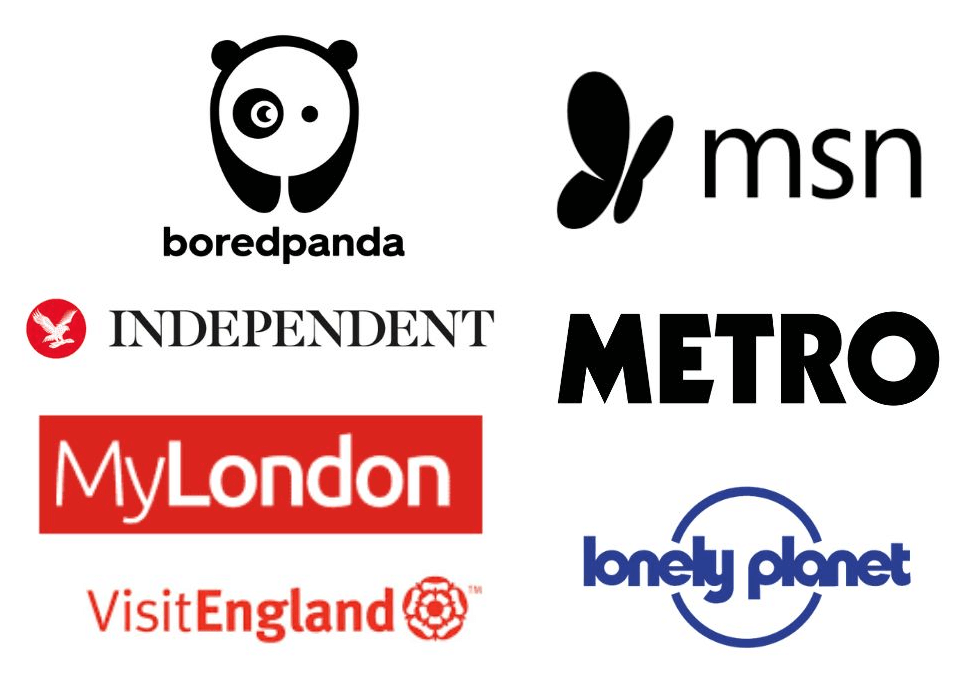 About author
Caitlin mcallister articles, related posts, the best day trip to lancaster: what to do, see, eat & drink, 12 unforgettable days out to propose in london, 14 best date ideas manchester has for you to try, leave a reply cancel reply.
Your email address will not be published. Required fields are marked *
Save my name, email, and website in this browser for the next time I comment.
Sign me up for the newsletter!
We're here to help you make the most of this wonderful country, and to find great days out to suit your budget.
Filled with guides and itineraries to england's best days out, and searchable by interests, counties, cities and areas – we're definitely not just for the kids, check out our  about us page.
"Pure escapism and so informative, just what we needed while reminiscing our great British holidays. We look forward to where we would like to revisit in the future!" Wendy Day Out in England reader "I love living in North Somerset, thank you for your article, I was looking for half term inspiration to travel with my daughter!" Patty "Great article and some really good tips for exploring London with a baby in tow!"  Claire DOIE reader
TRAVEL RESOURCES
PRIVACY POLICY
REGIONS OF ENGLAND
TOWNS OF ENGLAND
15 of the Best Towns in Yorkshire for a Day Out