Awards Season
Big Stories
Pop Culture
Video Games
Celebrities
What Can Georgia Teach Us About Polling Places?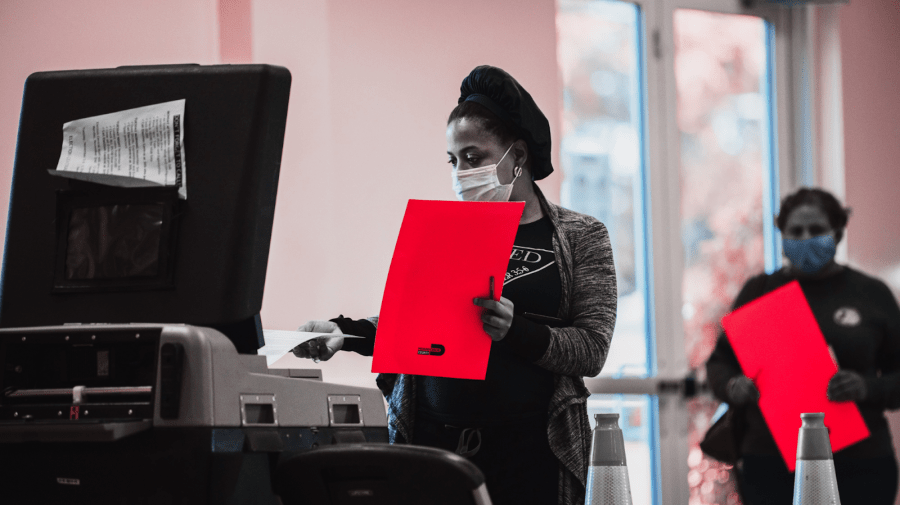 The world of elections is changing, especially when it comes to the accessibility of polling places. In recent years, states that were once strongly aligned with one party are shifting, often due to the rise of minority voters. However, a key Supreme Court (SCOTUS) decision altered the landscape, leaving the door open to voting process changes that disproportionately harm minority voters. By examining the broader picture — as well as how polling districts in the state of Georgia have changed — the impact becomes clear.
The Impact of Shelby v. Holder
In 1965, the passage of the Voting Rights Act altered the election landscape. The law prevented states and local governments from passing laws that denied equal access to vote based on race. Additionally, it included a crucial provision, known as Section 5, that put additional requirements on jurisdictions with a history of discrimination.
For jurisdictions covered under Section 5, any proposed voting process changes were subject to federal oversight to ensure they didn't unfairly target minority voters. However, this provision was struck down by the Shelby v. Holder Supreme Court decision in 2013. Unless Congress updated the formula used to determine Section 5 eligibility, it could no longer apply. That move fundamentally altered the voting landscape once more, removing federal oversight from the areas previously subject to Section 5.
While the passage of discriminatory laws is still banned under the Voting Rights Act, a large swath of states and local governments could suddenly make changes to their processes without additional approvals. In some areas, that's manifested as the removal of polling places, restrictions on mail-in voting, new ID verification requirements, and other moves that disproportionately impact minority voters.
Voting Changes in Georgia Since Shelby v. Holder
Shelby v. Holder gave multiple jurisdictions new control over their voting processes, including Georgia. Since the Supreme Court decision, changes have occurred quite rapidly. This is particularly true in the aftermath of the height of the COVID-19 pandemic. That is, the contentious 2020 election combined with the rise in mail-in voting and process alterations due to COVID-19 has caused many Republican politicians to look into more restrictive voting practices , even though claims of voter fraud has been largely debunked by leading researchers.
One prime example of a post- Shelby v. Holder change is Georgia's Election Integrity Act of 2021 . Along with additional restrictions on absentee voting — including ID requirements, fewer drop boxes and stricter cutoffs — the law alters the duration of voting times each day during the early-voting period; it also makes handing out food or water to those waiting in line illegal. Further, the results of the election must be certified the Monday after Election Day, giving officials four fewer days to count ballots.
Many local jurisdictions are also working to close polling places, at times en masse, thus decreasing the accessibility of voting. In places where polling places were diminished, which typically occurs in areas where the majority of the voters are minorities, long lines are commonplace.
There was an eight-fold difference — 6 minutes as opposed to 51 minutes — between average wait times in polling places that were 90 percent white voters and polling places that were 90 percent Black voters, respectively, in 2020. In some rural areas, minority voters waited six hours to cast their ballots; in parts of Atlanta, minority voters stood in line for more than 10 hours .
What Does Closing Polling Places Involve?
Closing polling places can't occur purely on a whim. In most cases, local authorities, such as election boards, must vote in order to make those changes. Pre- Shelby v. Holder , jurisdictions covered by Section 5 also required federal approval. However, since that SCOTUS decision, that isn't necessary.
Instead, local election boards in Georgia, for example, can largely (attempt to) close any number of polls with just an election board vote. One instance of such an attempt occurred in Lincoln County, Georgia, a rural area that tried to remove seven polling places , leaving the county with just one .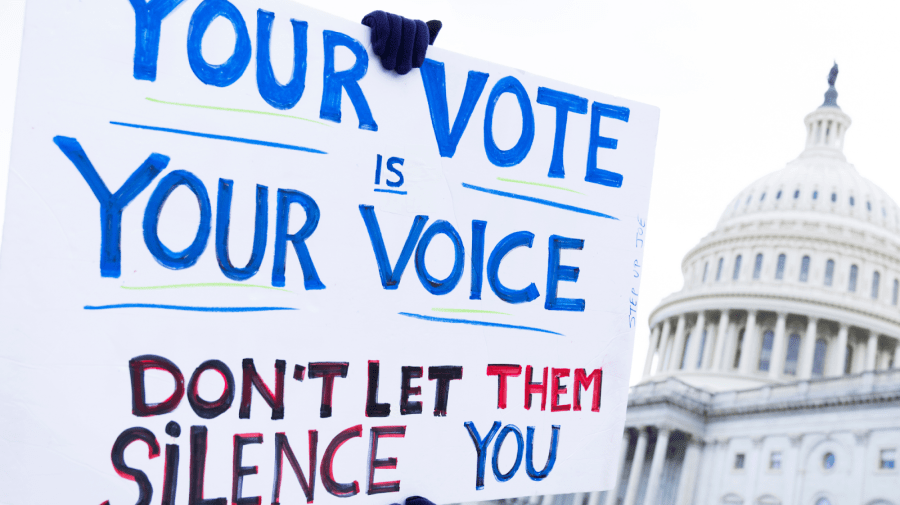 The proposal was ultimately defeated , partially due to the action of local residents. Under Georgia law, petitions signed by 20 percent of registered voters in the jurisdictions can prevent closures. In the case of Lincoln County, enough signatures were collected to ensure some of the polling places would remain open, regardless of the election board's opinion.
Due to public sentiment, the board voted to keep the other polling locations open in Lincoln County. However, other areas in the state weren't as successful. Since the decision in Shelby v. Holder has taken effect, 10 percent of polling locations in the state of Georgia have closed — all while voter rolls increased by 2 million people.
How Closing Polling Places Impacts Voting Accessibility
Closing polling places impacts voting accessibility in several ways. For those who must vote in person, long lines are potentially a hindrance. Along with creating additional challenges for disabled voters or voters with chronic illnesses, it creates hardships for those who can't afford to miss work or need childcare.
Even though employers are required to give employees time off on Election Day if they're scheduled to work during the period polls are open, they're only mandated to provide up to two hours of non-paid time off. For some working voters, that just isn't a manageable situation. Additionally, employees must provide ample notice, and employers get to dictate precisely when that two hours occurs during the workday. It also only applies to Election Day itself.
Closing polling places also hinders anyone without reliable transportation who's now required to travel non-walkable distances to cast their vote. While some organizations attempt to bridge the transportation gap, their capacity is often limited. Additionally, many of the options require a degree of tech-savviness and access — such as knowledge of how to use rideshare apps or text-based appointment-setting — which may be a barrier to those without smartphones or comfort using those devices. Ultimately, fewer polling places equates to more hurdles, impacting voting accessibility — and which groups of people can contribute to the process — rather significantly.
When Does Closing Polling Places Turn into Targeted Voter Suppression?
Polling place closures effectively turn into voter suppression when the locations that are closed disproportionately impact minority populations. Often, the polling places election boards select for closure aren't chosen based on population density and don't ensure equal average travel times for all voters within a broader area. Instead, government officials strategically make the selections, giving them the ability to target minority areas if they so choose .
By reducing access to polling places in minority-majority areas, state and local governments can potentially reduce the number of minorities who are able to vote successfully. In turn, that may sway the outcome of elections, all by ensuring that a particular segment of the population isn't fully heard.
How to Make Voting More Accessible to All Americans
Improving voting accessibility is often far easier than many would expect. Online voter registration options, along with automated voter registration tied to DMV records, can streamline processes. Expanding early voting and absentee voting or converting to a mail-in voting-based process across the board also enhances accessibility.
Turning Election Day into an official federal holiday could limit work- or school-related hindrances, while expanding free transportation options to the polls would also reduce barriers to voting. And, most of all, eliminating any discriminatory voter ID laws would make a difference, allowing all Americans to voice their opinions and cast their votes.
MORE FROM ASK.COM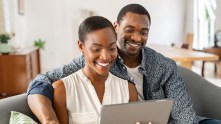 Protect Your Trip »
Best places to visit in georgia.
With big cities, iconic small towns, picturesque mountains and a prime spot along the Atlantic Ocean, Georgia is one of the most diverse vacation destinations in the South. To help you decide which Georgia locales are most worth your time and vacation dollars, U.S. News took into account the variety and uniqueness of attractions, availability of accommodations and opinions of everyday travelers to decide the best places to visit in Georgia. Vote for your favorite places below to help determine next year's list.
Tallulah Gorge State Park
Jekyll island, callaway gardens, amicalola falls state park, st. simons island, cumberland island national seashore, tybee island, marietta, ga, columbus, ga, arabia mountain national heritage area.
The charm of Savannah is undeniable. From the early 1800's architecture to the romantic Spanish moss-lined streets to the shops, eateries and party-hard reputation of River Street, Savannah gives a nod to the past while bringing its own personality into the present. Plus, the city offers a heavy dose of laid-back Southern hospitality to match, earning it its Hostess City of the South nickname. Spend your time meandering through Forsyth Park and Savannah's 22 squares, filling up on Lowcountry cuisine or spooking yourself on a ghost tour .
If you want to feel like you're in Europe without leaving the U.S., consider taking a trip to Helen . This small North Georgia town in the Blue Ridge Mountains is modeled after a Bavarian Alpine village, so you can expect to find lots of colorful architecture, authentic German fare and fun renditions of German festivals, including an annual Oktoberfest celebration. But beyond its charming atmosphere, Helen offers all kinds of amenities, including more than 200 stores and access to local wineries, plus proximity to Unicoi State Park & Lodge's lake and hiking and bike trails.
For a look at jaw-dropping natural wonders, venture to Tallulah Gorge State Park. Located just west of the Georgia-South Carolina border in the northern part of the state, the park is home to Tallulah Gorge, which measures 2 miles long and nearly 1,000 feet deep. Visitors can get a bird's-eye view of the gorge from its rim or obtain a free permit to see it from its floor. Tallulah Gorge State Park also features a suspension bridge that provides fantastic views of the park's five waterfalls, plus more than 20 miles of hiking and biking trails.
The southernmost of the Golden Isles, Jekyll Island beckons to travelers seeking a quiet beach getaway. The entire island is designated as a Georgia state park, meaning conservation and wildlife preservation are top priorities. Visitors can see sea turtles, alligators and other coastal animals at the Georgia Sea Turtle Center and the 4-H Tidelands Nature Center, lounge on 10 miles of pristine beaches (Driftwood Beach is one of the most photogenic in Georgia) or meander through the historic district (also known as Millionaires' Village) to see homes that have belonged to some of America's richest families, including the Vanderbilts, the Rockefellers and the Pulitzers.
A trip to Callaway Gardens is all about reconnecting with nature. Tucked away in the foothills of the Appalachian Mountains in the small town of Pine Mountain, Callaway Gardens features 2,500 acres of gardens, a butterfly center with 1,000-plus butterflies and more than 10 miles of bike and nature trails, among other amenities. Additionally, visitors can head to Robin Lake Beach to swim, pedal boat, paddleboard or simply soak up some sun during the warmer months. Families can also take advantage of the beach's inflatable water playground called Aqua Island.
The Empire City of the South is a hub for business (Coca-Cola, CNN and Delta Air Lines are all headquartered here) and music (rappers have long made Georgia's capital city their home), as well as a family-friendly destination with world-renowned sights like the Georgia Aquarium and Lego Discovery Center Atlanta. Atlanta also houses several impressive historical attractions, including the Martin Luther King, Jr. National Historical Park. What's more, the city is solidly on the foodie map thanks to the combination of cultures and traditions represented in its restaurant offerings.
Amicalola Falls State Park gets its name from the Cherokee word for "tumbling waters," so you can expect to see an impressive waterfall during your visit. The North Georgia park's namesake measures 729 feet tall, making it one of the tallest waterfalls east of the Mississippi River. Located in the Chattahoochee-Oconee National Forest, Amicalola Falls State Park offers hiking trails to the base and rim of the falls, as well as the 8-mile Approach Trail, which connects to the southernmost point of the Appalachian Trail. If you're traveling with kids, consider staying at the on-site lodge, which offers activities like archery, animal encounters and guided hikes.
With its sandy beaches and laid-back lifestyle, the Golden Isles' largest island invites travelers to slow down and relax. Visitors can head to East Beach to enjoy activities like shelling and fishing or make their way to one of the island's golf courses to practice their swing. Plus, St. Simons offers more than 20 miles of bike paths, many of which lead to can't-miss attractions like the World War II Home Front Museum. While exploring, keep an eye out for tree spirits: These faces were carved into the island's oak trees in the '80s by American artist Keith Jennings.
The largest and southernmost of Georgia's barrier islands, Cumberland Island National Seashore offers both a rich history and a beautiful landscape. You'll have to catch a ferry from nearby St. Marys to get here, but the journey is well worth the effort. When you arrive, you'll discover nearly 10,000 acres of protected wilderness and 17-plus miles of secluded beaches. Cumberland Island National Seashore also features multiple historical sites, such as the Plum Orchard Mansion, the First African Baptist Church and the Dungeness Ruins, that tell the story of the Carnegie family, enslaved African Americans, Native Americans and others who once lived on the island.
Situated less than 20 miles southeast of Savannah, this small barrier island has been a popular family vacation destination for more than a century. Tybee Island's miles of sandy beaches and relatively warm weather most of the year make it a prime spot for swimming, surfing and sunbathing. Additionally, travelers can spend a few hours looking for the island's 200-plus bird species. Other Tybee must-dos include climbing up the Tybee Island Light Station and Museum, the oldest and tallest lighthouse in Georgia, and participating in educational programs at the Tybee Island Marine Science Center.
A haven for historians, this Atlanta suburb, which sits about 20 miles northwest of the city, boasts five National Register Historic Districts and a historic town square. Must-see attractions include the William Root House, Brumby Hall (home to the Marietta Gone With the Wind Museum) and Kennesaw Mountain National Battlefield Park. And no trip would be complete without catching a show at the beautifully restored Earl and Rachel Smith Strand Theatre. Beyond its historical draws, Marietta has an artsy side, with sleek galleries and a monthly art walk, as well as a burgeoning food scene, including a host of buzzworthy restaurants and the Marietta Square Market Food Hall.
Best known as the home of the University of Georgia, the country's first public institution of higher education, and as a bona fide music hub, Athens in northeast Georgia makes for a lively weekend getaway . The university campus is worth a visit, as it is home to the Georgia Museum of Natural History, the State Botanical Garden of Georgia and the Georgia Museum of Art (not to mention some spirited football games). Meanwhile, downtown Athens is the place to go for trendy eats, sweet boutiques and live music venues like the iconic Georgia Theatre.
Georgia might not come to mind when you think of wine destinations, but Dahlonega is worth consideration. This northern town is often labeled the Heart of Georgia Wine Country and features more than a dozen wine tasting rooms, wineries and locally owned and operated vineyards. For a festive atmosphere during your vacation, arrive in May when the annual Dahlonega Arts & Wine Festival takes place. Dahlonega is also where America's first gold rush occurred, so be sure to save time for a visit to the Dahlonega Gold Museum State Historic Site and a former mine.
Activities in this city on the Georgia-Alabama border are centered around the Chattahoochee River. Thrill-seekers can raft down the longest urban whitewater course in the world or zip line across the river at Blue Heron Adventure Park. Meanwhile, those who enjoy more leisurely pursuits can stroll or bike along the 15-mile Chattahoochee RiverWalk, which winds past historical monuments and sites like the National Civil War Naval Museum and the experiential National Infantry Museum. Follow the path to Uptown Columbus to shop at local boutiques and bookstores, take in a show or go out for a night on the town.
Featuring more than 40,000 acres of surreal landscapes, Arabia Mountain National Heritage Area offers plenty of opportunities for adventure close to Atlanta. The park captivates visitors with its monadnocks (stone outcrops), which were formed over the course of 400 million years. Spend your time hiking through the Davidson-Arabia Mountain Nature Preserve or walking or biking the more than 30-mile Arabia Mountain PATH. The heritage area also boasts nearly 90 geocaches for travelers to find. For those who enjoy fishing, there are numerous waterways ideal for casting a line. But remember, fishing here requires purchasing a Georgia fishing license.
Vote to Add these Destinations to the Rankings
Lake Lanier
Augusta, GA
You may be interested in.
Best Beaches in Georgia
Best Places to Visit in North Carolina
Best Places to Visit in Florida in 2023
Best Places to Visit in South Carolina
Best Food Cities in the U.S.
Best Small Towns to Visit in the USA in 2023
If you make a purchase from our site, we may earn a commission. This does not affect the quality or independence of our editorial content.
Recommended
18 Fall Family Vacation Ideas
Amanda Norcross September 11, 2023
The 26 Best Zoos in the U.S.
Rachael Hood August 11, 2023
30 Fun Fall Weekend Getaways for 2023
Holly Johnson July 18, 2023
The 32 Best Dog-Friendly Beaches in the U.S.
Gwen Pratesi July 14, 2023
The 21 Top Ecolodges Around the World
Mackenzie Roche|Amanda Norcross June 30, 2023
The 26 Best Fall Festivals in the U.S. for 2023
Katie Hearsum|Timothy J. Forster June 28, 2023
27 Amazon Prime Day Luggage Deals You Can Shop Now
Amanda Norcross June 27, 2023
The 34 Best Couples Vacations
Gwen Pratesi June 26, 2023
Carry-on Luggage Sizes by Airline
Amanda Norcross June 26, 2023
Photos: InterContinental Boston
Jill LeGrow June 26, 2023
Wander-Lush
50 Unique Places to Visit in Georgia: The Ultimate List (Updated for 2024)
The ultimate list of unique places to visit in Georgia (the country) – from cities and essential places to go, to alternative and obscure destinations, as recommended by an expat. Includes the best things to do in Georgia, transport instructions and insider tips.
She may be small in size and still relatively obscure on the world tourism stage, but let me tell you: There is a heck of a lot to see and do in Georgia .
John Steinbeck's "kind of second heaven" – the sliver of planet earth that God supposedly decided to set aside for himself – Georgia really is as beautiful and diverse and wonderful as people make it out to be.
In the north, the dramatic peaks of the Greater Caucasus form a natural land border with Russia, giving way to the fertile Alazani Valley and a semi-desert moonscape of rainbow hills and mud volcanoes in the south. And that's just Eastern Georgia.
On the western side, clutches of tea bushels and swathes of ancient Colchic forest thrive on mineral-rich soils and humid air, cascading down to the foothills of the Lesser Caucasus and the dark-sand beaches on the Black Sea coast.
From the 'Georgian Arctic' to the 'Georgian Dolomites' and the 'Riviera of the Caucasus', there's a little bit of everything in Georgia.
On top of that, Georgia is the steward of eons of history, many chapters of which you've likely never heard about before. A coveted bridge between East and West, when Georgia wasn't being invaded, she was being nourished by influences from all four corners of the globe, adding layers to the already rich Georgian culture.
Long before the days of the Old Silk Road , Georgia cultivated the first murmurs of Christianity and nurtured what is believed to be the oldest wine-making tradition anywhere on earth.
If this all sounds a bit romantic, that's because I consider Georgia my soul mate. Having lived in the country for a year now and travelled from top to toe several times over, I've seen and experienced almost everything this country has to offer (almost!).
This list brings together my favourite Georgia destinations , including must-sees and unique places to visit in Georgia. These are all places I've been to myself and would personally recommend.
The list currently sits at 50, but it's a work in progress – I'll be adding more as I continue to explore Georgia over the coming months and years.
You'll find links to my in-depth destination guides for most of the locations mentioned throughout.
Where you're planning to visit Georgia soon or you're just curious about the little country in the Caucasus whose name seems to be on everyone's lips right now, I hope this guide gives you some inspiration.
For more practical advice about visiting Georgia, check out my Georgia Travel Guide and my Georgia Travel Itinerary , both of which contain detailed information about transport and logistics.
Looking for even more Georgia inspiration? Sign up here to get a free copy of my 25-page ebook, '365 Things to Do in Georgia':
Please note: This post contains affiliate links, meaning I may earn a commission if you make a purchase by clicking a link (at no extra cost to you). Learn more.
Many of the places on this list are featured in my video, 'Two Years in Georgia'. I made this compilation back in February 2022 to celebrate my two-year Georgia anniversary.
Travel Georgia Like a Pro
Planning a trip to Georgia? Here are 5 essential resources that I recommend you check out.
For private transfers in Georgia: GoTrip.ge . Find a professional, English-speaking driver. Prices are locked in when you book & you can stop wherever you want.
For hiring a car in Georgia: Local Rent . Save money when you rent directly from a local agent. Pick-up & drop-off are available from any address in Georgia.
For finding accommodations: Booking.com . This website has the biggest selection of properties in Georgia, including guesthouses in rural areas.
For Tbilisi tours & day trips: Friendly.ge . Friendly.ge has knowledgeable guides, safe drivers & creative itineraries. I especially like their off-road tour to David Gareja.
For tailored advice: Book a call with me! My Georgia Travel Consultation service is perfect if you need feedback on your itinerary or personalised travel tips.
Map of places to visit in Georgia
Click the map of Georgia below to open an interactive version in Google Maps. You can then click on any city or place and find the link to my corresponding blog post.
Cities in Georgia
Georgia's regional capitals each offer visitors something unique – be it a window onto local history and traditions or a taste of distinct regional cuisine. Here are 10 of my favourite cities in Georgia and the top things to see, do and eat for each.
1. Tbilisi, Georgia's captivating capital city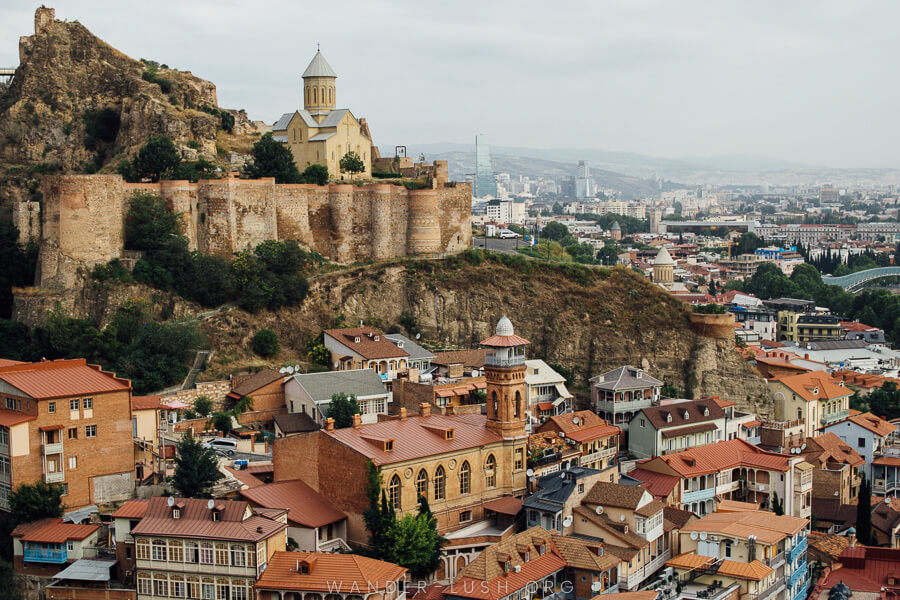 When visiting Georgia, it's mandatory to spend at least a couple of days in Tbilisi, the nation's capital and hub for the arts, culture and food. Tbilisi's history dates back to at least the 6th century and its position at the geographical and figurative crossroads of East and West has meant it's always found a way to incorporate the best of both worlds.
Tbilisi lies in a valley ringed by mountains, each with a soaring cable car or funicular at the ready to whisk you away towards magnificent views. The medieval Narikala Fortress and Soviet-embellished Mtatsminda face off from opposing hills, standing guard over ancient churches, the domed bathhouses of Abanotubani , and modern marvels including the Bridge of Peace and Rike Concert Hall .
Tbilisi is a symphony of different religions, cultures and traditions . Synagogues, Orthodox cathedrals , Armenian churches and a mosque are all within shouting distance of each other, while old bazaars and merchant's mansions allude to the city's history as a trading hub.
Tbilisi is a city of details, so after a broad overview from afar, it's time to take the streets with a magnifying glass. Hours can be spent examining the heritage buildings in the Old Town and in Sololaki , Tbilisi's oldest neighbourhood .
Rove the vibrant Dezerter Bazaar for spices and churchkhela and the iconic Dry Bridge Market for vintage trinkets. Brush up on your history by visiting a few of Georgia's most important museums and galleries , starting with the Soviet Occupation Hall at the National Museum, the Folklore Museum, and the Open Air Museum of Ethnography .
Tbilisi's wine bars and Georgian restaurants showcase the best of the country's fresh produce, regional cuisines and organic winemaking techniques. And beautiful boutiques and studios trade in handmade lurji supra blue tablecloths, cloisonne enamel and other beautiful objects to satisfy all your earthly desires.
Don't miss: A soak and scrub at the sulfur baths, a Tbilisi institution. For etiquette tips and the best bathhouses in the city, read my guide .
Where to stay in Tbilisi: Communal Plekhanovi is a gorgeous boutique hotel set in one of my favourite neighbourhoods, and with an onsite Levantine restaurant, wine bar and craft shop. For more ideas, see my full guide to Tbilisi's best districts and accommodations .
Further reading: The best things to do in Tbilisi .
2. Kutaisi, the cultural heart of Georgia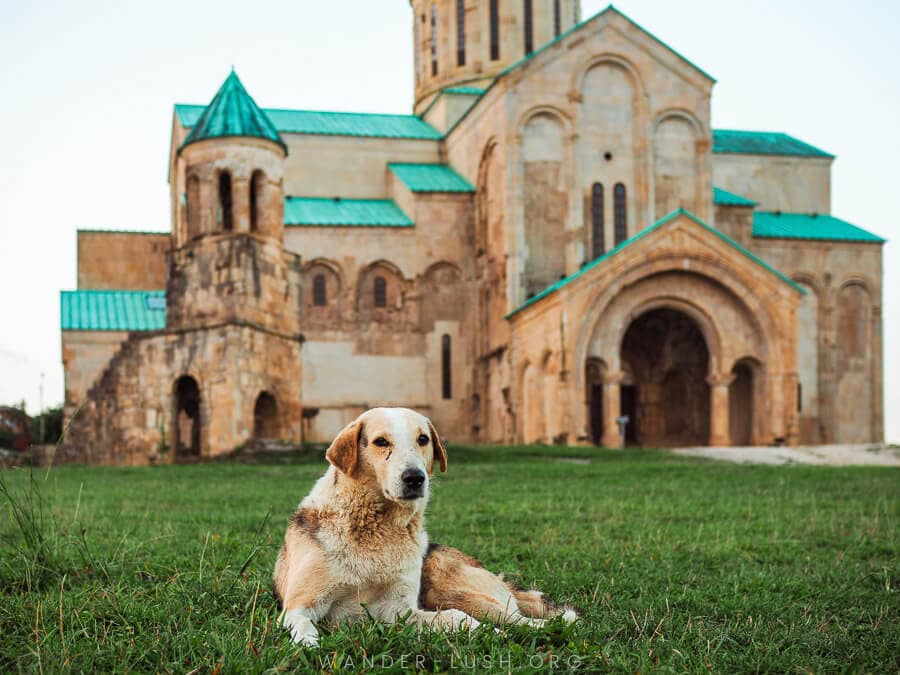 Smaller than Tbilisi and with a completely different feel, Georgia's fourth-biggest city tends to get skipped over. Those who only visit Kutaisi airport are making a terrible mistake: This is Georgia's most charming city , in my eyes anyway!
It's also one of Europe's oldest. Inhabited since the 6th century BC, Kutaisi served as the political centre of the Kingdom of Colchis in the Middle Ages. Later it became Georgia's cultural capital – the stomping ground of countless poets, musicians and scholars – until Soviet times, when Kutaisi was retrofitted for industry and her skyline remoulded.
I'm told she lost some of her charm in the process, but with all the cute restaurants and vintage tea houses that dot the town today, you wouldn't know it. There are lots of mosaics, Brutalist buildings and other hidden gems to be uncovered .
Browse the Green Bazaar , ride the cable car over the roaring Rioni river, and step inside Kutaisi's synagogue, one of the most beautiful in the region. On the outskirts of Kutaisi you'll find the UNESCO-Listed Gelati Monastery and pretty Motsameta Monastery , linked together by a forest hiking trail. Bagrati Cathedral is the city's best sunset spot.
Kutaisi is the gateway to Imereti region , the lush western portion of Georgia known for its canyons, waterfalls, caves and wineries . There are plenty more must-sees within a day trip's distance of Kutaisi that I'll get to later.
Don't miss: Lunch at Bikentina's Kebabery, one of Kutaisi's best budget eats. For more foodie inspiration, see my Kutaisi restaurant guide .
Where to stay in Kutaisi: Hotel Memoire is a lovely boutique hotel in the city centre with its own wine bar and retro Kutaisi vibes.
Further reading: My essential guide to Kutaisi and recommended itinerary .
3. Batumi, the biggest city on Georgia's Black Sea Coast
Georgia's biggest Black Sea resort city has a reputation for being 'the Las Vegas of the Caucasus'. But now that Batumi is undergoing something of a renaissance , my perception has totally changed . Living in Batumi showed me a different side of the city and I now consider it one of my favourite places in Georgia.
Batumi still centres on the same old stretch of sand (or should I say, pebbles) that has been attracting summer tourists for centuries. But away from the shoreline, Batumi has a slew of cool cafes, creative spaces and an excellent street art scene .
Love it or hate it, the outlandish modern architecture is a highlight, and the Old Town is full of surprises. Add a wonderful produce market, a scenic aerial cableway, some great urban hikes, and access to some of Western Georgia's best national parks to the mix, and you have an all-round excellent destination.
Another perk of visiting Batumi is getting acquainted with distinctive Adjarian culture and cuisine. This is the birthplace of the famous Adjaruli Khachapuri and a range of other indulgent delicacies, including my personal favourite, Borano (melted cheese smothered in hot butter).
Walk or cycle Batumi Boulevard , an idyllic pathway that stretches along the seafront. If you're feeling adventurous, you can cycle all the way to the Turkish border . Batumi is an ever-evolving city that has so much to offer beyond the beach.
Don't miss: Batumi Botanical Garden , a gorgeous green space on the coast north of the city, with easy hiking trails and panoramic Black Sea views.
Where to stay in Batumi: Kartuli Hotel is one of the coolest accommodations in Georgia and my go-to in Batumi. Located on the 37th floor of an apartment building, the sea and sunset views are gob-smacking.
Further reading: My complete guide to Batumi covers all the best things to do in the city plus my restaurant and cafe recommendations and my guide to the 10 best Batumi day tips shows you where to go beyond the city.
4. Mtskheta, the old capital
One of the oldest cities in Georgia and the old kingdom's capital for almost a millennium, Mtskheta is located just 20km from Tbilisi and is a popular day trip destination . It's easy to reach by marshrutka or taxi in under an hour, and can be combined with a visit to Gori or used as a stopover on your way from east to west.
Mtskheta played a pivotal role in the evolution of Christianity in Georgia, and the small city is packed with important churches as a result. One of the nation's four UNESCO World Heritage Sites , the Historical Monuments of Mtskheta , is located here and comprises a set of monasteries noted for their frescoes and inscriptions in an early version of the Georgian alphabet.
The 11th-century Svetitskhoveli Cathedral sits proudly in the middle of the city and gives Mtskheta its overall structure. Georgia's second-largest religious building behind Sameba in Tbilisi , the location for the monumental structure is said to have been chosen by one of Georgia's patron saints, St. Nino , herself. Georgia's answer to Westminster, this is where kings were coronated and later laid to rest. At least 10 monarchs enjoy their eternal slumber beneath the heavy stone floor.
Jvari Monastery , built in the 6th century on a hill above Mtskheta, is a must-visit in Georgia. The church itself is quite modest inside, but the view from the churchyard – a stunning panorama of the confluence of the Mtkvari and Aragvi rivers , one blue and the other emerald – is simply breathtaking.
Don't miss: The view of Jvari Monastery from the yard at Mtskheta Antioch.
Where to stay in Mtskheta: If you decide to stay in Mtskheta overnight rather than visiting as a day trip , check out Jewelberry Glamping geodesic domes just outside the city.
Further reading: 10 things to do on a Mtskheta day trip .
5. Gori, a city of surprises
The birthplace of Joseph Stalin and home to the Stalin Museum , Gori has a reputation for being Georgia's premier dark tourism destination . Visiting the museum – which includes Stalin's birth house and armoured train carriage – is a trip to say the least, especially when you take the guided tour, which I highly recommend you do.
Stalin is certainly the city's main claim to fame, but there's a lot more to Gori than that . Once a pitstop on the Silk Road, Gori sits at the foot of a massive hill crowned with a distinctive stone fortress that cascades down towards the river's edge.
Climb to the top of the fortress for views over the plains of Shida Kartli region – or for even better views, venture further to Gori Jvari church , a short taxi ride or hike from town on the opposite bank of the river.
Gori is a peaceful city with lots of parks, tidy streets, and trellises covered in vines dripping with grapes. The main street is lined with cafes and ice cream shops. Gori's old town features some interesting brick architecture and backs onto a wonderful undercover produce market .
Set aside some time to visit the Great Patriotic War Museum , which documents the 2008 conflict that unfolded just a few dozen kilometres away and impacted the city profoundly.
Don't miss: A meal at Shin da Gori, an atmospheric restaurant run by local actress and entrepreneur Keta Lortkipanidze.
Where to stay in Gori: Guest House Nitsa is a typical Georgian homestay run by the lovely Lia. Expect lots of old-fashioned hospitality and lots and lots of homemade wine.
Further reading: Things to do in Gori beyond the Stalin Museum .
6. Telavi, hub of the wine region
Telavi is the biggest city and main transport hub in Kakheti, Georgia's humongous eastern region. It's position in the Alazani Valley makes it a great base for travelling the Wine Route and visiting the many medieval monasteries, churches and castles that stud the Kakhetian countryside.
Telavi was the capital of the Kingdom of Kakheti from the 10th-12th centuries, and again in the 17th century. Historians often refer to it as the most 'medieval' city in Georgia because it's the only place where monuments from four historical periods stand intact side by side. Put simply, Telavi is a history lover's delight .
Telavi itself is a very pleasant, walkable city, with a cobbled Old Town featuring restored Kakhetian balconies and a buzzing undercover bazaar . One of the main attractions is the Giant Plane Tree , a 900-year-old specimen that's the pride and joy of Telavi.
The mammoth Alaverdi Cathedral lies just outside Telavi's city limits along with the ruins of the Ikalto Academy where Georgian literary hero, Shota Rustaveli, studied. Gremi , the former capital of Kakheti, is another point of interest.
Telavi has lots and lots of restaurants, wine bars and family run cellars to indulge in as well. It's not as charming as Sighnaghi (the other hub in Kakheti which I'll get to later), but it's a convenient starting point for exploring all this region has to offer.
Don't miss: Tsinandali Estate and gardens, the former home of the noble Chavchavadze family – now a house museum and winery. If you fancy a splurge, there's an outstanding Radisson Collection hotel on the property.
Where to stay in Telavi: Back in town, Seventeen Rooms is a beautifully furnished boutique hotel with excellent views. For a budget guesthouse option, I highly recommend Guest House Lilia . Find more Kakheti accommodations here .
Further reading: My Telavi City Guide .
7. Zugdidi, the heart of Samegrelo
The biggest city in Georgia's Western Samegrelo region, Zugdidi is the place to immerse yourself in Megrelian culture and cuisine . Most people stop here for a few hours on the way up to Svaneti, but it's worthwhile spending a night or two in Zugdidi to break the journey – even if it's just to eat at Diaroni , one of Georgia's best restaurants. The specialty here is of course Megrelian food: Rich Kharcho , stringy Elarji and creamy Gebzhalia .
In Zugdidi you can learn about the legacy of the Dadiani family , Samegrelo's old rulers. The immaculate Dadiani Palace and its private gardens (now the city Botanical Gardens ) is unlike anything else you'll see in Georgia. It's worth the museum ticket price to see the eerie bronze Napoleon Death Mask inside (the French connection is totally unexpected and fascinating!).
Other things to do in Zugdidi include a side trip to Rukhi Castle for a view of Abkhazia, watching master potters make black-smoked ceramics at Orkol Studio , seeking out the Soviet-era mosaics in the area, photographing the UAZ ambulance graveyard , and roaming the undercover market for authentic Adjika , a delicious spice blend that has its roots in the west.
Don't miss: Folk House for a home-cooked meal and a private piano performance from the wonderful Besiki Tshitanava, a devotee of safeguarding Megrelian culture.
Where to stay in Zugdidi: Casa de Khasia is a comfortable family-run guesthouse in Zugdidi with homely rooms, an outdoor terrace and a traditional detached kitchen.
Further reading: 15 things to do in Zugdidi .
8. Akhaltsikhe, the city built around a castle
Located in south-western Georgia just shy of the Turkish border, Akhaltsikhe is a small city of under 50,000 people. With direct buses to Gyumri and Yerevan in Armenia, it's a convenient place to depart for the border crossing at Bavra – and a good base for visiting the cave city of Vardzia too.
The main city in Samtskhe-Javakheti region, Akhaltsikhe is small but very multicultural and with a long history that spans Ottoman, Mongol and Iranian rule. The name Akhaltsikhe means 'New Fortress', which gives you a clue to the city's heritage and fighting spirit.
The main attraction is Akhaltsikhe Castle (AKA Rabati Castle), a massive hilltop fortress. Established in the 9th century as Lomisa Castle, it received a mosque and madrasa during the Ottoman period and was gradually added to over the intervening years to become an ad-hoc complex of watch towers, fountains, domed buildings and gardens.
In 2011, it underwent extensive renovations – some say a little too extensive – and now it feels a lot like the set for an off-script episode of Game of Thrones .
Also in the area, Sapara Monastery and Khertvisi Fortress are worth checking out. The latter is particularly impressive when viewed from afar, from the opposite side of the gorge.
Don't miss: The view of Rabati Castle from St. Marine's Church further up the hill.
Where to stay in Akhaltsikhe: Old Street offers comfortable rooms behind a heritage facade on the main street leading up to the castle. The owners are extremely kind and can help with organising transport to Vardzia and elsewhere. Breakfast comes included.
Further reading: 17 things to do in Akhaltsikhe .
9. Rustavi, a former Soviet monotown
Under an hour from Tbilisi, Rustavi is Georgia's third-biggest city and an alternative day trip from the capital. Founded in its current form as a 'Soviet monotown', the entire city was built up around the Rustavi Metallurgy Plant , which opened in 1948 as one of the region's biggest steel producers.
As you might expect from an industrial city, Rustavi is a treasure trove of Soviet-era throwbacks . The newer part of town is dominated by concrete apartment blocks divided into micro districts. On the opposite side of the Mtkvari River, a different style of Stalinist Empire architecture prevails. Highlights include the Mayor's Office, Drama Theatre, Musical School and Railway Station.
Like the plant in Zestafoni, the Rustavi Metallurgy Plant is still operational today. I have heard some reports of visitors being allowed inside – I wasn't so lucky, but I will keep trying! Admire the bas-reliefs on the monumental facade , and find the preserved mosaic. More stunning mosaics can be found inside the Rustavi swimming pool.
Rustavi's history goes back much further than the Soviet period: Learn about its ancient foundations at the small local museum , which also contains a fascinating exhibition on the steelworks. A stroll through the massive Park of Culture and Rest leads you to the ruins of Rustavi Fortress , a great place to watch the sunset over the lake .
Don't miss: Lunch or dinner at Cafune , a trendy social enterprise cafe on the river in Rustavi that serves incredibly delicious food (the panko chicken with Georgian bazhe walnut sauce is my top pick!).
Where to stay in Rustavi: The Soviet-era Hotel Rustavi is a blast from the past. Behind the monumental facade and very 80s lobby, rooms are surprisingly tidy and comfortable.
Further reading: 12 things to do in Rustavi (coming soon).
10. Poti, 'Little Paris' on the Black Sea
Otherwise known as Georgia's 'Little Paris', Poti is a fascinating and underrated city on Georgia's Black Sea Coast. It is known for being home to the country's deepest sea port and is connected to Tbilisi by Georgia's oldest railway line .
City mayor Niko Nikoladze is considered the founding father of Poti. At the turn of the 20th century, he oversaw the design of the small city by German architect Edmund Frick. Unlike most other places in Georgia, Poti is very tidy, with symmetrical blocks and parallel streets that radiate out from a central park .
Inaugurated in 1864 as the first navigational facility of its kind in Georgia, the Poti Lighthouse beckons visitors to climb its candy-striped steps for a sea and city panorama. Poti is pancake flat, so you can see all the way down to Kolkheti National Park , an incredible landscape (and UNESCO World Heritage Site) that offers boat trips along the Paliastomi Lake and the marshy wetlands.
The streets of Poti are filled with heritage Art Nouveau homes , lion statues fringed by palm fronds, and yes, more mosaics and street art murals . To learn the history of Jason and the Argonauts , who apparently made landfall at Poti before making their way up the Rioni River to Kutaisi and Vani, visit the Kolkheti Culture Museum .
Don't miss: Okros Tba ('Golden Lake') is a long, narrow lake sandwiched between Paliastomi Lake and the coast. It's a beautiful place to watch the sunset.
Where to stay in Poti: Express Inn is a modern boutique guesthouse close to the lighthouse. Rooms are very stylish and comfortable, and host Nika is easygoing and helpful.
Further reading: Complete guide to visiting Poti .
Essential destinations in Georgia: Mountains, monasteries & wine
11. sighnaghi & kakheti wine region.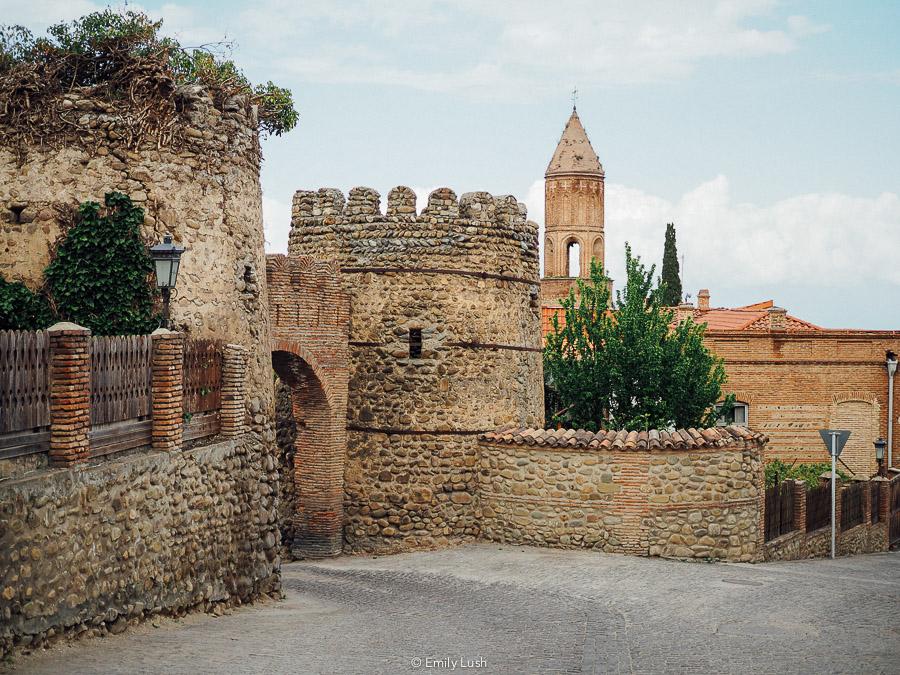 The walled city of Sighnaghi is the beating heart of Kakheti, Georgia's most productive wine region . This is far from the only place where grapes grow (I'll cover some of the alternative wine regions later), but it's definitely the most popular place to do a wine tasting in Georgia , especially since it's so close to Tbilisi .
Marketed as 'the city of love', charming little Sighnaghi is encased in stone city walls and ramparts that you can climb for stunning views over the valley, hemmed in by the Caucasus mountains beyond. The small museum with works by national painter Pirosmani who was born near Sighnaghi is also worth a look in.
Beyond the town, dozens of traditional cellars and commercial wineries of varying sizes beckon visitors for guided tours and degustations. Qvevri wine , a traditional Georgian method that involves fermenting grapes in clay vessels buried underground, and more contemporary European wine-making techniques are both practiced. Join a day tour to visit a selection of popular wineries or hire a car and driver to cover the lesser-known gems on the Wine Route .
If you don't drink, the Alazani Valley is still one of the best places in Georgia to immerse yourself in local history and religion. For every winery, there's also a monastery – some with spectacular hilltop locations, others sunken into the deepest depths of caves.
Don't miss: Bodbe Monastery, my favourite monastery in Georgia, is located walking distance from Sighnaghi. It's included in most organised day tours from Tbilisi .
Where to stay in Sighnaghi: Zandarashvili Guest House is a popular choice for budget and mid-range travellers. The family are old-hands at hosting tourists and can help with everything from tours and transport to supra feasts. For something more luxurious, Lost Ridge Inn on the outskirts of town has a brewery and ranch onsite.
Further reading: How to spend 72 hours in Sighnaghi and Kakheti wine region .
12. Kazbegi & Gergeti Trinity Church
Kazbegi (also known by its new name, Stepantsminda) is an alpine town in the Greater Caucasus, due north of Tbilisi and very close to the border with Russia. Perched on a hill above the town in the shadow of mighty Mount Kazbek sits Gergeti Trinity Church , the country's most iconic cathedral and the poster child for Georgia tourism .
The high-altitude walled chapel is a sight to behold, especially when seen from afar against a dramatic backdrop of snow-capped, jagged peaks. You can hike up to the church from the town in around an hour via an ambling path (just make sure you follow the correct trail – see here for directions ).
As the closest mountain region to Tbilisi (just under a 3-hour drive via the Georgian Military Highway), Kazbegi is an easy addition to even a short Georgia itinerary .
Easy hikes to waterfalls, more beautiful monastery complexes ( Dariali is particularly impressive) and the open-air thermal pools at Pansheti are also accessible from Kazbegi , while the town itself has some terrific restaurants that serve typical mountain fare .
Don't miss: Rooms Kazbegi , a gorgeous design hotel set inside a renovated sanatorium. Even if you don't spend the night, you can drop in for lunch or dinner on the terrace.
Where to stay in Kazbegi: If it's within your budget, a night or two at Rooms Kazbegi is a once-in-a-lifetime experience. For mid-range travellers I recommend Hotel Stancia – a budget version of Rooms near the bus station (the onsite restaurant is also terrific) or Red Stone Guest House , a very pleasant family-run place near the trailhead for Gergeti. See my full Kazbegi accommodation guide for more options.
Essential reading: 21 things to know before you visit Kazbegi .
13. The Georgian Military Highway
Whoever said it's all about the journey rather than the final destination must have been referring to the trip up to Kazbegi from Tbilisi. As grand as Gergeti Trinity is, it's really just a small taste of the landscapes you see along the Georgian Military Highway .
This mighty arterial is currently the only thoroughfare connecting Tbilisi and Russia. An attraction in itself, the Military Road is more than worthy of a place on your Georgia wish-list.
There are lots of places to stop along the way , including Ananuri Fortress , the mosaic-laced Russia-Georgia Friendship Monument at Gudauri, various mineral water springs, curious stone head sculptures and mountain viewpoints.
In wintertime, Gudauri turns into Georgia's poshest ski resort. There are some cute cottages and bungalows here but I recommend passing through Gudauri and staying in Kazbegi instead (unless you want to do some skiing or snowboarding).
Make a full day of it by hiring a car and driver via GoTrip and winding your way up the Georgian Military Highway nice and slow. It's the ride of a lifetime.
Don't miss: Lunch in Pasanauri, a small village on the highway that's considered the birthplace of khinkali. I highly recommend Restaurant Korbuda for delicious dumplings and khachapuri.
Further reading: 9 places to stop on the Georgian Military Highway .
14. Svaneti (Mestia & Ushguli)
After Kazbegi, Zemo Svaneti Planned National Park is the most popular mountain area in Georgia . Located in the far north-west, the region's biggest town of Mestia is accessible year-round by road or via a short flight.
Mestia is well-equipped to handle the many hundreds of tourists that visit Svaneti each year, with a good range of guesthouses and restaurants. A meal of Kubdari (Svanetian meat pie) and Mtsvadi BBQ sprinkled with Svanetian spiced salt at Laila on the main square is just the thing after the long and nail-biting marshrutka ride up.
Hiking is the thing to do in Svaneti. Mountain trails range from easy day hikes to challenging multi-day treks, the most popular being to Koruldi Lakes , Chaladi Glacier and for the daring, Mount Ushba.
As beautiful as the landscape is, the local culture here is equally entrancing. This is the ancestral home of the Svans, known for being fierce fighters who lived in fortified tower houses . These stone towers, known as Koshki in Georgian, can be seen all across the northern regions and over the border in Chechnya – but Svaneti's towers are acclaimed for being both numerous and well-preserved.
Ushguli is the most well-known of the upper villages in Svaneti and can be visited as a day trip by van from Mestia or as the end point of the popular Mestia to Ushguli multi-day hike. Ushguli is considered to be one of the highest inhabited villages in Europe and because of its abundance of towers (there are more than 200 in Chazhashi, one of Ushguli's villages, alone), it was named a UNESCO World Heritage Site in 1996.
Don't miss: The Svaneti Museum of History and Ethnography in Mestia, a world-class museum that catalogues Svan traditions.
Where to stay in Svaneti: I recommend staying in Mestia, where there are plenty of guesthouses, restaurants and good transport connections. Manoni's Guesthouse is warm and comfortable, and the food is great.
15. Vardzia Cave City
Georgia is home to a number of 'cave cities' and 'cave monasteries' – vast complexes of chambers and grottoes hewn from rocky slopes in the southern part of the country. Vardzia is the largest and best-known among them.
Located near the town of Aspindza, not far from Akhaltsikhe, the Vardzia complex consists of a 500-metre-long sheer rock wall puckered with more than 640 separate chambers spread over 13 levels. Incredibly, this is just one section of a much-larger cave city that was partially destroyed by an earthquake.
Built to house a community of monks and shelter townsfolk from invading forces, Vardzia was a self-contained city with its own kitchens, gardens, vineyards, apothecaries, and an elaborate irrigation system. A self-guided walking tour of Vardiza's stone galleries reveals evidence of copper pipes and bread ovens.
There's also a beautiful chapel containing a rare fresco of King (Queen) Tamar , who ruled this part of Georgia at the time of Vardzia's construction.
Rather than attempting to visit Vardzia in a day from Tbilisi (a long journey and rushed experience), I highly recommend visiting from Akhaltsikhe or Borjomi – that way you'll have more time to enjoy the site.
Where to stay near Vardzia: There are a number of accommodation options scattered around Vardzia and on the opposite side of the river. I recommend Guest House Aleksandre in the nearby village of Tmogvi or Vardzia Resort , which is walking distance from the caves.
Further reading: My detailed guide to visiting Vardzia , including transport instructions.
16. Borjomi & Bakuriani
Sitting almost smack-bang in the centre of the country, the town of Borjomi has long been a favourite summer retreat in Georgia. Blessed with fresh mountain air and natural spring waters , there's not a whole lot to do here except relax and sip on Borjomi mineral water , one of Georgia's most popular beverages and biggest exports.
People have been imbibing, bathing in and bottling Borjomi's curative waters since medieval times. But it was in the 1840s when the Russian Viceroy brought his daughter to Borjomi for health treatment that things really started to take off.
By the 1860s, the resort town was booming, and many members of the Imperial aristocracy built their summer residences in the area. Under Communism, these mansions were turned into sanatoria for the party elite.
Today, Borjomi is still a popular warm-weather destination that's always buzzing with families in the summer months. The small town revolves around Borjomi Central Park and Ekaterina's Spring (the original water spring named after the Viceroy's daughter). BYO drinking bottle and fill up on Borjomi water straight from the source. There's also open-air thermal baths and a cable car you can ride up to a scenic plateau.
The nearby resort town of Bakuriani is located at a higher elevation and is accessible from Borjomi via the Kukushka, Georgia's only scenic railway . There are a number of lodges in Bakuriani that cater to tourists during ski season, including the new Rooms Kokhta .
Other things to see in the area include Tabatskuri Lake near Bakuriani and the Romanov Summer Palace (currently closed for renovations) down the road from Borjomi at Likani. There are a number of hiking trails behind the palace for those who want to venture into Borjomi National Park .
Don't miss: A meal at Cafe Iggy, one of my favourite restaurants in Georgia.
Where to stay in Borjomi: Guest House Besarioni (on the hill above the main street) and Borjomi Cottages (near the park) are both excellent mid-range choices. If you can afford it, splurge on Golden Tulip on the edge of the park in Borjomi or better still, Rooms Kokhta in Bakuriani.
Further reading: My essential guide to Borjomi .
17. Okatse Canyon & Martvili Canyon
Georgia's western Imereti and Samegrelo regions are lush and overgrown, with a multitude of river canyons and waterfalls to explore. Most people choose to visit Okatse Canyon and Martvili Canyon , along with nearby Khichka Waterfall, as a day trip from Kutaisi. It's not my favourite day trip option by any means, but it's still a nice experience.
The 14km-long Okatse Canyon is the most developed for tourism and features a suspended treetop walkway and glass viewing platforms . Pretty Martvili Canyon is a fairytale landscape of emerald pools shaded by thick forest that visitors can explore by kayak .
Okatse, Martvili and Khinchka all fall under Georgia's equivalent of the national parks service and thus there are entrance fees involved. For a less-touristy (and free) alternative, head to nearby Balda Canyon instead.
Where to stay near Martvili Canyon: Karma Hostel in Martvili is the ideal base for exploring this part of Georgia.
Further reading: 12 things to know before you visit Martvili Canyon .
18. David Gareja Cave Monastery
Another of Georgia's popular cave monasteries, David Gareja (Davit Gareji) is my personal favourite. It's located at the southern end of Kakheti region, right on the border with Azerbaijan , around 2.5 hours' by car from Tbilisi.
Named after a religious figure who sought refuge in this part of Georgia with his band of devotees, the David Gareja Monasteries (plural) are a series of cave dwellings and cloisters of various sizes scattered around the semi-desert landscape – some on the Georgian side of the border and some in Azerbaijani territory. The most well-known is Lavra and Udabno , twin monasteries that incorporate cave chambers, underground chapels and rock niches painted with beautiful frescoes.
I was lucky enough to visit David Gareja in 2017 when the entire complex was open and you could still walk a ridge-top track for a view of Azerbaijan. On my return visit, I learned that part of the complex is now closed off due to an ongoing border dispute. You can still visit David Gareja and see parts of Lavra Monastery – I update this guide frequently to include the latest information about closures and safety.
There is no public transport to David Gareja, so the best option is to join one of several day trip options from Tbilisi . Or you can use the Gareji Line , a minivan transfer service from Tbilisi that operates every day in the high season (starting from May 1, 2023; 40 GEL per person).
Where to stay near David Gareja: Udabno is the closest population centre to David Gareja. I recommend staying at Oasis Club , a Polish-run hostel and bungalows. They also offer delicious meals for walk-ins.
Further reading: My detailed guide to visiting David Gareja , including information about the closures.
19. Uplistsikhe Cave City
Georgia's third prominent cave monastery, Uplistsikhe , is located just outside the city of Gori. It's the most accessible of the three cave monasteries and sees a lot of foot traffic as a result.
Uplistsikhe is older than Vardzia and David Gareja, with some structures dating back to the Early Iron Age . Compared to the other two, Uplistsikhe has a very different profile – it's spread out along a rocky river bank and more horizontal than vertical.
The moon-like landscape of grottos and caves enveloped in folds of rock is really fun to explore on foot. It's well sign-posted too. From the higher parts of the complex you get amazing panoramic views of the Mtkvari river valley.
It's best to visit Uplistsikhe from Gori using either the local bus or a taxi to transit (see the link below for full instructions). I recommend going as early as possible because it does get very hot.
Further reading: My detailed guide to visiting Uplistsikhe Cave City , including instructions for how to get there from Gori.
20. Tskaltubo spa town
An alternative day trip from Kutaisi, Tskaltubo is a spa resort town just 20 minutes by local bus from the city centre. It's famous for its radon-carbonate mineral springs – the 'Waters of Immortality' – which bubble up from the ground at a pleasant 33-35 degrees Celsius.
Much like Borjomi, Tskaltubo rose to prominence in the Soviet era as a destination for state-mandated workers' respite. During the 1950s, more than 120,000 people visited the balneology resort and its 19 sanatoria every year, and there was even a direct train service from Moscow to Tskaltubo.
The small town is built up around an overgrown park with a series of small bathhouses hidden inside. Around the edge of the park, there are a dozen large, elaborate resort buildings – each with grand entrance halls and ballrooms, collanaded terraces, spiralling staircases and domed atriums.
Most (but not all) of the sanatoria were abandoned after the fall of the Soviet Union and stripped of anything valuable (tiles, pipes, plasterwork). Nature eventually took over, turning these once-grand buildings into a playground for photographers and urbexers .
Tskaltubo has become a popular place to get your wedding photos taken, and you'll often see large groups here posing for family snaps! In 2022/3, many of the buildings were auctioned off and restoration works started. Tskaltubo is changing fast.
In the 1990s, several of the larger sanatoria were used to house IDPs who fled from Abkhazia during the war. Many families still live here today , and it's important to be mindful of this when exploring – take care not to accidentally walk into someone's home, and don't attempt to enter any buildings that are cordoned off (some have been sold to developers).
There are restaurants, cafes and shops in Tskaltubo, and a few of the bathhouses inside the park are still operating – including Bathhouse No. 9, which houses Stalin's private bath .
Don't miss: A home-cooked meal and bottle of wine at the delightful Otia's Ezo .
Where to stay in Tskaltubo: Spend a night at Tskaltubo Spa Resort , the former Military sanatorium and only renovated Soviet-era hotel in Tskaltubo.
Further reading: Comprehensive guide to Tskaltubo and the sanatoriums .
Alternative & unique places to visit in Georgia
21. big shiraki, an abandoned soviet military airbase.
A playground for urbexers and photographers, Shiraki is not one to miss if you're interested in Soviet history and abandoned places . Built in 1950, this former military airfield in far south-eastern Kakheti was a home base for the 178th Guards Fighter Aviation Regiment, who flew out from Shiraki to Afghanistan during the Soviet–Afghan War
Big Shiraki's labyrinth of concrete airstrips, airplane hangars, barracks and ancillary buildings were abandoned long ago, now used only by local farmers to graze cattle and store feed and grain. A single bomber plane whose engine wouldn't start during the evacuation was left behind and is now hiding in the tall grass.
The most interesting part of Shiraki is the 50-odd aircraft hangars , all dome-shaped with turf roofs and heavy metal doors. Each one is numbered and has a unique patina of rust . Some are even inscribed with old Russian writing, apparently messages dedicated to Lenin. Below ground, locals say there is probably a system of bunkers lurking out of sight.
Big Shiraki is located outside Dedoplistskaro, en route to the Vashlovani Protected Areas.
How to get to Big Shiraki: The entrance to the airfield is located 40 kilometres from the town of Dedoplistskaro. The roads are in poor condition, so a 4WD is recommended. It is not advisable to visit the area after heavy rain.
Where to stay in Dedoplistskaro: Temo, the owner of Guest House Savanna , is a professional photographer with expert knowledge of the area. His family offers both rooms and self-contained cottages, with full (home-cooked) board available.
Further reading: Full guide to visiting Big Shiraki .
22. Chiatura, the town of cable cars
Located in Imereti Region north of Kutaisi, Chiatura is a small city that attracts urbexers, photographers, and travellers who are interested in Soviet history. Some call it Georgia's Chernobyl .
When Georgia was part of the USSR, Chiatura was a thriving community purpose-built around some of the world's most productive manganese mines . When the state collapsed, so did the mines, and most families left. Many people still live in Chiatura today – but the city has a time-capsule, blast-from-the-past feel that piques many people's curiosity.
The popular thing to do in Chiatura is ride on 'Stalin's Rope Roads' , a network of 17 cable cars that was erected over the valley in the 1950s to shorten travel times and boost productivity. The ancient infrastructure was still in use as recently as a few years ago (I went for a nail-biting spin on my first visit in 2017). In September 2021, the old cable cars were replaced with four new gondolas .
Aside from the cable cars, you'll find awesome Brutalist architecture , Socialist-style apartment blocks and other treats. It's not uncommon to spot a hammer-and-sickle insignia above a doorway in Chiatura. The now-abandoned Pioneers Palace is particularly cool.
Though not quite as off-the-beaten-path as it used to be (a few companies even run day tours from Tbilisi to cater to intrepid travellers), Chiatura is still an unconventional destination in Georgia. While you're in the area, also visit Katskhi Column , a striking monastery perched atop a tall limestone pillar.
How to get to Chiatura: Visit as a day trip from Kutaisi by taking a marshrutka van from the main bus station. Transfers are also available from Tbilisi .
Further reading: How to visit Chiatura & Katskhi Column as a day trip from Kutaisi (full transport instructions and travel tips).
23. Menji, one of the most unique places to visit in Georgia
Of a similar ilk to Tskaltubo and Chiatura, Menji is a much smaller and lesser-known former health retreat with several neoclassical sanatoriums built atop natural mineral springs.
Unlike Tskaltubo, Menji is fully abandoned . I can almost guarantee you that won't see any other tourists here, and definitely no wedding shoots as has become voguish in Tskaltubo! When I visited Menji, there wasn't another soul around – save for the cow who was grazing in one of the spa's overgrown atriums.
There are at least two beautiful sanatoriums in Menji that now lay in almost complete ruin. The most impressive is the Roman-style sanatorium adjacent to the small town's railway tracks. It features a huge atrium with a domed ceiling and ornate plasterwork , much of which has somehow stood the test of time.
Unlike the spas in Tskaltubo, which were completely stripped of their tiles, pipes, plasterwork and anything else of value, there's enough detail left in Menji so that you can really picture what it was like in its heyday when workers descended on the town for their summer holidays.
Rows of small private bathrooms, each with an original ceramic tub – but all with a huge chunk missing – open up off two parallel hallways. Geometric and floral tiles are still stuck to some of the walls, and beneath a thick layer of dirt, you can just see a stunning mosaic floor that appears to be completely intact.
How to get to Menji: Menji is located in Western Georgia's Samegrelo region, roughly 40 minutes from Zugdidi by road. To get there, hire a driver, which should cost around 100 GEL when combined with nearby Khobi and Sujuna, two more totally unique places to visit in Georgia.
Further reading: Menji, Sujuna and Khobi – the perfect offbeat day trip in Samegrelo (coming soon!).
24. Abastumani, dachas & a mountain observatory
Another of Georgia's spa resorts, Abastumani's modern history goes back to the days of the Tsar. In the final years before the revolution, Grand Duke George Alexandrovich Romanov – the younger brother of the last emperor, Nicholas II – was sent to live here after being diagnosed with TB. Members of the Russian elite diligently followed their prince and built beautiful summer houses along the main street, taking full advantage of the clean air and healing thermal waters .
Many of Abastumani's most handsome houses have been restored and repainted as part of a project to breathe new life into the old resort. They can now be counted among the finest examples of heritage architecture in Georgia .
The old Romanov Palaces (where Duke George lived) and the Tsar's Bathhouse are now receiving the same TLC. During the Soviet period, a number of sanatoriums were built in Abastumani along with a public sulfur bath house that's still functioning today.
Abastumani's crowning glory is the Astrophysical Observatory on Mount Kanobili. Built in 1932, this was the first mountain observatory in the USSR. Using telescopes to cast their eyes towards the clear skies above Abastumani, scientists made a number of important discoveries here before the observatory was shuttered. It too recently reopened and can be visited on a guided tour . You can either drive up, or take the Soviet-era cable car .
How to get to Abastumani: Abastumani can be reached in around 45 minutes by paved road from Akhaltsikhe. There is also a mountain road from Kutaisi (via Sairme and the Zekari Pass), but it requires a car with high clearance.
Where to stay in Abastumani: Options are limited in Abastumani – I recommend either an Airbnb or a room at the popular Hotel Iveria .
Further reading: 12 things to do in Abastumani .
25. Pankisi Valley, a unique cultural experience in Georgia
Pankisi Valley (or Pankisi Gorge) is a special place that's very close to my heart. I've spent a lot of time here over the years and consider Nazy – the young woman who has spearheaded responsible tourism in the community – a friend.
Not so long ago, travel to Pankisi was considered a no-no . Now the community is fighting to overcome negative stereotypes and prove to the world that Pankisi is both a safe and desirable destination.
There are several small villages in Pankisi dotted along a verdant river valley between Telavi and Tusheti. The families who live here are Kists , an ethnic group whose ancestors emigrated to Georgia from Chechnya 200 years ago. The opportunity to learn about Kist language, traditions and cuisine makes this one of the most interesting parts of Georgia to visit.
There are several homestays in Pankisi managed by local women (Nazy's Guest House is one of the oldest-running and most well-established). There are mosques to visit, traditional handicrafts including felting to observe, a small folklore museum , and hilltop watchtowers and church ruins to explore. Try to visit on a Friday so you can sit in on the women's zikr , a fascinating Sufi ritual that takes place once a week in the Old Mosque in Duisi.
There are newly marked hiking trails in the hills, while dirt biking, horse trekking and guided cultural walks of the village can all be organised through your homestay.
How to get to Pankisi: Pankisi is located an hour's drive north of Telavi. Regular marshrutka vans and taxis are available from Telavi, and there are several direct departures from Tbilisi every day. Some vans transit through Akhmeta, the nearest city to Pankisi.
Where to stay in Pankisi: Nazy's Guest House , one of my favourite accommodations in Georgia, offers comfortable rooms and space for camping. Home-cooked meals are provided, and Nazy can help with organising tours, transport and anything else you need.
Further reading: Learn more about Nazy's Guest House and the Pankisi Valley Tourism and Development Association , which is helping to create new opportunities for Pankisi residents and change the way the area is portrayed in the media. Discover 21 memorable things to do in Pankisi for culture, history and nature.
26. Asureti (Elisabethtal), a former German colony
Asureti, formerly known as Elisabethtal, is an old German colony in southern Georgia's Kvemo Kartli region . One of three such villages in the area, it's one of the most unique places in the country and a living reminder of Georgia's little-documented German community who settled here in the early 1800s.
Asureti is a tiny town by any measure but absolutely delightful for a stroll. The biggest attraction is the grand Lutheran church , which sits proudly at the top of the main street. Built in 1871 and restored in 2020, it sits empty as a powerful reminder of the 72 German families who settled Asureti – and the tragic fate they met during WWII.
Dual-language street signs in Georgian and German adorn every front fence. Beyond, you can see many original Fachwerk half-timbered houses with tidy gardens and deep cellars beneath their foundations. Be sure to stop for lunch at Bahnhof Station , a German-style beer hall set inside one of the town's historic buildings.
Other places to visit in the area include Trialeti (Alexandershilf) and Bolnisi (Katharinefeld), two more German villages, plus the canyons and fortresses at Samshvilde and Birtvisi .
How to get to Asureti: It's best to visit this part of Georgia with your own car. Asureti is a short drive from Tbilisi via good highways. If you prefer to join a day tour, I recommend this itinerary with Friendly.ge , which focuses on the German villages and Dashbashi Canyon. If you're interested in booking, use the code wanderlush to get 10% off the price of the tour.
Further reading: My full guide to Kvemo Kartli region .
27. Gorelovka, a colourful Doukhobor village
Located in Samtskhe-Javakheti region adjacent to the Javakheti Protected Areas, Gorelovka is a tiny village that's home to just a few dozen families. What makes this place special and a unique destination in Georgia is the distinctive blue-and-white vernacular architecture – and more so, the story behind it.
Gorelovka was settled in the early 19th century by families from the Doukhobor community , a spiritual sect that fled persecution in their native Russia. They have unique beliefs and traditions, especially around the Sacrament and marriage, and their defining characteristic is that they're Pacificts . Just a handful of people still live in Gorelovka and continue these traditions today.
For a window onto Doukhobor life, visit the 'Blue House' , a gorgeous two-story wooden house with intricate fretwork and hand-painted floral emblems finished in a shade of bright turquoise. It's part of a larger private complex which also includes a Doukhobor community hall and a prayer house.
The Blue House was built as an orphanage for the many children who arrived in Georgia without their parents after the Doukhobors' arduous journey south. It's beautifully maintained – on my last visit, everyone was busy repainting the facades and trimming the hedges. Visitors are welcome to look around as long as someone is present to open the gates.
How to get to Gorelovka: Gorelovka is located 3 hours' drive west of Tbilisi, close to the border with Armenia. Public transport is limited, so it's best to go with your own vehicle, ideally when visiting the Javakheti Protected Areas. It's also possible to visit from Borjomi or Akhaltsikhe.
28. Racha (Oni & Shovi), an alternative mountain getaway
Racha is by no means an unusual destination among Georgians – the mountainous region sandwiched between Svaneti and South Ossetia is a firm favourite local vacation spot and has a reputation for being something of a Garden of Eden . However, Racha sees far fewer foreign faces than super-popular Svaneti or Kazbegi – mostly because it's more remote and difficult to reach without a car.
Part of Racha-Lechkhumi region, Racha is divided into lower and upper parts. Lower Racha is home to the city of Ambrolauri and the popular Shaori Lake . Nearby Nikortsminda Cathedral is probably my favourite church in all of Georgia – the frescoes and stone carvings are magnificent.
Racha is known across Georgia for its distinct cuisine (principally Rachan cured ham and Shkmeruli , a rich garlic chicken dish) and a special variety of wine that's made from grapes grown in Lower Racha. A Khvanchkara tasting with a grazing plate of ham and other local delicacies is a must in Racha, and there are plenty of families that welcome guests for just that.
Upper Racha is more rugged and isolated. The biggest town, Oni is an extremely special place, once home to a large Jewish community. The few Jewish families that remain tend to a stunning synagogue – it's honestly one of the most magnificent buildings in the whole country.
Just up the road, the village of Shovi was a Soviet summer retreat and is home to another iconic building, the so-called 'Stalin's Dacha' . According to my host, the dictator never set foot in Shovi, but the moniker adds to the dilapidated wooden house's mystique.
If you have a 4WD, you can press further on to more remote mountain villages such as Ghebi , which offer hiking and homestays.
How to get to Racha: There are marshrutka vans to Oni from Tbilisi (4 hours) and Kutaisi (3-4 hours), but it's preferable to drive yourself. A 4WD is mandatory if you want to visit Shovi or any of the upper villages.
Where to stay in Racha: Oni is the ideal place to base yourself in Racha. Guest House Gallery is the leading accommodation in town – put in a request to stay in the self-contained room above the family's wine cellar. The ancestral wooden house is pure magic.
Further reading: Things to do in Oni and Racha .
29. Zestafoni, industrial history & mosaics
Located just outside Kutaisi on the main highway that crosses Georgia, Zestafoni (Zestaphoni) is an industrial city that most travellers (and locals) don't give a second thought. A true hidden gem in Georgia, Zestafoni is a hotbed of Soviet history and a must-visit for anyone who is interested in mosaics and Brutalist architecture .
The entire city revolves around the Zestafoni Ferroalloy Plant , a massive factory built to process raw material from the mines in Chiatura, Tkibuli and elsewhere. The plant started operating in 1933 and has been working 24/7 ever since. I recently got to tour the factory and let me tell you, it's a blast from the past.
Beyond the factory, Zestafoni is home to some of Georgia's finest Soviet-era mosaics . Most are the work of one man, artist Demur Basheleishvili. You can find incredible mosaics scattered around downtown amongst bas-reliefs, Socialist-style statues and memorials .
The piece de resistance is the 'Swimming Pool Mosaic' , which has recently been restored by the Ribirabo Foundation as part of the new Path of Mosaics tourism initiative. Created in the early 1980s by Nugzar Medzmariashvili and Demur Basheleishvili, it is quite simply the most impressive mosaic in Georgia.
Spend an afternoon walking around Zestafoni to discover a former Pioneer's Palace , a small local museum , and a retro railway station .
Don't miss: Zestafoni's massive undercover bazaar was built in 2015 and is a cornucopia of local produce. The lighting is spectacular: The sun filters in through the glass roof, and you can climb onto the mezzanine for views of the market floor. It's a photographer's paradise.
Where to stay in Zestafoni: Guest House Zedafoni offers five rooms and a home-cooked breakfast.
Further reading: 10 things to do in Zestafoni .
30. Guria Region, Georgia's tea trail
Everyone knows Georgia has a wine route – but did you also know there's a tea route ? In Soviet times, Georgia was the biggest producer of tea in the Union. The industry was mostly wiped out in the 1990s (and the tea bushes ran wild), but its legacy lives on in Guria's family-run tea estates .
Guria is located in Western Georgia, north of Adjara. The interior is hilly, lush and humid – perfect conditions for growing tea – and the region also has a healthy sliver of Black Sea coastline. Ozurgeti , the biggest city in Guria, is small and quiet (don't miss the local market) but offers a good base for exploring the tea fields in Anaseuli . Granted these days you're more likely to see vast fields of hazelnut trees – many families have planted this more profitable crop in the place of tea.
Stay at Komli , where you can learn about Georgia's tea heritage and Gurian culture, which boasts its own dialect, peculiar traditions and yes, another delicious cuisine. Khachapuri Gureli , a regional pie filled with cheese and boiled eggs, is a must-eat.
Keep an eye out for the skeletons of disused tea factories as you venture into the upper villages such as Shroma to admire stunning Soviet-era architecture and impressive mosaics . The rest of the territory is dotted with important monasteries and small nostalgic towns, all wrapped in perpetual green.
How to get to Guria: Guria is well and truly off the beaten tourist track, yet it's still relatively easy to get to from Tbilisi using the overnight train to Ozurgeti. Again, it's advantageous to travel with your own car if you want to explore further afield. But a few nights at Komli on the outskirts of Ozurgeti is enough if you don't have your own wheels. Make sure you organise a ride up to Gomismta one evening (see the next section for more).
Where to stay in Guria: Komli Farmhouse is my accommodation of choice in Guria. Choose between private rooms in the family's 200-year-old wooden cottage or cosy up inside a converted Diogenes barrel!
Further reading: My full guide to Ozurgeti and Guria .
31. Dedoplistskaro, a hidden gem in Kakheti
Located in southeastern Kakheti, Dedoplistskaro is the gateway to the Vashlovani Protected Areas and Big Shiraki airfield, which are both also mentioned on this list. The town itself is a bit of a hidden gem with a magnificent hilltop monastery, a fascinating WWII memorial, art studios and wineries on its doorstep.
Dedoplistskaro is situated in historic Kiziki , one of the most culturally rich corners of Georgia. Founded by entrepreneur Nino Bakhutashvili, Pesvebi preserves Kizikian carpet-weaving traditions by reviving ancestral designs and plant-dyeing techniques. Her art studio in Dedoplistskaro is open to visitors – and shoppers!
Another highlight of Dedoplistskaro town is the local WWII memorial . Built in 1985, it stands at the top of Memorial Park and depicts a woman flanked by two giant concrete lions. Other Soviet-era monuments can be found scattered throughout the town.
There are several excellent places to visit on the outskirts of Dedoplistskaro. Eagle Gorge Natural Monument , a 1.7-kilometre river canyon carved from limestone, has walking trails where you can observe some of the 60 species of birds that nest and feed here. Khornabuji Castle AKA the Fortress of Tamar is an impressive stone ruin set on a limestone massif, and the 6th-century St. Elia's Church can be submitted for a view of the plains.
How to get to Dedoplistskaro: Public transport (marshrutka vans) to Dedoplistskaro is available from Telavi, Sighnaghi or Tsnori.
Where to stay in Dedoplistskaro: Guest House Savanna is my top choice, with comfortable cabins and cottages, home-cooked meals, and a terrific resource in owner, Temo, who is a professional wildlife photographer and fountain of knowledge on the area.
Further reading: Things to do in Dedoplistskaro .
32. Sarpi, last port of call before Turkiye
Under normal circumstances, a land border immigration checkpoint is not the sort of place you'd want to linger. But Sarpi, the small town where Georgia meets Turkey, is worthy of a detour even if you're not passing through.
Sarpi is home to one of the country's most distinct modern buildings, the Sarpi Checkpoint . Built in 2011 and designed by J. Mayer H. Architects, the spirited wave-shaped tower on the beach is striking and very photogenic.
It's worth visiting Sarpi just to see this unique piece of architecture. If you're coming from Batumi, you can make a day of it by enjoying the nice bicycle ride down the coast via Gonio and some of Adjara's loveliest secluded beaches .
As an Australian, I get a kick out of land borders, and the view of Turkey is pretty cool. Climb one of the steep streets above the checkpoint for a priceless panorama of the bell tower of Orthodox St. Andrew's church, the spire of the nearest Turkish mosque and the checkpoint building all in the one frame.
Sarpi is also known for being home to the Laz , an ethnic group famed for their boat-making skills. There is a small ethnographic museum in Sarpi where you can learn more about their traditions.
How to get to Sarpi: Cycle from Batumi or take a local city bus.
Further reading: My full guide to biking to Sarpi from Batumi , including directions and points of interest to see along the way.
33. Chobareti Meskhetian House, a must-visit in Georgia for foodies
Traditional recipes from ancient Meskheti region have enriched Georgian cuisine with a bevy of unique textures and tastes. With salt, dough and fat as your basic ingredients, it's hard to go wrong! This is also the home of lokokina or Georgian escargot . Snails are thought to have been introduced as a delicacy by Capuchin missionaries.
One of the best places to indulge in regional cooking is Meskhetian House in the small village of Chobareti. Entrepreneur Aluda Jvaridze, his wife Natia and their family offer tourists masterclasses and generous Meskhetian feasts .
The star of the show is tenili , a rope-like cheese made by heating curds over a flame and hand-pulling the elastic strands until they become fine. It's a long process that requires a lot of skill (and tough hands!), something that's been passed down through the generations . Only a handful of people possess the knowledge to make one of Georgia's 'lost cheeses' the old-fashioned way.
Apokhti (jerky-style dried meat), kada (a sweet-salty bread made with nuts) and arishta (dehydrated noodles) also feature on the menu.
The family property has two oda hall houses , one that is 300 years old and another refurbished houses with a kitchen and traditional oven. Looking out at the rolling hills and terraced vineyards of Meskheti through the bougainvillaea-clad stone terrace, you'd be forgiven for thinking you were in Georgian Tuscany!
Masterclasses and meals are available by appointment only. Contact the family directly on Facebook or via the Samtskhe-Javakheti DMO to arrange a booking. Little English is spoken, so it's best to go with a guide.
How to get to Chobareti: Chobareti is a 30-minute drive from Akhaltsikhe via a scenic and fully-sealed mountain road.
Where to stay near Chobareti: Brewery House & Beer Spa in Aspindza is a family-run guesthouse 20 minutes from Chobareti. Guests get unlimited qvevri tap beer, and there is even a beer spa!
Further reading: My guide to Meskhetian cuisine and more foodie experiences in southern Georgia.
34. Shrosha, Western Georgia's pottery capital
Another time-honoured Georgian craft and the foundation of the country's UNESCO-Listed wine making tradition , making clay qvevri is an art form only a few have mastered. These mammoth vessels are used to ferment and store wine, and there are just three villages in Georgia where families still make traditional qvevri by hand , Shrosha being one of them.
Located on the east-west highway just before Zestaphoni, this is a good place to stop when driving to Kutaisi from Tbilisi or vice-versa. As soon as you hit Ubisa , you'll notice pottery stores on the side of the road selling vast numbers of clay ketsi dishes, lobiani pots and miniature qvevri. These make for fantastic Georgian souvenirs .
Closer to Ubisa, master potter Zaliko and his son Sergo – the youngest of five generations of qvevri makers – run a home workshop where they build up the amphora by hand, adding 15-20cm of clay each day.
I visited as part of my tour with Karavanly, but if you're passing by, you can try popping in for a look around. The garden at the front of the property has lots of qvevri and clay tone ovens for sale.
How to get to Shrosha: Shrosha and Ubisa are on the highway, so it's only really practical to stop if you're driving through with your own car.
Further reading: How to make a clay qvevri .
35. Sairme & Baghdati, hot springs & vineyards near Kutaisi
Another of Georgia's balneological resorts that rose in prominence during the Soviet era, Sairme is known for its healing thermal pools and mineral waters (the first one you bathe in, the second one you drink!). Located 1.5 hours south of Kutaisi on the way to Abastumani, Sairme makes for a great alternative day trip or overnight getaway.
Along the way, you can stop in Baghdati, one of the oldest settlements in the region and the hub of Imereti's wine route. The Vladimir Mayakovski House Museum (dedicated to the famous Futurist artist who was born in Baghdati in 1893) is a highlight.
Sairme has a beautifully restored spa house with indoor and outdoor pools . A range of massages and holistic health treatments are also on offer. Further into the mountains, the main part of the resort has also been done up and is now operated by Best Western. A fast-paced river cuts through the centre of the resort, while the pine-covered Lesser Caucasus mountains hover so close, you really feel like you're fully enveloped in nature.
Around the river you'll see curious concrete buildings: each one houses a spring dispensing water with a different mineral content. If you want the full Saime experience, visit the resort doctor for a once-over and they will issue you with a custom mineral water prescription!
How to get to Sairme: Sairme is around 50 kilometres (31 miles) south of Kutaisi. Marshrutka vans to Baghdati depart from Kutaisi Central Bus Station, taking around 1.5 hours and costing a couple of GEL per person. There is no public transport to Sairme, so you'll need to take a local taxi to the resort.
Where to stay in Sairme: Sairme Hotel & Resort is located inside a refurbished sanatorium that dates back to the 1950s. Rooms are compact but very comfortable, and the buffet breakfast is one of the best I've had in Georgia.
Further reading: My quick guide to Sairme and Baghdati .
More beautiful places in Georgia for hiking, hot springs & nature
36. tusheti, georgia's most remote mountain destination.
Tusheti is without a doubt Georgia's most remote and daring mountain destination . It's often heralded as the pinnacle of Georgia travel. As one local told me, 'If you haven't been to Tusheti, you haven't been to Georgia'.
The road to Tusheti from Tbilisi via the Abano Pass is treacherous and very dangerous, but the rewards are huge: the Tusheti Protected Areas is a near-pristine landscape in the Greater Caucasus with incredible flora and fauna.
Tusheti is famed for its hiking trails , which range from half-day jaunts to multi-day treks via remote mountain passes. Beyond the outdoor pursuits, Tusheti is one of the region's most fascinating cultural landscapes, with unique religious and social traditions to learn about, stone defensive tower houses to admire, and incredible regional food and drink (including Georgia's answer to cheese fondue!) to enjoy.
Don't miss visiting Dartlo , the most picturesque village in Tusheti and one of the most beautiful places in Georgia. Diklo, a remote village near the border, has a very different, alpine feel and is also a must-see.
How to get to Tusheti: Omalo, Tusheti's main village, is a 7-8 hour drive from Tbilisi. There is no public transport to Tusheti – the only way to travel the Abano Pass is with a Delica or 4WD/Jeep taxi. I highly recommend hiring an experienced driver for the journey. Shared taxis are available from Alvani and Telavi in the lowlands. See my Tusheti Transport Guide for full details.
Where to stay in Tusheti: There are guesthouses scattered throughout Tusheti. Dartlo, my favourite village, is a great place to base yourself as there are plenty of accommodation choices, food options, and access points for hiking trails. Located in Old Dartlo, Guest House Samtsikhe offers simple, cosy rooms with balconies and incredible views. Horse riding is available, and there's a cafe onsite.
Further reading: Brush up on everything you need to know before you visit Tusheti with these 22 essential Tusheti travel tips .
37. The Javakheti Plateau, Georgia's lake district
The Javakheti Protected Areas is a network of lakes and protected bird habitat in southern Georgia. This is the country's premier birdwatching destination – but even if you have no interest in wildlife, you'll still find this part of the country intriguing and ruggedly beautiful.
Javakheti is often referred to as the 'Georgian Arctic' because of the harsh climate (the whole area is at a high elevation). When it's not under thick snow, the landscape is an awe-inspiring panorama of extinct volcanoes, volcanic lakes and never-ending plains . Tourism infrastructure is quite basic and the area is spread out, so it's best to visit with your own vehicle.
Hop between the different lakes along the Armenian and Turkish borders, each with its own character and resident bird species. Paravani Lake , one of the first lakes you reach after leaving Tbilisi, and the delightful Poka St. Nino Monastery are a highlight. Short hiking routes are available around some of the lakes, and wild camping is permitted in many areas.
The landscape also features scoring canyons (including the popular Dashbashi Canyon), soaring peaks, pockets of pine forest planted out during Soviet times to soften the landscape, and craggy rocks adorned with ancient petroglyphs .
This area is as culturally vibrant as it is visually striking – Pontic Greek, Adjarian Muslim, Armenian and Azerbaijani families have all lived here for decades, each adding their own traditions to the mix.
How to get to Javakheti: Javakheti is located around 3 hours west from Tbilisi. The lakes and towns are linked by good-quality roads, making this ideal territory for a road trip.
Where to stay in Javakheti: Both Tsalka (the closest city) and Ninotsminda offer a handful of guesthouses and basic hotels. In Tsalka, I recommend Hotel White House and in Ninotsminda, I highly recommend Guest House Sonya . Don't miss eating at the nearby Restaurant Pontia.
Further reading: My guide to visiting the Javakheti Protected Areas and Tsalka .
38. Vashlovani Protected Areas, the Georgian Badlands
Up there with the most remote and adventurous destinations in Georgia, the Vashlovani Protected Areas (AKA Vashlovani National Park) is a surreal landscape of canyons, steppe, savanna and mud volcanoes in the far south-eastern part of the country, close to the border with Azerbaijan .
Part national park and part strict nature reserve, the Protected Areas is a 35,200-hectare swathe of territory that was designated as a UNESCO Biosphere Reserve back in 2022. Vashlovani is not a hiking destination – rather it is a place for offroading . A robust 4×4 and experience with difficult terrain is mandatory if you want to tackle the park on your own. Otherwise, I recommend hiring a local driver-guide who is experienced with the area.
With just one day in Vashlovani you can see a decent amount of what the park has to offer. A logical loop route takes you through Pantishara Canyon and the dry sea beds , Samukhi Valley where you can spot gazelles and to the magnificent Usakhelo Viewpoint before finishing at Mijniskure and the easternmost point of Georgia, where the snake-like Alazani River forms the border.
There are two ideal windows for visiting Vashlovani: Spring (April and May) – best for seeing the wildflowers – and autumn (October and November). During winter, access to the park is limited while in summer, it is simply too hot. All travellers must obtain prior authorisation and pay an entry fee. If you are travelling as far as Mijniskure, you also need a border permit . Both can be organised in advance in the nearby town of Dedoplistskaro.
How to get to Vashlovani: Vashlovani is located around 170 kilometres from Tbilisi and 75 kilometres from Sighnaghi. You need your own vehicle to visit the park, thus the easiest option is to hire a driver-guide.
Where to stay near Vashlovani: Dedoplistskaro is the best base for visiting Vashlovani. Guest House Savanna offers excellent rooms and self-contained cottages/cabins, plus full board.
Further reading: Easy one-day itinerary for Vashlovani and tips for visiting .
39. Didgori Valley & Battle Memorial, one of Georgia's most scenic drives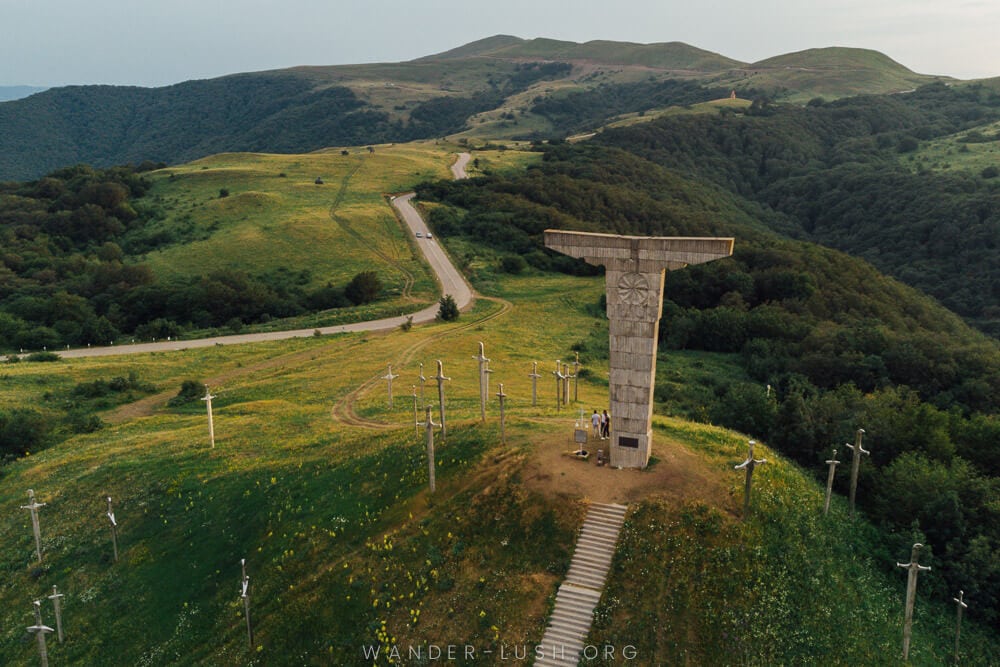 One of my favourite things to do in Georgia is visit the Didgori Battle Memorial at sunset . This stunning war monument is set over rolling hills in Kvemo Kartli region west of Tbilisi, marking the location of the Battle of Didgori , a seminal event in Georgian national history.
On August 12, 1121, King David the Builder led his army to Didgori to ambush Seljuk forces. His 'miraculous victory' as it's known led to Georgia's liberation and reunification, ushering in the country's Golden Age .
If I was to describe this monument in a word, it would be powerful . The memorial has several components, but the main part is a huge stone sculpture emblazoned with a lion surrounded by hulking crucifix-shaped metal swords plunged into the hillside . These represent the lives lost in the battle. In the surrounding meadows, you can find sculptures of disfigured warriors and a larger-than-life King David raising his longhorn.
Every year on August 12, one of Georgia's biggest festivals , Didgoroba , is held here as a tribute to the battle that freed Georgia from the yoke of Turko-Persian control.
How to get to Didgori: You need your own car (or a car and driver) to reach Didgori. The road is brand new and a real pleasure to drive. There are two possible routes from Tbilisi: Via Mtskheta or via Manglisi. Both take approximately 1.5 hours.
Where to stay near Didgori: Hotel LUKA in Manglisi offers simple but comfortable rooms and a home-cooked breakfast. The location 30 minutes from the monument makes this an ideal place to sleep after driving up for sunset.
Further reading: My tips for visiting the Didgori Battle Memorial .
40. Tskhrajvari, the magnificent Hill of Nine Crosses
Tskhrajvari or 'Nine Crosses' is a magnificent mountaintop viewpoint and pilgrimage place . It sits on the cusp of Imereti and Racha regions, around 35km north-east of Kutaisi.
Tskhrajvari is a favourite hiking spot for locals, but not many tourists know about it. The panoramic views of Upper Imereti and the Greater Caucasus mountains you get from the top are absolutely astonishing. On a clear day, you can see all the way out to the Black Sea.
A walking trail wraps around the stony mountainside, culminating with a small stone chapel and nine gold and silver crosses embedded in the rock. There are several legends associated with Tskrajvari that make it a sacred pilgrimage site for Orthodox Christians. In the Soviet era, there was even a cable car (the second longest in Georgia) to connect the mountain with the nearest town, Tkibuli, below.
The hike is short , taking less than an hour one-way to complete, but the terrain is quite rough and challenging . In the past, you had to hold onto rusty metal chains to pull yourself up the cliff via ferrata style. In late 2022, several sets of wooden steps were installed to replace the chains, making it easier to reach the summit.
How to get to Tskhrajvari: A newly sealed road winds up the mountainside to the start of the hiking trail, which sits high above the small mining town of Tkibuli. The best departure point is Kutaisi, which is an hour away by road. It's best to go with your own car, otherwise you can take a marshrutka to Tkibuli and continue by taxi from there.
Further reading: Detailed guide to the Tskhrajvari hike .
41. Lailashi Secret Pool, paradise in Lechkhumi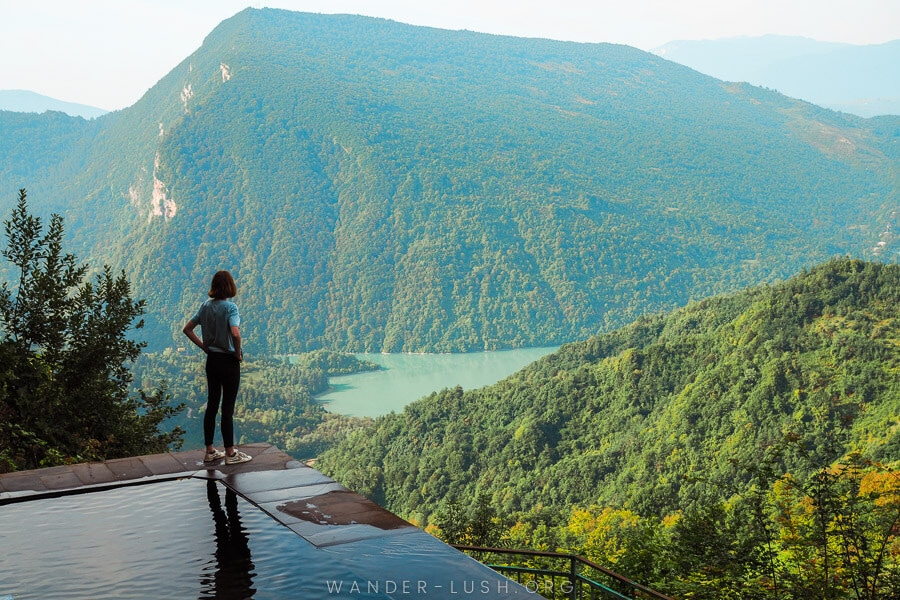 Lailashi is a small high-altitude village in Georgia's north-western Lechkhumi region, a remote part of the country characterised by limestone rock formations (including the stunning Sairme Pillars ), steep cliffs and soaring peaks. This little settlement has become famous for one thing: Lailashi 'Secret Pool' .
Also known as Okronishi Fountain , it's a set of two high-altitude pools fed by natural water springs. I've tried to find more information about the fountain and its significance online, but all my searches have come up short. I know it underwent some rehabilitation in the early 2000s funded by USAID, so I'm sure it has special significance to the community – I only wish I knew more about it.
What I do know is that it's breathtakingly beautiful . In 2020, the Secret Pool became Insta-famous and posing for a photo at the corner of the pool overlooking one of the best views in Georgia , peering into the abyss of a green valley, became the thing to do. I visited in summer, but it looks even more majestic on a clear winter's day when the whole area is covered in snow and frost.
The view (and the deluge of Likes) more than makes up for the rough-and-tumble drive it takes to get to Lailashi. A 4WD with high clearance is required to tame the vertiginous unpaved road . A former outpost on the old Silk Road and once home to a significant Jewish population, the village of Lailashi itself has an interesting history.
How to get to Lailashi: The easiest way to access Lailashi is by driving up from Ambrolauri. The not-so Secret Pool is marked on Google Maps.
42. Sno Valley & Juta, hiking near Kazbegi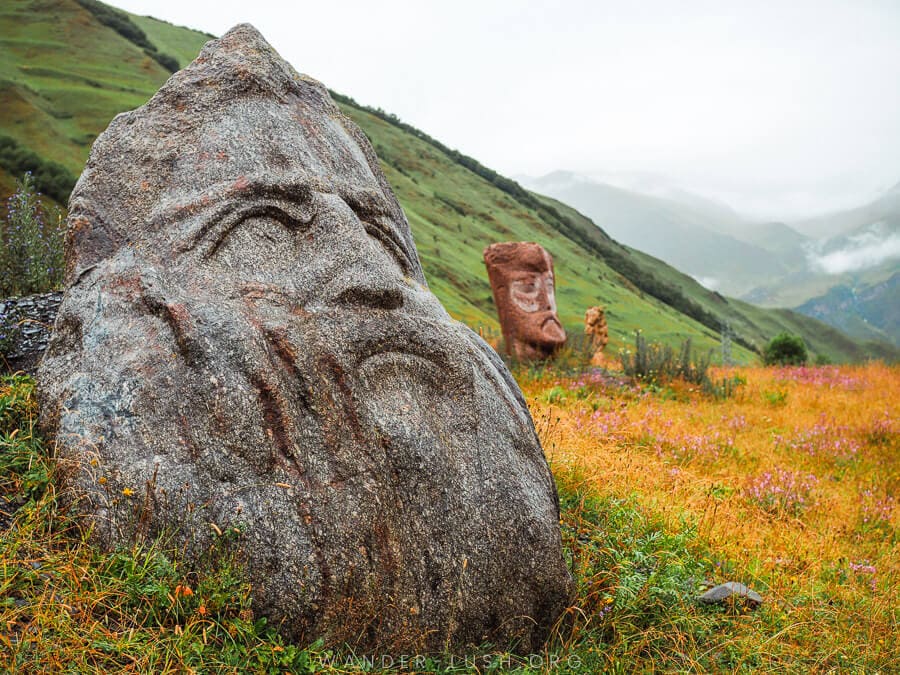 If hiking is high up on your agenda for Georgia, check out Juta, a less-popular alternative to Kazbegi with similar scenery but fewer people. Dubbed the 'Georgian Dolomites' , this area is characterised by tapered stone peaks and alpine lakes.
Juta itself is a small village located in the foothills of the Greater Caucasus on the edge of Kazbegi National Park , east off the Georgian Military Highway just before you enter into Stepantsminda.
The area boasts pristine hiking trails , including the challenging Chaukhi Pass . A collection of guesthouses and restaurants in town cater to hikers. If you're not interested in testing your endurance, this is still a great place to find some respite amongst stunning mountain landscapes – especially when you stay in a cosy room at Fifth Season .
On the way to Juta, stop off in the village of Sno where you'll find a magical landscape of wildflower fields scattered with massive 'stone head' sculptures . The work of a local artist, these monoliths depict different figures from Georgian history and the arts.
How to get to Juta: Mountain Freaks operates daily bus transfers to Juta from Kazbegi. You can also use this service to access other landscapes in the area, including Dariali Gorge and Truso Valley. Check times and prices here .
Where to stay in Juta: Fifth Season is a popular hiker's lodge in Juta with cosy rooms and stunning mountain views.
43. Udabno, Georgia's vivid semi-desert
Udabno means 'desert' in Georgian, and that just about sums up the desolate landscape surrounding David Gareja in southern Kakheti. The thing that makes this area unique and worth visiting is the colourful striations of rock created by mineral deposits. I also discovered that if you visit Udabno after heavy rain, you'll see cloudy pink lakes that look like big puddles of strawberry milkshake.
There is some nice hiking to be found in the 'rainbow hills' , over rivulets and mounds of coloured earth. There aren't any marked trails so you need to use an app such as Maps.me to navigate. Avoid visiting in summer as snakes are a problem.
At the centre of this otherworldly landscape sits Udabno village , a cluster of weather-beaten, mostly abandoned buildings in the desert. Set up by the Soviet government in the 1980s to accommodate economic migrants from Svaneti region, I'm told that Udabno was later used to house refugees from nearby Azerbaijan before it was left to ruin.
Today it's a bit of a ghost village, with most buildings empty. Then the founders of the Oasis Club came along to breathe new life into Udabno and give the area some vitality – and a much-needed place to stop for lunch when hiking or visiting the monasteries.
How to get to Udabno: Marshrutka vans are available from Tbilisi and Sagarejo in Kakheti but schedules are limited. An easier way to get there is on an organised day trip that pairs Udabno with David Garjea ( such as this one ), use the Gareji Line transfer service mentioned above, or just drive yourself. The road is mostly paved now and easy to manage.
Where to stay in Udabno: Oasis Club in Udabno offers dorms and private bungalows plus outstanding home-cooked meals.
Further reading: My experience hiking in Udabno on my most recent visit to David Gareja.
44. Saro, a charming village in Meskheti
Part of Southern Georgia's historic Meskheti region , Saro is perched on a ridge roughly halfway between Akhaltsikhe and Vardzia. I first heard about this village in summer 2022 and was absolutely blown away when I visited. I have since been back several times. Saro is fascinating and astoundingly beautiful – truly the stuff Georgian dreams are made of.
Saro commands amazing views of the Chobaretiskhevi River Gorge – the scenery is beyond stunning. Because of its strategic location, it was used as a hideout spot during raids. A cyclopean fortress , one of an estimated 1,000 megalithic structures scattered around the region, was built here in the Bronze Age. It's still a mystery how people managed to get the impossibly heavy stone blocks up to the ridge.
Adjacent to the lichen-covered ruins, the 7th-century Archangel Church of Saro is similarly a sight to behold. Sister Teona and her colleagues are among the warmest, friendliest nuns I've met in Georgia. They happily welcome visitors inside the active church to see the collection of ancient icons and a set of standard bearer flags used in the past for battle processions and Easter celebrations alike.
The church is the starting point for the Saro to Nijgori hike , a new 2.2km marked trail that ends in the lower village of Nijgori near the main highway. Before you leave, be sure to visit the gift shop and support the nuns by purchasing a bracelet.
Beyond the church in Saro village, you can find some wonderful examples of Darbazuli Sakhi or 'Hall Houses', traditional Meskhetian dwellings with intricate pyramid ceilings made using special wood joinery. Locals call these 'swallow's ceilings' because birds often make their nests in the corners. The houses are privately owned and a bit tricky to spot, but if you ask around, you might find someone who is willing to let you inside for a look.
How to get to Saro: Saro is an hour's drive from the city of Akhaltsikhe, on the way to Vardzia. A new sealed road makes it very easy to reach the village from the main highway. You can hike to Saro from Nijgori by following the marked trail that starts near the mosque.
Where to stay near Saro: Guest House Tirebi is a family-run agritourism guesthouse 20 minutes' drive from Saro, close to the Vardzia cave complex.
Further reading: Tips for visiting Saro and more adventures in Meskheti region .
45. Shaori Mountain, hike to a megalithic fortress
Standing tall over Lake Paravani at 2,735 metres above sea level, Shaori Mountain is one of two popular peaks in Javakheti (the other being Abuli) where you can hike up to visit a set of megalithic ruins .
Shaori's big and small cyclopean fortresses date back to the Bronze Age and have never been systematically studied. A new trail was recently marked here, starting from the quaint village of Tambovka , a Doukhobor settlement with blue-shuttered and sod-roofed houses.
The 1.2-kilometre (0.75-mile) hike takes around four hours over steep and uneven stoney terrain. It is tough, but traversing some of southern Georgia's most sublime countryside is worth it for the panoramic lake views. A guide is recommended, but experienced hikers can get by using the maps provided on Wikiloc .
Bring a picnic lunch to enjoy in the inner courtyard of the big fortress, a rounded structure made from giant basalt stones with various gates and nooks.
How to get to the trailhead in Tambovka: Tambovka is a 3-hour drive from Akhaltsikhe. The last section of road is unpaved but still manageable with a sedan. If you don't have your own car, Samvel, the owner of Family Corner in Gamdzani, can help to organise transportation.
Where to stay near Shaori Mountain: Since there are no guesthouses in Tambovka, I recommend staying in Ninotsminda ( Guest House Sonya is my top choice) or at Family Corner in Gamdzani .
Further reading: My detailed guide to the Shaori Fortress Hike .
46. Vani Sulfur Pool, open-air hot springs near Kutaisi
Also known as the Dikhashkho Sulfur Geyser, the Vani Sulfur Pool is an unexpected topographical feature that really has to be seen to be believed. Located literally in the middle of a farmer's field near the edge of the Rioni River south of Kutaisi, this is a natural sulfur pool that springs from the earth. Apparently it's been flowing for a century or more!
The strong-smelling sulfuric waters emerge from a pipe and fill two small pools formed by mineral deposits and walled up with cement. The pools are naturally warm – up to 40 degrees Celsius – and just like the sulfur baths in Tbilisi, bathing here is said to be good for your skin and cardiovascular health.
It's the random location that really makes the Vani Sulfur Pool special. It's very easy to find using Google Maps and a worthwhile detour if you happen to be visiting the nearby Archaeological Museum in Vani .
How to get to the Vani Sulfur Pool: The pool and geyser are located near Dikhashkho village, around 15 minutes from Vani or 45 minutes from Kutaisi. The easiest way to travel is by car. It's also possible to go by marshrutka, but you'll need to walk the final 2km to the pools.
Where to stay near Vani: For a vineyard homestay experience near Vani and the sulfur pool, I recommend Zaali's Wine Cellar in Shua Gora.
Further reading: Tips for visiting the Vani Sulfur Pool , including detailed instructions on how to get there.
47. Gomismta & Bakhmaro, rugged mountain peaks in Guria
Another locals' favourite, Guria region's twin mountains, Gomismta and Bakhmaro, have been used by generations of shepherds as summer pasture for their sheep and cattle. Families from Guria built delightful little A-frame cabins on the mountains for their summer homes as well. In recent years, these cabins have proliferated and chalets and cottages have been added, transforming the once-sleepy mountaintops into popular resorts .
Bakhmaro is easier to access as the road up is completely paved. At the top, you'll find picture-perfect wooden Bakhmaro Church. Gomismta is accessible by a slightly treacherous unpaved road and has a more 'rustic' feel as a result (a 4WD is necessary, and the road is only open on weekends). Both are developing rather quickly and can be quite crowded in the warmer months.
The thing that draws people up here in droves is the views. Gomismta in particular is hands down one of the most beautiful places in Georgia . The green hills are always shrouded in a thick blanket of Guria humidity, and you might reach the top only to discover the fog too thick to peer through. When I went, visibility was near zero – but it was still beautiful!
Sunset is the best time to go, when the golden orb sinks into the fog like dusk falling on a sea of cottonballs. If you don't want to drive back down in the dark (a sensible choice), there are plenty of cabins and campgrounds around.
How to get to Gomismta/Bakhmaro: Drive from Ozurgeti (it takes around 2 hours to summit Bakhmaro and 1.5-2 hours to reach the top of Gomismta). If you don't have a car, a driver can be organised through your guesthouse in Ozurgeti.
48. Upper Adjara, underrated alpine villages & wooden mosques
Another of Georgia's less-popular mountainous regions, this time in the Lesser Caucasus, Upper Adjara (Ajara) runs along the country's southern edge and forms the border with Turkey. Adjara was part of the Ottoman Empire for two centuries until 1878 and is today officially an Autonomous Republic within Georgia. People here speak their own dialect and uphold distinct traditions.
The mountainous part of Adjara is a completely different world to Batumi, the region's capital, and the rest of the Black Sea coast. With the exception of the up-and-coming ski resort at Goderdzi , this region sees relatively few tourists. The roads are more perilous and parts of the region are closed-off in winter, so it's wise to visit in the warmer months.
As you make your way along the main arterial from east to west, it's one peaceful mountain town with painted cabins set amongst rolling hills after another. Many families in Adjara follow Sunni Islam traditions, and Upper Adjara is known for its elaborately painted wooden mosques , many of which survived the Soviet period by being transformed into museums.
Keda is the main centre of Upper Adjara and has good infrastructure for visitors. Smaller municipalities, particularly Shuakhevi , are now developing community based tourism and offer authentic homestay experiences.
The quiet village of Khulo is my favourite place in Upper Adjara. This is where you board the single-span cable car to travel to Tago and the wonderful Glamping Tago .
How to get to Upper Adjara: Minivans depart from Batumi for Khulo every 30 minutes throughout the day, stopping at smaller villages along the way. It's also possible to access Khulo from the east (approaching from Akhaltsikhe), although a small section of the road remains unpaved.
Where to stay in Upper Adjara: Khulo is the most convenient base in Upper Adjara, and there are a number of guesthouses to choose from. I recently stayed at Hotel Khulo Inn , a new family accommodation with great rooms and spectacular views. Glamping Tago , a mountain retreat in a small village at the opposite end of the Khulo Cable Car, is one of the best accommodations in the country. Eco House Merisi on the road from Keda (back towards Batumi before Khulo) is a new destination hotel that's become very popular for its amazing mountain views.
49. Machakhela National Park, my favourite national park near Batumi
Located in the river gorge that separates Georgia from Turkey, Machakhela is a unique natural landscape that includes a strip of Ancient Colchic Forest, Europe's oldest primordial forest.
Despite being under an hour by car from Batumi, this is a truly pristine corner of Georgia that's only just starting to open up to tourists. It's recently come under the wing of the national parks service and so features marked hiking trails and a newly launched tourism office – but infrastructure is still a work in progress.
The landscapes are stunning, but what's even more appealing to me is the area's cultural heritage . Traditionally, Machakhela was known for its flint gunsmiths and a couple of families who live in villages within the park continue this tradition in small home workshops (although the guns are now for decorative purposes only!). A pillbox gun left over from the Russian-Ottoman conflict can be seen off the main road.
A small Ethnographic Museum set inside a gorgeous painted mosque documents the area's unique heritage. Stone Tamar bridges arch over the fast-flowing river, which also powers old-fashioned grain mills. There are numerous hills to crest and streams to swim in, making Machakhela a hikers' dream .
There is a collection of family run guesthouses and restaurants inside the park. It's a wonderful place to spend a couple of nights off the grid.
How to get to Machakhela: From Batumi, you can reach the park by car or marshrutka. Minivans only go so far, so it's necessary to walk or hitch a ride to the deeper villages.
Further reading: My experience touring Machakhela by scooter .
50. Shekvetili, my favourite beach in Georgia
If you've come to Georgia seeking sun and surf, you should know that the best beaches aren't in Batumi – not by a long shot. Instead, you'll want to head north to the passage of coastline between Batumi and Poti. Here you'll find smaller beach towns including the fabulously retro Kobuleti , Ureki, and my personal favourite, Shekvetili.
Part of Guria region, Shekvetili is one of the small, laid-back summer resort towns on the upper part of the Black Sea. With clean swimming beaches and cute cottages, it's a great alternative to the big city, especially if you want to skip the glitz and glam and you don't mind something more rustic.
The sand here is a lot finer, making for a more pleasant experience overall. It's not any old sand, either – it's black 'magnetic' sand , which is believed to have special healing properties. Whatever you believe, the gorgeous deeply coloured grains shimmer at sunset, and that's good enough for me.
A pocket of pine forest behind the shoreline makes the climate quite mild – just bring your mozzie spray. Aside from larger resorts such as Paragraph to the north, the town is still quiet and peaceful.
I recommend visiting the nearby Miniature Park , an outdoor museum that displays tiny versions of Georgia's major landmarks (it sounds ridiculous, but it's awesome). In Shekvetili, don't miss eating at At Nelli's , an inconspicuous restaurant that serves delicious home-cooked fare including trout stuffed with walnut.
How to get to Shekvetili: Take a bus or train from Batumi to Natanebi Railway Station, or if you're coming from Guria, take a marshrutka from Ozurgeti.
Where to stay in Shekvetili: GiNa Shekvetili has simple light-filled rooms with small balconies overlooking the beach. It's conveniently located a few footsteps back from the water and close to At Nelli's.
What destinations do you recommend in Georgia? I plan to add more to this guide over the coming weeks and months – I already have my own wish list, but I'd love to hear your suggestions too! Let me know in the comments below.
Georgia essentials
Here are the websites and services I personally use and recommend for Georgia. Check out my full list of travel resources for more tips.
FLIGHTS: Search for affordable flights to Tbilisi, Batumi or Kutaisi on Skyscanner .
TRAVEL INSURANCE: Insure your trip with HeyMondo , my preferred provider for single-trip and annual travel insurance (get 5% off when you book with my link).
SIM CARD: Magti is my preferred provider, with prices starting from 9 GEL/week for unlimited data. See this guide for all the details about buying a Georgian SIM card .
AIRPORT TRANSFERS: Most flights into Georgia arrive in the early hours. For ease, pre-book a private transfer from Tbilisi Airport to your hotel (from $17) or from Kutaisi Airport to Tbilisi (from $90) with my partners at GoTrip.ge.
ACCOMMODATION: Booking.com is the most widely used platform in Georgia. Use it to find family guesthouses, private apartments, hostels and hotels around the country.
CAR HIRE: Find a great deal on a rental car in Georgia – use the Local Rent website to book through a local agent (prices start from $20/day).
DAY TRIPS & CITY TOURS: Use Viator or Get Your Guide to browse a range of day trips and city tours. For off-beat programs, I recommend Friendly.ge (use the promocode wanderlush for 10% off). For in-depth day trips to Georgia's wine regions, I recommend Eat This! Tours (use the promo code wanderlush for 5% off).
PRIVATE TRANSFERS: GoTrip.ge is a terrific service for booking a private professional driver and car for the day. Use it for A-to-B transfers, a customised round-trip itinerary, or a multi-day trip. You can stop wherever you like for as long as you like without the fixed price going up.
NEED SOME HELP?: Need feedback on your itinerary or personalised travel tips? I offer a one-on-one consultation call service for Tbilisi and Georgia. More information and bookings here .
You might also be interested in…
The ultimate Georgia itinerary : Four detailed & custom-designed itineraries
Georgia Travel Guide : All of my 200+ posts plus my top travel tips
Georgia travel tips : 25 essential things to know before you go
Places to visit in Georgia : 50+ unique & underrated destinations around the country
The best things to do in Tbilisi : Favourites, hidden gems & local picks
35+ best restaurants in Tbilisi : Where to eat Georgian food
15 best day trips from Tbilisi : With detailed transport instructions
The best time to visit Georgia : Month-by-month guide to weather, festivals & events
26 Comments
Hi Emily Such comprehensive information thank you – do you know if the road from Mestia to Ushguli is accessible the first week of April? I'm finding conflicting reports as to whether I can actually get to Ushguli by road. Thank you!
Hi Kym, it depends on the weather conditions. The earliest I have been is first week of May. In theory the road is open year-round (people live in Ushguli through the winter) but the road might be closed for short (or longer) periods if there is heavy snow, landslide, etc.
Thank you for keeping this list updated – the info has been useful to me for quite a few trips. However one interesting region sadly missed here is Khevsureti. I'd consider Mutso alone as one of the star sightseeing locations in Georgia especially considering the impressive restoration work that's been done there: it's a great time to visit it now as most of the structures in the village have already been restored but they continue the reinforcement of the watchtower on top of the mountain above the village so you can see both the results of award-winning restoration project and work in progress with all the machinery used (a cable crane system and the rail carts) to bring materials to the top. Plus Mutso (together with Shatili) is a rare remote mountain destination that is easily accessible by a cheap public bus from Tbilisi (well, we paid a bus driver an extra to go past Shatili and get to Anatori and Mutso but that was totally worth it!). Add here a distinctive and interesting local history and culture (one can start with a classic Abuladze's screen version of Vazha Pshavela's poem shot in Shatili – the Plea (1967), visit unique Anatori burial vaults), try local cuisine (I found it tastier than e.g. Svan dishes) – it makes for a great weekend trip from Tbilisi.
Thanks Dmitry! Did you read my note at the top of the article? Khevsureti and Lechkhumi are the two regions I have yet to visit properly, and since I want to keep this list as something that is written from my personal perspective and not just a generic listicle, I have not included them just yet. But – next summer I hope I will get a chance to finally go! Thank you for the excellent tips.
This is SUCH an impressive guide, Emily thank you! Heading to Georgia this weekend.
Awesome, Sydney! Enjoy Georgia! I hope you get to experience a few of these places – drop back and let me know how it all went!
An incredibly valuable travel blog, must be the best that I have ever come across. I plan to go to Georgia and Armenia this year, checking out places of interest, whether to use rail, hire a car, or buses, probably all three I would like to visit Azerbaijan maybe, but they do not like seeing an Armenia stamp in your passport, so entry there, even if the land border via Georgia is open, might be problematical.
Your blog is a great help in planning a trip
Thank you so much for the incredible effort that you have put into it, us travellers are eternally grateful to people like you.
Hi Bernard, thank you! No issue at all, I just entered Azerbaijan twice with 6 Armenian stamps in my passport. Your nationality/passport and who happens to be working at immigration that day do play a role. But there is no rule against this. Have a wonderful trip and thank you again!
Your blog is simply amazing.. each and every minute details you have given. We are planning georgia trip in month end and literally I have planned everything by reading your blogs. I have one question. If we dont want to hike, can we go to gveletti waterfall, juta and trusso valley in sedan car?
Thanks so much Bhumika, that means a lot!
For these locations you can certainly drive to the trail heads in a sedan. The Juta and Truso roads are quite challenging though, so you need a more robust car for those if you want to drive further in. One option is to leave your car in Kazbegi and organise local transport (i.e. a Delica taxi or transfer with Mountain Freaks) instead, if you want to minimise walking time.
I hope this helps!
Thanks for all the information about Georgia.
Great list! Several of these I still need to visit. I would also recommended Khevsureti, Kvemo Kartli (Samshvilde and Dmanisi) and and the megaliths of Javakheti/Tsalka. There isn't a bad region of Georgia!
Javakheti and Kvemo Kartli are great, both are already on the list! Hoping to get to Khevsureti this summer.
Brilliant. This certainly whets my appetite for a return to Georgia.
P.S Have you managed a trip up to the Tbilisi Reservoir yet? Actually, it's probably best left unadvertised. A real hidden gem.
Great Mick! As in Tbilisi Sea? I have been there a few times, need to return in summer to check out this new banya!
What a lovely video! And excellent music choice, thank you!
Hi Emily ! Your blogs are so detailed and narrative so beautiful ! I was browsing about Georgia and I could find everything that I need (and more) in your blogs !
It is inspiring as well as exciting to go through all of the emotions you have put in ! Now I am more thrilled to go ! Thanks a ton !
Thanks so much for your comment and for the kind words! I'm very glad to hear you're planning to visit Georgia!
Hi Emily this is a really inspiring and detailed list of things to do in Georgia! I'm considering traveling there in a couple of weeks but it's hard to know what sort of things are open such as restaurants, bars, museums, vineyards etc…
Since you live there is there any info you can provide about what it's like to travel around due to the pandemic i.e. what are the restrictions? Are things open and accessible? I would really appreciate any help!
Hi Jessie – everything is open on weekdays, restaurants and bars are closed on weekends. Museums and vineyards should be operating now but you should call ahead to the vineyards especially to be sure. There is a 9pm curfew and masks are mandatory indoors and outdoors.
There will be a weeklong public holiday after Orthodox Easter so some businesses may be closed. Possibly we are looking at more restrictions/another lockdown after that if things continue the way they are – but it's difficult to say for sure.
Hello Emily, First of all thanks for loving Georgia and of course thank you for Lailashi's pool review. If you really interested of Lailashi's history and want to know more about Okronishi fountain you may contact me. Also, there is a man who remembers community of Georgians, Jewish, Armenians and Greeks ( https://www.youtube.com/watch?v=HrM3f5tG-vA&t=171s ) and you may meet him and ask all interested questions.
Hello Zviad, thank you so much for sharing this! I would love to learn more about the history of this area, I will be in touch by email.
Really appreciate the link! Thank you again!
Very useful information! Also, i would like to ask if the Secret Pool in Lailashi is from thermal springs or just natural pool with cold water? Would like to visit it 🙂
Thanks for reading! Good question – I should have mentioned that it's very, very cold mountain spring water!
Dear team, lovely description. Unfortunately two important off the beaten track places are missing. Tusheti and Vashlovani Nationalparks. Both gems not yet run over by tourists, rough and unique. I recommend visiting by horse although hiking or by jeep is also possible.
Thank you, Ira! Yes, those are my number 1 and 2 places to hit this spring/summer – I'll be adding them to the list shortly 🙂
Leave a Reply Cancel reply
Your email address will not be published. Required fields are marked *
Subscribe to future posts
Search Please fill out this field.
Manage Your Subscription
Give a Gift Subscription
Sweepstakes
15 Best Places to Visit in Georgia — From Charming Mountain Towns to Sandy Beaches
The best places to visit in Georgia range from bustling college towns to barrier islands with wild horses and unspoiled beaches.
Sean Pavone/Getty Images
While the state of Georgia may be synonymous with peaches and resounding chants of "Go Dawgs," it's also a region filled with history, charming small towns , bustling cities, and an incredible amount of biodiversity. There's a high chance you've found yourself passing through Hartsfield-Jackson Atlanta International Airport — it is the busiest airport in the world , after all — but you'll need to make your way outside of the terminals in order to experience the quaint bookstores of Savannah and the adrenaline-pumping hikes in Tallulah Gorge. During the hot, muggy summer months, nothing beats a dip in Lake Oconee or an oceanfront breeze on Tybee Island .
With so many amazing places within Georgia's nearly 60,000 square miles, it can be hard to narrow down your must-see list — so we did it for you. From the breathtaking Blue Ridge Mountains to the picturesque beaches of the Golden Isles, here are the best places to visit in Georgia.
Starcevic/Getty Images
Famous for its highly walkable Historic Landmark District, Savannah is one of those rare cities that's just as beautiful in person as it is in stylized, perfectly lit pictures. Its cobbled streets, tree-lined squares and parks, and gorgeous 18th and 19th-century buildings make it one of the South's most photogenic cities — not to mention, its culinary scene is one of the best in the region. Be sure to grab an espresso from The Paris Market Cafe , pick up a new novel from E Shaver Booksellers , go on a ghost tour , and tuck into a meal at Chef Mashama Bailey's The Grey .
You don't need to be a die-hard University of Georgia fan to visit Athens, although we wouldn't recommend going during football season if you're rooting for the other team. Outside of sports, the college town has a lively music scene, numerous craft breweries, and a variety of family-friendly activities, including the State Botanical Garden of Georgia and Bear Hollow Zoo .
Lake Oconee
lillisphotography/Getty Images
A boat day is the perfect antidote to Georgia's humid summers, and you'll find plenty of respite from the oppressive heat on Lake Oconee. Halfway between Atlanta and Augusta, the man-made lake offers opportunities for boating, swimming, fishing, and water sports. It's also the backdrop for the luxurious Ritz-Carlton Reynolds, Lake Oconee , which hosts the Lake Oconee Food & Wine Festival every year.
Cumberland Island
Frank Staub/Getty Images
Accessible only by ferry or boat (although public docking is temporarily prohibited), Cumberland Island is one of the most majestic places on the East Coast . Wild horses, historic ruins, long stretches of untouched beaches, marshes, and maritime forests can be found on the 9,800 acres of Congressionally designated wilderness. Its remoteness and sheer beauty were, no doubt, two of the reasons it served as John F. Kennedy, Jr. and Carolyn Bessette Kennedy's wedding locale in 1996.
Pgiam/Getty Images
It'll take more than just one trip to hit all of Atlanta's hot spots, so return visits are recommended if you want to see everything the capital city has to offer. First-timers, however, should make sure to reserve tickets to the Georgia Aquarium (the largest aquarium in the United States), have a meal at Ponce City Market , check out a Braves game at Truist Park, and stop by the Martin Luther King, Jr. National Historical Park , which includes the home where the Civil Rights leader was born, the Historic Ebenezer Baptist Church, and the resting place of both King and his wife, Coretta Scott King.
chadscc/Getty Images
You'll only need to drive about an hour north of Atlanta to make it to Dahlonega, the site of America's first gold rush and the setting of quite a few Christmas movies . The small town lies in the foothills of the Blue Ridge Mountains, and its charm leaks into every aspect of the area — from its art galleries and boutiques to its various wineries and vineyards. Dahlonega is also in the heart of Georgia's wine country, boasting incredible spots like Cavender Creek Vineyards & Winery , Wolf Mountain , and Montaluce Winery & Restaurant .
Each of Georgia's Golden Isles has a distinct personality, and Sea Island is, by far, the grandest of the four. Resort reservations are required to get past the gates (unless you're a Sea Island Club member), but once you do, you'll find complete paradise. The Cloister at Sea Island is probably the most recognizable sight on the 5-mile-long island, but there are also pristine beaches, championship golf courses, a tennis club, and a world-class clay shooting school.
Jekyll Island
rodclementphotography/Getty Images
In the winter months of the Industrial Age, the Rockefellers, Morgans, and Vanderbilts (among other wealthy families) ventured to Jekyll Island . Today, its draw is still strong, thanks to its stunning landscape, culinary feats, and concerted effort to preserve the land. Whether you're staying at the storied Jekyll Island Club Resort or pitching a tent at the Jekyll Island Campground , the Georgia Sea Turtle Center and the otherworldly Driftwood Beach deserve spots on your itinerary.
Ralph Daniel/Explore Georgia
When the mountains are calling, a trip to Blue Ridge, Georgia just might be the answer. Like many mountain towns, Blue Ridge has a thriving arts scene as well as seemingly endless outdoor activities. If you'd prefer to explore the area by train, hop on the Blue Ridge Scenic Railway at the historic depot downtown for an out-and-back adventure along the Toccoa River.
Chattahoochee-Oconee National Forest
Laura Clay-Ballard/Getty Images
Georgia's mountains refuse to be overshadowed by its spectacular beaches, so it's no wonder millions of travelers make their way to the Chattahoochee-Oconee National Forest every year. Encompassing nearly 867,00 acres, the national forest is home to miles of freshwater streams and rivers, waterfalls, numerous campgrounds, and plenty of space to hike and breathe in the fresh mountain air.
Every spring, fans of the "greatest game ever played" descend upon the city of Augusta and, more specifically, the Augusta National Golf Club. Washing down one of the famous pimento cheese sandwiches with an Azalea cocktail is basically a requirement of attending the Masters, but you can also find quintessential Southern cuisine outside of the golf club. Frog Hollow Tavern , Beck's , and Abel Brown Southern Kitchen & Oyster Bar frequently make the "best of" Augusta restaurant lists.
Tybee Island
Melissa Kopka/Getty Images
A 20-minute drive will take you from Savannah to Tybee Island, one of the best beach towns in the South . Here, you'll find miles of bike-friendly beaches, unparalleled sunsets, and Georgia's tallest (and oldest) lighthouse. House rentals are easy to find, but if you're just visiting for the weekend, book a room at the historic, recently renovated 17th Street Inn .
Tallulah Gorge State Park
Tallulah Gorge State Park is rife with heart-pumping activities, including hiking along the two-mile Tallulah Gorge. One of the most popular trails includes a staircase descent to an 80-foot suspension bridge crossing over the Tallulah River. If you're there in the autumn, your views of the powerful river and waterfalls will be accented by the colorful foliage that covers the region.
25 miles of shoreline outline Georgia's Lake Rabun, an isolated body of water surrounded by the Blue Ridge Mountains. While the phrase "stepping back in time" may be clichéd, it's also accurate — especially if you take into account the flotilla of vintage wooden boats that traverse the lake.
Okefenokee National Wildlife Refuge
Annalise Kaylor/Getty Images
Okefenokee National Wildlife Refuge is located in the southeastern corner of Georgia, just north of Florida. The 680-square-mile wilderness can be explored by foot or by boat (guests can rent canoes and kayaks), but no inch of the refuge is the same. No matter which area you choose to visit — the forested cypress swamps or the wet "prairies" — you'll probably see at least one of the 15,000 alligators who call the Okefenokee Swamp home.
By clicking "Accept All Cookies", you agree to the storing of cookies on your device to enhance site navigation, analyze site usage, and assist in our marketing efforts.
10 must-see places when you visit Georgia
The Republic of Georgia – a country as diverse as it is distinct.
Still largely unknown to tourists outside of Eastern Europe, when Georgia finally gets the international attention it deserves, it will be as an outdoor and adventure travel hotspot. From the peaks of the Caucasus mountains to Kakheti's rolling semi-deserts, the stony Black Sea coastline to Imereti's lush inland forests, there's a landscape and a slew of activities that go with it to suit just about every taste.
Add to this a vivid history of kingdoms and conquest, a brutal but imperative Soviet past and a progressive arts and food scene, and there's a serious case to be made for Georgia's towns and cities, too.
It's true: In this traveller's humble opinion, Georgia might just be the perfect all-rounder. To help you experience the best of what the country has to offer, here are 10 essential spots to incorporate into your itinerary.
Discover our Georgia Trips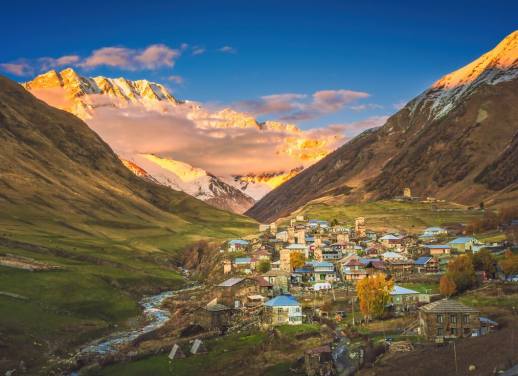 The top 10 places to visit in Georgia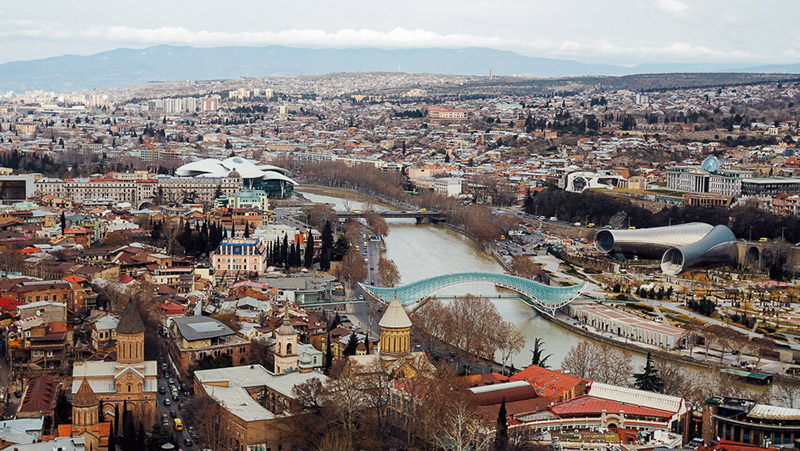 Europe, Asia or the Middle East? Georgia's capital city, Tbilisi, is a hybrid of different influences. You'd be forgiven for feeling a little disorientated.
It may be at a crossroads (both geographically and symbolically), but that doesn't mean Tbilisi is struggling with its identity – far from it. The religion, the culture, the food, the vernacular architecture and the very way of life here is all fundamentally Georgian. If you have no idea what that means, you'll have a wonderful time finding out.
The tumbledown courtyards and elegant balconies of the old town. Abanotubani's Turkish-style domed baths and right next door, Betlemi Street, Tbilisi's Jewish quarter. Soviet-era taverns, underground bakeries, converted factories and world-class restaurants. Provocative street art, and a fashion and electronic music scene that is coming into its own. From Bangkok-style food markets to Parisian-style boulevards, Georgia's biggest city offers up an enticing blend of East and West. Spend at least a few days getting to know Tbilisi, an up-and-coming capital to keep an eye on.
RELATED: 8 MUST-TRY GEORGIAN DISHES TO EAT IN TBILISI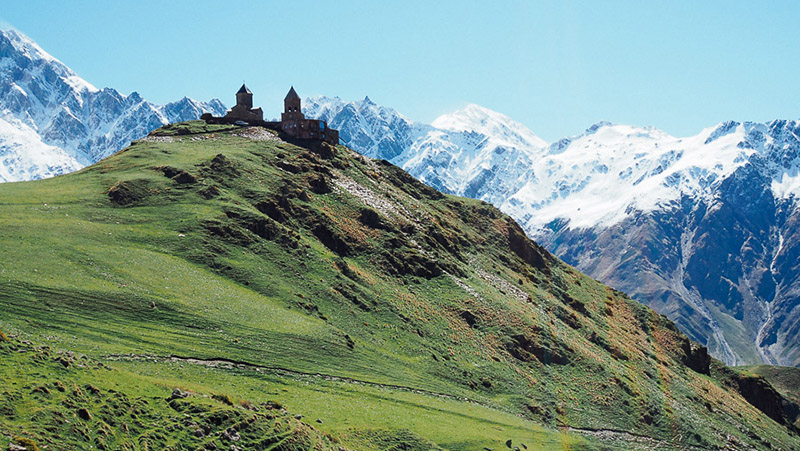 Just three hours north of Tbilisi via the spectacular Georgian Military Highway, Kazbegi (also known by its new name, Stepantsminda) has long been a popular high-altitude retreat. If you're on a tight timeline, it's the perfect place to get a taste for Georgia's dramatic mountain scenery without straying too far from the city.
The small town of Kazbegi is encircled by the surreal, perennially snow-capped Greater Caucasus mountains. Gergeti Trinity Church – perched over Kazbegi at 2,000m above sea level – is a must-see. Outside of winter, you can reach the church on a two-hour climb through alpine meadows. For the more intrepid, there are plenty of single and multi-day hikes that push deeper into the mountains and glaciers along the Russian border.
Back in town, relax at a homestay or treat yourself to a suite at Rooms Kazbegi, a former Soviet spa that has been transformed into Georgia's premier boutique hotel.
In case you didn't know, wine is kind of a big deal in Georgia – one of the first countries in the world to pioneer viniculture. Georgian wine is made by fermenting whole grapes (stems, skins and all) in an underground clay vessel called a qvevri . After a few days in Kakheti, Georgian wine country, you'll be very familiar indeed with this unusual technique and the distinctive vino it yields.
Base yourself in historic Sighnaghi, a charming town protected by high stone walls and watchtowers. Organise a driver and trace your way between dozens of wineries and cellar doors, including favourites Kindzmarauli and Shumi. The impressive Khareba winery consists of a series of long tunnels cut into a mountainside. It was supposed to be a bomb shelter; turns out the natural climate control creates the perfect conditions for storing wine!
Wine and worship go hand in hand in Kakheti. The area is also famous for its churches perched proudly on mountain tops, including Gremi and Nekresi Monastery.
Lagodekhi Protected Areas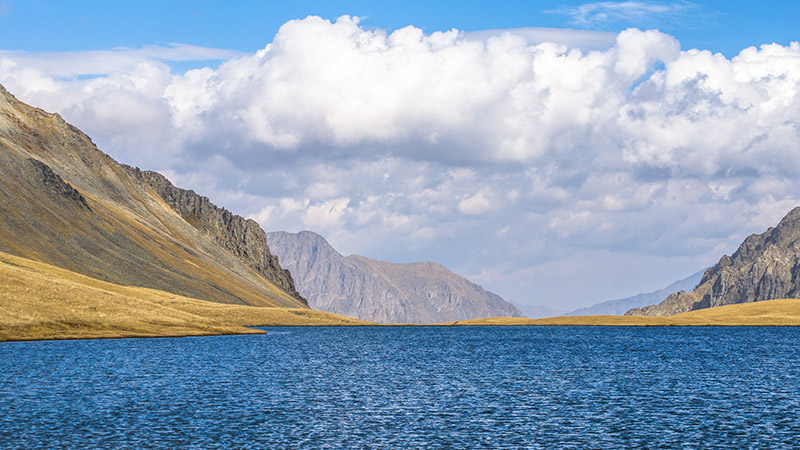 Located at the tripoint of Georgia's Kakheti region, Azerbaijan and Dagestan (Russia), the Lagodekhi Protected Areas cover 24,000-hectares of pristine forest and prime hiking territory.
Georgia's oldest nature reserve includes beech forests and alpine zones and is home to East Caucasian tur and brown bears. Of the four hiking trails (Black Grouse Waterfall, Ninoskhevi Waterfall, Machi Fortress and Black Rock Lake), the latter is the park's main drawcard. The 50km circuit can be completed in three days, sleeping in shelters along the way. The lake itself is shared between Georgia and Russia; you don't need a visa, but you will need to carry your passport in case you're approached by border patrol. All trails are weather dependent so make sure you do your research and check in with the visitor centre in Lagodekhi before setting off.
Georgia's position at the crossroads of Asia and Europe has meant living under the constant threat of invasion. In centuries past, Georgians looked to cloisters and hidden settlements for protection – none of them more impressive than Vardzia, a colossal self-sufficient 'cave village' in the country's south.
Set on the slopes of Erusheti Mountain, Vardzia was constructed in the 12 th century by locals seeking sanctuary from invading Mongols. In its heyday, Vardzia stretched for 500m and was 13 tiers high, boasting more than 6,000 individual grotto apartments, an irrigation system, a church, and a throne room for Queen Tamar, the monarch who decreed this incredible feat of engineering. Most of the complex was destroyed by an earthquake less than a century after it was finished, but much of the stone architecture can still be seen and appreciated today.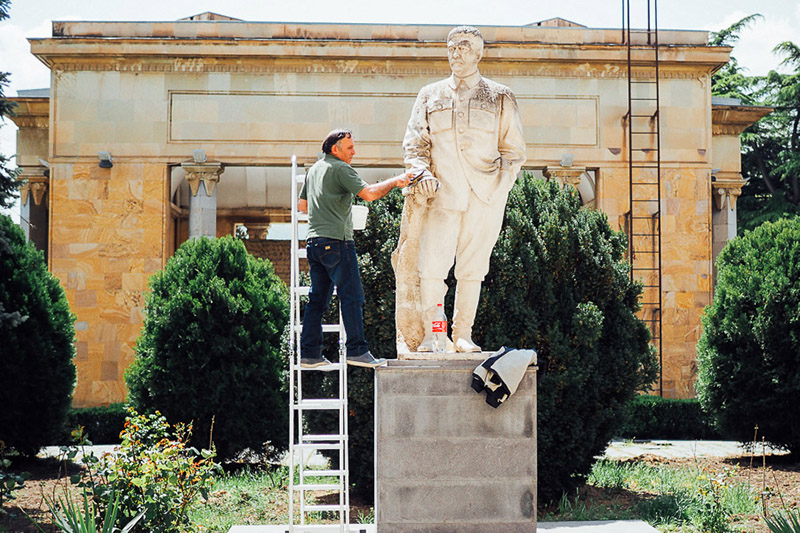 If you're not one to shy away from dark tourism, pay a visit to the hometown of one of Georgia's most notorious exports, Joseph Stalin. The infamous leader of the Soviet Union was born and raised in Gori, less than 100km east of Tbilisi. Unlike just about everywhere else in Georgia, in Gori, the former dictator is not entirely hated.
One of the first things you see after arriving in Gori is a massive Stalin poster advertising the local grocery store. The eponymous main avenue still bears Stalin's name, as does the city park and a number of civic buildings. The zenith of Gori's Stalin subculture is the Joseph Stalin Museum, an institution wholly dedicated to preserving his memory through photographs, documents and memorabilia. On the grounds of the Museum is the wooden house where Stalin was born and the personal armoured train carriage he used later in life. Tour guides do a suspiciously good job of glossing over the gory aspects of Stalin's reign in favour of portraying him as a benevolent leader.
RELATED: 5 NEW UNESCO WORLD HERITAGE SITES WORTH A VISIT
Another blast from Georgia's Soviet past, Chiatura was once a thriving industrial town where 60% of the world's manganese was mined. Now a shadow of its former self, Chiatura is a wonderfully off-beat destination that you won't find listed in your Lonely Planet.
Chiatura is best visited as a day trip from Kutaisi. If travelling by marshrutka (public minibus), ask the driver to stop at Katskhi pillar on the way so you can take a look at this most unusual monastery.
Martvili Canyon
The lush, forested landscapes of Georgia's western Imereti, Adjara and Svaneti regions are a sharp contrast to the country's east. Nowhere is this more apparent than in the waterfalls, caves and canyons around Kutaisi.
Okatse Canyon is famous for its ropewalk that rises 140 meters above the valley floor. The nearby Martvili Canyon is lesser-known but every bit as impressive. Mossy and overgrown, this exquisite landscape of countless shades of green was once revered as a site of Pagan worship, and later used as private baths for the noble Dadiani family. Today you can tour Martvili by foot on the paths and pretty bridges that interlace over the canyon – or better still, jump in a canoe and paddle down the waterway for a closer look at the rock formations and trickling waterfalls.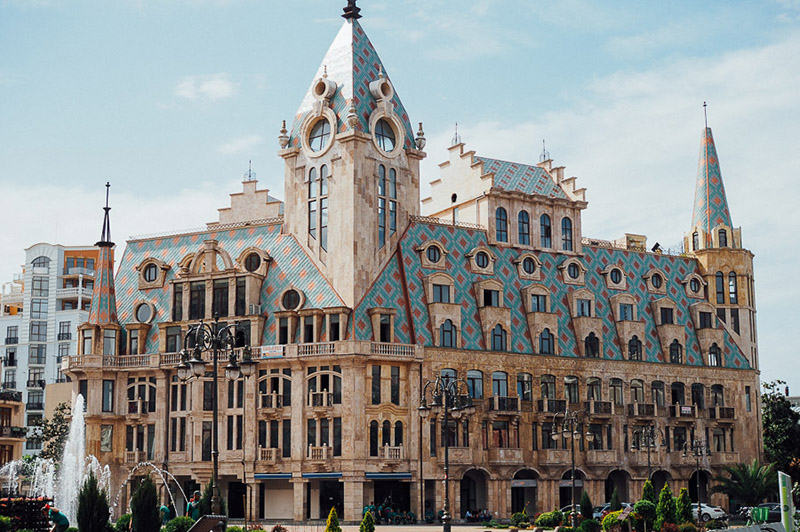 Batumi, Georgia's Black Sea resort town and the capital of the autonomous Adjara region, is commonly thought of as a mecca for gamblers and sun worshippers. Much more ostentatious than other parts of the country, it's not for everyone; but Batumi has its own peculiar charm.
The architecture is imaginative and downright whacky – from Alphabet Tower, an homage to the Georgian mother tongue, to a world-famous McDonalds and the Disneyland-esque Europe Square with its belle époque facades. Batumi is home to the stunning Orta Jame mosque (around 30% of Adjarians are Muslim), a great international restaurant scene, two lively local markets and the world's second-largest botanical garden. One of the best things to do is rent a bicycle and cycle along the promenade. If you're up for a challenge, you can negotiate the 16km water-front ride all the way down to the Turkish border crossing at Sarpi.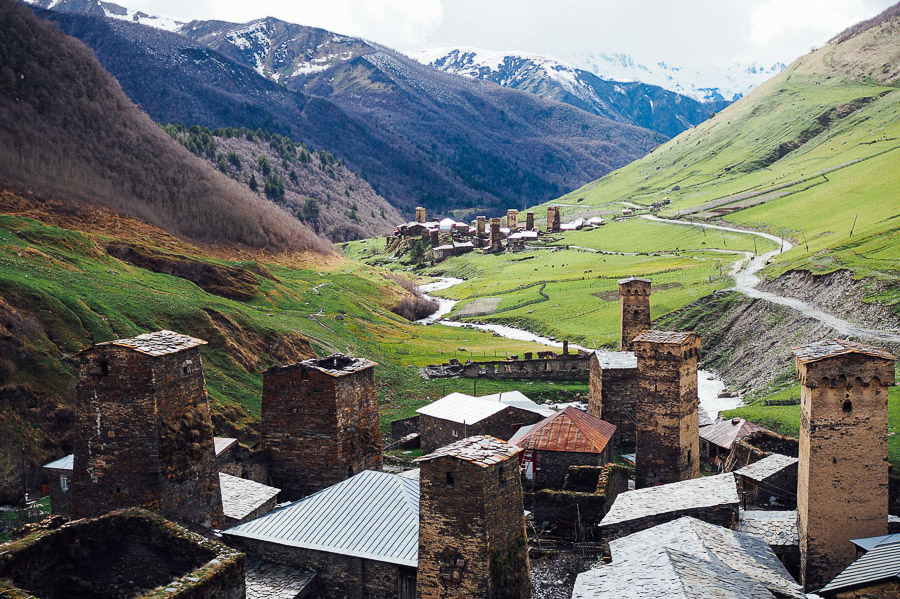 The ancestral home of the Svans – an ethnic group who have dwelled in Georgia's mountains since time immemorial – Svaneti is where you'll encounter some of the country's most breathtaking scenery and unique cultural experiences.
Set in sheltered valleys, Svaneti's remote hamlets are characterised by their stone towers. These aren't fortresses but in fact family homes, a few of which are still occupied today. Mestia, Svaneti's main centre, has great tourist infrastructure and a delightful ethnography museum. From here, you can embark on hikes around the region, including a popular three-to-four-day trek to Ushguli – by some measures, the highest village in Europe. The perilous cliff road that connects Mestia and Ushgul is not for the faint hearted, but when open, makes it possible to visit Ushguli as a day trip.
Ready to eperience Georgia's highlights for yourself? You need an Intrepid small group adventure !
Words and images by Emily Lush , you can follow her travels at @emily_lush
Feature image: Shutterstock
Originally from Brisbane, Australia, Emily left her job as a magazine journalist in 2015 with the dream of travelling and living overseas for as long as possible. In between stints working for NGOs in Thailand, Cambodia and now Vietnam, she likes to travel to unusual and off-beat destinations. Emily has a passion for learning about different cultures through textiles, crafts and handmade objects, and often writes stories on these topics for her own website, wander-lush.org.
You might also like
6 of the best hikes in iceland, everything you need to know about the ocean..., argentina or chile which south american country should..., norway vs sweden: which scandinavian country should you..., arctic vs antarctic cruises: how to choose your..., the 10 antarctica questions you want answered, egypt or jordan which country should you travel..., what not to do at uluru, sweden or finland which country should you travel..., reasons to visit the grampians, thailand or cambodia which south east asian country....
Home » Travel Guides » Georgia (Country) » 15 Best Places to Visit in Georgia
15 Best Places to Visit in Georgia
Unmatched in its mountain scenery, undeterred by its tumultuous past, the nation of Georgia is now seriously on the up, attracting travelers from both Europe and Asia (continents it straddles neatly on the Caucasus Mountains) and touting everything from the snow-tipped peaks of Svaneti to shimmering beaches on the Black Sea. Here, we take a look at the spots every visitor to Georgia should be sure to have on their bucket list. Enjoy.
1. Tusheti National Park
Cascading down the northern edges of the Greater Caucasus Mountains, right on the cusp of Russia and Chechnya, the Tusheti National Park is the historic home of the eponymous Tush peoples. It's also breathtaking in the extreme; big on relief and made up largely of soaring peaks and grass-clad hills.
There are few roads in sight, and the villages that can be found nestled amidst the misty mountaintops are historic, brick-built affairs like Dartlo, which can be seen protruding almost organically from the Georgian lands, encompassed in rural sheep farms (the region is particularly famous for its wool and cheeses) and swathes of spruce forests to boot.
The great up-and-coming capital of this up-and-coming country, Tbilisi is the nerve centre of Georgia's drive towards modernity. It's also a town steeped in history, making it a great place to explore the republic's fine balance of the old and the new. The city sprawls out along the ridges that bubble about the banks of the Mtkvari River.
The district of Old Tbilisi forms its heart; a medley of mysterious Byzantine churches, timber balconies and the occasional piece of striking modern art (check out Sioni Street). Above, draped over the hills, the mighty precipices, cathedral tops and bulwarks of Narikala stand firm, while well-to-do Vake district babbles with public fountains and pretty parks.
While Borjomi may still be best known as the source of its namesake mineral water – a salty, uber-frizzante concoction that was beloved by Georgia's onetime Soviet masters – the city of today has plenty more to offer than just its sulphuric, volcanic springs. For one, the setting is magnificent, with the town plugged neatly between the ridges of the Borjomi Gorge. Then there's the elegant faces of Russian imperial architecture, painted in pretty yellows an ochres and abutting neatly up to the fountains and grassy lawns of the city park.
What's more, the mysterious Green Monastery lurks just on the edge of town, encompassed by primeval forests and oozing with dark tales of monkish massacres from the Middle Ages.
Cut and carved meticulously into the sandy rock faces that rise like phalanxes against the meanders of the Mtkvari River in the deep Georgian south, Vardzia remains without question one of the most dramatic sights to behold in the country. It's estimated that the various tiers of monolith churches, caves and shrines seen here were inhabited from at least the middle of the 12th century, when the dynatstic kings of the Bagrationi are thought to have commissioned the first constructions on the sheer-cut edge of Mount Erusheti.
The real must-see, however, remains the glorious Church of the Dormition; a rock-carved shrine which displays an enthralling montage of murals and iconostasis that fuse Oriental, Byzantine and Romanesque styles alike.
5. Mtskheta
Situated just a short ride out of the capital of Tbilisi, UNESCO-attested Mtskheta clutches the low-lying banks of the Aragvi River confluence. Hailed for its countless Christian sites and importance as one of the nerve centres of the Georgian Orthodox Church, the town draws huge crowds throughout the year.
They come to see the beautiful rises and magnificent frescoes of the great Svetitskhoveli Cathedral, which stands as one of the finest examples of medieval Georgian religious architecture and a revered pilgrimage site for Georgians right across the country, or the Jvari Monastery on the hill, soaring high above Mtskheta – a curious mix of tetraconch architecture, Hellenistic, Byzantine and Georgian styles hidden between its apses.
Shrouded by the snow-mantled peaks of the Greater Caucasus Mountains, deep in the legendary lands of Svaneti, the various hamlets and dabas (small historic towns) of Mestia rarely fail to draw a gasp. They are instantly recognisable thanks to their stone-clad, square-cut Svan towers, which rise majestically from between the groves of chestnut and birch here, oozing with centuries of Georgian history and culture.
Today, this ancient cluster of UNESCO-tagged villages is really on the up, with a new airport bringing new guesthouses and more and more people weaving between the striking architectural pieces of Lekhtagi and Lagami (two of the most attractive small centres). Others come to hit the Chalaadi glacier and hike the trails to massive Mountain Ushba in the distance.
Set more than 2,000 meters above the low valleys that carve their way through the heart of the Greater Caucasus range on the edge of northern Georgia, Gudauri has risen and risen in recent years to establish itself as the country's prime winter sports destination and also a fine alternative to the bustling ski fields of the Alps. Skiers and boarders here enjoy a relatively snow-sure set of pistes that range from 22 kilometers of blue beginner runs to a welcome 10 kilometers of challenging black runs.
What's more, the season runs well into April and new investments mean the lifts are all speedy Doppelmayr ones. The resort is also hailed as one of the world centres for Heliskiing – if that's your sort of thing!
8. Lake Ritsa
First-time travelers to Georgia could be forgiven for thinking that the shimmering waters of Lake Ritsa, set deep in a valley of the Caucasus Mountains and surrounded by verdant dashes of buxus and Nordman firs, had been plucked straight from the Austrian Alps or the Rockies of British Columbia. But no, this picture-perfect alpine retreat between the mountains of Abkhazia (a separatist section of the country that buts up to the Black Sea in the north-west) really is in Georgia.
The lake and the surrounding forests are great for hikers looking to delve into one of the less-trodden natural reaches here, while boating and wild swimming in the icy waters are also favourite pastimes.
The kingpin of the Georgian east makes its home between the sloping foothills of the Tsiv-Gombori. Boasting a history of more than 2,000 years, Telavi was shaped by the Romans, the Kakheti kings, the Georgian monarchs and the Russian tsars alike. That means a unique array of architectural pieces to discover, going from the formidable bulwarks of the Dzveli Galavani, left over from the region's dynastic rulers in the 9th century, to the Batonis Tsikhe, a testimony to the late medieval period that blossomed here.
Other travelers will wonder at the 45-meter high sycamore tree, whose sinewy 900-year-old trunk really is a sight to behold, and the Alaverdi Monastery, sat between the mountains just on the edge of the town.
10. Stepantsminda
The icy tendrils and muscular ridges of Mount Kazbek dominate the horizon around breathtaking Stepantsminda; a town at once remote and wild that can be found nestled deep between the Caucasus ridges in Mtskheta-Mtianeti.
Along the massifs of Kazbek just above the city, it's possible to spy out the glistening caps of the Kuru and Shino glaciers, two of the natural wonders that have helped to catapult Stepantsminda to the forefront of Georgia's ecotourist and adventure travel boom. Expect hiking opportunities aplenty, along with a whole host of other adrenaline-pumping pursuits, from hang-gliding over the tips of the great Holy Trinity Church to rafting and rock climbing.
11. Zugdidi
A fine stepping stone for further explorations in Svaneti, the Samegrelo region, the Georgian Black Sea coast and the autonomous region of Abkhazia, Zugdidi is shrouded by the serrated ridges of the Greater Caucasus just south of where the mountains claim the land.
A relatively new town (at least as Georgia's wealth of ancient and medieval centres goes), this regional capital is home to the elegant facades and enthralling architectural exhibitions of the Dadiani Palace, which rises in beautiful crenulations against the flowing waters of the Chkhoushi River right in the heart of the centre. Others will come to seek a spot of adventure in the Martvili Canyon, or hit the famous hot springs that lurk in the hinterlands close to the city.
12. Ushguli
A string of five villages deep in the heart of the majestically beautiful Svaneti region, Ushguli bears its UNESCO tag with pride. Set between fields of cattle and crooked farmsteads more than 2,000 meters above sea level, the site encompasses towns like Zhibiani and Chazhashi, which pepper the grass plains below the shimmering ice of the Shkhara glacier like ancient relics strewn haphazardly amidst the Georgian highlands.
The spot is also home one fascinating ethnography museum, and is known as the place where Georgia's national treasures were hidden away during times of national conflict and strife.
13. Sighnaghi
Dressed like a Tuscan hilltop town above the verdant reaches of the Alazani valley, Sighnaghi really does live up to its reputation as one of the most beautiful towns in the country. A sea of cascading red-tiled roofs are what mark it out against the Caucasus glaciers on the horizon, while winding streets of cobblestone and painted timber bungalows showcase the traditional 19th-century Georgian style that continues to flourish here.
Be sure to tour the bulwarks of the crumbling town wall and its 23 towers, wonder at the stupa-like spire of the St Giorgi church and discover the revered pilgrimage sites of the Bodbe Convent.
Neon lights and bustling seaside promenades, soaring high-rises and the pulse of modernity are what set Batumi of the Black Sea firmly apart from Georgia's wealth of ancient and medieval towns. But despite its stylish edge, Batumi is actually one of the oldest cities in the country, with roots going back to the age of ancient Greek colonialism.
Relics of that long-gone history still do lurk here, at spots like the Gonio-Apsarosi Fortress and between the rooms of the archaeology museum, though only amidst a shiny, steely new dash of condos and industry that's come with Batumi's place as the Georgian port city elect. Of course, nightlife is big, coalescing in Georgian wine bars and cafes along the beachside Boulevard.
15. Uplistsikhe
Remote and lonely on the hills of Shida Kartli, Uplistsikhe is thought to have once been one of the major political and economic centres of the Kingdom of Kartli, which dominated the heartlands of the Caucasus around the year zero. Today, and visitors who come here can discover an almost organic protrusion of the beige-brown hills Uplistsikhe is settled on; a series of monolith cave dwellings and winding staircases hewn deep into the rock.
Crowning the site is a somewhat anachronistic cathedral complex, which dates from the 10th century (after the Christianisation of Georgia) and commands sweeping views of the eastern plains.
15 Best Places to Visit in Georgia:
Tusheti National Park
Stepantsminda
Uplistsikhe
South Africa
El Salvador
Bosnia and Herzegovina
North Macedonia
Czech Republic
Transnistria
Liechtenstein
North Cyprus
New Zealand
Map with posts
Alternative Guides
Architecture Guides
Cafe Guides
Itineraries
Neighborhood Guides
Travel Tips
Photo Galleries
Photo Locations
Solo female travel
Train Travels
Work with me
Privacy Policy
22 Wonderful and Unique Places to Visit in Georgia
Georgia, the small country in the Southern Caucasus region, is one of the most fascinating places to visit. It's diverse, with delicious food, hospitable people, interesting history and culture, beautiful architecture and breathtaking views – the list of reasons to visit Georgia is really long and these are not even all of them!
I can't count how many times I've been to Georgia but definitely many. It was love at first sight and since my first trip to Georgia, back in 2011, the country has had a special place in my heart. This trip also shaped my travel style, challenged me, and eventually changed me, and still today this was my best travel experience ever.
Since then I've been returning there frequently, visiting Georgia at least once a year. But even if I've already seen some amazing and unique places to visit in Georgia country, my list of Georgia attractions to check out is still long and I know I will be returning there over and over again to discover more of this incredible place (even right now I have two more trips to Georgia booked for future).
Today I finally have put together a guide to the best places to visit in Georgia. You will find there some must-visit places in Georgia as well as some off-the-path destinations. I also asked a fellow blogger and a friend Emily who currently lives in Georgia to add a few places she recommends so this list is more complete.
So, keep on reading to find out all the best places to visit in Georgia and plan your trip to Georgia soon!
Georgia essentials
Planning a trip to Georgia? Here are the services I always use and personally recommend:
Accommodation : I always book a place to stay on Booking.com
Tours: when I decide to go on a tour I either use Viator
To save money on exchange rates I've been using Revolut card for years now. Order your bank card here .
Get insured for your trip to Georgia with SafetyWing
Table of Contents
Best time to travel to Georgia
But before we get to the core of this article you might be wondering what is the best time to visit Georgia.
I've been there in every season and each is beautiful and interesting in a way but my personal favorite is early autumn. The popular places are not that crowded anymore, the weather is still good, usually warm and sunny but the scenery around already changes adding soft colors and light to the world around.
Spring can be nice too when everything turns fresh green (which is especially nice in the mountains).
Summers can be hot and popular places, especially on the Black Sea coast, can be really packed with people. On the other hand, some of the more remote destinations are reachable only in the summer so you might want to consider visiting Georgia then if you would like to go hiking in the wild mountains.
Winter is always tricky everywhere, but it can be a nice time for a city break in Tbilisi – if the weather is not on your side you can use the opportunity to hide in all the cozy cafes and restaurants or warm up in the bathhouses.
Batumi promenade in autumn
Best places to visit in Georgia
Below you can find all the best places to visit in Georgia. As you can see the country really has a lot to offer and you might not be able to pack everything in your Georgia itinerary but at least you will have reasons to return to this fascinating country in the future.
Tbilisi, the capital of Georgia, is one of the most fascinating and intriguing cities you will ever visit. I can't count how many times I've been there by now (my guess is around 20) and it never gets boring, I'm always more than happy to return there and spend a few more days in Tbilisi.
With long and turbulent history (it was founded in the 4th century), it has been under the influence of different cultures for years. Still today you can see this particular mix on the streets of Tbilisi and that's one of the things that make this place so unique.
You can wander around the winding lanes of the Old Tbilisi and peek into the gates and yards to find true wonders there, admire centuries-old churches (the oldest one is Sioni Cathedral from the 6th century), fall in love with the art nouveau architecture, find amazing Soviet remnants like mosaics or enjoy the modern face of the city with quirky buildings, great street art, and cool spots. The list of things to do in Tbilisi is really long and diverse, what you see above is just a small foretaste of what the city has to offer, and you will definitely find something for yourself.
You can also use the city as a base for some amazing day trips from Tbilisi – some of the best places to visit in Georgia are within a short drive from the capital.
Getting to Tbilisi is really easy, there are plenty of international flights serving the local airport, you can also get here overland directly from Yerevan (Armenia) or Baku (Azerbaijan) . This is the perfect starting point for your trip to Georgia.
You can read more about Tbilisi here:
49 Awesome Things to Do in Tbilisi, Georgia
Tbilisi guide – 21 Tbilisi travel tips to make your trip easier
10 Beautiful Day Trips from Tbilisi, Georgia
55 Examples of Amazing Tbilisi Soviet Architecture
How to get from Tbilisi to Yerevan (or Yerevan to Tbilisi) – a complete guide
How not to visit the Chronicle of Georgia in Tbilisi
50 Tbilisi pictures that will make you want to visit Georgia
Find the best accommodation in Tbilisi here .
See the best Tbilisi tours here .
Located north of Tbilisi, right next to the border with Russia , Kazbegi is one of the most iconic places to visit in Georgia. You most likely have seen the photos of the small old church with the dramatic mountains in the background – that's Gergeti Trinity Church in Kazbegi (or Stepansminda as that's the official name of the town).
The church dates back to the 14th century and has a separate bell tower built next to it. Inside you will see beautiful old frescoes as well as the newer addition to the interior. In the difficult times of danger, the precious relics from Mtskheta, the holy place of Georgia, were brought to Gergeti Trinity Church to keep them safe.
Gergeti Trinity Church is a beautiful example of medieval sacral architecture and one of the must-see places in Georgia, but the main reason to visit Kazbegi is the breathtaking panorama over the Caucasus mountains, including the famous Mount Kazbek. This third-highest peak in Georgia is known from mythology – it is believed that Prometheus was chained to this mountain for stealing the fire from gods and giving it to people.
Be sure to include Kazbegi in your Georgia itinerary as this is one of the most remarkable places you can see in Georgia. Not to mention the whole journey there is an unforgettable experience – the Georgian Military Highway going from Tbilisi to the Russian border is probably the most scenic road in Georgia, going through the Caucasus mountains and offering spectacular views along the way.
On the way be sure to stop at the spectacular Russia–Georgia Friendship Monument, a masterpiece of Soviet architecture located in the middle of nowhere and offering breathtaking views of the area.
You can visit Kazbegi as a day trip from Tbilisi but if you have more time I recommend spending a few days there and getting the accommodation offering the panorama of the mountains around – nothing beats waking up to this view!
Besides going up to the Gergeti Trinity Church (you can hike or get a ride there), you can go hiking in the mountains, go up to the Gergeti Glacier at 3,200 meters above sea level (it's not an easy hike though), or visit nearby Truso and Juta Valleys. Kazbegi and its surroundings are a perfect area for an active holiday in Georgia.
Find the accommodation in Kazbegi here .
See the best Kazbegi tours here .
Ananuri, the picturesque fortress from the turn of the 16th and 17th century, is conveniently located on the way from Tbilisi to Kazbegi and is a must stop when traveling between these two places. This is one of the most important historical monuments in Georgia, over centuries numerous battles took place here and in the nearby area.
Inside the fortress, you will find two churches – the older one of the Virgin and the larger one of the Mother of God. Both date back to the 17th century, inside you can see remnants of old frescoes, a beautiful iconostasis, or the graves of some of the Dukes of Aragvi who ruled this area since the 13th century.
Be sure to climb to the tower for the best view of the fortress and the surrounding area, including the artificial Zhinvali Reservoir.
Mtskheta, located just outside Tbilisi, is a perfect day trip destination from the capital.
The place was the capital of the ancient kingdom of Iberia between the 3rd century BC and the 5th century AD. It was then that period Georgia adopted Christianity as a state religion in 334 making it one of the oldest Christian countries in the world.
Today Mtskheta is one of the most important places for Georgians and a popular tourist destination, part of the UNESCO World Heritage List. You don't want to miss it during your trip to Georgia!
The most important attraction of Mtskheta is Jvari Monastery from the 6th century, located high above the city. Not only this is a wonderful example of the early Christian Georgian architecture, but the view from up there is pretty great too, the panorama of the whole town and the confluence of Kura and Aragvi rivers is one of the most popular images of Georgia.
When visiting Mtskheta you should also see Svetitskhoveli Cathedral (built in 1010 on the site where the first church in Georgia was located), Samtavro's Convent (where, according to the legend, St. Nino used to live), or ruins of the Bebris Tsikhe fortress. If you have some time and a car/driver you should go to even more old monasteries around the town.
Find the best Mtskheta tours here .
David Gareja monastery
David Gareja monastery, located right at the border with Azerbaijan, is one of those places that look so much better in real life than in the photos. It took me years until I finally got there, I was partly postponing it as I had thought there are better places to visit in Georgia. Of course, I was wrong, the David Gareja monastery complex is an incredible place!
The monastery was founded in the 6th century by David – one of the thirteen Assyrian monks that arrived in Georgia. Firstly, he just inhabited one of the caves on the mountainside but eventually the first monastery – Lavra – was built. Over the centuries the complex grew bigger and improved and was one of the most important religious and cultural centers in the region.
Due to its location, the place was often a target of numerous invasions and has been uninhabited for years. Now monks are back in the David Gareja monastery but only a few of them live there, looking after the complex.
Until recently it was possible to go up to the top of the mountain and actual border with Azerbaijan or even cross it to see the most important and valuable part of the complex with cave paintings. Unfortunately, the dispute over the border between the two countries left that area not accessible for tourists which is a huge pity since the views from there are simply mindblowing.
But nevertheless, the David Gareja monastery complex is a wonderful place to visit.
Read more about David Gareja in my article "Day trip to David Gareja monastery from Tbilisi".
Find the best David Gareja tours here .
Sighnaghi is one of the smallest and cutest towns in Georgia, known also as the city of artists and lovers. Despite its size, the place is packed with attractions.
The charming old town is surrounded by the city walls from the 18th century, with 6 gates and 23 towers. From the city walls, you can admire a beautiful view of the surrounding area and the Caucasus mountains in the background.
The central part of Sighnaghi can enchant with its old, beautifully renovated houses, many of them hosting art galleries. When wandering around the town you might feel like you are in Italy and not in the Caucasus, the atmosphere of the place is a bit Mediterranean but that makes Sighnaghi unique and worth a visit.
Not far from the city (around half an hour walk) you will find Bodbe Convent – one of the most important pilgrimage sites in Georgia, with the burial place of St.Nino (who brought Christianity to Georgia). Be sure to stop there during your trip to Sighnaghi too.
Find the best accommodation in Sighnaghi here.
Kakheti region
Kakheti, the region located east of Tbilisi, is known for its wine and that's already a good reason to visit this area. If you have one day only you can stop in Sighnaghi and then visit one of the vineyards – this should already give you the feel of this area.
But if you can, stay here longer and enjoy traveling at a slow pace – Kakheti is perfect for relaxing holidays.
You might not know that Georgia is one of the oldest wine-making places in the world, the tradition is a few thousand years old and 70% of the country's wine production comes from Kakheti. Traditionally, the local wine is kept in kvevri – large earthenware vessels in the shape of an egg that is hidden in the ground to keep the temperature steady.
There are many family-owned vineyards in Kakheti that you can visit – there is no better place to learn more about and try Georgian wine.
Besides wine, the region has a few interesting attractions too. The already mentioned David Gareja monastery complex and Sighnaghi are the most popular ones, but you should also visit Alaverdi Monastery from the 11th century, Gremi monastery from the 16th century, or Nekresi archeological complex with the 6th-century monastery.
Uplistsikhe
Uplistsikhe is an impressive ancient cave town located not too far from Tbilisi, with the oldest buildings dating back to the 5th century BC. This is an exceptional example of the influence of rock-cut cultures from Anatolia and Iran where the pagan and Christian buildings stood next to each other. Uplistsikhe is also one of the oldest settlements in Georgia, functioning until the Late Middle Ages.
Once Mtskheta and Tbilisi became the centers of Christianity in Georgia, Uplistsikhe lost its importance and eventually was left abandoned. The further destruction came with the 1920 earthquake but what we can see now is still an impressive site.
The complex is divided into three parts – lower, central, and upper, with the old tunnel connecting them. You will find most of the houses and attractions, including the 9th-century basilica, in the central part of the town.
From the Uplistsikhe site, you can also admire the beautiful vista of the surrounding landscape with the Kura river flowing through the area.
Find the best Uplistsikhe tours here .
Gori, located only 15 km away from Uplistsikhe (so you can combine visiting these two places together), is a rather average Georgian city but it is well-known for its one important citizen – Joseph Stalin.
The evil Soviet dictator was born in Gori in 1878 and today you can visit the museum dedicated to him where, besides numerous memorabilia, you might see his personal train carriage or the house where he was born. If you are nearby it's definitely worth stopping here, this is a bit weird yet interesting attraction.
And while you are already in the city you can also go to the Gori fortress for the great views of the surrounding area.
Borjomi is a well-known spa town, famous all over the world thanks to its popular mineral water that you can easily buy outside of Georgia too. But this is not the only reason to visit the place.
Borjomi is such a nice town, perfect for walking around and relaxing – it offers everything you need in the spa town. There are a few interesting landmarks in the town too, such as Romanov Palace, Blue Palace "Firuza" or Central Park. Don't leave Borjomi without tasting the local mineral water as it's much stronger than the one you can buy.
Another reason to visit Borjomi is the nearby Borjomi Kharagauli National Park with its beautiful mountainous landscape.
You might also want to take the local narrow-gauge train "Kukushka" to the nearby ski resort Bakuriani. The journey takes 2,5 hours and the railway line climbs from 820 meters above sea level to the elevation of 1700 meters above sea level. This is such a scenic ride, with a beautiful landscape of gorges and forests along the way.
Find the accommodation in Borjomi here .
See the best Borjomi tours here .
Vardzia is the third and probably most incredible caves complex you can find in Georgia, located in the southern part of the country near the border with Armenia. It was founded at the end of the 12th century and not long after, during the Mongol invasions in the Middle Ages, up to 60 thousand people could find shelter in the caves of Vardzia.
There used to be around 3000 chambers located on 13 levels and the whole town was very innovative for its period. The place is really huge and impressive – the caves are cut in a steep Erusheti Mountain and the remnants of the town stretches for around half a kilometer and has up to nineteen tiers.
Today visitors can see around 300 chambers as well as the Church of the Dormition with the 12th-century mural paintings. You need at least 2-3 hours for visiting Vardzia but you can as well spend the whole day there and you still won't be bored.
Be sure to wear comfortable clothes and shoes as some of the passages might be steep and narrow.
Find the best Vardzia tours here .
Chiatura is one of the craziest places to visit in Georgia and those of you who like unconventional destinations will appreciate it for sure.
The town is known for its cable cars (there are 17 of them but not all of them are working) and that's the main reason to visit Chiatura. Because of the town's location deep in the valley, cable cars were the core of the public transport system, transporting inhabitants between the upper and lower parts of Chiatura.
They started operating in 1954 and many of them have not been renovated ever since hence riding them is not for the faint of heart, but that's part of the fun. And it's definitely worth taking the cable cars as the views from the upper parts of Chaitura are amazing.
Currently, some of the cable cars are undergoing well-needed maintenance so in the future taking them should be a bit safer.
Since Chiatura is a fairly new town (at least by the Georgian standards) you will not find there many attractions. There is fine Soviet architecture (some of the buildings are abandoned and decayed though) and some remnants of the past times (like the mosaic with Lenin and Stalin) but that's about it.
When visiting Chiatura be sure to stop at the Katskhi pillar – an impressive, 40-meters tall limestone monolith with a small church and the hermitage on top.
Read more about Chiatura in my article about the town "Chiatura, Georgia – the craziest place I've been to!".
Find the best Chiatura tours here.
Kutaisi , the second-largest city in Georgia, is often overlooked by tourists who land at the local airport and head to other destinations in Georgia right away. But the city also has a lot to offer and is worth stopping in for a few days (especially if you also want to visit some great nearby places).
Kutaisi was first mentioned in the 6th-3rd century BC when it was the capital of the Colchis, the territory that is believed to lay the foundation for the Georgian state (together with the Kingdom of Iberia). What you can see today in the city is much more modern but there are a few references to the great history of Kutaisi, such as the beautiful Colchis Fountain standing in the middle of the main square.
The biggest attraction of Kutaisi is the Bagrati Cathedral from the 11th century – until 2017 it was inscribed on the UNESCO World Heritage List but due to too modern renovation it was removed from the list. Still, the cathedral is a wonderful example of Georgian sacral architecture, and from in front of it, you can admire the best view of Kutaisi and beyond.
The town itself is a very pleasant and laid-back place with some beautiful art-nouveau buildings and nice green spaces, such as the botanical garden.
Read more about Kutaisi in these articles:
Is it worth to visit Kutaisi? Best things to do in Kutaisi, Georgia
10 Amazing Places You Can Visit As Day Trips From Kutaisi, Georgia
Find the accommodation in Kutaisi here .
See the best Kutaisi tours here .
Tskaltubo , a popular former spa town, is located only a few kilometers away from Kutaisi and is easily reachable by public transport.
The healing waters were discovered here already in the 13th century but the peak of popularity took place after World War 2 when numerous sanatoriums and bathhouses were built here. Tskaltubo used to welcome over 100.000 people each year, including famous people like Stalin (he had his own cottage in the town and private rooms in the bathhouse).
After the collapse of the Soviet Union and the civil war in Georgia in the 1990s, Tskaltubo fell into disrepair. Most of the sanatoriums are abandoned or inhabited by IDPs from Abkhazia (therefore visit the place with respect and don't disturb residents), the bathhouses are often in ruin too.
Only a few hotels and a bathhouse still work today so if you are looking for affordable treatment you should consider visiting Tskaltubo.
The town is a real treat for all the urbex fans who enjoy exploring abandoned places – many of the hotels are easy to enter and inside you can find some real gems of the grand architecture from the Soviet times.
Near Tskaltubo you should also visit Prometheus Cave, discovered in 1983. The cave is around 11 kilometers but the tourist route has just a bit over 1 kilometer and goes through six of 22 halls, illuminated in bright colors. At the end of the tour, you might also go for a boat ride inside the cave.
Read more about Tskaltubo in my article about the town "Visit Tskaltubo, Georgia – an abandoned playground".
Find the accommodation in Tskaltubo here.
Gelati and Motsameta monasteries
When you are in Kutaisi be sure to visit two nearby monasteries – Gelati and Motsameta.
Gelati Monastery was founded in 1106 by King David the Builder (one of the greatest rulers in Georgian history) and is a real masterpiece of the architecture from the so-called Georgian Golden Age (the period from the late 11th to the 13th century). In the past Gelati Monastery used to be the main cultural and intellectual center of the country.
Today there are two churches that you can visit – both equally stunning, with amazing 12th-17th century frescoes. I bet you will be standing in awe, admiring their beauty. In 1994 Gelati Monastery was included in the UNESCO World Heritage List for its outstanding universal value.
The second monastery, Motsameta, is less spectacular but also worth visiting (especially since it's on the way between Kutaisi and Gelati). It dates back to the 11th century and is beautifully located on the edge of the cliff above the deep valley of the Ckalcitela ("Red Water") river.
The name of the monastery means "Place of the Martyrs" and is a way to honor two brothers from the noble Argveti family who were fighting against the Arab occupation in the 8th century. The legend says there is a secret passage connecting both monasteries, Gelati and Motsameta.
Canyons near Kutaisi
Another two great places you can find near Kutaisi are great canyons – Okatse and Martvili. Both are beautiful and worth visiting although both are different from each other.
In Okatse you will walk on the path attached to the rocks – at times it feels like you are walking in the air so if you have a fear of space and height this place might be a bit challenging for you. But it is also so much fun!
The views around are spectacular, you can admire Okatse Canyon in its full glory. At the end of the path, there is an air bridge which gives you an even better panorama of the canyon and the surrounding area. In the deepest point, Okatse Canyon reaches around 100 meters so you will feel really tiny in the comparison with the mighty nature around.
On the contrary, in Martvili Canyon you will admire its beauty mostly from the ground level. The highlight of the place is the short boat ride (not the most comfortable one but definitely worth taking) – you will through a steep canyon, surrounded by rocks and with green, crystal-clear water around. It's pure magic!
Batumi is the most popular seaside destination in Georgia, located on the Black Sea shore and attracting thousands of visitors in the summer. And it's great then, the city is vibrant and bustling with energy, although it can also get a bit crowded.
Batumi offseason is a completely different story and that's when you can fully enjoy the place. Wander around the charming Old Town and find some interesting gems there, such as the beautiful art-nouveau architecture, admire the modern architecture of Batumi, enjoy the surprisingly good local street-art scene, take the cable car to the nearby Anuria Mountain for the best views of Batumi or visit the amazing botanical garden with some exotic plants.
And of course, enjoy the seaside – relax at the beach or walk along the pleasant, few-kilometers long promenade. The list of things to do in Batumi is really long and the city is definitely more than just the seaside resort.
And once you see all the attractions, feast on the local food. The regional version of khachapuri (the delicious Georgian pastry with cheese) is different than anywhere else since it includes the egg yolk that you need to mix with the butter and the pastry itself. You can't leave Batumi without trying it!
Read more about Batumi in my articles:
20 Cool Things to do in Batumi, Georgia
Reasons to visit Batumi, Georgia – more than the Black Sea resort
Find the accommodation in Batumi here.
See the best Batumi tours here.
Mtirala National Park
Not far from Batumi you will find Mtirala National Park – one of the most underrated places to visit in Georgia.
This area is simply beautiful, with pristine mountains, lush forests, wild rivers, hidden waterfalls, and stone bridges built centuries ago. Even if it is such a short ride from Batumi, it feels like a completely different world where mass tourism hasn't got yet (although some of the places can be busy with local Georgian tourists).
If you have an extra day (or better a few) during your stay in Batumi, be sure to visit Mtirala National Park. It is such a perfect getaway from the bustling city and the remote places and beautiful views will surely leave you impressed.
Svaneti region in the north-west part of Georgia is another popular area in the Great Caucasus mountains that offers breathtaking views (I dare to say they are even better than in Kazbegi). For years it was a bit difficult to get to Svaneti but finally, a few years ago the main road was renovated making the region accessible to tourists.
The area attracts visitors with its interesting history and culture (due to being a remote location Svaneti kept its original language and traditions), a unique landscape with numerous centuries-old defensive stone towers strewn around, and of course Caucasus mountains.
The main city and a base to explore Svaneti is Mestia where you can easily get by marshrutka from Zugdidi or fly directly from Tbilisi. From there you can get to Ushguli, known as the highest continuously inhabited settlements in Europe ( Khinalug in Azerbaijan claims to hold this title too) where you will be really close to the highest peak of Georgia – Shkhara (5,193 meters above sea level) and its glacier.
Thanks to the architectural monuments of the region, especially its watchtowers, Upper Svaneti was included in the UNESCO World Heritage List.
Find the accommodation in Mestia here.
Recommended by Emily
The biggest city in Western Georgia's Samegrelo-Zemo Svaneti region, Zugdidi is a popular departure point for Mestia and the mountains of Upper Svaneti. If you're arriving by overnight train from Tbilisi, you might be tempted to jump straight in a van – but it's well worth spending a couple of nights in Zugdidi along the way.
Zugdidi was the historical capital of Samegrelo, an independent principality until 1867. The legacy of the royal family, the Dadianis, lives on in Zugdidi's major landmarks – including the Dadiani Palace, a striking castle in the center of the city that's unlike anything else you'll see in Georgia.
After renovations in 2015, the palace was turned into a museum and now houses a small collection of artifacts related to the Dadianis, most notably a Napoleon bronze death mask, one of only a handful in existence (the story of how it came to be in Zugdidi is quite interesting!).
Other things to do in Zugdidi include walking through the gorgeous Botanical Garden that backs onto the palace, eating Megrelian cuisine at restaurant Diaroni (don't miss the beef and walnut Kharcho or the cheesy cornmeal Elarji), and browsing the lively undercover bazaar. Zugdidi is quite small and easy to get around on foot.
Rukhi Castle, another relic of the Dadiani dynasty set in the hills just beyond the city, is worth visiting as a short side trip. Here, you can climb the crumbling walls to get a good view of Abkhazia to the west.
Tusheti and Khevsureti
Tusheti and Khevsureti, two remote mountainous regions in north Georgia, at the border with Russia, are a bit challenging to get to but that's also what makes them even more interesting.
This is a real off-the-path Georgia where you can experience the traditional way of living, old customs, and beliefs. In the landscape of these regions, you will also see numerous defending towers and bastions, however, those are a bit different than the towers of Svaneti.
Both Tusheti and Khevsureti are perfect for trekking in the mountains and nature lovers will definitely enjoy this area. The most recommended trail leads from Omalo (the capital of Tusheti) to Shatili village in Khevsureti (it's a multiday hike for advanced hikers).
There is no public transport to Tusheti so your best option is hiring a driver that would take you there. The road to Omalo was once called by National Geographic one of the most dangerous and most picturesque roads in the world so the journey itself will be an unforgettable experience and a good reason to visit this remote part of Georgia.
Pankisi Valley
Located in Kakheti just north of Telavi, sandwiched between wine country and the mountains of Tusheti, Pankisi Valley is a totally unique place to visit in Georgia . Here, members of the Kist community – an ethnic group whose ancestors migrated to Georgia more than 200 years ago – live in a collection of small villages strewn across the gorge.
Unfortunately, Pankisi has suffered in the past from negative stereotypes perpetuated by the media. The community has been working hard to turn this around by welcoming tourists to the valley, and now perceptions about Pankisi are changing. The landscapes here are truly magnificent and the hospitality top-notch – it remains a bit of a hidden gem, but Pankisi gets more and more popular every year.
You can find a number of homestays in the area, including Nazy's Guest House in Jokolo, one of the oldest and most-loved. Here is your chance to try Chechen home-cooking, visit mosques and old fortified towers, and go horse trekking in the hills with a local Kist guide. Marked hiking trails can also be found, and there is a small ethnography museum where you can learn about Kist heritage.
To get to Pankisi, you can either take a direct marshrutka from Tbilisi or transfer in Telavi or Akhmeta. The journey takes around 3 hours. If you prefer to travel by car, Nazy can organize a shared or private taxi.
Final thoughts on visiting Georgia
As you can see, Georgia is full of attractions for each taste. I don't think I know anyone who didn't enjoy visiting Georgia and I'm sure you will find this fascinating country a top choice for your holidays too. You can find everything there. It doesn't matter if you are looking for a city break, culinary tour, active holidays, or relaxing at the beach, if you are interested in history, culture, nature or architecture – Georgia has it all.
Now that you know what are the best places to visit in Georgia it's time you book the tickets and plan your trip there.
And if you still have questions about visiting Georgia be sure to join my Facebook group about traveling in Eastern Europe and the former USSR and ask there – this friendly community of fellow travelers seems to know everything! You can join the group here.
Travel Resources
Revolut bank card is the best way to save money when traveling. It's a pre-paid service that offers very good exchange rates and no fees for ATM's use. Click here to learn more and order your Revolut card.
You can find the best accommodation options at Booking . They have many discounts and excellent customer service. Click here to look for the place to stay in Georgia
Never travel without travel insurance , you never know what might happen and better safe than sorry. You can check the insurance policy for Georgia here.
I recommend joining organized tours to get to know the place better and to visit more places during your trip. You can find a great selection of tours at Get Your Guide – click here .
For the end I left a few announcements that might interest you:
Sign up to my newsletter or follow me on Bloglovin to get updates about the new posts
Join my Facebook group about Eastern Europe, the Balkans and former USSR and connect with fellow travellers and enthusiasts of these regions – just click here!
I've included a few handy links of services and products I personally like and use so you can plan your own trip to Georgia too. They are often affiliate links. This means I will get a small commission if you book/purchase anything through my links, at no extra costs for you. Thank you!
LIKED IT? PIN THIS POST FOR LATER!
If you enjoyed that post why don't you share it with your friends? That would mean so much to me! Also be sure to join 30.000+ fellow travelers and follow me on Facebook , Twitter , or Instagram for travel updates and even more pictures! If you don't want to miss new posts sign up to my newsletter or follow on Bloglovin !

Can't wait to begin planning our trip to Georgia—with Kami's great help!
I'm sure you will love it there, Georgia is amazing!
Hello Kami, I am enjoying your excellent and very useful posts. Thank you so much! May I ask when you visited the Gelati monastery? I am planning to go this summer, but heard that it is under the renovation since a few years. In your photo it seems that the renovation is still going on, but do you think if it would still be worthy visiting?
Thank you! I was there before the pandemic. Best would be to contact my friend Emily from the blog https://wander-lush.org/ as she lived in Kutaisi and should have more up to date information about the renovation in Gelati
Leave a Reply Cancel Reply
Sign me up for the newsletter!
Let's become friends!
Join me on Facebook for even more travel updates!
Kami and the rest of the world
Get the Best Travel Deals by Experts
Our CRM team analysis your requirements and assign to destination expert. Assignment happen as soon as possible on best effort basis.
CRM team sends first response to you which includes advisors contact details and response time etc.
Sales advisor gives quotation to you with in 4 hrs for FIT (1-10 people) 24 hrs for group (more then 10 people)
Note: We work from mon - fri 9:30 AM to 6:30 PM
15 Best Cities in Georgia to Visit
Georgia is a land of stunning landscapes, welcoming culture, incredible mountain ranges, vibrant city life, delicious food & wines, and warm hospitality. This country offers a fascinating blend of natural, historical, and cultural wonders. From Georgia cities to tourist attractions, you can unwind a whole new world in front of you. Every Georgian town tells a different story, a story of the past, a story of survival, and a story of revival. Whether you are a history enthusiast, a nature lover, a food aficionado, or an art connoisseur, the cities in Georgia offer everything you need. Look at the list of Georgia cities that you can visit for a fulfilling experience. Best Cities in Georgia to Live in and Visit From bustling streets to swarming beaches to vibrant markets to delightful cuisine to majestic mountains, cities in Georgia brim with lively vibes. Here's a list of those cities that welcomes you with open heart and warm hospitality. 1. Tbilisi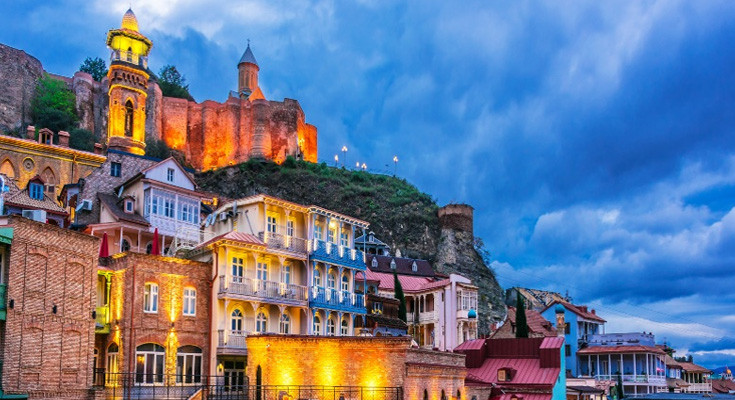 Georgia Cities
Best Cities in Georgia
Best Cities to Live in Georgia
Best Places to Visit in Georgia
Recent Blogs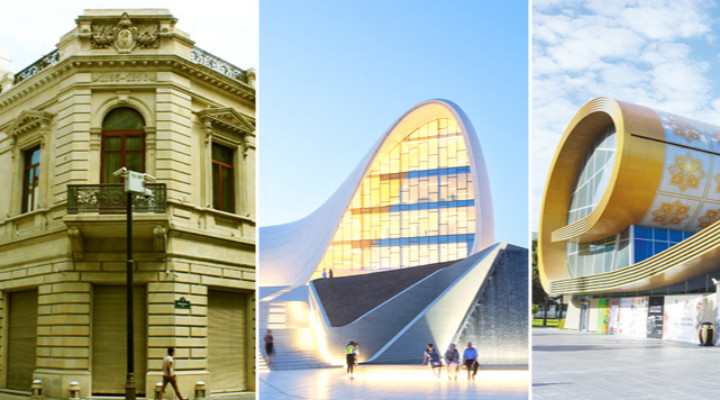 Top 10 Iconic Museums in Azerbaijan that Depict the Art & History
Oct 27, 2023 - by Dook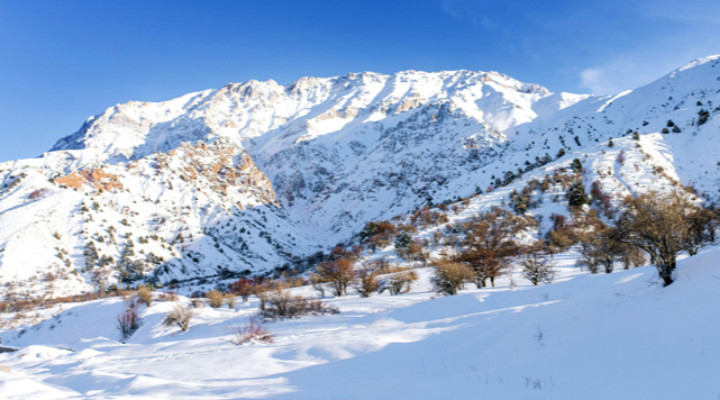 Winter in Uzbekistan: A Surreal Getaway to Winter Wonderland
Oct 26, 2023 - by Dook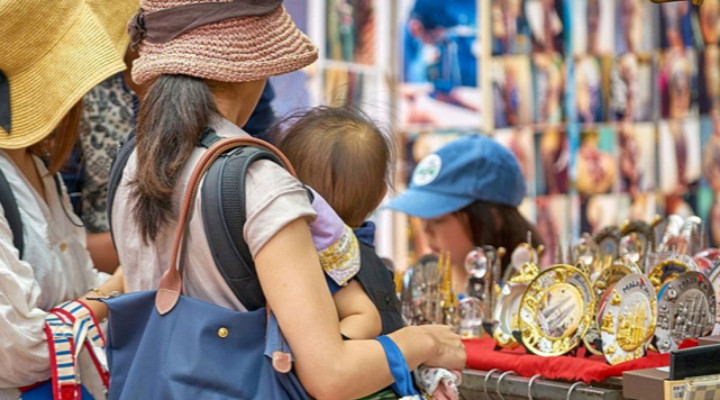 Shopping in Uzbekistan: A Heartfelt Experience for Travelers
Oct 18, 2023 - by Dook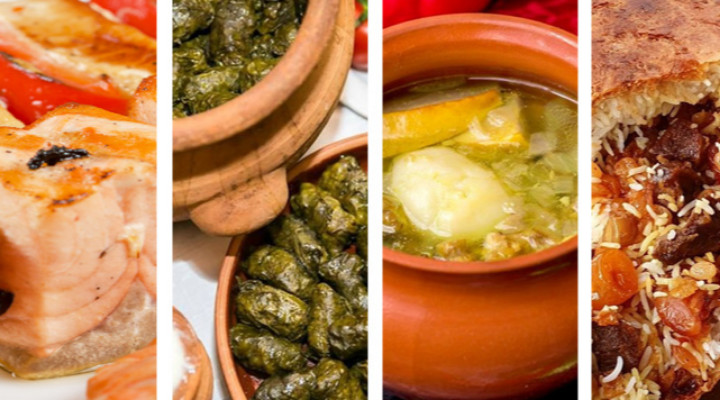 Azerbaijan Food: Taste 10 Most Flavorful Cuisines
Oct 17, 2023 - by Dook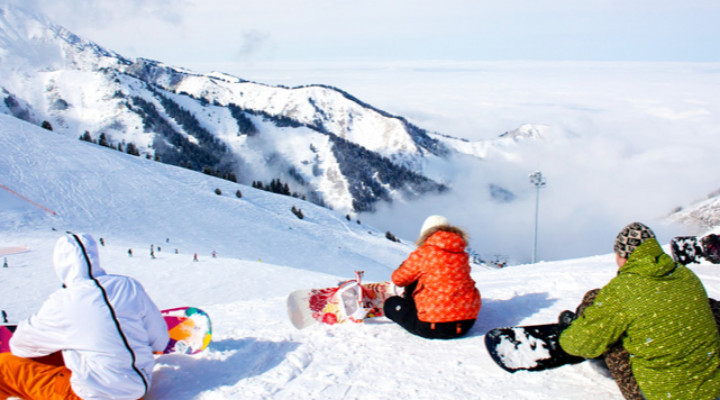 Winter in Kazakhstan: A Snow-filled Holiday Experience
Oct 13, 2023 - by Dook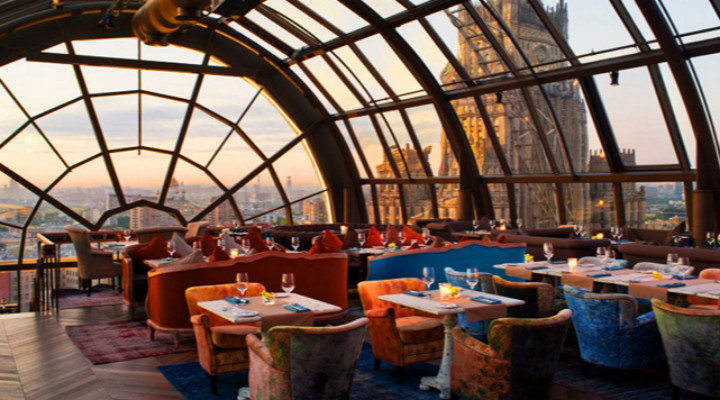 10 Best Cafes in Moscow that Are Perfect for Hangout
Oct 11, 2023 - by Dook
10 Best Shopping Destinations in Almaty for a Shopaholic Heart
Oct 10, 2023 - by Dook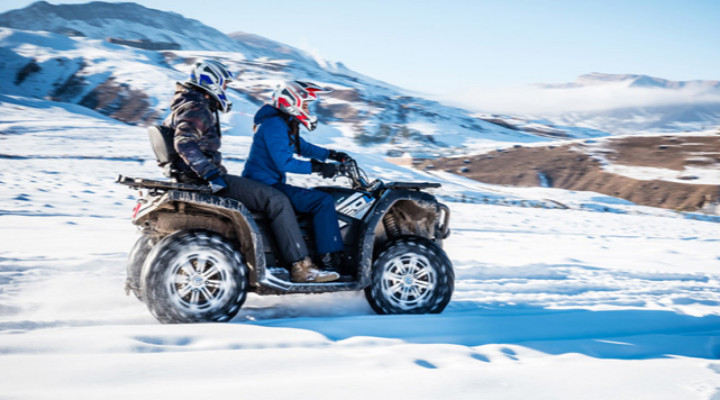 Experience the Magic of Winter in Azerbaijan
Oct 09, 2023 - by Dook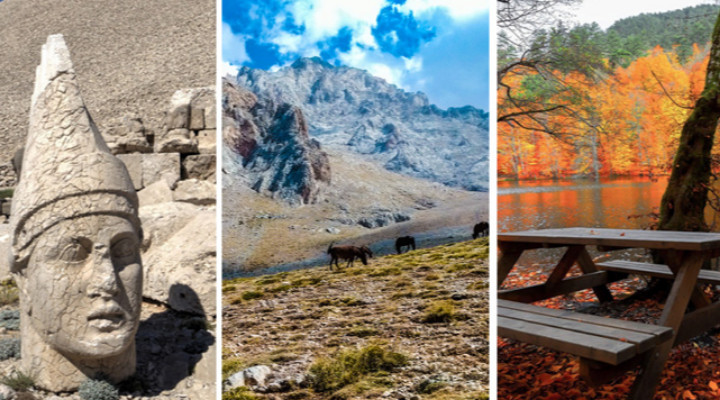 10 Best National Parks in Turkey for a Tranquil Escape
Oct 05, 2023 - by Dook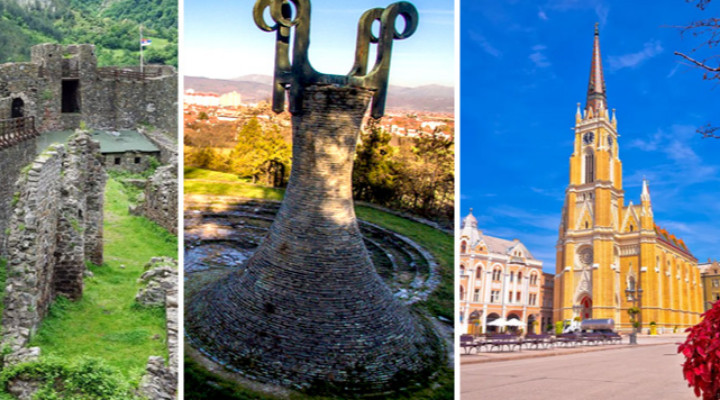 Top 15 Stunning Cities in Serbia to Visit
Oct 03, 2023 - by Dook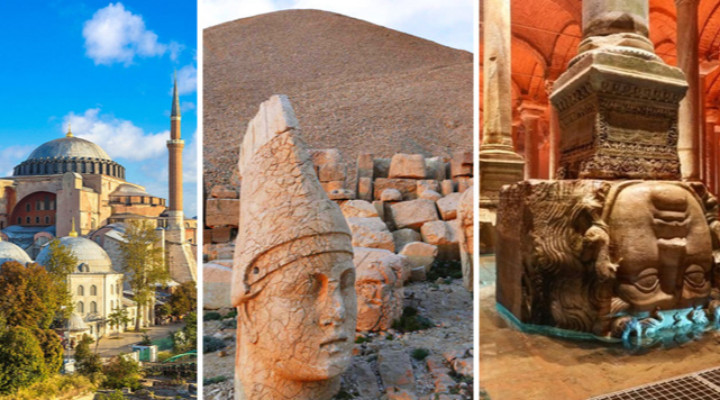 Top 10 Timeless Historical Places in Turkey
Sep 28, 2023 - by Dook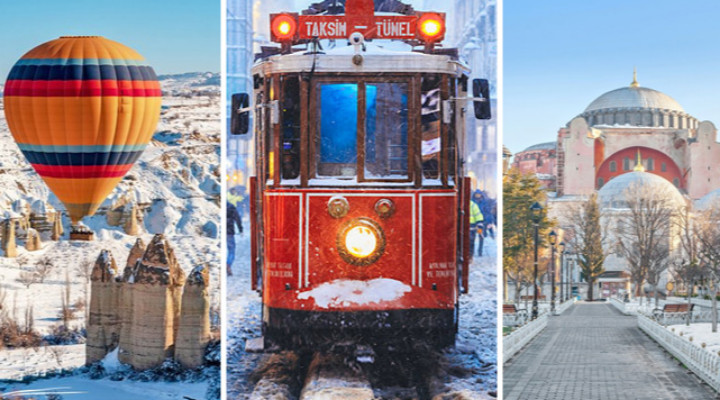 Turkey in Winter: A Heaven-Like Experience
Sep 26, 2023 - by Dook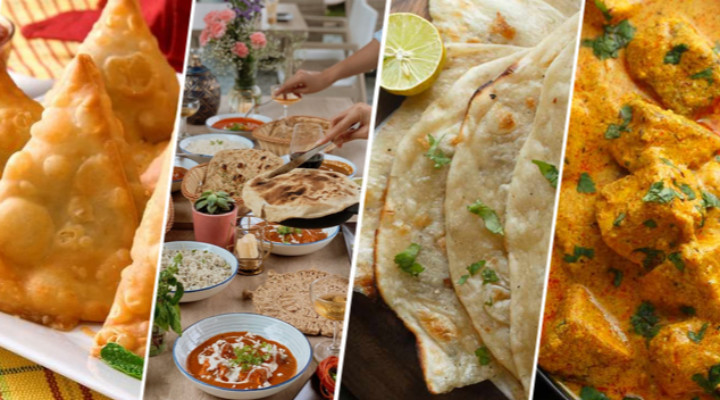 10 Best Restaurants in Almaty & Kazakhstan
Sep 25, 2023 - by Dook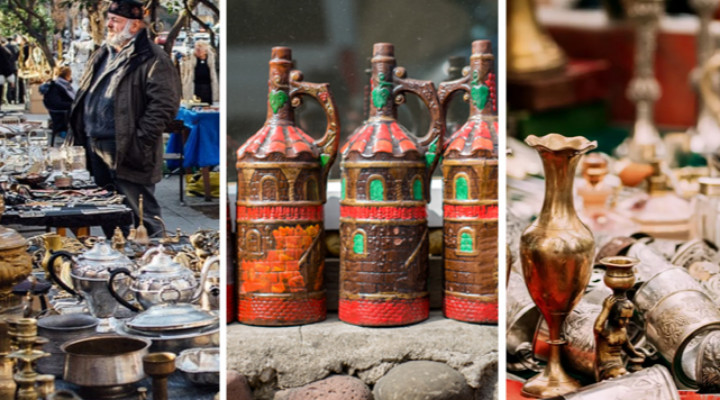 Shopping in Georgia Tbilisi - 10 Best Shopping Centres & Malls
Sep 22, 2023 - by Dook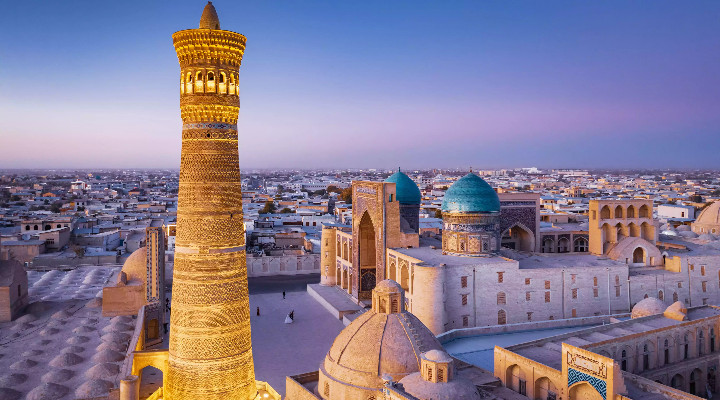 15 Interesting Facts About Uzbekistan
Sep 19, 2023 - by Dook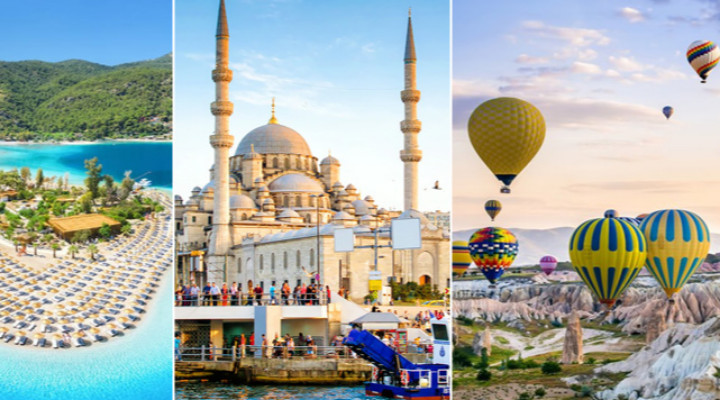 Top 21 Most Visited Cities in Turkey
Sep 18, 2023 - by Dook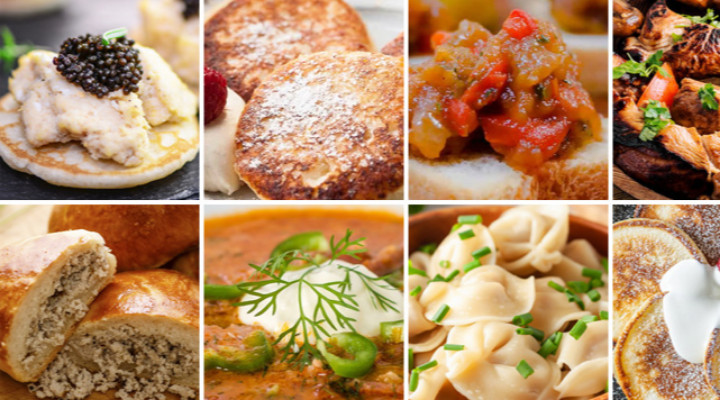 15 Most Popular Russian Food & Cuisines
Sep 15, 2023 - by Dook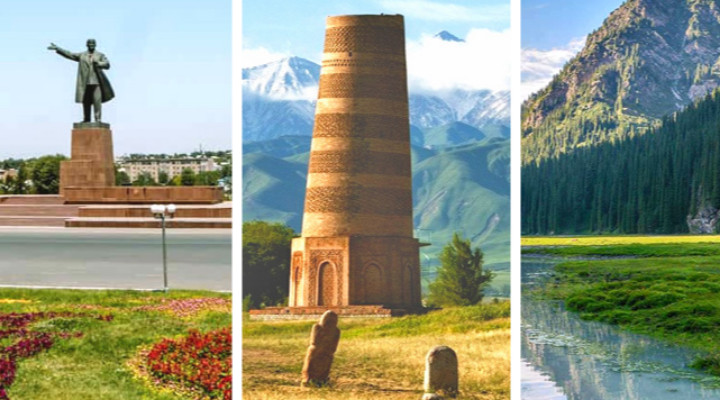 10 Best Cities in Kyrgyzstan to Visit
Sep 14, 2023 - by Dook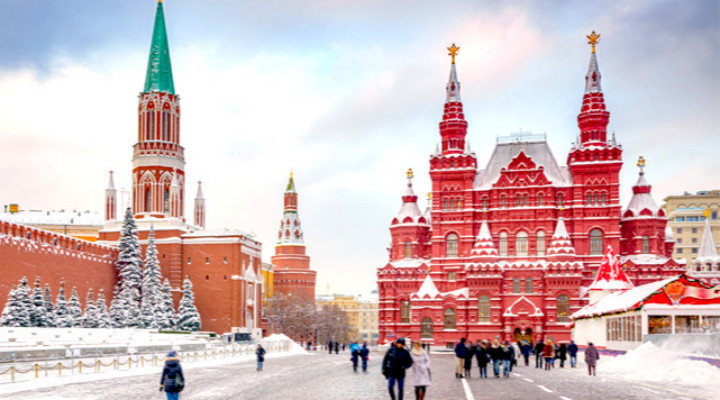 Winter in Russia: A Heartfelt Experience for a Snow-Lover
Sep 13, 2023 - by Dook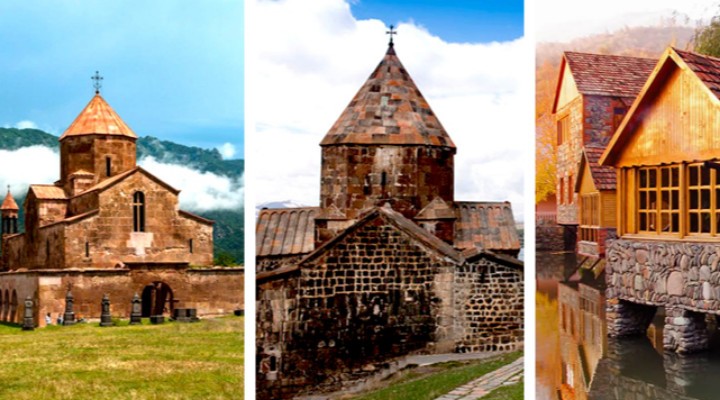 11 Best Cities in Armenia that You Must Explore
Sep 05, 2023 - by Dook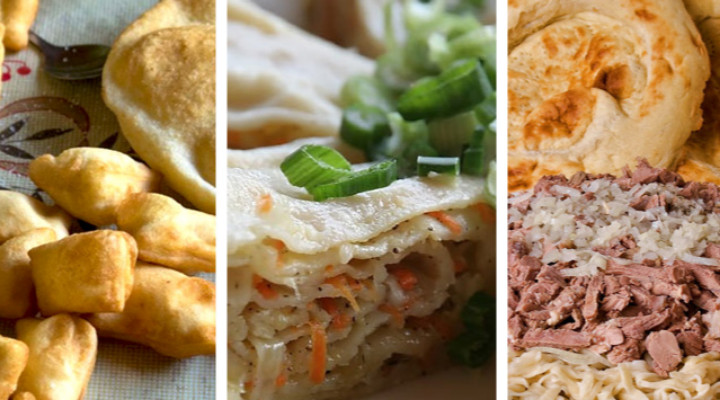 15 Must-try Traditional Kyrgyzstan Food & Cuisine
Aug 28, 2023 - by Dook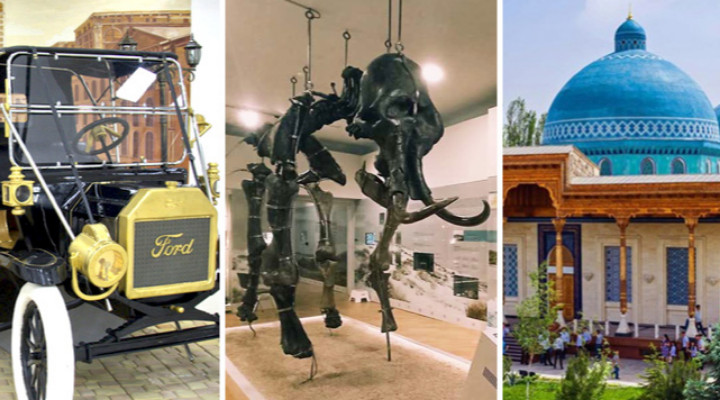 Top 10 Museums in Tashkent to Explore
Aug 25, 2023 - by Dook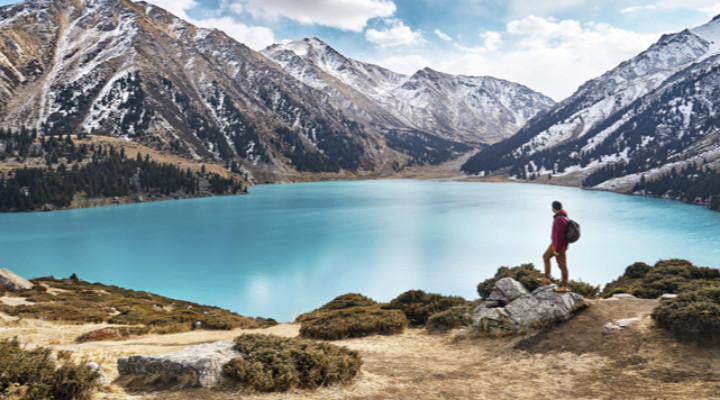 10 Best Cities in Kazakhstan to Visit for Your Next Travel
Aug 22, 2023 - by Dook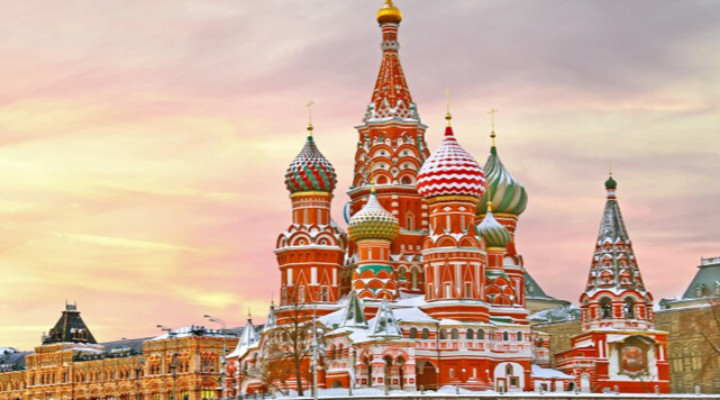 15 Best Russian Cities That You Should Visit
Aug 21, 2023 - by Dook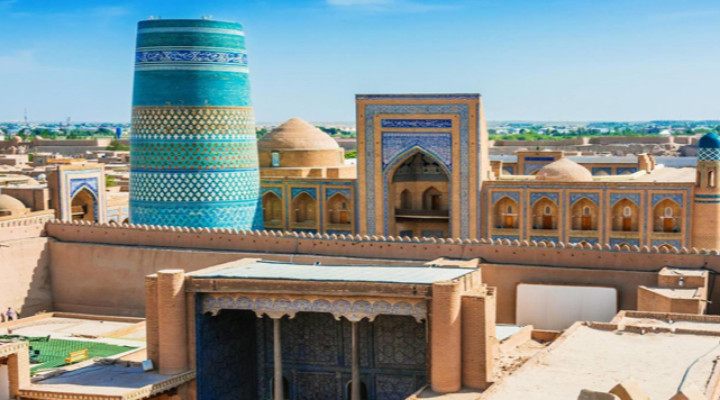 Tashkent - Unwind the Timeless Magic of Uzbekistan
Aug 17, 2023 - by Dook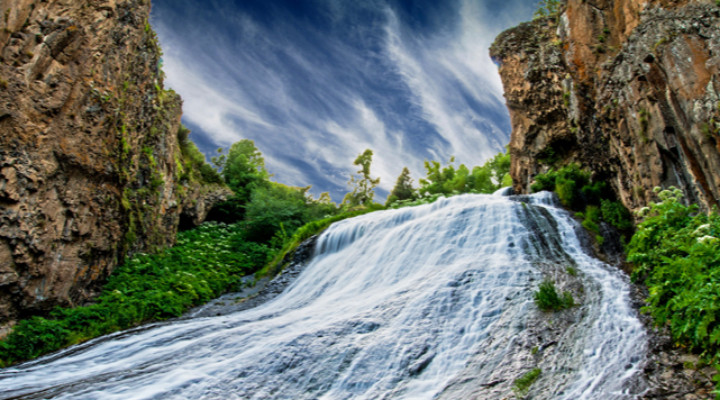 Jermuk- Explore A Quaint Yet Classical City of Armenia
Aug 11, 2023 - by Dook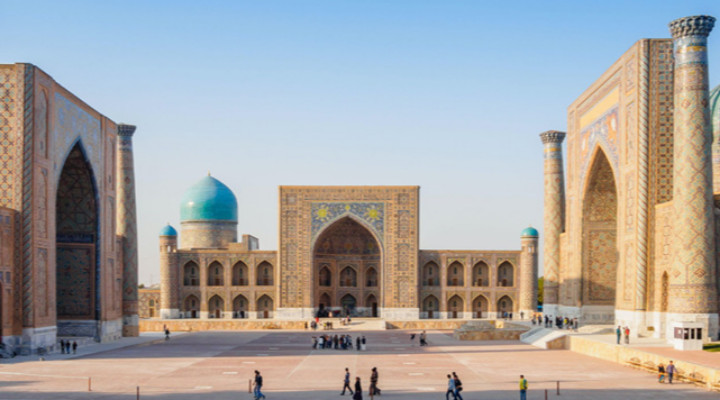 Samarkand – A Historical City of Uzbekistan
Aug 09, 2023 - by Dook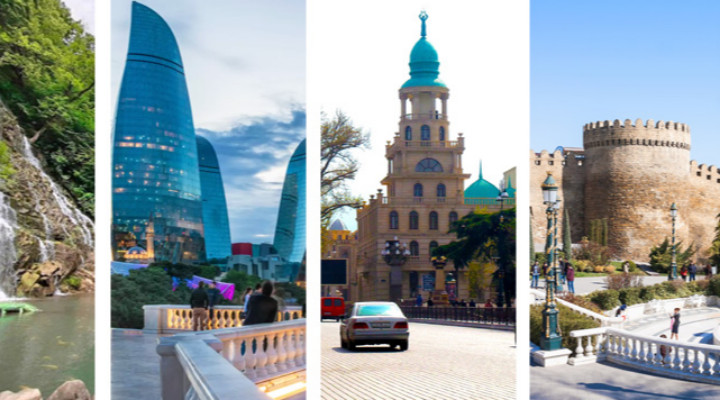 10 Best Azerbaijan Cities That You Must Explore
Aug 04, 2023 - by Dook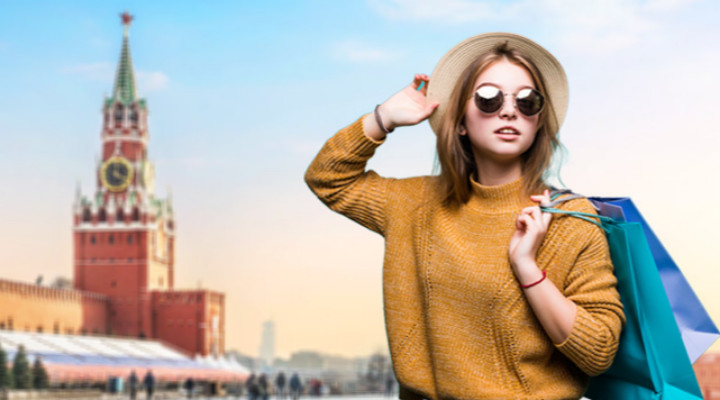 10 Prominent Places for Shopping in Russia that You Shouldn't Miss
Aug 03, 2023 - by Dook
Dook Reviews
Dook international.
Customer Rating
From 8863 travelers
Send us a query
Ready to venture out into the world? Fill the form below and start your brand new journey with us
Data collected by Dook International is used for internal purposes to process and respond to your request.
Home > Road Trip Itineraries > Southern States and Deep South > Top 10 Attractions in Georgia: Things to Do in the Empire State of the South
Top 10 Attractions in Georgia: Things to Do in the Empire State of the South
This site may contain affiliate links. We may receive a commission for purchases made through these links.
Georgia on my Mind sang Ray Charles, and this song has become the state's anthem. Historic buildings from before the American Civil War, plantations , battlefields that were the scene of bloody conflicts, places where African-American civil rights history was made and southern music . All this, and much more, awaits you if you decide to include Georgia in your Southern states itinerary .
Of course, like all top 10 lists, this one can be accused of being extremely subjective . In compiling this list, I have in fact left out many attractions and hidden gems that would definitely be worth visiting, but listing them all would have been impossible. In this article I have tried to give a first general idea of what you can expect visiting Georgia.
Wormsloe Historic Site
Pebble hill plantation, providence canyon, stone mountain park, chickamauga & chattanooga national military park, okefenokee swamp, saint simons island (bonus).
Welcome to the capital of the state of Georgia and of Coca Cola! The city obtained international fame also thanks to the Olympics of 1996 that focused the eyes of the whole world on it for weeks.
Don't miss a visit to the particular State Capitol with a fully-gilded dome. Atlanta is also one of the most important centers for the history of Afro-American civil rights. Also not to be missed, a visit to the house where Martin Luther King was born, as well as a tour inside the Center for Civil & Human Rights.
Are you a fan of television series ? Then you may already know that Atlanta was used as a location for The Walking Dead . If you want to discover all that the city has in store for you, read our article completely dedicated to what to do in Atlanta .
A true pearl of Georgia, Savannah is a town with an ancient charm that has known how to maintain intact its character despite the passage of time. A short walk around the pleasant Victorian district , in the Historic District, and along Forsyth Park where the shade furnished by the great oaks offers a little bit of shelter even on the warmest days, are well worth it.
You'll also have a chance to get your picture taken at the iconic Forrest Gump bench located in Chippewa Square, one of the city's many quaint squares. If you want to have a more detailed idea of what awaits you in this city, you can read our incoming in-depth article dedicated to what to see in Savannah.
This town is found practically halfway between Savannah and Atlanta and can therefore be considered a perfect strategic point from where to plan your itinerary. It has many buildings that go as far back as the period before the civil war, some of them very well preserved and that can be visited thanks to special tours. Of them all, I recommend the tour to Johnston-Felton-Hay House .
Macon, however, is not just buildings with beautiful historical architecture but also a real cradle of southern music . The city was the birthplace of Otis Redding , Little Richard and saw the birth of one of the most influential groups in American music: the Allman Brothers Band. If you're a fan, a tour of the band's home, known as the Big House , is highly recommended, as is a visit to the Otis Redding Foundation .
Find a hotel in Macon
Known more simply as Wormsloe Plantation, this is one of the most famous and photographed historic plantation houses in Georgia even though the plantation itself is no longer there! How is that possible? Well one answer to that question is when you drive down the scenic tree-lined driveway over two miles long. The oak trees on either side of the road form a panorama that is hard to match.
The land belonged to Noble Jones, one of the first English settlers to come here in the first half of the 1700s, in what would become the state of Georgia. Today you can visit a museum dedicated to the history of the plantation and the early years of Georgia's development, as well as take a trail that will take you to see what remains of the plantation.
Find a hotel near Wormsloe Plantation
After having mentioned a plantation that no longer exists, let's visit a real one that has been able to wonderfully resist the passing of the years. Built in 1826, Pebble Hill Plantation has been perfectly preserved to this day. You can tour the interior and take a walk along the property. So get ready to take a real trip back in time. Due to its undeniable charm this plantation is chosen as a location for many exclusive events and weddings.
Find a lodging near Pebble Hill Plantation
One of the most spectacular natural attractions of the state, so much so that it is known as the Little Grand Canyon of Georgia. Unlike its more famous alter ego in Arizona , however, this canyon was not formed by the erosive force of a river, but for agricultural practices that did not go well. In fact, the farmers of this area never took any kind of precaution to avoid soil erosion; what we can see today is the result. Not all evil ends badly, however, because it is only thanks to this error of judgment that we can admire this particular natural beauty.
The name comes from the Providence Methodist Church that still stands within the park. You can admire the Canyon from observation points along the road, or you can choose various scenic routes. If you have time, the best advice is to take the most famous one, the Canyon Loop Trail , which is about 5 miles long. Walking inside the park you will also find the carcasses of old cars, owned by a local farm, which it was decided not to move because they are now considered in some way to be "an integral part of the ecosystem.
Search for a hotel in Columbus
Halfway between an amusement park and a nature park : this is the best way to summarize what awaits you at Stone Mountain Park. It is the most visited attraction in Georgia and certainly one of the most unique. What immediately attracts your attention is in fact the gigantic "monadnock" (a giant boulder that stands out in an otherwise surrounding flat environment) on which the largest bas-relief in the world was carved. It depicts three Southern leaders of the War of Secession (which is why there has been so much controversy lately), Jefferson Davis, Stonewall Jackson and Robert E. Lee.
You can reach the top of Stone Mountain via a walking trail or, more conveniently, by cable car . But the things to do at Stone Mountain Park do not end here, in fact you will find a real Amusement Park, a dinosaur theme park, a 4D cinema, a panoramic train line and what is perhaps the most interesting attraction, the Historic Square : an area where the intention was to recreate the atmosphere of Georgia in the 1900s using original buildings of the time.
Search for a lodging in Stone Mountain
Behind this high-sounding, and almost unpronounceable, name lies one of the most important historical sites of the American Civil War, that recalls the battle of Chickamauga and Chattanooga. The park can be divided into two large parts: the one spread on the heights of Lookout Mountain (located in Tennessee ) and the one that is located in the great expanse where the battle of Chickamauga was fought (in the territory of Georgia).
There are numerous trails, but nature lovers will prefer to choose the ones that go up Lookout Mountain since they can reward you with beautiful panoramic views of the entire surrounding area. There are numerous memorials, statues, and artifacts from the War of Secession at both locations, as well as a well-maintained museum that chronicles the events of that period.
Search for a hotel in the area
It is located on the same Lookout Mountain that we just mentioned, but on the side that is still part of the state of Georgia. Rock City owes much of its notoriety to the fact that from the top of the promontory called Lover's Leap , it is claimed that you can clearly see seven states ! We don't know how true this is, but you can see for yourself.
The attractions of Rock City do not end here, you can walk the Enchanted Trail that branches off on narrow passages between the rocks and manicured gardens and visit the Fairyland Caverns that are literally populated by gnomes and goblins.
Search for an accommodation near Rock City
You can't say you've visited a southern U.S. state without going to a typical swamp with crocodiles and lush vegetation. In this case, we are in southern Georgia, right on the border with Florida , and taking a boat tour along the water channels that have formed over time to see the local wildlife in its natural habitat is definitely an experience not to be missed.
The peculiarity of this swamp is that you can also visit it on a means of transport that is a bit 'unusual for this type of attraction, by train !
Georgia is not just plantations and historic cities, but it also boasts a remarkable coastline. That's why we decided to add an 11th attraction to this top 10. The Golden Isles are "barrier islands" that are located on the Georgia coastline and offer popular tourist attractions. The most important are Sea Island, Jekyll Island and St. Simons Island.
This peculiar island is the largest of the Golden Isles and its town has been voted by magazines specializing in tourism as the most romantic in America and the best of those facing the sea. Historic buildings, picturesque lighthouses, coastlines and natural parks will satisfy all the tastes of those who decide to spend a few days by the sea.
Search for Saint Simons Island lodging
Filippo Nardelli
I have a degree in History of North America and have always been fascinated by the United States.
Related posts
Things to Do in Louisiana: Top 10 of the Attractions in the State
What are the Best Things to Do in Tennessee? The Top 10 Attractions in the State
Mississippi Top 10: Best Places to Visit in the Birthplace of American Music
Alabama Top 10: Best Things to Do in the Heart of the Southern United States
Leave a comment cancel reply.
This site uses Akismet to reduce spam. Learn how your comment data is processed .