ALL (67 Forums)
WHEELS & TIRES
SPECIALIZED
CYCLOCROSS BIKES
TIRES & WHEELS
Trek Madone 5.2 Road Bike

OCLV 120 Carbon Frame
Bontrager Race X Lite
OCLV 120 Carbon Fork
Bontrager Race Lite Wheels
Shimano Ultegra Rear Derailleur
USER REVIEWS
Light, stiff, gives back the power you put in. Low. Long-lasting. I am writing about the Madone from about 2007 which has a horizontal top bar. I bought it from the Japanese equivalent of ebay because I wanted a bike with a short head tube. Rider body drag is the biggest component of drag apparently at about 60% of total drag, so rather than an aero frame with can shave a percent or two off the 9% of frame drag with a modern aero frame, I would rather get down a degree or two or ten lower, especially now that I have worked out how cyclists used to pedal: forwards and backwards, rather than the current stomp stomp, which makes it much easier to get down low. The other advantage of a low "non-compact" frame is that it forces me to cognise my belly fat. It is like wearing tight jeans. You know when you have eaten too much the day before. This is my second low "aggressive" frame. My other is a Look KG 386 with a similar sized (less than 14cm in the medium 54cm size) head tube. The French Look has a perfectly damped feel. When I go over a bump in the road the vertical movement disappears in a swiftly diminishing suave sinusoid. This Trek however has more bounce. I go over a bump in the road and it almost feels like I am going to take off. The difference in springiness is an advantage however when it comes to pedalling. The Look feels like it is absorbing some of the power I put into the cranks whereas the Trek makes me feel like all power in bounces back. It has more mechanical machismo making the Look feel like a sophisticated stale baguette.
A little bit bouncy. If you don't use the shifters the grease inside may get sticky preventing you from changing down the cassette to the highest gear. Rinsing with lots of brake cleaner and relubricating with a PTF containing lubricant should get the shifters clicking again.
Very smooth and overall sturdy bike for mountain riding and even just casual riding throughout the day. Definitely recommend to anything with an interest or hobby in bike riding. It withstood the test of wear and tear when I used to ride to project sites for my Brick Pavers business.
None that I can think of.
ood smooth shifters. Big wheels, ideal for cruising at high speed. Shocks eat up bumps. Well built. Repositionable handlebars. Good on flat roads, has decent off-road capabilities too. Bakersfield Pro Concrete Pumping
None so far.
Great choice of bike. Light weight, very stiff and good handling. Never encountered trouble for almost a year upon purchasing. Highly recommended from Bathroom Tile Company.
Price? Not really. Let's be honest, I didn't have to get a Madone, I chose to get a Madone and isometimes you have to pay to play. Bike is actually a 2006.
custom stickers | print stickers | business printing | printing company
Excellent handling bike that rolls with very little road buzz.
This bike is extremely maintenance intensive due to design flaws in the bottom bracket and headset. It is worse than owning a Porsche or a British sports car and I've owned both and worked on both. You're looking at overhauling the BB at 500-750 mile intervals and replacing the non-drive side bearing at the least. This bike had so many overhauls over 13K miles that even the oversize bearings were too loose a fit. You're looking at 1500-1800 mile interval for the headset and replacing the upper bearing if not both. You definitely better learn how to work on your bike or you're going to be spending $$$'s at the bike shops. The wheels are a low quality wheelset and I ended up having to replace the wheelset after less than 3K miles. After finding numerous flaws with the bike Trek FINALLY replaced it with another model.
great bike second bike i have got first worth 200£ it reacts to everything in ease and speed.
Has a noise to it don't no where its coming from sounds like the seat thats it
just bought this bike it was on sale in intersport 50% off 3450€ to 1700€ it had ben sat there for two years. great find oct 2016 Very Light Reactive for speed sprint I've been riding now 4 months and have my avenge to 35ks an hour live in france lots of hills Limoges started off average 22ks got to 28ks but flying now. recommend to anyone
Strong, solid, well-built and designed machine
As everyone else has mentioned, the saddle stinks. In fact, I can't imagine a normal human being being comfortable on the thing. That being said, think of a saddle as a pair of shoes. You'll want to find something more specific to YOU! As far as the bike itself, it's wonderful! TREK consistently designes equipment that's superior to most. They also stand behind what they make in ways that many don't. I have a little over 10,000 miles on my Madone, and have replaced only tires and the bottom bracket (-bottom bracket at 8500 miles). Both of these components are "expendables". There are "heavy-duty" brackets that you can use, but then the emphasis is on heavy. Be content with the standard set. This is not my first Trek. They've never disappointed, and this Madone is no exception. It's stable and dependable, with no kinky surprises that you discover on some fast downhill (-had this happen once on another brand). You won't be disappointed. -Oh, and I'm a 69 year old veteran rider with a lifetime of riding experience (-still have yet to find that hidden motor that so many talk about).
Similar Products Used:
Giant, Fuji, and many others
The performance is great on this bike. Light, stiff and very responsive. A great bike to ride.
I replace the Bontrager wheelset after about 10K miles with a Flo 30 wheelset. Seat mast kept slipping till the shop finally used a special grease and discovered that the seat mast bolt should be torqued to 7 N instead of 5 N. The bottom bracket is the biggest weakness of the bike. My bearings lasted about 500-600 miles and you have to overhaul the BB about every one to two months or after riding in the rain. In fact, I won't even ride it when the roads are wet due to having to O/H the BB. A new Trek bearing set with a dust seal got about 800+ miles if overhauled at about 400 miles. Now the frame cups have worn to the point where I now need special Trek oversized brackets.
Performance is outstanding, but I can't give it a high score because of the serious design flaw of the bottom bracket and the poor wheelset. The BB makes for a much more maintenance intensive bike.
Light Weight, very stiff and an all round option
Wheelset, bontrager stock saddle and little bit of shifting issues
My first bike and am overall very happy since I have switched to carbon wheels, it is a good all round bike fast on the flats and climbs well as well. Trek should have given saddle options as the stock bontrager is a waste. Changing it with Selle SMP. Shifting needs minor adjustments many a times on the fly
Get the latest road bike reviews, news, race results, and much more by signing up for the Roadbikereview Newsletter
Hot Deals See All Hot Deals >>
Get the latest roadbike reviews, news, race results, and much more by signing up for the Roadbikereview Newsletter
EDITORIAL REVIEWS
CLASSIFIEDS
ABOUT ROADBIKEREVIEW
TERMS OF USE
PRIVACY POLICY
ADVERTISING
VISIT US AT
© Copyright 2023 VerticalScope Inc. All rights reserved.
Trek Madone 5.2 review
An aero-friendly incarnation of the third-tier Madone
Share on Facebook
Share on Twitter
Share on Pinterest
Share on Whatsapp
Share on Reddit
Email to a friend
By Cycling Plus
Published: May 17, 2014 at 8:00 am
Latest deals
With its bold, contrasting hues and white wall tyres, the Madone 5.2's aesthetics are like a throwback to the 1950s, but the dynamics are most definitely 2014. The third-tier Madone shares the design and features of the top flight 7-Series but with lower-spec carbon and less expensive parts.
Highs: Incredible frame rigidity, stability and comfort
Lows: The top tube is quite wide for muscly legs, and the colour combination won't appeal to everyone
Buy if: You want cutting edge frame technology with upgrade potential
At first glance, the 5.2 doesn't look like a typical aero bike, with its enormous, angular down tube, but closer inspection reveals the subtly curved leading edge that forms a Kamm Virtual Foil (KVF) – a truncated aerofoil – profile. The head tube, seatstays and fork are also KVF shapes, with the front brake integrated into the fork crown and rear brake placed beneath the chainstays, leaving two independent, bridgeless seatstays for clean, drag-reducing lines.
Trek offers its bikes in three different geometries: H1 with the lowest position, H2 featuring a slightly higher head tube and H3 for women. The Madone 5.2's H2 fit offers a long but not too low position, and should be ideal for the majority of riders looking to race. On the road our first impression is of the sort of stability found on a relaxed-geometry tourer – it just feels planted.
And then we stood on the pedals. In line with several top race bikes, the Madone has the sort of rigidity usually reserved for buildings or oil tankers, its immense BB90 bottom bracket shell ably braced by that vast down tube and muscular asymmetric chainstays, which instantly translate the merest pressure into forward motion.
The Madone 5.2's handling is predictably superb; it also offers a surprisingly comfortable ride
Despite the frame's rigidity, the ride is firm but never jarring, giving surprising levels of comfort. Handling is excellent, seemingly creating extra time through the corners to amend your line, resulting in no unwanted drama. We did find the front half of the top tube a bit too wide, as your quads can rub against its edges when riding hard on the nose of the saddle or standing up climbing.
Bontrager's tubeless-ready Race wheelset features 23mm-high, 24mm-wide rims, which definitely play a part in the bike's stability, cornering ability and overall grip and comfort. They're not especially light, but are quite accelerative and efficient, and are willing to hold speed well over distance. The Ultegra drivetrain performs faultlessly and the Bontrager integrated brakes do a decent job, though they don't have the instant bite of Shimano's direct-mount offerings.
The Bontrager bar is stiff and quite ergonomic, and the Affinity 3 saddle well padded and offering superb comfort. The complete package could benefit from an upgrade diet, but it's competent and quick straight out of the box.
Product Specifications
Britain's Best Selling Road Cycling Magazine
Cycling Plus is the UK's best selling monthly road cycling magazine. Established in 1992, every issue is packed with expert reviews of the latest road bikes and gear, inspirational routes and rides, evocative features that take you inside every aspect of cycling and unmatched nutrition, fitness and training advice.
Sponsored Deals
Trek Bikes - The world's best bikes and cycling gear
These deals go fast.
Online bike shopping made easy
Your perfect bike may already be in a store near you. Browse local inventory online for the fastest availability.
Upon arrival, your bike will be assembled by certified bicycle technicians and made ready to pick up or deliver to your home.
If you're not in love with your bike within the first thirty days, we will take it back without any additional charges or hassle.
Your local bike shop has the knowledge, products, and expertise to help you get the most out of your new bike.
We're a different kind of bike company
Pre-owned bikes, certified awesome by Trek
Red Barn Refresh, where pre-owned bikes get another chance to ride.
No time to waste
We're changing the business of bikes
Trek is a 2023 Fortune 100 Best Company to Work For!
Looking for a great place to work.
Our mission Trek started in a small Wisconsin barn in 1976, but our founders always saw something bigger. Decades later, we're on a mission to make our world a better place to live and ride. We build only products we love, provide incredible hospitality to our customers, and change the world by getting more people on bikes.
off.road.cc
Dealclincher
Fantasy Cycling
Support road.cc
Like this site? Help us to make it better.
Sportive and endurance bikes
Gravel and adventure bikes
Urban and hybrid bikes
Touring bikes
Cyclocross bikes
Electric bikes
Folding bikes
Fixed & singlespeed bikes
Children's bikes
Time trial bikes
Accessories - misc
Computer mounts
Bike bags & cases
Bottle cages
Child seats
Lights - front
Lights - rear
Lights - sets
Pumps & CO2 inflators
Puncture kits
Reflectives
Smart watches
Stands and racks
Arm & leg warmers
Base layers
Gloves - full finger
Gloves - mitts
Jerseys - casual
Jerseys - long sleeve
Jerseys - short sleeve
Shorts & 3/4s
Tights & longs
Bar tape & grips
Bottom brackets
Brake & gear cables
Brake & STI levers
Brake pads & spares
Cassettes & freewheels
Chainsets & chainrings
Derailleurs - front
Derailleurs - rear
Gear levers & shifters
Handlebars & extensions
Inner tubes
Quick releases & skewers
Energy & recovery bars
Energy & recovery drinks
Energy & recovery gels
Heart rate monitors
Hydration products
Hydration systems
Indoor trainers
Power measurement
Skincare & embrocation
Training - misc
Cleaning products
Lubrication
Tools - multitools
Tools - Portable
Tools - workshop
Books, Maps & DVDs
Camping and outdoor equipment
Gifts & misc
So what's the difference between them? Hold your horses, we're coming to that. Essentially, the 5.2 Pro has a more race-centric (did we just make that word up?) fit. Our 56cm model has a 140mm head tube compared to 170mm on the standard version for a lower ride position, and a slightly extended reach thanks to a 10mm longer stem. Plus, the 5.2 Pro has a traditional chainset while the straight 5.2 is fitted with a compact for a lower range of gears. However all the angles on both of the bikes are the same performance-oriented build, according to Trek both the bike's should interact with the road in the same way, what's different is the way the bike fits the rider: the Pro is essentially a performance bike with performance geometry and performance fit and the standard Madone is a performance bike with performance geometry, but with a less full-on fit.
So, the standard 5.2 has a more relaxed, sportive-friendly setup – what Trek call their Performance fit, the same as last year's 5.2 – while the Pro is aimed more at racers.
What's different?
The 5.2s haven't altered massively from last year's models although they do now come with replaceable gear hangers; it's a whole lot easier to fit a new hanger than to have your frame repaired should it all go horribly wrong. And the hanger is longer than before so it'll take a larger cassette – up to 28T if you like (a handy bail out gear for the hills if you went for the Pro and its standard 53-39).
Routing to both the front mech and the rear brake has been improved and the colour schemes have been altered, but apart from that Trek have left things pretty much alone this time around.
So what are they like to ride?
The Madones are quick… very quick. Climb aboard and stomp on the pedals and you're rewarded with a remarkable turn of speed. Maybe it's just us, but with chunky tubes throughout we've always thought that the Madones look pretty heavy. They're not. Far from it. Our straight 5.2 (56cm model) hit the scales at 7.64kg (16.8lb) while the 5.2 Pro was 7.58kg (16.7lb). And that lack of weight is evident immediately as you accelerate fast up through the gears.
All manufacturers go on about how incredibly stiff their bottom brackets are but with the Madones it really is true… Rather than using a standard system where the bottom bracket bearings screw into but sit outside the frame's BB shell, Trek house them inside a wider (90mm) shell and place them directly next to the bare carbon. This saves a little weight and also means that you get a colossal junction area where the down tube, seat tube and seat stays meet, so even when you turn on your best crank-bending power, that bottom bracket isn't going anywhere.
The Q factor – the distance between the cranks – remains standard. And replacing the bearings when they wear out won't be a problem: common standard-sized bearings to fit Shimano, SRAM, Bontrager, Campag and FSA are available.
With a 30mm shorter head tube and a 1cm longer stem, the 5.2 Pro puts you into a flatter and more aerodynamic ride position than the standard 5.2. You certainly feel that it's a lower, head-led set-up. And with your body accounting for much more drag when you're riding than the bike itself, that's an important consideration if every second counts for you.
In other words, you will go a little faster on the Pro… as long as you're comfortable in the more aggressive position. If you find it too low and start getting backache, the speed advantage quickly diminishes. It's not like the Pro has an extreme ride position, though. Most people will get on with it fine. It's more a question of ride character: do you want racy or slightly more relaxed? You pays your money and you takes your choice on that one.
Whichever model you go for, the 5.2s offer a stable, planted ride and a generous helping of 'give' in the frame keeps poor road surfaces from leaving you battered and bruised. Trek reckon this has a lot to do with their seat mast design – a carbon sleeve that clamps to the outside of the extended seat tube. Unlike some other systems, it doesn't require cutting to length – which saves you some work and is handy if you ever want to sell the bike on. You choose from two different seat mast lengths and three different offsets in order to get the right fit.
The seat mast design requires only 30mm of overlap with the frame and it doesn't need to be overbuilt and so, as well as saving weight, it can flex more than in a traditional system. It also means that, if you haven't got one already, you should invest in a torque wrench because you really want to get the clamping bolts tightened just right to prevent any damage.
This all results in smooth ride quality meaning that not only do you continue feeling good at the end of long rides, you can carry on getting the power in when your ride-mates are wilting. And that's always good news.
Hit the hills and the lack of weight helps the Madones stay ahead of the pack. Bontrager's Race Lite wheels are reasonably – though not incredibly – stiff and they're lightweight (1,015g f, 1,417g r, complete with skewers and tyres fitted). The18 flat bladed spokes up front and 20 at the rear held the rims straight throughout testing too – no drama there.
The slightly lower front end of the 5.2 Pro means you can get right over the top to wrestle it about that little bit easier on the killer gradients, but you might prefer the gearing of the straight 5.2 when things get really steep. Although both come with Shimano Ultegra SL cranks, the 5.2's is a compact with 50/34T chainrings up front and a 12-25T cassette (it's also available as a 52/39/30 triple); the Pro model comes with a traditional 53/39T setup matched to an 11-25T cassette. So, if you struggle on the climbs or you just want the confidence of low gears for winching up the steep stuff late in the day, the straight 5.2 could be the one for you.
Those Ultegra SL gears, second in Shimano's groupset hierarchy behind Dura-Ace, worked flawlessly throughout testing. Lightweight and simple to use whether you're on the hoods or the drops, they're hard to fault, and the ice grey looks add a little something too.
Both bikes are excellent descenders largely thanks to the Bontrager Race X Lite fork which holds things steady through tight twists and turns. Built with carbon legs and crown, it's very light weight and the lower section of the aluminium steerer is 1 1/2in in diameter rather than the usual 1 1/8in for added strength and rigidity. Steering is super-accurate so you get the confidence to abandon caution and attack everything full-on. Even hard braking at the last second isn't a problem – and the Ultegra SL callipers pack a lot of power.
Both Madones offer an excellent blend of speed and comfort with genuine performance innovations like the integrated bottom bracket system and the aero seat mast design setting the bikes apart from the crowd. Two-and-a-half grand is a lot to spend on an Ultegra SL-equipped rig but you are getting a pretty special frame and forks package here. Should you go for the straight 5.2 or the Pro version? We'd be on the Pro because we prefer both the more racy geometry and the bigger gearing, but if you are a compact fan, and there are a few of them around here, and want a more standard set-up the straight 5.2 is the sound choice.
If you're thinking of buying this product using a cashback deal why not use the road.cc Top Cashback page and get some top cashback while helping to support your favourite independent cycling website
Help us to fund our site
We've noticed you're using an ad blocker. If you like road.cc, but you don't like ads, please consider subscribing to the site to support us directly. As a subscriber you can read road.cc ad-free, from as little as £1.99. 
If you don't want to subscribe, please turn your ad blocker off. The revenue from adverts helps to fund our site.
Help us to bring you the best cycling content
If you've enjoyed this article, then please consider subscribing to road.cc from as little as £1.99. Our mission is to bring you all the news that's relevant to you as a cyclist, independent reviews, impartial buying advice and more. Your subscription will help us to do more.
Mat has been in cycling media since 1996, on titles including BikeRadar, Total Bike, Total Mountain Bike, What Mountain Bike and Mountain Biking UK, and he has been editor of 220 Triathlon and Cycling Plus. Mat has been road.cc technical editor for over a decade, testing bikes, fettling the latest kit, and trying out the most up-to-the-minute clothing. We send him off around the world to get all the news from launches and shows too. He has won his category in Ironman UK 70.3 and finished on the podium in both marathons he has run. Mat is a Cambridge graduate who did a post-grad in magazine journalism, and he is a winner of the Cycling Media Award for Specialist Online Writer. Now over 50, he's riding road and gravel bikes most days for fun and fitness rather than training for competitions.
Add new comment
This is one of the finest reviews I have seen yet on the Madone, or any bike for that matter. It mentions the technical details but doesn't feature them. Instead this review gives a more practical overview of the bike as it pertains to the rider. It's nice to know about the unique seat mast design and the internal BB system but what does that mean to the rider in terms of feel, fit, finesse, and efficiency? Instead of dazzling us with technical jargon, this review nails down what the rider needs to know to make a decision. Kuddos to the reviewer for a nicely written piece.
Log in or register to post comments
This review is spot on - the madone is a comfortable, yet light and responsive bike.
three things though - a) the 12cm standard seastmast has a limited range, and if you need the 16cm seatmast to gain a correct fit - budget £120 for this.
b) I'm surprised you didn't mention the uncomfortable racelite saddle that comes with it - this was the first thing I changed. Even a £20 charge spoon will be better.
c) my madone had an annoying 'crack' from the BB area when applying force to the pedals - this seems to have disappeared after the LBS regreased the bearings, but others have had similar problems.
nevertheless, relatively small niggles in an otherwise excellent bike.
Latest Comments
If this comes to court he'll claim exceptional hardship. 
Surely you've reversed things - it's minimum speed limits and proving you can achieve maximum test standards - once?...
Fair, but 8am on a saturday morning I can make work....
And possibly make it more ancillary to the curtilage (move it onto the grass). This would hopefully restore the chance for people to tie the...
Doesn't this forward and backward movement take some of the power away from you?...
As far as the criminal law is concerned they are indeed permitted, but the issue is civil liability and insurance costs. Also have to consider...
Viz isn't as funny as it used to be, but there are a couple of good strips this month. Roger Mellie goes on a Speed Awareness Course and in The...
To prove the BBC anti-cycling bias, no mention of helmets in yersterday's article: Catherine, the Princess of Wales, drives armoured vehicle
I think their losses would be even more without their obvious strategy of increased pricing and reduced manufacturing costs by dumbing down...
"We pledge that across Halfords and Tredz there is always a full range of children's, adult and speciality bikes available, plus parts, accessories...
Related Reviews
Giant Defy Advanced SL 0 2024
Light and superbly comfortable endurance bike in a super-high build, but look lower down the range for the best bargain
Basso Diamante Disc Ultegra Di2
Blends modern performance with traditional styling to stand out from the crowd – and it's a joy to ride
Passoni Titanio Classica Disco Frameset
Firm and fast yet comfortable titanium road bike, created with stunning craftmanship
Orro 2024 Gold STC Force D2 Etap AXS Tailormade
A wonderful blend of comfort and performance, at an awesome price for a build of this quality
Subscribers
EDITORS PICK // TOP TWO CYCLING LIGHTS FOR 2023
TOP TWO CYCLING LIGHTS FOR 2023
TECH TUESDAY: DEALINGS WITH SHIMANO DI2
ALL ABOUT WIND TRAINERS AND INDOOR CYCLING
WHAT YOUR PRESTA VALVE CAPS ARE ACTUALLY FOR
BIKE TEST: ALLIED ECHO
ALL ABOUT AIR & HOW-TO FIGHT FLAT TIRES
PINARELLO F SERIES – WHAT TO KNOW ABOUT THE ALL-NEW RACE BIKES
CANNONDALE UNVEILS SLEEK 2023 ROAD LINE-UP
THROWBACK THURSDAY, 2015: ALEX DOWSETT BREAKS THE HOUR RECORD

Trek Madone 5.2
There's no doubting that in the years since Lance Armstrong was winning the hearts and minds of cyclists and non-cyclists alike, Trek's majority stake in carbon bike sales has slowed. Due to the advance of the competition and Trek's own slowness in reinventing the Madone platform, many aspiring carbon bike owners began to look beyond the offerings from Wisconsin. So, Trek started all over. To get the job done, in the fall of 2006 Trek designers and engineers were literally put in a special room at Trek for three months to brainstorm the new design. Other than retaining the tried and true OCLV build process and the Madone name, they started over with a blank sheet of paper and redesigned the bike from the ground up. We first looked at the new Madone back in the October issue when we had a brief ride at the bike's official rollout. Sure, the bike is all-new, but is it any better?
THE FRAME One quick look at the new Madone 5.2 is all it takes to realize that the new Trek is in fact nothing like its similarly named predecessor. Every tube, every aspect of design has been altered, with probably the most telling being the asymmetrical chainstays. Besides the impressive array of individually sized and shaped tubes, a key frame element would have to be Trek's version of the integrated seat mast. Trek came up with their own two-piece design that is basically an external seatpost, which allows 100 millimeters of adjustability. Trek took the extra step of making long and short seat mast tops available for personalized sizing. Also new for the 2008 Madone is the internal cable routing used for the rear brake cable. Early versions of the bike had the cable exiting the rear of the top tube on its left side, but rider complaint about knee contact prompted a change in cable exit from the top of the tube. Carbon molds don't come cheap, so a tip of the hat to Trek for maintaining enough molds to build seven different size frames (50, 52, 54, 56, 58, 60 and 62 centimeters).
THE PARTS Our Madone 5.2 features a collection of house brand Bontrager components including the Bontrager VR (variable radius) handlebars, which are a cross between an anatomic and a classic bend bar (that Lance preferred), Race Lite wheels, and the newly designed Race Lite saddle. The new saddle took us two or three rides and then we started to really like it, due to the ability to sit further back in the saddle while climbing or descending. We have yet to embrace the 'saw the frame to fit' technique that integrated seatmasts require. As much as we applaud Trek's effort to maximize the benefits of the integrated seat mast, due to the clamp design and difficulty in getting consistent seat height, we'd have to say that they got it half right. The drivetrain on our 5.2 was the over-achieving Ultegra SL (53/39, 12-25) and it performed well in all situations, but we did notice the braking strength on fast and technical descents was noticeably less powerful than its more expensive brother, Dura-Ace.
THE RIDE The 5.2 was stable and comfortable on all types of surfaces. It handled well on bumpy and uneven surfaces and exhibited a noticeable glide on smoother roads. On climbs it was predictable and consistent, and on descents it was faster than we would have expected. For the higher-end group, the bike is not super-light at 16.2 pounds (Trek falls on the conservative side of the carbon weight issue), but the design, ride and experience made the weight not noticeable. THE VERDICT The Madone totally belies its racing heritage and design intent-it never felt like a race bike. More than anything, it shone as an all-around, long-day-in-the-saddle bike. As impressive as the Madone 5.2 is, it's worth noting also that Trek made it possible while retaining the higher built-in costs of American manufacturing. The Madone 5.2 is a lot of bike and ride for the money. Test rider after test rider commented that during group rides the bike stood out as a higher-end Madone and performed really well for the price. Yeah, the old Madone served Lance well, but he's probably bummed that he never got to race this bike.
Price: $3629 Weight: 16.2 pounds Contact: www.trekbikes.com
Get real time updates directly on you device, subscribe now.
Sastre & Team CSC Win 95th Tour De France Better Late Than Never For Steegmans On Champs-lys'es
First Edition News 29 July, 2008
FACTOR OSTRO GRAVEL VS FELT BREED CARBON – GRAVEL BIKE SHOOTOUT
THROWBACK THURSDAY, 2018: FROM THE PRO PELOTON TO SHIMANO TEST RIDER
THROWBACK THURSDAY, 2014: ROCKIN' THE ROCK COBBLER GRAVEL RACE
Comments are closed.
Privacy Overview
2011 · Trek Madone 5.2
A carbon frame aero bike with high-end components and rim brakes.
For This Bike
View more similar bikes →
A bike with lower gearing will be easier to ride up steep hills, while a higher top end means it will pedal faster down hills.
Similar Bikes
(descending)
Add custom gearing
4'11" – 5'3"
5'1" – 5'5"
5'3" – 5'7"
5'5" – 5'9"
5'7" – 6'0"
5'10" – 6'2"
6'0" – 6'4"
6'2" – 6'5"
🐐 Estimated
Do you have this bike? Help other riders make a decision about which size will work for them by sharing your own size and fit notes. Report your fit
Read Release
I've made it here to Liege to chase a little bike race around France, but before I begin Trek was kind enough to invite me to their new Madone launch. And I'm glad they did. Besides having a lot of fun, I've had the opportunity to meet many of the people behind Trek and the innovative products they produce. Back in
Read Review
Jun 2012 · Caley Fretz
We give our first impressions of the all-new Trek Madone and an expanded Domane line
Mar 2010 · Lennard Zinn
Two-time world pursuit champion Taylor Phinney is Trek-Livestrong's marquee rider.
Jan 2010 · James Huang
A racier and brawnier feel for the new Madone
Jan 2009 · Mat Brett
Lightweight, stiff and comfortable with superb ride quality
Jul 2008 · R BA
The Madone totally belies its racing heritage and design intent-it never felt like a race bike. More than anything, it shone as an all-around, long-day-in-the-saddle bike.
Скидки дня
Справка и помощь
Адрес доставки Идет загрузка... Ошибка: повторите попытку ОК
Продажи
Список отслеживания Развернуть список отслеживаемых товаров Идет загрузка... Войдите в систему , чтобы просмотреть свои сведения о пользователе
Краткий обзор
Недавно просмотренные
Ставки/предложения
Список отслеживания
История покупок
Купить опять
Объявления о товарах
Сохраненные запросы поиска
Сохраненные продавцы
Сообщения
Уведомление
Развернуть корзину Идет загрузка... Произошла ошибка. Чтобы узнать подробнее, посмотрите корзину.
Product Key Features
Wheel Size 700C
Features Adjustable Seat, Fenders, Pump
Bike Type Road Bike
Color Black
Material Carbon Fiber, Aluminum
Suspension Type No Suspension
Model Trek Madone
Carbon Fiber 58cm Frame Road Racing Bikes
Trek carbon fiber road racing bikes, 58cm frame bikes, trek road bike bikes, trek carbon fiber bikes, specialized 58cm frame bikes.
Help Center
Chat with a Ride Guide
1-866-401-9636
Retail Store
Bike Services
Reset Password
We will send you an email to reset your password.
Don't have an account? Create an account
Create Account
Already have an account? Sign In
Favorite your products & save them to your account
Save a search & get notified when new products drop
Be first to know about the latest events & promotions
Bike Finder
Results have arrived, sorry, this trek madone 5.2 road bike - 2010, 52cm has been sold..
Try these similar items:
Trek Madone 5.2 Road Bike - 2010, 52cm
Item #brd14246, condition: pre-owned used condition with signs of moderate use but functions as intended. backed by tpc's risk-free return policy..
Our RideFast shipping means this bike gets to you quickly and securely. Domestic US ground rates are a flat $135 for regular bikes or $150 for e-bikes.
Quick Assembly
Bikes arrive tuned and mostly pre-assembled
Torque tool & video guide included
Get riding in 15 minutes
Canadian Customers
Please note that any duties, taxes, or surcharges as required by Canadian customs and provincial authorities will be the buyer's responsibility. Shipping to Canadian addresses may take longer than expected due to customs.
30-Day Returns
If this bike isn't perfect for you, our Ride Guides will help you find the right one.
Added to Cart
Changing the way cyclists buy bikes.
Who is tpc.
We're fellow bike nerds. We're cyclists who want to find the right bike, components, and accessories for you. That's why we created our innovative Certified Pre-Owned bike process and why we're committed to finding the best products you need for your adventures.
Bikes are meant to be used.
Ask a Ride Guide about this
Sizing guide.
The chart below provides a general suggested range of heights and is not exact. Sizing may vary across brands.
The tailoring of any bike is an important step in the long term enjoyment of riding and it can take time to adjust to the fit of a new bike. All contact points (pedals, shoes, and saddle) can be changed and altered for personal preference, performance, and comfort.
Contact our Ride Guides if you have any questions about the fit of your new bike.
866.401.9636 - Contact the Ride Guides
Purchase your next bike with the same confidence you would when buying new. We scrutinize age, condition, and quality. If a bike meets the standard, our pro tune and service will guarantee that your ride will be in pristine condition when it arrives at your door.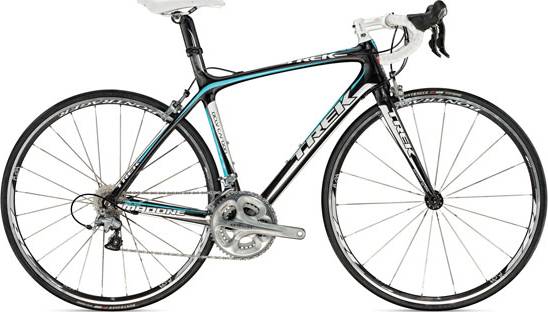 Bike summary
Bike components.
OCLV Black Carbon
Suspension Fork
Bontrager Race X Lite w/E2 aluminum steerer, carbon crown and legs
Rear Derailleur
Shimano Ultegra
Front Derailleur
Shift levers.
Shimano Ultegra STI, 10 speed
Shimano Ultegra 11-28, 10 speed
Shimano Ultegra 50/34 or 52/39/30
Bontrager Race Lite
Bontrager Race X Lite AC, 700x23c
Shimano Ultegra w/Shimano Ultegra STI levers
Bontrager Race X Lite, 7 degree, 31.8mm
Bontrager VR WSD, 31.8mm
Cane Creek IS-2 Integrated w/cartridge bearings, sealed, alloy; 1-1/8" top, 1.5" bottom
Bontrager inForm Race Lite WSD
Carbon seatmast cap
Bike geometry
Model overview.
Madone 5.2 WSD belongs to the Trek Madone model. Trek launched 360 bikes of this model so far. You can easily view all of the Trek Madone bikes models from 2010 , here .
Make sure you wear a helmet on every ride, and that your bike performs well. In short, this means checking the tires, brakes, and chain to make sure everything is in good working order.
Aero bikes average price
According to our calculations, the average cost of an Aero bike that is reliable is 4211 $ . However, you could also get a good Aero bike even if you pay a lower amount than the average price. To sum up, when you purchase your bike, make sure to check if it has reviews, and also do some components research.
Madone 5.2 WSD components
Fork material.
The fork on this bike is made out of carbon, so, it won't add up to much weight to your bike. However, the price you have to pay for a carbon fork is considerably higher.
When it comes to wheels, the Madone 5.2 WSD bike is equipped with the 700c aluminum model. There is no doubt, that 700c wheels are very popular on all road bike models. However, while they give you great speed and control, these wheels are not so bump-friendly.
Stopping the bike when needed, it's essential for your safety. This bike has Rim brakes. Rim brakes deliver an average performance overall. However, they have problems in wet conditions.
Trek Madone models from 2024
Trek madone models from 2023, trek madone models from 2022, trek madone models from 2021, trek madone models from 2020, trek madone models from 2019, trek madone models from 2018, trek madone models from 2017, trek madone models from 2016, trek madone models from 2015, trek madone models from 2014, trek madone models from 2013, trek madone models from 2012, trek madone models from 2011, trek madone models from 2010, trek madone models from 2009, trek madone models from 2008, trek madone models from 2007, trek madone models from 2006, trek madone models from 2005, trek madone models from 2004.
Not sure what's your riding style?
Find your ideal bike in seconds!
Take our 30 seconds quizz and find out which bikes suit you the best.
Handy tools
Tools to help you even more.