Virtual Tours
In-Person Tours
About the UN
Walking Tour With UN Overview Briefing
Special offer for groups: The walking tour can be combined with a briefing about the UN. The walking tour and briefing take about two hours. The briefing takes place in a conference setting and gives a more detailed overview of the history, structure and work of the United Nations.
Upon request, we can invite an expert from one of the many Funds, Programmes and Agencies located in Nairobi to speak to the group about a topic of their choice, e.g. environment, climate change, women's rights, assistance for refugees, development and many others. Please let us know your preference when booking your tour.
To make a Walking Tour + UN Overview Briefing Group Tour request
Group tours are booked in increments of blocks (1 tour block = max of 20 people), and you are required to purchase a minimum of 1 private group tour blocks
For example, if your group is from 21 to 40 people, you must purchase two (2) private group tour blocks; for 61 to 80 people, four (4) private group tour blocks must be purchased.
Email us to book: [email protected]
Karibuni: Visit the United Nations in Africa!
Tours & briefings during covid-19.
Due to the global COVID-19 outbreak, our tours are currently suspended. We build on your understanding and apologize for any inconvenience.
Currently, we offer virtual tours as part of our online learning arrangements. Kindly contact us for more information. Please also reach out for more details about the tours or for future booking requests. We hope to have you back on our tours soon and look forward to sharing our experience with you.
120 Minutes
Briefing Fees
Chinese, English, French, German and Kiswahili
Need help booking your tour?
To purchase your ticket directly, click here . Should you have any questions or comments, please reach out to us. We are happy to help you through the booking process.
UN Visitors Service Nairobi United Nations Office Nairobi UN Avenue, Gigiri P.O. Box 67578 (00200) Nairobi, Kenya Phone: +254-207-622-034 Mobile: +254-742-983-832 Email: [email protected]
UNITED NATIONS
United Nations Office in Nairobi
UN Environment Programme
United Nations Main Bodies
UN Basic Facts
Africa Renewal
The Essential UN
CLASSROOM RESOURCES
Learn About The SDGs
Waffles + Mochi
Climate Action Super Heros
Model United Nations
United Nations iLibrary
Observances and Commemorations
YOUTH ENGAGEMENT
Youth Envoy
UNESCO Youth Power
Urban Youth Fund
Youth and Education Alliance
UN Academic Impact
Internship programme
GET INVOLVED
17 Goals To Transform Our World
Be The Change Toolkit
The Lazy Person's Guide to Saving the World

Welcome to the United Nations
Take a tour of the Palais des Nations and learn about the United Nations and the UN's work in Geneva. Our tour guides will inform you about the organization and its activities to maintain world peace, foster international relations and development.
You will discover the Palais des Nations, a unique building, formerly the headquarters of the League of Nations. The Palais des Nations, an outstanding testimony to twentieth century architecture, is situated in the beautiful Ariana park in Geneva, Switzerland. 
Due to the ongoing renovations in the Palais des Nations, our tour offers are limited and subject to changes. Please read the below information carefully and check this page regularly for updates. 
Important Information
During the renovation work, guided tours are temporarily not suitable for persons with reduced mobility.  please be informed that tours for individual visitors are currently limited and sell out very quickly. we encourage you to check our website regularly., thank you for your understanding..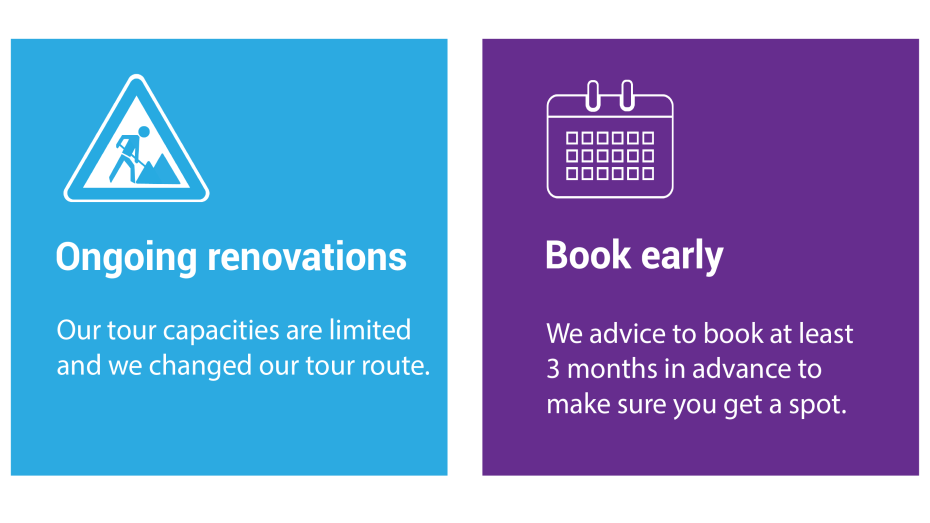 Before the tour
Once you have your ticket(s).
As soon as you receive your ticket(s), every person in your group needs to register for an access badge. The registration link for access badges is on the ticket(s). Please register as soon as your receive your ticket(s). Participants will then receive a digital badge with a QR code sent to their email address which they can print out and bring along or store on their mobile phone. The QR code will be scanned on the day to enter the Palais des Nations.
On the tour day
All visitors must carry a valid passport (UN Member or Observer State). ID cards from the Schengen Zone are also accepted. Passports or ID cards will be checked at the entrance gate (Pregny).
Please be at the Pregny Gate 30 minutes before your tour to allow time for security screening and transfer to the Visitors' Center.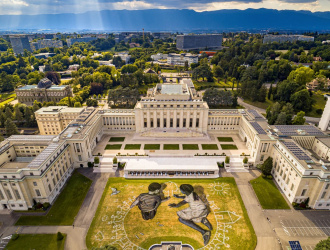 The guided tour lasts for approximately one hour.
Groups can reserve a tour in numerous languages, including Bulgarian, Chinese, Czech, Dutch, English, French, German (and Swiss German), Greek, Italian, Portuguese, Romanian, Russian, Spanish and Slovak. 
Adults  (Ages 18+): 16 CHF
University students, senior citizens and disabled persons  (University students must show valid student ID): 13 CHF
School Children and Youth  (Aged 6 to 17): 10 CHF
Teachers  (For every 10 school children booked, - 1 teacher is free. Extra teachers should be booked as adults): Free
Private VIP Tour : 280 CHF
The Human Rights and Alliance of Civilizations Room, decorated by famous artist Miquel Barcelò.
The library of the Palais des Nations and the UN Museum.
Part of the Ariana Park and the monument commemorating the conquest of outer space.
A film about the history and features of the Assembly Hall, the largest room in the Palais des Nations.
The plaza and entrance of our new state-of the-art and sustainable Building H.
You will discover the Sustainable Development Goals.
You will learn how a conference works at the United Nations.
Visitors Entrance Palais des Nations - Pregny Gate 14 Avenue de la Paix 1211 Genève, Suisse
+41 (0)22 917 48 96 [email protected]
Palais des Nations transit stop is  Appia .
Enter the Palais des Nations through the Visitor's entrance at Pregny Gate, on 14 Avenue de la Paix, 1211 Geneva in front of the International Committee of the Red Cross building and next to the Geneva Hotel School (please see  map  here).
The United Nations Office at Geneva is a workplace. Delegates hold their meetings where visitors go on guided tour. Visitors are therefore kindly reminded to stay with the tour guide at all times, to keep noise levels down, and to respect the professional working environment of the United Nations.
Please arrive 45 minutes before your tour.
​​​​​​​Public transport
Transports Publics Genevois Palais des Nations transit stop are Appia and Nations. Access from Cornavin railway station:
Bus lines 20, F ("Appia" stop)
Bus line 5 or tram line 15 ("Nations" stop), then a 5 minutes' walk to Pregny Gate
Access from Cointrin airport:
Bus line 5 ("Nations" stop), then a 5 minutes' walk to Pregny Gate
Other bus lines with stop at "Nations": 11 and 22, then a 5 minutes' walk to Pregny Gate
In Geneva, unireso public-transport tickets must be purchased prior to boarding a tram, bus or ferry. Ticket machines are available at most stops. Travel cards or passes can be purchased at the main TPG centres (Rive, Cornavin and Bachet de Pesay) and at newsstands (including at the "Naville" kiosk in the Palais). Please note tickets are not available on the bus itself. Hotels, youth hostels or campsites typically offer a Geneva Transport Card, which allows use of public transport in Geneva free of charge during the period of stay.
Geneva public transport
Unfortunately, visitors are not allowed to park inside the premises of the Palais des Nations. A large underground parking is available at the Place des Nations, next to the United Nations, and can be accessed via Rue de Varembé.
Additional Information
Accessibility.
The Palais tour is approximately 2KM (1.24 Miles) of walking and can be difficult for youth or those with mobility issues.
As the Palais des Nations undergoes a complete renovation, areas of the tour will be difficult to access for those who need assistance.
Holiday Calendar 2023
Official Holidays for  2024  at the United Nations Office at Geneva:
Download UN Geneva 2024 holiday schedule
Renovations of the Palais des Nations
The Palais des Nations is currently under renovation but guided tours continue in a limited capacity. We build on your understanding that the tour routes may change. 
Security Information
Visitors should plan for approximately 40 minutes for security screening upon arrival.
Visitors should not be carrying luggage or large bags.
Due to certain events, Visitors' Service may need to close at short notice, this will not concern pre-registered groups.  Our tour route and schedule may be affected by certain meetings, meaning some rooms may not be accessible, without prior notice.
Please check the updated security information before your tour. 
Find out more
This website uses cookies to improve your browsing experience and analyze the use of the website. Learn More
This post lists the best free walking tours you can take in Moscow, including self-guided tours and small group tours.
What are Free Walking Tours?
Guided Walking Tours
Self-Guided
Free Tours in Other Cities
WHAT ARE FREE WALKING TOURS?
There is no upfront cost or booking fee for these tours , but the companies do ask that you pay what you felt the experience was worth at the end.
These pay-what-you-like walking tours are very popular due to their convenience and affordability. They'll fit into every budget and tourists can find them in almost every city. This means that your tour group will likely be large, however.
For travelers who want to have tours with smaller groups of people, we recommend paid small group tours .
TIP : If walking through Moscow isn't your thing, hop-on-hop-off bus tours are a popular option for many visitors.
Back To Top
WALKING TOURS IN MOSCOW
Moscow free walking tour.
Take a 2.5-hour pay-what-you-like walking tour in English or Spanish to learn about the city center, its history, and Russian literature.
Their free tours start every day of the week at 10:30 am.
If you're looking for a specifically-themed tour, such as a food or dedicated literature walk, they have paid tours as well.
Generation Tours
Moscow Free Tours offers a daily, free walking tour of the city center in Moscow. Their guides are city locals who know about Moscow's past and present.
If you're looking for other interesting tours, their paid tours include a metro tour, a communist themed-tour, an underground soviet bunker tour, and other interesting walks.
SELF-GUIDED WALKING TOURS
The wildlife diaries.
The Wildlife Diaries offer a written walking tour guide, so if you want to explore on your own, this is the perfect mix of having an expert guide and complete independence.
The city guide is illustrated with photographs so you'll be able to easily follow along.
Frommer's Self-Guided Tour
This walking tour starts in the Red Square and will take you to Chistiye Prudy in 2.5 to 3 hours if you don't make too many stops.
You'll learn about Moscow's history and see a few interesting buildings and attractions that you might not have noticed without the guide.
And much, much more
North america, united kingdom & ireland, middle east & india, asia & oceania.
Consulter le journal
« The Walking Dead : Daryl Dixon », sur Paramount+ : zombification transatlantique sur fond de tour Eiffel sans tête
Après la fin de « The Walking Dead », la franchise renaît en transportant son protagoniste entre la Provence et le Mont-Saint-Michel, en passant par Paris.
Par Thomas Sotinel
Temps de Lecture 2 min.
Ajouter à vos sélections Ajouter à vos sélections Pour ajouter l'article à vos sélections identifiez-vous S'inscrire gratuitement Vous possédez déjà un compte ? Se connecter
Partager sur Twitter
Partager sur Messenger
Partager sur Facebook
Envoyer par e-mail
Partager sur Linkedin
Copier le lien
Article réservé aux abonnés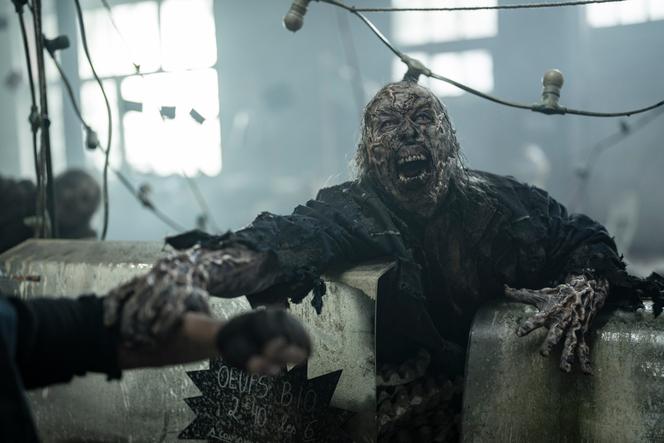 PARAMOUNT+ – À LA DEMANDE – SÉRIE
Autant passer tout de suite aux aveux : j'ai arrêté de regarder The Walking Dead au premier épisode, au moment où Rick Grimes s'aperçoit que le personnel soignant de l'hôpital où il a passé quelques semaines dans le coma a été remplacé par des zombies. Mis à part l'effondrement de la civilisation, j'ignore tout de ce qui s'est passé au long des 176 épisodes qui ont suivi. Daryl Dixon est pour moi un parfait inconnu, dont le patronyme évoque celui d'un joueur de pedal steel guitar originaire de Nashville et non la figure centrale de The Walking Dead qu'incarne l'acteur Norman Reedus (sa physionomie, de fait, ne déparerait pas une pochette d'album country).
Mais on peut sans peine faire sa connaissance au premier épisode de The Walking Dead : Daryl Dixon , l'un des spin-off engendrés par cette franchise aussi rétive au trépas que les zombies qui ont fait sa fortune. On découvrira ce grand corps fatigué sur une plage de Provence – au fil des six épisodes, on apprendra dans quelle circonstance il a traversé l'Atlantique et passé les Colonnes d'Hercule, en même temps qu'on accompagnera ce redneck peu loquace dans sa découverte de notre beau pays.
Un peu comme nous avons mis nos pas dans ceux de la reine des réseaux sociaux lorsque sa patronne l'a exilée de Chicago à Paris. Heureusement, pour lui comme pour nous, Daryl est moins empoté qu' Emily et son acclimatation se fait dans un mélange de lyrisme et de brutalité qui ne manque pas de charme.
Un monde interlope
La France a perdu beaucoup de sa splendeur. De ce côté de l'Atlantique, les zombies, non contents d'être carnivores, brûlent la chair des vivants qui entrent en contact avec eux. Les humains survivants vivent sous la coupe de bandes armées fédérées par Marion Genet ( Anne Charrier ), hybride d'Elisabeth Bathory et de Cagliostro. Après avoir encouru le courroux de celle-ci, Dixon trouve refuge dans un couvent où il est soigné par sœur Isabelle ( Clémence Poésy ), qui s'est réfugiée en compagnie d'un enfant dont les nonnes sont convaincues qu'il sauvera l'humanité.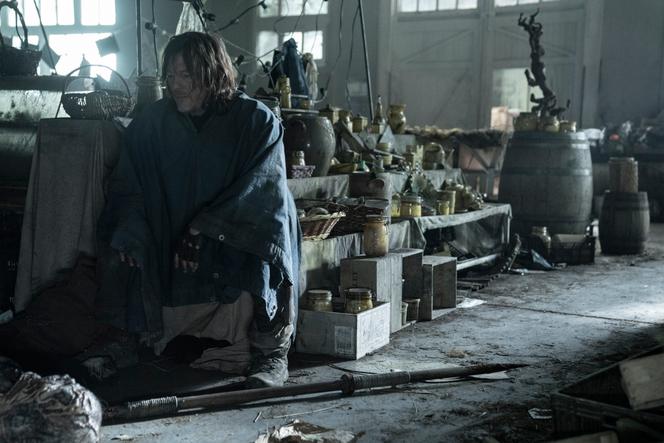 Il faut pour cela convoyer le jeune élu, Laurent (Louis Puech Scigliuzzi), jusqu'à Paris. Daryl Dixon se retrouve dans la position du baby-sitter de mauvaise volonté familière aux spectateurs de Sweet Tooth ou The Last of Us . A Paris, la tour Eiffel est étêtée (quelle que soit la raison de l'apocalypse – nucléaire, virale ou extraterrestre –, la tour Eiffel perd toujours sa tête dans l'histoire) et les immeubles haussmanniens végétalisés. Mais la vie nocturne n'a pas perdu tout attrait et nos héros s'enfoncent dans un monde interlope dont la représentation évoque irrésistiblement la ville de tous les péchés qu'imaginait Hollywood au temps de sa splendeur.
Il vous reste 25% de cet article à lire. La suite est réservée aux abonnés.
Lecture du Monde en cours sur un autre appareil.
Vous pouvez lire Le Monde sur un seul appareil à la fois
Ce message s'affichera sur l'autre appareil.
Parce qu'une autre personne (ou vous) est en train de lire Le Monde avec ce compte sur un autre appareil.
Vous ne pouvez lire Le Monde que sur un seul appareil à la fois (ordinateur, téléphone ou tablette).
Comment ne plus voir ce message ?
En cliquant sur «  Continuer à lire ici  » et en vous assurant que vous êtes la seule personne à consulter Le Monde avec ce compte.
Que se passera-t-il si vous continuez à lire ici ?
Ce message s'affichera sur l'autre appareil. Ce dernier restera connecté avec ce compte.
Y a-t-il d'autres limites ?
Non. Vous pouvez vous connecter avec votre compte sur autant d'appareils que vous le souhaitez, mais en les utilisant à des moments différents.
Vous ignorez qui est l'autre personne ?
Nous vous conseillons de modifier votre mot de passe .
Lecture restreinte
Votre abonnement n'autorise pas la lecture de cet article
Pour plus d'informations, merci de contacter notre service commercial.
Profitez d'une semaine offerte et accédez à tous nos contenus Une semaine offerte pour découvrir tous nos contenus
Le Monde Mémorable
Le génie Chaplin
Personnalités, événements historiques, société… Testez votre culture générale
La fabrique de la loi
Boostez votre mémoire en 10 minutes par jour
Offrir Mémorable
Un cadeau ludique, intelligent et utile chaque jour
Culture générale
Approfondissez vos savoirs grâce à la richesse éditoriale du Monde
Mémorisation
Ancrez durablement vos acquis grâce aux révisions
Découvrez nos offres d'abonnements