Visited States Map
This page features an interactive and customizable map builder showing visited states. You can use it to track your US travel history by marking the states you have previously visited! Create a beautiful custom map in a few clicks, and share it with your community. Also, check out our Interactive US Map for Websites with advanced customization options!

Select states you visited
Connecticut
District of Columbia
Massachusetts
Mississippi
New Hampshire
North Carolina
North Dakota
Pennsylvania
Rhode Island
South Carolina
South Dakota
West Virginia
Share the URL anywhere you want - or save it so you can come back and add new achievements to your map.
Embedding the map
If you need a US map with advanced features for your website, we offer several options for you. Alongside the standard HTML and JavaScript package, you can also opt for an easy-to-use WordPress plugin.
Frequently Asked Questions
This very simple tool allows you to easily create a map of states you have visited. Simply click on the states on the map, or toggle a checklist item below the map to mark where you have been. You can also customize the colors, turn off labels, and show stats regarding the number of states you have visited.
You can use this tool to track how many US states you have been to. In the "Set Map Parameters" control, check the "Show stats" box. The number of states where you have been will be displayed below the map. When the "Show stats" control is active, the exact number of states you have been to and the percentage of states you have visited are shown below the map.
This page features buttons that allow you to share this map via Facebook, Twitter, and Pinterest. Once you click the button, it will generate an image for the customized map and opens a new tab directing you to the social network you selected. You can also copy the URL and share it on any social network. If you opened map maker from a mobile device, use the share buttons built into your browser.
In the "Set Map Parameters" section, you will see four color options. Click on the associated color square to open the color picker. Once opened, can choose from millions of colors for the states and borders.
This can be done easily, and without the need for registration. Simply copy the unique URL and add it to your bookmarks.
You can quickly reset the map by clicking the "Clear map and reset colors" button. Note, this will reset all the states you have visited, along with reverting your color options and customized settings back to their default.
States Visited Map
How many states have i been to.
Use this free mapping tool to display the states that you have visited, driven or ridden through. Drivers, motorcycle riders, car touring enthusiasts: Create a color state map to show where you have travelled.
States I Have Visited:
While You Are There
Use this tool to create stunning interactive maps of your travels across the United States. Select the states, add animations, configure the way you see fit. Then download as a static image, embeddable code, or even a smooth video or an animated GIF. Once you're done, check out 200+ other maps we have.

Visited States + DC Map Generator

Apps and services to keep track of visited states in the U.S
In this article, we've compiled the best services and apps to check off U.S. states visited.
Visited states map
Create your visited states map, visited states map, usa tracker, places been - travel tracker, countries been: visited places, visited: track your travels.
Apps and sites are indispensable when traveling. Facilitating navigation, finding places of interest, reviews of hotels and vacation areas - all this is the merit of modern services. But they are useful not only during the trip. For avid travelers, it's important to mark places they've been before, keep statistics and share them with friends.
Traveling to the U.S. often requires the use of separate services. After all, states or unique attractions are not displayed everywhere. To this end, many sites and apps have been created, both for simple note taking and full-fledged note taking, goal setting, etc.
Three of the most popular state counter apps are 'Places Been - Travel Tracker', 'Countries Been: Visited Places', and 'Visited: Track Your Travels'.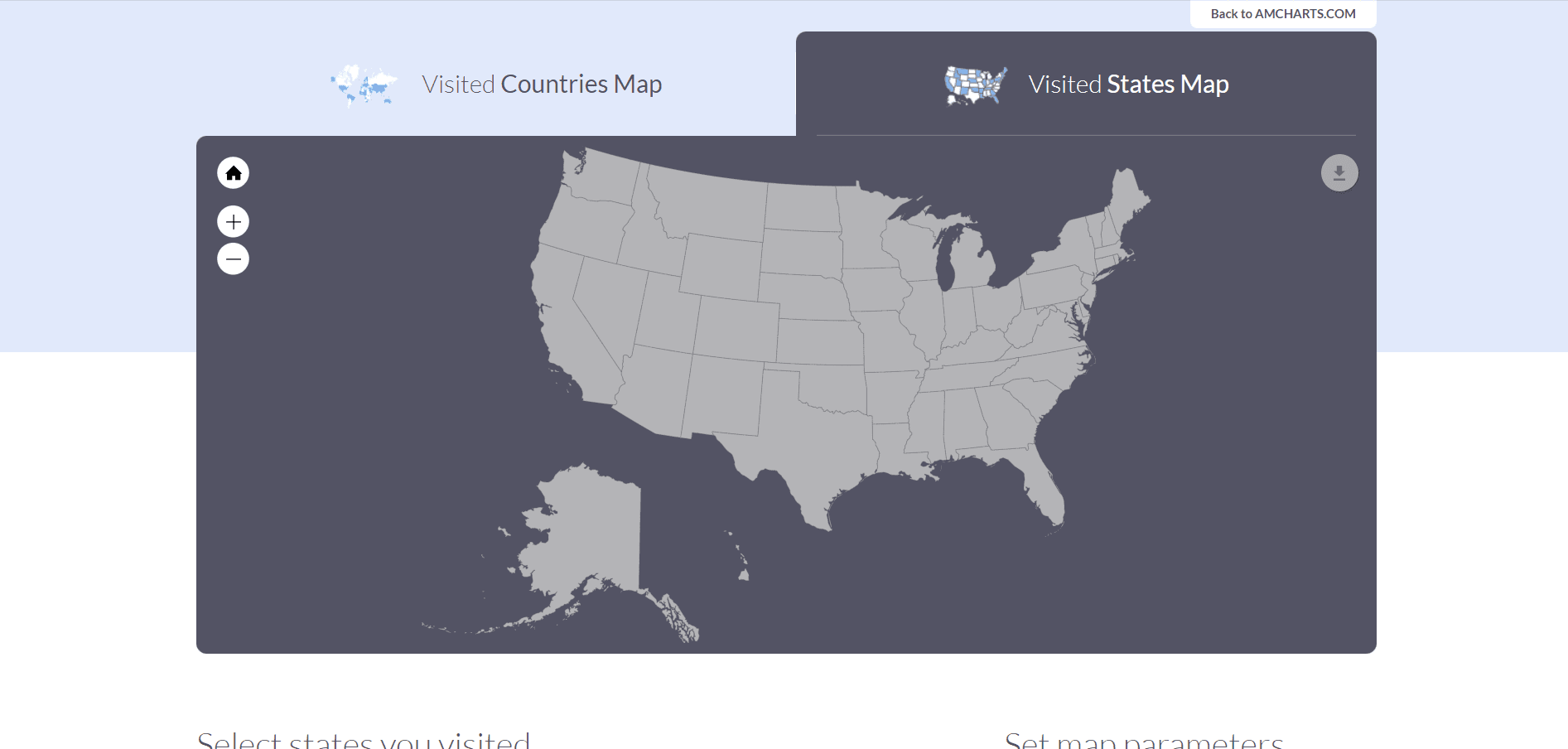 Convenient minimalist site to track states visited. No extra functions - only a list of visited states. It is possible to mark states with an interactive map and a table. If you put the cursor on the interactive map - it displays the name of the state.
The map can be scaled, colors and design can be changed. After creating it, you can download the picture, share it in social networks or place the link on your personal site.
The site is not suitable for real-time tracking, it's just creating a picture as a "recap".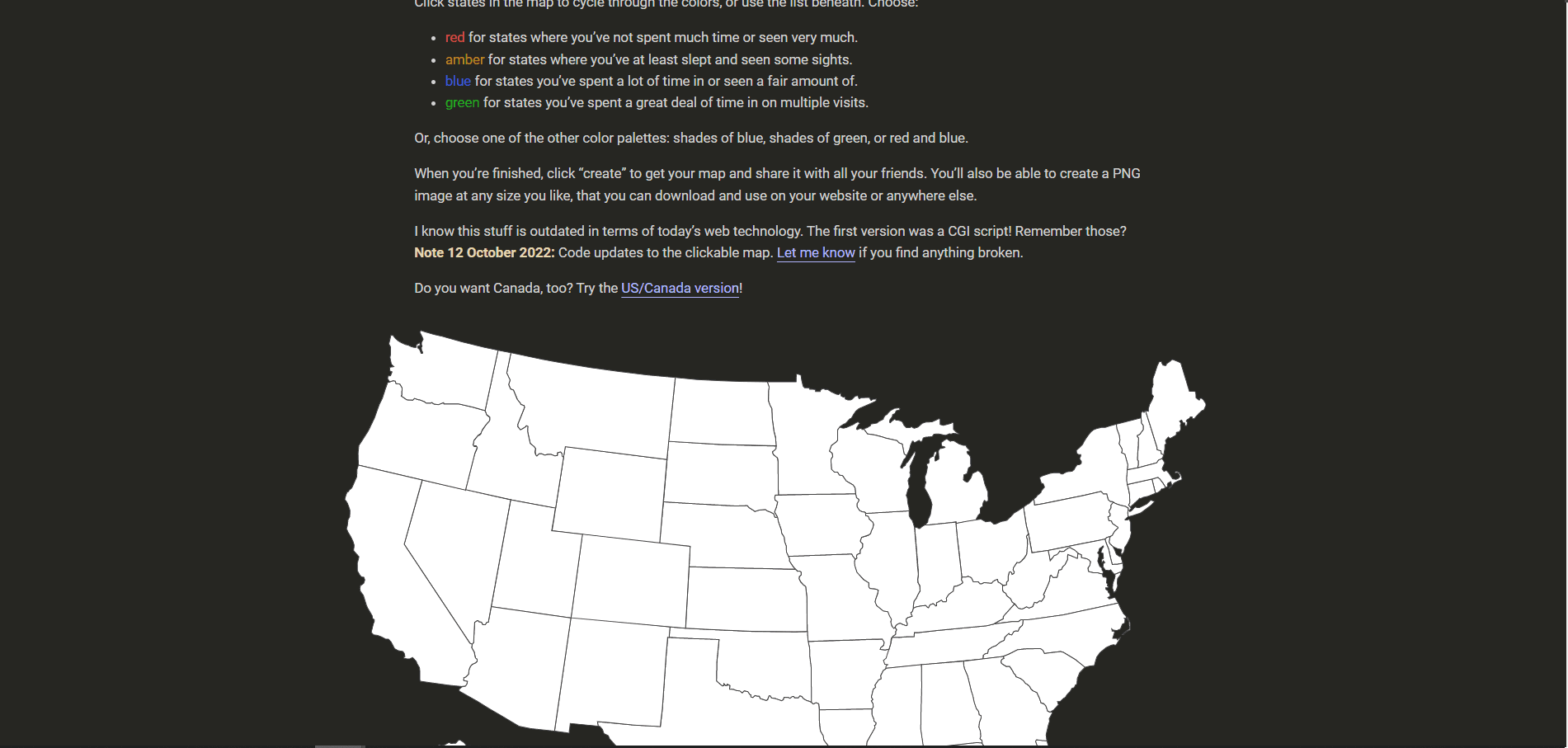 Another site for creating a map of visited states in the United States and then publishing it. Visited states are not just displayed on the map, but also marked with different colors:
Red - have been through or haven't spent much time;
Orange - spent at least a night;
Blue - spent a lot of time;
Green - spent a lot of time sightseeing or returning several times.
U.S. states not visited are grayed out.
Colors can be customized in the palette section. You can share the map by saving it in PNG format, sharing it on social media, or as a link.
The app is available in the Appstore for iOS.
The service is not suitable for real-time tracking.
A site with a less aesthetic design than the previous ones. However, it is also capable of creating a map of visited states. You can mark a state by clicking on the interactive map or using the buttons above it. The name of the state is displayed when you hover your cursor over the map.
You can share the created map on social networks or copy it to your website. MapLoco service works not only with the U.S., but also with Europe, Asia and many other places.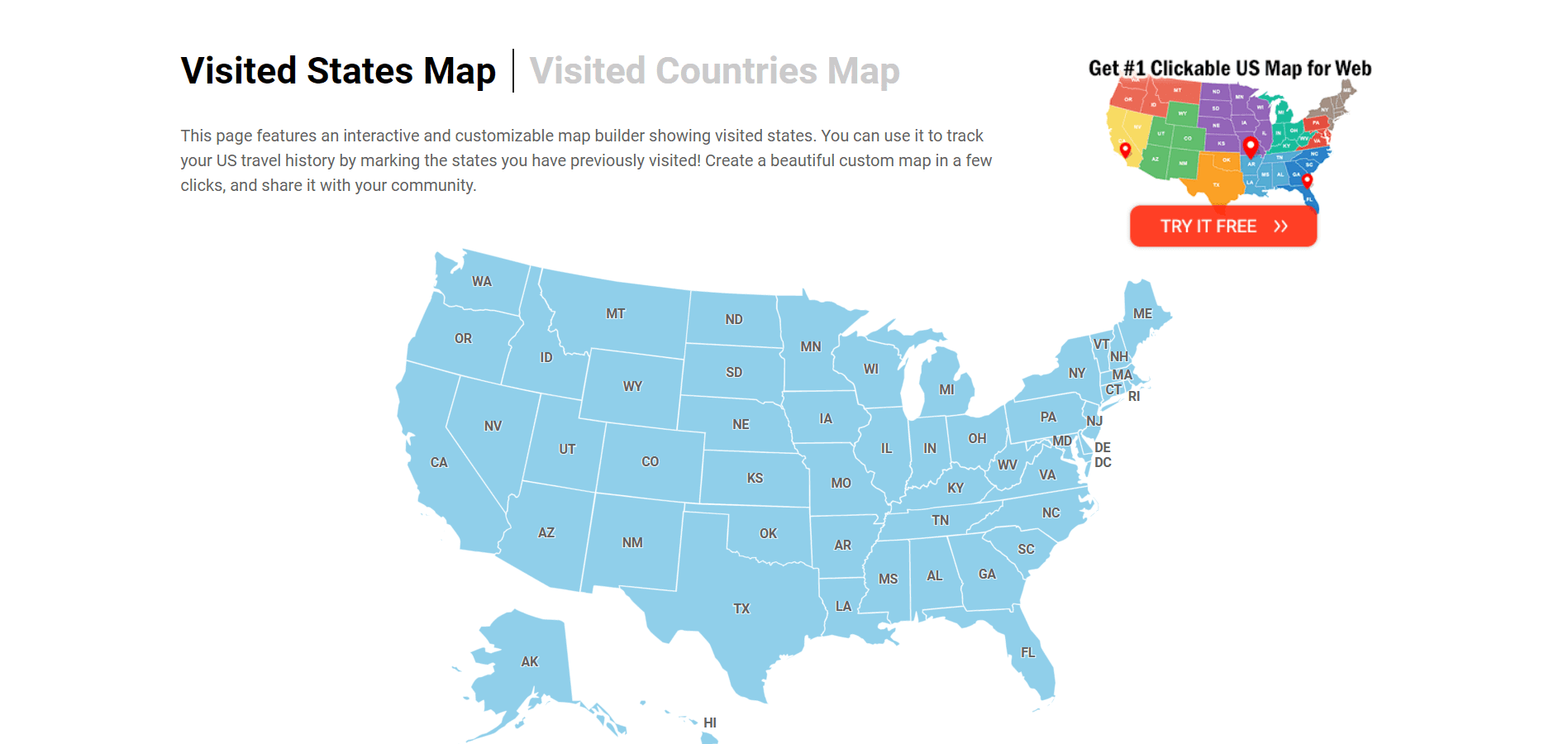 A minimalistic to track states and countries visited. It has a nice blue and white palette that can be changed in the settings. Of the features - the abbreviated names of the states are marked directly on the interactive map, which facilitates orientation. When pointing the mouse you will see the full name.
You can also check off places you've visited by using the checkboxes in the list below.
The finished map is available for downloading or posting on the site.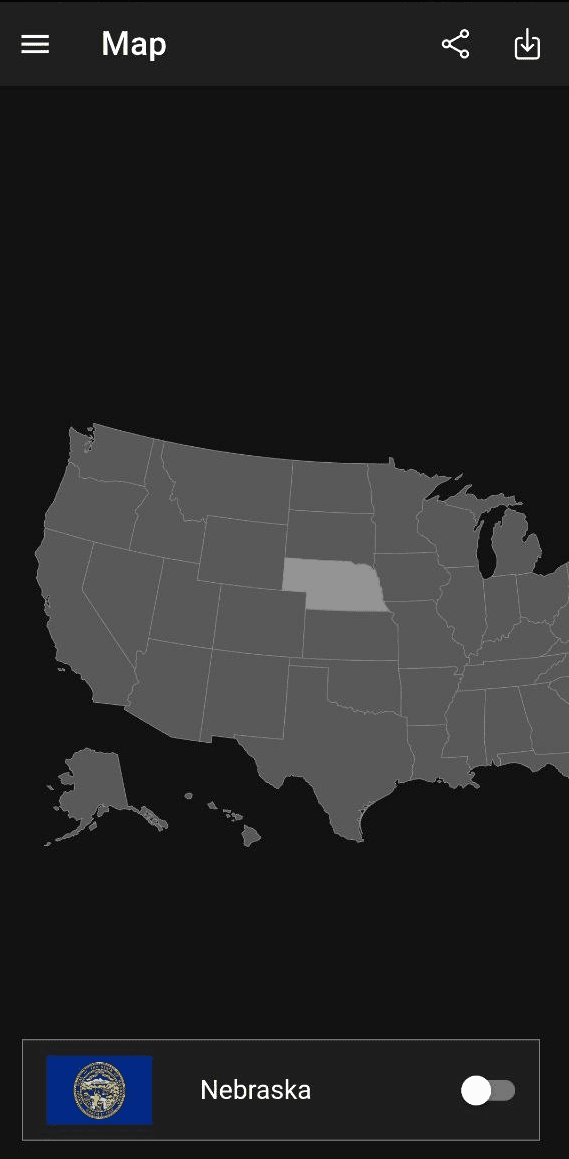 Mobile application to keep track of states visited for Android. After launching it, an interactive map of the USA appears, and when you click on it you can see the name of the state and its flag. The state is marked with a click on the button.
In the upper left menu you can see the "cities" section. The map will show all the cities in the United States. You can see them in more detail in zoom mode. When you click, you will see the name of the city and a caption to which state it belongs. Cities can also be marked as visited.
If it is inconvenient to mark states through the map, you can choose the section "lists" and do it through the table. However, there are no cities in the table - you only interact with them via the map.
The app keeps statistics on how many U.S. territories you've visited and how much of the world you've explored. The app also has an achievement system, such as "visit Alaska."
In the settings, you can choose a light or dark theme.
Android state counter app with more than 100 thousand downloads. Compared to previous services, the functionality here is more extensive.
The app is not only suitable for tracking travels in the U.S. states, but also around the world.
When you start it, it opens a map of the world, which displays landmarks, cities, tourist areas, etc.
The city sections have a handy search button. Visit marks are performed in different colors.
On the home page you can select a list of cities, airports, states, UNESCO attractions, etc. to display. The app also maintains statistics for the best attractions based on user reviews.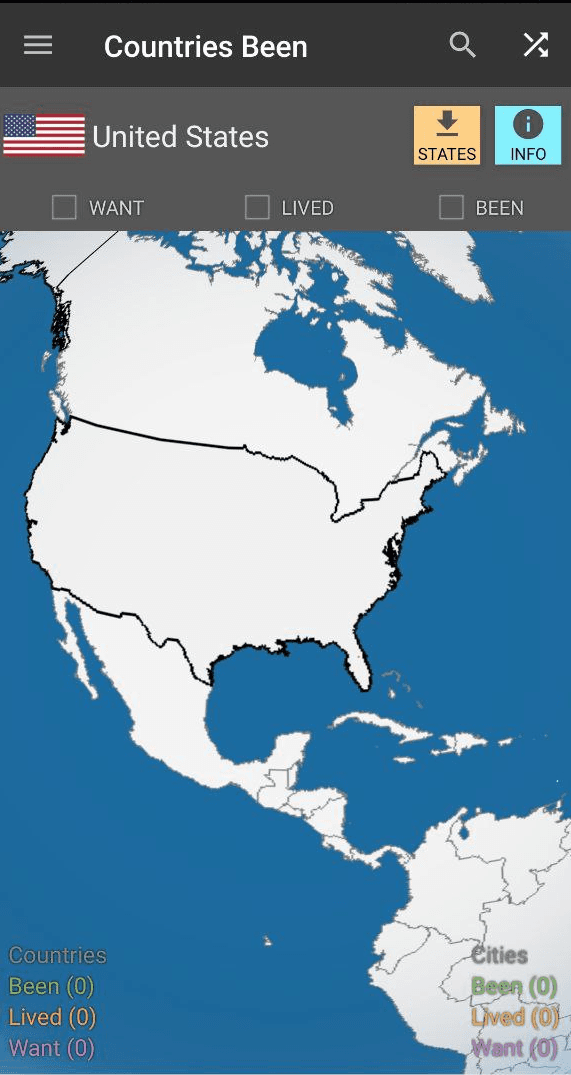 The first time you launch the state tracker app, you'll be prompted to create an account or sign in through third-party services. It is not necessary to do this, but it is recommended to prevent data loss.
The main page contains a 3D model of the Earth, which you can rotate and zoom in on. The names of countries do not appear when zooming in, but you can read the information using the button in the upper right corner. You can read information about the capital, population, etc.
The app collects statistics on the places you have visited, both countries and cities. You can download additional information about visited countries within the application itself.
If you choose the U.S., it is recommended to download the location of the states separately. The pop-up bar will help you with this.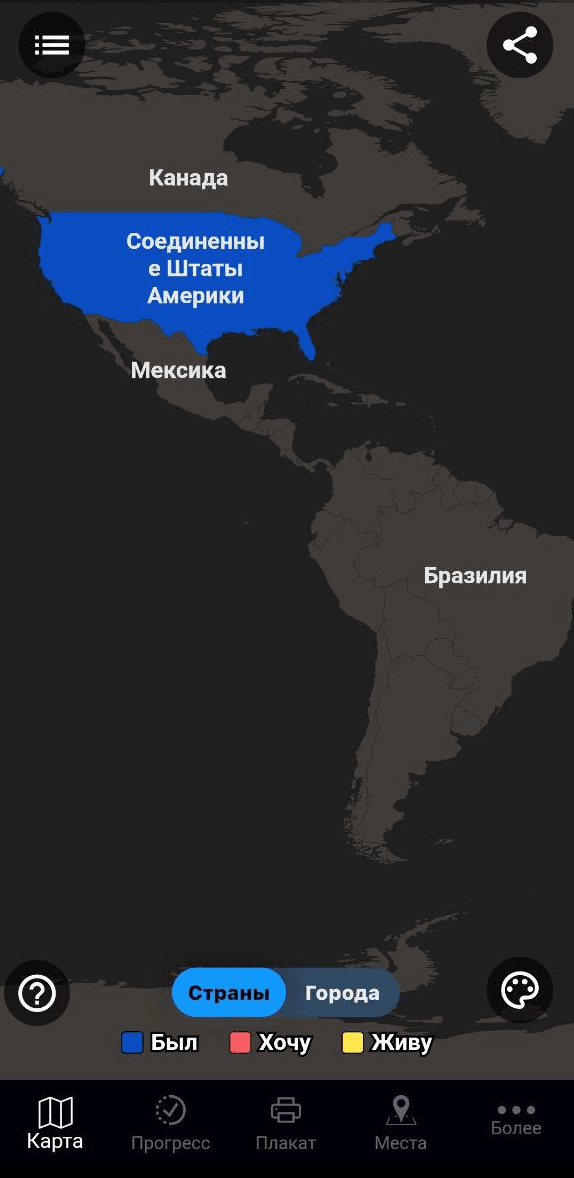 In order to track visited states, you must register via email and also agree to be sent information. After that you have to choose a country and a city where you live, as well as previously visited countries.
After this you will be redirected to the interactive states traveled map. The countries are displayed in the following colors:
Yellow - country of residence;
Red - the country you want to visit;
Blue - country you have already visited.
The app is not able to track states separately. It only involves visiting countries or cities. However, cities are only available with a paid subscription.
The app also has goals that you can meet when you visit a country from the "want to visit" list. Below are statistics on the most visited places from your country and the percentage of how many countries in the whole world you have visited.
Was the information helpful?

Ilia is a professional writer. He has expert knowledge in GPS and cartography with 15 years of experience. Additionally, Ilia has extensive experience in data recovery on PC and mobile. He started his career as a journalist by reviewing PC and mobile apps. His current responsibilities are to keep track of users' questions on MGT and answer them. 
Please note that creating presentations is not supported in Internet Explorer versions 6, 7. We recommend upgrading to the latest Internet Explorer, Google Chrome, or Firefox. If you are using IE 8 or later, make sure you turn off "Compatibility View".

Making a US Map of States I Have Visited // Travel Tracker
Related posts:
25 Best Places to Visit in Central America – Central America Travel Guide
Introducing Central Asia
Europeans Who Have Visited The Middle East, What Was Your Experience?
Making first Batik Air, Airbus a320neo – Unravel Travel TV
Andrew Boxall, FCm Travel Solutions – Middle East's Leading Travel Management Company 2012
Tupiza, Bolivia | Who wouldn't pick a cowboy hat!! | South America Travel Vlog E19
New York in 4K (2020) UNITED STATES – A TRAVEL TOUR – 4K UHD
Northeast BDR – Vermont
Air Travel Is Soaring In The United States
Driving and Travel Restrictions Across the United States
DFN:212th Conducts Glacier Travel Training AK, UNITED STATES 05.12.2018
Travel Guide Bakersfield, CA – Bakersfield, CA, United States
Pelosi Claims China Travel Ban It Didn't Go Far Enough
MachuPicchu Travel from Washington DC in the United States of America, Travel Review
Inside the Special Forces Military Free Fall School
Red Mountain Resort, St. George, Utah, United States – Best Travel Destination
Leave A Reply Cancel Reply
Your email address will not be published.
Save my name, email, and website in this browser for the next time I comment.
Welcome, Login to your account.
Recover your password.
A password will be e-mailed to you.
USA States - Map Tracker 4+
Ezequiel von der becke, designed for ipad.
Screenshots
Description.
With "USA States Map Tracker," you can easily track your progress as you visit each state in America, marking off the ones you've explored and setting labels for the ones you haven't yet been. The app's intuitive interface makes it easy to add different colors and markers to keep your travels and visited history organized. "USA States Map Tracker" also lets you share your map with friends and family.
Version 1.0.2
Added menu-item to rate the app
Ratings and Reviews
App privacy.
The developer, Ezequiel Von Der Becke , indicated that the app's privacy practices may include handling of data as described below. For more information, see the developer's privacy policy .
Data Not Collected
The developer does not collect any data from this app.
Privacy practices may vary, for example, based on the features you use or your age. Learn More
Information
App Support
Privacy Policy
More By This Developer
NailKeeper - Stop Biting Nails
Argentine Peso to Dollar rates
DevGuessr - Programming logos
You Might Also Like
US States Visited
US Traveler
Scenic Map Western USA
My United States Map
Scenic Map Central USA
Travel Map USA
An official website of the United States government
Here's how you know
Official websites use .gov A .gov website belongs to an official government organization in the United States.
Secure .gov websites use HTTPS A lock ( Lock A locked padlock ) or https:// means you've safely connected to the .gov website. Share sensitive information only on official, secure websites.
Visit the United States
The Secretary of Homeland Security and the Secretary of State work together to create and maintain an effective, efficient visa process that secures America's borders from external threats and ensures that our country remains open to legitimate travel.
DHS provides a full range of online resources to help you plan your trip, manage your arrival and if needed extend your stay.
Plan Your Trip
Obtain a Visitor VISA - (U.S. State Department) Generally, a citizen of a foreign country who wishes to enter the United States must first obtain a visa, either a nonimmigrant visa for temporary stay, or an immigrant visa for permanent residence. The visa allows a foreign citizen, to travel to the United States port-of entry and request permission of the U.S. immigration inspector to enter the U.S.
Determine the correct VISA category - (USCIS) There are more than 20 nonimmigrant visa types for people traveling to the United States temporarily. There are many more types of immigrant visas for those coming to live permanently in the United States.  The type of visa you need is determined by the purpose of your intended travel.  Get help determining the right VISA category at the U.S. Citizenship and Immigration Services homepage.
Office of Biometric Identity Management (OBIM)  - Provides biometric identification services to federal, state and local government decision makers to help them accurately identify the people they encounter and determine whether those people pose a risk to the United States. OBIM currently applies to all international visitors (with limited exemptions) entering the United States, but not to U.S. citizens.
Visa Waiver Program: Passport Requirements Timeline - As of October 26, 2006, any passport issued on or after this date by a Visa Waiver Program (VWP) country must be an e-Passport  for VWP travelers to be eligible to enter the United States without a visa. If your passport is older, see requirements here
Electronic System for Travel Authorization (ESTA) - A fully automated, electronic system for screening passengers before they begin travel to the United States under the Visa Waiver Program. Voluntary ESTA applications may be submitted at any time prior to travel to the United States, and Visa Waiver Program travelers are encouraged to apply for authorization as soon as they begin to plan a trip to the U.S.
Your Arrival
Locate a Port Of Entry - Air, Land, or Sea (CBP) - At a port of entry, CBP enforces the import and export laws and regulations of the U.S. federal government and conducts immigration policy and programs. Ports also perform agriculture inspections to protect the USA from potential carriers of animal and plant pests or diseases that could cause serious damage to America's crops, livestock, pets, and the environment.
Global Entry Program (CBP) - Expedited screening and processing for pre-screened international travelers entering the United States.
CBP Traveler Entry Forms (CBP) - Whether you are a visitor to the United States or U.S. citizen, each individual arriving into the United States must complete one or more of U.S. Customs and Border Protection's (CBP) entry forms.
DHS Traveler Redress Inquiry Program (DHS TRIP) - If you have difficulties experienced during their travel screening at transportation hubs--like airports and train stations--or crossing U.S. borders, use this system to make inquiries or seek resolution.
Extend Your Stay
Apply to Extend Your Stay - (USCIS) If you want to extend your stay in the United States, you must file a request with U.S. Citizenship and Immigration Services (USCIS) on the Form I-539, Application to Extend/Change Nonimmigrant Status before your authorized stay expires. If you remain in the United States longer than authorized, you may be barred from returning and/or you may be removed (deported) from the United States.
Change Your Non-Immigrant Status - (USCIS) If you want to change the purpose of your visit while in the United States, you (or in some cases your employer) must file a request with USCIS on the appropriate form before your authorized stay expires. 
Tips During Your Trip to the United States
Beware of Scams - (Federal Trade Commission) The Department of State, Office of Visa Services, advises the public of a notable increase in fraudulent emails and letters sent to Diversity Visa (DV) program (Visa Lottery) applicants. The scammers behind these fraudulent emails and letters are posing as the U.S. government in an attempt to extract payment from DV applicants.
Border Security
Citizenship and Immigration Services
How Do I - For Travelers
International Travel
Caution November 7, 2023
Worldwide caution, update november 7, 2023, information for u.s. citizens in the middle east.
Travel Advisories |
Contact Us |
MyTravelGov |
Find U.S. Embassies & Consulates
Travel.state.gov, congressional liaison, special issuance agency, u.s. passports, international travel, intercountry adoption, international parental child abduction, records and authentications, popular links, travel advisories, mytravelgov, stay connected, legal resources, legal information, info for u.s. law enforcement, replace or certify documents.
Share this page:
Learn about your destination
Take 90 seconds for safer travel.
Travel Advisory Levels
Enroll in step.
Subscribe to get up-to-date safety and security information and help us reach you in an emergency abroad.
Recommended Web Browsers: Microsoft Edge or Google Chrome.
External Link
You are about to leave travel.state.gov for an external website that is not maintained by the U.S. Department of State.
Links to external websites are provided as a convenience and should not be construed as an endorsement by the U.S. Department of State of the views or products contained therein. If you wish to remain on travel.state.gov, click the "cancel" message.
You are about to visit:
Oct. 25, 2023
MSU tracking adult lead levels in Michigan
Did you track lead from work into your home.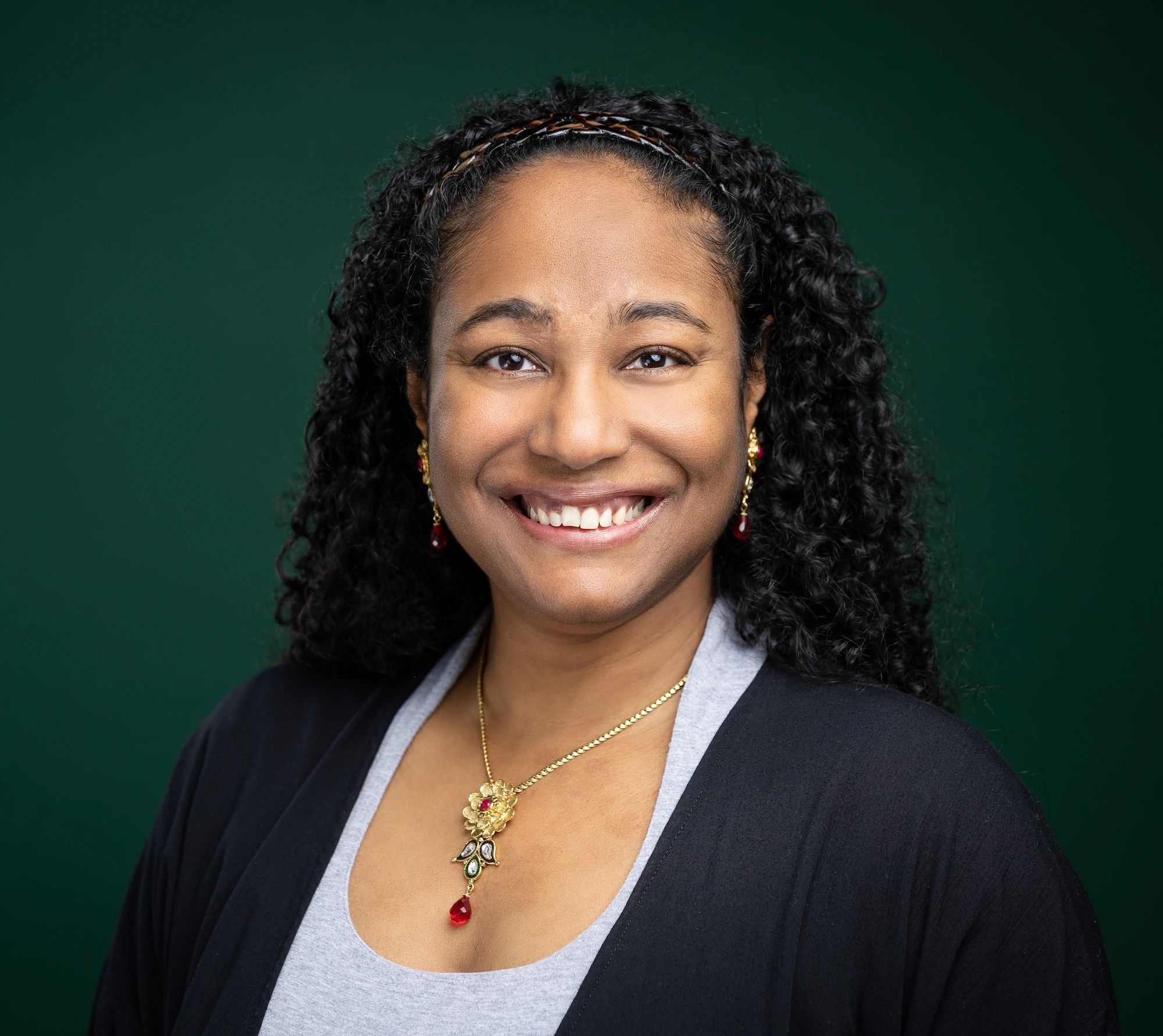 Adults exposed to lead at work can unintentionally bring it home, exposing their families to the highly toxic substance.
"Workplace exposure is also family exposure," said Laurel Harduar Morano , a Michigan State University College of Human Medicine associate professor of occupational and environmental epidemiology. "All of that dust comes home and is potentially exposing our families."
While preventing lead exposure is always important, MSU and other organizations are urging increased awareness during National Lead Poisoning Prevention Week, Oct. 22 to 28, designated by the U.S. Centers for Disease Control and Prevention.
Since 1998, the MSU College of Human Medicine's Division of Occupational and Environmental Medicine has been monitoring blood lead levels in Michigan residents age 16 and older. The agency's latest fact sheet , funded by the Michigan Department of Health and Human Services and the National Institute for Occupational Safety and Health, found that of the 1,648 adults with elevated blood lead levels in 2022 and the first eight months of 2023, more than 80% were exposed at work.
Many were exposed by blasting to remove paint from outdoor structures, working in brass and bronze foundries, fabricating metal products, recycling batteries and working at indoor gun ranges. Some are exposed through hobbies, such as reloading bullets, firing guns, renovating homes and working with lead-based solder. Some imported ceramics, toys and spices also contain traces of lead.
Even extremely small amounts of lead pose multiple health hazards. For the first 23 years of the program, MSU monitored blood lead levels of five micrograms per deciliter of blood. A microgram is one-millionth of a gram, and a deciliter is one-tenth of a liter. Beginning in 2022, MSU began monitoring a lower blood lead level of 3.5 micrograms per deciliter.
Michigan's workplace regulations are tougher than federal guidelines, requiring that any worker with a blood lead level of 30 micrograms per deciliter or higher be removed from the area of exposure until the blood lead level declines.
"No level of lead is safe," said Harduar Morano, who coordinates the Adult Blood Lead Epidemiology and Surveillance program with Kenneth Rosenman, chief of MSU's Division of Occupational and Environmental Medicine.
In adults, lead exposure is associated with high blood pressure, cardiovascular problems, kidney damage and possibly some types of cancer. In pregnant women, it can cause miscarriage, stillbirth, premature birth and low birth weight.
Young children are particularly at risk of damage to the brain and nervous system, which can cause slowed development, learning and behavior problems and lower IQ.
Harduar Morano urged those exposed to lead at work to change their clothing and shower before returning home. If facilities are not available at work, workers should remove clothing and place it in a plastic bag before leaving work and shower as soon as they get home, she said. Exposed clothing should be washed separately, and vehicles should be cleaned with a vacuum that includes a HEPA filter.
In addition to preventing lead exposure, "The most important thing is to get tested," Harduar Morano said, adding that if adults in the home have been exposed, "All children should be tested. It should be done yearly."
By: Pat Shellenbarger
Media Contacts
Kim Ward & Geri Kelley
Nov. 8, 2023
MSU researcher solves sperm mystery, providing insight on infertility
Baris and sheldon win fall national championship title, msu students named national finalists for marshall and rhodes scholarships, msutoday weekly update.
The MSUToday Weekly Update email showcases how Spartans are making a difference through academic excellence, research impact and community outreach. Get inspired by these stories of innovation, collaboration and determination. Plus, enjoy photos and videos of campus and more MSU content to help keep you connected to the Spartan community.
Connect With Us