Awards Season
Big Stories
Pop Culture
Video Games
Celebrities
Ask Getaway: Explore the Ancient Beauty of Athens, Greece
As the capital city of Greece , Athens has intrigued tourists around the world for centuries. Its plethora of cultural landmarks, some dating back to the fifth century BCE, are major attractions. Whether you're a history buff eager, an art aficionado, or a foodie, plenty of experiences await you in Athens. In fact, "the city of the Violet Crown" is so lively that may struggle to narrow down your itinerary. We've written this guide to help you make the most out of your trip, without experiencing paralyzing FOMO (or "fear of missing out"), as you navigate this exquisite city.
Before You Go- Take In Greece's Incredible Literary History
We can't think of a better way to prepare for your upcoming trip than to immerse yourself in the stories of Greece , both ancient and modern. If you haven't ever read them, it's way past time to fall in love with some of the most celebrated Greek stories of all time, including The Iliad and The Odyssey by Homer.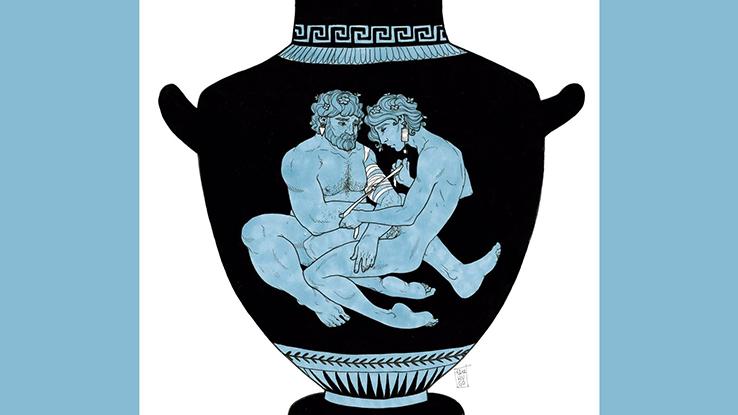 Not quite as ancient, The Colossus of Maroussi by Henry Miller was first published in 1941 and is another great read. This particular story really encompasses the soul of Athens at the dawn of the 1940s and is an all-around beautiful travel read. By the time you visit the city, you can feel like you're taking a nostalgic stroll through a familiar landscape.
If you're looking to get your kids interested in Greek mythology and also enjoy some great reading yourself, then The Heroes of Olympus series by Rick Riordan is a great way to go. Inspired by Riordan's inaugural Percy Jackson books, Heroes of Olympus entices young readers with stories of exciting adventures filled with plenty of ancient Greek mythology.
Where to Stay
If visiting the Acropolis is high on your list, the neighborhoods of Plaka, Monastiraki, and Koukaki will all offer easy access to that attraction, as they are situated around its base. Of course, all three neighborhoods have slightly different draws; Monastiraki, and Koukaki are great for shopping trips. If you're traveling with the family, Plaka and Monastiraki are very safe, walkable neighborhoods with ample access to public transportation.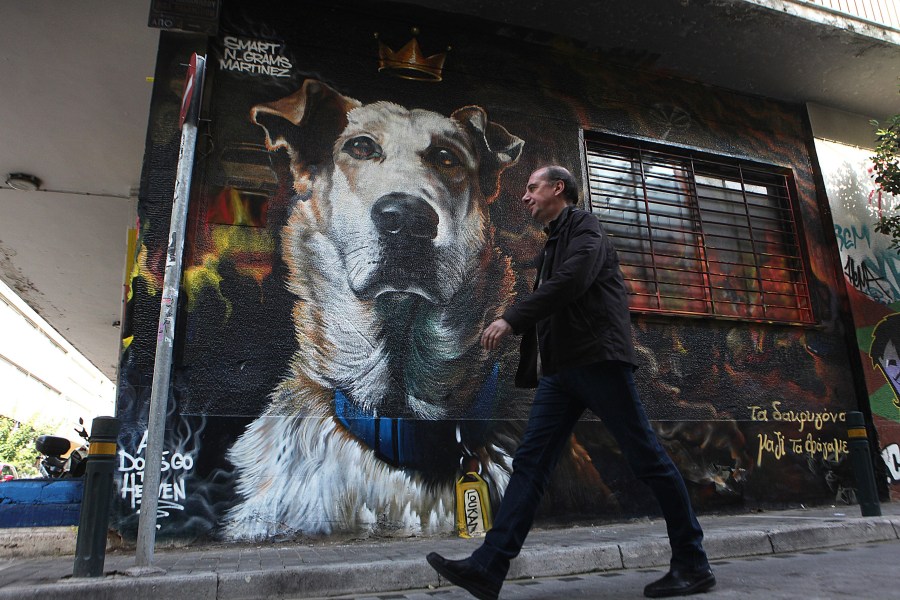 For a less touristy option, the centrally-located neighborhood of Psiri offers visitors a glimpse into the life of working-class Athenians, while still offering plenty of high quality dining and a vibrant nightlife. This neighborhood has colorful history. It was home to revolutionaries in the time of the Greek Revolution and later was the headquarters of the koutsavakides , a Greek mafia of sorts. Today the neighborhood is full of street art and young people going about their days.
Sights Not To Be Missed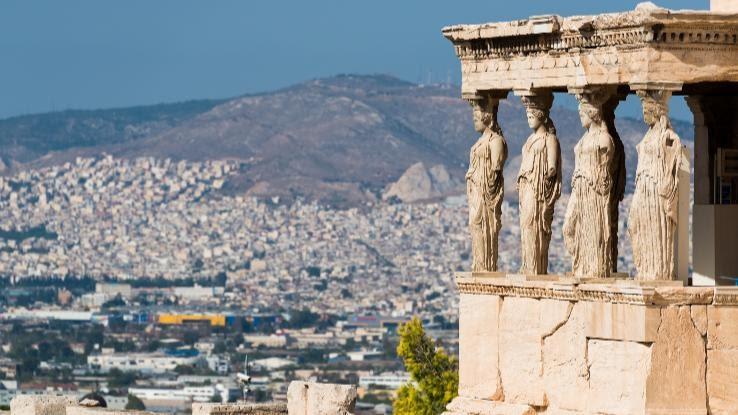 Of course, we would be remiss to not mention the Acropolis. If Athens is the birthplace of democracy, then the Acropolis is "the room where it happened". When you visit and explore, remember that you're walking across the same stone that Socrates, Pericles, and Sophocles all walked before you. If you visit the Acropolis in the summer, you can still enjoy live theatre in the Odeon of Herodes Atticus like spectators before you have for xxx years.
For something less ancient, we recommend the National Museum of Contemporary Art , where you could wander for hours, enjoying installations and collections in all mediums and scales. You could also enjoy a film screening at one of the many outdoor movie theaters throughout Athens. Cine Paris , an open-air rooftop theater in Plaka, situated below the acropolis, offers movie-goers the chance to sip wine while enjoying a movie in the breezy evening air.
Indulge in Greek Cuisine
Like most places, Greek cuisine is defined by its geography. But the geography of Greece, a gateway of sorts between Europe, Africa, and the Middle East, makes for a particularly unique culinary experience. Olives, bread, and wine are on the menu, along with fresh produce, and plenty of lamb and fish for our meat-eaters.
Athenians are not big on breakfast, unless by breakfast what you really mean is coffee. Coffee abounds in Athens, and the thing to do to fit in with the locals would be to have several cups to start your day. If you're in the mood for something that is still traditional but a but more substantive, koulourgis , a sesame covered ring of bread is easy to find on just about every street.
Similarly, lunch is also a grab and go sort of meal for locals (unless it's the weekend, in which case lunch might be the highlight of the day). Still there are plenty of restaurants that cater to tourists and will welcome you for lunch on any day. You might consider taking lunch with a view. City Zen is an all day restaurant and bar with a stunning rooftop view of the Acropolis. Or for something a bit more upscale and off-the-wall you could try Nolan , a Greek-Japanese fusion restaurant that made it on the Michelin Guide for Athens.
Athens is a city that comes alive at night, and dinner is usually served late. That doesn't mean you won't be able to eat before 9pm, but you're likely to be alone in the restaurant. When you arrive, it may be tempting to try ouzo , the most well-known of Greek spirits. This licorice-flavored drink, affectionately referred to as ouzaki , should never be drunk alone. Be sure to order some olives and cheese to round things out.
After Your Trip, Help Keep Greek Culture Alive
If you return home wishing for another week, month, or lifetime in Greece, consider donating to one of the many institutions that work to keep Greek culture alive and flourishing. The Athens Centre was founded "with the idea of promoting the culture and civilization of Greece on an international level."
By making a donation, you can help ensure that the culture of Athens continues to thrive through student scholarships, cultural programs and more.
MORE FROM ASK.COM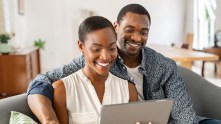 Official Warm Welcome!
Athens Free Tour - Official: Our city's independent free Athens walking orientation, the pioneers of free walking experiences in Greece.
We are the original in Athens and highly recommended on Tripadvisor.
We present a fascinating insight beyond many layers of our city, together we travel even deeper to discover the pure essence of Athenian culture and inspiring wisdom. An adventure of 2.5 - 3 hour through our city's amazing past, the birthplace of western civilization will come alive in an entertaining mix of myths, facts, and local legends.
Ready to feel like a local not just a tourist?
Booking is absolutely essential!
Testimonials
Anu shree 2023.
The walking tour was amazing and so informative. We enjoyed the tour and Persephone was so friendly and made the session very interactive. Would definitely recommend this walking tour!
Brent Beaumont 2023
This was a fabulous tour of Athens. Jonathan was professional, funny, interesting, and easy-going. We learned so much about the city, saw great sights, and even got tips on how to best enjoy!
Idan Levy 2023
Susan - 2022, scott - 2022, albert - 2022, efrat - 2022, clare - 2022.
Free tours in Athens
The Godmother of Western societies - the ancient Greek capital
A chaotic, yet, fascinating mess, Athens is widely known to be one of the oldest cities in the world and an inspiring entrepreneur for following civilizations through the ages. This ancient, vibrant city is the birthplace of democracy, host of outstanding philosophers and an archaeologist's paradise, abundant in world famous historical landmarks.
Being the largest city in Greece by far, Athens dominates the Attica region of the country and acts as an important economic centre in southeastern Europe. Athens has incredible variants of architectural eras, where the historic triangle neighborhoods of Plaka, Thiseio and Psyri stand out among ancient monuments. Think Acropolis hill, Odeon of Herodes Atticus and Syntagma square, the beating heart of the city. Athens is endowed with warm and sunny weather almost all year round, attracting millions of tourists annually. The city's wacky nightlife is notorious as well where the exotic bouzoukia nightclubs and the joyful spirit of the Athenians play the biggest role in creating an unforgettable time.
We at freetour.com highly recommend taking a free walking tour to get a precious local perspective of the city. Whether the goal is to explore the historical side of the city, enjoy the delicious Mediterranean cuisine or simply have fun at the thriving nightlife, this massive city is guaranteed to deliver the ultimate travel experience.
Join Freetour
Provider Sign In
Affiliate Program
Security & Privacy
Terms & Legal
Freetour Awards
Ratings & Reviews powered by
Athens Free Tour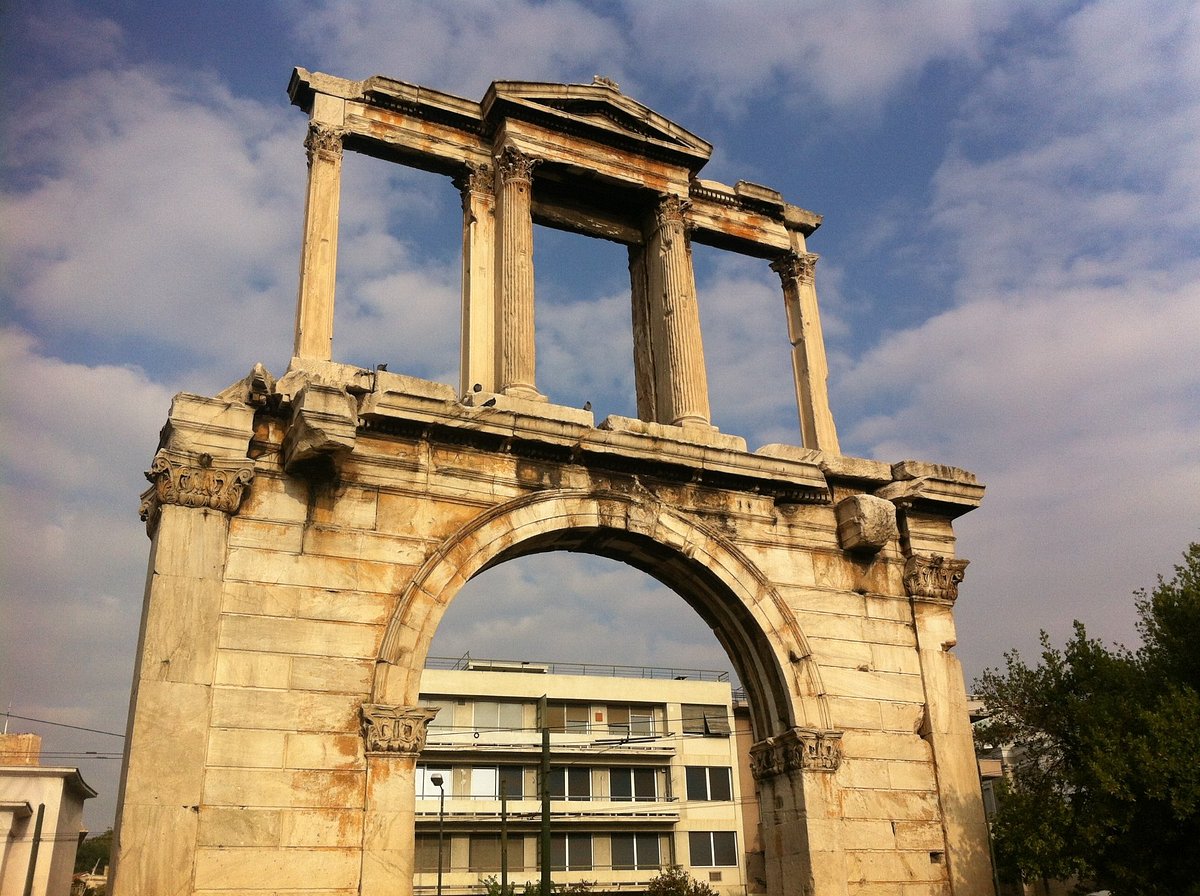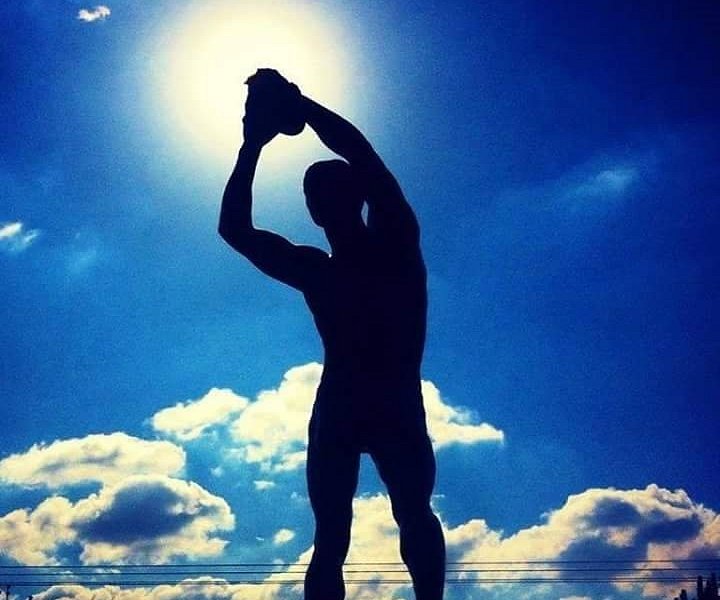 Similar Experiences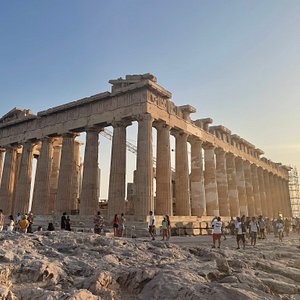 Athens Free Tour - All You Need to Know BEFORE You Go (with Photos)
Athens free tour information.
Best things to do and see in Athens
Athens is the capital city of Greece and many would consider it the epicenter of modern civilization and the birthplace of democracy. When you visit this city, this cultural relevance is amazing and will entice you with its classic architecture and the many monuments that line its streets and squares. It is home to the archeological treasure, the Acropolis, recognized by UNESCO as a world heritage site, which will constantly remind you about the rich history and roots of this iconic Mediterranean city.
Among the many things to see in the city, you will not want to miss the chance to visit a few of these key spots in the city. You can find the right guruwalk in Athens for whatever you want to check out. Some of the main attractions are the Acropolis, the Acropolis Museum, The Oracle at Delphi, Plaka, the Parthenon, the Ancient Agora, the Archaeological Museum, Monastiraki, Meteora, the Panathenaic Stadium, the Temple of the Olympian Zeus, the National Garden, the Dionysian Theater, Panathinaikó Stadium, Benaki Museum, Záppeion, Hadrian's Library or the Roman Agora.
Reserving a free walking tour in one of the many available languages , on the page like Spanish, French, Italian, German, or Russian, will assure you get to discover all of Athen's hidden charms. Our gurus also make sure tours are available in the morning, afternoon and evening for you to choose the one that best fits your vacation schedule. If you have any questions regarding a certain guide, other walkers who have already done a tour with that guide, have answered a review of the tour and you can easily read up on these to find the best guruwalk for you.
Want to share your culture with travelers from all the world?
Free walking tour near athens, others cities to visit after athens, where are you traveling to.
This website uses cookies to improve your browsing experience and analyze the use of the website. Learn More
Athens Walking Tours
This post covers the best free walking tours in Athens, what they cover, and when they take place.
Essentially, there are 4 types of free tours available, history/city centre tours, tours covering street art, food tours, as well as night tours.
Overview + Schedule
Athens History
Night Tours
Self-Guided Walk
OVERVIEW + SCHEDULE
There are several interesting tours you can take for free in Athens.
Whether you're interested in learning more about this city's past or you want to know more about what things are like nowadays, there's probably at least one free walking tour you'll enjoy.
The tours listed below are run through us. More tours are available in the following sections.
Searching Availability...
History tours are the most prevalent in the Greek capital, providing details about some of the most significant and important sites from centuries past.
Aside from seeing noteworthy monuments, you'll also learn about the myths, legends, and secrets from throughout the history of Athens, a location often referred to as the cradle of Western civilization.
Alternative/Street Art tours will offer a look at modern Athens, revealing some of the most creative artwork in the city today while also providing a look at the cultural changes that have taken place here over the last few decades.
In addition to tours covering history and culture, there are also outings that provide a taste of the best foods you can find in Athens at some of the most popular restaurants.
Finally, some tours are also offered either after dark or at sunset, giving you a look at the city from a different perspective than you'll experience during the day.
Free walking tours are tours that have no upfront cost, but they ask that you pay what you think the tour was worth at the end when your experience is over.
Most tour attendees are drawn to these experiences because they fit any budget, and are entertaining. Many tours are led by English-speaking local experts.
The popularity of the tours means that group sizes are very large, especially during the busy summer season.
For travelers who want to have more interaction with their tour guide with smaller groups of tourists, we recommend paid small-group tours . These outings sometimes take place on tourist buses, allowing you to save both time and energy!
TIP: If you want a tour of Athens and some surrounding areas combined with convenient transportation, hop-on-hop-off tours are a popular option.
ATHENS HISTORY TOUR
If you're interested in learning about the birthplace of democracy and its 7000 years of history.
These tours will provide information about some of the most notable architecture in the city and the mythology of ancient Greece , making them perfect for history buffs.
Additionally, most tours will also include tips for sightseeing, activities, and even great places to eat.
Here are some of the most historic sites typically included with these free walking tours:
Hadrian's Library
Acropolis of Athens
Theatre of Dionysus
Temple of Zeus
Hadrian's Arch
Syntagma Square
Each of the services listed below is very well-rated and has several positive reviews.
The average rating is either 4 or 5 stars out of 5 . Discover the history behind these sites on one of the following tours.
New Athens Free Tour
This 2 ½ hour walking tour takes place daily at 10:15 am and will take you around the historical center.
Guests report that their tour guide is humorous, informative, and willing to be flexible based on your plans and wishes.
In addition to the free tour, New Athens Free Tour also offers paid street art and other themed tours.
Check out their tours here .
See Athens Walk
This 3-hour free walking tour covers both the history of the city and also details about well-hidden restaurants you may want to visit for a bite to eat.
Reviews suggest that their tour guide is not only very well informed but also that they are quite funny and provide a lot of helpful tips about places to eat or things to see in Athens.
This pay-what-you-wish walking tour is available once a day at 9:30 am and there is a second outing offered on weekends at 17:00 (5 pm).
STREET ART/ALTERNATIVE TOURS
If you're interested in learning about what modern life and culture are like in Athens, these tours will give you a look at another side of the city.
Some alternative tours focus more on the street art scene while others provide information about contemporary life in Greece, including fun things to see and do in Athens.
Here are a few of the locations you can expect to visit on these tours:
Exarchia Square
Popular Cafes
Notable Bars
Navarinou Park
Kallidromiou Street
Old Summer Theatre
Most of these tours are very positively reviewed and have a ranking of either 4 or 5 stars out of 5 .
Discover these sites and many more by taking one of the pay-what-you-wish walking tours listed below.
In addition to its history tour, this company also provides a street art and graffiti tour that covers several notable sites in and around Exarchia Square.
Reviews suggest that their guide knows a lot about the neighbourhood as well as why and how the artwork is done.
You can take this 2 ½ hours free walking tour every day except Saturday at 15:30 (3:30 pm).
Book the tour or learn more .
The Athenians
Discover the alternative side of Athens in small groups, normally 12 people max but will be reduced to 8 while Covid-19 is still an issue.
Reviewers say that this 2 ½ hours free walking tour is filled with interesting details about modern society, politics, and culture.
Visitors can enjoy this service every day except Tuesday at 18:30 (6:30 pm), which means it could also be considered a sunset tour or night tour.
Find out additional details or book this tour .
ATHENS FOOD TOURS
There are a lot of fantastic restaurants, cafes, and bars in Athens where you can enjoy a wide range of delicious Greek foods.
If you need help finding the best dishes and eateries, consider taking one of these free food tours!
Each of these outings is pay-what-you-wish, but the food won't always be free.
What this means is you control how much you're going to spend and what you choose to eat rather than paying one flat price for everything.
You can expect to visit some of the following sites on these tours:
Athens Central Market
Evripidou Street Market
Monastiraki Square
Kydathineon Street
Adrianou Street
Each of these outings is well-reviewed and typically has at least 4 or 5 out of 5-stars ratings.
If you want to learn more about the best food in Athens, these pay-what-you-wish walking tours are an excellent opportunity.
Taste Athens With Sam
This service focuses on the best local restaurants and markets in Athens.
Sam limits the size of his tour groups to just 10 participants.
Reviewers report that the tour is cozy and reveals a lot of great restaurants where you can find reasonably priced and delicious authentic Greek food.
You can take this free walking tour any day of the week at 13:00 (1 pm), which is the perfect time for lunch!
Athens Street Food Tour
If you're more interested in trying street food than visiting local restaurants, this is an excellent free food tour that will give you a taste of the best dishes you can get from Athenian vendors on the street.
These tours are kept to small groups to ensure a more personalized experience. Did we mention this tour is vegetarian and vegan-friendly?
Check their availability with the link below to see if there are any tour dates during your visit.
This 2 ½ hour tour is available Monday, Wednesday, and Friday at 18:00 (6 pm) – just in time for dinner!
Athens Bite
This is another option that lasts for approximately 3 hours and is available in either English, Russian or Greek.
Sign up for this tour from Monday - Saturday at 11:30 am or on Sundays at 10:45 am.
Learn more or book this tour .
NIGHT TOURS/PUB CRAWLS IN ATHENS
Discover what the city looks like after dark or during sunset on a free night tour in Athens.
Your knowledgeable guide will show you some of the best, most well-lit, and notable locations in the city.
These are essentially history tours, and one of the services we've already listed also counts as at least a sunset tour – See Athens Walk offers a 5 pm tour with runs until 8 pm.
It's also worth noting that the Street Art tour offered by the Athenians begins at 6:30 pm and runs until 9 pm.
The Athens Street Food Tour also starts at 6 pm, making it an excellent option during sundown.
There is also at least one free pub crawl you might want to consider.
Here are just a few of the landmarks you can expect to see:
Agora of Athens
Tower of the Winds
Kallimármaro Stadium
Panathinaikos Stadium
Free Tour Atenas
This is essentially another Athena history tour, but it's available at 17:30 (5:30 pm) and lasts for approximately 3 hours until around 8:30 pm.
Even during the summer months, this should ensure that you can at least enjoy the historic sites and landmarks of the city at sunset.
This tour is limited to just 8 people per group, so you can rest assured that their guide will provide a lot of personal attention and answer any questions you may have.
Offered in both English and Spanish, this free walking tour is provided every day of the week both in the evening and in the morning at 9:30 am.
Into Athens
This company offers a free sunset walk in Athens which takes place as the sun is going down.
You can expect to visit a lot of the same sites you would see on a daytime history tour.
The hour at which this tour begins will depend on the time of year, as it literally takes place at sunset.
You'll meet your tour group at the entrance of the National Gardens.
Additional Night Tours/Pub Crawls
If you're looking for another type of night tour or pub crawl in Athens, there are several other ways to see the city after dark.
Whether you want to take a tour by segway, by bike, or by foot, there are quite a few options to consider.
Ticket prices range from €35-€80 and tours last between 2-4 hours on average.
Although these aren't free Athens walking tours, you may still want to consider taking one of the following night tours or pub crawls.
Check this list of Athens night tours/pub crawls for additional services.
Related Posts
Free Rome Walking Tours
Self-Guided Athens Tour
And much, much more
North america, united kingdom & ireland, middle east & india, asia & oceania.
KALLIMARMARO STADIUM
Parthenon (the acropolis), odeon of herodes atticus, areos pagos, dionysus theatre, the acropolis museum, temple of olympian zeus, hadrian's arch, lysicrates monument, tower of the winds, roman forum, ancient agora of athens, hephaestus temple, hadrian's library, national garden, presidential palace, hellenic parliament, monument of the unknown soldier, syntagma square, meeting point.
Athens: 7.000 years of history
Time travel
A journey through history and mythology. Relive the golden age of Greece. The city that became the cornerstone of western civilization. Stroll through the picturesque old town of Plaka, past the Acropolis and ancient theaters and stadiums. This is were the modern world began.
Meet us daily at the Monastiraki Square at 10:00 sharp. The tour around the historical center of Athens can last anywhere between 2.5 and 3 hours, depending on the number of stops and questions asked.
Pay what it's worth
Athens  is the capital and the largest city of  Greece.  Its current population is registered as  3.7 million  however the population is expected to be around 5 Million .  It started as a small Mycenaean then it grew on to become a city.   It is considered the birthplace of classical Greece. Its design was marked by Ottoman, Roman, and Byzantine civilizations.
As of now, it is the political and economical center of modern Greece. Its population comprises of around half of the total population of the country.
New Athens Free Tour  helps you in reliving the golden age of Greece. The  Athens walking tour review. New Athens Free Tour  gives you a chance to walk around the entire city of Athens. During the tour, the  New Athens Free Tour  provides the tourists with  hot Greek drinks. New Athens Free Tour  provides you a  free and easy   tour  around the city.
The profile of our company is excellent and we have a great reputation in the city. The reason why you should join us is that we help you in exploring the unexplored beauty of  Athens.  Our user experience can be read on our website where the great responses and reviews of users are mentioned.
We have made exploring easy and fun. You can explore all historical places for free walking around with the best guides of our company who will provide you with in-depth knowledge about all you need to know.  Athens free walking tour  is a privileged opportunity for those who do not want to spend thousands of rupees on traveling from place to place.
To add taste to traveling the  traditional Greek   drinks  are a top priority of  Athens free tour.  If you are hesitating in booking a tour with us then you can read the  reviews  of  New Athens free tour  all over our social media pages or our website. Another important privilege of traveling with us is that you are not bound to fix an appointment with us in advance or to book your travel.
We start off our tour every day at 10'o clock in the morning. The tour starts 10 minutes later. The place where we start our tour is  Monastiraki Square,  a small chapel outside Metro Station .  You can just show up at that place and start your journey with us without any prior booking. But we recommend you to make your booking in advance the reason is that often we get too busy with our clients.
So, if you look to explore the magnificent beauty of  Athens  then we are the best choice for  a free and easy walking tour in Athens.
" * " indicates required fields

We have received your request correctly.
You will receive an email with a summary of your bookings.
Can't find it? Leave us your email and we'll send you a summary of your bookings.
Share it straight to social media with your campaign ID and name
Free Walking Tour of Athens
9.80 / 10 90 reviews | 470 travellers The tour was three hour long, it was interesting and complete. Though, it was really hot and we would have like to start earlier, to avoid the sun and the heat of august. 8 Anonymous
On this free walking tour of Athens you'll live and breathe the five thousand year history of the Greek capital, the foundation of European culture itself, in search of the traces of Plato, Archimedes, Athena and Zeus.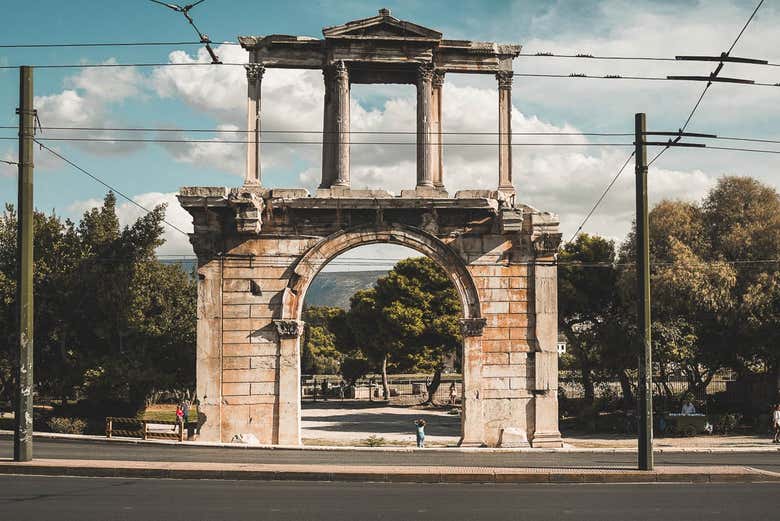 At the indicated time, the local expert guide will meet you at the Zappeio Roman Baths. Once you're all set, you'll start on a journey back through the years, in the city that birthed the modern world.
This tour won't only be about history, it'll be about understanding Greece's living spirit . We'll delve into paradoxes, passions, and manifold aspects of Greek identity. You'll leave the tour with a deeper appreciation of what makes Greece, Greece.
Along our tour, we'll see fascinating sights such as Hadrian's Arch, the Temple of Olympian Zeus, the Tower of the Winds, Mitropoli's church, Klafthmonos Square, and Syntagma Square .
After 2 hours of discovering the magic of Athens, we'll say goodbye...until the next time!
More Information
The activity takes place with a guide that speaks in English.
English–speaking local guide
When to book?
You can book up until 2 hours before the activity as long as there are still places. Book now to guarantee your spot.
Type of voucher
Electronic. Show the voucher on your phone.
Accessibility
Not wheelchair accessible.
Sustainability
All services published on Civitatis are carried out in accordance with our Sustainability Code .
Our providers commit to:
Provide a safe and satisfying experience.
Reduce, reuse, recycle.
Incorporate eco-conscious technologies.
Uphold fair employment standards.
Foster the growth of local communities.
Preserve the integrity of local culture.
Safeguard both cultural and environmental heritage.
Ensure ethical treatment of animals.
Operate with honesty and transparency.
Encourage sustainable behaviors among customers and staff.
This particular activity contributes as follows:
Printed material is avoided.
No single-use plastics are used.
The activity helps the dissemination of local cultural heritage.
No printing of documentation required.
Has a carbon footprint offset policy.
Has a gender equality policy.
Grecia Vera Show more
Corporate name: Roberto Cortese
Not permitted.
Frequently asked questions
Q - How to book?
A - To reserve the activity, choose the date and complete the form on this page. You will receive your confirmation immediately.
Q - Is a minimum number of participants required?
A - This activity requires a minimum of 10 participants. Should this number not be reached, we'll get in touch with you to offer alternatives.
If you have any other questions please contact us.
Free cancellation
If you are not able to attend the tour, please cancel your reservation, otherwise the guide will be waiting for you.
Meeting point
Zappeio Roman Baths
You may also be interested in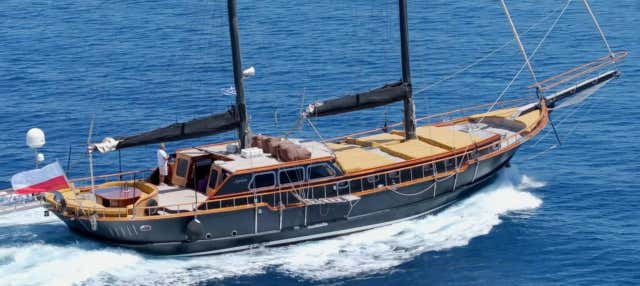 Agistri, Moni and Aegina Cruise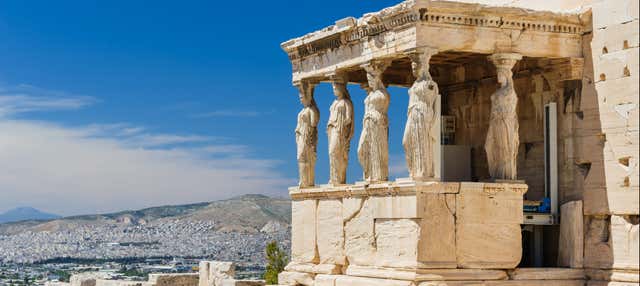 Athens Museum Pass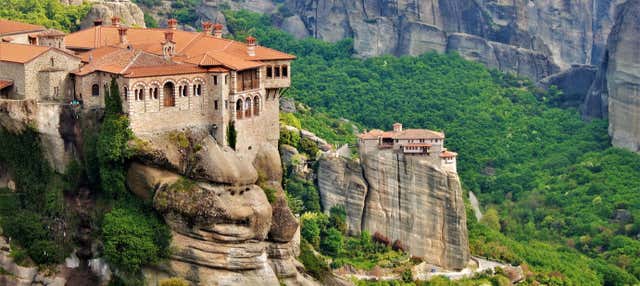 Meteora Day Trip
Login to add activities to your favorites and access them from any device
This site is reCAPTCHA protected and Google's privacy policy and terms of service apply.
Sign up on TourScanner
Don't know where to start, best places to visit in athens, tours and things to do in athens, best day trips from athens.