Vacation Rentals
Restaurants
Things to do
Carnival Cruises
Carnival Cruises from California
Carnival Cruises from Florida
Carnival Cruises from Texas
Carnival Cruises from Mobile
Carnival Cruises from Los Angeles
Carnival Cruises from Fort Lauderdale
Carnival Cruises from Miami
Carnival Cruises from Port Canaveral
Carnival Cruises from Tampa
Carnival Cruises from Charleston
Carnival Cruises from Galveston
Carnival Cruises from Norfolk
Carnival Cruises from New York City
Carnival Cruises from Jacksonville
Carnival Cruises from Baltimore
Carnival Cruises from New Orleans
Carnival Cruises from Seattle
Carnival Cruises from Honolulu
Carnival Cruises from Vancouver
Carnival Cruises from Barcelona
Carnival Cruises to Baltimore
Carnival Cruises to Bermuda
Carnival Cruises to Barbados
Carnival Cruises to Bonaire
Carnival Cruises to Curaçao
Carnival Cruises to Dominican Republic
Carnival Cruises to Puerto Plata
Carnival Cruises to La Romana
Carnival Cruises to Grenada
Carnival Cruises to Jamaica
Carnival Cruises to Montego Bay
Carnival Cruises to Ocho Rios
Carnival Cruises to Puerto Rico
Carnival Cruises to San Juan
Carnival Cruises to Martinique
Carnival Cruises to St. Lucia
Carnival Cruises to St Martin / St Maarten
Carnival Cruises to British Virgin Islands
Carnival Cruises to Tortola
Carnival Cruises to Cayman Islands
Family Carnival Cruises
Things to Do
Travel Stories
Rental Cars
Add a Place
Travel Forum
Travelers' Choice
Help Center
Carnival Valor Deck Plans & Reviews
Carnival Valor
Activities & entertainment
Art Auction *
Dance Classes
Deck Parties
One Small Step Dance Club
Evening Kids Programs *
Fitness Center
Fitness Classes *
Shogun Club Casino *
Green Eggs and Ham Breakfast *
Groove For St Jude *
Whirlpools (5)
Ice Carving Demonstrations
Iliad Library
Internet Cafe *
Jogging Track
Massage Rooms *
Photo Portraits *
Seuss_A_Palooza Parade and Storytime
Retail Shops *
Spa Carnival *
Spa Parties *
Sports Deck
Steam Room *
Video Arcade *
White Party
Wine Tasting *
Waterslides
Serenity _ Adults_Only
Circle C _ Tweens Club
Camp Ocean _ Kids Club
Club O2 _ Teens Club
Carnival Seaside Theater
Comedy Shows
Eagles Aft Lounge
Ivanhoe Theatre
Live Nightly Music
Outdoor Movies
Lincoln Dining Room - Main
Washington Dining Room - Main
Guys Burger Joint - Pool Grill
BlueIguana Cantina - Mexican
BlueIguana Tequila Bar - Pool Bar *
RedFrog Rum Bar - Pool Bar *
The Dream Bar - Casino Bar *
Rosies Lido Restaurant - Buffet
Winstons Bar - Clubby Bar *
Paris Hot Bar - Jazz Bar *
Taste Bar - Light Bites
Lindy Hop Piano Bar - Piano Bar *
Pizzeria - Pizza
Seafood Shack - Seafood *
Bronx Sports Bar - Sports Bar *
Scarletts Steakhouse - Steakhouse *
Jeannes Wine Bar - Wine Bar *
Room Service *
Excellent 41
Very Good 20
All languages ( 93 )
English ( 93 )
Upcoming itineraries
Carnival Valor Interior Info
Become a member
Privacy and Terms
Upload pictures
NCL Staterooms
Contributors photo pages
Compare Page
Upload Pictures
Use tabs above to view more details
Carnival valor interior stateroom .
Carnival Valor cruise ship Interior stateroom, floor plans, photos, videos and descriptions. Cruisedeckplans provides detail information on Carnival Valor Interior staterooms including actual pictures and videos. Click on the cabins tab for a detail listing of staterooms (cabins) that we have actual pictures and/or videos
Stateroom Pictures
Click on images below for larger stateroom pictures.
Advertising
Virtual tour.
Double click on image for full screen. Use mouse to zoom in and out.
Walk Thru With Pictures
This is a quick walk thru of Interior staterooms for the Carnival cruise ship Conquest class. Class names such as Conquest class defines similar ships within the Carnival fleet. Click on photos below for a slideshow and descriptions of the Interior category.
Scroll over cabin (stateroom) tiles below to click and watch videos
The date shown is the date video was published. use this to see current decor changes., the following are subcategories for the interior category on the carnival valor:.
Interior
These are features found in the Interior category on the Carnival Valor
Typical perks for interior, (subject to change without notice), typical floor layouts for interior.
Actual room layout and decor could be different.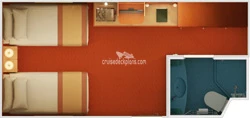 Cruise Ship Decks
1 Riviera -
2 Main -
6 Upper -
7 Empress -
8 Verandah -
9 Lido -
10 Panorama -
Cabin: 1007 Ship: Carnival Glory
Cabin: 1008 Ship: Carnival Liberty
Cabin: 1011 Ship: Carnival Valor MEMBERS ONLY
Cabin: 1016 Ship: Carnival Freedom MEMBERS ONLY
Cabin: 1017 Ship: Carnival Liberty MEMBERS ONLY
Cabin: 1020 Ship: Carnival Valor MEMBERS ONLY
Cabin: 1021 Ship: Carnival Freedom
Cabin: 1021 Ship: Carnival Liberty MEMBERS ONLY
Cabin: 1024 Ship: Carnival Liberty
Cabin: 1024 Ship: Carnival Valor MEMBERS ONLY
Cabin: 1025 Ship: Carnival Valor
Wait! We have more cabins....
Other categories on carnival valor.
Small Interior
Click for page
Interior with Picture Window
Scenic oceanview, premium balcony, ocean suite, grand suite, captains suite, join our membership website, carnival valor interior stateroom, support our site by becoming a member.
You will have access to all our pictures on our membership site. Not only that but there is no advertising, and that will make your experience that much better. You will also enjoy some added features such as being able to click on a icon on the deck plans to go straight to viewing photos/videos for that cabin. If you love cruising, then you will love our membership site. Click here to join!
Cruise Ships:
Cruise Lines:
CruiseMapper
Carnival Cruise Line
Carnival Valor
Cruise line Carnival Cruise Line
New Orleans (Port NOLA, Louisiana)
Carnival Valor current position
Carnival Valor current location is at Gulf of Mexico (coordinates 23.51966 N / -86.79630 W) cruising at speed of 17.8 kn (33 km/h | 20 mph) en route to US MSY>MX COM. The AIS position was reported 23 minutes ago.
Current itinerary of Carnival Valor
Carnival Valor current cruise is 5 days, round-trip Western Caribbean . Prices start from USD 1440 (double occupancy rates). The itinerary starts on 04 Nov, 2023 and ends on 09 Nov, 2023 .
Specifications of Carnival Valor
Carnival Valor Itineraries
Carnival valor review, review of carnival valor.
The 2004-built Carnival Valor cruise ship is the third of all 5 Conquest-class Carnival vessels - with sisterships Conquest , Freedom , Glory , Liberty .
The vessel (IMO number 9236389) is currently Panama- flagged (MMSI 354298000) and registered in Colon .
History - construction and ownership
Carnival Cruise Lines (CCL) is a US shipping company, trademarked brand and subsidiary of Carnival Corporation (shipowner). CCL was founded in 1972 as an independent company by Ted Arison (1924-1999, co-founder of NCL Norwegian ). Carnival Cruise Lines has Corporation's largest fleet as both a number of vessels and GT tonnage (ship sizes and capacities). CCL has over 1/5 of the cruise industry's worldwide market.
The 3000-passenger ship Carnival Valor and her sisterships are among the biggest in the CCL fleet. They are basically larger versions of earlier Destiny-class ships, as well as more feature-filled. More space reveals into additional decks, with even more bars and lounges, an upscale steak house, and well-proportioned public areas.
Decks and Cabins
Carnival Valor staterooms (1492 total, in 27 grades) include 54 Suites, 521 Balcony, 330 Oceanview and 587 Inside cabins, including 29 wheelchair-accessible (in all cabin categories). The ship has no "family cabins" but instead offers connecting rooms in various categories. Most cabins are sized 170-185 ft2 (16-17 m2). Cabin balconies are sized 35-75 ft2 (5-7 m2). The ship has 3 types of suites - Captain's, Grand, Ocean. The largest are Captain's Suites (500 ft2 / 46 m2 plus 150 ft2 / 14 m2 terrace).
The boat has 13 passenger decks , of which 8 are with cabins. Over 50% of all staterooms are outside, 60% of those are with balconies.
Shipboard dining options - Food and Drinks
On Carnival Valor, the two main dining rooms offer traditional dinner with set times and tablemates or flexible dining, via "Your Choice Dining" Carnival program. Washington Restaurant is nicer of the duo. It is located aft and framed by 3 walls of windows. Lincoln is positioned in a central spot, but both offer the same menu. At dinner, the vegetarian and low-carb fare is served, as well as Spa Carnival choices. Cuisine often exceeds expectations, especially at Scarlett's Supper Club and the sushi station. The casual Rosie's buffet offers a number of food stations with a variety of choices, including a salad bar, deli, dessert station, daily regional cuisines. The 24-hour room service provides a limited selection of items.
Carnival Valor emerged from her 16-day dry dock on May 08, 2016 with a host of new restaurants and bars, including upgrades already received by most of the rest vessels in the fleet. In addition to the apothecary-like Alchemy Bar, candy story Cherry on Top, RedFrog Pub and SkyBox Sports Bar, the ship also received poolside RedFrog Rum Bar and BlueIguana Tequila Bar, as well as their complementary eateries, Guy's Burger Joint (which has a tie-in with Food Network superstar Guy Fieri) and BlueIguana Cantina.
Follows the complete list of Carnival Valor restaurants and food bars.
Lincoln Restaurant (744-seat forward Dining Room, with two fixed dinner seatings or "Your Time Dining"; offers "Seuss At Sea" themed breakfasts for $5)
Washington Restaurant (1122-seat aft Dining Room, with two fixed dinner seatings and open seating breakfast and lunch)
Rosie's Lido Buffet Restaurant (1396-seat, self-service buffet restaurant with various food stations; operates as a bistro in the evenings)
Scarlett's Steakhouse (108-seat specialty restaurant for steaks and seafood; with dance floor and live music)
Sushi Bar (complimentary)
Sushi at Sea (Lido Bar) mini version of Bonsai Sushi, offers a la carte priced menu with rolls, sushi, sashimi, prices vary between USD 1,50-7,50.
Alchemy Bar, candy story Cherry on Top, RedFrog Pub, SkyBox Sports Bar, RedFrog Rum Bar, BlueIguana Tequila Bar, Guy's Burger Joint, BlueIguana Cantina.
Shipboard entertainment options - Fun and Sport
The theme of Valor's decor is "Heroes and Heroism," regarding not just Americans, but heroes from every corner of the world. Cruisers are first represented to the theme as they board through the atrium lobby on Deck 3. To be sure, there is still enough Farcus bling in the details, bright molded gold leaf-gilded eagles on simulated pedestals are scattered all around the liner, as well as coffered ceilings of glossy, reflective materials and plenty of blinking lights and flashing video screens to trigger a 1960's light flashback. Like her Conquest-class sisters, Valor also boasts a 3-deck theater - Ivanhoe, and a series of stores. Carnival Valor offers the typical Carnival experience blended with a handful of twists. The "old faithfuls" are also there: personal service and diverse evening entertainment ranging from Vegas floor show to jazz to the "piano man".
Follows the complete list of Carnival Valor lounges, clubs and other entertainment venues for kids, teens, and adults.
Ivanhoe Theatre (1400-seat main show lounge for musical productions and shows; also used for movies and bingo)
Valor Atrium American Lobby (9-deck high open floor area; features American Lobby Bar with piano and stage for live performances)
Betsy Ross Card Room (28-seat); John Paul Jones Art Gallery (36-seat); Iliad Library (17-seat; offers board games); Photo Gallery and Shop; Kiosk (S and S Card service); Capital Conference Room (100-seat)
Circle C (complimentary kids club lounge with video games, parties, and planned activities)
The Web Internet Cafe (24-hour, 6 Internet computers room)
Washington's Bar (147-seat cigar bar with live music)
The Fun Shops (offers "Bon Voyage" items, duty-free liquor, jewelry, fashion boutiques, souvenirs, logo items); Formalities Shop (tuxedo rentals, special occasion gifts)
Bronx Bar (55-seat sports bar); Java Cafe (specialty coffee bar); Jeanne's Bar (30-seat wine bar); Lindy Hop Bar (100-seat piano bar); Paris Hot Bar (88-seat jazz bar)
Shogun Casino (484-seat); King Boulevard Promenade Bar (23-seat)
Club O2 (teens' lounge for video games, movies, karaoke, and themed parties); Video Games Arcade (24-hour)
One Small Step Disco and Nightclub (211-seat); Eagles Lounge and Bar (425-seat; hosts Punchliner Comedy Club/brunch).
Argonaut area (with two Whirlpools, two poolside bars, Grilles, and stage for live performances)
Prometheus Pool area (aft pool served by Prometheus Bar, Grille, Pizzeria; with two Whirlpools and Sky Dome glass roof)
Aqua Park (Dolphin Pool area which is connected to the Twister Waterslide; with one Whirlpool, splash pools, fountains)
Carnival Seaside Theatre (LED screen outdoor cinema; with a stage for live performances)
Spa Carnival complex (with Steam Rooms, Saunas, Massage Room, Beauty Salon, Spa Pool, Gymnasium)
Sports Deck (multi-sports court/basketball, volleyball; Tennis Tables, Shuffleboard); Jogging Track; 9-hole Mini-Golf Course
Serenity (adult-only sundeck with Serenity Bar, two Whirlpools, padded lounges)
Camp Ocean (kids' club lounge hosting complementary programs with supervised activities, an outdoor playground). Camp Carnival's wading/paddling pool for kids is no longer available.
Itineraries
Carnival Valor itinerary program is based on week-long roundtrip cruises departing from Bridgetown and San Juan . Out of Port Canaveral , the ship offers Western Caribbean sailings to Puerto Rico, Mexico, Belize , Roatan , Grand Turk , and the Bahamas.
In 2021, Carnival Valor has scheduled two Transatlantic crossings. Both itineraries are 15-days, one eastbound from Port NOLA New Orleans to Barcelona (January 25 - February 9, visiting Hamilton Bermuda, Funchal Madeira, Malaga, Valencia) and one westbound from Barcelona to NOLA (February 26 - March 13, visiting Cartagena, Malaga, Funchal Madeira; Philipsburg St Maarten, San Juan Puerto Rico). Both Transatlantic cruises were planned because of the 17-day drydock refurb at Navantia Shipyard (in Cadiz Spain ).
Carnival Valor - user reviews and comments
Photos of carnival valor.
Carnival Valor ship related cruise news
CCL-Carnival adds new European cruises and more itineraries/ships visiting Celebration Key Bahamas
CCL-Carnival Cruise Line has shared details about its 2025 deployment, which encompasses European cruises aboard the Carnival Miracle and an array of...
Crew medevaced from CCL-Carnival Cruise Line's ship Carnival Valor
The U.S. Coast Guard (USCG) released footage of another rescue involving a CCL-Carnival Cruise Line ship as they were called to medevac a 29-year-old...
Passenger missing from Carnival Valor ship rescued by the USCG in the Gulf of Mexico
A man reported missing from the CCL-Carnival Cruise Line's ship Carnival Valor navigating in the Gulf of Mexico was found in the water/rescued...
Passenger medevaced from Carnival Cruise Line's ship Carnival Valor
A CCL-Carnival Cruise Line passenger was airlifted close to Venice (Italy) on Saturday, April 9, after experiencing stroke-like symptoms...
32 year-old woman jumps overboard on Carnival Cruise Line's Valor ship in Gulf of Mexico
The United States Coast Guard (USCG) is searching for a missing cruise passenger who went overboard a Carnival Cruise Line ship in the Gulf of Mexico...
53-year-old passenger medevaced from Carnival Valor in Gulf of Mexico
A US Coast Guard rescue helicopter flew 200+ miles into the Gulf of Mexico on Wednesday, December 22, to aid a cruise passenger suffering a possible...
CCL-Carnival Cruise Line's ships restarting in January-February 2022
CCL-Carnival Cruise Line announced plans for more cruise ship restarts for January & February 2022, as the company is working towards the return...
Carnival Glory is the first cruise ship to embark from New Orleans (Port NOLA, Louisiana)
On Sunday (September 19), Carnival Glory departed from Port NOLA/New Orleans, Louisiana USA) for a week-long voyage and became the first ship to...
More CCL-Carnival Cruise Line's ships restart in November 2021, some in 2022
With 8 of its boats already in passenger shipping operations, and more restarting in September-October 2021, CCL-Carnival Cruise Line announced...
CCL-Carnival Cruise Line announces major itinerary 2021 changes
CCL-Carnival Cruise Line released plans for additional cruise ship deployments as the company continues to refine its phased-in approach to a return...
Other Carnival Cruise Line cruise ships
Carnival Breeze
Carnival Celebration
Carnival Conquest
Carnival Dream
Carnival Elation
Carnival Firenze
Carnival Freedom
Carnival Glory
Carnival Horizon
Carnival Jubilee
Carnival Legend
Carnival Liberty
Carnival Luminosa
Carnival Magic
Carnival Mardi Gras
Carnival Miracle
Carnival Panorama
Carnival Paradise
Carnival Pride
Carnival Radiance
Carnival Spirit
Carnival Splendor
Carnival Sunrise
Carnival Sunshine
Carnival Venezia
Carnival Vista
Carnival Valor Wiki
Fun Ship 2.0 upgrade was done in 2016. Valor is of Carnival's Conquest-class liners ( Fincantieri Monfalcone -built), with sisterships Conquest , Freedom , Glory , Liberty . The vessel was christened by godmother Katherine Anne "Katie" Couric - US journalist, author at "Yahoo! Global News"). Ship's interior design decoration follows the "Heroes and Heroism" theme (by Joe Farcus).
Due to scheduled drydock refurbishment projects , in September 2020 CCL canceled all planned for 2020 and 2021-Q1 itineraries for 4 ships.
Carnival Magic itineraries from Miami Florida were canceled from November 7, 2020, through March 13, 2021 (1st departure).
Carnival Paradise itineraries from Tampa Florida were canceled from November 2, 2020, through March 19, 2021 (1st departure).
Carnival Valor itineraries (28 total) from NOLA New Orleans were canceled from November 2, 2020, through April 29, 2021 (1st departure), including two Transatlantic crossings - from NOLA (January 25) and from Barcelona (February 26).
Carnival Spirit itineraries from Brisbane Australia were canceled from December 6, 2020, through May 16, 2021 (1st departure is on June 12 / repositioning cruise from Singapore to Brisbane).
Carnival Valor refurbishment 2016 review
The list of deckplan changes made during the ship's drydock 2016 refurbishment (April 23 - May 7, done in Freeport Bahamas ) includes:
New eateries and poolside bars (by the Fun Ship 2.0 program) were added on Lido Deck 9. These are Guy's Burger Joint (replacing the Grille /starboard), BlueIguana Cantina (replacing the Grille /portside), RedFrog Rum Bar (pool forward starboard) and BlueIguana Tequila Bar (pool forward portside).
On Promenade deck 5 was added the Cherry on Top (candy shop) replacing the Formalities shop. New bars on Deck 5 are SkyBox Sports Bar (replacing Bronx Bar /portside), Alchemy Bar (replacing Jeanne's wine bar) and RedFrog Pub (taking some space from the Club O2 lounge /portside).
Various technical enhancements were also be implemented, including shoreside power capabilities . Routine maintenance works included new hull coating.
In 2021-Q1 (February-March-April / refurb dates TBA) Carnival Valor will be drydocked at Navantia Shipyard ( Cadiz Spain ), mainly for general maintenance works.
Vessel's first drydock refurbishment was in 2008 ("Fun Ship 1.0" / "Evolution of Fun"). A new Mongolian Grill was added to the Lido restaurant, and Lido Deck received the huge LED screen for outdoor movies and shows. The second drydock was in 2011 (2-week project).
In 2011 were improved the Serenity (adults-only sundeck), 6 new scenic oceanview rooms and 2 new suites were added. Routine maintenance and some enhancements in the hotel, the public area and lounges were also done. Drydocks 2014-2016 added "Fun Ship 2.0" upgrades - new bars, lounges, new dining and entertainment options.
Carnival Valor
Courtesy of Carnival Cruise Line
Find a Cruise on Carnival Valor
with a cruise advisor
Traveler Reviews
A ship's traveler rating is provided under license by Cruiseline.com , which manages one of the largest databases of cruise reviews and ratings by travelers. A total of 3958 guests have reviewed Carnival Valor , giving it a rating of 4 on a scale of 1-5.
Cruiseline Travel Rating:
Reviews by traveler type, most recent reviews.
Oct 21st, 2023
Always an amazing and relaxing cruise. Our first time to go to Mr. Sanchos and we will definitely go back there.
Traveler Type
Overall superb trip !
Oct 16th, 2023
Would definitely do this cruise again but would like to do 7 days AND do more excursions.
Very Relaxing and Enjoyable Experience
Oct 10th, 2023
Of the Cruises we have been on , i found the staff on this ship to be of the best i've ever seen , she ship had lots to do, was kept clean and the food was excellent . the bartenders while busy not only remembered us personally they even remembered our drinks , and out of all those people they and the room attendant for our stateroom made us feel welcome and at ease the whole time along with all the other staff we encountered along the way. will 100% be back again!!
2-3 cruises
Relaxing Caribbean Cruise!
Oct 7th, 2023
Great cruise! Would love to go on another. The staff were all kind and excellent and the ship is in great condition for it's age.
did not meet expectations
Overall we did enjoy ourselves but now we know how this ship is and will not go back on it again.
First time cruisers
Oct 5th, 2023
The staff have to be the hardest working people ever. Unbelievable how they care for and keep up with three thousand people plus themselves.
1 cruise (first)
Amazing family vacation.
Oct 1st, 2023
We had a great time. I wish there was more interaction with the cruise director. We only seen him a couple times throughout the cruise unlike past cruises where you would always see them walking about engaging guests. He was a great guy though.
Family (older children)
4-6 cruises
Wonderful trip
Cruise was very good. Ship is nice and is very clean and in good shape for its age. Costa Maya was very nice and the pool there is super nice. Lord of photo opportunities. Went to the fish spa which was really cool. Cozumel was great. Went on a dolphin and manatee swim and then hung out at the pool at an all inclusive resort. It was great. Shops were real nice and not too expensive. Carnival tried to make sure you had plenty to do to keep you enjoying your trip
Excellent Cruise on the Carnival Valor!
Sep 27th, 2023
Everything went well on our cruise-No Complaints! WE enjoyed all the onboard activities!
Singles/Friends
Great cruise
Sep 26th, 2023
People were really friendly. Service was top notch.
Disclaimers about ship ratings: A ship's Health Rating is based on vessel inspection scores published by the Centers for Disease Control and Prevention (CDC). If a ship did not receive a CDC score within 22 months prior to the calculation of its Overall Rating, its Health Rating appears as N/A; in such a case, the ship's Overall Rating is calculated using the average Health Rating of all CDC-rated ships within the cruise line. All ship Traveler Ratings are based on ratings provided under license by Cruiseline.com.
You Might Also Like
Carnival Dream
Carnival Magic
If you make a purchase from our site, we may earn a commission. This does not affect the quality or independence of our editorial content.

Cruise Lines
Carnival Cruise Line
Carnival Valor
Cruise search, special cruise offers.
Royal Caribbean
30% OFF ALL Guests + Kids Sail FREE + Instant Savings + FREE GRATUITIES or Up to $1,700 Onboard Credit
Norwegian Cruise Line
2nd Guest FREE + Take All FREE + BOGO Airfare + Up to $1,700 Cash Back
Holland America
60% OFF Premium Amenities: Shore Excursions + Premium Wi-Fi + Specialty Dining, + Beverage Package
Princess Cruises
Up to 50% OFF + 50% OFF Deposits + Up to $1,785 Onboard Credit
Celebrity Cruises
Up to 40% OFF ALL Guests + 3-5 Guest Sail FREE + FREE Amenities Included: FREE Beverage Package Gratuities + Wi-Fi + Up to $1,700 Onboard Credit
Featured Cruise Deals
Other cruise options.
Last Minute Cruise Deals
Land Tour Deals
View Golf Vacations
Shop by Destination
Shop by Cruise Line
Cruise From Port Near You
Holiday Sailings
Luxury Cruises

About Carnival Valor
Exciting enhancements were made to Carnival Cruise Line's 110,000-ton, 2,980-guest Carnival Valor in 2016. New dining venues were added including a poolside eatery for burgers and one with Mexican favorites, bars, fun activities and youth programs for kids and more, making the family-friendly Conquest Class ship more popular than ever for all age groups.
Step aboard and fun will greet you at every turn. Melt your cares away as you relax in the whirlpools and at the swimming pools. Kids also have their own for wading. Thrill-seekers will find hair-raising excitement at the four-deck-high, 214-foot-long waterslide.
Relaxing spots can be found throughout the ship, with nearly 20 fun bars and lounges to meet-up with friends and enjoy your favorite drink. An immense 14,500-square-foot spa offers several fabulous treatments that will leave you feeling like new and the state-of-the-art fitness center boasts a variety of high-tech equipment. Touch base with those back home and friends at an Internet café, catch up with your reading at the library and get some retail therapy at the onboard shops. Exhilarating entertainment options include special evenings with production shows, comedy acts and more.
Kids will feel like they are at summer camp with supervised age-specific activities at the specially designed program. Cool places for teens include a video arcade and their own club where they can hang-out, watch movies and listen to music.
Make sure you bring your appetite along, as exciting dining options — many complimentary — are offered on the Carnival Valor. Delicious international cuisine is served at the stunning main dining rooms, with an Art Deco design and huge chandeliers. Extensive menus change daily with enticing choices and a kids' menu features all their favorites, so mealtimes are easy and fun for the whole family. Take your taste buds on a vacation around the world at diverse food stations at the casual buffet, where you can savor delicious Chinese food, New York-style deli fare and many other options. Whenever you have a craving, room-service is offered 24/7 as well as fresh hot pizza.
Multi-course gourmet dinners were designed to thrill foodies, while a host of casual eateries include mouthwatering hand-made burritos and tacos, plus a poolside hamburger joint with handcrafted burgers and fresh-cut fries.
Select from a myriad of spacious accommodations — many specially designed for families. Stay in an Interior Stateroom or Ocean View, a grand with a Balcony or a Suite, they are all fabulous and well-appointed. A steward is on duty 24/7 to assist you with your needs.
Exciting entertainment is featured for everyone in the family to enjoy, including dazzling shows at the three-level theater. View hit movies, concerts and more at the jumbo-sized LED screen and head to the excitement at the bustling casino with all your favorite games. Dance the night away and join the laughter at the comedy club.
Take the whole family along and enjoy the fabulous resort-style Carnival Valor.
Carnival Valor sails to the Caribbean.

Captain's Suite
This is the best room you can get… without bunking up with the guy himself. A Captain's Suite aboard Carnival Valor features tons of indoor space, and a huge balcony when you need a little more. Back inside you'll find a king-size bed, two full bathrooms (one with whirlpool tub), plus a separate living room that sleeps another three. And VIP check-in? Naturally.
Grand Suite
A Grand Suite aboard Carnival Valor features even more space than the standard suite — plenty of room in your room! This stateroom is loaded for an unparalleled experience: VIP check-in, a huge balcony, and even a convenient dressing area with vanity.
Ocean Suite
A Carnival Valor suite is the ultimate way to cruise. With more space for stretching out indoors, plus a large balcony for kicking back outdoors, try an Ocean Suite to experience private, luxurious relaxation. Ocean Suites also include VIP check-in, walk-in closet and bathroom with whirlpool tub.
Junior Suite
As you step into a Junior Suite aboard Carnival Valor, you can't help but feel that you're stepping into full-size luxury in a smaller package. Featuring a standard-size balcony, in a Carnival Valor Junior Suite you'll find everything else there is to love about a suite, including VIP check-in, a walk-in closet… and even a whirlpool tub for relaxing.
Premium Vista Balcony
Premium Vista Balcony staterooms were designed to wrap around the aft corners of Carnival Valor, giving you a unique vantage point from which to enjoy luxuriously panoramic views of the sky and the sea — and yes, take in even more of that sunshine.
Premium Balcony
Step into a Premium Balcony stateroom aboard Carnival Valor and it's easy to see exactly what you're getting: one seriously spacious stateroom. It's about more than just the room itself, you'll find… step onto your oversized balcony and you'll find that when there's a sea breeze in your hair, there's no limit to the relaxation you can have.
Aft-View Extended Balcony
Aft-View Extended Balcony staterooms feature a larger balcony for more lounge-around room, more kick-back space… not to even mention some of the best stern-side views you'll find anywhere. Get ready to relax as you gaze upon Carnival Valor's gentle wake from your spacious balcony.
Balcony staterooms were designed for maximum sea breeze and the most stunning views, so look to a balcony if you're looking to cruise aboard Carnival Valor. Any time you're in your room, you're just steps away from your own personal outdoor oasis, featuring the sort of sea view you can also feel.
Scenic Grand Ocean View
Your Scenic Ocean View stateroom aboard Carnival Valor provides the best view of the sea that lies ahead of the ship, with views unlike any on land. And you'll get more of them, too, with floor-to-ceiling windows providing plenty of looking-glass for gazing at the natural wonders of the sea… and let's not forget sunrise and sunset.
Scenic Ocean View
A picture window gives you views of scenery you won't find anywhere on land, all from the comfort of your stateroom.Dedicated stateroom attendant, Soft, cozy linens, Plenty of closet and drawer space, In-room safe for valuables, Television, Stateroom climate control.
Interior with Picture Window (walkway view)
Your picture window gives you a view beyond your stateroom, to the observation deck outside, including a great sky view. (Note: view will be partially obstructed.)
This is an affordable way to cruise without leaving out the comfort or convenience! Great for curling up after a long day of fun. Dedicated stateroom attendant, Soft, cozy linens, Plenty of closet and drawer space, In-room safe for valuables, Television, Stateroom climate control.
A pair of round windows in your room give you the classic seafarer's view times two, a view of the ocean without breaking the budget.Dedicated stateroom attendant, Soft, cozy linens, Plenty of closet and drawer space, In-room safe for valuables, Television, Stateroom climate control.
Interior Upper/Lower
These staterooms are great for a pair of cruisers on a budget, creatively maximizing space with a different layout — featuring one Twin bed, and either an upper Pullman or sofa bed.
View Deck Plan
Lincoln Dining Room
Decks: 3 Lobby 4 Atlantic
Lincoln Dining Room.

Rosie's Restaurant
Deck: 9 Lido
Rosie's Restaurant.
Scarlett's Steakhouse
Deck: 10 Panorama
Scarlett's Steakhouse.

Washington Dining Room
Washington Dining Room.

Deck: 5 Promenade

Sushi At Sea
Sushi At Sea.
Dining Room Annex
Deck: 3 Lobby
Dining Room Annex.

King Boulevard
King Boulevard.

Blue Iguana Cantina
Nobody knows Mexican dining like a blue iguana. Well, our blue iguana, at least. That's why it should come as no surprise that the BlueIguana Cantina features freshly made tacos and burritos stuffed specially for your enjoyment. Throw our homemade tortillas and salsa into the mix, and you have a casual dining experience that will make you say "mmmm" (which is actually Iguanese for "more, please").Nobody knows Mexican dining like a blue iguana. Well, our blue iguana, at least. That's why it should come as no surprise that the BlueIguana Cantina features freshly made tacos and burritos stuffed specially for your enjoyment. Throw our homemade tortillas and salsa into the mix, and you have a casual dining experience that will make you say "mmmm" (which is actually Iguanese for "more, please").

Mongolian Wok
Chow down on some delicious Asian goodness. First, select your noodles and veggies. Then tell one of our chefs which sauce and meat you want in the wok. Will it be mussels and Szechuan? Beef and Thai barbecue? Chicken and black bean? Don't worry, the decision doesn't have to be final — you can come back to Mongolian Wok and try all the combos your heart desires!
Looking for a little taste from the old neighborhood? Pile 'em high at the Carnival Deli. Enjoy old time favorites like a hot pastrami on rye, grilled Reuben, or roasted turkey breast on a country roll. Our sandwiches and wraps are always hand-carved and served fresh with cole slaw or relish. Come by, satisfy your craving for a great sandwich and make sure you don't forget the kosher dill.
Seafood Shack
A good seafood dish is quite the catch. However you like yours served — whether it's on a roll or a platter — Seafood Shack's the place to cast your net. Imagine a New-England-style seaside spot where you can take it all in, enjoying a great meal complete with a side of ocean view. On a Carnival cruise is where you'll find this shack by the sea, wherever in the world you happen to be!

Guy's Burger Joint
We went looking for someone to help us grill up the best burgers at sea, and we found just the guy. Carnival has teamed up with best-selling author, restaurateur and Food Network personality Guy Fieri to bring all the authentic appeal of a roadside burger shack to Guy's Burger Joint, the cool poolside spot for hot burgers and hand-cut fries. Try a fresh-off-the-grill burger Guy's way, or take it off-road to our toppings bar and truly make it your own.
Grand Buffet
Grand Buffet.
Ol' Fashioned BBQ
Ol' Fashioned BBQ.

Carnival Seaside Theatre
Carnival Seaside Theatre.
Ivanhoe Theatre
Decks: 3 Lobby 4 Atlantic 5 Promenade
Ivanhoe Theatre.
Shogun Club Casino
Shogun Club Casino,
Iliad Library
Deck: 4 Atlantic
Take a moment to sit down and browse through a magazine, take a look at the newspapers, or pick out a book that you'd really like to read. You can take it with you to enjoy in your stateroom or by the pool! Or settle in and play one of the library's board games.

American Lobby
American Lobby.
One Small Step Dance Club
One Small Step Dance Club.
The Fun Shops
The Fun Shops.

What does the "C" in Circle "C" stand for? Well, "chill," "connect" and "cool," just to name a few. It's where young teens ages 12 to 14 go to hang out, meet new friends, and enjoy some pretty awesome activities like dance parties, games, outdoor movies and more, in the special Circle "C" area or around the ship. It's all supervised by friendly and fun-loving counselors who want your young teens to have the best vacation ever.
Your parents deserve a nice vacation… but then again, so do you. So let's let them go do their thing while you do yours. Where to? Club O2. Hang out and do stuff like watch movies, listen to music from this decade, play sports and video games, join karaoke jam sessions… maybe even have a pool party or two, all with other high schoolers ages of 15 to 17.

Video Arcade
If you love to play video games, you're in luck. Our video arcade boasts a huge array of games, and is open to players of all ages, all night and all day. So get some tokens from the vending machine and let the fun times begin. Challenge your friends to a game, or just see if you can beat the top score. After all, with the video arcade open 24 hours and an entire cruise ahead of you, you have plenty of time to try.
Spa Carnival
Decks: 11 Spa 10 Panorama
When it comes to complete relaxation from the inside out, nothing beats a trip to the spa. From the minute you step inside, the soothing ambiance begins to work its magic. Renew yourself with premium beauty and wellness therapies, like hot stone massages, aromatherapy or full-body wraps. This is your time to be spoiled, indulged and even beautified. Lie back, close your eyes, and feel the stress sail away as your body and mind experience total tranquility. (Oh yeah, and this feel-good stuff isn't just for the ladies — dudes, there are plenty of treatments on our menu for you too.)

Deck: 12 Sun
When families cruise Carnival, even the smallest fish in the pond have a big, awesome time. Okay, so it's actually way more than just a pond — it's Camp Ocean. At Camp Ocean, 2–11 year-olds stay busy, keep active and have fun as they enjoy all new ocean-themed activities and entertainment made for kids.

Lindy Hop Piano Bar
Lindy Hop Piano Bar.

Paris Hot Bar
Paris Hot Bar.

Winston's Bar
Winston's Bar.

Eagles Aft Lounge
Eagles Aft Lounge.

Atrium America
Decks: 4 Atlantic 5 Promenade 6 Upper 7 Empress 8 Verandah 9 Lido 10 Panorama
First impressions are important — everyone knows that. We'll let you in on a little secret: that's why it's so important to us that the atrium, your first taste of your Carnival cruise, tastes like 'wow.' From the moment you step aboard, the atrium — the heart of the ship — simply screams "welcome aboard!" It screams it with hustle, with bustle, with music and with high ceilings featuring panoramic views of the whole scene from the upper decks. This 360-degree funspot is also the home of the Guest Services desk, the place you go if you have questions for one of our certified fun experts… about just about anything that's on your mind.
Sports Deck
Deck: 11 Spa
Sports Deck.
Jogging Track
Jogging may not immediately come to mind when you think of things to do at sea, but it probably should. You don't have to walk on water, you just have to get on a Carnival cruise. After all, if you're going to jog, you'd be hard-pressed to find a place to do it with a more scenic view, or a more refreshing breeze — both of these are available in abundance when you go for an open-air jog on the upper-deck. Jogging tracks are available on all Carnival ships, and are even padded for long-distance comfort.

Argonaut Pool
Argonaut Pool.

Prometheus Pool
Prometheus Pool.
Dolphin Pool
Dolphin Pool.
Ah, imagine a perfect day out on the links, the golfer's zen of the ball, the hole and nothing in between but well-manicured fairway... plus one cactus, a treasure chest... and wait, is that a windmill in the way? Just who designed this course anyway? Whoever it was, they had one thing in mind — maximum fun for mini-golfers, big and small! That's precisely why you'll find a course on every Carnival ship, where you can hit the holes and take in everything you'd expect, like the sights and the sounds... plus the seagulls.

The Photo Gallery

Shore Excursions
Shore Excursions.

Guest Services
Guest Services.
Art Gallery
Art Gallery.

Glory Atrium

Cherry On Top
A cruise is the perfect time to treat yourself to something sweet, and Cherry On Top™ happens to be the perfect place. You'll find this well-stocked candy-and-more-store not only great for enjoying some of your confectionery favorites, but the place to pick up food and apparel gifts for that special someone, even if — admit it — that someone happens to be you!

Sky Box Sports Bar
Get hands-on with a game, a drink… and high-fives galore! SkyBox Sports Bar gets you right onto the 50-yard line of onboard sports action. Grab a drink or order some snacks — they're great while kicking back and watching your favorite teams on one of the big screens, or just dropping by to check out real-time scores and headlines on the panoramic ticker. And if you're feeling lucky, feel free to grab a controller and get a little competitive with the latest sports game titles. They're free to play, so find a friend or three and get set for some serious play-action.Get hands-on with a game, a drink… and high-fives galore! SkyBox Sports Bar gets you right onto the 50-yard line of onboard sports action. Grab a drink or order some snacks — they're great while kicking back and watching your favorite teams on one of the big screens, or just dropping by to check out real-time scores and headlines on the panoramic ticker. And if you're feeling lucky, feel free to grab a controller and get a little competitive with the latest sports game titles. They're free to play, so find a friend or three and get set for some serious play-action.

The Dream Bar
The Dream Bar.

Internet Cafe
Internet Cafe.

Red Frog Pub
Get into an island state of mind before you even set foot on one. RedFrog Pub is our laid-back, no-worries, oh-so-lively Key West-inspired pub. Sample Caribbean fare, dominate at the foosball table, enjoy some sweet tunes from live musicians and sip our tasty signature private-label brew, ThirstyFrog Red. So kick back and feel the island vibe come to life. You'll be a local here before you know it.

Alchemy Bar
No magic spells are required to enjoy a cocktail creation at Alchemy Bar, our unique vintage-themed cocktail "pharmacy" — all you need is a willingness to be surprised, to try something new. We've flipped through dusty old texts to uncover enticing combinations: select spirits, fresh juices, infused syrups, spices… and other tantalizing secrets performed before your very eyes by the true mix-masters: our bartenders. Choose a remedy from the menu, or let us prescribe you a custom elixir just for you, with or without alcohol.

Red Frog Rum Bar
Guests have told us we hit on something special with the cool Caribbean chill of the RedFrog Pub. We've taken the best parts and brought them poolside with the RedFrog Rum Bar, where the frog keeps the fun hopping day and night with all the island flava you know and love. Join the party at this poolside bar featuring a great selection of frog-approved Caribbean rum-based concoctions available by the glass or pitcher, plus plenty of Carnival's signature private-label draft beer, ThirstyFrog Red.Guests have told us we hit on something special with the cool Caribbean chill of the RedFrog Pub. We've taken the best parts and brought them poolside with the RedFrog Rum Bar, where the frog keeps the fun hopping day and night with all the island flava you know and love. Join the party at this poolside bar featuring a great selection of frog-approved Caribbean rum-based concoctions available by the glass or pitcher, plus plenty of Carnival's signature private-label draft beer, ThirstyFrog Red.
Blue Iguana Tequila Bar
BlueIguana Tequila Bar is the onboard spot to chill and enjoy a slushy tequila drink or an ice-cold Mexican cerveza. The menu offers up Mexican favorites, including several brands of tequila and a slew of Mexican brews. There's a lineup of frozen concoctions, cocktails and margaritas served by the glass or by the pitcher, and even a special Mexican beer cocktail (yes, really). Where can you find this little slice of Mexican paradise? Next to the pool, of course. So stay cool and take in the bar's vacation vibe while you kick back on your cruise – that's what official bar mascot Blue the Iguana would tell you.
Sliding Sky Dome
Sliding Sky Dome.
Fitness Center
We have some bad news for you — your ship has a gym. In other words, there's no excuse for leaving your fitness routine back on land. That's great news, however, for your body, which will definitely benefit from all the extra energy that vacationing pumps directly into you. And let's not forget the extra time you'll have, since you won't be waking up and spending most of the day at the office or anything like that. If those were some of your go-to excuses, we're sorry, but we all know this is important. Why not treat yourself to some of our fitness classes — you might even have a little fun while you do something great for yourself!
Fitness Studio
Fitness Studio.
Massage Room
Cruising always feels good, but it doesn't usually — ooh, right there. Right where? Sorry, we're at the onboard spa, where they do these amazing massages by hand. But they don't just stop there — they've got tools to enhance the benefits too. Select from different hands-on experiences featuring seaweed for detox, herbal poultice for energy, bamboo for deep tissue penetration and hot stones for — ahhh — for perfection. We know you're all about feeling good, and so are these massages.
A trip to the salon is an opportunity to relax, to chat with others, to focus on yourself. It's about more than just getting your hair or nails done… but it's definitely about getting your hair or nails done! Even though you're on vacation, you won't have to settle for anything less than the salon style you're used to back on land. And these good looks go beyond the usual — we even offer services like teeth whitening… great for taking those 'I'm on vacation and I'm looking great!' smiles to the next level.

Decks: 12 Sun 14 Sky

Slide Entrance
Deck: 14 Sky
Slide Entrance.

EXCLUSIVE MEMBER SAVINGS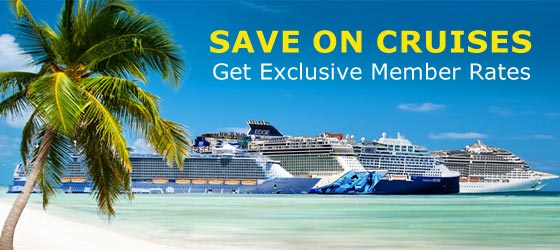 Often cruise lines offer special rates that cannot be displayed to the general public. By registering with Cruise.com you will be able to view these special rates and offers.
Register with Cruise.com to get access to:
Exclusive Rates
Special Amenities
Login to Your Account
There was an error! Please re-enter your credentials and try submitting the form again.
Reset Your Password
Please enter the email associated with your account so that we may send you a link to reset your password.
An email was sent to the address provided with instructions on how to reset your password.
Oops! There was an error with the email you provided.
Frequently Asked Questions
PLAN A CRUISE
Today's Deals
Search Cruises
Travel Agent Finder
Weddings & Occasions
Carnival Mastercard
Financing Powered by Uplift
Carnival EasyPay
Group Travel
Already Booked
Manage My Cruises
Shore Excursions
In-Room Gifts & Shopping
Spa & Salon Services
Internet Plans
Beverage Packages
Customer Service
Have Fun. Be Safe.
Guests with Disabilities
Early Saver Price Protection Form
Lowest Price Guarantee Claim Form
Post-Cruise Inquiries
Legal Notices for EU & UK Guests
Diversity, Equity and Inclusion
Slavery Statement
About Carnival
Cruise Ticket Contract
Passenger Bill Of Rights
Safety and Security
Press/Media
Legal Notices
Privacy & Cookies
Travel Partners
Site Map
Away We Go. Opens in a new window. External site which may or may not meet accessibility guidelines
Facebook. Opens in a new window. External site which may or may not meet accessibility guidelines.
Twitter. Opens in a new window. External site which may or may not meet accessibility guidelines
Instagram. Opens in a new window. External site which may or may not meet accessibility guidelines
Pinterest. Opens in a new window. External site which may or may not meet accessibility guidelines
You Tube. Opens in a new window. External site which may or may not meet accessibility guidelines
© Carnival Corporation. All rights reserved.
Indicates external site which may or may not meet accessibility guidelines.

Carnival Vista Ship Review [PHOTOS]
Doug Parker
November 4, 2023
12 min read
Cruise Reviews
I recently sailed on Carnival Vista on a Western Caribbean cruise. Although several years old at this point – since it debuted in 2016 – it was the first ship in the Vista class and still constantly ranked as a favorite among Carnival guests.
This is my Carnival Vista cruise review.
In this article:
Carnival Vista Overview
Standard cabins, family harbor staterooms, havana staterooms, shows and punchliner comedy club, carnival vista dining, entertainment, cloud 9 spa, kids & teens, a few "misses" on carnival vista, final thoughts of carnival vista, carnival vista cruise review and tour [video].
Carnival Vista is the namesake of the Vista Class , surpassing its predecessor, the Dream Class, by 5,000 tons. By incorporating many successful features from previous Carnival ships and introducing innovations, Carnival Vista quickly became popular when it debuted in 2016.
Distinctive branded partnerships stand out on Carnival Vista, from the complimentary poolside hamburger venue, Guy's Burger Joint — created by celebrity chef Guy Fier i — to an IMAX Theater and the RedFrog Pub & Brewery, the first North American-based ship to feature a brewery at sea (not surprisingly, shipboard breweries are a popular feature on Carnival's German-based sister company, AIDA Cruises).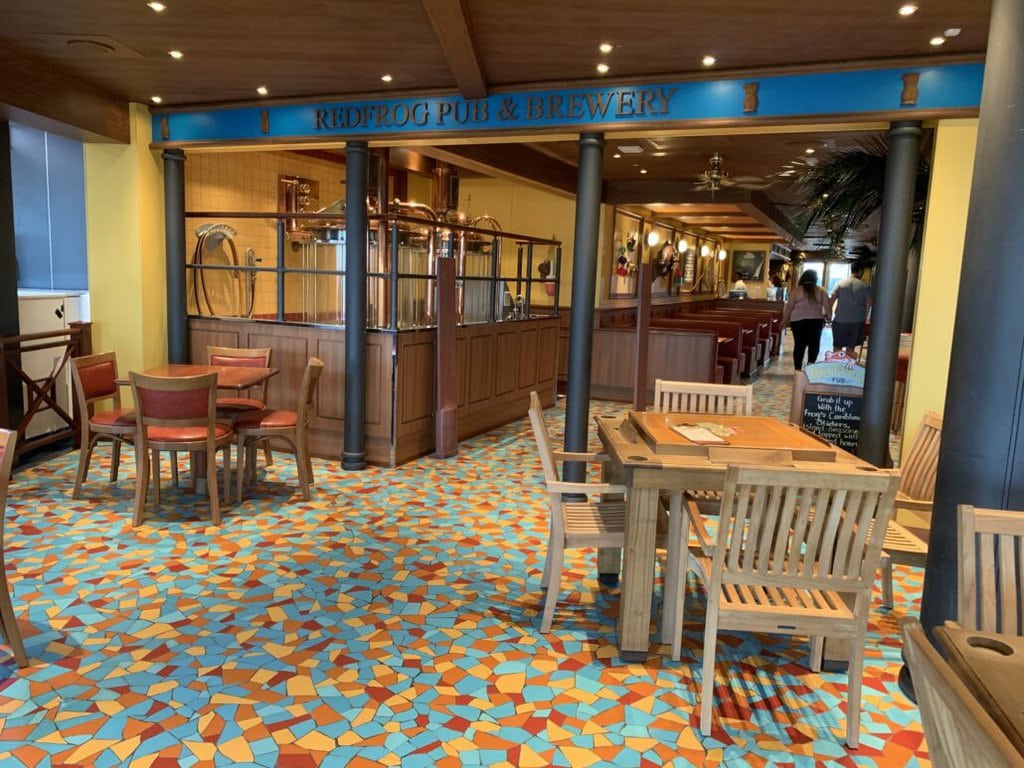 Carnival Vista also leverages the latest technological advances common across the fleet.
Facial recognition software enables passengers to sift through digital photos, accessible via iPads in the Pixels gallery, on stateroom televisions, or even smartphones through the HUB app.
The app also helps guests find onboard events via digital Fun Times, view their spending accounts, and chat with other guests.
(Note: While the app is free, there's a $5 additional charge for the chat feature.)
Staying connected during your cruise is affordable thanks to tiered Internet pricing plans with Starlink high-speed internet.
What we love about Carnival Vista
Top deck SkyRide
Thrill Theater
RedFrog Pub and Brewery
First IMAX Theater at sea
Carnival Vista stands out from the line's typical ship designs with its modern Caribbean resort vibe and subdued color palette, in contrast to the flashy carpets and neon lighting of Carnival ships.
Instead of glass elevators, the ship's atrium has a three-deck-high HD LED sculpture called the Dreamscape, which can be programmed with various themed images and messages, "altering the space's ambiance," is what Carnival told me. A smaller version of this digital centerpiece is located in the casino.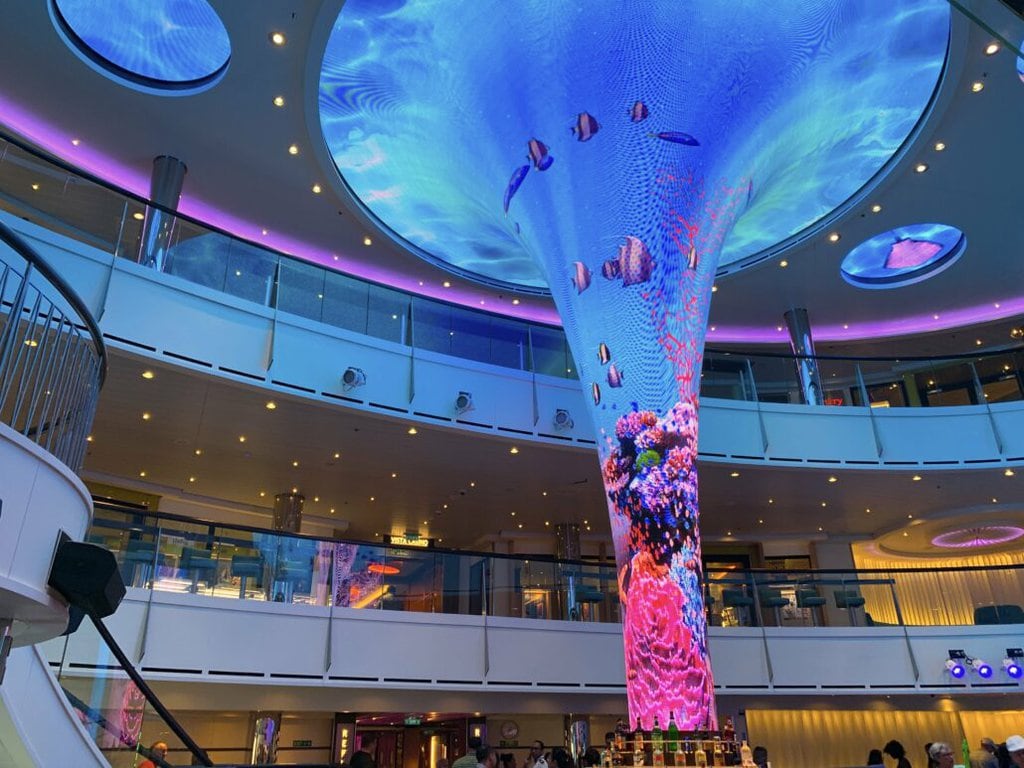 As you explore Carnival Vista, you'll find it's designed to encourage conversation. Public areas, like the Alchemy Bar and Ocean Plaza , offer open and comfortable seating, as do unexpected spots like the hallways on deck four, where benches are integrated into the walls.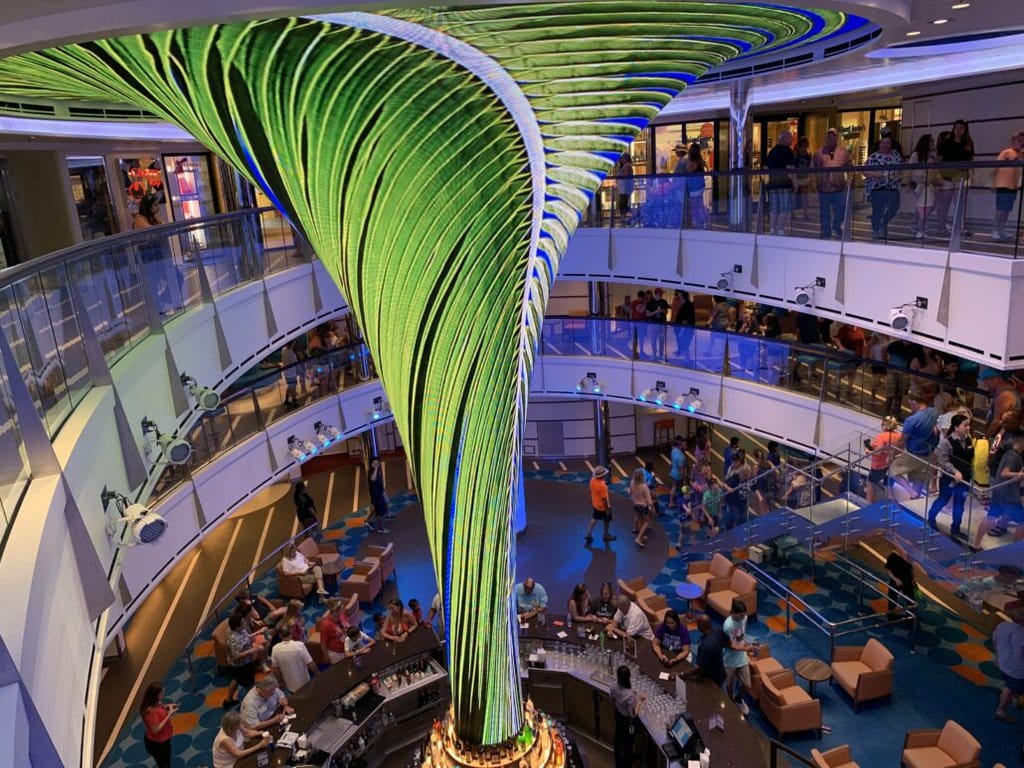 Carnival Vista Staterooms
Carnival Vista has two unique categories within standard cabin classes . One thing to remember about Carnival is that the stateroom steward will only make the room once daily.
On embarkation day, you will have to tell your attendant if you would like morning or evening cabin servicing. Many give push back on it but the truth is, it's quickly becoming the industry norm.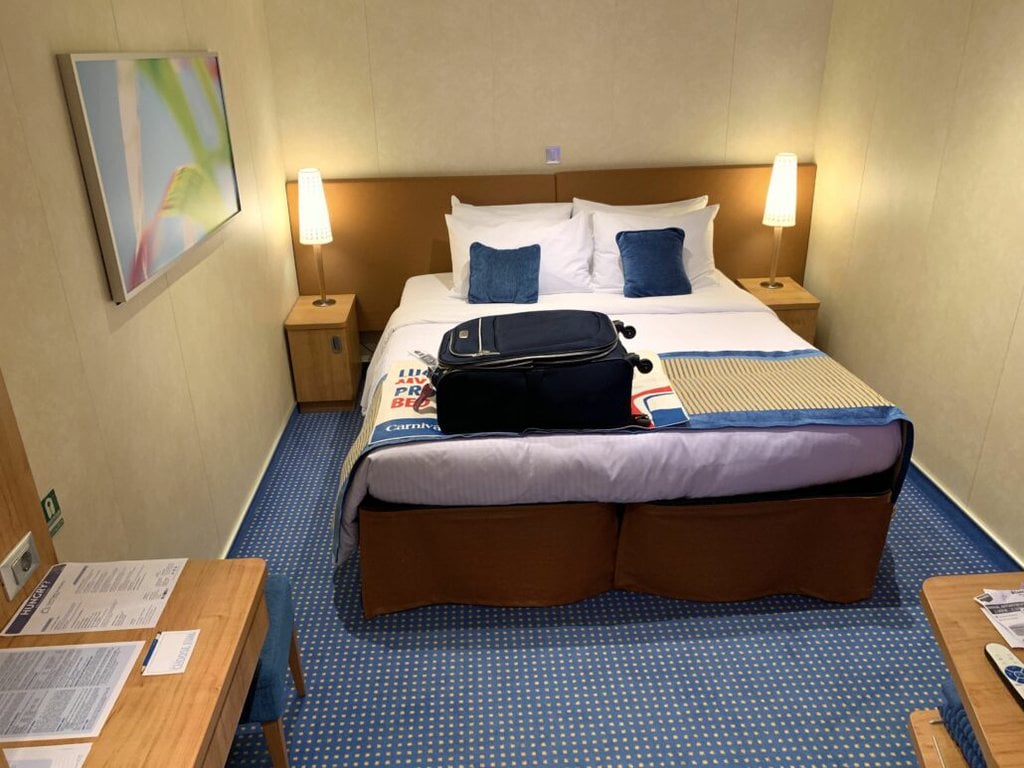 Carnival Vista offers a variety of staterooms to suit different needs and budgets. Standard staterooms are designed to provide comfort and convenience and are equipped with modern amenities.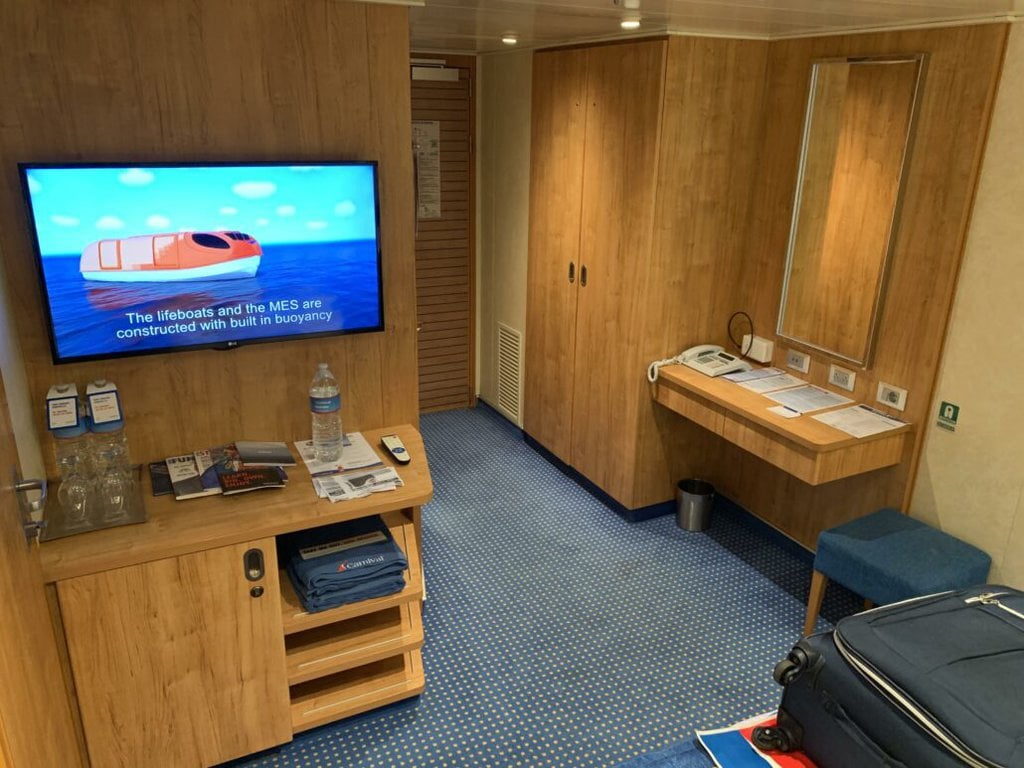 Interior rooms are budget-friendly and offer the essential comforts in a cozy setting.
If you want an ocean view without splurging on a suite, cove balcony staterooms are available. These staterooms, which debuted on Carnival Dream and are cut out of the hull, are located closer to the waterline, providing a unique view of the ocean and a quieter environment and even an occasional splash or two depending on the sea conditions.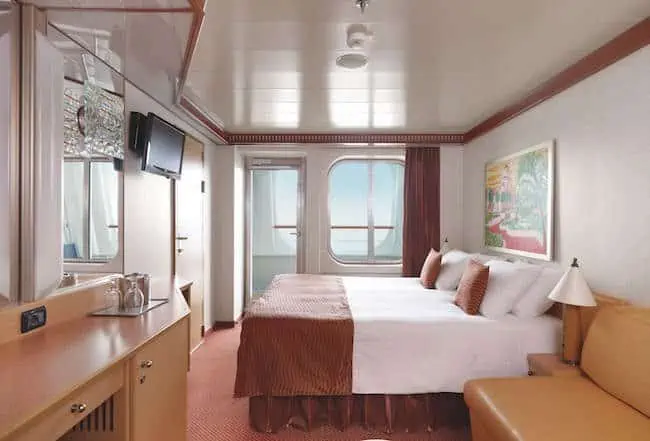 Balcony cabins are perfect for those who want to enjoy the sea scenery and have a private outdoor space. If you want a more upscale experience, suites offer spacious interiors and larger private balconies.
Cloud 9 Spa Cabins
Cloud 9 Spa staterooms are another popular option for spa lovers with access to the spa and thermal suite, included in the price, along with a few other amenities. But it's worth comparing the cost of booking a standard room and adding a thermal suite pass.
PRO TIP: If you're staying on deck six or seven, walk all the way forward, and you'll find a special area to take in the views that rarely anyone knows about.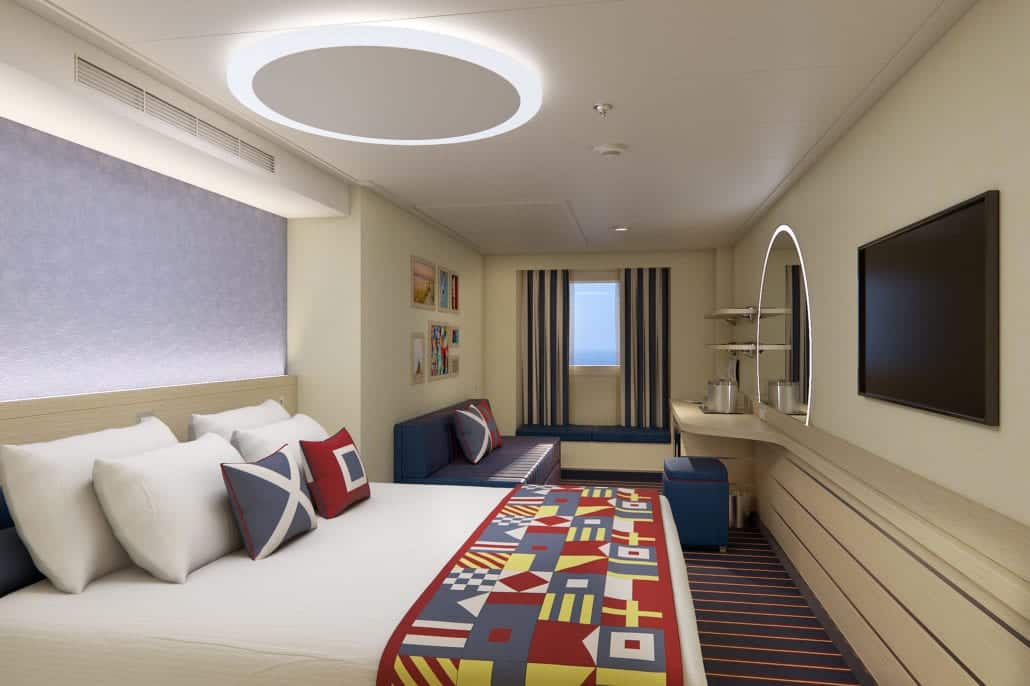 Family Harbor staterooms are perfect for families who want to stay in a single cabin.
These rooms come in different types: interior, oceanview, balcony, or suite. They also provide exclusive access to a lounge, where families can enjoy complimentary snacks, play games, and consult a concierge at specific hours.
There are a handful of these staterooms accommodating five guests with two bathrooms to avoid everyone trying to get ready at once.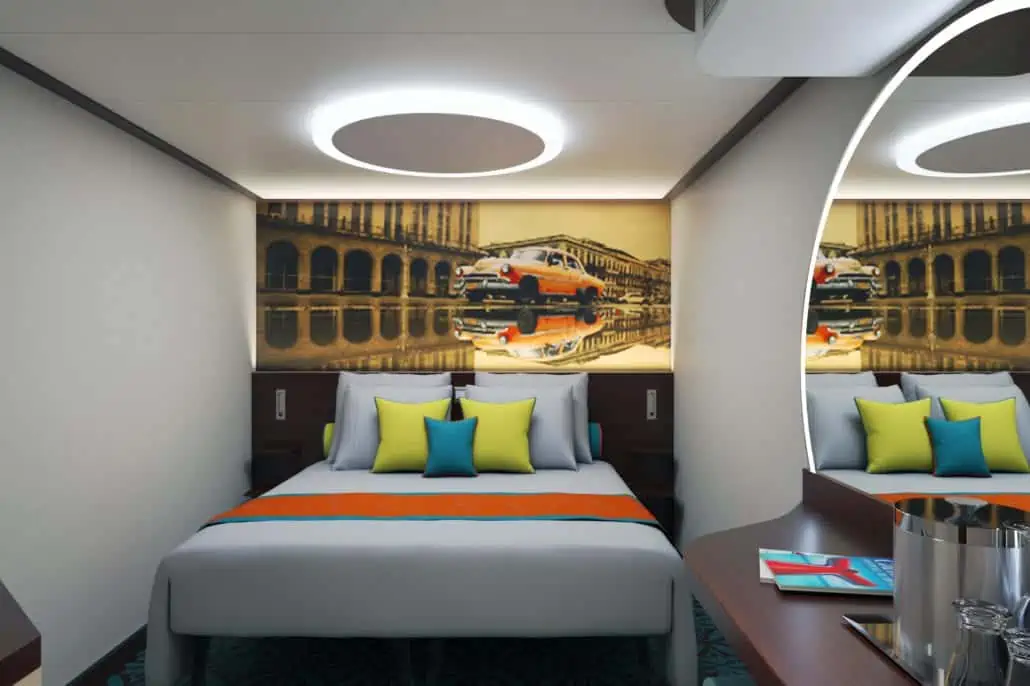 I stayed in a Havana stateroom inspired by the Cuban capital with colorful decor and special access to a dedicated bar and pool. Havana cabins are popular because they offer a private lanai and a hammock.
Those staying in Havana staterooms have exclusive access to the Havana pool area until the early evening; at night, the area opens to the public.
There are different levels of Havana staterooms so you can have a lanai with a hammock, a standard balcony, aft extended balcony cabin, or an inside stateroom.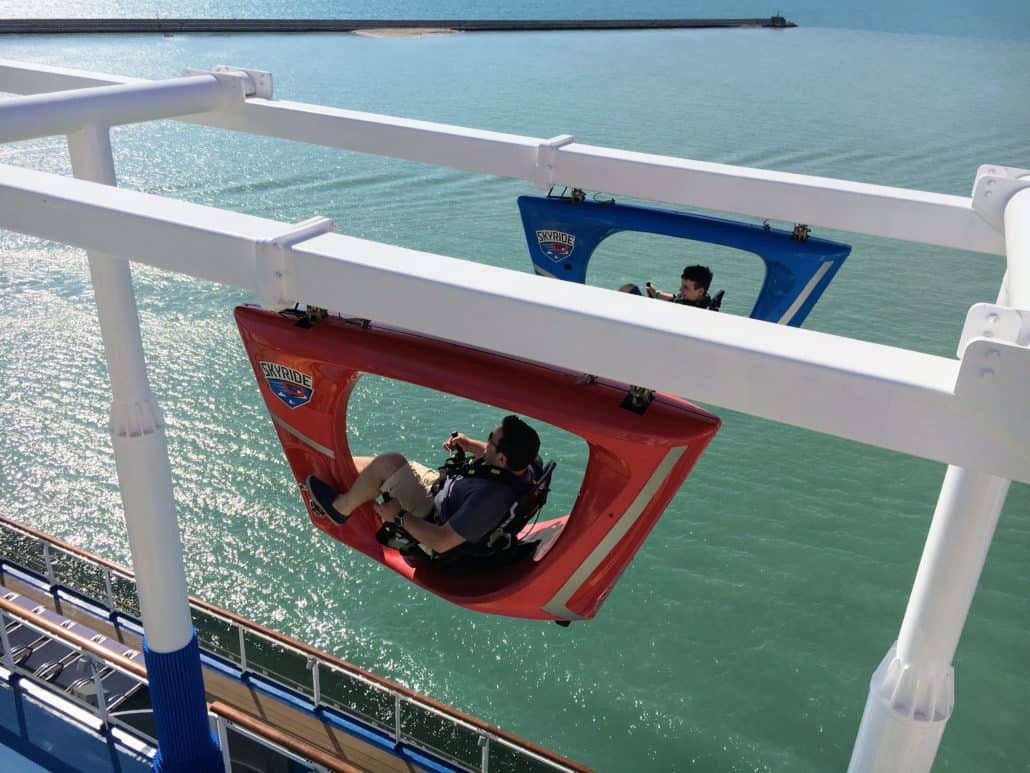 SkyRide is undoubtedly the most talked-about feature of Carnival Vista . Described as a "bicycle in the sky," these pedal-powered vehicles, suspended above deck 10 , offer breathtaking views, a mild workout, and a unique experience. There is no cost associated with this one, but the lines do get long so be sure to plan accordingly.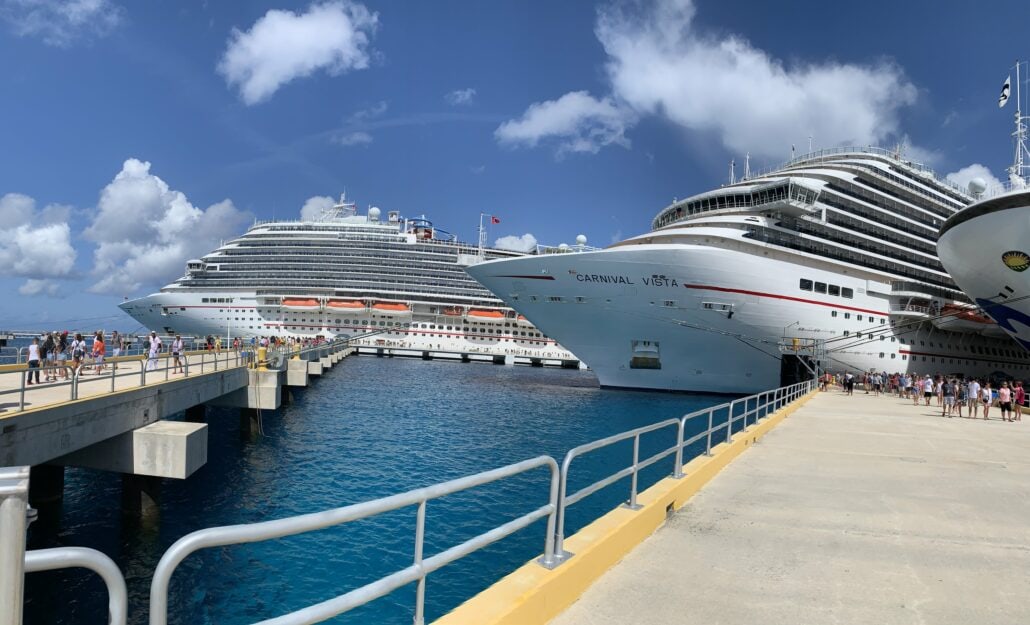 Similarly, a suspended ropes course called SkyCourse situated high above deck 14, offers beginner and advanced options with spectacular ocean views.
SkyCourse is free , as well, and tends to attract a diverse audience, from kids to adults and everyone in between.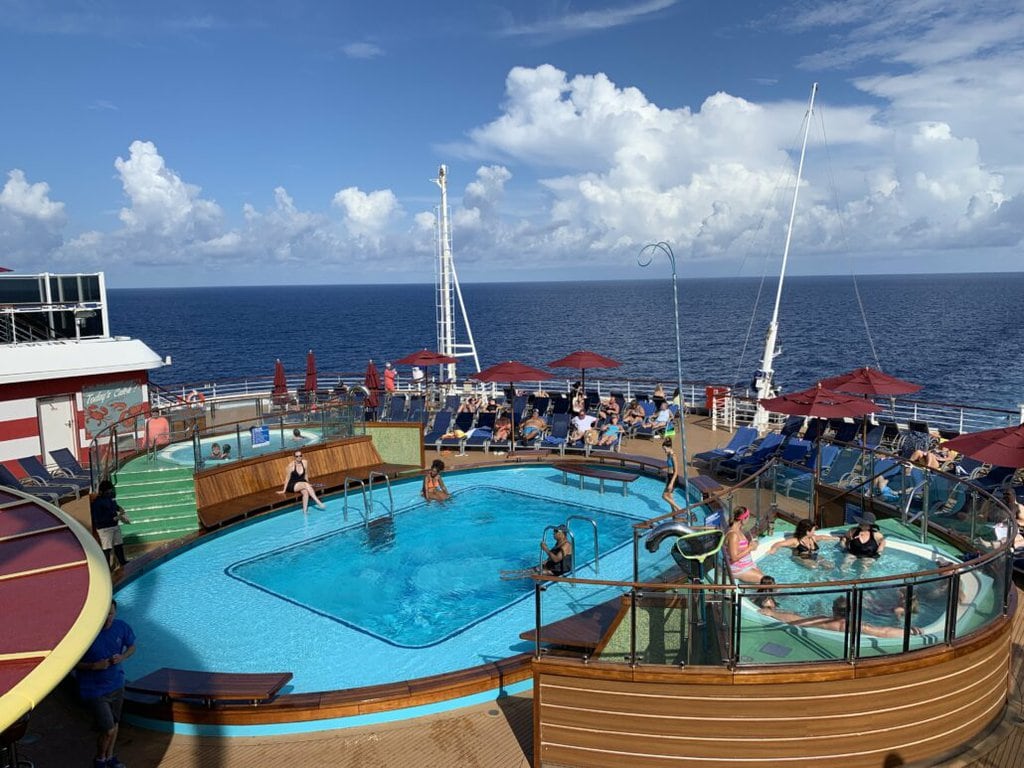 Carnival Vista boasts three pools and six hot tubs. The Havana Pool & Bar area is exclusively available to guests in Havana cabins during the day. Still, it opens to all guests, becoming the party hotspot after sunset with a talented live band and dancing.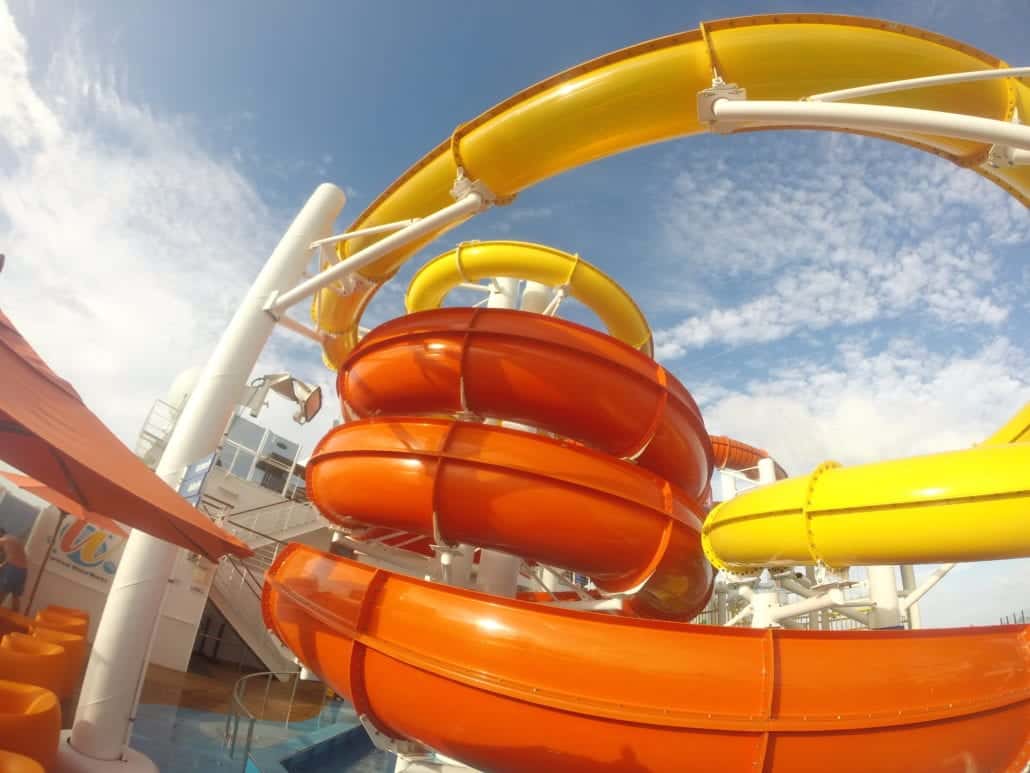 The WaterWorks park will delight guests of all ages, featuring the enclosed Kaleid-O-Slide , the line's first enclosed raft-riding experience with lighting effects.
We found ourselves acting like kids and spending the afternoon on the water slide (and burning off those burgers!).
For those seeking indoor activities, the multiplex houses an IMAX movie theater (the last time I was onboard, they did not have first-run movies playing). Prices are roughly similar to a land-based movie theater with a concession stand serving popcorn and snacks.
The ship also has a Thrill Theater with special effects to immerse viewers in the on-screen action. In my estimation, it's just okay, especially considering the extra fee involved. If you want to kill some time on a sea day, I say go ahead and do it. The first Thrill Theater debuted on Carnival Breeze in 2012.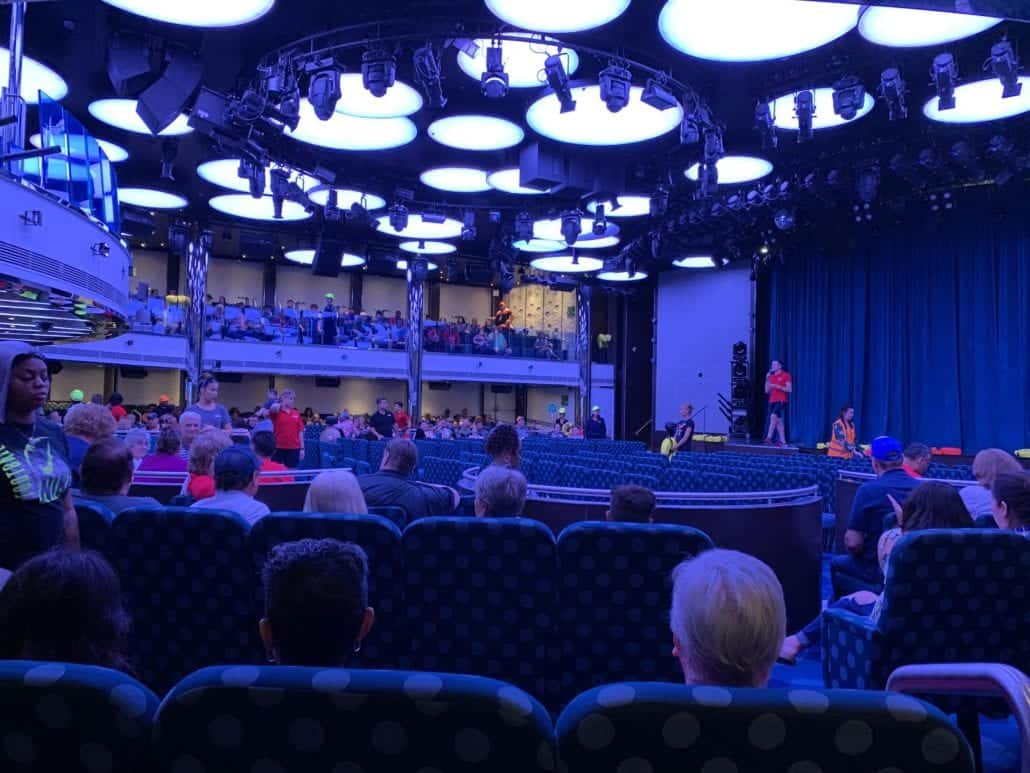 Evenings on Carnival Vista are filled with entertainment. The multi-purpose Liquid Lounge hosts three different Playlist Productions, high-tech productions where singers and dancers interact with massive LED screens. Shows tend to be shorter, think 35-40 minutes max, and include:
Amor Cubano : A Caribbean Dance Romance with a seven-piece Latin band (which also plays in the Havana Bar).
America Rocks : a vibrant show with a live band performing classic tunes from artists like Springsteen and Aerosmith.
Flick : The Power of Motion Pictures through song showcasing popular movies through the decades.
Some productions end with transforming the theater into a dance floor.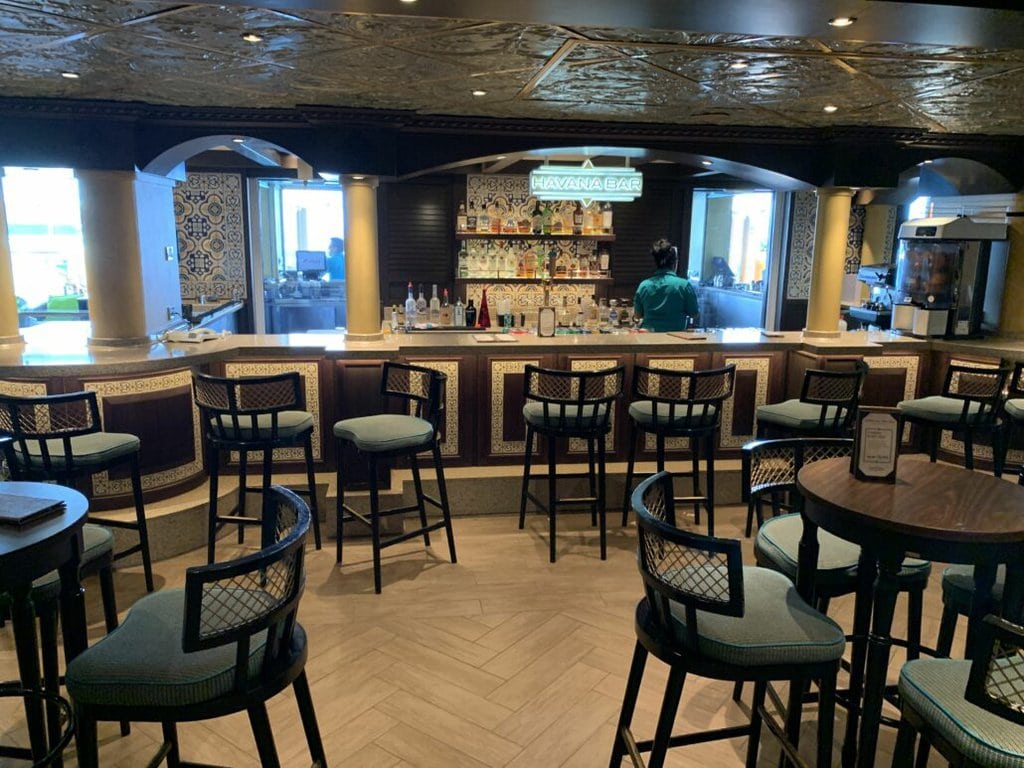 For comedy enthusiasts, the Punchliner Comedy Club, featuring family-friendly and adults-only shows, is a must-visit, but arrive early as seating is limited.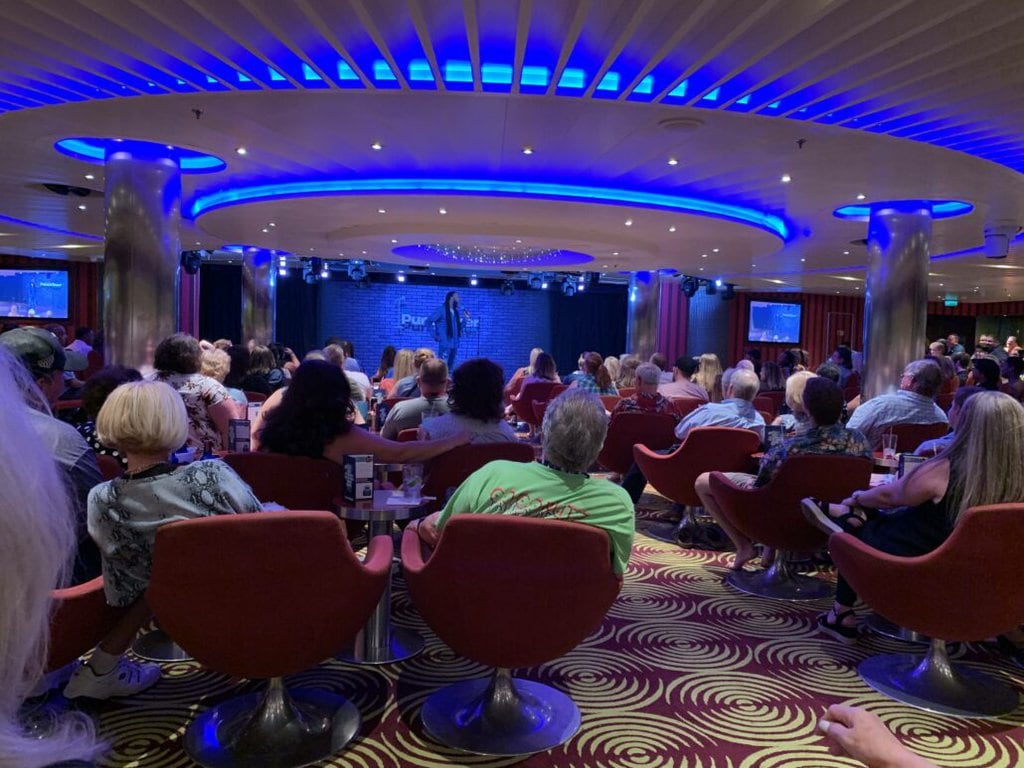 There are a handful of additional cost dining options on Carnival Vista. This is one of the first ships that Carnival elevated the upsell experience. I will put a ($) next to items that have a fee associated with them.
During my time on the Carnival Vista, I dined at several places: Cucina del Capitano ($) offers a cozy atmosphere with classic Italian favorites, with waiters belting out "That's Amore" every night.
Bonsai Sushi ($) includes rolls, sashimi , and other Asian delicacies (the terrayaki steak is amazing!). While Blue Iguana Cantina serves tacos and burritos, including delicious breakfast burritos.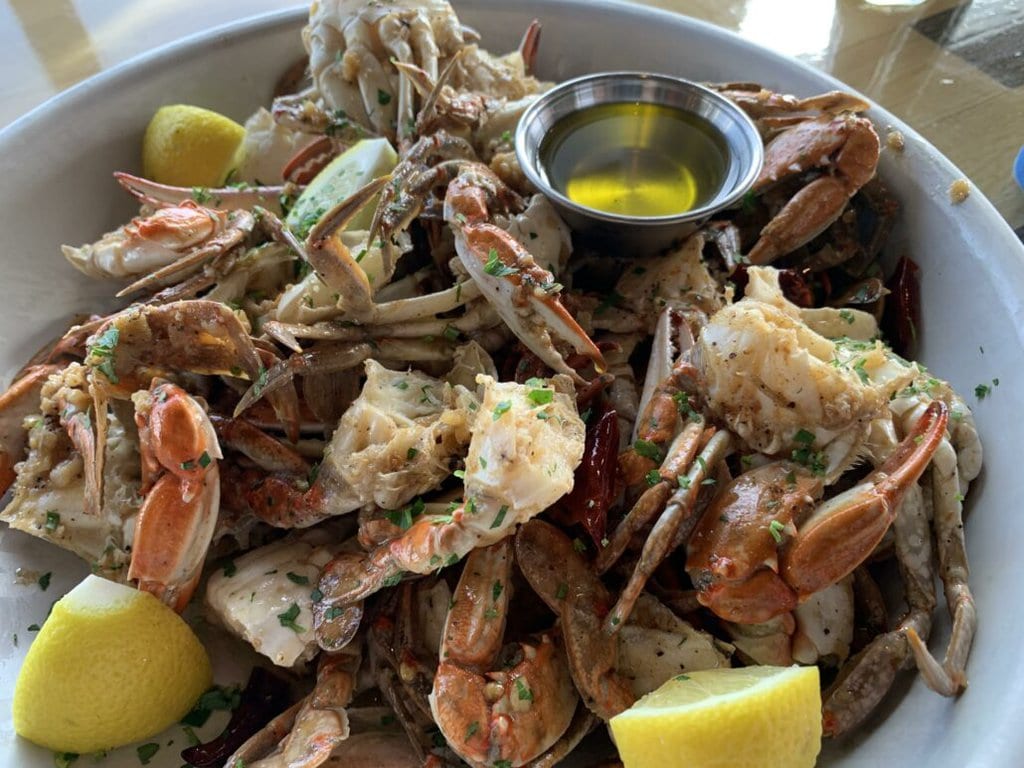 Pro Tip : order the Huevos Rancheros in the morning for a special treat.
Located aft on Lido Deck, Seafood Shack ($) features various quick-service seafood items like lobster rolls, crab legs, and boiled and fried shrimp.
For a different dining setting, check out the Fahrenheit 555 Steakhouse ($). Carnival Vista's lido buffet is more than you expect, offering many dishes in a casual atmosphere, as well as the Carnival Deli with piled-high sandwiches and traditional sides.
The steakhouse menu seems to evolve constantly but with every version, it gets better and better.
It's not a Carnival cruise without a visit to Guy's Burger Joint and for dessert, stop at Shake Spot ($), which has milkshakes and other desserts, including alcohol-infused shakes for adults.
The mentioned dining venues helped distribute the crowds during lunch and dinner. If you're wondering, The Lido Marketplace (buffet area) was the busiest during breakfast, especially on port days when people had early excursions. The space is laid out nicely and never seems over-the-top crowded.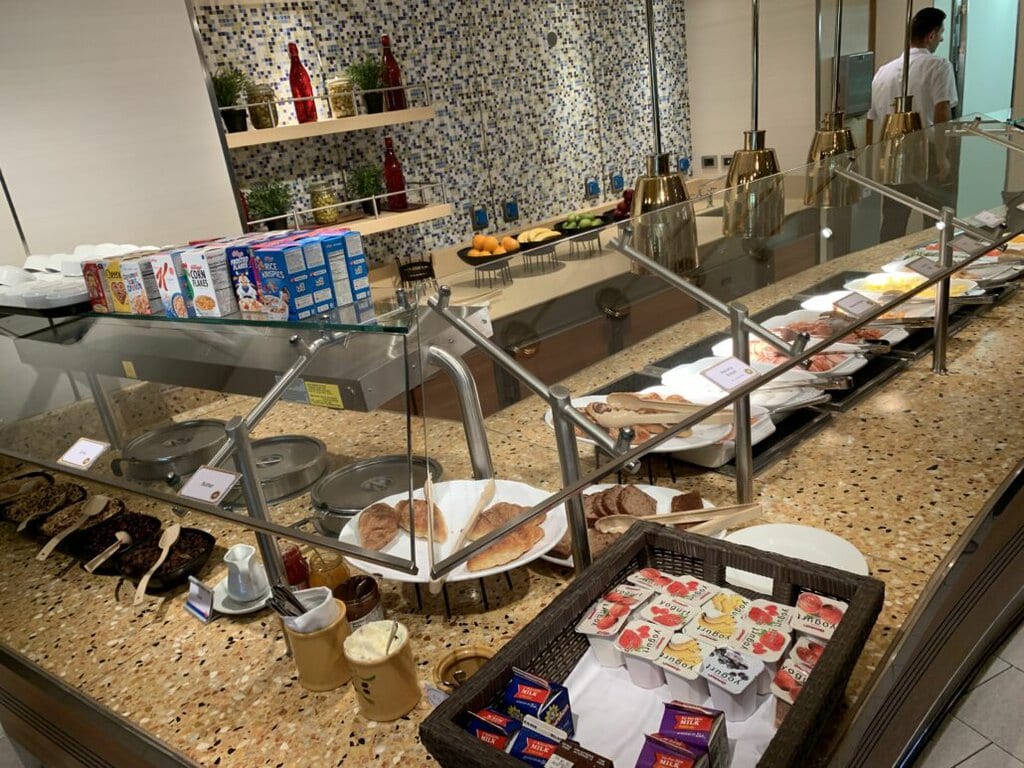 Hands down, one of my favorite spots is Guy's Pig and Anchor Smokehouse on deck five, featuring the only true smokers at sea, specially designed just for Carnival.
There's also 24/7 pizza at the Pizzeria del Capitano. Before dinner, I had a drink at the Library Bar ($) – leave it to Carnival to combine reading and drinking – and for coffee, JavaBlue ($) is a must for those looking for their caffeine fix.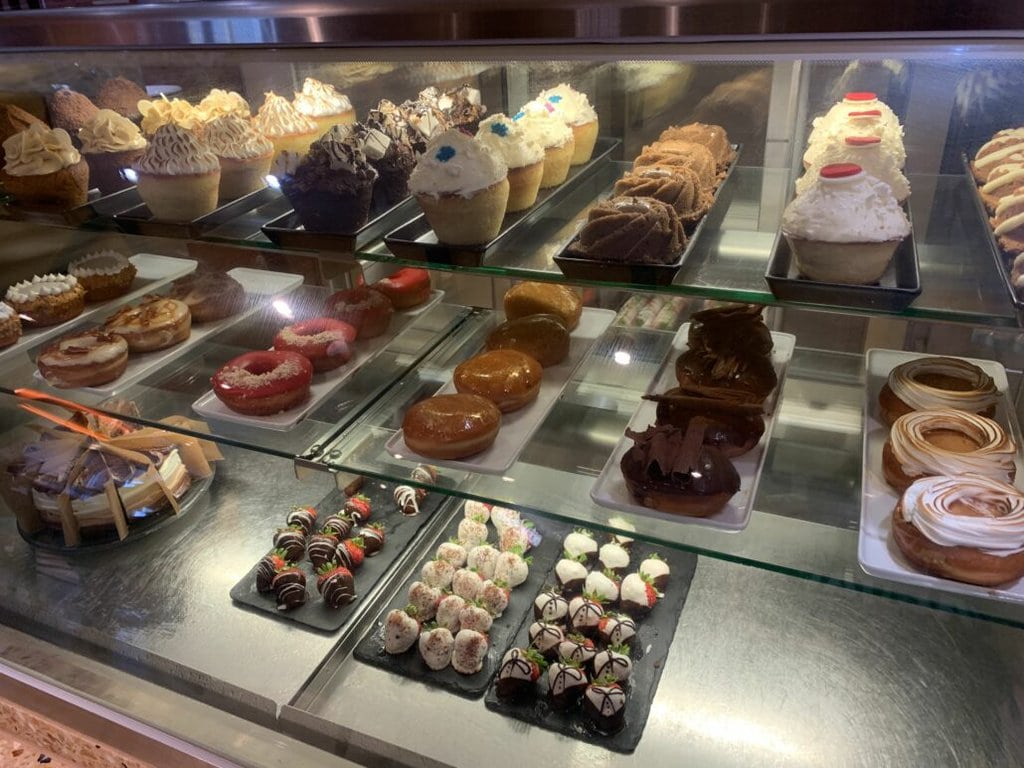 The Chef's Table ($) — a multi-course meal with wine pairings — is a "must visit," but remember to book in advance and allow at least three hours for the experience.
An often-overlooked area is the Fresh Creations salad bar in the adults-only Serenity area, featuring handmade salads and options like grilled chicken and tuna.
There are two dining rooms on this ship: Reflections for traditional early and late seating and Horizons for anytime dining (which could change depending on the sailing).
Every sea day, breakfast was served in the main dining room, but the famous Seaday Brunch was only served once during our sailing.
Other paid options include JiJi Asian Kitchen ($), where reservations were recommended, along with 24-hour room service ($), which offers a mixture of free and for-fee items.
As I write this, I'm looking at all the fees associated with dining, and it seems like a lot. Still, it's worth noting that during lunch, Cucina turns into a complimentary pasta bar, and JiJi Asian Kitchen turns into a complimentary noodle bar.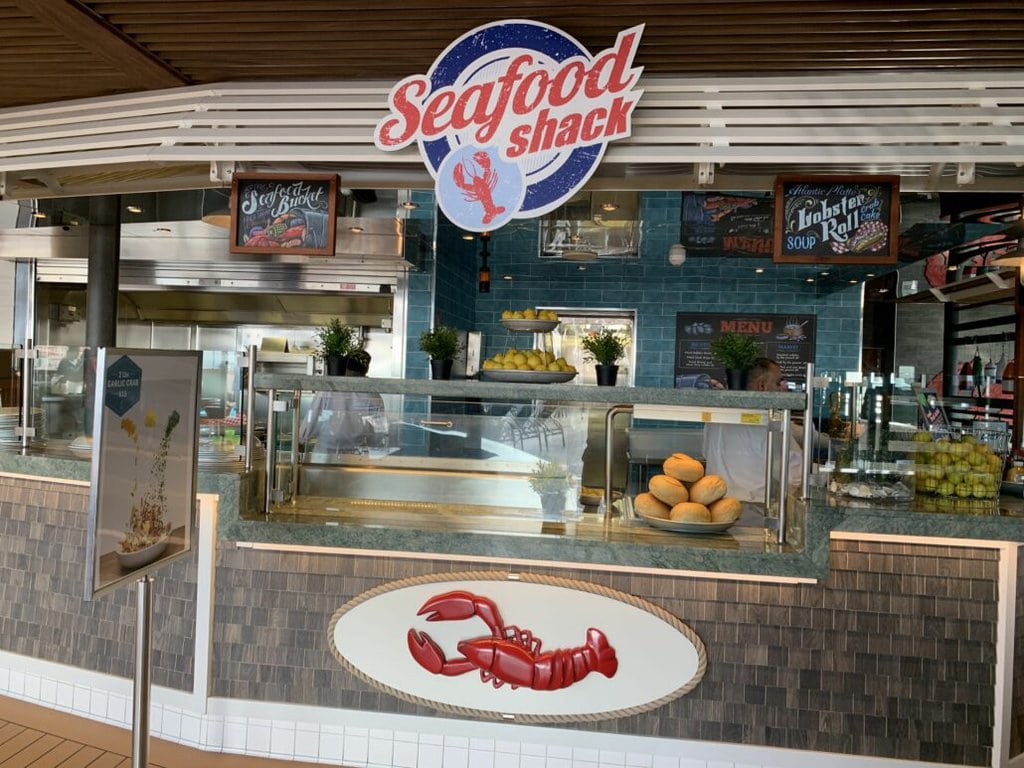 Carnival does a good job of creating entertainment and activities catering to different tastes, and Carnival Vista certainly fits into that philosophy. I found several spots for adults to unwind and socialize.
For those inclined towards physical activities, SportSquare was an ideal location with basketball, mini-golf, and even an outdoor billiards table, along with the nearby SkyCourse for those seeking an adrenaline rush.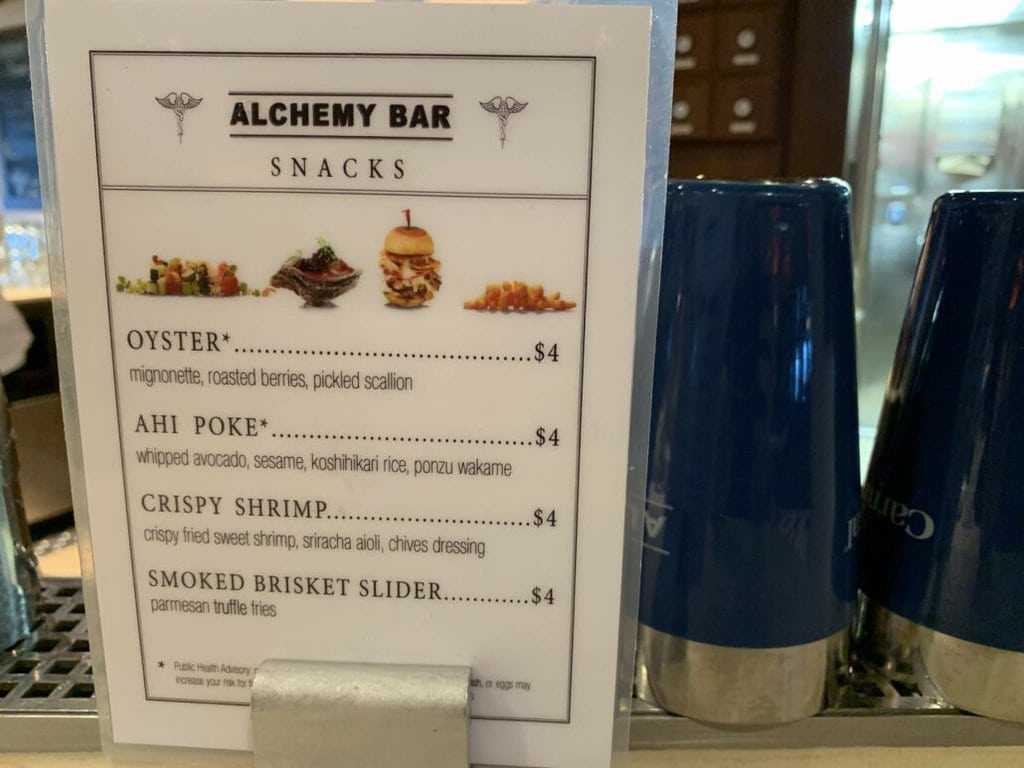 I started my first day at the RedFrog Pub poolside on Lido Deck (not to be confused with the RedFrog Pub & Brewery located along the promenade), serving Caribbean drinks in a lively environment.
Although, the RedFrog Pub & Brewery did have nightly acoustic soloists performing, and live music can be found throughout the ship, from the main atrium to the Piano Bar.
I liked the ThirstyFrog Red beer, which I paired with grouper fingers ($) off the bar menu .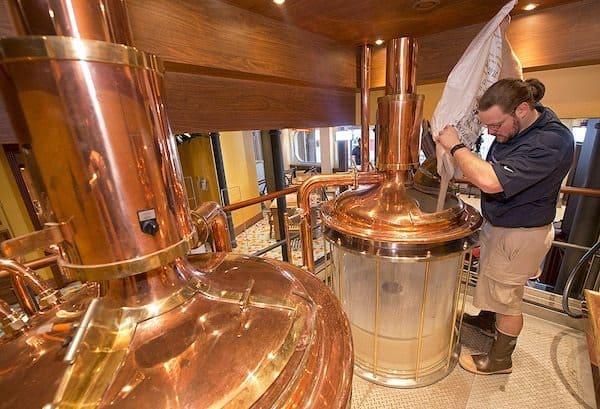 The RedFrog Brewery Tour is fun to do on a sea day, so are the mixology classes at the Alchemy Bar.
Later, we went to the Havana Bar to check the scene. I'm more of a vodka and soda person, so I asked a girlfriend to describe the space in a few sentences about the aft venue on deck five.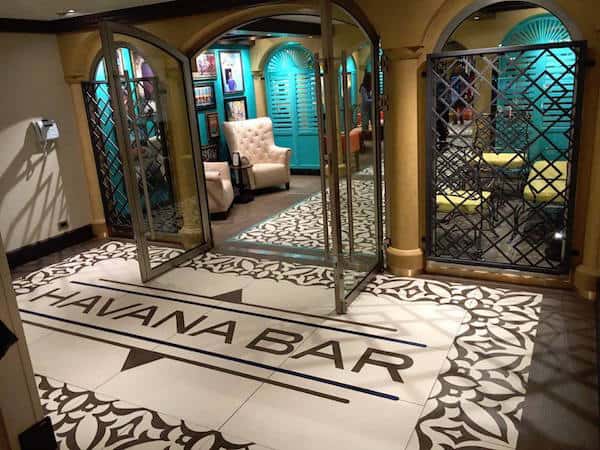 She said, "It radiated Cuban charm with its rum cocktails. The bartenders recommended I try the Hemingway Daiquiri. Live Latin tunes enhanced the vibe." Her words, not mine.
We found the Library Bar a great option for a peaceful ambiance, and we visited it a few times for a drink before dinner. According to Carnival, like many shipboard features of a bygone era, they won't be incorporating any new libraries in their upcoming builds, so it's best to relish this space while it's still available.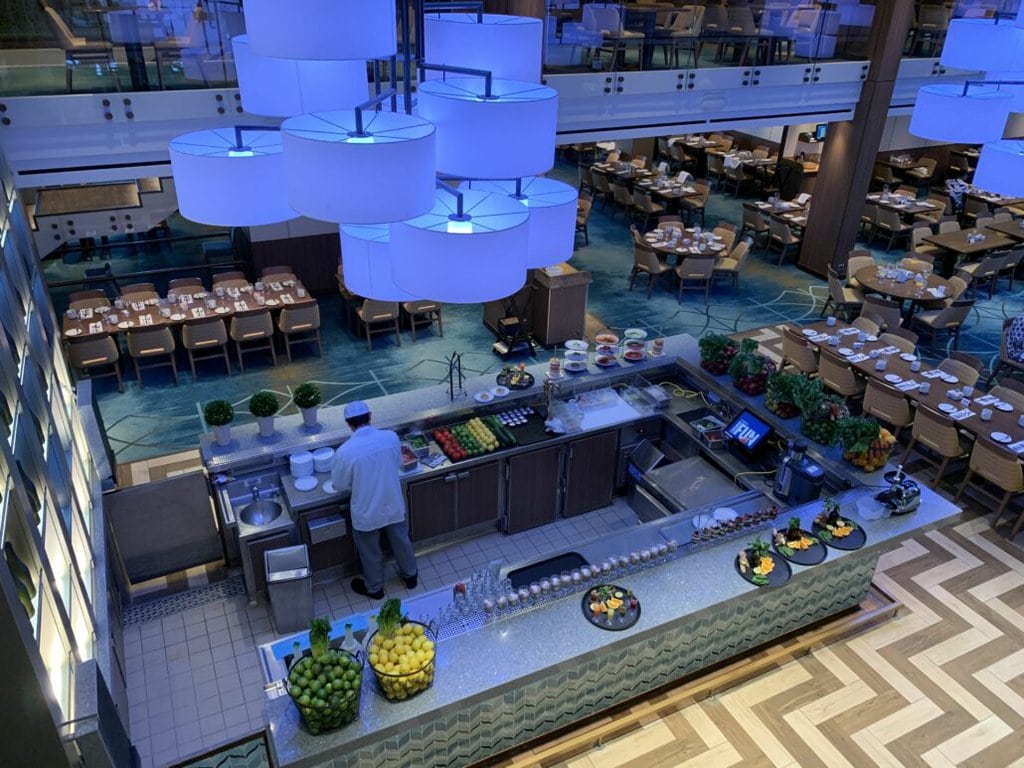 I found myself continually drawn to the Cloud 9 Spa , having previously used it for a pedicure and thermal suite, making it a must-repeat experience.
The spa offers an array of thermal suites, from the dry heat chambers like the Laconium and Tepidarium to steam chambers like the Oriental and Aroma.
Each suite is designed for relaxation, helping to cleanse the body of impurities. The heated chaise loungers are a nice touch. Another highlight was the thalassotherapy hot tub (albeit much smaller than the Dream class) filled with ionized mineral water, ideal for muscle relaxation after long port days.
To ensure that it never feels crowded, these Cloud 9 Spa amenities are limited to only 50 guests per sailing.
FYI: Every visit to the thermal suite requires a wristband.
One of the underrated perks was the showers in the spa locker rooms, a significant upgrade from my stateroom shower. I noticed many guests showering in the locker room while their significant other was getting ready in the stateroom.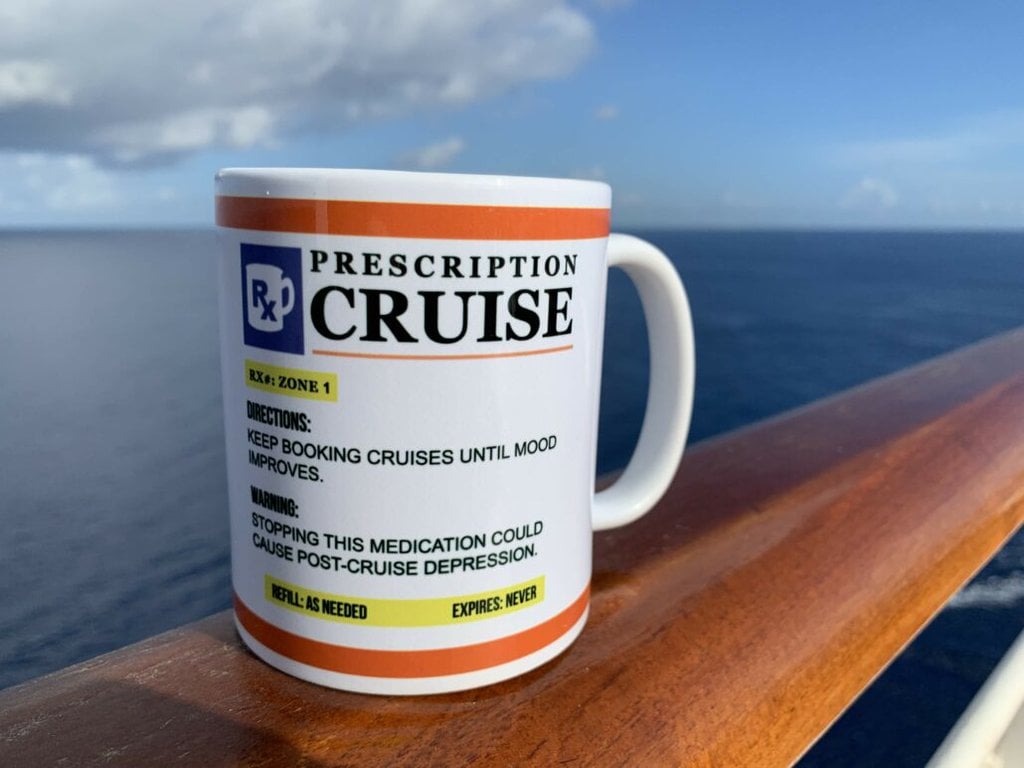 Carnival is well-known for providing entertainment and activities for families – after all, they carry upwards of a million kids a year. Its Camp Ocean program offers supervised, age-appropriate activities for children aged 2-11, all with a nautical theme. Circle "C" is designed for 12-14-year-olds, while Club 02 caters to older teens ages 15-17.
The Dr. Seuss Bookville is a colorful space inspired by the author's books, part of an exclusive partnership with Dr. Seuss Enterprises.
Carnival offers nightly babysitting services in Camp Ocean from 10 p.m. to 1 a.m., allowing parents some "we" time without the kids in tow to enjoy the evening entertainment.
(Note: Night Owls babysitting fees apply: $7.50 per hour plus an 18% service charge per child.)
It's no secret that Carnival Vista has its share of issues , particularly with its propulsion system and azipods, which have caused several mechanical problems and delays.
In the summer of 2019, Carnival Vista was taken out of service for an emergency repair and famously towed to the Grand Bahamas shipyard via a "floating dry dock ." Passengers have reported that the ship's speed has been reduced, resulting in longer travel times between ports.
Additionally, despite numerous repairs, some guests have complained about the noise and vibrations caused by the propulsion system, which can be disruptive and uncomfortable.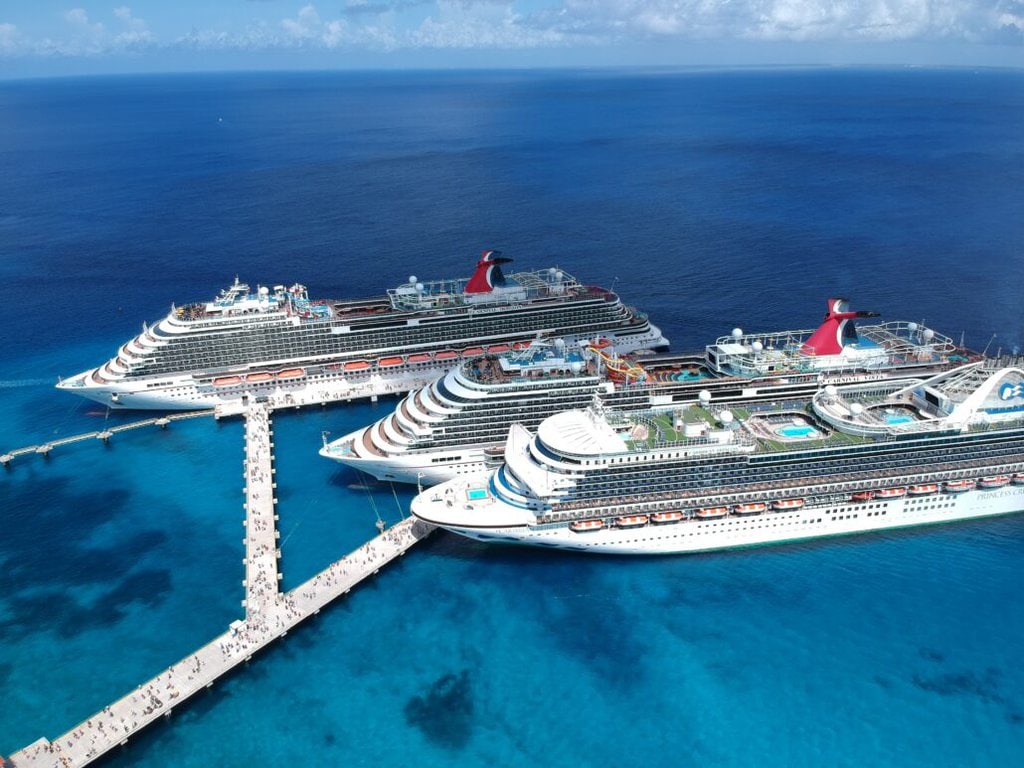 During my cruise, I noticed two areas of concern – lax enforcement of certain shipboard policies and the behavior of some fellow passengers.
Unfortunately, only one of these areas is under the control of Carnival. On sea days, I noticed children were running around the Serenity area, which is supposed to be reserved for adults only.
There were also several incidents of scuffles onboard where people were not being held accountable for their behavior.
Overall, my experience at the Carnival Vista was fantastic. The ship was clean, the sea days were fun, and the only time I had to go to guest services was because I lost my Sail & Sign card (the line wasn't bad at all, and I could resume my vacation quickly).
The food was solid, the vibe was fun, and the crew members were friendly. I highly recommend this ship to anyone looking for a Caribbean cruise with lots to do at an affordable price.
Recent Posts
NCL Brings in $349M, Global Obstacles Loom
Review: Is Norwegian's Interactive Wheel of Fortune A Winner?
New Princess Cruise Ship: 4 Shows, 2 Venues, 1 Debut

Sign-up for our Newsletter
Bringing you over 25 years of cruise industry experience. Cruise Radio prioritizes well-balanced coverage and accurate reporting. Learn more about our team .
FBI accuses duo of swiping nearly $13,000 in sculptures from Carnival cruise
The recent Carnival cruise left Baltimore and went to Bermuda and back.
The FBI is accusing two tourists of swiping nearly $13,000 worth of sculptures in the early morning hours of a recent Carnival cruise from Baltimore to Bermuda.
On its website, Carnival Cruise Line says its ships feature "an ever-changing collection of fine art" and touts its onboard auctions, inviting customers to, "[s]ip some champagne, browse the gallery and bid on a piece to take home as a trip memento."
But, according to the FBI, the two tourists allegedly took two expensive pieces home from the Carnival Legend ship a little over a month ago without bidding -- or even paying at all. The duo has yet to be charged.
In court documents filed Tuesday in federal court in Baltimore, seeking permission to obtain a search warrant, the FBI says an art auctioneer working on the ship discovered the two pieces missing on Oct. 1, the day after the ship returned to Baltimore from a week at sea.
One of the missing pieces is a Lucite sculpture by American artist Robert Wyland titled "Kiss the Sea," depicting two sea turtles. The size of a small backpack, it's valued at $6,200, according to court documents. The other missing sculpture, a slightly smaller piece by American artist Marcus Glenn titled "Tappin' the Keys for the Love," depicts a man playing a piano with a heart in the background. It's valued at $6,600, the FBI says.
MORE: Trump fraud trial live updates
When Carnival security personnel then reviewed footage from surveillance cameras on the ship, they saw two people shortly after 2 a.m. two days earlier allegedly walking into the art gallery "empty-handed," only to walk out several minutes later carrying objects "consistent in appearance with the missing sculptures," according to the FBI.
Further investigation identified the two people as a trucking company employee and his female companion, according to court documents. When an FBI agent then found the man's profile on Facebook, the agent noticed a recently posted photo of the man "wearing what appears to be the same white dress shirt, dark-colored vest, and striped tie" from the surveillance video, according to court documents.
With a federal judge's approval, the FBI then executed search warrants at their homes and recovered the missing sculptures, according to a spokeswoman with the U.S. Attorney's Office in Baltimore.
MORE: Carnival Cruise passenger reported missing after ship returns to Florida
ABC News is not naming the two suspects because it's unclear if they will be charged. But in court documents, the FBI said it was looking into possible federal charges related to theft and transportation of stolen goods.
On its website, the cruise line says its onboard art auctions are far from the expected "room of too-serious old men, many wearing monocles, paying top-dollar for priceless antique works of art."
Carnival Cruise Line did not respond to ABC News' request for comment.
Top Stories

14th Amendment challenges to Trump's candidacy are likely Supreme Court bound
If it seems like there are a lot of acorns this fall, it might be a 'mast' year

NY marathoner to run 44th consecutive race at 80: 'Might as well enjoy life'

Heading into 2024, most Americans believe country headed in the wrong direction: POLL

Kourtney Kardashian, Travis Barker welcome son Rocky
ABC News Live
24/7 coverage of breaking news and live events
carnival cruise logo
Carnival cruise elation, carnival cruise ship deck, carnival cruise galveston, carnival cruise line, carnival cruise florida, carnival cruise funnel, carnival cruise lines, carnival cruise ships, 4,378 carnival cruise stock photos & high-res pictures, browse 4,378  authentic carnival cruise  stock photos, high-res images, and pictures, or explore additional carnival cruise logo  or  carnival cruise elation  stock images to find the right photo at the right size and resolution for your project..