DISCOVER CALIFORNIA
© 2023 California.com All Rights Reserved
RECOMMENDED BUSINESSES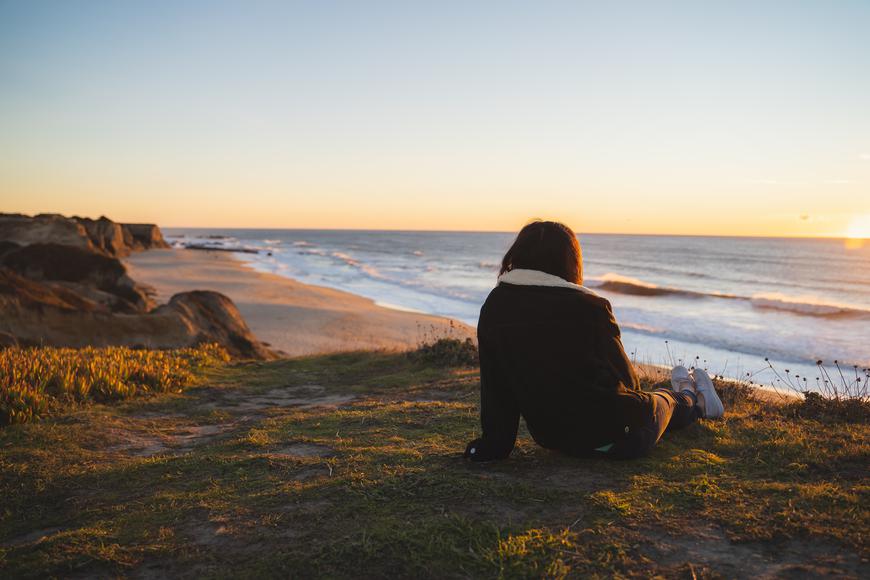 The Best Beaches Near Santa Clara, California: Where to Go and What to Expect
Discover stunning coastal landscapes, family-friendly activities, and surf spots just a short drive away.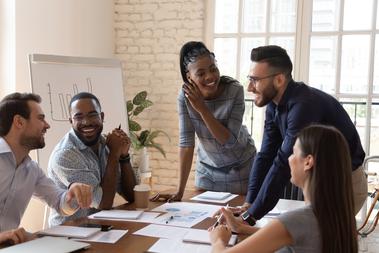 March 28, 2023
If you're looking for a break from the hustle and bustle of Silicon Valley, Santa Clara has some of the best beaches in California within driving distance. Whether you're looking for a family-friendly spot or a quiet escape, there's something for everyone. Here's a list of the top beaches near Santa Clara, along with the addresses and approximate distance from the original location.
Sunny Cove Beach
Santa Cruz, CA Located just 30 miles from Santa Clara, Sunny Cove Beach is a hidden gem known for its calm waters, perfect for swimming and kayaking. The beach is surrounded by stunning cliffs and has a secluded feel, perfect for those looking for a peaceful escape. Parking is available, but can fill up quickly, so arrive early to snag a spot. Address: Sunny Cove Beach, Santa Cruz, CA 95062, United States. Distance from Santa Clara: 30 miles.
Cowell Beach
Santa Cruz, CA If you're looking for a lively beach experience, Cowell Beach is the spot. Located in the heart of Santa Cruz, this beach is perfect for surfing and people watching. The iconic Santa Cruz Beach Boardwalk is nearby, as well as plenty of restaurants and shops. Parking is available, but can be pricey, so consider taking public transportation if possible. Address: Cowell Beach, Santa Cruz, CA 95060, United States. Distance from Santa Clara: 32 miles.
Natural Bridges State Beach
Santa Cruz, CA Natural Bridges State Beach is a must-visit destination for those who love nature. The beach is home to a natural rock bridge that spans across the water, as well as a monarch butterfly sanctuary. It's a great place for a picnic or a leisurely stroll along the shore. Parking is available, but can fill up quickly during peak season. Address: Natural Bridges State Beach, Santa Cruz, CA 95060, United States. Distance from Santa Clara: 32 miles.
Rio Del Mar Beach
Aptos, CA Located in the town of Aptos, Rio Del Mar Beach is a popular spot for families. The beach has a large, wide shoreline, perfect for playing frisbee or building sandcastles. It's also a great spot for surfing and boogie boarding. Parking is available, but can be limited on busy weekends. Address: Rio Del Mar Beach, Aptos, CA 95003, United States. Distance from Santa Clara: 35 miles.
Manresa State Beach
Watsonville, CA Manresa State Beach is a pristine, secluded beach that's perfect for a quiet escape. The beach stretches for miles and is known for its excellent surf conditions. It's a great spot for a long walk or a picnic on the sand. Parking is available, but can fill up quickly on weekends, so arrive early. Address: Manresa State Beach, Watsonville, CA 95076, United States. Distance from Santa Clara: 38 miles.
In conclusion, Santa Clara's proximity to these stunning beaches provides an opportunity to escape the heat and experience California's coastal beauty. Whether you're looking for a peaceful retreat or a lively beach experience, there's something for everyone within driving distance. So pack your sunscreen, grab your beach gear and hit the road.
Does your business rank among the best in California?
Recomended businesses
Show me california.com recommended businesses near.
Learn more about our selection criteria and vetting process.
Need help with a home improvement project? Get a free quote today!
Enter your zip code.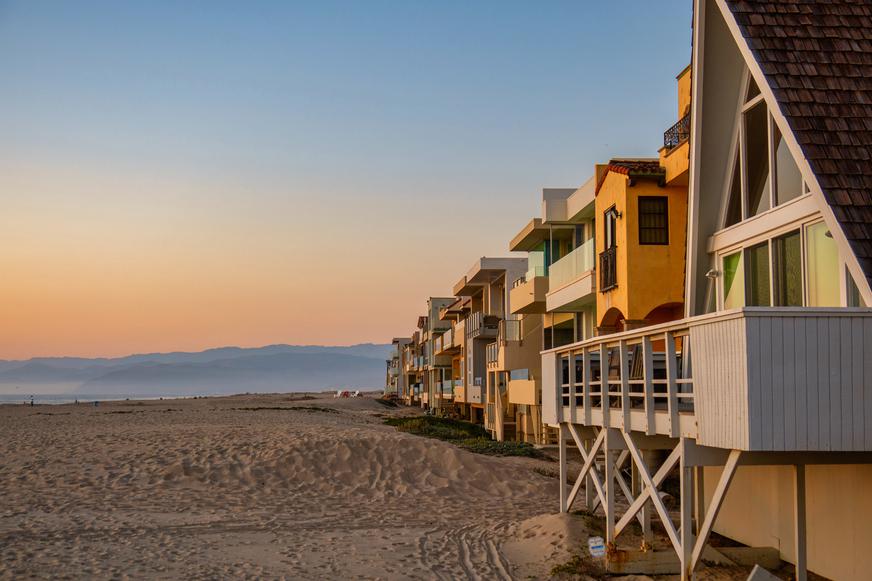 Inspiration delivered straight to your inbox.
Awesome thank you for subscribing to our newsletter..
By submitting your email address you agree to our Terms of Use and Privacy Policy and consent to receive emails from California.com about news, events, offers, and partner promotions.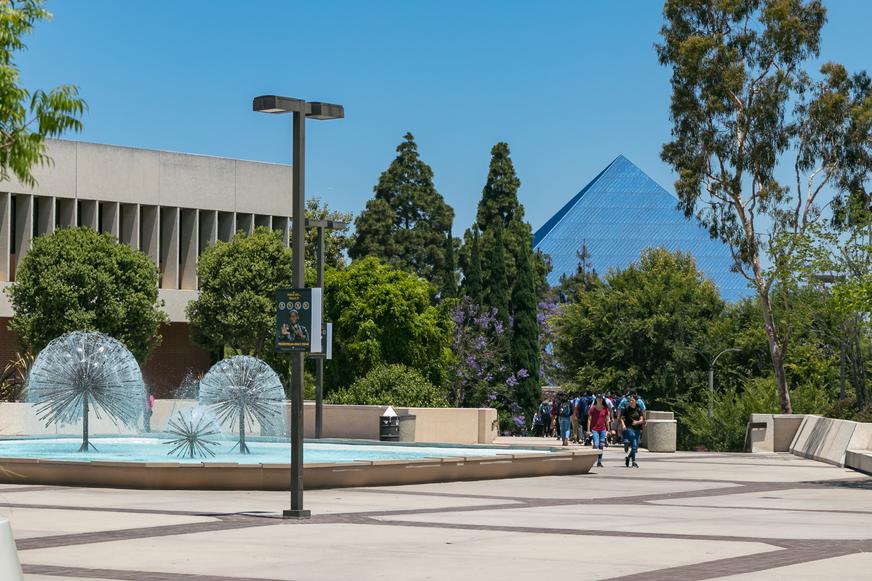 RELATED Articles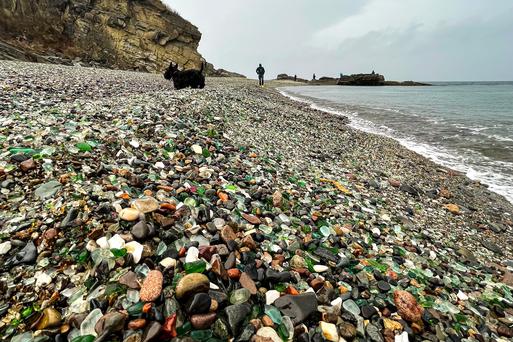 RELATED CITIES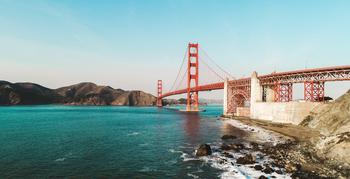 Discover More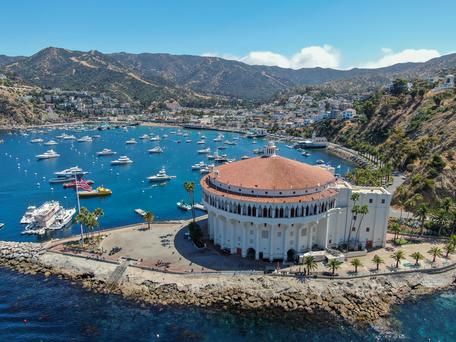 The 5 Best SoCal Romantic Weekend Getaways
Explore the top 5 romantic weekend getaways in SoCal, from Catalina Island's charm to Joshua Tree's serene beauty. Perfect for couples!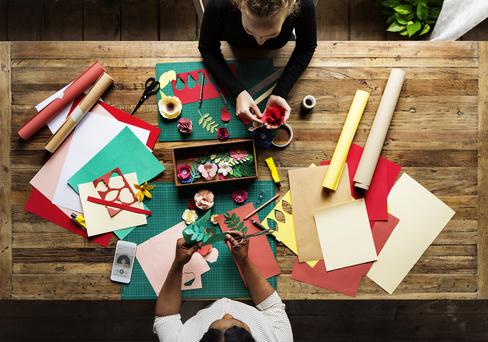 Top 5 Craft Stores in San Francisco
Indulge in your artistic hobby and secure supplies at these wonderful craft stores in San Francisco.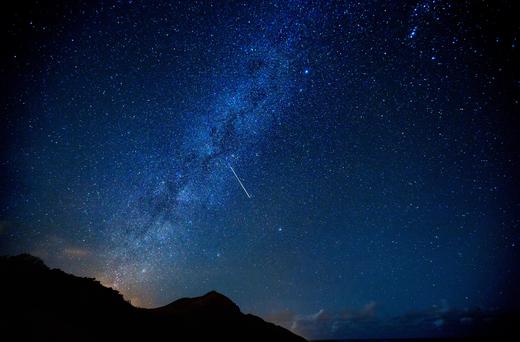 How to Watch the Leonid Meteor Shower in California
Here's everything you need to know about where and how to watch the Leonid meteor shower in California.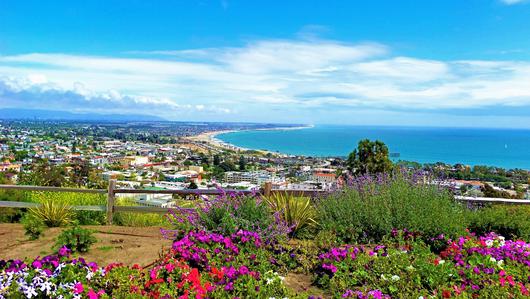 The Most Affordable Beach Towns in California
Here are the most affordable coastal towns where you can make your California dreams come true without breaking the bank.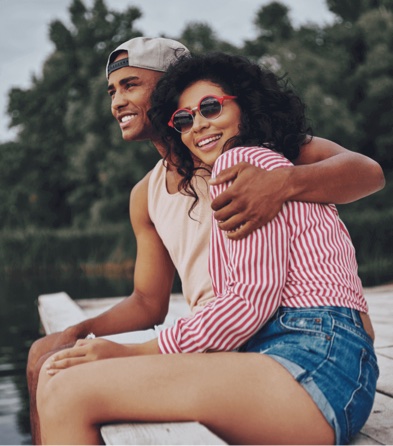 Get Daily Travel Tips & Deals!
By proceeding, you agree to our Privacy Policy and Terms of Use .
The 10 Best Beach Destinations in the World
Jamie Moore
Jamie Moore was the seatbelt-less '70s kid whose wanderlust began while fighting with siblings in the back of a roadtripping van. Now, as a travel writer, she covers family fun, budget getaways, outdoor adventure, Vancouver Island, and more, usually with her own kids in tow.
She is the author of the Vancouver Island Exploration Guide iPhone app (2010) and various Vancouver Island tourism guides. Moore is also a regular SmarterTravel contributor.
Her articles have appeared in USA Today Travel, Yahoo! News, Rand McNally travel guides, WestJet's in-flight up! magazine, Women's Health & Fitness magazine, European Homes & Gardens magazine, iParenting's travelingtoday.com, Indianapolis Monthly magazine, Resort + Recreation magazine, RCI's Endless Vacation and Ventures magazines, Kiwanis Magazine , and others.
Travel Smarter! Sign up for our free newsletter.
You could spend hours daydreaming about the world's best beach destinations. But how do you choose one that's right for you?
The following list can help. All of the beaches below offer exceptional beauty, clean sand and water, and nearby tourist infrastructure—and many of them are trending upward in traveler popularity.
Editor's note: Some services and amenities at these destinations may be altered/halted due to the pandemic. Save these ideas for when it's safe to travel again, and always follow all COVID-19 restrictions, rule s, and safety regulations both at your destination and upon returning home.
Providenciales, Turks and Caicos
Jo ann snover/shutterstock.
Providenciales is home to Grace Bay Beach, which made Tripadvisor's list of the top 25 beaches in the Caribbean as well as SmarterTravel's own list of the 10 best Caribbean beaches .
"Provo" is the picture-perfect Caribbean destination, one that's been discovered but not overrun. There are clear turquoise waters, coral reefs for snorkeling, and soft white sand where you can beach comb for miles without encountering crowds. Groove to ripsaw music with the locals and savor conch fritters and jerk chicken at the outdoor island fish fry on Thursday nights.
Where to stay: The Oasis at Grace Bay offers rooms, suites, and villas just a short walk from the soft sand of Grace Bay Beach.
Check Prices for The Oasis at Grace Bay in Grace Bay
The Essential Beach Packing List
Bali, Indonesia
Gekko gallery/shutterstock.
Find your beach nirvana on the southern peninsula of Bali, where scenes from Eat, Pray, Love were filmed. Spirituality infuses many aspects of daily life here, so expect encounters with local traditions that prompt a little soul searching.
Among Bali's best beaches are Kelingking Beach , which requires some 500 steps to access (but don't worry, the jaw-dropping views from above are worth it); and Gunung Payung Beach , one of the island's hidden gems.
Where to stay: Highlights of a stay at the dreamy Seminyak Beach Resort & Spa include the warm, friendly service and the infinity pool overlooking the ocean.
Check Prices for The Seminyak Beach Resort & Spa in Seminyak
Maui, hawaii, tropicdreams/shutterstock.
Maui is among America's most iconic bucket-list beach destinations. Its beaches—including Kaanapali Beach and Kapalua Beach —consistently rank among the best in the world. And what Maui lacks in affordability, it makes up for in beauty and novelty far beyond the perfect palm-fringed beaches.
Experience fire dancing at luaus, sunrise hikes to dormant volcano summits, and countless waterfalls along the curvy drive to Hana . And it's now a little more affordable to get there: Southwest started regular service to Maui (and other Hawaiian destinations) from select West Coast cities in 2019.
Where to stay: Each spacious unit at Aston at The Whaler on Kaanapali Beach includes a full kitchen and a private balcony.
Check Prices for Aston at The Whaler on Kaanapali Beach in Lahaina
Hugh o'connor/shutterstock.
Ringed with silky white sand, Grenada, the Caribbean's "Spice Island," even smells like paradise with all the nutmeg grown here. While you can find cruise passengers and hawkers if you go looking for them (at Grand Anse Beach, for instance), the beauty of this island lies in its quieter corners, including Morne Rouge Beach , the underwater sculpture park , and rainforest trails.
Where to stay: The cottages and hotel rooms at Petite Anse Beachfront Hotel & Restaurant are located on a secluded beach in the northern part of the island.
Check Prices for Petite Anse Beachfront Hotel & Restaurant Grenada in Saint Patrick Parish
Fernando de noronha, brazil, marcelo alex/shutterstock.
A 21-island archipelago and natural UNESCO World Heritage site 224 miles off the northern coast of Brazil, Fernando de Noronha is home to three of the world's top-ranked beaches. One of them, Baia do Sancho , ranked in the top three on Tripadvisor's 2021 list of the best beaches in the world.
The archipelago limits the number of visitors to protect its delicate ecosystems and wildlife. Those lucky enough to experience Noronha's secluded beaches will see crystalline waters flanked by reddish sand, volcanic cliffs covered in lush vegetation, and dramatic sightings of the local spinner dolphins.
Where to stay: Rooms at Pousada Del Mares are simple but comfortable, with a location near restaurants, beaches, and shops.
Check Prices for Pousada Del Mares in Fernando de Noronha
8 Private Islands You Can Actually Afford to Rent
Clearwater Beach, Florida
Kanphipha/shutterstock.
White sand as soft as powdered sugar brings spring breakers and retirees in droves to Clearwater Beach, where restaurants, hotels, and souvenir shops vie for space within sight of the calm waters. Clearwater made Tripadvisor's 2021 list of the best beaches in America .
The most pristine beaches in the area are at Caladesi Island State Park , an undeveloped paradise accessible only by ferry.
Where to stay: The family-owned Barefoot Bay Resort & Marina overlooks Clearwater Bay and is just a short walk from the beach.
Check Prices for Barefoot Bay Resort and Marina in Clearwater
18 Beach Houses Still Available to Rent for Summer 2021
Crete, Greece
Patryk kosmider/shutterstock.
The 2018 release of the Mamma Mia! sequel brought the buzz back to the magical Greek Isles, where the storyline is set. Crete isn't as popular—or pricey—as Mykonos or Santorini, but it still offers plentiful sun, sand, and history.
You can split time between the island's rich culinary culture, ancient ruins, and alluring beaches. Laze in sheltered coves or on the top-rated Elafonissi Beach , a nearly mile-long protected stretch of white sand with shallow turquoise lagoons and sea turtles.
Where to stay: The intimate Theodore Boutique Hotel has just nine rooms, most with full or partial sea views.
Check Prices for The Theodore Boutique Hotel in Agia Marina
15 Beach Bag Essentials You Need for Summer 2021
Inga Locmele/Shutterstock
A favorite of honeymooners, St. Lucia is growing more popular with tourists of all types. In 2019, this exclusive tropical paradise saw a record-setting number of visitors .
In between adventures such as swimming in waterfalls, hiking to the summit of Gros Piton, and kayaking to Pigeon Island, you can relax on St. Lucia's many beautiful beaches. Traveler favorites include Anse Mamin and Jalousie Beach .
Where to stay: The all-inclusive Windjammer Landing Villa Beach Resort offers a little something for everyone, from half a dozen swimming pools to a spa and wellness center.
Check Prices for Windjammer Landing Villa Beach Resort in Castries
Praslin island, seychelles.
Secluded and romantic, the 115-island Seychelles archipelago, located in the Indian Ocean off East Africa, has a mystical draw. Seychelles' beaches, including Anse Lazio on Praslin Island, are among the most photographed in the world.
Anse Lazio is a sweeping white crescent framed by granite rocks and tropical rainforest. It's isolated but worth the effort to get to Anse Lazio, where solitude and nature reign. Or hop a 15-minute ferry from Praslin Island to La Digue to see the stunning pink sands of Anse Source d'Argent .
Where to stay: Hotel Cote d'Or overlooks a stunning white beach on Praslin Island and offers activities such as canoeing, beach volleyball, and even archery.
Check Prices for Hotel Cote D'Or in Anse Volbert
10 Rules for Sailing the Seychelles
Myrtle Beach, South Carolina
Rob hainer/shutterstock.
Myrtle Beach is one of the most family-friendly and affordable beach destinations in the U.S. Here you'll find 60 miles of sandy shores with nonstop fun for kids, plus reasonably priced condo-style accommodations that parents love.
There's always something happening in Myrtle Beach, from the opening of new restaurants and breweries to special events year-round.
Where to stay: One of the newest hotels in town, South Bay Inn and Suites , is an ideal option for families with its indoor water park and convenient boardwalk location.
Check Prices for South Bay Inn and Suites in Myrtle Beach
Editor's note: This story was originally published in 2018. It has been updated to reflect the most current information.
You Might Also Like:
We hand-pick everything we recommend and select items through testing and reviews. Some products are sent to us free of charge with no incentive to offer a favorable review. We offer our unbiased opinions and do not accept compensation to review products. All items are in stock and prices are accurate at the time of publication. If you buy something through our links, we may earn a commission.
Top Fares From
Don't see a fare you like? View all flight deals from your city.
Today's top travel deals.
Brought to you by ShermansTravel
Exclusive: 9-Night Tanzania Safari Tour w/Game...
Odyssey Safaris
Santiago to Buenos Aires: Luxe, 19-Night...
Regent Seven Seas Cruises
Pennsylvania: Daily Car Rentals from Pittsburgh
Trending on SmarterTravel
California Beach Vacations: Top Places
 George Rose / Getty Images
When most people think of California beach vacations, they picture sunbathing, surfing, fishing, or taking a stroll along the boardwalk. With thousands of miles of coastline, finding the ideal California beach town for your vacation desires might seem overwhelming.
Luckily, there are plenty of places to choose from to enjoy the perfect California beach vacation. Here are top options to consider, listed geographically from north to south.
Irish Beach, Mendocino
Irish Beach is a small vacation rental community south of the town of Mendocino. Situated near an area of undeveloped coastline, Irish Beach is the perfect refuge for anyone who wants to relax, away from crowds and tourists.
In addition to the breathtaking scenery and a romantic lighthouse, wineries, golf courses, and numerous state parks are nearby for those seeking a little adventure. The best place to stay for laid-back ambiance at the ocean's edge in is a rental home from Irish Beach Rentals .
Dillon Beach, Marin County
Near the mouth of Tomales Bay, the little village of Dillon Beach sits on the hillside above the ocean. It's packed with rental houses and not far from the Tomales oyster farms and Point Reyes (also known as the windiest place on the Pacific Coast). The area is scenic and just isolated enough to have the makings of a truly memorable California beach vacation.
Try Moore Vacation Rentals or Dillon Beach Property Management to find a place to stay at Dillon Beach.
Famous for its classic oceanfront amusement park and "Surf City" reputation, Santa Cruz is as good as it gets for a classic California beach vacation.
This location is ideal for a family beach vacation in California, thanks to its family-friendly atmosphere, free admission to the amusement park, and Monterey Bay National Marine Sanctuary located along the boardwalk. Find out how to plan a getaway to Santa Cruz .
Pismo Beach
Travelers can experience a classic California beach vacation at Pismo Beach located halfway between Los Angeles and San Francisco. Activities range from golfing, surfing, horseback riding, shopping, exploring the sandy beach via ATV, or taking part in a clam chowder eating contest.
Known for its miles of sandy beaches, Cayucos is the ideal location for a California beach vacation year round, thanks to its mild weather. Visitors can enjoy rock or surf fishing, sea kayaking, swimming, or sunbathing.
With several hotels next to the area's beaches, plus a variety of restaurants, antique shops, and art galleries, Cayucos has all of the ingredients that make for a great California beach getaway.
Malibu is the iconic California beach town, but it's more residential than touristy. Though homes are situated along 20 of the area's 27 miles of coastline, there are still plenty of ways to interact with the ocean and sand.
Consider visiting the Malibu Pier, Surfrider Beach, or the Malibu Lagoon. Besides hotels in the area, you can find nice beach houses for rent through California Vacation Rentals .
Redondo Beach
Betsy Malloy Photography
Redondo Beach is one of the South Bay beach towns in Los Angeles that​ line the shores of the Santa Monica Bay. It's an ideal choice for a California beach vacation, close to the ocean yet offering plenty of activities and attractions nearby.
Stop by the sandy beach at Redondo where you can walk or play volleyball, rent a kayak or bicycle at the marina, board a deep sea fishing boat, or enjoy your favorite seafood at one of the many restaurants.
Laguna Beach
One of Orange County's prettiest coastal towns, Laguna Beach has some great oceanside resorts and hotels , a breathtaking beach area, and a variety of shops, restaurants, and boutiques.
Art-lovers tend to flock to Laguna Beach , thanks to the area's plethora of art galleries and summer art festivals.
Mission Beach, San Diego
Despite the hustle and bustle of San Diego, Mission Beach is still considered a hidden gem. Located on the ocean side of the peninsula that separates Mission Bay from the ocean, it is a great place to enjoy the California beach lifestyle like the locals.
You'll find plenty of beach volleyball nets, a paved walking trail, the old-fashioned Belmont Park amusement park, and a peaceful atmosphere. Read here for more information about San Diego's Mission Beach .
California's Best Beach Resorts and Places for Beach Camping
These selected resorts should also be considered for your California beach vacation. You'll find options that range from quiet and lowkey to action-packed and adventurous.
Finding a place in California where you can actually camp on the beach isn't easy. Many places will present themselves as close to the coast when in actuality they are quite far away. To help you find the places that are actually on the beach, visit Northern California Beach Campgrounds and Southern California Beach Campgrounds .
15 Best Northern California Beaches You Shouldn't Miss
15 Los Angeles-Area Road Trips and Getaways
Weekend Getaways in California: 34 Trips You Can Take
A Comprehensive Guide to Los Angeles Beaches and Amenities
A Guide to California's Coast
Los Angeles to San Francisco on US Highway 101
The Best Family Beach Vacations in California
Los Angeles to San Francisco on the Pacific Coast Highway
The Best Beaches in California
Plan a Vacation in Pismo Beach
Great Summer Family Trips in the USA
California Beach Camping
The Ultimate East Coast Beach Road Trip
Best San Diego Beach Areas
The Best Spring Break Destinations for Families
The 12 Best Beaches in San Diego
By clicking "Accept All Cookies", you agree to the storing of cookies on your device to enhance site navigation, analyze site usage, and assist in our marketing efforts.
Beach Vacations
Romantic Escapes
Family Travel
Weekend Getaways
Best Beach Vacations Tweet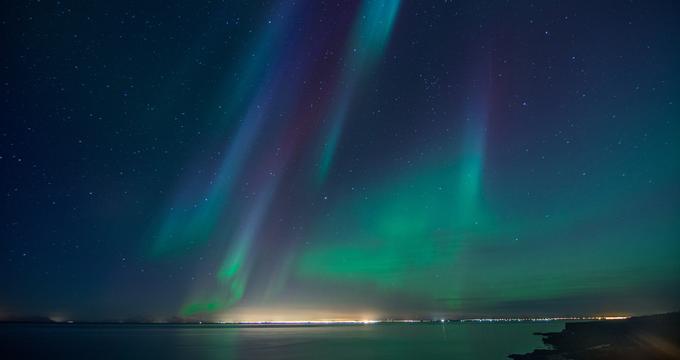 25 Best Secluded Romantic Getaways
Couples who above all value privacy and seclusion on their vacation will love these unique romantic getaways.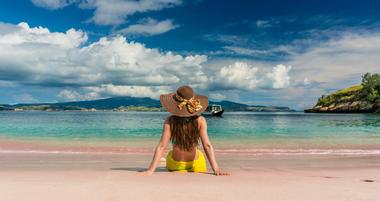 10 Best Pink Sand Beaches in the World
Only a few pink sand beaches dot the globe, and the rarity of these beaches add to the allure that they hold.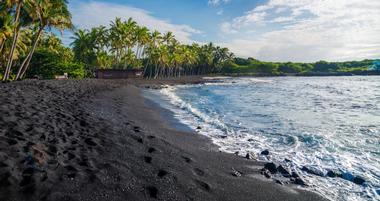 25 Best Black Sand Beaches in the World
While they are rare, black sand beaches exist all over the world wherever there are volcanoes and where, after a millennia, the waves, rain and winds have eroded lava rocks into a fine sand.
Beach Vacation Ideas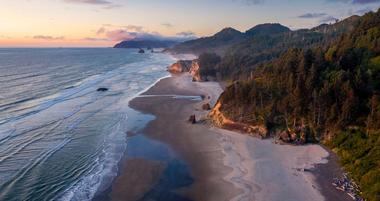 25 Best Oregon Beaches
From rolling sand dunes to towering sea stacks, Oregon's coastline continually captures the imagination of locals and visitors alike.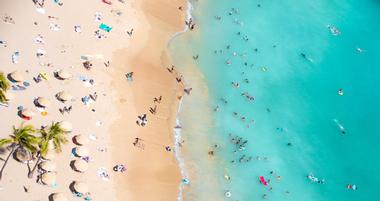 25 Best Beaches in the World
The world is a wondrous place just waiting to be explored, and there's hardly a more in-demand destination than a great beach.
Weekend Escapes From
From San Francisco
From New York
From Los Angeles
From Atlanta
From Boston
From Seattle
From Chicago
From San Diego
From Washington D.C.
Beach Vacation Planning Tips
Beach destinations - practical travel tips - best vacations.
From travel time, to the cost, time of year and your top interests, here are our tips for planning the ultimate beach vacation destination.
Best Beach Vacations - Total Travel Time and Distance : How far do you want to go? Reaching an amazing beach resort destination in the South Pacific will take several airline flights, a time change (which means jetlag for a few days) and it will be expensive. But once you get there, you can expect an experience of a lifetime. If you are looking for dream beach vacations, that's the way to go.
Total Cost : The cost of your trip will depend on the room rate, airfare, train tickets, or gas, if you are driving. Some top beach vacation destinations will be more expensive and others will be cheaper also based on the availability of food. If the only place to get dinner is the resort restaurant, you can expect to spend more than if you can go to a local café. Be sure to factor in the cost of activities and spa treatments because they can add to 100s of dollars per day. Look for all inclusive packages in major resort destinations like the Caribbean, Maldives and other beach trip ideas.
Best Beach Vacations - Time of Year : When can you get away for your well-deserved beach holiday? If you are taking off work in the summer, best beach vacation ideas are just a short drive or flight away. In the winter, you will have to travel to the tropics or to the Southern Hemisphere (Australia, New Zealand) to enjoy warm weather and sunny days. While you can still find great last minute deals, cheap airline tickets and room specials, you should be prepared to pay more. This is probably why most people on a budget plan their beach vacation in the summer.
What will the weather be like? The weather Is unpredictable anywhere you go. Even destinations like Bora Bora which are known for their sunny weather can be hit by a tropical storm just as you get there. Nothing is more disappointing than saving up for your vacation, taking a long flight, just to get there and have it rain for a week. But it happens. To lower the probability of that happening, look up the local climate and avoid booking your getaway during the rainy season.
Beach Vacation Packages : If you are looking for the best package, there are many ways to get started. Browse our beach and island packages pages which offer specials and deals from some of the top beach hotels and resorts in the world. We hand-pick them and hotels can't pay to be included – the packages have to be good to show up on our site.
All Inclusive Beach Vacations : If you don't want to worry about the cost of activities, food, extra resort surcharges and other fees, the best way to go is all-inclusive. Certain resort chains like Couples resorts are popular with couples on their honeymoon, anniversary or romantic trip who want to know the final cost of their vacation before they leave home. You can find all inclusive packages that include all or some meals, an array of fun activities and adventures, and all resort fees in the cost of the stay. You don't have to book an all inclusive vacation through a travel agent. In some cases, the resort offers all inclusive pricing with airfare.
Secluded Beach Vacations for Couples : The best secluded beaches are found on islands, some remote and some just a short boat ride away, such as the private islands in Florida. Honeymooners love quiet spots where they can have picnics, swim, surf, snorkel and scuba dive while enjoy plenty of privacy. Travel to the tropics is most popular in November, December, January, February, March and April. In September and October, you can usually find great deals to secluded beaches in Maui, Hawaii, Oahu, Kauai and the Big Island.
Beach Vacation Packing List : Beach attire will vary by destination, but generally beach resorts require clothes that are much more casual than city destinations. Pack a few comfortable outfits for daytime activities such as hiking, and dresses for a romantic dinner under the stars. If you are worried that your attire is too casual, call the resort concierge to inquire about the dress code in the hotel restaurant. Tropical resorts tend to be very casual – in Hawaii it's completely acceptable to go to dinner at a fancy restaurant in flip-flops because it's expected that vacationers will want to let their hair down and not worry too much about bringing along their entire wardrobe. Other essentials to not forget include great sunglasses, sunscreen and your mask for snorkeling. One year old and two year old kids will add more items to your list, because you don't want to worry about hunting down essentials once you check into your hotel.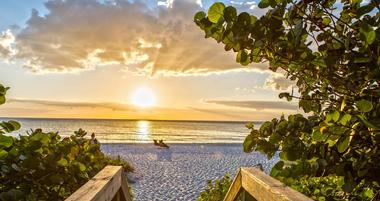 Beach Villas - Best Vacations : If money is no object and you want to spend your vacation in the best beach villa money can buy, there are many incredible choices in the U.S., Europe, Asia, the Seychelles, South Africa and more.
Best Beach Vacations - Beach Resort Activities : The great thing about vacationing on the beach is an almost endless choice of activities: surfing, swimming, sea kayaking, beach combing, snorkeling, scuba diving, fishing, boat rides, whale watching, dolphin swim, paddleboarding, romantic sunset dinners on the water, sunset cruises, morning yoga on the sand, horseback riding, scenic hikes and more. Pick a few of these activities that are the most important to you and find a hotel that will give you easy access to most of them. The most important thing on vacation is simplicity, not having to drive for miles to get to your next adventure because that's the time that you could have been relaxing on the beach with a cool drink.
You will find beach deals in the US , including popular destinations like Florida, California, Virginia, Miami Beach, Kaanapali beach in Maui, Georgia and Huntington Beach. Other great beach vacation ideas include Key West, South Carolina, Michigan, San Diego, Oregon, Texas, East Coast spots and West Coast getaways. International destinations include Caribbean packages, Thailand, Mexico, Bali, Bermuda, Bahamas, Dominican Republic, cheap deals in Puerto Rico and more. Look for seasonal specials in the early fall and late spring.
Best Beach Vacations - Tips for Families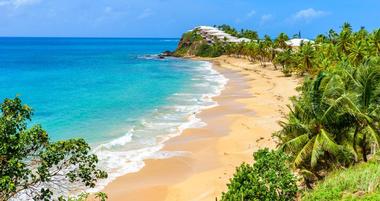 Cheap Beach Vacations
Beach destinations - best vacations.
No matter what the season, taking a beach vacation is a relaxing and fun thing to do. There are many amazing destinations all over the world to choose from.
Bahamas : Melia Nassau Beach is a great destination, offering a sandy stretch of a Caribbean shore, outdoor pools, and a choice of accommodations.
Australia : Kewarra near Cairns offers a beautiful sandy bay, a garden filled with exotic birds and pristine rainforest surroundings. Thala Beach Lodge, also near Cairns, is a unique getaway with two pools, waterfalls, spas and grottos. Lizard Island has 24 secluded beaches, a freshwater swimming pool, snorkeling and scuba diving on its own coral reefs. Ask for a room right next to the ocean.
Oahu : When planning a vacation in Hawaii, the first step is to decide where to go. Each island is different, offering a choice of accommodation, activities and scenery. The most famous destination in Hawaii is Waikiki on the island of Oahu. It's home to numerous hotels and resorts, some right on the sandy shore and others a just a few blocks from it. Travelers come here for their honeymoon, on a family trip and to learn how to surf. The Royal Hawaiian is decorated all in pink. Because of its historic ambiance and romantic atmosphere, the hotel is especially popular with honeymooners. Next to the Royal Hawaiian is the 1,695-room Sheraton Waikiki which offers many rooms overlooking the ocean. If you are looking for a more secluded getaway, reserve a cottage at Turtle Bay on the north end of the island. The resort has two golf courses, a spa and a kid's club.
Maui : For those who like dry sunny weather, the resorts of West Maui offer plenty of activities. Kapalua has three beautiful bays, three golf courses, tennis, spas and other activities for guests of all ages. If you are looking for a place that will let you get away from it all, try the quiet town of Hana on East Maui. The only luxury resort in town, Travassa Hana, has a relaxing spa and a restaurant that serves dishes made from organic ingredients. Visitors can spend their days relaxing on the tropical Hamoa Beach.
Kauai - Best Vacations : The island of Kauai in Hawaii offers several great options. Sheraton Kauai Resort offers snorkeling, landscaped gardens and a choice of rooms and suites.
Santa Monica, CA : There is more to Santa Monica than its world famous three and half miles long spectacular beach, but that is where you have to start your visit to understand the spirit of this fun, relaxed and exciting coastal town. After you shake the sand from your feet, stroll along the iconic Santa Monica Pier for a cold drink, fantastic views of the ocean and a visit to the aquarium to see what lives under water all around you. For a nice meal and a bit of shopping, walk through the tree-lined shady pedestrian Third Street Promenade in downtown Santa Monica. If you are travelling with kids, take them to the Looff Hippodrome for some fun rides or drive up the Santa Monica Mountains to stretch your legs, take in spectacular views and breathe fresh, cool mountain air.
Key West, FL : There is so much history in Key West, you feel like you've stepped into one of the Hemingway's stories. Get into the spirit of the place by staying at the charming, luxurious Curry Mansion Inn, where time has stopped and where you will be treated like royalty. Join the crowds at Mallory Square in Key West's charming historic Old Town and watch the street performers' show. Sunset-watching is a daily pastime in Key West, from Mallory Square or from the colorful Sunset Pier. Visit Ernest Hemingway's beautiful Victorian house in the Old Town. Stroll through the Historic Seaport at Key West Bight to watch the boats and old fishermen. While here, make sure you grab a fresh fish lunch, or book a dolphin watching boat tour. For a respite from the crowds and relentless sun, sit for a while on a bench in the shady, fragrant Key West Garden Club.
Vacationers have a choice of thousands of amazing beach destinations, from charming oceanside towns for a quick weekend trip, to luxury tropical resorts half a world a way.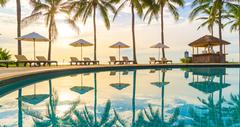 25 Stunning Tropical Vacations with Scenic Pools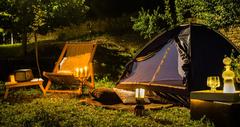 25 Best Lake Camping Ideas in the USA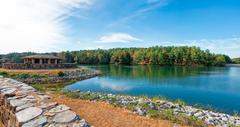 25 of the Most Beautiful State Parks in Alabama
About Us/Contact Us
Privacy Policy
Terms of Service
Search Please fill out this field.
Manage Your Subscription
Give a Gift Subscription
Sweepstakes
Solo Travel
The 12 Best Tropical Destinations for Solo Travelers
For solo travel, I tend to gravitate toward structured trips , like exploring a few cities in Scandinavia, road tripping through Northern California, or seeing the Taj Mahal. It might be my Type A tendencies, but my solo travel usually includes a packed itinerary with goals like fitting in bucket list attractions or making it to a new continent . What I don't associate with solo travel is a tropical vacation . Palm-lined beach towns and scuba dive lessons aren't necessarily top of mind for the traveler going it alone. Driving the coast of Maui, sailing in French Polynesia, or bronzing on the Riviera Maya are activities usually tailored to couples and families.
After talking to 12 solo travelers who specifically sought out tropical destinations, one thing is apparent to me: The island life is definitely not reserved for bachelorette parties, couples, college groups, and families anymore. Tropical destinations offer perfect itineraries (and prices ) for when you need to escape from the hustle of real life—you just have to know where to go. And choosing a tropical destination doesn't mean you won't find must-see landmarks; get you a destination that can do both.
As with all solo travel, you might need to give yourself a push to actually make your trip happen. Whether you're going through a big life change and need time to process, you're traveling for work and looking to extend your trip, or you're just in desperate need of a change of pace, sometimes lounging on a beach by yourself is exactly what the doctor ordered. Here are 12 of the best tropical destinations to explore on your own:
"Australia, specifically the Great Barrier Reef , was a bucket list destination for me. I spent a week exploring the reef and it was mind boggling. You could definitely see the damage the reef has suffered, but the wildlife was indescribably beautiful. I also spent time in Cairns, an area that's perfect for a solo traveler. You have easy access to the Great Barrier Reef, Daintree Rainforest, and the Tablelands. I felt safe throughout my travels in Australia. The people were simply amazing—I even lost my cell phone in a cab and was able to get it back, thanks to the cabbie. I would recommend Australia for any traveler, but especially solos." — Charmayne Evans
"I went to Bermuda last September for my first solo vacay. I really enjoyed it because it's super close to the east coast, they speak English and take American currency, and the island is so small, it's super easy to navigate on your own via motorbike or public transit. I mostly took the bus everywhere. I ended up Airbnb-ing it and rented a room in a woman's home. The island is totally manageable on your own. I found all the locals to be super helpful with directions and recommendations. I also loved Bermuda because if you wanted, you could do all the action packed stuff (swim with dolphins, etc.) or just sit on the beach all day, which was more my speed. Also, if you're willing to venture around the island a bit, and you take the time to learn from the locals, there's a ton of more secluded and quiet beaches that are not mobbed with tourists." — Colleen Hughes
The Galapagos, Ecuador
"The Galapagos are ideal for solo travelers, whether you crave isolation or company. A cruise is the best way to see the islands , and smaller ships, like Haugan Cruises, have communal dining so you'll always have someone to chat with at dinner. With a land-based stay on Isabela or Santa Cruz, you can book a day cruise or walk to see flamingos, giant tortoises, and sea lions. If you want a swimming partner, sea lions and penguins are happy to oblige." — Johanna Reed
"In February I went to the southern islands of Ko Tao, Ko Phangan, and Ko Samui before starting a new job. The weather was absolutely perfect , and if you're looking to learn to scuba, this is the place to do it. As a solo traveler, it's so easy to meet people on snorkeling day trips or while island hopping or hiking the waterfalls. Nightlife on the Thai islands is also easy to find and a good place to meet people. If you're in the area for a half moon or full moon party in Ko Phangan, definitely check it out!" — Maxine Renn
"Living in Asia provides me with some great solo-travel destinations—one of my favorites being Laos. The backpacker culture makes it easy to keep to your own itinerary and still meet others to visit attractions or split a tuk-tuk with. Laos had everything you could want from a visit to SE Asia: jungle treks, swimming in blue lagoons, and endless natural beauty. It doesn't have the same manufactured tourism feel as some other countries nearby, but still offers structure and support, which can be nice when you are going it on your own. The best part is the street food—don't miss the markets and fresh sausage in Luang Prabang." — Rita Callahan
Turks and Caicos
"It was my first international solo trip ever, and it was amazing. I was going through a breakup and wanted to get my confidence back. I had never traveled internationally by myself before and thought if I could travel in a different country by myself, then I can do anything by myself. I put a lot of research into safe destinations before settling on Turks and Caicos . I wanted a relaxed location where English was spoken. I was already nervous and thought that if I didn't have to worry about communication, it would ease my nerves a bit. I liked that the island was small enough to bike from my hotel on the water to the small town nearby, and everyone was so kind. The best part was getting to just do what I wanted, when I wanted, and not have to worry about anyone else's opinion. It was definitely a good spot for a solo traveler—especially a female solo traveler. I felt safe the whole time, even when I was biking around exploring the town. I'm kind of spoiled, because now I'd rather travel by myself than with other people." — Tracy Huynh
"I spent this April in a small surf town on the west coast of Sri Lanka. It was an unplugged vacation—I didn't even bring my laptop. My goal was to surf twice a day, everyday. With safe (and cheap) transportation options like the train or a taxi, Sri Lanka is well-suited for one. I'd recommend booking a private room in a hostel or a surf camp package, so you can meet other vacationers. There are tons of backpackers making their way around the island, so it's easy to link up with other people. Sri Lanka attracts health-minded tourists, and there are tons of outdoor activities available everywhere. During the busy season, most hostels will have a yogi-in-residence leading classes. I'd recommend taking a break from the Lanka beach life and checking out the tea plantations around Ella. The mountainous train ride offers the views you've probably seen on your Instagram feed. As a solo female traveler, safety is always a concern, but the ease of getting around the island coupled with the hospitality of locals made me feel secure." — Alexandra Talty
"I actually was invited to dog-sit for my aunt, so that was the catalyst for this trip—hello not paying for accommodations! It was my first solo trip, and I was in Miami long enough to get to know the area, as well as embrace the independence and solitude of traveling solo. Miami is a fantastic locale for solo travel: the people I met were all super welcoming, the food is phenomenal, and you have the options to explore the city, do outdoorsy activities, or live that beach bum life." —Natalie Large
"After I turned 25, I decided to take a break from the nine-to-five and adventure throughout Europe and Asia. Every country I've visited so far has been amazing, but Indonesia definitely owns the top spot on my favorites list. While the country's natural beauty is out of this world, the people are what made my experience there as a solo traveler so amazing. My favorite memory has to be losing my iPhone on the top of a volcano in East Java and having the phone back in my hands a few months later after a local found it and wanted to return it to its rightful owner. Even more than Bali, I'd recommend Lombok, which is the island right next to Bali." —Arren Quezada
"I can't think of a better place to travel solo than Costa Rica . From the gorgeous coast line, to the rich rainforest, to the majestic cloud forest, there is so much to see, do, and explore. Costa Ricans are famous for their laid back pura vida (pure life) attitude, and their spirit is as relaxed and welcoming as you could imagine." — Kayla McCormack
"I had a fantastic time in Crete and can't recommend it enough! Filled with small mountain towns and gorgeous beaches on every side, there was so much to explore. The island was beautiful, the food delicious and uniquely Greek, and the people were so friendly. Everyone I met spoke an impressive amount of English. I felt incredibly safe the entire time I was there, even when walking around the old quarter of Chania — the city I stayed in — at 1 o'clock in the morning." — Hillary Handy
"I was working with an NGO in Phnom Penh, the capital of Cambodia, for the summer and went for a five-day vacation to Siem Reap to see the temples of Angkor Wat. It was definitely a more adventurous place to go alone, especially as a young woman, but it was actually pretty easy because Siem Reap accommodates so many tourists. My hotel, which was so cheap, had a tuk tuk driver pick me up when my bus got in. They were tremendously helpful and available, and arranged for my tuk tuk drivers to and from the temples — even when I went at sunrise — and from the kayaking trip I went on. The combination of having very knowledgeable guides and drivers, plus the ability to wander the temples and town by myself and still feel comfortable was the best part. It was equally independent and supportive." — Eleanor Brakewood
By clicking "Accept All Cookies", you agree to the storing of cookies on your device to enhance site navigation, analyze site usage, and assist in our marketing efforts.
Last Updated On
May 30, 2023
14 Best Beaches Near San Jose, CA — The Closest Beach Spots
We independently evaluate all recommended services and products. If you click on an affiliate link we provide, we may receive compensation. Learn more.
Craving a beach escape while in the Capital of Silicon Valley?
Sadly, San Jose itself doesn't have any beaches.
On the bright side, some of California's most beautiful beaches are just a short drive from the tech capital.
But planning is a bit of a challenge if going out of the city is outside your itinerary.
And I know this struggle too well as a travel writer and someone who's been to San Jose.
That's why I'm here to help you search for the best beaches near San Jose, CA, for your quick vacation.
I'll draw from my personal experience, conversations with locals, and trusted sources for my review.
I'll mention the pros and cons of each beach destination and rank them based on a few criteria.
Hopefully, this can help you plan a fun beach escapade near the city.
Check out my in-depth reviews of the top waterfronts near San Jose, CA.
Best Beaches Near San Jose, CA Compared
I've rated each beach destination based on family-friendliness, safety, amenities, water quality, and accessibility. Here's how it went:
Editor's Choice
Santa Cruz Main Beach
With a plethora of amenities, this free-admission strip is one of the best beach vacations from San Jose for families.
Family-Friendliness: 5/5
Safety: 4/5
Amenities: 5/5
Water Quality: 4/5
Accessibility: 4/5
#2nd Best Choice
Natural Bridges State Beach
Encompassing 65 acres, this state beach in Santa Cruz is famous for its picture-perfect natural bridge.
Family-Friendliness: 4.5/5
Water Quality: 5/5
Accessibility: 3/5
#3rd Best Choice
Capitola Beach
Set on the northern edge of Monterey Bay, this urban hideaway is a hive of activity in Capitola.
Here are the top 14 beaches near San Jose, CA.
1. Santa Cruz Main Beach (Editor's Choice)
399 Beach St Santa Cruz, CA 95060 Visit Website Tripadvisor Open in Google Maps
Ratings Criteria
Excellent surfing spot
Lovely boardwalk and seaside playground
Why We Recommend This Beach
They don't call this ocean strand Boardwalk Beach for nothing.
For years, this seaside playground has been captivating visitors with its lively boardwalk and amusement park thrills.
What's more, it's the safest beach for kids near San Jose, thanks to its gentle waters and on-duty lifeguards.
Santa Cruz Main Beach is quite popular, especially in summer.
So, arrive early, to stake out a nice spot on the sand.
Also, there's a metered parking area behind the beachfront hotels if you're driving.
Recommended Hotel Near Santa Cruz Main Beach: Casablanca Inn on The Beach
Related: Best Beaches in Santa Cruz
2. Natural Bridges State Beach
2531 W Cliff Dr Santa Cruz, CA 95060 (831) 423-4609 Visit Website Tripadvisor Open in Google Maps
Art-like natural bridge rock formation
Monarch Butterfly path
Small beach area
Searching for an exquisite beach near San Jose?
Then, don't forget to put this hideaway to your list of must-see quick beach getaways from San Jose.
With its dramatic rock formations and jaw-dropping sunsets, you'll have a blast snapping photos on this beach.
Explore the tide pools, and see tons of hermit crabs, starfish and sea anemones.
You can also enjoy a picnic on the beautiful beach and use its grills.
Recommended Hotel Near Natural Bridges State Beach: Dream Inn Santa Cruz
Related: Best Things to Do in San Jose
3. Capitola Beach
San Jose Ave and Esplanade Capitola, CA 95010 Visit Website Tripadvisor Open in Google Maps
Instagramable pastel-colored houses
Charming, relaxing atmosphere
Not pet-friendly
Capitola Beach offers a taste of the Mediterranean in California.
With pastel-colored buildings, it's, no doubt, one of the most Instagrammable weekend beach trips from San Jose.
Plus, it offers ample opportunities for surfing and hosts a variety of beach events throughout the year.
In summer, the beach hosts a Wednesday concert series where visitors can dance and enjoy live music for free.
Recommended Hotel Near Capitola Beach: Best Western Plus Capitola By-the-Sea Inn & Suites
Also See: Best Beaches Near Palm Springs Nearest Beach to Sacramento Beaches Near Anaheim
4. Pescadero State Beach
Cabrillo Hwy San Gregorio, CA 94074 (650) 726-8819 Visit Website Tripadvisor Open in Google Maps
Resting along State Route 1, this state beach has a 1-mile-long shoreline with picnic facilities and sandy coves.
With a quiet, serene atmosphere, Pescadero State Beach is a lovely alternative to Santa Cruz Main Beach and Capitola Beach.
Pescadero, with its dramatic dunes, tide pools and rocky cliffs, will definitely mesmerize you.
Even better, it has a serene and secluded feel, meaning it's a superb respite for anyone longing for solitude.
After getting your beach fix, head to the Pescadero Marsh Natural Preserve.
As you wander around this preserve, you'll spot a range of animals, including weasels, foxes, raccoons, deer and blue herons.
Recommended Hotel Near Pescadero State Beach: Half Moon Bay Lodge
5. Cull Canyon
18627 Cull Canyon Rd Castro Valley, CA 94552 (888) 327-2757 Visit Website Tripadvisor Open in Google Maps
Nestled 37.5 miles away from San Jose, this oasis is the nearest beach spot to the city.
If you're looking for lake beaches nearby, then you'll love Cull Canyon.
Featuring a white sand beach and a slew of amenities, this haven is an ideal day trip for families.
There are also lifeguards on duty and gentle waves, making it the best beach for swimming near San Jose.
For seasoned swimmers, there's a specific deck for jumping and diving into the water.
You must, however, pass the park's swimming test to experience this fantastic deck.
Recommended Hotel Near Cull Canyon: Comfort Inn Castro Valley
6. Carmel City Beach
Ocean Ave and Scenic Rd Carmel, CA 93923 Visit Website Tripadvisor Open in Google Maps
Famed for its wide and long white sand stretch, this hangout is one of the prettiest beaches on the California Central Coast.
With fun activities and majestic scenery, this waterfront will give you a healthy dose of Vitamin sea.
As a bonus, it's dog-friendly and offers plenty of opportunities for surfing.
Spice up your beach trip by hiking the paved pathway of Scenic Bluff Path.
From jagged coastlines to landscaped gardens, this trail is filled with eye-catching sights.
Recommended Hotel Near Carmel City Beach: La Playa Carmel
7. San Gregorio State Beach
20063 Cabrillo Hwy S San Gregorio, CA 94019 (650) 726-8819 Visit Website Tripadvisor Open in Google Maps
Sandwiched between Año Nuevo State Park and Half Moon Bay, this beach is truly an oceanside jewel.
San Gregorio's scenery is unbeatable.
From exquisite cliffs to driftwoods, there's a pleasant sight at every turn on this beach.
You'll also spot a bundle of colorful birds year-round in this oceanfront destination.
Trust me, it's perfect for anyone looking for scenic and nice beaches.
Stop by San Gregorio General Store, and soak up its eclectic vibe.
There's also cool live music and delightful drinks at this store.
Recommended Hotel Near San Gregorio State Beach: Oceano Hotel and Spa Half Moon Bay Harbor
Also See: Best Beach Close to Hollywood Best Beaches Near Fresno Beaches Close to Santa Monica
8. Monterey Municipal Beach
201 Municipal Wharf 2 Monterey, CA 93940 Yelp Open in Google Maps
Located near the heart of Monterey, this waterfront hub is quite popular and fun.
With its calm waters, this beach is an excellent place to launch your SUP or kayak.
And, if you don't have one, there are rentals for kayaking available onsite.
Additionally, the beach linked directly to the Fisherman's Wharf, which is a nice place to watch whales, buy souvenirs and eat.
There are parking spots available along Del Monte Boulevard if you can't find a spot near the beach.
Recommended Hotel Near Monterey Municipal Beach: Monterey Plaza Hotel & Spa
Related: Best Beaches in Monterey
9. Rio Del Mar State Beach
Beach Drive Rio Del Mar, CA 95003 (831) 685-6500 Visit Website Tripadvisor Open in Google Maps
Popular and accessible, this bayfront strip in Aptos is located near Seacliff State Beach.
With its free parking and easy access, it's no wonder this beach draws plenty of visitors throughout the year.
Add in fire pits and other amenities, and you've got the recipe for a memorable beach trip.
Fond of animals?
Guess what? You can spot a ton of animals, like birds, sea lions, dolphins and whales, by just sitting on the shore.
Recommended Hotel Near Rio Del Mar State Beach: Seascape Beach Resort
10. Davenport Landing Beach
335 Davenport Landing Rd Davenport, CA 95017 Visit Website Tripadvisor Open in Google Maps
You'll find this small oceanside strip on the northern side of Davenport.
Davenport Landing Beach is the perfect antidote to your frenzied lifestyle.
Even though it doesn't have a remote location, the beach amazingly feels quite relaxing.
You can spend hours here just relishing the ambiance, and listening to the crashing waves.
For a pleasurable experience, visit the beach during sunset and enjoy a picnic dinner.
Recommended Hotel Near Davenport Landing Beach: Rio Vista Inn & Suites Santa Cruz
11. Scott Creek Beach
Cabrillo Hwy Davenport, CA 95017 Tripadvisor Open in Google Maps
Scott Creek Beach lies on Highway 1 and on the northern part of Davenport.
With strong currents, this beach isn't exactly the best place to go for a swim.
But, guess what?
It's a paradise for kitesurfing and windsurfing aficionados.
As a bonus, the cove attracts a plethora of waterfowls and sea birds alike.
At low tide, head to the north side of the beach and check out its fascinating tide pools.
Recommended Hotel Near Scott Creek Beach: Pacific Blue Inn
12. Marina State Beach
1 Reservation Rd Marina, CA 93933 Tripadvisor Open in Google Maps
Open since 1977, this 170-acre state beach is ripe for adventure.
Marina State Beach is action packed.
Home to some of the region's highest dunes, this beach will definitely appease adventure seekers.
Whether you're into hang-gliding or surfing, this seaside spot will quench your thirst for adventure.
Hike the Dune Nature Trail, to learn more about the area's natural wonders.
Recommended Hotel Near Marina State Beach: Sanctuary Beach Resort
13. Twin Lakes State Beach
2875 E Cliff Dr Parallel to East Cliff Drive and Portola Drive Santa Cruz, CA 95062 (831) 427-4868 Visit Website Tripadvisor Open in Google Maps
Perched on Monterey Bay, this state beach has a 1-mile-long shoreline that's ideal for picnics and swimming.
Want to avoid the crowds at Santa Cruz Main Beach?
Why not venture into Twin Lakes instead?
Not only does it have fewer crowds, but it's also a sweet place for picnicking and watching the surf.
And, best of all, it has a gorgeous vista of the Santa Cruz Breakwater Lighthouse.
Parking is pretty limited, and it can be challenging to find a nice spot on the weekends.
So, arrive early in the morning to snag a favorable parking spot.
Recommended Hotel Near Twin Lakes State Beach: Hotel Paradox, Autograph Collection
14. New Brighton State Beach
Park Ave and McGregor Dr Capitola, CA 95010 Visit Website Tripadvisor Open in Google Maps
Sitting on Monterey Bay's northern edge, this 93-acre park is one of the best beaches near San Jose, CA for families.
Kids will have an absolute blast splashing on this beach.
With lifeguards on duty and a sheltered swimming area, this seaside spot is safe for the little swimmers.
Meanwhile, moms and dads will adore the photogenic rocky shore and steep cliffs on the north side of the beach.
Rejuvenate your weary spirit and spend a night at the designated campground of the beach.
With its fresh breeze and soothing ambiance, this experience can even be quite therapeutic.
And, the campground can also accommodate tents, trailers and RVs.
Recommended Hotel Near New Brighton State Beach: Inn at Depot Hill
Related: Fun Things to Do in San Jose with Kids
Also See: Best Beaches in The San Francisco Bay Area
Beachgoer Guide
Comparing beaches: which one is right for you.
Choosing the right beach destination comes down to two things: your preferences and their pros and cons.
For instance, Santa Cruz Main Beach offers an excellent surfing spot and a lovely boardwalk and seaside playground for kids.
However, expect pretty big crowds for its popularity in the area.
Tourists flock to the Natural Bridges State Beach for its art-like natural bridge rock formation and a chance to see majestic Monarch Butterflies.
But if you want a full beach experience, the small beach area may be a downside.
Capitola Beach's pastel-colored houses as a backdrop are perfect for Instagramable pictures.
However, they don't allow pets in the area, so you can't bring your furry friend.
If you're looking for a quiet place to unwind as an alternative to Santa Cruz Main Beach, you'll find solitude in Pescadero State Beach.
How I Picked The Beach Spots
My process of picking the beach spots involved my personal travel experience and reviews from other credible travel sites.
I've drawn from my experience at each destination, interviews with locals, and research on local catalogs at the visitor centers.
I did all this to provide a helpful guide for your next beach trip.
Our Beach Rating Method
I rate these beaches based on the following criteria:
Family-Friendliness: I use this to evaluate if the beach is ideal for families with children. Does the beach offer kid-friendly activities and playgrounds? Does the beach have shallow waters and gentle waves? I ask myself these questions when I rate the family-friendliness criterion.
Safety: This is used to assess the safety of every beach destination. Are there lifeguards manning the beach? Does it have safety equipment? What are the other safety measures at the beach? I consider these factors when evaluating the safety of every beach.
Amenities: I use it to evaluate the quality and availability of facilities on every beach. Is it equipped with restrooms, showers, and changing rooms? Does it have ample parking? These questions are important whenever I rate the amenities of each beach.
Water Quality: This evaluates the cleanliness and clarity of the water at the beach. Are there algae in the water? Is the water safe and clean enough for swimming and other activities? I ask myself these questions in order to rate the beach's water quality.
Accessibility: This measures how accessible the beach is for visitors. How far is it from the major cities? Is it easily accessible by public transportation? Is the beach wheelchair accessible? I use these questions to evaluate the accessibility of every beach.
Frequently Asked Questions
What is the closest beach to san jose, ca.
The closest beach to San Jose, CA is Santa Cruz Beach, which is around a 45-minute drive.
What Is The Prettiest Beach In California?
The prettiest beaches in California include Santa Cruz Beach, Natural Bridges State Beach, and Capitola Beach.
The best beaches near San Jose, CA that we compared and reviewed here offer a unique experience.
Based on my personal experience, these beaches guarantee to give you a pleasant getaway.
The vivid sunset view, the pristine rock formations, and the friendly tourists during my visits to these beaches swept me away.
My partner and I went on a picture-perfect date at Natural Bridges State Beach when we were in the early stages of our relationship.
I also visited Pescadero State Beach solo to unwind.
We went to Capitola Beach as a family, and my kids were delighted at the backdrop of fairytale-like houses.
But Santa Cruz Main Beach isn't one of California's most famous beaches for nothing.
My whole family had fun on its lively boardwalk and swimming in its gentle waters.
The amusement park thrills were also a big plus to my kids' experience.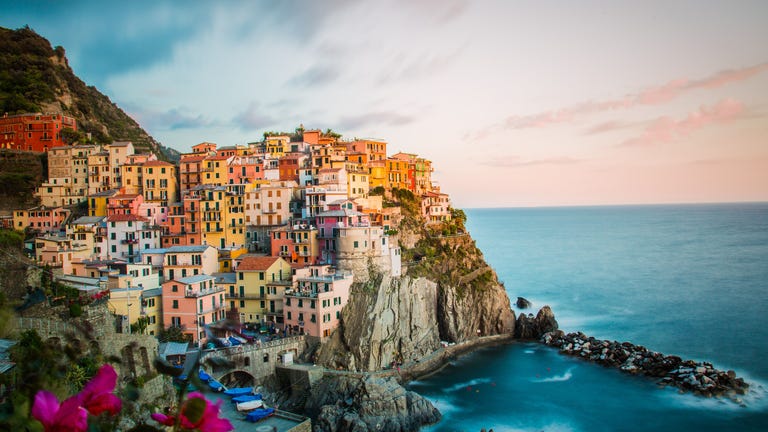 The Best Beaches in the World
The 40 shores across the globe that are inspiring all the wanderlust right now...
Railay Beach, Thailand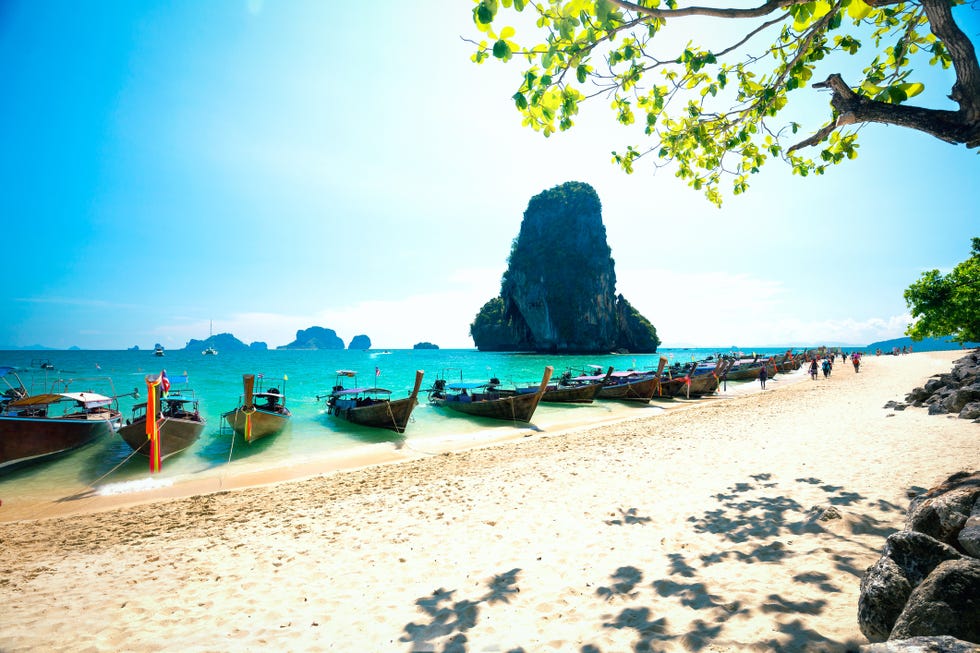 Cut off from the rest of the mainland of Krabi province by high limestone cliffs, Railay Beach is only accessible by boat, making it one of Thailand's most peaceful and beautiful beaches.
Whitehaven Beach, Australia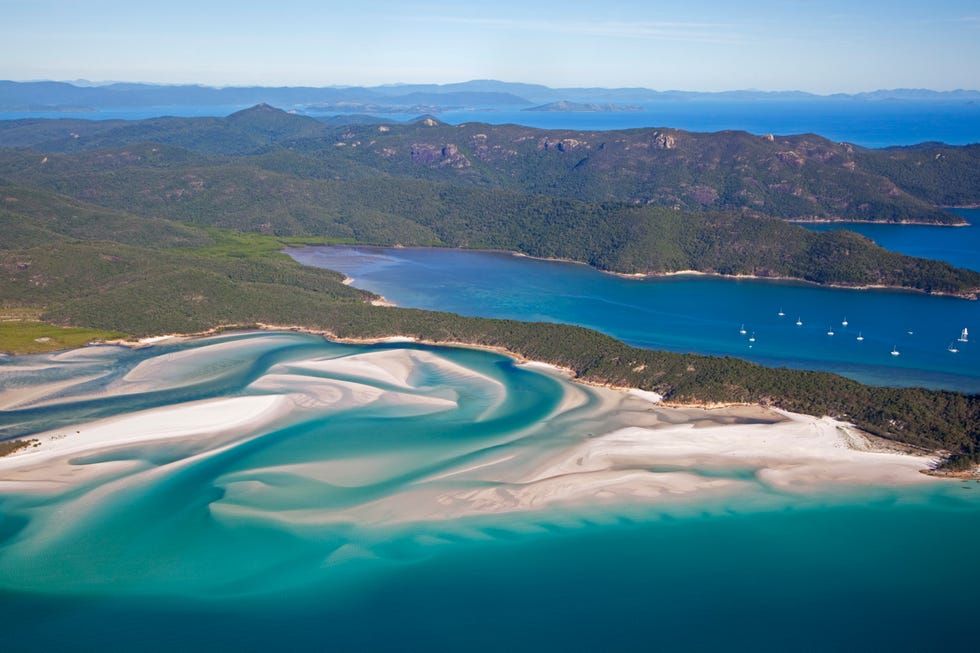 Australia's East Coast is home to some legendary beaches—Whitehaven Beach in the Whitsundays is particularly heavenly. Over on the West Coast, Turquoise Bay in the Cape Range National Park is equally gorgeous. Just watch out for those sharks.
Ruby Beach, Washington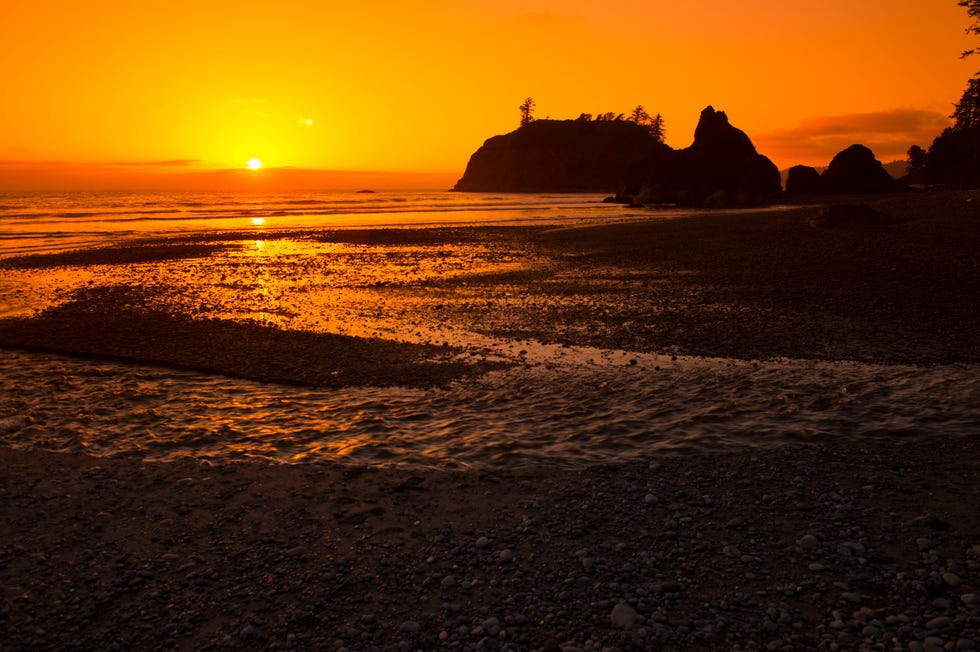 While the coastal section of Olympic National Park is rockier than it is sandy, it's still worth visiting Ruby Beach for the views alone.
Monterosso Al Mare, Italy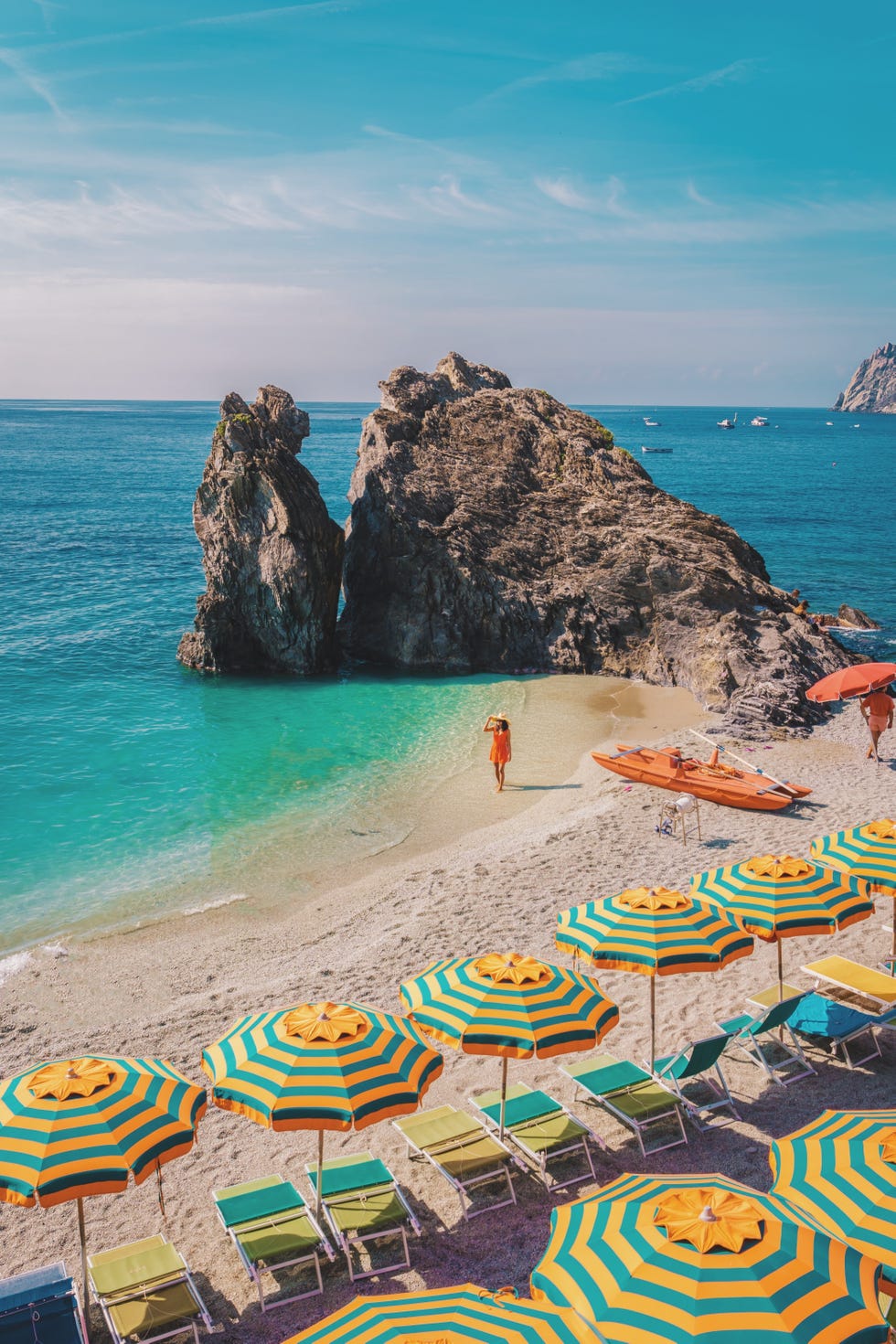 Home to the Cinque Terre's only sand beach, Monterosso al Mare is the spot to post up for a long day of sunbathing on the Italian Riviera.
Tunnels Beach, Kauai, Hawaii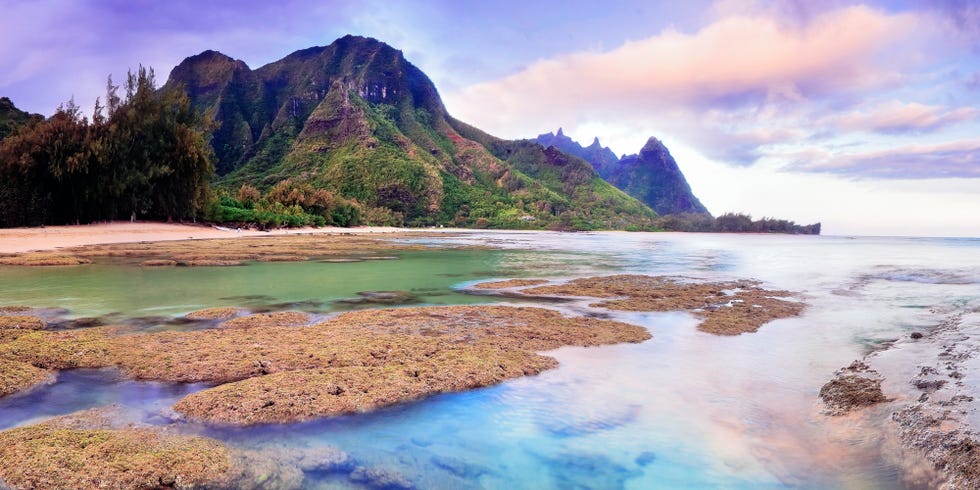 One of the best places for snorkeling on Kauai's north shore, the coral reefs at Tunnels Beach are suitable for divers of all skill levels.
Durdle Door, England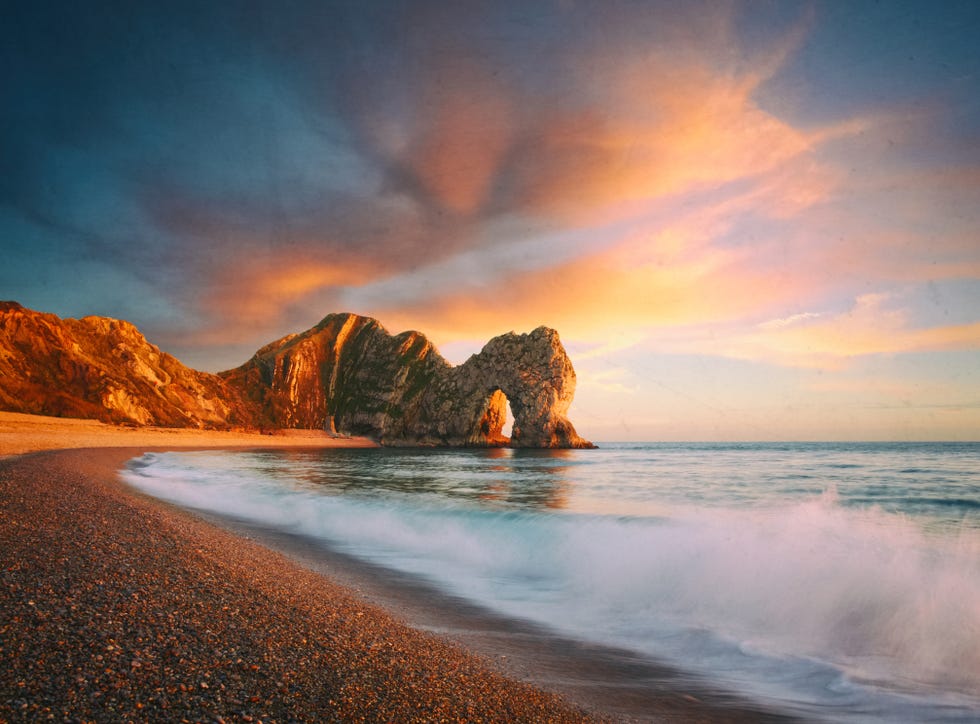 Set upon the Jurassic Coast between Swanage and Weymouth, this natural limestone arch is the perfect secluded cove for your next Insta-worthy travel diary.
Anse Source d'Argent, Seychelles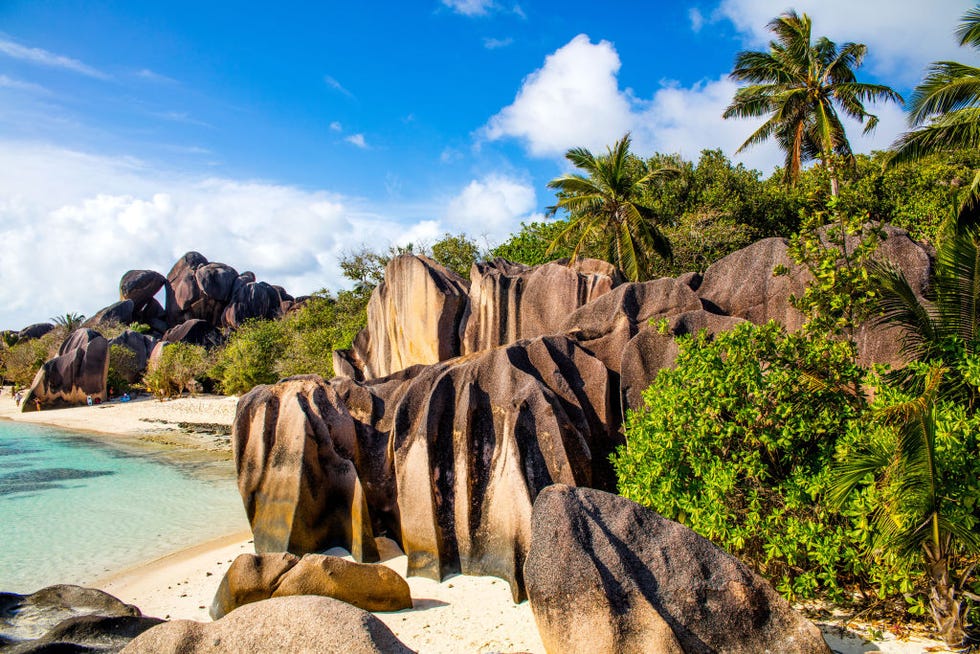 There are too many beautiful white sand beaches in Seychelles to even count, but Source d'Argent on La Digue is known for being one of the best.
Tulum, Mexico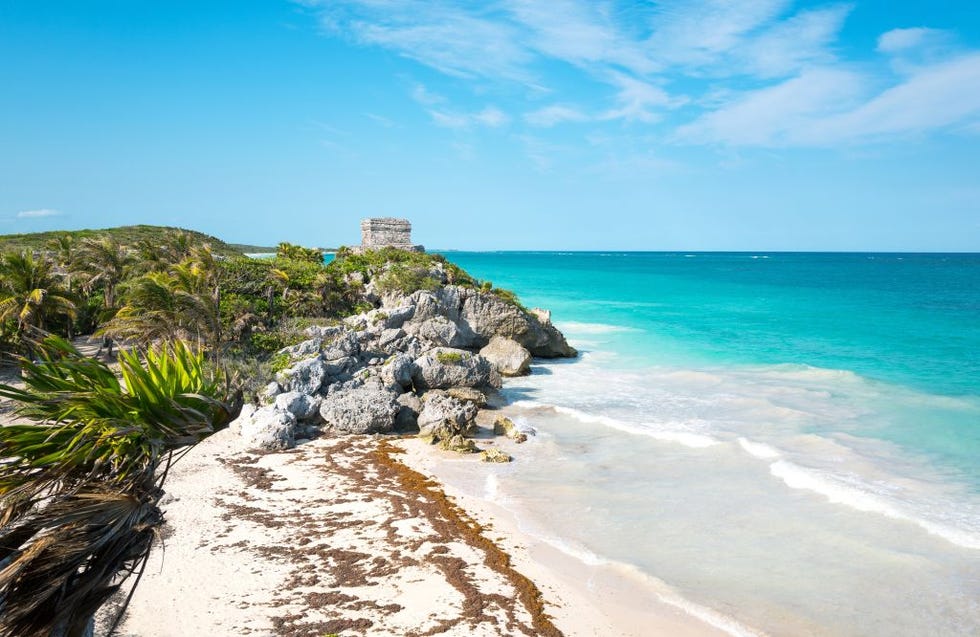 The ancient Mayan ruins overlooking the white sand beaches and bright blue waters of Tulum feel a world away from Cancun, which happens to be just a two hour drive north.
Cannon Beach, Oregon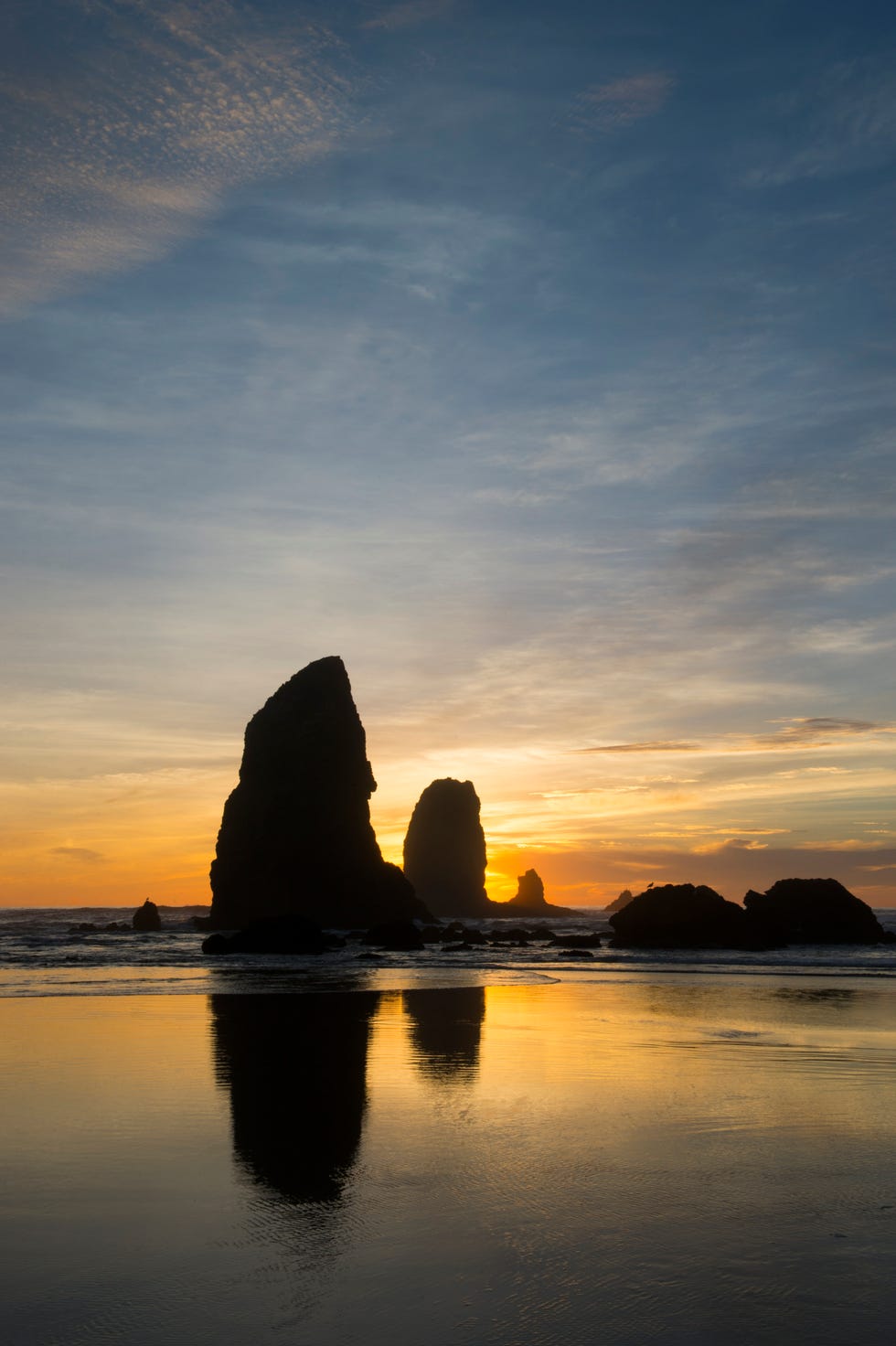 The 235-foot-tall Haystack Rock dominates the shoreline of the Oregon Coast at Cannon Beach, which is also home to a host of art galleries and restaurants.
Cala Goloritzè, Sardinia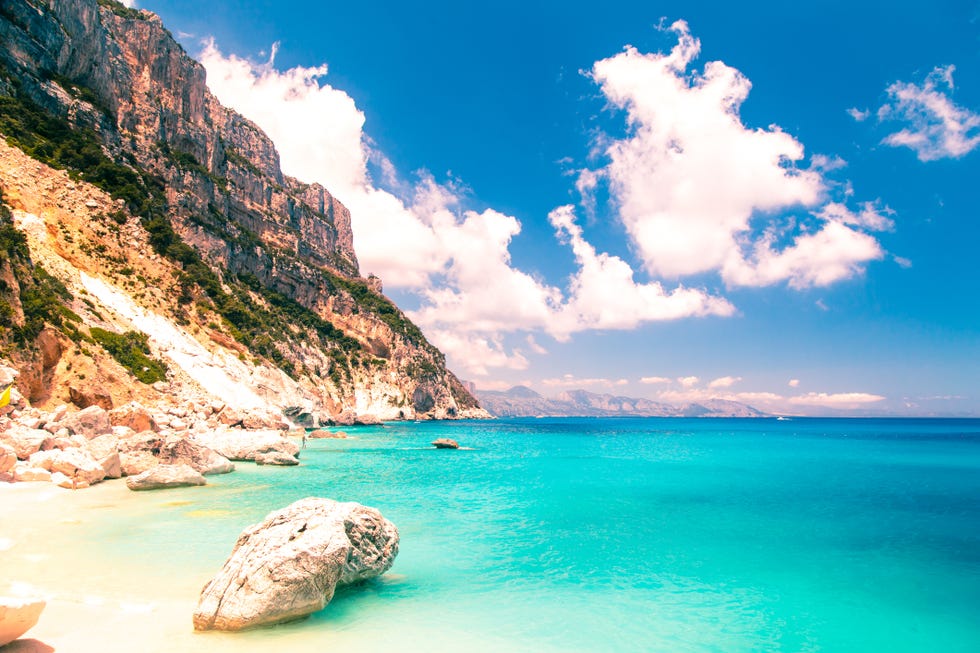 For those who prefer to get off the beaten track, let the gleaming gem of Cala Goloritzè be your reward. Accessible by boat or an athletic hike, this tiny beach is a dream spot for climbers (the nearly-150 meter rock spire just up the beach offer spectacular views) as well as for those who just enjoy a pristine private spot to lounge.
Walvis Bay, Namibia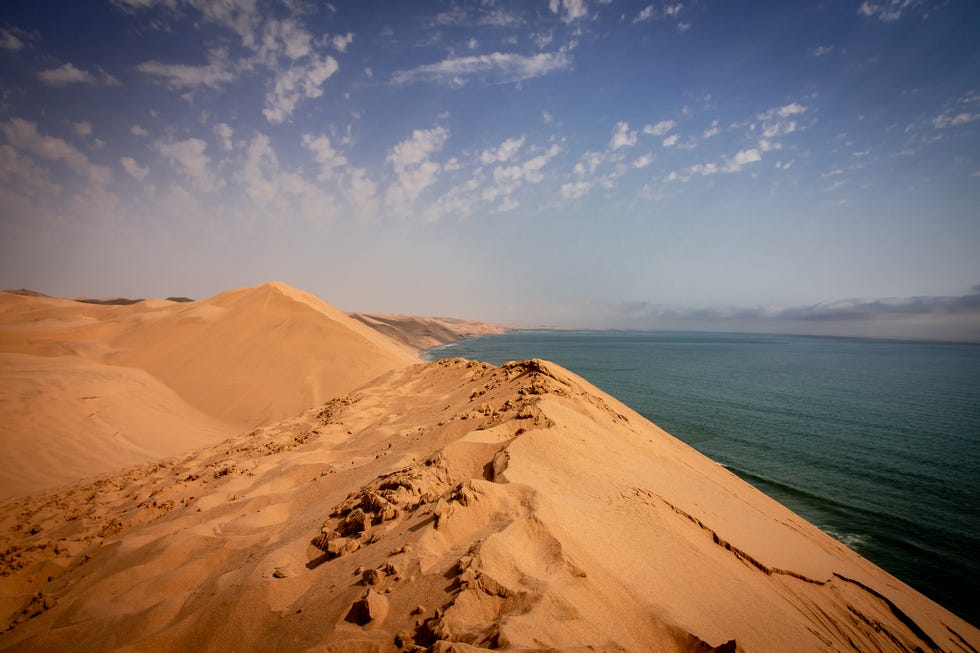 The massive sand dunes alone are reason to book a trip to Walvis Bay. But you'll also want to come to this beach on Namibia's Skeleton Coast for the wildlife—you're likely to spot flamingos, seals, whales and even hyenas here.
Ngapali Beach, Myanmar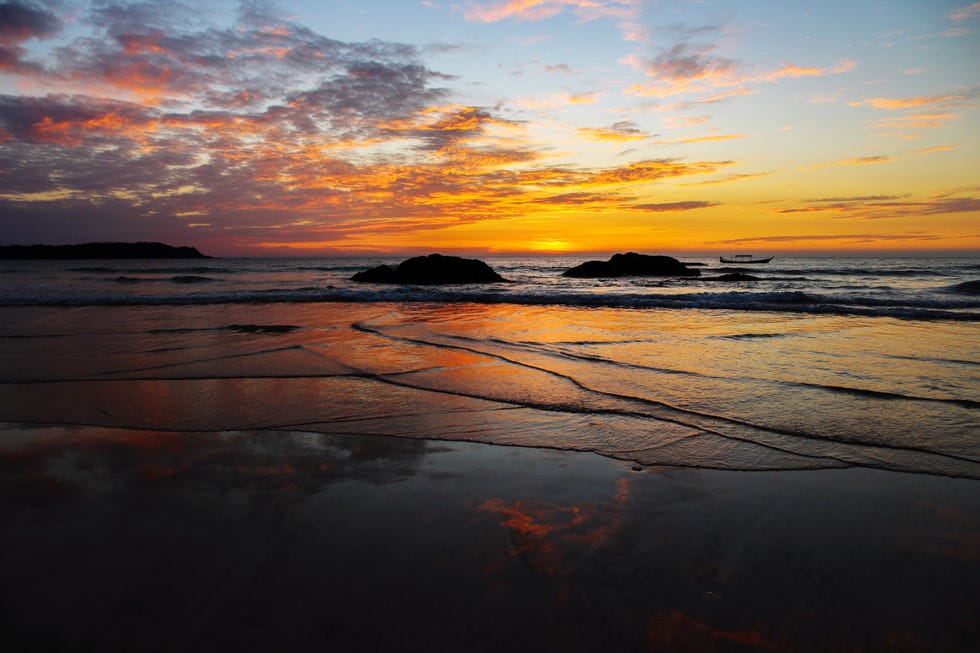 With the rise of tourism in Myanmar, there are plenty of places to stay in this beach town on the Bay of Bengal–but don't fear that it's lost its charm, it still maintains its sleepy fishing village vibe.
Baker Beach, San Francisco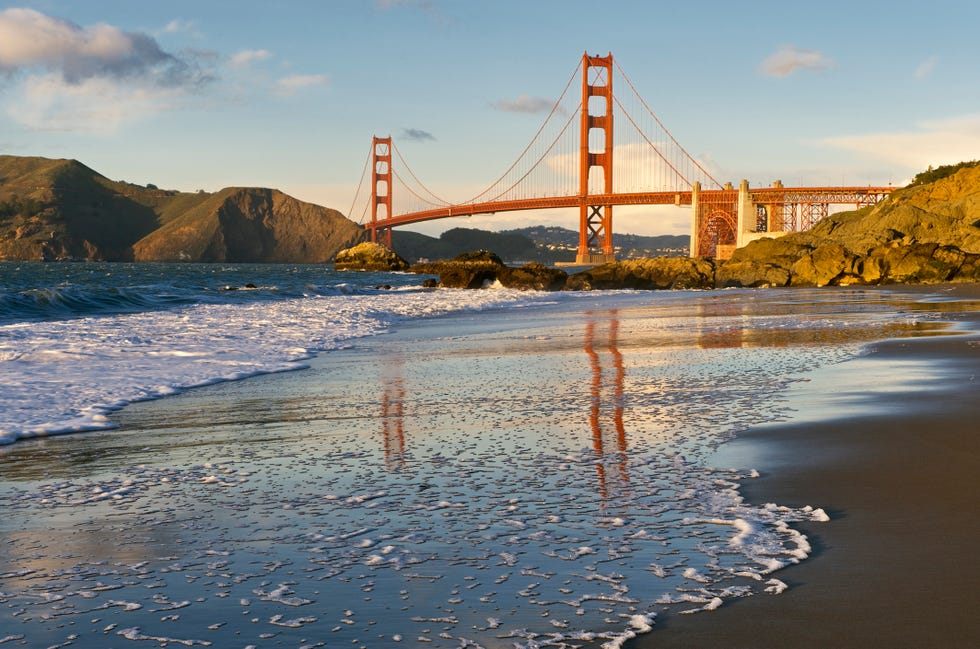 While San Francisco might not be the sunny beach town you would imagine to see on a list like this, Baker Beach is worth visiting for the spectacular views of the Golden Gate Bridge. Fair warning: the northernmost end of the beach is clothing optional.
Bells Beach, Australia
This sandy coast is home to the world's longest-running surf competition, and showcases some of the biggest rip curls you'll ever see. High cliffs provide a dramatic backdrop to the natural amphitheater of this gorgeous Australian oasis.
The Baths, British Virgin Islands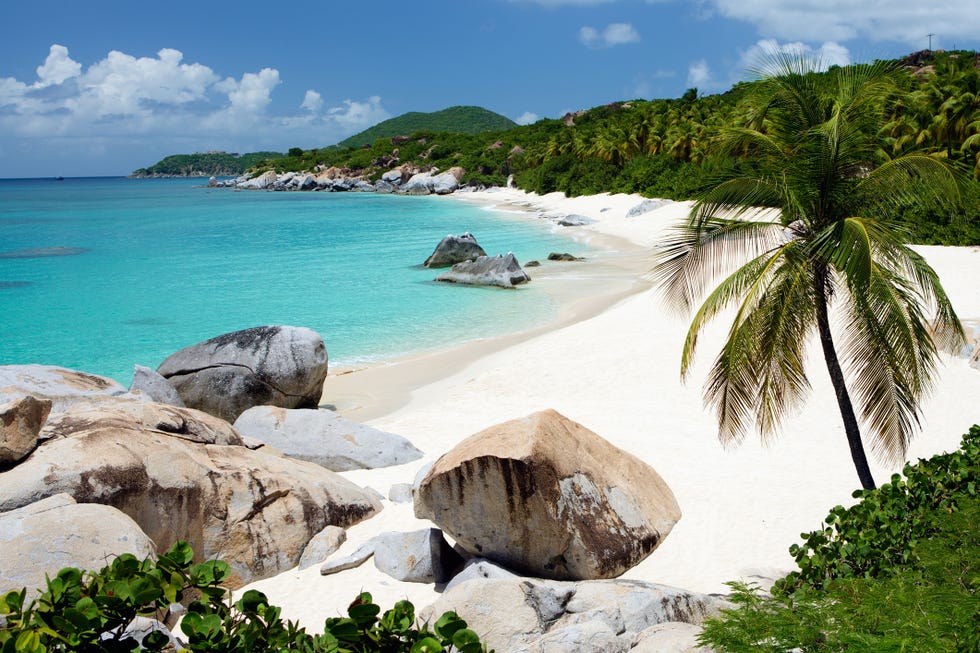 Large granite boulders line the coast at the southern tip of Virgin Gorda, forming shallow pools that make The Baths an ideal spot for swimming and snorkeling.
Clifton Beach, South Africa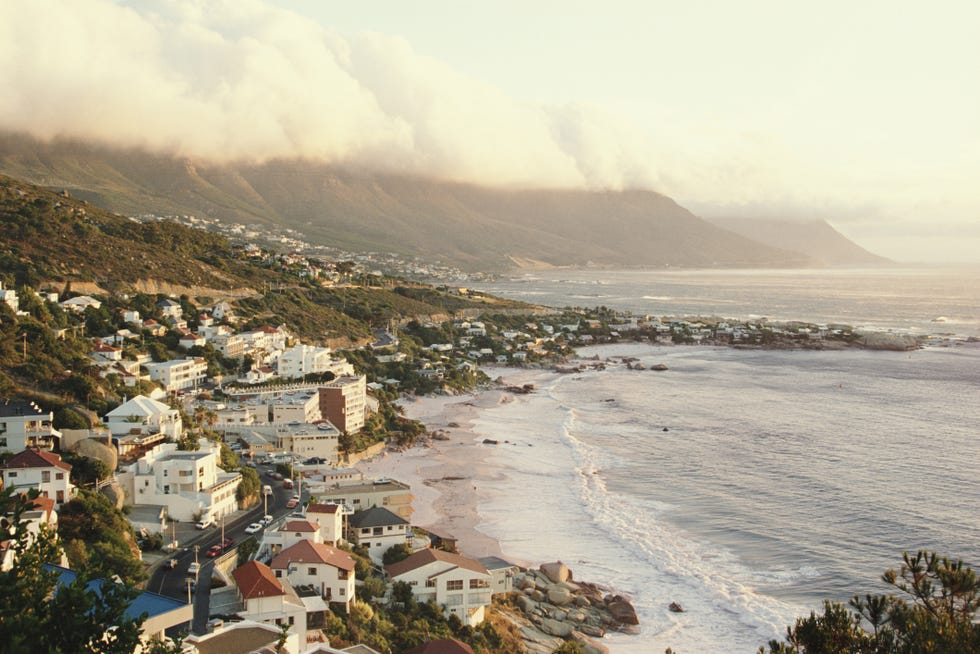 The luxe beach houses here might try to overshadow this coastline, but the beach itself is still the most beautiful part of this Cape Town suburb.
Tangalle Beach, Sri Lanka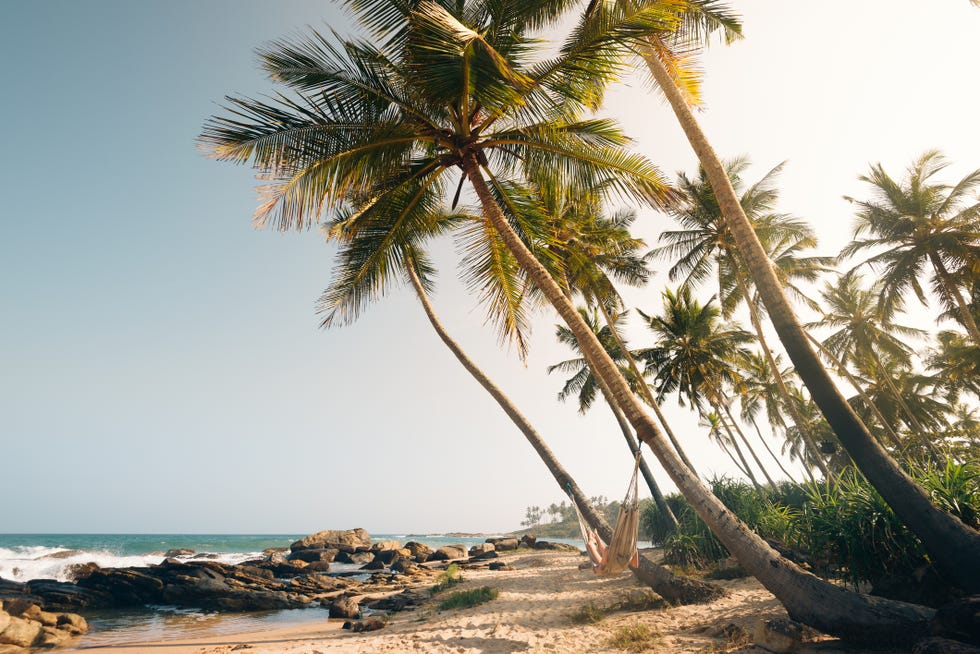 If you're looking for untouched beaches, head to southeast Sri Lanka to enjoy the wide open sands of Tangalle Beach.
Praia Dona Ana, Portugal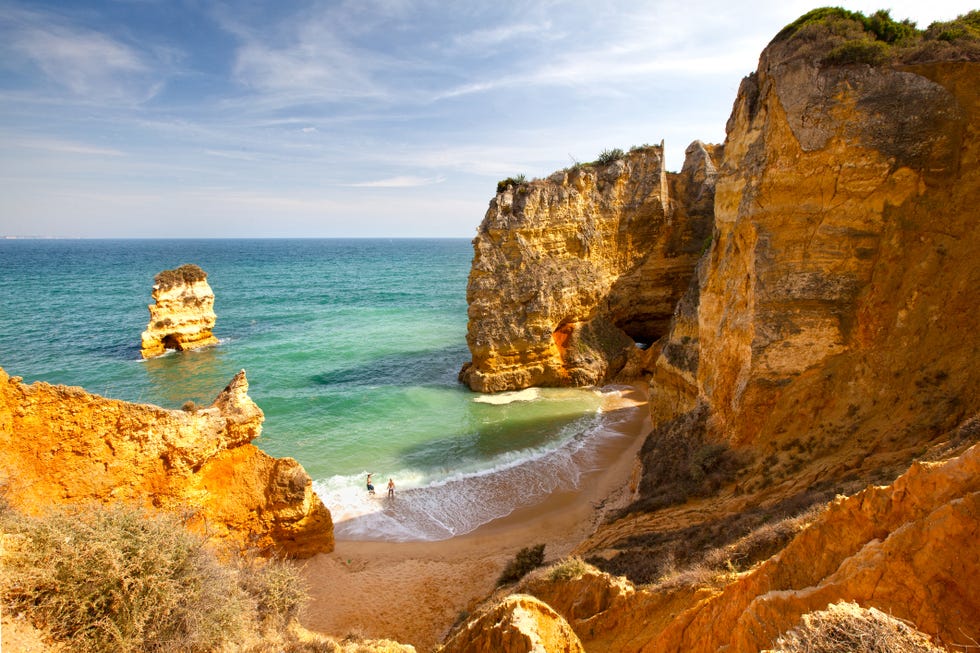 Surrounded by cliffs, this small beach outside of Lagos is one of the most beautiful in Portugal's Algarve region.
Trunk Bay, St. John USVI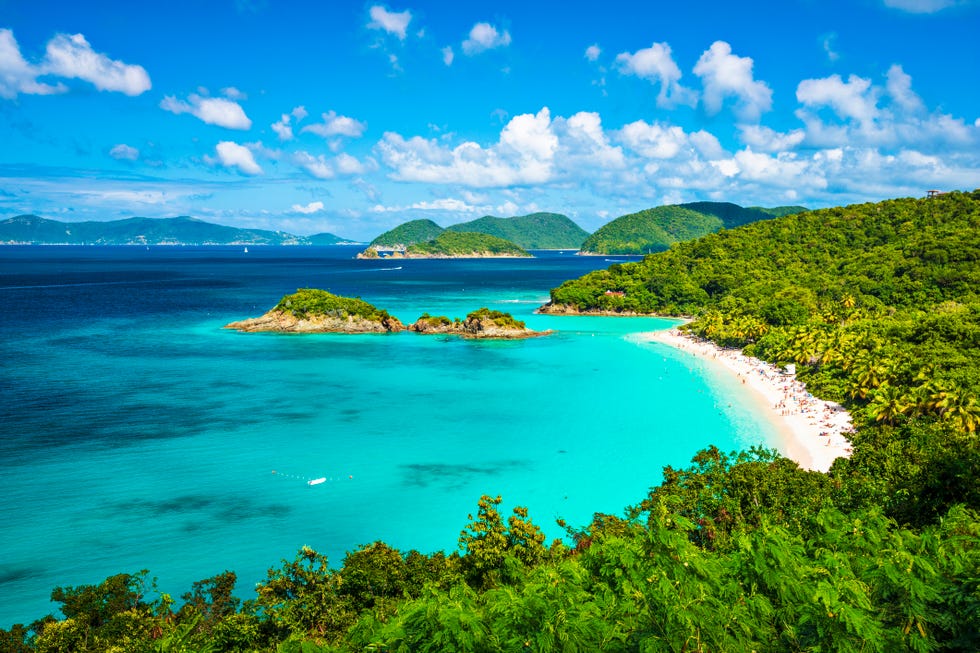 Even though Trunk Bay is St. John's most visited beach, this quarter mile stretch of pristine white sand on the island's north shore is worth braving the occasional crowd.
Rhossili Bay, Wales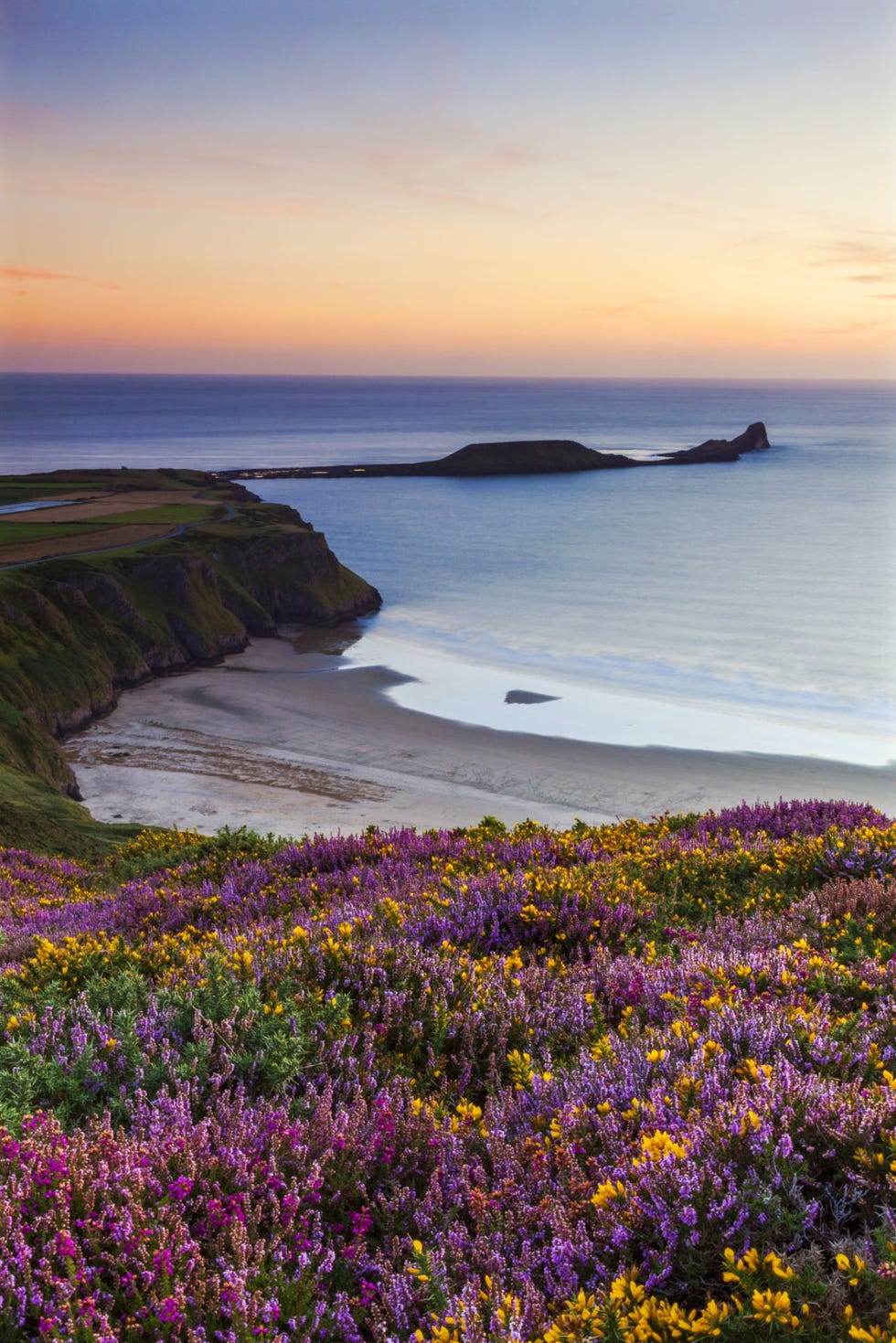 The UK has some gorgeous beaches—even if the weather isn't ideal for sunbathing. Rhossili Bay on the tip of Gower Peninsula in Swansea is particularly pretty–just look at those blooms.
Travel & Food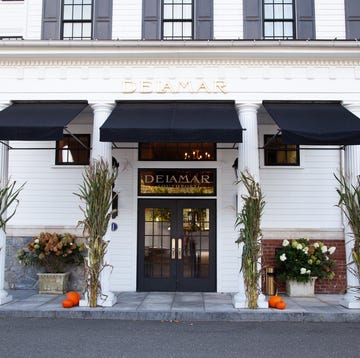 6 Luxe Ideas for Your Next Happy-Hour Celebration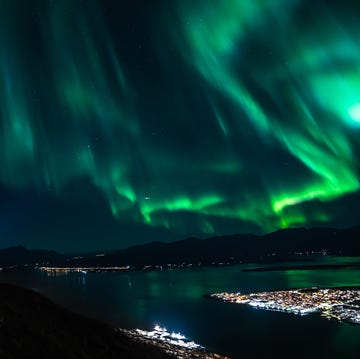 How to See the Northern Lights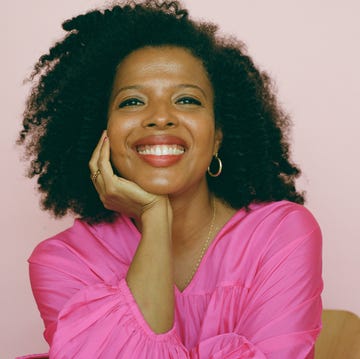 A New Cookbook Gives Black Women in Food Their Due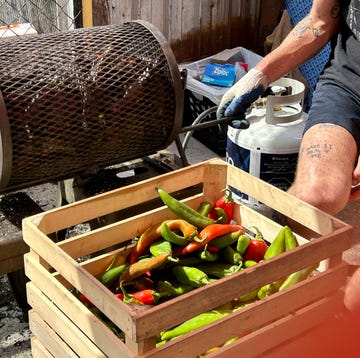 A New Mexico Tradition Comes to Brooklyn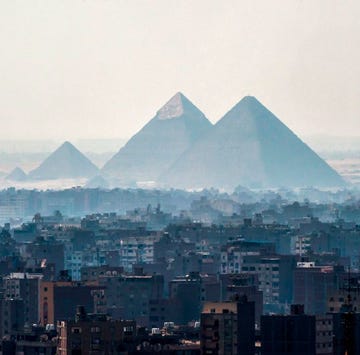 Editor's Guide to Cairo, Egypt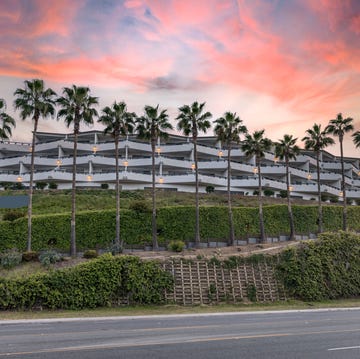 Best Affordable US Summer Getaways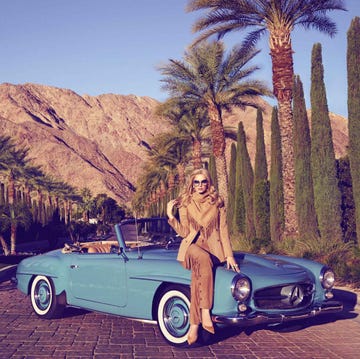 The Best Last-Minute Weekend Getaways from NYC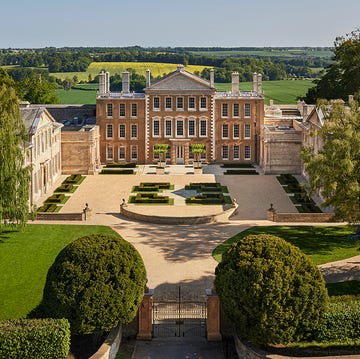 Bridgerton, But Make It Modern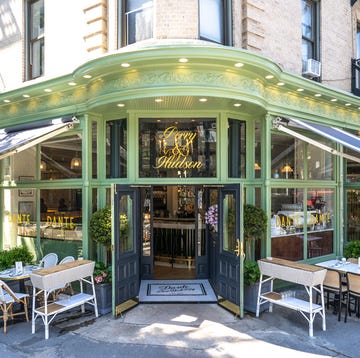 The Best Restaurants for Brunch in NYC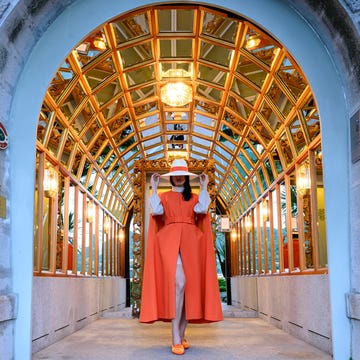 Lake Como's 3 Most Luxurious Wedding Resorts
The 28 Best Desserts in NYC
Vacation Rentals
Restaurants
Things to do
Things to Do
Travel Stories
Rental Cars
Add a Place
Travel Forum
Travelers' Choice
Help Center
Best of the Best Beaches
Top 10 - World
We award Travelers' Choice Best of the Best to beaches with a high volume of above-and-beyond reviews and opinions from our community over a 12-month period. Each winner has passed our rigorous trust and safety standards. Fewer than 1% of Tripadvisor's 8 million listings are awarded Best of the Best, signifying the highest level of excellence in travel.
Congrats to all of the 2023 winners and a big thanks to the travelers who made it possible.
Golden sands, rugged coastlines, clear blue waters—this year's winning beaches are traveler faves for everything from lazy beach days to underwater adventures.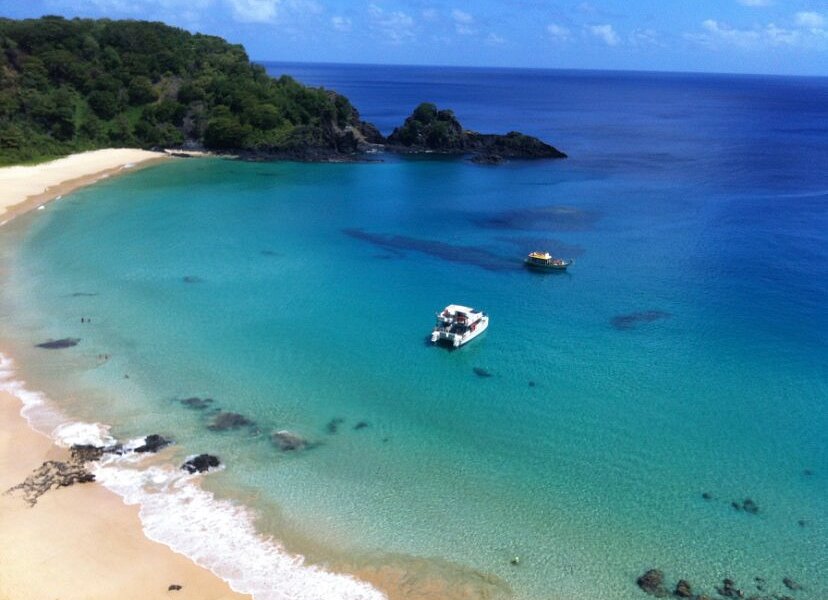 Home » Travel Guides » United States » California (CA) » 15 Best Day Trips from San Jose (CA)
15 Best Day Trips from San Jose (CA)
One of the most significant technological and cultural hubs in the country, San Jose, California, is a hotbed of urban prowess, entertainment and of course, has its stunning Mediterranean-like climate and topography, delivering warm, dry and sunny weather all year round.
One of the best things about San Jose is its convenient location, within arm's reach of a number of beautiful places that are ideal for day trips.
Thanks to Northern California's diverse landscape, you can go from surfing the waves under the hot sun to standing on a mountain peak above the clouds within the same day.
Check out this handy guide outlining some of the best day trip destinations from Silicon Valley's San Jose.
1. Santa Cruz
The epitome of a Californian beach town and still one of the nation's favourite destinations because of the perpetual summer vibe that can be found here, Santa Cruz is best known for its sun, beach and famous Boardwalk.
The majority of visitors will spend most of their time on the buzzing promenade enjoying the rides and games, however, Santa Cruz also has a wealth of cultural and natural attractions to offer.
The historic mission church is a fascinating and spectacular sight to behold, while destinations like Wilder Ranch State Park offer enchanting and unspoiled hiking spots, perfect for soaking up some truly unmissable views.
The town of Alameda can be found close to downtown San Jose and has strong historical and cultural roots that are apparent when wandering its charming streets full of mid-century architecture and signage.
There's also a huge antiquing culture here, which gives the streets and shops a vintage feel that is enchanting to be immersed in, the hub of this being Park Avenue.
Here you'll find everything from vintage clothing and apparel to fascinating trinkets from all over the world.
For a real treat, head down to the old naval base on the first Sunday of each month to visit the Alameda Antiques Faire in search of something truly unique to take home.
The true epitome of wine country and a nationwide favourite destination, Napa can be reached in less than two hours from San Jose.
It is home to some of the finest wining and dining in California.
With a vast number of tours operating in the area, it has never been easier to learn about Napa's rich history in winemaking and sample some of the delicious end products.
Napa also offers some truly breath-taking hiking destinations due to its gently rolling foothills and orchards, and offers endless great spots for a stroll and a picnic.
4. Half Moon Bay
Another immediately recognisable and iconic Californian coastal destination is the town of Half Moon Bay; charming and quaint in equal measure, and a popular alternative to raucous Santa Cruz.
Only an hour northwest of San Jose, you'll find this water sport haven, where kayaking in the bay and surfing in the Pacific are two of the most popular pastimes.
With many surf schools offering lessons, it's a great place to learn during the summer, though beginners may want to take a back seat in winter as the waves grow to monstrous sizes exceeding 50-feet in height.
5. San Francisco
The iconic and classic "Golden Gate City" should be on the bucket-list of anyone visiting the states, let alone California.
Easily reachable from San Jose even without a car, thanks to the world-class public transport connecting the two, San Francisco can be the perfect day trip if you know what you want to do when you arrive.
Popular favourites are the Golden Gate Bridge, Mission Dolores and Lombard Street, but if you want to head off the beaten track, head over to Haight-Ashbury and wander the colourful streets covered in murals and exuding a heavy dose of flower-power.
A world-class destination when it comes to indulgence, Gilroy is a self-proclaimed foodie and retail haven, only half an hour to the south of San Jose.
The aptly named garlic capital of the world plays host to the Annual Gilroy Garlic Festival, where you can enjoy every garlic-based dish and snack imaginable, including their world-famous garlic fries and even garlic ice cream.
You'll also find one of the country's premium shopping malls in Gilroy, housing over 140 stores and boasting the accolade of having the largest collection of designer stores in Northern California.
7. Livermore
Perfect for wine lovers who are looking for an alternative to the popular Napa Valley, Livermore is a thriving community of wineries that comprise an up-and-coming wine industry.
Many have been producing critically acclaimed wines since the time of the San Francisco Mission.
A mere 30 minutes from San Jose in Alameda, the town has a long history of ranching and agriculture as well as the grape farming, and is a wonderful place to explore on foot.
8. Sausalito
At the foot of the Golden Gate Bridge you'll find the enchanting beachside community known as Sausalito that has visitors falling in love with it within minutes of arriving.
The small town is a former shipbuilding hub that has transformed into a wealthy and picturesque artist's hideaway with a wealth of hidden gems to discover.
Home to a great number of pop-up restaurants serving progressive seasonal menus, garnished with gorgeous views across the bay, Sausalito is an ideal day trip to grab a bite to eat and explore one of San Francisco's numerous attractive suburbs.
9. Silicon Valley
An eye-opening and insightful day trip that can actually be within the city limits, depending on where you go, a day out in Silicon Valley will leave you curious and hungry for more.
Of the many technological landmarks found here, some of the most popular are the Apple Headquarters in Cupertino or the famed HP garage in Palo Alto.
Visitors can experience the pioneering force behind many of the world's social media and online powerhouses like Google and Facebook, and marvel at the quirky and sometimes bizarre office spaces they operate from.
10. Carmel by the Sea
A great number of San Joseans regularly make the trip to this romantic coastal resort with its spectacularly sandy beach and irresistible small-town ambience.
You'll find the gorgeous beach in the long cove curling around Carmel Bay, where secluded spots and picturesque sunsets are plentiful.
Heading further into town, you'll quickly become accustomed to the lack of numbered street addresses and find that meandering around is the norm here, and discovering hidden gems around every corner is commonplace.
Expect to stumble across art galleries, charming artisan boutiques and some truly world-class dining options.
11. Muir Woods
One of the last remaining redwood forests in the San Francisco Bay area, the Muir Woods are only a couple of hours from San Jose and will transport you to another world.
The trip itself by car is wonderfully picturesque, taking you across the Golden Gate Bridge and the Marin Headland, but once you arrive at the Muir Woods, the scenery will take your breath away.
Monumentally large trees tower above visitors on all sides and you can hike towards the ocean or up into the mountains.
Be sure to pack plenty of water and a lunch, as shops are few and far between in the forest.
12. West Cliff Drive
A six-mile path that hugs the coast, West Cliff Drive is a favourite amongst walkers and cyclists who want to leisurely explore this beautiful stretch of rocky coastline and headlands.
Part of Monterey Bay, the route is also popular with surfers chasing the perfect Pacific breaks.
You can even find the world's first surf museum here, commemorating one of the nation's most celebrated sports and resulting cultures.
Appropriately located in the Mark Abbott Memorial Lighthouse, you can learn about the surfers braving the crashing waves while enjoying excellent views of them doing just that.
13. Monterey
The perfect day trip for those looking to learn about California's colonial past whilst enjoying spectacular coastal and mountain views, Monterey has a little something for everyone.
The gorgeous "Monterey's 17-Mile Drive" is a scenic route featuring beaches, cliffs, headlands, and the world-famous Pebble Beach Golf Course.
Seal Rock Picnic Area is also a popular stop-off on the coast where you can see wild birds, seals and sea lions in their natural habitat.
For a dose of culture, head over to the Monterey Museum of Art, and for a foodie experience, try one of the many mouthwatering downtown eateries.
14. Berkeley
This famous university town north of San Francisco is as rich in history and culture as it is in academic knowledge.
Art lovers, foodies and shoppers all regularly take a trip here to make the most of the diverse range of activities and entertainment on offer.
A visit to the famed university itself is worthwhile, if only to see the beautiful grounds.
Downtown is a great place to try new things, whether it's window shopping at quirky stores or browsing through the fresh produce at the absolutely enormous market, the Berkeley Bowl.
15. Pescadero
Another charmingly quaint seaside town that offers both entertainment and exceptionally beautiful natural reserves is the area known as Pescadero.
About an hour away from San Jose, it is home to sandy beaches and blustery, rocky headlands where wild birds seasonally come and nest.
Home to endless hiking trails around the coast and further inland past coastal scrub and eucalyptus groves, Pescadero is exceedingly popular with hikers.
End your day at one of the many cafes or restaurants in town while you watch the sun set over the ocean.
15 Best Day Trips from San Jose (CA):
Half Moon Bay
San Francisco
Silicon Valley
Carmel by the Sea
West Cliff Drive
Where to go in 2024: The 16 best places to travel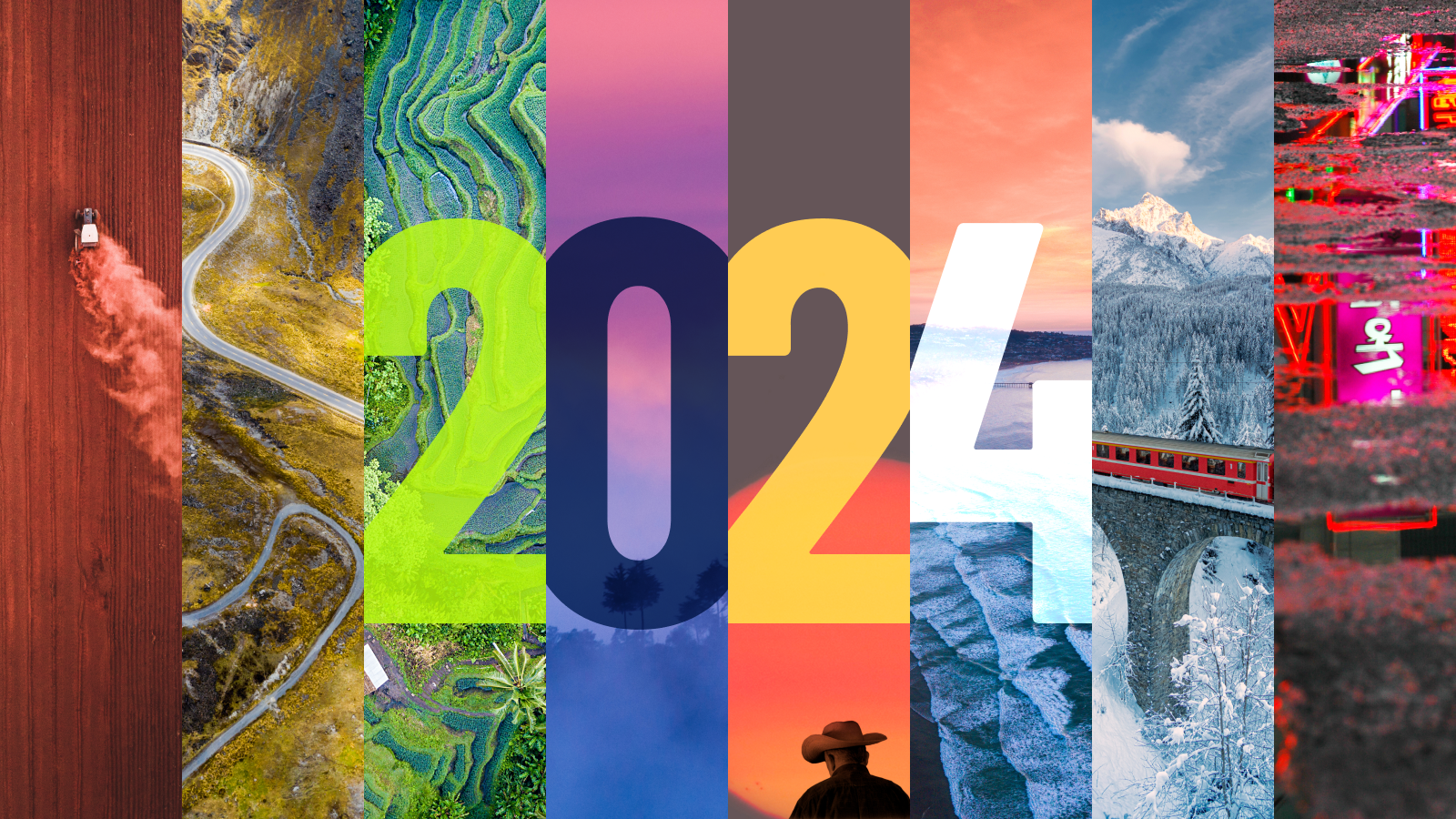 This past year has been a time of regeneration, renewal and reckoning for travelers and the travel industry alike.
Travel has certainly resurged since pandemic-related restrictions were lifted ... but it is different from before.
Travelers faced new frustrations, whether it was higher prices, longer wait times or more crowds. Destinations eager to welcome back waves of visitors were confronted with obstacles like unprepared infrastructure, the impact of inflation on local populations and unforeseen environmental calamities. Hotels and airlines continued to struggle with staffing shortages, operational challenges and supply chain issues.
And yet, despite those hurdles, the desire to travel has never shone brighter. Intrepid adventurers journeyed to new (to them) corners of the globe in search of unique experiences. Folks who had perhaps put off a trip or two found reasons to take them. And all of us discovered the joy of reconnecting with loved ones near and far.
As we look ahead to next year, we are excited to share our list of the best places to go in 2024, drawing from our own editorial team's expertise and also that of our outstanding group of contributors from around the world.
We thought long and hard about things like new airline routes , fabulous hotel openings and events set to take the world stage by storm. But at The Points Guy, we also think why we travel is as important as where we travel.
Maybe you want to use your hard-earned points for an over-the-top flight in Singapore Airlines' Suites or just to get the family together at Grandma's house for an overdue visit. Perhaps you want a carefree all-inclusive beach vacation , or to get firsthand insights into a destination at the forefront of sustainability .
From the thrill of Olympic competition in France to the otherworldly landscapes of Bolivia, the wildlife-rich Bissagos Islands of Guinea-Bissau and the exciting design developments taking place in both San Diego and Tijuana, Mexico — whatever your travel goals or preferences, we've got an incredible roster of places just waiting to be explored next year.
Get ready for a few surprises, a dash of inspiration and a healthy helping of wanderlust as we share our most exciting places to travel to in 2024.
— Eric Rosen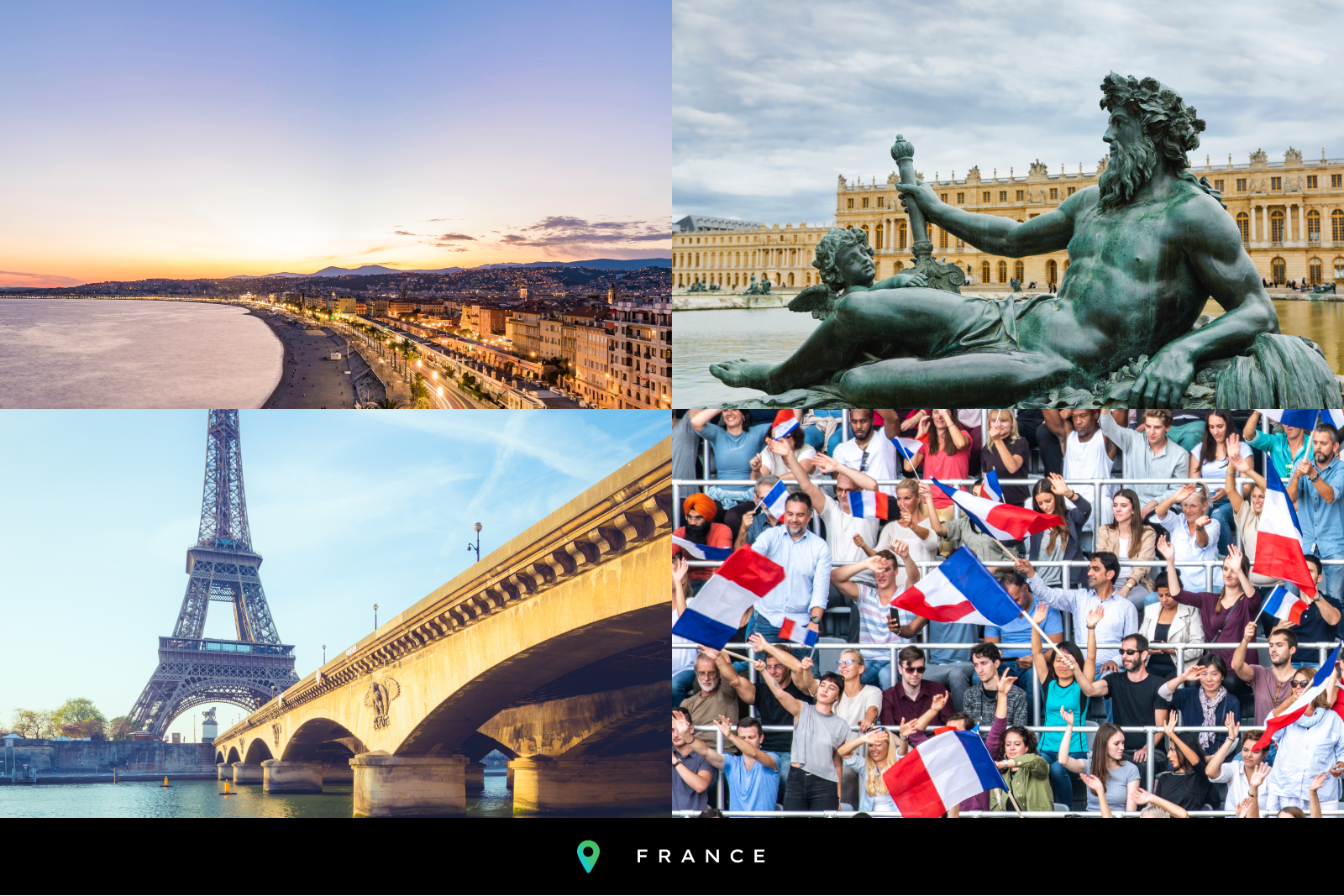 Best for experiencing once-in-a-lifetime events on the world stage
Whether it's high fashion or haute cuisine, France is known for creating creme-de-la-creme experiences. But the sheer number of special events and exciting new developments expected to take place there in 2024 will have even the French exclaiming, "Sacré bleu!"
The marquee happening, of course, will be the 2024 Summer Olympics from July 26-Aug. 11. The opening ceremony will take place along the Seine in the heart of Paris , but showstopping venues will include the magnificent grounds of Versailles for the equestrian events, various stadiums throughout the country, and even French Polynesia for the surfing competition. The stage is set for a truly spectacular set of games.
The Olympics have even displaced the Tour de France from its normal final stage along the Champs-Elysees in Paris. The alternate is, thankfully, a sun-splashed finish line along the Cote d'Azur in Nice . That's within easy driving distance of the relatively new Carlton Cannes , a luxurious reimagining of one of France's most iconic hotels courtesy of IHG. Hilton is also planning a vast French expansion with various branded properties in cities including Cannes, Dijon, Bordeaux and Marseille.
On a more somber note, June 6 will mark the 80th anniversary of the D-Day landings in Normandy, and the region is planning over 100 special events to commemorate this historic event, including a June 1 sound-and-light show using 2,500 drones over the five landing beaches. From March 22-Sept. 22, the region will also host the Normandy Impressionist Festival, celebrating the 150th anniversary of the first Impressionist exhibition. Events will include a major show of James Abbott McNeill Whistler at Rouen's Fine Arts Museum, while the Musee d'Orsay in Paris will host the "Paris 1874: The Impressionist Moment" showcase of 130 masterpieces of painting, sculpture, photographs and more.
In the east, Strasbourg will be UNESCO's 2024 World Book Capital, with events organized around various themes like poetry, refuge, debate and more. The Alsatian capital is also home to one of Europe's most charming Christmas markets in the month leading up to the holiday , which is well worth a visit.
Wine lovers should head to Bordeaux for its famous Fete le Vin from June 27-30 to enjoy the region's famous vintages and gourmet delicacies, along with live music and other performances. They can even put their Accor points to use with a stay at a new Philippe Starck-designed, 97-room Mondrian constructed around a historic 19th-century building right in the city center, complete with an expansive open-air terrace. Now that's something worth toasting to.
TPG tip: Hotel reservations around the Olympics can be notoriously hard to confirm and Paris is cracking down on short-term rentals, so if you plan to attend the Games, prepare to pay high prices for an official package ... or take your chances trying to book something at the last minute.
San Diego, California & Tijuana, Mexico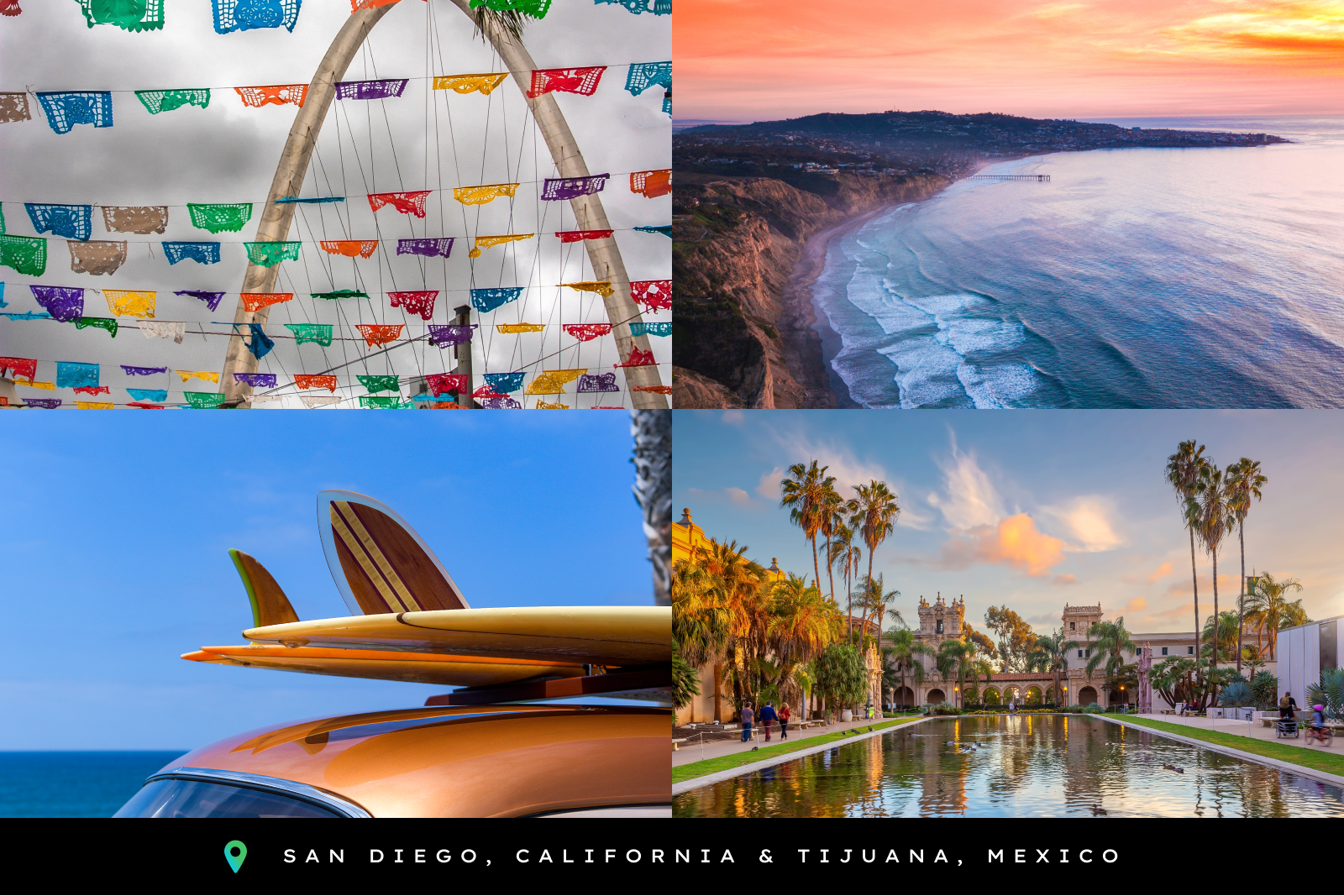 Best for art and design lovers who appreciate cross-cultural collaborations
In a first, two neighboring cities in two different countries have been designated the World Design Capital for 2024: San Diego, California, and Tijuana, Mexico. The World Design Organization accolade recognizes cities that effectively utilize design to enhance their residents' economic, social, cultural and environmental quality of life. San Diego and Tijuana will celebrate the designation through unique experiences, from events and festivals to exhibitions and summits.
Community events scheduled throughout 2024 include Tijuana's World Design Street Festival (April 28), where travelers can attend concerts, public design workshops, exhibitions and design studio open houses. The Mingei International Museum in San Diego and the Centro Cultural Tijuana will simultaneously host an exhibition called "Frontera," focused on jewelry design. In September, both cities will host an interactive World Design Experience.
Aside from its WDO duties, San Diego has a lot going on. One of the West Coast's largest adaptive reuse projects, the 10-acre, sustainably designed Horton Campus , set for completion at the end of 2023, has transformed a former downtown shopping mall into a chic development with white-and-glass structures, parks, shops and lab space, each with either a green roof or solar panels.
San Diego's white-hot culinary scene continues to heat up, with Valle winning Oceanside's first Michelin star earlier this year. Restaurant openings to look forward to in 2024 include all-day cafe Wildflour from award-winning chef Phillip Esteban, the farm-and-vine-to-table Cellar Hand , and chef Brian Malarkey's highly anticipated French-inspired steakhouse, Le Coq, in the tony coastal enclave of La Jolla.
San Diego's hotel roster is also growing. The new owners of the historic Lafayette Hotel in North Park, which had fallen into disrepair, unveiled a stylish $31 million renovation this summer, and the bucolic Inn at Rancho Santa Fe will celebrate its 100th anniversary following the completion of multimillion-dollar renovations in 2024. The iconic Hotel del Coronado is in the throes of a wholesale revamp. The Beach Village at The Del will unveil a full makeover at the end of 2023, while its Victorian section will be renovated in 2025. A new 39-room boutique hotel in Coronado called The Bower is also slated to debut in fall 2024.
Tijuana got its own new hotel in 2023: Hotel Brecha , a boutique hotel with art-filled walls and nine sleek rooms. Recent bar and restaurant openings across the city's diverse culinary scene include the speakeasy-style Border Saloon and seafood spots Don Vergas Mariscos Tijuana and Don Timon .
TPG tip: Tijuana, which has been sorely lacking in green space, will have a new eco-park by the end of 2024, Parque Esperanto . The 320-acre plot will involve the reforestation of 15,000 trees and feature amenities like an open-air gym, sports fields, zip lines, children's play areas and a bicycle path.
— Devorah Lev-Tov
Assam, India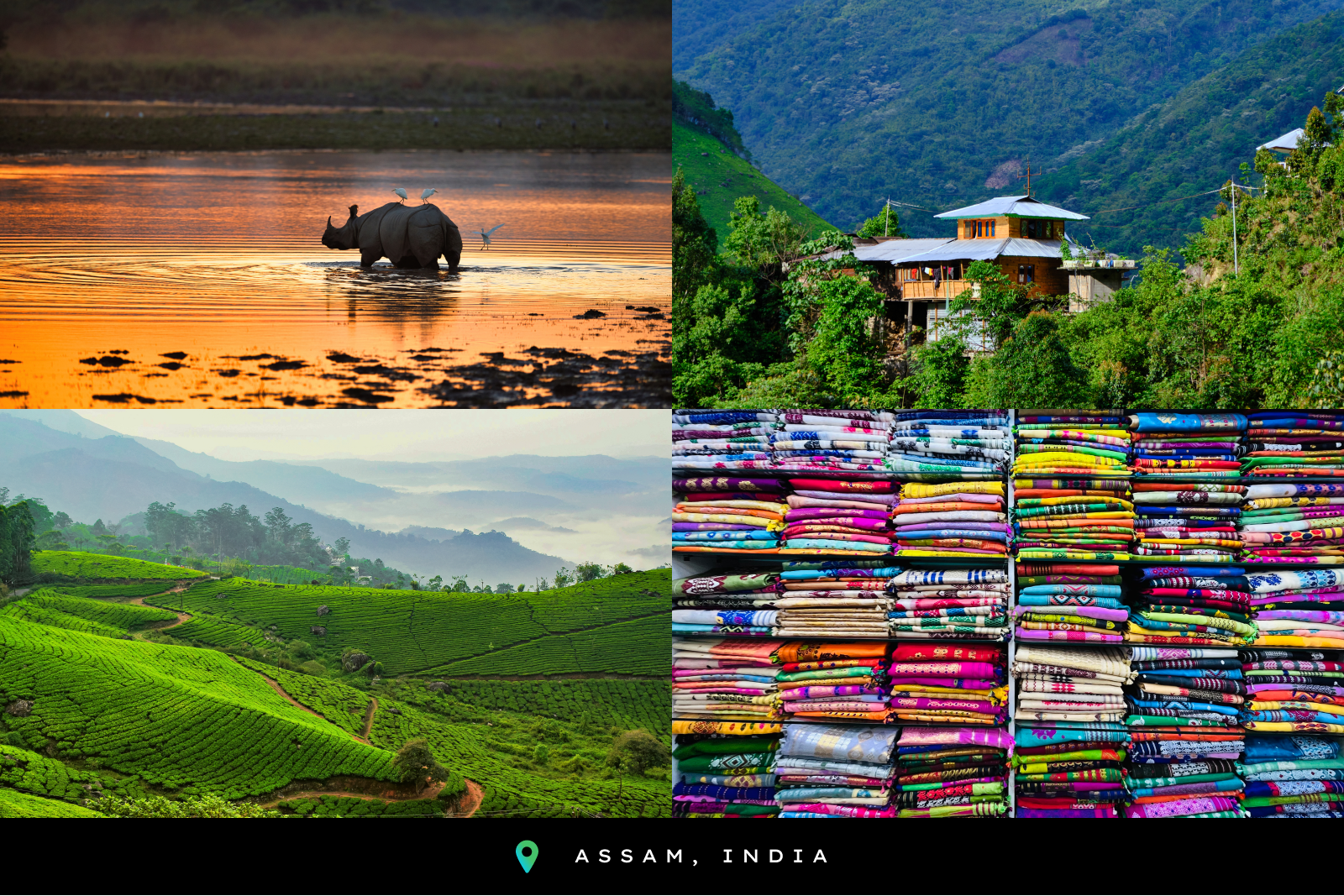 Best for lovers of tea and tigers keen to explore one of India's hidden corners
Home to a fascinating blend of Indigenous tribes, awe-inspiring landscapes, traditional mountain villages and UNESCO-inscribed national parks, the eastern Indian region of Assam has cultural and natural wonders just waiting for travelers to explore — without the crowds you might find in better-known South Asian destinations.
The region's main artery, the mighty 1,800-mile-long Brahmaputra River, runs from the Himalayan highlands of Tibet to Assam's wildlife-rich floodplains, bordered by lush, terraced tea plantations, ornate temples and riverside villages.
Even with just a week or 10 days for your journey, you can learn about tea cultivation in Jorhat (Assam produces over 50% of India's famed tea), marvel at imposing Ahom temples in bustling Sivasagar — the sacred former capital of Assam's Ahom kings — and learn about the socially inclusive religion of neo-Vaishnavism on Majuli, one of the world's largest river islands and a haven for birdlife.
Straddling the border with Bhutan, UNESCO-listed Manas National Park is a biodiversity hot spot known for its sightings of buffaloes and rhinoceroses that graze in forests that surround the Manas River. The highlight of any visit, though, is a Jeep safari to the UNESCO World Heritage site of Kaziranga, which provides sanctuary to endangered one-horned rhinoceroses, Asian elephants, Bengal tigers, panthers, bears, gaurs (Indian bison) and myriad other species.
Next year, several new cruise itineraries will make the region more accessible to travelers keen to get off the beaten path without sacrificing creature comforts. Banyan Tours will operate four-, seven- and 10-night Assam cruises from Kolkata aboard the luxurious ABN Charaidew II and the more intimate 12-cabin ABN Sukhapa . Both ships feature spacious, beautifully appointed cabins, large sun decks, small spas, a library, gourmet cuisine and onboard naturalists. Guests can spend time in between excursions scouring the waters for species such as the endangered Ganges river dolphin and the smooth-coated otter.
TPG tip : For travelers looking for rare tiger and mammal encounters across several Indian regions, in January, andBeyond will offer a 16-day limited-edition Project Tiger Expedition that will celebrate the 50th anniversary of India's renowned tiger conservation initiative. The itinerary begins in Delhi before visiting three of India's most iconic national parks: Kanha, Kaziranga and Ranthambhore.
— Caroline Lascom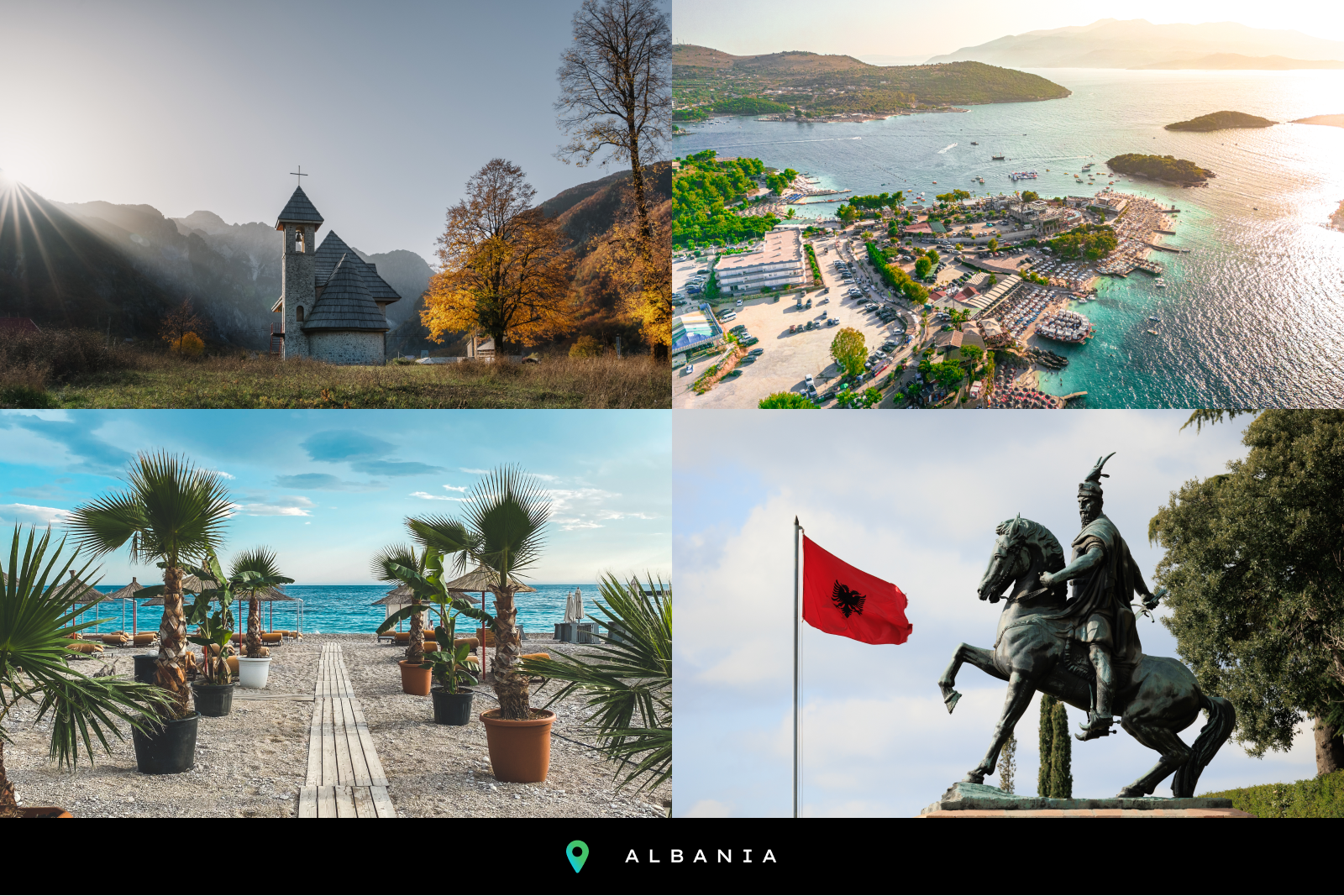 Best for an affordable Mediterranean beach getaway
Turquoise Mediterranean waters lapping beautiful beaches? Check. Picturesque hilltop villages? Check. Forest-covered mountains and mouthwatering food and wine? Check and check. Albania has all the attributes of more popular Southeastern Europe destinations like the Greek islands but without the crowds and the high price tag.
Begin your adventure in Tirana, the capital city, where Brutalist architecture blends with charming, tree-filled neighborhoods. Take a cable car ride up Mount Dajti for panoramic views of the city and stay at the sophisticated Tirana Marriott , though IHG loyalists might want to hold out for the opening of the InterContinental in 2025.
Just an hour southwest from Tirana International Airport (TIA), check in to the newly opened Melia Durres Albania, a luxurious beachfront retreat in a dreamy beach town offering stunning Adriatic Sea views and an opportunity to unwind.
Heading south along the coast, enjoy picturesque beaches while exploring charming towns like Dhermi and Jale, and savor the local cuisine, renowned for its fresh seafood and Mediterranean spices.
Then, immerse yourself in the country's vibrant summer music scene . The weeklong Kala Festival in early June features house, disco, soul and funk music across five intimate stages along the pristine shores of the Ionian Sea.
Back in the hinterlands, you can delight in mouthwatering delicacies at the AgriTourism Huqi farm located a short drive from the capital, like slow-cooked lamb (mish ne pus), and sample a variety of flavorful cow and goat cheeses. Don't forget to try local wines like the tangy white ceruja and full-bodied red kallmet at the family-run Nurellari Winery, less than a half-hour from the 13th-century fort city of Berat.
For an even deeper glimpse of the country's rich heritage and archaeological sites, wander its many ancient settlements, like Butrint, which played host to the Greek, Roman and Byzantine civilizations. Even with all that history, Albania feels exciting and new once again, and you won't have it to yourself for much longer.
TPG tip : Fly into a major European gateway like Frankfurt or Paris and then connect to Tirana via air. From there, book a one-way car rental to the port city of Sarande so that when your time in Albania is over, you can catch a 30-minute ferry to Corfu, Greece, where you have even more history and beaches to explore, and many low-cost flight options to major European airports.
— Matt Moffitt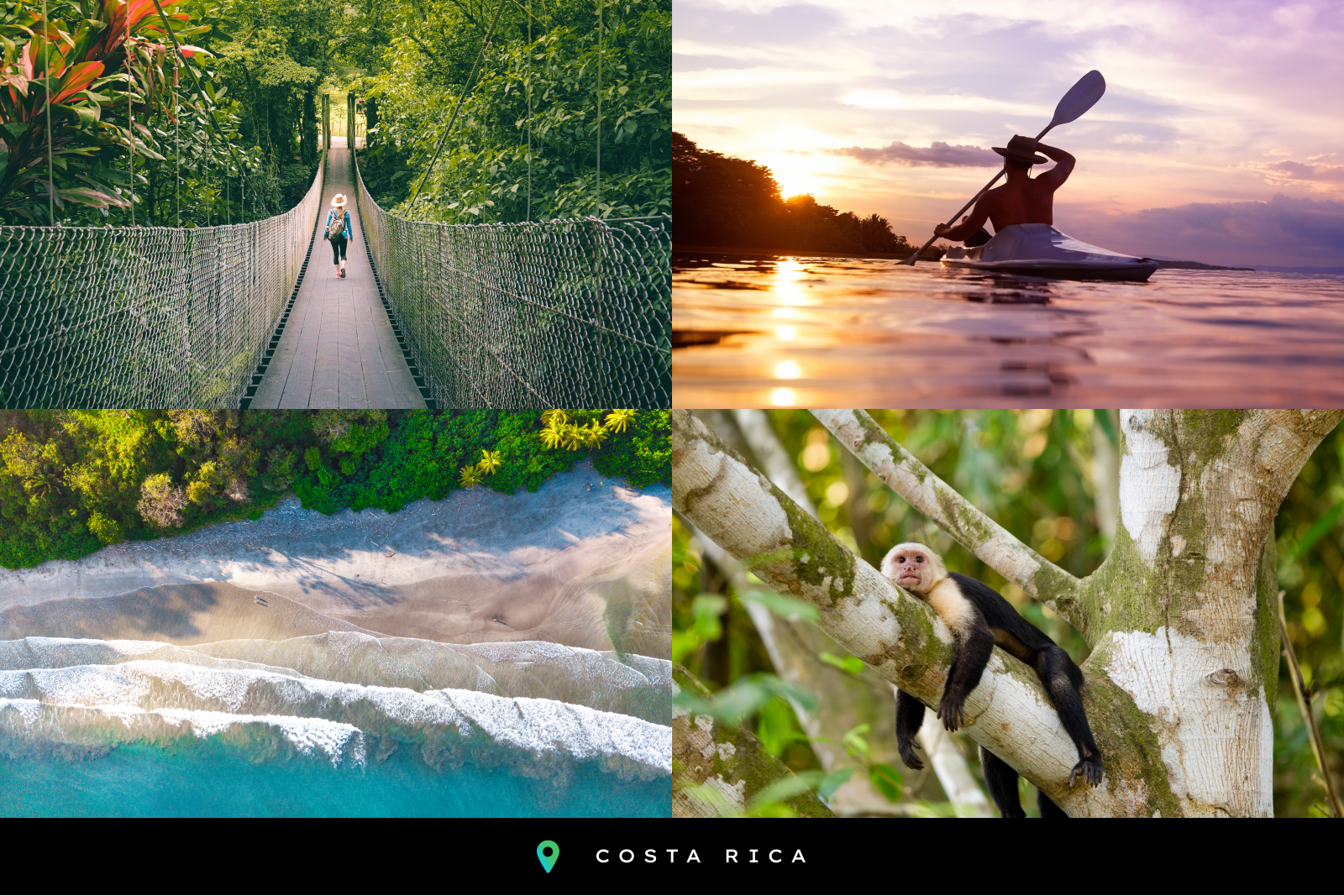 Best for epic wildlife and sustainable travel
One of the most biodiverse places on Earth, framed by rugged Pacific and Caribbean coastlines and home to magical cloud forests, picture-perfect volcanoes and extraordinary marine reserves, Costa Rica has long captivated wild-at-heart travelers.
An eco-tourism pioneer in the 1990s, and dubbed the "Switzerland of South America" due to its mountainous green landscapes and political stability in a sometimes volatile region, Costa Rica continues to raise the bar with its commitment to environmental protections; over 25% of its land is national parks and reserves.
For travelers looking to combine sustainable outdoor adventures with sumptuous accommodations, 2024 is when it all comes together. A flurry of exciting new hotels are set to debut, including Nekajui, just the sixth of Marriott's ultraexclusive Ritz-Carlton Reserves . Designed with a light environmental footprint on a pristine swath of the Papagayo Peninsula, the 107-key resort takes inspiration from a traditional stone Costa Rican hacienda surrounded by treehouse-style buildings tucked discreetly into steep hillsides.
Nearby, the luxurious Waldorf Astoria Residences Guanacaste will be the brand's first Costa Rican outpost, embodying the "pura vida" lifestyle with a holistic wellness center and cenote-inspired spa. Elsewhere, the Four Seasons Resort Peninsula Papagayo comes back online following a multimillion-dollar renovation with a new beach club and expanded wellness offerings.
For travelers looking for a low-key retreat with easy airport access, as well as proximity to San Jose's cultural attractions, the new Hyatt Centric in Escazu — another brand first for Costa Rica — will offer World of Hyatt loyalists an ideal bookend to a Costa Rica road trip.
The wildlife-rich Osa Peninsula is more accessible (and especially alluring to points enthusiasts) these days thanks to the recent opening of Botanika, part of Hilton's Curio Collection. The eco-chic property places travelers within striking distance of Corcovado National Park, one of the best places on the planet to view sloths, toucans, giant anteaters, howler monkeys and ocelots.
Visit the region from August through December to witness one of the world's greatest natural attractions: humpback whales migrating to Golfo Dulce, one of just four tropical fjords on the planet. The habitat, critical for the survival of the whale species, was awarded Whale Heritage Site status in 2023, one of only eight such sites worldwide.
TPG tip : U.S. airlines are adding new flights to Costa Rica, including Delta Air Lines, which will boost its service from Atlanta with three additional flights per week to both San Jose and Liberia (for Papagayo) from Jan. 13. Flights on the Liberia route are currently available this winter starting at 26,000 Delta SkyMiles or $421 round-trip.
South Korea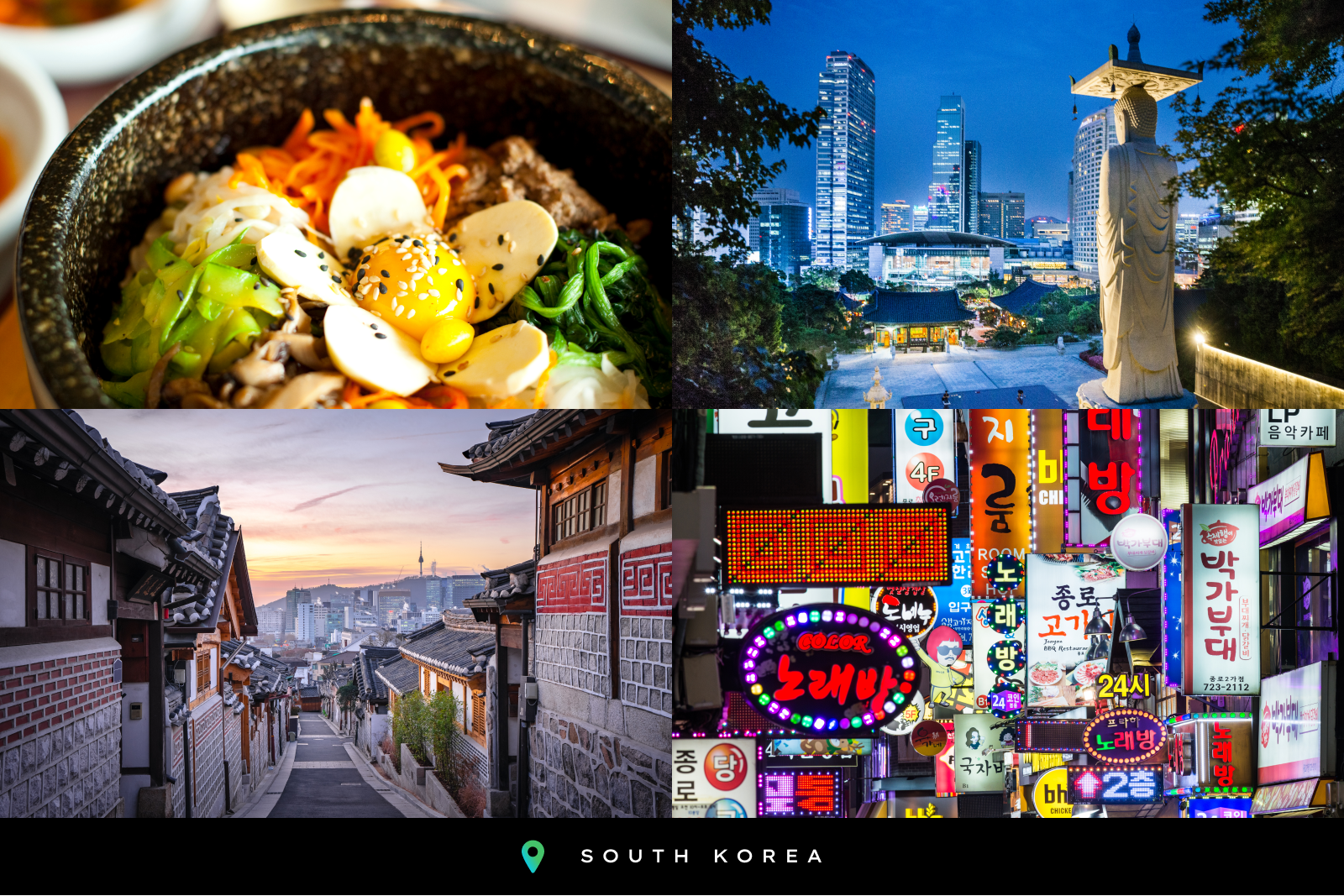 Best for glimpsing the future while exploring the past
The "Korean Wave" — a tide of global popularity the country's cultural economy has created thanks to K-pop music, K-dramas on television and movies — has swept the world in recent years. In fact, youth tour company Contiki has announced the first K-Wave trip to South Korea to showcase local pop culture.
However, South Korea's entertainment culture is just one of a long list of reasons this Asian sensation should be on your 2024 travel list.
Four distinct seasons provide stunning backdrops year-round, so there's no wrong time to visit. Spring brings the magic of Jinhae's cotton candy-pink cherry blossoms while crimson and cadmium foliage frames the historic temples of Naejangsa and Taeansa during fall.
The past and the future intersect in the capital, Seoul, where heritage sites like the 14th-century Jongmyo Shrine coexist with futuristic architecture, including the Zaha Hadid-designed Dongdaemun Design Plaza and the striking Seoul City Hall, with its seven-story vertical garden and prismatic glass facade.
Set to open in late 2024, the Seoul Robot and Artificial Intelligence Museum will showcase science and technology through interactive exhibits featuring AI and virtual reality. Robots aided in the museum's construction and will participate in its day-to-day operations, including welcoming guests and leading tours.
New spaces and exhibitions await visitors at the Busan Museum of Art, which showcases modern Korean artwork. Renovations begin in 2024 and will add high-tech features like evolving 3D projections.
A luxury clifftop island retreat overlooking the East China Sea, the stunning JW Marriott Jeju Resort & Spa, designed by Bill Bensley, debuted in 2023. And though it will be a while, in 2025, the luxury chain Capella Hotels and Resorts is set to open its first Korean property, Capella Yang Yang, near Songjeong Beach in Yangyang, Gangwon Province, where travelers can explore the region's famous pine forests and enjoy its ultrafresh seafood.
TPG tip: Travelers eager to explore South Korea's assorted allures can take advantage of increased airlift from the U.S. United Airlines has upped its frequencies between Incheon International Airport (ICN) and San Francisco International Airport (SFO) to 12 flights weekly. By the end of 2023, Air Premia will add flights between Seoul and Honolulu, too.
— Kristy Tolley
Eclipse path, United States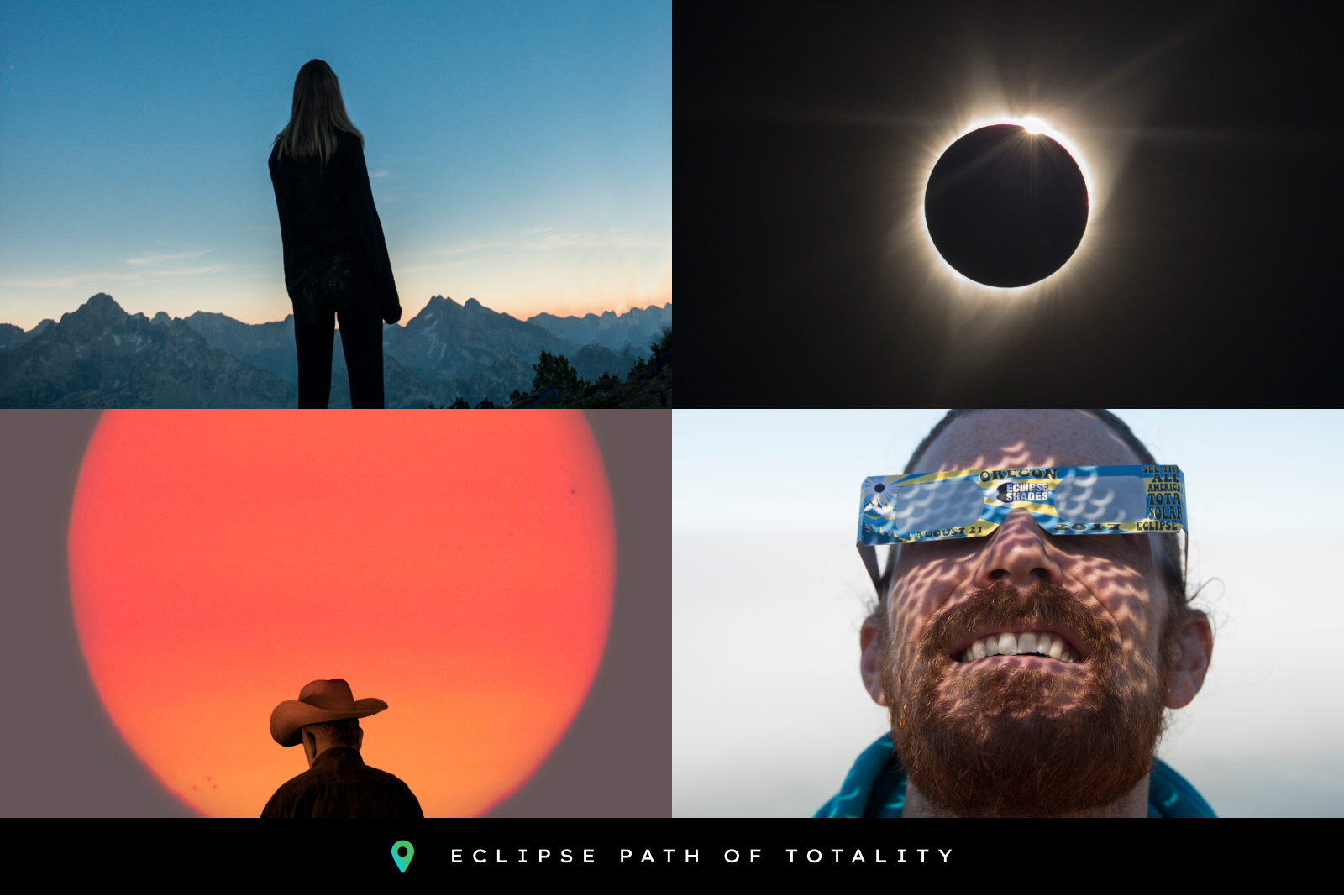 Best for travelers who want to see a rare total solar eclipse in their own backyard
On April 8, some 31.5 million Americans will be able to witness a total solar eclipse from their doorstep when the moon passes between the sun and the earth, completely blocking the sun's face. The heavenly event will cut its way across North America, passing through Texas, the Midwest and some Eastern states. It's a sight you won't want to miss — the next total solar eclipse won't be visible from the contiguous United States for another 20 years.
Parts of San Antonio will experience about two minutes of midday darkness, making it the largest U.S. city along the path of totality. The 15-mile-long San Antonio River Walk is just south of the path, so visitors there will only see a 99% partial eclipse. Nevertheless, many hotels and restaurants are hosting viewing events, including a Solar Brunch at The Moon's Daughters , where guests and locals can see the eclipse unfold from the indoor-outdoor perch on the 20th floor.
An hour northwest of San Antonio, the town of Kerrville, Texas, one of NASA's Primary Eclipse Partners, will have over four minutes of darkness. The Texas Hill Country community's Schreiner University will host a weekendlong festival with celestial yoga, trail walks and observatory tours.
With renowned institutions known for cutting-edge research in space science and technology — and expecting four minutes of totality — Dallas will be one of the best eclipse destinations. At the Perot Museum of Nature and Science , 20 astronomers will answer questions. The city's many hotels, meanwhile, plan to offer stylish viewing, like Virgin Hotels Dallas, which will host a lively rooftop pool party.
This will be Indianapolis' first total solar eclipse in more than 800 years, and the town is going all-out with a citywide party to celebrate its 3 1/2 minutes of totality, including events at the Indianapolis Motor Speedway (NASA will broadcast live from the venue) and the Indianapolis Zoo.
In Cleveland, another NASA partner city, a natural phenomenon known as a lake effect (where cool air blows away clouds from the shoreline of Lake Erie) will allow visitors to view the eclipse for nearly four minutes. Downtown, The Ritz-Carlton, Cleveland is offering a solar eclipse package with club-level accommodations for two and celestial-themed cocktails. The Great Lakes Science Center and NASA's Glenn Research Center are hosting Total Eclipse Fest from April 6-8, with science activities for kids and a classical music concert.
Buffalo will experience just under four minutes of totality, with the best vantage points found inside Niagara Falls State Park, while the Sheraton Niagara Falls is offering a two-night package , including eclipse viewing glasses and breakfast.
In Vermont, Stowe Mountain Resort will whisk skiers and snowboarders via gondola to the top of Mount Mansfield, Vermont's highest peak, for high-altitude views during the nearly three minutes of totality the town is set to experience.
TPG tip: Holland America has put together a 22-day Solar Eclipse cruise , where guests will depart from San Diego and experience the eclipse off the coast of Mexico.
— Casey Hatfield-Chiotti
Bissagos Islands, Guinea-Bissau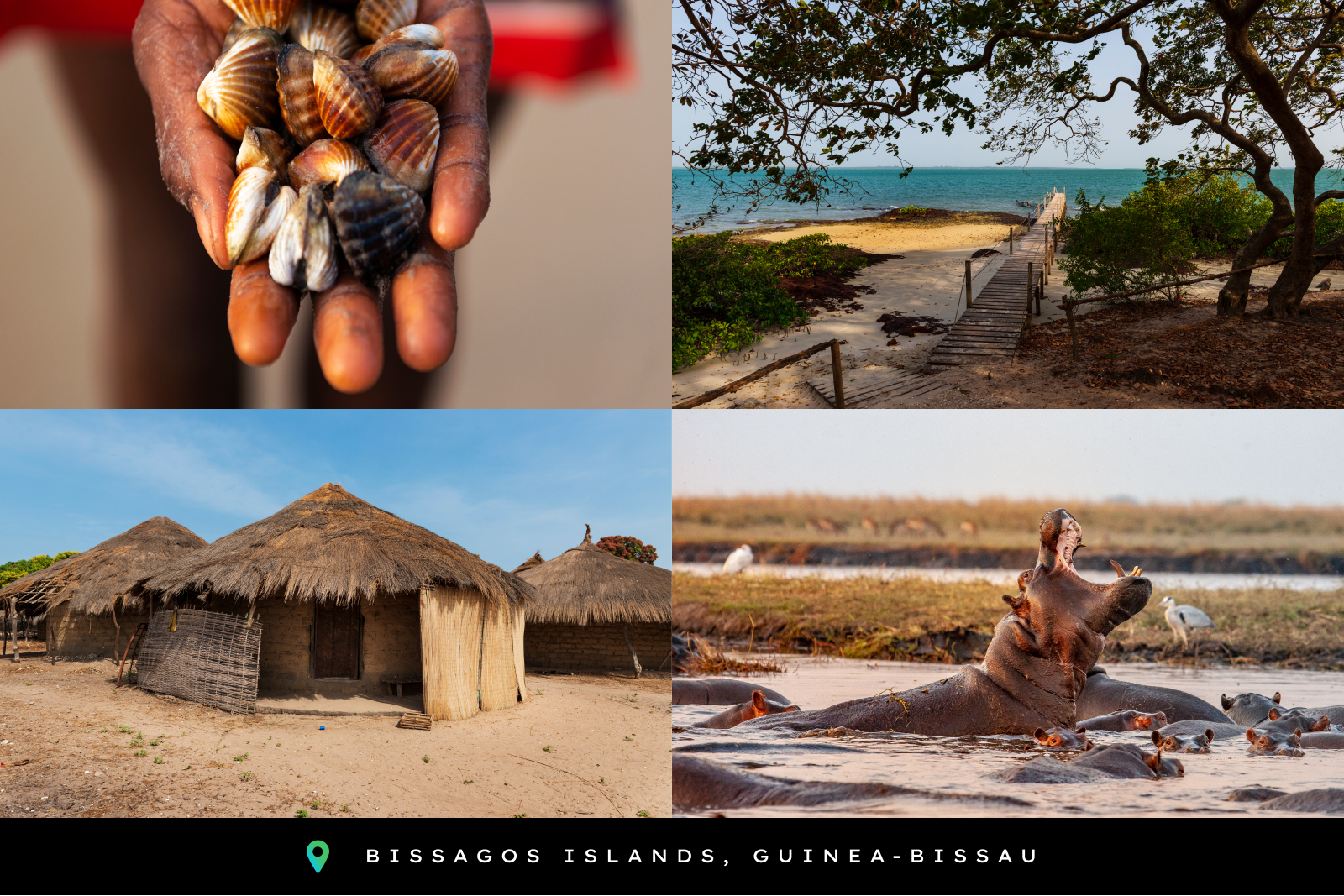 Best for intrepid naturalists seeking an under-the-radar destination
Sandwiched between Guinea and Senegal, Guinea-Bissau is one of West Africa's lesser-visited destinations, but that's what has helped keep the 88-island Bissagos archipelago 31 miles off its coast so untouched.
This astonishingly wildlife-rich island chain — often dubbed the Galapagos of Africa — is an idyll of empty white-sand beaches, thick mangroves, teeming lagoons and dense palm and cashew forests. A UNESCO World Heritage Site since 1996, the Bijagos (as they're also known) are home to thriving populations of saltwater hippopotamuses, manatees, dolphins, green sea turtles, flamingos, rays, sharks and around 175 fish and 500-plus bird species.
And you won't be vying for sightings with other safari vehicles or Zodiac boats. These paradisiacal islets are home to just 33,000 or so residents who hew to their traditional matriarchal society, and there are no formal resorts or ecolodges.
The archipelago has also been quite difficult to reach. However, a handful of luxury and small-ship cruises have begun to call at the islands. Ponant Cruises has just opened sales for its first dedicated nine-day "Adventure in the Bissagos Islands" itinerary (April 7-15, 2025) on Le Lyrial, which starts and ends in Dakar, Senegal. During the journey, guests can expect to spy towering baobabs and flocks of migratory birds, playful vervet monkeys and vividly colored lizards, and take part in ancient ceremonies alongside the Bijago people.
On board MS Spitsbergen, Hurtigruten now offers a 14-day "West Africa Archipelago" cruise (paired with Cape Verde), which includes four days of deploying small rigid inflatable boats and sea kayaks to navigate the islands and channels for awe-inspiring wildlife sightings. The line also arranges encounters with the islanders, who have acted as custodians of this wonderfully biodiverse and pristine part of Africa, and who dedicate some 100 days per year to sacred rites and ceremonies such as fanado and difuntu .
Swan Hellenic's Ghana-to-Senegal "Crucibles of West Africa" trip, on the new 152-guest SH Vega, has two days scheduled in this off-the-grid sanctuary, where shore excursions include explorations of Orango National Park's mangrove thickets and savannah as well as trekking through traditional villages on Canhabaque.
As with many of the world's island paradises, the clock is likely ticking down on the Bissagos remaining immaculate and undeveloped, so if you hope to see them as they are, 2024 is the year to go.
TPG tip: Non-cruisers can visit the islands by first flying into the capital, Bissau, from Lisbon with TAP Air Portugal. Alternatively, Delta Air Lines has daily direct flights from New York to Dakar, from which there are daily connections on Air Senegal to Bissau. From Bissau, hire a speedboat for the hourlong journey to Bubaque, where the affordable Saldomar guesthouse and Hotel Kasa Afrikana make great home bases for daytrips to islands like Rubane, Orango and Canhabaque.
— Kathryn Romeyn
Quebec, Canada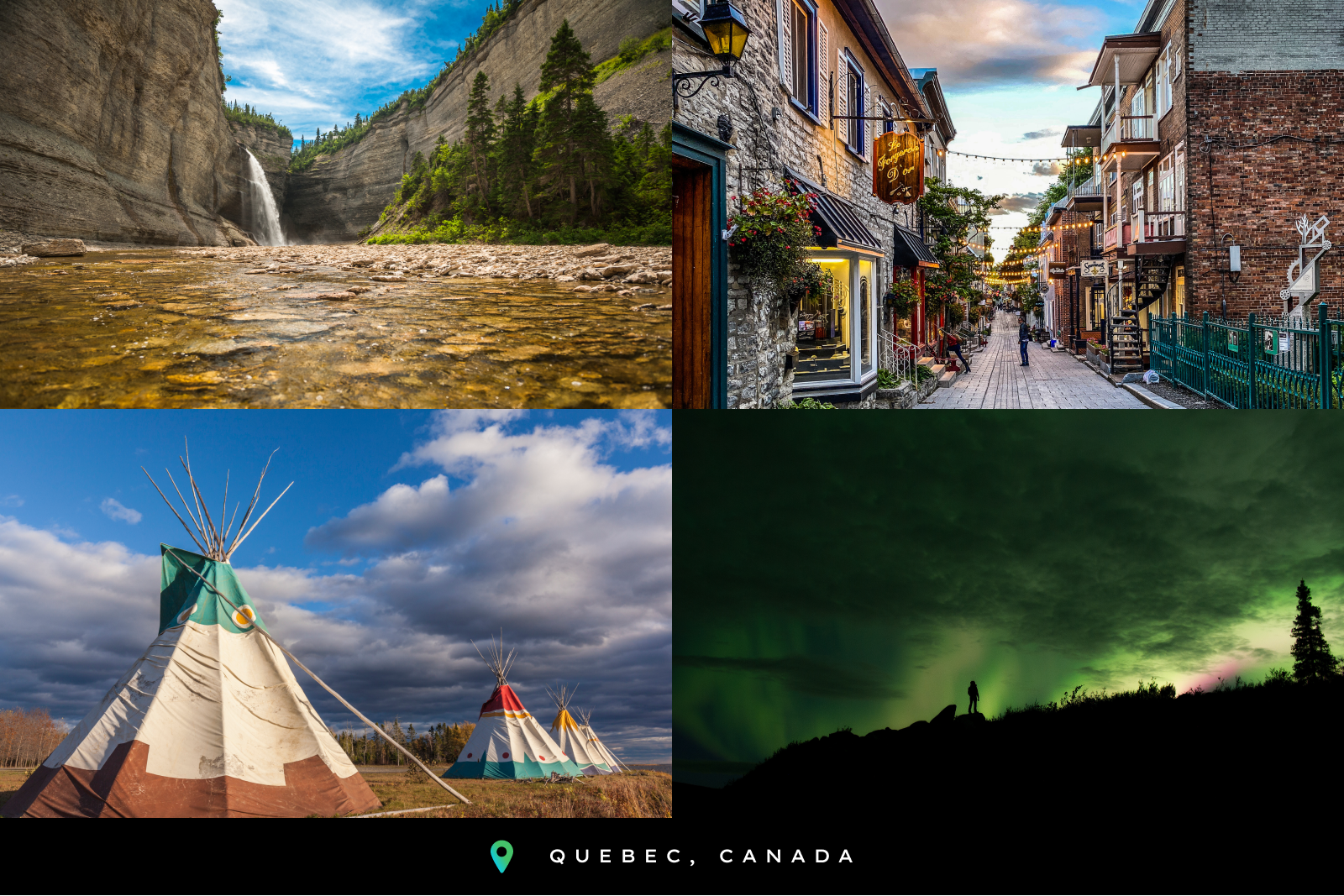 Best for pristine landscapes and rich Indigenous cultures
Quebec has long attracted travelers with its cosmopolitan towns , distinctly French flair and untouched wilderness. Thanks to a bold commitment to supporting Indigenous tourism, in 2024, the Canadian province will also provide new and meaningful ways to experience its natural beauty, its people and its culture.
Travelers can take in the aurora borealis while learning about Inuit traditions in Quebec's Arctic region of Nunavik, scan for beluga and blue whales with an Innu guide in Saguenay-St. Lawrence Marine Park, or forage for mushrooms and berries in the Laurentian mountain range. Across Quebec, there are now abundant opportunities to delve deeper into the ancestral traditions of the area's First Nations, Innuit and Metis people.
The recent addition of Anticosti Island to Canada's cache of UNESCO-protected heritage sites will draw wilderness seekers to its otherworldly canyons, primordial forests and cascading waterfalls. The island's 1,440 known fossil species offer the most "complete and best preserved paleontological record of the first mass extinction of animal life, 447-437 million years ago," according to UNESCO, providing a unique window into our planet's past.
For urbanites, Quebec City's lamplit, cobblestone streets have never been a hard sell for a weekend getaway, but now there are even more reasons to linger. Join one of Cicerone 's locally led walking tours, shop for regional artworks along Rue du Tresor, see Inuit art at the Musee National des Beaux-Arts du Quebec (a new exhibit starts in February) and then dine on inventive boreal cuisine at Indigenous-owned restaurant Sagamite, whose owners have added two boutique hotels to their portfolio and will open a new microbrewery in 2024.
Head just outside the city's 400-year-old walls to Canada's only recognized Huron-Wendat community. Here, the superb First Nations-owned Hotel-Musee Premieres Nations was recently revamped with luxe suites and rooms appointed with Indigenous artworks and textiles with First Nations motifs. The hotel's restaurant, La Traite, helmed by much-lauded chef Marc de Passorio, provides a magical initiation into ancestral flavors with standout dishes like local tomatoes with sage and Quebec buffalo mozzarella and hearty bison medallions with beet puree and thyme juice.
TPG tip : Bookend your trip with a stay in Montreal , where the hotel scene is buzzing. There's the new art deco-inspired Honeyrose Hotel, Montreal, a Tribute Portfolio Hotel, where Marriott points will come in handy, and the iconic Vogue Hotel Montreal Downtown, an elegant retreat on Montreal's Golden Square Mile which has been revamped and is now part of Hilton's Curio Collection.
Queensland, Australia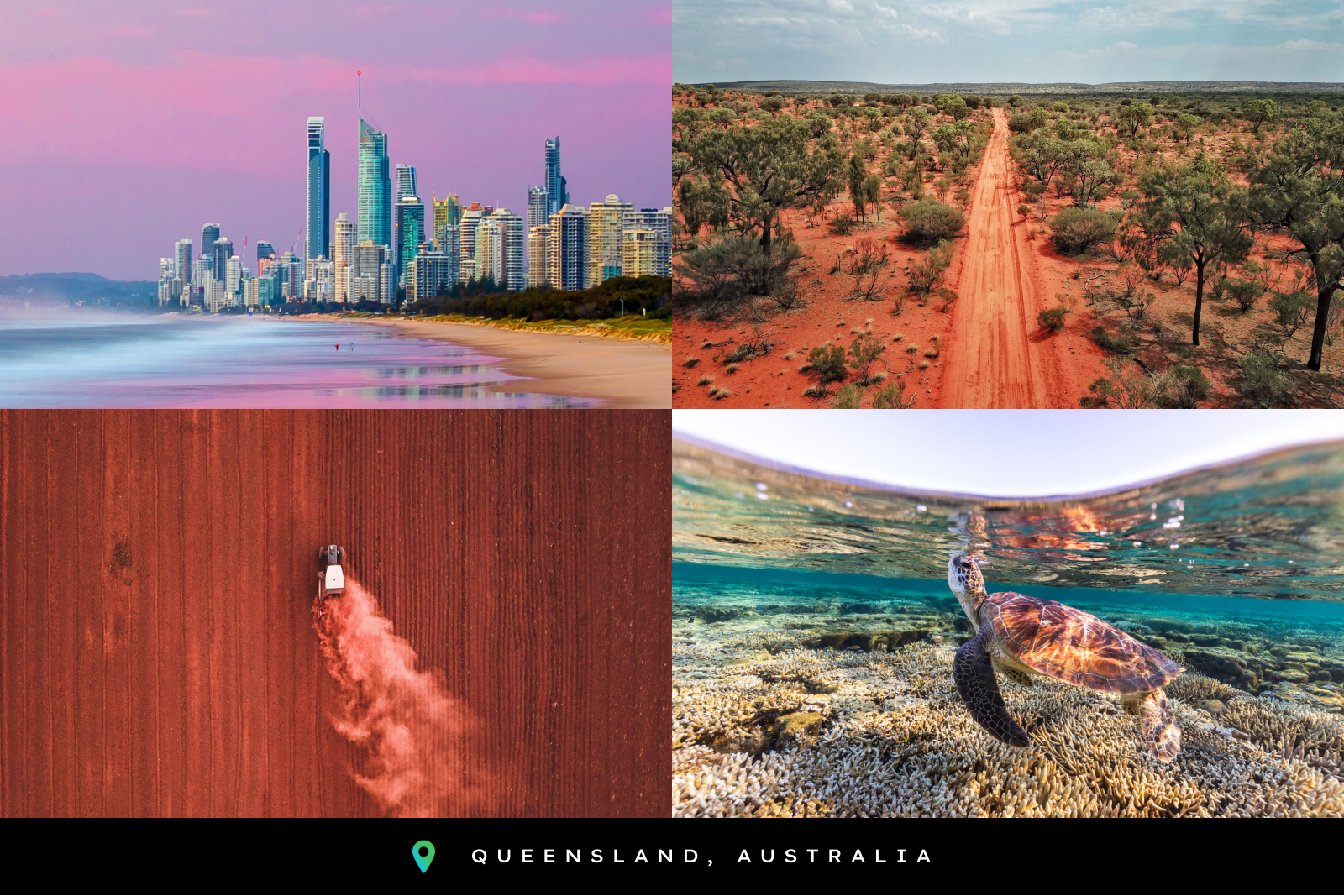 Best for travelers Down Under looking for the right mix of urban and wildlife adventures
Best known for one of Earth's natural wonders, the Great Barrier Reef , there's a lot more to this northeastern Australian state (though a visit to the reef is still top of the list while you still can — climate change and other factors are having increasingly adverse effects on much of the aquatic ecosystem).
In the capital, Brisbane , once-gritty environs like Howard Smith Wharves have been revitalized with trendy bars and restaurants. However, one of the biggest redevelopments is still on the horizon. The $2.6 billion Queen's Wharf precinct is nearing completion on 30 acres of prime riverfront land with not one but three hotels planned, plus over 50 dining and drinking venues, a huge footprint for retail and tons of outdoor spaces like a 100-meter-high sky deck with 360-degree views. In October, the city will also host the first annual Melt Open festival celebrating queer art and culture.
Down south in the blingy surfer haven of Gold Coast, travelers will be able to check in to a sleek new twin-towered Mondrian hotel and residences, while north along the Sunshine Coast, the tourism industry is taking the lead in regenerating bush once used for cattle grazing with native subtropical rainforest, which visitors can enjoy by staying at the avant-garde new Kurui Cabin at the base of the Cooroy Mountains.
In an effort to cultivate Indigenous-owned and -operated tourism businesses, the state has already invested 7 million Australian dollars in the Growing Indigenous Tourism in Queensland Fund. What's more, UNESCO World Heritage-listed Fraser Island — the world's largest sand island and a habitat for diverse wildlife where you can also swim with migrating humpback whales — has officially reverted to its traditional Butchulla name, K'gari.
Speaking of islands, luxury travelers can have an entire one to themselves along the Great Barrier Reef thanks to the November opening of Pelorus Private Island in the Great Palm archipelago off the Townsville coast. The nearly 1,000-acre paradise has just a single four-suite residence designed in a traditional, breezy Queenslander style, where guests can customize their entire experience from days out yachting between islands or exploring the island's teeming fringe reefs to enjoying leisurely meals prepared by a private chef.
TPG tip: It's getting even easier to travel from the U.S. directly to Queensland since United increased its frequencies between San Francisco and Brisbane from three times per week to daily in October and will launch three weekly nonstops between Los Angeles and Brisbane in December.
Train travel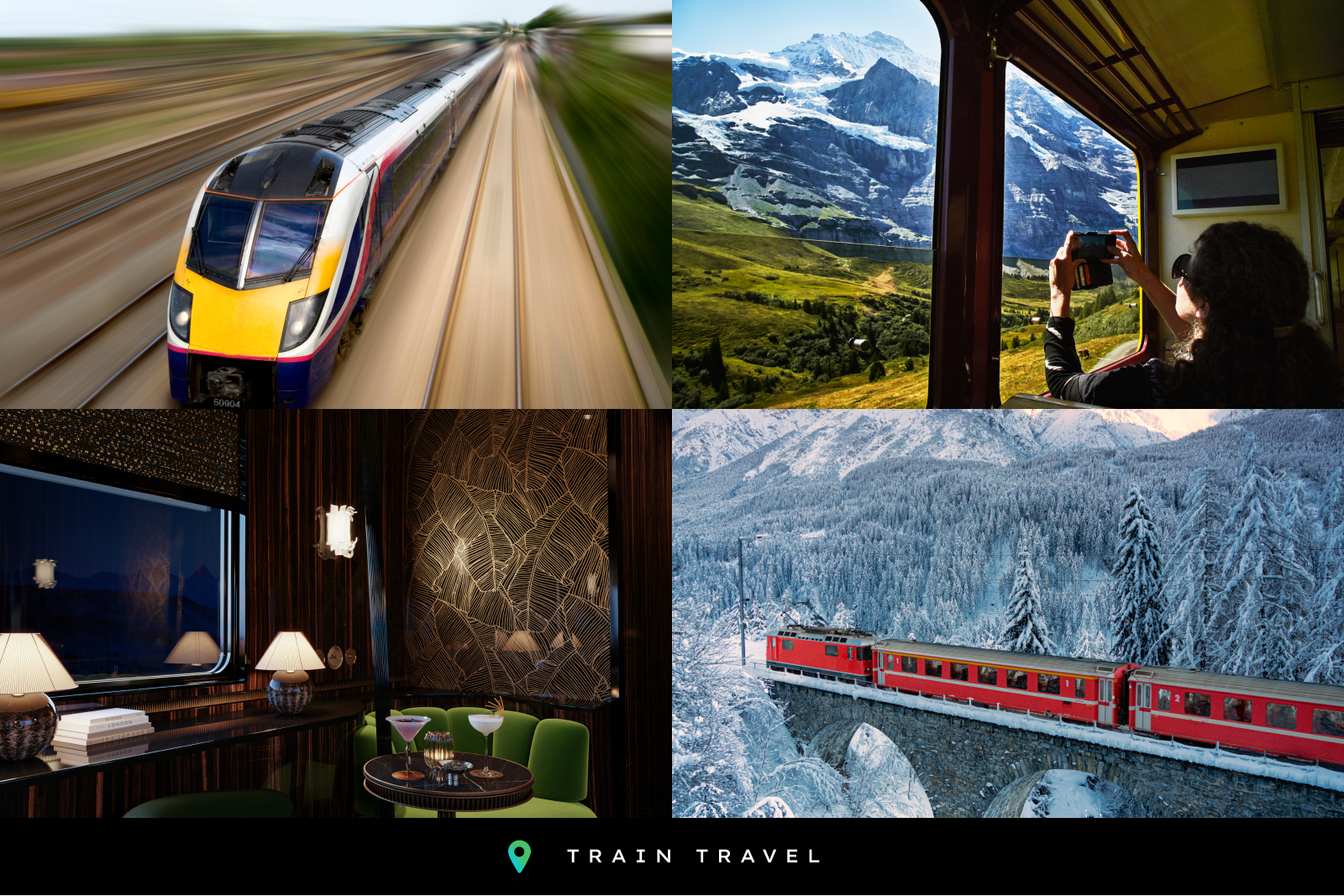 Best for high-velocity thrills or romantics looking to slow things down
Trains revolutionized travel in the 19th century, but 2024 might just be a rail renaissance thanks to new, thrilling high-speed routes, plush overnight sleepers and lavish itineraries on par with the world's best hotels.
Global developments in high-speed rail are coming to a pitch, with various highly anticipated routes finally entering operation. In Florida, the long-awaited Brightline has opened up an efficient new corridor between two major U.S. cities that are favorites with tourists. The service, which tops out at 125 miles per hour, connects Orlando International Airport (MCO) and Miami in just three hours (with 15 daily departures) and also courses between Miami and West Palm Beach via Aventura and Fort Lauderdale.
In Europe from late 2024, the ultraquiet Frecciarossa train will zip from Paris to Barcelona in just seven hours, shaving two hours from current travel times. In time for the Summer Olympics , Spanish rail company Renfe also plans to extend its daily Madrid-Marseille service through to Paris.
If you're craving tropical surroundings, Belmond's Eastern & Oriental Express returns to Southeast Asia in February after a pandemic hiatus. The restyled trains feature eight sleeper cars, two restaurant cars, a piano bar and an open-air observation car. The three-night "Essence of Malaysia" itinerary will operate from November to February from Singapore to Penang, with stops in Kuala Lumpur and the island of Langkawi (via private boat). Operating from March to May and August to October, the "Wild Malaysia" experience steams from Singapore along the eastern side of the Malay Peninsula, with stops to spot wildlife at Taman Negara National Park and Penang before returning to Singapore.
Later in 2024, Orient Express will debut its opulent La Dolce Vita trains with lavish art deco cabins, haute cuisine and world-class bartending. The eight itineraries span one to two nights and include a Sicilian service starting and ending in Palermo via Agrigento and Taormina with a whiz-by of Mount Etna. Other standout itineraries include from Rome to Sicily (via a ferry) and a romantic circular route from Rome to Venice with a stop at Siena.
Finally, Europe continues its relative boom in new sleeper train services . Leading the way is Nightjet, which already connects major cities like Paris, Amsterdam and Zurich. In 2024, the Austrian train operator will expand its Belgian routes from Brussels to Dresden and Prague. Additionally, Deutsche Bahn and SNCF will introduce a high-speed seven-hour service between Paris and Berlin, including stops in Strasbourg on the night route.
TPG tip: Use a Eurail pass (from $208) to explore multiple European countries using rail operators like Deutsche Bahn, SNCF and Trenitalia. Note that high-speed or sleeper options like Nightjet and Eurostar have extra reservation fees (typically $10-$20), but it's still much cheaper than buying individual tickets.
— Jordan Waller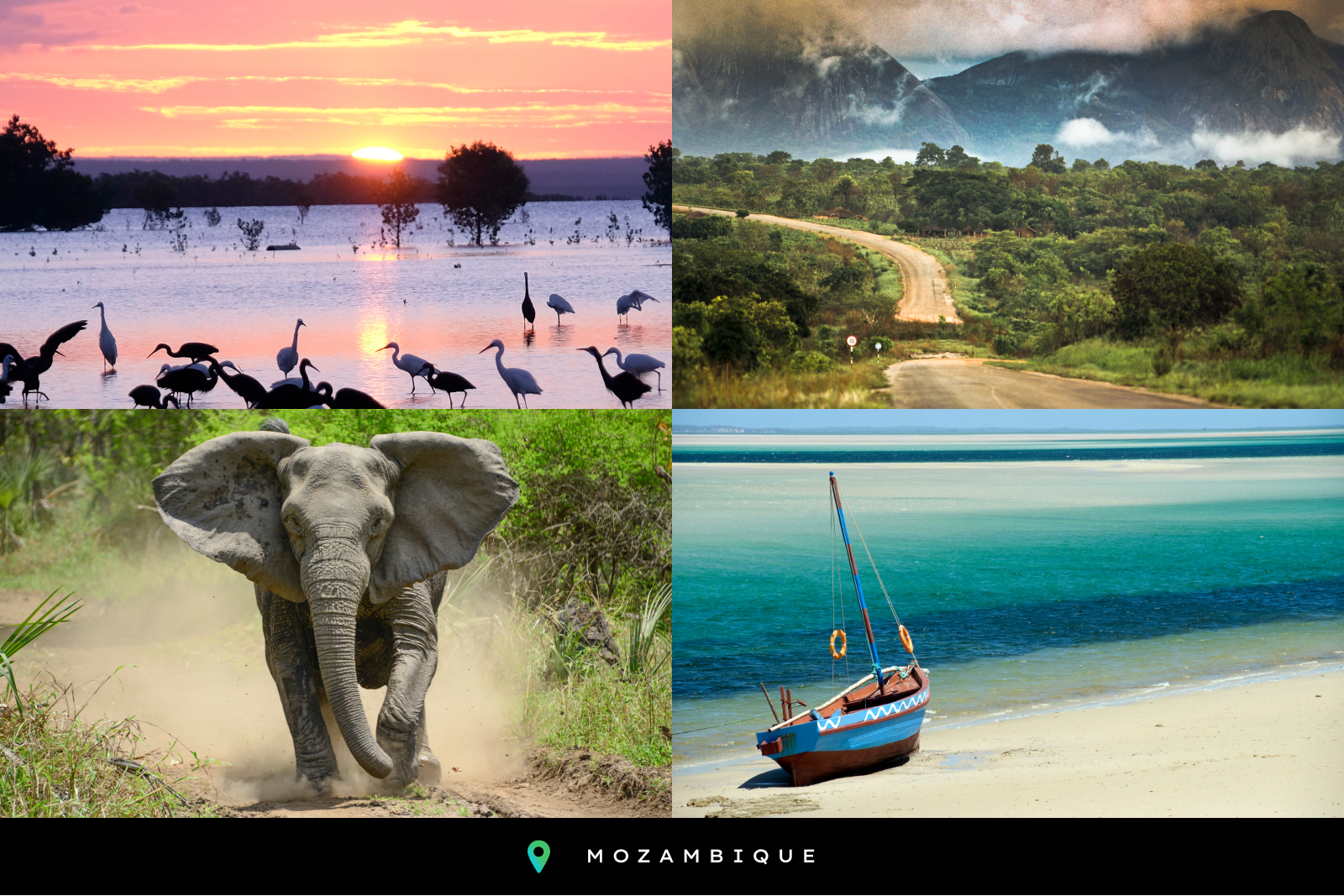 Best for beach and nature lovers who want to avoid crowds
Many travelers make the trek to South Africa for its spectacular wildlife and vibrant cities, but few hop across the border to Mozambique. Though the country has experienced ongoing conflicts in the far north, the central and southern parts remain relatively insulated from internal struggles.
Getting there is easier than you might think, too — Airlink offers direct flights to Vilankulos along the coast from Johannesburg , and more recently, the airline launched a nonstop flight between Cape Town and the capital, Maputo. While some travelers tend to skip the city, if you do make use of that route, consider a layover for a night or two. Maputo is a hub of activity with oceanside restaurants serving ultrafresh seafood with icy 2M beers and bakeries proffering crispy, creamy pasteis de nata, a holdover from Portuguese rule. The city's music scene is also buzzing, with bars and clubs playing everything from reggaeton to marrabenta (a hybrid of Mozambican dance with Portuguese folk music).
The main reason people come to the country is for the untouched Indian Ocean beaches along its 1,700-mile coast, which are lapped by aquamarine waters that rival the Caribbean. Over the past few years, a cluster of hotels have opened along the coast, including Kisawa, a design-focused property with 11 villas on a 740-acre sanctuary on Benguerra Island in the ecodiverse Bazaruto Archipelago.
Around two hours from Vilankulos on the mainland and set on a peninsula along a sheltered saltwater lagoon, Sussurro is an intimate pared-back lodge whose sandy-hued rooms are filled with artisan-made baskets and wooden furniture. Next year, Banyan Tree is expected to open Banyan Tree Ilha Caldeira, which promises to be an uberluxury spot, on a private island north of Beira.
For safarigoers, Gorongosa, a national park that has been undergoing a two-decade-long rehabilitation, has become a beacon of regeneration and economic activity in an area where tourism was entirely decimated by civil war. This year, Muzimu Lodge, a tent camp, opened on the banks of the Mussicadzi River. Wildlife is not as abundant as in nearby Kruger National Park (though you can expect to see huge packs of wild dogs and teeming herds of antelope), but the biodiversity is some of the richest in the world, with nearly 500 species of birds. Indelible landscapes like chalky limestone gorges dotted with vegetation and inky caves, woodland savannah and giant "Jurassic Park"-like forests with sausage trees and native Borassus palms will leave you awestruck.
TPG tip : Ensure you allow ample time for your visa application. The process has moved online, which makes it infinitely swifter than previously, but the application time can still take up to a month and costs $160 or more depending on the type you apply for.
— Mary Holland
Note from TPG editors : Due to an ongoing terrorist insurgency in the far north of Mozambique, the U.S. Department of State has issued a Level 2 warning advising travelers to exercise increased caution when traveling in the Cabo Delgado province. The country also recently experienced some unrest following local elections, so be sure to investigate the current situation before booking a trip.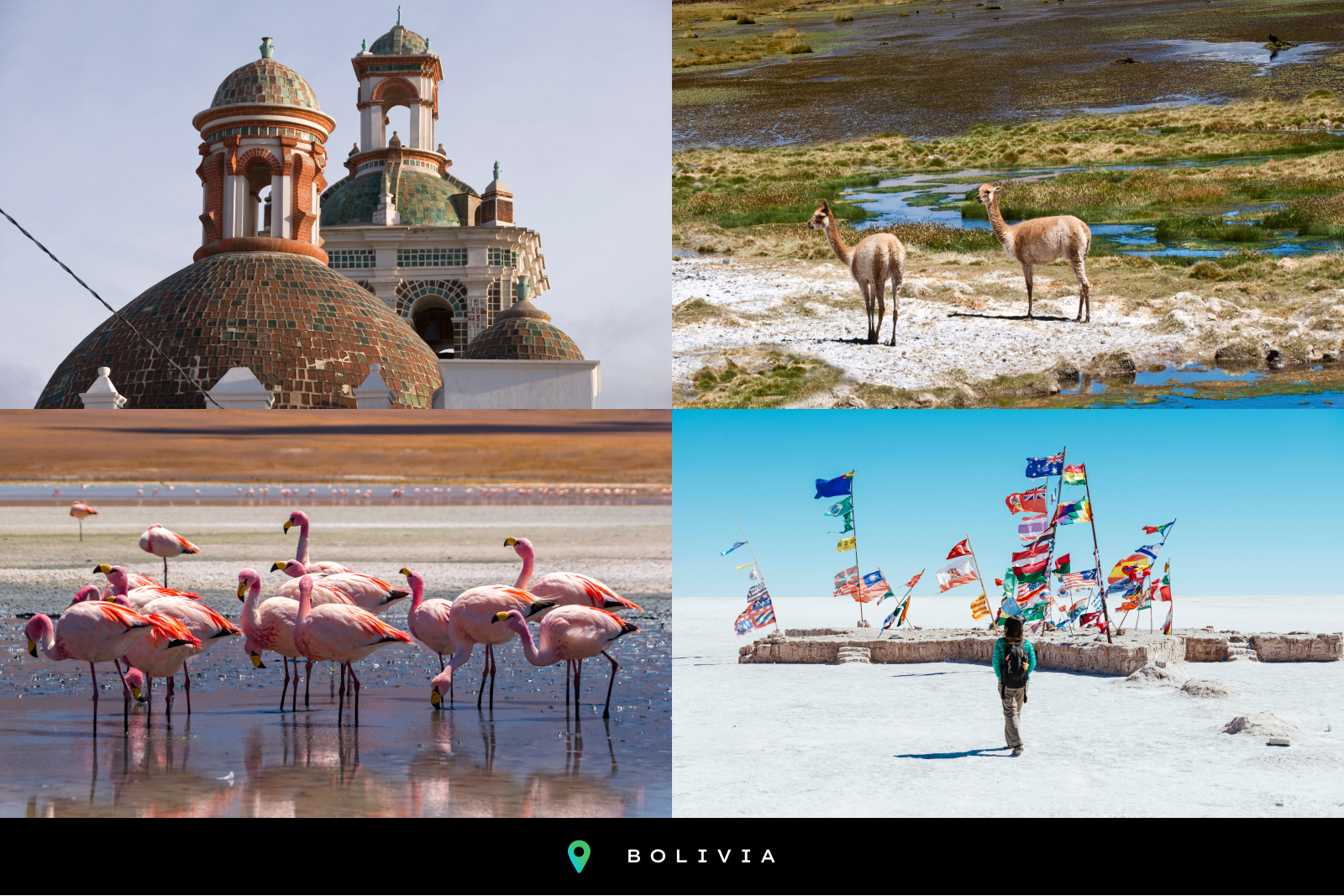 Best for food lovers and thrillseekers looking for something out of this world
Arriving in Bolivia can feel like you've landed on the moon. Have you seen the magnificent Salar de Uyuni? It's a vast salt pan with 3,900 square miles of desertlike cracked earth punctuated by cactus-covered rock piles. Though this parched corner of the earth draws visitors from around the globe, high-end accommodations have been lacking, but that's been changing quickly. In 2022, the Chilean hospitality brand Explora unveiled an intimate six-room mountain lodge set in a slick, glass-fronted building with snug, wood-lined rooms overlooking the flats.
Guests can partake in excursions, but the property also forms part of a greater six-night odyssey: a nomadic expedition where guests journey from Chile's Atacama Desert to Salar de Uyuni, stopping off at Explora's other "Mountain Lodges" along the way. Loads of thrilling activities are on offer, such as biking explorations across the Salar, through quinoa fields and beyond, as well as hikes across the largest islands and up into a village to see ancient Andean burial sites.
Whether you decide to begin your journey in the Atacama or Uyuni, don't miss Bolivia's capital La Paz, which sits in a bowl at a (literally) dizzyingly high elevation of 11,975 feet. The city's restaurant scene is arguably one of the most exciting in South America. Make a reservation at Gustu and enjoy a multicourse extravaganza of local delights including alligator and creamy aged corn. Hailed as one of Latin America's best restaurants, it was founded by Noma's Claus Meyer and is now helmed by chef Marsia Taha Mohamed. Also snag a table at Ancestral, where chef Mauricio Lopez (former head chef of Gustu) roasts vegetables and osso buco over an open flame, served alongside Bolivian wines.
The same team that opened the design-driven Atix Hotel (long a favorite among international visitors) unveiled the new Met Hotel last year in a soaring charcoal building with traditional Bolivian arts and crafts highlighted throughout its interior spaces. If you're traveling after July 2024, be sure to check out Altu Qala, a hotel set in a restored neoclassical building with wood-paneled walls and handmade cabinets in upcycled wood. The owner is also behind The Writer's Coffee, a cafe serving artisanal brews in the city, perfect for combating altitude fatigue.
Finally, for the best views of La Paz, take a trip on Mi Teleferico, the cable car transit system that's been expanding its network with various routes and now has 30 stations and 10 lines. Climb into the plastic bubbles, filled with locals whizzing across the city, and head up to El Alto, which sits at a staggering 13,325 feet.
TPG tip: If you really want to soak up the food and wine scene in La Paz, add in an extra few days to acclimatize. It's the highest capital in the world (11,975 feet) and altitude sickness is a high probability, so whizzing in and out is not recommended.
Bali, Indonesia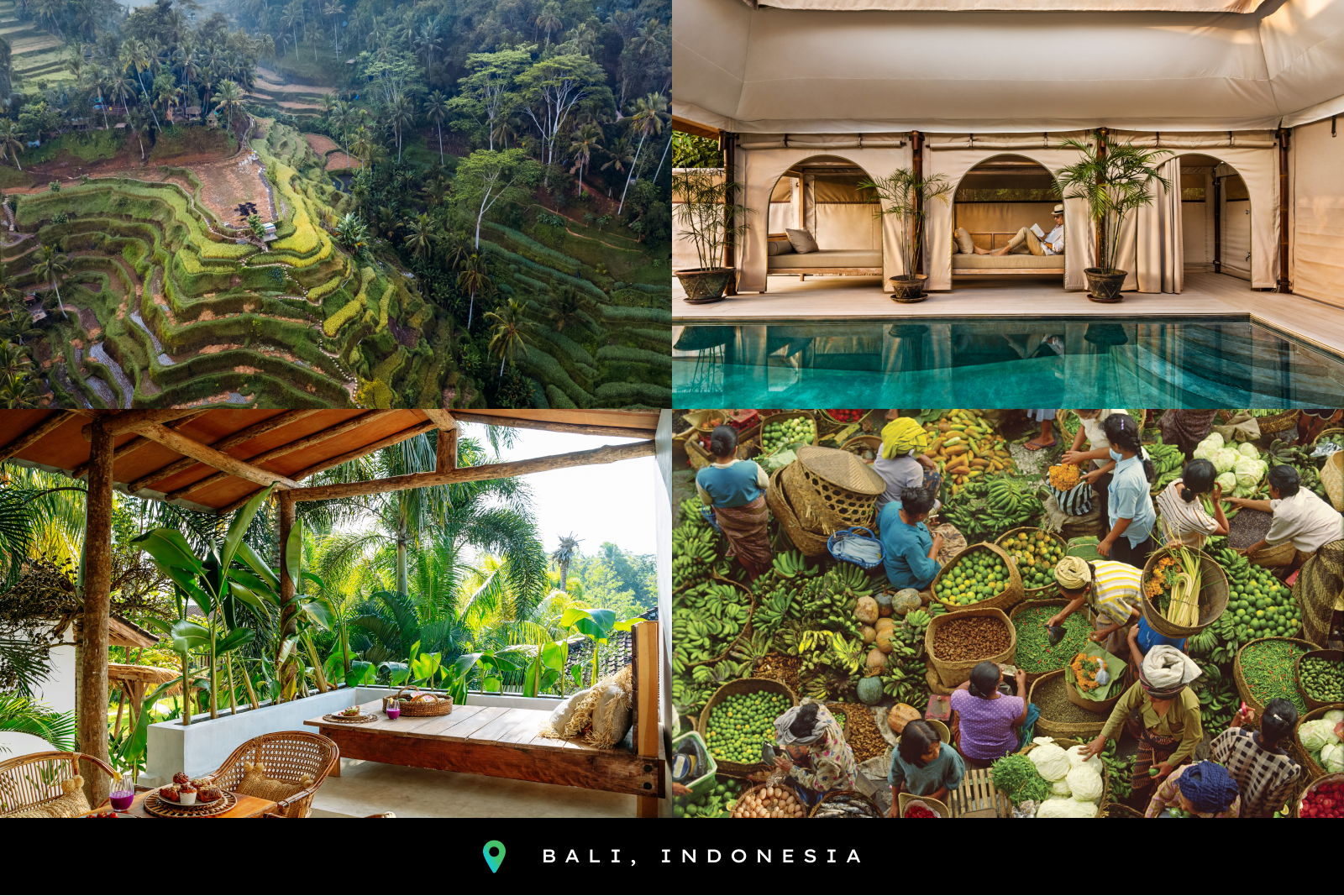 Best for sustainability searchers who also crave cultural connection
Bali is an island of contradictions. It's home to a majority Hindu population but part of predominantly Muslim Indonesia. Visitors in the millions come both to sunbathe and party on its beaches while also seeking spiritual awakenings through wellness retreats. After decades of overtourism, Bali is also pioneering responsible, lower-impact ways for visitors to enjoy its natural wonders and renowned hospitality.
In 2024, the government will levy a $10-per-person fee on international tourists that will directly fund cultural and environmental protection, such as waste management. It's an incremental but important step toward becoming a more sustainable destination.
Luxury resorts are also leaning into the trend. Four Seasons Resort Bali at Jimbaran Bay recently debuted Telu, a bar constructed entirely of upcycled materials that serves cocktails made with sustainable ingredients. In early 2024, Ayana Estate will open Museum Saka, a breathtaking 50,000-square-foot gallery showcasing the work of Balinese artists, historians and scholars, all of which is meant to bestow guests with a deeper understanding of the community's vibrant heritage.
At Buahan, a Banyan Tree Escape , about an hour from Ubud, chef Eka Sunarya began experimenting with hypercreative and ultralocally sourced menus. He has since decamped to nearby Mandapa, a Ritz-Carlton Reserve , where he continues to highlight seasonal Balinese cuisine with a no-waste philosophy.
Seminyak's Desa Potato Head — with its beach club and pair of striking, sustainably designed hotels that all together send just 3% of their waste to landfill — continues to be a regenerative tourism pioneer. In 2024, the resort is opening an ambitious Collective Waste Centre that will radically reduce landfill waste from eight nearby resorts, beach clubs and restaurants through high-efficiency sorting, processing and reuse practices.
A slew of exciting all-new hotels beckons design lovers and wellness seekers to Bali, too. Part of Hilton's LXR Resorts & Hotels, Umana Bali is expected to open in November 2023, a brand first in Southeast Asia. Guests will enjoy not only epic vistas from its 72 clifftop pool villas but also next-level cultural programming emphasizing legacy crafts and spa treatments utilizing ancient healing techniques.
Expected to debut in spring 2024, IHG's Regent Canggu will feature 150 suites and villas in one of Bali's hottest beach locales. Architecture by WATG and interior design by HBA will blend contemporary Indonesian fashion and cultural influences with traditional design motifs. Slated for late 2024, Kimpton Naranta Bali will bring boutique vibes to the Nusa Dua resort scene in the reimagined former Amanusa resort, designed by Kerry Hill.
TPG tip: Some of Bali's best points hotels offer deep cultural dives into Balinese village life. At Alila Manggis (from 3,500 World of Hyatt points per night), guests can take part in water purification rituals, visit the Indigenous Bali Aga tribe and trek to the "Gateway to Heaven" temple. At The Laguna, part of Marriott's Luxury Collection (from 33,000 Bonvoy points per night), exclusive experiences include lunch with the seventh generation of Kerambitan's royal family.
Cairo, Egypt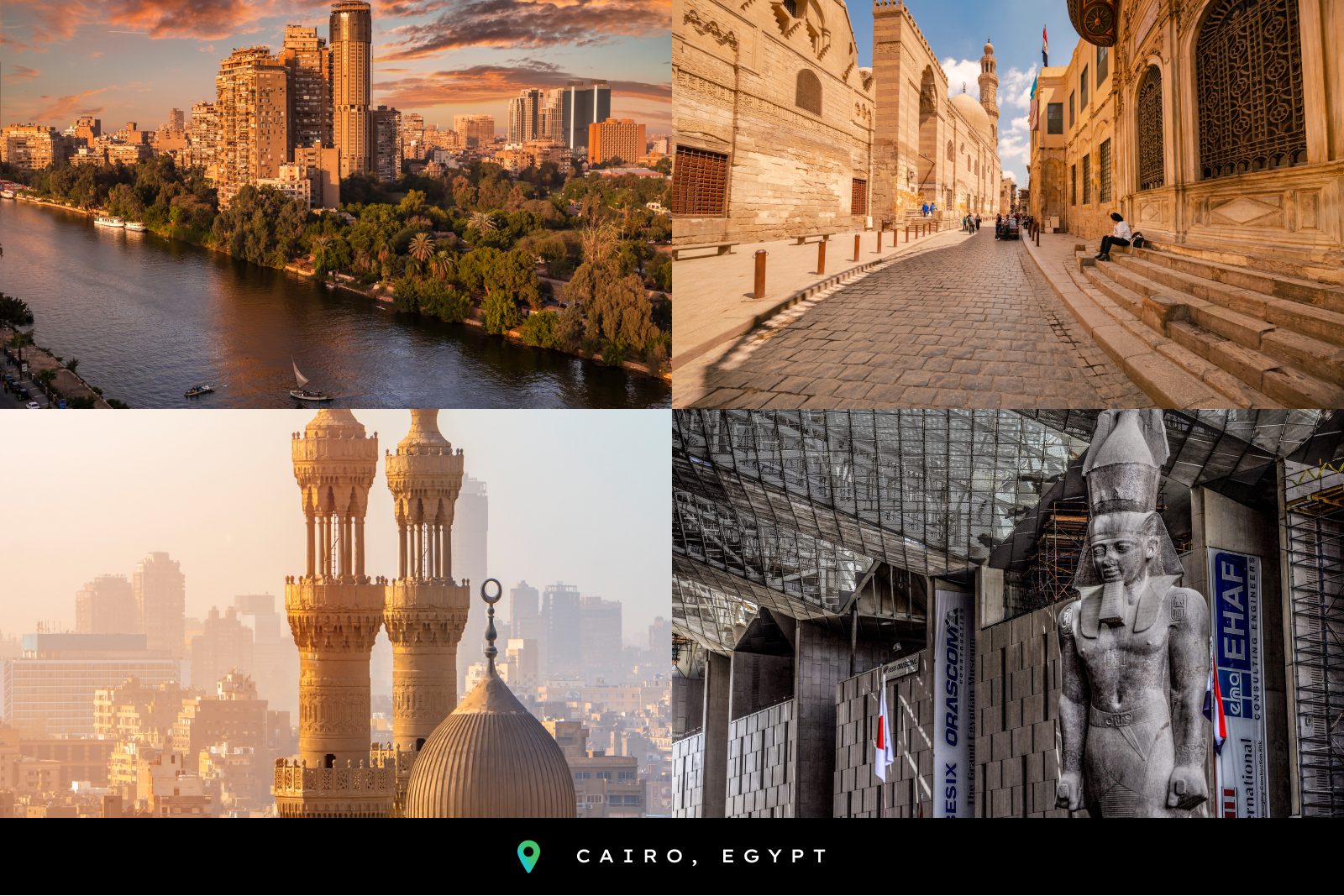 Best for ancient treasures in a modern metropolis
Few destinations offer the same look at the mysteries of the past quite like Cairo. While this desert city has long been a magnet for those intrigued by the wonders of ancient Egypt and its former rulers, new attractions and highly anticipated hotel openings will draw even more travelers to this bucket list destination in 2024.
With that in mind, Cairo's most exciting addition will be the long-awaited reopening of the Grand Egyptian Museum, which, after years of delays , is on track to welcome visitors by early 2024. A colossal project that began more than 20 years ago, this massive repository — the largest archaeological museum ever built — will house over 100,000 Egyptian artifacts, including 5,000 relics found in famous pharaoh Tutankhamun's tomb.
Recently discovered artifacts from the Saqqara — an expansive necropolis located within Egypt's UNESCO World Heritage-listed ancient capital of Memphis — are also expected to be added to the museum's collection in due course. The treasures include multiple tombs, ancient workshops and burial shafts full of priceless antiquities, such as a mummy believed to be the most complete one ever found in Egypt.
To accommodate the influx of tourists expected in 2024, Cairo's hotel scene is rapidly expanding, too. Among the new properties currently in the pipeline are points-friendly accommodations like a Hyatt Centric, a Hilton and a Waldorf Astoria, plus the luxurious rebranding of the historic Shepheard Hotel into the Mandarin Oriental Shepheard, Cairo.
Unsurprisingly, Cairo's prime position on the Nile and proximity to other historic destinations also make it an excellent place to embark on a river cruise , especially in 2024. Several top river cruise lines offer itineraries that start or end in the city, making it possible to tack on visits to other ancient sites like Luxor and Aswan, Egypt. New standout ships to consider include Viking Aton (the fourth of six ships Viking expects to be sailing the Nile by late 2025) and AmaLilia (AmaWaterways' second ship devoted to Nile River cruises).
TPG tip: It should become easier than ever to reach this historic metropolis thanks to more nonstop routes from the U.S. to Cairo in the works. In addition to adding new nonstop flights from Newark to Cairo this past summer, Egyptair has filed a request with the Department of Transportation to launch service between Los Angeles and Cairo in the coming months. If approved, service on the Star Alliance carrier would give visitors yet another convenient way to reach the ancient city.
— Christine Gallipeau
Note from TPG editors : We want to acknowledge that all eyes will be on the widening conflict in the region as we end 2023 and look ahead to next year. Before planning your own trip to Egypt, stay up to date on State Department advisories , current events and the unfolding situation in neighboring Israel and beyond .
The Bahamas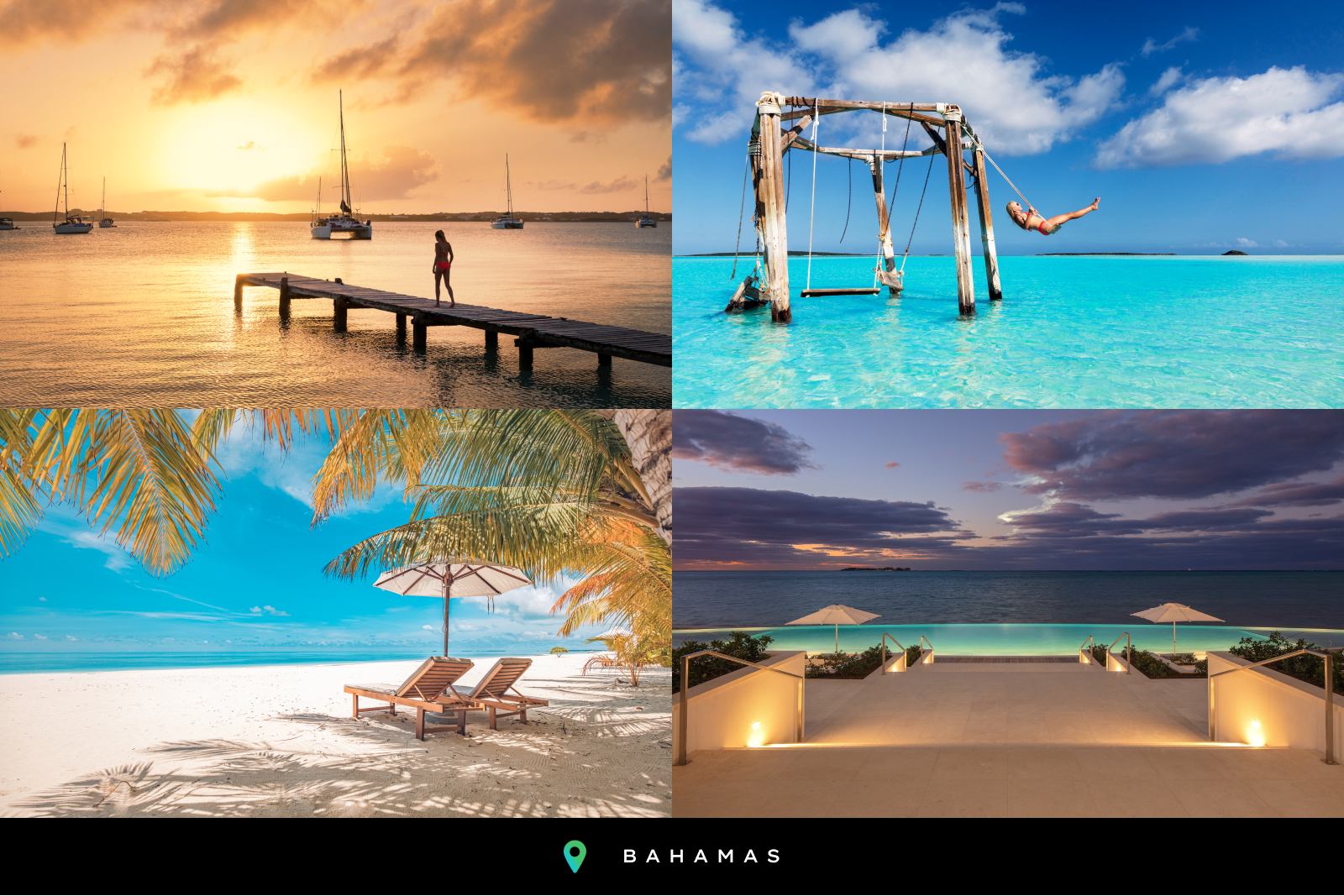 Best for rediscovering paradise right on our doorstep
Dazzling white- and pink-sand beaches; calm, clear seas shaded in myriad hues of blue; and easy access from various U.S. hubs have long made the Bahamas a top tourist destination. Expect 2024 to be an extra-buzzy year for this Caribbean nation, though, thanks to new hotels, exciting cruises and more flights from major airlines.
Goldwynn Resort & Residences on Nassau's famous Cable Beach was 2023's big hotel debut, offering 81 studios and one-, two- and three-bedroom suites just a short drive from the airport so visitors could be on the beach within an hour of landing. Set to open mid 2025, the ultraluxurious Montage Cay will occupy a 48-acre private island in the Abacos. The $352 million project will feature 50 oceanfront suites with private plunge pools and outdoor showers. The property will also comprise villa residences and a 47-slip marina for private yachts.
The Bahamas are drawing even more interest from major cruise lines, too. Norwegian Cruise Line christened its exciting Norwegian Viva megaship with a short cruise to its Bahamian private island, Great Stirrup Cay, in November 2023. The line's second Prima Class vessel, Viva, boasts the "fastest slides at sea," a three-level go-kart racetrack and millions of dollars of art on board. Royal Caribbean's new Oasis Class ship, Utopia of the Seas , is also set to start sailing short new cruises focusing on the Bahamas in 2024.
Cruise lines are adding new private-island experiences, too. Slated to open in summer 2024, Disney's Lighthouse Point in Eleuthera will offer amenities ranging from an adults-only beach to a family water play area and food hall-style dining. The destination is being designed with the environment in mind, too — about 90% of its electricity will be provided via solar panels.
TPG tip : Getting from the U.S. to the Bahamas will be easier than ever in 2024, especially from the West Coast. Alaska Airlines is adding seasonal nonstop flights from both Los Angeles International Airport (LAX) four times weekly and Seattle-Tacoma International Airport (SEA) three times weekly to Lynden Pindling International Airport (NAS). The services will run from Dec. 15, 2023, to April 9, 2024. JetBlue is launching its own new flight between Nassau and Los Angeles beginning in November 2023 that will fly once per week on Saturdays. Delta debuted a new nonstop from Miami International Airport (MIA) to Nassau this fall as well.
— Becca Blond

Dividend Power
The 10 Best Places to Retire In South Carolina
Posted: November 14, 2023 | Last updated: November 14, 2023
South Carolina is one of the most popular places to retire in the United States, and it's not hard to see why. It gives retirees the best of all possible worlds.
You can expect low taxes, affordable living, outdoor opportunities, a rich history and culture, mild winters, and a pristine Atlantic coastline. 
To show you what the Palmetto State offers retirees, we've compiled a list of the best places to retire in South Carolina. We'll show you what makes each location desirable and why you should consider making the move.
The 10 Best Places to Retire in South Carolina
1. summerville.
We'll kick our list off with Summerville, also referred to as the "Flower Town in the Pines." This scenic town is best known for its vibrant atmosphere, lush parks, wonderfully preserved gardens, and vintage houses.
Large parts of the town date back to the 1800s, helping Summerville combine modern comforts with old-school charm. Summerville is a great place to retire if you're looking for somewhere quieter and a more comprehensive range of retirement options. 
However, you'll still only be a 30-minute drive from the coast and cities like Charleston so you can enjoy the best of both worlds.
Gaffney in upstate South Carolina is jam-packed with Southern charm while still only being under an hour's drive away from all the major cities, such as Charlotte and Greenville. When you're not out exploring one of the surrounding national parks, you'll find yourself enjoying the city. 
Home to the Gaffney Little Theater, there's always something going on in the city, whether a play, musical, or theatrical event. 
Another great thing about Gaffney is the wide range of living options retirees can choose from. Offering every amenity you can imagine, Gaffney is home to private communities, assisted living communities, independent living communities, and more.
3. Myrtle Beach
Myrtle Beach could be perfect if you dream of retiring to the coast but don't have serious wealth behind you. It is a stunning South Carolina coastal city and a popular retirement and tourist destination.
However, despite that, property values in the area sit right in the middle of the road, which is relatively unusual for a major city on the coast. To top things off, property taxes are lower than in other cities, and there are countless living options. Myrtle Beach is famous for its busy shopping scene, seafood restaurants, and white-sand beaches, so it's fair to say you'll enjoy your retirement.
You can also enjoy everything Myrtle Beach offers without living amongst the crowds of tourists. You can do that by living in Conway, minutes away from Myrtle Beach's most popular attractions.
Conway allows retirees to enjoy the coast in a quaint town packed with local history. The city has multiple museums, a history farm, watersports facilities, and a charming marina.
One thing retirees love here is the tight-knit community because Conway is only home to 23,000 people. It is also worth noting that the cost of living in Conway is lower than the national average.
5. Hilton Head Island
If you want to make the most of your retirement, consider retiring to Hilton Head Island, where you'll find world-class golf courses, white sand beaches, and a vast range of recreation activities.
Admittedly, Hilton Head is quite pricey, but it makes up for that with its staggering range of things to do. There are golf courses, art galleries, art classes, museums, tours, hiking trails, music venues, and more.
As this resort town has a large population of adults over the age of 60, there are plenty of retirement options to choose from. This includes several communities, single living, condos, and family homes. 
We should also mention that public transport is free.
6. Newberry 
Next is Newberry, a lovely rural suburb of Colombia, South Carolina's capital. This peaceful community, surrounded by lush scenery, allows retirees to live in tranquility. 
You can relax, reconnect with nature, and become part of an ever-growing retiree community. Active retirees will enjoy Lynch's Woods Park, while those looking to indulge themselves will quickly find the local winery.
Other things to like about Newberry include easy access to amenities, affordable living, a low crime rate, and two hospitals.
If you love all things nature and want to spend your golden years surrounded by mountains and lakes, Seneca is the place for you. This small town will provide plenty of opportunities to stay fit and healthy. 
Typical recreation activities include hiking, kayaking, and boating. There are also attractions like museums and galleries. Seniors make up  more than 20% of the population of Seneca , too, so you'll be in good company.
In terms of health care, Seneca is well-equipped with facilities that offer reliable and effective long-term care.
8. Charleston
Charleston is arguably one of the best and most beautiful places to retire in the United States, not just South Carolina. As the largest and oldest city in the Palmetto State, it is full of history and culture, which is easily seen across the metro area in historic buildings and colorful streets.
Conde Nast Traveler  ranks Charleston as the best small city in the United States, and it is also considered the friendliest, which makes it a lovely place to live. 
Making things even better, the city has more activities aimed at older adults, a wide range of living options, lower costs, safer environments, and good health care.
9. Isle of Palms
Have you ever considered retiring to a sunny place with warm winters and palm tree-lined beaches? If you have, one of your first choices should be Isle of Palms, which offers all the above.
Isle of Palms has many amazing things to do, affordable and luxury living options, plenty of amenities, and a gorgeous city center.
A 20-minute drive from Charleston, Isle of Palms is home to just over 4,000 people, so you can expect a quiet and relaxed retirement where everyone knows everyone else. You'll find several retirement communities in the city, rentals, condos, and luxury villas by the sea.
10. Columbia 
Columbia's most significant advantage over other towns and cities in South Carolina is that home values are much lower, making it a more affordable place for retirees. You can buy your forever home relatively quickly.
Columbia is also home to three big hospitals offering ample health care, essential to many retirees. The city is generally very affordable, which is also a nice touch.
Regarding things to do, the city has the second-most bingo halls and flea markets in South Carolina, a zoo, several museums, and an array of parks.
What's not to like?
The Bottom Line About Retiring to South Carolina
In this post, we've shown you the best places to retire in South Carolina!
The Palmetto State has something for every retiree, no matter what you seek. 
If you like the idea of retiring to South Carolina, why don't you start to decide where you might want to live?
Related Articles on Dividend Power
The 10 Best Places to Retire in Florida
Is $1 Million Enough to Retire?
More for You
'Squad' members taking heat over funding from non-profit under investigation for terror ties
Social Security Update As Millions To Receive 2 December Payments
New mom and nonsmoker diagnosed with stage 3 lung cancer shares story
Where are the Hamas fighters?
Friday night's meteor shower could be spectacular. Here's when to watch and where to look.
Calvin and Hobbes by Bill Watterson
Jesse Watters: This is a dirty trick
Xi Jinping's Ominous Warning For America
Satya Nadella instructed Microsoft to design its own silicon chip—and it could end Nvidia's stranglehold over the sector
SpaceX to Attempt Another Starship Rocket Launch After Mid-Air Explosion
Why you should put $15,000 into a 1-year CD now
Iran's betrayal leaves Hamas nowhere to go
Newly released audio reveals Trump's words about January 6 crowd
FDA recalls another 27 eye drop products: What you need to know as a consumer
Ravens take down Bengals as Joe Burrow's exit makes big impact
Between Friends by Sandra Bell-Lundy
Boeing 787 Becomes Largest Passenger Plane To Land In Remote Antartica
6 Paint Colors That Will Make Your House Sell for More Money
These protesters were screaming at police officers: Rep. Kat Cammack
Maria Menounos had pancreatic cancer symptoms for a year. Doctors said 'everything's fine'
Restaurants Food and Drink | Forget cooking, order Thanksgiving dinners…
Share this:.
Click to share on Facebook (Opens in new window)
Click to share on Twitter (Opens in new window)
Click to share on Reddit (Opens in new window)
Click to print (Opens in new window)
Food & Drink
Amusement Parks
Daily News Store
Things To Do
Restaurants food and drink, restaurants food and drink | forget cooking, order thanksgiving dinners to-go at these 8 local restaurants, these southern california restaurants make hosting the holiday dinner a breeze, but get those orders in early..
Hosting Thanksgiving dinner doesn't have to mean spending hours cooking in the kitchen because there are plenty of restaurants willing to do the work for you by offering takeout meals .
"Yes, you can get a meal at home that's as good as in the restaurant," said Victor Juarez, the executive chef at Hotel Maya and its modern Latin restaurant Fuego, one of many places serving a special takeout menu for Thanksgiving.
ALSO SEE: Where to eat Thanksgiving dinner in Orange County, 2023
The takeout dinner from Fuego is made up of a cocoa roasted turkey breast rubbed in Latin spices.
"We start getting ready for that early, preparing some of the seasonal products that I'm going to be using. We use what is fresh and in season," he said.
Fuego at Hotel Maya is cooking up a takeout meal for six for Thanksgiving. (Photo courtesy Hotel Maya)
There's no need to cook at home because restaurants offer takeout meals for Thanksgiving. (Getty Images/iStockphoto)
When ordering takeout Juarez said one of the most important things is to precisely follow the reheating instructions for the meals.
"I include a detailed description on how to reheat the turkey. So they can just put it in the oven and then on a beautiful platter. I make it very simple for people to do it at home so it looks like they really cooked it at home," he said.
ALSO SEE: Thanksgiving 2023: These restaurants sell take-home feasts 
Here are eight places that are serving Thanksgiving takeout specials this year.
Most restaurants require people to place the order the Monday before Thanksgiving, while the deadline at Fuego is Sunday Nov. 19. So start placing online orders now.
Blakes Place BBQ
2901 East Miraloma Ave., Anaheim. 714-630-8574 or blakesplacebbq.com .
Cost: $23.99 per person
Get your barbecue on this Thanksgiving with Blake's Holiday Feast. It includes hickory smoked turkey and smoked ham and all the traditional sides like mashed potatoes, gravy and cranberry sauce.
Cactus Cantina
151 E. Alessandro Blvd., Riverside. 951-789-0211 or cactuscantinariverside.net .
Cost: $105.99 for four people; $153.99 for six people; $199.99 for eight people
If you're looking for something different, then go with ribs instead of turkey this year with Cactus Cantina's prime rib Thanksgiving dinner. The meal includes prime rib with au jus, smashed potatoes and gravy, corn on the cob, green beans and garlic toast.
Fuego Hotel Maya
700 Queensway Drive, Long Beach. 562-435-7676 or hotelmayalongbeach.com .
The waterside modern Latin restaurant is cooking up a takeout meal for six that features cocoa rubbed roasted turkey breast plus brioche mushroom stuffing, sage gravy, candied yams and cranberry compote. It's all geared towards the healthier side of Thanksgiving dining.
Harold and Belle's
2920 West Jefferson Blvd., Los Angeles. 323-735-9023 or haroldandbelles.com .
Cost: $45 one person; $450 for 10-15 people; $700 for 30-25 people
This long-standing New Orleans-style restaurant offers takeout options from as small as a meal for one to a feast for 25 people. They all include main options like Cajun-fried turkey or beef pot roast and traditional sides like Canadian yams and mashed potatoes. They also offer specialty sides like jambalaya and oyster dressing.
Hendrix at Ocean Beach
32431 Golden Lantern, Laguna Niguel. 949- 248-1912 or hendrixoc.com .
The Thanksgiving Feast to Go feeds 8-10 people and is made up of a whole roasted turkey and the traditional sides like mashed potatoes, stuffing and cranberry sauce. The meal also includes the house rolls and a salad with purple haze goat cheese and roasted candy beets. Dessert is a choice of pumpkin or apple pie.
Kountry Folks
3653 La Sierra Ave, Riverside. 951-354-0437 or kountry.com .
Cost: $15.99 per person
This Riverside Southern cuisine staple is keeping it simple and delicious with a takeout order that's made up of sliced turkey, stuffing, mashed potatoes and gravy casserole. It's served in single servings, so it'll take a few orders for a large family dinner.
Marmalade Café
Locations in Malibu, Sherman Oaks, El Segundo, Calabasas and Santa Monica. Find more online at marmaladecafe.com .
Cost: $175 for 4-6 people; $250 for 8-10 people
The Thanksgiving Feast To-Go comes in one easy-to-carry box that includes a sliced oven roasted turkey with both white and dark meat. It includes the classic sides like cornbread stuffing, mash potatoes, gravy and you even get a whole pumpkin pie.
3333 Bristol Street, Costa Mesa. 714- 437-5252 or seasons52.com .
This meal will serve 4-6 people who will get a traditional dinner that includes a roasted turkey and gravy, mashed potatoes, herb stuffing, green beans, butternut squash and cranberry relish and dessert.
Newsroom Guidelines
Report an Error
More in Restaurants Food and Drink
Restaurants Food and Drink | Recipes: Make Thanksgiving less hectic by preparing these dishes in advance
Local News | Things to do in the San Fernando Valley, LA area, Nov. 16-23
Restaurants Food and Drink | A Butterball Turkey Talk-Line expert on Thanksgiving disasters and redemption
Restaurants Food and Drink | Thanksgiving 2023: These chain restaurants sell take-home feasts
Affordable bus tickets from Mount Pleasant, TX to Long Beach, CA
More travel options, enjoy free onboard entertainment, reserve a seat, need to make a change, bus stations and stops in mount pleasant, tx, mount pleasant (total stop sunoco).
View this address on Google Maps
To view more info about this station, visit our page Mount Pleasant (Total Stop Sunoco)
Bus stations and stops in Long Beach, CA
Long beach bus station.
To view more info about this station, visit our page Long Beach Bus Station
Long Beach Downtown Transit Gallery
To view more info about this station, visit our page Long Beach Downtown Transit Gallery
Discover all the places you can go
Choose from almost 2,300 destinations with Greyhound, FlixBus and our connecting partners!
Discover more popular bus connections
Atlanta, GA - Mount Pleasant, TX
Mount Pleasant, TX - Little Rock, AR
Mount Pleasant, TX - Baytown, TX
Dallas, TX - Mount Pleasant, TX
Bryan, TX - Mount Pleasant, TX
Las Vegas, NV - Mount Pleasant, TX
Tulsa, OK - Mount Pleasant, TX
Mount Pleasant, TX - Ithaca, NY
Tucson, AZ - Mount Pleasant, TX
Laredo, TX - Mount Pleasant, TX
Mount Pleasant, TX - Gastonia, NC
Tyler, TX - Mount Pleasant, TX
Mount Pleasant, TX - Dallas, TX
Newark, NJ - Mount Pleasant, TX
Mount Pleasant, TX - Zanesville, OH
Anderson, SC - Mount Pleasant, TX
Mount Pleasant, TX - Houston, TX
Katy, TX - Mount Pleasant, TX
Mount Pleasant, TX - Texarkana, TX
Mount Pleasant, TX - Grand Rapids, MI
San Diego, CA - Long Beach, CA
Long Beach, CA - San Diego, CA
Las Vegas, NV - Long Beach, CA
Long Beach, CA - Las Vegas, NV
Bakersfield, CA - Long Beach, CA
Phoenix-Tempe, AZ - Long Beach, CA
Long Beach, CA - Tijuana, MX
Oceanside, CA - Long Beach, CA
Long Beach, CA - Bakersfield, CA
Long Beach, CA - San Ysidro, CA
Los Angeles, CA - Long Beach, CA
Long Beach, CA - Phoenix-Tempe, AZ
Long Beach, CA - Los Angeles, CA
San Ysidro, CA - Long Beach, CA
Long Beach, CA - Fresno, CA
Fresno, CA - Long Beach, CA
Stockton, CA - Long Beach, CA
Long Beach, CA - Stockton, CA
Tijuana, MX - Long Beach, CA
Draper, UT - Long Beach, CA
Onboard services are subject to availability