Account Options

Anaheim Map, California

Map of Anaheim
Anaheim is home to one of the most famous theme parks in the world – Disneyland! If you plan on going to Anaheim, make use of our Anaheim map collection , which includes a road map, things to do, and an interactive map. All are available to download, including our California map .
When visiting Anaheim, not only will you be able to enjoy its iconic theme park , but there are plenty of other things to do as well. For instance, it offers sports teams like the Anaheim Angels baseball team, Anaheim Ducks hockey team, and UC Irvine basketball games.
Anaheim is also home to hundreds of different restaurants , from local favorites to national chains. But it's also filled with other incredible landmarks and places to visit. With attractions like Downtown Disney, Knotts Berry Farm, and more, it's no wonder why it's so popular as a tourist destination among locals and visitors alike.
Jump To: Interactive Map | Printable Road Map | 10 Things to Do | Reference Map
Anaheim map collection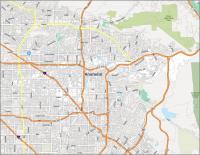 Interactive Map of Anaheim
Anaheim is the largest city in Orange County, California. It is located near the Pacific coast of Southern California, about 30 miles south of downtown Los Angeles. It has a total population of over 350,000 people, making it the 10th most populated city in California. In this interactive map of Anaheim, you can explore the city to see what businesses are nearby.
Anaheim Road Map
Anaheim is bordered by the City of Fullerton to the north and Santa Ana to the south. To its east are the Sierra Nevada mountains with outdoor activities like camping, hiking, and even snowshoeing. If you are planning a trip to this city, this Anaheim map will provide you with helpful information about the city of Anaheim and its surrounding areas. Finally, make this your go-to road guide, along with our California road map .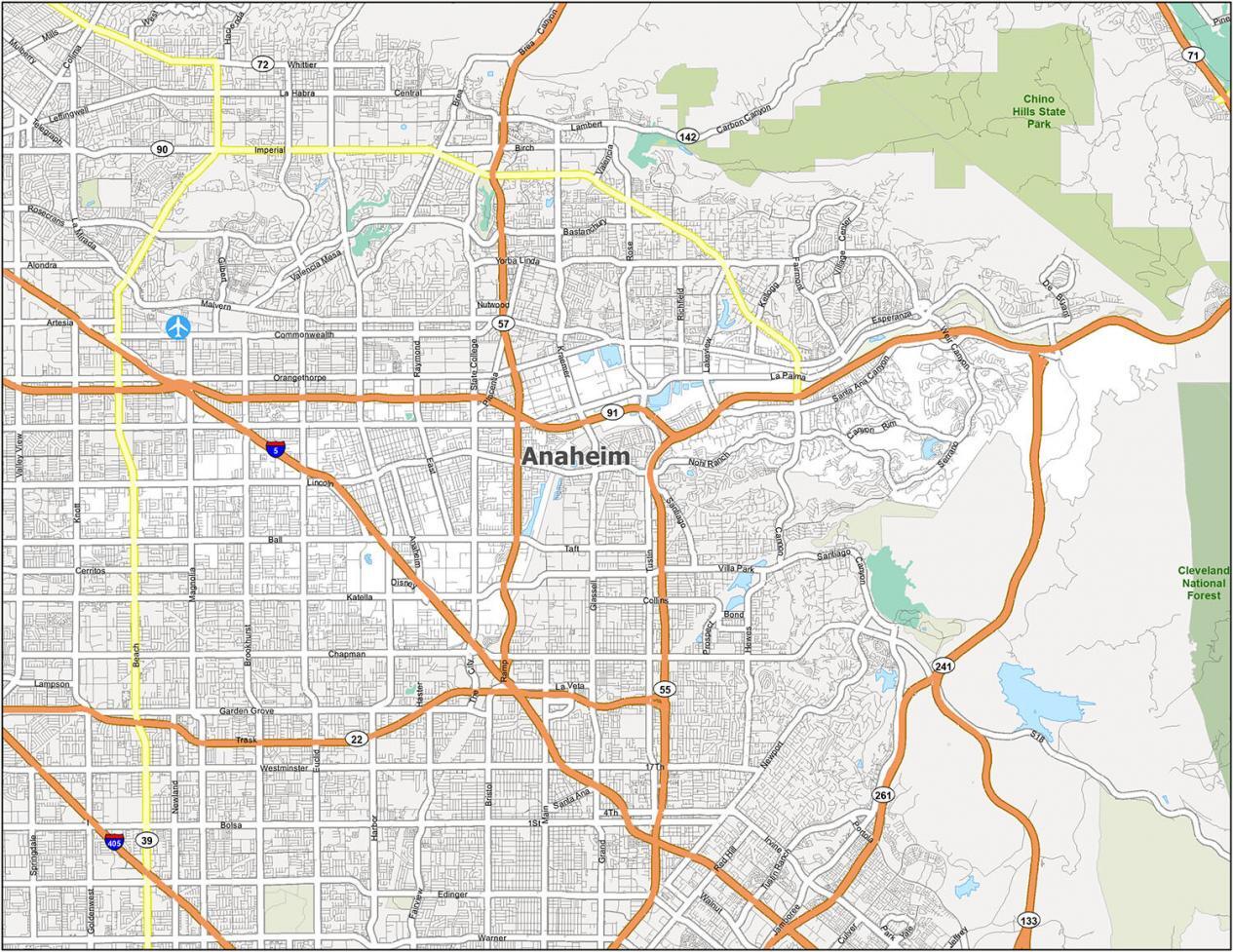 Interstate Highways: 5
State Highways: 22, 39, 55, 57, 72, 91, 241
Major Roads: Anaheim Blvd, Beach Blvd, Brookhurst St, Chapman Ave, Disney Way, Euclid St, Harbor Blvd, Haster St, Imperial Hwy, Katella Ave, La Palma Ave, Lincoln Ave, Manchester Ave, Orangethorpe Ave, Tustin Ave
Roads: Ball Rd, Canyon Rim Rd, Cerritos Ave, Chapman Ave, Disneyland Dr, East St, Fairmont Blvd, Glassell St, Gypsum Canyon Rd, Knott St, Kraemer Blvd, La Palma Ave, Lakeview Ave, Magnolia Ave, Manchester Ave, Nohl Ranch Rd, Orangethorpe Ave, Placentia Ave, Raymond Ave, Richfield Rd, Santa Ana Canyon Rd, Serrano Ave, State College Blvd, Weir Canyon Blvd, Yorba Linda Blvd
10 Things To Do in Anaheim
Although Anaheim is best known for Disneyland, it also has a wide range of entertainment opportunities, including shopping and dining in the Downtown Disney District. Plus, there are also a lot of restaurants in Anaheim that make this city a great place to dine out. The city also has an abundance of sports teams that offer a plethora of activities for residents to cheer for.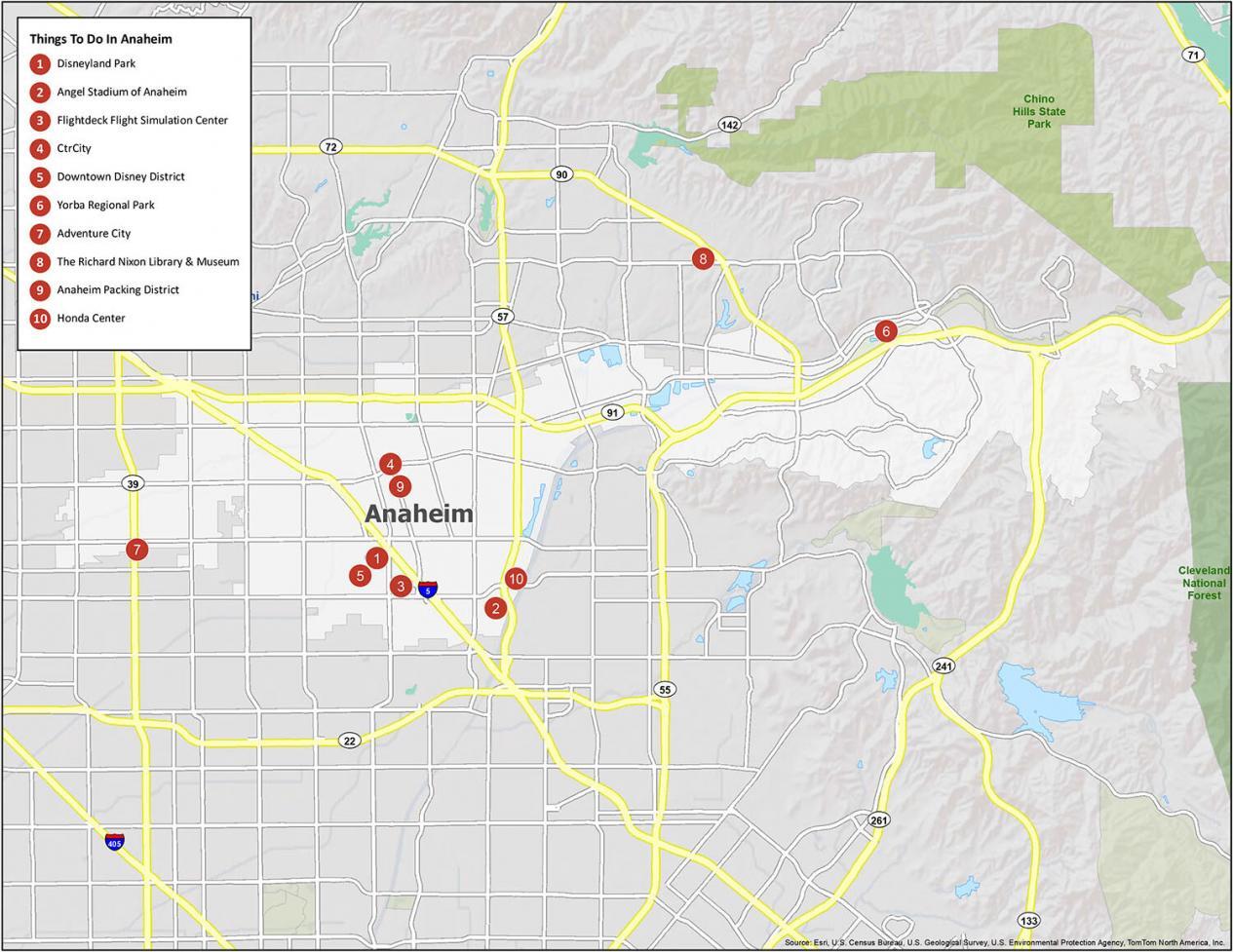 Anaheim is one of the most popular cities to visit in California! If you plan to visit, here are recommended sites to visit:
6. Yorba Regional Park 7. Adventure City 8. The Richard Nixon Library & Museum 9. Anaheim Packing District 10. Honda Center
Anaheim California Map
Anaheim, California is a city of diverse neighborhoods and cultures. So whether you're visiting or moving here, be sure to use our Anaheim map when you need some information on this California hub. Plus, there are museums and cultural institutions for those who like to explore different cultures or spend time with family members from other countries.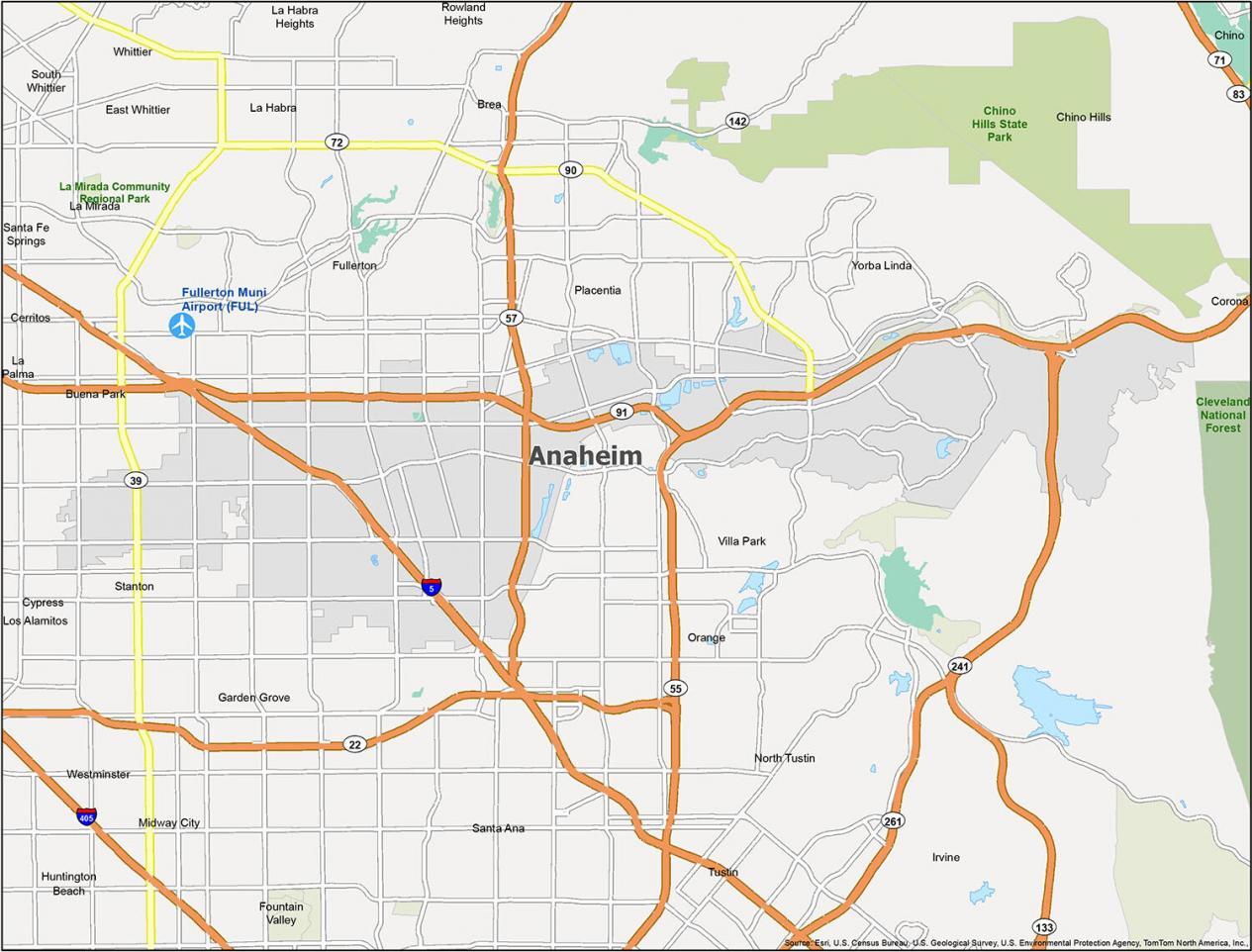 Census Designated Place (CDP): East Whittier, Midway City, North Tustin, Rowland Heights, South Whittier
City: Anaheim, Brea, Buena Park, Cerritos, Chino, Chino Hills, Corona, Cypress, Fountain Valley, Fullerton, Garden Grove, Huntington Beach, Irvine, La Habra, La Habra Heights, La Mirada, La Palma, Los Alamitos, Orange, Placentia, Santa Ana, Santa Fe Springs, Stanton, Tustin, Villa Park, Westminster, Whittier, Yorba Linda
California map collection

Government of California (Official Website)
USGS National Map Viewer
Leave a Reply Cancel reply
Your email address will not be published. Required fields are marked *
Map of Anaheim — Best attractions, restaurants, and transportation info
What's on this map.
We've made the ultimate tourist map of Anaheim, California for travelers! Check out Anaheim 's top things to do, attractions, restaurants, and major transportation hubs all in one interactive map.
How to use the map
Use this interactive map to plan your trip before and while in Anaheim . Learn about each place by clicking it on the map or read more in the article below. Here's more ways to perfect your trip using our Anaheim map:,
Explore the best restaurants, shopping, and things to do in Anaheim by categories
Get directions in Google Maps to each place
Export all places to save to your Google Maps
Plan your travels by turning on metro and bus lines
Create a Wanderlog trip plan (link to create a trip plan for the city) that keep all the places on the map in your phone
Print a physical map to bring it on your trip
Top 20 attractions in Anaheim
Disneyland park, disney california adventure park.
Navigate forward to interact with the calendar and select a date. Press the question mark key to get the keyboard shortcuts for changing dates.
Navigate backward to interact with the calendar and select a date. Press the question mark key to get the keyboard shortcuts for changing dates.
Anaheim Packing District
Downtown Disney District
Space mountain, radiator springs racers, angel stadium of anaheim, luigi's rollickin' roadsters, honda center, convention center, yorba regional park, adventure city, christ cathedral campus, city national grove of anaheim, oak canyon nature center, downtown anaheim farmers market, w center street promenade, little arabia, lebanese bakery and cuisine, top 10 restaurants in anaheim, the blind rabbit.
THE RANCH Restaurant
Reunion kitchen + drink anaheim hills, the fifth rooftop restaurant & bar, mfk by aysee modern filipino kitchen, healthy junk at the house, baci italian restaurant, catal restaurant, transportation in anaheim, nearby airports, ontario international airport, john wayne airport, los angeles international airport, highways and major roads.
Interstate 5
State Route 91
State Route 57
State Route 22
State Route 55
State Route 39
State Route 90
Katella Avenue
Harbor Boulevard
Top searches in Anaheim
Popular road trips from anaheim, what's the weather like in anaheim .
It depends on when you visit! We've compiled data from NASA on what the weather is like in Anaheim for each month of the year: see the links below for more information.
Weather in Anaheim in January
Weather in Anaheim in February
Weather in Anaheim in March
Weather in Anaheim in April
Weather in Anaheim in May
Weather in Anaheim in June
Weather in Anaheim in July
Weather in Anaheim in August
Weather in Anaheim in September
Weather in Anaheim in October
Weather in Anaheim in November
Weather in Anaheim in December
All road trips from Anaheim
Anaheim to Las Vegas drive
Anaheim to San Diego drive
Anaheim to San Francisco drive
Anaheim to Greater Palm Springs drive
Anaheim to Santa Barbara drive
Anaheim to Seattle drive
Anaheim to Sedona drive
Anaheim to Phoenix drive
Anaheim to Monterey drive
Anaheim to Vancouver drive
Anaheim to Tucson drive
Anaheim to Yosemite National Park drive
Anaheim to Grand Canyon National Park drive
Anaheim to San Antonio drive
Anaheim to the Death Valley National Park drive
Anaheim to Page drive
Anaheim to Zion National Park drive
Anaheim to La Jolla drive
Anaheim to Denver drive
Anaheim to Palm Springs drive
Anaheim to Santa Fe drive
Anaheim to Branson drive
Anaheim to Sequoia and Kings Canyon National Park drive
Anaheim to San Simeon drive
Anaheim to Portland drive
Anaheim to Colorado Springs drive
Anaheim to Albuquerque drive
Anaheim to Memphis drive
Anaheim to Dallas drive
Anaheim to Moab drive
All related maps of Anaheim
Map of Las Vegas
Map of San Diego
Map of San Francisco
Map of Greater Palm Springs
Map of Santa Barbara
Map of Seattle
Map of Sedona
Map of Phoenix
Map of Monterey
Map of Vancouver
Map of Tucson
Map of Yosemite National Park
Map of Grand Canyon National Park
Map of San Antonio
Map of the Death Valley National Park
Map of Page
Map of Zion National Park
Map of La Jolla
Map of Denver
Map of Palm Springs
Map of Santa Fe
Map of Branson
Map of Sequoia and Kings Canyon National Park
Map of San Simeon
Map of Portland
Map of Colorado Springs
Map of Albuquerque
Map of Memphis
Map of Dallas
Map of Moab
Anaheim throughout the year
Anaheim in January
Anaheim in February
Anaheim in March
Anaheim in April
Anaheim in May
Anaheim in June
Anaheim in July
Anaheim in August
Anaheim in September
Anaheim in October
Anaheim in November
Anaheim in December
Looking for day-by-day itineraries in Anaheim ?
Get inspired for your trip to Anaheim with our curated itineraries that are jam-packed with popular attractions everyday! Check them out here:
1-Day Anaheim Itinerary
2-Day Anaheim Itinerary
3-Day Anaheim Itinerary
4-Day Anaheim Itinerary
5-Day Anaheim Itinerary
Itinerary + map in one view
Live collaboration
Auto-import hotels and reservations
Optimize your route
Offline access on mobile
See time and distance between all your places

Anaheim Printable Tourist Map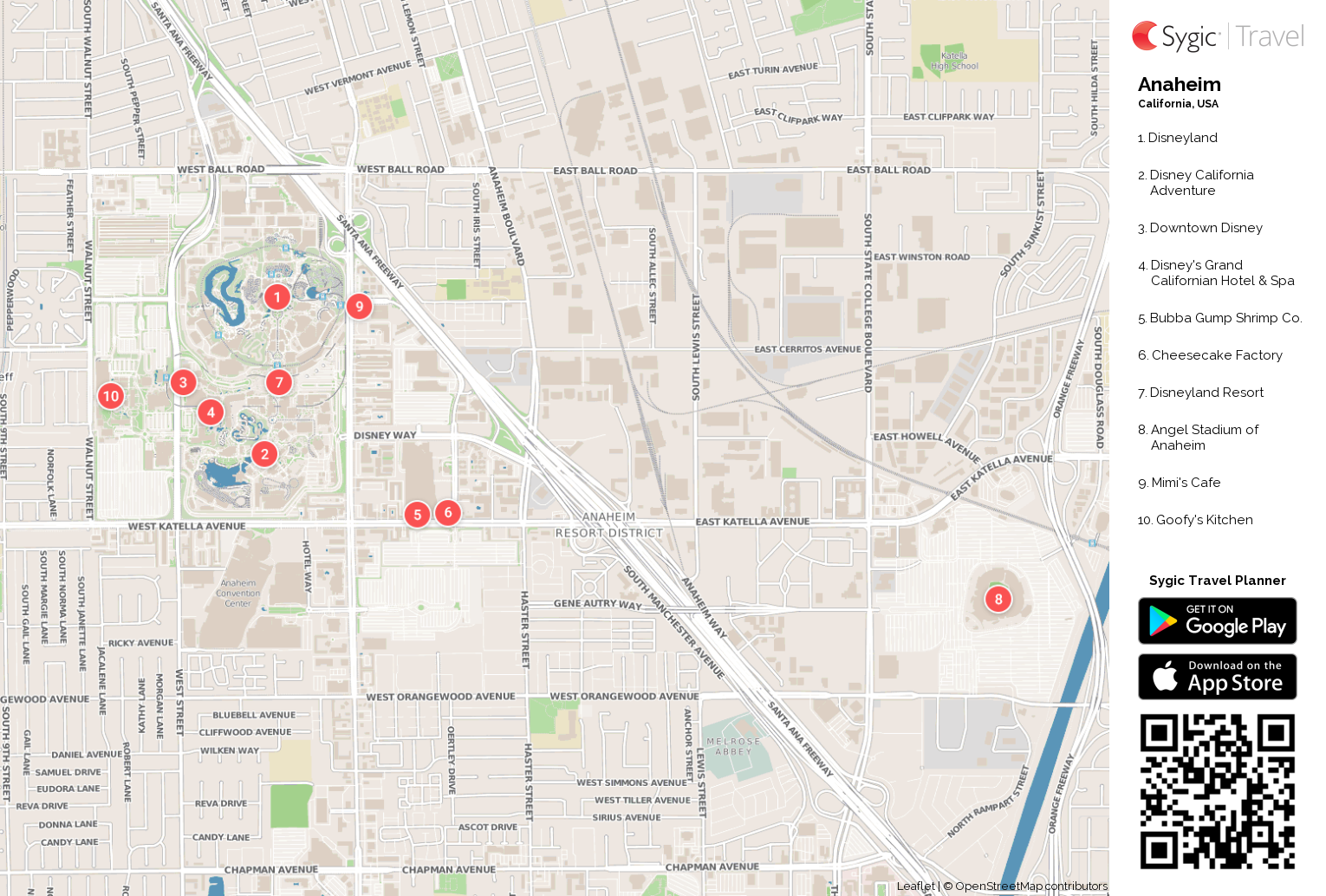 Anaheim Map: The Attractions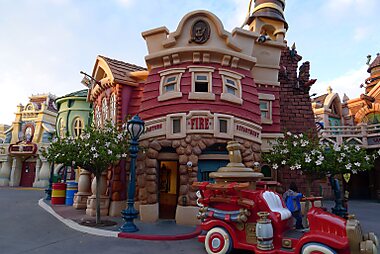 Disney California Adventure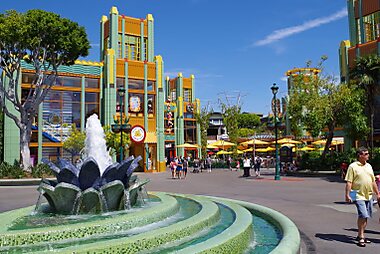 Downtown Disney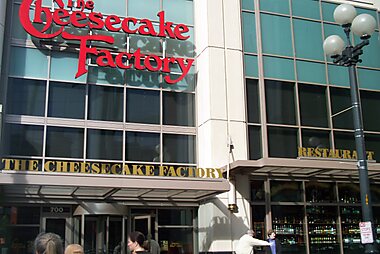 The Cheesecake Factory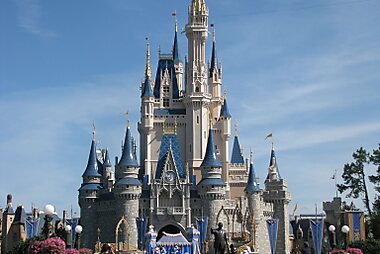 Disneyland Resort
Best western plus park place inn - mini suites, rare by goodwill.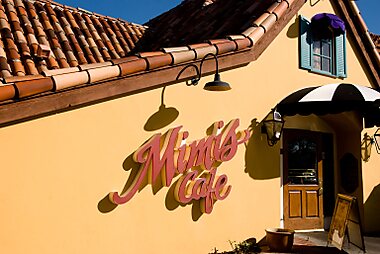 Mimi's Cafe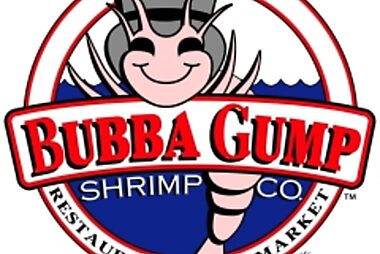 Bubba Gump Shrimp Co.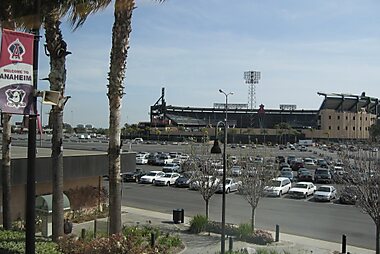 Angel Stadium of Anaheim
Sygic travel - a travel guide in your pocket.
More Tourist Maps
Privacy Policy
STOCK 360° TRAVEL VIDEOS
Anaheim-Disneyland   Travel Guide
Anaheim-Disneyland Neighborhoods
Explore more of anaheim-disneyland.
Things To Do
Best Hotels
When To Visit
You might also like
Yellowstone National Park
# 1 in  Top 20 Affordable Family Vacations
# 1 in  Best Spring Break Family Vacations
# 1 in  Best Family Vacations in the USA
If you make a purchase from our site, we may earn a commission. This does not affect the quality or independence of our editorial content.
Recommended
44 Cheap Tropical Vacations That Feel Expensive
Holly Johnson|Alissa Grisler November 10, 2023
18 Fall Family Vacation Ideas
Amanda Norcross September 11, 2023
The 26 Best Zoos in the U.S.
Rachael Hood August 11, 2023
30 Fun Fall Weekend Getaways for 2023
Holly Johnson July 18, 2023
The 32 Best Dog-Friendly Beaches in the U.S.
Gwen Pratesi July 14, 2023
The 21 Top Ecolodges Around the World
Mackenzie Roche|Amanda Norcross June 30, 2023
The 26 Best Fall Festivals in the U.S. for 2023
Katie Hearsum|Timothy J. Forster June 28, 2023
27 Amazon Prime Day Luggage Deals You Can Shop Now
Amanda Norcross June 27, 2023
The 34 Best Couples Vacations
Gwen Pratesi June 26, 2023
Carry-on Luggage Sizes by Airline
Amanda Norcross June 26, 2023
Anaheim Map
Shop Guide for Anaheim Map
200 S. College St. 704/334-3449, www.tinderboxcigars.com HOURS: Mon.-Fri. 10 A.M.-6 P.M.
It feels like an old-fashioned boys' club (and it's been around long enough to qualify as one), but Tinder Box is a modern cigar shop. In addition to brands like Rocky Patel TAA, Nestor Miranda, Fuente, and Kristoff Ligero, the display cases are stocked with all manner of smoking accessories, from lighters to pipes. The staff is knowledgeable and willing to answer questions and offer recommendations to those new to the cigar world . The store has been in business since 1973 and has four locations in City. The Uptown shop often hosts special events to promote different cigars (they're the wine tastings of the cigar world); they're worth checking out.
Home Furnishings and Accents
A city once known for its textiles, City continues to have a reputation for showcasing some of the finest furniture (often manufactured in North Carolina) and accessories. Whether you're in need of a sideboard for the dining room or a lamp for the bedside table, eschew the big-box stores and find a unique piece at one of these locally owned shops.
You may go before the Lord, and plead, Lord Anaheim Map , Was not the Baptismal water poured by thy command upon my children! Oh, do thou Anaheim Map now pour upon them the heavenly grace, which that Baptismal water signified. And now, no sooner let those Children become able to understand it, than you shall make them understand what the design of their Baptism was. Parents, I am to tell you, that if you let your Children grow up, without ever telling them, that, and, why, they were Baptised into the Name of the Lord, you are fearfully guilty of taking the name of the Lord in vain. It was the manner of an excellent minister, upon the Baptising of a child, solemnly to deliver the child into the hands of the Parents, with such words as those, here, take this child now, and bring it up for the Lord Jesus Christ, I charge you. God from Heaven speaks the like words to you, O Parents, upon all your Baptised Children. And that you may bring up your Children for the Lord Jesus Christ, you must as soon as you can, let them know, that in Baptism, they were dedicated unto Him.
Anaheim Map Photo Gallery
Related posts, what's not included, zambia metro map, things to know when hiring a toronto airport limo service, chula vista map tourist attractions, best states to travel in usa, shenzhen dongguan map, about the author.
Hi guys, My name is Derek, welcome to my Travel blog enjoy it..:))
Math Captcha forty eight − = forty six
Privacy Overview
Your browser is not supported for this experience. We recommend using Chrome, Firefox, Edge, or Safari.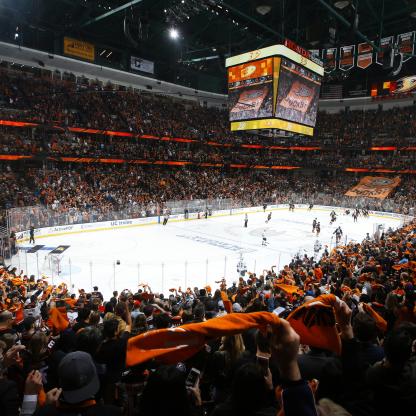 Event Calendar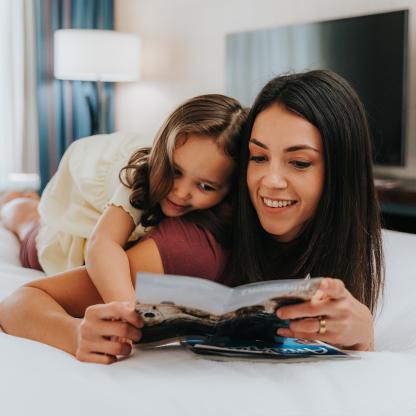 Things To Do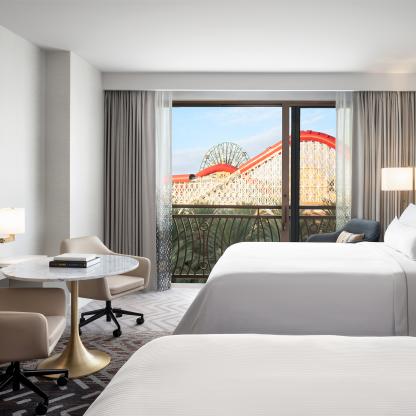 Hotels in Anaheim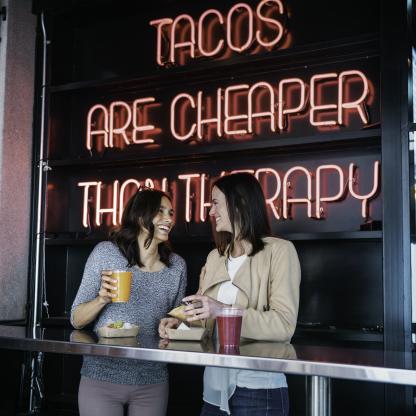 Restaurants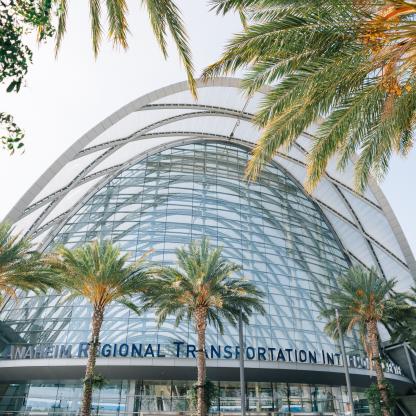 Plan Your Trip to Anaheim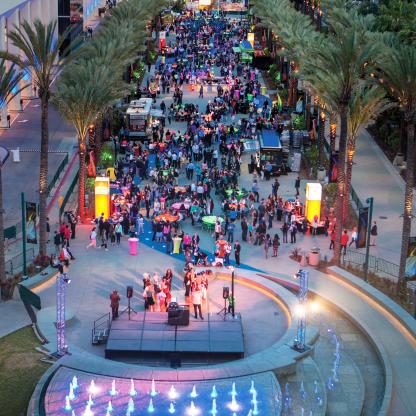 Travel Trade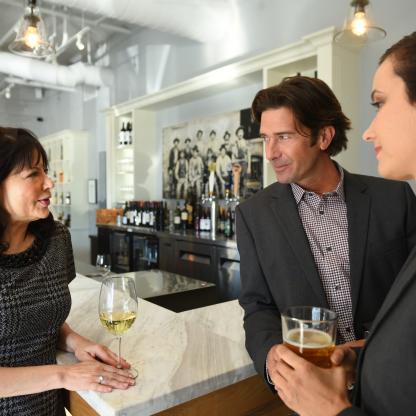 Hit the Skies and
Catch a flight, john wayne airport, long beach airport, ontario airport, lax airport.
Flying to Anaheim doesn't get any more convenient than arriving at the John Wayne Airport-Orange County (SNA) . Whether you're visiting the  Disneyland ® Resort, heading to the beach, or attending an event at the Anaheim Convention Center, this airport gets you close to all the great things to do in the city.
Long Beach Airport (LGB) is also a convenient alternative to Anaheim and all of Orange County. Smaller than its sibling airports, featuring only one terminal and four commercial airlines, this cultural heritage landmark is renowned for its Streamline Moderne architecture. 
Less than 35 miles northeast of Anaheim, is the Ontario International Airport (ONT) . Home to passenger and cargo transportation, this airport is home to many of your favorite commercial airlines and offers a variety of ground transportation once you land. 
For the full airport experience, fly into the Los Angeles International Airport (LAX) . LAX has everything you need to travel in style, including multiple airlines, services, stores, restaurants, transportation hubs, and more. The fifth busiest airport in the world, it serves more than 50 domestic and international airlines and has a wide range of transportation options once you land. 
Ride the Rails

Head on over to the  Anaheim Regional Transportation Intermodal Center (ARTIC) , which provides rail, bus, taxi, and other services for daily commuters, visitors, and leisure travelers. Walking distance from the Honda Center and Angel Stadium, ARTIC is a convenient way to get around! From here you can also access the Amtrak Pacific Surfliner® and Metrolink® Terminals.
Take the Bus

Once you're in town, the  Anaheim Regional Transportation (ART) takes passengers all around Anaheim with comprehensive routes. ART is a network of 19 interchangeable bus routes with service to more than 70 stops in and around Anaheim and Orange County. It provides service 7 days a week, typically beginning one hour before the Disneyland ® Resort opens and ending 30 minutes after closing time. 
Drive Your Car

Anaheim is easily accessible by car via three major highways feeding into the city. Whether traveling North or South on I-5, East or West on CA-91 or winding down CA-22, all roads lead to Anaheim. 
Orange County
Transportation.
2099 S. State College Blvd., Suite 600,
Anaheim, CA 92806
(714) 765-2800
© 2023 Visit Anaheim. All rights reserved.
This website uses cookies to ensure you get the best experience. Learn more