St. Louis Wheel now open at historic Union Station
On Sept. 30, 2019, a new attraction opened in downtown St. Louis, Mo. – the St. Louis Wheel, a 200-foot tall observation wheel located at the historic Union Station.
By Tom Varner
Sitting on the southwest corner of the former train station complex, the Wheel is the biggest attraction in downtown St. Louis since the Gateway Arch. The Wheel offers a new perspective on St. Louis, offering riders a view spanning 20 miles in every direction.
The Wheel has 42 climate-controlled gondolas that provide riders with a constant comfortable temperature of 72 degrees Fahrenheit. It makes one full rotation every two minutes, 30 rotations an hour, and each ride experience lasts about 15 minutes. One of the gondolas is specially designed for VIPs, with leather seats and a glass floor on the inside, as well as a free souvenir photo.
There are over 1.6 million LED lights on the Wheel, which can generate over 16 million different colors and patterns. For a fee, the wheel can be lighted up in wedding colors, school colors, or in blue or pink for the ultimate baby gender reveal. The Wheel also offers special bookings for Scout trips, school tours, corporate outings, and birthday parties.
The total weight of the attraction, including the base, is over 640,000 pounds. That's more than the weight of two full-grown blue whales.
Although it's the newest and hottest attraction in St. Louis, the Wheel connects deeply to St. Louis history, starting with Union Station itself.
Named a National Historic Landmark in 1970, St. Louis Union Station was designed by architect Theodore Link and opened in 1894. In its heyday, Union Station greeted more than 100,000 travelers per day and had 22 different railroad companies moving in and out of its terminals. It was the largest and busiest train station in the world when it opened and remained the busiest train station in the U.S. until the 1920s.
Located near the center of the country and with the busiest train station in the world, it was only fitting that St. Louis was chosen as the site of both the 1904 World's Fair and Summer Olympics.
One of the most iconic and loved attractions at the 1904 World's Fair was the original Ferris Wheel. That wheel originally made its debut at the 1893 World's Fair in Chicago and was a massive success. It was then dismantled and reopened in 1895 as an amusement attraction near Lincoln Park in Chicago. In 1903, the Ferris Wheel was dismantled again and transported to St. Louis for the 1904 World's Fair.
As it had been the case over a decade before in Chicago, the Ferris Wheel was one of the most popular attractions at the St. Louis Fair. It was 264 feet tall and had 36 wooden cars, with each car being large enough to carry 60 people. The 1904 World's Fair Ferris Wheel was more than 120 feet taller than that, and would have been a giant on the St. Louis skyline.
At least 80 people were married inside of the cars during the time of the Fair. A ride lasted two revolutions and cost 50 cents. The 1904 Ferris Wheel was eventually demolished with dynamite in 1906 although there's an urban legend that parts of the wheel remain buried somewhere in Forest Park.
The new St. Louis Wheel pays homage to the 1904 Ferris Wheel and is a part of a multi-year $187 million dollar renovation and revitalization of Union Station. In addition to the Wheel, guests can enjoy rides on a 36-foot wide carousel, play a round on an 18-hole miniature golf course, or watch a fire and light show that plays daily. Guests to the Wheel can stay at the St. Louis Union Station Hotel, a AAA Four-Diamond Hotel that is part of the Curio Collection by Hilton.
In December, the Wheel will be joined by the St. Louis Aquarium. The 120,000-square-foot, two-story aquarium will be the home to more than 13,000 animals including sharks, rays, piranhas, and sea otters. The aquarium will be a highly interactive attraction that will allow visitors to learn about and explore the oceans, rivers, and lakes of the world and leave with their hands wet.
The St. Louis Wheel is operated by ICON Attractions and has a twin wheel, The Capital Wheel, at National Harbor near Washington, D.C.
For more information about the St. Louis Wheel, or to purchase tickets, visit www.TheStLouisWheel.com .
Leave a Reply Cancel reply
Your email address will not be published. Required fields are marked *
Get the latest news direct to your inbox. Simply submit your email address below.
Thanks, but I'm not interested
Itineraries
Places to Stay
Art & History
Food & Drink
Lectures & Presentations
Music & Performance
Seasonal & Holiday
Sports & Recreation
Agritourism
Attractions & Tours
Entertainment & Nightlife
St. Louis Wheel
Report this image.
If there is a copyright/decency issue with this image and you wish to report it, please complete the form below and a representative will review your case.
" * " indicates required fields
This site is protected by reCAPTCHA and the Google Privacy Policy and Terms of Service apply.
See the St. Louis skyline from the best seat in the city – a fully enclosed, climate-controlled gondola that lifts guests 200 feet above the street. You can enjoy the sights 365 days a year. Come visit The Wheel at St. Louis Union Station!
Information
Additional information.
Saint Louis Tourism
Saint Louis Hotels
Saint Louis Bed and Breakfast
Saint Louis Vacation Rentals
Flights to Saint Louis
Saint Louis Restaurants
Things to Do in Saint Louis
Saint Louis Travel Forum
Saint Louis Photos
Saint Louis Map
All Saint Louis Hotels
Saint Louis Hotel Deals
Last Minute Hotels in Saint Louis
Saint Louis Motels
Saint Louis Hostels
Saint Louis Business Hotels
Saint Louis Family Hotels
Saint Louis Green Hotels
Romantic Hotels in Saint Louis
Saint Louis Luxury Hotels
Saint Louis Casinos
Saint Louis Spa Resorts
Saint Louis Beach Hotels
5-stars Hotels in Saint Louis
4-stars Hotels in Saint Louis
3-stars Hotels in Saint Louis
Days Inns in Saint Louis
Hampton by Hilton Hotels in Saint Louis
Holiday Inns Express in Saint Louis
La Quinta Inns & Suites in Saint Louis
Sheraton Hotels in Saint Louis
Extended Stay America Hotels in Saint Louis
Best Western Plus Hotels in Saint Louis
Sonesta Hotels And Resorts in Saint Louis
Super 8 Hotels in Saint Louis
Fairfield Hotels in Saint Louis
SpringHill Suites in Saint Louis
Comfort Inns in Saint Louis
Saint Louis Hotels with Pools
Pet Friendly Hotels in Saint Louis
Saint Louis Hotels with Free Parking
Downtown Saint Louis Hotels
Central West End Hotels
Forest Park Hotels
Grand Center / Midtown Hotels
The Hill Hotels
Honeymoon Hotels in Saint Louis
Saint Louis Hotels With Indoor Pools
Saint Louis Hotels with Hot Tubs
Suite Hotels in Saint Louis
Saint Louis Hotels with Smoking Rooms
Hotels with Shuttle in Saint Louis
Saint Louis Modern Hotels
Wedding Hotels in Saint Louis
Saint Louis Hotels with Kitchenette
Themed Hotels in Saint Louis
Hotels near The Gateway Arch
Hotels near St. Louis Zoo
Hotels near City Museum
Hotels near Busch Stadium
Hotels near Missouri Botanical Garden
Hotels near Cathedral Basilica of Saint Louis
Hotels near Forest Park
Hotels near Grant's Farm
Hotels near Saint Louis Science Center
Hotels near Saint Louis Art Museum
Hotels near The Magic House
Hotels near Old Courthouse
Hotels near Missouri History Museum
Hotels near City Garden
Hotels near (STL) Lambert-St. Louis Intl Airport
Hotels near (BLV) Scott Air Force Base
Lombok Senggigi Hotel
Wyndham Alltra Cancun
Moon Palace Cancun
Secrets Akumal Riviera Maya
Hotel Riu Palace Punta Cana
Royalton Riviera Cancun
Ibludan Hotel
Hilton Hawaiian Village Waikiki Beach Resort
Finest Punta Cana By The Excellence Collection All Inclusive
Hyatt Ziva Cancun
Hyatt Ziva Cap Cana
Secrets The Vine Cancun
Earthly Paradise Bird Nest Resort
Beaches Turks & Caicos
Secrets Royal Beach Punta Cana
Popular All-Inclusive Resorts
Popular Beach Resorts
Popular Family Resorts
Popular All-Inclusive Hotels
Popular Hotels With Waterparks
Popular Honeymoon Resorts
Popular Luxury Resorts
Popular All-Inclusive Family Resorts
Popular Golf Resorts
Popular Spa Resorts
Popular Cheap Resorts
All things to do in Saint Louis
Things to do near Washington University in St. Louis
Things to do near Maryville University
Things to do near Saint Louis University
Things to do near St. Louis Aquarium at Union Station
Things to do near St. Louis Union Station
Things to do near Polar Express
Missouri Botanical Garden
St. Louis Zoo
City Museum
The Gateway Arch
Cathedral Basilica of Saint Louis
Grant's Farm
Saint Louis Art Museum
Busch Stadium
Forest Park
The Magic House
Saint Louis Science Center
Lone Elk Park
Missouri History Museum
The National Museum of Transportation
Old Courthouse
Bars & Clubs in Saint Louis
Blues Clubs & Bars in Saint Louis
Cigar Bars in Saint Louis
Country & Western Bars in Saint Louis
Gay Clubs & Bars in Saint Louis
Jazz Clubs & Bars in Saint Louis
Karaoke Bars in Saint Louis
Piano Bars in Saint Louis
Comedy Clubs in Saint Louis
Dance Clubs & Discos in Saint Louis
Coffeehouses in Saint Louis
Wine Bars in Saint Louis
Bar, Club & Pub Tours in Saint Louis
Architectural Buildings in Saint Louis
Bridges in Saint Louis
Cemeteries in Saint Louis
Civic Centers in Saint Louis
Sacred & Religious Sites in Saint Louis
Historic Sites in Saint Louis
Historic Walking Areas in Saint Louis
Monuments & Statues in Saint Louis
Neighborhoods in Saint Louis
Observation Decks & Towers in Saint Louis
Scenic Walking Areas in Saint Louis
Farms in Saint Louis
Points of Interest & Landmarks in Saint Louis
Churches & Cathedrals in Saint Louis
Universities & Schools in Saint Louis
Art Galleries in Saint Louis
Antique Stores in Saint Louis
Factory Outlets in Saint Louis
Flea & Street Markets in Saint Louis
Shopping Malls in Saint Louis
Gift & Specialty Shops in Saint Louis
Farmers Markets in Saint Louis
Playgrounds in Saint Louis
Movie Theaters in Saint Louis
Casinos in Saint Louis
Game & Entertainment Centers in Saint Louis
Bowling Alleys in Saint Louis
Sports Complexes in Saint Louis
Room Escape Games in Saint Louis
Scavenger Hunts in Saint Louis
Shooting Ranges in Saint Louis
Wedding Chapels in Saint Louis
Mini Golf in Saint Louis
Paint & Pottery Studios in Saint Louis
Sightseeing Tours in Saint Louis
Factory Tours in Saint Louis
Boat Tours in Saint Louis
Segway Tours in Saint Louis
Water Sports in Saint Louis
Bike Tours in Saint Louis
Eco Tours in Saint Louis
Hiking & Camping Tours in Saint Louis
Running Tours in Saint Louis
Ghost & Vampire Tours in Saint Louis
Zipline & Aerial Adventure Parks in Saint Louis
Distillery Tours in Saint Louis
Day Trips in Saint Louis
Multi-day Tours in Saint Louis
Art Museums in Saint Louis
Children's Museums in Saint Louis
History Museums in Saint Louis
Military Museums in Saint Louis
Science Museums in Saint Louis
Observatories & Planetariums in Saint Louis
Specialty Museums in Saint Louis
Forests in Saint Louis
Gardens in Saint Louis
National Parks in Saint Louis
Nature & Wildlife Areas in Saint Louis
Parks in Saint Louis
Biking Trails in Saint Louis
Hiking Trails in Saint Louis
Aquariums in Saint Louis
Zoos in Saint Louis
Bodies of Water in Saint Louis
Performances in Saint Louis
Concerts in Saint Louis
Symphonies in Saint Louis
Theaters in Saint Louis
Dinner Theaters in Saint Louis
Breweries in Saint Louis
Distilleries in Saint Louis
Beer Tastings & Tours in Saint Louis
Cooking Classes in Saint Louis
Food Tours in Saint Louis
Wine Tours & Tastings in Saint Louis
Golf Courses in Saint Louis
Sports Camps & Clinics in Saint Louis
Gear Rentals in Saint Louis
Adrenaline & Extreme Tours in Saint Louis
Fishing Charters & Tours in Saint Louis
Spas in Saint Louis
Health/Fitness Clubs & Gyms in Saint Louis
Yoga & Pilates in Saint Louis
Lessons & Workshops in Saint Louis
Tramways in Saint Louis
Mass Transportation Systems in Saint Louis
Taxis & Shuttles in Saint Louis
Bus Transportation in Saint Louis
Kayaking & Canoeing in Saint Louis
Parasailing & Paragliding in Saint Louis
Things to do near St. Louis Union Station Hotel, Curio Collection by Hilton
Things to do near Pear Tree Inn St. Louis Near Union Station
Things to do near Fairfield Inn & Suites by Marriott St. Louis Downtown
Things to do near The Westin St. Louis
Things to do near 21c Museum Hotel St. Louis
Things to do near OYO Hotel St. Louis Downtown City Center MO
Bio Bay Kayak Tour in Puerto Rico
RuPaul's Drag Race LIVE! at the Flamingo Las Vegas
XXXX Brewery Tour
Museum of the Future Ticket in Dubai
El Yunque Natural Waterslide and Rainforest Hike with Transport
New York CityPASS
SUMMIT One Vanderbilt Experience Ticket
Grand Bahama Round-Trip Ferry Ride from Fort Lauderdale
Bahamas Ferry Day Trip from Miami
Global Village
Universal Studios Japan
World's Largest Entertainment McDonald's & PlayPlace
Hollywood Beach Broadwalk
Queen's Bath
The Pink Street
Full House House
Blue Lagoon Island
Cape Fear Serpentarium
GreenLeaders
Saint Louis
Things to Do
Restaurants
Vacation Rentals
Travel Stories
Rental Cars
Add a Place
Travel Forum
Travelers' Choice
Help Center
THE 10 BEST Things to Do Near The St. Louis Wheel, Saint Louis, MO
United States
Missouri (MO)
Saint Louis
Things to Do in Saint Louis
Things to do near The St. Louis Wheel
Things to Do near The St. Louis Wheel
Trusted reviews and ratings, free 24-hour cancellation, low-price guarantee.
St. Louis Narrated Trolley Tour
Lemp Haunted Neighborhood Walking Tour
Best of St. Louis Small Group Tour w/St Louis Arch & River Cruise
Private Gastronomy Barbecue Tour in St. Louis
STL Royal Limousine & Black Car Service. STL Airport Dropped off
(0.21 mi) Maggie O'Brien's
(0.86 mi) Ballpark Village
(0.67 mi) The Thaxton & Speakeasy
(0.53 mi) Alpha Brewing Co
(0.59 mi) Hair of the Dog
Bars & Clubs
Gift & Specialty Shops
Specialty Museums
Historic Sites
Discover over 1,000 restaurants near The St. Louis Wheel
Discover over 1,000 hotels near The St. Louis Wheel
Protect Your Trip »
The 10 best mississippi river cruises for 2024.
Explore the history, culture and cuisine of the U.S. while cruising along the Mighty Mississippi.
The Best Mississippi River Cruises
Enjoy jazzy music, delicious cuisine, historic tours and more on your next Mississippi River cruise. (Courtesy of American Queen Voyages)
The more than 2,300-mile Mississippi River invites travelers to discover its multifaceted heritage, with a vast range of deeply rooted culture, music and history. A cruise is a fantastic way to discover many of the riverfront cities on a single trip, from the comfort of your modern riverboat or traditional paddle-wheeler.
The following Mississippi River cruise itineraries can help you choose from cruises of various lengths and options for the Lower and Upper Mississippi. Note that all fares are listed as double occupancy (based on two people per cabin), and that they might not reflect taxes, port fees or gratuities. The itinerary availability listed is also subject to change.
American Cruise Lines
(Courtesy of American Cruise Lines / www.AmericanCruiseLines.com)
American Cruise Lines operates small ships accommodating between 90 and 180 passengers that are built, flagged and crewed in the U.S. – and it's the only company in the world operating a 100% U.S.-flagged fleet of riverboats and cruise ships. ACL's itineraries traverse waterways across 35 states, with 11 itineraries dedicated to the Mississippi River. Cruisers can choose to sail on modern riverboats with a sleek interior design or while away their time aboard classic paddle-wheelers reminiscent of days gone by.
ACL offers variety as well as versatility: This line boasts both the longest and shortest sailings on this list with cruises ranging from eight to 60 days in length, including The Great United States. This inaugural 60-day voyage spans four major rivers and 20 states, making it the longest U.S. river cruise in history.
Complimentary hotel and transportation packages are available from every departure city before your cruise. You can book certain premium packages for added perks, such as two nights spent next door to Graceland in Memphis – with VIP tickets and a city tour included in the price.
Music Cities Cruise
Length: Eight days Price: Starts at $3,610 per person
Spend a week getting lost in the sounds of the Memphis blues, rock 'n' roll and country music legends on the seven-night Music Cities Cruise. A hotel stay the night before your sailing is included, but embarking in Memphis means you also have the chance to splurge on a two-night pre-cruise package near Elvis' former home Graceland .
Ports of call include Paducah, Kentucky; Dover, Tennessee; and Clarksville, Tennessee, with an overnight in Nashville and an included excursion to a show at the Grand Ole Opry. Two scenic sailing days feature picturesque views of America's Heartland along the Mississippi, Ohio and Cumberland rivers as well as Lake Barkley.
2024 dates: In 2024, there are two available itineraries in September and November.
Grand Heartland Cruise: St. Paul to New Orleans
Length: 15 days Price: Starts at $9,455 per person
This 15-day voyage allows you to explore America's rich history in towns along the Upper and Lower Mississippi River. The immersive voyage covers six states and 12 cities including St. Paul, Minnesota ; Dubuque, Iowa; St. Louis, Missouri ; Memphis, Tennessee; Natchez, Mississippi; Baton Rouge, Louisiana ; and more.
Take a step back in time while visiting Mark Twain's boyhood home in Hannibal, exploring stately historic estates in Natchez and Civil War sites in Vicksburg. At the end of a busy day ashore, you'll have plenty to chat about with fellow passengers during the evening cocktail hour.
2024 dates: American Heritage – ACL's traditional paddle-wheeler – and three modern riverboats set off on this journey from August to October in 2024.
Complete Mississippi River Cruise: New Orleans to St. Paul
Length: 22 days Price: Starts at $14,935 per person
If you want to see the entire Mississippi in one shot, check out this multiweek sailing that begins in New Orleans and ends in St. Paul, Minnesota. Along the way, you'll sail 1,393 miles, visit 10 states and experience a staggering 20 ports of call as you tour Louisiana and then head northbound to Minnesota.
In the South, walk the battlefields of the Civil War and sample delicious Southern barbecue before listening to the rhythms of jazz, the blues and rock 'n' roll. Then, explore the small and larger cities along the upper parts of the river. Remember to take time to gaze out at the picturesque scenery and the rolling farmlands of America's Midwest before disembarking in St. Paul.
2024 dates: Three of ACL's modern riverboats sail this itinerary in May, June and August in 2024.
The Great United States
Length: 60 days Price: Starts at $51,000
This two-month long journey – the longest domestic itinerary ever created – will check all the boxes for U.S. history and Civil War buffs, music and nature lovers, culinary enthusiasts, and beer and distilled spirits aficionados alike as the ship traverses America's iconic waterways through 20 states and 50 ports of call.
This epic journey showcases the natural beauty and living history of the U.S. from sea to shining sea. The sailing embarks in Portland, Oregon , on the Pacific Coast before traveling east to the Atlantic shore along four major rivers that highlight some of the country's most stunning coastlines. Upon arrival in New York Harbor, guests will have an unforgettable view of one of the most iconic landmarks in the U.S.: the Statue of Liberty .
Passengers can follow in the footsteps of Lewis and Clark along the Snake and Columbia rivers; cruise along Ol' Man River in search of Mark Twain and Elvis; see the vibrant colors of fall during peak season on the Hudson River; and take in the coastal breezes (and fresh seafood) along New England's rocky coastline.
This curated adventure also includes two flights: Jackson, Wyoming , to New Orleans as well as St. Paul to Portland, Maine , plus a land package through Glacier , Yellowstone and Grand Teton national parks. All-inclusive pricing covers the pre-cruise hotel stay, all flights and hotels between cruise segments, an ACL jacket and gear pack, daily excursions, all meals and beverages, gratuities and port charges, entertainment, and Wi-Fi.
2024 dates: The inaugural cruise sets sail on August 16, 2024.
Tips on Trips and Expert Picks
Travel tips, vacation ideas and more to make your next vacation stellar.
American Queen Voyages
(Courtesy of American Queen Voyages)
American Queen Voyages – formerly the American Queen Steamboat Company, in a nod to its acclaimed riverboat roots – has expanded to lake, ocean and expedition voyages, in addition to the line's river cruises. AQV Mississippi River sailings include a pre-cruise hotel stay with transportation to your ship, as well as included shore tours.
These all-inclusive cruises also boast open bars, multiple dining venues, live onboard entertainment, complimentary bikes and more. The cruise line owns four paddle-wheelers to traverse rivers, including the American Countess, unveiled in 2020, and its flagship American Queen, the largest steamboat ever constructed.
Nashville to St. Louis cruise
Length: Nine days Price: Starts at $4,019 per person
Set sail from Clarksville, Tennessee – a charming city about 50 miles from Nashville – bound for a more than weeklong Mississippi River adventure. The sailing disembarks in the small town of Alton, Illinois, around 25 miles from St. Louis, Missouri. (Riverboat docking locations are sometimes in the closest town to a more touristed city.)
An included hotel stay kicks off your cruise, and then you'll board American Countess, a classic 245-passenger paddle-wheeler, with daily calls on towns in Tennessee, Kentucky, Illinois and Missouri. During the cruise, guests will explore the area's culture, nature and history, including sites significant to Native Americans and the Civil War.
2024 dates: There's one sailing on American Countess in August 2024, as well as a June 2024 cruise on American Queen.
St. Louis to Minneapolis cruise
Length: Nine days Price: Starts at $4,069 per person
The Upper Mississippi is Mark Twain territory, so you might have to succumb to a recited passage or two. The line's traditional paddle-wheelers are on hand to glide you through this hallowed territory, from Alton, Missouri, to Red Wing, Minnesota (docked a little more than 50 miles from Minneapolis).
This cruise stops in small towns like Hannibal, Missouri – featured frequently in Mark Twain's writings since it's his hometown – and Bettendorf, Iowa, for a hop-on, hop-off tour. You can also opt for a premium excursion to learn about family-run farms and industrial-level farm operations, beginning with a stop at the John Deere Pavilion in Moline, Illinois. Meanwhile, in Wisconsin, the picturesque town of La Crosse sits along the 3,000-mile Great River Road National Scenic Byway, regarded as one of the most scenic drives in the U.S.
2024 dates: AQV's two paddle-wheelers, American Countess and American Queen, will sail this itinerary between July and September in 2024.
Ottawa to St. Louis cruise
Length: Nine days Price: Starts at $4,259 per person
For a unique approach to a Mississippi River cruise, consider this itinerary on American Countess sailing from Ottawa, Illinois, to Alton, Missouri (near St. Louis). The voyage highlights the small towns and cities along the Illinois and Mississippi rivers in the Midwest. In contrast to the metropolitan centers, you'll also cruise past the river bluffs and lush prairies of America's Heartland.
Before embarking, and once on board the ship, there are several days to explore Ottawa, which sits at the confluence of the Fox and Illinois rivers. Located about 80 miles from downtown Chicago , the city has a vibrant cultural and culinary scene and offers outdoor adventure, including Illinois' most popular park, Starved Rock State Park. There are four other ports before disembarking the ship, including the towns of Peoria, Havana and Grafton in Illinois and Hannibal, Missouri.
2024 dates: This cruise has one scheduled sailing for July 2024 on American Countess.
Viking River Cruises
(Courtesy of Viking)
Viking is no stranger to sailing Europe's rivers; the brand is synonymous with river cruising worldwide aboard its dozens of ships. However, Viking River Cruises is a newcomer to U.S. rivers, with its purpose-built ship: the 386-passenger Viking Mississippi. Looking to carve out its own niche in the American river cruising category, Viking claims it has the region's "first truly modern cruise ship" with its distinct Scandinavian design and expansive top sun deck with an infinity plunge pool.
Viking's mostly all-inclusive fares include a complimentary excursion in each port, destination lectures and performances, beer and wine at meals, free Wi-Fi, specialty coffees and teas, and more. The line offers five itineraries ranging in length from eight to 22 days along the Mighty Mississippi. Pre- and post-cruise extensions can be added to all voyages for an additional expense.
New Orleans & Southern Charms: Round-trip from New Orleans
Length: Eight days Price: Starts at $3,999 per person
If you don't know which Viking Mississippi itinerary to choose, start here. A round-trip voyage from New Orleans is convenient for booking flights and offers an excellent opportunity to extend your stay in NOLA. Six guided tours are included across eight days, from the historic estates of Natchez to Vicksburg National Military Park. A stop in St. Francisville gives you the chance to marvel at some of the 140-plus buildings it has on the National Register of Historic Places.
If you extend your stay in New Orleans, plan to sample the local Creole cuisine and take in some of the city's nightly jazz entertainment. In the morning, grab a beignet and a steaming cup of chicory coffee au lait at the original Café du Monde in the French Market.
2024 dates: This itinerary is available on select dates in February, November and December.
Heart of the Delta: New Orleans to Memphis
Length: Nine days Price: Starts at $4,299 per person
Similar to its round-trip New Orleans Southern Charms itinerary, the Heart of the Delta cruise begins in New Orleans and calls on the same five ports, before sailing through the Lower Mississippi and disembarking in Memphis. Enjoy scenic views of the serpentine river route – perhaps with expert commentary or a local cooking demonstration – and then take time to explore the birthplace of the Memphis blues, which is also a center of civil rights history.
2024 dates: In 2024, this cruise is available in February, March, April, May, June and November.
America's Great River: St. Paul to New Orleans
Length: 15 days Price: Starts at $12,999 per person
This Viking voyage sails from St. Paul to New Orleans on a two-week trip that calls on 13 ports with one day of scenic sailing. This itinerary combines the best of Viking's other Mississippi sailings for an all-encompassing Midwestern and Southern experience with 12 guided tours.
Included in the fare is a tour of Graceland; a stroll through small-town Burlington, Iowa, to see Snake Alley, deemed the most crooked street in the world; and a visit to the National Eagle Center of Red Wing, among others. For an additional fee, hop on an airboat ride through the Atchafalaya Swamp in Baton Rouge or tour the Anheuser-Busch Brewery of St. Louis.
2024 dates: Viking has availability for this itinerary in July, September and October.
Want to cruise the Mississippi River? See the top cruises on GoToSea , a service of U.S. News.
You may have seen riverboat gambling ships or are at least familiar with riverboat gambling along U.S. waterways. However, while high rolling on the river sounds like an exciting way to spend a night (or two, or more) while on your riverboat cruise, you'll have to jump ship to play the slots, roll the dice, spin the wheel or play a hand of Texas Hold 'em. Gambling on cruise ships sailing on internal waters is prohibited by U.S. law.
Gambling on boats in the U.S. is a complicated matter. While you will find some ships sailing along American waterways that are only set up for gambling, they are not carrying passengers from port to port. Most vessels that feature riverboat gambling are now moored, offering sports betting, table games, entertainment, live music and dancing while tethered to shore.
Why Trust U.S. News Travel
Gwen Pratesi has been an avid cruiser since her early 20s. She has sailed on nearly every type of cruise ship built, including the newest megaships, paddle-wheelers on America's waterways, and an 18-stateroom river ship on the Mekong River in Vietnam and Cambodia. Most recently, she traveled on a small luxury expedition vessel in Antarctica and crossed the notorious Drake Passage twice. She covers the travel and culinary industries, specializing in cruises, for major publications including U.S. News & World Report.
You might also be interested in:
The Top River Cruise Lines
The Top All-Inclusive Cruises
Cruise Packing List Essentials
The Top Cruise Insurance Plans
Vacation Ideas for 2023
Tags: Travel , Cruises
World's Best Places To Visit
# 1 South Island, New Zealand
# 4 Bora Bora
If you make a purchase from our site, we may earn a commission. This does not affect the quality or independence of our editorial content.
You May Also Like
The best zoos in the u.s..
Nov. 16, 2023
Best Black Friday Luggage Deals
Amanda Norcross Nov. 16, 2023
Top All-Inclusive Cancun Family Resorts
Amanda Norcross Nov. 15, 2023
Adults-Only Resorts in Punta Cana
Sharael Kolberg Nov. 15, 2023
Cheap Caribbean All-Inclusive Resorts
Timothy J. Forster Nov. 15, 2023
Top All-Inclusive Resorts for Weddings
Holly Johnson Nov. 15, 2023
All-Inclusive Hawaii Resorts
The Best All-Inclusive Resorts for Teens
11 Top Affordable All-Inclusive Resorts
Nicola Wood and Timothy J. Forster Nov. 15, 2023
All-Inclusive Resorts with the Best Food
Visiting the Gateway Arch: Enter the monument through the Gateway Arch Visitor Center, which faces Fourth Street and the Old Courthouse. The Gateway Arch legs are exits only. Please allow at least 30 minutes to go through security. Tickets sell out early and often, advance reservations are strongly recommended. Pending availability, additional tickets may be available for same-day purchase beginning at 9am each day through our website, call center, and ticket center at the Gateway Arch. Same-day ticket availability is not guaranteed and sells out early and often.
Sample Itinerary
Hours & Pricing
Directions & Parking
Tram Ride to the Top
Riverboat Cruises
Virtual Reality Theater
Old Courthouse
Activities & Attractions
Tour Operators
Field Trips
Private Events
Group Pricing
Submit Photos
Experience a destination where the stories are as incredible as the views.
Bringing together art, nature, history, and adventure, the Gateway Arch is an inspiration as well as a destination. Spend a few hours or a whole day. The Gateway Arch will change your perspective, inside and out.
Tram Ride to the Top: Getting there is part of the adventure.
Gaze at over 43,000 tons of concrete and steel making an iconic, elegant arc 63 stories high into the Midwest sky. Shaped by the inspired design of Finnish-America architect Eero Saarinen, the Gateway Arch celebrates the westward expansion of the United States and the pioneers who made it possible. Since its completion in 1965, the monument has taken millions of visitors on the trip to the top to enjoy stunning views stretching up to 30 miles to the east and west.
Begin your tour with our new, interactive pre-boarding exhibits featuring 60s era animation and Gateway Arch trivia. Then, be transported 630 feet to the top of America's tallest monument.
Each tram tour has an anticipated duration of 45-60 minutes. For the best experience, purchase your Tram Ride to the Top tickets before you visit. Start planning your Gateway Arch adventure now.
Please Note: The Tram Ride to the Top of the Gateway Arch is not fully accessible for guests with mobility impairments, as no wheelchairs, scooters or strollers are permitted on the Observation Deck. To reach the top and return, you must be able to manage at least 96 steps, divided into six flights, and you may need to stand for 30­–60 minutes. No seating or restrooms are located at the top of the Arch.
Museum: See history differently.
Challenge yourself to consider different perspectives and discover previously untold stories of westward expansion at the Museum at the Gateway Arch. Our innovative, accessible and interactive museum features 200+ years of history within six themed galleries, commemorating America's pioneering spirit and acknowledging the positive and negative impacts of westward expansion.   The galleries span from 1764 to 1965 with topics covering Colonial St. Louis, Jefferson's Vision, Manifest Destiny, The Riverfront Era, New Frontiers, and Building the Gateway Arch. Admission to the museum is free.  
Learn more about the Museum Galleries.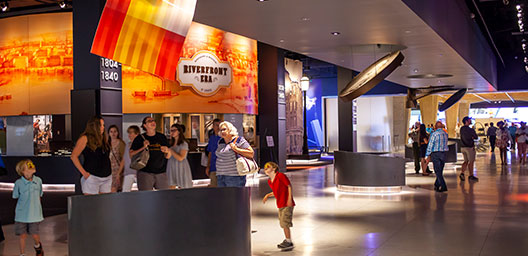 Riverboats at the Gateway Arch
Riverboats at the Gateway Arch: Cruise through time on the Mighty Mississippi.
Travel through time on a replica 19 th century paddle-wheel riverboat. Day or night, the Riverboats at the Gateway Arch offer stunning skyline views that have been voted Best in St. Louis. With a variety of sightseeing, dinner, and specialty outings to choose from, a riverboat cruise makes a unique and relaxing way to experience the Gateway Arch and downtown St. Louis.
Brought to the St. Louis riverfront in 1964, the Becky Thatcher and the Tom Sawyer were originally used to take curious sightseers out on the river to view the construction of the Gateway Arch. While the city may have changed since then, the views of the Gateway Arch are as impressive as ever.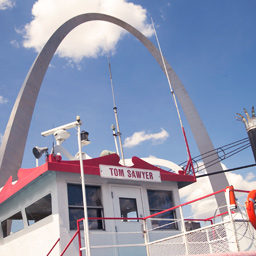 50 South Leonor K. Sullivan Boulevard, St. Louis, MO 63102
Old Courthouse: Landmark in Every Sense of the Word
Note: The Old Courthouse is temporarily unavailable
Walk the halls where ordinary Americans made civil rights history. Built in 1839, the Old Courthouse is a prime example of mid-19th century federal architecture. But it is two landmark cases that secure its place in history.
Beginning in 1847, the enslaved Dred Scott twice sued for his and his wife Harriet's freedom. But, the U.S. Supreme Court decided against them, ruling that African-Americans were not citizens and had no right to sue. In 1873, St. Louis suffragette Virginia Minor and her husband filed a civil suit arguing for women's right to vote. Although their suit was denied, they brought great attention to the fight for voting rights for all U.S. citizens.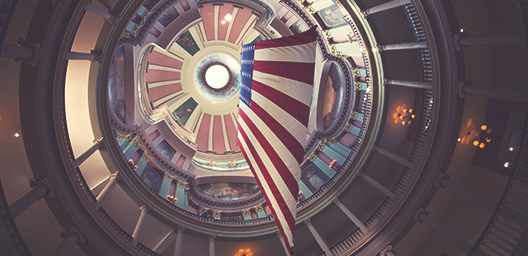 11 North 4th Street, St. Louis, MO 63102
Activities & Attractions
To get the complete Gateway Arch experience, plan time to enjoy one or all of these additional activities.

The stories behind the Gateway Arch are just as incredible as the views. Learn more about the history and meaning of this one-of-a-kind national memorial.
ATTAINABLE ADVENTURES FOR EVERY SEASON OF LIFE
20 Fun Things to Do at St. Louis Union Station
Share this post:.
I'm a sucker for a beautiful building and the St. Louis Union Station checked all the boxes for both an incredible visit and amazing stay.
Table of Contents
There are so many fun things to do at St. Louis Union Station for all ages and interests from history to entertainment throughout the entire Union Station development.
This National Historic Landmark opened in 1894, 29 years after the Civil War and became one of the busiest train stations in the world over the next few years.
The Terminal Railroad Association of St. Louis played a big role in helping make the station a safe interchanging traffic hub as the "Gateway to the West" in the United States.
Thanks again to St Louis Union Station for hosting my visit. All opinions are my own. This article contains affiliate links.
1. Admire the Architecture in the Grand Hall Lounge
There is plenty of comfortable seating in the Grand Hall Lounge that helps you appreciate the late 1800s architecture of the beautiful building even more.
You definitely need to walk throughout the space to truly appreciate all of the details including gold leaf detailing, mosaics and art glass windows.
The arches reach 65 feet at its tallest point in the room.
You can grab a drink or small bite at the long bar or at one of the tables within the Grand Hall.
The 90 ft long bar has plenty of room to seat multiple groups of guests.
2. Stand Under the Whispering Arch
Near the staircase to the Grand Hall there is a Whispering Arch that is fun for guests to try.
This immediately reminded me of the Whispering Fountains at the Cincinnati Museum Center .
Each person stands on one side of the arch, one person faces the wall and whispers and the sound travels the arch for the other person to hear.
3. Go on a Scavenger Hunt
You can learn more about the building's history in a fun interactive way on a scavenger hunt.
Ask the hotel front desk for the scavenger hunt paper that will provide you with clues to help you discover interesting details in the station hall that you might have otherwise overlooked.
I loved learning more about the this stain glass window featuring New York, St Louis and Sacramento.
Guests can also request a brochure with additional information about the building.
4. See the Model Train in the Grand Hall Market
The Grand Hall Market has a large model train display inside the 1920s themed Starbucks.
There are large viewing windows surrounding the train display to make it easy for guests of all ages to enjoy.
The architectural detail within the market is also stunning.
You can also find unique souvenirs and grab and go snacks and drinks.
5. Watch the Grand Hall Light Show at Union Station
It's hard to believe that the Grand Hall inside St. Louis Union Station could become more BEAUTIFUL but it truly is during the Grand Hall Light Show.
The 13 different light projections shows make each viewing a unique experience that's even more magical!
We were fortunate to see several different shows over the course of our stay at the hotel.
It was really nice to catch one last show before going to bed each evening.
The free shows for the general public run on the hour from 5pm-10pm daily.
I would highly recommend watching more than one because each one is so unique.
The only exception for schedule interruption is when the venue is rented for private events. You can check the Grand Hall Light Show schedule here.
6. Experience Unique Exhibits and Hands On Animal Encounters at the St. Louis Aquarium at Union Station
201 S 18th St, St. Louis, MO
The St. Louis Aquarium does a great job of creating magical experiences from the moment that you enter the aquarium.
Guests start their visit to the St. Louis Aquarium by taking a virtual train ride before exploring the aquarium exhibits.
The virtual experience is truly one of a kind with incredible special effects that make you feel like you are traveling through St. Louis and beyond.
A typical visit to the St. Louis Aquarium takes between 1-3 hours so plan accordingly.
The aquarium has 13,000 animals and 257 aquatic species native to rivers and oceans of the world.
The aquarium does allow service animals inside the aquarium in case you are visiting with a guest with special needs.
One of the wonderful things about the St. Louis Aquarium is all of the unique Animal Encounters and touch pools.
You'll also want to check the schedule for the animal ambassador stage during your visit where you can learn more about one of the animals in the aquarium.
I've visited MANY aquariums over the years and it was nice to see several one of a kind exhibits and encounters for guests that I hadn't experienced before.
My fingers were nibbled on by red garra fish also known as Doctor fish in one of their touch tanks. And no, it didn't hurt at all.
I also got to feed a turtle which was another first for me at an aquarium.
7. Take a Behind the scenes tour of the Aquarium
You can see another perspective of the aquarium that isn't open to the public during a 45 minute guided behind the scenes tour.
During the tour you'll learn more about the aquarium animals and their habitats, what they eat and how they make saltwater in the facility.
Final stop on the tour is a walk across the rope bridge that spans Shark Canyon.
8. Visit the Conservation & Education Center at St. Louis Union Station
The Conservation & Education Center has free admission and is located next to the St. Louis Aquarium.
The Center focuses on local waterways, conservation and educating guests on how plastic litter affects rivers and oceans through interactive science-based exhibits.
9. Watch the Fire and Light Show on the Lake at St. Louis Union Station
The fire and light show is one of the exciting new additions at St. Louis Union Station for guests to enjoy
The show daily is every hour on the hour, from 12pm- 9pm.
Spectators will be in awe of the fire, water and music show featuring dancing lights, a 100 foot long waterfall and flames reaching 25 feet in the air.
10. Enjoy the Views From the St. Louis Wheel at St. Louis Union Station
The Ferris wheel has climate controlled gondolas with glass windows that can seat up to 8 riders inside.
During the 15 minute ride you'll make 3-4 rotations over the St. Louis skyline up to 200 ft in the air.
I loved seeing the beautiful colors reflect on the buildings during our ride around sunset. The St. Louis Wheel is in operation every day of the year.
11. Try the Ropes Course
The indoor ropes course is a great way to challenge yourself on 30 obstacles covering 90,000 cubit feet of climbing space.
Thrill seekers will definitely want to experience the SkyRail. The 100 foot long zip lines takes guests 50 feet above the lobby of Union Station.
If you are traveling with younger guests under 48″ tall the Sky Tykes miniature course is a great option.
*All participants are required to wear closed toed shoes and guests 12 and under must be accompanied by a paid adult who is 18+.
St. Louis Union Station Mirror Maze from St. Louis Aquarium on Vimeo .
12. Explore the Mirror Maze
If you prefer to keep your feet on the ground the Mirror Maze is a nice option.
The attraction incorporates the essence of the history of one of the iconic attractions at the 1904 World's Fair reimagined within the maze.
Guests will wander the curiosities of their Fun House, be tested on their World's Fair knowledge through interactive experiences, try to find their way through a labyrinth of mirrors.
Save on Multiple Attractions at St. Louis Union Station
You can save on multiple attractions at the St. Louis Union Station with a combo ticket.
13. Dine at the Train Shed
The Train Shed is a great place to enjoy a meal that also goes with the train theme.
The restaurant has ample seating at the bar, inside and outside on the patio when weather permits.
I have a few recommendations for you starting with appetizers.
The deviled eggs are delicious and have chive and paprika with a piece of bacon on top.
I also decided that I wanted to try a few St. Louis food staples.
We started with the Toasted ravioli appetizer made with beef, parmesan and a marinara dipping sauce. Toast ravioli is just deep fried ravioli and it's wonderful!
The rumor is that the appetizer originated by accident when a ravioli fell in the fryer at an Italian restaurant in the Italian-American neighborhood of St. Louis called The Hill.
For my entree, I tried the Bbq pork steak made with Root Beer BBQ and served with potato salad and broccoli salad.
There are plenty of additional entrees on the menu including salmon served with a lemon dill yogurt.
For dessert we split the Gooey butter cake. A German baker is credited to the discovery of Gooey Butter cake in the 1930s when he mixed up the proportions of the ingredients for a coffee cake.
The dessert is dense and delicious!
14. Ride the Carousel
The carousel features horses and exotic animals.
There are animals that move up and down during the ride or guests can choose a stationary seat.
15. Play a Round on the 18- Hole Mini Golf Course
The 18-Hole mini golf course is great for all skill levels and is ADA accessible.
16. Play Structure at St. Louis Union Station
Families with younger children will definitely want to check out the playground and structure that looks like a train.
17. Enjoy a Freakshake at the St. Louis Union Soda Fountain
After all of those adventures you deserve a sweet treat!
Stop in at the Soda Fountain for an over the top milkshake, ice cream shake or float, and classic diner staples.
There is both indoor and outdoor patio seating for guests. If you sit outside you can people watch and catch a glimpse of the fire and light show while you dine.
Keep in mind that the shakes are HUGE and you'll most likely not be able to finish a whole one, especially if you eat dinner before.
18. Enjoy a Great Stay in Downtown St. Louis at the St. Louis Union Station Hotel
You can enhance your stay even more by sleeping at St. Louis Union Station Hotel, Curio Collection by Hilton. Many of the properties for the Curio Collection are unique historic hotels.
The guest room renovations of the historic hotel honor the history of the building paying tribute to rail with modern comforts.
As an added bonus you can walk from your hotel room to all of the attractions at St. Louis Union Station listed above. You can even use your hotel key to open the gate inside the building to access the attractions on the other side.
The hotel has received a 4 out of 5 overall score from reviews on TripAdvisor.
Amenities at the St. Louis Union Station Hotel
Amenities at St. Louis Union Station hotel include a fitness center, room service, swimming pool, free wifi and award winning service
Make sure that you check out the vintage neon signs inside the fitness center.
There is a pool for hotel guests to enjoy at St. Louis Union Station Hotel. It took me a little while to find it because it's tucked away between two buildings that were a different section of hotel.
Is the St. Louis Union Station Hotel Pet Friendly?
All of the rooms are pet friendly.
There are additional charges of $50 per stay if you choose to bring up to two pets weighing up to 80 pounds.
Tour of Room in St. Louis Union Station Hotel
I stayed in the Clock Tower in the Grand Hall East Wing section of the hotel. There are different sections to choose from based on your hotel room needs and preferences.
My King Studio room was very spacious and stylish.
The bathroom for my room was very large with plenty of counter space.
I loved that I could see a view of the Gateway Arch from the window of my room.
The hotel rooms in our section of the hotel were in the former ticket agent offices and paid tribute to building's unique railroad history.
The door to my hotel room named a specific agent who previously worked in the building.
It was also nice to take a closer look at the vintage photos of the train station in the height of it's popularity as a train station displayed above my bed.
Make sure that you check out the original glass floor at the previous terminal entrance for the Grand Hall section of the hotel too.
Save on booking your stay at the St. Louis Union Station Hotel here.
19. Dine at Station Grille Union Station Hotel
If you want a fine dining experience, Station Grille inside the Union Station Hotel is a nice option. The restaurant was formerly the space of a restaurant by Fred Harvey during the height of train travel.
He made the dining experience efficient for train passengers by taking their order while they were still on board the train.
When passengers arrived at the restaurant their meal was ready. His former restaurant was also the inspiration for the movie " Harvey Girls " with Judy Garland.
Private Events at St. Louis Union Station
There are several spaces in St. Louis Union Station that can rented for private events, meetings and weddings including rail cars.
The air conditioned rail cars are definitely a unique option for a special occasion or gathering.
20. Attend a Special Event at St. Louis Union Station
There are several special events throughout the year at the St. Louis Union Station geared toward adults and kids. During our visit, there were additional vendors in front of the ferris wheel on a Friday night.
If you visit during the holiday season, younger kids will love the St. Louis Polar Express train ride.
Where is St. Louis Union Station Located?
St. Louis Station is located at 1820 Market Street, St. Louis, Missouri.
The hotel is located less than 20 minutes from the St. Louis International Airport and a 5 minute drive to Busch Stadium 1.1 miles away.
Where to Park for St. Louis Union Station
You have a few options when it comes to parking at St. Louis Union Station . There is valet parking available in front of the hotel entrance.
If you prefer to be closer to the ferris wheel, park by entering the lot from Market Street from 18th or 20th Street.
Learn More About Historic Union Station
Check out St. Louis Union Station website for additional information.
Ready for Even More Unique Things to Do in St. Louis?
Check out my article on Fun and Unique Things to Do in St. Louis for additional ideas/
Enjoy Scenic Cincinnati on a Classy Venture Boat Cruise
Hidden gems and unique things to do in shepherdstown, wv, leave a comment.
Holiday Lights
St. Louis Fun Tours
St. Louis Wedding Trolleys
Get acquainted with the popular sights and local favorites that St. Louis has to offer during our fully narrated 75 minute tour.
Tour highlights.
St. Louis Union Station Forest Park (Zoo, Science Center, Museums, etc) St. Louis Universities The U-City Loop (Blueberry Hill/St. Louis walk of fame) The Cathedral Basilica Downtown St. Louis The Edward Jones Dome
Pickup Locations & Times
Pickup location.
Trolley departs and returns to the entrance of Lumiere Place Casino in downtown St. Louis along the riverfront. Make sure to look for the "St. Louis Fun Trolley Tour" Signs!
Tickets can also be purchased in the Lumiere Gift Shop.
1-314-241-1400
Ticket Prices
Handicapped accessible trolleys are also available. Please give us a 24 hour notice that you will require a handicapped trolley so we may accommodate you accordingly
Best Trolley Equipment Around
Meet our trolleys.
© 2020 St. Louis Trolley, All Rights Reserved
Meetings & Conventions
Groups & Reunions
America's Center
Visitors Guide
Central West End
Cherokee Antique Row
Cherokee Street
Chesterfield
The Delmar Loop
Downtown St. Louis
Forest Park
Grand Center Arts District
Laclede's Landing
Lafayette Square
Maryland Heights
North County
South Grand
Webster Groves
Architecture
Art Appreciation
Beer, Wine & Spirits
Black Culture
Celebrities
Emblematic Eats
Hispanic Culture
Historic St. Louis
LGBTQIA+ Community
Military History
Outdoorsy Fun
Pet Paradise
Sounds of St. Louis
Traveling Teens
Guided Tours
Cahokia Mounds
French Colonial Territory
Great River Road
Mark Twain's Hannibal
Kimmswick & Bonne Terre Mine
Missouri Wine Country
Historic Saint Charles
Springfield, Illinois
Underground Wonders
Get Around St. Louis
Transportation
Differently Abled Assistance
International Travelers
Visitor Services
Events Calendar
Signature Events
25 Things To Do in St. Louis
Iconic St. Louis
Live Music & Concerts
Entertainment Districts
Bars & Clubs
Casinos & Gaming
Theater & Performing Arts
Museums & Galleries
Sports Teams
Sports Bars
Shopping Centers
Specialty Stores
Restaurants
Distilleries
Wineries & Wine Bars
Sweet Treats
Coffee Shops
Grocery Stores
Specialty Food Stores
Campgrounds
What's New
Mark Twain's Hannibal
Kingshighway Corridor
Grand Corridor
Broadway Corridor
More Attractions
Downtown Parking
Let the Experts Show You Around Town
The best guided tours provide aha moments, when you discover something new about a place and it changes your entire perspective.
If you're looking for those monumental moments in St. Louis, consider these guided tours, which are led by exuberant experts and offered in a variety of styles.
Want to know more about The Gateway City's history, architecture, music, public art, outdoor recreation or culinary scene? These jaw-dropping experiences await you.
Big Muddy Adventures
Paradise is a paddle away, and Big Muddy Adventures can prove it. The world-class St. Louis-based adventure company provides access to the wild wonders of the Mississippi and Missouri rivers with its full fleet of canoes and kayaks. Whether you want to do a microadventure in downtown St. Louis, embark on a full moon float to an uninhabited river island or add a bike ride along the Katy Trail to your aquatic adventure, river trips with Big Muddy Adventures are always memorable. The professional outfitter also guides multi-day journeys, which give you a greater sense of the changing scenery along the big rivers. "St. Louis is a funner city when you enjoy recreational activities on its rivers," general manager Roo Yawitz says. "The rivers are our greatest assets, and I just want to see more people use them."
Discover St. Louis
For candid commentary about the Gateway City, Missouri native and Washington University in St. Louis alumnus Dea Hoover is your girl. Join her on a leisurely, one-mile walk in Forest Park , where you'll learn about the past and present uses of the green space. Discover the hidden gems of the Central West End through a literary lens. Or eat your way through The Hill in the company of LynnMarie Alexander, author of The Hill: St. Louis's Italian American Neighborhood . Traveling with a crowd? Discover St. Louis offers group and motorcoach tours that accommodate a variety of interests. Hoover also owns and operates Are We There Yet? , which curates bespoke tours of St. Louis for prospective freshmen, corporate clients and everyone in between.
Eat St. Louis Food Tours
Take a bite out of St. Louis. Spotlighting the culinary delights of The Hill , Eat St. Louis Food Tours visits six restaurants and food purveyors, which serve some of the best St. Louis-style Italian food in the city. Enjoy toasted ravioli, St. Louis-style pizza, gelato and more as you traverse approximately two miles of the neighborhood with its quaint, red-brick buildings. Along the way, your guide will regale you with a colorful account of the area's history.
Landmarks Downtown Walking Tours
Did you know that the Wainwright Building, designed by Louis Sullivan in downtown St. Louis , is widely considered the prototype of the skyscraper? Learn more about the iconic structure and other historic architecture with Landmarks Downtown Walking Tours. The company's tours cover either the east side of the city – from the Eads Bridge to the Gateway Arch to the Old Courthouse – or the west side of the city – from St. Louis Union Station to Soldiers Memorial Military Museum to the St. Louis Public Library – Central Library . Your spirited guides will share astounding facts about famous landmarks as well as hidden gems, and they'll also discuss the art of historic preservation.
Riverboats at the Gateway Arch
All aboard! The Riverboats at the Gateway Arch provide unparalleled views of St. Louis' working riverfront from the waters of the Mighty Mississippi. The replica 19th-century paddle steamers, Becky Thatcher and Tom Sawyer, transport riders back to a time when steamboats ruled the river. Themed adventures include the one-hour St. Louis Riverfront Cruise, which highlights the important role of the Mississippi River in our past, present and future; the two-hour Skyline Dinner Cruise, which features a chef-driven menu, live music and illuminated views of the St. Louis skyline; and the Blues Cruise, which welcomes the region's best blues artists on board for toe-tapping fun. Throughout the year, other cruises mark special occasions such as the Fourth of July, Oktoberfest, Halloween and New Year's Eve.
Infectious enthusiasm defines See STL tours. Operated by the Missouri Historical Society, its lineup of walking and bus tours combine unmatched historical knowledge with engaging storytelling, giving residents and visitors alike the opportunity to interact with the Gateway City in innovative and unexpected ways. The two-hour tours are offered in various neighborhoods, including Cherokee Street , Downtown St. Louis , Dutchtown, Grand Center , Laclede's Landing , Soulard , The Ville and Webster Groves . Public tours take place seven days a week. Sign up today for a new view of an old city.
St. Louis Fun Tours
Hop on an authentic trolley – complete with brass rails and bells – for a fully narrated, 75-minute tour of the Gateway City. Get acquainted with popular attractions and local haunts as you tool around town, spotting Busch Stadium , the Saint Louis Science Center , Blueberry Hill and more out the window. Picking up at Horseshoe St. Louis , a casino on Laclede's Landing, tours cover 25 miles from start to finish.
Explore St. Louis on two wheels with Trailnet. The local nonprofit aims to make walking and biking in St. Louis better for everyone, and its community rides are a must-do for residents and visitors alike. The guided group bike rides proceed at a leisurely pace and dig into the history and culture of the Gateway City. Rides last approximately three hours, covering topics such as Juneteenth, Jewish history, community gardens and public art.
Wanna go for a ride? Trikke STL leads guided tours on three-wheel, electric Trikkes for hassle-free fun! The maneuverable vehicles are uniquely stable, giving riders the ability to "carve" side to side for an exhilarating skier's feel and an enjoyable, low-impact workout. The company's exceptional guides will instruct you on how to properly operate your Trikke, and you'll be comfortably equipped with a wireless listening device, so you won't miss any of the tidbits that they share. Trikke STL tours embrace the natural scenery of St. Louis, from Forest Park to Tower Grove Park to Bellefontaine Cemetery and Arboretum , and the guides know the best places to stop for photos.
Un(Heard)Of STL
This free, interactive map explores St. Louis' diverse history through cinematic audio stories. You can stand where history happened and hear from the people at the center of the action. Virginia Minor, who sued for her right to vote in Missouri in the same year that Susan B. Anthony was arrested for trying to vote; John Berry Meachum, who found ways around Missouri law in order to educate Black students; and an Osage family, who has to sort through the good and bad of encroaching settlers are all featured on the audio map. The best part? You can listen to the stories anywhere with an internet connection – in case you don't have time to visit every spot during your trip to St. Louis or you want to go back to your favorite recordings at home.
For Our Newsletter
Don't miss out on the latest events and happenings in St. Louis!
Sign up for The Explore St. Louis newsletter and stay informed about the city's top attractions, dining, and entertainment options.
Contact Information
I have read and consent to the  Privacy Policy
* Indicates a required field.
Drake announces new It's All a Blur 2024 concert tour with J. Cole: Tickets, dates, more
Drake is set to go right back on the road, this time with J. Cole on the It's All a Blur, Big As the What? Tour.
The tour, named after lyrics from the pair's "For All the Dogs" track "First Person Shooter," kicks off with two nights in Denver on Jan. 18-19, 2024.
The Grammy-winning artists will also make stops in Oklahoma City, New Orleans, Nashville, St. Louis, Memphis and more before wrapping up on March 27, 2024, in Birmingham, Alabama.
He announced additional tour stops on Nov. 17, with shows Added in San Antonio, Pittsburgh and more.
Drake's 2023 It's All a Blur Tour with 21 Savage ended last month, which saw the rappers play 50 arena shows across North America. The 2024 tour includes rescheduled dates from the Canadian rapper's 2023 tour, including shows postponed in Denver, New Orleans, Nashville and Columbus, Ohio.
The "Spin Bout U" artist last month released his eighth studio album, "For All the Dogs," which included collaborations with his tour mates plus SZA, Bad Bunny and more.
J. Cole released his last studio project, "The Off-Season" in 2021.
Drake, Pink snubbed in 2024 Grammy nominations. Who else got the cold shoulder?
How to get tickets to Drake tour with J. Cole
Tickets go on sale to the general public on Nov. 17 at 11 a.m. local time at  drakerelated.com . Cash App Card presale tickets go on sale Nov. 15.
Tickets for the new batch of dates announced Nov. 17 will be available on the same day starting at 11 a.m. local time at  drakerelated.com .
Drake and J. Cole 2024 tour dates
Jan. 18 – Denver at Ball Arena +
Jan. 19 – Denver at Ball Arena
Jan. 22 – San Antonio at Frost Bank Center
Jan. 23 – San Antonio at Frost Bank Center
Jan. 25 – Oklahoma City at Paycom Center
Jan. 26 – Oklahoma City at Paycom Center
Jan. 29 – New Orleans at Smoothie King Center +
Jan. 30 – New Orleans at Smoothie King Center
Feb. 2 – Tampa, Florida at Amalie Arena
Feb. 4 – Tampa, Florida at Amalie Arena
Feb. 7 – Nashville at Bridgestone Arena +
Feb. 8 – Nashville at Bridgestone Arena +
Feb. 12 – St. Louis at Enterprise Center
Feb. 13 – St. Louis at Enterprise Center
Feb. 16 – Pittsburgh at PPG Paints Arena
Feb. 17 – Pittsburgh at PPG Paints Arena
Feb. 20 – Columbus, Ohio, at Schottenstein Center +
Feb. 21 – Columbus, Ohio, at Schottenstein Center
Feb. 24 – Cleveland at Rocket Mortgage FieldHouse
Feb. 25 – Cleveland at Rocket Mortgage FieldHouse
Feb. 27 – Buffalo, New York, at KeyBank Center
Feb. 28 – Buffalo, New York, at KeyBank Center
March 2 – Kansas City, Missouri, at T-Mobile Center
March 3 – Kansas City, Missouri, at T-Mobile Center
March 5 – Memphis, Tennessee, at FedExForum
March 10 – Lexington, Kentucky, at Rupp Arena
March 14 – Belmont Park, New York, at UBS Arena*
March 15 – Belmont Park, New York, at UBS Arena*
March 18 – State College, Pennsylvania, at Bryce Jordan Center*
March 23 – Sunrise, Florida, at Amerant Bank Arena*
March 24 – Sunrise, Florida, at Amerant Bank Arena*
March 27 – Birmingham, Alabama, at The Legacy Arena at BJCC*
+ rescheduled date
*without J. Cole

Drake Announces Dates for 2024 It's All a Blur Tour – Big As The What? With J. Cole
Posted: November 17, 2023 | Last updated: November 17, 2023
Drake is headed back out on the road next year. On Monday (Nov. 13), the 6 God revealed the dates for his upcoming 2024 U.S. run titled It's All A Blur Tour – Big As the What?, which will feature support from J. Cole on most dates.
The originally announced 22-date run of show presented by Cash App and Visa and produced by Live Nation will feature a number of back-to-back arena dates, kicking off with two gigs at Ball Arena in Denver, CO on Jan. 18 and 19. The run will then double-up in New Orleans, Nashville and Columbus before winding down with a show at The Legacy Arena at BJCC in Birmingham, Ala.
The artist announced 10 additional dates on Friday (Nov. 17), the same day that he dropped EP Scary Hours 3 . The newly added shows include second performances in San Antonio, Texas; Oklahoma City, Okla.; Tampa, Fla.; St. Louis, Mo.; and Cleveland, Ohio, among others.
The 2024 dates will follow on the heels of Drake's recently completed It's All A Blur tour, which found the rapper playing 50 sold-out arena dates across North American in the summer and fall in support of his eighth studio album, For All the Dogs . Tickets for the tour will be available starting with the Cash App card presale beginning on Wednesday (Nov. 15), followed by a general onsale beginning Friday (Nov. 17) starting at 11 a.m. local time here .
Drake is one the leading finalist with 14 nods at the upcoming 2023 Billboard Music Awards. You can watch the BBMAs here , and via Billboard and the BBMA's social media channels on Nov. 19.
Check out the dates for Drake's It's All a blur Tour – Big As The What? below.
Jan. 18 – Denver, CO @ Ball Arena + 
Jan. 19 – Denver, CO @ Ball Arena 
Jan. 22 – San Antonio, TX @ Frost Bank Center – San Antonio
Jan 23 – San Antonio, TX – Frost Bank Center
Jan. 25 – Oklahoma City, OK @ Paycom Center 
Jan 26 – Oklahoma City, OK – Paycom Center
Jan. 29 – New Orleans, LA @ Smoothie King Center +
Jan. 30 – New Orleans, LA @ Smoothie King Center 
Feb. 2 – Tampa, FL @ Amalie Arena 
Feb 4 – Tampa, FL – Amalie Arena
Feb. 7 – Nashville, TN @ Bridgestone Arena +
Feb. 8 – Nashville, TN @ Bridgestone Arena +
Feb. 12 – St. Louis, MO @ Enterprise Arena 
Feb 13 – St. Louis, MO – Enterprise Center
Feb. 16 – Pittsburgh, PA @ PPG Paints Arena 
Feb 17 – Pittsburgh, PA – PPG Paints Arena
Feb. 20 – Columbus, OH @ Schottenstein Center +
Feb. 21 – Columbus, OH @ Schottenstein Center 
Feb. 24 – Cleveland, OH @ Rocket Mortgage Fieldhouse 
Feb 25 – Cleveland, OH – Rocket Mortgage FieldHouse
Feb. 27 – Buffalo, NY @ KeyBank Center 
Feb 28 – Buffalo, NY – KeyBank Center
March 2 – Kansas City, MO @ T-Mobile Center 
Mar 3 – Kansas City, MO – T-Mobile Center
March 5 – Memphis, TN @ FedEx Forum
March 10 – Lexington, KY @ Rupp Arena 
March 14 – Belmont Park, NY @ UBS Arena ~
Mar 15 – Belmont Park, NY – UBS Arena ~
March 18 – State College, PA @ Bryce Jordan Center ~
March 23 – Sunrise, FL @ Amerant Bank Arena ~
Mar 24 – Sunrise, FL – Amerant Bank Arena ~
March 27 – Birmingham, AL @ The Legacy Arena at BJCC ~
+  Rescheduled dates
~ Without J. Cole
Every Artist With 100 or More Billboard Hot 100 Chart Hits
Drake Storms Back With 'For All The Dogs Scary Hours Edition': Stream It Now
André 3000 Releases His Debut Solo Album 'New Blue Sun': Stream It Now
More for You
Newly released audio reveals Trump's words about January 6 crowd
Experts raise alarm after Biden strikes agreement with China to shut down fossil fuels
Iran's betrayal leaves Hamas nowhere to go
It's not just a stereotype: Gen Z really does 'have a work ethic problem'
Report: Texas A&M Interviews Group of Five Standout for Coaching Vacancy
A Russian official said soldiers are dying in large numbers, but he'll get in trouble if he doesn't send more to fight, leaked video shows
Donald Trump's Interactions With Secret Service on Jan. 6 Revealed in Audio
Balance of Nature ordered to stop sales of supplements after FDA lawsuits
The seven new types of old age – and how to tell which one you are
'Dune: Part 2' Is Coming (Slightly) Earlier Than Expected
Maria Bartiromo: This is 'quite worrisome' for Americans
Chilling map shows the utter devastation of a nuclear attack on the US
Map Showing U.S. Targets Sparks Fears of Attacks
Elon Musk orders X lawyers to defend student facing disciplinary action over tweets
An NYU cancer doc fired over Israel-Hamas war posts accuses the medical center of using him as a 'sacrificial lamb'
Leaked coup tapes upend the Georgia RICO case: Melber Report
The curious case of the slow-moving US aircraft carrier
Virginia House race likely to face recount over 74-vote margin
Osama Bin Laden's Letter to America: Transcript in Full
Supreme Court denies request to reinstate Florida drag show law
'Big as the What?': Drake Recruits J. Cole for 2024 It's All a Blur Tour
By Larisha Paul
Larisha Paul
Drake and J. Cole are keeping their collaborative hot streak going into the new year. Beginning in January, the two rappers will split the bill on the 2024 It's All a Blur – Big as the What? tour. Drake is currently scheduled for 32 shows together, including several two-night stands in many cities, with J. Cole performing at most of them.
The tour will begin on Jan. 18 with back-to-back nights at Denver's Ball Arena. Drake and J. Cole will make additional stops in San Antonio, Oklahoma City, New Orleans, Tampa, Nashville, St. Louis, Pittsburgh, Columbus, Cleveland, Buffalo, Lexington, and more. J. Cole will not perform at the final four shows of the tour, scheduled in New York, Pennsylvania, Florida, and Alabama.
The newly announced dates mark an extension of the 50-date It's All a Blur tour Drake completed this summer with 21 Savage. During the Montreal stop in July, J. Cole joined Drake on stage in place of 21 Savage. And before the run of shows kicked off earlier this year, Drake served as a special guest at the 2023 iteration of J. Cole's Dreamville Festival in April.
Dolly Parton's 'Purple Rain' Cover Is the Unexpected Prince Tribute You Need to Hear
Osama bin laden's 'letter to america' goes viral 21 years later — on tiktok, drake praises taylor swift on 'scary hours 3' ep, aubrey o'day on sean combs rape accusations: 'been trynna tell y'all for years', editor's picks, the 500 greatest albums of all time, the 50 worst decisions in movie history, the biggest, messiest band breakups in music history, the 500 greatest songs of all time.
New dates in bold. * These dates do not feature J. Cole.
Blake Shelton Says He 'Stayed Too Long' to 'Miss' Being on 'The Voice'
Red Chair King
By Tomás Mier
Sabrina Carpenter Wants You to Buy Her Presents on Nostalgic Holiday EP 'Fruitcake'
NOFX Announces Final Shows of Punk Legends' Farewell Tour
'we are done done'
By Daniel Kreps
André 3000, Drake, Tate McRae and All the Songs You Need to Know This Week
Elton John's 'Tammy Faye' Musical Heads to Broadway
Most Popular
Old fbi files claim donald trump's second wife marla maples allegedly had an affair with this '90s singer, fantasia returns: the 'american idol' winner on turning down oprah, surviving an overdose and acting her heart out in 'the color purple', warner bros. reverses course on 'coyote vs. acme' after filmmakers rebel, marlon wayans speaks on adjusting to his eldest son's transition: "i just want my kids to be free", you might also like, screenwriters behind 'blackberry,' 'flamin hot' share how they turned brands into stories: 'we never saw our movie as a product movie', richard mille debuts new rm 21-02 tourbillon aerodyne, the receipts: britton schey, the reluctant yogi, 2024 golden globes to air on cbs, second spectrum ceo maheswaran out in genius sports shuffle.
Rolling Stone is a part of Penske Media Corporation. © 2023 Rolling Stone, LLC. All rights reserved.
Verify it's you
Please log in.

Sammy Hagar, Michael Anthony, Joe Satriani, Jason Bonham The Best of All Worlds Summer 2024 Tour

With Special Guest Loverboy 
Tickets on sale friday, november 17 at 10 a.m. local time via livenation.com  , pre-sale tickets available starting wednesday, november 15 at 10 a.m., presented by beach bar co., santo tequila, & red rocker brewing co..
Rock & Roll Hall of Famer SAMMY HAGAR today announced the long-awaited "THE BEST OF ALL WORLD'S" 2024 tour. Hagar will be joined by rock heavyweights and longtime bandmates MICHAEL ANTHONY (bass, backing vocals), JASON BONHAM (drums) and revealed exclusively on SiriusXM's The Howard Stern Show this morning that JOE SATRIANI, one of the best guitar players in the world, will complete the band. Produced by Live Nation and featuring special guests Loverboy, the 28-date tour will commence on July 13 in West Palm Beach, FL and will conclude on August 31 in St. Louis, MO.  Pre-sales begin on Wednesday, November 15 at 10 am. General on-sale begins Friday, November 17 at 10am local. For tickets and more details, go to RedRocker.com .
ADMAT & ART:  HERE
Following their interview and performance on The Howard Stern Show on Sirius Channel 100, Hagar, Anthony, Satriani and Bonham will participate in a press conference starting at 10am PT from SiriusXM's Hollywood Studios, hosted by Eddie Trunk and airing on Wednesday, Nov. 15 on Trunk Nation/Faction Talk Channel 103. In addition on Wednesday, Sammy will be interviewed on Access Hollywood and Access Daily, and on Thursday, Nov. 16 , he chats with Rob Lowe on his podcast Literally! With Rob Lowe .
The tour follows on the heels of the chart-topping success of THE COLLECTION II, the box set released October 6 featuring newly remastered versions of the four consecutive #1 albums released during the Hagar era of Van Halen: 5150 (1986), OU812 (1988), FOR UNLAWFUL CARNAL KNOWLEDGE (1991), and BALANCE (1995). A reminder to fans of the arsenal of hits, many which haven't been played live since the band's 2004 reunion tour. Collectively, Anthony, Satriani and Bonham have played together in nearly every phase of Hagar's career including Van Halen, Chickenfoot and The Circle, so fans can expect a setlist which draws from some of the biggest rock anthems of the last 4-decades, including, Finish What Ya Started, 5150, Your Love is Driving Me Crazy, Best of Both Worlds, Poundcake, Sexy Little Thing, One Way To Rock, Right Now, Good Enough, Eagles Fly and more. They've also enlisted legendary Australian musician, Rai Thistlethwayte on keyboard and backing vocals. The tour represents a once-in-a-lifetime opportunity to see this band of brothers deliver one of the most legendary hits-packed live shows of their career.
"It's crazy to think that it'll be 20 years since Mikey and I played these songs with Van Halen on the 04' Best of Both Worlds Tour," said Hagar. "With Joe on board, we can take a deeper dive into those years. We're going to touch on some hits from my entire career but seeing fans old and new really embrace the new collection set off something in Mikey and I. We were at my Birthday Bash in Cabo for my 76 th and looked at each other and high fived, like 'let's do it.' We pulled out a couple of them and it was an instant lovefest with the fans from our first riffs. The music we created is going to outlive us all. They deserve to be heard so it's time we go out and serve the fans that music, while we still can."
2024 TOUR ITINERARY
July 13            West Palm Beach, FL                     iTHINK Financial Amphitheatre
July 14            Tampa, FL                                         MIDFLORIDA Credit Union Amphitheatre
July 16            Alpharetta, GA                                 Ameris Bank Amphitheatre
July 19            Charlotte, NC                                   PNC Music Pavilion
July 20           Bristow, VA                                       Jiffy Lube Live
July 22            Saratoga Springs, NY                     Saratoga Performing Arts Center
July 24           Bridgeport, CT                                 Hartford HealthCare Amphitheater
July 26,           Mansfield, MA                                  Xfinity Center
July 27            Holmdel, NJ                                      PNC Bank Arts Center
July 29           Cuyahoga Falls, OH                        Blossom Music Center
July 31            Toronto, ON                                      Budweiser Stage
August 2        Clarkston, MI                                    Pine Knob Music Theatre
August 3        Tinley Park, IL                                   Credit Union 1 Amphitheatre
August 9       Las Vegas, NV                                  MGM Grand Garden Arena
August 11       Morrison, CO                                    Red Rocks Amphitheatre
August 13      Spokane, WA                                     Airway Heights, WA BECU Live at Northern Quest
August 14      Ridgefield, WA                                 RV Inn Style Resort Amphitheater
August 16      Wheatland, CA                                Toyota Amphitheatre
August 17      Concord, CA                                     Toyota Pavilion at Concord
August 19      Los Angeles, CA                               Kia Forum
August 20     Phoenix, AZ                                      Talking Stick Resorts Amphitheatre
August 22     Dallas, TX                                           Dos Equis Pavilion
August 23      Houston, TX                                      Cynthia Woods Mitchell Pavilion
August 25     Rogers, AR                                        Walmart AMP
Tour dates continued
August 27     Cincinnati, OH                                 Riverbend Music Center
August 28     Nashville, TN                                     Bridgestone Arena
August 30     Noblesville, IN                                  Ruoff Music Center
August 31      St. Louis, MO                                    Hollywood Casino Amphitheatre
About Loverboy:
For more than 40 years, Loverboy has been "Working for the Weekend" (and on the weekend), delighting audiences around the world since forming in 1979, when vocalist Mike Reno was introduced to guitar hot shot Paul Dean – both veterans of several bands on the Canadian scene – at Calgary's Refinery Night Club.  Along with Reno and Dean, Loverboy still includes original members Doug Johnson on keyboards and Matt Frenette on drums, with Ken "Spider" Sinnaeve replacing the late Scott Smith on bass.
With their trademark red leather pants, bandannas, big rock sound and high-energy live shows, Loverboy has sold more than 10 million albums, earning four multi-platinum plaques, including the four-million-selling GET LUCKY, and a trio of double-Platinum releases in their self-titled 1980 debut, 1983's KEEP IT UP and 1985's LOVIN' EVERY MINUTE OF IT. Their string of hits includes, in addition to the anthem "Working for the Weekend," such arena rock staples as "Lovin' Every Minute of It," "This Could Be the Night," "Hot Girls in Love," "The Kid is Hot Tonite," "Notorious", "Turn Me Loose," "When It's Over," "Heaven In Your Eyes" and "Queen of the Broken Hearts." In September of this year, the group was inducted into Canada's Walk of Fame in Toronto, ON.
About Sammy Hagar:
For more than four decades, Sammy Hagar has been recognized as one of the best and most accomplished lead singers and songwriters in rock music. From breaking into the industry with the seminal hard rock band Montrose, to his multi-platinum solo career, to his ride as the frontman of Van Halen, Chickenfoot and his latest best-selling supergroup, The Circle, Hagar has amassed 25 Platinum albums on sales surpassing 50 million worldwide. Along his journey, he has set the tone for some of the greatest rock anthems ever written with songs like "I Can't Drive 55," "Right Now," and "Why Can't This Be Love," and earned the highest respect of the music industry with a Grammy Award and induction into the Rock and Roll Hall of Fame. Since opening his flagship Cabo Wabo Cantina in 1990, he's turned a lifelong passion for great food, music and spirits into a thriving and iconic lifestyle brand encompassing restaurants and spirits. A pioneer in the spirits industry, he launched Cabo Wabo Tequila in 1996 and catapulted it into the #2-selling premium tequila brand in the United States. In 2010, Hagar sold his interests in Cabo Wabo Tequila to Gruppo Campari in a 9-figure deal that's widely credited as the start of the celebrity-owned spirits trend. He now owns an award-winning portfolio of top-shelf spirits and beer that embody that same spirit of Baja beach life and rock 'n' roll. They include Sammy's Beach Bar Rum, a partnership with rock icon Rick Springfield, Santo Spirits, a partnership with tastemaker Guy Fieri, Sammy's Beach Bar Cocktail Co. and Red Rocker Brewing Co. Never one to hit the brakes, Sammy's also expanded his successes into publishing, TV, radio and beyond, including five seasons of his hit TV show "Rock & Roll Road Trip with Sammy Hagar" and as host of "Sammy Hagar's Top Rock Countdown," a weekly syndicated radio show on 90+ US stations. He's a #1 NYT bestselling author and his cocktail book, "Sammy Hagar's Greatest Cocktail Hits," was awarded the 2023 Independent Publisher Book Awards. He's also a dedicated philanthropist, donating millions back to local communities through his private non-profit Hagar Family Foundation, and the first Honorary Ambassador to Los Cabos, an honor he was bestowed in 2022 in recognition of his longtime investment in the people and economy of Mexico. Visit RedRocker.com for more information.
About Live Nation Entertainment
Live Nation Entertainment (NYSE: LYV) is the world's leading live entertainment company comprised of global market leaders: Ticketmaster, Live Nation Concerts, and Live Nation Sponsorship. For additional information, visit www.livenationentertainment.com .
Press Contacts:
Hannah Kampf
Kampaign PR
[email protected]
Live Nation Concerts
Monique Sowinski
Valeska Thomas
Read more about