Awards Season
Big Stories
Pop Culture
Video Games
Celebrities
Virginia Tourism Guide: What to See and Do in the Old Dominion State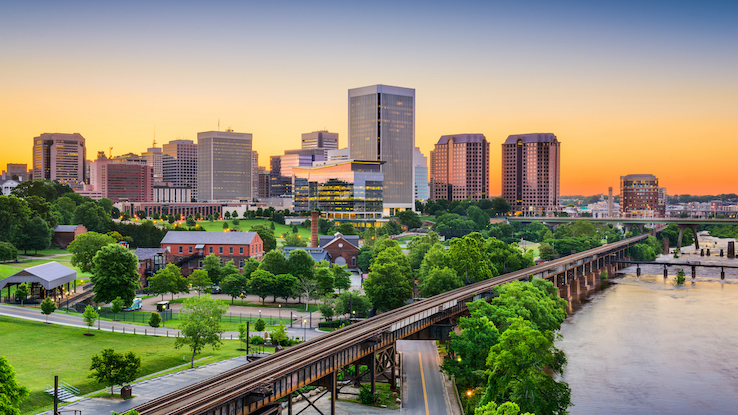 When visiting Virginia, most people think of checking out the historic buildings and sites in Washington, D.C. However, Virginia's small towns are some of the most charming areas in the state. From historied neighborhoods to oceanfront cruises to mountainside treks, these are some of the must-see places in Virginia — and what you can do in each of them.
Alexandria & Arlington
These two cities near Washington, D.C., share many traveler-friendly aspects, including walkability and gorgeous natural environments. Alexandria prides itself on being the hometown of George Washington and includes attractions centering on the Founding Fathers. Arlington is famously home to the Pentagon and Arlington National Cemetery, a military cemetery founded during the Civil War.
Activities in Alexandria and Arlington
Alexandria offers many opportunities for tourists to engage with the city's past. A stroll through charming Old Town lets you explore the area's unique and colorful architecture of the 1800s and 1900s. You'll want to visit the waterfront of the Potomac River, where you can peacefully enjoy a picnic or watch passing boats. In Arlington, a trip to the National Cemetery is a must. Here you can view the Tomb of the Unknown Soldier. Travelers can also enjoy Arlington's wide range of attractions, from its collection of national monuments to its eclectic local businesses.
Where to Stay
There are many vacation rentals and hotels available in the cozy Old Town area of Alexandria. These include the boutique Hotel Indigo, the red-bricked Alexandrian, and the Morrison House B&B. Arlington also features many popular neighborhoods for vacationers. From the buzzing Clarendon to the culturally rich Columbia Pike to artsy Crystal City, there's a setting to suit every preference.
Where to Eat and Drink
When in Alexandria, make it a goal to hit up Gadsby's Tavern. This bar's claim to fame is that it once hosted the Founding Fathers as patrons. Old Town includes many five-star restaurants serving up global cuisines, including French, Italian, American, and Asian food. Need a nightcap? Stop in for a genuine presidential drink at George Washington's reconstructed distillery . In Arlington, you can also eat your way through countless cuisines. Grab some Southern comfort food at Ruthie's All Day, sample American food and drafts at The Liberty Tavern, or satisfy your inner foodie at Circa.
Charlottesville
Charlottesville is an historic mountain town situated north of Central Virginia. It's perhaps best known as the location of Monticello, Thomas Jefferson's plantation. Since Charlottesville is situated near the mountains, it's a great place for scenic views and outdoor adventures.
Activities in Charlottesville
Many Charlottesville tourists enjoy hiking the nearby mountains. The Ragged Mountain Natural Area is a high-trafficked trail loop that isn't too strenuous. Many tourists also hit the pavement of the Historic Downtown Mall. The shopping strip features over 120 shops packed into distinctive storefronts. In addition, the art scene regularly draws in travelers. The Charlottesville Ballet and the Charlottesville Opera offer numerous yearly performances, and local music joints, such as The Front Porch, make it easy for visitors to support musicians from the area.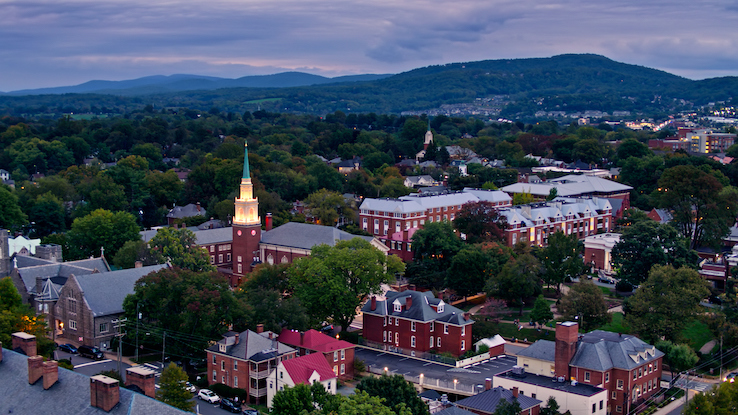 Charlottesville has a range of neighborhoods suitable for every type of tourist. Travelers interested in a peaceful location will enjoy Belmont, a small and friendly neighborhood with food and shops within walking distance. However, those who enjoy a bit more hustle and bustle might opt to stay in North Downtown, the busy heart of Charlottesville. The aptly named Blue Ridge, situated near the Blue Ridge Mountains , offers a variety of cabin-like lodgings for nature-loving travelers.
Try the fresh produce from the Monticello Garden, which boasts hundreds of different veggie and fruit varieties. The surrounding town is also rich with local eateries. There's plenty of stellar Appalachian food to be had at The Local, but you'll also want to grab pastries at MarieBette Cafe and eat authentic Southern classics at The Ridley while you're in town.
Virginia Beach
This jovial coastal town is one of Virginia's most popular tourist spots. Virginia Beach cozies up to the Atlantic Ocean and offers cheerful beaches, waterfront views, and ample water-related activities. A vibrant boardwalk, blue water, and peaceful waves make this one of the East Coast's ideal beach getaways.
Activities in Virginia Beach
A trip to Virginia Beach isn't complete without a visit to the Atlantic Fun Park in the Oceanfront district. This attraction-filled spot has activities for all ages, from a massive Ferris wheel to fear-inducing drop rides. It doesn't hurt that the park has an ocean view, either. Other places to check out include the aquarium, the historic Cape Henry Lighthouse, and the city's bustling 3-mile Boardwalk.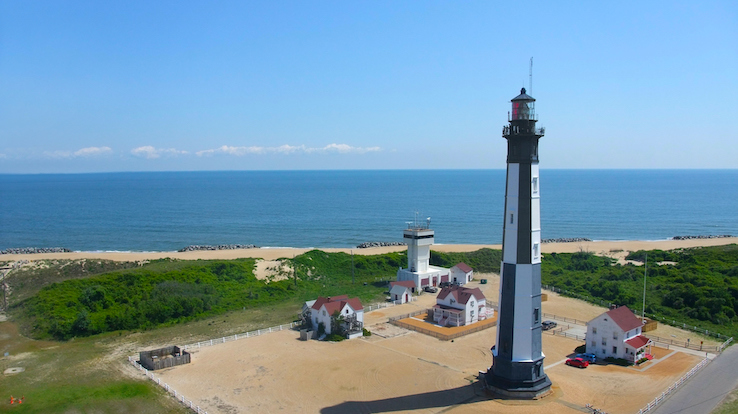 There are countless welcoming areas around Virginia Beach where you can search for a hotel or rental house along the ocean. Northern Boardwalk is a popular destination due to its proximity to the beach and local tourist attractions. Still, those looking for a little quiet might want to search along the South Boardwalk. Lastly, budget-oriented travelers will want to look into Chesapeake Beach, which is considerably more affordable but equally pleasant.
Virginia Beach's iconic restaurants revolve around its proximity to the ocean and the day's fresh catches. Grab some seafood at one of Virginia Beach's many local spots, like the oysters at Waterman's Surfside Grille, the soft-shell crab at Coastal Grill, or the seafood buffet at Captain George's.
Williamsburg
A visit to Williamsburg guides you gently into America's past. Known for its colonial architecture and incredible historic sites, Williamsburg is sure to satisfy any history buff. The town is about a half-hour away from Jamestown, the first English colony that became a permanent settlement. In addition to having a robust and lengthy history, Williamsburg is surrounded by nature and lush vegetation that changes colors seasonally.
Activities in Williamsburg
Williamsburg's claim to fame is Colonial Williamsburg's Historic Area. This spot is considered the world's largest living history museum . Here you can interact with former presidents and political leaders, view genuine colonial architecture, and immerse yourself in the history of the early states. Tourists may also want to check out Historic Jamestowne on Jamestown Island, the Busch Gardens theme park, or one of Williamsburg's many famed art museums.
In Williamsburg, you'll have the opportunity to stay in historied rentals and immerse yourself fully in centuries past. The historic area offers the opportunity to book rooms in authentic colonial housing. While you'll still have access to modern-day conveniences, the settings of these unique rentals center on colonial architecture and decorations.
Colonial Williamsburg is a great place to dive into long-running taverns. Grab seafood at Christiana Campbell's, a drink at Josiah Chowning's, or a pastry at the Raleigh Tavern. Beyond the Historic Area, you can find a range of cuisines at other local restaurants, including Giuseppe's Italian, Second Street American Bistro, and Food for Thought.
We hope you have enjoyed learning about the exciting things Virginia has to offer. With many activities to enjoy, great dining options to sample, and exciting places to stay, Virginia makes for a fascinating tourist destination.
MORE FROM ASK.COM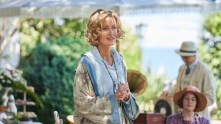 Eight great Weekend Getaways in Virginia
August 02, 2023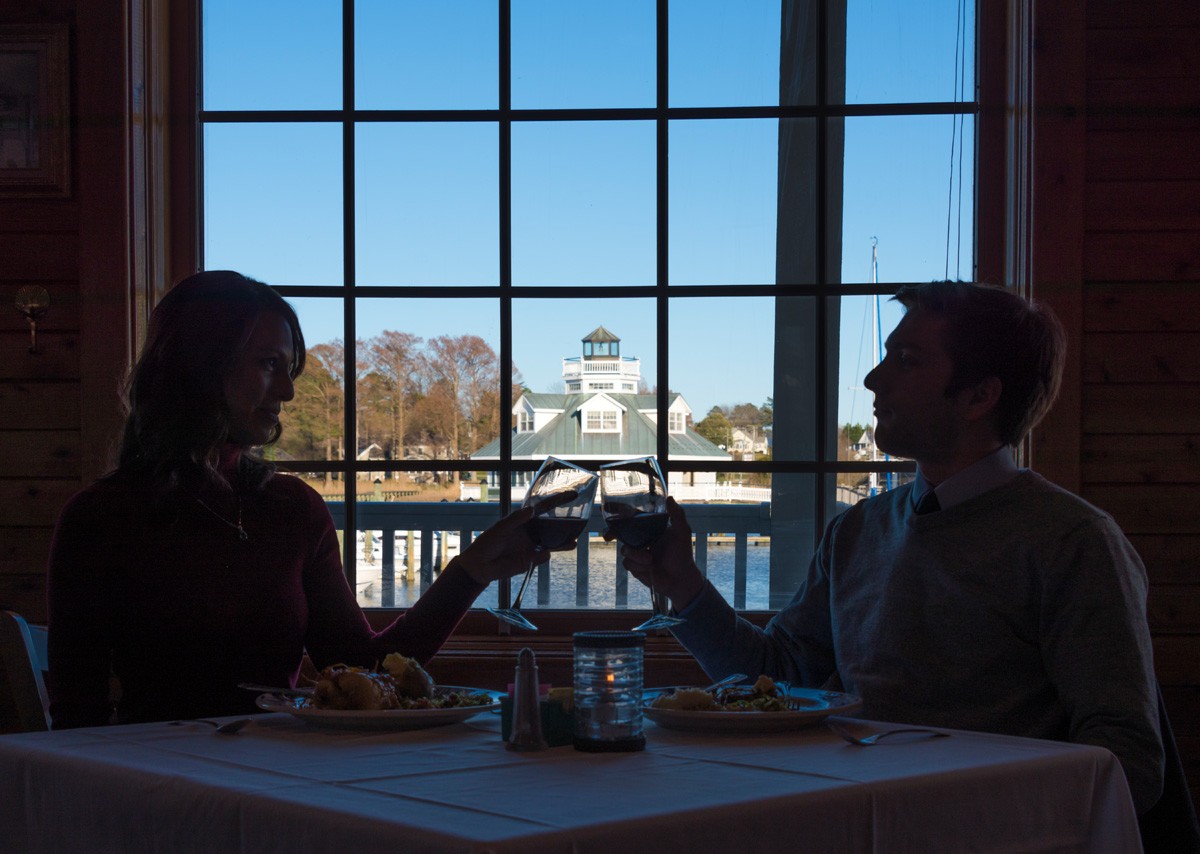 Known for its rich history, natural beauty, and diverse landscapes, the plethora of weekend getaways in Virginia suit every traveler's interests. From scenic mountains and charming coastal towns to historical landmarks and vibrant cities, the state has something to offer for everyone. Here are the eight best getaways in Virginia that promise unforgettable experiences and cherished memories.
Shenandoah National Park: For nature enthusiasts and outdoor lovers, Shenandoah National Park is a must-visit destination. Located in the picturesque Blue Ridge Mountains, the park boasts stunning vistas, lush forests, and cascading waterfalls. Visitors can explore numerous hiking trails, take in breathtaking views from Skyline Drive, and immerse themselves in the tranquility of nature. Camping facilities within the park provide an excellent opportunity to stargaze and connect with the great outdoors and offers a cheap weekend getaway in Virginia.
Virginia Beach: This popular coastal city offers a perfect blend of relaxation and entertainment. Boasting a long stretch of sandy shoreline, Virginia Beach is ideal for beachgoers, sunbathers, and water sports enthusiasts and one of the best weekend getaways in Virginia for families. Additionally, the Virginia Beach Boardwalk is dotted with shops, restaurants, and attractions, creating a lively atmosphere. Families can visit the Virginia Aquarium and Marine Science Center, while history buffs can explore the Cape Henry Lighthouse and First Landing State Park.
Richmond: As the capital of Virginia, Richmond is a vibrant city with a rich history and an exciting modern cultural scene making it one of the best weekend getaways in Virginia for couples. History buffs can explore the American Civil War Museum, St. John's Episcopal Church, and the Virginia State Capitol. Art enthusiasts will appreciate the Virginia Museum of Fine Arts, while foodies can indulge in the city's thriving culinary scene. The James River and Belle Isle offer opportunities for outdoor activities and scenic views.
Williamsburg: A Williamsburg weekend getaway is like stepping back in time. This well-preserved colonial city is a living history museum where visitors can experience life as it was during the 18th century. Historic Jamestowne and Yorktown Battlefield are also nearby, providing a comprehensive glimpse into the region's past. The area's theme parks, Busch Gardens Williamsburg and Water Country USA, make it an excellent destination for families.
Charlottesville: Nestled in the foothills of the Blue Ridge Mountains, Charlottesville is a charming city with a laid-back atmosphere. The main attraction here is Monticello, the former home of Thomas Jefferson, which offers fascinating insights into the life of the founding father. Wine enthusiasts will delight in the surrounding vineyards, which produce some of the state's finest wines and make it a can't-miss winery weekend getaway in Virginia. Hiking, biking, and picnicking at Shenandoah National Park are just a short drive away.
Roanoke : Known as the "Star City of the South," Roanoke is one of the must-see weekend trips in Virginia. Surrounded by the beautiful Blue Ridge Mountains, the city offers an abundance of outdoor activities. The iconic Mill Mountain Star overlooks the city and provides a stunning vista. Explore the Taubman Museum of Art, visit the Virginia Museum of Transportation, or take a scenic drive on the nearby Blue Ridge Parkway for breathtaking views and hikes, making Roanoke also one of the most dog friendly weekend getaways in Virginia too.
Norfolk : Located on the Chesapeake Bay, Norfolk is a bustling waterfront city with a rich maritime history. The Nauticus National Maritime Center and the Battleship Wisconsin are must-visit attractions for naval history enthusiasts. Norfolk's arts district offers a vibrant arts and culture scene, including the Chrysler Museum of Art. Don't forget to explore the waterfront, where you can enjoy seafood dining, take harbor cruises, and soak in the maritime ambiance.
Smithfield : Smithfield stands as one of the most charming and best weekend getaways in Virginia. Nestled along the Pagan River, this quaint town exudes historic charm and offers a myriad of activities for all types of travelers. Its central location makes it a popular destination for day trips and weekend trips from Virginia Beach and Williamsburg. For history enthusiasts, Smithfield's picturesque streets are adorned with well-preserved colonial architecture and museums that showcase its rich past. Visitors can explore the Isle of Wight County Museum, delving into the area's fascinating stories and artifacts. Nature lovers will relish in Smithfield's scenic beauty, with serene waterfront views and parks. With its warm Southern hospitality and a perfect blend of history, nature, and gastronomy, Smithfield remains an unforgettable Virginia weekend getaway.
In conclusion, Virginia's diverse landscapes, historical significance, and vibrant cities make it an excellent destination for weekend getaways. Whether you're seeking outdoor adventures, cultural experiences, or a relaxing beach retreat, Virginia has it all. So, pack your bags and embark on an unforgettable journey through the Old Dominion state.
Genuine Smithfield & Isle of Wight County: A Slice of Southern Charm
Your browser is not supported for this experience. We recommend using Chrome, Firefox, Edge, or Safari.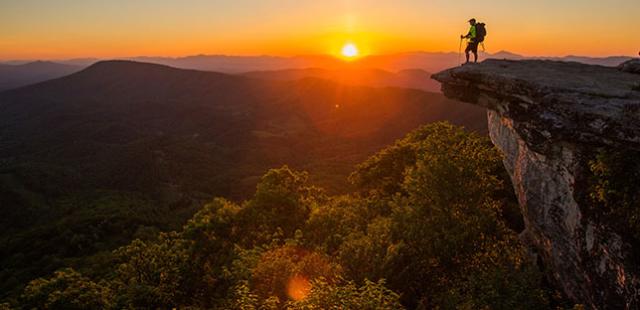 visitors guide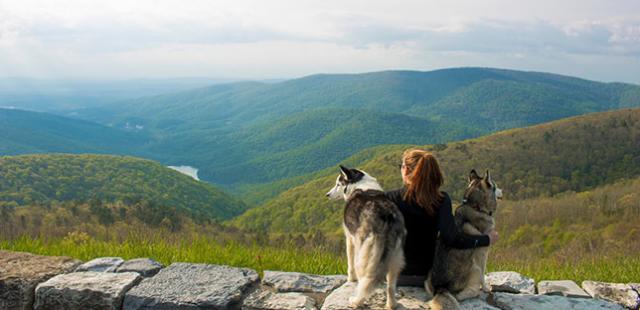 subscribe to our
Enewsletter, weekend getaway packages, explore more packages.
Packages - Virginia Is For Lovers
Outdoor Recreation
Outdoor Recreation - Virginia Is For Lovers
Fall Foliage Packages
Fall Foliage - Virginia Is For Lovers
Girlfriend Getaway
Girlfriend Getaways - Virginia Is For Lovers
History Lovers
History - Virginia Is For Lovers
Winter & Holiday
Holidays - Virginia Is For Lovers
Spring & Summer
Springtime - Virginia Is For Lovers
Wine Lovers
Wine - Virginia Is For Lovers
Skip to right header navigation
Skip to main content
Skip to primary sidebar
Follow Me Away
Couples Travel & Travel Photography Blog
Middle East
North America
South America
Photography
Travel Tips

15 Best Weekend Getaways in Virginia
Here is a list of the 15 best weekend getaways in Virginia!
September 13, 2023 // by Follow Me Away // Leave a Comment
Are you looking to escape and want to know what the best weekend getaways in Virginia are? Well, you are in luck because we have got you covered! Virginia is truly a gem when it comes to weekend escapes. There are practically any type of landscape and even vibrant cities to explore.
I absolutely love traveling to Virginia! One of my lifelong best friends lives here, it is near DC, one of my close work friends lives here, and I spent a lot of time exploring Virginia as a child!
I am here to show you some of the most unique getaways in Virginia, as I've had decades of experience to tell you all the best that you shouldn't miss.
It doesn't matter if you are looking for a romantic getaway, an action-packed adventure, or a step back in time, Virginia has got you covered. From the beautiful Blue Ridge Mountains to the old-time charm of Old Town Alexandria, from the serene beauty of Chincoteague Island or a beach stay in Virginia Beach, this state is brimming with unique attractions and stunning views.
So, let's dive in and discover the best Virginia getaways. Grab your overnight bag, it's time to start planning your next unforgettable trip in VA!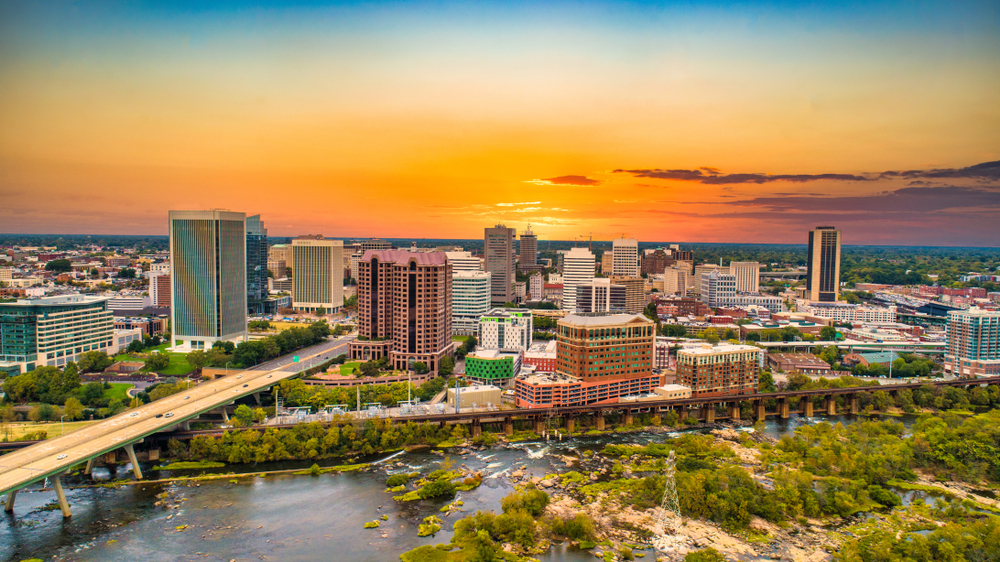 Best Weekend Getaways in Virginia
Virginia beach weekend.
Virginia Beach is a beautiful coastal city where the Chesapeake Bay meets the Atlantic Ocean. It's one of the best staycations in Virginia, any time of the year.
I have many friends who live here and have visited a ton of times, and it is totally worth a trip as there are many options for weekend getaways in Virginia Beach!
Virginia Beach is so much fun for its water-based activities. You will have time to book a whale-watching or dolphin-watching cruise it is an unforgettable experience on the Atlantic. Most boat tours will leave from Rudee Inlet on 5th Street at the oceanfront.
For outdoor lovers, the First Landing State Park is a must-visit. There are over 20 miles of trails plus 1.5 miles of sandy beach shores. It is the perfect place if you are in the mood for a long hike or bike ride. If you're seeking a thrill, head across the street from the Hilton Virginia Beach Oceanfront to iFly Indoor Skydiving! This fun inside adventure is perfect for any age.
Virginia Beach also has a variety of fun events throughout the year. From music festivals to wine or beer festivals, there's always something going on. Check out the event calendar on the Virginia Beach website to see what's on during your visit.
A romantic weekend getaway in Virginia Beach might include checking into the Hilton Virginia Beach Oceanfront which has stunning views of the Atlantic, and all the romantic vibes you are looking for.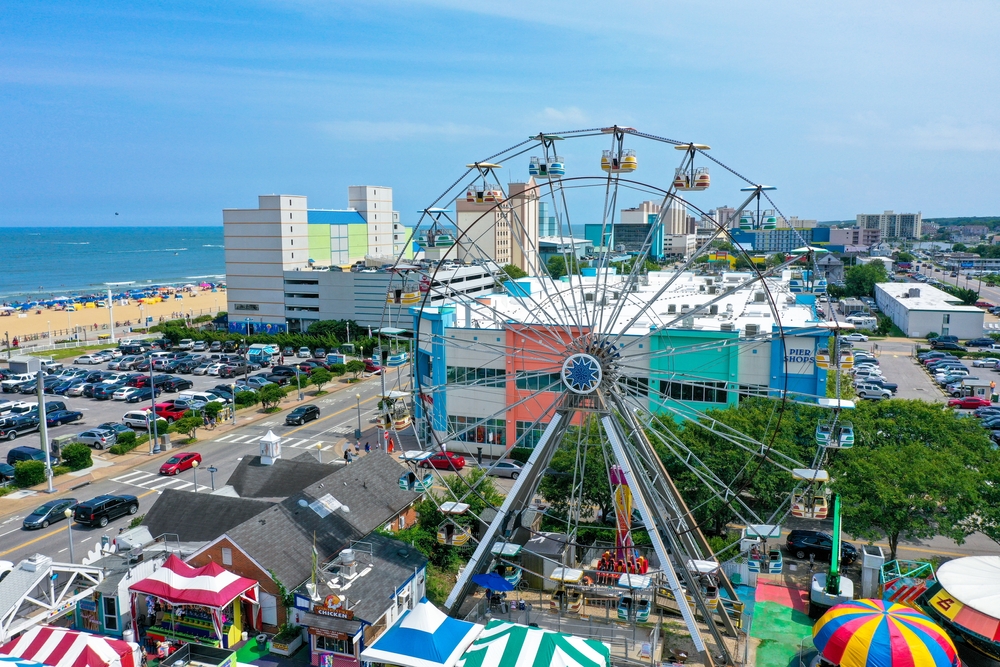 The Greenbrier
The Green brier is a luxury resort that is also known as "America's Resort". It has been serving guests since America was founded back in 1778. It is situated in the breathtaking Allegheny Mountains near White Sulphur Springs and is a National Historic Landmark. 27 U.S. Presidents have visited The Greenbrier last 200 years.
One of my friends who lives in Virginia is always coming here! It is one of her favorite weekend getaways in Virginia for girlfriends and couples alike. So romantic and fun!
The resort is on 11,000 acres of beautiful mountains that give off such an enchanting setting for its guests. You can explore the huge property on a horse-drawn carriage for one of the most unique Virginia weekend getaways.
The Greenbrier is not just famous for its beauty and history but also for its amenities and activities on site. If you are feeling lucky it features an on-site casino where you can test your luck.
Check rates & dates here: Booking.com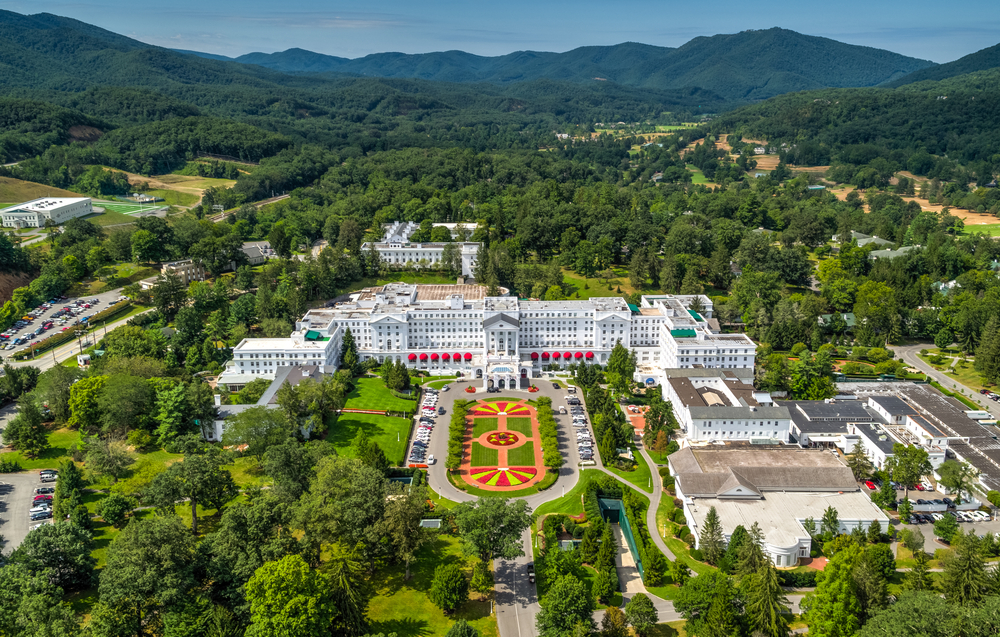 Shenandoah National Park
Up next is one of the cheap weekend getaways in Virginia, Shenandoah National Park. It is best known for its stunning vistas, waterfalls, and diverse wildlife.
The park's most famous feature is Skyline Drive. This is a 105-mile road that runs the entire length of the park along the Blue Ridge Mountains. This scenic route offers 70 overlooks that have breathtaking views of the Shenandoah Valley to the west and the rolling Piedmont mountain range to the east.
For hikers, the park offers over 500 miles of trails, including 101 miles of the Appalachian Trail. These trails range from easy treks to challenging hikes that lead to beautiful waterfalls, panoramic viewpoints, and quiet wooded areas.
Also, Shenandoah National Park is full of wildlife. Expect to spot a few deer, black bears, and numerous birds as you walk along.
Shenandoah offers a variety of accommodation options for those wishing to stay the entire weekend. You can choose from traditional lodges, and cozy cabins, or for a more rustic weekend, there are several camping spots to set up your tent.
This is truly one of my favorite weekend getaways in Virginia's mountains.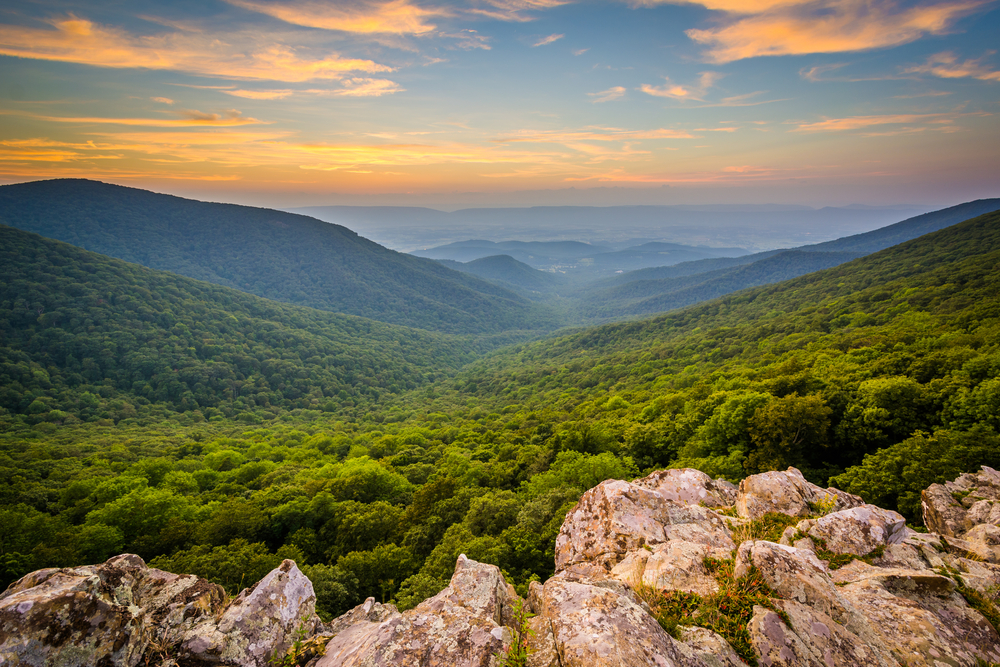 Massanutten Resort
Massanutten Resort is always rated as one of the best Virginia mountain weekend getaways. This breathtaking property is located in the heart of Virginia. It spans over 6,000 acres of mountainous terrain. It's known not just for its size but also for the variety of amenities you can enjoy year-round.
Regardless of the season, you can enjoy a splash-filled day at the water park. In the summer you can enjoy the outdoor water park, and in the winter, make a splash at the indoor one.
For winter sports Massanutten Resort has the tallest vertical drop in all of Virginia, Maryland, and Pennsylvania. There are 1,110 feet of thrilling terrain, and 14 trails so all types of skiers can enjoy the mountain. When the snow stops, Massanutten turns into the coolest bike trail.
The location of the resort also adds to its appeal. It is conveniently located just minutes from the Shenandoah National Park and Skyline Drive so it is an excellent home base for exploring the natural beauty of Virginia.
Check rates & dates: Hotels.com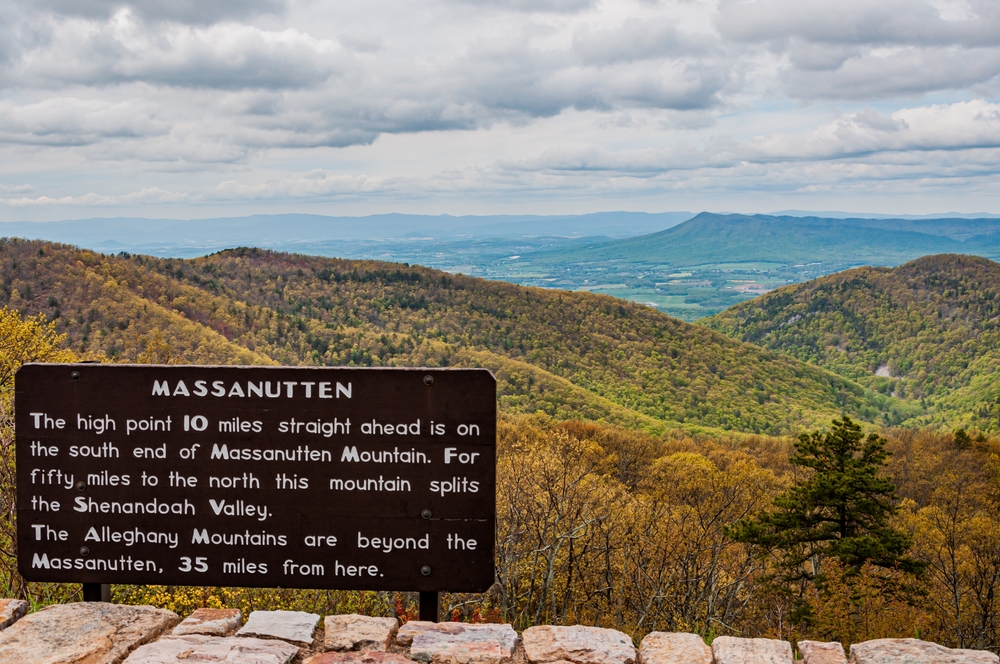 Williamsburg
Williamsburg, Virginia, is a city steeped in history and tradition and makes for excellent weekend trips in Virginia. If you don't already know, Williamsburg is on the map for its significant role in the American Revolution. And there is a living history museum that will transport you back to the 18th century.
There is also Colonial Williamsburg to check out. It is the largest outdoor history museum in the United States. Walk down cobblestone streets, visit the historic buildings, and meet interpreters dressed in period-appropriate clothes who bring history to life.
I have gone here so many times!! As a little girl, I used to dress up in a little bonnet and skirt and walk around Colonial Williamsburg with my parents and sister. It was really fun and I still love it as an adult!
In addition to its historical importance, Williamsburg also has a variety of modern attractions. It's home to Busch Gardens. Which is an action-packed adventure park with roller coasters, delicious dining, and exciting themed events throughout the year.
Williamsburg is also known for its higher education. The most notable is the College of William & Mary, which is the second-oldest college in America. The beautiful campus adds to the city's charm and attracts students from all around the world.
For outdoor lovers, Williamsburg also offers plenty of parks and trails to explore. Which are perfect for hiking, biking, and picnicking. Williamsburg is one of the best weekend getaways in Virginia for a well-rounded trip.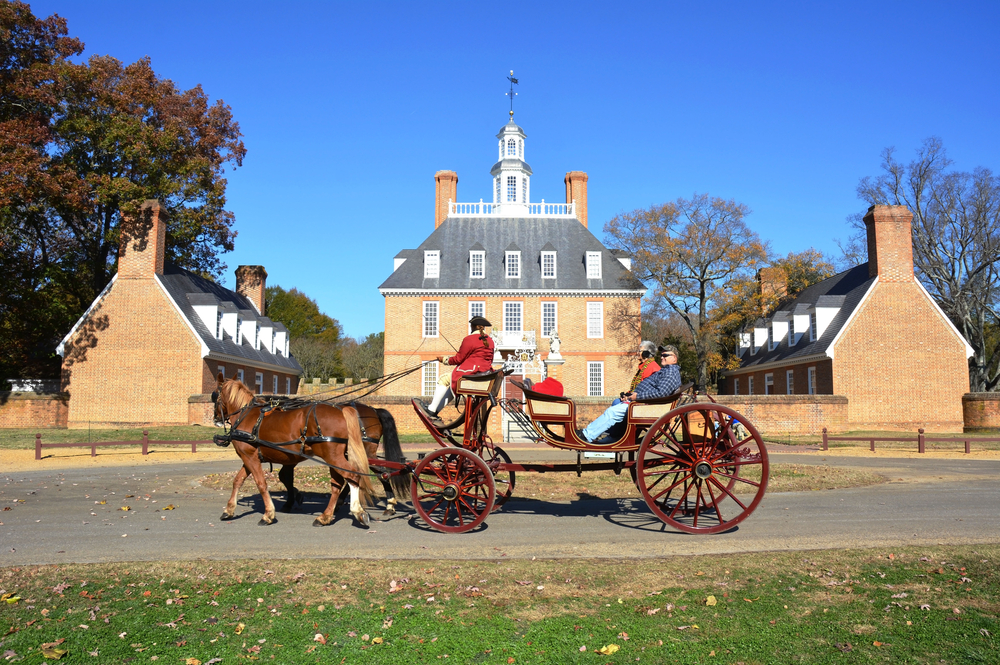 Alexandria, Virginia, is one of the top places to visit in Virginia for the weekend! This historic VA city is on the banks of the Potomac River and is just a few miles from Washington, D.C. Alexandria is best known for its history, beautifully preserved buildings, and beautiful waterfront.
In the heart of Alexandria is Old Town, which is the city's historic downtown district. It has cobblestone streets, colonial-era architecture, and plenty of boutiques shops, and dining options. King Street, the main street, is often ranked as one of the "Great Streets" of America.
One of Alexandria's most iconic landmarks is the Torpedo Factory Art Center. It was once a naval torpedo factory, but now the building displays artists' studios, and galleries, and there is even an archaeology museum inside.
If you are traveling with any history buffs, Alexandria offers numerous historic sites and museums. The George Washington Masonic National Memorial, the Stabler-Leadbeater Apothecary Museum, and the Carlyle House Historic Park are a few of the top museums to check out.
And of course, we have to talk about Alexandria's proximity to Washington, D.C . You can be in the nation's capital in just under 30 minutes. You can also visit national landmarks like the Smithsonian museums, the National Mall, and the U.S. Capitol can be just a short metro ride away.
If you are looking to get outside during your weekend getaway in Virginia the Mount Vernon Trail is the perfect place to start. This is a scenic 18-mile path that runs along the Potomac River from Mount Vernon to Theodore Roosevelt Island. And, Alexandria's waterfront is also a popular spot for boating, kayaking, and paddleboarding.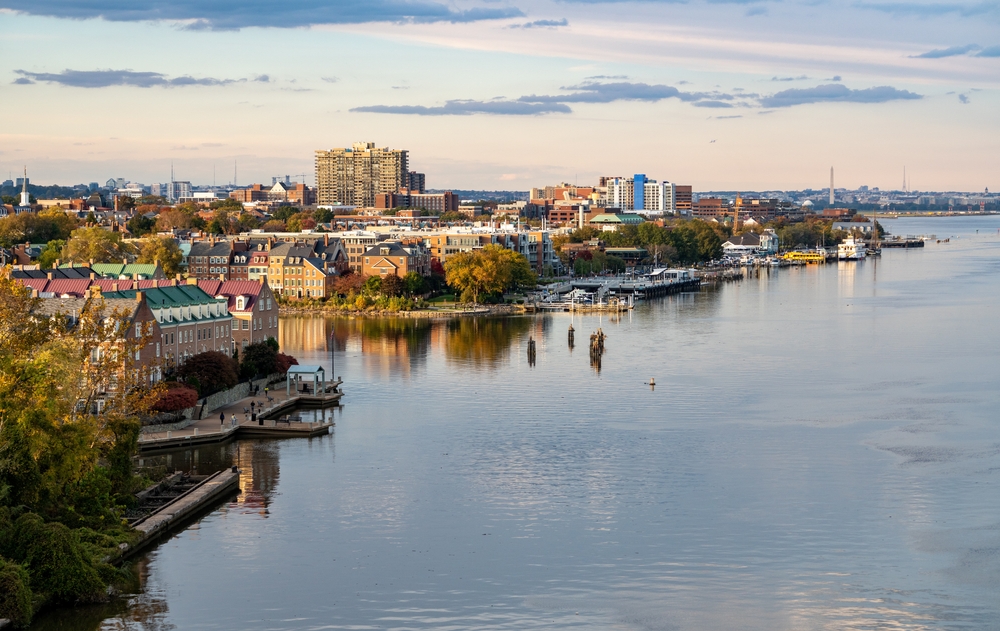 The Omni Homestead
The Omni Homestead Resort is located in Hot Springs, Virginia. This is a luxurious retreat that offers plenty of activities and experiences for one of the most romantic weekend getaways in Virginia. This unique resort in VA is home to a two-acre water park or you can soak in the sun, take a refreshing dip, or simply relax by the pool.
There is also hiking to be done at the nearby Cascades Gorge. This picturesque trail features beautiful waterfalls and diverse blooms that provide a perfect blend of adventure and nature. Pack your clubs too because the Omni resort has one of the top-ranked golf courses and the nation's oldest first tee.
And if you prefer staying indoors, the Omni Homestead resort has you covered there too. There is a private movie theater and a family game room that is the perfect place for some downtime. A weekend at The Omni Homestead Resort wouldn't be complete without booking one of the spa services. Try one of the relaxing couple's massage or refresh in the mineral hot springs that the area is famous for.
You can also book a daily historic tour which gives you a chance to learn about the resort's history and hot springs. And for dining, there is everything from casual quick eats to fine dining right on the resort.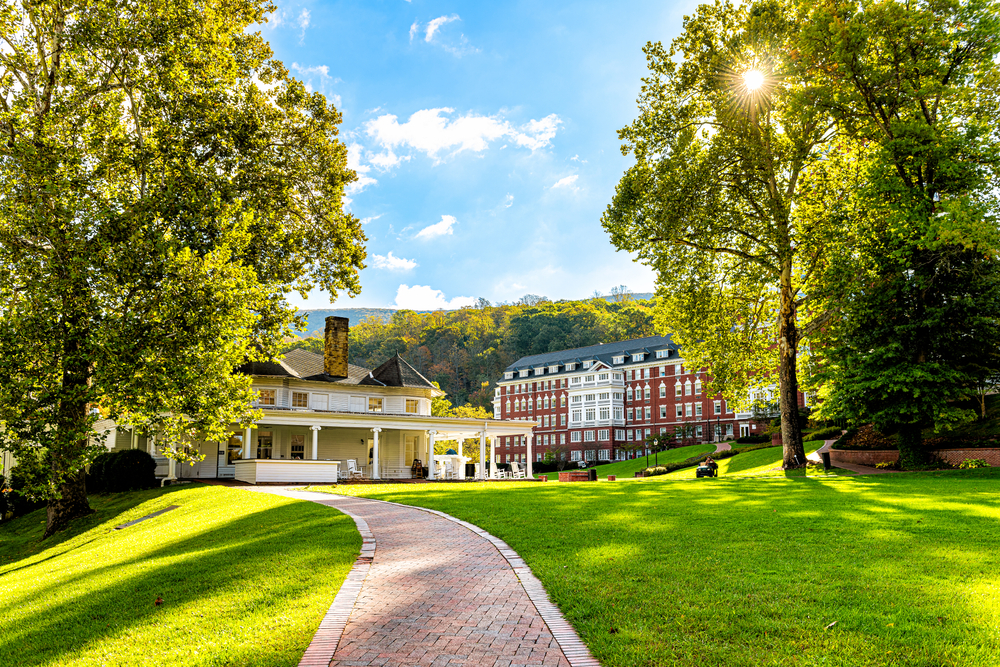 Richmond
Spending some time in Richmond is the best mini-vacation in Virginia. Richmond has a bright cultural scene, a rich history, and impressive foodie spots.
Start your visit in Richmond by exploring the Virginia Museum of Fine Arts. Here you can see a wide range of art from all around the world. To get your history filled in the American Civil War Museum and the Virginia State Capitol are must-sees.
Richmond is also known to have an active outdoor community. The James River Park has a variety of trails for hiking and biking. And the Lewis Ginter Botanical Garden is another great spot to enjoy the great outdoors. One unique way to explore downtown Richmond is through the 1.25-mile urban walk along the James River. This will teach you about the importance of Richmond while learning and enjoying some fresh air.
For a taste of local culture, head to Richmond's oldest neighborhood, Church Hill. Here you'll find The Roosevelt, a Southern-style restaurant known for its Southern dishes and delicious craft cocktails.
You will also love shopping at the local boutiques in the Carytown district. And if you're visiting on a weekend, don't miss the chance to explore one of the local farmers' markets, where you can find everything from fresh produce to homemade gifts.
Finally, make sure to visit Maymon. This is a 100-acre Victorian estate featuring beautiful gardens, a nature center, and a historic mansion. It's the perfect spot to unwind and soak up some local VA history.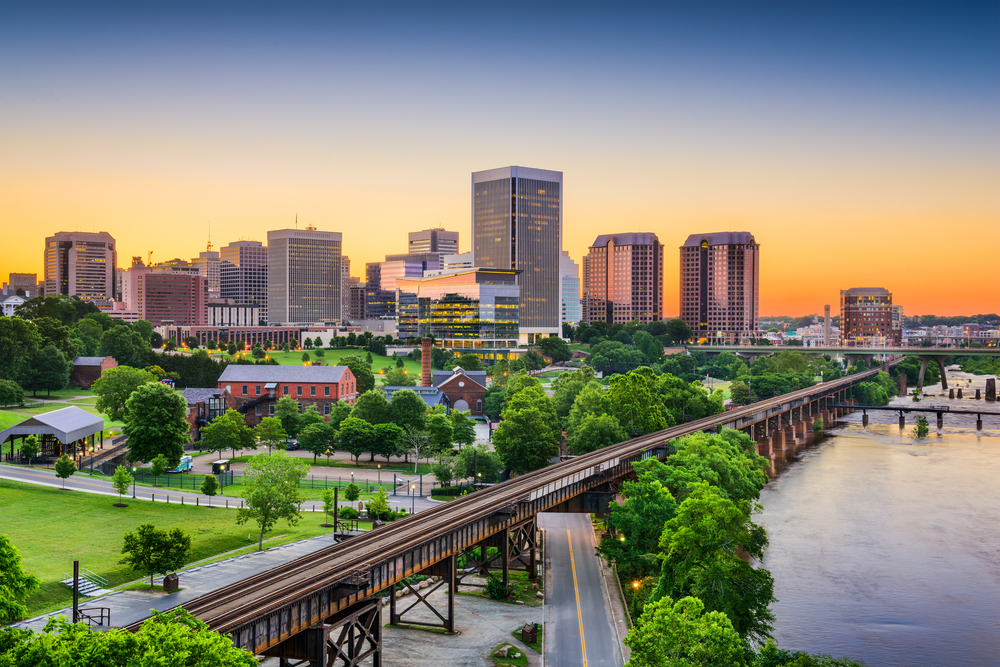 Charlottesville
Charlottesville is one of the best locations for a Virginia girl's trip ideas. It is a perfect blend of history, culture, and outdoor beauty.
Start your visit to the historic Monticello which was once the home of Thomas Jefferson. This beautifully preserved plantation gives guided tours that provide insight into Jefferson's life and his many contributions to the nation's history.
Just a short drive from Monticello is James Monroe's Highland. This is another historic presidential home that's worth a visit. And the University of Virginia, founded by Jefferson himself, is a UNESCO World Heritage Site with a stunning campus
For lovers of the great outdoors, Charlottesville, VA is a start of the Blue Ridge Mountains and Shenandoah National Parks. There are numerous hiking trails, beautiful drives, and opportunities for wildlife spotting. Closer to town, you can enjoy a leisurely stroll or bike ride along the Rivanna Trail, a 20-mile urban wilderness trail.
Charlottesville VA is also known for its vibrant arts scene. The downtown pedestrian mall has art galleries, theaters, shops, and restaurants. After that try to catch a show at the Paramount Theater or enjoy live music at one of the many venues around town!
Foodies will fall in love with Charlottesville's culinary scene. From farm-to-table restaurants to food trucks, there's something for everyone. And don't miss the chance to visit one of the area's many vineyards. Charlottesville is in the heart of Virginia wine country and offers plenty of opportunities for wine tasting.
Finally, all bookworms should visit the New Dominion Bookshook. This is the oldest independent bookseller in Virginia. It's the perfect place to pick up a new read and enjoy the cozy and welcoming atmosphere. Heading in Charlottesville is one of the best weekend getaways in Virginia!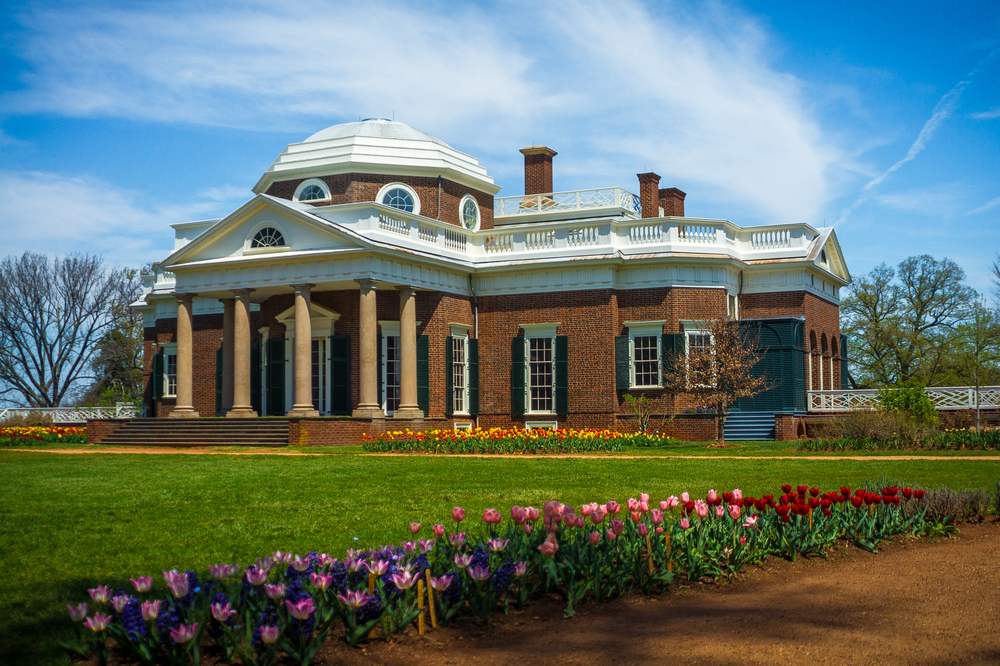 Lexington, Virginia, is a charming small VA town known for its rich history, natural mountain beauty, and walkable downtown area. It makes for one of the best and inexpensive romantic getaways in Virginia filled with a variety of activities.
Start your visit at the Visitor Center of Lexington. Here, you can map out your itinerary and learn about Lexington's history. The University Chapel and Galleries are also worth a visit, offering a glimpse into the educational and artistic legacy of the region.
The outdoors is one of the reasons Lexington is special. You can spend time hiking in parks or exploring the Rockbridge County area. Food lovers will find plenty to savor in Lexington. The town boasts numerous restaurants, ranging from cozy cafes to upscale dining establishments.
The Main Street in Lexington has everything you want in a shopping experience. There are a number of boutiques, galleries, and restaurants just steps away, it's an ideal place to spend a leisurely afternoon picking up one-of-a-kind finds. You will be so happy you picked Lexington, it is one of the best weekend getaways in Virginia.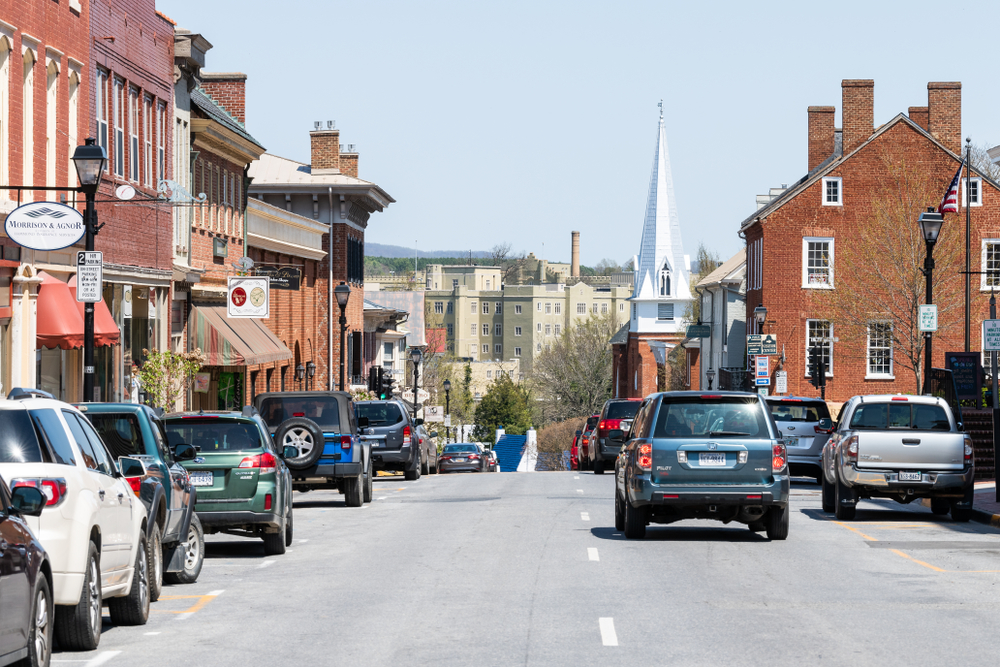 Cape Charles
Cape Charles, Virginia, is a hidden gem on the Eastern Shore. It is the perfect place for a quiet family weekend getaway in Virginia. It has a very laid-back small-town vibe. You will love the historic charm, beautiful beaches, and a relaxed atmosphere.
During your stay, start by exploring the downtown's sweet little shops that offer unique local goods. The downtown area is full of life and perfect for leisurely strolls. You find a local brewery, distillery, ice cream shop, and oceanfront restaurants. In the evenings, there's nothing like ending the day with a beautiful sunset over the Chesapeake Bay.
One of the top attractions in Cape Charles is the beachfront. This is the perfect place to relax, soak up the sun, and take a refreshing swim in the clean water. You can also visit Kiptopeke State Park, which is an excellent place for hiking, fishing, and camping. Both of these locations allow dogs on the beach year-round. So bring the whole family and enjoy one of the best weekend getaways in VA.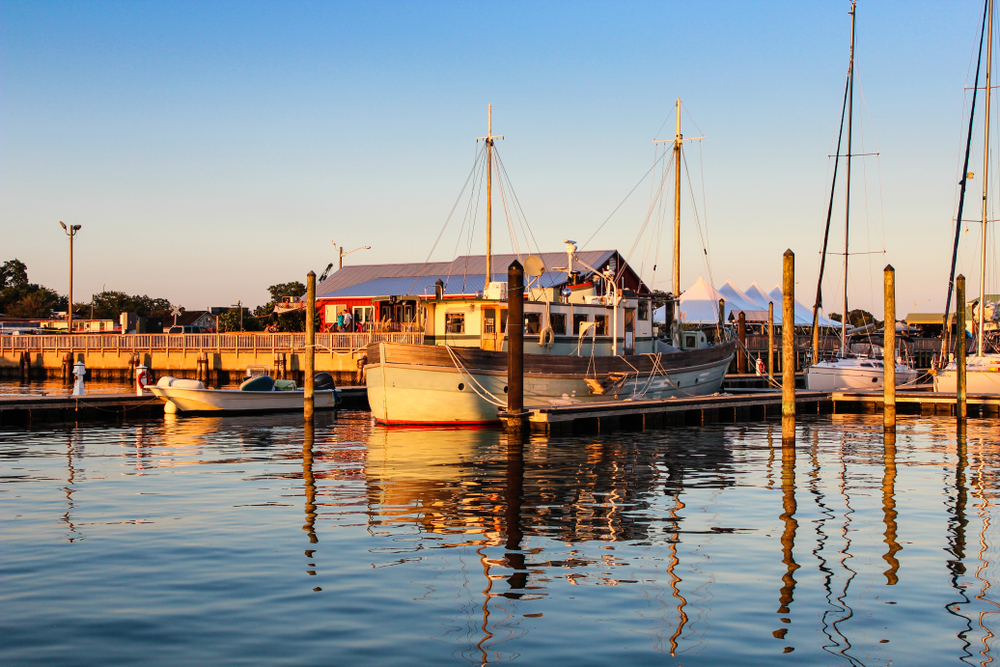 Lake Moomaw
Lake Moomaw is located in the mountains of western Virginia. This beautiful lake is a quiet haven if you are looking to escape for the weekend. The 2,530-acre lake is ideal for boating, canoeing, and fishing. Rig your poles for Trout, bass, and catfish.
If you're more of a land-lover, the area surrounding the lake has plenty of hiking trails. These trails offer stunning views of the lake and the nearby Alleghany Mountains. Moomaw is also surrounded by 3 campgrounds. Most camp spots are first come first serve, so try and get there early to the best spots.
For those who prefer to be in the water rather than on it, there are also plenty of places to swim. The lake's beaches are a great place to relax and enjoy a picnic or campfire. If you are looking for one of the best weekend getaways in Virginia on a budget, Lake Moomaw is the perfect place for you!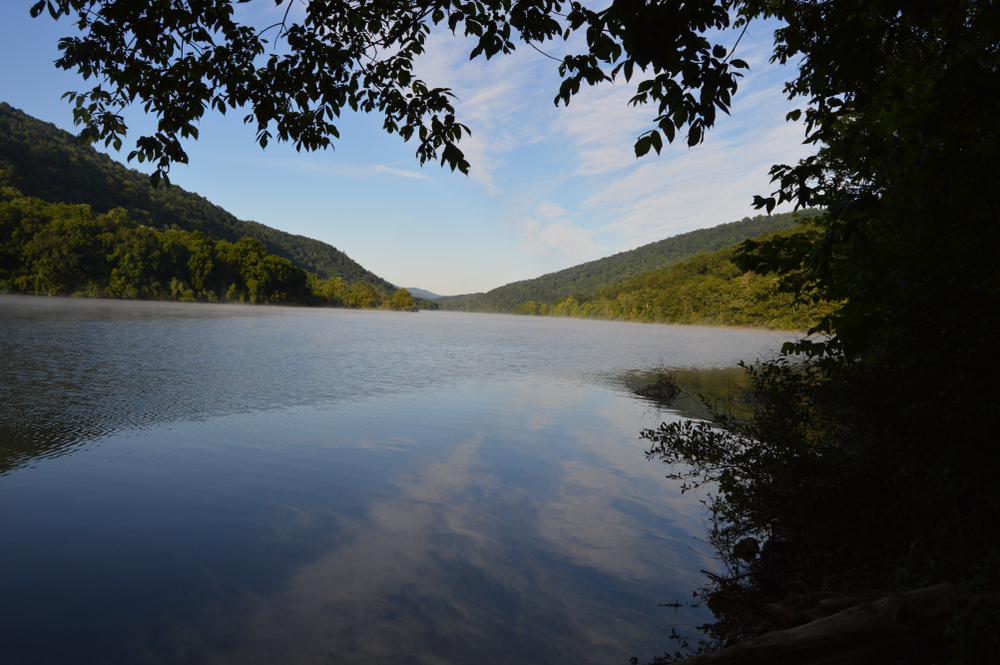 Luray Caverns
Luray Caverns, located in Luray, Virginia, is a popular destination for weekend getaways in VA and is known for its breathtaking natural beauty.
This was my Dad's favorite place growing up and we visited many times. It is worth it and a great weekend getaway in Virginia for families. I know, because I did it growing up, and it is still cool!
The main attraction at Luray Caverns is the cavern itself. A self-guided tour reveals 19 different stops, each with a special geological formation. Be sure to take some time checking out the Luray Cavern Organ. This is a natural lithophone that produces musical tones when struck. There is also an underground lake that has the most beautiful reflections of the stalactites above.
Admission to Luray Caverns will also give you access to several museums in Luray. Check out the Toy and Car Museum for a look into the past. And the Luray Valley Museum will give you an insight into the local history of Luray.
If you have more time on your weekend trip, you can also explore the surrounding area as the Luray Caverns are located very close to the Shenandoah National Park. This is one of the best places to visit if you are looking for one of the weekend getaways in Virginia on a budget!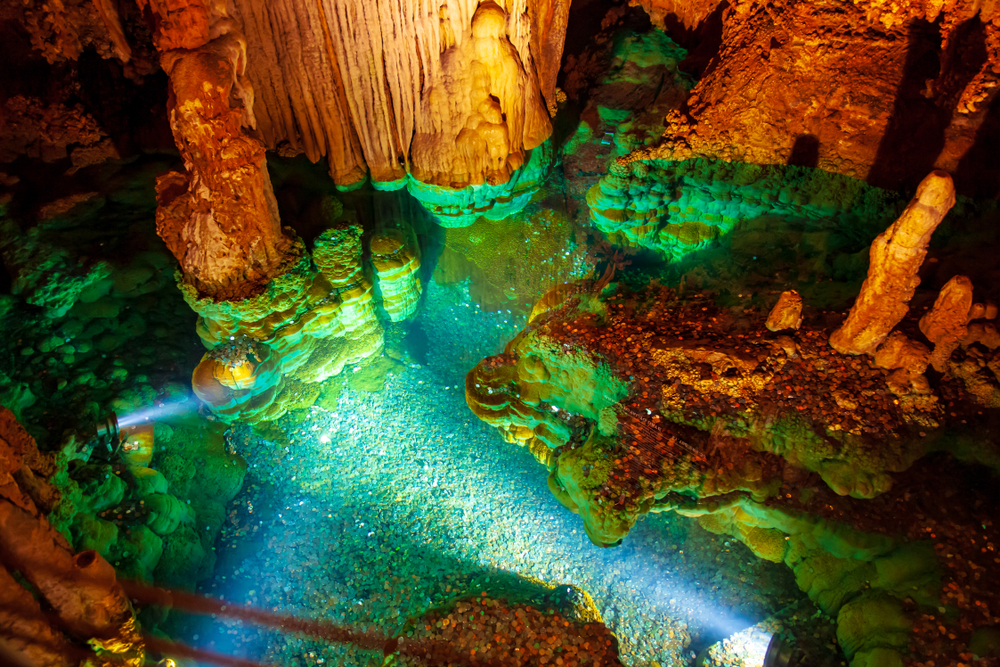 Natural Bridge
Natural Bridge, Virginia is one of the best quick trips in Virginia. This small town has been an important part of US history and is a great place to relax in nature.
One of the main attractions is the Natural Bridge State Park. Here, you'll find the famous natural limestone arch. It stands at an impressive 215 feet high and is a truly breathtaking sight. The park has beautiful forests and beautiful rock formations.
For animal lovers or people traveling with children, the Virginia Safari Park is a must-visit. This is a drive-thru zoo that allows you to get up close and personal with a variety of animals. You can purchase animal food, and the animals will come right up to your window and eat the food. Hold on tight to your bucket because the animals will try and knock it out of your hand and eat the entire thing.
Nearby there is also the Great Valley Farm Brewery and Halcyon Days Cider. Both are set in amazing outdoor venues and have a very relaxed atmosphere. All of these attractions make Natural Bridge VA one of the best places to go in Virginia for the weekend.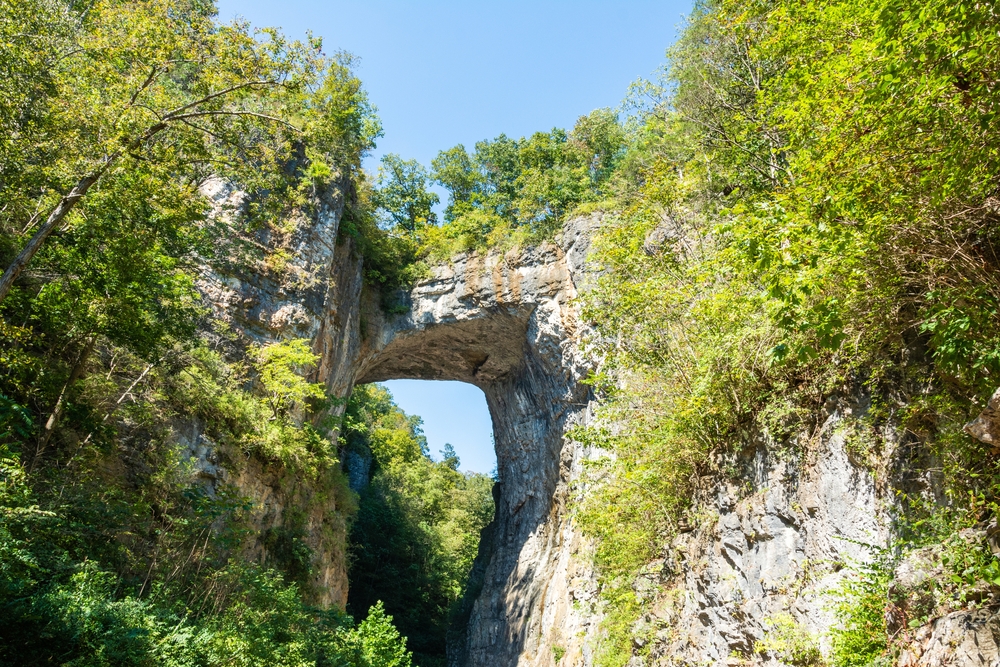 Assateague Island National Seashore
Up next for fun Virginia weekend getaways, is the Assateague Island National Seashore. The Assateague Island is best known for its herd of wild ponies. These ponies freely roam around the island. For the best chance of seeing them, head to the marsh areas, this is their favorite place for a snack.
There is more to this VA barrier island though. It is 37 miles long and is located off the eastern coast of the Delmarva Peninsula. The sandy beaches, salt marshes, maritime forests, and coastal bays provide a range of areas that are the perfect place for exploration.
Assateague also offers fun activities like fishing, biking, kayaking, and hiking. The island's south entrance is a quarter-mile east of Chincoteague, Virginia, and Ocean City, Maryland, making it easy to create no matter where you are coming from.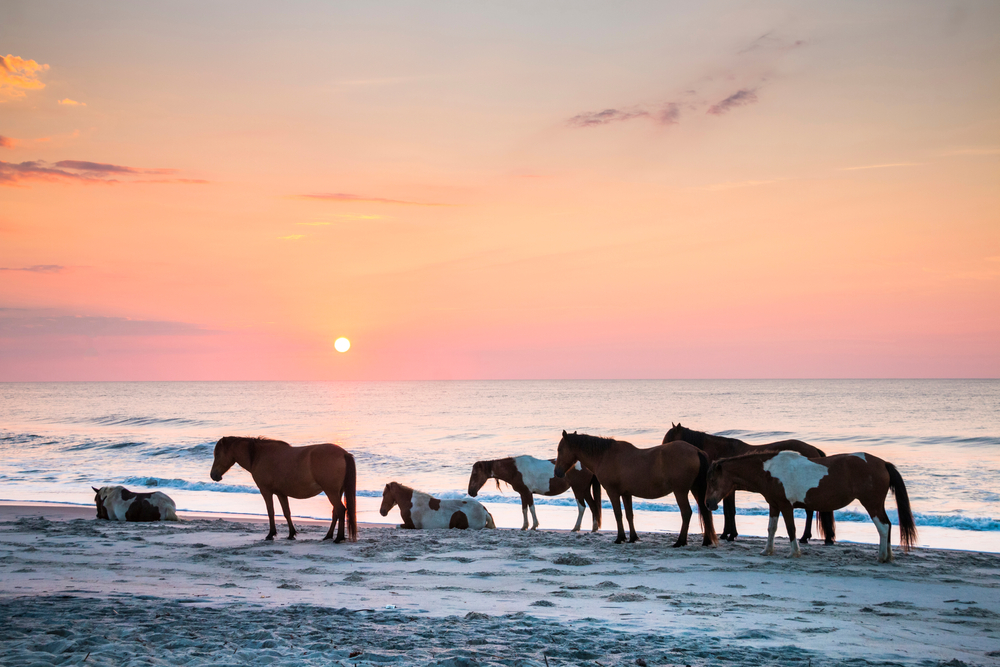 Reader Interactions
Leave a reply cancel reply.
Your email address will not be published. Required fields are marked *
Save my name, email, and website in this browser for the next time I comment.
This site uses Akismet to reduce spam. Learn how your comment data is processed .
Car Rentals
Airport Transfers
Attractions & Tours
Bundle & Save
Destinations
Trip.com Rewards
Weekend Getaways in Virginia: Experience the Charm of Old Dominion State

by Trip.com
March 12, 2023
Introduction
Richmond / Source: STEPHEN POORE @ unsplash
1. Weekend Getaways in Virginia - Virginia Beach
Virginia Beach / Source: Trip.com
First Landing State Park / Source: Trip.com
Popular Attractions In Virginia Beach
Virginia Beach Boardwalk / Source: Marshall Williams @ unsplash
Where to Stay?
The Cavalier Hotel Swimming Pool / Source: Trip.com
The Cavalier Virginia Beach, Autograph Collection
Swimming pool
Hilton Virginia Beach Oceanfront
Hilton vacation club ocean beach club virginia beach, how to get to virginia beach.
SpringHill Suites by Marriott Virginia Beach Oceanfront / Source: Trip.com
2. Weekend Getaways in Virginia - Shenandoah Valley
Shenandoah National Park / Source: Trip.com
Luray Caverns / Source: Trip.com
Popular Attractions In Shenandoah Valley
Big Meadows Lodge
Pets allowed
Lewis Mountain Cabins
How to get to shenandoah valley, 3. weekend getaways in virginia - williamsburg.
Colonial Williamsburg Visitor Center / Source: Trip.com
Popular Attractions In Williamsburg
Busch Gardens Williamsburg / Source: Drew Hastings @ unsplash
Where to stay?
Williamsburg Inn / Source: Trip.com
Williamsburg Inn - A Colonial Williamsburg Hotel
Airport pickup service
Great Wolf Lodge Williamsburg
How to get to williamsburg.
Governor's Palace / Source: Trip.com
Weekend Getaways in Virginia: Things to Do
Outdoor activities.
Blue Ridge Mountains / Source: Wes Hicks @ unsplash
James River / Source: Trip.com
Historic Landmarks
Yorktown Battlefield / Source: Trip.com
Arts and Culture
Wolf Trap National Park for the Performing Arts / Source: Trip.com
Food and Drink
Weekend getaways in virginia: conclusion.
Huntington Park / Source: Trip.com
Travel Tips for weekend getaways in Virginia
Skyline Dr / Source: Trip.com
1. Check the Weather:
Virginia's weather can be unpredictable, so be sure to check the forecast before you go. Depending on the time of year and location within the state, you may need to pack for both warm and cool weather.
2. Dress in Layers:
To prepare for Virginia's varying weather, it's always a good idea to dress in layers. This way, you can easily add or remove clothing as needed to stay comfortable throughout the day.
3. Consider the Time of Year:
The best time to visit Virginia depends on your interests and preferred activities. Spring and fall are great times to explore the outdoors and enjoy the natural beauty of the state, while summer is perfect for beach vacations and water sports. Winter can be a great time to visit for skiing and other winter activities.
4. Book Accommodations in Advance:
Virginia's popular weekend getaway destinations, such as Virginia Wine Country and Virginia Beach, can fill up quickly during peak travel times. It's best to book accommodations in advance to ensure you have a place to stay that meets your needs and budget.
5. Plan Your Itinerary:
With so many attractions and activities to choose from in Virginia, it's important to plan your itinerary in advance. This will help you make the most of your time and ensure that you don't miss any must-see sights or experiences.
Weekend Getaways in Virginia: FAQs
What is the best time to visit virginia for a weekend getaway, how far is virginia beach from richmond, what are some must-see attractions in williamsburg, are there any pet-friendly weekend getaway destinations in virginia, what are some outdoor activities to do in virginia during a weekend getaway.
Weekend Getaways in Virginia
● Introduction
● 1. Weekend Getaways in Virginia - Virginia Beach
● 2. Weekend Getaways in Virginia - Shenandoah Valley
● 3. Weekend Getaways in Virginia - Williamsburg
● Weekend Getaways in Virginia: Things to Do
● Weekend Getaways in Virginia: Conclusion
● Travel Tips for weekend getaways in Virginia
<h3>Trending Searches</h3>
Trip to Ukraine cost
weather in Japan in October
Trip to Honduras cost
Trip to Samoa cost
trip to Darjeeling cost
Temperature in August in Singapore
weekend getaways in wisconsin
Climate in Thailand
Trip to Cayman Islands cost
Trip to Georgia cost
CINCINNATI DOWNTOWN map
Cheap Flights From Chicago To Seattle
Atlanta to Raleigh flight time
Nashville to Orlando flight time
US Travel Ban
Real-time Train Departure Status
Low-cost Airline Flights Between These Cities
family friendly hotels in Monterey
Sarasota County Resorts
Setubal hostel
Trip to Ethiopia cost
trip to Andaman cost
weather in Japan in September
trip to Lakshadweep cost
Malaysia trip cost
weekend getaways in tennessee
Climate in South Korea
trip to Thailand cost
Customer Support
Service Guarantee
Website Feedback
About Trip.com
Terms & Conditions
Privacy Statement
About Trip.com Group
Other Services
Investor Relations
Affiliate Program
List My Hotel
Become a Supplier

11 Top-Rated Weekend Getaways in Virginia
Written by Alison Abbott and Barbara Radcliffe Rogers Updated Mar 2, 2023
As the saying goes, Virginia is for lovers. Visitors will quickly learn that this love doesn't just apply to affairs of the heart. Virginia is filled with weekend getaways for those who love adventure, the outdoors, history, and the beach .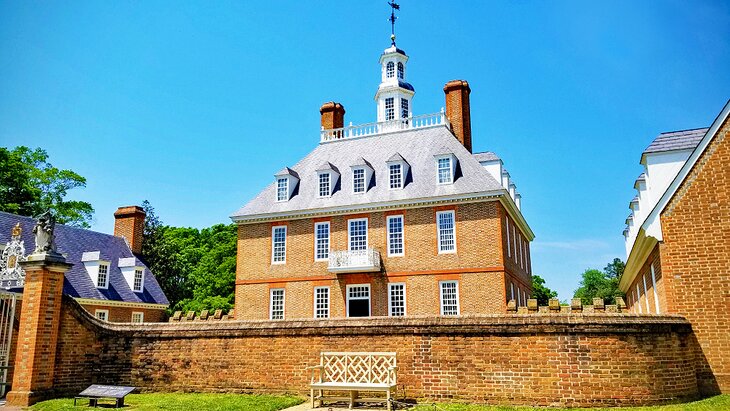 Virginia has something for everyone , from Colonial Williamsburg and presidential homes for the history buff to Shenandoah National Park and the barrier island of Chincoteague for the nature lover. Plan your adventures and find the top places to visit with this list of the best weekend getaways in Virginia.
1. Virginia Beach, Virginia
2. williamsburg, virginia, 3. old town alexandria, virginia, 4. chincoteague island, virginia, 5. george washington and jefferson national forests, virginia, 6. mount vernon, virginia, 7. shenandoah national park, virginia, 8. monticello and presidential homes in charlottesville, 9. richmond, virginia, 10. lexington, virginia, 11. virginia's eastern shore, map of weekend getaways in virginia.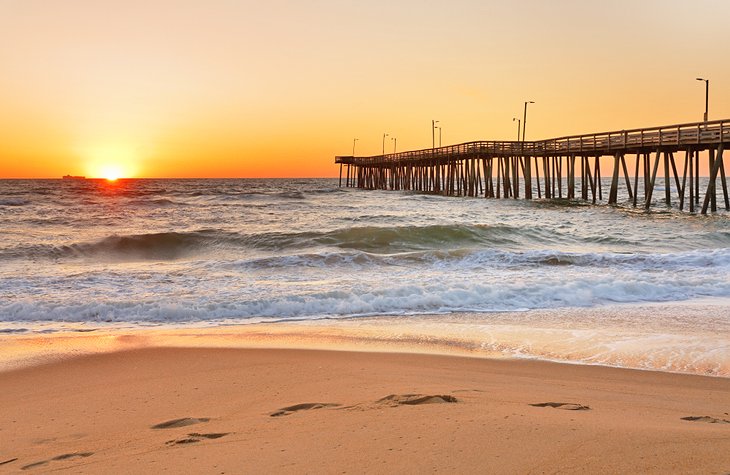 Virginia Beach is the perfect place to visit to have some fun in the sun. This bustling area is home to state parks, many protected beach areas , as well as historic sites. The pristine beaches (they are raked every night) are filled with tourists in the summer, but in the fall months, you can still enjoy all that they have to offer without the crowds, whether you rent a condo or stay at one of the many resorts .
Some of the most popular things to do in Virginia Beach are water related activities like parasailing at Beach Parasail or taking a sunset cruise. But the beach isn't the only draw here — you can head to the Virginia Aquarium and Marine Center and observe local sea life or visit the First Landing State Park , the most visited park in Virginia.
Want to stay on the water? Look to the Comfort Suites Beachfront . Every room is a suite and has a view of the ocean, where you can watch the action on the water.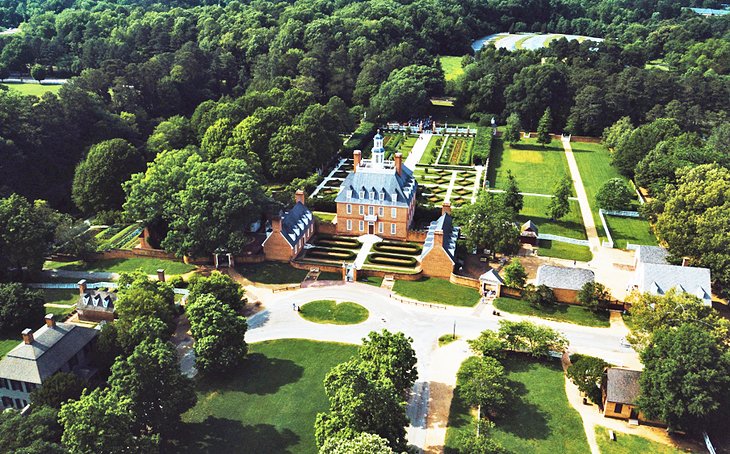 The Colonial Capital of Virginia, Williamsburg is best known for its 18th-century charm at Colonial Williamsburg , a living history museum set in the actual buildings used by the founders of the nation. Here, they host many historical and cultural activities centered around this time period.
If you're seeking more adventure than an 18th-century colony can provide, head to Busch Gardens Williamsburg to get your thrills on their world-class roller coasters and rides.
For another round of history, stop at the Yorktown Battlefield and Jamestown.
Where to Stay: There are plenty of places to stay, but for a historic feel, try the Marriott's Manor Club at Ford's Colony Vacation villas, which are great for families offer fully equipped kitchens and washer/dryers are included, while the smaller guest rooms provide kitchenettes. The location is just a short distance to popular attractions.
Accommodation: Top-Rated Resorts in Williamsburg, VA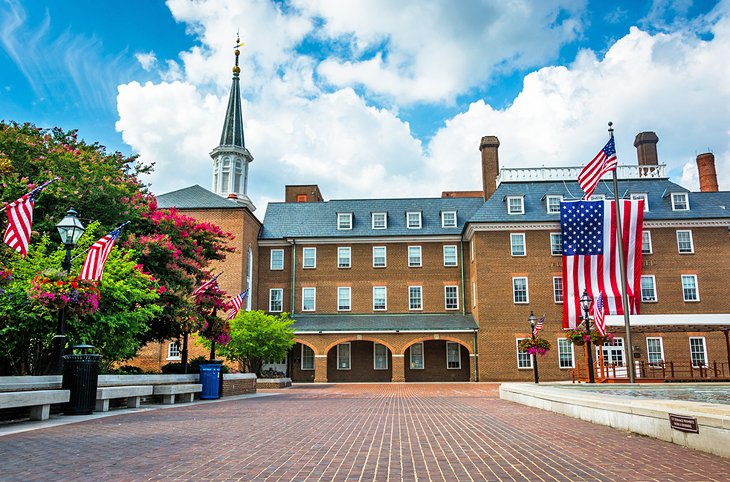 Alexandria is a stone's throw from the bustling metro of Washington D.C. , but Old Town Alexandria may as well be a world away. With its charming historic homes dating back to the 1700s, unique shops, and world-class restaurants, this pedestrian-friendly city is a wonderful romantic escape for couples . It is also easily accessible to D.C. via the Metro line.
With everything that Alexandria has to offer, you may never leave Old Town. You can take a walk down to the waterfront and jump on a water taxi or cruise from the Potomac Riverboat Company , or visit one of the many historical sites like the Gadsby's Tavern Museum , the Stabler-Leadbeater Apothecary Museum, or the Carlyle House .
Make sure not to miss The Torpedo Factory , a converted warehouse filled with artists' studios and galleries.
Where to Stay: Old Town is a wonderful walking area. For a stay right in the heart of the district, choose Hotel Indigo Old Town Alexandria . The property represents good value for visitors and is steps to the banks of the Potomac waterfront. Free Wi-Fi and a pet-friendly welcome makes it a favorite with dog lovers on a weekend escape.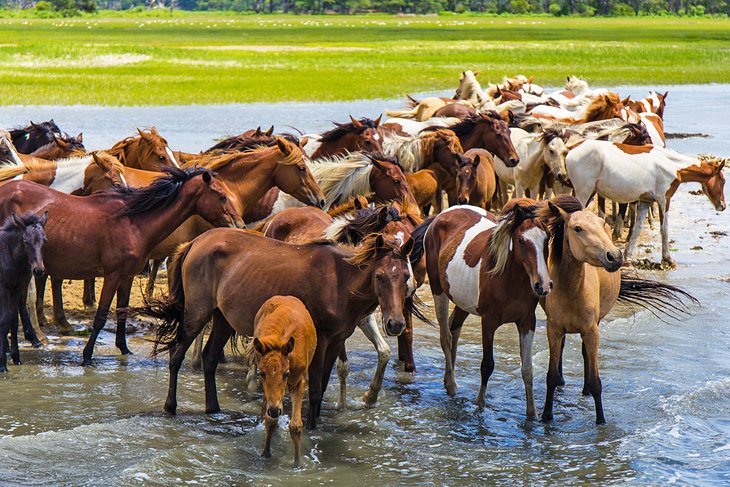 This beautiful barrier island is known for its sandy beaches and its world-famous wild ponies, which have been delighting visitors for centuries. The ponies aren't the only draw to Chincoteague Island, though.
Outdoor adventurers will find hiking and biking trails throughout the island. Fishing and boating are also popular activities. Head to Snug Harbor to rent a boat and tour the island.
In addition, visitors can book a tour on the Assateague Explorer , which will take you on a cruise to the hidden Chincoteague, where you might spot ponies, eagles, or dolphins.
Where to Stay: The Hampton Inn and Suites Chincoteague-Waterfront Hotel is just 1.5 miles from the wildlife refuge, and comes with free breakfast and an indoor pool.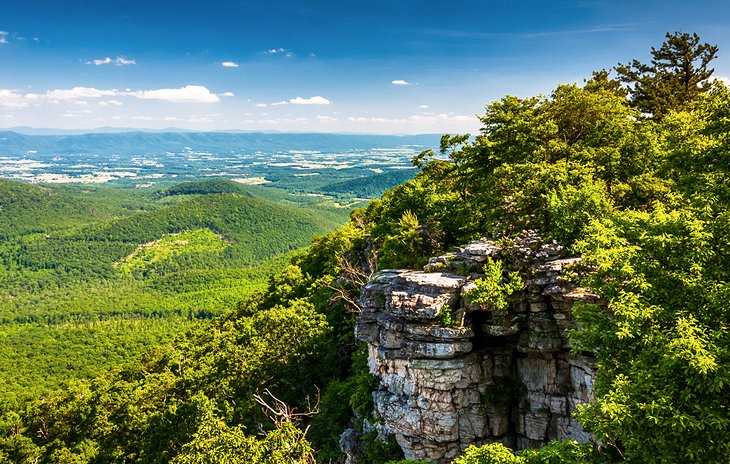 Outdoor adventurers will find solace in the George Washington and Jefferson National Forest. These two natural wonderlands combine to cover one of the largest public land areas in the eastern U.S.
This nature-lovers playground is perfect for those who want to rest, recharge, and unplug from the daily grind. Among these parks are seventeen designated wilderness areas, which are filled with babbling brooks, miles of streams, and thousands of miles of hiking trails.
You can take a scenic drive down the Blue Ridge Parkway , which cuts through this lush paradise for one of the most beautiful rides in the country. For skilled hikers, make the trek up to Mount Rogers , Virginia's tallest peak, for 360-degree views or check out the High Knob Fire Lookout Tower . At an elevation of 4,107 feet, you can see for miles and miles.
Where to Stay: Continue to recharge with a stay at the Tru by Hilton Roanoke Hollins , less than five miles from the George Washington and Jefferson National Forests. Large family-sized rooms (kids stay free) have mountain views, and the hot breakfast is included in the budget-friendly rates.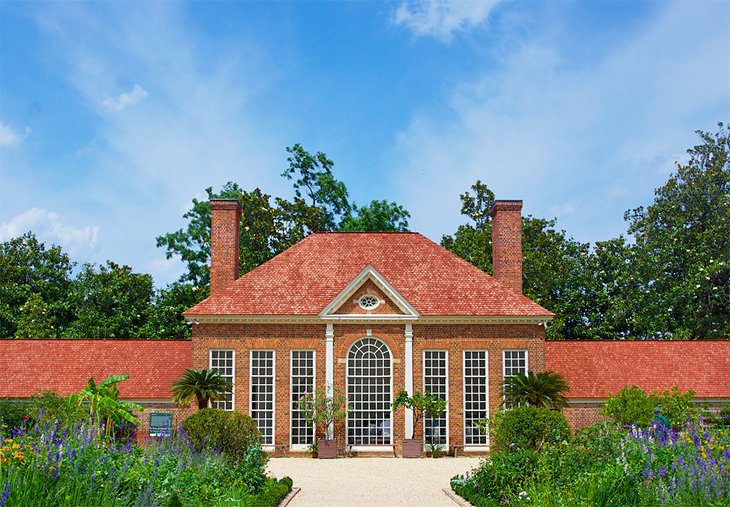 Mount Vernon is a must-see when visiting Virginia. This was the plantation house of George Washington, our nation's first president and is on the National Registry of Historic Places .
The picturesque Mount Vernon estate is located on the banks of the Potomac River near Alexandria. The house dates to the mid-1700s, and on its grounds visitors will find plenty to see and do, from walking through the beautifully manicured gardens to touring the Mansion .
You will meet farm animals as you tour the plantation, and see period skills demonstrated, such as weaving, spinning, blacksmithing and grinding corn in Washington's water-powered gristmill.
Close to Mt. Vernon, you will want to tour two other plantations often visited by the Washingtons. Woodlawn Mansion's plantation began as part of George Washington's large estate, and he had the home built as a wedding gift for his step-granddaughter, Nelly Parke Custis, and her husband Lawrence Lewis. The plantation continued to have an interesting history, and is now the venue for one of the largest needlework shows in the country.
A few miles along the Potomac River from Mount Vernon, Gunston Hall was the home of Washington's friend and fellow patriot, George Mason. At his plantation, you can see the reconstructed kitchen, dairy, and laundry, as well as the gardens and archeological sites.
Where to Stay: Those exploring these historic sites with children will appreciate the modestly priced family-sized rooms and complimentary breakfast at the Best Western Mount Vernon/Ft. Belvoir , only 2.6 miles from Mt. Vernon.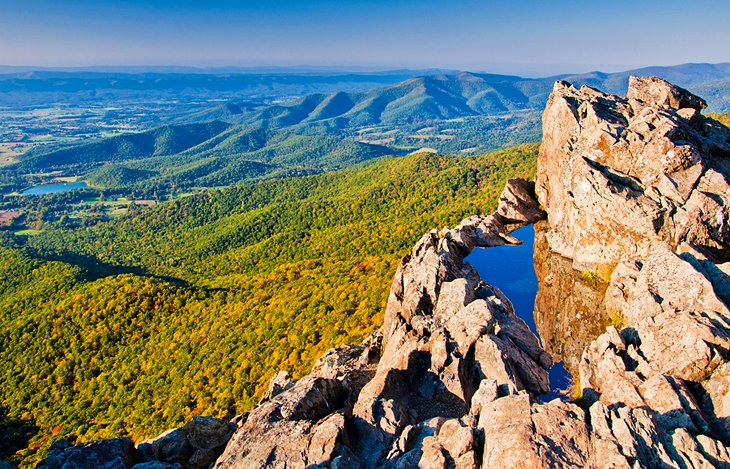 A little over an hour away from Washington D.C., the Shenandoah National Park is the perfect retreat for nature lovers. You can hike the beautiful hiking trails through cascading waterfalls, quiet woods, and some of the most beautiful views in Virginia. Spend a weekend here exploring the 200,000 acres of protected land.
A must visit while you are in Shenandoah National Forest is the Luray Caverns , the largest in the eastern US. You can view impressive stalagmites and stalactites, and you also get access to the Car & Carriage Caravan Museum , Luray Valley Museum , and Toy Town Junction .
Read More: Best Caverns in Virginia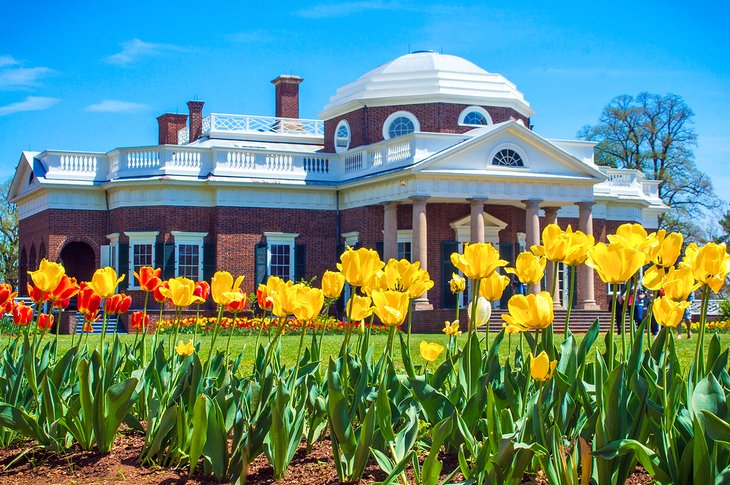 Among America's most beautiful colonial homes, Thomas Jefferson's Monticello was designed by Jefferson himself, after a visit to one of Andrea Palladio's villas in Italy. From 1768 to 1809 Jefferson continued to make changes in its design and decoration, and on a tour you'll learn of his innovations and see some of his inventions.
Jefferson also designed the gardens, through which you can stroll; you can also learn about the lives of the enslaved people who worked on the plantation. The visitor center displays artifacts and has hands-on activities designed for children.
Just north of Charlottesville is Montpelier , home of the next in the presidential line, James Madison and his wife, Dolley. Behind-the-scenes tours of their home reveal a lot about the couple and how they lived and entertained friends and political associates.
The 5th President, James Monroe and his wife, Elizabeth Kortright Monroe, made Highland their official residence from 1799 to 1823. You can tour the house, the outbuildings, and the gardens in Charlottesville .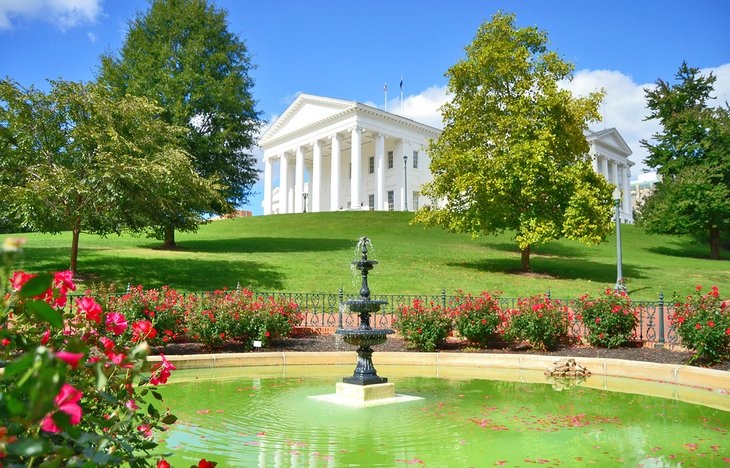 Richmond is filled with history dating back to Colonial and Civil War times. It's also a city filled with modern amenities, which make it a perfect weekend getaway for any traveler.
Richmond was once the capital of the Confederacy, so Civil War and history buffs will want to check out the American Civil War Museum and the Hollywood Cemetery.
Everyone will enjoy a walk around the centuries-old architecture and a visit to the beautifully preserved and furnished Maymont , a mansion surrounded by grounds with monumental staircases and Italian and Japanese gardens.
Those interested in modern arts and gardens can visit the Virginia Museum of Fine Arts and the Lewis Ginter Botanical Garden ; for shopping, head for the eclectic boutiques in Carytown .
Where to Stay: There are plenty of options for you when staying in Richmond. A special spot is centrally located in the heart of downtown. The elegant Jefferson Hotel has been welcoming guests since 1895. The dramatic architecture and décor speaks to another era. Complimentary transportation insures easy access to the many sites in Richmond.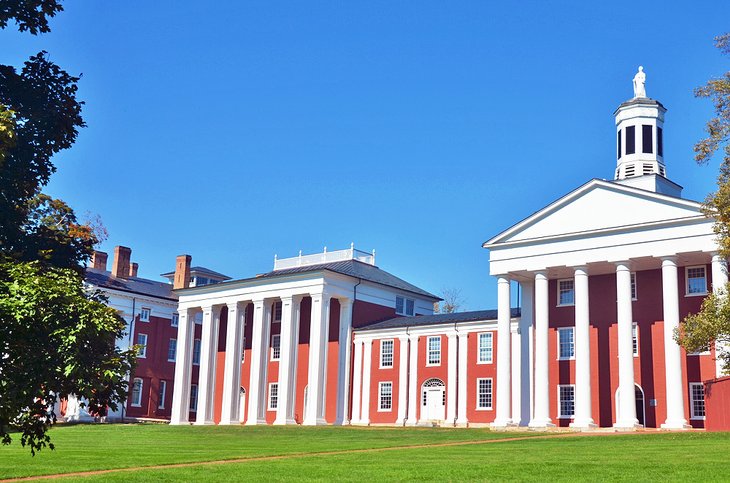 Home to the Virginia Military Institute and Washington and Lee University , this college town is filled with things to do and, like other old, small towns in Virginia , a ton of history.
The campuses are filled with historic buildings, statues, and things to do for visitors, including one of America's largest and finest collections of Asian, European, and American ceramics spanning 4,000 years. The historic Lee Chapel is also on the campus.
In the heart of town is the Stonewall Jackson House and at the Boxerwood Nature Center and Woodland Gardens , you can walk among the beautifully landscaped gardens and let your day just melt away.
The historic Col-Alto Mansion was transformed into the Hampton Inn Lexington-Historic District in 1997. Ten of the original rooms have been restored and transport guests to a bygone era, many complete with a fireplace. An additional 76 rooms are in the new building, located on seven acres of beautiful grounds.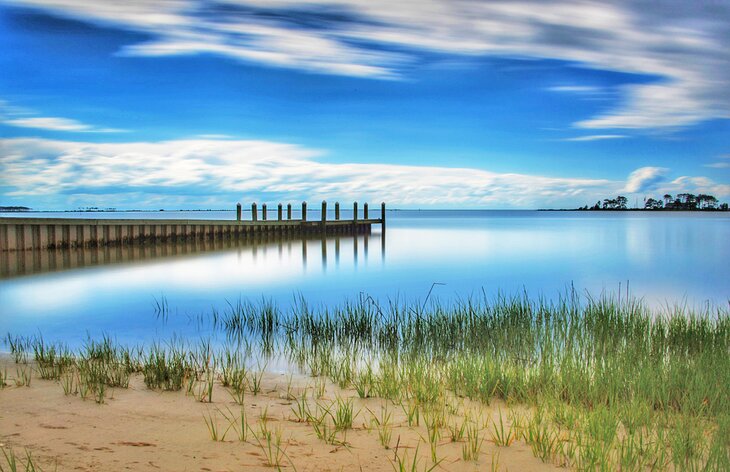 Separated from the rest of the state by the waters of Chesapeake Bay, the long narrow peninsula of the Eastern Shore is reached from the north through Maryland or from the south via the 17.5-mile Chesapeake Bay Bridge-Tunnel.
The irregular Chesapeake Bay shoreline is cut by tidal streams and bays, providing a haven for waterbirds and for kayakers, who could spend weeks exploring the inlets and grassy marshes without ever paddling the same waters.
On the Atlantic side , the coast is largely protected by barrier islands, forming protected bays and sandy islands that interlock like jigsaw puzzle pieces.
The Eastern Shore seems caught in a time warp, with sleepy little villages , tidewater towns, and the unique culture of the Watermen who harvest seafood from the Chesapeake Bay.
Cape Charles was a railway terminus and port for passenger steamers crossing the Chesapeake Bay, and its Old Town Historic District, lined with Victorian-era buildings, is on the National Register of Historic Places.
In the postcard-perfect town of Parksley , you can see old rail cars that once carried passengers into the Eastern Shore.
For a jolt back into the 21 st century, plan a stop at the free NASA Visitor Center at Wallops Flight Facility , where more than 16,000 rockets carrying aircraft, satellites, and science experiments have launched since its establishment in 1945.
The visitor center details NASA's Earth Science program, with hands-on exhibits, videos, and programs about sounding rockets, aircraft, and scientific balloons. A highlight is the interactive Sun Earth Universe exhibit.

More on Virginia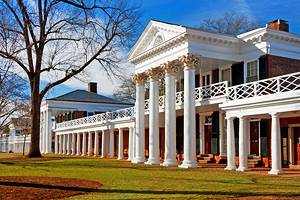 Search Search Please fill out this field.
Manage Your Subscription
Give a Gift Subscription
Sweepstakes
11 Best Weekend Getaways In Virginia For Every Type Of Traveler
Virginia's history, variety, and beauty know no bounds. From charming towns a drive away from the nation's capital and idyllic horse farms to an impressive wine industry, Virginia is full of weekend getaways just waiting to be explored. Spend the weekend exploring the homes of founding fathers or tune in for folk and bluegrass music. Head to Shenandoah National Park, travel south to the Blue Ridge Mountains , or just settle in with a nice glass of wine. No matter where the state takes you, we guarantee these Virginia destinations worthy of a weekend drive.
Courtesy of Visit Loudoun
Northern Virginia is known for its horse farms and vineyards, and there is perhaps no place more charming to experience them both than in Middleburg. Explore the town's main street and pop into shops like Crème de la Crème , where you can find hand-selected French and Italian home goods for the home, and Highcliffe Clothier , which sells custom and tailored clothing that works equally as well in Virginia or the English countryside. Grab artisan pizza and chocolate chip and Virginia peanut cookies at Knead Wine before exploring the National Sporting Library & Museum 's collection of equine paintings and sculptures. Sample the area's viticulture at wineries like Boxwood and Greenhill or stop for a taste of the local cider at Mt. Defiance . Middleburg's hotels are reasons enough to visit and gems like the Salamander , Goodstone , and the Red Fox Inn , a favorite of Jackie Kennedy Onassis, will make you want to extend your stay.
Courtesy of Richmond Tourism
Richmond is many things at once: a modern state capital, a college town, and a history-rich city. The best part of Richmond is that it embraces its multifaceted persona and provides a kaleidoscope of choose-your-own adventures for visitors. Start at the Virginia Museum of Fine Arts before continuing your museum adventure at The Poe Museum , which offers a fascinating look into the life and death of Edgar Allan Poe. After a tour of the city's rich collection of museums, head outside to Lewis Ginter Botanical Garden , a fifty-acre garden with a butterfly-filled conservatory, children's garden, and Victorian restoration garden. Richmond's hip art-filled hotel, the Quirk , is a welcome place to lay your head after a day of exploring.
Sperryville
Courtesy Virginia Tourism Corporation
While many people arrive in Sperryville on their way in or out of Shenandoah National Park and the Skyline Drive, the tiny, blink-and-you-miss-it town, packs a punch for those who choose to stay. Sperryville is a jumping-off point for several fantastic hikes, from the Hazel River Trailhead which offers a challenging 12.7 out-and-back trail, and the 7.5-mile Little Devil Stairs Loop rewards climbers with several waterfalls and sweeping vistas. Right off Sperryville's main street, Sperryville Pike, the Rappahannock Walking Trail offers a stroll rather than a sweat.
After your hike, relax at Pen Druid Fermentation , which makes native beers and natural ciders, or Copper Fox Distillery , which concocts bourbons, brandies, and ryes. Stop in Sperryville's compact Corner Store for local produce, fresh bread, pies, and quiches, and an expertly curated selection of wines from Virginia and beyond. Further up the road, you'll find galleries, potters, and a great place to refuel with a cup of coffee, Before & After . Don't leave without trying the pizza at Rappahannock Pizza Kitchen , a cocktail at Bar Francis , or an intimate, candlelit dinner at the renowned twenty-seat restaurant, The Blacksmiths . The historic inn—and ale house— Hopkin's Ordinary makes for a fantastic place to stay the night.
Courtesy of Virginia Tourism Corporation
Half Virginia, half Tennessee, Bristol is known as the town quite literally cut in two by the state line. Country music has been putting this corner of the South on the map since the early 20th century when Ralph Peer, a talent scout and music producer, traveled to Bristol from New York City to record the songs coming out of the area's hills and hollers. The most famous of those 1920s recordings were those of A.P. Carter and his family— the Carter Family —of which the legend, and reality, still loom large around Bristol today.
Start at the Smithsonian-affiliated Birthplace of Country Museum to immerse yourself in music history. Stroll Bristol's State Street, divided by the Virginia-Tennessee state line, and explore a vibrant tableau of storefronts, lunch counters, and restaurants. Stop at gems like Willow Creek Antiques and Cheap Thrills Records , and grab a bite at mid-century styled Burger Bar , the bright and modern Bloom , or Blackbird Baker for dessert. Return to music in the evening at local venues like The Paramount , The Cameo Theater , or Sidetracks . Make the thirty-five-minute drive to the Carter Family Fold in Hiltons, Virginia. Part museum, part concert venue, part dancehall, it doesn't get more country, local, or authentic. Members of the Carter family introduce the evening, rock their grandbabies to sleep on the stage, and lead the charge on getting the audience to join in the dancing. Base yourself at the in-town Bristol Hotel or at the luxurious country inn, Nicewonder Farm and Vineyards .
Charlottesville
Charlottesville is known as the home of the University of Virginia, which has one of the most beautiful campuses in the country, but the town also stands on its own thanks to its charming downtown and surrounding countryside. Start your weekend on campus exploring the interior of the rotunda and walking the grounds. Make sure to look in the dorm that once housed a young Edgar Allen Poe and visit the university's cemetery which dates back to 1828. From the campus make your way to Monticello , Thomas Jefferson's sprawling estate, to learn about the renaissance man and his complicated legacy.
When you've had your fill of history, shift to filling your glass and sample the local terroir at vineyards like Pippin Hill and King Family , which are noteworthy both for their grapes and the views. For a casual lunch, stop in at student-favorite Bodo's Bagels or head to Dairy Market , the sprawling new food hall in town with local options galore. Opt for dinner at 1799 , the restaurant at The Clifton , once the home of Jefferson's daughter and now one of the area's best places to stay. If you're looking to stay closer to the university, it doesn't get better than Oakhurst Inn , a boutique hotel located directly on the UVA campus.
Meadows of Dan
In the heart of the Blue Ridge, Meadows of Dan stuns with natural beauty at all times of the year. Most know of this countryside just half an hour north of the North Carolina state line thanks to Primland , a mountaintop report that stretches across 12,00 acres of the Blue Ridge Mountains. Arriving at Primland feels like arriving at a private grand estate that has been around for generations, even though it was only built in 2009. Explore the wilderness on the many hiking trails and ATV paths or during an afternoon of clay shooting. The highlight of a journey to either the resort or the area is Primland's observatory. The state-of-the-art facility allows for inspiring views of the night sky and lessons from a resident astronomer. While soaking in the Blue Ridge views and grounds make it hard to leave Primland, outside the resort's gates you'll the town of Meadows of Dan with its can't-miss sweet shop, Nancy's Candy Co ., and local market and lunch counter, Poor Farmer's Country Store .
Virginia Tourism Corporation
Escape to Orange, Virginia, for award-winning wineries, abundant history, and a rich food scene. Make your home base the Inn at Willow Grove , a tried-and-true historic inn with gorgeous views of the Blue Ridge. The hotel was one of the leaders in establishing the county's Edna Lewis Menu Trail, which honors one of the greats of Southern cooking, Edna Lewis. Lewis, who was one of the first African-American women to write a cookbook that didn't conceal her race or gender, is celebrated throughout the area. Sample your way through her cuisine at restaurants including the BBQ Exchange , Spoon & Spindle , and Champion Ice House .
When you've eaten your weight in barbeque, spend a few hours at James Madison's Montpelier . As the home of one of the founding fathers of both the United States and Virginia, Madison's home offers a view into his life, legacy, and role in shaping the country. Montpelier's powerful exhibit, Mere Distinction of Colour, shines a light on the story of the enslaved workers at Montpelier. Stop by the new Orange County African American Historical Society Interpretive Parklet before making time to sample the award-winning wines at Barboursville Vineyards and Horton Vineyards . Shop the best of the area's vintage clothing and quilts at Folkling in the charming town of Gordonsville, and garden at home goods at the beautiful and expansive The Market at Grelen .
Just across the Potomac from the nation's capital, Alexandria feels distinctly unique from Washington, D.C. As one of the oldest cities in America, the town is brimming with 18th-century history and charm. Soak it in historic house museums like the Lee-Fendall House and Carlyle House . No visit to the town is complete without a thorough stroll on King Street, the pedestrian thoroughfare that leads down to the water. Stop in at the Torpedo Factory Art Center , a former torpedo factory turned into a lively space for working artists' studios and shops, and Old Town Books , a petite but well-stocked bookstore housed in a former bank (complete with an existing bank vault).
If you're lucky enough to have good weather during your visit, head out on the river for a sunset tour aboard the tall ship Providence . Grab lunch at local favorite, Virtue Feed and Grain , and dinner at the newly opened Josephine which brings the romance of a French bistro to a former firehouse in Alexandria's Old Town. End the night upstairs, at Bar Jo, with a nightcap. Make time to venture out to George Washington's Mount Vernon . Just twenty minutes away, a visit to the former home of America's first president is something to add to your bucket list. For the weekend, base yourself at the centrally located historic Morrison House Hotel , or the newly opened, design-focused Hotel AKA Alexandria .
Bath County
Courtesy of The Omni Homestead Resort
West of the Shenandoah Valley and deep in the Allegheny Mountains, Bath County has been a four-season destination for generations thanks to its natural mineral springs, rural vistas, historic retreats, and fly fishing. Back in the 18th century—1761 to be exact—an octagonal bathhouse was erected for locals and visitors to bathe in the mineral springs, making it America's very first spa structure.
Since then, different iterations of the bathhouses have been built, and today you can enjoy the waters from the comfort of the historic Omni Homestead Resort . The hotel has been in operation for over 250 years and has welcomed an impressive 23 American presidents. Through the years (and a recent $140 million renovation) it has remained one of the country's most beloved resorts. It's far from the only place to stay, however. The Fort Lewis Lodge mixes luxury and rustic on its 3,300-acre property. Base yourself here for a weekend of quiet swimming, stargazing, and country walks. Whether you're a seasoned fisher or eager to take your first lesson, it would be a shame to come here without indulging in the county's pastime. For some guidance, local experts like Matt Miles or Wesley Hodges will show you the ropes. Don't leave without stopping by Troddenvale Cidery , a historic site listed on the National Register of Historic Places that is renowned for its cider made with homegrown apples.
Front Royal & Shenandoah National Park
Courtesy of Virginia Tourism
Front Royal is known to many as one of the main routes into Shenandoah National Park, but it's a destination in its own right too. The town is full of mid-century nostalgia. Its main street and roadside motels and attractions harken back to the tourism boom of the late 1930s when Skyline Drive was first extended into town. One of the newest spots, The Catamount Lounge , is embracing that throwback feeling. The cocktail lounge is an intimate space with retro décor and classic, American cocktails and light bites. It's a good place to spend an evening after spending the day hiking Shenandoah, cruising Skyline Drive , or visiting nearby Luray Caverns . Skyland and Big Meadows Lodge , the comfortably rustic lodges within Shenandoah National Parks can't be beat for overnight stays in the area.
Rocky Mount
Less than an hour south of Roanoke, Rocky Mount never disappoints for a weekend trip. The small town offers it all: a walkable downtown, great restaurants and breweries, and a lively music scene. That's a lot, especially considering the year-round population hovers only around 5,000. Rocky Mount might be best known as the gateway to the state's heritage music trail, otherwise known as The Crooked Road . The Crooked Road guides you through the area's rich heritage of bluegrass music with panels of information along the route that provide instructions on how to listen to audio recordings about each stop's musical heritage.
Rocky Mount is also known for its local music scene. Grab a ticket to a show at the Harvester Performance Arts Center or opt for something more casual at bars that double as music venues, like The Alley Cat . Rocky Mount's home county, Franklin, is known as the Moonshine Capital of the World, so no visit is complete without sampling the local libations. Twin Creeks Distillery is a great place to wet your whistle. While Rocky Mount has some big hotel options, opt for a stay at one of the area's historic inns like The Clairborne Bed and Breakfast or the Early Inn at the Grove .
By clicking "Accept All Cookies", you agree to the storing of cookies on your device to enhance site navigation, analyze site usage, and assist in our marketing efforts.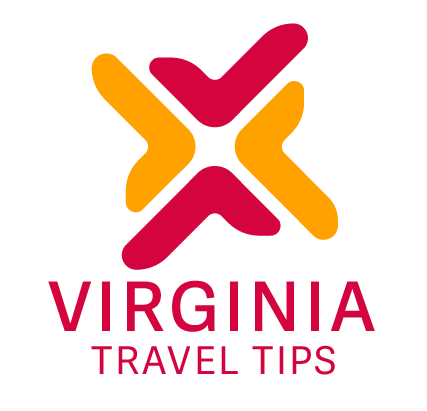 Northern Virginia
Central Virginia
Southern Virginia
Tidewater & Chesapeake Bay
Shenandoah Valley and Southwest Virginia
North Carolina
Washington DC
West Virginia
Hiking & Outdoors
Itineraries & Road Trips
Things to do
Day & Weekend Trips
What to Pack
Where to Stay
Best of Virginia , Day & Weekend Trips
15 fun and memorable weekend getaways in virginia.
Virginia may be a small state considering its size, but it definitely doesn't lack cool things to do! These are some of the best weekend getaways in Virginia!
This list could truly include 100 different destinations in VA. However, we tried to cover some of the large cities, small towns, nature spots, and historical areas of Virginia to give a short overview.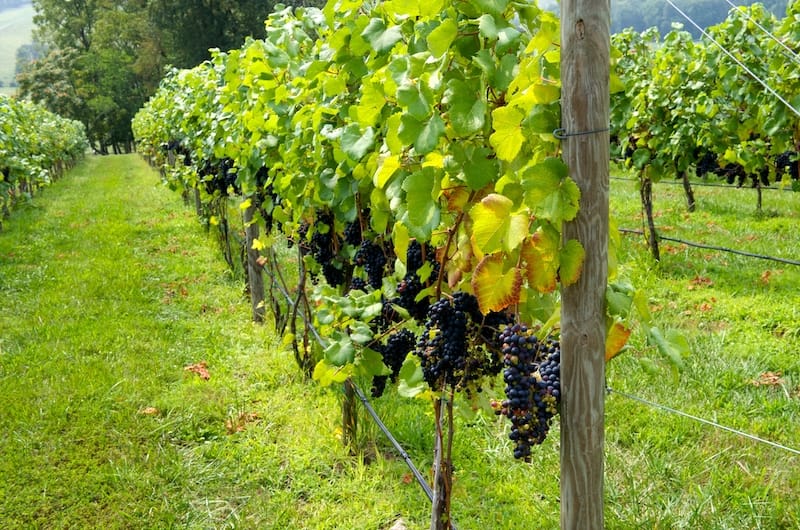 These weekend trips in Virginia are fairly accessible from the main cities and offer a variety of attractions and landmarks for all travelers. Did we miss any cool Virginia weekend getaways?
Let us know in the comments!
Weekend Getaways in Virginia
Richmond , which has been an independent city since 1871, is the fourth-most populous city in Virginia. You will find so many amazing things to do in Richmond and it is definitely worth a weekend visit!
It offers a huge range of cultural attractions, like the Virginia Museum of Fine Arts, covering various collections from Europe, the Far East, and the United States.
There is an abundance of parks and leisure facilities accessible in the city. Richmond is known to have year-round activities and gatherings for people of all ages.
There is a diverse array of restaurants, including cuisines from all over the world (and you'll find some tasty BBQ in Richmond , too!)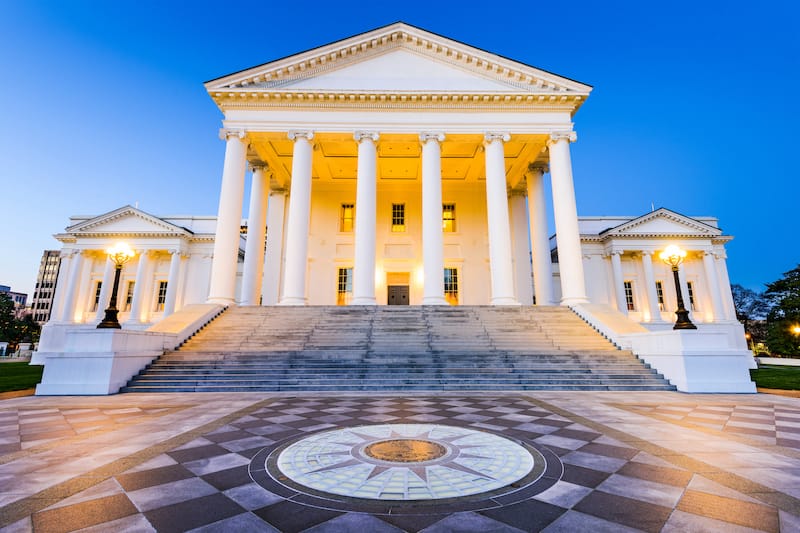 Arts and crafts, dance, music, competitive and recreational sports, games, and special events are among the programs available.
Swimming, boating, canoeing, water skiing, and fishing are all common water activities along with the James and Appomattox Rivers, where over 10,700 acres of parkland runs along both sides of the river.
There are also many hikes in Richmond and nearby to enjoy.
Massanutten Resort
Massanutten Resort is the place where you get 6,000 acres of mountain fun, amazing nature and landscapes, a huge number of amenities, and more.
A great advantage of this place is its accessibility as it's situated in Shenandoah Valley, adjacent to a lot of major towns, trails, and more.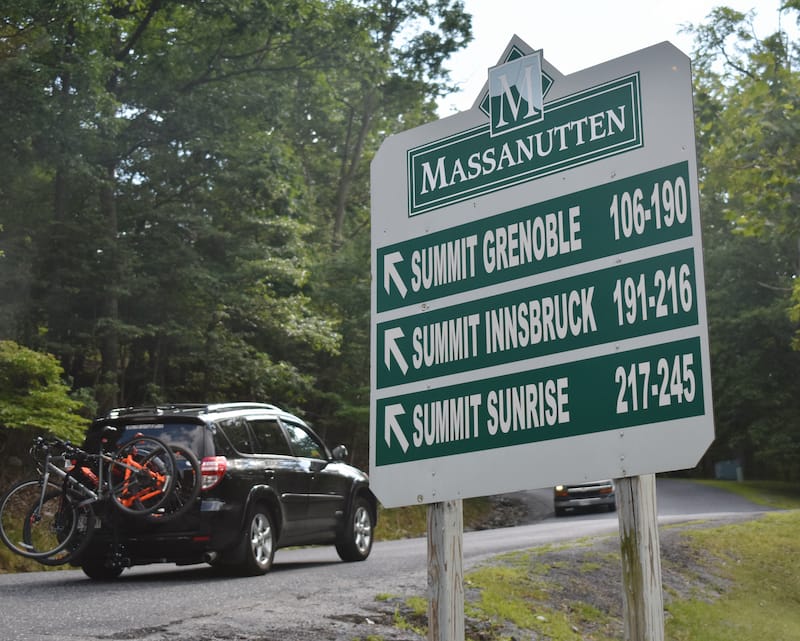 The resort includes an indoor and outdoor waterpark, ski and adventure park area, farm-to-table dining, shopping, entertainment, golf courses, as well as a day spa.
And on the East Coast, it's known to be one of the best all-seasons resort destinations.
Eastern Shore of Virginia
This stunning area of Virginia's Eastern Shore , prominent with its history and nature, stretches for 70 miles and is situated between the Chesapeake Bay and the Atlantic Ocean.
The things you do and see here are aplenty and it is a nature lover's paradise!
ESVA can take you back in time with small fishing villages and many historical buildings.
The Chincoteague National Wildlife Refuge , where the annual Pony Swim and Auction takes place, is one of the most popular and most visited destinations on the Eastern Shore.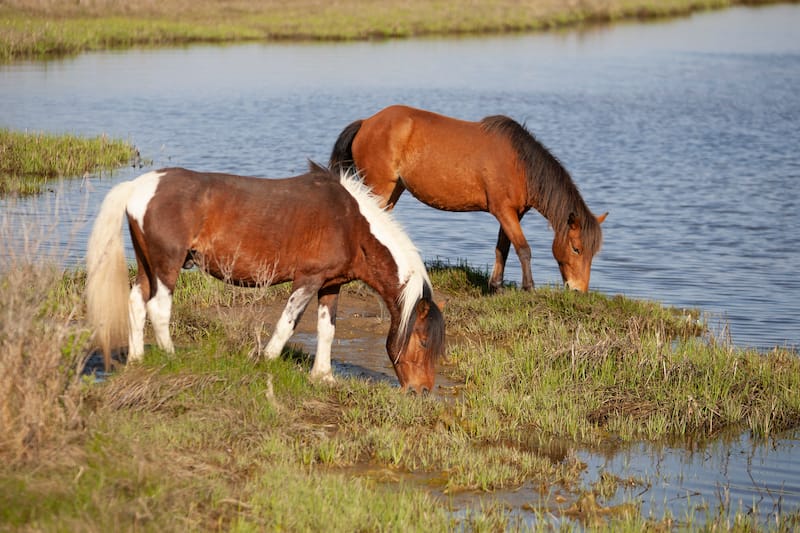 Also, Assateague Island, stretching 37 miles long, is prized for its beaches and for being just a great place where you can watch wild ponies grazing and feeding on the marsh grasses.
Be sure not to miss Cape Charles and Onancock – two of the most charming beach towns in VA !
Shenandoah National Park
This long and narrow park encompasses part of the Blue Ridge Mountains. Shenandoah National Park is Virginia's only national park and is one of the gems of the state.
One of the remarkable features of the park is the stunning panoramic views from Skyline Drive, which is the park's main thoroughfare.
If you plan on taking a scenic drive in this area, just keep in mind that Skyline Drive closes during bad weather conditions.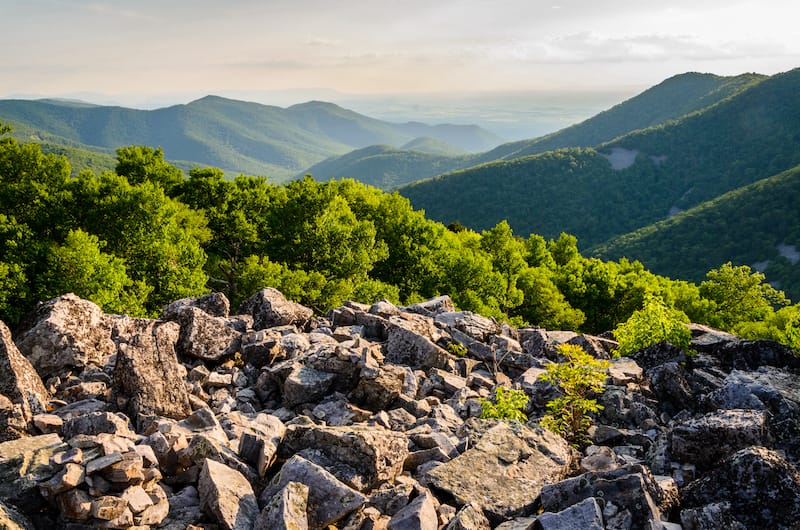 For some great hiking and walking experience, check out Fox Hollow Trail, which is just 1.2 miles, has easy access, and most probably offers some of the best views of the park.
There are also many easy hiking trails in Shenandoah that you'll love if you're not an expert hiker.
Charlottesville
The city is named after the British Queen consort Charlotte of Mecklenburg-Strelitz, who was Virginia's last Queen.
It's located in the eastern foothills of the Blue Ridge Mountains in Central Virginia and is a fantastic day trip from Richmond … or a weekend getaway as the post suggests!
Travelers are welcome to charming boutiques, antique shops, distinguished bookstores, and local wineries. You will also find several amazing hiking trails near Charlottesville .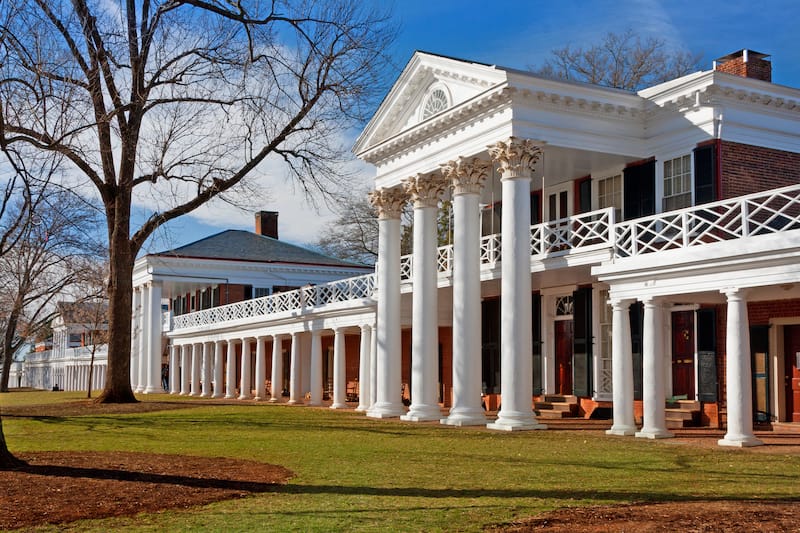 Monticello, the Grounds of the University of Virginia, James Monroe's Highland, and Historic Court Square are some of the best historical attractions of Charlottesville .
You will find cozy coffee shops in Charlottesville and some of the most beautiful parks in the state.
Hot Springs
If you're looking for a "self-care" kind of getaway, this spa town is definitely a great option to consider!
Hot Springs is situated in Bath County, about 5 miles southwest of Warm Springs. It has many historic resorts, as the springs were vital in the development of Bath County.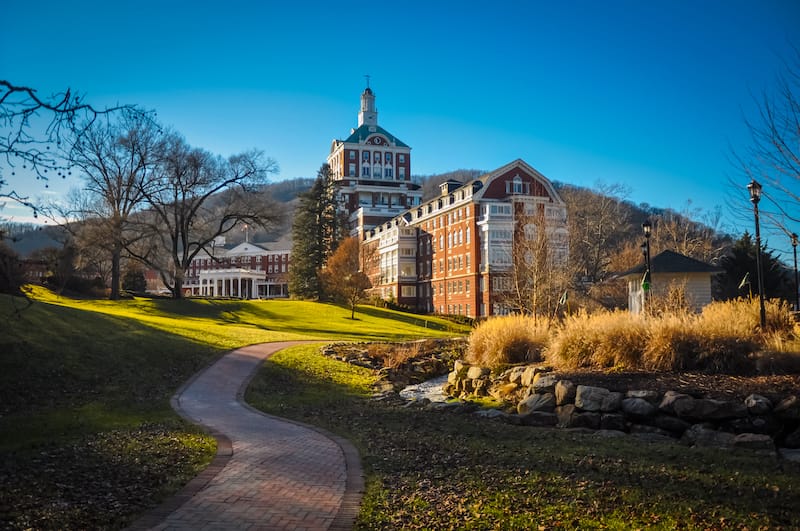 When visiting, you can visit a famous luxury resort that has a history extending for more than two and a half centuries and has been designated a National Historic Landmark.
The Omni Homestead Resort is iconic for its championship golf courses, which have hosted many national tournaments, along with its famous guests, amenities, and more.
The region also has the largest hot springs in the Commonwealth; it has an alpine ski resort (established in 1959 and is Virginia's oldest) and is one of the top winter getaways in Virginia .
Alexandria is located extremely close to Washington DC in the northeastern tip of NoVA on the banks of the Potomac River.
One of the best things to do in Alexandria is to visit the Old Town which is full of local boutiques and outstanding restaurants (and some of Alexandria's best cafes ).
Alexandria is also known for its rich colonial heritage as George Washington's Mount Vernon residence, with attractions like Christ Church and Gadsby's Tavern Museum.
The latter is a two-building complex, with regular tours to learn more about life during Colonial times.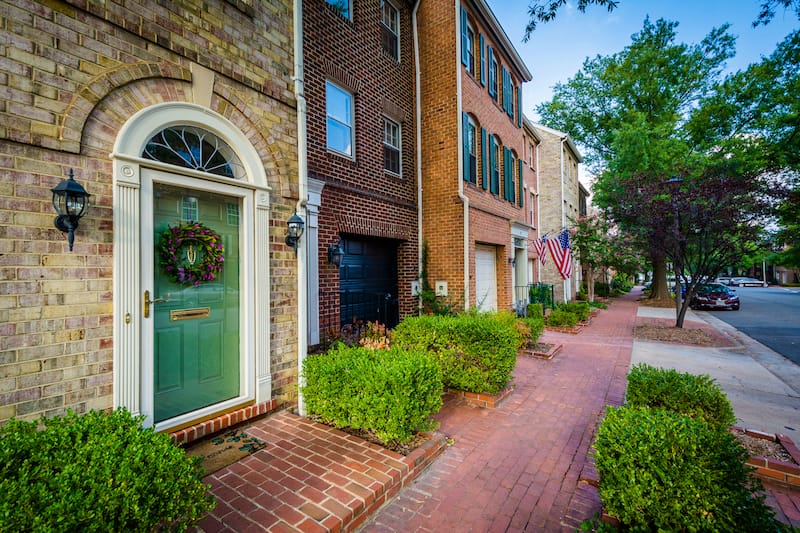 If you're looking for a little more fun and mystery, then check out a ghost tour in Alexandria. You'll be offered a nighttime ghost tour full of unsolved stories and legends.
It's led by a Colonial-costumed guide who leads you through Old Town Alexandria by lantern light.
Don't miss out on the many cool coffee shops in Alexandria when you're there, too!
Grayson Highlands State Park
Grayson Highlands State Park is located near Mount Rogers and Whitetop Mountain, which are Virginia's two highest mountains.
From campgrounds and hiking trails to horse trails and camping areas, everything is available within the parks' borders.
When visiting this Virginia state park, you can hike a trail leading to Mt. Rogers, the highest point in Virginia. It sits at an elevation of 5,728 feet.
The hike is quite easy to complete, and you can take your fluffy friends with you as it's pet-friendly (just keep them on a leash).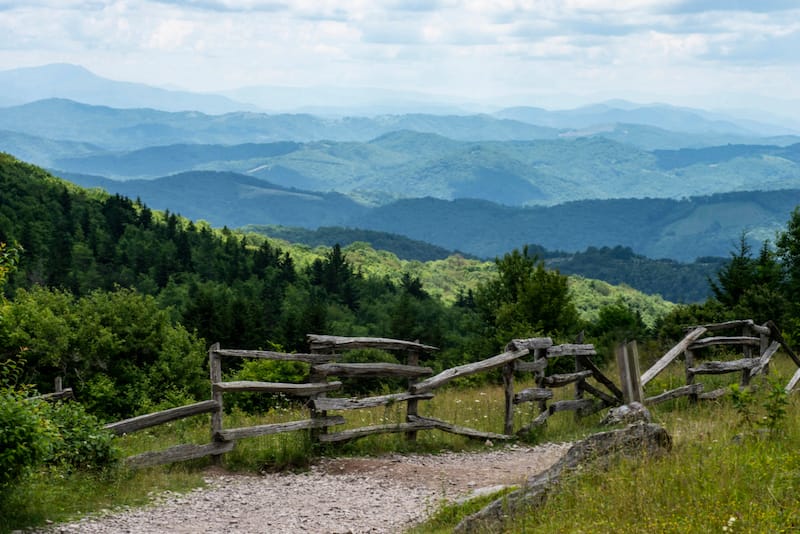 The area of the park is also known for having wild ponies. Thousands of visitors get to the Rhododendron Trail to see them as it's the main trail that will lead you to the ponies.
When railroads arrived in the late 1800s, the city of Roanoke became a manufacturing and transportation hub, as well as a gateway to the American West.
Roanoke is now the most populous city in western Virginia, and also a regional hub for healthcare and transportation-related manufacturing.
A true icon of Virginia's Blue Ridge and a true must-see in the region is the Mill Mountain Star. The star, which is located atop Mill Mountain and looks out over the surrounding valley and the Blue Ridge Mountains, is the welcome sign for travelers.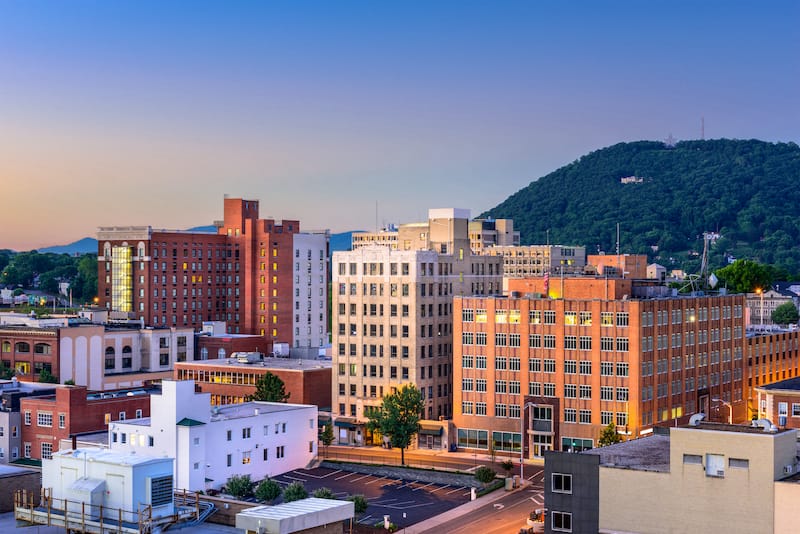 If you're visiting Roanoke with kids, don't miss a chance to visit and enjoy the Discovery Center and all of the hikes and things to do in Roanoke and its surrounding area.
To enjoy some of the city's art and culture, head to the Taubman Museum of Art, the Virginia Museum of Transportation, and the History Museum of Western Virginia.
Winchester may not be one of the most popular weekend getaways in Virginia, but in fact, there is a lot to see and explore there!
It's located in Frederick County, Virginia and is the county seat and is home to Shenandoah University, and has a population of just under 30,000 residents. Getting there will take an hour and a half drive from Washington, DC.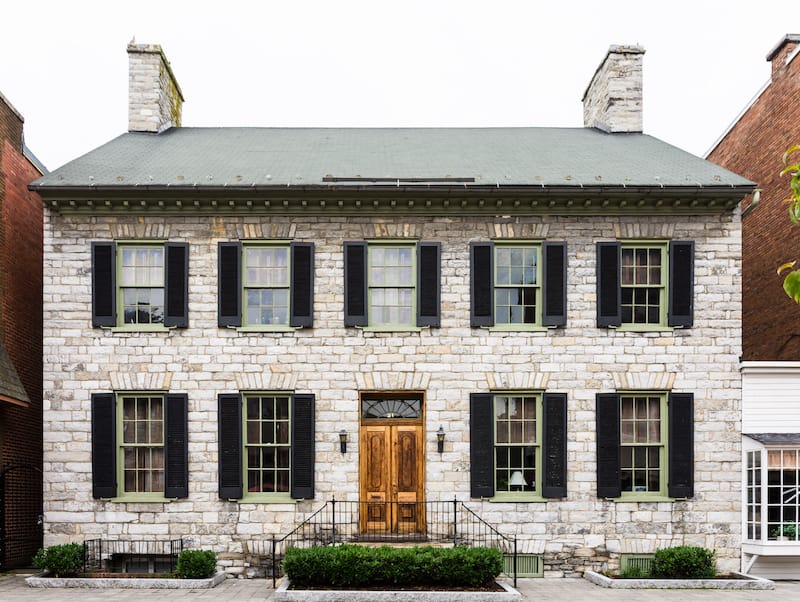 A walk through the Old Town is definitely one of the best things to do in Winchester when you're visiting. It's more than 250 years old and is one of Virginia's most beautiful Old Towns.
You'll find more than 30 restaurants, 60 stores, and many museums and historical sites.
Other fascinating spots in Winchester for visitors in the city are the Museum of Shenandoah Valley, the Patsy Cline House, Handley Library, etc.
Shenandoah Valley Wine Country (and Nearby)
Located in the heart of the mid-Atlantic, Virginia was, in fact, the country's first known wine-growing region. Nowadays, it has over 300 wineries spread throughout the state.
You can start exploring the area 50 miles west of Washington, D.C. , in the town of Middleburg, which has its own designated American Viticultural Area (AVA), delineated by the Potomac River. More than 20 wineries can be found there.
Some must-see names include Boxwood Estate Winery, Chrysalis Vineyards. Notably, the latter one prides itself on its Norton wines, which are made from America's oldest native grape variety.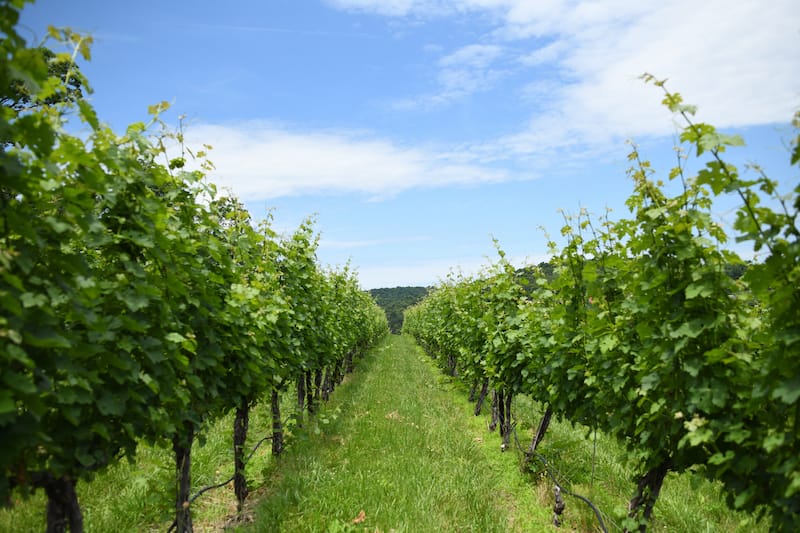 In the Shenandoah Valley specifically, a place you should not miss is Glen Manor. It's a fifth-generation farm with vines planted on steep slopes and focuses on "wines with a sense of place."
The estate produces Sauvignon Blanc, Petit Manseng, and red Bordeaux blends and varietals.
There are so many great wineries near Shenandoah National Park that a weekend getaway to some can be combined with beautiful hikes and views – leaving everyone delighted!
Situated in the southeastern Hampton Roads region, Norfolk has two major regional shopping malls, a waterfront that offers Waterside Festival Marketplace with some amazing places to dine and entertain, and many more attractions.
If you want to get to know the area better, you can take a tour of the Battleship Wisconsin. It is berthed at Nauticus and is regarded as one of the largest and last battleships of the US Navy.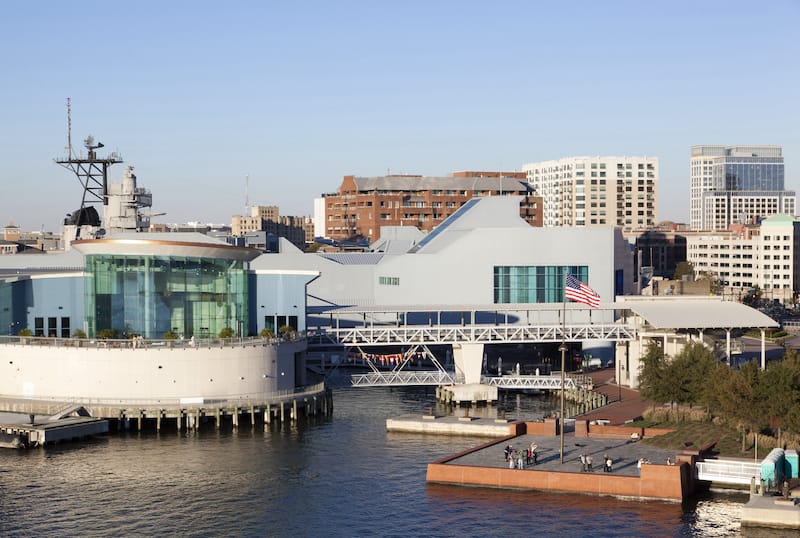 For those interested in the culture of Norfolk, Chrysler Hall (Norfolk's downtown performing arts center) and the Chrysler Museum of Art should definitely be on your Norfolk itinerary !
Back Bay National Wildlife Refuge
This 8,000-acre freshwater refuge, which was founded in 1938, is bordered on the west by the Back Bay and on the east by the Atlantic Ocean and is one of the best day trips from VA Beach .
Wide sand dunes, coastal forests, wetlands, freshwater marshes, ocean beaches, and large impoundments for wintering wildfowl can all be found on the barrier islands.
Bikes, marsh trails, a boardwalk overlook, and also the beach itself provides access to these peaceful areas. Some of Virginia Beach's best hikes are in Back Bay NWR!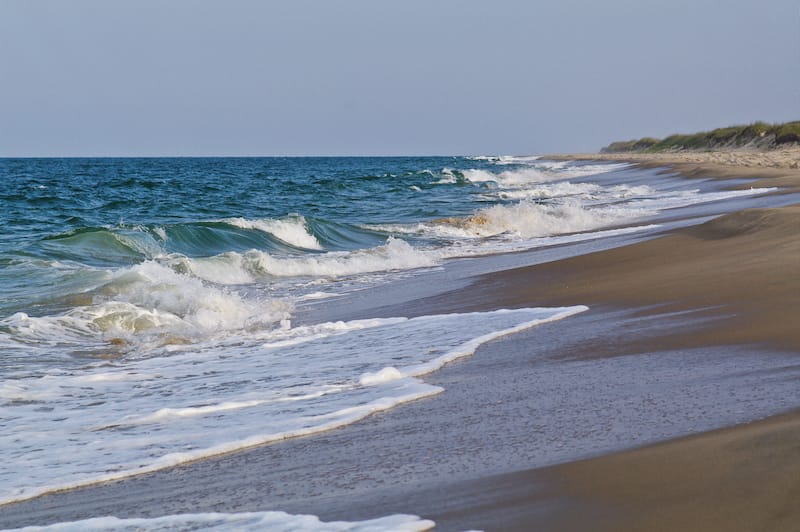 Back Bay National Wildlife Refuge is roughly 18 miles south of the resort area. If you're planning a visit here, note that Back Bay Tram Tours start in April and run until the very end of October.
False Cape State Park is also located in the area and is one of the most beautiful state parks in Virginia. This is one of the best things to do in Virginia Beach and in Hampton Roads in general.
Williamsburg
Williamsburg is part of the Hampton Roads metropolitan area and is located on the Virginia Peninsula.
When visiting Colonial Williamsburg , you'll quickly get why it was the largest American colony and the capital of Virginia.
This place will surely make you feel like you traveled back in time, as you walk through its old but unique buildings and shops, most of which are on their original foundations.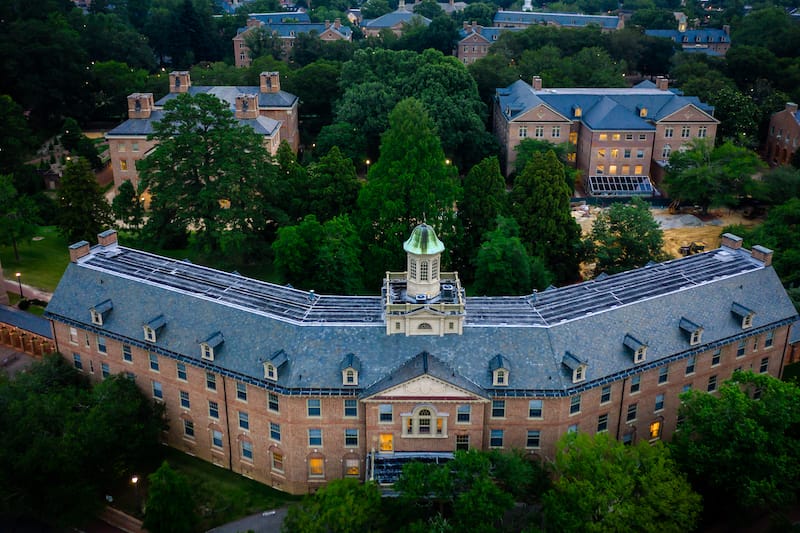 If you're not that interested in the historical part of the city, there are plenty of alternatives you can choose from.
For instance, if you're fond of marine objects and collections, check out the Mariners' Museum and Park, or a movie at Kimball Theatre. Perhaps, also try the Jamestown-Scotland ferry ride, which is free of charge.
Williamsburg is one of the best day and weekend trips from Richmond , Washington DC, and the Hampton Roads area.
George Washington and Jefferson National Forests
A number of recreational activities, nature's beauty, and great history are all incorporated in the George Washington and Jefferson National Forest . There are several Ranger Districts in these astonishing forests and 17 designated Wilderness Areas.
The fall season and scenic drives sound good together, right? Well, if you enjoy that then don't miss a chance to ride through an amazing number of scenic drives! Grayson Highlands State Park (mentioned above) is also in the forest.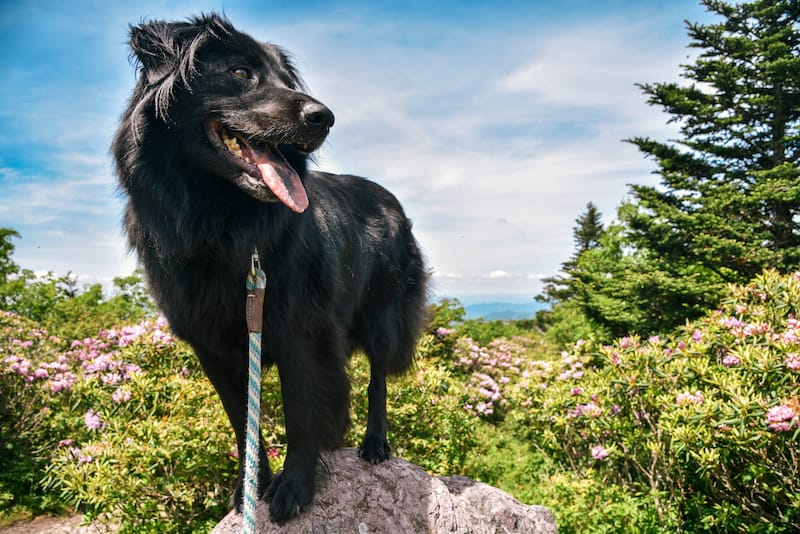 There are so many hiking opportunities within the forest, as well, making it one of the best weekend trips in Virginia.
There are several amazing weekend getaways in Virginia and these are some of our top picks. So, what are your favorite weekend destinations in Virginia? Let us know in the comments!
Additional Virginia Travel Resources
Spring in Virginia
Best small towns in Virginia
Botanical gardens in Virginia
RV parks in Virginia
Spring wildflowers in VA
National parks in Virginia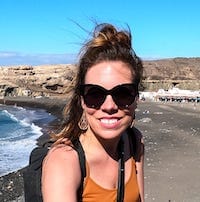 Megan is a travel blogger and writer with a background in digital marketing. Originally from Richmond, VA, she has lived all around the world (including Germany, Finland, Norway, etc) but her heart always finds its way back to Virginia. This blog is to help encourage travelers to explore the great state of VA… and its wonderful neighbors! Megan has written for or been featured by National Geographic, Forbes, Lonely Planet, Fodor's Travel, the New York Times, and more. She has visited 45 US states and 100+ countries… and wholeheartedly believes that Brunswick Stew is probably the greatest food to ever exist.
2 thoughts on " 15 Fun and Memorable Weekend Getaways in Virginia "
Enjoyed your informative post! For scenic views of the Blue Ridge Mountains, would you recommend Shenandoah Natl Park or Grayson Highlands SP more? Also wondering about possible coastal locations with the shortest driving distance from the mountains. Considering a road trip to VA/surrounding area later this summer. Thank you!
I sent you an email 🙂
Leave a Reply Cancel reply
Your email address will not be published. Required fields are marked *
Save my name, email, and website in this browser for the next time I comment.
13 Great Weekend Getaways in Virginia
If you're looking for some top weekend getaways in Virginia , then you're in the right place! One of my favorite things to do is to go on a long weekend vacation to some of my favorite Virginia towns and attractions!
Whether you're interested in exploring some of the best parks, historic sites, wineries, breweries, restaurants, or museums, you're sure to find something to make your next weekend getaway memorable!
The following list highlights some of my favorite weekend getaway destinations in Virginia.
1. Colonial Williamsburg
Colonial Williamsburg is one of the top vacation destinations in Virginia, so you definitely won't run out of things to do in this historic city!
Williamsburg is a great weekend trip from Virginia Beach, Charlottesville, Richmond, and even Northern Virginia.
Some of the "can't miss" attractions include the historic triangle of Colonial Williamsburg, Jamestown, and Yorktown. All three sites feature historic homes, forts, ships, demonstrations, re-enactments, museums, and more.
Some highlights that I recommend are the excellent and thorough museum at Jamestown, touring the Governor's Palace and Capitol Building at Colonial Williamsburg, and going on an evening ghost tour of Williamsburg!
You can learn about even more of my favorite Williamsburg tours that will help you get even more out of your visit!
Williamsburg has much more than history to offer. For you thrill seekers out there, be sure to check out Busch Gardens Amusement Park and Watercountry USA!
Merchants Square is also a fun place to explore. The brick sidewalks are lined with boutique shops and some of the best restaurants in Williamsburg . Check out brunch at the Amber Ox Public House, lunch at The Cheese Shop , and dinner at Fat Canary.
🛏️ Interested in staying in Williamsburg? Book a stay at The Colonial Houses – they have a pool and lots of charm! 🛏️
2. Charlottesville
Charlottesville is another top weekend destination in Virginia. I spent a memorable Labor Day weekend there with friends.
If you love wine and beer, you will have no shortage of places to visit. Charlottesville and the nearby region are home to over 40 wineries !
Some of my personal favorites include Veritas Vineyards (I recommend staying for the four-course dinner at The Farmhouse at Veritas), historic Barboursville Vineyard , and Pippin Hill Vineyard .
If you're looking for some of the best breweries in the commonwealth, you'll find plenty to choose from in and around Charlottesville, including Starr Hill Brewery, South Street Brewery, and Three Notched Brewery.
And of course, Charlottesville is perhaps most famous as the site of Monticello , the home of founding father Thomas Jefferson. I recommend taking a guided tour inside the home.
Then, take time to explore the property, which includes beautiful gardens, an excellent exhibit highlighting the life of Sally Hemings, and a family graveyard where Jefferson was buried.
Another major site worth exploring is the University of Virginia , which features beautiful colonial architecture that was designed by Jefferson.
And when you're ready to sit down for a meal, head to the Downtown Mall , which is an outdoor mall where you'll find many of the top restaurants in town , including The Alley Light (for French cuisine), Nook (for brunch), and C&O Restaurant (for French fine dining).
Learn about even more of the best of Charlottesville, including the best hiking trails and pizza !
3. Alexandria
Alexandria is a large and varied area in Northern Virginia, covering sprawling suburban areas, parks, shopping malls, and more. However, the section known as Old Town Alexandria is a beautiful historic gem just steps from Washington, D.C. It definitely deserves a spot near the top of any weekend getaway list!
Walking the streets of Old Town Alexandria will transport you back in time to the rich colonial past of Virginia. The sidewalks are brick, and the buildings and houses are classic monuments to centuries past.
Old Town features many restaurants and boutique shops to explore. I enjoy shopping for vintage clothes and unique furniture at the many local stores. Another highlight of Old Town is the Torpedo Factory Art Center, which is home to the nation's largest collection of working artists' open studios!
And you won't be able to miss the towering George Washington Masonic National Memorial , which is a prominent temple in Old Town. You can book a tour of the memorial to learn more about its history and see artifacts from Washington's time.
And because Old Town is located along the Potomac River, I recommend taking a memorable and scenic trip on the Potomac Water Taxi. From Old Town, you can book a trip to the Wharf in D.C. and National Harbor in Maryland. You can see schedules and book tickets online .
Luray is a perfect weekend getaway destination. It's just an hour and a half from northern Virginia, which makes it an easy drive.
Many of the main attractions are also conveniently located close together, so you can easily explore them in a short amount of time.
Of course, the main attraction in town is the famous Luray Caverns which are the largest Caverns east of the Mississippi River. The caverns are immense and can take an hour or more to explore. Some of the main features of the caverns include the Great Stalacpipe Organ and Dream Lake.
Right next to Luray Caverns, you can find a number of top attractions in town, including The Garden Maze, Rope Adventure Park, the Shenandoah Heritage Museum, Toy Town Junction, and the Car & Carriage Caravan Museum.
Across the street, you will see the distinctive Carillon Tower, which features a nice little park and pond nearby.
When visiting Luray, I also recommend making a stop at several of the other awesome caverns nearby. Skyline Caverns is just 22 miles from Luray and features rare and beautiful Anthodite formations , which like crystal sea anemones.
Shenandoah Caverns are also nearby and worth a visit. There you can see "Breakfast Bacon" formations, which look like giant pieces of bacon made from rock and hanging from the ceiling in the caverns!
5. Middleburg
Middleburg is a great destination in Northern Virginia, particularly if you love wineries! You can make a perfect winery weekend by booking a stay at one of the hotels or bed and breakfasts near this charming historic town.
Within a few minutes of Middleburg, you'll find some of the best wineries in the region, including Greenhill Winery and Vineyards , which is one of my favorite wineries to visit. They feature excellent, robust wines, and the grounds have lovely rolling hills and a large pond nearby for taking a walk.
The winery is also very dog-friendly. Some of the top wines at Greenhill include "Blanc de Blancs", which is a delicious sparkling wine; Petit Manseng Reserve; and "Superstition."
Other popular wineries nearby include Cana Vineyards and Winery of Middleburg, Boxwood Estate Winery, and Chrysalis Vineyards . You can learn even more about my favorite Middleburg wineries !
And definitely spend some time exploring Middleburg, which features a cute, walkable main street with dozens of boutique shops and restaurants.
Some restaurants worth visiting include the Red Fox Inn and Tavern , which is one of the best hotels and restaurants in Middleburg . The historic setting features a Tavern that serves a fabulous four-course meal with wine pairings.
And if you're in the mood for seafood, I recommend King Street Oyster Bar , which features a Happy Hour every day from 3:00 pm to 6:30 pm with $7 drinks and $1 oysters.
6. Colonial Beach
Colonial Beach is a great beach destination in the Northern Neck. It's one of the best beaches near northern Virginia . In fact, Colonial Beach is the second longest beach in Virginia, second only to Virginia Beach. As a bonus, it is much less crowded than Virginia Beach!
Colonial Beach has 6 different beach areas lined by a sidewalk/boardwalk, plus shops and restaurants like High Tides on the Potomac.
The Colonial Beach region is also the birthplace of not one, but three founding fathers. You can visit the George Washington Birthplace Memorial Park , which is a gorgeous sprawling property with beautiful water views along Popes Creek. The national park has a replica of the family home, stables, gardens, livestock, and extensive walking trails.
The James Monroe Birthplace Memorial is also worth visiting. It features a replica family home that you can tour, a small museum and visitors center where you can learn more about Monroe's life, and several beautiful wooded trails on the property.
Other highlights worth exploring nearby include the fabulous Westmoreland State Park , which has campsites, hiking trails, picnic areas, playgrounds, and several beaches.
And if you love wineries, you'll find some great options to check out nearby, including Ingleside Vineyards and Monroe Bay Winery.
Colonial Beach can be a perfect companion destination to visit along with Kilmarnock, which is also located on the Northern Neck.
7. Kilmarnock
Kilmarnock is a charming small town located on the Northern Neck in Virginia. It features an adorable and very walkable Main Street, where you'll find many of the main attractions, restaurants, and boutique stores in town.
Make sure to stop at the Kilmarnock Town Centre Park, which has a dog park, amphitheater, playground, and walking paths. Also, I recommend the Northern Neck Popcorn Bag , where you can find dozens of delicious savory and sweet popcorn flavors like Chocolate Peanut Butter and Key Lime Pie.
If you venture a little beyond Kilmarnock, you'll find the fabulous Good Luck Cellars winery and the Ditchely Ciderworks.
And if you love nature, I recommend visiting the beautiful and serene Hughlett Point Natural Area Preserve, which includes trails by the beach, waterfowl, and cute crabs scrambling along the beach!
For families, Compass Entertainment Complex is your one-stop shop for movies, miniature golf, arcade games, rope courses, VR, and much more.
Finally, stop by the lovely and historic Kilmarnock Inn. The grounds are beautifully landscaped and the property pays homage to U.S. presidents. It's a great place to stay the night or get a delicious brunch.
8. Richmond
The state capital is another great weekend getaway destination. Richmond is centrally located right off of I-95, which makes it a convenient place to visit from Northern Virginia, Charlottesville, Norfolk, and Virginia Beach.
Richmond is filled with historical sites like the Richmond National Battlefield Park, which commemorates 13 Civil War battle sites around the city.
St. John's Church is another historic site worth visiting. It marks the spot where Patrick Henry gave his famous "Give Me Liberty or Give Me Death" speech.
The Virginia Museum of Fine Arts features an eclectic collection that includes Tiffany Lamps, Faberge Eggs, and Egyptian art and artifacts.
Maymont is another major attraction in the capital city. The gilded age mansion also has 100 acres of gardens and an arboretum to explore.
Richmond is also a great destination for breweries. Some of the top breweries to check out include The Veil Brewing Company and The Answer Brewpub.
9. Stafford
Stafford is a lovely weekend trip that is conveniently located right along I-95. This makes it a great place to visit from Northern Virginia, Fredericksburg, or Richmond.
Stafford County is home to a number of fabulous parks and nature reserves. Aquia Landing Park is one of the best beaches near northern Virginia. It sits along the Potomac River and features calm waters, wide Sandy beaches, and multiple picnic areas.
Government Island is a tranquil oasis that is popular for dog walking and hiking through the wetlands and forests.
Crow's Nest Natural Area Reserve is a beautiful spot to go kayaking or watching the wetland wildlife.
Stafford is also home to the excellent Potomac Point Winery and Vineyard , which is a great destination for a wine tasting or evening dinner.
And if you're interested in learning more about the history of the region, the Stafford Civil War Park is a fascinating drive through park that contains numerous artifacts, including several batteries and rock quarries.
10. Abingdon
Abingdon is located in southwest Virginia, which can make it a little harder to reach, however, it is definitely worth the trip!
The adorable small-town gem is filled with important historic sites, including The Tavern, which is the oldest bar in Virginia and the eighth-oldest bar in the United States!
You'll also want to check out a performance at the historic Barter Theatre, which is the state theater of Virginia and has featured top actors in productions there.
And if you love the outdoors, you'll want to spend time exploring the Virginia Creeper Trail , which is a 34 mile trail that runs right through the town. It's also one of the top rails-to-trails in the country!
11. Waynesboro
No weekend vacation list would be complete without including the largest national park in Virginia! Shenandoah National Park is over 500,000 acres in size, which means there are many places to stay in and near the park.
Waynesboro, VA is a great option because it's just 4 miles from one of the entrances to the park, plus it's only 28 miles west of Charlottesville, VA. In fact, Waynesboro is known as the Gateway to Shenandoah National Park!
There are even more reasons to visit Waynesboro. You can walk, run, or bike along the Blue Ridge Tunnel Trail. The unique trail actually runs through an old railroad tunnel. It is 2.3 miles in length and is marked by endpoints in Afton and Waynesboro.
If you love art, make sure to stop by the Shenandoah Valley Art Center . The center is the only full-time exhibition gallery in the city. One of their annual highlights is the Virginia Fall Foliage Art Show , which is the largest art festival in the Shenandoah Valley.
You can learn more about the rich history of the region by visiting the Waynesboro Heritage Museum. It includes two museums that celebrate the history of Waynesboro: the Waynesboro Heritage Museum and the Historic Plumb House Museum.
The museums include art, artifacts, memorabilia, photographs, writings, and much more that have been collected over the years.
🛏️ Interested in staying in Waynesboro ? Book a stay at Residence Inn Marriott Waynesboro ! It has a pool, fitness center, and full kitchen! 🛏️
12. Cape Charles
Cape Charles is a charming historic town that is another perfect weekend destination. The town is at the southern tip of the Eastern Shore, south of Chincoteague. It is only an hour's drive from Virginia Beach, about two hours from Richmond, and about four hours from Northern Virginia.
One of the biggest local attractions is the striking Cape Charles Lighthouse , with its unique wrought-iron frame. At 191 feet tall, it has the distinction of not only being the tallest lighthouse in Virginia but also the second tallest in the United States!
Also, make sure to explore historic downtown Cape Charles , which is home to one of the largest collections of Victorian homes in the country! Many of them were constructed from 1885 to 1920.
If you love the outdoors, I recommend visiting the Cape Charles Natural Area Preserve, which features 29-acres amidst a rare Maritime Dune Woodland.
In the warm weather months, Cape Charles Beach is a calm oasis for sunbathing, swimming, and watersports.
13. Chincoteague
Chincoteague is the famous home of the wild Chincoteague ponies in Virginia! This makes it another great weekend getaway.
Chincoteague is located on the eastern shore of Virginia. This makes it a great companion trip to Cape Charles, which is about an hour and a half south of Chincoteague.
One of the most popular activities is to go on a boat tour around the island to see the wild ponies in their natural habitat. This experience can give you the opportunity to reach parts of Chincoteague that are otherwise inaccessible.
You'll also see much of the other wildlife in the area, including bald eagles, ospreys, herons, dolphins, and even whales.
As you can imagine, water activities are a highlight in Chincoteague. You can rent a kayak or canoe for an even more up-close view of the waterways and wildlife of the island.
One of the other can't-miss activities while visiting Chincoteague is to try to see a rocket launch at nearby Wallops Island. You can also visit the NASA Wallops Flight Facility Visitor Center, which includes more exhibits and information about past, present, and future NASA missions.
You can find the Wallops Island Launch Schedule online.
🛏️ Looking to stay overnight in Chincoteague? Book a stay at the Comfort Suites Chincoteague Island Bayfront Resort 🛏️
___________________________________________________________________________________
Learn even more about the best things to do in Virginia!
Find out why Virginia is worth visiting
Take an epic car ride between North Carolina and Virginia
Explore the best national parks in Virginia
Learn about the best day trips from Virginia Beach
Weekend Getaways in Virginia: Adventure, Battlefields, and Southern Charm
Imagine standing in the midst some of the nation's most sacred grounds — battlefields that serve as the final resting place for thousands of fallen soldiers from this country's bloodiest conflict. A thick fog creeps down from the peaks of the  surrounding Blue Ridge mountains  through a nearby valley as the hills glisten in patches of emerald green from the sun's powerful rays.
This is early morning in Virginia, a state deeply-rooted in tradition and the early origins of a free nation. Nearly every town and city bear the contrast of a solemn scar in our nation's more sinister history as well as reminders of the significant progress in our nation's existence with landmarks, Civil War battlefields, and historic estates at every turn.
While rich in history, there's a lot more to Old Dominion than meets the untrained eye. From wild ponies and white sand beaches to some of the best wineries in the world, you'll find it all in these weekend getaways in Virginia.
Cradled between charming 18th-century cobblestone streets and the busy shorelines of the Potomac sits the quaint yet centrally-located seaside oasis of  Alexandria , Virginia. Whether traveling across the country or simply across the Potomac, Alexandria has everything visitors could ever want at their immediate disposal: high-end shops, wholesome food, gorgeous views, and southern hospitality of the highest caliber.
Also known as "Old Town," Alexandria has become a must-see destination for travelers who come from near and far to experience the town's sophisticated architecture and unparalleled arts and culture. Here you'll find some of the nation's most sought-after scenic hiking  and bike trails , quality brewed beers and specialty cocktails by the world's top mixologists. Alexandria might sit in close proximity to the nation's capital, but it's never in its shadow.
Featuring hundreds of museums, restaurants, and historical sites, including George Washington's Mount Vernon estate and a former World War II munitions factory, turned art gallery, Torpedo Factory Art Center, Alexandria has become an epicenter of extraordinary attractions and exquisite cuisine.
King Street, the city's most popular path spanning more than five miles, offers visitors a swath of top attractions all on its own. Boutique shops, such as The Christmas Attic sell locally-sourced products and crafts, high-end eateries including  Blackwall Hitch  and Grape + Bean boast large outdoor patios, and ghost tours highlighting unsolved mysteries, murders, and legends are easy to find.
Hotels & Vacation Rentals - Alexandria
Where to stay in alexandria.
There's no shortage of lodging options in this colonial town, either. From well-respected international chains to more intimate boutique hotels, Alexandria offers an impressive variety of accommodations to fit every visitor's comfort and budget. Included among these top options is  Hotel Indigo Old Town Alexandria , a newly-established waterfront hotel that features rooms with wonderful views, a large outdoor patio, and a must-try seafood restaurant called Hummingbird.
Hotel Indigo Old Town Alexandria - an IHG hotel
Charlottesville.
Home to Founding Father Thomas Jefferson, this buzzing college town is full of decades-old history. Though tragedy has, unfortunately, put  Charlottesville  in the headlines, any local or University of Virginia alum will tell you that the ugliness seen last August is not representative of this historic, diverse hub in Central Virginia. The fact is, Charlottesville has something to offer visitors of all ages, no matter what their interest.
For history-buffs , Charlottesville is a must-see for Jefferson's historic Monticello plantation house, the Rotunda at UVA, and President James Monroe's Ash Lawn-Highland home. These popular historic landmarks are the trifecta for any U.S history lover and the sites provide in-depth tours to give all visitors glimpses of colonial life.
Any visitors looking for a unique shopping experience will also have the Downtown Mall at their disposal. The longest pedestrian mall in the U.S., you'll find over 120 shops lining its brick walkways, offering a one-of-a-kind   arts and fashion experience. For visitors looking to try local cuisine, the Downtown Mall is also home to the fantastic  Whiskey Jar , preparing Virginian southern cuisine to a soundtrack of live music, and topped off with an abundance of whiskey.
Outdoor enthusiasts will love hiking along the beautiful peaks of the Blueridge Mountains or kayaking down the James River. The roads and trails around Charlottesville have been carefully preserved for generations, protecting the beautiful orchards and farms along the trails. This makes it the perfect spot for any avid hiker or biker looking to enjoy the scenery.
There's a place for wine connoisseurs in Charlottesville, too, with the city's vast selection of vineyards to spend the day at. With more vineyards than visitors have time to see, Charlottesville's wine tour service will help all wine-enthusiasts sample award-winning wine from the best vineyards Charlottesville has to offer.
Hotels & Vacation Rentals - Charlottesville
Where to stay in charlottesville.
Omni Charlottesville
Hotel Omni Charlottesville
Chincoteague island.
With the Atlantic Ocean at its back door,  Chincoteague Island , Virginia is different from America's big city resort beach towns. As the state's only resort island, there are no crowded boardwalks, there are no traffic jams, and there are no high rises. Instead, visitors flock to this Eastern Shore seaside in search of serenity, a calming and relaxed atmosphere, the Bay's spectacular sunset scenes, and unspoiled nature.
A short distance from the East Coast seaboard's major metropolitan hubs, Chincoteague is the gateway to the Virginia portion of Assateague Island, home to the famous Chincoteague Wild Ponies. One of the last herds of wild ponies in America, the Chincoteague ponies are rumored to have arrived on the island after the shipwreck of a Spanish ship in the mid-18th century. As the town of Chincoteague began to blossom over the years, the ponies have been a treasured and protected feature by locals. It even inspired Marguerite Henry to publish the children's book  Misty of Chincoteague , leading to the beloved film adaption. The book and movie forever changed Chincoteague Island from a small fishing village into a world-class tourist destination.
Today, visitors can sit along the waterfront and take in the beauty of the island at the Village Restaurant, a family-owned mainstay of the island. With only the finest and freshest locally-caught seafood, such as the Chincoteague Oysters and Stuffed Shrimp, it has been a favorite of locals and visitors over the past 40 years.
Hotels & Vacation Rentals - Chincoteague Island
Where to stay in chincoteague island.
Marina Bay and Suites
Marina Bay Hotel & Suites
Another of Virginia's charming college towns,  Lexington visitors should be sure to take in the thrilling scenery from Natural Bridge Park during their trip down the 469-mile Blue Ridge Parkway. Considered one of the most scenic routes in the world, passengers are encouraged to roll their windows down and have their cameras ready.
A town fit for true craft beer connoisseurs, Lexington has made a name for itself among travelers and breweries nationwide. Visitors should head to one of the town's most popular hoppy stops, the  Outpost Brewery and Tap Room  — a brewery located on a beautiful Virginia hillside. Here, they can sample Virginia's own Devil's Backbone brew, while picnicking with some favorite local grub in the Bier Garden.
For the holidays, the Natural Bridge State Park Annual Festival of Trees and Luminary Nights is sure to get visitors in the holiday spirit as trees are adorned with thousands of sparkly bulbs. As an added bonus, attendees can vote for their favorite tree by placing a donation of school supplies or non-perishable foods that are awarded to the local Habitat for Humanity.
Hotels & Vacation Rentals - Lexington
Where to stay in lexington, virginia, the georges.
Forty miles south of the marble halls that fill our nation's capital, rolling green hills defined by white picket fences, riding helmets, and jodhpurs span as far as the eye can see. Throughout this horse and hunt capital's short but narrow main street, centuries-old historic buildings and high-end boutique shops share space with the uneven brick and stone sidewalks.
Known as the epicenter of old southern money, picturesque horse stables create cut-outs against the emerald blue sky on days where the sun's rays hit the blades of grass just right. At first glance,  Middleburg 's polished exterior emits a sense of guarded privacy unlike other countryside towns of its size, but at its core, the residents of this sleepy southern town embody the sheer grit and grace of southern charm.
In the spring, thousands of spectators flock to the town's rolling hillsides to catch the steeplechase races while enjoying a glass of chilled sparkling Blanc de Blanc 2015 from the town's most popular winery, Green Hill. In the summer, groups gather in Adirondack chairs surrounding bonfires at the local resorts to roast marshmallows and sip on mint juleps.
The locals, many whose families have resided in Middleburg for decades, know each and every pub, restaurant, and coffee shop in the town's mile radius — as well as what to order at each one. One of the most popular destinations for visitors to hang their hat is the Red Fox Inn, where dishes such as creamy "Virginia Peanut Soup" and "Red Fox Fried Chicken" with smashed red jacket potatoes headline the menu. The innkeeper, Turner Reuter, says the original structure of Red Fox Inn dates from 1728.
The town is also home to an array of garden walks and estate tours that are offered both in the spring and at Christmas while polo games are a favorite pastime on Sundays during the summer months.
Hotels & Vacation Rentals - Middleburg
Where to stay in middleburg, virginia.
Goodstone Inn & Restaurant
Hotel Goodstone Inn
Nestled firmly in the valley of the Blue Ridge Mountains,  Roanoke  is the go-to location for anyone trying to get the full impact of the sprawling Appalachian Mountains.
Roanoke offers the ideal outdoor adventure for any future-mountaineer, full of hiking, biking, climbing, and paddling to fully take-in the beauty of the surroundings. One of the 10 most bike-friendly areas in the U.S., Roanoke's incredible trails are great for bird and wildlife watching. If visitors want to take a more unconventional path to touring the mountains, Roanoke's beautiful rivers are perfect for kayaking and canoeing. All of these paths lead to the must-see iconic symbol of Virginia's Blue Ridge—the Roanoke Star.
If it is slightly too cold to traverse up the mountain, Roanoke's natural sites and the Mill Mountain Zoo make sure there is still an adventure to be had. The underground Dixie Caverns and the Natural Bridge Caverns are excellent places to explore any time of the year, allowing for some of the most notable natural wonders on the continent to be seen. If visitors are unable to spot any wildlife during their hike up the mountains, the Mill Mountain Zoo is home to dozens of species to make sure everyone has had their fill of wildlife.
For the people who would rather look at the beauty of the mountains from afar, there is no shortage of activities to be found in the town itself. While the typical major chain retailers and department stores can be found downtown, Roanoke has an obvious preference for farmers markets, boutiques, and antique shops. Black Dog Salvage, a 40,000 square-foot warehouse featured on the popular television show "Salvage Dawgs" on the DIY Network, has a stunning variety of antiques and commercial salvage and is a must-see for anyone in the area.
After a day of hiking up the mountain, Roanoke's locals show that the best way to wind down is visiting their historic downtown district. Filled with breweries, art galleries, Civil War landmarks, and live music venues like the Crooked Road, guarantee visitors jam-packed, entertaining nights as well. Visitors can also check out the famous  Alexander's  for a seasonally changing menu based on locally-sourced produce.
Hotels & Vacation Rentals - Roanoke
Where to stay in roanoke.
Hotel Roanoke and the Conference Center
Hotel Roanoke & Conference Center
The beloved capital of Virginia is the epitome of all Virginia has to offer. A sprawling metropolis, downtown, and north, east, south, and west  Richmond  all seem to embody a different feeling. Visitors will be able to experience four separate entities all for the price of one. In each district, there have been a cultural, food, art, and  craft beer revolutions  that have made Richmond a cultural focal point on the east coast.
To truly experience the cultural hub that Richmond has become, visit the Fan district in West Richmond. The center of the City Beautiful movement in the 19th century, the Fan is the location of many boutiques and locally-owned cafes and restaurants, such as the vibrant Cuban  Kuba Kuba  or the quirky Village Cafe (be sure to try their legendary milkshakes!).
The art scene in Richmond has also exploded in recent years, but visitors do not have to visit any of its art galleries to truly experience it. With the Richmond Mural Project working each year to have murals painted throughout the city by local and international artists, the city itself has become an on-going piece of art. This project, which includes famous murals such as "Moonshine" on Grace Street, has turned even the more-neglected areas of Richmond into reinvigorated and beautiful scenes.
Richmond, however, is not just for the city-dweller. With the James River flowing through the city, Richmond has the only class III and class IV urban rapids in the country, making it an excellent option for anyone looking to spend their weekend kayaking and canoeing. The Henricus Historical Park and the Lewis Ginter Botanical Garden also connect art and nature in the center of the city.
Hotels & Vacation Rentals - Richmond
Where to stay in richmond.
The Jefferson
The Jefferson Hotel
Virginia beach.
As one of the most popular seaside towns on the east coast,  Virginia Beach  boasts pristine beaches, an active nightlife, and endless amounts of outdoor activities for the whole family. With an array of fine dining restaurants available close to the waterfront and throughout the city, the options are endless.
After a hearty meal of amazing beer battered fish n' chips at  11th Street Taphouse Bar & Grill , take a stroll down Virginia Beach's famous three-mile boardwalk. During the day, it is an ideal location for strolling, rollerblading, and biking with friends. Not only will visitors be meandering along the ocean, but they will be able to see the amazing nautical sculptures along the walkway, including the famous 24-foot bronze King Neptune statue. At night, it becomes a hub of live entertainment with musical entertainment along the boardwalk and on its four oceanfront stages.
Looking for more than just a swim in the Ocean? Boat tours allow for families to venture out into the calm waters while experiencing a variety of local wildlife and the picturesque view of the shoreline. For anyone who wants a bit more adventure, get airborne by going on a parasailing tour.
After a day in the sun and running up and down the beach, visitors can take advantage of uptown Virginia Beach, which offers an exceptional shopping experience as well, including the Town Center and the Pembroke Mall. The Town Center offers premier retail, dining, and live entertainment such as the Funny Bone Comedy Club and Restaurant.
Hotels & Vacation Rentals - Virginia Beach
Where to stay in virginia beach.
Hilton Garden Inn at the Virginia Beach Ocean Front
Hilton Garden Inn Virginia Beach Oceanfront, VA
Williamsburg.
As one of the most historic and oldest settling towns in the United States, Colonial  Williamsburg  takes visitors back to a time when life seemed simple. The historic district is most famously known as the world's largest living history museum with 301 acres of restored, reconstructed and historically-furnished buildings allowing for visitors to truly immerse themselves in what colonial life was like.
Here, experienced actors are adorned with replica costumes surrounded by realistic backdrops of stores and workshops to give visitors a glimpse of what colonial life was like. Young and old souls alike will enjoy this hands-on exposure to the trials and tribulations of early American settlers in the colonial era, 365 days a year. There is even a ghost tour offered Monday through Saturday that will allow visitors to take in the spookier-side of the historical town.
Adventurous travelers can partake in a number of outdoor activities, such as biking, hiking zip-lining, and boating through companies like Jamestown Discovery Boat Tours. For those looking to achieve the ultimate vacation full of rest and relaxation, Williamsburg also offers a broad selection of quaint upscale restaurants, luxurious spas, and world-class golf courses. According to the locals, the dining hot-spots to consider include Duck Donuts, The Hound's Tale, and  Old Chickahominy House  right in Colonial Williamsburg.
Family fun can also be had at Busch Gardens Williamsburg, the world's most beautiful theme park. Designed to look like classic Europe with villages modeled after the French countryside, hamlets of Scotland, and rural Germany, Busch Gardens Williamsburg allows for a day trip around Europe without ever leaving the country. Busch Gardens' Christmas Town, which runs from November 24 through January 1, 2018, on select days, makes it all the more exciting for visitors, featuring the biggest Christmas light display in North America. With more than eight million lights, thrilling roller coasters, festive entertainment, and wholesome dining, travelers come from near and far to revel in the magic of the holiday spirit.
The lighting of the town tree is also widely attended. Those seeking a dash of holiday cheer gathers every year at the Square of Colonial Williamsburg on December 21 for a reading of the classic book, "The Night Before Christmas." Surrounded by the twinkling lights of a newly lit tree, people of all ages come to enjoy a memorable evening.
Hotels & Vacation Rentals - Williamsburg
Where to stay in williamsburg, virginia.
Williamsburg Lodge Autograph Collection
Williamsburg Lodge, Autograph Collection
To get a dose of raw, unfiltered American history with a side of modern flair, a trip to the historic village of  Yorktown  is sure to do the trick. The city's stunning waterfront paired with a two-acre beach and the famous revolutionary war battlefields make it a top destination for seasoned history buffs and young families alike.
A stroll down the Historic Riverwalk Landing will lead visitors to a number of top-notch seafood restaurants, such as  Riverwalk Restaurant . A short walk from the historic Main Street and the battlefields, the Jumbo Grilled Tiger Shrimp & Polenta is the best introduction to Virginian seafood that any visitor can have. For those wanting to save a few dollars, the landscape is perfect for a picnic spread overlooking the river.
Families can also tour Yorktown by sailing down the York River on the Yorktown Schooner's  Alliance  and  Serenity . These charters give daily tours that allow visitors to look for dolphins and osprey, take in the historic town, enjoy original sea hymns sung by the deck hands, and learn how to tie sailor's knots. For those who prefer to stay on solid ground, visitors can tour Yorktown Battlefield, the battlefield where George Washington won the Revolutionary War, is open year-round for tours.
During the holiday season, watch brightly decorated boats compete for "Best in Show" while the Yorktown waterfront twinkles from a spectacular floating parade of lights. A stroll along the waterfront around this time will also include carolers, bonfires, musical performances, and complimentary hot cider.
Hotels & Vacation Rentals - Yorktown
Where to stay in yorktown.
Marl Inn Bed & Breakfast
Marl Inn Bed & Breakfast
Have your own favorite weekend getaways in Virginia? Let us know in the comments!
*Feature photo courtesy of Bill Crabtree Jr., Virginia Tourism Corporation
Here Are The 7 Best Glamping Destinations In Virginia For Cheap Weekend Getaways
A lifelong Virginia resident, Beth loves exploring different parts of the world and currently resides in Charlottesville. She holds a degree in English Literature and one of her short stories has been featured in the Shenandoah Review. Other interests include hiking, songwriting, and spending time in the mountains.
More by this Author
Planning a getaway in Virginia is always a fantastic idea. Whether you prefer world-class resorts or something more rustic, you'll find no shortage of remarkable options here in the Old Dominion. Today's list is inspired by a combination of fancy and basic. It's camping for those who love sleeping under the stars without necessarily roughing it. You've probably heard the term "glamping" before, but if not, it's a combination of glamour and camping. So, without further ado, we present some incredible glamping options for cheap weekend getaways in Virginia!
Related Stories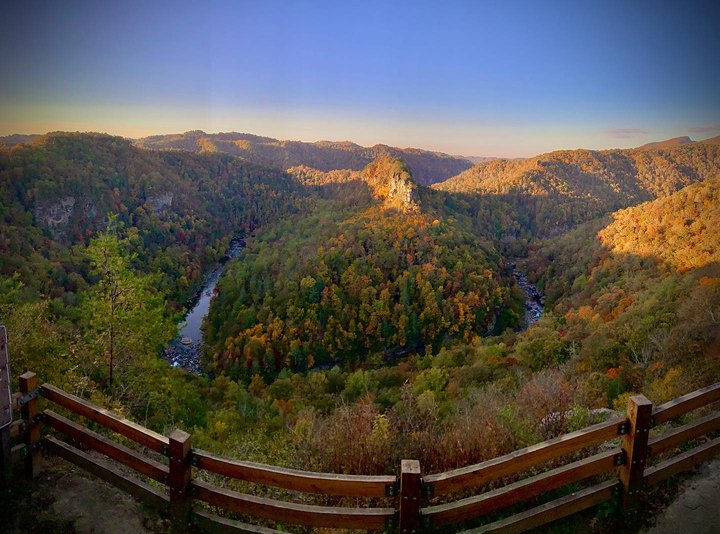 Channel Your Inner Pioneer When You Spend The Night At This Rustic Campground In Virginia
This Jellystone Park In Luray May Just Be The Disneyland Of Virginia Campgrounds
You Can Spend The Night At One Of The Most Beautiful Campgrounds In Virginia For Just 35 Bucks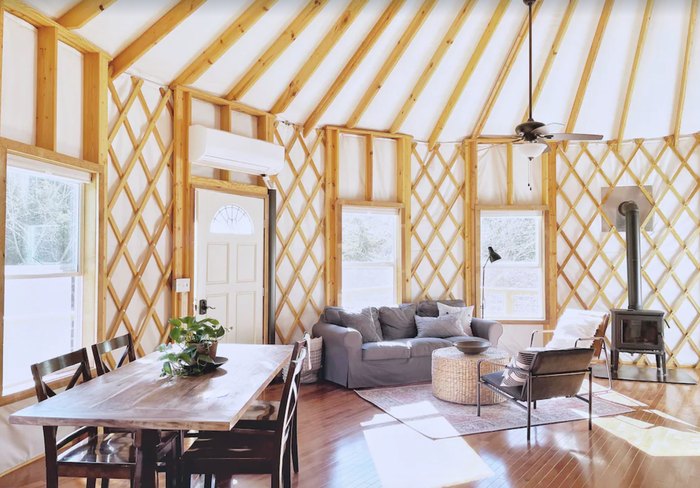 So whether you're looking for cheap last-minute weekend getaways for couples in Virginia or perhaps a cheap weekend girls' trip in Virginia, you'll be glad you learned about these one-of-a-kind glamping rentals. Where will you go for your next Virginia getaway? Share your comments with us below — we'd love to hear from you! For related content, check out our list of incredible cabin rentals in Virginia . You'll be planning your next getaway in no time!
OnlyInYourState may earn compensation through affiliate links in this article. As an Amazon Associate, we earn from qualifying purchases.
Want more Virginia in your inbox?
Get the latest on things to see, do, and eat around Virginia!
Thank you! You'll receive your first newsletter soon!
An error occured.
Related Articles
Virginia's Best-Kept Camping Secret Is This Riverfront Spot With Just 30 Glorious Campsites
Go Glamping At These 5 Campgrounds In Virginia With Yurts For An Unforgettable Adventure
4 Stunning Virginia State Parks Where You Can Camp All Year Round
These 6 Amazing Beach Campsites In Virginia Will Make Your Summer Unforgettable
This Yurt Near The Blue Ridge Parkway In Virginia Lets You Glamp In Style
This Hidden Lake And Campground Is One Of The Least Touristy Places In Virginia
With More Than 8,000 Acres To Explore, Virginia's Largest State Park Is Worthy Of A Multi-Day Adventure
A Trip To Wilderness Presidential Resort In Virginia Is Like Summer Camp For The Whole Family
Explore Virginia
National & State Parks
Natural Wonders
On the Water
Parks & Gardens
State Parks