Vacation (United Kingdom)
Vacation (United States)
Islands & Coast
German Food
Infos & Tips
Konstanz – A Lovely City at Lake Constance
Most travellers are all about Munich or the Black Forest when planning a trip to the south of Germany. And don't get us wrong, these are fantastic places to visit. But Konstanz is definitely one city you should add to your 'must explore' list. Amazing scenery, tasty food and all-around lakeside frolicking.
Located at the western end of Lake Constance and bordering Switzerland, Konstanz is an affordable and fun place to take the family or to visit with friends.
What to see
Beautiful, historic and charming, Konstanz will steal your heart. Its history dates back to Roman times and it has remained relatively unchanged. Today, this lively university town is home to over 85,000 people. It is a cultural wonderland, with museums, art galleries and historic neighbourhoods to explore.
One way to get around is to hop on a bicycle and explore historic places, like the Konstanz Minster , the proto-cathedral of the former diocese of Konstanz or the Rosgarten Museum , where you can find out about the history of the area and local traditions.
If museums aren't for you, we recommend you make your way to Konstanz harbour. At its entrance, a surprisingly brash modern statue commemorates the wrangling that took place between 1414 and 1418 when the Council of Constance was convened. The Imperia concrete statue (watch the YouTube clip here ) is nine metres (30ft) high, weighs 18 tonnes and, very slowly, rotates on its plinth. It was created by German sculptor and satirist Peter Lenk, and the erection of the statue caused huge controversy amongst the locals.
Head to the heart of the marketplace where you should have a good look at the Emperor's Fountain (Kaiserbrunnen in German). It features four Emperors but, more surprisingly, a three headed peacock wearing a crown on each head and a bronze horse sculpture.
Lake Constance
Known as ' Bodensee ' in German, the freshwater lake sits in the middle of Germany, Austria and Switzerland, right next to the majestic Alps. And about half an hour away lies the small nation of Liechtenstein.
On a good day, you will be able to see the snow-covered mountain tops while perhaps having a refreshing swim in the lake. No matter in which direction you look, the scenery simply is breathtaking.
There is an activity for everyone here, on as well as around the lake. If you want to explore by foot, you will be spoiled for choice for places to taste the local produce or simply to relax. Try the Hafenhalle at Konstanz harbour, where you can spend hours watching the world go by.
Or, if you prefer to cover some ground, hire a bike and take the 273 km trail along the water's edge. If you are super quick – or Sir Bradley Wiggins – you could cycle in Germany, Austria and Switzerland in the same day! The trail is broad and flat, free of cars and clearly signposted. There are enough places where you feel totally away from it all, yet you are never more than minutes from a village or an abbey, a glass of wine or slice of cake.
No matter what time of the year you visit, a ferry around the heart of Lake Constance is a must. We recommend taking a boat to the town of Meersburg to explore medieval Meersburg castle (with its own dungeon). The town of Friedrichshafen on the other side of the lake can be reached by catamaran and Friedrichshafen's Zeppelin Town is worth a visit.
Boat hire and ferry services run throughout the year and on a regular basis but do check schedules in advance.
And, if it's a lazy time you are after, do it like the locals and spend the day at the Strandbad Horn (also known as Hoernle) a popular lido that offers more than just a pool.
Eating, drinking and nightlife
There are buzzing cafés, Weinstuben, popular beer gardens and gourmet restaurants lining those narrow cobbled streets, and no shortage of leafy squares for flaneurs.
Make sure you stop at the Niederburg in the oldest part of town. Every Friday of the month – between May and October- it's ' "Gassen-Freitag" ', with live music, street food, drinks and even a traditional flea market.
The local wine is not to be missed and there are plenty of cosy taverns 'Weinstuben' where you can forget about time and sorrows. Locals recommend the Hintertürle and Zum Guten Hirten .
Wine tasting is also available at Weinhandlung Franz Fritz but you have to make a reservation in advance.
You can find one of the best beer gardens, St. Katharinen, at the Mainauwald . It's a bit further away from the centre but easy to get to and there are plenty of activities for the little ones.
Expect some culinary delights in this great city. Such diverse food culture is rare. At Lake Constance Baden meets Swabian cuisine, Strudel from Austria meets Swiss chocolate.
Fish is a must at the lake, whether it's prepared as a pike dumpling or smoked fillet. Fish lovers should definitely try the Bodensee Kretzer, fresh from Lake Constance.
Other local things to try are:
Dünnele The Baden version of the pizza is traditionally covered with sour cream, bacon and onions, but also sweet with apple slices
Whitefish Popular Lake Constance fish with little bones.
Saure Kutteln A part of the bovine stomach, it has hardly any flavor. Preparation varies. Wine, onions or tomato make the necessary seasoning. Try it with fried potatoes.
There are of course plenty of opportunities to part with your Euros. Since many artists and craftsmen live on the lake, a stroll through the art galleries is worthwhile.
In addition, the museum shops offer stylish souvenirs. That ranges from jewellery, art and books to inflatable Zeppelin models.
Lago Konstanz shopping centre is always popular if you prefer everything under one roof. Remember that most shops are closed on a Sunday in Germany.
Arrive at the Schänzle when it's still light, bring a picnic and enjoy a glass of lemonade or bubbly as the sun sets over the lake.
For the best view over the lake, and a bit of Switzerland, go to the Bismarck Tower at the Raiteberg. This observation point is surrounded by vineyards and one of the quieter places in town.
Take a stroll in the Kreuzlinger Park. It's well sign-posted and there is a petting zoo, Tierpark Kreuzlingen , which is home to a very large pig called Emma. It's open all year round.
Best time to visit
Konstanz can be visited all year round and there is something happening most months. Christmas markets, fireworks, garden open days – you name it.
In terms of weather, in winter, the lake tends to store heat, and extremely low temperatures are rare. On particularly hot days, the climate can almost be described as subtropical and in summer, the air is cooled by the slowly warming water.
If you are visiting in the summer, don't miss the annual Konstanzer Seenachtsfest taking place in August. It's been running for 65 years and around 40.000 people visit each year. It has everything you expect from a fair, live music, artists, kids activities, shows and much more. The fireworks display on the lake never fails to impress. Each year Germany and Switzerland try and outdo each other with their fireworks (taking place on different days). Be prepared to be awed. Oh, and you will need a ticket.
A word of advice – use plenty of insect repellent – the little blighters just love it by the lake on a warm summer evening.
Public transport
Traffic is usually busy with people from Switzerland coming over to spend their strong Swiss francs. If you can, avoid driving altogether, especially as public transport is reliable. Or just rent a bike.
Where to stay
Villa Barleben am See Original small hotel located in an old villa by the lake Seestr. 15 Phone +49 (0)7531/50074 www.hotel-barleben.de | €€€
Inselhotel Situated on a small island directly in front of the Old Town. It has its own beach. Auf der Insel 1 Phone +49 (0)7531/1250 www.konstanz.steigenberger.de | €€€
Petershof Good value for money in a central location, a five minute walk away from the Old Town St. Gebhard Str. 14 Phone +49 (0)7531/993399 www.petershof.de | €€
Mainau Island Mainau Island lies just off the shores of Lake Constance. The Arboretum is over 150 years old and home to giant sequoias. It is a beautiful place to enjoy nature seasons and kids can explore the adventure playgrounds.
Reichenau Island The largest island on Lake Constance. The Kloster Reichenau is a UNESCO World Heritage Site since 2003.
RELATED ARTICLES MORE FROM AUTHOR
How to Plan the Perfect Rhine River Cruise
Things to do in Hannover, the green city
Friedrichshafen Germany: A Guide to the City of Zeppelins
Explore the Enchanting Charm of Ingolstadt in Germany
Discover the Enchanting Charm of Coburg in Germany
Airport Express Berlin: Everything you need to know about the fast airport transfer!
Düsseldorf – The vibrant Altbier City
Splash tour lübeck, cologne – cathedral city on the rhine, münster – cultural centre of westphalia, nuremberg – a beauty in franconia, mainz – the carnival city.
Ansbach – The Hidden Rococo Gem
Exploring trier: one of germany's oldest cities, potsdam – the city of parks, the beauty of the german landscape, saxony: a land of culture and natural beauty, bayreuth germany.
Quedlinburg – A Medieval Gem
Heilbronn – Rich History, Fine Wines and Live Music
Stuttgart – a lively and modern city.
Cochem – Idyll along the Moselle
Tourist info bamberg, ramstein germany – a city rich in history.
Explore Memmingen Germany: A Hidden Gem of Bavaria
Trier – Roman Heritage and German Wine
Hohenfels Germany – An Underestimated Place to Be!
Ravensberg, germany: a town steeped in history.
Frankfurt Boat Tour: Discover the beauty of the city from the water
Discovering the charm of bad tölz: a guide to this bavarian gem, koblenz – wine city at deutsches eck.
Oberwiesenthal – The highest Town in Germany
Bad Salzungen – The Spa Town
Exploring Meissen, Germany: A Guide to Rich Cultural Heritage
Dresden – A city with many facettes
Berlin's Art Museums: A Cultural Journey Through Time
Lübeck: Queen of the Hanseatic
Rothenburg ob der Tauber
Bamberg: The franconian Rome
Let your wanderlust take you to regensburg, munich central station: a transportation hub at the heart of bavaria, passau – city of three rivers.
Hamburg: A Port City with a Difference
Stuttgart – enjoyable city at the neckar river.
Augsburg – The Lovely Capital of Swabia
Winterberg: fun in the snow, oberstdorf – a paradise for hiking and skiing.
Görlitz – Gorgeous City in the Upper Lusatia
Dresden and its countryside: the beauty of baroque and nature.
Beautiful Würzburg
Weimar – Centre of culture
Rostock – A Baltic Paradise
Baden-Baden – The Spa and Casino City
Heidelberg – Gorgeous College Town on the River Neckar
Weil am Rhein – The city of chairs
Freiburg im Breisgau: The sunny city
Kochel am see: scenic nature just outside of munich, southern germany – a region worth exploring.
Ulm – Lovely City on the River Danube
Tourist attractions in hamburg, unveiling hidden gems: your ultimate guide to stuttgart's attractions.
Kempten – Lovely City in the Allgäu
Laser tag bremen: an exciting indoor experience, amberg: a hidden gem in northern bavaria, visit bamberg: impressive architecture and bavarian charm.
Munich – The Heart of Bavaria
Tourist attractions in munich – find your next adventure, 3 places you have to visit in nuremberg.
Erfurt – Beauty in the East
Berlin – The Green Capital
Mainau – Island of Flowers
Leipzig – The Heart of Saxony
Frankfurt – The city for everyone
Experience erlangen, regensburg: gorgeous world heritage, füssen – nature, history, and hospitality.
LEGOLAND Munich – Visit the Brick Kingdom
Discover the Enchantment of Bavarian Castles
The Untold Chronicles of Buchenwald Concentration Camp
Caves in germany – here's what you cannot miss.
The Horrors of the Buchenwald Concentration Camp
Basel christmas market – a magical experience, exploring the world of german castles, german food.
An Insider's Guide to Drinks in Germany
Radler beer: the perfect summer refreshment, warm up with a german classic: glühwein, cream lovers bremen – the best sweets and so much more, best ice cream in berlin – spots you have to try, the 7 best food spots in bremen, the 10 best food spots in berlin.
Top 100 most delicious German meals
9 Best Things to Do in Konstanz, Germany
Located on the third-largest lake in Europe, Konstanz is the largest city on Lake Constance (known as Bodensee in German). It is one of the lucky cities to survive World War II intact and features charming architecture and attractions, all within sight of the water. There is a Mediterranean vibe to this German city and you could be forgiven for spending your time like you are at the beach.
Get to Konstanz's Heart
The history of Konstanz is over 1,000 years old and many of the buildings in its Old Town, known of Niederburg, have the dates of their construction elegantly marked across their facade. Konstanz is one of the best-preserved medieval towns in Germany because during World War II the Allies avoided bombing it as it was too close to neutral Kreuzlingen in Switzerland.
Walk through quiet cobblestone alleys extending north from the Münster (cathedral) all the way to the river Rhine. At the heart of this district is the Marktstätte (marketplace). Here you will find the Kaiserbrunnen (imperial fountain) with four former emperors, a three-headed peacock with each head regally crowned, as well as a bronze horse.
While the street is lined with restaurants and cafes, every first Friday of the month from May to October, the party makes it outside. Gassen-Freitag features live music, street food, drinks, and even a traditional flea market.
Behind the square is the Konzilgebäude (council hall) which was erected in 1388 as a warehouse. Now a concert hall, statues of locals Jan Hus and Count Ferdinand von Zeppelin stand beside it.
Also in the area is the beautifully frescoed 15th-century Hohenzollernhaus , 16th-century Rathaus (city hall) and the Haus zum Rosgarten , once a medieval butchers' guild and now a museum for the region.
Travel Every Inch of Konstanz Harbor
Like every town on  Bodensee, Konstanz centers on the harbor. The promenade starts at the Rhine bridge and follows the harbor. Stroll the palm-tree lined promenade with countless sidewalk cafes, historic townhouses, and buildings like the Kaufhaus (trading house) from 1388. 
Continue around the entire lake in this manner by taking the Bodensee-Rundwanderweg (Lake Constance Trail). This trail runs by numerous nature reserves like Wollmatinger Ried Untersee-Gnadensee . This reserve includes 600 different types of flora and nearly 300 bird species.
The impressive statue of Imperia welcomes you to the harbor. Erected in 1993, it was controversial but has become a landmark of Konstanz. The satirical depiction is of a nine-meter-tall courtesan holding a pathetic Pope Martin V and Emperor Sigismund. It grandly rotates on its pedestal and refers to a short story by Balzac, La Belle Impéria .
Once you have found your sea legs, take to the water. Boat tours regularly leave from mid-April to mid-October from Konstanz to Überlingen to Kreuzlingen to Lindau .
Climb to the Top of Konstanz's Cathedral
The majestic Konstanz münster (cathedral) was the church of the diocese of Konstanz until 1821. First mentioned in 615 C.E. and consecrated in 1089 C.E., it features Romanesque and Gothic design as it has been updated to reflect the current style several times. Its spire pokes high into the sky and can be seen throughout the city.
Stop before you enter the cathedral to admire the glass pyramid that protects the Römersiedlung . This is the remains of a Roman fort, Constantia. This original establishment gave the city its name. While you can get a glimpse from this elevation, full tours are available from the tourist office for a modest fee.
Inside, the Romanesque painted wood ceiling from 1637, 15th-century schnegg (spiral staircase) and central doorway, and a thousand-year-old crypt are of particular importance. Or if you want to look down from heaven, climb the tower and gaze at the city and Lake Constance.
Walk the Planks of Prehistoric Man
Konstanz is home to prehistoric pile-dwellings (also known as stilt houses). These ancient settlements found around the Alps are a designated UNESCO World Heritage Site . Dating from around 5,000 to 500 B.C.E., there are 111 of these sites in all, with 18 in Germany. Excavations led to findings from as far back as the Neolithic and Bronze Age.
Though these primitive houses now stand over water, they were initially on stilts in merely marshy areas. But over time, the land lost way to water, and they are now picturesquely positioned over the lake.
Visitors can admire the houses and learn more about the history at Pfahlbaumuseum Unteruhldingen (German Stilthouse Museum). Opened in 1922, this open-air museum has reconstructions of the homes and buildings and a guided tour that explains what life was once like for the farmers, fishers, and families that called the area home. There are also activities for the littlest museum-goers like ax-making and fire-starting.
Go Island Hopping
Just off the shore of Konstanz are three islands well worth a visit.
The 110-acre garden island of Mainau is renowned for its carpets of flowers and greenhouses. It has nearly 10,000 rose bushes, thousands of butterflies, and a 13th-century baroque palace. It is unquestionably beautiful and one of the most visited sites in the area with over two million visitors every year. Visitors can make it to the island by boat or via a pedestrian bridge. The island is open every day from sunrise to sunset, but an entrance fee is required.
To the west of the city is Reichenau Island . Preserved on the island is the remains of a Benedictine monastery from 724 C.E. The churches of St. Mary and Marcus, St. Peter and St. Paul, and St. George illustrate medieval monastic architecture with impressive wall paintings.
On the other side of the lake is Lindau . It also has a magnificent harbor guarded by a Bavarian lion and lighthouse. On the island, the town is full of medieval half-timbered buildings.
Drink Local Wine
If you visit Konztanz during the wine harvest in fall , there is sure to be a party . The annual weinfest (wine festival) in Meersburg and Komm und See summer wine festival is a great way to mix with locals and share their love of the vine. Sample the best wine in the region such as Müller-Thurgau, Dornfelder and Pinot noir ( blauburgunder ) grape varieties which all thrive here.
Also don't miss regional specialties like dünnele , a thin pizza traditionally topped with speck (bacon), frischkäse, and onions. Or take advantage of the lake with an order of whitefish. 
If you miss the festivals, you can still enjoy a glass or two beside the lake any time of the year.
Find the Three Remaining City Towers
Only three of the city's towers are left of Konstanz's medieval fortifications. Finding all three makes for a lovely walk from the Rhine river to the northern end of the old town.
Pulverturm was built in 1321 by the Jewish citizens of Konstanz. Squat and sturdy, its walls are two meters thick.
Rheintorturm is on the River Rhine and was a bridge gate. Now it is the site for the Constance Carnival Museum . Always a big celebration, the museum allows visitors to enjoy the party year-round with 40 life-sized carnival figures. Look for this tower's distinctive red pyramid-shaped roof.
Schnetztor is on the southern side of the old town on Hussenstraße and is pictured here.
Relax Like a Local at a Thermal Spa
Germans take relaxing very seriously, and spa culture is a serious thing. Even though life on the lake seems pretty idyllic, the good people of Konstanz still take plenty of time to chill.
Bodensee-Therme Konstanz is the thermal spa for Lake Constance and is right on the water. There is a 50-meter open-air pool with slides to please children and adults (open in summer), and access to Lake Constance.
In winter , leave the icy outdoors for the warm thermal baths (open year-round). There are three saunas, steam bath, sanitarium, plunge pool, and relaxation room with refreshments.
See a Glimpse of Aviation History at the Zeppelin Museum
Count Ferdinand von Zepplin's hometown of Friedrichshafen is just across the water. It is well worth a visit, especially as it is the site of the Zeppelin Museum . Built in 1932, the museum covers everything zepplin and features a recreated section of the Hindenburg, the largest airship ever built. The museum also holds an impressive art collection on the top floor.
If exploring the zepplin's history has whet your appetite for flying, book a spot aboard an air ship . Zepplins reach a cruising altitude of 1,000 feet and provide the best views of Lake Constance and the surrounding area. Passengers can walk around the ship and enjoy views from every direction. The low flying altitude allow passengers to clearly identify the gorgeous landscape of castles, mountains and lakefront below.
Several routes are available starting at 20 minutes all the way to 120 minutes.
The Best UNESCO Sites in Germany
The Top Destinations to Visit in Croatia
The 7 Best Islands to Visit in Germany
The Top 11 Day Trips From Berlin
9 Top Things to Do in Lindau, Germany
The 15 Best Things to Do in Strasbourg, France
The Top 20 Things to Do in Switzerland
Top 20 Most Popular French Cities for International Visitors
15 Los Angeles-Area Road Trips and Getaways
13 European Rivers and Waterways to Cruise
Weekend Getaways in California: 34 Trips You Can Take
The Top 15 Things to Do in Geneva, Switzerland
The Best Staycation in Every State
Travel Itinerary: What to Do and See With Eight Days in Vietnam
Northern Italy's UNESCO World Heritage Sites and Cities
The Top 20 Places to See in Ireland
By clicking "Accept All Cookies", you agree to the storing of cookies on your device to enhance site navigation, analyze site usage, and assist in our marketing efforts.
Explore Konstanz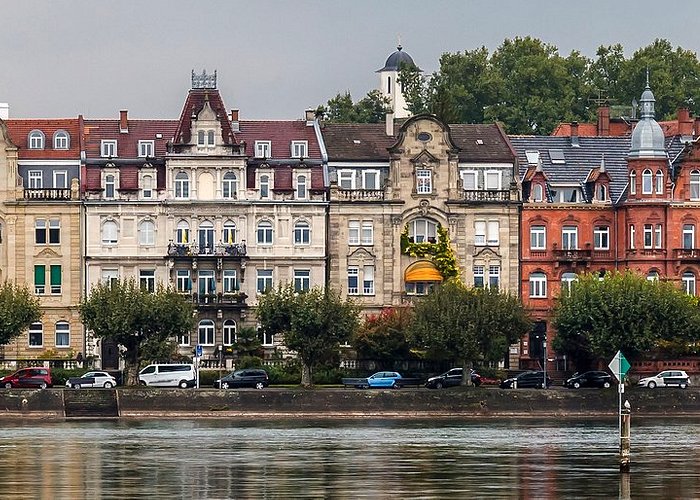 Konstanz Tourism: Plan Your Trip to Konstanz
Essential konstanz.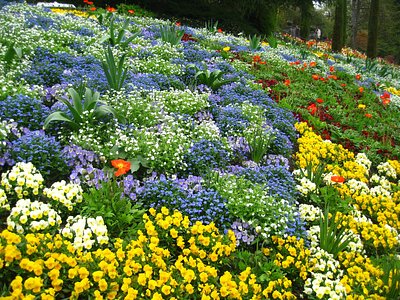 Trending in the forums

Konstanz Is Great For
Historical tours.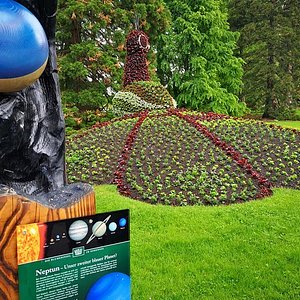 Art & history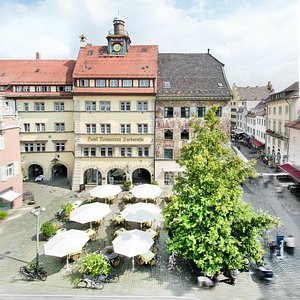 Eat & drink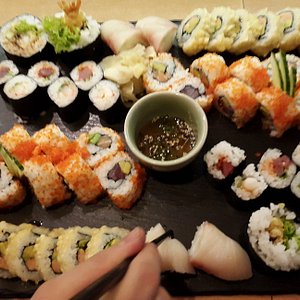 Steigenberger Inselhotel
RIVA - Das Hotel am Bodensee
Hotel Halm Konstanz
Hampton by Hilton Konstanz
HARBR. Hotel Konstanz
Restaurant Anglerstuben
Meera Restaurant
Constanzer Wirtshaus
SUSHI-BAR Tatsumi Osamu Yamashita
Isle of Mainau
Lake Constance
Bodensee-Therme Konstanz
Old Town (Niederburg)
SEA LIFE Konstanz
Surprise Walk of Konstanz with a Local
Discover Lindau Island and the Highlights of Bregenz in one day !
Private Historical Walking Tour in Konstanz
Konstanz Scavenger Hunt and Sights Self-Guided Tour
Explore Konstanz in 1 hour with a Local
1 Understand
2.1 By plane
2.2 By train
2.4 By boat
3.1 On foot
3.3 By taxi
3.4 By bicycle
4.1 Landmarks
4.2 Miscellaneous
4.3 Museums and galleries
5.1 Festivals and annual events
7.2 Mid-range
7.3 Splurge
Konstanz [dead link] is a city in southern Germany . It lies on the border with Switzerland and on Lake Constance (Bodensee) between Obersee and Untersee, exactly where the river Rhine exits the lake. The city is split in two by the Rhine. Although the Rhine is the usual border between Switzerland and Germany, the historic part of Konstanz lies on the south ("Swiss") side of the Rhine and is more or less an exclave.
Understand [ edit ]
Konstanz has traces of civilization dating from the stone age and was settled by the Romans in about 50 CE. Konstanz was an important trade centre and a spiritual centre. At the council of Konstanz in 1414-1418, a papal election was held, ending the papal schism. Three popes went into the council (one from Avignon one from Rome one from Pisa) an entirely different person left as the single pope. The council was also the place where Jan Hus was burned despite an assurance of safe passage. Konstanz attempted to join the Swiss Confederacy in about 1460, but was voted down. Due to its proximity to Switzerland, Konstanz was not bombed during World War II and its historic old town remains intact. It is a historic city with a charming old town, and could be called the jewel of the region.
Tourist Information Centre ( in the train station ). M-F 09:00-18:30, Sa 09:00-16:00, Su 10:00-13:00 .  
Get in [ edit ]
By plane [ edit ].
Konstanz has no commercial airport. The closest airports are:
Zurich Airport (Switzerland) ( ZRH  IATA ). By car 1 hour to Konstanz. By train 1 to 1.5 hours to Konstanz. There is a direct train from Zurich airport to Konstanz once an hour, and another train with a connection in Weinfelden once an hour.
Friedrichshafen Airport (Germany) ( FDH  IATA ). By car 1 hour to Konstanz (take the car ferry between Meersburg and Konstanz). By train approx. 2 hours to Konstanz. By boat approx 1 hour to Konstanz (take the train from Friedrichshafen airport to Friedrichshafen Hafen and get the Katamaran to Konstanz).
Stuttgart Airport (Germany) ( STR  IATA ). By car 2 hours to Konstanz. By train 2.5 to 3 hours to Konstanz.
EuroAirport (Basel, Switzerland). About 2 hours by car. By train, 2 hours from Konstanz first to the Basel Bad Bahnhof (in Germany) then about 45 minutes by regular tram/bus to the airport via a transfer at the Basel SBB station on the Swiss side.
By train [ edit ]
The other train stations in Konstanz are in the city districts of Petershausen, Fürstenberg and Wollmatingen.
Most places around Lake Constance can be reached by train: Romanshorn, St. Gallen, Stein am Rhein and Schaffhausen can all be reached with a change in Kreuzlingen (which is the "Swiss suburb" of Konstanz, just across the border), whereas Friedrichshafen, Lindau and other German places around the lake require a change in Radolfzell and take a long time - the boat can often be quicker. Bregenz in Austria is best reached via Switzerland - change in Rorschach and St Margrethen.
To reach Konstanz from the rest of Germany is time-consuming. There are direct trains to Karlsruhe (3 hours on a scenic route through the Black Forest), but other connections require a change in Offenburg (for Frankfurt and cities further north), Radolfzell (Ulm, Augsburg, München and beyond) or Singen (Stuttgart).
By car [ edit ]
From Germany: from the A81, take the B33 into Konstanz. From Switzerland: the A7 leads straight into Konstanz.
By boat [ edit ]
Possible from many cities on Lake Constance. The fastest connections are :
Car ferry from Meersburg , runs several times an hour from 06:00 until 24:00, and once an hour from 00:00 until 06:00. The crossing takes 15 min.
Katamaran from Friedrichshafen , runs once an hour from 06:00 until 19:00, taking around an hour.
Bodensee Schifffahrt runs several services across Lake Constance which may take longer, but include more cities. Apart from Meersburg and Friedrichshafen , the ferries to and from Konstanz call in. al. in Überlingen (1.5hr), Lindau in Bavaria (2hr) and Bregenz in Vorarlberg , Austria (4hr). The timetable is quite intricate and not all departures include all stops.
Get around [ edit ]
On foot [ edit ]
Konstanz's centre (old town) is largely pedestrian and very walkable.
By bus [ edit ]
The bus system is fast and efficient. The bus costs €2.10 (adult) or €1.05 (child). A day ticket is €4.00.
By taxi [ edit ]
Taxis are nearly always available in front of the main train station.
By bicycle [ edit ]
There are bicycle paths all over the city. Bicycles can be rented from near the train station (about 100 m north of the main station building) for €12 per day or less.
See [ edit ]
Landmarks [ edit ].
Art nouveau houses beside the lake , Seestraße ( on the north shore where the lake meets the Rhine, just east of the train bridge ).  
Konzil ( Council building ) ( at the harbour ). This building was built in 1388 and originally used as a warehouse. From 1414-1417 the council of Konstanz was held here to resolve the three-way occidental schism (an earlier compromise attempt had not resolved the two rival claims, but instead produced a third). The Council was also where Czech reformer Jan Hus was burned as a heretic. The building contains a restaurant and concert hall, and is undergoing restoration work.  
Rheintorturm and Pulverturm ( Rhine entrance tower and Powder tower ) ( On the south shore of the Rhine, just downstream from where the lake meets the Rhine. ). Remnants of the old city defenses.  
Miscellaneous [ edit ]
Sculptures along the German-Swiss border ( Along the border, next to the lake ). Where there used to be a border fence, there is now a series of 22 sculptures representing the trumps of the tarot, the "Great Arkana".  
The harbour . From the harbour on a clear day, you can see the Swiss and Austrian alps across the lake. The harbour is a great place to see sailboats, catch a boat across the lake, sit in a beer garden, rent a paddle boat or mini motor boat, or relax in the park.  
Niederburg district ( north-west corner of old town ). This charming district is the oldest part of Konstanz. It is made up of narrow streets and old buidings, sometimes more than 700 years old. On the first Friday of each month from May to October, the shops of Niederburg stay open late and there is music, flea market tables, and art in the streets. It's a very cozy atmosphere and worth a walk through.  
Museums and galleries [ edit ]
Hus Haus , Hussenstraße 64 ( In the old town ). Apr 1 - Sep 30: Tu-Su 11:00-17:00; Oct 1 - Mar 31: Tu-Su 11:00-16:00; closed Mondays and holidays . Museum dedicated to Czech religious reformer Jan Hus. The museum is all in German and Czech. Free .  
[dead link] Rosegarten Museum , Rosgartenstraße 3-5 ( In the old town ). Tu-F 10:00-18:00, Sa Su 10:00-17:00, Mondays closed . History and culture of Konstanz and the surrounding area. The museum is all in German. Adult: €3 reduced: €1.50, family: €7, free first Sunday of the month .  
Wessenburg Gallery , Wessenbergstraße 43 ( In the old town, across from the Munster cathedral ). Tu-F 10:00-18:00; Sa Su 10:00-17:00; Mondays closed . Art gallery with rotating exhibitions €3 .  
Do [ edit ]
[dead link] Take a boat trip on the lake . The ticket office is at the harbour, just past the pedestrian underpass. You can take trips to, e.g., Meersburg , flower island Mainau, Ueberlingen , Friedrichshafen , Lindau , Bregenz , or down the Rhine to Stein am Rhein and Schaffhausen . ( updated May 2023 )
Swim . Either in the Rhine near the pedestrian bridge, or at the beach "Hörnle" at the east-most point of Konstanz. (Bus 5 goes to the Hörnle.) The Hörnle has a nudist area (in German: "FKK") at its north end.  
Konstanz Philharmonic . You can buy tickets in advance at the Stadttheater (Konzilstraße 11) or at the tourist information centre (inside the train station).  
Organ concerts at the Münster (Cathedral) . For schedules and pricing, see the website or contact the Münster music office at Pfalzgarten 4, or +49 7531 9062 52.  
Festivals and annual events [ edit ]
Carnival ( Fastnacht ) ( all over Konstanz, but primarily in the old town ). In the week preceding Ash Wednesday . This week-long event involves parades, costumes and parties. Carnival is an old tradition in southern Germany, made up a mix of pagan and Christian beliefs, whose main purpose is to chase out winter. The secondary purpose is, of course, to dress up in a costume and party.  
International Bodensee Week ( at/near the harbour ). In spring (late May) . This festival is all about boats. It features boat exhibitions, regattas, and water skiing shows & competitions. free .  
Christopher Street Day ( LGBT pride parade ). In summer (mid-July) . A cross-border LGBT pride parade/demonstration in Konstanz and neighbouring Swiss city Kreuzlingen. There are several cultural activities in the week leading up to the parade. The parade starts around 11 am and is followed by some bands playing in the Stadtpark (near the harbour). In the evening there's a party in the Konzil building (€14 entry).  
Konstanz Wine Festival ( St. Stephan's Platz, in the old town ). At the end of July . An outdoor festival featuring local wines and live music.  
Seenachtfest , all along the lakeshore in Konstanz . In mid-August . 1-day festival with live music and other performances on a few different stages, water shows (e.g. waterskiing), a market. The final event is a big fireworks competition between Konstanz, and neighbouring Swiss city Kreuzlingen . You can see the fireworks for free by watching in Kreuzlingen instead. Kreutzlingen also has a small midway and market during this event (free entry). Adults €12 in advance or €16 on the day, kids under 12 free .  
Rock am See , Bodensee Stadion (stadium) ( the east-most point of Konstanz (on bus route 5) ). At the end of August . 1-day music festival. approx. €60 .  
Oktoberfest ( klein venedig festival grounds, on the waterfront between the Sea Life Centre and the Swiss border ). It takes place over 3 weekends: the last 2 weekends in September and the first weekend in October . 11:00 until 24:00 or 01:00. Closed Mondays and Tuesdays . The Konstanz Oktoberfest is rather smaller than the one in Munich but is worth attending if you're in town. It features the usual Oktoberfest-style beer, food, and live bands, and has a small midway. You have to pay a few euros for an .  
Christmas Market ( harbour and old town main market (Marktstätte) ). It goes for the 4 weekends before Christmas . An outdoor festival where the main marketplace and harbour are lined with stalls selling mulled wine, food, art and kitchy stuff.  
Buy [ edit ]
Market ( farmer's market ). Tuesday and Friday mornings in St. Stephans Platz (downtown); Wednesday and Saturday mornings in St. Gebhard-Platz (Petershausen district)  
Old town shops . M-Sa 09:00 to 19:00, closed Sundays . Most of the pedestrian zone in the Konstanz old town is full of shops. In particular, there are a lot of shoe and clothing stores.  
Lago Center shopping mall ( in the south-west corner of Konstanz near the train station ). M-Sa 09:30 to 20:00; Thursdays until 22:00 .  
Gigantic cross-border flea market . This flea market is several kilometres long and crosses the border to Kreuzlingen , Switzerland . The bulk of the market is in Konstanz though. It sells the usual flea market stuff, but is impressive due to its sheer size. It takes place in June or July.  
Eat [ edit ]
Konstanz has a rich variety of all kinds of restaurants, cafes, bistros and bars. Due to the proximity of the Swiss border, prices are higher than in other cities (mentally add €2 to every main dish you are eating in other German cities).
In summertime most restaurants offer outside sitting and eating, in the evening hours it is hard to find a place, occasionally.
A yearly published magazine "Die Seezunge" covers many of the Konstanz eateries and is available in tabac shops and kiosks.
A good start to discover the Konstanz restaurant scene is to start at the central marketplace Marktstätte . Just north of the "Marktstätte" is the old fish market site Fischmarkt .
There are lots of very good "Dönerbuden" (kebap houses) in the city center selling this Turkish dish.
Budget [ edit ]
47.660644 9.177471 1 La Piazza , Marktstätte 2 ( east end of the Marktstätte, next to the post office ). Offers Italian food of all different varieties as well as Italian-style coffee. ( updated Sep 2022 )
47.657427 9.174574 2 Ali Baba , Hüetlinstraße 3 ( near the Cinestar movie theater ). A special recommendation for Döner Kebap. ( updated Sep 2022 )
47.661657 9.175302 3 Taverne Pan , Sallmannsweilergasse 13, 78462 Konstanz ( in the Altstadt (old town) ), ☏ +49 7531 25478 . Daily 12:00-14:30 & 18:00-01:00 . Greek taverne with great and most important cheap food. A place with nice music and good service. You should definitely try Gyro and Galactoboureko. ( updated Sep 2022 )
47.659175 9.174314 4 BOX To Go , Ob. Augustinergasse 2 . ( updated Sep 2022 )
47.66284 9.175126 5 Kervan Veggie Imbiss , Wessenbergstraße 35 . ( updated Sep 2022 )
47.658381 9.170955 6 Burroburro , Bodanstraße 41 . ( updated Sep 2022 )
47.660851 9.17206 7 Akropolis , Ob. Laube 55 . ( updated Sep 2022 )
Mid-range [ edit ]
47.660192 9.175259 8 Casablanca , Marktstätte 15 ( west end of the Marktstätte, near the fountain ). Offers Italian food, a great place to sit outside and watch the tourist masses walk by or catch the performances of the street artists. ( updated Sep 2022 )
47.658311 9.175359 9 Suppengrün , Sigismundstraße 19 ( in the Altstadt (old town) ), ☏ +49 7531 917100 . M-Sa 11:00 to 21:00 . Fresh and delicious soup and salad. The salad bar is full of fresh selections including many vegetarian and a few vegan options. (Pay according to the weight of your salad.) There are several soup options; some change daily. Salad: pay by weight . ( updated Sep 2022 )
47.661904 9.174978 10 Good Rice zum Elefanten , Salmannsweilergasse 34 ( in the altstadt (old town) ). M-Sa 11:30-14:30, 17:30-24:00 . A restaurant with typical southern-Germany atmosphere, serving typical southern-Germany specialties. ( updated Sep 2022 )
47.658518 9.175205 11 Karma: Touch of Singapore , Sigismundstraße 14 ( in the altstadt (old town) ). M-F 11:30-15:00, 17:30-23:00; Sa 11:30-23:30, Su 17:30-23:30 . Food inspired by Indian, Chinese, Indonesian und Thai cuisine. ( updated Sep 2022 )
Splurge [ edit ]
47.667308 9.187865 12 Ophelia Fine Dining , Seestraße 25 . ( updated Sep 2022 )
47.671105 9.167327 13 Restaurant Friedrichs Bar & Lounge , Reichenaustraße 17 . ( updated Sep 2022 )
47.663243 9.160787 14 Papageno zur Schweizer Grenze , Gottlieber Str. 64 . ( updated Sep 2022 )
Drink [ edit ]
Beach Bar ( Strandbar ), Webersteig 12 ( On the south shore of the Rhine, in front of the college ), ☏ +49 7531 - 3804158 . May to Sep: 12:00 to 24:00, opens at 11:00 on Sundays, closed in bad weather . A bar with a nice patch of sand about the size of a beach volleyball court. Lots of seating on beach chairs on the sand, and patio. They often have live music on Wednesdays. free .  
Beer garden ( Hafen Halle ), Hafenstraße 10 ( At the harbour behind the train station, right beside the sailboats ), ☏ +49 7531-21126 . every day 10:00 to 01:00 . A bavarian-style beer garden. Live music on Sunday mornings starting at 10:30, and they often show "big" sports events (football championships, formula 1) on a big screen.  
Shamrock Irish pub , Bahnhofstraße 4 . M-Th 17:00-01:00, F 16:00-02:00, Sa 14:00-03:00, Su 15:00-01:00 . They have a pretty full events calendar including bingo, karaoke, quiz nights, live music, and sports on TV. Often good place to go if you want to hear other people speaking English.  
Clubs [ edit ]
Casba , Obere Laube 55 ( Just on the edge of the old town ). Cheapest place in town; loud, smokey and sticky, somewhat legendary.  
Grey , Max-Stromeyer-Str. 33 ( Industrial area of town ). ( updated Jun 2023 )
Berry's , Reichenaustr. 204 . ( updated Jun 2023 )
Kantine , Oberlohnstraße 3 . ( updated Jun 2023 )
Sleep [ edit ]
Hotel Hirschen , Bodanplatz 9 ( Just south of the old city centre ), ☏ +49 7531-12826-0 . The proprietors speak English and can arrange for nearby parking for a modest fee. Single room €75-85, double room €102-122, triple room €135-160 .  
Hotel Graf Zeppelin , St. Stephansplatz 15 ( in the old town ), ☏ +49 7531 691369-0 . Single: starting at €70. Rooms for 2, 3 or 4 people starting at €45, €38 and €35 per person, respectively .  
Bayrischer Hof , Rosgartenstraße 30 ( right in the centre of the old town ), ☏ +49 7531 1304-0 . Single: €68-85, double: €100-137, parking €8 extra .  
Steinburger Island Hotel , at the end of 'Auf der Insel' street . This hotel is on a small island in a former Dominican Cloister. Accessible by bridge from the old town.  
Otto-Moericke-Turm youth hostel , Zur Allmannshöhe 16 ( north end ), ☏ +49 7531 32260 . Check-in: From 15:00 , check-out: 08:00 to 10:00 . €22-35 per night .  
If you're looking for a hostel, there are also a couple in the Swiss town of Kreuzlingen , which is practically a suburb of Konstanz.
Go next [ edit ]
Mainau Island — "The Flower Island" is known for its warm climate and beautiful botanical gardens, parks, butterfly house and greenhouse.
The Black Forest (Schwarzwald) — about 2 hours away by train or 1.5 hours by car (in Germany).
Other cities and towns on Lake Constance . Especially recommended are Meersburg , Lindau and Bregenz .
Stein am Rhein
Schaffhausen — for the Rhine Falls
Reichenau Island
Kreuzlingen — this neighbouring Swiss city has a really nice waterfront with large parks and playgrounds and a small zoo. Simply walk south along the waterfront from Konstanz to get there.
Swiss Alps — in winter, sign up at one of the local sports stores (e.g. Intersport Gruner across from the Lago Center, or Karstadt Sport in the basement of the Lago Center) to join a bus day-trip to a ski resort.
Has custom banner
Articles with dead external links
Has map markers
Has mapframe
See listing with no coordinates
Do listing with no coordinates
Buy listing with no coordinates
Drink listing with no coordinates
Sleep listing with no coordinates
Has Geo parameter
Bodensee Region
All destination articles
Usable cities
Usable articles
City articles
Pages with maps
Navigation menu
What to do?
Map of Lake Constance
Tourist information office Konstanz
Current weather Konstanz
April–October Mon–Fri 9 am–6:30 pm Sat 9 am–4 pm Sun + holidays 10 am–4 pm
November–March Mon–Fri 9:30 am–6 pm Advent Saturdays 10 am–4 pm
Point of sale for the Bodensee Card PLUS
Internationale Bodensee Tourismus GmbH Hafenstraße 6 78462 Constance Germany
Friedrichshafen
Ludwigsburg
Schwäbisch Hall
Sigmaringen
Villingen-Schwenningen
Hohenzollern Castle
Lichtenstein Castle
Füssen
Neuburg an der Donau
Bad Tölz
Berchtesgaden
Eichstätt
Garmisch-Partenkirchen
Kochel am See
Oberammergau
Reit im Winkl
Andechs Monastery
Benediktbeuern Abbey
Ettal Abbey
Linderhof Castle
Nymphenburg Palace
Ottobeuren Abbey
Lake Constance
Starnberger See
Altmühltal Nature Park
Bavarian Forest National Park
Fichtelgebirge
Franconian Switzerland
Karwendel Alpine Park
Görlitz
Lutherstadt Wittenberg
Schmalkalden
Wartburg Castle
Buchenwald Memorial Site
Alpine Road
Romantic Road
Jakobsweg - Bavaria
Mainau Island
Saxon Switzerland National Park
Thuringian Forest
German Sights
Baden-Württemberg
Konstanz, Germany
Where is konstanz.
Konstanz is the largest and most historic town on Lake Constance and is known for its role in the religious disputes in the Middle Ages.
It is located on the border with Switzerland - the neighbouring town of Kreuzlingen is on just the other side of the customs posts - and lies at the western end of the lake, near the start of the Rhine.
The municipal district of Konstanz also covers two islands - Reichenau island and the better-known flower island of Mainau.
Konstanz is a busy commercial and university student city as well as being a tourist base for visitors looking to explore Lake Constance.
The flower island of Mainau welcomes well over a million guests each year to its gardens and displays. More information about visiting the island can be found here: Mainau Island
How to get to Konstanz
Closest airport to konstanz.
The closest airport to Konstanz is just on the other side of Lake Constance just outside Friedrichshafen but the shorter distance includes a ferry across the lake.
Distance to Friedrichshafen (Bodensee) Airport: 32km Distance to Zurich Airport: 70km Distance to Memmingen (Allgäu) Airport: 111km Distance to Basel (EuroAirport) Airport: 158km Distance to Stuttgart Airport: 178km
The airports at both Memmingen and Friedrichshafen are favourites for low-cost airlines and offer limited choices of destinations compared to the larger city airports. The shorter distances also involve a ferry journey across Lake Constance. Otherwise the optimal choices are probably the larger airports at Zurich and Stuttgart , with Zurich having a big advantage in distance.
Train station in Konstanz
The train station in Konstanz is set just back from the lakeshore on the edge of old town and near the ferry terminals. The railway station offers a German and a Swiss section. The German line runs regional express services through to Singen (part of the Schwarzwaldbahn which ends up in Karlsruhe) where there are Intercity connections to Stuttgart and regional services to Ulm .
The Swiss section offers regular rail links to Zurich and St Gallen as part of their Interregio express service.
Ferry service from Konstanz around Lake Constance
Ferry travel is a popular option for sightseeing but also for those who want a relatively quick and uncomplicated route to other parts of Lake Constance. (Road connections, especially in the summer high season, can be very busy.) Konstanz is connected to Meersburg , Überlingen, Friedrichshafen and Lindau on the German side and Bregenz in Austria with the regular ferry service. There are also frequent connections to the popular tourist destination of Mainau island.
There is a car ferry service between Konstanz and Meersburg, although it should be noted that the port for this is in the Konstanz suburb of Staad on the northern side of the peninsula.
A year-round connection to the other end of the lake can be found via the Friedrichshafen-Konstanz catamaran ferry service.
Where to stay in Konstanz
Much of the accommodation in Konstanz is located on the quieter Petershausen side of the river (or lake) but still with easy access to the old town and ferry services or in Staad, with access to the ferry services across Lake Constance.
Konstanz accommodation map
If you know when you are planning to go but haven't decided on accommodation, then use the map below to get an idea of which properties are available and to compare prices during the period you wish to travel.
Enter your proposed dates and use the '+' to zoom in on a location and reveal more properties. Click on the price above a property to see more information.
( Please note that this selection will also include some guesthouses, pensions and self-catering apartments for those who are interested in that form of accommodation !)
Check Accommodation Availability in Konstanz
Alternatively, if you would like a list of properties available on your proposed dates of travel, use the search box below to find accommodation:
History of Konstanz
Traces of settlers from the later Stone Age have been found around Konstanz, although the earliest permanent habitation is thought to have been by the Celts in the 1st century BC.
The Celts were defeated by the Romans, who built a fortress in the area of the Konstanz Minster in the 1st century AD. The name 'Constantia' is thought to have come from the Roman era, although there is some debate about which Emperor Constantine the town was named for. The first time the name of the town is mentioned in a document was in the 6th century.
With the fall of the Roman Empire, Konstanz came under the control of the various Germanic kingdoms which appeared in the area.
Konstanz became a religious centre under the rule of the Bishop of Konstanz and an important strategic point on the trade routes between north and south. It was the location of a major Rhine crossing and became an important base for the linen trade. Konstanz received the right to hold a market at the start of the 10th century.
At that time only the bishop's residence was fortified with the merchants eventually being protected by the expansion of the town walls in the 12th century.
The town won the right to mint its own coins and became an important stopping point for merchants trading in linen, but also furs, herbs and spices.
But even at the point of its most successful commercial performance, Konstanz suffered a body blow as the connection of a trade route over the Gotthard pass meant that the town became irrelevant for merchants looking to transport their wares to Zurich and Basel.
The Council of Konstanz
The Council of Konstanz marked the high point of the town's power and influence. At the time, the church in Europe was bitterly split, with three opposing popes supported by different factions and a reformist group of philosophers and clergy who were undermining the established power structures within the Catholic church.
It took place between 1414 and 1418 and involved more than 400 high-ranking ecclesiastical figures, as well as retinues of various kings and princes, especially King Sigsmund, the Imperial Protector of the Church (later Holy Roman Emperor).
The council resulted in the resignations of the three existing popes, the election of a new pope (Pope Martin V), and the execution by burning at the stake of the church reformers Jan Hus and Hieronymus of Prague.
Konstanz had been chosen because of its position on trade routes, meaning relatively easy access for the important visitors, and the capability to feed the visitors with local fish from the lake as well as other goods which would need to be transported.
At the time, Konstanz had a population of around 6000, so the fluctuating number of visitors had a massive effect. Estimates reckon that there were more than 70,000 people attracted by the council. Apparently, many were forced to sleep two to a bed and commentators from the era remarked on the flourishing trade in the brothels which sprung up around the town.
The most important decision of the four-year Council - the election of a new Pope - took place in the merchants' trading house on the lakeshore, which had been built some decades before to deal with the flourishing commerce between Germany and Italy.
The trading house became known as the Konzil ('council building') and was renovated in 1970. It now houses meeting and seminar facilities and a restaurant.
After the Council of Konstanz
Although the Council of Konstanz was partly notable for the burning at the stake of two renowned campaigners for church reform, Konstanz later became a city which supported the Reformation.. Unfortunately, during the Counter-Reformation, that led to Konstanz having to surrender to hostile forces and becoming part of the Hapsburg provinces in Austria.
By the 17th century Konstanz was a sideshow used by the Austrians to block any efforts at Swiss expansion. The Napoleonic wars brought even more hardship, with the city being occupied by French revolutionary troops and then by Napoleon during his various campaigns against Austria.
However this did mean that the city came under the control of the German state of Baden, later to become part of Baden-Württemberg.
Although Konstanz was an important industrial centre, involved in weapons production and radar components research, it remained untouched by the Allied bombing raids which destroyed so many other German population centres.
The reason was the Swiss border with the neighbouring town of Kreuzlingen, which runs through the centre of the city, and the fact that in contrast to other German cities, Konstanz left its lights on at night to mask the border with Switzerland.
Other towns on Lake Constance
Lindau, Germany, is an attractive medieval town on an island in Lake Constance. Lindau's old town features cobblestone streets and timber-framed houses. Lindau's famous lighthouse and lion statue serve as the town's emblem, with impressive views over the harbour from the top of the lighthouse.
Friedrichshafen is a town in a beautiful location on the northern shore of Lake Constance. It was a centre for the aviation industry and is home to the Zeppelin Museum and the Dornier Museum. Both companies were based in Friedrichshafen. Bodensee Airport is just to the north of the town and provides the closest flight link to the Lake Constance region.
Meersburg is situated on the northern shore of Lake Constance and is home to the Old Castle, a medieval fortress that offers stunning views of the lake and the surrounding countryside. The town is a popular summer travel destination for both Germans and foreign tourists
Tourist Office
Konstanz tourist information office is situated in the same building as the main railway station near the city centre opposite the northern edge of the old town. It is open seven days a week in the summer (with slightly restricted hours at the weekend) and open on weekdays only during the winter. Website: www.konstanz-tourismus.de
© GermanSights.com
Konstanz Travel Guide: Top Things to Do and See around Lake Constance
Hello beautiful town! Konstanz (or Constance in English) is like a Mediterranean town in the middle of Lake Constance – also known as Bodensee in German. If it weren't so far away, we would definitely visit this place more often. While we have travelled extensively and visited many places in Germany , never have we found ourselves so far south as Konstanz.
It was actually because of Kathi's brother, that we got to see the largest city on Lake Constance . He had recently moved to the beautiful town of Konstanz, which had been his base for a few months by then and guided us through his new home. In this blog article, we will share with you the most beautiful sights in Konstanz and of course our best travel tips.
1. Konstanz: What to Expect from the Town on Lake Constance
2. best things to do and see in konstanz, 3. restaurants and café recommendations in konstanz, 4. our hotel tip for konstanz.
Konstanz is a combination of many things that make a city worth living for us – and of course, worth visiting. The first reason being the most special: Konstanz is blessed with a very unique location , right by the shores of Lake Constance. This means afternoon coffee with a view of the sparkling water, cooling off in the lake or a sunset cruise – yes, yes and yes!
Secondly: Konstanz has a beautiful historic Old Town , but surprisingly, it doesn't feel old and boring – quite the contrary, in fact. Being a University town , the University of Konstanz is actually the city's largest employer. Its young, upbeat vibe is a tribute to the large number of students in Konstanz.
And thirdly: Konstanz is pleasantly tranquil . You can get almost anywhere just by foot. In the high season, you can expect lots of tourists bustling around in the Old Town, but all in all, we had a very pleasant experience in Konstanz.
Fun Fact: the locals here call their city "Konschdanz" – just in case you were wondering. After the 10th time, we still couldn't get used to it… so don't say we didn't warn you!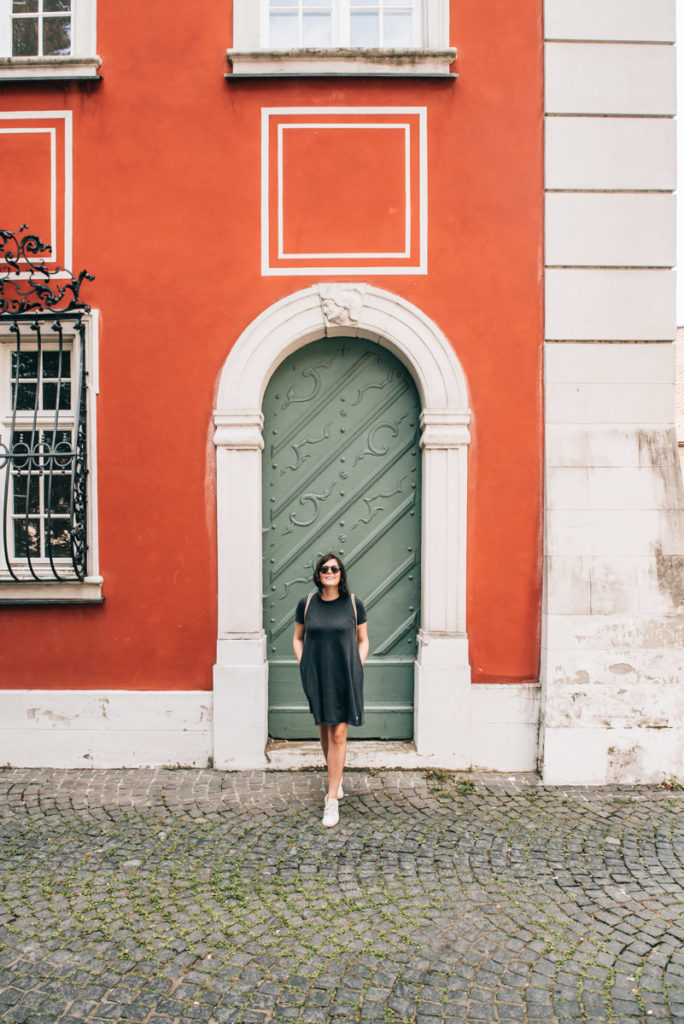 Konstanz is pretty easy to get around and you can reach most of the main sights in the centre by foot . You can easily explore the most important parts of the city in just one day. For destinations that are further away (like Meersburg), then a boat trip could be a nice, refreshing alternative.
Old Town and Niederburg
We started our city tour in the beautiful Old Town of Konstanz. Here, you'll find some of the town's most important sights , including the towering cathedral of Konstanzer Münster – which we will tell you more about soon.
The Old Town of Konstanz is a very lovely, photogenic mix of narrow streets, spacious town squares and traditional historic houses – actually, make that lots of traditional historic houses. Konstanz is fortunate in that it escaped with very little damage from the previous wars, which is why the Old Town is so well preserved.
The oldest part of the Old Town is called Niederburg and begins north of the Münster. In this medieval part of Konstanz , there's a good chance that you'll get lost, as the streets are even narrower and more maze-like than the rest of Konstanz.
Once you've made your way through the Niederburg, then you'll come out north of the Rhine, more precisely known as Seerhein. Located here is also the Rheintorturm – or the Gate Tower of the Rhine – one of the three preserved Medieval Defence Towers.
Our tip: There is a really nice spot on the other side of the Rhine bridge, along the street called Seestraße. Here, you can enjoy a pretty view of Konstanz in peace.
View from the Konstanzer Münster – Cathedral of Konstanz
The gigantic Cathedral of Konstanz easily surmounts all other buildings in the Old Town. Even if you don't have much to do with sacred or religious buildings, this is a cathedral that deserves a visit. High above, from the tower of the cathedral is the best view over the Old Town of Konstanz.
The climb is less arduous than expected. You only have about 200 steps to overcome before you reach the open air observation deck . Hot Tip: There is a platform on both sides of the church tower and the view is fantastic from both. Thankfully, you can also photograph through the wire meshing.
If you want, you can also climb another 52 steps from here inside the church tower. Unfortunately, there's no deck for you to go outside, which is why the additional effort is only partially worthwhile.
Once back down, we definitely recommend that you also take a look inside the cathedral . We were impressed by the cloister: Parts of it date back to the 13th and 15th century.
Information about the Cathedral Tower ascent
Price: 2 Euros Opening hours: 10 am to 5 pm (on weekdays), 12:30 am to 5:30 pm (Sundays and public holidays) Address: Münsterplatz 1, 78462 Konstanz
Harbour and Imperia
Down by the harbour of Konstanz towers the city landmark – the Imperia. The concrete statue rotates around its axis once every four minutes – all day, every day. The Imperia is a satirical reference to the Council of Constance: If you look close enough, then you will notice that a naked figure is held in each hand of the Imperia – symbolising the Pope and Emperor.
Speaking of the Council: Directly opposite the Imperia is the Council building , which dates back to the 14th century. Just north of the council building is the city garden and from the park benches along the shore, you have a great view of the house-fronts from across the opposing street of Seestraße.
Boat trip to Meersburg
One of our personal highlights! Meersburg is a picturesque small town on the opposing shore of Lake Constance. Although the place is almost exclusively overrun by tourists during the day, we think that Meersburg is definitely worth seeing if you're in the Constance region.
By boat, you can reach Meersburg from Konstanz in about half an hour. From the water, you can already catch a glimpse of what makes Meersburg so special – a small town located on a hilly slope, surrounded by vineyards. It goes without saying that there are quite a few places in Meersburg, from which you can enjoy a beautiful view of Lake Constance. One of them is the garden of the New Castle. From here you can see the Meersburg Castle , as well as the Unterstadt (Lower Town).
Our tip: We ourselves visited Meersburg in the late afternoon and took the last ferry back to Konstanz in the late evening. It was amazing to see and enjoy the sunset from the ferry – something we can highly recommend! But pay careful attention to the departure times of the ferry trips because they run less frequently in the afternoon. You can find and search for the ferry schedules and connections here: Lake Konstanz – Ferry Schedule .
Another important note: In addition to the regular passenger boat services across Lake Constance, they also run one Vehicle Ferry every 15 minutes to Meersburg. However, this particular ferry departs a little north from the city of Konstanz – to be precise, a few kilometres north of the Old Town in the district of Staad. The ferry ride is a bit cheaper, but of course less comfortable.
Information about the boat trip to Meersburg
Price: 12,80 Euros for a round trip Departure: Port of Konstanz (Address of the Ticket Counter: Hafenstraße 6, 78642 Konstanz) Duration: 30 minutes
Day Trip to the island of Mainau
The so-called flower island of Mainau is probably the most visited destination in the area of Konstanz . Those who travel to Konstanz usually visit Mainau as well. The island is known for its extensive gardens and parks . For example, you can visit the botanical garden or have a coffee break in a Baroque Castle.
We actually ended up not visiting this island for a few reasons: the absurdly high entrance fee of 21.50 Euros definitely put us off, as well as the fact we were visiting in peak season, plus we had heard very mixed reviews about the place – from "absolute highlight" to "overhyped and crowded".
Information about visiting the island of Mainau
Admission: 22 Euros (summer), 10,50 Euros (winter) Getting there: by boat from the Konstanz harbour or alternatively by bike
One of our favourite cafés in Konstanz. We liked it so much that we came back a second time! Voglhaus serves breakfast and lunch, but also a variety of cakes and pies. The espresso here was the best we found in Konstanz.
We also love that Voglhaus promotes a sustainable concept . For example, most of the dishes and snacks on offer are predominantly vegan and the coffee comes from a small roasting house. The seating areas are very nice, both indoor and outside. Note: the cafe is self-service, which was perhaps the only downside.
Address: Wessenbergstraße 8, 78462 Konstanz
Other recommended restaurants, cafes and bars in Konstanz:
Eugens : Very nice, young organic restaurant with many vegetarian and vegan options. They serve breakfast, lunch and dinner. If you're lucky, you can sit outside on one of the outdoor tables.
Stadtkind (shown in photos): Pleasant café that is a bit off the beaten track. Ideal for coffee and cake in the afternoon.
Weinstube Niederburg : Small, very familiar and popular wine bar in the Niederburg.
Hintertürle : Also a quaint wine bar in the Niederburg.
Strandbar Konstanz : Sun-beds and a sandy beach make for holiday feelings on the shores of the Seerhein. Perfect for a sundowner.
La Bodega : Small Spanish tapas bar that is in great demand and (almost) always full.
We stayed in a very central location at Hotel Barbarossa and can highly recommend this place. This cozy city hotel is located within a historic house, right in the middle of the city centre. This means that most of the sights and places of interest are within walking distance, which is super convenient.
On first impressions, the hotel seems a little aged with time. However, our room was much more modern than we expected. It did get a little noisy at times, especially since our window was facing towards the streets. But we had a really nice view and overall had a very pleasant stay.
We didn't end up trying the breakfast here, but apparently it's very good. Note to those with cars: You can get discounted parking near the hotel if you request in advance.
You can view/book the hotel here: Hotel Barbarossa
Disclaimer: Affiliate Links
This blog article contains our personal recommendations in the form of affiliate links. If you book or buy something through these links, then we will receive a small commission from the company – it does not alter the prices for you at all. A million thanks from the both of us!
Have you ever been to Lake Constance? Do you have any further tips for the town of Konstanz? Which sights and highlights would you recommend? We look forward to reading about your experiences in the comments below!
You might also be interested in this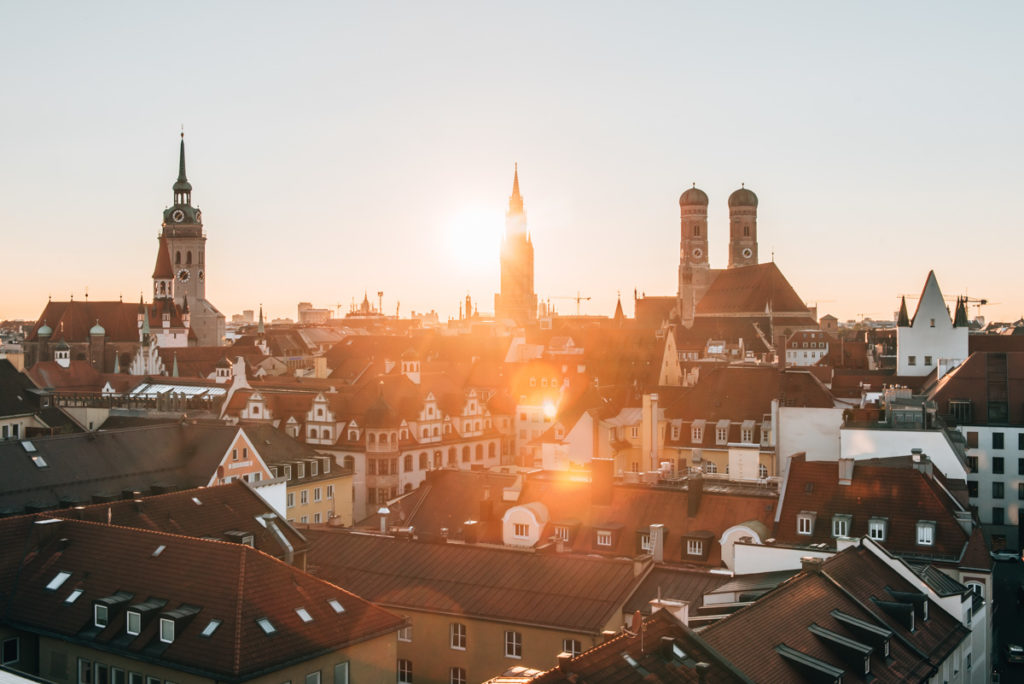 Munich Travel Guide: Best Attractions & Top Things to Do
Bamberg Travel Guide: Tips for a Weekend Getaway
Hamburg Travel Guide: Top Things to Do and See
Leave a reply cancel reply.
Your email address will not be published. Required fields are marked *
Any questions?
Tel. + 49 (0) 7531/1330 30
Fax + 49 (0) 7531/1330 60
kontakt(at)konstanz-info.com
Search accommodation
Common search queries.
Contact Opening hours & contact information
Opening times, addresses & contact form – get in touch with MTK and visiting us in person!
Contact information
Tourist-information.
Bahnhofplatz 43 (at the main station) | 78462 Konstanz
+49 7531 133032
counter(at)konstanz-info.com
Opening hours:
April - October
Monday - Friday: 9am - 5pm
Saturday: 9am - 4pm
Sunday and on public holidays: 10am - 3pm
November - March
Monday - Friday: 9am - 4pm
Saturday, Sunday and on public holidays: closed
On Advent Saturdays: 10am - 4pm
The tourist information office in Constance's train station (Bahnhofplatz 43) is part of the travel information centre. The centre is your first port of call for:
Hotel bookings
Travel information (including for both Swiss and German rail services)
Advance ticket bookings
Information on the town and the region
Constance shop
Department of city marketing & Tourism
Obere Laube 71 | 78462 Konstanz
+49 7531 133030
kontakt(at)konstanz-info.com
Opening hours
April - September
Monday - Friday: 9am - 5pm
October - March
Monday - Friday: 9.30am - 12.30pm and 1.30pm - 5pm
The MTK phone lines are open:
Monday - Friday: 9am - 12.30pm and 1.30pm - 5pm
Bärbel Palminteri
Contact form.
Questions? Suggestions? Would like to request a brochure? please fill in the following form and get the requested information:
Title Please select Mr Ms Family
Given name *
Street address
Street number
Postal code
By submitting this form I agree that my personal information will be saved and used to process my enquiry. Processing of the data will only happen in the course of this enquiry. It will not be used any further, especially not for commercial purposes. The data will be processed subject to the MTK privacy statement . Our General Terms and Conditions apply. *
Looking for accommodation?
Search & Book here
Also interesting
Enjoyable restaurant visits, cosy cafés, rustic wine taverns and much more: Constance's gastronomy spoils you with boundless, regional delicacies...
show more...
Getting here
Boat, ferry, train, plane, bicycle or by foot: There are many ways to get to Constance. Even the arrival is a special experience...
Attractions
The Council of Constance, the Niederburg as the oldest part of the city, the Imperia statue, historic city towers and numerous other sights invite you to inspiring city walks in the most beautiful city on Lake Constance...
Route Finder
Route Planner
Travel Guide
Places to visit
Eat & drink
Accommodation
Ski resorts
Current Conditions
Avalanche Report
Collections
Travel Stories
Publications
Tourist informations in Konstanz
Baden-Wurttemberg,Germany
tourist informations in Constance
Find many more places to visit here
THE way to start your next outdoor experience!
Tourist-Information Konstanz
Die Tourist-Information im Konstanzer Bahnhof (Bahnhofplatz 43) bildet gemeinsam mit der Deutschen Bahn und der Schweizerischen Bundesbahn die Mobilitätszentrale Konstanz.
Auslastung  
keine Infos vorhanden
Anreise ÖPNV  
Haltestellen anzeigen
Beschreibung
Konstanz hat mit seiner historischen Innerstadt, dem Konstanzer Konzil und seinen kleinen, feinen Museen eine einzigartig erlebbare Geschichte, eine sehr lebendige Gegenwart und viele Ideen und Pläne für die Zukunft. Kunst, Kultur, Genuss und Wasser prägen die größte Stadt am Bodensee, die als pulsierendes Zentrum der Vierländerregion gilt und zum Wandern, Radfahren, Shoppen oder einfach nur zum Verweilen einlädt.
Bahnhofplatz 43
78462 Konstanz
what3words Adresse
Verwaltungsadresse.
Marketing und Tourismus Konstanz GmbH
Obere Laube 71
Social Media
Link zu facebook
Link zu instagram
Link zu twitter
Link zu youtube
Sie haben Fragen?
Tel. + 49 (0) 7531/1330 30
Fax + 49 (0) 7531/1330 60
kontakt(at)konstanz-info.com
Unterkunft suchen
Häufige suchbegriffe.
Freizeitbad
Webcam (Link)
Sehenswertes
Adventsfahrten mit dem Katamaran zum Sondertarif
Neue Tarifaktion des Katamaran pünktlich zur Öffnung der Weihnachtsmärkte in Konstanz und Friedrichshafen.
Erweitertes Fahrtangebot in der Vorweihnachtszeit
Ab dem 30. November bietet das Kursschiff am Wochenende längere Fahrzeiten und einen attraktiven Adventstarif. Bis zum 23. Dezember werden die Abendfahrten freitags und samstags erweitert, und auch an den Sonntagen wird das Fahrplanangebot ausgeweitet.
An den vier Wochenenden vor Weihnachten fährt der letzte Katamaran freitags und samstags von Friedrichshafen nach Konstanz erst um 20 Uhr, von Konstanz nach Friedrichshafen sogar erst um 21 Uhr. Sonntags wird der Katamaran im Stundentakt betrieben, wobei die letzte Fahrt auf beiden Seeseiten eine Stunde früher startet: in Friedrichshafen um 19 Uhr und in Konstanz um 20 Uhr.
Fahrten zum Adventstarif
Passend zu den erweiterten Fahrzeiten präsentiert der Katamaran ein günstiges Tarifangebot für Erwachsene, Kinder (6-14 Jahre) und Familien (zwei Erwachsene und bis zu drei Kinder). Zwischen dem 30. November und dem 7. Januar können Passagiere am selben Tag für nur 15,70 Euro (Erwachsene), 8,30 Euro (Kinder) bzw. 39,50 Euro (Familien) zur anderen Seeseite und wieder zurückfahren.
Wo gibt es das Ticket zu kaufen?
Das Winterticket ist online auf der-katamaran.de , am Automaten in den jeweiligen Häfen sowie in den Geschäftsstellen erhältlich.
auch interessant
WinterSeeLeuchten
Winterzauber in Konstanz am See