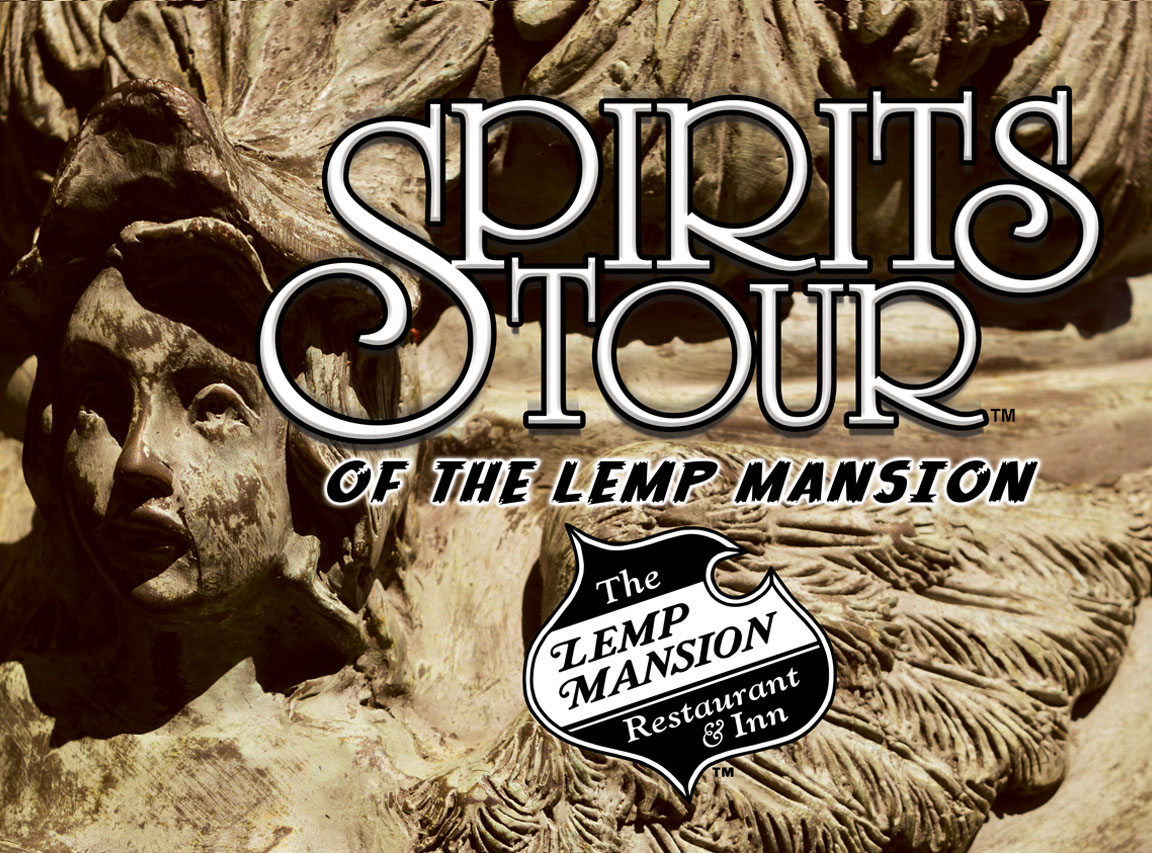 NEW: For those curious about the Lemp spirits

The Lemp Mansion
Winchester Mystery House launches new Walk with Spirits Tour
Do you believe in ghosts? Sarah Winchester certainly did. The all-new Walk With Spirits Tour in the shadows of the Winchester Mystery House delves into the supernatural lore of her San Jose, Calif. estate — called the world's most famous haunted mansion.
The spooky history of the Winchester Mystery House began when a psychic told a very superstitious Sarah Winchester (heir to the Winchester Repeating Rifle fortune) that she was being haunted by spirits of people killed by Winchester rifles — the "Gun that Won the West." The psychic then told Winchester that she needed to build a house that could never be completed because a house with many rooms would provide a safe-haven for protective spirits and the sound of hammering would scare away ghosts who meant to harm her. Because of those instructions — and Mrs. Winchester's superstitions — the now 160-room house was under construction around the clock from 1886 until she passed away 36 years later.
Beginning July 29, Winchester Mystery House will launch the Walk with Spirits Tour . This all-new outdoor evening experience takes guests around the estate's expansive grounds while sharing tales of its former (and possibly current) inhabitants. Guests can even peek through some of the mansion's 10,000 windows and 2,000 doors to see what (or who) might materialize… That is, if the spirits have received their "sympathetic vibrations."
"Once we received word that we would need to pause our indoor mansion tours, we quickly designed a new experience that shares some of the most famous — and infamous — stories surrounding the mysterious estate," said Walter Magnuson, Winchester Mystery House general manager. "This tour delves into the legends and lore surrounding the House and provides visitors with a unique opportunity to explore the grounds at night."
Walk with Spirits Tours will be offered Wednesdays through Sundays beginning at 8 p.m. Tour size is restricted to those in a visitor's immediate household, and capacity will be reduced to ensure social distancing. All guests will be required to wear face masks.
Tickets for timed-entry admission will be available here beginning July 24 at 10 a.m. The price is $24.99 for adults, $20.99 for seniors (ages 65+), and $14.99 for children (ages 6-12).
Guests who prefer to explore the Winchester Mystery House from their ghost-free homes can take the Immersive 360 Tour or the Video Tour, which are both available online here .
Leave a Reply Cancel reply
Your email address will not be published. Required fields are marked *
Get the latest news direct to your inbox. Simply submit your email address below.
Thanks, but I'm not interested
Brucemore Mansion kicks off holiday season tours with new, immersive elements for visitors this year
by Valeree Dunn
Brucemore is getting into the holiday spirit.
The 1886 Queen Anne mansion kicked off its holiday tours on Friday, and they've got several programs scheduled throughout the season.
Cedar Rapids — Brucemore is getting into the holiday spirit.
They're also doing something different with the tours this year, with new features to make it a more immersive experience for visitors.
"We also added some audio elements that we haven't had before. So those will really give people a chance to immerse themselves in the holidays a little bit more. You'll get to diary entries from the Douglases, you'll get to hear some Christmas stories, so it just adds an extra festive element for you to enjoy," Brucemore Events And Communications Coordinator Jennifer Beall said.
Brucemore is offering self guided daytime tours Thursday through Sunday afternoons through the end of December.
This self-guided tour of the first three floors provides a unique opportunity to experience the holidays at Brucemore while exploring on your own.
This tour does not include the basement Tahitian Room and Grizzly Bar.
Admission is $15 per adult and $5 per student.
Brucemore members receive a discount.
Purchasing tickets in advance is strongly recommended; tickets sold at the time of the tour are subject to availability.
They've also got extended tours on Wednesdays, Thursdays, and Sundays, every half an hour between 5 p.m. and 7:30 p.m. but you do have to get your tickets in advance for those.
This self-guided tour of the mansion features holiday décor on four floors of the mansion, including the unique Tahiti Room and Grizzly Bar in the basement of the mansion.
Admission is $18 per adult and $5 per student.
Tickets for this tour are only available for pre-sale.
Santa will be visiting Brucemore on Monday, November 27th and Tuesday, November 28th for a Santa, Snacks, and Stories event.
During this family-favorite event, children can meet Santa and enjoy activities throughout the mansion, including a story time and craft.
Entrance times are available every 30 minutes beginning at 5:00 p.m.
The last entry time will be at 7:00 p.m. Tickets are $10 per child and $5 per adult.
Brucemore leaders do warn, attendance for holiday events will be limited. For more information and to purchase tickets, click here , or call (319) 362-7375.
Brucemore has been recognized as one of the top historic home holiday tours by USA Today in 2019, 2021, and 2022. It's located at the National Trust Historic Site and Cultural Center at 2160 Linden Dr SE in Cedar Rapids, IA 52403.

Winchester Mystery House: Why You Should Visit California's Most Haunted Home
From garden tours to those offered on All Hallow's Eve, the Winchester Mystery House is worth visiting - if only for its haunted history.
While visiting California's Bay Area be sure to visit one of the most haunted (and outright bizarre) houses in America - The Winchester Mystery House. It is a mansion in San Jose and that was once the home of Sarah Winchester - the widow of William Wirt Winchester (the wealthy treasurer of the Winchester Repeating Arms Company).
Today is it designated as a Californian history landmark and is listed on the National Register of Historic Places. The house was built by Sarah Winchester after she inherited considerable wealth from her husband after he died of tuberculosis to her death in 1922. The mansion was in a continuous state of expansion from 1886 to 1922. See here for other things to see and do in San Francisco .
History And Background Of The Mansion
Address: 525 South Winchester Blvd, San Jose
Built: In 1886
This mansion is made in the Queen Anne Style Victorian style and is famous for how strange - and haunted - it is. It was built without a master building plan, it is full of architectural curiosities, and is really massive. It remains privately owned and is open to the public as a tourist attraction.
Sarah Winchester seems to have become eccentric after her husband died and her infant daughter died of the illness called marasmus. It is said that a Boston spirit medium told her that she would travel to the West and that she must continuously build a home for herself and the many people who had fallen victim to the famous Winchester rifles.
Throughout its life, there have been many stories of it being haunted by the ghosts of the killed with Winchester rifles. Even before Sarah Winchester's passing, there were many stories swirling around this odd house. She was a rare eccentric but wealthy woman who isolated herself from the rest of the world and just focus almost the rest of her life on building this truly bizarre mansion. See here for creepy catacombs around the world .
$20.5 Million: The Amount Sarah Winchester Inherited Following Her Husband's Death
Related:  10 Spooky Halloween Traditions From Around The World
Some of the rumors and questions that have long since been circling according to the mansion's website have been:
"Was she instructed to build this home by a psychic?"
"Was she haunted by the ghosts of those felled by the "Gun that Won the West"?"
"Did construction truly never stop?"
"What motivated a well-educated socialite to cut herself off from the rest of the world and focus almost solely on building the world's most beautiful, yet bizarre mansion?"
After Mrs. Winchester's Death
When Mrs. Winchester died all of her possessions (apart from the house) were passed on to her niece and personal secretary. When she built the house, she also thoroughly furnished it. Her niece took most of the furnishings out of the house. Rumor has it took six trucks, 8 hours a day, for 6 weeks to remove all the wanted furnishings.
The Will: In Her Will, Mrs. Winchester Made No Mention Of the Mansion
At her death the house was considered worthless because it had been damaged by an earthquake, it was unfinished and completely impractical. Still, it was sold in an auction for over $135,000. It didn't take long after Mrs. Winchester's death for it to become a tourist attraction. It welcomed its first guided tour only five months later in February 1923.
Sold: For $135,000 At Auction
Size Of The House
The Winchester Mystery House is truly massive. One will need some time to see it, it is no regular house! Here are the numbers of just how big it is.
Rooms: 160 Rooms (Including 40 Bedrooms)
Staircases: 40 Different Staircases
Bathrooms: 13 Bathroom
Windows: 10,000 Different Window Pane
Fireplaces: 47 Fireplaces
Doors: 2,000 Doors
Other: 6 Kitchens, 52 Skylights, 3 Elevators, 2 Basements, But Only 1 Shower
Tours Of The Mansion
There are numerous tours around the mansion, to really see the whole mansion, one may consider booking more than one tour.
Guided Mansion Tour
Rooms: Be Guided Through 110 of the 160 Rooms
Tour Duration: 1 Hour, 5 Minutes
Price: From $19.99 to $41.99
Explore More Tour
First: First All-New Tour Offered Here In more Than 20 Years
New Experiences: Takes Guests To Parts Of The House Never Before Open To The Public
Restrictions: Children Under 6 Are Not Permitted On This Tour
Tour Duration: 1 Hour And 10 Minutes
Price: $19.99 to $41.99
Related:  San Francisco to Napa Valley: How To Plan The Perfect Day Trip Itinerary
Sarah Winchester Garden Tour
Gardens: This Tour Is Only Of The Gardens And Not Of The Mansion, Great Tour To Book With Other Tours In A Money-Saving Bundle
Price: $19.99 (Adults)
All Hallows' Eve Tour
Season: Selected Autumn Nights Through Halloween
Added Bonus: The Family-Friendly Jack O' Lantern Trail Through The Victorian Gardens
Cost: $64.99 Per Adult, $34.99 Per Child
The mansion is a great activity for the whole family, the kids are sure to enjoy the spooky tails.
Next:  Visiting San Francisco For The First Time Can Be Overwhelming, Unless You Know Where To Stay

No stress. Spend less. Travel success.
Winchester Mystery House Tour Review – HALLOWEEN SPECIAL
Winchester Mystery House tours are a popular attraction among people who love paranormal activity, history, legends, well, all in all a bit of MYSTERY. Even Josh Gates of Discovery Channel's "Expedition Unknown" visited the mansion and made a program about it. So if you travel to Bay Area, a visit to Winchester Mystery House is a great day trip from San Francisco .
A little history, a little mystery
Winchester Mystery House is a 135 year old mansion located in San Jose, California that was built by Sarah Winchester, the wife of the late firearms magnate, William Winchester, the inventor of the "gun that won the West". The mansion is an architectural wonder consisting of 160 rooms, 47 fireplaces, over 10,000 panes of glass, 17 chimneys, 2 basement levels and 3 elevators. The whole property covers the whooping 4.5 acres!
There are lots of beautiful elements and oddities in its design but architecture is not the only thing Winchester Mystery House is famous for – it is also notorious for being haunted. Old records mention that Sarah believed in ghosts and even organized spiritual seances at Winchester Mystery House. Various incidents of paranormal activity have been spotted at the mansion over the years. All being said, this mansion became an inspiration for the Haunted Mansion attraction at Disney Parks. Do you need more of an intrigue?
When is the best time to do Winchester Mystery House Tour?
The best time to do Winchester Mystery House tour is, of course, when all spirits come to live – at Halloween time! During the months of September and October Winchester Mystery House is transformed into one of the best Halloween attractions in California . Winchester Mystery House's almost 2 months' long event is called "All Hallows' Eve" and it definitely brings out the spirit of Halloween better than any other place, honestly. The whole event is a perfect combination of tastefully done decorations, spooky (but not too scary) experiences and an overall ambiance of mystery with a dash of supernatural.
What is there to do at Winchester Mystery House at Halloween time?
The All Hallows' Eve event at Winchester Mystery House consists of three main parts:
PART 1 : The self-guided tour of the garden around the mansion. I think it is great to see all the decorations both at day time and when it is dark, when they are all lit, because they look totally different during the day vs. night. This part is suitable for all ages.
PART 2 : Winchester Mystery House tour with "paranormal activity" and lots of spooky surprises. This is a guided tour with theatrical components. My husband played along, my 14 year old was skeptical, my 8 year old loved it and I personally think it is worth experiencing, for sure, just keep an open mind and have fun! I have to caution you that it will probably be too scary for kids 6 and under and no kids 5 and under are officially allowed on the tour.
PART 3 : Movie projection on the front of Winchester Mystery House which tells a visually stunning story of a tour guest who got lost in the mansion. This was my absolute favorite part! I cannot explain it all with words, it is a MUST SEE! The movie is suitable for all ages and it is being played every 20 min or so when it gets dark (you can see the best portions of it in my video review below).
If you are not able to come visit in person, below is a fun video review of our visit. Photography and videography is not allowed during Winchester Mystery House Tour – but we were invited to the event as members of the press so we were allowed to film inside. The video below will show you what NO ONE ELSE will be able to show – see it for yourself! Our video covers all 3 parts of the All Hallows' Eve event in detail:
How much time do I need for Winchester Mystery House Tour?
To experience everything that All Hallows' Eve has to offer I suggest planning to spend a couple of hours at Winchester Mystery House. In addition to the outside and inside tour at Winchester Mystery House and the movie, don't miss an opportunity to play with the famous Winchester pistols and rifles at an outdoor shooting range (additional fee).
You are not going to be shooting with real bullets, don't be scared. You will be hitting targets with lasers, but it is no less fun, trust me. All three guys in my family were thrilled about this experience and I am thinking they loved it as much if not more than Winchester Mystery House tour itself 🙂
There is also axe throwing in the garden near the stables that you can practice (additional fee) but we did not try it. It involves a real axe so I wouldn't recommend it for you kids but adults who tried it seemed to enjoy the activity.
Additional tips for visiting Winchester Mystery House
1.Winchester Mystery House is conveniently located right off HW-280. It has sufficient free parking on site but on weekend nights closer to Halloween it may get busy so I suggest coming early.
2. Winchester Mystery House offers regular day time tours as well. These are historic tours suitable for all ages.
3. If you have small kids and want to enjoy Halloween at All Hallows Eve event, you can buy cheaper tickets that do not include paranormal Winchester Mystery House tour, which basically will give you access to PART 1 and 3 of the event, as described above, but not PART 2.
We had a great time at All Hallows' Eve at Winchester Mystery House. If I were to change anything I would love to have had a shorter tour of the house (there was lots of walking around) but instead have an ability to participate in an actual spiritual séance in the room where Sarah Winchester did it herself, rather than hearing the guide just briefly talking about it. I think it would have enhanced the whole experience so much more.
That said, may be Winchester Mystery House management is concerned about the liability: what if the spirits DO show up at the séance? The mansion IS haunted after all… 😉
If you found this Winchester Mystery House tour review useful, please, do me a small favor and share it with others as it may help them with their travel plans. Happy Haunting!
OUR MOST RECENT ARTICLES THAT MAY ALSO BE OF INTEREST TO YOU :
Christmas in Paso Robles
Best Beaches in Seattle: Where to Relax and Soak Up the Sun
How to Stay Active and Fit While Traveling with Kids on a Road Trip
Where to Find Fall Colors in Bay Area
Cool Museums In California
Share this:
Leave a Comment Cancel Reply
Your email address will not be published. Required fields are marked *
WC Captcha − 2 = 3
Notify me of follow-up comments by email.
Notify me of new posts by email.
Things to Do
Restaurants
Vacation Rentals
Travel Stories
Rental Cars
Add a Place
Travel Forum
Travelers' Choice
Help Center
Fascinating! But, KNOW Before You GO - Winchester Mystery House
United States
California (CA)
San Jose
San Jose - Things to Do
Winchester Mystery House
This is a very interesting place. The architecture is amazing and Mrs Winchester was definitely... read more
Interesting house. I've been reading about this place for years, watching documentary films and... read more
Fascinating! But, KNOW Before You GO
Our youngest daughter, named Sarah (now age 20), has been talking about the Winchester Mansion for the past 10 years ever since she did an investigative report in grade school about Sarah Winchester and her bizarre Mansion- the "never ending construction project to ward off evil spirits". So, when we found out we were going to be in Northern CA this year for Christmas we decided to make a 5 hour detour to San Jose just so she could finally realize her dream and visit the Winchester Mansion in person. Thankfully, it did not disappoint! This is a fascinating historical site! Taking the tour has the potential to be a very positive experience as long as you KNOW before you GO. This tour will be most meaningful and enjoyable for those who do some homework prior to coming. Please: #1. Know something about the home & the Winchester family. #2. Know about the tour(s) ahead of time (the length and physical requirements). #3. Know what it costs. We arrived on December 19, 2014 - a very wet, rainy, cold & dreary day. We learned it had been raining and wet in Northern CA for 3 weeks prior and there had been flooding in areas of CA. The mansion grounds were thoroughly soaked and it was pouring rain, so we did not take a tour of the grounds. We only had time for the basic home tour. It actually ended up being the perfect weather to see the house. I think it added to the ambiance and spookiness of the place, and best of all it kept the large crowds away. We loved coming at Christmas time and seeing all the extra period holiday decorations in the home added a lot to the tour. It's a very old home, and due to its unusual architectural history many of the walls of this home are quite thin - even crumbling away in some places (all of the rooms included on the tour are structurally safe - but there are many rooms not included on the tour due to instability) so I advise bringing a sweater or jacket to wear - especially if it's chilly outside. Exploring the inside of the house is a bit like exploring a cave. It's hard to help you visualize how incredibly huge this mansion is until you actually start walking through room after room on the tour. It's not like a regular home where one room flows easily into another! It's an architects worst nightmare! (which of course is why you are taking the tour in the first place!) The mansion was under construction and demolition and reconstruction 24/7 for years. It suffered extensive damage during the big earthquake of 1906, and is actually not as large today as it was in its peak. The home requires continual maintenance to keep it functional and open to the public (the electric bill alone must be staggering!) – your tour dollars are at work everywhere you look. As we traveled through the house, it was easy for us to imagine how terribly lonely and even dreary it must have been for the grieving widow Sarah Winchester to live in such a vast, drafty place - especially as an extremely superstitious recluse! When we learned how much she suffered from painful arthritis in her later years - which worsened in the damp & cold – we could empathize with how miserable that must have been for her since we were feeling the damp & cold ourselves during the tour. And when we reached the area in the house where she would close up all the doors and stoke up the 5 fireplaces to try to warm up - yep, we could really empathize with that, too! We only had about 20 people on our tour which was a perfect number (another stormy weather bonus). I would not have enjoyed the tour as much if we had any larger of a group. I recommend going off-season (or during a stormy day) if possible to try for a smaller tour group. Our guide (also named Sarah) was extremely enthusiastic, experienced and knowledgeable. She took a lot of time with us and went into a lot of detail about the home and the history. She answered all of our many extra questions and I suspect she must have taken some extra time in some of the rooms which she may not be able to do on really busy days or with larger tour groups. For us, this was an absolutely fascinating experience and totally worth every penny! It seems that most of the negative reviews are centered on complaints of the cost of this tour. Quite frankly, I don't understand that. This is a major tourist site - in California - so, yes, it is going to be pricey! Stop whining. Just KNOW before you GO, and plan accordingly! It takes 30 seconds to get online & check out what the tour includes and what it's going to cost you. Bottom line, if it is not that interesting to you, or if you can't afford it, DON'T GO! There are plenty of other tourist places to choose from. Many will cost you just as much or more. It really all depends on what your priorities and expectations are. We decided to think of the cost of this tour as our personal donation to preserving a very unique and important historical site. We were more than happy to invest in this beautiful site, and we learned a LOT about history and saw some really bizarre, unique and cool architecture – all things that our family enjoys doing together. We came in with the right expectations, and we left with smiles on our faces. I do have to say that we were thankful we had all ADULTS & TEENS on our tour. Some older children might enjoy this tour, but I do NOT recommend this tour for young children (under the age of about 8, unless they are very well prepared) and it's definitely NOT a place for toddlers & babies!! Please be respectful of other tour guests and save your own sanity by not bringing very small children and infants on this tour! This is NOT going to be an interesting or enjoyable experience for them and it's going to be exhausting for you to try to keep corralling them, protecting them from falling down a staircase or tripping over an uneven surface, and placating them to keep them quiet for 1-2 hours so others can hear the tour guide. If you DO plan to bring young children, then please take some time in advance to sit down with them and study with them about the Winchester Mansion so they will KNOW before they GO. Look at photos online of things they can watch for. Read with them about the history of the house and some of the interesting stories and "mysteries" which will help prepare them for what they will be seeing and build some excitement. As I mentioned, my daughter was 10 when she did her school report and her research totally HOOKED her on this house for the rest of her life! Be prepared physically. It's a long and potentially physically demanding tour. There is a lot of walking (my FITBIT tracked me travelling 1.7 miles and 17 floors so you will definitely get your "steps worth"!). You will be walking, stopping, standing, moving and climbing up and down stairs without any sitting for 1-2 hours on the basic tour (more if you do the extended tour). So... KNOW before you GO. You need to be able to stand for over 1 hour without sitting down. You need to be able to walk for more than a mile without getting faint or out of breath. You need to be able to go up and down a LOT of stairs easily without fatiguing. There is nowhere at all to sit down during the tour. So, if you or a member of your group do not meet those requirements, you should refrain from taking this tour. The Winchester Mansion "Mystery Home" is not an amusement park. It is a very interesting historical site with both fascinating and tragic stories to tell. It requires patience and an interest in history to explore. There will be no ghost sightings, and there is no flashy entertainment here. The biggest mysteries of this house are really created by a tragic lack of historical records and first-hand knowledge of what really happened here and why. I kept thinking how truly sad it was that Sarah Winchester herself or at least one of the house staff never kept a diary or journal. (a good reminder how important it is that we all write down our stories for posterity) Sadly, none of the original furnishings remained with the home either - but there are some good replicas in a few of the rooms (**note, most rooms are not furnished at all and require your imagination**). Some of the original parquet flooring, custom woodworking, exquisite stained glass and other interesting architectural marvels are all still there. In summary: "KNOW before you GO". This tour is an experience which can be more fully appreciated and enjoyed after doing some homework ahead of time. Come with the proper expectations and be prepared to step back in time. I hope you will have as positive an experience as we did!
Winchester mystery house is located close to Santana Row. It's about belief of Mrs. Winchester to build such mysterious house over a period of more than 30 years to keep the human spirits okay who were killed by using the company's rifles. Must visit if you are in SJ area.
The house has a very interesting history and whilst I was amused at how quirky it was I was expecting something altogether grander, that said it's expansive. Tours shouldn't permit children under the age of eight, we had some 4-5 year olds and they were noisy and swinging off of everything - selfish parents who ruined everyone else's tour. Additionally too many people on the tour and by the time we'd made it into the next room the guide was already half way through explaining its features, not much we could do other than try to stay in front of other people - please half the number of people on each tour as it's not fair in its current state. Not much in the way of gardens but it was pleasant to have a small walk after the tour, the firearm museum is interesting to those in the know and the gift shop is pretty good too. Overall enjoyable and especially if you're fortunate enough to be on a smaller subscribed tour sans children.
While we enjoyed the tour it was very expensive. I think it was way over priced for the attraction. You get to tour parts of the house and the grounds. It is fasentating but not worth the money.
Not exactly easy to find but with a good map and/or GPS system, well-worth the effort to get to a unique residence in San Jose. Parking is restricted so be advised to look at the movie theater lots instead. The house itself isn't a huge mansion (as it appears in photos) but the interior was haphazardly designed and will take a fair amount of time to walk. Strangely, most of the design is utilitarian (think wealthy small widowed woman with arthritis) but there are many features that make no sense. We have never been "creeped out" by the house even for its eccentricities and may have had at least two paranormal experiences (non-threatening). Keep your eyes open for the number 13, which seemed even more appropriate for a Halloween visit.
I absolutely loved the Winchester House. It was almost like being in the Willy Wonka movie with staircases that led to the ceiling, doors that lead nowhere. I loved the door with a huge outdoor drop off, the one inch deep cupboards and just the overall suspense as you walked through the house. The eccentricity was truly evident here. I want to go again.
Holidays at winchester mystery house
Holiday candlelight tour.
Light up your holiday with our Holiday Candlelight Tour! For ONLY six select nights starting Saturday November 25th till December 30th , experience the magic of the season as you journey through this beautifully decorated mansion, lit up by the warm glow of candlelights. 
As you explore the decked out halls of one the grandest mansions in California with a nighttime open house style holiday tour, you might also uncover some tales of ghostly encounters and Victorian traditions, adding a layer of intrigue to your experience. Whether you're seeking a romantic evening, a family outing, or simply a dose of holiday charm, our Holiday Candlelight Tour is the perfect choice!
Plus, make sure to stroll through the estate and stop by the Menagerie Oddities Market, open only during Holiday Candlelight Tour nights! With a variety of unique vendors, you are sure to find the perfect gift.
Price: $44.99 adults, $19.99 children 5-12.
Please note children under the age of 5 will be given free admission, but will need to accompanied by an adult with a purchased ticket.
No, this is a self guided tour. Tour guides will stationed throughout the home and you will be able to freely explore parts of the mansion this holiday season and take in its festive decorations!
Yes! This is a kid friendly tour. All ages are welcome and the tour is very family friendly! Children under 5 are free and ages 5-12 will need a ticket.
While a couple ghost tales will be shared, this is a holiday-themed family friendly tour. 
This is an open house style tour in which you can roam for as long as you like once your tour time starts. Please note, there is no re-entry into the tour and the estate will fully close at 10:30pm.
If you are looking to learn about the history of Sarah's home, we would recommend you to take the daily Mansion Tour. On this tour you will hear some history of Victorian traditions, plus our knowledgeable guides will be on hand to answer all your questions as you explore the different rooms.
There are two complimentary parking lots available to guests next to and behind the property. Please be aware that these lots can fill up and overflow parking is available across the street on Satana Row. 
Yes! With your ticket, you get access to the Menagerie Yuletide Oddities Market which will include food trucks. Our Cafe 13 kiosk will also be open with various items to purchase. Beer and wine beverages will also be available to purchase to 21+ guests to buy. 
MENAGERIE YULETIDE ODDITIES MARKET
Don't be ordinary! Stuff those stockings with strangeness and wrap something weird they won't forget! On every Saturday from November 25 to December 30,   from 12 p.m. – 9 p.m., Winchester Mystery House will host the 5th Annual Menagerie Holiday Oddities & Curiosities Market, with new vendors every week.
Join the Yuletide ODDventure for themed shows with a variety of purveyors selling extraordinary wares! They are bringing dark art and bright smiles with six Saturdays of macabre celebrations with something different from the week before: curious creatures and peculiar performers, commemorative goodies, thrilling entertainers, and Yuletide treats. They will have strange stocking stuffers, bugs, bones, taxidermy, dark art, unique fine jewelry, medical specimens, antiques, and bizarre collectibles. While on-site, guests are invited to experience guided tours through the ghostly corridors of the Winchester Mystery House, as well as other family-friendly activities, before or after the market.
Purchase is necessary to access the market. You can purchase mansion tour tickets these select days to receive free access to the market. Or, you may purchase a direct ticket from Menagerie Oddities & Curiosities, LLC below, but please note that will get you access to ONLY the market.
This is a local traveling event organized by local artists where vendors will be selling strangely unique collectibles, antiques, and handmade wares—from bugs, bones, and taxidermy to dark art, medical specimens, and natural science. These artists specialize in selling oddities and curiosities with a flair for dark, dramatic art, both handmade and found, who will inspire your imagination. If you have any questions in regards to the Menagerie Oddities & Curiosities Holiday Market event please visit their website at  https://www. themenagerieodditiesmarket. com/
You may purchase any mansion tour ticket on a Saturday from November 25th through December 30th and you will receive free access to the market. If you would not like to take a tour of the house this day – you may purchase a ticket directly from Menagerie Oddities & Curiosities LLC here!   Please note this ticket gives you access to the market ONLY. Tickets will also be available to purchase onsite but we highly recommend purchasing your tickets in advance as capacity is limited. 
Yes! Food trucks will be onsite as well as a snack bar with various items to purchase. Beer and wine beverages will also be available to purchase to 21+ guests to buy. 
Yes! A few vendors that are showcased will also be offering some kid-friendly items to purchase. Children 5 and under tickets are free. 
This is a rain or shine event! If the forecast does call for rain please be prepared. Vendors will have tented booths. 
No refunds or exchanges – all sales are FINAL for market access tickets. 
Holiday Candlelight Tour
From November 25, 2022 through January 1, 2023, Winchester Mystery House will present daily mansion tours developed specifically for the holiday season. Guests will be treated to a sprinkling of Victorian holiday traditions, beautiful décor, festive music, and more.
HOLIDAY DAILY MANSION TOURS
Built during the Victorian era, Sarah Winchester's eccentric house is a sight to behold any time of year, but it's especially inspiring during the holidays. From  November 25, 2022 through January 1, 2023 , Winchester Mystery House will present daily mansion tours developed specifically for the holiday season. Guests will be treated to a sprinkling of Victorian holiday traditions, beautiful décor, festive music, and more.
Tour Duration:  1 Hour, 5 Minutes
Price: $41.99 adults, $34.99 seniors, $19.99 children 5-12.
HOLIDAY WITH THE HISTORIAN TOURS
Step back in time to a Victorian Christmas with the " Holidays with the Historian" tour. Led by Janan Boehme , Winchester Mystery Houses' historian and Victorian customs expert, this special tour of the mansion includes Victorian holiday traditions, caroling and a special holiday treat in one of Sarah's formal rooms.  Victorian attire is encouraged. Holidays with the Historian will take place on Saturday December 3; Saturday, December 10; and Saturday, December 17 at 5:30 pm.
Tour Duration:  2 Hours
Price: $150 adults
Please note children under the age of 13 will not be admitted for this tour. 
MENAGERIE HOLIDAY ODDITIES & CURIOSITIES MARKET
Don't be ordinary! Stuff those stockings with strangeness and wrap something weird they won't forget! On Saturday, December 3 and Sunday, December 4 from 10 a.m. – 5 p.m., Winchester Mystery House will host the 4th Annual Menagerie Holiday Oddities & Curiosities Market . Nobody does winter holidays, the occult, and oddities like the Victorians. Featuring vendors selling strangely unique  collectibles, antiques, and handmade wares—from bugs, bones, and taxidermy to dark art, medical specimens, and natural science—the Menagerie Holiday Oddities & Curiosities Market is the San Francisco Bay Area's official Oddities & Curiosities event. While on-site, guests are invited to experience guided tours through the ghostly corridors of the Winchester Mystery House, as well as other family-friendly activities, before or after the market.
Purchase mansion tour tickets these select days and receive free access to the market! 
You may purchase any mansion tour ticket on December 3rd or 4th and you will receive free access to the market. If you would not like to take a tour of the house this day – you may purchase a ticket directly from Menagerie Oddities & Curiosities LLC  here!  Please note this ticket gives you access to the market ONLY. Tickets will also be available to purchase onsite but we highly recommend purchasing your tickets in advance as capacity is limited. 
Yes! Food trucks will be onsite as well as a snack bar with various items to purchase. The Stables will also offer beer and wine beverages to 21+ guests to buy. 
AIDEN SINCLAIR'S GHOSTS OF CHRISTMAS PASSED
Master magician and acclaimed apparitionist Aiden Sinclair ("America's Got Talent," "Penn & Teller Fool Us") returns to Winchester Mystery House with Aiden Sinclair's Ghost of Christmas Passed, an interactive evening of paranormal illusions. Once upon a time, Christmas was more than a celebration of giving. It was a time that families gathered and when the night grew darkest, chilling tales were told. Aiden Sinclair rekindles the tradition of Dickens in a haunting presentation that brings the Christmas Ghost Stories of long ago back to haunt the living! Will you dare join and see what dark gifts he has in store? This show is story-driven and intended for mature audiences. Children under the age of 13 will not be admitted without express special permission from the performer.
Price:   $54.99 adults
Your Retro Holidays: What might a Victorian Christmas have looked like?
Do you fall into the camp of those who think that Christmas traditions have been around forever? That gifts have been wrapped tidily beneath a fir tree twinkling with lights while tales of Ebenezer Scrooge are
Tis' The Spirited Season
Construction lasted for thirty-eight years on the Winchester Mystery House, one of North America's most unusual and eccentric homes located in San Jose, California. Through the 160-room labyrinth-style mansion built by Sarah Pardee Winchester, there are many beautiful and extraordinary examples of the Queen-Anne Victorian Style architecture.
Things to Do
Community Calendar
Holiday House Tour and Christmas Tea
Saturday, Dec 2, 2023 at 10:00 a.m. EST
Pilgrim Hall Museum 75 Court Street Plymouth, MA 02360
Please call before attending any community events to make sure they aren't postponed or canceled as a result of the coronavirus. You can find CDC coronavirus information at cdc.gov/coronavirus ; AARP has additional resources at aarp.org/coronavirus .
Embrace the holiday spirit on Pilgrim Hall Museum's 15th annual tour of Holiday Homes.
Feel the warmth of the holiday season while helping to preserve the museum's superb early American collection.
This year we are offering a festive Christmas Tea at Pilgrim Hall Museum after the tour from 4:30pm- 5:30pm.
You can choose to attend the Tour only, the Tea only, or enjoy the full Tour & Tea experience! Space is limited, so purchase your tickets early!
Holiday House Tour, per person: Non-Members, $55, Members, $50
Holiday House Tour with Tea, per person: Non-Members, $105, Members, $95
Christmas Tea Only (Reserve by November 27th): Non-Members, $55, Members, $50
You will not receive a ticket in the mail. You MUST pick up a booklet and map, which will serve as your ticket, at Pilgrim Hall Museum, 75 Court Street, Plymouth, MA, between 9:00am and noon on the day of the Tour. 10:00am - 4:00pm: House Tour 4:00pm- 5:30pm: Christmas Tea
Event details are subject to change. Before attending, please check with the organization to confirm .
Community Calendar events are not associated with or sponsored by AARP but may be of interest to you. We want to hear from you if you have an event to share or updates to this event .
Images provided by AmericanTowns.com , Ticketmaster
Other Events you may like
North pole limited, edaville festival of lights, the polar express train ride.
Upcoming AARP Events
A total-body zumba workout.
Thursday, Nov 30, 2023 at 11:00 a.m. ET
Facebook and Youtube
Online Event
Coping With Painful Grief
Thursday, Nov 30, 2023 at 11:30 a.m. ET
Long-Term Care and Your Financial Planning
Thursday, Nov 30, 2023 at 12:00 p.m. ET
View All AARP Events
Immediate access to your member benefits
Discounts on travel and everyday savings
Subscription to AARP The Magazine
FREE second membership
Contact AARP Massachusetts
What community do you want to visit?
¿qué comunidad quieres visitar.
Recommended
Click to share on Facebook (Opens in new window)
Click to share on Twitter (Opens in new window)
Click to email a link to a friend (Opens in new window)
Click to copy URL
Why Taylor Swift skipped Beyoncé's 'Renaissance' film premiere
View Author Archive
Email the Author
Follow on Twitter
Get author RSS feed
Contact The Author
Thanks for contacting us. We've received your submission.
While Lizzo, Kelly Rowland and Lori Harvey were among the A-listers on hand to support Beyoncé at the world premiere of her "Renaissance" concert film, one famous face was noticeably absent from the festivities.
Taylor Swift was MIA at the star-studded event, which was held at the Samuel Goldwyn Theater in Beverly Hills, Calif., Saturday night.
The film premiere kicked off one month after the "Halo" singer, 42, made a surprise appearance on the red carpet for Swift's  "Eras Tour" movie premiere.
At the time, Beyoncé posed for snaps with Swift, who thanked her for her "generosity of spirit."
As for why the "Cruel Summer" singer, 33, didn't make it to Bey's?
She's currently in the midst of the South American leg of her Eras Tour, and was playing a concert in São Paulo the night of Beyoncé's movie premiere.
Details of the event were kept top secret, with guests being instructed to arrive promptly on the "chrome carpet" and adhere to a "cozy opulence" dress code.
Other attendees included Halle Bailey, Ava DuVernay, Tyler Perry and Gabrielle Union.
Just weeks ago, Swift gushed over Beyoncé in a  heartfelt Instagram post  after they  watched her concert film  with more than 2,000 fans at The Grove in Los Angeles.
"I'm so glad I'll never know what my life would've been like without @beyonce's influence," she captioned a snap of the iconic pop duo sitting side-by-side in the theater sharing a tub of popcorn.
She went on to praise the Destiny's Child alum's "generosity of spirit … resilience and versatility," as well as "the way she's taught [Swift] and every artist to break rules and defy industry norms."
She has since resumed her blockbuster Eras Tour with shows in Argentina and Brazil.
During her first night at São Paulo's Allianz Parque stadium on Friday, she seemed to be in high spirits while speaking to the crowd.
"You went ahead and broke the attendance record for this stadium," she exclaimed,  per USA Today . "Which means there has never been this many people in this room before. Thank you São Paulo."
The concert took place one week after a young fan, identified as Ana Clara Benevides, died on her way to the hospital  after passing out in her front row seat amid sweltering temperatures.
For more Page Six you love …
Listen to our weekly "We Hear" podcast
Subscribe to our daily newsletter
Shop our exclusive merch
After having to reschedule a show due to the extreme heat conditions, Swift opted to remain in Brazil for Thanksgiving, rather than fly home to the US to spend it with new boyfriend Travis Kelce.
She was also grappling with the immense heartache over Benevides' death, an insider exclusively told Page Six.
"The Brazil concerts … She is devastated about a fan dying," the source told us.
"The weather is extreme. It's a mess she didn't expect. It's been a traumatic experience. It's been a lot."
Share this article:
Advertisement
Spirit vs Southwest: Full Airline Comparison
Trying to decide between Southwest and Spirit for your next trip?
The short answer is that Southwest is a larger low-cost carrier with a good level of service equal to what is expected from any well-liked airline. Spirit is a smaller low-cost carrier that sacrifices services and comforts in lieu of lower base ticket prices .
Low cost airlines are some of the most popular options for travelers when planning a trip around the country or around the world. Since this is the case, it's pretty common to see travelers comparing Spirit Airlines versus Southwest Airlines.
They both cover a lot of air space, so choosing between them will come down to comfort, experience and price – all will be covered in this article. To begin, we'll give a brief background on both:
Spirit Airlines is categorized as an ultra-low-cost-carrier, beginning as a trucking company called Clippert in 1964. Their air service was started under the name Charter One in 1983, then as Spirit Airlines, Inc. in 1992. Spirit is currently the 8th largest airline in America by passengers carried and has remained independent since it's inception. Spirit's customer satisfaction ratings are notoriously low.
Southwest Airlines is the world's largest low-cost carrier, first established in 1967. First operating solely in the state of Texas, Southwest later expanded their reach to the United States and beyond. Southwest has high customer satisfaction ratings while offering competitive pricing on tickets.
Pricing & Extra Charges
Pricing is the most important factor when comparing airlines. Airfare is almost always the biggest travel expense when planning a trip in the United States or across the globe, so it's important to see how each company measures up when it comes to charging for tickets and extra fees.
Spirit takes an unbundled approach to its fares. This means that you'll pay a base fee for your ticket and then get charged for any additional bags or options that you want on the flight. This type of airfare is a great option for anyone wanting to travel spontaneously for cheap with one bag, but it can get pricier if you need more than this.
The process starts with a base fare for tickets, averaging around $200 round trip on the East Coast, about $350 cross-country, and around $675 round trip to the Caribbean for a single passenger. From here, expect for prices to continue climbing as you add passengers, carry-ons and checked bags.
For example, we booked a round trip, nonstop flight from Miami to New York City in the busy summer month of June. The base fare started at $370.18. This base fare only includes one personal item (purse or backpack, for instance) and assigns you to a random seat – no carry-on bags or additional luggage is included and you'll be boarding the plane last. For comparison's sake, a similar flight in the slow month of February was only $60.
Southwest pricing is based on class, separating costs by Business Select (premium), Anytime (moderate) and Wanna Get Away (cheapest) options. There isn't a huge difference between the classes since the seating is pretty standard across the board. The biggest differences come into play with the extras included with each fare. Here's the breakdown:
Wanna Get Away : includes two free checked bags, no change fees and no cancel fees for the lowest price available
Anytime : includes two free checked bags, no change fees, no cancel fees and the opportunity to change your flight last minute and get a refund for about $400 over "Wanna Get Away"
Business Select : includes two free checked bags, no change fees, no cancel fees, opportunity to change your flight last minute or refund a flight, priority boarding, priority security line and a complimentary alcoholic beverage for about $400 – $500 over "Wanna Get Away"
We used the Wanna Get Away option to price out different trips throughout the year, comparing to Spirit's costs. We found that a round trip along the East Coast averages about $150, a cross-country trip with a likely stop is around $300, and a round trip to the Caribbean is about $515.
Spirit , as mentioned before, charges extra for baggage. So using the previous example, traveling from Miami to New York in June for $370, add an extra $65 for one carry-on bag, which also comes with the ability to pick your seat and board the plane earlier. Tack on $80 if you also want to bring one checked bag and have the option to modify your flight.
If you need to bring another checked bag (whether it be an additional suitcase, or a snowboard or skis), that bag will cost $44. If you need to bring a third checked bag, the additional cost for that bag is $85. If you're bringing a bike on the trip, the cost is $75 and the cost to bring a surfboard is $100.
Southwest never charges for luggage unless you have more than two checked bags per person. They must meet or be under the weight and size requirements, which is typically 50 lbs per bag at less than 62 inches long. Otherwise the fee could be $75 for an overweight or oversized bag.
Southwest will allow you to bring more than two checked bags at a fee of $75 per bag.
Spirit doesn't have classes like other airlines, but they do have a Premium option which is a step up from standard Economy seating. The cost to upgrade is about $31 per flight and includes up to 11 inches more leg room and a comfier chair.
You can get in your own premium security line at the airport for a small fee of $8 per person. This is only available at certain airports, so it won't always be an option, but it'll give you shorter wait times.
Lastly, you can check in to your flight in the airport or online for free – OR you can choose to pay $10 per person to check in early. And if you want traveler's insurance, the cost will be determined by the amount you're paying in airfare (generally between $50 – $200 over the ticket price).
Southwest has upgraded boarding available on some flights, typically between $30 – $50 extra per person. This allows you to board early and choose the seat you want. Southwest does not allow guests to pre-select their seat, so early boarding is the only way you'll be able to choose who you sit next to.
Early check-in can be purchased for $15 extra, guaranteeing a better boarding position after the Business Select class.
P.S. – When you're done reading this one, don't miss our other expert airline comparisons:
Ways to Save
Spirit has a dedicated page on their site to help you get the best deal possible. Search under the "Deals" tab and find a range of round trip and one way flights to destinations primarily in the US for as low as $25. They also have coupon codes and other discounts available on occasion. You'll find more of these deals during slower months, so this is a great way to save on a spontaneous trip – if you don't mind the additional fees for baggage and odd flight times.
Spirit also has a $9 Fare Club which can give you exclusive discounts on flights and waived fees. The annual cost is $69.95, but could end up saving you money if you fly several times a year with Spirit Airlines, specifically.
Southwest has a rewards program called Rapid Rewards, that allows you to earn miles by booking flights and spending with Southwest retail and accommodations partners. You can use your points/miles on flights, hotels, car rentals, gift cards, merchandise and Cardmember experiences.
The best part about the program is that there are no blackout dates for booking flights and the points never expire. In addition to this program, look for the "lowest fare" marker when booking regular flights to find the best rate.
Seats & Flight Experience
Aside from pricing, comfort is the next most important factor when determining which airline to choose. Along with the comfort and experience is the overall cleanliness, friendliness and food served on the flight.
Economy Seating
Spirit economy seats are some of the slimmest and least padded seats on the market. Some have compared the experience to taking a public transportation bus in the air; in other words – they're not comfortable. This could be ok for short flights, but definitely something to consider for cross-country and international flights.
The tray tables are very small, as well. In general, the room given can be a tight squeeze and most people might not fit comfortably.
Southwest has the same kind of seats on the entire plane, so those in Business Select will be choosing from the same seats as the "Wanna Get Away" passengers. The major difference is that economy passengers will typically board the plane last. Since there is no way to select your seat in advance of the flight, boarding the plane last could mean that you won't be sitting with your traveling party.
As far as the comfort level of the seating goes, Southwest has some of the largest economy seats on the market with big headrests and cozy cushioning.
Premium Seating
Spirit has a great option for bumping up from economy class with large roomy seats. However, the "Big Comfy Seats" are the only upgrade you'll get from standard Economy and they are only slightly more comfortable. You'll be offered the same menu and the opportunity to purchase Wifi with your extra 11 inches of leg room. Basically, Spirit's Premium seats are like sitting in the exit row for an extra $31 and a little more cushion.
Southwest , as mentioned before, has Business Select and Anytime classes. However, these don't work in the traditional sense. These higher classes simply mean that you can get on the plane sooner and might have better perks for getting a refund on your flight, along with the possible free drink in Business Select.
The seat size and comfort level are the same across the plane, but the benefit to Business Select is that you can board the plane early and choose the window, exit or front if you want.
Southwest seats are preferable to Spirit seats in almost every possible scenario.
Spirit , by many flyer reports, is considered one of the "worst airlines in America". Whether you personally feel this way or not, there is no arguing that customer service ratings are very low.
Everyone's experience will be different, and of course, your attitude helps to determine the outcome of the flight. But generally, the Spirit flight attendants and pilots do the bare minimum on your flight, so it's very likely that you will view this as poor service if you have any expectations at all.
With Spirit, you get what you pay for and should expect as much going in. Since it accommodates it's passengers with some of the lowest prices in the industry, you shouldn't expect the service to be outstanding.
Southwest is very highly rated by passengers, achieving the highest possible score in the Department of Transportation's Air Travel Consumer Report for the lowest number of complaints per year. The staff at Southwest is generally very friendly and hospitable on each of its flights.
Overall Experience
Spirit does not include snacks and drinks on the flight, so prepare to bring them with you or pay extra in-flight. Entertainment is also not included on your flight, so bring it with you, unless you'd like to pay the $6.50 for Wifi access to streaming services.
Southwest will include free snacks and drinks on all of their flights and will even give out free alcoholic beverages on certain holidays. Wifi can be purchased on the flight, but there is plenty of free entertainment on board in the headrest tv. Live streaming, movies and shows are offered on all flights.
Flight Availability
It's fairly easy to find flights to most major cities any day of the year, but more obscure cities and international flights might be harder to get. If you're looking to travel spur-of-the-moment, it's helpful to know which airlines are most accessible. In the event that your flight changes or is cancelled, it's also nice to know which will get you on the next flight faster.
Spirit has 157 aircraft in it's current fleet, sending travelers on over 500 flights daily. Southwest has 734 aircraft in their fleet, shuttling nearly 4,000 passengers every day.
Domestic Flights
Spirit focuses mainly on the Eastern United States . In our previous example, traveling from Miami to New York City, plenty of flights were available when booking ahead of time for both slow and busy months. Spirit runs a point-to-point network system and doesn't have a hub like other airlines. They also don't do deals with other airlines, so it may be difficult to reschedule your flight if it gets cancelled or delayed.
Southwest has many destinations all over the United States, with it's central hub in Dallas, TX . Many flights are available daily within the country, even in the slower months. Typically, if a flight is cancelled or delayed, the company will get you on another Southwest flight as soon as possible. If you have to change your flight last minute, they will have you pay the difference if the flight is more expensive or they'll give you a credit if the flight is less expensive than your original.
International Flights
Spirit currently flies passengers as far as Lima, Peru. The countries on their international list primarily focus on Central & South America, reaching two destinations in Mexico, Guatemala, El Salvador, Honduras, Nicaragua, Costa Rica, Panama, Ecuador, Colombia and Venezuela.
They also reach islands in the Caribbean, including Aruba, Saint Maarten, Saint Croix, Saint Thomas, Jamaica, Haiti and the Dominican Republic.
Southwest 's farthest destination is San Jose, Costa Rica. They mainly operate inside the United States, but they have several locations in Central America including a Los Cabos, Puerto Vallarta, Cancun and Cozumel in Mexico, and Belize City.
They also reach islands in the Caribbean including Cuba, the Bahamas, Turks and Caicos, Grand Cayman, Montego Bay, Punta Cana, San Juan and Aruba.
Pet Policies
Spirit will allow dogs, cats, domestic rabbits and household birds inside the cabin. The fee can change periodically, but typically hovers around $125 per pet. Pets must remain inside their carriers for the duration of the flight and cannot be a nuisance. Travelers with pets cannot sit in the front seats or exit rows of the flight.
Southwest will permit both dogs and cats on board the plane with reservations made in advance. Space is limited with only six pet carriers allowed per flight. Passengers will be required to keep their pets contained in their carriers for the duration of the flight and will pay $95 each way for their pets to travel in cabin.
Southwest and Spirit do not allow pets to travel inside the cargo hold.
All airline are extremely safe and catastrophes are almost nonexistent. Based on percentage, air travel is the safest when compared to other forms of transportation . But it's worth noting which airlines have the best safety measures in place for you personally, as well as your luggage.
Aircraft Safety
Both airlines are equipped with the standard aircraft makes and models. Airbus supplies planes to a good number of airlines across the world and the aircrafts they build come equipped with a "Skywise Reliability" program which reports safety concerns automatically to the airline.
Spirit 's fleet is mostly comprised of Airbus 319, Airbus 320 and Airbus 321. These particular Airbus models are among the most highly rated planes on the market, never experiencing a fatal crash in their entire existence.
Southwest 's fleet is primarily comprised of Boeing 737 jetliners. Boeing, like Airbus, is among the safest types of planes on the market, with a .8% fatal crashes per one million flights according to Boeing's Statistical Summary.
Most airlines are not free from the rare incident. For the most part, no airline commonly experiences scenarios that due major harm to passengers, but we'll touch on the worst incidents each airline has experienced.
Spirit has never had a fatal crash and accident reports have not shown anything major in the last 35 years that they've been in business. The worst incidents have happened during maintenance on the planes as they undergo routine inspection, when passengers are not present.
Southwest has also never had a fatal crash, but has experienced two deaths on board. The only death caused directly from air trouble was the result of engine failure, where debris damaged a passenger window. The passenger sustained injuries and later died.
Three other reports of injuries have occurred due to rough landing or landing outside the runway.
Baggage Safety
When it comes to safety, both airlines strictly follow the TSA guidelines for prohibited items aboard the plane. They also adhere to the rules of each country they fly in to during international travel and will have each traveler complete a form stating that they have not brought any prohibited items in their checked bags or carry-ons, which are subject to search.
It's helpful to review each airline's baggage requirements before flying. Some people may not know that hoverboards and other types of electric skateboards are among SouthWest's prohibited items.
As far as losing baggage goes, checking directly with the airline in the airport should be your first step. Second, Spirit will ask you to call customer service for help, while Southwest has a separate web page where customers can file lost luggage reports and complaints.
Southwest will pay up to $3500 for lost or damaged luggage if applicable.
In conclusion, a random example roundtrip flight from Miami to New York City during the busy summer month of June will cost one person about $496.78 with Spirit and will cost one person about $210.96 with Southwest. Both of these options factor in carry-on bags and at least one checked bag.
If saving money is your only goal, Spirit may sound like it would always be the natural choice, but Southwest really gives it a run for the money. The example above is not only a higher price, but it also only includes one checked bag for the trip. On top of this, you'll spend 3 hours of flight time in a relatively uncomfortable seat with no snacks or entertainment and possibly poor service.
Southwest , in this example, is actually cheaper than Spirit and includes two whole checked bags for one person. You'll have a comfier chair, free snacks and drinks, free entertainment and much better service. However, you won't get to select your seat ahead of time and could risk sitting separately from your travel partner.
Overall, we strongly believe that Southwest is the best option, especially in the Summer and over the holidays when flights are naturally higher across the board. Spirit , however, is a viable option for short or spontaneous trips, giving out good deals pretty frequently.
If all things are equal and you're on the fence, Southwest is a no-brainer.
How Much Do Skis Cost? (Buyer's Guide & Tips)
United vs American: Full Airline Comparison
© 2023 by Roundtript
Cruise Spotlight
Helping you find cruise ships you'll love
Carnival Spirit vs Carnival Magic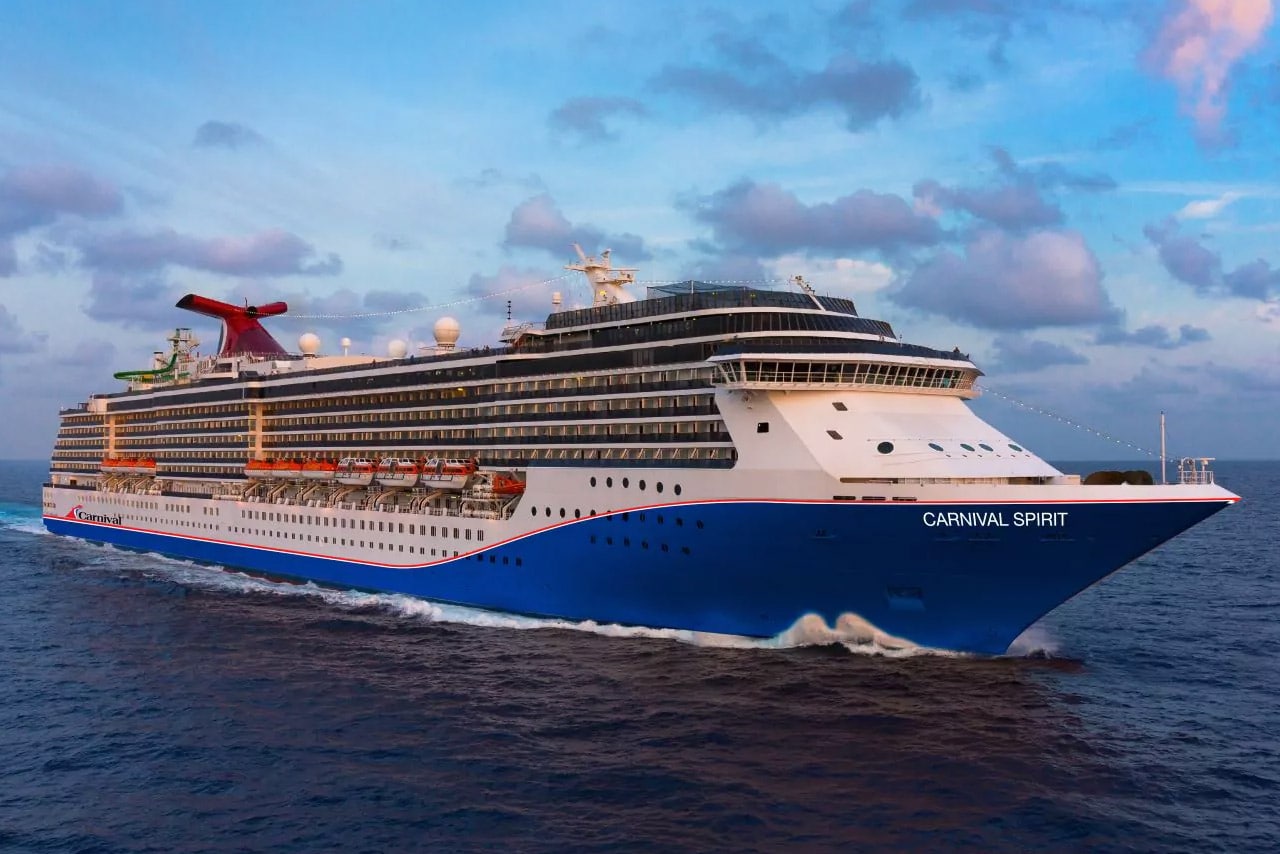 The Carnival Spirit was built in 2001. It's 10 years older than the Magic , which was built in 2011.
The Spirit is considered a small size ship. Coming in at 963 feet long and 106 feet wide, it's roughly the length of 2.7 football fields, as wide as 2 tractor-trailers and the same height as a 12-story building. Compared to the Carnival Magic, the Spirit is 31% smaller in terms of overall tons.
Number of Passengers
Carnival Spirit holds 42% fewer passengers than the Magic based on double occupancy (two people per room). When you compare the total tonnage of the ship to the number of passengers, or what we call the "Space Ratio," the Spirit has more space per person compared to the Magic. This means that you might have a bit more space to yourself on the ship, although there still could be some crowded areas like buffets, pools, etc.
Food and Restaurants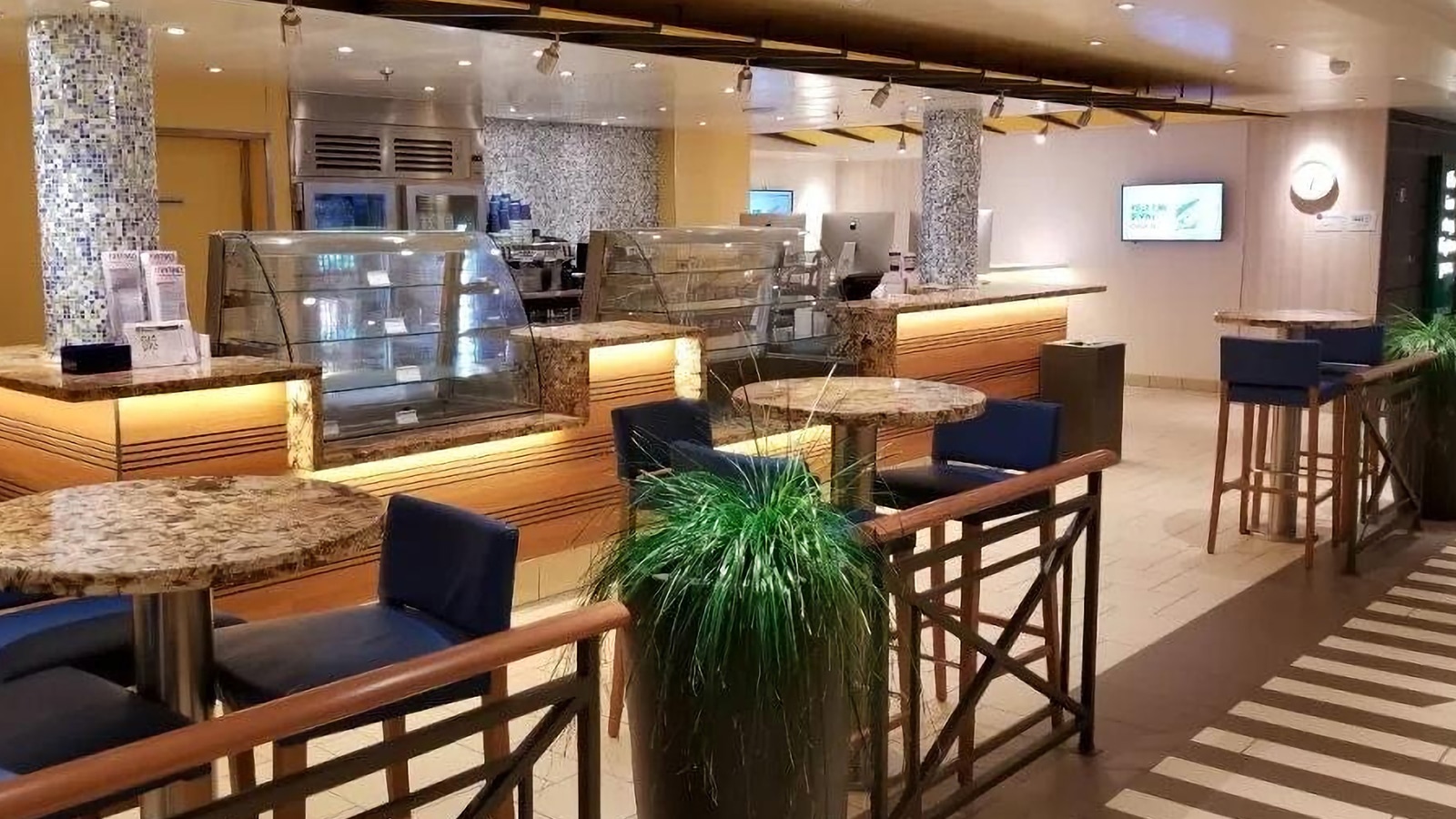 Food is a big part of any cruise, and the ship you choose can make a huge difference in your food experience.
The Spirit has 14 different dining options like JavaBlue Cafe , Pizza Pirate , and Carnival Deli . Of those options, 11 are complementary, or included with your cruise fare. The other 3 options have an additional fee.
The Magic has 7 more dining venues. Some of its popular venues are Captain's Pasta Bar , Guy's Burger Joint , and Cucina Del Capitano . 14 of these restaurants are complementary and the other 7 have an additional fee.
If you like having a variety of places to eat, the Magic might be a better choice. It has 50% more dining options than the Spirit.
If you're looking to avoid extra money while on board, the Spirit might be a better choice then the Magic. More of the dining options are included in the base cruise fare, potentially saving you money.
Restaurants on Carnival Spirit & Magic
In terms of drinks and cocktails, you have a variety of choices. Both ships serve the Pepsi family of products. That means Pepsi, Diet Pepsi, Starry, Mug Root Beer, and Mountain Dew, although the selection can vary by ship.
There are also plenty of bars available on these ships. You can check out recent the bar menus for the Spirit and the Magic below.
Pools and Hot Tubs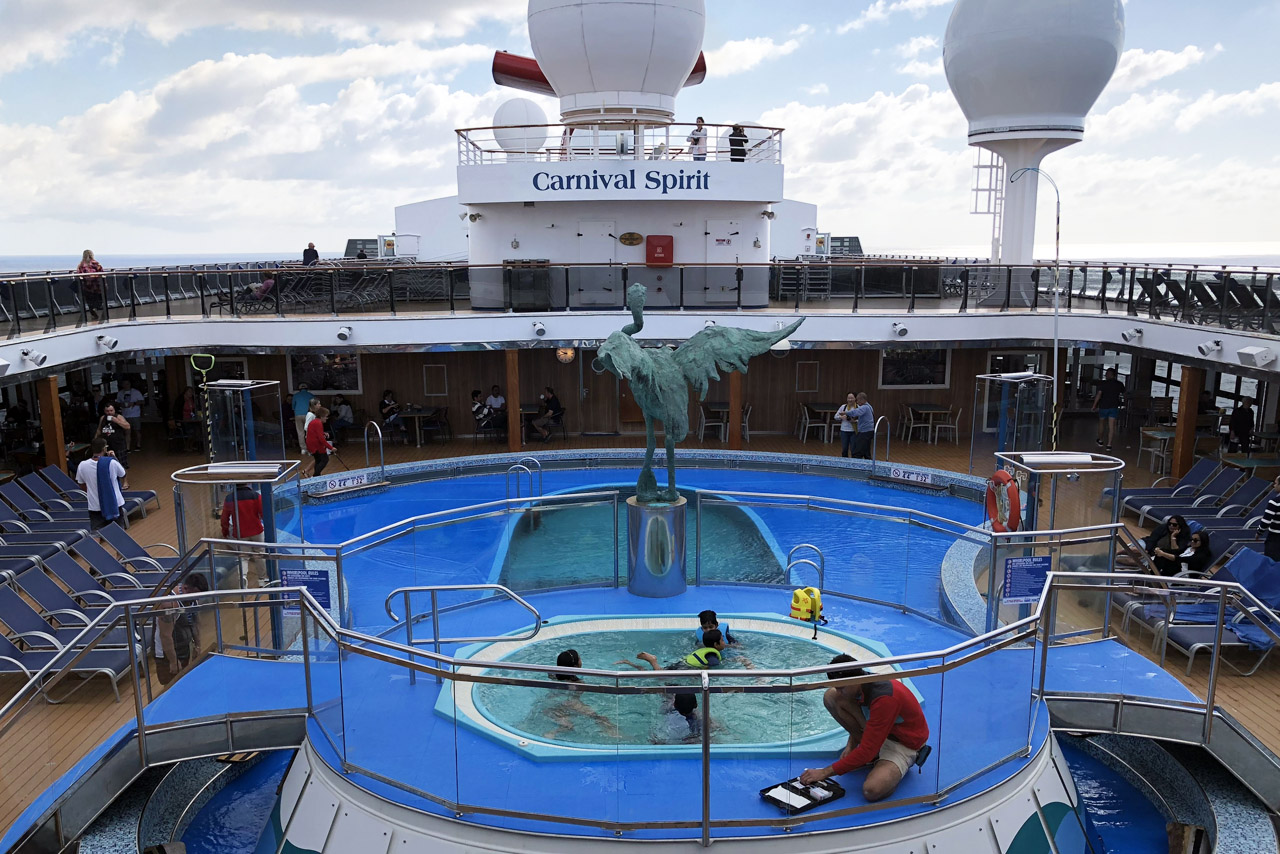 Nothing beats relaxing by a pool with a nice drink in hand as you feel the fresh sea breeze pass by you. The problem is that with thousands of people on a ship, there's not always room. If you want to spend all day for 7 days in a pool, a cruise isn't for you. You would have a much better bet choosing a resort with a huge pool complex. That being said, a quick dip in the pool can be nice on a hot day.
The Carnival Spirit has a total of 3 pools and 3 hot tubs. Tired of loud kids and splashing? 1 of the pools and 1 of the hot tubs are adults only.
Carnival Magic has fewer pools than the Spirit and more hot tubs.
Cruise Coloring and Activity Books for Kids Get your kids ready for their cruise or keep them entertained while on board with our custom made coloring and activity books. These are the Carnival editions with featuring places Pizza Pirate and mini-golf.
Cruise Ship Coloring Book for Kids 3-5 - Carnival Edition
Let's Get Cruising Activity Book for Kids 6-8 - Carnival Edition
Ship Features
Both ships have lots of activities to keep you busy throughout your cruise. Below you'll see a list of some of the major features on these ships. You might up paying more while on board the Spirit. Only 77% of the activities below are included in your cruise fare. On the Magic, 79% of the activities are included at no additional cost.
Cruise Costs
Carnival is a mainstream cruise line. Mainstream cruise lines cater to a variety of guests, hoping to provide something for everyone. These typically cost about $100 - $350 per person per day.
Cruise pricing is dynamic and varies for each specific sailing based on factors such as departure point, ports of call, and time of year. Typically newer ships cost more, so a cruise on Carnival Spirit will likely be cheaper than on Carnival Magic.
The cost will also vary depending on the type of cabin you book. You can see the differences between the Carnival cabins and how to choose the best one here:
Onboard Costs
Another way to gauge the cost of a cruise is to consider how much you'll spend on board. Even though a lot is included in the base cruise fare, you may still spend money on things like spa treatments, specialty dining, drinks, and excursions. In addition, guests can also have to pay for things like gratuities and tips.
Typically guests can expect to spend about 25 - 40% of the cost of the cruise on onboard expenses. In other words, if the cruise fare is $1,000 per person, you might spend between $250 and $400 on extra expenses.
The table below will help you understand what you might spend onboard a Carnival ship.
Articles Related the These Ships
Enchanting Magic and Mixology Await Aboard Sun Princess
All You Need To Know About Carnival's Cheers Package
Wheel of Fortune Coming to 16 Norwegian Ships
How I decided on a 5-day Bermuda cruise for my extended family
Norwegian to Offer Some Amazing Exotic Itineraries in 2024/2025
What is Carnival's "Behind the Fun" Like?