When to visit Portland
How to Reach Portland
Restaurants in Portland
Events & Festivals in Portland
Portland Map
Things To Do in Portland
Portland Itineraries
Portland Tours
Portland Hotels
Nike World Headquarters Ticket Price, Hours, Address and Reviews
North America
United States
Things To Do In Portland
Nike World Headquarters
Address: 1 One Bowerman Dr, Beaverton, OR 97005, USA, Portland, United States Map
Timings: 07:30 am - 05:30 pm Details
Phone: +1-5036716453
Time Required: 01:30 Hrs
Tags: Museums , Family And Kids
Nike World Headquarters in Beaverton, Oregon serves as an office and a nike museum that hosts various artefacts from Nike journey from more than 50 years ago. Visitors can take a bus to Nikes main campus where the nike headquarters tour begin. The buildings on the Nike campus are named after athletes that have signed various Nike endorsements. As you go on Nike campus tour to explore the places where you will see many missions of Nike through years, the original Nike logo, waffle iron that was used to make the first Nike running shoes, original Nike shoes, called "moon shoes", the van in which the shoes were first sold and many more.
Nike World Headquarters Travel Tips
Head out to Nike Company Store where everything is sold at half the price.
Nike factory tours currently does not offer public.
nike headquarters phone number - 1-503-671-6453
Entrance Ticket Details For Nike World Headquarters
Check the company website to know more about various tour prices.
Nike World Headquarters Hours
Nike headquarters portland timing -
Mon - Fri: 7:30 am – 5:30 pm
How to Reach Nike World Headquarters
Love this? Explore the entire list of places to visit in Portland before you plan your trip.
Fancy a good night's sleep after a tiring day? Check out where to stay in Portland and book an accommodation of your choice.
Nike World Headquarters Address: 1 One Bowerman Dr, Beaverton, OR 97005, USA, Portland, United States
Nike World Headquarters Contact Number: +1-5036716453
Nike World Headquarters Timing: 07:30 am - 05:30 pm
Best time to visit Nike World Headquarters(preferred time): 09:00 am - 04:00 pm
Time required to visit Nike World Headquarters: 01:30 Hrs
Try the best online travel planner to plan your travel itinerary!
8.89% of people who visit Portland include Nike World Headquarters in their plan
93.17% of people start their Nike World Headquarters visit around 08 AM - 09 AM
People usually take around 1 Hr 30 Minutes to see Nike World Headquarters
95% of people prefer to travel by car while visiting Nike World Headquarters
People normally club together St. Johns Bridge and Forest Park while planning their visit to Nike World Headquarters.
People also prefer to start their day with Nike World Headquarters.
Nike World Headquarters Reviews & Ratings

Attractions Nearby
International Rose Test Garden
Washington Park
Lan Su Chinese Garden
Portland Japanese Garden
Forest Park
Pittock Mansion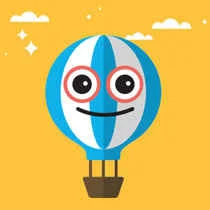 Hi my name is joann grabusky I mailed this headquarters a year or so ago and never heard back my question is I'd like to help design a particular sneaker for my son who is special needs I speak for all parents of special needs children and adults
How can we get passes to visit the Nike Store in Beaverton OR while touring Oregon for my 70th birthday. Thank you Roger
I can't find air Jordan 1 size 7.5 anywhere, I need them to surprise my nephew
Is there a yoga/dance shoe section?
How much for a tour
How much for tour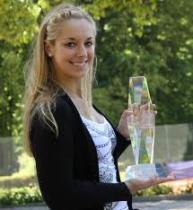 The Nike World Headquarters at Beaverton is not open to the public and does not offer tours. But, if you want to confirm, you can call them on 503-671-6453.
Why oh why is a wonderful company like Nike kowtowing to a scumbag like Colin Kapernick???? How can you let an ill informed has-been jock dictate what you can and can't sell? NI'm no longer a customer.
I would like to take a tour as I'm in the fitness industry in Australia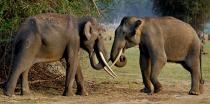 I am not sure if the Nike World Headquarters' campus is open to the public for tour. You may call on 1-503-671-6453 and inquire about it.
Maxwells Pub & Grill
Upward Bound Camp
Underground Sports Bar
Stayton Public Library
Tualatin Hills Nature Park
Portland Itinerary for 2 days
Portland Itinerary for 3 days
Portland Itinerary for 5 days
Take a tour of Nike's swanky Oregon headquarters
Nike World Headquarters in Beaverton, Oregon, is as much a museum as an office.
There are all sorts of artifacts from Nike's 51 year journey to becoming one of the most dominant shoe companies on Earth .
We went on a tour of the campus last week.
Nike had a bunch of reporters come out for the reveal of the Untouchable Vapor II football cleat. Tech Insider interviewed designers at the Nike Football facility ...
Then took a bus to Nike's main campus.
Given that it was winter in Oregon, we got wet.
The buildings on the Nike campus, we learned, are named for athletes that signed Nike endorsement contracts. Athlete's have been a huge part of brand building. Take, for example, runner Steve Prefontaine — who helped make jogging (and jogging shoes) a trend back in the 1970s.
Quite naturally, the Prefontaine Building has tons of gear from the guy who once held seven different American track records at the same time.
We began by learning about Nike's mission statements — the current one is to "bring inspiration and innovation to every athlete in the world."
We moved on to artifacts from Nike's origin story, like cofounder Phil Knight pitching cofounder Bill Bowerman on sourcing shoes from Japan.
This was the original Nike logo.
And the waffle iron that Bowerman used to make the first Nike running shoes.
And one of the original Nike shoes, called "moon shoes."
And the van that the Bowerman and Knight sold shoes out of when they launched the company.
We headed to the next building — more rain.
Along the way, it's impossible not to notice the plaques all over the place featuring Bowerman's favorite athletes, like New York Mets legend Dwight Gooden.
You can guess whose name is on the side of this building.
Inside, there is an epic display of Air Jordans, from the original 1984 model to present day.
There's a gorgeous Japanese garden, named in honor of the Iwai family that Nike partnered with on manufacturing partners in the early days.
After being sufficiently soaked with rain, we hopped back on the bus, bound for the Nike Company Store.
It's a cavernous space.
And everything is half off — making for some insane deals. Roshe's for $38? Yes please.
The key is to escape without doing too much damage to your wallet.
BONUS: The next day we went to the University of Oregon's gorgeous football facility.
And met quarterback Marcus Mariota's 2014 Heisman Trophy. So awesome.
Follow Tech Insider on Facebook and Twitter .
pop Culture
Complex Volume
Facebook Navigation Icon
Twitter Navigation Icon
Instagram Navigation Icon
Youtube Navigation Icon
Snapchat Navigation Icon
TikTok Navigation Icon
pigeons & planes
newsletters
Youtube logo nav bar 0 youtube
Twitch logo twitch
Netflix logo netflix
Hulu logo hulu
Roku logo roku
Crackle Logo Crackle
RedBox Logo RedBox
Tubi logo tubi
Facebook logo facebook
Twitter Navigation Icon twitter
Instagram Navigation Icon instagram
Snapchat Navigation Icon snapchat
Pinterest logo pinterest
TikTok Navigation Icon tiktok
Flipboard logo nav bar 1 flipboard
RSS feed icon rss feed
Complex Sites
first we feast
complexland
Work with us
Complex global.
united states
united kingdom
netherlands
philippines
complex chinese
terms of use
privacy policy
cookie settings
california privacy
public notice
accessibility statement
COMPLEX participates in various affiliate marketing programs, which means COMPLEX gets paid commissions on purchases made through our links to retailer sites. Our editorial content is not influenced by any commissions we receive.
© Complex Media, Inc. All Rights Reserved.
Complex.com is a part of
An In-Depth Look Inside Nike's Sprawling Oregon Headquarters
Nike's campus in Beaverton, Oregon, is the mecca for anyone who loves sneakers, and here's an in-depth, detailed look at what to expect if you were to visit the World Headquarters and see the many buildings that make it up.

Banners of athletes that line the Nike Campus. Image via author.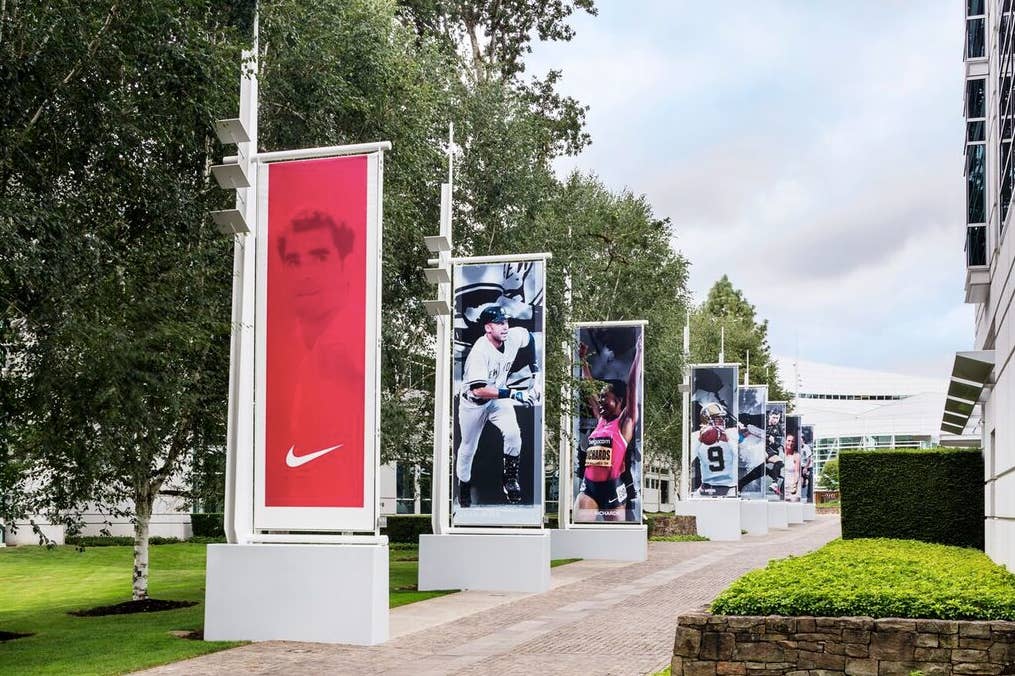 The mystique of Nike lies behind a berm near Beaverton, Oregon. It is there, where the Nike Worldwide Headquarters spreads across 286 acres and more than 75 buildings, that Jordan lovers can visit the lobby of the Jordan Building to peruse a collection of drool-worthy sneakers. Or maybe you want to check out that replica Pebble Beach #18 tee box and subsequent green a mere 315 yards away. Or tie back to a bit of Nike's New England history and stop in the Boston Deli inside the Joan Benoit Samuelson Building, a deli-meets-sports bar with a treasure trove of signed athlete photos and memorabilia, much of it dedicated to Nike co-founder Phil Knight .
And that's just a start.
In my many years covering Nike, writing for publications such as Sports Illustrated and Popular Mechanics ,  I've had the pleasure of multiple invites onto the campus to interview athletes and designers and witness the creation process live in search of a better story. Whether with a group of other journalists in a coach weaving through the security-guarded entrance of the Tiger Woods Conference Center (my first official visit to campus), pulling up to the main entrance (past the 48 flags signifying the countries Nike did business with when it was founded), or even meeting a Nike employee on campus after meandering through a wooded walking path south of it that connects the local light rail line—and hundreds of employees using the stop—to the main campus, arriving at the site always offers an entry into what feels like a rarefied world.
Once there, I've tossed a football, kicked a soccer ball and fielded a lacrosse ball on Ronaldo Field, explored the Nike Museum in "Pre Hall," chatted with Tobie Hatfield while overlooking the six-acre, seven-foot-deep manmade Lake Nike—the earth removed from the lake creates the berm that surrounds much of the campus, offering a physical and metaphorical barrier to the surrounding area—and toured the site multiple times, even jumping from interview to interview across campus and wishing I had a golf cart to quicken my pace.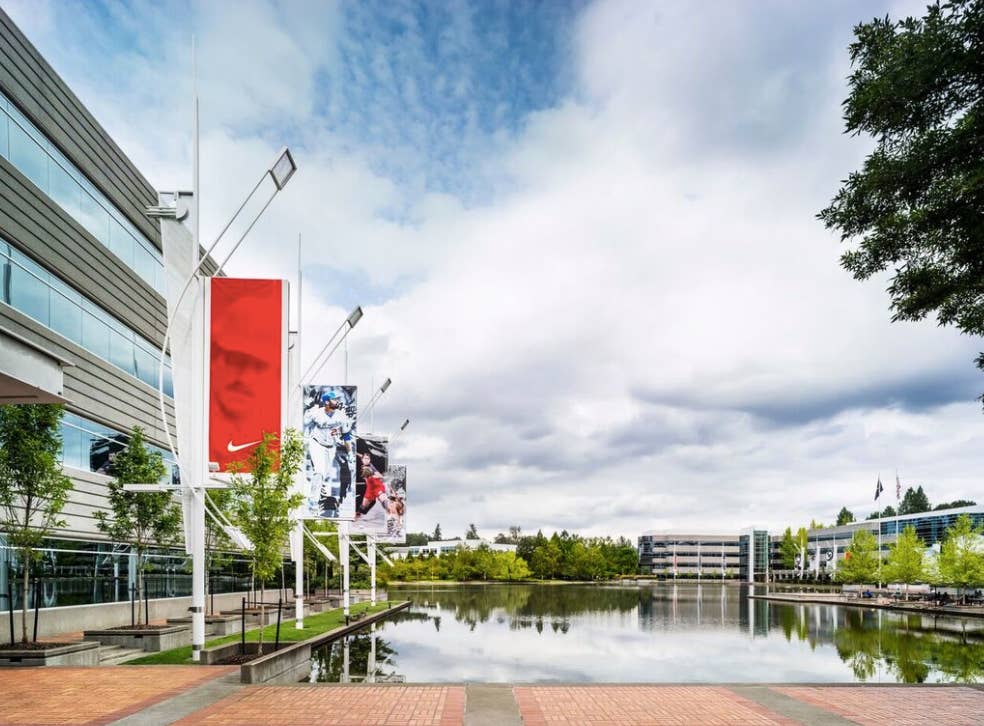 Lake Nike. Image via author
As you explore the campus, it comes to you in layers. First-time visitors are wowed by the sheer volume of buildings named after sports stars, the banners, the pedestrian activity, and even the 281 bronze castings of famous athletes and key figures in Nike history that line walkways.
Any initial visit requires you to duck into Prefontaine Hall to view the mainstay relics of the company. Perched on a mini-peninsula into the lake, the mini Nike museum includes the Volkswagen van used to sell Nike sneakers from decades ago, the once-lost, now-found waffle iron that co-founder Bill Bowerman used to create the outsole of the first Nike Waffle Trainer, and all the little knick-knacks that make a museum.
But venturing beyond Pre Hall, the polished story of Nike, and the shores of Lake Nike allows you to make the campus experience your own, akin to exploring a university campus beyond the traditional tour or, perhaps more appropriately, how you'd explore the archives of your favorite Nike sneaker.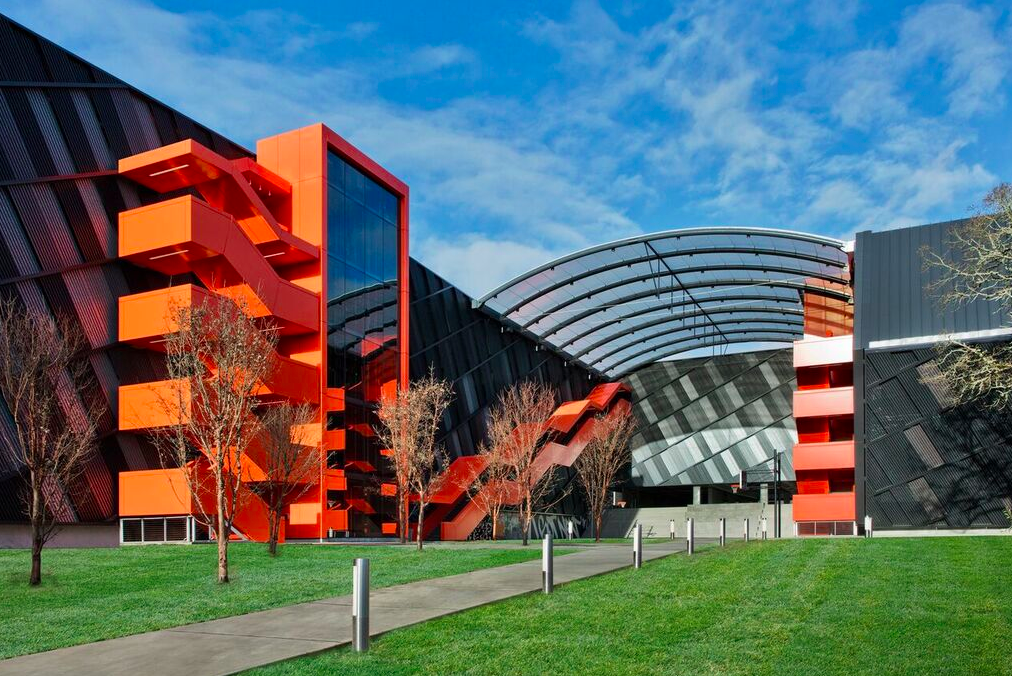 Image via Nike
The campus started in the 1980s, with 69.5 acres, but quickly grew after opening in October 1990, at 1 Bowerman Drive, with eight buildings. Knight's plan from the beginning was to name buildings for sports figures key in Nike's growth, starting with Joan Benoit Samuelson, Dan Fouts, Bo Jackson, Michael Jordan, John McEnroe, Alberto Salazar, Mike Schmidt, and Steve Prefontaine.
Over the years, the additions—Nolan Ryan, Ken Griffey Jr., Jerry Rice, Pete Sampras, and possibly one of the most famous buildings on campus, the Mia Hamm Building, home to the Nike Sport Research Lab and, my favorite part, a prototype center that makes gear for Nike's biggest stars—have continued to pile up. But the growth hasn't stopped, with the company currently in the midst of opening four new buildings.
The Serena Williams Building will become the largest structure at the headquarters, with more than 1 million square feet spread across nearly three city blocks. Expected to open in 2019, the office building will feature plenty of curved glass to contrast some of the early 1990 designs. A New York-themed parking garage and six-floor Sebastian Coe office building also mark key 2018 expansions. Named after the famed British middle-distance runner, the Sebastian Coe Building includes hand-kept training logs, a carved wood mural with Cole quotes created by Nike NFL art director Tom Andrich, a mesh metal graphic and hardwood Swoosh bench, and a stainless-steel sculpture in the outdoor upper plaza. The café in the 475,000-square-foot building was inspired by Blue Note Records and the jazz it's released, Cole's favorite music.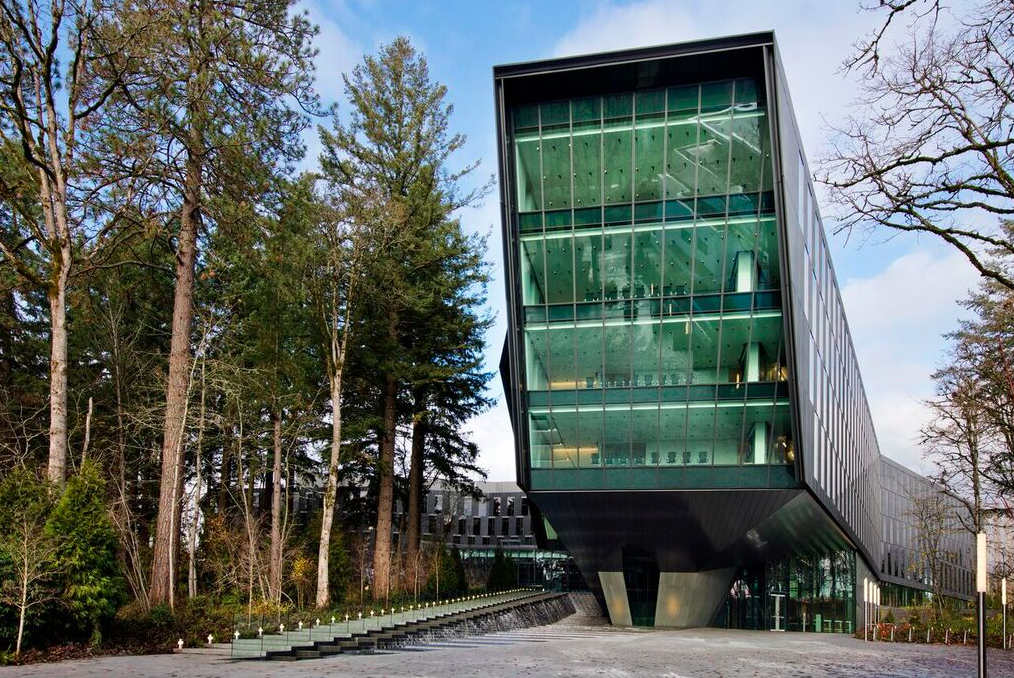 The Sebastian Coe building. Image via Nike
A fitness center opened in 2018, named after Coach Mike Krzyzewski (the building's third floor features a basketball court paying homage to Coach K), gives the campus a fresh perspective. The 47,000-square-foot Coach K building features a stainless steel statue of Coach K in his "coaching position," silver eyes above the reception desk that come to life when viewed through a phone, quotes on the walls, an ode to every one of his 1,000 Duke wins, a specialized scoreboard in the gym, a court designed to mimic the sole pattern of the Nike Cortez shoe, and even an elevator conductor lever with an inscription dedicated to Coach K's father, William, who worked as an elevator conductor in Chicago.
Whether dedicating brand-new buildings or long-existing structures, Nike does more than simply name everything after people. It tries to fill them with personality. Every building adorned with the name of a famous athlete on the outside contains levels of that athlete's history inside. Maybe it is the PGA Championship trophy in the Tiger Woods Convention Center, the revolving collection of glass-encased Air Jordans in the lobby of the Michael Jordan Building, or the signed cleats from every stop in Jerry Rice's career. Each building is worthy of a stop.
To go deep into the memorabilia Nike contains, go well beyond the walls of Pre Hall and pick your favorite athlete, visit their building and take in their history. The Dan Fouts Building, for example, shows off the aesthetic touches that embrace the history of the athlete and their sport. Fouts, who played for the San Diego Chargers, can take in the suspended lightning-bolt "Surge" sculpture that lights the south lobby. The 254 dots around the perimeter of a steel floor seal summarizing Fouts' achievements with the University of Oregon and San Diego represents the number of touchdowns in his professional career. The door handles are large 11s, his number with the Ducks, and the new café area—now featuring Pok Pok—includes the Air Coryell Café, named after Fouts' first coach with the Chargers. Tables in the café include hand sketches of Coryell passing plays.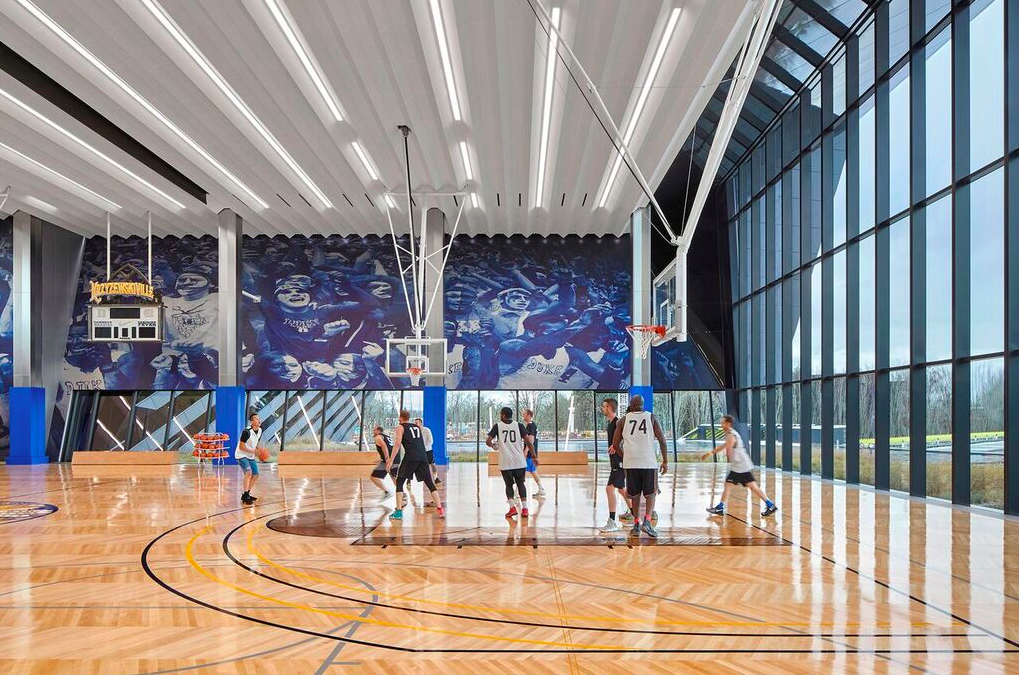 The Coach K gym. Image via author
The grounds offers a few extras, too. Outside the expansive Tiger Woods Conference Center, overlooking Ronaldo Field's two international-sized soccer pitches, a replica tee from Pebble Beach's 18th hole seems logical enough. But look 317 yards away, next to the Sports Performance Center, and you'll see the Pebble Beach green, too, protected by a bunker.
Statues pepper the property. There are the expected characters—Coach K, Michael Johnson, and Steve Prefontaine—but there's also the more abstract like Nolan Ryan or the unexpected "Nike Girl," a couple on a bench, or even two children playing on the shore of Lake Nike. And if statues aren't your thing, get a cultural lesson with a visit to the on-site Nissho Iwai Gardens, honoring the Japanese trading company that helped Knight start Nike.
It being Nike Worldwide Headquarters, though, means some of the most impressive things on campus come in the form of sporting facilities. So it isn't shocking the campus now boasts three fitness centers. The original, The Bo, named after Bo Jackson, has plenty in the way of weight rooms, cross-training, yoga, racquetball, and squash on three floors, as employees and athletes test product and work out. But the most fun comes on the upper floor, where a glass-encased basketball court welcomes the Oregon sunshine and NBA teams desiring a workout ahead of games against the Blazers. Nike employees sign up for lunchtime leagues, but have to give way when the likes of Kevin Durant stop in—as has happened—to shoot around.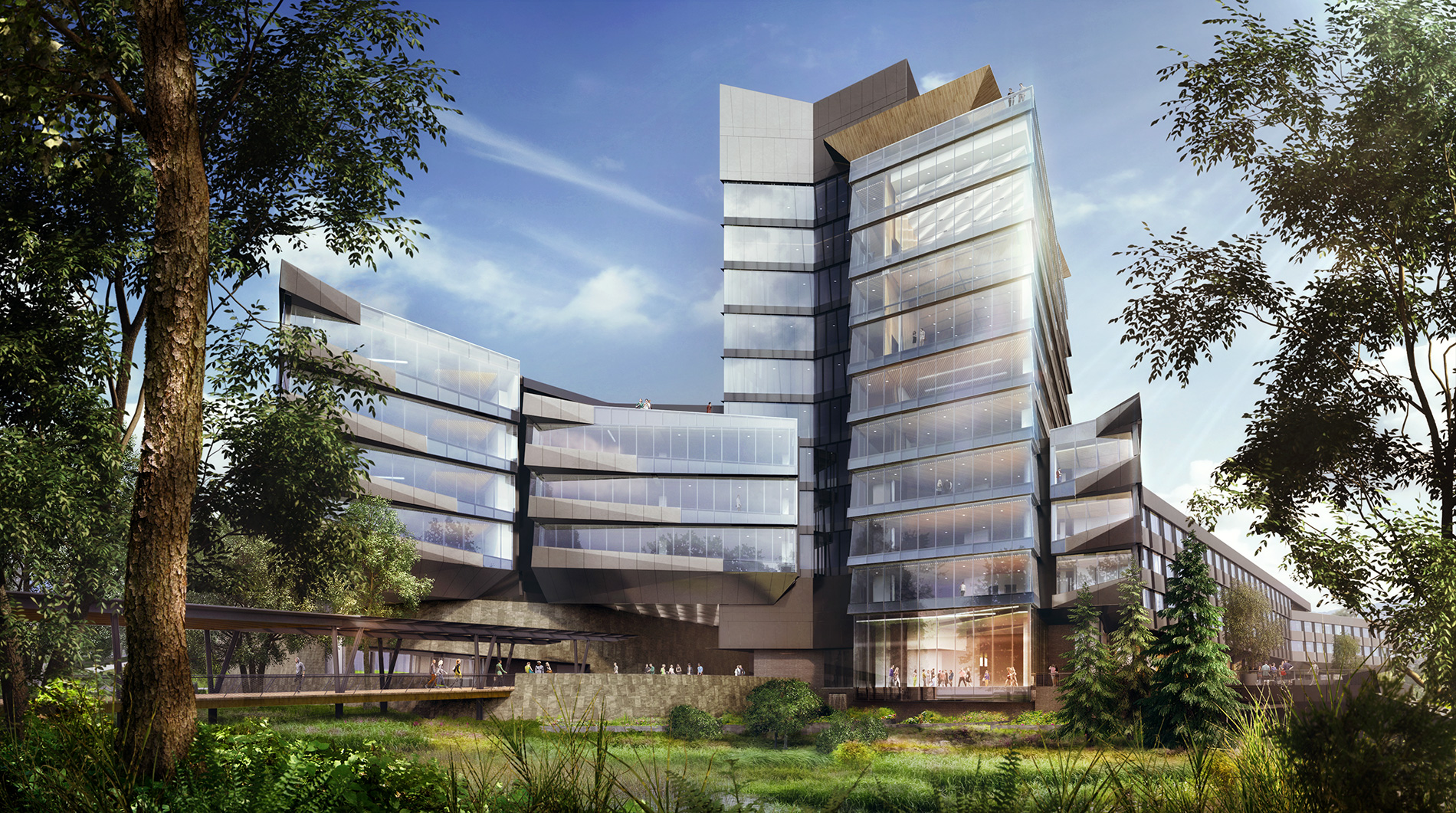 Serena Williams building. Image via Nike
The Sports Performance Center, opened in 2001 at 75,000 square feet (it was once named after Lance Armstrong), includes a glass-encased, Olympic-size swimming pool. The two-story center's 30-foot-high glass window walls also hold weight rooms, workout studios, a spin room, and a rock-climbing wall.
The Coach K facility trumps them both, though, especially with that specially designed basketball court on the third floor.
Exploring outside—whether you brought your umbrella or not—comes in many forms. A 1.3-mile trail loop inside campus includes four footbridges, and a 1.9-mile loop reaches outside campus. The best area for stretching those legs, though, come near that MAX stop, where the Michael Johnson track nestles into the landscape. A five-lane, 400-meter track made from 50,000 recycled athletic shoes lets the red of the surface play against the greens and browns of the environment. With so many aspects to the university-like campus—often closed off at key points with security—it allows both employees and riff-raff like me to enjoy the odes to sports sprinkled about. The Nike Worldwide Headquarters serves as a workplace environment with the hustle of folks going about their jobs, but the campus is one with grand gestures, intriguing history, and a setting that gives it a unique character. For many lovers of sport and the gear tied to it, Nike is significant. A visit to the campus connects gear creation with experience. Or, at the very least, we can take in a bite of history at the Boston Deli.
SHARE THIS STORY
Never miss a sneaker release with
RELEASE ROUNDUP Newsletter
Each send includes the details you need on the biggest drops from adidas, Nike, Jordan, Puma, New Balance and more happening each week.
By entering your email and clicking Sign Up, you're agreeing to let us send you customized marketing messages about us and our advertising partners. You are also agreeing to our
Latest in Sneakers
| BY COMPLEX VIDEO
Steve-O Used to Hide Illicit Substances in His Skate Shoes | Full Size Run
| BY VICTOR DENG
New 'Grinch' Adidas Forums Are Dropping for the Holiday Season
Big Baller Brand Co-Founder Reportedly Sues LaMelo Ball, Puma
Puma Reveals Its Footwear for Formula 1 in Las Vegas
The 'Wheat' Air Jordan 13 Returns This Month
Adidas May Never Release Its Remaining Yeezys
Shaq Says He and Allen Iverson Want to Give Free Reeboks to Good Students
'Olive' Air Jordan 4 Craft Releases This Month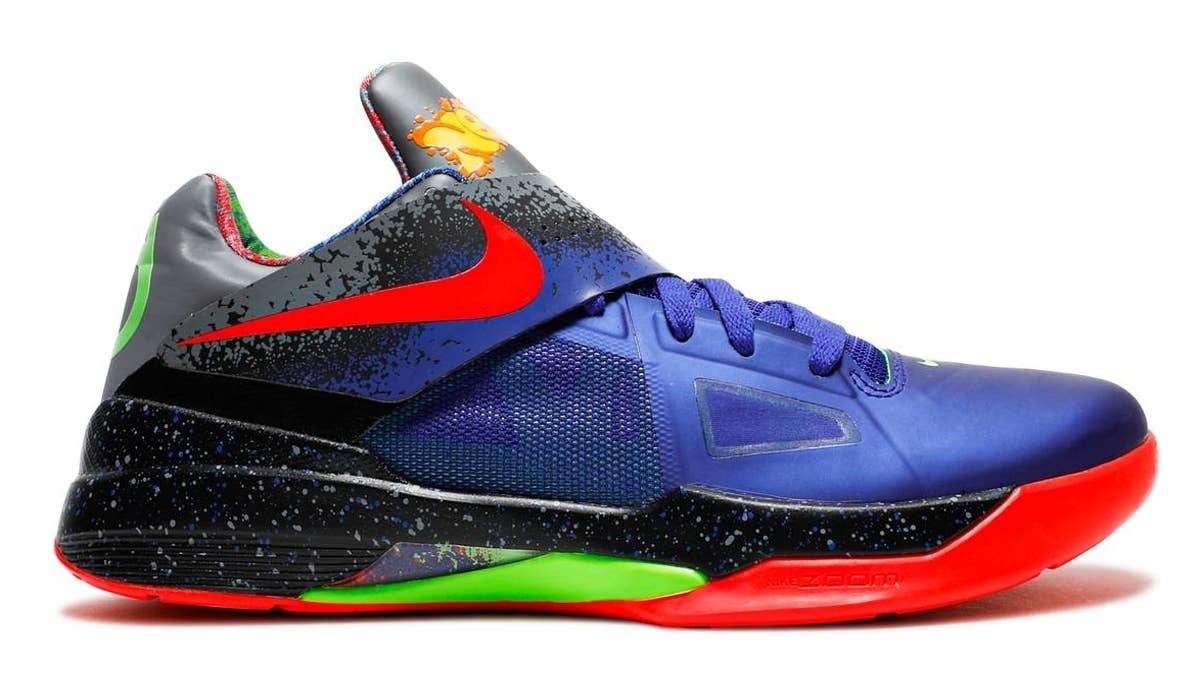 The Nike KD 4 'Nerf' Is Reportedly Returning in 2024
A New Off-White x Nike Air Force 1 Collab Is Dropping Soon
Food & Drink
Pocket Knives
Gifts for Men
Search Close Search Search …
Nike Headquarters Private Tour
Despite the fact we've been buying their latest releases like hotcakes whenever they drop, Nike has lost a metric shitton of money since the recent crisis started. And yet, the brand continues doing everything they can to help the relief efforts. Upwards of $25 million in donations. Developed, manufactured and donated face shields. Footwear, apparel, and equipment sent to frontline workers. And now, they're part of the Fanatics 'All in Challenge." CEO and President John Donahoe has put together an insane package for any fan of the Swoosh that's willing to donate some money to Feeding America / Meals on Wheels / World Central Kitchen / No Kid Hungry. Anyone that enters the giveaway will be eligible for a prize package that's any sneakerhead's dream. All expenses paid, VIP tour of Nike's headquarters in Beaverton, Oregon. Personalized session with Nike designers where you get to design your own shoe and have it made by the Swoosh. One-on-one mentorship with John Donahoe. Private tour of the new Lebron James building (future home of Nike's Advanced Innovation Team). Oh yeah, and if that wasn't enough, you'll also walk away with $1,000 of Nike gear.
The Watches Nixon Can't Keep in Stock
Nixon's three best-selling watches feature a distinctive vibrant turquoise color. The 51-30 Chrono is a bold statement piece, combining fashion and function with its oversized face, printed indices, and custom-molded hands. The Sentry is an elegant timepiece with a rugged side, offering depth and detail on the face, stainless steel case, hardened mineral crystal, and 100m waterproof rating. The Time Teller , an icon of Nixon heritage, embraces minimalist design and 100m waterproofing, offering a variety of finishes to match your style. These watches merge style and practicality in a stunning turquoise hue.
Recent Features
The Best Charcoal Grills That'll Make You Ditch Gas Forever
Black Book: The Cool Material Editors' Favorite Things Right Now
Why Every Guy Should Own a Brown Suit
How No Shave November Became a Worldwide Phenomenon
Ten '80s Action Movies Every Guy Should See
This Sicilian Castle is a Part of Cinematic and Italian History Alike
Todd Snyder's Latest Design Project? 20 Bungalows in Maine
'The Wolf of Wall Street' House is For Sale
Nicolas Cage's Private Island Can Be Yours for Just $7.5million
MAD Architects' One River North Project
This Expansive $45 Million Vail Mansion with a Glass-Bottom Pool Hangs off the Side of a Mountain
Renowned Headphone Manufacturer Is Finally Jumping into the World of Wireless Gaming Headphones
Neil Patrick Harris' Enormous Fifth Avenue Townhouse Is on the Market
The sunset spectacular digital billboard is a fusion of art, architecture and advertising.
Casey Brown Architecture Permanent Camping MkII Structure
Amin Moazzen Presents a Modern Waterfront Home Called the Cabin of Hope
You Can Buy Steve McQueen's Malibu Beach House For $12.2 Million
This A-Frame Cabin Concept Literally Hangs Off a Cliff
Pin-Up Houses DIY Gaia Container House
Cabins on The Mountain
The Glass Link House Includes a Secret Whiskey Bar
Hummer EV Virtual Garage House
Jimmy Fallon's Gramercy Park Penthouse Triplex
Bivvi Portable A-Frame Cabin
An Original Futuro House is on Airbnb
The L.E.A.D. YEZO Retreat Is Something Straight Out of Fantasy Fiction
Stipfold Angular Blackbird Cabin
The 'Minimal Hut Collection' Will Deliver 100 Different Micro Home Designs
Johnny Depp's $55.5 Million Estate For Sale
Annex Oppdal Diamond Cabin
Brutalist Architecture LEGO Models
Frank Sinatra's Villa Maggio Retreat is for Sale
Whale-Shaped Australian Underwater Discovery Centre
Pierre Cardin's Bubble Palace
Amazon's 'The Helix' East Coast HQ
Neo-Chemosphere Dwelling
Studio Puisto Niliaitta Cabins
NCaved House
Backcountry Hut Company System S Prefab Sauna
Hayri Atak Sarcostyle Tower
Brette Haus Folding Prefab Cabins
Full Episodes
Tour Nike's World Headquarters
Thomas Jefferson's Black And White Relatives Meet Each Other
Season 13 Episode 13100
The Freedom Riders Reunite 50 Years Later
Season 25 Episode 25100
Best Life Week: Relationships, Intimacy, and Sex
Season 23 Episode 23174
Best Life Week: Finding Your Spiritual Path
Season 23 Episode 23180
Nate's Time Warp Decorating Rescue
Season 22 Episode 22133
Incredible Weight Loss Stories
Season 17 Episode 17153
Dr. Phil Helps Couples Who Can't Talk To Each Other
Season 16 Episode 16217
Lifestyle Makeovers: Toxic Relationships
Season 15 Episode 15121
Nate's Small Space Miracle
Season 21 Episode 21200
Hooked on Plastic Surgery at Age 28
Season 19 Episode 19151
Make-Unders: How'd You Get That Way?
Season 24 Episode 24199
Best Life Week: Dr. Oz and the Ultimate Health Checklist
Season 23 Episode 23172
Inside the Lives of Hoarders, Part 2
Season 22 Episode 22166
Inside the Lives of Hoarders
Season 22 Episode 22106
Dr. Phil on Marriage & Money
Season 15 Episode 15186
Best Life Week: Your Money Plan
Season 23 Episode 23177
Oprah Goes Back In Time
Season 18 Episode 18231
Oprah's "What Can You Live Without" Experiment
Season 23 Episode 23199
When Sexual Appetites Don't Match
Season 16 Episode 16183
America's Silent Killer: Oprah & Dr. Oz Want to Save Your Life
Season 24 Episode 24181
Barbara Walters: 'You Must Have Someone to Love'
A 70-Year-Old Woman Shares Her Age-Defying Secrets
Rwandan Genocide Survivors Are Reunited With Their Family After 12 Years
When Sibling Rivalry Turns Ugly
Tyra Banks and Her Brother Get Candid About Sibling Rivalry
A Kindness Social Experiment in New York and Los Angeles
Boy Says He Had an Encounter With a Wizard During Near-Death Experience
A Woman On Her Near-Death Experience: "I Saw This White Light"
The Teen Manipulated Into Killing Her Stepmom By Her Dad
WATCH OWN APP
Download the Watch OWN app and access OWN anytime, anywhere. Watch full episodes and live stream OWN whenever and wherever you want. The Watch OWN app is free and available to you as part of your OWN subscription through a participating TV provider.
NEWSLETTERS
SIGN UP FOR NEWSLETTERS TODAY AND ENJOY THE BENEFITS.
Stay up to date with the latest trends that matter to you most.
Have top-notch advice and tips delivered directly to you.
Be in the know on current and upcoming trends.
OPRAH IS A REGISTERED TRADEMARK OF HARPO, INC. ALL RIGHTS RESERVED © 2023 HARPO PRODUCTIONS, INC. ALL RIGHTS RESERVED.
Global Headquarters
ONE BOWERMAN DRIVE, BEAVERTON, OR 97005 UNITED STATES
Nike World Headquarters
Beaverton and beyond.
At Nike World Headquarters, breakthrough products are designed and developed for the world's athletes*. This stems from a constant drive to imagine, invent and deliver the future of sport — a mission facilitated by workspaces that support rapid iteration and creation through collaboration. Whether it's facilities like an Olympic-sized swimming pool or workspaces like one of our sports research labs, employees gather here to obsess about and innovate the future of sport.
INDOOR TRACK AND SPORT COURTS
Running trails and tracks, exclusive employee events and products, by the numbers, beaverton, or, biketown bikes, miles from downtown portland, world-class fitness facilities, full-size outdoor fields, japanese garden, miles to forest park, hour to coast and mountains, licensed portland food trucks, benefits and perks, medical, dental, and vision plans, profit sharing, performance sharing plan (psp), employee stock purchase plan (espp), health savings account (hsa), healthcare fsa, dependent care fsa, commuter expense reimbursement account (cera), paid time off (pto), sabbaticals, family care, paid military leave, surrogacy and adoption assistance, resources and support to care for children with learning, social or behavioral challenges, tuition assistance, nike scholarship fund, employee assistance plan (eap), lifecare resource and referral service, employee giving, basic and supplemental life insurance, short-term and long-term disability, accidental death and dismemberment insurance (ad&d), long-term care insurance, group legal insurance, auto and homeowners insurance, behavioral health, lifetime shopping discount, campus perks and features, mobile auto cleaning and detailing services, electric vehicle charging stations, hair and nail salon, world-class fitness center and fitness classes, gifts and convenience stores, on-demand bicycle fleet, cafes, restaurants, bars and food trucks, three full-size soccer fields, miles of running trails, employee store, exclusive employee events, free transit passes, summer hours, striking a balance between work and sport.
At Nike, our mission is to bring inspiration and innovation to every athlete* in the world. Why the asterisk after "athlete"? Nike co-founder Bill Bowerman added it to note that "if you have a body, you are an athlete." Learn how Nike employees exemplify this belief in their own lives.
RALLYING THE TEAM AT AIRMI
Pentagram Pentagram Pentagram
Close Arts & Culture
Close Banking & Finance
Close Civic & Public
Close Design & Architecture
Close Education
Close Entertainment
Close Fashion & Beauty
Close Food & Drink
Close Healthcare
Close Hospitality & Leisure
Close Manufacturing & Industrials
Close Not-for-Profit
Close Professional Services
Close Publishing
Close Real Estate
Close Retail
Close Technology
Close Transport
Close Book Design
Close Brand Identity
Close Campaigns
Close Data Driven Design
Close Digital Design
Close Editorial Design
Close Exhibition Design
Close Film & Motion Graphics
Close Industrial/Product Design
Close Interiors & Architecture
Close Naming
Close Packaging
Close Signage & Environmental Graphics
Close Sound Design
Close Typography
Nike World Headquarters
Signage & environmental graphics, signage and wayfinding program for the sportswear company's corporate campus in beaverton, oregon..
Nike World Headquarters is the expansive home base of the largest sports footwear and apparel company in the world. Located on a sprawling, 400-acre campus in Beaverton, Oregon, just west of Portland, the site houses more than 11,000 employees and encompasses over 75 architecturally diverse buildings and structures, including the Nike Sport Research Lab and the Nike Museum, three fitness centers and facilities for athlete training, as well as sports fields, track and running paths, the manmade Lake Nike, and several dedicated stops on the local MAX light rail system.
Pentagram developed a comprehensive signage and wayfinding system for the corporate headquarters in partnership with Nike Construction and Design. The project framework included the structural design of the signage and graphics for the program, including maps of the campus and its transportation network and custom icons. The design draws on the 26-degree angle of the brand's iconic swoosh and the chevron motif of its famous Windrunner apparel to create a system that is uniquely Nike.
The Nike headquarters opened in 1990 (at One Bowerman Drive, after founder Jeff Bowerman) and has undergone a series of expansions over the years, most recently in 2017-2018 . Many of the buildings are named for sports figures who have been pivotal to the company's growth and history, including Michael Jordan, Bo Jackson, Joan Benoit Samuelson, Alberto Salazar, John McEnroe, Steve Prefontaine, Mia Hamm, Pete Sampras and Serena Williams. These are situated along tree-lined streets in several neighborhood-like smaller campuses that are linked by green spaces, pathways and sports fields.
The challenge for the designers was to develop a signage program that would identify and unify the headquarters and the buildings. Nike needed a cohesive system that would visually connect the huge campus, integrate it with its suburban setting, hold its own with the strong architecture and at the same time help create a sense of place.
The buildings are stylistically disparate—from architecturally innovative to more corporate and traditional—and the inconsistent patchwork of the previous signage helped make the headquarters feel even more confusing and disconnected, at odds with the typically high-quality and holistic Nike brand experience. The company also required an updated system for transportation and pedestrian wayfinding. Many of the Nike employees use public transit or cycle to get to work and once there travel by shuttle from building to building, and the previous program of signage had no uniform maps of the various campuses and the transportation network.
Nike prizes its heritage as a sportswear pioneer and this history and culture is an important part of its brand. The designers wanted to pay homage to this legacy in the system and developed a mesh perforation for the signage structures based on the 26-degree angle.
The angle is both subtle and ubiquitous in the brand's visual language: it appears in the familiar chevron motif on Nike apparel, on shoebox graphics, and in the pattern of the soles of Nike sneakers. Once noticed, it can be seen everywhere, including the tilt of the Nike swoosh itself.
The signage brings the angle to life in the pattern of perforated mesh that covers two sides of the box-like structures. As people move past and around the signs and look into the mesh surface, a layered moiré pattern is revealed, creating a dynamic optical effect that resonates with the movement and energy in the Nike brand.
The team created prototypes for testing to see how the pattern "moved" as users made their way around the sign. The bands of angled stripes appear to run up and down the signs, giving them a sense of speed and momentum. The honeycomb texture of the pattern is balanced by the minimalism of the forms.
Wayfinding signs are vertical totems that are visible from a distance. The rectangular structures have visual mass and physicality, but the mesh gives them a lightness and transparency that helps integrate them with the natural surroundings. (Seen in profile from their uncovered "thin" side, they almost seem to disappear.) The signs are made of durable materials including blackened steel that can withstand the inclement weather of the Pacific Northwest.
A range of signage types were developed for various locations (at intersections, mid-block, in plazas, etc.), and the designers conducted testing to make sure the system worked for pedestrians, runners and cyclists, as well as vehicles. The series includes interpretive signage for landmarks like Lake Nike. Signage typography is set in Futura, the Nike brand font, and Flama, another geometric sans serif with high legibility.
The angle carries through to the graphics of redesigned maps for the headquarters and transportation system. The designers built a new graphic structure based on the angle and simplified the representation of shuttle routes to give the maps a streamlined aesthetic. A system of custom icons are also constructed around the angle.
'East London'
Book design, book design for charles saumarez smith's exploration of london's east end..
© Roadtrippers
© Mapbox
© OpenStreetMap
Improve this map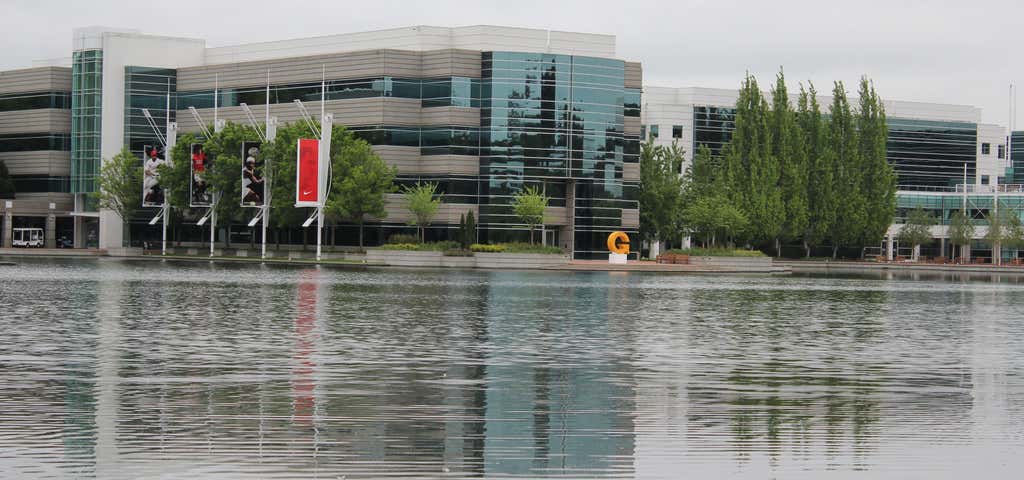 Nike Headquarters Campus, Portland, Oregon
1 Sw Bowerman Dr, Beaverton , Oregon 97005 USA
"just do it"
Before there was the Swoosh, before there was Nike, there were two visionary men who pioneered a revolution in athletic footwear that redefined the industry. Bill Bowerman was a nationally respected track and field coach at the University of Oregon, who was constantly seeking ways to give his athletes a competitive advantage. He experimented with different track surfaces, re-hydration drinks and – most importantly – innovations in running shoes. But the established footwear manufacturers of the 1950s ignored the ideas he tried to offer them, so Bowerman began cobbling shoes for his runners.Phil Knight was a talented middle-distance runner from Portland, who enrolled at Oregon in the fall of 1955 and competed for Bowerman's track program. Upon graduating from Oregon, Knight earned his MBA in finance from Stanford University, where he wrote a paper that proposed quality running shoes could be manufactured in Japan that would compete with more established German brands. But his letters to manufacturers in Japan and Asia went unanswered, so Knight took a chance.He made a cold-call on the Onitsuka Co. in Kobe, Japan, and persuaded the manufacturer of Tiger shoes to make Knight a distributor of Tiger running shoes in the United States. When the first set of sample shoes arrived, Knight sent several pairs to Bowerman, hoping to make a sale. Instead, Bowerman stunned Knight by offering to become his partner, and to provide his footwear design ideas to Tiger. Nike rang in the new millennium with a new footwear cushioning system called Nike Shox, which debuted during Sydney in 2000. The development of Nike Shox culminated more than 15 years of perseverance and dedication, as Nike designers stuck with their idea until technology could catch up. The result was a cushioning and stability system worthy of joining Nike Air as the industry's gold standard.Just as Nike's products have evolved, so has Nike's approach to marketing. The 2002 "Secret Tournament" campaign was Nike's first truly integrated, global marketing effort. Departing from the traditional "big athlete, big ad, big product" formula, Nike created a multi-faceted consumer experience in support of the World Cup."Secret Tournament" incorporated advertising, the Internet, public relations, retail and consumer events to create excitement for Nike's soccer products and athletes in a way no single ad could ever achieve. This new integrated approach has become the cornerstone for Nike marketing and communications.Today, Nike continues to seek new and innovative ways to develop superior athletic products, and creative methods to communicate directly with our consumers. The company has continued to expand in new ways, including strong growth in China and a deal to become the official sponsor of the National Football League (NFL) beginning in 2012.At an investor meeting at its world headquarters in June 2011, NIKE, Inc. announced an increase to its fiscal 2015 revenue target to a new range of $28-30 billion, up from its previous target of $27 billion announced in May 2010. The company also increased its fiscal 2015 revenue target for the NIKE Brand to $24-25 billion, up from its previous target of $23 billion.President and CEO Mark Parker said: "At NIKE, Inc. we run a complete offense, and it's based on a core commitment to innovation. That's how we stay opportunistic, serve the athlete, reward our shareholders, and continue to lead our industry."
Be the first to add a review to the Nike Headquarters Campus, Portland, Oregon.
Problem with this listing? Let us know .
Unavailable Parking
Unknown Pets Allowed
Unknown Restrooms
Unknown Wifi
Unknown Wheelchair Accessible
Unknown Credit Cards Accepted
Nearby Hotels
Click to discover a great deal!
Related Trip Guides
A road trip to filming locations featured in 'the goonies', the ultimate guide to crater lake national park, pacific coast highway: oregon - washington, the top things to do on a u.s. route 20 road trip, keep exploring with the roadtrippers mobile apps..
Anything you plan or save automagically syncs with the apps, ready for you to hit the road!
Connect with us and hit up #roadtrippers
Tall tales, trip guides, & the world's weird & wonderful.
Roadpass Digital
Mobile Apps
Business Tools
Other Products
Togo RV Your RV camping companion
Campendium RV Park reviews, free camping, campsite photos, and RV travel blogs
Fresh Guides
The ultimate guide to Mammoth Cave National Park
The Ultimate Guide to Badlands National Park
Route 66 Leg 2: St. Louis to Tulsa
Route 66 Leg 1: Chicago to St. Louis
Route 66 Leg 3: Tulsa to Amarillo
Top 10 things to do in Ohio
Offbeat Road Trip Guides
Road Trip USA
Scenic Routes America
National Park Road Trips
Terms and Conditions
Explore Jobs
Jobs Near Me
Remote Jobs
Full Time Jobs
Part Time Jobs
Entry Level Jobs
Work From Home Jobs
Find Specific Jobs
$15 Per Hour Jobs
$20 Per Hour Jobs
Hiring Immediately Jobs
High School Jobs
H1b Visa Jobs
Explore Careers
Business And Financial
Architecture And Engineering
Computer And Mathematical
Explore Professions
What They Do
Certifications
Demographics
Best Companies
Explore Companies
CEO And Executies
Resume Builder
Career Advice
Explore Majors
Questions And Answers
Interview Questions
Nike locations
Nike Corporate Headquarters and Office Locations
Nike is headquartered in Beaverton, OR and has 16 office and retail locations located throughout the US. See if Nike is hiring near you.
Corporate Offices
Retail Locations
Departments: Engineering, Marketing, IT, Supply Chain, Plant/Manufacturing, Other, Finance, Business Development, Art/Design, Human Resources, Education, Non Profit/Government, Retail, Sales, Accounting, Administrative, Facilities, Research & Development, Customer Service, Construction, Warehouse, Sports/Entertainment, Corporate Management, Legal, Real Estate, Healthcare, Hospitality/Service
Departments: Marketing, Art/Design, Other, Finance, Engineering, Business Development, Supply Chain, Retail, IT, Administrative, Plant/Manufacturing, Non Profit/Government, Human Resources, Accounting, Legal, Sports/Entertainment, Education, Customer Service, Corporate Management, Sales, Warehouse, Research & Development, Construction
Departments: Sports/Entertainment
Departments: Retail, Sports/Entertainment, Other
Departments: Sports/Entertainment, Retail, Other
Departments: Retail, Facilities, Education, Accounting, Sports/Entertainment
Departments: Retail, Sports/Entertainment, Education
Departments: Marketing, Engineering, Art/Design, Retail, Other, Sales, Sports/Entertainment, Education, Business Development, Supply Chain, Human Resources, Non Profit/Government, Facilities, Plant/Manufacturing, Customer Service
Departments: Engineering
Departments: Engineering, Marketing, IT, Other, Business Development, Art/Design, Supply Chain, Human Resources, Plant/Manufacturing, Finance, Retail, Research & Development, Non Profit/Government, Sales, Facilities, Customer Service, Administrative, Accounting, Legal, Hospitality/Service, Education, Real Estate, Warehouse, Construction, Sports/Entertainment, Agriculture, Healthcare, Corporate Management
Departments: IT, Engineering, Facilities, Other, Human Resources, Plant/Manufacturing, Finance, Warehouse, Marketing, Supply Chain, Business Development, Healthcare, Sales, Non Profit/Government, Sports/Entertainment, Administrative, Retail, Customer Service
Nike Locations FAQs
Where is nike headquarters, how many locations does nike have, related company locations.
Gap Inc. Locations
Converse Locations
McDonald's Locations
Foot Locker Locations
Columbia Sportswear Locations
DICK'S Sporting Goods Locations
The TJX Companies Locations
Pacific Office Automation Locations
Digimarc Locations
Tektronix Locations
Women's Healthcare Associates Locations
Touchmark Locations
Shari's Cafe and Pies Locations
Metro Pediatrics Locations
Oregon First Locations
Working At Related Companies
Work at Gap Inc.
Work at Converse
Work at Levi Strauss & Co.
Work at Gillette
Work at McDonald's
Work at Pacific Office Automation
Work at DAT
Work at Digimarc
Work at Tektronix
Work at GRI
Work at Pacific Northwest Development Corp
Work at Plaid Pantry
Work at Genesis Financial Solutions, Inc.
Work at Women's Healthcare Associates
Work at Alaska Tanker
Related Company Jobs
Gap Inc. Employment
Levi Strauss & Co. Employment
Gillette Employment
McDonald's Employment
Foot Locker Employment
Pacific Office Automation Employment
DAT Employment
Digimarc Employment
Tektronix Employment
Genesis Financial Solutions, Inc. Employment
Women's Healthcare Associates Employment
VTech Employment
Anitian Employment
Touchmark Employment
Planar Systems Employment
Nike Highest Paying Jobs
Sales Associate Nike Jobs
Senior Software Engineer Nike Jobs
Software Engineer Nike Jobs
Store Manager Nike Jobs
Software Engineer Lead Nike Jobs
Stores Supervisor Nike Jobs
Solutions Architect Nike Jobs
Data Engineer Nike Jobs
Principal Engineer Nike Jobs
Coach Nike Jobs
Technical Product Manager Nike Jobs
Engineering Manager Nike Jobs
Graduate Internship Nike Jobs
Accounting And Administrative Assistant Nike Jobs
Senior Engineer Nike Jobs
Beaverton, OR
Nike Locations
Zippia gives an in-depth look into the details of Nike, including salaries, political affiliations, employee data, and more, in order to inform job seekers about Nike. The employee data is based on information from people who have self-reported their past or current employments at Nike. The data on this page is also based on data sources collected from public and open data sources on the Internet and other locations, as well as proprietary data we licensed from other companies. Sources of data may include, but are not limited to, the BLS, company filings, estimates based on those filings, H1B filings, and other public and private datasets. While we have made attempts to ensure that the information displayed are correct, Zippia is not responsible for any errors or omissions or for the results obtained from the use of this information. None of the information on this page has been provided or approved by Nike. The data presented on this page does not represent the view of Nike and its employees or that of Zippia.
Nike may also be known as or be related to Blue Ribbon Sports, Inc. (1964–1971), NIKE Inc, NIKE New Zealand Co., NIKE, Inc., Nike, Nike Inc. and Nike, Inc.
Things to Do
Restaurants
Vacation Rentals
Travel Stories
Rental Cars
Add a Place
Travel Forum
Travel Guides
Travelers' Choice
Help Center
Don't miss this Free Tour!!! - Moscow Free Tour
Europe
Russia
Central Russia
Moscow
Moscow - Things to Do
Moscow Free Tour
I brought a group of students to practise English. Before the excursion, i had received two... read more
The guide never showed up, phone number is not registered. They kept alerting me via email not to... read more
Don't miss this Free Tour!!!
We arrived in Moscow without any guide book, so that is how we found the Free tour, on the Internet. And this was our first approach to the great history and sites in Moscow! We really enjoy this walking tour with Airat. He was really amazing, explaining and aswering every question in our group. A really perfect English speaker, and gave us some good tips about where to eat, how to get there, really kind. The free tour also convinced us to take a pay tour, Kremlin tour, that was also great and where he gave us information beyond the formal guides speech that sometimes can get you bored. You can feel that Airat is a guy that loves his job, loves the city and the history of Moscow. He was really proffesional. You should not miss this!!! And the plus of this: Is free!!! ;)
The tour was really great and the guides were well prepared. Really fun!! I recommend it to everybody :)
I did 3 tours with Airat and it was fascinating to see the visible and hidden beauties of vibrant Moscow. The free tour is a great orientation but I also highly recommend other tours with them. I did the Metro tour and Alternative Moscow tours which were dazzling and insightful...I look forward to visiting again and doing a few more!!
This was an excellent tour and really covered a lot of the history and culture of Moscow in the two hours. Our guide was extremely informative and answered all my questions. A must when visiting Moscow.
My friend and I went to visit Moscow in 20 May 2012. After we arrived in the afternoon, we took the Communist Tour with Airat, our tour guide. The tour fee was about 24 EUR/pax. It was a wonderful experience, especially since Airat had a great knowledge of Russian Communist History. He explained about it passionately But the most memorable experience, I should definitely say the tour that happened the next day, which was the Moscow Free Tour. The tour itself was great, but it wasn't the major thing that I would like to highlight. Towards the end of the tour, my wallet got pickpocketed from my bag. So, someone opened my bag and stole my wallet. I think it happened around the State Library area. All our money was gone (since my friend gave his to me to be taken care of, so his money is also gone :( ). Luckyly, I still had my passport and everything else. But money, driving license, ATM card, and credit cards are all gone. We only had 1000RUR left (Thank God, my friend still had his ATM card) When I told Airat (we had the same tour guide again as the day before) when the tour finished, he called the police right away. After they came, he accompanied us to the police station to help us report the incidence. It was a great help for us since not many Russians spoke English, and neither did the policemen. He was the one who explained to the police and wrote the report in Russian. He waited with us there for almost 2 hours in the police station. And after all the police administration had finished, he informed us that the police station was located near Novodevichy convent and he offer us to go there to accompany us if we would like to visit it. Since we would like to put the bad experience behind us, we accepted his offer. Luckily, we did, since the convent was beautiful and so was the cemetery. Airat also gave us the information related with it, just like if we had taken a tour. But he did this for free. He didn't ask anything from us. We were very amazed with this. Yes, we encountered an unfortunate event, but we also found someone who did above and beyond to help us. Thank you so much for everything that you have done, Airat. This is one of my most memorable trip experience ever.
2 of my friends and I joined the free tour in May. The tour covers all the main attractions and the guide had perfect english and was very knowlegeable. They also run free tours in St Pete's as well.