CAMEL RIDES
Embrace the character of Qatar with a quintessential camel ride in the striking desert. These proud animals are an inherent part of Qatari tradition and feeling the sway of one as you cross the quiet sands will create memories that you take with you. The camel rides are offered as part of a desert safari, on which you'll explore the desert via a range of fun activities. There are also combo tours that allow you to combine a camel ride with a tour of Doha, the country's vibrant capital city.
SEE THE BEST OF QATAR IN ONE GO!
SUNSET DESERT SAFARI WITH CAMEL RIDING & MORE
Safari, Camel Ride, Sandboarding & Inland Sea Tour
DESERT SAFARI, DUNE BASHING, & CAMEL RIDE
DOHA: FULL-DAY COMBO CITY TOUR AND DESERT SAFARI
DOHA DESERT SAFARI
DESERT SAFARI DUNE BASHING, SANDBOARDING, & CAMEL RIDE
DOHA: 5-HOUR DESERT SAFARI PACKAGE
DOHA: HALF-DAY PRIVATE DESERT SAFARI AND INLAND SEA TOUR
DESERT ADVENTURE, DUNE BASHING SAFARI & CAMEL RIDE
Escape the hustle and bustle of Doha city to a nearby desert where you can indulge in adventurous activities like dune bashing, sand boarding, and camel riding. Also, capture some breathtaking views of the inland sea from close quarters.
Qatar is welcoming 101 countries visa-free, check your visa status here .
Visit Qatar App Explore things to do in Qatar!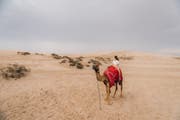 Things To Do
The undulating sand dunes of Qatar's desert proffer a stark beauty, and are a popular destination for a recreational safari or the spectacular landscape.
Get inspired
Experience Qatar's adventurous side

In days gone by, Bedouin tribes would move across the desert, setting up camp while grazing their animals and engaging in trade.  Today, this tradition remains embedded in Qatari culture , with the annual winter camping season or Al Enna, whereby locals venture to the desert in elaborate camps, returning to the land.  The desert is an integral part of local culture, and boasts a surprising array of activities.  From relaxing tent side to dune-bashing or parasailing, the desert is anything but beige.
The impressive 'Inland Sea' or Khor Al Adaid, a UNESCO recognized site, lies to the south of the city, and is one of the few places in the world where the sea encroaches into the desert.  For a truly authentic desert experience , nothing beats a camel ride over the soft dunes, before embarking on an exhilarating desert safari over the dunes to Khor Al Adaid, accessible only by 4x4 vehicles.  Surfer feeling like a fish out of water? Sandboard along the dunes for a unique experience, or hit the dunes on a quad bike, ATV or dune buggy. Prefer a bird's eye view? Paragliding, kitesurfing and more are readily available. 
A favourite Qatari pastime, visitors can enjoy daytime, evening, or overnight camping trips through one of several companies that operate Bedouin-style camps (with all the mod-cons) in the desert. The reserve is home to wildlife, marine life and vegetation - look out for turtles, flamingos , dugongs, Arabian oryx , camels and more.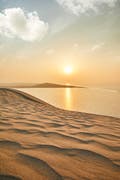 Nature, Water, Desert
The Inland Sea or Khor Al Adaid as the locals fondly call it is an extraordinary landscape with sand dunes and sea beds that will leave you wanting for more. Located to the south-eastern side of the country, this site is recognized by UNESCO to be Qatar's largest natural reserve. The reserve is home to wildlife, marine life, and vegetation alike. Enjoy spotting turtles, flamingos, dugongs, Arabian oryx, camels, and more.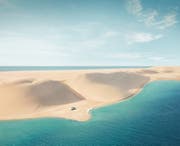 Continue to explore
Things to do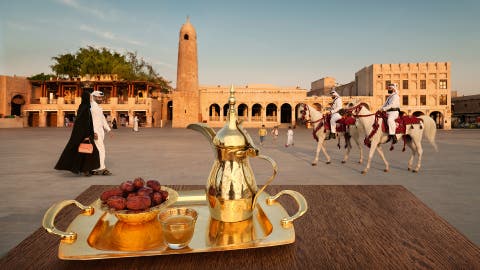 Art & culture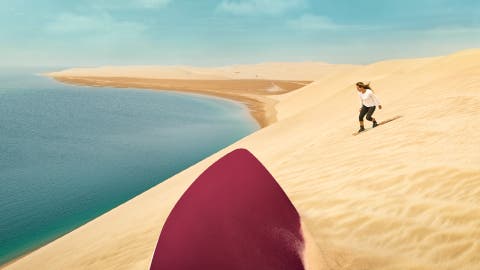 Adventure & sports
Things to know before travelling
Want to travel visa-free? Check if you qualify here.
Getting here
Planning your trip to Qatar? Check how to get here.
Travel tips
Make the most of your visit with our handy travel guide.
Getting around
From a dhow boat to our world-class metro, here's how to easily explore Qatar.


Media Centre
Terms & conditions
Privacy notice
Corporate website
Amiri Diwan
Cookie policy
Subscribe to our newsletter
Cookie settings
© 2023 Qatar Tourism | All rights reserved

Best Desert Safari Doha Qatar | Inland Sea Tour Package Qatar
Sunrise desert safari qatar, morning desert safari qatar, evening desert safari qatar, overnight desert safari qatar, half day desert safari qatar, full day desert safari qatar, dune bashing tour, doha city tour, doha dhow cruise tour, north of qatar tour, zekreet west coast, cultural tour, camel ride doha qatar, super jet bus qatar.
WELCOME TO INLAND SEA TOUR
We offer daily tours.
Ask and we will make it happen
Accessibility Manager
Guaranteed wonderful evening desert safari doha
A must places to visit in doha in our doha city tour
5 Stars Quality
Great smile at every mile in desert safari
Inland Sea Tour
Featured Tours
CHOOSE FROM OUR MOST POPULAR QATAR TOURS
Book Your Desert Safari Tour
Tour tips for desert safari doha.
What Makes Sunset Desert Safari The Best Tour Organizer?
Important Information About Desert Safari Qatar Tours
WhatsApp us
The 5 Best Qatar Desert Safari Tours [2023 Reviews]
Qatar appeared on radars all over the world after hosting the 2022 World Cup, but did you know it's been a tourist hot spot for much longer?
That's right – Qatar is one of the top destinations for luxury and adventure. With its unique landscapes and iconic buildings, there's never a shortage of things to see in this small country.
However, if you really want to have a blast while enjoying Mother Nature, we highly recommend a desert safari tour.
We're here to bring you the top Qatar desert safaris that will have you feeling like you're Indiana Jones!
Best Qatar Desert Safari Tours From Doha
Quick answer: the 5 best rated qatar desert safaris for 2023.
Premium Full-Day Safari, Dune Bash, Camel Ride and BBQ Meal in Desert Camp
(Private or Share Tour) Night Desert Safari, Camel Ride, Dune Bashing
Qatar Gold Dune Safari, Dune Bashing, Camel Ride, Sand Boarding, Inland Sea Desert
Doha : Half Day Desert Safari | Camel Riding | Falcons | Sand Surfing
(Private) Half Day Desert Safari, Camel Ride, Sand Boarding, Inland Sea Visit
Qatar Desert Safari Tour Reviews
1. premium full-day safari, dune bash, camel ride and bbq meal in desert camp.
Duration: 7 to 8 hours (depending on traffic, etc.)
Departure: Hotel pickup and drop-off included
Departure Time: Between 8:00 AM – 2:30 PM
Includes: Certified desert driver in air-conditioned 4×4 vehicle, quick camel ride, dune bashing, inland sea visit, BBQ meal in desert camp (shared camp)
Have you ever wanted to just set off an entire day of fun, excitement, and delicious food in an other-worldly location? If so, the Premium Full-Day Safari, Dun Bash, Camel Ride and BBQ Meal in Desert Camp is just the tour for you.
In fact, it's the only full-day desert tour that we really feel will blow your socks off in Qatar! Clocking in at around 7 to 8 hours, there's never a dull moment. Your tour will start off with your experienced desert driver/guide picking you up at your hotel lobby.
No need to deal with planning extra transport – just bring an open mind and clothing appropriate for the desert climate (more below in our guide)!
This immersive excursion brings you various aspects of what the desert has to offer, packed into one convenient tour. Set off from Doha and head straight to the Sealine Beach where you'll ride a camel to start things on the right feet.
If that weren't fun enough, you'll follow it up with some adrenaline-filled dune bashing! Your guide will lead the way, making intermittent stops to enjoy the best views out there.
The Inland Sea is included, where you'll be taken to a desert camp to enjoy a juicy BBQ meal and have the opportunity to take a dip in the nearby waters. After all that excitement, take some time to unwind in the tranquil beauty of Khor Al Udaid Beach located right between Qatar and Saudi Arabia.
It's the perfect combination of exhilaration and peacefulness, showing off just how diverse this country is.
More Information & Tour Booking
100% refund for cancellations within 24 hours of tour experience, 2. (private or shared tour) night desert safari, camel ride, dune bashing.
Duration: 4 hours
Departure Time: Between 6:00 PM – 10:00 PM
Includes: Certified desert driver in 4X4 air-conditioned vehicle, insurance, bottled water and tea, visit local camel camp, short camel ride, dune bashing, inland sea visit (Khor al udaid)
While full-day tours are certainly a load of entertainment, they're not for everyone. Whether you have a busier schedule or just don't feel like committing to a longer tour, you have plenty of fantastic alternatives.
The Private or Share Tour Night Desert Safari, Camel Ride, Dune Bashing will put you on a 4×4 and head out into the desert for a thrilling escapade you'll want to repeat over and over again.
Just like with the other tours on our guide, this tour also starts with you being picked up at your hotel lobby by a certified desert driver.
They have a ton of experience driving around in sandy conditions and know the area like the back of their hand, so you can feel safe cruising around with them in the barren wilderness. From Doha, pass by Mesaieed where you'll see the red-hot flames emitted from the filtering of oil.
Next, arrive at Sealine Beach where you'll hop on an adorable camel who will take you out to the sand dunes for some dune bashing or sand sledding at night.
Dune bashing is fun at any time, but at night it feels like you're racing around on another planet with the stars shining down on you and your group.
Keep going until you get to the Inland Sea where you'll have some time to take a dip in the warm waters.
Throughout the entire time, your knowledgeable tour guide will offer a fascinating educational commentary about everywhere you go. Their crew is amazing to work with, and you're sure to love them just as much as everyone else!
3. Qatar Gold Dune Safari, Dune Bashing, Camel Ride, Sand Boarding, Inland Sea Desert
Departure Time: 8:30 AM, 1:30 PM
Includes: Transport by 4X4 air conditioned vehicle, insurance, short camel ride while visiting local camel camp(if selected), dune bashing, sand boarding, in land sea visit
Do you have a need for speed where there are no cars or pedestrians to inhibit you? Maybe you'd like to do something different than anything else you've experienced in your home country?
You'll find it all in the Qatar Gold Dune Safari, Dune Bashing, Camel Ride, Sand Boarding, Inland Sea Desert Tour . This is yet another 4-hour tour that's quite easy to fit into a busier schedule.
The tour guides are very flexible with pickup times, and they'll come right to your hotel lobby (even the Doha or Hamad airports!) when it's almost time to start the tour. Be ready with proper clothing and attitude to discover the diverse landscapes and culture of Qatar in this private safari!
As you make your way to the desert, your professional guide will tell you interesting anecdotes and educational stories about the area.
This adds even more value as you experience the different areas. Once you arrive, you'll go on a short but exciting camel ride before speeding through the golden sands.
If you feel like it, you can also try out sandboarding! If you're into other board sports, you're sure to love sandboarding. It's similar to snowboarding, but doesn't hurt if you fall!
After pumping that adrenaline, take a relaxing stop for some tea and then head over to the Inland Sea/Khor al Udaid.
Take a breather in the sunny environment, and see if you can spot Saudi Arabia over the horizon. If you feel like it, you can wash some of that sand off by splashing around in the warm waters nearby.
4. Doha Half Day Desert Safari | Camel Riding | Falcons | Sand Surfing
Duration: 4 to 5 hours
Departure Time: Between 6:00 AM – 4:00 PM
Includes: Coffee and/or tea, bottled water, driver/guide, all taxes, fees and handling charges, camel ride (additional charges), sand boarding (free if requested)
Doha is a city full of excitement, but sometimes it's nice to escape the crowds and noise and head out to the wild outdoors. Sure, you could explore it on your own, but it's much safer and more entertaining to go with a professional who knows the area expertly.
If that sounds like fun to you, check out the Doha: Private Half Day Desert Safari I Camel Riding I Falcons I Sand Surfing Tour !
Whether you're a history buff, adrenaline junkie, or simply enjoy new explorations, you're in the right place. Your guide is much more than just a driver who picks you up and hauls you around.
They're well-educated in the area's history and modern-day happenings, which adds more context for your high-energy experiences. Start off by cruising from Doha to the heart of the smooth, sandy desert.
The serene landscape is incredibly beautiful and home to countless species of wildlife – many of which are very rare. If you'd like, you can choose to visit an area where you'll see ospreys nesting and even the graceful Arabian gazelles!
See the Inland Sea, which is a UNESCO site complete with its own ecosystem. This unique place is where the desert meets the sea and is inaccessible by road. Rather, you can only get here by trekking or driving through the dunes!
Stop for a delicious tea, coffee, and camel ride to relax your muscles and take it all in (one of the most memorable parts of this highly enjoyable tour!).
5. Private Half Day Desert Safari, Camel Ride, Sand Boarding, Inland Sea Visit
Departure Time: Between 7:00 AM – 2:30 PM
Includes: 4X4 air conditioned vehicle, insurance, bottled water, quick camel ride, dune bashing, sand boarding
We couldn't leave out the Private Half Day Desert Safari, Camel Ride, Sand Boarding, Inland Sea Visit tour !
If you'd like to rove through the vast sandy panoramas of Qatar but want to do so in an exclusive way, then look no further. Experience different modes of transportation, with plenty of time for photo ops and relaxation.
Start off by being picked up in a heavy-duty 4WD pickup truck right at your hotel lobby. You get the opportunity to plan the start time that suits you and your party best. As it lasts around 4 to 5 hours, it's also much easier to plan into a busy schedule.
If this is your first time visiting Qatar, it wouldn't be complete without experiencing a tour like this one. You'll head out from Doha and out to the desert, where you'll start by hopping on a "ship of the desert". If you don't know what that is, it's a camel!
These gentle giants are so sweet and will offer you a unique way to trek through the sands.
After that, head back to the camel camp where you'll get to sit and enjoy a tasty local tea or coffee as your guide gets everything ready for a high-octane, off-road adventure.
Head into the climate-controlled 4×4 and race through the sand dunes, stopping intermittently for photo ops until the Arabian gulf appears.
Once you get to the sea, you'll relax and enjoy the beautiful contrast between tan and blue. It's a fantastic moment, after so much excitement, to enjoy this serene environment practically untouched by human nature.
If you're looking for a great way to spend a few hours with loved ones, we can't recommend this tour enough.
Qatar Tour Guide
Getting there.
Getting to Qatar is actually pretty easy, seeing as it's conveniently at the crossroads of the eastern and western sides of the world. Qatar Airways is the national airline, covering an impressive 160 international spots. However, there are many other airlines that fly to the country. The most popular that service Doha Hamad International Airport are Air India, Asiana, Cathay Pacific, and others.
Central Doha is located about 9 miles, or 20 minutes by car from the international airport. The easiest way to get to Doha is by metro or bus. Take the metro and it'll take you maybe 15 minutes to get to the city center. The bus usually takes a bit longer but is incredibly budget-friendly.
Getting Around
Metro – Just recently opened a few years ago, the Doha metro is clean, efficient, and budget-friendly. The 7 lines cover just about every part of the city, with most major tourist attractions having a metro stations close by.
Bus – Buses are probably not the best way to get around the city as the primary form of transportation while you're staying there. It's not the most efficient – however, the hop on hop off buses are a great way to see the major attractions.
Taxi – Karwa taxis are turquoise blue and the official taxis of the capital. The tariff starts around 1.2QAR per kilometer, with higher rates at night.
Rideshare – Uber does work in Qatar, and Careem is the local Doha taxi app. Both are great options if you prefer a rideshare.
Where to Stay
West Bay – This is a more recently developed area ideal for luxury accommodation and beautiful sea vistas. The tallest and most impressive skyscrapers tower over the area, located right on the coast of Doha. Entertainment and dining choices are endless, with a fun mall and many cultural activities to do nearby.
Corniche – This is one of the most beautiful areas with lovely seaside views. The Corniche Promenade is always pleasant to stroll around.
Al Souq – If you're a history buff or simply want a more "traditional" Qatar experience, try Al Souq. Local delicacies, artwork, and souvenirs are top-notch here, along with access to the Museum of Islamic Art. The most beautiful traditional architecture is located here and easy to get to from the airport and West Bay.
Restaurants and Eating Out
Here are some of the top foods to try in Doha:
Saloona – This classic delicacy is an Arabic stew typically made with beef, fish, or lamb along with seasonal veggies along with ginger and garlic. Just about any traditional restaurant will have it, served with bread soaked in broth.
Warak Enab – Full of flavor, this light snack is perfect for any time of day. Vine leaves are stuffed full of beef, lamb, and rice complete with rich seasoning.
Balaleet – If you're really hungry, try this satisfying dish combining vermicelli and an omelette flavored with saffron, sugar, and rose water.
Majboos – This is an incredibly important national dish, prepared with lamb or chicken. Slow-cooked to really get that rich flavor, you'll find it at just about any restaurant in the country.
Madrouba – This traditional rice porridge is cooked with milk, butter, chicken, and cardamom. If you're a fan of curry, you'll love this one.
Kousa Mahshi – Consisting of a courgette stuffed with lamb and veggies, it is full of flavor with parsley and mint. Try it dipped with tomato paste or yogurt!
Luqaimat – You'll find this traditional dish in most bakeries in the capital and is perfect if you have a sweet tooth! Similar to a doughnut, it's crunchy on the outside and soft on the inside!
Nightlife and Entertainment
Most of the best female-friendly spots are located at luxury hotels, such as the Hilton, Intercontinental, Sheraton, W, La Cigale, Mondrian, JW Marriott, and Crowne Plaza. You may prefer to do things other than go clubbing or bars at night.
Souq Waqif – Walking around these historical streets is a blast! Full of traditional street stalls, upscale restaurants and incredible architecture, there's always a lot to see. Street performances and art galleries are available at night, too!
Shisha Terrace at Four Seasons – With some of the best views in the city, this is a relaxed lounge with great service. If you're into or want to try shisha, it's hard to beat this place.
Sunset Dinner Cruise – Who doesn't love a good sunset view? You'll get one of the best on these cruises, which last around 2 hours. You can find more traditional cruises up to upscale yacht experiences.
PURE Lounge – Located at the Double Tree, you'll find some of the best signature cocktails and panoramic views here. Many top live acts and DJs perform here, but it's still a more lowkey vibe.
Beach Club at St. Regis – Now that the sun's down, you can fully enjoy the beach at more comfortable temperatures. Relax on the white sand, take banana boat rides, or enjoy swimming in their Olympic-sized pool.
Qatar has basically two seasons, with summer being super-hot and winter being very pleasant. It's almost always sunny and even in the "colder" months, it's still quite warm during the day. The nighttime can be quite chilly, though, so make sure to pack accordingly.
Attractions
Souq Waqif – As we've mentioned a couple of times, Souq Waqif is a wonderful place to explore. Arguably the most scenic area, it offers exposure to traditional costumes, customs, food, and architecture.
Museum of Islamic Art – The museum building alone is incredible, but inside you'll find the largest collection of Islamic art and artifacts in the world.
National Museum of Qatar – This museum is quite new, offering insight into local wildlife and the country's history.
Villaggio – If you're looking to do some shopping, you can't beat this incredible outdoor mall complete with Venice-like canals where you can hop on and take a ride!
The Pearl – This man-made island is the epitome of luxury, and a great way to spend a day or night!
Katara Cultural Village – This massive complex is dedicated to boosting the country's cultural identity, and they certainly succeeded!
Night Tours vs Day Tours
The temperature differences between day and night in Doha are incredible. If you're there during the winter, it can get quite cold at night. Make sure you dress with warm yet breathable fabrics and we highly encourage layering so you never get too hot nor too cold.
During the daytime in the winter, you can expect a perfect climate for venturing around in the desert. In the summer, however, it can get blazing hot. Expect to sweat. Bring sunscreen.
Desert Tour Activities
Camel Riding – The key to making this a smooth ride is to not resist the camel's swaying from side-to-side. Instead, sway with them by relaxing your body, breathing deeply, and going with the flow. Make sure to wear clothing that allows you to stretch, as you'll have to mount the camel by throwing one of your legs over. It shouldn't be too uncomfortable, as you'll only be riding around 15 minutes.
Dune Bashing – Again, you want to wear comfortable clothing that allows you to move around freely. You'll be stepping in and out of sand occasionally, so make sure your shoes stay on and ideally keep out sand. Make sure to slather on the sunscreen and bring sunglasses that stay firmly on your head.
Sand Boarding – To take off and cruise down the dunes, start at the top and take little hops until you get to the edge. Drop in with your dominant foot, leaning back slightly and bending your rear knee. Flex your abs and look where you want to go – your body will instinctively take you there.
How to Dress
Dressing appropriately can be a big stressor for new visitors, but don't worry – it's really not as complicated as many make it out to be. The good news is that while you should follow certain guidelines, no one expects you to dress like a local.
Women – Women aren't required to cover their heads. Skirts and shorts are somewhat normal as it gets very hot, but nothing too short. Thin straps, sleeveless tops, transparent/semi-transparent shirts, and crop tops are not tolerated. Leggings by themselves aren't as common, though if you feel your shorts or skirts or too short, you can wear leggings underneath.
Men – Wearing shirts, polos, cargo pants, or dress pants are perfectly fine. Shorts should be at least knee-length. Sleeveless tanks and slogan t-shirts that could be taken as offensive are not tolerated. Being shirtless is not recommended unless you're at a private beach or pool.
1. How safe is Qatar? Qatar is actually one of the safest countries in the world, with violent crime being extremely rare – even more so towards foreign tourists.
2. Are bikinis allowed? No. Speedos, bikinis, and any other article of clothing that shows off a lot of skin is not allowed. One-piece bathing suits (never with low necklines) and board shorts/swim shorts are allowed, however.
3. Is it hot everywhere? If you can believe it, there are various spots around the city with outdoor air conditioning! Galleries Lafayette, Souq Waqif, and Gharrafa Park are some of the most notable.
4. What do local schedules look like? The weekends for locals are actually Friday and Saturday, with the regular work week being Sunday through Thursday. Most places are open on Fridays, though they'll often be closed from 11AM to 1PM for congregational prayers.
5. Can you drive in Qatar? Yes, both men and women can drive in the country.
6. Are piercings and/or tattoos allowed? Yes, however, it's best to cover up tattoos and piercings outside of the ears.
7. Is it hard to get around if you only speak English? No, not at all. In fact, English is often seen as the country's "second language" and many locals speak it, as well.
Winter is the best time to visit. As you probably know by now, Qatar has a desert climate which means very hot, dry heat from May to September. Try visiting between December to February, which is suitable for just about any activity.
Keep the culture in mind. Qatar is a Muslim country, which means there may be a difference in local traditions, customs, laws, and religion. We recommend being particularly aware of these factors when filming of snapping photos of people, as many locals do not like being photographed – particularly women.
Dress appropriately. This kind of goes hand-in-hand with the previous point. Dress modestly. Women have to cover their shoulders and avoid wearing bottoms that expose their legs. Men and women should avoid wearing shorts or sleeveless tops when entering government buildings, healthcare facilities, and malls.
Be aware of alcohol regulations. As is the case with most Islamic countries, alcohol isn't illegal but available only at specific restaurants, bars, and clubs. Not to mention, they've invoked a tax on alcohol that makes it significantly more expensive.
Public displays of affections are not allowed. Even if you're traveling with your spouse, you are not allowed any PDA. While you can hold hands, kissing and hugging, etc. are not.
Tour Guides
The Premium Full-Day Safari is our Editors Choice for the best Qatar desert safari tour from Doha.
Robert Baker
Related articles, the 5 best petra tours from jerusalem & tel aviv [2022 reviews], the 5 best dead sea tours from jerusalem – [2023 reviews], the 5 best masada tours from jerusalem – [2022 reviews] , the 5 best dubai quad tours [2022 reviews].
Search Please fill out this field.
Manage Your Subscription
Give a Gift Subscription
Sweepstakes
Explore the Qatari Desert With Moonlit Camel Rides, Glamping, and Stargazing
Qatar is not currently open to international tourists, but these astrotourism packages are available until April 2022.
Jessica Poitevien is an international storyteller and regular contributor to Travel + Leisure.
Between solar eclipses, supermoons, and meteor showers, 2021 is chock-full of awe-inducing astronomical events . Just in April, a Super Pink Moon lit up the sky, leaving the Qatar National Tourism Council inspired to create new travel packages that allow visitors to experience incredible stargazing opportunities from the country's desert landscape.
These "Arabian Nights" packages are available now through April 2022, and though Qatar is not currently open to international tourists, visitors are encouraged to plan ahead. Among the experiences offered are moonlit camel safaris, stargazing with an astronomer, and BBQ dinner banquets by the campfire. The packages also include a stay at the Gulf Adventures Camp, Regency Sealine Camp, or Marsa Malaz Kempinski.
Depending on the package, visitors can also tour Souq Waqif, have dinner at the Torch 360 restaurant, which offers panoramic views of the Doha skyline, or visit Al Zubarah, an 18th-century archaeological attraction that's now recognized as a UNESCO World Heritage site.
"Qatar's desert is a perfect spot for astronomy enthusiasts to observe the dark and starry skies," said Berthold Trenkel, chief operating officer of Qatar National Tourism Council, in a press release . "The packages we've put together will provide unforgettable experiences that travel lovers can look forward to when we welcome them back to the country."
Prices for the "Arabian Nights" packages start at $1,255 per person. For more information, visit the Gulf Adventures website or the booking page directly.
Jessica Poitevien is a Travel + Leisure contributor currently based in South Florida, but she's always on the lookout for her next adventure. Besides traveling, she loves baking, talking to strangers, and taking long walks on the beach. Follow her adventures on Instagram .
By clicking "Accept All Cookies", you agree to the storing of cookies on your device to enhance site navigation, analyze site usage, and assist in our marketing efforts.
Falcon Tours
Desert Safari Tours
At Falcon Tours,We offer the most amazing Desert Safari Tours in Qatar with thrilling activities such as quad biking, ATV tours, camel rides, sandboarding, and dune bashing. Our tours will take you to the breathtaking inland sea and sealine desert, providing you with an unforgettable experience.
We have a range of tours available for you to choose from, including Half Day, Sunset, Sunrise, Full Day, and Overnight Desert Safari.
Doha City Tours
Our Doha City Tours offer a range of options for exploring the city, including a 4-hour tour, a 6-hour tour, a tour that includes a visit to the Museum of Islamic Art, a tour that includes a Dhow Boat ride, a 4-hour tour with a meal and transfer included, and a tour specifically designed for transit travelers arriving at the Doha Airport. Falcon Tours offers the best city tours in Qatar
Culture And History Tours
Discover fortresses and archaeological sites that unveil the heritage of the country. This tour provides an opportunity to witness the transformation of Qatar from its Bedouin traditions to its advancements. Immerse yourself in the fabric that has molded Qatar's unique identity.