(727) 642-5133
DOO'S AMAZING TOURS
SEGWAYS/BIKE/PADDLE BOARD TOURS
Call for Gift Certificates!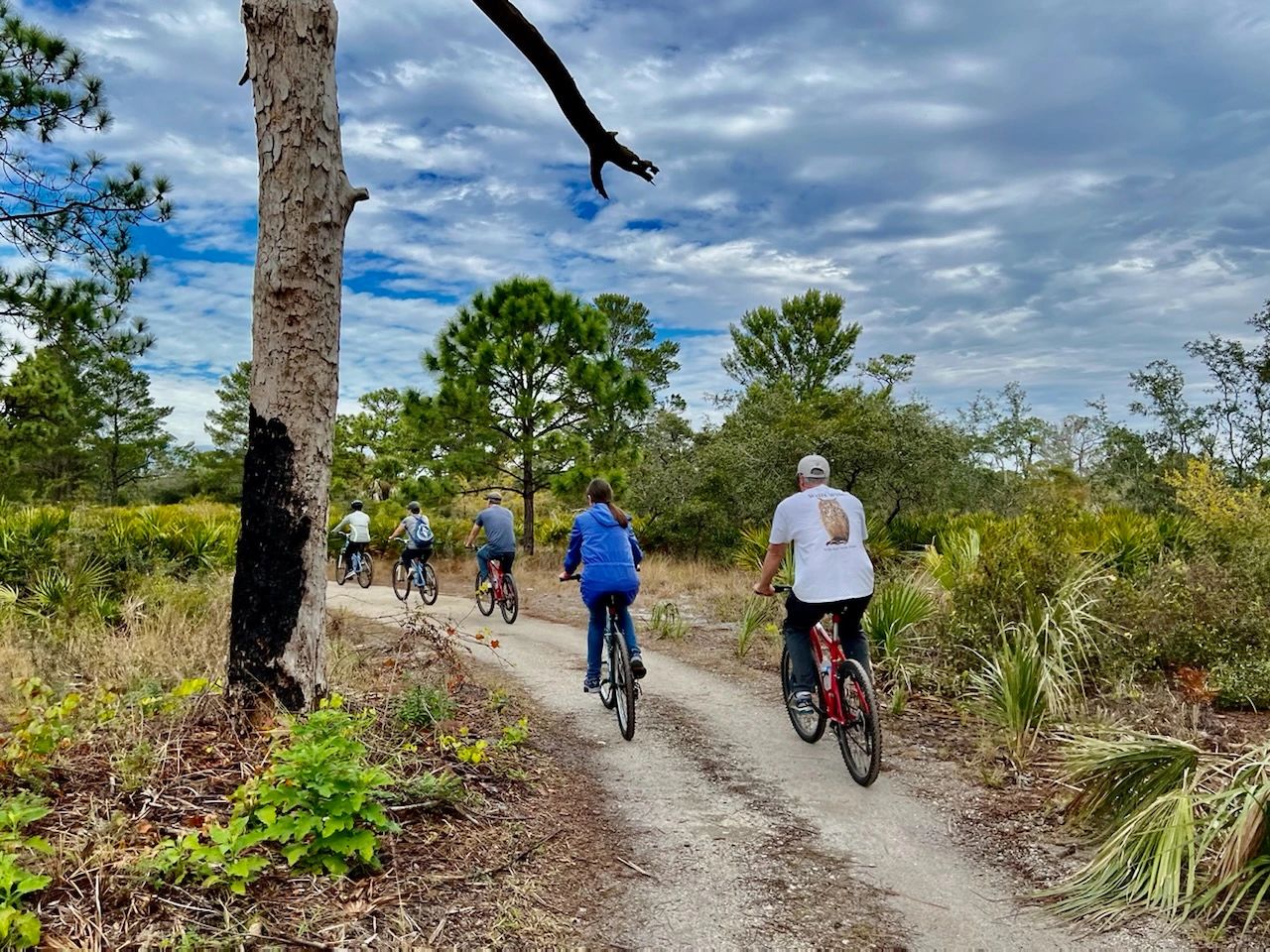 Hello, I'm Doo! I am the owner & operator of Doo's Amazing Tours, The original and oldest running Tour company in the area. I opened back in 2012, focusing only on giving the most Amazing Tours to my guest! Located in beautiful Historic Downtown St. Petersburg, Fl. We offer a variety of Tours by Appointment only.
Photo Gallery
Tours we offer, segway tours.
1 Hour Scenic Segway Tour : goes approximately 5 miles along the beautiful waterfront and endless parks. You will be viewing a variety of museums, yacht basins and restaurants while taking in the natural beauty of plants and animals. We will pass through the Gizella Kopsick Palm Arboretum which has been there since 1976 and view over 500 different species of palm trees in this 2 acre park. We are always on the look out for dolphins, manatees and other wildlife!
$50 per person
2 Hour Historic Segway Tour : goes approximately 8 miles total. First going 3 miles into the city and then 5 miles along the waterfront and beautiful endless parks. We will take a short break at the Salvador Dali Museum and have a sip of water from the Fountain of Youth. You will learn all about the city's founding fathers and famous pilots which lead to the 1920s boom which can be seen in some of our architecture. After your Segway Tour you will get to go into the Museum of History and look around at your own pace (admission included). You will be able to see the Worlds Largest Autographed baseball collection with 5,036, indexed city photographs, 32,000 artifacts and other historic photos and documents. This tour tends to be out most popular choice because of all the historical information you will get about our city!
$60 per person
2.5 Hour Eco Segway Tour : goes approximately 12 miles total though the parks and along the waterfront and then we will Segway through 1920s Old Northeast neighborhood as we head to Sunken Gardens (admission included). Where we will park the Segways and then walk through 4 acres of a lush botanical garden. You will see 20 Chilean Flamingos, parrots, macaws, tortoises and feed the Koi fish. Your tour guide will be pointing out all the flora and fauna along the way. Sunken Gardens is the oldest living museum, 100 years old and offers more than 50,000 tropical plants and flowers.
So you will be on the Segway approximately 2 hours and walking in the garden for about 30 minutes.
$75 per person
On all Segway Tours you will have:
Segway i2
free admission (Historic and Eco Tours)
20 minute hands on training prior to tour
personal headset receiver
helmet, bottle of water, sunscreen and bug spray
Requirements:
MUST have an appointment
MUST be at least 11 years old
MUST weigh at least 100-300 lbs
MUST watch Segway safety video
MUST be able to safely operate the Segway during training.
*Required Height 3'11" - 6'6"
Meet in front of the Museum of History, 335 2nd Ave NE 33701. Parking meters and a variety of parking lots available within 1 to 2 blocks of the museum.
PRESERVE BIKE TOUR
A precious oasis in the midst of Florida's most densely populated county. You will be guided by knowledgeable and experienced tour guides on mountain bikes through 3 miles of trails and boardwalks while seeing 5 ecosystems! You will enjoy 245 acres of uninterrupted preserved habitat along Lake Maggiore's shore line. There is an aviary with live birds of prey ranging from the Bald Eagle, Red Tailed Hawk, Red Shoulder Hawk, Screech Owls, Barred Owls, Northern Crested Caracara and many more! You will also being seeing American Alligators, tortoises, turtles, Ospreys, Cormorants, Anhingas, and a vast variety of butterflies. After the bike tour take some time and explore the education center.
$55 per person
standard 26" mountain bikes available in male/female frames. We also have two 29" mountain bikes available as well as one 24" mountain bike.
On the Preserve Bike Tour you will have:
tour guides
male/female mountain bikes
admission into the preserve
bottle water, helmets, sunscreen and MUST have an appointment
MUST be at least 5' tall or able to ride a Standard bike.
Please notify us prior to appointment if you will need a larger or smaller bike than 26" and will do our best to accommodate.
Meet at Boyd Hill Nature Preserve, 1101 Country Club Way South 33705 -Free Parking.
PADDLE BOARD TOUR
Enjoy 2 hours of paddle boarding in beautiful Coffee Pot Bayou. You will be seeing our local wildlife as you float along side a historic neighborhood set in 1920s and enjoy the vast array of architecture of homes set in this tranquil bayou. We will be seeing Bird Island up close and enjoy watching and listening to 30 different species of birds. We will also be looking for dolphins and manatees since they are frequently seen.
On the Paddle Board Tour you will have:
10'6" soft top paddle board
life vest, paddle, bottle water, sunscreen and bug spray
MUST be at least 13 years old
MUST weigh less than 270 lbs
Meet at Coffee Pot Bayou Park, 3099 1st St N 33701 -Free parking.
Why Choose Doo's
A locally owned, award winning, top rated and safety conscious tour company that's been creating smiles and adventures for families from all over the globe. We love what we Doo! So choose us and we look forward to seeing you soon! We also offer Gift Certificates for the perfect present! Please call (727) 642-5133
Check out more photos on Facebook and instagram
Appointments only.
Segway Tours meeting location in front of Museum of History, 335 2nd Ave NE 33701.
Preserve Bike Tour meeting location is at Boyd Hill Nature Preserve, 1101 Country Club Way South 33705.
Paddle Board Tour meeting location is at Coffee Pot Bayou Park, 3099 1st St N 33701.
Doo's Amazing Tours
335 2nd Avenue Northeast, Saint Petersburg, Florida 33701, United States
[email protected] (727)642-5133
Sunday-Monday 8am-4pm
This site is protected by reCAPTCHA and the Google Privacy Policy and Terms of Service apply.
Copyright © 2023 Doo's Amazing Tours - All Rights Reserved.
Powered by GoDaddy Website Builder
Dolphin Tours
Eco Tours & Sightseeing
Sunset Cruises
Special Events
Getting to the Boat
Frequently Asked Questions
Se Habla Espanol
Why choose st pete tours.
We are a locally owned small business. We operate the charter business full time, and are available to our guests anytime.  Safety is our priority and we only utilize USCG Captains that hold a Master Mariner level credential. Our goal is to provide our guests a safe, fun and memorable experience. 
The trip can be customized in many different ways including:
Wildlife Spotting (exotic birds, dolphins, manatees, fish, etc.)
Visiting a waterfront restaurant/bar/grille for lunch
Exploring/Shelling at barrier islands and beaches
Swimming and lounging at a submerged sandbar for a fun and relaxing hangout
Luxury Home tour that makes for a relaxing cruise while viewing historic homes.
Best of the best winner – 2023
#11 Cultural & Historical Tour in the United States
discover florida tours presents
The jungle prada tour.
The Jungle Prada Tour is an immersive cultural experience at a one-of-a-kind historic landmark where 1,000 years of Florida history comes together. Explore this hidden St. Petersburg, Florida gem on our historian-led walking tour. The privately-owned Anderson property, sometimes known as Sacred Lands, features one of the best-preserved American Indian mounds in the state. The tour lasts 75-90 minutes. A small museum with archaeological artifacts is included with admission. Advance registration is required. See tour schedule below for details.
Tocobaga Village
Jungle Prada was part of a Tocobaga village for about 600 years (1,000 CE – 1,600 CE). The village plaza and a 900′ ft. long midden have been lovingly stewarded by the Anderson family for more than 80 years. Used as a gathering place for centuries, this Mississippian cultural site is the perfect place to discuss the history of human settlement around Tampa Bay and the Southeastern United States.
Spanish landing site
In April of 1528 a Spanish conquistador, the one-eyed Pánfilo de Narváez, landed at or near the Jungle Prada Site. Three hundred men from his expedition walked north, but only four survivors, led by Alvar Nunez Cabeza de Vaca, completed a journey from Florida to the Pacific that took 8 years (1528-1536). We will tell the story of what happened to them.
The roaring twenties
In 1925 developer Walter P. Fuller constructed a Mediterranean-style mall near the Tocobaga mounds which he named "Jungle Prado." A nightclub there called "The Gangplank" became a speakeasy during Prohibition when Fuller accepted a large shipment of illegal whiskey.
Colorful peacocks have been residents of The Jungle Site since the 1950s. Today you can see them strutting freely around our private seaside garden along the shore of Boca Ciega Bay. We see the peacocks on every tour.
Reservations
Important Information
Tour schedule:.
Wednesday through Sunday 11:30a & 2:30p (January-June) 11:30a only (July-December) Closed August 15-September 15 Reservations are required. Gate opens 30 minutes before the start of the tour. Please arrive at least 10 minutes before tour begins. Free cancellation up until the start of the tour.
General Admission – $14 Child Admission (2-12) $6
Parking address:
1700 Park Street N. St. Petersburg, Florida 33710
Contact info:
PHONE – (727) 430-2677 EMAIL – [email protected]
Gulfport Walking Tour
We are proud to partner with the Gulfport Historical Society to host The Original Gulfport Walking Tour every 3rd Saturday of the month at 3:00 PM. It starts at the Gulfport History Museum (5301 28th Ave. S., Gulfport, FL 33707). For tickets, please click the button below to visit the historical society's website, where you can also find out about other local events hosted by GHS.
Helpful Links:
Connections to some of our partners, plus some useful resources for students and lifelong learners!
The Jungle Prada Tour is a historian-led guided tour of a pre-historic Tocobaga village site, including the best-preserved American Indian mound in Tampa Bay.
Tour Pricing:
Adults $14.00 Kids (2-12) $6.00 *Convenience fees may apply to online ticket sales.
Contact Info:
Phone: (727) 430-2677 1700 Park Street North, St. Petersburg, FL 33710 Contact Us Via Email
Discover Florida Tours
© 2023 Discover Florida Tours.
Archives and Collections
Visit St. Pete/Clearwater

Explore Exhibits
Benoist Society

Plan a VISIT
Explore exhibits, rent the museum, become a member.
Group Tours
Plan a group tour of the Museum that will create life-long memories for your clients, community group, friends, or students.
Our tour guides bring Florida history to life as you explore the Museum's galleries and exhibits.
Experience the world's first commercial airline, explore the world's largest collection of autographed baseballs, stroll through the history of St. Petersburg – from the city's early pioneer days to the growth of today's current tourism haven.
Adult Group (18+): $12 per person
Senior Group (65+): $9 per person
Student Group: $6 per person, plus one free adult chaperone per 10 students; additional chaperones charged at $6 rate
Military/First-Responder Group: $6 per person
For any questions regarding museum group tours, email us at [email protected] .
Available Tours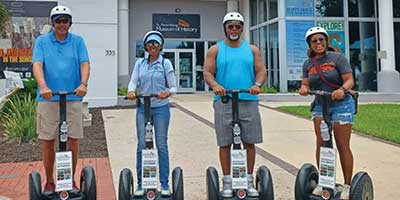 Segway Tours
In a partnership with Doo's Amazing Tours, roll through downtown and along our beautiful waterfront while soaking up the city's early history. Segway tours include admission to the Museum of History. Book tours on: DoosAmazingTours.com .
Ghost Tours
In partnership with St. Peter's Ghosts, begin a 90-minute Haunted History tours at the Museum and explore the dark side of the Sunshine City. Visit haunted and historic locations throughout downtown. St. Peter's Ghost tours include admission to the Museum, redeemable at any time. Book tours on: StPetersGhosts.com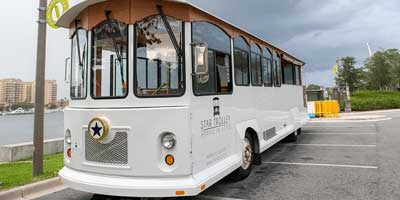 Trolley Tours
The St. Petersburg Museum of History hosts monthly trolley tours! Join us on the first Saturday of each month for a historic guided trolley tour of St. Pete with the Museum of History and Star Trolley! The trolley departs the Museum at 9AM. Reservations are required, click here to visit our events calendar to register for our next tour . Members receive early access!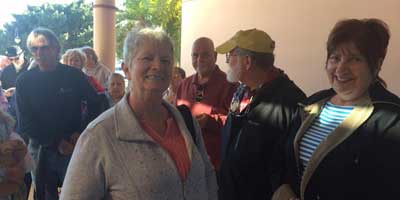 Walking Tours
Experience a monthly Downtown Walking Tour of St. Pete! The tour explores the quirky history of downtown while viewing historic landmarks. These 90-minute tours take place on the second Saturday of every month and depart from the Museum at 9:30AM. Reservations are required, click here to visit our events calendar to register for our next tour . Members receive early access!

"[The St. Petersburg Museum of History.] What a pearl that place is, what a gem." — Randy Wayne White,
Best-selling author, 2019 lifetime literary award winner.
Username or email *
Password *
Remember me Login
Lost your password?
727-276-3032
GULF BARRIER ISLANDS & BOTTLENOSE DOLPHIN TOUR IN ST. PETERSBURG, FL
This is an all-in-one experience venturing on the beautiful waters of the Gulf of Mexico! From our abundant amount of marine life and tropical birds to the tranquility of white sand beaches on barrier islands, this is an opportunity to relax and rejuvenate. This tour includes:
-26′ Sea Ray 230 SPX. If you want a 100% private tour, you can purchase (1) additional seat and your tour will guaranteed to be private. (Example: You have 4 people in your party, purchase a 5th seats and it will be 100% private)
– Bottlenose Dolphin and Marine Life Tour
-Island Architecture Tour of Vina Del Mar, Little Bird Key, Tierra Verde and Isla Del Sol Islands
-Swimming, Shelling and relaxing on either Outback Key, Shell Key or Tierra Verde ( Please note: Winds, Tides, Weather and Currents decide which Islands we go to)
– Cold Bottled Water (Please bring a small bag of Ice just in case our's melts before your trip)
– This is a BYOB trip so feel free to bring your favorite beverages and snacks, we'll provide the bottled water for you! 
-Marine Grade Fuel Expenses
Operating Times: 10:00am -8:00pm
Duration : 3 or 4hrs
Price : $105.00pp
PRIVATE TWILIGHT TOUR IN ST. PETERSBURG, FL
Enjoy a private evening cruise on Boca Ciega Bay with this unique and special boat tour. On this trip, we will illuminate the ambient cockpit lights, navigate in and around many different local islands and enjoy views under our local iconic bridges. Pour yourself a cocktail, enjoy some music and sit back and enjoy the Tampa Bay area by night. This is a BYOB trip so feel free to bring your favorite beverages and snacks, we'll provide the bottled water for you! 
Operating Times: We depart immediately following our sunset cruise, time TBD and communicated
Duration : 80 minutes
Price : $65.00pp 
Bottlenose Dolphin & Architecture Tour in St. Petersburg, Fl
Experience and observe the most common, and beloved, Florida dolphin species in the seemingly smiling Bottlenose Dolphin!  These highly intelligent mammals are regularly spotted swimming around Boca Ciega Bay and the Gulf of Mexico. During our tour, you will boat in and around many different islands, experiencing oceanfront mansions as well as some famous celebrities homes. This is a BYOB trip so feel free to bring your favorite beverages and snacks, we'll provide the bottled water for you! 
Operating Times : 11:00-8:00pm
Price : $65.00pp
Gulf Sunset & Bottlenose Dolphin Cruise in St. Petersburg, Fl
On this relaxed trip, we will cruise in and around many different Islands and Keys on Boca Ciega Bay in route to to the open Gulf of Mexico to experience a majestic, unobstructed view of our Florida sunset. This is a BYOB trip so feel free to bring your favorite beverages and snacks, we'll provide the bottled water for you! 
  Operating Times: 11:00am -8:00pm
*(ALL SUNSET TOURS DEPART :45 MINUTES PRIOR TO THE SUN SETTING ON YOUR BOOKED DAY)
Food Tours
Explore st. petersburg with our delicious & delightful food tours we're here to take your palate on a trip, and serve you some of the most mouthwatering dishes & drinks st. pete has to offer. , food tours.
Beach Drive
Central ave, the great st. pete cocktail tour.
Walking Food Tours :
Beach drive singing food tour (mondays to thursdays, & saturdays) and our central ave tour (sundays)., food tours are around 2 hrs 15 mins hours long and include 1 well-sized tasting at each of our 4 selected favorite local eateries. enough splendid cuisine to satisfy virtually any appetite. , you'll enjoy and learn about your food, the restaurants and the city. on our beach drive tour you'll also be serenaded by your tour guide/professional singer between stops . , the great st. pete cocktail tour :, enjoy 4 tastefully crafted cocktails, at 4 specialty cocktail bars, as your guide shares fun & interesting info about the city, the bars, & the cocktails. includes a fun cocktail trivia, call for our group rates for special occasions, private & corporate events. groups of 5 to 20 people can book any day of the week, with at least 48 hours notice, by calling (727) 900 5123. , tours recommended for all who enjoy exploring, discovering delicious new food & cocktails, and fun.
- Dottie L.
Click over here on "Pat" to open up our printable full listing of Day-trips, Multi-day Trips & mo re!!!
The Buttons below open fliers for the overnight tours...
Lunch Bunch Menu Choices:
Specializing in Daytrips and overnight trips up to 21 days, Travel Is Fun is a trusted name in the Deluxe Motor-Coach vacation and touring community. From Dinner Theaters, Casinos, Shopping and fine dining daytrips to touring the great sights of North America - all the way to Alaska - Travel Is Fun is your friend that will get you there and back!
T RAVEL I S F UN T OURS
" People Say..."
Have been on many trips with TIF and every one of them have been so much fun and perfectly done,...
EMAIL: [email protected]
Tell your friends about us on Nextdoor.com
Updated: 11/6/2023 0
St. Petersburg
Things to Do
Restaurants
Vacation Rentals
Travel Stories
Rental Cars
Add a Place
Travel Forum
Travelers' Choice
Help Center
5 Star Captain Dave - St. Pete Boat Tours
United States
Florida (FL)
St. Petersburg
St. Petersburg - Things to Do
St. Pete Boat Tours
This was my second time going out on a sunset cruise with St. Pete Boat Tours and it was just as... read more
We had an amazing time ! The first night we booked our tour about 10 minutes in Captain Dave made... read more
5 Star Captain Dave
Captain Dave was the BEST Capitan EVER! He was so knowledgeable about the area, friendly, and professional. The boat was very clean and well priced. This was such an incredible experience and we could've of asked for a better captain. We will be back! Thank you Dave
We had a great time on our Sunset cruise. Captain Dave was friendly and accommodating, we loved the private cruise it was beautiful and relaxing
What a great boat ride. Captain Dave is so knowledgeable. Easy and breezy. He was so flexible. I highly recommend for the 2 hour ride.
Captain Jon was the best. You want a pilot who knows the area, respects the wildlife, and listens to your preferences for how to spend the time. Could not have been better. Uploading photos for our thanks to St Pete Boat Tours!
Jon was our host and I could not say how much we enjoyed his service. I wanted a more intimate setting for just me and my wife rather than doing a group tour. So happy we found this place! Jon not only accommodated and worked with us to reschedule due to inclement weather, his communication was stellar and graciously even re booked us so we could watch the sunset overlooking a sea of dolphins in the bay for my wife's birthday! Life is all about experiences and I couldn't recommend Jon enough for an experience that'll give memories that'll last forever!! Will definitely be using St Pete Boat Tours again!! Thank you!
We went with Captain Dave on the Sunset Cruise. It was so beautiful to see the colors reflecting on the water and the city. He was very knowledgeable and funny and ensured that my family could see dolphins. I had my baby with me and Captain Dave made me I feel very secure having him on a boat. I will hire this company again next time family in town. Fuimos con El Capitan Dave en un tour para ver el atardecer. Ver el reflejo del sol sobre el agua y la ciudad fue genial. Dave sabe muchísimo y es muy divertido. Se aseguró que mi familia pudiera ver delfines. Lleve a mi bebé conmigo y Dave me hizo segura de llevarlo en el bote. Volveré a contratarlos de fijo la próxima vez que venga a visitar mi familia.
fun To Expect on your tiki tour adventure
Island Hopping
Cooler & Ice/Water provideD (bring your own adult drinks&food)
Wildlife Sightings
(Dolphins, Manatees,
stingrays, birds, ETC.)
Bluetooth Speaker
Play your own music
Cruise with up to 6 friends plus captain
restaurants / bars
Customize your own private tour
Coast guard
approved vessel
Check out our different Tiki tour package options now!!!
book now and start your tiki t our adventure!!!
Learn about how we got started and more about what we provide!!!
Ask Us Anything
We offer one of a kind Tiki Tours for a party of 6 to enjoy all the beautiful sites that the bays and beaches of Saint Pete, Florida have to offer. Grab your friends, B.Y.O.B. and we'll take care of the fun!!!
Saint petersburg, FL
[email protected] | (727) 344-9631
St Pete Tiki Tours
Review Highlights
" Our group of four had the BEST day out on the water with Captain Logan ! " in 5 reviews
" Stopped at a beautiful sandbar where we had so much fun, we extended our trip another house and a half. " in 3 reviews
" The boat was in great shape very comfortable to ride on and the cooler kept our drinks ice cold! " in 3 reviews
Location & Hours
Suggest an edit
5000 92nd St N
St. Petersburg, FL 33708
Other Boat Tours Nearby
Jungle Erv's Airboat Tours - Wilderness
We offer exclusive airboat tours on private land through a maze of mangroves. Jungle Erv's is the longest continuously-running airboat tour company in Everglades City, delighting generations of locals and visitors alike for four… read more
in Boat Tours
Margaritaville at Sea
Candi C. said "My husband and I were choosing a friend in Ft Lauderdale. My husband twisted that I look up a day cruise. Margaritaville looked like what we were looking for, but the reviews were iffy. It was our first cruise so we decided to take…" read more
in Boat Tours, Boat Charters, Travel Services
About the Business
Business owner information
Tiki Tours T.
Business Owner
Free all-day parking at pick-up location, Bay Pines Marina! Call ahead for to-go food and drinks available from Bay Pines Marina's Harbor Master Tiki Grille (727-256-3383), or hang out after your tour! On-board private restroom - no need to wait until you get back on land! Listen to the music of your choice or the latest tiki tunes with our 4 speaker Bluetooth system. Up to 6 passengers. This is a United States Coast Guard rule not ours. No exceptions! The Tiki Boat can be used for dolphin watching, cruising to the sandbar or nearby islands, exploring the water around John's Pass, going to one of the area's waterfront restaurants, hosting happy hour, sunset cruises and many more other fun activities! …
Ask the Community
Ask a question
Yelp users haven't asked any questions yet about St Pete Tiki Tours .
Recommended Reviews
1 star rating Not good
2 star rating Could've been better
3 star rating OK
4 star rating Good
5 star rating Great
Select your rating
Overall rating
Friends and I down from Va and met up with a friend here in Tampa to do this sunset cruise! It did not disappoint and we LOVED our captain Logan. He treated us well and very knowledgeable when answering our questions. The sunset was AMAZING. I highly recommend this!!
Tiki Bar Cruise
What a great time, 6 of us for 1.5 hrs and we had a blast, saw some dolphins, and looked at all the poor peoples houses on the water..
See all photos from Glenn C. for St Pete Tiki Tours
Had a great time on the water with Captain Logan. He guided us thru the bay on an awesome tiki style pontoon boat built to look like a bar. Seats 6 people and 2 hours was enough to get a taste for the area and see some sights. We saw dolphins, went to explore an island and toured some of the fancy looking homes along the bay. They have a small toilet on the boat and a Bluetooth speaker system that you can hook your phone up to. They also provide an ice chest full of ice. We had a lovely day on the water. Would definitely recommend this activity and would spring for the 4 hour trip if you can swing it!
Kyle was an amazing host on the water for the day. Would absolutely go again! Felt safe and had a blast!
Our group of four had the BEST day out on the water with Captain Logan! The vessel is a boat with a Tiki Bar built right on top. The seating are barstools, so it's like a moving bar on the water. And it has a very necessary amenity - there is a marine toilet! We went out for a 4 hour trip at 12:30pm, saw some dolphins, went searching for manatees, cruised into St. John's Pass and the Gulf, stopped at a sandbar, and had a dance party. Really fun times! You bring your own food and drinks, and they have a cooler for you to keep stuff cold. Note that there is a place at the Bay Pines Marina where you can get food to bring onboard. We grabbed some fries and onion rings and they were good. This is a perfect way to spend part of the day whether you live in FL and don't yet own a boat (us) or your visiting FL and want to enjoy some time on the water (our friends). Can't wait to do it again the next time we have visitors in town or just want to get on the water.
HIGHLY RECOMMEND. Hour and a half flew by. Relaxing and fun and they take you to a beautiful sandbar you can get out in the water and swim around for a little. Bring your own drinks and will play your music for you.
Had a wonderful time on a cruise with Logan as our Captain. I highly recommend the sunset cruise that we did because of the beautiful scenery and the boat was so smooth in the water. Five stars all the way!!
We had an amazing sunset cruise! Our captain was was very experienced on the water. The boat was in great shape very comfortable to ride on and the cooler kept our drinks ice cold! St Lete Tiki Tours was unlike other tiki cruises in the area - we were able to handle the channels throughout the John's Pass area easily exploring Treasure Island as well, not to mention our boat had a bathroom on board! Sunset was breathtaking as the dolphins swam all around us. I highly recommend St Pete Tiki Tours!
I had the best time on my tiki tour with Captain Logan! The boat is spacious enough to comfortably fit 6 passengers and the captain. The boat is extremely clean and I love that they have a private restroom on board! My family and I loved our sunset tiki tour- Logan brought us out to open water overlooking a gorgeous pastel Florida sunset. Definitely book this if you're looking for a unique and fun Florida excursion!!
Florida sunset
Front deck of the Tiki Boat. Plenty of space to lay out and catch some rays!
Was excited for this, and it definitely exceeded my expectations. Had the boat to ourselves complete with bluetooth speakers and a cooler. Stopped at a beautiful sandbar where we had so much fun, we extended our trip another house and a half. Logan was an awesome guy/captain/drink deliverer! Would 100% recommend this tour!
4 other reviews that are not currently recommended
Tampa Bay Marine Group
Tampa Bay Marine Group offers private boat charters in both Tampa and St. Petersburg Florida. It's time to treat yourself to a great day on the water! Our fun, experienced US Coast Guard Licensed Captains will take the wheel so you… read more
in Boat Charters, Boat Tours
Top Knotch Tiki
2.3 miles away from St Pete Tiki Tours
Mad Beach Loves a Party! Join us for a Florida experience of a lifetime. read more
Collections Including St Pete Tiki Tours
St Pete Beach
People Also Viewed
St. Pete Coastal Cruises
Cruisin Tikis Clearwater
Schooner Clearwater
Charter Finders
Dolphin Quest
Island Boat Adventures
The Tropics Boat Tours
Suncoast Watersports
Pier Dolphin Cruises
Best of St. Petersburg
Things to do in St. Petersburg
Find more Boat Tours near St Pete Tiki Tours
Browse Nearby
Restaurants
Dinner Cruise
Jet Ski Rental
Dolphin Watching
Boat Tours Near Me
People found St Pete Tiki Tours by searching for…
Day Activities St. Petersburg
Dolphin Watching St. Petersburg
Outdoor Activities St. Petersburg
Party Boat St. Petersburg
Pontoon Boat Tour St. Petersburg
Sunset Cruise St. Petersburg
Tiki Bar Boats St. Petersburg
Tiki Cruise St. Petersburg
Tiki Tours St Pete Fl St. Petersburg
Water Activities St. Petersburg
Waterfront Bars St. Petersburg
Waterfront Restaurants St. Petersburg
Related Cost Guides
Town Car Service