Awards Season
Big Stories
Pop Culture
Video Games
Celebrities
National Dog Month: The 21 Best Movie Dogs Ever
Dogs are synonymous with companionship. That means dogs tend to make great characters in movies about that very topic. Throughout the history of movies — and, really, if we're being honest, the history of storytelling in general — dogs have been important to the way we explore concepts like love, loyalty and friendship.
August is National Dog Month, so what better way to celebrate than with a roundup of some of the best, funniest, sweetest, bravest, clumsiest and smartest dogs to ever sniff around the silver screen? Your list may differ, but for our money, these are the dogs that most easily snuggled their way into our hearts over the years.
Hooch in Turner & Hooch (1989)
Hooch, a gigantic French mastiff, really might be the greatest movie dog ever. Many of the movies on this list have dogs at their center, but Hooch gets a starring role in a buddy cop comedy alongside one of the best actors of his generation, Tom Hanks.
The pair team up to solve a mystery after Hooch's owner is murdered down at the docks one night. Turner reluctantly agrees to care for Hooch when the local veterinarian, Emily (Mare Winningham), insists that it'll be good for Turner to care for a dog. They develop a sweet bond over the course of the movie. For what's ostensibly a pretty silly comedy, the end of this movie is pretty darn emotional, and assures Hooch a place on the list of indelible movie dogs.
Old Yeller in Old Yeller (1957)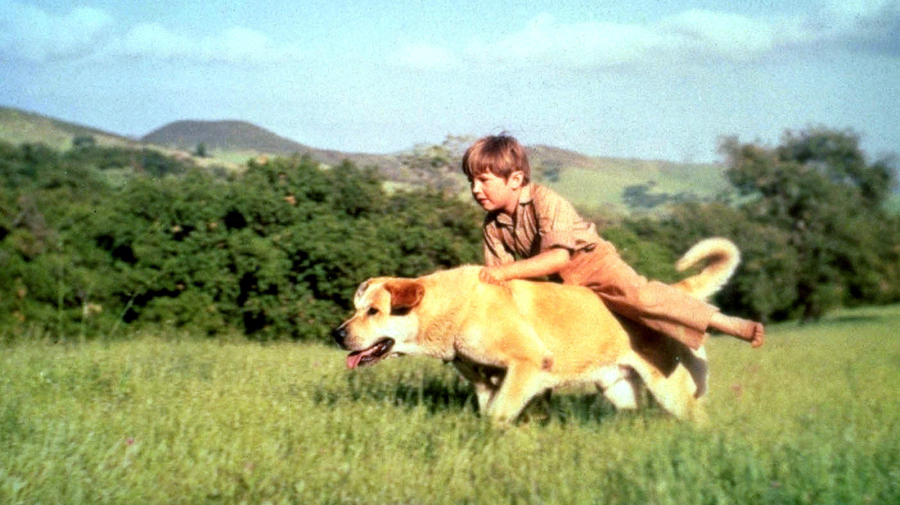 Old Yeller is not the oldest movie on this list, but it's probably the platonic ideal of a dog movie. The whole thing is designed to pull on the heart strings of dog lovers as much as possible. It all begins when Old Yeller shows up on the farm of Jim Coates and does some damage in a field. Jim's older son, Travis, tries to drive Old Yeller off, but the younger Arliss wants to keep the dog around.
When Old Yeller saves Arliss from a bear attack, he wins over the family for good. It's a cruel world though, and a rabies outbreak looms. Chances are you know where it goes from here, but Old Yeller is a classic; it's been one of the go-to tearjerkers in cinema for over half a century now.
Chance and Shadow in Homeward Bound: The Incredible Journey (1993)
Homeward Bound , although it features animals, is a pretty standard movie about a long journey home. Chance, Shadow and Sassy — two dogs and a cat, respectively — fear they've been abandoned at a ranch while their owners are temporarily out of town, and decide to travel home on their own to reunite with their family.
They suffer many hardships along the way, but really this is a story about a brash youngster (Chance) learning from an older and wiser companion (Shadow). There's also terrific voicework by Michael J. Fox (Chance), Sally Field (Sassy) and screen legend Don Ameche (Shadow) in the second-to-last role of his nearly 60-year career.
Buddy in Air Bud (1997)
As a true blue hoops fan, I'll admit I always figured Air Bud was a little beneath me. I finally got around to watching it — pretty much as a joke, really — over the course of the pandemic, and it turns out it's a really charming little movie.
At the center of it is Buddy the golden retriever, who happens to be an absolute bucket , as the kids say. Buddy can score; Buddy can pass; Buddy is a lockdown perimeter defender with great help instincts. You think I'm kidding, but I'm really not. This movie is full of basketball wisdom, including a scene in which Coach Chaney (a totally dialed-in performance by the great Bill Cobbs) makes the team play without a ball so they can learn how to communicate better. Excellent stuff, as far as I'm concerned.
Benji in Benji (1974)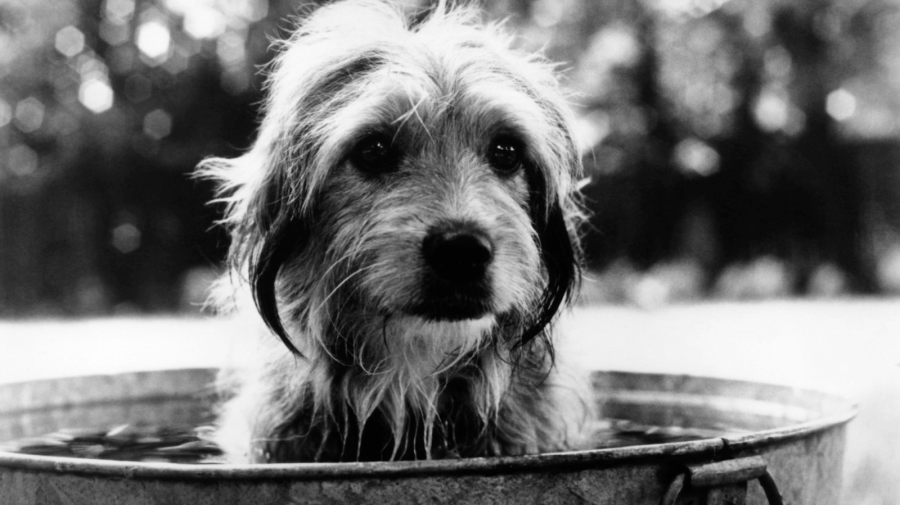 Benji was such a popular movie dog that he spawned an entire film franchise between the 1974 original directed by Joe Camp and the 2018 Netflix original of the same name directed by Joe's son, Brandon Camp.
The original — a story of a transient dog looking for a home and foiling a group of literal kidnappers in the process — is really fun. Somehow, this little dog movie ended up crashing the top 10 in the box office for 1974. Plus, Benji is just incredibly cute. Add it all up, and there are certainly plenty of worse ways to spend the brief runtime of 84 minutes.
Skip in My Dog Skip (2000)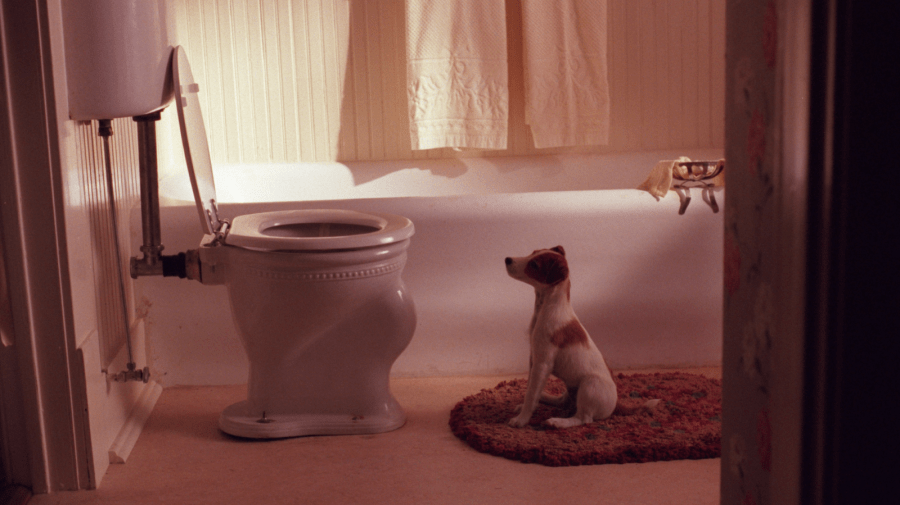 My Dog Skip is a movie dripping with nostalgia. It's set in the 1940s and is the story of a man looking back on his childhood and the very special relationship he had with his dog. Really, it's a story about the loneliness of growing up, especially as an only child. It features the first major performance from child actor Frankie Muniz, who became famous playing the title character in the show Malcolm in the Middle around the same time.
The movie is based on a book of the same name — an autobiographical story about a man named Willie Morris. Through the use of an extended flashback, and alongside the relationship between Willie and Skip, we learn about life in Mississippi at the time, but we also experience issues of the time like racism and post-traumatic stress from war.
Bruiser in Legally Blonde 2: Red, White & Blonde (2003)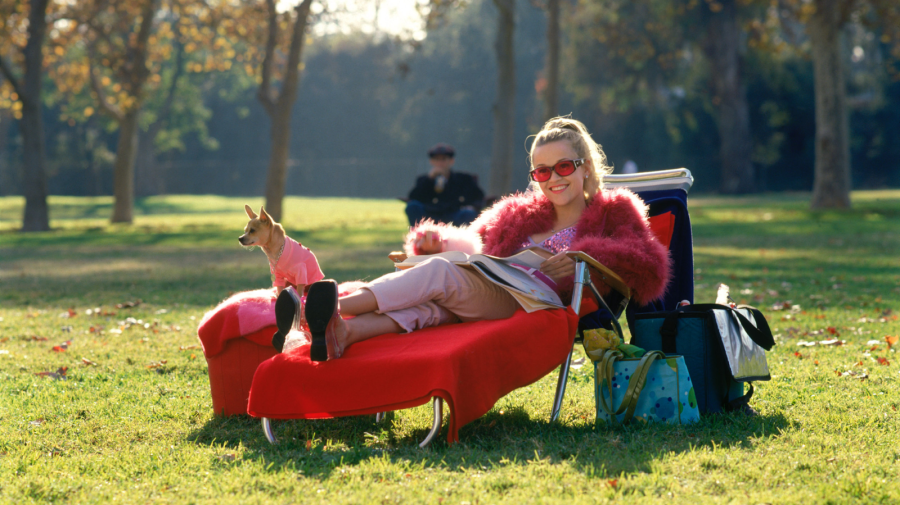 The original Legally Blonde is one of the funniest movies of the past 25 years, and that's due in no small part to Bruiser, the hilarious little chihuahua who is Elle Woods' (Reese Witherspoon) companion. Nevertheless, here we're shouting out the sequel, because the sequel features Bruiser a little more prominently.
In it, Elle Woods ends up fighting for animal rights after learning that Bruiser's mother is being used for testing by a cosmetics company. Eventually, she secures the release of Bruiser's mother, and everything ends well for Bruiser, too.
Frank the Pug in Men in Black II (2002)
Another dog who shows up in multiple films across a franchise is Frank the Pug from the Men in Black movies. Frank is, of course, an alien in disguise as a pug here on Earth in order to blend in. Which is hilarious, because he's a speaking dog.
Frank has only a brief role in the first Men in Black movie, but he really shines in MiB II . He ends up serving as J's (Will Smith) partner, and gets to do fun gags like singing "I Will Survive" by Gloria Gaynor while riding in the car with J on the way to a crime scene. Plus, it's just always funny to see a little dog wearing a suit.
Brandy in Once Upon a Time in Hollywood (2019)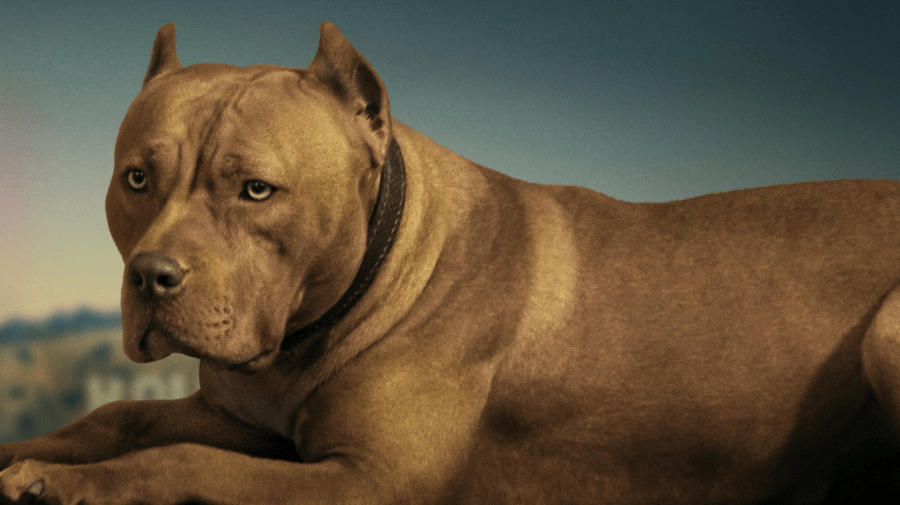 Brandy might very well be the hero of Quentin Tarantino's 2019 masterpiece Once Upon a Time in Hollywood . The movie is a kind of historical fantasy that rewrites the events of the famous Manson Family murders of 1969. Brandy, a pit bull, is the incredibly well-trained dog of stuntman Cliff Booth (Brad Pitt).
Brandy gets her moment when she attacks Sadie on Cliff's command during the film's climax. The moment is really satisfying — the culmination of a sweet relationship between a dog and her master. It's all part of a pretty harrowing display of violence, but there's a kind of sweetness to this fantasy of a world where the people murdered by the Manson Family in 1969 get to live on.
Baxter in Anchorman: The Legend of Ron Burgundy (2004)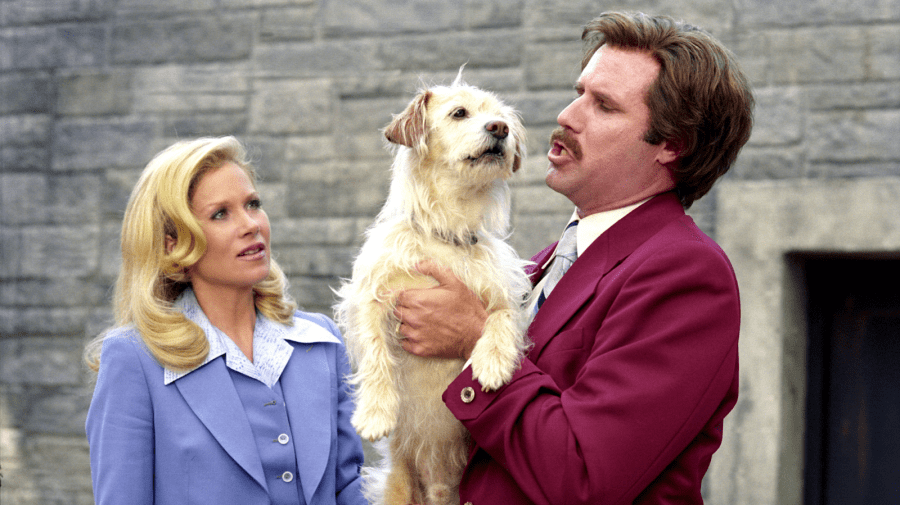 Baxter is a little miracle of a dog in the hilarious 2004 comedy Anchorman: The Legend of Ron Burgundy . We meet Baxter early on in the movie, when we get to hear about how he "ate a whole wheel of cheese" and get to see how he sleeps in the same pajamas as Ron.
Later, in a bizarre case of road rage gone way too far, Baxter is "punted" off a bridge by an angry motorcyclist (Jack Black). That event leads to Ron Burgundy's downfall, and he loses his job and slips into a depression. Of course, things get resolved when Ron manages to save the day in the bear pit at the San Diego Zoo, but even that is mostly due to Baxter, who shows up — having miraculously survived — and manages to communicate with the bears. On the spectrum of heroic acts by dogs on this list, Baxter's exploits rank him near the top.
Marley in Marley & Me (2008)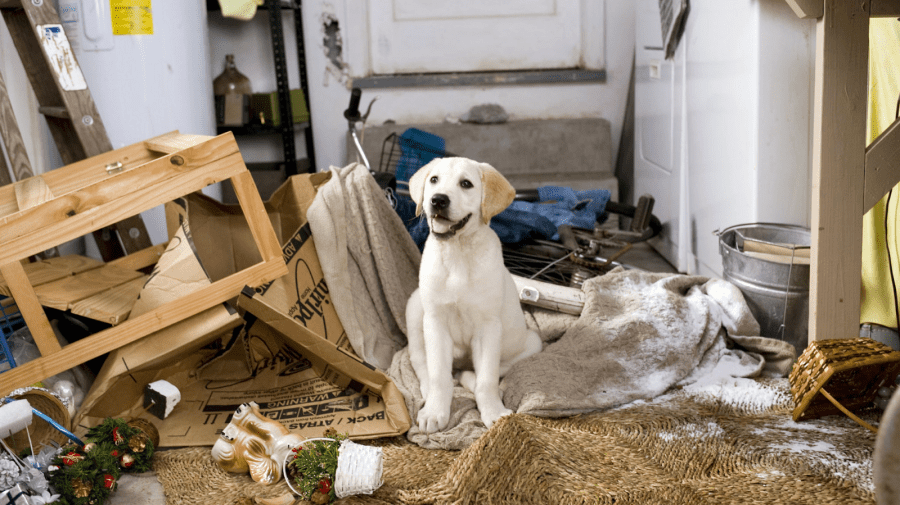 Another tearjerker about the relationship between a dog and a family, Marley & Me follows a dog throughout his entire life. We start when John (Owen Wilson) and Jenny (Jennifer Aniston) relocate to South Florida. They decide to get a dog in an attempt to see if they're really ready to start a family, and they name him Marley after Bob Marley.
From there, we follow Marley through his life with the family. He becomes indispensable in all kinds of ways. Of course, the family loves him, but his hijinx also becomes the subject of John's successful newspaper column, which is the backbone of his career. As with all movies that follow a character over the course of an entire lifetime, it's pretty devastating when we get to the end, but this movie will absolutely warm your heart before it wrecks you.
Beethoven in Beethoven (1992)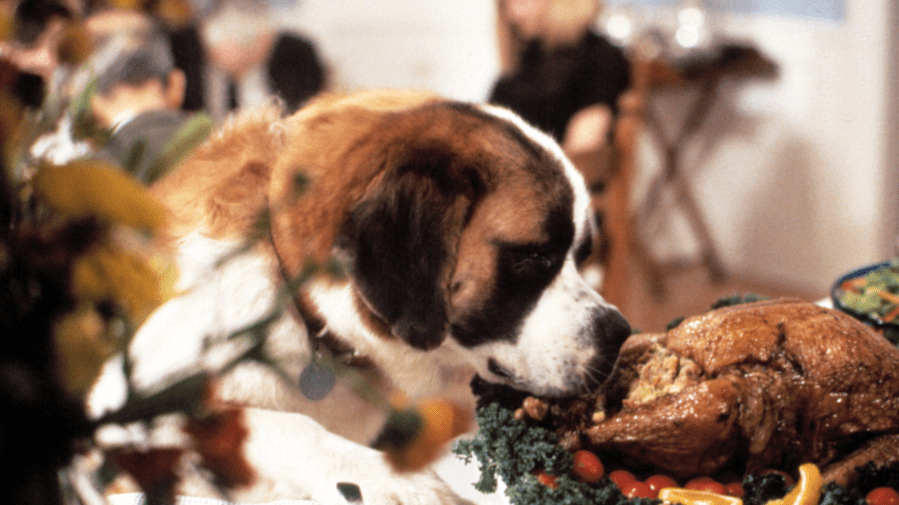 Beethoven is another movie about a family and a dog, and it was so successful — it made nearly $150 million on a budget of less than $20 million — that it spawned seven feature film sequels and a brief animated television show. The original is the golden standard though, and adds in some pretty high stakes to the usual family movie formula.
Beethoven himself is a gigantic Saint Bernard, and the movie's high stakes are that Beethoven's veterinarian Dr. Varnick (Dean Jones) is actually involved in doing a bunch of evil experiments on dogs with large skulls. Beethoven's family, the Newtons, end up saving the day, led by George (Charles Grodin) who overcomes his initial reluctance to Beethoven to finally fall in love with the dog.
Lassie in Lassie Come Home (1943)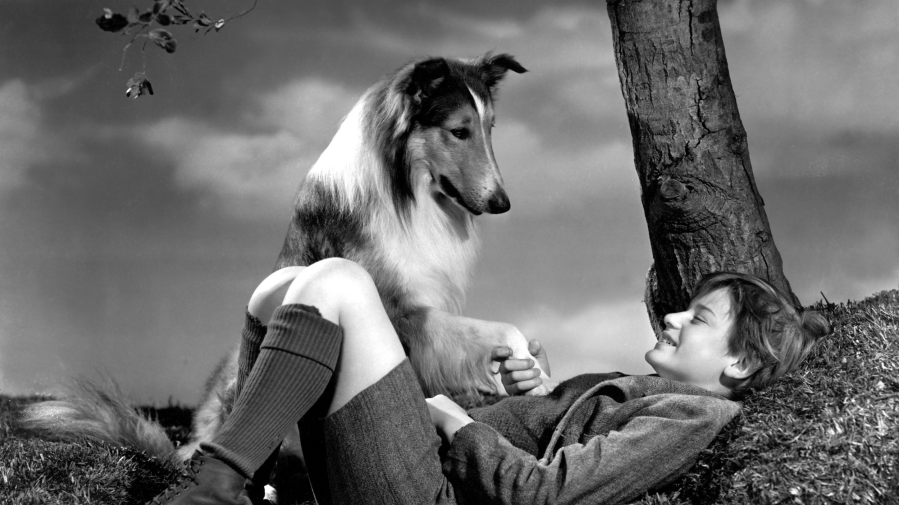 Lassie Come Home is basically the prototype for many of the other films on this list. It's about the love between a boy and his dog, it's about the importance of dogs as emotional companions during difficult times, and it's also an adventure movie about a dog who goes on a journey. Its DNA is everywhere in the history of movies about dogs.
The basic plot is that a family has to sell their beloved dog, Lassie, to a rich Duke during the Great Depression in England. Lassie continually escapes to get back home, until finally the Duke moves to Scotland, but his granddaughter lets Lassie escape after realizing that the dog is miserable. Lassie braves a long journey to finally make it to her true home.
Beyond this original film though, you may remember Lassie from the long-running TV series (1954–1973) or one of the countless other movies and books about the sweet Rough Collie.
Winn-Dixie in Because of Winn-Dixie (2005)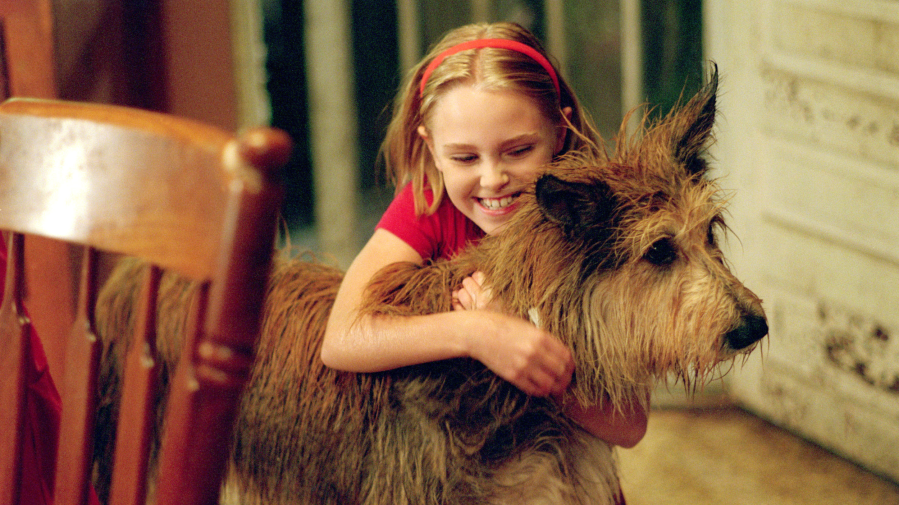 Based on a children's novel of the same name by Kate DiCamillo, this film by the great director Wayne Wang is a charming family story about a scruffy dog who's named Winn-Dixie after the supermarket where he's found. It features AnnaSophia Robb in her first film role as main character Opal Buloni.
Opal and her preacher father (Jeff Daniels) move to a small town in Florida, and Opal claims Winn-Dixie at the supermarket in order to keep the dog from being sent to the pound. Through Winn-Dixie, Opal meets all kinds of people in town including a sweet old librarian (Eva Marie Saint), a recovering alcoholic (Cicely Tyson) and a shy ex-convict musician named Otis (Dave Matthews). In the end, it's a sweet story about the way dogs bring people together.
Toto in The Wizard of Oz (1939)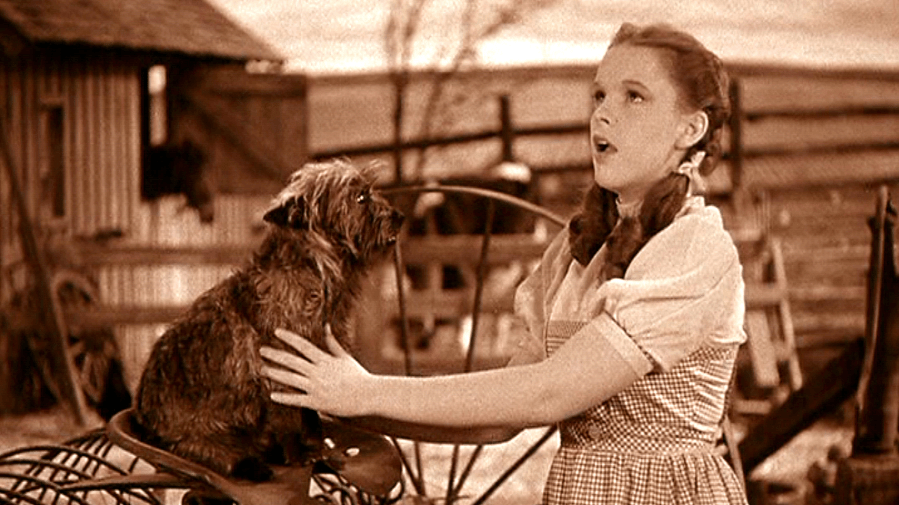 Where to begin with Toto, Dorothy's ( Judy Garland ) legendary companion in the classic Victor Fleming film The Wizard of Oz ? It's impossible to think of Toto without conjuring visions of Margaret Hamilton as The Wicked Witch of the West shrieking, "I'll get you, my pretty! And your little dog, too!"
Besides being an amazing little companion, Toto has a key role in the film. He's the one with the curiosity of spirit to pull back the curtain and reveal the fact that the Wizard is really just an ordinary person using tricks of machinery to project a huge, ghostly image of himself. Without Toto, maybe we'd still be cowering in fear; it's an important reminder.
All the Sled Dogs in Eight Below (2006)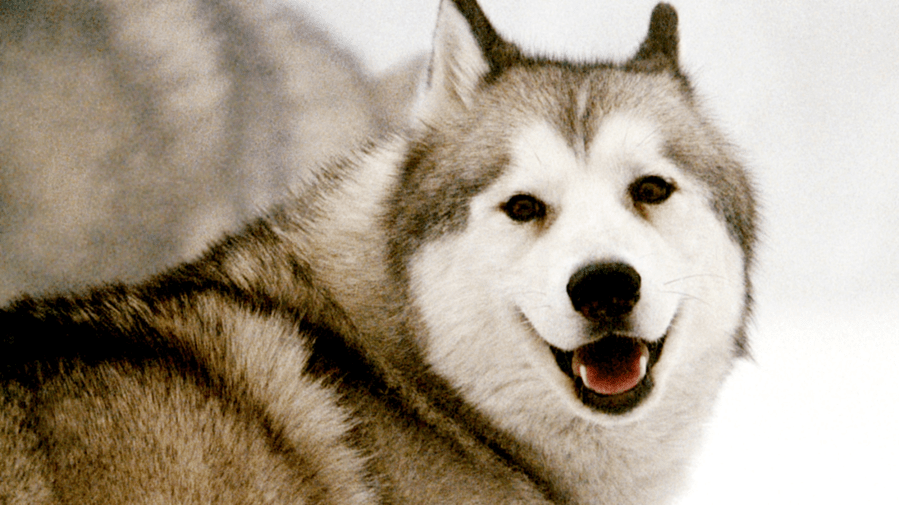 Eight Below is a survival drama starring the late Paul Walker as a sled dog guide named Jerry who's working at a research station in Antarctica. When a scientist needs help getting to a site to find a rare meteorite, Jerry has to take him in spite of dangerous weather conditions. Things go awry when the scientist breaks his leg; the humans are able to be evacuated, but the plane that's supposed to return for the dogs can't make it.
From there, it becomes mostly a movie about dogs. They survive by taking care of each other. Wordlessly, we get to watch them do their thing, persevering in the face of incredibly difficult conditions. When the surviving dogs are reunited with Jerry at the end, it's one of those moving moments only dogs can elicit in an audience.
Hachi in Hachiko: A Dog's Story (2009)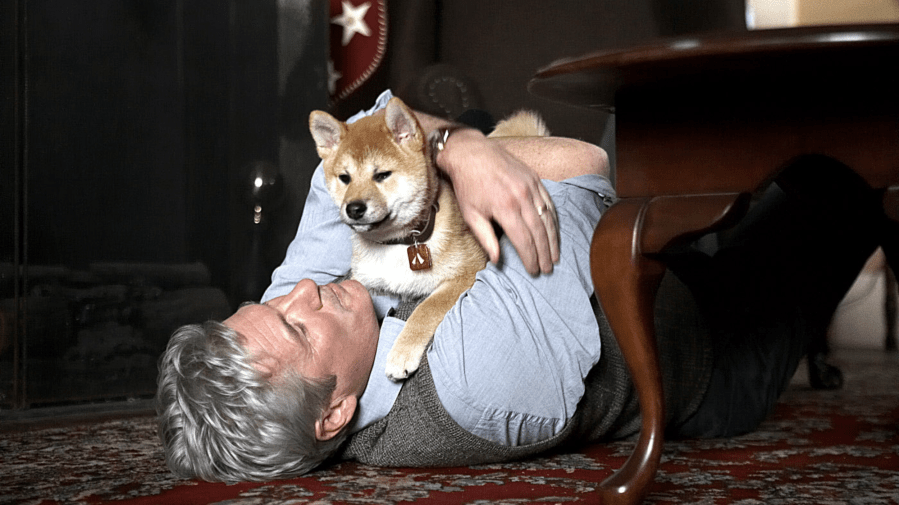 This film is a remake of a 1987 Japanese film called Hachikō Monogatari. It's also a retelling of a true story of a dog who would accompany his person to the train station every morning and be there to walk him home in the evening.
The story is told in flashback by a young boy in school. It's the story of his personal hero, his grandfather's dog, Hachiko. When his grandfather (Richard Gere), a professor, suffers a fatal stroke in the classroom one day, the dog continues waiting for him day after day. In the end, the dog is the boy's hero for teaching him the importance of loyalty, and of remembering the people (and animals) you love.
Lucy in Wendy and Lucy (2008)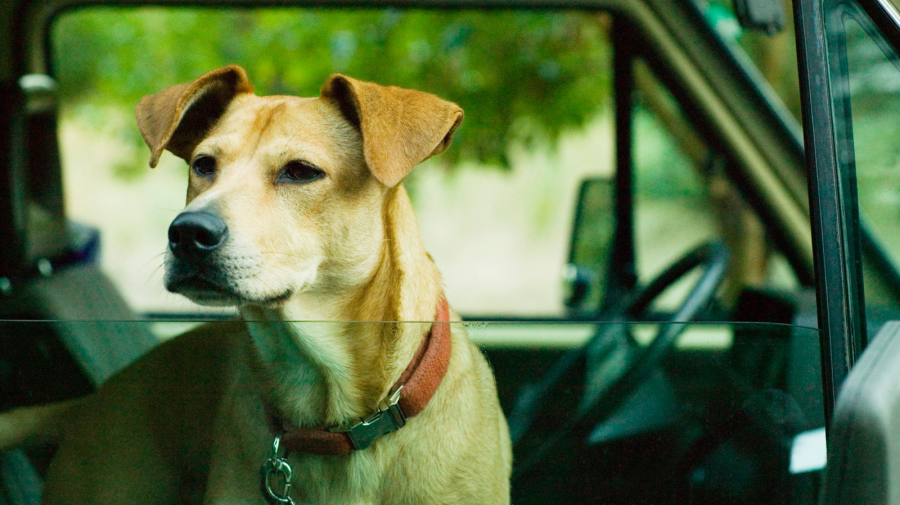 Wendy and Lucy is a quiet and devastating drama by the great independent director Kelly Reichardt ( First Cow ). Possibly the most heartbreaking movie on this list, it's a story about a woman, Wendy (Michelle Williams), traveling to Alaska in the hopes of finding work. When her car breaks down in Portland, she's stranded with her dog Lucy — she has no money and no place to go.
Out of desperation, Wendy attempts to steal food from a grocery store, but she's caught and arrested. When she's finally released, she returns to find Lucy is gone. A security guard helps Wendy track Lucy down, and it turns out Lucy was taken to a pound and rehomed. Crushingly, Wendy has to leave Lucy there, but promises to return someday.
The Art of Racing in the Rain (2019)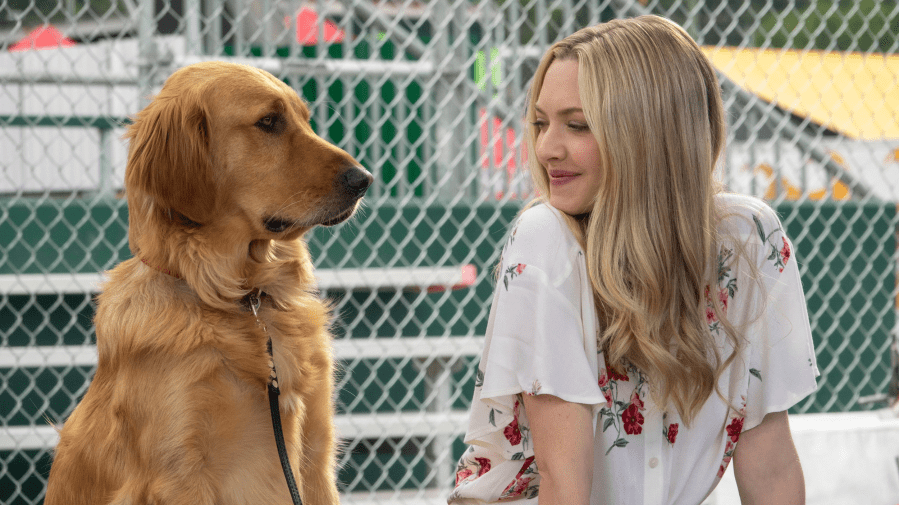 The Art of Racing in the Rain has the unique distinction of being a film told in flashback by a dog . Many of the movies on this list are flashbacks of people remembering the special relationships they had with their dogs, but this one is the reverse.
Kevin Costner provides the voice of Enzo, the dog of a race car driver named Denny. At the beginning of the movie, a dying Enzo begins to tell us the story of his life, and we follow him through his life alongside Denny. Based on the 2008 Garth Stein novel of the same name, this 2019 movie — and its main character Enzo — immediately became a classic in the canon of movie dogs.
Verdell in As Good As It Gets (1997)
Not a lot of movies on this list got attention from the Academy Awards, but this one did. It was nominated for Best Picture, and its two stars, Jack Nicholson and Helen Hunt, won for Best Actor and Best Actress, respectively.
But in many ways it's the sweet little Brussels Griffon named Verdell who really steals the show. Nicholson plays a writer named Melvin Udall, notorious for being a jerk to basically everyone around him. When his artist neighbor, Simon (Greg Kinnear), is assaulted, Melvin is pressured by Simon's agent to care for his dog, Verdell.
There's a love story going on in which Melvin becomes infatuated with Carol (Hunt), a waitress at his favorite restaurant. She's the only person who can put up with Melvin, and eventually her influence makes him a better person. Really though, Melvin's care for Verdell is the first hint we get that there's good in Melvin, and that makes Verdell a central character as far as I'm concerned.
Every Single Dog in Best in Show (2000)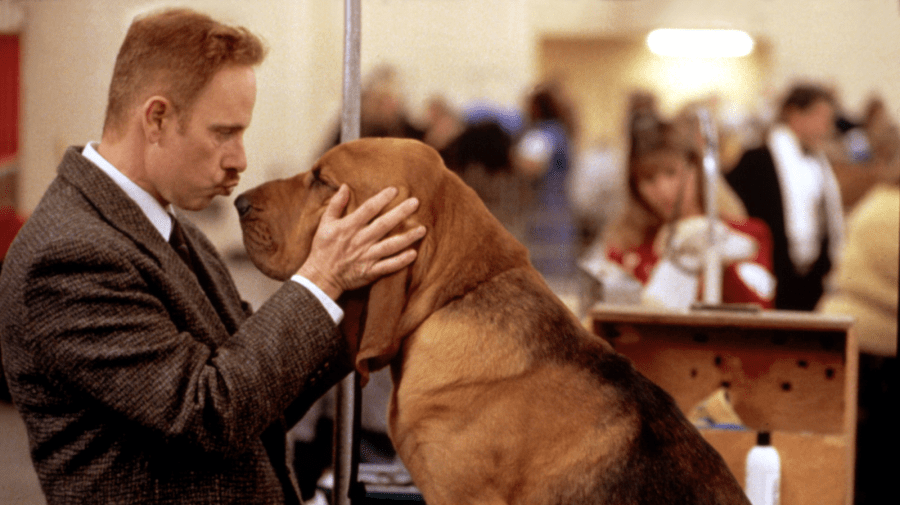 We'll wrap up by shouting out Christopher Guest's comedic mockumentary masterpiece, Best in Show . The 2000 film follows a series of contestants in a prestigious dog show, and we learn that the strangeness of these humans doesn't even begin to be matched by the strangeness of their dogs.
Every dog in this movie is completely perfect. You can't help but be cracked up at the truth of the old adage that people end up looking like their dogs. My favorite, however, is pictured above: Christopher Guest himself as Harlan Pepper, the bloodhound trainer, with his beautiful dog Hubert. Obviously, I love all dog movies to some degree, but this one is probably my favorite.
MORE FROM ASK.COM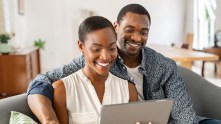 Two former Army Rangers are paired against their will on the road trip of a lifetime. Briggs (Channing Tatum) and Lulu (a Belgian Malinois) race down the Pacific Coast to get to a fellow sol... Read all Two former Army Rangers are paired against their will on the road trip of a lifetime. Briggs (Channing Tatum) and Lulu (a Belgian Malinois) race down the Pacific Coast to get to a fellow soldier's funeral on time. Two former Army Rangers are paired against their will on the road trip of a lifetime. Briggs (Channing Tatum) and Lulu (a Belgian Malinois) race down the Pacific Coast to get to a fellow soldier's funeral on time.
Reid Carolin
Channing Tatum
Brett Rodriguez
Ryder McLaughlin
360 User reviews
121 Critic reviews
61 Metascore
See production info at IMDbPro
Ranger Jones
Army Ranger
Sgt. Kiernan
Fort Lewis MP
Squad Leader
Kennel Master
All cast & crew
Production, box office & more at IMDbPro
More like this
Did you know
Trivia When the pandemic hit, and production was halted for nine months, Tatum and the trainers got ample time to work with each dog to get them ready for the movie. The result was a powerful bonding experience and ended with three of the trainers deciding to adopt the dogs they worked with.
Goofs When Briggs is leaving Los Angeles, the highway sign has distances in kilometers not miles.
Jackson Briggs : That's MY unicorn!
Crazy credits At the very end of the credits, the standard legal statement "This motion picture is protected by the copyright laws of the United States of America"...etc. appears. The last sentence is "Our love for dogs is real".
Connections Featured in The Graham Norton Show: Andrew Garfield/Dawn French/Channing Tatum/Rob Beckett/Natalie Imbruglia (2022)
Soundtracks How Lucky Written by John Prine Performed by Kurt Vile featuring John Prine Courtesy of Matador Records
User reviews 360
Feb 21, 2022
How long is Dog? Powered by Alexa
I can't muster watching films where a prominently featured animal dies - Does the dog die in this one?
February 18, 2022 (United States)
United States
Official site
Santa Clarita, California, USA
Metro-Goldwyn-Mayer (MGM)
CAA Media Finance
FilmNation Entertainment
See more company credits at IMDbPro
$15,000,000 (estimated)
$61,778,069
$14,883,928
Feb 20, 2022
$84,774,243
Technical specs
Runtime 1 hour 41 minutes
Dolby Digital
Related news
Contribute to this page.
See more gaps
Learn more about contributing
More to explore
Recently viewed
site categories
'flora and son' songwriter-composer gary clark on how he and director john carney found the high life – sound & screen film, breaking news.
Film Review: Channing Tatum In Road-Trip Buddy Comedy 'Dog'
By Todd McCarthy
Todd McCarthy
Film Critic & Columnist
More Stories By Todd
'Old Dads' Review: Bill Burr & Friends Scream, Yell And Curse Through A Way-Over-The-Top Netflix Comedy
'Expendables 4' Review: Jokey, Fight-Filled Last Hurrah Feels Like 'Meg 2: Part 2'
Toronto Film Festival 2023: All Of Deadline's Movie Reviews
Not since Abbott and Costello in Buck Privates in 1941 and Lewis and Martin in At War With the Army in 1950 has a film raised greater concern about who they're letting into the military these days than does Dog . Although he certainly possesses the requisite physique, Channing Tatum 's Army Ranger Briggs most of the time seems like such a screw-up that you'd definitely want him on the other guy's team. The power of this Dog lies in its half-canine/half-human buddy comedy, which is genial enough, even if its aim is scatter-shot and its comic tone decidedly hit-and-miss.
Since his appearances in Logan Lucky and Kingsman: The Golden Circle five years ago, Tatum hasn't been seen in any significant mainstream theatrical films. He did, however, co-produce a 2017 HBO documentary, War Dog: A Soldier's Best Friend , about special ops canines that led him and longtime production partner Reid Carolin into producing and co-directing the simply and, from their point of view, hopefully not prophetically titled project. The result is a mangy thing that underwhelms but nonetheless does have its moments.
Related Stories
Box Office Preview: Tom Holland & Mark Wahlberg's 'Uncharted' Looks To Score $70M+ Global Haul This Weekend
The Dolby Institute x Ghetto Film School Announce Winners Of The New Voices. New Visions. Competition
Briggs' mission is far from impossible; to the contrary, it couldn't be simpler for anyone with a driver's license: To deliver a fellow Army Ranger's dog Lulu from Fort Lewis, in Washington State, to Arizona in time for the man's funeral a couple of days hence. The challenge for the screenwriters (Carolin and longtime Tatum assistant Brett Rodriguez) was to come up with enough goofy gags, physical impediments and screw-ups along the way to fill out the 101-minute running time.
By definition, this is as road movie, with all the visual and circumstantial opportunities that implies. The medium-sized Belgian Malinois are smart and extremely loyal and in recent times have become a dog of choice for the military and police. But they're also fierce, tenacious and, if provoked, quite dangerous, as Briggs discovers to his peril on more than one occasion.
The filmmakers take the useful old slogan "What can go wrong will go wrong" as far as they can, which also means that the muscle-bound Briggs has to be about as stupid as military regulations permit. Lulu is an orphan now and in no mood to accommodate or make nice with a soldier far less distinguished and capable than she is. Whether his passenger likes it or not, Briggs talks a mean streak to her, revealing a personality who is scattered, confused, maladroit and certainly not confidence-inspiring. He comes across as nothing short of a big-time loser.
Like a guy who's obviously spent far too much time alone, Briggs prattles on and on, letting any dimwitted thought that comes into his head cascade right on out of his mouth. Now saddled with a companion, he talks to Lulu as well, often angrily and sometimes so much that she just wants to get away. Briggs and Lulu quickly fall into the routines of a thorny old couple, which is amusing and annoying in equal measure.
Silly comedy and mishaps define much of the action, much of which is punctuated by Briggs talking to himself and, due to her proximity, to Lulu. If Lulu were a person, all the complaint-ridden muttering would be cut short. But in these odd circumstances, Briggs has free rein to go on and on about life's unfairness, his own distress and whatever else parks itself in the underserved nooks and crannies of his undernourished, free-range mind. It's not the kind of thing one would have expected from the hunky and handsome Channing, but his litany of woes is so abundant that this, along with his seemingly irrepressible bungling, emerges as almost sweet, something you'd like to see him turn around. All the same, his nasty, violent, frustrated side is never submerged for too long.
Another filmmaker might have brought more modulation and depth to this material, perhaps something more along the lines of Hal Ashby and Robert Towne's The Last Detail , which also involved a journey by servicemen occasioned by the death of another. For their part, Tatum and Carolin took a different tack and could have done worse, but could also have done much better.
Dog hits theaters Friday from MGM / United Artists Releasing .
Must Read Stories
'the marvels' headed to disney mcu's lowest opening ever with $47m-$55m.
John Bailey, 'Ordinary People' DP And Former AMPAS President, Dies At 81
Revamps & downsizes original programming unit; two svps among exec departures, amid a deal, california pols on government's role in labor movement.
Subscribe to Deadline Breaking News Alerts and keep your inbox happy.
Read More About:
Deadline is a part of Penske Media Corporation. © 2023 Deadline Hollywood, LLC. All Rights Reserved.
Log in or sign up for Rotten Tomatoes
Trouble logging in?
By continuing, you agree to the Privacy Policy and the Terms and Policies , and to receive email from Rotten Tomatoes.
By creating an account, you agree to the Privacy Policy and the Terms and Policies , and to receive email from Rotten Tomatoes and to receive email from the Fandango Media Brands .
By creating an account, you agree to the Privacy Policy and the Terms and Policies , and to receive email from Rotten Tomatoes.
Email not verified
Let's keep in touch.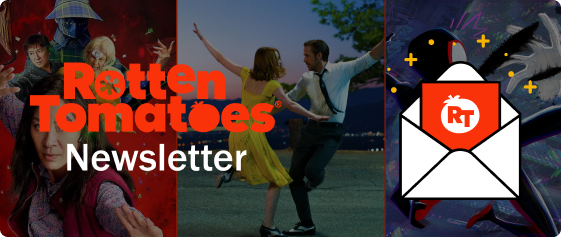 Sign up for the Rotten Tomatoes newsletter to get weekly updates on:
Upcoming Movies and TV shows
Trivia & Rotter Tomatoes Podcast
Media News + More
By clicking "Sign Me Up," you are agreeing to receive occasional emails and communications from Fandango Media (Fandango, Vudu, and Rotten Tomatoes) and consenting to Fandango's Privacy Policy and Terms and Policies . Please allow 10 business days for your account to reflect your preferences.
OK, got it!
Movies / TV
No results found.
What's the Tomatometer®?
Login/signup
Movies in theaters
Opening this week
Coming soon to theaters
Certified fresh movies
Movies at home
Netflix streaming
Amazon prime
Most popular streaming movies
What to Watch New
Certified fresh picks
The Holdovers Link to The Holdovers
Dream Scenario Link to Dream Scenario
Quiz Lady Link to Quiz Lady
New TV Tonight
Colin from Accounts: Season 1
For All Mankind: Season 4
Rap Sh!t: Season 2
The Curse: Season 1
Lawmen: Bass Reeves: Season 1
The Buccaneers: Season 1
JFK: One Day in America: Season 1
De La Calle: Season 1
Most Popular TV on RT
Sex Education: Season 4
All the Light We Cannot See: Season 1
Blue Eye Samurai: Season 1
Loki: Season 2
Black Cake: Season 1
The Fall of the House of Usher: Season 1
Bodies: Season 1
Ms. Marvel: Season 1
Invincible: Season 2
Top TV Shows
Certified Fresh TV
Most popular TV
Certified fresh pick
The Curse: Season 1 Link to The Curse: Season 1
All-Time Lists
Binge Guide
Comics on TV
Five Favorite Films
Video Interviews
Weekend Box Office
Weekly Ketchup
What to Watch
100 Best Christmas Movies of All Time – Classic Christmas Films
61 Best Concert Movies of All Time
What to Watch: In Theaters and On Streaming
RT25: Celebrating 25 Years of Rotten Tomatoes
Loki Season 2 Finale: Where Do We Go from Here?
TV Premiere Dates 2023
Trending on RT
Shop Rotten Tomatoes
Play Daily Tomato
Best Movies of 2023
New on Streaming
New Tomatometer Scores
2022, Comedy, 1h 41m
What to know
Critics Consensus
Dog 's dramatic breed is far from exotic, but solid narrative bones and well-trained work from co-director/star Channing Tatum make for a fetching viewing experience. Read critic reviews
Audience Says
Dog is as heartwarming as you'd hope, but it also tells a sensitive story about the long road to healing after experiencing the horrors of war. Read audience reviews
Where to watch Dog
Watch Dog with a subscription on Amazon Prime Video, rent on Vudu, Apple TV, or buy on Vudu, Apple TV.
Rate And Review
Super Reviewer
Rate this movie
Oof, that was Rotten.
Meh, it passed the time.
It's good – I'd recommend it.
So Fresh: Absolute Must See!
What did you think of the movie? (optional)
You're almost there! Just confirm how you got your ticket.
Step 2 of 2
How did you buy your ticket?
Let's get your review verified..
AMCTheatres.com or AMC App New
Cinemark Coming Soon
We won't be able to verify your ticket today, but it's great to know for the future.
Regal Coming Soon
Theater box office or somewhere else
By opting to have your ticket verified for this movie, you are allowing us to check the email address associated with your Rotten Tomatoes account against an email address associated with a Fandango ticket purchase for the same movie.
You're almost there! Just confirm how you got your ticket.
Dog photos.
DOG is a buddy comedy that follows the misadventures of two former Army Rangers paired against their will on the road trip of a lifetime. Army Ranger Briggs (Channing Tatum) and Lulu (a Belgian Malinois dog) buckle into a 1984 Ford Bronco and race down the Pacific Coast in hopes of making it to a fellow soldier's funeral on time. Along the way, they'll drive each other completely crazy, break a small handful of laws, narrowly evade death, and learn to let down their guards in order to have a fighting chance of finding happiness.
Rating: PG-13
Genre: Comedy
Original Language: English
Director: Reid Carolin , Channing Tatum
Producer: Gregory Jacobs , Peter Kiernan , Brett Rodriguez , Channing Tatum
Writer: Reid Carolin , Brett Rodriguez
Release Date (Theaters): Feb 18, 2022 wide
Box Office (Gross USA): $61.8M
Runtime: 1h 41m
Distributor: United Artists Releasing
Production Co: FilmNation Entertainment, Metro-Goldwyn-Mayer (MGM), Gregory Jacobs, Free Association
Sound Mix: Dolby Digital
Aspect Ratio: Scope (2.35:1)
Cast & Crew
Channing Tatum
Jackson Briggs
Q'orianka Kilcher
Ethan Suplee
Emmy Raver-Lampman
Nicole LaLiberte
Luke Forbes
Ranger Jones
Ronnie Gene Blevins
Homeless Vet
Aqueela Zoll
Patricia Isaac
Cayden Boyd
Amanda Booth
Trent Buxton
Jamaal Lewis
Mathew Trent Hunnicutt
Reid Carolin
Screenwriter
Gregory Jacobs
Peter Kiernan
Brett Rodriguez
Betsy Danbury
Executive Producer
Newton Thomas Sigel
Cinematographer
Leslie Jones
Film Editor
Thomas Newman
Original Music
Laurence Bennett
Production Design
Macie Vener
Art Director
Set Decoration
Avy Kaufman
News & Interviews for Dog
New on Prime Video and Freevee in September 2022
Weekend Box Office Results: Uncharted Scores Biggest Opening of the Year
Critic Reviews for Dog
Audience reviews for dog.
The story is entirely unoriginal and the cliches abound, but Dog still manages to entertain.

Movie & TV guides
Rotten Tomatoes: The Card Game
RT Podcasts: Rotten Tomatoes is Wrong
Rotten Tomatoes Gift Cards
What to Watch - In theaters & streaming
ABC7 Eyewitness News Watch Now
Channing Tatum takes road trip with a canine companion in new movie 'Dog'
Channing Tatum is back at the box office with a story loosely inspired by one of his own dogs, Lulu. The film puts the actor in the director's chair for the first time in this heartfelt drama about love, loss, and redemption.
Channing Tatum is back at the box office with a story loosely inspired by Lulu, a dog he loved. The film also puts the actor in the director's chair for the first time.
"Dog" tells the story of an Army ranger trying to be cleared for work again after an injury. A superior tells him if he wants back in, he must first deliver a fallen sergeant's dog to his funeral. Man and dog head out on a life-changing road trip.
Oh--and the dog is named Lulu, after the beloved pet Channing Tatum lost in 2018.
"She was probably one of the first, like, true purest loves of my life," said Tatum. "She was, like, my little shadow. We didn't go anywhere, do anything without each other. I went up to Big Sur on kind of one of the last few days of her life and went on one last road trip and then, you know, we started the story."
Tatum is in the director's chair, with his longtime friend and collaborator Reid Carolin, who produced the "Magic Mike" movies.
"Imagine going to work with your brother, if you liked your brother, or, you know, your best friend, whatever," said Carolin. "Like, it's just--there's a shorthand there. You can kind of look at each other and just know what you're thinking and kind of what to do. So that's really nice."
This is a road movie - not a war film - but it was important to both men that they captured the right spirit of elite soldiers and their canine partners.
"It was really gratifying when they said, 'I can't believe you guys actually took the time to listen and get it right.' And so that meant a lot," said Carolin.
As for Tatum, he has a very natural way of talking to this dog. And he thanks the real Lulu for that!
"I kind of had been practicing and training for this movie for a really, really long time," said Tatum.
"Dog" is rated PG-13. It's in theaters on Friday, Feb. 18.
Michael Oher paid over $100K for movie and book, court filing says
New film 'Cypher' details rapper Tierra Whack's rise to fame
New musical 'Wish' is 'love letter' to Disney, writer says
'The Marvels' promises new cosmic superhero team up
Top stories.
10 Freeway closed in downtown LA after massive fire at storage yard
Audio reveals new clues after Tarzana man arrested for murder
Man in custody after Ventura County chase; dog refused to leave side
68-year-old Army vet gunned down while watering yard in Riverside
Kayak company speaks out after SoCal woman goes missing in Guatemala
400-pound pet pig confiscated over health concerns: Florida Officials
Bay Area pilot, wife detail what happened before midair scare
Fullerton PD sees spike in car break-ins at schools during drop-offs
Screen Rant
Dog: channing tatum says movie was inspired by road trip with his dying dog.
Channing Tatum says that his new film, Dog, was inspired by the last road trip he went on with his dog, Lulu, after she was diagnosed with cancer.
Channing Tatum said that his new film, Dog , was inspired by the last road trip he took with his dying dog, Lulu. Dog is an American comedy that is set to premiere in theaters on February 18, 2022, and will mark Tatum's directorial debut.  Dog also marks Tatum's return to acting , after he stepped out of the spotlight for several years to recharge. The American actor and producer is best known for his roles in  Magic Mike , 21 Jump Street , and Step Up . Magic Mike and 22 Jump Street saw Tatum collaborate with producer Reid Carolin, who also wrote, co-directed, and co-produced Dog .
Dog follows U.S. Army Ranger Jackson Briggs (Tatum) who is tasked with bringing a dog, Lulu, down the Pacific Coast to attend her handler's funeral. Lulu is a Belgian Malinois military dog, whose owner is a fallen soldier. However, Briggs and Lulu don't exactly get along and manage to wreak quite some havoc on their road trip together. The film also stars Jane Adams, Kevin Nash, Q'orianka Kilcher, Ethan Suplee, and Emmy Raver-Lampman. As reviews start to come in for Dog , Tatum is opening up on what inspired his road trip drama.
Related:  How Johnny Depp Tried To Get Fired From 21 Jump Street (& Why He Left)
In an interview with Yahoo! , Tatum revealed that Dog was inspired by the loss of his own dog, Lulu, and their last road trip together. In 2018, Lulu, a pit bull Catahoula mix, was diagnosed with cancer, causing Tatum to head out for one last road trip with her. The road trip served as his acknowledgement that there wasn't anything he could do, besides soak up every last moment he had left with Lulu. While it was his loss that inspired Dog , Tatum chose to make a film that focused on the beginning of an owner's relationship with a dog and the creation of lasting memories. Check out his statement below:
Developing it [Dog] and really talking about what dogs mean and what dogs mean to specifically me, or to soldiers, or to anyone really, and primarily we landed on this word 'surrender'. And that was to me really what I had to learn. When I went on my last road trip with my puppy, [I experienced] that feeling of, 'There's nothing I can do. There's nothing left to do.' You just have to accept it and be thankful for the time that you did get and know that they're not supposed to be here forever. I'm supposed to go on and she has to go someplace else.
Tatum's return to acting in Dog has received praise from critics, who said that his five years away from leading roles hasn't diminished his acting ability at all. His own story about losing Lulu certainly adds the rawness and authenticity needed for the role, considering that the film does have an emotional element to it. However, instead of recreating Lulu's story and focusing on her death with Dog , Tatum chose to focus on and celebrate the life of a dog and the bonds that they form with humans. The film has received some criticism for being misguided and not adequately investigating various military-related issues, despite diverting from the comedic tone to touch on them briefly. However, the sentiment  Dog captures on the companionship between a dog and man, still serve to create several touching and powerful moments in the film.
Dog 's themes on the bond between a dog and its owner are made more powerful with Tatum's story in mind. While there are plenty of feel-good stories out there about dogs, few truly examine the loss of a dog or the loss of a dog's owner. However, these losses do occur, and the grief that dog owners experience is very real and painful. What Tatum's film Dog does, is offer healing without making owners relive the grief and loss. Dog allows viewers to reminisce on their own fun adventures and the friendships they built with their dogs. For both those who own dogs or have lost dogs, Dog is a celebration of a dog's life and relationship with humans that is made all the sweeter with Tatum's story of his own Lulu.
More:  MCU's X-Men Movies Should Keep Channing Tatum For Gambit
Source: Yahoo!
Irish Film Critic
The Very Best In Entertainment News & Reviews
Movie Review: "Dog" Is A Heartfelt Road Trip Movie Between Man And Man's Best Friend
Two former Army Rangers are paired against their will on the road trip of a lifetime. Briggs (Channing Tatum) and Lulu (a Belgian Malinois), race down the Pacific Coast to a fellow soldier's funeral on time.
Channing Tatum stars as Briggs, a discharged Army Ranger looking to get back on rotation. He is tasked with delivering Lulu, a Belgian Malinois dog, to his friend's funeral. However, Lulu is considered dangerous after her time in the Army and always manages to find trouble during the road trip to her owner's funeral.
Usually, I do not seek out movies about dogs. I don't have anything against them, I just find them to be clichéd. And "Dog" is clichéd, sure, but I also had a good time watching this film. Movies about army dogs usually begin with them being trained, bonding with their owner, and their heroics in combat. "Dog" is a bit different as the two main characters are retired. They are both sad, angry, and lost.
I do admire how the movie delves into trauma in K9s. Like Briggs, Lulu has PTSD. She is sensitive to noises, does not like being touched on her ears, and can be very aggressive. She lost her owner, and no one else understands or knows how to take care of her. I was actually very impressed with the dogs that played Lulu. Lulu could be menacing, but also very sweet and I give kudos to the dog handlers.
Some of the misadventures that go on in this film are a bit absurd. You will have to suspend your disbelief but these misadventures provide ample bonding time between Briggs and Lulu. But with how many stops are made on this road trip, there is no way these two would actually make it to the funeral on time.
Tatum is charming in the lead role. He is funny when required and dramatic when necessary. His character is very obviously not the sharpest tool in the shed, but I believed in the bond between Lulu and him. This is also Tatum's directorial debut, though he is not the sole director of this film, Reid Carolin co-directs. I won't say there was anything particularly noteworthy about the direction, but there were some beautiful landscape shots throughout the film. The lackluster title of the film aside, I found "Dog" to be a nice time at the movies. The film is heartfelt and highlights how important a relationship can be between a man and his dog.
In Theaters Friday, February 18th
This site uses Akismet to reduce spam. Learn how your comment data is processed .
Isabelle Anguiano
Isabelle is a film critic who was born and raised in Dallas. She graduated with a BA in Media Arts with a minor in Spanish at the University of North Texas. To Isabelle, nothing can beat going to the movie theater, it's her home away from home. And as a lover of all things TV and movies, she runs her own review blog at IsabelleReviewsMovies.com as well as contributes to IrishFilmCritic.com and ShuffleOnline.net.
Cast & Crew
Channing Tatum
Jackson Briggs
Q'orianka Kilcher
Ethan Suplee
Charming stars can't rescue man-pup buddy flick; language.
Information
© 2021 LOU GABS INC.
Accessibility
Copyright © 2023 Apple Inc. All rights reserved.
Internet Service Terms Apple TV & Privacy Cookie Policy Support
GET BREAKING NEWS IN YOUR BROWSER. CLICK HERE TO TURN ON NOTIFICATIONS.
Movie review: Channing Tatum embarks on road…
Share this:.
Click to share on Facebook (Opens in new window)
Click to share on X (Opens in new window)
Entertainment
Movie review: Channing Tatum embarks on road trip with canine companion in 'Dog'
The underdog is a good position for Channing Tatum. Despite being one of the most beloved himbos of Hollywood, thanks to his affable screen presence, up-for-anything attitude, and obviously, his good looks, it still feels like we, as a population, underestimate Tatum a bit, especially as he makes his directorial debut with "Dog."
Tatum shares the director's chair with frequent producing partner and "Magic Mike" and "Magic Mike XXL" writer Reid Carolin, who is also making his directorial debut. Carolin penned the script with Brett Rodriguez, about a former Army Ranger, Jackson Briggs (Tatum), who is tasked with delivering another veteran to the funeral of an Army buddy who has died in a car accident. The vet in question happens to be Lulu, a Purple Heart-decorated combat dog, a Belgian Malinois whose handler was Jackson's pal Riley.
Like Jackson, she's riddled with bullet scars, emotional triggers and the residual effects of war trauma, and she's no longer a useful asset to the Army. Jackson agrees to drive "dog" (as he refers to her) from Washington to Arizona in hopes of receiving a recommendation for a private security contractor gig, despite the lingering effects of a traumatic brain injury.
Tatum, Carolin and Rodriguez have been collaborating, and grappling with the effects of war, since Kimberly Peirce's 2008 film "Stop-Loss," in which Tatum co-starred, while Reid produced and Rodriguez served as a military consultant. The trio also produced the 2017 HBO documentary "War Dog: A Soldier's Best Friend," and so "Dog" feels like a natural culmination for this creative partnership. The amount of time that this project has been marinating, plus the informed understanding of PTSD, brain injuries and the role of the combat dog make for a film that effortlessly conveys these complex issues.
It's a more serious register for the filmmakers than the effervescent celebration of beefcake that is say, "Magic Mike XXL," but the fact of the matter is that as filmmakers Tatum and Carolin know what the people want, too, and place Jackson in all manner of ridiculous situations along the way to capitalize on Tatum's natural charisma (and abs). We want to see Tatum navigate a potential sexual encounter with two tantric healing practitioners (Emmy Raver-Lampman and Nicole LaLiberte) in Portland, bond with a pot-farming couple (Kevin Nash and Jane Adams) against all odds, and tangle with a San Francisco cop (Bill Burr) after attempting to scam a free hotel room. We also want to see Tatum emoting in a sopping wet T-shirt, and the filmmakers happily deliver that too.
The road-trip high jinks add a level of absurdity to the proceedings that keep "Dog" from ever getting too heavy or maudlin. Typically, movies about dogs are unrelentingly cloying tear-jerkers, but Tatum and Reid resist sentimentality, resulting in a film that's refreshingly frank and surprising when the emotional moments do hit (and do they ever).
Newton Thomas Sigel's cinematography has a propulsive flow, lingering over the natural beauty along the way: a snowy Montana landscape or Big Sur sunset. Editor Leslie Jones keeps the pace moving at an easy clip, and the film is incredibly watchable thanks to the craft on display. While some storylines could have used more care and attention, Reid and Tatum's directorial instincts bring a fresh approach to this type of film. It's a pleasure to say that this is one good "Dog."
2.5 stars (out of 4)
MPAA rating: PG-13 (for language, thematic elements, drug content and some suggestive material)
Running time: 1:41
Where to watch: In theaters Friday
©2022 Tribune Content Agency, LLC
More in News
Local News | Tewksbury retirement community honors veteran residents
Local News | Gone but not forgotten: POW/MIA memorialized at Lowell City Hall
High School Sports | Billerica football team falls just short of Westfield in 34-33 classic
Local News | The Five Minute Read